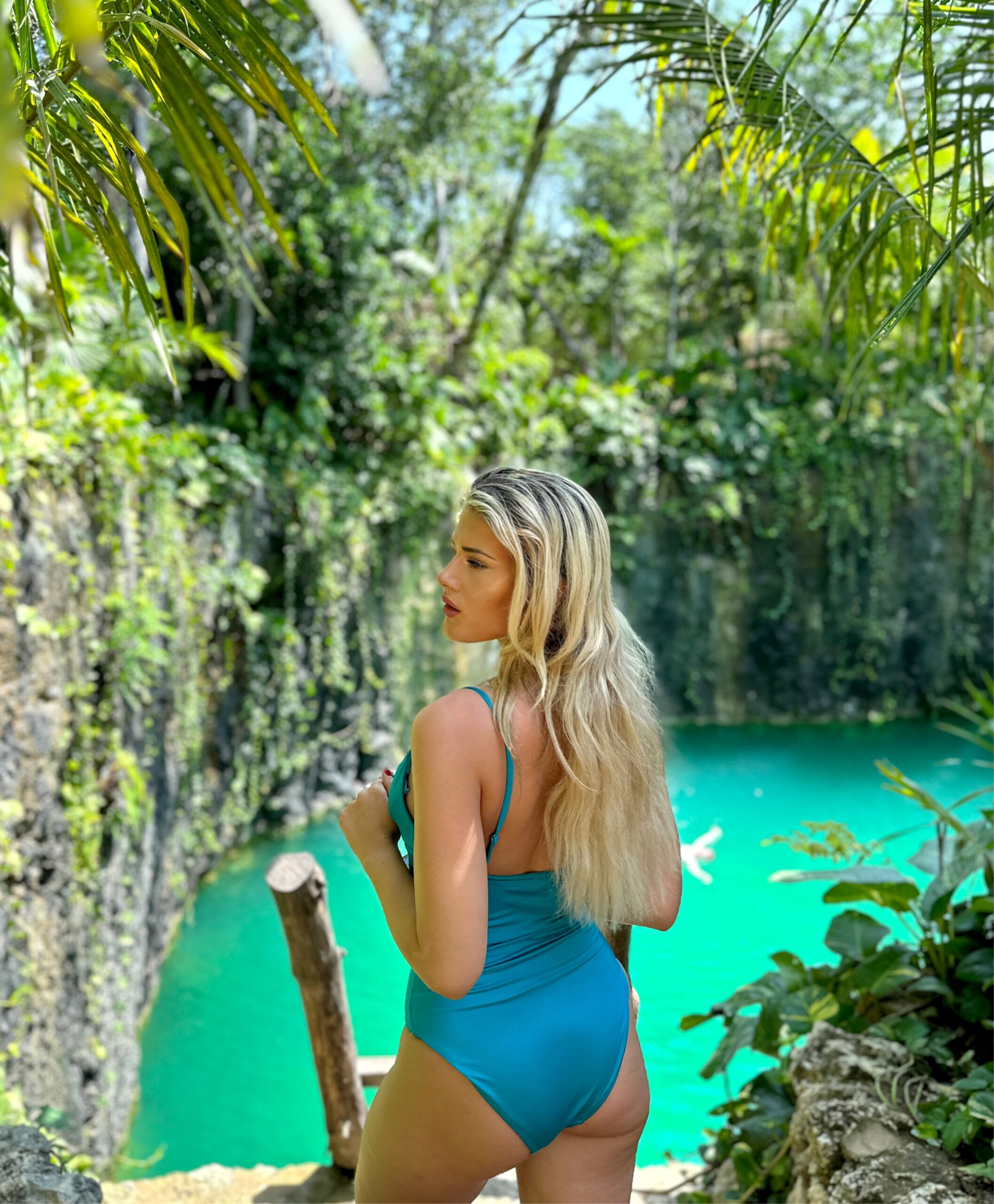 Welcome to my part 2 of my personal travel diary!
A little sidenote is that there are a lot more pictures of myself in this post than usual, because I didn't create outfit posts of all outfits here and decided to combine it in this upload.
If you haven't read part one, you can click here:
part one.
The last 8 days of this trip I would spend in my favorite place for the 3th time; Tulum. I have to tell you that I was a bit afraid that it would get quite hard because of my personal reason, more hard than the last few days in Mexico. My goal was once again to go right through it to celebrate the love for this place and the wonderful memories I have of this special place. On the other hand, I had also really looked forward to being back in Tulum!
Welkom bij mijn deel 2 van mijn persoonlijke reisdagboek!
Een kleine kanttekening is dat er veel meer foto's van mezelf in deze post staan dan normaal, omdat ik hier geen outfitposts van alle outfits heb gemaakt en heb besloten om het te combineren in deze upload.
Als je deel 1 nog niet hebt gelezen, kun je op deze link klikken:
deel 1.
De laatste 8 dagen van deze reis zou ik gaan spenderen voor de 3e keer in mijn lievelingsplekje; Tulum. Ik moet je zeggen dat ik wel een beetje bang was dat ik het best wel pittig zou gaan krijgen door mijn persoonlijke reden, pittiger dan de afgelopen dagen weer in Mexico. Mijn doel was nogmaals er recht doorheen gaan om de liefde voor deze plek te vieren en de prachtige herinneringen die ik aan deze bijzondere plek heb. Ik had aan de andere kant ook weer ontzettend uitgekeken om terug in Tulum te zijn!
Day 9 – Puerto Escondido, Mexico City, Cancun & Tulum – 27-04-2023
My morning started with a flight from Puerto Escondido to Mexico City – both in and outbound, I had booked confirmed tickets instead of stand-by crew tickets, because I had too little time in case I would not to get on the flight. Incidentally, there was no direct flight to Cancun from Puerto, so it was 'a bit of a tour'. From Mexico City, I flew with
AeroMexico
'if place available' (with my stand-by crew tickets) and got my seat at the gate, just before departure for that flight. The flight to Cancun was about 2-3 hours and the flights leave almost every hour – so I took my chances. I experienced AeroMexico as a grear airline and the crew was very friendly. In addition, I received a nice glass of wine from them, and a snack box. Because I know my way around
Riviera Maya
very well, I knew I had to book a ticket at the airport with the
ADO bus
from Cancun Airport to Tulum. This is also a very easy way and quite well priced to get to all the villages in Riviera Maya. The drive to Tulum is approximately 1.5 to 2 hours via Playa del Carmen.
Upon arrival, Ruben – a friend of mine from America – was waiting for me at the ADO bus station in Tulum. Ruben is a friend of mine that I met during my first trip to Mexico last year, and who is also very good friends with Cyni, just like me. In the end, I took a taxi without Ruben, who was on his bike, to Meteora Hostel & Coffeehouse. I think walking around Tulum in past streets with expensive stuff and a lot of luggage is not very safe. Although I think Tulum is generally safe, there are some things that are better avoided. Upon entering, I was already totally impressed by this beautiful hostel. It is an oasis in Tulum Pueblo in my opinion. The design is beautiful, the rooms very nice and clean and also the swimming pool very nice. I booked this hostel through Airbnb and paid about 23 euros per night in a 'dorm' (shared room).
After I checked in, Ruben and I went straight to dinner and both cycled to Pueblo – which is literally a few minutes by bike from here. Meteora offers bike rental, so that was perfect. We ate delicious tacos at Charlies – recommended! And chatted a lot. When Ruben decided to go to sleep, I joined a group from my hostel chatting by the pool. We chatted into the night for a few hours and had deep conversations about life. What a great way to get to know my hostel mates and start my new Tulum adventure!
Mijn ochtend begon met een vlucht vanaf Puerto Escondido naar Mexico City – zowel heen als terug had ik geboekt in plaats van met stand-by crew tickets, omdat ik té weinig tijd had om niet op een vlucht mee te komen. Overigens was er geen directe vlucht naar Cancun vanaf Puerto, dus werd het wel 'een stukje om'. Vanaf Mexico City, vloog ik met
AeroMexico 'IPB'
(met mijn stand-by crew tickets) en kreeg voor die vlucht mijn stoel vlak voor vertrek aan de deur. De vlucht naar Cancun was zo'n 2-3 uur – bovendien gaan deze vluchten bijna ieder uur, dus greep ik mijn kansen. Ik ervaarde Aero Mexico als een top airline en de crew was erg vriendelijk. Daarnaast kreeg ik super lief een lekker wijntje van ze, én een snack boxje. Omdat ik de weg erg goed ken in
Riviera Maya
, wist ik dat ik gelijk een ticket moest boeken op de airport met de
ADO bus
van Cancun Airport naar Tulum. Dit is overigens een hele makkelijke manier en vrij goed geprijst, om in alle dorpen in Riviera Maya te komen. De rit naar Tulum is ongeveer 1,5 tot 2 uur via Playa del Carmen.
Bij aankomst, wachtte Ruben – een vriend van mij uit Amerika – mij op bij het ADO busstation in Tulum. Ruben is een vriend van mij die ik tijdens mijn eerste reis naar Mexico vorig jaar leerde kennen, én ook super goed met Cyni bevriend is net als ik. Uiteindelijk nam ik toch een taxi zonder Ruben die op zijn fiets, was naar Meteora Hostel & Coffeehouse. Ik vind in Tulum rondlopen in afgelopen straten met dure spullen en veel bagage, niet héél veilig. Al vind ik Tulum over het algemeen veilig, kun je sommige dingen beter voorkomen. Ik was bij binnenkomst al totaal onder de indruk van dit prachtige hostel. Het is in mijn mening een oase in Tulum Pueblo. Het design is prachtig, de kamers ontzettend mooi en schoon en daarnaast het zwembad erg fijn. Ik heb dit hostel geboekt via Airbnb en betaalde zo'n 23 euro per nacht in een 'dorm' (gedeelde kamer).
Na ik had ingecheckt, zijn Ruben en ik gelijk gaan eten en fietsten beide naar Pueblo – wat hier letterlijk een paar minuutjes fietsen vandaan is. Meteora bied bike rental aan, dus dat was mega handig. We aten heerlijke taco's bij Charlies – aanrader! En hebben veel bijgekletst. Toen Ruben besloot te gaan slapen, sloot ik aan bij een groepje van mijn hostel die bij het zwembad aan het kletsen was. We hebben een paar uur tot in de nacht gekletst en diepgaande gesprekken gehad over het leven. Wat een ontzettend leuke manier mijn hostelgenoten te leren kennen en te beginnen aan mijn nieuwe Tulum avontuur!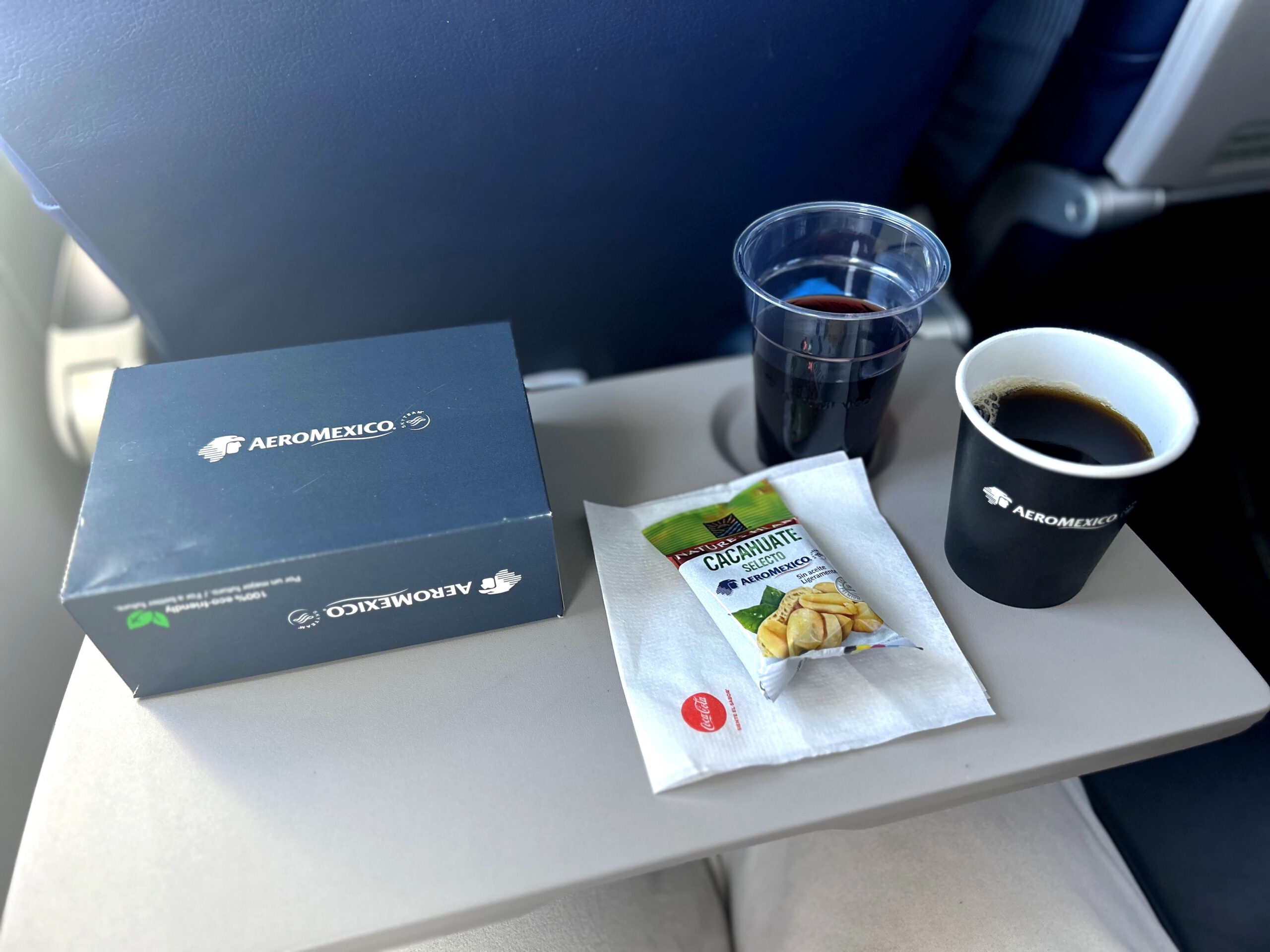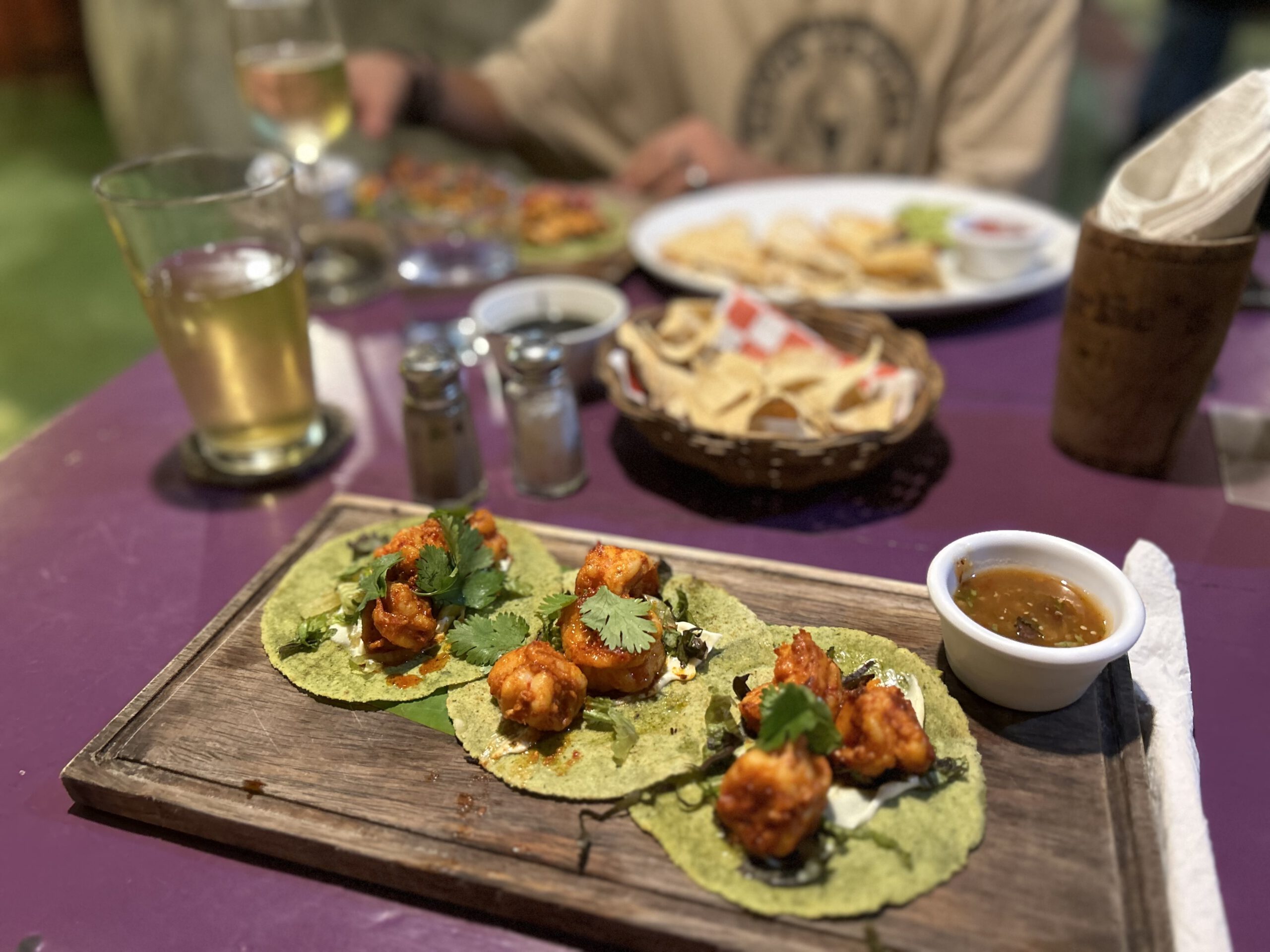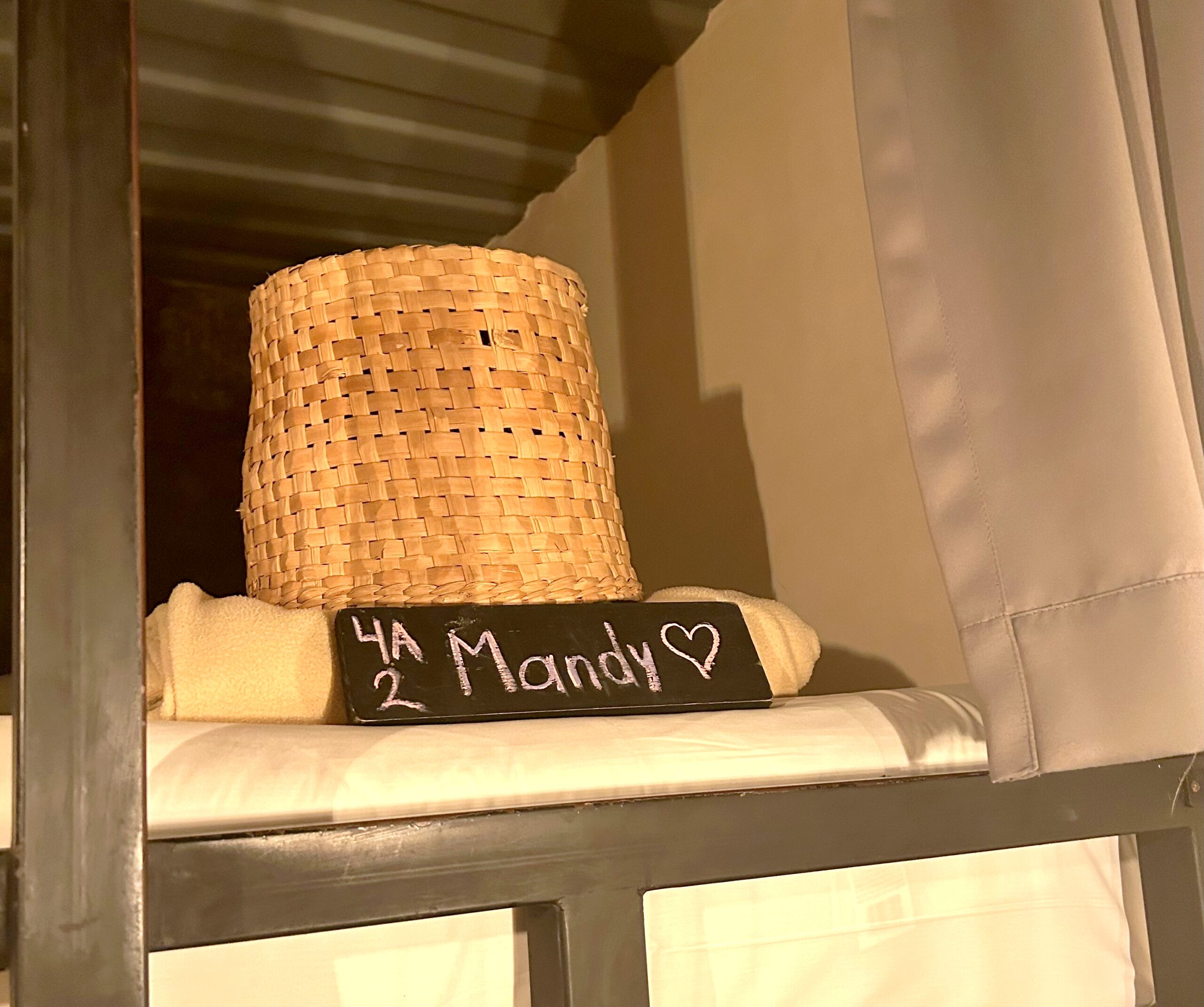 Day 10 – Tulum – 28-04-2023
My first full day started early in the morning. I wanted to make some content in the hostel with Ruben before we would both go to
Mia Beachclub
at
Selina Los Lirios.
In terms of transport, we almost always went with a bicycle in Tulum #realdutchgirl – except after dark, because the taxi prices here are outrageously expensive. Furthermore, I love Mexico and Tulum very much and I have a great love for this place. On the way, we stopped for a coffee at
hostel Mayan Monkey –
to reminisce about good old memories. Mia is my favorite beach club in Tulum, and is expensive but 'doable'. In addition, I was here for two/three days with my ex-love during my previous trip, and I think you get a lot of value for your money with an overnight stay. Although everything on the hotel side of Tulum is even more expensive than Europe, with an overnight stay you get unlimited coffee and water at the reception, access to the beach club, the swimming pool, some beach beds, access to the coolest parties at Mia and at every Selina location , a welcome drink, you stay right by the sea and you have a very extensive breakfast made to order at Mia Beachclub. (This is not an ad, this is my honest opinion). At Mia, we had nice lunch, took pictures and had a drink.
After a visit to the beach club with Ruben, I went for ice cream with the girls from our hostel, in Pueblo. At first, we wanted to go to Cenote Corazon by collectivo (a cheap shared van) – but the cenote was already closed. Visiting cenotes in the Riviera Maya area of Mexico is one of my favorite activities. An AeroMexico captain also told me at the gate that there are over 200 in the area! (and over 6,000 throughout Yucatan!). Moreover, it is highly recommended, because it is truly a magical experience. My gut feeling told me to check the opening hours, and I was right! It was closed. So as a tip: always google the closing times.
In the evening I was again invited for a collaboration with Marem – a great restaurant in Tulum. I always love to eat here and am very grateful that this is all free of charge for me and +1. My enthusiasm about this restaurant is 100% genuine. The food here is great, high quality, the staff great and the interior beautiful! I had the watermelon salad as a starter, a few glasses of rosé wine with dinner, the rib-eye medium rare as a main and for dessert a delicious cremé brulee with a cappuccino. I sincerely recommend you to visit this great restaurant! It can be found right in front of hostel Mayan Monkey, and on instagram at @maremtulum. After dinner, Ruben and I were invited to go to a party at Vagalume free of charge thanks to our friend and DJ, Felipe. Super nice that thanks to him I often end up on the guest list of top parties in Tulum. I am very grateful to have so many great opportunities here. This party of Ten Ibiza was a lot of fun.
Mijn eerste volle dag begon vroeg in de ochtend. Ik wilde nog wat content maken in het hostel samen met Ruben, vóór we beide naar
Mia Beachclub
zouden gaan bij
Selina Los Lirios.
We gingen qua vervoer bijna altijd met een fiets in Tulum #echtehollander – behalve in het donker, want de taxi prijzen hier zijn schandalig duur. Verder houd ik enorm van Mexico en Tulum en heb ik een grote liefde voor deze plek. Onderweg stopte we nog even om een koffietje te drinken bij
hostel Mayan Monkey
– om even oude fijne herinneringen op te doen. Mia is mijn favoriete beachclub in Tulum, en is duur máár 'te doen'. Bovendien heb ik hier twee/drie dagen verbleven met mijn ex-liefde tijdens mijn vorige trip en vind ik dat je wel waarde krijgt voor je geld als je er verblijft. Al is sowieso alles aan de hotelkant van Tulum nóg duurder dan Europa, krijg je bij een overnachting onbeperkt koffie en water bij de receptie, toegang tot de beachclub, het zwembad, sommige strandbedjes, toegang tot de gaafste feesten bij Mia en bij iedere Selina vestiging, een welkoms drankje, verblijf je direct aan de zee én heb je bij Mia Beachclub een erg uitgebreid ontbijt op bestelling. (Dit is geen ad, dit is mijn oprechte mening). Bij Mia hebben we lekker gelunched, foto's gemaakt en een drankje gedaan.
Na een visit aan de beachclub samen met Ruben, ben ik met meiden van het hostel nog een ijsje gaan eten in Pueblo. In eerste instantie wilden we per collectivo (een goedkoop gedeeld busje) naar Cenote Corazon – maar de cenote was al gesloten. Cenotes bezoeken in het Riviera Maya gebied van Mexico, is een van mijn lievelingsactiviteiten. Een gezagvoerder van AeroMexico, vertelde me ook bij de gate dat er meer dan 200 in het gebied te vinden zijn! (en in heel Yucatan ruim 6000!). Bovendien is het een enorme aanrader, want het is écht een magische ervaring. Mijn onderbuikgevoel zei me de openingstijden te checken, en ik had gelijk! Hij was gesloten. Dus als tip: google altijd de sluitingstijden.
In de avond was ik opnieuw vrijblijvend uitgenodigd voor een collaboration met Marem – een geweldig restaurant in Tulum. Ik kom hier altijd met alle liefde eten en ben erg dankbaar dat dit allemaal free of charge voor mij en +1 is. Mijn enthousiasme over dit restaurant is 100% oprecht. Het eten is hier geweldig, van hoge kwaliteit, het personeel geweldig en het interieur prachtig! Ik had de watermeloen salade als starter, een paar glazen rosé wijn bij het eten, als main de rib-eye medium rare en as toetje een heerlijke cremé brulee met een cappuccino. Ik raad jullie oprecht met alle liefde aan dit geweldige restaurant te bezoeken! Het is te vinden recht voor hostel Mayan Monkey, en op instagram bij @maremtulum. Na het eten, mochten Ruben en ik vrijblijvend naar een feest bij Vagalume dankzij onze vriend en DJ, Felipe. Super fijn dat ik dankzij hem vaak op de gastenlijst kom te staan van top feesten in Tulum. Ik ben erg dankbaar dat ik zoveel mooie kansen krijg in Tulum. Dit feest van Ten Ibiza was erg leuk.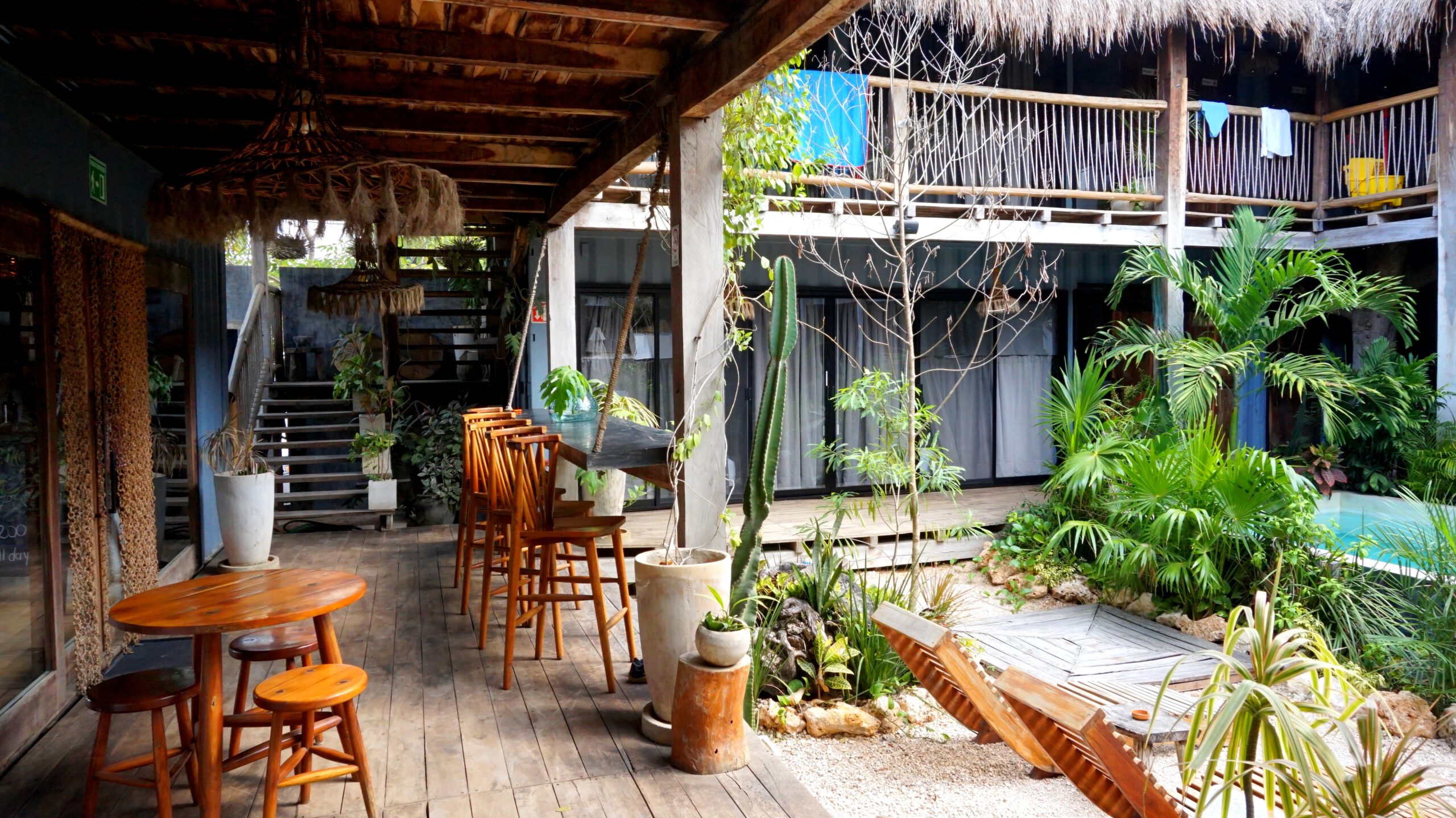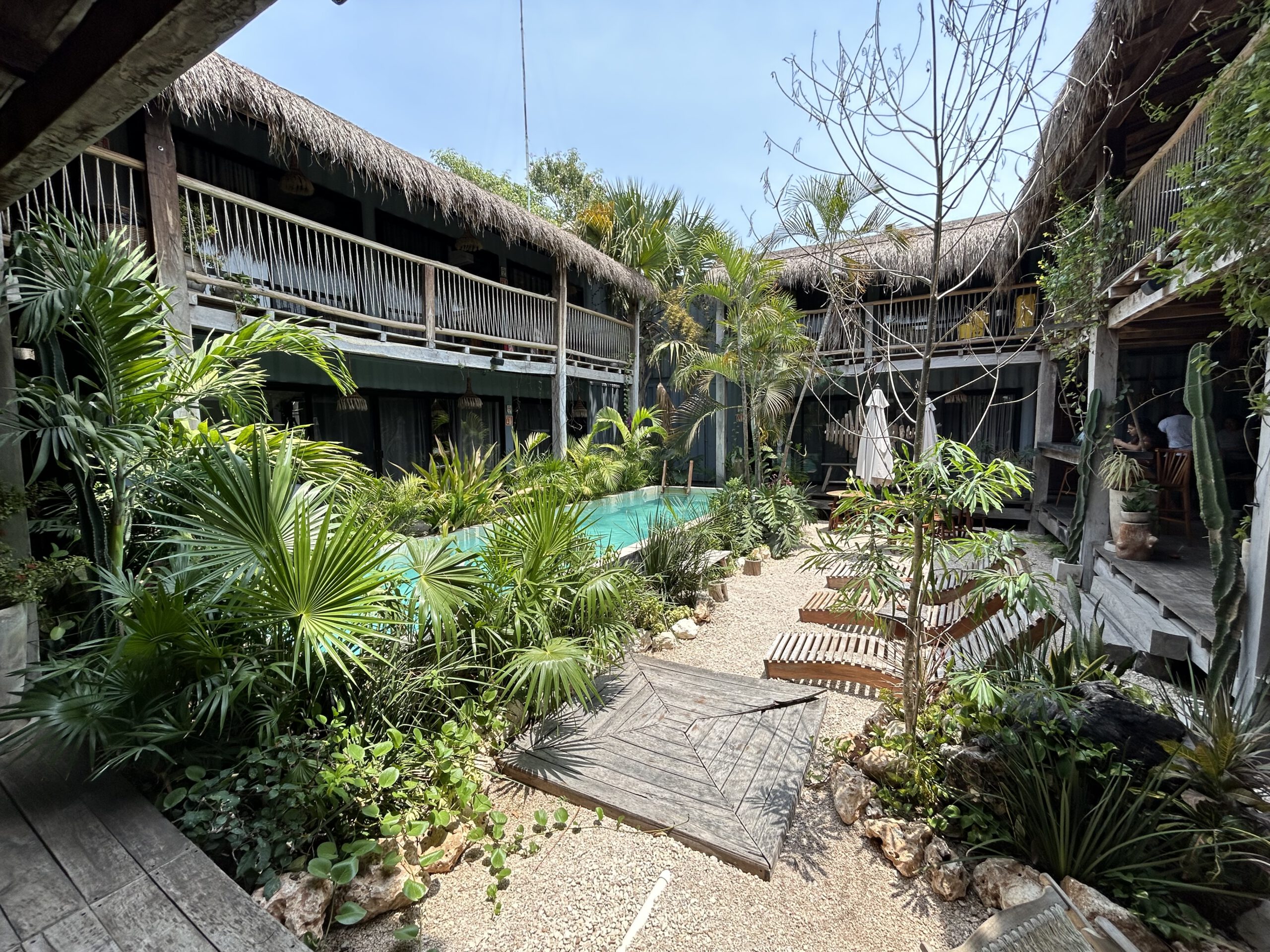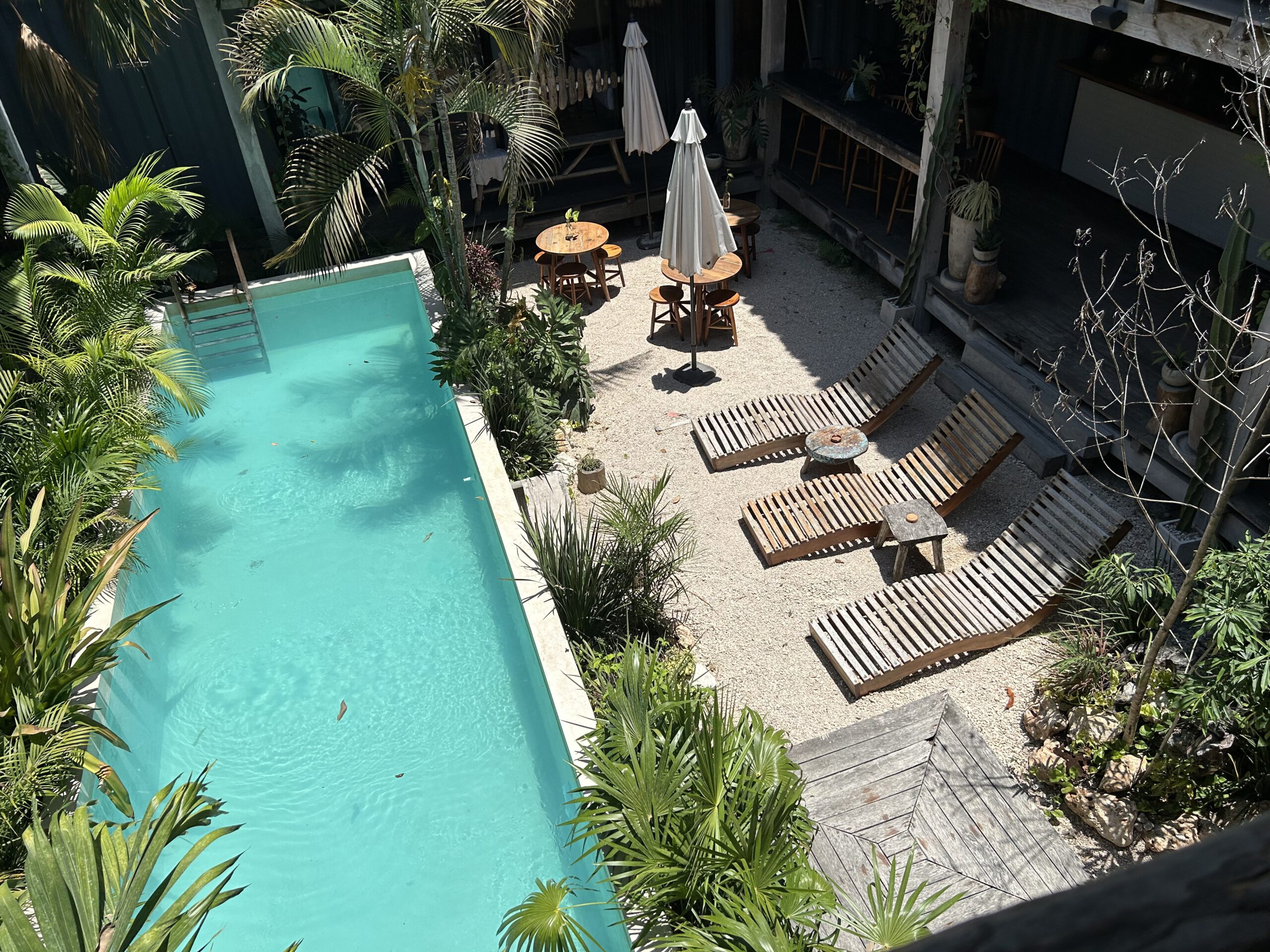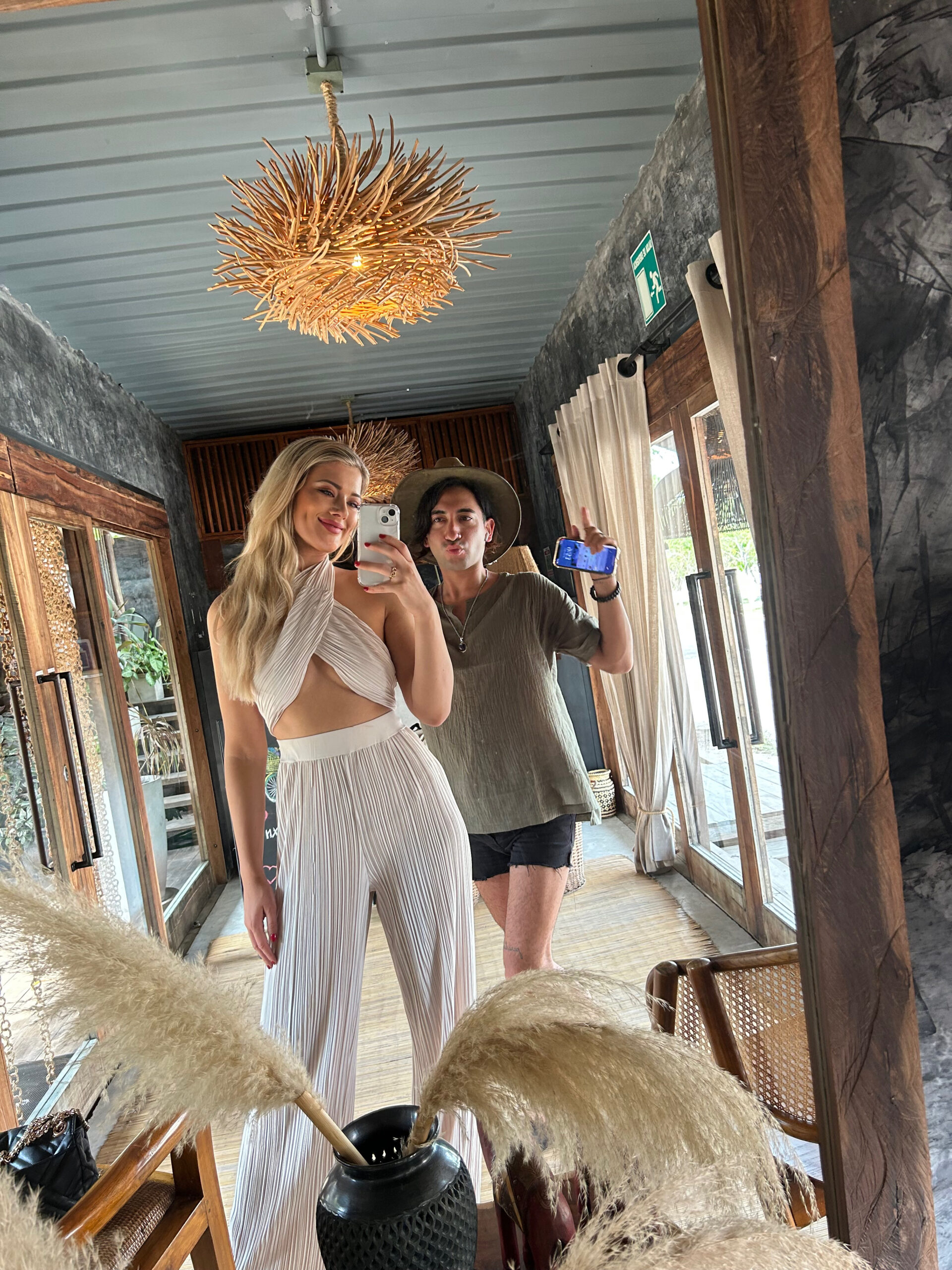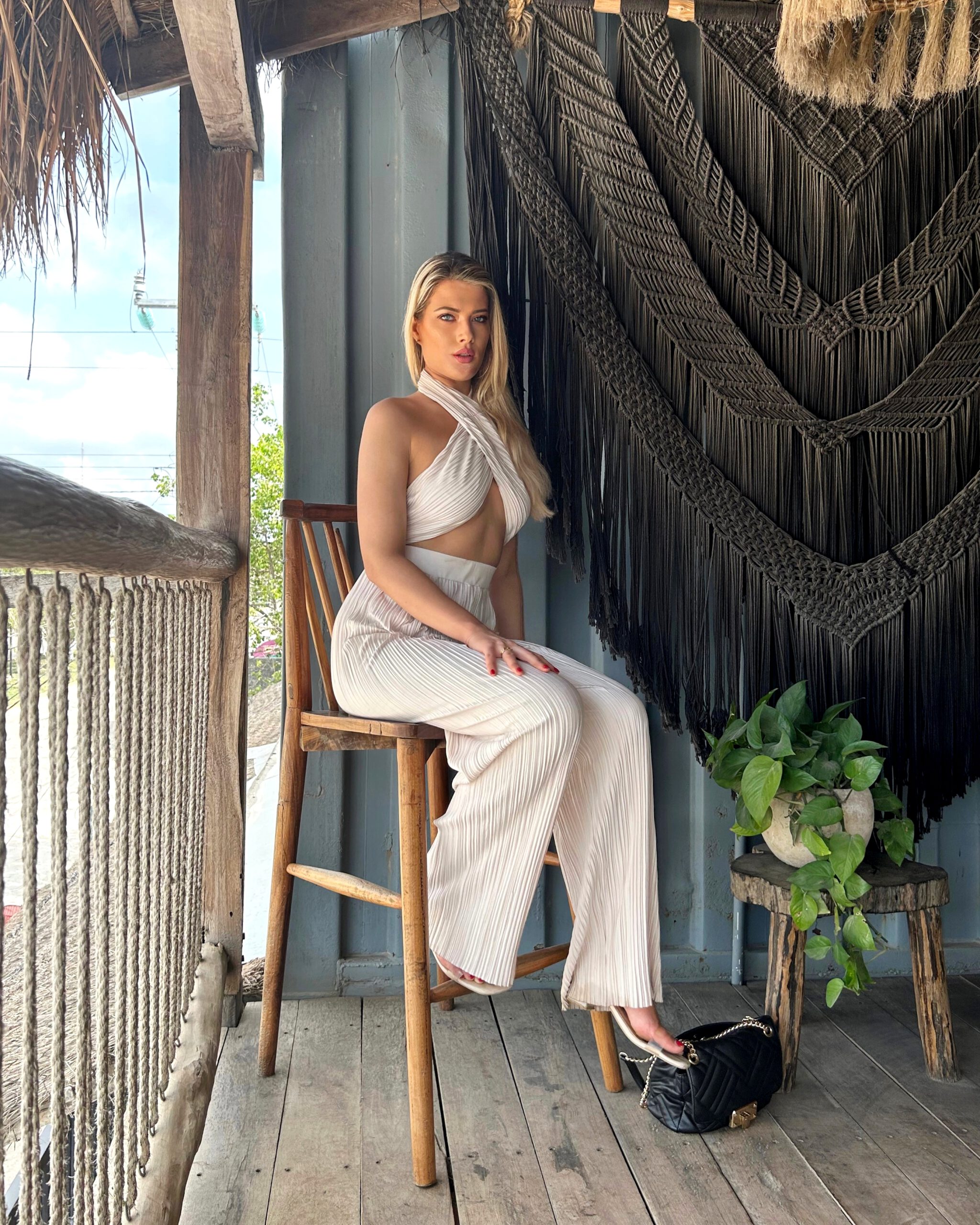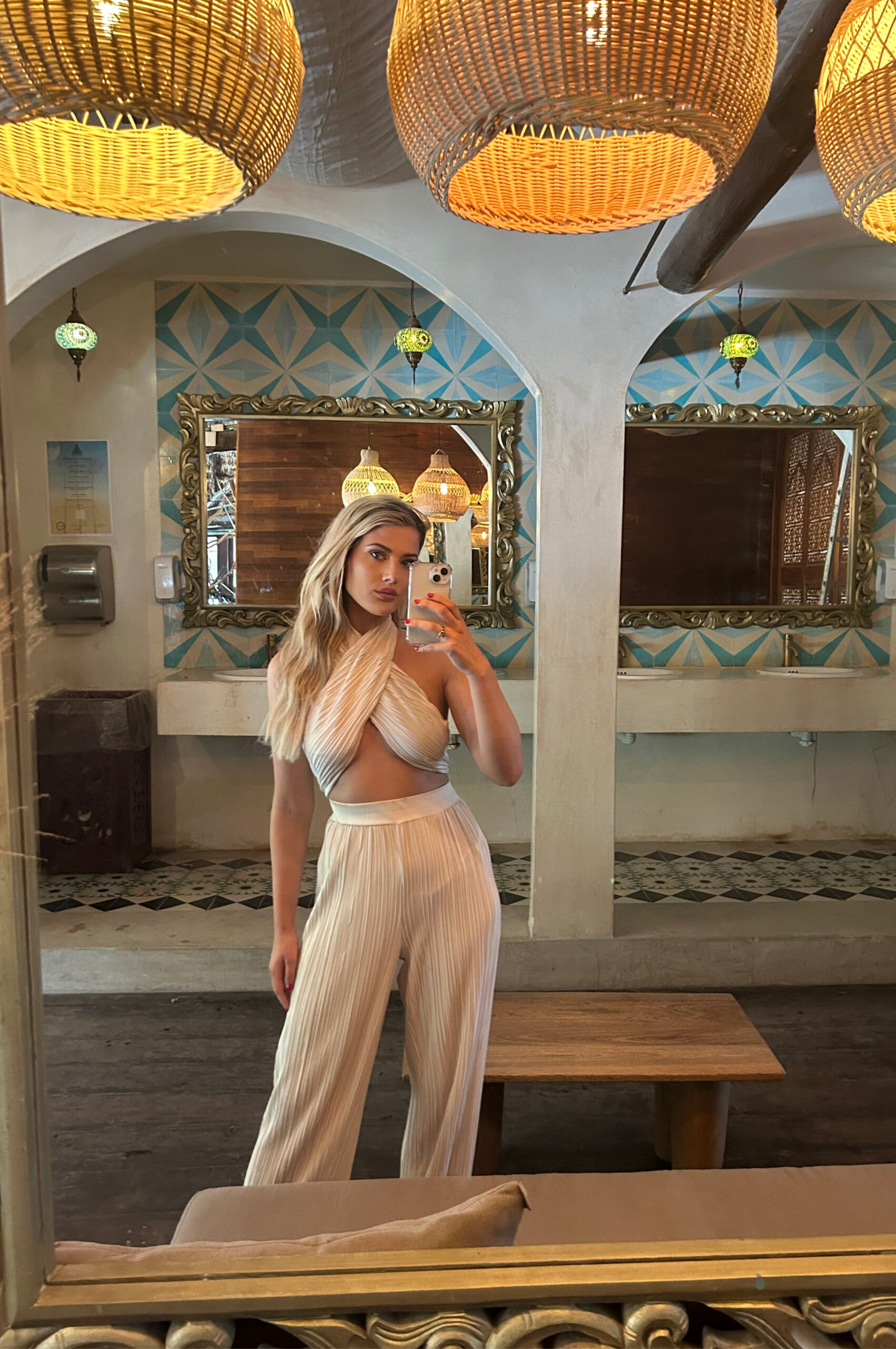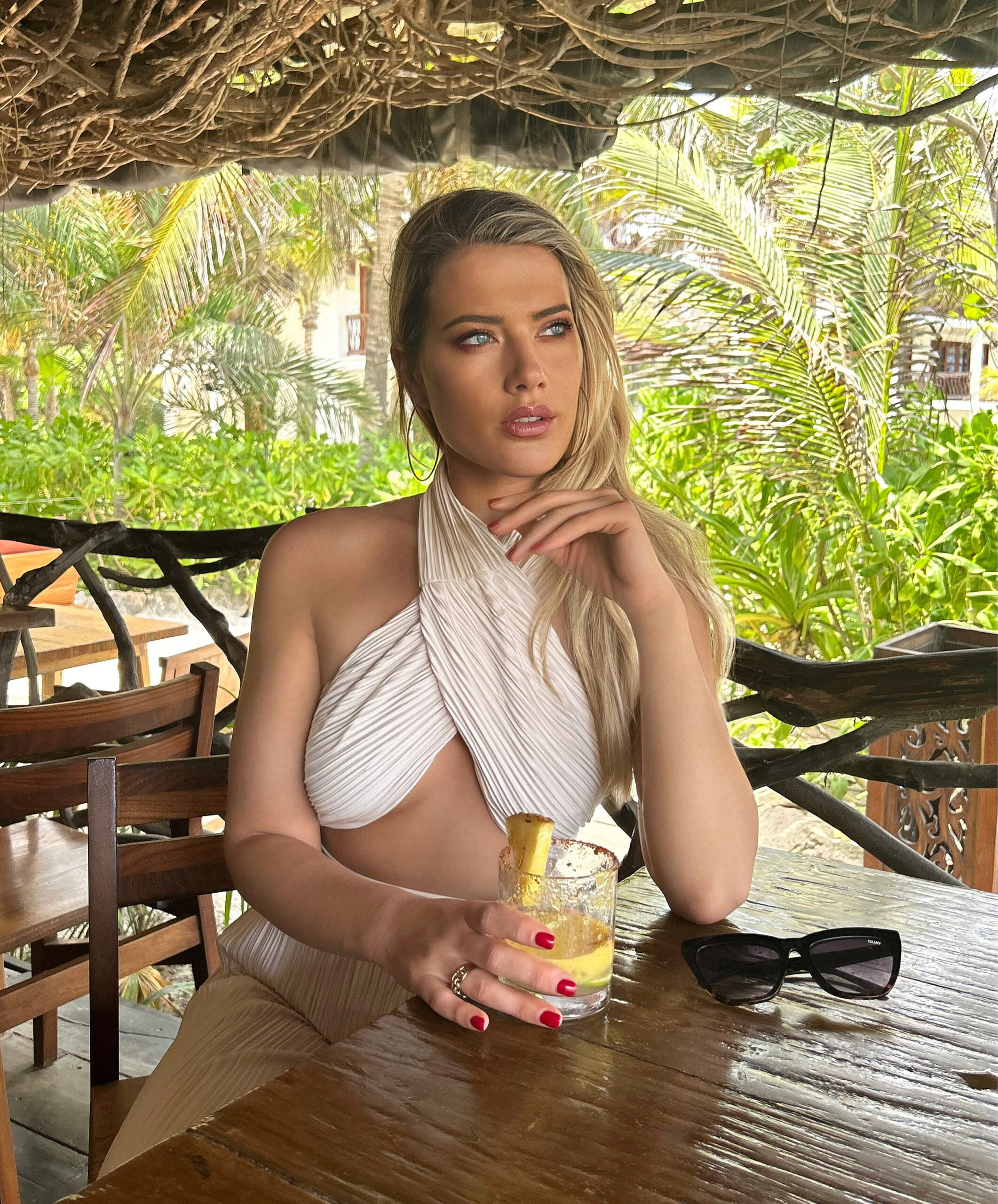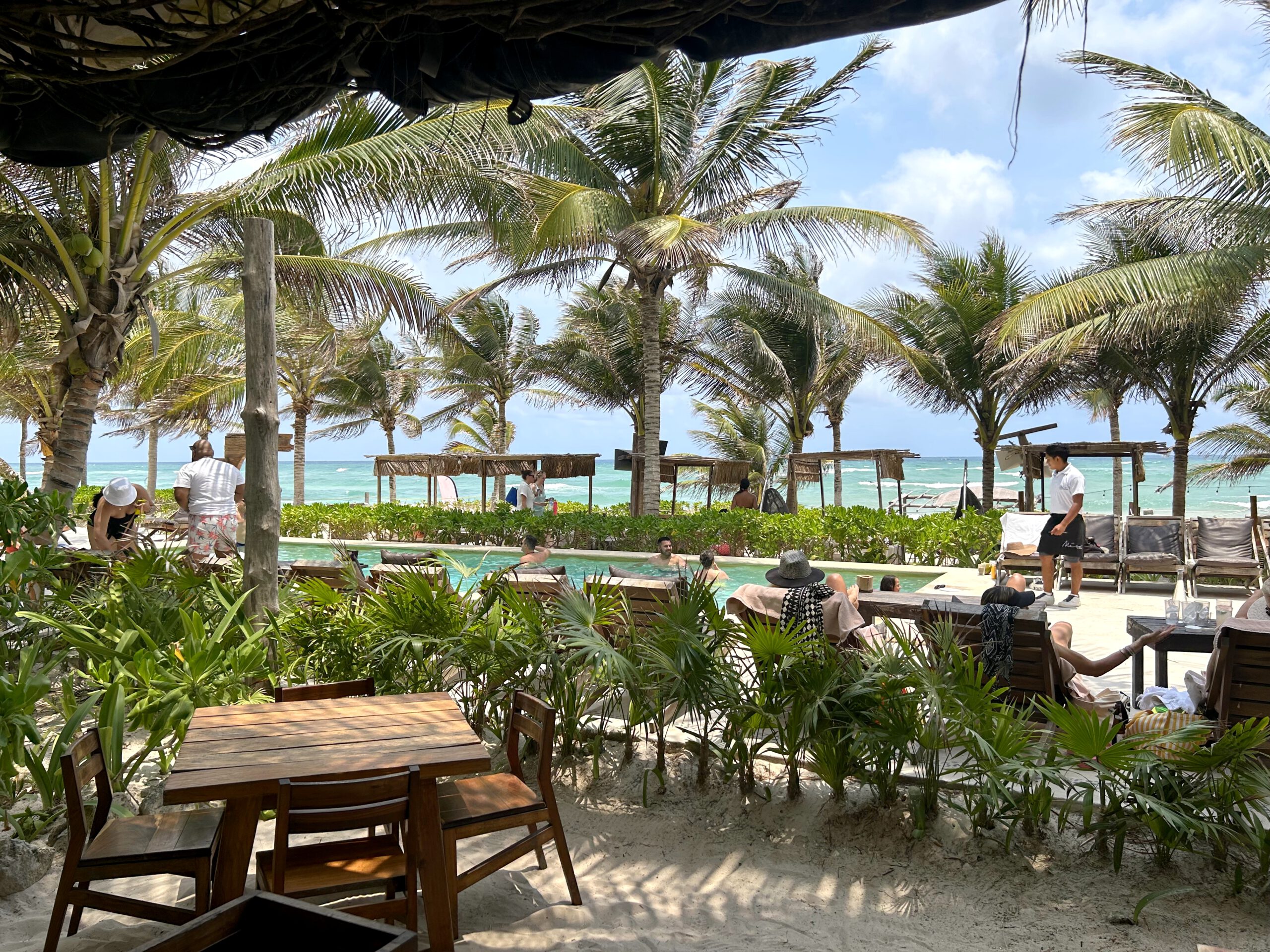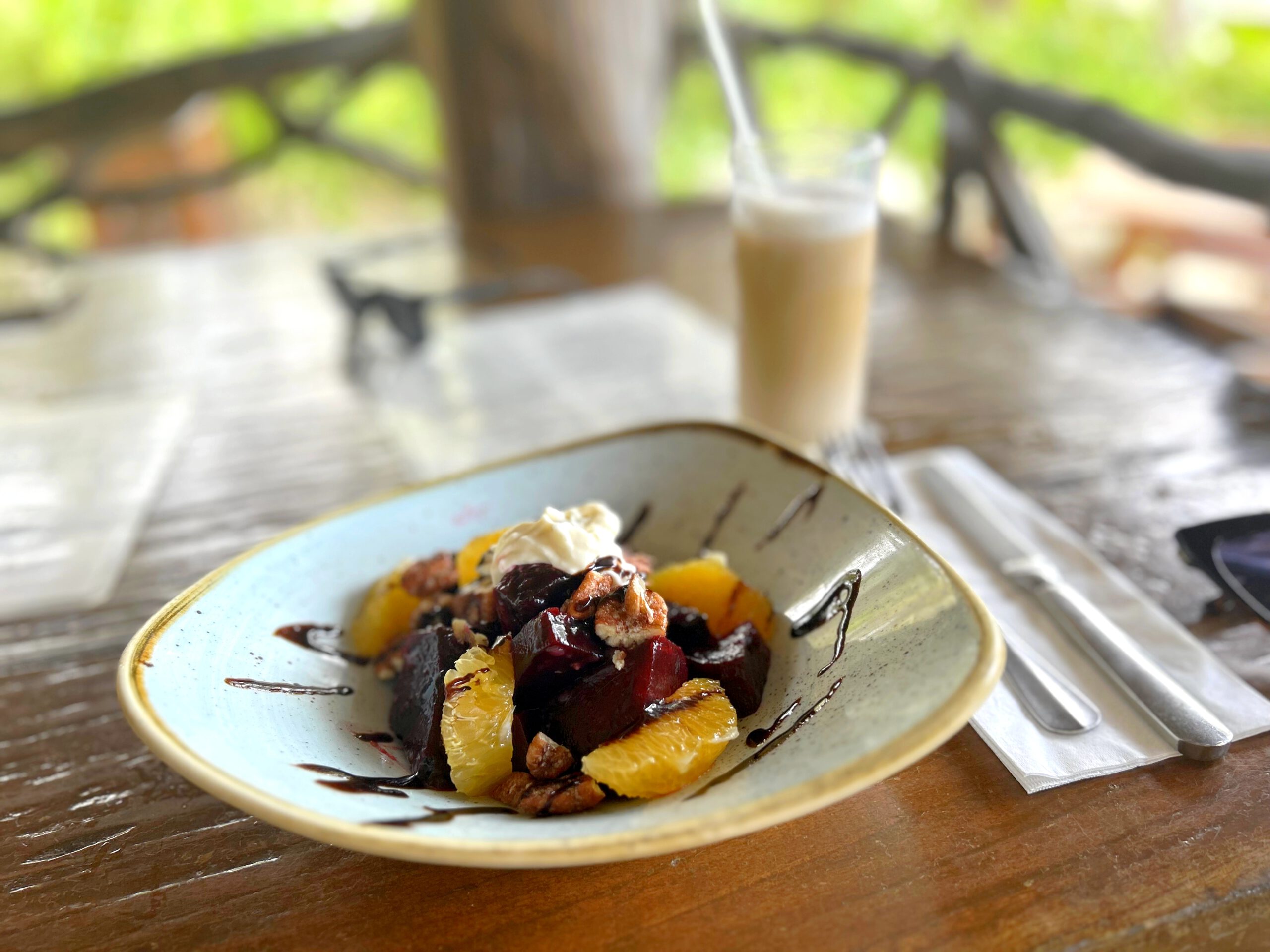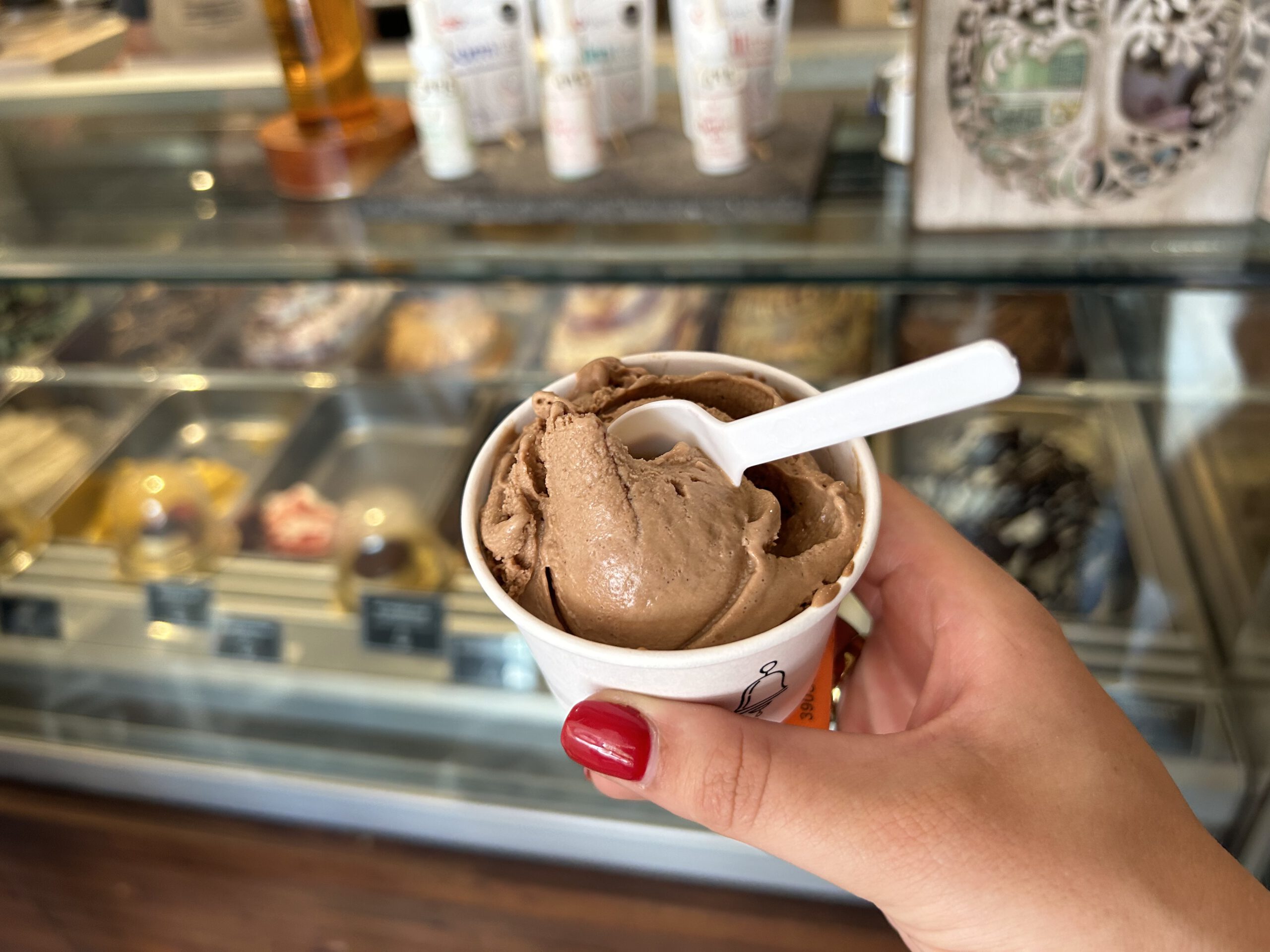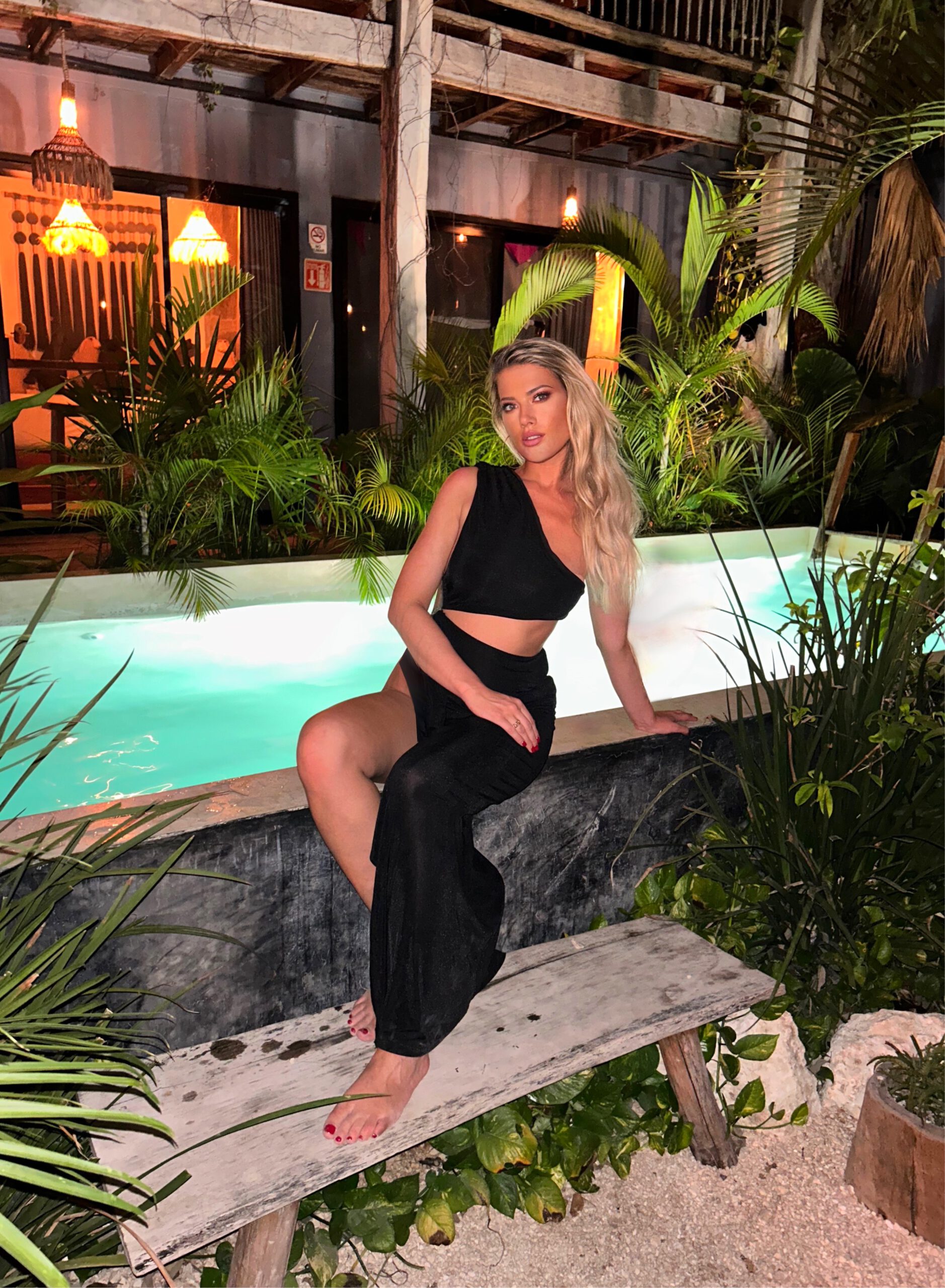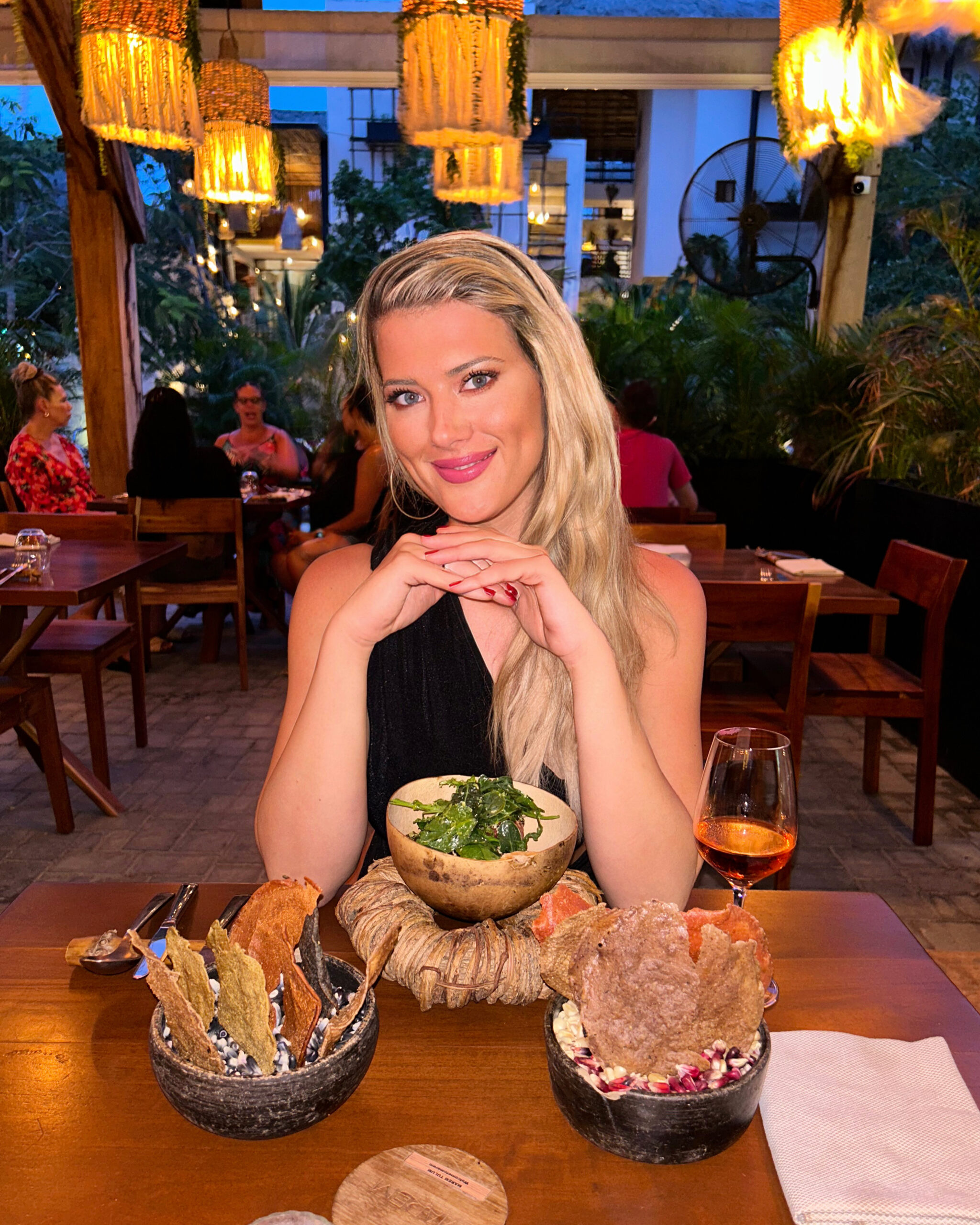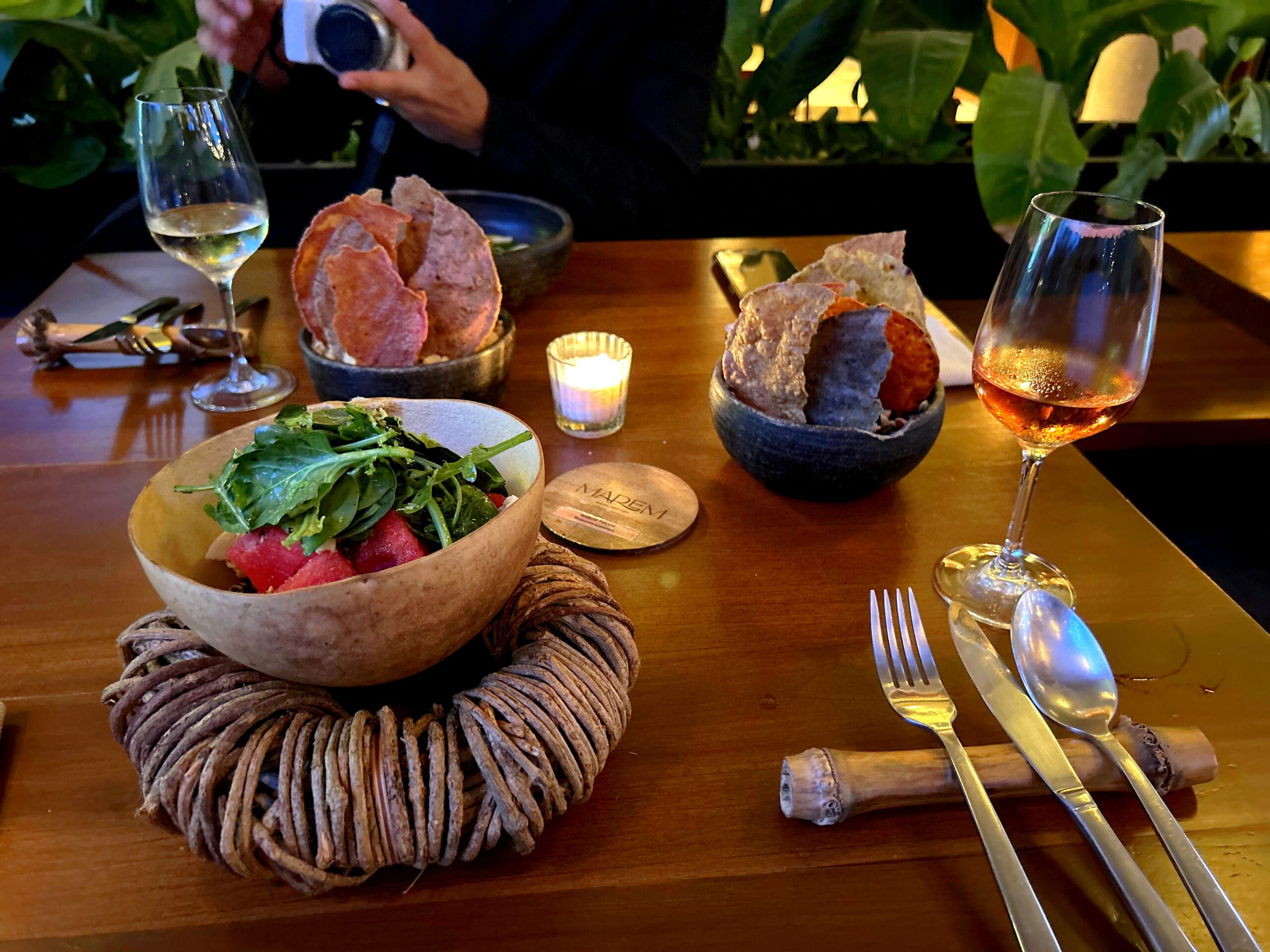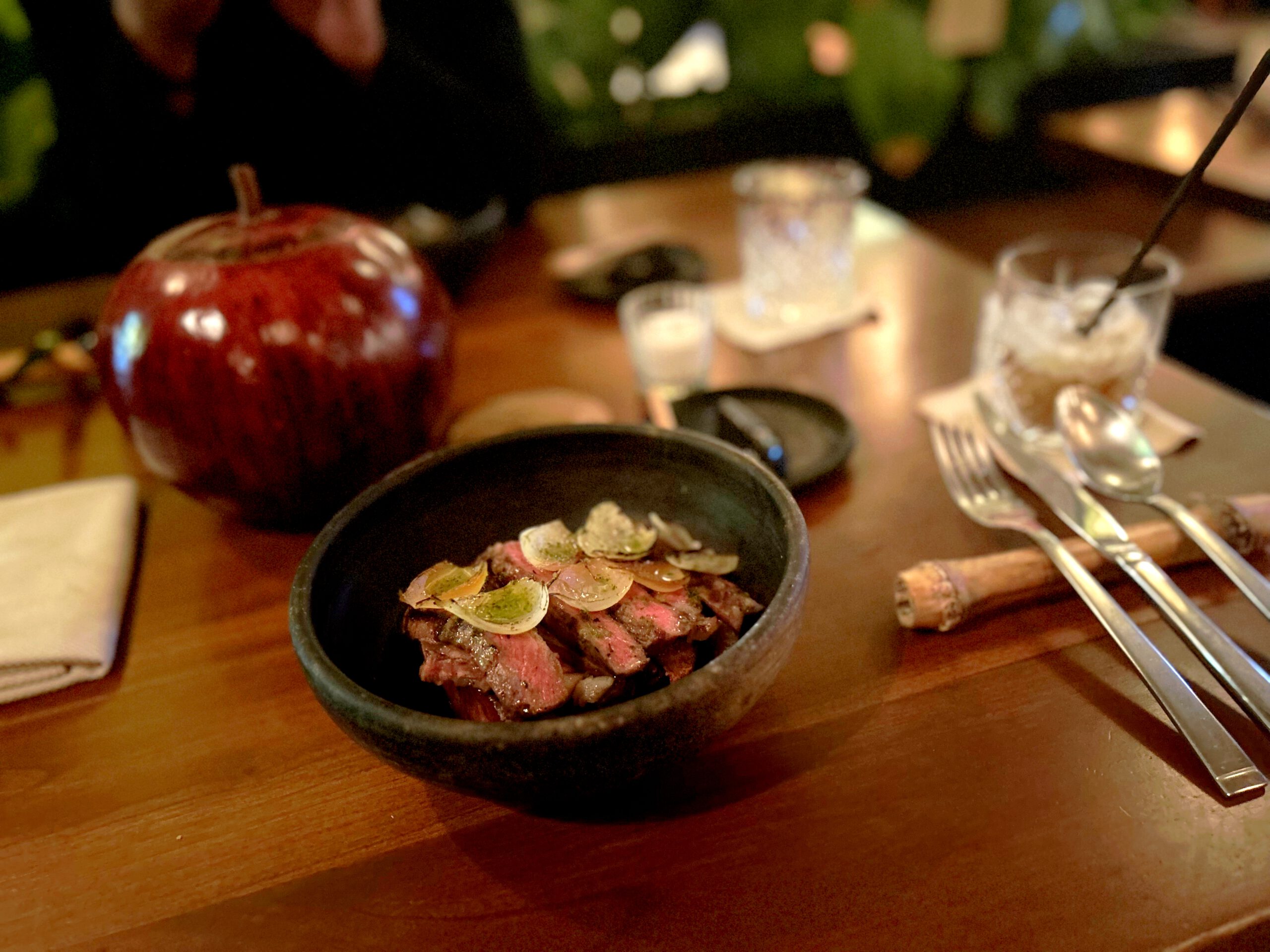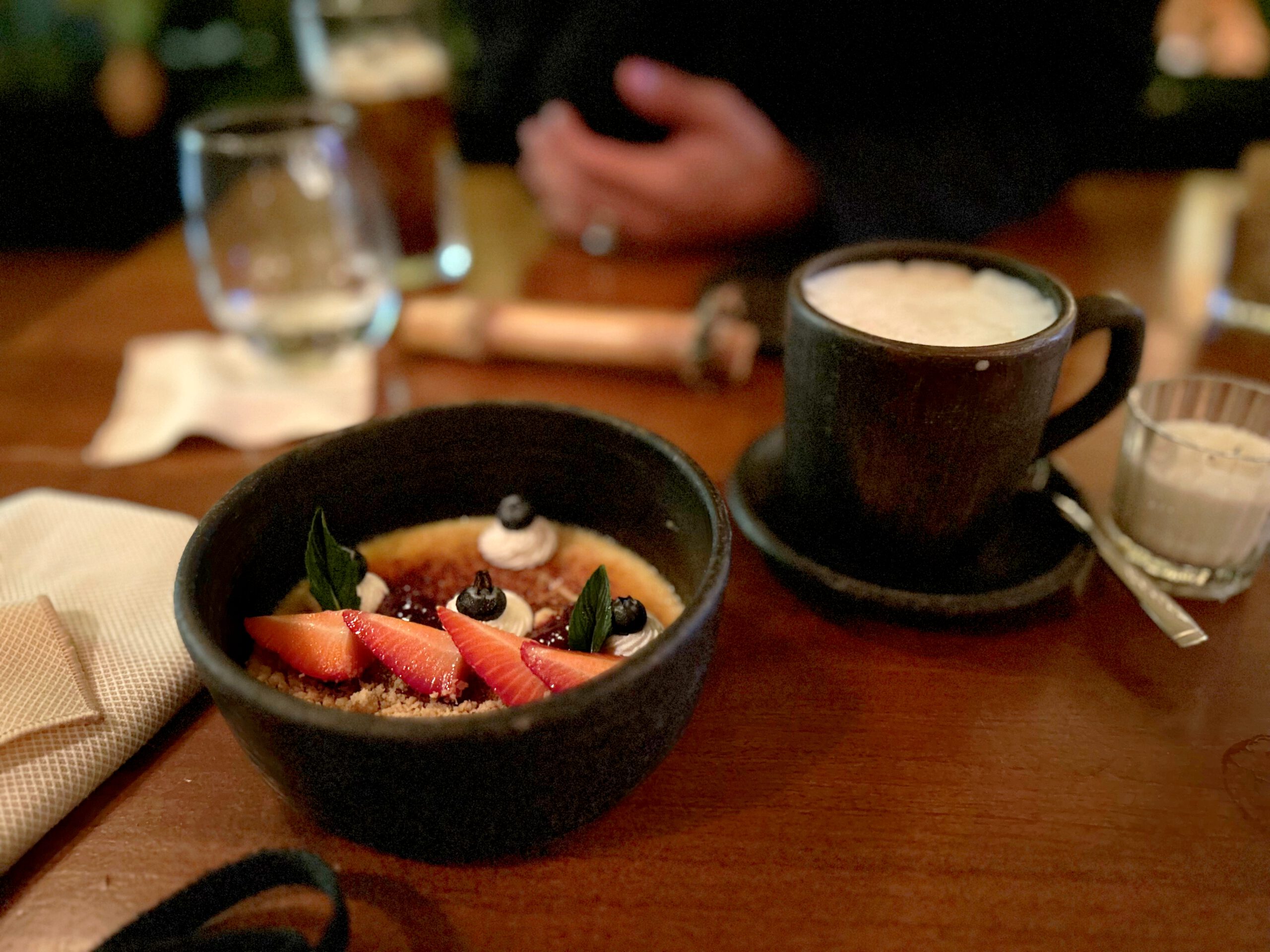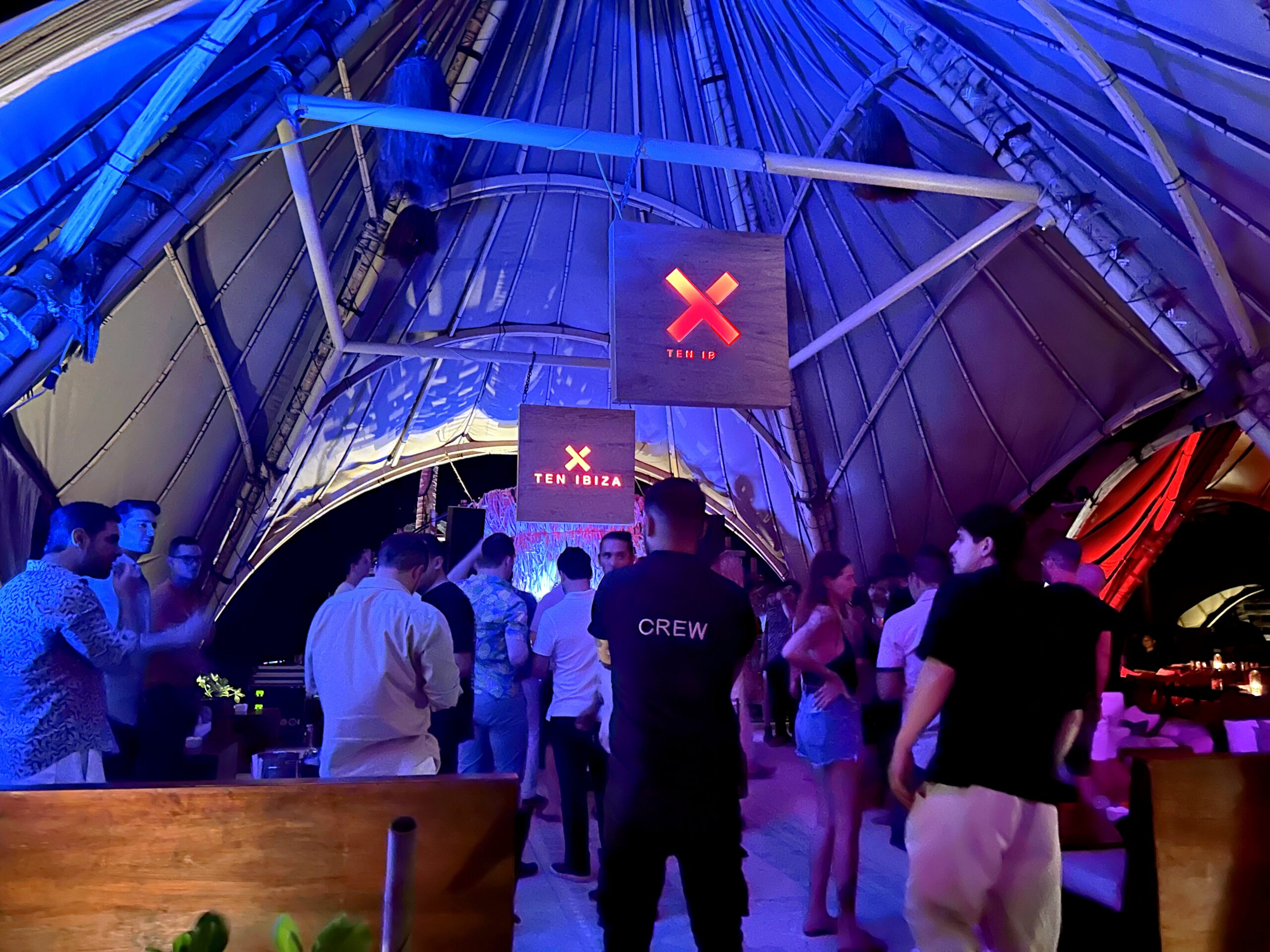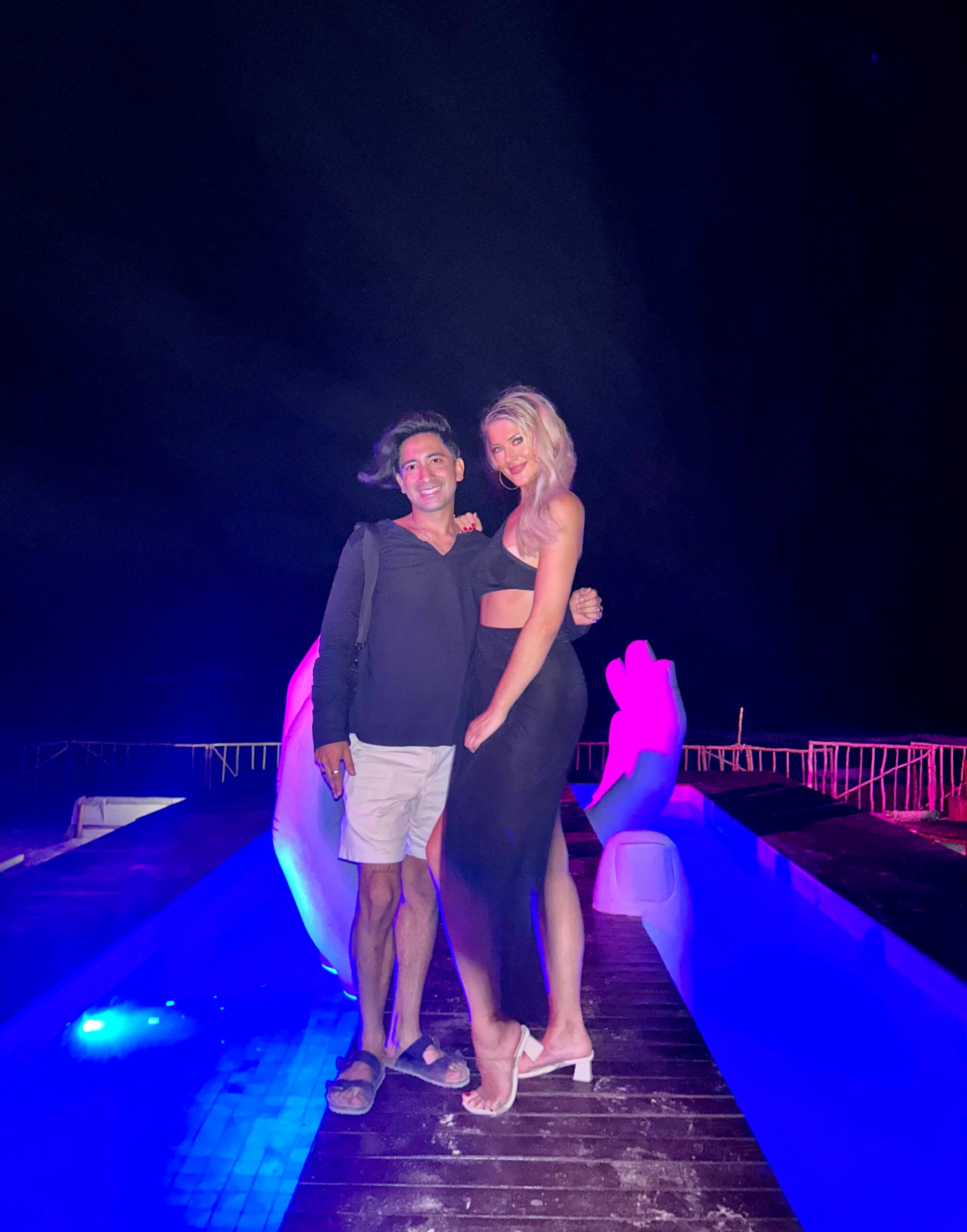 Day 11 – Tulum – 29-04-2023
This morning, my roommate and I agreed to go to
Cenote Corazon
together. I have to say very honestly that some days I was during some short moments, crying with my parents on the phone. I sometimes started to relive and process again my situation of last November, but I wanted to make new beautiful memories in my favorite place in the world, to make this a place of self love and amazing memories again. I think it's important to go out in a gloomy mood, because in the end you genuinely feel better and much more useful! We went here together by collectivo for about 2 euros and swam here for an hour. The price of this was I believe
250 pesos.
After this, I asked my roommate to join me for lunch at
Burrito Amor
as well, a place with delicious burritos, which I also recommended to you as a reader last time.
With the hostel group, we agreed to go out for dinner together and to a rooftop bar afterwards. Although this hostel is relatively small, it is very social and has a great and relaxed atmosphere. It is also very nice that this is not a party hostel, and that you can relax, work and socialize here. I didn't expect it to be so much more social than I already expected. Everyone was incredibly close and felt like a family – moreover, almost everyone stayed the same amount of time and the same days, which is very helpful. We ate at La Negra Tomasa somewhere in downtown, which is very affordable by the way, and then had some drinks at Neek' Rooftop for hours. All this is a few minutes walk from our hostel. It was super fun!
Deze ochtend spraken mijn kamergenote en ik af om samen naar
Cenote Corazon
te gaan. Ik moet heel eerlijk zeggen dat ik sommige dagen nog écht wel huilend met mijn ouders aan de lijn zat omdat ik opnieuw afgelopen November ging herleven en verwerken, maar ik wil nieuwe prachtige herinneringen maken op mijn lievelingsplek in de wereld om dit opnieuw een plek van zelfliefde te maken. Ik vind het belangrijk in een sombere bui er tóch op uit te gaan en uit je eigen weg te gaan, uiteindelijk voel je je oprecht beter en veel nuttiger! We gingen hier samen naar toe per collectivo voor omgerekend zo'n 2 euro en hebben hier een uurtje gezwommen. De prijs hiervan was geloof ik
250 pesos.
Hierna vroeg ik mijn kamergenote om mee te gaan lunchen bij
Burrito Amor
, een plek met heerlijke burrito's, die ik jullie de vorige keer ook aanraadde.
Met de hostelgroep, hadden we afgesproken gezamenlijk uit eten te gaan en naar een rooftop bar daarna. Ondanks dat dit hostel redelijk klein is, is het ontzettend sociaal en hangt hier een geweldige en ontspannen sfeer. Het is ook erg fijn dat dit geen party hostel is, en je hier lekker kan ontspannen, werken en socializen. Ik had niet verwacht dat het véél socialer was dan ik verwachtte. Iedereen was ontzettend hecht en voelt als een familie  – bovendien bleef bijna iedereen even lang en dezelfde dagen, wat enorm meewerkt. We aten bij La Negra Tomasa ergens in downtown, wat overigens erg betaalbaar is, en dronken daarna uren lang wat drankjes bij Neek' Rooftop. Dit alles is enkele minuten lopen vanaf ons hostel. Het was mega gezellig!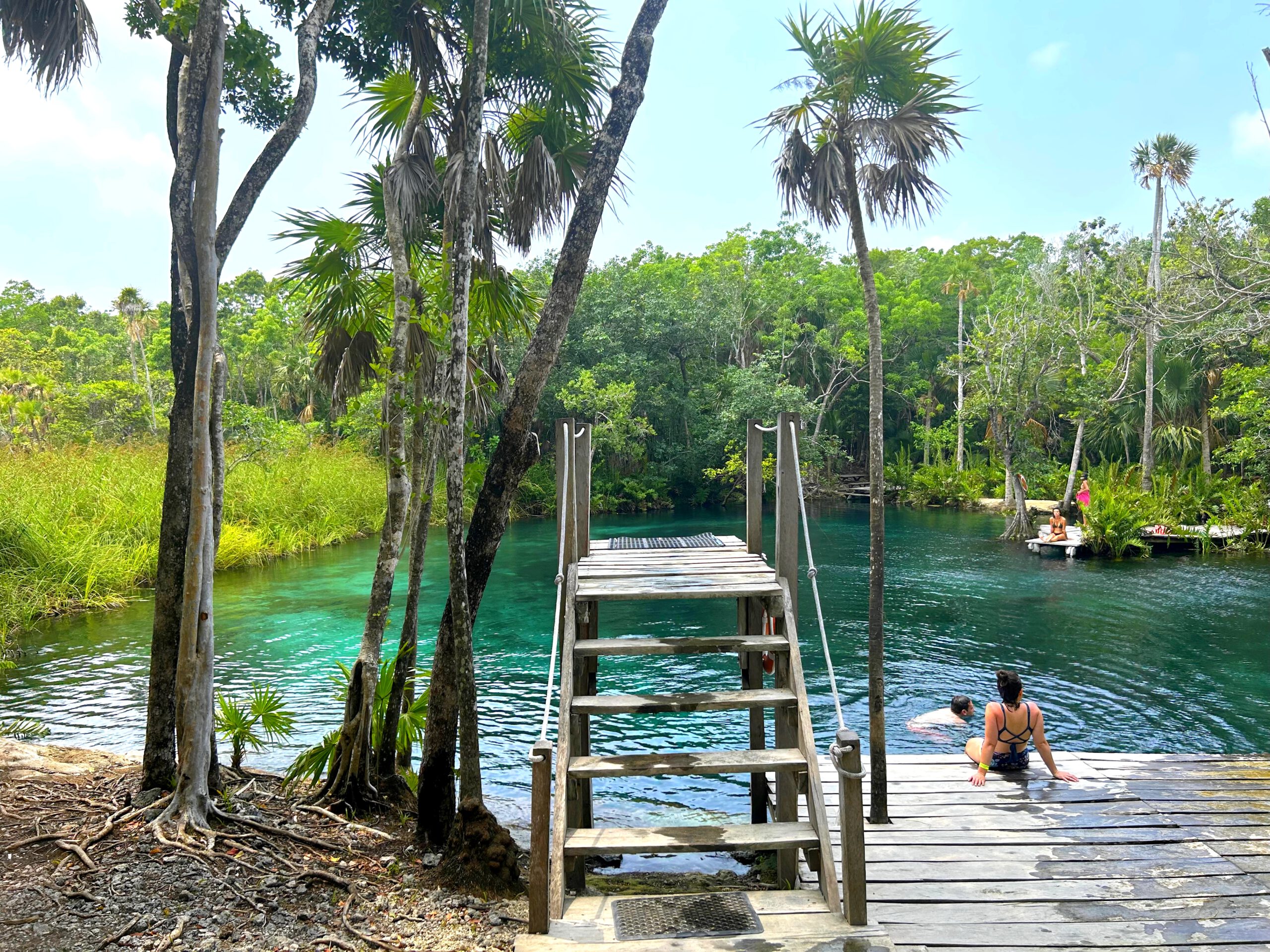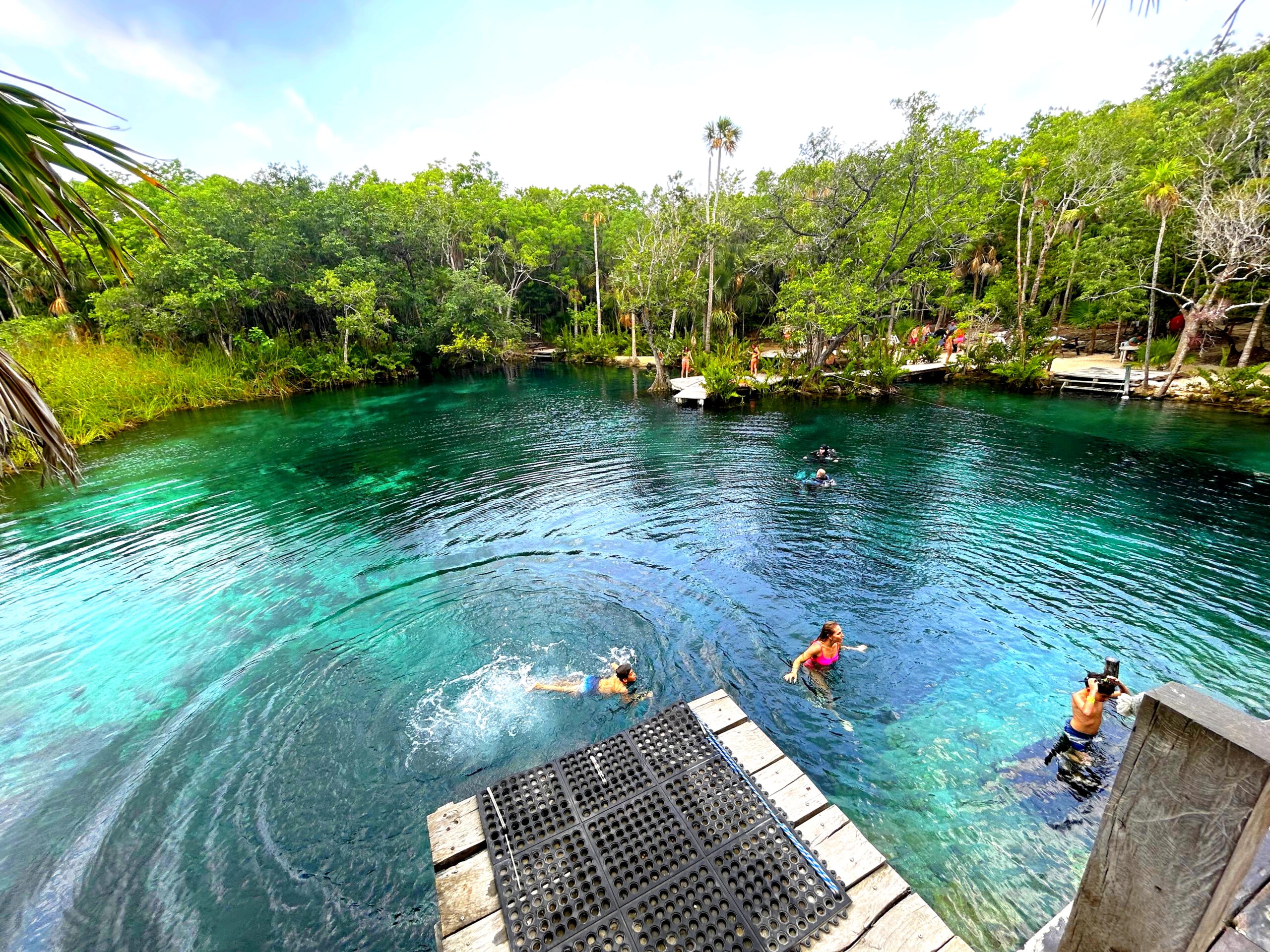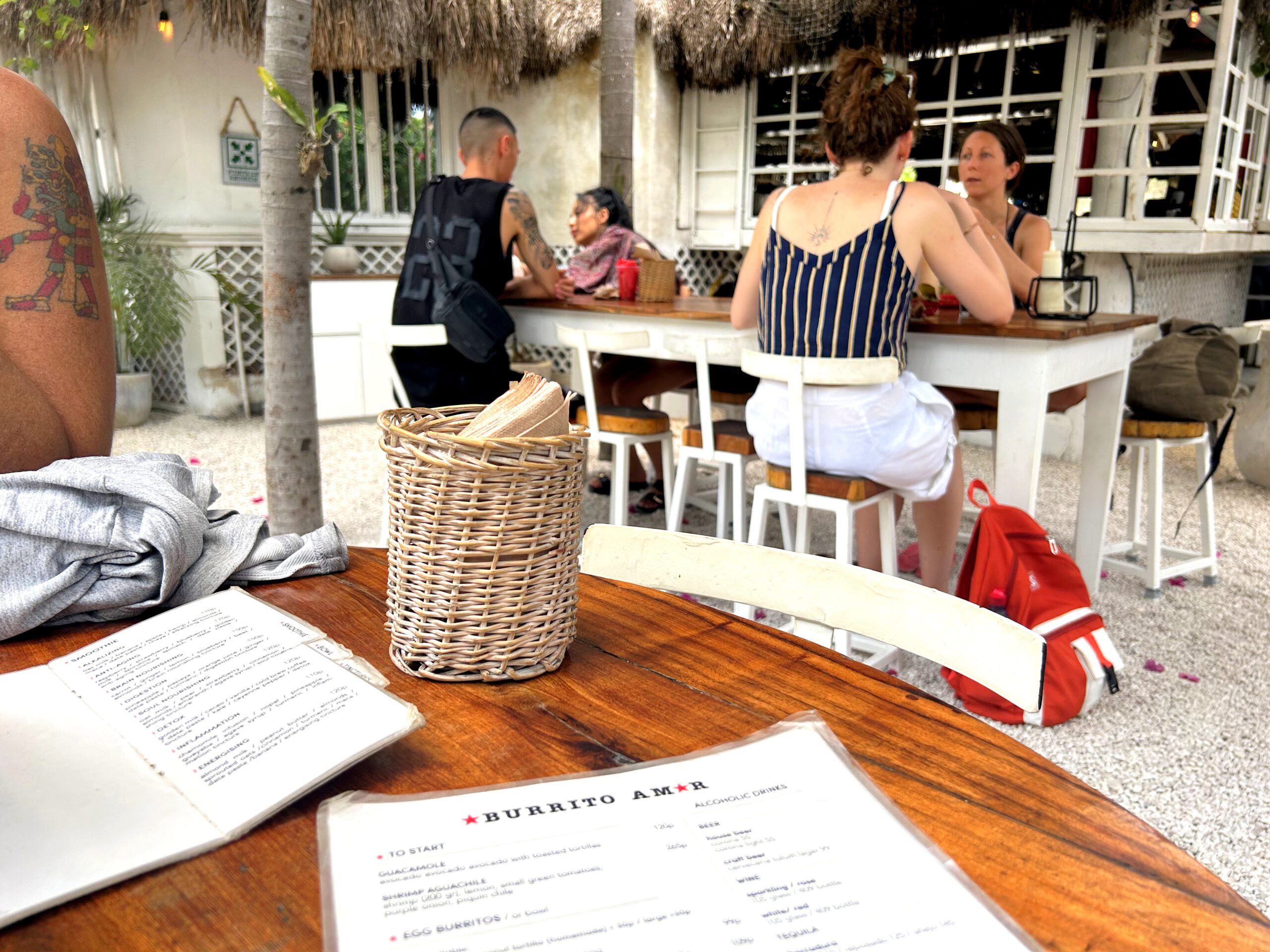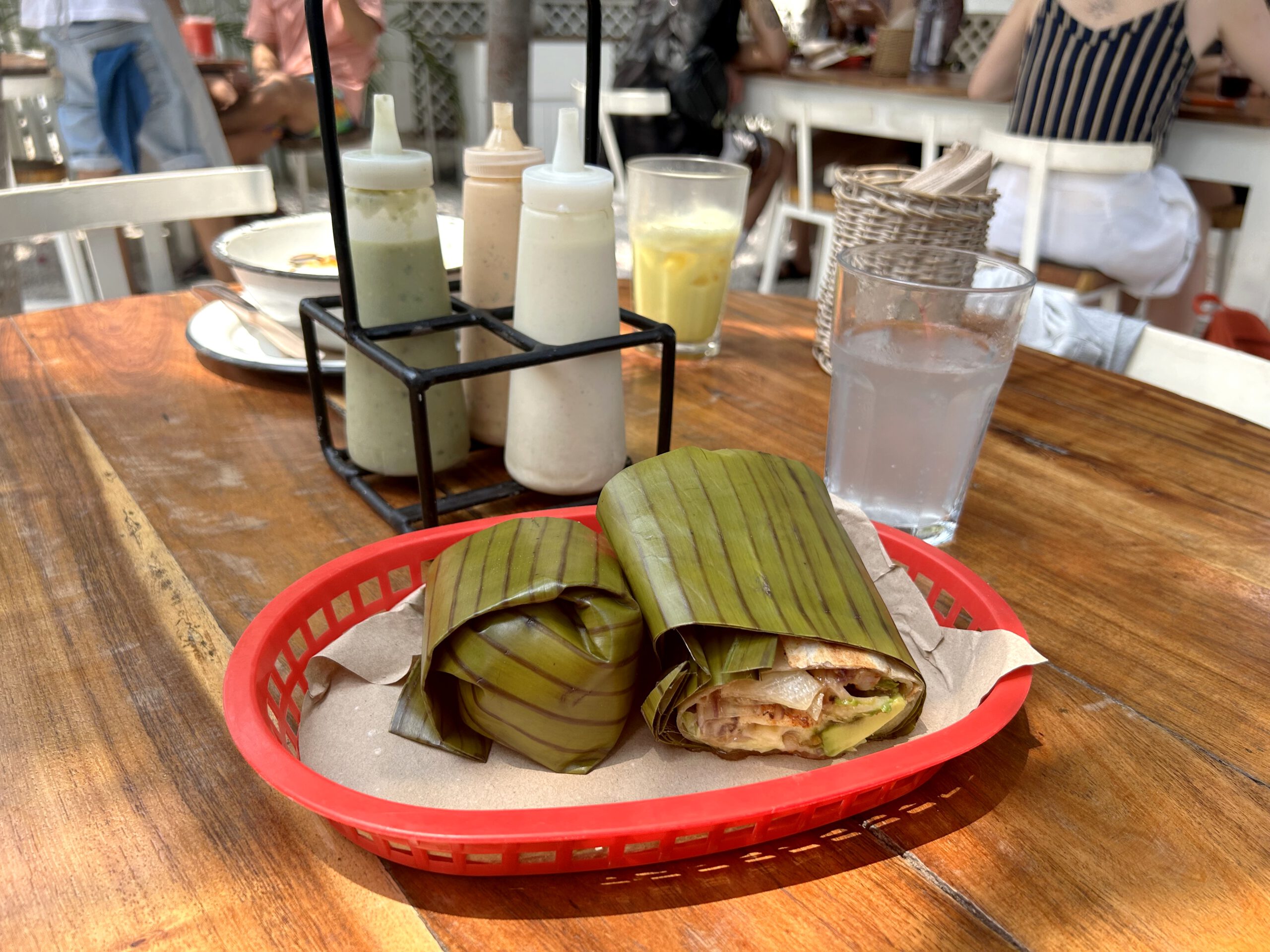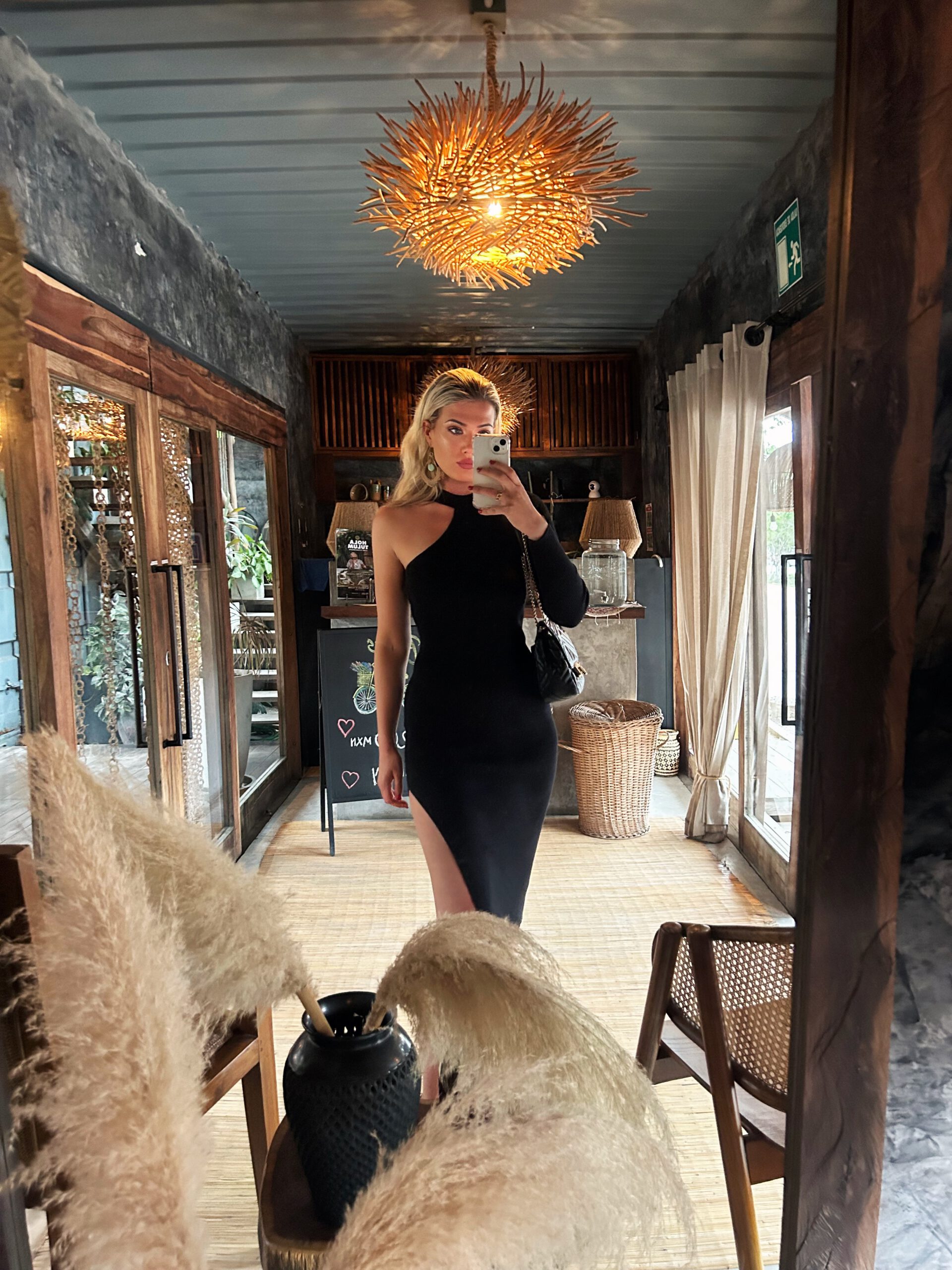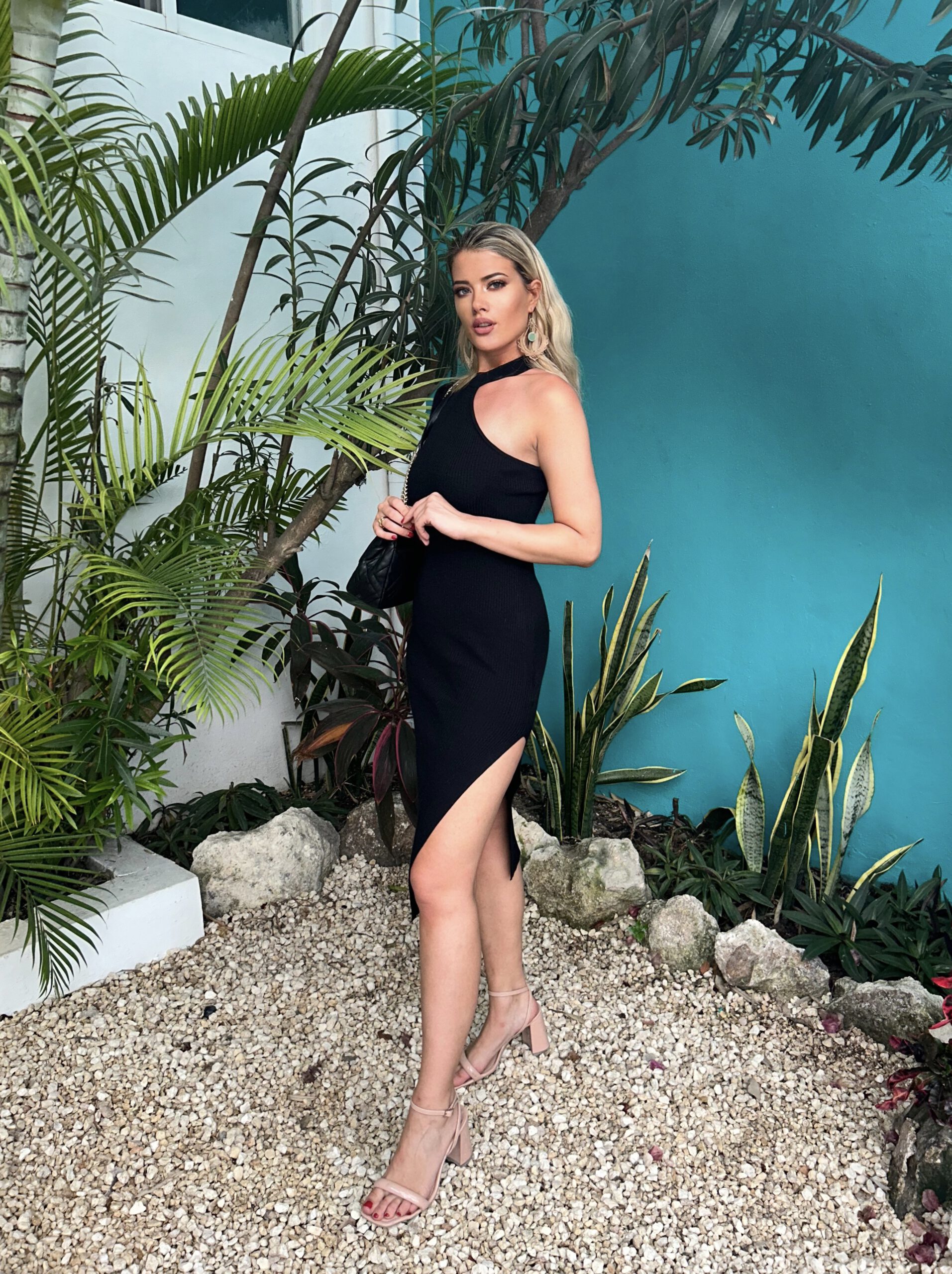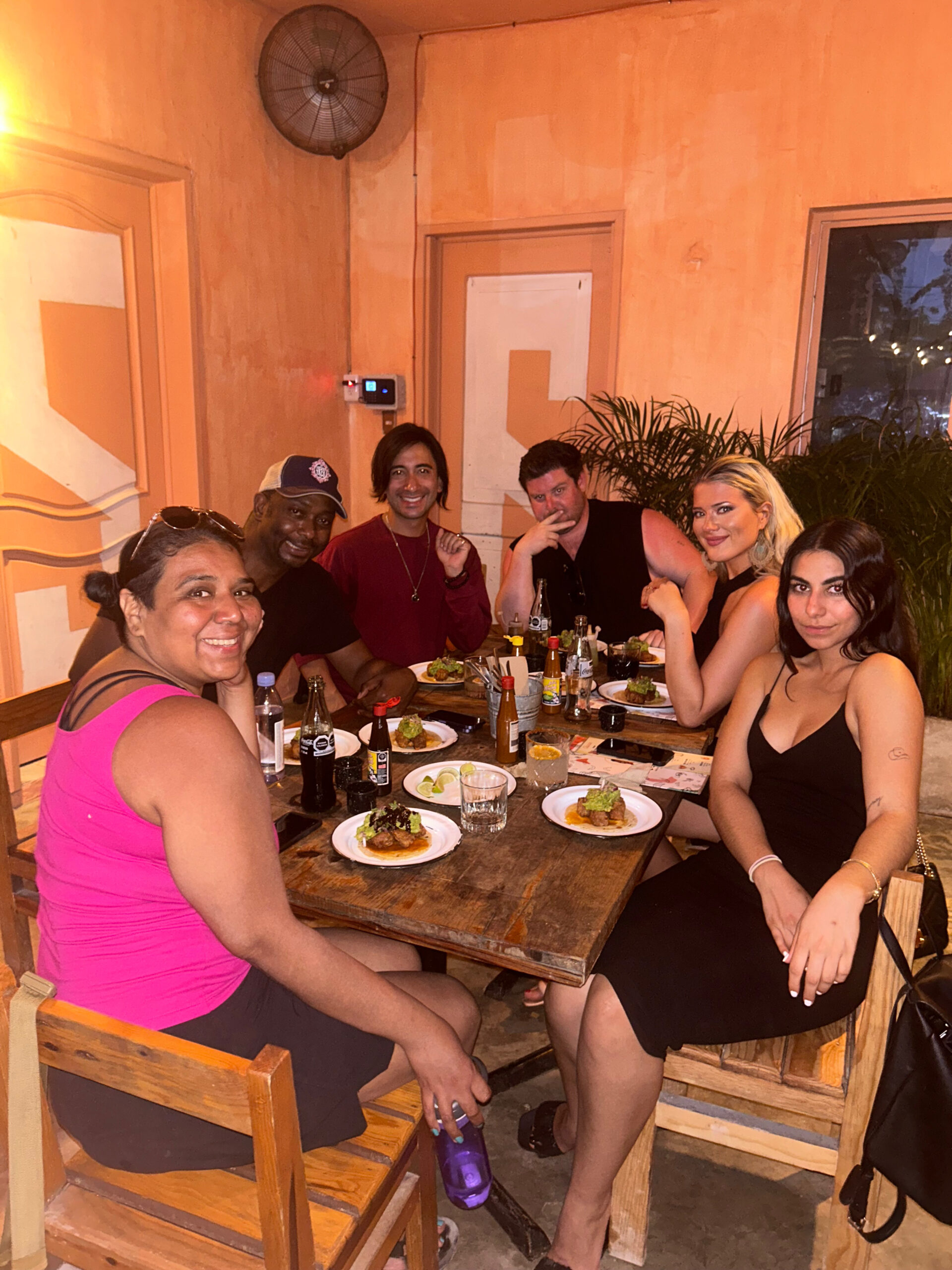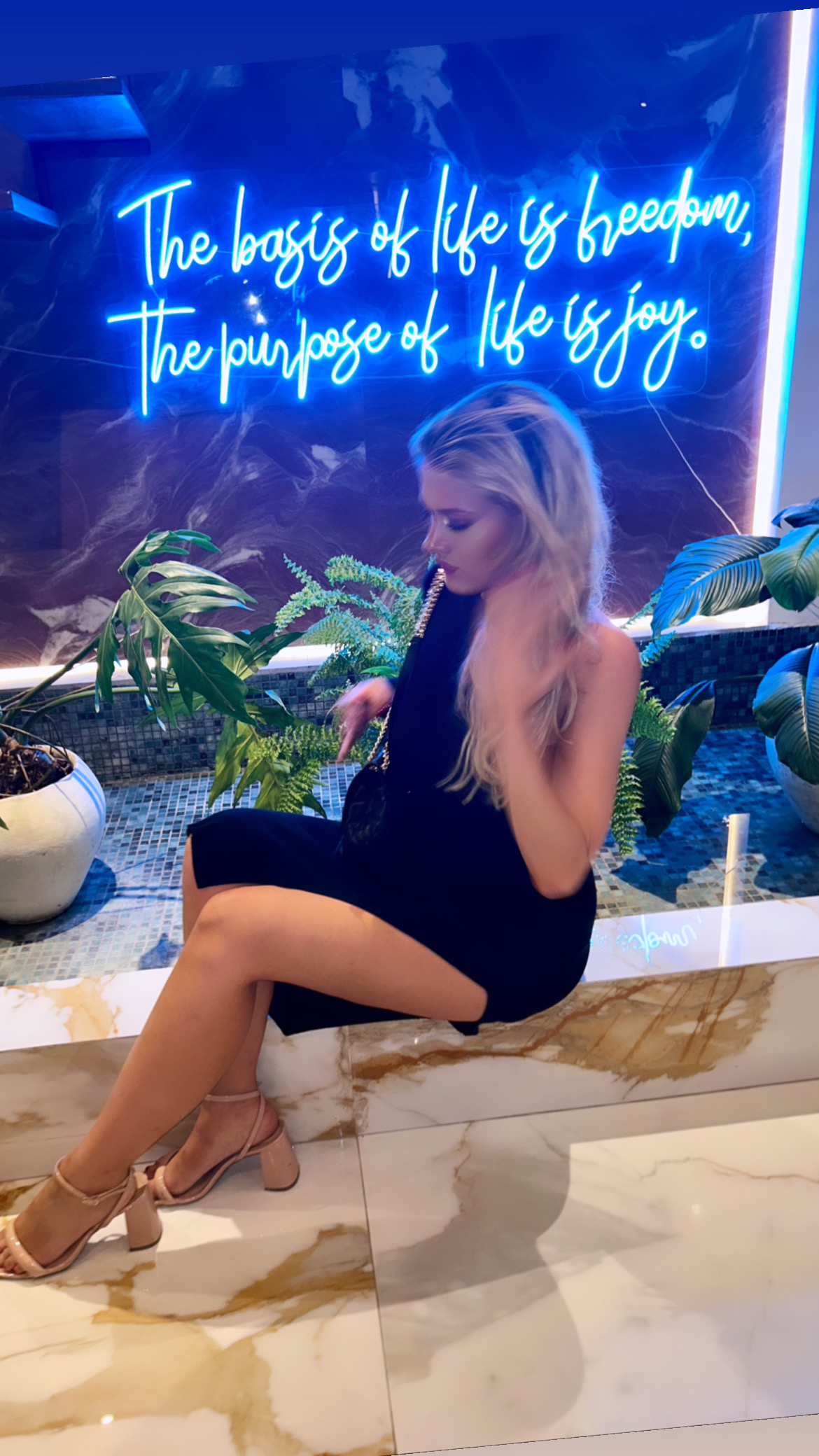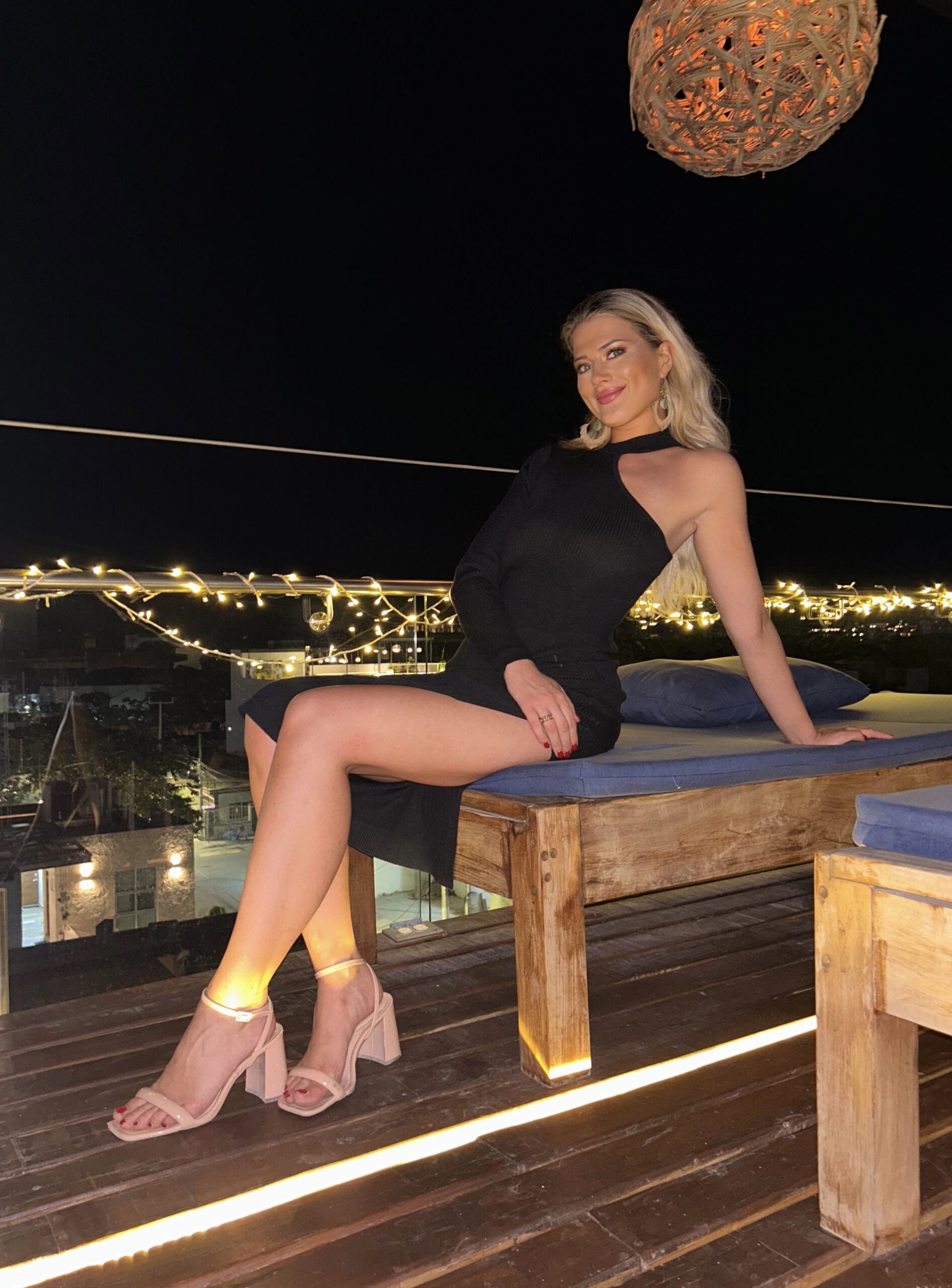 Day 12 – Tulum – 30-04-2023

In the afternoon, after looking for 'if place available/crew' tickets and facetiming with my family, I asked if Ruben and
Brent
would like to cycle to
Pancho Villa
at
Playa Maya –
the cheaper and public beach side of Tulum towards the ruins. I find this a very nice beach club that I've been to often, the prices are great and the boyfriend of a friend of mine from Germany works here. I often came to chat with him I went here today. I ordered my favorite
nachos
here that I definitely recommend, and a nice
margarita.
As a surprise, I face timed her when I saw him. In the meantime, I briefly went to a place on the beach somewhere near, to chat with the friends of my former lover and gave them some of his stuff that I had of him at home, to leave everything in Mexico.
Ruben and I were invited to dinner with Cyni, Leon and Cyni's mother at their apartment in Tulum. It was wonderful and cozy to be at home with dear friends for an evening. Ruben and Cyni cooked together tagliatelle for us with delicious bread from the oven. Evenings at friends' houses where you shop, cook, drink wine, listen to music and have deep conversations together are one of the most beautiful things in life!
In de middag, na ik alvast voor IPB tickets ging zoeken en met mijn familie ging facetimen, vroeg ik of Ruben en
Brent
mee wilde fietsen naar
Pancho Villa
bij
Playa Maya
– de goedkopere en public beach kant van Tulum richting de ruines. Ik vind dit een ontzettend fijne beach club waar ik vaak ben geweest, de prijzen zijn prima én de partner van een vriendin van mij uit Duitsland werkt hier waar ik vaak mee kwam kletsen toen ik hier vandaag heen zou gaan. Ik bestelde hier mijn lievelings
nacho's
die ik je zeker aanbeveel en een lekkere
margarita
. Als verrassing face timede ik haar toen ik hem zag. In de tussentijd ging ik kort iets verderop kletsen met de aardige vrienden van mijn voormalige liefde en gaf ze nog wat spullen van hem die ik thuis had liggen om alles daar achter te laten. Op deze fijne strandplek hebben we met zijn 3en nog wat tijd doorgebracht.
Ruben en ik waren uitgenodigd om bij Cyni, Leon en Cyni's moeder te komen eten in hun appartement in Tulum. Het was heerlijk en knus een avond lekker bij dierbare vrienden thuis te zijn. Ruben en Cyni kookten samen voor ons tagliatelle met lekker brood uit de oven. Avonden bij vrienden thuis waar je gezamenlijk boodschappen doet, kookt, wijn drinks, muziek luistert en diepe gesprekken voert zijn tóch een van de mooiste dingen in het leven!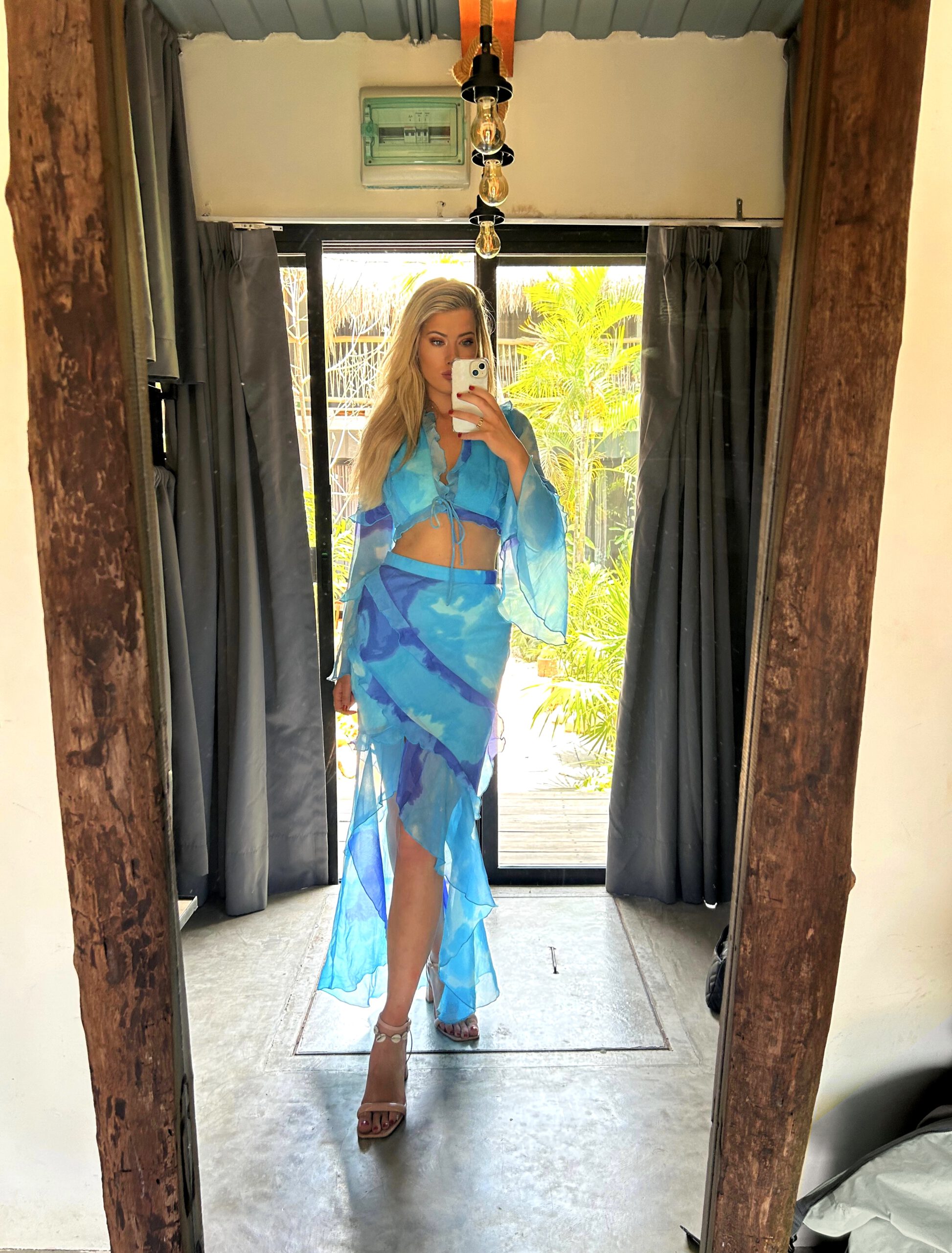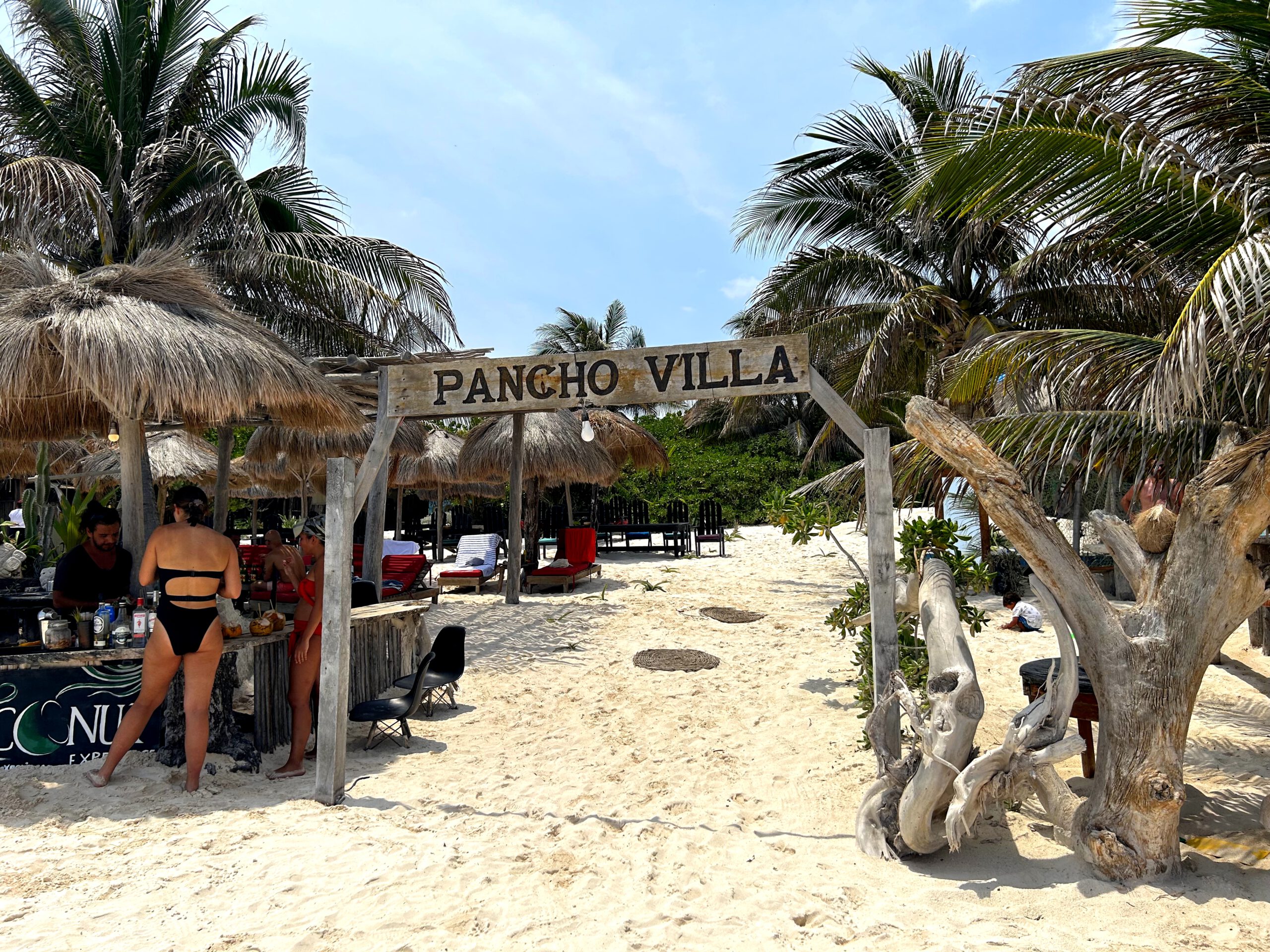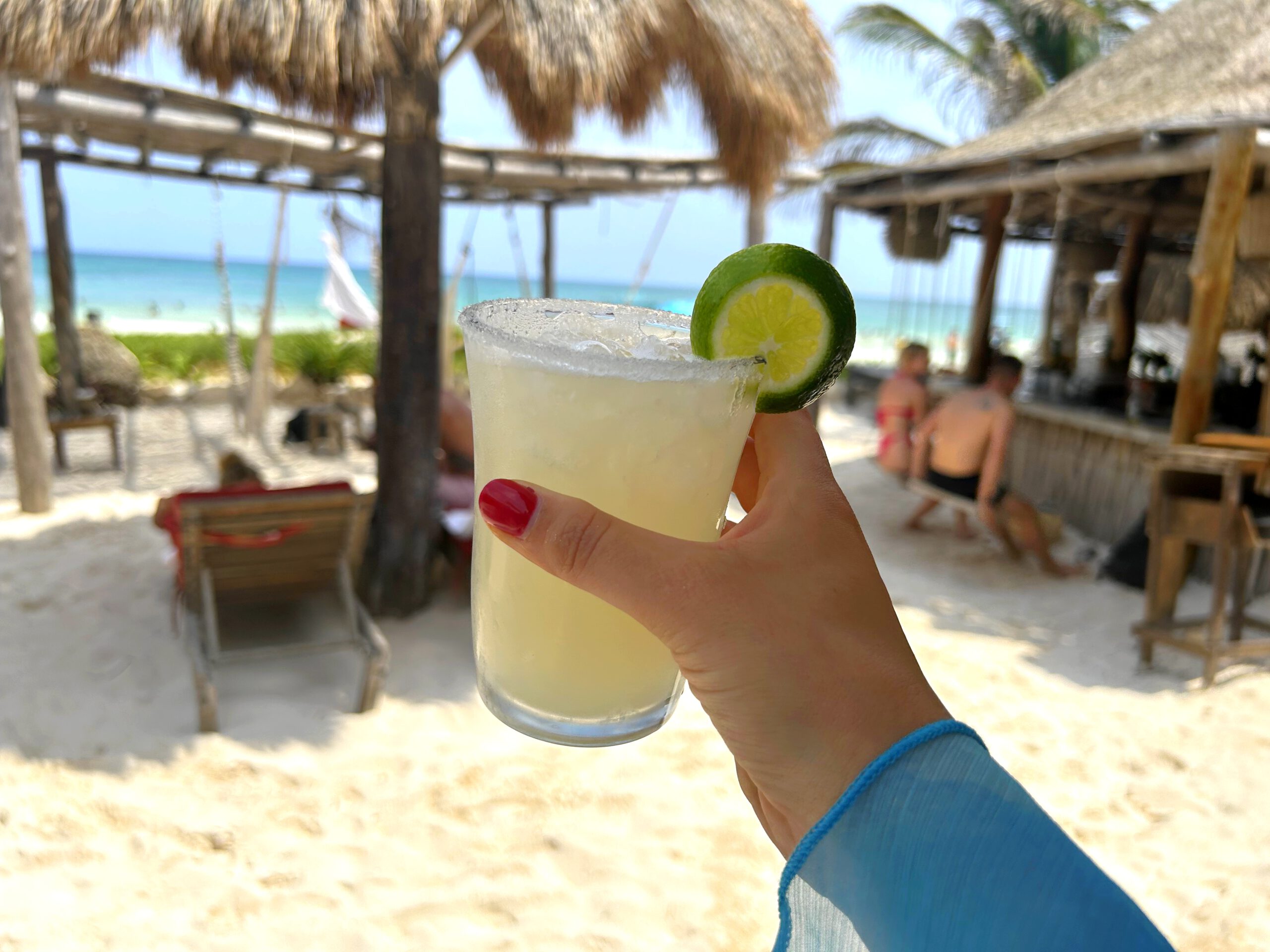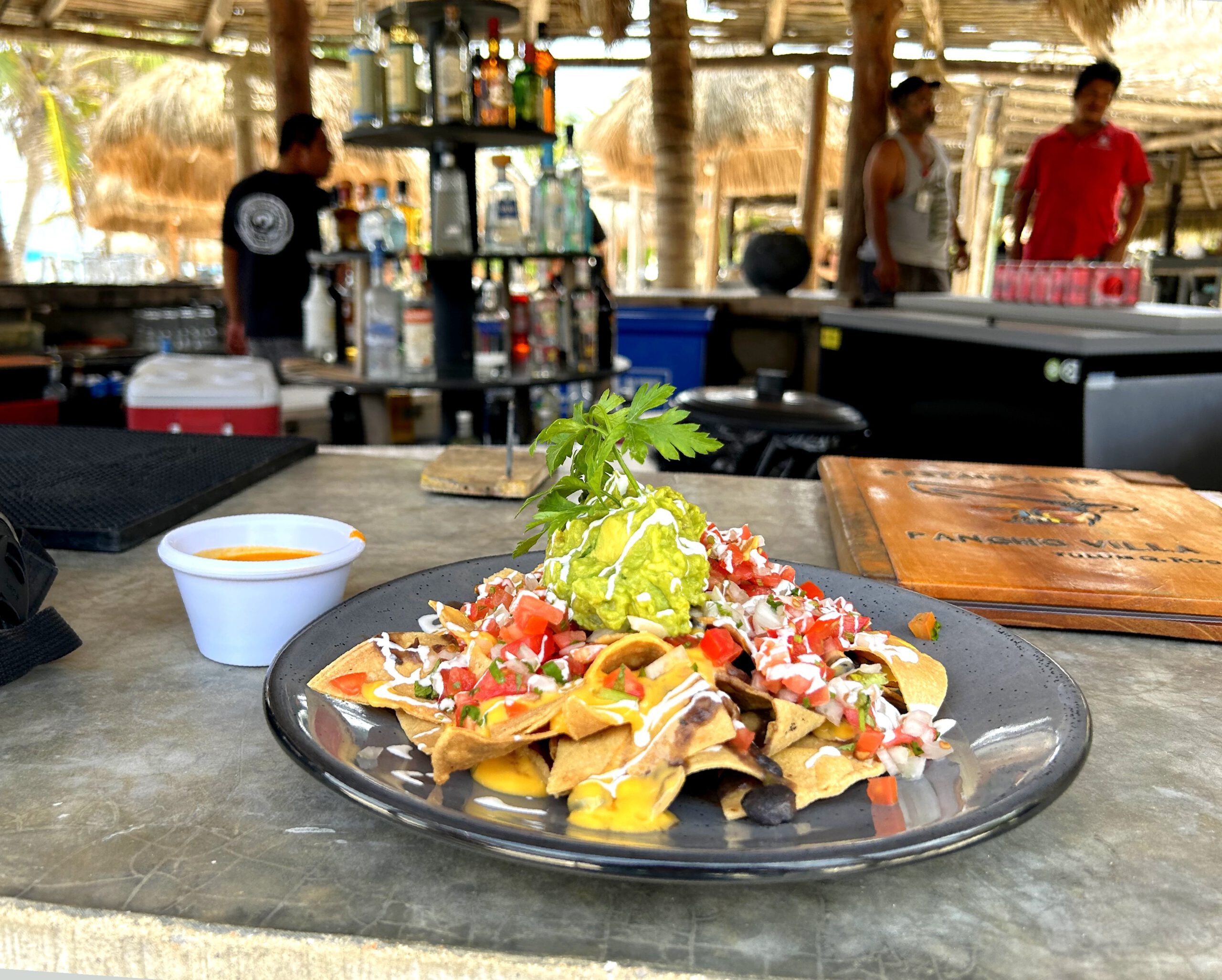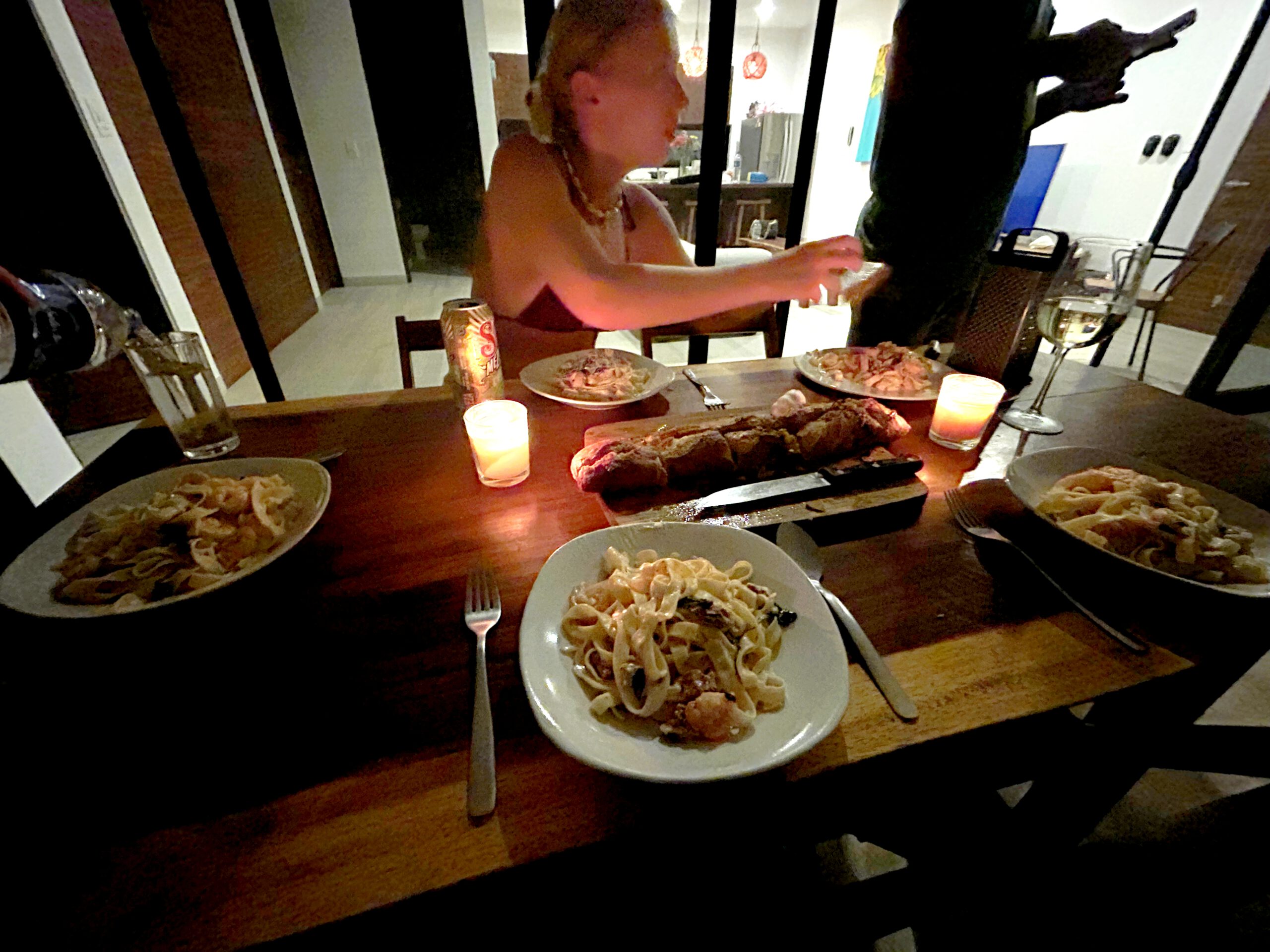 Day 13 – Tulum – 01-05-2023
This morning, I decided to look for crew stand-by flights again. Everything looked pretty full already, so I could see that I would have a hard time getting home with cheap crew tickets. Madrid had been overbooked with 20 people already, and the flight was still at least 48 hours away. Paris did not look hopeful either, and flying via Mexico City was again going to cost me a lot of extra time. Now my best option was to buy a full fare ticket and fly to
Brussels
with
Tui.
From there, I would take the 2 hour train to Den Bosch – my home town in The Netherlands. Because of this, 350 euros of unexpected extra costs (the ticket was 500 euro's), was added on top of the price I thought it would be paying stand-by, which made my trip even more expensive than my almost full month in November/December.. Unfortunately, I decided to accept this and look at it positively, because of this I have one extra full day to spend in Mexico and have no stress at the check-in or gate whether I can come along last minute. Later on, hostel mates Brent, Ruben,
Claude
and I had a nice breakfast at
Raw Love
in Pueblo. The acai bowls and smoothies here are delicious!
From this moment my collaboration with Meteora also started, and I moved from a dorm to a queen bedroom. My enthusiasm about this hostel is also 100% real. The staff is super relaxed and there is a very nice comfortable atmosphere. My compliments to owner Dario that designed this incredible place. Every detail of this hostel has been thought of; from the design, to the rooms, to the shower products, the swimming pool, the furnishing, the construction, the kitchen, the mirrors, the entrance of the hostel, the delicious coffee, and I could go on for a very long list. It is also spotlessly clean and feels very safe. This is honestly one of the most beautiful hostels I've ever stayed in around the world, so I'm very grateful to be able to collaborate with them again later this year. The queen bedroom has a nice double bed, air conditioning and fan, separate bathroom, towels, beach towels and fine bedding. Moreover, from this room you have a view of the beautiful swimming pool on the ground floor. As a solo traveler, it is sometimes wonderful to have your own place! So this is a wonderful ending to my trip for two nights. You can book Meteora through Airbnb, or look it up on instagram @meteora.tulum
In the afternoon, hostel mates Vanna and Brent decided to cycle with us to Cyni and Leon's apartment, to relax at their pool with music. Here we spent a pleasant few hours together. In the evening, we went out for dinner at Il Bacaro with a large group from our hostel and Cyni and Leon. At final, we once again had a drink with some of the group at Neek' rooftop.
Deze ochtend besloot ik opnieuw IPB vluchten te gaan zoeken. Alles zag er behoorlijk vol uit al, dus had ik er hard hoofd in dat ik IPB'end met goedkope crew tickets terug kon komen. Madrid was nu al 20 overboekt, en de vlucht duurde nog zeker 48 uur. Parijs zag er ook niet hoopvol uit, en via Mexico stad vliegen ging me opnieuw erg veel extra tijd kosten. Nu was mijn beste optie om een volwaardig ticket te kopen en naar
Brussel
te vliegen met
Tui.
Vanaf daar zou ik dan de trein nemen naar Den Bosch. Door dit kwam er 350 euro onverwachtse kosten bovenop, wat mijn reis nog duurder maakte dan mijn bijna maand in November/December.. Ik besloot me hier helaas bij neer te leggen en het positief te bekijken, ik heb door deze reden één extra volle dag om in Mexico door te brengen en heb geen stress bij de check-in óf gate of ik last minute wel mee kan. Verder gingen hostelgenootjes Brent, Ruben
, Claude
en ik nog gezellig lekker ontbijten bij
Raw Love
in Pueblo. De acai bowls en smoothies zijn hier heerlijk!
Vanaf dit moment begon ook mijn samenwerking met Meteora, en verplaatste ik van een dorm naar een queen bedroom. Mijn enthousiasme over dit hostel is ook 100% oprecht. Het personeel is super relaxed en er hangt een ontzettend fijne comfortabele sfeer. Mijn complimenten aan eigenaar Dario die deze ongelooflijke plek heeft ontworpen! Aan ieder detail van dit hostel is gedacht; van het design, tot de kamers, tot de douche producten, het zwembad, de inrichting, de bouw, de keuken, de spiegels, de entree van het hostel, de heerlijke koffie, en zo kan ik nog een hele lange lijst doorgaan. Het is verder ook brandschoon en voelt erg veilig. Dit is oprecht een van de aller mooiste hostels waar ik ooit ben gebleven over de hele wereld, dus ben ik ook erg dankbaar met ze te mogen samenwerken en later dit jaar opnieuw. De queen bedroom heeft een fijn twee persoons bed, airco en fan, eigen losse badkamer, handoeken, strandlakens en fijn beddengoed. Bovendien kijk je vanuit deze kamer op het mooie zwembad op de begane grond. Als solo traveller is het ook wel eens heerlijk even je eigen plekje te hebben! Dus is dit een heerlijke afsluiter van mijn reis voor twee nachten. Je kunt Meteora boeken via Airbnb , of opzoeken op instagram @meteora.tulum 
In de middag besloten hostel genootjes Vanna en Brent, met ons mee te fietsen naar Cyni en Leon's appartement, om lekker aan hun zwembad te gaan relaxen met muziek. Hier hebben we nog gezellig enkele uren doorgebracht met zijn allen. In de avond zijn we met een grote groep van ons hostel én Cyni en Leon uit eten geweest bij Il Bacaro. Als afsluiter hebben we opnieuw met enkelen van de groep een drankje gedaan bij Neek' rooftop.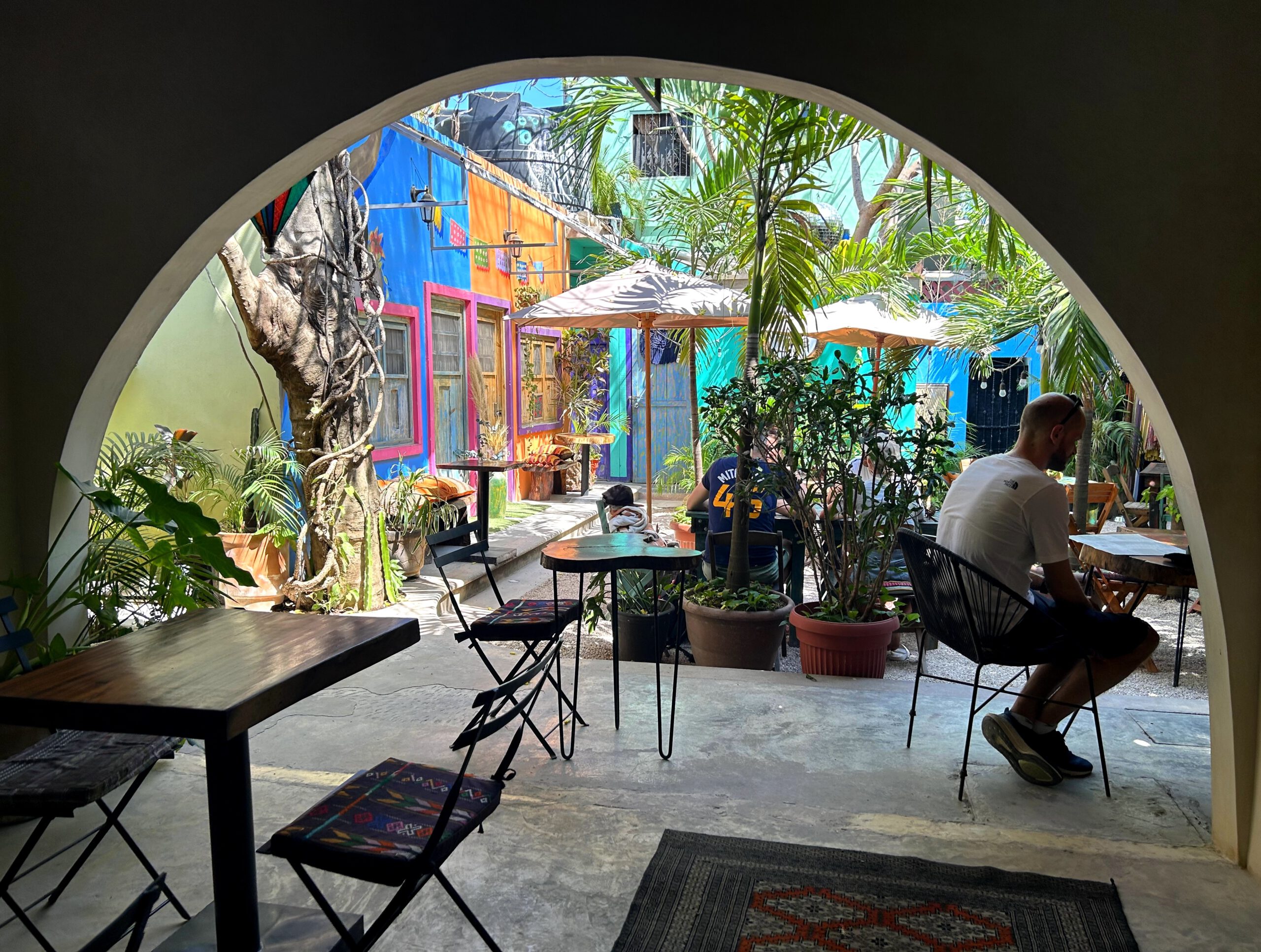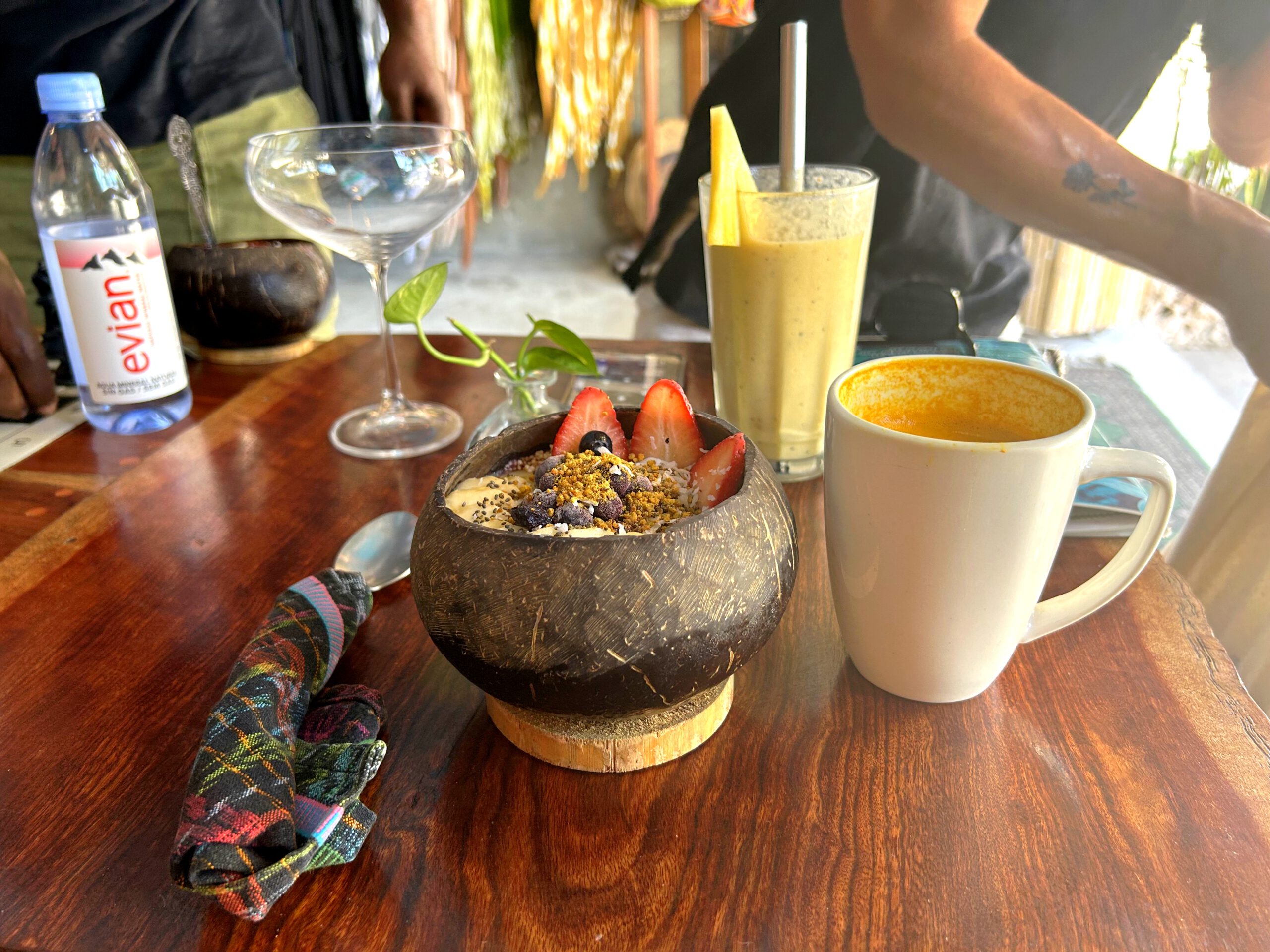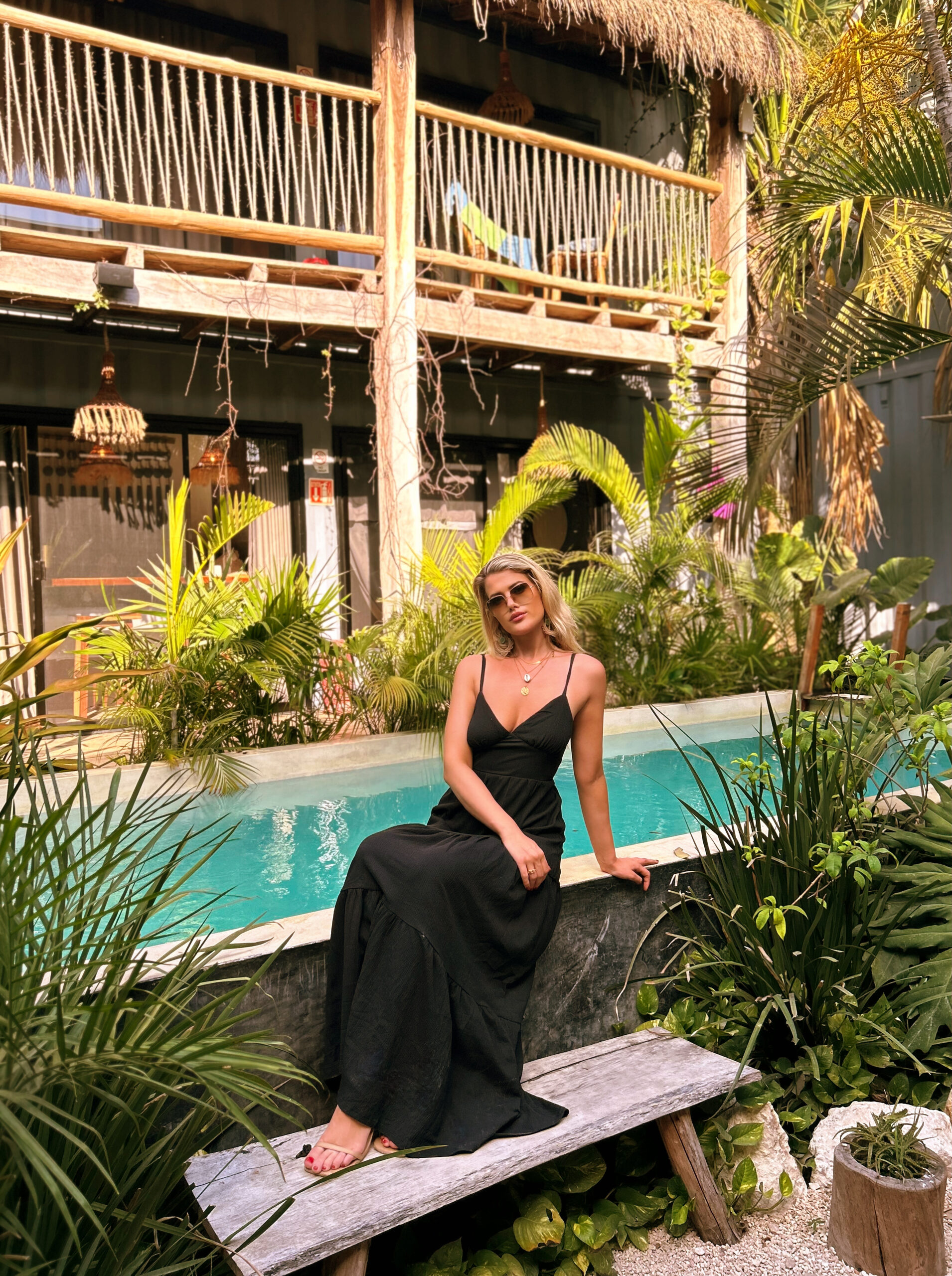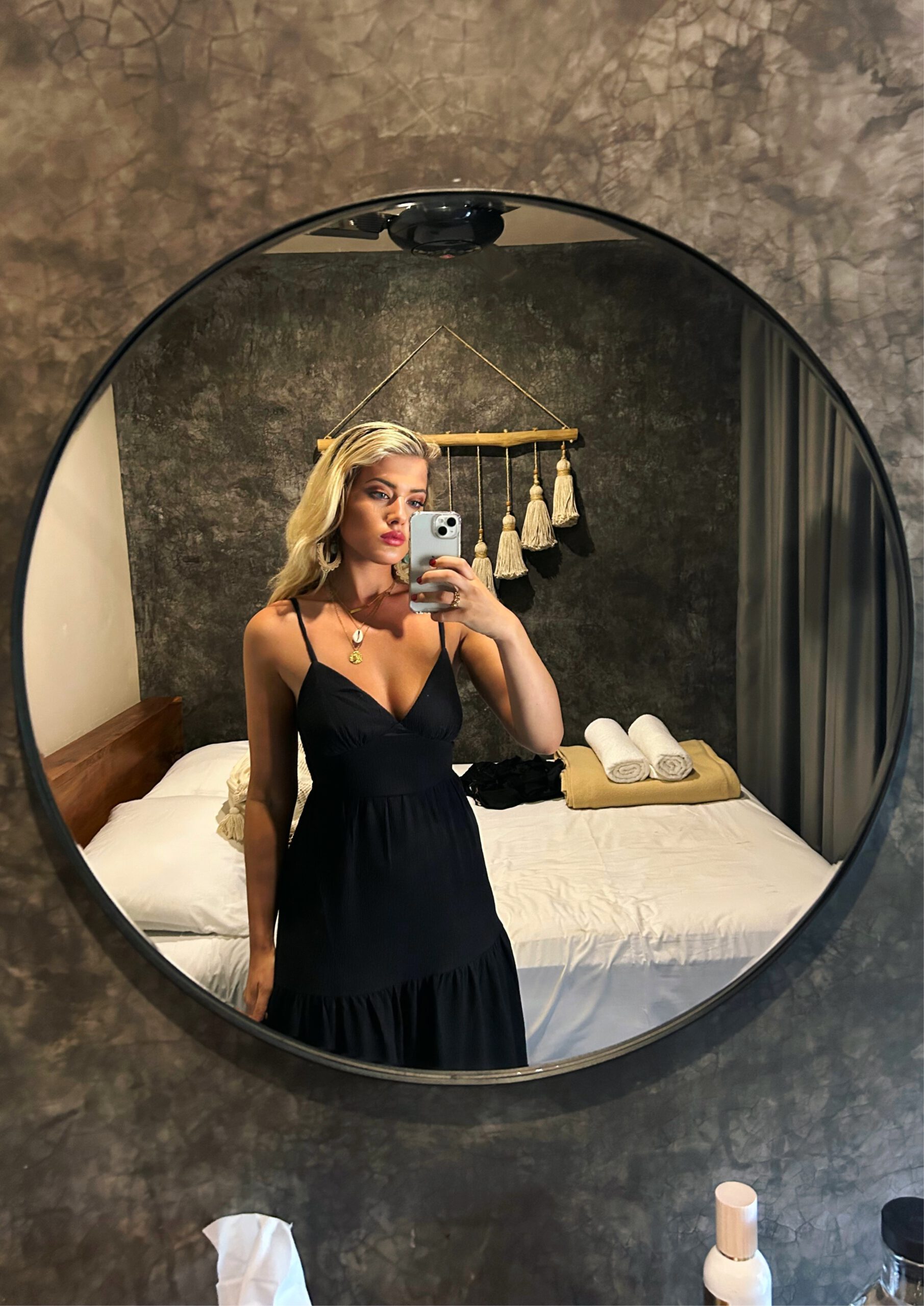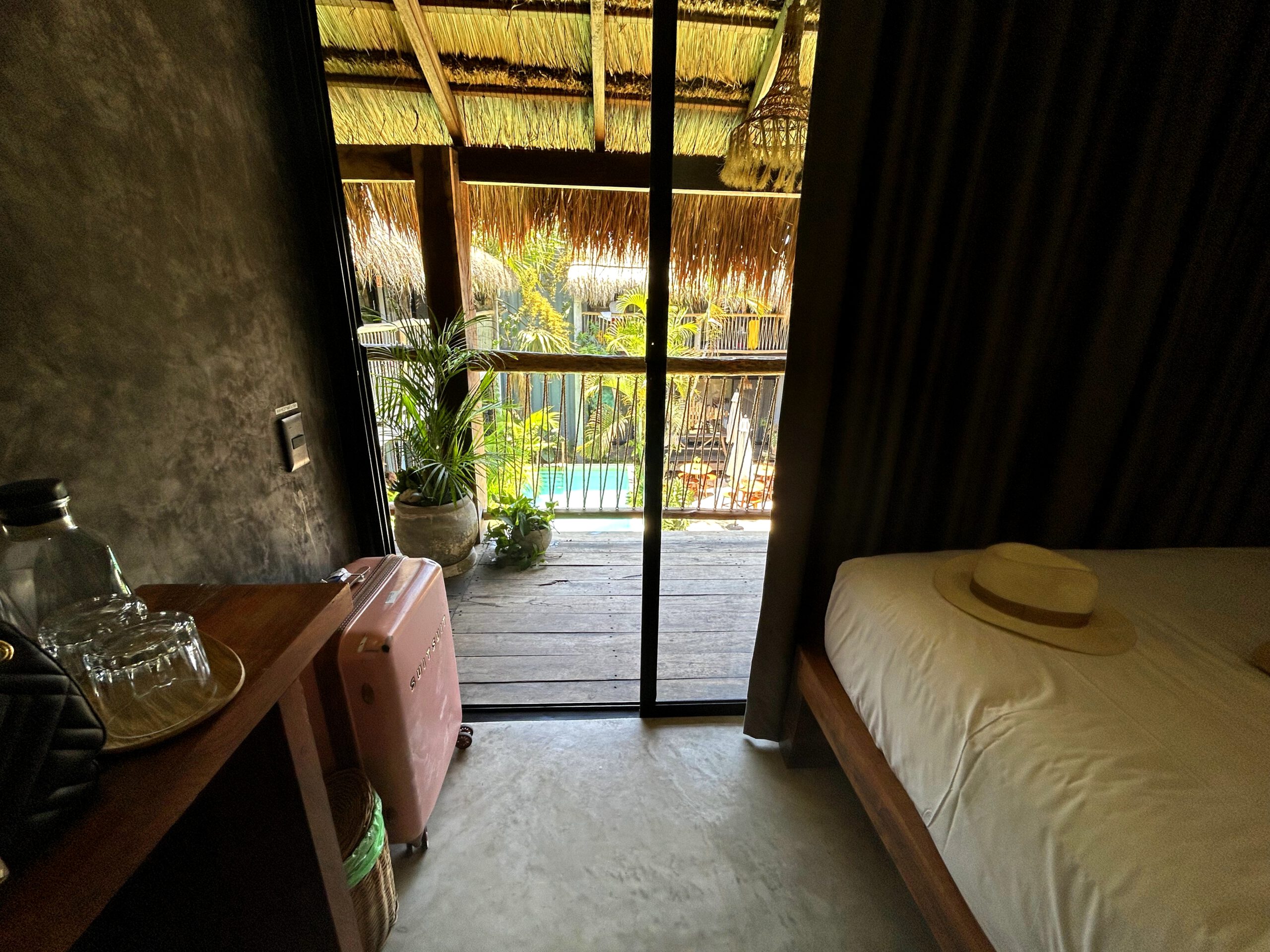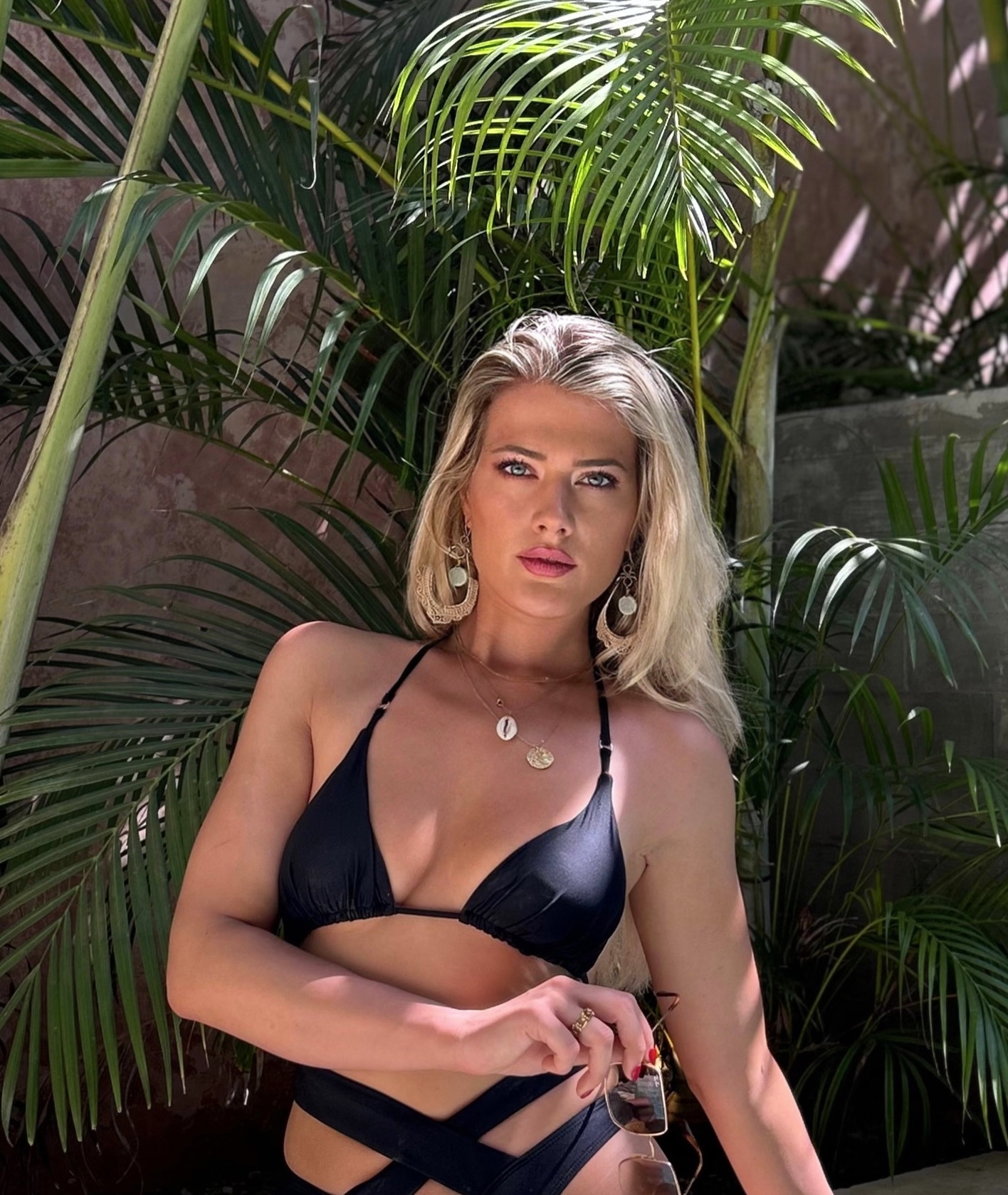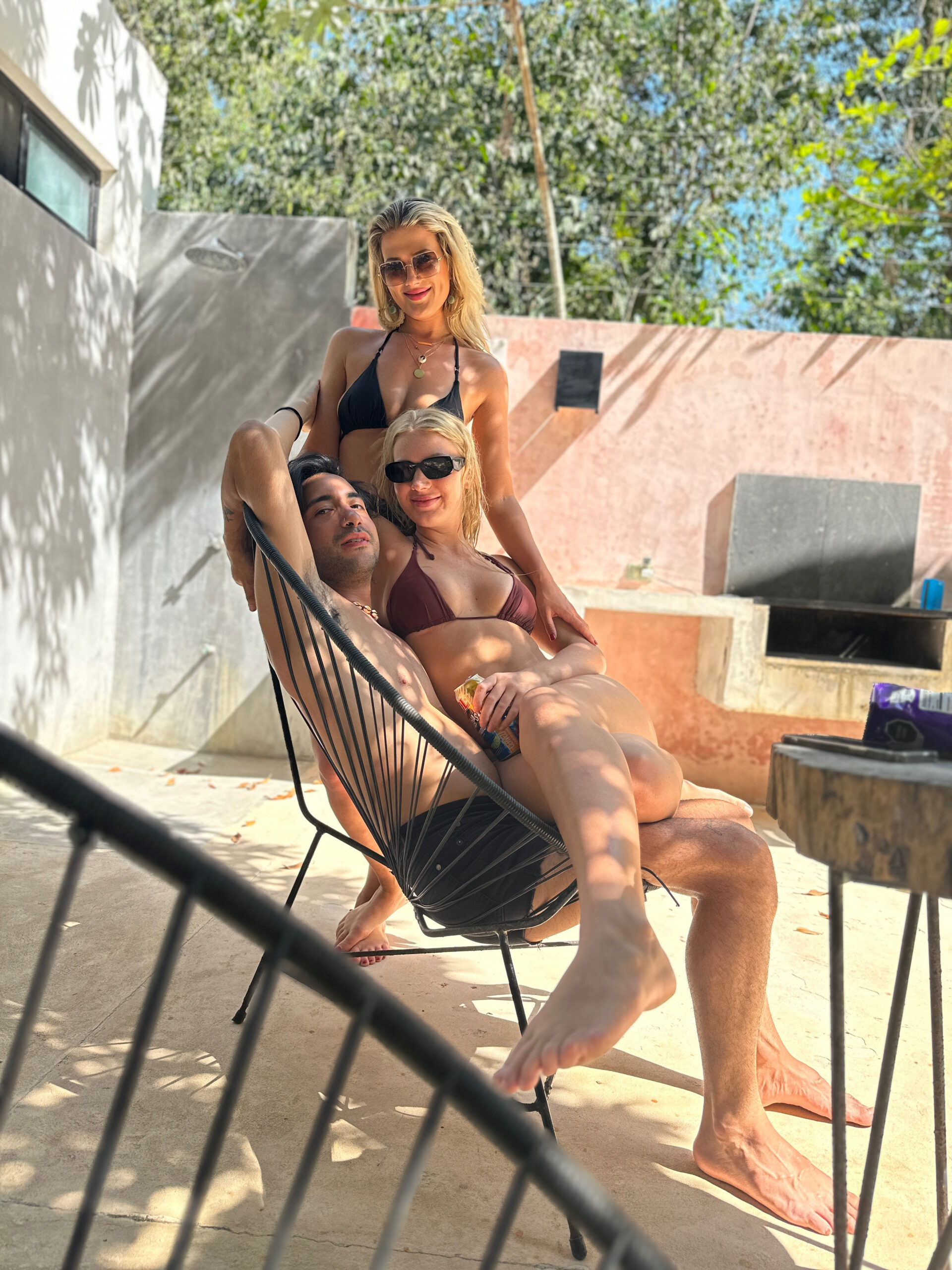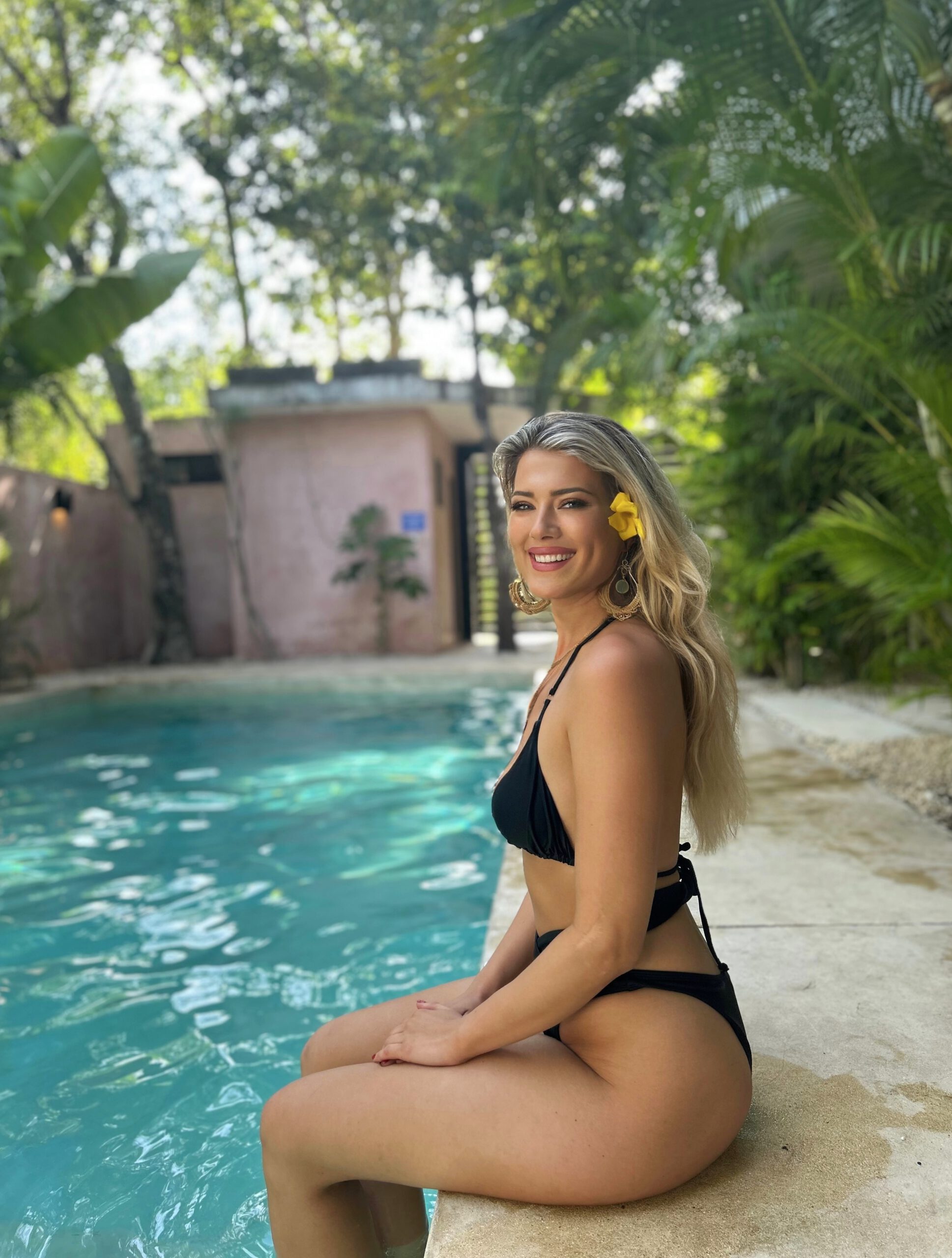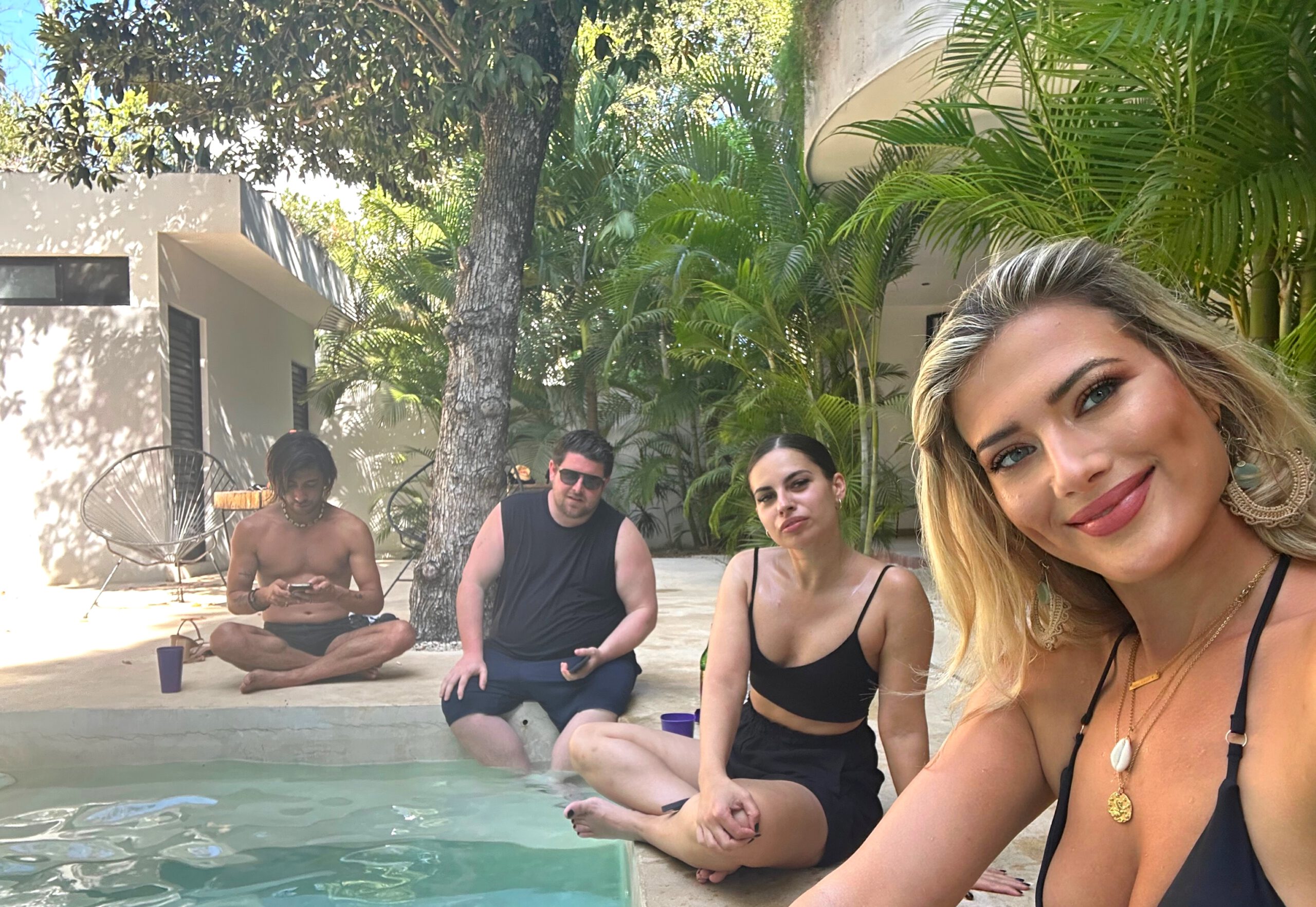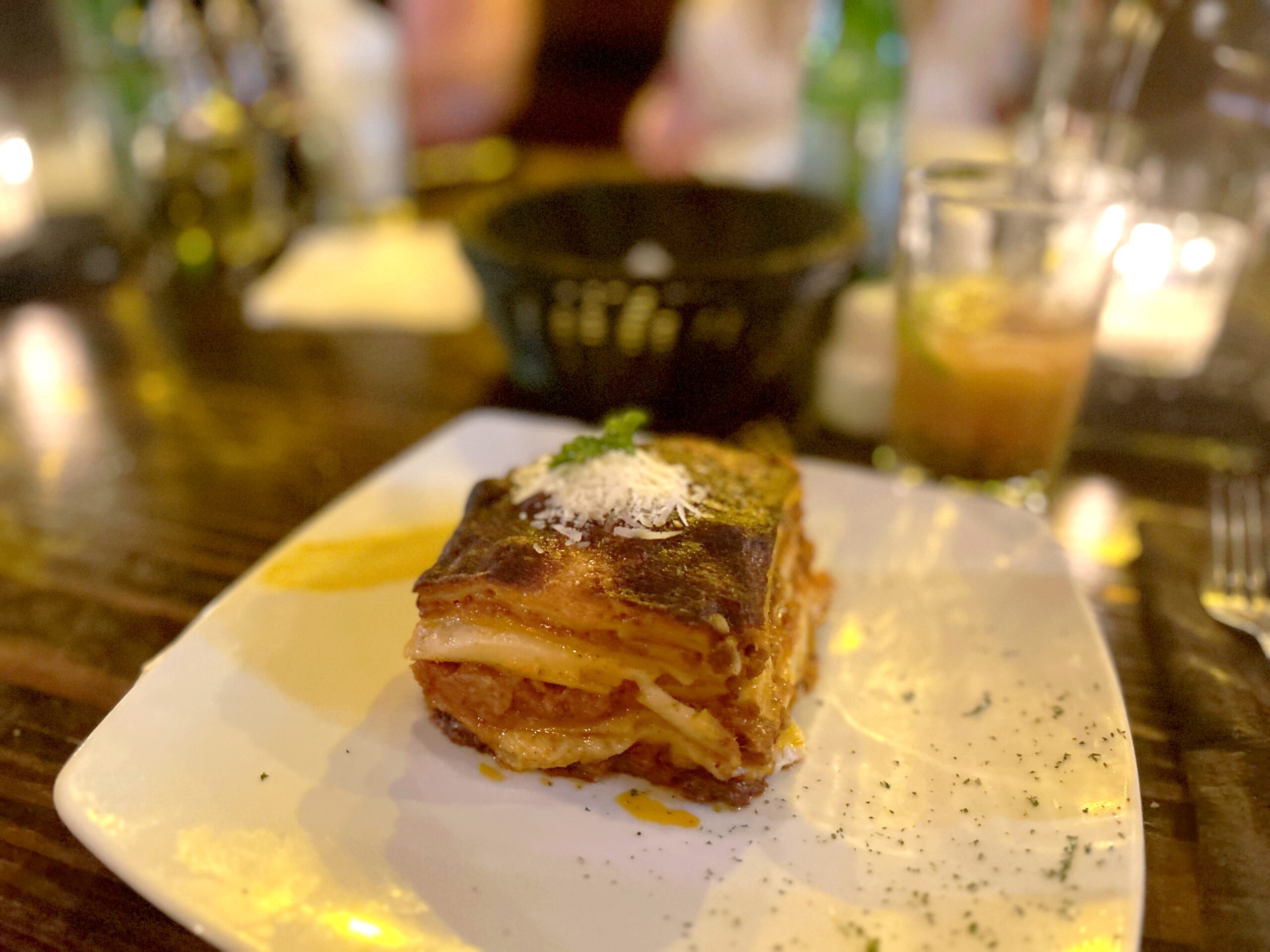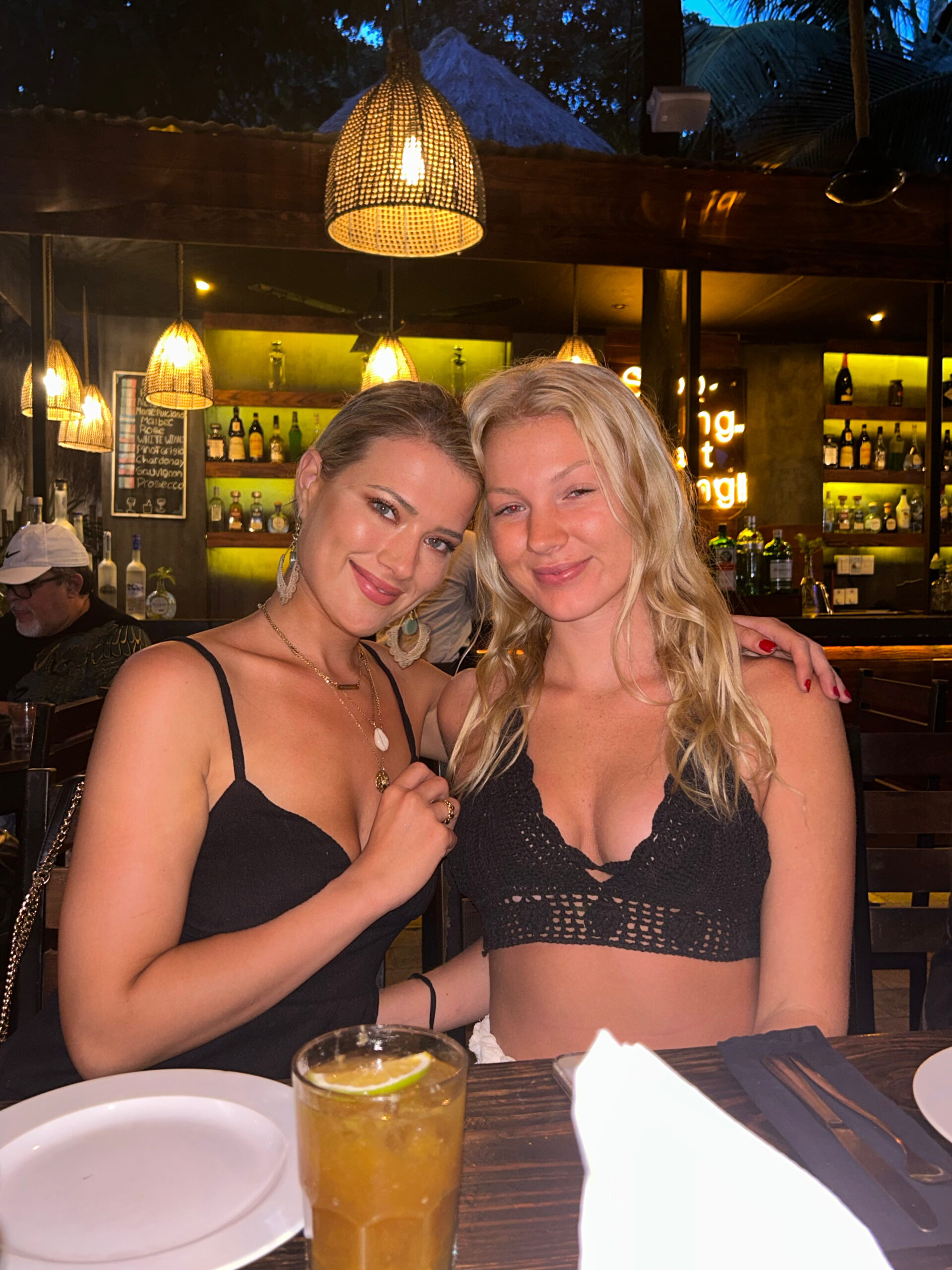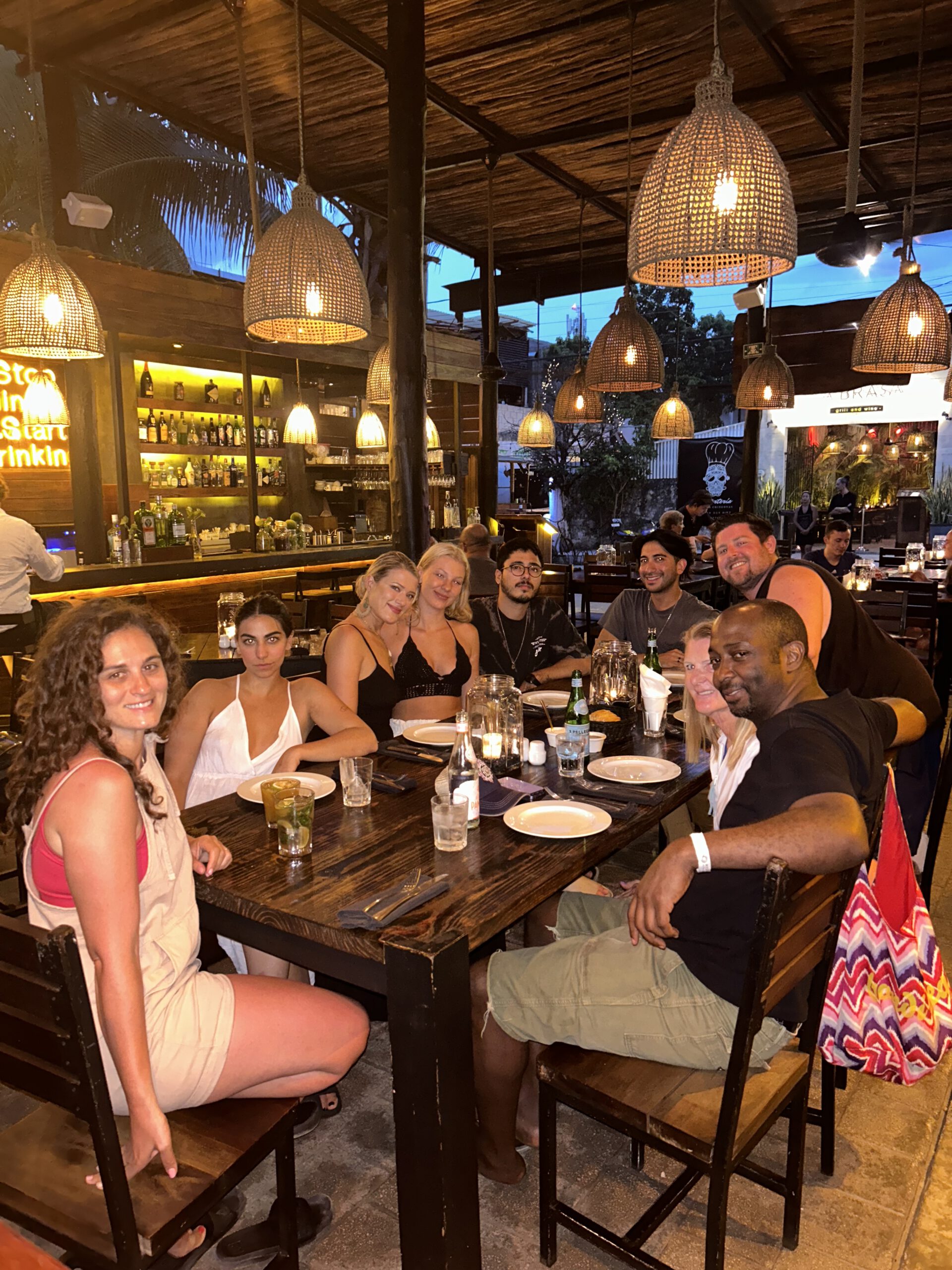 Day 14 – Tulum – 02-05-2023
I had agreed to go to
Cenote Atik
around 11.30 am together with hostel mates Vanna and
Giulia
. Yesterday evening, I had already bought the tickets online for 300 pesos (15 euros) – so it was super nice not to have to do this in cash. We shared the taxi one way for about 250-300 pesos (I don't remember exactly), so converted about 5 euros per person or less per ride. By the way, you don't have mobile data here, so keep that in mind. This cenote has recently opened and is about a 20 minute drive from Tulum Pueblo. I heard about it through other hostel mates, so definitely wanted to go here during my last full day in Tulum.
Because it was early when we arrived, it was still very quiet and we were able to take plenty of pictures. I also have to tell you that this is the most beautiful cenote I have visited in Riviera Maya! So definitely go here! The 3 of us have been here for about an hour and a half, and then took the taxi back to the hostel. Because it is quite 'off grid', we had fortunately already agreed this in advance with the taxi driver.
In between, Claude, Giulia and I bought our bus tickets at the ADO bus station, because the online system was down. To pass the time, we bought another smoothie at Raw Love. I had the signature acai smoothie – and this is the best smoothie I've ever had. From the hostel we cycled to Pancho Villa again and spended time there with a group of 6 including me from our hostelgroup. It was wonderful to have spent some more time here!
In the evening, I was invited as a collaboration to eat free of charge at Eleana Tulum. Eleana is a Mediterranean style restaurant run by the same owner as Marem. I was allowed to bring a +1, so brought my good friend Ruben again. Here I had a delicious Greek salad as a starter, red wine in between, a salmon with mushroom sauce as a main and cheesecake for dessert. This restaurant is also highly recommended. You can find them on instagram @eleanatulum
Ik had afgesproken om rond half 11 naar
Cenote Atik
te gaan samen met hostelgenotes Vanna en
Giulia.
Gisteren avond had ik hier voor de tickets online gekocht voor
300 pesos (15 euro)–
dus het was super fijn dit niet in cash te hoeven doen. We deelden voor zo'n 250-300 pesos (ik weet het niet meer exact) one way de taxi, dus omgerekend zo'n 5 euro de man of minder per rit. Je hebt hier overigens geen mobiele data, dus houd daar rekening mee. Deze cenote is recent geopend en ongeveer 20 minuten rijden vanaf Tulum Pueblo. Ik hoorde er via andere hostelgenoten van, dus wilde ik hier zeker heen tijdens mijn laatste volle dag in Tulum.
Omdat het vroeg was toen we aankwamen, was het nog erg rustig en konden we nog genoeg foto's maken. Ik moet jullie ook zeker vertellen dat dit de mooiste cenote is die ik in Riviera Maya heb bezocht! Dus ga hier zeker heen! We zijn hier met zijn 3en zo'n anderhalf uur geweest, en hebben daarna de taxi terug genomen naar het hostel. Omdat het vrij afgelegen ligt, hadden we dit gelukkig vooraf al afgesproken met de taxi chauffeur.
Tussendoor kochten Claude, Giulia en ik nog onze bustickets op het ADO busstation, omdat het online systeem er uit lag. Om de tijd door te komen, kochten we nog een smoothie bij Raw Love. Ik had de signature acai smoothie – en dat is bij deze de lekkerste smoothie die ik ooit gedronken heb.  Vanuit het hostel zijn we opnieuw naar Pancho Villa gefietst met een groep van 6 inclusief ik van ons hostel. Het was heerlijk hier nog lekker wat tijd te hebben doorgebracht!
In de avond was ik als samenwerking uitgenodigd om vrijblijvend te eten bij Eleana Tulum. Eleana is een mediterraanse style restaurant dat door dezelfde eigenaar is gerund als Marem. Ik mocht een +1 meenemen, dus nam mijn goede vriend Ruben opnieuw mee. Ik had hier een heerlijke griekse salade als starter, rode wijn tussendoor, als main een zalm met champignon saus en als toetje cheesecake. Dit restaurant is ook zeker een aanrader. Je kunt ze vinden op instagram @eleanatulum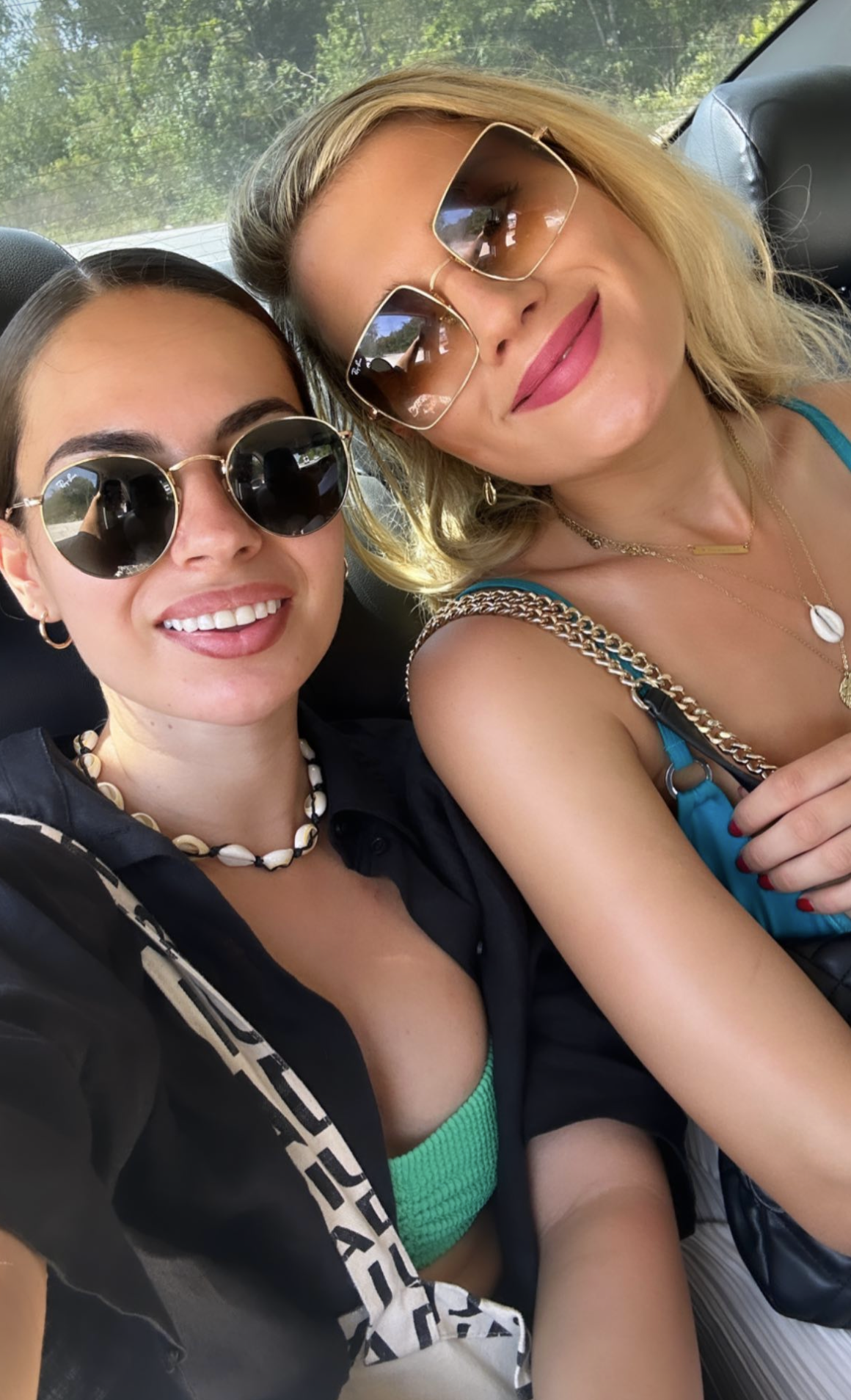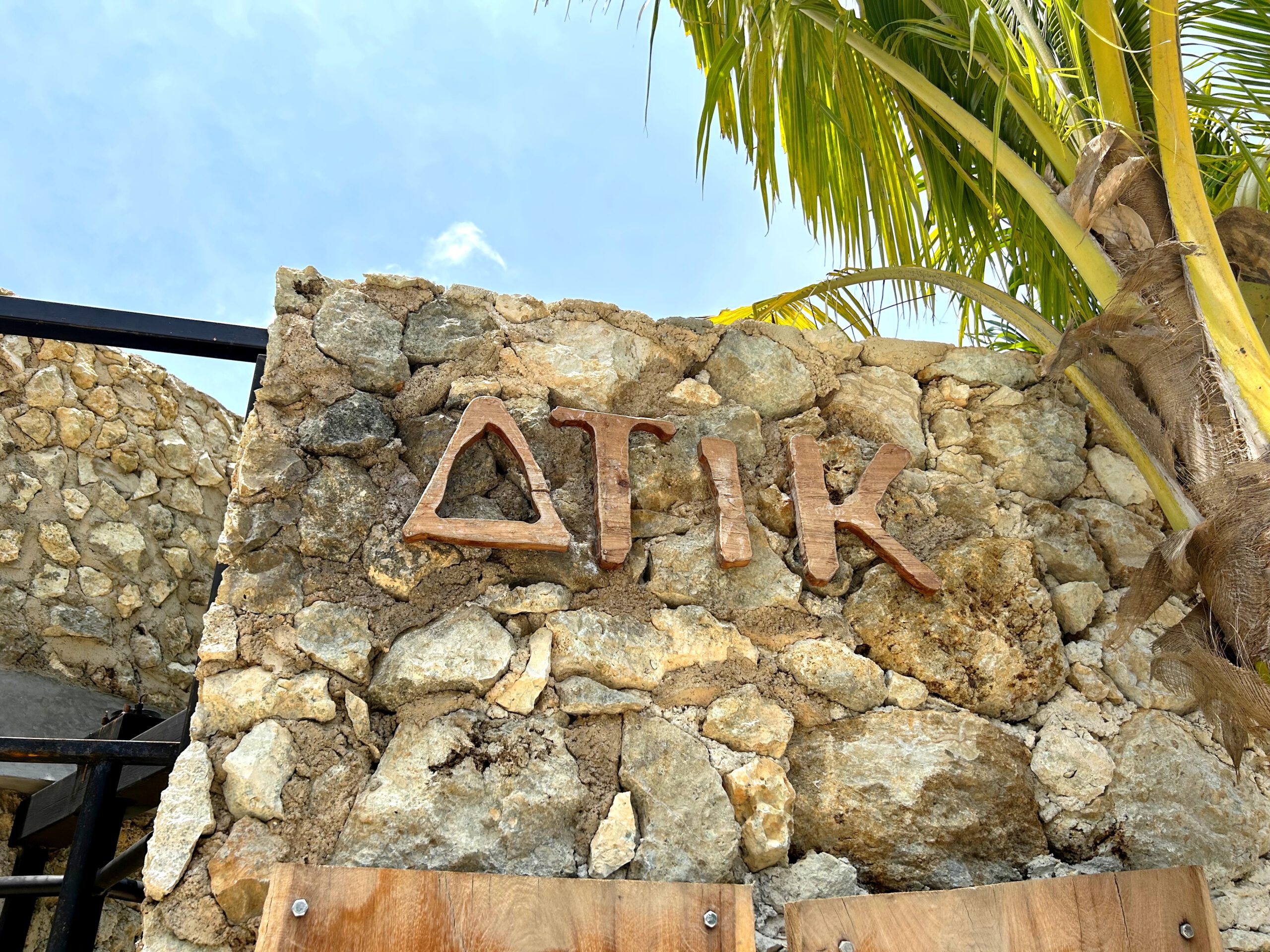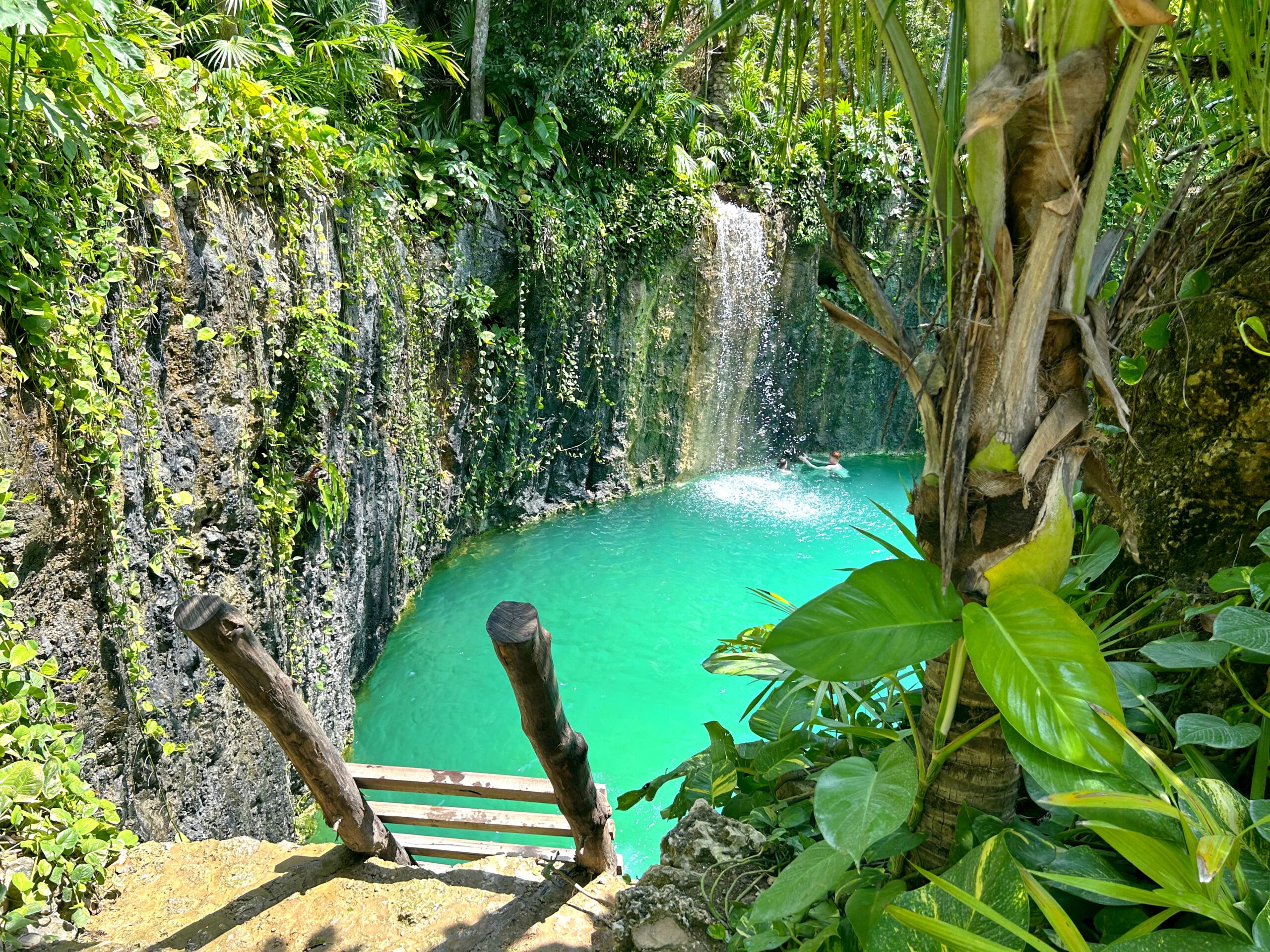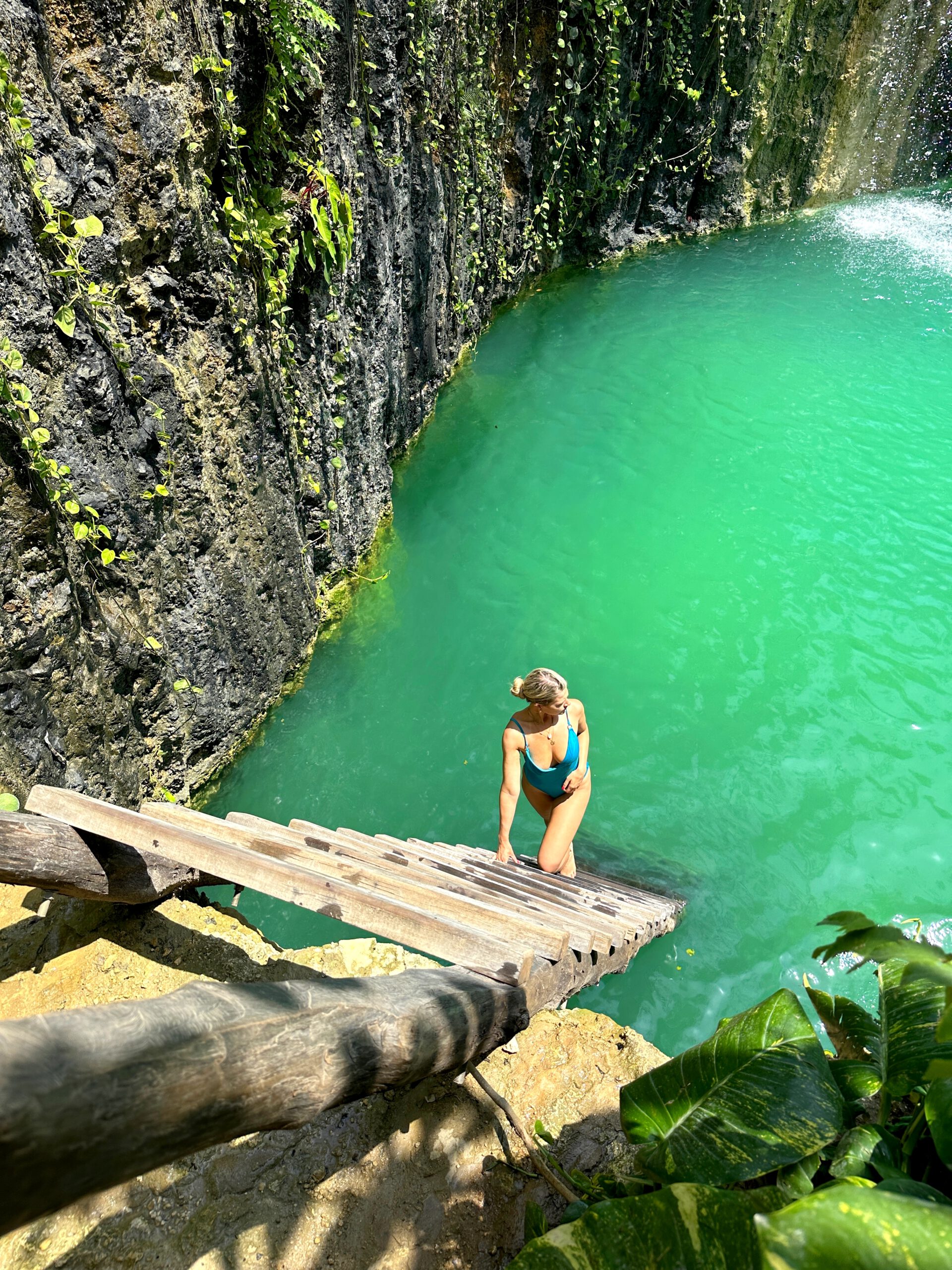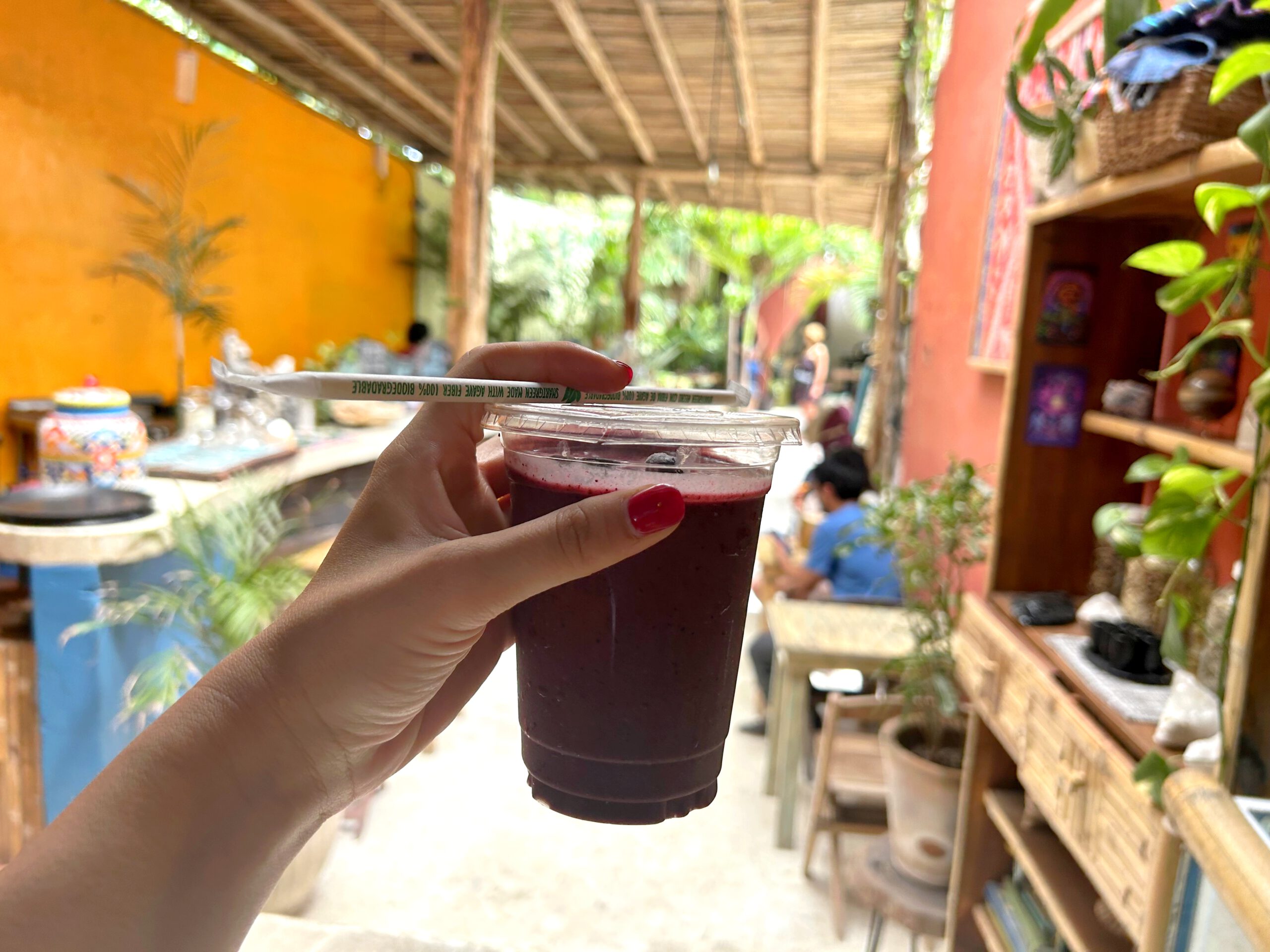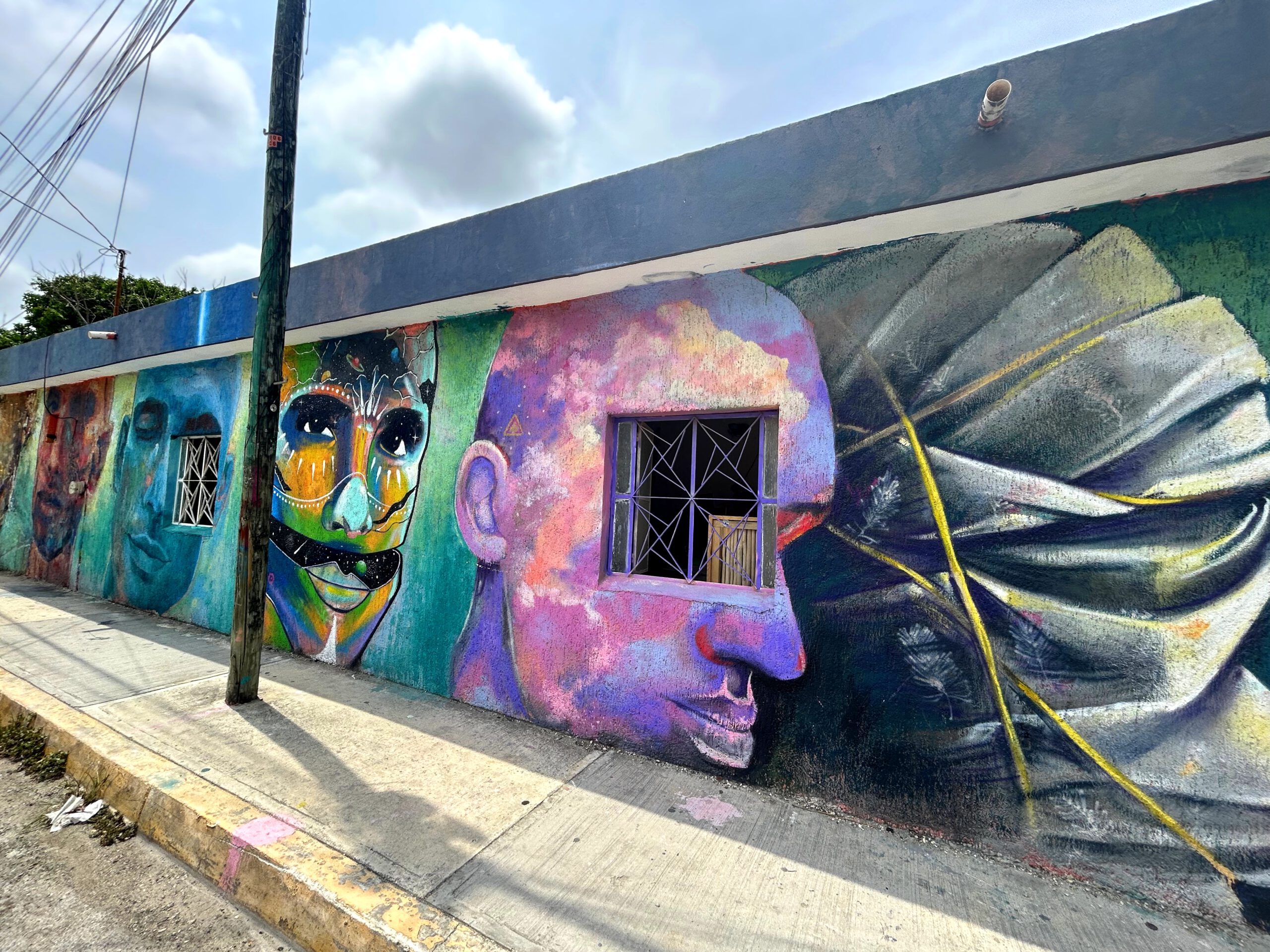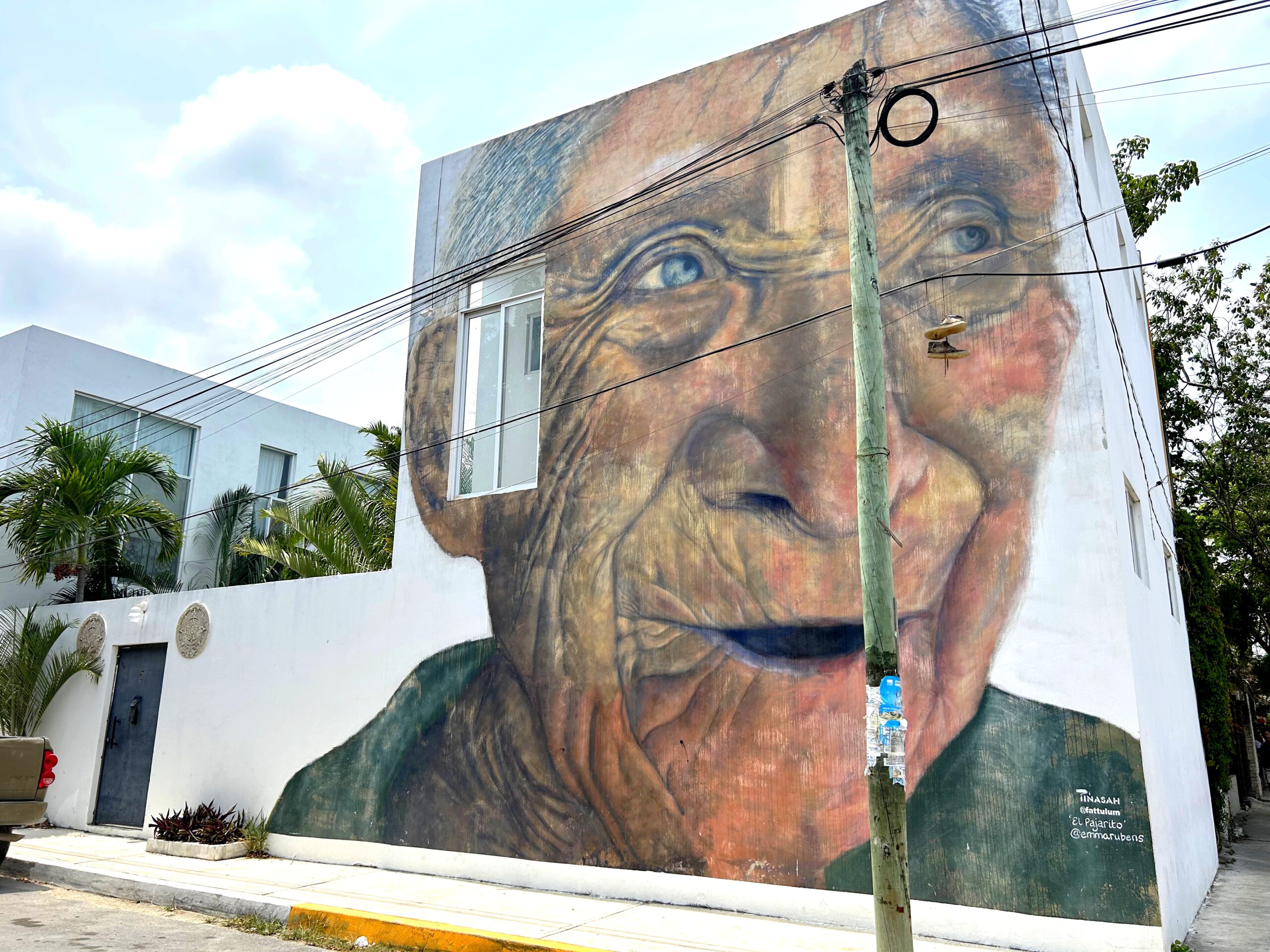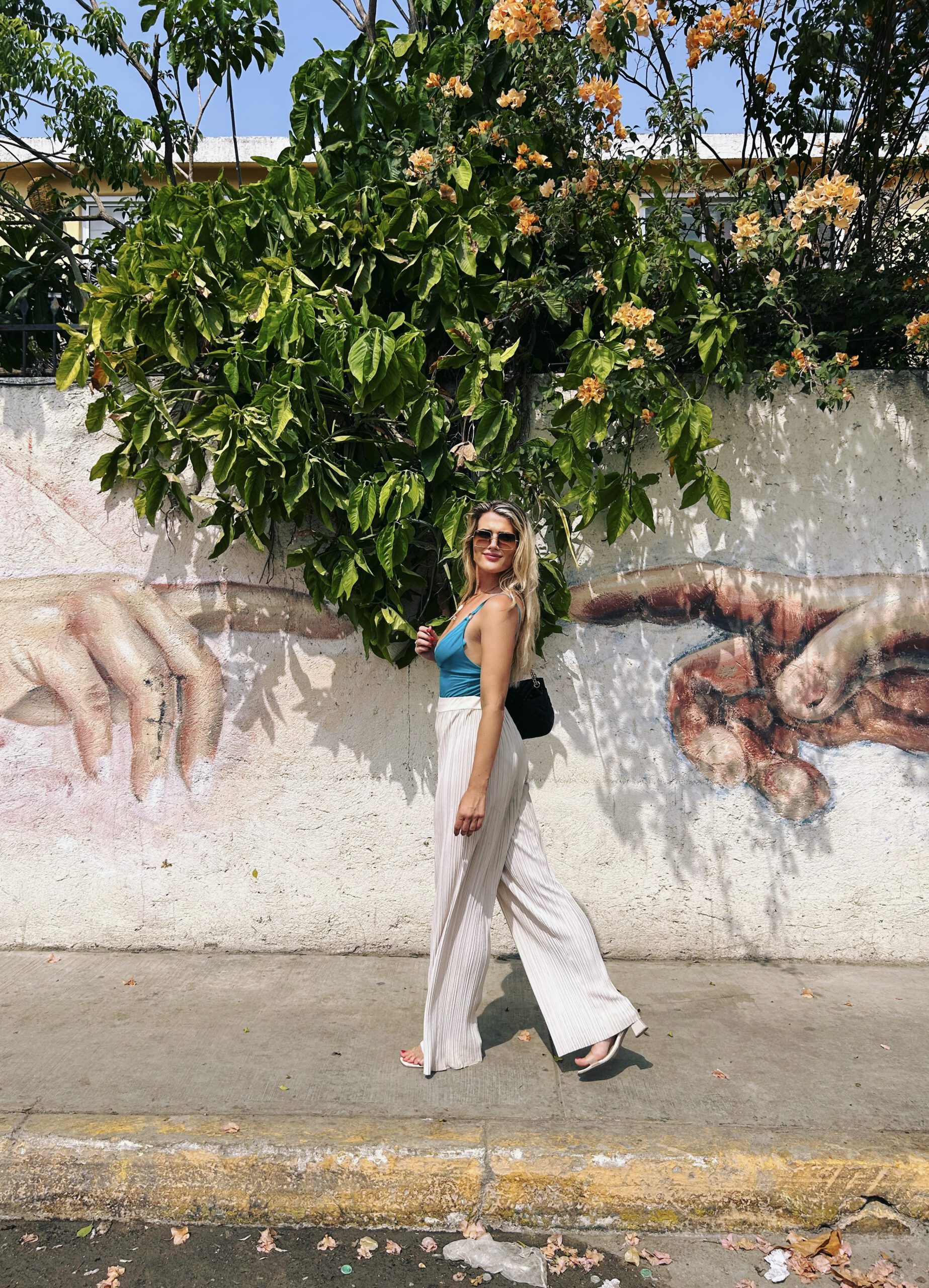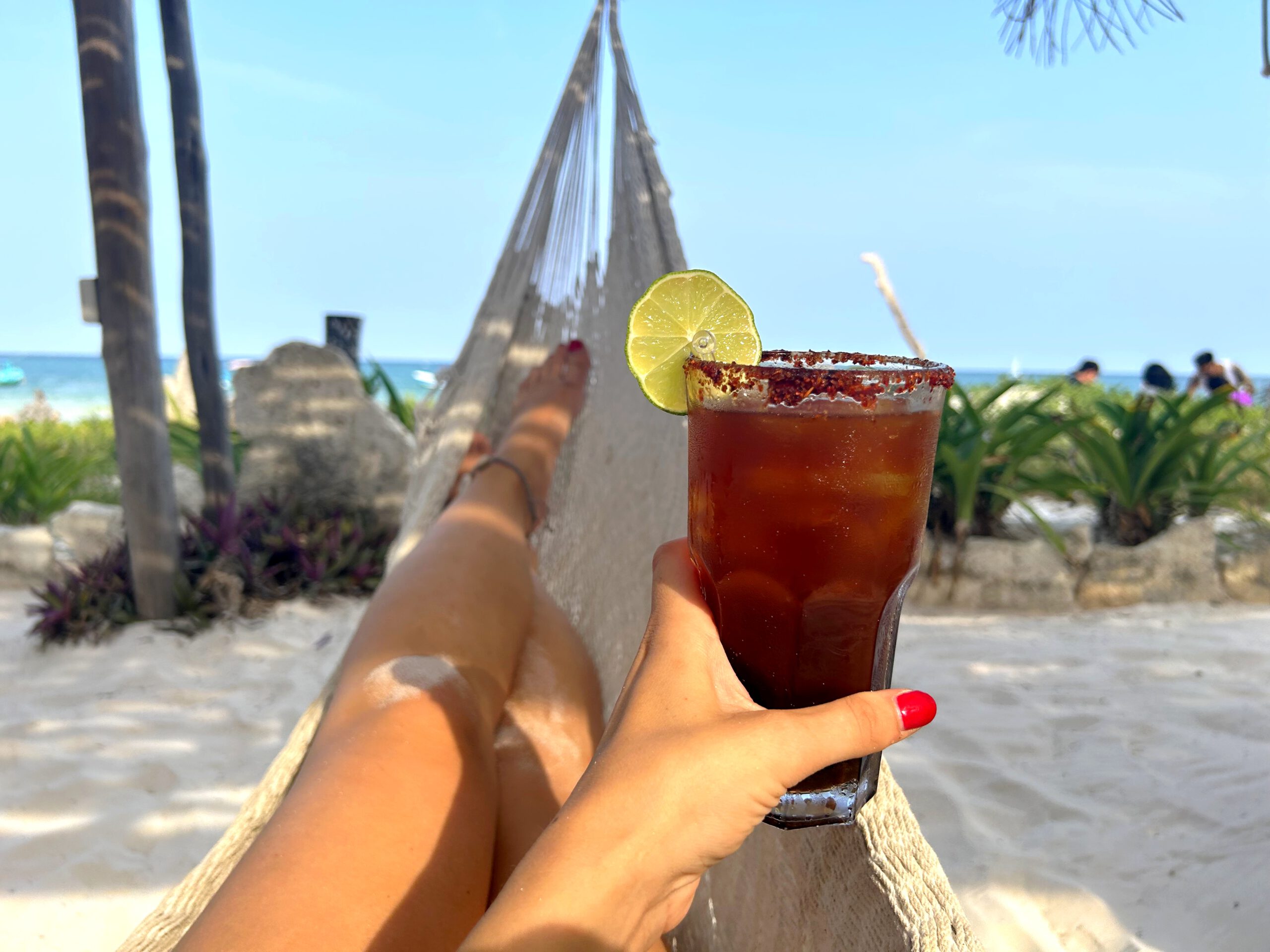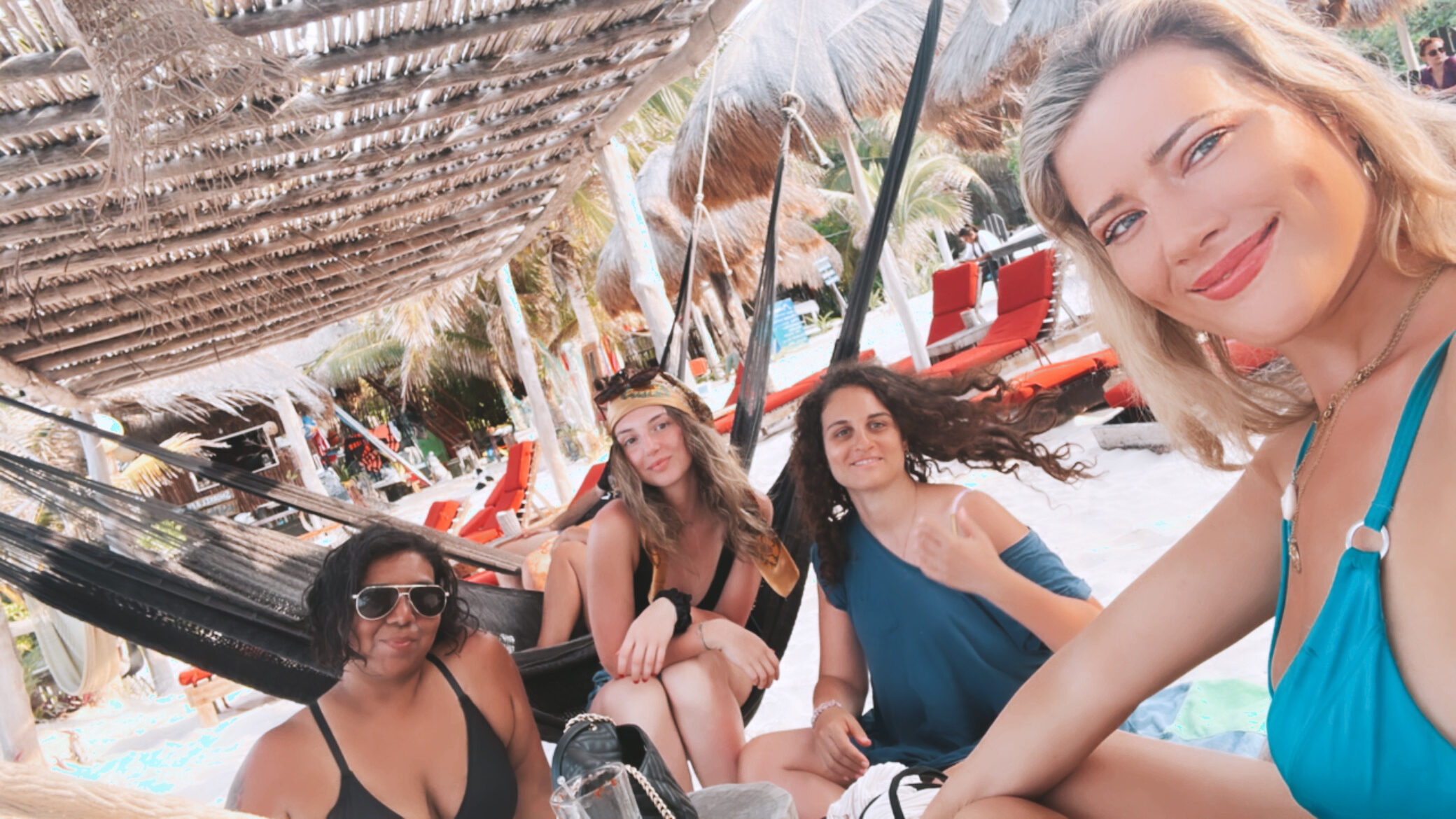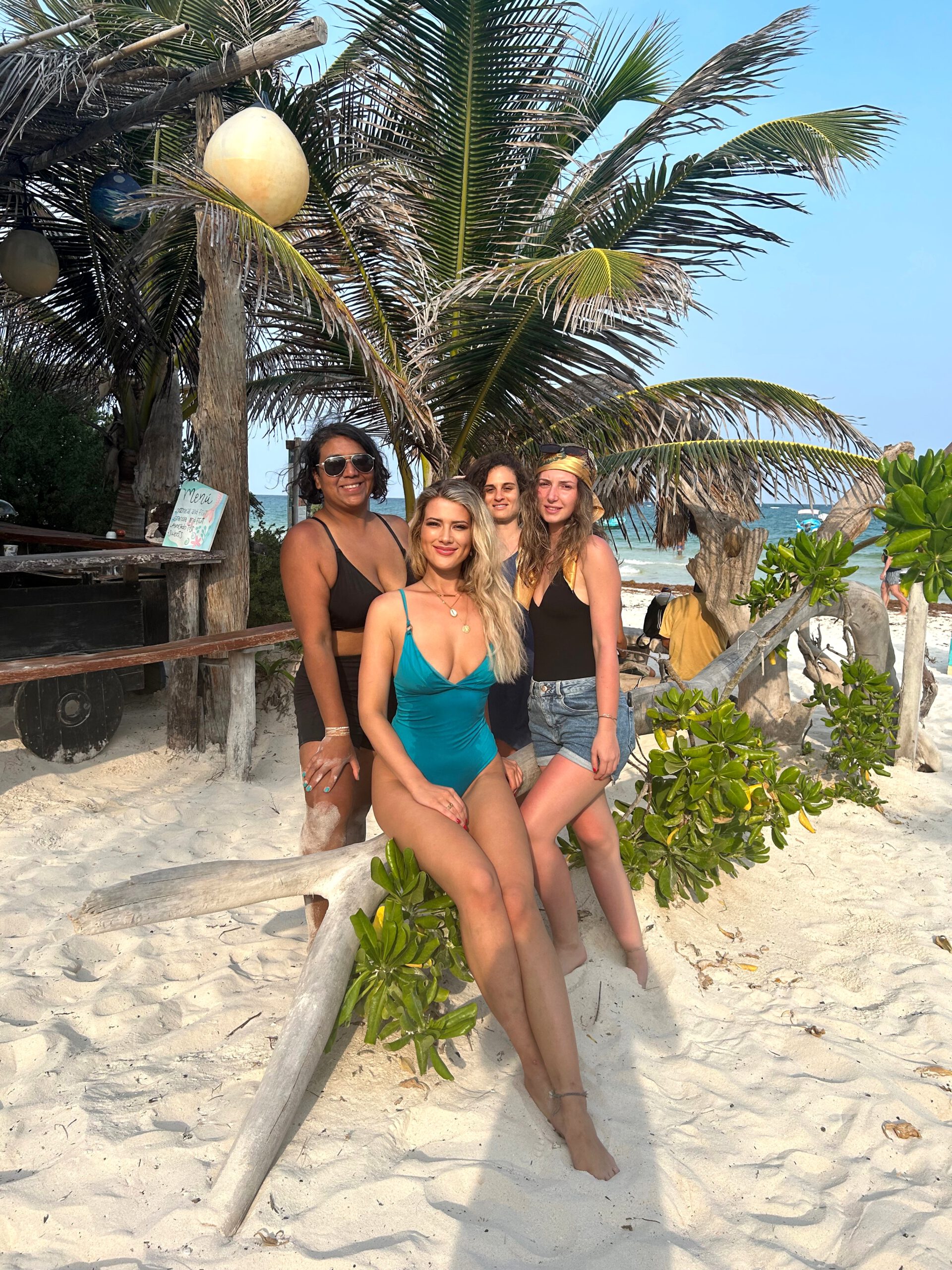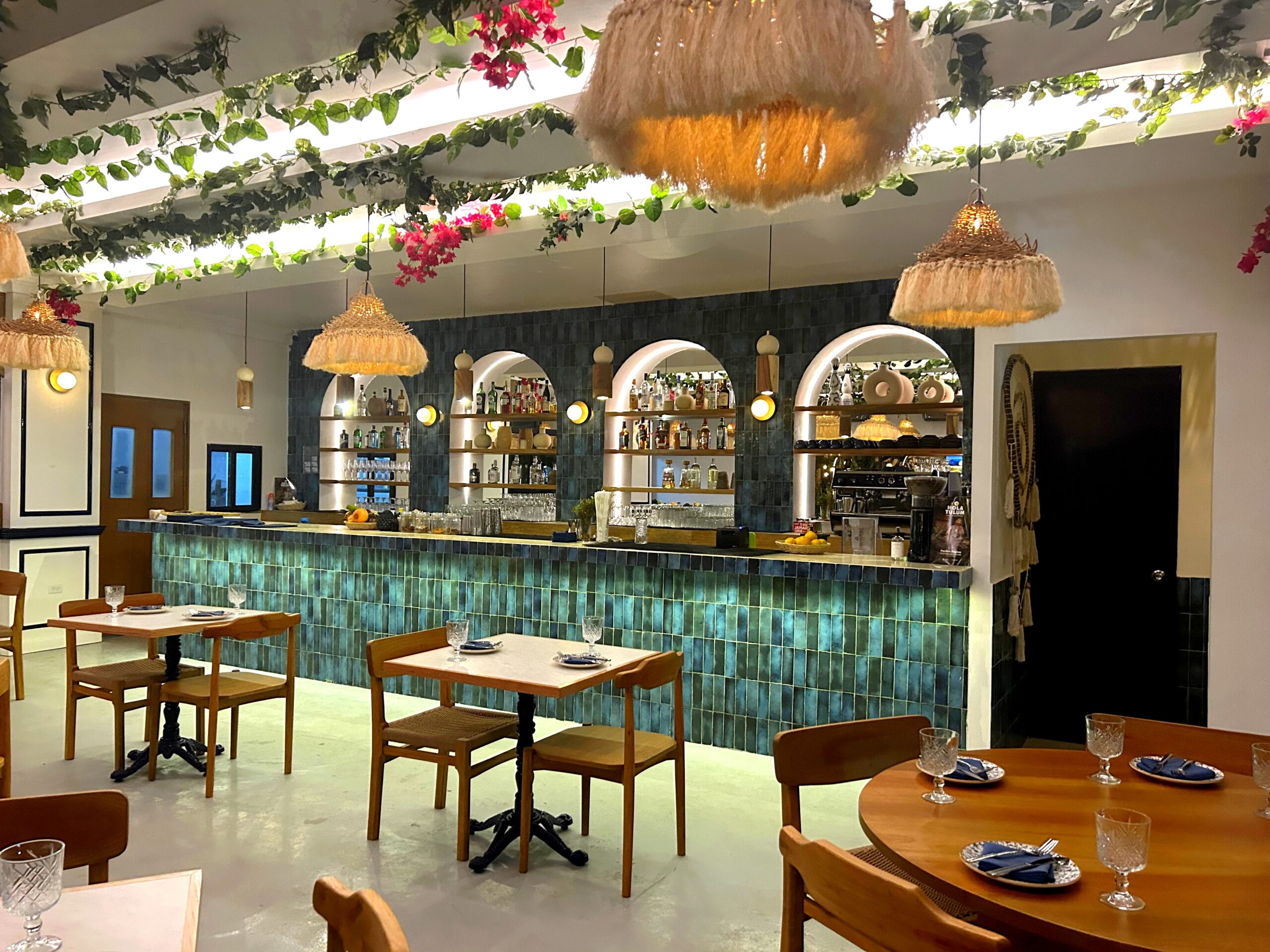 Day 15 & 16 – Tulum, Brussels & Den Bosch – 03-05-2023 & 04-05-2023
As an added coincidence – 3 people besides me from my hostel group all flew out of Cancun the same day! So the 4 of us decided to go to the airport extra early to have some time together. We decided to get off at Giulia's terminal to have a nice coffee with our group. How nice is an ending of a journey like this! We had a few hours extra, because the bus could reach Cancun airport without any problems. When I traveled to Cancun airport last December, it took me over 3,5 hours due to construction on the road. Our group had been warned about that again this time, but that was not the case this day. Of the 4 of us, I had the most late flight, so I was also the last one remaining eventually. My direct flight with tui was around 9 hours to Brussels, and from here I took the train to Den Bosch.
I look back on a special journey with new opportunities, a new look, processing, new friends and very much looking forward to my long trip to Mexico again at the end of this year. I love Mexico and highly recommend traveling here solo. If I hadn't traveled to Mexico solo in May 2022, my life would have looked very different right now! If you're looking for a sign to take a solo trip, go for it! It can literally change your life. It is the best gift you can give yourself and it may also help you with a lot of personal growth, new experiences, new ideas and friends – at least this was the case with me. Thanks for reading my travel diary! See you soon on my next trips.
Als extra toeval – vlogen 3 mensen van mijn hostelgroepje allemaal dezelfde dag Cancun uit! We besloten dus met zijn allen extra vroeg naar de luchthaven te gaan om nog wat tijd samen te hebben. We besloten dus bij de terminal van Giulia uit te stappen, om nog lekker koffie te gaan drinken met zijn 4en. Hoe leuk is een afsluiting als dit! We hadden een aantal uur extra over, omdat de bus probleemloos Cancun airport kon bereiken. Toen ik afgelopen December naar Cancun airport reiste, deed ik er meer dan 3,5 uur over wegens constructie op de weg. Daar was onze groep dit keer opnieuw voor gewaarschuwd, maar dat was dus niet het geval vandaag. Van ons 4en had ik de meest late vlucht, dus bleef ook als laatste over.
Mijn vlucht met tui was ongeveer 9 uur zonder tussenstop naar Brussel, en vanaf hier nam ik de trein naar Den Bosch.
Ik kijk terug op een bijzondere reis met nieuwe kansen, een nieuwe blik, verwerking, nieuwe vrienden en ontzettend veel zin in mijn lange reis naar Mexico opnieuw aan het einde van dit jaar. Ik ben gek op Mexico en raad iedereen het ontzettend aan hier solo naartoe te reizen. Als ik mei 2022 niet naar Mexico was gereisd solo, zag mijn leven er op dit moment héél anders uit! Als je een teken zoekt om een solo reis te maken, ga er voor! Het kan letterlijk je leven veranderen. Het is het mooiste cadeau wat je jezelf kan geven en bovendien helpt het je wellicht met ontzettend veel persoonlijke groei, nieuwe ervaringen, nieuwe ideeën en vrienden – dit was in ieder geval bij mij het geval. Bedankt voor het lezen van mijn reisdagboek! Tot snel bij mijn volgende reizen.