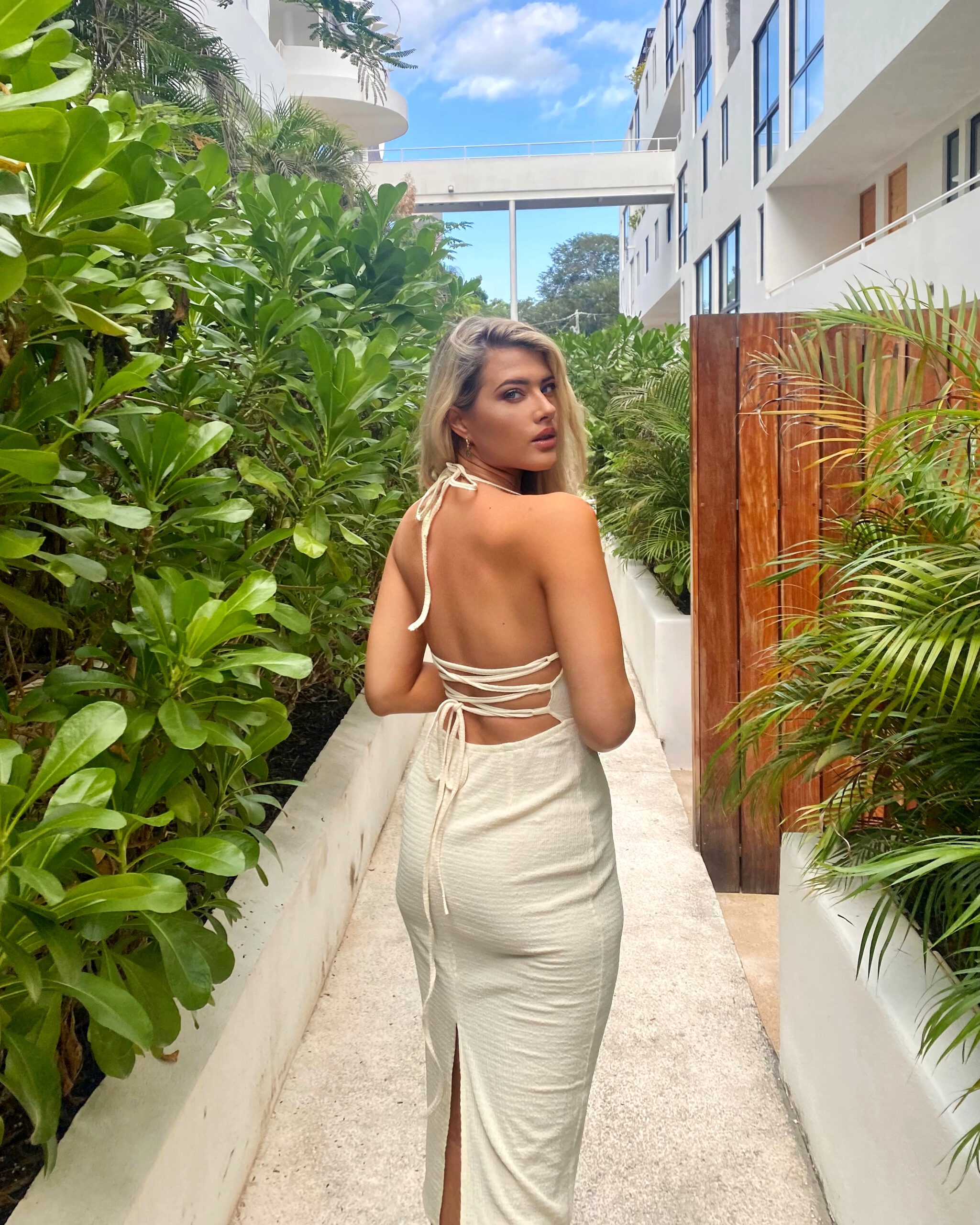 On November 17th, I left for Mexico for the 2nd time in a year. This is the 'official' 8th trip of this year. This first part is in Playa del Carmen, Holbox and Tulum – the first part of my journey. The reason why I would go for more than a month is because I wanted to bridge the winter in the Netherlands during my annual leave, I wanted to go back to dear friends who live there, I wanted to travel solo again and because my (now former) long-distance love lived in Tulum and I had met there earlier this year – which was originally my biggest reason to stay this long. In this travel diary I explain to you like a diary what I have done and visited during this trip, together with tips. I don't make this diary too personal, because this trip went differently than the original plan why I came here.
Afgelopen 17 november, was ik voor de 2e keer in een jaar naar Mexico vertrokken. Dit is de 'officiele' 8e trip van dit jaar. Dit eerste deel is in Playa del Carmen, Holbox en Tulum – het eerste deel van mijn reis. De reden waarom ik ruim een maand zou gaan is omdat ik de winter in Nederland tijdens mijn jaarlijkse verlof wilde overbruggen, ik graag terug wilde naar dierbare vrienden die er wonen, weer op solo reis wilde en omdat mijn (inmiddels voormalige) langeafstand liefde in Tulum woonde en ik daar had leren kennen – wat origineel mijn grootste reden was zo lang te blijven. In deze travel diary leg ik je als een dagboek uit wat ik in deze tijd allemaal heb gedaan en bezocht samen met tips. Deze diary maak ik niet té persoonlijk, omdat deze reis anders verliep dan het originele plan waarom ik hier heen kwam.
17-11-2022 & 18-11-2022 – Schiphol Amsterdam & Playa del Carmen
My journey started from Schiphol. As I've mentioned in many other solo travel diaries, I find solo travel a source of my gratitude in life, self-confidence and independence. My first trip to Mexico this same year has brought me precious friendships, wonderful memories, but also my first partner and a very long new solo journey. I came to Mexico for the first time in corona time with few plans and many expectations for myself, but was immediately sold on arrival. A beautiful country that I love to travel back to again and again.
I myself left for Cancun from Amsterdam with KLM and later this trip would see my (now former) love again, who, due to my early departure, spontaneously started traveling through Europe from the Netherlands. I had a fantastic flight with a super nice cockpit and cabin crew who also invited me to dinner in Cancun and kept in touch with me during my trip – thanks to this great crew my trip started great! I was also upgraded to Business Class on this flight, to start this wonderful journey in a great way and even more gratefully. I also hope not too far in the future to be on board in blue myself – now and for a long time my biggest dream in aviation.
Mijn reis begon vanaf Schiphol. Zoals ik in veel andere solo-travel diaries heb benoemd, vind ik solo reizen een bron van mijn dankbaarheid in het leven, zelfverzekerdheid en zelfstandigheid. Mijn eerste reis naar Mexico ditzelfde jaar heeft mij dierbare vriendschappen opgeleverd, prachtige herinneringen, maar ook mijn eerste partner en een hele lange nieuwe solo reis. Ik kwam in coronatijd voor het eerst in Mexico met weinig plannen en veel verwachtingen voor mijzelf, maar was gelijk verkocht bij aankomst. Een prachtig land waar ik met alle liefde en plezier keer op keer naar terugreis.
Ik vertrok zelf naar Cancun vanaf Amsterdam met KLM en zou later deze reis mijn (toenmalige) liefde weer zien die door mijn vervroegde vertrek, spontaan nog door Europa ging reizen vanuit Nederland.  Ik heb een fantastisch leuke vlucht gehad met een super leuke cockpit en cabine crew die mij ook uitnodigden in Cancun mee uit eten te gaan en contact met mij hield tijdens mijn reis – dankzij deze geweldige crew ging mijn reis geweldig van start! Ik werd deze vlucht ook geüpgraded naar Businessclass, om deze prachtige reis dan ook geweldig en nog dankbaarder te beginnen. Ik hoop ook niet al te ver in de toekomst zelf in het blauw aan boord te staan – tegenwoordig en al voor een lange tijd mijn grootste droom in de luchtvaart.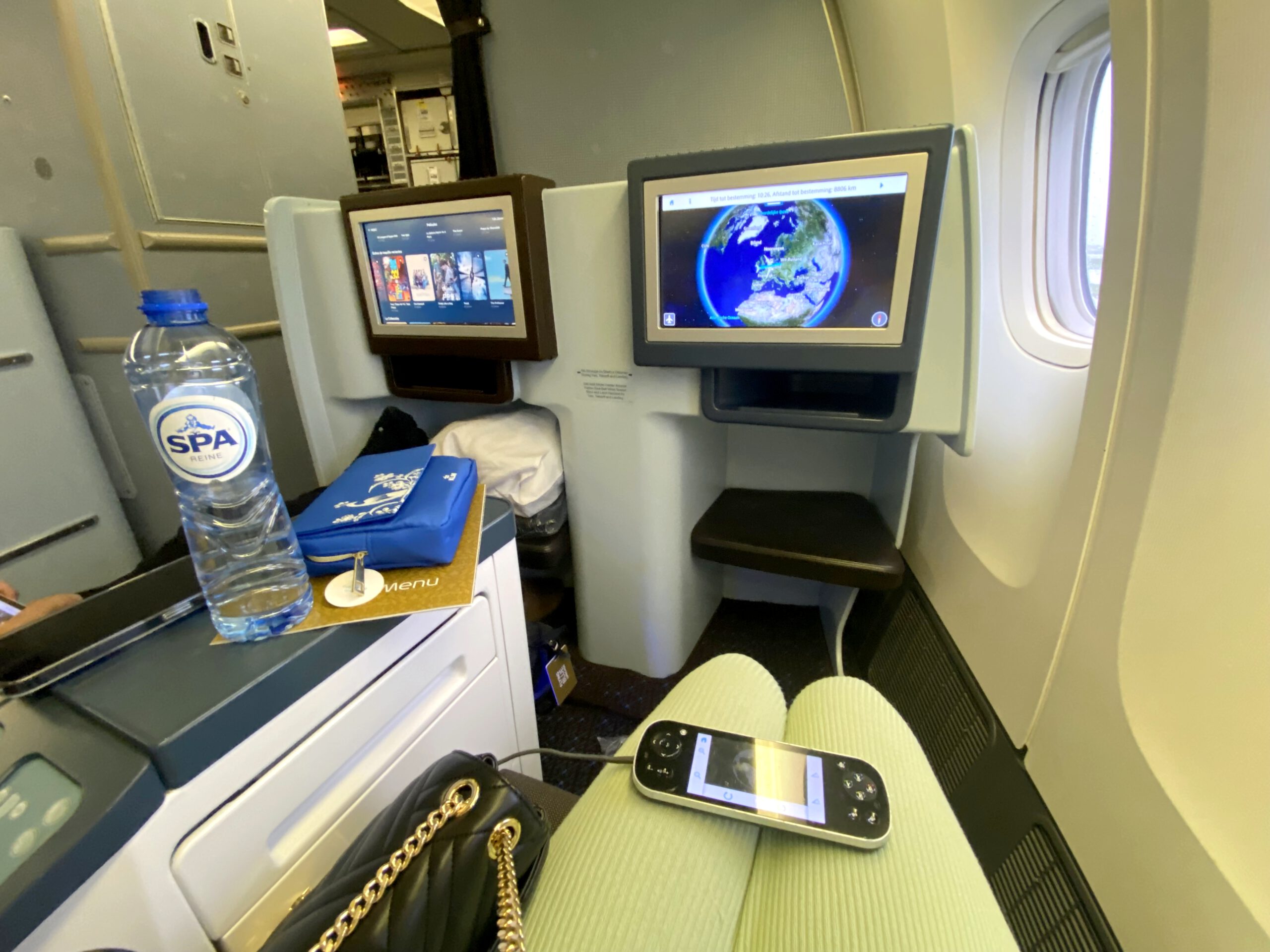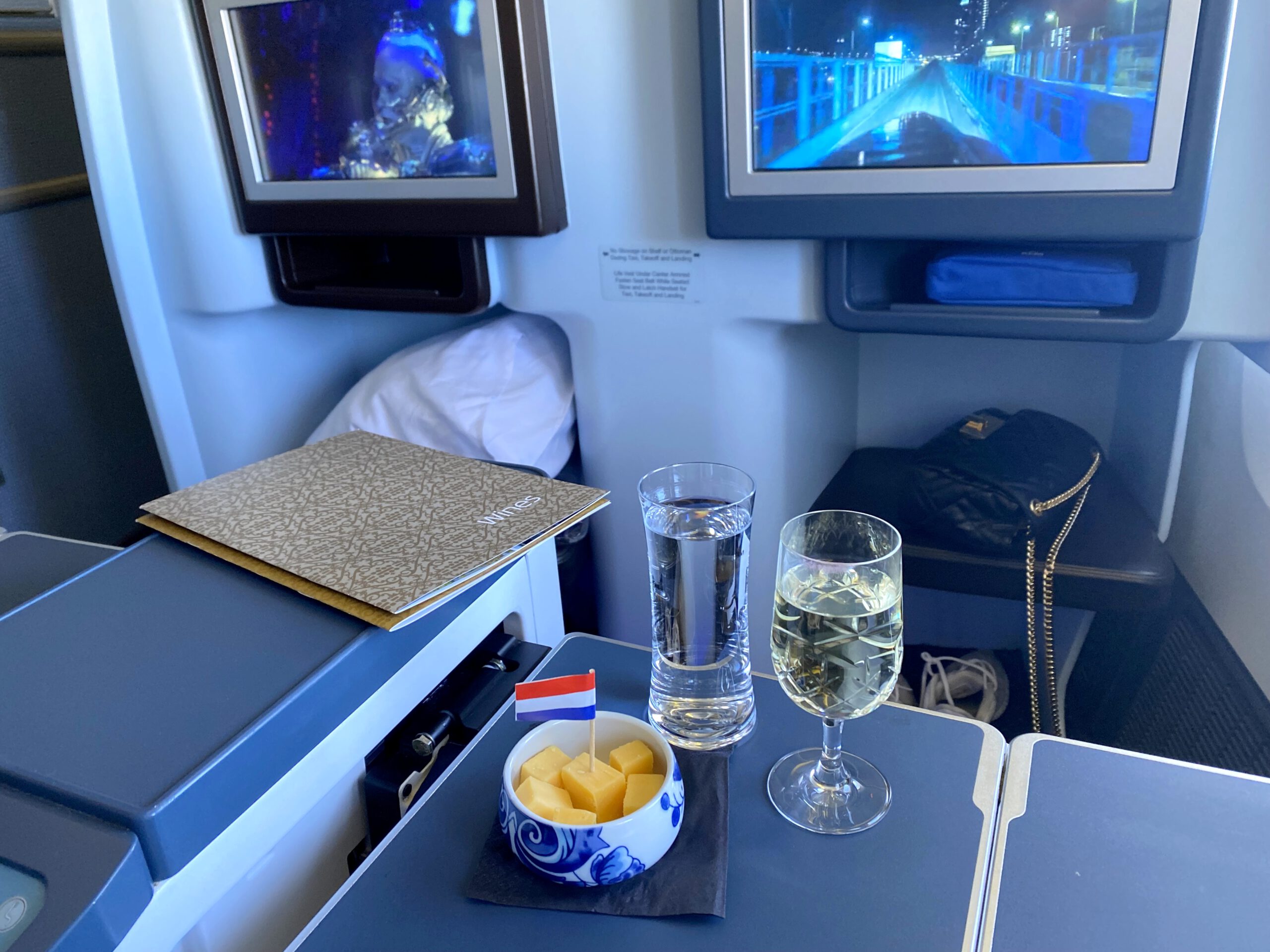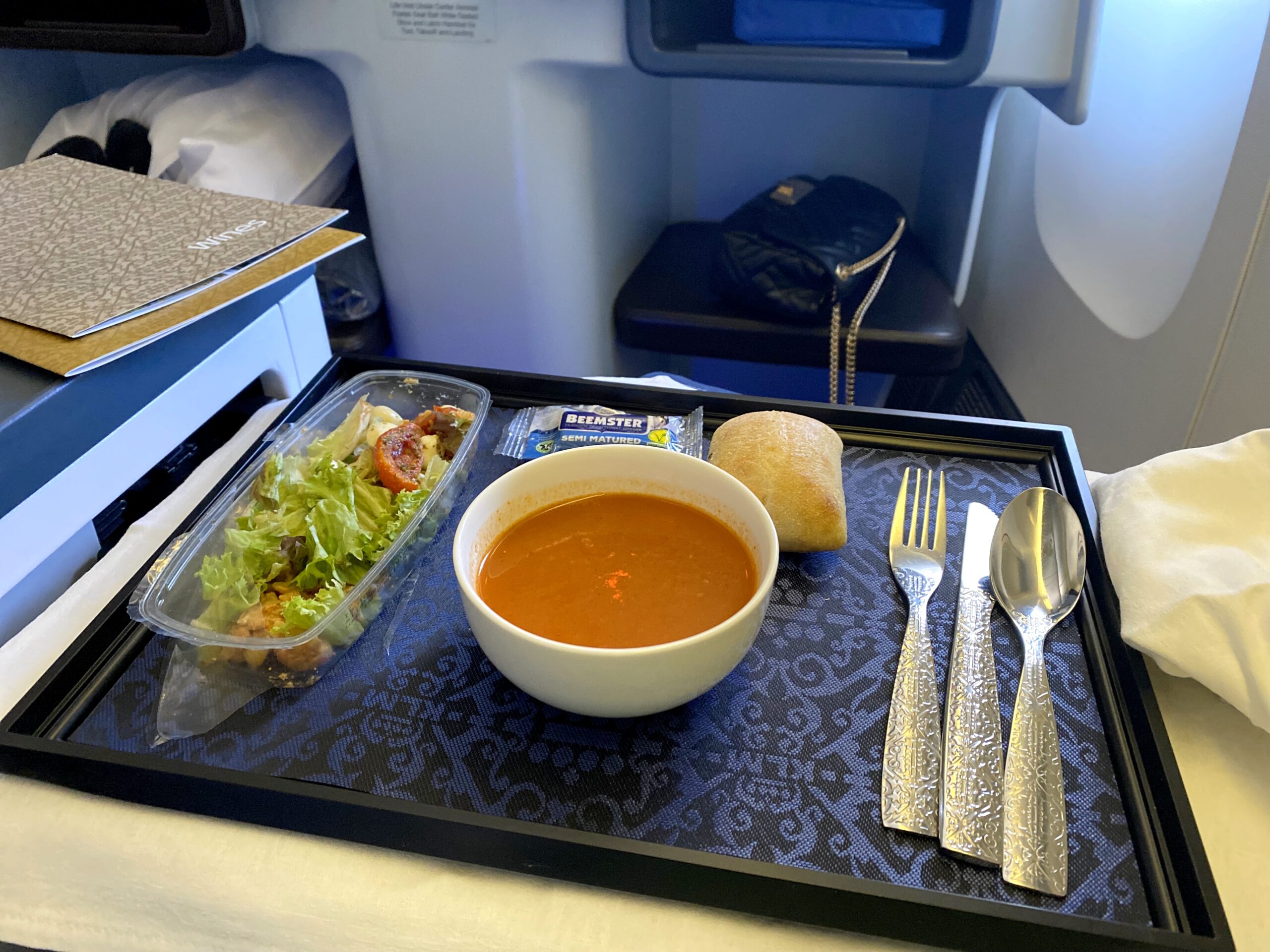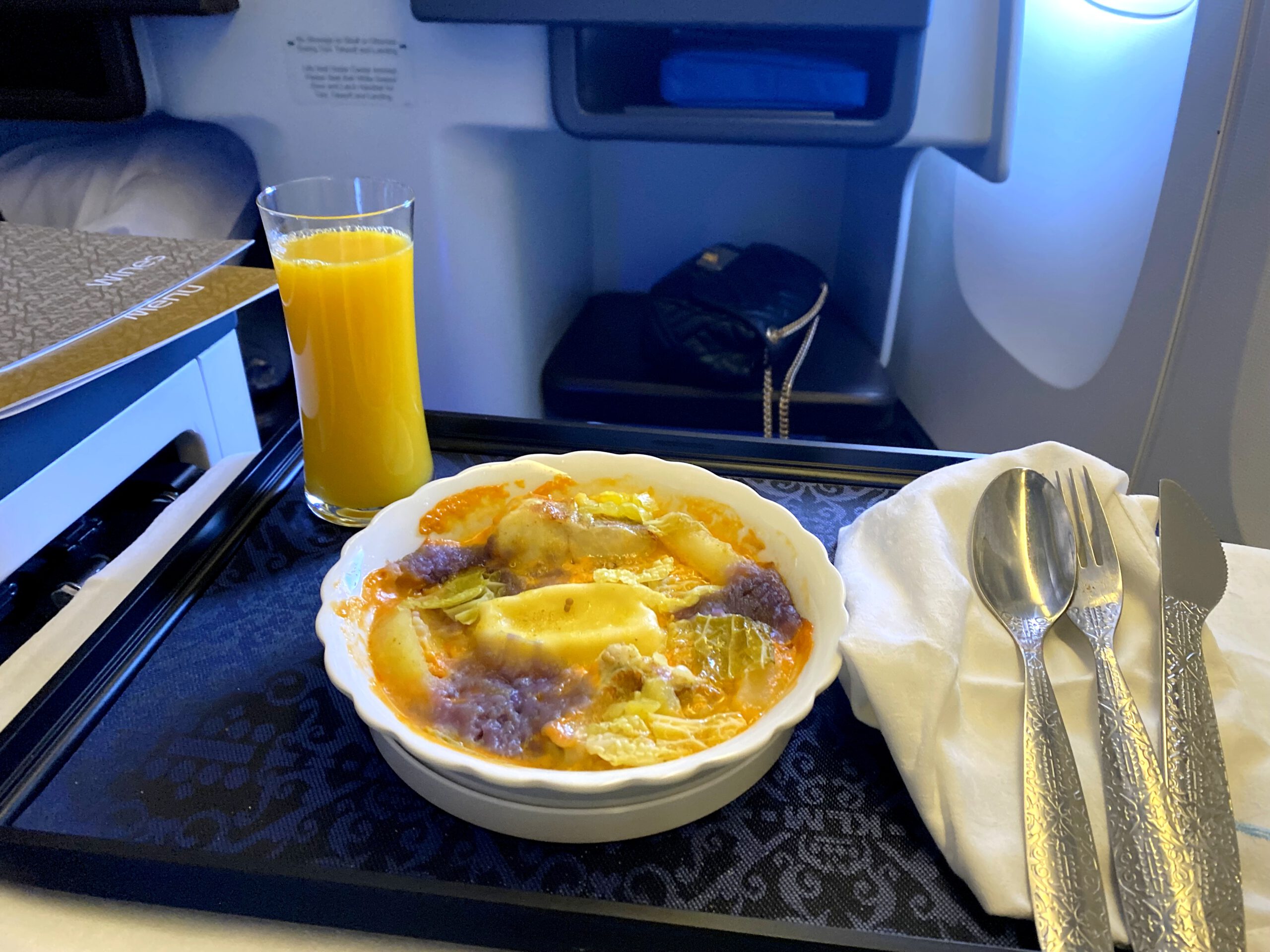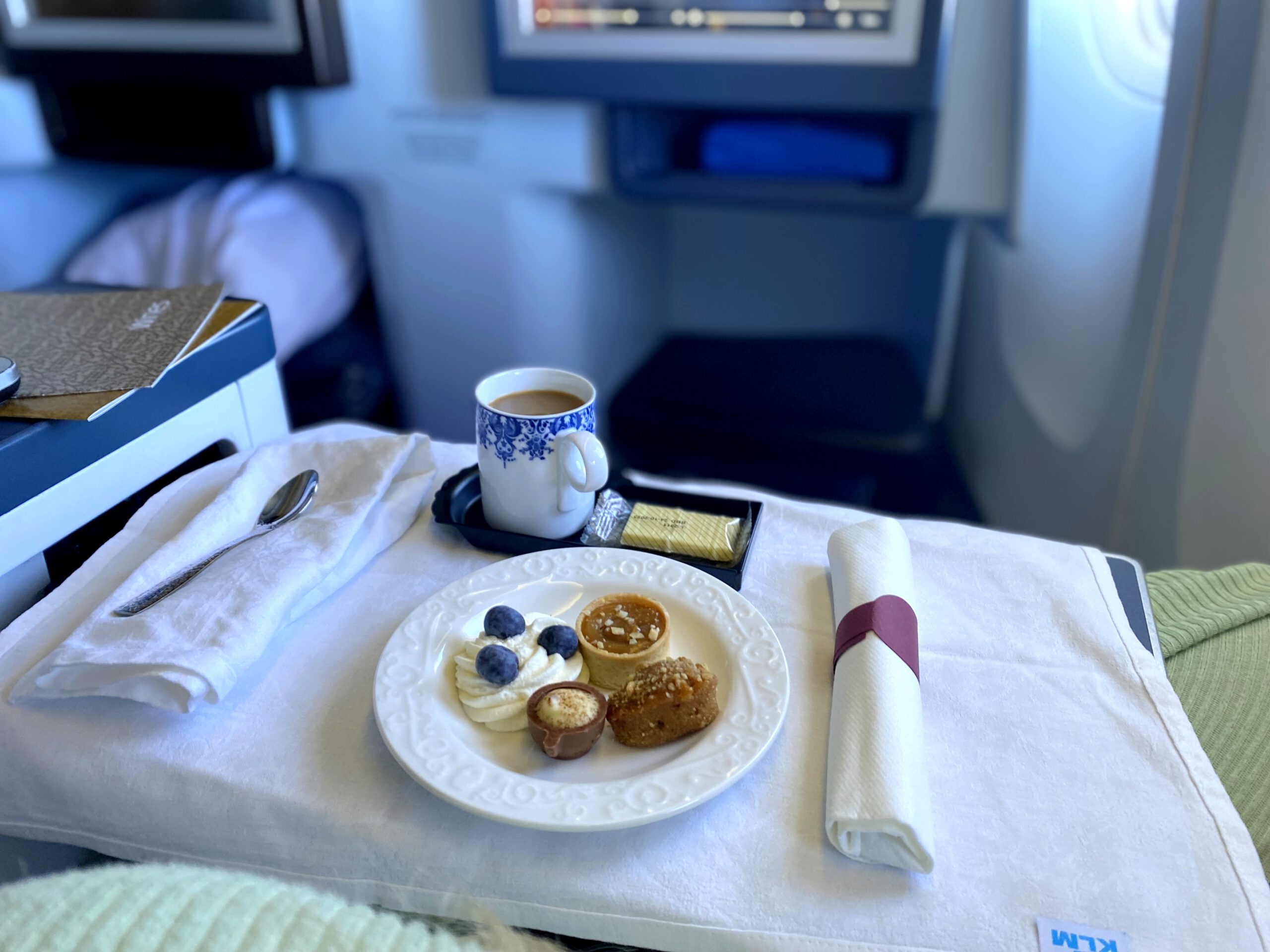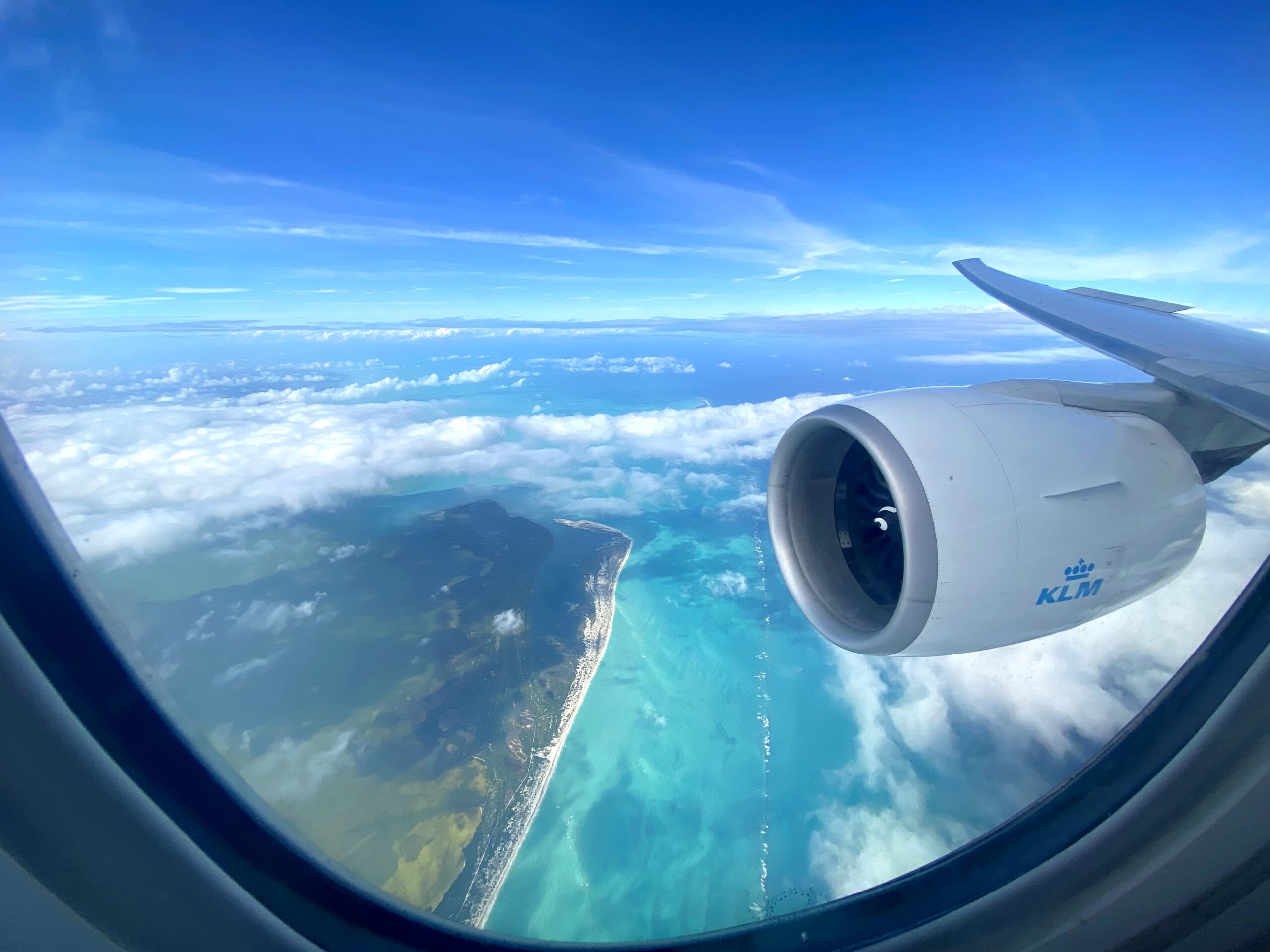 On arrival I took the ADO bus to Playa del Carmen – a nice non-stop bus connection through well-visited places in Mexico and a nice way to travel within Mexico. I think the drive to Playa took less than an hour. Upon arrival, I walked with luggage and all along the very busy and long 5th avenue towards the airbnb of a Canadian friend of mine that I met in Cartagena. I hadn't booked anything for today as I wanted to remain flexible in terms of flight and schedule – luckily Nadeem had an extra airbnb spot that was vacant for me to use before continuing my journey to Holbox. I had a nice dinner with him that evening, drank an espresso martini and had a delicious breakfast with an acai bowl at Ojo de Agua at calle 20 the next morning. started working on my blog in the airbnb, before I left for Isla Holbox via Chiquilla by ADO bus late in the afternoon. The ride to Chiquilla harbour took about 2 hours from PDC.
Bij aankomst nam ik de ADO bus naar Playa del Carmen – een fijne non-stop busverbinding via welbezochte plekken in Mexico en een fijne manier om binnen Mexico te reizen. De rit naar Playa duurde denk ik nog minder dan een uurtje. Bij aankomst liep ik met bagage en al over de hele drukke en lange 5th-avenue richting de airbnb van een Canadese vriend van mij die ik in Cartagena heb leren kennen. Ik had voor vandaag nog niets geboekt omdat ik flexibel wilde blijven qua vlucht en planning – gelukkig had Nadeem een extra airbnb plek die leeg stond waar ik gebruik van kon maken, vóór ik mijn reis richting Holbox zou voortzetten. Ik ben met hem gezellig uit eten geweest die avond, heb een espresso martini gedronken en de ochtend er op heerlijk met een acai bowl gaan ontbijten bij Ojo de Agua bij calle 20. Door de bus die volgeboekt was, ben ik nog een paar uur aan mijn blog gaan werken in de airbnb, vóór ik met de ADO bus laat in de middag richting Isla Holbox vertrok via Chiquilla. Deze busrit naar de haven van Chiquilla duurde zo'n 2 uur vanaf PDC.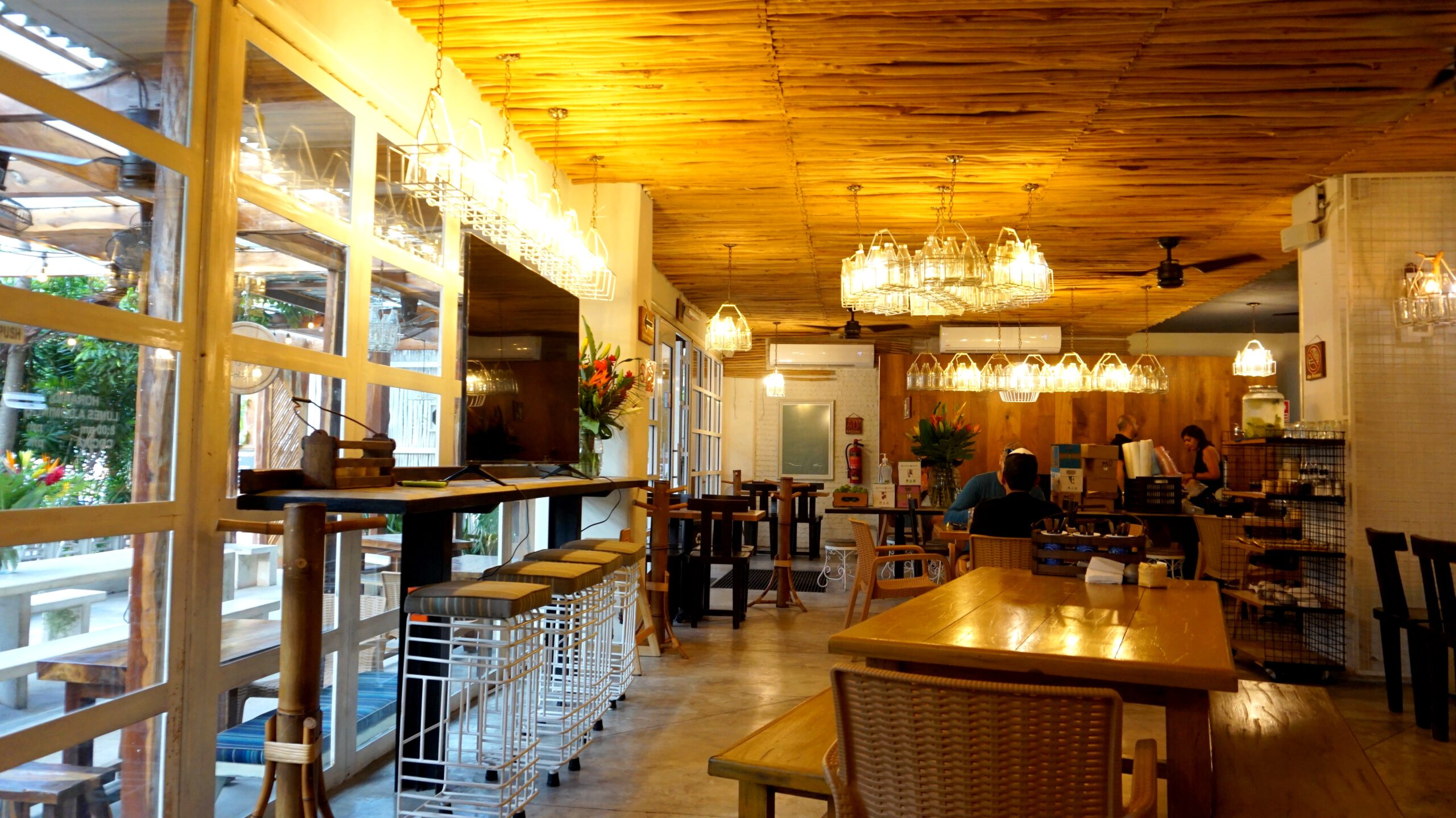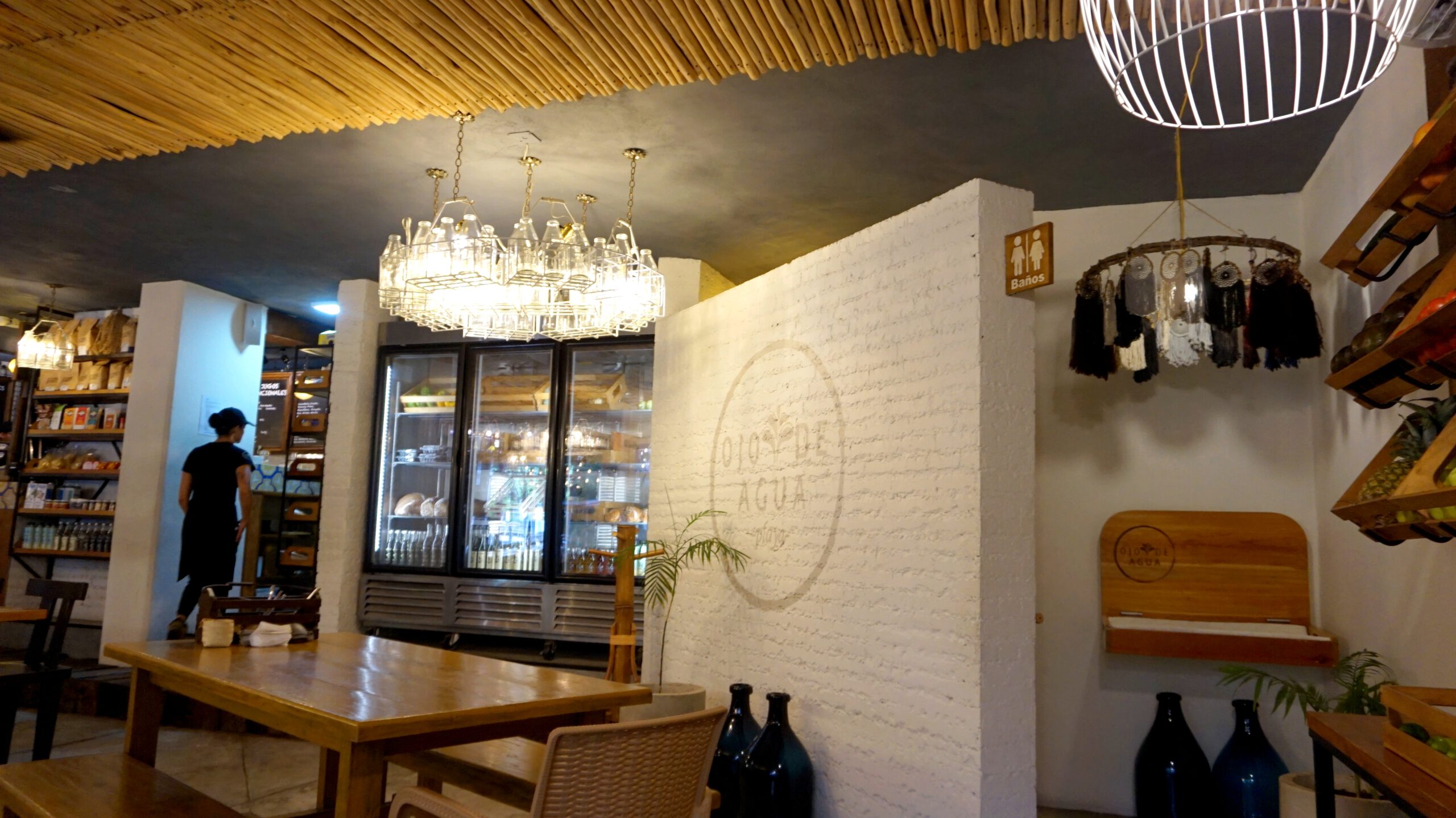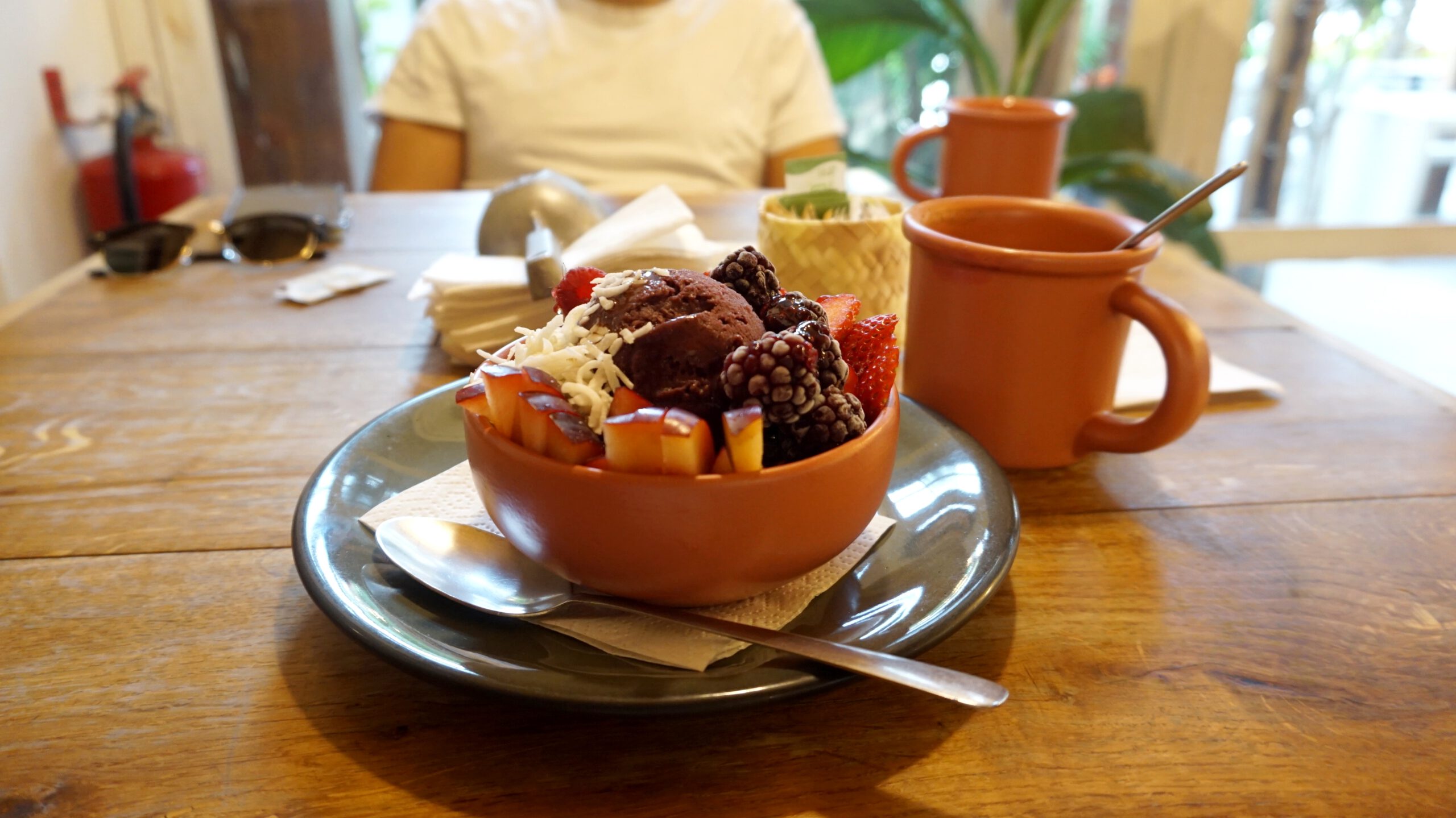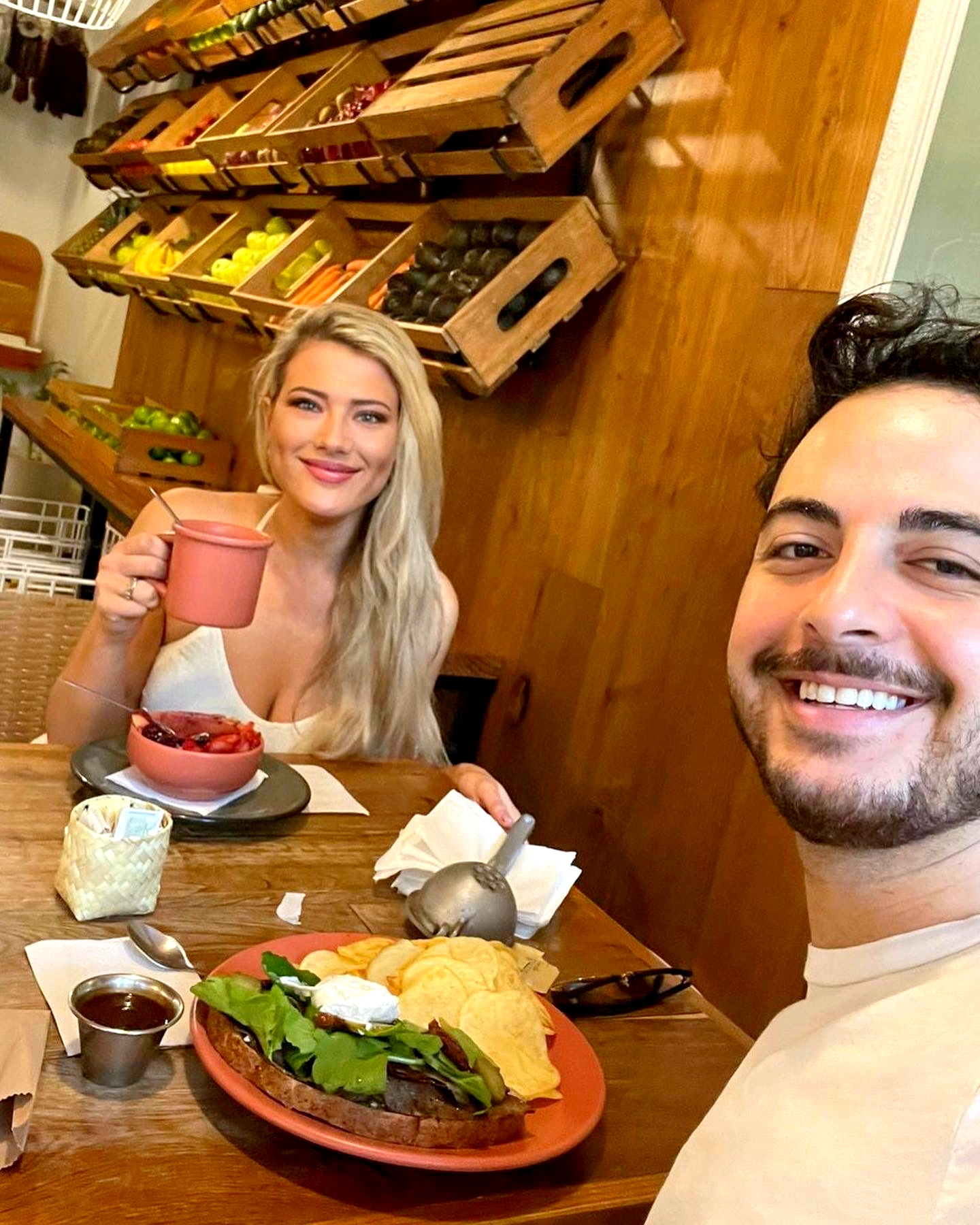 At Isla holbox, I stayed in Tribu hostel, about a 10-minute walk from the harbor. I also bought a combi ticket Ferry return and bus return to save time and money at the ADO station. On arrival it was very quiet and no other solo traveler to be seen. Until I spoke to another Dutch woman via a backpacker whatsapp group, who decided to visit me. I think less than 20 minutes after our meeting, she said to me 'Mandy, you and me.. we are not a match' In my opinion seriously the most random, unexpected and vague solo travel experience I have ever experienced. Anyways, my good karma over this unpleasant situation is that I met French solo traveler Nils in my dorm, who invited me to dinner with him and a group of others. Another reason why I believe karma exists and things happen for a reason. We had gone out for dinner all together at TacoQueto – where we had nice and tasty Mexican food for less than 5 euros. On the street we all had a drink with some live music.
In Isla Holbox verbleef ik in Tribu hostel, zo'n 10 minuten lopen vanaf de haven. Ik heb overigens een combi ticket Ferry retour en bus retour gekocht om tijd en geld te besparen op het ADO station. Bij aankomst was het heel erg rustig en geen andere soloreiziger te bekennen. Tot ik via een backpacker whatsapp groep een andere Nederlandse vrouw sprak, die me besloot op te zoeken. Ik denk nog geen 20 minuten na onze ontmoeting, zei ze me 'Mandy, jij en ik.. wij zijn geen match' In mijn mening serieus de meest random, onverwachtse en vage solo reiservaring die ik ooit heb meegemaakt. Maar goed, mijn goede karma dan deze onaardige situatie is dat ik in mijn dorm, Franse soloreiziger Nils leerde kennen, die mij uitnodigde met hem en een groep anderen uit eten te gaan. Wederom een reden waarom ik geloof dat karma bestaat en dingen gebeuren voor een reden. We waren gezamenlijk uit eten gegaan bij TacoQueto – waar ik voor nog geen 5 euro super goed en lekker Mexicaans gegeten en gedronken had. Op straat hebben we met zijn allen nog een drankje gedaan bij wat live muziek op straat.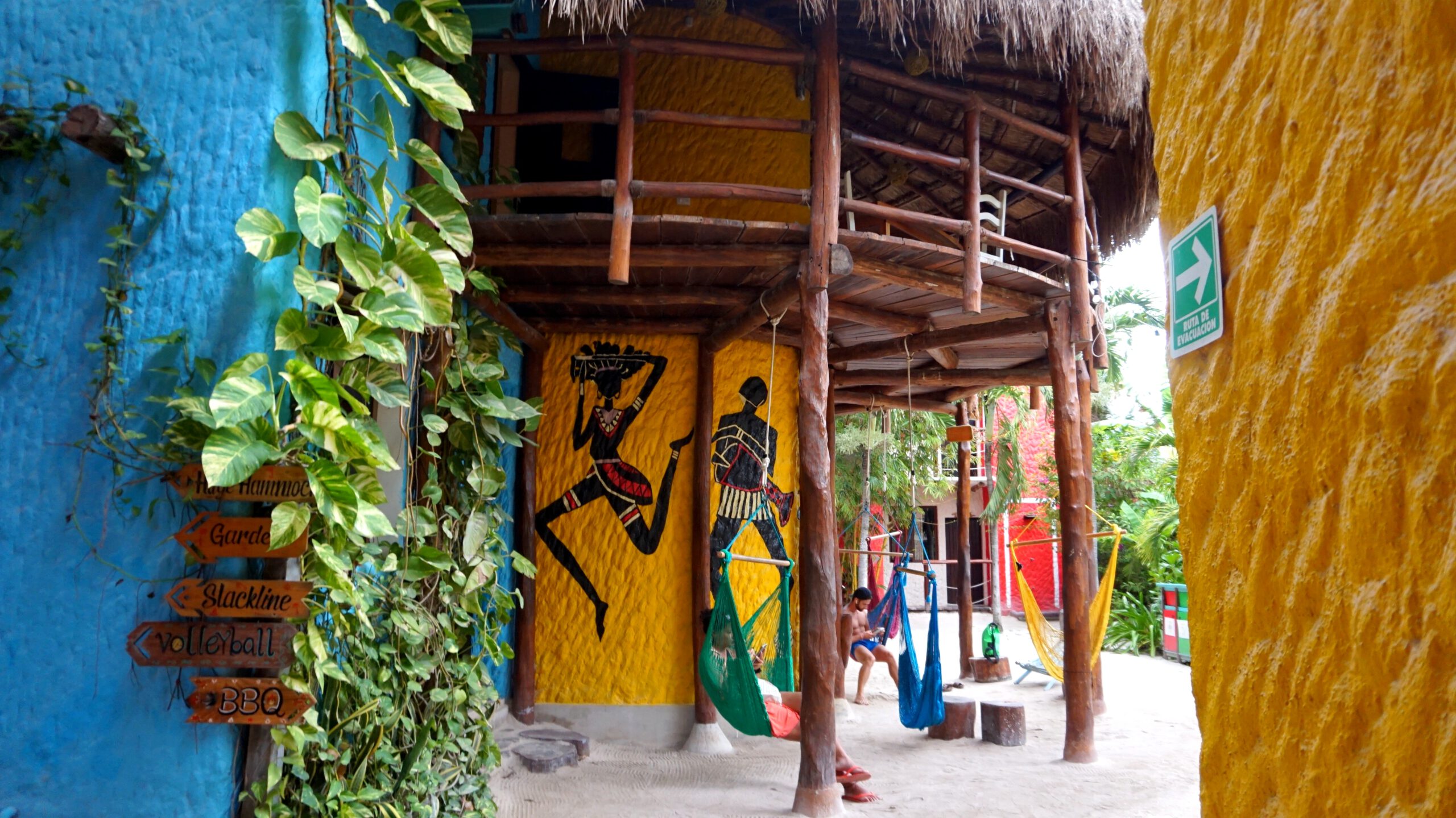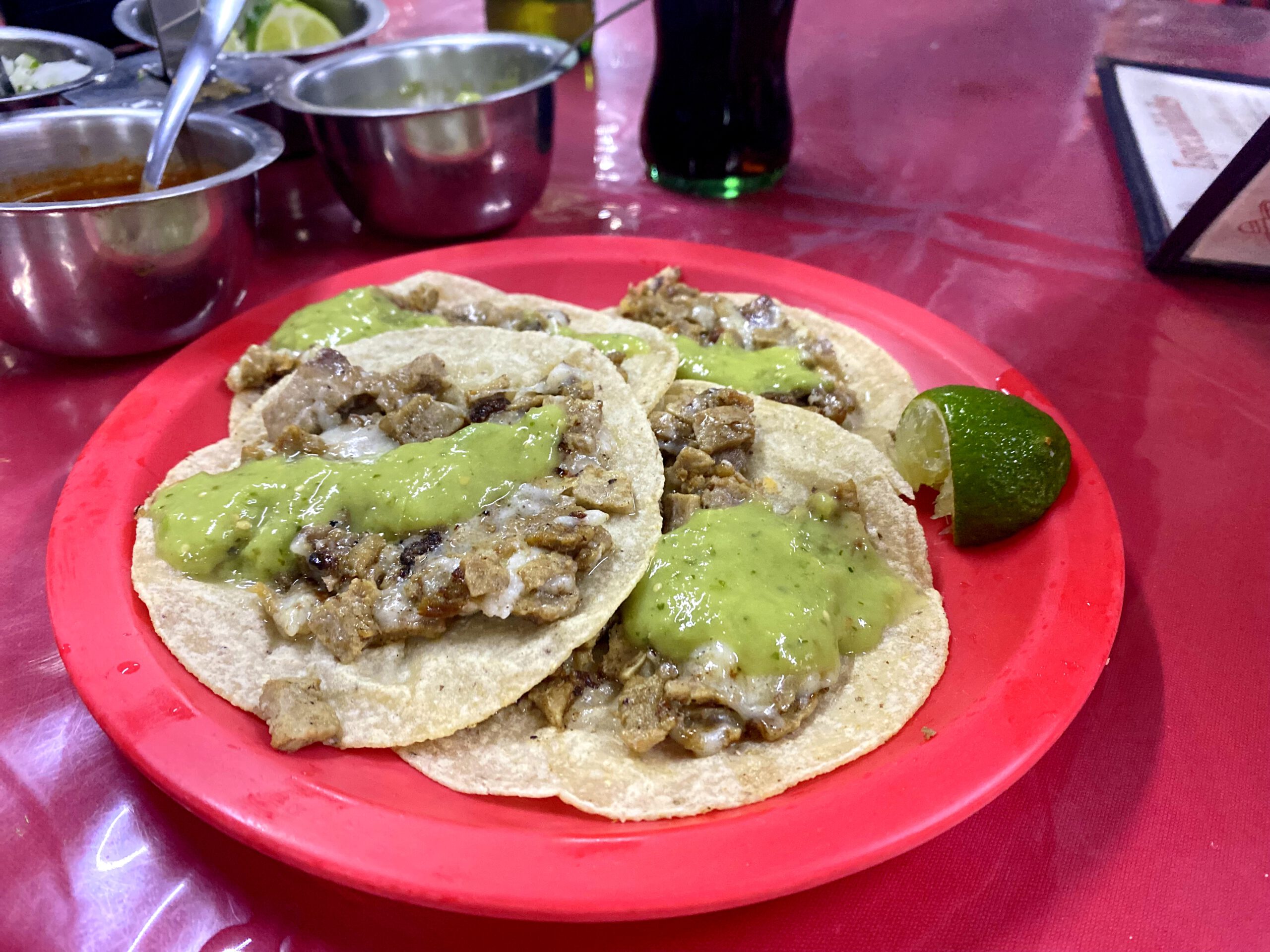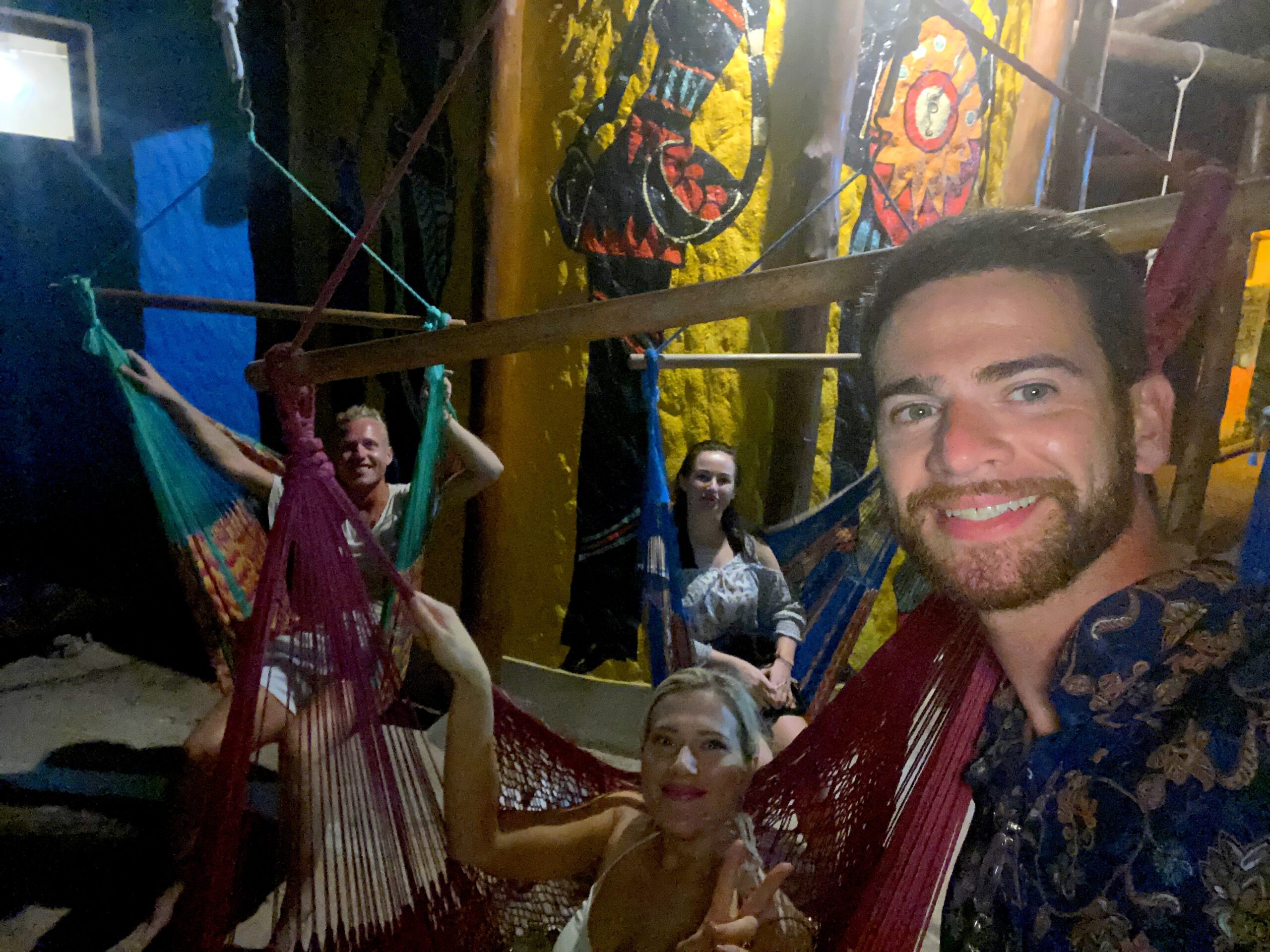 19-11-2022 – Isla Holbox
In the morning we decided to have breakfast outdoors with the group, because breakfast was not included in a stay. Dutch Lennart and I decided to have breakfast early, and the rest would join us later. I again had a cocoa smoothie bowl and a nice coconut milk cappuccino. I highly recommend
Kuxtal
, the staff is super sweet, hard-working, and the owner is also a great lady! After breakfast with Lennart he left and the rest of our group joined me. I received a nice group selfie from the KLM crew I had met on board and sent mine back as well.
This day we just lay down with the group on the beach behind Tribu. Normally I don't like spending whole days on the beach without activities, I must say, but today it was super fun and I was just tired and ready for some sleep and sun. The beach where we lay down was literally within walking distance of Tribu and Hotel Zomay, where we also regularly ordered snacks and drinks today. The sunset from the beach was also beautiful to experience. Today we again had a cheap dinner at TacoQueto with some new people from yesterday – this time I had a delicious Burrito. Later I happened to find the Dutch woman with two other men, while I was out with my new large group of welcoming travelers. And I could tell you that I had a bit more fun, haha.
In de ochtend besloten we met de groep te gaan ontbijten buiten de deur, ontbijt was namelijk niet inbegrepen in een verblijf. Nederlandse Lennart en ik besloten alvast te gaan ontbijten, en de rest zou later bij ons aansluiten. Ik had opnieuw een cacao smoothiebowl en een lekkere coconut milk cappuccino. Ik raad jullie
Kuxtal
enorm aan, het personeel is super lief, hard werkend, en de eigenaresse is ook een top dame! Na het ontbijt met Lennart vertrok hij en sloot de rest van onze groep aan. Ik kreeg een leuke groepsselfie van de KLM crew die ik aan boord had leren kennen en stuurde die van mij ook terug.
Deze dag zijn we met de groep gewoon lekker op het strand gaan liggen achter Tribu. Normaal ben ik niet van hele dagen vertoeven op het strand zonder activiteiten moet ik zeggen, maar vandaag was dat super gezellig en was ik gewoon moe en toe aan slaap en zon. Het strand waar we gingen liggen was letterlijk op loopafstand van Tribu en bij hotel Zomay, waar wij vandaag ook regelmatig hapjes en drankjes bestelden. De zonsondergang vanaf het strand was ook prachtig om mee te maken. Vandaag gingen we opnieuw goedkoop uit eten bij TacoQueto met ook een aantal nieuwe mensen tegenover gisteren – dit keer had ik een heerlijke Burrito. Later trof ik de Nederlandse vrouw toevallig met twee andere mannen aan, terwijl ik met mijn nieuwe grote groep verwelkomende reizigers op pad was. En ik kon je vertellen dat ik het tóch een stukje gezelliger had, haha.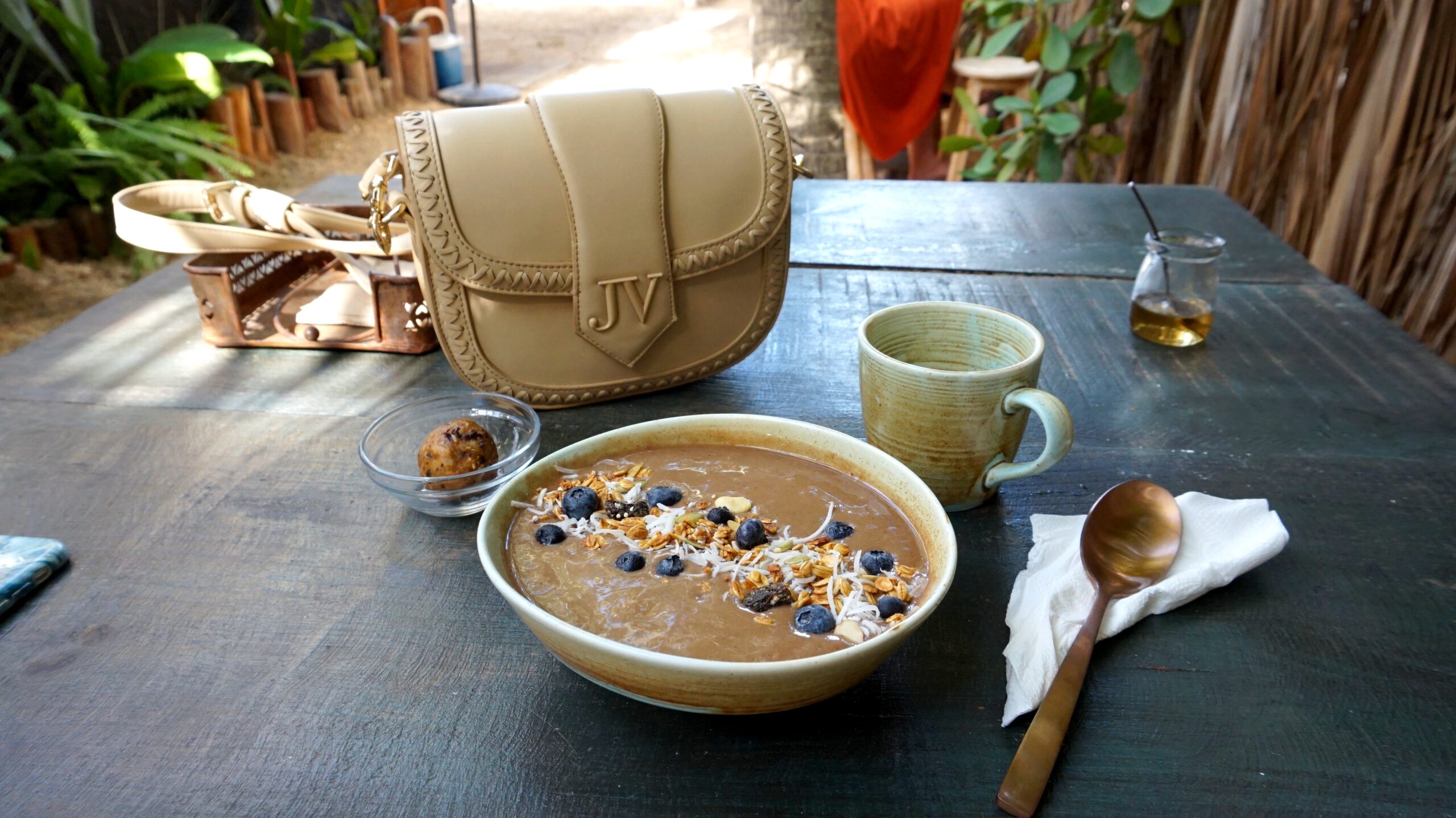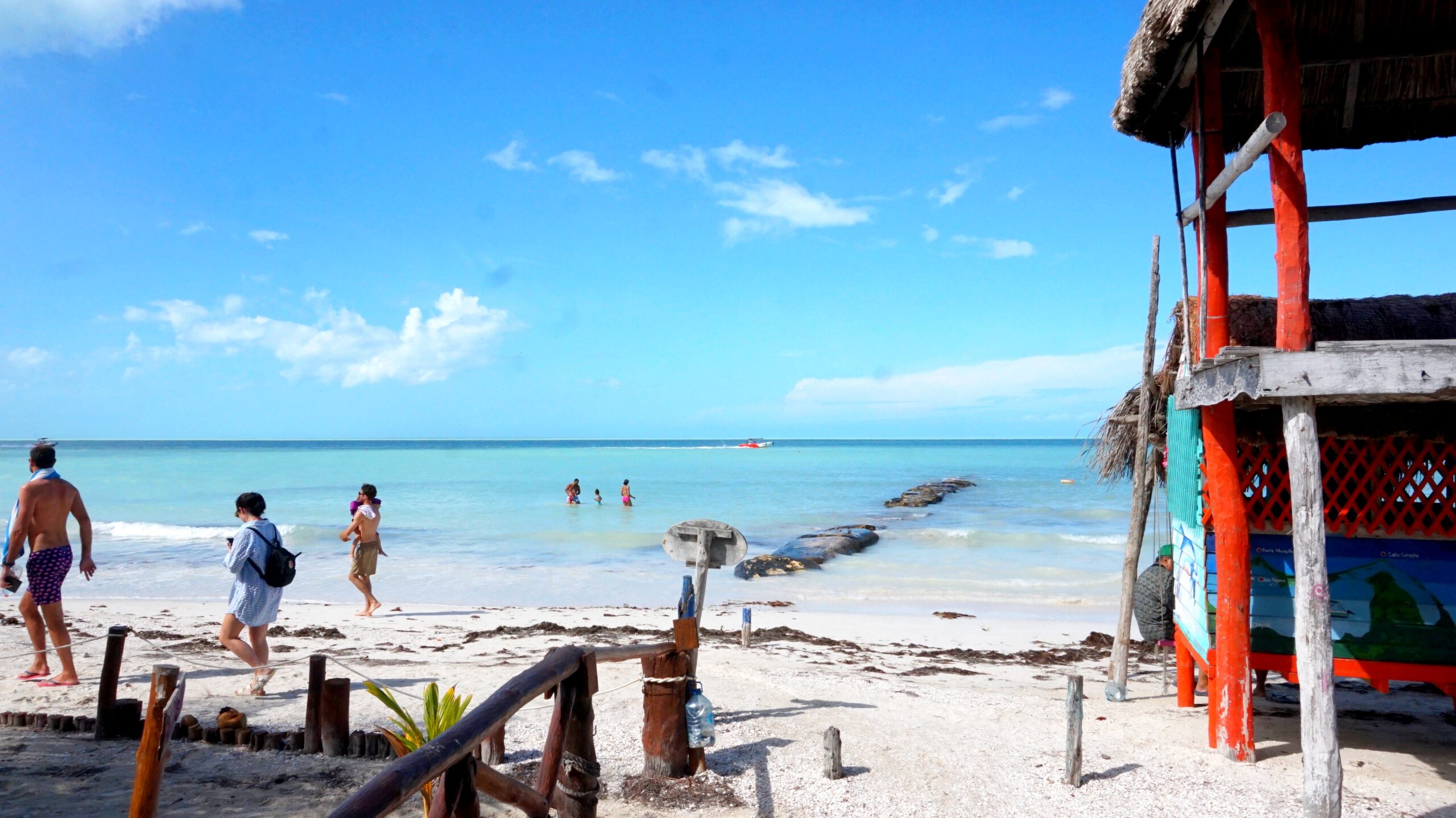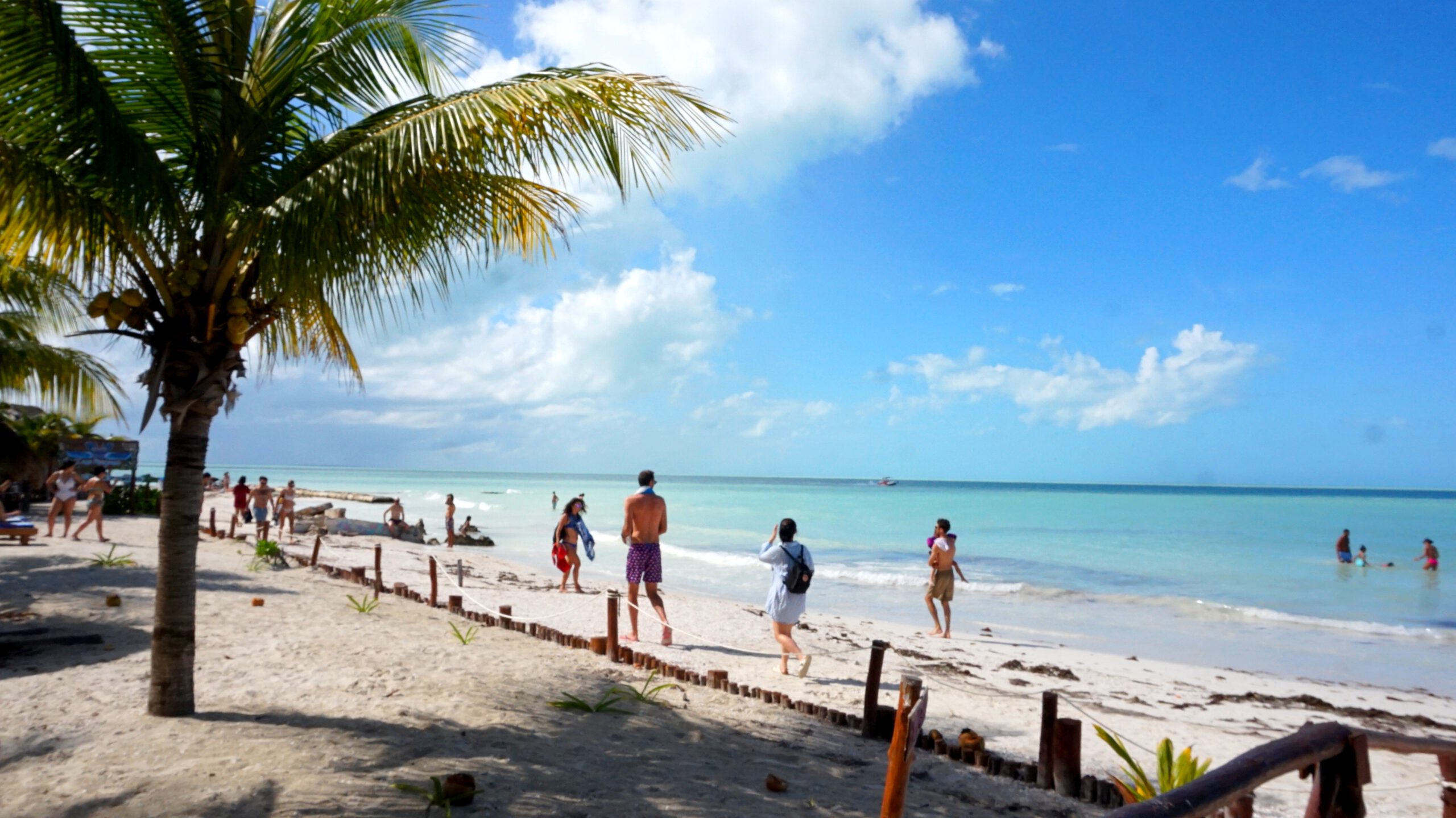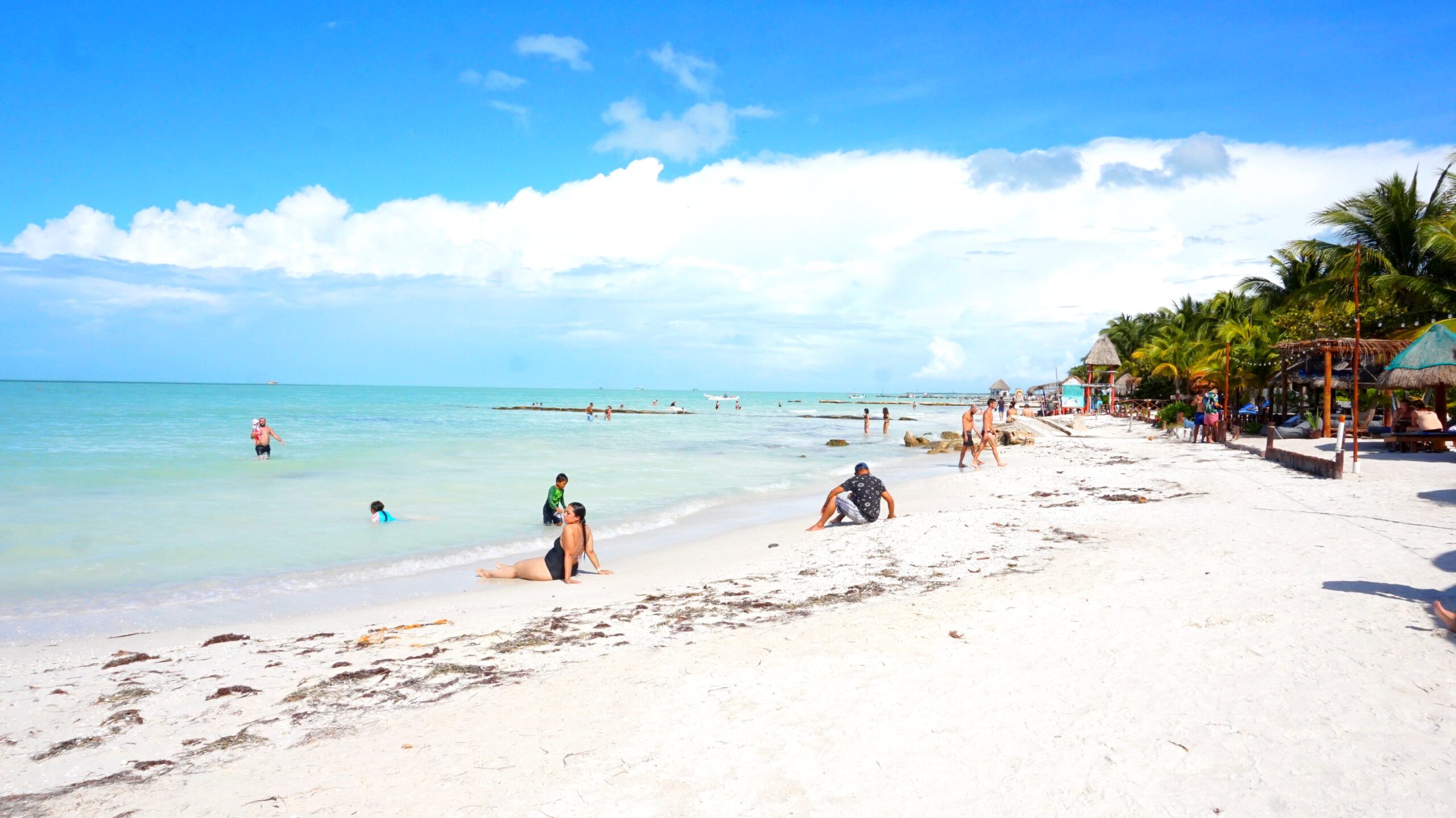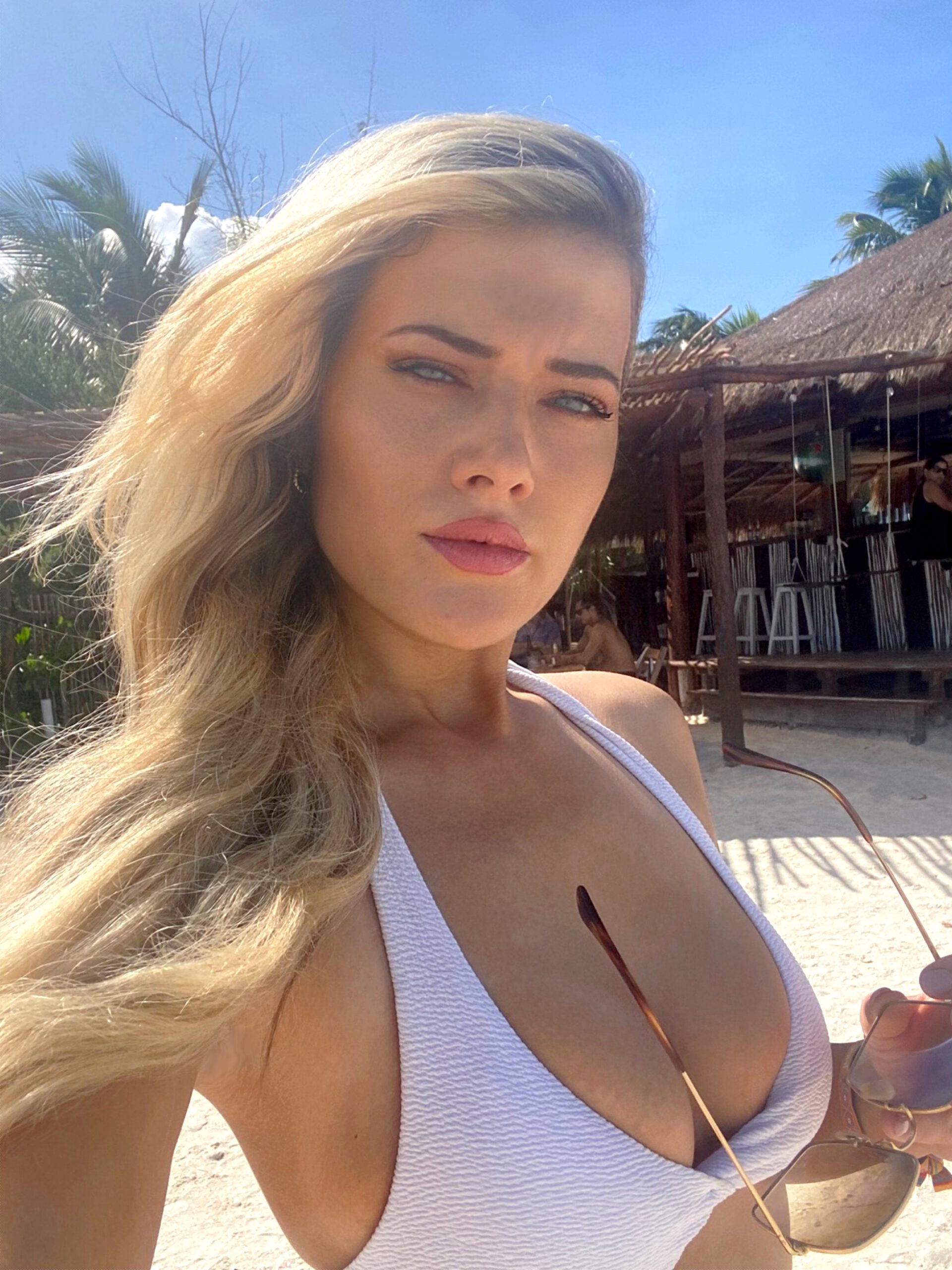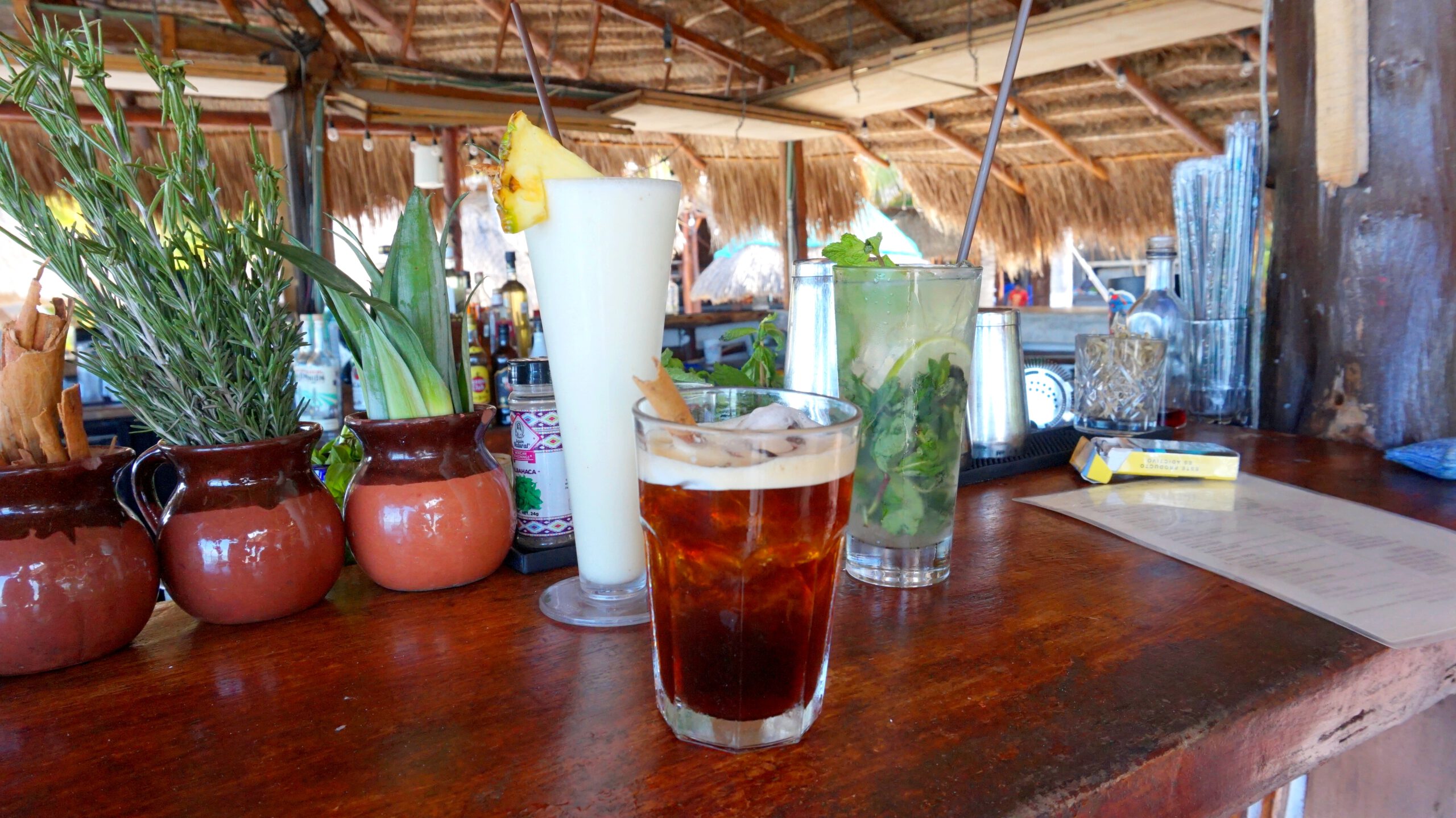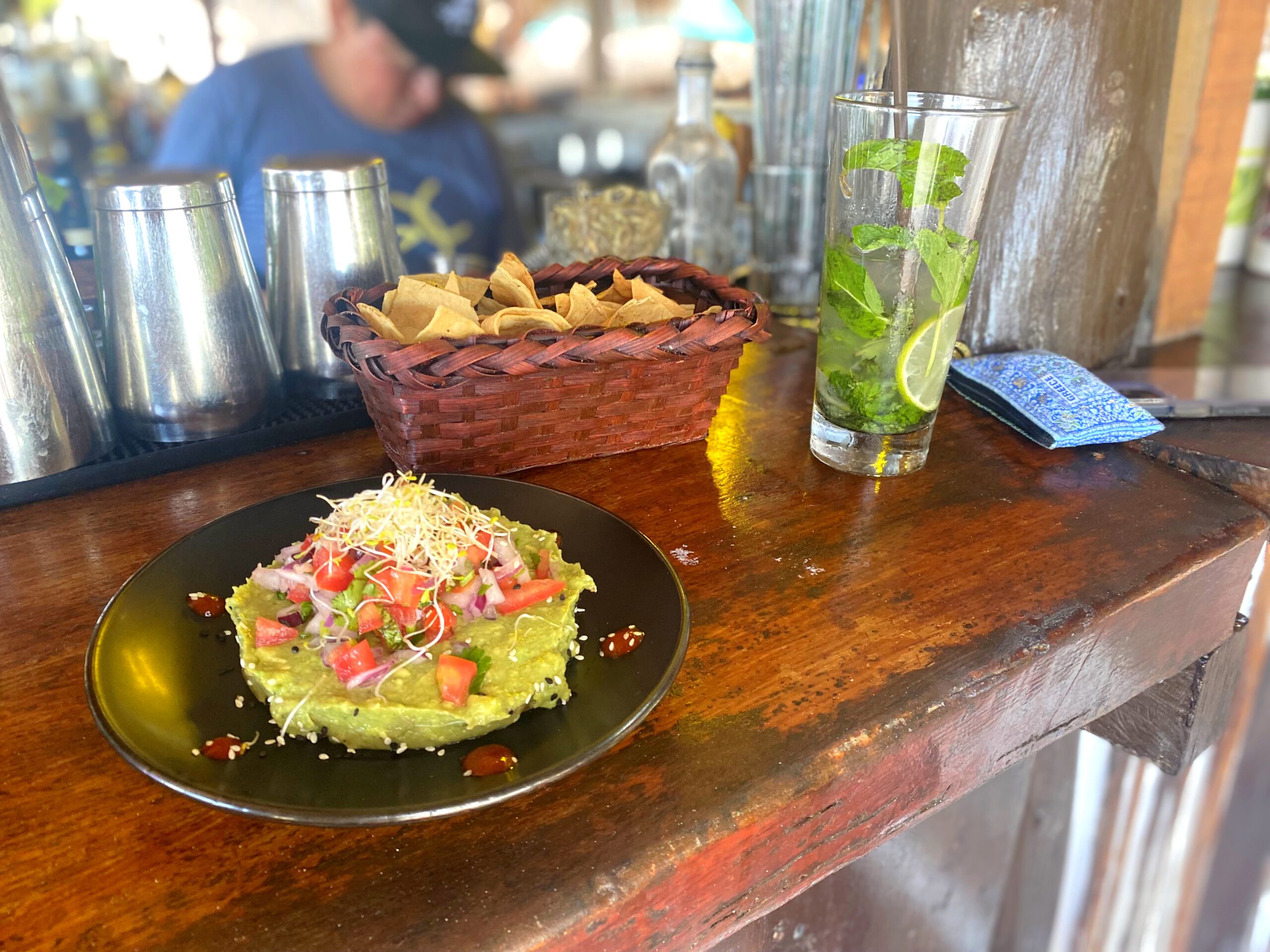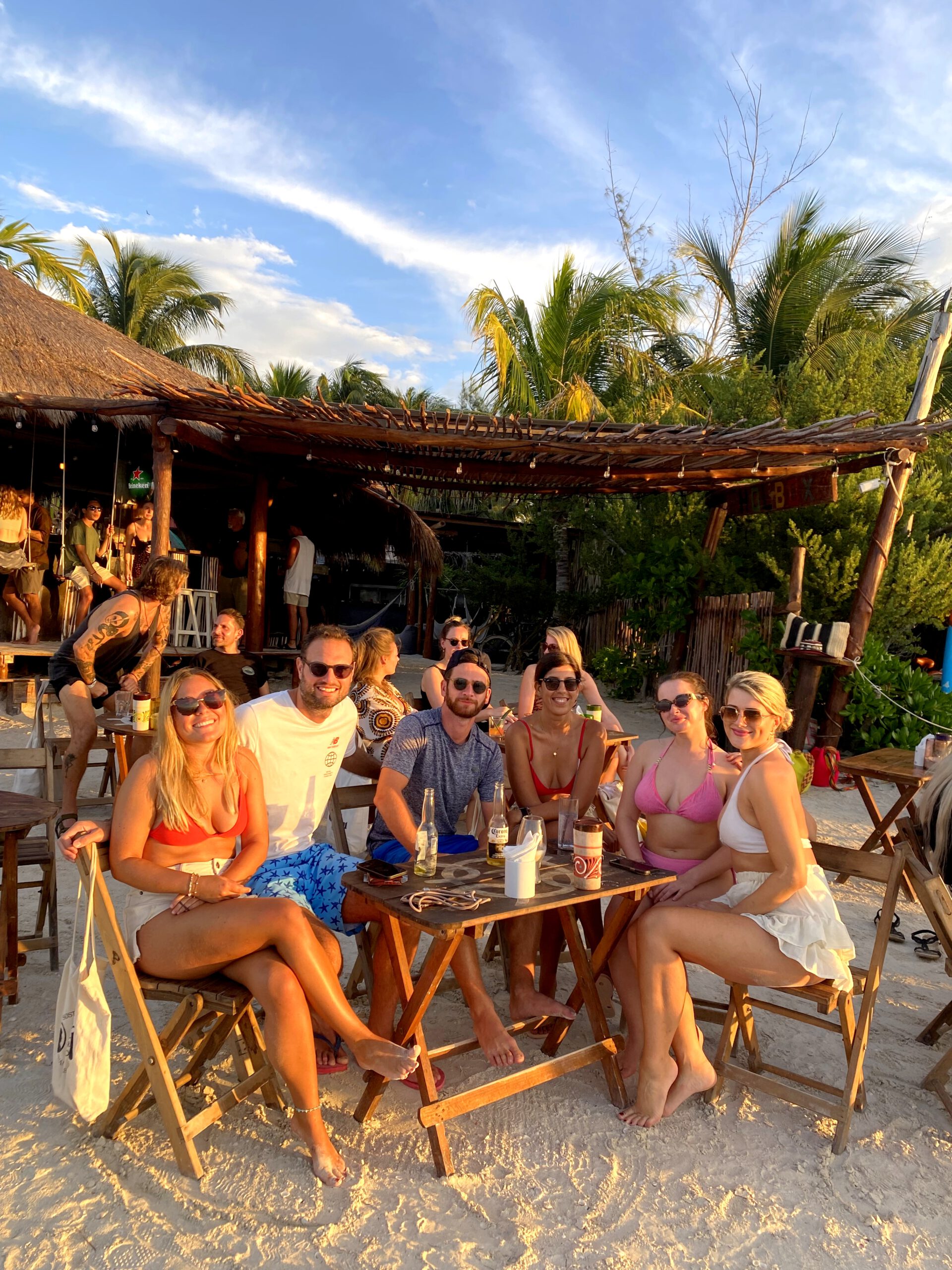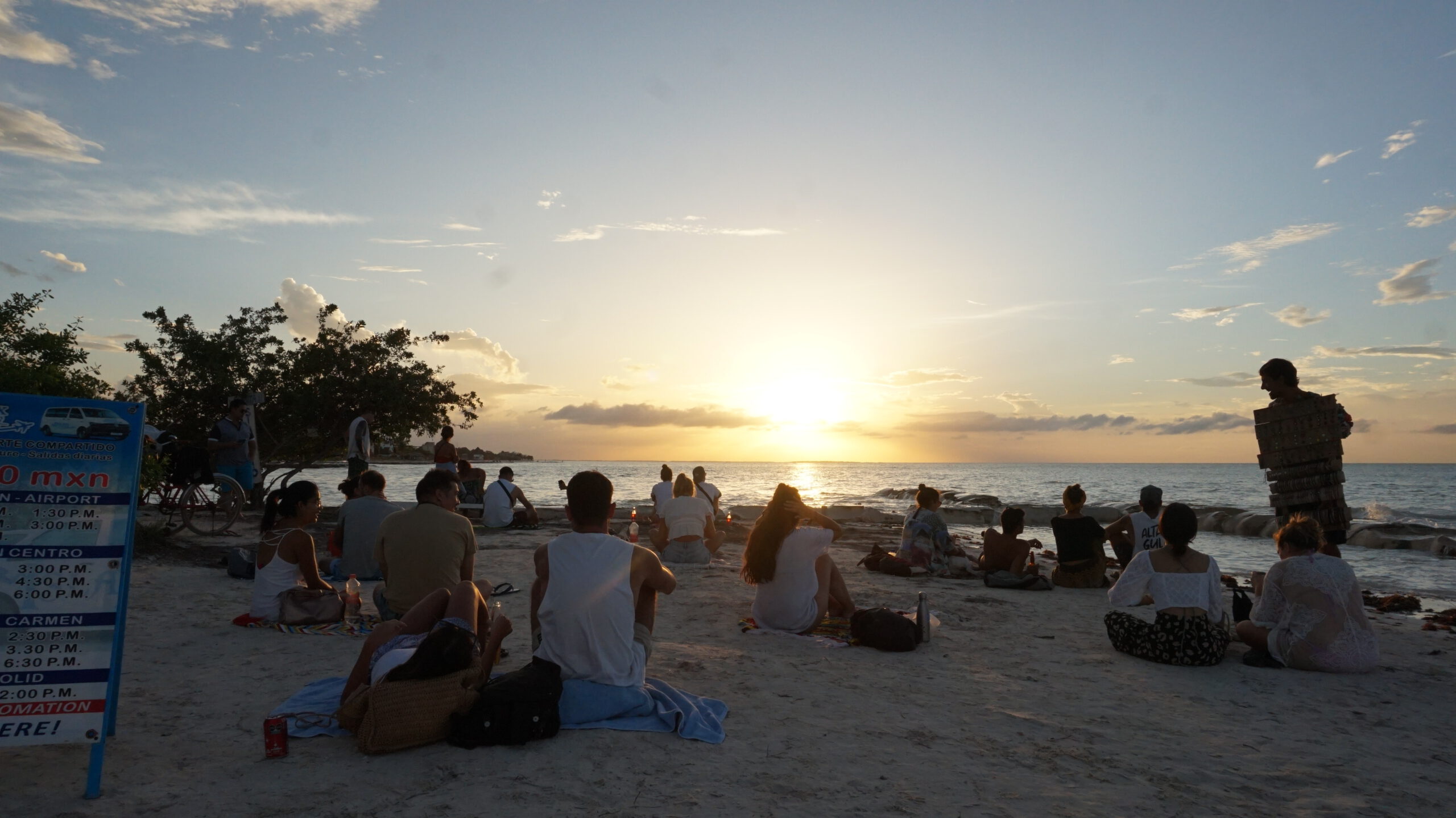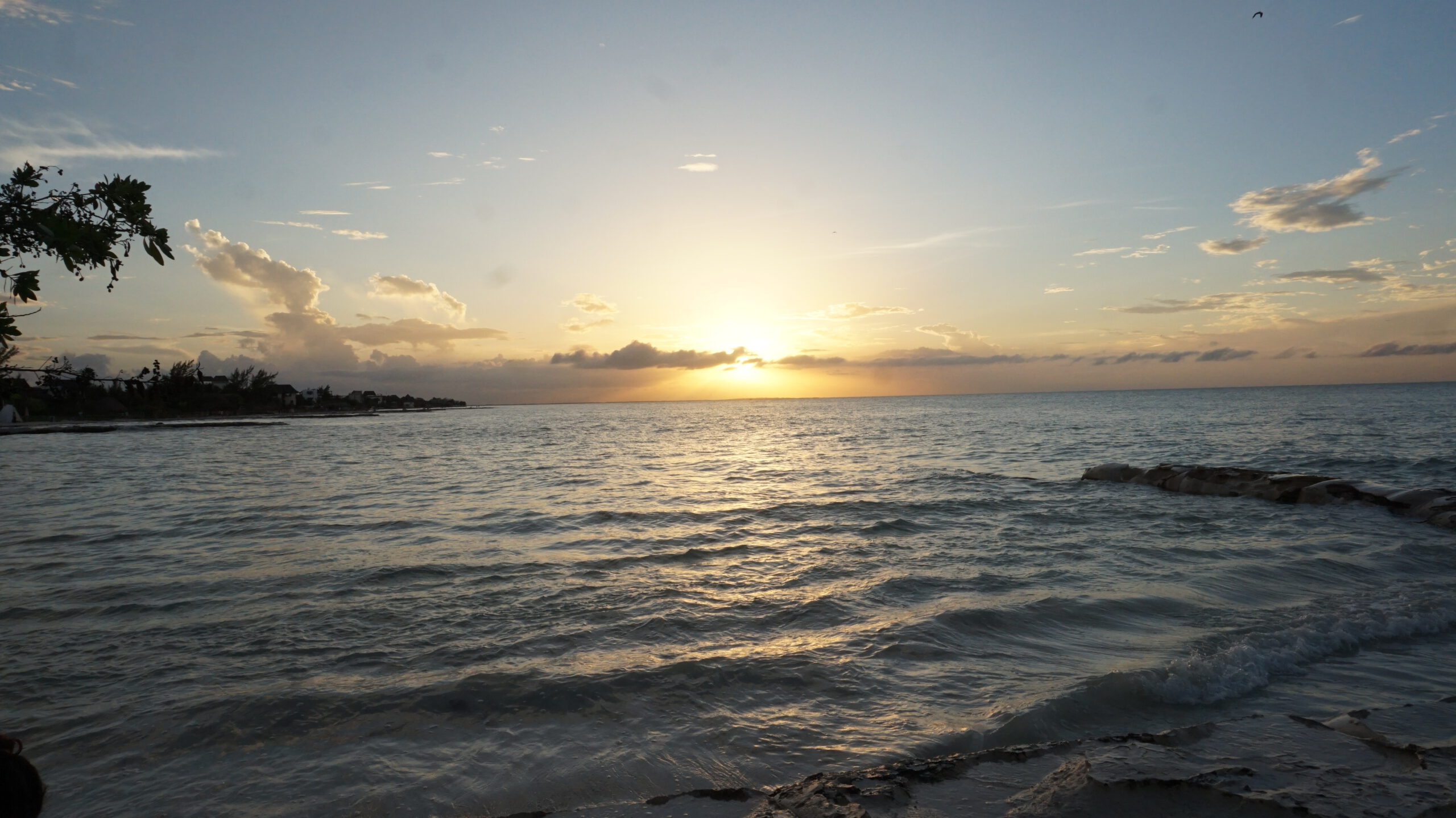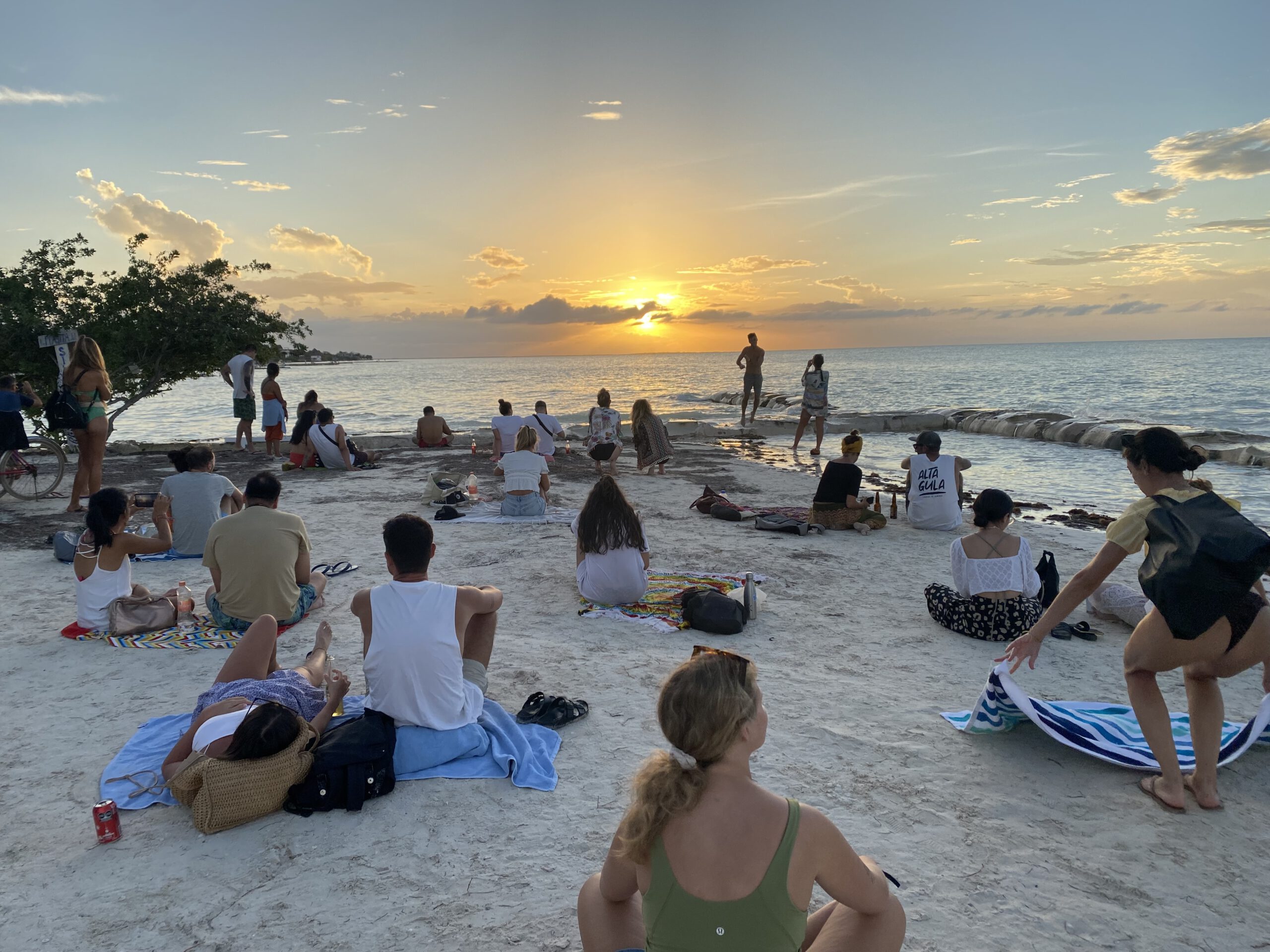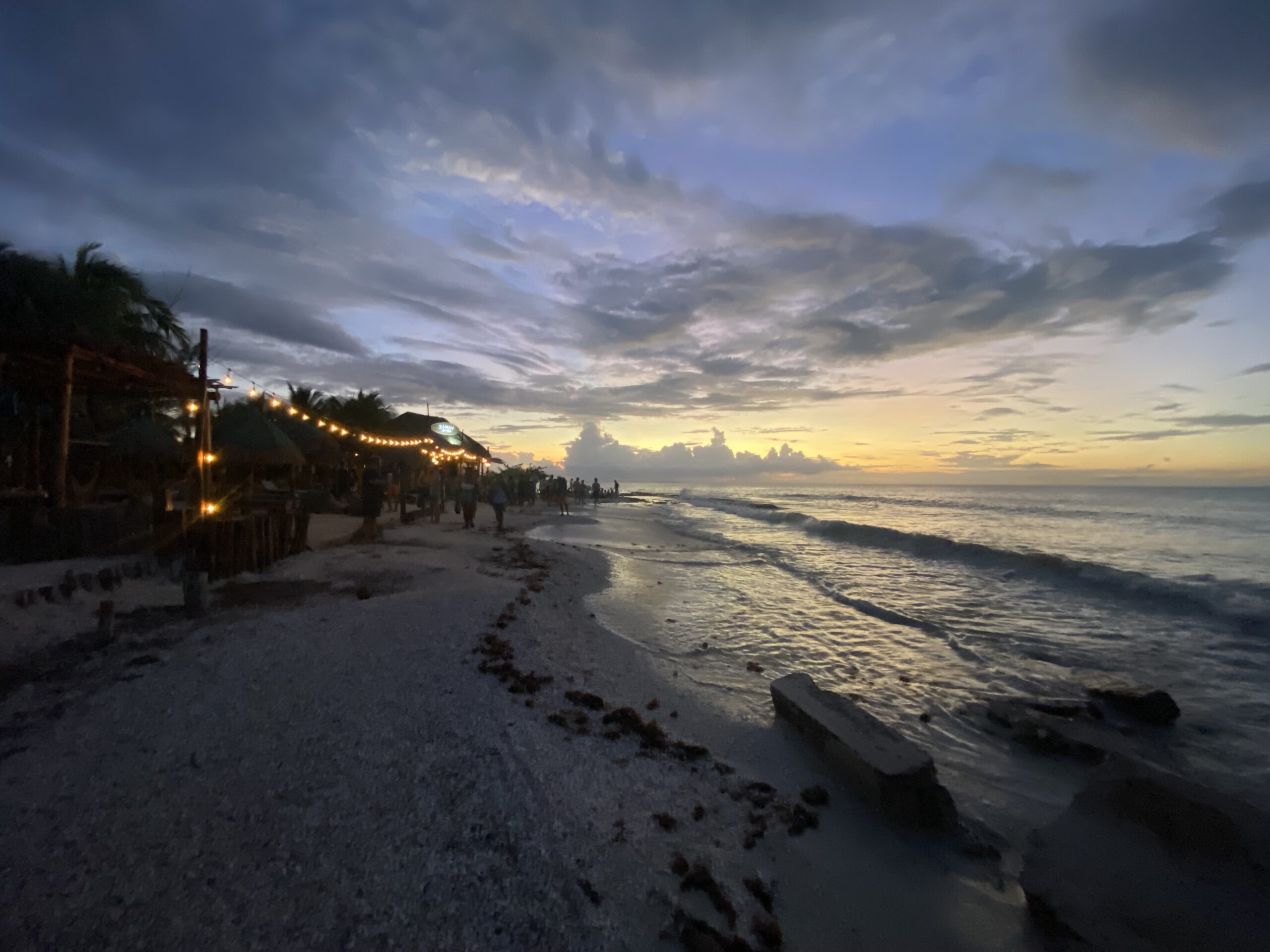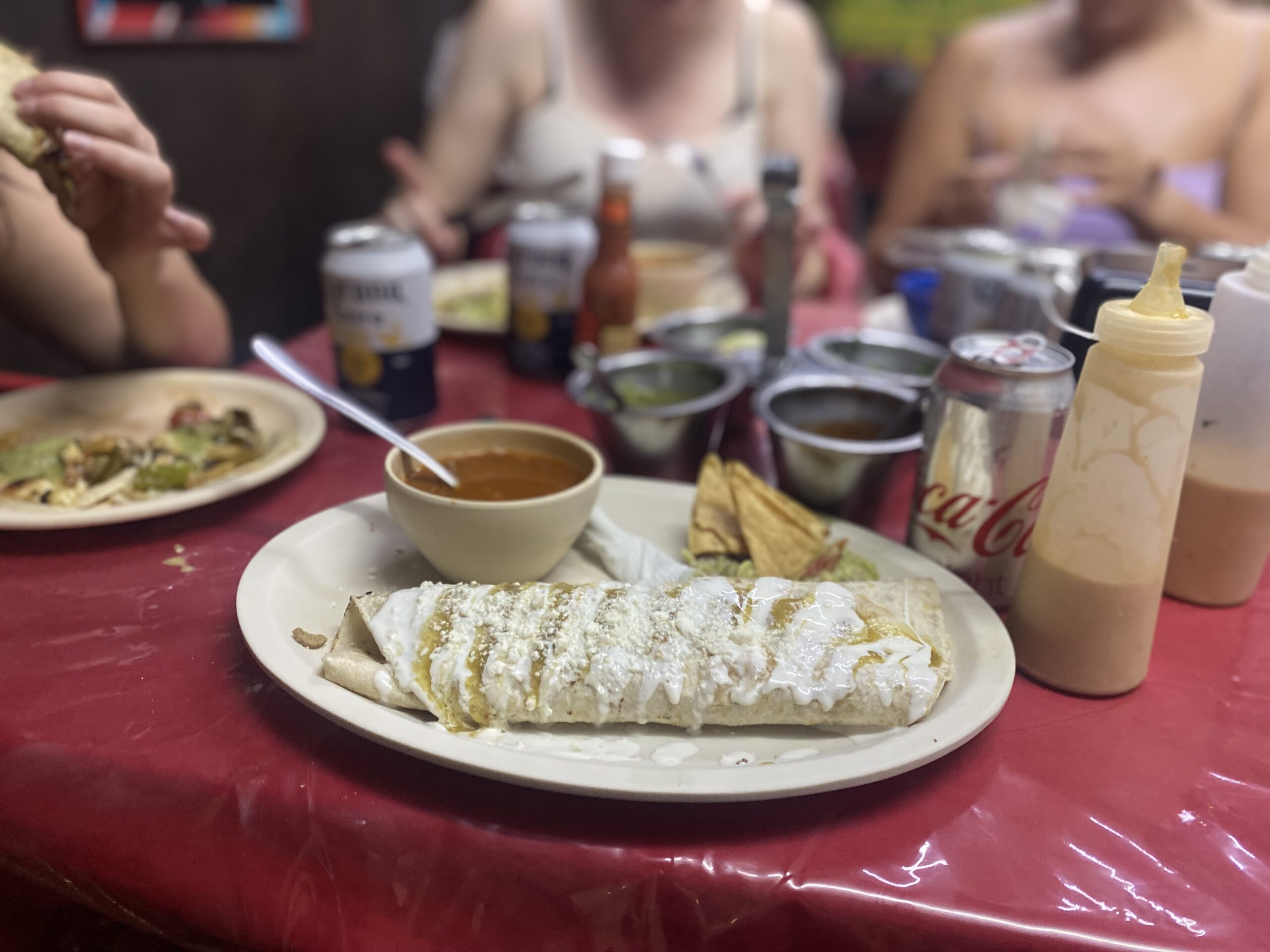 20-11-2022 – Isla Holbox & Tulum

This day I got up early because I would leave Holbox in the afternoon to travel to
Tulum
. Early in the morning, together with fellow solo travelers Amber and Nils, I decided to explore Holbox again with a rented bicycle from the hostel and to go to
Punto Mosquito
– which unfortunately did not work out in the end due to the too high water
. If you want to visit Punto Mosquito, keep an eye out for the best times to visit!
After our special failed trip, we went for lunch at
Another Clandestino
. Also a very nice recommendation for a cup of coffee or a nice lunch. Once back at the hostel and after relaxing on the beach for a while, it was time to pack the rest. Nils went back half an hour earlier than me with the Ferry and we agreed to meet in the Port of Chiquilla – there we had some taco's together with two Dutch people before each continued his own way.
While waiting for the bus, I had a nice chat with British solo traveler Ruby, who wasn't sure where she wanted to travel for the rest of her trip. So I recommended my hostel in Tulum to her, which I would return to today. During my 2-3 hour bus trip to Tulum, I met French solo traveler Agathe next to me on the bus, who also happened to be staying in the same hostel as me – Mayan Monkey. Together we walked from Tulum Pueblo bus station towards Mayan monkey, which was at least a 35-minute walk with all our suitcases. But the taxis in Tulum are so expensive that I preferred to walk the stretch with her this time. Dear friend – Cyni was waiting for me at the hostel and I jumped into her arms very happy. Cyni is a dear friend who met me during my trip in May and stayed here because she had also found love here in Mexico. She was one of the reasons why I decided to come back.
Deze dag stond ik vroeg op omdat ik in de middag Holbox zou verlaten om naar
Tulum
door te reizen. Samen met mede soloreizigers Amber en Nils, besloot ik vroeg in de ochtend met een gehuurde fiets van het hostel, Holbox opnieuw te verkennen en opweg te gaan naar
Punto Mosquito –
wat helaas uiteindelijk niet lukte door het té hoge water.
Mocht je Punto Mosquito willen bezoeken, houd de beste tijden voor bezoek in de gaten!
Na onze bijzondere gefaalde tocht, gingen we lunchen bij
Another Clandestino.
Ook een hele leuke aanbeveling voor een kopje koffie of lekkere lunch. Eenmaal terug in het hostel en na nog kort relaxen op het strand, was het tijd de rest in te pakken. Nils ging een half uurtje eerder dan ik met de Ferry terug en we spraken af nog te meetten in de Haven van Chiquilla – daar hebben we uiteindelijk nog samen met twee Nederlanders taco's gegeven, voor ieder zijn eigen weg vervolgden.
Al wachtend op de bus, had ik leuk een gesprek met Britse solo reizigster Ruby, die nog niet uit was waar ze heen wilde reizen de rest van haar reis. Ik beval haar dan ook mijn hostel in Tulum aan, waar ik naar terug zou gaan vandaag. Tijdens mijn 2-3 urige busreis naar Tulum, leerde ik naast mij in de bus Franse soloreizigster Agathe kennen, die per toeval óók nog eens in hetzelfde hostel als ik verbleef – Mayan Monkey. Samen zijn we bij aankomst vanaf Tulum Pueblo busstation gelopen richting Mayan monkey, wat zeker zo'n 35 minuten lopen was met al onze koffers. Maar de taxi's in Tulum zijn zo mega duur, dat ik het stuk toch liever samen met haar liep dit keer. Mijn lieve vriendin – Cyni wachtte me op in het hostel en ik sprong enorm blij in haar armen. Cyni is een dierbare vriendin die in tijdens mijn reis in Mei leerde kennen, en hier is gebleven omdat ze hier in Mexico ook de liefde had gevonden.  Ze is een van de redenen waarom ik besloot om terug te komen.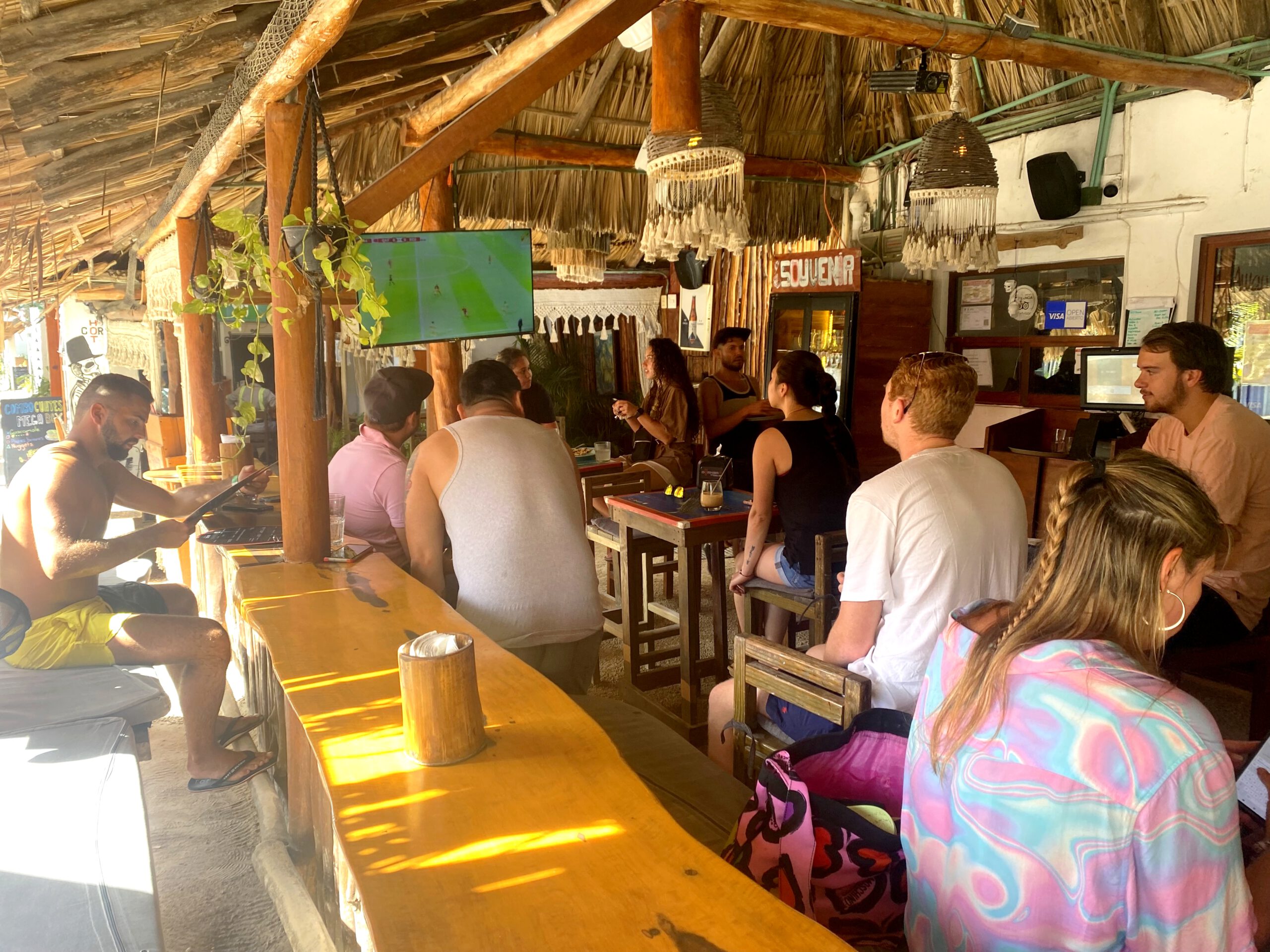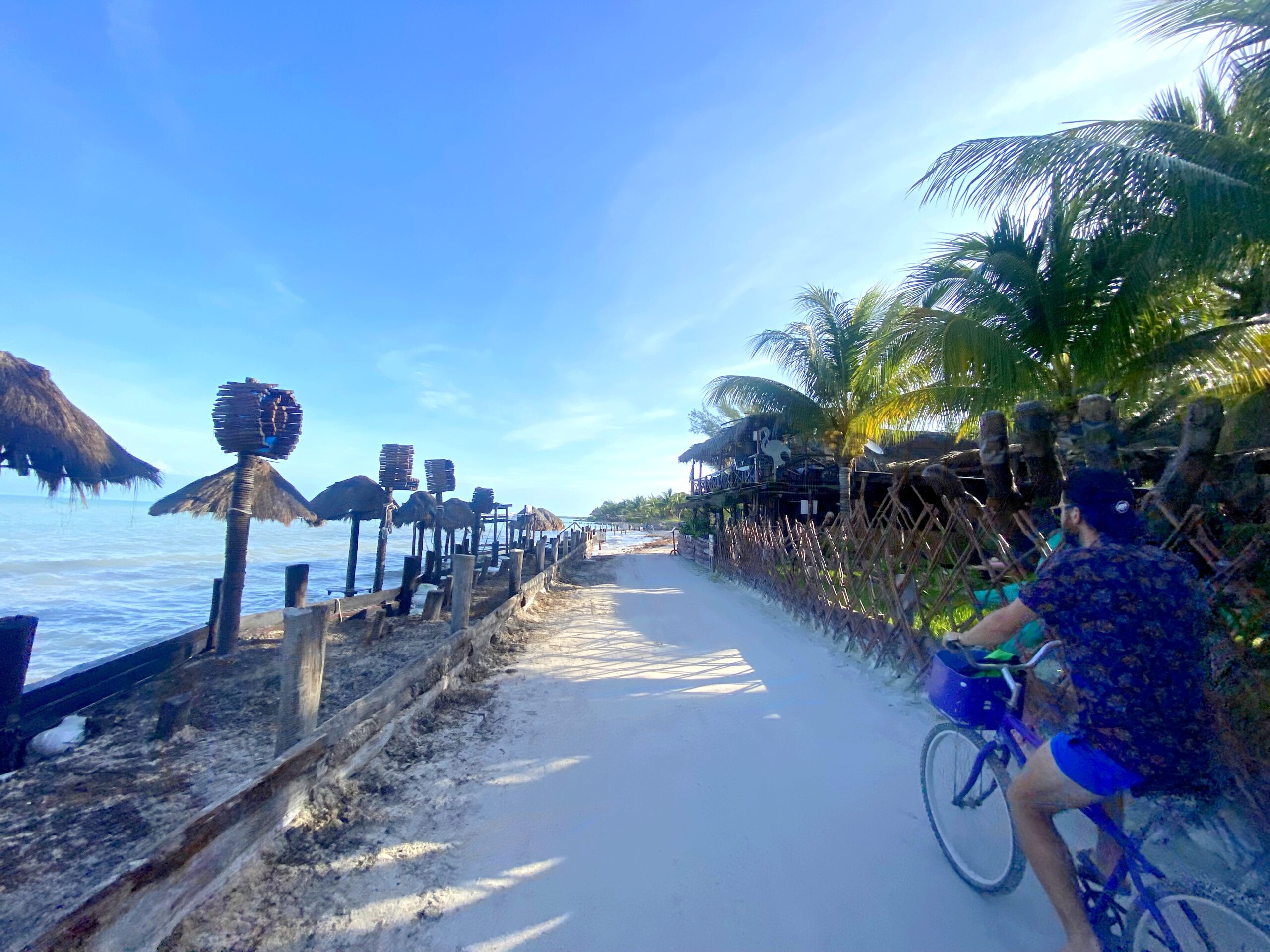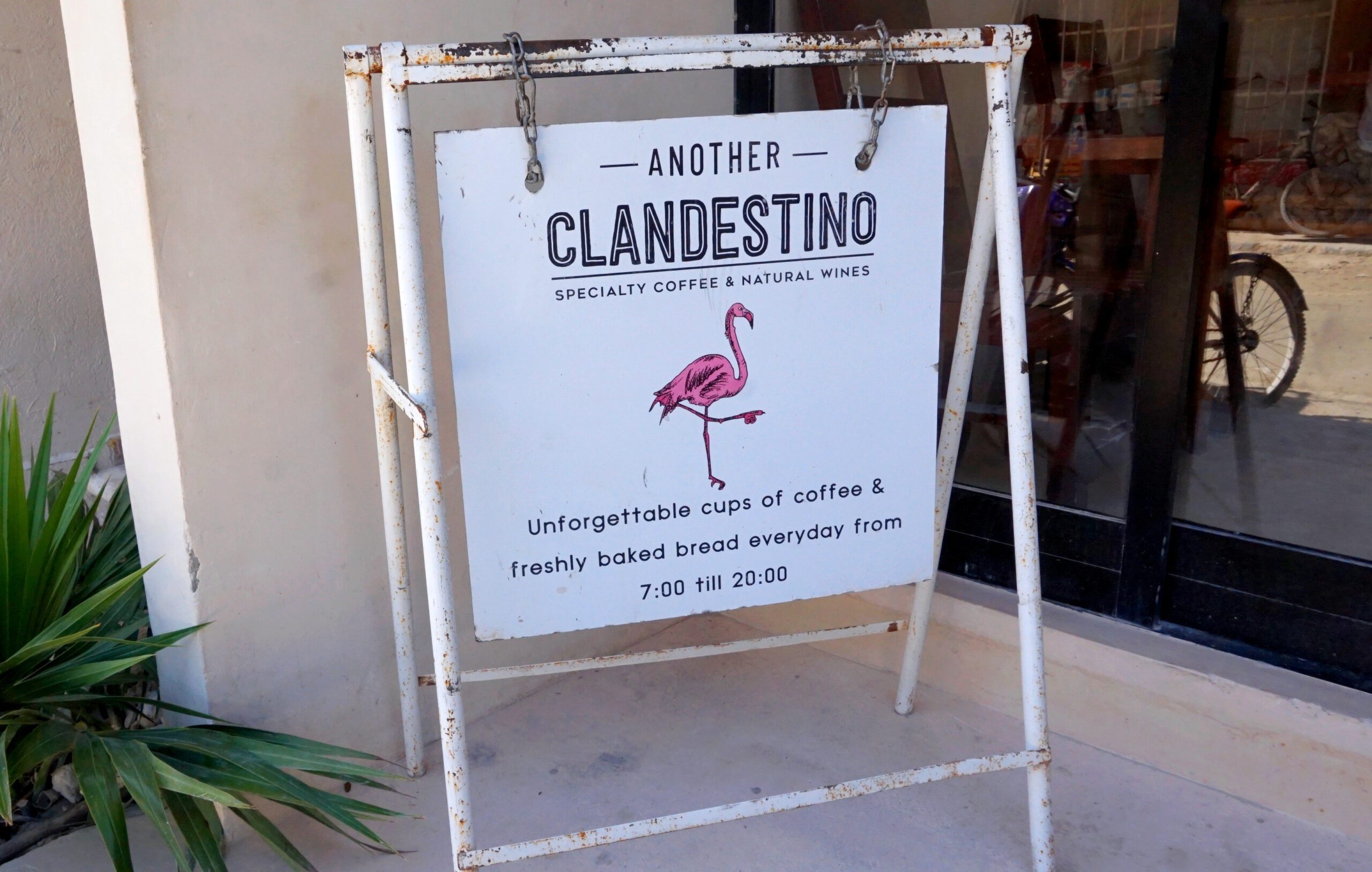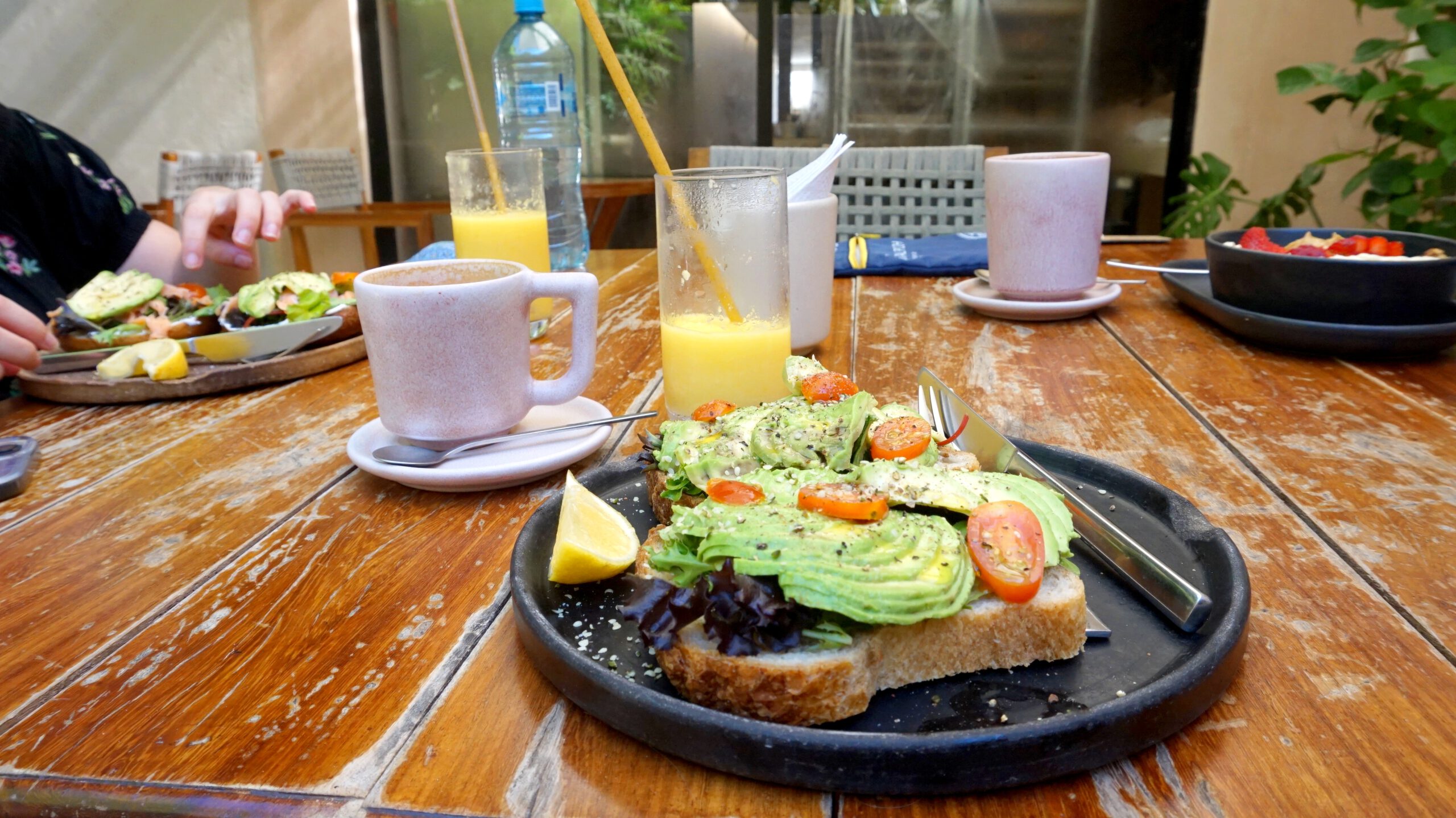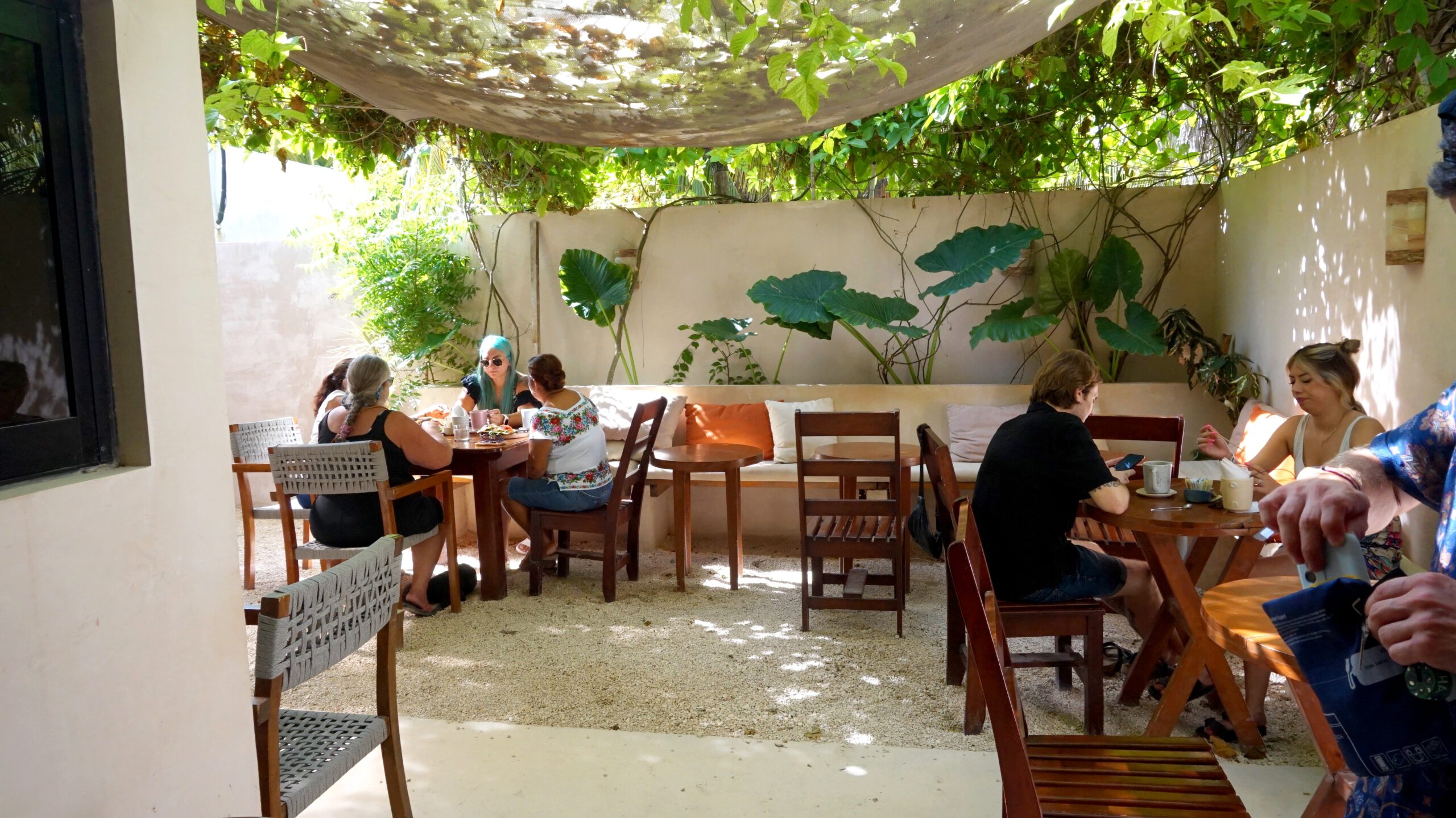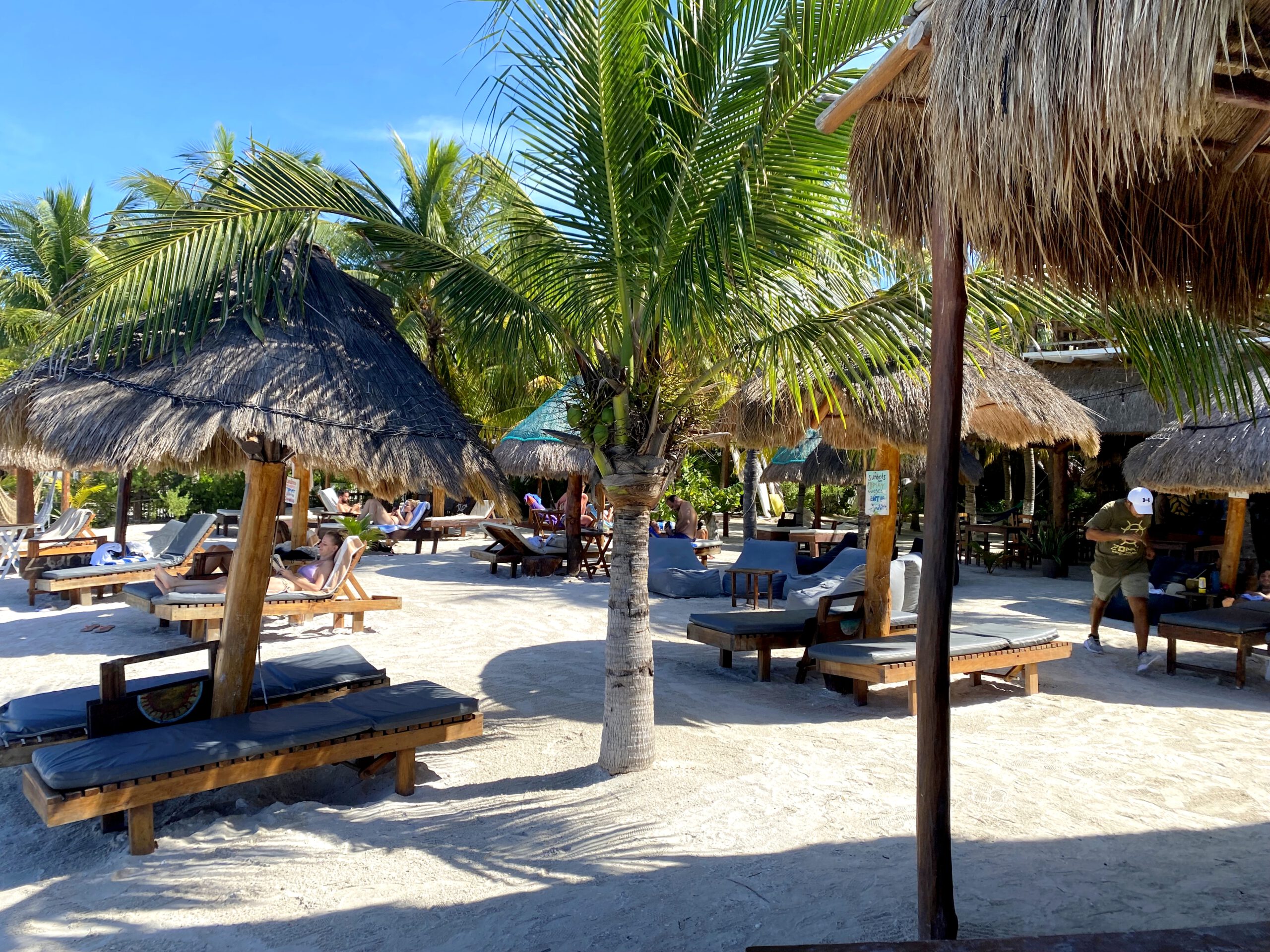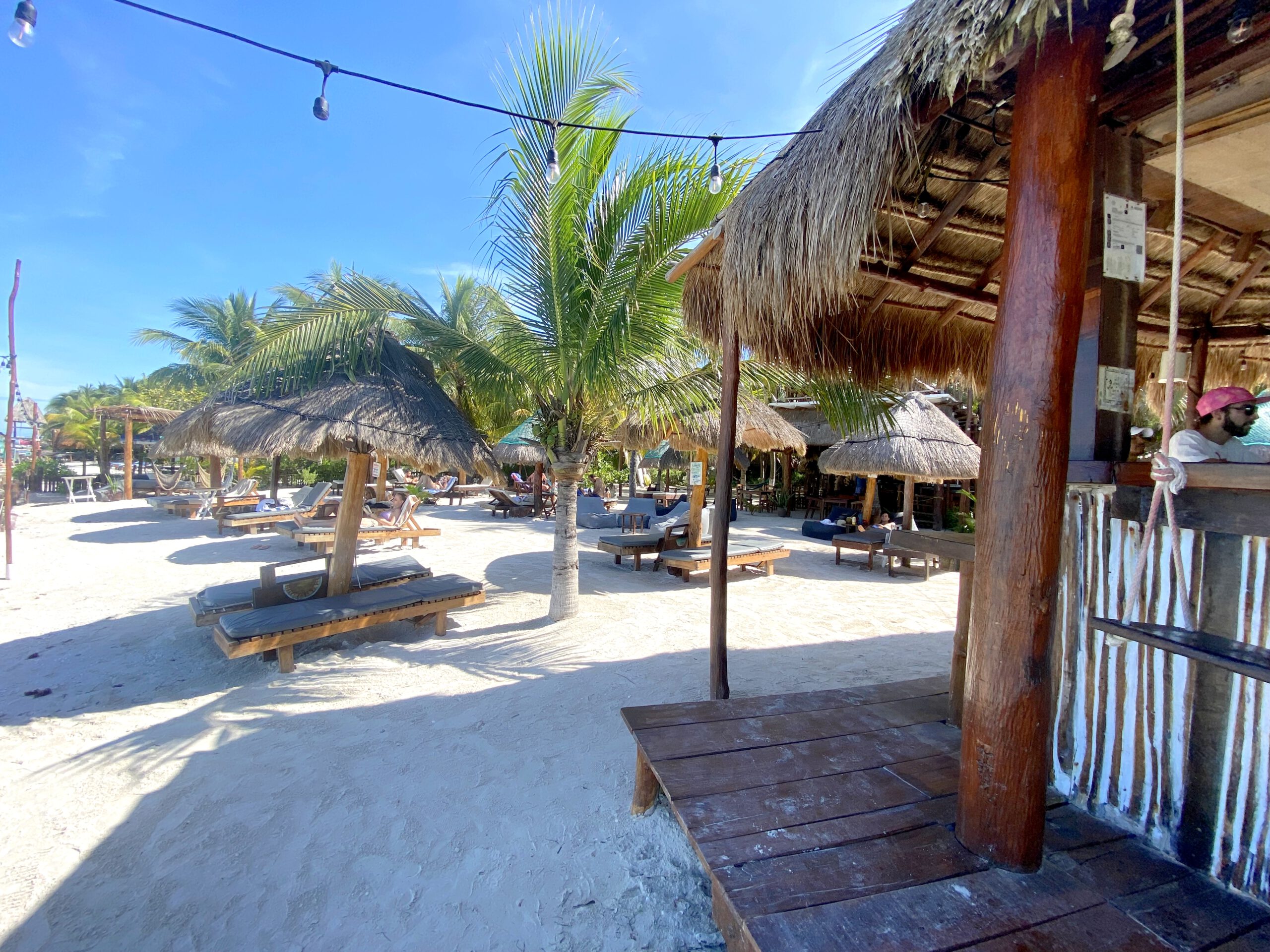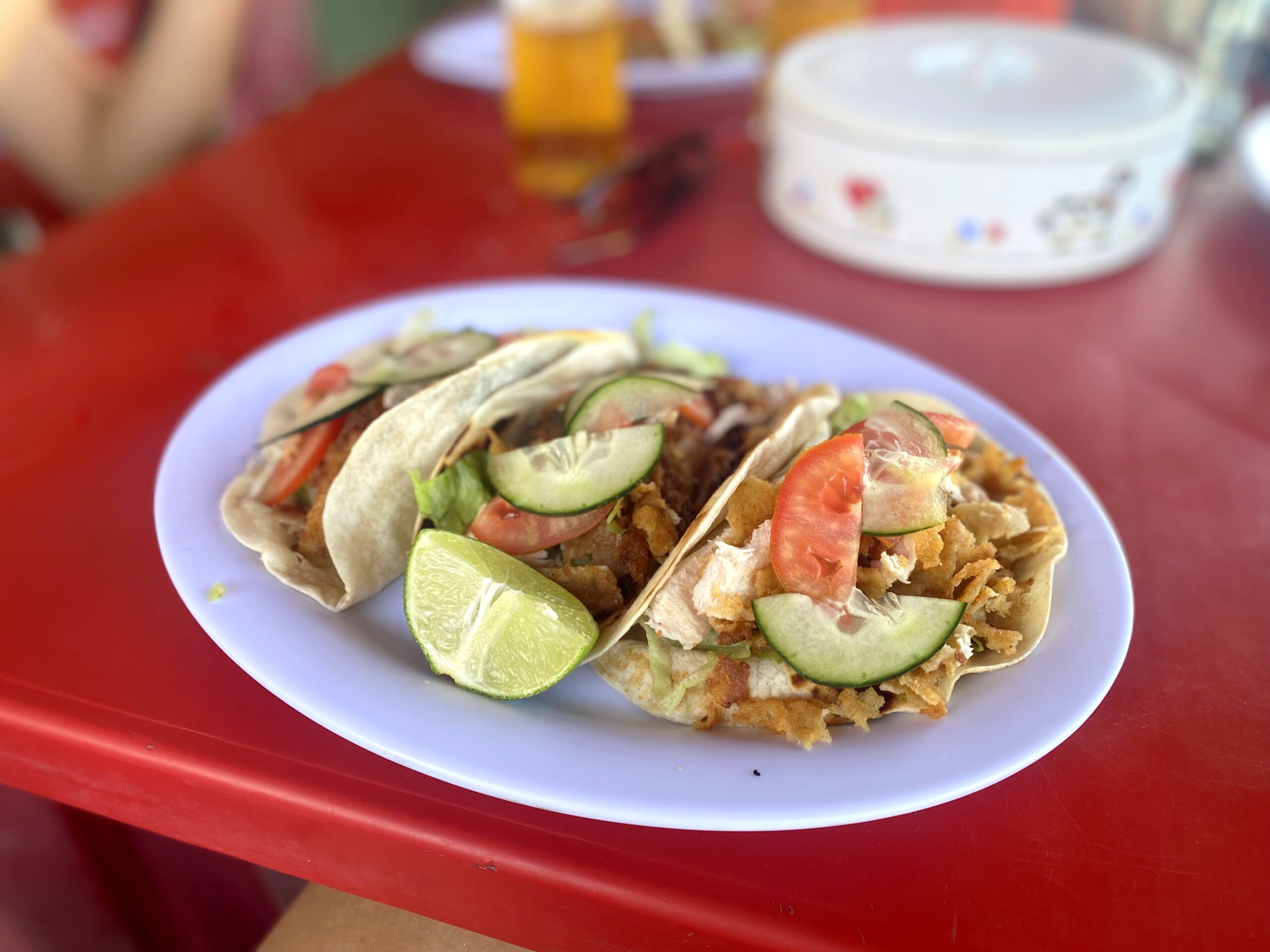 21-11-2022 – Tulum
Mayan Monkey
is a hostel in Tulum where I had a great time back in May, and therefore I decided to stay many nights. At first I had the goal to book the first part of my stay myself to be more independent, and not to book the rest part to stay with and at my (ex) long-distance love. The hostel is super clean, luxurious, cheap and you also have towels and a great breakfast included. The morning started with the World Cup football Netherlands against Senegal, which was watched by mostly the Dutch travelers in the hostel. I had breakfast with sweet solo traveler Nadia from Colombia, with whom I had a coffee afterwards at
Cafe Antoinette
. This recently opened branch of Cafe Antoinette is less than a 3-minute walk from the hostel. Later in the afternoon Cyni and her Mexican boyfriend
Leon
had a nice lunch at
Matcha Mama
– I had the delicious mango bowl and coconut water here. In the end, the 3 of us went for a drink at
Bo Tulum
– where you can also do your laundry in addition to a bar.
Cyni and I were then together at Hotel Downtown Tulum to share bottle of white wine at their rooftop pool. It was wonderful to talk to her about everything in life. I am very grateful to have met a dear friend like her during one of my travels. To end the day we went for some delicious sushi at Akuma Tiger – also in downtown Tulum.
Mayan Monkey
is een hostel in Tulum waar ik in mei een enorm fijne tijd heb gehad, en daarom besloot veel nachten te blijven. In eerste instantie had ik het doel het eerste deel van mijn verblijf zelf te boeken om onafhankelijker te zijn, en het verdere deel niet te boeken om bij mijn (ex) lange afstand liefde te verblijven. Het hostel is super schoon, luxe, goedkoop en bovendien heb je er handdoeken en een prima ontbijt bij inbegrepen. De ochtend begon met het WK voetbal Nederland tegen Senegal, die druk bekeken werd door de Nederlandse reizigers in het hostel. Ik had ontbijt met lieve solo reizigster Nadia uit Colombia, waarmee ik erna bij
Cafe Antoinette
nog een koffietje was gaan drinken. Deze recent geopende vestiging van Cafe Antoinette is nog geen 3 minuten lopen vanaf het hostel. Later in de middag ging in met Cyni en haar Mexicaanse vriend
Leon
lekker lunchen bij Matcha Mama – ik had hier de heerlijke mango bowl en cocos water. Uiteindelijk zijn we met zijn 3en een drankje gaan doen bij Bo Tulum – waar je naast een bar, ook nog je was kunt doen.
Cyni en ik zijn vervolgens samen bij hotel Downtown Tulum nog een fles witte wijn te delen. Het was heerlijk om met haar over alles van het leven te praten. Ik ben erg dankbaar een dierbare vriendin als haar te hebben leren kennen tijdens een van mijn reizen. Om de dag af te sluiten zijn we nog heerlijk sushi gaan eten bij Akuma Tiger – ook in downtown Tulum.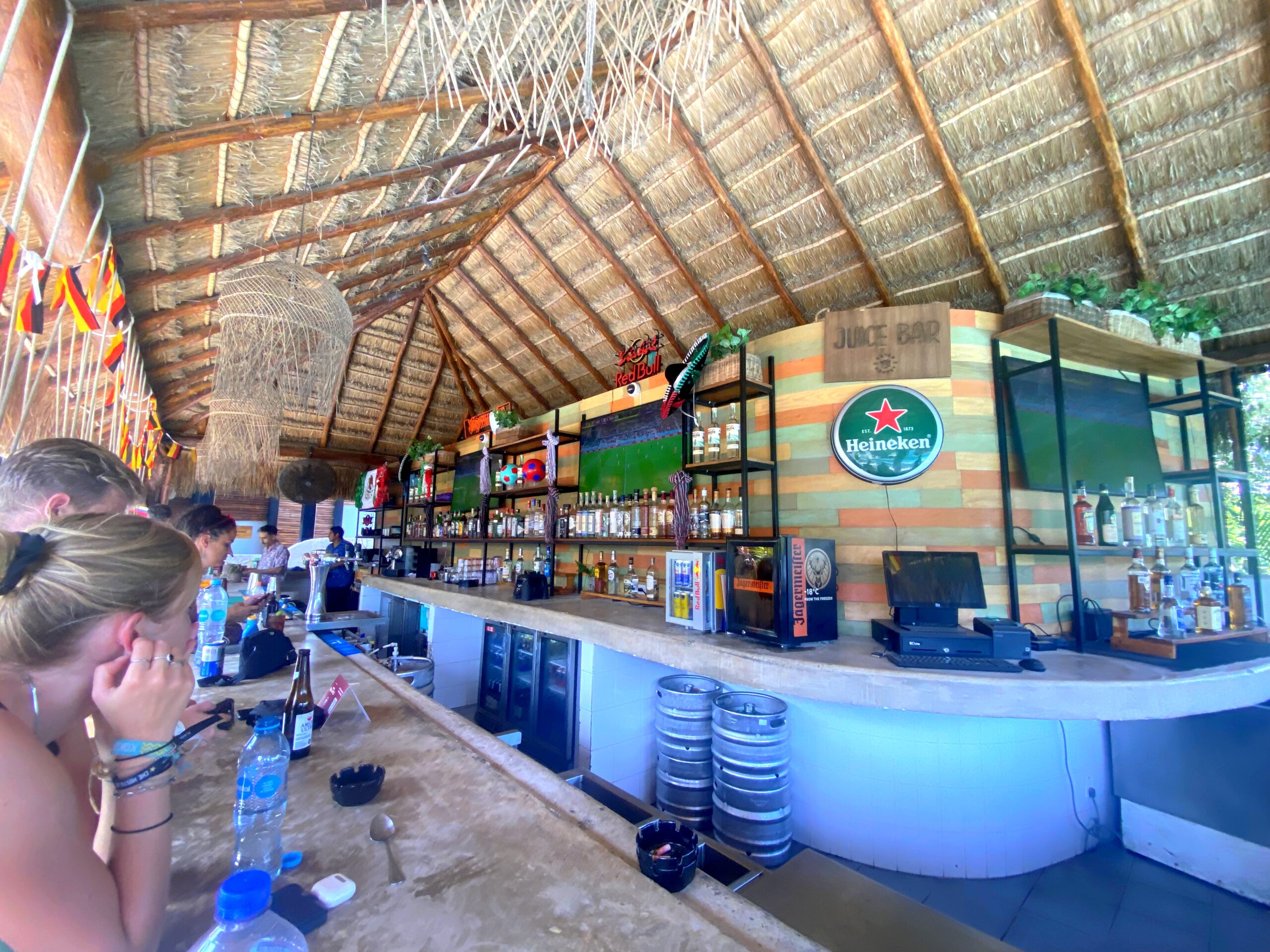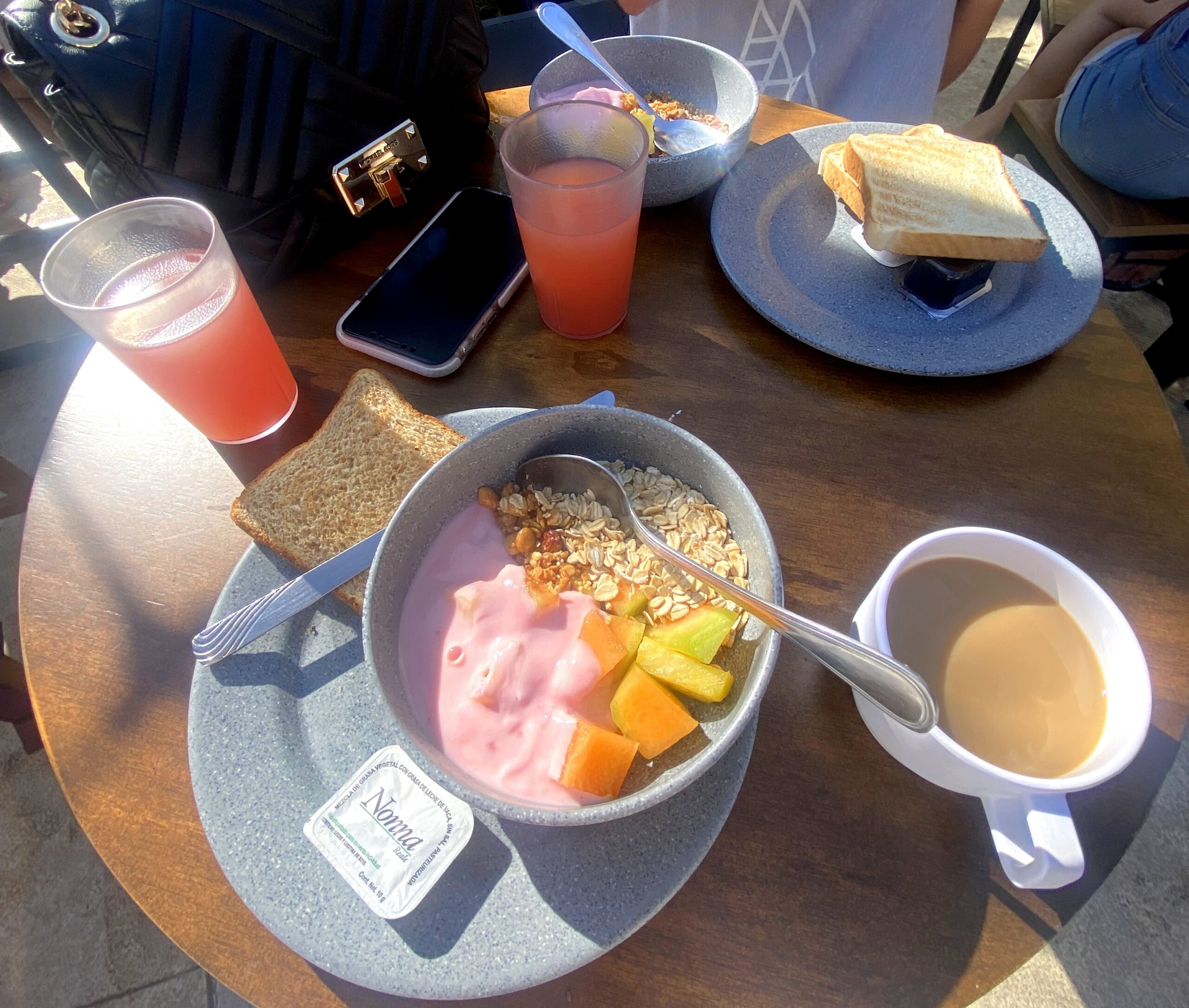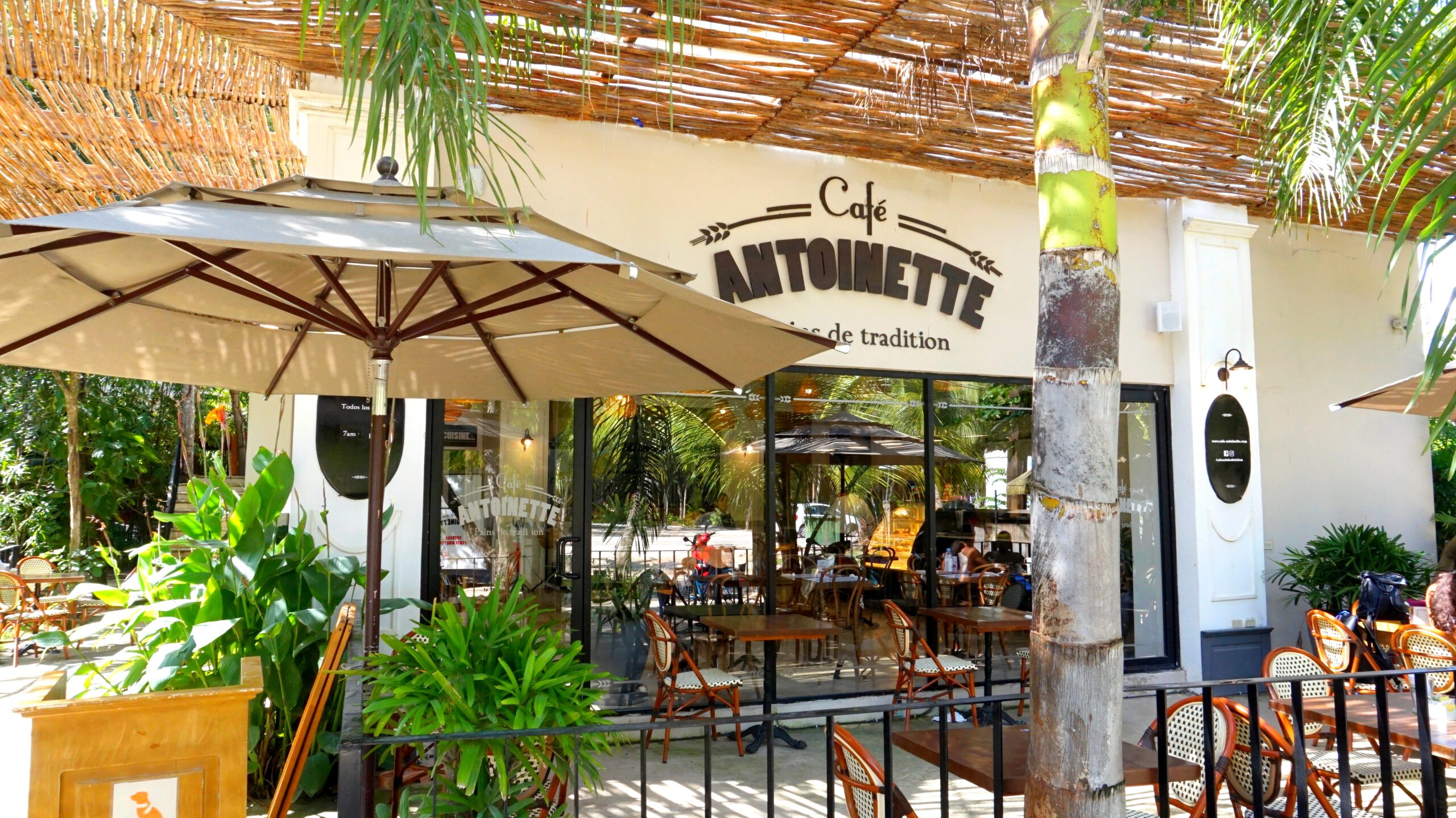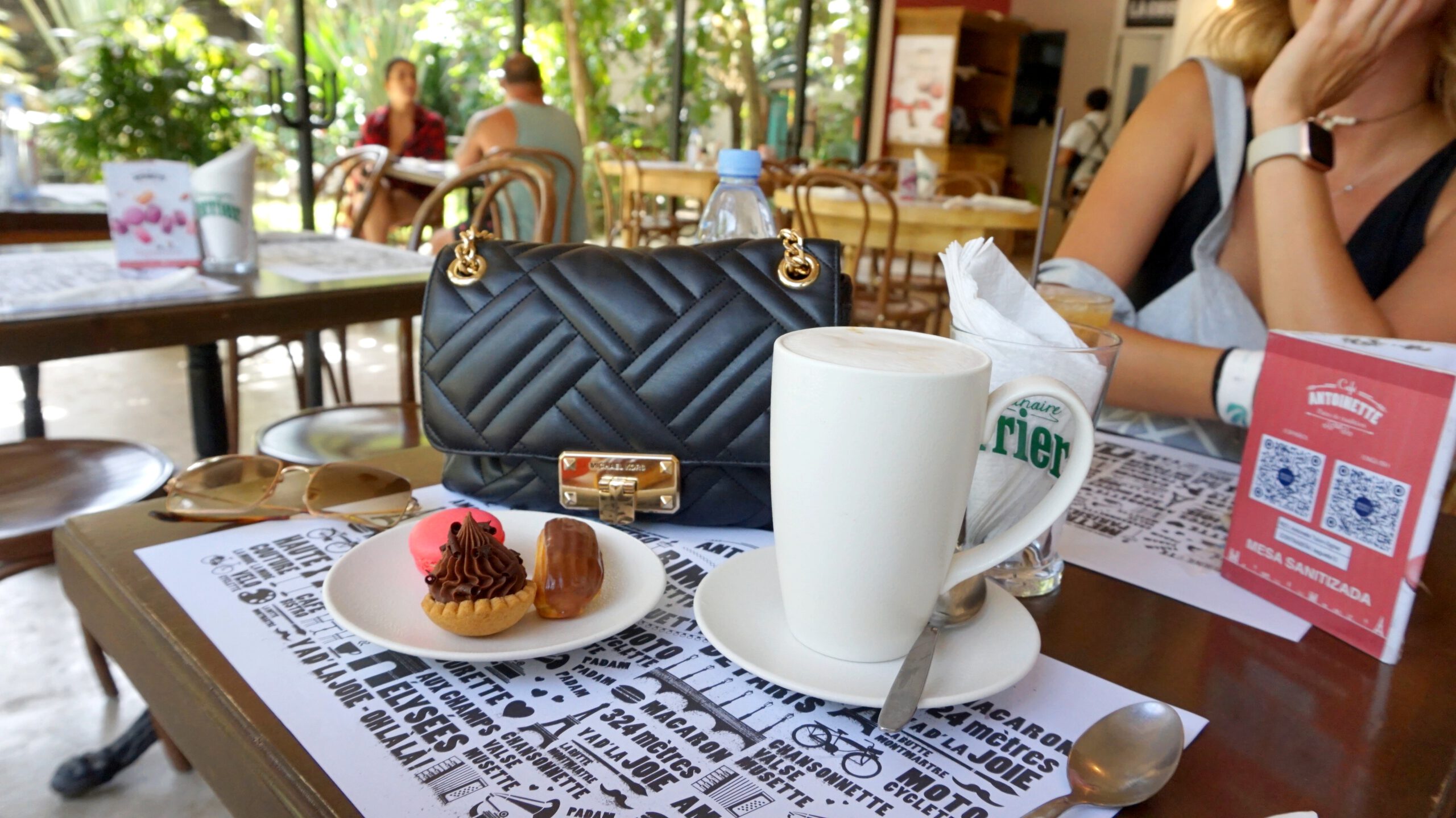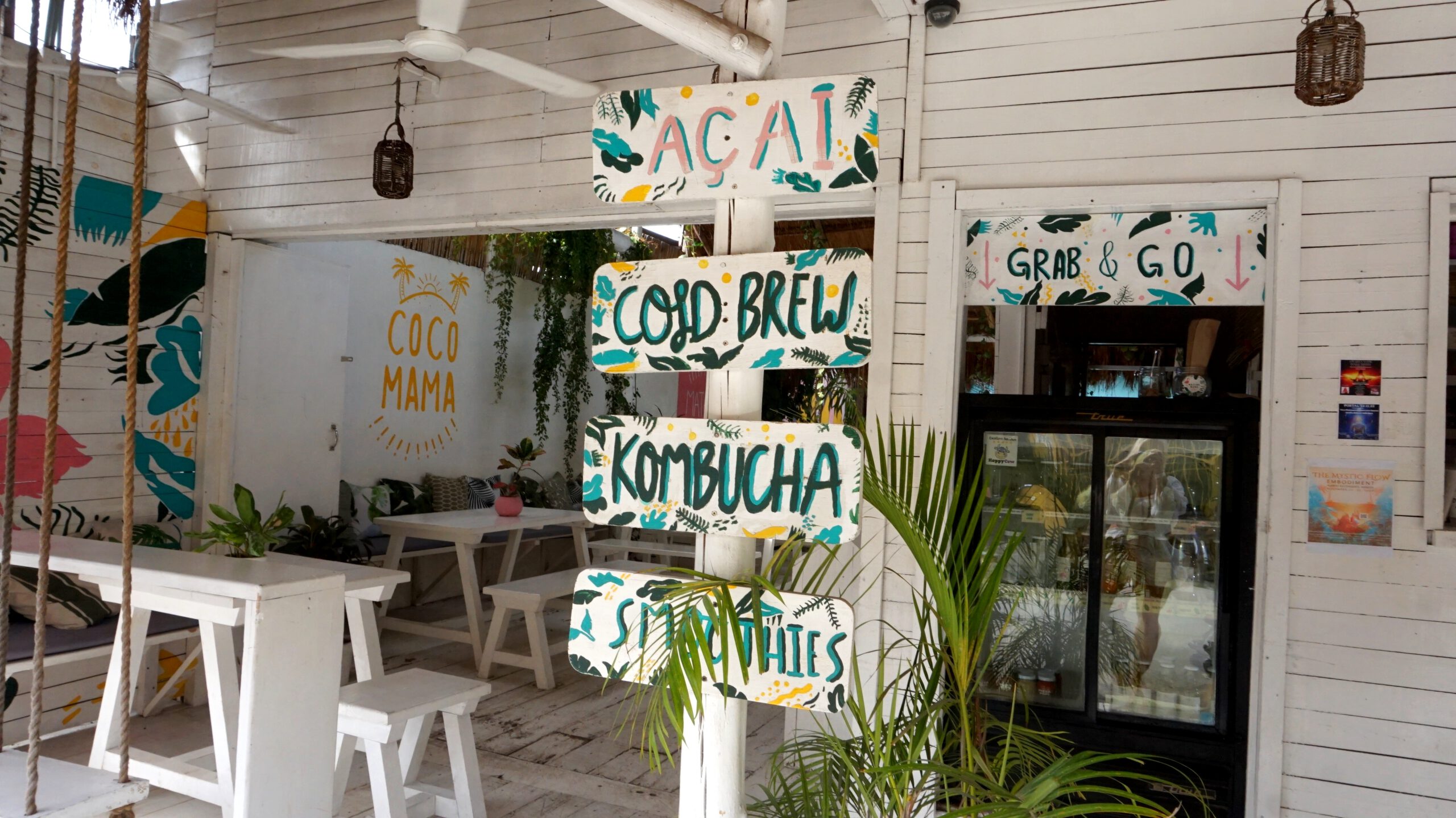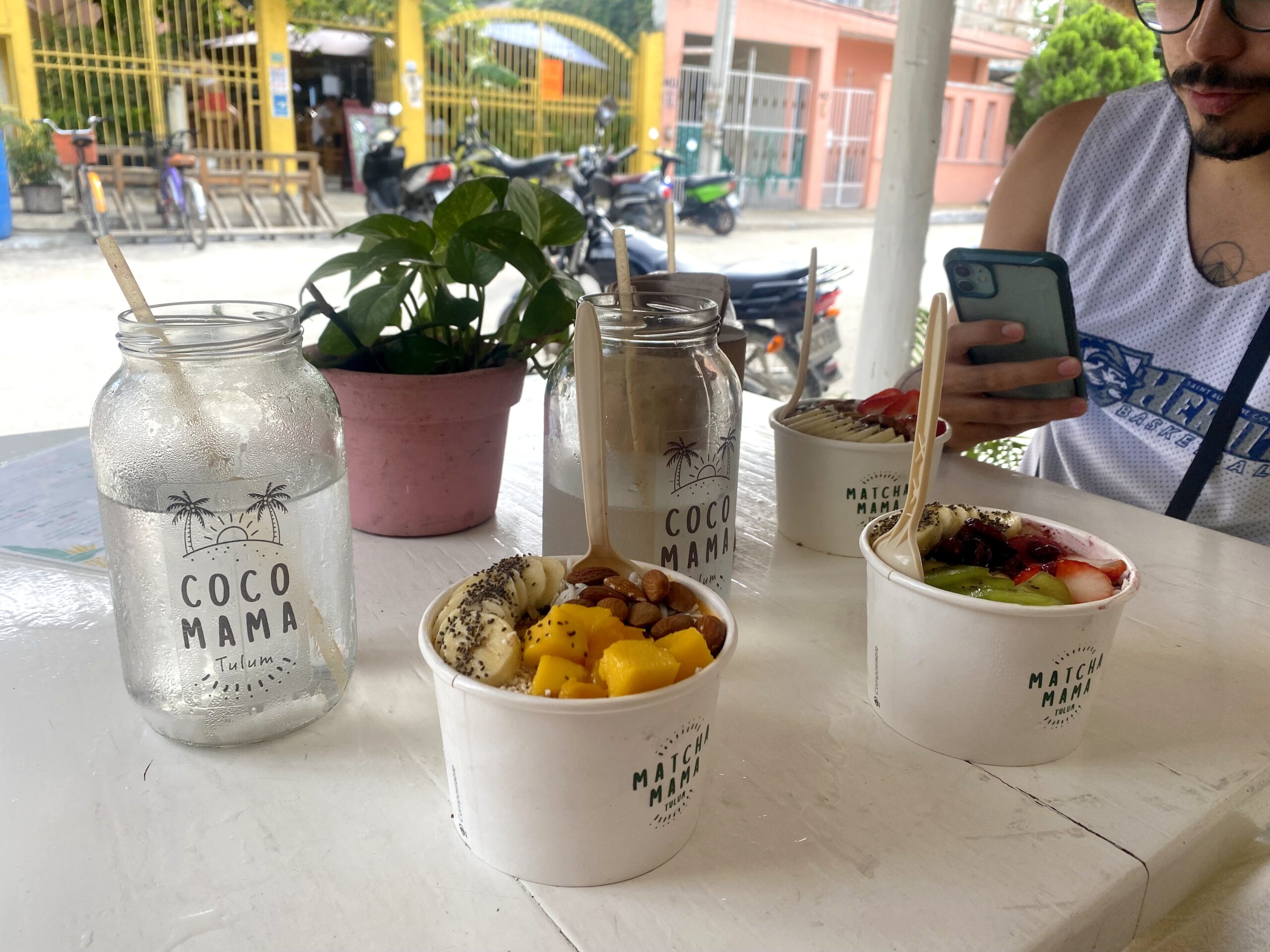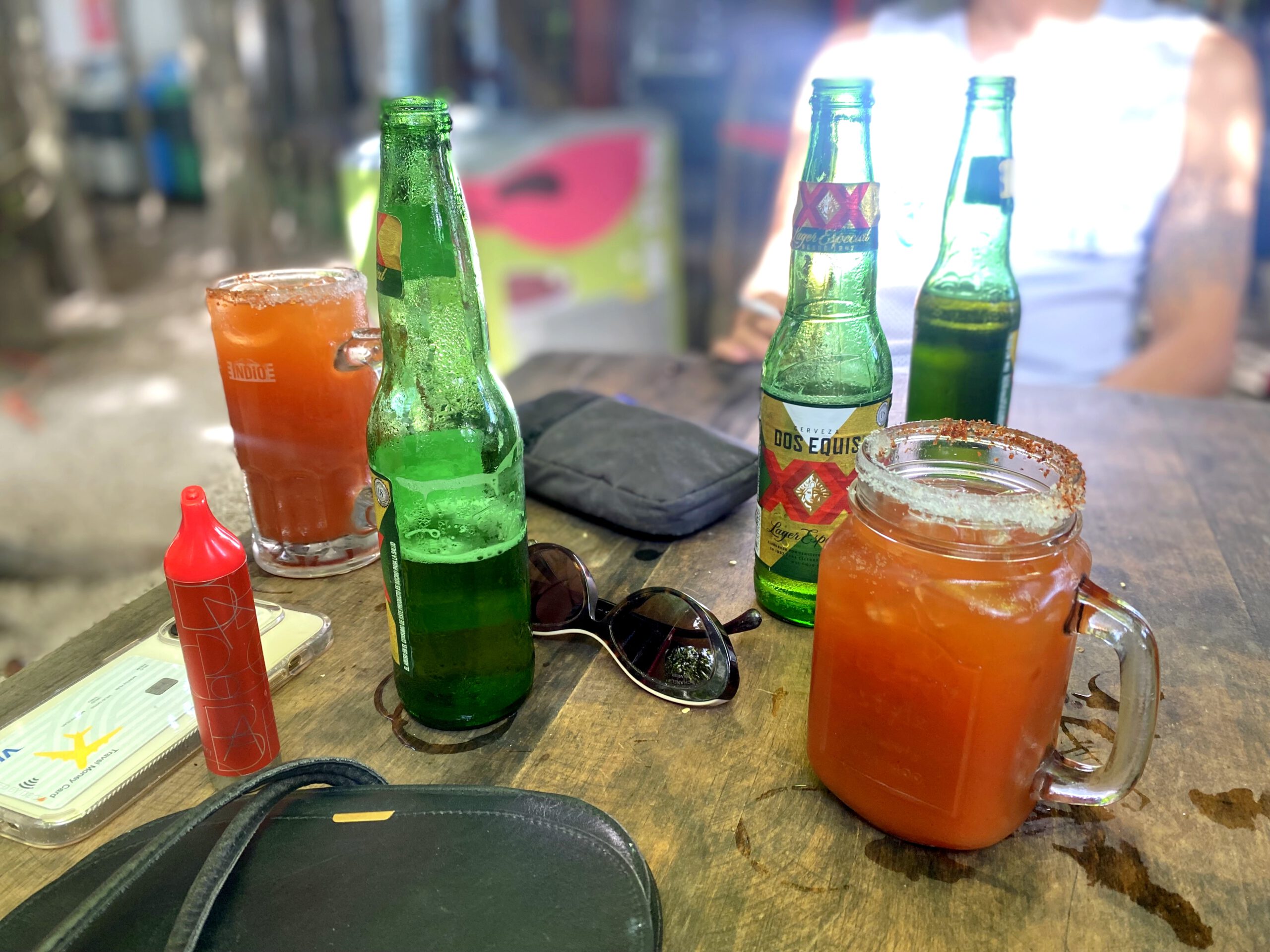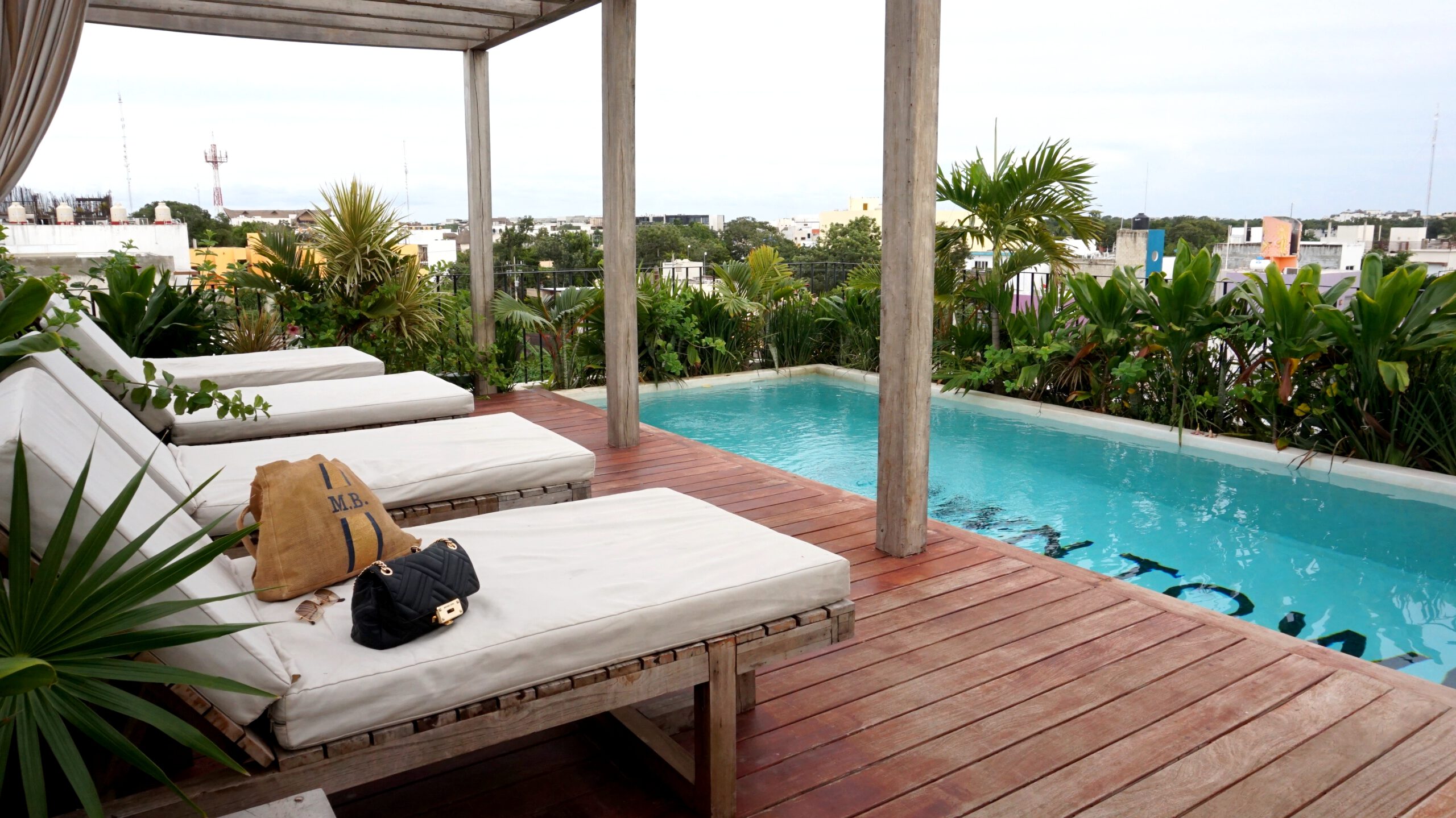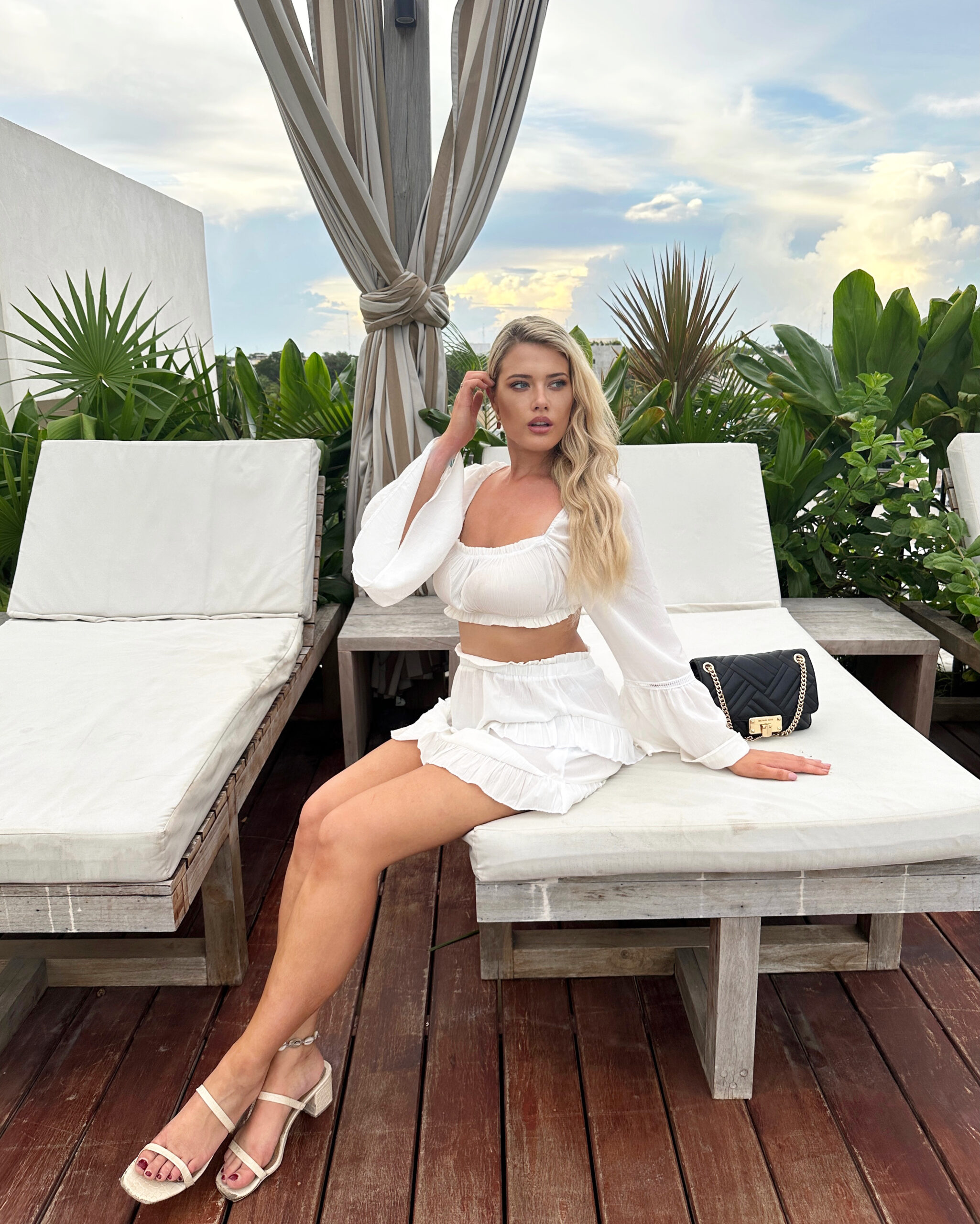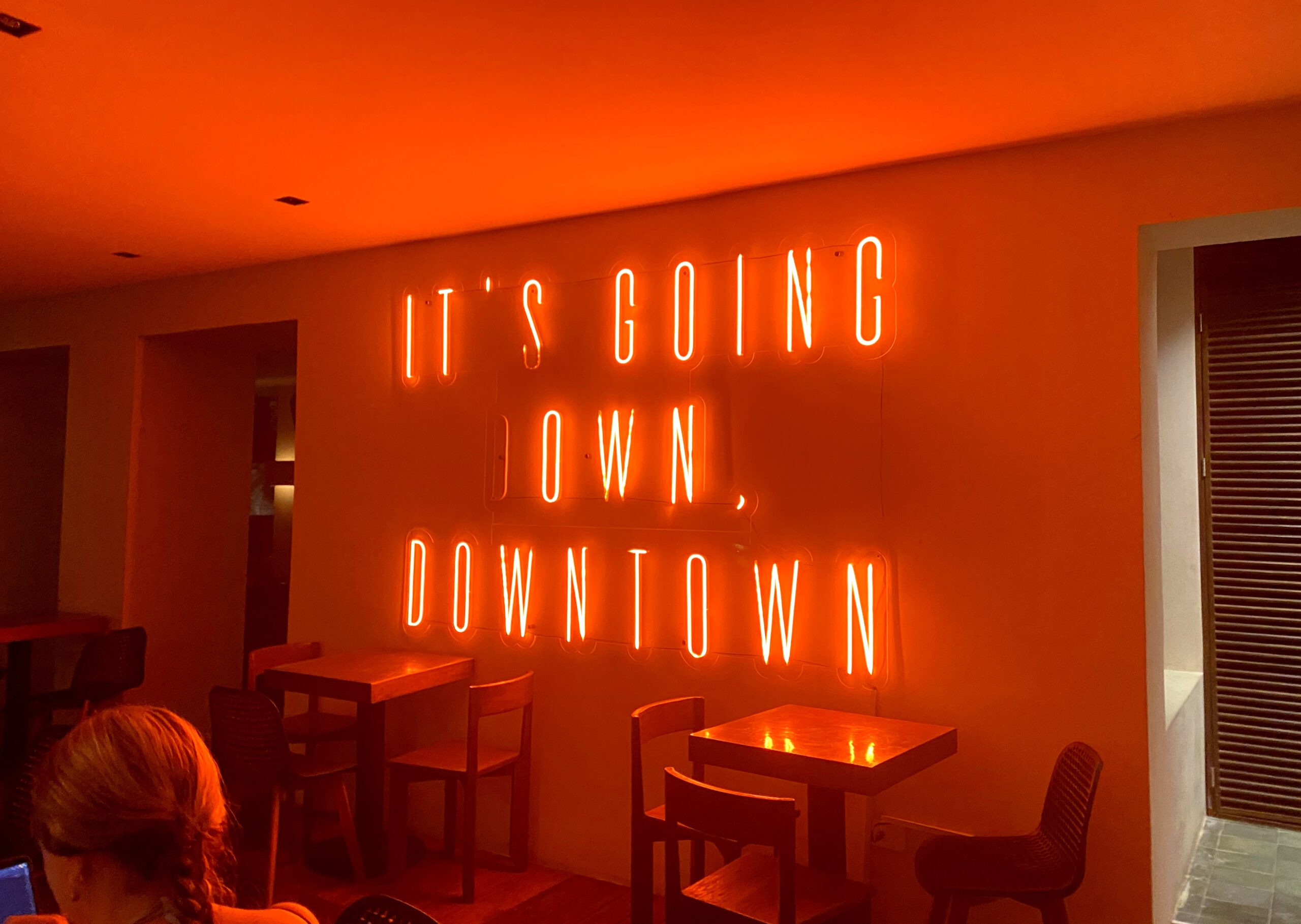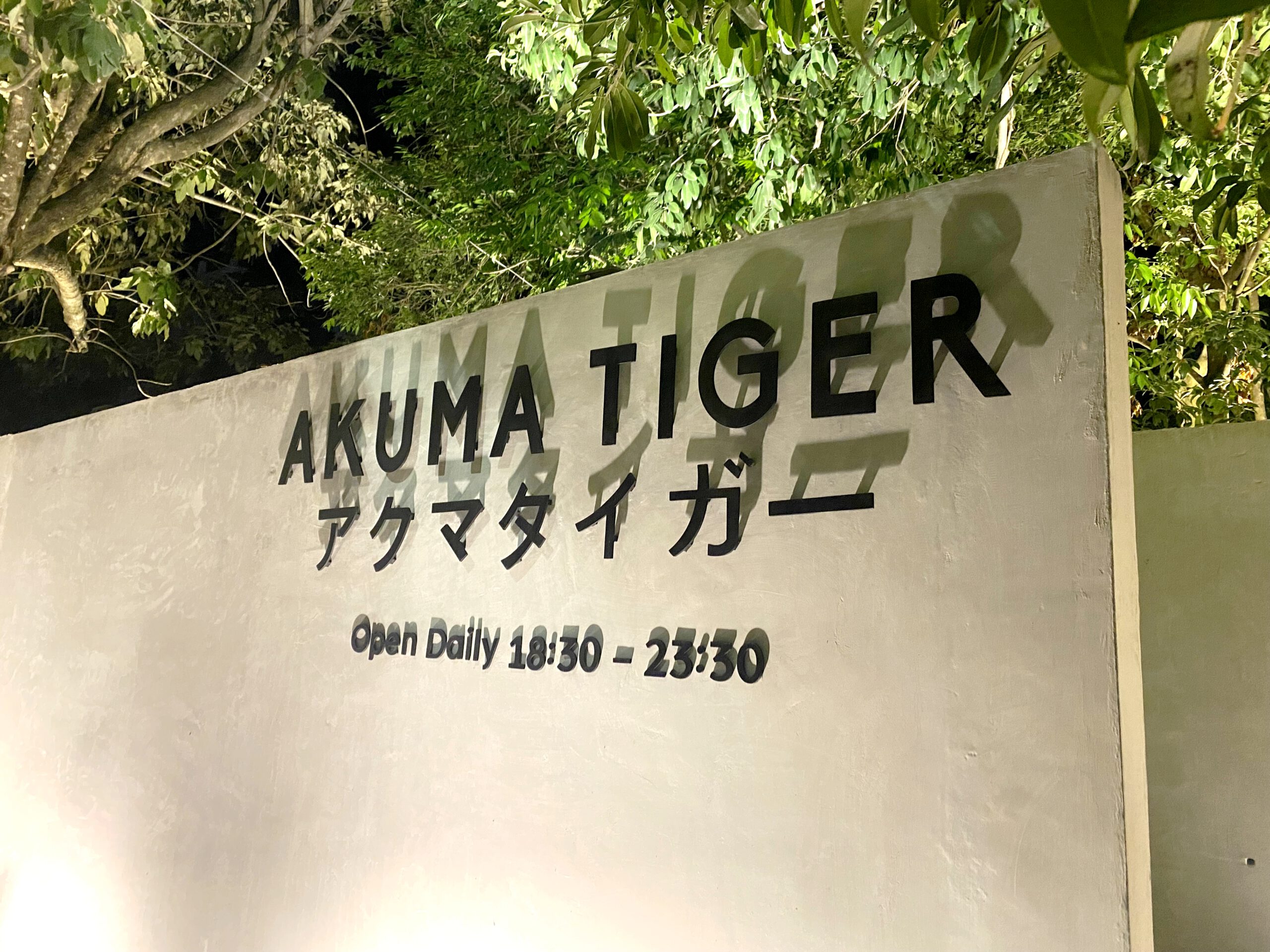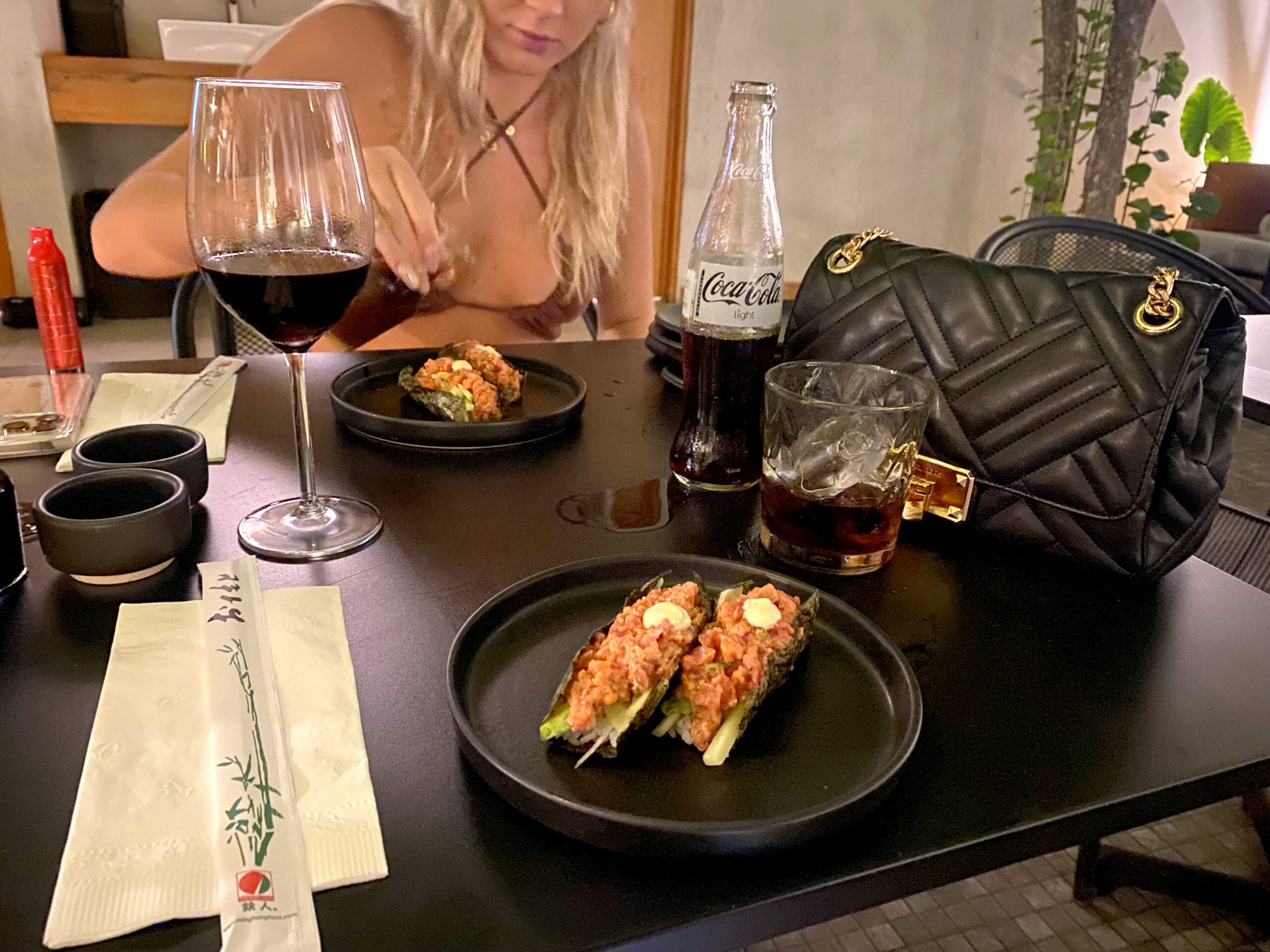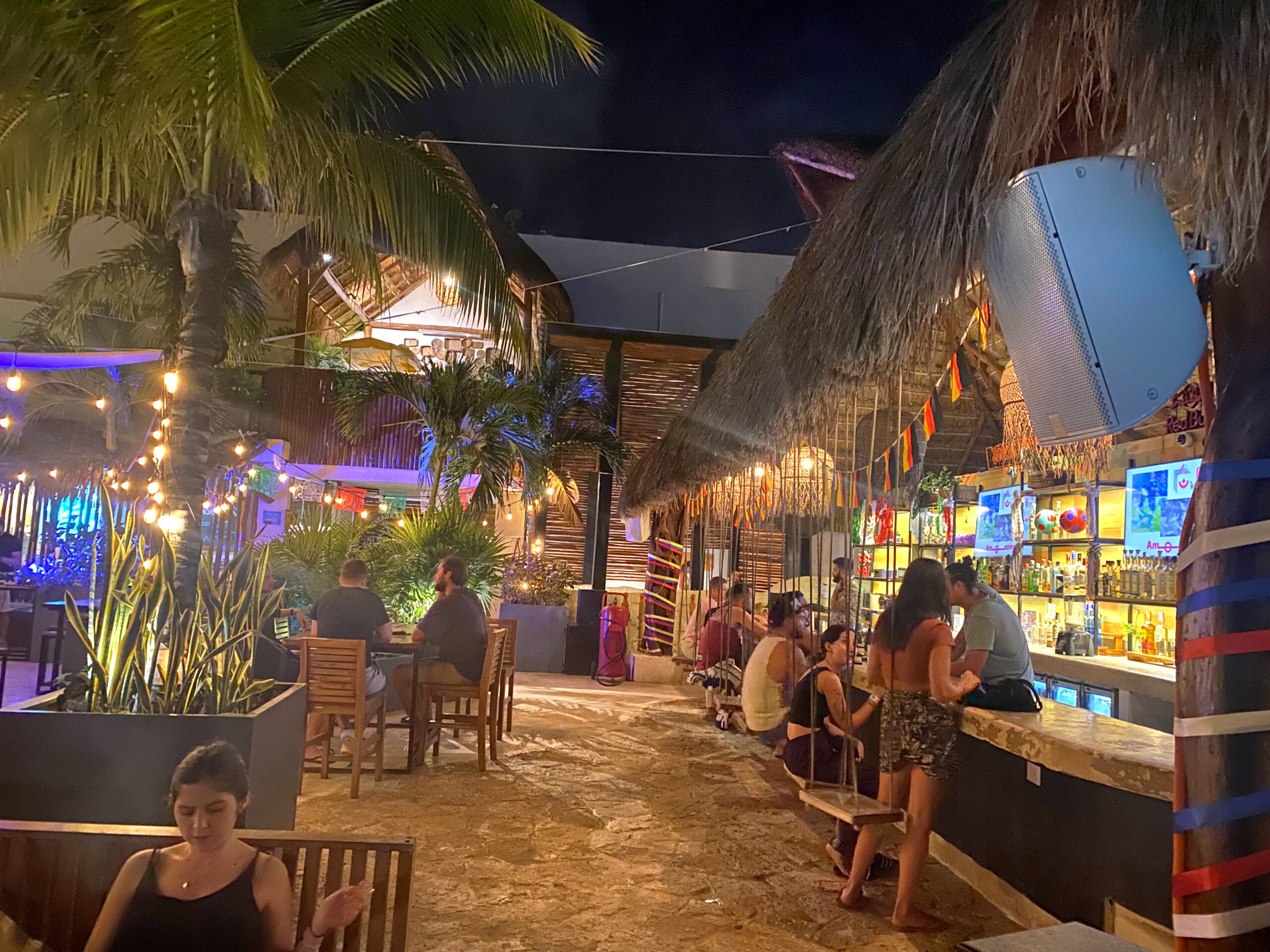 Bedankt voor het lezen over mijn nieuwe reisdagboeken over Mexico. De volgende delen komen snel online.
Thank you for reading about my new travel diary of Mexico. The next parts will be online soon.
In the meantine – check my previous 2022 Mexico trip – part 1 and part 2