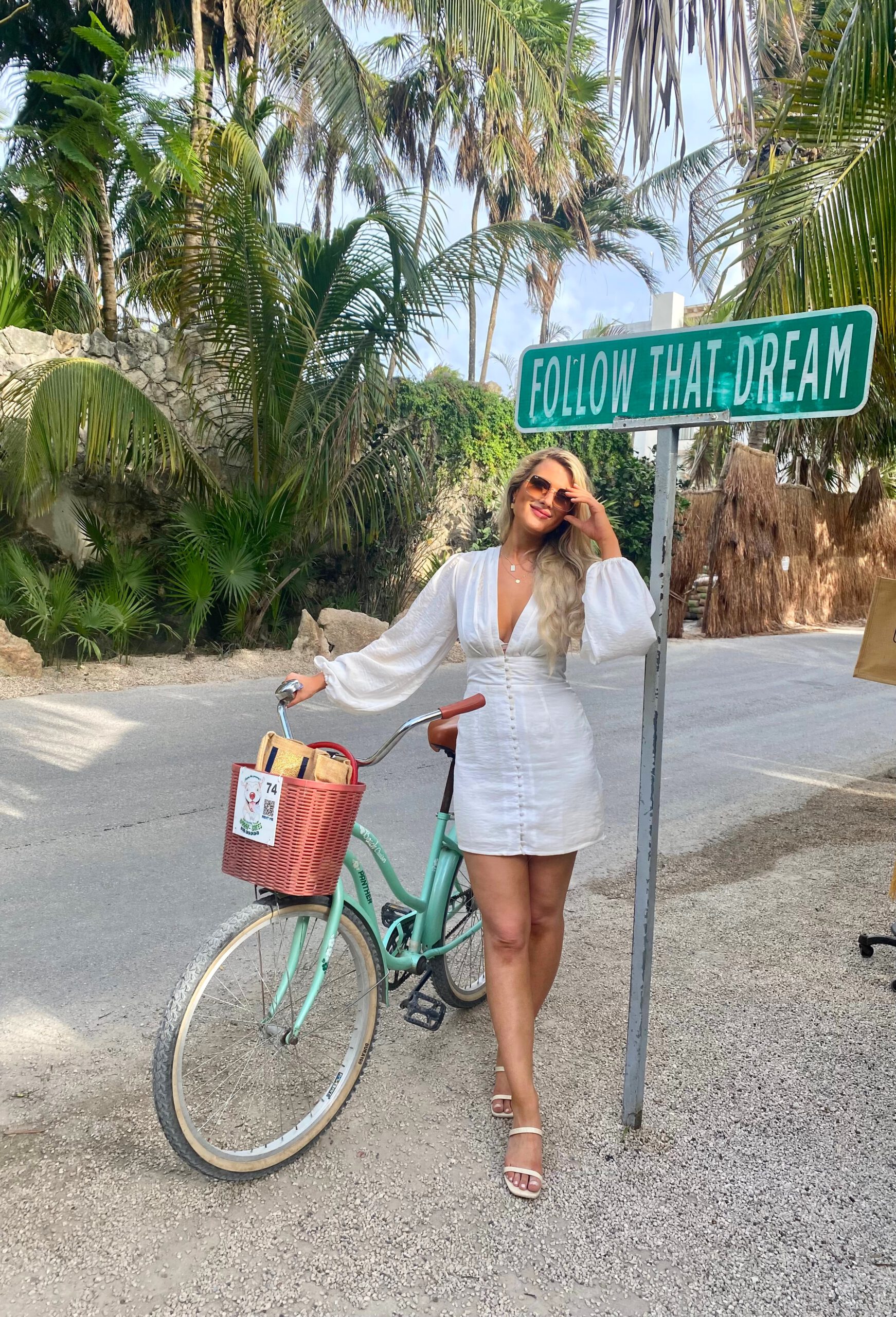 Hello everyone! Great that you are reading my second part of my solo Mexico travel diary. This post is extra long because I didn't want to split it into two more parts. So I would say, take your time with this! haha. I try to describe my diaries extensively, but some things are left out and I also find it unnecessary to share. Moreover, otherwise the text becomes too long, and I try to describe it broadly. During my travels, I also try to keep a general diary here and there in order to expand this later with the photos. I will continue this second part in Tulum. I would like to take you with me in this sequel! Full of tips and experiences.
Hallo allemaal! Super leuk dat jullie mijn tweede deel van mijn solo Mexico reis dagboek lezen.
Deze post is extra lang, omdat ik het niet in nóg twee delen wilde opdelen. Dus ik zou zeggen, neem hier lekker de tijd voor! Haha. Ik probeer mijn dagboekjes uitgebreid te beschrijven, maar sommige dingen komen er niet in en vind ik bovendien onnodig te delen. Bovendien wordt daarnaast de tekst anders té lang, en probeer ik het in grote lijnen te beschrijven. Tijdens mijn reizen probeer ik ook hier en daar een dagboek bij te houden in grote lijnen om dit later met de foto's verder uit te breiden. Dit tweede deel zet ik voort in Tulum. Ik neem jullie graag mee in dit vervolg! Vol tips en ervaringen in de grote lijnen.
Day 5 – Playa del Carmen & Tulum – 23/5/2022


My last hours with the nice people I have met in Playa are in sight. During my breakfast I spoke with Isa from Peru and Elena. I really enjoyed getting to know these ladies. Elena and I decided to spend some more time on the Fifth before heading to Tulum. I invited Elena to Tulum and she decided to come a day later than me. Together we went sight seeing, had a starbucks, got ice cream and had some nice tacos before I left in the afternoon. Chantal – the friend I saw occasionally – also decided to stay in Playa. The bus journey from ADO Playa del Carmen to Tulum takes about an hour – and is really cheap. I have been looking forward to Tulum immensely. I heard great stories of this place and the hostel. Once in Tulum, I shared my taxi with a couple from Tel Aviv who happened to be heading the same way. The hostel I stayed here is called Mayan Monkey – best hostel ever! Upon entering it looked like a club. I booked this place for several nights, not knowing what wonderful days awaited me here. The hostel is unbelievably beautiful, not expensive at all, spotlessly clean, cozy and really beautiful! The moment I entered my shared female dorm, I met a group of very nice British girls who immediately took me along. Together with Sofia, Lily and Eve, I spent a while at the beautiful swimming pool and together we bought some groceries at a large supermarket in the area. It was really super fun! They also told me that if I had fun plans during this stay, they would be happy to join and vice versa. Later in the evening I ordered food at the hostel and got into a nice conversation with people I happened to meet before in Selina Playa!

Mijn laatste uurtjes met de leuke mensen die ik heb leren kennen in Playa zijn in zicht. Tijdens mijn ontbijt sprak ik Isa uit Peru en Elena nog. Ik vond het erg leuk deze dames te hebben leren kennen. Elena en ik besloten nog wat tijd door te brengen op de Fifth voor ik naar Tulum zou gaan. Ik nodigde Elena uit mee naar Tulum te gaan en ze besloot een dag later dan ik ook te komen. Samen zijn we nog wat gaan sight seeing, een starbucksje gaan drinken, ijsje gaan halen en nog lekker wat taco´s gaan eten voor ik halverwege de middag zou vertrekken. Chantal – de vriendin die ik af en toe heb gezien – bleef overigens ook in Playa. De busreis vanaf ADO Playa del Carmen naar Tulum duurt ongeveer uur – en kost je omrekenend enkele euro´s. Ik heb enorm naar Tulum uitgekeken. Ik hoorde geweldige verhalen van deze plek en het hostel. Eenmaal in Tulum deelde ik mijn taxi met een stel uit Tel Aviv die toevallig dezelfde kant op gingen. Het hostel waar ik hier verbleef heet Mayan Monkey – beste hostel ooit!. Bij binnenkomst leek het wel een club. Op deze plek zou ik een aantal nachten verblijven, niet wetende wat voor een geweldige dagen mij hier te wachten stonden. Het hostel is ongelofelijk mooi, helemaal niet duur, brand schoon, gezellig en echt prachtig! Het moment dat ik mijn gedeelde female dorm betrad, ontmoette ik een groepje ontzettend leuke Britse meisjes die me gelijk mee op sleeptouw namen. Samen met Sofia, Lily en Eve heb ik een poosje aan het mooie zwembad gezeten en hebben we gezamelijk wat boodschapjes gekocht bij een grote supermarkt in de buurt. Het was echt super gezellig! Ze vertelden ook dat als ik leuke plannen had tijdens dit verblijf, ze graag aan wilden sluiten en visa versa. Later in de avond bestelde ik eten in het hostel en raakte ik in gesprek met mensen die ik toevallig eerder in Selina Playa tegen kwam!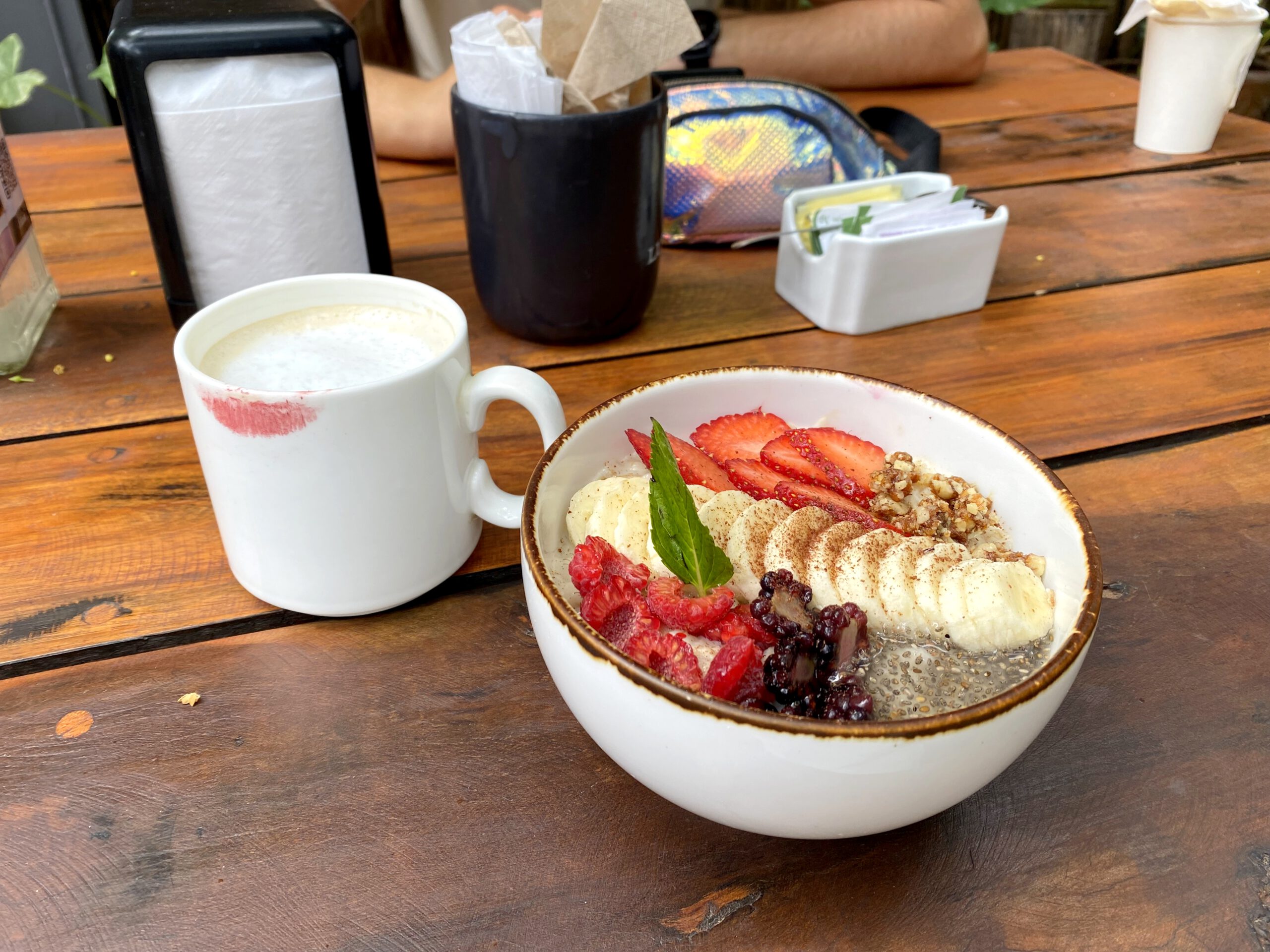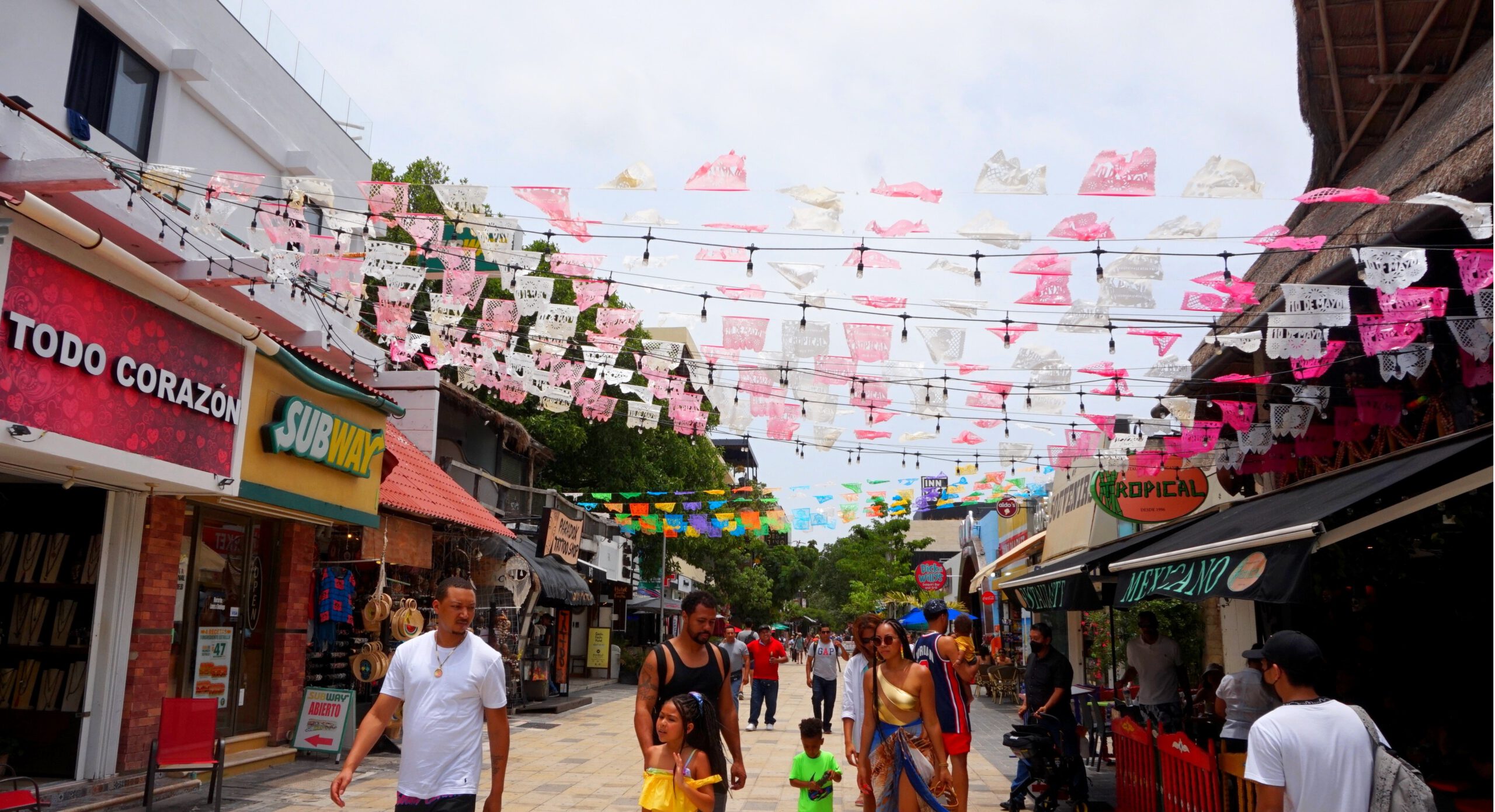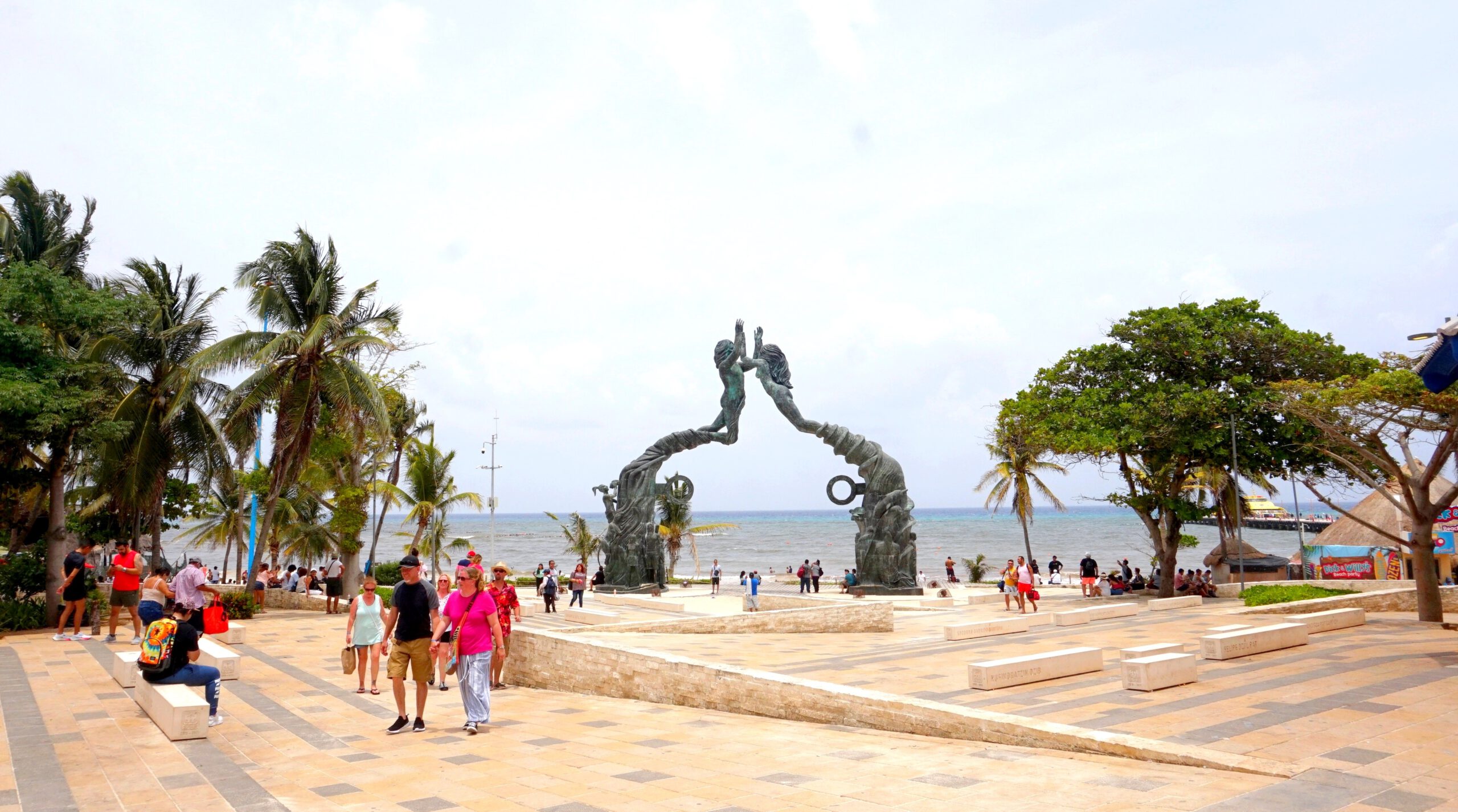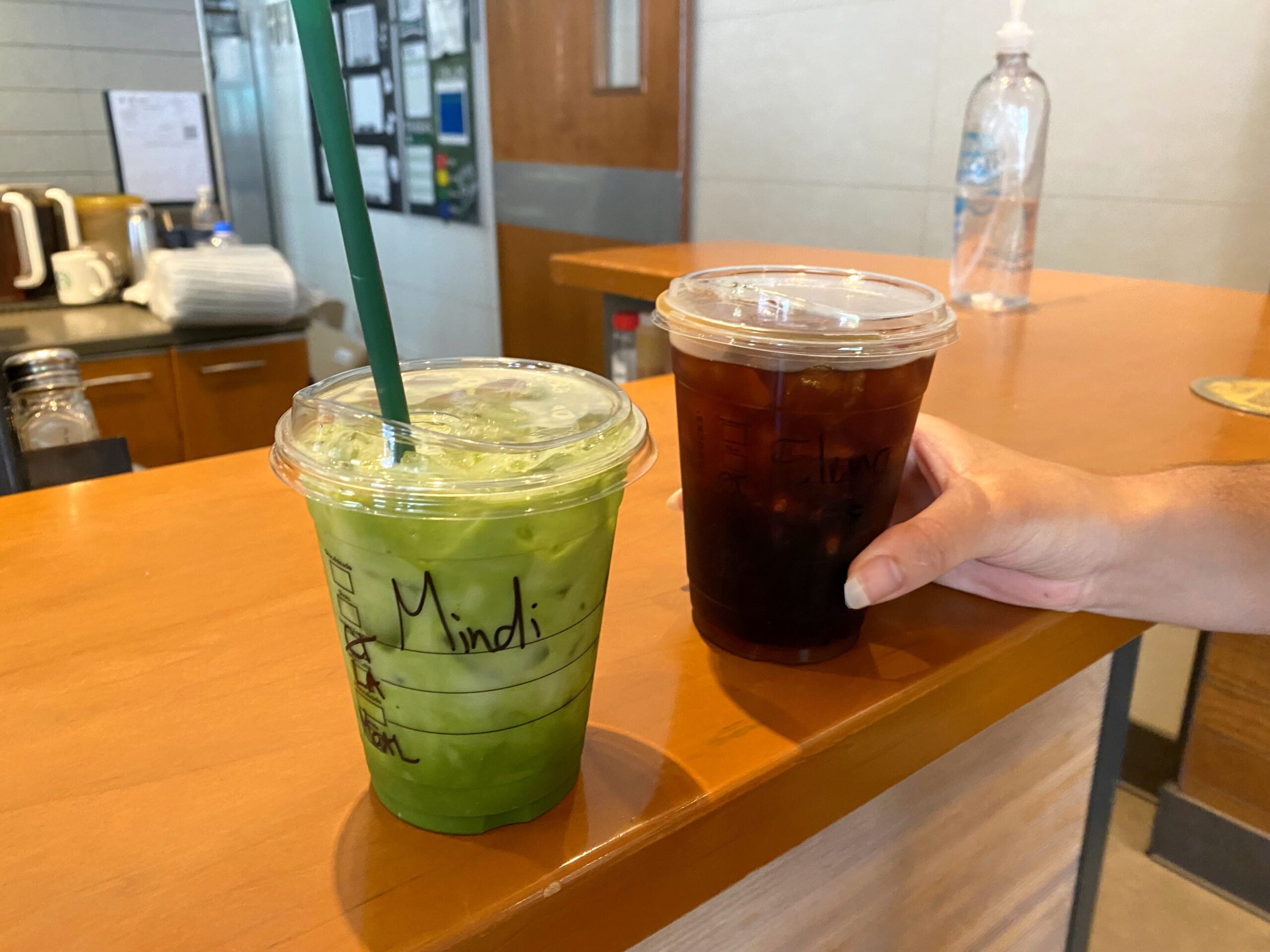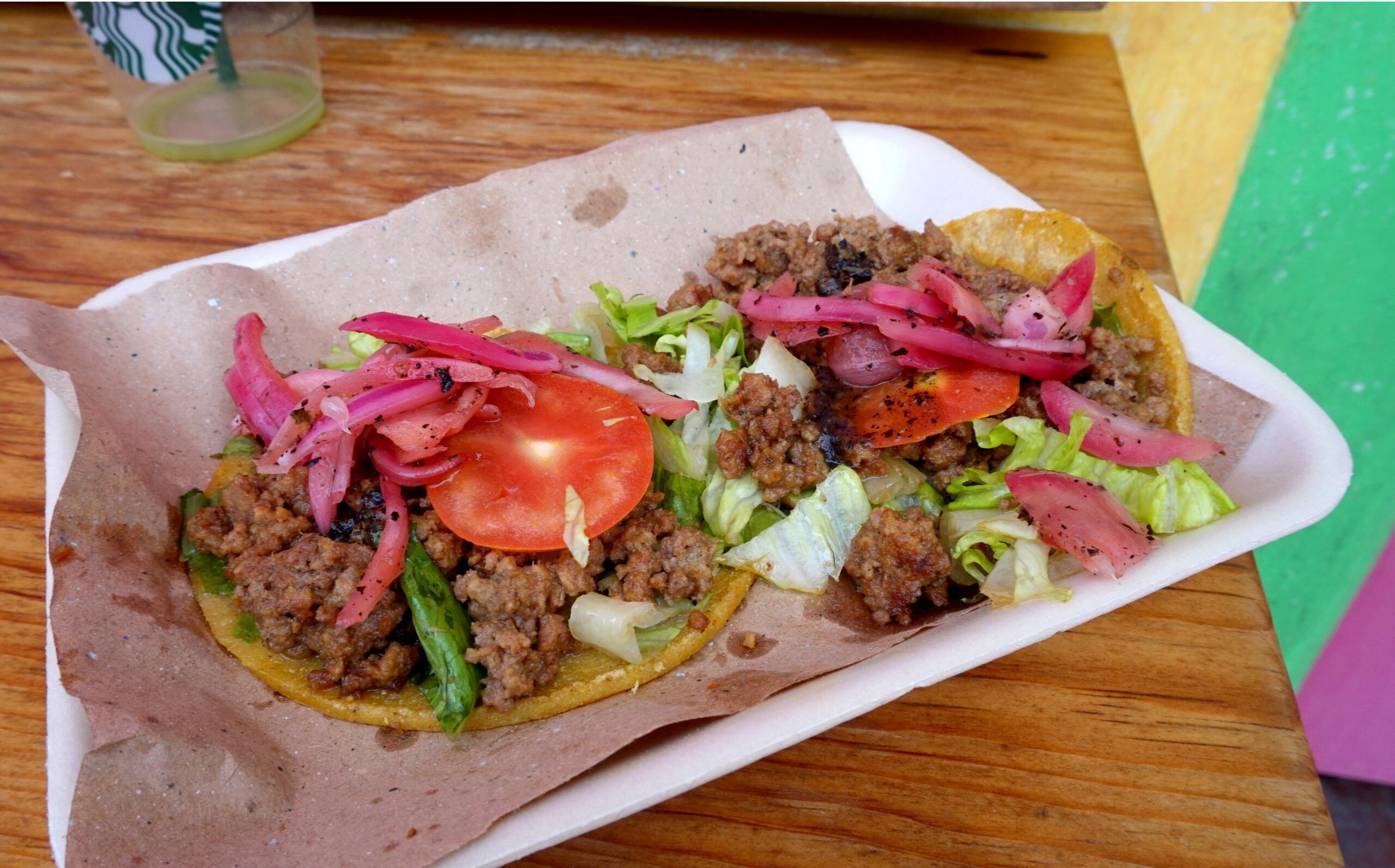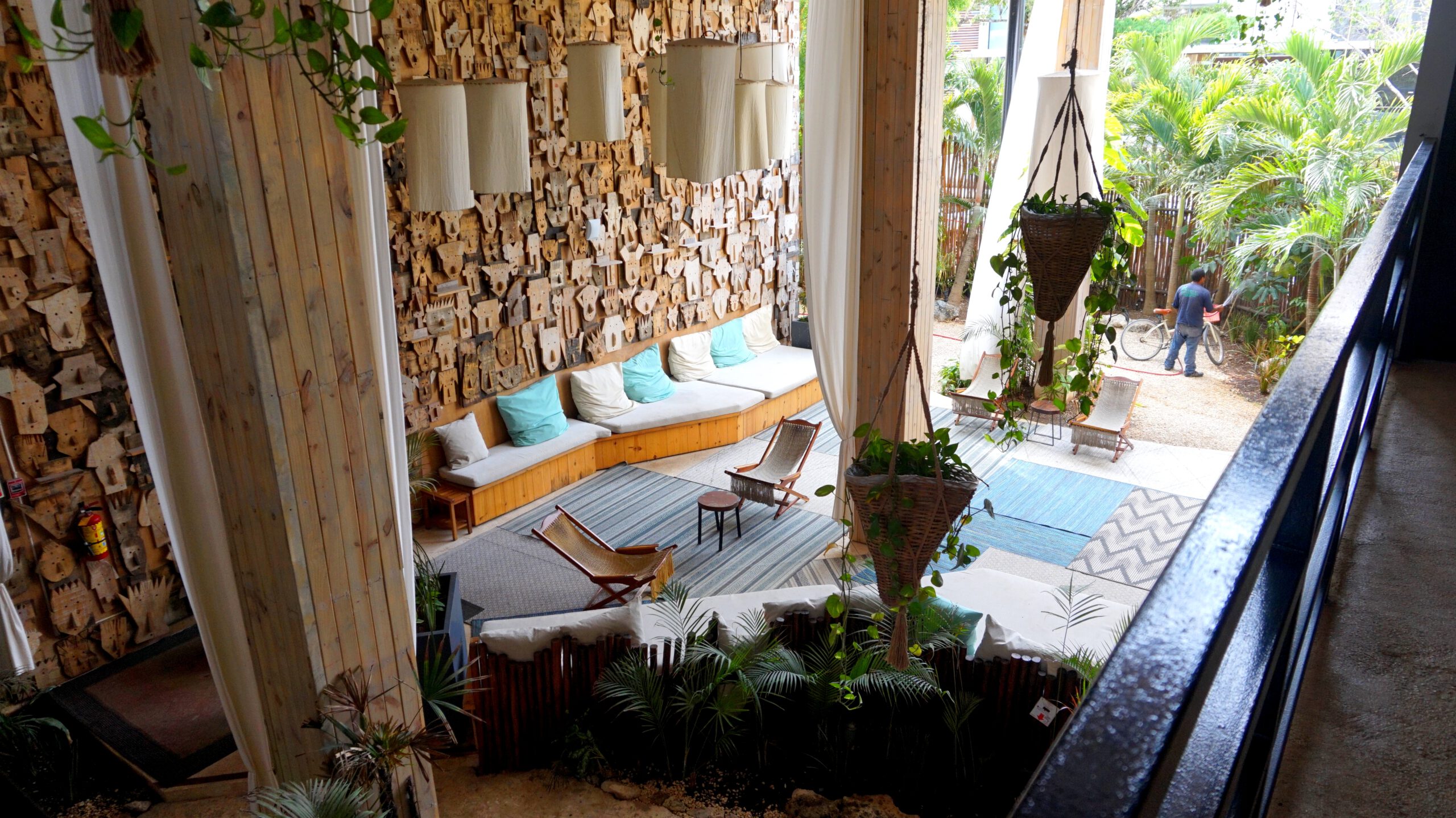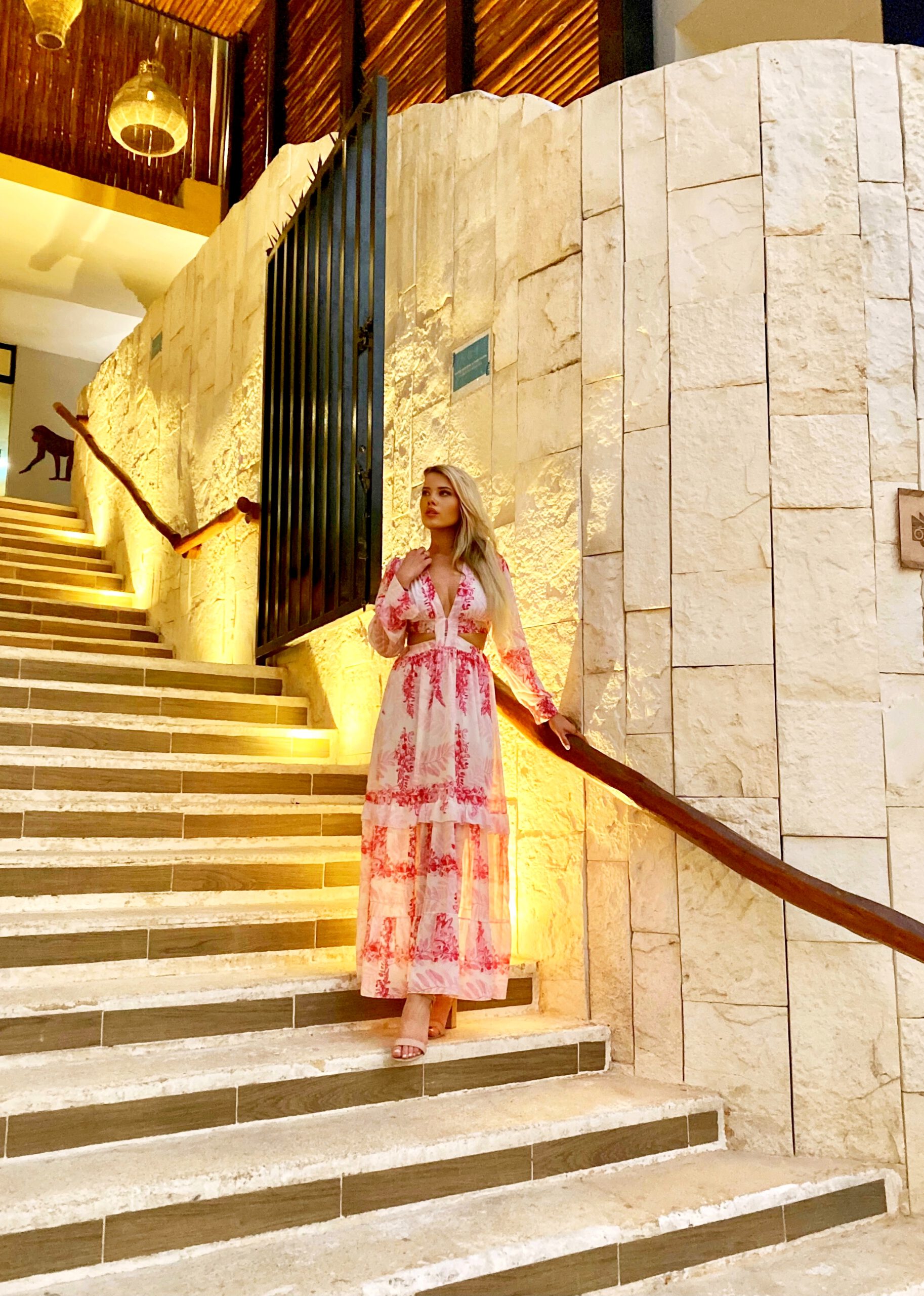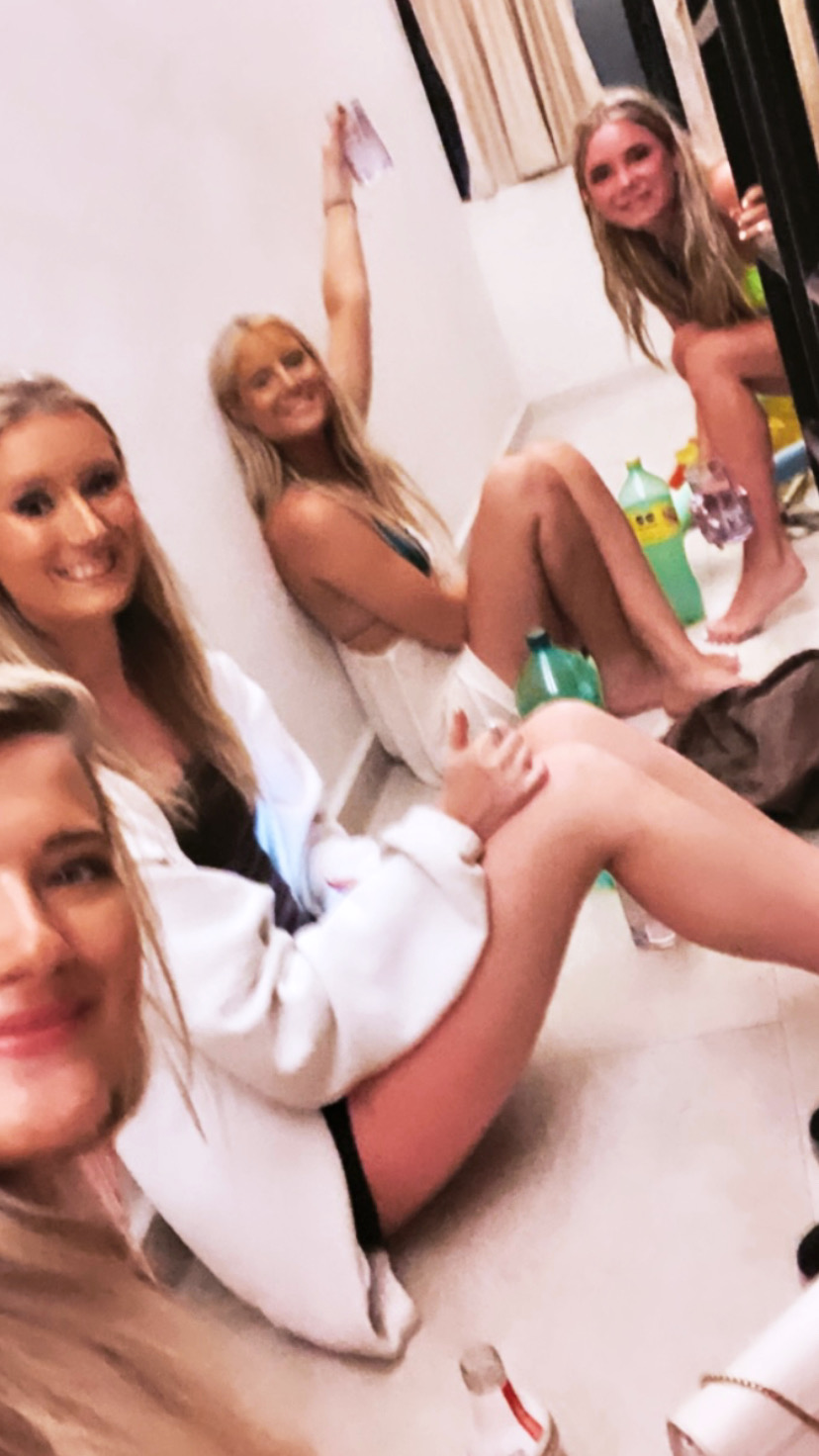 Day 6 – Tulum – 24/5/2022
Still high in my enthusiasm from yesterday's nice start, I decided to have breakfast around 9 am. Elena joined me, German Julian and a boy we knew from Playa. During breakfast we spoke to two girls from Veracruz who asked if we would like to carpool with them to Cenote Azul. Visiting Cenotes is a must during a stay in Mexico, and Cenote Azul is also a must visit in my opinion. This Cenote is located between Playa and Tulum. It was about a half hour drive with Julian, Elena and the two girls. The entrance to this cenote costs about 250 pesos (12 euros). We spent about 1-2 hours here. The water was beautiful and there were little fish everywhere nibbling your feet – super cute! Once back in Tulum – Elena, Julian and I where heading out again, refreshed in the hostel and all. I suggested we would have lunch together and then do some sightseeing by bike for the rest of the afternoon. We eventually had vegan lunch at Liefs (@eatatliefs)– a super cute food truck eatery run by Dutch people. We had a delicious meal here and the iced coffee is definitely recommended! After the great lunch, we rented a bike from Doggy Bikes – right in front of our hostel – to visit some photo-worthy sights of Tulum. We certainly cycled for a few hours with a stop at a supermarket here and there. Julian and I wanted to take pictures at Ahau Tulum – to take a picture here, you pay $3 in advance. Then the 3 of us cycled to 'follow that dream' – this spot can be found at the store Lolita Lolita Tulum. After a few hours in the hostel, the 3 of us went out for dinner at Mayami Burger not far from our hostel. Later during that dinner, two English girls from our hostel joined us. It was super fun with the 5 of us! We chatted for a few hours in the hostel lounge and Ruben and Fei from America joined us as we got into conversation after a strange incident with a sick girl caught everyone's attention. I knew Fei from my dorm. Ruben and I had an instant friendship connection and immediately wanted to make plans together early tomorrow to do something fun. Side note of today – I sometimes spotted tourists with rented means of transport (except bicycles), being intercepted by the police – Some police officers are corrupt here! So be wary of rental cars, quads and scooters. I avoided this on purpose.
Nog hoog in mijn enthousiasme van de leuke start van gisteren besloot ik rond een uur of 9 te ontbijten. Elena sloot bij me aan, de Duitse Julian en een jongen die we kenden uit Playa. Tijdens het ontbijt spraken we twee meisjes uit Veracruz die vroegen of het ons leuk leek met ze mee te carpoolen naar Cenote Azul. Het bezoeken van Cenotes is een must do tijdens een verblijf aan Mexico, en Cenote Azul is ook écht een must visit in mijn mening. Deze Cenote ligt tussen Playa en Tulum. Het was ongeveer een half uurtje rijden samen met Julian, Elena en de twee meisjes. De entree van deze cenote kost ongeveer 250 pesos (12 euro). We hebben hier ongeveer 1-2 uur doorgebracht. Het water was prachtig en overal waren kleine visjes die aan je voeten gaan knabbelen – super schattig! Eenmaal terug in Tulum, gingen Elena, Julian en ik opgefrist in het hostel en al, met zijn 3en verder op pad. Ik stelde voor samen te gaan lunchen en daarna wat bezienswaardigheden op de fiets te bezoeken voor de rest van de middag. We hadden vegan lunch bij Liefs (@eatatliefs)– een super cute foodtruck eetspot gerund door Nederlanders. We hebben hier heerlijk gegeten en de ijskoffie is ook zeker aan te raden! Na de top lunch, huurden we een fiets bij Doggy Bikes – recht tegenover ons hostel – om wat fotowaardige bezienswaardigheden van Tulum te bezoeken. We hebben zeker wel een paar uur gefietst met hier en daar een stop bij een supermarkt. Julian en ik wilden foto's maken bij Ahau Tulum – om hier een foto te maken, betaal je vooraf 3 dollar. Vervolgens fietsten we met zijn 3en naar 'follow that dream' – deze spot is te vinden bij winkel Lolita Lolita Tulum. Na een paar uurtjes in het hostel, gingen we met zijn 3en uit eten bij Mayami Burger niet ver van ons hostel. Uiteindelijk sloten 2 Engelse meisjes van ons hostel aan. Het was super gezellig met zijn 5en! We hebben nog een aantal uur in de binnenplaats van het hostel gekletst en daarbij sloten de Amerikaanse Ruben en Fei bij ons aan waar we mee in gesprek raakten na een vreemd incident met een ziek meisje ieders aandacht trok. Fei kende ik uit mijn dorm. Ruben en ik hadden een instant vriendschappelijke klik en wilden gelijk samen plannen maken morgen vroeg om wat leuks te gaan doen. Side note: Tussendoor spotte ik soms toeristen met gehuurde vervoermiddelen (op fietsen na), door politie onderschept worden – Sommige politie agenten zijn hier corrupt! Dus wees op je hoede met huurauto's, quads en scooters. Dit heb ik dus doelbewust vermeden.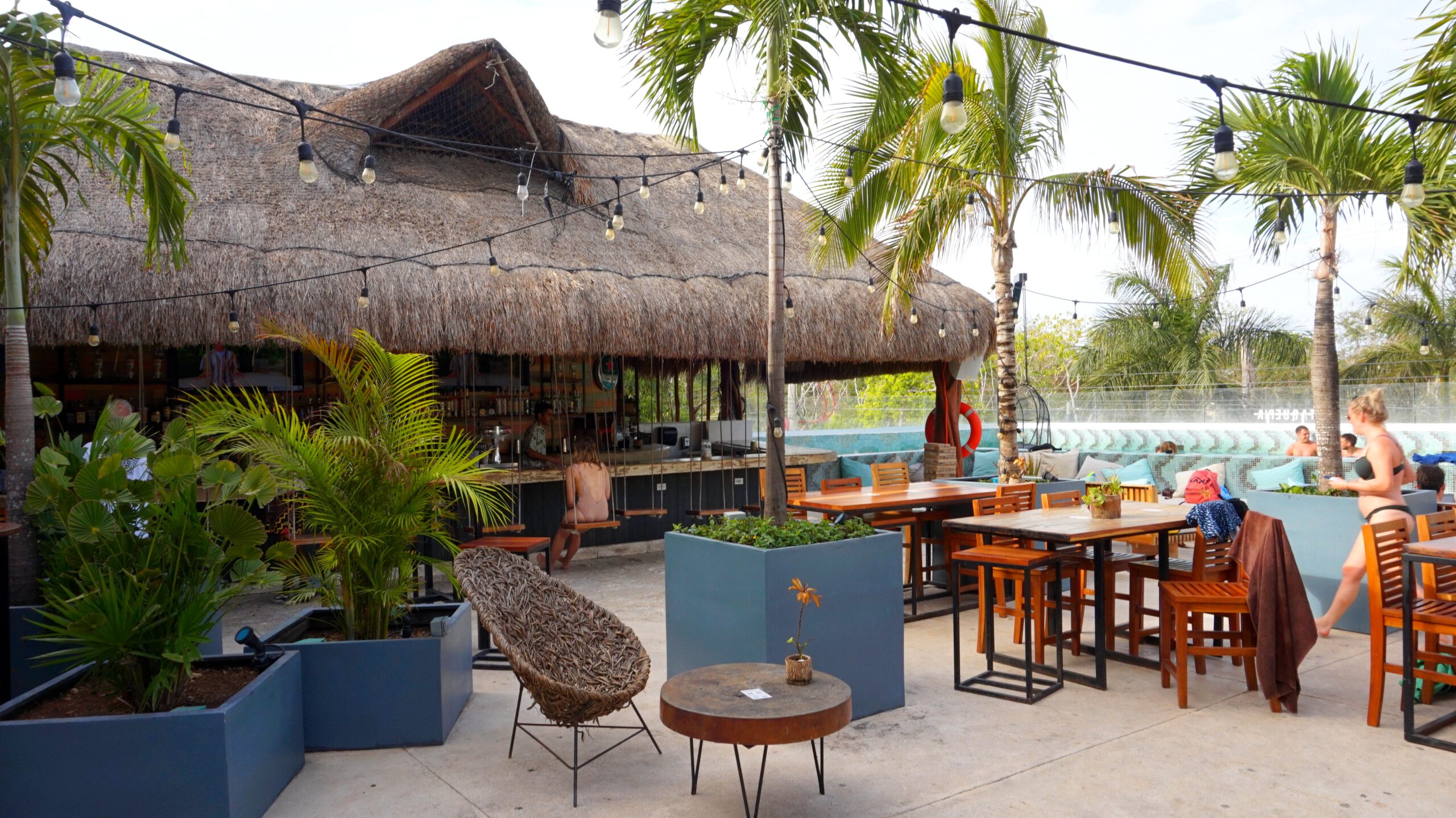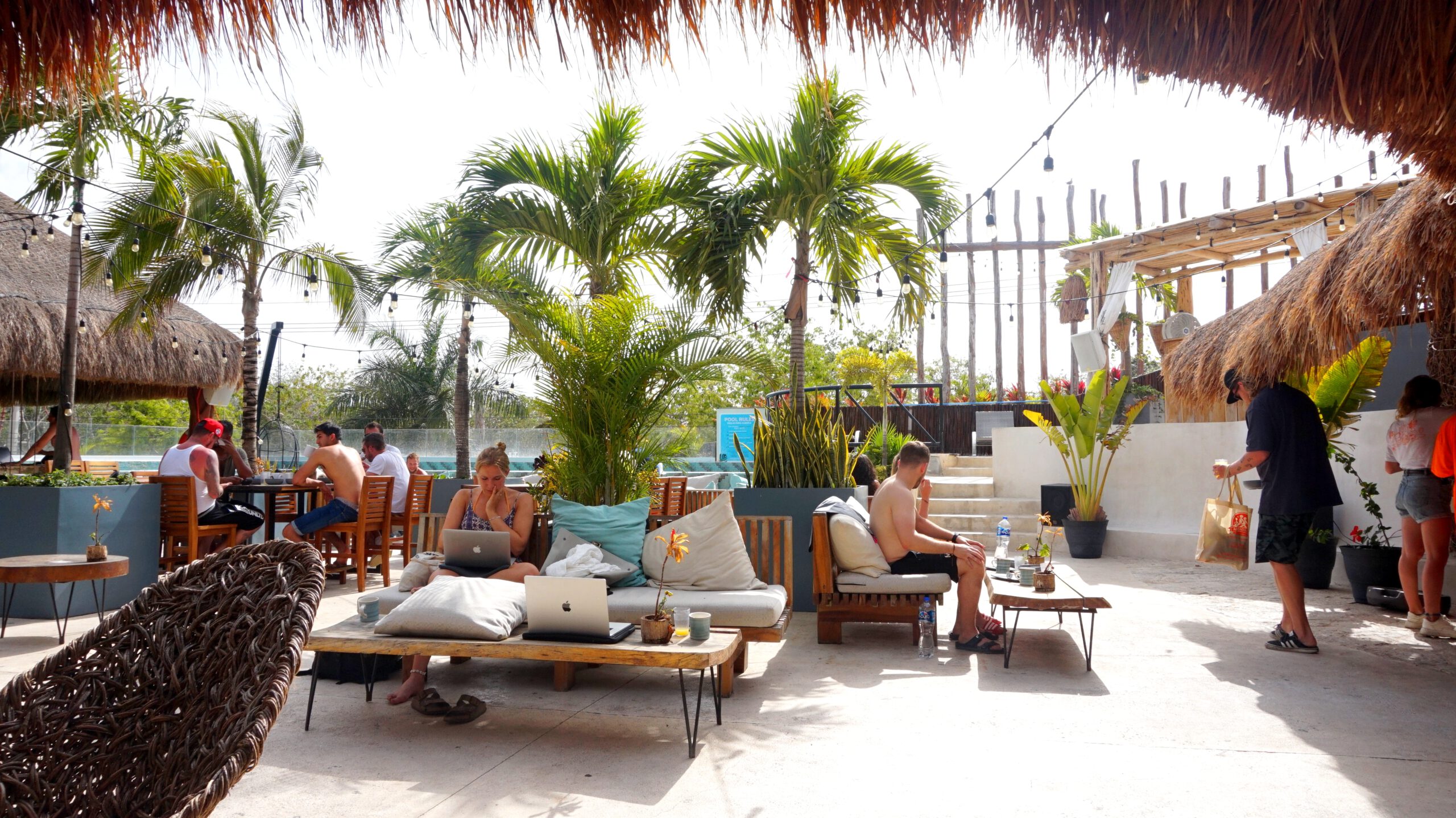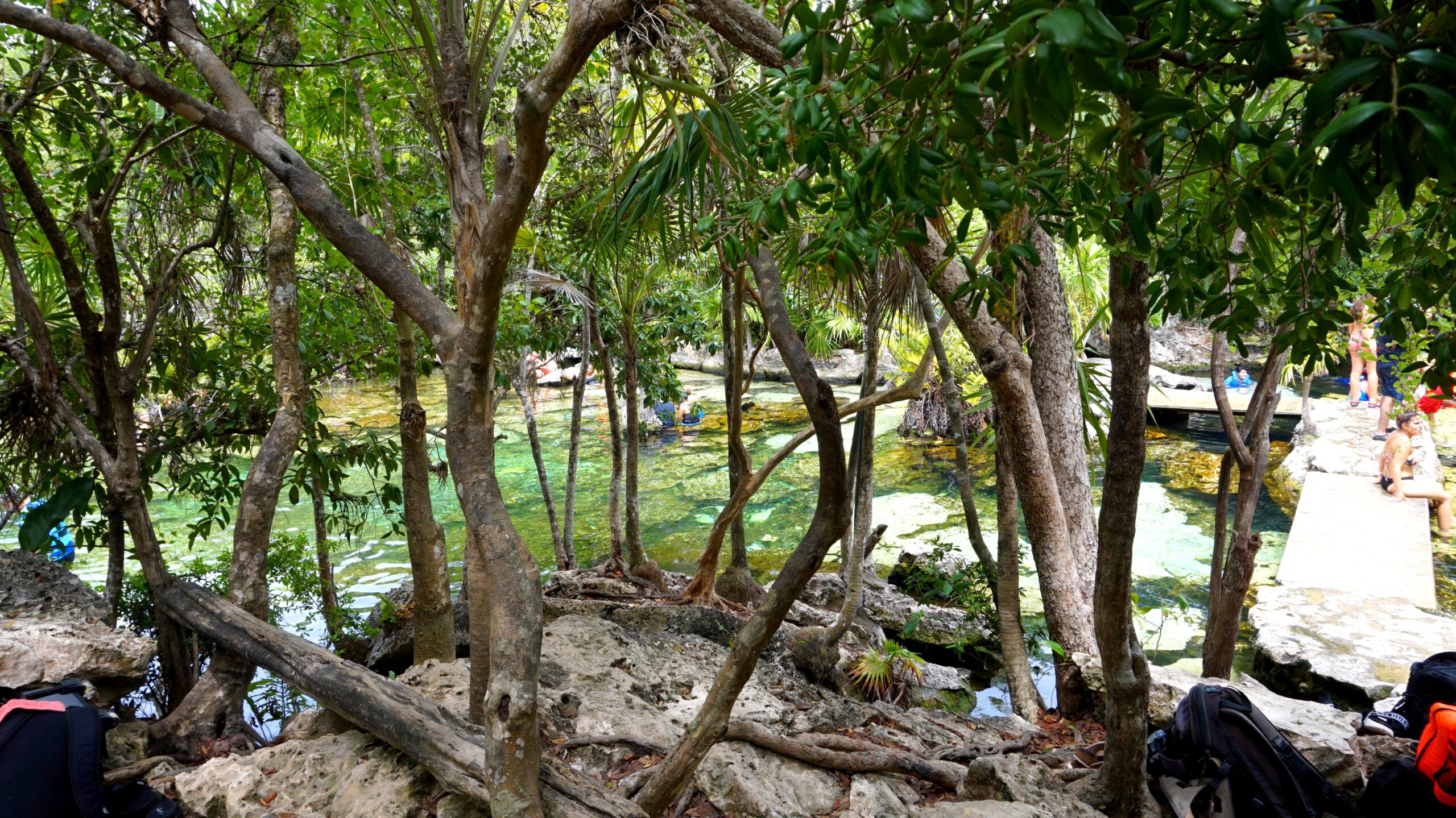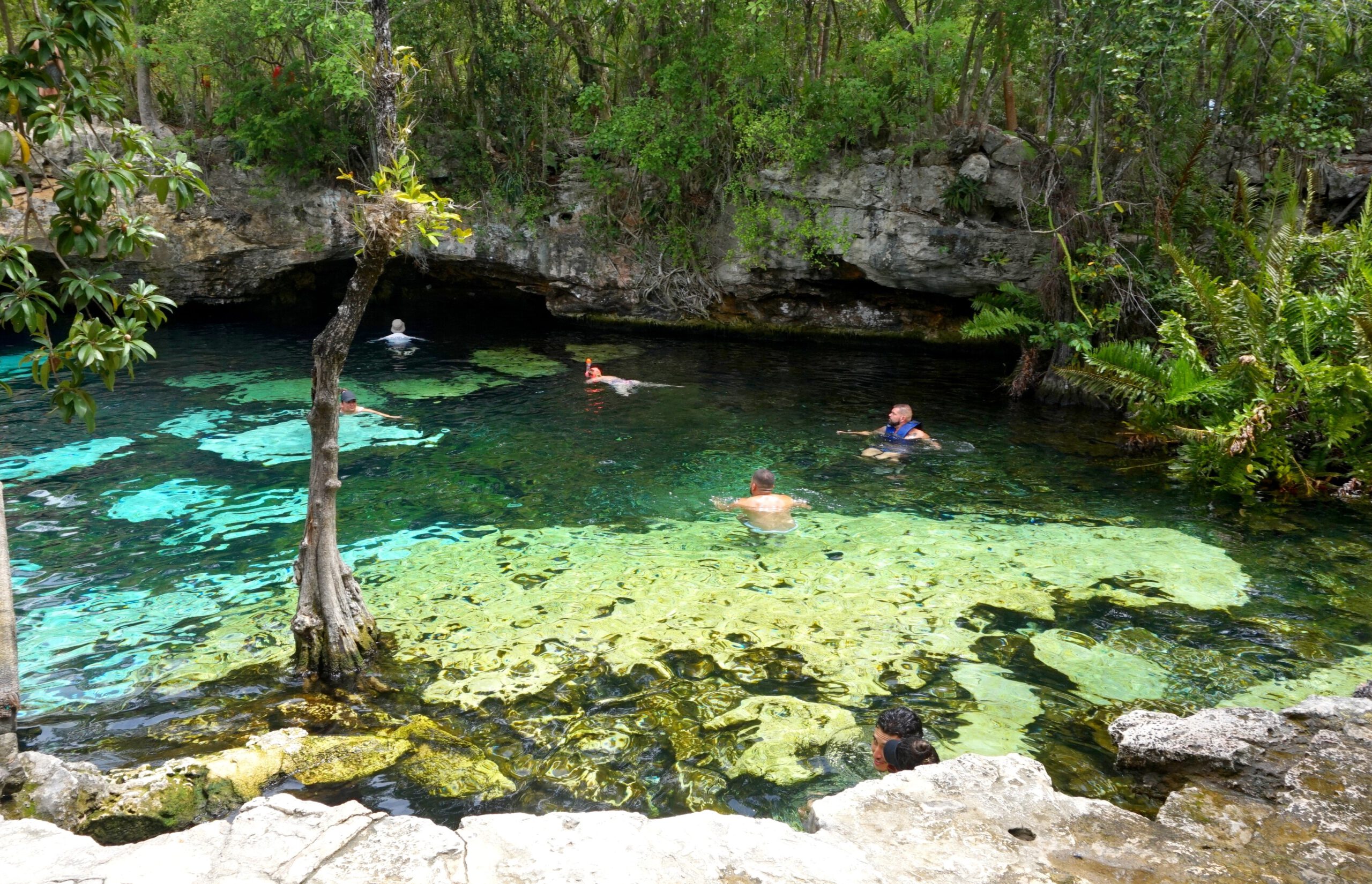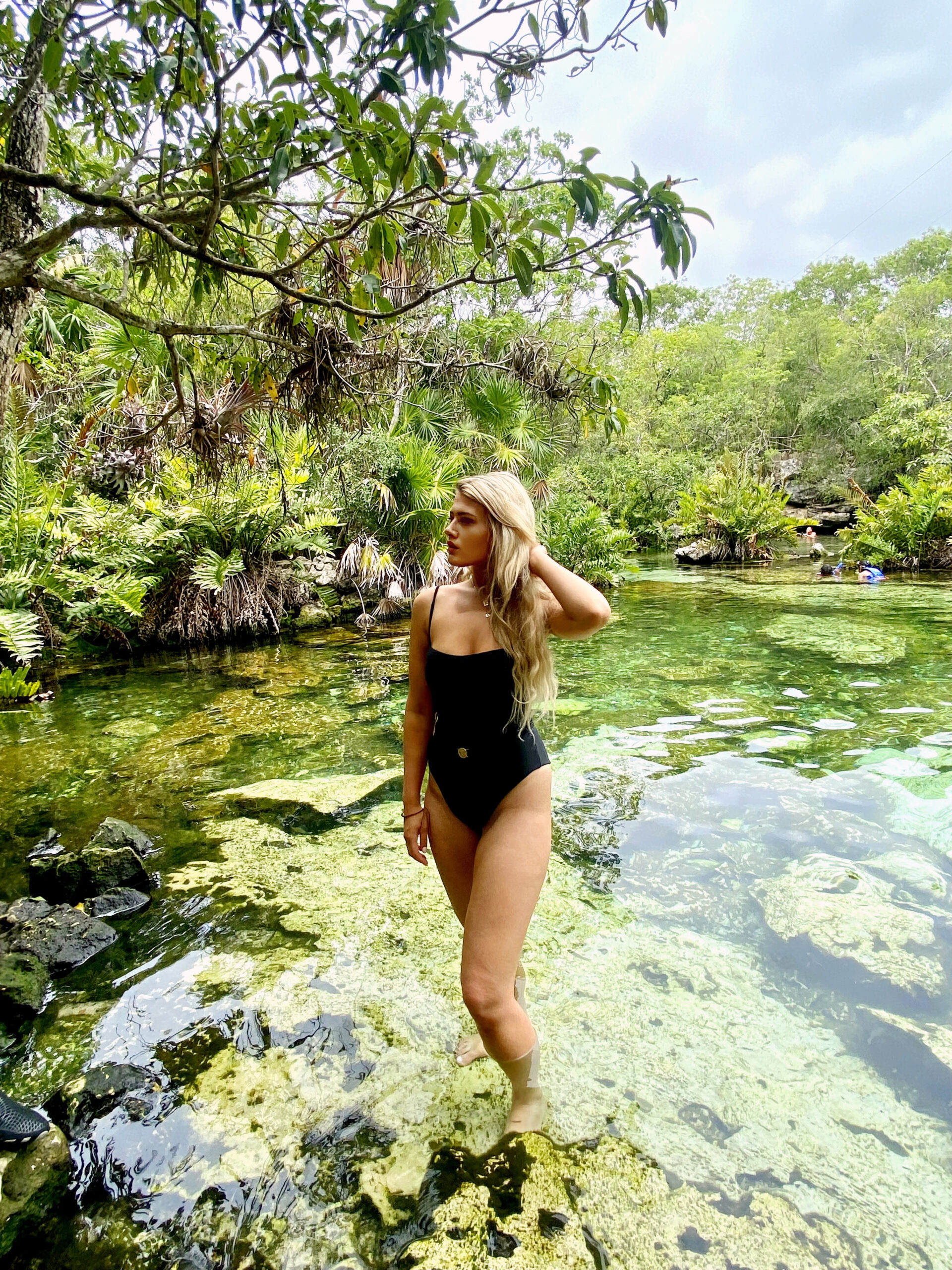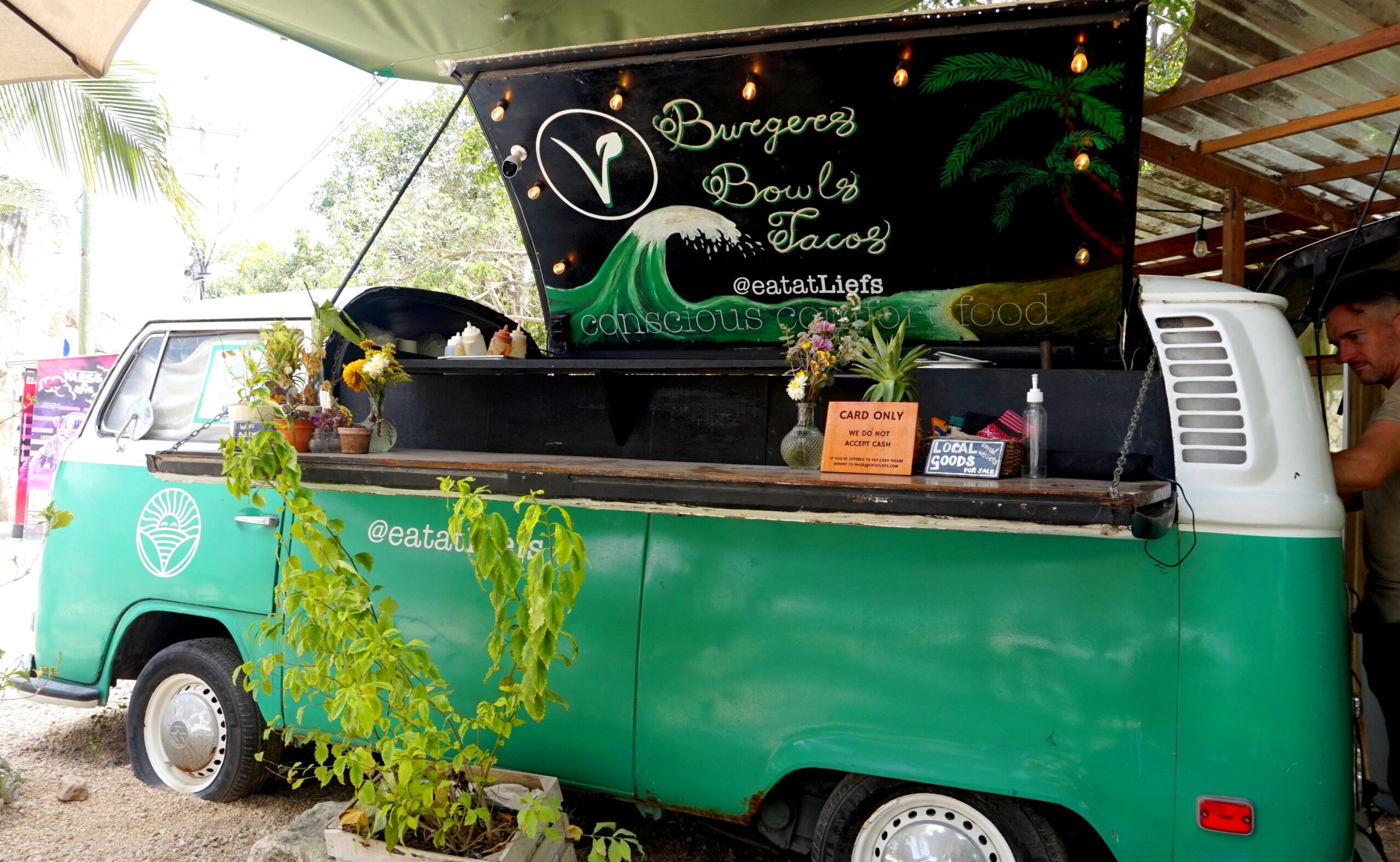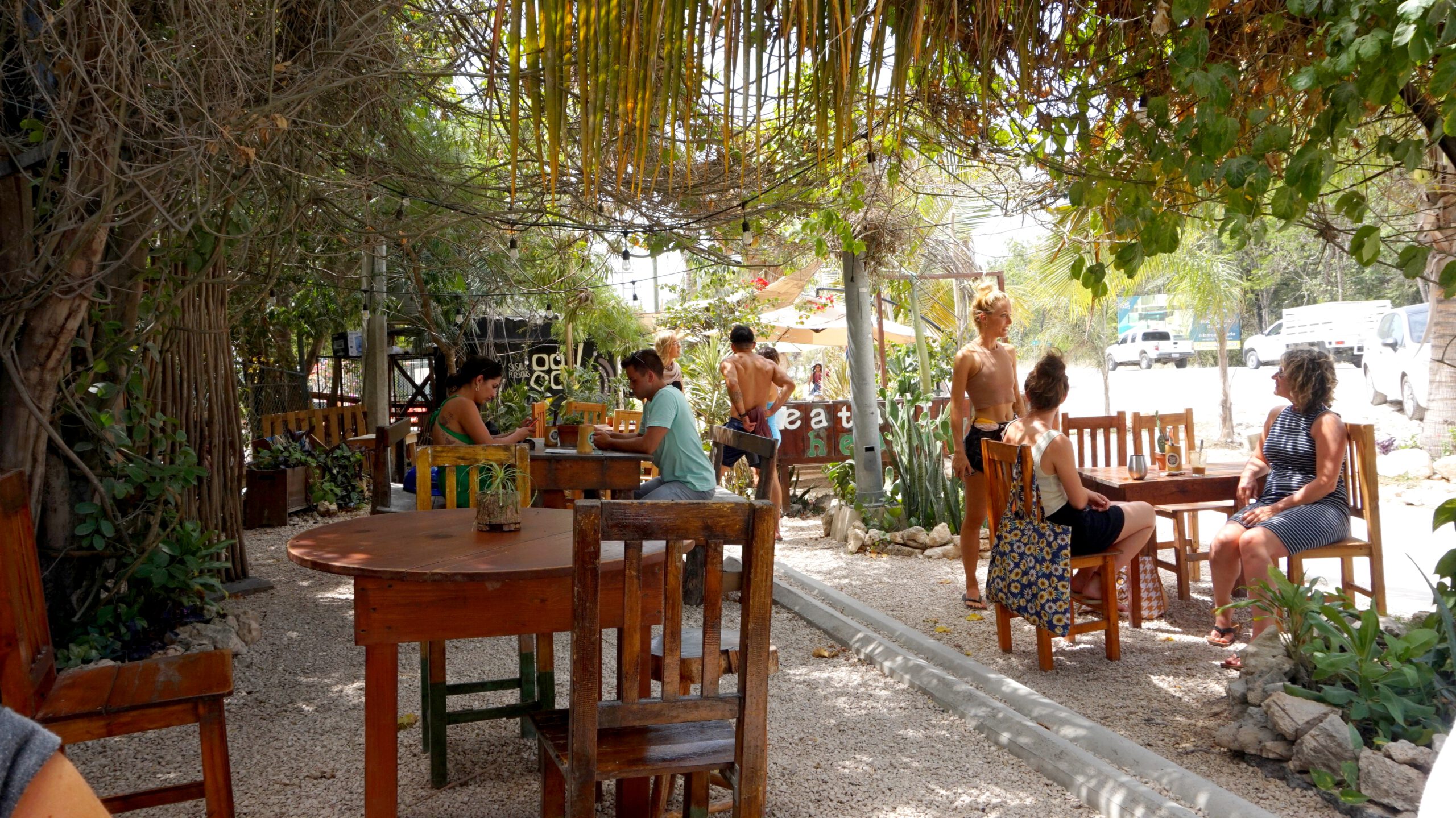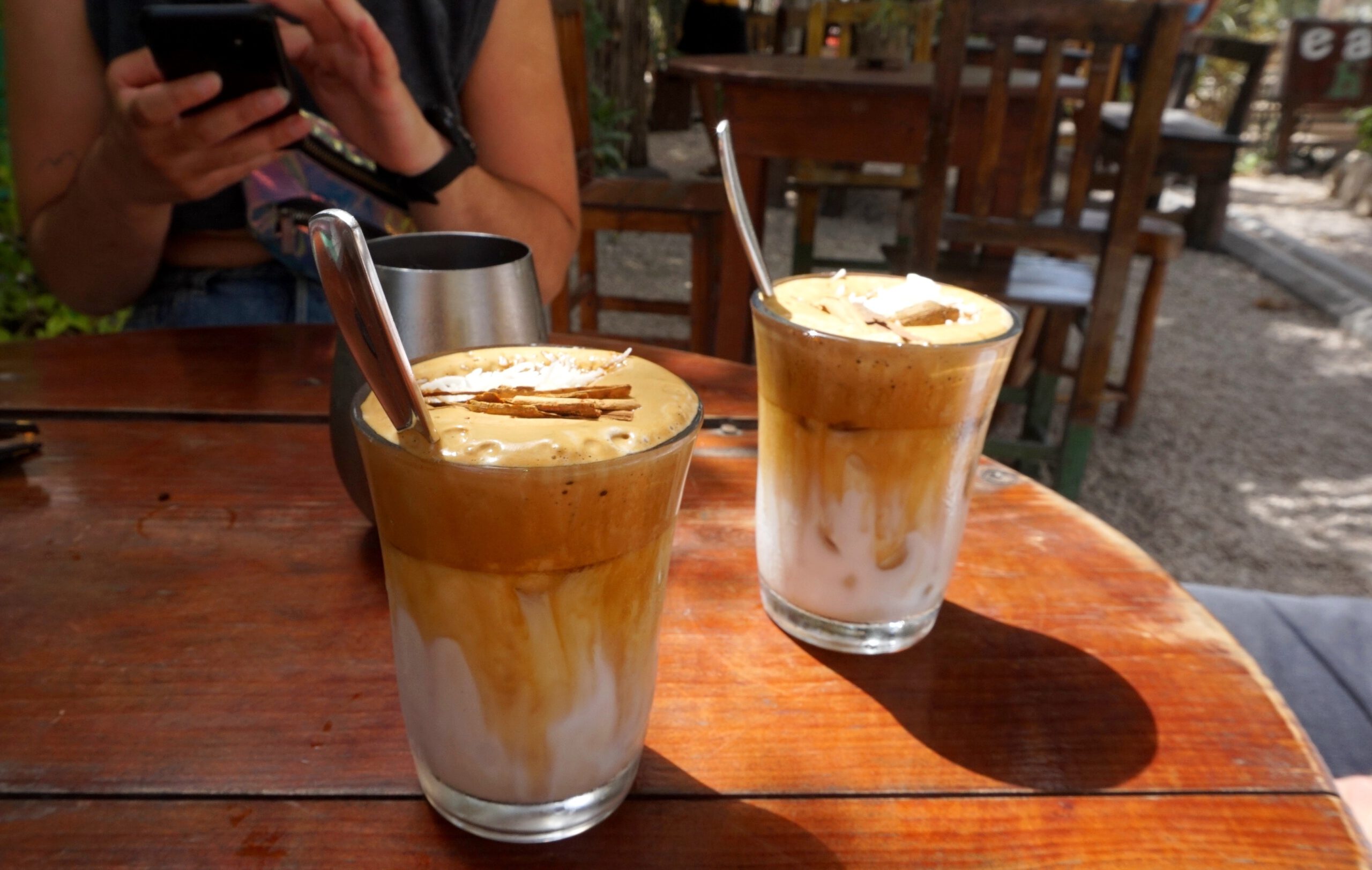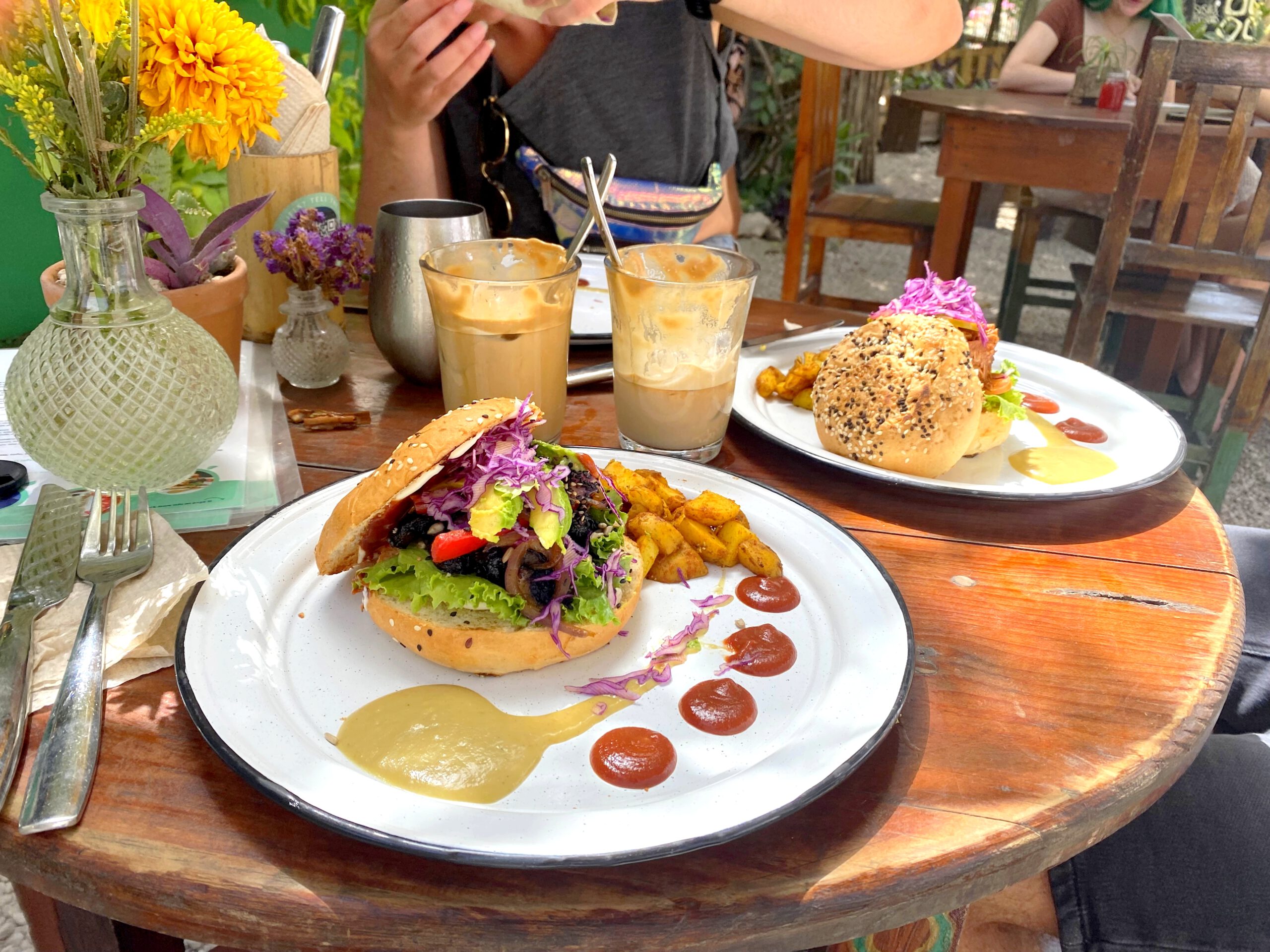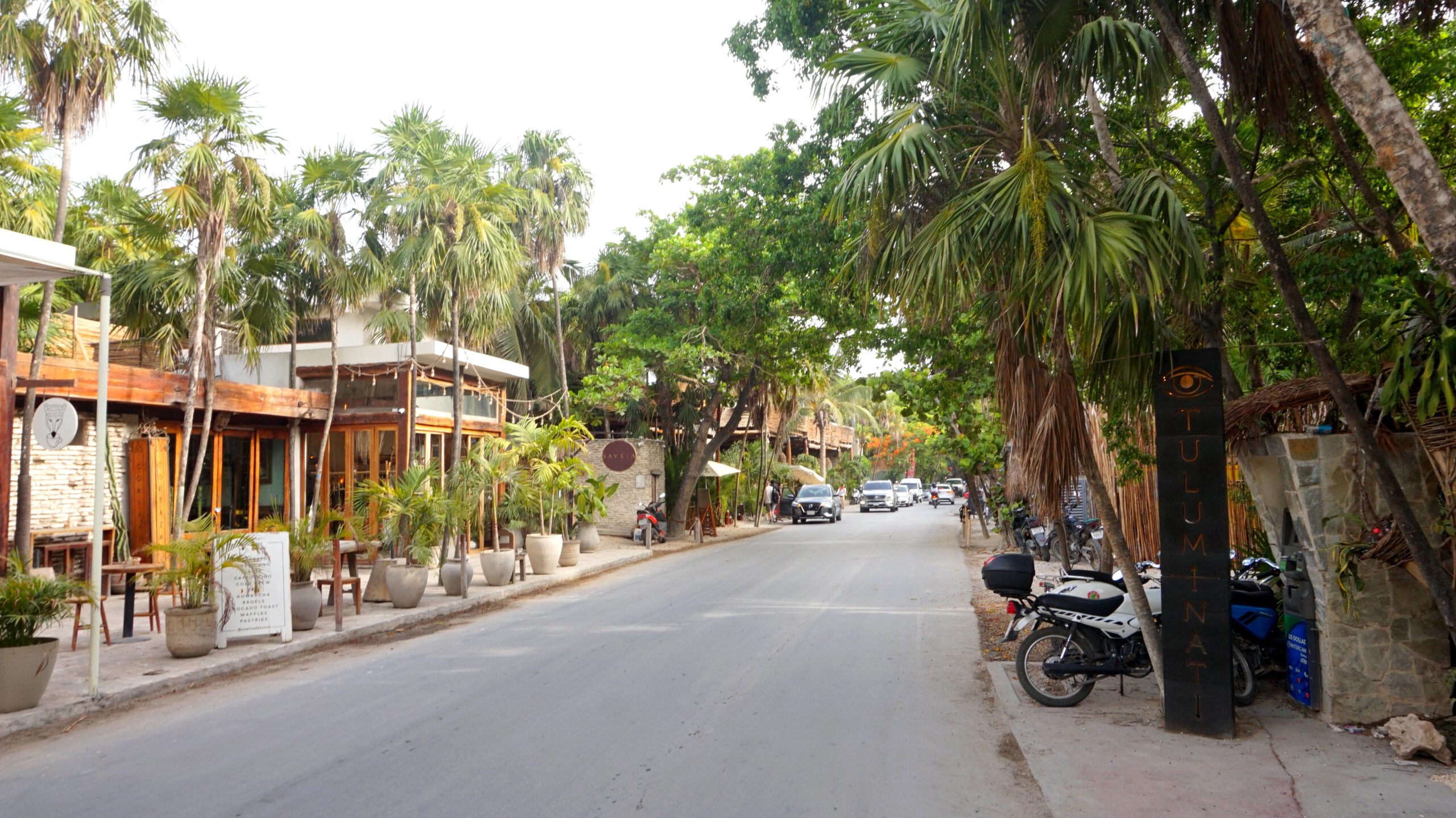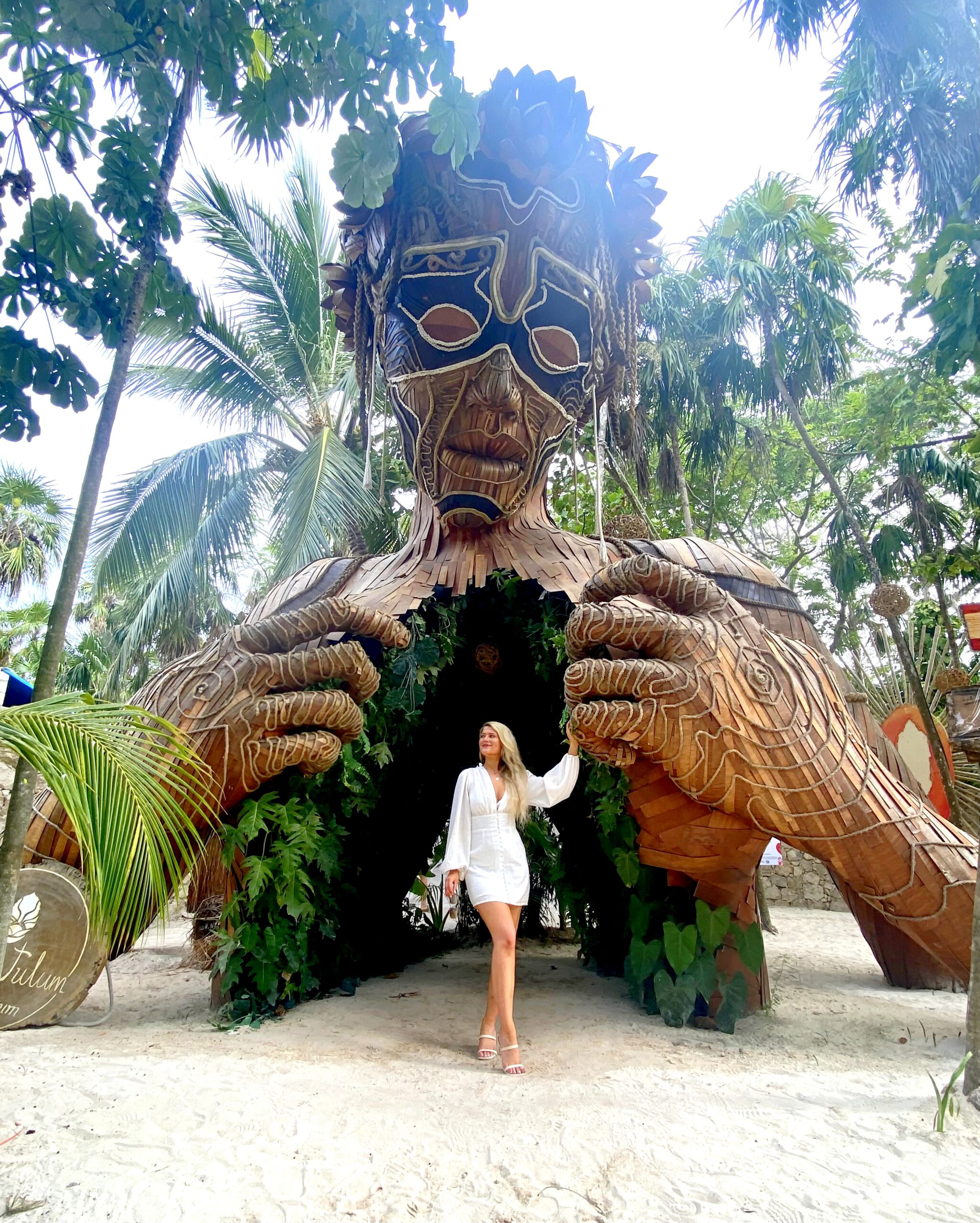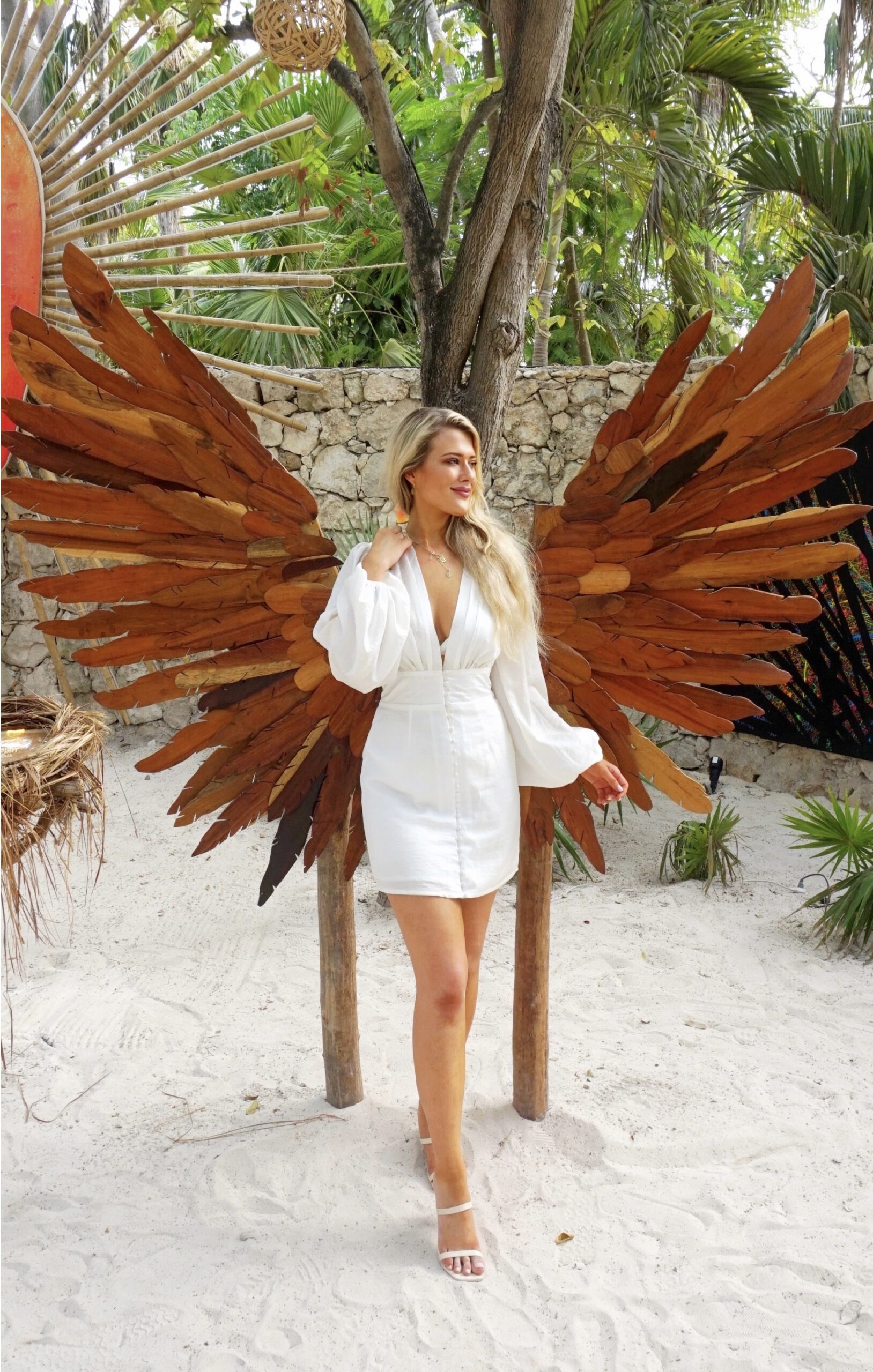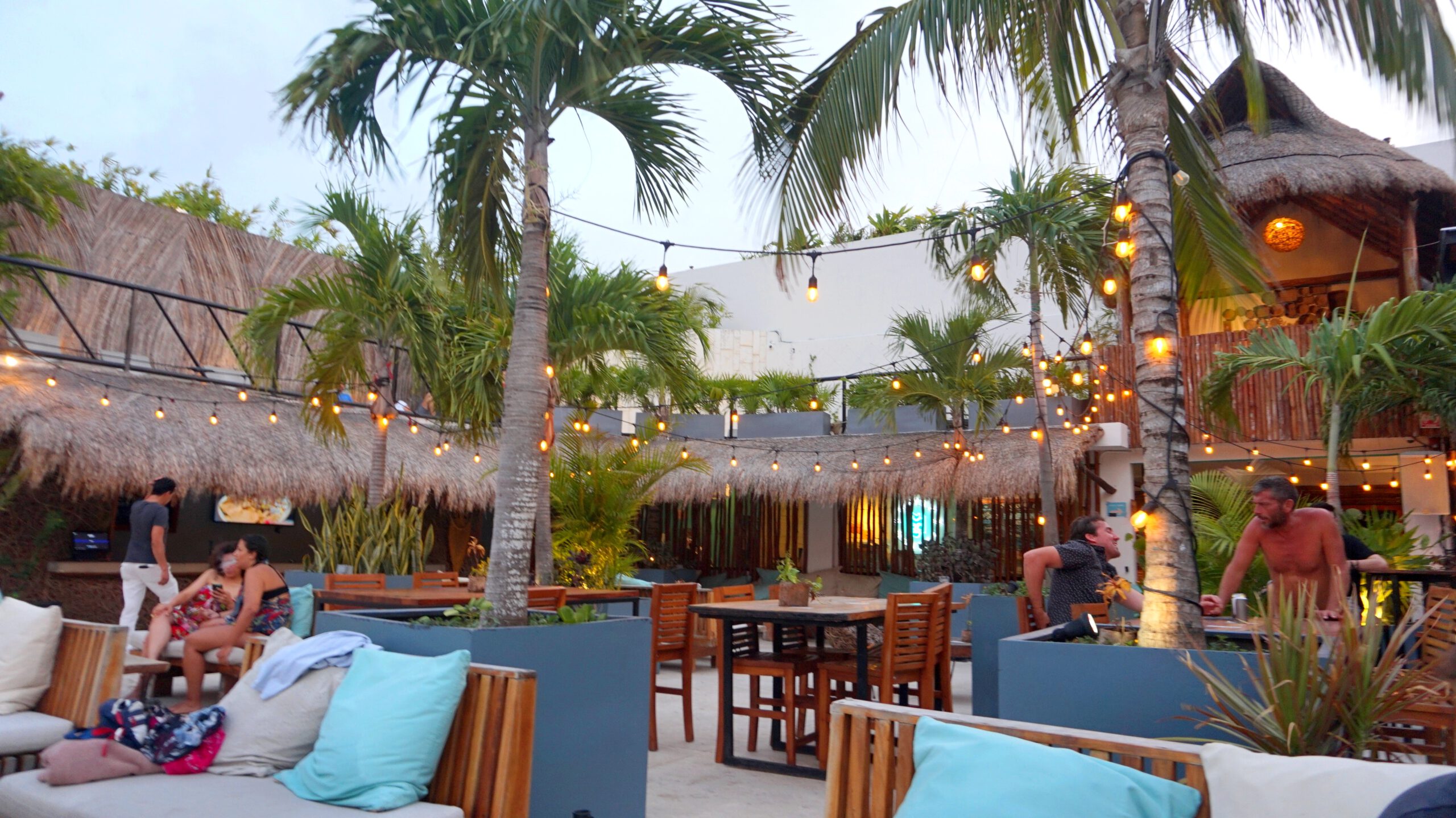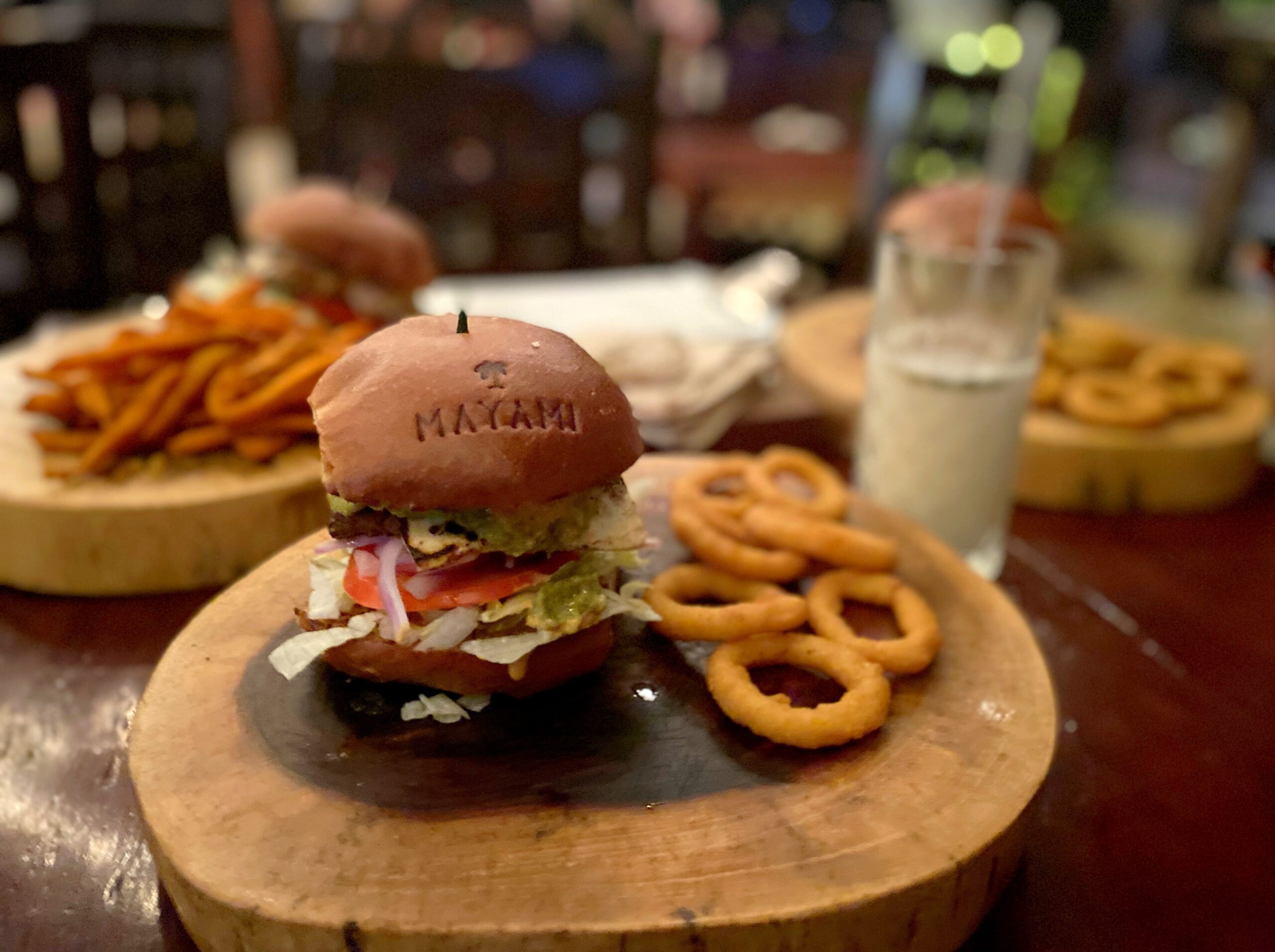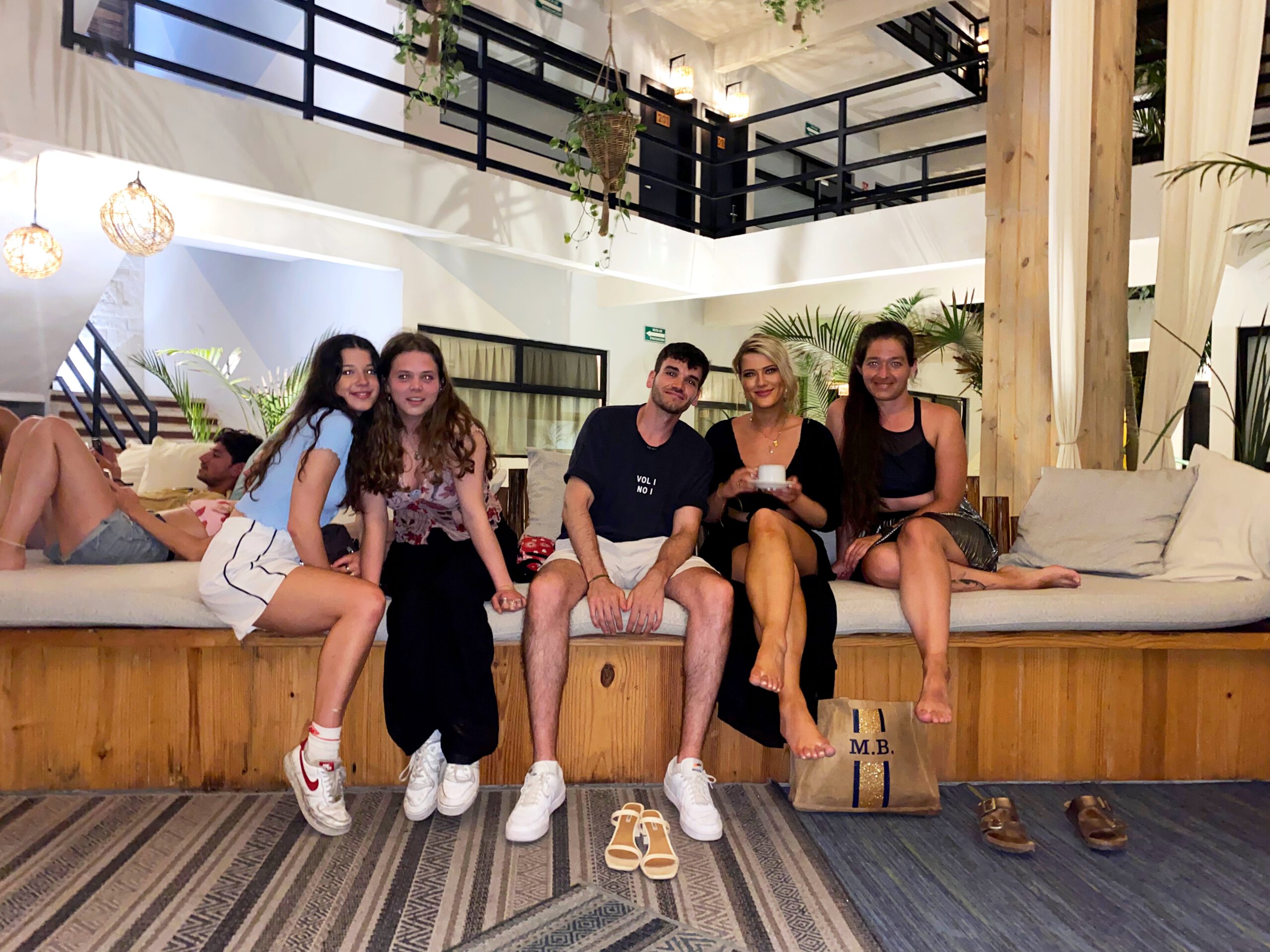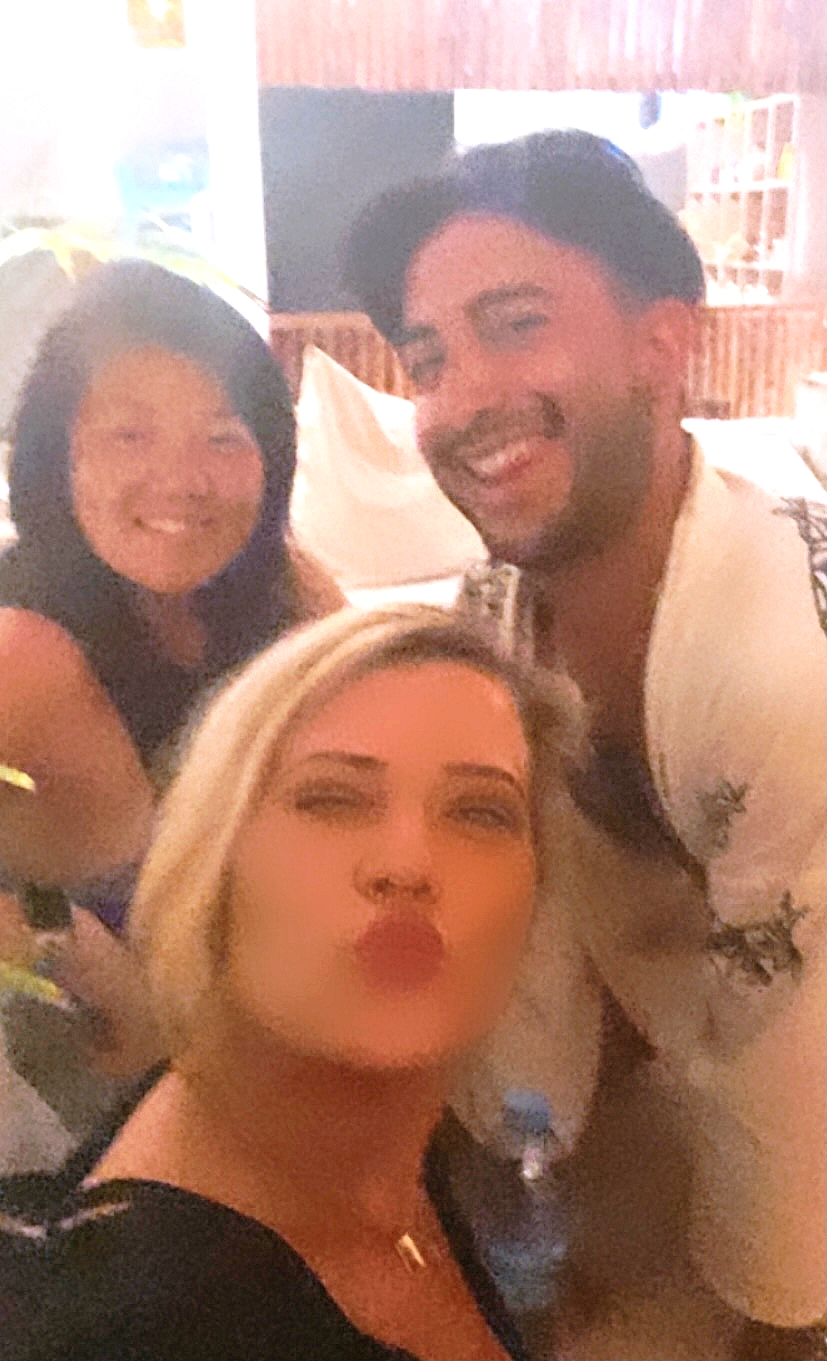 Day 7 – Tulum – 25/5/2022

Today we agreed with a number of people from the hostel to have breakfast together by the pool. Julian was going to leave for Bacalar, so we said goodbye to him. After breakfast, I would head out with Ruben, along with Ellie from New York to explore more of the area such as the Mayan ruins. Ellie decided to join me on the back of my bike and Ruben cycled himself. We had lunch – quite overpriced – somewhere a few minutes from our hostel, but it was fun with the 3 of us. Once back, Ellie decided to go back and Jjojhan from Colombia and Cyni from Australia joined our little bike tour. We decided to visit the Tulum ruins. It was very nice to have seen this place together and it was real fun with the group. By the way – If you look closely at the photos, you can see the large amounts of seaweed (I did not mind it, but if you want to visit the sea often, keep the time period of that in mind). I think the ride back by bike was also at least 30-40 minutes and it was really a lot of fun together! I believe I had ordered lunch at the hostel together with Ruben and my roommate Fei, and went to do some shopping at a supermarket. After returning, I went for a swim with Cyni and Ellie who I had a really good connection with, had a stunt on the pool swing and had a mini party with the 3 of us in Cyni's private room. The group of girls from my own dorm were off to go to a salsa party I was invited to by them, but I went with part of last night's group to another place. With quite a large group we decided to go out later in the evening – Ruben, Ellie, Onur from Switzerland, Nathan and Ollie from America, and Louis from France whom I got to know. The place where we went out is called Straw Hat – Here I coincidentially met my very nice Flemish roommates Ine and Lauren again and our wonderful roommate Mathilde from France, whom I have known together for a few days and talked a lot with in our shared dorm. We ended up at the same place after all! Eventually, we unexpectedly where with a super large hostel group! Onur, Ruben and I wanted to go back after an hour because we were tired and not much of a party animal. We ate tacos and crepes from roadside stalls and walked back to the hostel.
Vandaag weer met een aantal mensen van het hostel afgesproken samen te ontbijten bij het zwembad. Julian zou naar Bacalar vertrekken, dus namen we afscheid van hem. Na het ontbijt zou ik op pad gaan met Ruben, samen met Ellie uit New York om meer van de omgeving te gaan verkennen zoals de ruïnes. Ellie besloot bij mij achterop te gaan en Ruben fietste zelf. We hadden lunch – best overpriced – ergens een paar minuten van ons hostel, maar het was wel gezellig met zijn 3en. Eenmaal terug besloot Ellie terug te gaan en sloten Jjojhan uit Colombia en Cyni uit Australië bij onze fietstocht aan. We besloten de Tulum ruïnes te bezoeken. Het was erg leuk deze plek te hebben gezien samen en het was echt lachen met de groep. Overigens – Als je goed kijkt op de foto's, zie je de grote hoeveelheden zeewier. De terugrit met de fiets was denk ik ook nog zeker 30-40 minuten en het was écht heel erg leuk met zijn allen! Ik geloof dat ik nog lunch besteld had in het hostel samen met Ruben en Fei, en nog wat boodschapjes ben gaan doen bij een supermarkt. Na terugkomst, was ik nog gaan zwemmen met Cyni en Ellie waar ik een ontzettend goede klik mee had, had gestunt op de zwembadschommel en hadden een mini feestje met zijn 3tjes in de privé kamer van Cyni. De groep meiden uit mijn eigen kamer zouden naar een salsa feest gaan waar ik voor was uitgenodigd, maar tóch ging ik met een deel van de groep van gisteren avond mee. Met een behoorlijke groep besloten we later in de avond op stap te gaan. Ruben, Ellie, Onur uit Zwitserland, Nathan en Ollie uit Amerika, en Louis uit Frankrijk die ik leerde kennen. De plek waar we op stap zijn gegaan heet Straw Hat – Hier kwam ik per toeval mijn ontzettend leuke Vlaamse kamergenootjes Ine en Lauren opnieuw tegen en ons geweldige kamergenootje Mathilde uit Frankrijk, die ik gezamenlijk al sinds een aantal dagen ken en veel sprak in mijn kamer. Uiteindelijk waren we tóch op dezelfde plek uitgekomen! We waren dus uiteindelijk onverwachts met een super grote hostel groep! Onur, Ruben en ik wilden na een uurtje toch terug omdat we moe waren en niet zo'n feestbeesten zijn. We aten taco's en crêpes van kraampjes langs de weg en gingen te voet terug naar het hostel.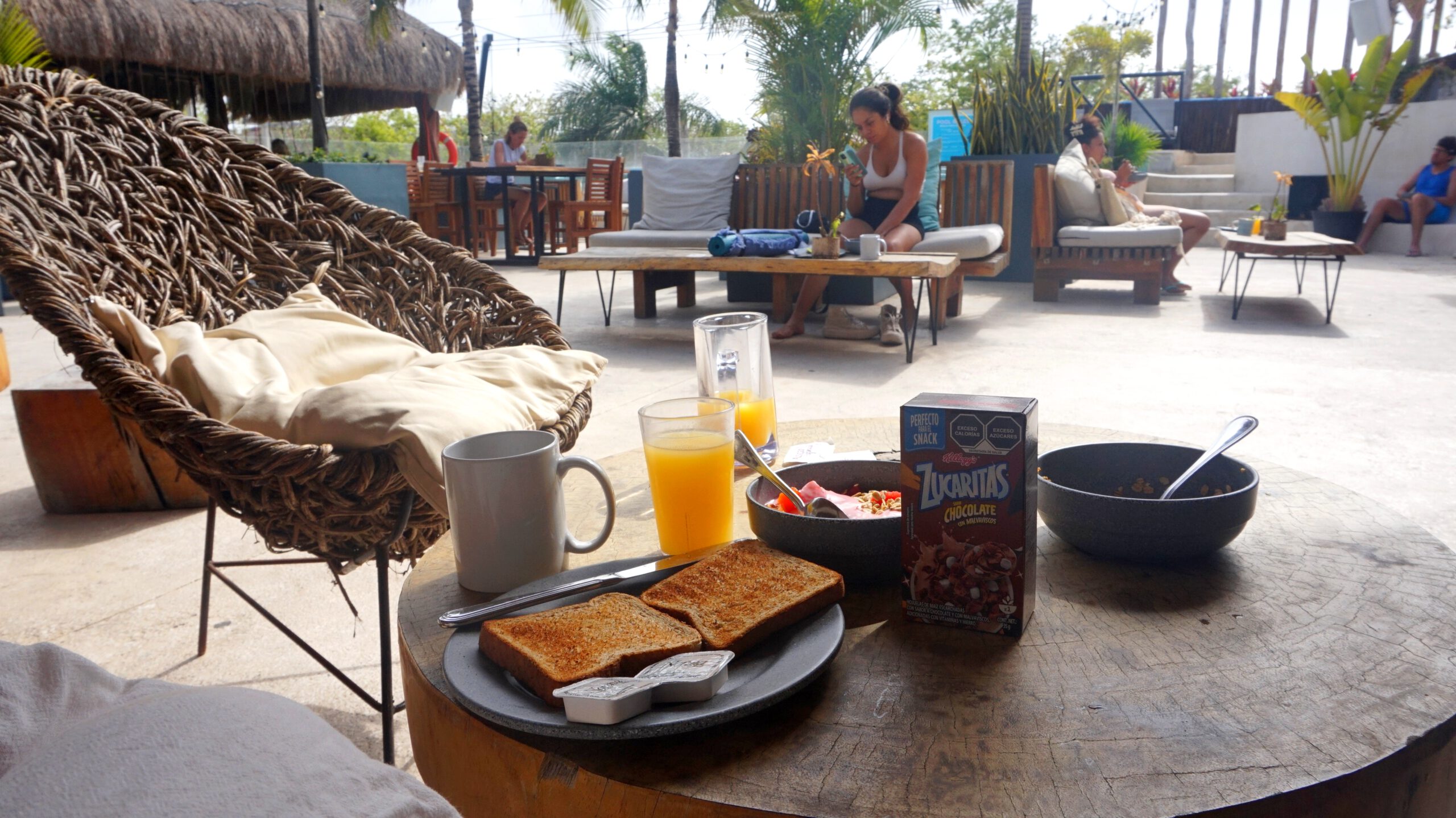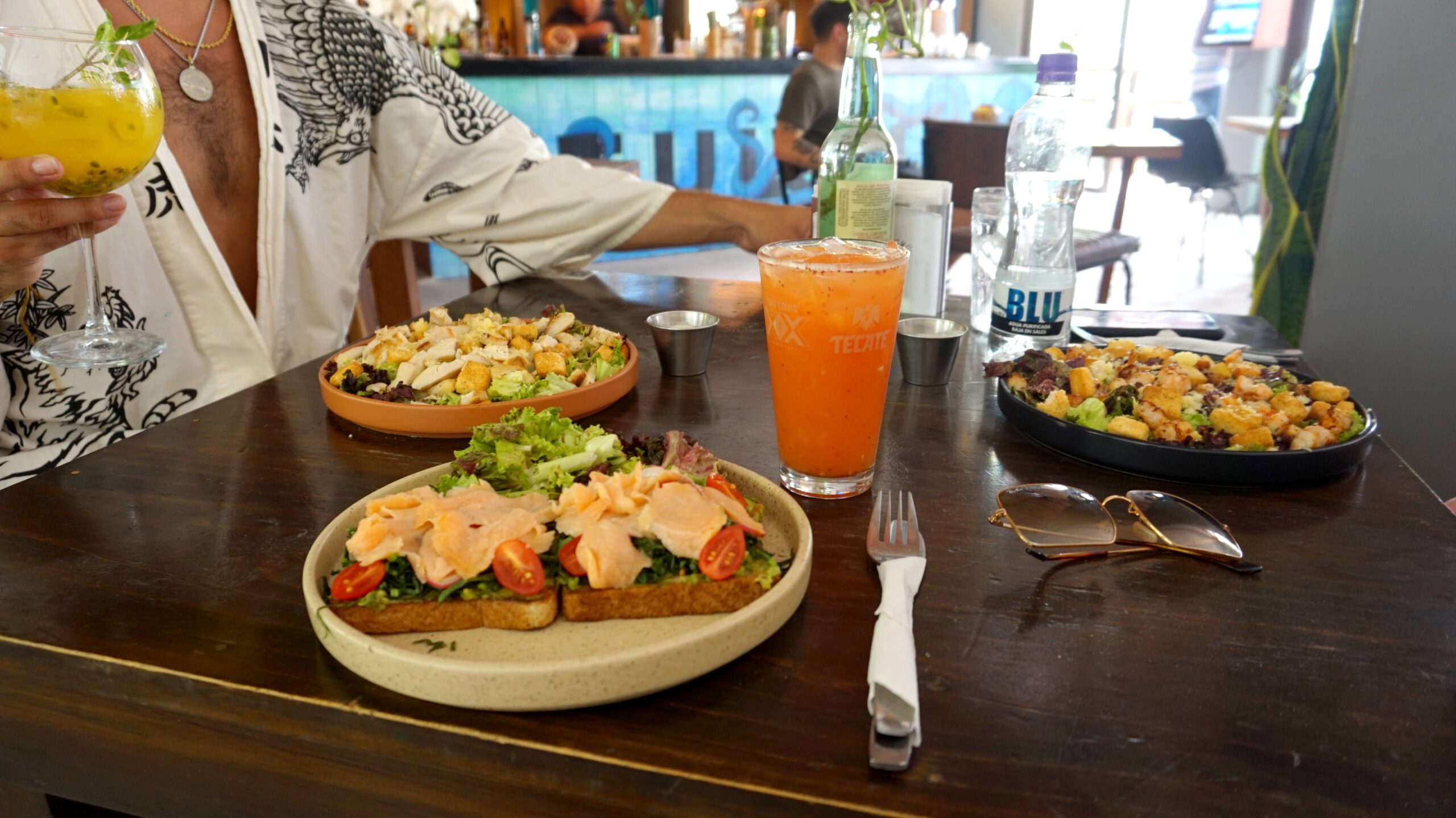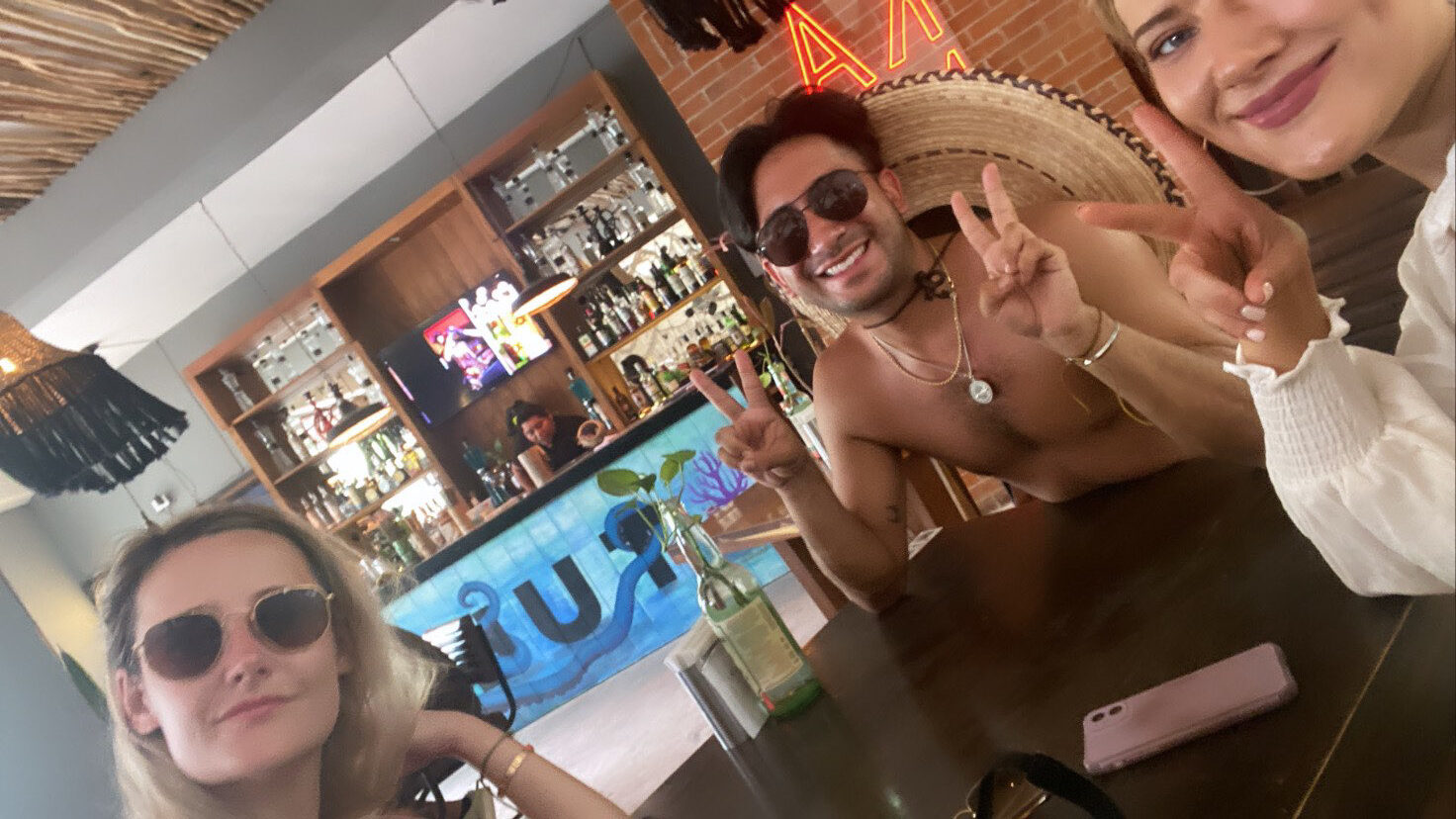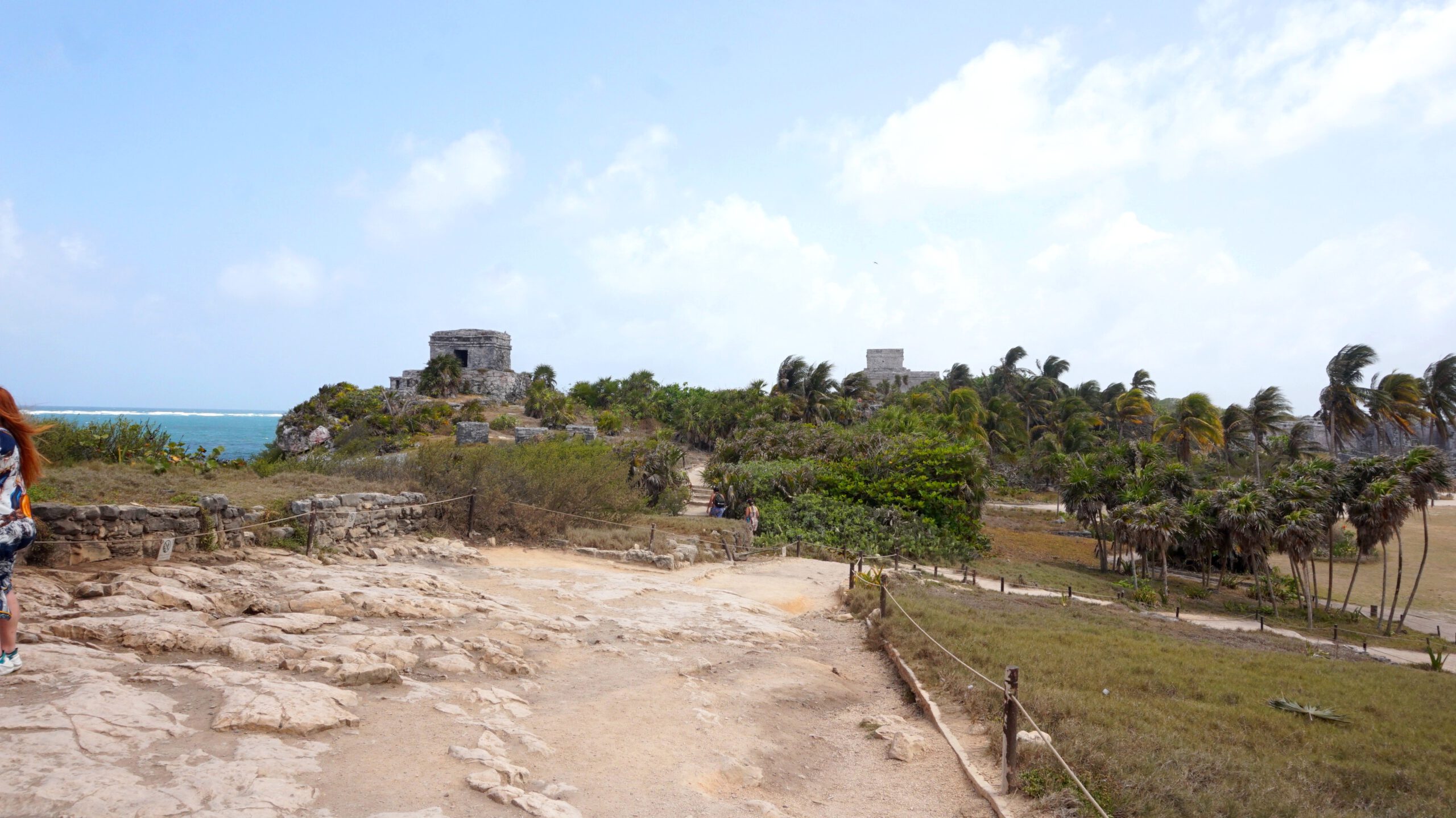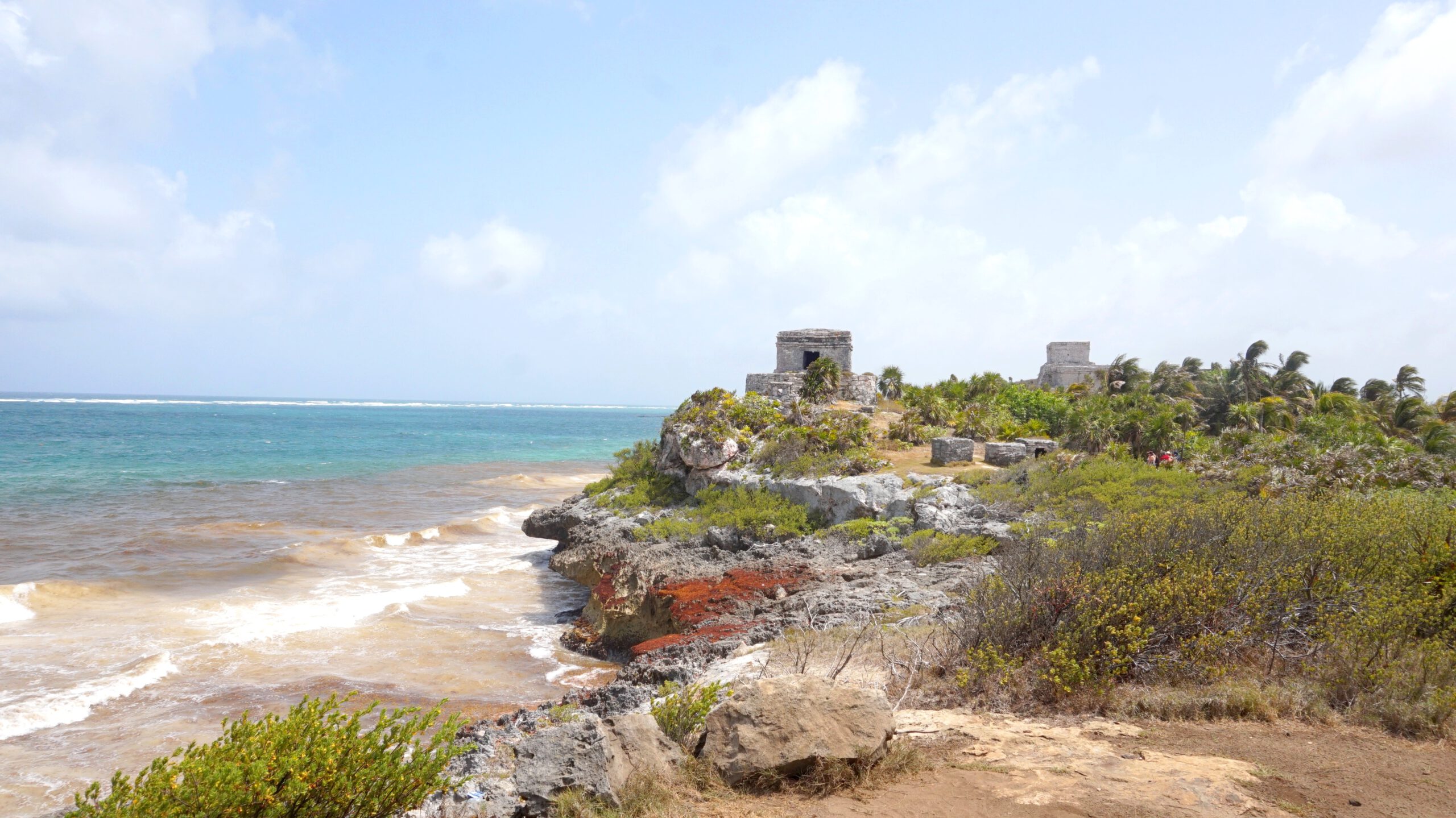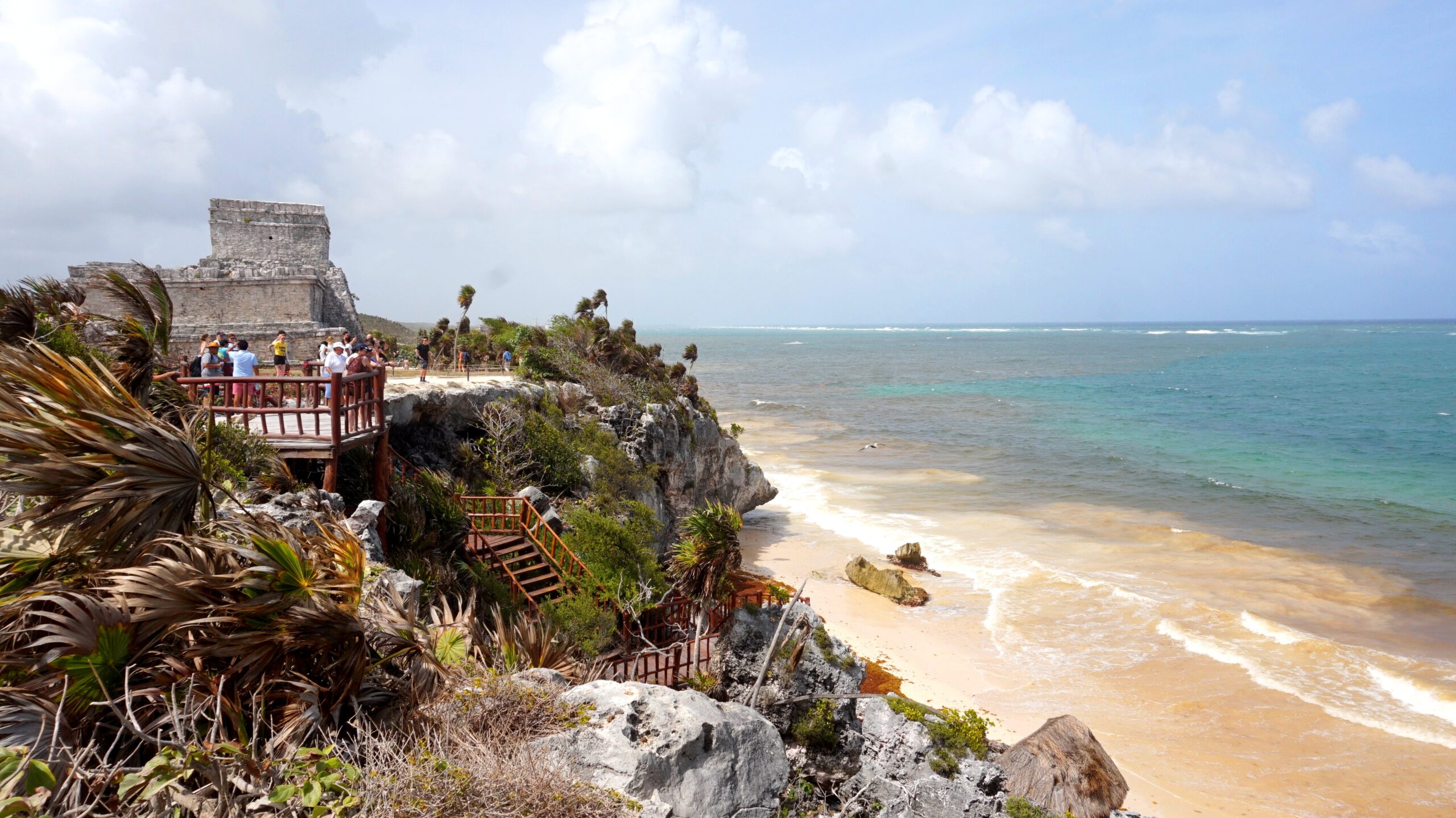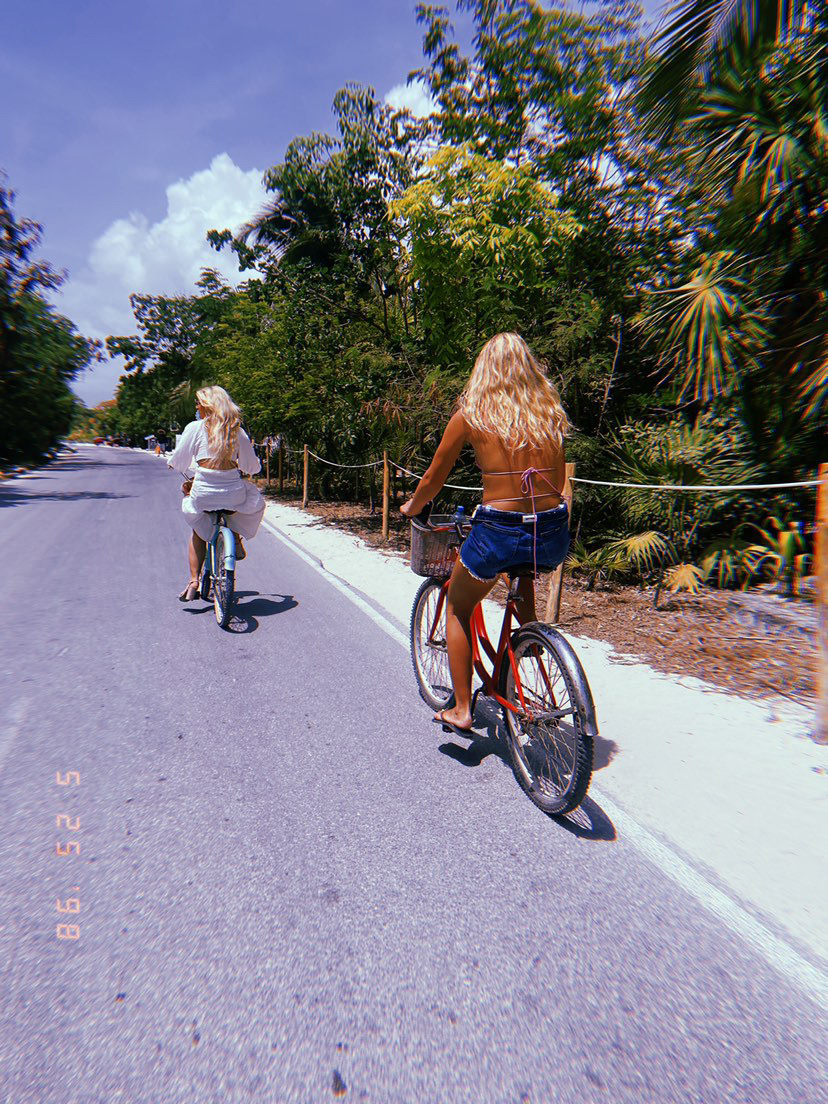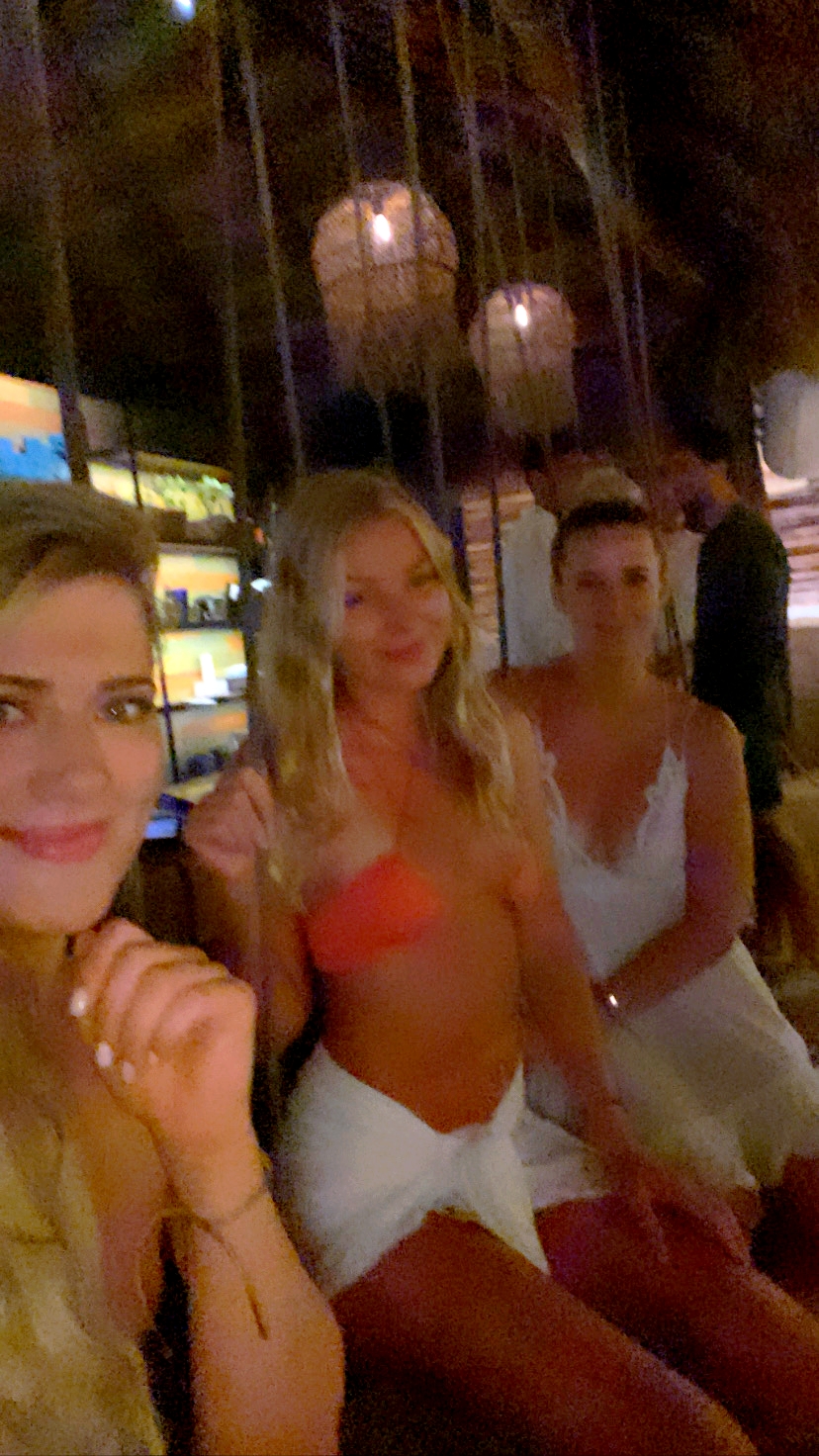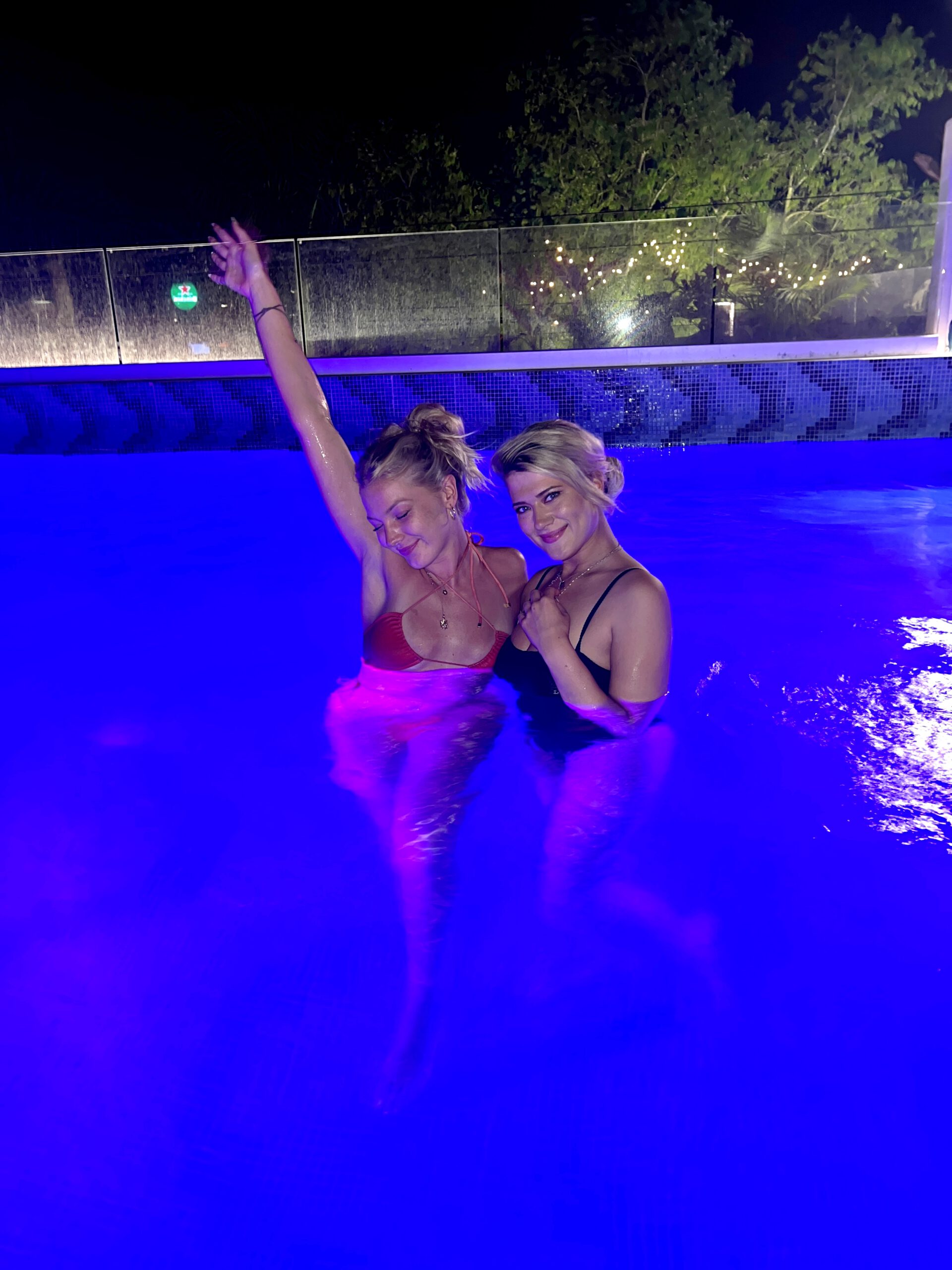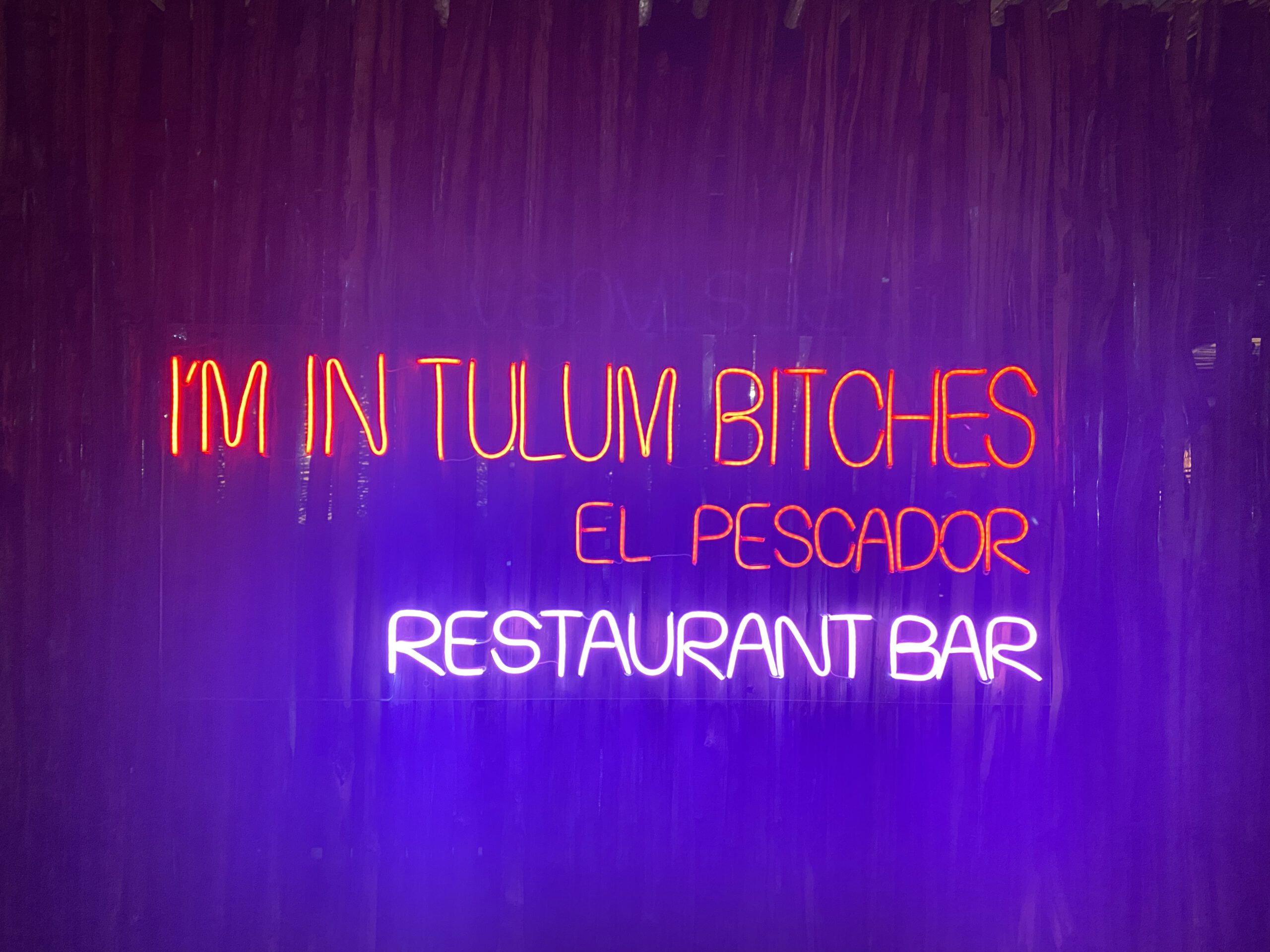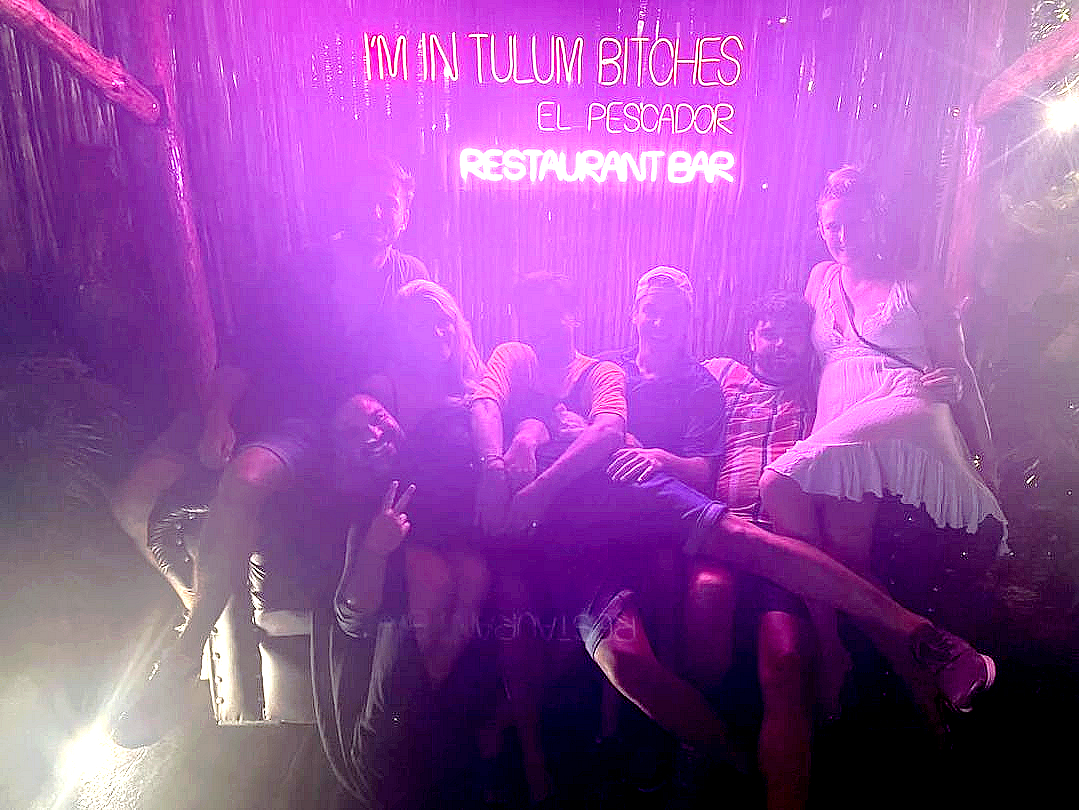 Day 8 – Tulum – 26/5/2022

In the morning – Ruben, Onur, Jjojhan and I decided to cycle to Gran Cenote from the hostel. Sadly, Ellie would leave the hostel today, so we continued the journey without her. Cycling through heavy rain showers we came to this beautiful place – about 25 minutes cycling distance. The entrance to Gran Cenote is 500 pesos (25 euros) – this also includes a life vest. Personally, I liked Cenote Azul more and it was less overpriced as well. It was a very nice experience and I laughed a lot with the group of guys. I even unexpectedly swam with little turtles! I wanted to be back early, because later in the afternoon I had arranged to go with Ine, Lauren, Mathilde and Hannah to Laguna Kaan Luum – a beautiful lake. Once back at the hostel, I ordered a delicious lunch and shared it with Mathilde. Our kind roommate Mari from America, whom we met on the way to a taxi for the Laguna, joined us when we invited her on the spot. We visited this beautiful Laguna for a few hours and had a lot of fun. Definitely a recommendation! Just keep in mind that this place closes quite early and the entrance costs 300 pesos. Back at the hostel Mathilde told her she would go to Cancun and Isla Mujeres tomorrow. I asked her if she would like it if I would spontaneously follow and join her in her plans, because I wanted to see a little more of the country very last minute, before I would fly back. She said it was a nice idea and fine to join her. At that moment, I immediately booked a night at Selina Cancun Downtown and made a small plan for tomorrow. After – like every evening – hanging out at the hostel bar with our regular hostel group, I decided to join their visit to Mia Beachclub around 10 o'clock – this place works with a guestlist – and through a connection of the hostel staff, we could get on the list. Louis, Adam, Ruben, Cyni and I all shared a taxi van and this was hilarious again. 100 selfies further we arrived at the beach club. This club is located at Selina Tulum and is really beautiful! If I had known about this earlier, I would have loved to visit this beach club during the day. In the end we sat on the beach all together in the dark with drinks at this beach club. I told the group about my spontaneous last minute travel plans. On the one hand I didn't want to leave Tulum and the group yet, on the other hand I wanted to do something spontaneous just before I would go back to the Netherlands. Louis and Adam decided to join me to Cancun and booked an Airbnb right at that moment on the beach. With the whole group squeezed together into a small taxi, we drove back to the hostel. We laughed alot again because we where so squished into the backseat, trying to hide from the police along the way! Once back, the rest of the group went to chill at the hostel pool and I went to sleep.
In de ochtend besloten Ruben, Onur, Jjojhan en ik naar Gran Cenote te fietsen vanaf het hostel. Helaas zou Ellie vandaag het hostel verlaten, dus zou niet meeer met ons meegaan. Al fietsend door grote regenbuien kwamen we bij deze mooie plek – op zo'n 25 minuten fietsafstand. De entré van Gran Cenote is 500 pesos (25 euro) – hier zit ook een life vest bij. Persoonlijk vond ik Cenote Azul leuker en ook minder overpriced. Het was een hele leuke ervaring en ik heb me helemaal stuk gelachen met deze groep jongens. Ik heb zelfs onverwachts met kleine schildpadjes gezwommen! Ik wilde vroeg terug zijn, omdat ik later in de middag had afgesproken met Ine, Lauren, Mathilde en Hannah mee te gaan naar Laguna Kaan Luum – een prachtig meer. Eenmaal terug in het hostel bestelde ik nog heerlijke lunch en deelde het samen met Mathilde. Onze lieve kamergenote Mari uit Amerika, die we onderweg naar een taxi voor de Laguna tegen kwamen, sloot gezellig bij ons aan toen we haar terplekke hadden uitgenodigd. We bezochten deze mooie Laguna voor een aantal uurtjes en hadden veel lol. Zeker een aanbeveling! Houd er wel rekening mee dat deze plek vrij vroeg sluit en de entree 300 pesos kost. Terug in het hostel vertelde Mathilde dat ze morgen naar Cancun en Isla Mujeres zou gaan. Ik vroeg haar of ze het leuk vond als ik spontaan achter haar aan zou reizen, omdat ik héél last minute nog wat meer van het land wilde zien voor ik terug zou vliegen, dit vond ze een leuk idee. Ik boekte op dat moment direct een nachtje Selina Cancun Downtown en maakte een klein plan voor morgen. Na – zoals iedere avond – wat aan de hostelbar te hebben gehangen met onze vaste hostelgroep, besloot ik rond een uur of 10 tóch mee naar Mia Beachclub te gaan – deze plek werkt met een guestlist – en door een connectie van het hostelpersoneel, konden we op de lijst. Louis, Adam, Ruben, Cyni en ik deelden met zijn allen een taxi busje en dit was weer hilarisch. 100 selfies verder kwamen we bij de beachclub. Deze club ligt bij Selina Tulum en is echt bizar mooi! Als ik hier eerder van had geweten was ik ook graag overdag een keer naar deze beachclub geweest. Uiteindelijk hebben we op deze beachclub alleen in het donker op het strand gezeten met drankjes. Ik vertelde de groep van mijn spontane reisplannen. Aan de ene kant wilde ik nog niet weg, aan de andere kant wilde ik nog wat spontaans doen vlak voor ik terug naar Nederland zou gaan. Louis en Adam besloten bij me aan te sluiten naar Cancun en boekte terplekke op het strand een airbnb. Met de hele groep gepropt in een kleine taxi, reden we terug naar het hostel. We lachten ons weer helemaal rot zo opgepropt op de achterbank, wegduikend voor de politie langs de weg! De rest van de groep ging eenmaal terug nog aan het hostel zwembad zitten en ik ging slapen.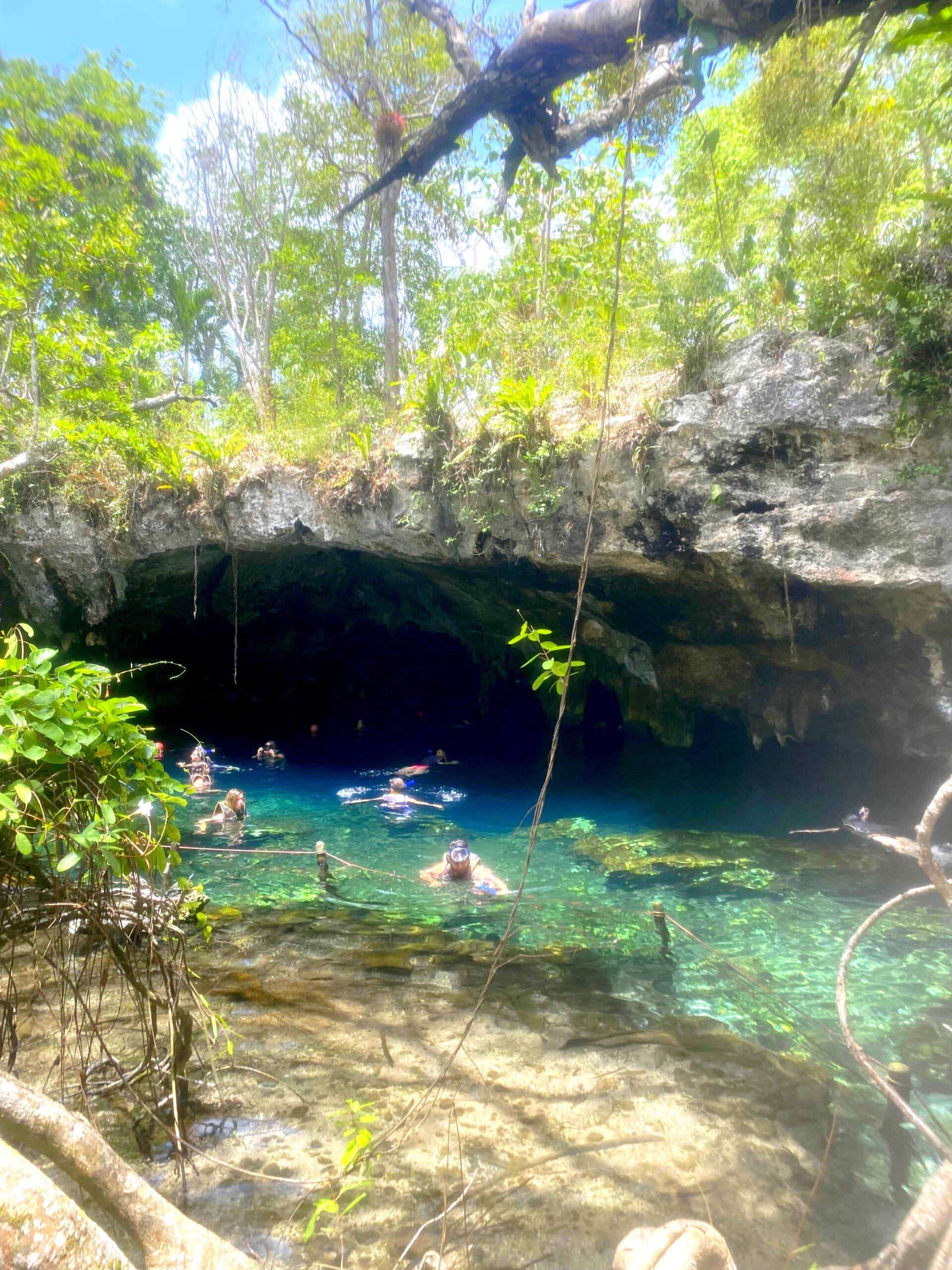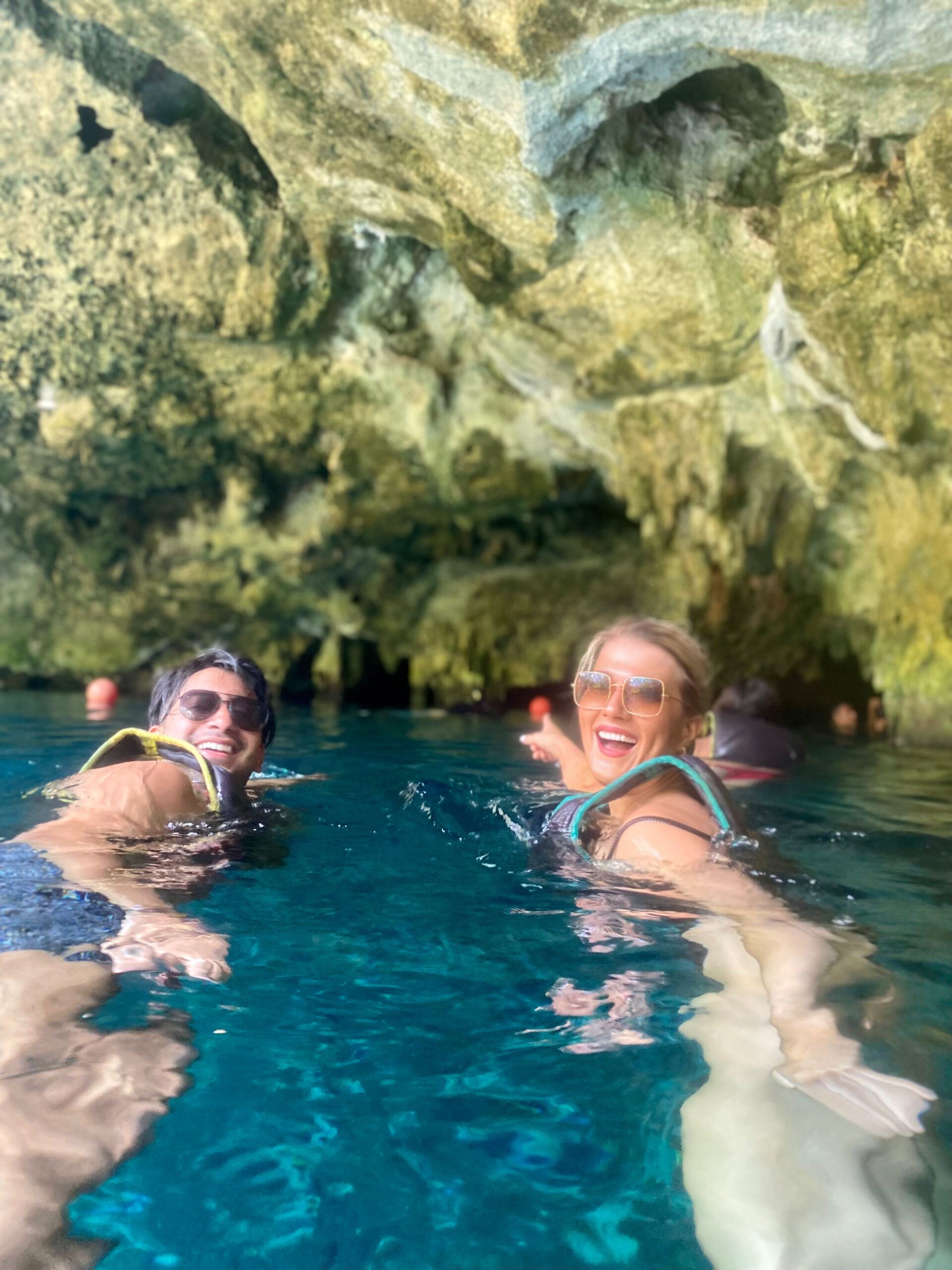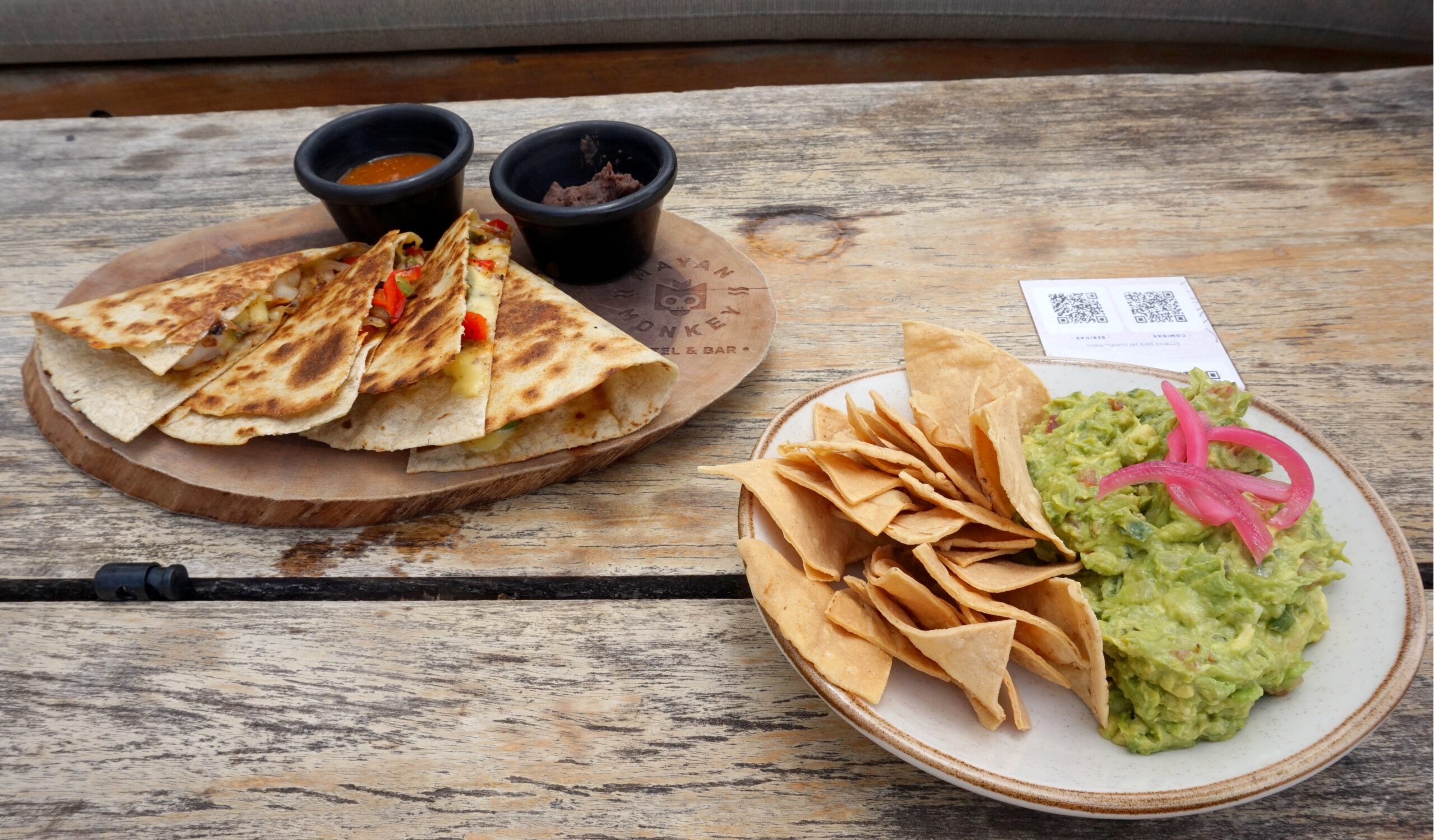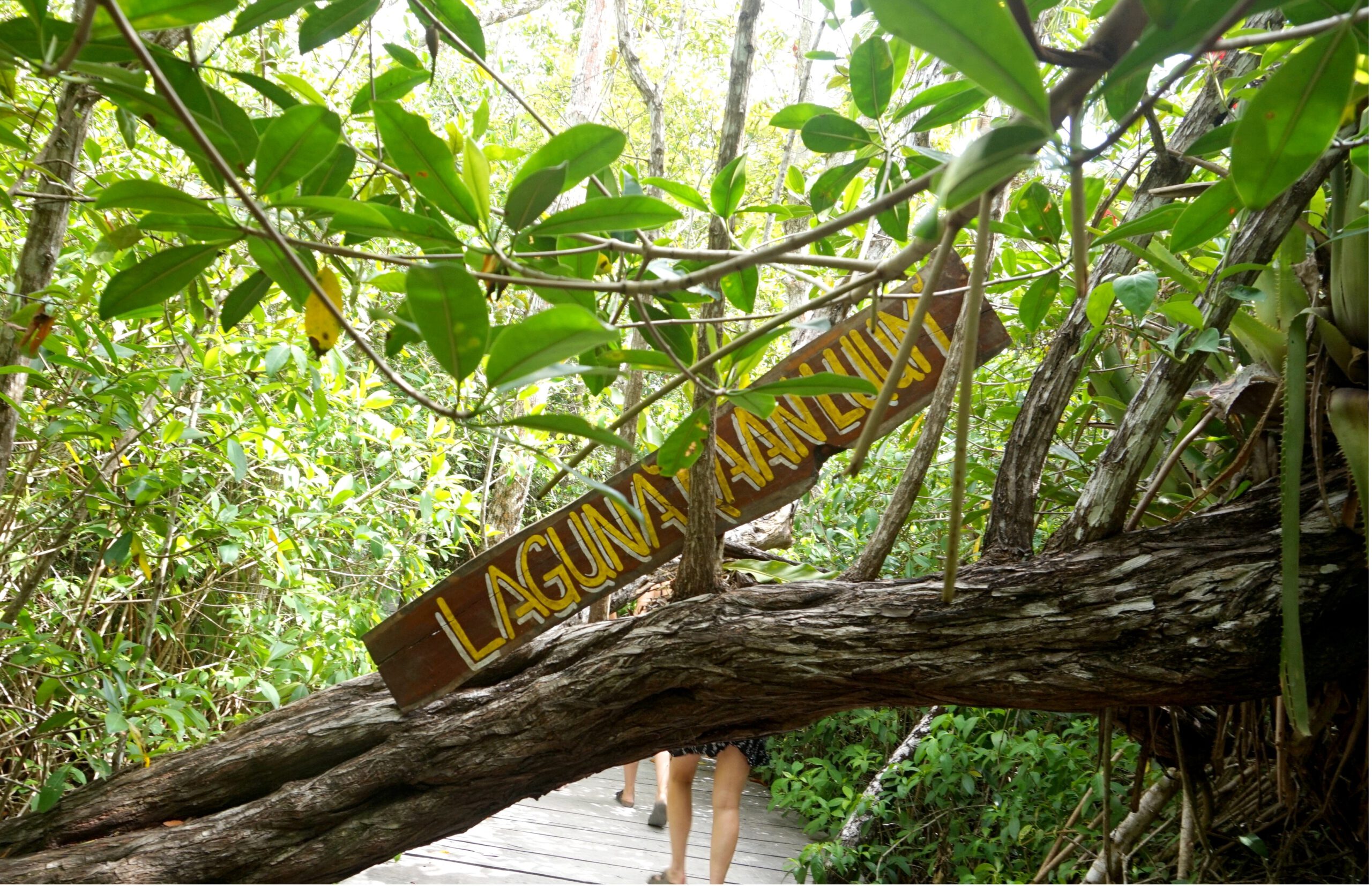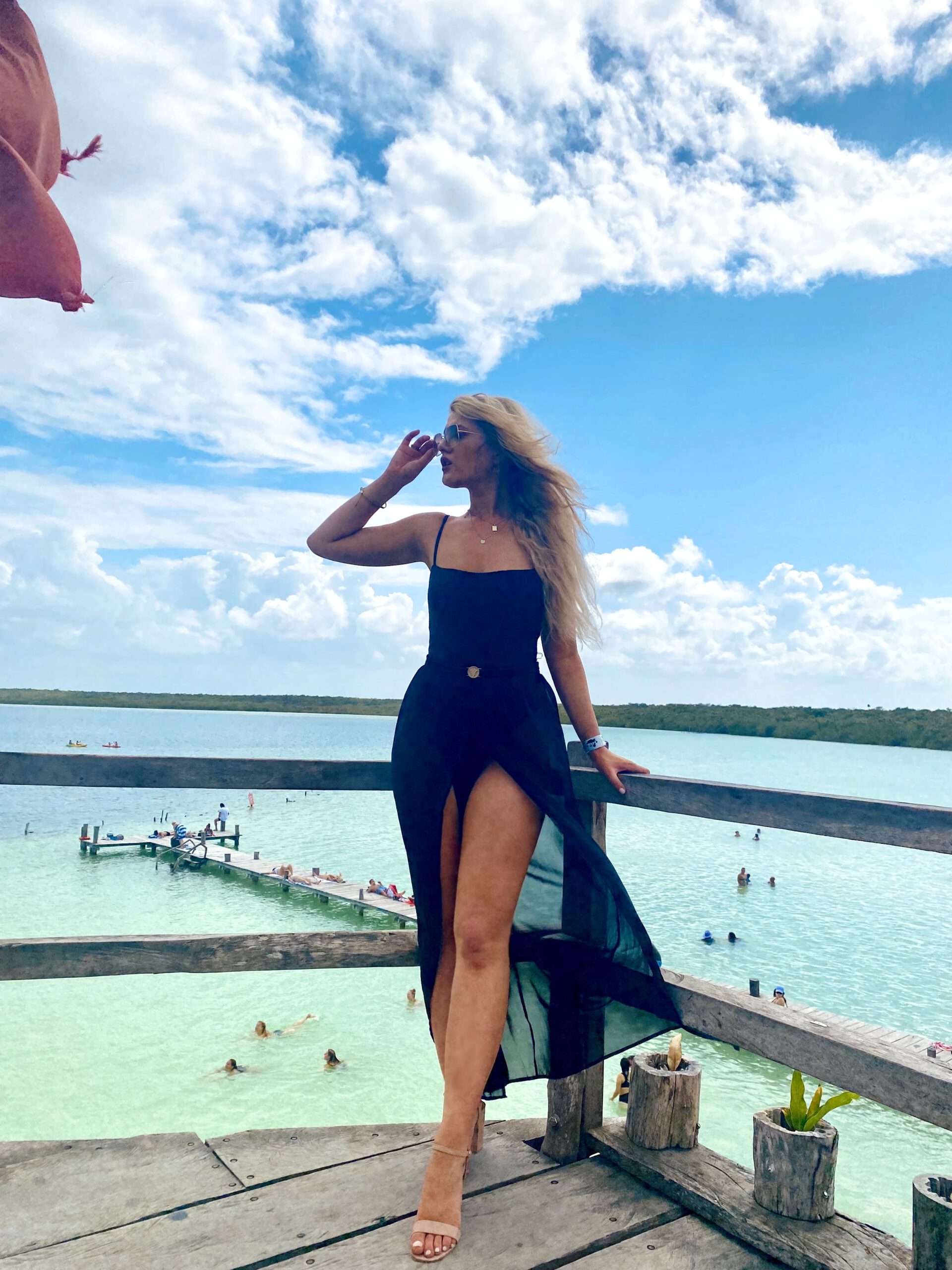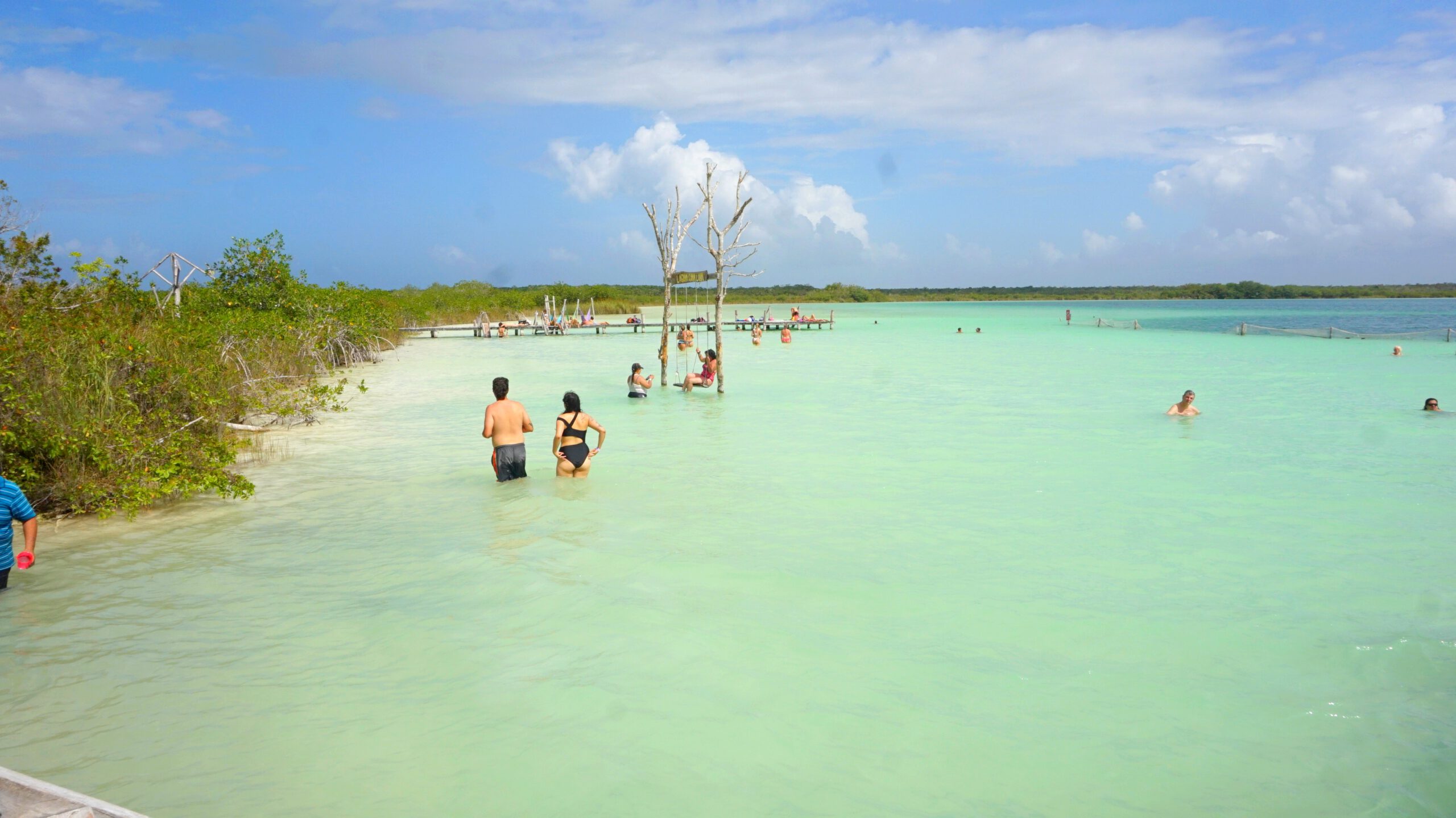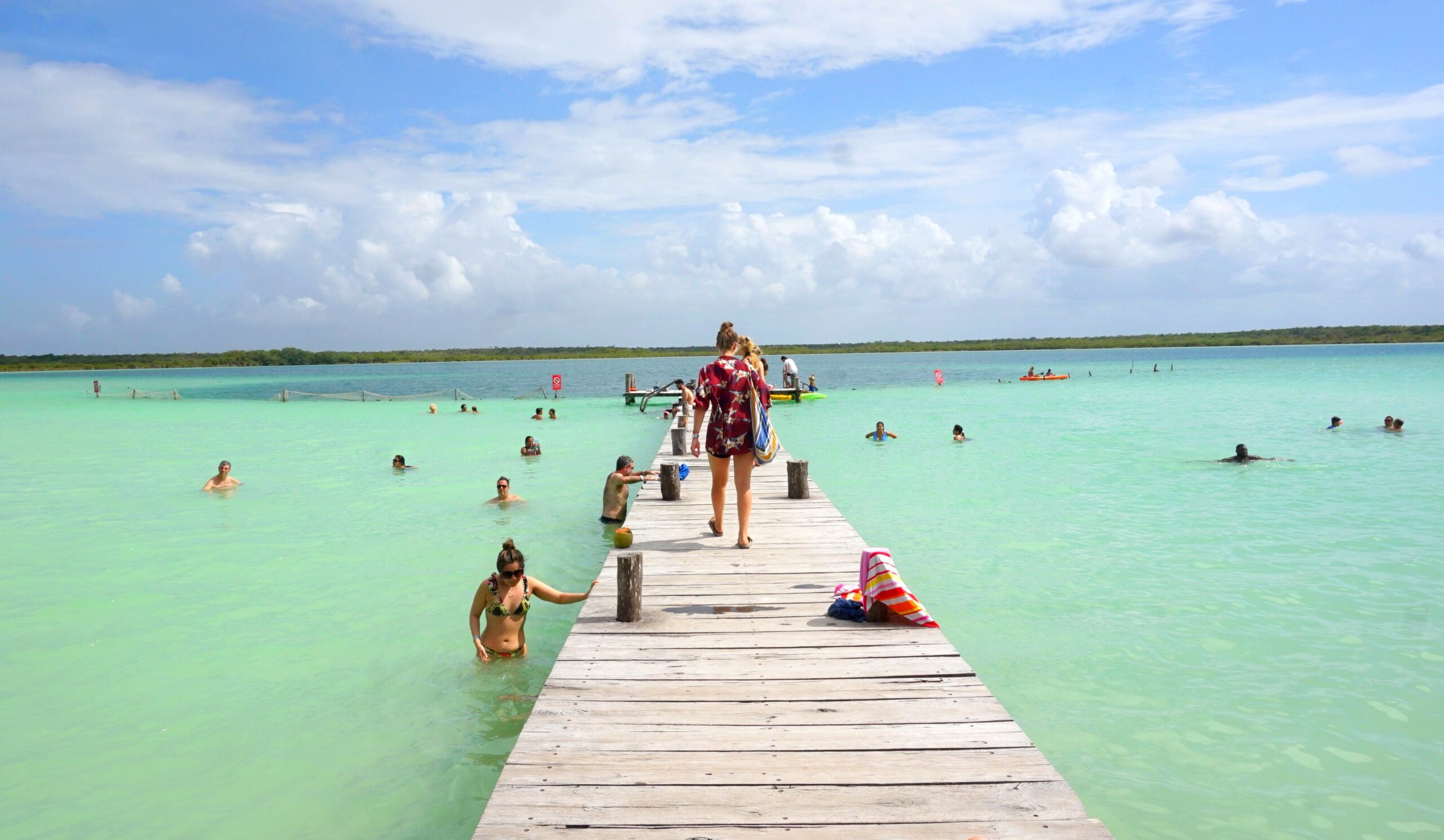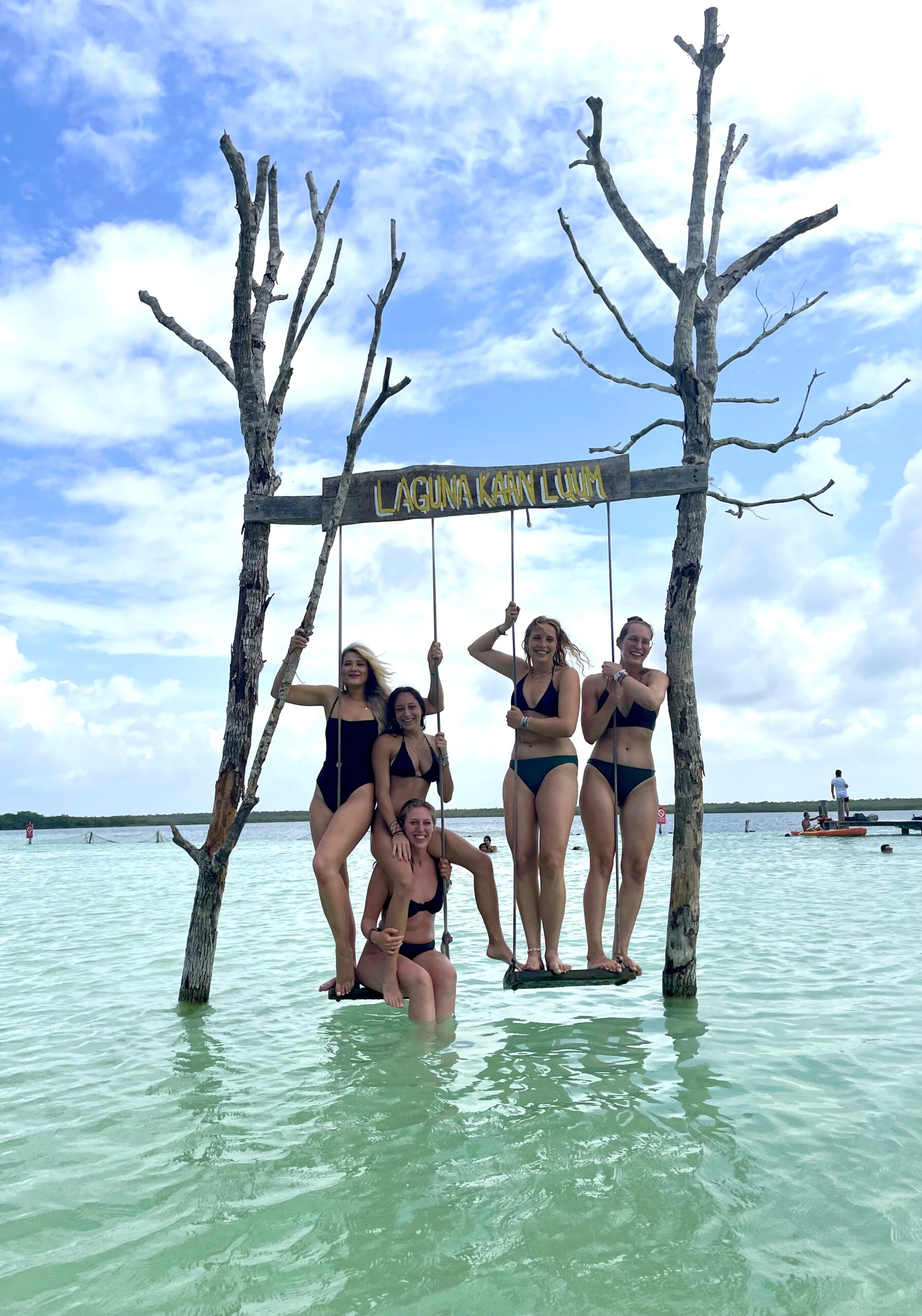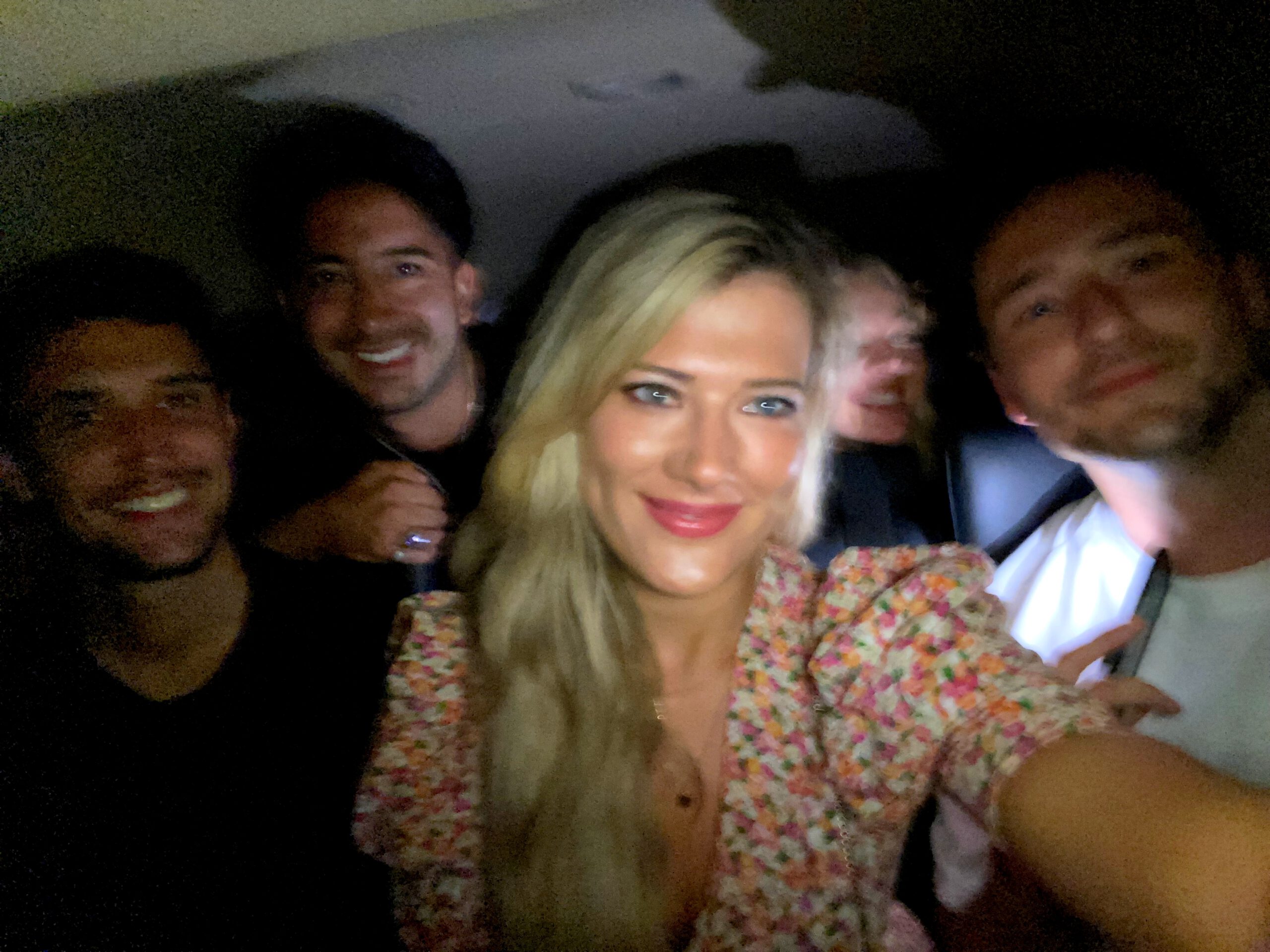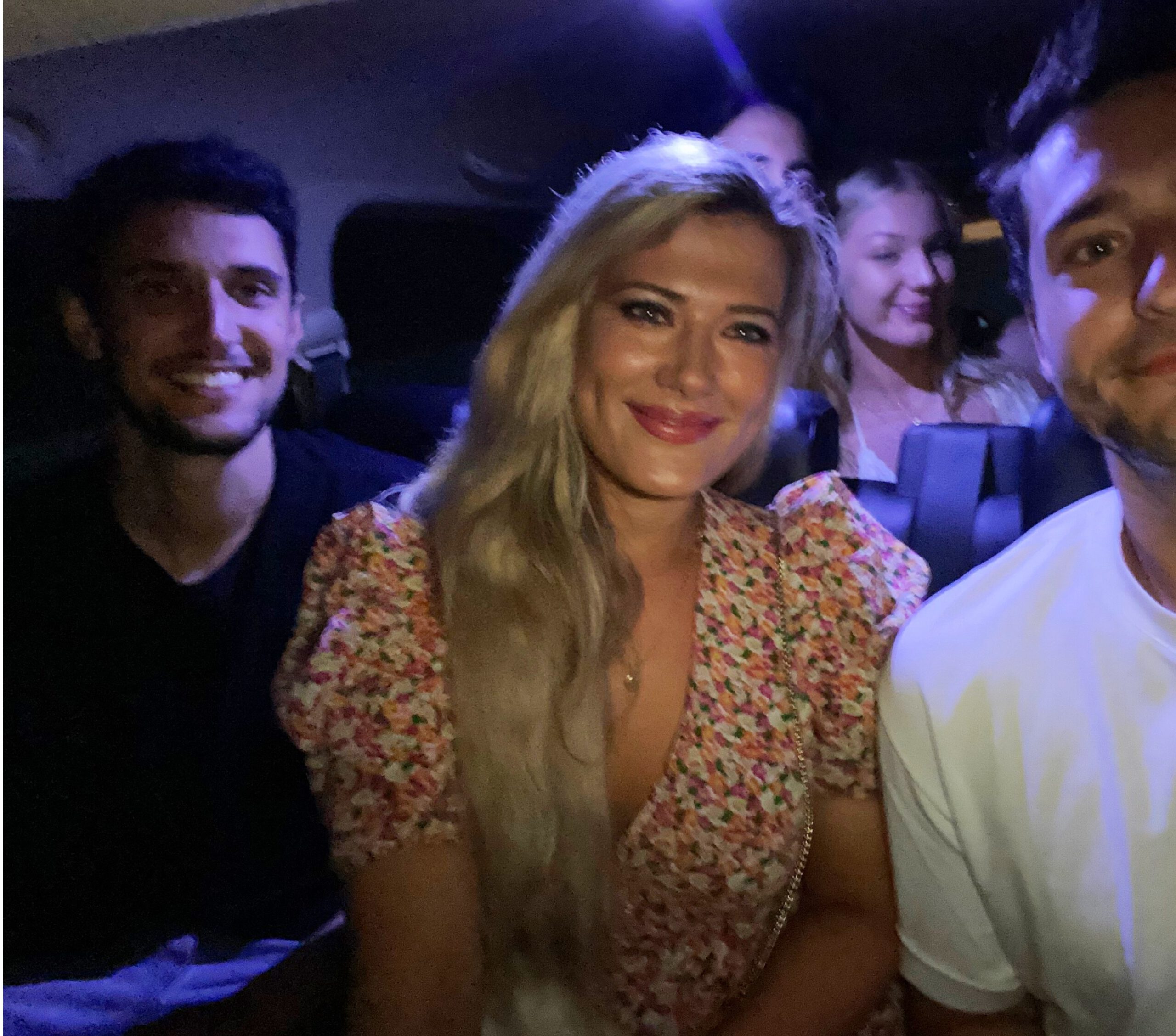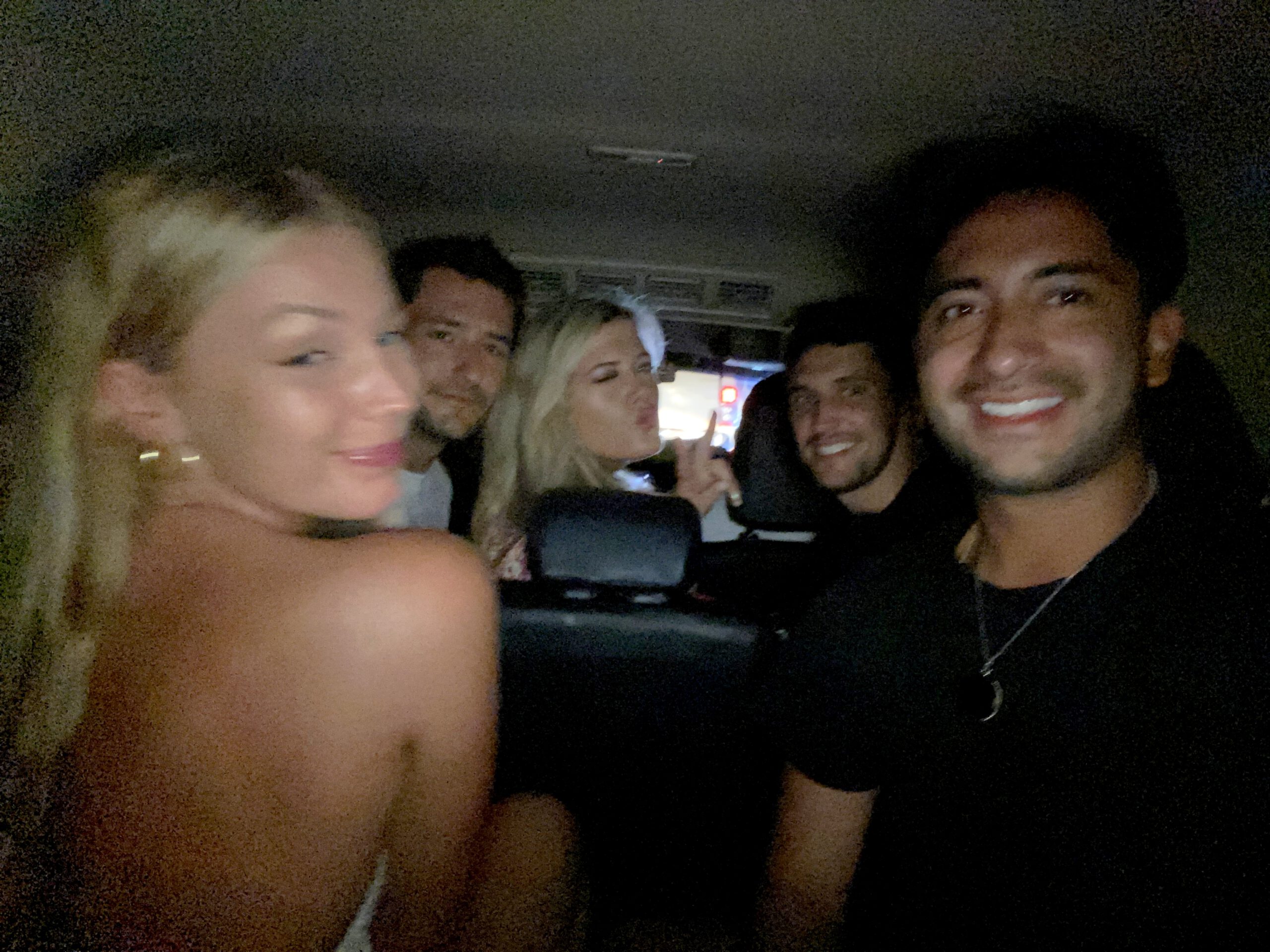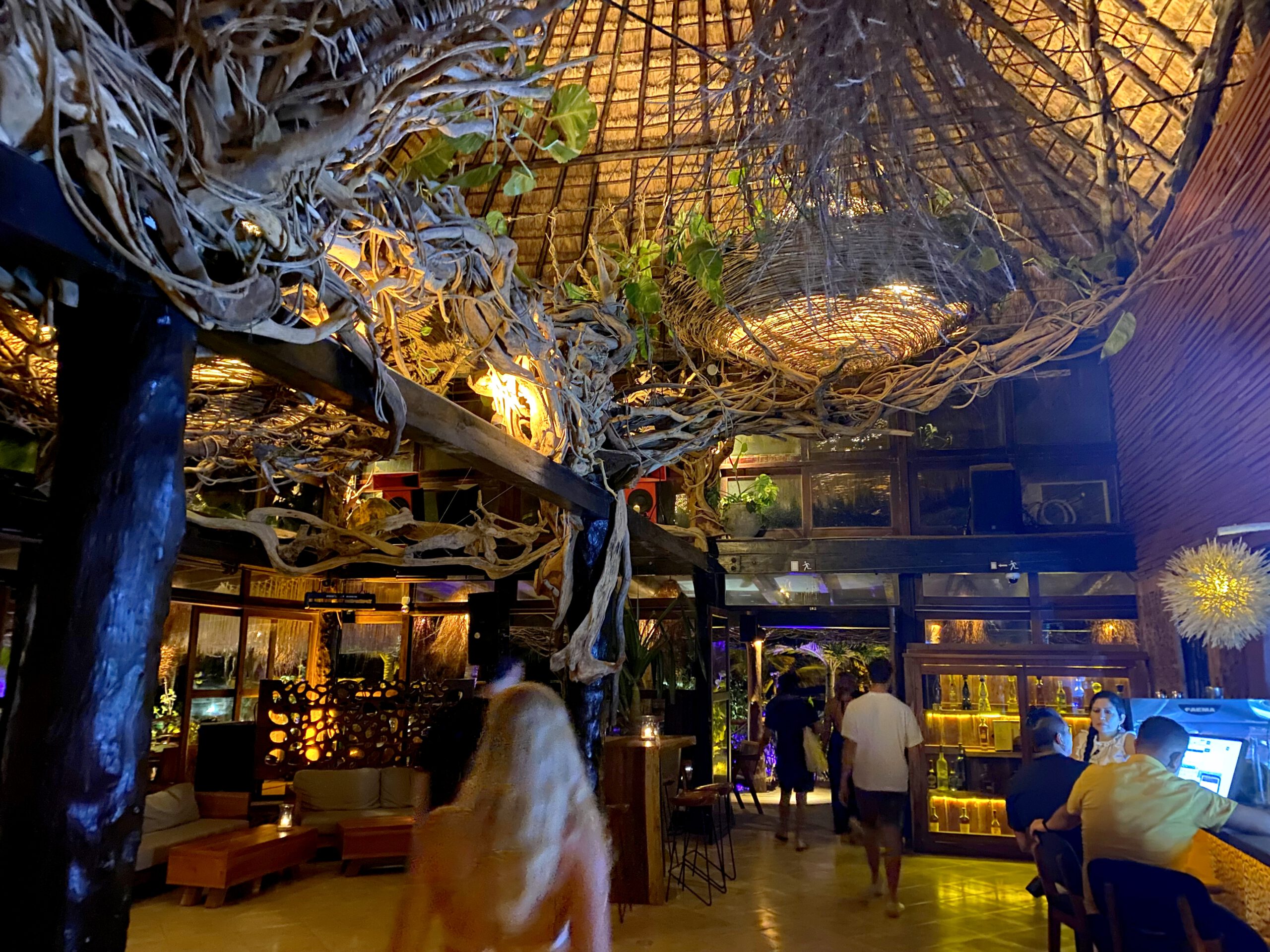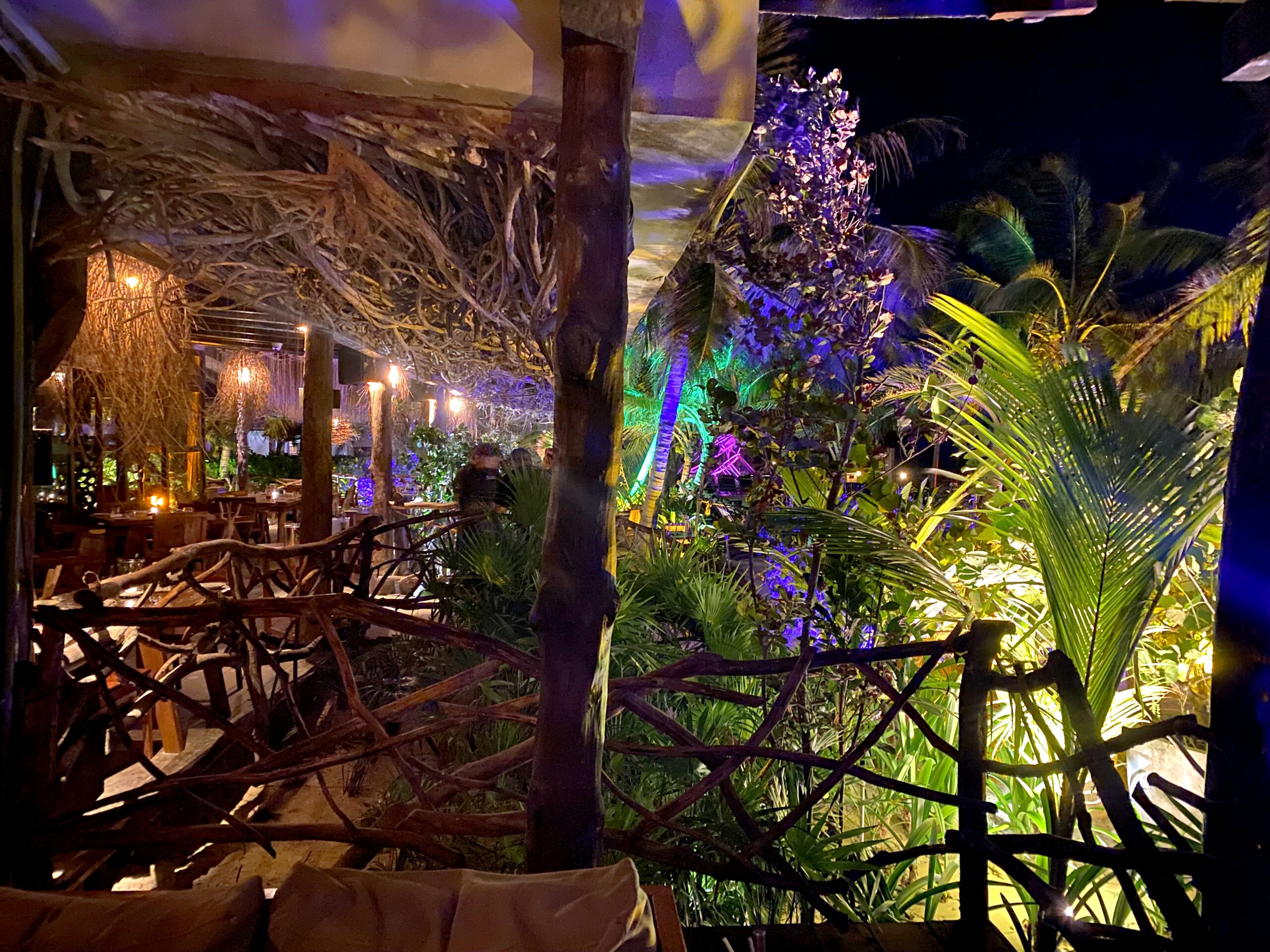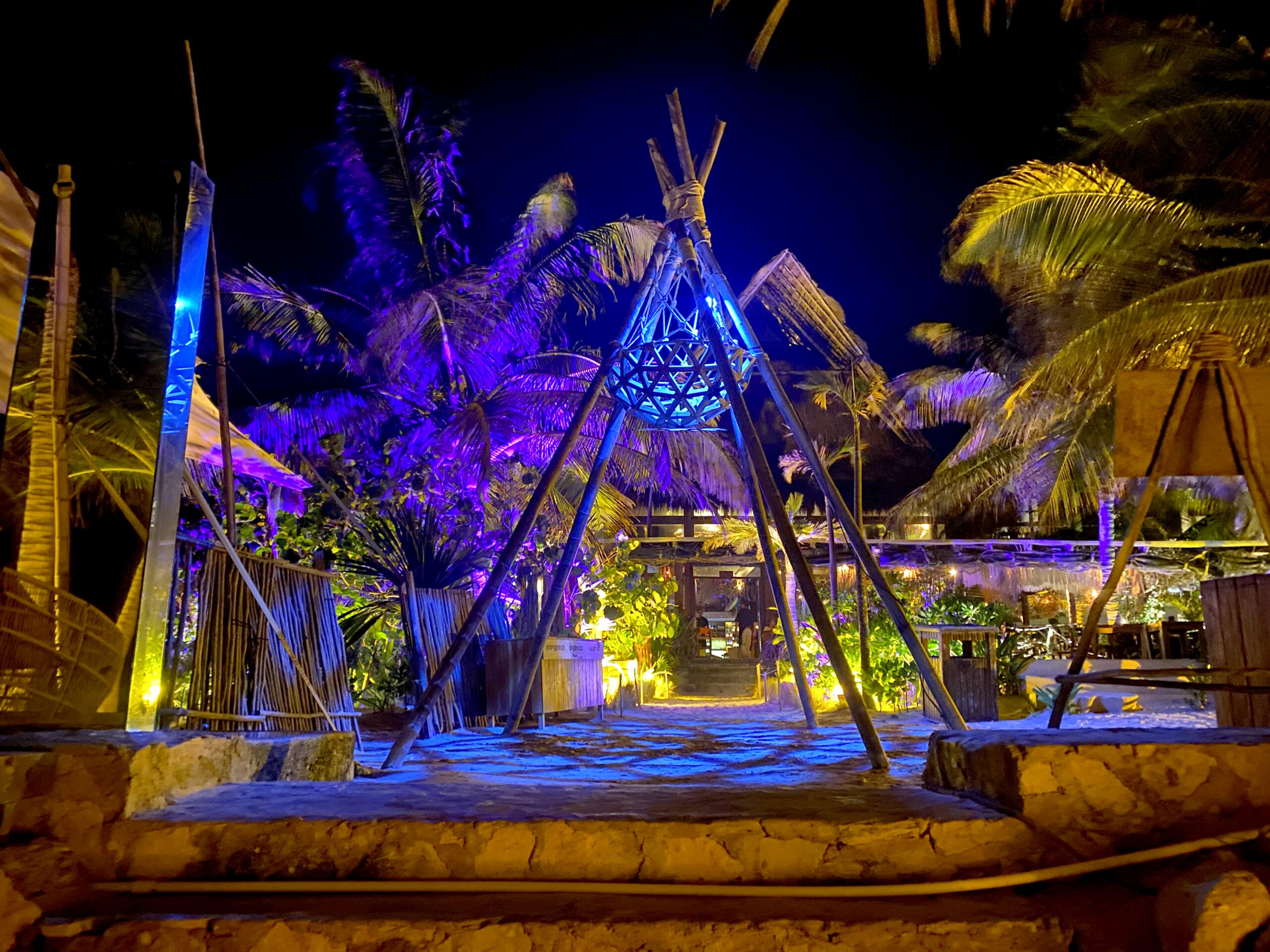 Day 9 – Cancun & Isla Mujeres – 27/5/2022
Early in the morning, Mathilde had already traveled to Cancun/Mujeres. Louis, Adam and I would travel after her a few hours later. I checked out of Mayan Monkey and said goodbye to Ruben and the other wonderful people I got to know during these wonderful days. We shared a taxi to ADO Tulum and took the bus to Cancun downtown. This bus trip lasted several hours and we actually slept almost the entire ride. I immediately left for my hostel to leave my things in a safe at Selina Cancun Downtown – this hostel is a few minutes walk from the ADO bus station. Then I walked from Selina to the airbnb of the guys, which was also only a few minutes' walk from there. At the airbnb we would meet with one of the friends of their group, because he wanted to join for a day from Playa, and travel together to Mujeres. So in the end there were 4 of us and we took a taxi to a Port in Cancun to catch a fast ferry to Isla Mujeres – keep in mind that some ferries apparently offer different times to come back, this was a bit confusing for us. Once we arrived at Mujeres we would look for Mathilde, whom I wanted to introduce to the group because I was sure that we would all have a great time together and they would get along well. We ate at a beach bar (where I started developing food poisoning/polluted water poisoning..) and took a taxi again to the location Mathilde sent us. It was quite a hidden cove behind a very cute little hotel – which we only managed to find by her instructions. This place was really very nice and a little hidden gem! As we walked down to that spot, I saw Mathilde sitting there alone – happy we found her right there. I was super happy to see her again! She is honestly one of the most wonderful people I have ever met while traveling and feels like a new great friend. The guys introduced themselves to her and the whole group got along well. At this quiet and beautiful place we swam and chatted for a while. It was a very nice day trip, very cozy and we laughed a lot! Early in the evening, we took a ferry back to Cancun, to freshen up and later in the evening have a drink and dinner together. I felt bad that I was getting sicker and sicker on my last evening which I wanted to enjoy with them, but I tried with all my might to get through it. At my Selina, I had a drink with the boys before we met up with Mathilde to go out for dinner at an Italian restaurant. Despite the dinner being a lot of fun, I got so sick that I couldn't eat anymore, went to sleep afterwards and didn't go out to party with them anymore. I was very disappointed that my evening ended like this, but despite everything it was a lot of fun with them!
Vroeg in de ochtend was Mathilde al naar Cancun / Mujeres gereisd en zouden Louis, Adam en ik een paar uur later achter haar aan reizen. Ik checkte uit bij Mayan Monkey, nam afscheid van Ruben en de andere geweldige mensen die ik tijdens deze prachtige dagen heb mogen leren kennen. We deelden een taxi naar ADO Tulum en namen de bus naar Cancun downtown. Deze busreis duurde enkele uren en we hebben eigenlijk zo goed als de hele rit geslapen. Ik vertrok gelijk naar mijn hostel om mijn spullen alvast achter te laten in een kluis in Selina Cancun Downtown – dit hostel ligt enkele minuten lopen vanaf het ADO busstation. Vervolgens ging ik vanuit Selina te voet naar de airbnb van de mannen, die vanaf daar ook maar enkele minuutjes lopen was. Bij de airbnb zouden we meetten met een van de vrienden van hun groep, omdat hij vanuit Playa een dagje wilde aansluiten, en gezamenlijk naar Mujeres reizen. Uiteindelijk waren we dus met zijn 4en en vertrokken met de taxi richting een Port in Cancun om terplekke een kortdurende ferry naar Isla Mujeres te nemen – keep in mind dat sommige ferry's blijkbaar andere tijdstippen aanbieden om terug te komen, dit was een beetje verwarrend voor ons. Eenmaal aangekomen op Mujeres zouden we opzoek gaan naar Mathilde, die ik graag wilde voorstellen aan de groep omdat ik er zeker van was dat we het met zijn allen super gezellig zouden hebben. We aten wat bij een strandtent (waar ik dus voedselvergiftiging/vervuild water vergiftiging begon te ontwikkelen..) en namen opnieuw een taxi richting de locatie die Mathilde ons doorstuurde. Het was een vrij verborgen baaitje achter een heel erg schattig klein hotelletje – die we alleen door haar instructies wisten te vinden. Deze plek was echt erg mooi en een klein verborgen pareltje! Toen we naar beneden liepen om op die plek te komen, zag ik daar verderop Mathilde in haar eentje zitten – gevonden! Ik was super blij haar weer te zien! Ze is oprecht een van de meest geweldige personen die ik ooit heb leren kennen op reis en voelt als een nieuwe vriendin. De mannen stelden zich aan haar voor en de hele groep kon het goed met elkaar vinden. Op deze rustige en mooie plek hebben we nog een tijdje gezwommen en gekletst. Het was een erg leuke dagtrip, erg gezellig en we hebben veel gelachen! Vroeg in de avond namen we een ferry terug naar Cancun, om ons op te frissen en later op de avond met zijn allen een drankje te doen en uit eten te gaan. Ik baalde dat ik steeds zieker werd tijdens mijn laatste avond waar ik graag met ze van wilde genieten, maar ik probeerde me er met man en macht doorheen te zetten. In mijn Selina heb ik met de jongens nog een drankje gedaan voor we Mathilde zouden meetten om samen bij een Italiaans restaurant uit eten te gaan. Ondanks het etentje erg gezellig was, werd ik zo ziek dat ik niet meer kon eten, erna ging slapen en niet meer met ze mee op stap ging. Ik baalde enorm dat mijn avond zo afliep, maar ondanks alles was het wel heel erg leuk gezellig!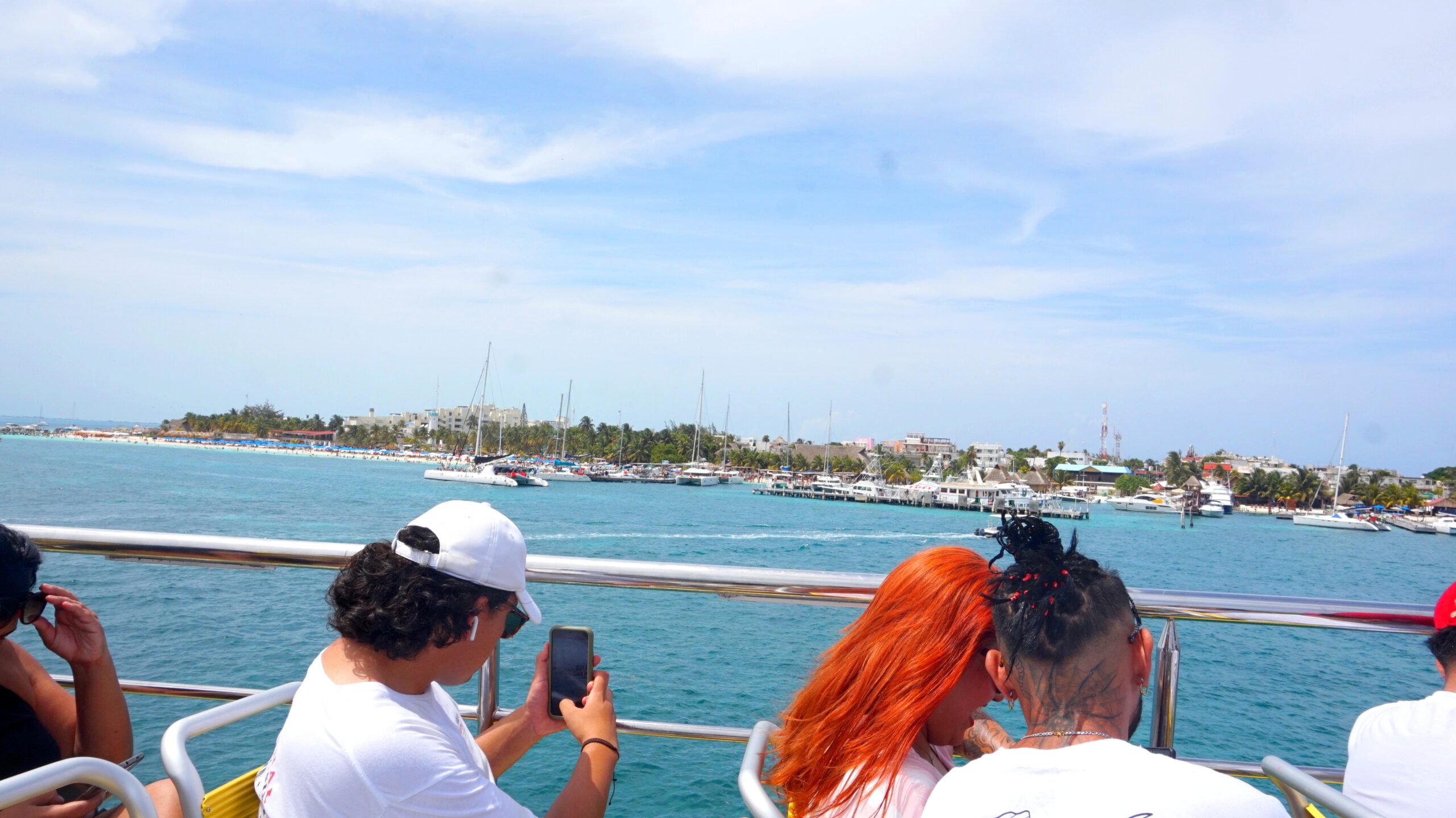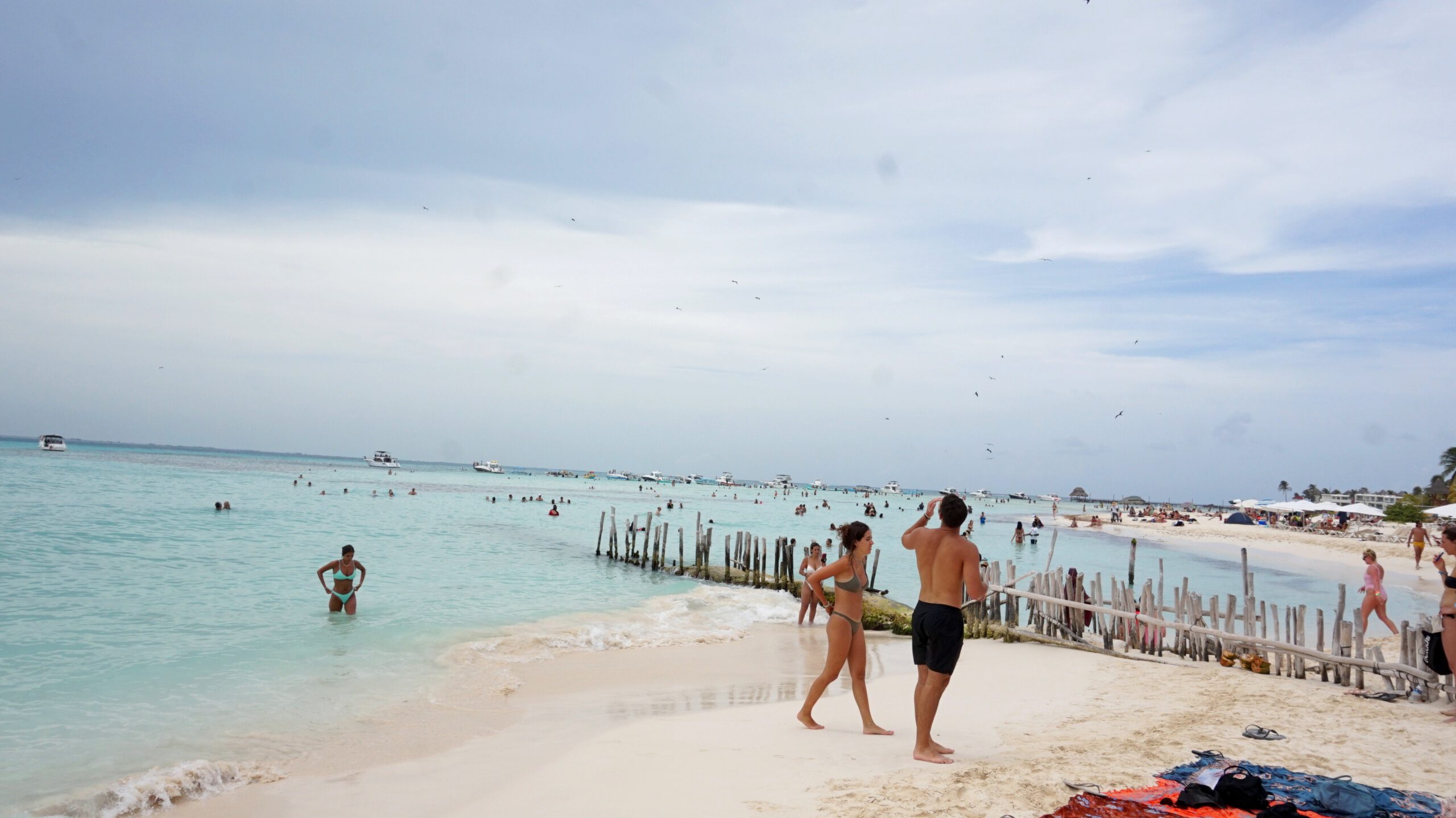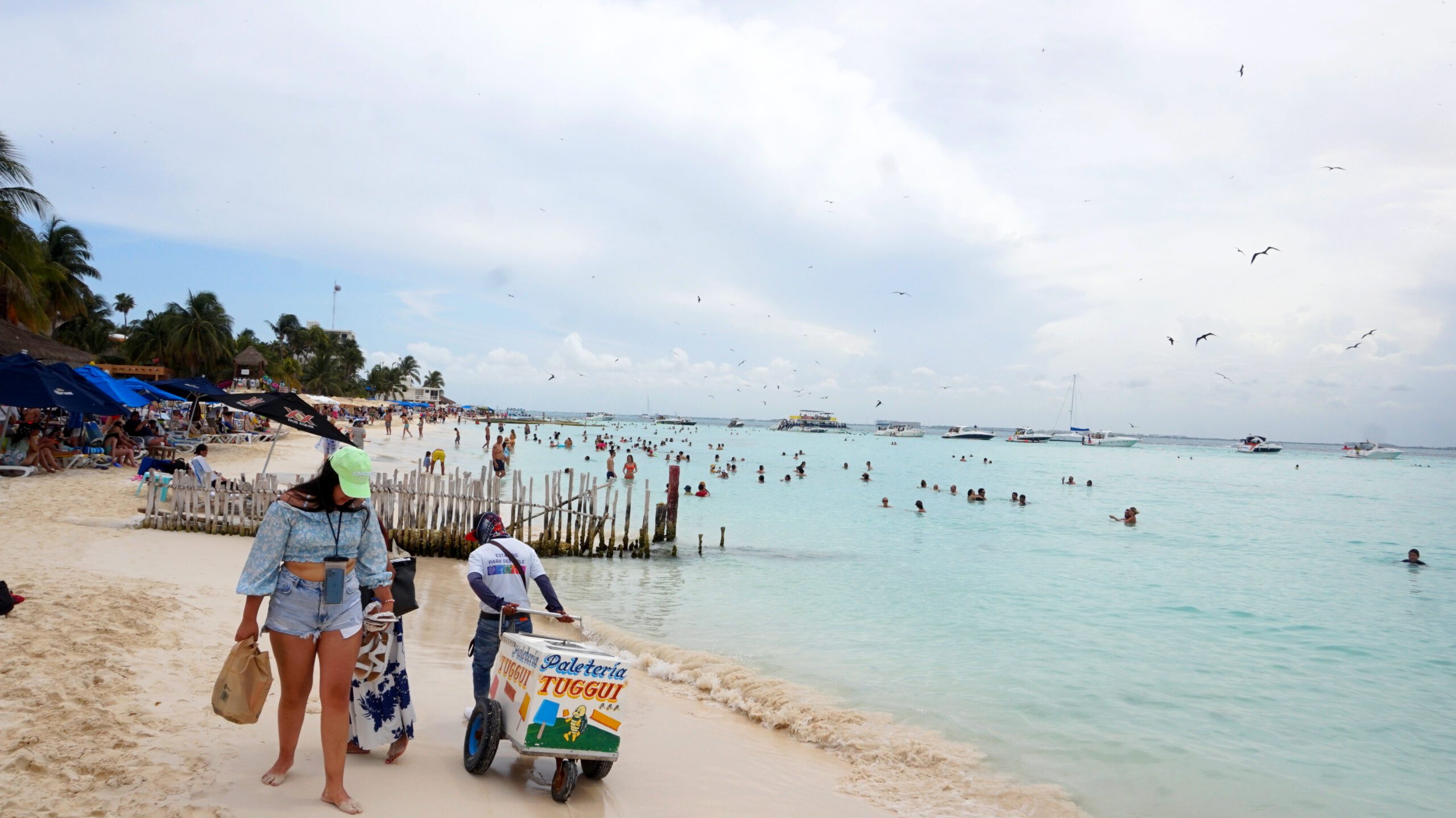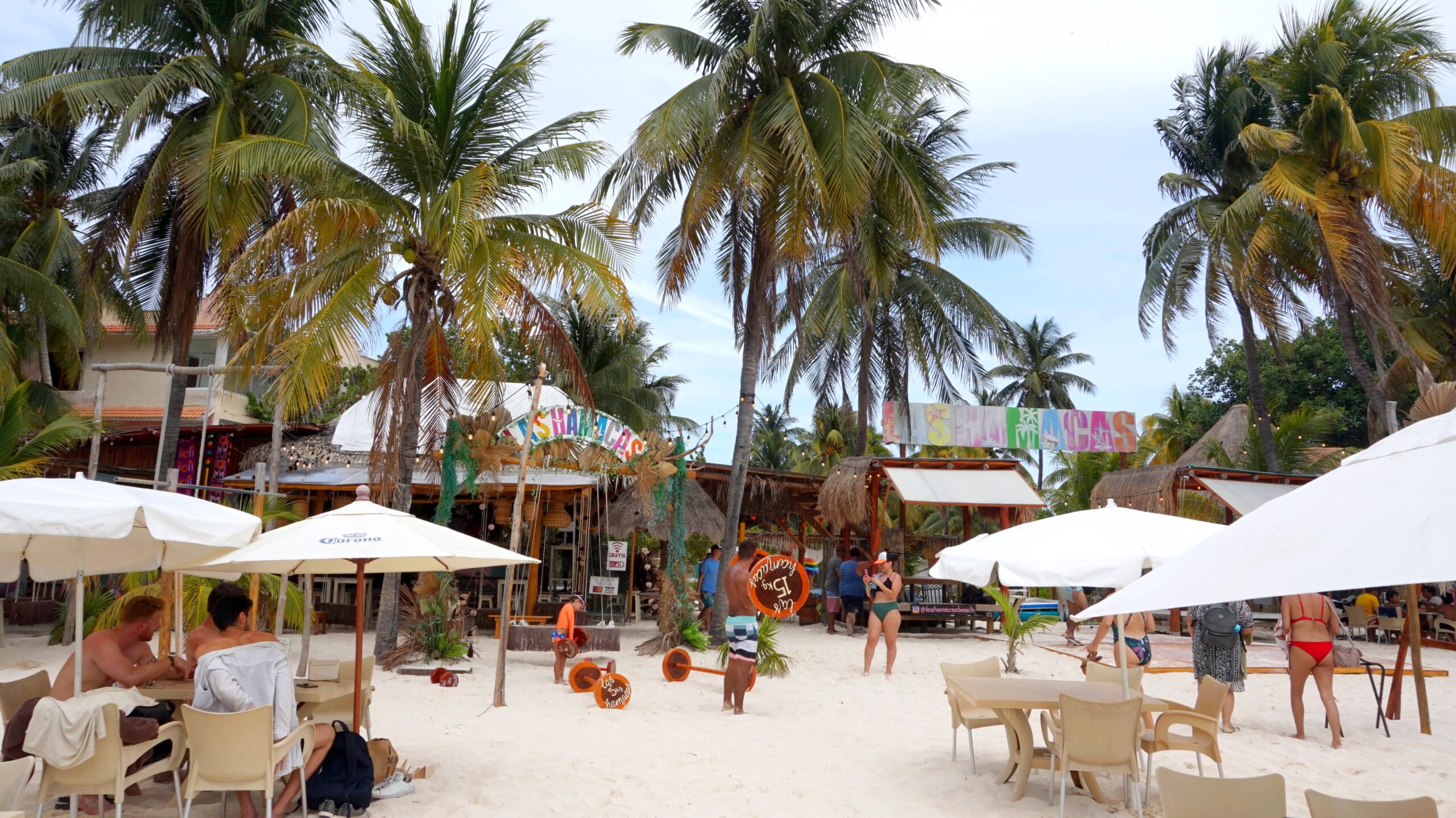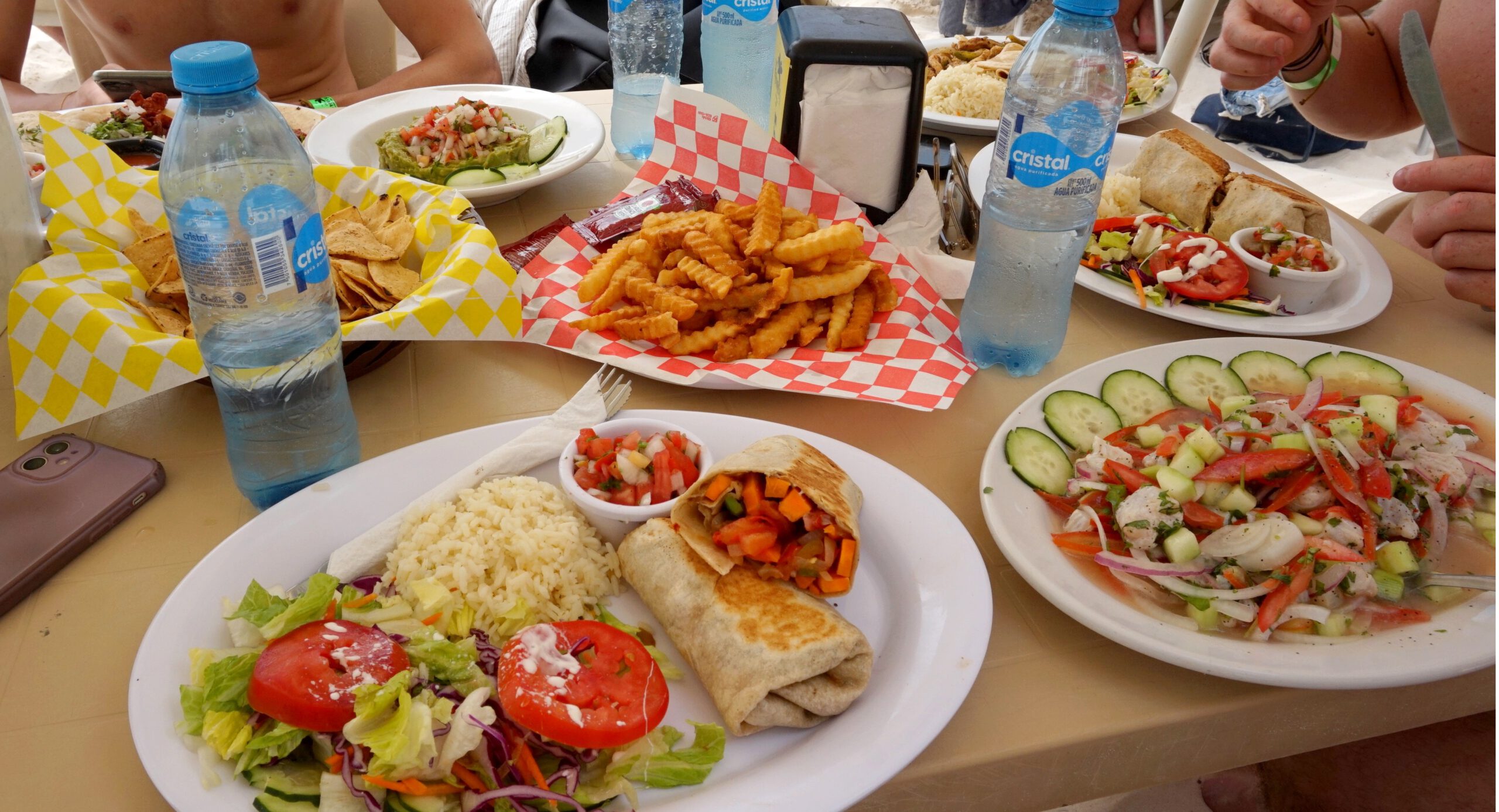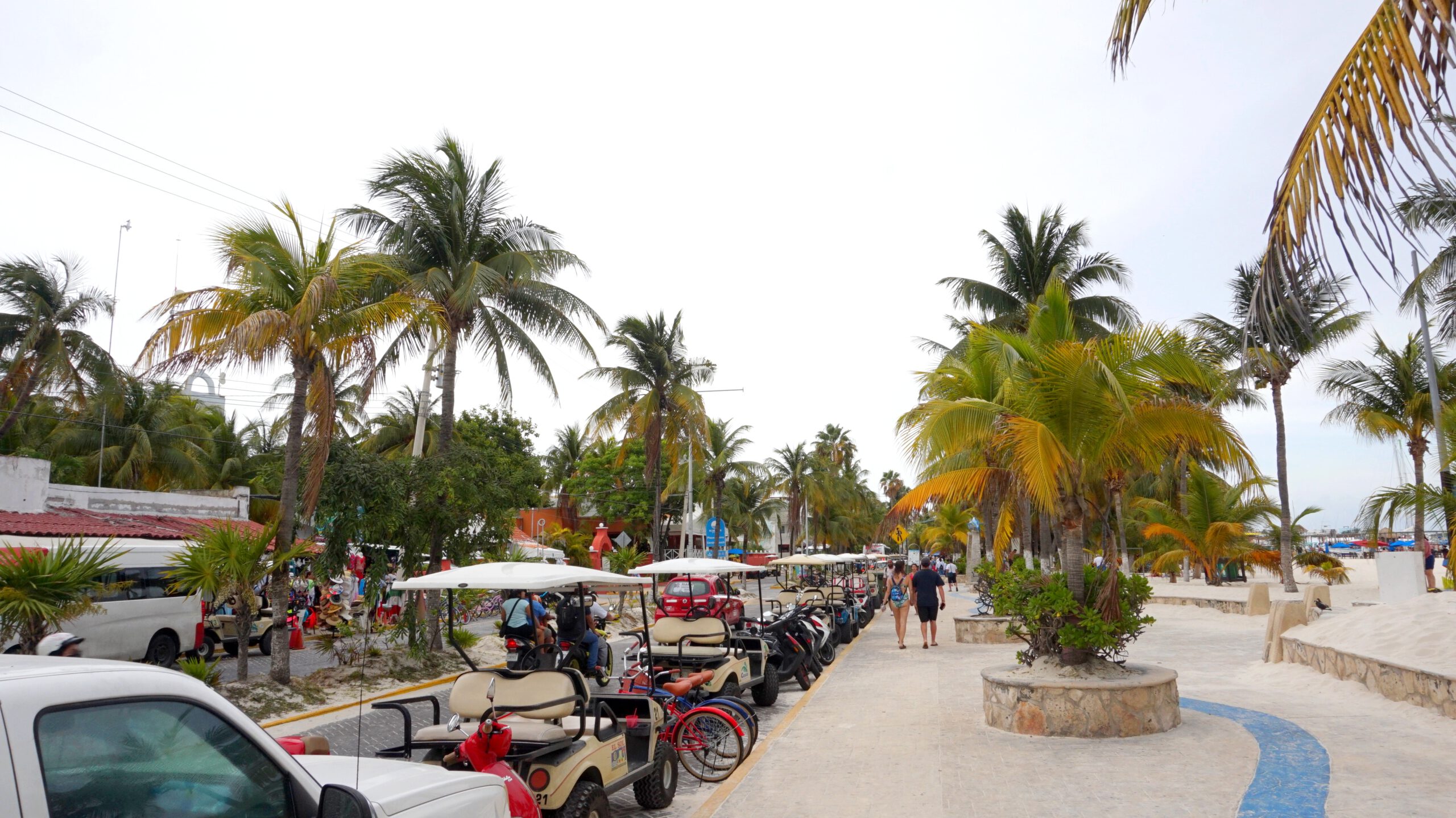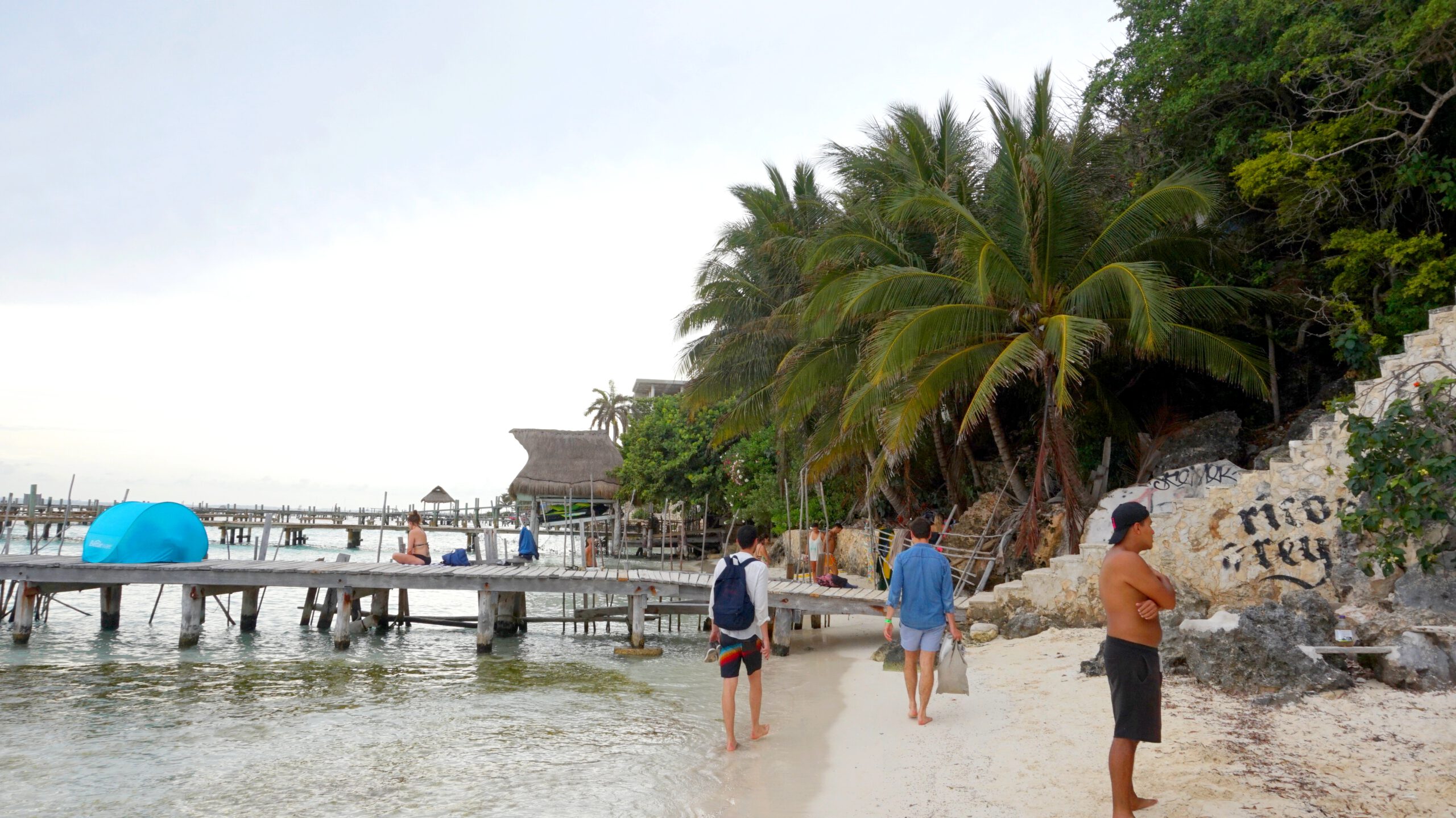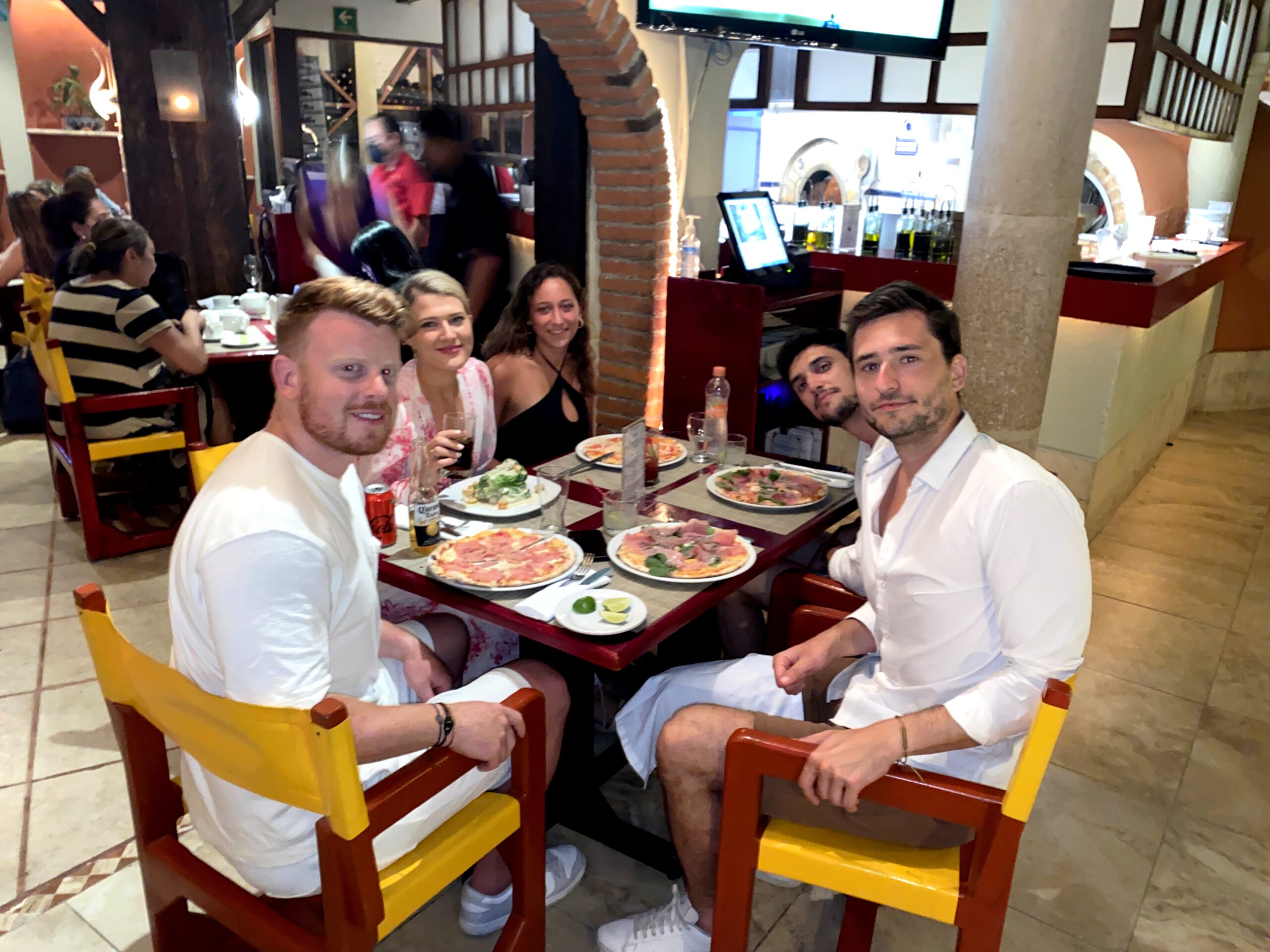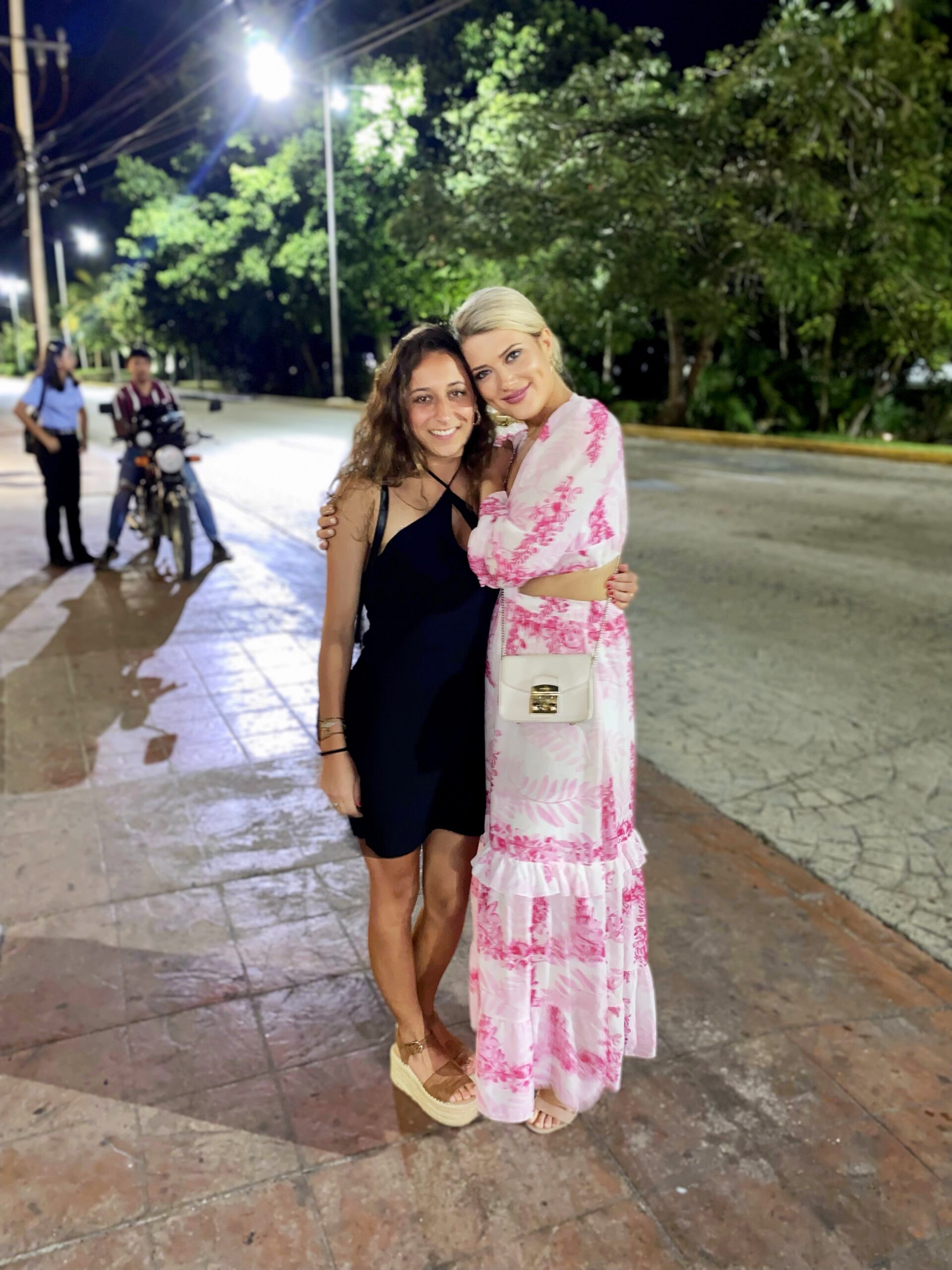 Day 10 – Cancun & Departure day – 28/5/2022

I woke up and thankfully felt 10x better. Louis would come to my hostel early to have coffee with me before going back to Playa with his friends and afterwards Tulum because this trip with me to Cancun and Mujeres was spontaneous. I said goodbye to him after our coffee together.
With a heart filled with gratitude and incredulity of how beautiful all these solo travel experiences have been, I look back on this journey. Today there was also the realization that it was almost over so I had to shed a tear. At the end of the morning I would meet Mathilde at Café Antoinette to have breakfast around 11 am. Just before this, I had done a quick test at a pharmacy before the return flight, to be more flexible with the return journey. Cancun-Paris was overbooked by 20, Cancun-Madrid still had a few seats open and Cancun-Zurich was the last option of the day. When traveling on standby intercontinental, I try to be as flexible as possible. As soon as you are within Europe or shengen, you will in principle return home quickly. Café Antoinette was a super nice idea from Mathilde. They even had macarons at this place, which I certainly didn't skip haha! Nice place to visit! Here we had a nice breakfast together and chatted about all our beautiful travel experiences. Mathilde would continue traveling from today and I would return to the Netherlands. We said goodbye after a shared taxi ride and I decided to relax by the pool at Selina before my flight back. Once at the airport check-in, it was very exciting to get home! Paris was really too overbooked so I canceled and when it went between Madrid and Zurich as the last option, I got the very last seat on the Air Europa flight to Madrid
Ik werd wakker en voelde me gelukkig al 10x beter. Louis zou vroeg naar mijn hostel komen om nog koffie met me te drinken, voor hij met zijn vrienden terug naar Playa en uiteindelijk Tulum zou gaan omdat deze trip met mij mee naar Cancun en Mujeres spontaan was. Ik nam na de koffie afscheid van hem.
Met een hart gevuld van dankbaarheid en ongeloof van hoe mooi al deze solo reis ervaringen zijn geweest, kijk ik terug op deze reis. Vandaag was daar ook het besef dat het er bijna op zat dus moest ik wel een traantje laten. Einde ochtend zou ik met Mathilde bij Café Antoinette afspreken om rond een uur of 11 te ontbijten. Vlak hiervoor had ik nog een sneltest gedaan bij een pharmacy voor de terugvlucht, om flexibeler te zijn met het terugreizen. Cancun-Parijs was met 20 overboekt, Cancun-Madrid had nog enkele stoelen open en Cancun-Zurich was de laatste optie van de dag. Als ik 'standby' reis intercontinentaal, probeer ik zo flexibel als mogelijk te zijn. Zodra je binnen Europa of shengen bent, kom je in principe toch wel snel weer thuis. Café Antoinette was een super leuk idee van Mathilde. Op deze plek hadden ze zelfs Macarons, die ik zeker niet liet liggen haha! Leuke plek om te bezoeken! Hier hebben we lekker ontbeten samen en over al onze mooie reis ervaringen gekletst. Mathilde zou door gaan reizen vanaf vandaag en ik terug naar Nederland. We namen afscheid van elkaar na een gedeelde taxi rit en ik besloot nog wat aan het zwembad te gaan liggen bij Selina voor mijn terugvlucht. Eenmaal bij de checkin was het enorm spannend om thuis te komen! Parijs was echt té overboekt dus cancelde ik en toen het tussen Madrid en als laatste optie Zurich ging, kreeg ik de allerlaatste stoel op de Air Europa naar Madrid.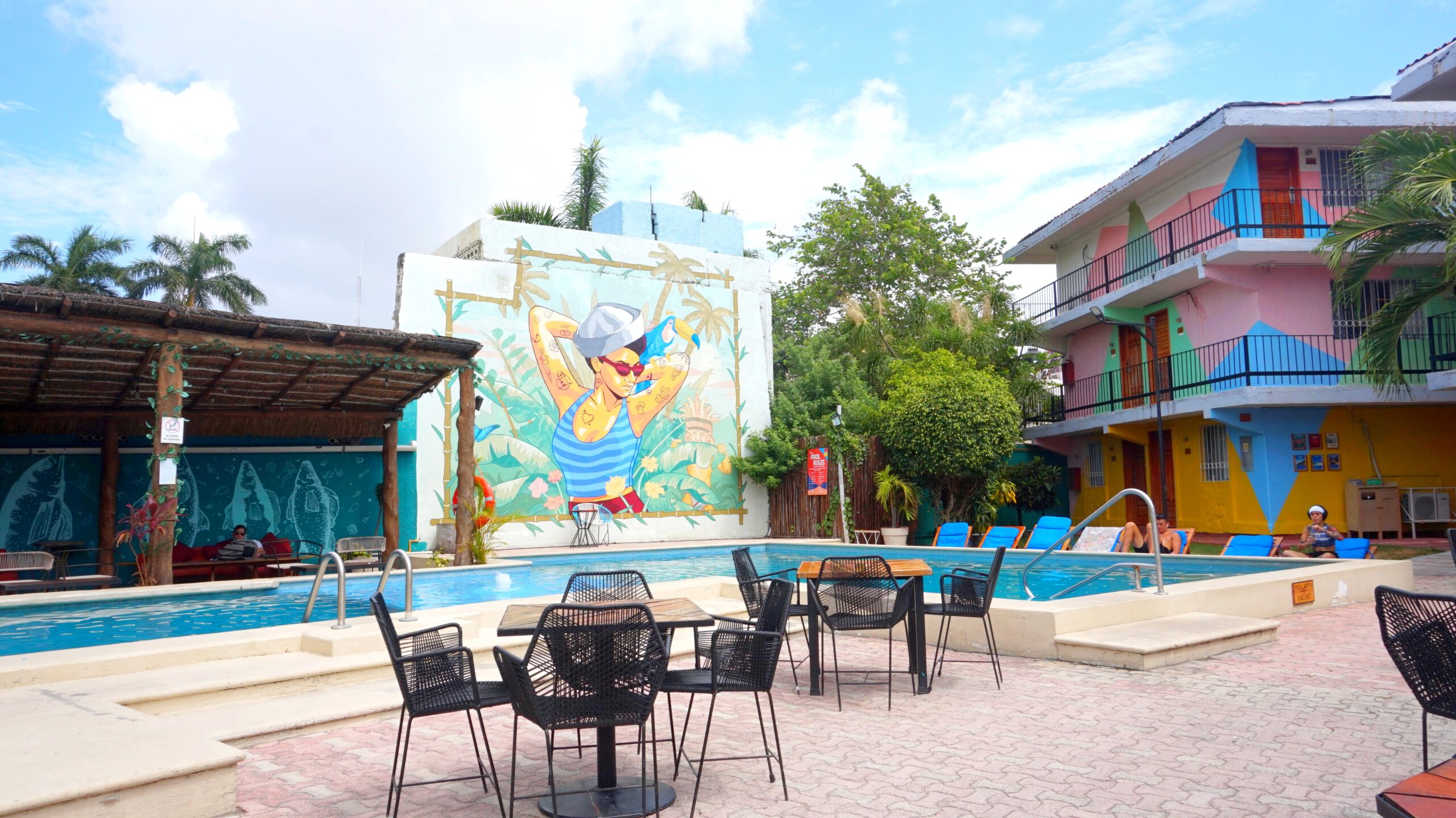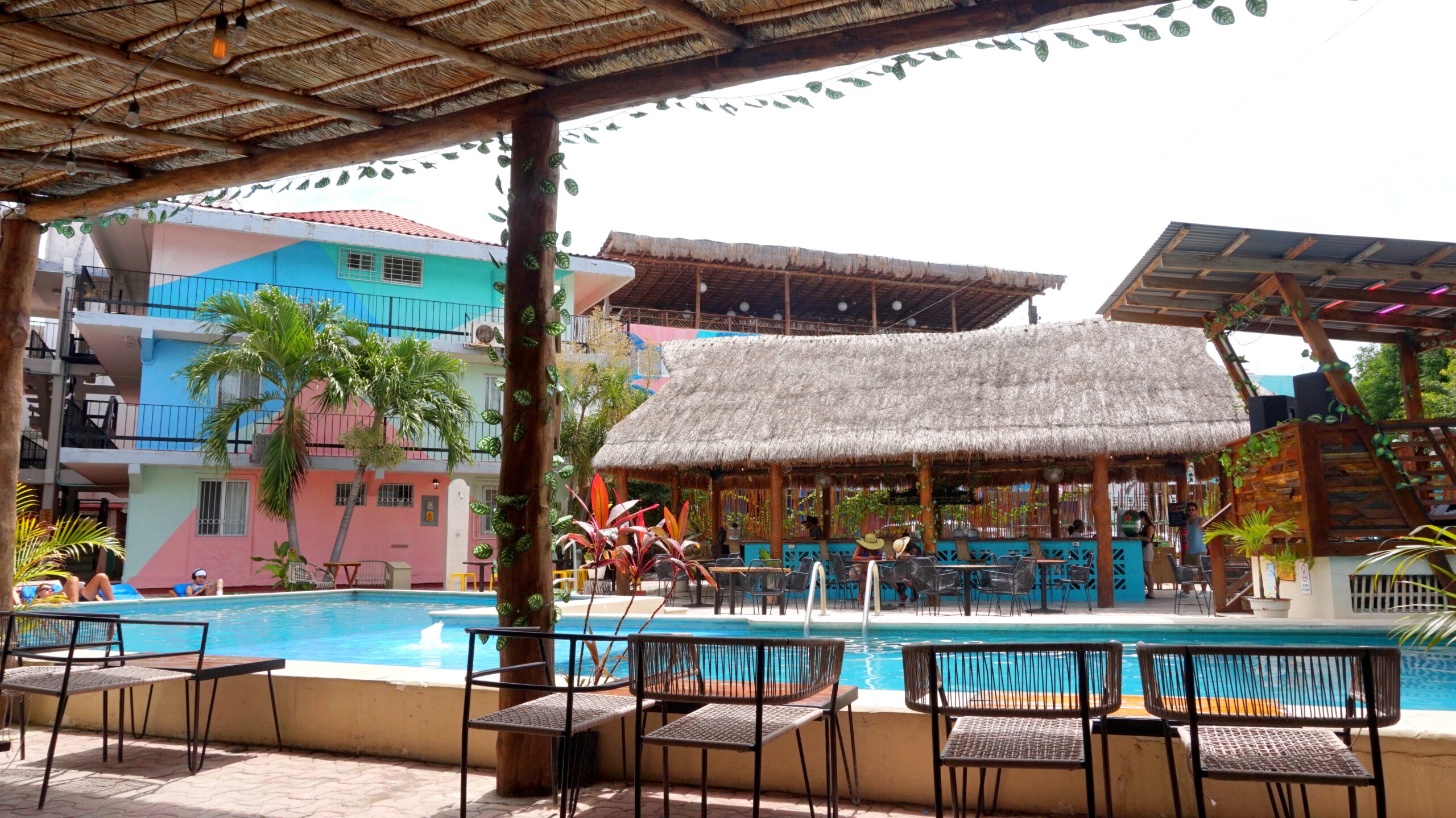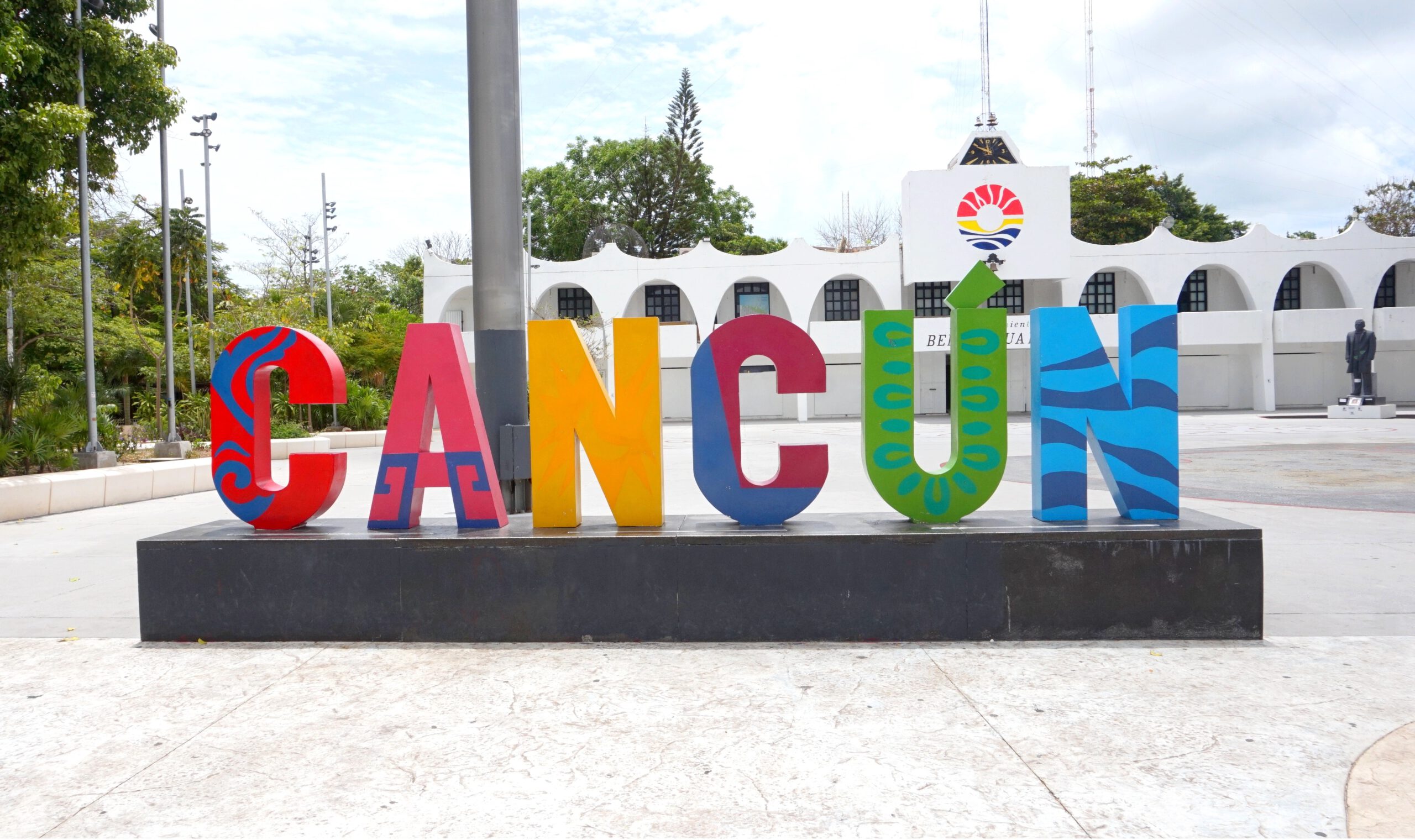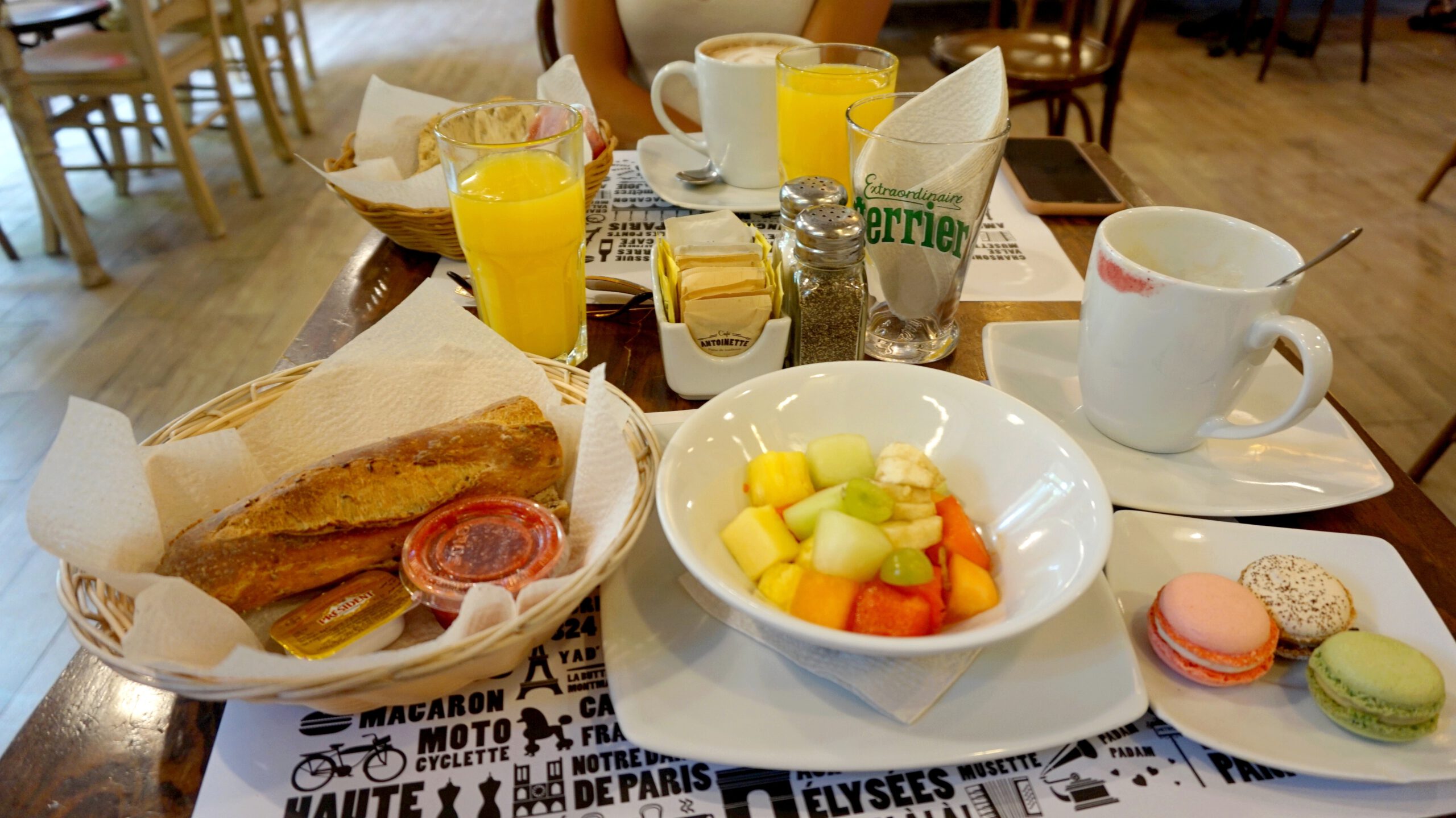 Day 11 – Departure day Madrid to Amsterdam – 29/5/2022
After a direct flight of 9.5 hours I landed in
Madrid
– from there I would book my 'standby' flight to the Netherlands from my phone. Once at the gate, I got to know two office colleagues from my airline. Too bad but unfortunately we ended up remaining at the gate, but long live standby tickets (fyi: is place available tickets for cabin crew), and another flight went to Amsterdam by Iberia-express. Unfortunately, this flight was also overbooked, but I got the very last seat. A non-cabin standby traveller was almost left stay behind due to the full flight, so I politely asked the crew if the lady could take my seat and maybe I could be on a crew seat – because I'm a flight attendant myself. They thought this was a great idea and the purser and captain very kindly agreed. On the jump seat I had a great time with the two flight attendants I was allowed to sit with. This airline was a nice and new experience for me!
Thank you for reading my travel diary! I have focussed this diary as much as possible on the experiences I had and wrote down during my travels. Some things I leave out of the online diary or I keep it more in general or broadly. I would rather have had longer and would also like to go back to visit more places and also longer, but it definitely didn't feel like 11 days due to my large amount of experiences! I definitely recommend Mexico as a solo travel destination and hope to have sketched a picture of the trip as clear as possible of what my solo travels look like. My biggest advice is: go for it! Don't think too much and just do it. Be flexible, don't be afraid, be social, be open to adventure and you're in for a great time. On to the next solo trip!
Na een directe vlucht van 9,5 uur, was ik geland in
Madrid
– vanaf hier zou ik terplekke mijn IPB vlucht naar Nederland boeken vanaf mijn telefoon. Ik leerde eenmaal bij de gate twee kantoor collega's van mijn airline kennen. Jammer maar helaas bleven we uiteindelijk bij de gate staan, maar lang leven ipb tickets en ging er nog een vlucht naar Amsterdam met Iberia-Express. Ook deze vlucht was helaas overboekt maar ik kreeg de allerlaatste stoel. Een niet cabine ipb'er dreigde achter te blijven dus heb ik de crew aan boord op een beleefde manier gevraagd of ze mijn stoel mocht en ik wellicht op een crewseat mocht omdat ik zelf vliegend personeel ben. Dit vonden ze een top idee en de purser en captain gaven heel lief een akkoord. Op de jumpseat heb ik het enorm gezellig gehad met de twee stewardessen waar ik bij mocht zitten. Deze airline en crew was een super leuke en nieuwe ervaring!
Dank jullie wel voor het lezen van mijn reis dagboek! Dit dagboek heb ik zoveel als mogelijk gebaseerd op de ervaringen die ik meemaak en opschrijf tijdens mijn reizen. Sommige dingen haal ik er uit of houd ik wat meer zakelijk of in grote lijnen. Ik had liever langer de tijd gehad en wil ook graag een keer terug om meer plekken te bezoeken en daarnaast ook langer, maar het voelde absoluut niet als 11 dagen door mijn grote hoeveelheid ervaringen! Ik raad je Mexico zeker aan als solo reisbestemming en hoop hiermee een zo uitgebreid mogelijk beeld te hebben geschetst van hoe mijn solo reizen er uit zien. Mijn grootste advies is: ga ervoor! Niet te veel nadenken en gewoon doen. Wees flexibel, wees niet bang, wees sociaal, wees open voor avontuur en je gaat een fantastische tijd tegemoet. Op naar de volgende soloreis!