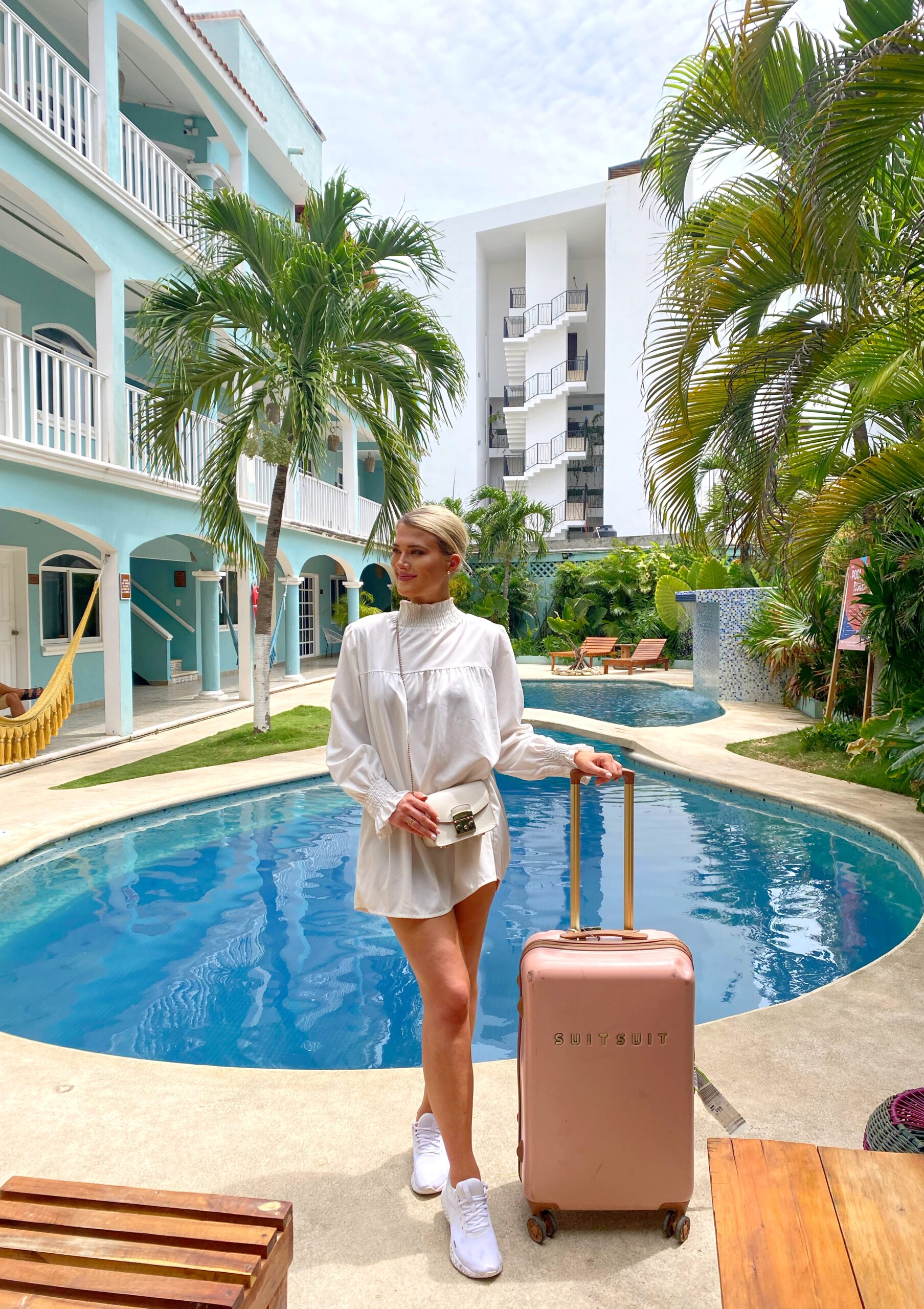 In this travel post I will take you on a solo trip to Mexico, where I will share my experiences and tips extensively, as in a diary. I don't want to give too much away yet, but to start with how I experienced the whole trip: As one of the most beautiful trips I've ever made. Way beyond my expectations. Especially because of the special people and unexpected fun things that I got on my path. This journey literally felt like a pink cloud – pure happiness, great gratitude, euphoria and peace. I am extremely grateful to be able to do these beautiful things in my life and am certainly aware of this privilege. I am grateful that I can give myself solo travel as a gift, and will continue to do so. I hope these travel diaries might inspire you to go on a solo trip yourself. If not, I hope it is at least a fun activity to take you on this 11 day solo adventure. With a big smile on my face, I start this travel diary. Even if nobody would read it, so to speak, I just like to have everything worked out for myself and to be able to share it. I always get that feeling from back then (and a certain homesickness) when I read or type this. My posts are like a kind of public diary. Of course I always write it out in broad outline, otherwise it is really too much to read.
In deze reispost neem ik jullie mee in mijn solo trip naar Mexico, waar ik uitgebreid zoals in een dagboek mijn ervaringen en tips deel. Ik wil nog niet té veel verklappen, maar om te beginnen met hoe ik de hele reis heb ervaren: Als een van de aller, aller mooiste reizen die ik ooit heb gemaakt. Ver boven mijn verwachtingen. Met name door de bijzondere mensen en onverwachtse leuke dingen die ik op mijn pad kreeg. Deze reis voelde letterlijk als een roze wolk – puur geluk, grote dankbaarheid, extase en vrede. Ik ben ontzettend dankbaar in staat te zijn deze mooie dingen in mijn leven te kunnen doen en ben me zeker bewust van dit voorrecht. Ik ben dankbaar dat ik mijzelf solo reizen cadeau kan geven en dit ook blijf doen. Ik hoop dat deze reis dagboeken je wellicht inspireren om zelf een solo reis te maken, of tenminste een leuke bezigheid is je even mee te nemen op dit 11 daagse solo-avontuur. Met een grote glimlach op mijn gezicht, begin ik aan deze travel diary. Al leest bij wijze van spreken niemand het, ik vind het gewoon leuk alles voor mijzelf uitgewerkt te hebben en te kunnen delen. Ik krijg telkens weer even dat gevoel van toen (en een bepaalde heimwee) als ik dit lees of typ. Mijn posts zijn als een soort openbaar dagboekje. Natuurlijk schrijf ik het altijd in grote lijnen uit, anders is het écht too much om te lezen.
Day 1 – 19/5/22 – Playa del Carmen


Chantal – a friend of mine, also planned to go at the same time and take the same flight. Although we would both draw our own plans in Mexico, it was also very nice to see each other now and then in Playa del Carmen. This was by the way the first stop of my trip. After a nice flight with Tui (I had booked a single ticket instead of 'ipb'), we arrived in Cancun, with a stopover in Cuba. From CUN airport, we took the ADO bus for about an hour to Playa del Carmen. This bus is very clean, cheap, safe and well organized. Upon arrival at the bus station, we got to know two Dutch guys. We shared friendly contact details to possibly do something fun together as a group. After I checked in at Selina (my hostel) because Chantal and I weren't staying together, I happened to meet two female Dutch roommates in my shared dorm. Refreshed and well, Chantal and I made our way to a nice place to eat called Lido Beachclub – cool place and well priced. Because Chantal has lived here for years, she knew the places here very well. Unfortunately, we couldn't enjoy the sea (during the entire trip on the mainland) because of the seaweed season. After dinner, Chantal went to bed early, and I decided to go to the three Dutch boys with my Dutch 'roomies' to have a drink together. They stayed only minutes away from our hostel on Fifth Avenue – Fifth Avenue is the very long avenue in Playa del Carmen, full of nightlife, shops and eateries. Bustling with life and very cool. My Selina is on Calle 2 – a safe area. Once we arrived at the other hostel we missed them, went looking for another nice place somewhere on the fifth, but ended up having a drink at Selina without them and went to sleep. I agreed to meet the boys tomorrow in the afternoon
Chantal – een vriendin van mij, plande ook tegelijk te gaan en dezelfde vlucht te nemen. Ondanks we beide ons eigen plan in Mexico zouden trekken, was het ook erg leuk elkaar af en toe te kunnen zien in Playa del Carmen. Dit was overigens de eerste stop van mijn reis. Na een fijne vlucht met Tui (ik had een betaalbaar los ticket geboekt in plaats van 'ipb') kwamen we, met een tussenstop in Cuba, aan in Cancun. Vanaf CUN airport, namen we de ADO bus van ongeveer een uurtje naar Playa del Carmen. Deze bus is erg schoon, betaalbaar, veilig en goed geregeld. Bij aankomst op het busstation, leerden we twee Nederlandse jongens kennen. We deelden vriendschappelijk contactgegevens uit om eventueel nog wat leuks als groep samen te doen. Na dat ik had ingecheckt bij Selina (mijn hostel) omdat Chantal en ik niet samen verbleven, leerde ik in mijn gedeelde dorm toevallig twee Nederlandse kamergenootjes kennen. Opgefrist en wel gingen Chantal en ik op weg naar een leuke plek om te eten genaamd Lido Beachclub – leuke plek om te eten en absoluut niet duur. Omdat Chantal hier jaren heeft gewoond, kende ze de plekken hier erg goed. Helaas konden we overigens (gedurende de hele trip op het vaste land) niet genieten van de zee, door het zeewierseizoen. Na het eten ging Chantal vroeg naar bed, en besloot ik met mijn Nederlandse 'roomies' richting de drie Nederlandse jongens te gaan om gezamenlijk een drankje te doen. De jongens verbleven maar enkele minuten verder van ons hostel op Fifth Avenue. Fifth Avenue is overigens de enorm lange straat in Playa del Carmen vol met uitgaansleven, winkels en eetgelegenheden, bruisend van leven en erg gaaf. De Selina waar ik deze dagen verbleef ligt aan Calle 2 – een prima/veilige omgeving. Eenmaal aangekomen bij het andere hostel liepen we de jongens mis, en gingen op zoek naar een andere leuke plek ergens op de fifth. Uiteindelijk deden we een drankje bij Selina zonder ze en gingen slapen. Ik sprak af met de jongens om morgen in de middag met ze te gaan meetten.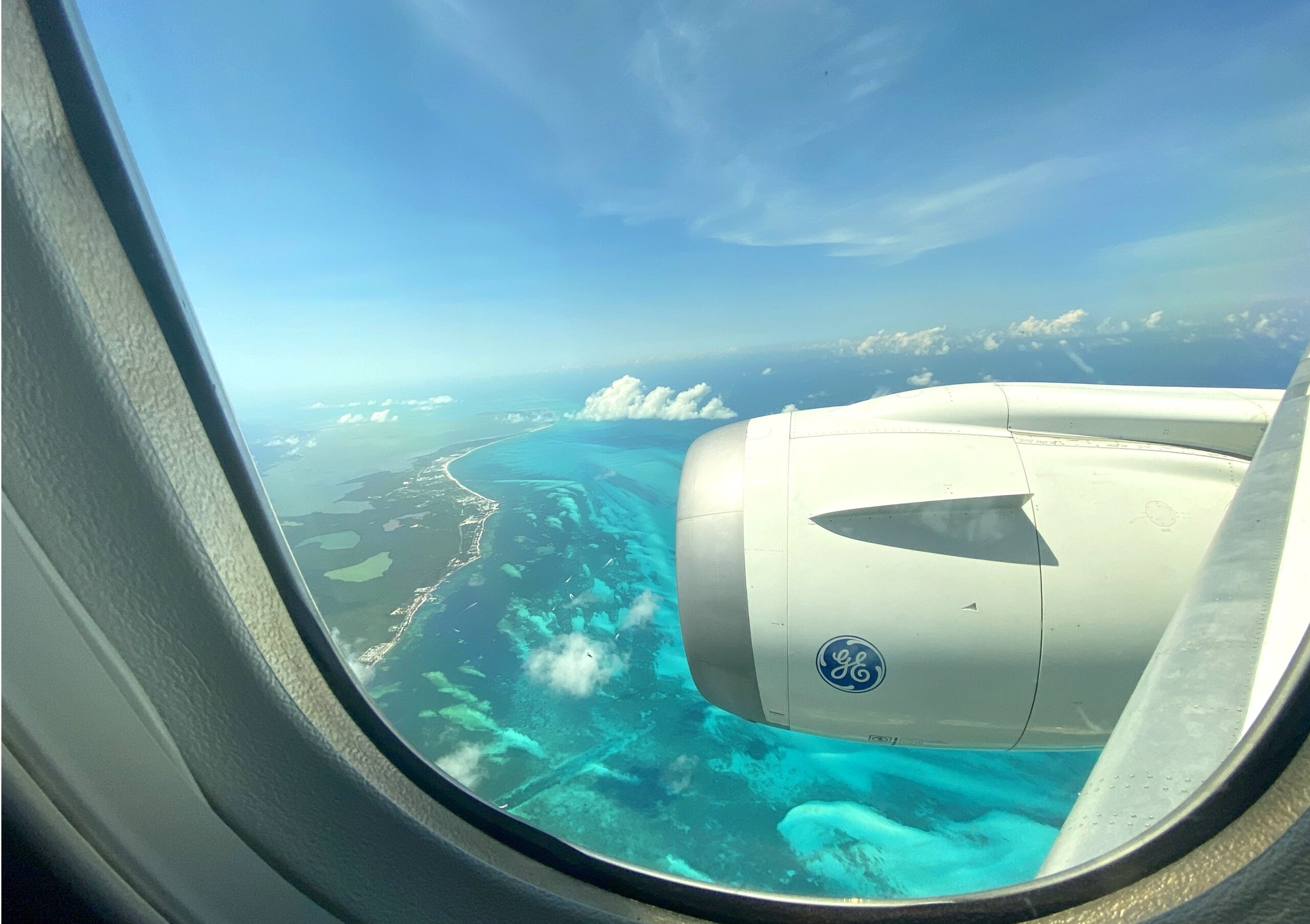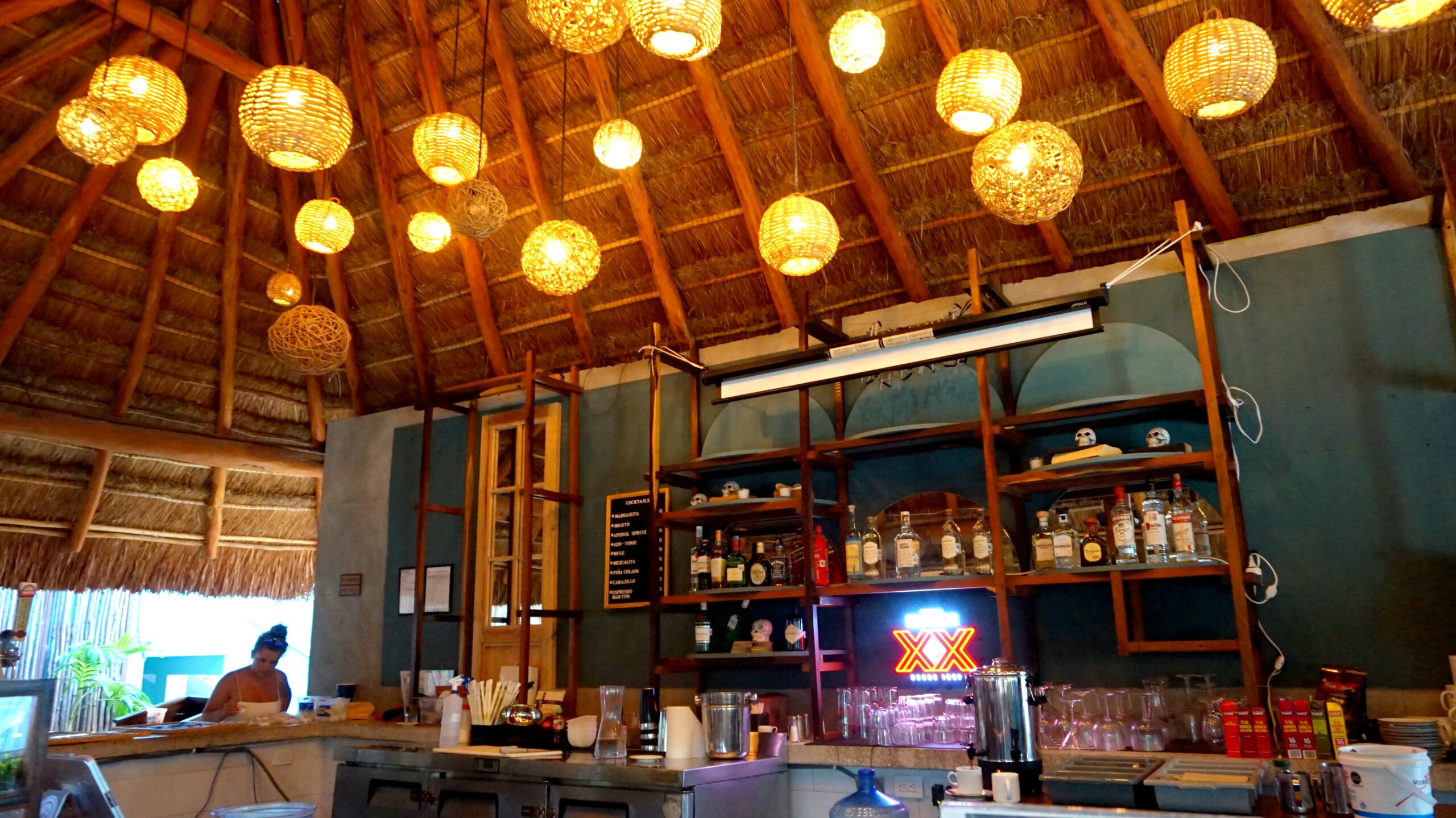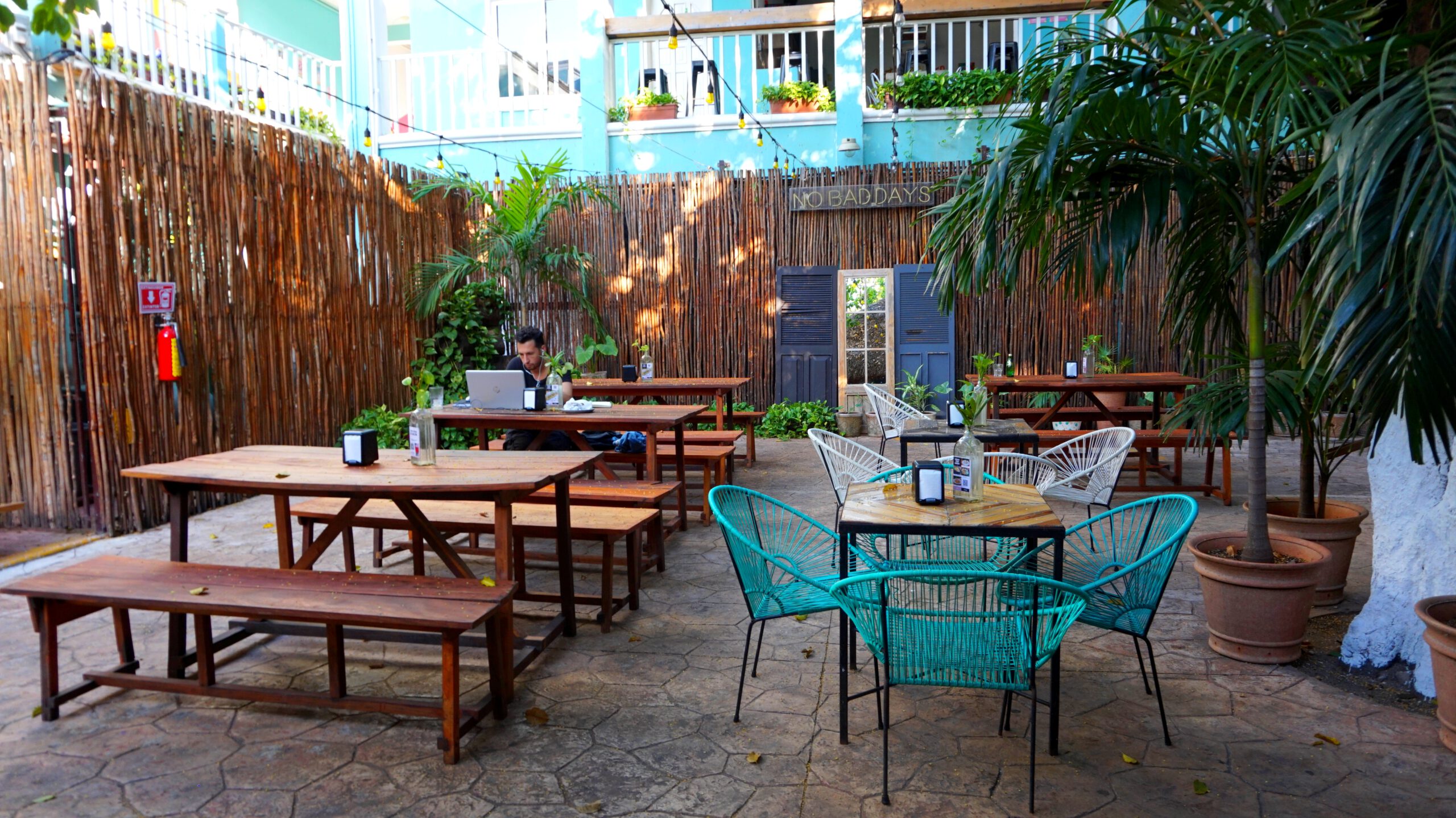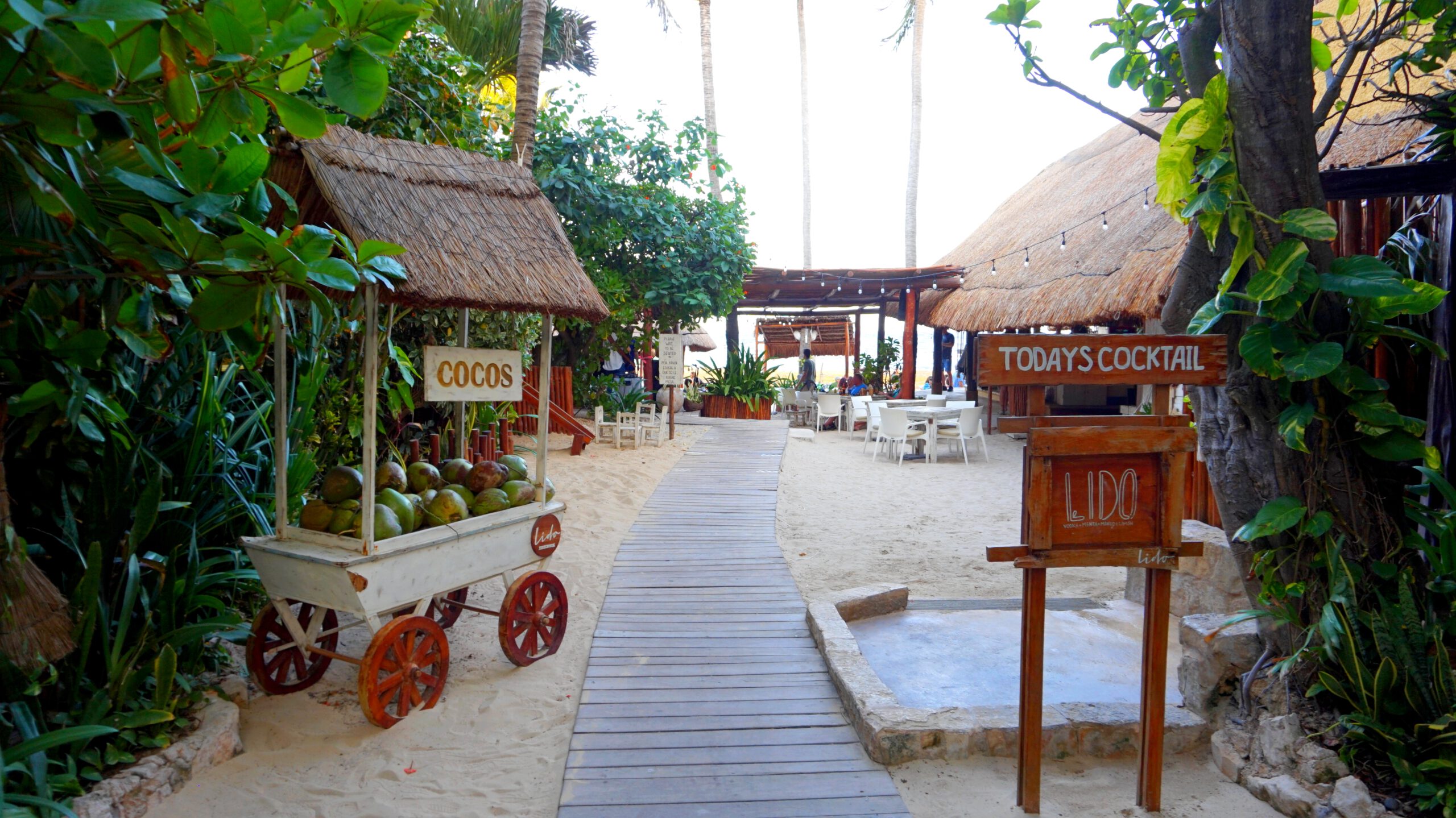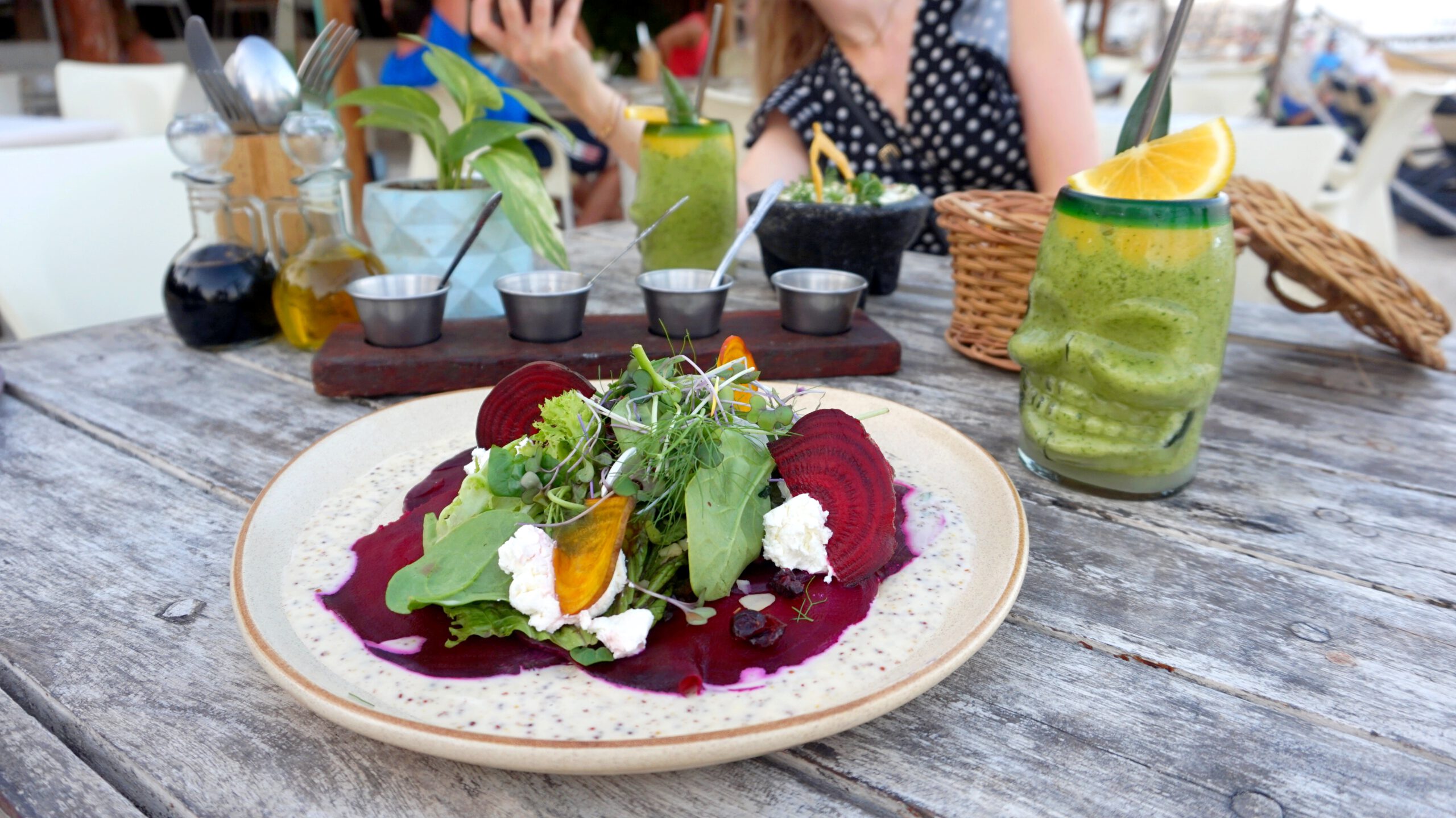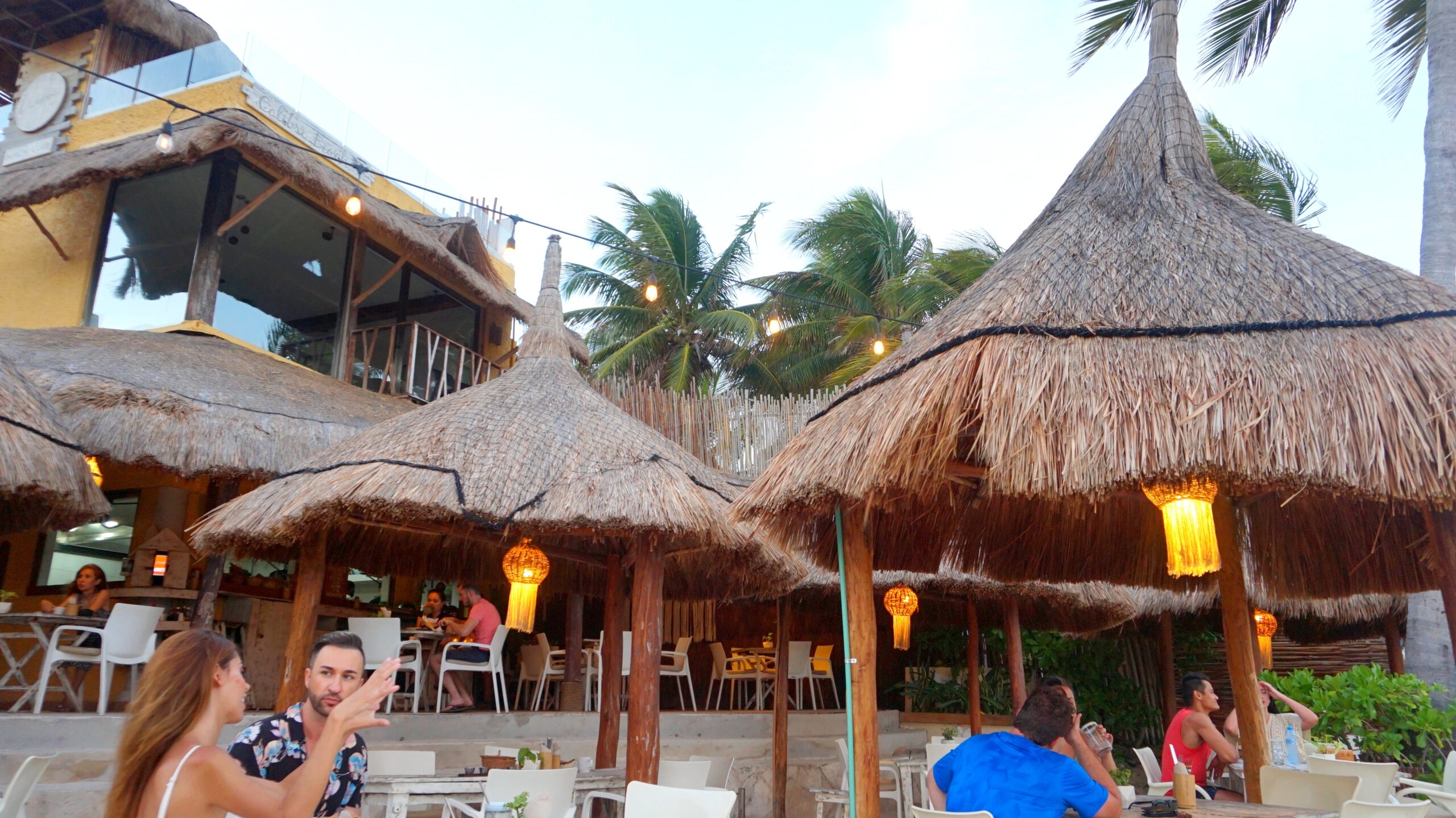 Day 2 – 20/5/22– Playa del Carmen

In the morning I woke up early, and I was going to have a smoothie with Chantal somewhere on 5th Avenue after my (great!) Selina breakfast. It was very quiet in the hostel, so I didn't have much appeal from other solo travelers and my roomies would leave. The smoothie place where we went for a drink is called 100% Natural – highly recommended! Lovely place and delicious smoothies. Together we went to do some simple errands somewhere, we went to take some pictures and I went to Chantal's hotel. Finally I decided to visit the guys at their hostel called 'Why Not'. Together we chatted, had drinks and went to my Selina, because there is a cool courtyard, bar and swimming pool. Nicer to chill and talk there for hours and the hostel itself is just very beautiful. It was great fun with the four of us, and we talked for hours about the most special things over coffee, snacks and drinks. We would split up briefly, to go out for dinner together later in the evening at La Cueva del Chango. Once reunited with the men later in the evening, we walked for minutes on the lively Fifth to eat at the cool restaurant. Chantal would join us during dinner, and joined a little later. I had the sesame tuna steak here – which was definitely great. After dinner, we split up and went to sleep, because everyone was still very tired from the Jetlag.
In de ochtend was ik vroeg wakker, en zou ik met Chantal nog een smoothie gaan drinken ergens op 5th Avenue, na mijn (top!) Selina ontbijt. Het was erg rustig in het hostel, dus had ik nog niet zo heel veel aanspraak van andere solo reizigers en zouden mijn roomies vertrekken. De smoothie plek waar we wat zijn gaan drinken heet 100% Natural – dikke aanrader! Mooie plek en heerlijke smoothies. Samen zijn we nog wat simpele boodschapjes gaan doen ergens, nog wat foto's gaan maken en ben ik even mee naar haar hotel geweest. Uiteindelijk besloot ik de jongens op te zoeken bij hun hostel genaamd 'Why Not'. Gezamenlijk hebben we nog wat gekletst, drankjes gedaan en gingen door naar mijn Selina, omdat daar een gave binnenplaats, bar en zwembad is. Leuker om daar uren te relaxen en praten, plus het hostel zelf is gewoon erg mooi. Het was enorm gezellig met zijn vieren en we hebben uren over de meest bijzondere dingen gepraat met koffietjes, hapjes en drankjes. We zouden kort opsplitsen, om later in de avond gezamenlijk uit eten te gaan bij La Cueva del Chango. Eenmaal herenigd met de mannen later in de avond, liepen we minuten lang over de levendige Fifth, om te gaan eten bij het gave restaurant. Chantal zou ons vergezellen tijdens het eten, en sloot wat later aan. Ik had hier de sesame tuna steak – die zeker een aanrader was. Na het eten zijn we opgesplitst en gaan slapen, omdat iedereen nog steeds erg moe was van de reis.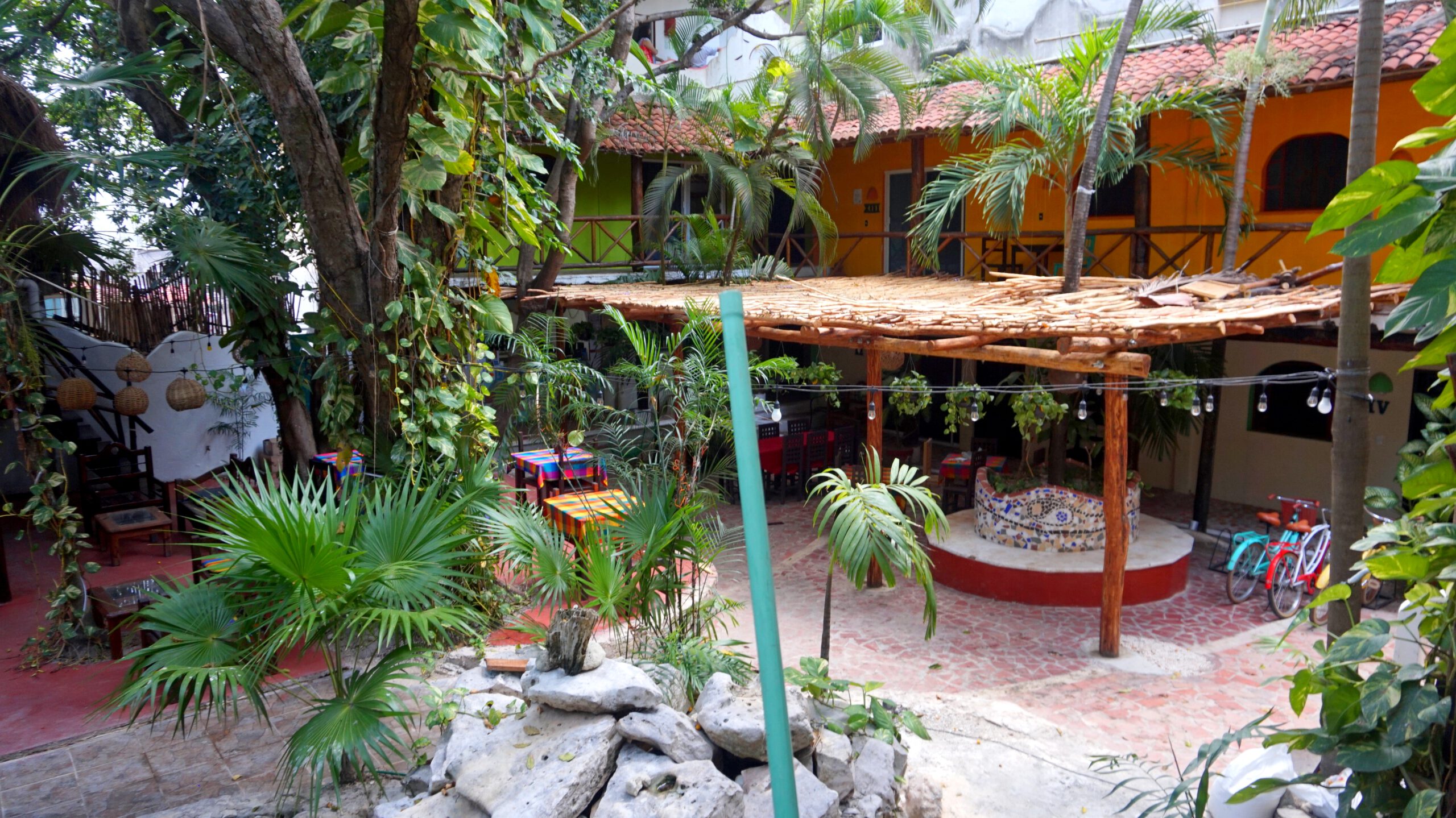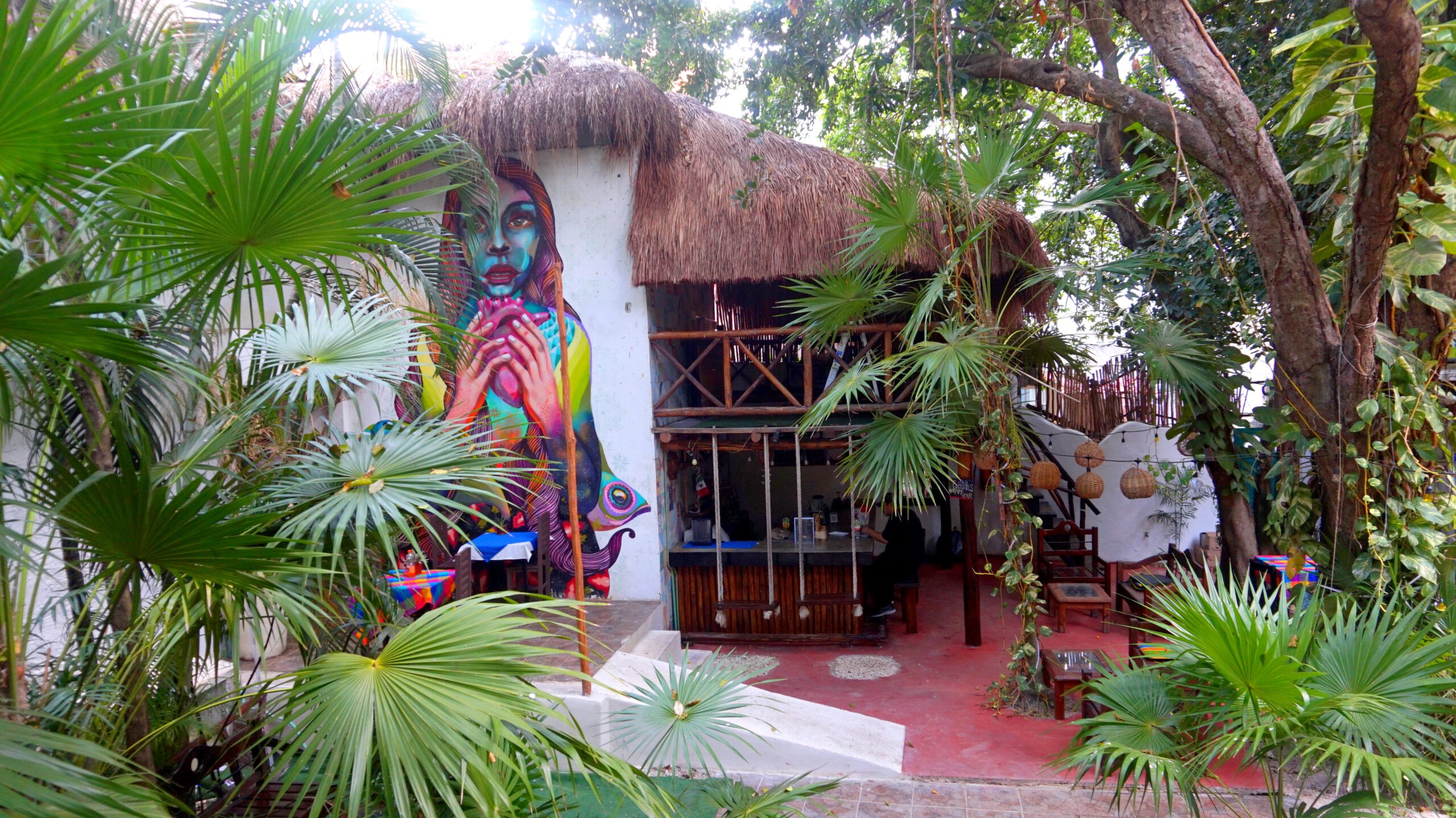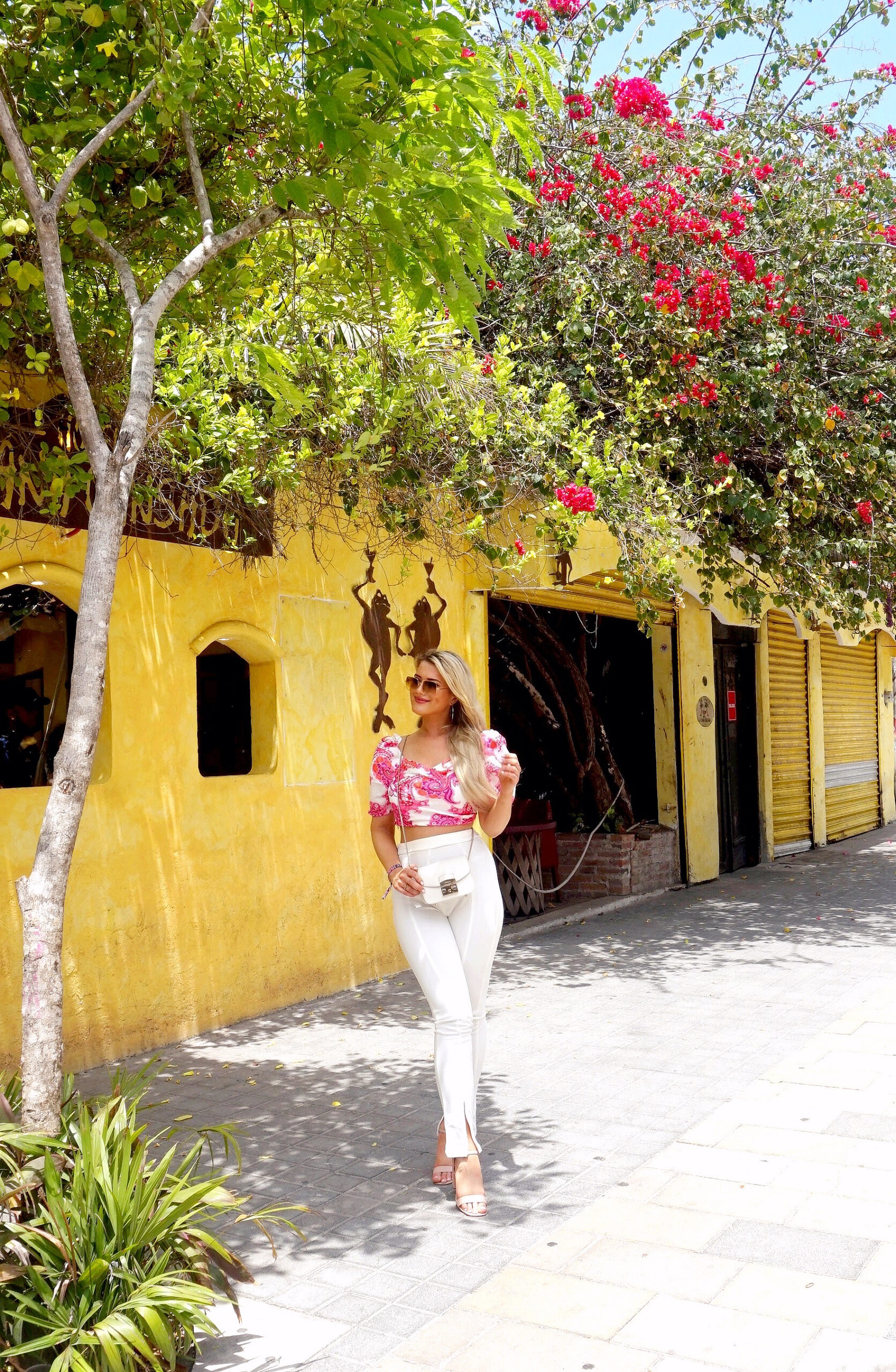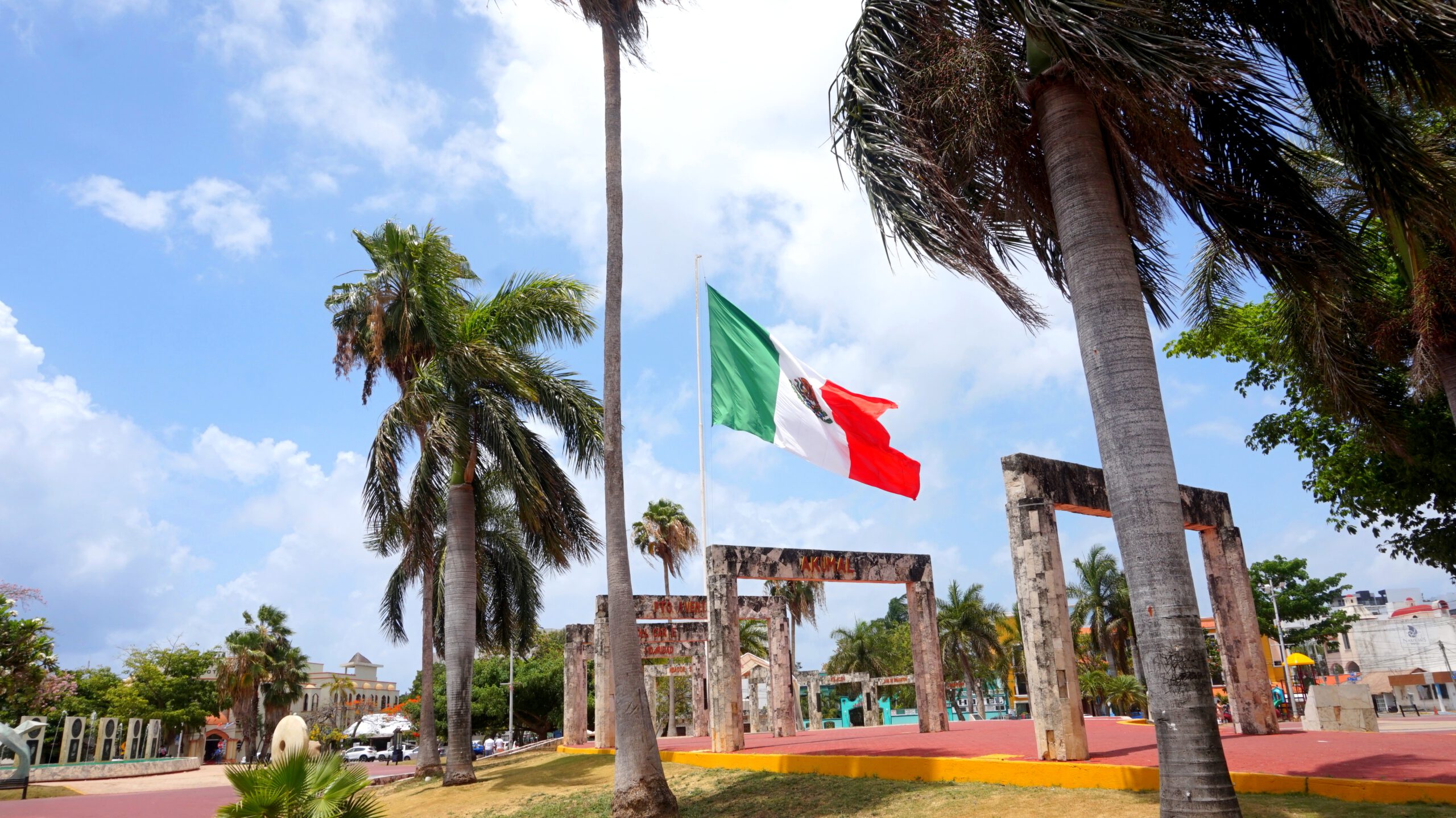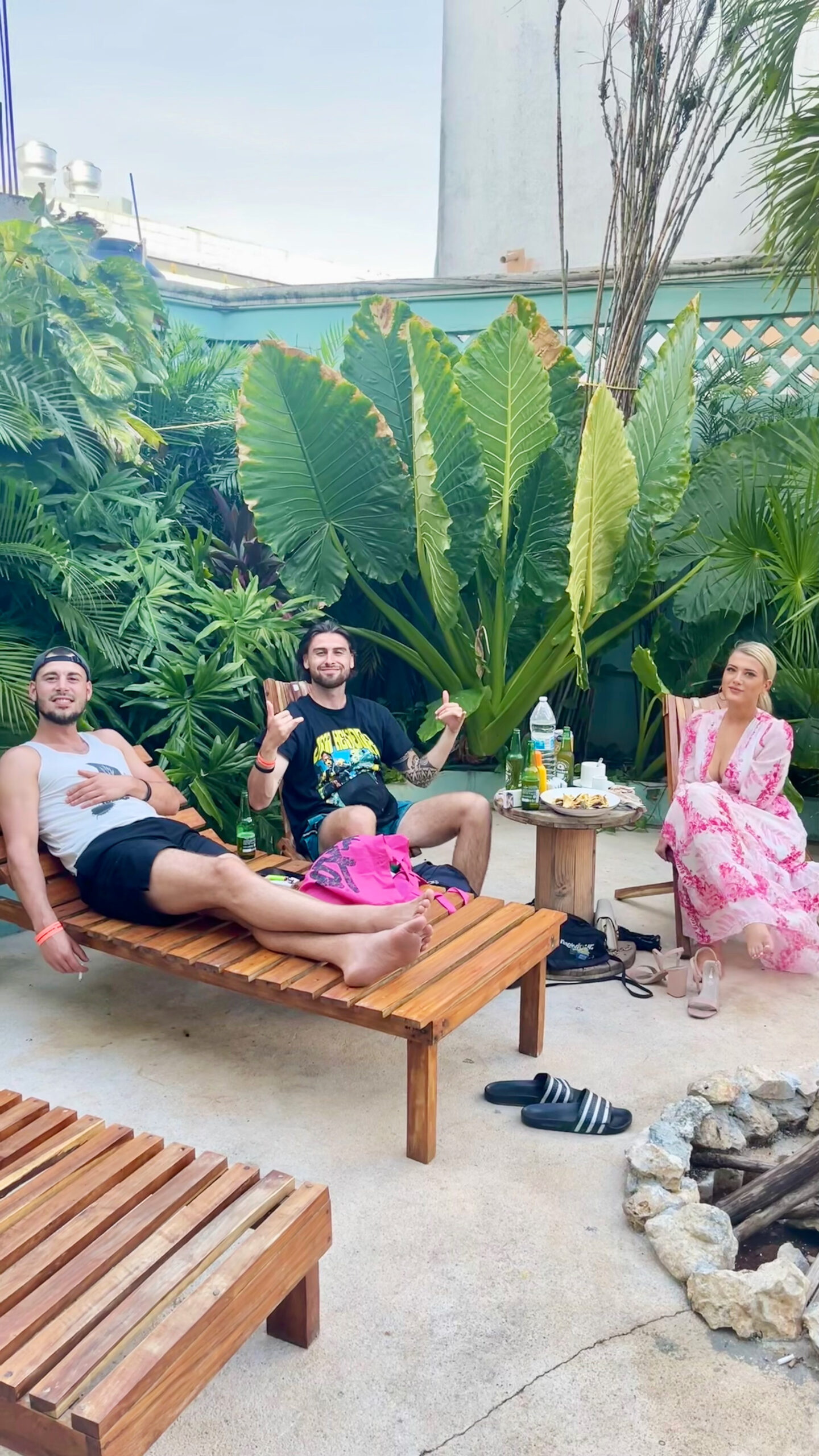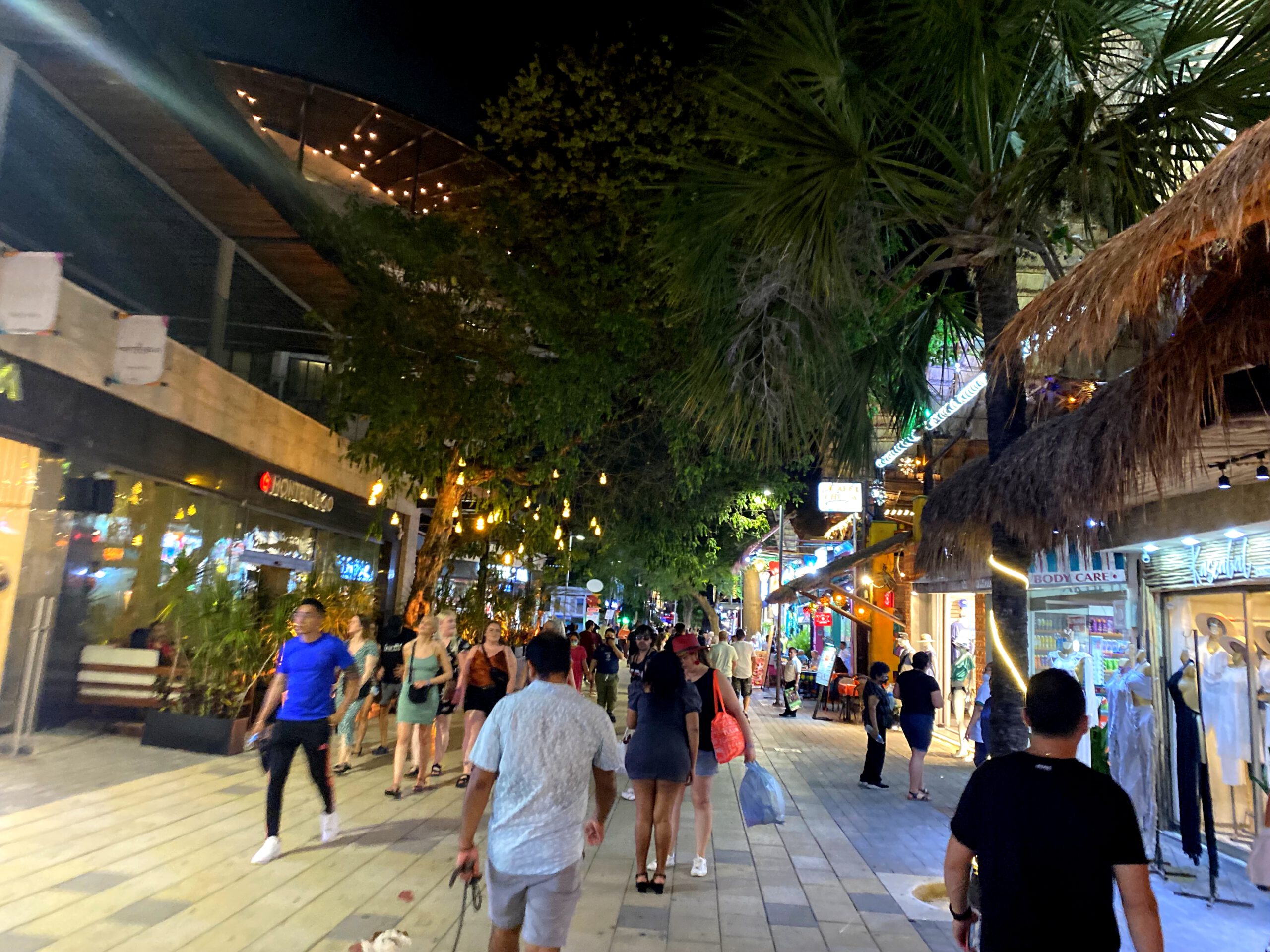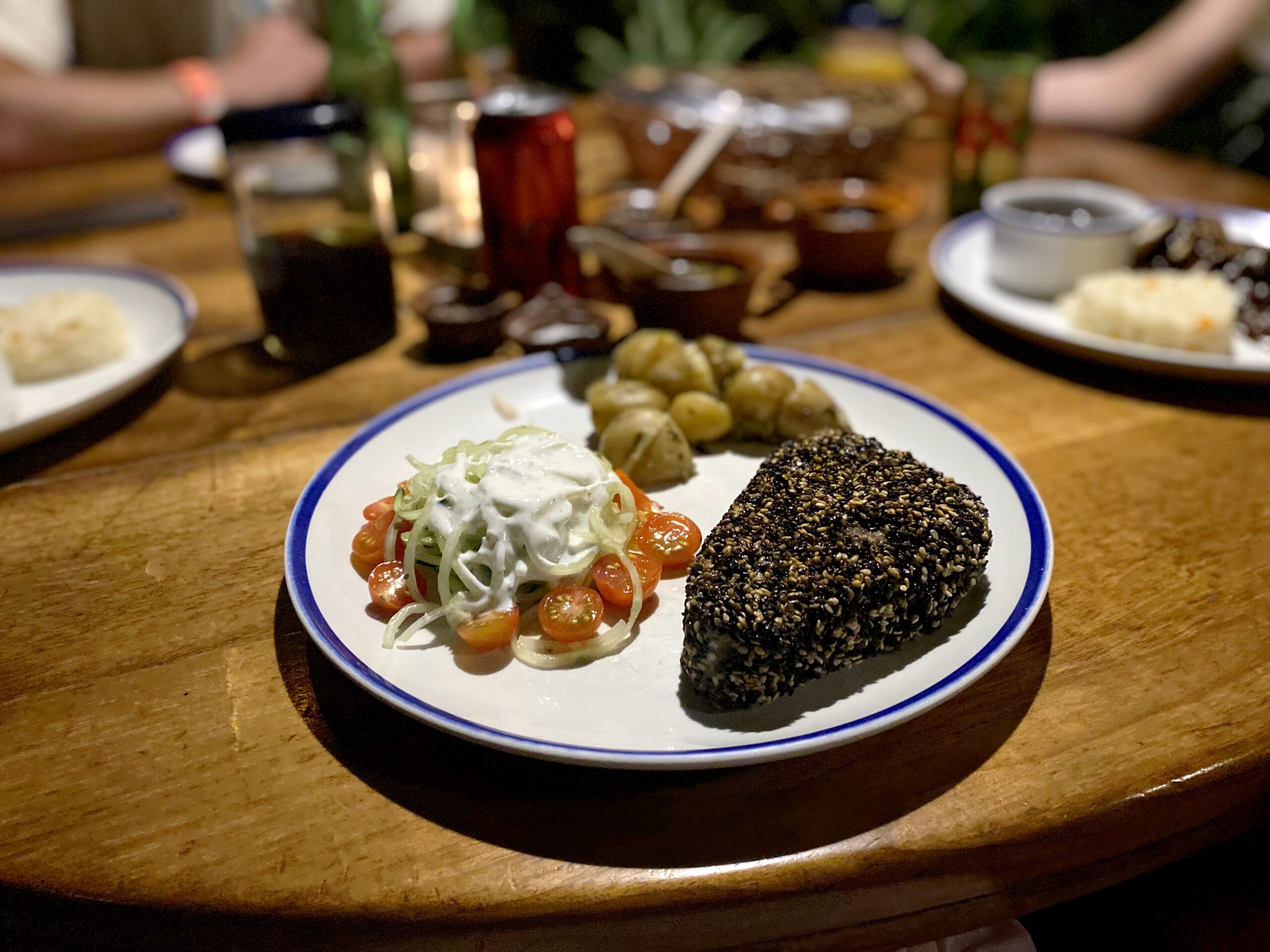 Day 3 – Playa del Carmen – 21/5/22

I didn't really have any busy plans today. Yesterday evening, I met a German girl who was also alone, and suggested that I go shopping with her around noon. I accepted this, but stayed in the hostel for a while until she was ready. When it started to rain hard at that same moment, I quickly met a dozen other solo travelers while taking shelter. After a lot of chatting and laughing with them, I decided to go on a bike ride with them instead. Chantal decided to join, but by the time she got there the group had already left and we would be meeting them on the route. We rented the bike at Selina itself, and the route we took was mainly around Playa Car. Somewhere along the route Chantal and I ate something small at a kind of snack bar, bought a fresh coconut somewhere, met the rest of my hostel group and went back to Selina. The Dutch guys we had often met bought a Selina day pass again and where there, so we decided to join them. We ended up chatting here for a few hours before they went their separate ways again. When I was alone again this evening, I got to meet different people from all over the world at the hostel bar and brought them together at a table – which is one of the biggest reasons why I love traveling (solo) so much. All evening I chatted in the hostel with an ever-growing group, got treated to tacos, and spent hours with the group on the beach. I ended up staying in the dorm of the girls of this group because I suddenly had a male travel companion in my room and wasn't too happy about it. The hostel did not have another dorm available anymore that last minute.
Vandaag had ik eigenlijk niet echt drukke plannen. Gisteren avond sprak ik een Duits meisje die ook alleen was, en stelde voor met haar mee te gaan winkelen rond het middaguur. Hier ging ik op in, maar bleef nog een poosje in het hostel tot ze klaar was. Toen het hard begon te regenen ontmoette ik tijdens het schuilen al snel een tiental andere solo reizigers. Na veel met ze te hebben gekletst en gelachen, besloot ik mijn plannen te veranderen en samen met ze op fietstocht te gaan. Chantal besloot aan te sluiten, maar tegen de tijd dat ze er was, was de groep al vertrokken en zouden we ze op de route meetten. De fiets huurden we trouwens in Selina zelf, en de route die we namen was vooral rond Playa Car. Ergens op de route aten Chantal en ik nog wat kleins bij een soort snackbar, kochten ergens een verse kokosnoot, kwamen de rest van mijn Selina groep tegen en gingen terug naar Selina. We besloten weer gezellig samen te komen in mijn hostel met de Nederlandse jongens, waar we vaak mee hadden gemeet, omdat ze weer een Selina dagpas hadden gekocht. Uiteindelijk hebben we hier nog een paar uur gekletst voor ze weer hun eigen weg op gingen. Toen ik opnieuw alleen was deze avond, leerde ik aan de bar verschillende mensen van over de hele wereld kennen en bracht ze samen aan een tafel – wat een van de grootste redenen is waarom ik (solo) reizen zo fantastisch vind. De hele avond hebben we in het hostel gekletst met een steeds groter wordende groep, werd getrakteerd op taco's, en hebben uren op het strand gezeten. Uiteindelijk bleef ik in de dorm van de meisjes van deze groep slapen, omdat ik plotseling een mannelijke reisgenoot had in mijn kamer en daar niet zo blij mee was. Het hostel had helaas geen andere ruimte meer voor mij.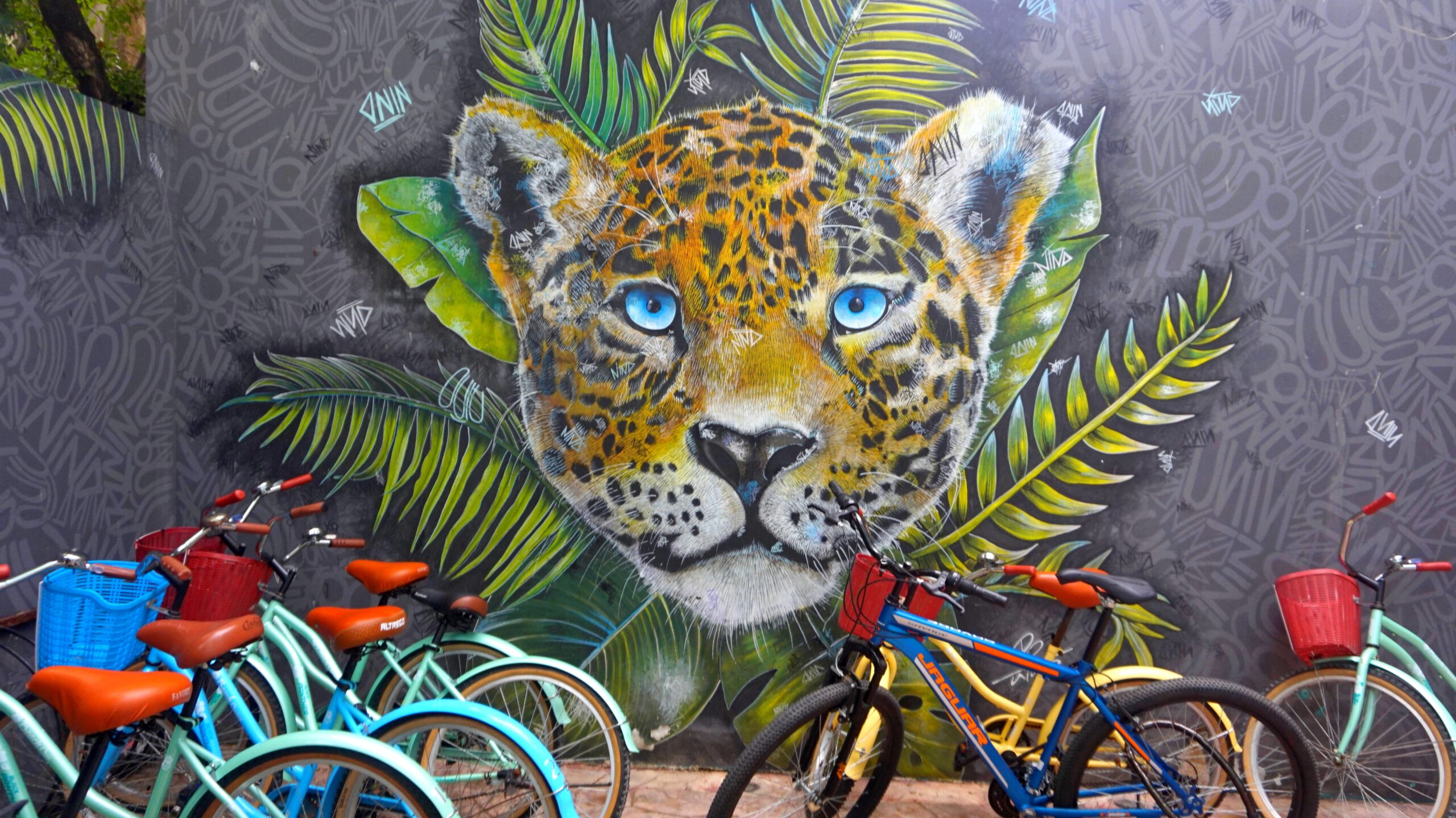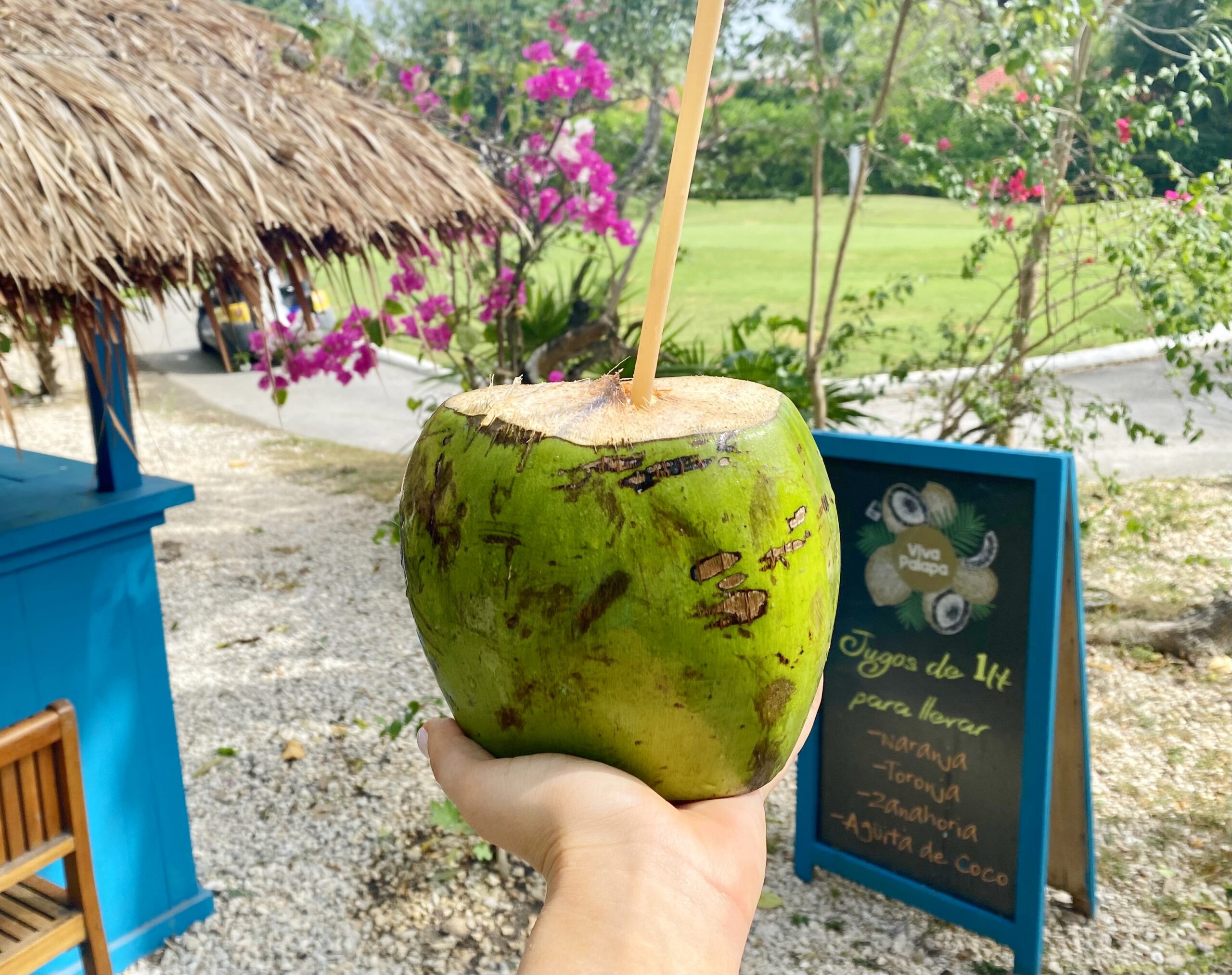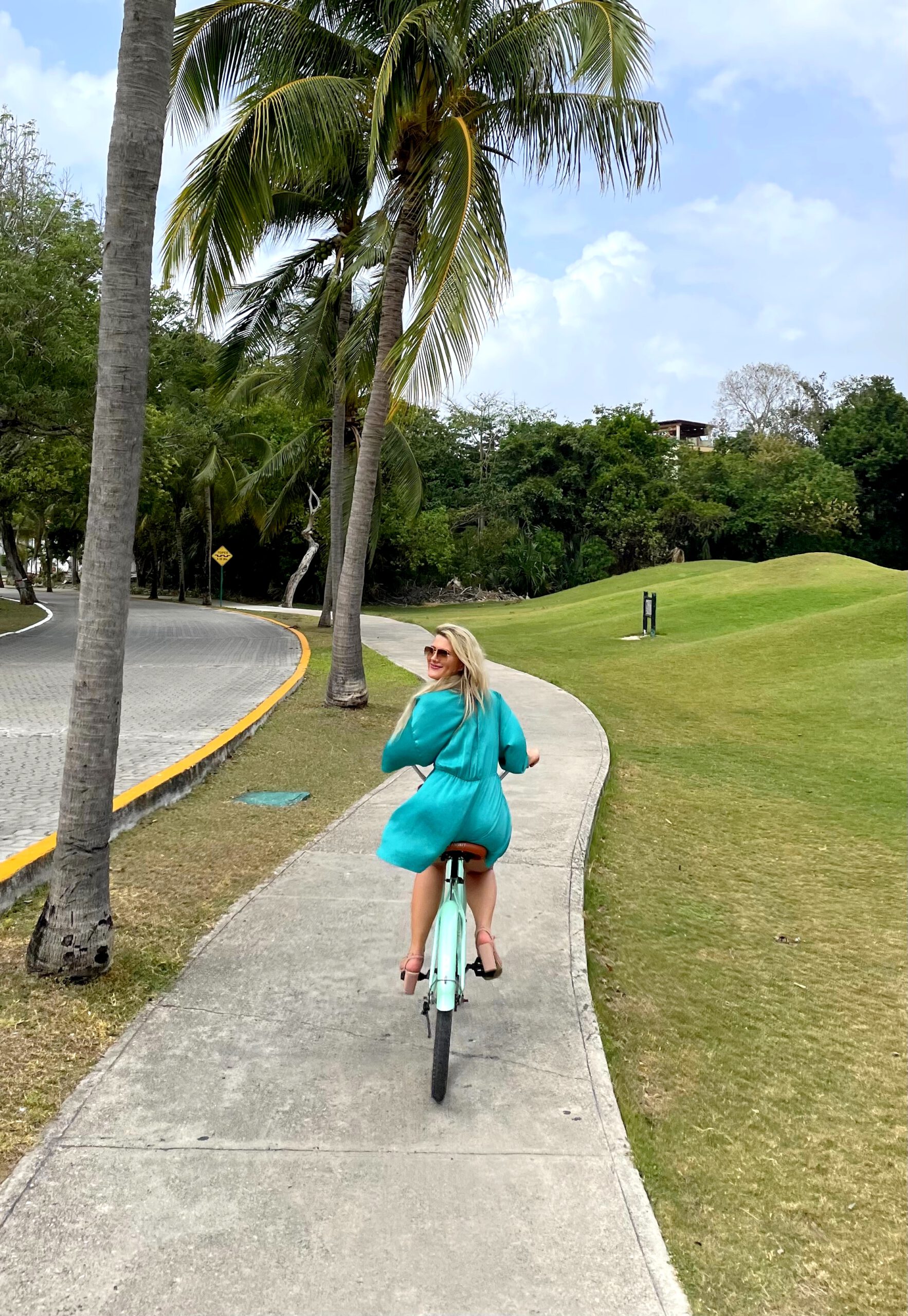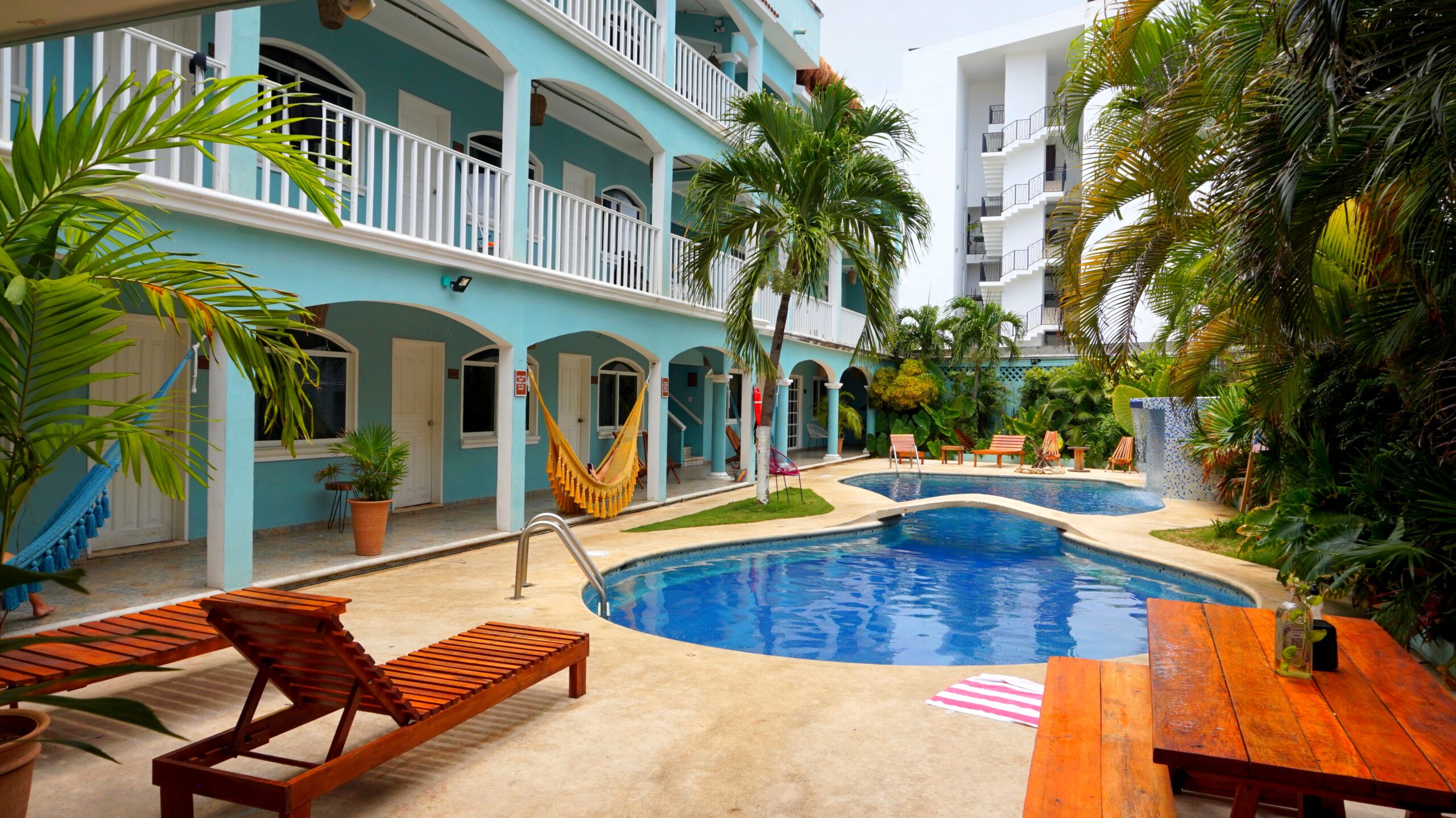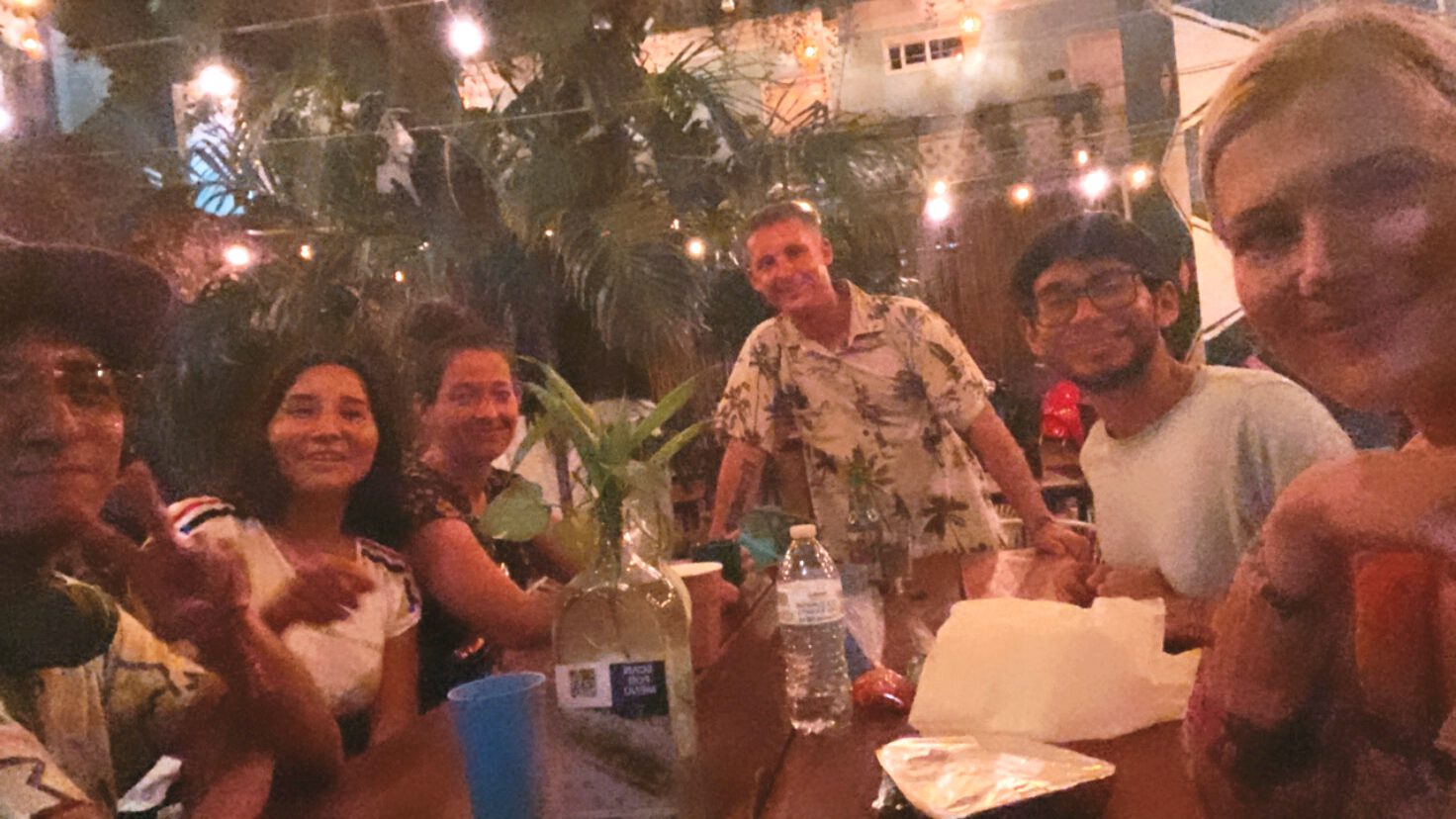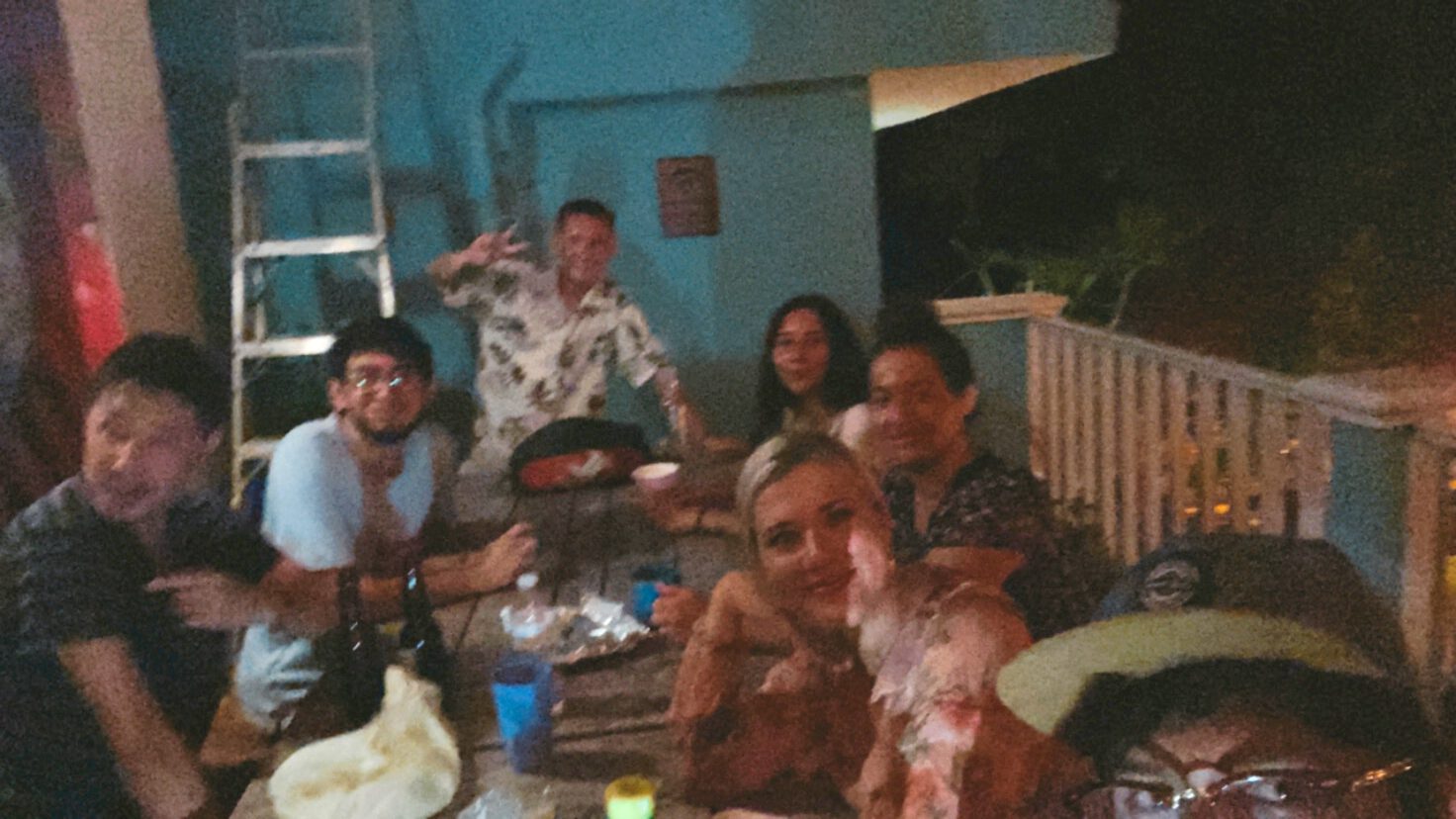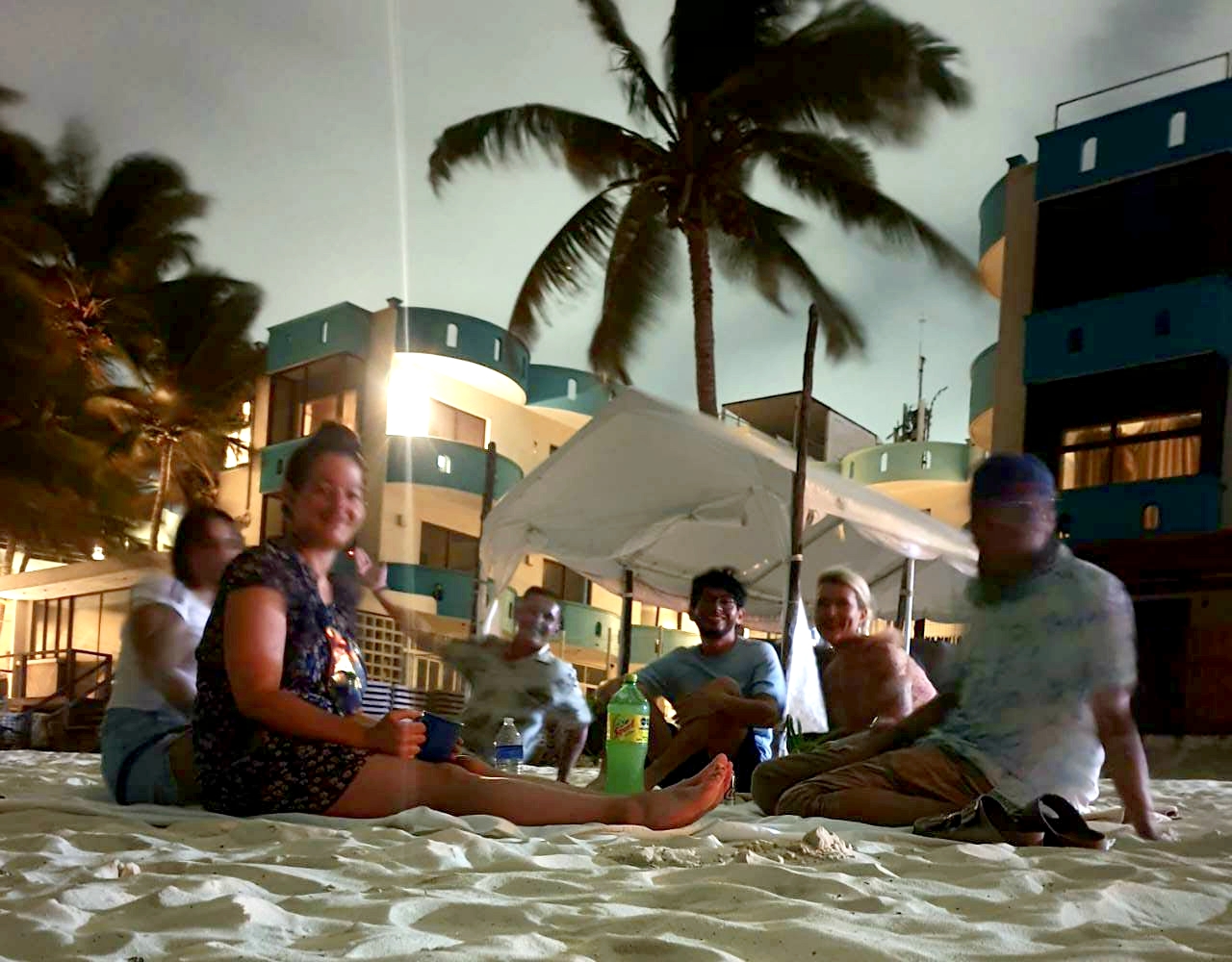 Day 4 – Isla Holbox – 22/5/22
This morning Chantal had promised me to go out with me for a whole day during the solo trip. I really wanted to visit Isla Holbox and Chantal was fine with that too. We did it as a day trip without an overnight stay – my tip afterwards is to really stay here for a few days. From Playa we took the ADO bus in the morning to Chiquilla. The busride took around 2,5 hours. Chiquilla is a place far away, where the ferries leave for Holbox. By the way, get enough cash on the mainland in advance! The ferry ride took about 25-30 minutes. It was nice that the islands were not affected by the seaweed season. I definitely recommend Holbox during a visit to Mexico, because the small island is really beautiful and colorful, with pearly white beaches and clear water. After about a 10-minute walk from the pound, we had a drink at a nice cafe (which unfortunately I didn't remember the name of). I had an ice cold chocolate banana smoothie. Delicious! After exploring the island on foot, we decided to have lunch at Painapol – Great place! This place is cash only, by the way. I had a pink flamingo lemonade, Chantal had the Cenote and we both had the famous Acai bowl. Because it is basically a car-free island, we decided to rent a golf cart at the end of the afternoon. Renting was possible almost everywhere. Using the golf cart was a hilarious and fun way to tour around the island quickly and conveniently. We also explored a lot of the island with this. Definitely a must to do. We ended the day with a coffee at rooftop bar Mittoz in the center, and took the ferry back to playa at 7 o'clock. In Chiquilla we scored a hot dog somewhere after dark and took the last bus to playa. The whole bus ride was about 2.5 hours. Sad that I didn't plan to stay here overnight! But the Holbox plan was also quite last minute.
Deze ochtend had Chantal me beloofd tijdens de solo trip een heel dagje met mij op pad te gaan. Ik wilde heel graag naar Isla Holbox en Chantal vond dat ook prima. We hebben het als dagtripje zonder overnachting gedaan – mijn tip achteraf is om hier écht een paar daagjes te verblijven. Vanuit Playa namen we de ADO bus in de ochtend naar Chiquilla. Een rit van zo'n 2,5 uur. Chiquilla is een plek ver afgelegen, waar de ferry's naar Holbox vertrekken. Haal van te voren trouwens genoeg cash geld op het vaste land! De ferry tocht duurde ongeveer 25-30 minuten. Het was trouwens fijn dat de eilanden geen last hadden van het zeewierseizoen. Ik raad Holbox zeker aan tijdens een bezoekje Mexico, want het kleine eiland is echt prachtig en kleurrijk, met parelwitte stranden en helder water. We dronken na zo'n 10 minuten lopen van de pond bij een leuk café'tje (waar ik helaas de naam niet van opgeslagen had) wat lekkers. Ik had een ijskoude choco-banaan smoothie. Heerlijk! Na te voet het eiland te hebben verkend, besloten we te lunchen bij Painapol – TOP plek! Deze plek is overigens wel cash only. Ik had een pink flamingo lemonade, Chantal de Cenote en beide hadden we dé famous Acai bowl. Omdat het in principe een autoloos eiland is, besloten we aan het einde van de middag een golfkarretje te huren. Huren kon overigens zo goed als overal. Hilarische en fijne manier om snel en handig het eiland rond te kunnen touren. Hier hebben we ook heel wat van het eiland mee verkend. Zeker een tip om te doen. We sloten de dag af met een koffietje bij rooftopbar Mittoz in het centrum, en namen de ferry om 7 uur terug naar playa. In chiquilla scoorden we toen het al donker was nog ergens een hotdog en namen de laatste bus naar playa. De hele busrit was zo'n 2,5 uur. Spijt dat ik hier niet een nachtje ben gebleven! Maar het Holbox plan was ook vrij last minute.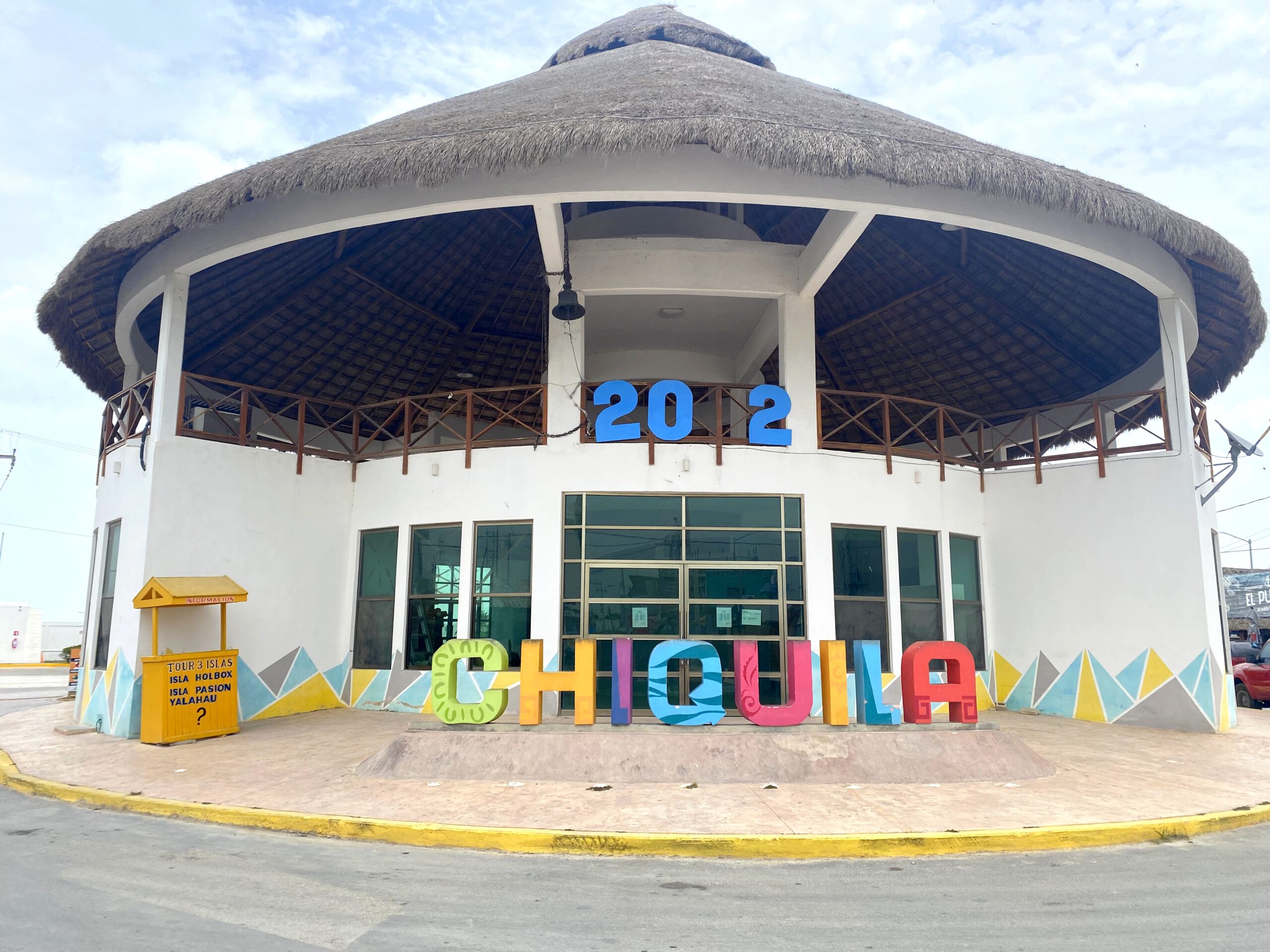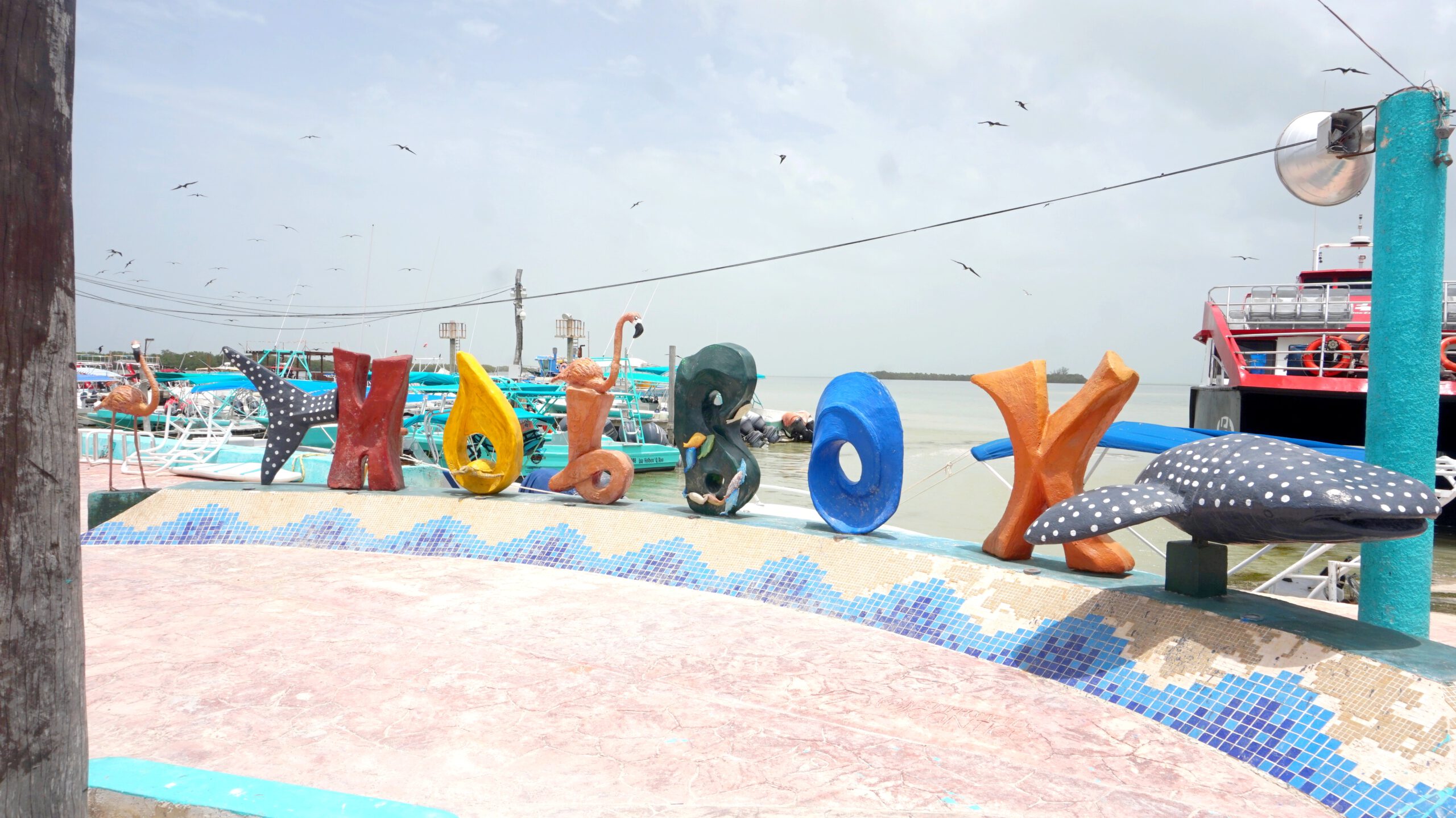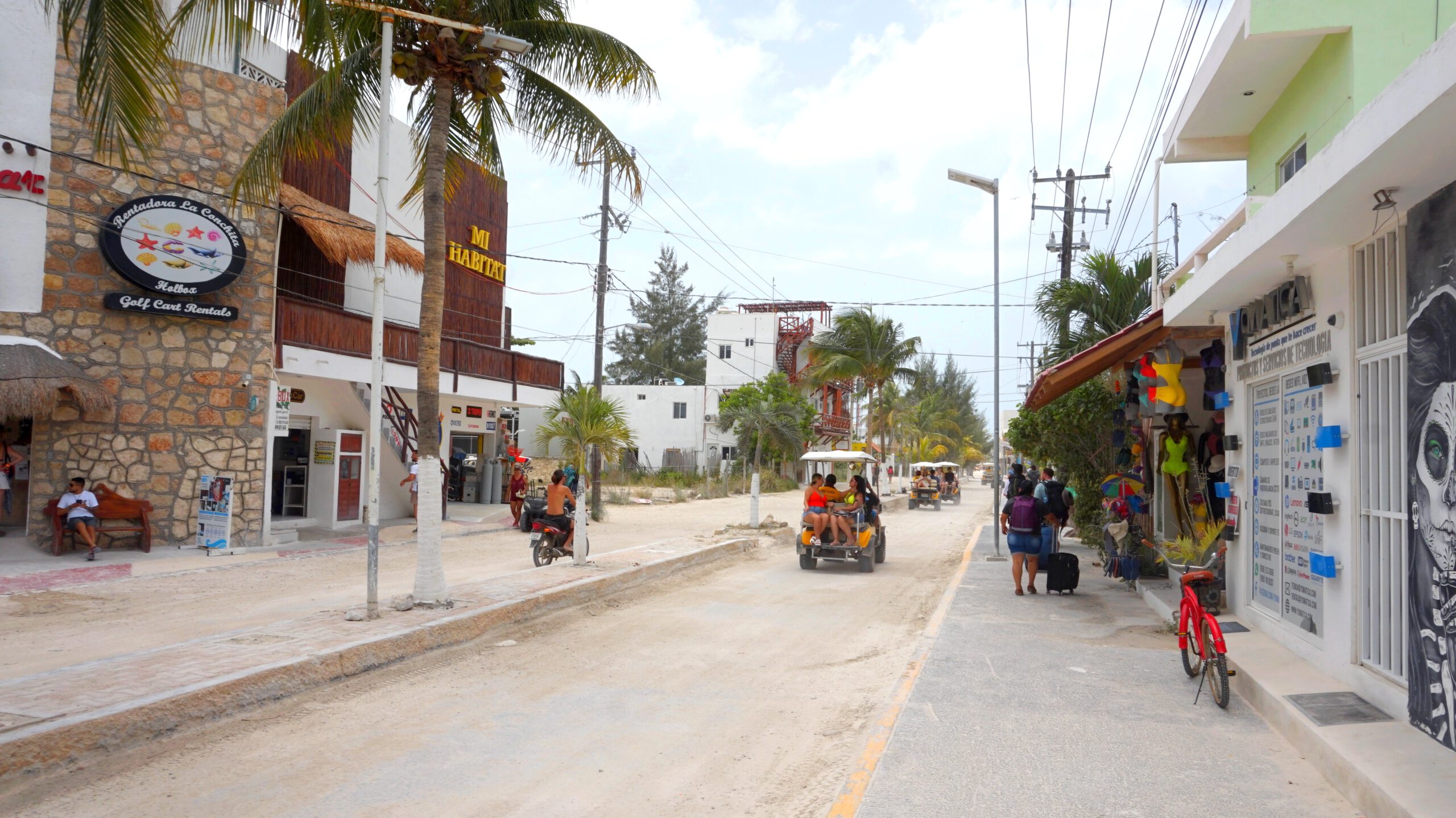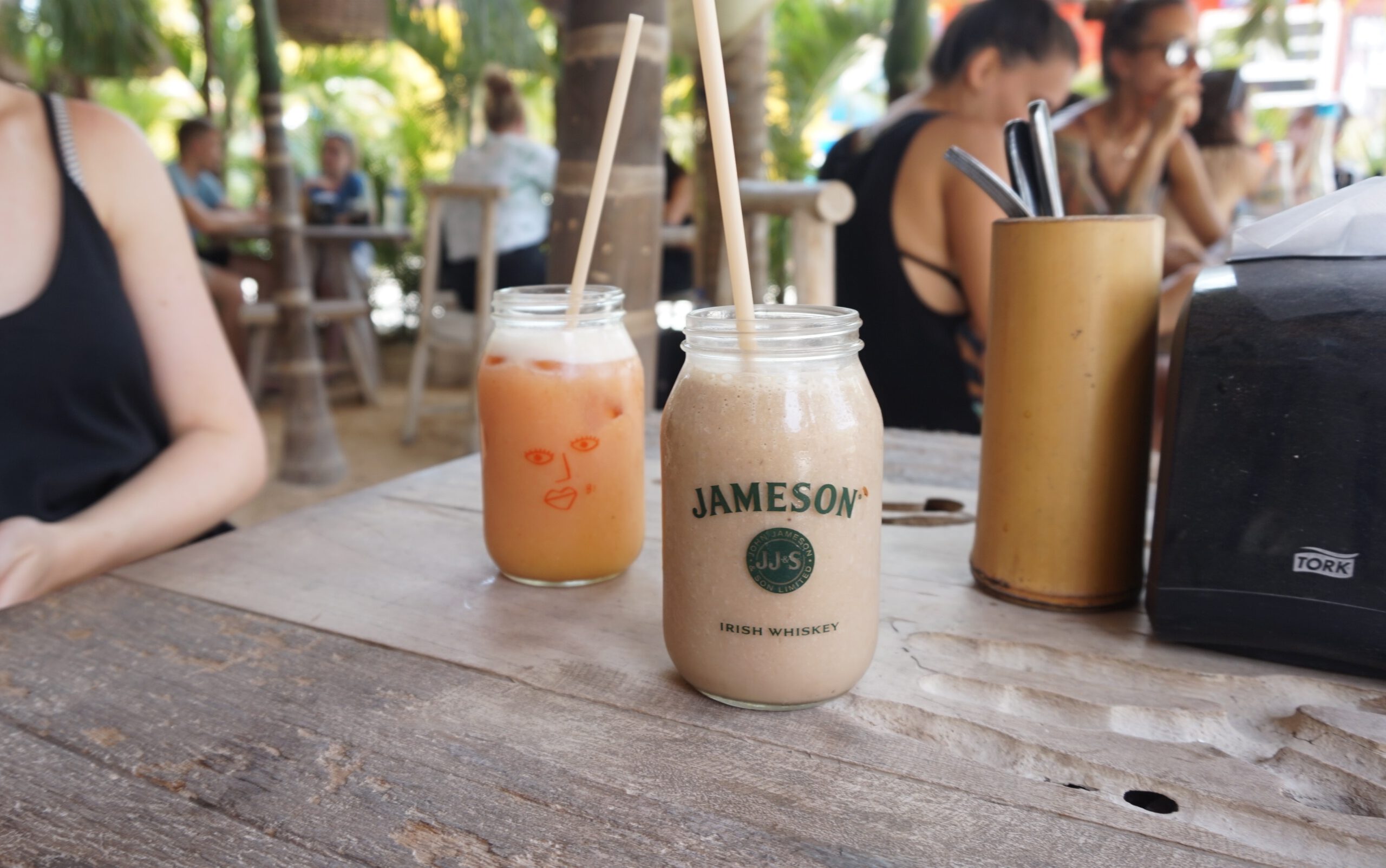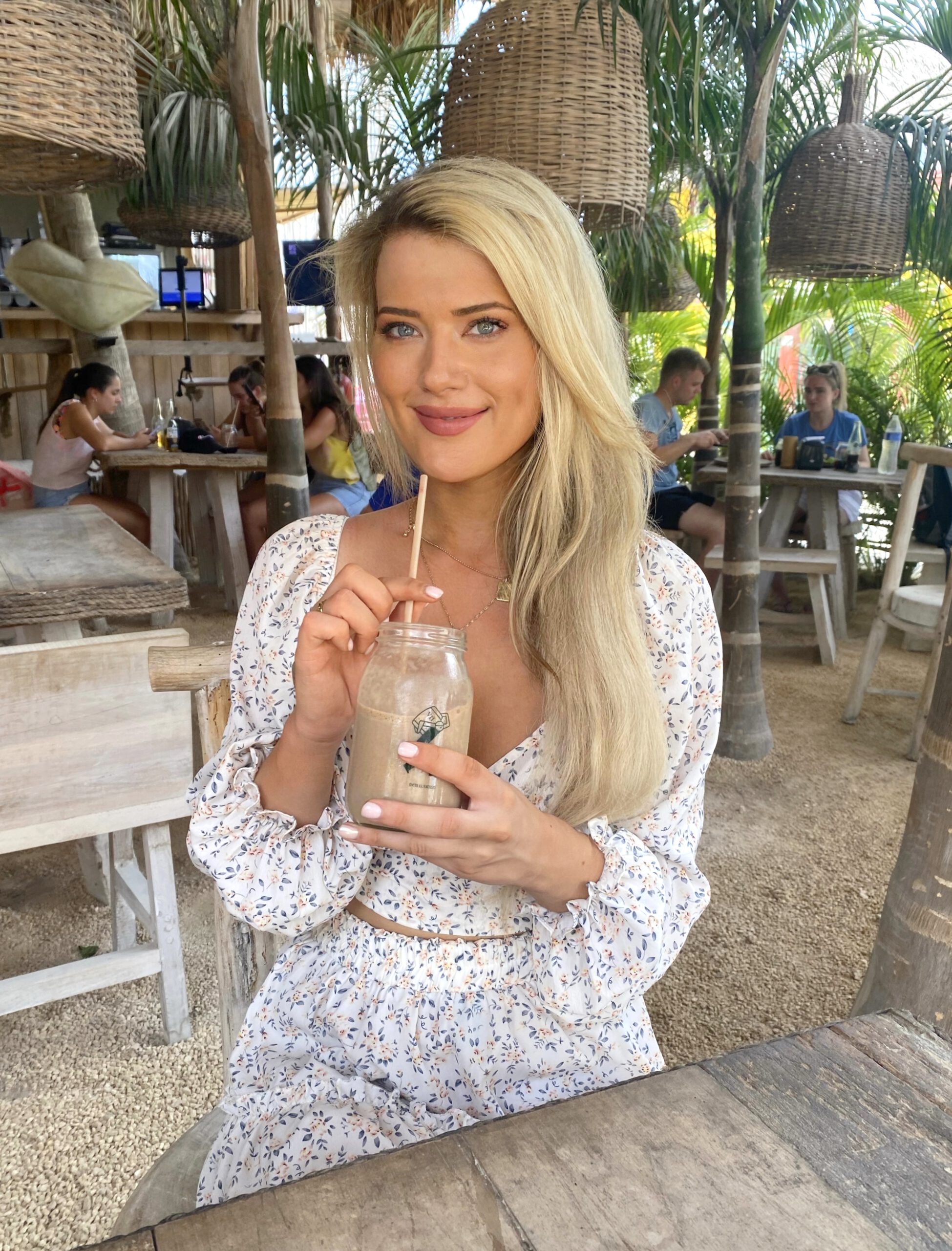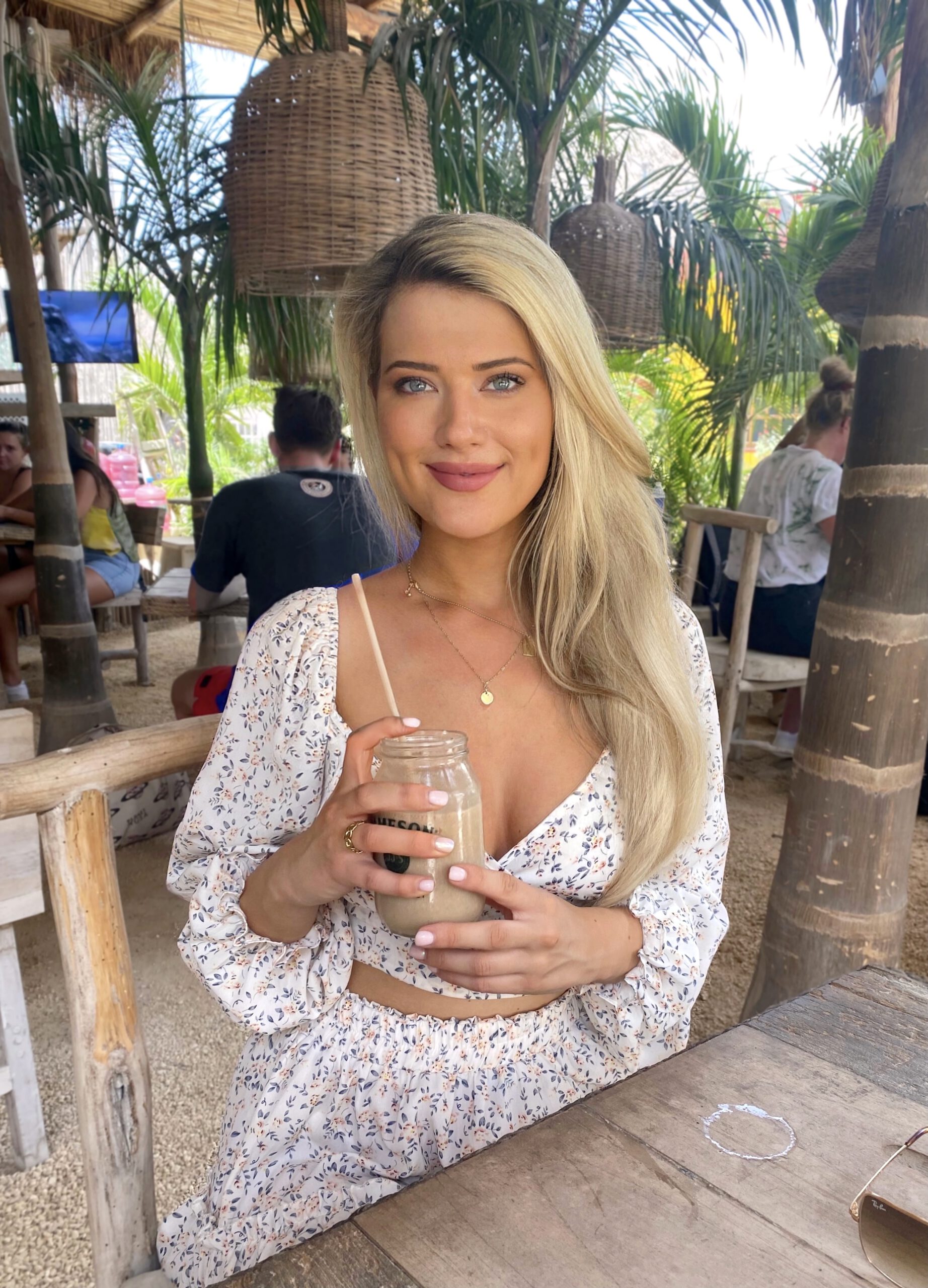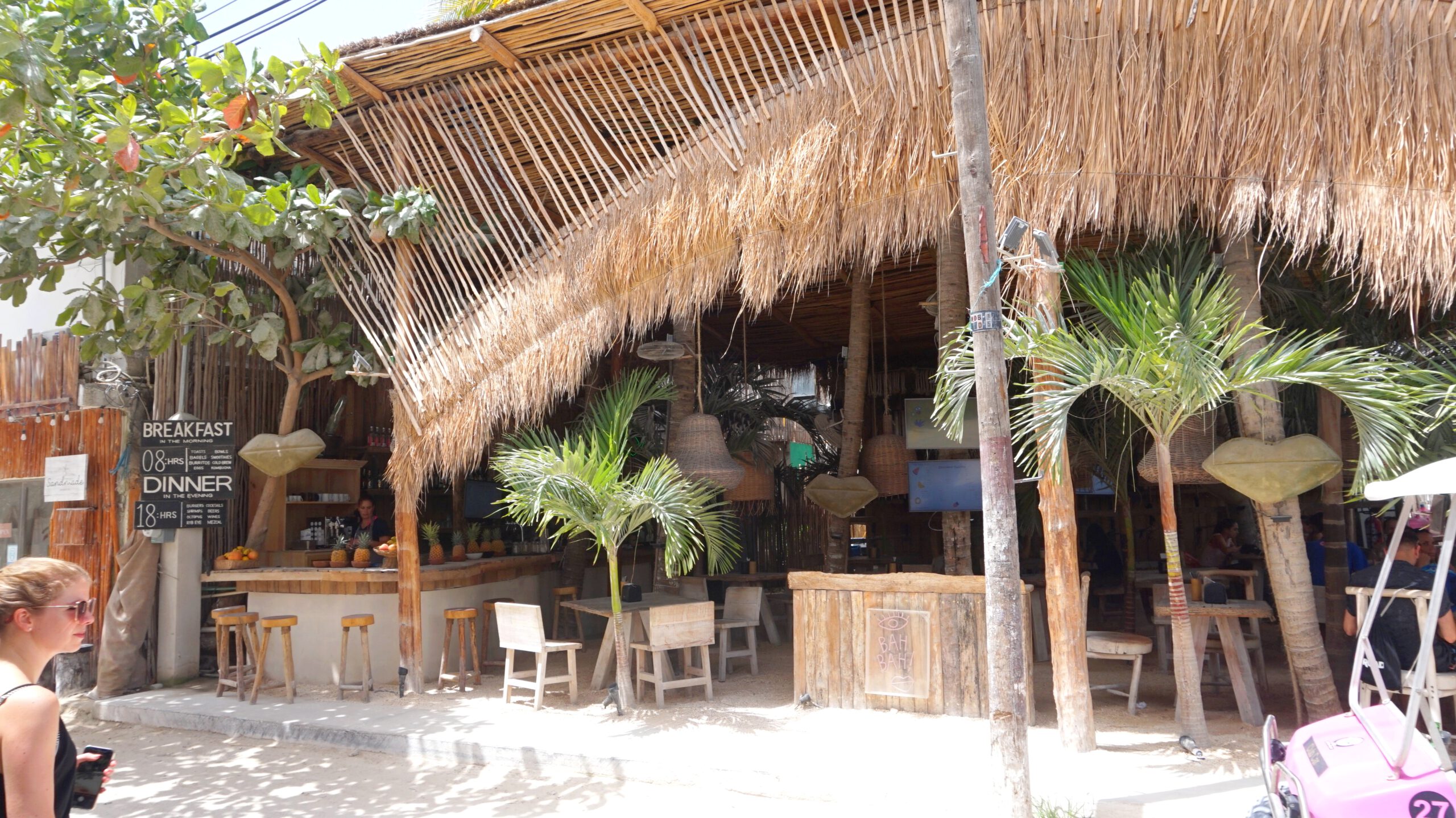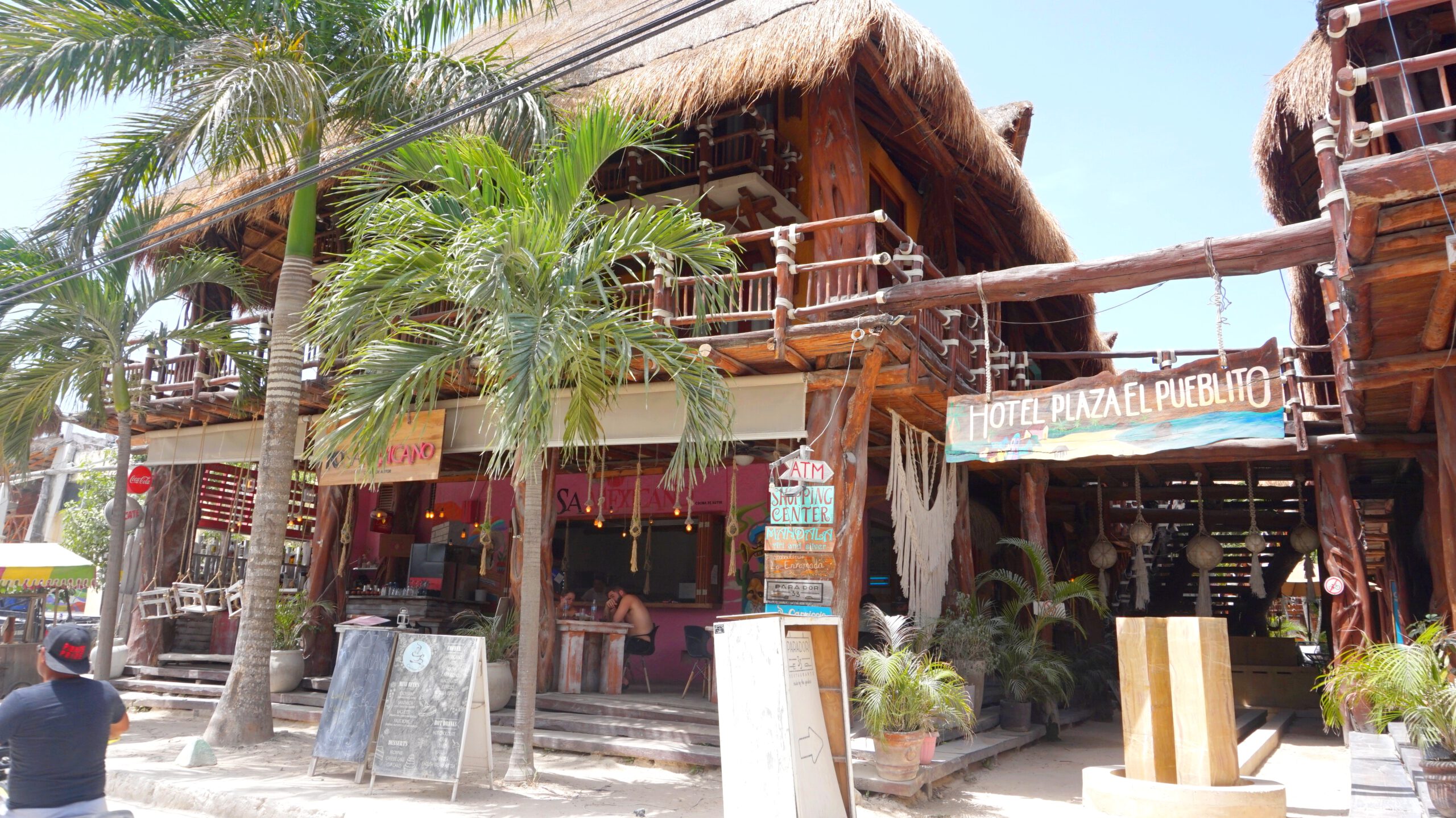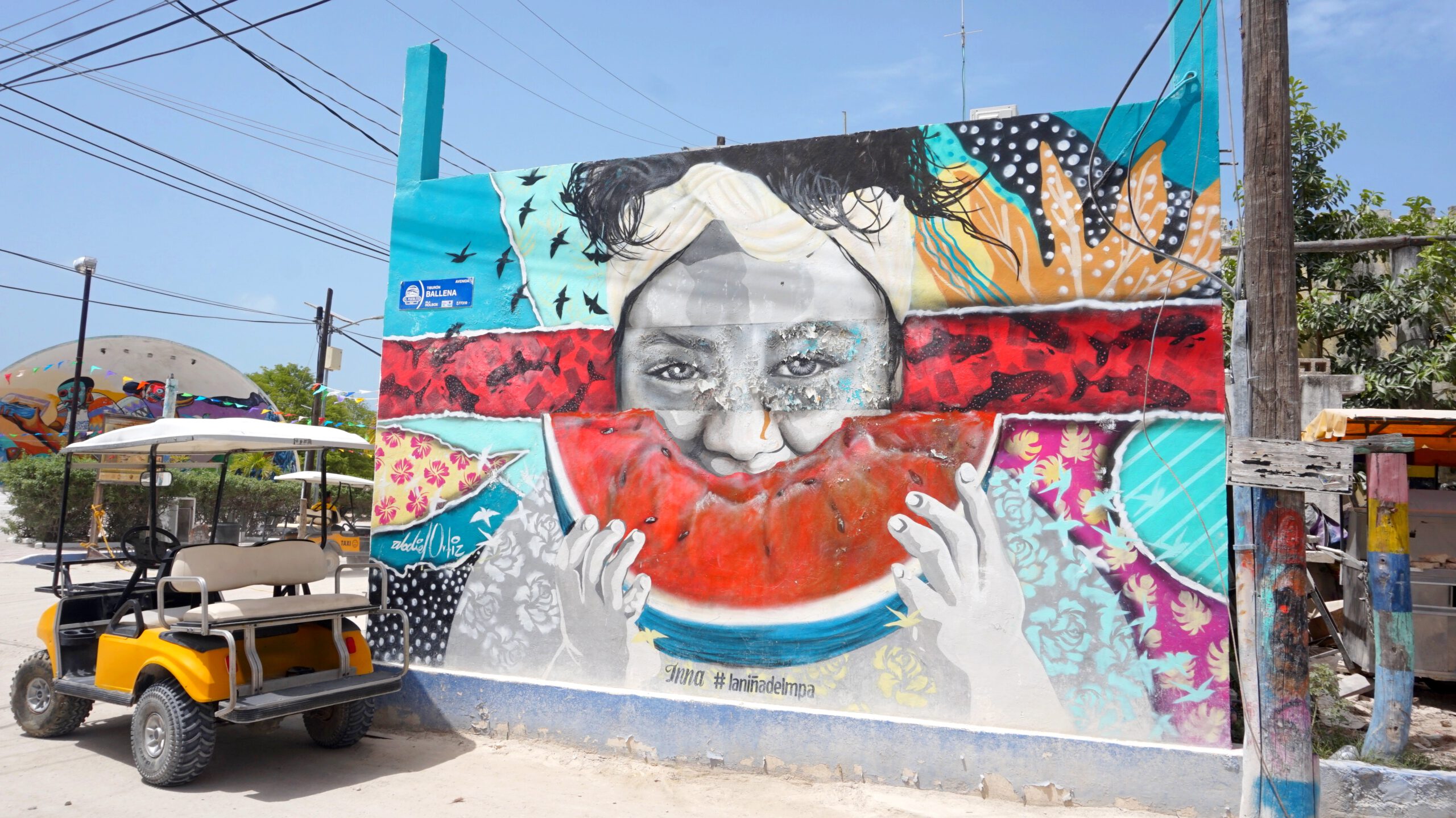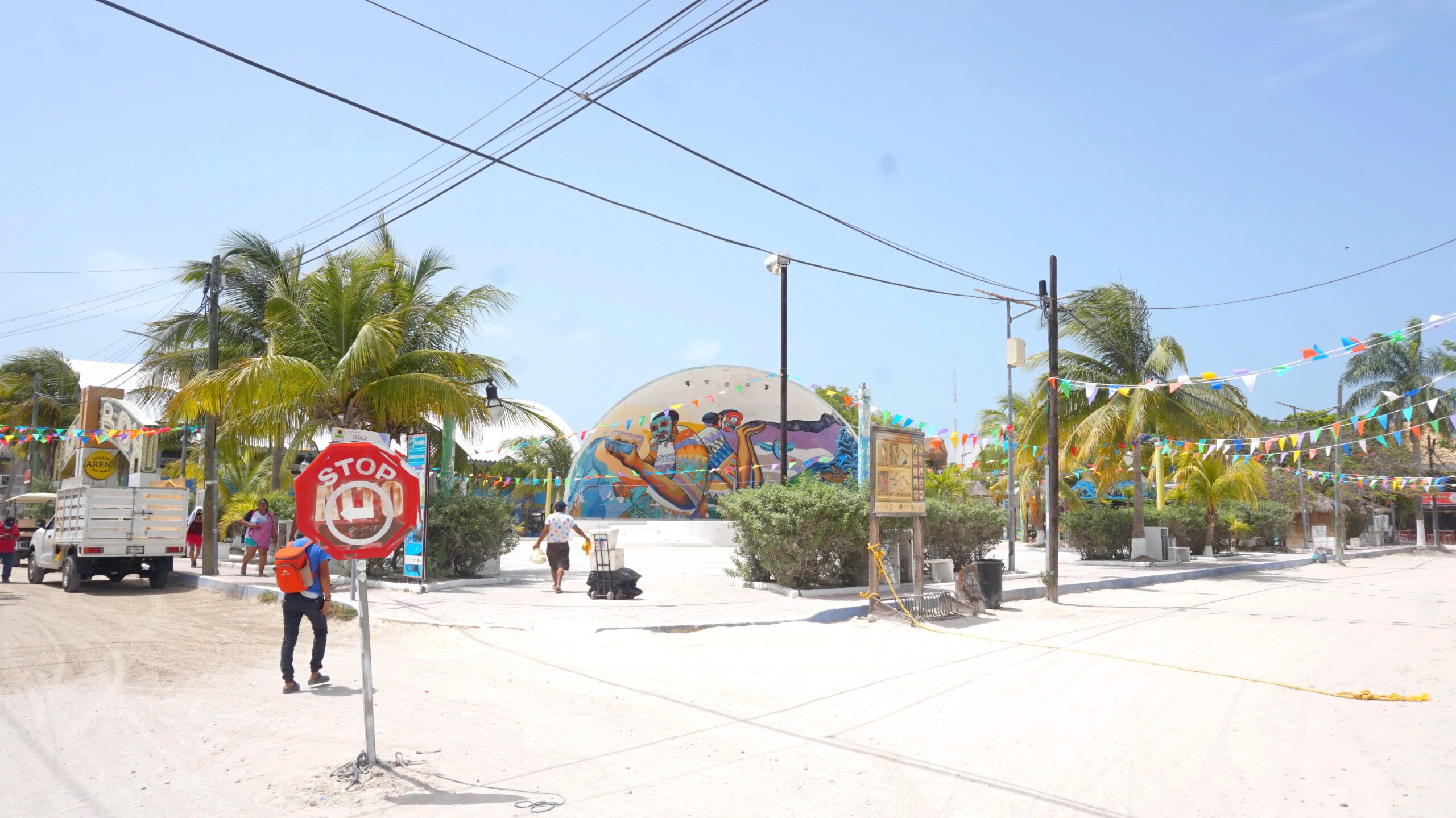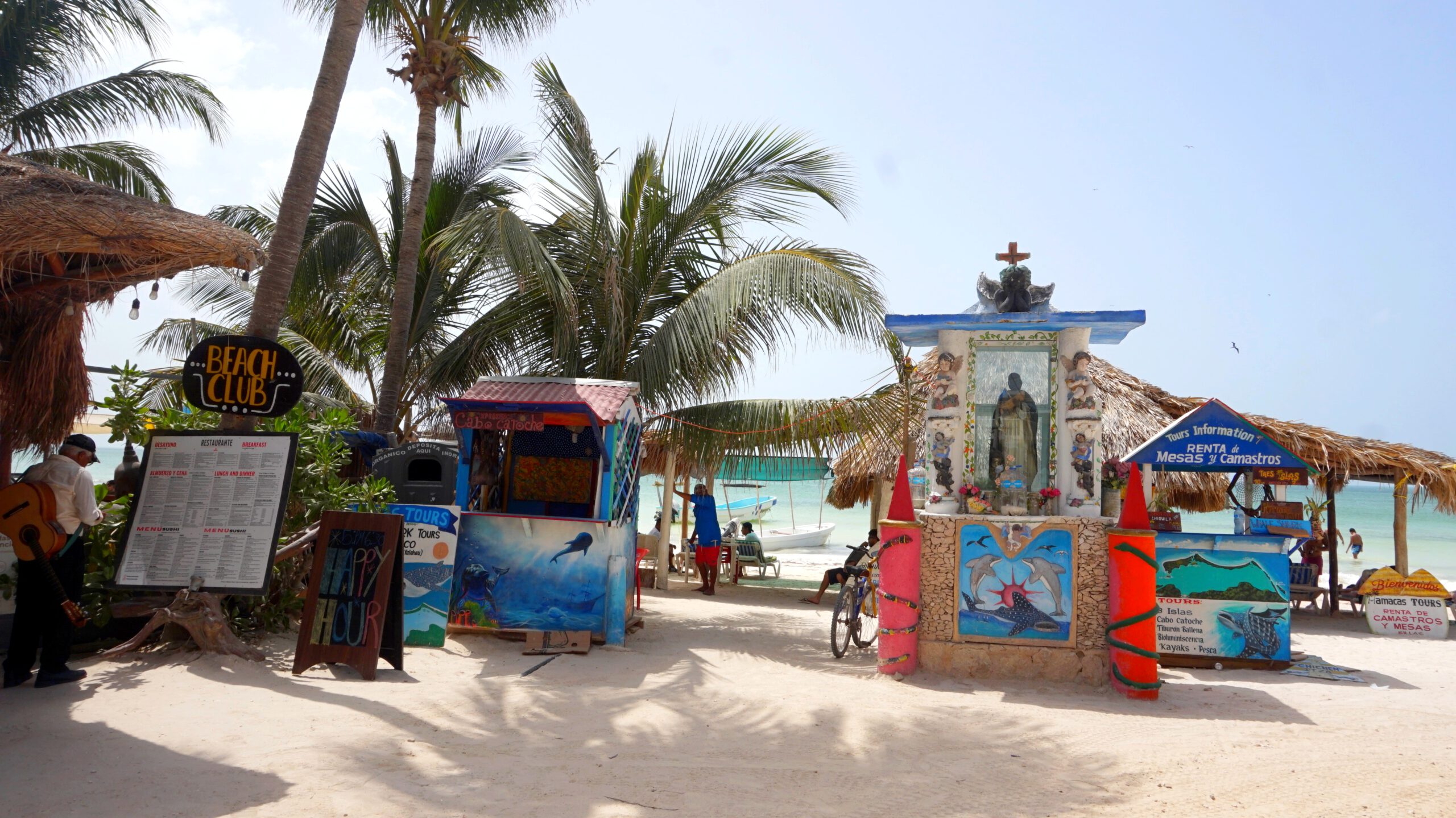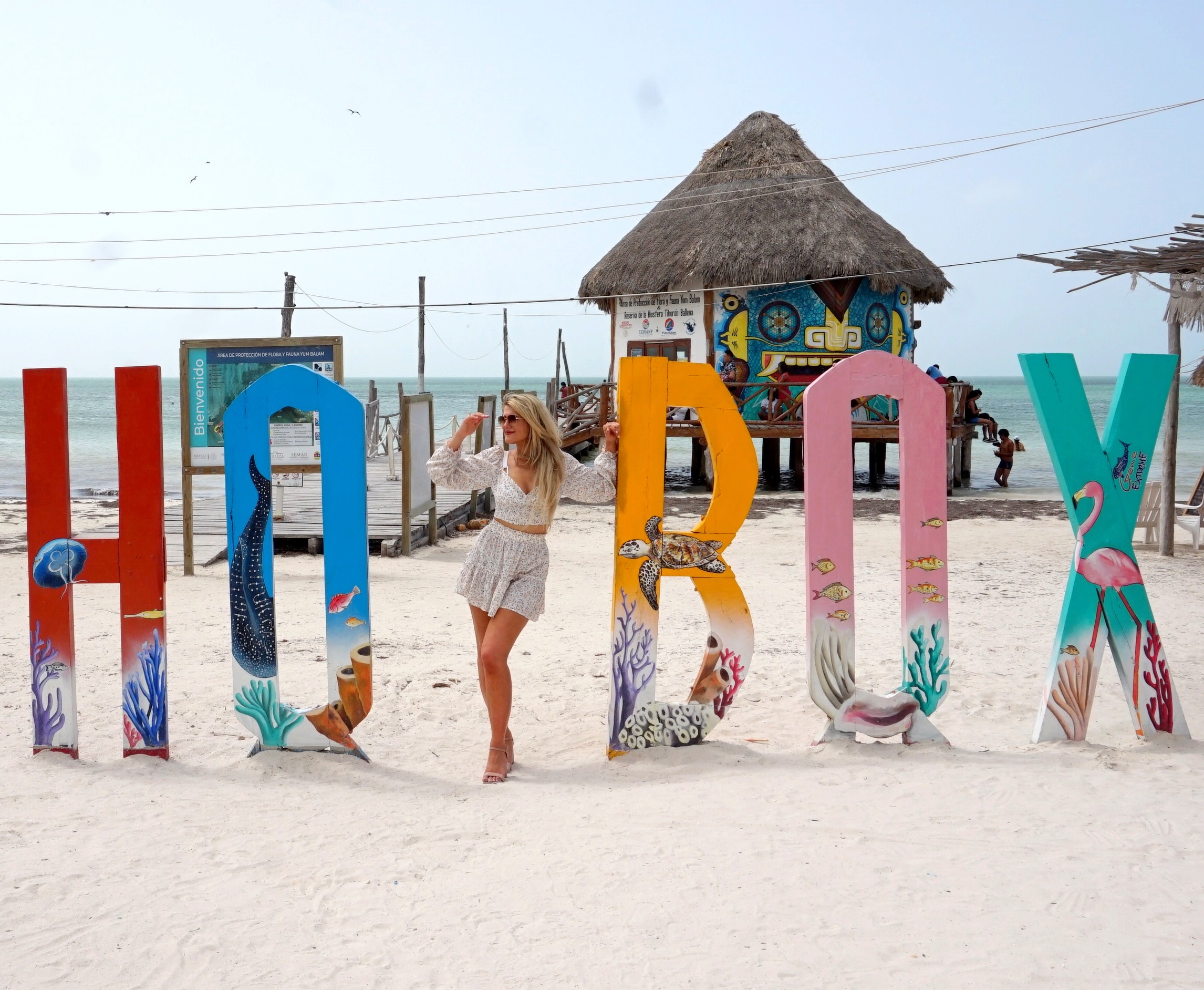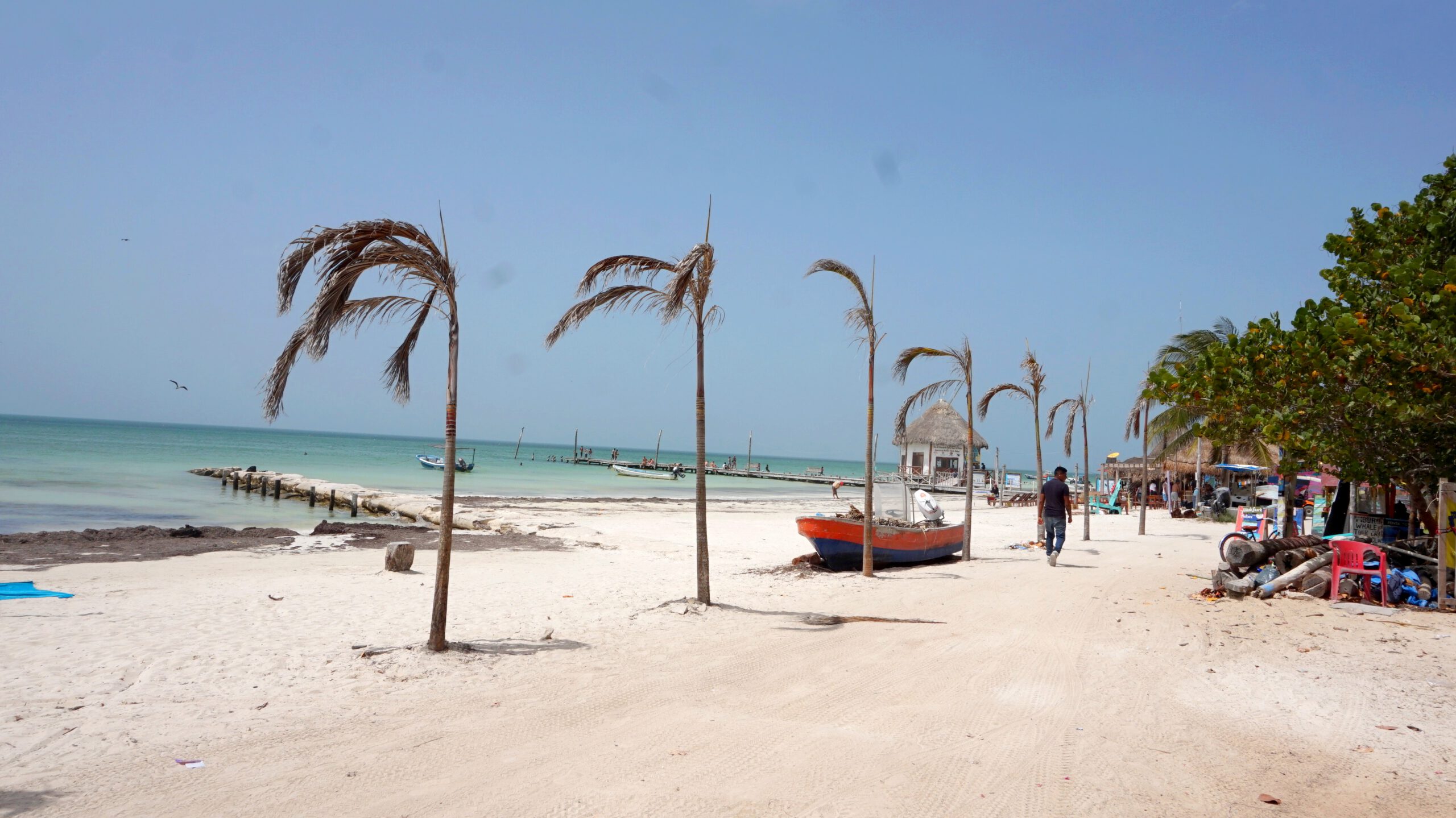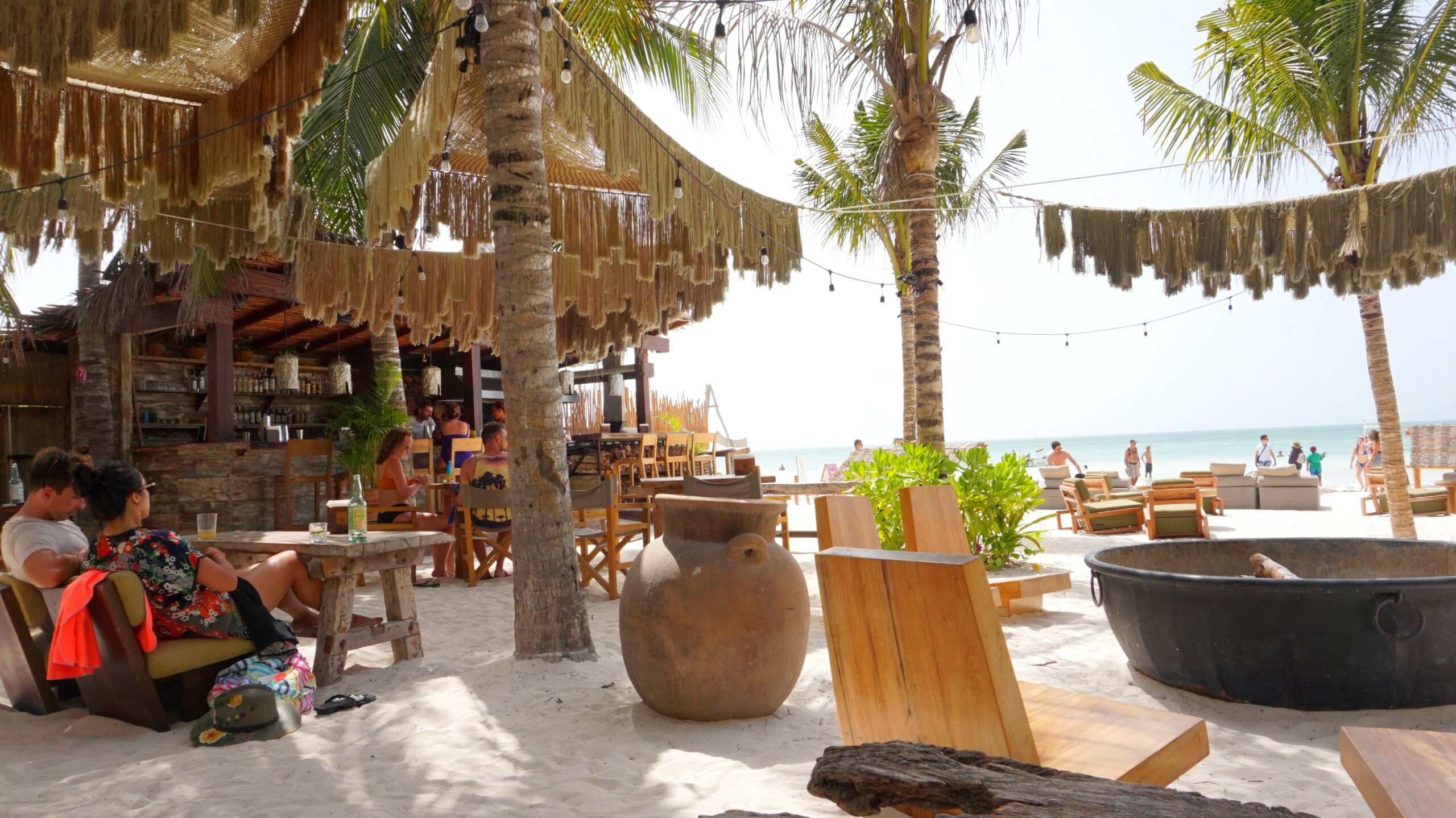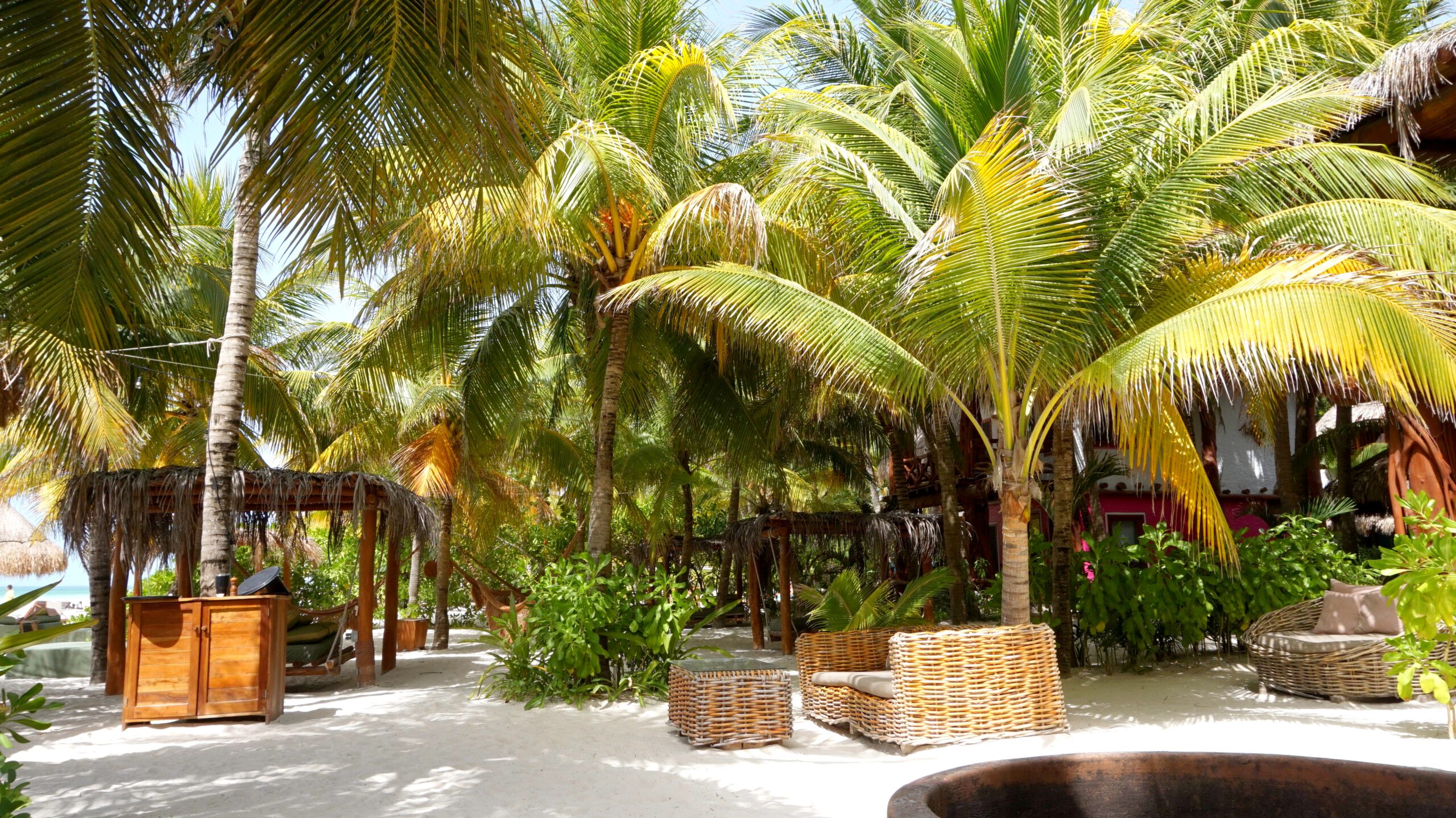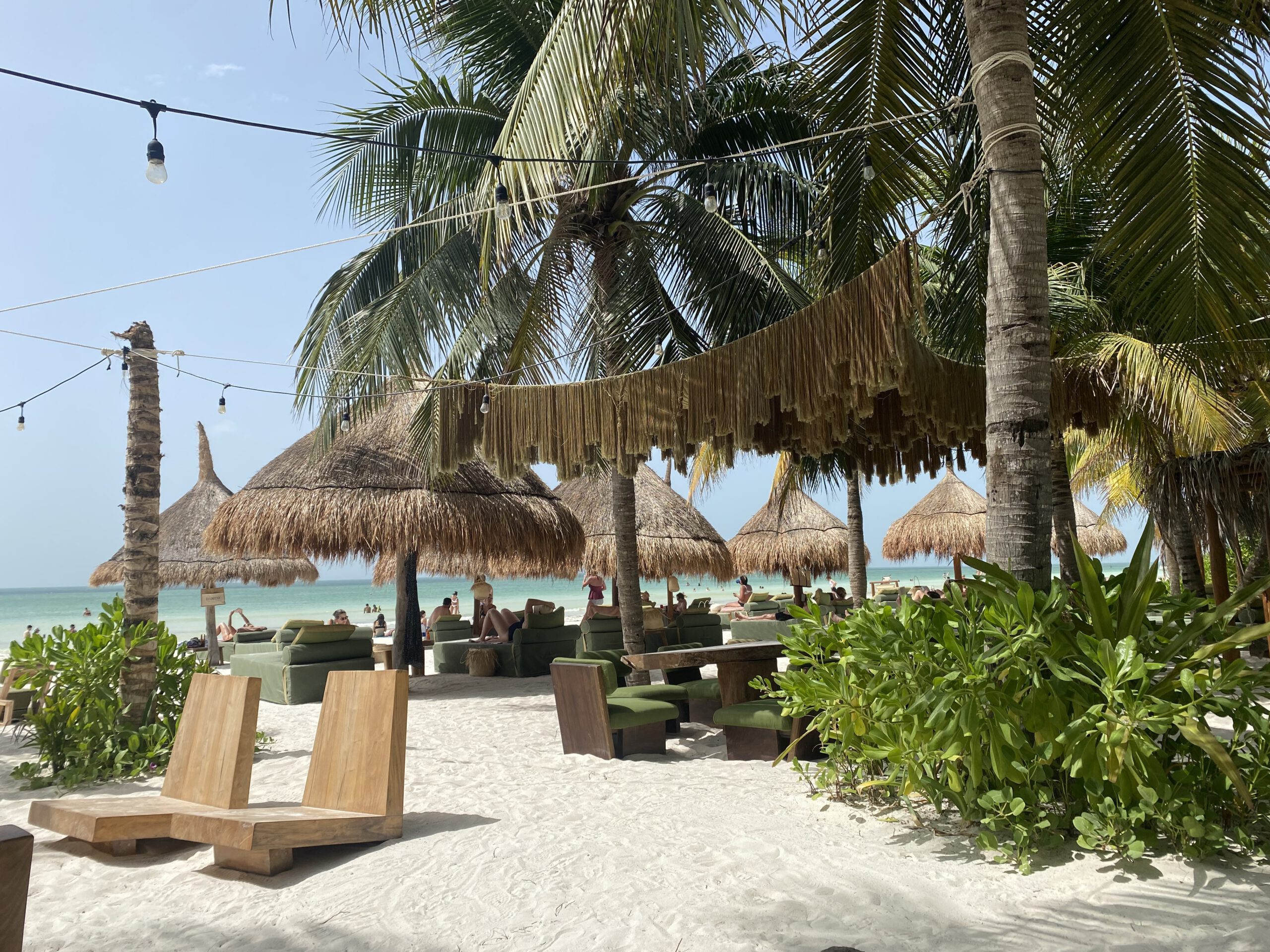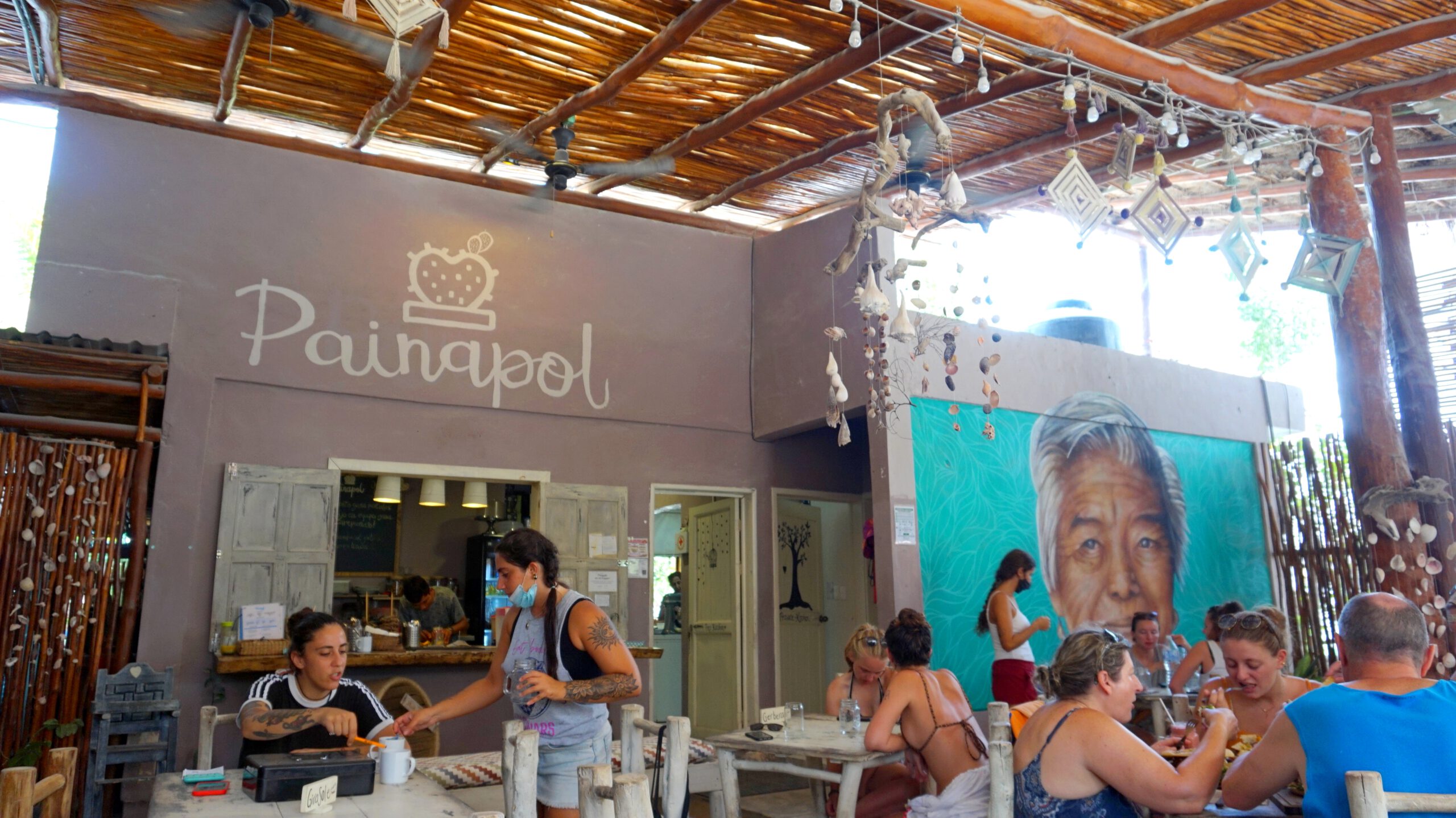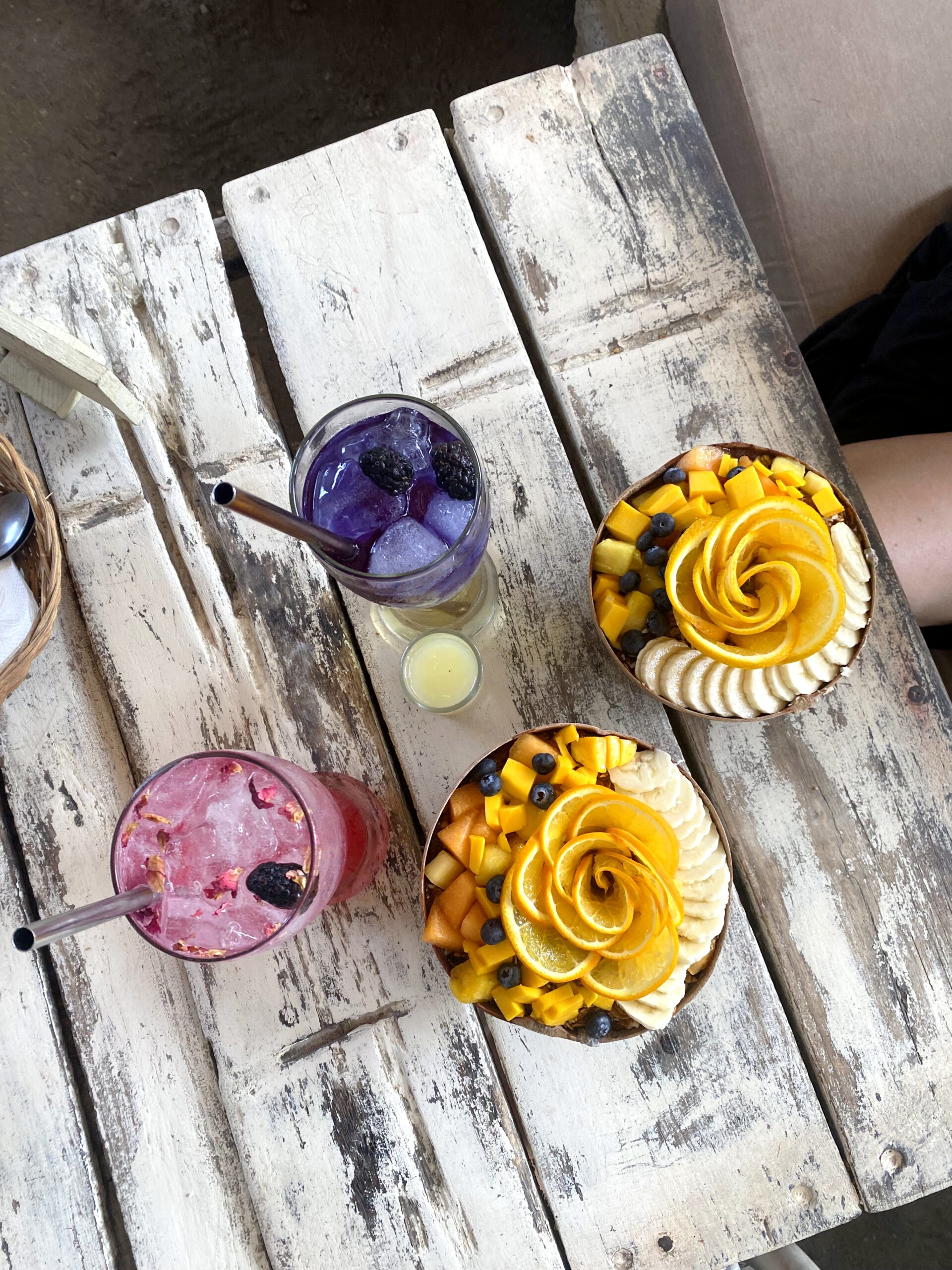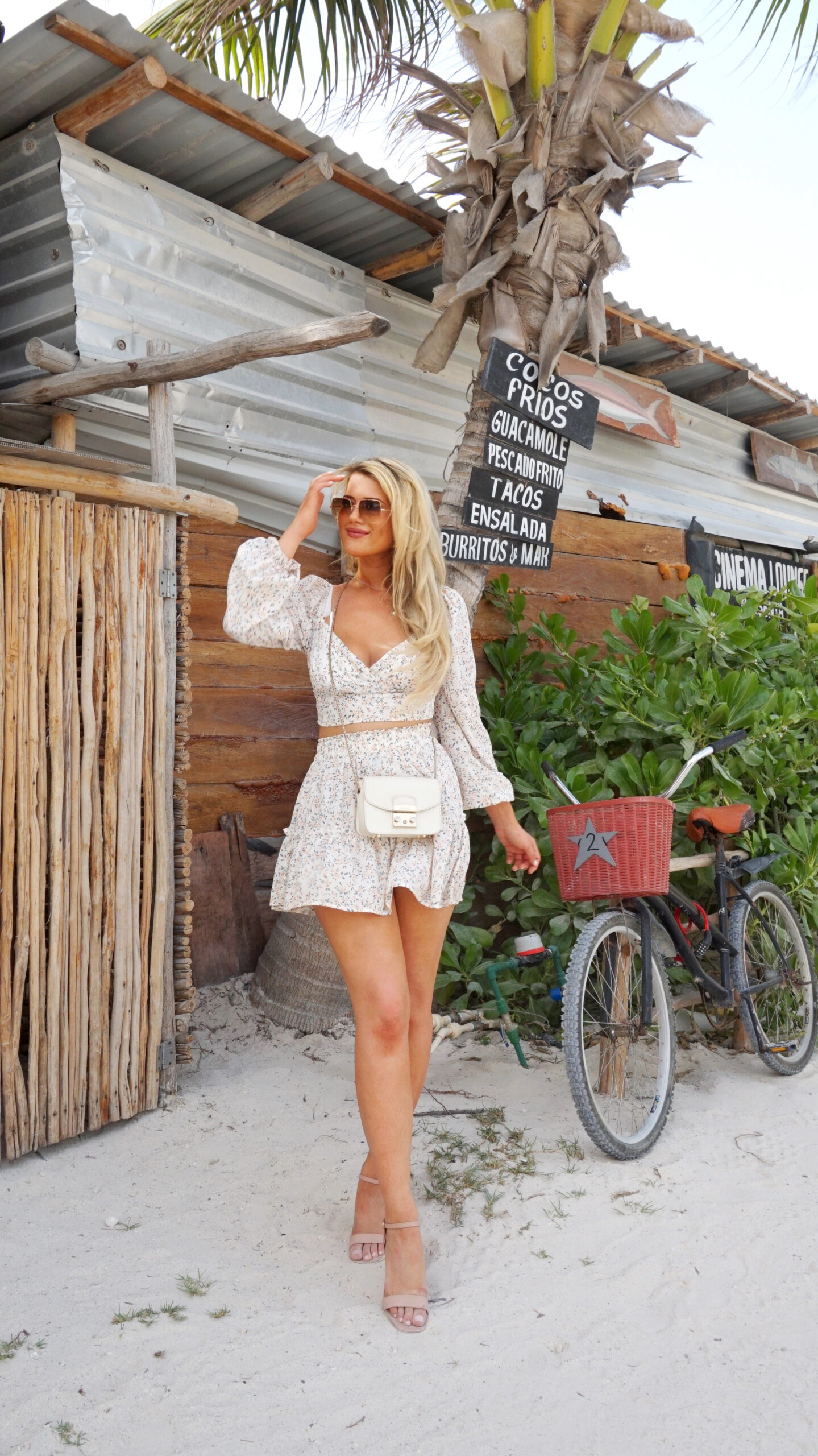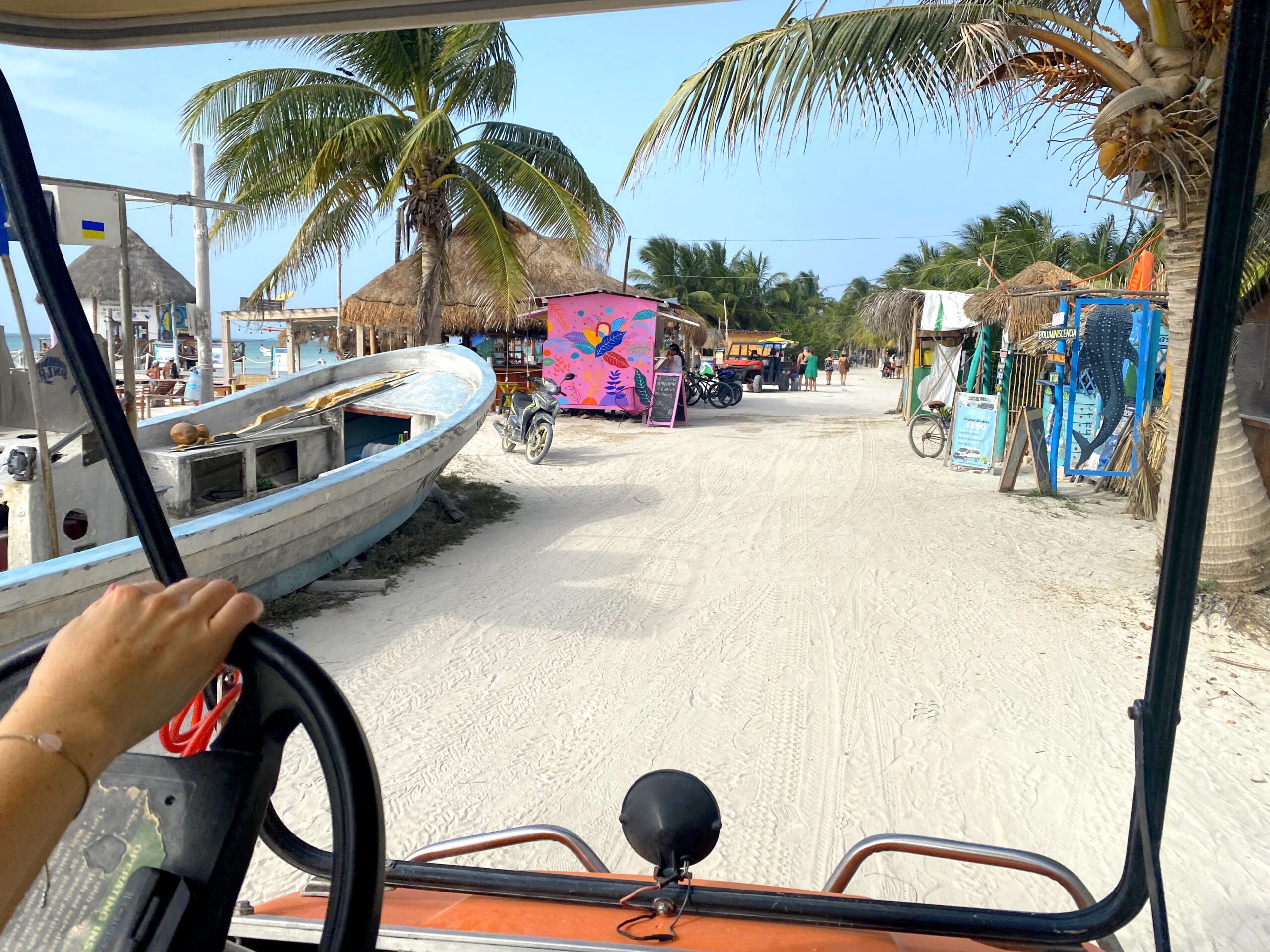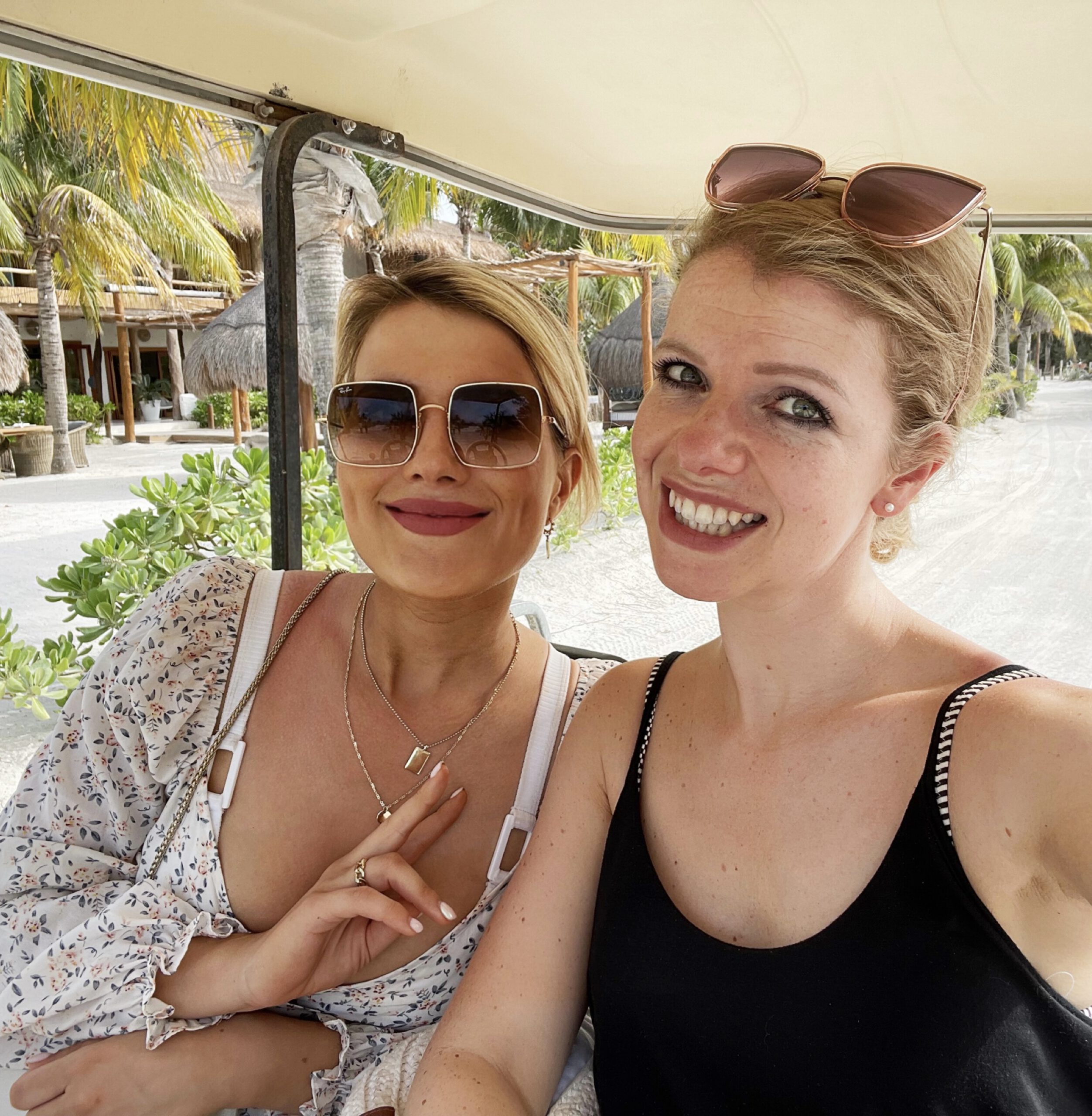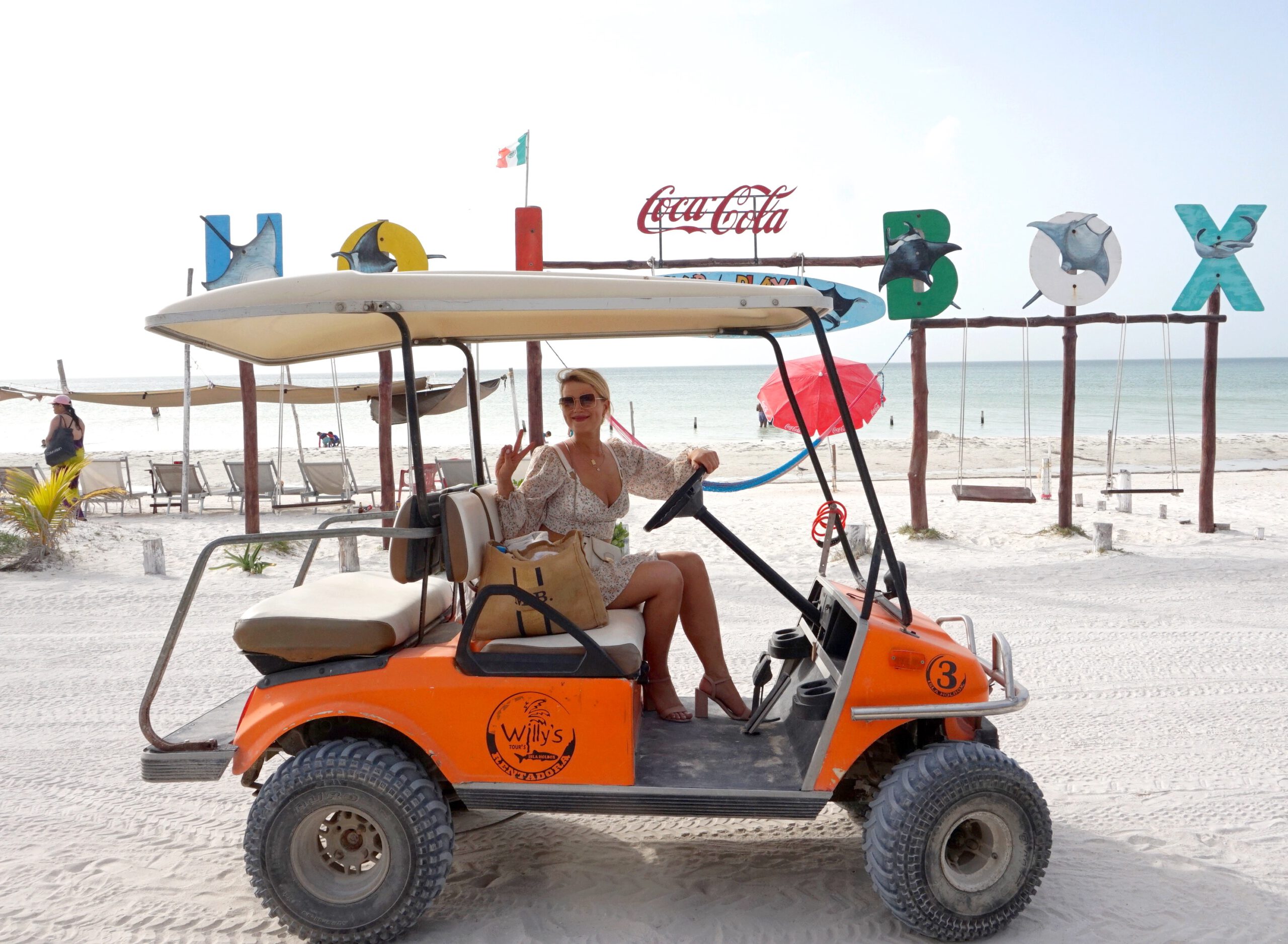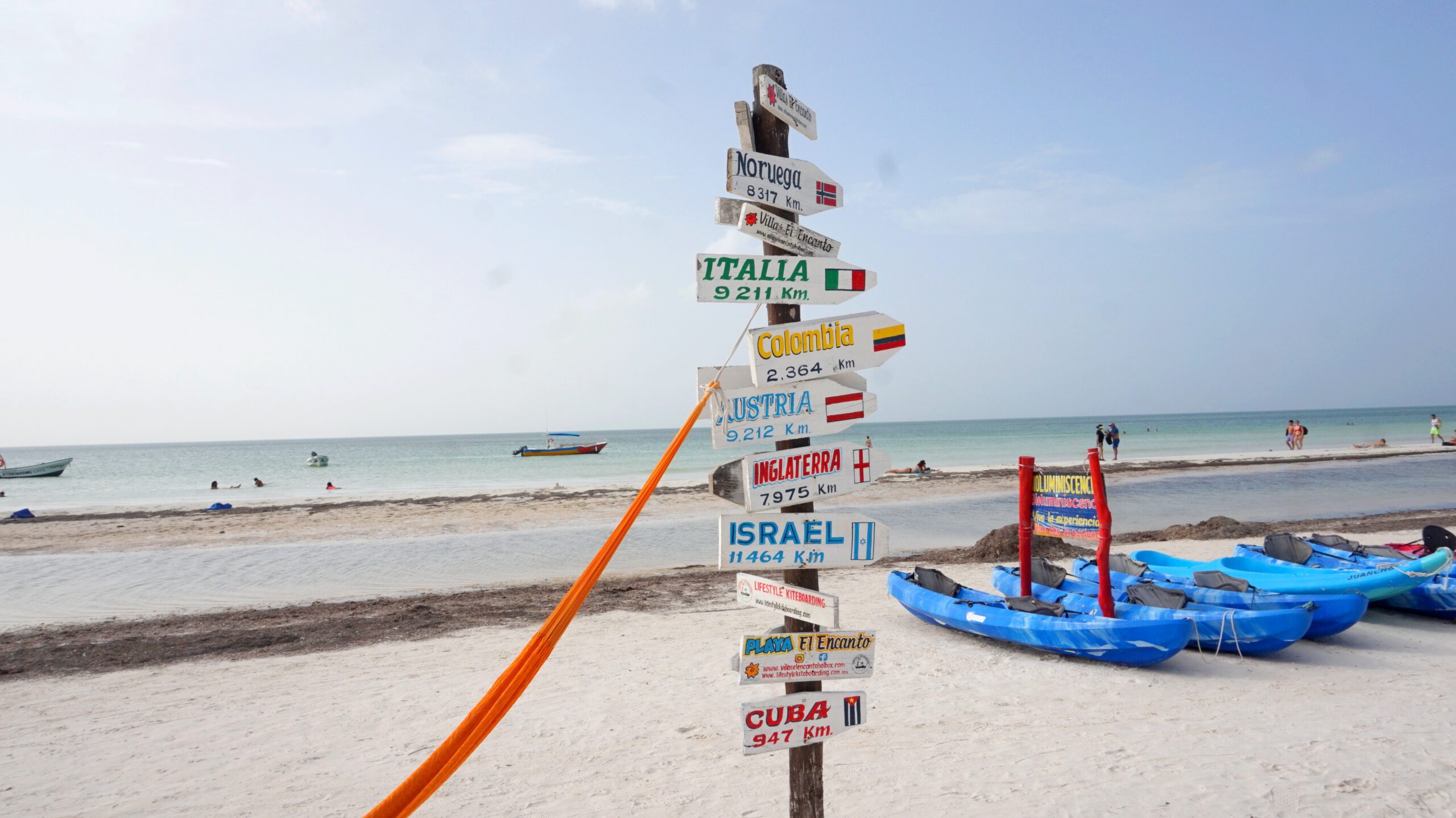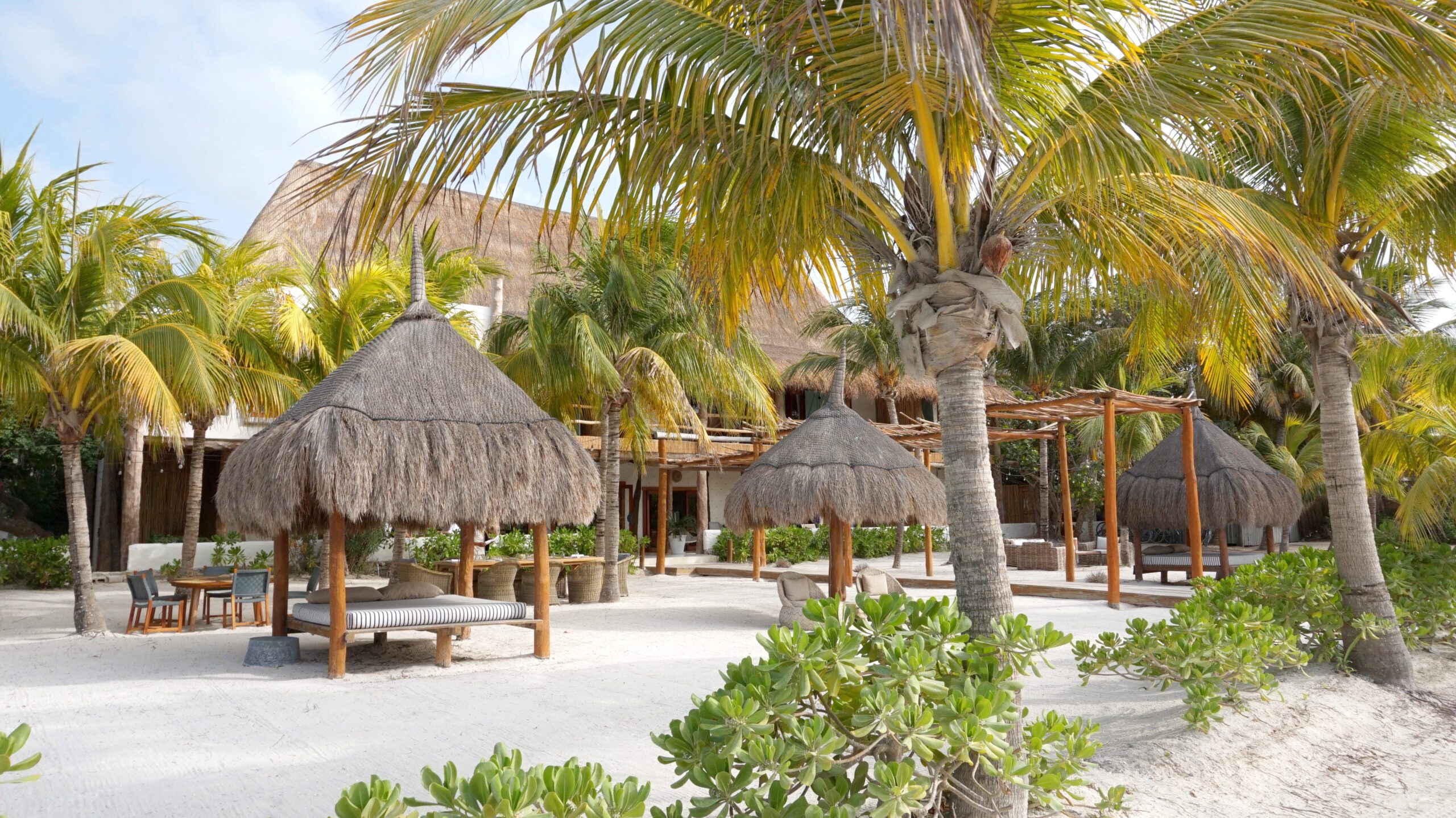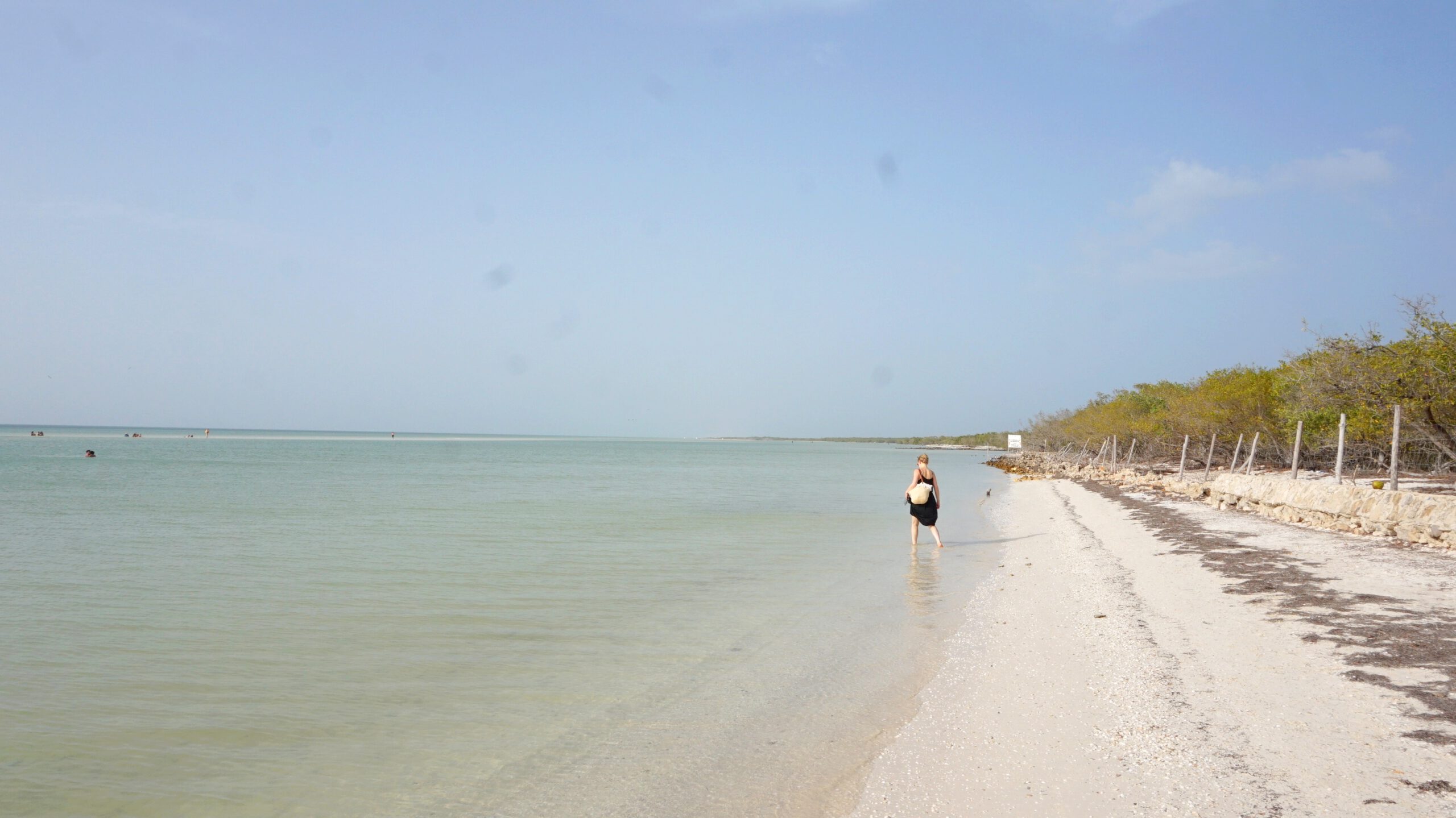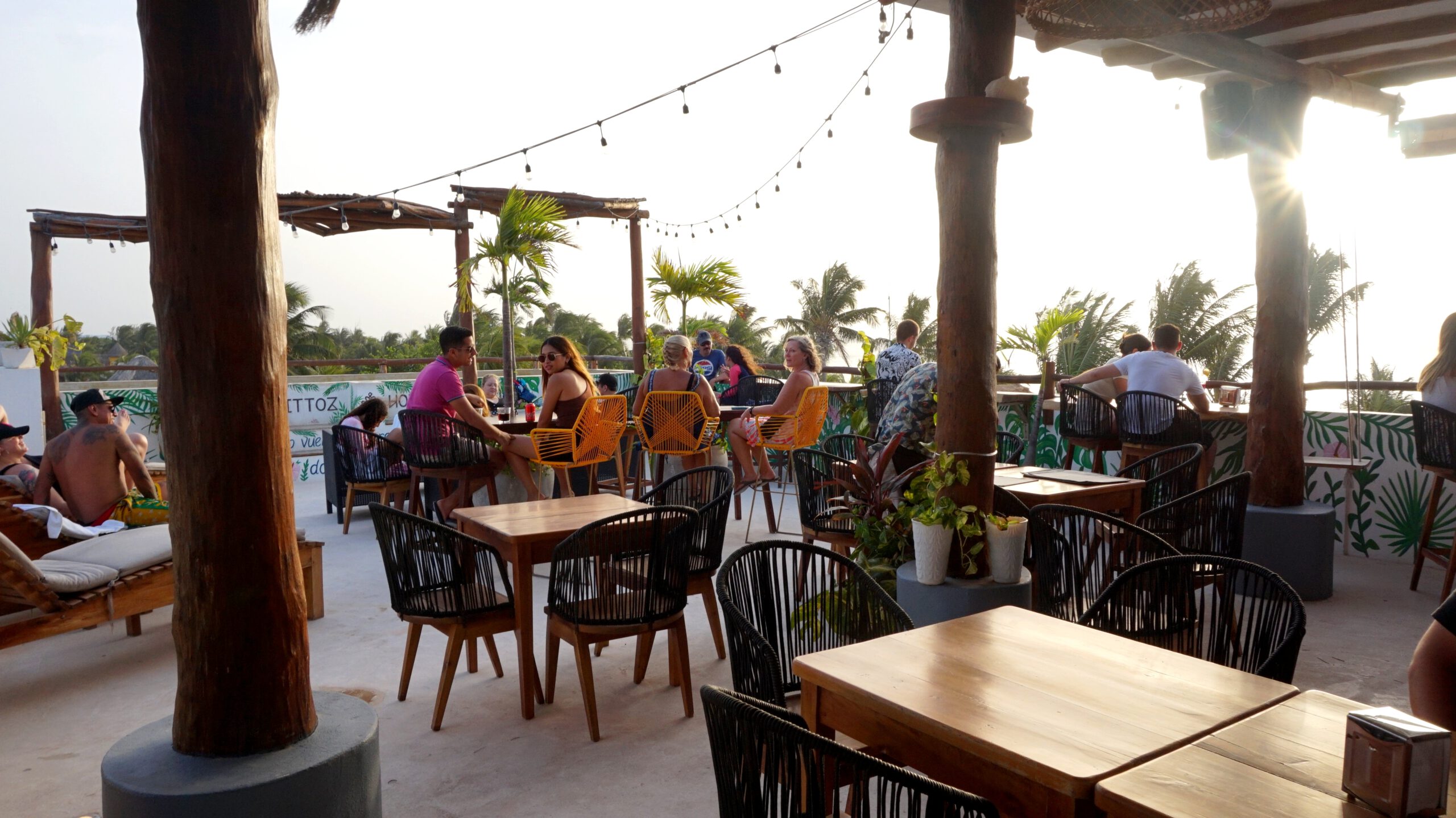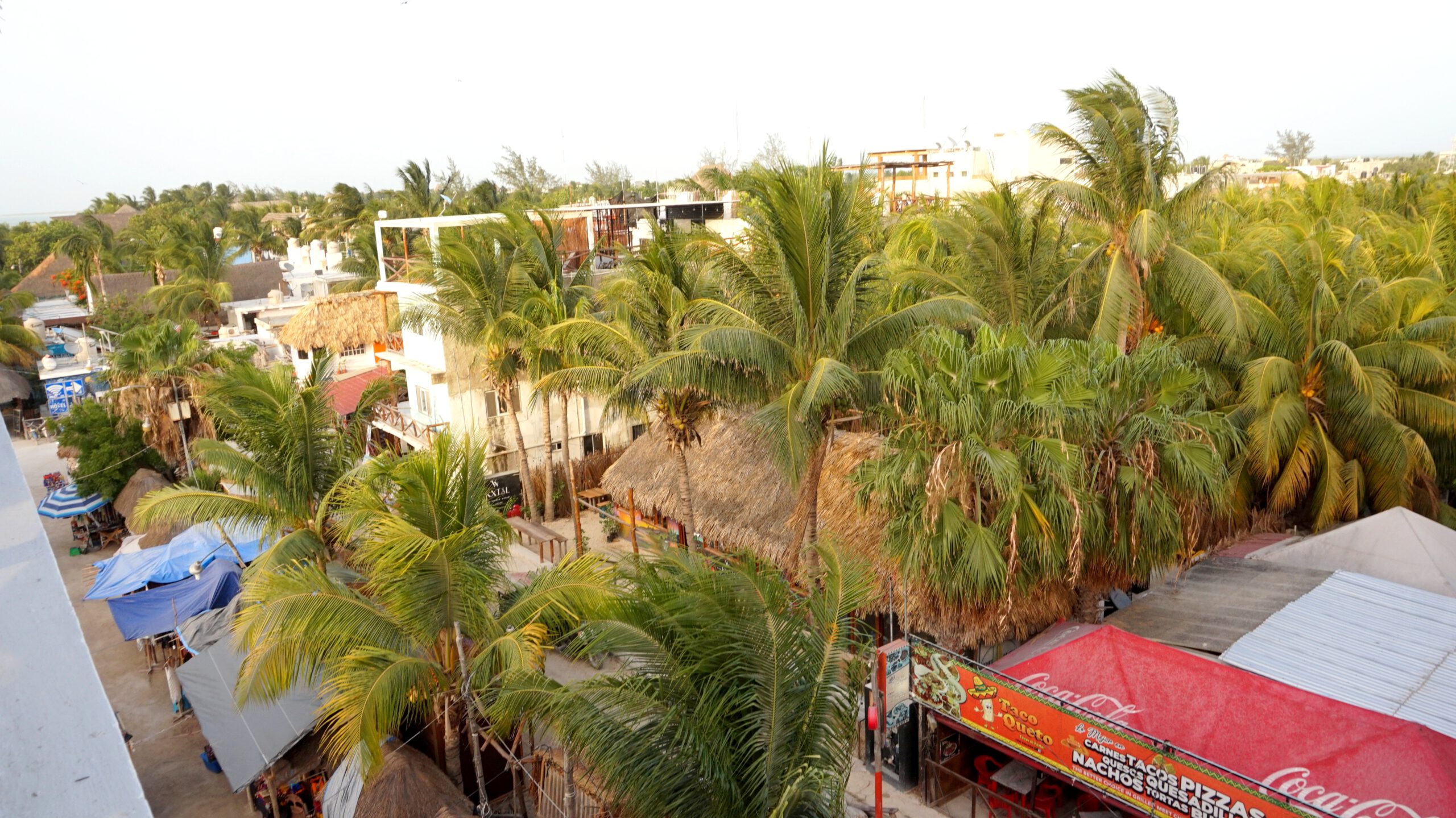 My general tips as a solo traveler here in Mexico: Bring enough cash, but not too much. A credit card is also your best friend! Book nice cozy highly regarded hostels, so that you are basically guaranteed to get to know other travelers. For example, I stayed at Selina in Playa – a hostel chain that you have at many locations. Be open and social and talk to people. Join hostel group activities. Be open to spontaneous plans and be flexible. Trust your intuition. Don't be afraid to be alone. Don't be afraid (to make the trip or on the spot) in general and just go! Get out of your comfort zone. Use the ADO bus as a means of transport as much as possible and otherwise possibly a taxi (negotiate with this in advance!). I didn't feel unsafe here at all. But always be alert and don't drink too much alcohol. See you soon in part 2 and 3 of my trip, where I will take you to Tulum – where I would continue the journey completely alone, Isla Mujeres and Cancun
Mijn algemene tips als solo reiziger hier in Mexico: Neem genoeg cash geld mee, maar niet te veel. Een creditcard is ook je beste vriend! Boek mooie gezellige hoog aangeschreven hostels, zodat je in principe garantie hebt dat je andere reizigers leert kennen. Ik sliep in Playa bijvoorbeeld in Selina – een hostel keten die je op veel locaties hebt. Wees open en sociaal en spreek mensen aan. Sluit je eventueel aan bij hostel groeps activiteiten. Sta open voor spontane plannen en wees flexibel. Vertrouw op je intuitie. Wees niet bang alleen te zijn. Niet bang zijn (de trip te maken of terplekke) en gewoon gaan! Ga uit je comfort zone. Gebruik als vervoermiddel zo veel mogelijk de ADO bus en anders eventueel een taxi (onderhandel hier wel mee van te voren!). Ik heb me overigens weinig onveilig gevoeld hier. Maar wees altijd alert en drink niet te veel alcohol. Tot snel in deel 2 en 3 van mijn reis, waar ik jullie meeneem naar Tulum – waar ik de reis compleet alleen naartoe zou voortzetten, Isla Mujeres en Cancun.