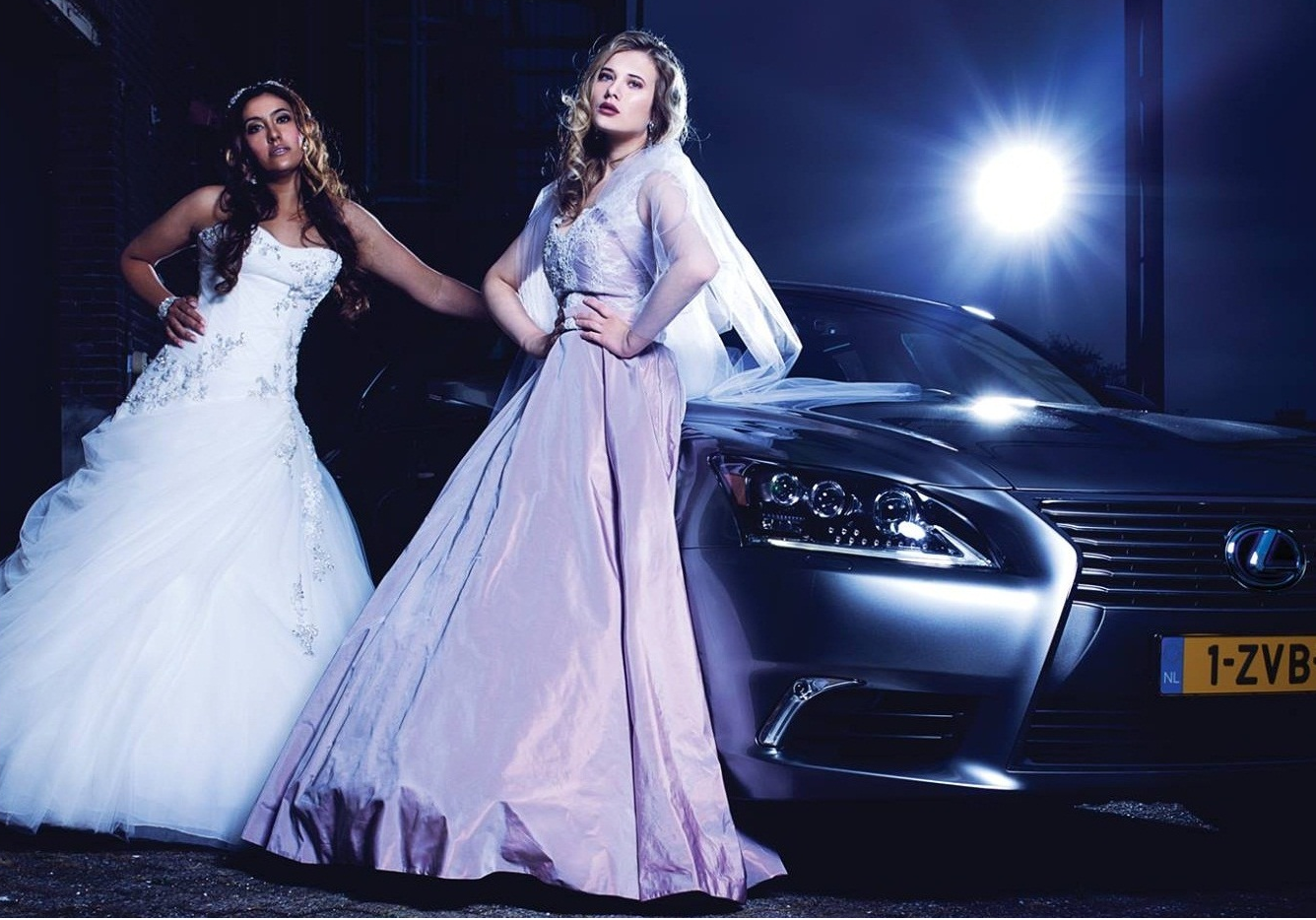 Welcome to my first event report. This report is about a fashion show I have been a part of, 'The Wedding'
F for Fashion is a yearly fashion show in Den Bosch, a quite big city in the Netherlands (also the city where I live) Created by Yvette (Vughts) and Sjoerd van Kampen.
The meaning of this show is to let (sometimes) insecure girls, girls with the dream of being a model, girls that have a certain special appearance/look and/or girls that have the potential of becoming a model but just don't have the right height, or the right size according to the fashion industry.
Welkom bij mijn eerste event report. Dit report gaat over een mode show waar ik in mee heb gelopen, 'The Wedding'
F for Fashion is een jaarlijke modeshow in Den Bosch, de stad waar ik leef. Opgericht door Yvette (Vughts) en Sjoerd van Kampen. De boodschap van deze show is om (bijvoorbeeld) onzekere meisjes, meisjes met de droom om model te worden, meisjes met een specifieke uiterlijk/uitstraling, en/of het potentieel hebben om model te worden maar helaas niet de juiste lengte of maat volgens de mode(llen)wereld hebben
The show was divided into three parts, two bridal fashion shows and a hair show to celebrate the 80 years of 'De Gruyter' hair couture. This report will show you the highlights of the bridal fashion part of the show of the designers 'La Clement' (Which I was the show opening model for), 'Le Michelle' and a few looks of the hair show.
De show was ingedeeld in 3 delen, twee bruidsmode shows en een haar show om het 80 jarige betaan van 'De Gruyter' hair couture. Dit artikel gaat je de highlights van de bruidsmode show laten zien van ontwerpster 'La Clement' (Waar de show mee begon, en ik als model als eerste voor liep) 'Le Michelle' en een aantal looks van de haar show.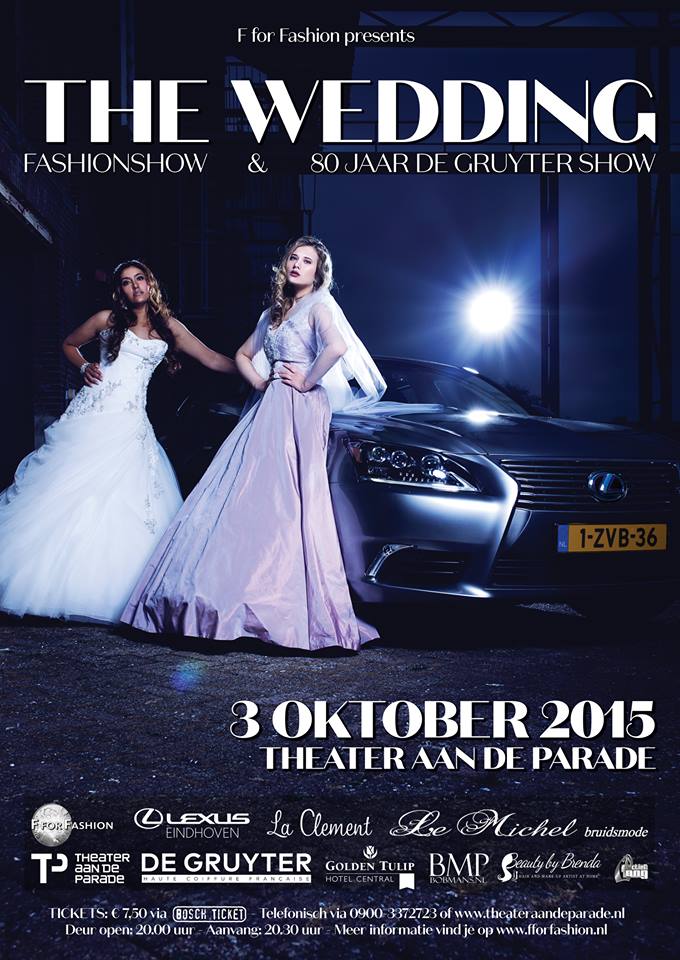 La Clement

The First show that started was the show of the designer Kitty LaClement.
She is a Dutch designer that uses alot of pastel coloured fabric and unique designs
Each of these dresses is handmade for all of the girls that you can see showing the dresses here.
The show started with me that had to open the show of 2015 with the pastel lilac dress
which is also featured on this year's promotional posters and flyers which were spread through Den Bosch and
cities in the area.
De eerste show die begon was de show van ontwerpster Kitty LaClement. Ze is een Nederlandse ontwerper die veel pastel kleurige materialen en stoffer gebruikt in haar unieke ontwerpen. Ieder van deze jurken is hand gemaakt op maat voor ieder model dat voor dit deel van de show loopt. De show begin met mij, met de pastel pa
arse jurk die ook te zien is op de promotie posters en flyers van dit jaar, verspreid door Den Bosch en wat omliggende plaa
tsen.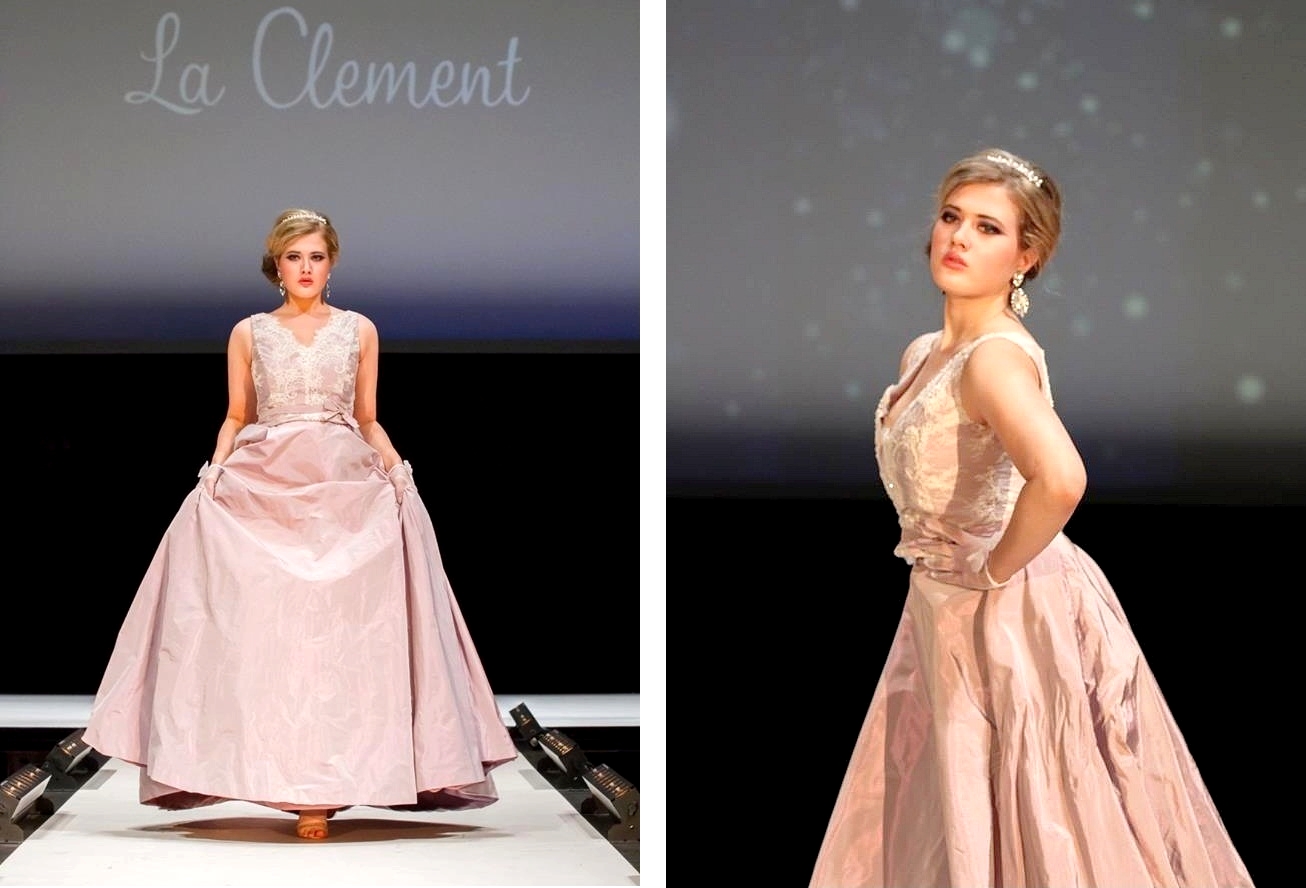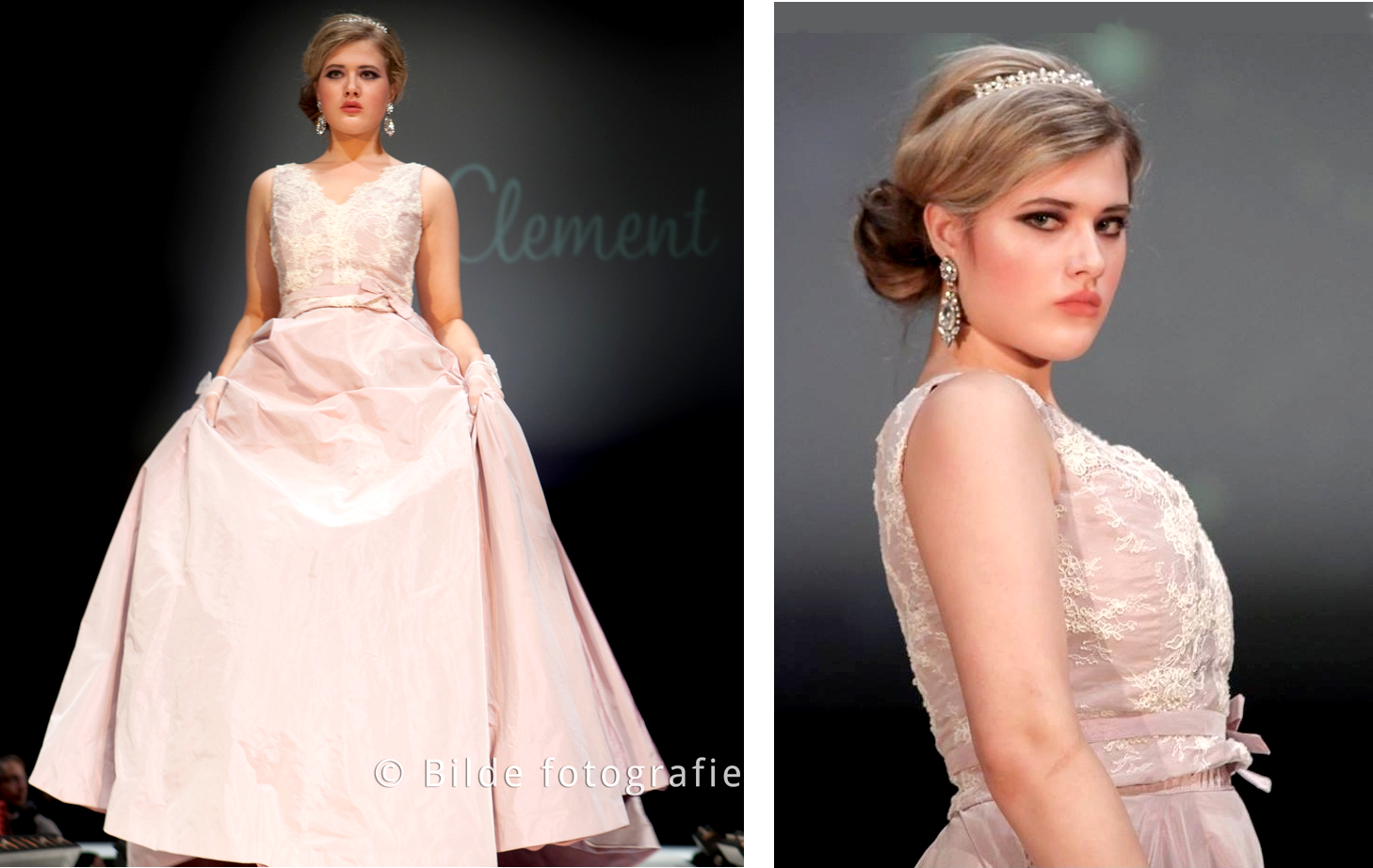 Model Mandy (me), with a lilac pearl-like fabric dress with white lace and pearl details spread over the bust.
Model Mandy (ik), met een lila parelmoer-like jurk, met een lila buste met wit kant samen met kleine pareltjes verspreid.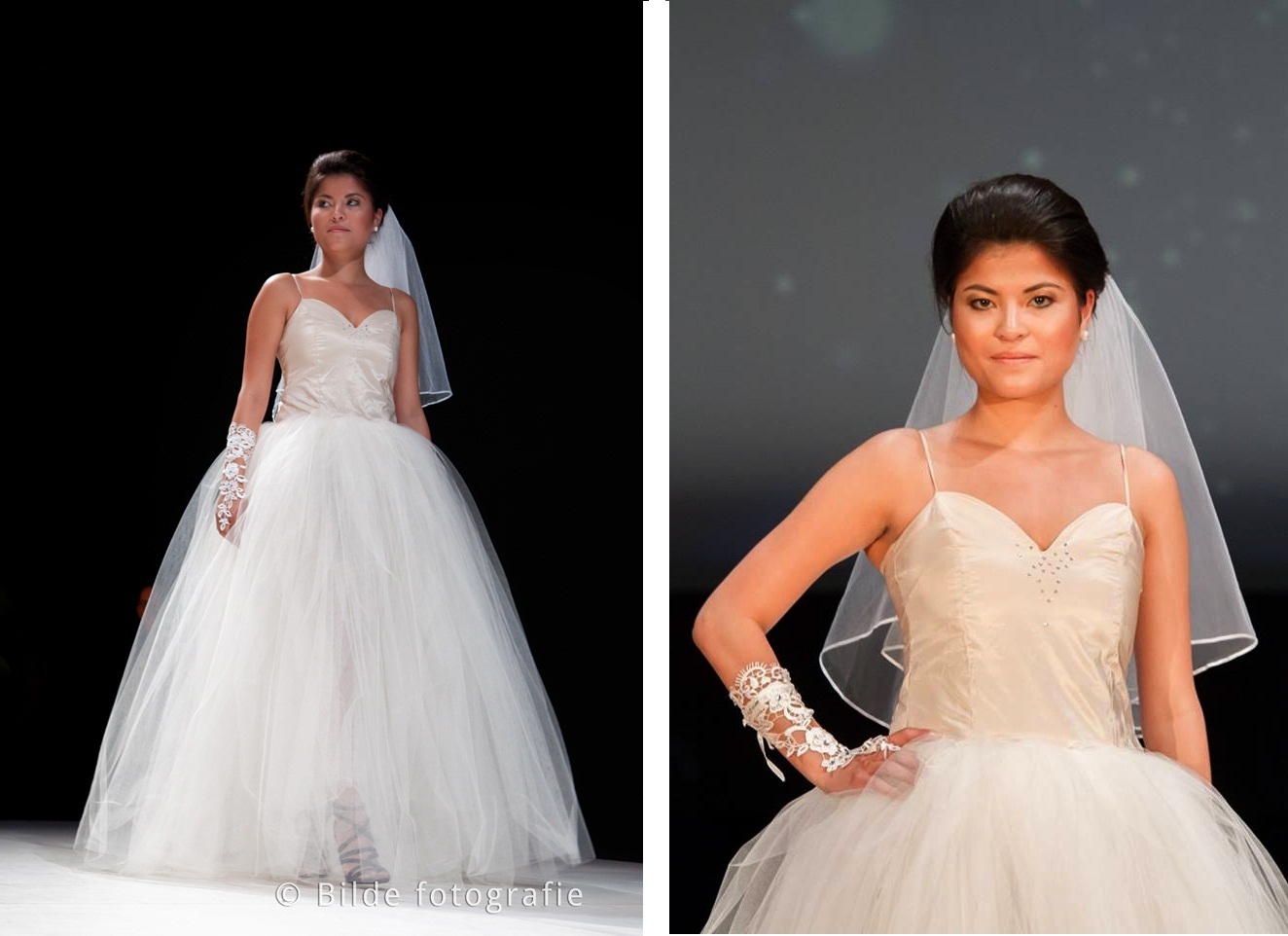 Model Joelle with a cream coloured and white combined dress with a partly see through fabric underpart. 
Model Joelle met een crème kleurige gecombineerd met wit gekleurde jurk, Met een doorzichtige stof onderkant.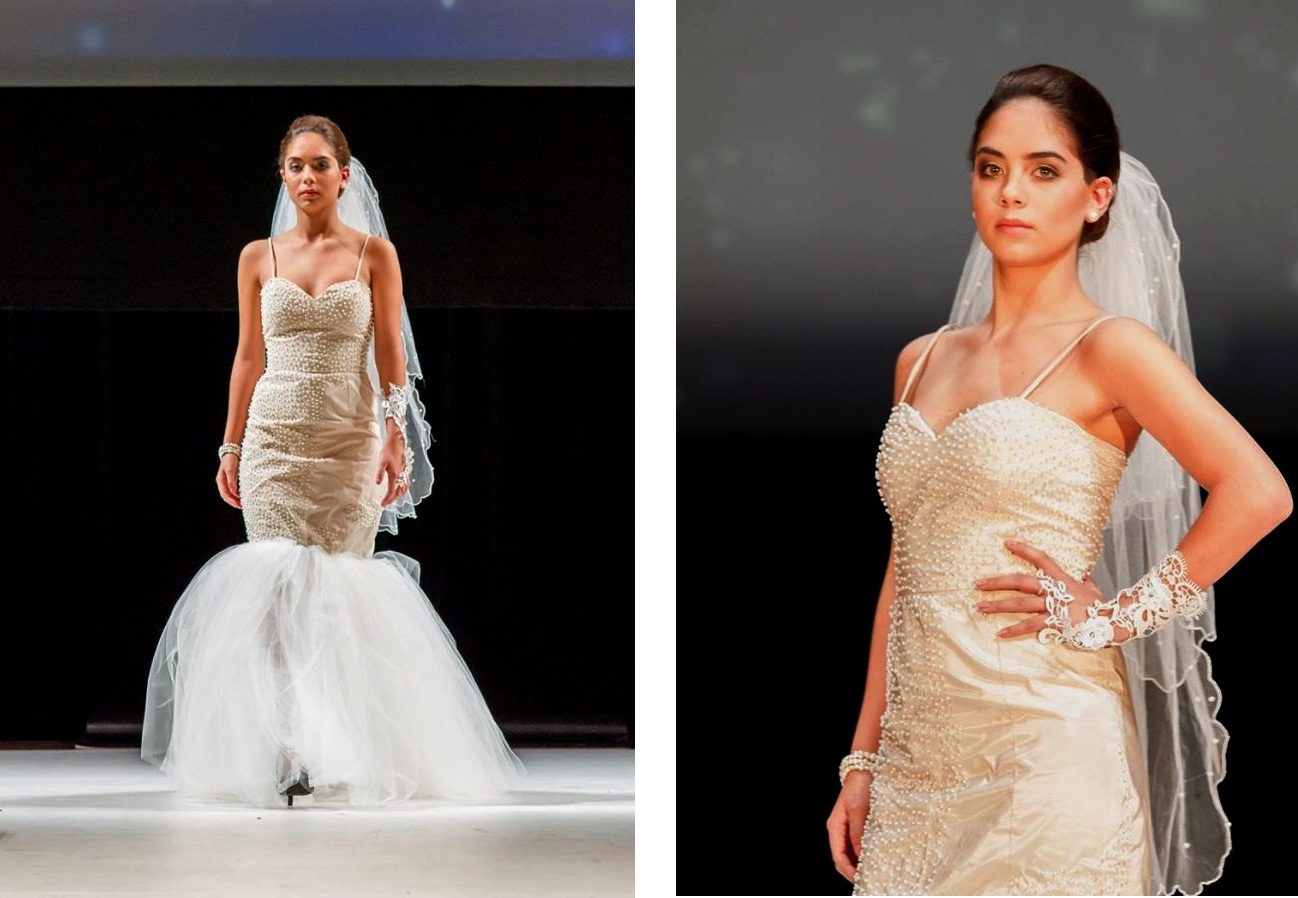 Model Iris with a beautiful mermaid champagne coloured dress with alot of pearls spread over it. 
Model Iris met een prachtige mermaid dress in de kleur champagne, met een hoop parels verspreid over de gehele jurk.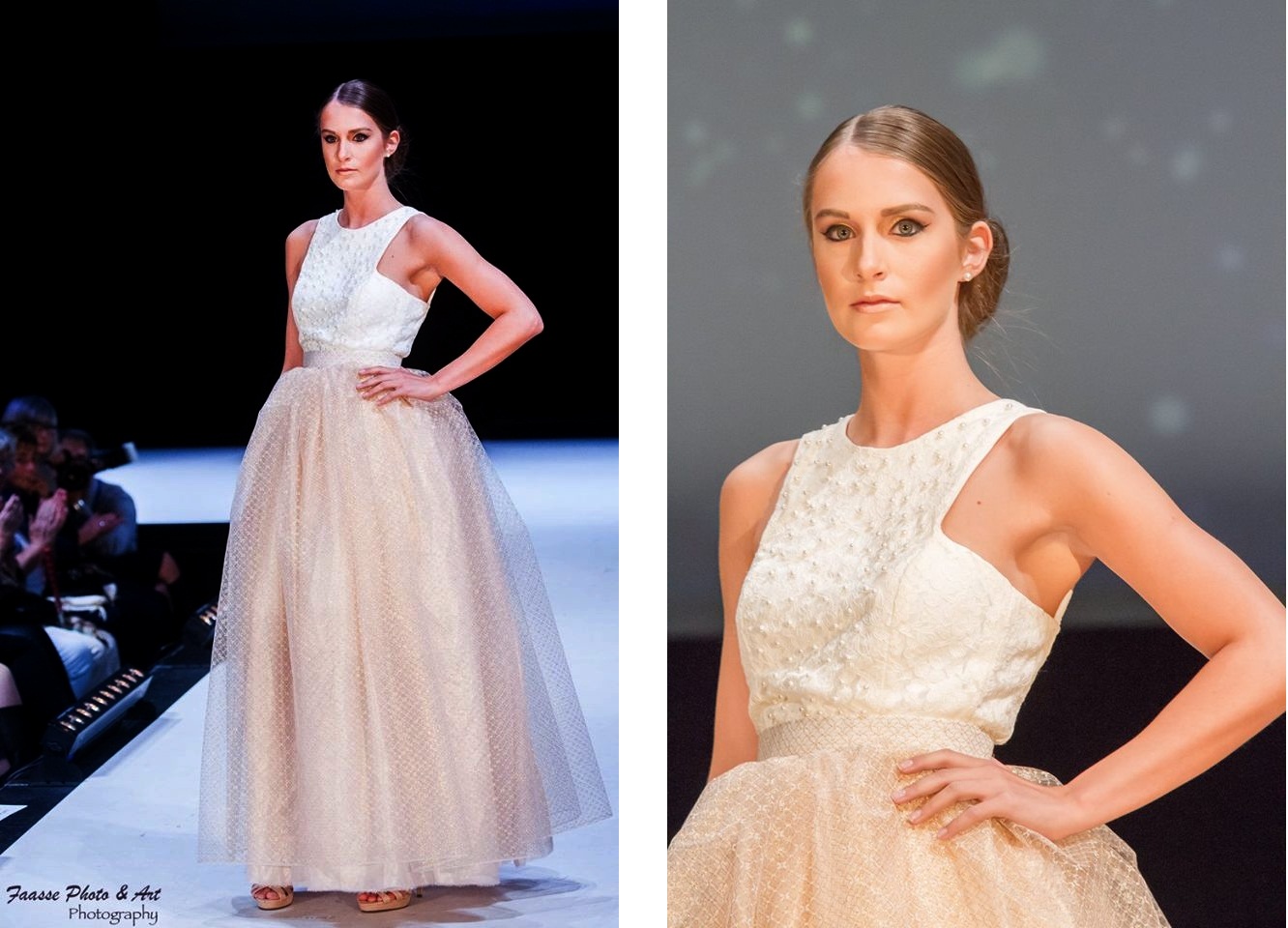 Model Melissa with a two coloured multifunctional dress, the white part is actually a part of a smaller dress underneath the skirt part. The skirt part has a soft pink color and the top is white with pearls.
Model Melissa met een jurk dat verdeeld is in twee onderdelen, het witte deel is eigenlijk een deel van een kortere jurk die er onder zit. Het rok gedeelte heeft een zacht roze kleur en de bovenkant is wit met parels.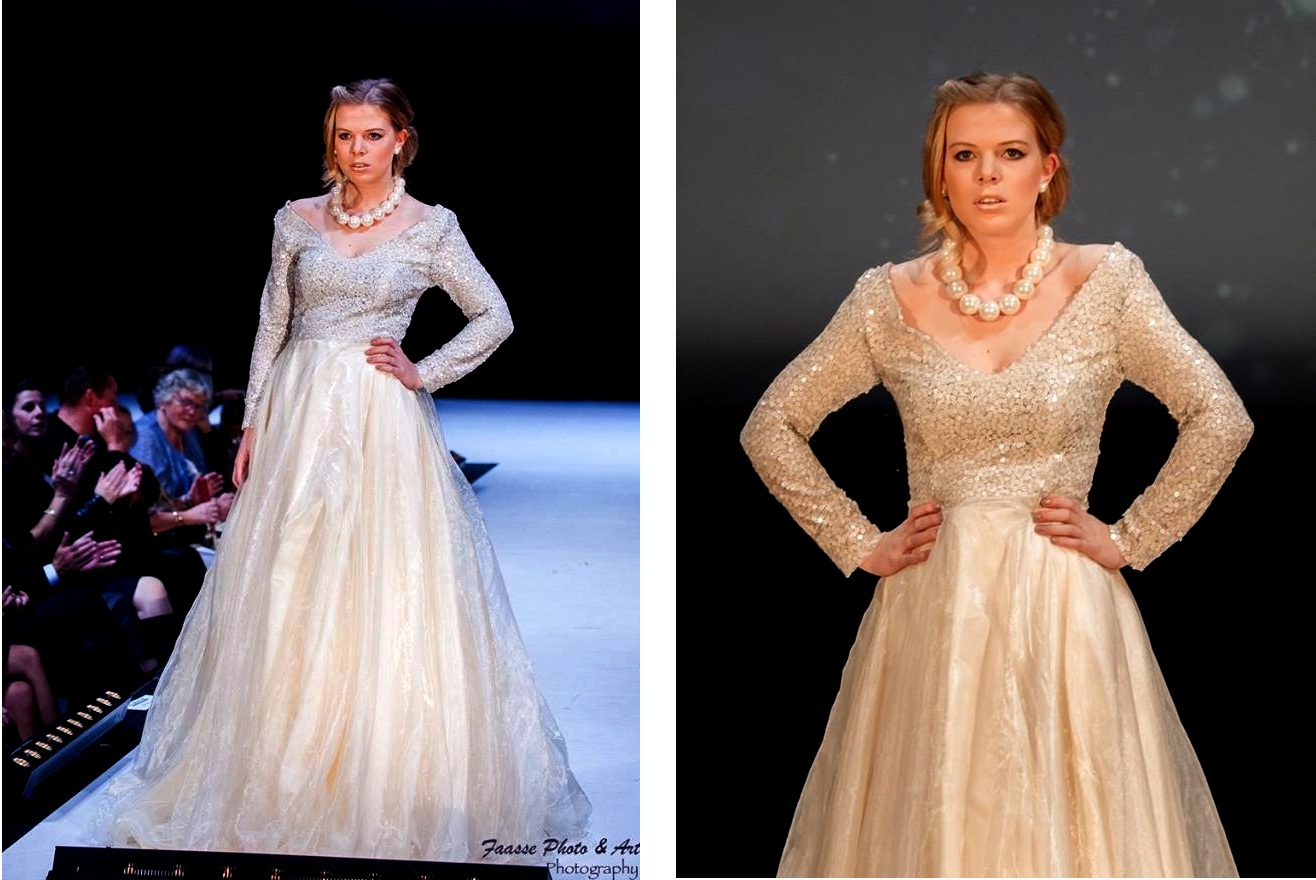 Model Marlin with a white/grey dress with a V neck, sleeves and a total sequin upper dress part.
Model Marlin met een wit/grijze jurk met een V neck, mouwen en een totaal met pailetten gevulde bovenkant.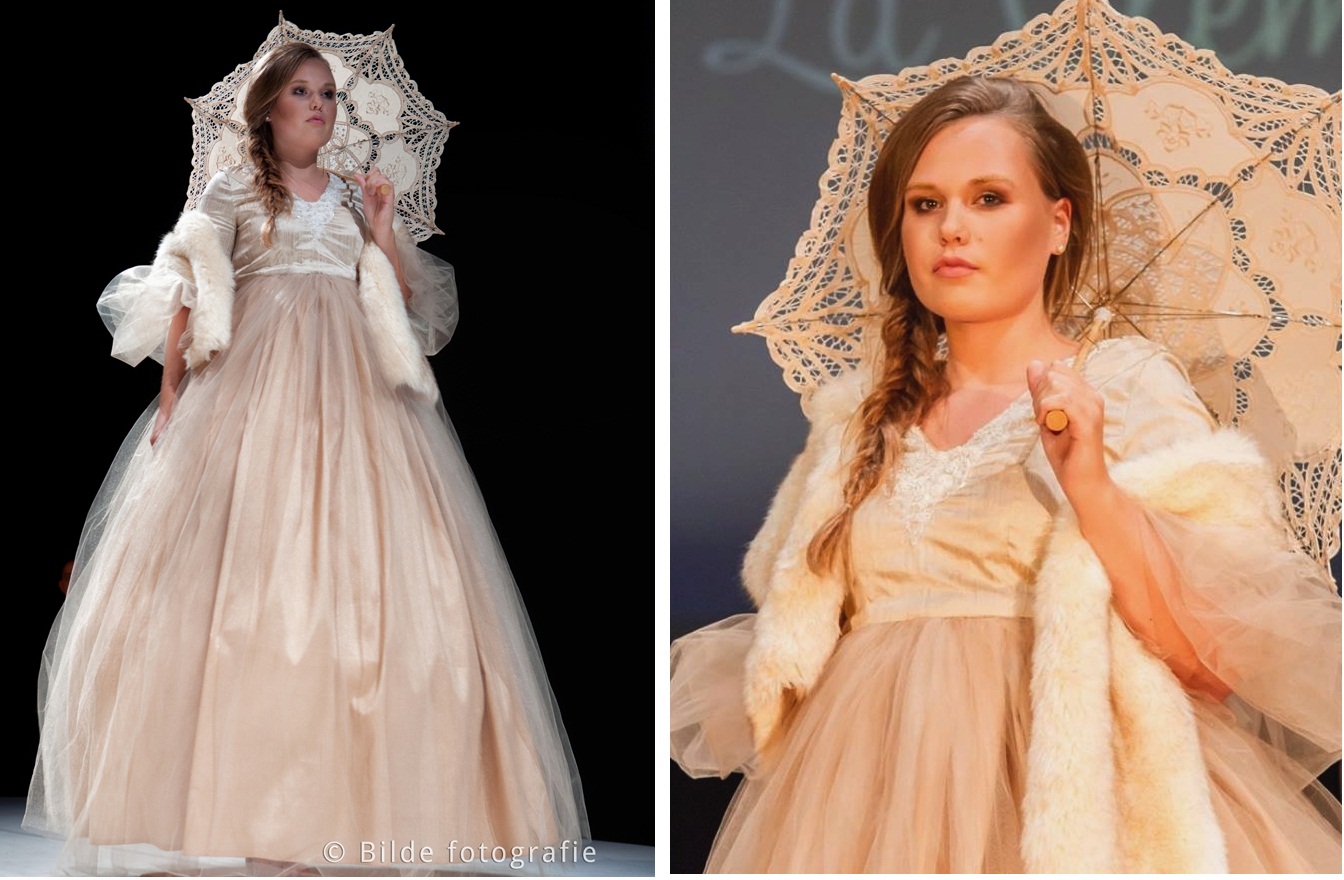 Model Nynke with a peach/dust pink coloured victorian inspired wide dress.
Model Nynke met een victoriaanse style jurk met een perzik en poeder roze gecombineerde kleur.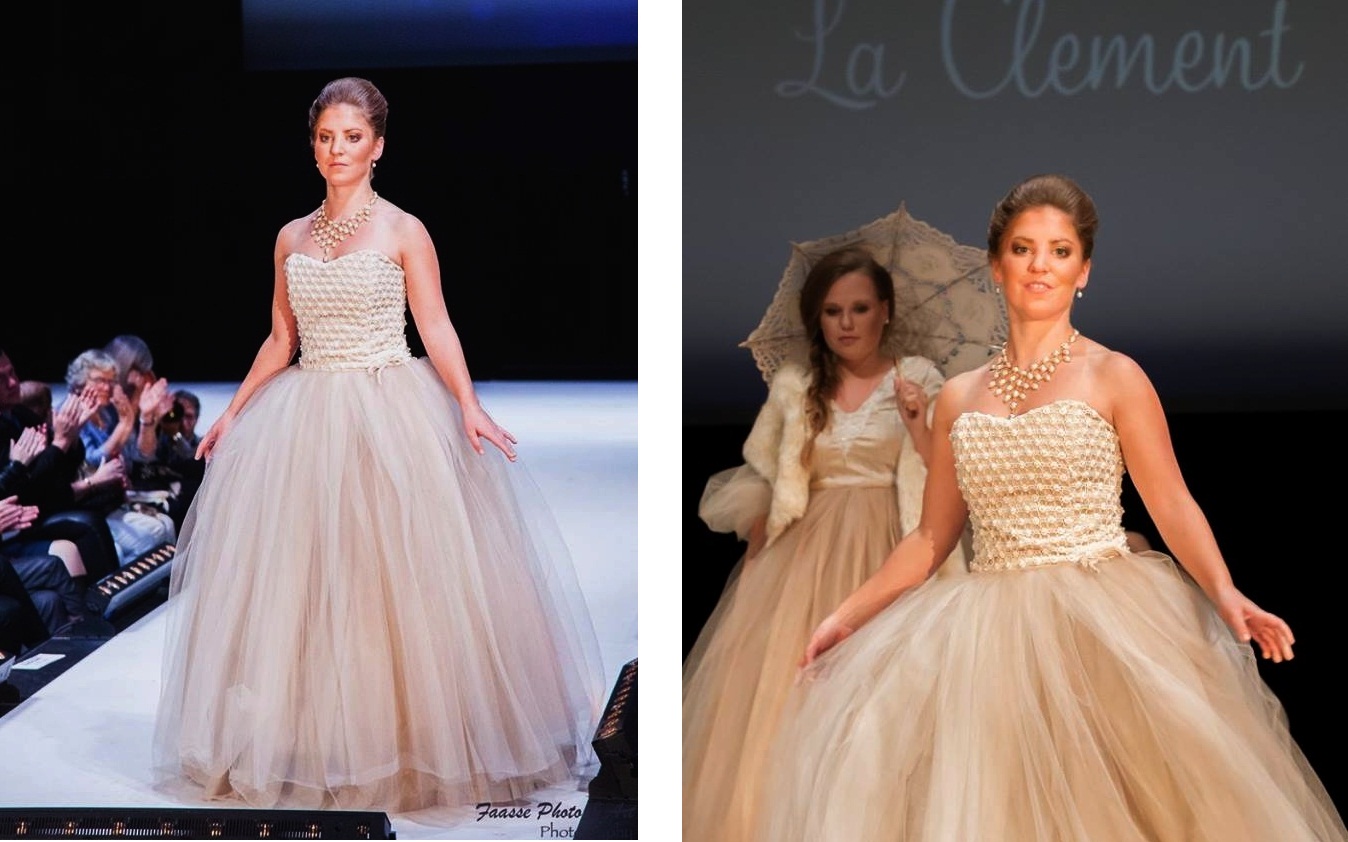 Model Elske with a knit-like pearl detailed heart shaped upper part and a dust pink coloured under part.
Model Elske met een gebreid detail hart vormige buste onderdeel met parels, en een poeder roze onderkant.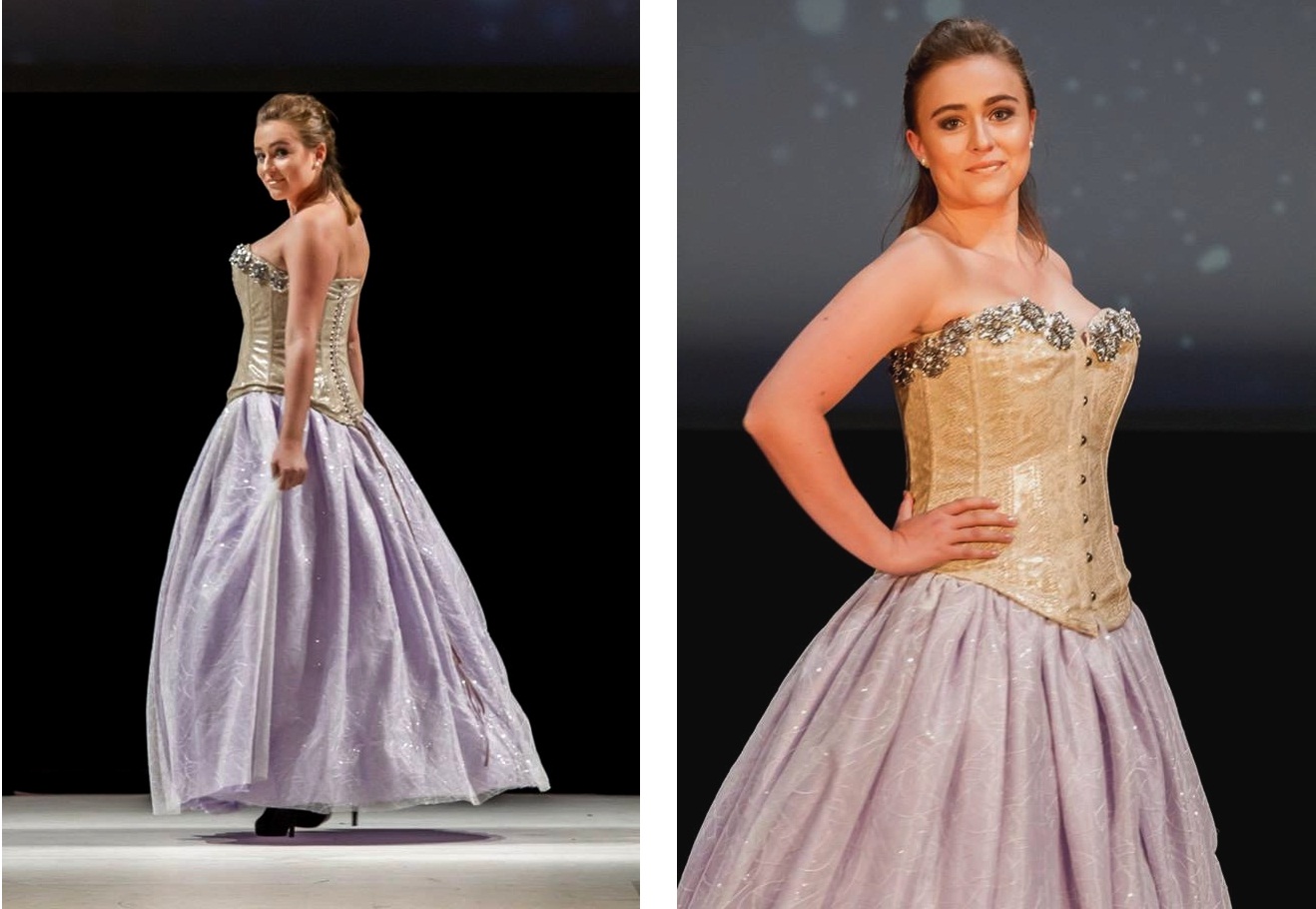 Model Imme with a lilac shining dress with a champagne coloured victorian corset with metal flowers.
Model Imme met een lila paarse glanzende jurk met een champagne-kleurig victoriaans corset vol metalen bloemen.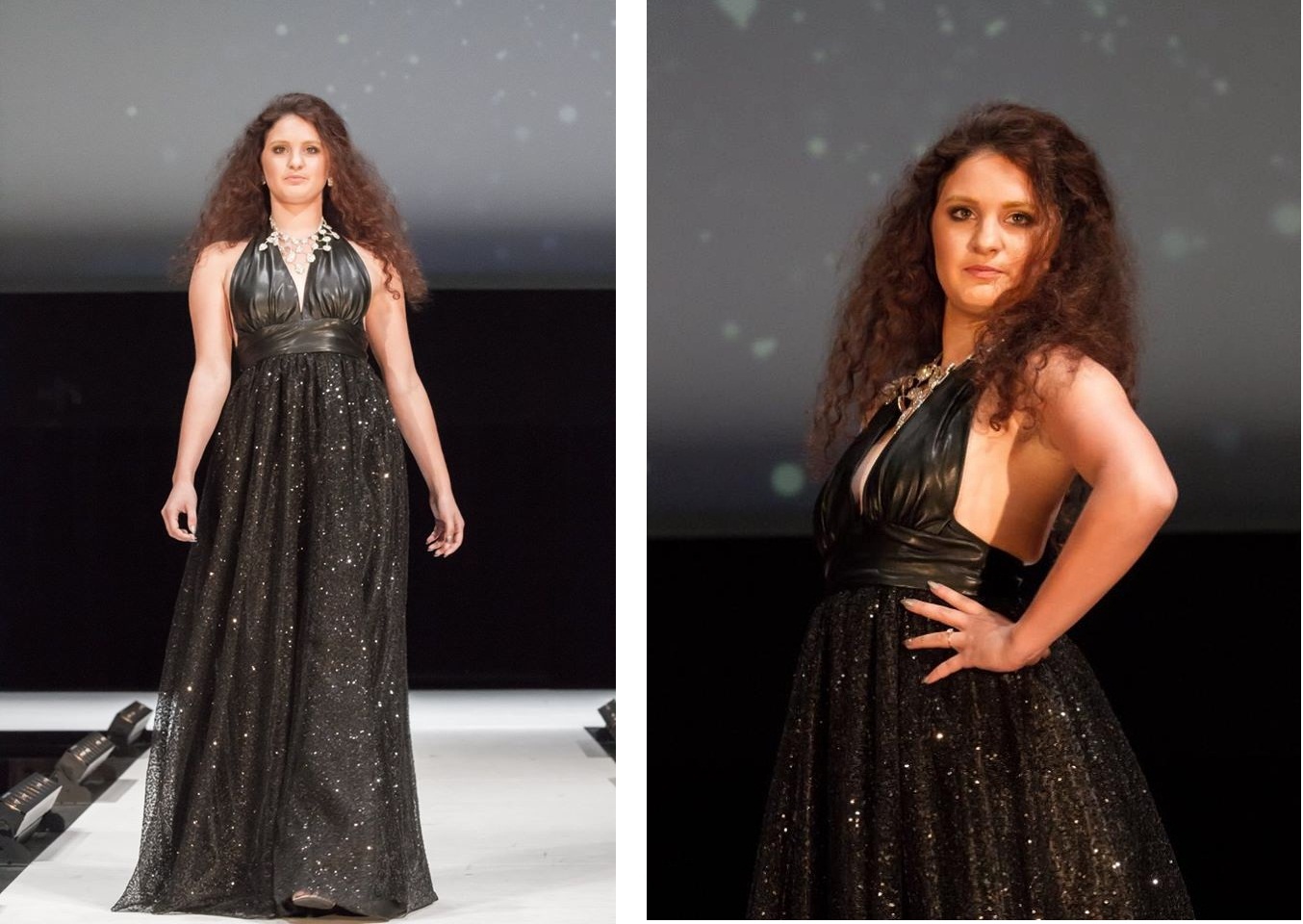 Model Fatma with a black leather and glitter hollywood inspired dress.
Model Fatma met een zwarte leer-look en glitterende hollywood-inspired jurk.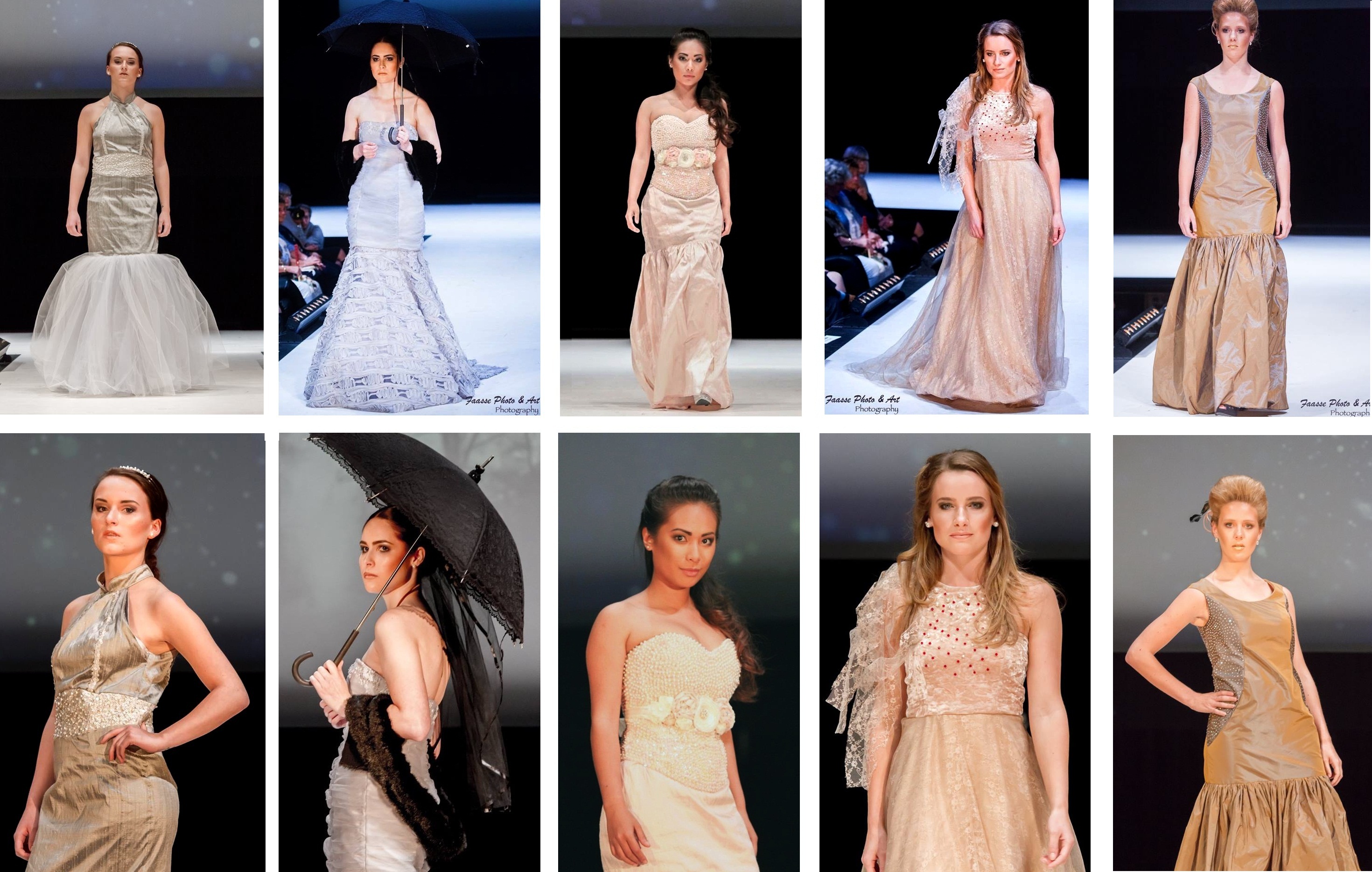 Tara with a silver/grey dress, Katja with a grey mermaid widow dress, Mary-Jane with a soft pink mermaid dress with pearls and a flowerband, Heleen with a dust peach pink dress with red and white pearls and Model Lieke with a mocha coloured dress with grey sequin details on both outer sides of the dress.
Tara met een grijs/zilveren jurk, Katja met een grijze mermaid dress met een weduwe thema, Mary-Jane met een zacht roze mermaid jurk met een parel bovenkant met bloemenband, Heleen met een poederig perzik roze jurk met rode en witte parels en Model Lieke met een mokka gekleurde jurk met grijze glitter details aan beide buitenkanten van de jurk.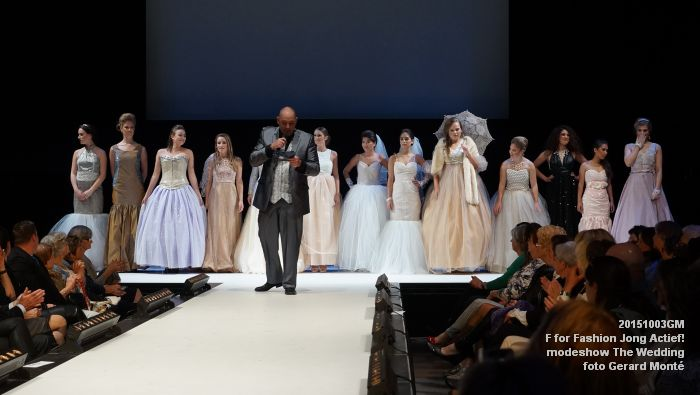 Le Michel

The Second show was the show of designer Michelle Schuurmans. She is a
Dutch designer from Geffen that has been showing pure white dresses with
a lot of lace details.
De tweede show was de show van ontwerpster Michelle Schuurmans. Ze is een Nederlandse ontwerpster uit Geffen, die voornamelijk puur witte jurken heeft laten zien met veel kant details.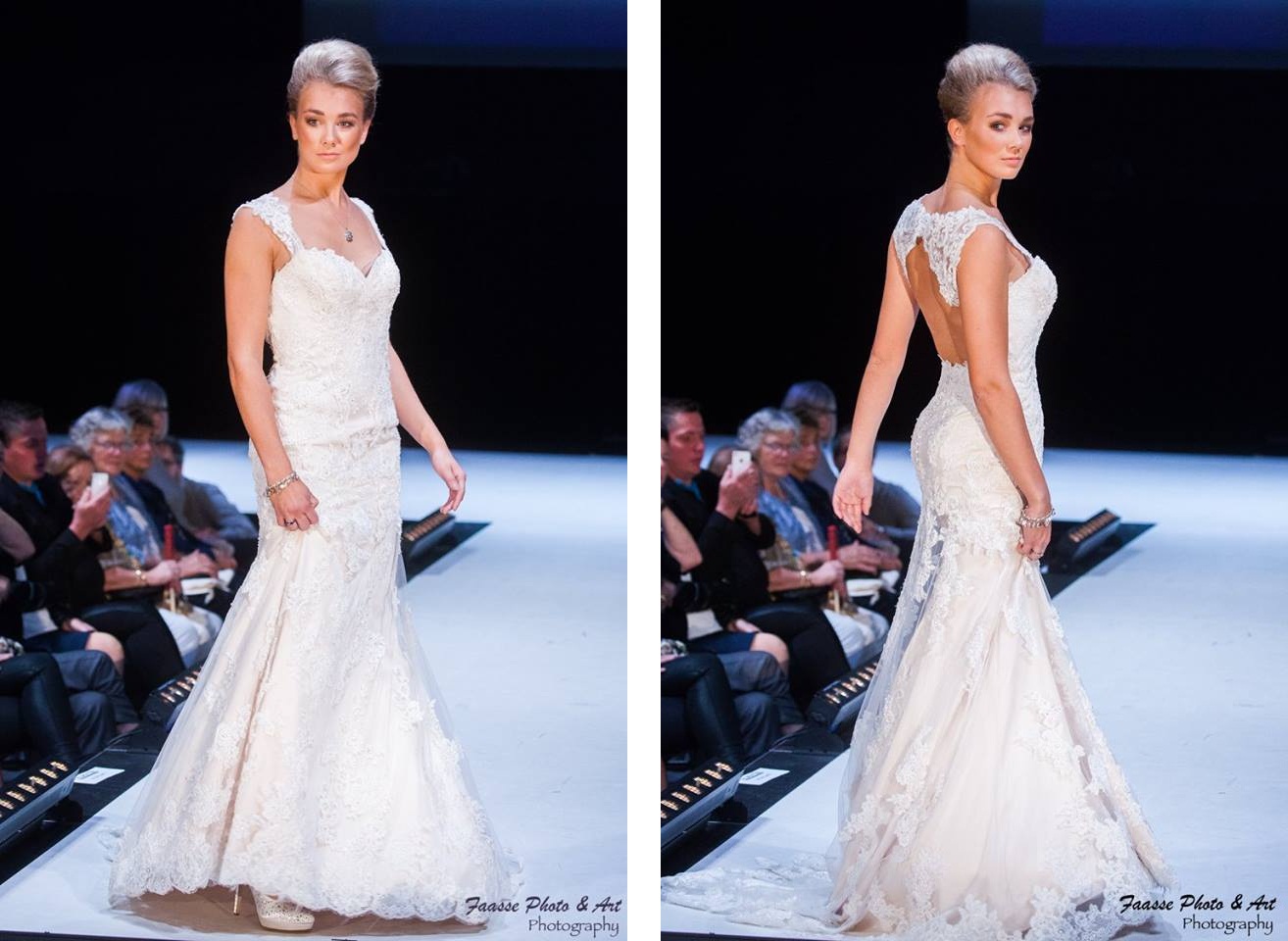 Model Marieke with a lace detail pure white dress.
Model Marieke met een kant print puur witte jurk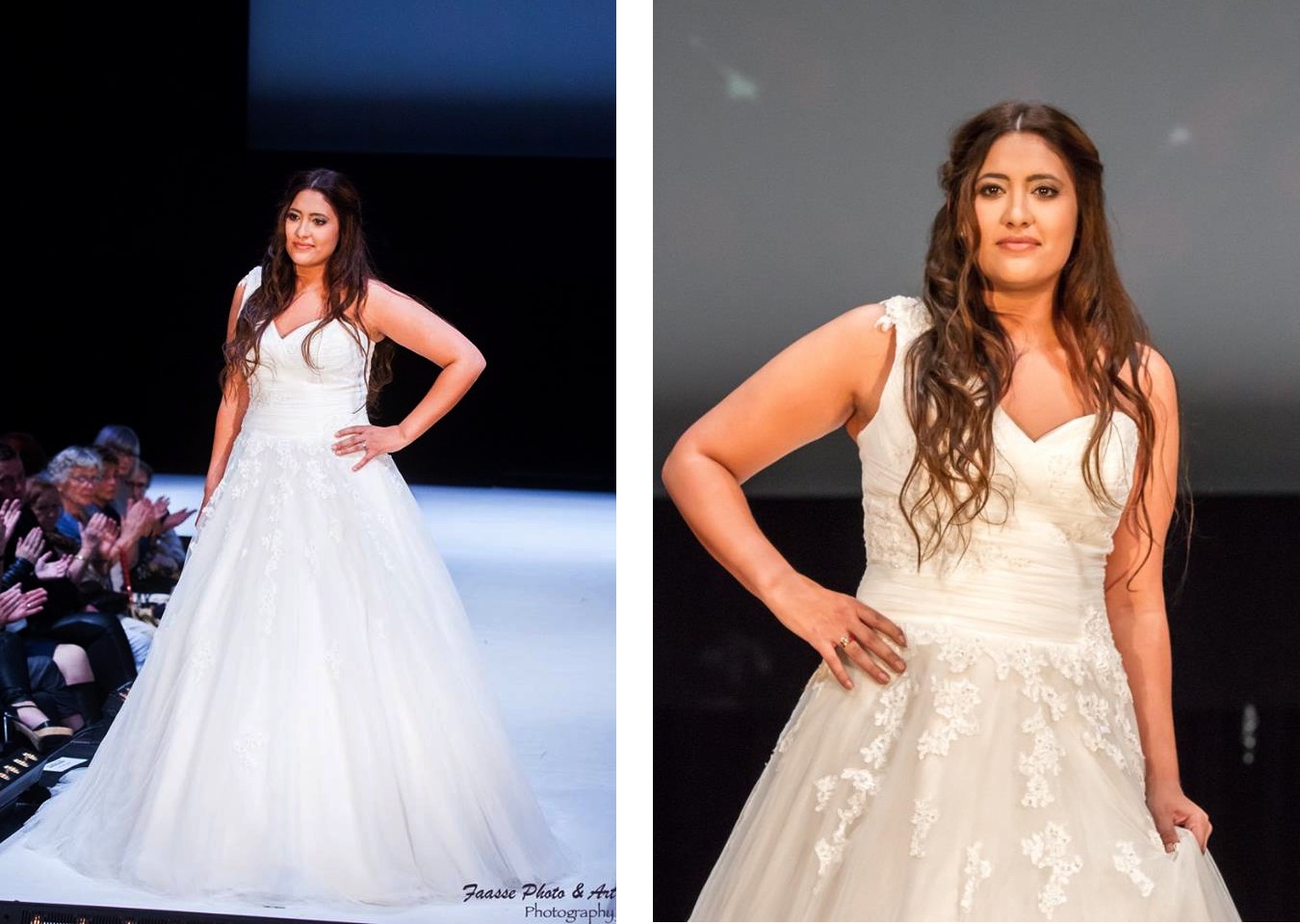 Model Veronique (the other model of the promotional picture) with a wide skirt one-shoulder dress with floral details. 
Model Veronique (het andere model op de promotie foto) met een one-shoulder jurk met bloemerige details en een wijd uitlopende onderkant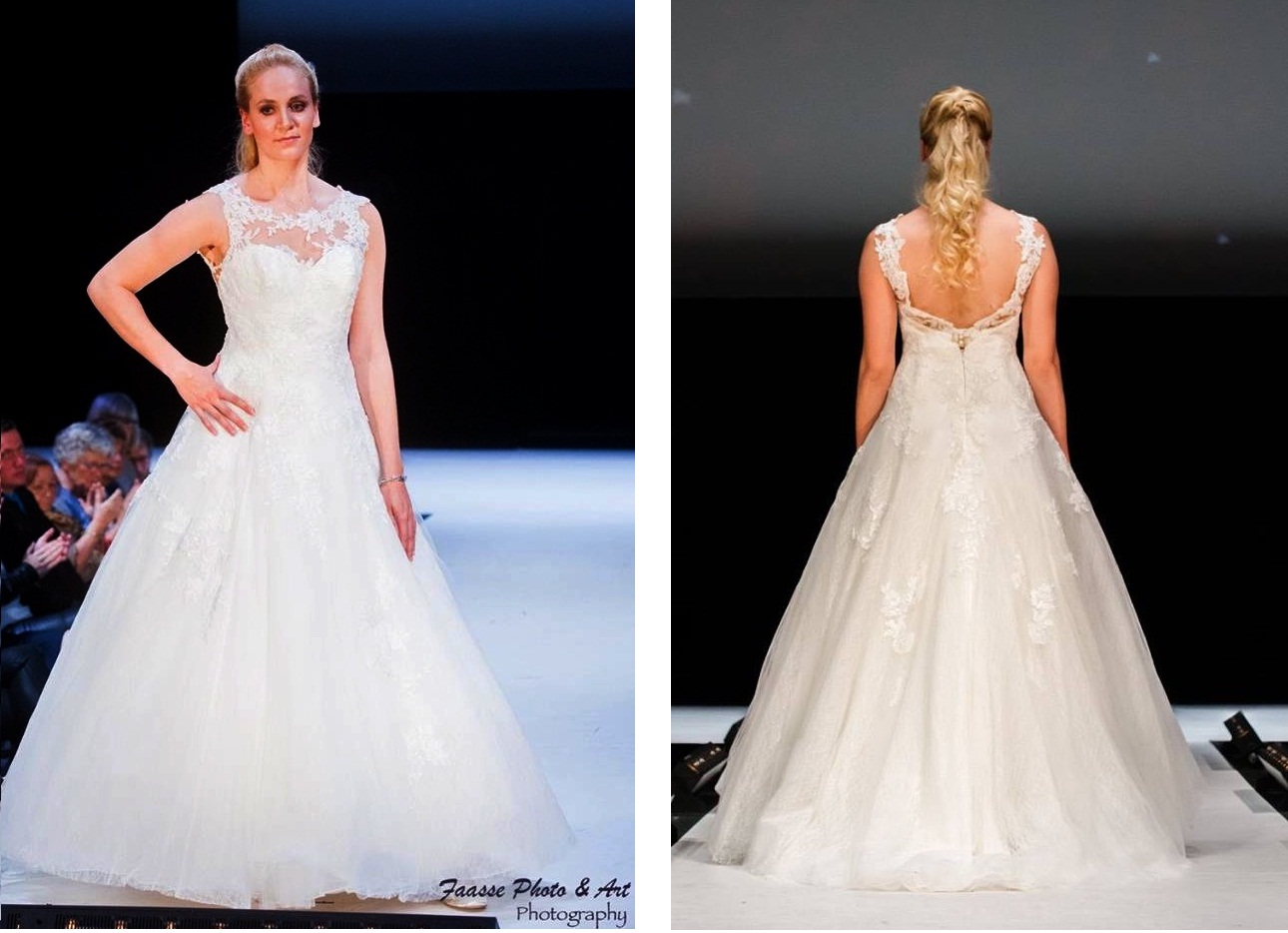 Model Yvette with a pure white dress that has partly see through lace details on the top part.
Model Yvette met een puur witte jurk met kant details en een doorschijnende stof aan de bovenkant.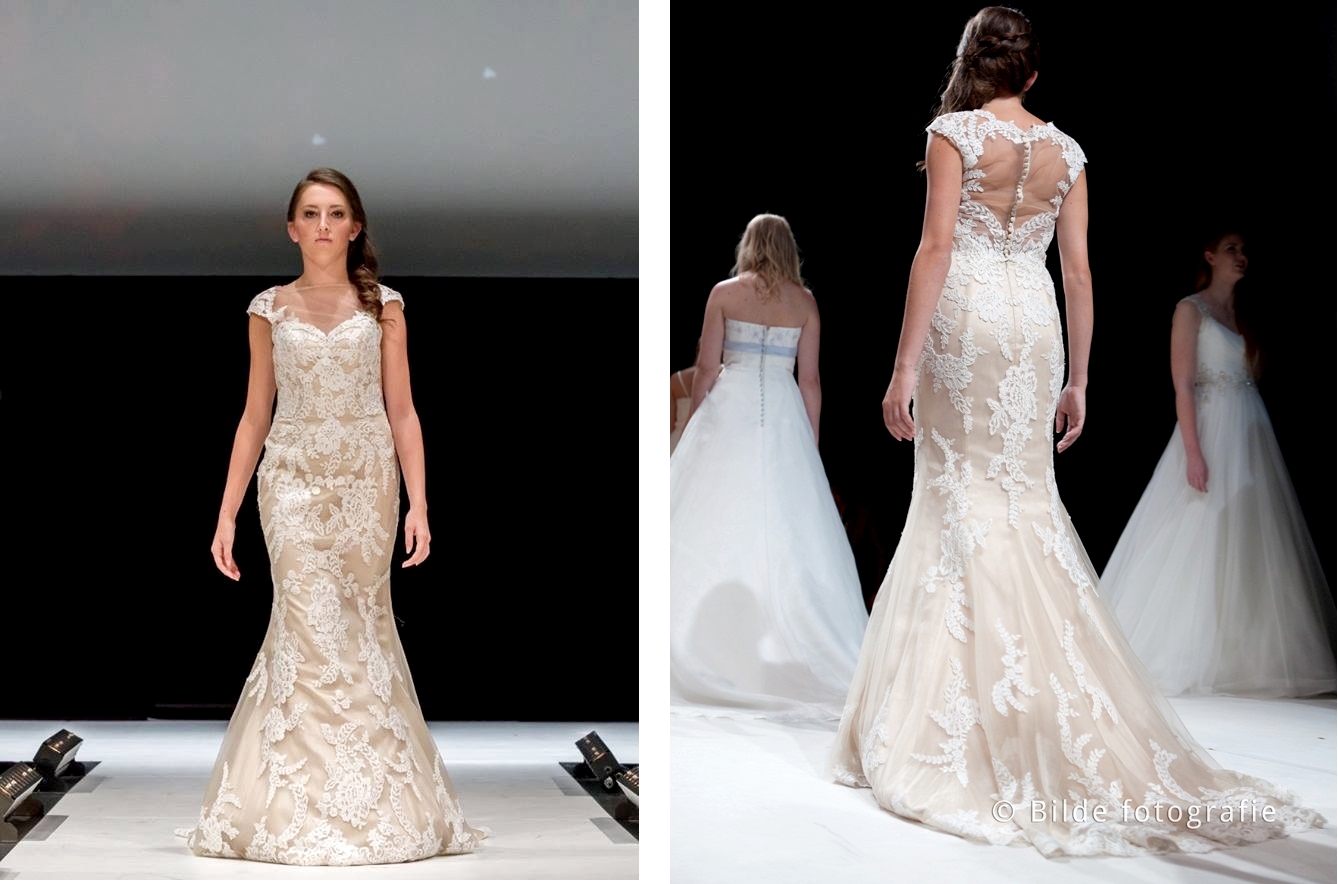 Model Linda with a beige dress with all-over white floral details.
Model Linda met een beige jurk vol met wit kant bloemenprint.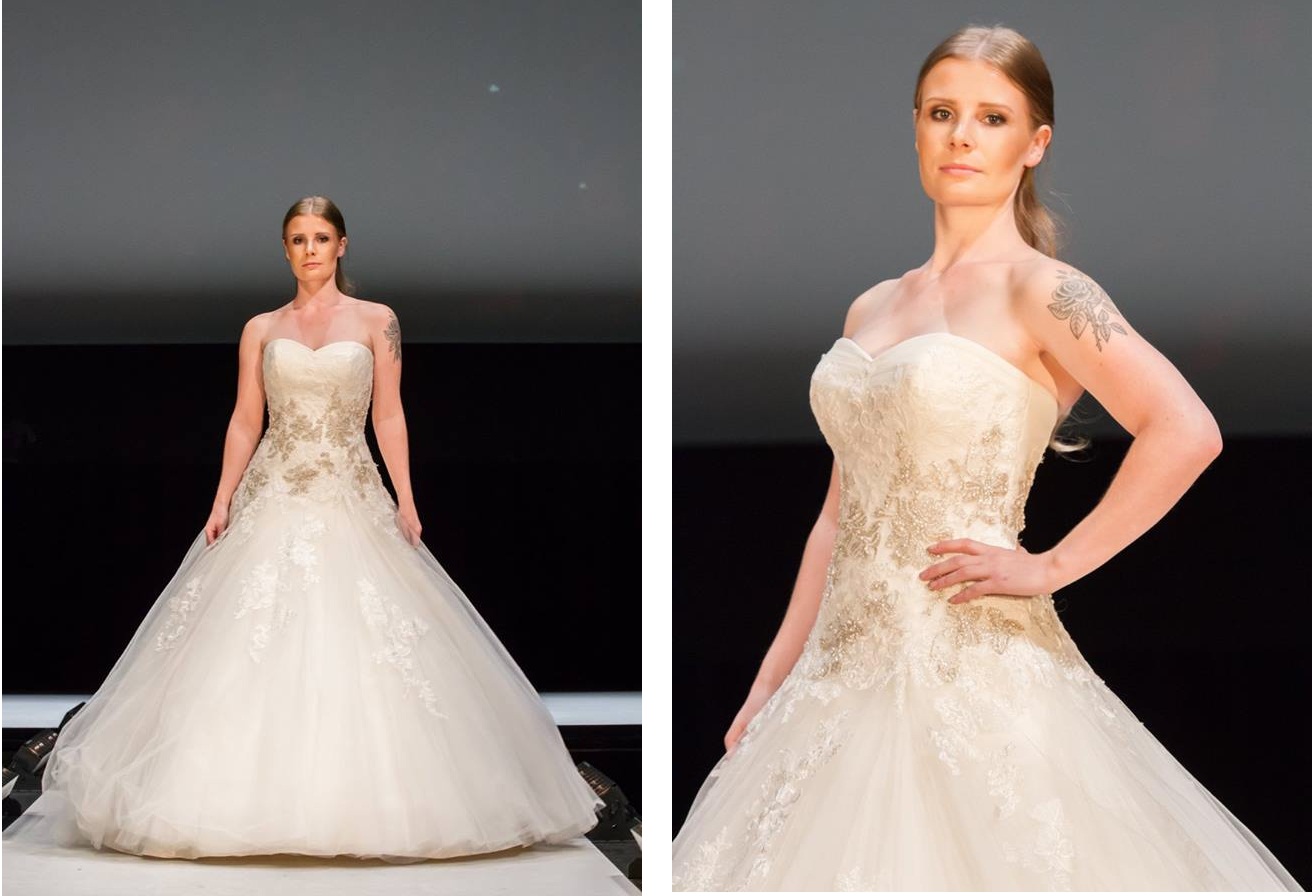 Model Michelle with a wide strapless off white dress with golden details.
Model Michelle met een strapless gebroken witte jurk met gouden details.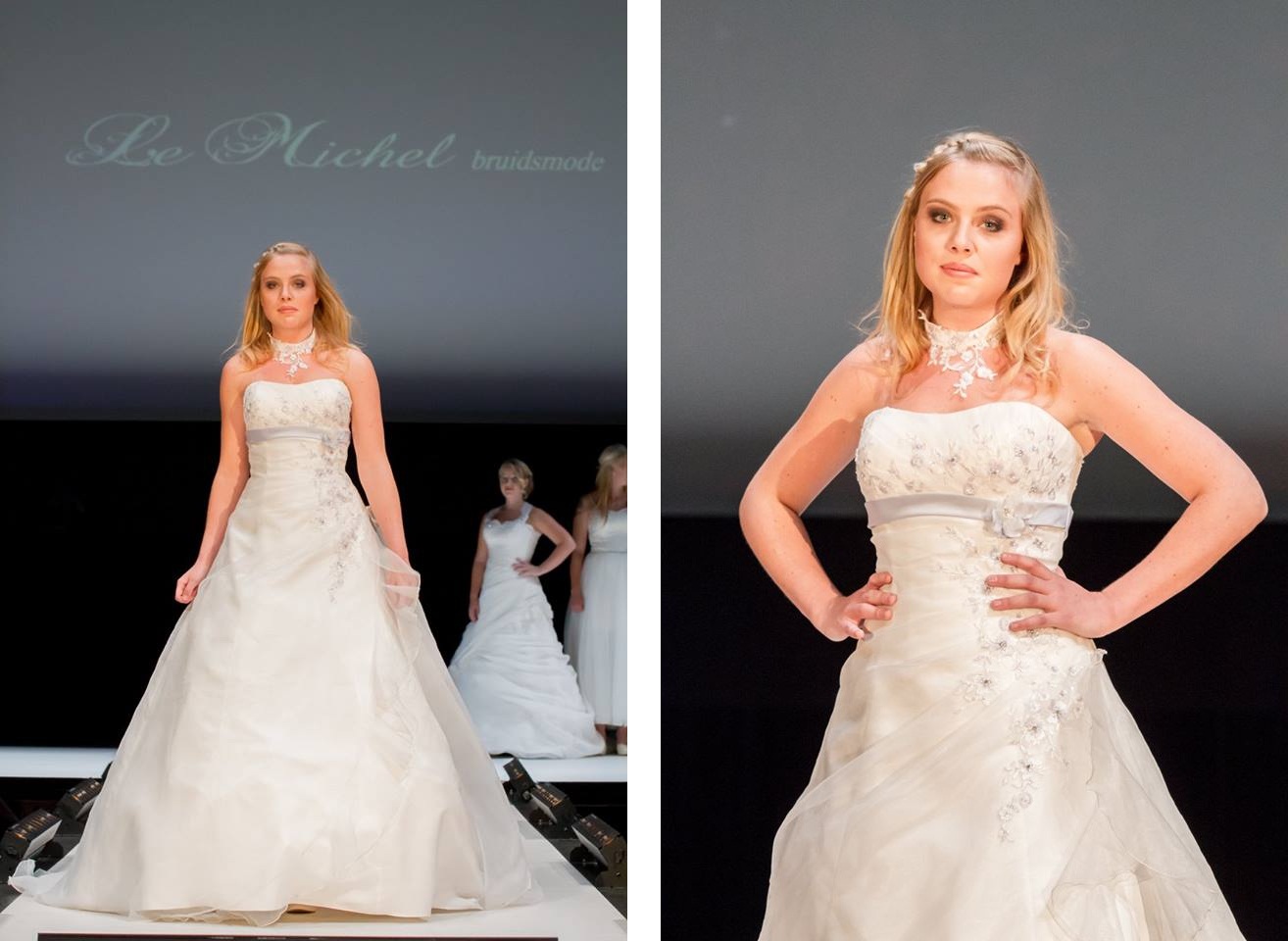 Model Tessa with a strapless white dress with grey, floral details.
Model Tessa met een strapless witte jurk met grijze bloemen details.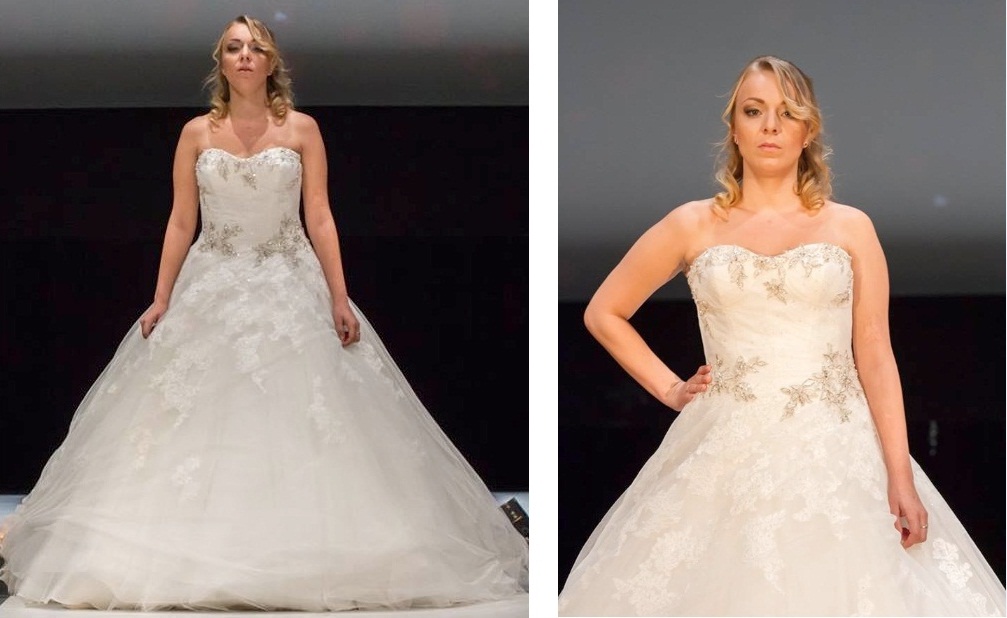 Model Laura with a strapless white princess dress with silver flower details.
Model Laura met een strapless witte prinsessen jurk met zilveren bloemen details.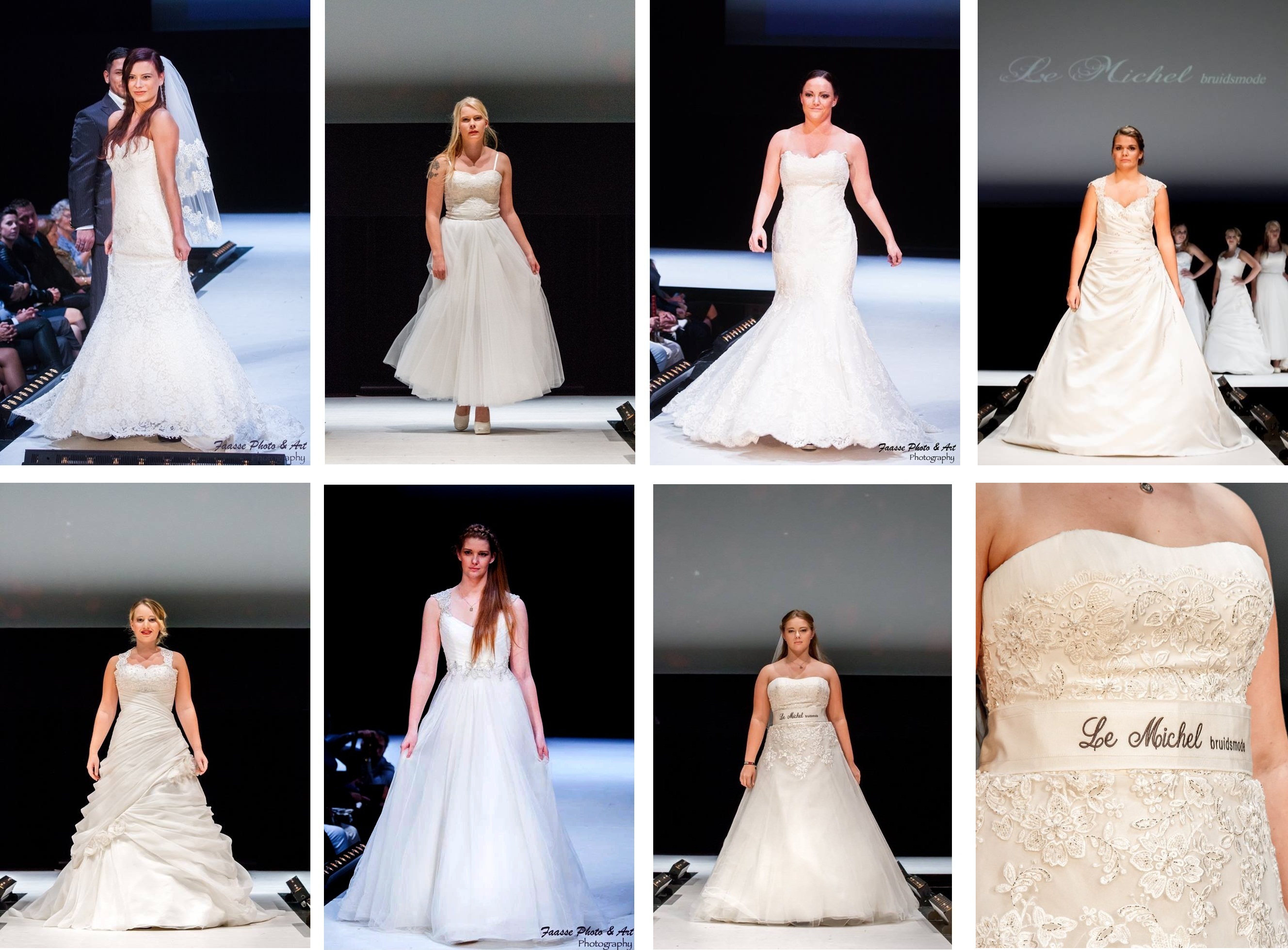 A variety of strapless and non strapless dresses, long, short, wide and mermaid dresses.
Een variatie aan strapless en non-strapless jurken, lang,kort,breed en mermaid jurken.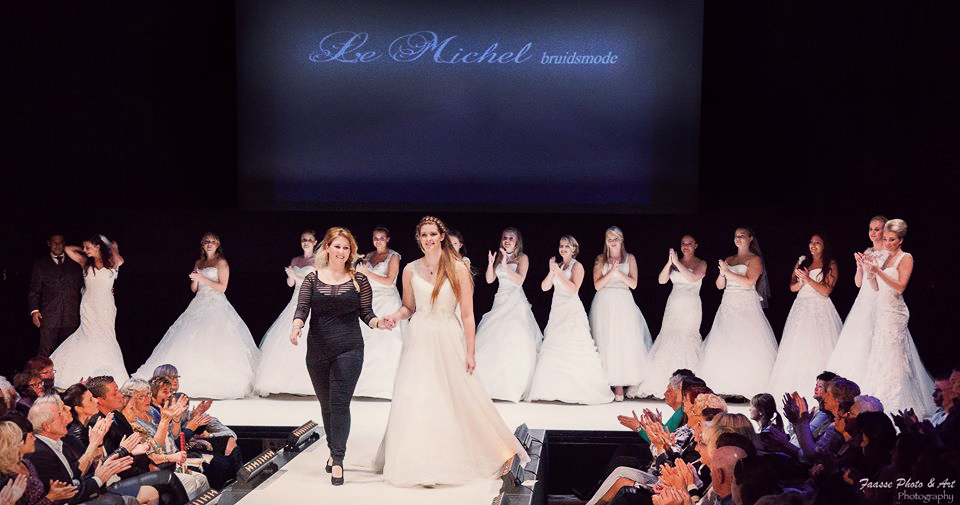 Model Manon together with the owner of Le Michelle: Michelle Schuurmans.
Model Manon samen met de eigenaresse van Le Michelle: Michelle Schuurmans.
De Gruyter

The third show was the show of De Gruyter.
This show was differently compared to the first two shows because this one is more
focussed on the haircuts of the girls, as an example, the hair of some of the girls got done live
on stage. They also did the hair of the models of the show of Le Michelle and La Clement.
This show is because of the 80
th
 celebration of de Gruyter,
and shows a lot of different fashion/hair styles from the 20's to 2015 and even the future. Even though I am more focussed on the dresses here, I will show some of the dresses.
This dresses are not designed by de Gruyter, only the haircuts are.
The hairstyles are a variety of vintage and futuristic styl
es.
De derde show was de show van De Gruyter. Deze show was compleet anders vergeleken met de eerste twee shows omdat in deze show de kapsels van de modellen centraal staan. Bijvoorbeeld: Van sommige dames werd het haar live gedaan op de catwalk. Overigens heeft De Gruyter ook het haar verzorgt van de modellen van La Clement en Le Michelle. Dit onderdeel van de show is wegens de 80 jarige viering van de Gruyter, en toont verschillende kleding/haarstylen vanaf de jaren 20 tot 2015 en zelfs de toekomst. Zelf is in deze post de jurk centraal en ga ik wat van de jurken van de show tonen. De jurken zijn niet door De Gruyter ontworpen, alleen de kapsels. Het is een variatie van vintage en futuristische stylen.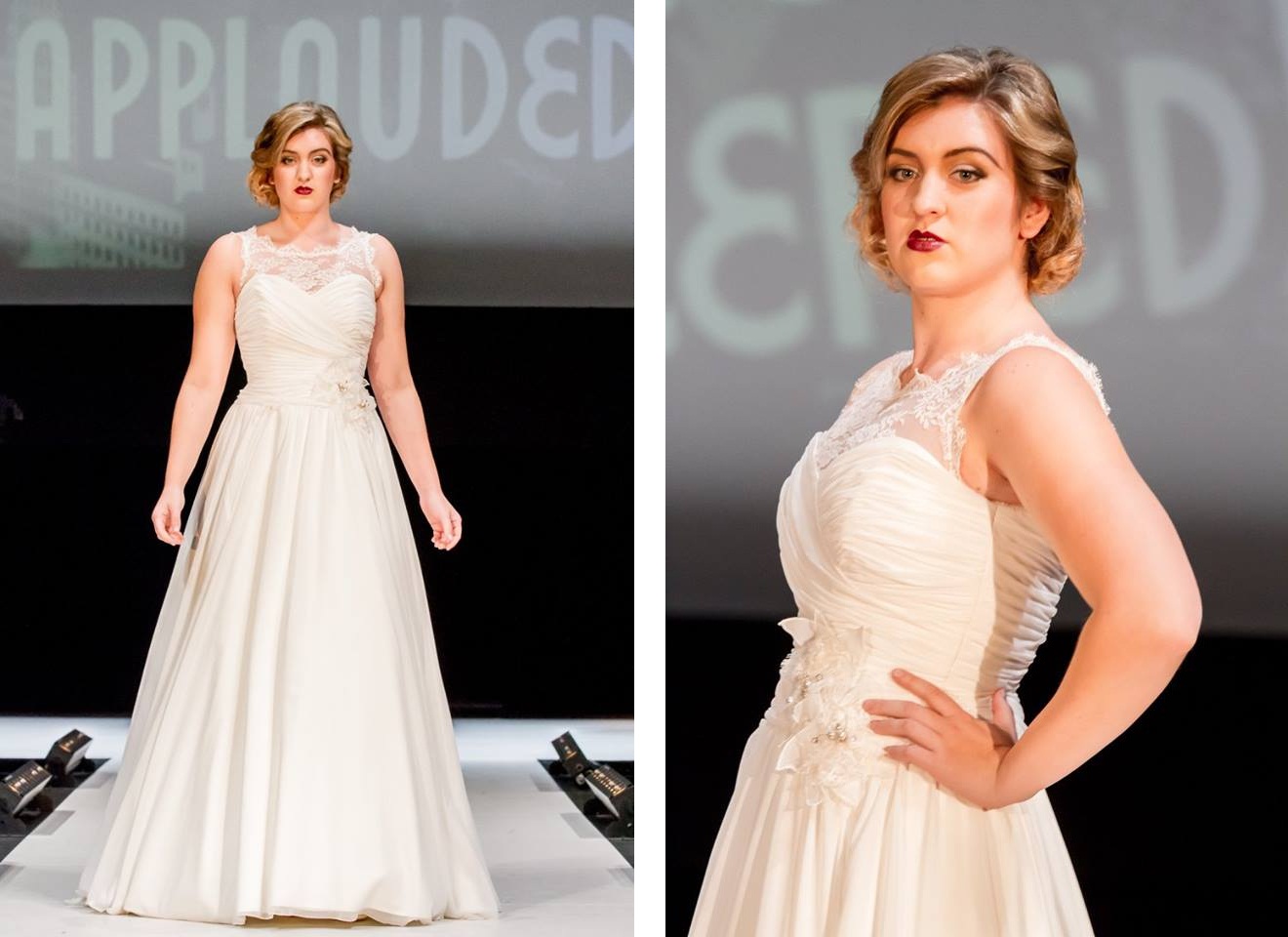 Model Lisa with a hollywood style vintage dress with see through lace details on the top side.
Model Lisa met een hollywood style klassieke jurk met een doorschijnende met kant gedetailleerde bovenkant.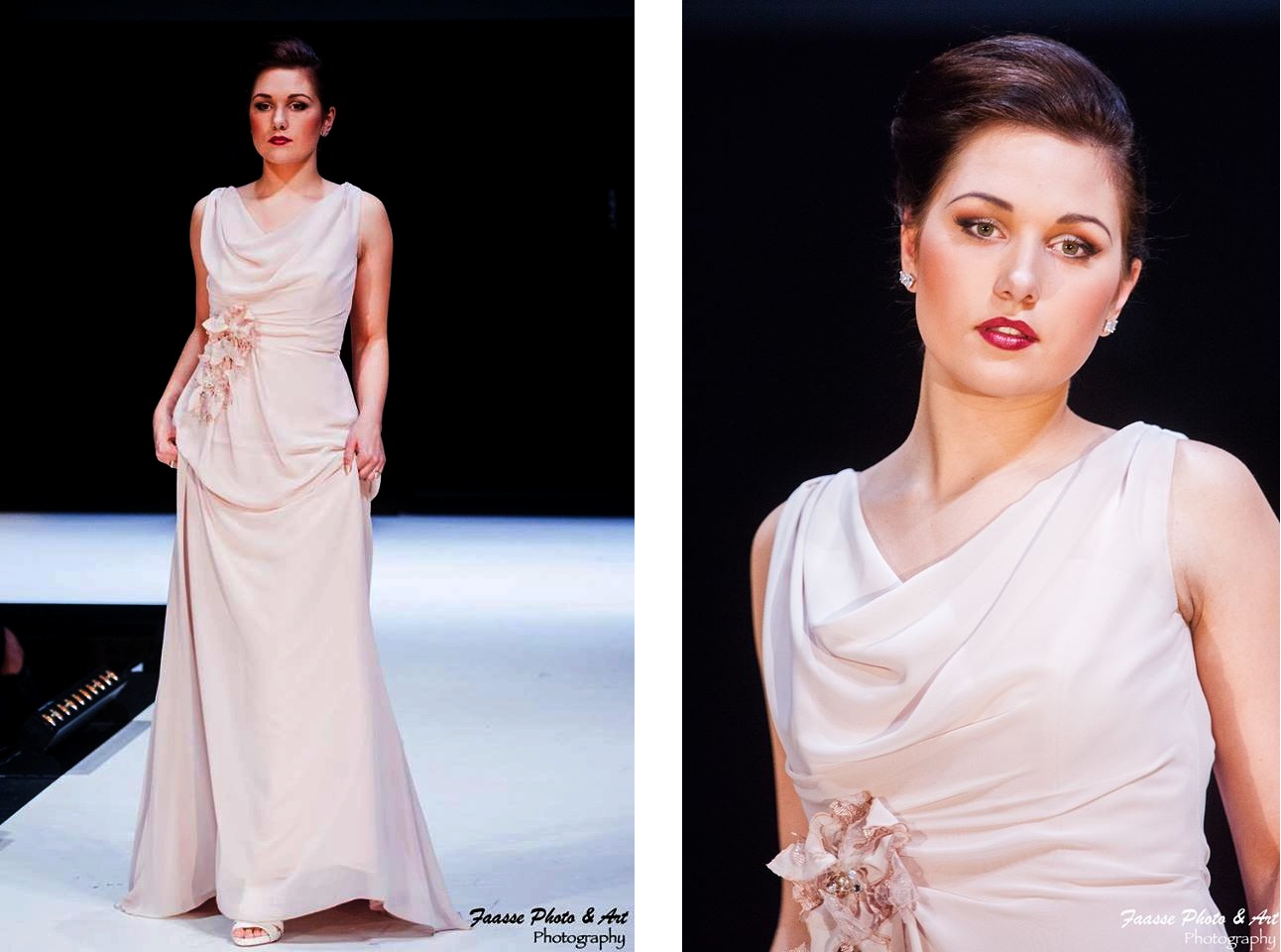 Model Demi with a soft pink vintage dress with a flower.
Model Demi met een zacht roze klassieke jurk met bloem.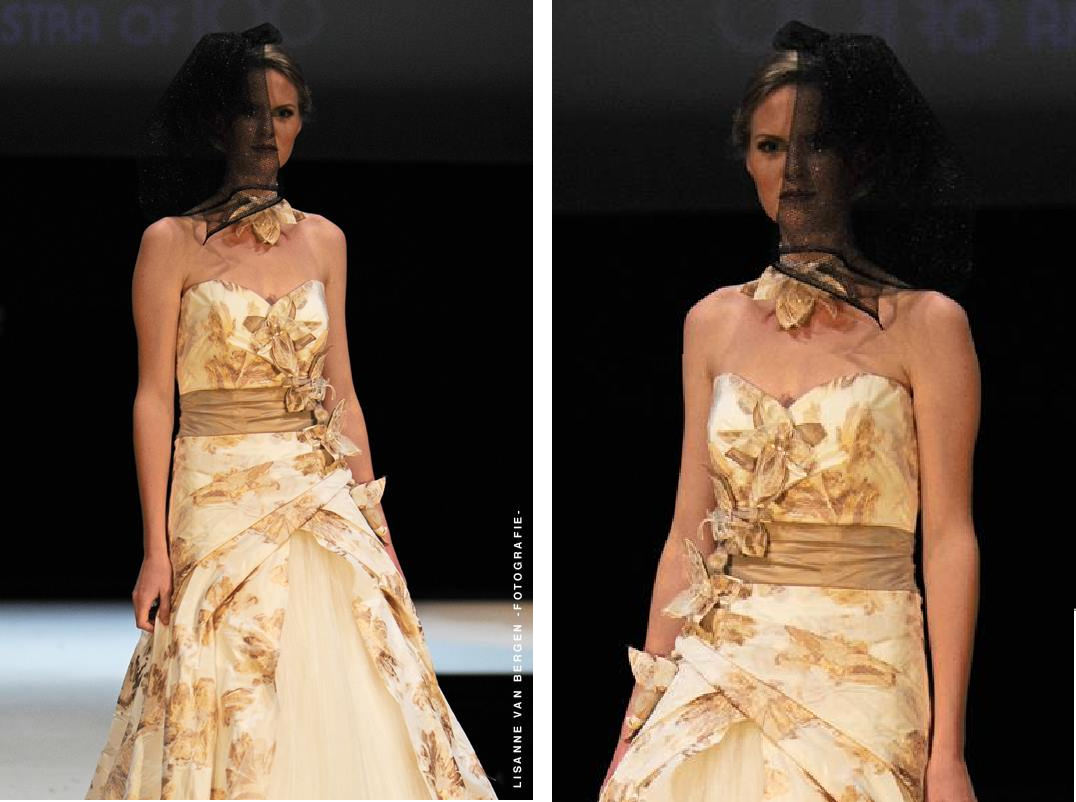 Model with a peach coloured floral gown.
Model met een perzik gekleurde bloemenprint jurk.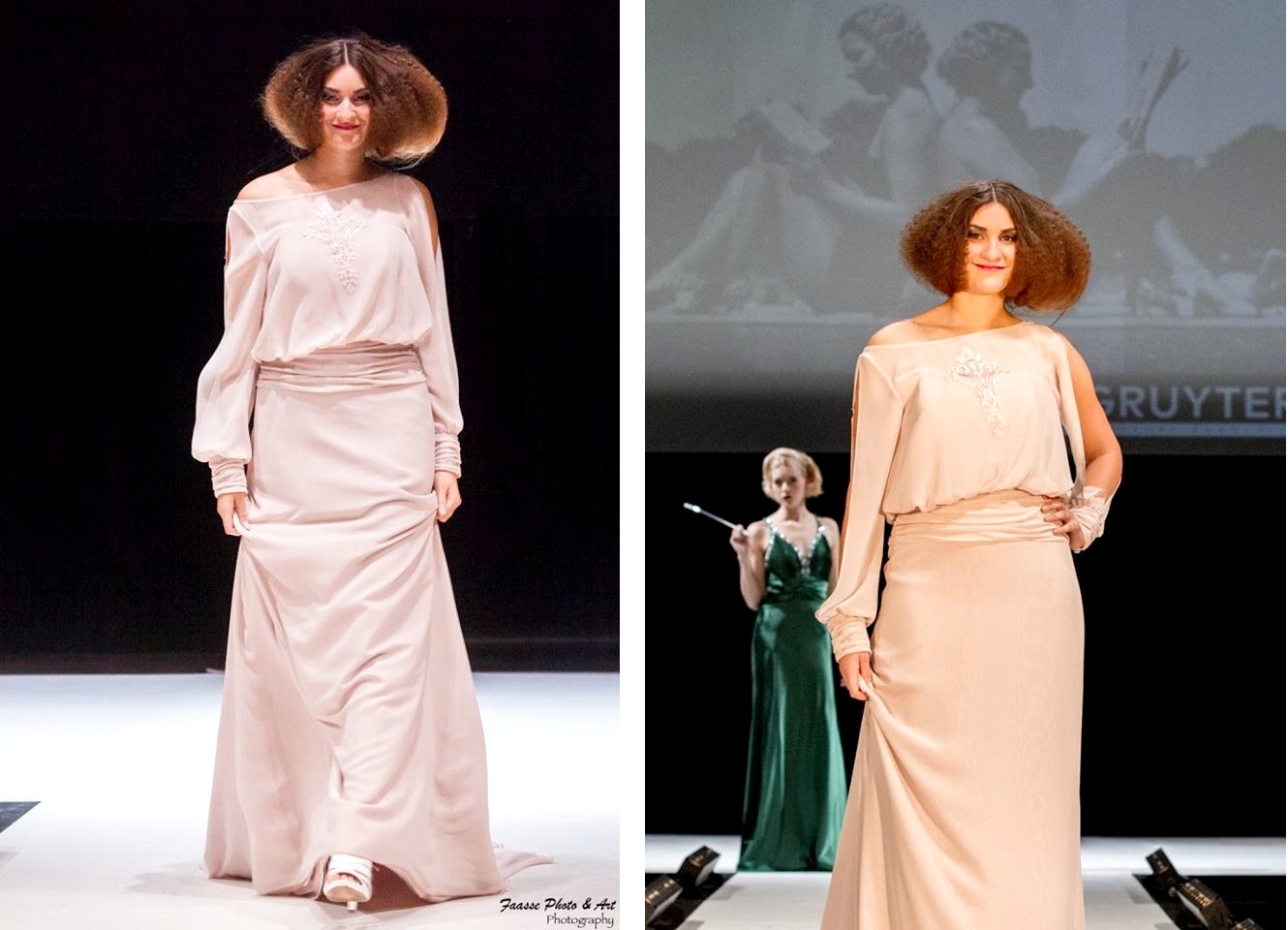 Model Elisa with a dust pink wide open sleeve dress.
Model Elisa met een oud roze jurk met wijde open mouwen.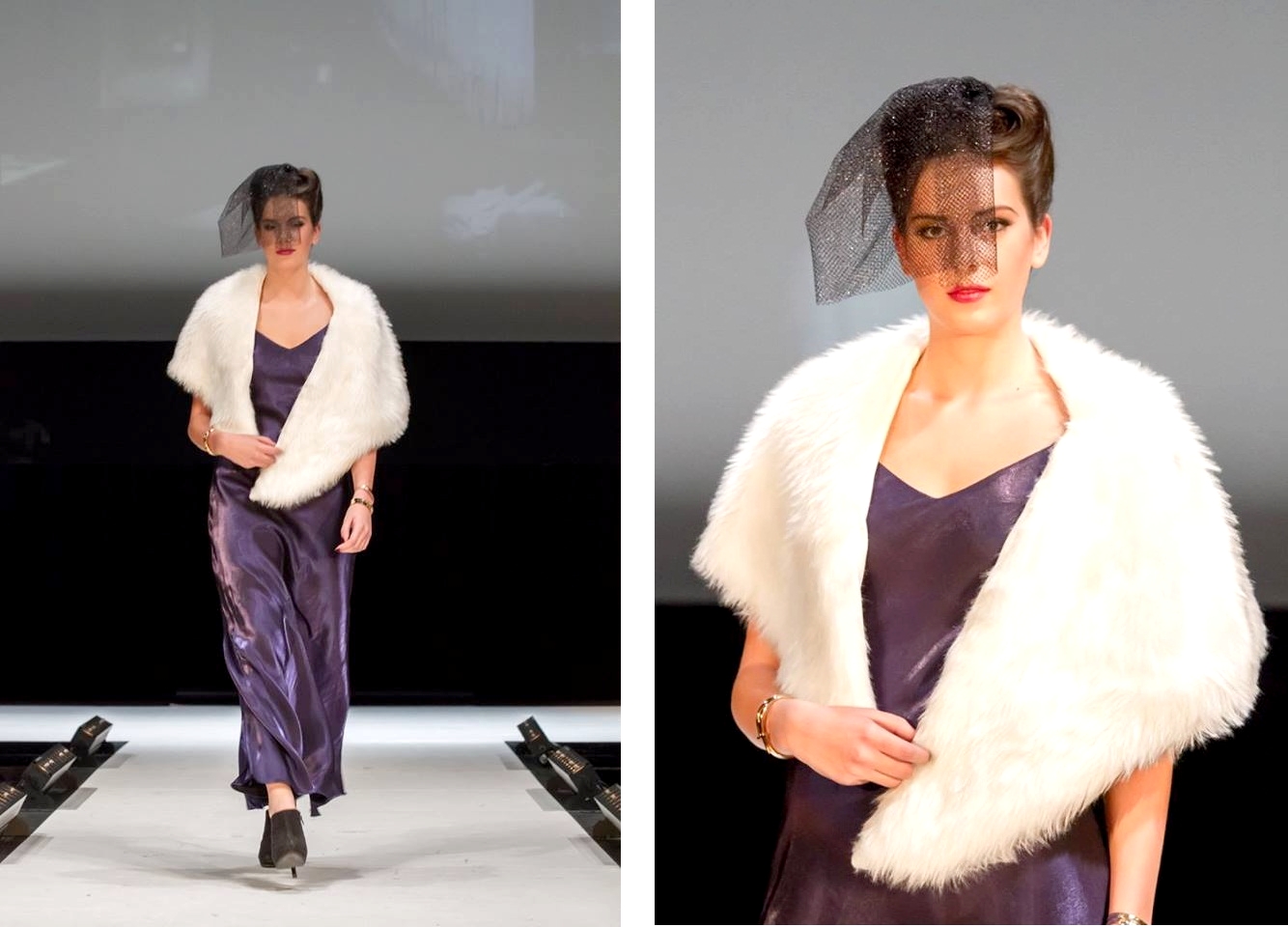 Model Démi Máric with a purple satin dress with a fur accessoiry.
Model Démi Máric met een paarse satijnen jurk met bont accessoire.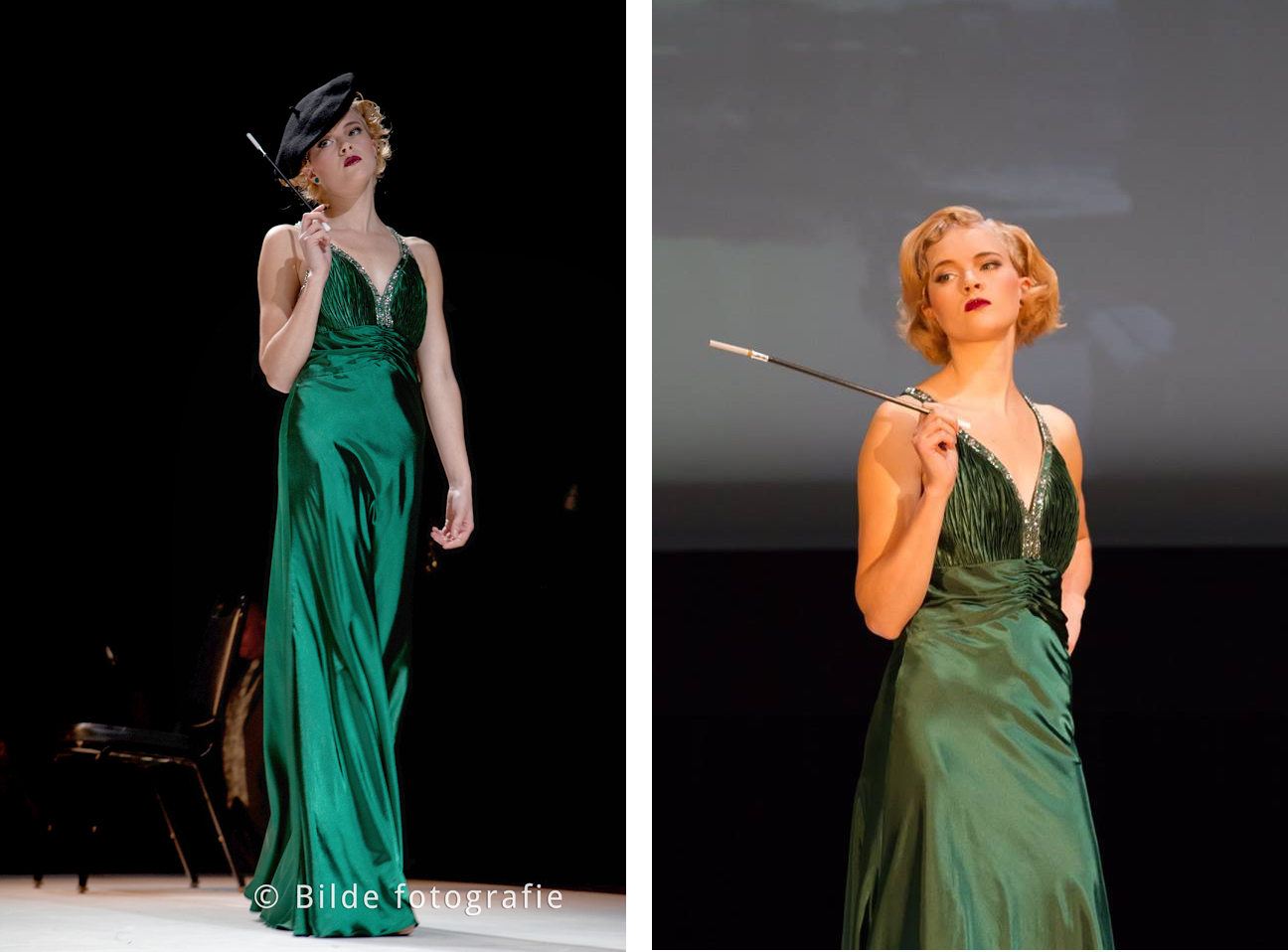 Model Sanne with a green vintage satin dress with sequin details on the top.
Model Sanne met een groene klassieke satijnen jurk met pailetten details.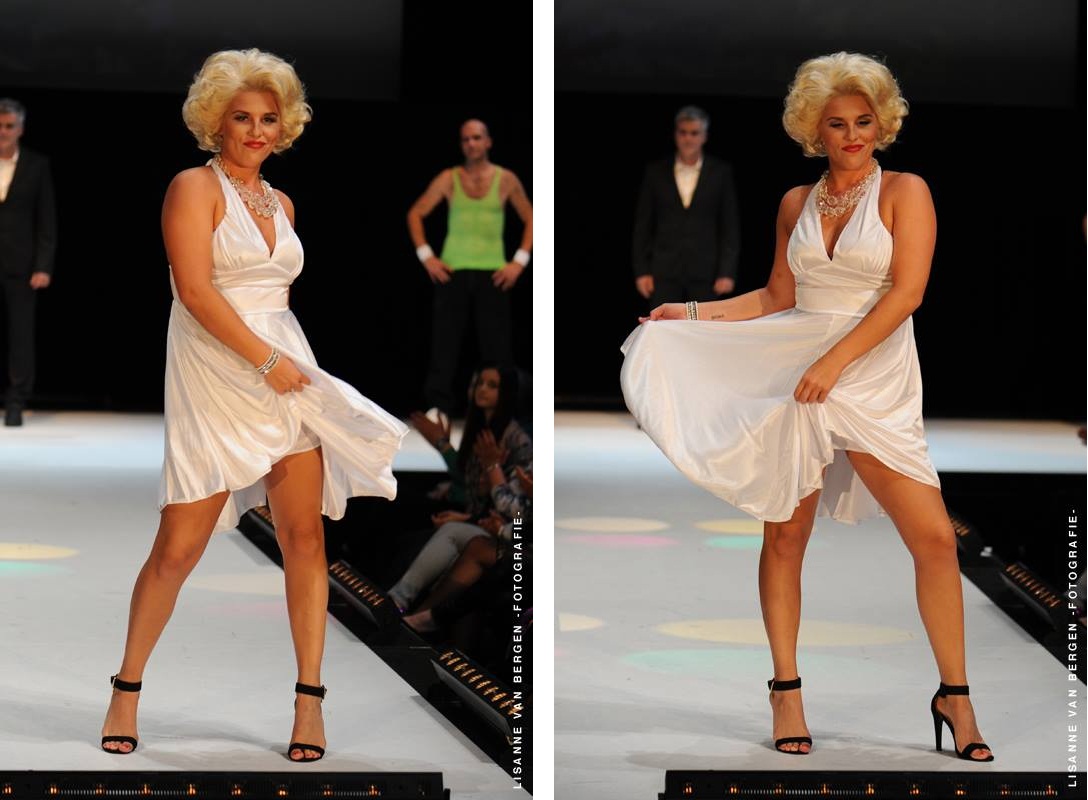 Model Latisha with a Marilyn Monroe inspired swing dress.
Model Latisha met een Marilyn Monrie geinspireerde jurk.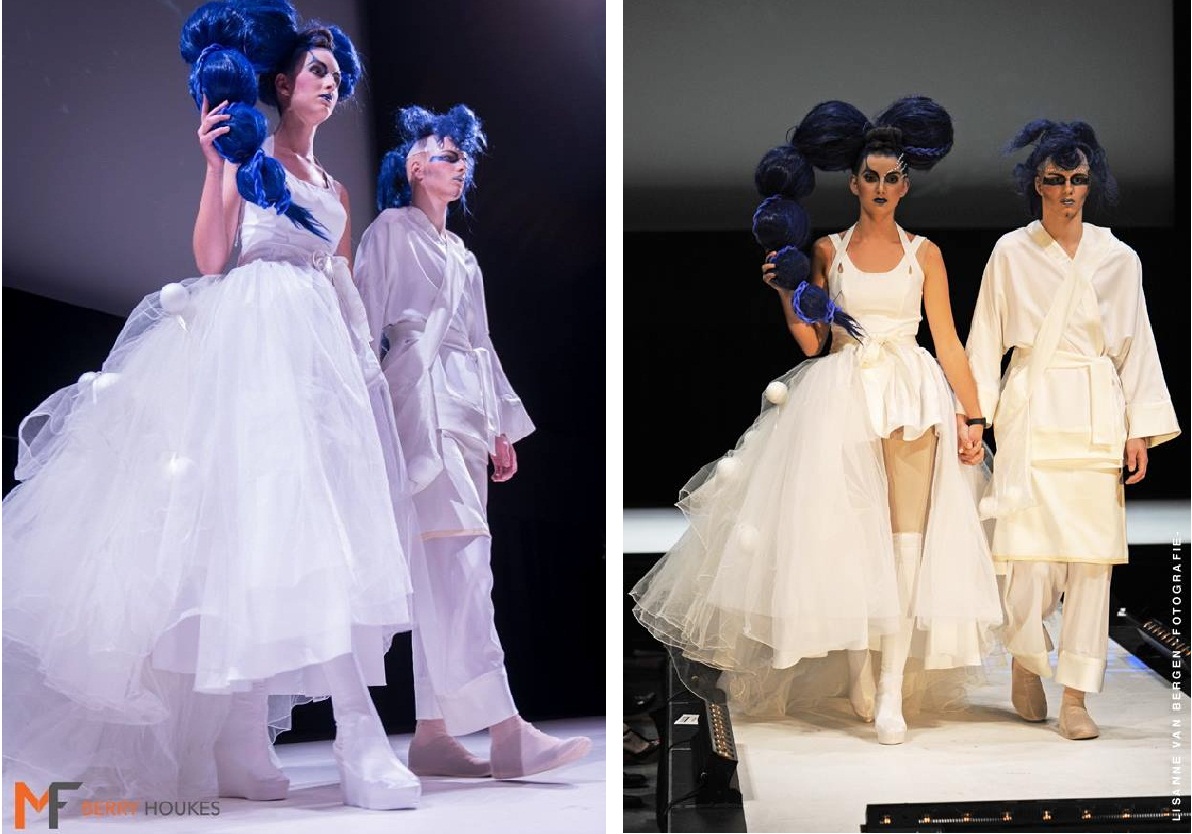 A Futuristic white dress and a white kimono with big blue hair, which drew my attention alot because it's something I always used as a haircolour for the characters of the stories I wrote when I was younger.
Een futuristische witte jurk en een witte kimono met groot blauw haar, wat mijn aandacht trok omdat het iets is dat ik als kind also als haarkleur gebruikte voor de personages van de verhalen die ik schreef. Erg leuk iets te zien dat dat dat me er aan herinnert! 
The rest of the show showed alot of haircuts and styles from a variety of decades and futuristic styles.
Which made the show have a complete switch because the show went from wedding dresses to multicoloured, totally differently themed outfits.
De rest van de show toonde een variatie aan kapsels en stylen van verschillende deccenia en futuristische stylen, wat de show een complete switch gaf omdat het begin met trouwjurken, en eindigde met een variatie aan outfits met verschillende stylen en kleuren.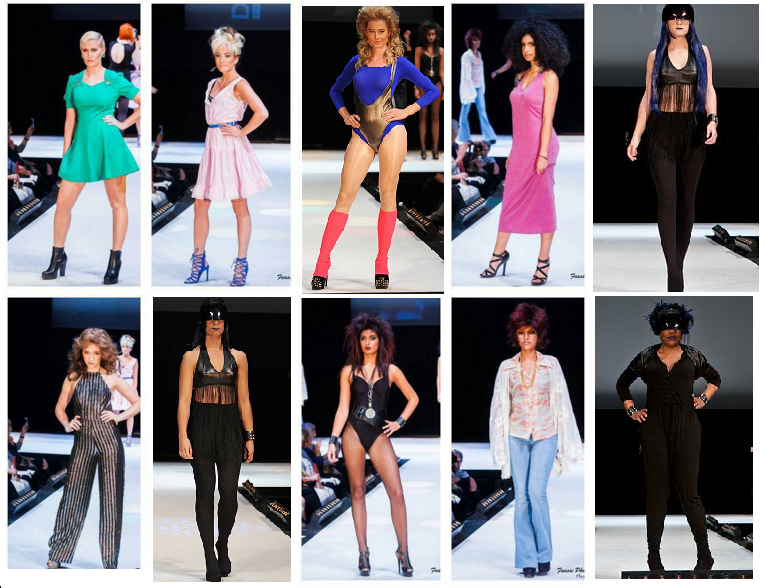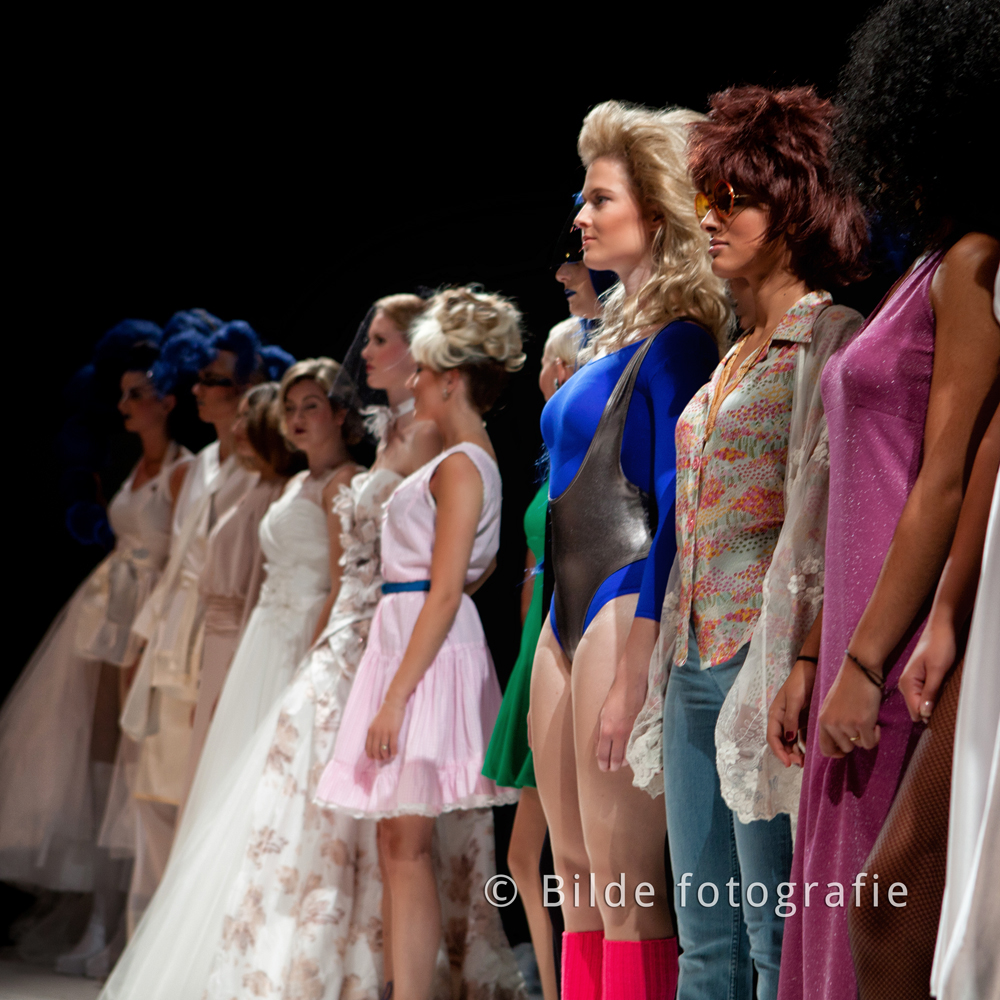 Check out my post about the show behind the scenes and from my eyes.
Behind the scenes: F for fashion 2015, The Wedding fashionshow

Important links:
F for fashion website: www.fforfashion.nl
Pictures: Bilde Fotografie (www.behance.net), Faasse Fotografie, Rob van Pinxteren, Berry Houkes
La Clement: Kitty Laclement
Le Michel: Michelle Schuurmans
De Gruyter hair: http://www.hansdegruyter.nl/
Location: www.theateraandeparade.nl