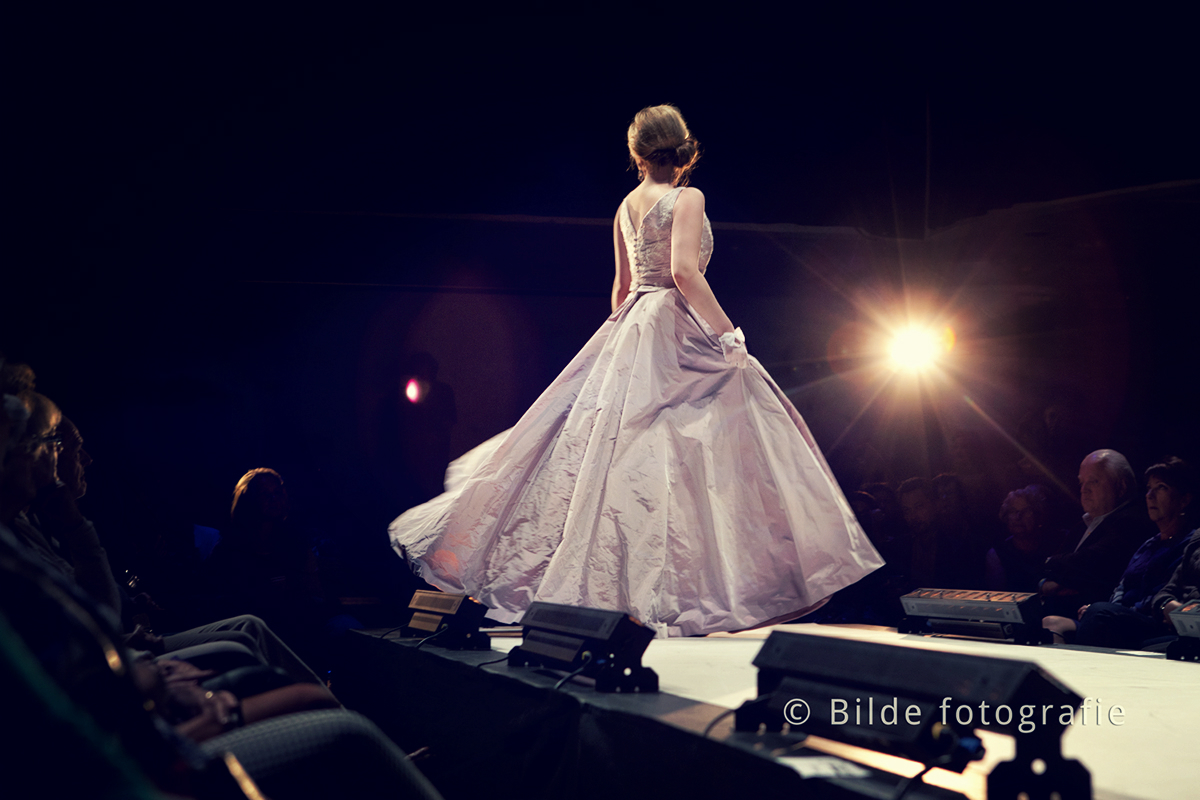 I started this day together with one of the models called Marlin. All of the models were asked to keep their faces and hair natural (no make-up). After a good breakfast, the Lexus taxi arrived at my house to pick the both of us up.
Ik ben deze dag begonnen samen met een model genaamd Marlin. Alle modellen waren gevraagd om hun gezicht en haar naturel te houden (geen make-up). Na een goed ontbijt, was de Lexus taxi aangekomen bij mijn huis om ons beide op te halen.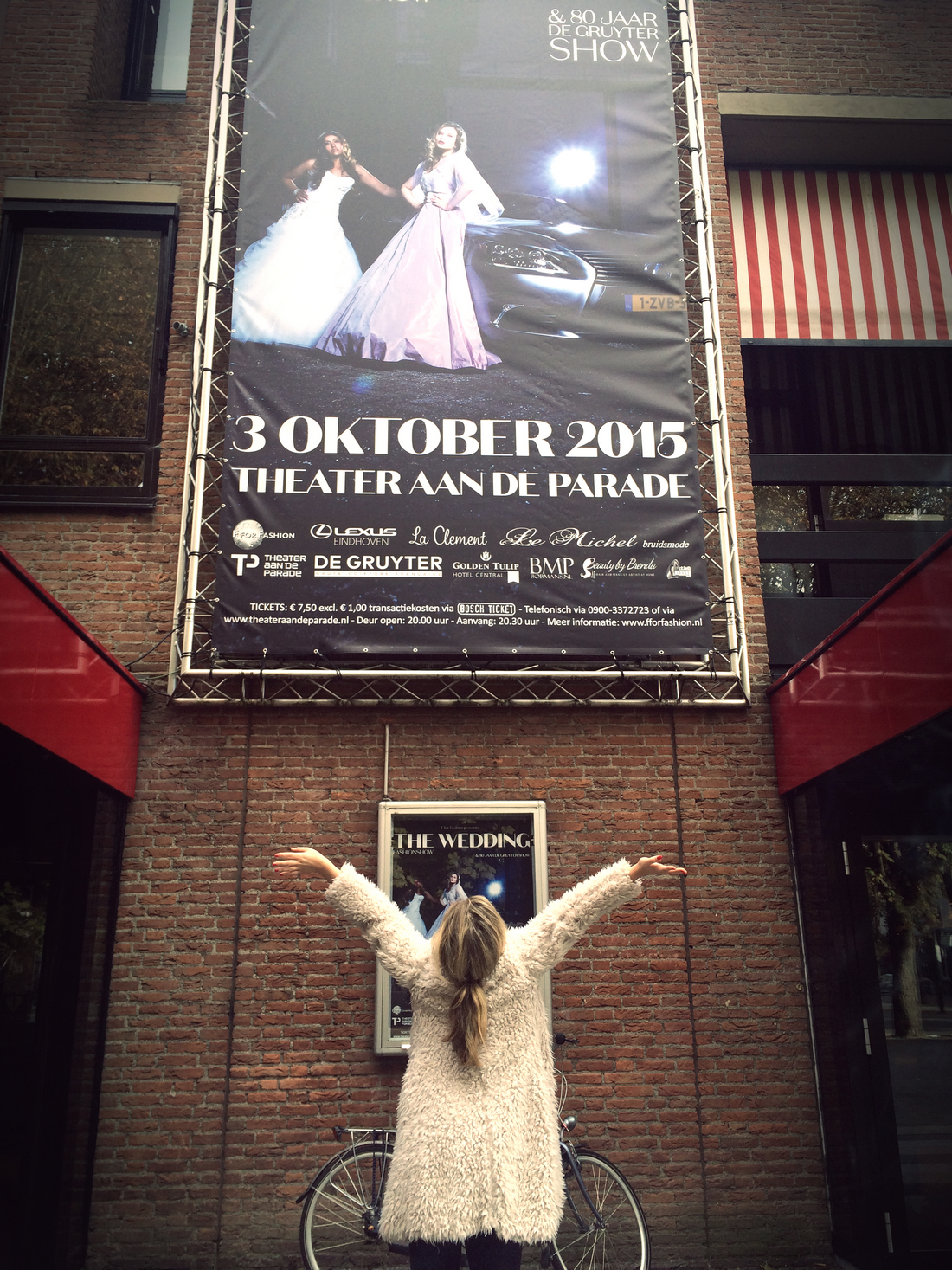 We went on our way to the Theater on the Parade where the whole event would take place.
On our way we spotted lots of posters of the show which made us more exited about it starting today.
When we arrived, we met up with a few of our model friends which were already there. Then we saw the huge show poster, I felt so honoured to see my face on such a huge banner and it made me feel blessed and emotional to get an opportunity like that. We met up in the meantime with more of the models which were already waiting in the hall and my friend and I splitted up. I walked with the girls I was with to the stage where we would show the dresses while we were searching for more of our model group.
We gingen op weg naar het Theater aan de Parade, waar het hele evenement plaats zou vinden. Onderweg spotte we erg veel posters van de show, die ons erg enthousiast maakte voor het feit dat de show die dag zou plaatsvinden. Toen we aankwamen, verzamelde we samen met een hoop van onze mede model vriendinnen, die er al waren. Toen zagen we de enorme show poster, Ik voelde me zo vereerd om mijn gezicht op zo'n groot doek te zien en het liet me me erg gezegend en geraakt voelen om zo'n kans te krijgen. We kwamen meerdere modellen tegen die al in de hal van het theater aan het wachten waren en het mede model en ik splitste. Ik liep samen met de modellen naar het podium waar we onze jurken op zouden tonen om ook meer van de modellen te zoeken van onze groep.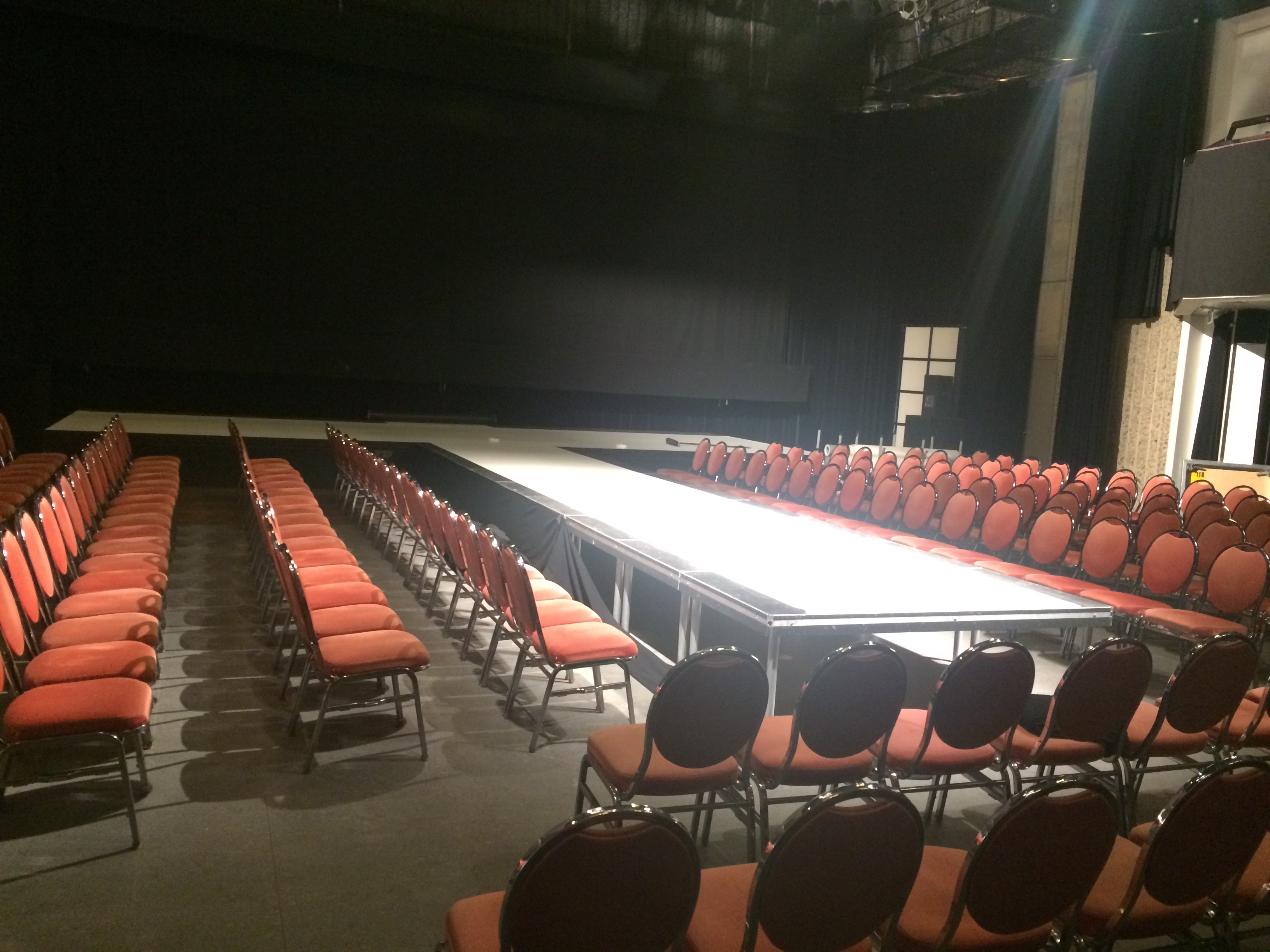 Eventually, the models of all 3 groups gathered and it was time to start the repetition for tonights show.
Uiteindelijk, verzamelde alle modellen van de deelnemende groepen zich en was het tijd om voor de laatste keer te gaan oefenen voor de show.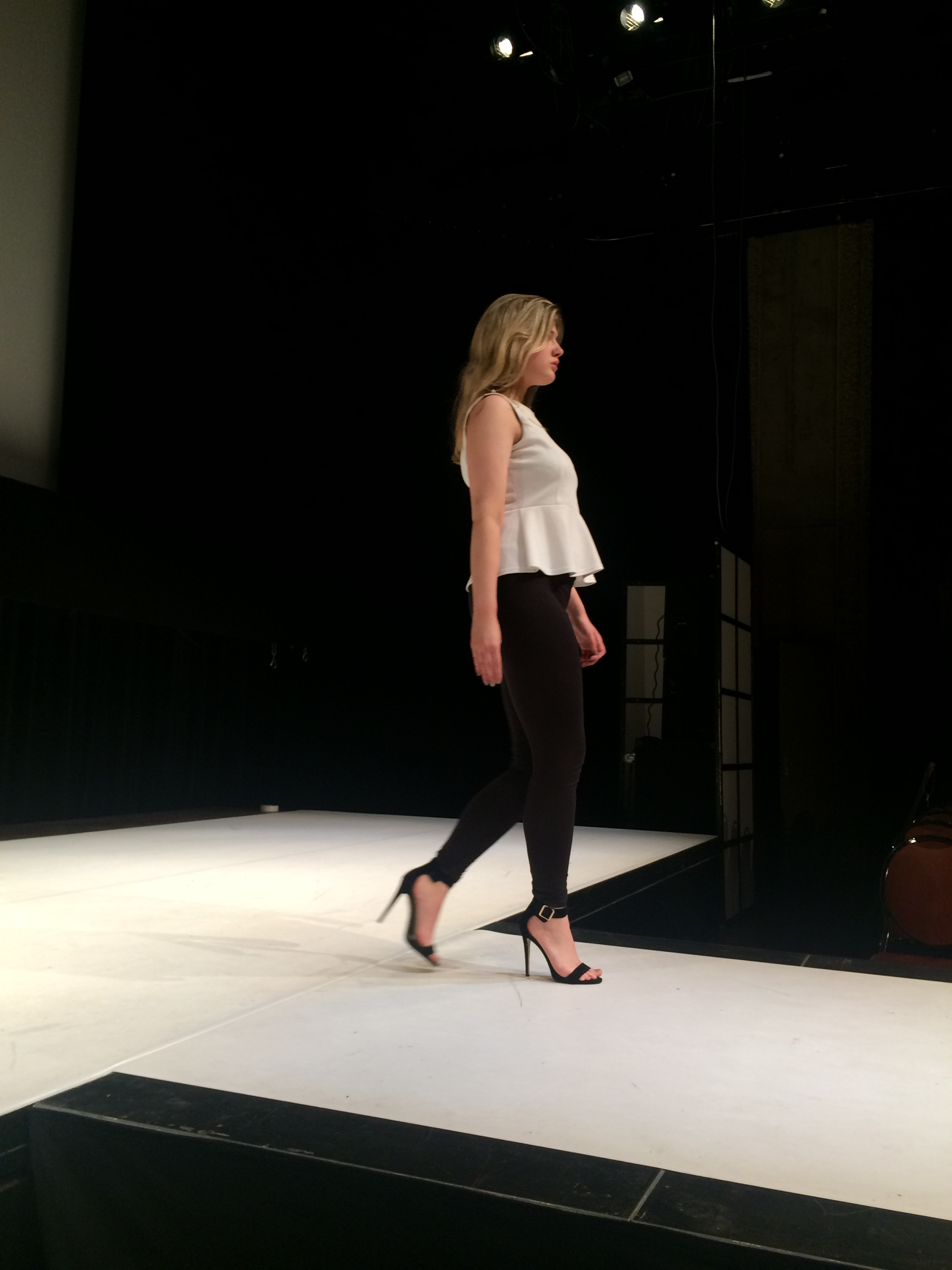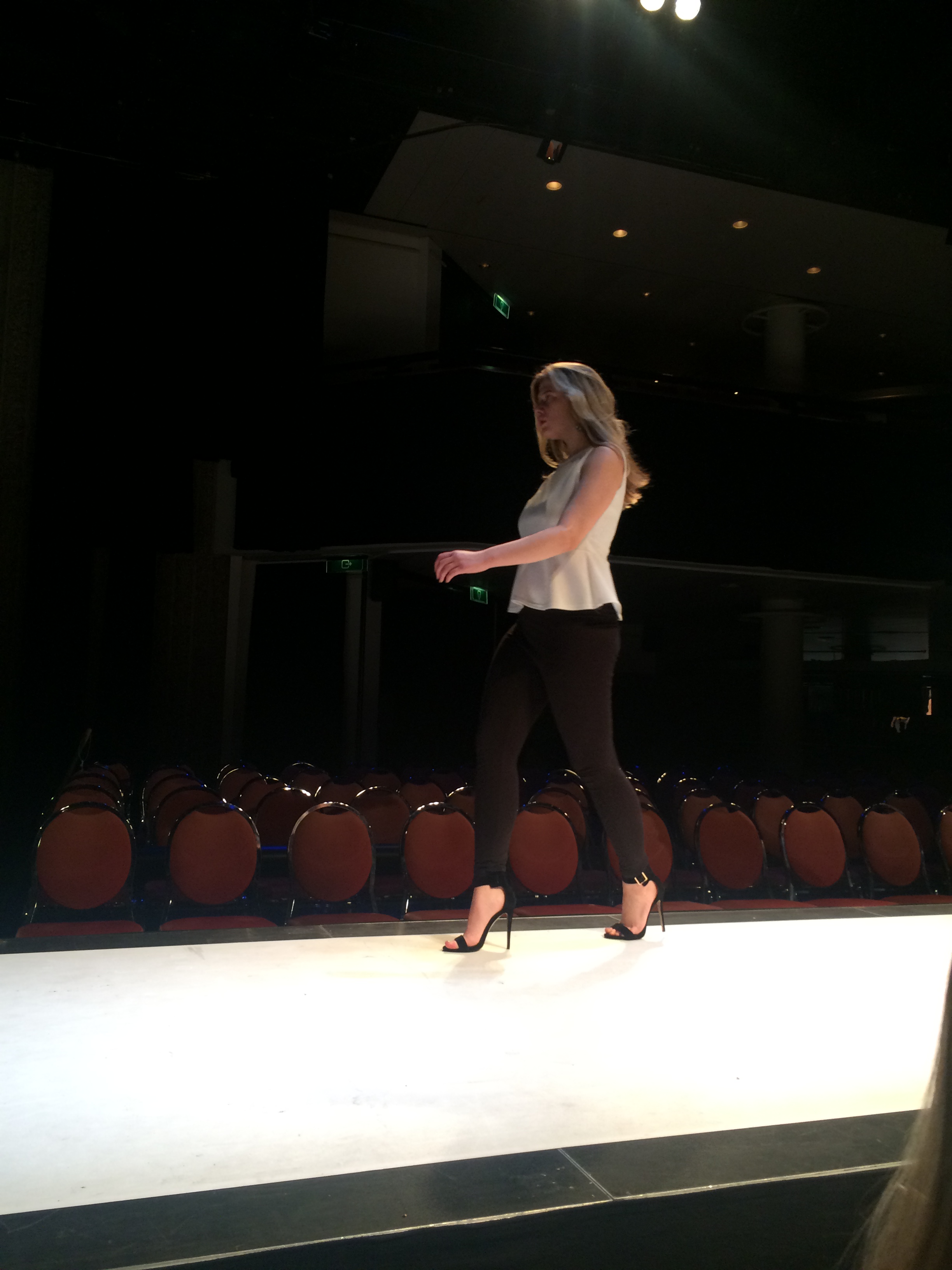 After that it was time to dress ourselves into the dresses for the show to do a final repetition for final feedback.
Daarna was het tijd om om de jurken voor de show aan te gaan trekken voor een generate repetitie waar we de laatste feedback voor onze loopjes zouden krijgen.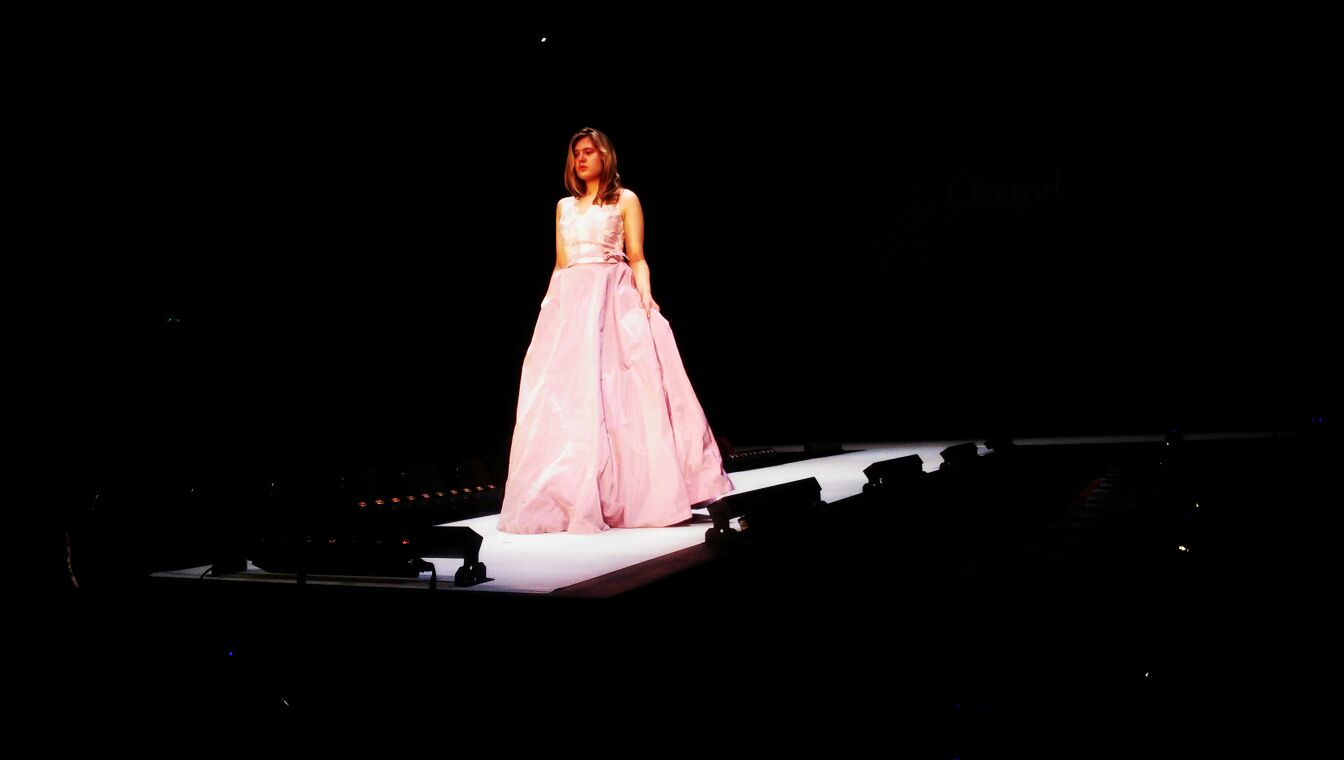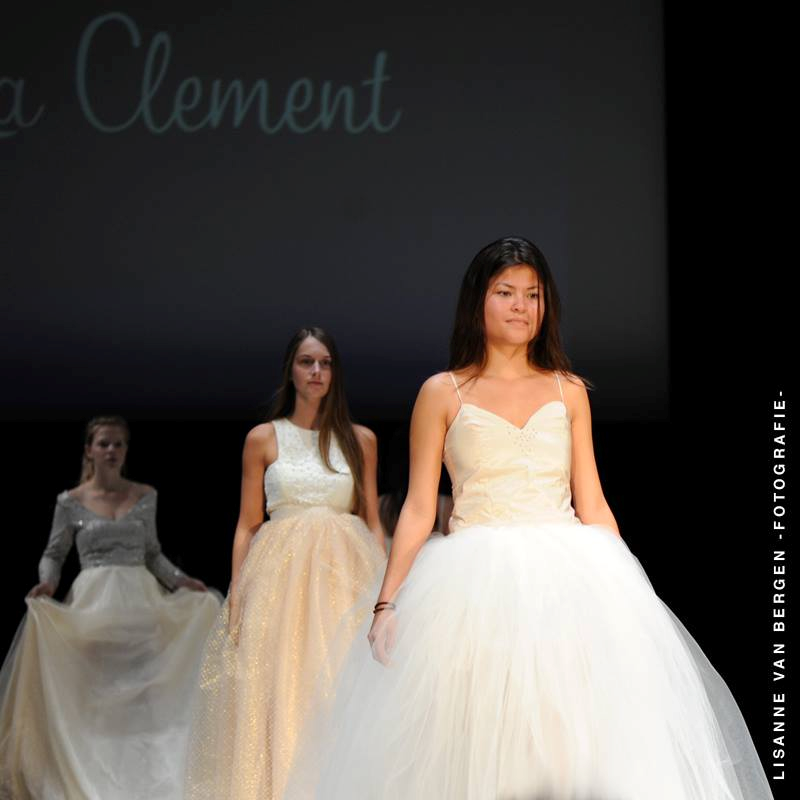 We had to dress back to our normal clothes and had lunch, then we had to split up to get our hair and make-up done for the night. My make-up got changed/updated twice due to some reasons. (p.s, I could wear my favorite pair of earrings, the ones I wear with alot of outfits/at fashion posts)
We moesten de outfits waar we in kwamen opnieuw aantrekken en gingen vervolgens lunchen, daarna was het tijd om op te splitsen om ons haar en make-up te laten doen voor de avond. Mijn make-up werd twee keer geupdate/verandert wegens bepaalde redenen. (p.s, ik mocht mijn favoriete paar oorbellen inhouden omdat het goed bij de jurk paste, de oorbellen die ik ook bij veel posts op mijn blog draag)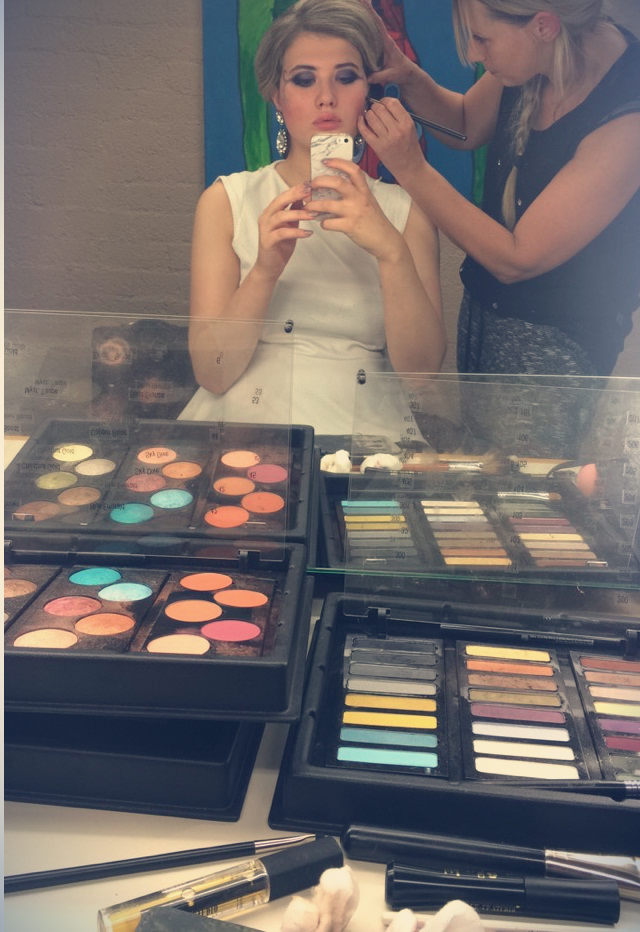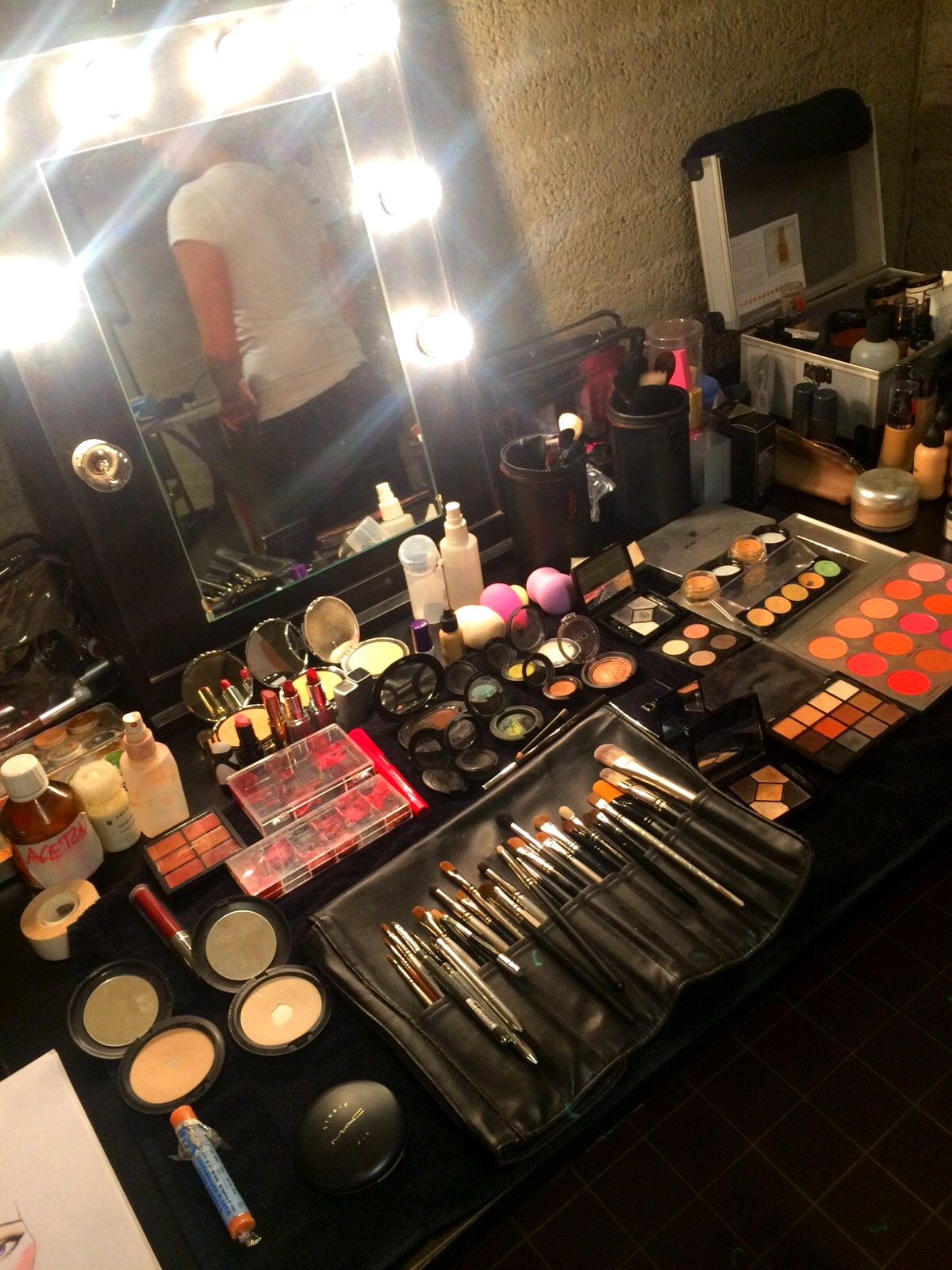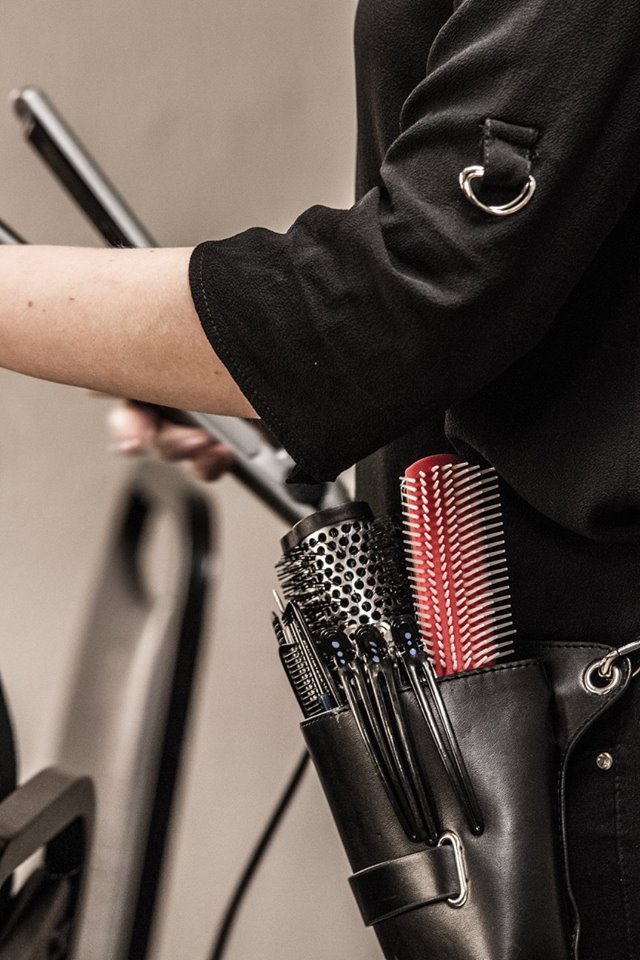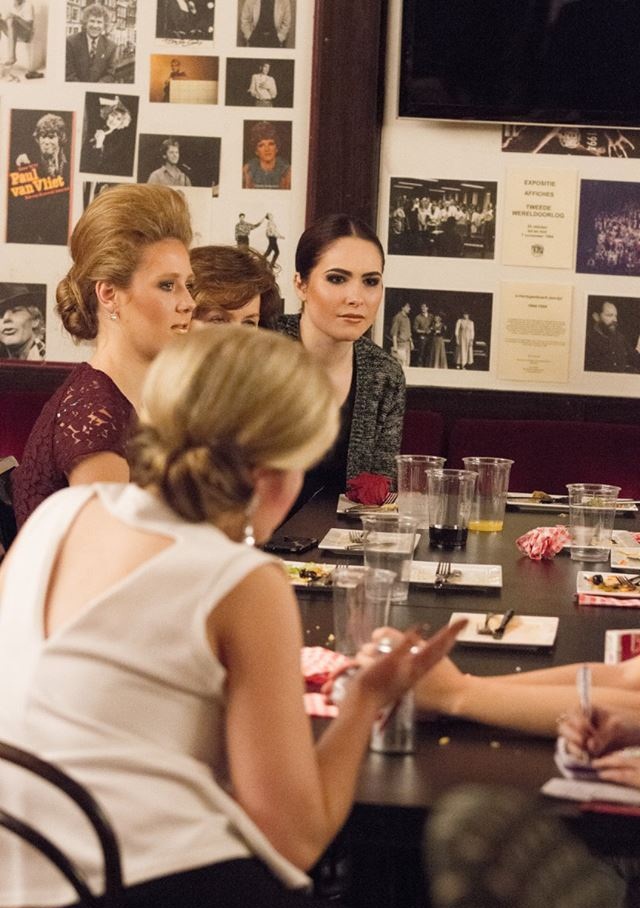 After diner, we had the final update of our make-up and hair. Then, we had to dress together with the stylists and our designer. When we were done, it was time for me to open the show as the girl from the promotional material/posters. Yvette (the organiser) helped me up on stage. The crowd was pretty silent and then the piano music startted. After a minute, everything went silent, including the music. In that moment, my heart was racing and I could feel the tension in my belly, that was when I realized it was my moment and time to open the show.
Na het avondeten hadden we de final touch aan onze make-up en ons kapsel en moesten we opnieuw in onze jurk, die werd aangetrokken met hulp van een stylist en onze ontwerpster om onze make-up en kapsels in tact te houden. Eenmaal klaar was het tijd voor mij om de show te openen als model van de poster. Yvette (de organisatorische) hielp me op het podium. De ruimte was vrij rustig en toen de piano muziek startte, en er na een minuut, alles in de ruimte stil viel, inclusief de muziek. Op dat moment voelde ik een hoop kriebels in mijn buik en wist ik dat het mijn moment was en ik de show moest gaan openen.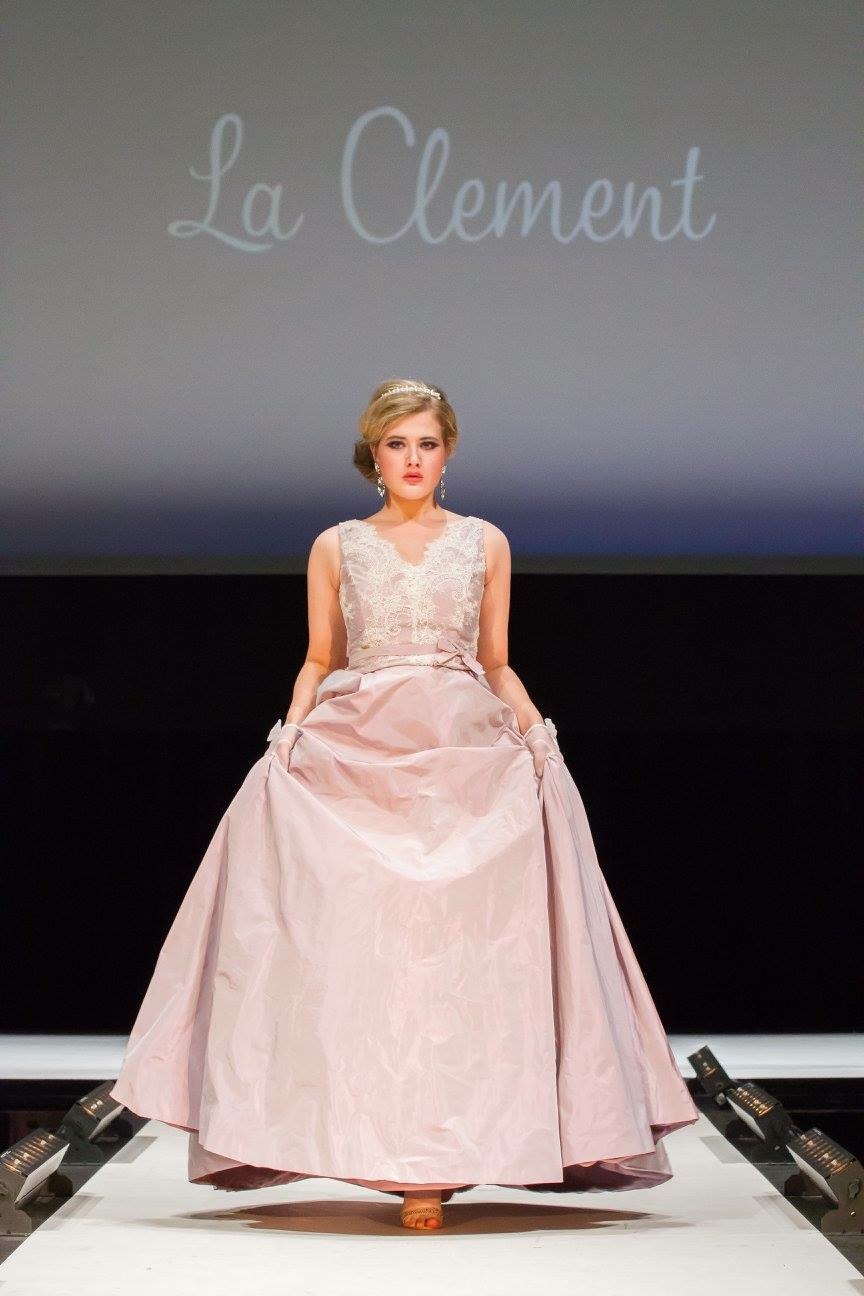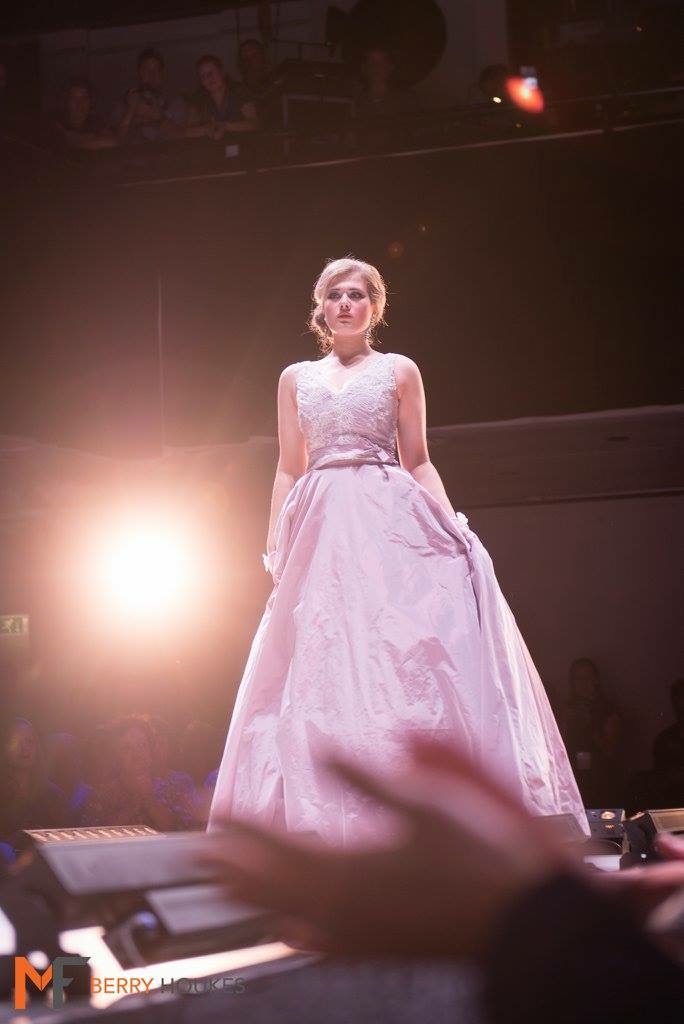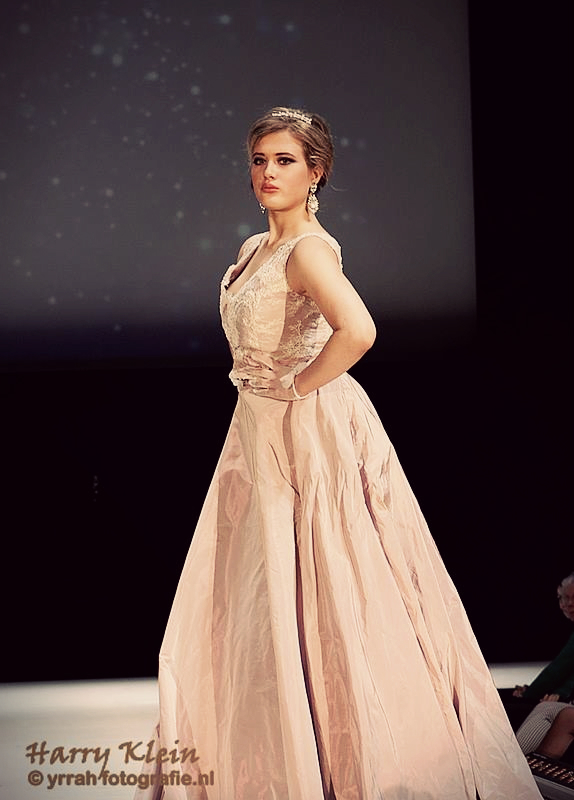 Before I walked on the stage, I squeezed the hand of Yvette. It was a beautiful experience/ I was shaking because of all the emotions that went through me. Not because of fear or sadness, but because of exitement. I felt so amazing and blessed when I walked there as the show opener and felt that everybody was looking at me. When I did my third pose, I recieved an applause from the audience. I kept my face straight. However, on the inside I felt very lucky, happy, blessed and like a princess at that very moment. After all of the models had done their part of the show, it was time to do the final round where we had to walk alot faster and pose only once and everybody followed each other up.
Nog voor ik het podium op ging, kneep ik in de hand van Yvette. Het was een prachtige ervaring, ik trilde van de emoties die door me heen gingen. Niet wegens angst of verdriet, maar van enthousiasme. Ik voelde me zo fantastisch, vrolijk, gezegend en als een princess toen ik over het podium liep als show opener en voelde dat iedereen naar me keek. Op het moment dat ik mijn derde pose deed, kreeg ik een applaus van het publiek. Ik hield mijn gezicht stijf, niet omdat ik niet blij was, maar omdat ik serieus wilde blijven, alhoewel ik me van binnen erg goed voelde. Na alle modellen hun deel van de show hadden gedaan, was het tijd voor de eindronde waar we sneller moesten lopen en elkaar snel moesten opvolgen.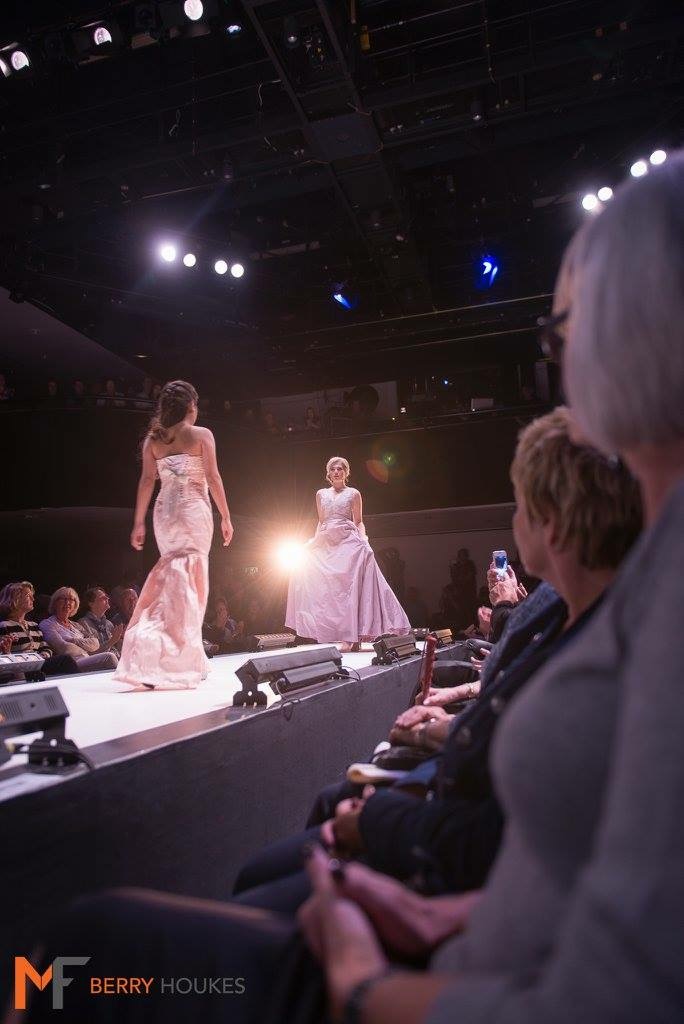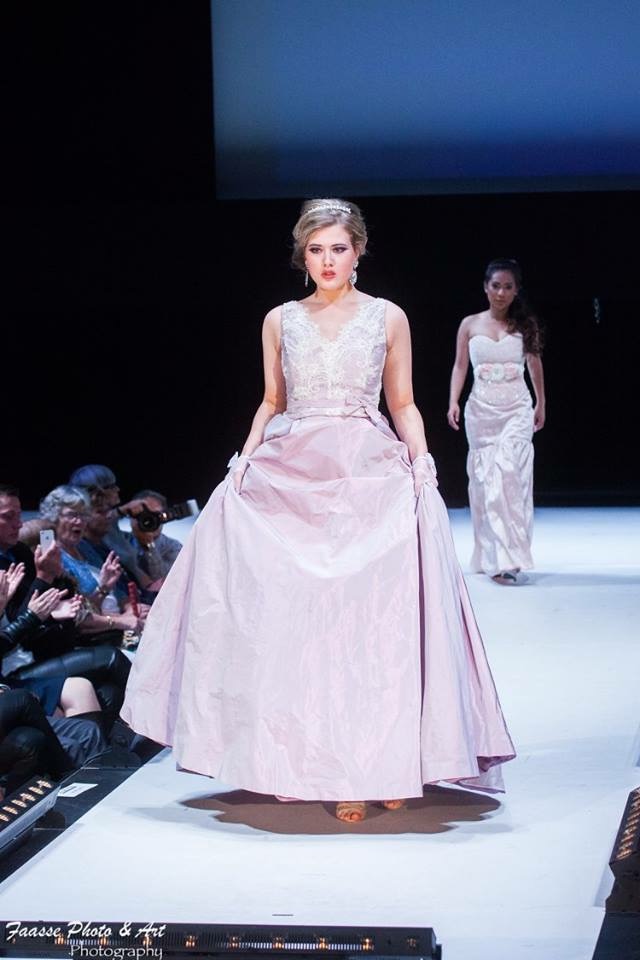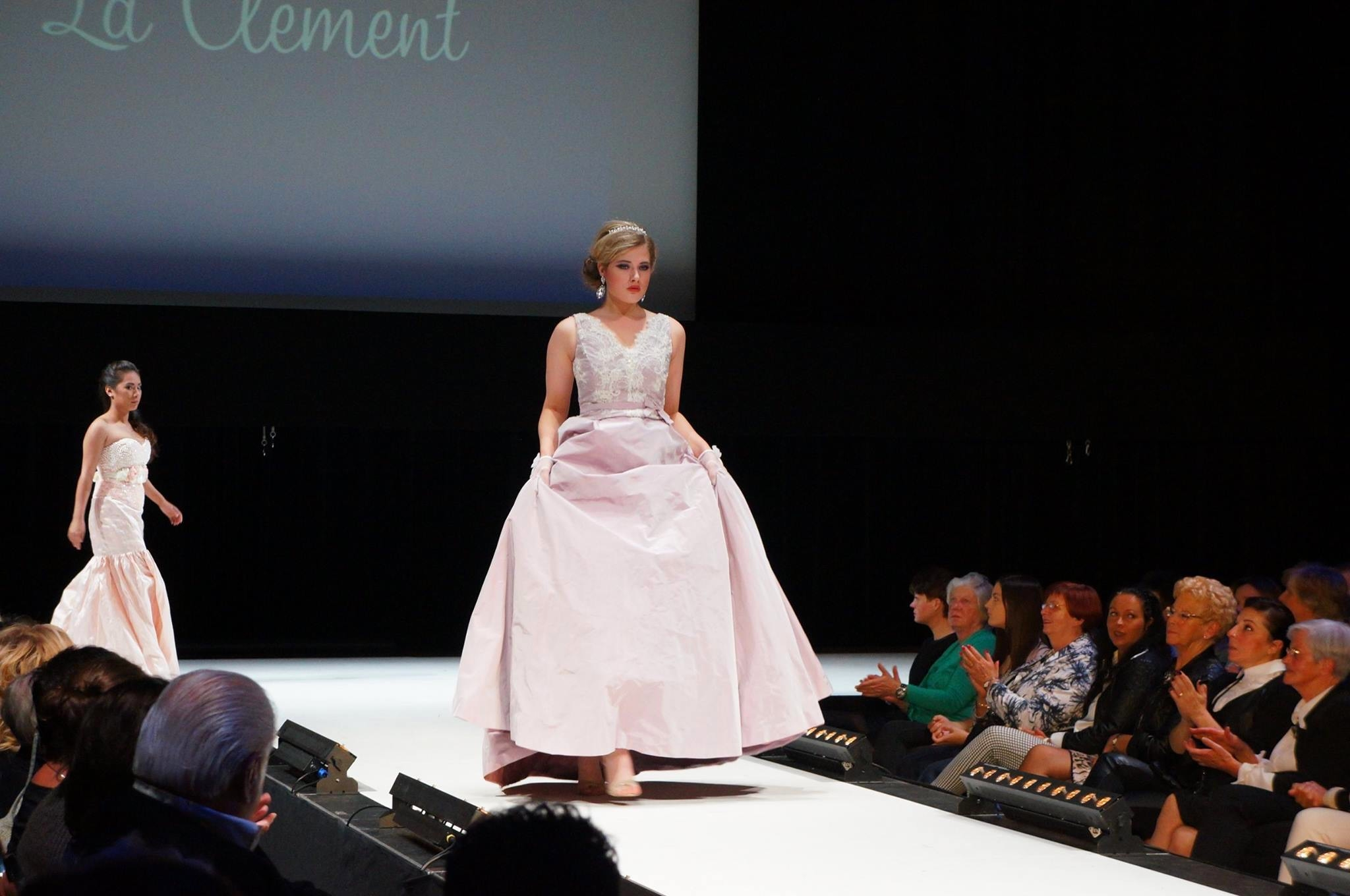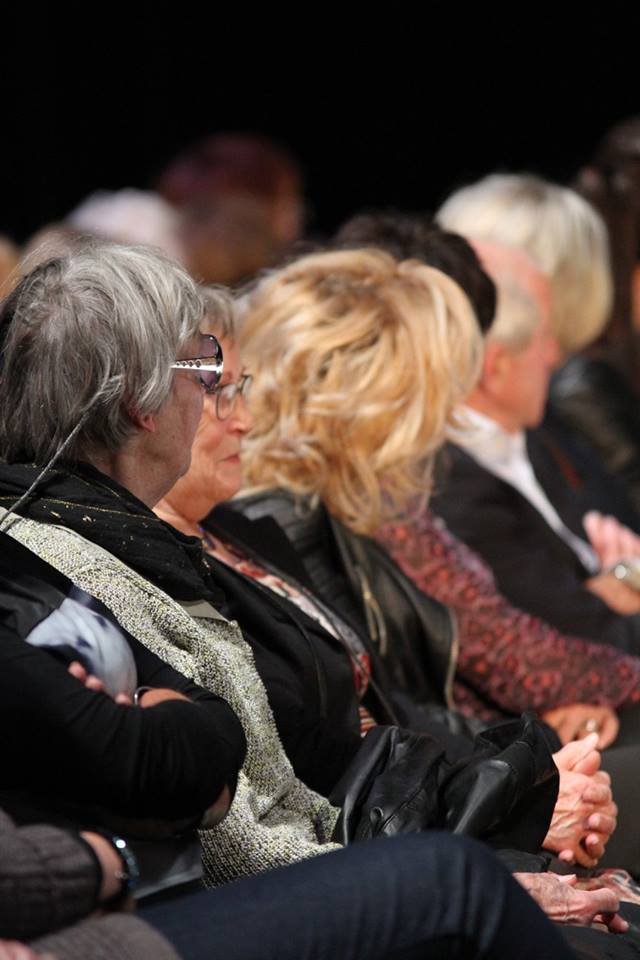 After our part of the show, we had to come back to the dressing room where we were all chatting about how we experienced our moment and alot of us took selfies together.
Na ons deel van de show, moesten we terug komen naar de kleedkamer waar we allemaal gingen kletsen over hoe we ons moment hadden ervaren en maakte we massaal selfies met elkaar.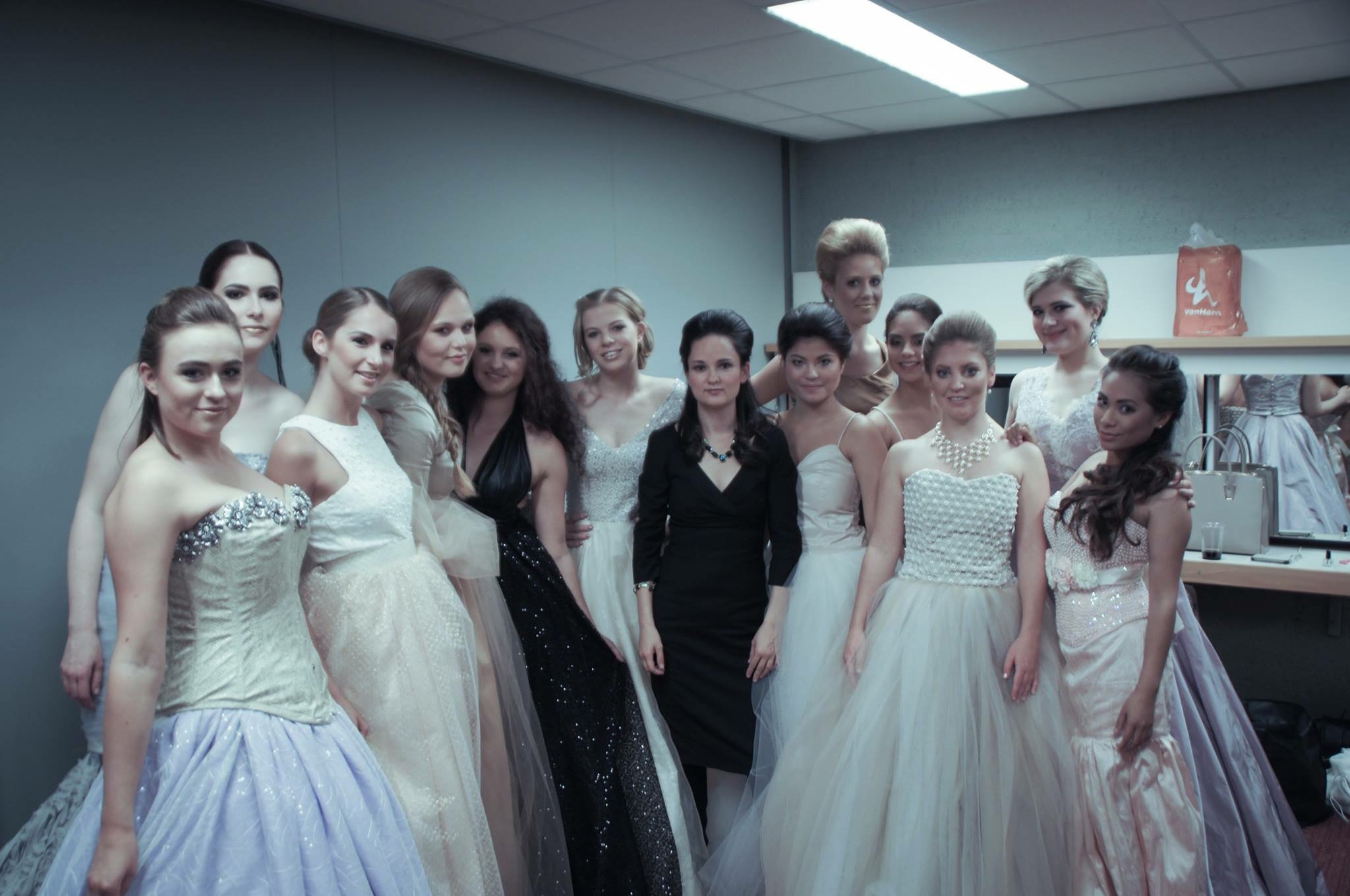 When the girls of the other bridal fashion designer (LeMichelle) and the hair fashion designer (De Gruyter) all walked the show, we all had to come up once again on stage as a final round, I had to walk first because I was the first model to open the show. Each of the models's name got told to the audience by the presentor, when one name got said the same model came up on the stage in a row to make sure all models would fit on the stage. We didn't have to pose or go over the entire runway. Eventually the organisators (Yvette and Sjoerd) and our lovely catwalk trainer (Solange) walked to the front part of the catwalk. All of us recieved an applause of the audience.
Toen de meiden van de andere bruidsmodeontwerpster (Le Michelle) en de haar mode stylist (De Gruyter) allemaal de show hebben gelopen, moesten we met zijn allen voor een allerlaatste keer het podium op. Ik moest als eerste als beginnend model. De naam van ieder's model werd door de presentator opgenoemd en kwam dan vervolgends het podium op. We stonden allemaal op een rij om te zorgen dat alle andere modellen op het podium zouden passen. (We waren tenslotte met een erg grote groep) We hoefte niet te poseren of de hele catwalk op te lopen. Uiteindelijk kwamen de organisators (Yvette en Sjoerd) en onze lieve catwalk trainster (Solange) het podium op en liepen helemaal naar de voorkant er voor. Ieder van ons allen ontving een applaus van het publiek.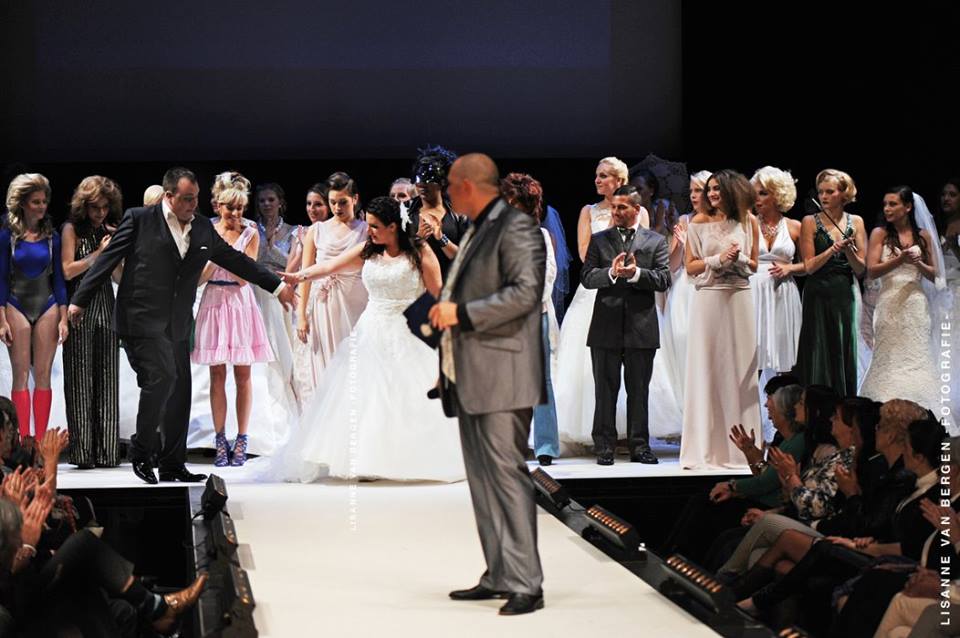 We eventually all went back to the dressing room to dress back to our normal clothes and to chat with other models, family, friends and other visitors of the show in the lobbies at the building. We said goodbye to everybody and I thanked the organisators (Yvette and Sjoerd), our catwalk coach, alot of the people that helped out that day and our designer for giving me (and the other girls) such a great opportunity. The rest of the evening I chatted with friends and family that visited me.
We gingen allemaal terug naar de kleedkamer om ons voor een laatste keer om te kleden in normale kleding en om nog een laatste beetje te kletsen met de andere modellen, familie leden en andere bezoekers van de show in de lobby's van het gebouw. We zeiden vaarwel tegen iedereen en ik bedankte de organisators, onze catwalk coach en alle anderen die die dag hebben gelopen en tenslotte de ontwerpster van de groep waar ik bij zat voor het geven van zo'n kans. De rest van de avond was ik met mijn familie en vrienden die speciaal voor mij waren gekomen.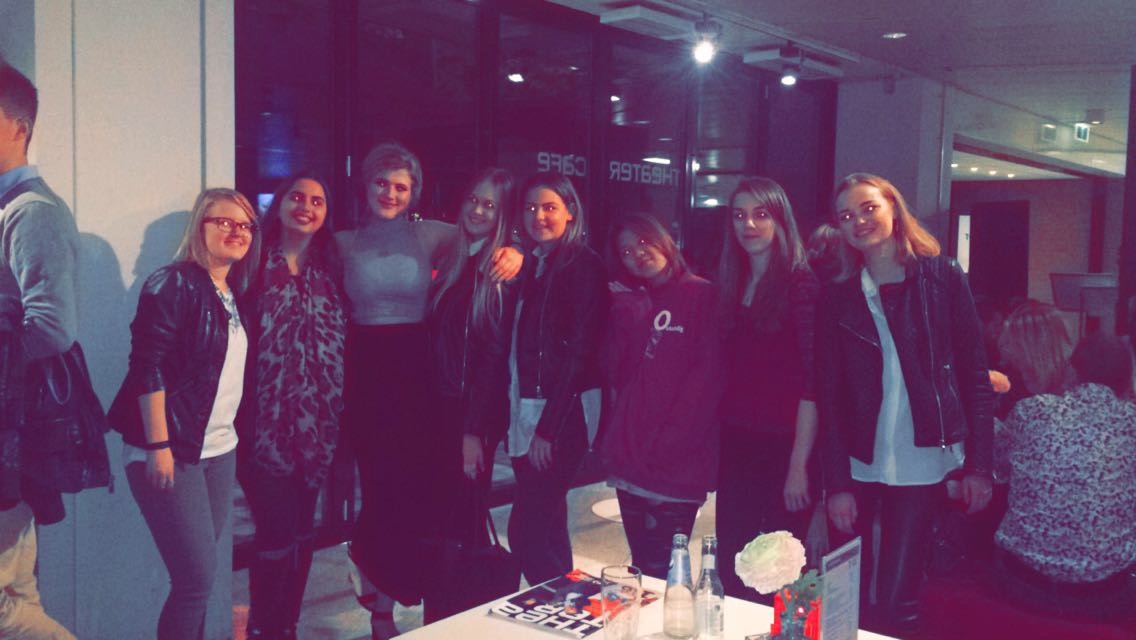 I ended the evening by going to clubs in the city it's center with some models (which is less than 200m away from the location where we had the show) to celebration of the amazing night, which was definitely one of the most great days I can remember. I can't wait for the next show. I'm missing everything and everybody already!
Ik eindigde de avond door het gaan naar uitgaansgelegenheden in het centrum van de stad samen met wat andere modellen (wat slechts 200 meter van het theater vandaan was) om deze geweldige avond te vieren, wat zeker een van de beste avonden is die ik me kan herinneren. Ik kan niet wachten voor de nieuwe show. Ik mis alles en iedereen nu al! 
F for Fashion is created by Yvette Vughts/van Kampen and Sjoerd van Kampen.
The goal of F for Fashion is to give girls that dream of being/becoming a model, but don't have the right size/height/amount of confidence/etc, a change of walking a beautiful fashion show.

F for Fashion is opgericht door Yvette Vughts/van Kampen en Sjoerd van Kampen. Het doel van F for Fashion is het geven van een kans aan meisjes die dromen van het zijn/worden van een model, maar niet de 'juiste' maat/lengte/hoeveelheid zelfverzekerheid/etc, een kans om een prachtige modeshow te lopen.



Check out the fashion show report as well. F for Fashion 2015 – The Wedding fashionshow report
And the promotional photoshoot: Photoshoot report – F for Fashion: The wedding, by Bob Mans
F for fashion website: www.fforfashion.nl
Pictures: Bilde Fotografie (www.behance.net), Faasse Fotografie, Rob van Pinxteren, Berry Houkes, Lisanne van Bergen
La Clement: Kitty Laclement
Le Michel: Michelle Schuurmans
De Gruyter hair: http://www.hansdegruyter.nl/
Location: Theater aan de parade Den Bosch
Catwalk coach: Solange Dekker
Organisators: Yvette van Kampen/Vughts, Sjoerd van Kampen/Vughts