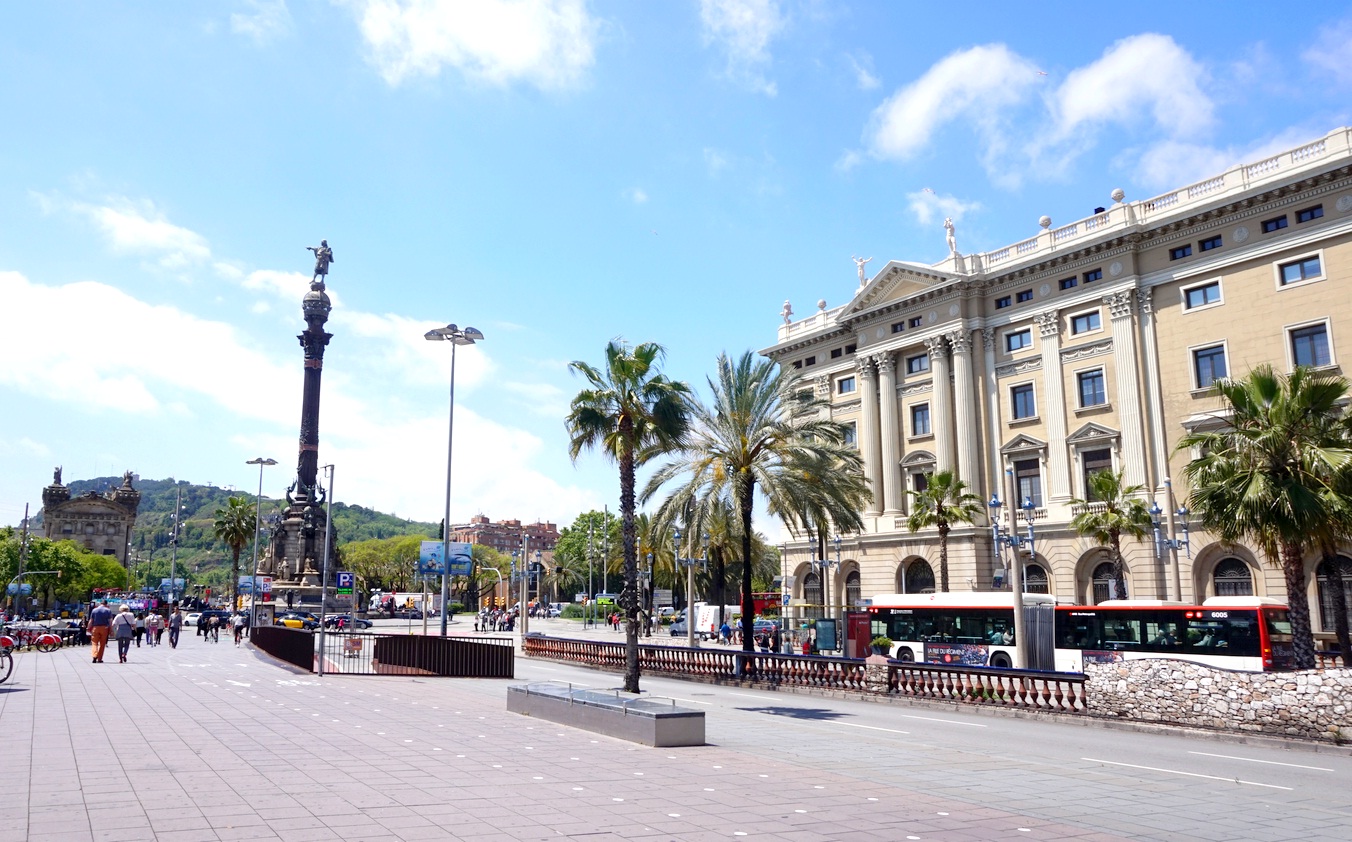 The third day, we still had the complete day to spend. We decided to search for a nice place to have breakfast. After some searching, we came across a place somewhere at a less crowded area. It was a little further away from the more crowded areas in the city. It was very quiet inside, the main reason for that was because we wanted to have breakfast pretty late in the morning. Inside, the employees where very kind. Paige and I both ordered a combi of a tasty bagel and a cappuccino (when I am on a holiday, I often eat whatever I feel like eating. But I don't exaggerate. Back at home it's back to the healthy lifestyle) At the end, I ordered a coffee to go and the kind lady gave me one on the house. Super nice of her! When you want to have breakfast in Barcelona at a less crowded area, defenitely look this nice place up.
De derde dag hadden we nog de complete dag om te besteden. We besloten een leuk plekje te zoeken om te ontbijten. Na wat rondkijken kwamen we uit bij een zaakje ergens op een wat rustige plek. Het lag wat verder van het drukke gedeelte van de stad. Het was erg rustig binnen, we waren er namelijk ook wat later in de ochtend. Binnen waren de medewerksters aardig en bestelden we beide een combi van een lekkere bagel en cappuccino (op vakantie eet ik gewoon lekker waar ik zin in heb, maar overdrijf ik niet. Eenmaal thuis is het weer terug naar de gezonde leefstijl). Aan het einde bestelde ik een koffie to go en kreeg het van de mevrouw on the house, super aardig! Zeker even heen gaan als je lekker wilt ontbijten en een wijkje zoekt waar het wat rustiger is in Barcelona.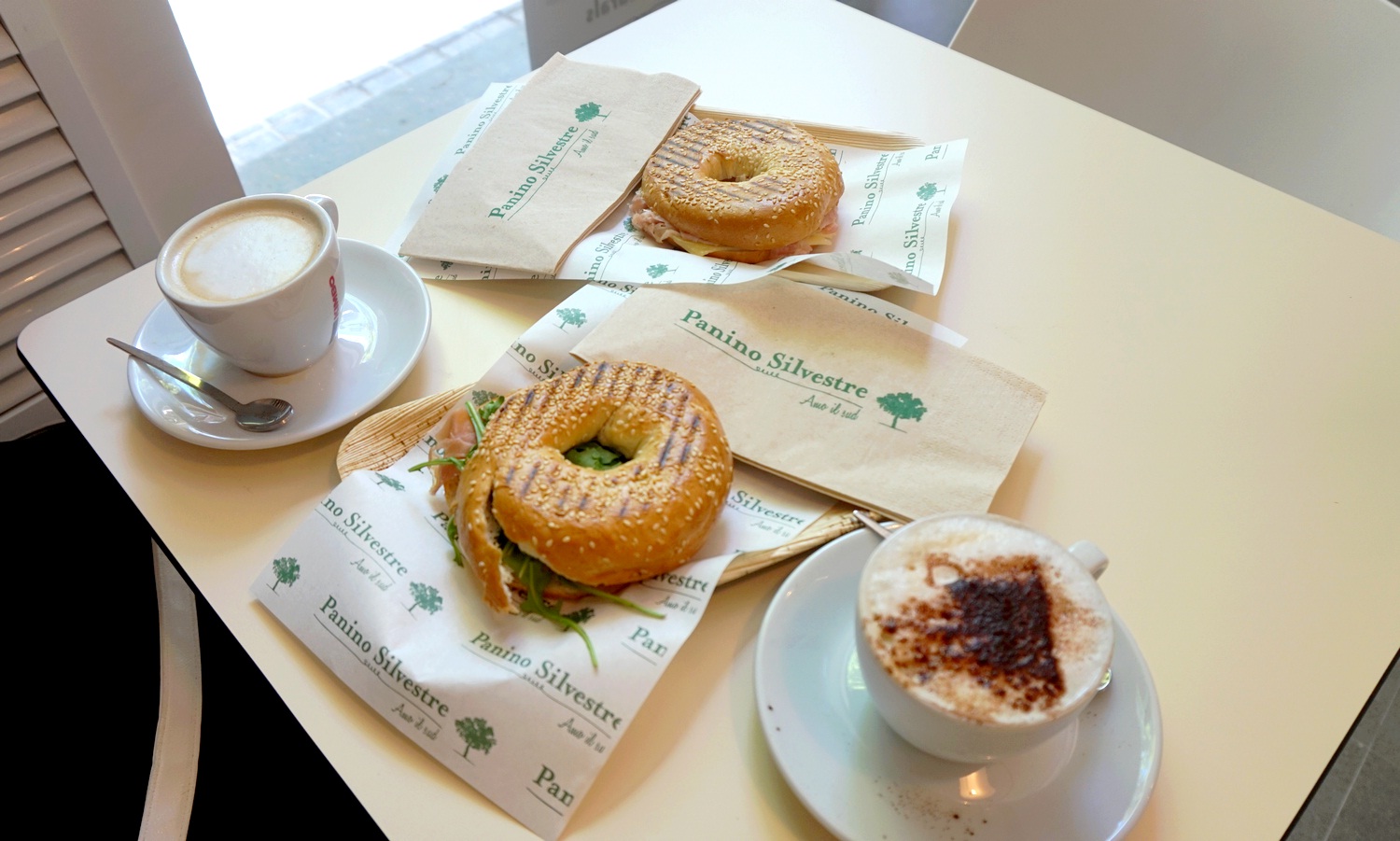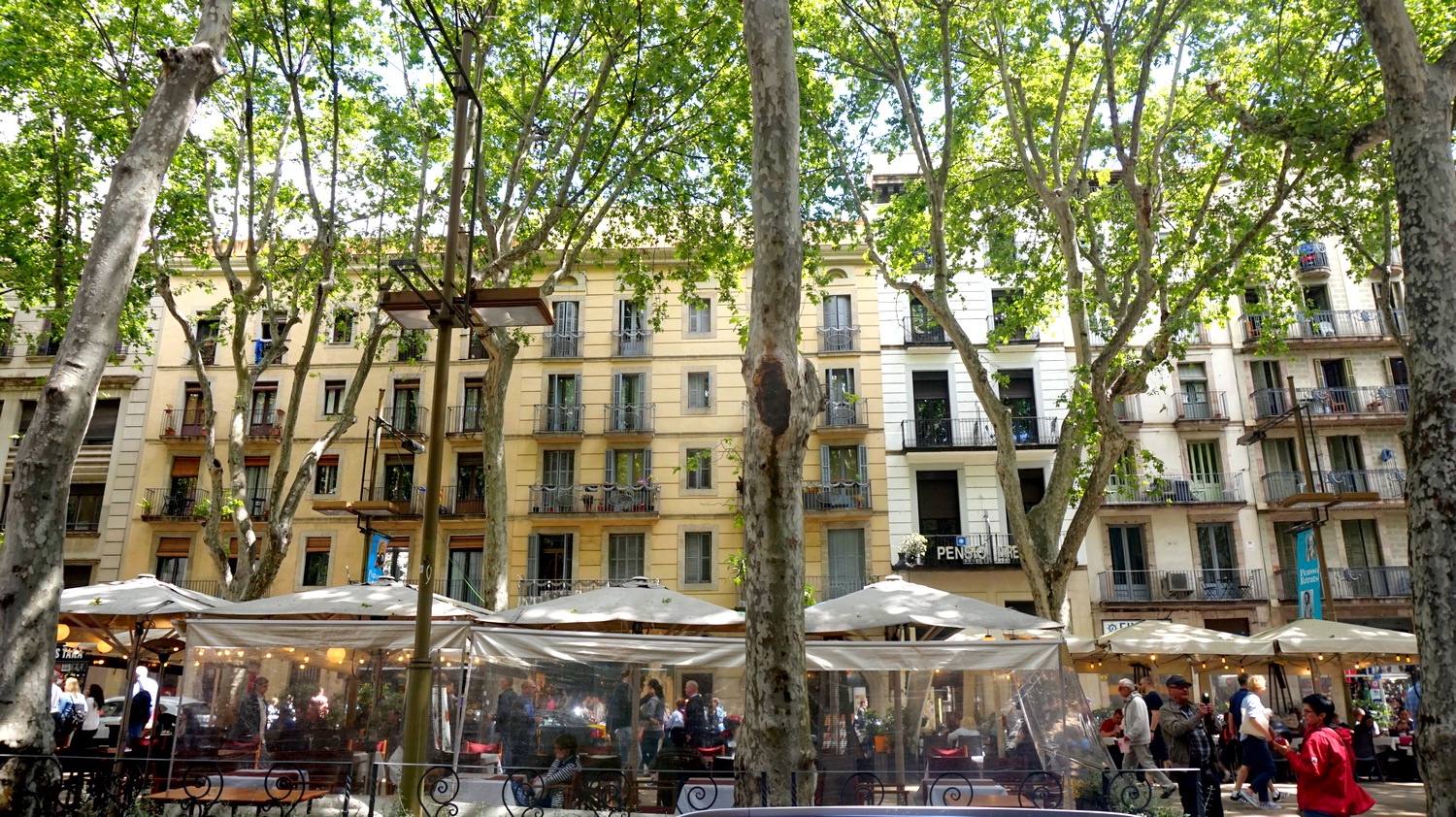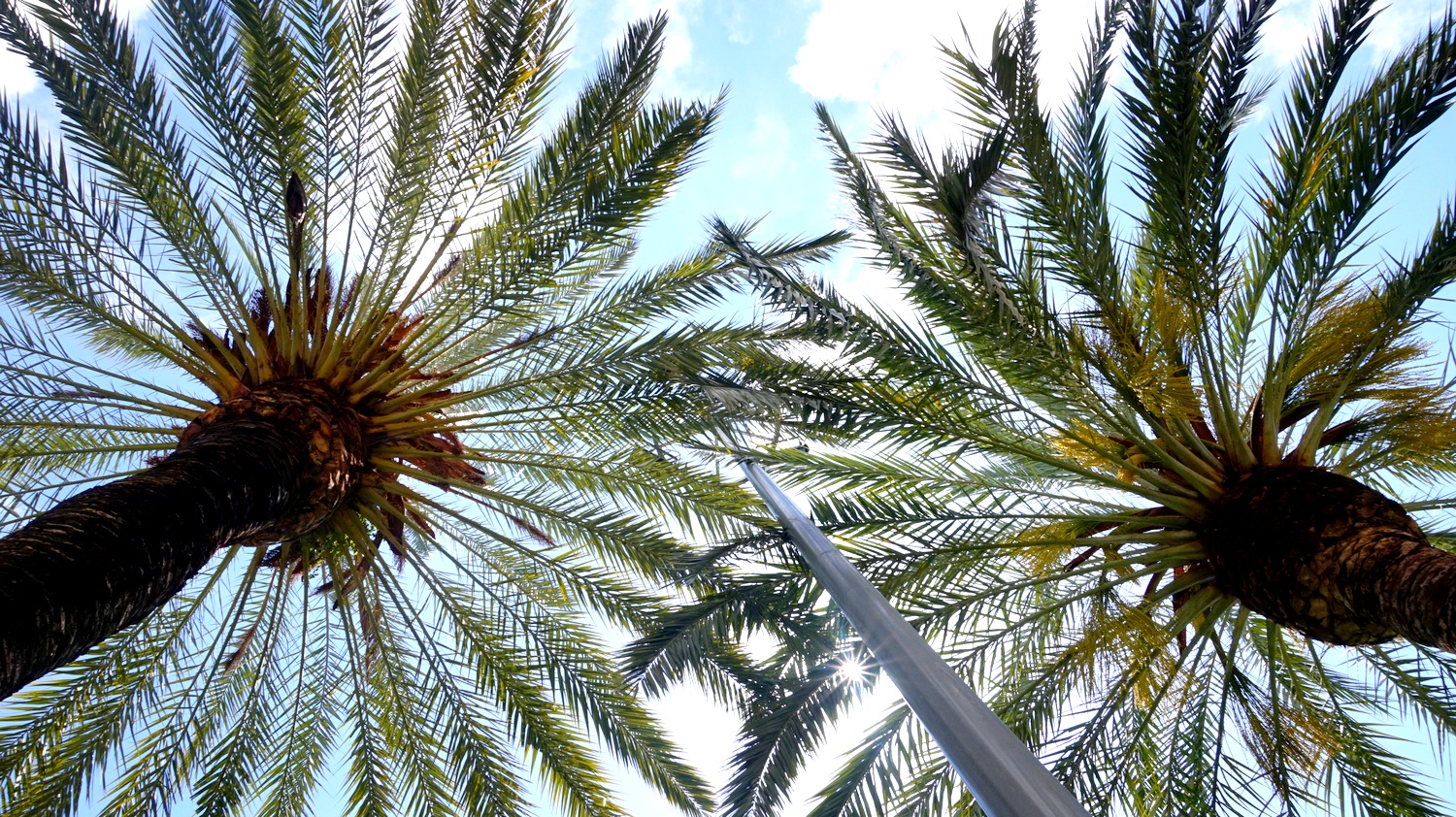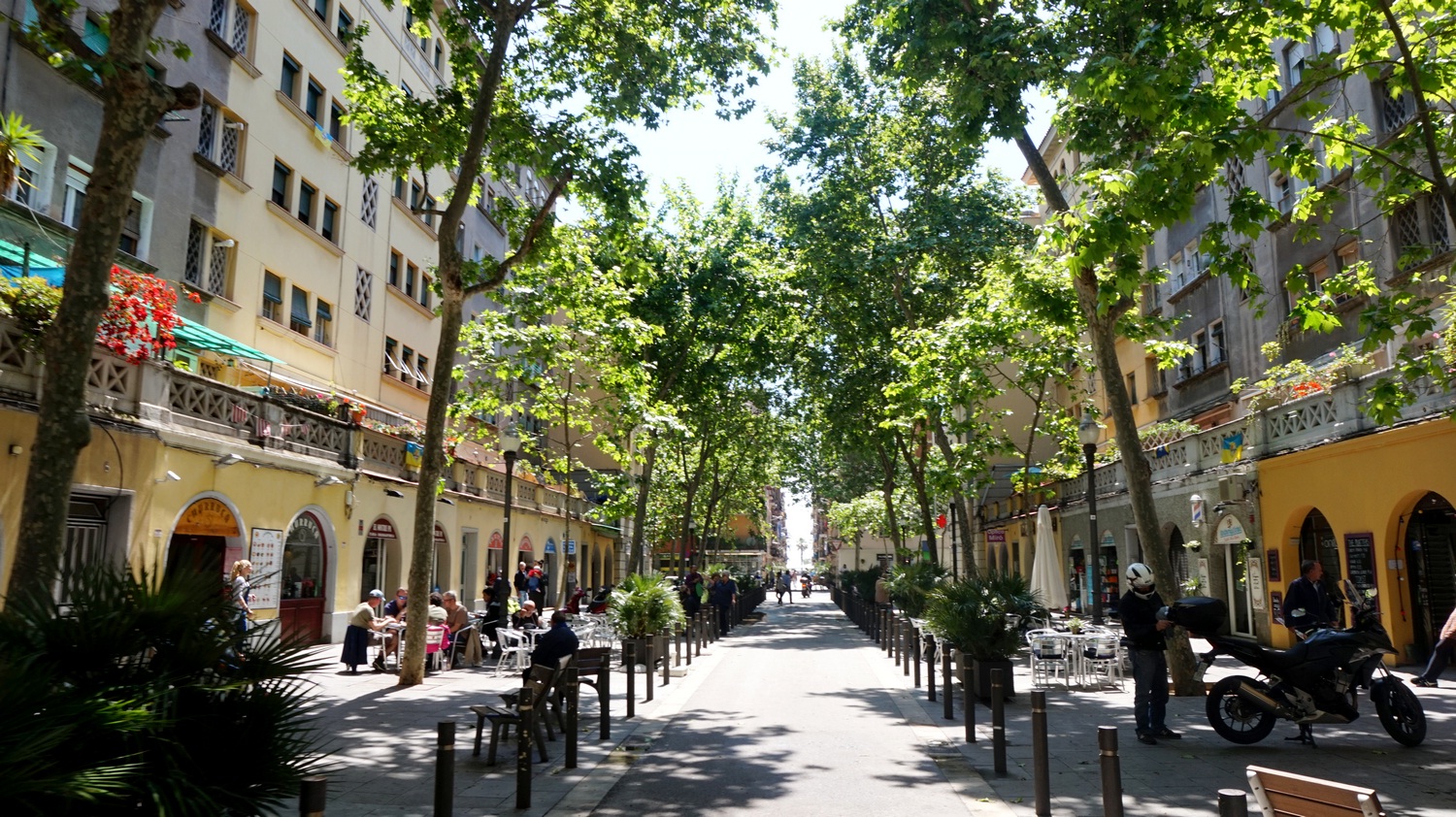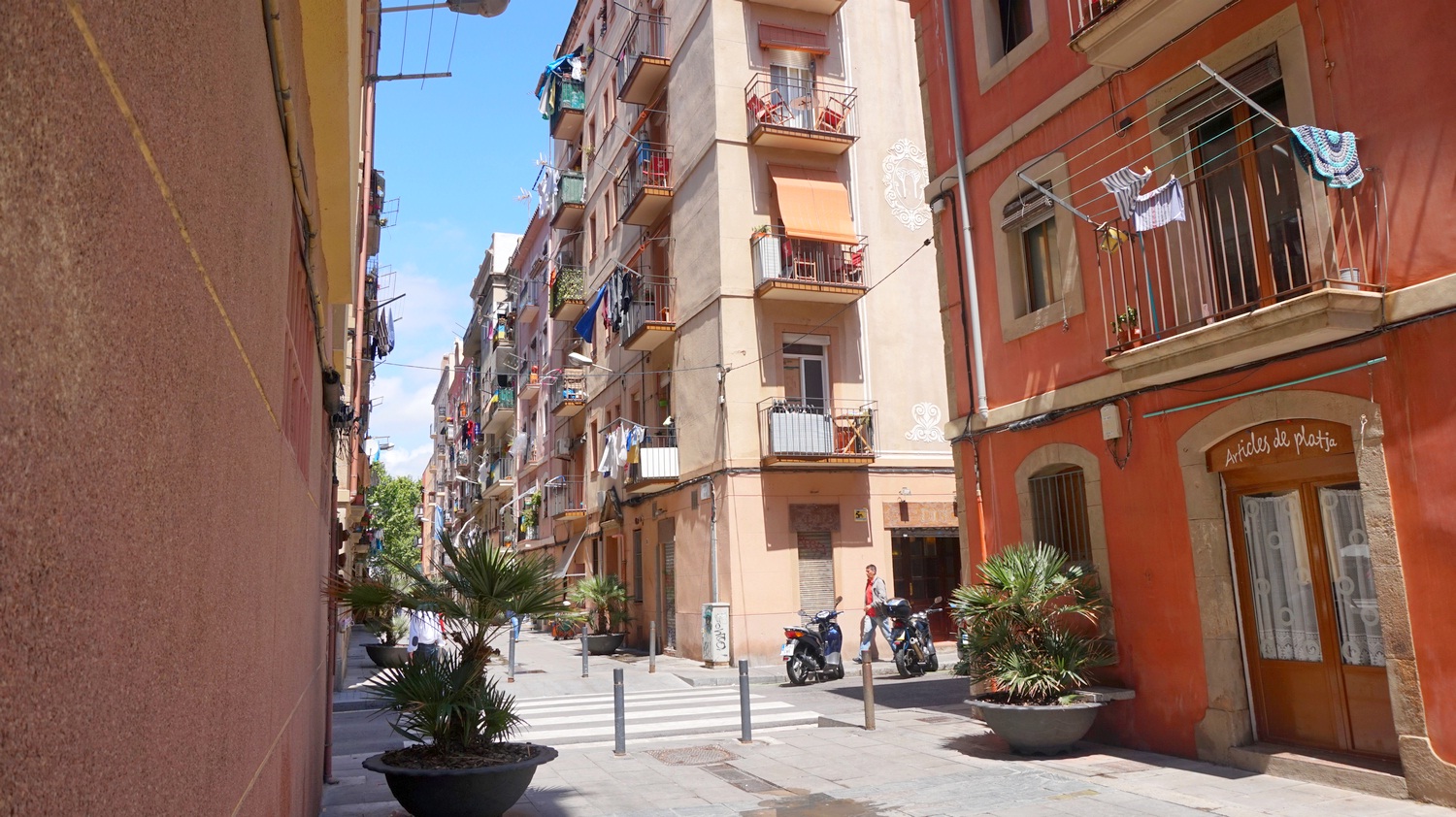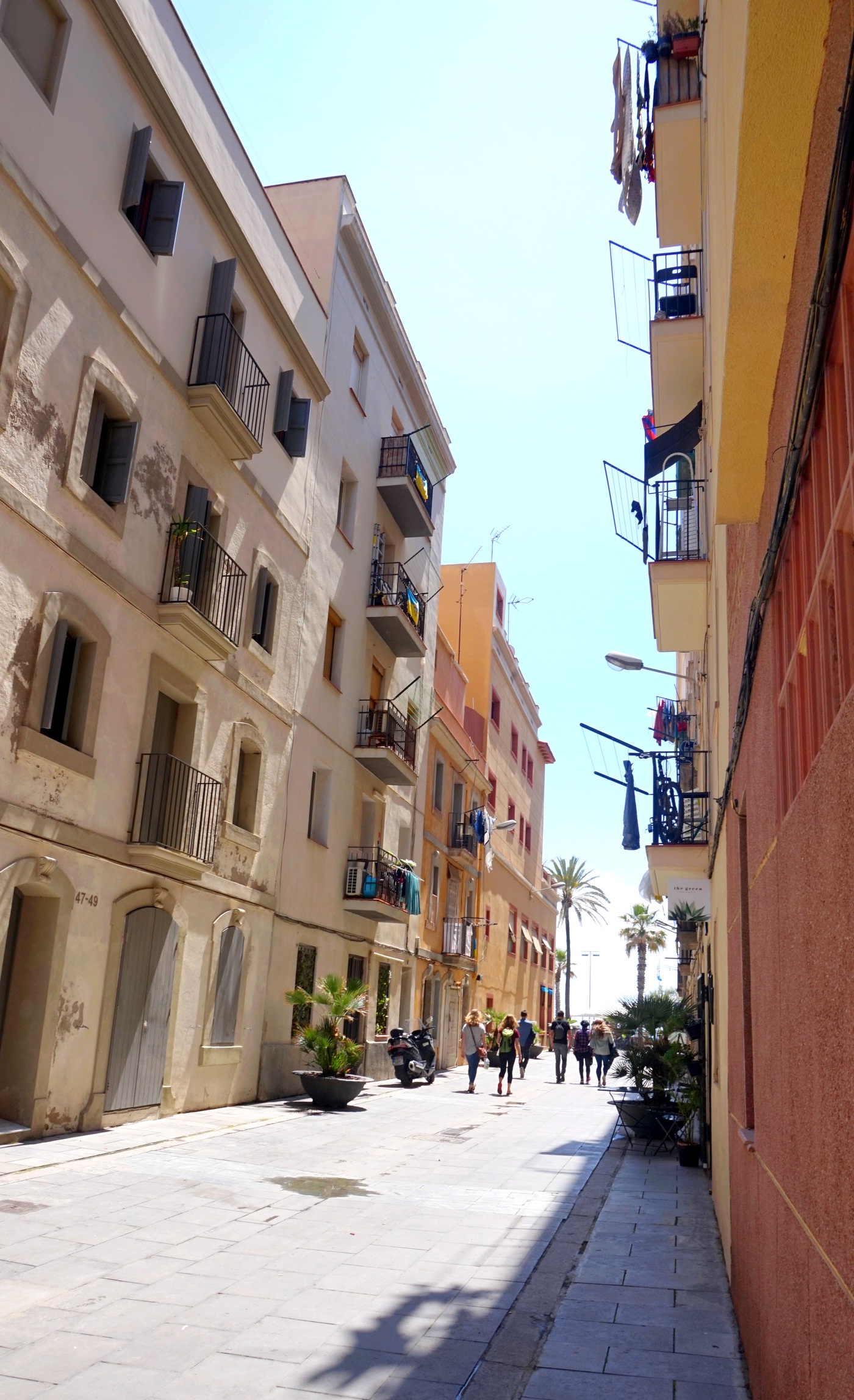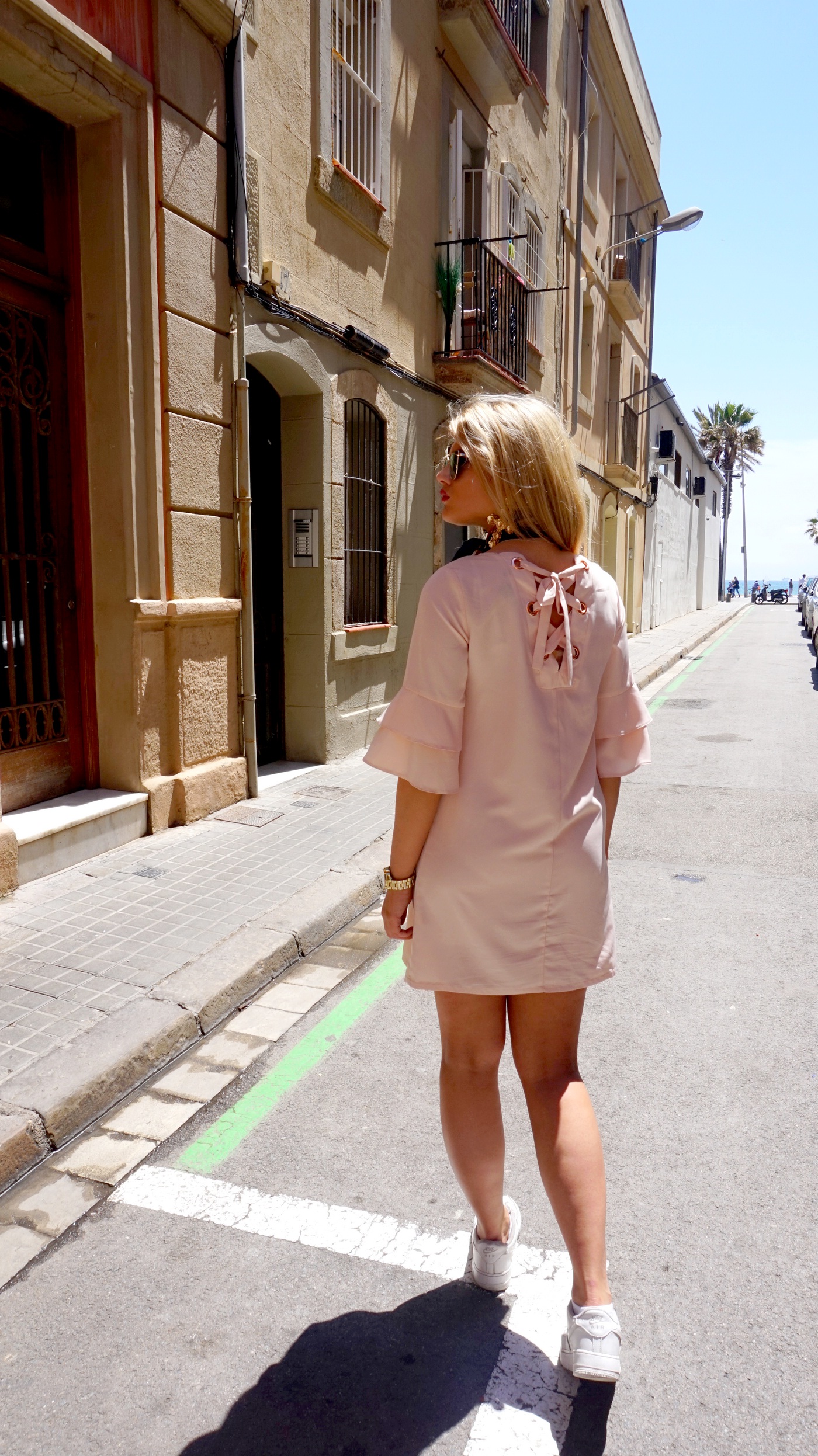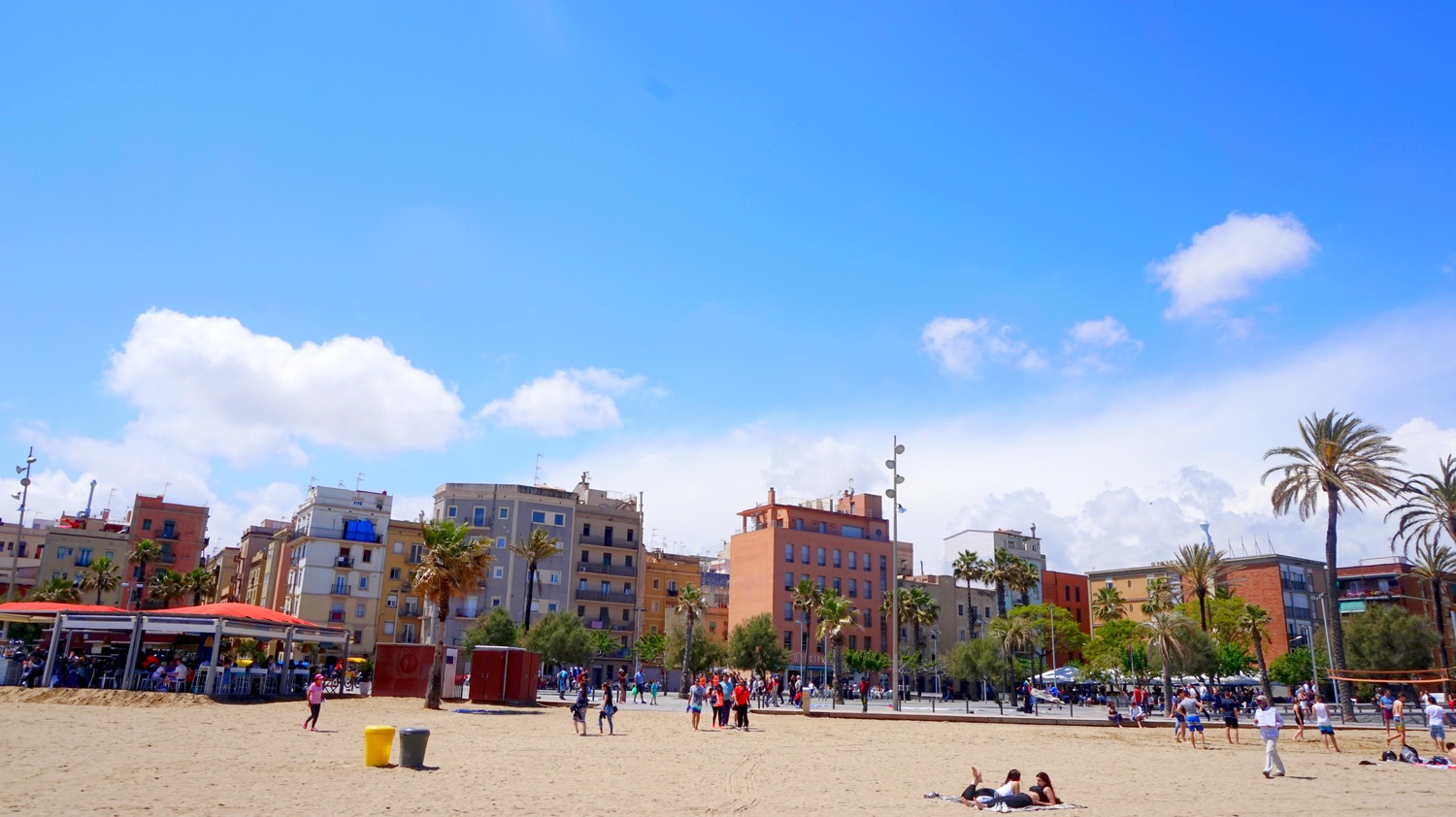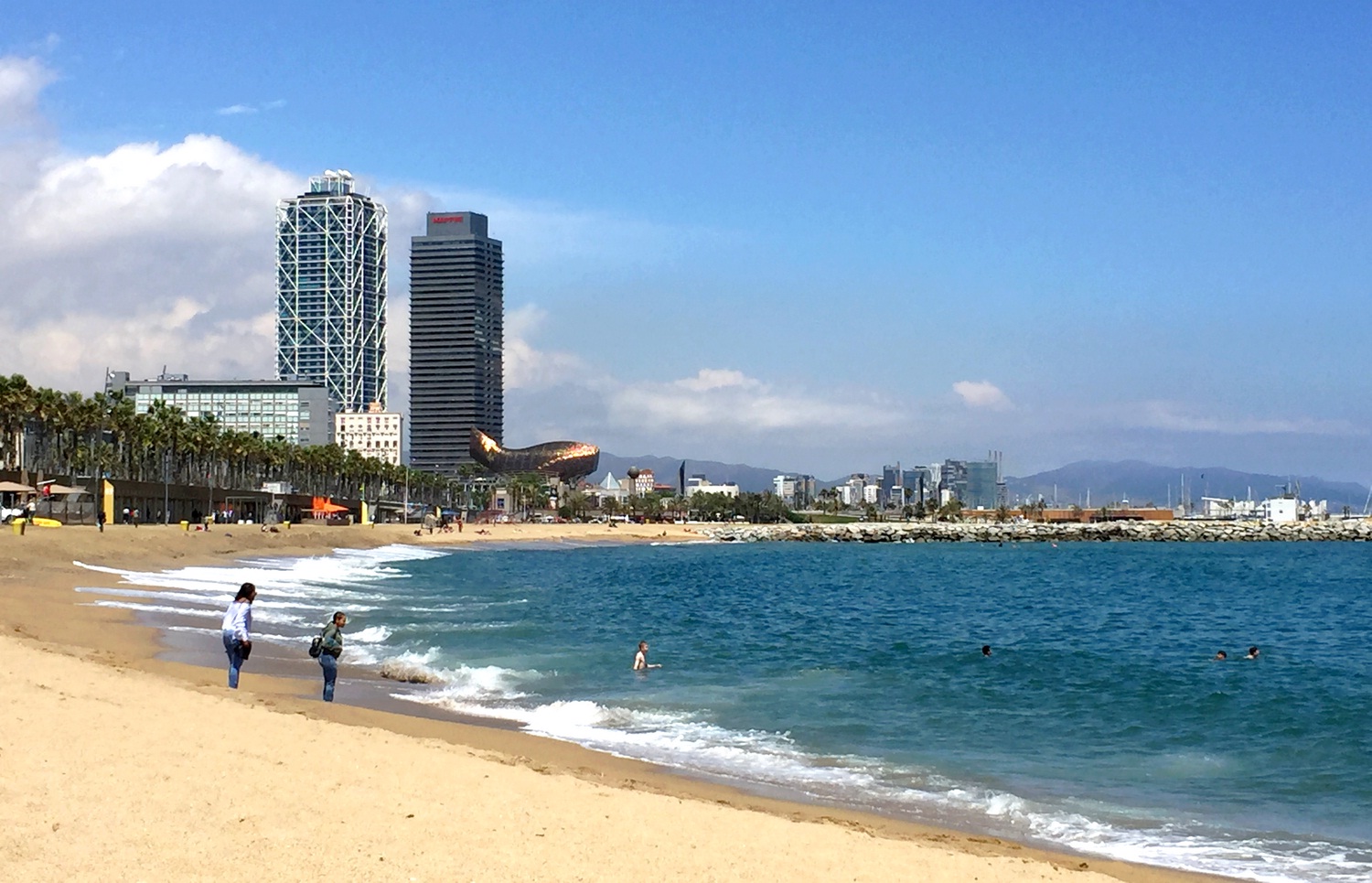 In the afternoon, we went back to the boulevard area again. At the boulevard, we decided to sit on the beach and to walk into the sea for a short while. After 15 minutes at the beach or so, we left. Every 30 seconds, people tried to sell us things so we decided to leave and to get us something to drink. We went to another café at the beach than last time (which I forgot the name of..). At that place, I ordered a glass delicious white cava sangria. I gave half of it eventually to Paige because I barely ever drink, so I couldn't even finish it haha :'). We met cool people from Ireland which where sitting at the table next to us. We got into a conversation with them. Eventually, we decided to go to a café at the Ramblas square area. #coffeeagain
When we wanted to have dinner late in the evening, we ended up at a Spanish restaurant in a small street somewhere in that area. They had very special well priced and artistic dishes. It was a nice suprise! Paige and I both took a shrimp and avocado dish. As dessert, I chose a rice with milk, figs and cherry dish. It was a nice experience to eat here and the dishes where somewhat like little art works! The other travellers that joined us which we met that afternoon where kind company.
In de middag zijn we opnieuw terug richting de boulevard gegaan. Daar gingen we lekker even op het strand pootjebaden. Na een kwartiertje of langer gingen we weer weg omdat we om de 30 seconden werden aangesproken door verkopers en wat wilde gaan drinken. We besloten ergens bij een ander strandtentje te gaan zitten dan de vorige keer. (Waar ik de naam helaas van vergeten ben..) Bij dat café bestelde ik een lekkere witte sangria, waar ik de helft van aan Paige gaf omdat ik bijna nooit drink dus het eigenlijk op dat moment niet helemaal op kon :'). We hebben coole mensen uit Ierland aan de tafel naast ons ontmoet en waren in gesprek met ze gegaan. Uiteindelijk besloten we om gezamelijk naar een terras te gaan op het plein bij de Ramblas. #alweerkoffie
Toen we laat in de avond ons avondeten wilden eten, waren we uiteindelijk bij een Spaans restaurant beland in een zijstraatje met goedkope en vooral hele fancy hapjes. Het restaurant had bijzondere gerechten. Een leuke verrassing! Paige en ik namen beide een garnalen gerecht met avocado en als toetje nam ik zelf rijst met melk, vijgen en kersen. Het was een leuke ervaring er te hebben gegeten en de gerechten waren een beetje als kunstwerkjes! De andere reizigers die we die middag hadden ontmoet waren ook erg aardig gezelschap.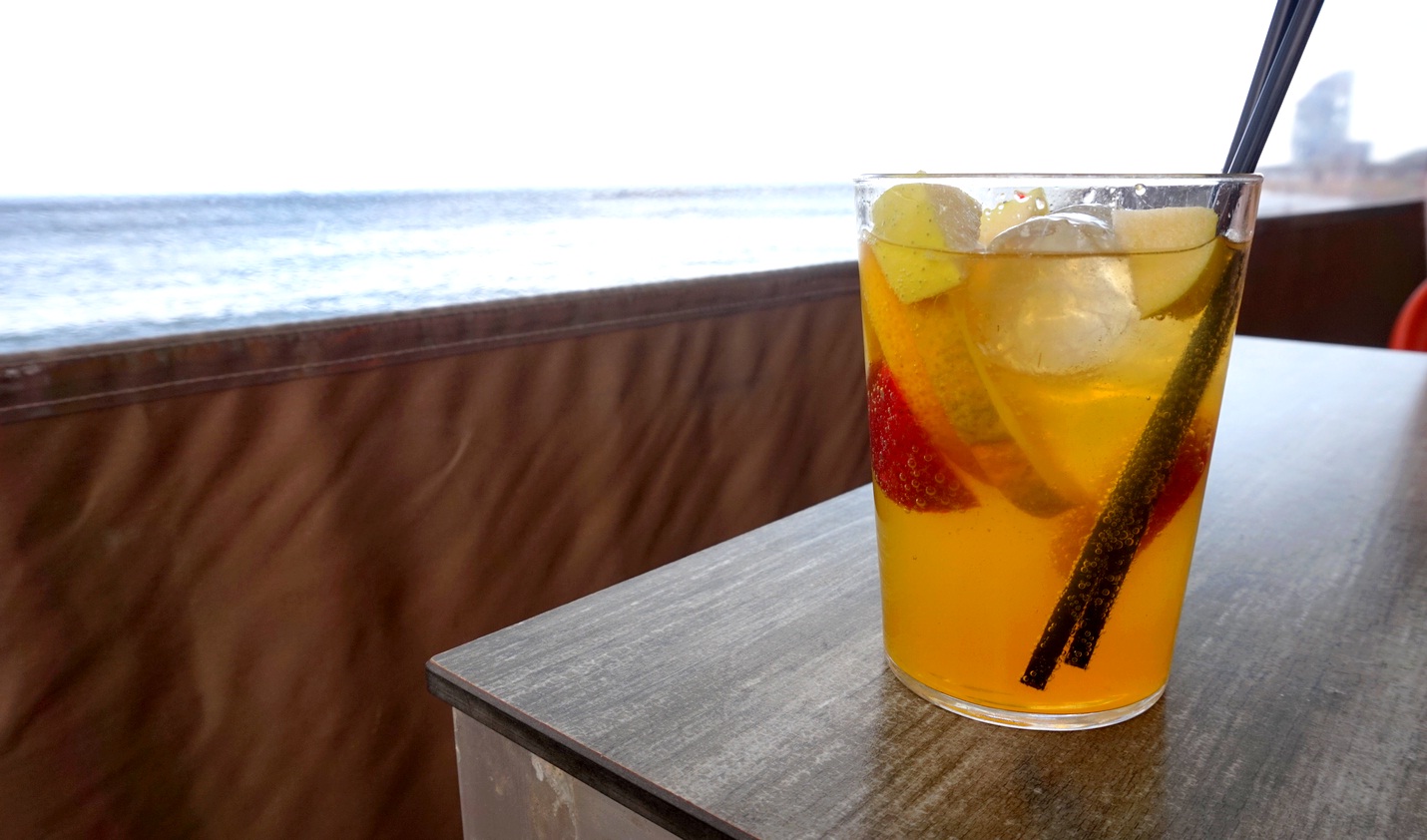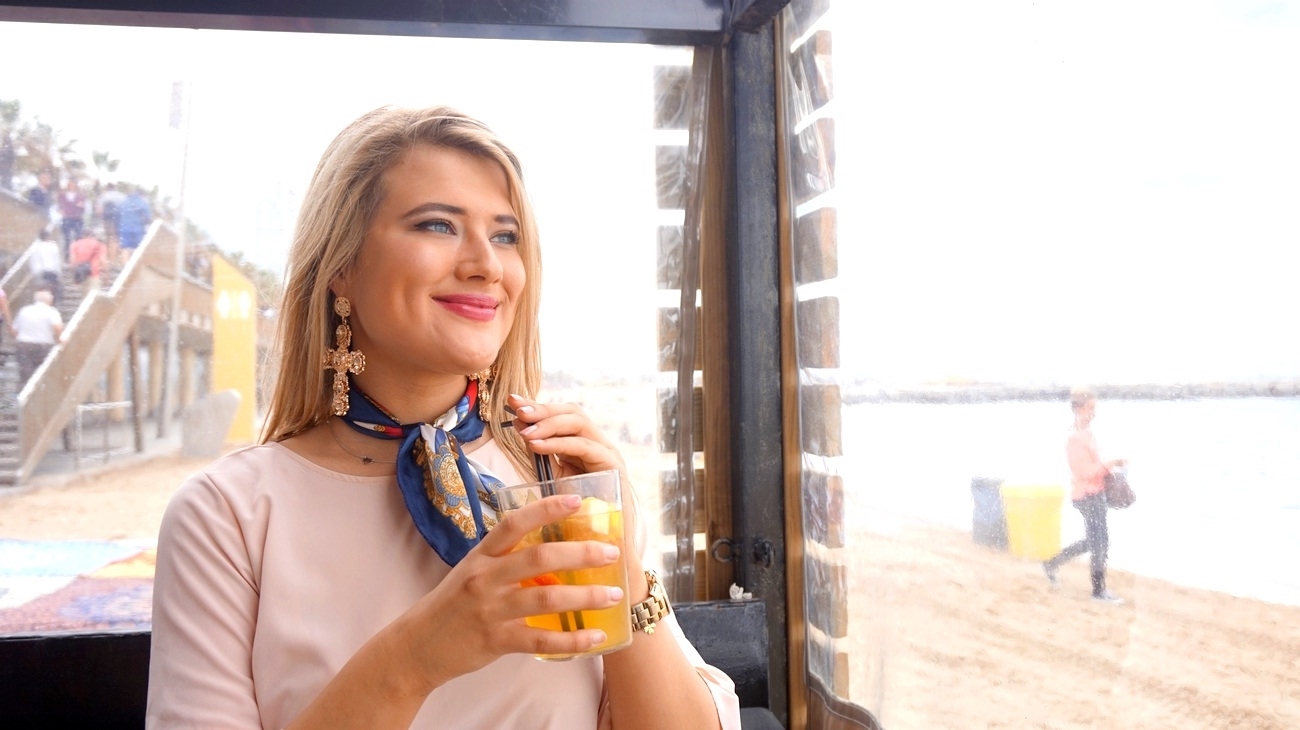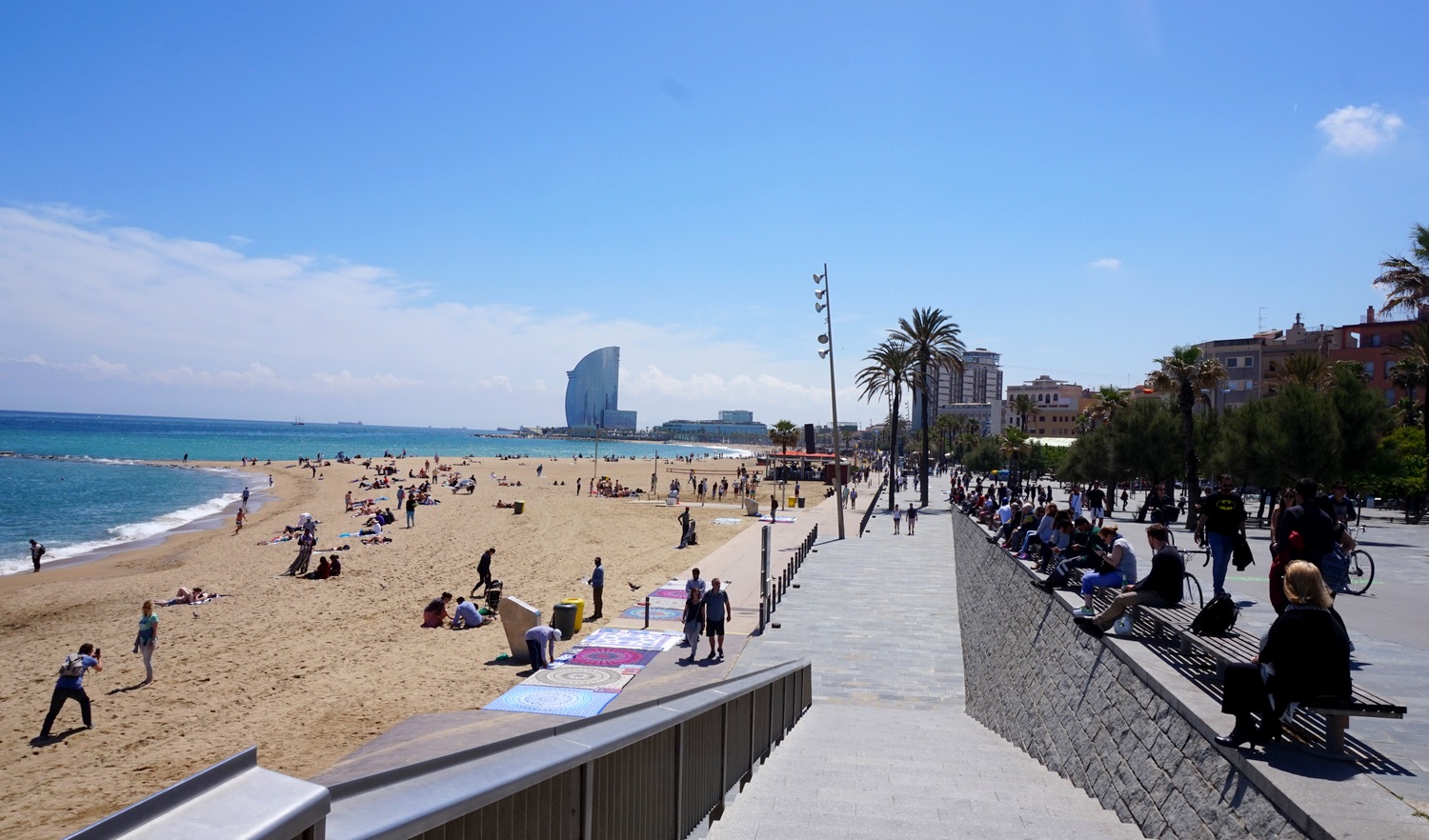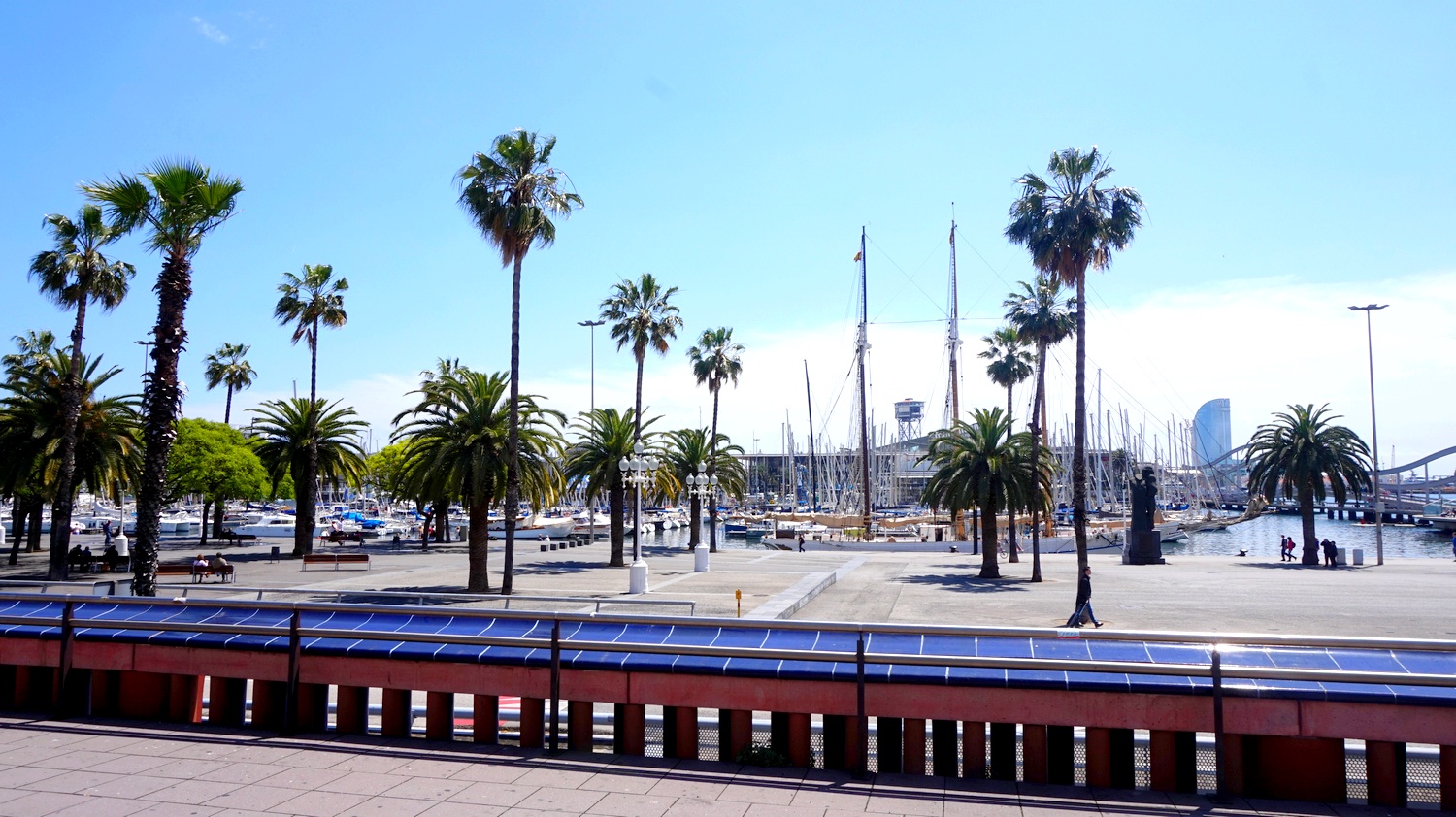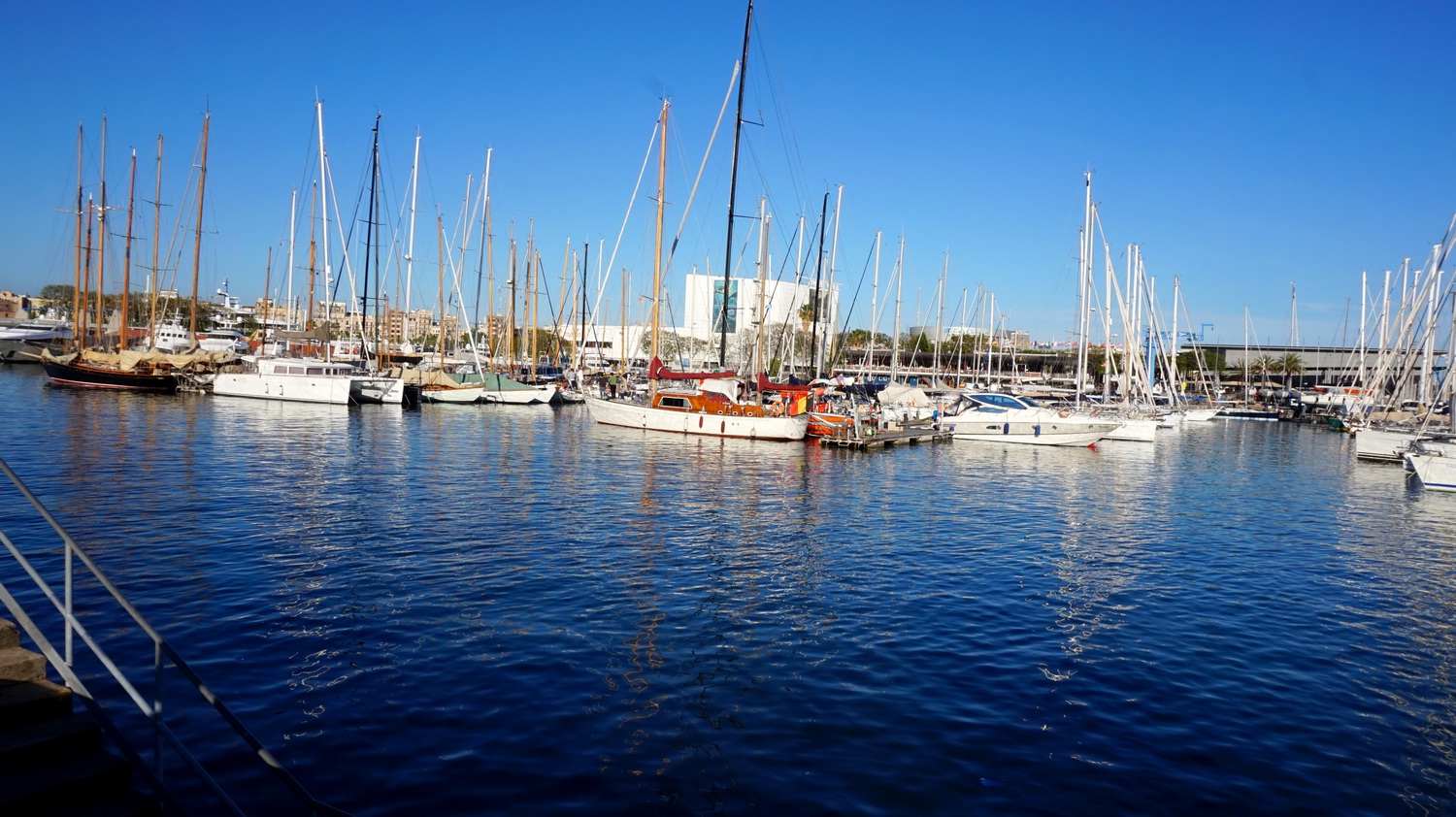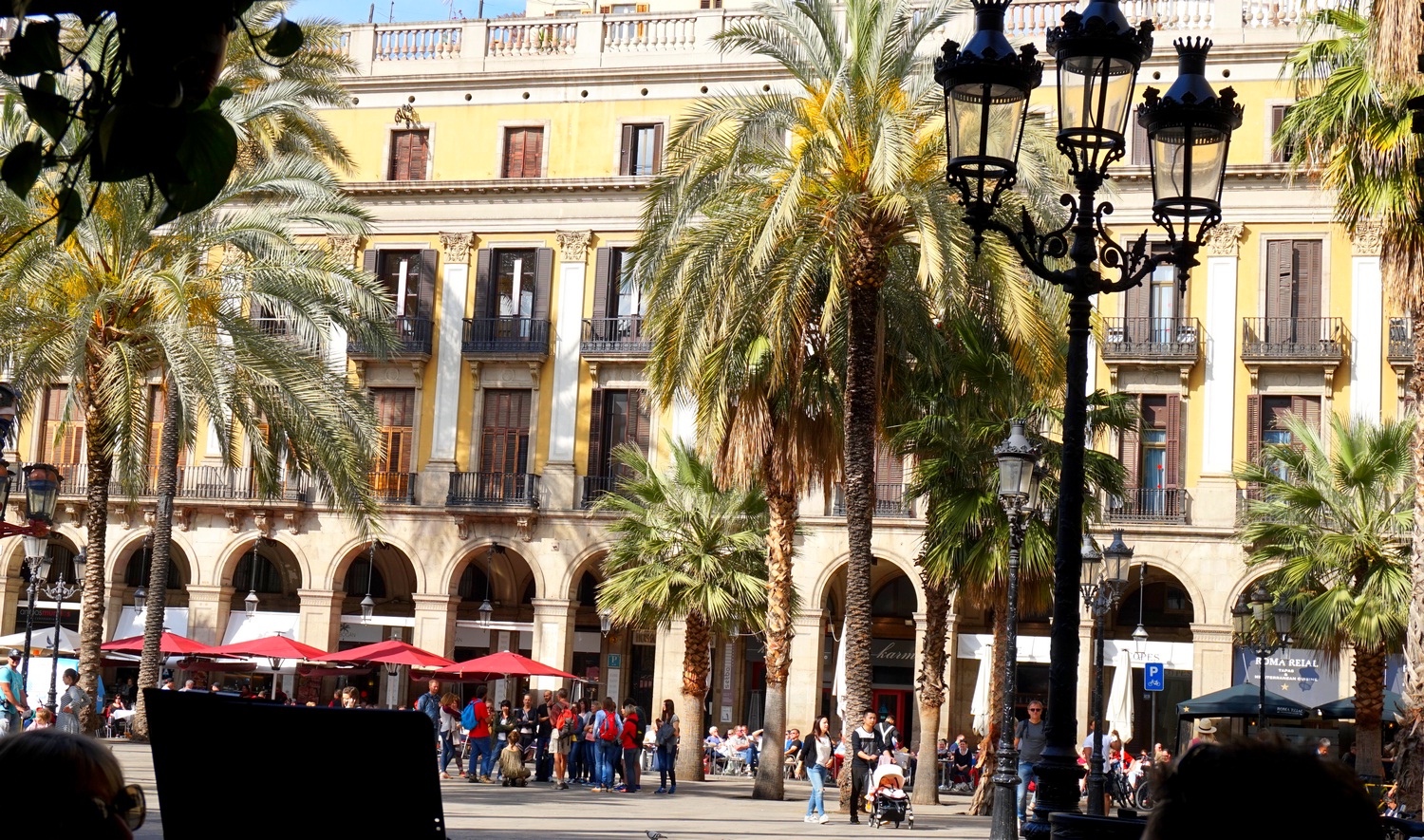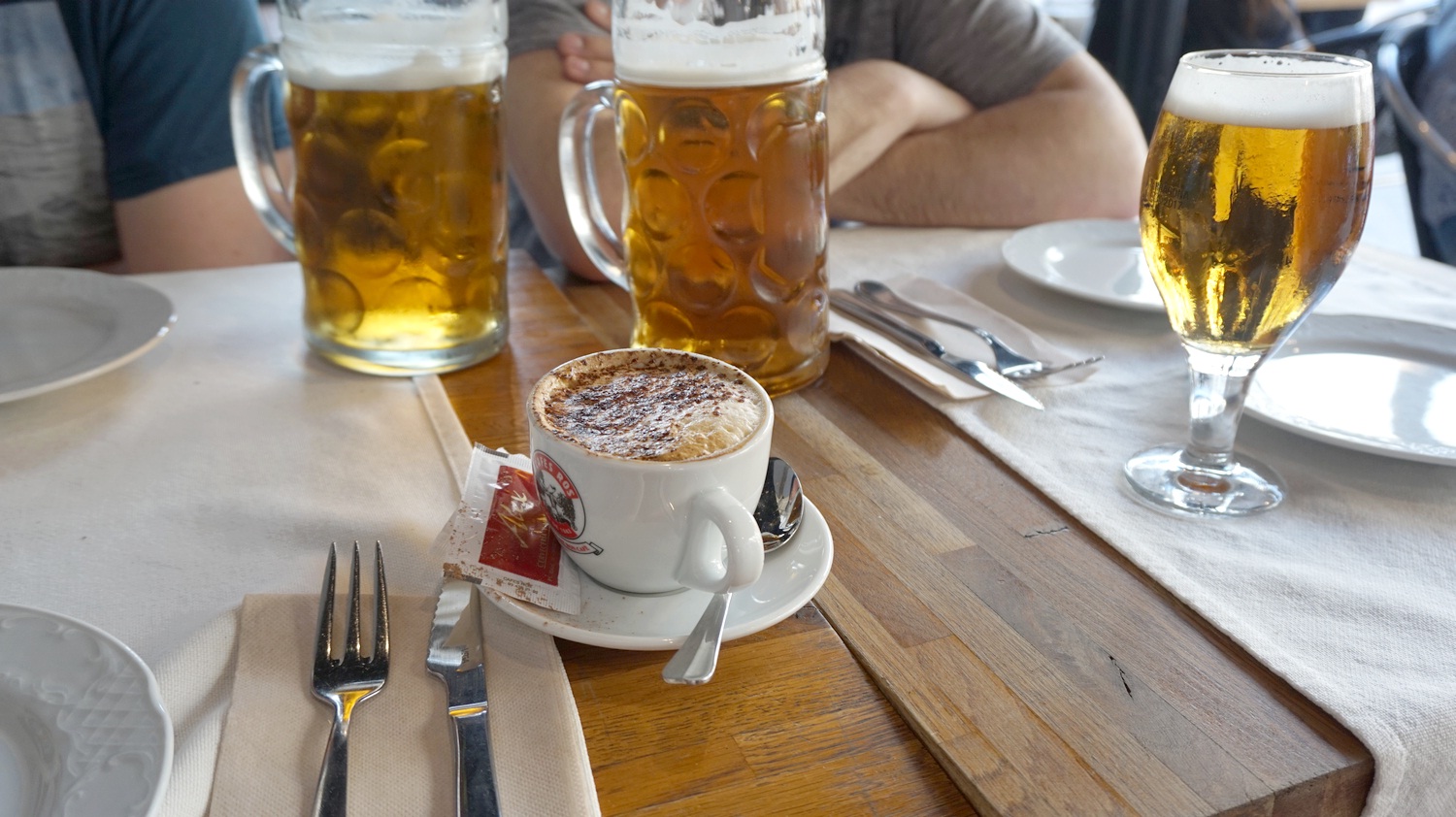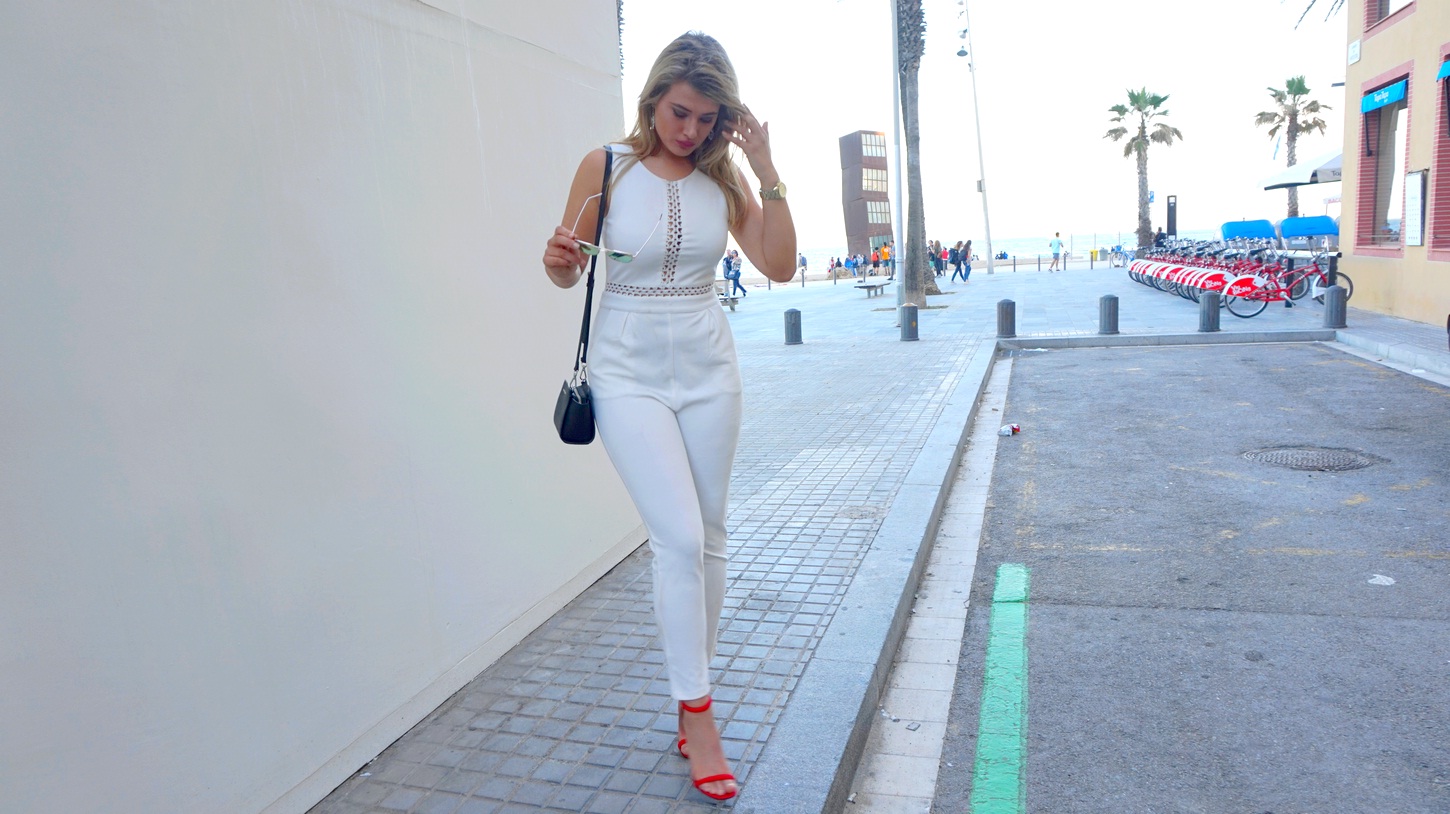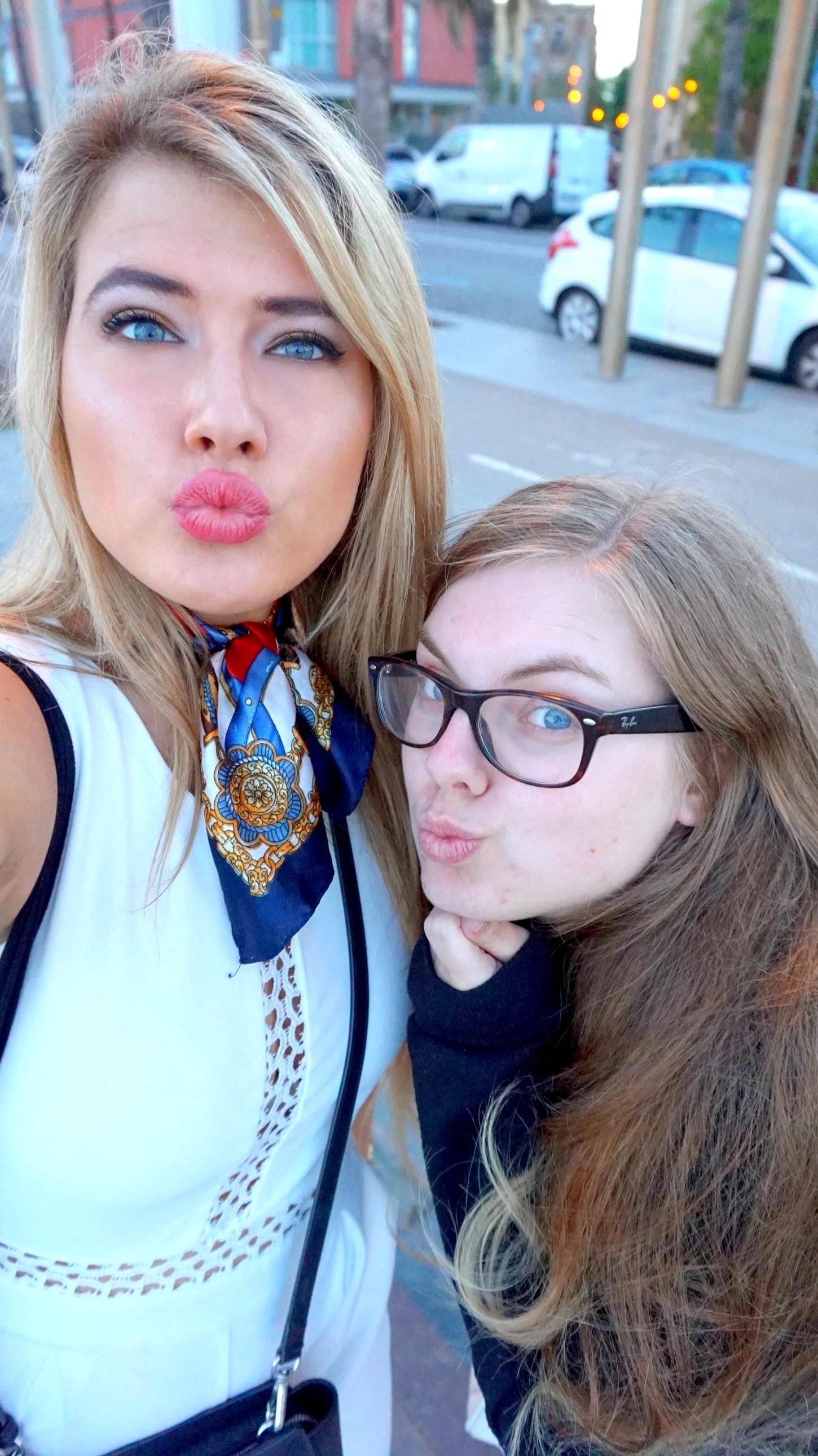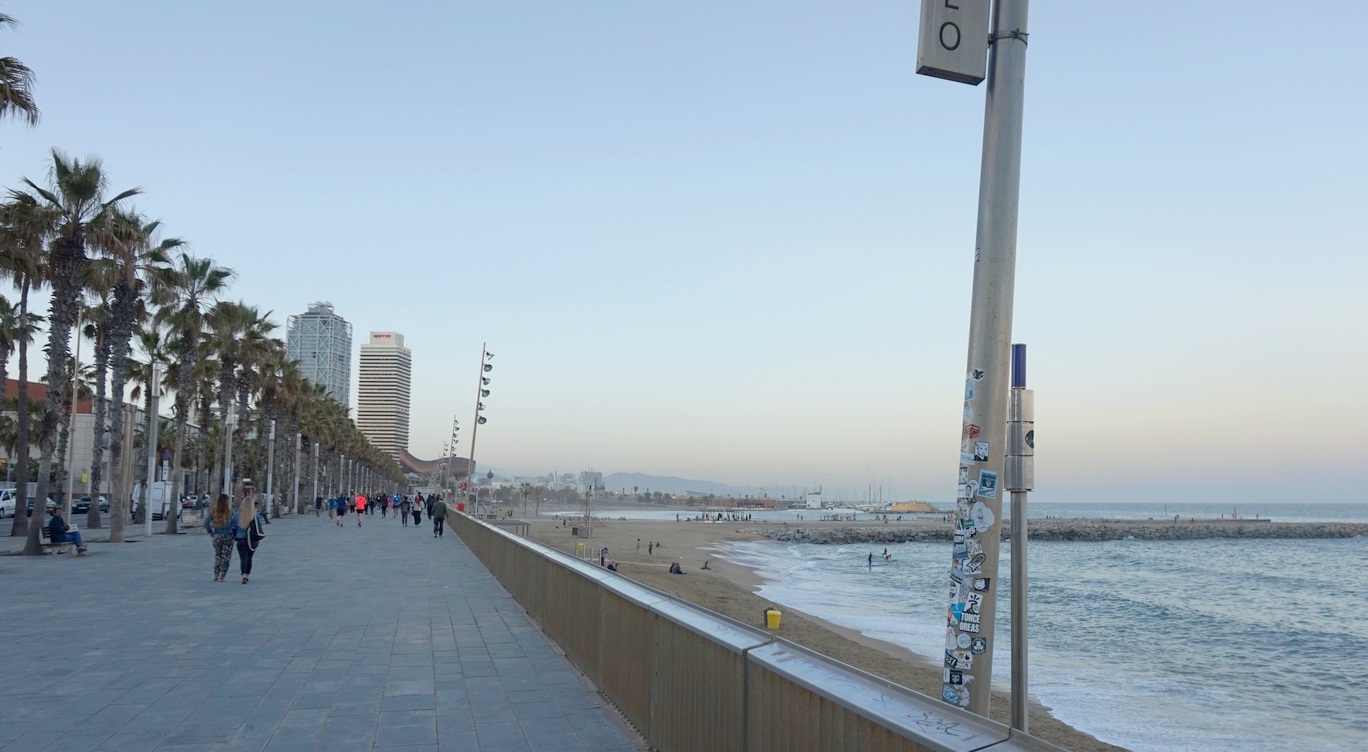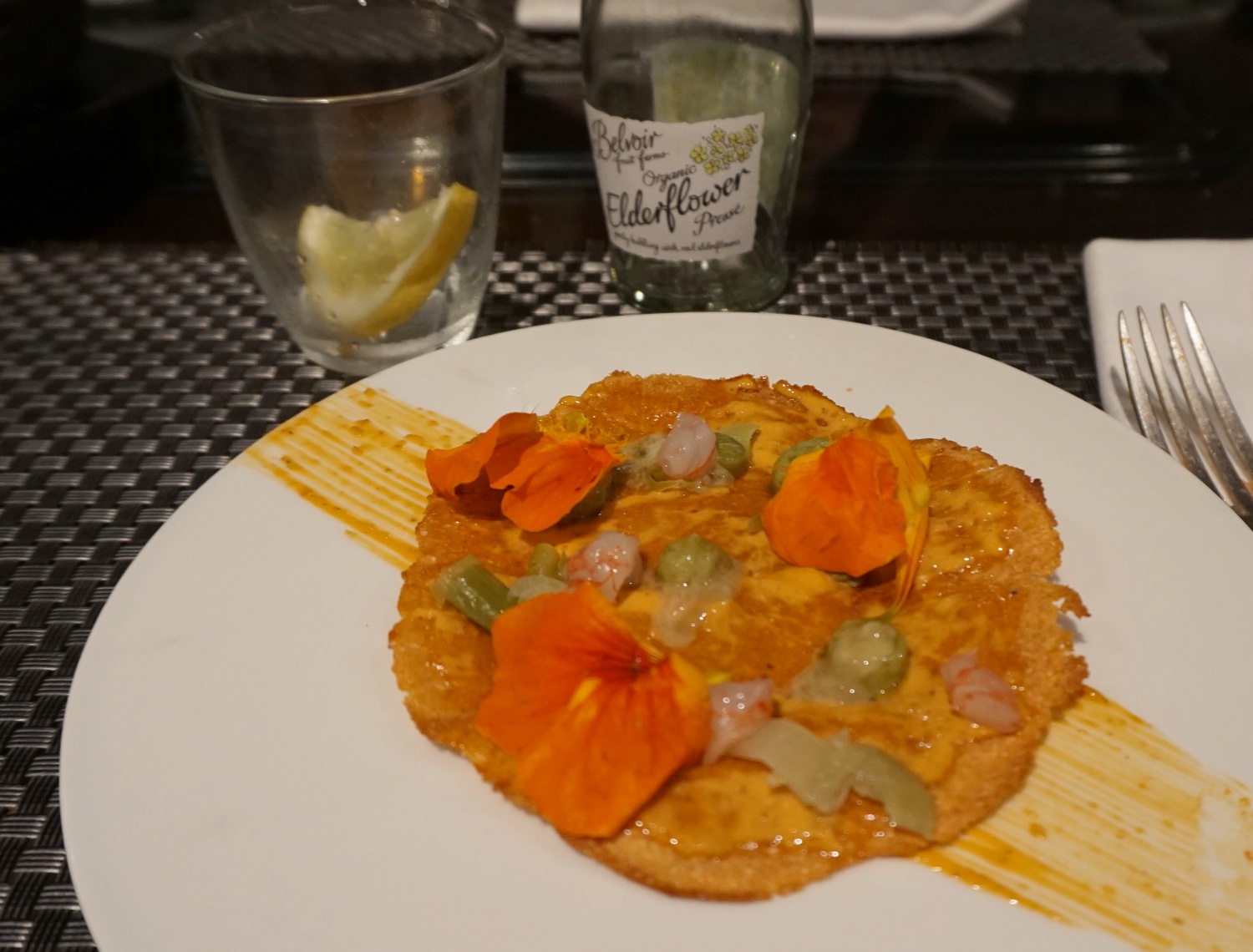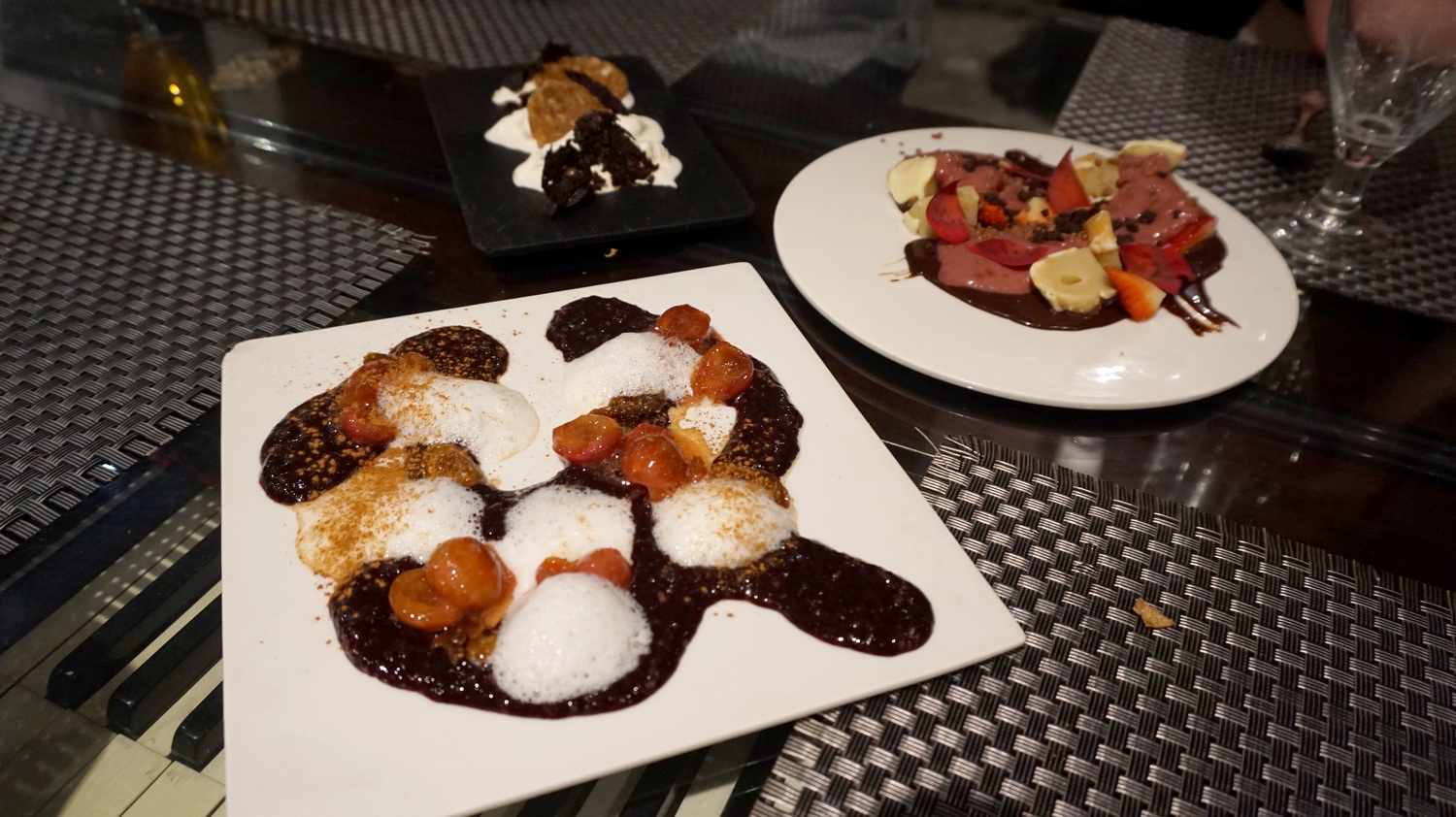 After dinner, we took the taxi back to the Ramblas. We saw from our suprise that there where crowds on the streets because of a referendum about Catalonia (the taxi driver told our group that). At the Ramblas, I bought a nice new bracelet because I buy one at every new place I visit. We went to an Irish pub eventually, but I went back to the Airbnb early to sleep. I wanted to wake up early and to pack my things because we would leave the next day. The next day, I actually wanted to visit Tibidabo castle solo early in the morning, but for our other plans we ran out of time and dropped some (We agreed to do or visit some things alone if we didn't really like each others plans).
Together with the Dutch ladies in the room next to us, we agreed to meet up around 11 at Station França. From there we would take the train to Reus together and share a taxi from there to the Airport. By taxi from our Airbnb, Paige and I went to the Station and saw some things during the trip which we did not visit in our time there. Things we saw from the car but did not visit where for example the Arc de Trimpf and El Gothic (The Gothic area). At a café in the station, we had breakfast and waited for the ladies from the room next to us which we would travel back with. From there we left to the Airport.
Na het eten hebben we de taxi gepakt naar de Ramblas en zagen er tot onze verrassing dat er hele menigtes op straat waren wegens een referendum over Catalonië (Vertelde de taxi chauffeur aan onze groep). Op de Ramblas heb ik nog een leuke armband gekocht. Ik koop op iedere plek waar ik kom een leuk armbandje. Uiteindelijk hebben we nog een drankje gedaan bij een Ierse pub en ging ik vroeg terug naar de Airbnb om in te pakken en te gaan slapen. 
De volgende dag wilde ik eigenlijk ook nog heel vroeg solo naar Tibidabo omdat ik het kasteel nog wilde zien, maar uiteindelijk kwamen we in tijdnood en hebben we beide wat plannen gedropt (We besloten namelijk ook eventueel dingen alleen te doen of bezoeken als we elkaars plannen niet zo zagen zitten).
Met de Nederlandse dames in de kamer naast ons hebben we afgesproken rond 11en bij station França te verzamelen, om vanaf daar de trein naar Reus te pakken en ook een taxi te delen naar het vliegveld. Met de taxi zijn Paige en ik naar station França gegaan. We hebben vanuit de taxi nog dingen gezien van Barcelona die we niet hebben bezocht. Dingen die we zagen maar niet hadden bezocht waren bijvoorbeeld de Arc de Triomf en El Gothic (de Gotische wijk). Bij een café in het station hebben we nog even ontbeten en gewacht op de dames van de kamer naast ons, waar we mee zouden terugreizen. Vanaf daar gingen we terug naar het vliegveld.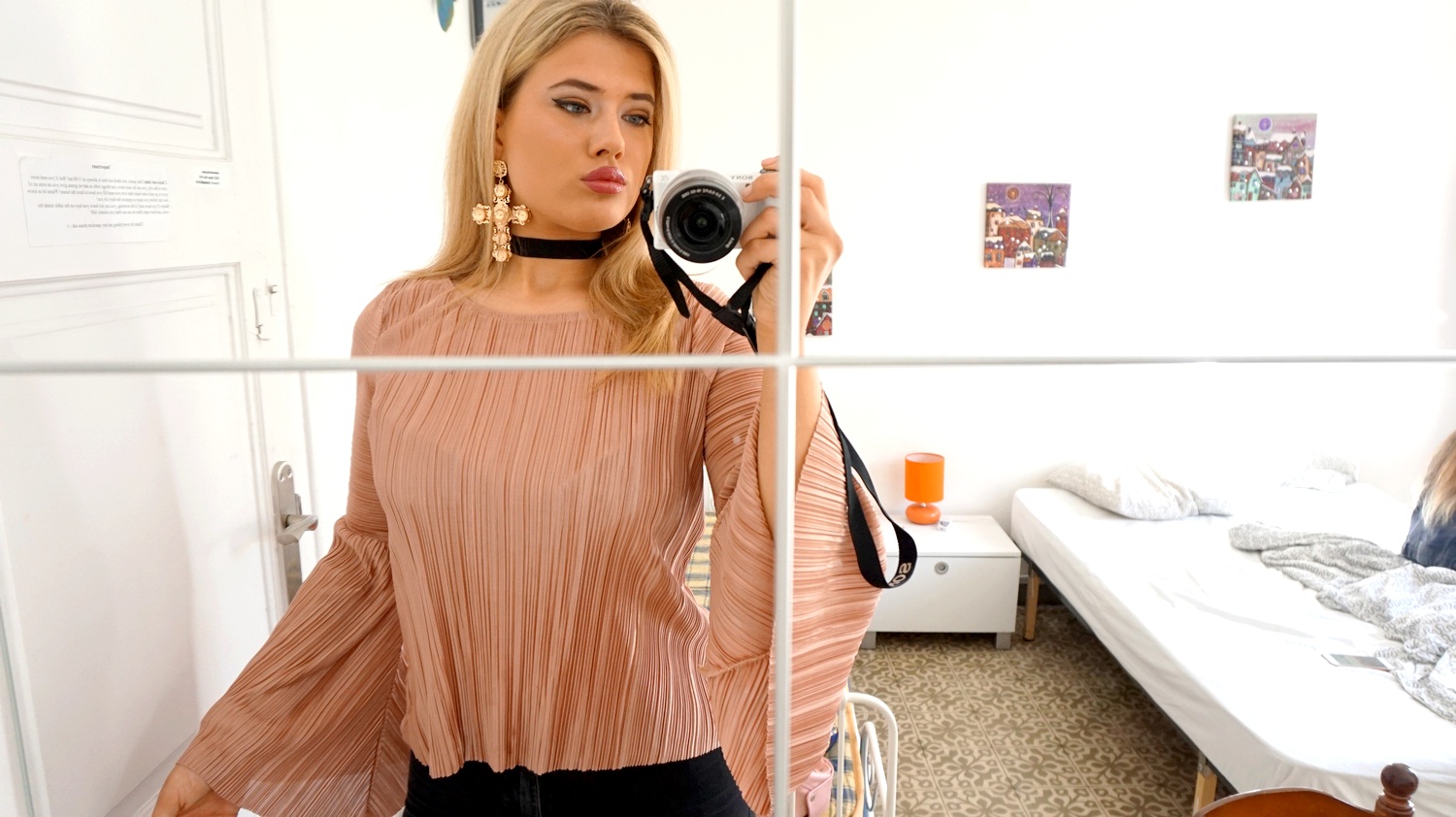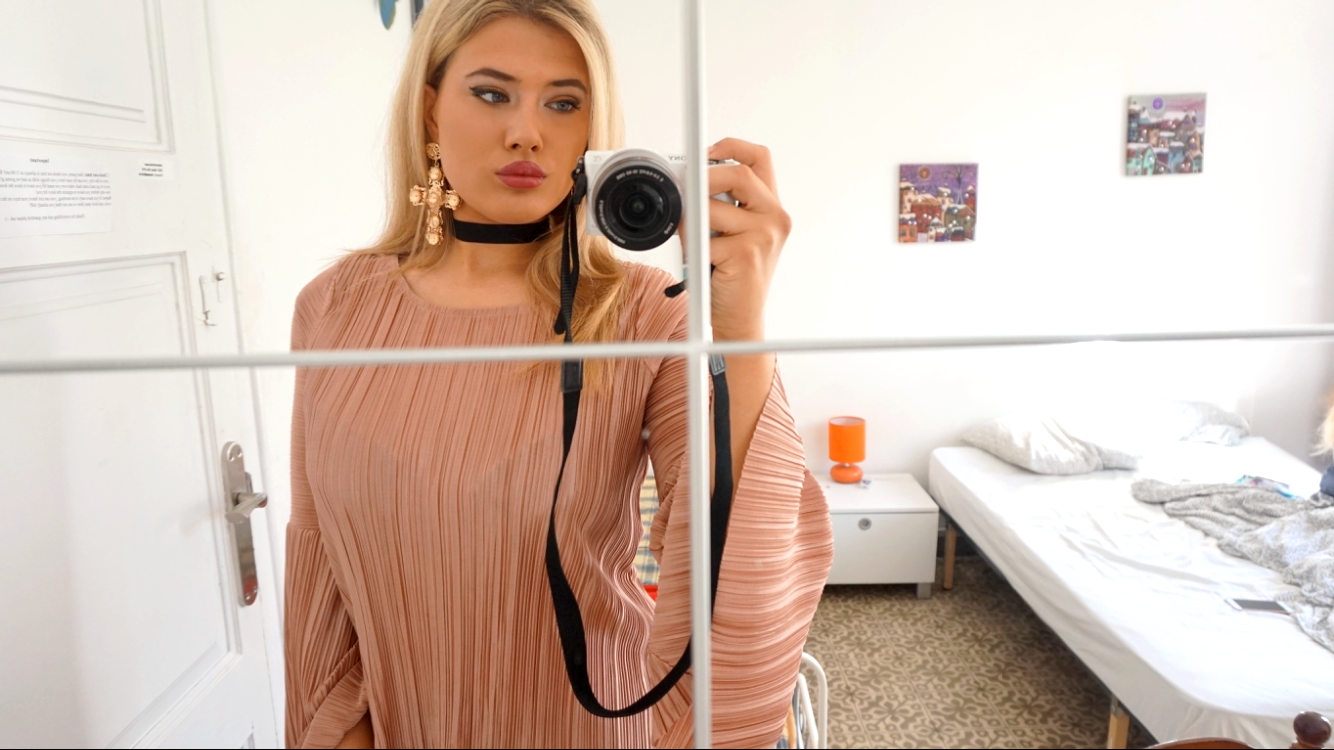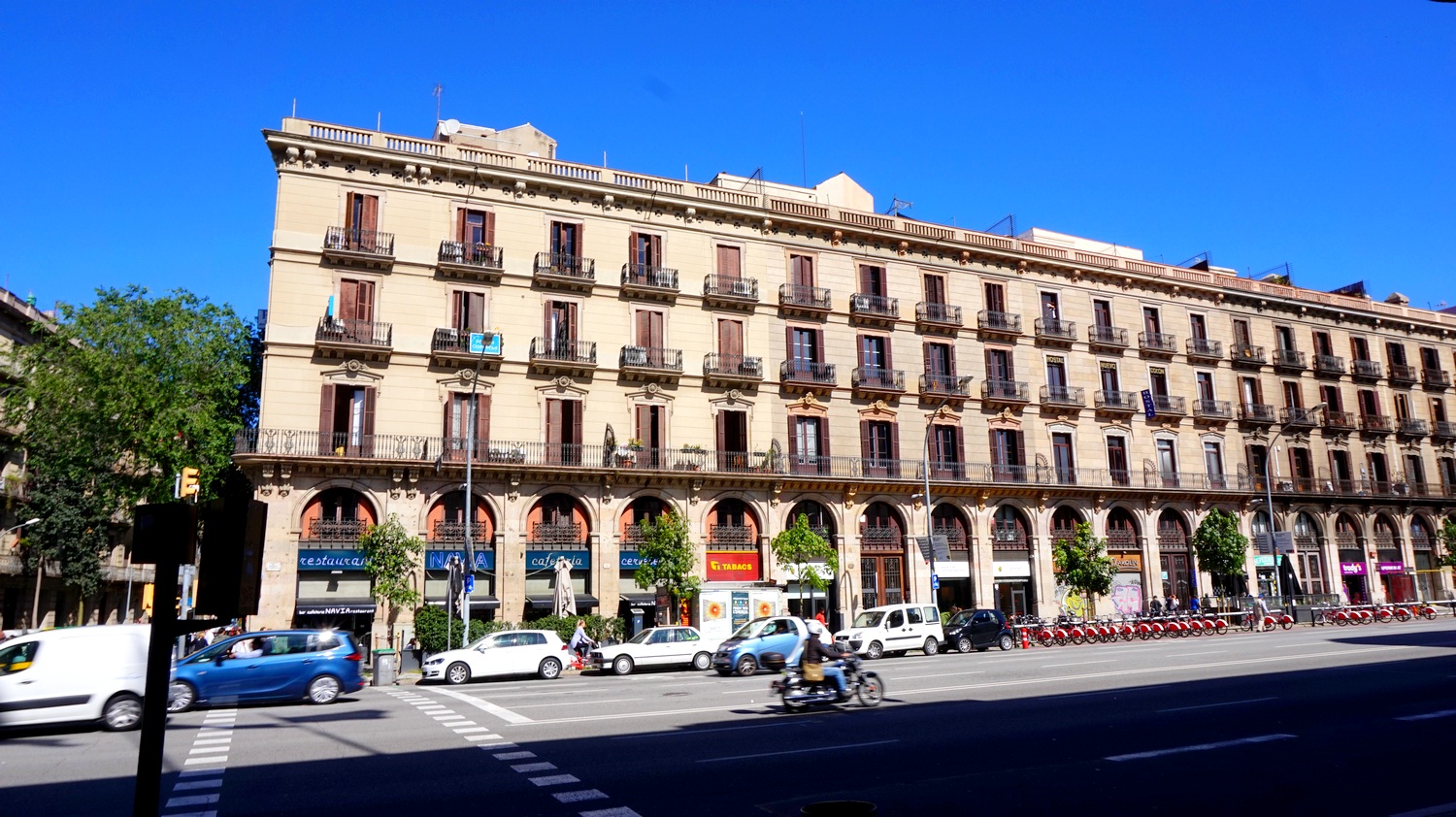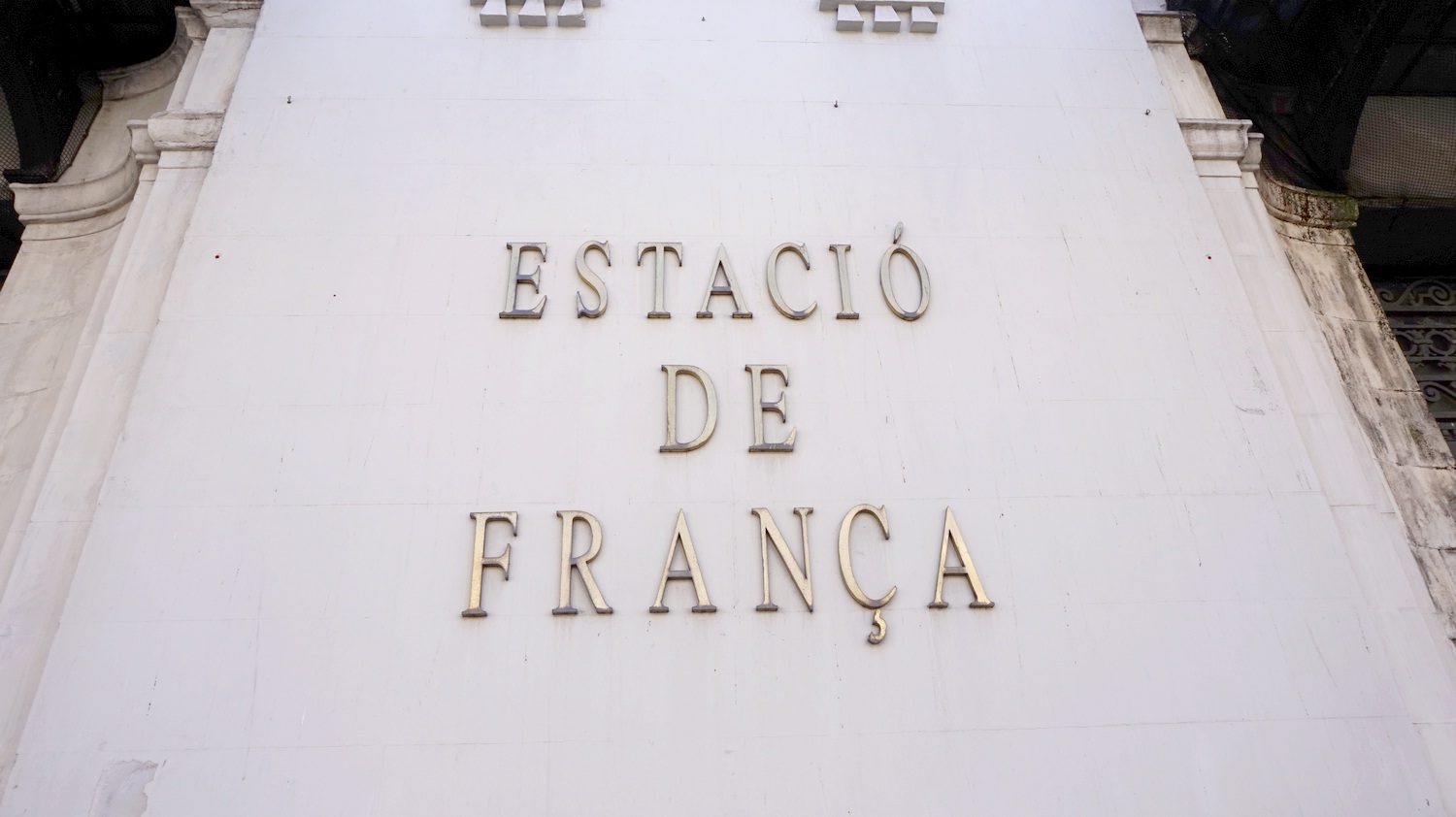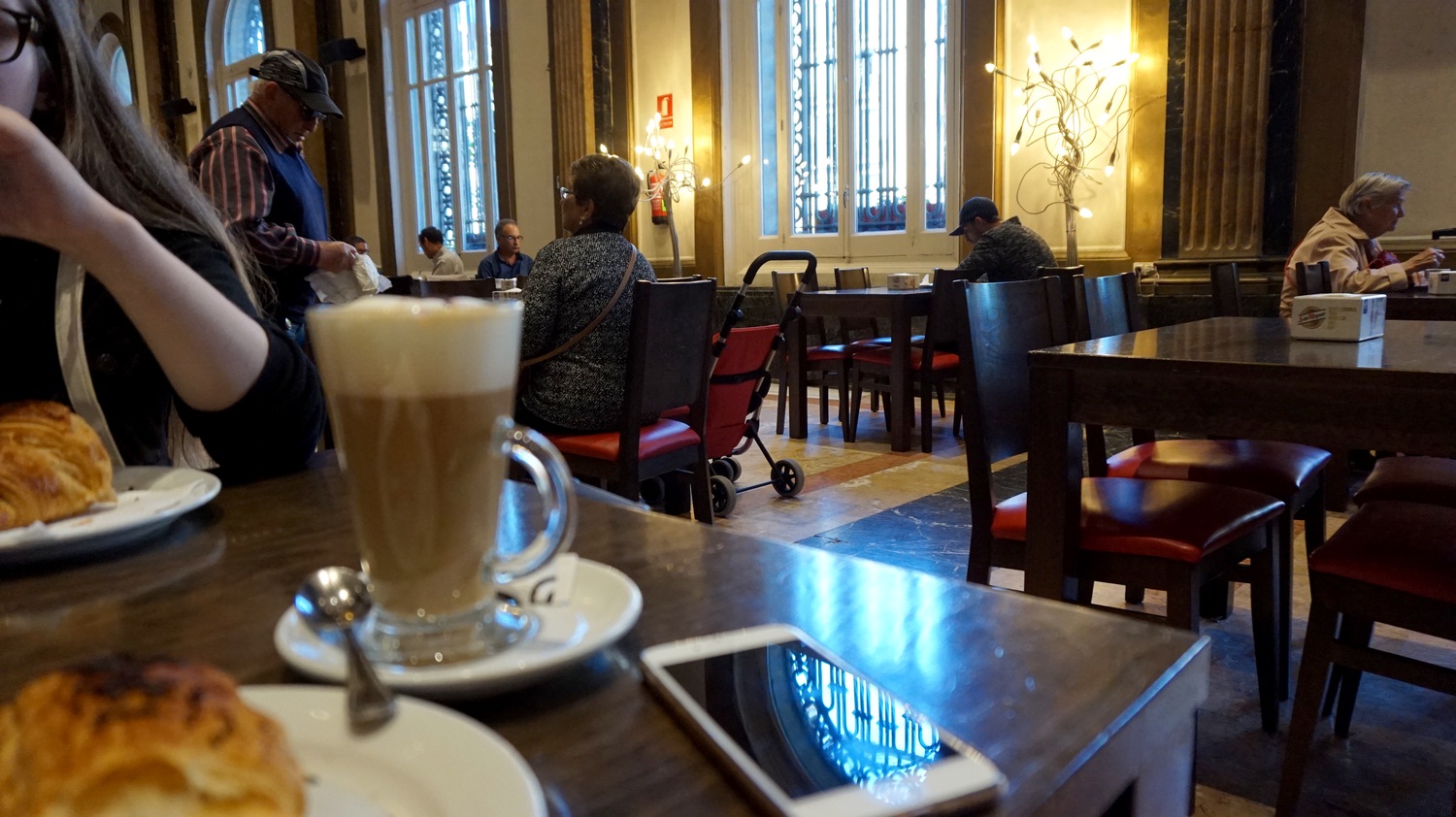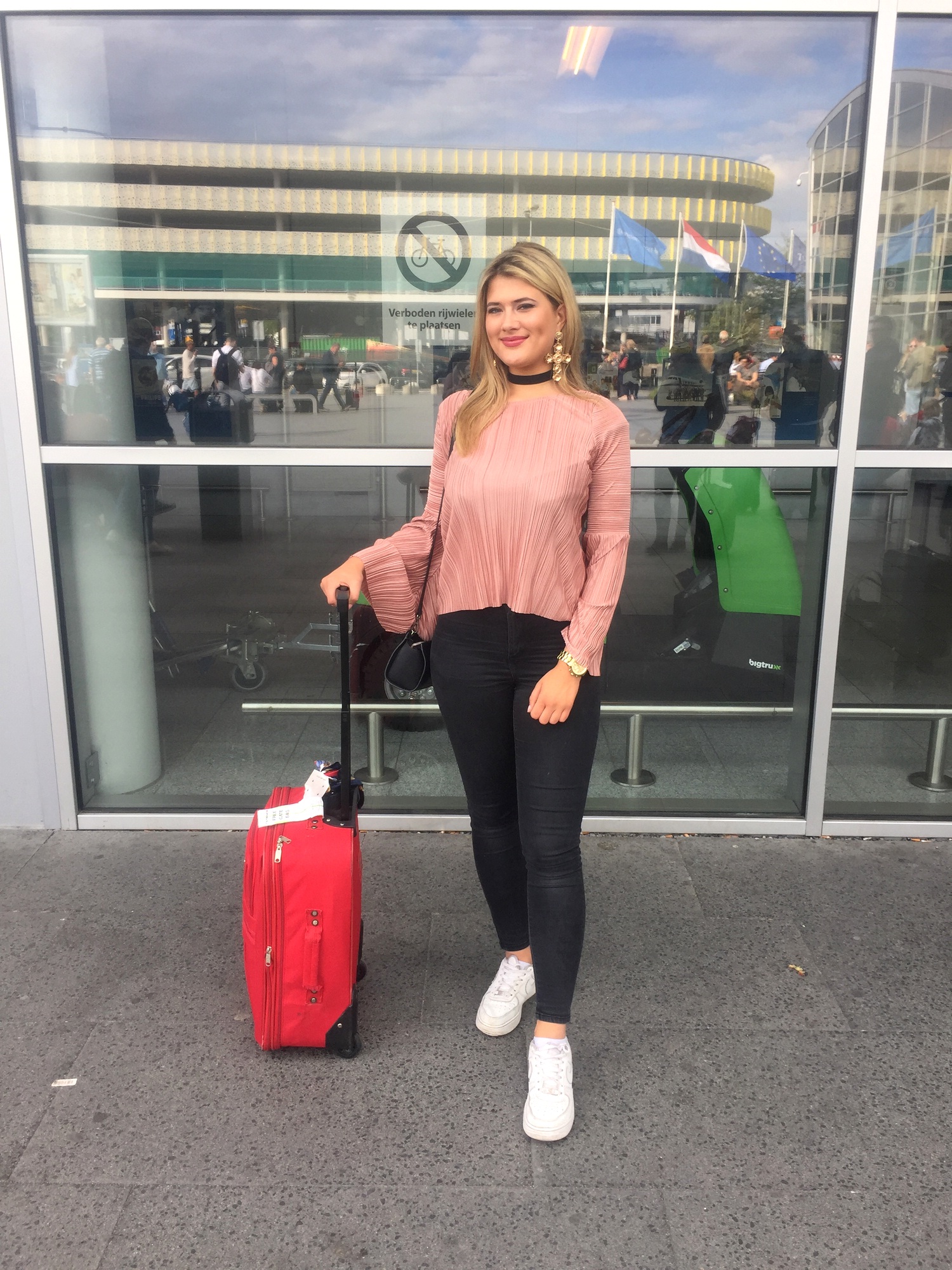 As I told in my Lanzarote post, the things I like most about a vacation are; meeting new people, learning things about the country, try new dishes, shop well, visiting café's and visiting new things and places. For us, this has been a lovely trip. Barcelona is fantastic! I can't wait to travel again!
Thanks for reading! x
Zoals ik bij mijn Lanzarote post vertelde, vind ik een aantal van de leukste dingen aan een vakantie; nieuwe mensen leren kennen, dingen leren over het land, nieuwe gerechten proeven, leuk winkelen, terrassen en nieuwe dingen te zien. Voor ons was dit een super leuke reis. Barcelona is fantastisch! Ik kan niet wachten om opnieuw te reizen!
Bedankt voor het lezen! x
Check out my other Barcelona posts:

Outfit | Sunshine (outfit of this post)
Outfit | Sol
Barcelona part 1