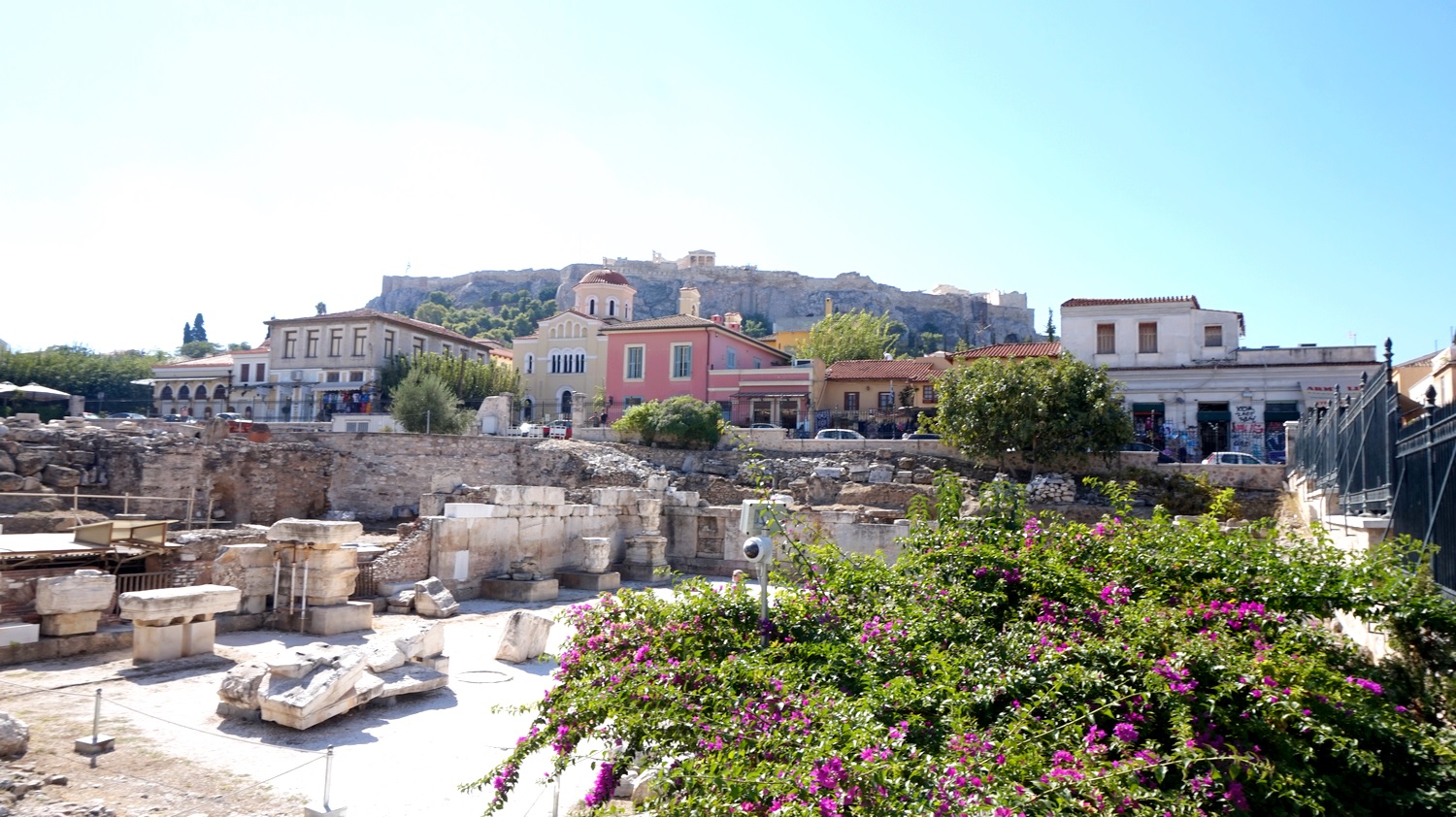 2 weeks ago I went to Athens with a friend. Our original plan was to go to a different location, but those plans became different last minute. We rebooked everything shortly before the original flight would leave, to a flight to Athens. At the airport we looked at the list of flights that we could book and that would be the first to go to a warm destination. 'What kind of luggage do we have with us?' – 'Only summer clothes' 'So, we'll book the first warm destination that we can book, because why not'.The new location would be Athens in the afternoon. At the airport, we spent a few hours on watching movies before the new flight would leave.
2 weken geleden ben ik samen met een vriendin naar Athene geweest. Ons oorspronkelijke plan was om naar een andere bestemming te gaan in de ochtend, maar die plannen werden last minute anders. We hebben vlak voor de vlucht vertrok alles omgeboekt naar Athene. Op de luchthaven bekeken we de lijst van vluchten die we konden boeken en die als eerste naar een warme bestemming zouden gaan. 'Wat hebben we bij?'  -'Alleen zomerkleding' 'Dat wordt de eerste warme bestemming die we kunnen boeken, want waarom ook niet!'. Het werd Athene in de middag. Op de luchthaven hebben we nog een paar uur films gekeken voor de nieuwe vlucht zou vertrekken.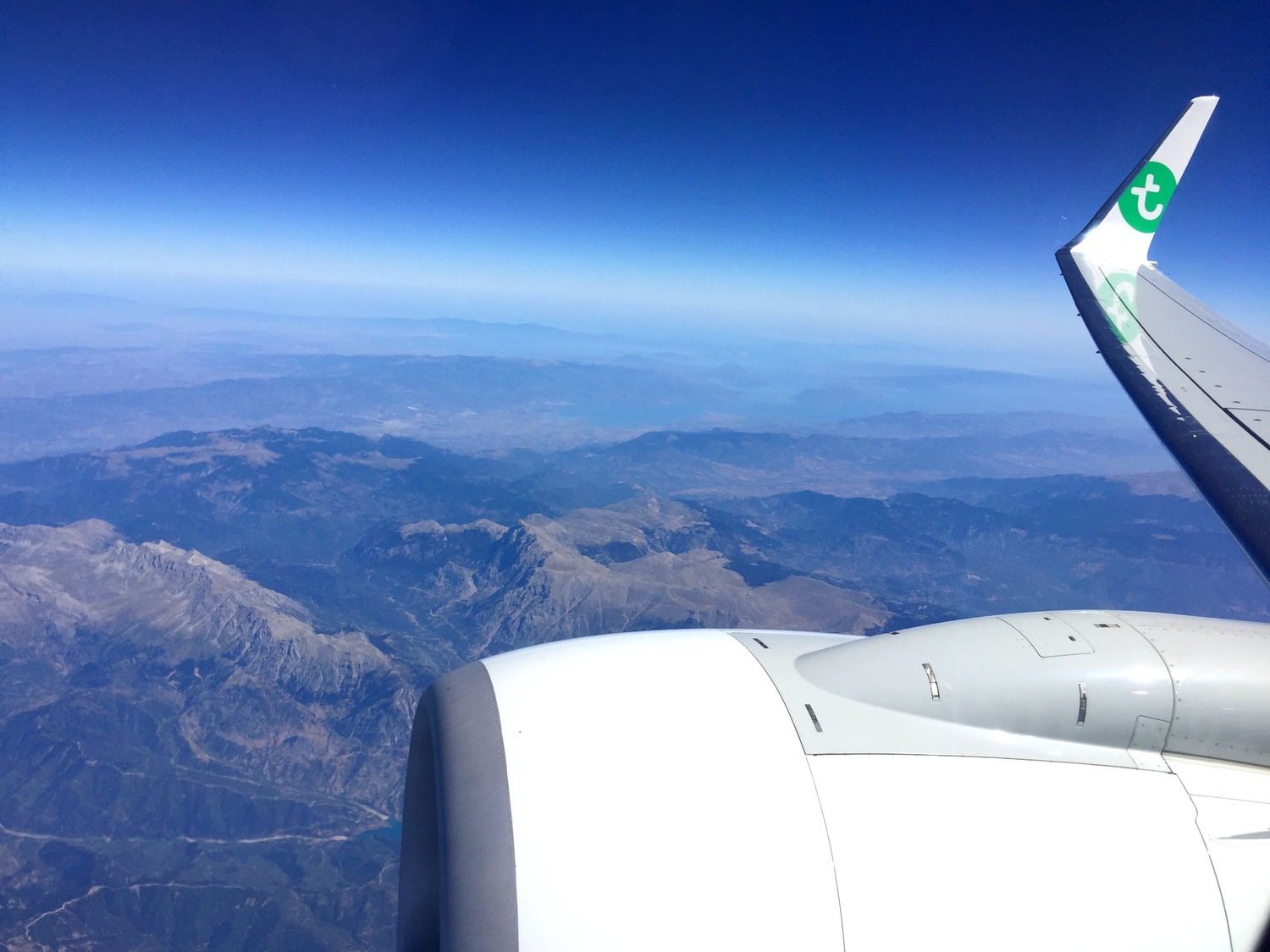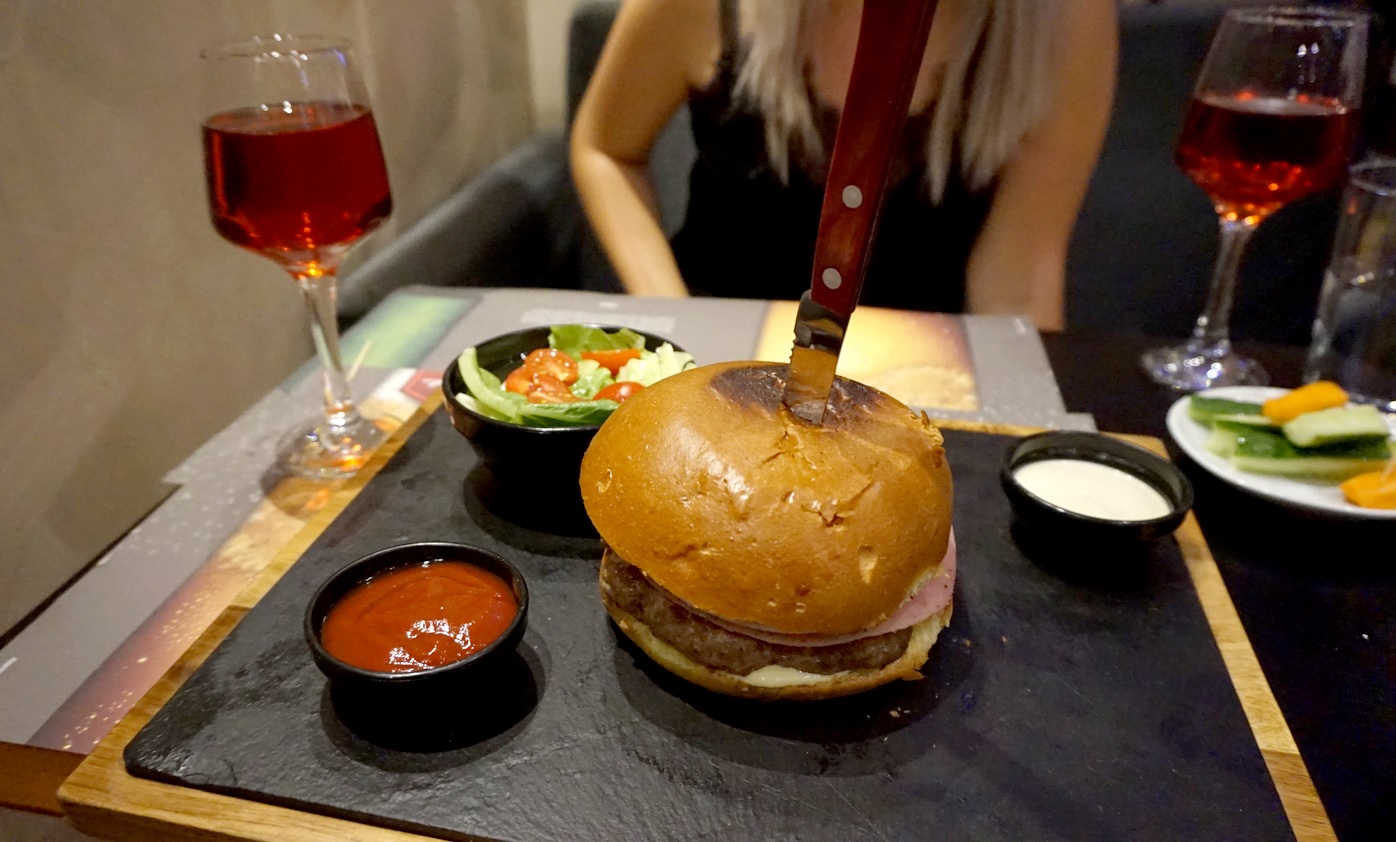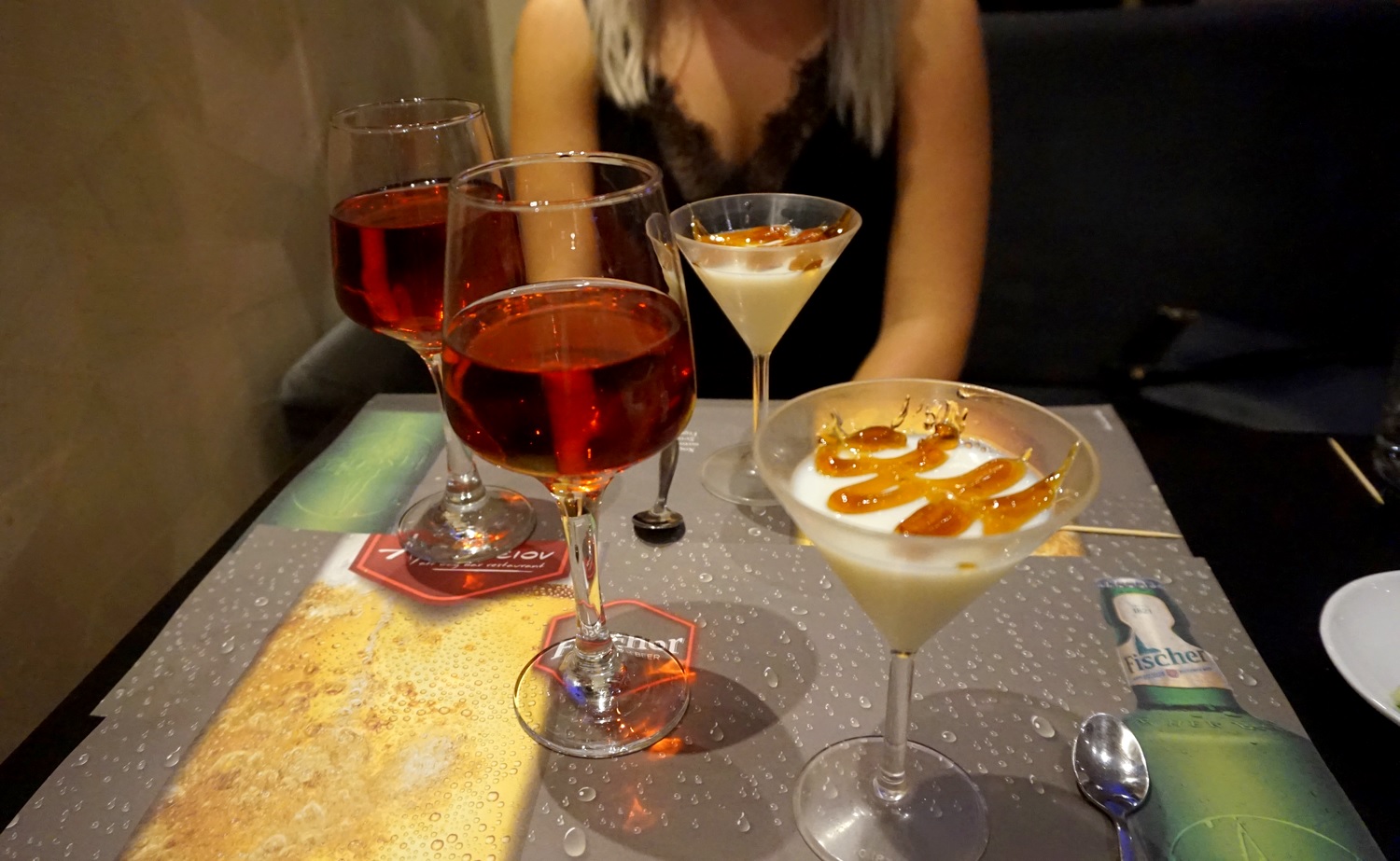 The flight was very nice and we enjoyed beautiful views on board. We didn't plan anything so we would figure out what to do in Athens when we would arrived there. We had more than enough time and a city big enough to come up with something nice eventually. By taxi, we were brought from the airport to our beautiful airbnb. We had a complete and nice apartment. In the evening we went looking for a nice place to eat in the neighborhood of our airbnb and eventually it became a hamburger for me and a pizza for Roos at a great place. The staff was super friendly and treated us to a lot of snacks as an extra with our wine, an extra glass eventually and a dessert! So of course the plan was to go back during our stay here.
The first morning of our stay we went outside to get breakfast and of course a nice frappé (which I like getting myself in Greece).
With the metro we decided to go to the center and to look around there. We happened to see that you could buy tickets for the Akropolis nearby. Visiting the Akropolis seemed like a fun thing to do this day. At the Akropolis, we had a beautiful view over the city. You can also us the ticket for other ancient excavations nearby. Around that area we got lost in nice colored streets.
De vlucht was erg leuk en we hebben van prachtig uitzicht mogen genieten. 
We zagen vanzelf wel wat we zouden gaan doen in Athene, er was genoeg tijd en een stad groot genoeg om vanzelf wel wat leuks te verzinnen. Met de taxi waren we vanaf de luchthaven naar onze mooie airbnb gebracht. We hadden een geheel en leuk appartement. In de avond waren we in de buurt van onze airbnb op zoek gegaan naar een leuke plek om te eten, en uiteindelijk werd dat een hamburger voor mij en een pizza voor Roos bij een super leuke zaak. Het personeel was super gezellig en hadden ons op een boel hapjes voor bij onze wijn, een extra glas en een toetje getrakteerd! Dus natuurlijk was het plan om terug te gaan tijdens ons verblijf hier.
De eerste ochtend van ons verblijf zijn we buitens huis ontbijt gaan halen, en natuurlijk een lekkere frappé (die ik graag in Griekenland neem). Met de metro besloten we om naar het centrum te gaan en daar rond te gaan kijken. We zagen toevallig dat je tickets kon kopen voor het Akropolis. We waren in de buurt dus leek ons dat een leuke tijdsbesteding voor die dag. Je kunt de tickets overigens ook voor opgravingen in de buurt gebruiken. Bij het Akropolis hadden we prachtig uitzicht over de stad. Rondom die omgeving waren we gaan verdwalen in leuke gekleurde straatjes.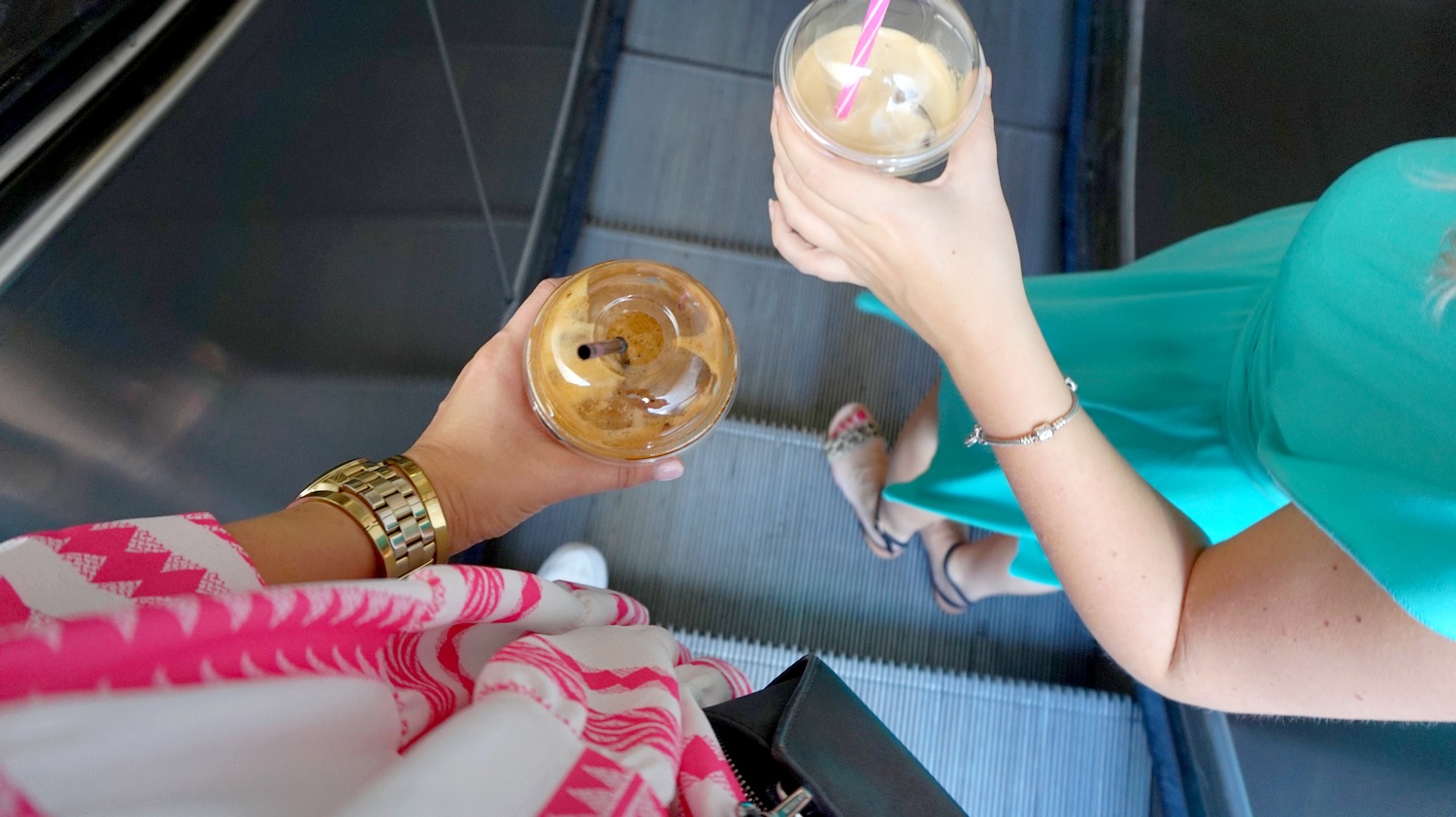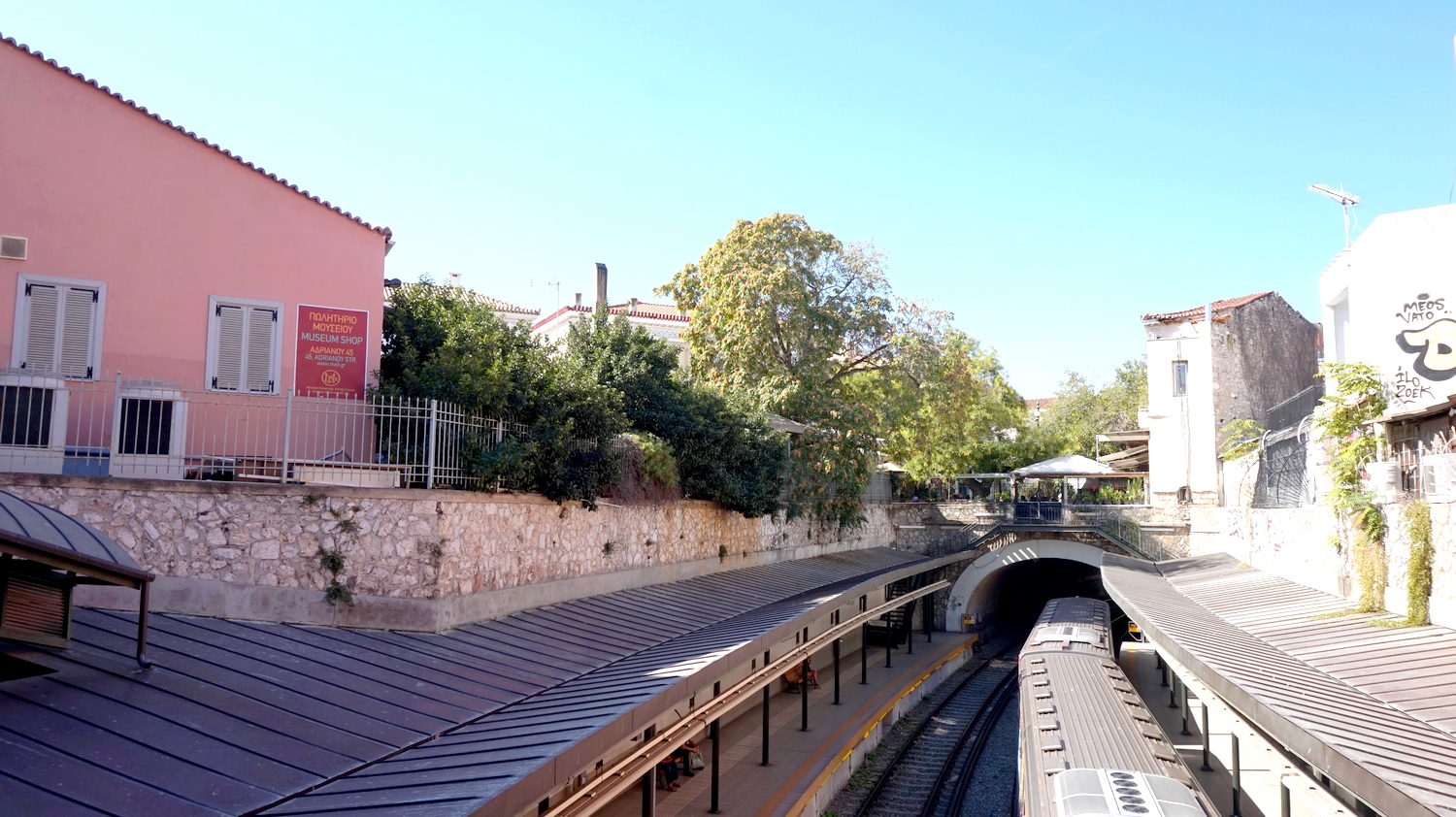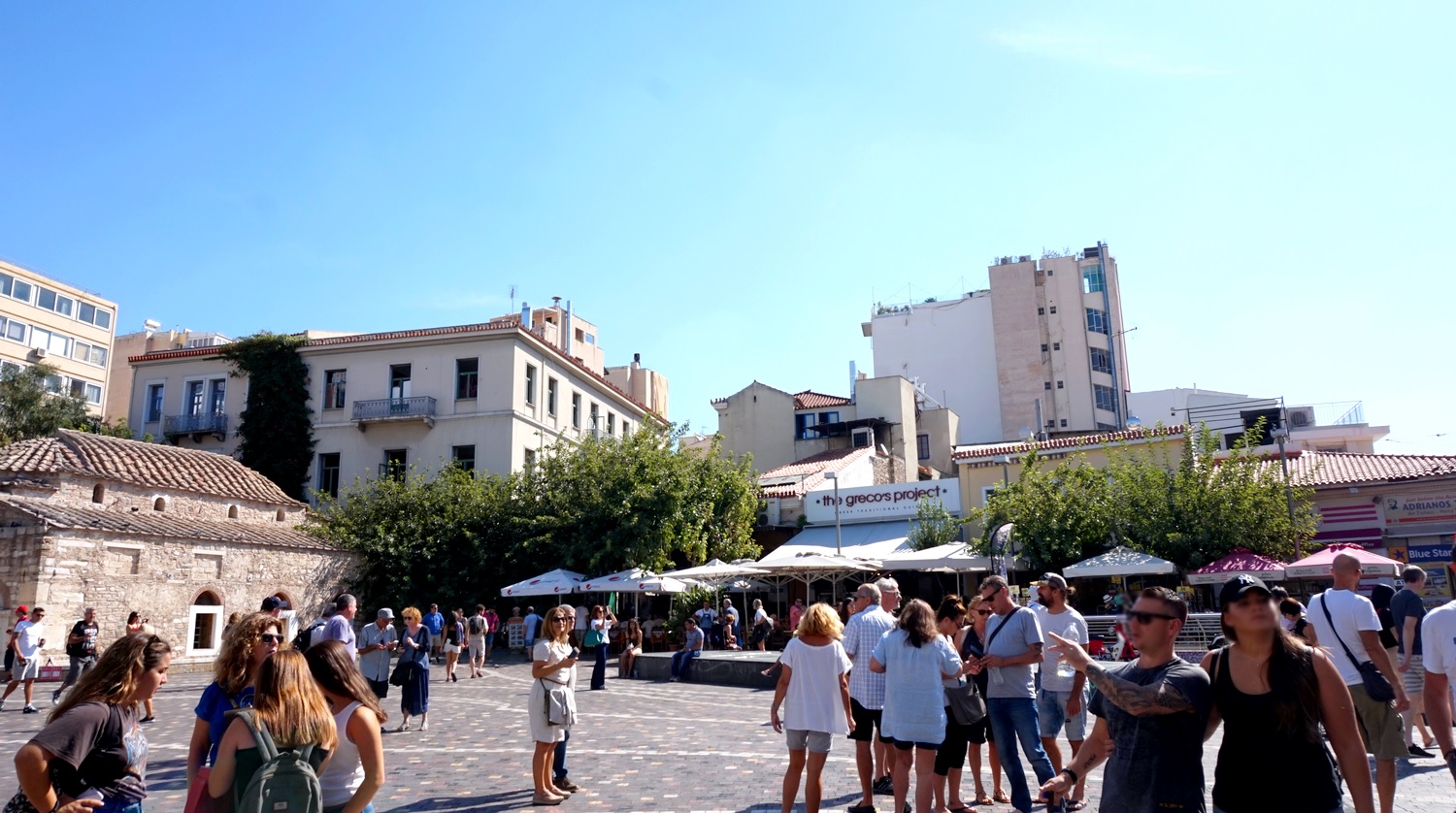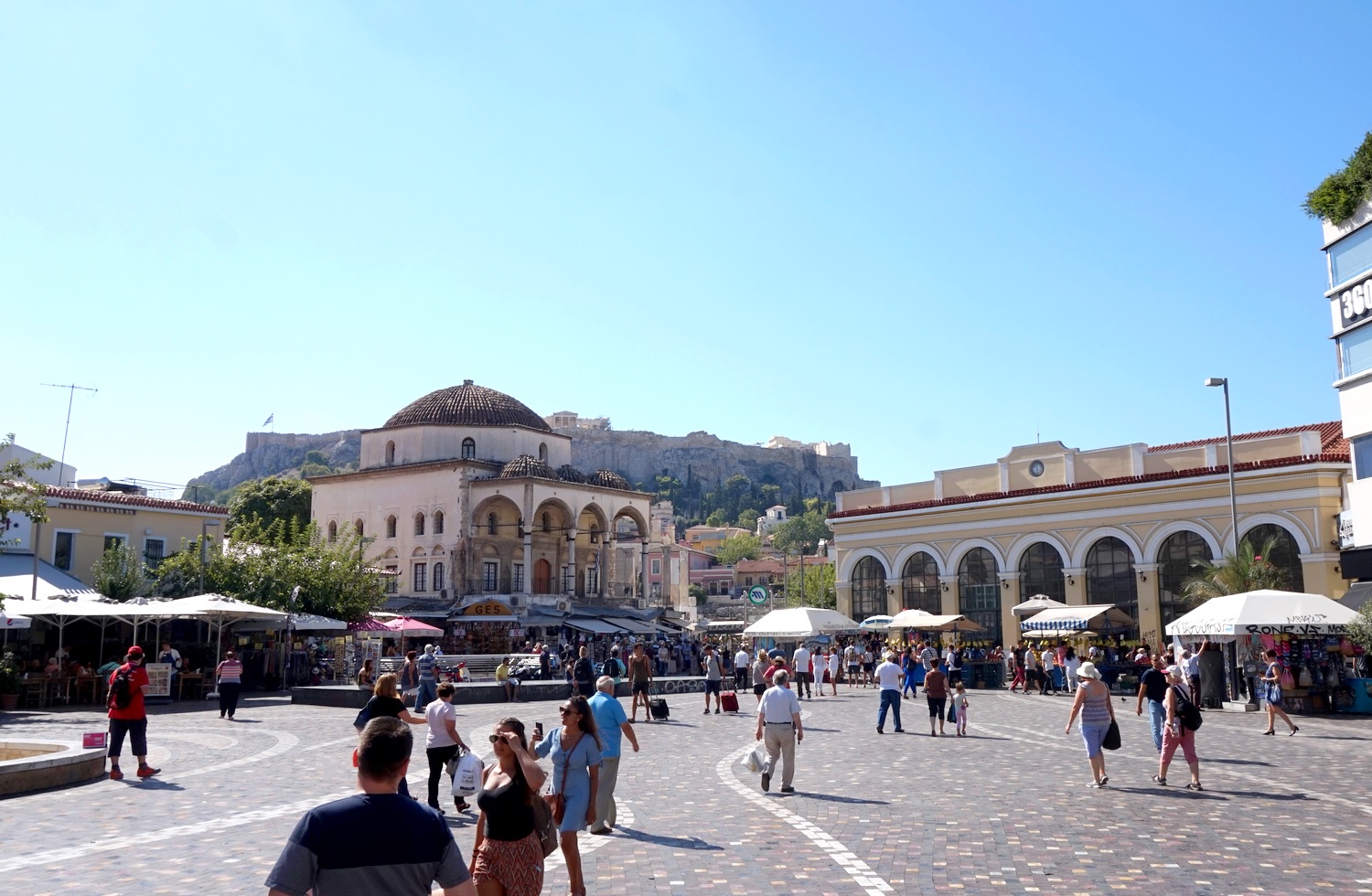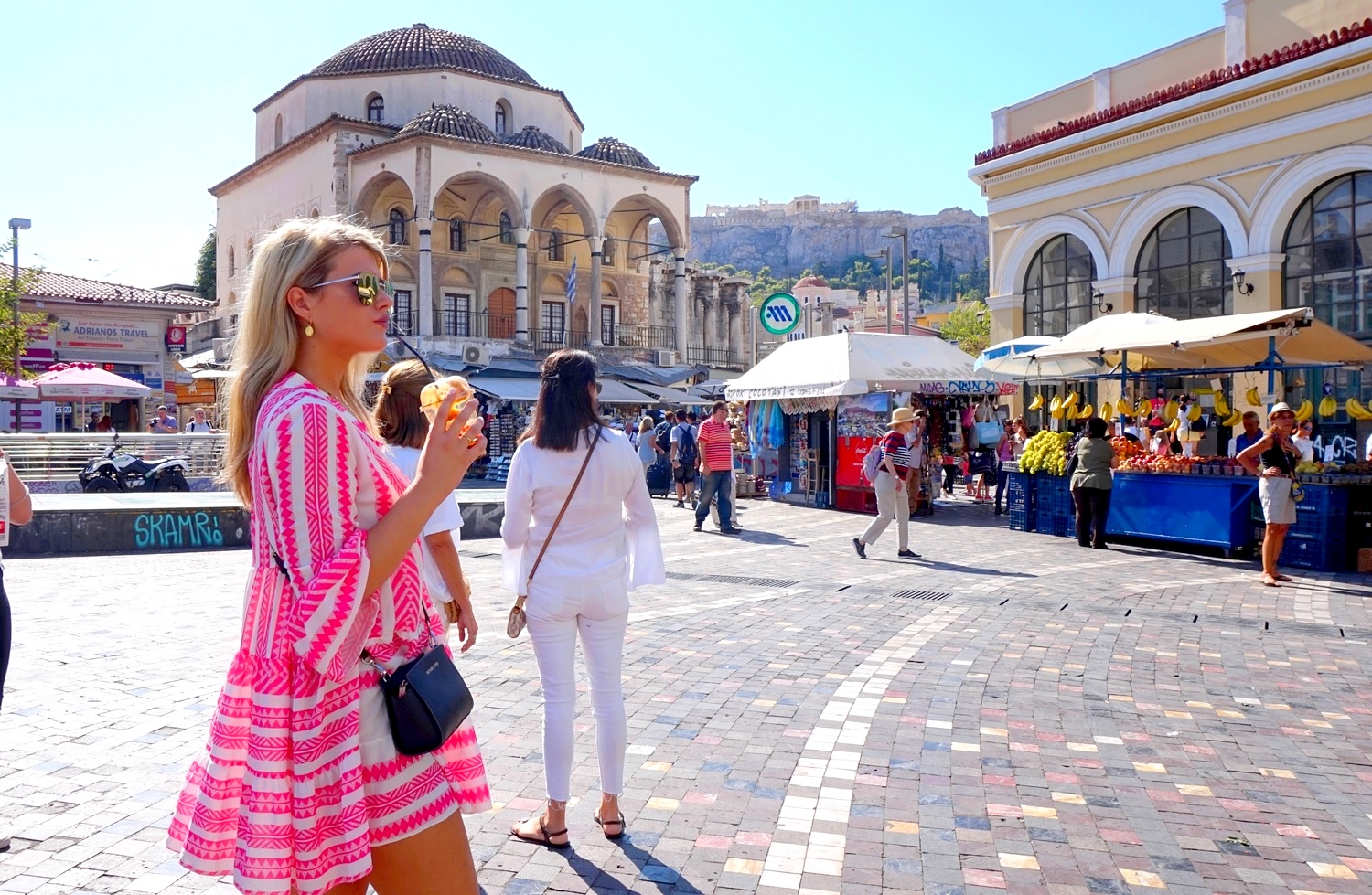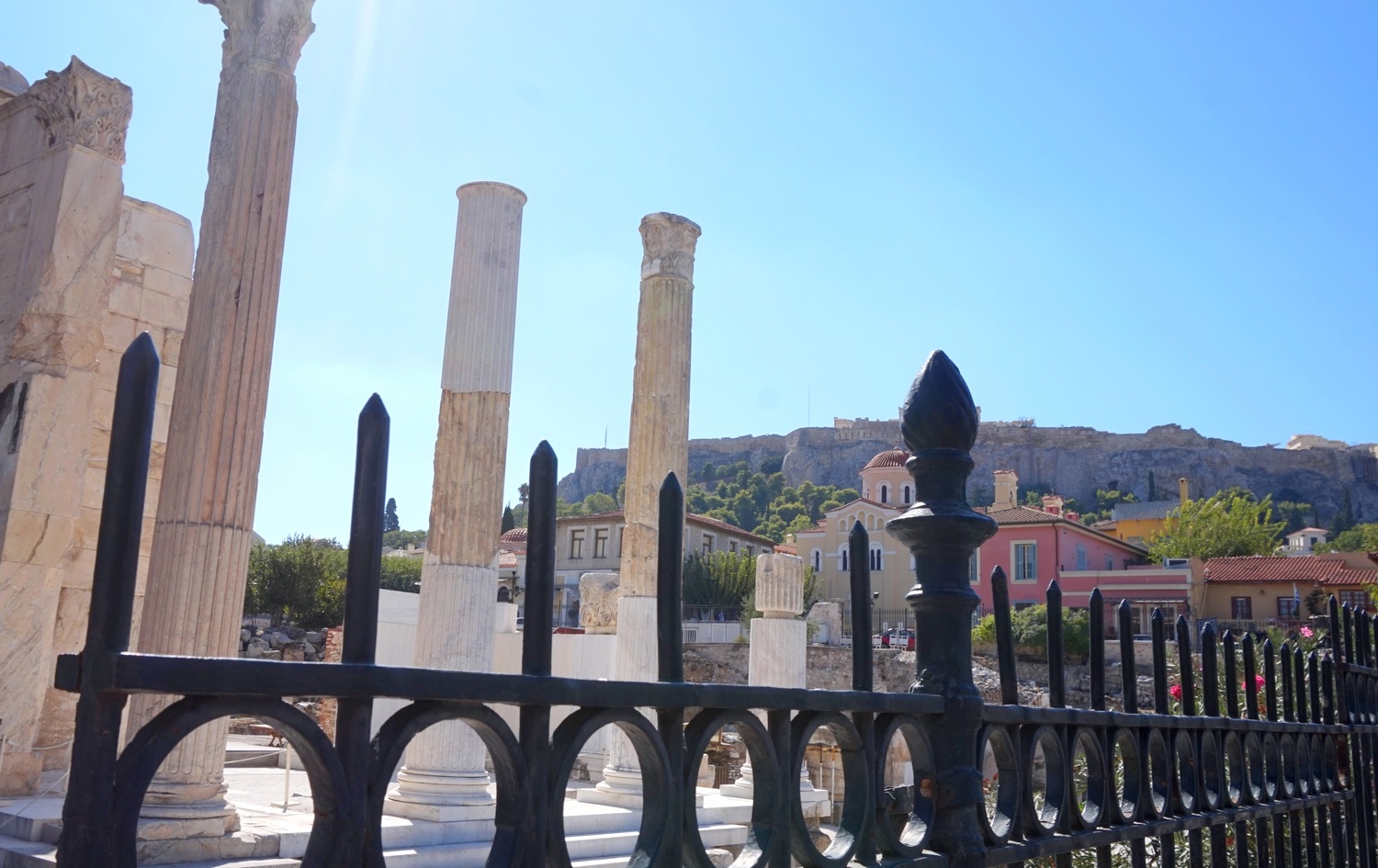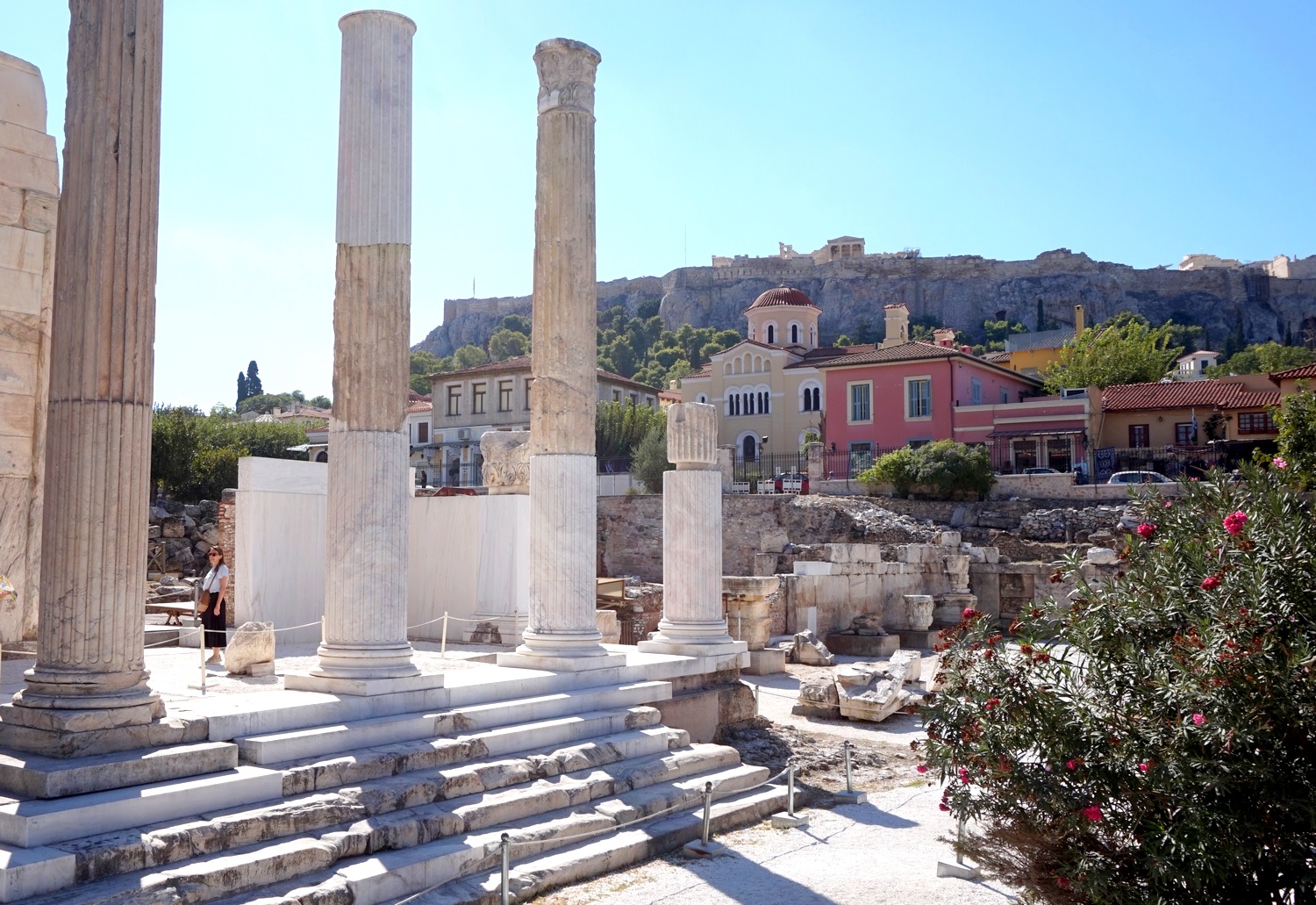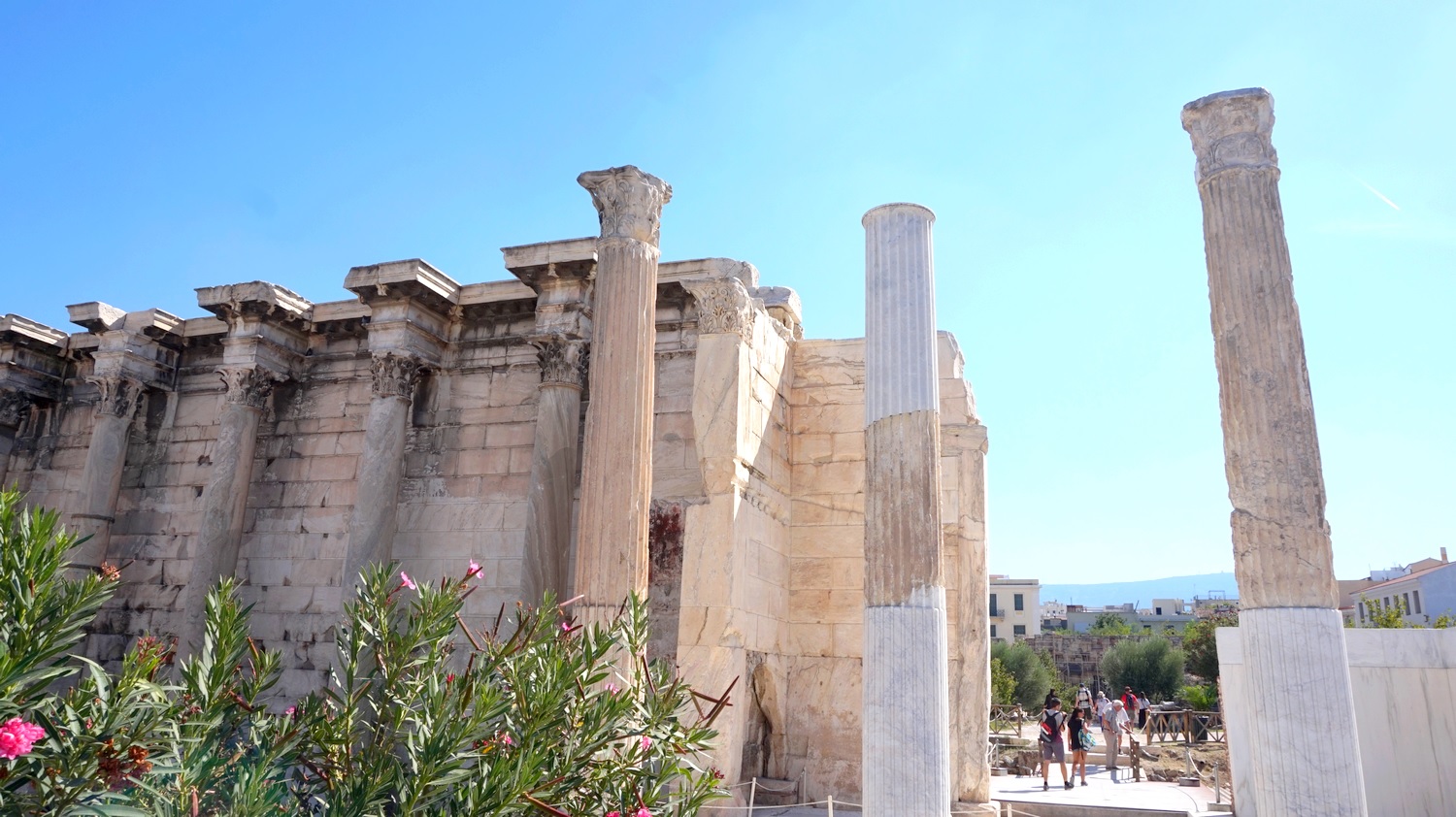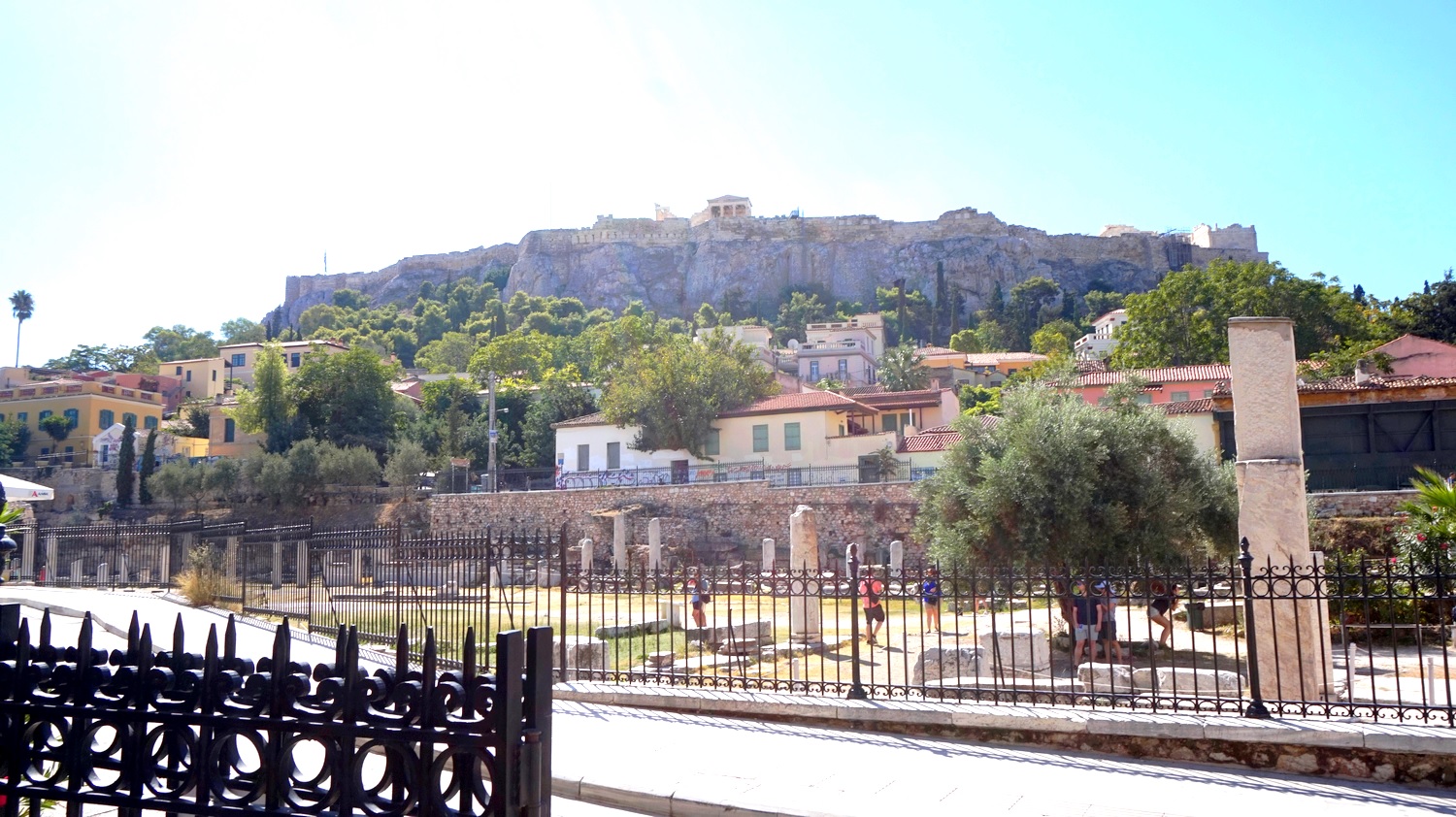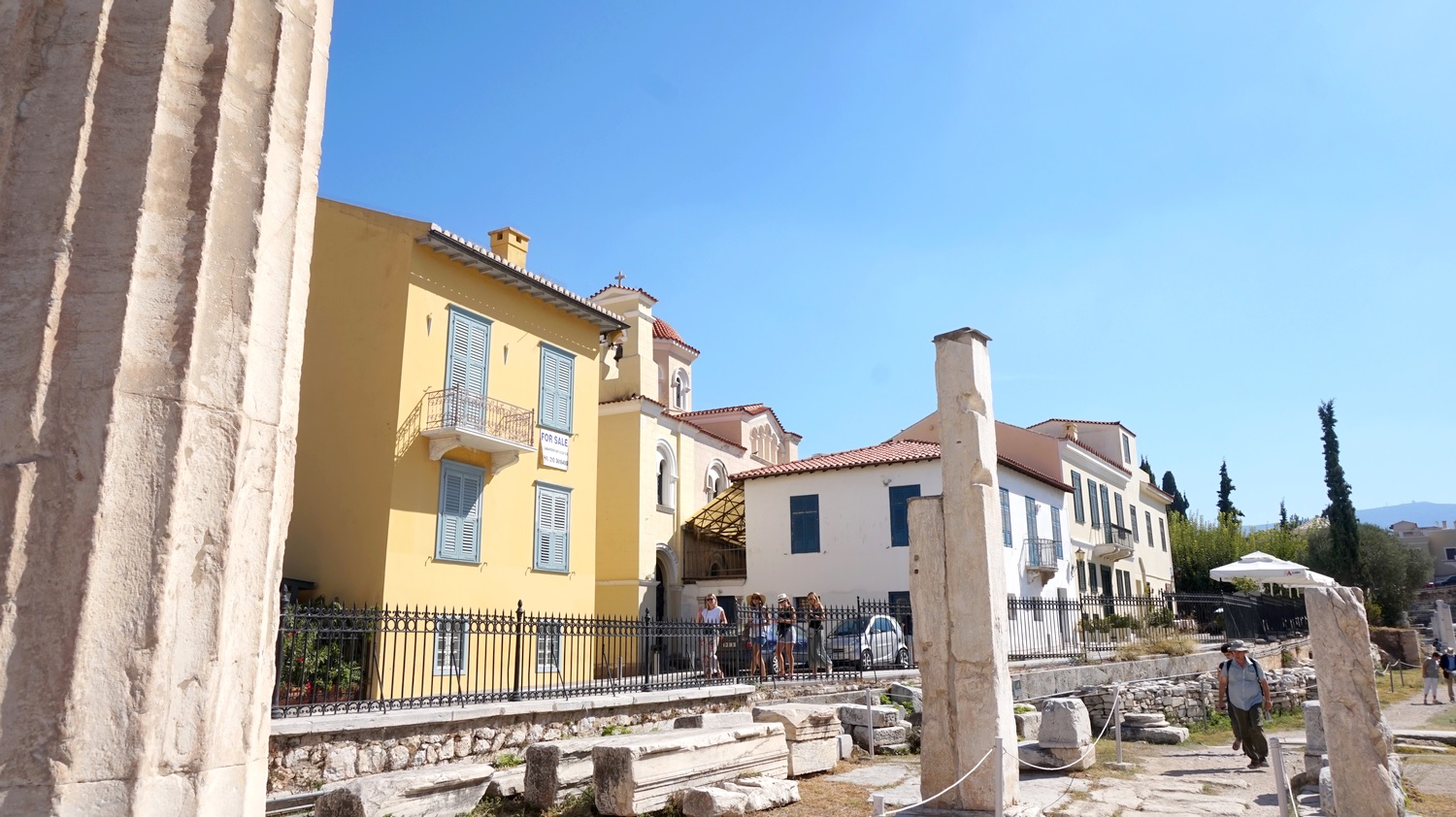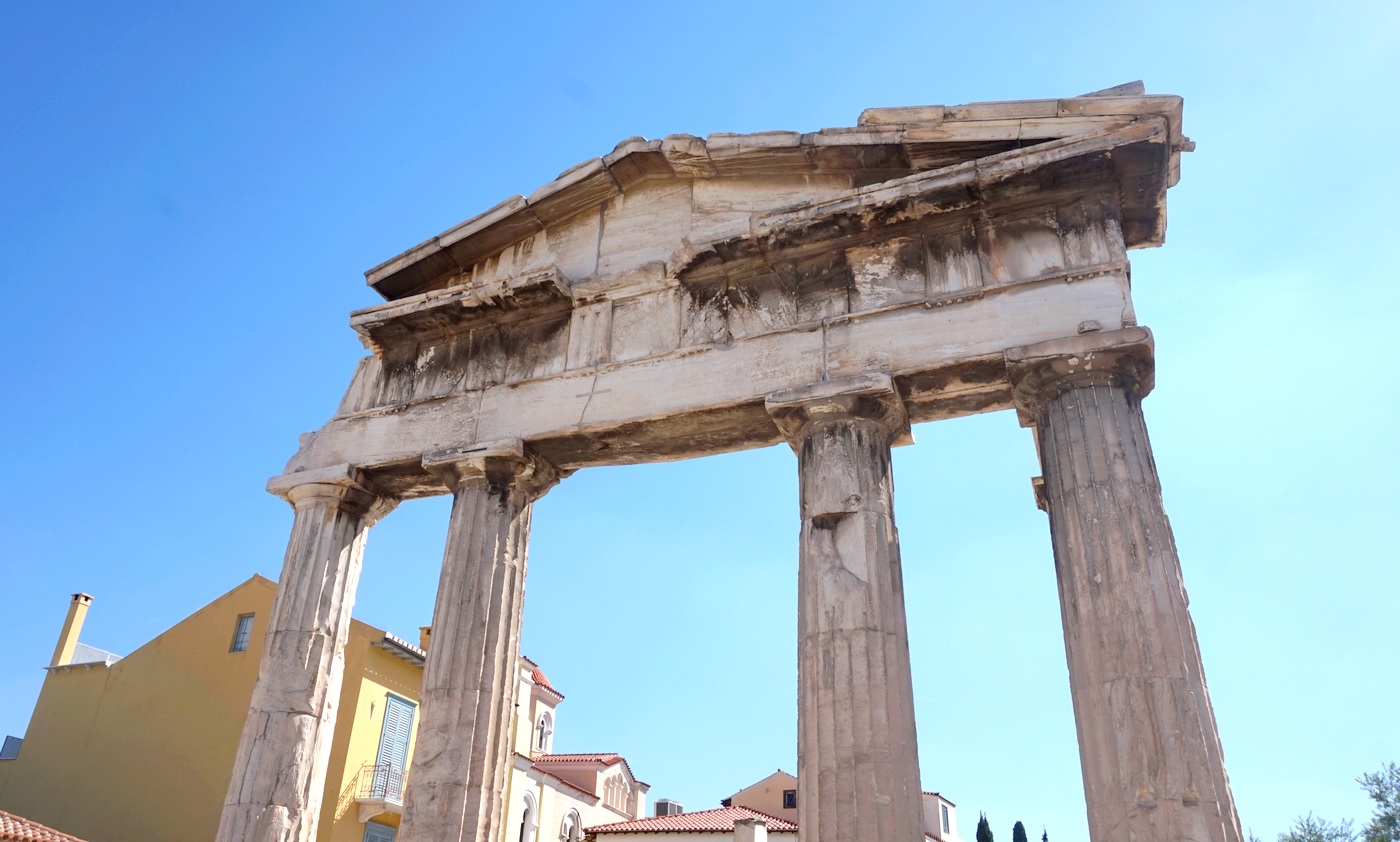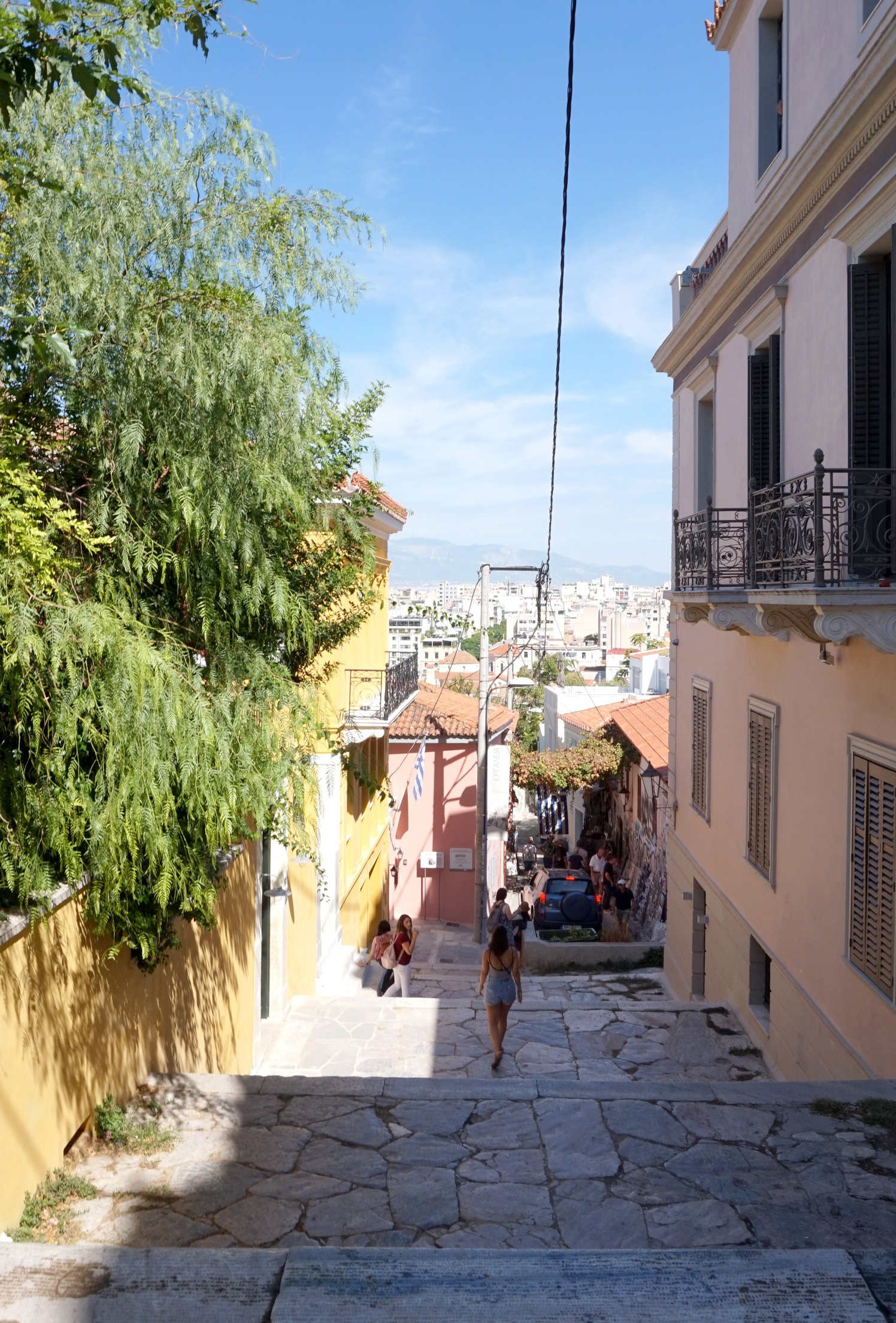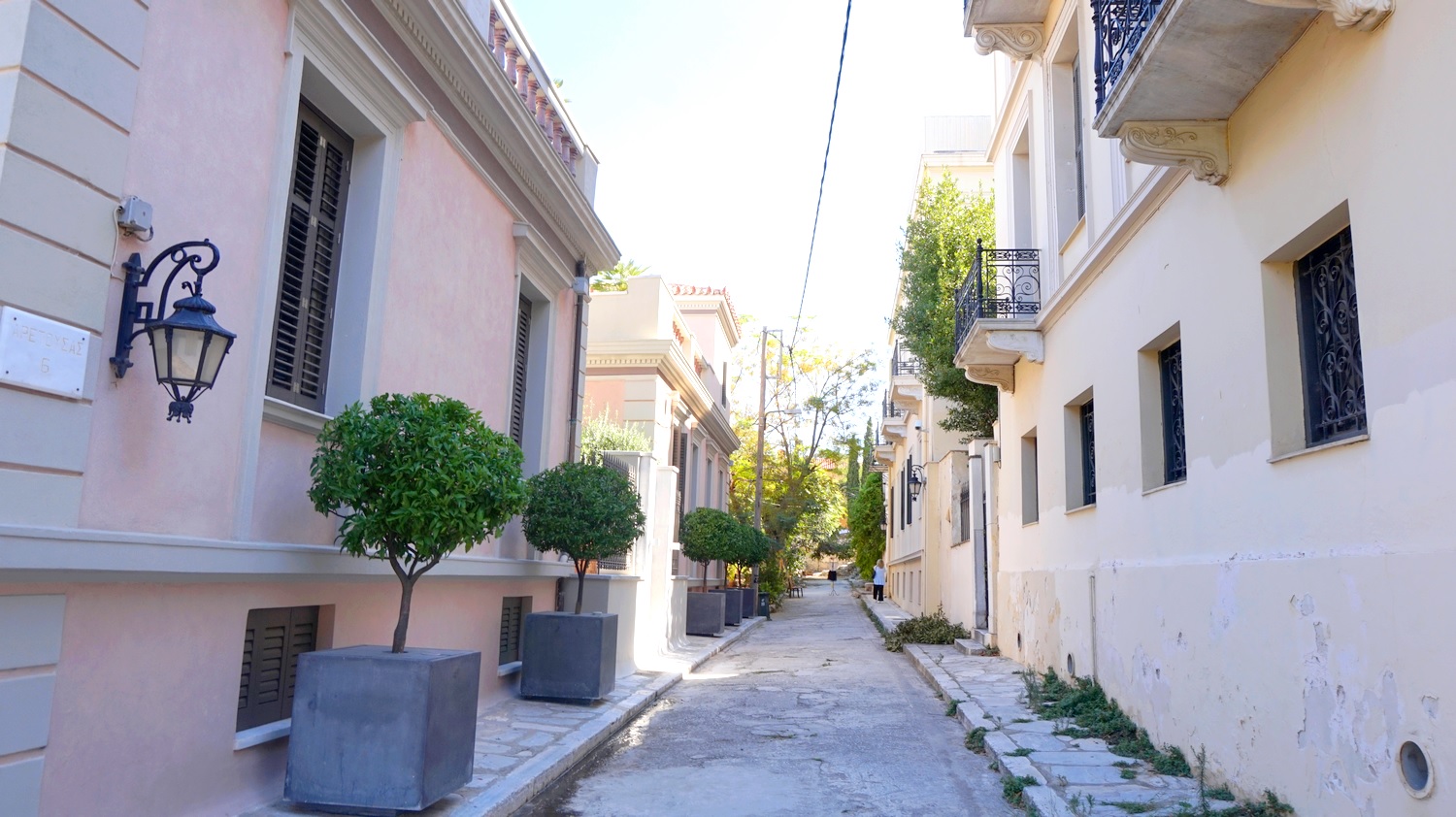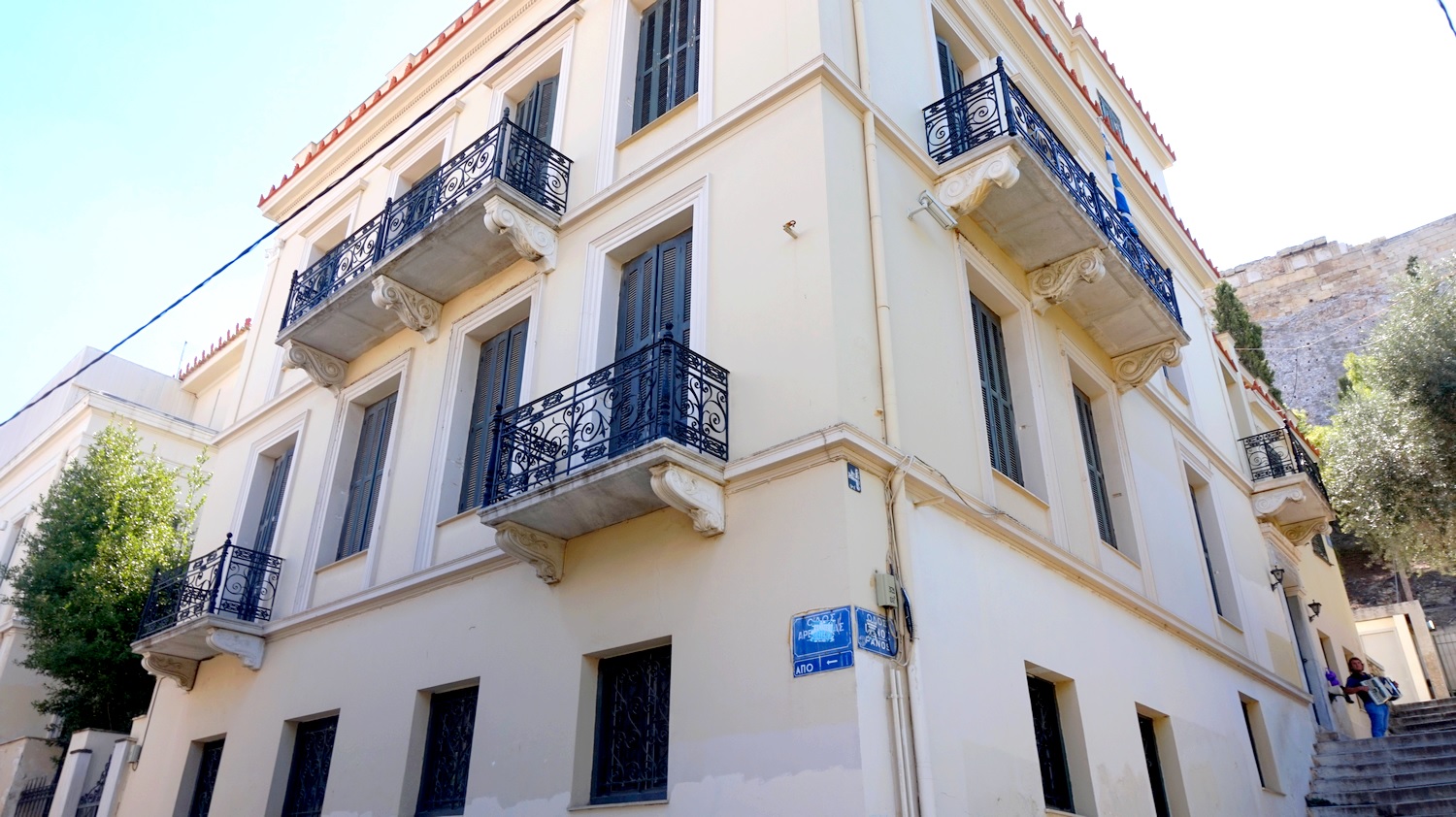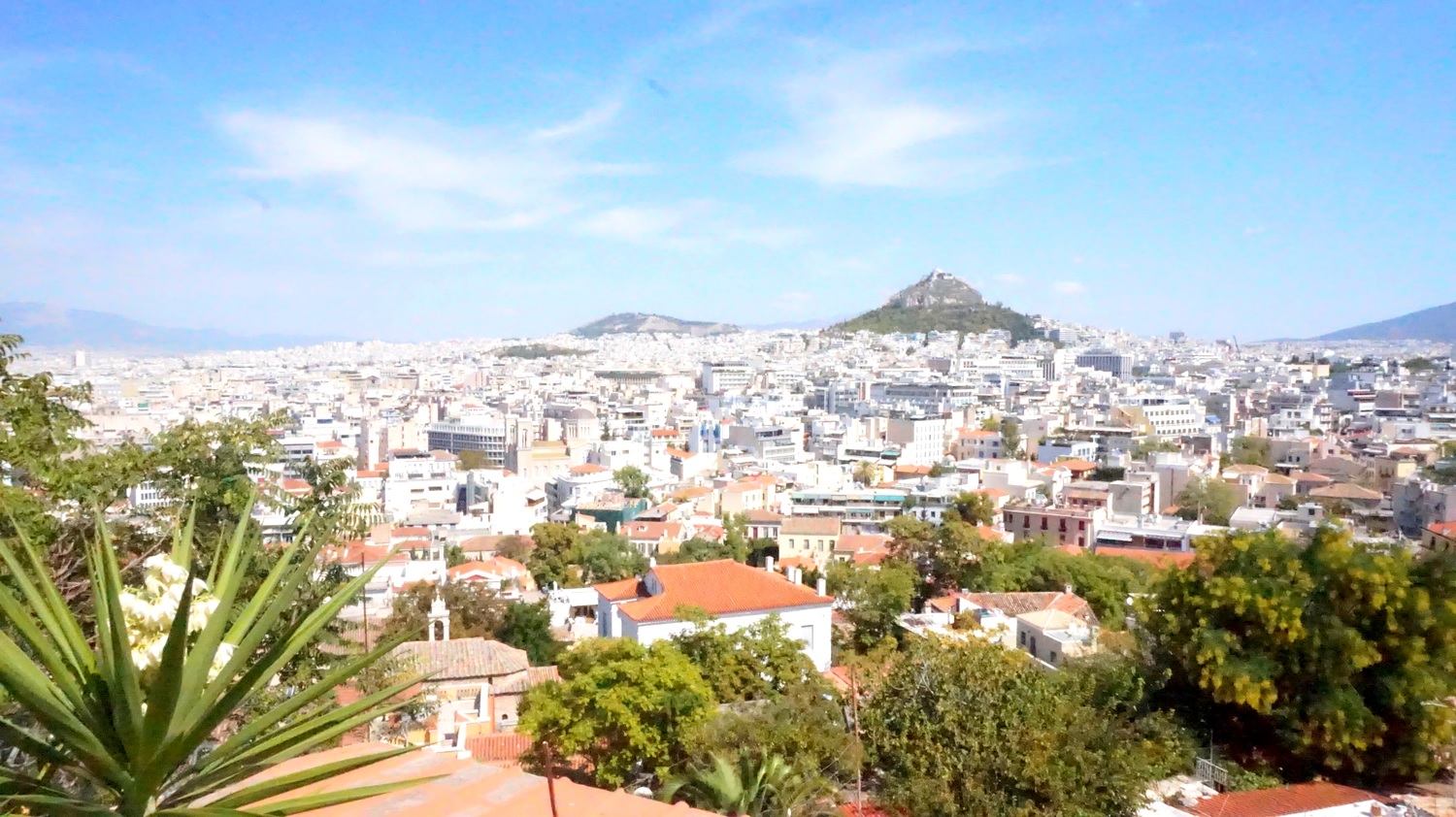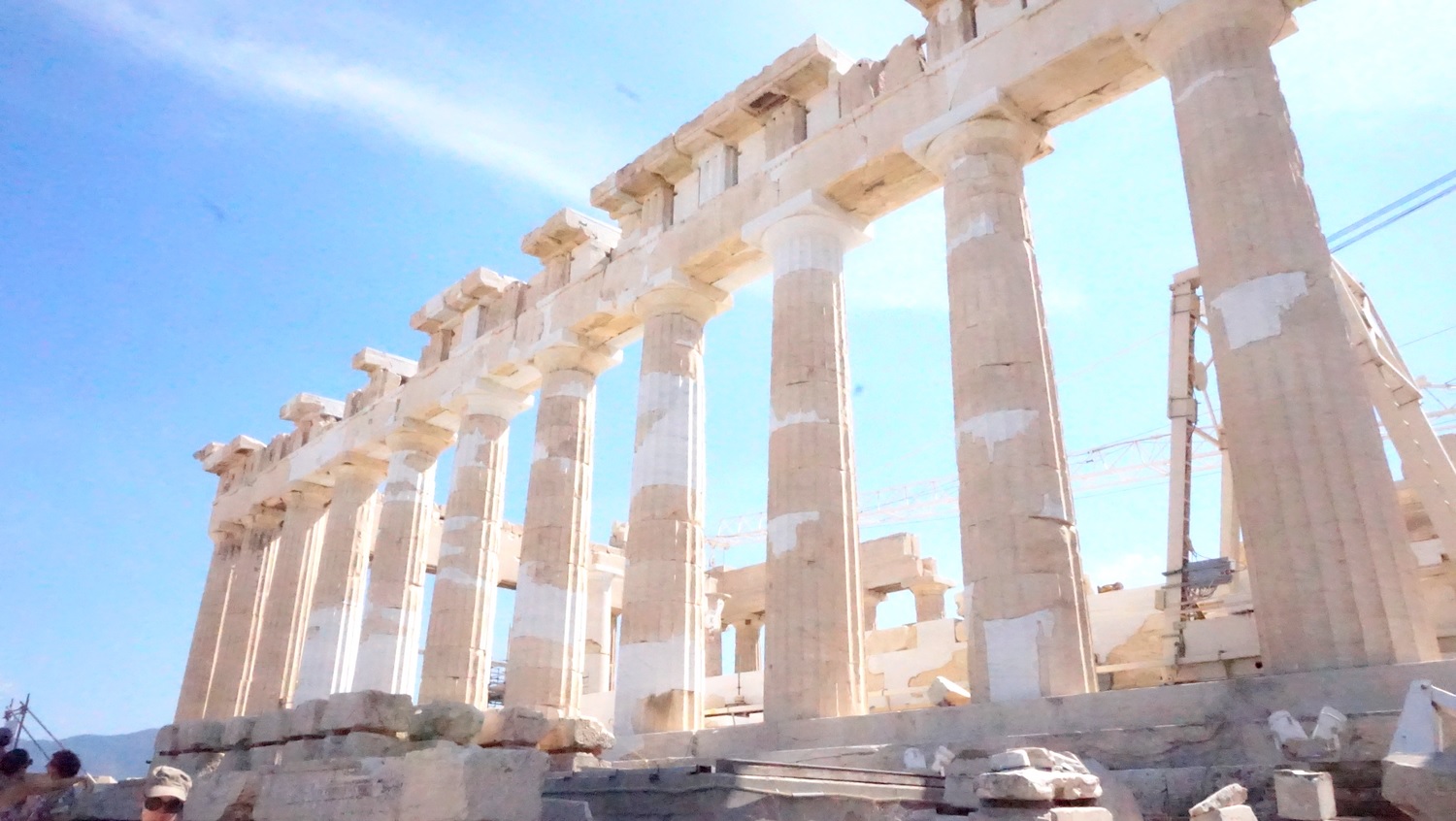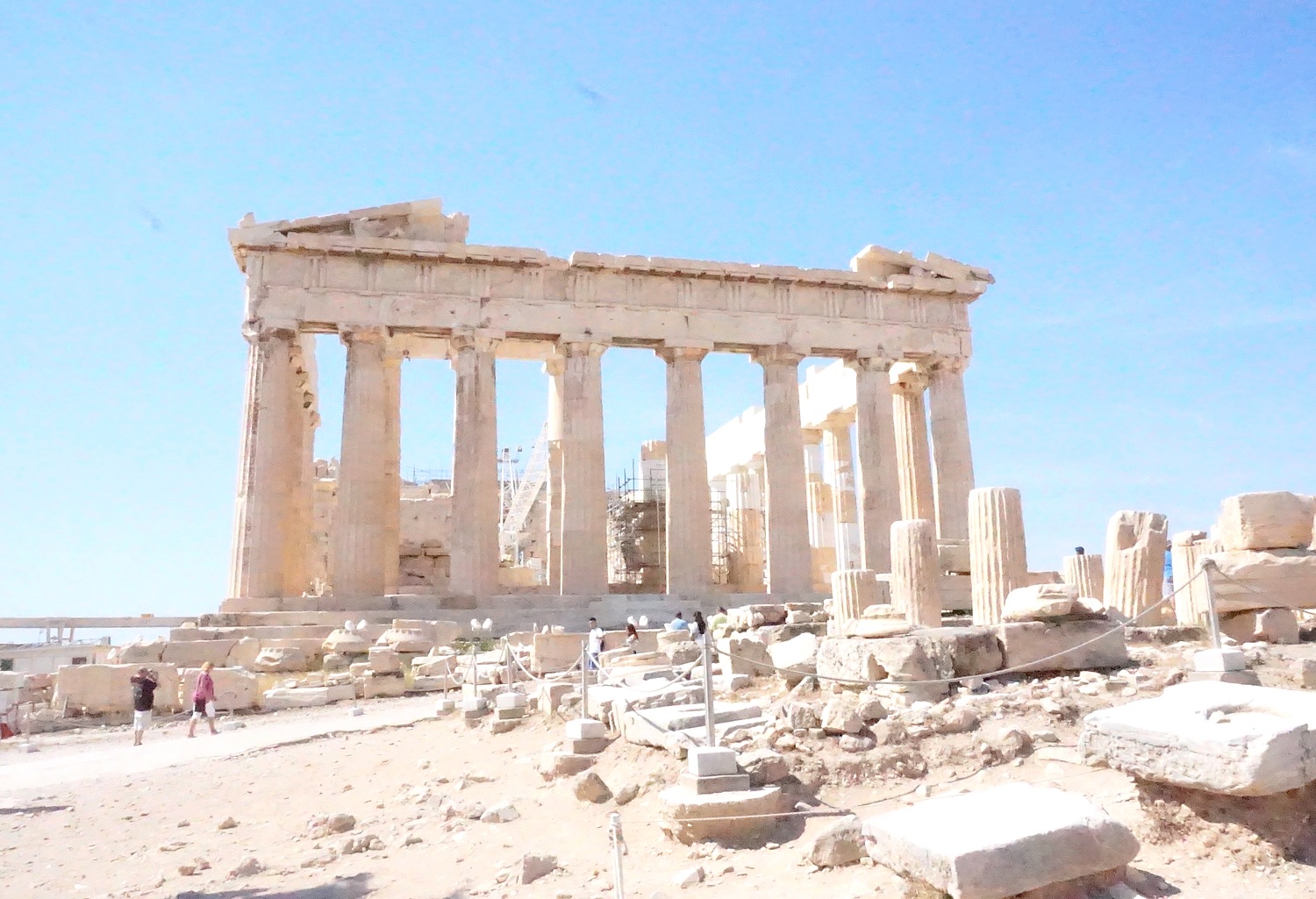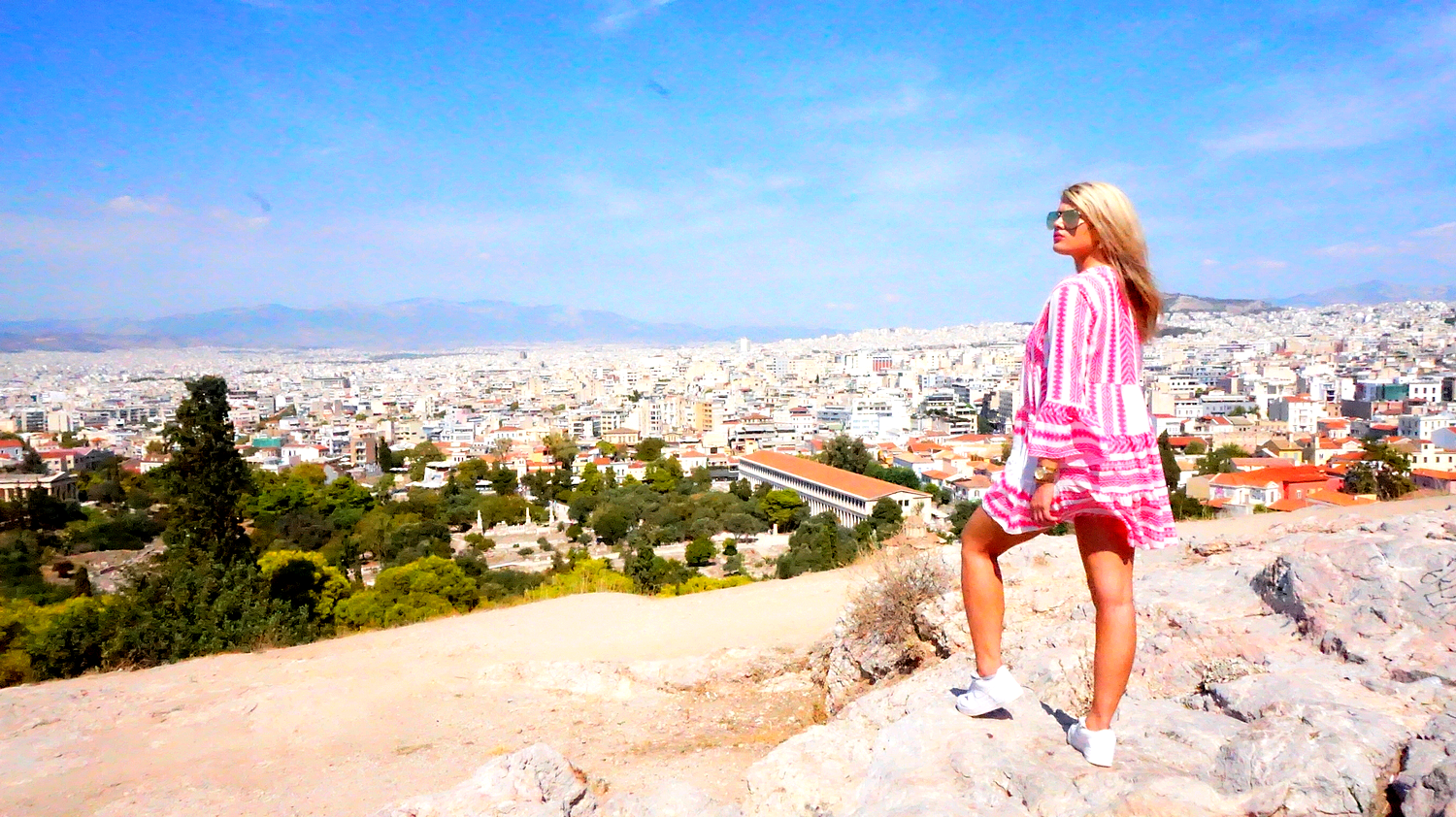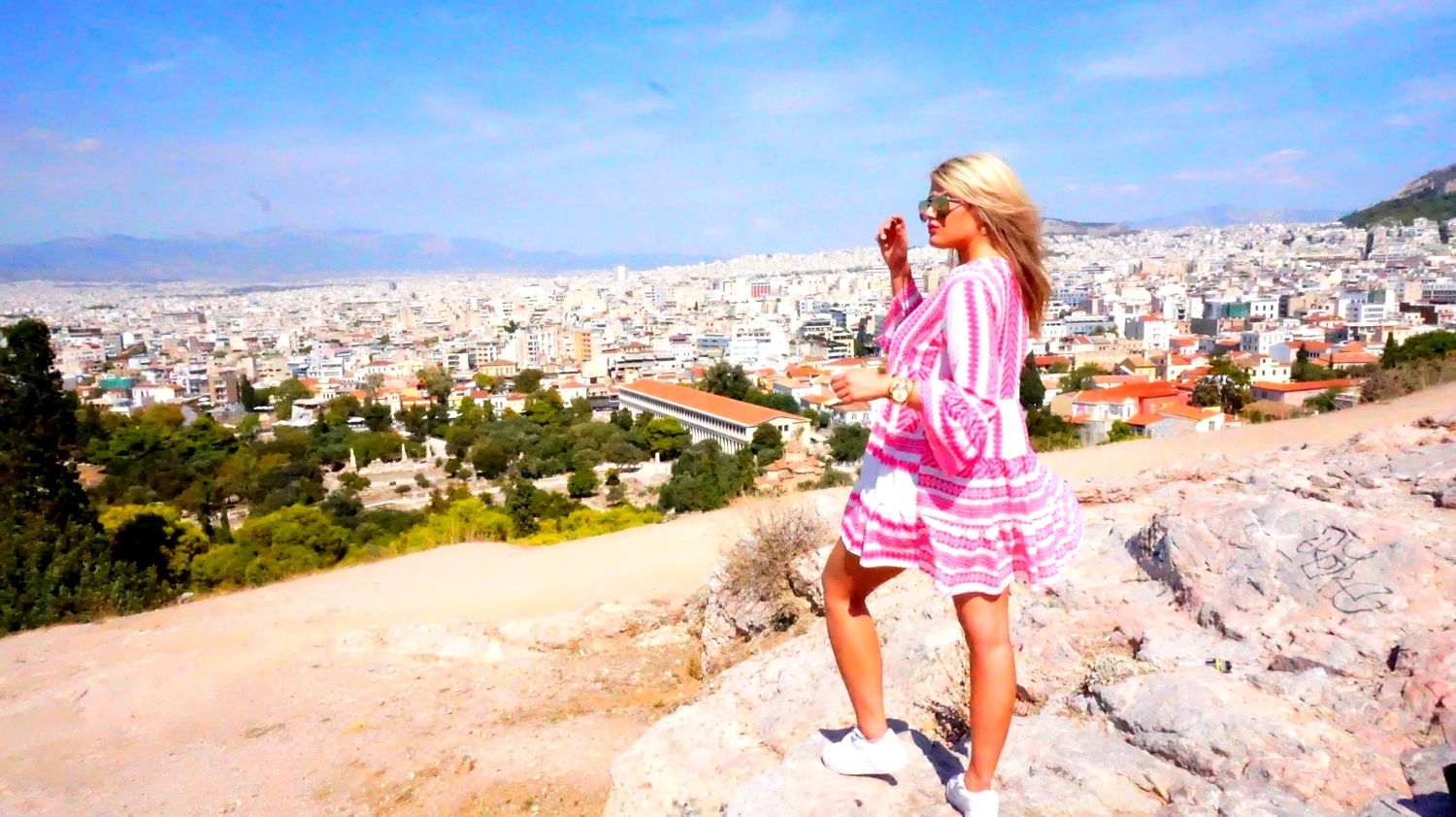 After our visit to the Akropolis and sitting there on a viewpoint to look over the city, we went back into the center to get lost in the shopping streets in the neighborhood. We came across a spot somewhere in a street with only a lift at the entrance and a doorman. "What is this?" I said positively surprised, after Roos proposed to go here. We went into the elevator and arrived at a super nice cocktail bar, where we enjoyed a drink with a view of the city and a snack. The quality of my camera has deteriorated by having set it in a wrong setting without noticing for the rest of the days, so unfortunately I did not have many (good) pictures of all the other moments and days..
Na ons bezoek aan het Akropolis en daar even te hebben gezeten op een uitzichtpunt om over de stad te kijken, waren we terug gegaan het centrum in om daar lekker te verdwalen in de winkelstraatjes in de buurt. We kwamen een plekje tegen in een straat met enkel een lift bij de ingang en een portier. 'Wat is dit dan?' Zei ik positief verrast, na Roos voorstelde om hier heen te gaan toen we er langs liepen. We gingen de lift in en kwamen uit bij een super leuke cocktailbar, waar we hebben genoten van een hapje en drankje met uitzicht over de stad. De kwaliteit van mijn camera was enorm achteruit gegaan door het verkeerd te hebben ingesteld, dus had ik jammer genoeg maar weinig foto's van alle andere momenten en dagen..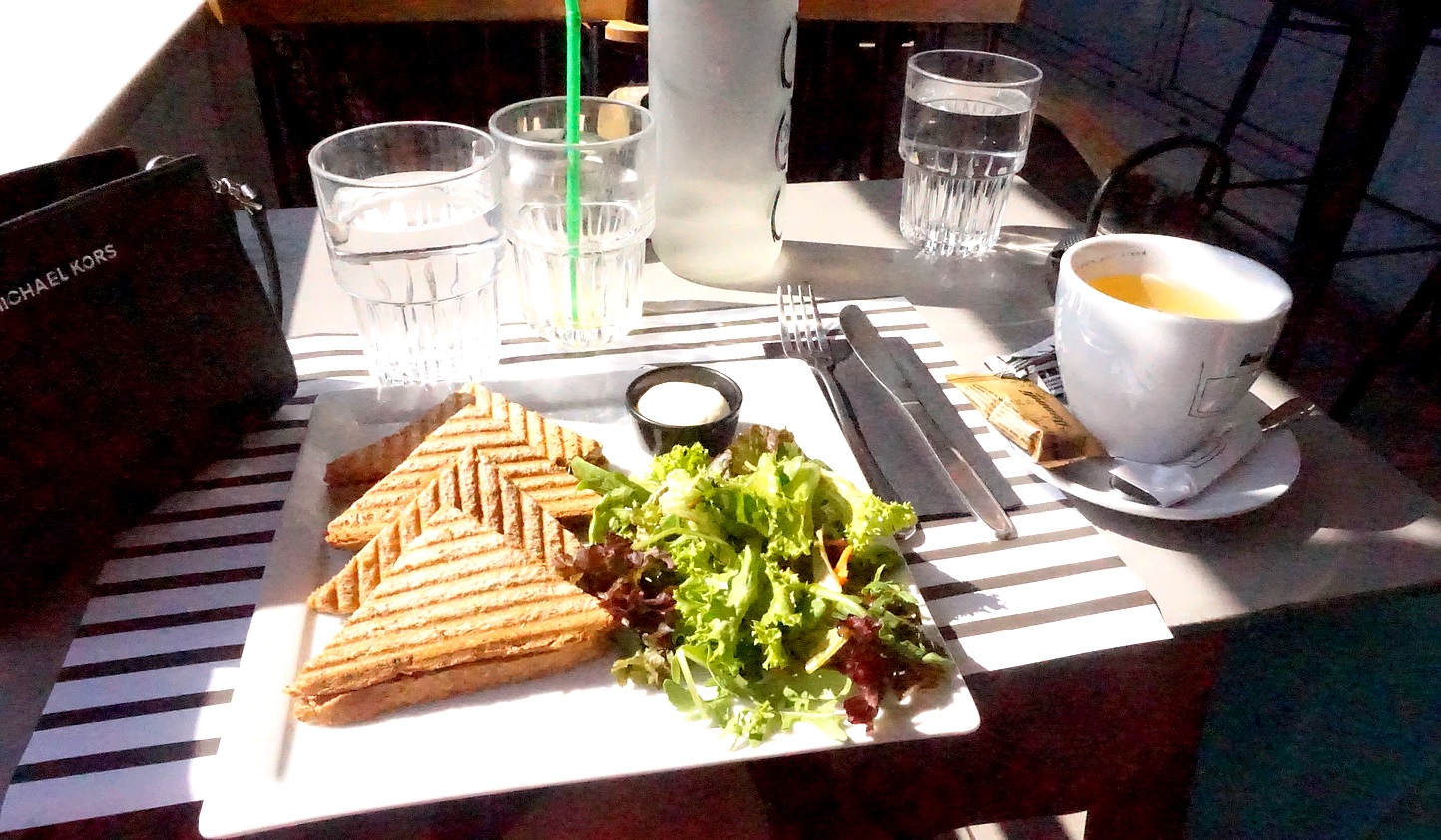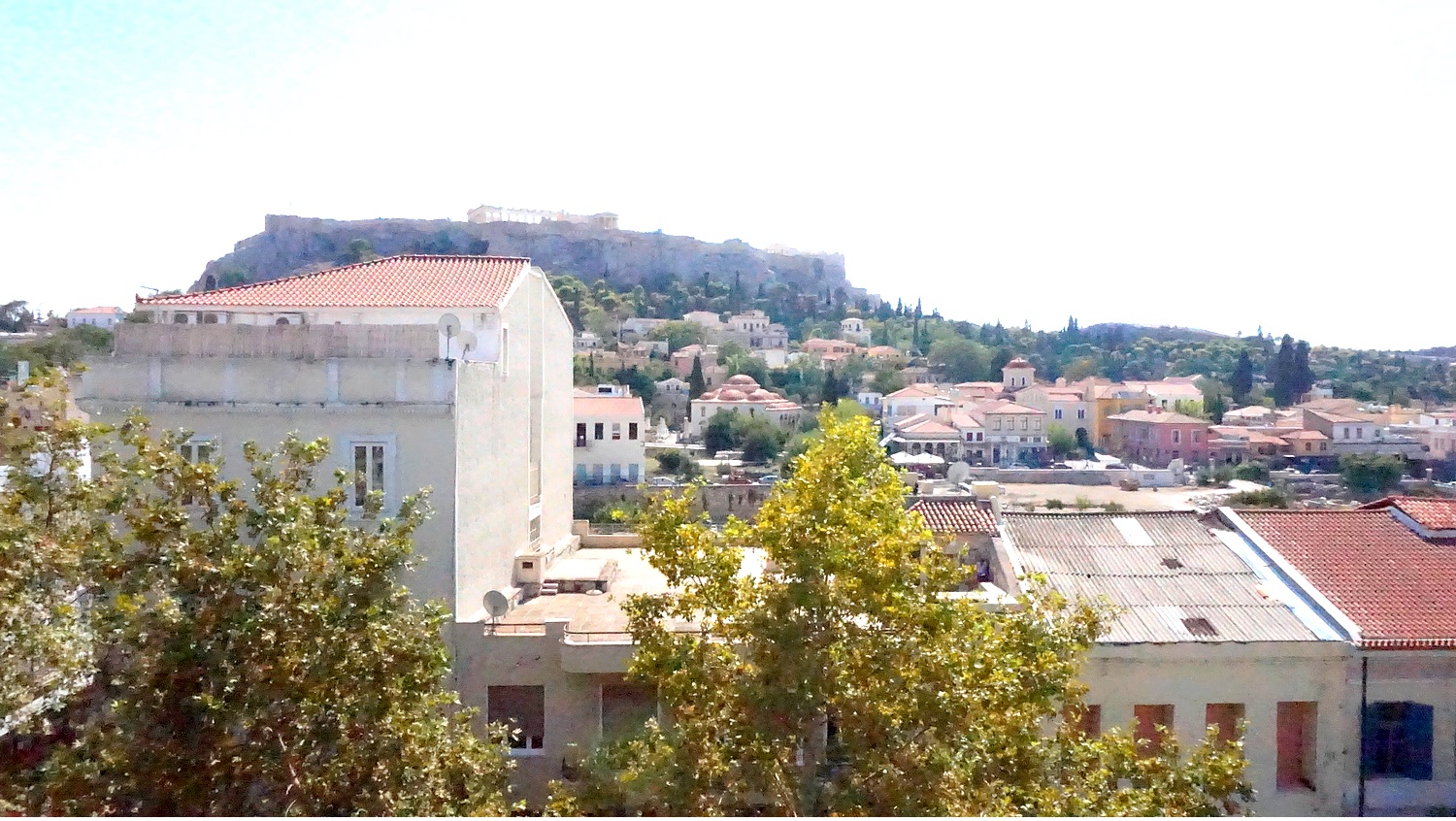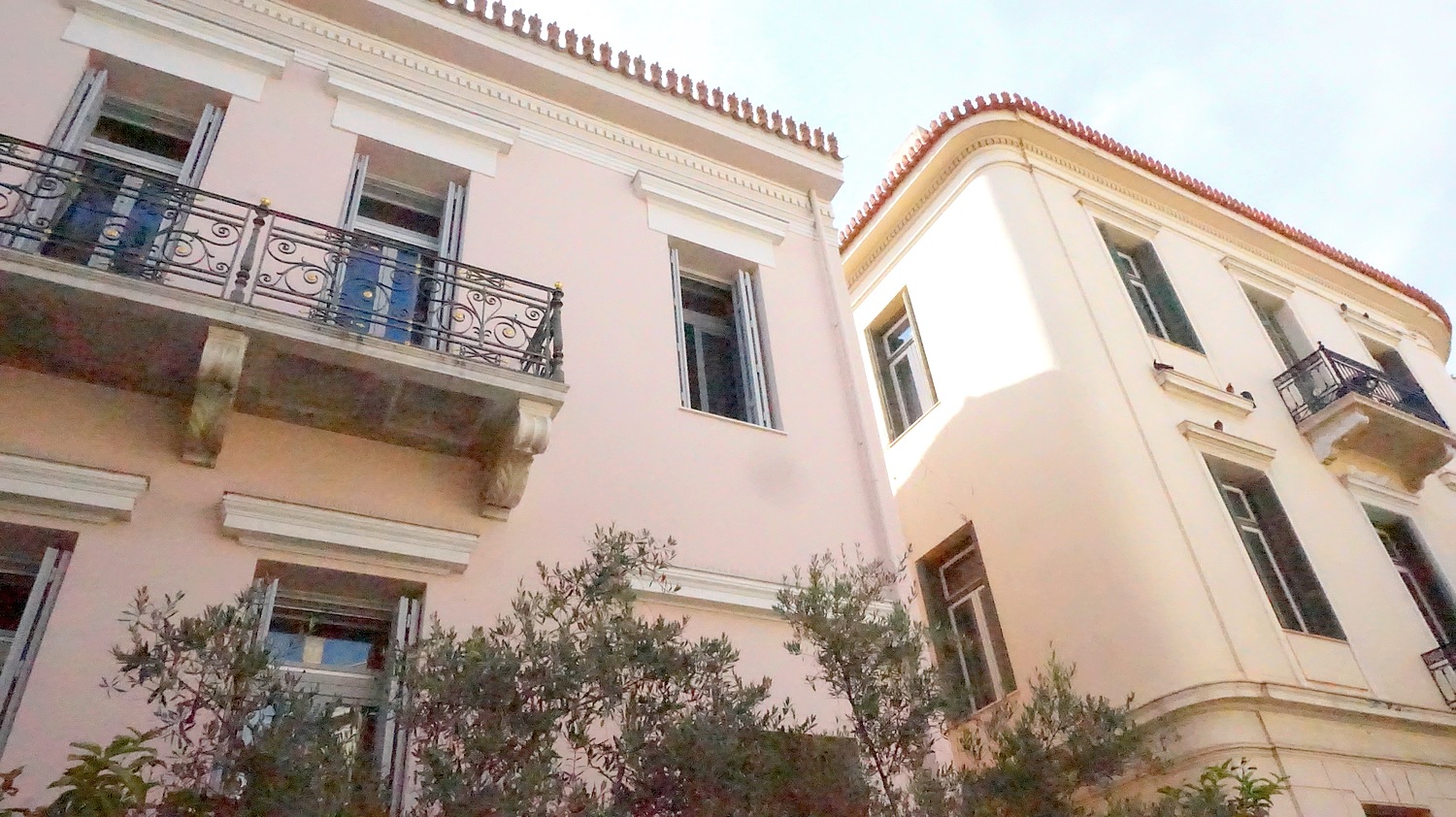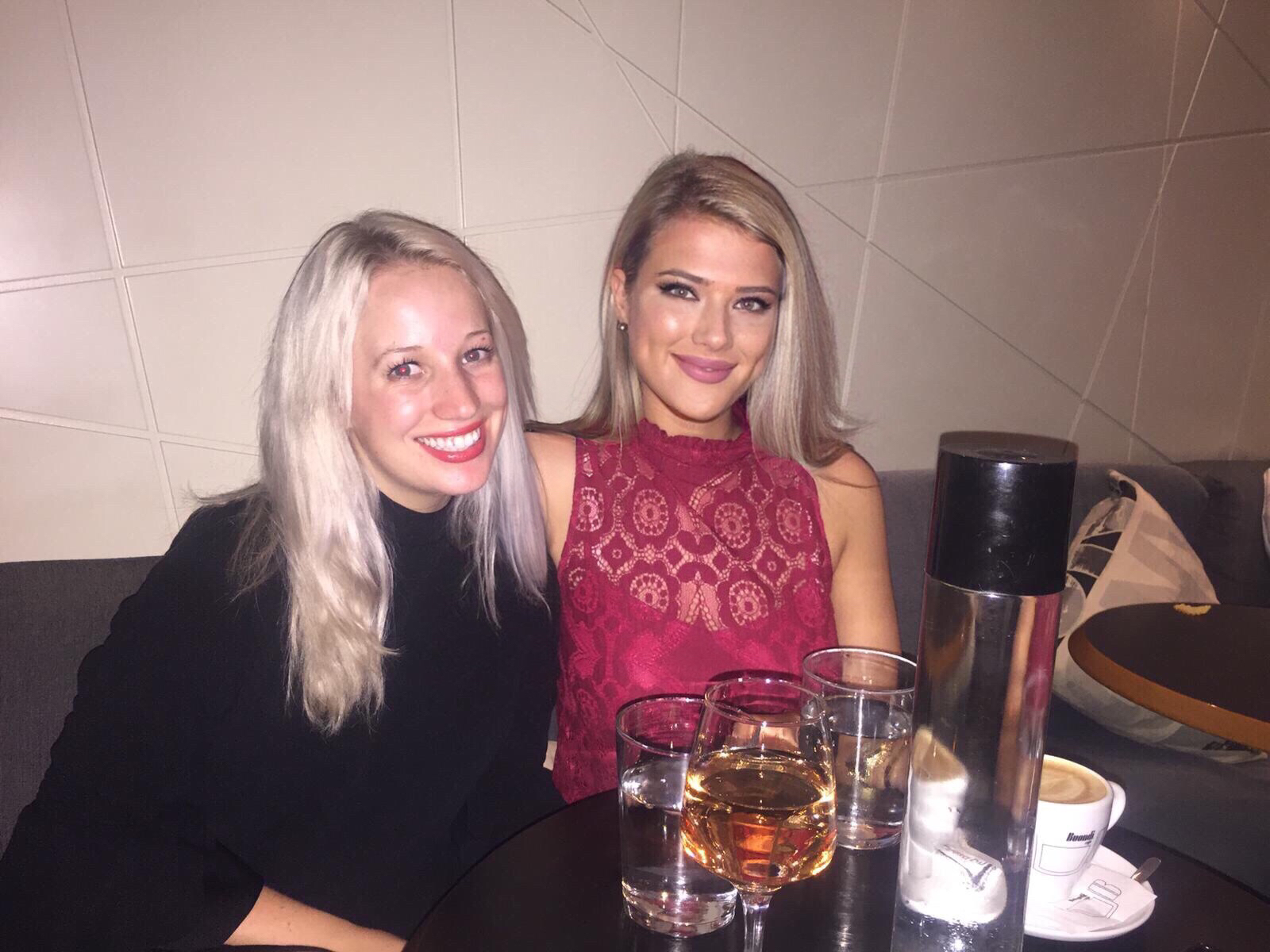 In the evening, we had coffee at a lovely part in the city center and near our apartment, we had a pita and some tsaziki at a cute family restaurant.
During our 3rd day in Athens we did not really plan anything as well, we just wanted to go to the seaside. We went to Pireus by metro and started looking for a beach. Eventually we ended up at a place full of ferries going to the Greek islands. We went to see where they were going and saw a nice island called Aegina – which would only take about 1 hour and a quarter to get there – and by the way was only 17 euros for a two way fare on a fancy ferry. It was also not very busy, so we were able to enjoy the view of the sea and islands on the upper floor of the ferry. The island was a super pleasant surprise! We arrived in a small harbor and saw plenty of cute colored houses and cute narrow streets. We then bought a super big Gelato and walked through the nice colored streets full of nice cafes and shops. If only I had some (more) photos –  sad to have had a malfunctioning camera! We would stay on the island for an hour or 4 and really enjoyed it. We walked through many cute streets, went for a swim at the beach and eventually returned to the streets of the island to get some food.
In de avond waren we nog ergens bij een mooi stadsdeel koffie gaan drinken en natuurlijk in de omgeving van ons appartement tsaziki en pita gyros gaan eten bij een schattig familie zaakje.
Tijdens onze 3e dag in Athene hadden we niet echt plannen, de zee was een leuk idee. We waren met de metro naar Pireus gegaan en daar gaan zoeken naar strand. Uiteindelijk kwamen we uit bij een plek vol ferry's die naar de Griekse eilanden zouden vertrekken. We gingen kijken waar ze heen gingen en zagen een leuke eilandje genaamd Aegina – die slechts 1 uur en een kwartier varen zou zijn – en overigens maar 17 euro retour was op een luxe ferry. Het was ook niet enorm druk, dus konden we boven op het dak van het uitzicht over de zee en eilanden genieten. Het eiland was een super aangename verrassing! We kwamen aan in een haventje en zagen al volop schattige gekleurde huisjes. We hadden daarna een super grote Gelato gekocht en door de leuke gekleurde straatjes gelopen vol leuke cafeetjes en winkeltjes. Had ik maar wat (meer) foto's! – jammer van mijn crashende camera We zouden maar een uurtje of 4 op het eiland blijven en hadden daar ook echt van genoten. Verder hadden we een rondje in de zee gezwommen en daarna gegeten voor we weer opnieuw door de straatjes gingen wandelen.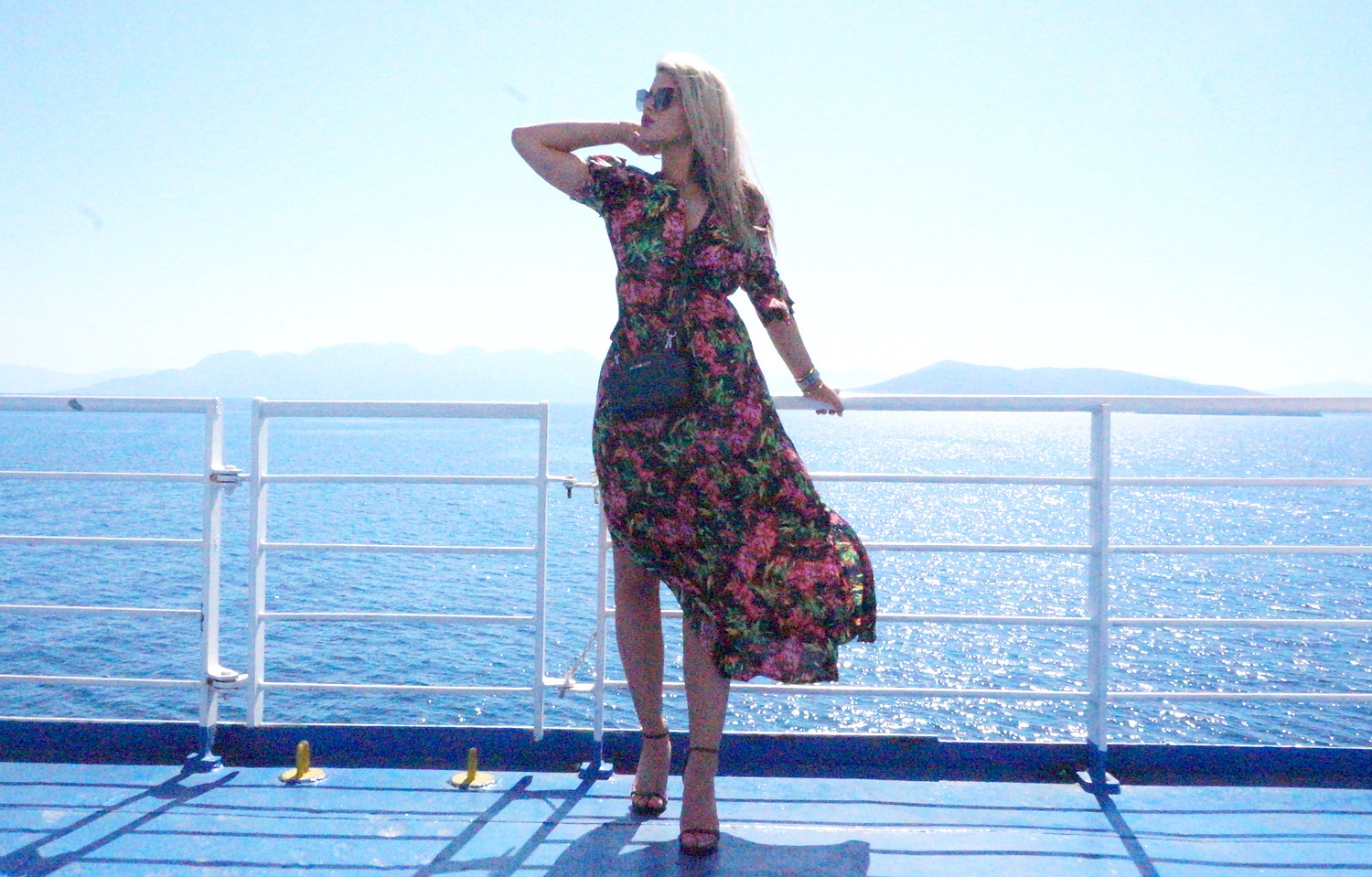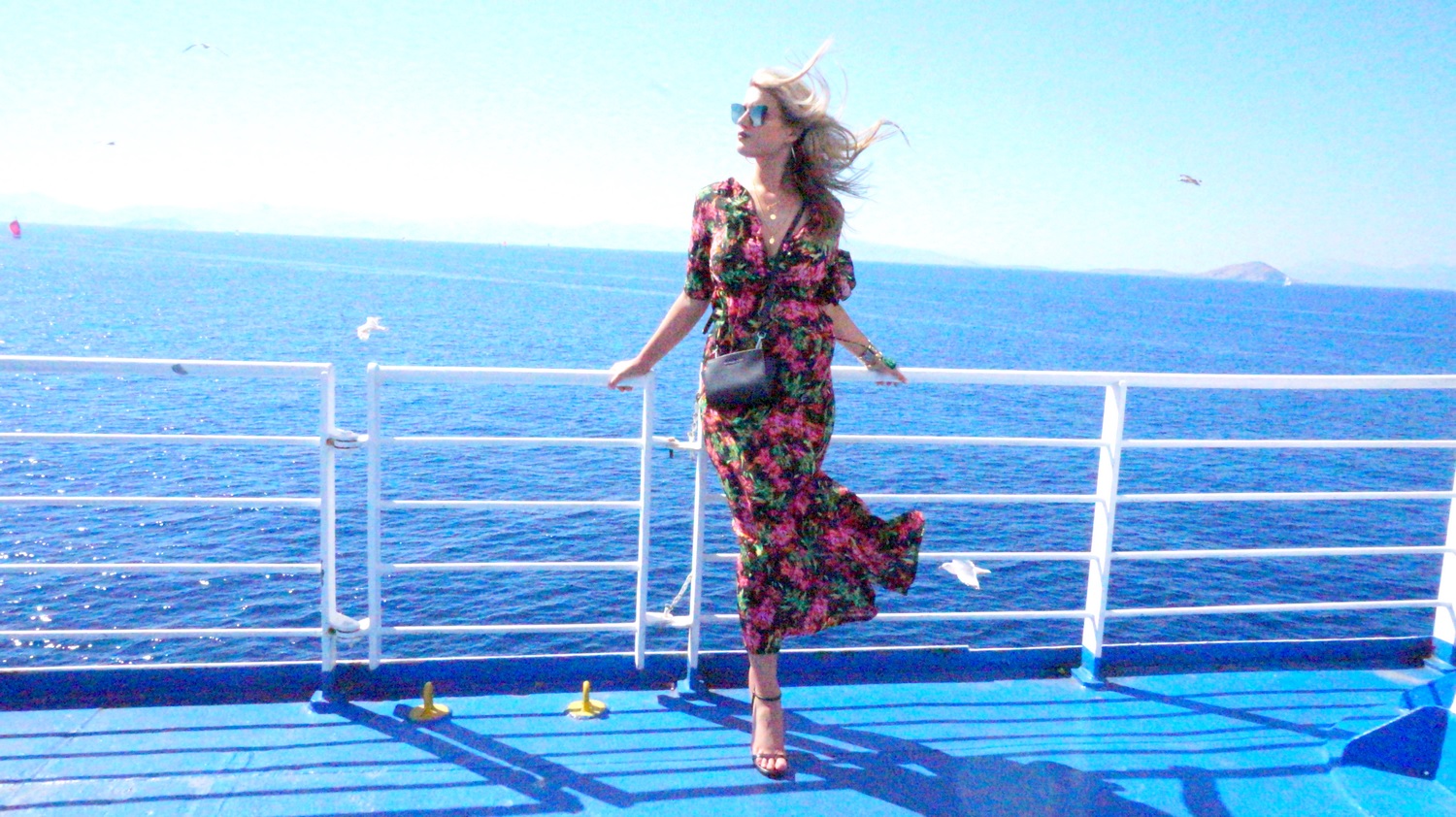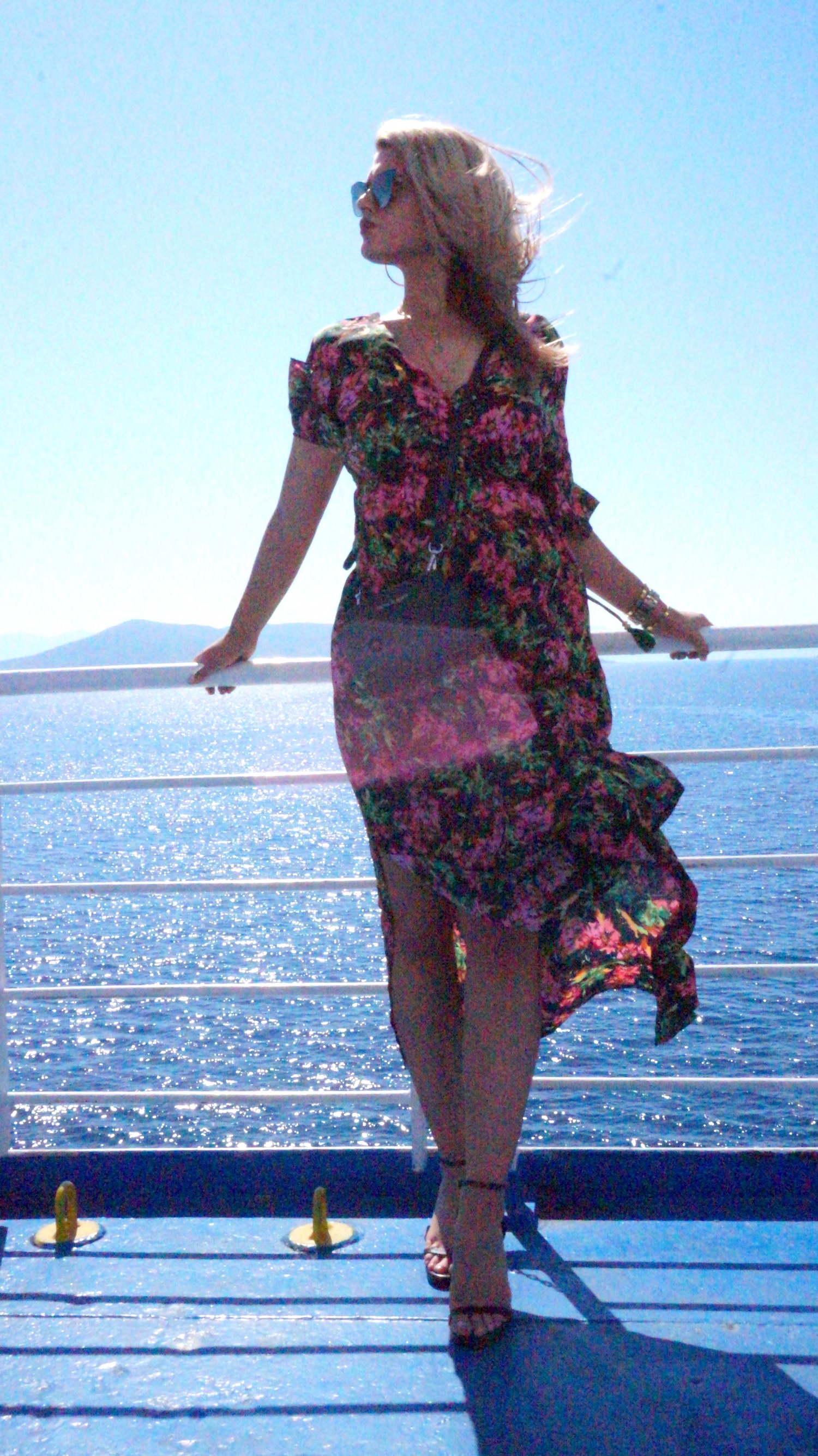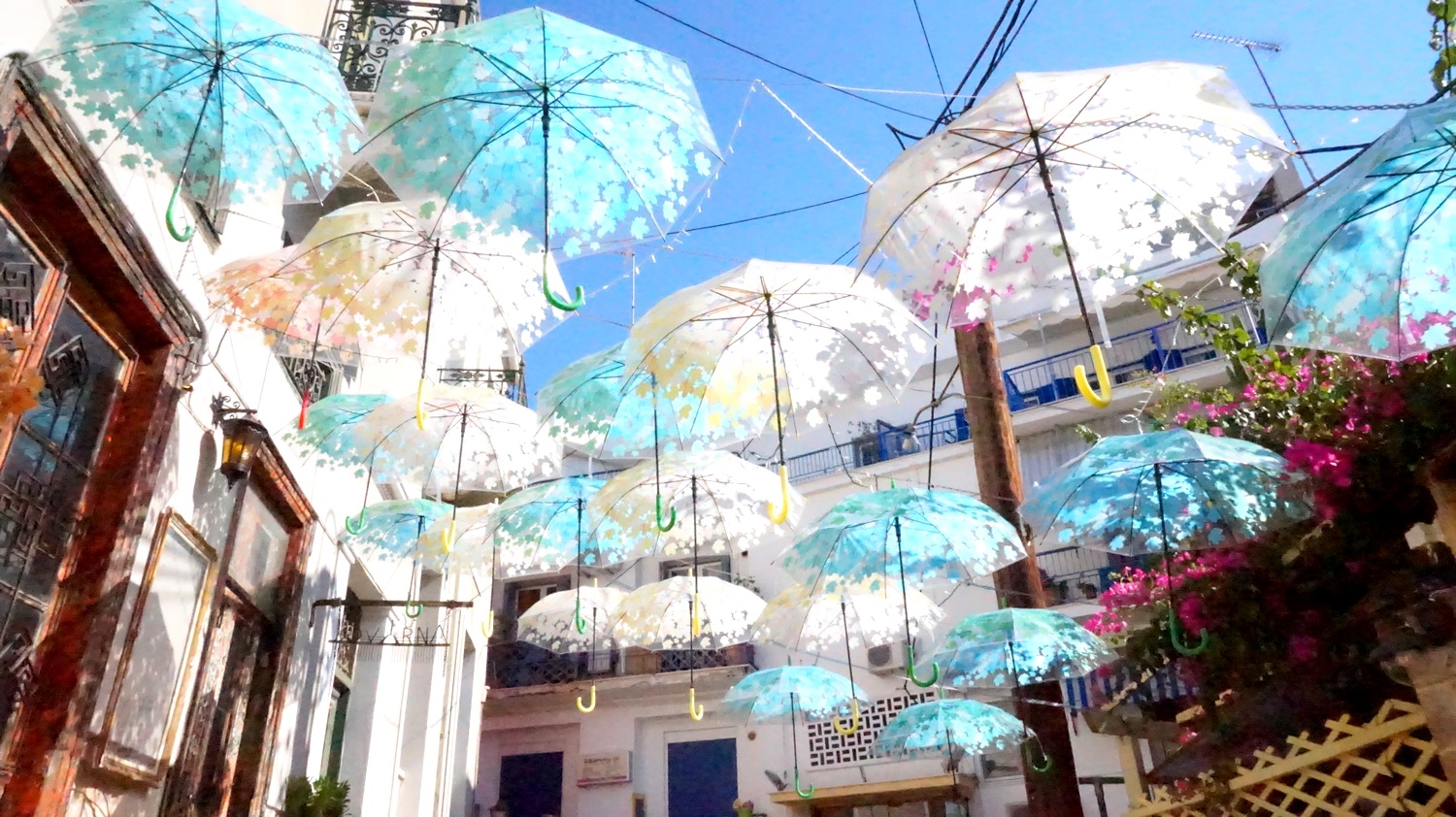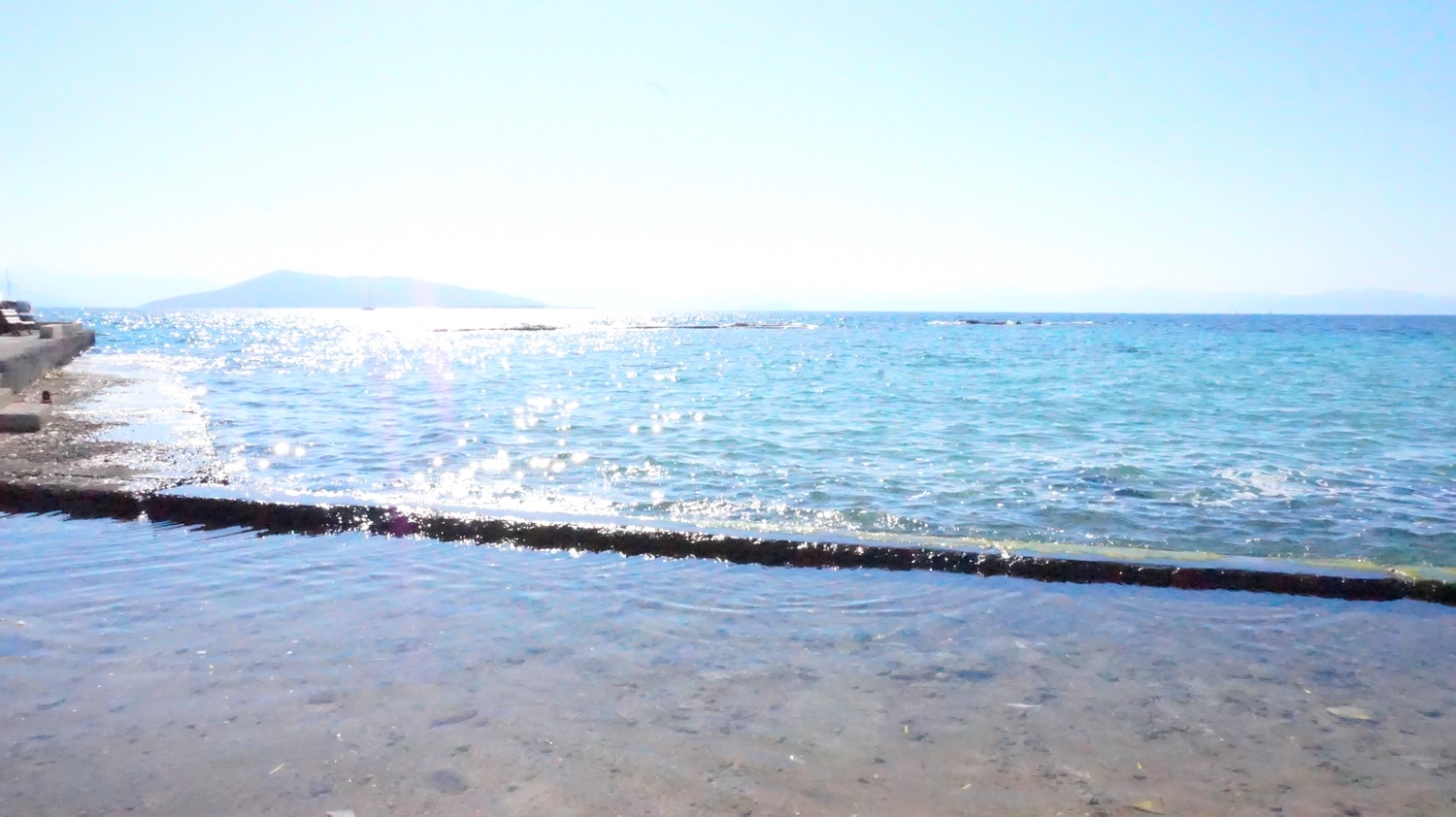 The next morning we left for the airport to fly back to Eindhoven after getting a frappe and something to eat for breakfast. The return flight was also very nice and I had somebody that I know of on board, which is also fun.
This trip was so much fun! Our holiday plans had completely changed, but that made everything an unforgettable, spontaneous experience. We went to a new city, had done very fun things and again gained a great experience. Have you ever been to Athens or do you want to go there? Let me know in the comments.
De volgende ochtend vertrokken we naar de luchthaven na een broodje en frappe te hebben gekocht. Vanaf daar vlogen we weer naar Eindhoven. De terugvlucht was ook erg gezellig en ik had een bekende van mij aan boord, wat natuurlijk ook leuk was.
Deze trip was super leuk! Onze vakantieplannen waren compleet veranderd, maar juist dat maakte alles een onvergetelijke en spontane ervaring. We hadden een nieuwe stad leren kennen, ontzettend leuke dingen gedaan en zijn weer een super leuke ervaring rijker. Zijn jullie ooit in Athene geweest of willen jullie er heen? Let me know in de comments.
Outfit of the first day: Acropolis