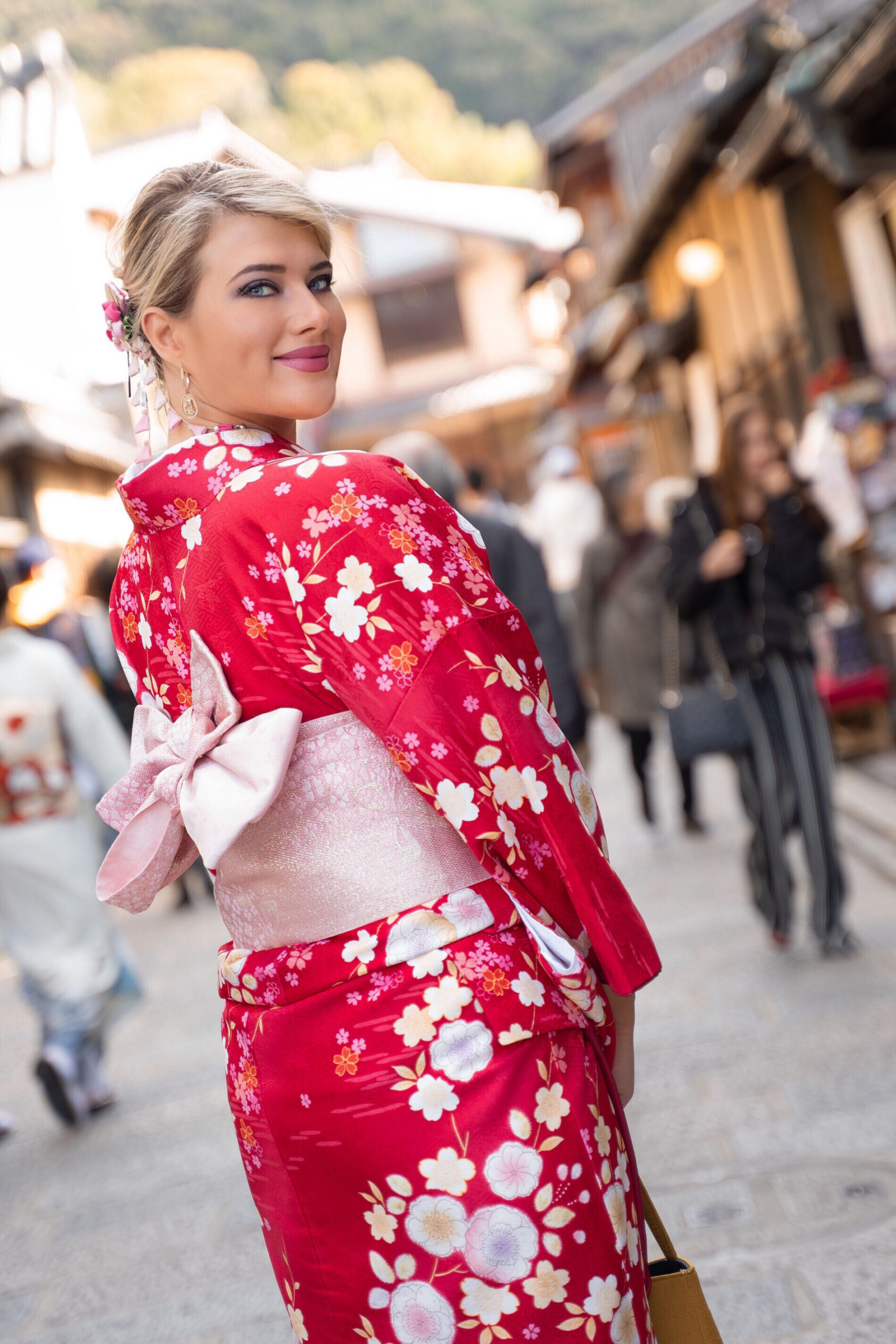 I cropped this last part of my 14 day trip into one post as I haven't taken many photos in the last few days there. This is day 9 to 14. One of the last days I heard from a KLM flight attendant that my standby travel flight was as good as full, so I booked an extra night in my hostel in Tokyo and converted the KLM IPB flight to a new one day later. This day I went to Kyoto again from Osaka, this time with
Yuka.
Osaka and Kyoto are not long apart by public transport, I believe half an hour, so no other hostel was needed. Yuka and I have known each other since 2013 and have seen each other in the Netherlands and last year in Japan as well. Today we were going to walk around in a Kimono together and visit the old Geisha neighborhood
Gion
– highly recommended, because it really is the authentic old Japan as in the many books I had read. Yuka had reserved a complete
Kimono
makeover as a present, including hair styling and Kimono of your choice (I believe the total package was about 6000-8000¥ or even more for an X number of hours). It was quite special because I got literally dressed and wrapped. It started with a white 'under kimono' some special cloths in which I was tied. My shapes were partly tied at the top so that the kimono could fit properly, then the lady fitted me inside of the large Kimono in my favorite color red that I had chosen and the pink glitter
Obi.
We started at Yasaka Shrine – in this beautiful area we walked around, from there we would walk through the old streets of Gion. Then we got to the Tō-ji (the big pagoda), where I was approached by a photographer for some cool pictures in my rented Kimono. It was literally a dream come true to be able to wear a real kimono once, especially in Kyoto. After walking around we went for lunch together. We had a lunch set together with Matcha Soba – very tasty and healthy. I think it is great how often you get unlimited green tea with your food in Japan. Then we went to the Sannenzaka steps, where we had visited many shops and I tried a lot of Kyoto delicacies. Our Gion walk ended at the Kyomizu-dera, which had a beautiful view over the autumn trees 'Koyo', but unfortunately was under construction itself. After leaving Gion, we had nice matcha ice cream at Nana's Green Tea before we left for Osaka.
Ik heb dit laatste deel van mijn 14 daagse reis in één post gepropt, omdat ik de laatste paar dagen niet veel foto's heb gemaakt. Dit is dag 9 t/m 14. Een van de laatste dagen hoorde ik van een KLM stewardess dat mijn vlucht zo goed als vol was, dus heb ik in mijn hostel in Tokyo een extra nacht bijgeboekt en de KLM IPB vlucht omgezet naar een legere één dag later.
Deze dag ging ik opnieuw naar Kyoto vanuit Osaka, dit keer samen met Yuka. Osaka en Kyoto liggen overigens met het openbaar vervoer niet lang uit elkaar, ik geloof een half uurtje, dus een ander hostel was niet nodig. Yuka en ik kennen elkaar al sinds 2013 en hebben elkaar zowel in Nederland als vorig jaar in Japan gezien. Vandaag zouden we samen in een Kimono gaan rondlopen en naar de oude Geisha-buurt Gion gaan – enorme aanrader, want het is echt het authentiek oude Japan zoals in de vele boeken die ik had gelezen. Yuka had een complete Kimono make-over gereserveerd als cadeautje, inclusief haarstijling en Kimono naar keuze (Ik geloof dat het totaal pakket zo'n 6000-8000¥ was of zelfs meer voor een X aantal uur). Het was vrij bijzonder want ik werd dus letterlijk aangekleed, ingepakt en afgebonden. Het begon met een witte 'onderkimono' een aantal speciale doeken waar ik in werd gebonden. Mijn vormen werden gedeeltelijk aan de bovenkant afgebonden zodat de kimono goed op zijn plek kon vallen, Daarna de grote Kimono in mijn lievelingskleur rood die ik had gekozen en de roze glitter Obi.
We begonnen bij Yasaka Shrine – in deze prachtige omgeving hebben we rondgelopen, om vanaf daar door de oude straten van Gion te gaan wandelen. Vervolgens kwamen we bij Tō-ji (de grote pagode), waar ik door een fotografe was aangesproken voor een paar gave foto's in mijn gehuurde Kimono. Het was letterlijk een droom die uitkwam om een keer een echte kimono te mogen dragen, en al helemaal in Kyoto. Na een stukje rondlopen zijn we samen gaan lunchen. We hadden samen een lunch set met Matcha Soba – ontzettend lekker en gezond. Ik vind het trouwens top hoe je vaak in Japan onbeperkt groene thee bij je eten ingeschonken krijgt. Daarna zijn we de Sannenzaka steps afgelopen, waar we nog veel winkeltjes hadden bezocht en ik een hoop Kyoto lekkernijen heb geprobeerd. Onze Gion wandeling eindigde we bij de Kyomizu-dera, die een prachtig uitzicht gaf over de herfstbomen 'Koyo', maar helaas zelf onder constructie was. Na we Gion hadden verlaten, hadden we bij Nana's Green Tea een lekker matcha ijsje gegeten voor we terug naar Osaka vertrokken.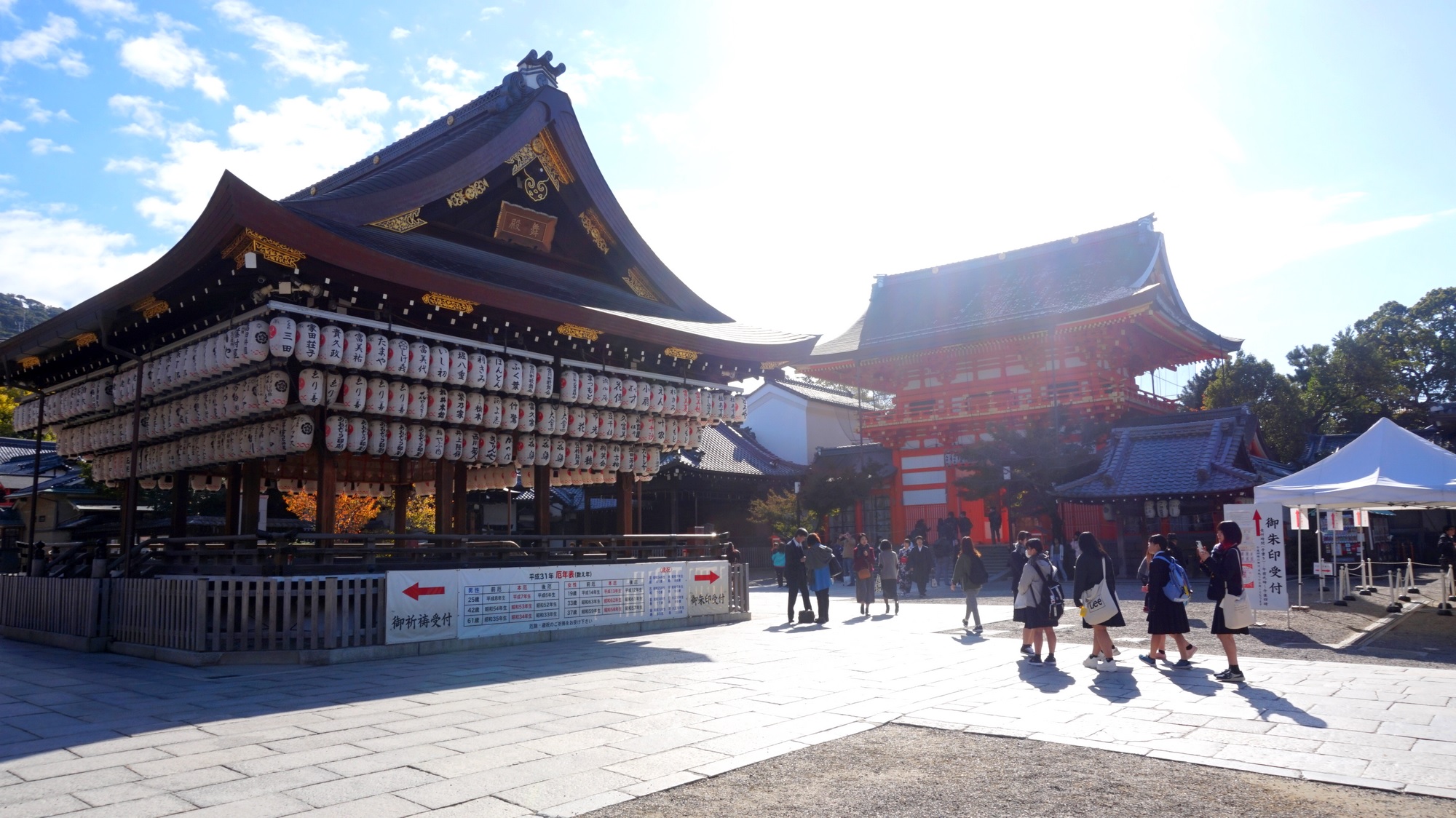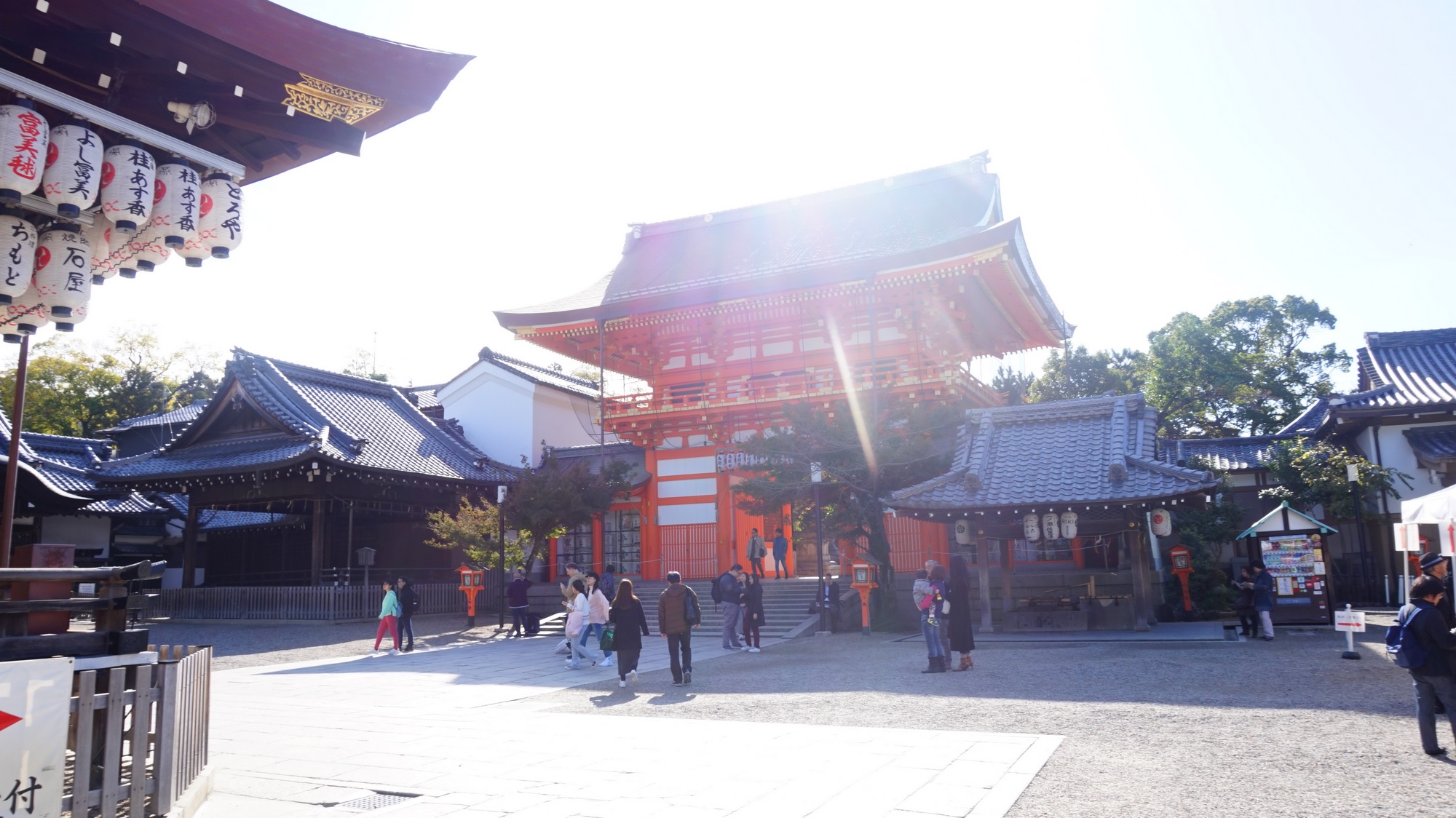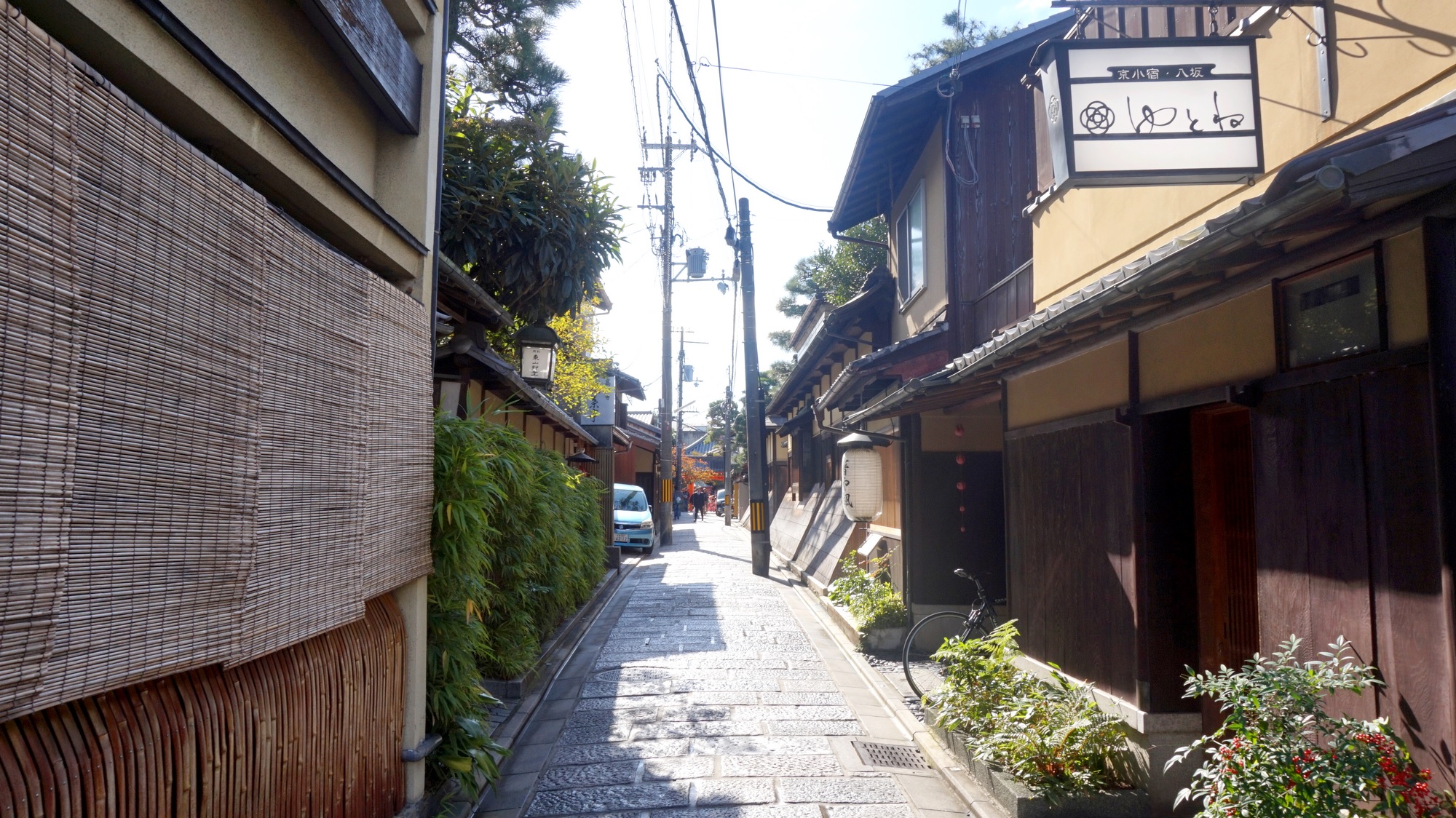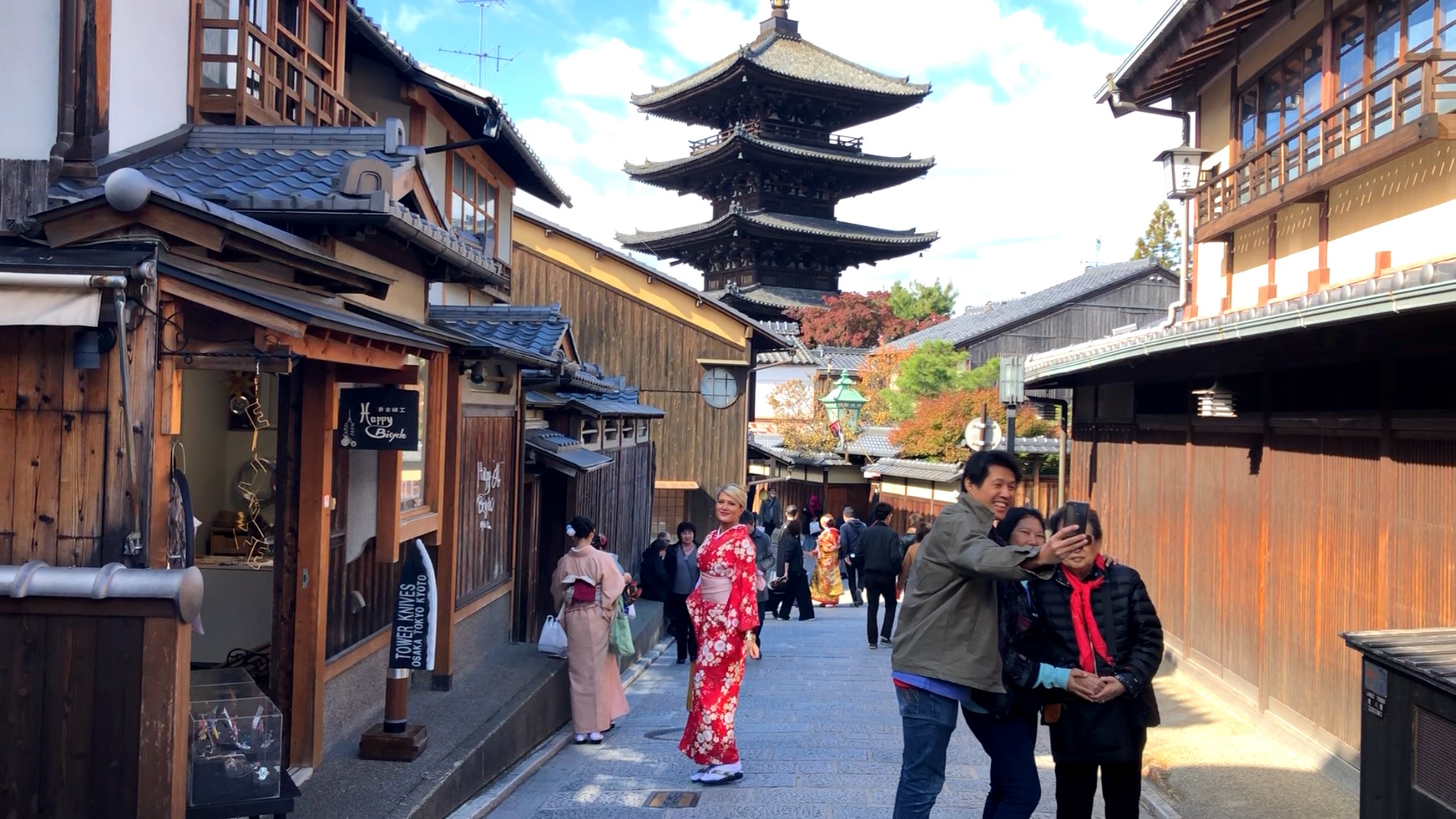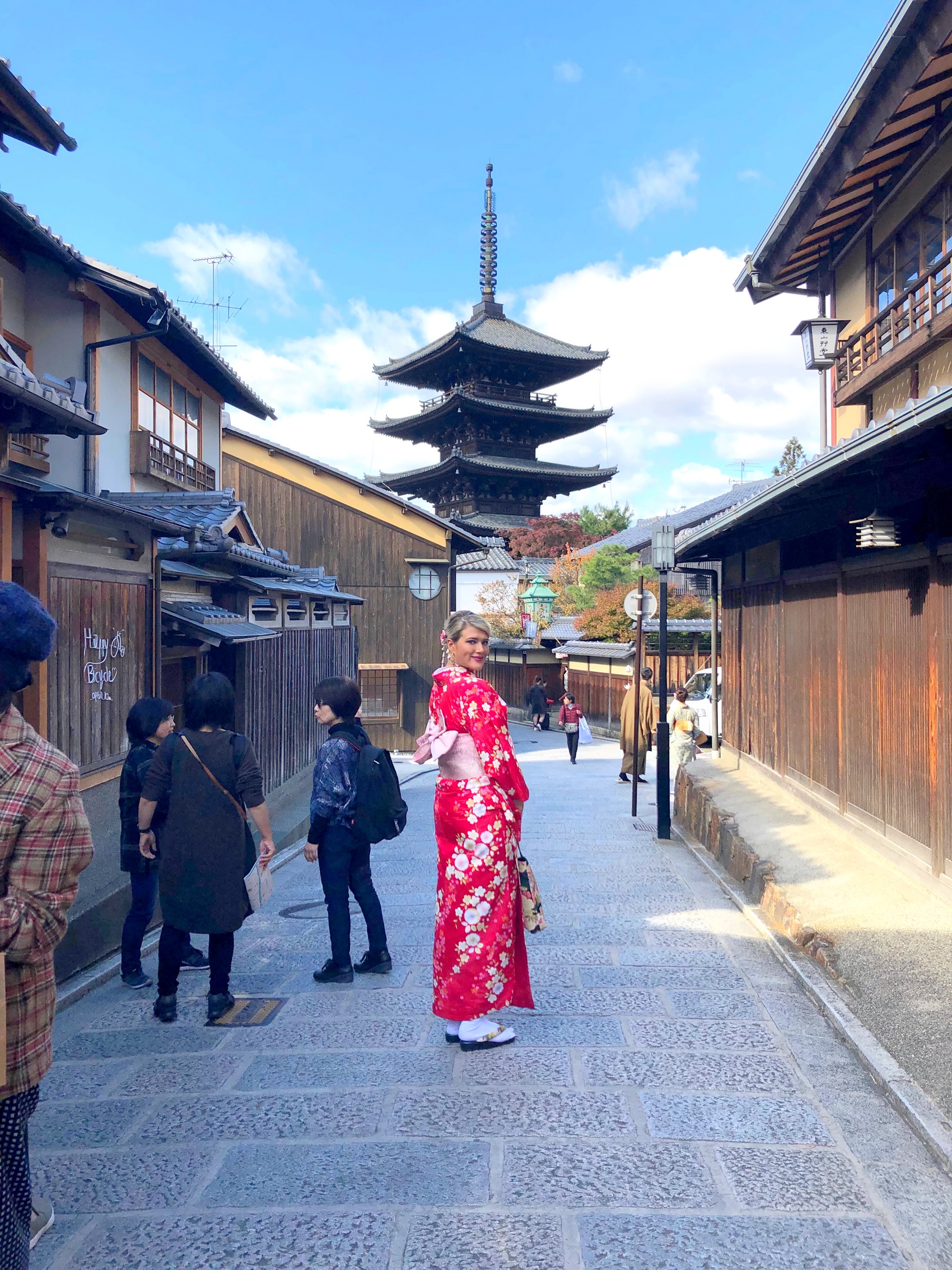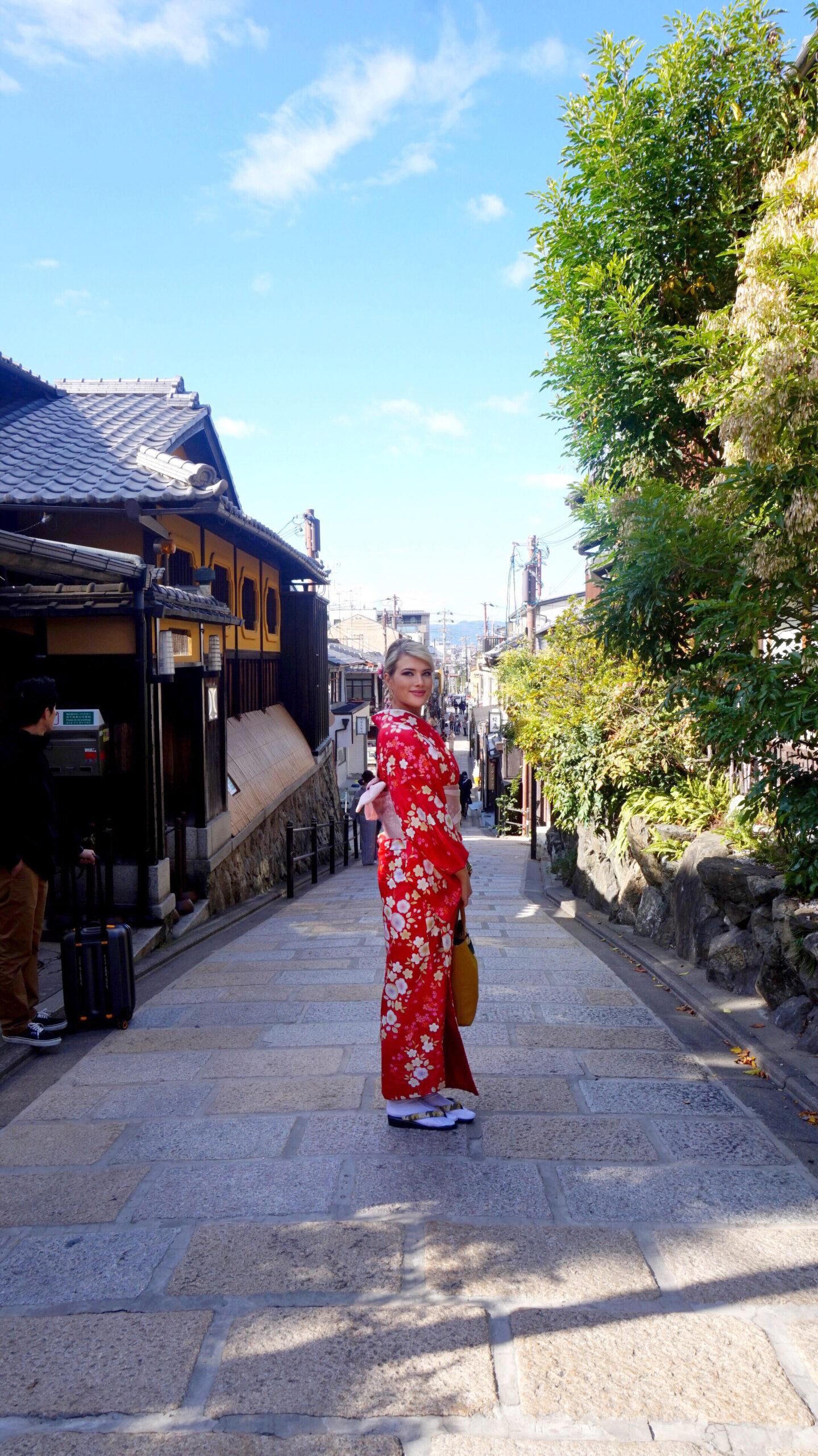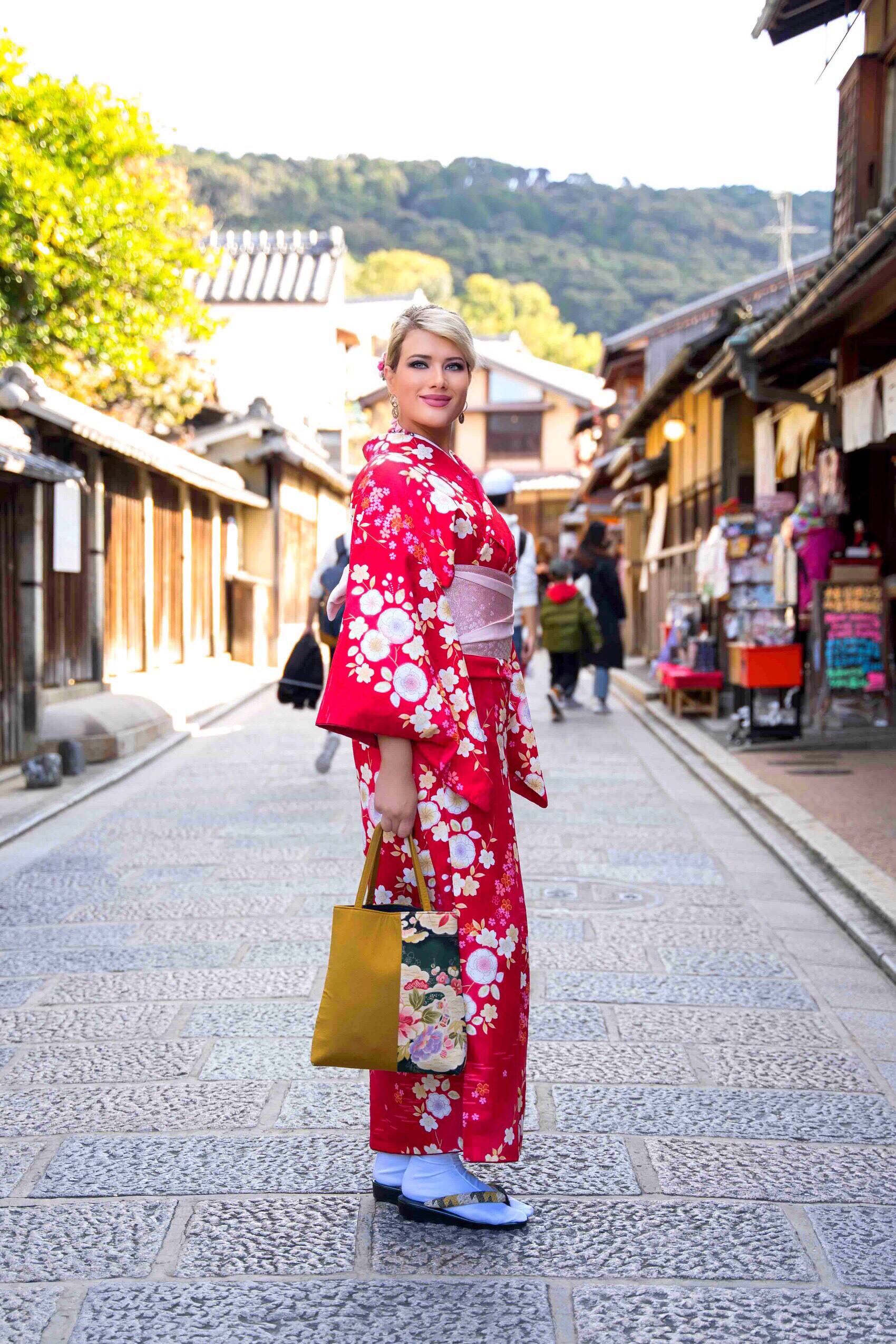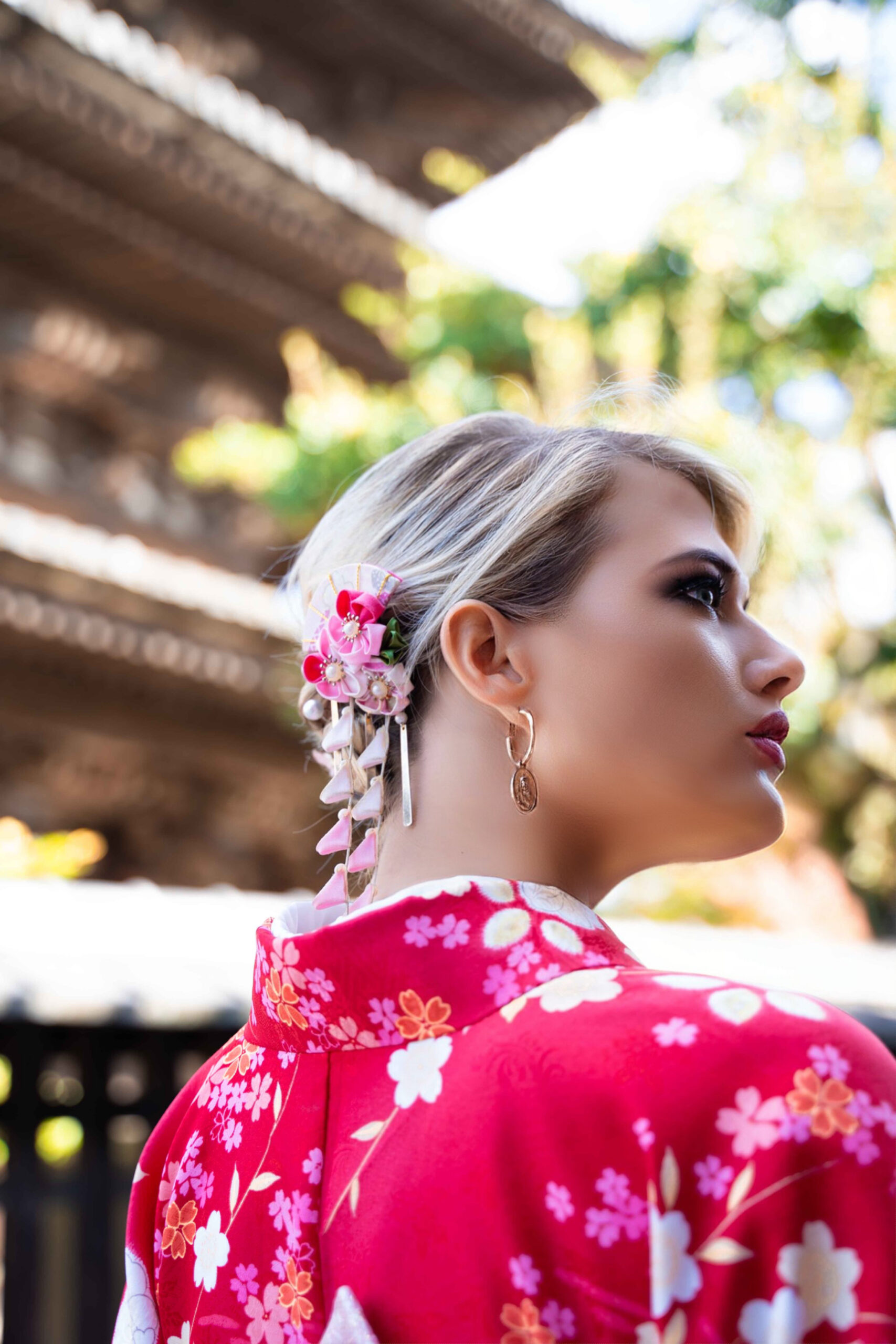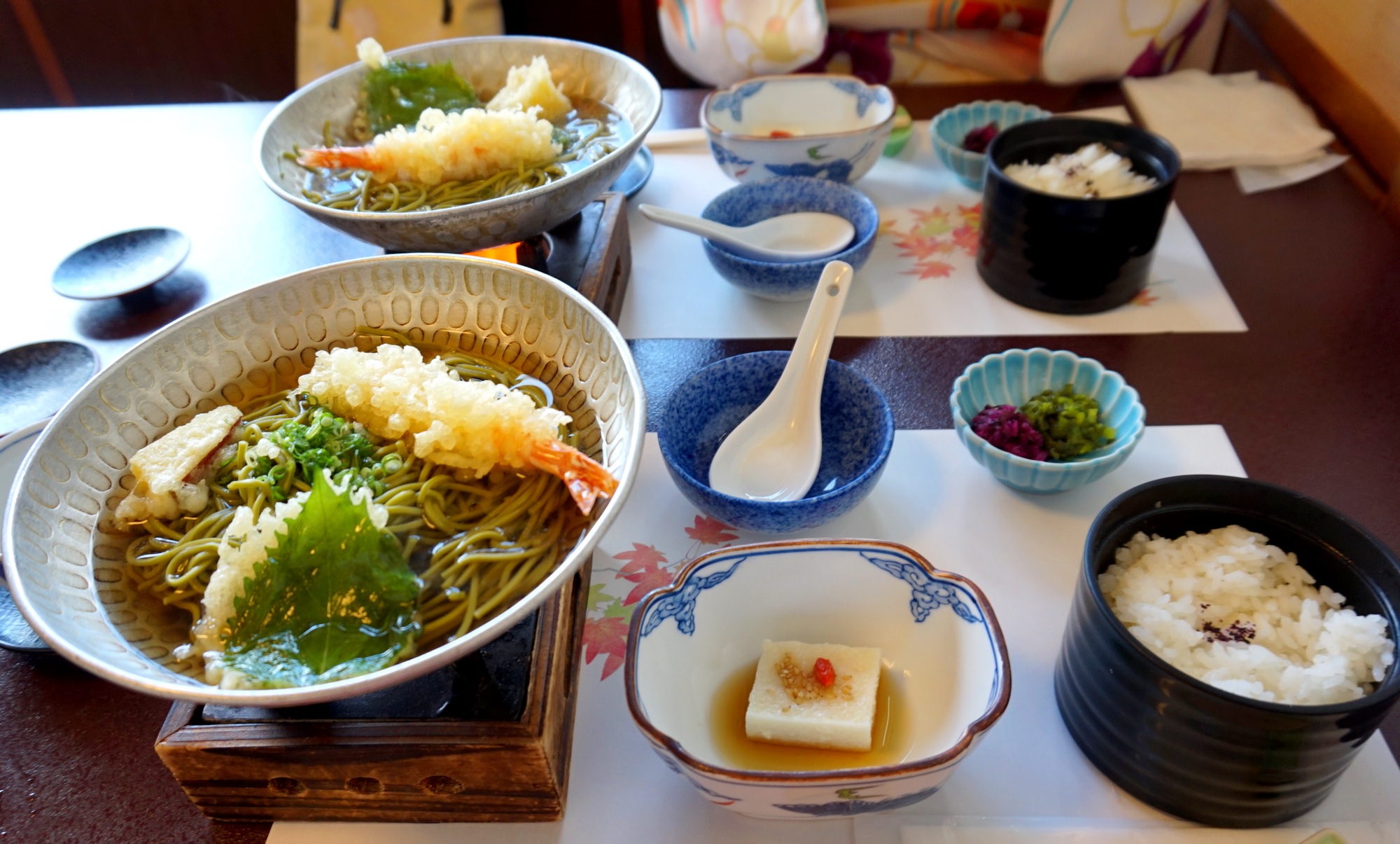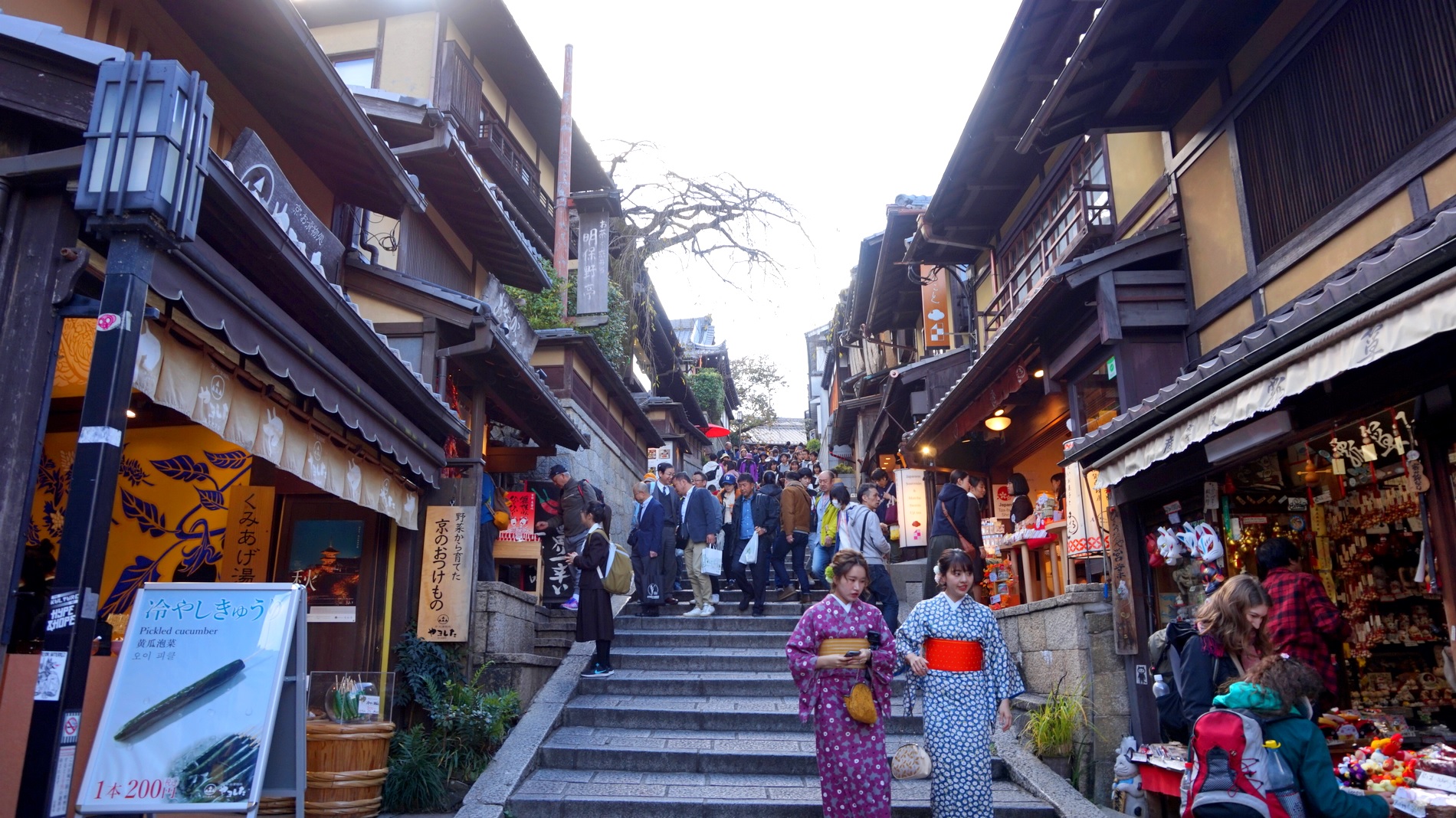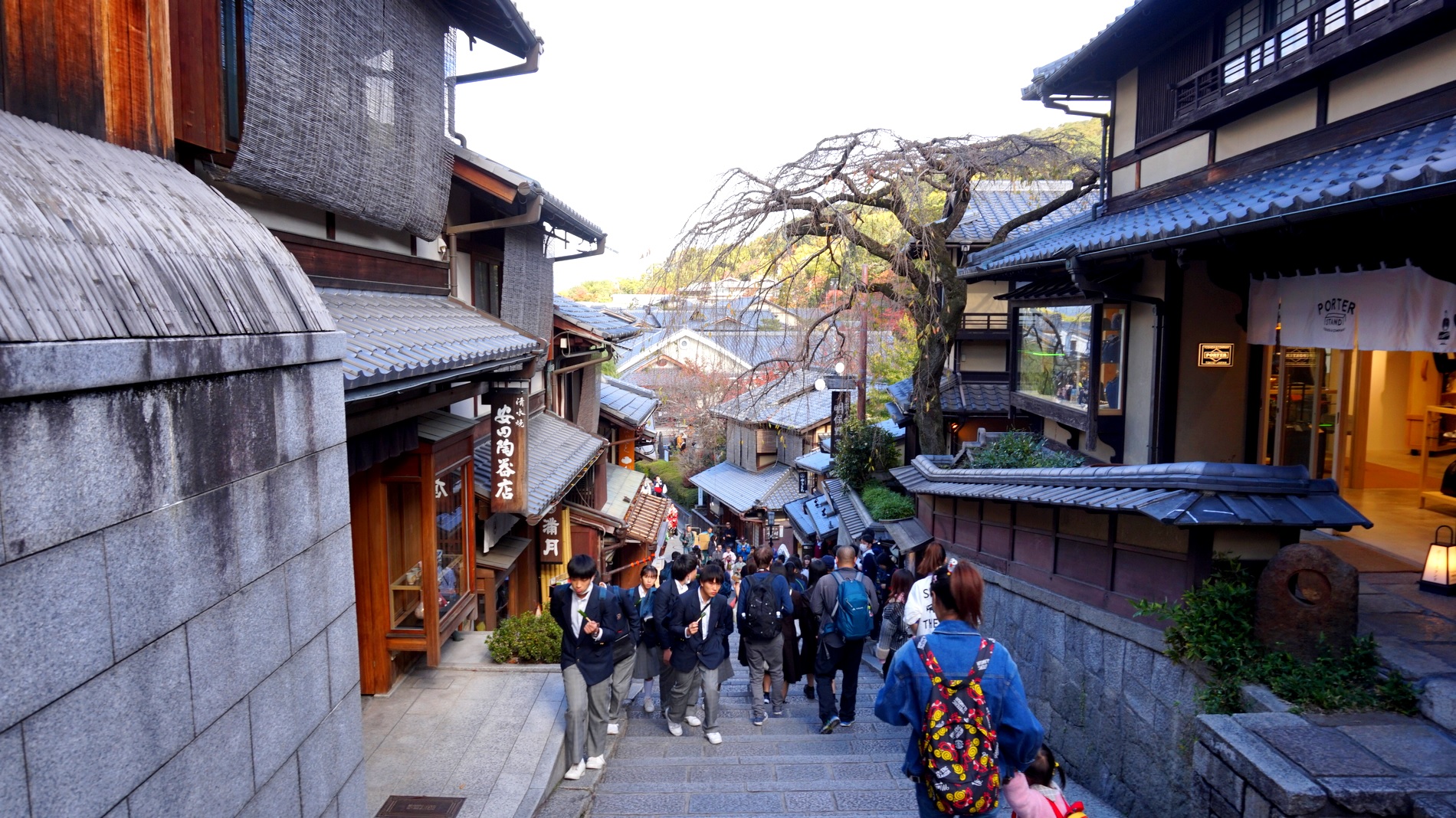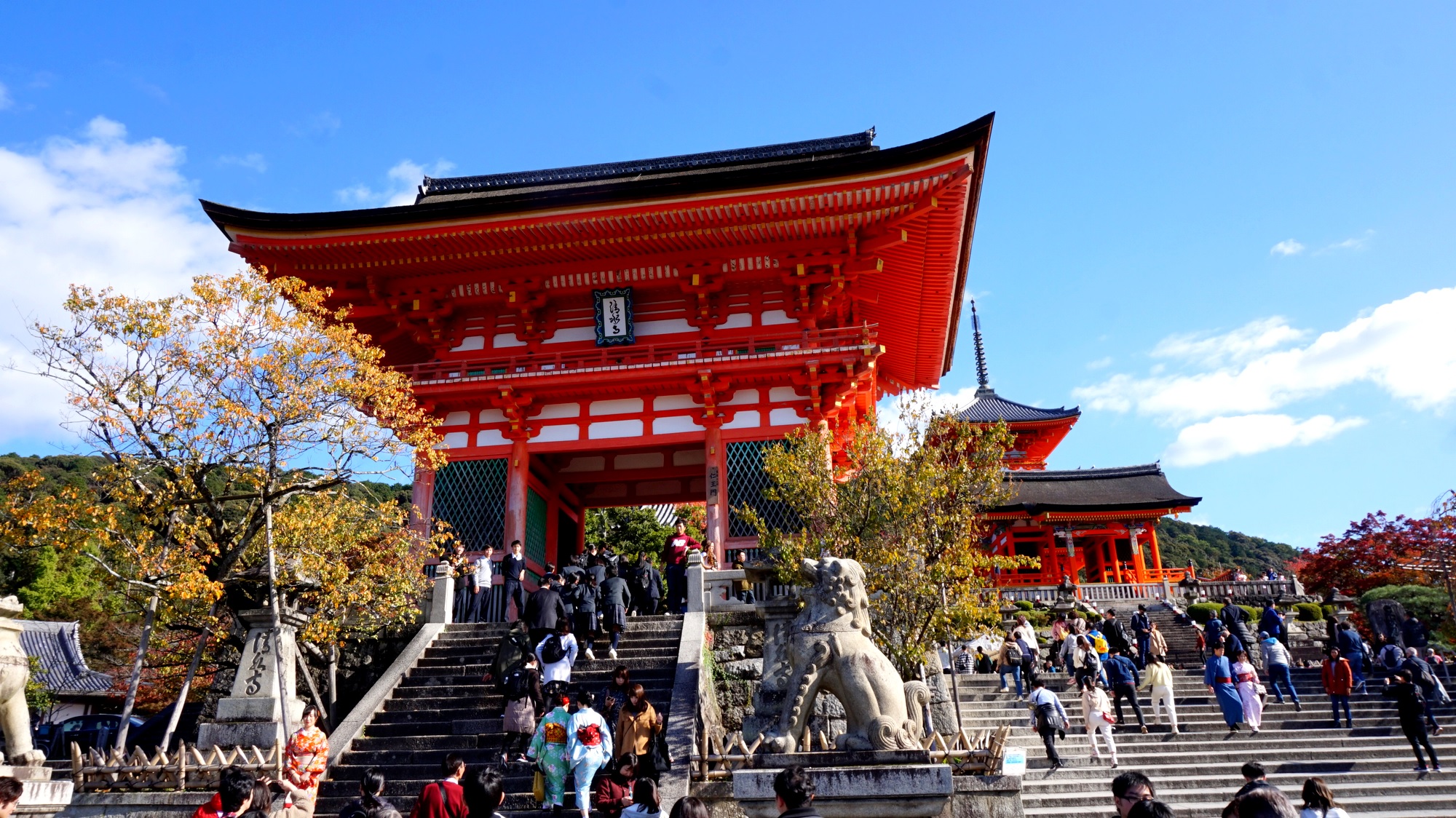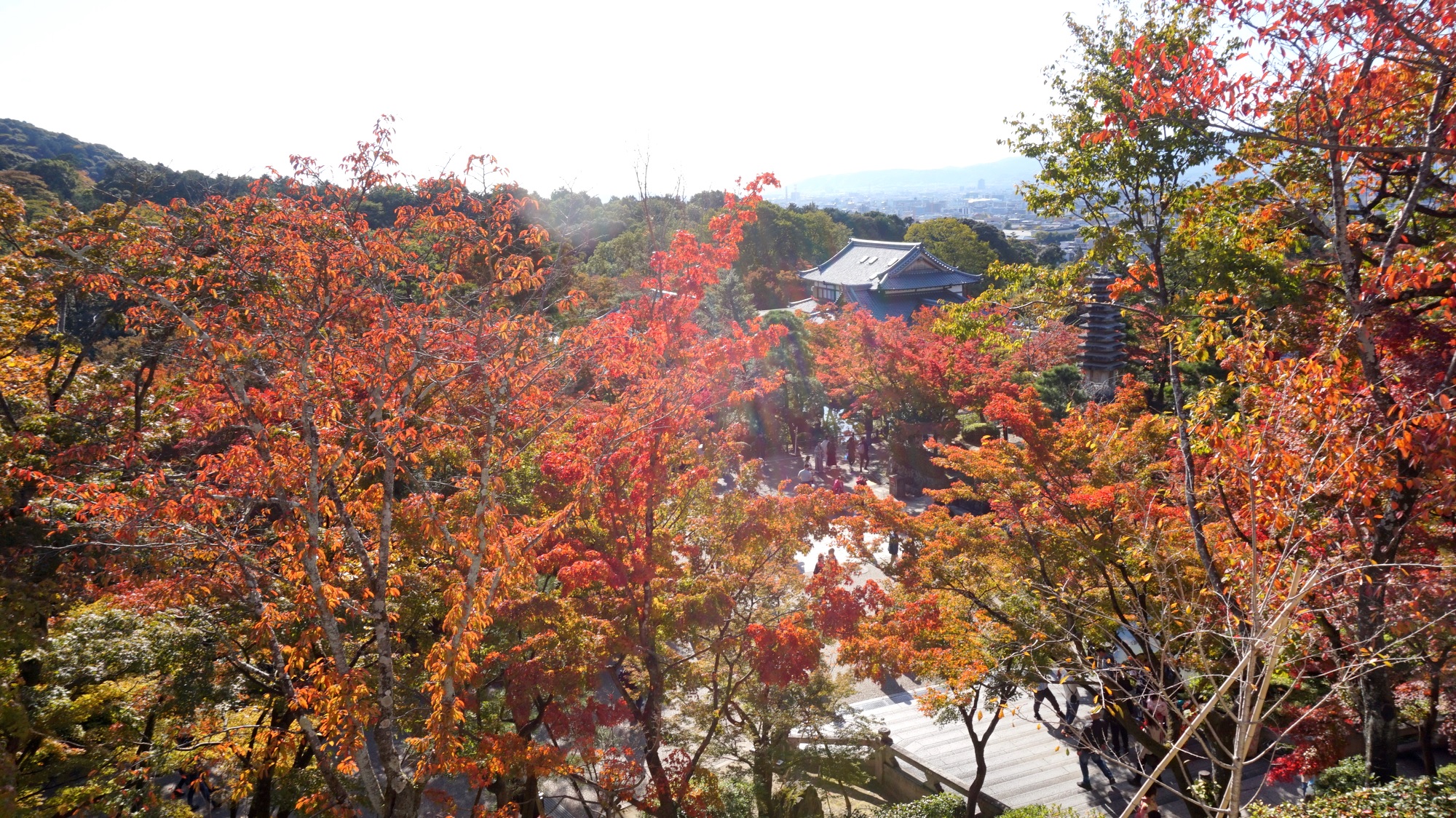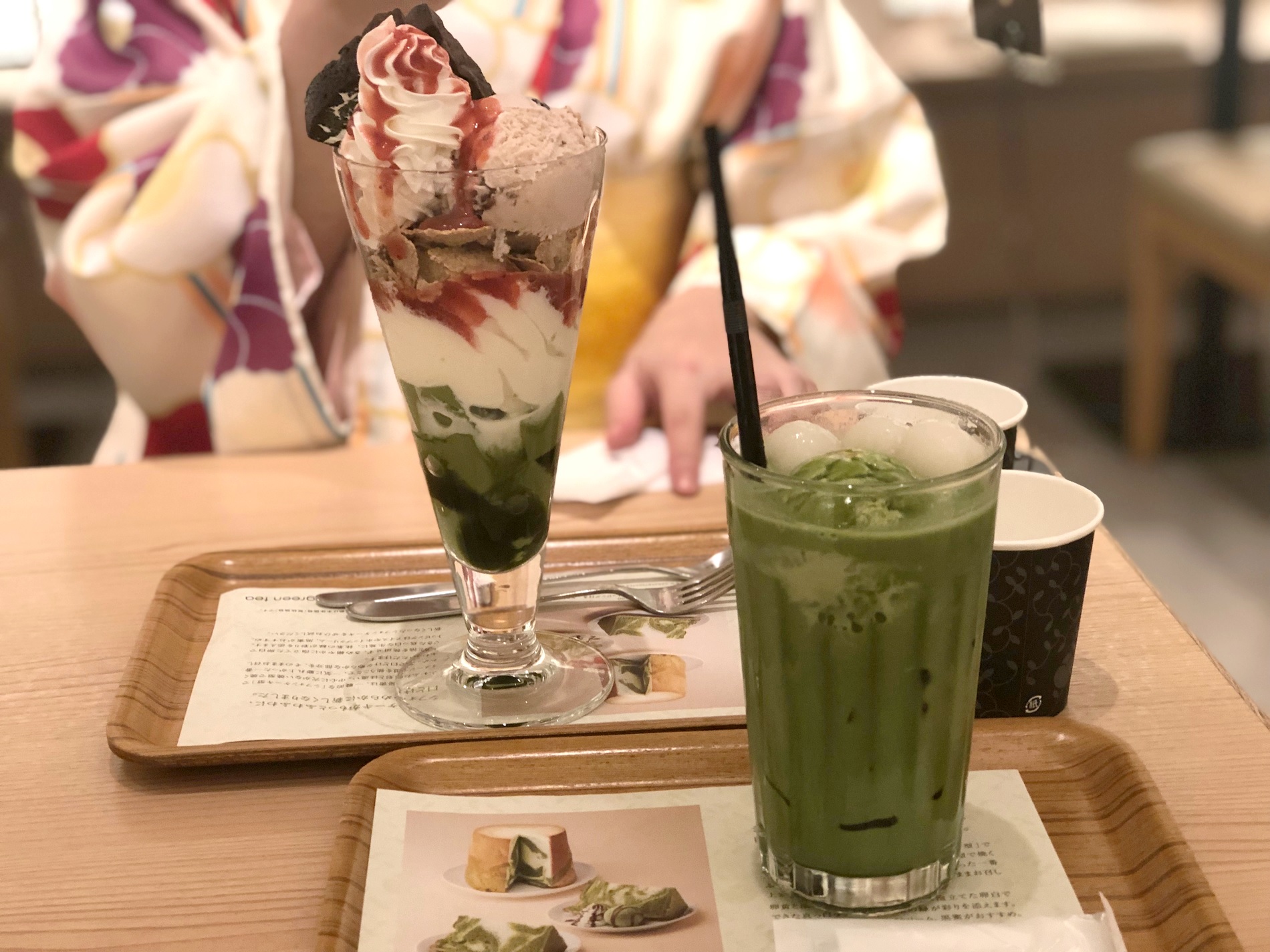 After saying goodbye to Yuka, I went back to Osaka to pack for my return trip to Tokyo the day after. I was asked very late in the evening to enjoy my Tokyo hostel (which happened to have the same itinerary and I had seen briefly in both Osaka and Kyoto / as told before) including new people that joined, to the bar for a drink and then very late to eat something in the evening. After a complete round trip by public transport from Temma to Dotonbori – which is normally about 10 minutes and it magically took me over an hour, I found the bar where they were. After a drink we went again to do Yakuniku with my Canadian hostel mate and his new Korean friends. It was very nice, but after dinner I had to catch my last train to Temma. With a satisfied and happy feeling from this Osaka and Kyoto trip, I walked through the lively streets of Osaka on my way to the station.
Na afscheid genomen te hebben van Yuka, ging ik terug naar Osaka om in te gaan pakken voor mijn terugreis de dag erna naar Tokyo. Ik ben erg laat op de avond gevraagd om met mijn Tokyo hostel genootje (Die dus toevallig hetzelfde reisplan had en ik ook kort in zowel Osaka als Kyoto had gezien / wat ik al eerder had verteld) en nieuwe aanhang, naar de bar te gaan voor een drankje en daarna erg laat op de avond wat te gaan eten. Na een complete omreis met het ov vanuit Temma naar Dotonbori – wat normaal zo'n 10 minuten is en ik er magisch genoeg een dik uur over deed, vond ik de bar waar ze waren. Na een drankje zijn we opnieuw Yakuniku gaan doen met mijn Canadese hostelgenootje en zijn nieuwe Koreaanse vrienden. Het was ontzettend gezellig, maar na het eten moest ik gelijk mijn laatste trein naar Temma halen. Met een tevreden en voldaan gevoel van deze Osaka en Kyoto trip, liep ik door de levendige straten van Osaka opweg naar het station.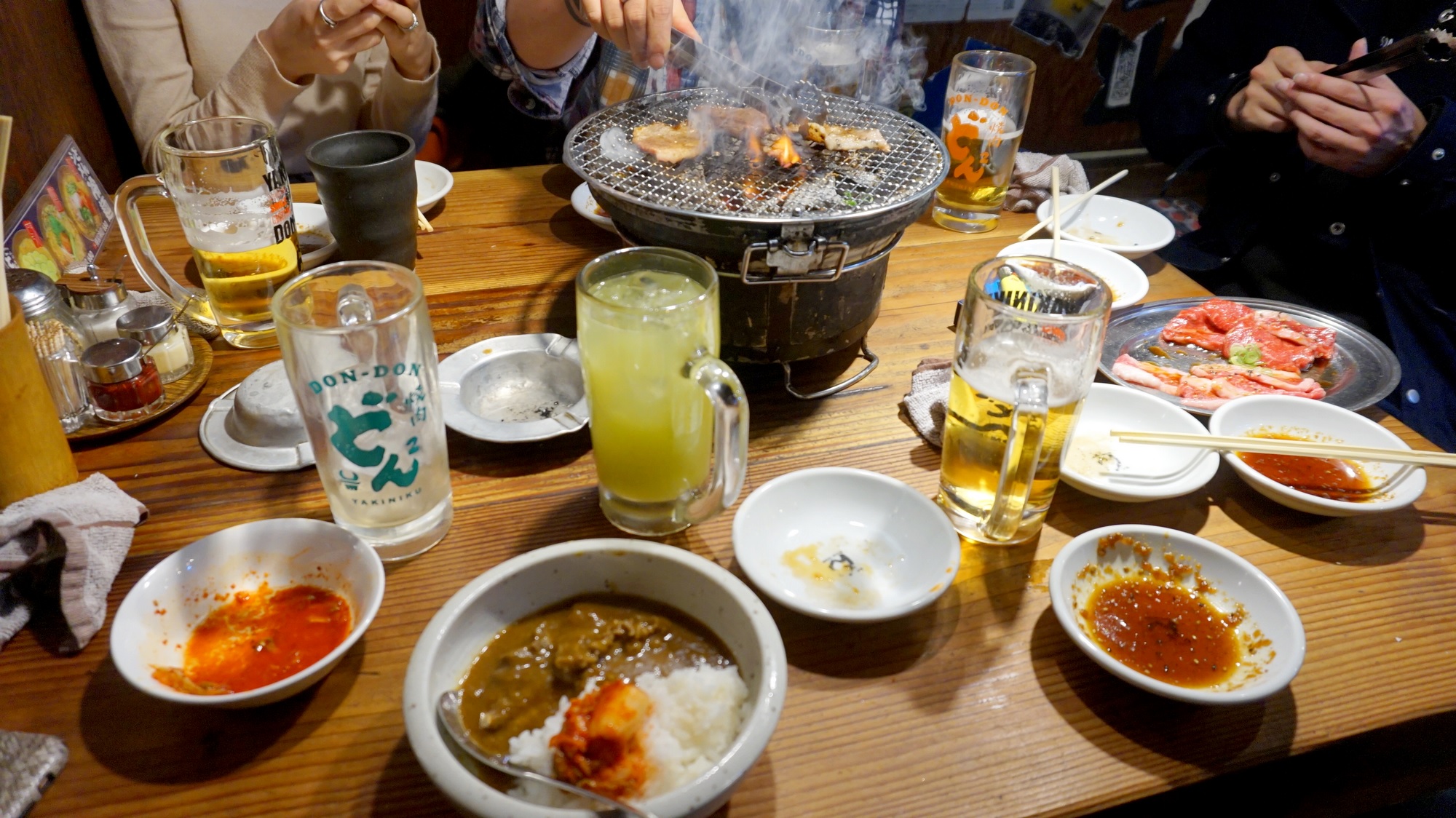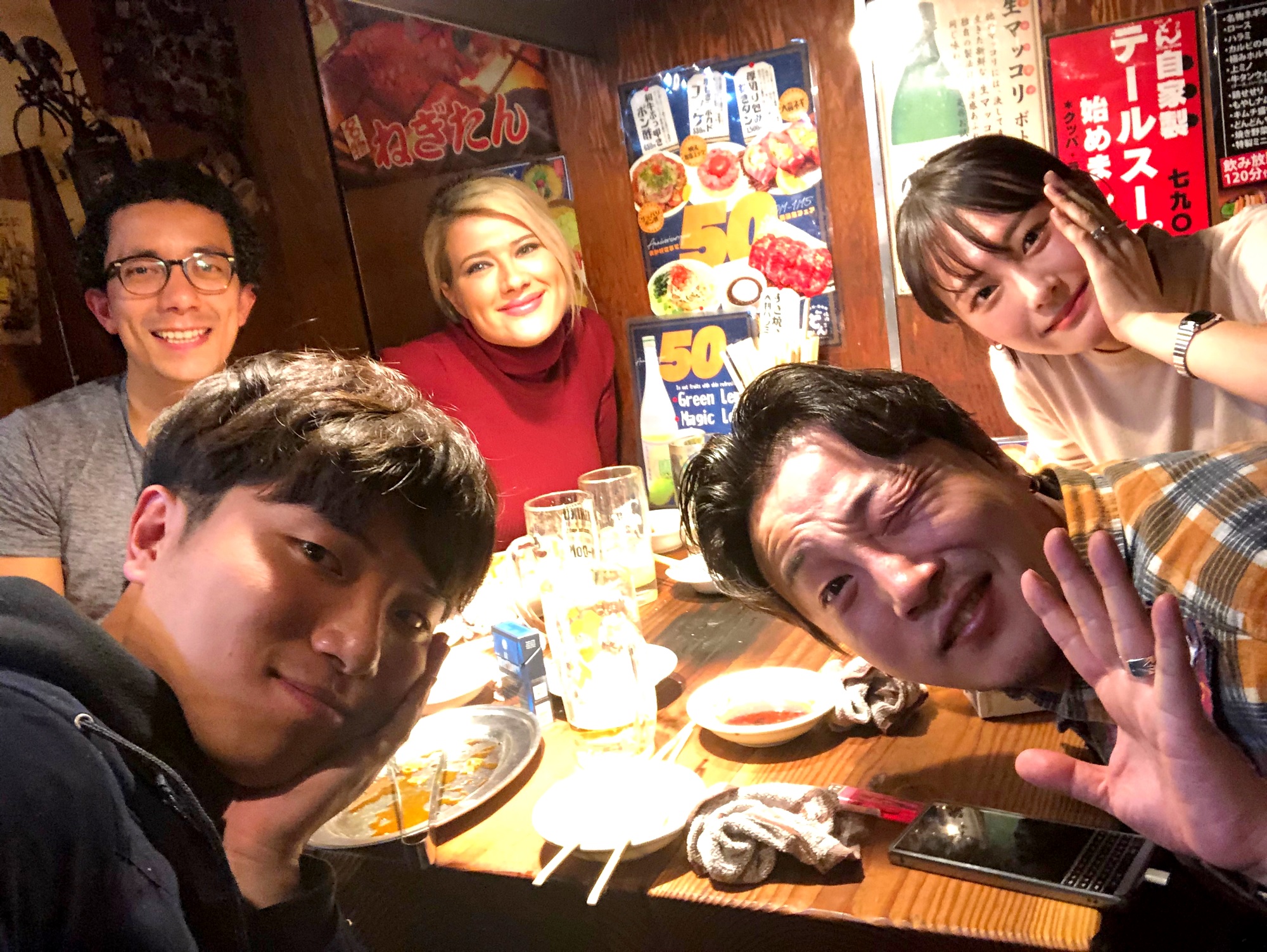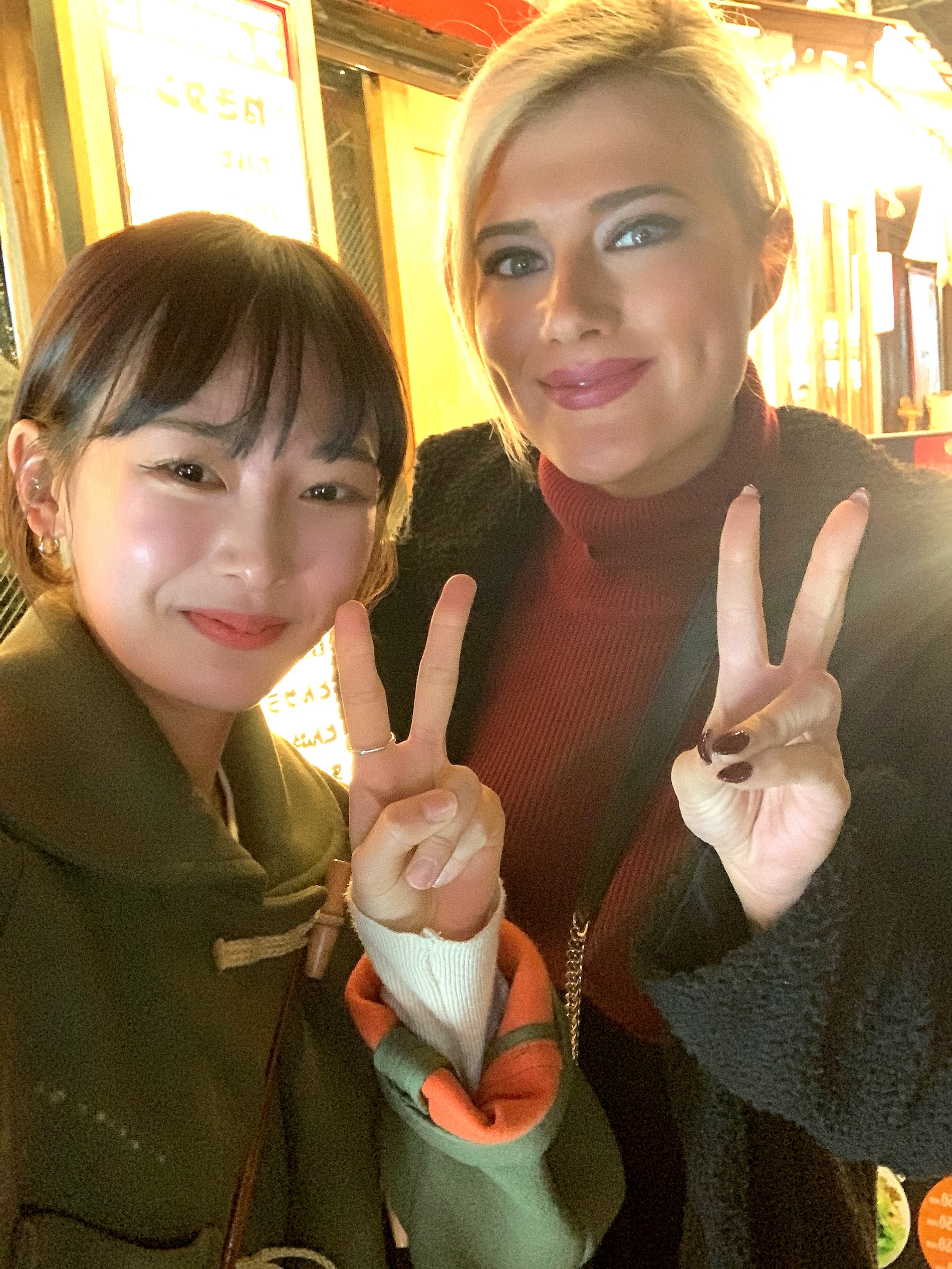 After another nice trip with the
Shinkansen (bullet train)
, I suddenly had to get off at Tokyo Station and make a detour to Shibuya on my own via Shinjuku because of rail maintenance. After I had gone in the same direction together with some also stranded tourists, I was back in familiar Shibuya. From there I walked with my big suitcase and bag to my standard hostel
Wise Owls Shibuya.
I have known that way since my first trip by heart. Unfortunately, my internet was blocked because I had been buying data for a big amount of euro's, so I couldn't reach anyone or anything, not even Roos until I was in my hostel. Booked an extra night in my hostel right away, thank god that there was a bed available (and even in the same room), because I rebooked my flight from November 19 to November 20 because of an almost full standby flight.
After I unpacked in my hostel and was busy with my finances for a while, Roos asked me how she and her crew could come to Shibuya from Narita. After she figured out how to get there, I chatted with some people in my hostel and left for Roos without internet. The place we planned to meet  – Hachiko statue (typical Tokyo place where people met). Fortunately we met despite no data/wifi and we gave each other a big hug. How nice it was to see my good friend again! Her layover was approved and perfectly timed just like in September, when we saw each other in the Netherlands for a day. After we took a lot of photos on Shibuya crossing together and the crew did their own thing, we went to the famous Don Quijote for some snacks for at home and stuff. In the end we met up again with the crew and we went for a bite to eat at a random Japanese restaurant. It was nice to be with her again, but only for a short amount of time, because she and some of the crew would return to their hotel in Narita early.
Na opnieuw een fijne reis met de
Shinkansen (hogesnelheidstrein)
, moest ik geheel plotseling uitstappen op
Tokyo Station
en helemaal op eigen houtje via Shinjuku een hele omweg naar Shibuya maken door onderhoud. Na ik samen met een aantal ook gestrande toeristen dezelfde kant op was gegaan, was ik weer in oud vertrouwd Shibuya. Vanaf daar liep ik weer met mijn hele hutkoffer en grote tas naar mijn vaste hostel
Wise Owls Shibuya
, die hele weg ken ik echt sinds mijn eerste reis uit mijn hoofd. Helaas was mijn internet geblokkeerd omdat ik voor tig euro telkens data had bijgekocht, dus kon ik niks of niemand bereiken, ook Roos niet tot ik in mijn hostel was. In mijn hostel gelijk een nacht bijgeboekt, thank god dat er plek was (en zelfs in dezelfde kamer), omdat ik mijn vlucht van 19 november naar 20 november had om geboekt door een zo goed als volle IPB vlucht.
In mijn hostel had ik mijn spullen uitgepakt, bankzaken geregeld, Roos verteld hoe ze met haar hele crew naar Shibuya kon komen vanaf Narita en gekletst met wat mensen in mijn hostel, voor ik zonder internet naar Roos vertrok. Afgesproken plek – Hachiko statue (typische Tokyo plek waar mensen meetten). Gelukkig troffen we elkaar ondanks geen bereik en gaven we elkaar een dikke knuffel. Wat was het ontzettend fijn om opnieuw mijn goede vriendin te zien. Haar layover was goedgekeurd en ook nog eens perfect getimed net als in September, toen we elkaar een dag in Nederland zagen. Na we samen veel foto's op Shibuya crossing hadden gemaakt en de crew hun eigen ding gingen doen, gingen wij naar het bekende Don Quijote voor wat snacks en spulletjes voor thuis. Uiteindelijk hadden we opnieuw met de crew afgesproken en zijn we gezamenlijk hapjes gaan eten bij een willekeurig Japans restaurant. Het was fijn weer samen met haar te zijn, maar kort, omdat ze met een deel van de crew terug naar haar hotel in Narita zou vertrekken.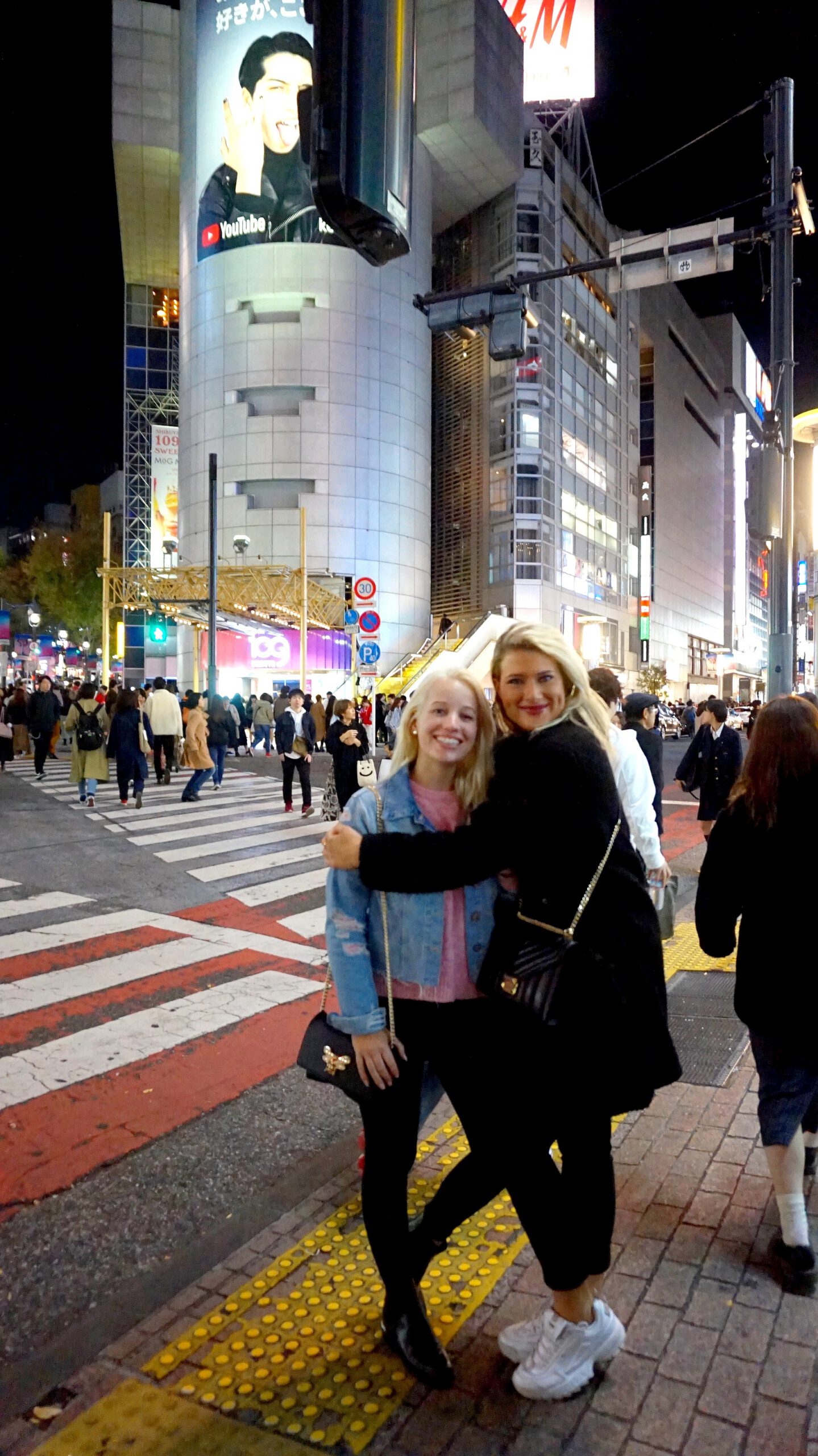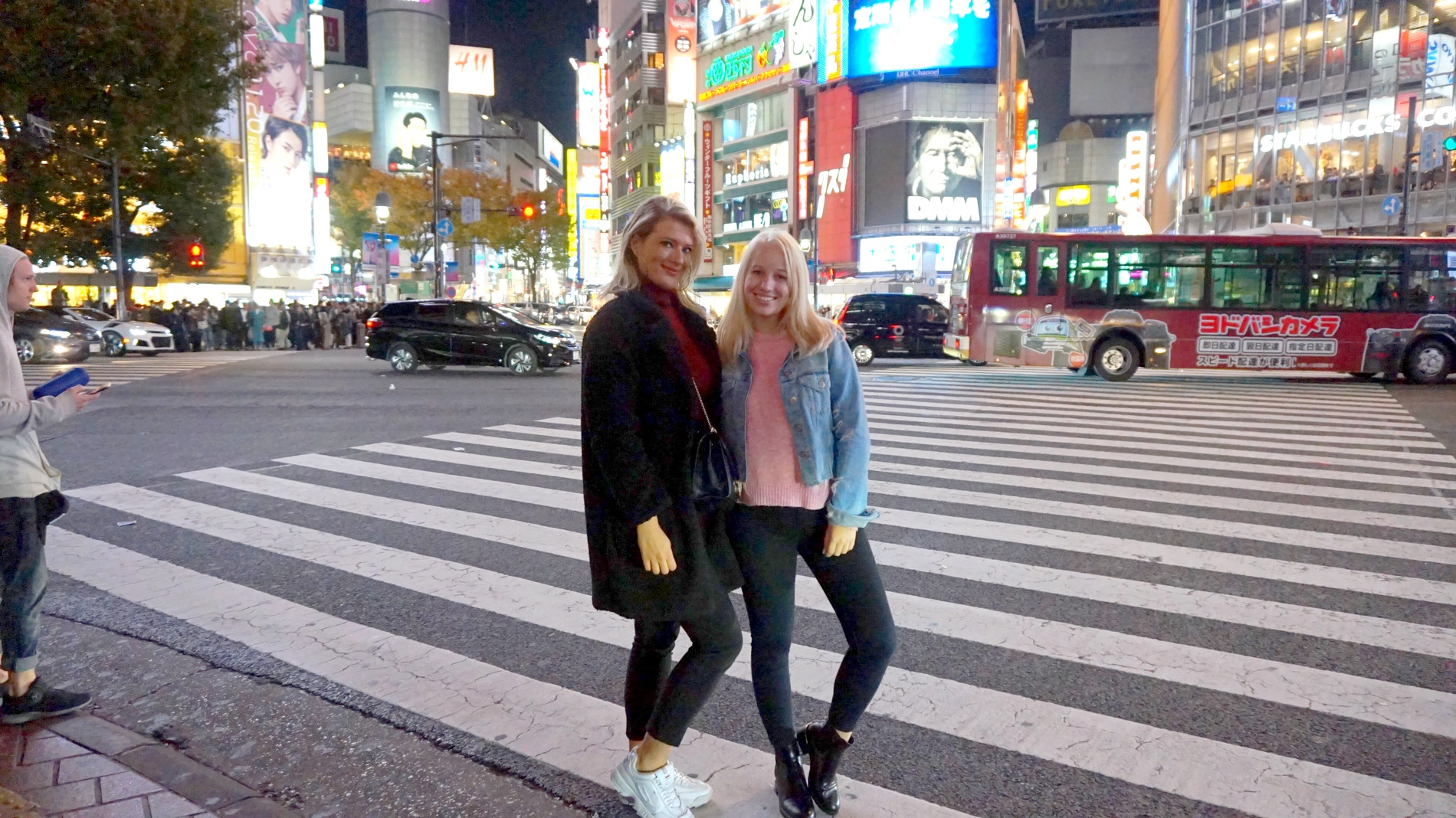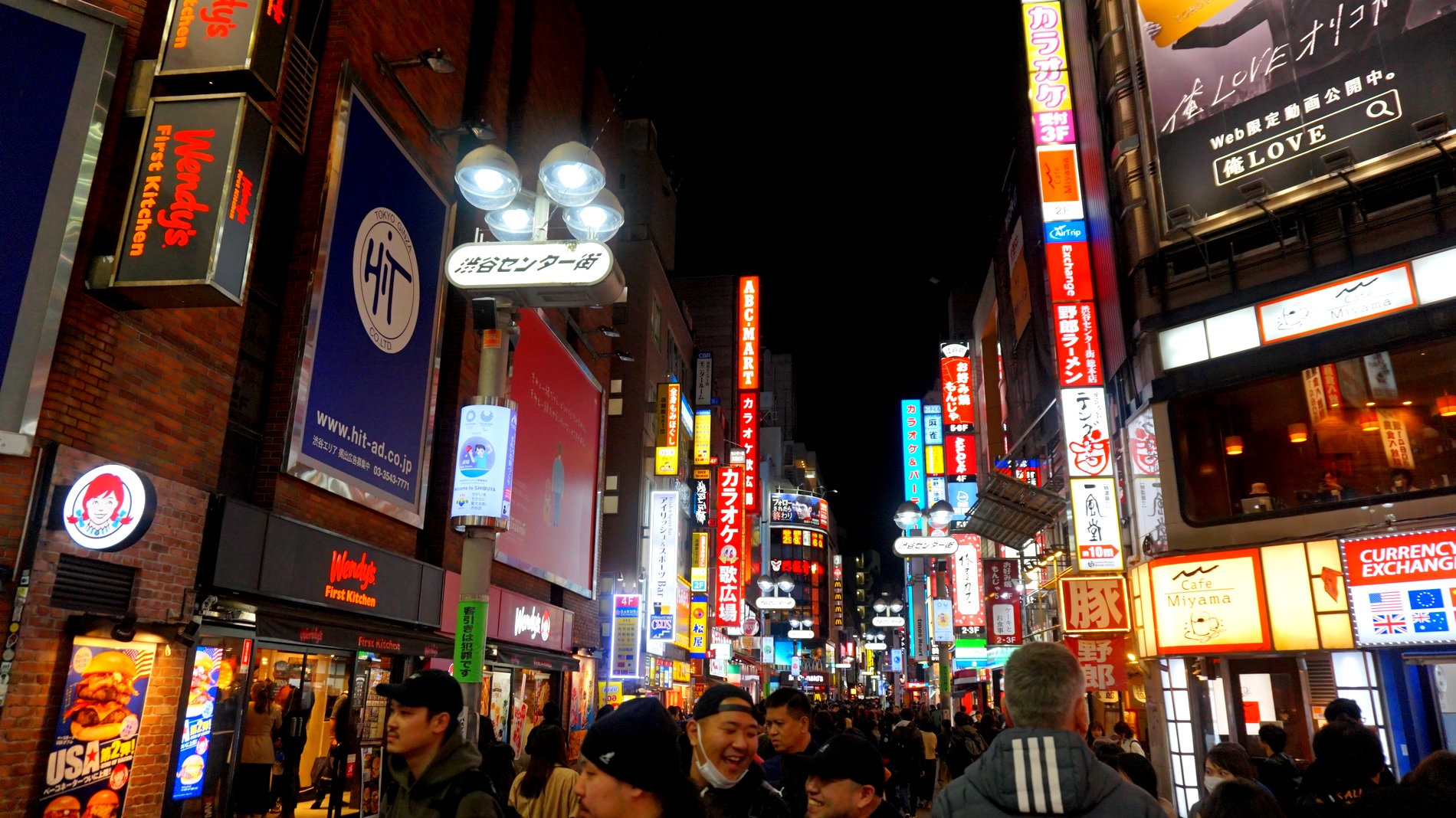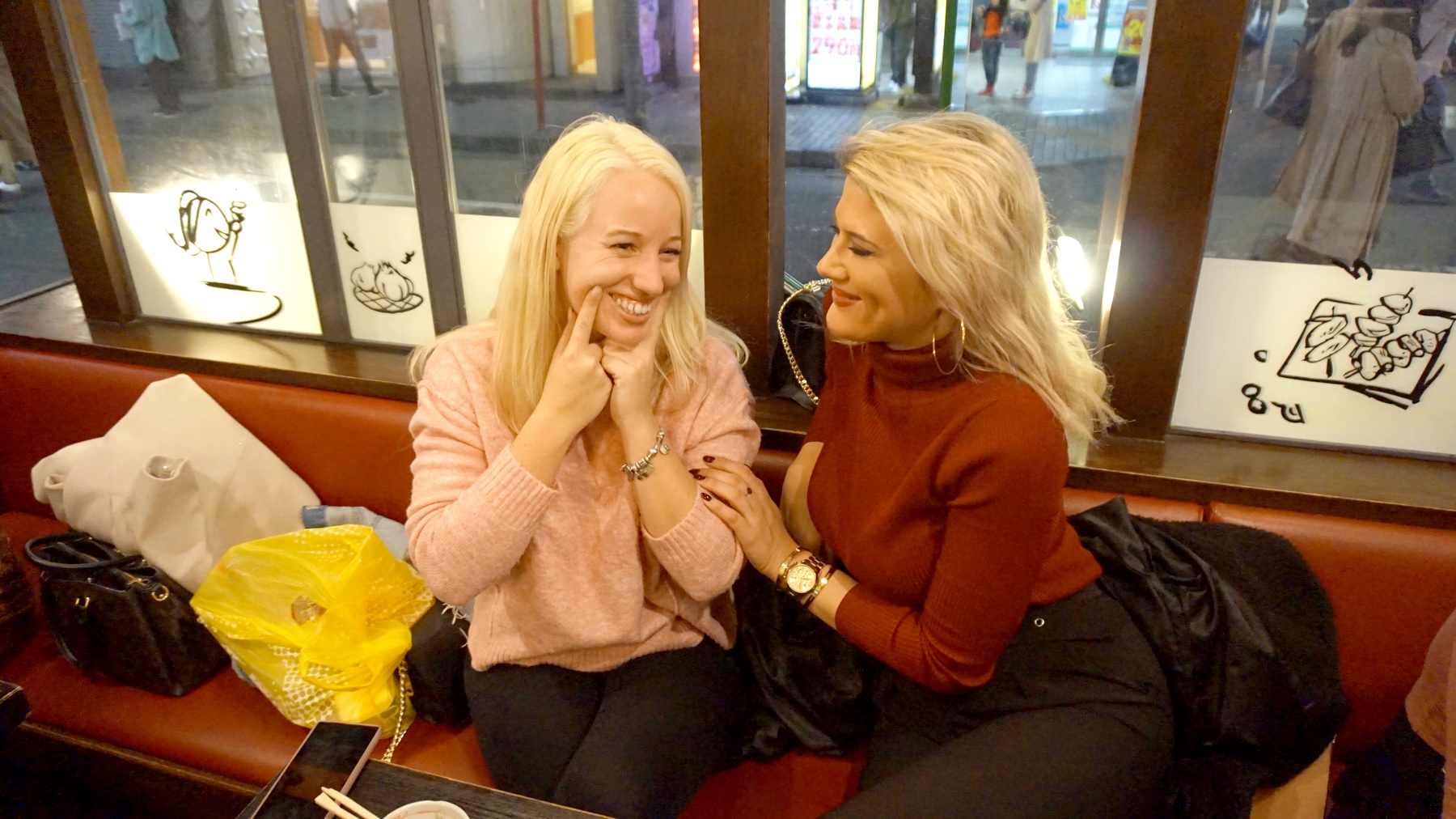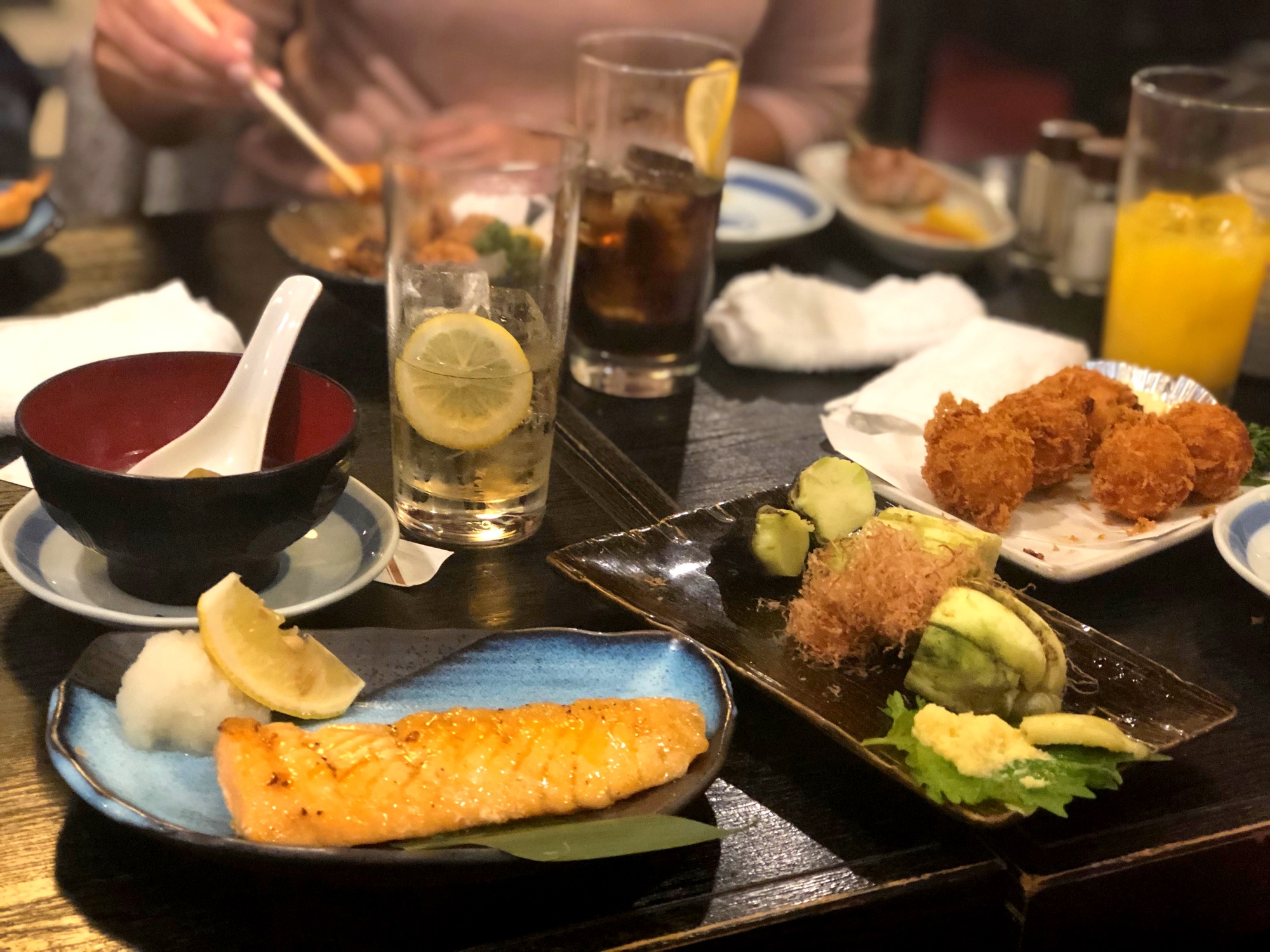 Once back in my hostel it was also a lot of fun with many people staying there, I met
Hadas
again, a girl from Tel Aviv which is around my age, whom I met in the same hostel one year ago and liked a lot. What a mega coincidence! After a pleasant evening with a large group in the hostel and after buying a lot of food and drinks at the nearest mini supermarket, we agreed to have lunch together the next day and go to vintage shops. Until late we enjoyed had fun with a hostel group in the lobby, laughed, had drinks, ate snacks and listened to music. I came up with the spontaneous idea to have
Yakuniku
with the whole group tomorrow night somewhere near our hostel and everyone thought that was a super nice idea.
Since I was quite tired of the intense past days where I did a lot of what I wanted to see and do, I did not want to be gone for big amounts of time or to be really busy the last few days (Although I am never traveling from whole schedules anyway). The last few days in my hostel I just wanted to do what I came up with and enjoy some drinks, food and chats with hostel friends. Hadas and I decided to have a healthy lunch somewhere in Shibuya this day. She then wanted to look at vintage shops and asked if I wanted to come along so we went to the Koenji neighborhood – where many vintage / thrift shops can be found. It was a lot of fun and I had scored a dress and top for less than 800 yen in a thrift store. Once in the evening I went to the Korean neighborhood with my Japanese friend Anna and we went to eat Korean. Anna is partly Korean and wanted to let me try Korean BBQ. Then we drank coffee and chatted at Doutor – recommended if you want to drink affordable coffee, because I think lattes in Japan are relatively expensive.
Once back at the hostel again, we were soon with a whole group again. It was great fun again! It was half past two at night when we went looking for Yakuniku nearby, where we enjoyed tasty meat eventually and a bottle of red wine. We had a great time after we went to sleep at a very late time, Hannah joined together with Hadas and her boyfriend too.
Eenmaal terug in mijn hostel was het ook ontzettend gezellig met mijn hostel genoten. Ik ontmoette mega toevallig
Hadas
opnieuw – een vrouw uit Tel Aviv in de richting van mijn leeftijd, die ik in ditzelfde hostel leerde kennen één jaar terug en waar ik het goed mee kan vinden. Wat een mega toeval! Na een gezellige avond met een grote groep in het hostel en van alles ingekocht te hebben bij de dichtstbijzijnde mini supermarkt, hadden Hadas en ik afgesproken om de volgende dag samen te gaan lunchen en naar vintage winkels te gaan. Tot laat hebben we nog in de lobby met een grote groep hostel genoten gelachen, drankjes gedronken, snacks gegeten en muziek geluisterd. Ik kwam met het spontane idee om morgennacht met de hele groep
Yakuniku
te gaan eten ergens in de buurt van ons hostel en iedereen vond dat een super leuk idee.
Omdat ik behoorlijk moe was van de intense afgelopen dagen waar ik super veel heb gedaan van wat ik graag wilde zien en doen, wilde ik de laatste dagen niet hele dagen weg zijn of druk zijn (Al ben ik sowieso nooit van hele planningen op reis). De laatste dagen in mijn hostel wilde ik nóg meer gewoon doen wat op mijn pad kwam en met hostel genootjes gezellig drankjes doen, eten en kletsen. Hadas en ik besloten samen ergens in Shibuya gezond te gaan lunchen deze dag. Ze wilde daarna vintage winkeltjes kijken en vroeg of ik mee wilde dus ik ging mee naar het wijkje Koenji – waar veel vintage/thrift winkeltjes te vinden zijn. Het was hartstikke leuk en ik had voor nog geen 800 yen een jurk en topje gescoord in een tweedehands winkel. Eenmaal 's-avonds ben ik met mijn Japanse vriendin Anna naar de Koreaanse buurt gegaan en zijn we Koreaans gaan eten. Anna is voor een gedeelte Koreaans en wilde me graag trakteren op Korean Bbq. Daarna hebben we nog koffie gedronken en gekletst bij Doutor – aanrader als je graag betaalbaar koffie wil drinken, omdat ik lattes in Japan relatief duur vind.
Eenmaal weer terug in het hostel, waren we al snel weer met een hele groep. Het was weer ontzettend gezellig! Het was half 2 's-nachts toen we opzoek gingen naar Yakuniku in de buurt, waar we genoten van lekker vlees en een fles rode wijn en we het ontzettend gezellig hadden na we op een enorm laat tijdstip gingen slapen, Hannah ging ook weer gezellig mee en Hadas samen met haar vriend ook.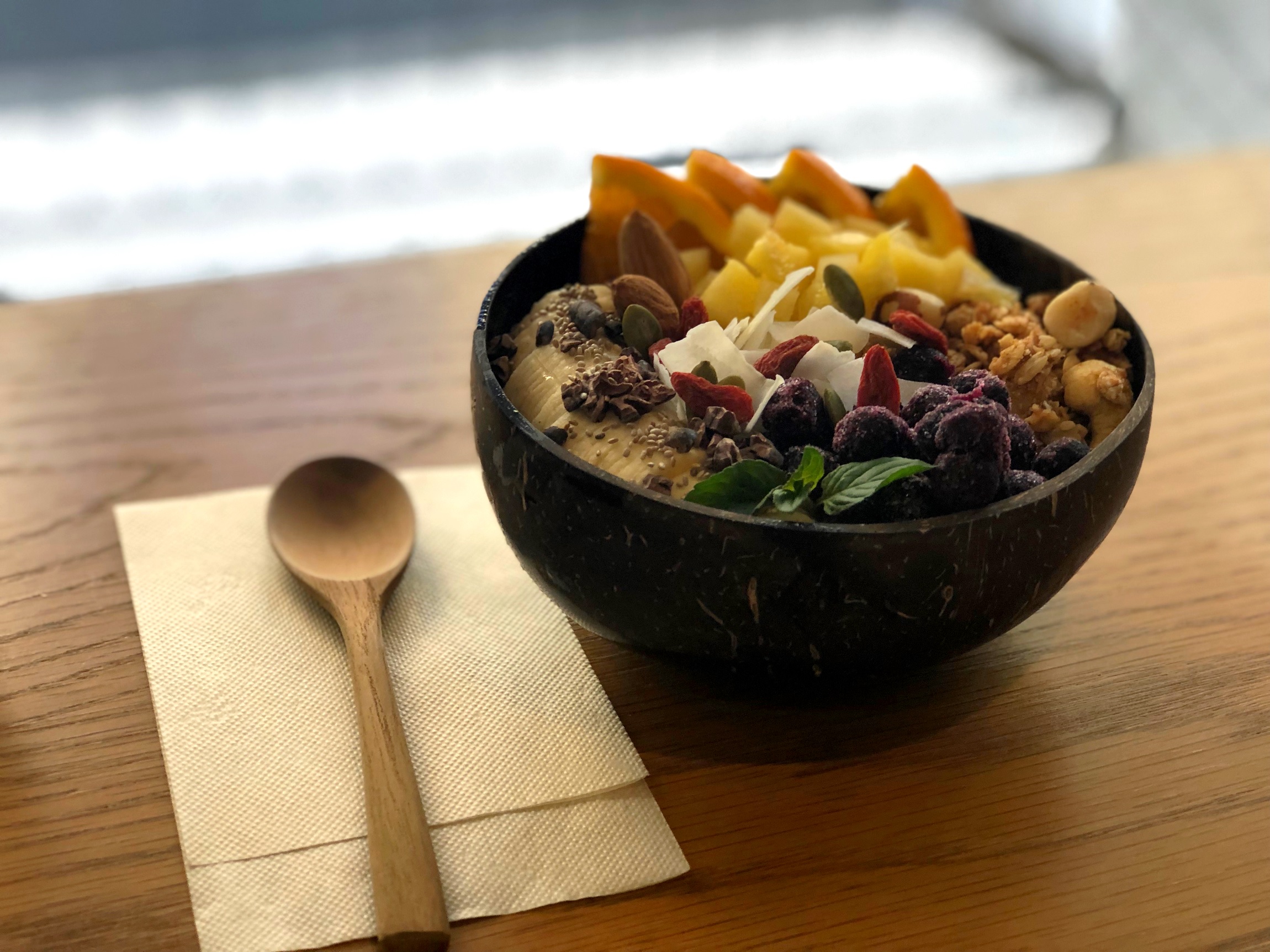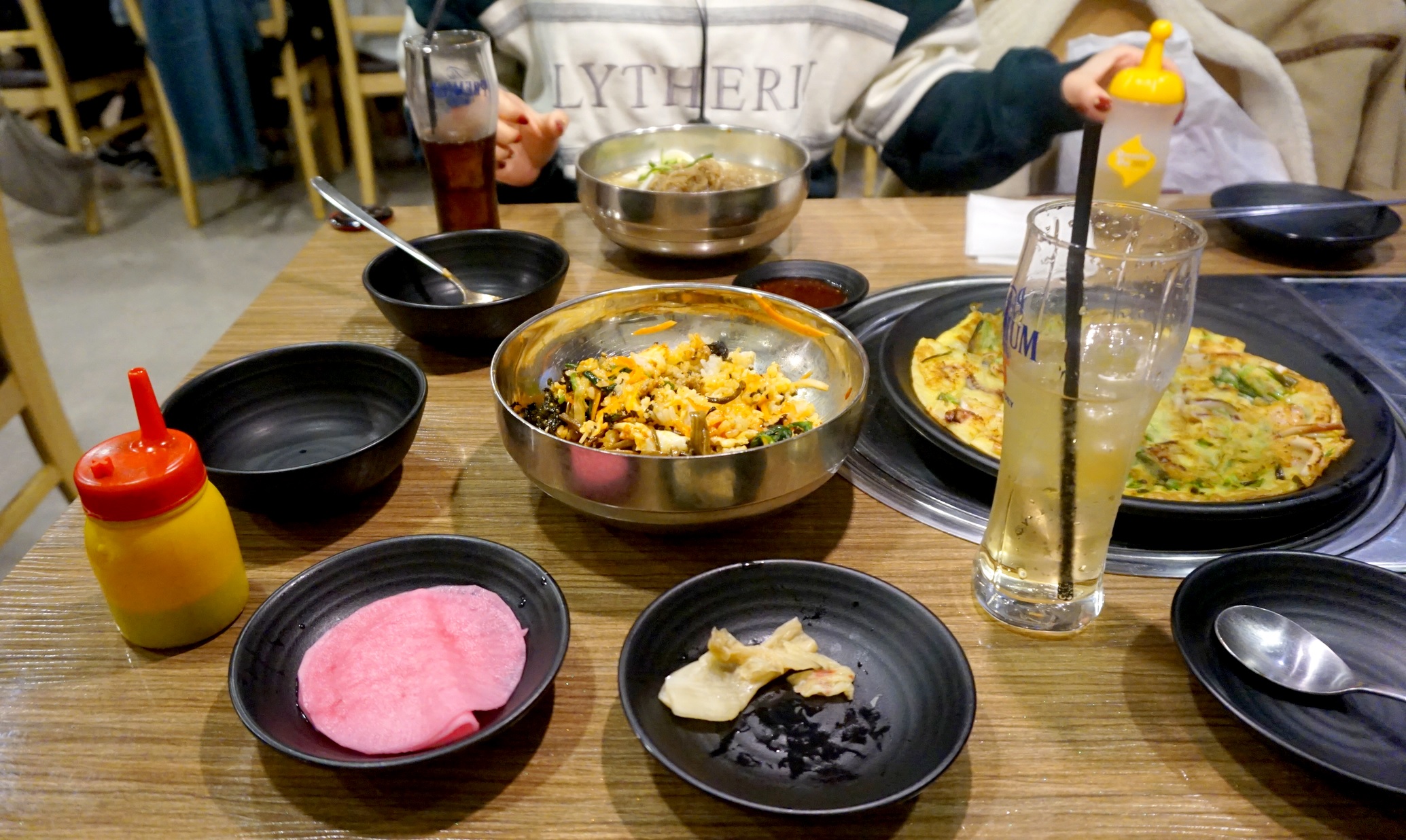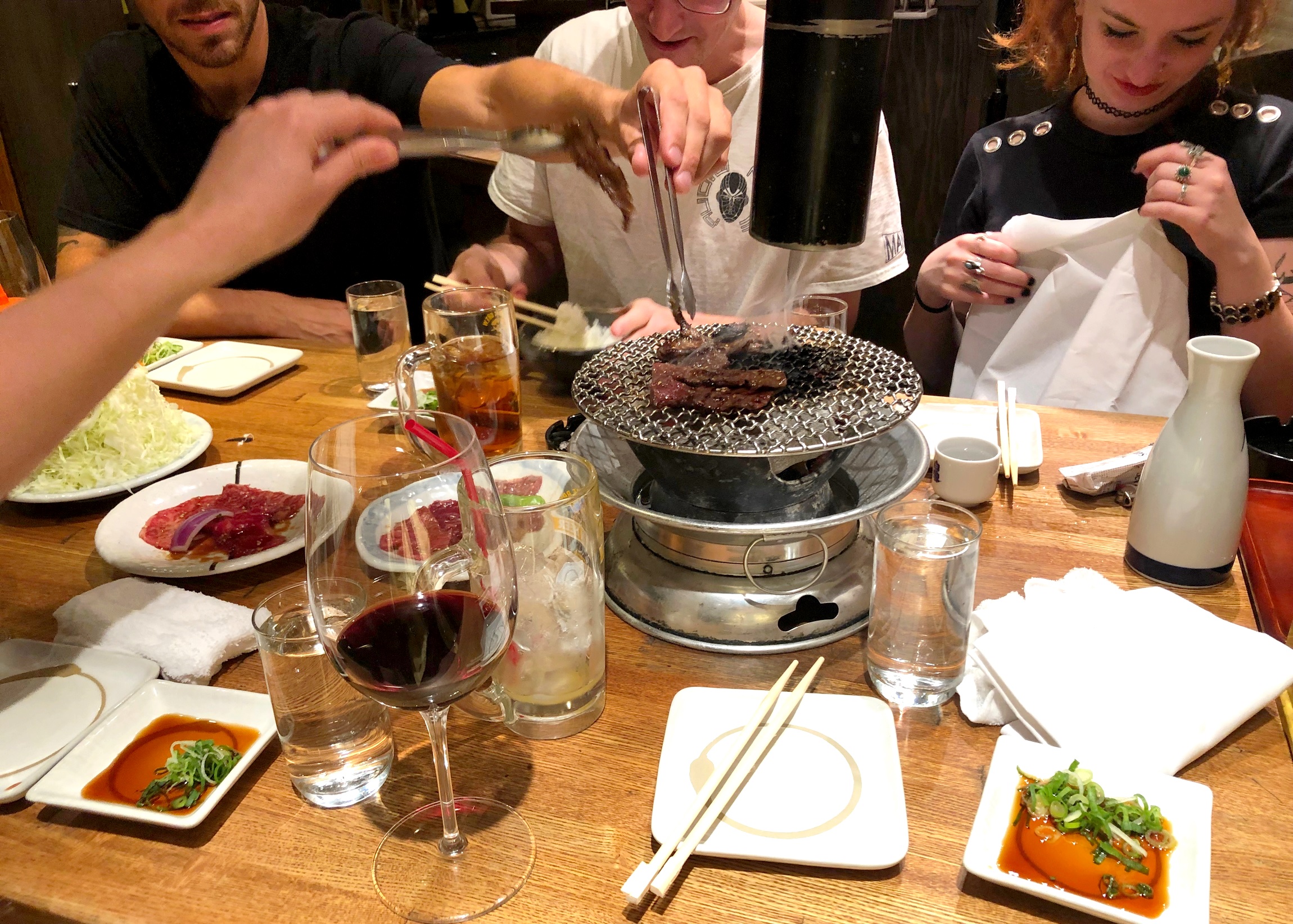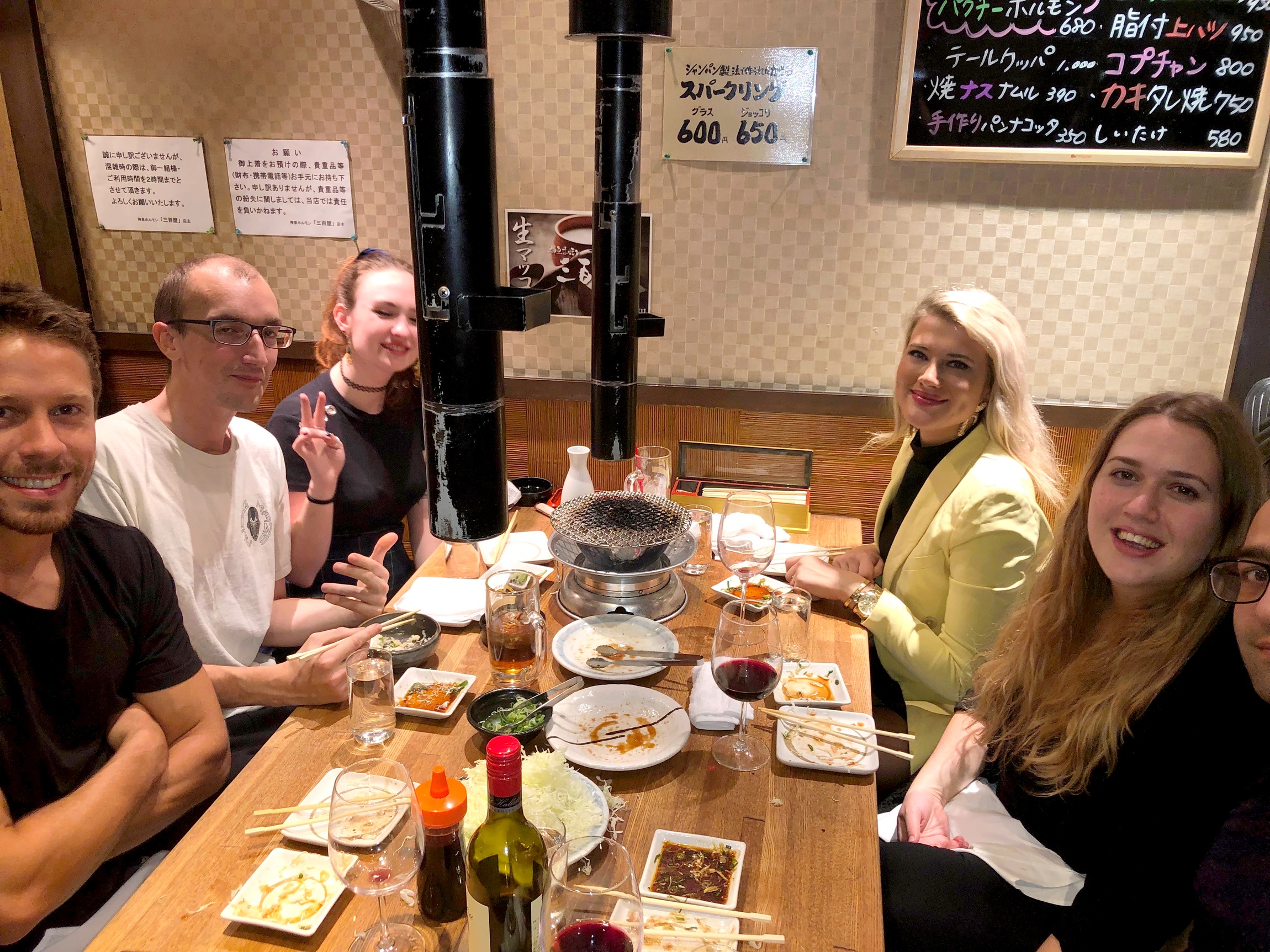 Left hand side:
Hannah
from the United States – English hostel guy I didn't remember the name of –
Luca
from Argentina.
Right hand side:
Me –
Hadas
from Israel and her boyfriend
Ram
.
The next day (18-11-2019), I slept until quite late and would meet up with Anna again, to have lunch at
Kaila
in Shibuya – which I saved the name of years prior to going to Japan. I had an amazing Hawaiian Acai bowl and Acai and milk juice. We spended the entire day together and shopped at
Don Quijote
again, had coffee at Doutor and diner together as well. In the evening, we had another fun hostel family night with lots of laughter and music.
The final day (19-11-2019), before flying back to the Netherlands, hostel friend Luca, which has joined the hostel music evenings and Yakuniku as well the previous days, invited me to join him for coffee in the morning in Daikanyama and to visit the famous bookshop Tsutaya books there (Daikanyama was by coincidence, still on my wishlist). It took us about 20 minutes by foot from our hostel to get there. We had breakfast at the Starbucks inside of the bookshop. We talked about our lives and how he is originally from Argentina, but lives in Hawaii and doesn't know how long his travel journey will take and when it will end. After having lunch together, he asked me to join him in case I would miss my flight for some reason because he wanted to visit a new city in Japan – I rejected that, because I really wanted to go back home. I met up with Anna again and we had diner and coffee together in Shinjuku. I asked her if she wanted to meet with my friend Arisa as well – because it would be my final evening in Japan – and she liked the idea (ps. they became friends!). We went to a bar in Kabukicho, had drinks and bites and went to a Karaoke place – yet another thing to cross of my Japan wishlist. We sang All I want for Christmas out loud and had lots of fun. I promised them I would come back to Japan for the 3th time in the near future.
De volgende dag (18-11-2019) sliep ik tot vrij laat en zou ik Anna weer ontmoeten om te lunchen bij
Kaila
in Shibuya – waar ik de naam van jaren heb bewaard voordat ik naar Japan ging. Ik had een geweldige Hawaiiaanse Acai-bowl en Acai met melk sapje. We brachten de hele dag samen door en winkelden weer bij
Don Quijote,
dronken opnieuw koffie bij
Doutor
en aten ook samen. 's-avonds hadden we weer een leuke hostel groeps avond met veel gelach en muziek.
De laatste dag (19-11-2019), voordat ik terug zou gaan naar Nederland, nodigde hostelgenoot Luca – die de vorige dagen ook de hostelmuziekavonden en Yakuniku bijwoonde – me uit om met hem koffie te drinken in Daikanyama en de beroemde boekhandel Tsutaya-books te bezoeken (stond ook nog op mijn wenslijst toevallig). Het kostte ons ongeveer 20 minuten lopen van ons hostel om er te komen. We hebben gelunched bij de Starbucks die in de boekwinkel zit. We spraken over onze levens en hoe hij oorspronkelijk uit Argentinië komt, maar in Hawaï woont en niet weet hoe lang zijn reis zal duren en wanneer deze zal eindigen. Na samen te hebben gelunched, vroeg hij me mee te gaan naar een andere stad in Japan morgen mocht ik om een ​​of andere reden mijn vlucht missen – maar dit wees ik af omdat ik niet van plan was om langer te blijven. Ik ontmoette Anna weer en we hebben samen gegeten en koffie gedronken in Shinjuku. Ik vroeg haar of ze ook mijn vriendin Arisa wilde ontmoeten – omdat het mijn laatste avond in Japan zou zijn – en ze vond het een goed idee (ps. Ze werden vriendinnen!). We gingen naar een bar in Kabukicho, dronken en aten wat en gingen naar een Karaoke plek – nog iets anders om over mijn Japan verlanglijst af te strepen. We zongen All I want for Christmas hardop en hadden veel lol. Ik beloofde hen dat ik in de nabije toekomst voor de derde keer terug zou komen naar Japan.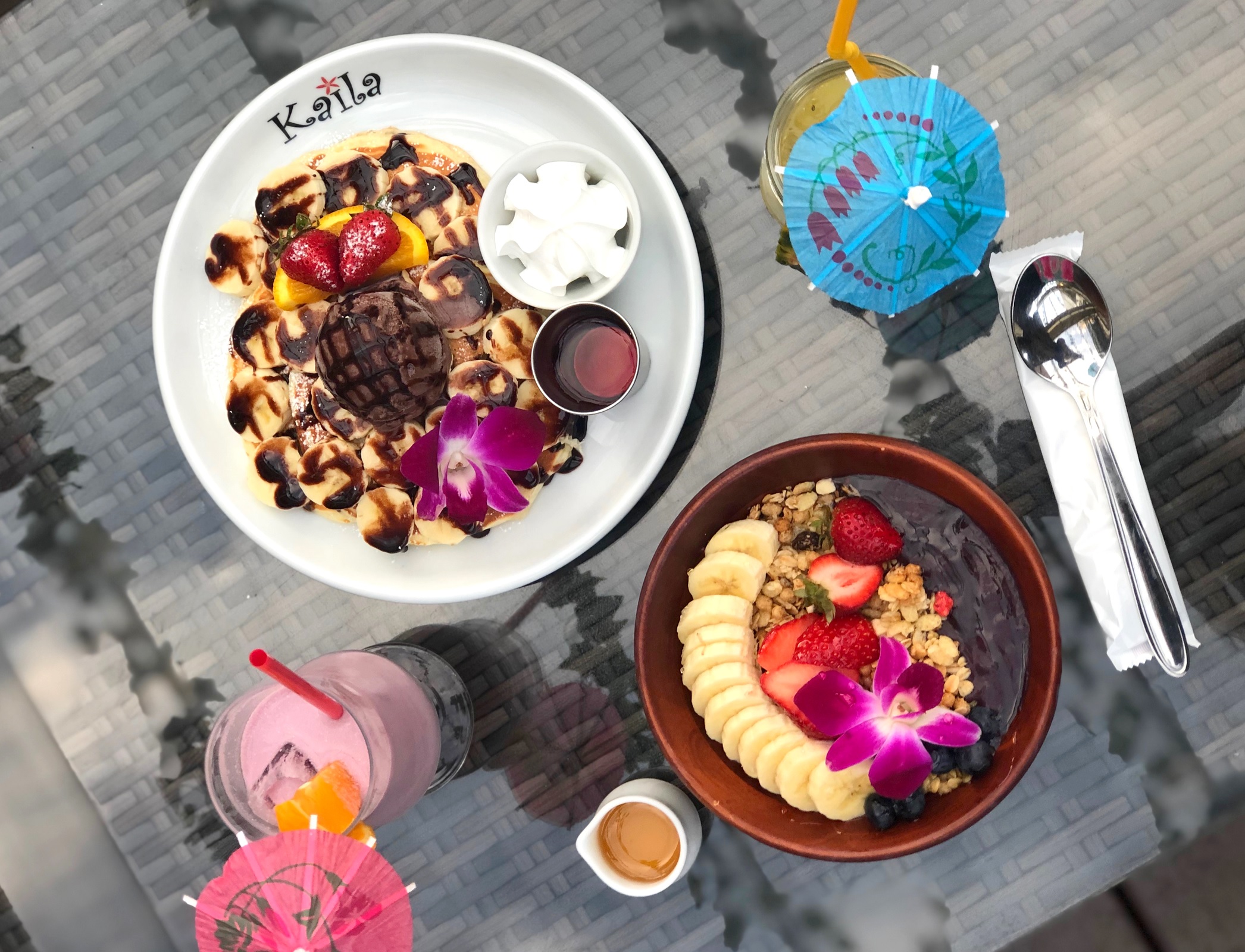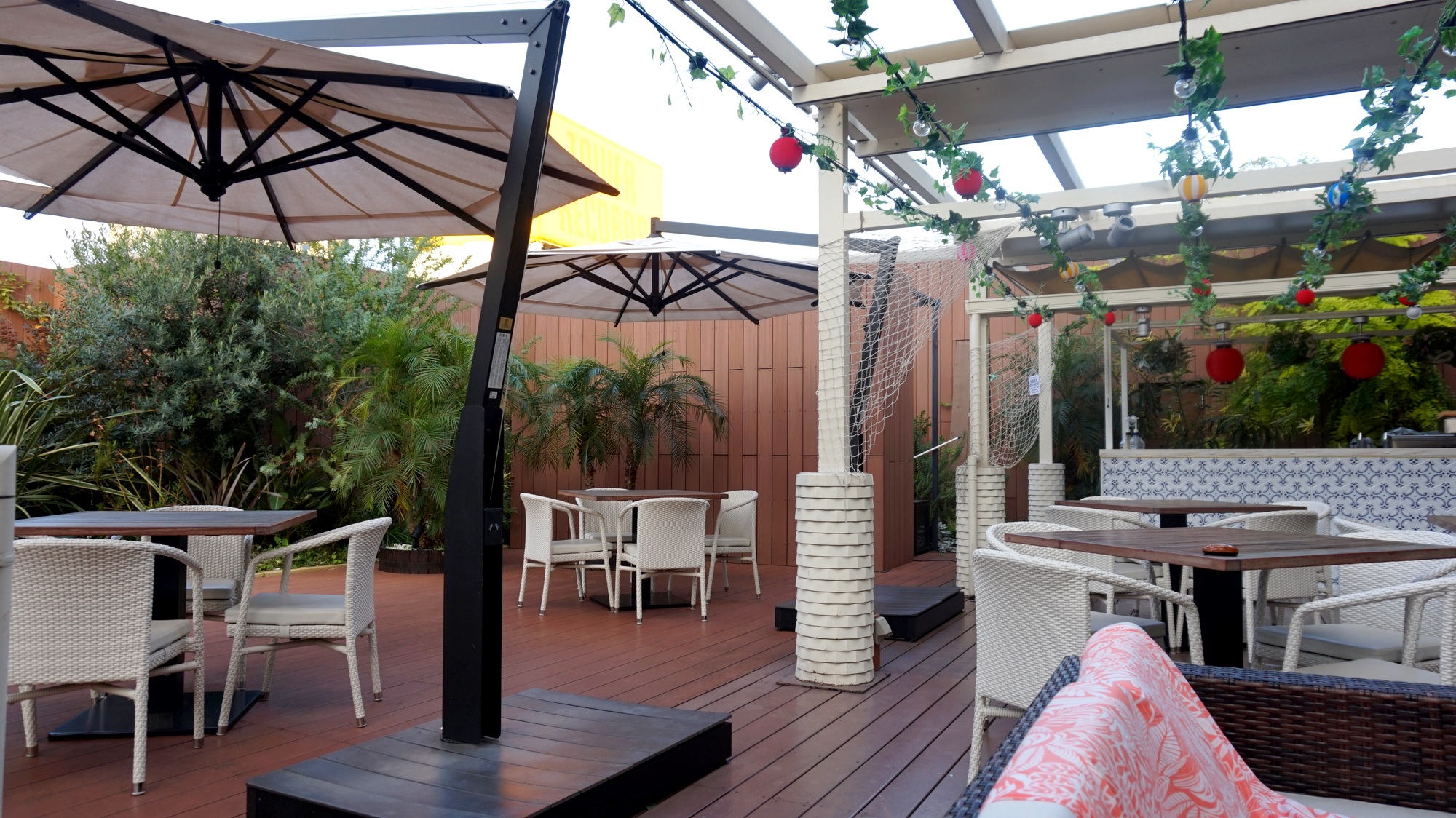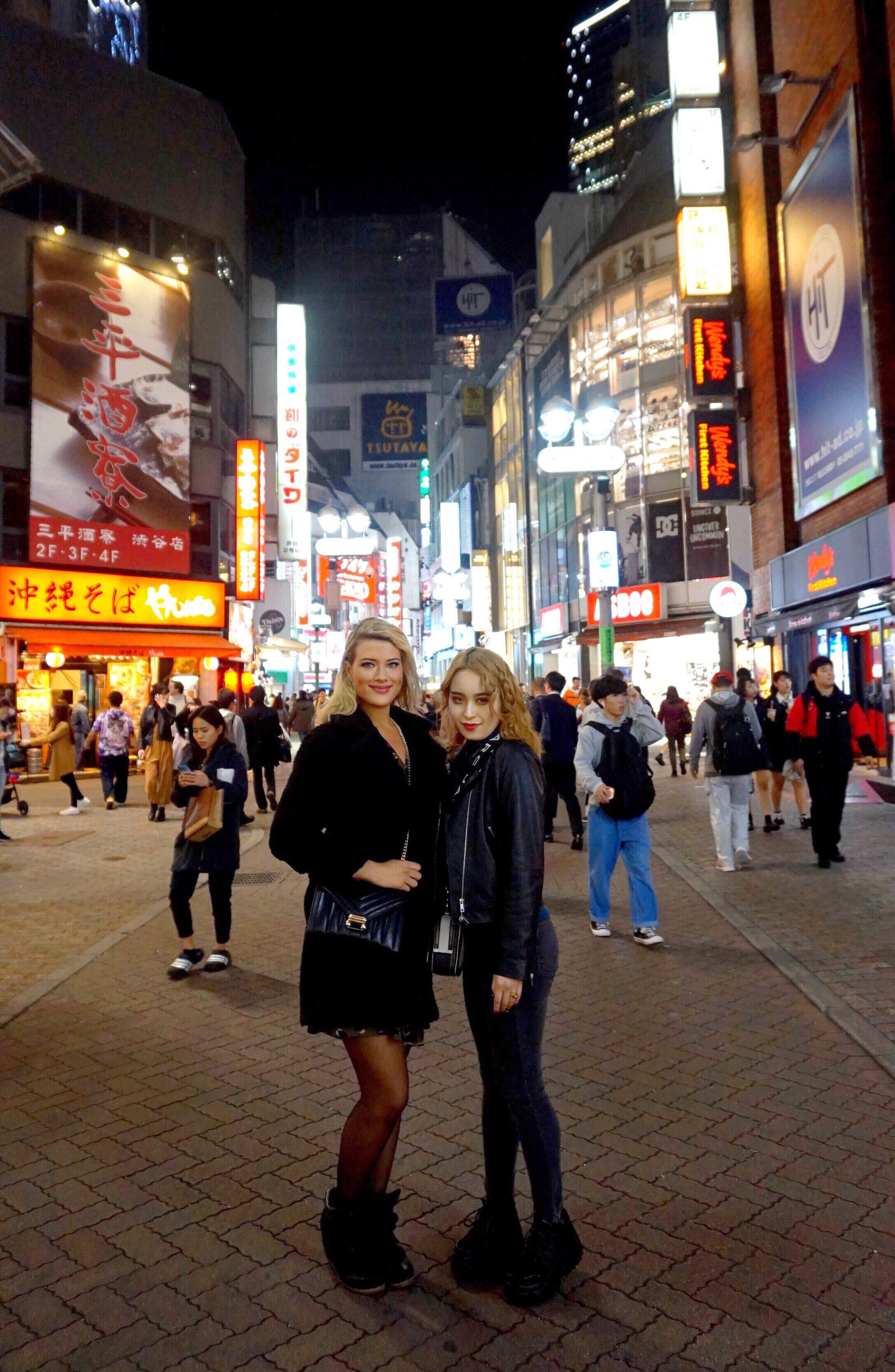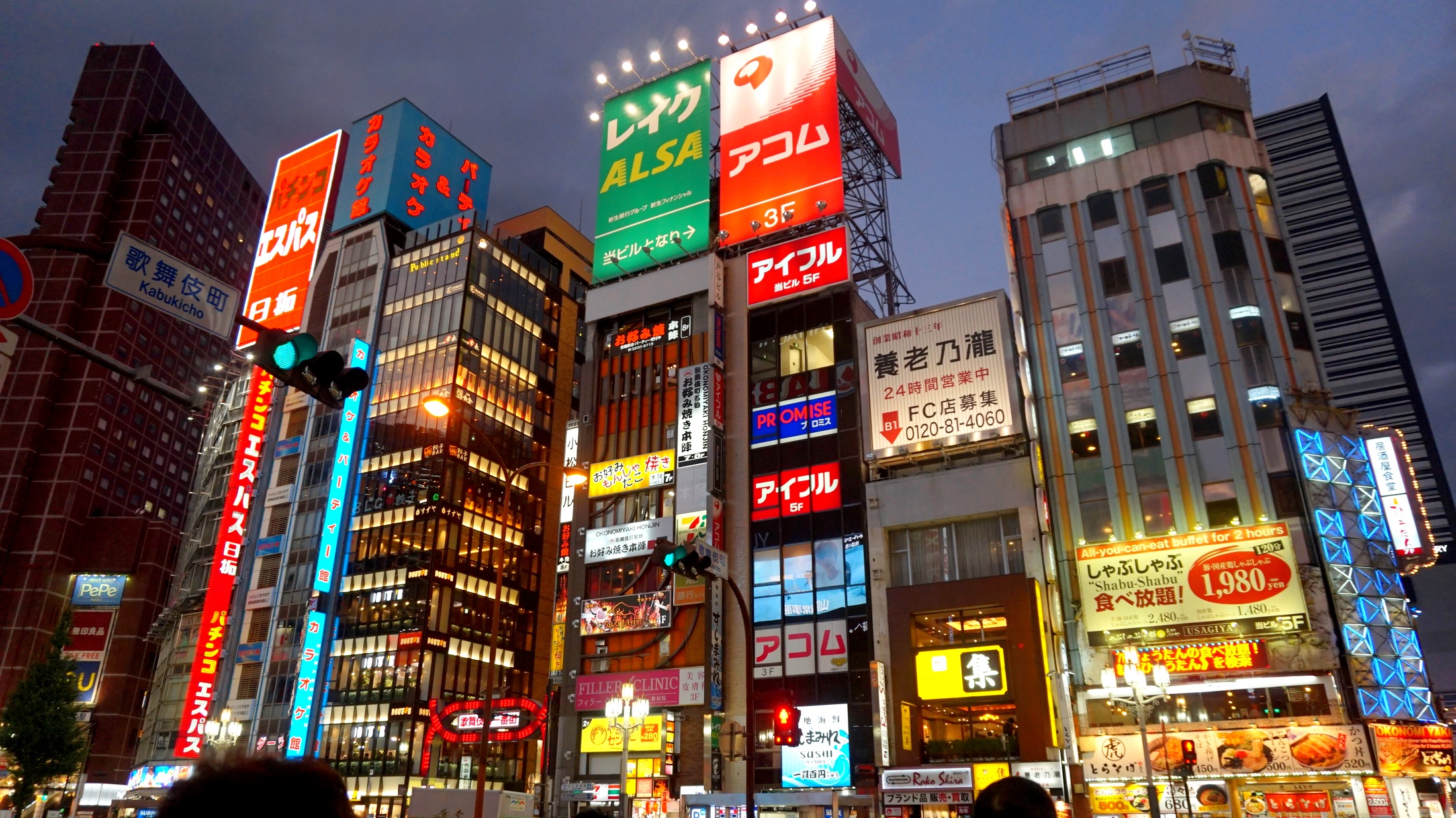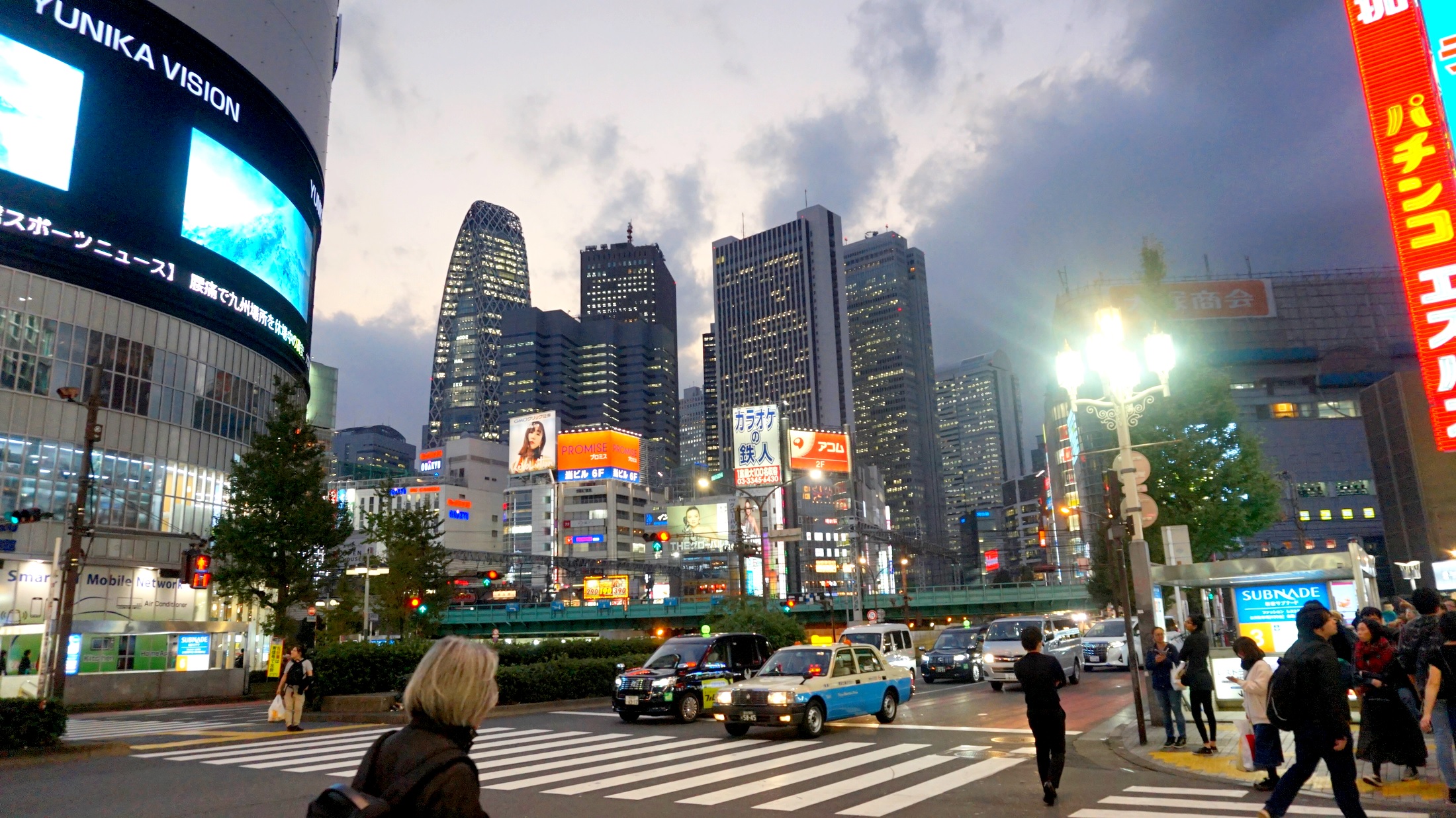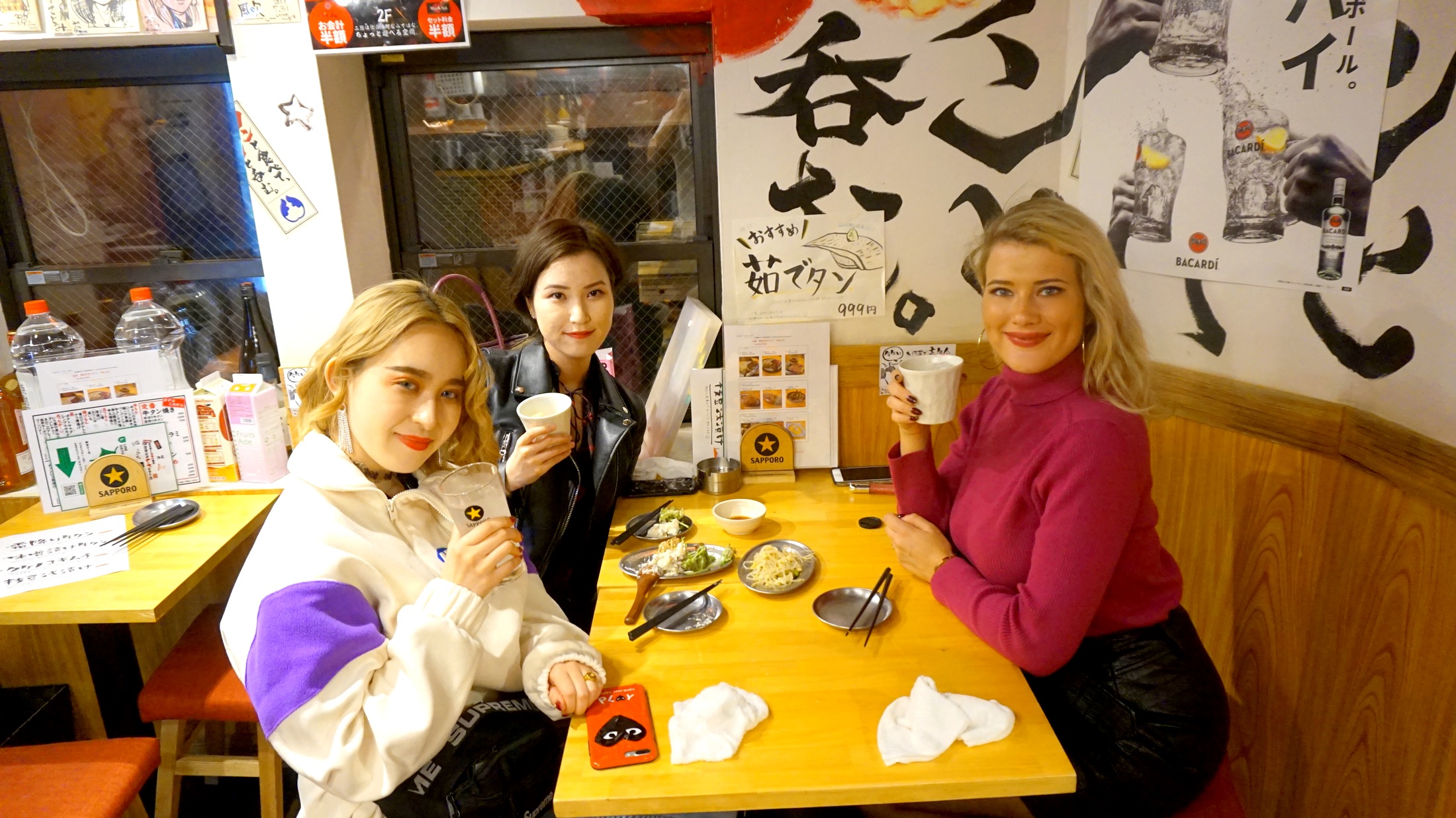 (20-11-2019) The day I would leave. Late yesterday evening a hostel friend from Finland had agreed with me to travel to
Narita
with the
Narita express
because our flights wouldn't leave for very long. After buying chocolates for the crew and breakfast in one of the
Family Marts
near our hostel, we left. I was full of courage and really looking forward to my IPB flight back, because I love coming home after a trip and I love flying again. Gosh, about 20 seats empty, that should be fine, I thought, until I was told at check-in that I really had to wait up to an hour before the flight to know if I could get on because it was full last minute due to circumstances. Quite scary, maybe I would still have to stay for another day or more – but it all turned out fine when I ran into the KLM crew at the check-in. I had a very nice flight back and nice conversations with the great crew. My parents were waiting at the airport and we drove back to Den Bosch.
Thanks for reading my travel diary! It was a fantastic trip! I met a lot of nice people and had two great IPB flights. Now that I type this, I get that feeling of the past again. I can't wait to have a nice trip like this again!
(20-11-2019) De dag dat ik zou vertrekken. Gisteren avond laat had een hostel genoot uit Finland met me afgesproken om samen naar
Narita
met de
Narita express
te reizen, omdat onze vluchten niet heel lang naar elkaar zouden vertrekken. Na chocolaatjes voor de crew te hebben gekocht en ontbijt in een van de
Family Marts
in de buurt van ons hostel, vertrokken we. Ik had volle moed en vooral zin in mijn IPB vlucht terug, omdat ik het heerlijk vind om na een reis weer thuis te komen en het heerlijk vind weer lekker te vliegen. Goh, zo'n 20 stoelen leeg, dat moet vast goed komen, dacht ik, tot ik bij de check-in te horen kreeg dat ik echt tot een uur voor de vlucht moest wachten of ik mee kon omdat het wegens omstandigheden last minute vol was geworden. Spannend, misschien alsnog een dagje of meer moeten blijven – maar het kwam uiteindelijk al snel goed toen ik de crew bij de check-in tegen kwam. Ik had een hele fijne vlucht terug en leuke gesprekken met de super gezellige crew. Op de luchthaven stonden mijn ouders te wachten en zijn we naar Den Bosch terug gereden.
Bedankt voor het lezen van mijn travel diary! Het was een fantastische reis! Ik heb super veel leuke mensen ontmoet en twee top IPB vluchten gehad. Nu ik dit typ, krijg ik weer even dat gevoel van toen. Ik kan niet wachten om weer een mooie reis als deze te maken!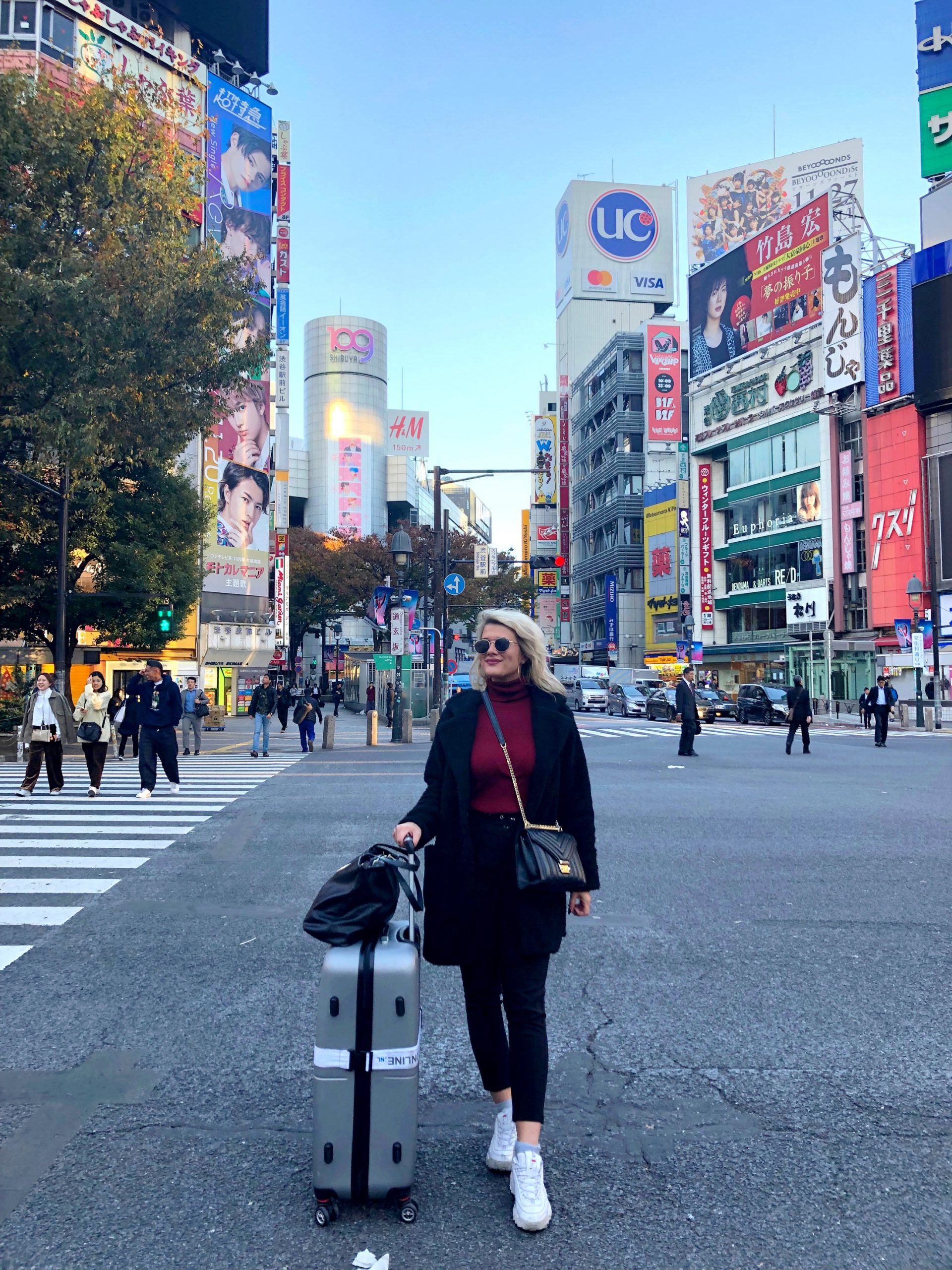 Old and new Japan diaries
2019 –
part 1
– part 2 – (under mainterance) –
outfit 1
–
outfit 2
2018 –
part 1
–
part 2
–
part 3 –
part 4
–
outfit