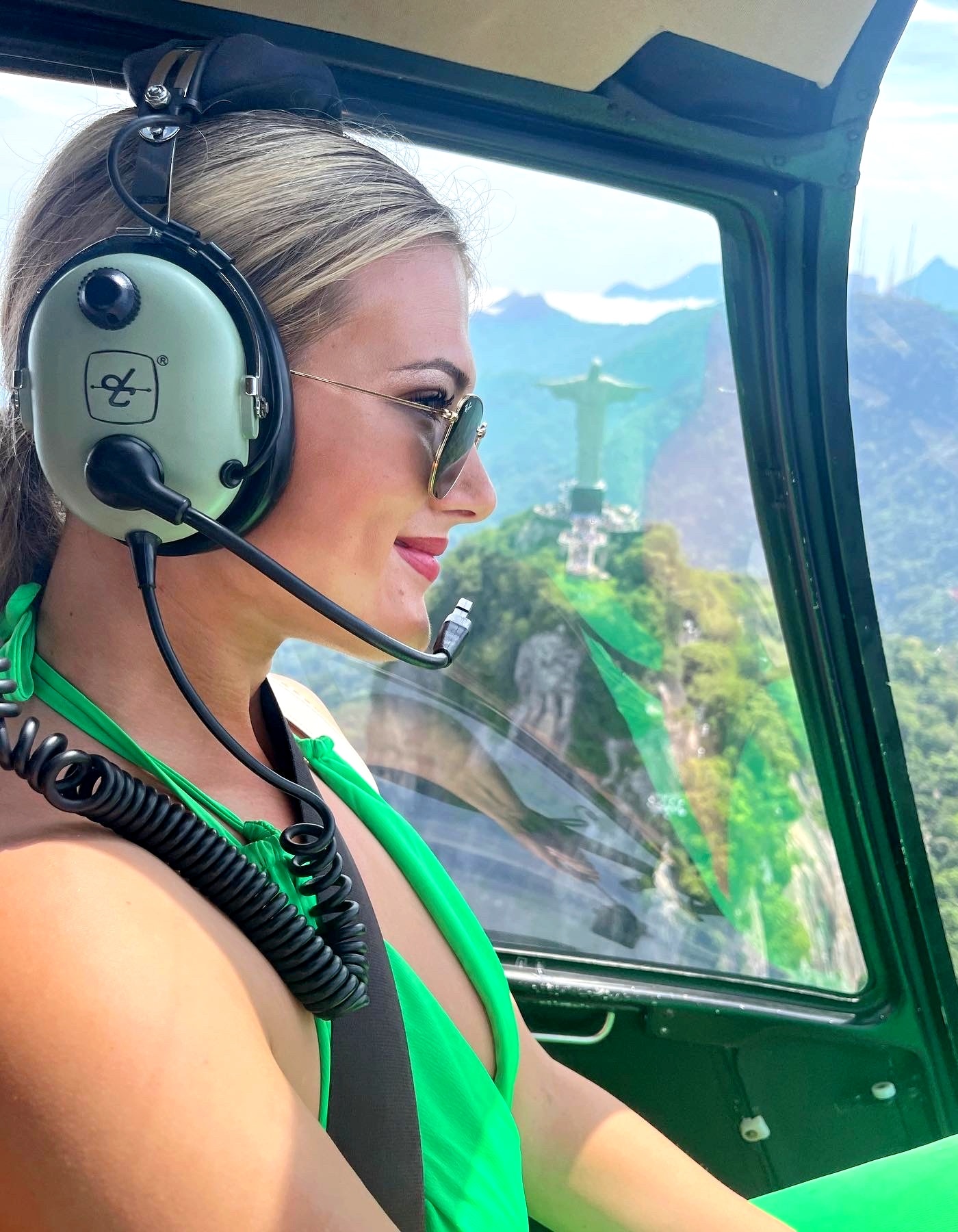 Hi everyone! Last month, I traveled to Brazil for the first time. I met a friend in Tulum last year, who I kept in touch with almost daily from then on. Brazil started to tickle my 'wanderlust' more and more. In this travel diary I have typed up all my travel tips and 'diaries' from my days in Brazil for you.
Hi allemaal! Vorige maand ben ik voor de eerste keer naar Brazilie gereisd. Ik heb een vriendin leren kennen in Tulum vorig jaar, waar ik bijna dagelijks contact mee behield vanaf dat moment. Brazilie begon steeds meer te kriebelen in mijn 'reislust'. In deze travel diary heb ik dan ook al mijn reistips en 'dagboeken' van mijn dagen in Brazilië voor jullie uitgetypt.
Day 1 & 2– Amsterdam & Rio de Janeiro -07-10-2023 & 08-10-2023
Day 1 started with a fairly smooth departure from Schiphol. I quickly got a seat at KLM, and by chance I also found an acquaintance of mine on board! I had known this fantastic KLM employee for years from Instagram, and I was really pampered by him during this flight to Rio. Not only that, but I also had a great time with the rest of the crew, and spent more than half of this intercontinental flight having fun conversations with the crew.
Once at Rio airport after a flight of almost 12 hours, Aline also landed from Florianópolis in exactly the same minute. The moment I passed passport control and picked up my luggage, she was ready to pick me up. It was great to see her again!
We stayed at the home of Aline's friends, because she had to be at this location for work on day 2. It was also great that I was able to attend and participate in her work! In Brazil, many people are spiritual. I can certainly connect to that in a lot of levels, which is why I really enjoyed attending these workshops, such as a cocoa ceremony (my first) and dancing.
Dag 1 begon met een vrij vlot vertrek vanaf Schiphol. Ik kreeg al vrij snel een stoel bij KLM, en per toeval trof ik ook een bekende van mij aan aan boord! Ik kende een KLM'er al jaren van Instagram, en ben tijdens deze vlucht naar Rio ook ontzettend in de watten gelegd door hem. Ik had het ook ontzettend gezellig met de rest van de crew, en heb ruim de helft van deze ICA vlucht besteed aan leuke gesprekken met de bemanning.
Eenmaal op Rio airport na een vlucht van bijna 12 uur, was ook Aline precies dezelfde minuut geland vanuit Florianópolis. Het moment dat ik door de paspoort controle was én mijn bagage had opgehaald, stond ze al klaar om mij op te halen. Het was ontzettend leuk haar weer te zien!
We sliepen bij vrienden van Aline thuis, omdat ze op dag 2 voor haar werk op deze locatie moest zijn. Het was ook ontzettend leuk dat ik haar werk mocht bijwonen en er aan deel mocht nemen!
In Brazilie zijn overigens veel mensen spiritueel. In best wast dingen kan ik mij daar ook zeker in vinden, daarom vond ik het dus ook super leuk deze workshops, zoals een cacao ceremonie (mijn eerste) en dansen, bij te wonen.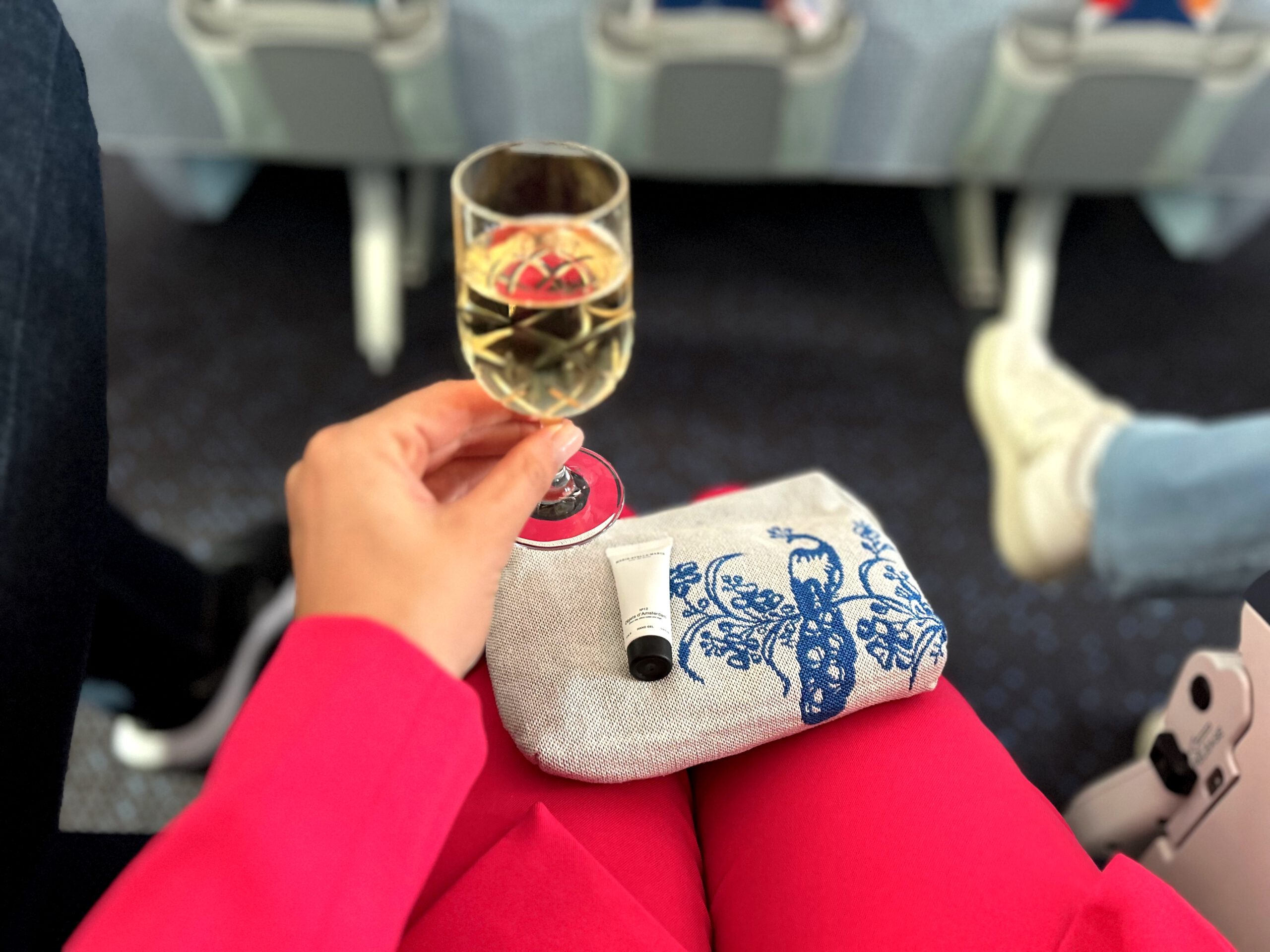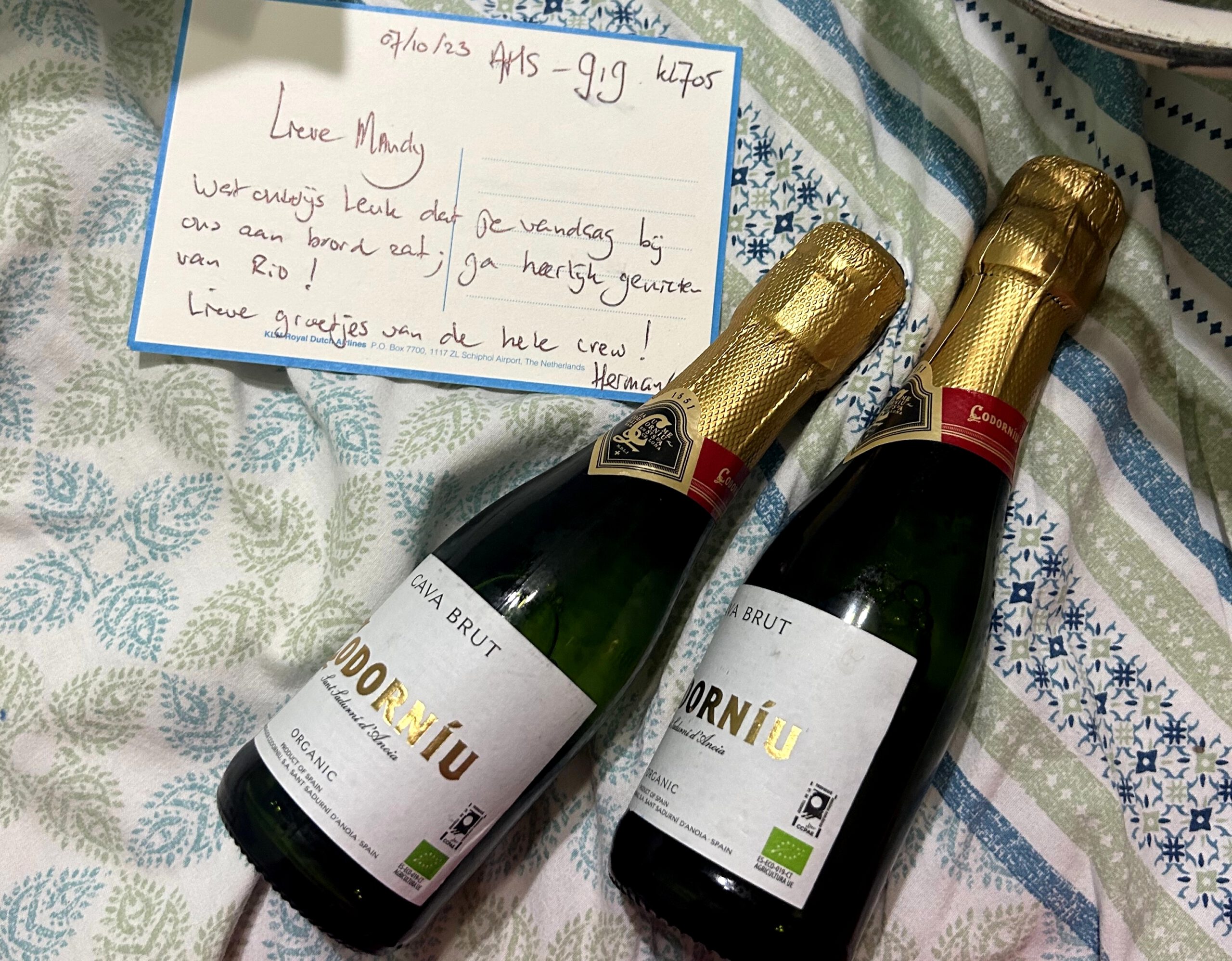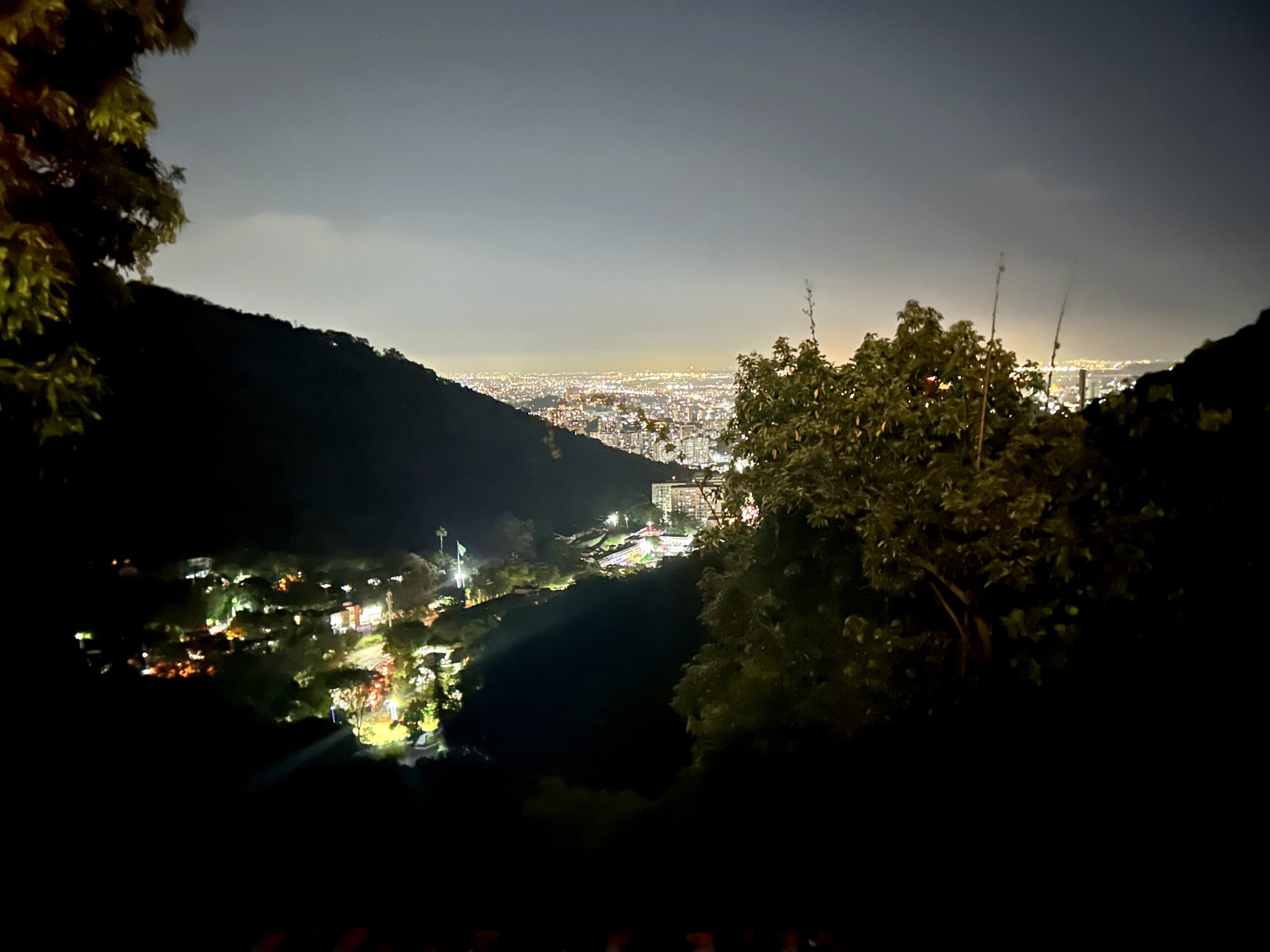 Day 3 – Rio de Janeiro – 09-10-2023
The evening of day 2 we actually left for a hostel, because it was very busy in the house of Aline's friends and we wanted our own space together. It was really nice to have Brazilian food at her friends' house and to meet lovely, special people. I think Brazilians are fantastic people, a special culture, a beautiful country and I can also call many people in the country my friends – I want to put this first in all respects in my reviews.
We booked a private room in Jo & Joe hostel – which I had happened to see before on hostelworld – a top place for solo travelers to find a good hostel. In retrospect, the location was not the best choice, but the hostel itself was very pretty and well. The staff was very sweet, especially Alice.
This morning – one of the highlights of Rio – we met sweet Carlos from Portugal while we were taking pictures in the hostel. An elderly gentleman with a passion for wine. He works with and for a brand called 'Wines from Portugal' (People who have been following me for a long time know that I have had a sentimental bond with Portugal since I was young, through my first plane trip). Aline and I quickly had a good relationship with Carlos, and he invited us to a no-obligation wine tasting at the hostel one of these days, which we accepted.

After checking in, we started with a free walking tour from Lapa. We were warned on all sides about safety and our belongings, so the atmosphere was not nice from moment 1. We visited several places in the city center, but we didn't like either because it felt like we had to be on alert all the time – this is definitely not a nice feeling while traveling + we had our 'expensive stuff', except for our phones. locked in our hostel. What also cost a lot of energy during the entire trip was the transportation by Uber. We were stuck in traffic jams non-stop and getting from A to B, which was only a few kilometers apart (which we didn't want to do to minimize the risks) – meant at least 30 minutes of traffic jams and car sickness every time. Apart of that, Ubers often cancelled our request and it sometimes took us over an hour to get one. We went to eat 5 minutes away from our hostel and were called after 10 times by men in those 5 minutes.
De avond van dag 2 zijn we eigenlijk al vertrokken naar een hostel, omdat het erg druk was in het huis van de vrienden van Aline en we graag onze eigen ruimte wilde samen. Wel was het ontzettend leuk bij haar vrienden thuis Braziliaans te hebben gegeten en lieve bijzondere mensen te hebben ontmoet. Ik vind Brazilianen fantastische mensen, een bijzondere cultuur, een mooi land en mag ook veel mensen in het land als een vriendin benoemen – dit wil ik in alle opzichten voorop stellen in mijn recenties.
We boekten een private kamer in Jo & Joe hostel – wat ik toevallig al eerder voorbij had zien komen op hostelworld – een top plek voor solo reizigers om een goed hostel te vinden. De locatie was achteraf gezien een slechte keuze, maar het hostel zelf was wel heel leuk. De medewerkers, met name Alice.
Deze ochtend – een van de highligths van Rio – ontmoette we lieve Carlos uit Portugal toen we foto's aan het maken waren in het hostel. Een meneer op leeftijd met aan passie voor wijn. Hij werkt dan ook met en voor een merk genaamd 'Wines from Portugal' (De mensen die mij al heel lang volgen, weten dat ik sinds jongs af een sentimentele band heb met Portugal, door mijn erste vliegreis). Aline en ik hadden al snel een goede band met Carlos, en hij nodigde ons uit voor een vrijblijvende wijnproeverij in het hostel een dezer dagen waar we op in gingen.
Na inchecken begonnen we dan ook met een free walkingtour vanuit Lapa. We werden aan alle kanten gewaarschuwd voor veiligheid en onze spullen, dus de sfeer was vanaf moment 1 al niet leuk. We hebben diverse plekken in de binnenstad bezocht, maar vonden het beide niet leuk omdat het aan alle kanten voelde alsof we de hele tijd alart moeten zijn – dit is absoluut geen fijn gevoel tijdens het reizen + hadden we onze dure spullen op de telefoons na in het hostel gelaten. Wat zelf ook enorm veel energie kostte gedurende de hele reis – was het vervoer per uber. We stonden non stop in de file en van a naar b komen wat slechts enkele km's uit elkaar lag (wat wij ook niet wilde lopen om zo weinig mogelijk risico's te lopen) – was keer op keer minimaal 30 minuten aan file en wagenziekte. Daarnaast annuleerde Ubers ons verzoek vaak en duurde het soms meer dan een uur om er een te krijgen. We zijn op 5 minuten afstand van ons hostel gaan eten en zijn in die 5 minuten ook 10x nageroepen door mannen.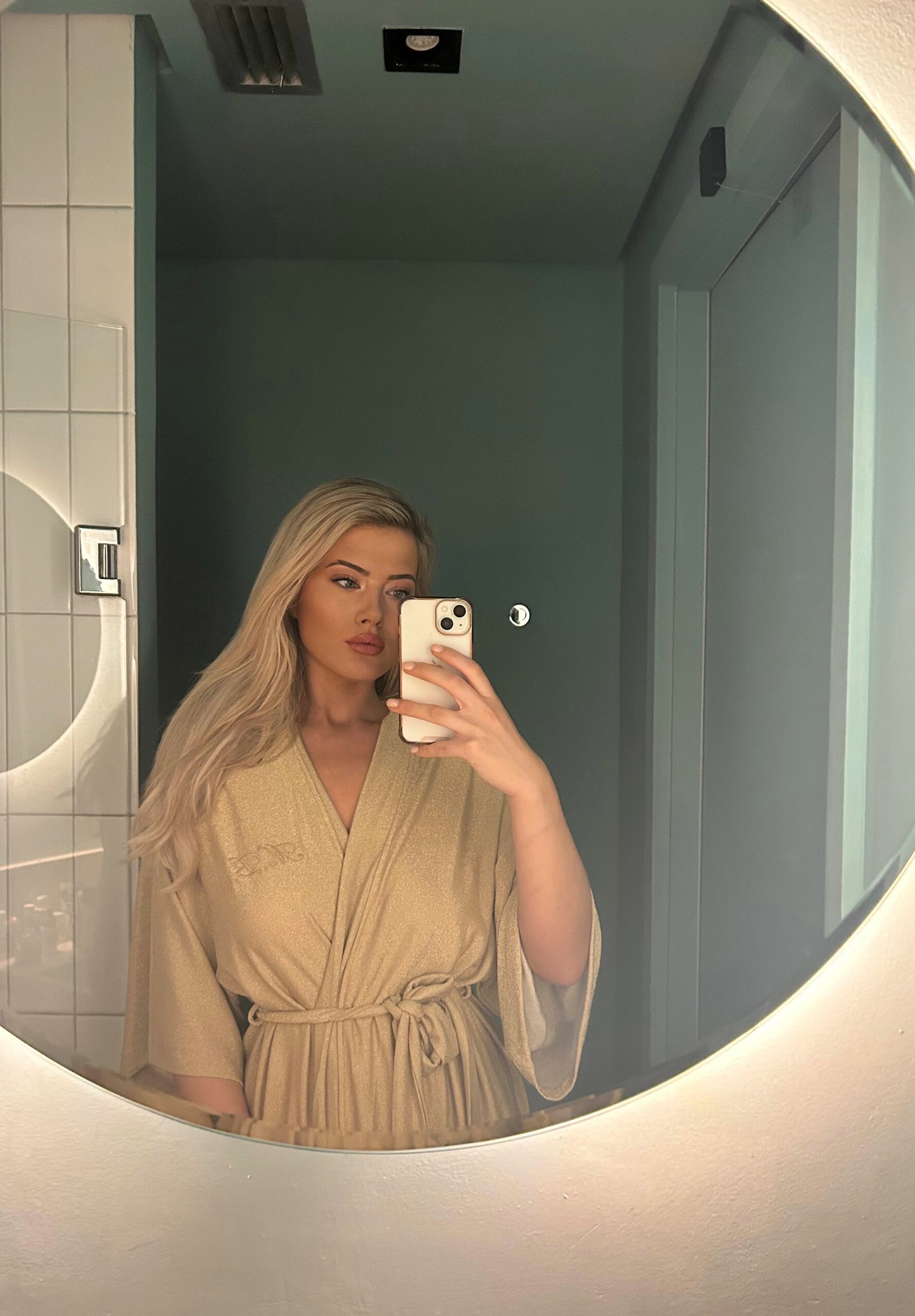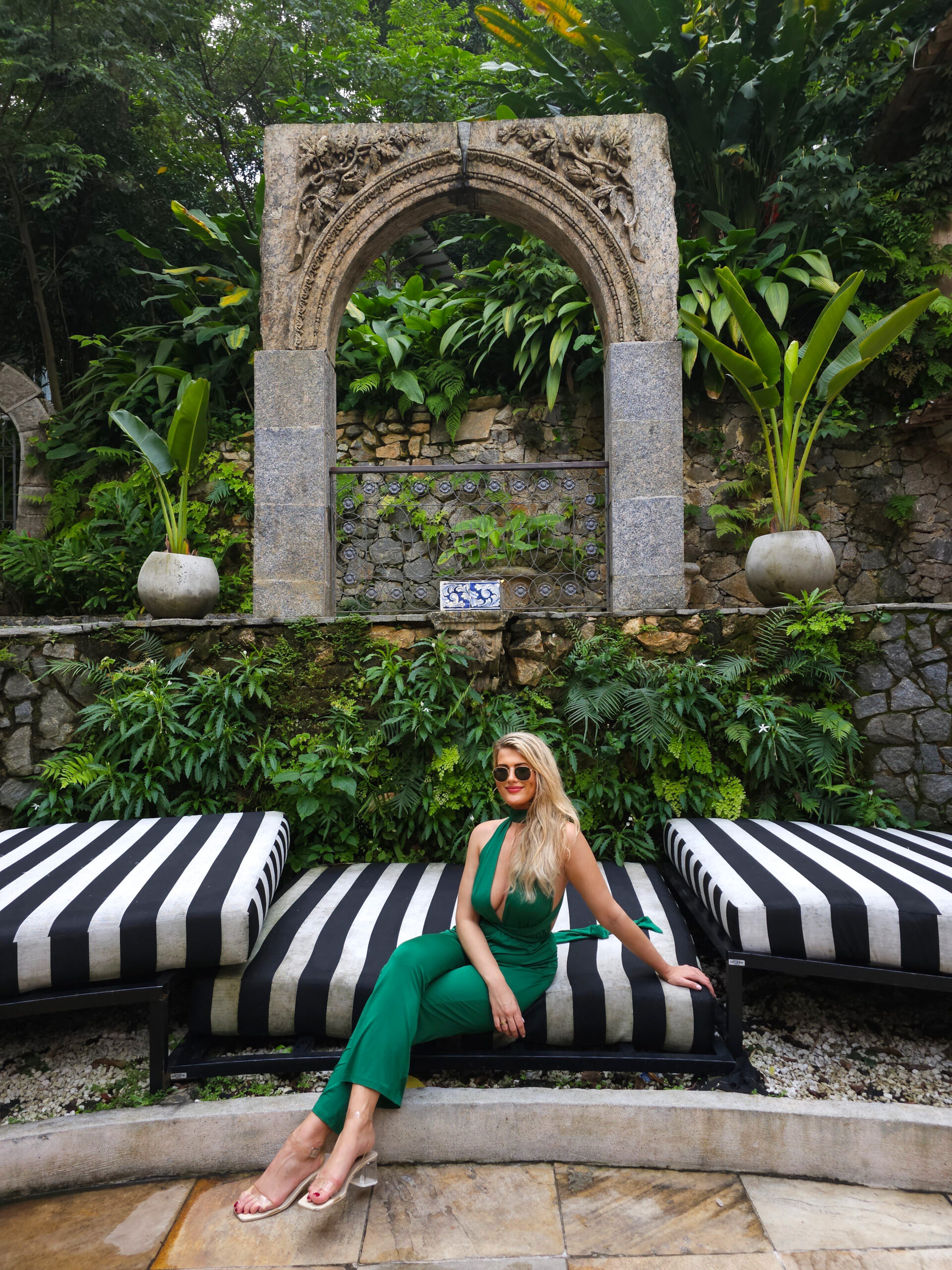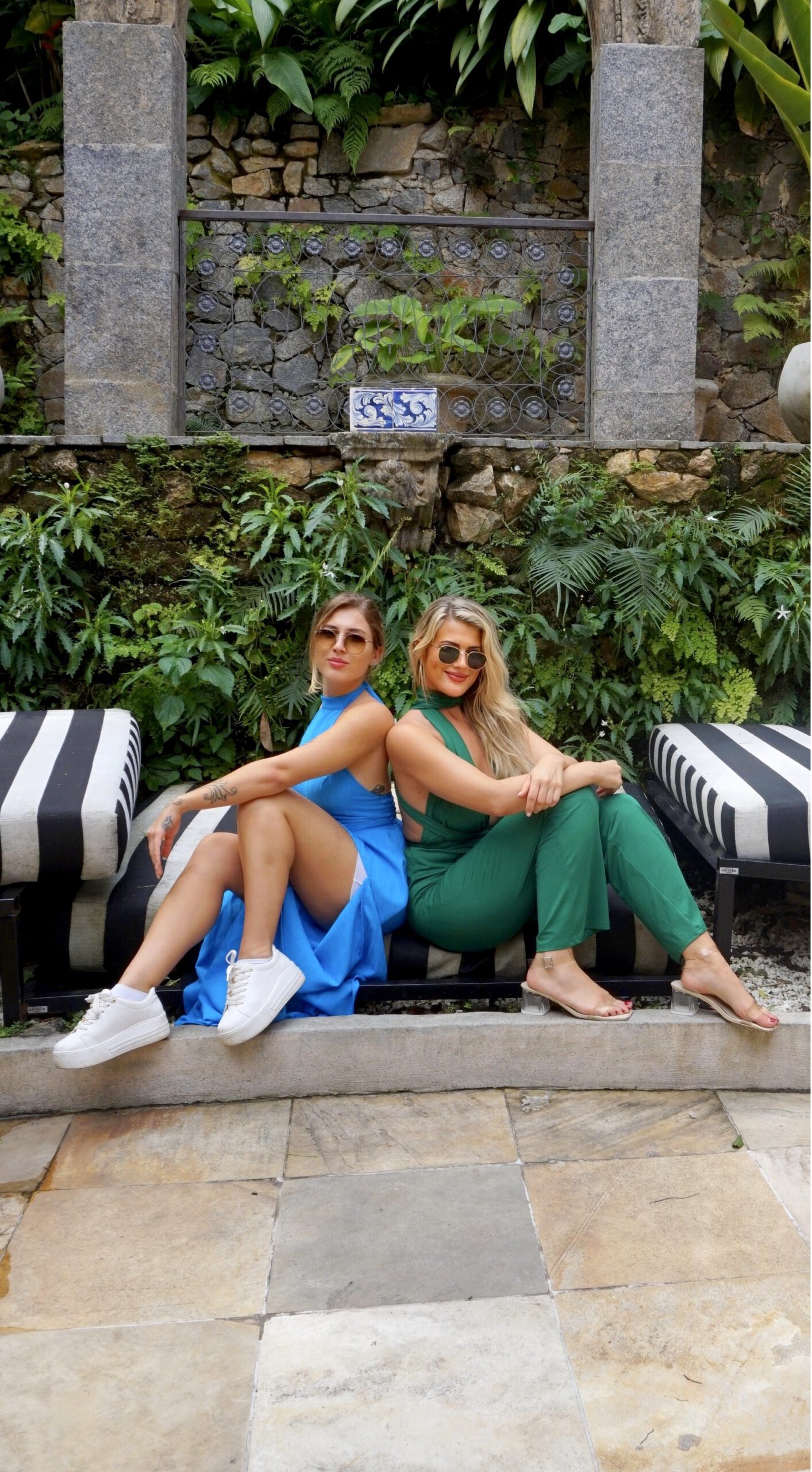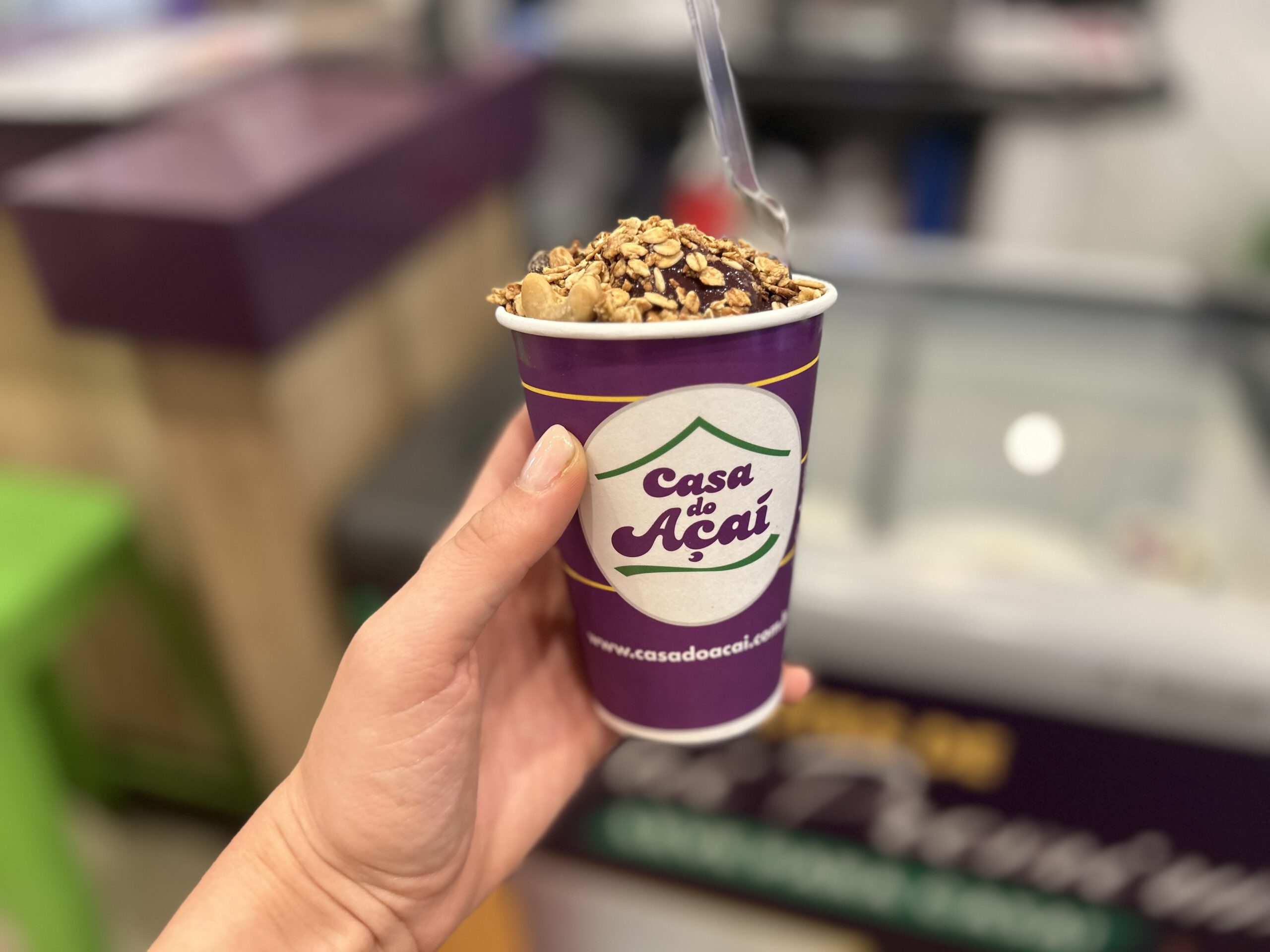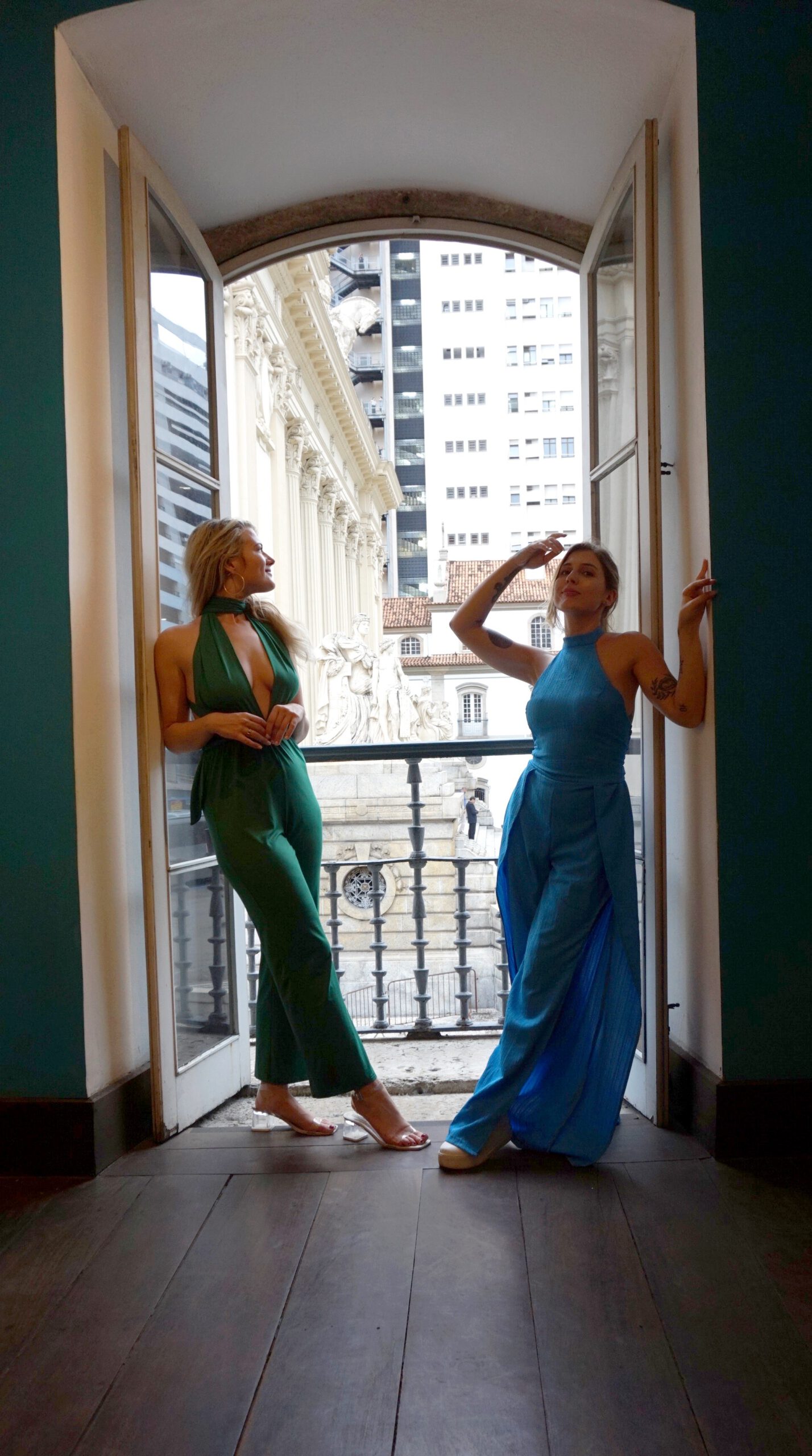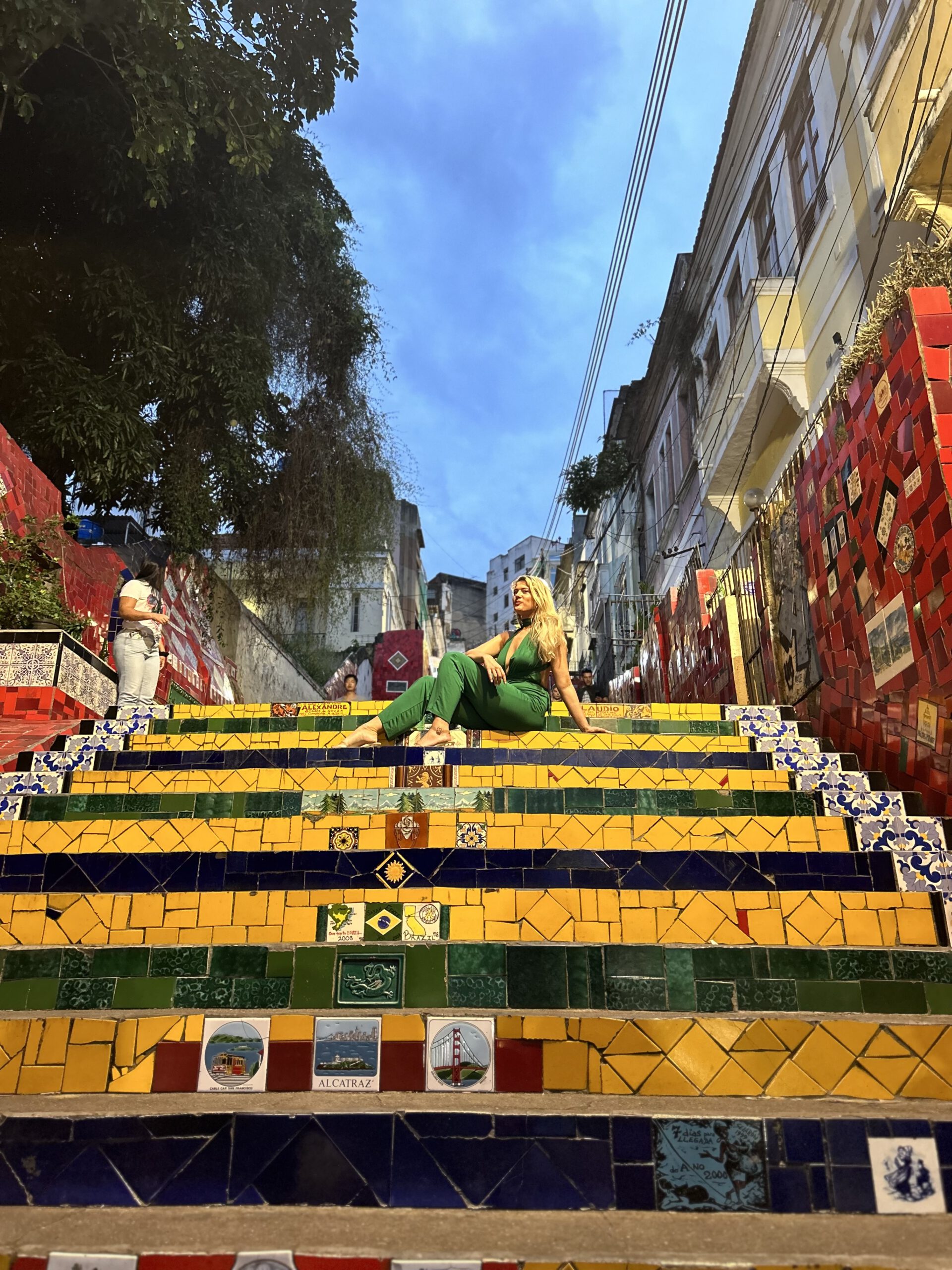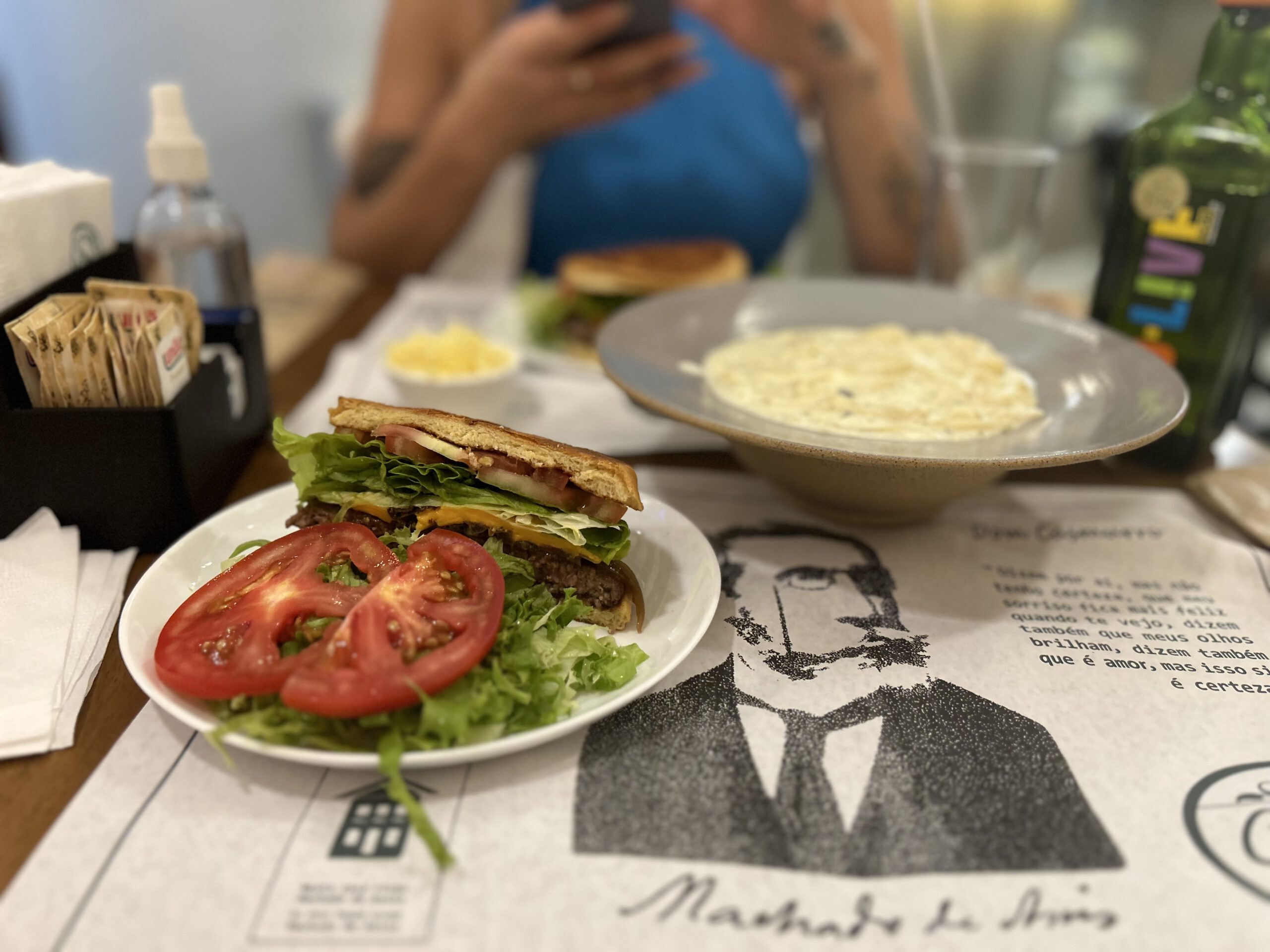 Day 4 – Rio de Janeiro – 10-10-2023

Today we went to
Parque Lage
– a very famous place in Rio that we had on our wish list for some time. The entrance is free – but the queue to get in is often very long and a tip I would like to give is to book in advance. If you want to visit the top floor of the structure, you will have to buy a souvenir. I definitely thought this was a nice place to visit! And the average visitor also dresses neatly/elegantly here.
Aline and I also had dinner here. The staff was very friendly and involved and the food was excellent. The prices of food and drinks here are comparable to the Netherlands. You can expect a long wait to take a photo or get a table. We were here mid-afternoon – partly due to the long travel times due to the incessant traffic jams in Rio.
In the evening we were invited to Carlos' wine tasting. He also didn't let us help with anything because he has it in his heart and soul to be passionate about wine and hospitaliy. "I live to serve / I live to serve" is what he told Aline, who translated everything from Portuguese to English for me. The wines from Wines of Portugal are truly a good recommendation! Vihno Verde (green wine) is a well-known wine that I have drunk many times in Portugal. We had hours of deep and heartwarming conversations with the three of us – and we found this to be a truly special highlight of the trip.
Vandaag gingen we naar
Parque Lage
– een héle bekende plek in Rio die we al enige tijd op onze wishlist hadden. De entree is gratis – alleen is de wachtrij om binnen te komen vaak erg lang en een tip die ik dan ook graag mee geef, is vooraf reserveren. Mocht je de bovenetage van het bouwwerk willen bezoeken, moet je een souvenir kopen. Ik vond dit overigens zeker een leuke plek om te bezoeken! En gemiddeld bezoeker kleedt zich hier overigens ook netjes/elegant.
Aline en ik hebben hier ook gegeten. Het personeel was erg vriendelijk, betrokken en het eten prima. De prijzen van eten en drinken zijn op deze plek vergelijkbaar met Nederland. Om een foto te maken of een tafeltje te krijgen kun je wel een lange wachttijd verwachten. Wij waren hier halverwege de middag – mede ook door de lange reistijden door de onophoudelijke giga files in Rio.
In de avond waren we uitgenodigd voor de wijnproeverij van Carlos. Hij liet ons ook niets meehelpen, omdat hij het in hart in nieren heeft om gepassioneerd over wijn en hospitaliy te zijn. 'ik leef om te dienen / I live to serve' is wat hij Aline vertelde, die alles vanuit het Portugees naar Engels vertaalde voor mij. De wijnen van Wines of Portugal zijn oprecht een goede aanbeveling! Vihno Verde (groene wijn) is dan ook een bekende wijn die ik vaker in Portugal heb gedronken in het verleen. We hadden urenlange diepe en hartverwarmende gesprekken met zijn 3en – en vonden dit ook een oprechte héle bijzondere highlight van de reis.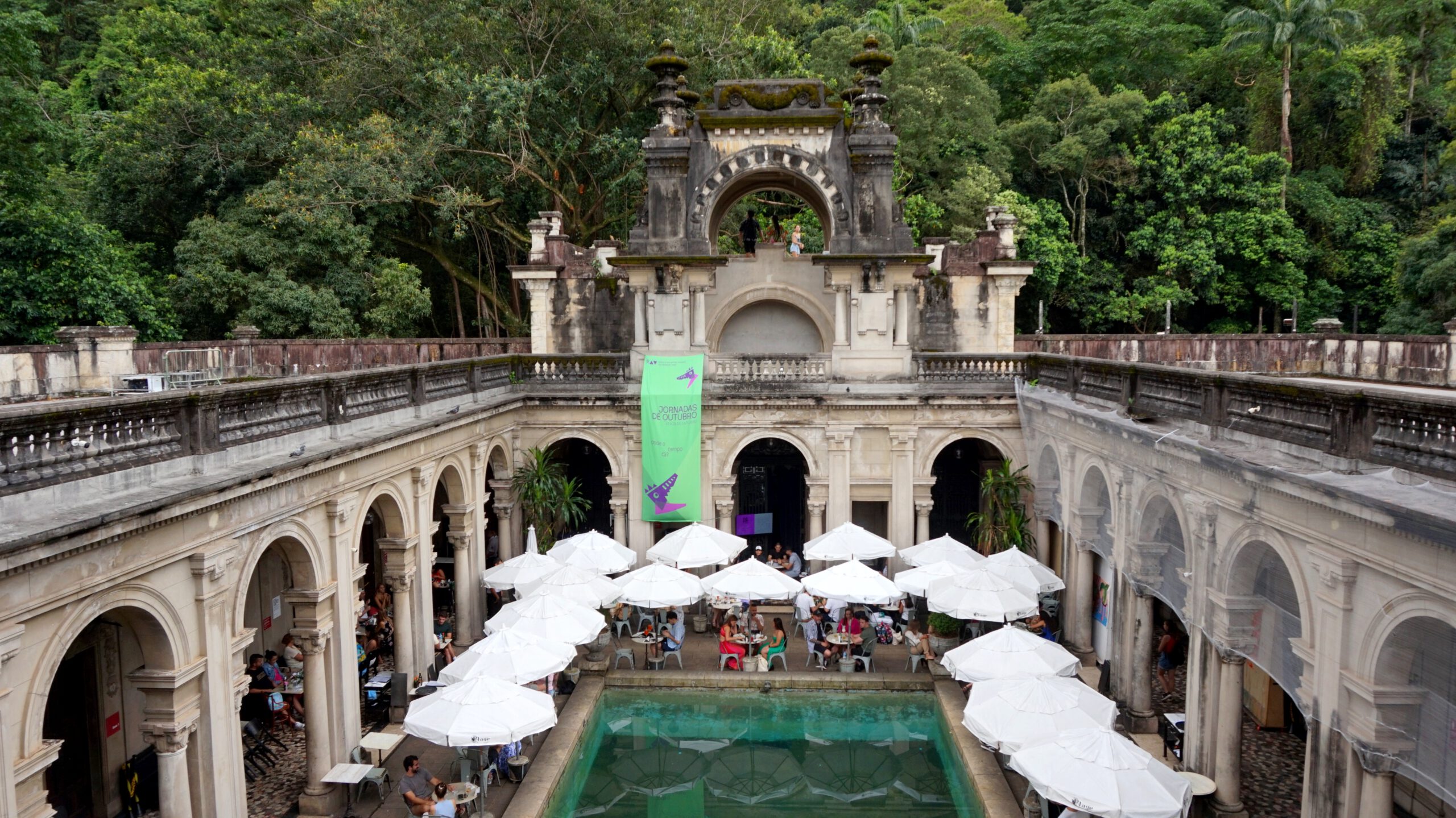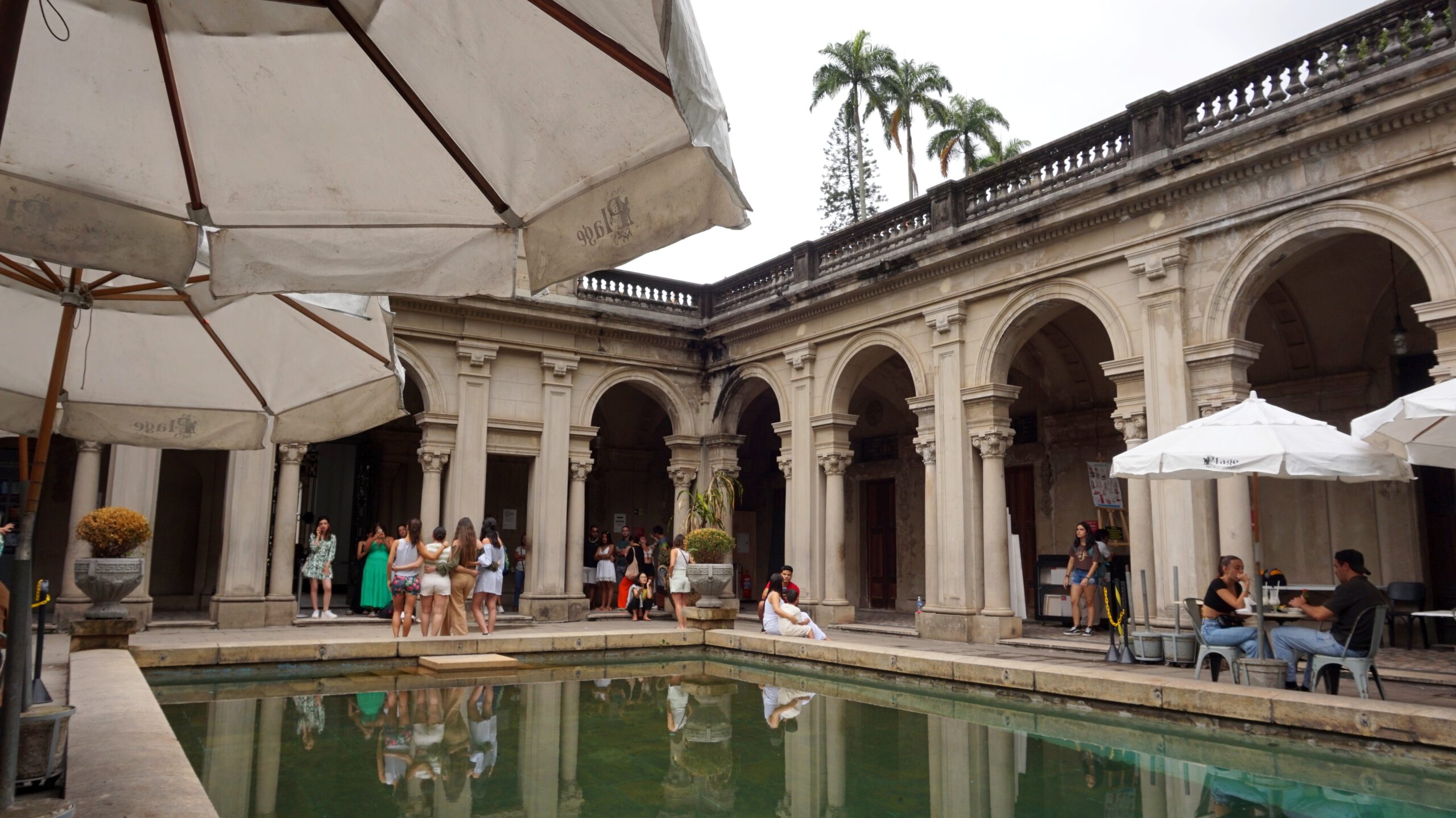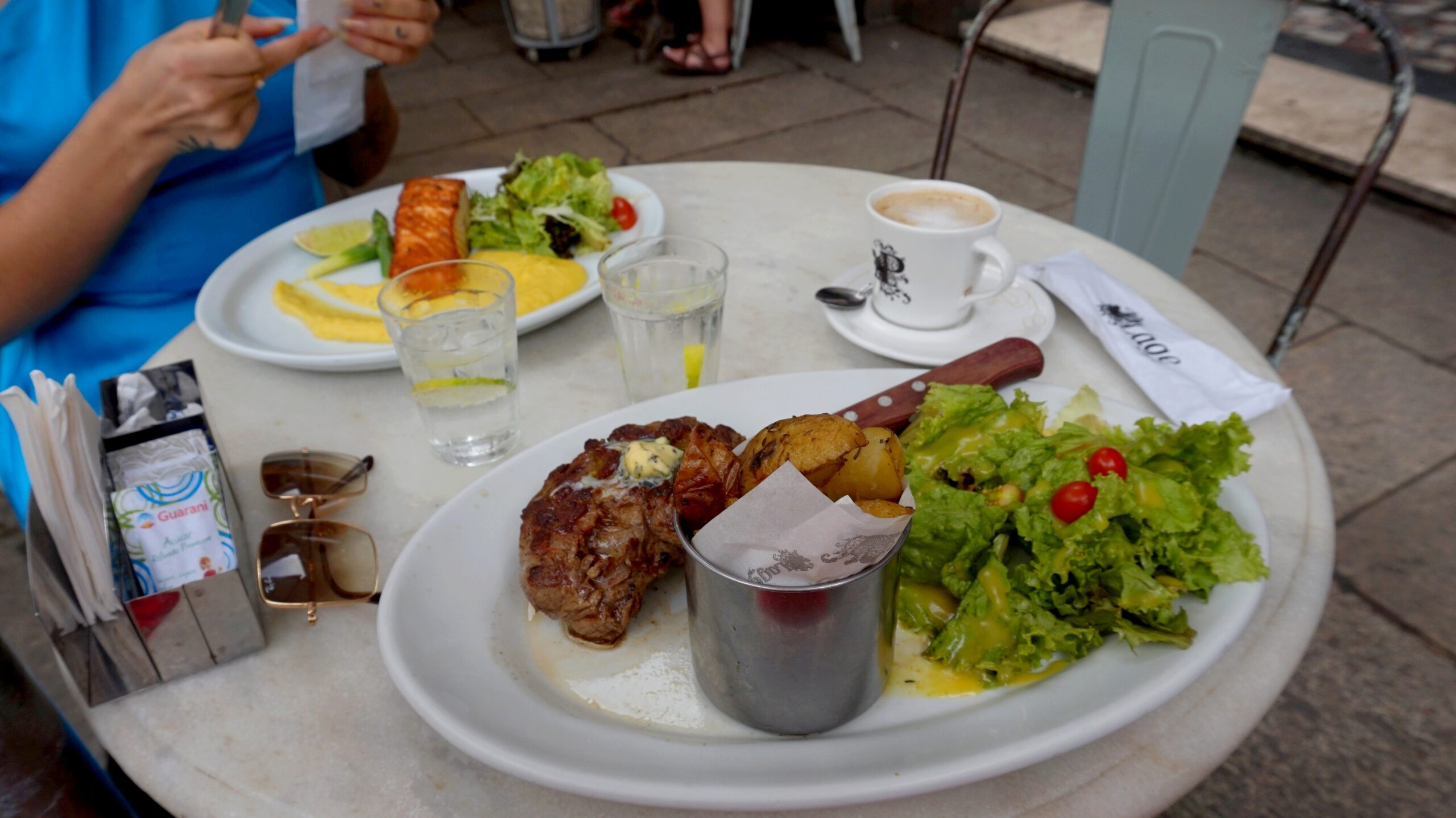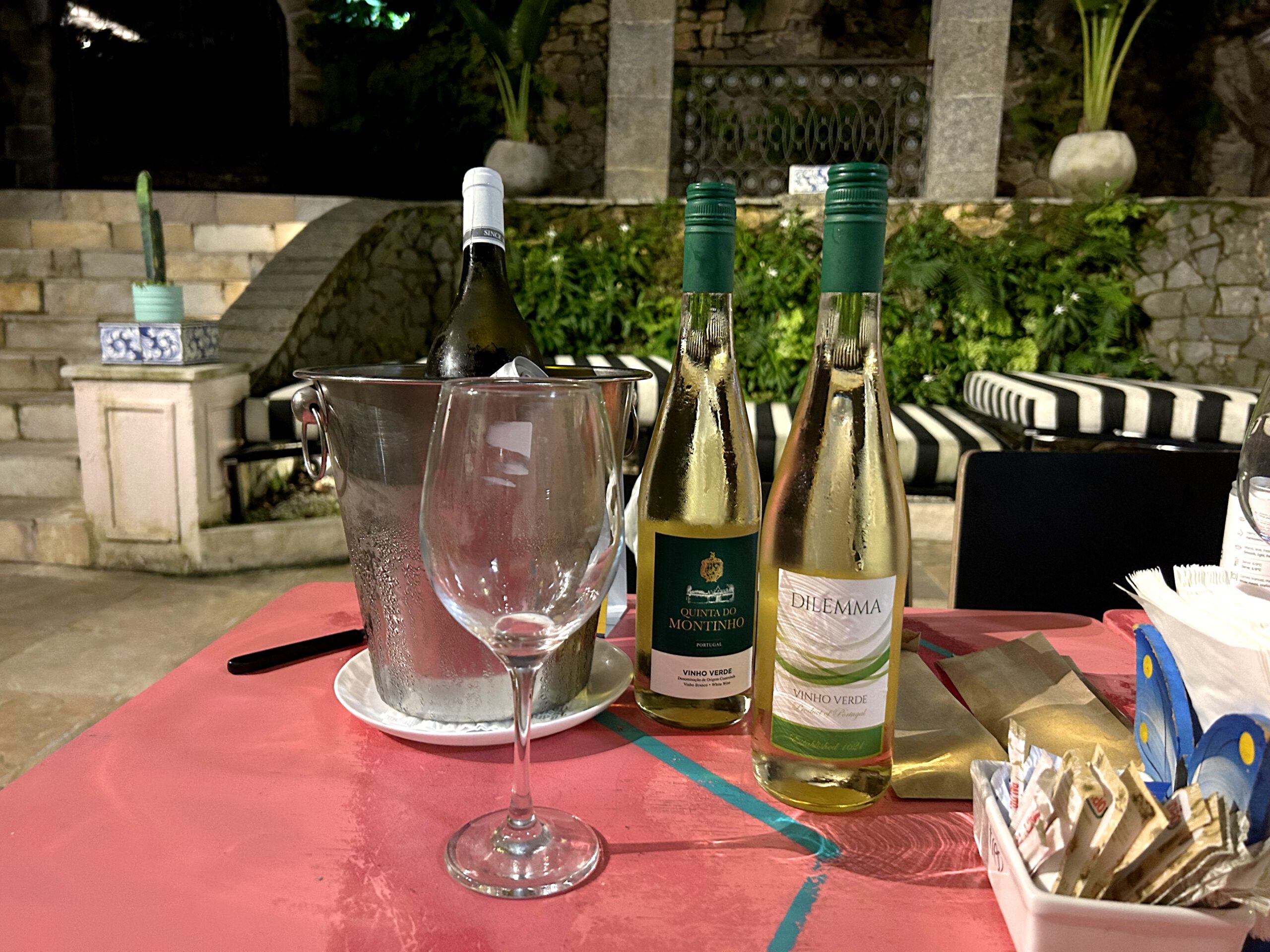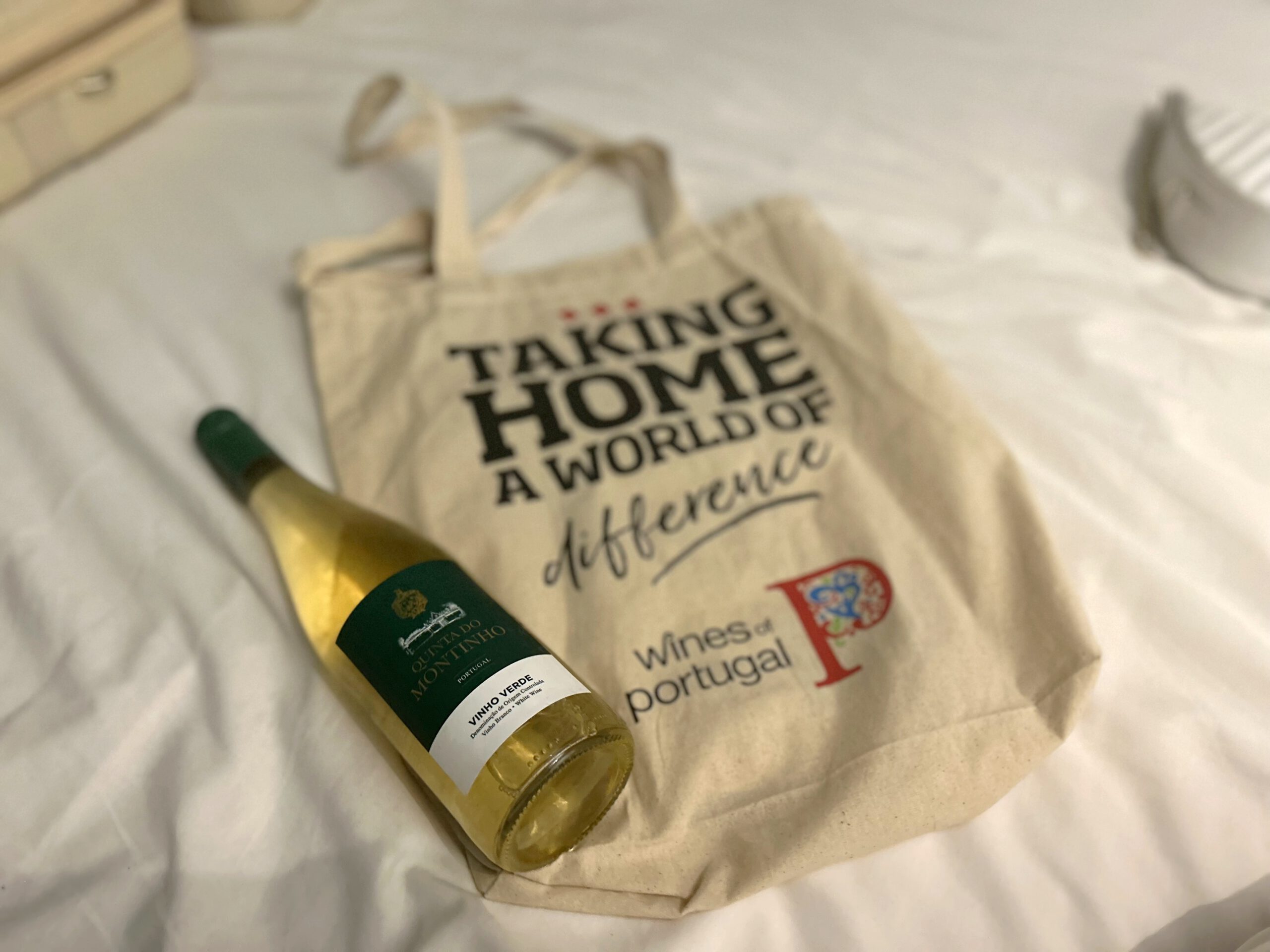 Day 5 – Rio de Janeiro – 11-10-2023

This morning we met Carlos again at breakfast, and invited him to eat with us in the sun. The breakfast in the hostel is quite extensive (but not very healthy) – and about 30-35 reals.
This day Aline and I would leave for Parque Bondinho Pão de Açúcar – aka 'Sugarloaf Mountain'. I believe the cable car return tickets cost around 35 euros per person. This place is also a recommendation as the view is beautiful and the location safe. There are also quite a few catering establishments and souvenir shops at this location.
In the evening, we ate at Garota de Ipanema restaurant – a well-known restaurant in Ipanema. We had steak here that was incredibly tasty! One dish was suitable for two people. Keep in mind that Rio is not very cheap compared to the Netherlands/Western Europe. After dinner. we sat on Ipanema beach for sunset. We really needed the calmness of the sea and beach to recharge from all of the trafic, chaos and feelings of unsafeness/pressure in the city, and felt way better after doing this. From our location in Ipanema, it took us over an hour to get an Uber! And we didn't want to be outside in the dark – even Aline, who is from Brazil herself. In the evening we were picked up and brought home by a friend of hers, to have a drink at a rooftop bar with a view over the famous Copacabana. Be very careful with your belongings in Copacabana, both in the morning and in the evening!
Deze ochtend kwamen we Carlos weer bij het ontbijt tegen, en nodigden hem ook uit met ons mee te eten in het zonnetje. Het ontbijt in het hostel is overigens vrij uitgebreid (maar niet heel gezond) – en ongeveer 30-35 reals.
Deze dag zouden Aline en ik naar Parque Bondinho Pão de Açúcar vertrekken – aka 'Sugarloaf Mountain'. Ik geloof dat de kabelbaan retour tickets zo'n 35 euro kostten per persoon.Deze plek was ook een aanbeveling, want het uitzicht is prachtig en de locatie veilig. Op deze plek zijn ook redelijk veel horeca zaken te vinden en souvenir winkels.
In de avond aten we bij Garota de Ipanema restaurant – een bekend restaurant in Ipanema. We hadden hier biefstuk die onwijs lekker was! Éen gerecht was overigens voor twee personen. Houd overigens in gedachten dat Rio niet héél goedkoop is vergeleken met Nederland/west Europa. Na het eten hebben we nog op het Ipanema strand gezeten met zonsondergang. We hadden echt de rust van de zee en het strand nodig om op te laden van al het verkeer, de chaos en de gevoelens van nut/druk in de stad, en voelden ons veel beter nadat we dit hadden gedaan. Vanaf hier duurde het ons ruim een uur om een Uber te verkrijgen! En in het donker wilden we – zelfs Aline die zelf uit Brazilie komt – niet buiten zijn.  In de avond zijn we opgehaald en thuisgebracht door een vriend van haar, om op een rooftopbar een drankje te doen met uitzicht over het bekende Copacabana. Wees in Copacabana sowieso zowel s'ochtends als s'avonds erg oplettend op je spullen!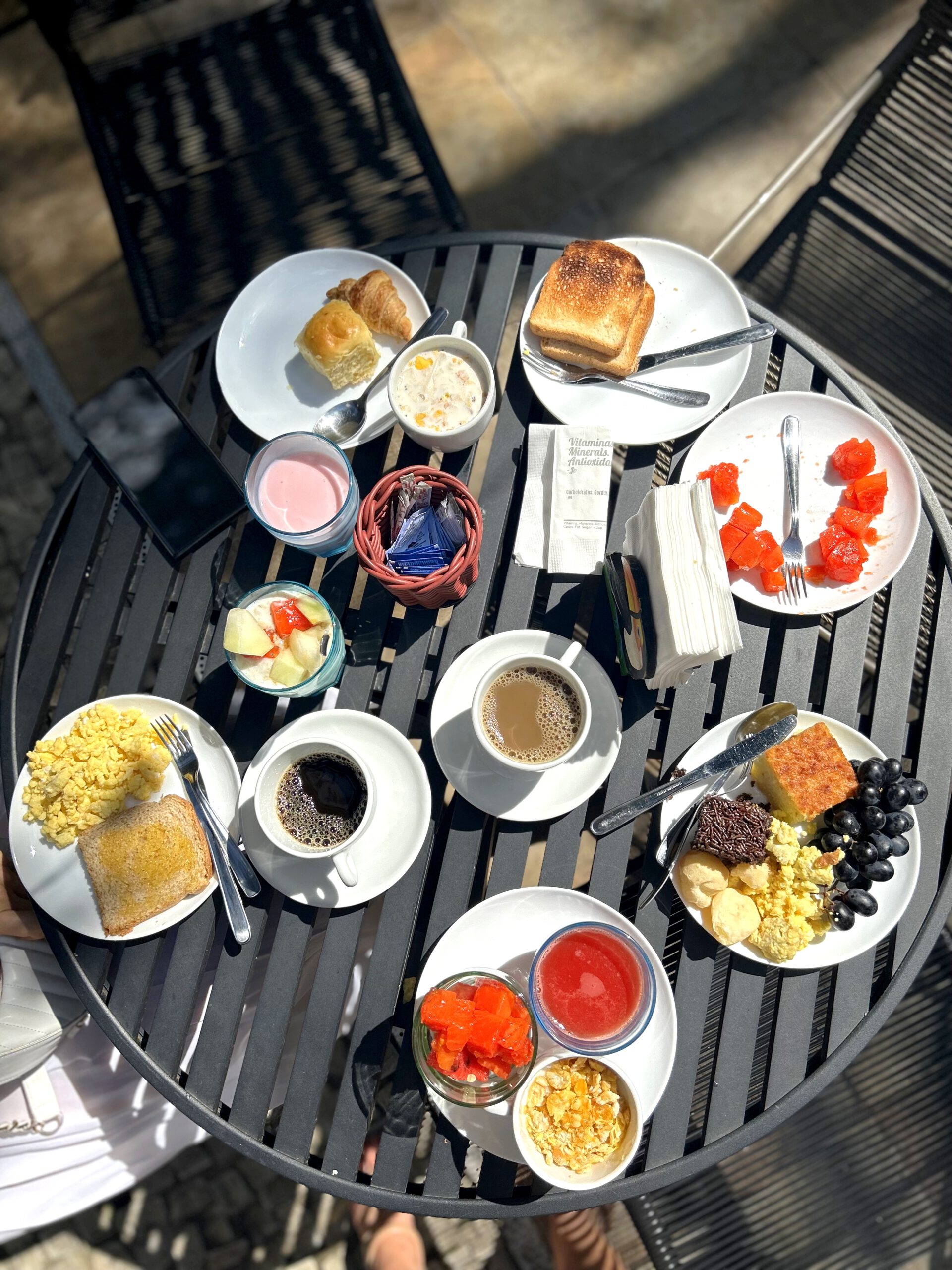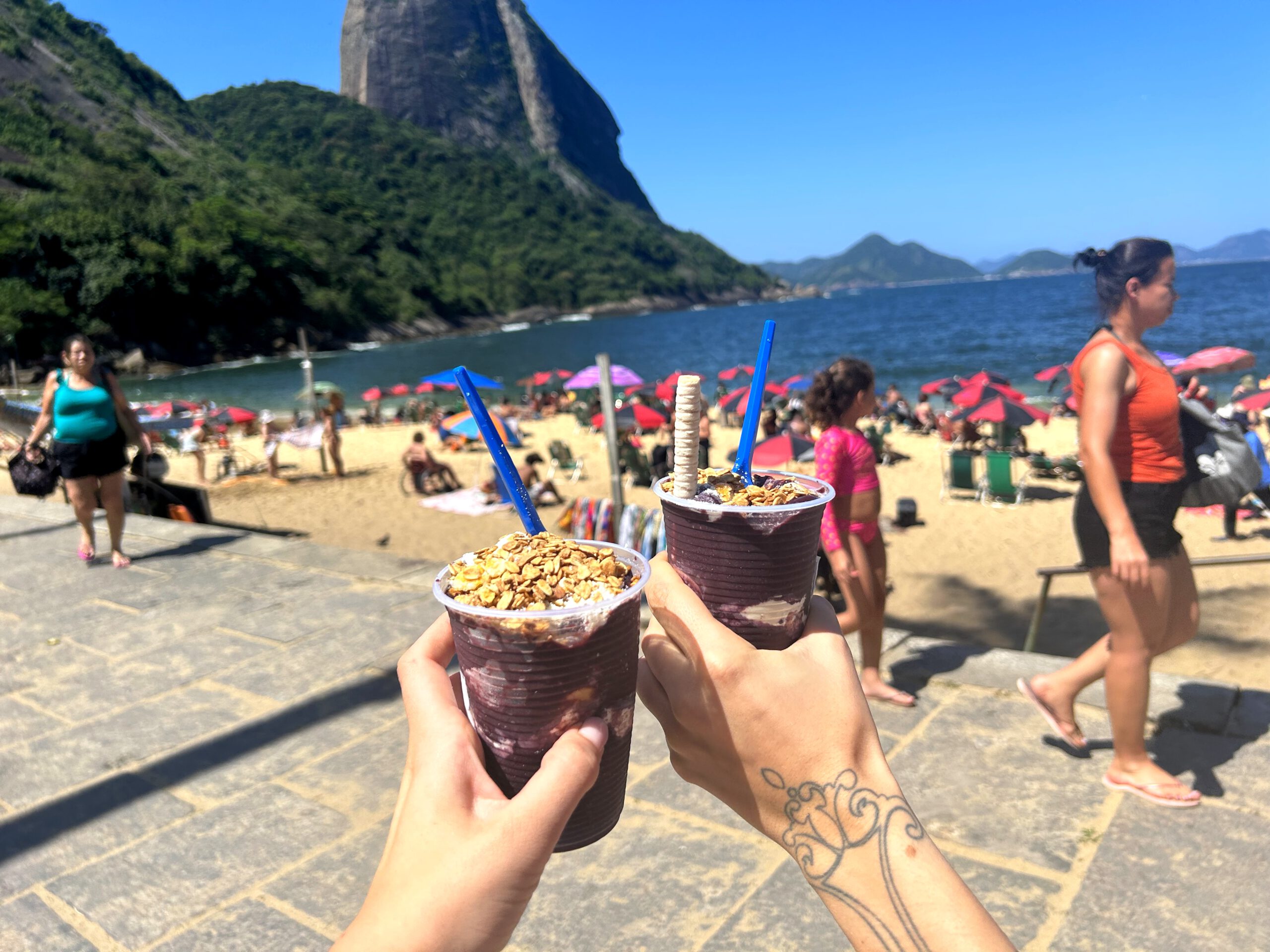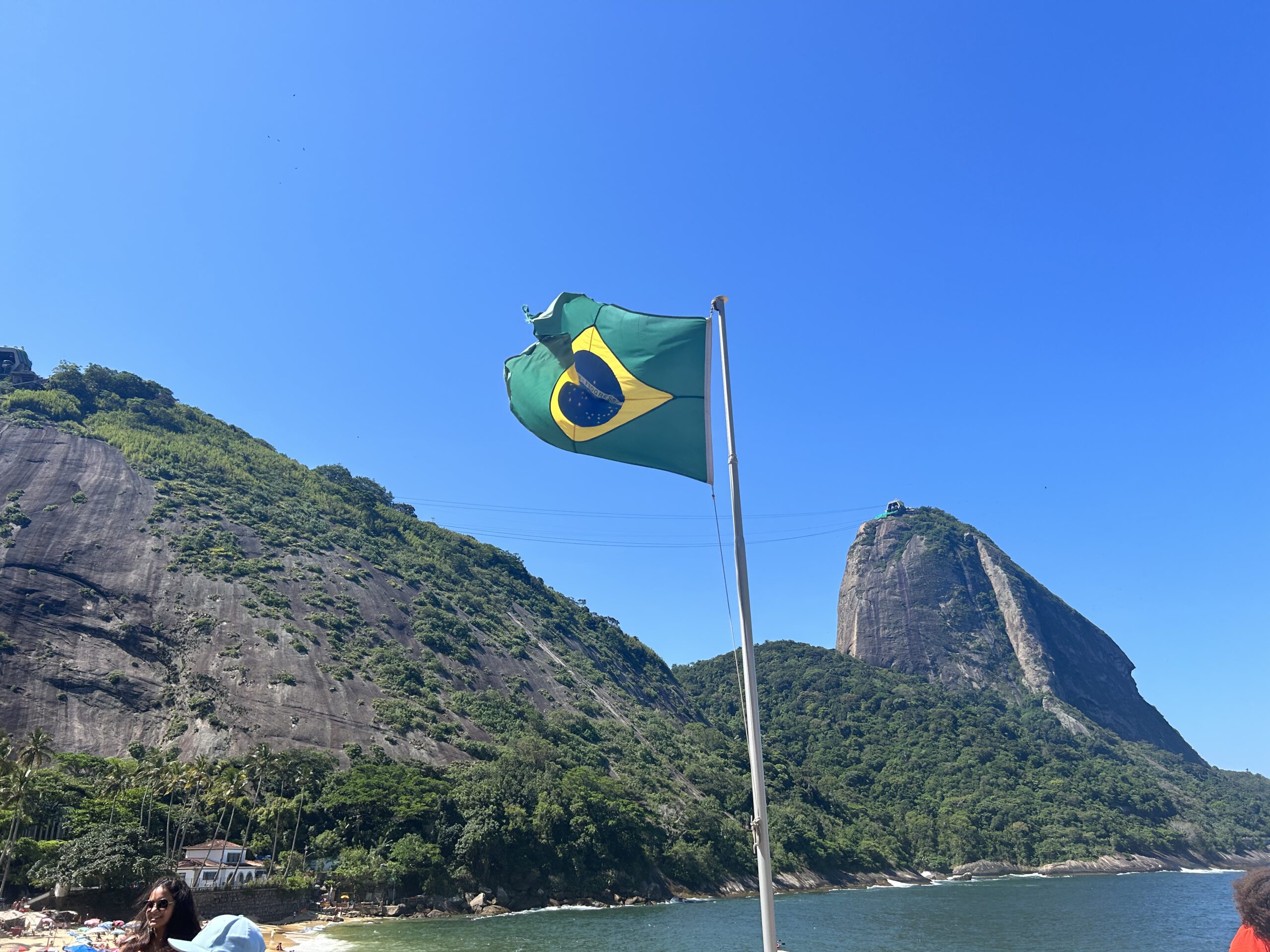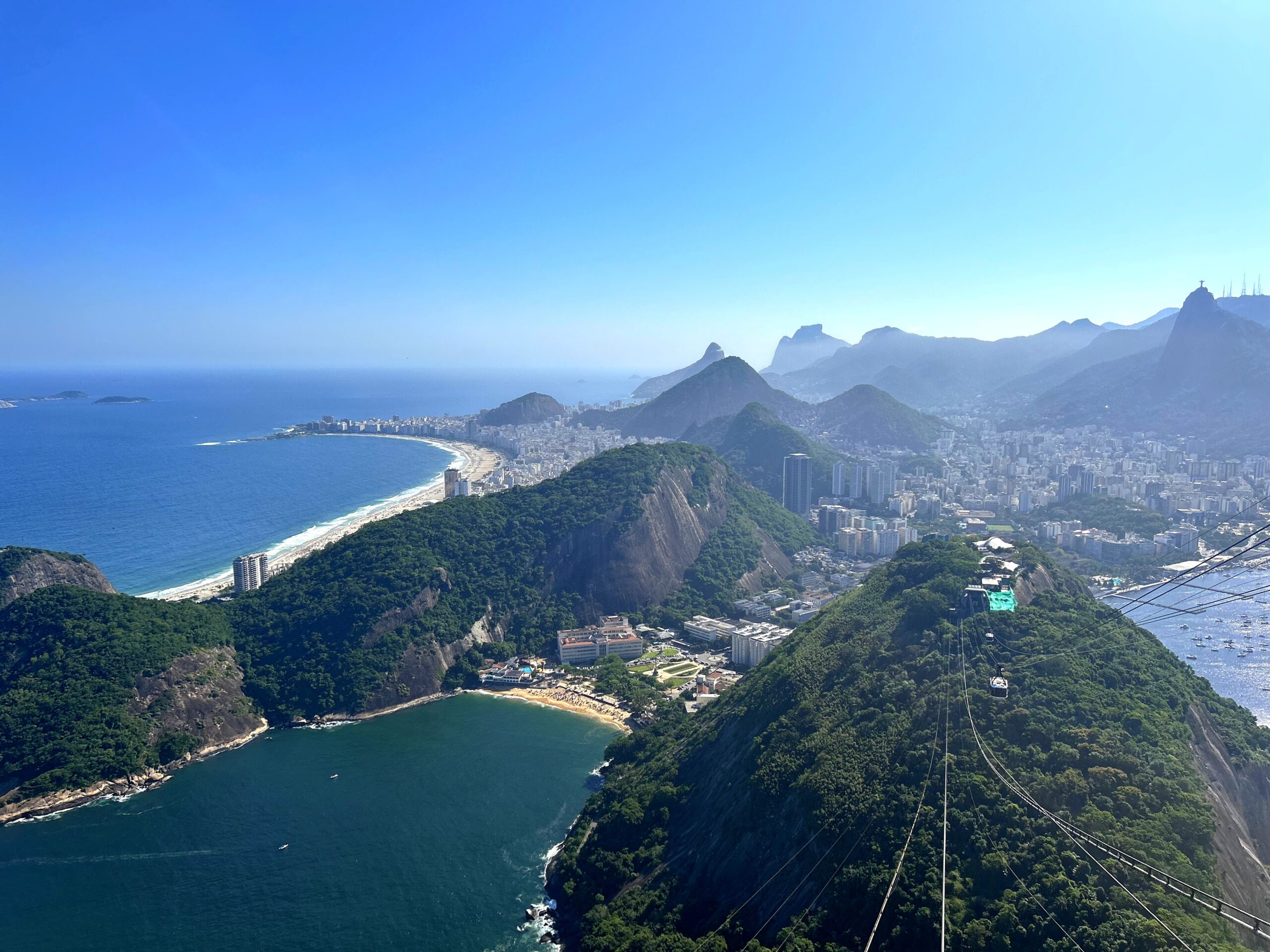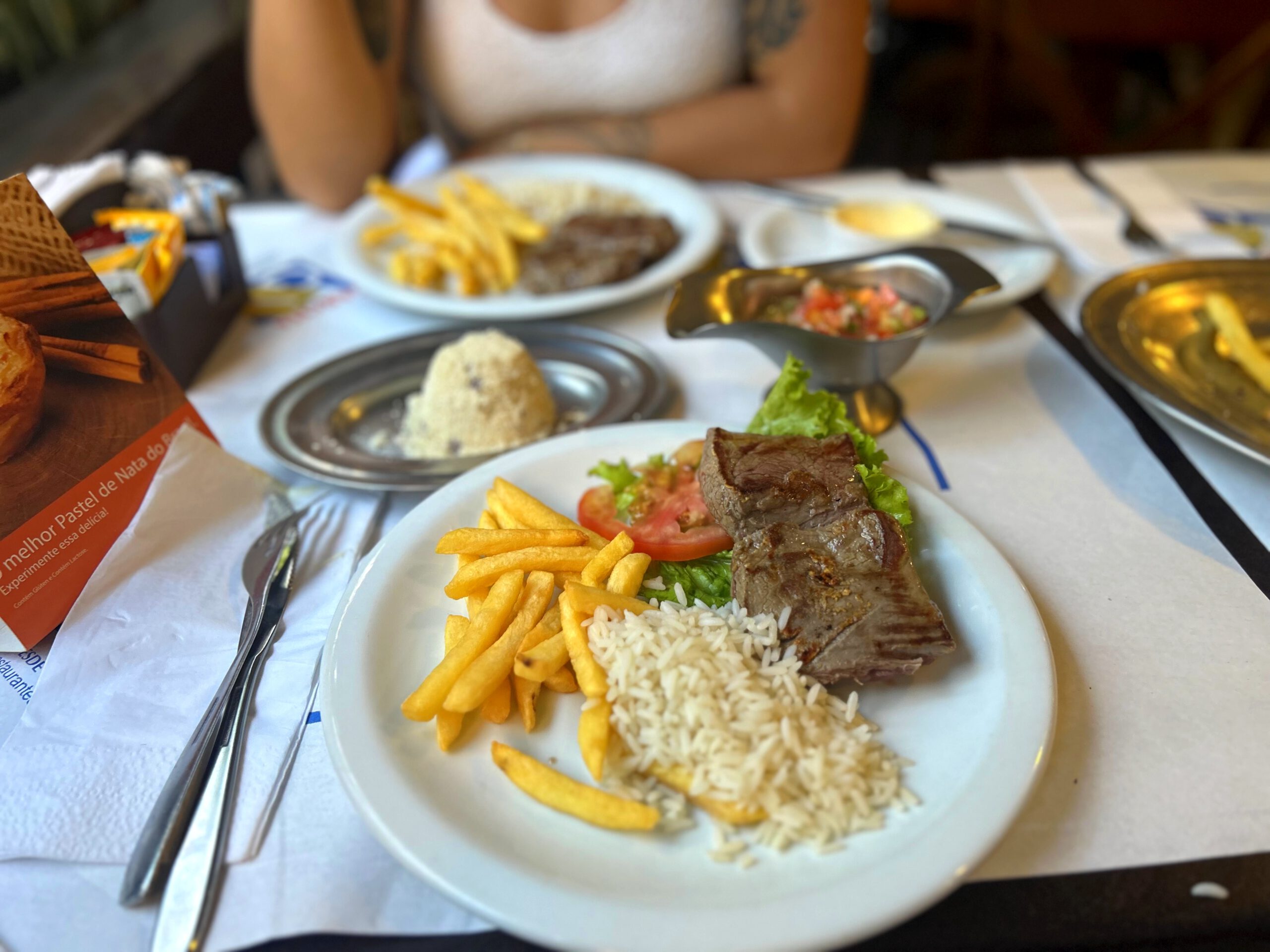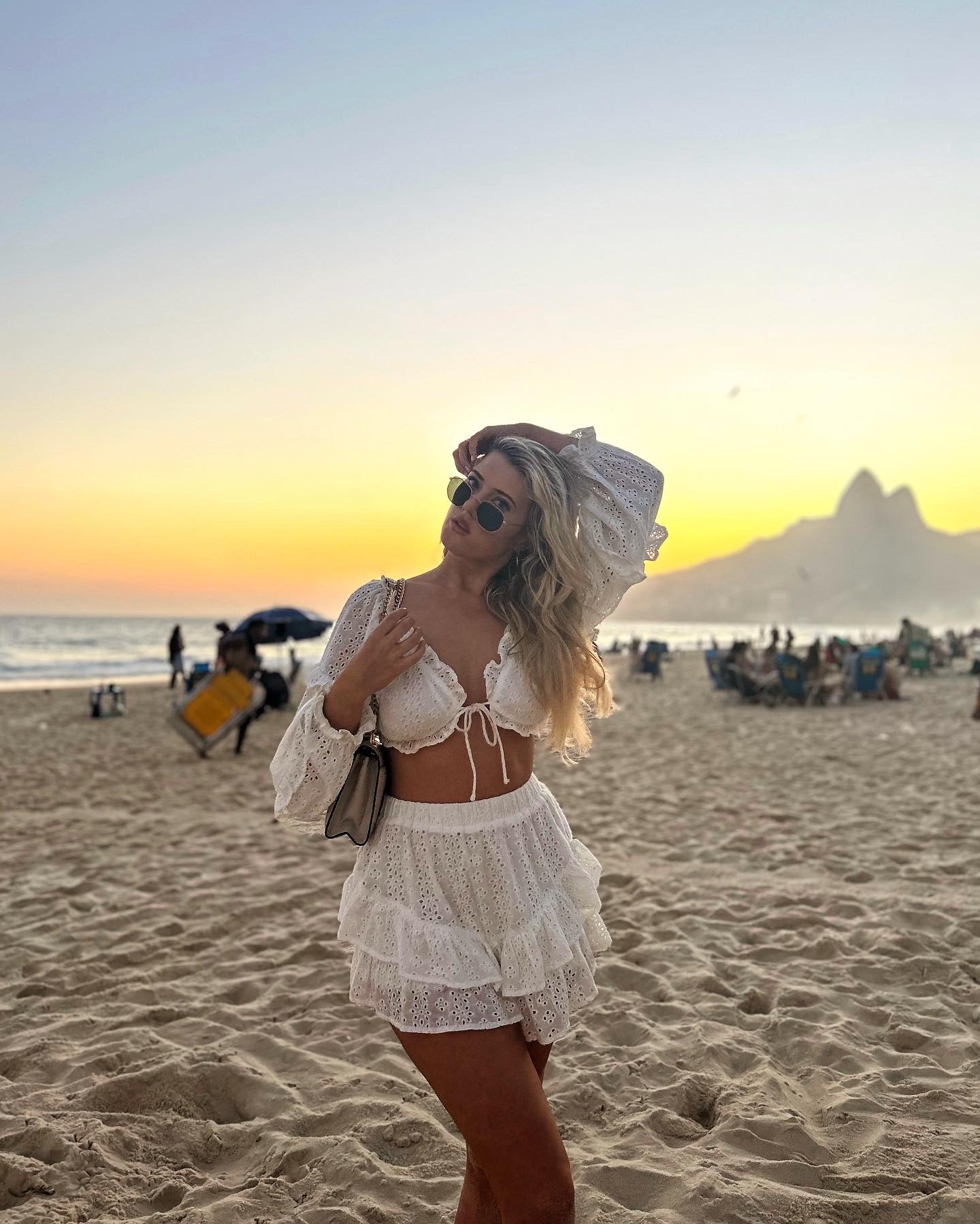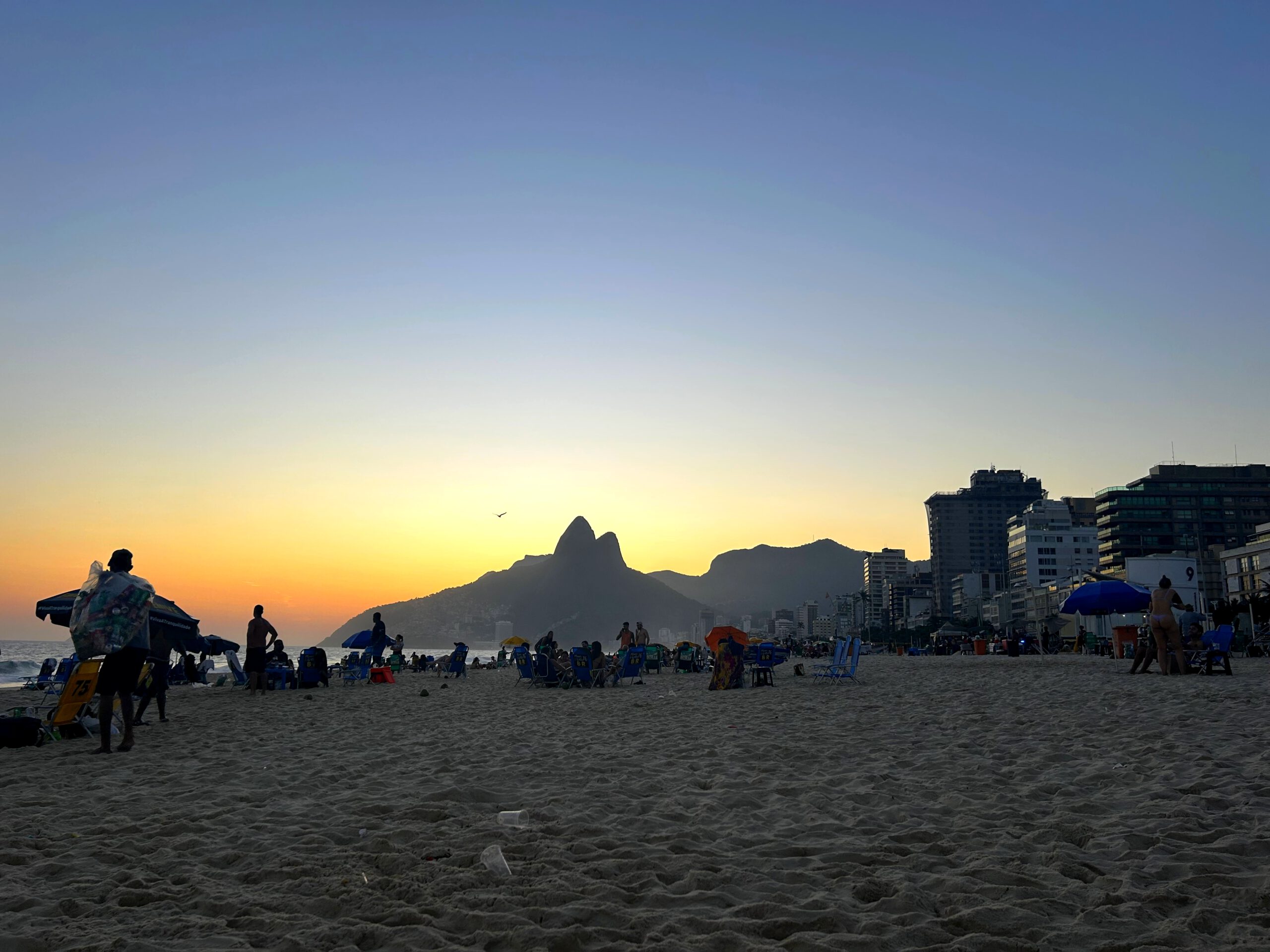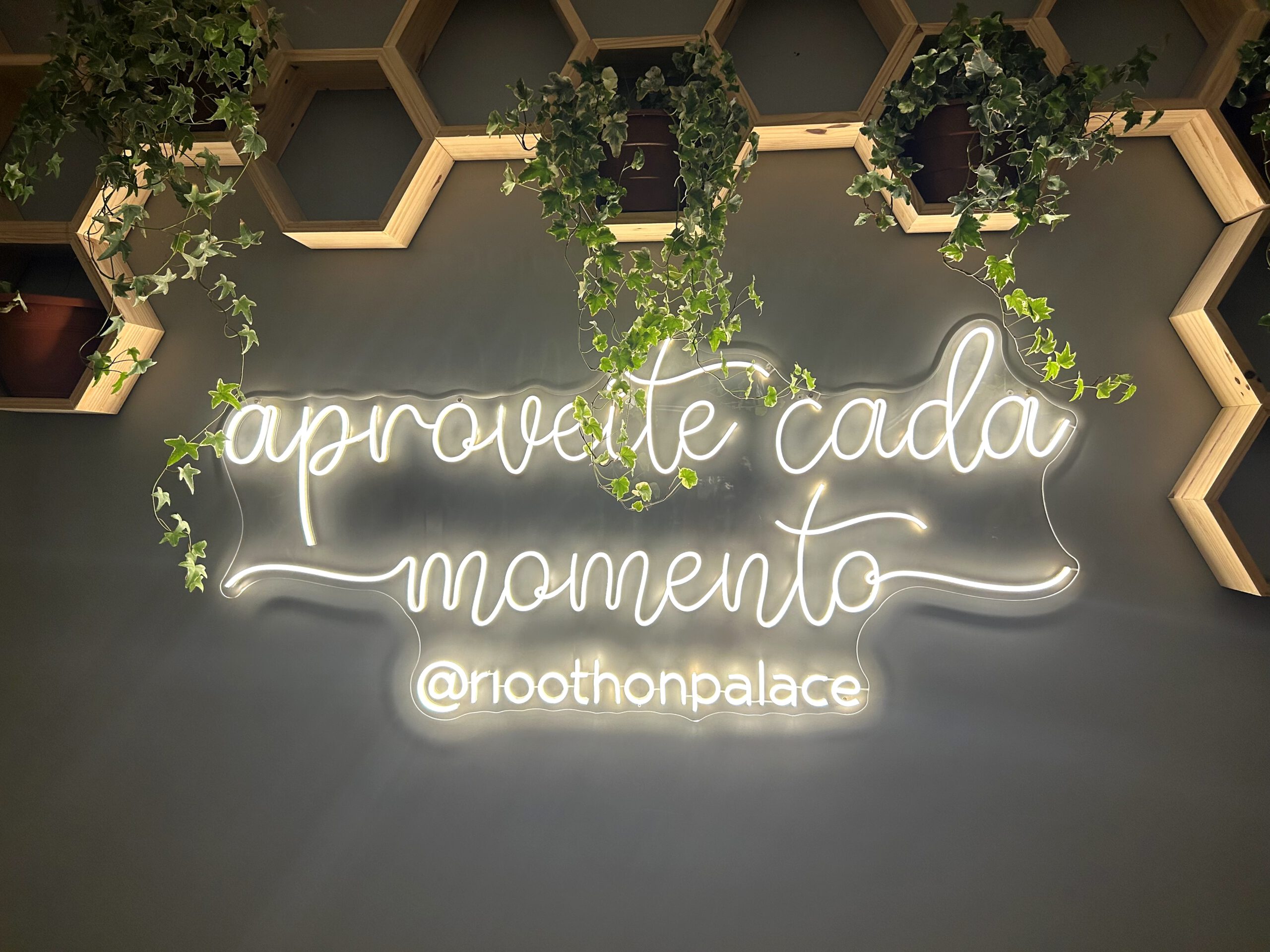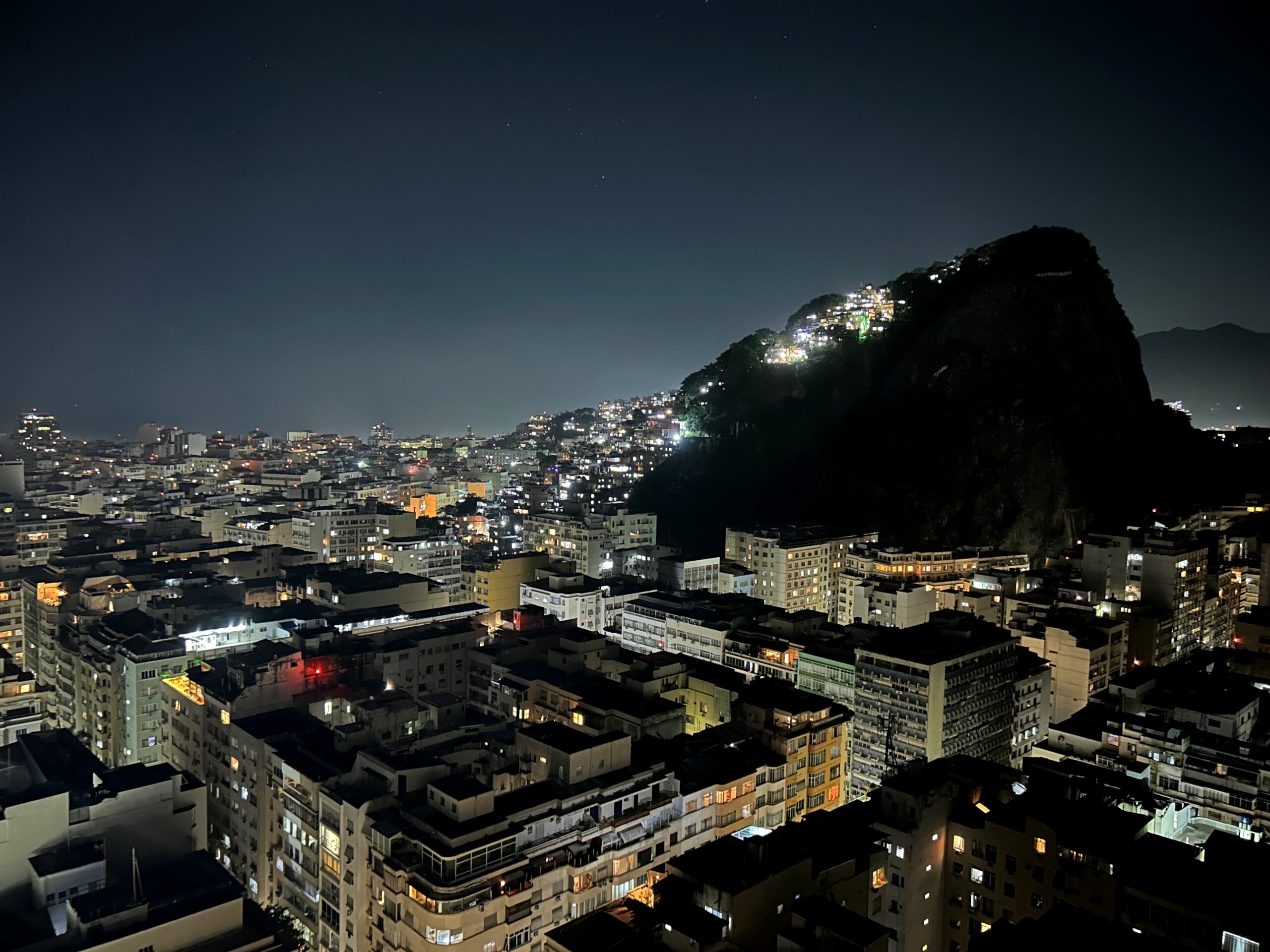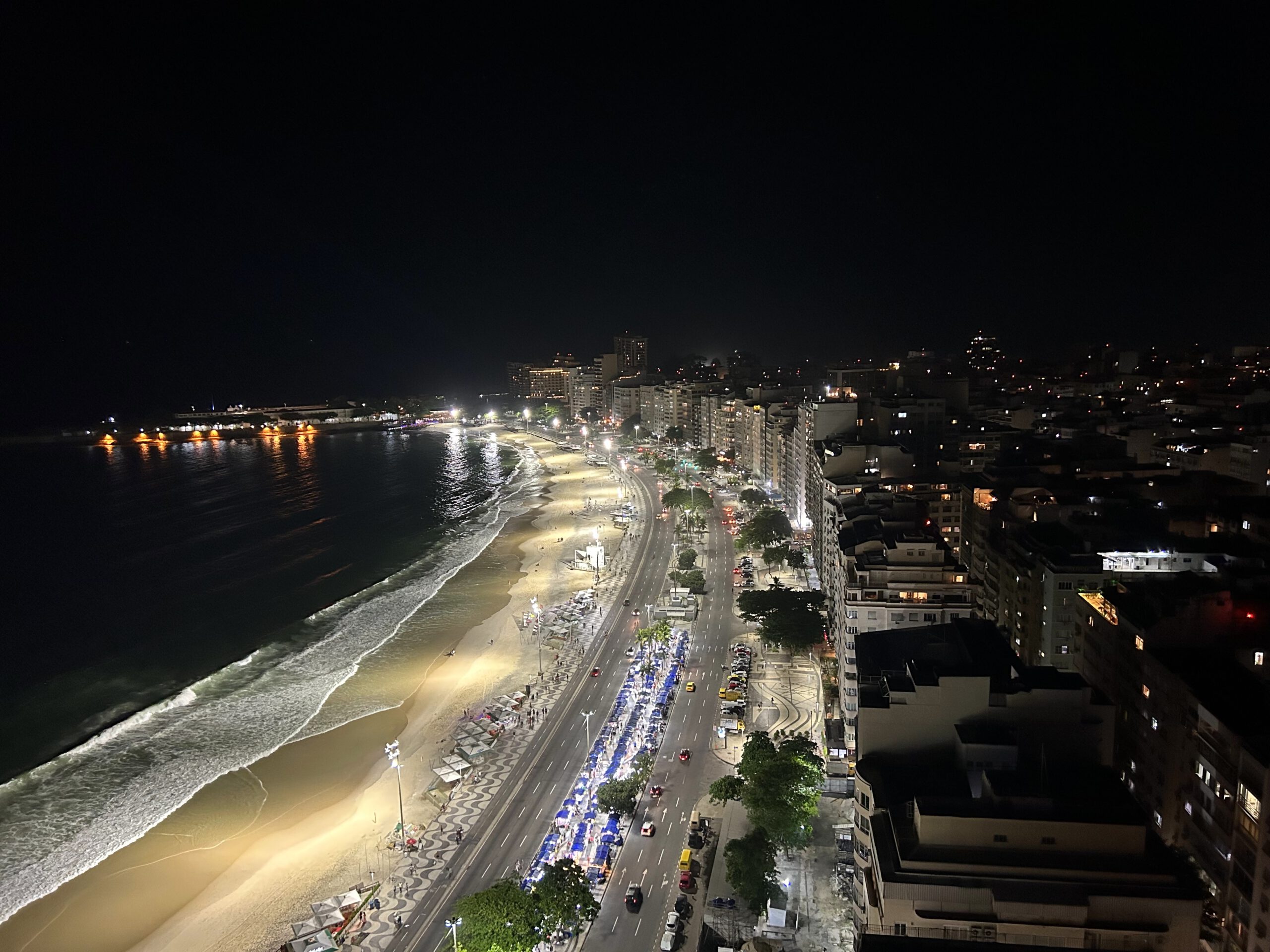 Day 6 – Rio de Janeiro – 12-10-2023

This daym we had planned the highlight of the trip –
a helicopter tour around Christ the Redeemer
– one of the 7 wonders of the world. I had visited my first wonder of the world last year – Chitzen itza in Mexico, so was firstly very excited to visit my second wonder and secondly to fly a helicopter for the first time! We paid 145 euros per person – comparable to the price of my hot air balloon in Mexico City. This was not a collaboration either. Beforehand, we looked for a breakfast spot in
Baja de Tijuca
(also the location of the helicopter flight) that was open, because many were closed or open late due to a national holiday. This area is a wealthier part of the city and also felt very safe and super modern. Our breakfast was shakshuka at
Fabro
– I recommend this place, plus it has nice surroundings!
The entire flight took about 30 minutes and we both honestly had goosebumps from how cool it was. Rio is so beautiful from the air! In any case, much more beautiful than we have seen from the ground so far. If this fits your budget, I definitely recommend it! I am very grateful that I was able to do this and to see the statue of Jesus this way. Of course, there is also the option to travel here by train/tour, but although we also wanted to do this, unfortunately we no longer had time for that. Afterwards, we ate delicious acai on the beach in the area (which I couldn't miss for a day in Brazil – for which it is also famous) at Hula Hula.
Back in the hostel we had hours of in-depth great conversations together, like every day, but we did feel the need to get to know new people in our age group together during this trip and to make new friends. For that reason we also booked a hostel. Now I have to say that unfortunately this hostel is so big that it is difficult to socialize in fixed places and to meet people. We spoke briefly with two people our age in the restaurant, but we went to bed early together instead of going out or going out.
Deze dag hadden we de highlight van de trip geplanned –
een helikoptertocht rond Christ the Redeemer
– een van de 7 wereldwonderen. Ik had vorig jaar mijn eerste wereldwonder bezocht – Chitzen itza in Mexico, dus was ten eerste erg enthousiast mijn tweede wereld wonder te bezoeken én ten tweede voor het eerst met een helikopter te vliegen! We betaalden overigens 145 euro per persoon – vergelijkbaar met de prijs van mijn luchtballon in Mexico-city. Dit was overigens ook  géén samenwerking. Voorafgaand zijn we nog even opzoek gegaan naar een ontbijtplek in
Baja de Tijuca
(ook de locatie van de helikoptervlucht) die wél open was, omdat veel dicht of laat open was door een nationale feestdag. Deze omgeving is overigens een rijker deel van de stad en voelde ook érg veilig en super modern. Ons ontbijt was Shakshuka bij
Fabro
– aanrader en mooie omgeving!
De hele vlucht duurde zo'n 30 minuten en we hadden beide oprecht kippenvel van hoe gaaf dit was. Vanuit de lucht is Rio zó mooi! Sowieso vele malen mooier dan wij hebben gezien. Als dit in je budget past raad ik je dit zéker aan! Ik ben erg dankbaar dat ik hier toe in staat was en op deze manier het beeld van Jezus heb kunnen bekijken. Uiteraard is er ook de optie hier met een trein/tour naartoe te reizen, maar ondanks wij dit óók nog wilden doen, hadden daar helaas geen tijd meer voor. Als afsluiting aten we op het strand in de omgeving nog lekker acai (wat ik geen dag kon missen in Brazilië – waar het óók mede om bekend staat) bij Hula Hula.

In het hostel hadden we samen zoals iedere dag weer uren lange diepgaande geweldige gesprekken samen, maar hadden wel de behoefte deze reis samen nieuwe mensen van onze leeftijdscategorie te leren kennen en vrienden te maken. Om die reden hadden we ook een hostel geboekt. Nu moet ik zeggen dat dit hostel helaas zo groot is, dat het lastig is te socializen op vaste plekken. We spraken in het restaurant dan nog kort met twee mensen van onze leeftijd maar gingen samen als nog vroeg slapen in plaats van op pad of uit.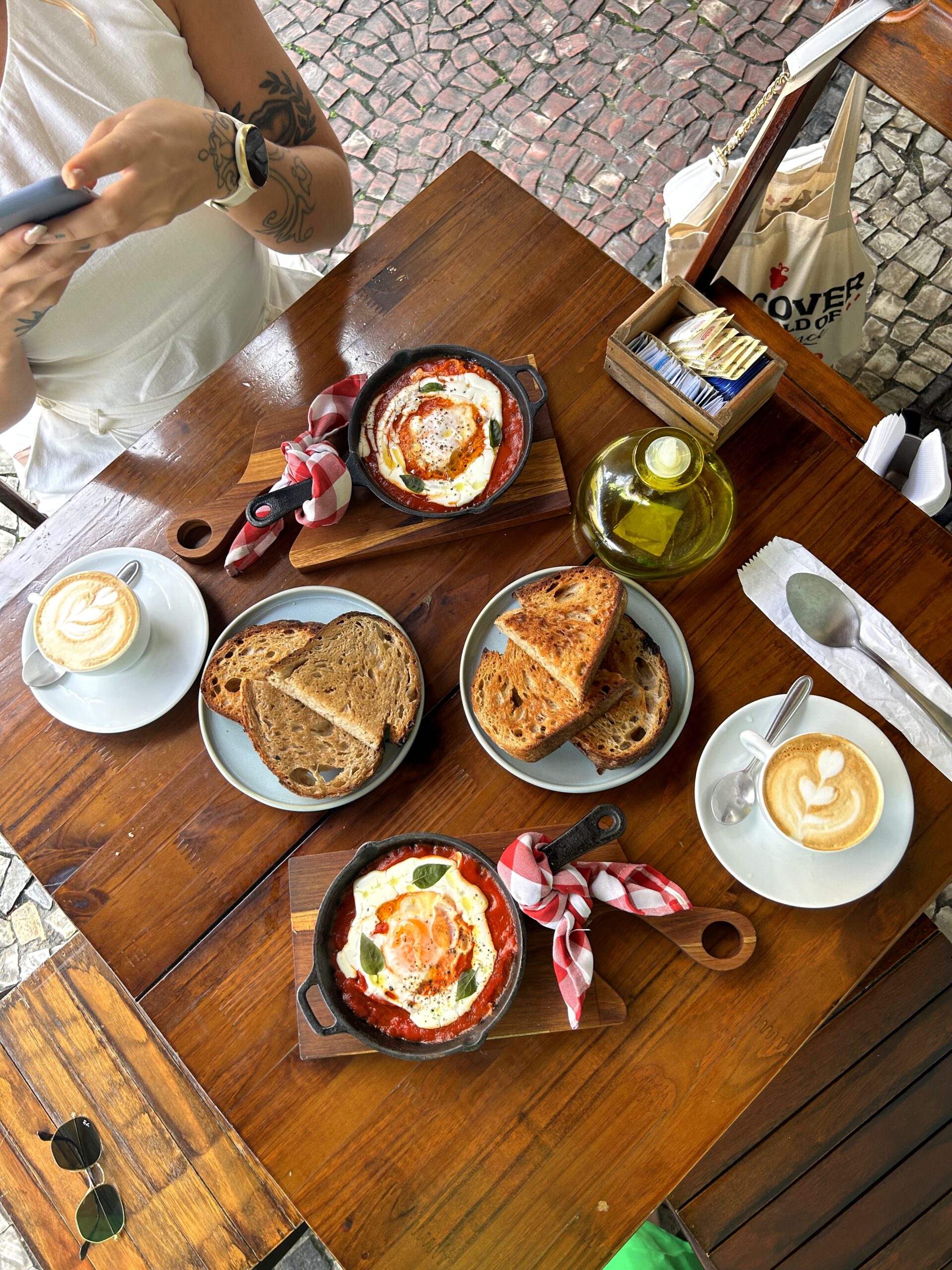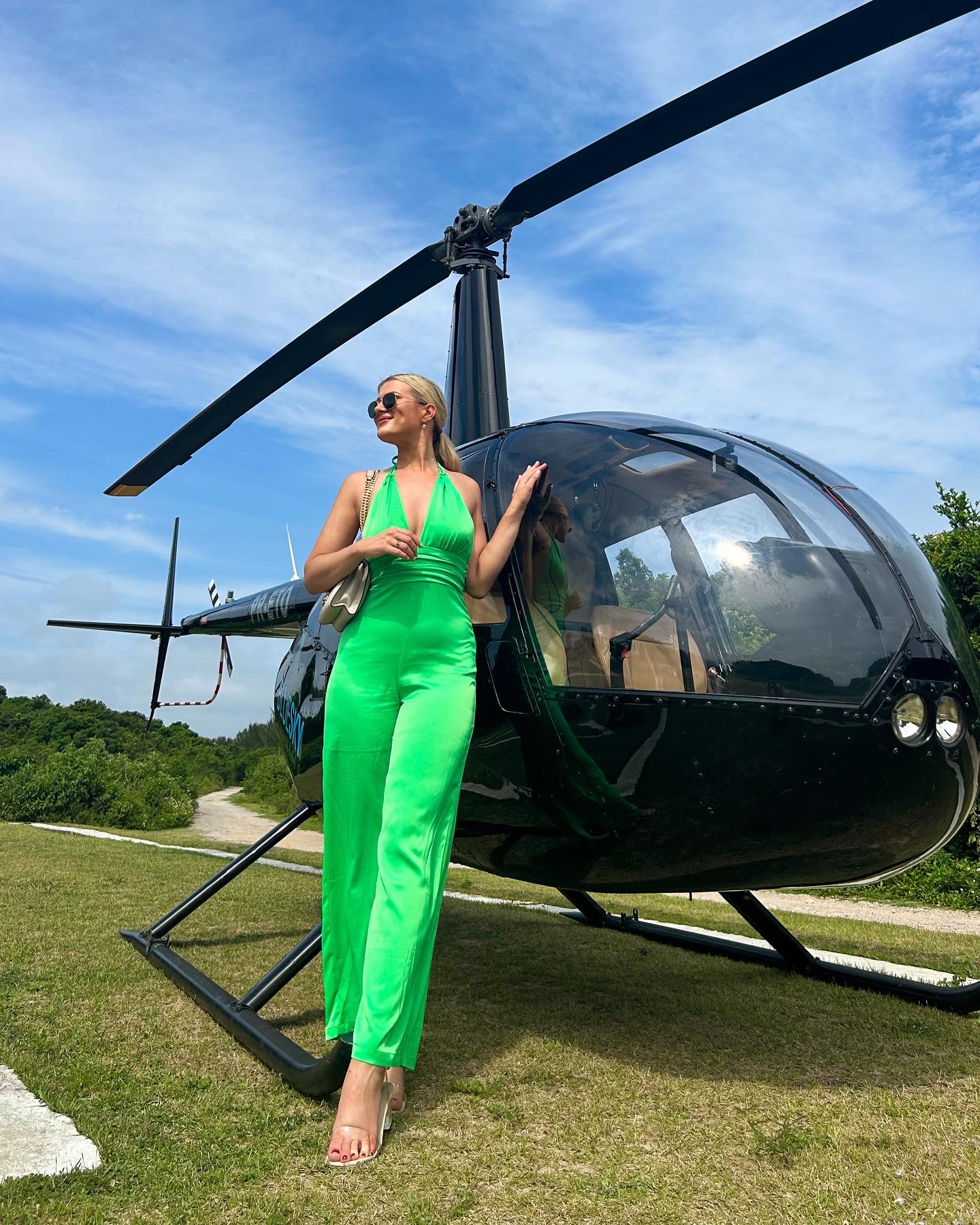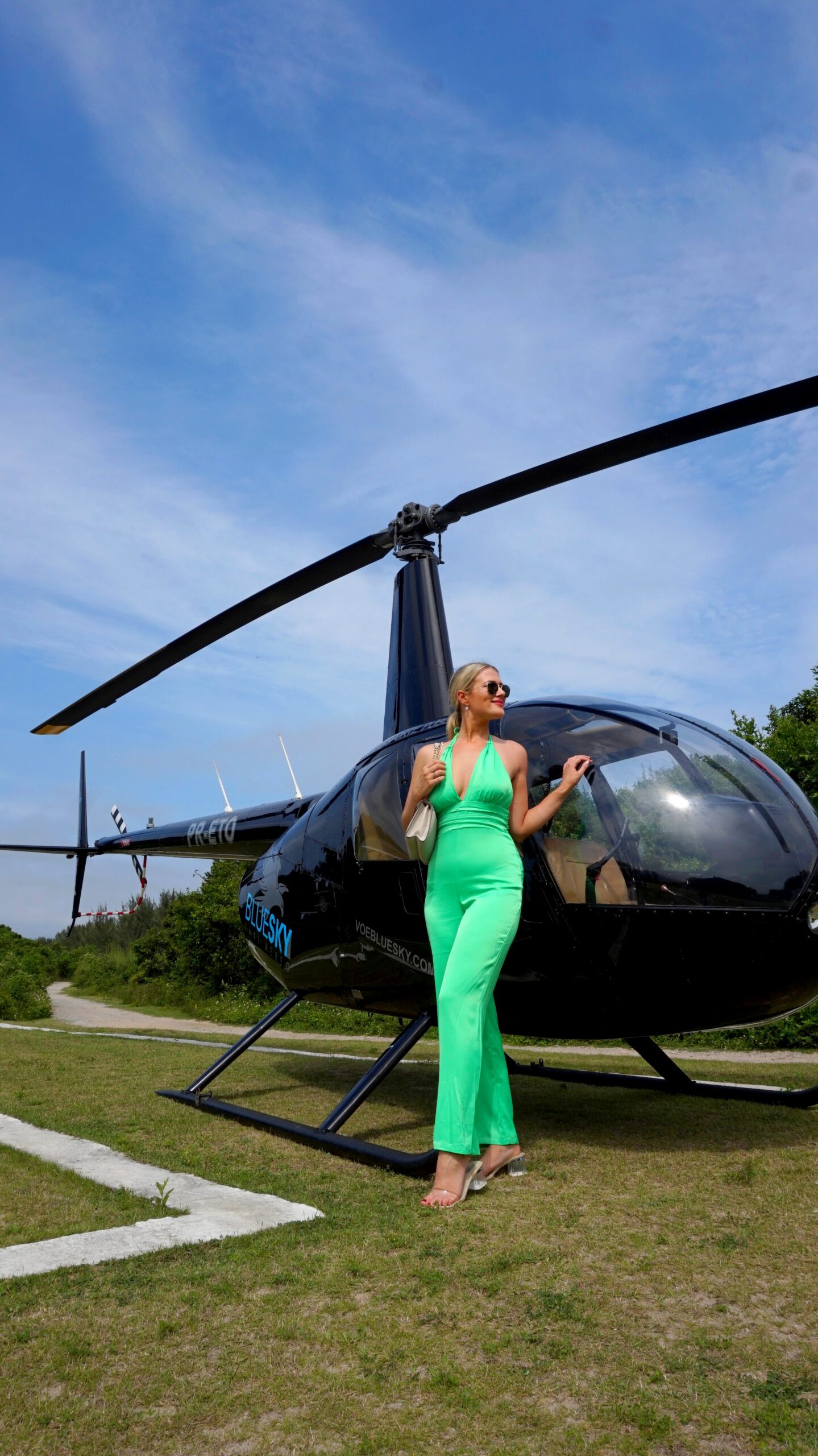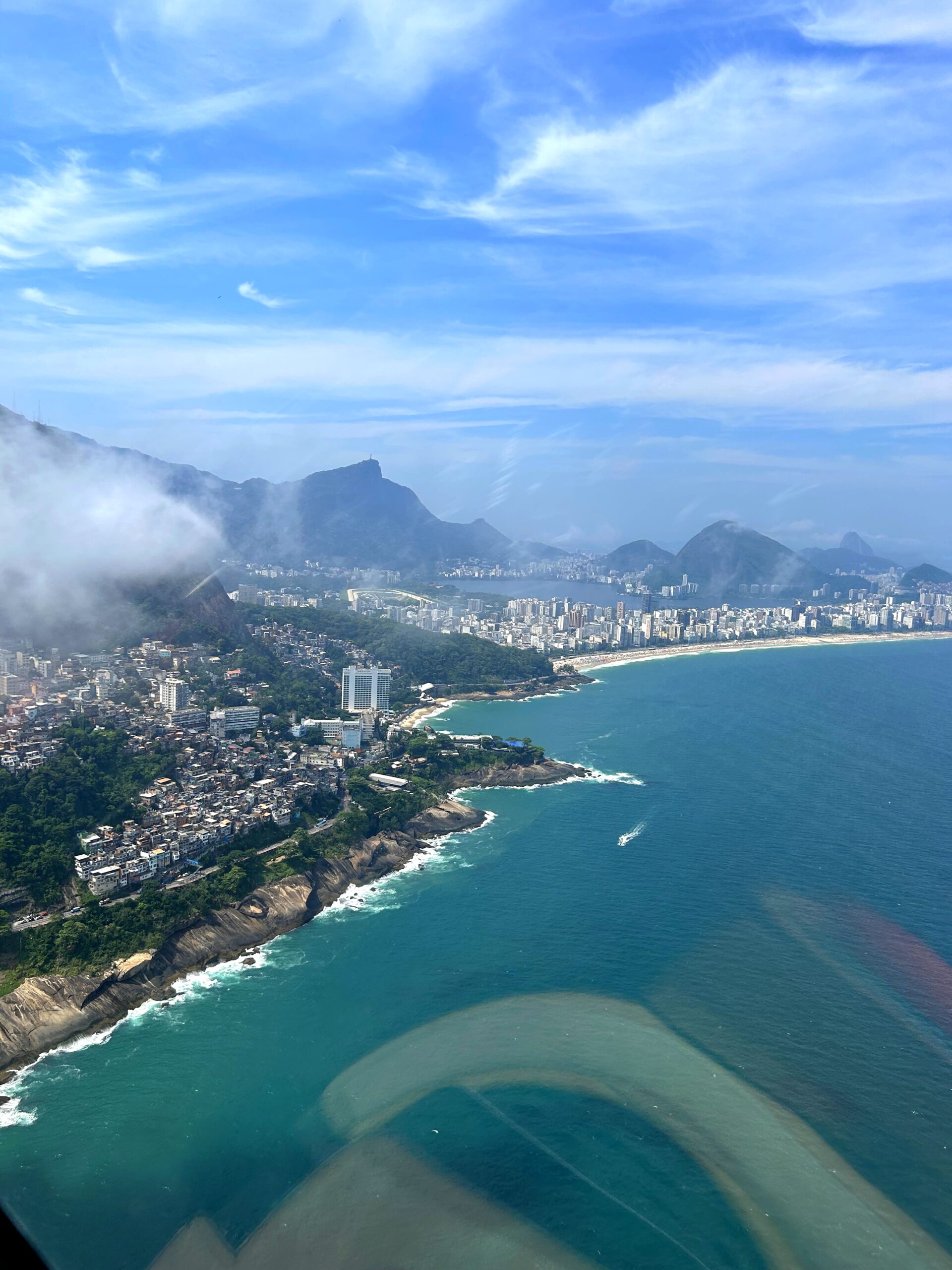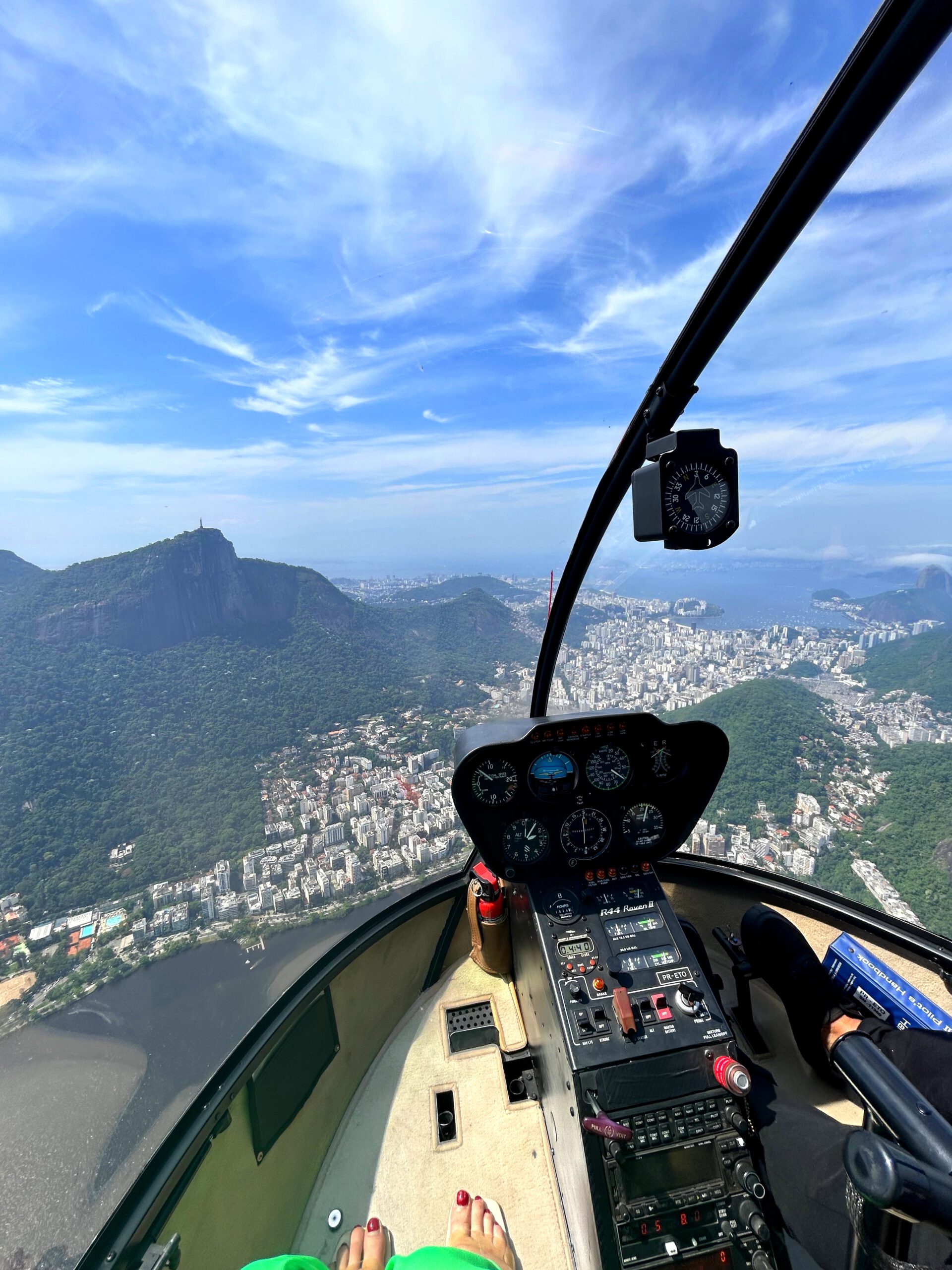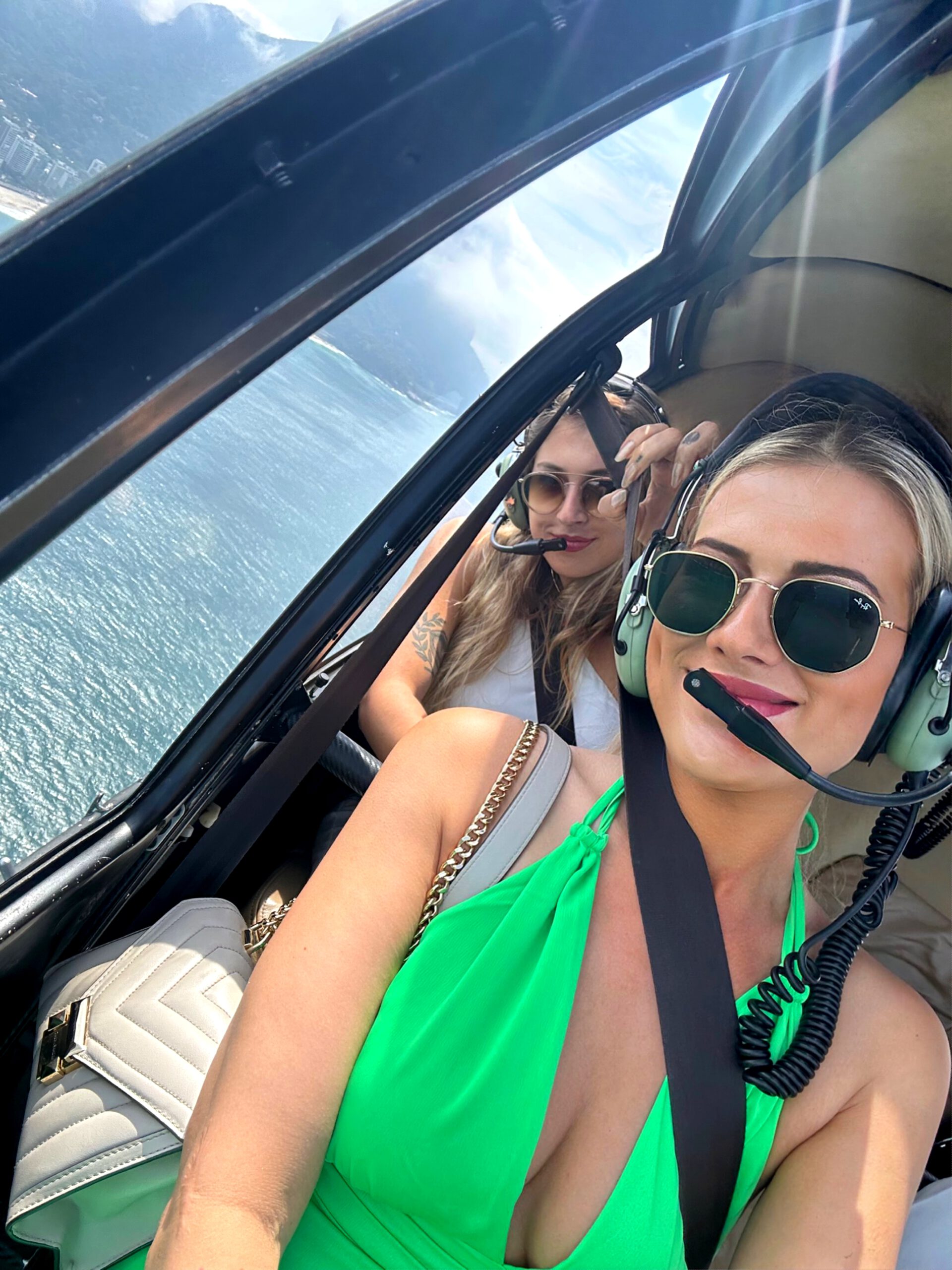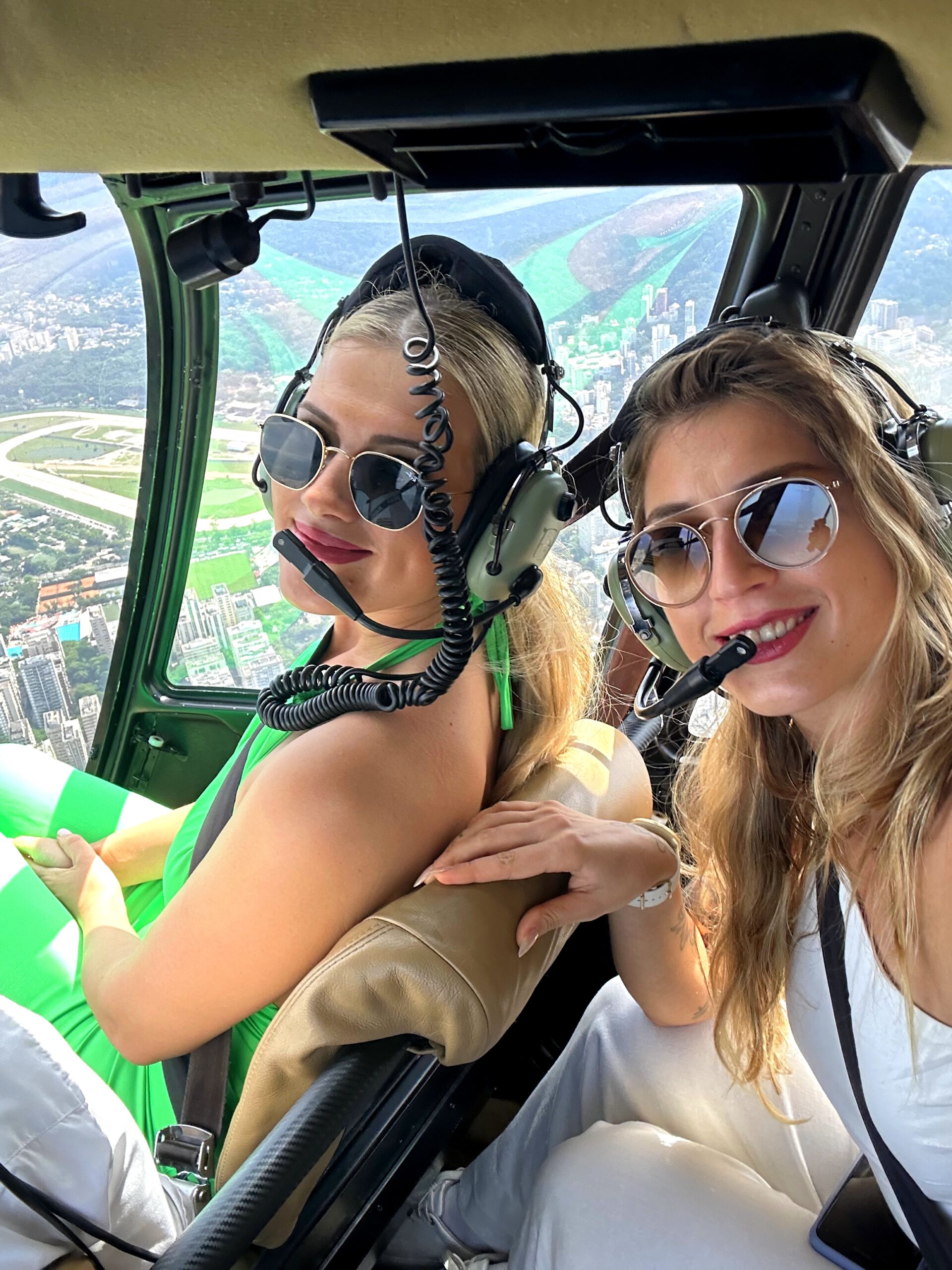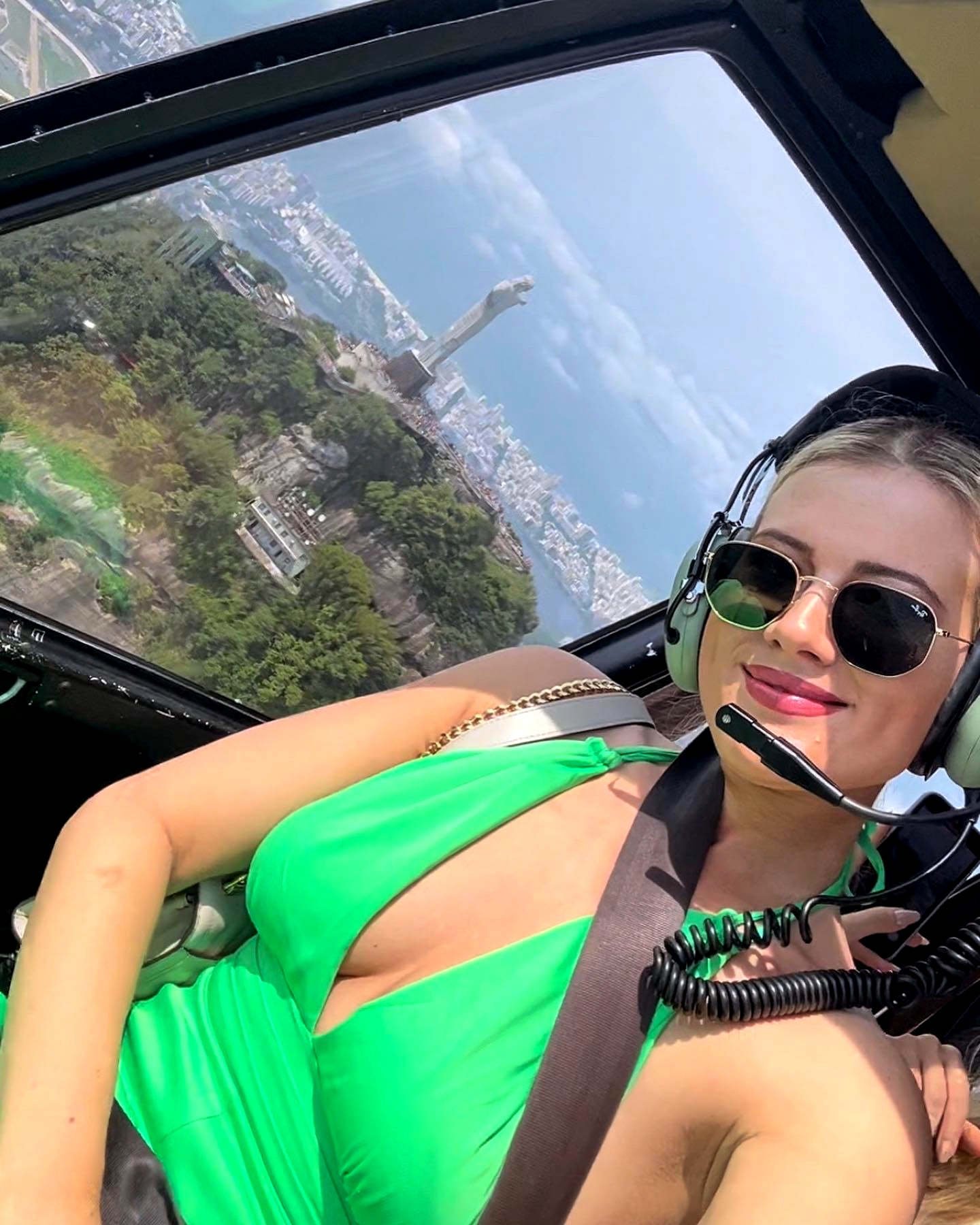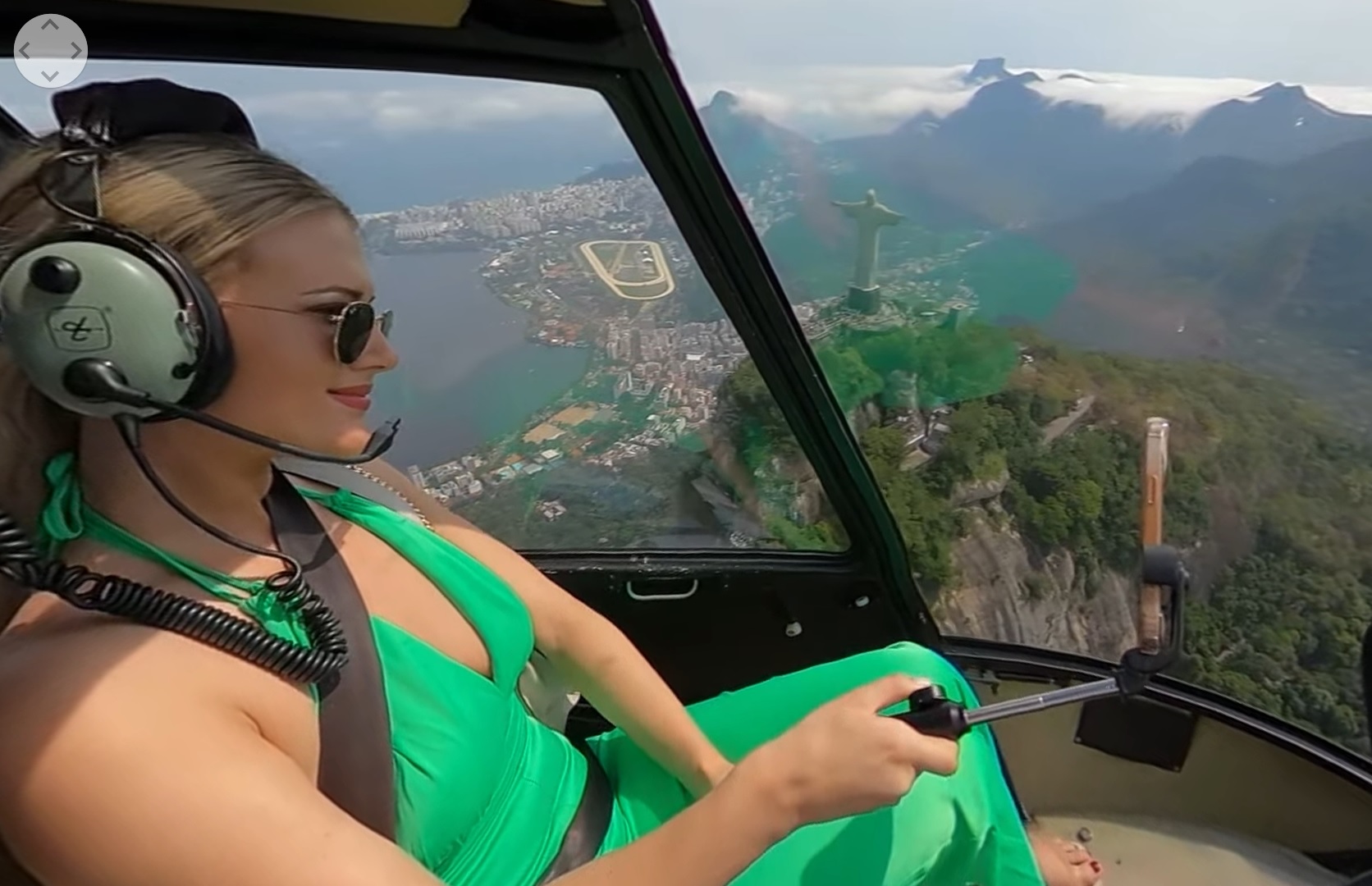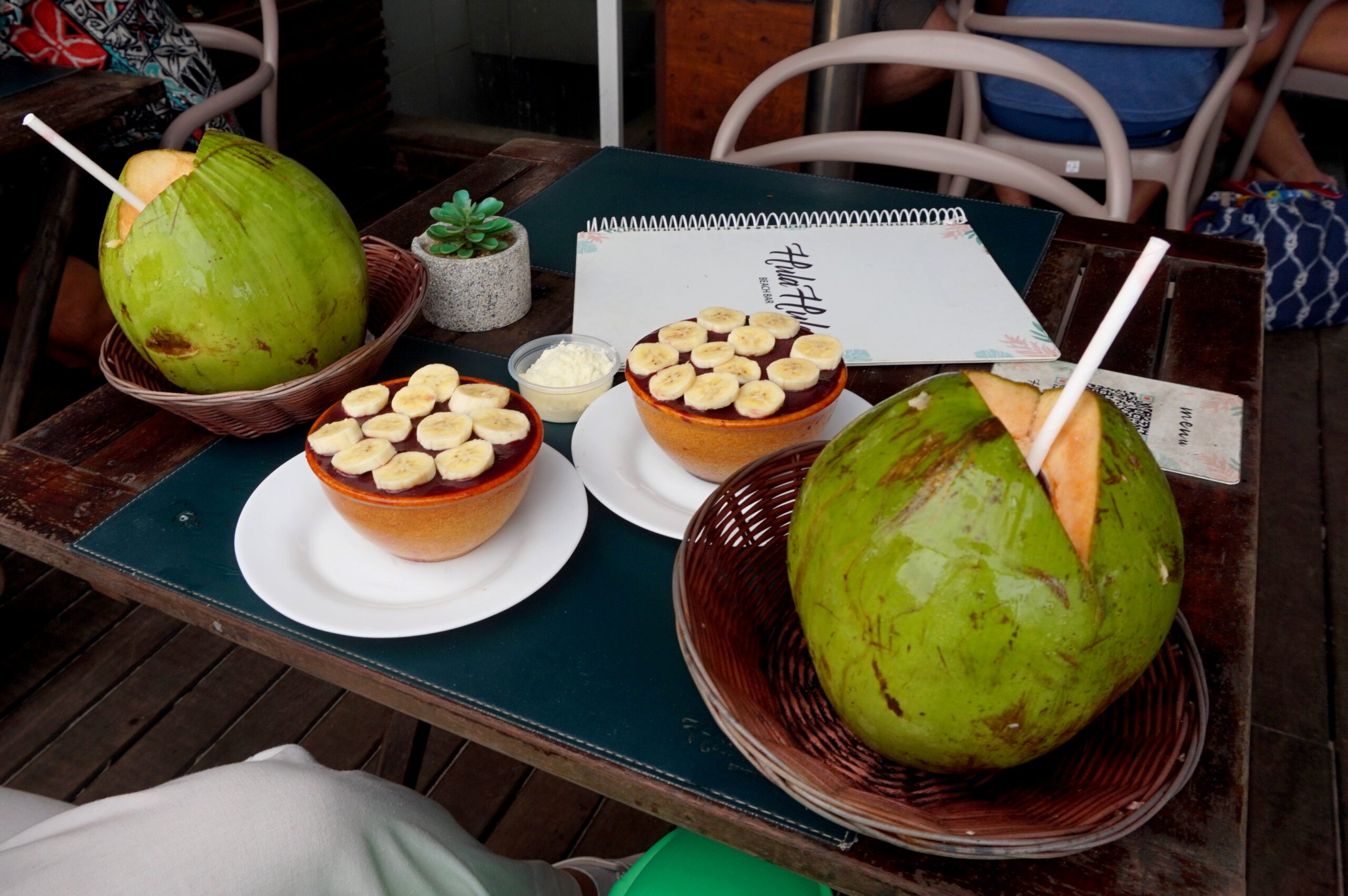 Day 7 – Rio de Janeiro & Florianópolis – 13-10-2023
This day was the day that Aline and I would travel to
Florianópolis
– her home. This island is an island in southern Brazil where I wanted to travel to, mainly because of her and because of stories from a co-pilot at work. That would be the case today, but due to weeks of terrible weather on the island, we had already reconsidered our plans several times on the spot during our stay in Rio this week. Aline was sad that the weather was so bad and that her beautiful island could not be seen to its full potential. The weather made it practically impossible to do many activities and would leave me stuck in a hotel. So it was either best to fly home that day or change my plans. In any case, I had to make a backup plan on the spot.
Buenos Aires,
Argentina was planned as one of my next trips, so this became my backup plan. My gut feeling told me that I should definitely do this and it was a perfect alternative to the plans for Brazil that literally and figuratively fell through at the last minute. Moreover, it was only a 2.5 hour flight from
Floripa
and there was a direct flight that I could IPB with GOL. Upon arrival in Florianópolis, I would rebook this at her and her best friend's home for the next day.
I flew standby (airline crew tickets) with GOL, and got one of the last seats on board. The flight was less than 2 hours, and the crew was very nice to me. Aline flew booked. We both felt relaxed upon arrival at the airport in Floripa. The island also immediately feels soothing and safe. We both missed this feeling enormously in Rio. For many, Rio is a beautiful destination, but unfortunately our experience was not quite what we hoped for. In the evening we drank 'cocoa' together, ordered a delicious pokebowl, and slept at her best friend's house. I couldn't wait to return to the island during my unpaid leave, because we postponed it to 1.5 months later due to the undesirable circumstances.
Deze dag was de dag dat Aline en ik door zouden reizen naar
Florianópolis
– haar thuis. Dit eiland is een eiland in Zuid-Brazilië waar ik voornamelijk door haar en door verhalen van een co piloot op werk graag naartoe wilde reizen. Vandaag zou dat dan ook zo zijn, maar door het weken lange verschrikkelijke weer, hadden we tijdens ons verblijf in Rio al meerdere keren terplekken onze plannen heroverwogen. Aline was bedroeft dat het weer zo slecht was en haar prachtige eiland niet tot zijn recht kwam op die manier. Door het weer was het praktisch onmogelijk om enige activiteiten te doen. Dus was aan mij de keuze deze dag naar huis te vliegen of mijn plannen om te gooien voor een ander idee. In ieder geval moest ik terplekke een backup plan maken.
Buenos Aires
in Argentinië stond als een van mijn volgende reizen geplanned en al jaren op mijn reis wens lijstje, dus werd dit mijn backup plan. Mijn buikgevoel zei dat ik dit zeker moest doen en het was een perfect alternatief voor de plannen voor Brazilië die last minute letterlijk en figuurlijk in het water vielen. Bovendien was het slechts 2,5 uur vliegen vanaf
Floripa
en was er een directe vlucht die ik kon IPB'en met
GOL
. Dit zou ik bij aankomst in Florianópolis bij haar en haar beste vriendin thuis gaan omboeken voor de dag erna.
ik vloog IPB naar Floripa met GOL, en kreeg een van de laatste stoelen aan boord. De vlucht was nog geen 2 uur, en de crew was erg aardig tegen mij. Aline vloog geboekt. Alleen al bij aankomst op de luchthaven in Floripa kwamen we beide tot rust. Het eiland voelt ook direct rustgevend en veilig. Dit gevoel mistten wij beide enorm in Rio. Voor velen is Rio een prachtige bestemming, alleen was onze ervaring helaas niet helemaal wat wij hoopten. In de avond dronken we samen 'cacao', bestelden een lekkere pokebowl, en sliepen bij haar beste vriendin thuis. Ik kon nu al niet wachten weer op het eiland terug te komen tijdens mijn onbetaald verlof, omdat we het terplekken doorschoven naar 1,5 maand later door de onwenselijke omstandigheden.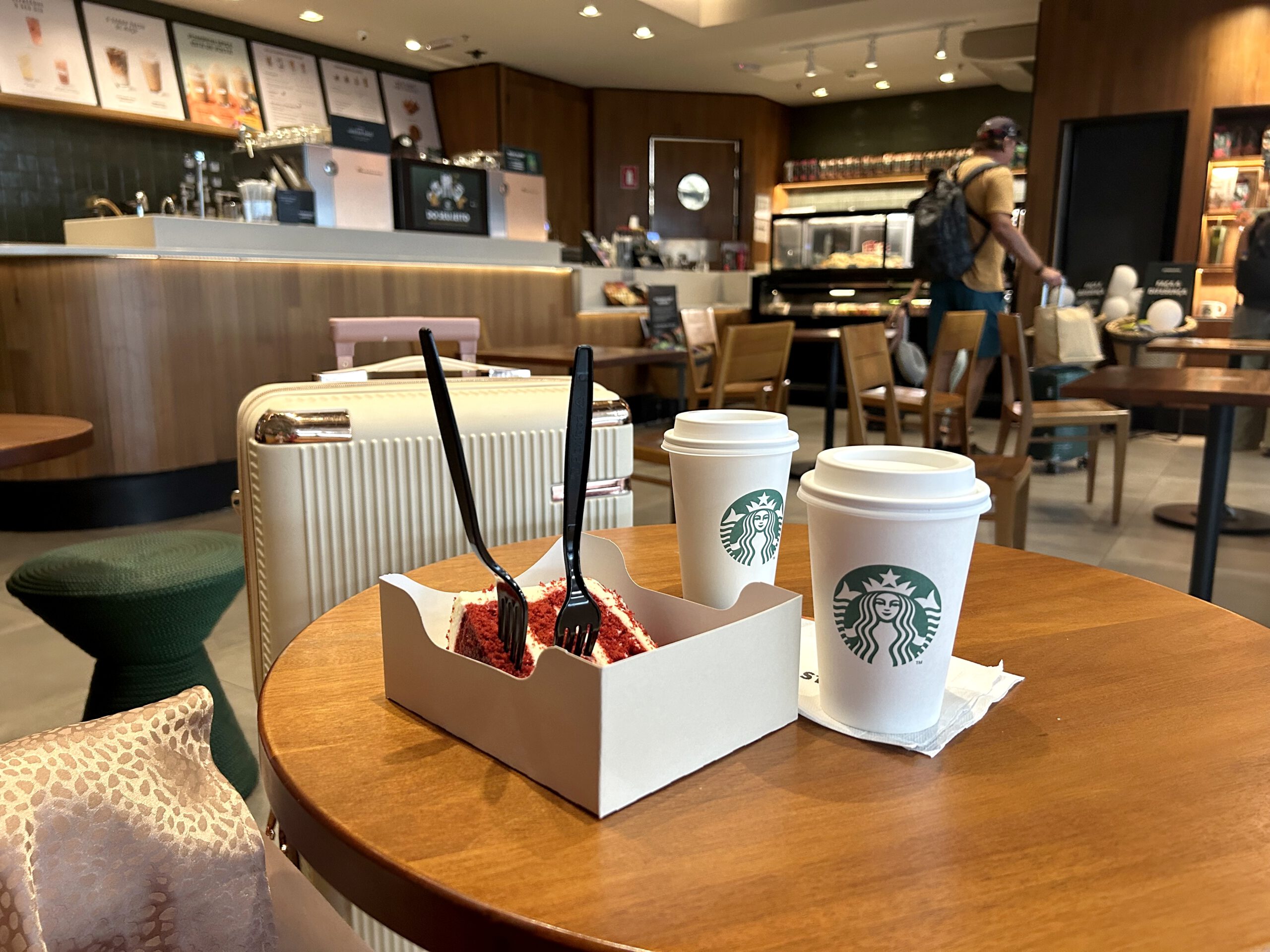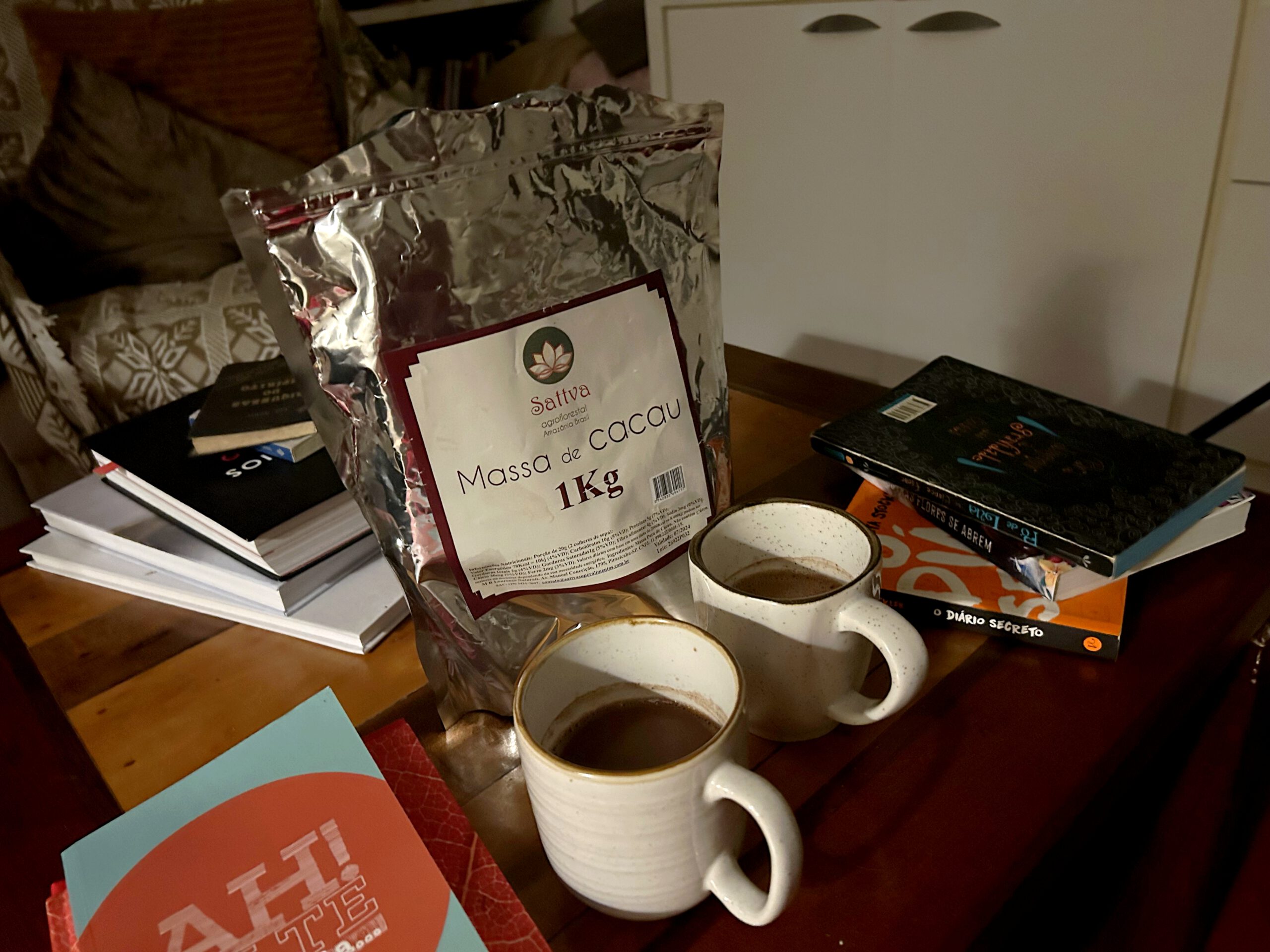 Day 8 – Florianópolis & Buenos Aires – 14-10-2023
Suddenly this day was my last day in Brazil, and because of the favorable flight time I was able to have lunch with
Nanda
and Aline. Nanda – Aline's best friend who we stayed with, also woke us up for a freshly brewed 'French press' – my favorite coffee. I'll never forget the cinnamon she added either! Delicious! It was great fun chatting and laughing with them this early morning and eventually having lunch together.
In Campeche, where we also stayed, we had lunch together at Nomada. This place had Tulum vibes, which Aline and I really like. All 3 of us had good coffee, eggs benedict and delicious freshly baked bread. I definitely recommend that you eat here when you are on the island. After lunch they took me to the airport together to continue my journey to Buenos Aires, which I will soon tell you more about in a next travel diary! I was immediately assigned a seat at the airport on the GOL flight to Buenos Aires.
Geheel plotseling was deze dag mijn laatste dag in Brazilië, en kon ik door de gunstige vluchttijd nog met
Nanda
en Aline lunchen. Nanda – Aline's beste vriendin waar wij bij verbleven, maakte ons ook wakker voor een versgezette 'French press' – mijn lievelings koffie. Ik zal de kaneel die ze toevoegde ook nooit vergeten! Heerlijk! Het was super gezellig met ze te kletsen en lachen deze vroege ochtend en uiteindelijk samen te lunchen bij
in Campeche, waar we ook verbleven, lunchten we gezamenlijk bij Nomada. Deze plek had Tulum vibes, waar Aline en ik erg van houden. We hadden hier alle 3 goede koffie, eggs benedict én heerlijk versgebakken brood. Ik raad je dan ook zeker aan hier te eten als je op het eiland bent. Na de lunch brachten ze mij samen naar de airport om mijn reis te vervolgen naar Buenos Aires, waar ik jullie snel meer over ga vertellen in een volgende travel diary! Ik kreeg overigens direct een stoel toegewezen op de luchthaven met de GOL vlucht naar Buenos Aires.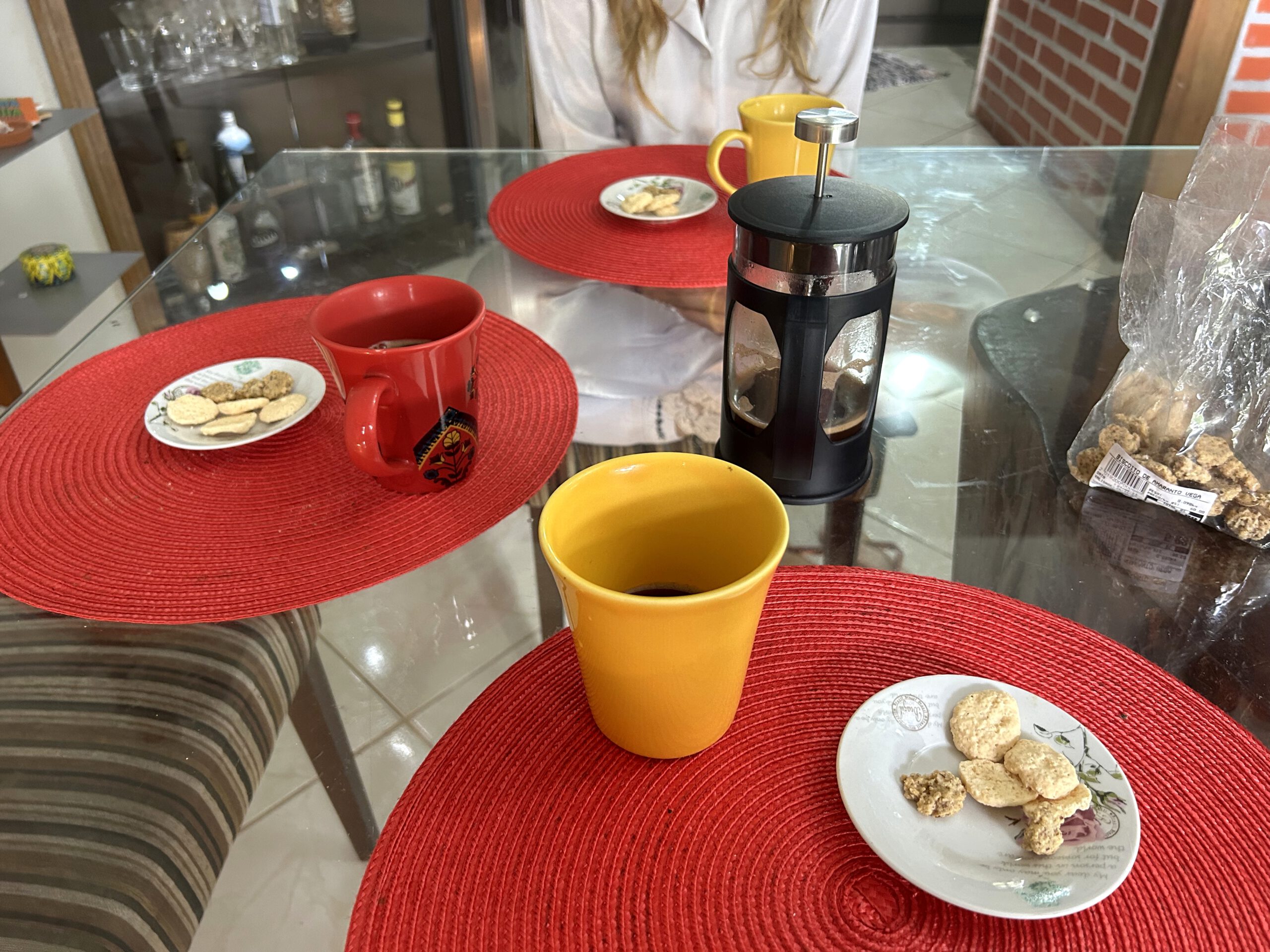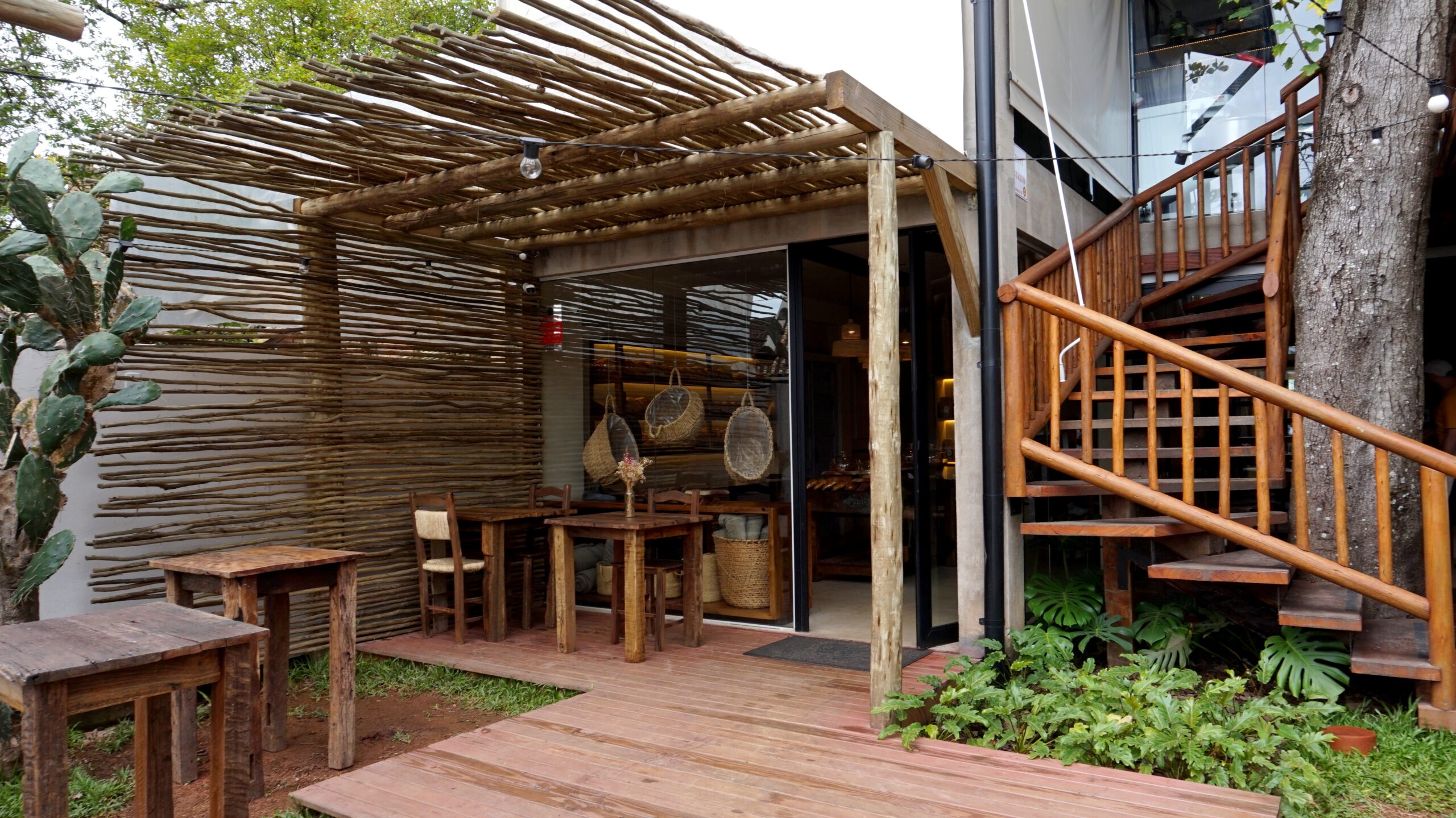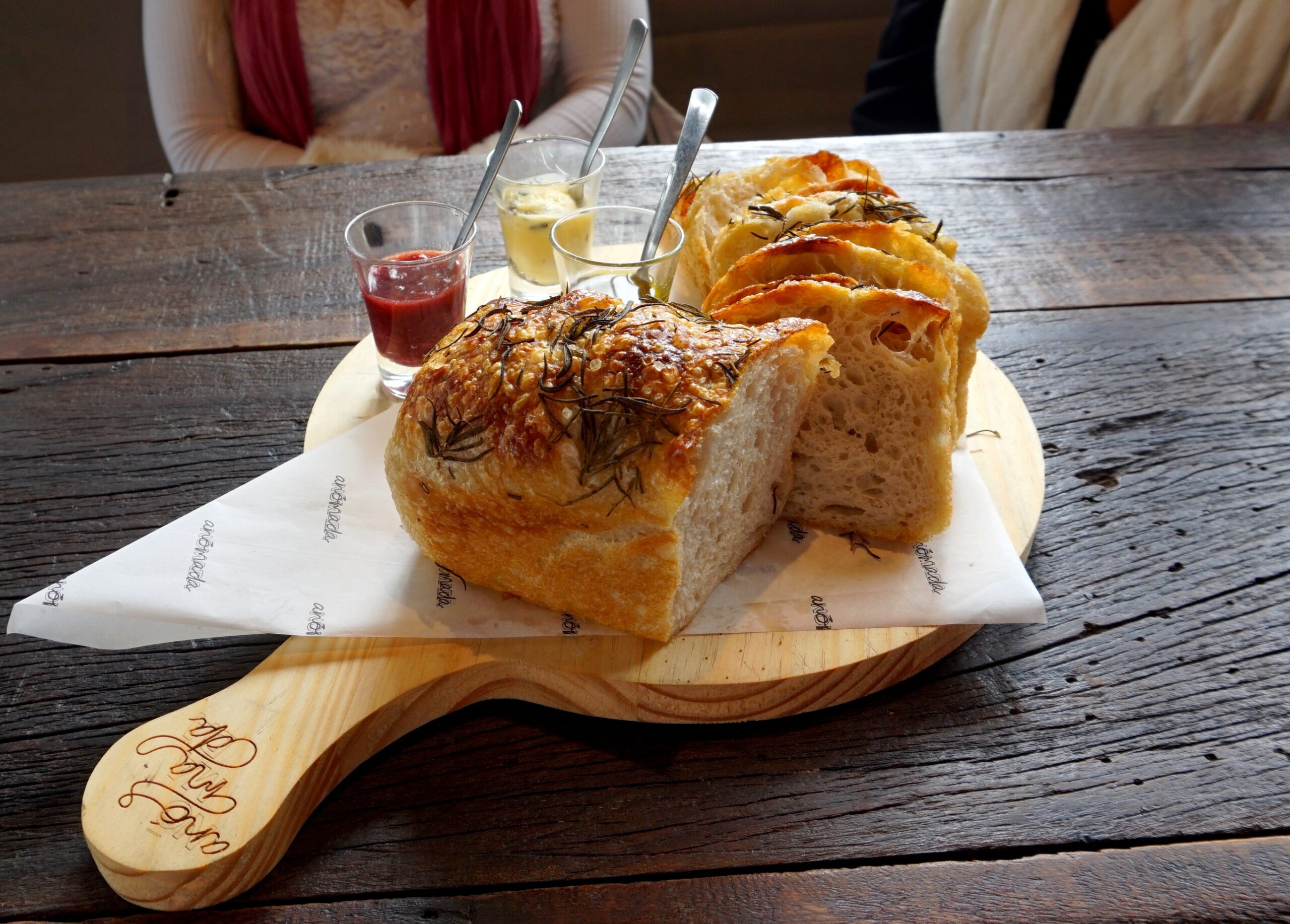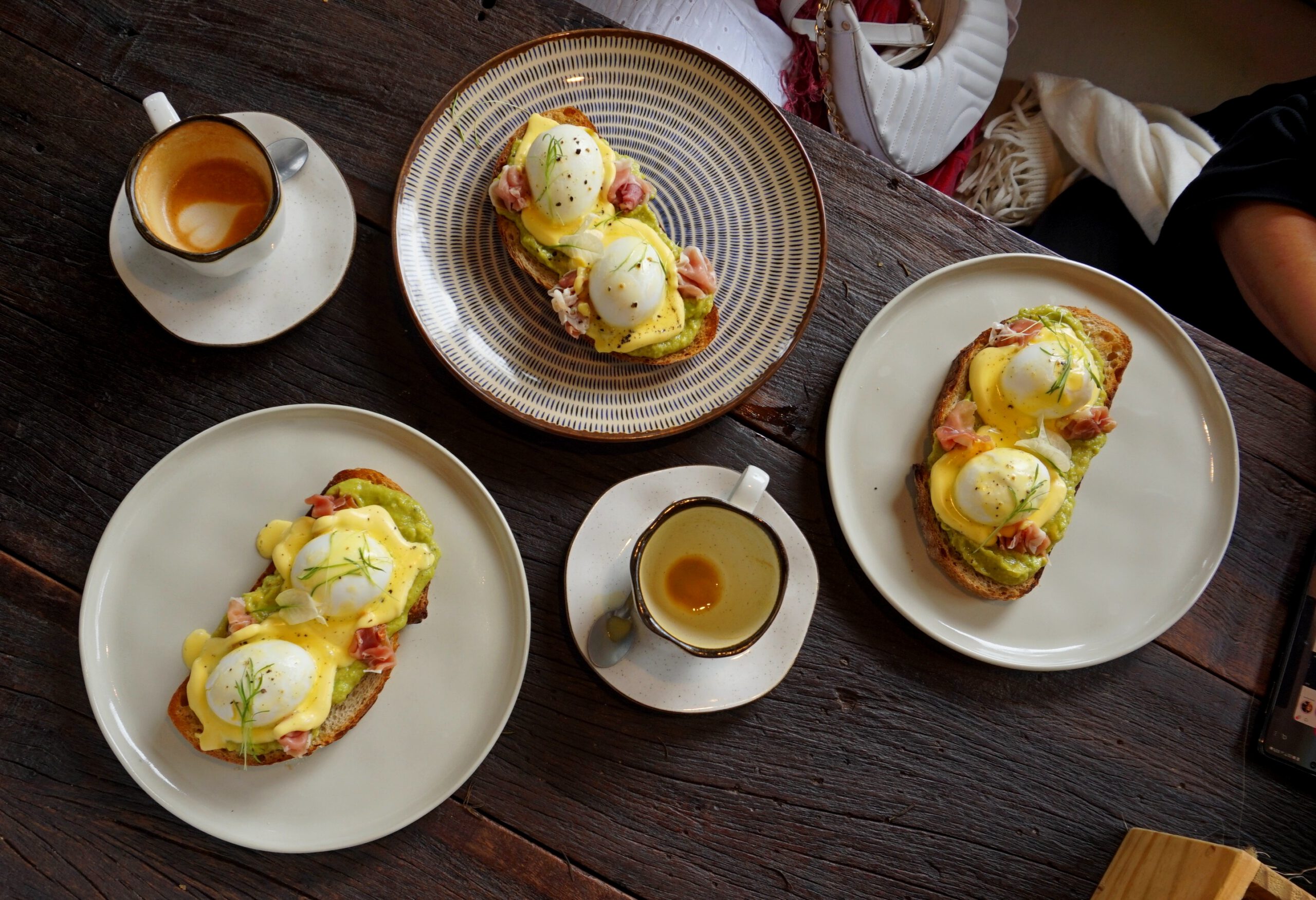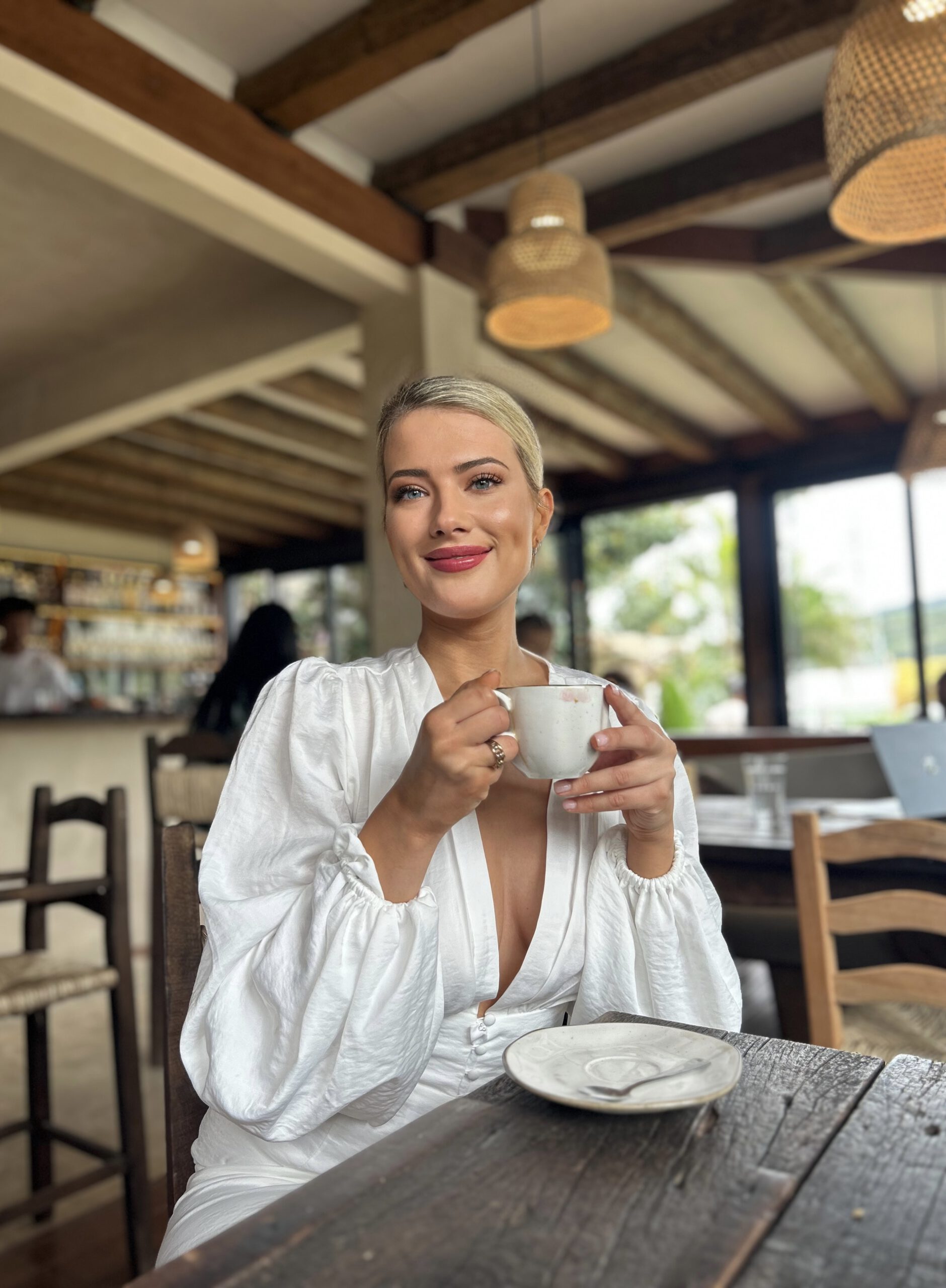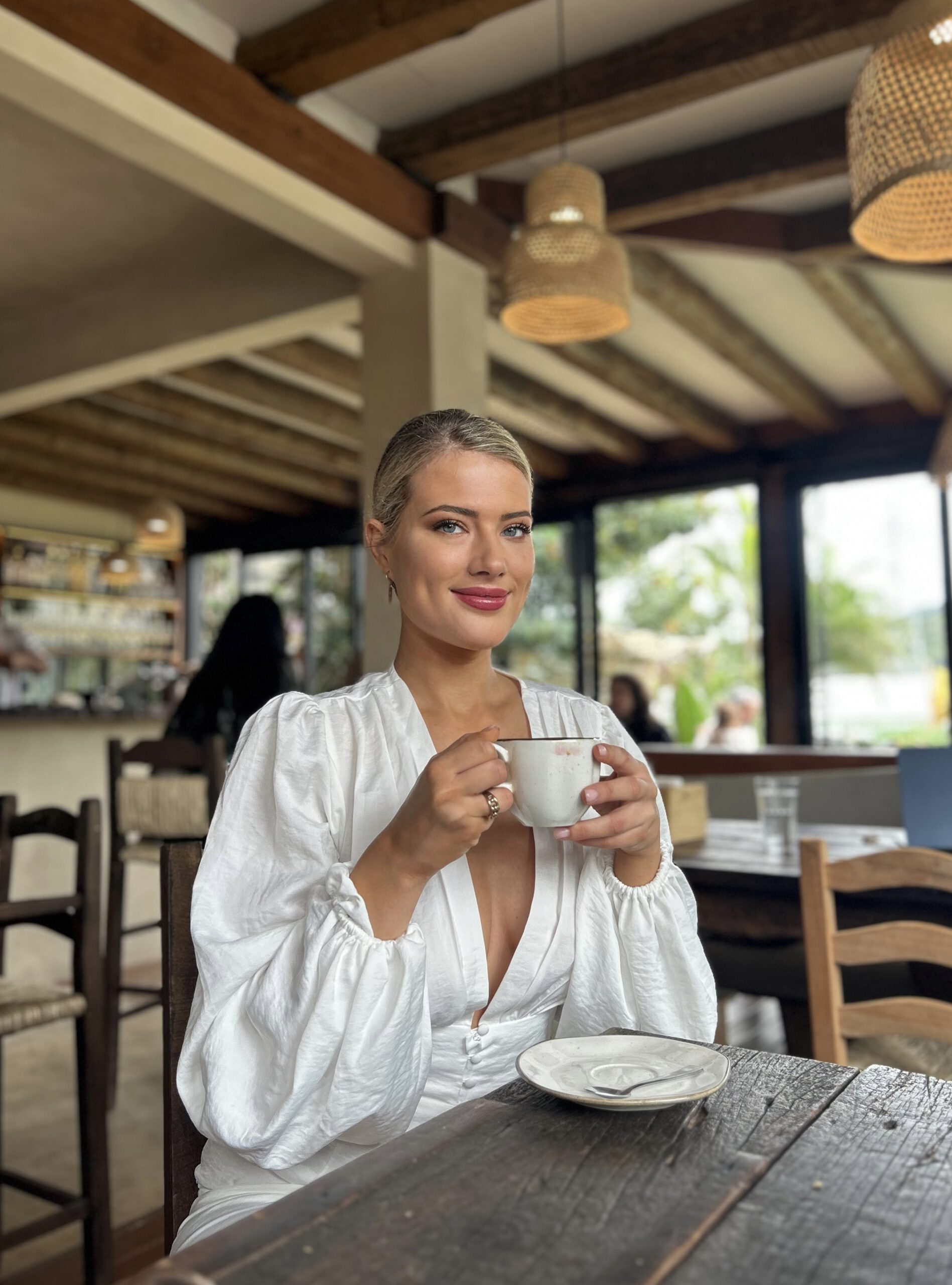 Summary of my Rio experience with Aline as posted on our Instagram pages:

Aline and I sadly didn't like our trip to Rio and the vibe. To give arguments: We felt really tired, drained from our energy, full on masculine energy and really exhausted from being yelled at/called out and not feeling safe sometimes (while also letting out belongings at the hostel). Apart of that, Brazil is a beautiful country with amazing kindhearted people and a great culture and beautiful spots. I would like to thank Brazil for that experience also. Once we entered the island of Florianópolis (her home) yesterday – we instantly felt better. Due to the bad weather I sadly already had to drop my plans of my week at Floripa, move it to December and now spontaneously fly to Buenos Aires (only 2,5 hours by plane) – (thank god for cabin crew tickets, the reason I travel so frequently for very little money) spontaneously. I always had BA on my list, and as it's around the corner in principe, I decided to just go for it unprepared, see you soon Argentina!
My main tips and recommendations for Rio:
📍A helicopter ride across Christ the Redeemer (one of the 7 world wonders)
📍Cable Cart to Sugarloaf mountain
📍A visit to Ipanema beach
📍Acai bowls with milk powder
📍 A cocktail with a view over Copacabana
📍 Fardo for lunch
📍 Parque Lage
📍 Garota de Ipanema restaurant
📍Don't walk the streets at night if not neccessary
📍Leave your expensive belongings at your hotel as much as possible
📍Don't bring much cash, as I was able to use my card most of the time
📍Book a place at a good spot like Ipanema, Leblon or even Copacabana (with safety measures in mind)
📍Travel as much as you can by uber/taxi's
See you at my next travel diary!

Samenvatting van mijn Rio-ervaring met Aline zoals gepost op onze Instagram-pagina's:
Aline en ik hielden helaas niet van onze reis naar Rio en de sfeer. Om argumenten te geven: we voelden ons erg moe, uitgeput van onze energie, vol mannelijke energie en erg uitgeput door het feit dat er tegen ons werd gecatcalled/geroepen en dat we ons soms niet veilig voelden (terwijl we ook risicovolle spullen in het hostel lieten). Daarnaast is Brazilië een prachtig land met geweldige, goedhartige mensen, een geweldige cultuur en prachtige plekken. Ik wil Brazilië ook bedanken voor die ervaring. Toen we gisteren het eiland Florianópolis (haar thuis) binnenkwamen, voelden we ons meteen beter. Door het slechte weer heb ik mijn plannen voor mijn week op Floripa helaas al moeten laten vallen, verschuiven naar december en nu spontaan naar Buenos Aires vliegen (slechts 2,5 uur met het vliegtuig) – (godzijdank voor tickets voor cabinepersoneel, de reden Ik reis zo vaak voor heel weinig geld) spontaan. Ik had altijd al BA op mijn lijstje staan, en aangezien het in principe om de hoek ligt, besloot ik er gewoon onvoorbereid voor te gaan, tot snel Argentinië!
Mijn algemene tips en aanbevelingen voor Rio:
📍Een helikoptervlucht over Christus de Verlosser (een van de 7 wereldwonderen)
📍Kabelwagen naar de Suikerbroodberg
📍Een bezoek aan het strand van Ipanema
📍Acai bowls met melk poeder
📍 A cocktail met uitzicht over Copacabana
📍 Fardo voor lunch
📍 Parque Lage
📍 Garota de Ipanema restaurant
📍Ga s'avonds niet over straat als dat niet nodig is
📍Laat je dure spullen zo veel als mogenlijk in het hotel
📍Neem niet te veel cash mee, gezien ik/je zo goed als overal wel met kaart kon betalen
📍Boek een plek op een goede locatie zoals Ipanema, Leblon of zelfs Copacabana (met veiligheidsmaatregelen in gedachten)
📍Reis zo veel als mogelijk met uber/taxi's
Tot de volgende diary!