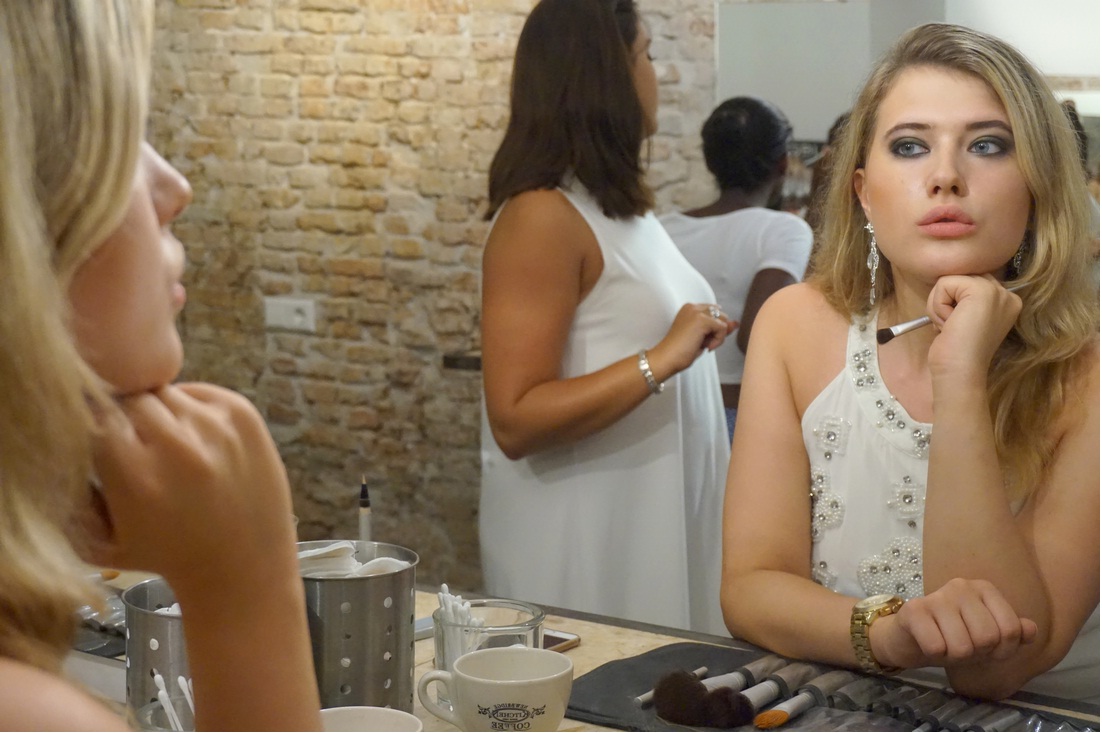 I wanted to learn how to apply a good smokey eyes look together with a friend, so we decided to go to a smokey eyes workshop of Menco Visagie in Dordrecht which I found at vakantie veilingen.
Ik wilde graag een smokey eyes look leren samen met een vriendin van me, dus besloten we naar een workshop van Menco Visagie in Dordrecht te gaan die ik gevonden had via vakantie veilingen.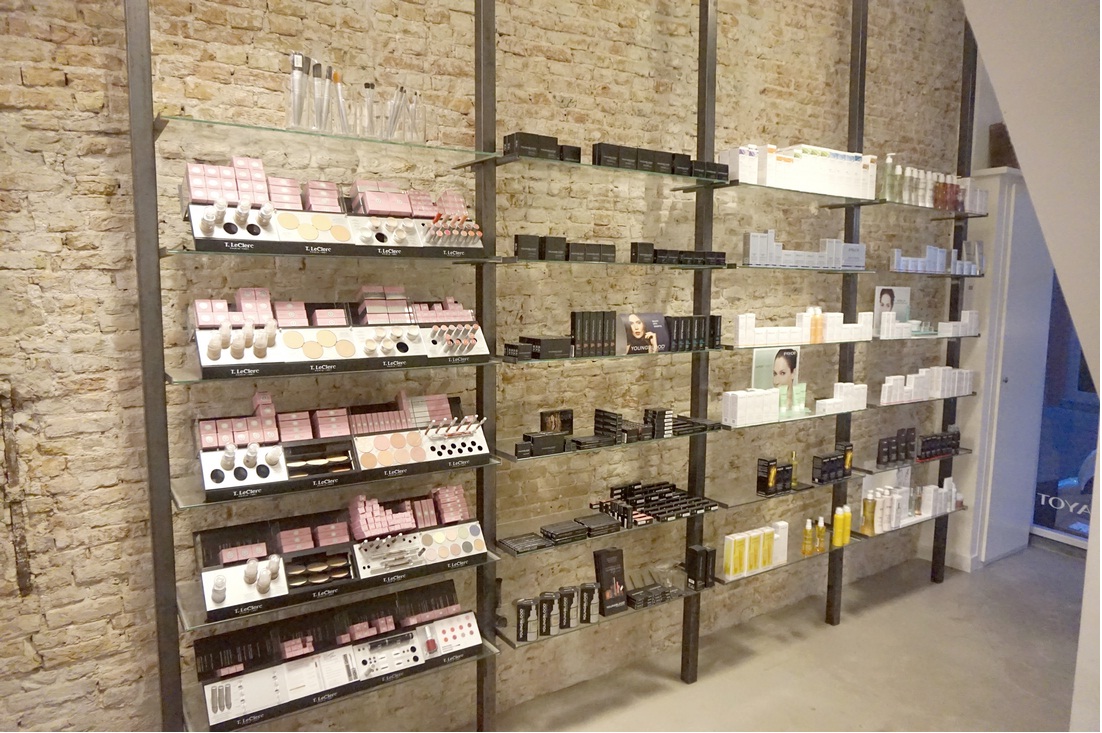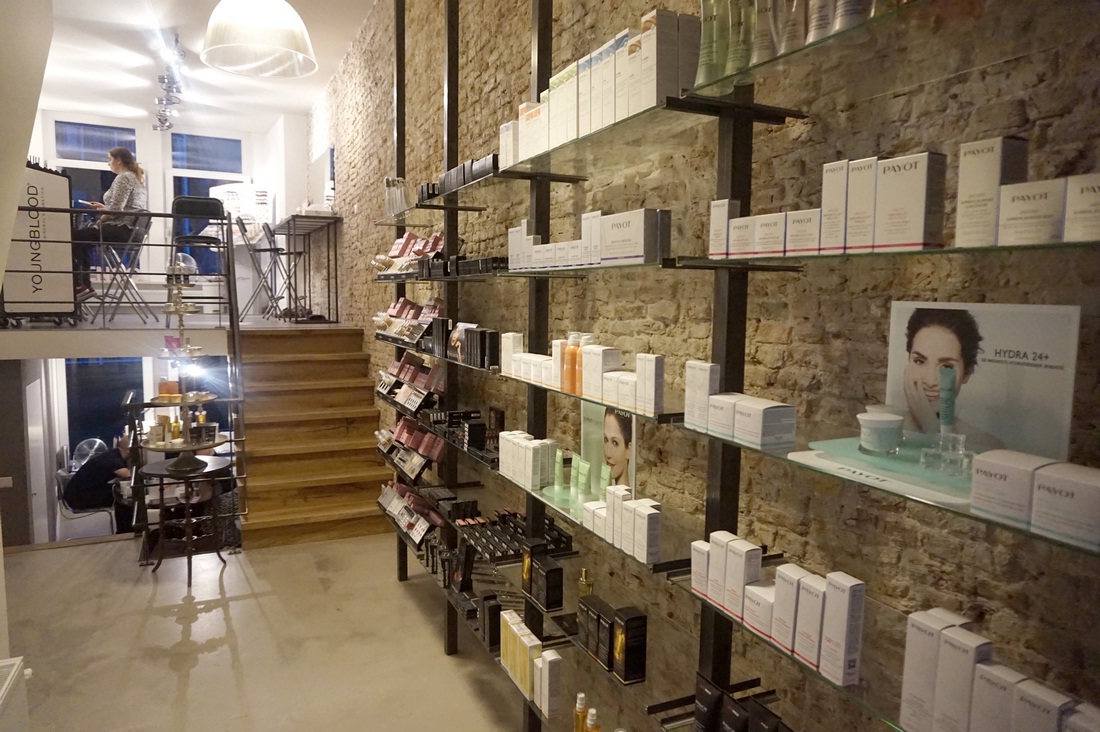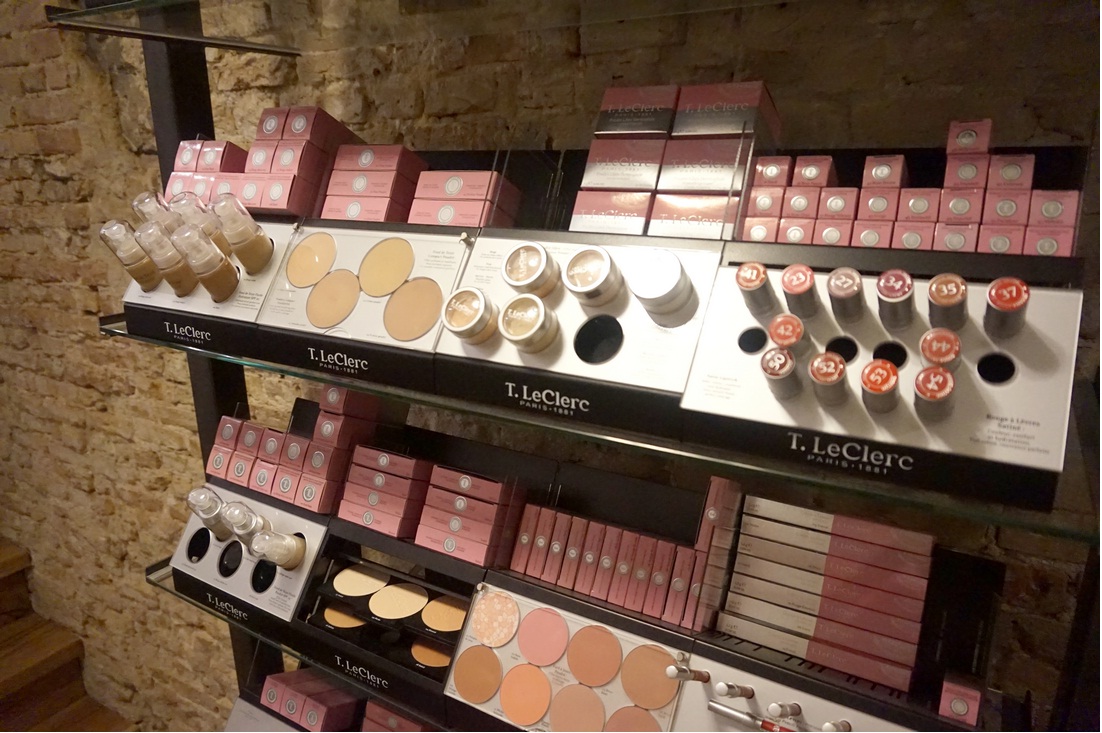 When we arrived, we recieved a friendly welcome. Inside, the space had a nice overview and was well decorated. There where planks with products of Youngbloog, T. LeClerc, Payot and some more, which we would use during the workshop.
We werden erg vriendelijk ontvangen. Binnen was de ruimte overzichtelijk en leuk ingericht, met op de wanden de producten van Youngblood, T. LeClerc, Payot en diversen – Waar we tijdens de workshop gebruik van zouden maken.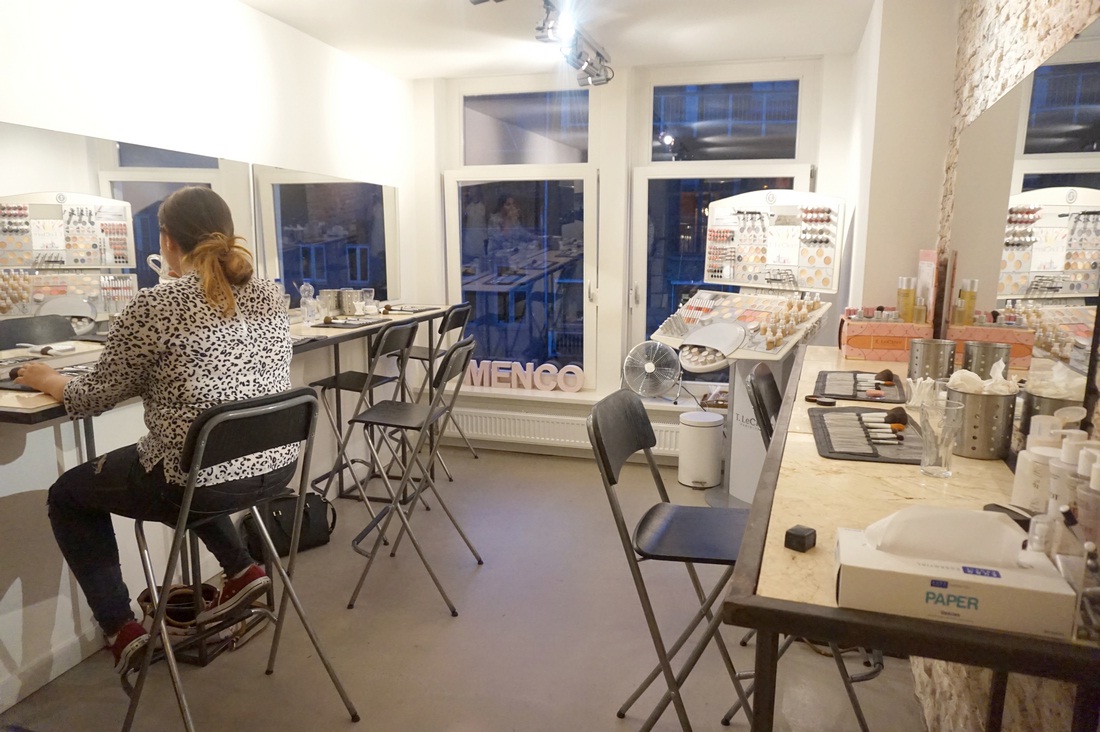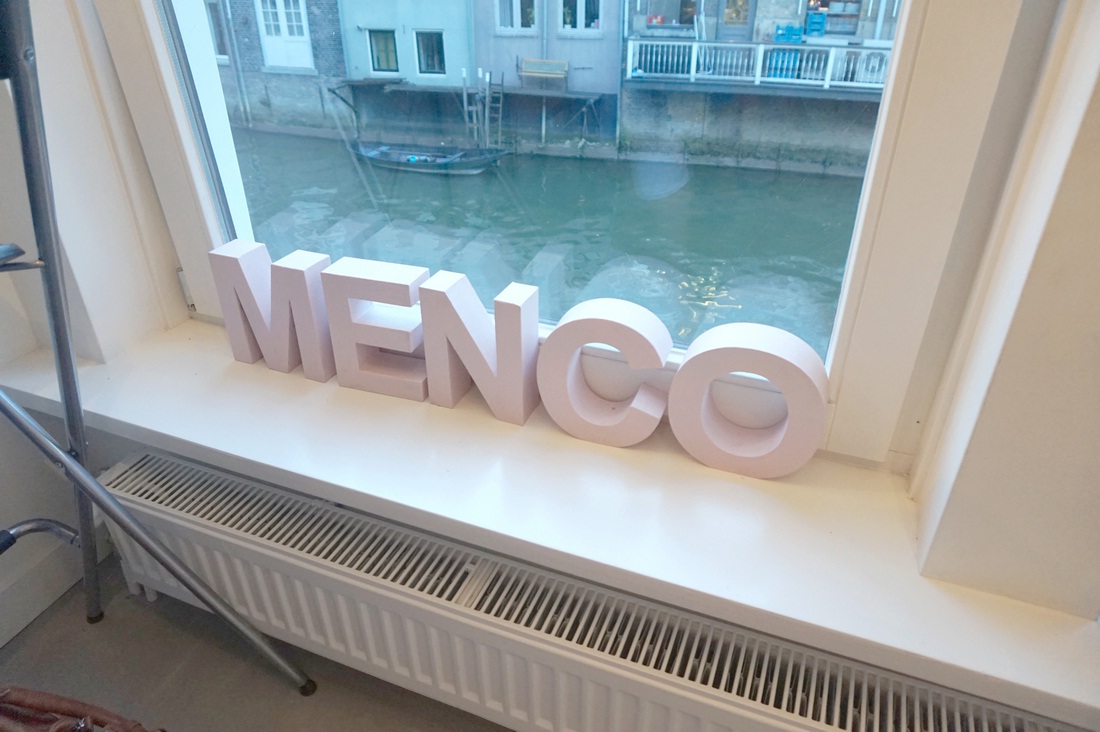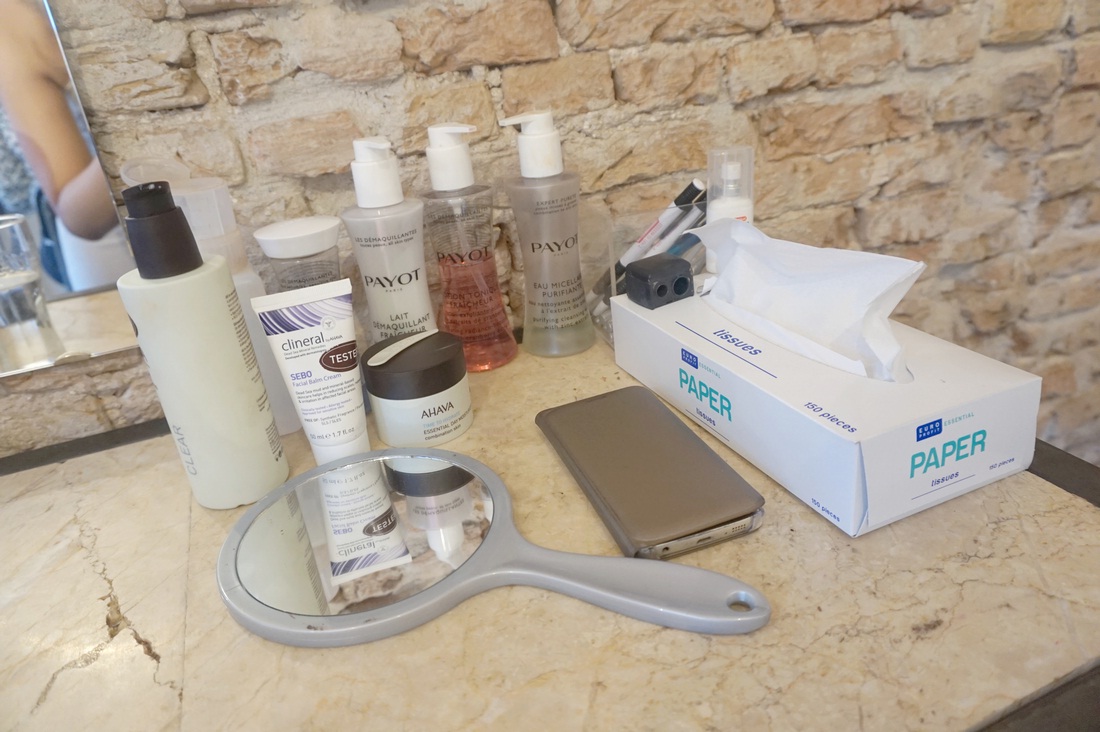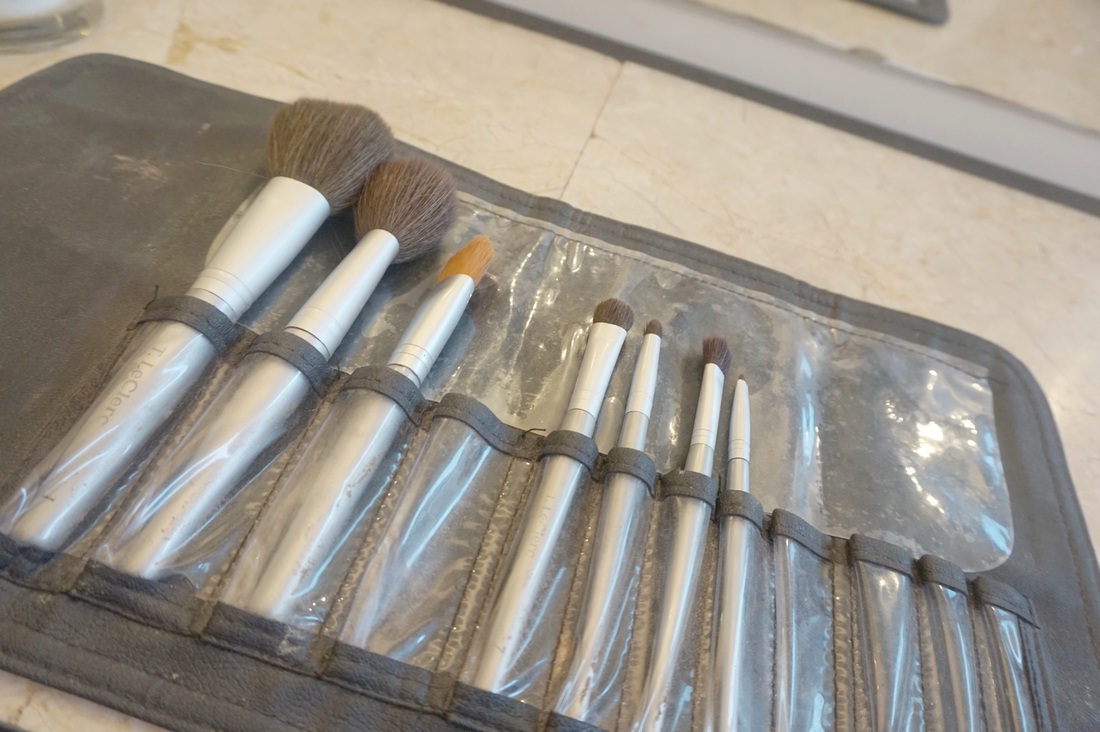 The total amount of participants was 6 ladies, which made the atmosphere very personal and comfy. After everyone was introduced, we started with the removal of our make-up and after that – cleansing. We used products of Payot for this, which I concider as very nice in use and besides that – have a very nice scent, especially the toner! After that part, we used a moisturizer of the brand Ahava- which in my opinion felt very fresh and nice on my skin.
In totaal waren er 6 dames die deelnamen, waardoor de sfeer erg persoonlijk was. Na iedereen was voorgesteld, begonnen we met het verwijderen van onze make-up en daarna het reinigen van het gezicht. Hiervoor gebruikte we de producten van Payot, die ik erg fijn vond in gebruik en daarnaast ook een heerlijke geur hadden – vooral de toner! Na de reiniging gebruikte we een fijne moisturizer van het merk Ahava, die in mijn mening erg fris en fijn op de huid voelde.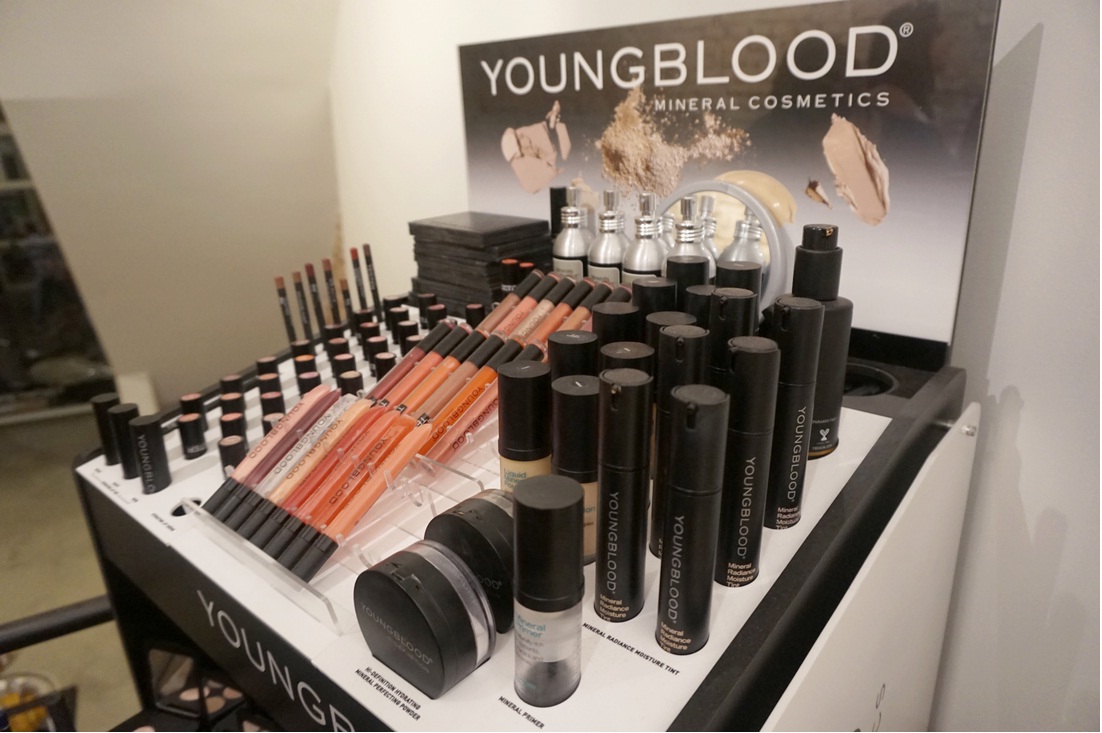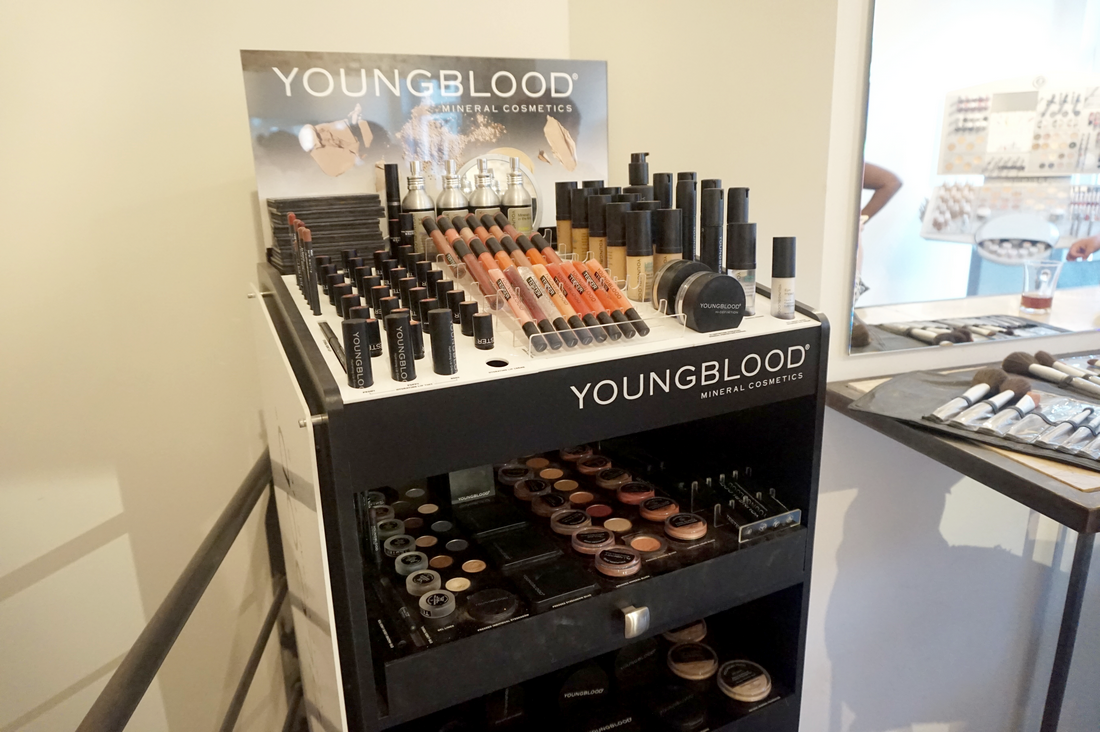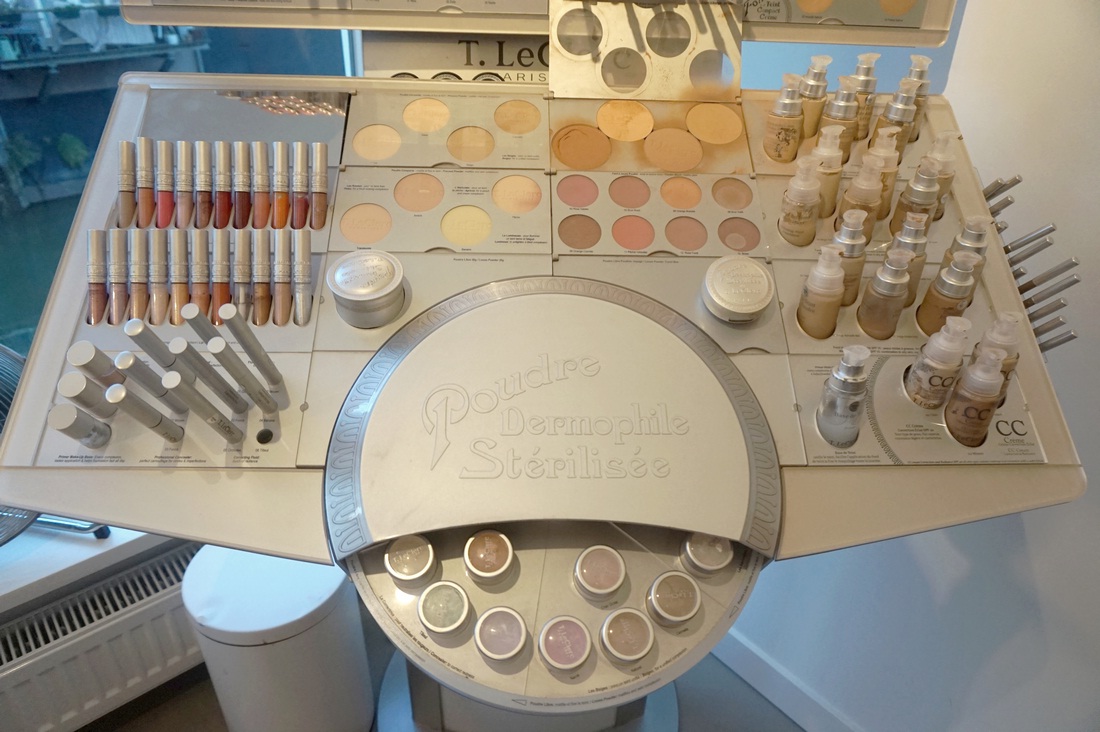 After cleansing we would continue with applying foundation. On my skin, the visagist showed an example of how to choose the right color of foundation. Side not: I rarely use foundation in my own daily life, because I do not need a lot of coverage because my skin is pretty much free from blemishes in my opinion. But I do use bb cream. After that step and further instructions, we would start using concealer, bronzer and blush
.
We got shown how to apply it the right way by watching how the visagist applied it on a volunteer.
Na het reinigen begonnen we met het aanbrengen van foundation. Op mijn huid werd voorgedaan en getoond wat nou de beste manier is om de juiste kleur te kiezen en het aan te brengen. Side note: Ik gebruik in het dagelijks leven vrijwel nooit foundation, omdat ik een zeer egale huid heb en in mijn mening niet zoveel dekking nodig heb. Wel gebruik ik bb cream. Na die stap en verdere uitleg gingen we aan de slag met concealer, bronzer en blush, die op de juiste manier werd voorgedaan op een vrijwilliger.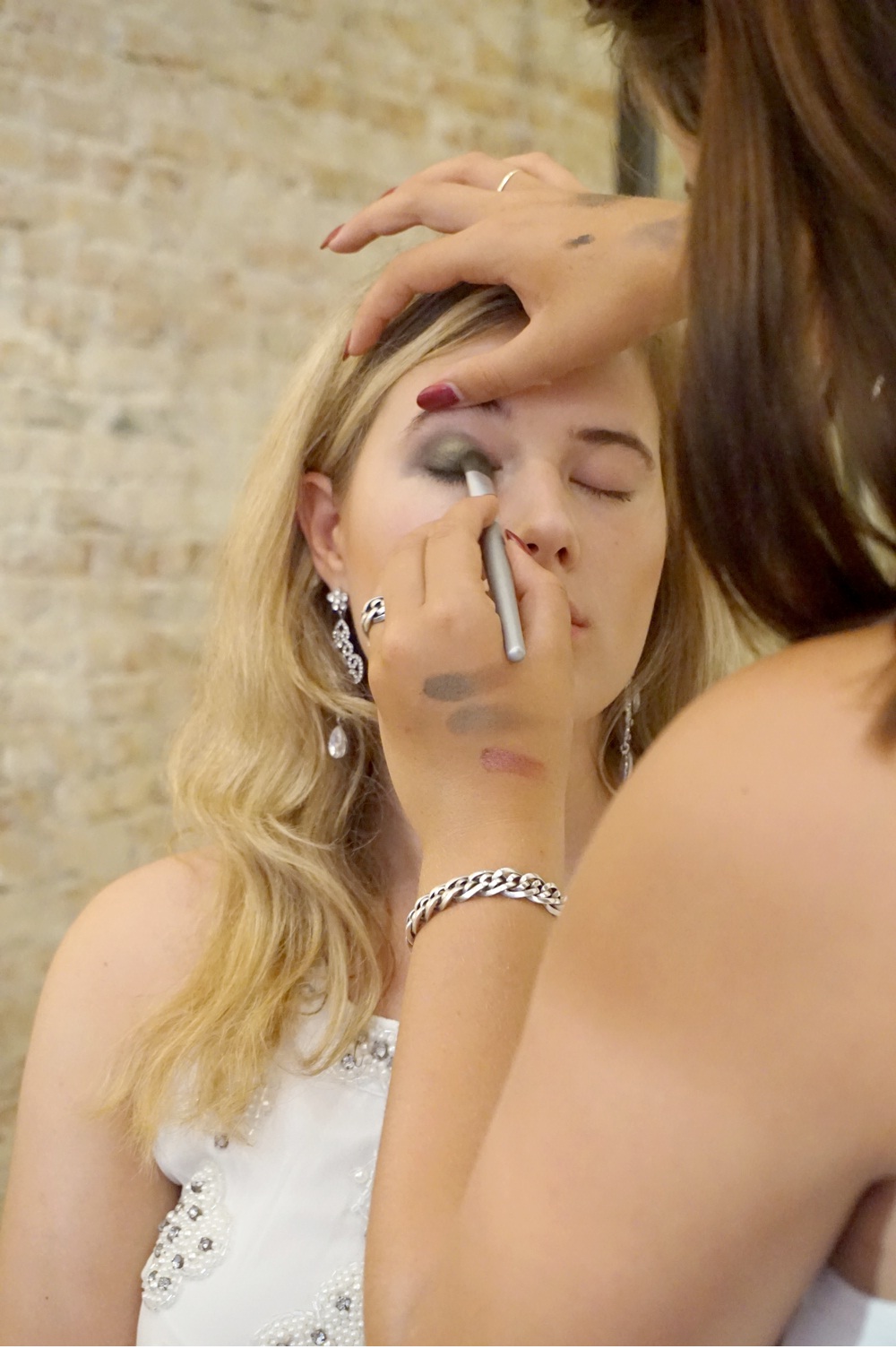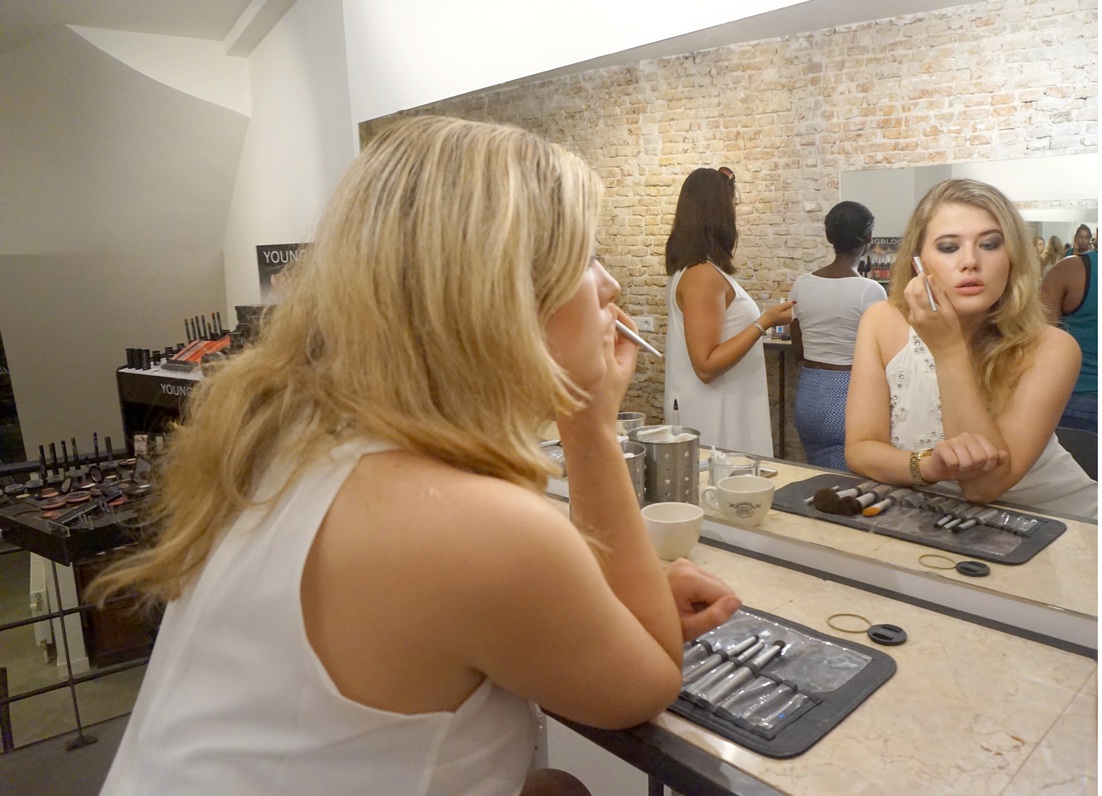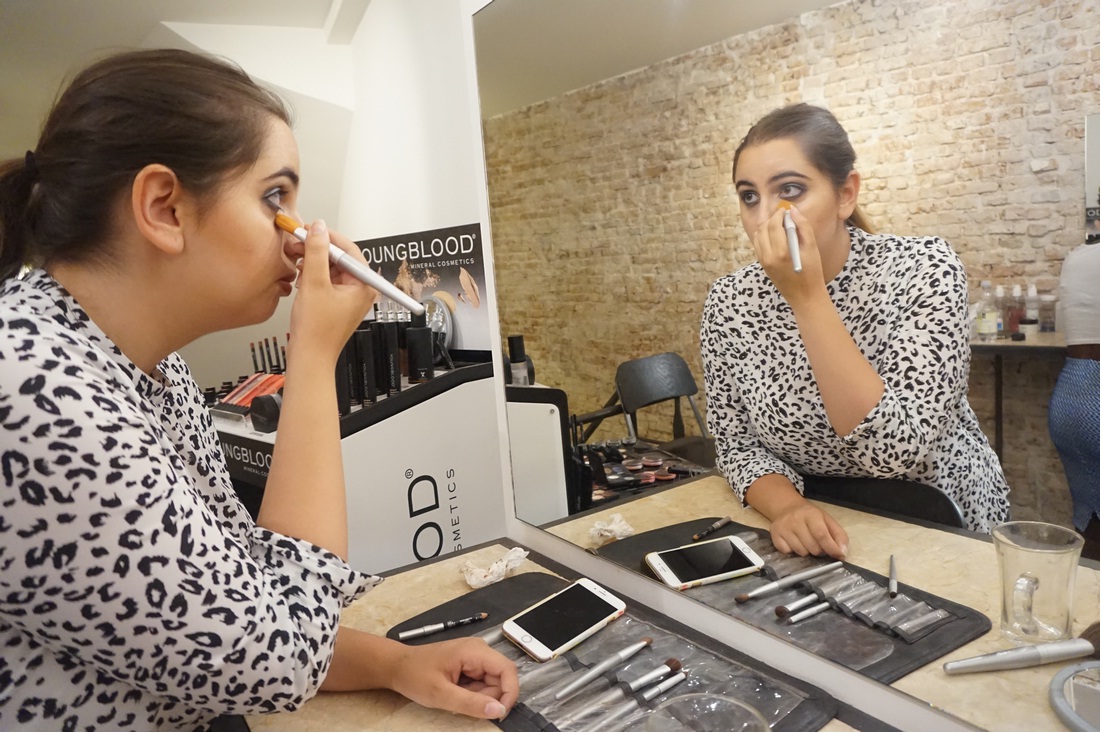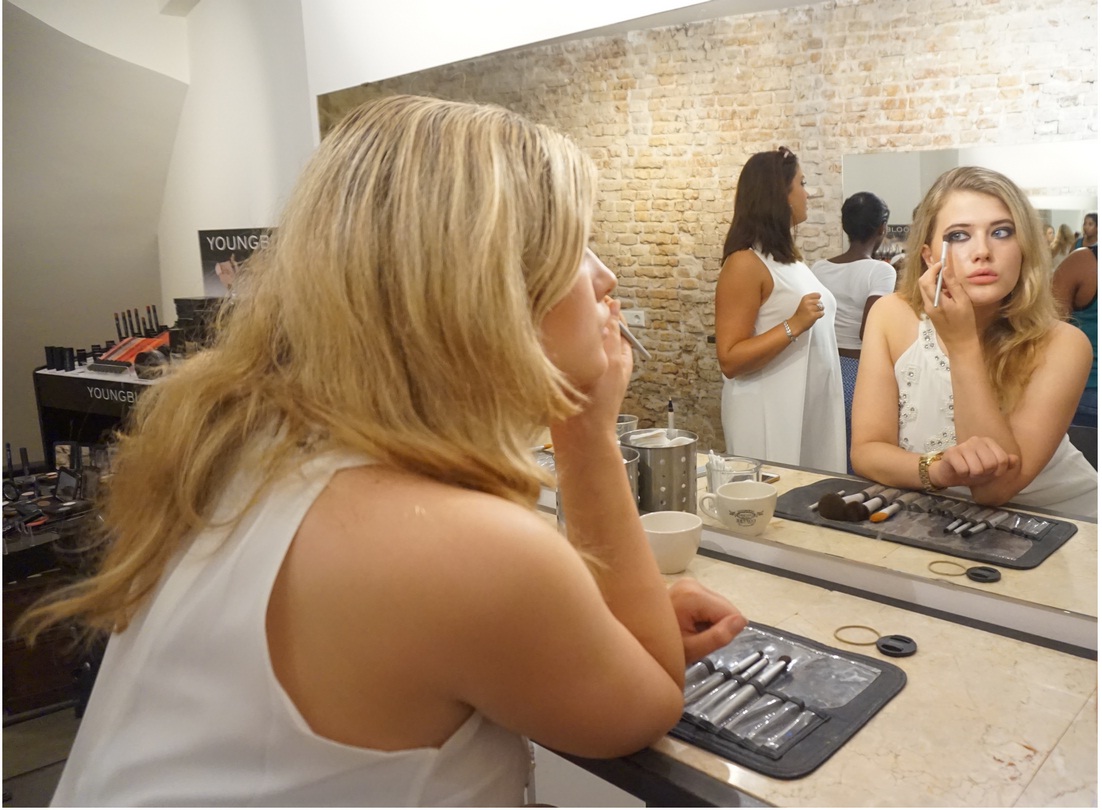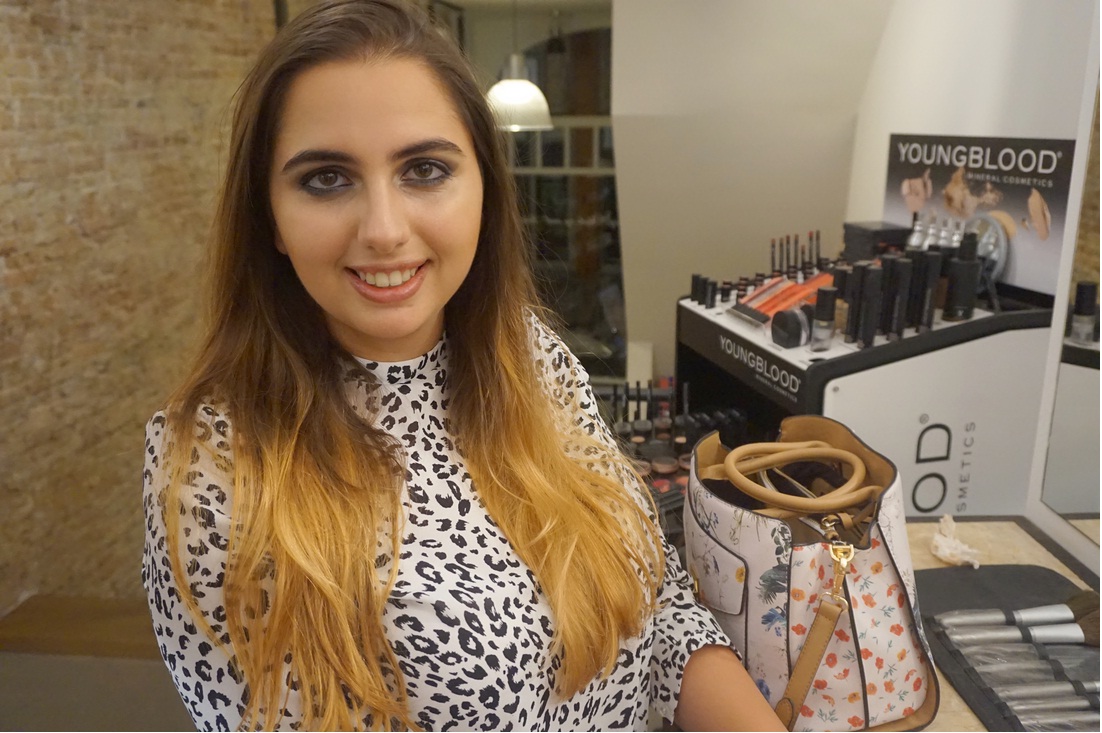 The step that would continue after was the eyebrow shaping with an eyebrowpencil, mascara, eyeliner to create the smokey eyes with, and an eyeshadow color to apply over the smudged eyeliner and finish it with. In my oppinion, the eyeliner was very nice in use, because it is very creamy when applying. I like the products we used in regular because they are very nice in use and very well pigmented. I asked the visagist to pick an eyeshadow color for me that would fit well with my eyecolor – which is blue-grey. The color of eyeshadow was khaki green. Last but not least, we would finish the look by using banana powder from the brand T. LeClerc – which by the way, has the same high quality powders on the market since the 19th century (!). Each of the girls got a lipstick color which would fit them best and with the look. My color for the look was a bold color of pink. The lipstick was very nice in use and very well pigmented.
De verdere stap was de wenkbrauwen vormen met wenkbrauwpotlood, mascara en oogpotlood om smokey eyes mee te maken en een oogschaduw kleur om het mee af te maken. In mijn mening vond ik het oogpotlood erg fijn in gebruik, omdat het erg smeuïg is in mijn mening. Ik vind de producten over het algemeen erg fijn in gebruik en erg goed gepigmenteerd. Ik liet een kleur voor me kiezen die het beste bij mijn oogkleur grijsblauw staat, en dat werd khaki groen. Last but not least was het tijd om met banana poeder van T. LeClerc – dat overigends al sinds de 19
e
eeuw dezelfde goede kwaliteit poeders op de markt heeft (!) – af te poederen. Daarna werd voor ieder een kleur lippenstift gekozen. Ik kreeg een felle kleur roze aangewezen. De lippenstift was heel erg fijn in gebruik en erg gepigmenteerd.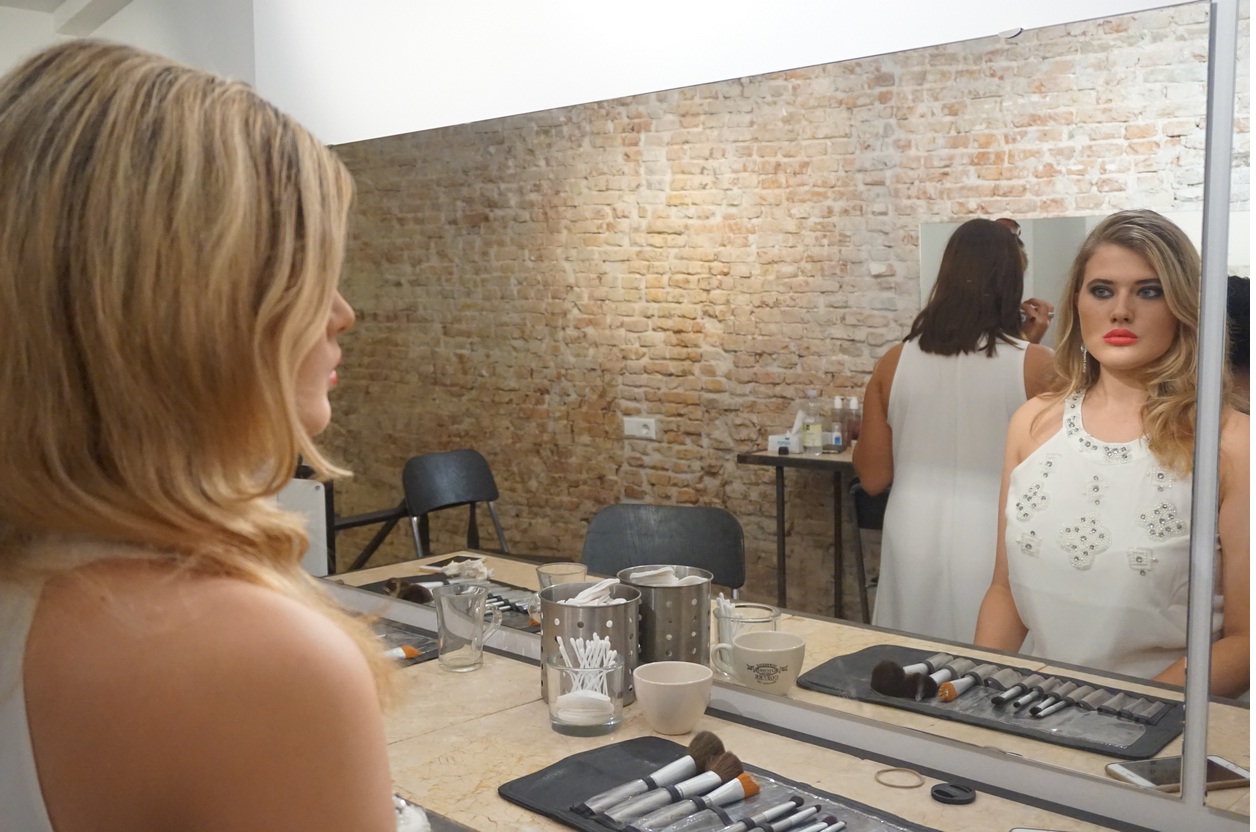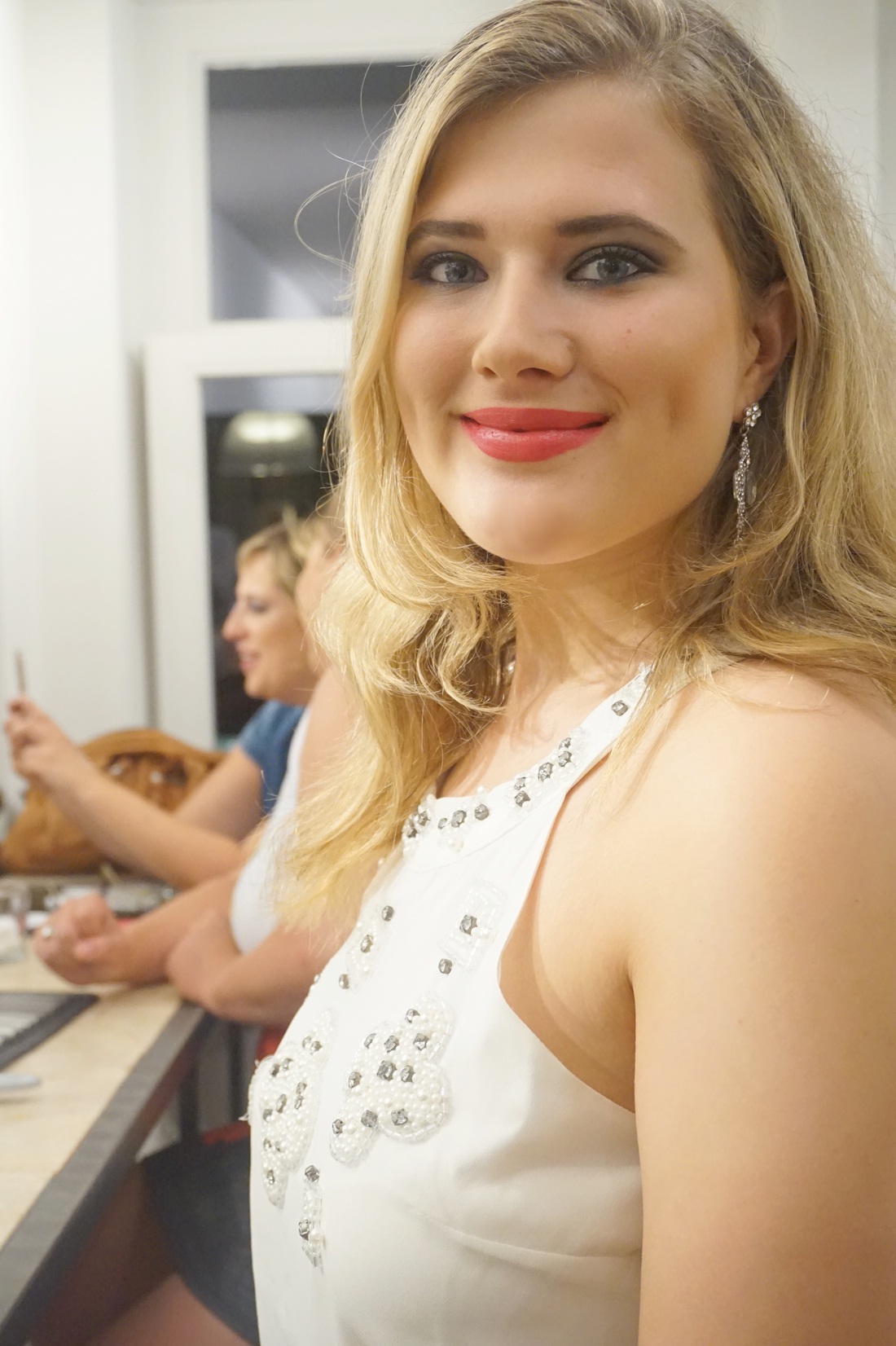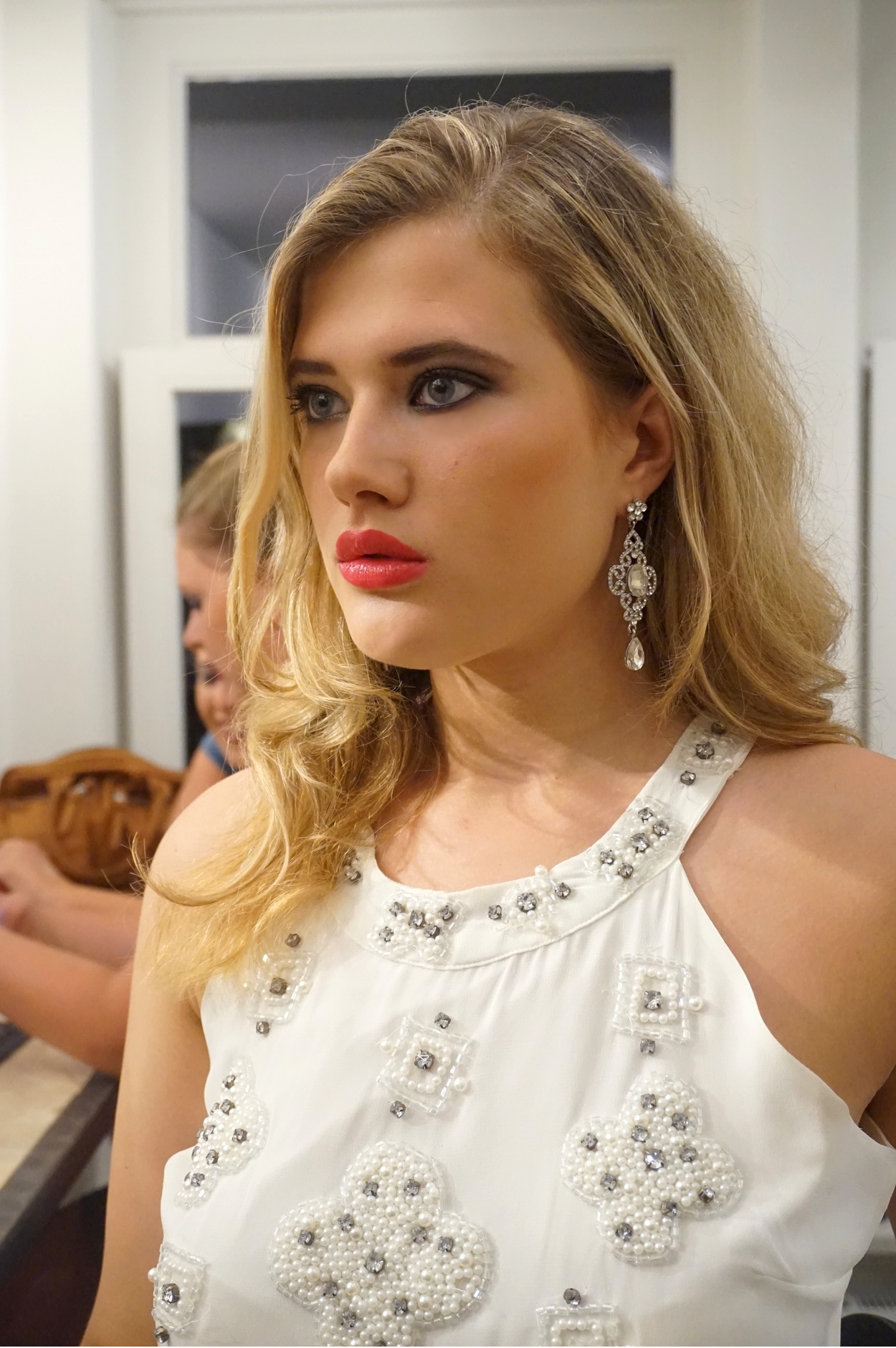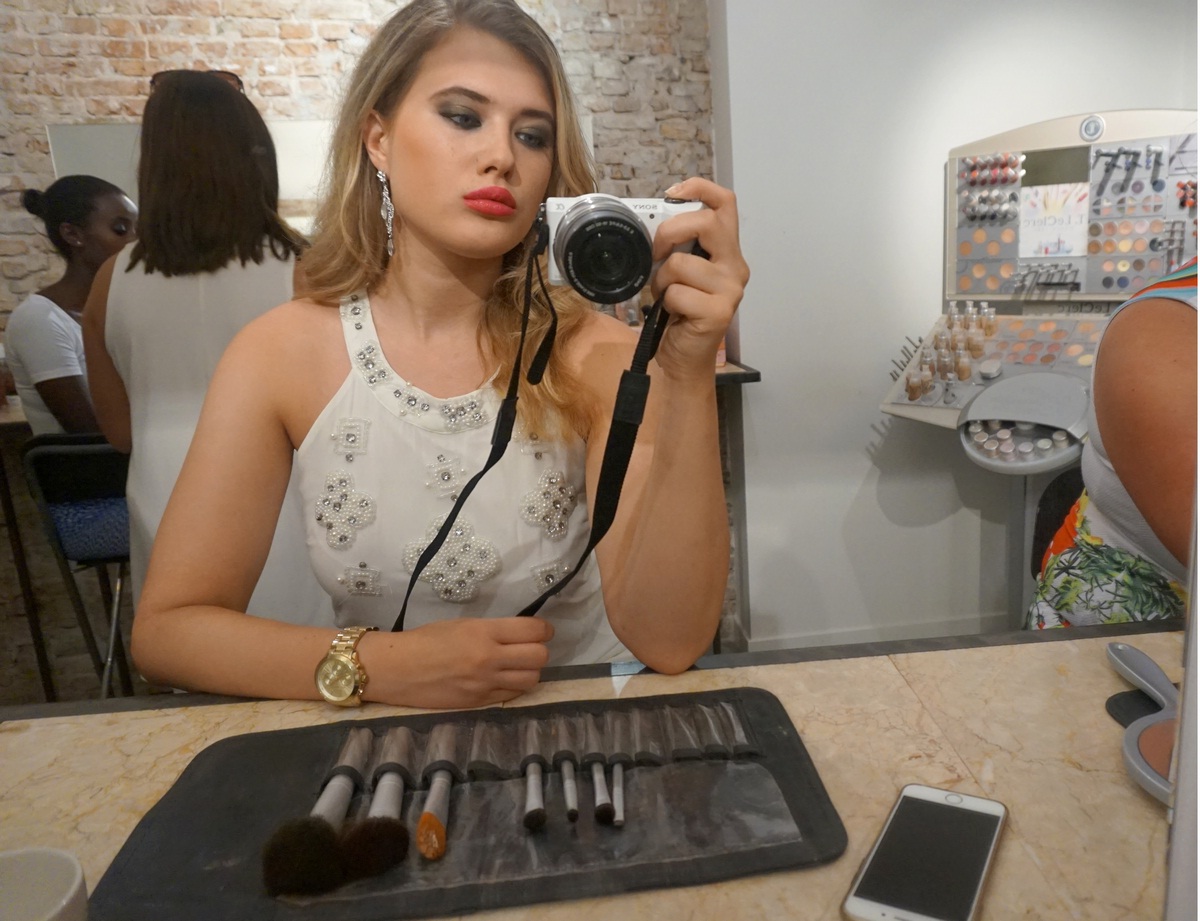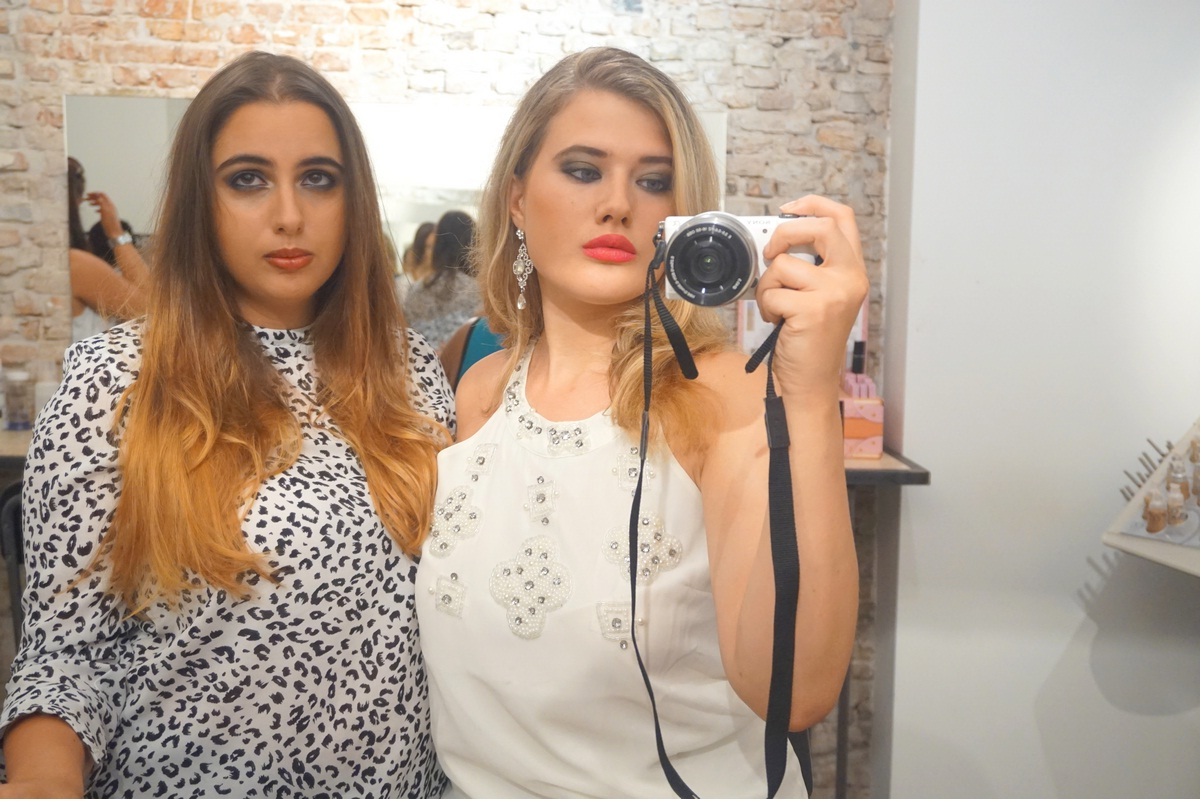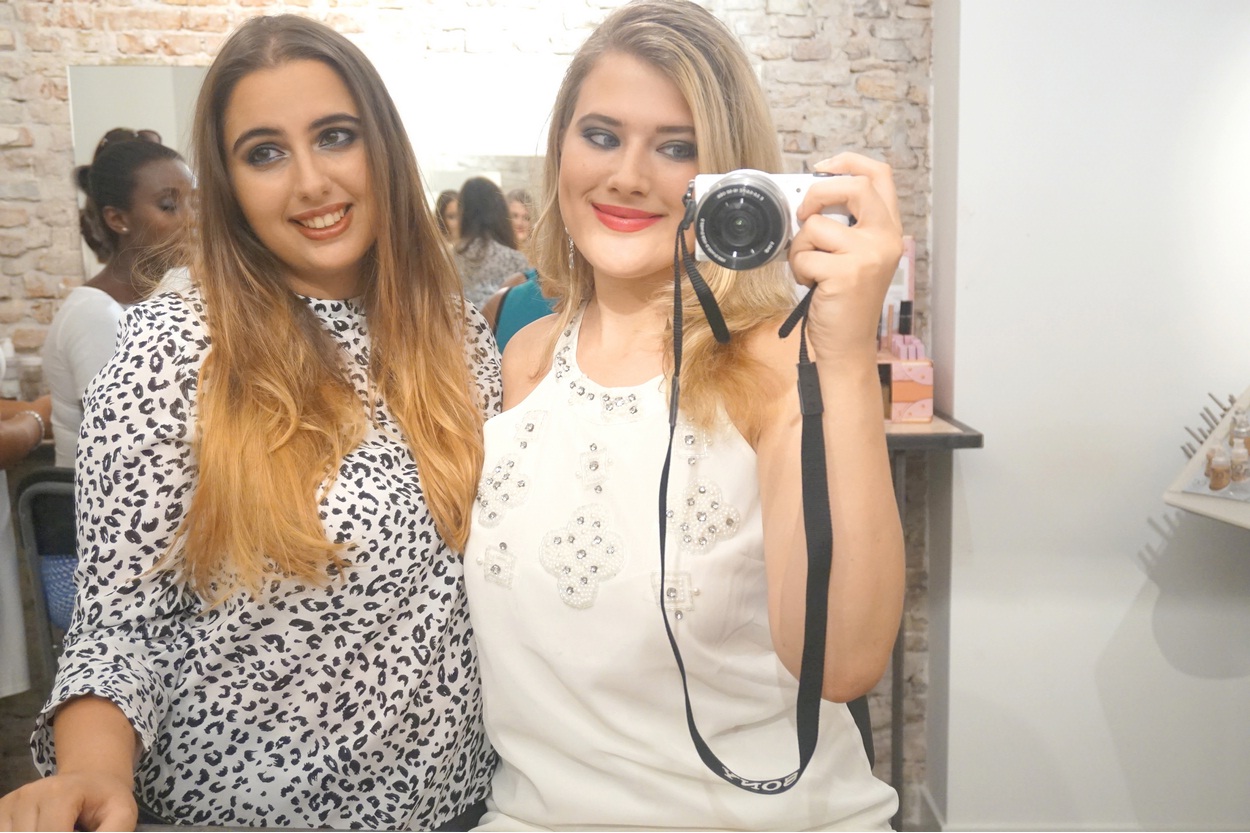 Final:

Mey and I where really happy with our look and we liked the workshop! We definitely recommend joining a workshop at Menco. I will totally use this look more in the future. The reason I join workshops is because I like trying out more brands, and to see what looks also look well besides the looks I can create from my own years of experience.
Underneath this post, you can see my favorite products of the workshop which I recommend. I like the use of the products and consider them well pigmented and high quality.
Tot slot:

Mey en ik zijn erg tevreden met deze look en vonden de workshop leuk! We raden zeker aan een workshop bij Menco bij te wonen. Ik ga deze look zeker meer gebruiken in de toekomst. De reden dat ik mee heb gedaan aan workshops is omdat ik het leuk vind meerdere merken uit te proberen, en ook om te zien welke looks leuk staan naast de looks die ik door mijn eigen jaren ervaring kan creëren.
Hier onder kun je mijn favoriete producten van de workshop zien en wat ik je dus aanbeveel.
Ik vind de producten erg fijn in gebruik, met een goede pigmentatie en van een goede kwaliteit.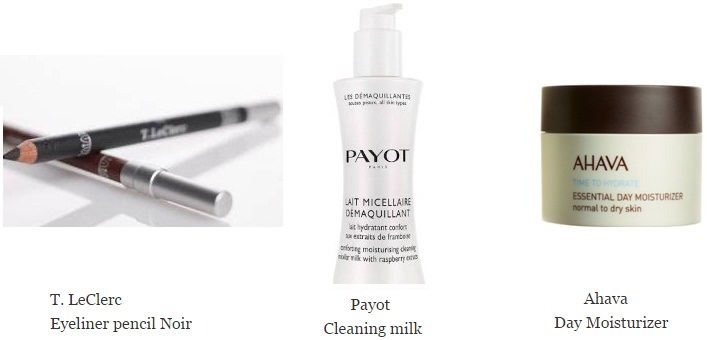 Website: www.pimmenco.com
P.s My dress is from forever21.