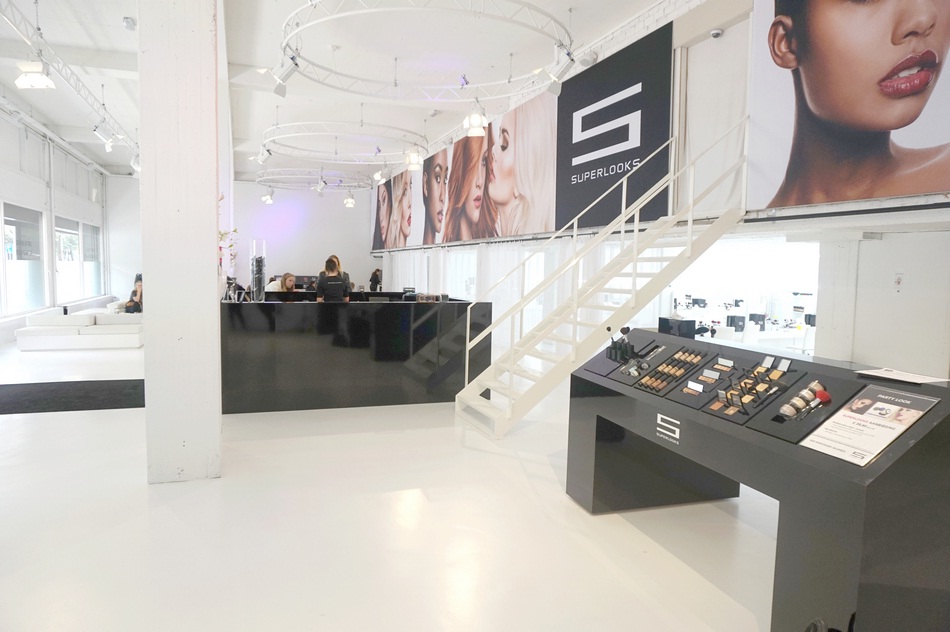 A while ago, I heard about a couple of people telling something about the Superlooks make-up workshop in Rotterdam. I decided to make a reservation for a workshop as well, together with a friend of mine. 
Een tijd geleden hoorde ik van een aantal mensen wat over de Superlooks make-up workshop in Rotterdam. Ik besloot samen met een vriendin van mij ook een reservering te maken voor een workshop.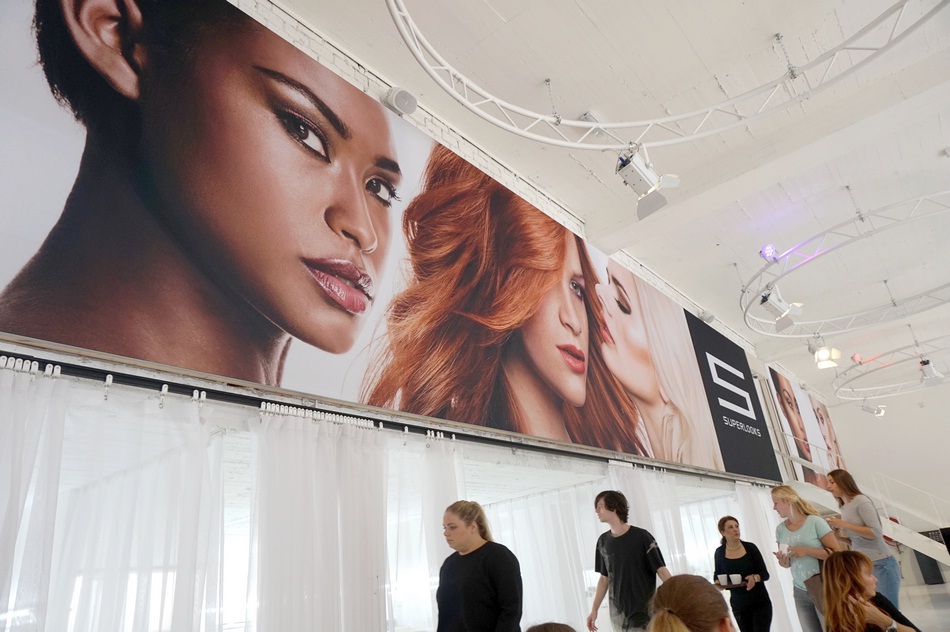 Once we arrived, it was raining very hard. We were inside soon enough luckily. The interior caught my eye in a positive way. The interior was modern and with lots of white like in a real studio. The area had a lot of black tables where make-up was presented on, and had a lot of big posters with models that have a variety of hair and make-up styles. One of the models was a participant of  F for Fashion a while ago. (The fashionshow I have been a part of as well, and was a poster model for last year) – We got welcomed by friendly employees and our reservation got checked. Afterwards, we got told where we could wait and where we could get ourselves a drink before the workshop would start. 
Eenmaal aangekomen regende het hard, maar waren we al snel binnen. Het interieur sprak me al snel erg positief aan aan. Het interieur is strak en met veel wit als een echte studio. De ruimte heeft zwarte tafels waar make-up op gepresenteerd werd, en grote posters met modellen met diverse haar/make-up looks. Een model daarvan heeft ook deelgenomen aan F for Fashion (waar ik o.a vorig jaar postermodel voor was / aan deel heb genomen).
We werden vriendelijk verwelkomt door de medewerkers en onze reservering werd gecontroleerd.
Daarna werd ons verteld waar we konden gaan wachten, en waar we wat te drinken konden nemen. voor de workshop zou starten.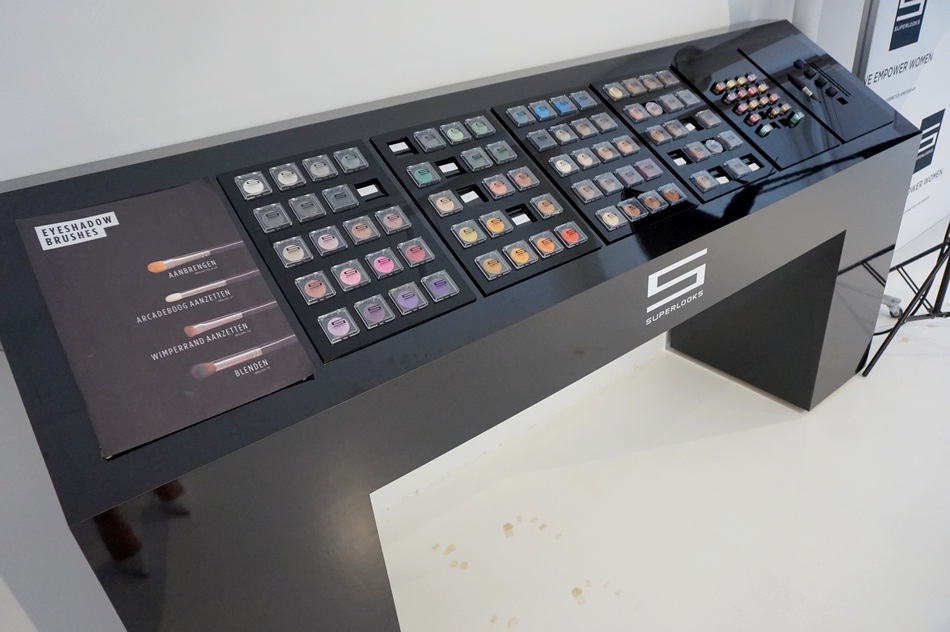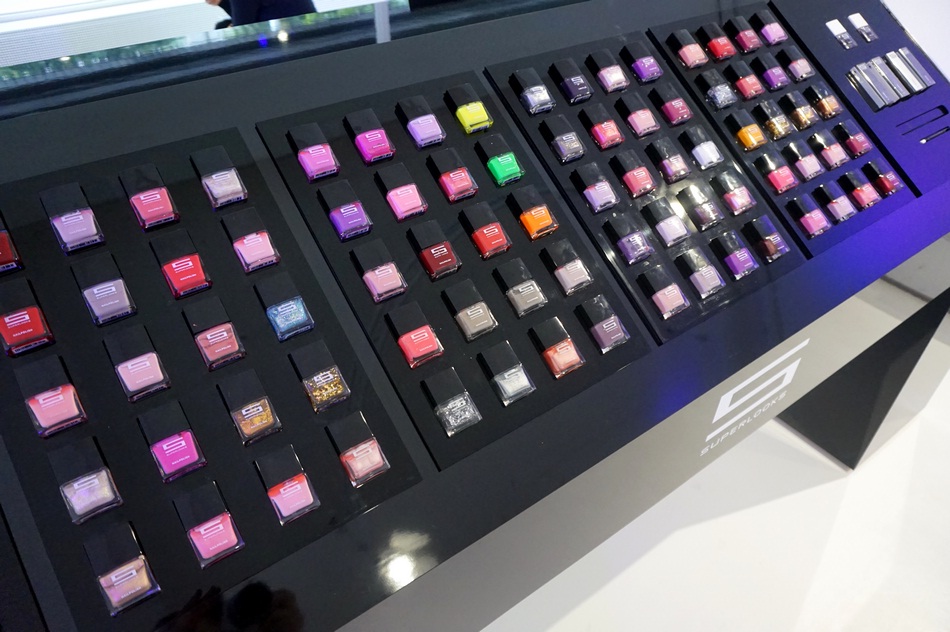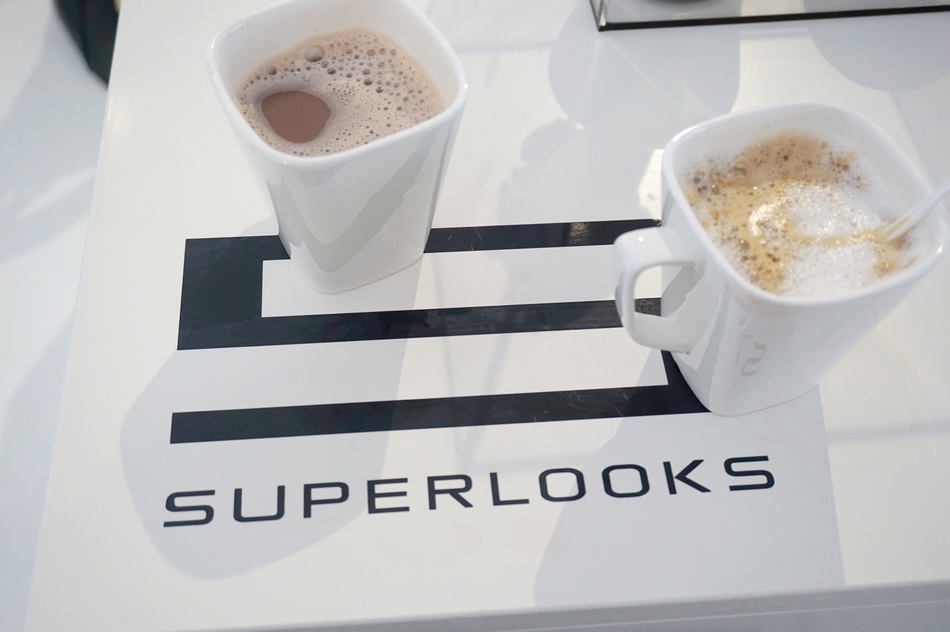 Divided into groups, we got lead to an area with a curtain. All of us could sit down at a table that has a big mirror with lamps and with a variety of cosmetics –  which we would get to use during the workshop.
In groepjes werden we begeleid naar een ruimte met een gordijntje. Iedereen kon gaan zitten aan een tafeltje met een spiegel met grote lampen, en met diverse cosmetica producten – waar je in de loop van de workshop gebruik van zou maken.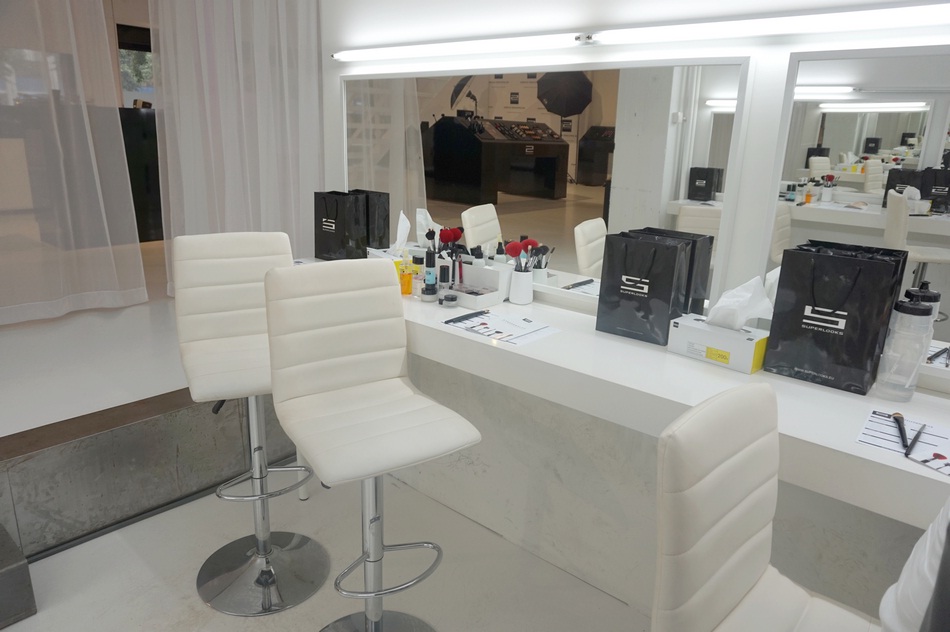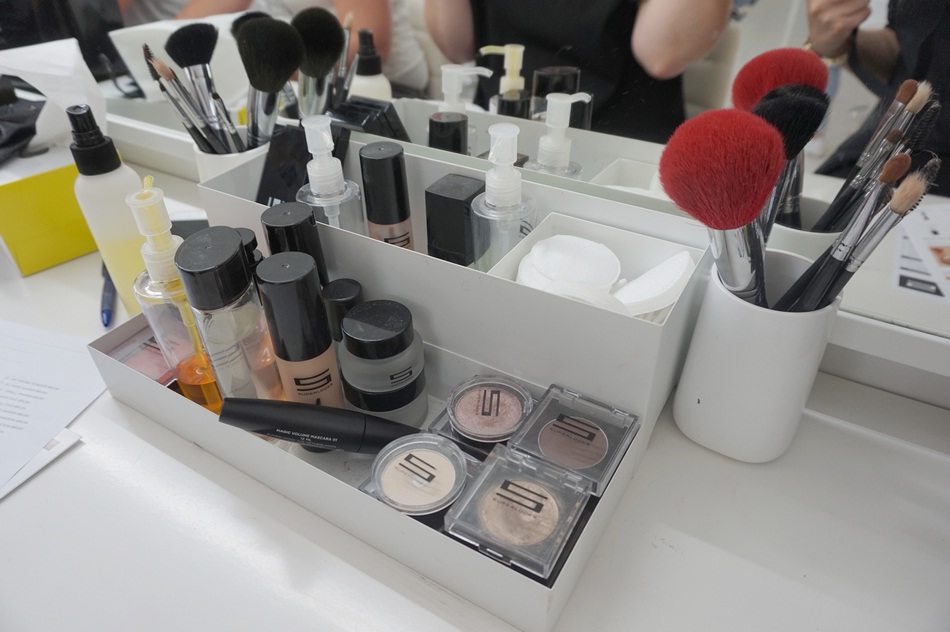 The make-up artist explained to us that the look we would apply today would become a 'no make-up, make-up look', a daily, natural-like look. Most of my days, I wear quite heavy make-up in my opinion, so trying out this look was in my opinion definitely a nice challenge.
We werden door een Visagist verteld dat de look een 'no make-up,make-up' look gaat worden, een daglook. Meestal ga ik in mijn mening vrij heftig opgemaakt door de dag, dus een naturel look leek me ook zeker een leuke uitdaging.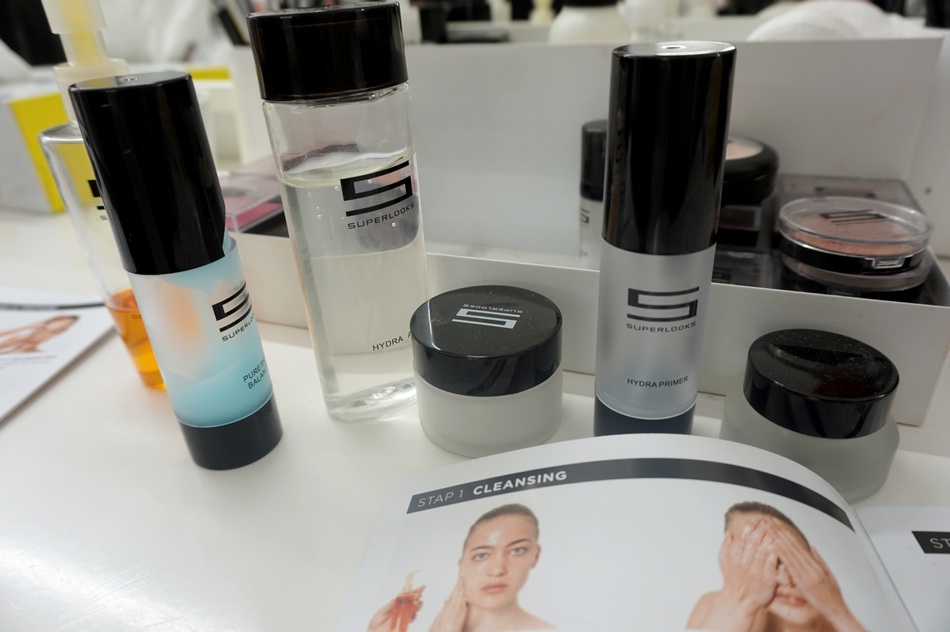 The first step is cleaning the face. We started by using the cleansing beauty oil – which you can remove your make-up with, then a toner called beauty water – which closes the pores, eventually the pure skin balance – which is for extra moisture, the hydra clean/hydra active. The next step is using the magic silky base – which is also called 'botox in a jar' for applicating under the eyes, and finally the invisible pore primer.
De eerste stap is het reiningen van het gezicht. We maakten gebruik van de cleansing beauty oil – waar je je make-up mee afhaalt – daarna een toner genaamd beauty water, die de poriën sluit, vervolgens de pure skin balance – voor extra vocht, hydra cream en/of hydra active.  De volgende stap is de magic silky base – dat ook wel de 'botox in een potje' voor onder je ogen werd genoemd, en de invisible pore primer.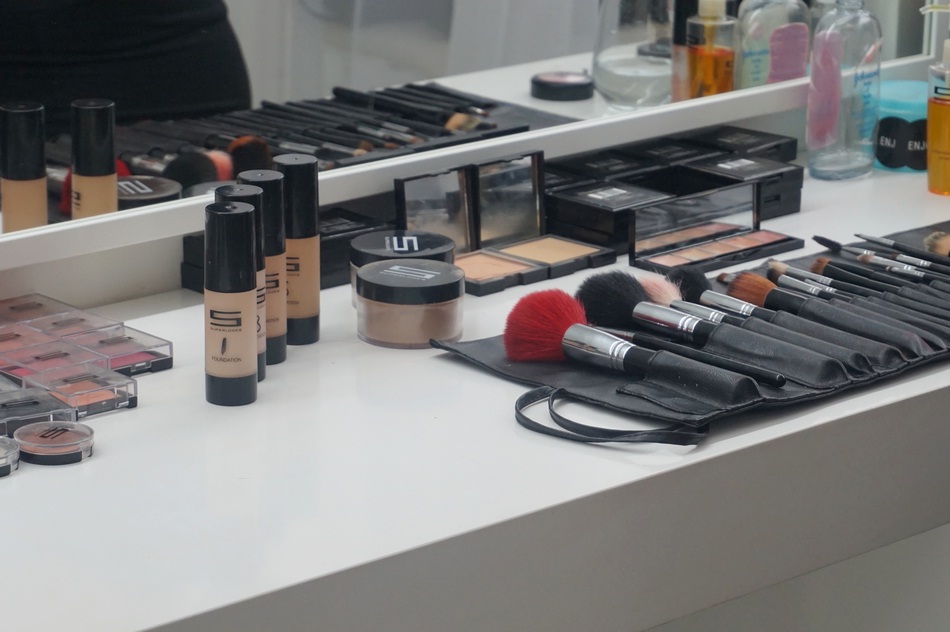 Furthermore, we have arrived at the point where we will get instructed about how we can get rid of blemishes. I am lucky enough to have a smooth and almost blemish-free skin – so this is a step in my daily life where I almost don't need to take time for. On my good friend Anne-Sophie, the working of the products got shown well. The steps that followed were; choosing the right primer per person, using the concealer palette to hide dark circles underneath the eyes, applying the right HD foundation of which the right color got checked individually by the make-up artist, and finally, powdering/mattifying.  
Verder zijn we aangekomen bij het wegwerken van oneffenheden. Ik heb het geluk een vrijwel egale huid te hebben met maar heel erg weinig oneffenheden of roodheid – dus is dit ook in het dagelijks leven, iets waar ik niet heel veel tijd aan kwijt ben. Bij mijn goede vriendin Anne-Sophie, werd de werking van de producten goed getoond. De stappen die hierna volgden; het kiezen van de juiste primer bij je huid per persoon, het concealer palette gebruiken om donkere kringen weg te werken, de HD foundation aanbrengen voor het aanbrengen van de juiste kleur/dekking in het gezicht die individueel per persoon werd aangewezen, en vervolgens het afpoederen.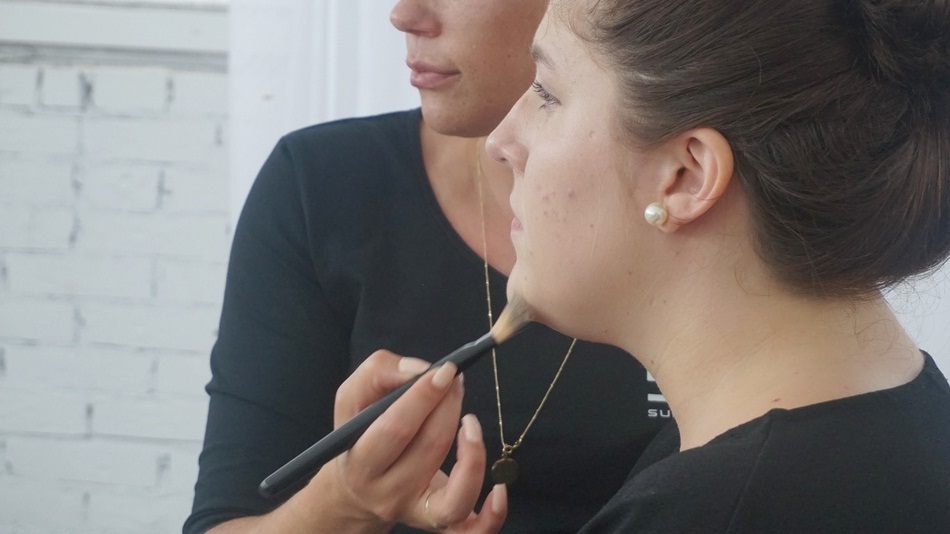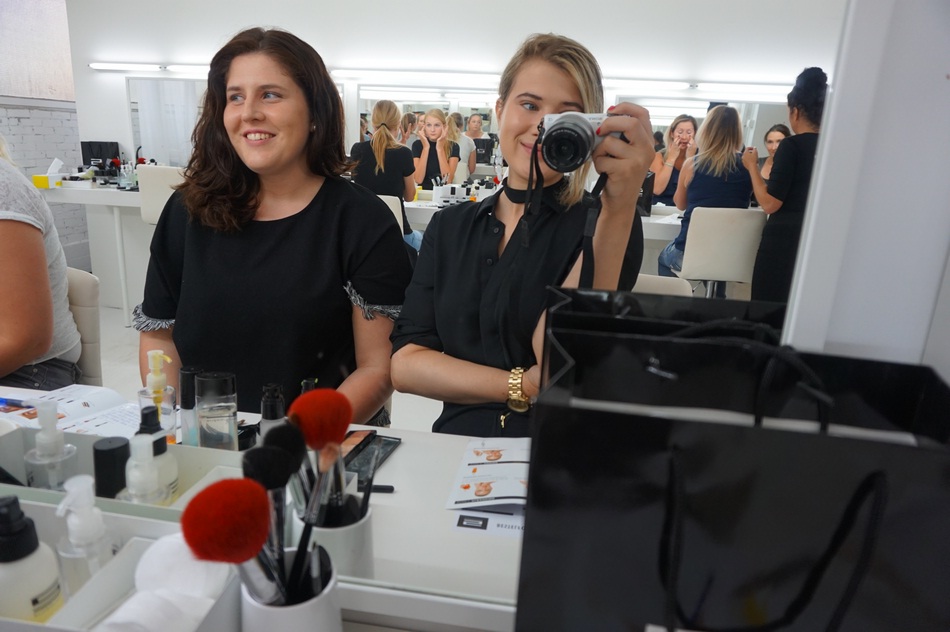 #natural
The next step is shaping the eyebrows. Even though I have very dark eyebrows by nature, and keep them as naturally shaped as possible – except for editing every once in a while. We got instructed on how to form them into a good shape with an eyebrow brush, and colored eyebrow gel. After this is done, the eyes will follow very soon – in which everybody could pick their own personal favorite colors for their natural look.
De volgende stap is het vormen van de wenkbrauwen.
Al heb ik hele donkere wenkbrouwen van mezelf en houd ik ze natuurlijk in vorm op wat bijwerken zo nu en dan ná, werd ons geïnstrueerd de wenkbrauwen met de wenkbrauwborstel in model te brengen en met de eyebrow corrector verder in model te krijgen. De ogen komen snel hierna, waar ieder naar eigen voorkeur kleuren kan kiezen voor hun natuurlijke look.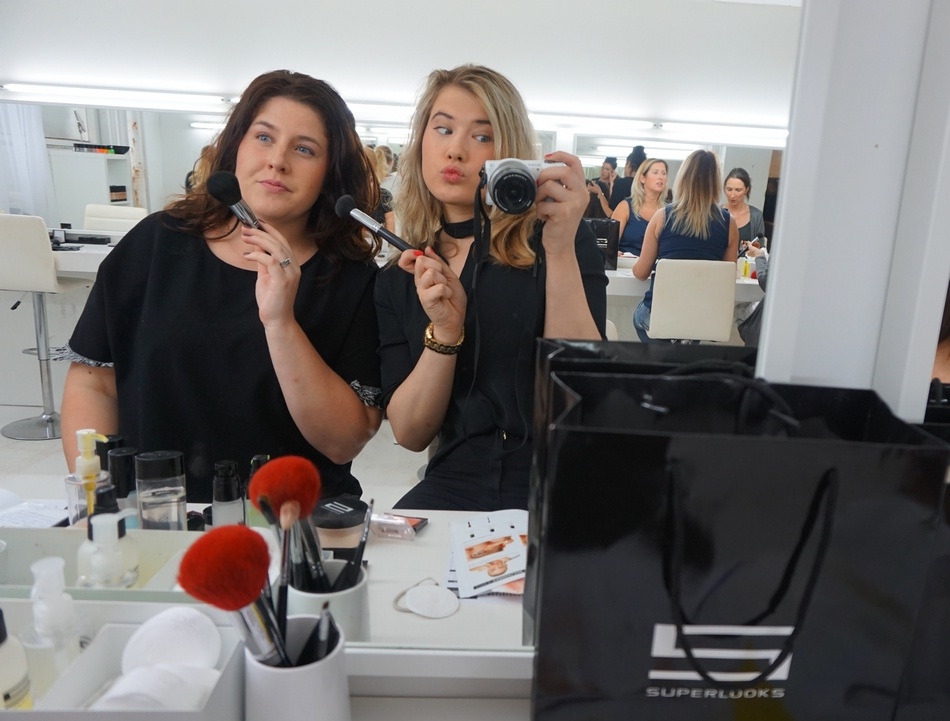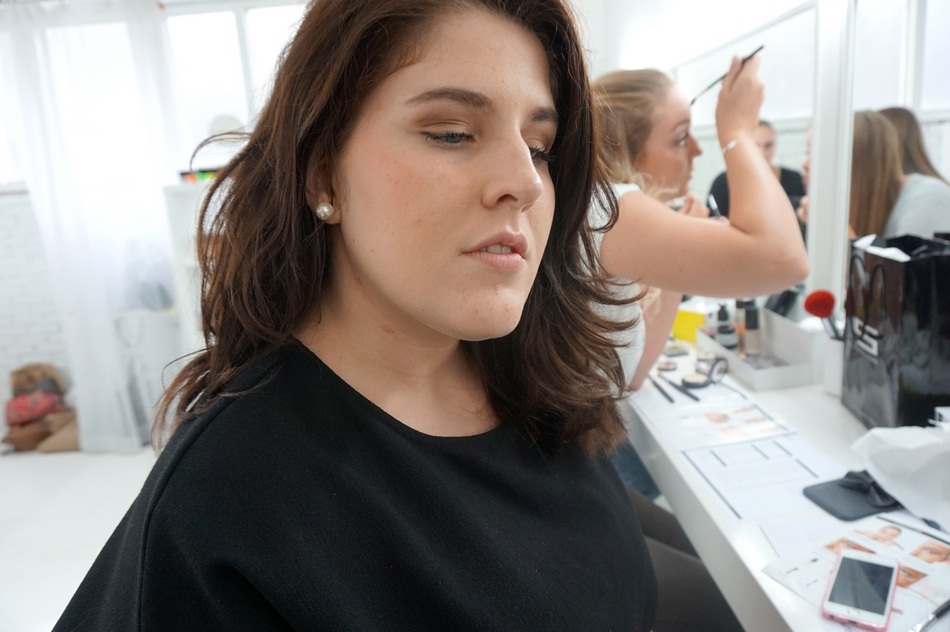 And finally, it was time to apply make-up to the lips and face. With the diamond highlighter – which is my new favorite illuminator/highlighter – the blush powder, where each of us got explained to which colors would fit with your hair/skin/eye colors, applying mascara, and eventually choosing a lipgloss to your own liking. I was very happy with the tips on how to improve my blush and highlighter even more.
 Ten slotte werd het tijd om de wangen en lippen op te gaan maken. Met de diamond highlighter – wat o.a mijn nieuwe favoriete illuminator/highlighter is – blush powder, waar ons werd uitgelegd welke kleuren het beste bij je haar/oogkleur/huid past, mascara, en als laatste een lipgloss kleur naar eigen keuze. Verder was ik erg blij met de tips hoe ik highlighter en blush nóg optimaler kan aanbrengen.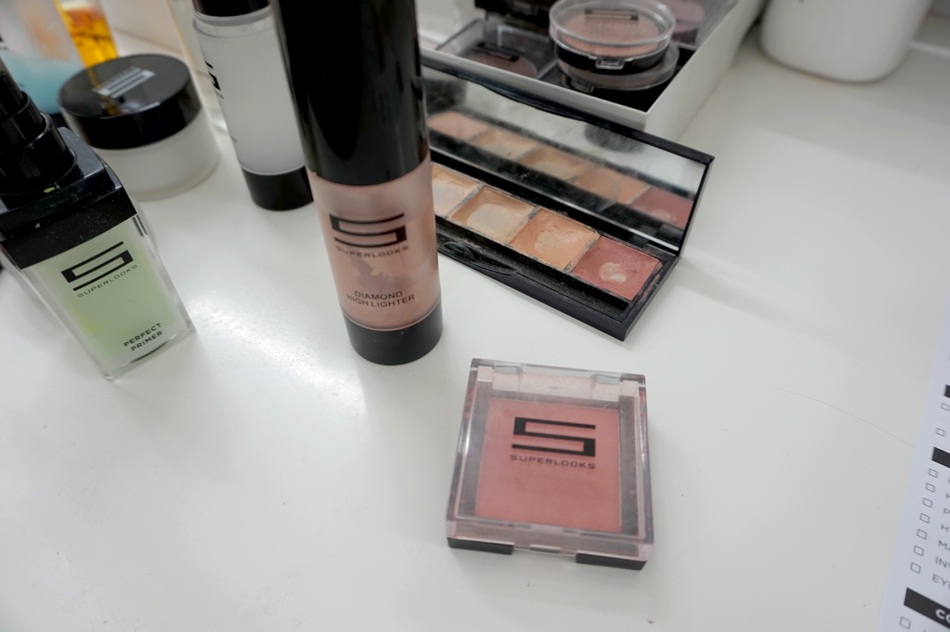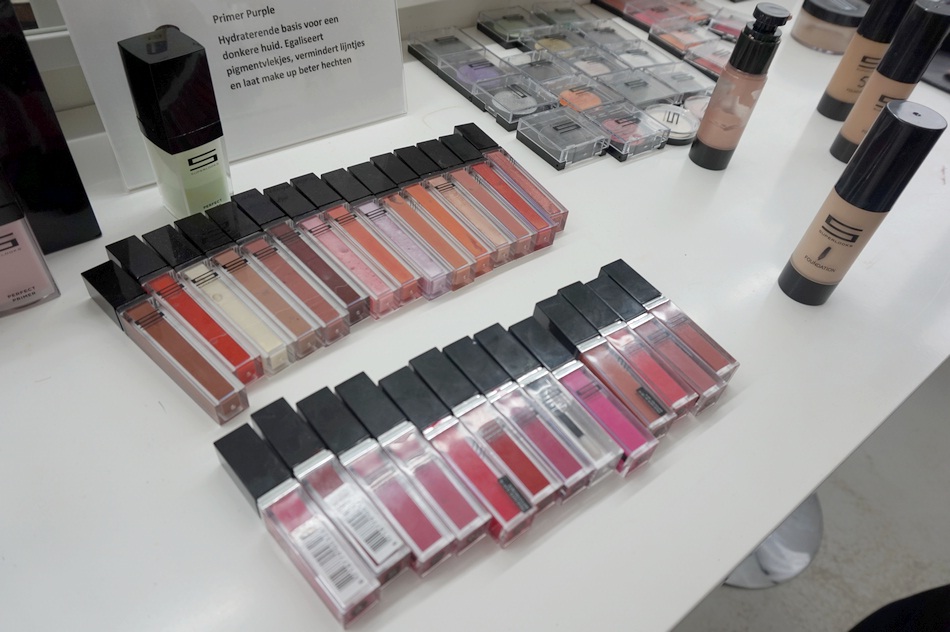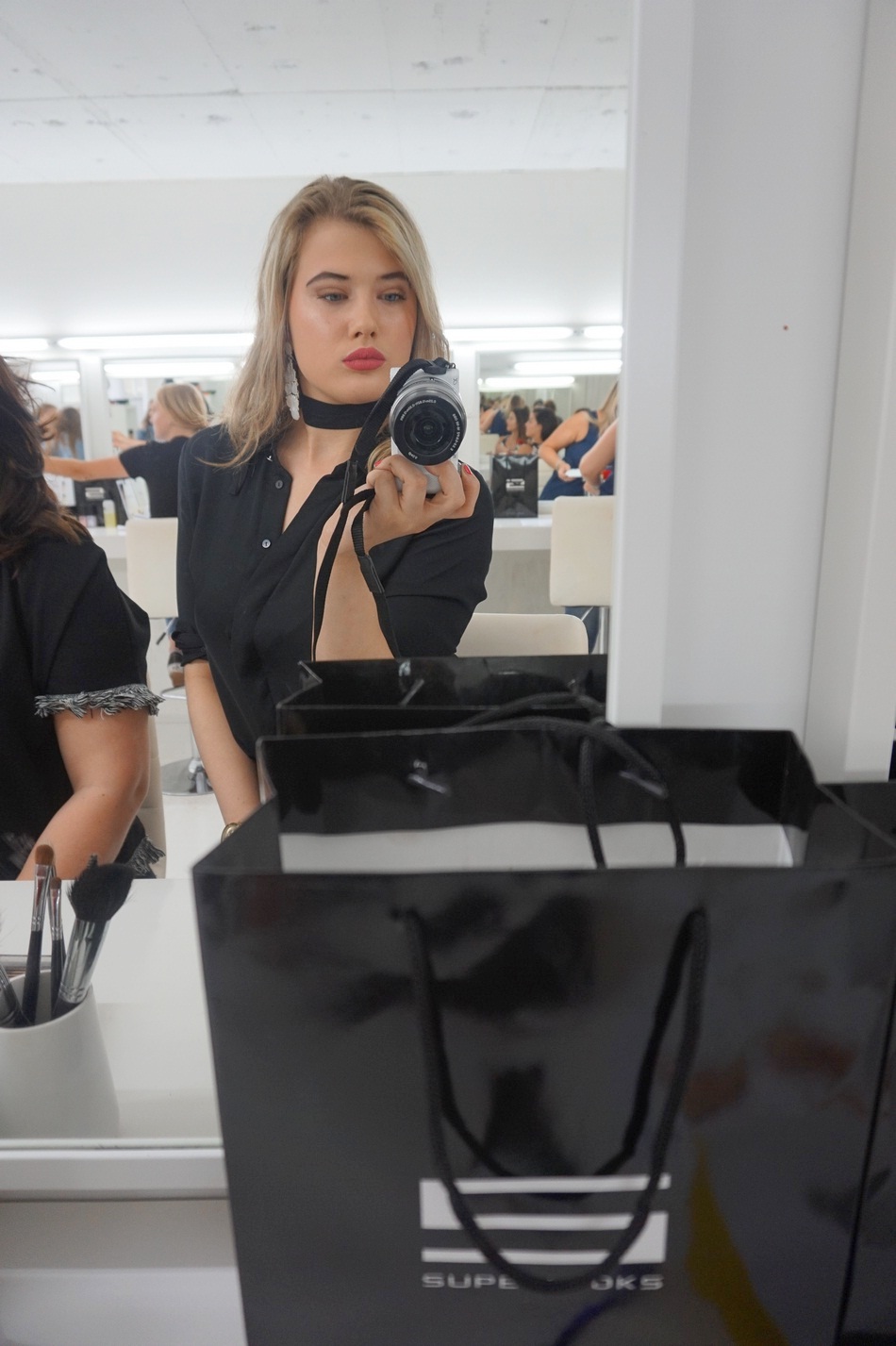 I've chosen a matte lipstick in a color which looks kinda taupe-ish. What a difference compared to my normal make-up look, right?! – Positive, however i'll probably stay with my normal look.  I am very happy with the result, although I prefer my eyebrows to be lighter, because I think they are too dark for this make-up look and face. Afterwards, we decided to take some nice result pictures at the press wall with my camera, so you can see how the look turned out.
Ik heb gekozen voor een matte lippenstift met een tint die wat reikt naar het taupe. Wat een verschil met mijn normale look, vind je niet!? – Positief, maar ik blijf waarschijnlijk bij mijn normale make-up look.
Ik ben erg blij met het resultaat, alhoewel ik persoonlijk mijn wenkbrauwen erg donker vind voor bij mijn gezicht tijdens deze look. Ten slotte besloten we samen nog wat leuke foto's bij de press wand te laten maken met mijn camera, waar je goed kan zien hoe de look is geworden.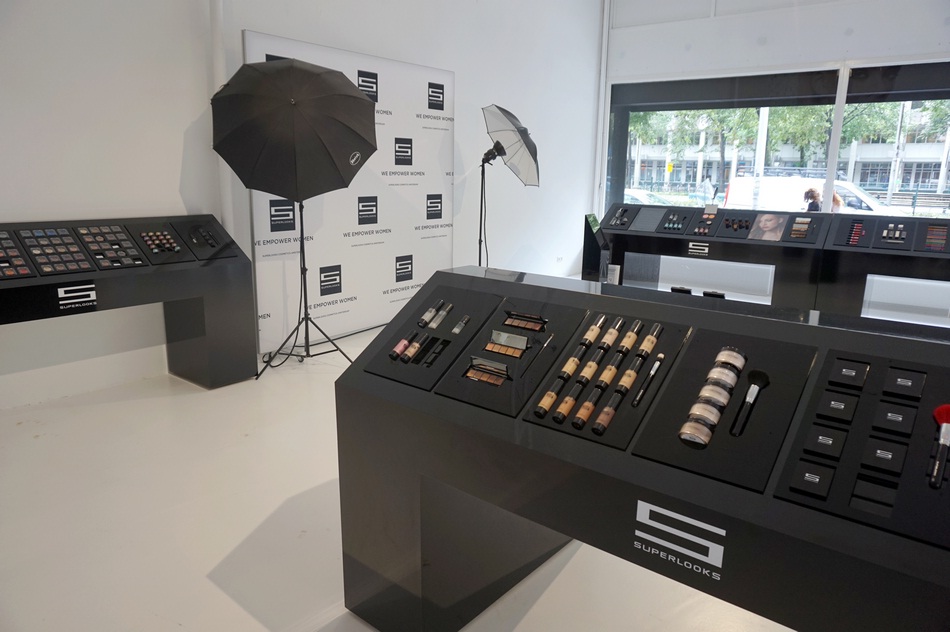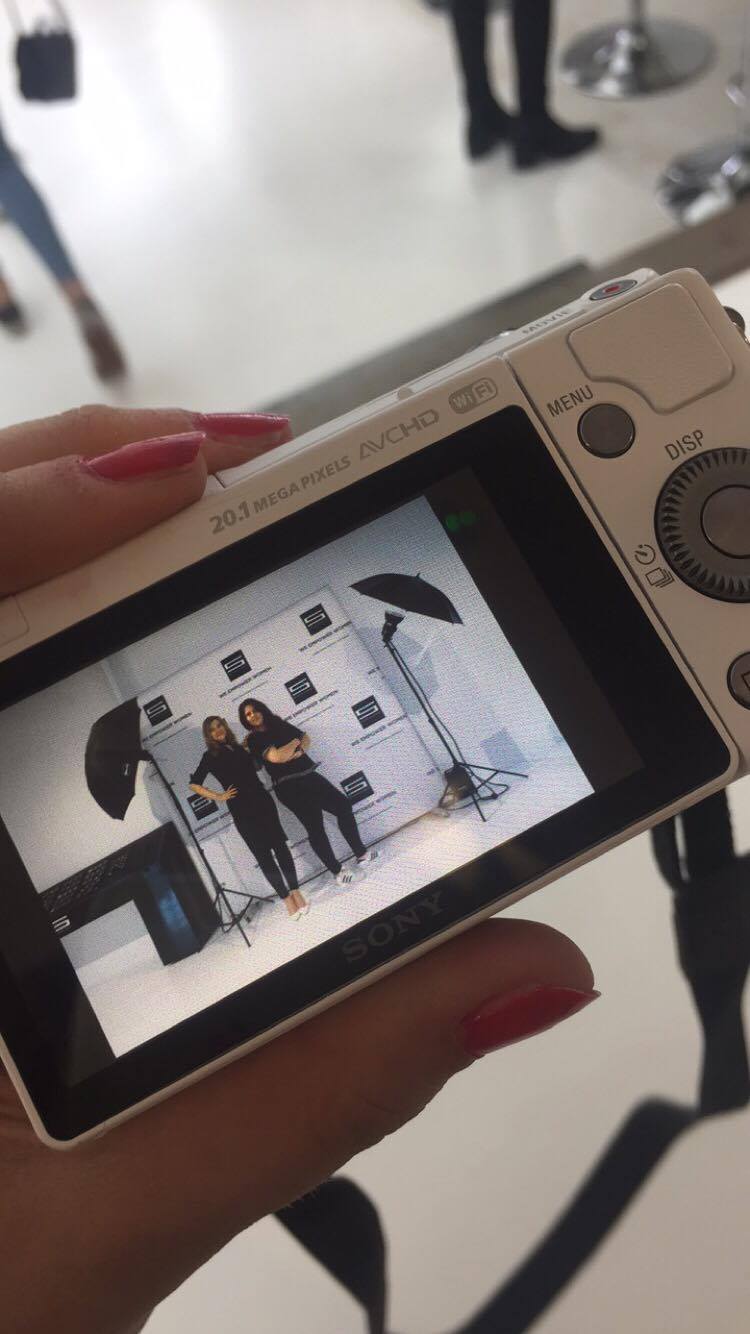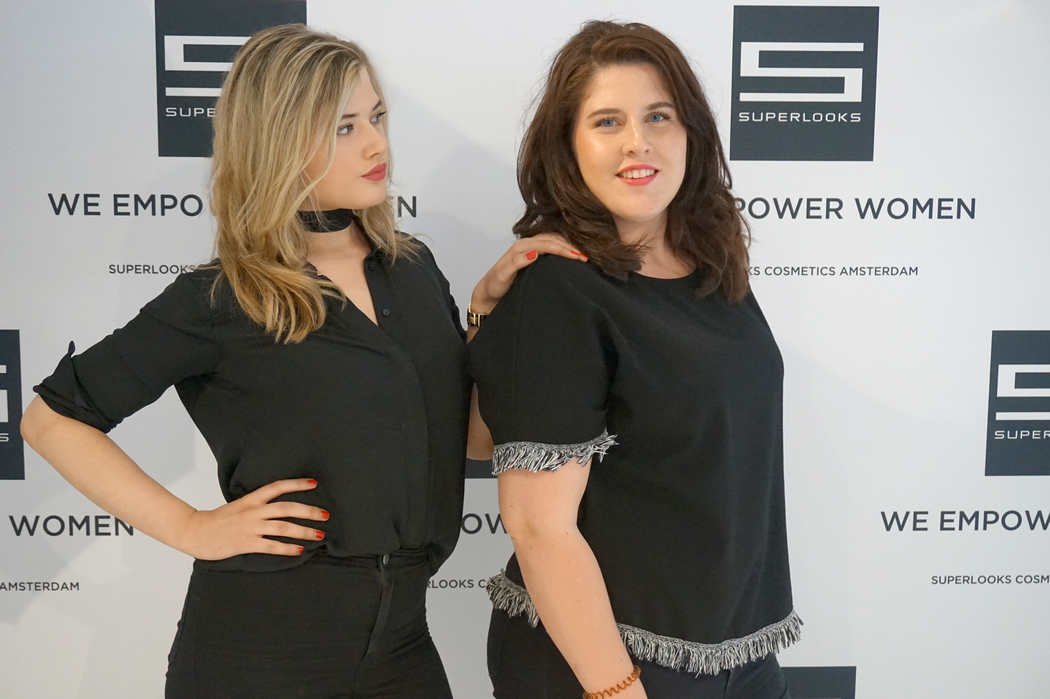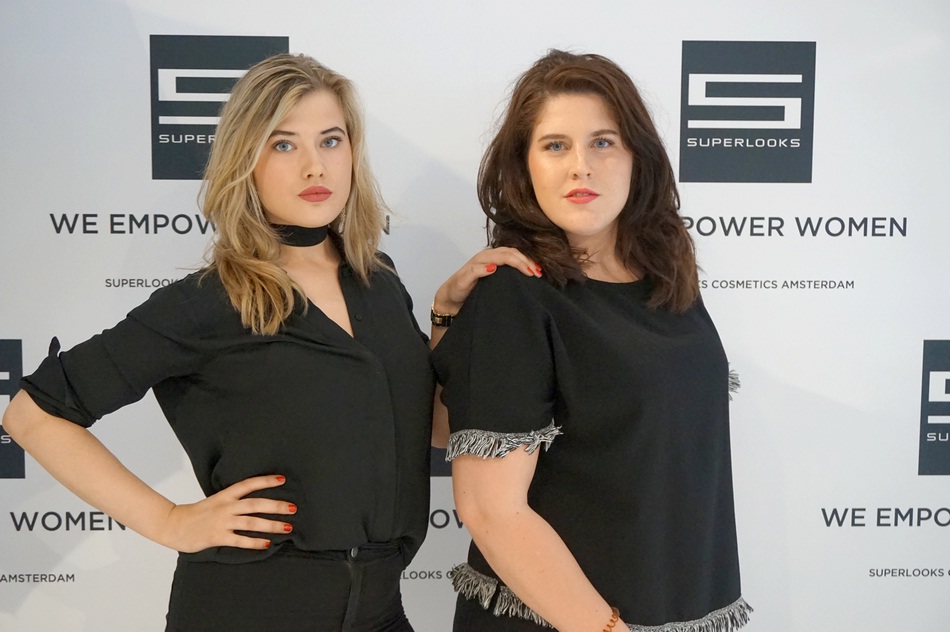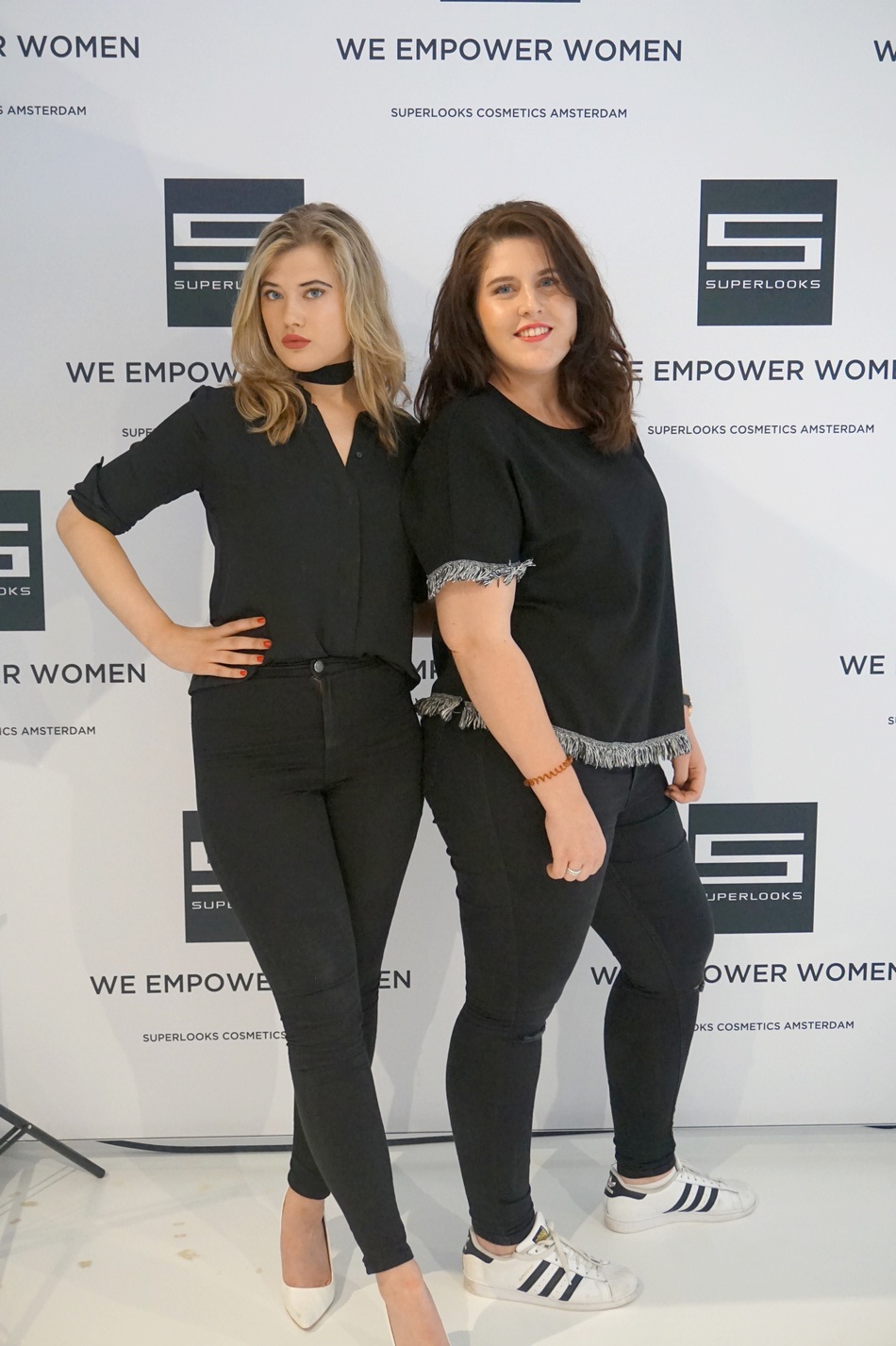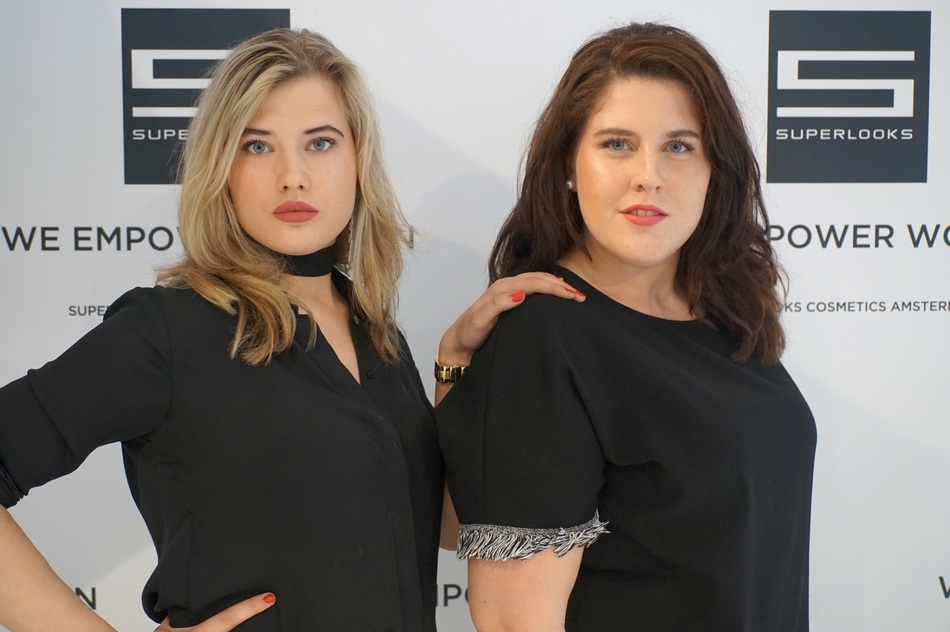 To finish this review, you can find three of my favorite products below. I mostly only use BB cream, but I am very fond of the HD foundation in color 01 anyways. I also really like the Diamond Highlighter in Bronze – which I bought, and lastly the matte coloured lipgloss, in shade 09. Sadly this one was sold out, so below, you can find another shade I recommend. What is explained at the beginning of the workshop, is that the benefit of the products is a wide assortment fit for a whole lot of skin types, colors and shades. The products are water based.
Om deze review af te sluiten kun je hieronder drie van mijn favoriete producten zien. Ik gebruik meestal alleen BB cream, maar ben alsnog erg weg van de HD foundation in kleur nummer 01, De Diamond Highlighter in Bronze – die ik trouwens gekocht heb, en tenslotte de matte coloured lipgloss in kleur 09, die helaas was uitverkocht. Dus hieronder een andere aanrader. Wat ons overigens op het begin is uitgelegd is, dat het voordeel van de producten een breed assortiment is, geschikt voor veel verschillende huidtypes, kleuren en tinten. De producten zijn op waterbasis.

Colored lipgloss                   Diamond Highlighter                      HD Foundation
07 – Coral                                       Bronze                                        01
Final:

We both really had a nice experience which I definitely recommend. The employees were very kind, helpful, gave personal feedback, advice & tips, and the products are very nice in use. The website of Superlooks – where you can find the products and make a reservation for a workshop, is
www.superlookscosmetics.com
. You can sometimes, also get it at vakantie veilingen (like us) for only 10-15 euro's for two people combined.
Slot:
We vonden beiden de workshop een hele leuke ervaring die we zeker aanraden. 
De werknemers waren erg vriendelijk en behulpzaam, gaven je persoonlijke feedback, adviezen en tips, en de producten zijn erg fijn in gebruik. 
De website van superlooks, waar je de producten kan vinden en een workshop kan reserveren is te vinden op www.superlookscosmetics.com. Soms kun je (net zoals ons)deze workshop boeken voor maar 10-15 euro voor twee personen samen via vakantie veilingen.