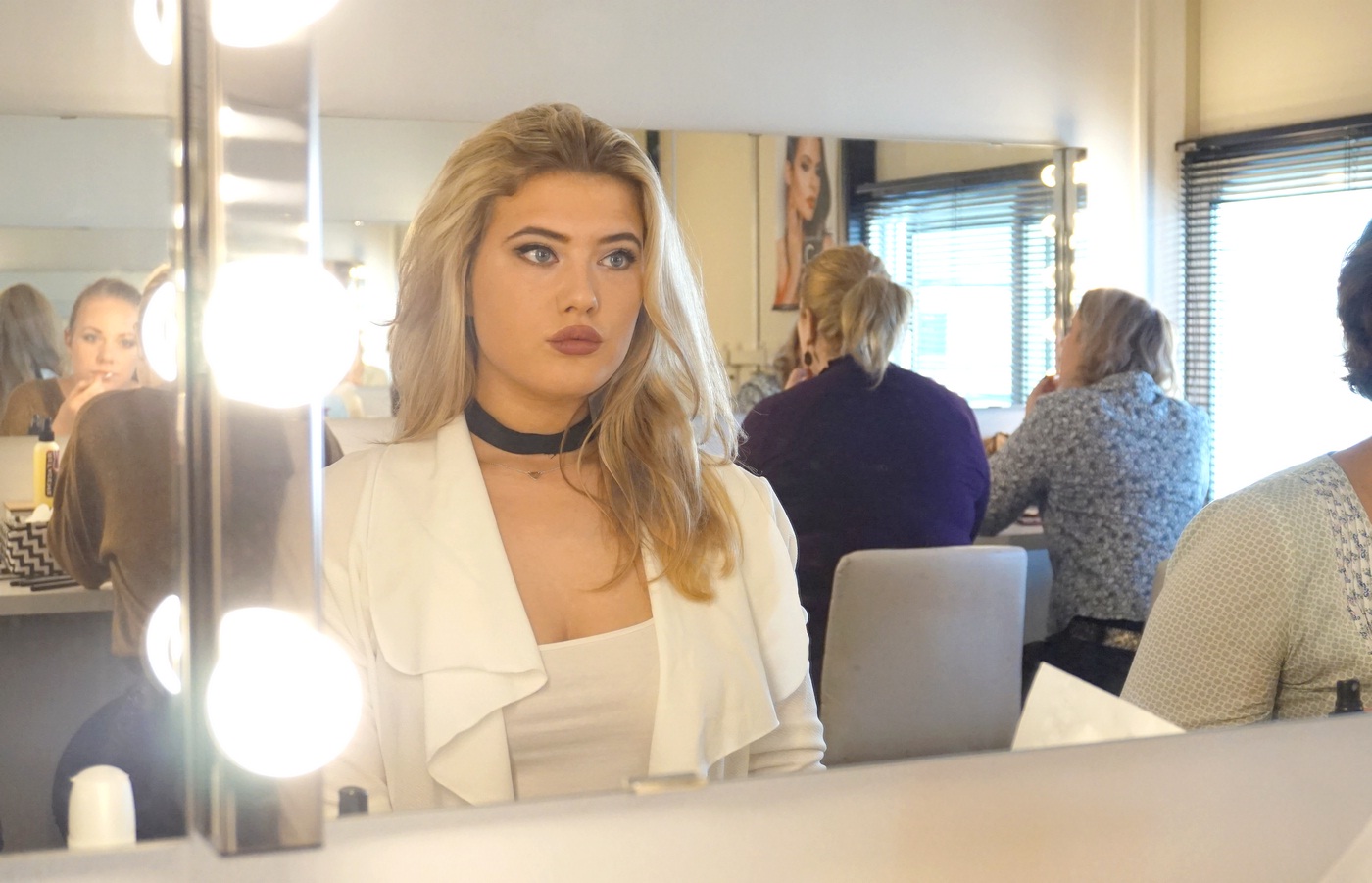 Not long after the holidays, I saw a workshop online of ReFaceMe in Maarssen and decided to book one for this month. I thought it would be a great idea to visit another make-up workshop together with a friend that I wanted to suprise, because I like trying out new looks in a group (besides the many looks that I learned by myself from years of experience, use and practice), to learn multiple and different techniques and to work with different brands.From myself, I do know how to apply multiple looks because I wear make-up for years already and do have my share of knowledge, what looks well with my facial shape/look and how to use and apply a lot – but using new brands and products, new colors, other techniques and recieving extra and new tips and tricks is always nice.
Niet lang na de feestdagen kwam ik een workshop tegen van ReFaceMe in Maarssen en besloot voor deze maand te reserveren. Het leek me leuk weer een make-up workshop bij te wonen samen met een vriendin die ik ermee wilde verrassen, omdat ik het altijd leuk vind in een groep nieuwe looks (naast de vele looks die ik van mijzelf heb geleerd in jaren lang oefenen en gebruik) te proberen, om meerdere en andere technieken te zien en leren en daarnaast te werken met verschillende soorten merken en producten. Zelf weet ik al jaren lang hoe je meerdere soorten make-up aanbrengt sinds ik het al jaren draag en mijn nodige kennis al heb, wat goed bij mijn eigen gezicht staat en hoe je veel gebruikt en aanbrengt – maar het gebruik van nieuwe merken, nieuwe kleuren, andere technieken en nieuwe tips & tricks krijgen vind ik altijd leuk.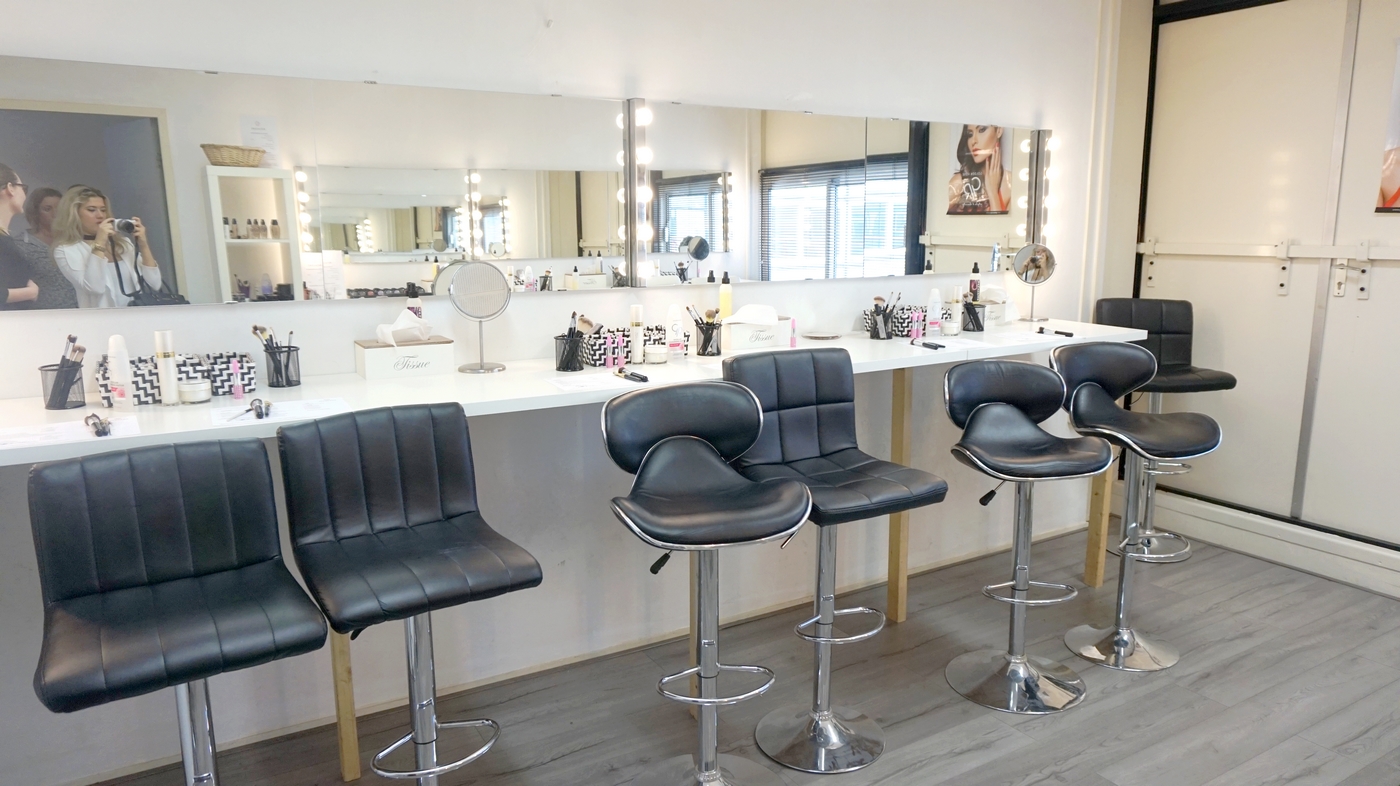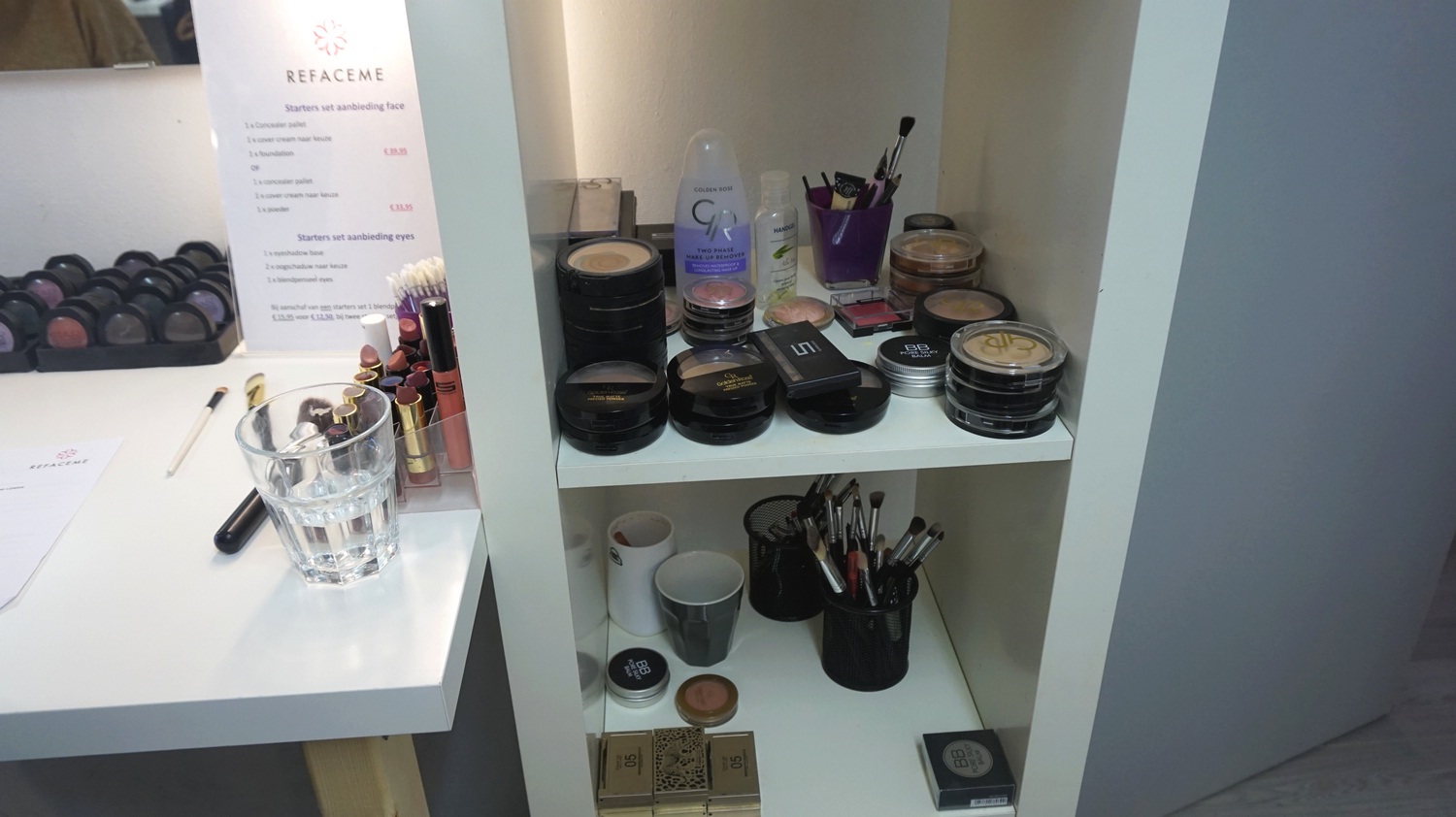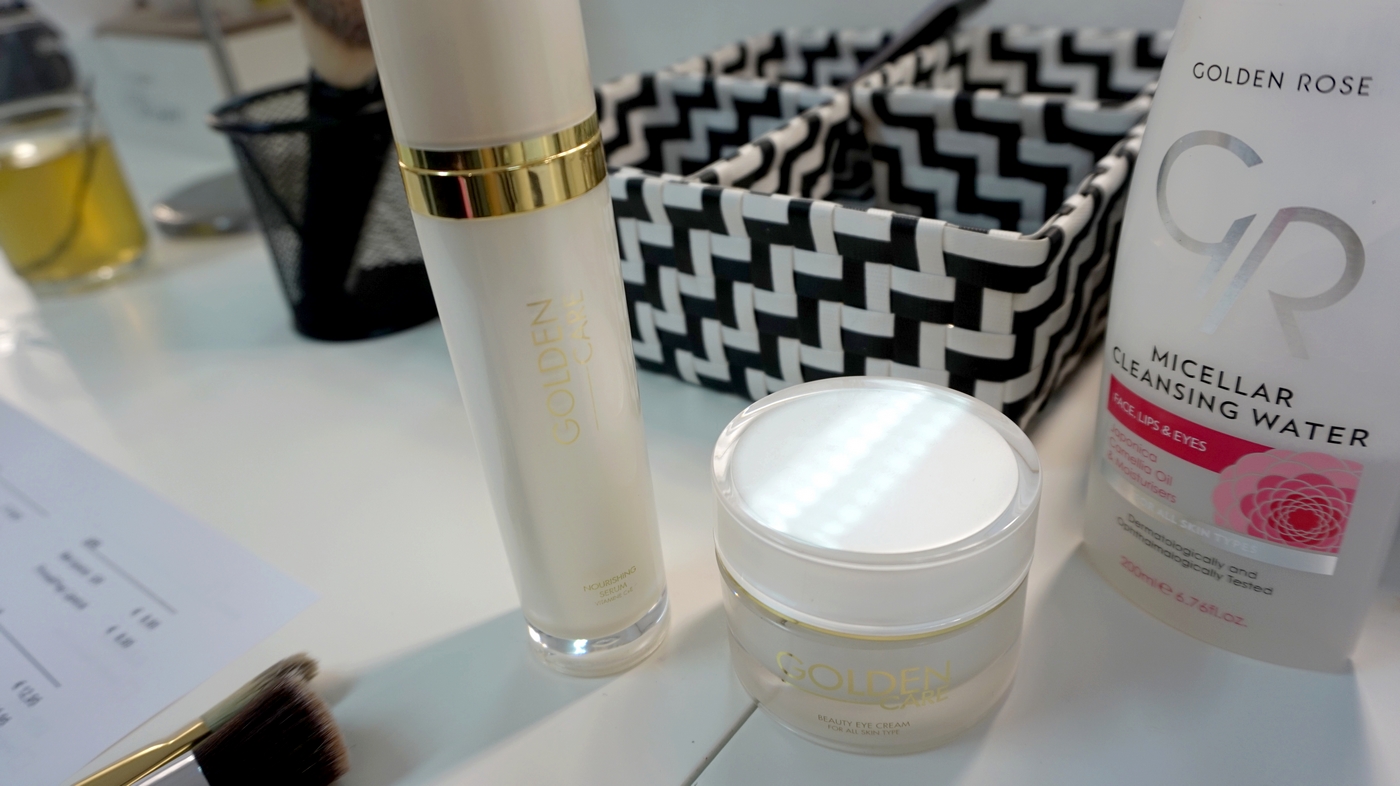 After travelling to Maarssen by train, we got welcomed with coffee and tea. Mey and I would attend the workshop together with 8 other women. We started the workshop by cleaning our face and after that, we applied a serum and a créme. I really liked the serum. The products which we used are from the brand Golden Rose. For the rest during the workshop, we used a primer, a colour correcting concealer and a concealer palette. For each of us, the visagist chose the right colors for the best result. (What I noticed btw was how dark my hair looks in these pictures compared to real life… haha)
Na met de trein naar Maarssen te zijn gereist werden we verwelkomt met koffie en thee. Mey en ik zouden de workshop samen met 8 andere dames bijwonen.
We begonnen met het reinigen van het gezicht en daarna het aanbrengen van een serum en een créme. Ik vond het serum erg fijn. De producten waar we gebruik van maakte zijn van Golden Rose. Verder tijdens de workshop maakte we ook gebruik van een primer, een kleur corrigerende concealer en een concealer palette. Voor ieder van ons werden de juiste kleuren aangewezen voor het beste resultaat. (Het viel me trouwens op hoe donker vergeleken met in het echt, mijn haar lijkt op deze foto's.. haha)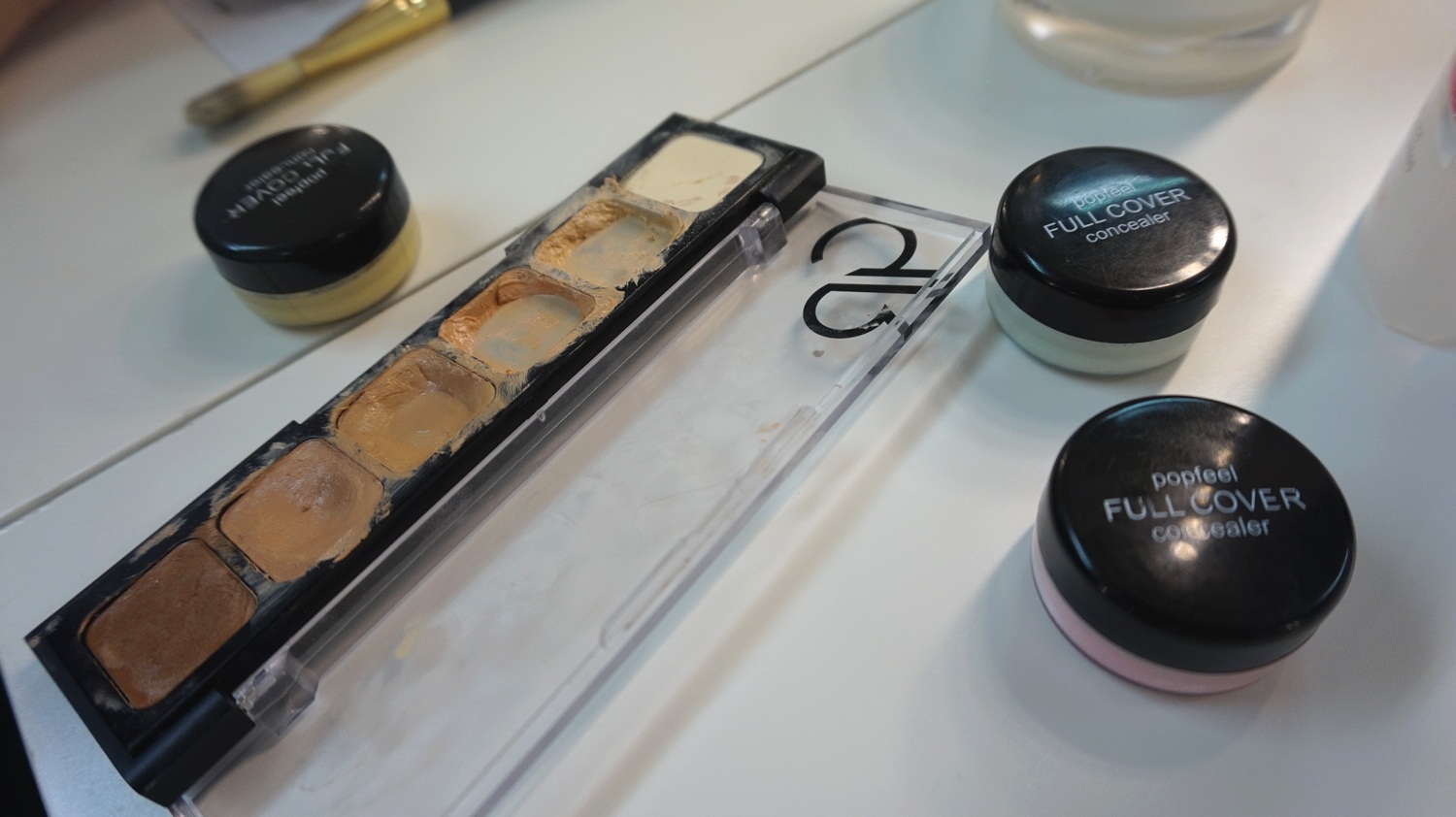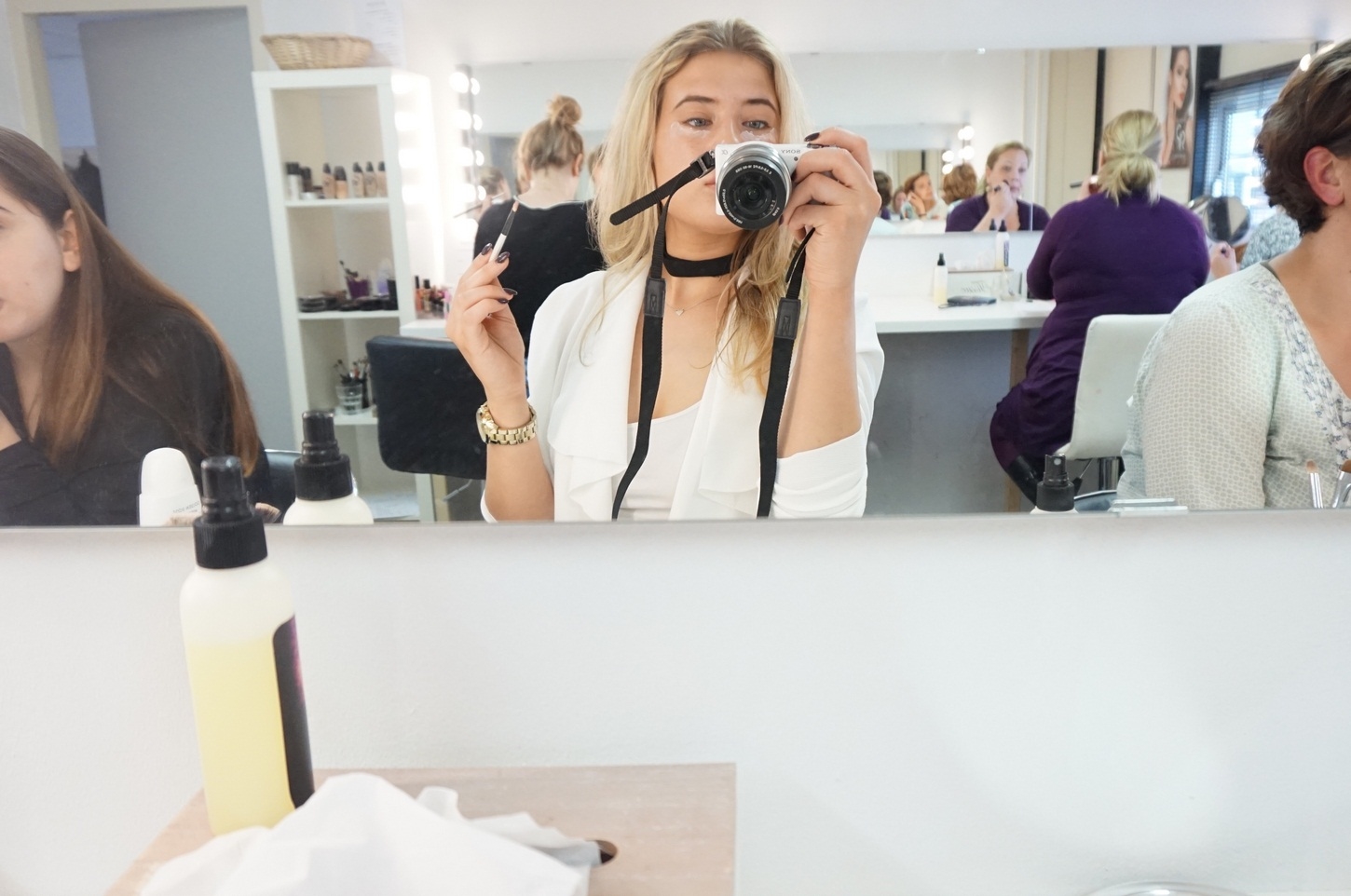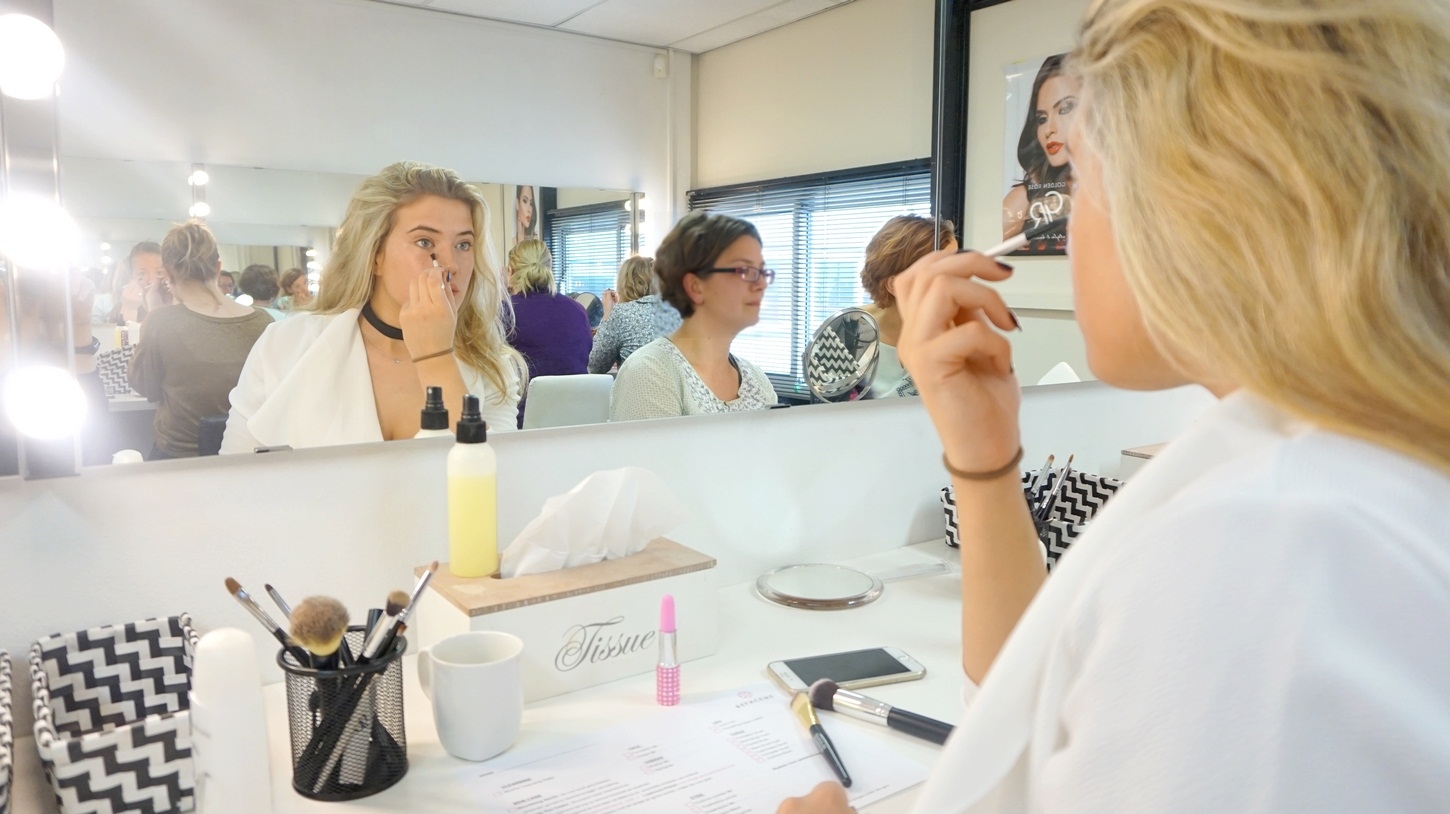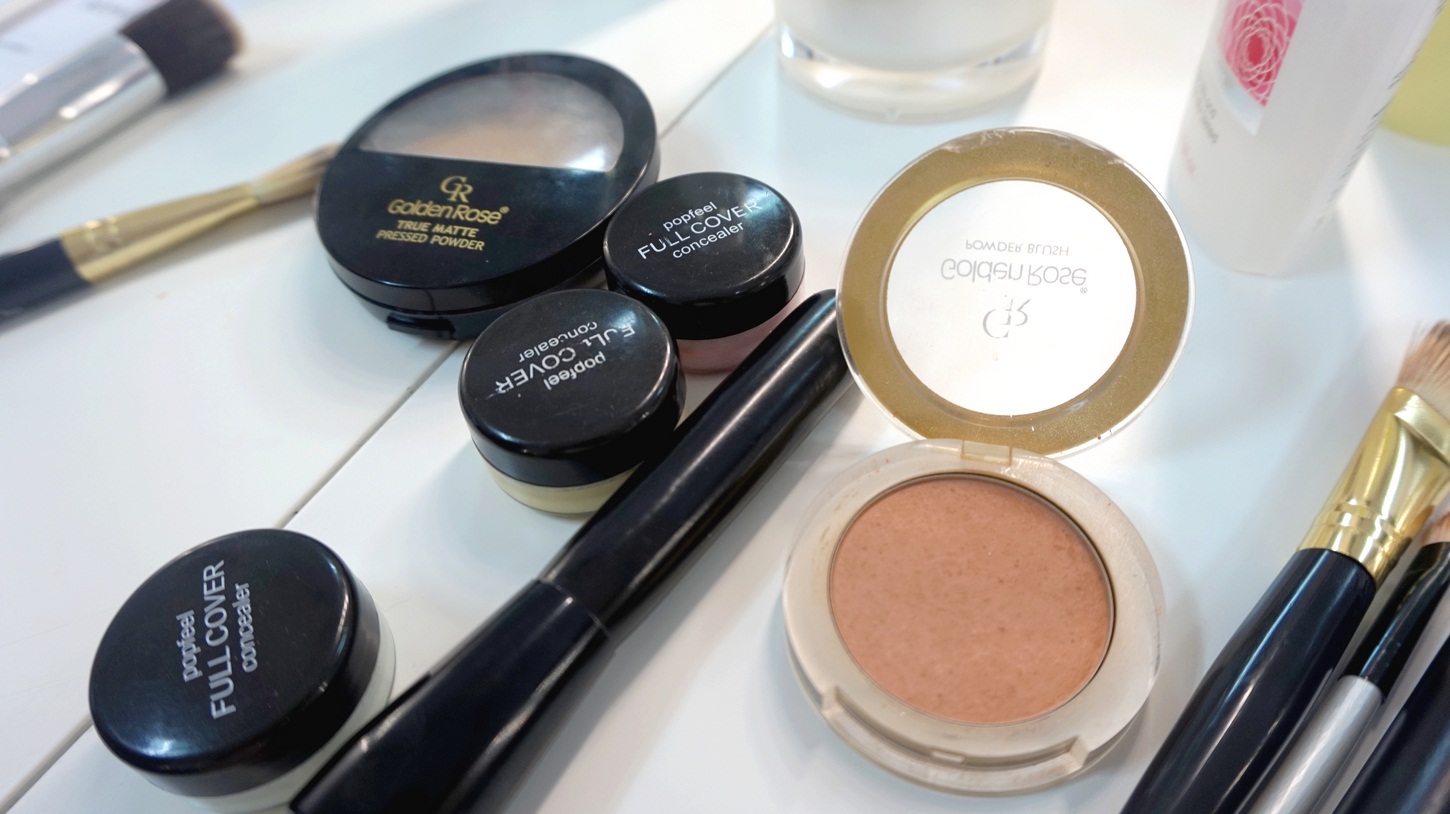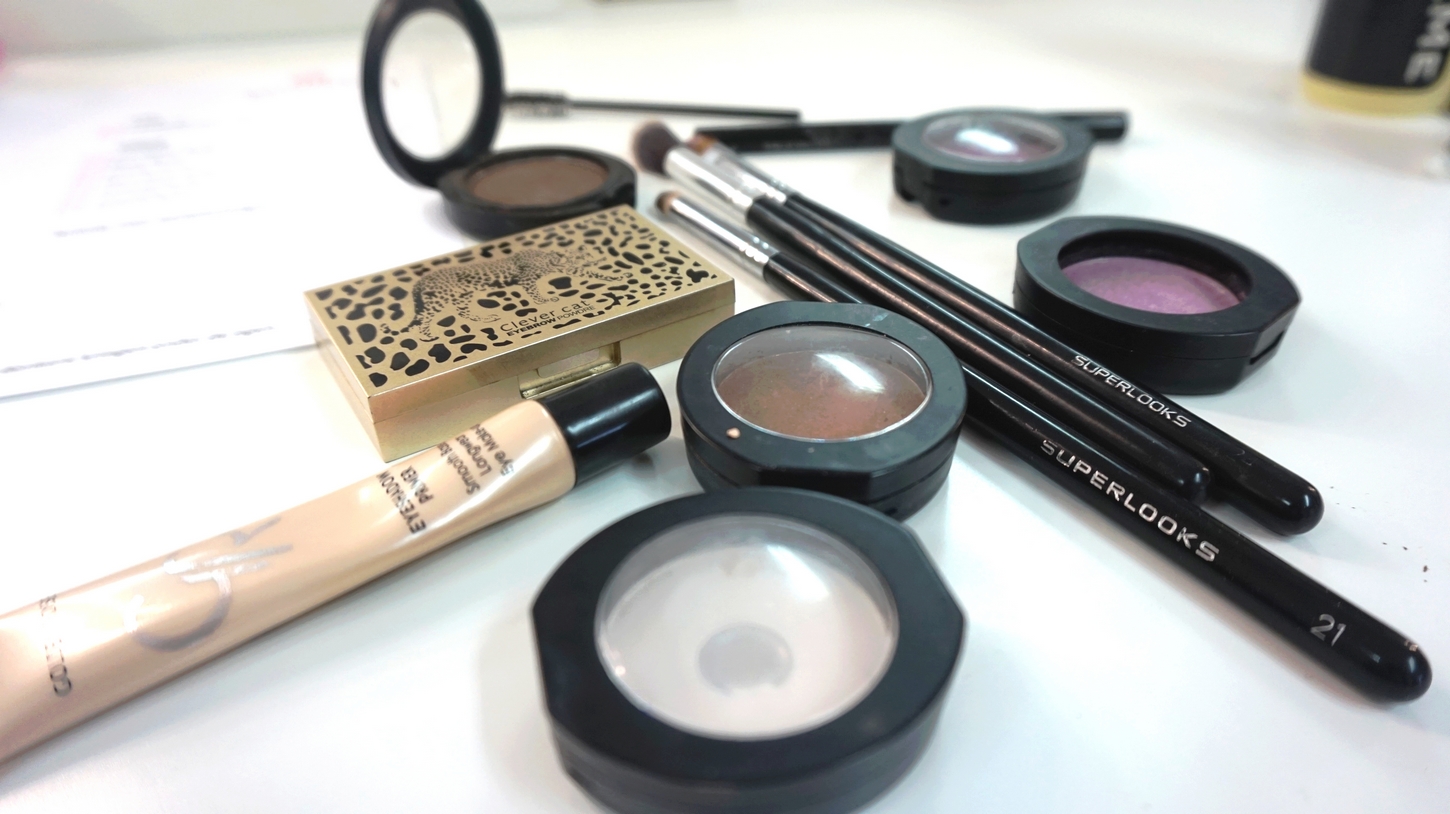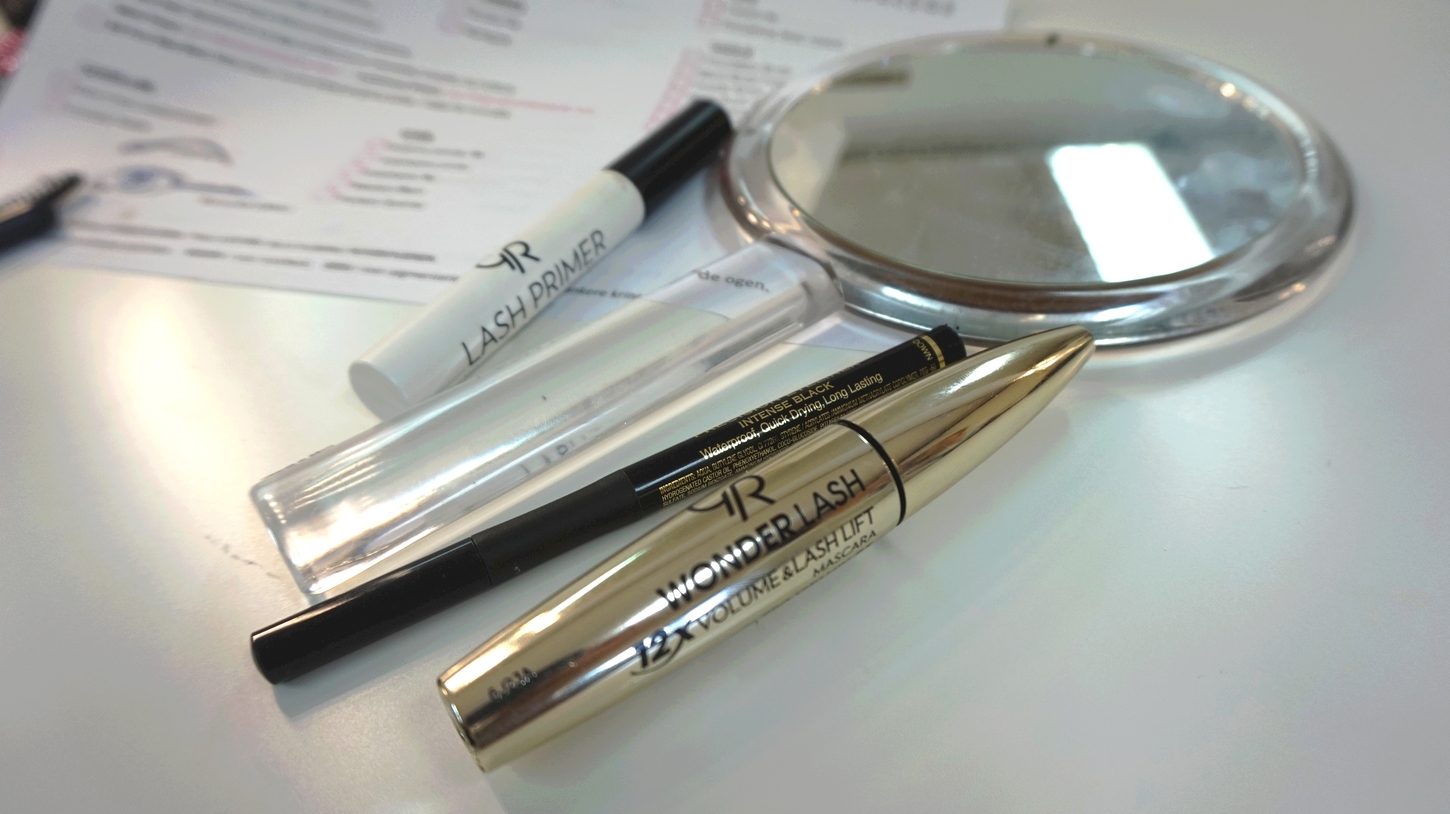 After the previous steps, It was time to apply the right foundation on waterbase. After that, everyone got instructed how to choose the right colour of foundation and how to apply a blush. When we did that, the visagist used my face to show how to shape the eyebrows and how to apply the eye make-up. I chose a darker look because I like more heavy make-up. We recieved tips of which colors look best with each eye colour. For my grey-blue eye colour, purple was picked. I finished the eye-look by myself with a black eyeliner-wing, lash primer and mascara. After applying a nice lipstick, the look was complete.
Na de vorige stappen, was het tijd voor een fijne foundation op waterbasis. Daarna werd iedereen uitgelegd hoe je de juiste kleur kiest en het aanbrengen van een blush. Toen we dat hadden gedaan werd op mij gedemonstreerd hoe je de wenkbrauwen het beste in model brengt en de oogmake-up aanbrengt. Ik koos voor een donkerdere oog look omdat ik zelf houd van wat heftigere make-up. We kregen tips voor welke kleuren per oogkleur het beste staan. Bij mijn grijs-blauwe ogen werd de kleur paars gekozen. De ooglook heb ik zelf afgemaakt met een zwarte eyeliner-wing, lash primer en mascara. Na het opbrengen van een mooie lippenstift was de look compleet.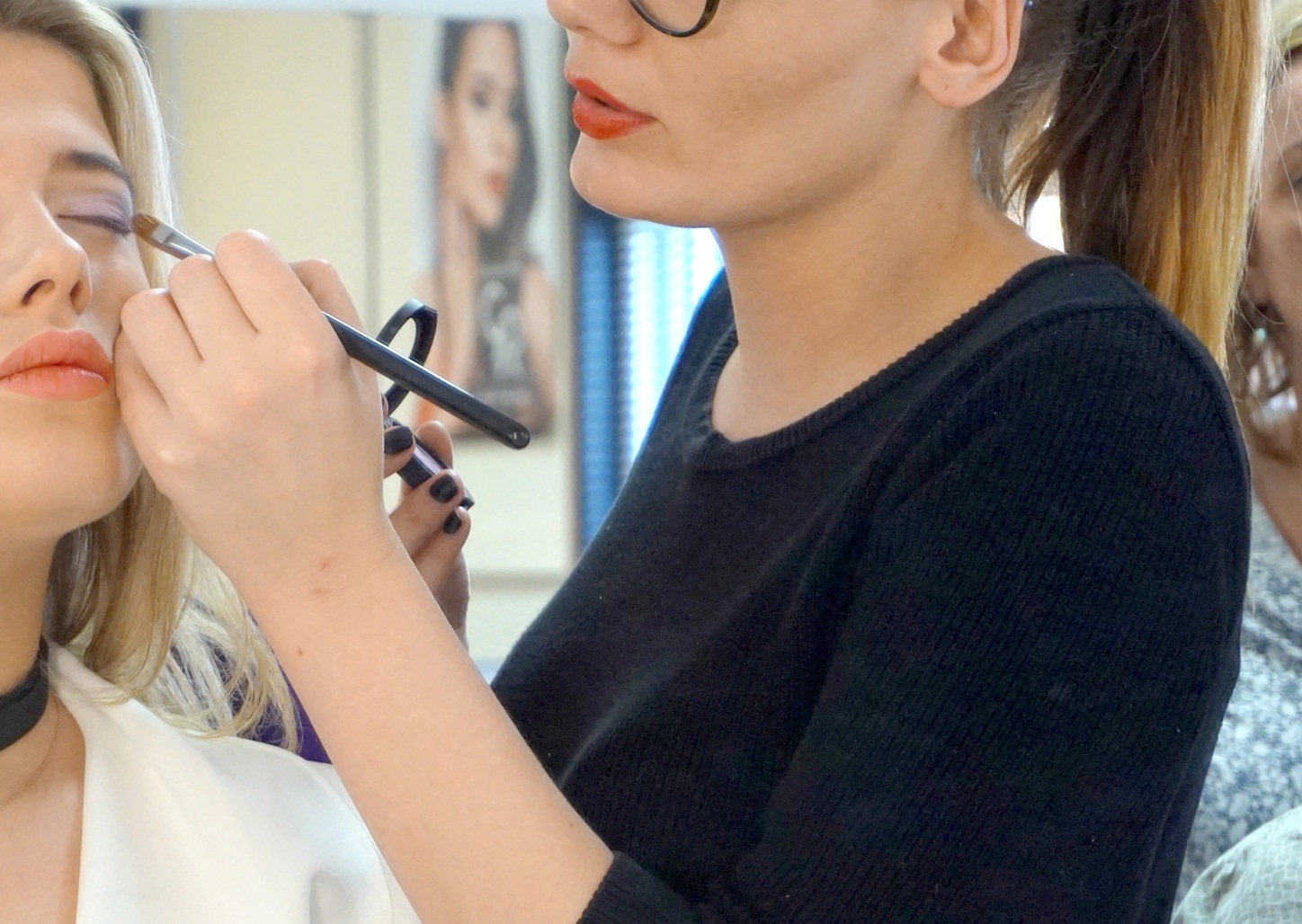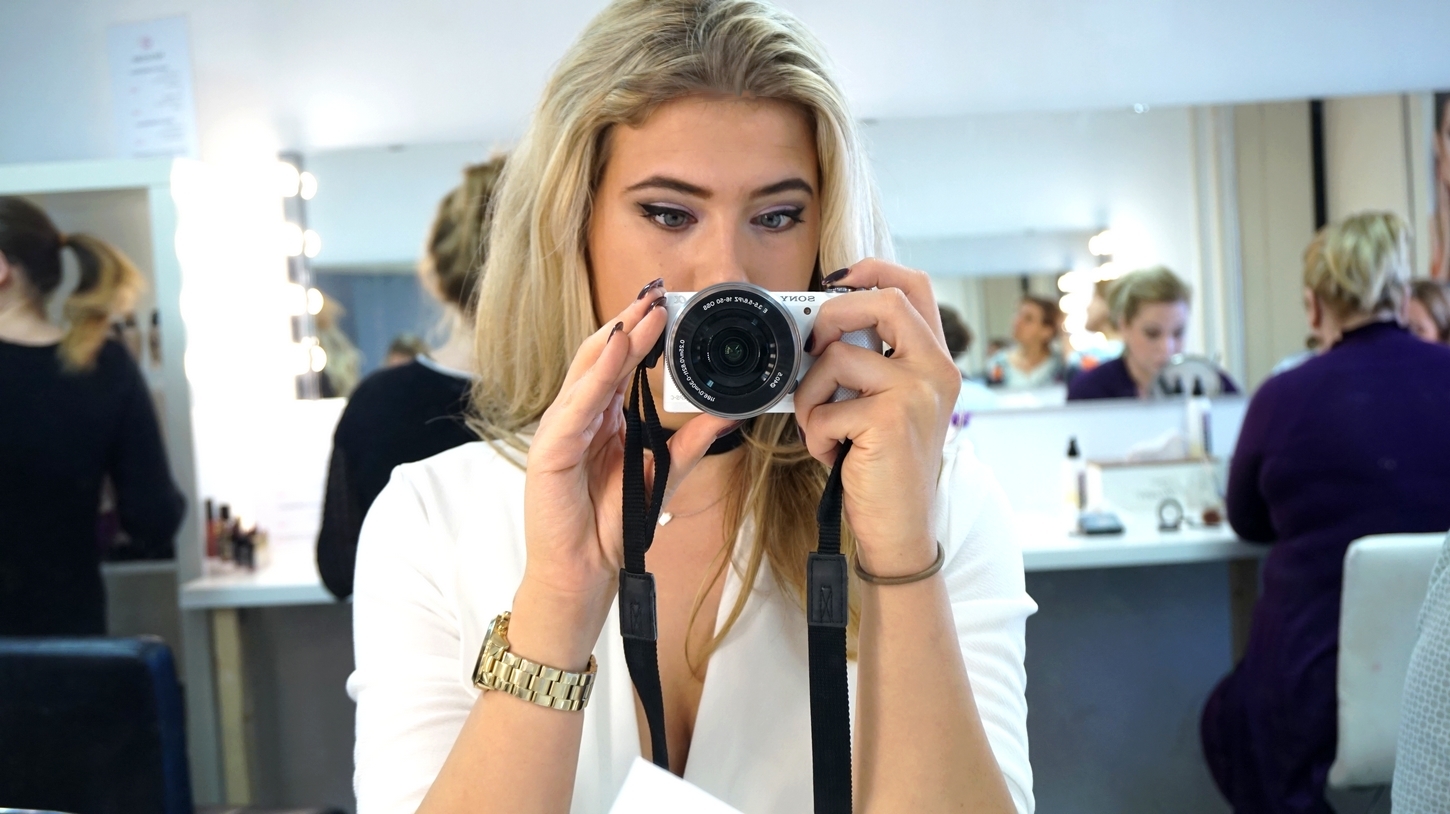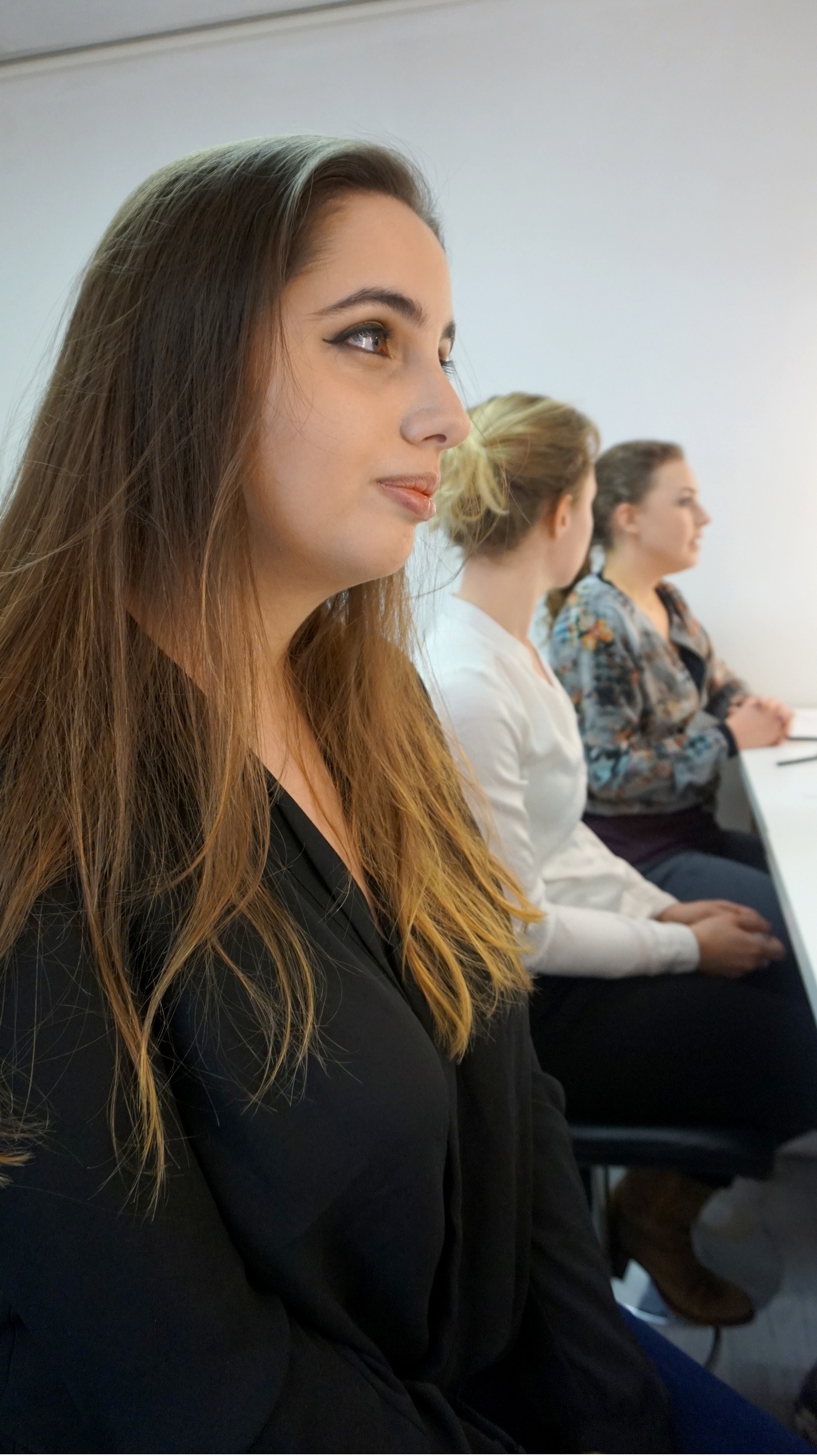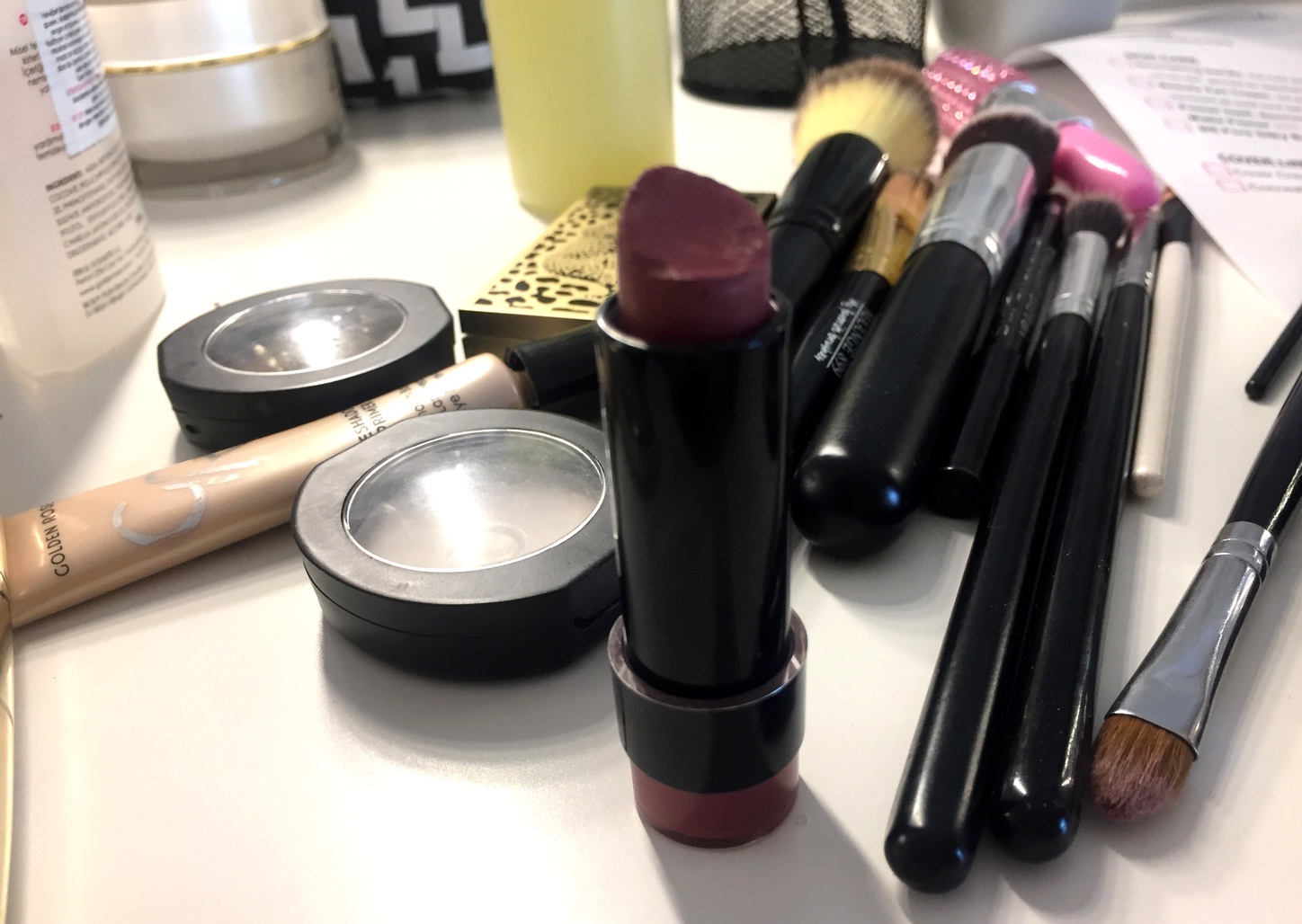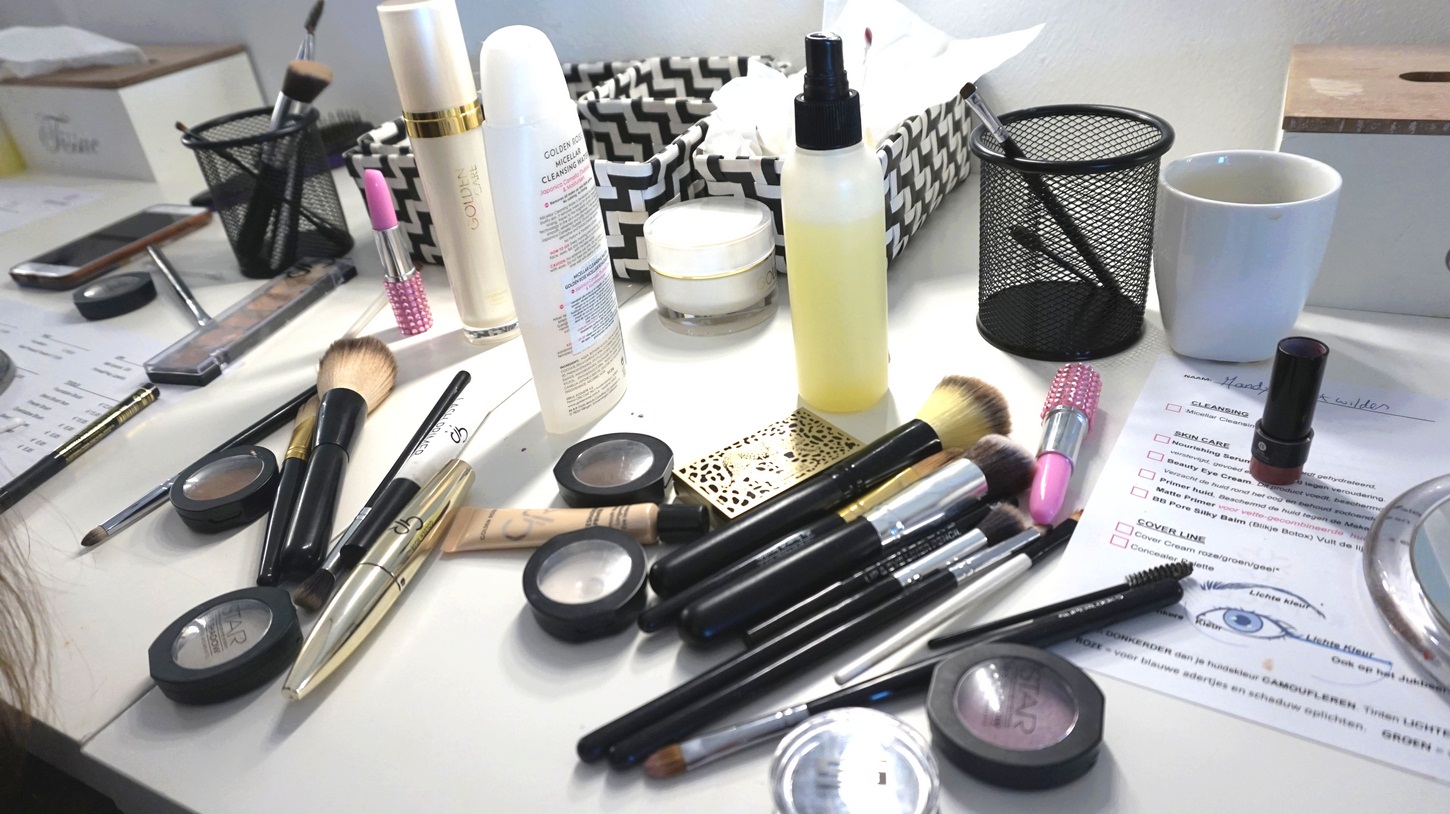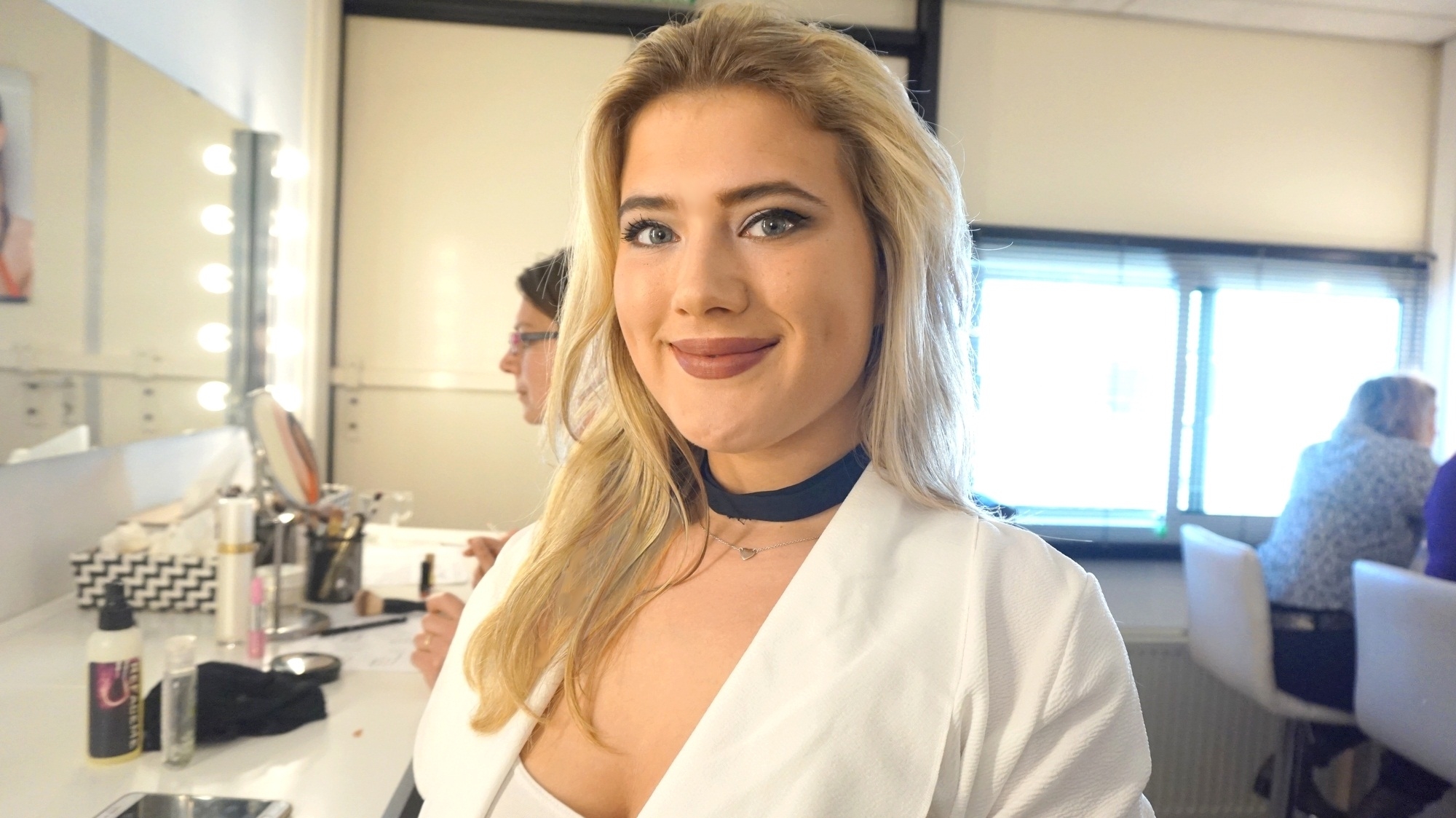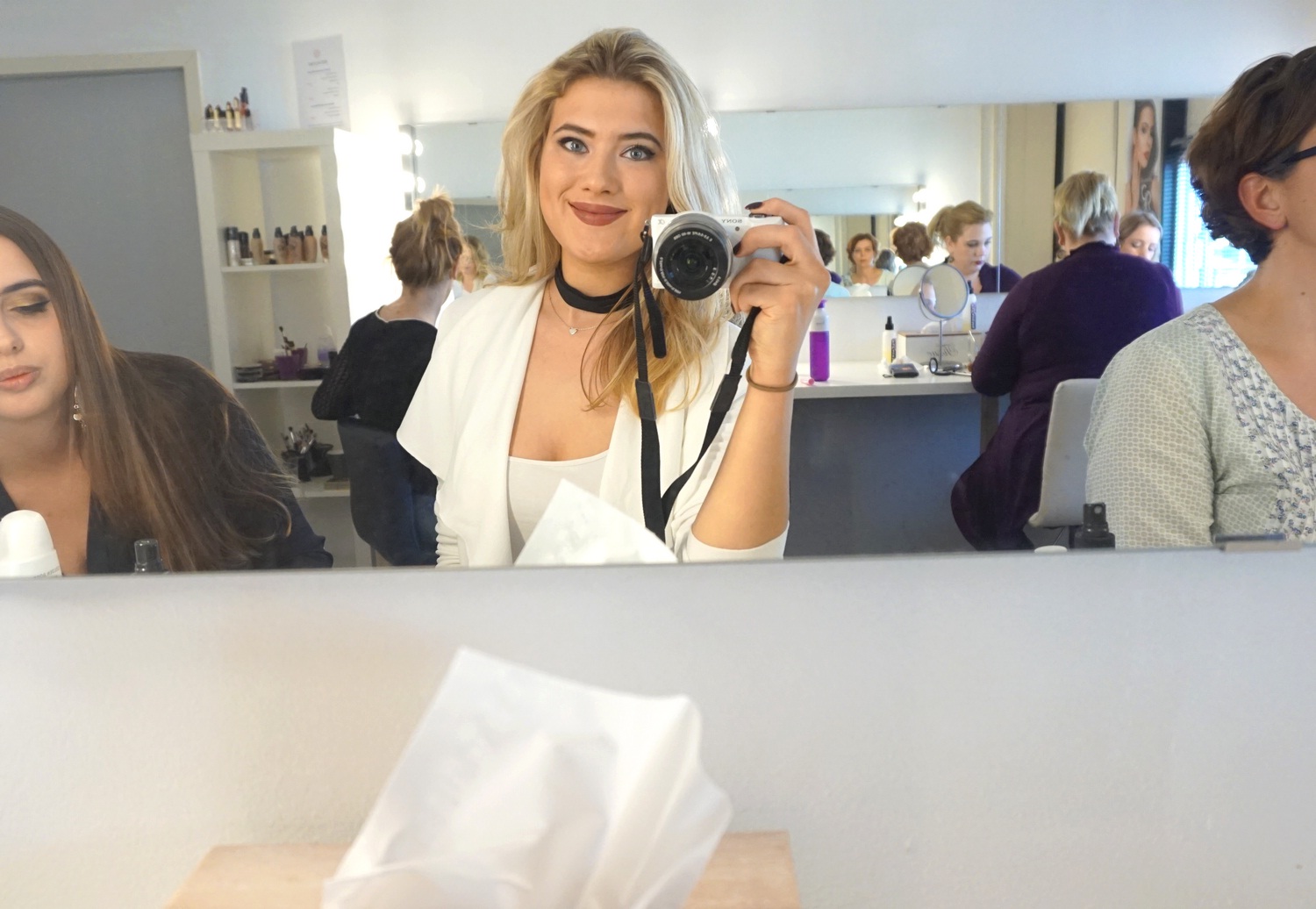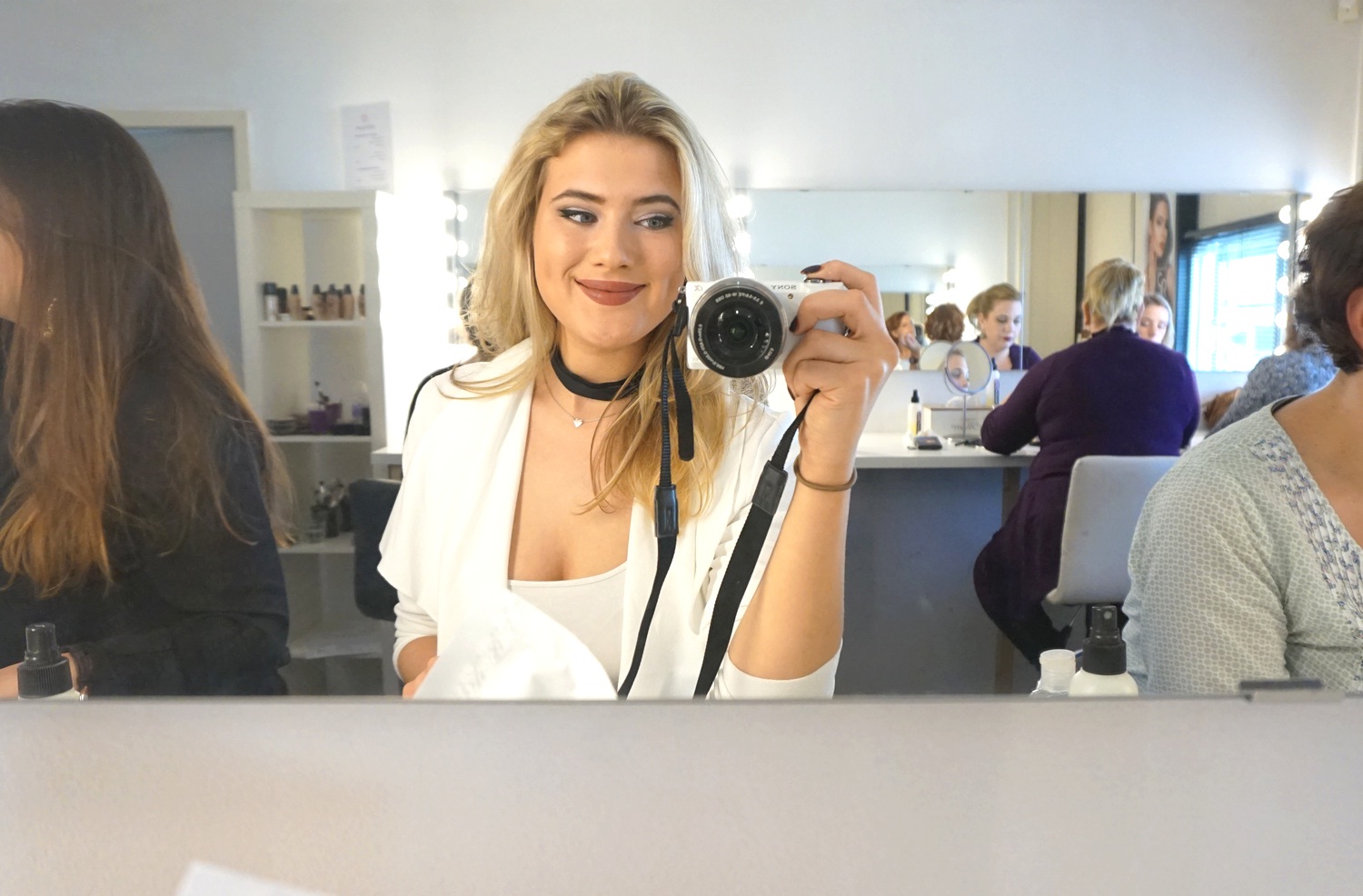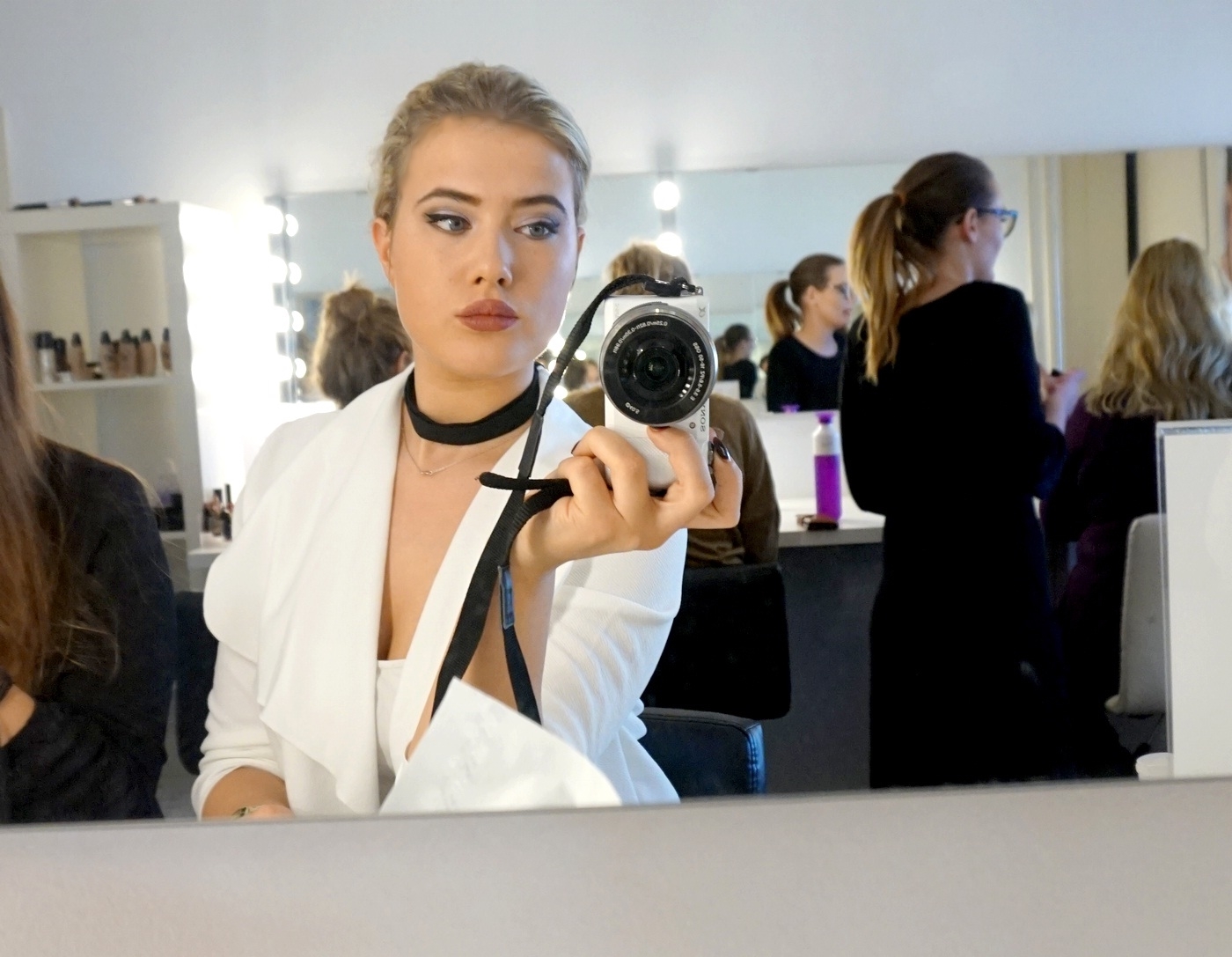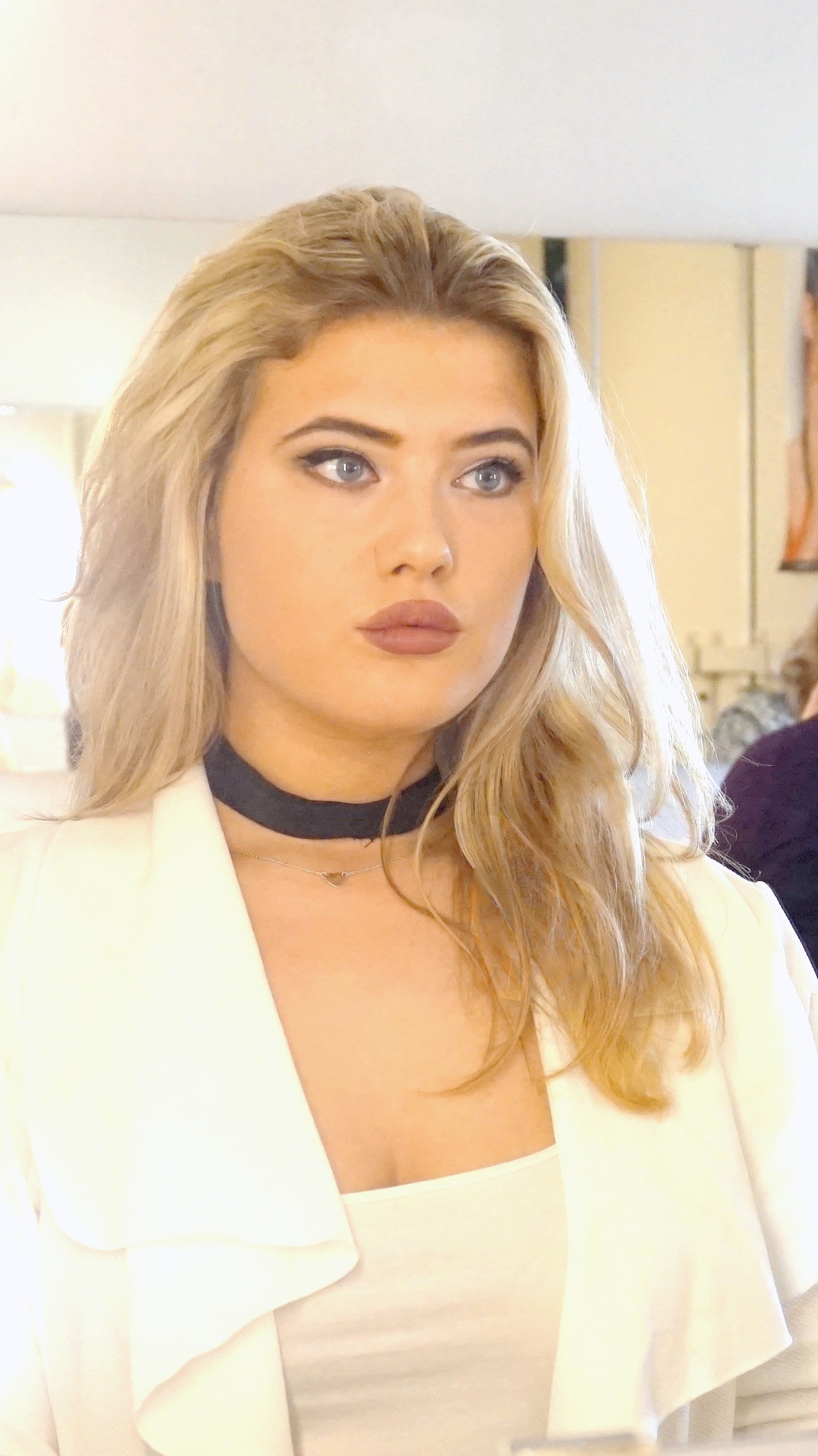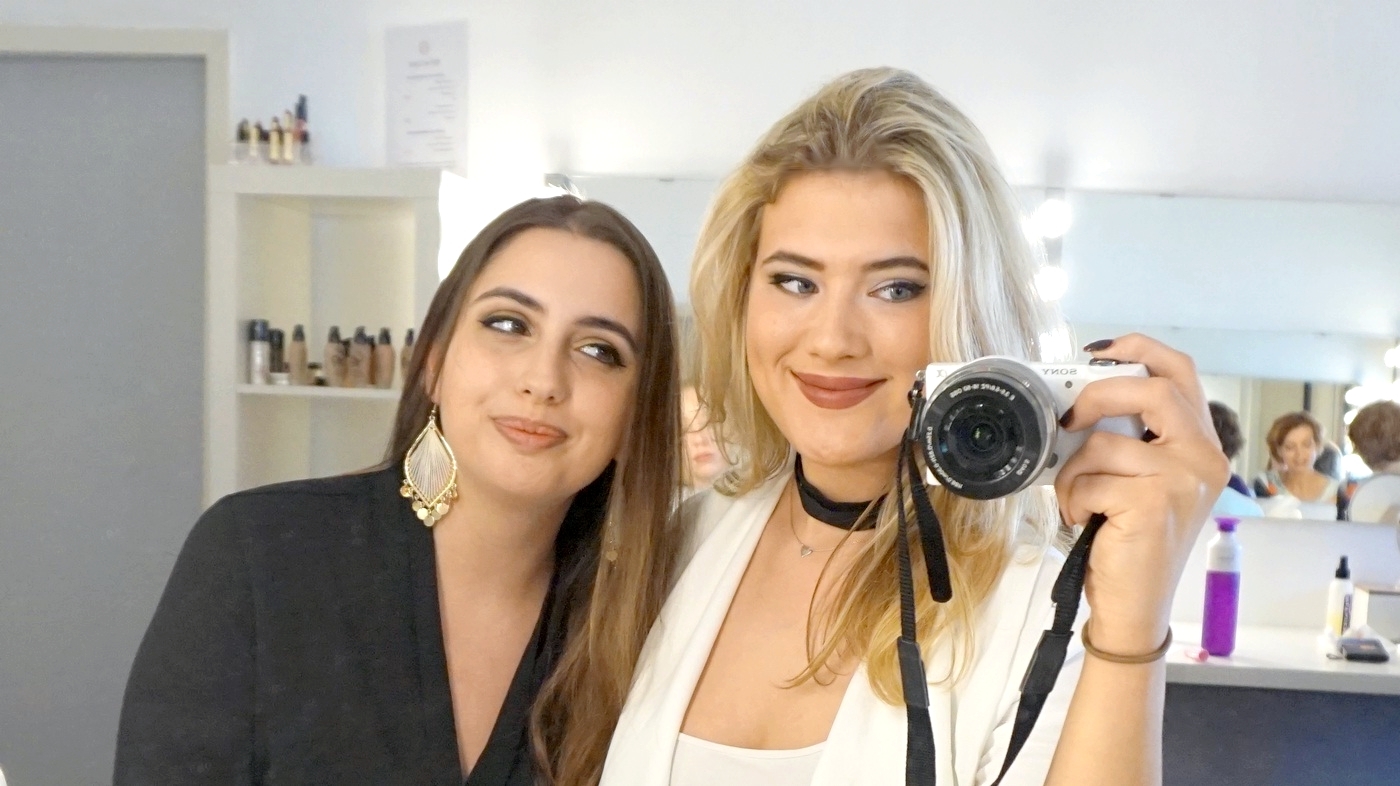 Final:
I think my eyebrow look, eyeshadow look and lipcolour of this workshop are a great combination.
I think of all workshops I did before, this one is closest to my daily look (because I love wearing a full glam look) – but with this one, especially the colors purple and darker lipstick colors (Really like it!). I really like wearing a different colour of make-up instead of my daily various colors of brown, gold and silver. Mey and I really like the result of both looks.
Slot:
Ik vind mijn wenkbrauw look, oogschaduw look en lipkleur van deze workshop een fantastische combinatie.
Ik vind van alle workshops die ik tot nu toe heb gedaan, deze workshop het dichtste bij mijn eigen dagelijkse look komen (0mdat ik houd van de full glam look) – maar met hierbij vooral de kleuren paars en donkere lipkleuren (Ik vind het super!). Ik vond het leuk een andere kleur make-up op te hebben dan mijn dagelijkse verschillende kleuren bruin, goud en zilver. Mey en ik vinden het resultaat van beide looks erg mooi.
Favorites of the workshop


Website: www.refaceme.nl