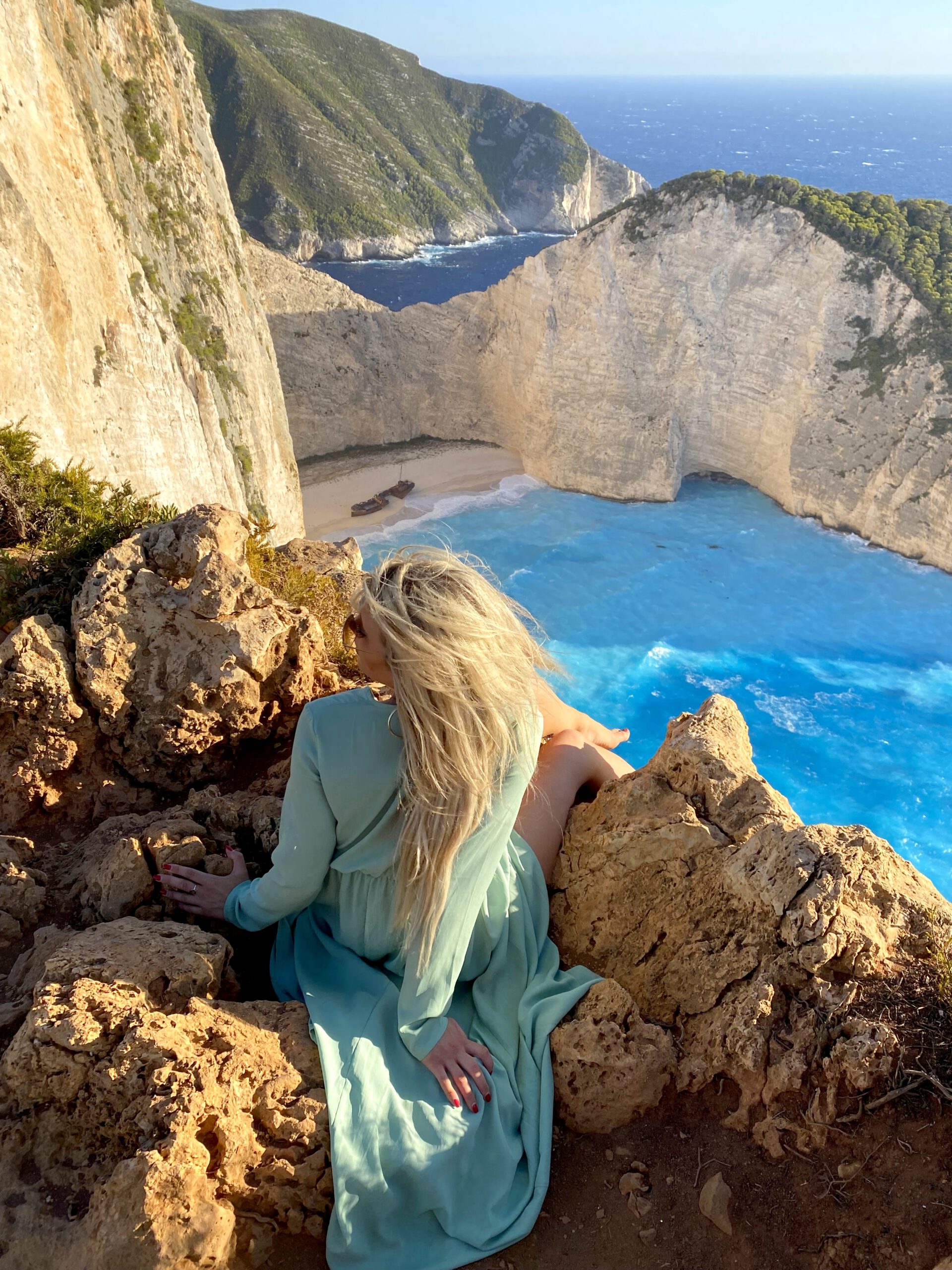 I can't believe how fast time goes. Zakynthos has been seriously almost 2-3 months since I post this (Early September)! I will already tell you that Zakynthos is one of the most beautiful places I have visited in Europe and I highly recommend it! The flight distance is around 2.5 hours, so also quite close. This trip was a total of 4 days. You can do a lot more in such a short time than you might think. I like to go on an adventure or discovery. A complete "beach vacation" or "party vacation" is not for an adventurous and curious person like me. So I have to tell you that I really can't spend whole days just lying on a beach. I prefer to travel (around the island (with or without a plan) with a car), sightseeing, discovering a nice new city and old streets, eating and drinking deliciously, trying local food, drinking coffee on terraces, taking lots of pictures with my camera, exploring the local culture of a place (for example, my Japan trips), visit viewpoints over the city or landscapes, get to know new people from all over the world, see beautiful places, do lots of cycling and walking, or on adventure/discovery… you name it.
This trip mainly Iris took the lead. Moreover, she was also the woman behind the wheel and I was really really tired of having just been told that Miss International in Japan had been canceled (which I was probably going to and really looking forward to) and work had been very busy lately. So there was a little less initiative on my part than I normally often take. Zakynthos was a place that had been high on my list for a few years. Normally I book airbnb houses / apartments / studios or even a neat hostel when I am alone in a country, because I am mainly on the road. Another reason is to feel more 'local' and in connection with the city or place where I am staying. So a luxury hotel was something different for me and also a wonderful experience after my Dubai layover last year.
We stayed at Hotel Contessina (in Tsivili) after an early morning flight from Schiphol Airport and rented a car near the airport. We had booked the car online a few days before departure. The hotel was less than a half hour drive from the airport. Iris had emailed when booking that I'm a travel blogger so we got a free update to the hotel's best room on arrival! I definitely recommend this luxury hotel. Incredibly friendly staff, spotlessly clean and relaxed. Oh and the rumors of everywhere having to show proof of testing or being vaccinated on the island are not true. I only had to show a pcr test before the flight, and a rapid test before my flight back again. I believe I only slept for like 2 hours after my evening flight, so we took a nap near the pool in the sun before heading out to explore the island by car. It was also lovely to spend a few hours near the pool with good music in addition to our many adventures. Btw, we have seen almost the whole island in just a couple of days. A car is a must!
Ik kan niet geloven hoe snel de tijd gaat. Zakynthos is al serieus bijna 2-3 maanden terug (begin September) het moment dat ik dit post! Ik zal alvast verklappen dat Zakynthos een van de mooiste plekken was die ik in Europa heb bezocht en enorm aanraad! De vliegafstand is rond de 2,5 uur, dus ook vrij dichtbij. Deze trip was in totaal 4 dagen. Je kan veel meer in zo'n korte tijd doen dan je zou denken. Ik ga graag op avontuur of ontdekking. Een complete 'strandvakantie' of 'feestvakantie' is voor een avontuurlijk en nieuwsgierig persoon als ik niet weg gelegd. Dus moet ik je zeggen dat ik er echt niet op zit te wachten hele dagdelen alleen maar op een strand te gaan liggen. Ik ga qua reizen het liefste (het eiland rond (met of zonder plan) met een auto), sightseeën, een leuke nieuwe stad en oude straatjes ontdekken, heerlijk uit eten en drinken, local food proberen, koffie drinken op terrasjes, veel foto's maken met mijn camera, de cultuur van een plek ondekken (mijn solo Japan reizen zijn een goed voorbeeld), uitzichtpunten bekijken over de stad of landschappen, nieuwe mensen van over de hele wereld leren kennen, mooie plekken bekijken, lekker veel fietsen en wandelen, of op avontuur/ontdekking.. noem maar op.
Deze reis nam vooral Iris het voortouw. Bovendien was zij ook de vrouw achter het stuur en was ik écht heel erg vermoeid van het feit dat ik net te horen had gekregen dat Miss International in Japan gecanceld was (waar ik waarschijnlijk naartoe zou gaan en enorm naar uit leefde) en ik het qua werk erg druk had gehad. Dus kwam er iets minder initiatief van mijn kant dan dat normaal juist wel erg goed zit. Zakynthos was een plek die al een paar jaar hoog op mijn lijstje stond. Normaal boek ik airbnbtjes/appartementjes/studio's of als ik alleen ben zelfs een goed hostel in een land omdat ik vooral op pad ben en me dan meer 'local' voel en in verbinding met de stad of plek waar ik me bevind. Een luxe hotel was dus weer even wat anders voor me en ook een heerlijke ervaring ná mijn Dubai layover vorig jaar.
We verbleven na een vroege ochtendvlucht vanaf Schiphol in Hotel Contessina (in Tsivili) en huurde een auto vlak bij de luchthaven. De auto hadden we overigens een aantal dagen voor vertrek online geboekt. Het hotel was minder dan een half uurtje rijden vanaf de luchthaven. Iris had tijdens het boeken gemaild dat ik reisblogger ben, dus kregen we bij aankomst een gratis update naar de beste kamer van het hotel! Ik raad jullie dit luxe hotel zeker aan. Ontzettend vriendelijk personeel, brandschoon en relaxed. Oh, en de geruchten van overal een testbewijs voor moeten laten zien of gevaccineerd moeten zijn op het eiland zijn niet waar. Ik heb enkel voor de vluchten een pcr test heen en een rapid test voor terug moeten laten zien. Ik geloof dat ik nog geen 2 uur had geslapen na mijn avondvlucht, dus sliepen we even aan het zwembad in de zon voor we met de auto het eiland zouden gaan verkennen. Het was ook heerlijk met goede muziek een klein aantal uurtjes aan het zwembad te vertoeven naast onze vele avonturen door die mega korte nacht. We hebben overigens in een korte tijd, zo goed als het hele eiland gezien. Een auto is écht een must!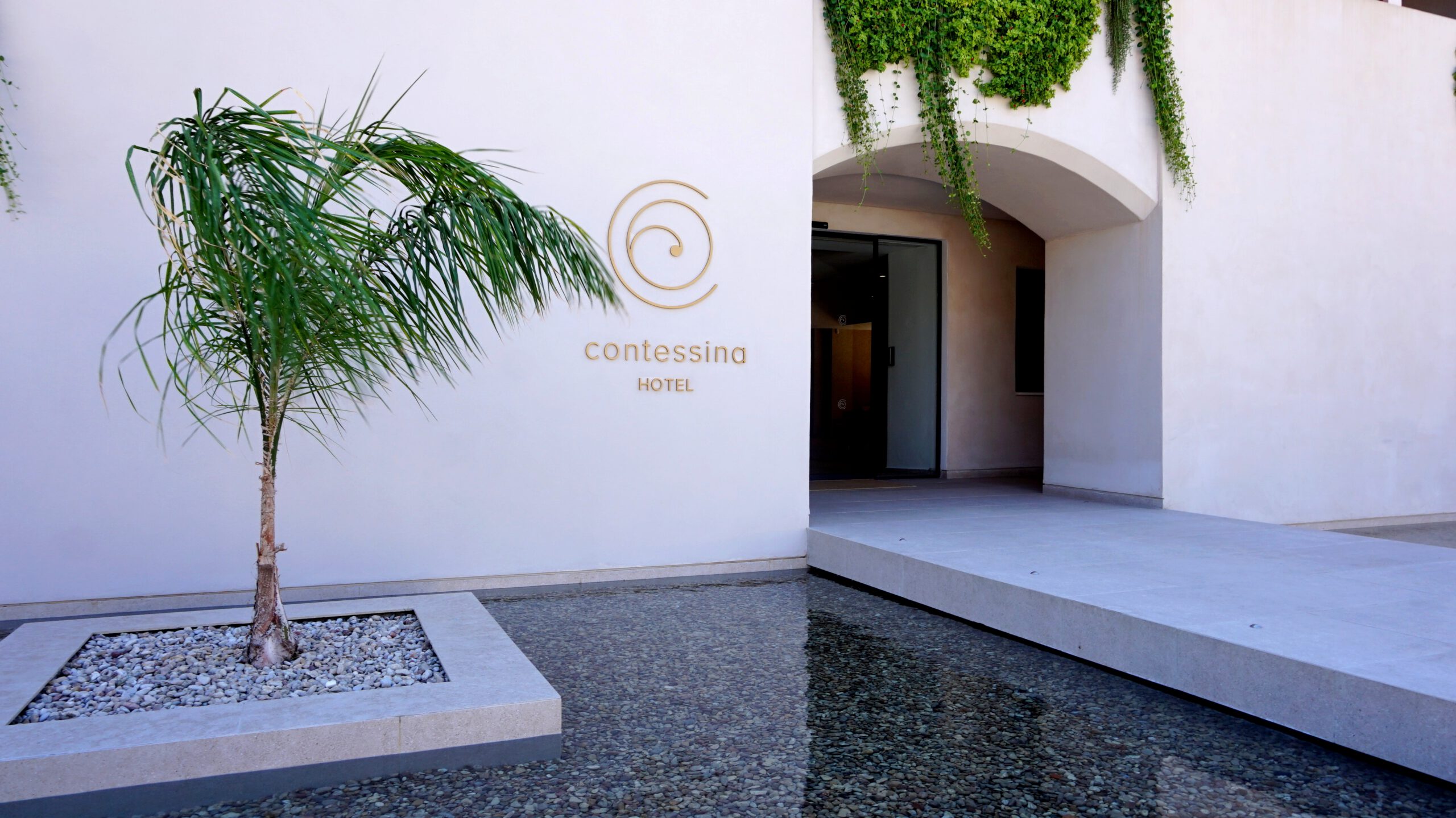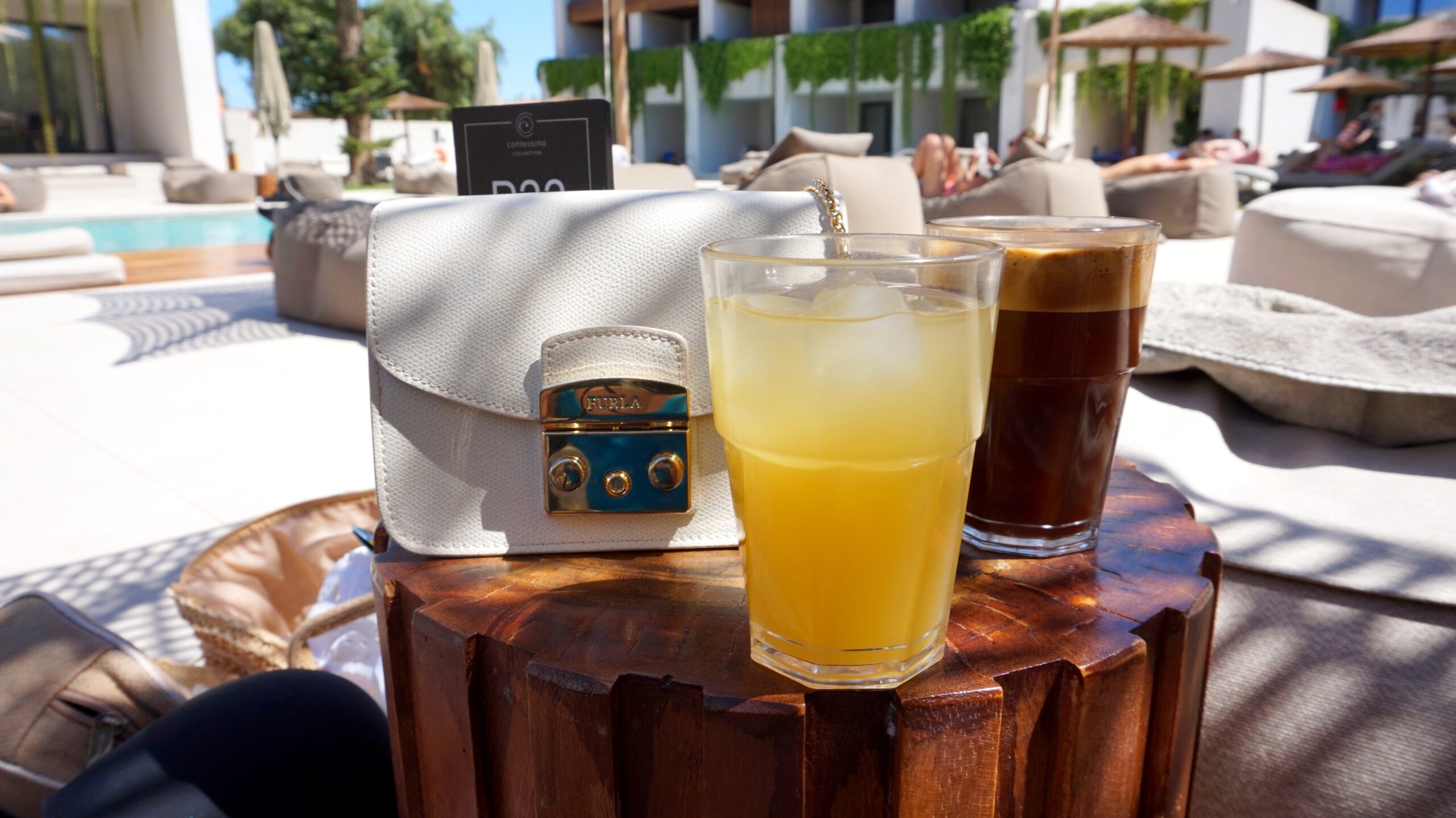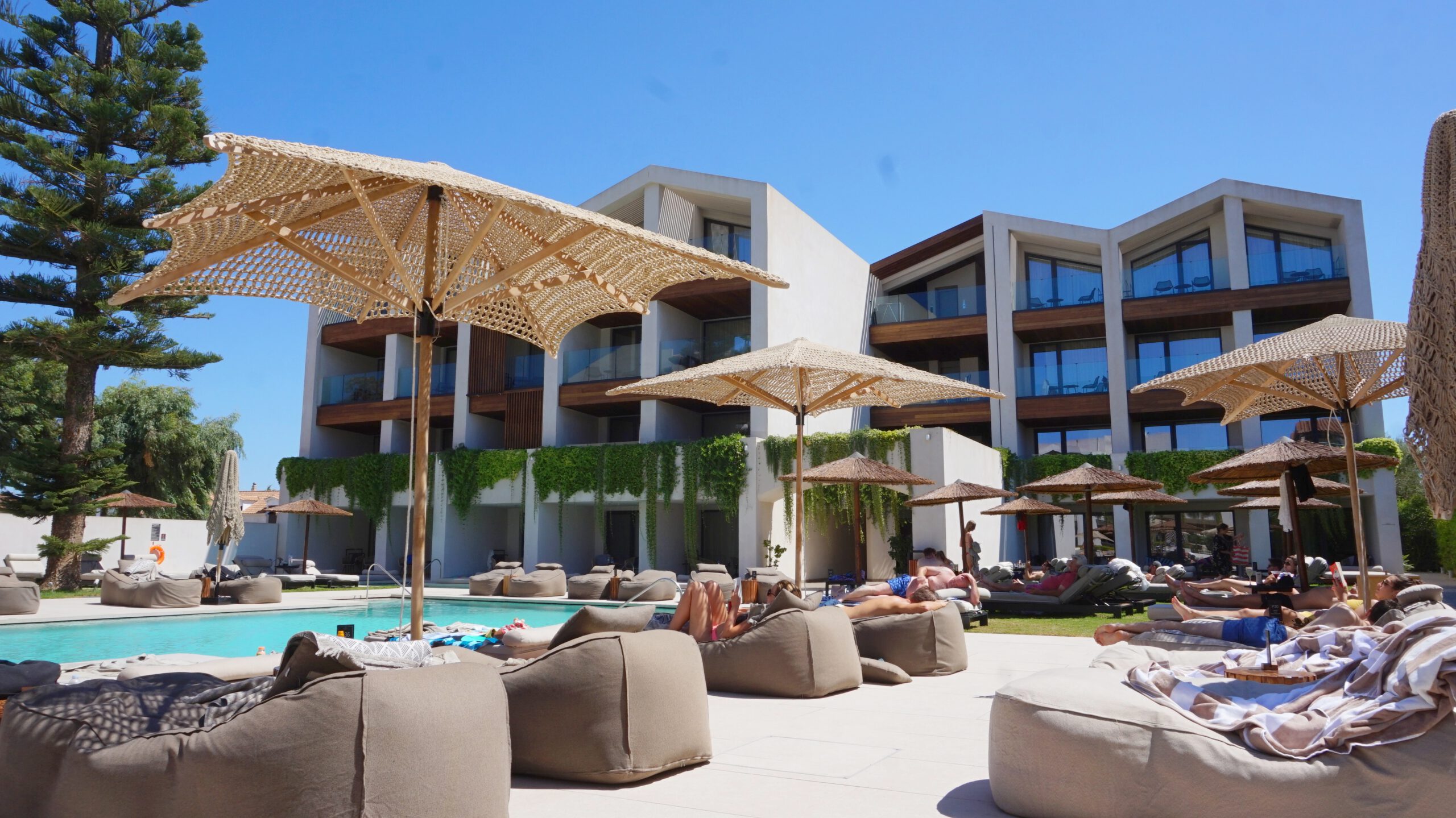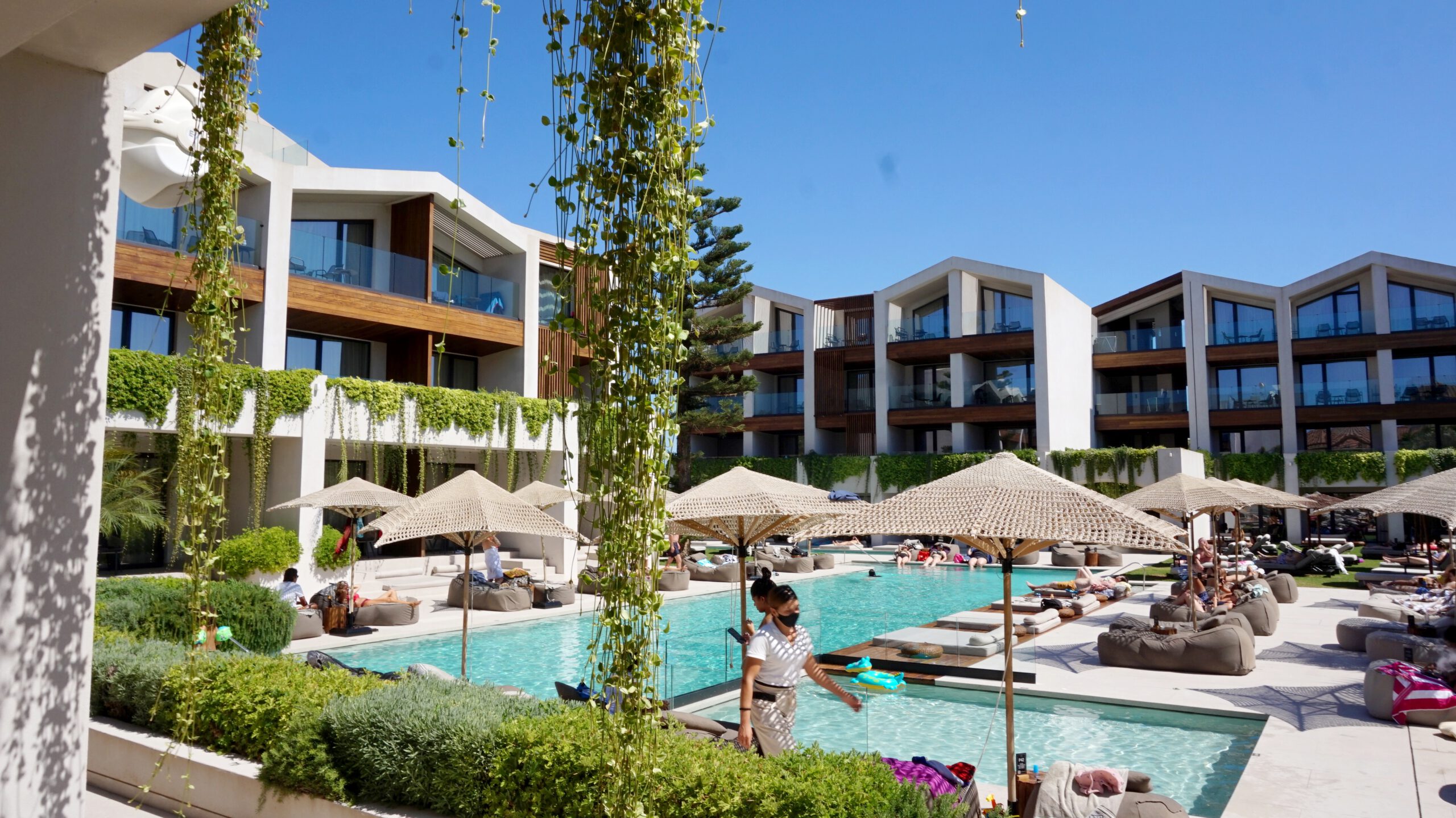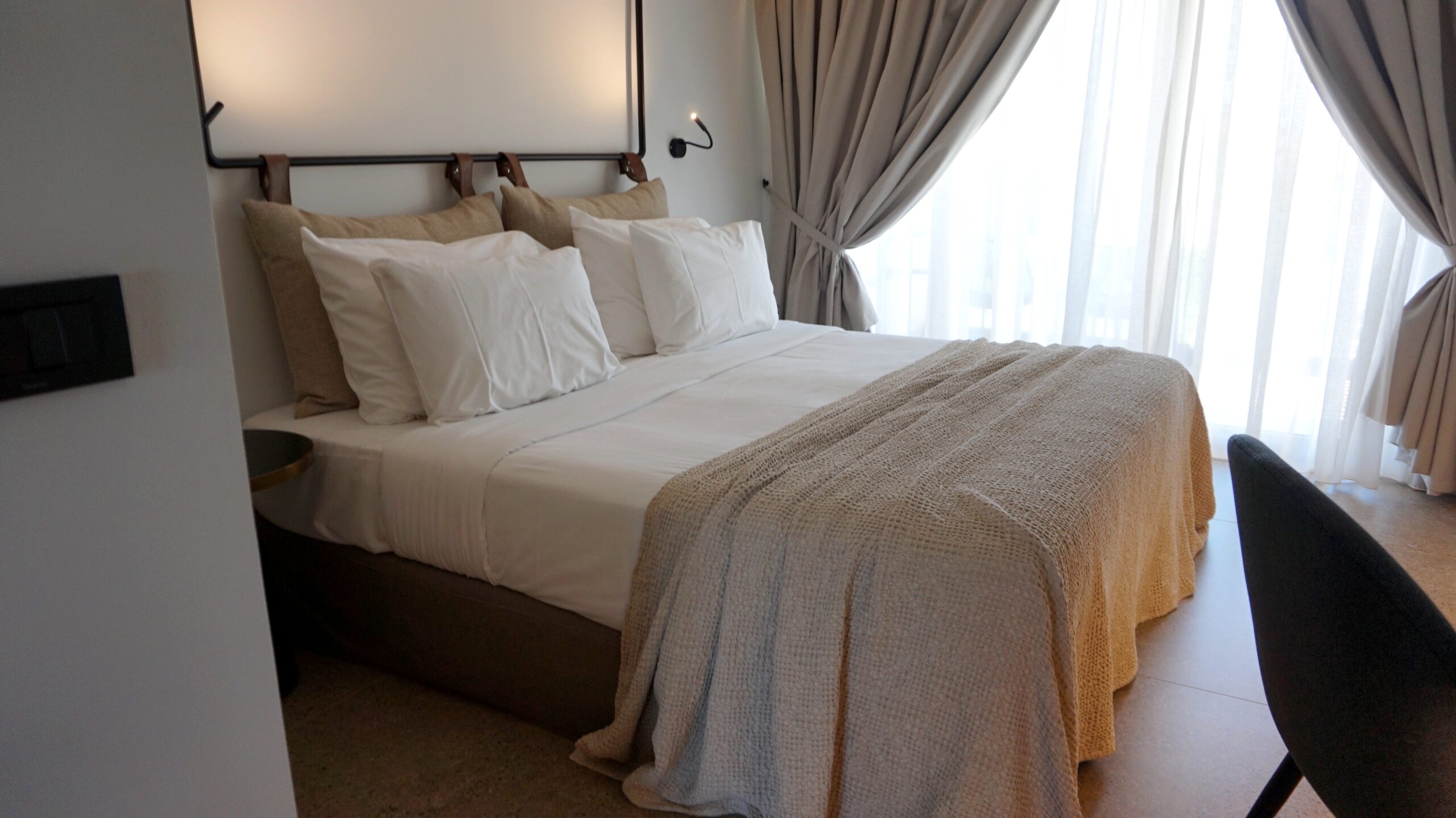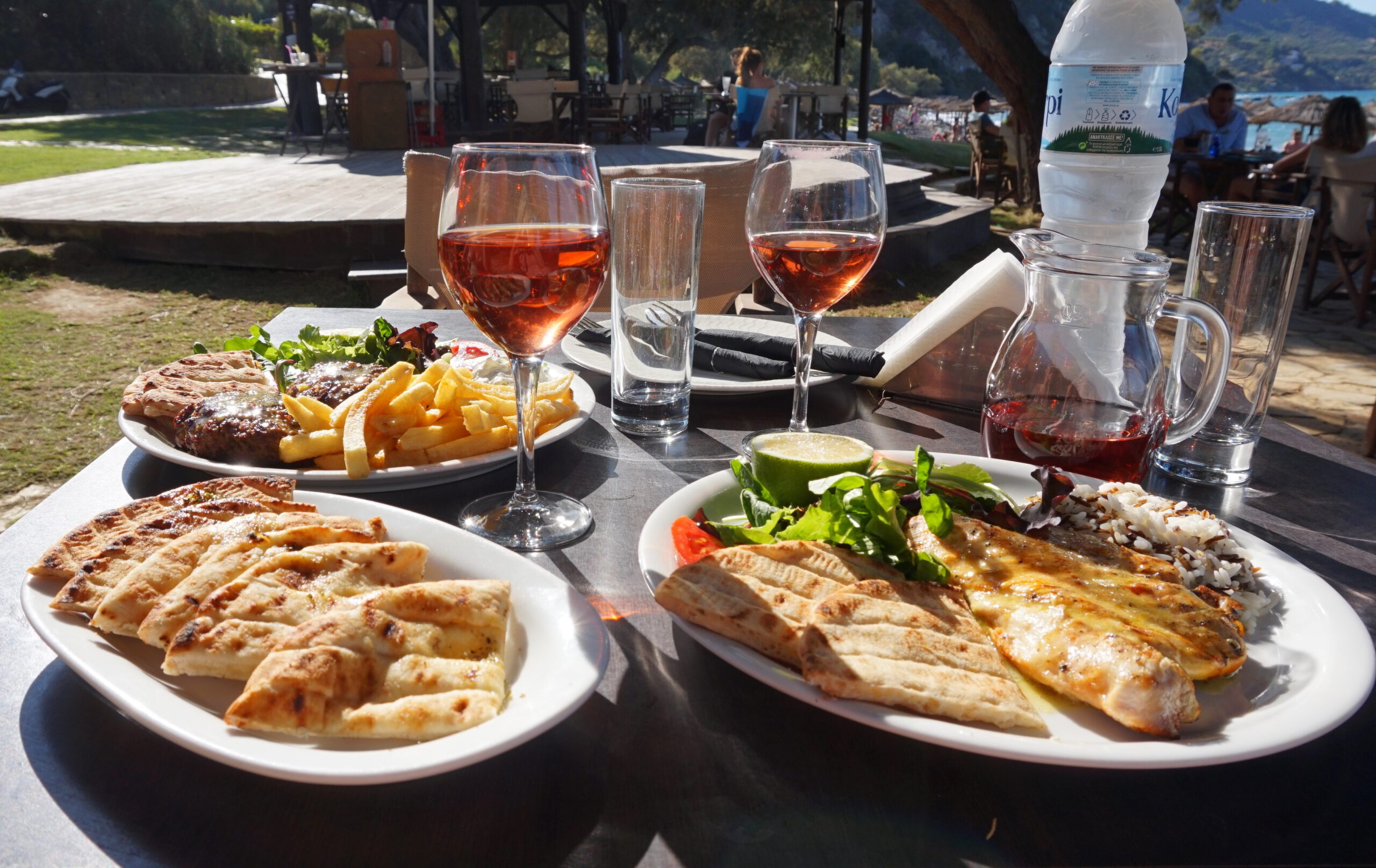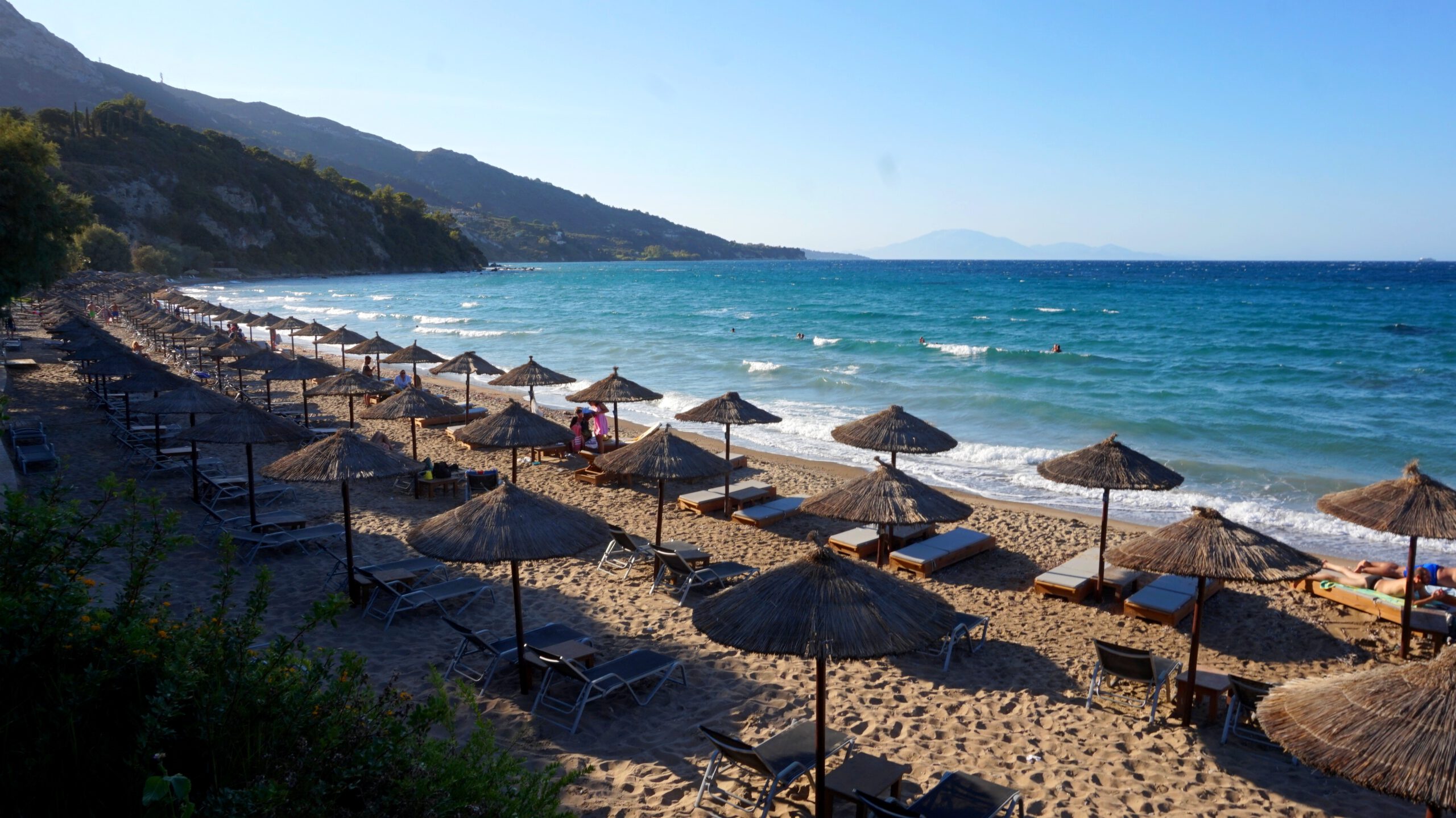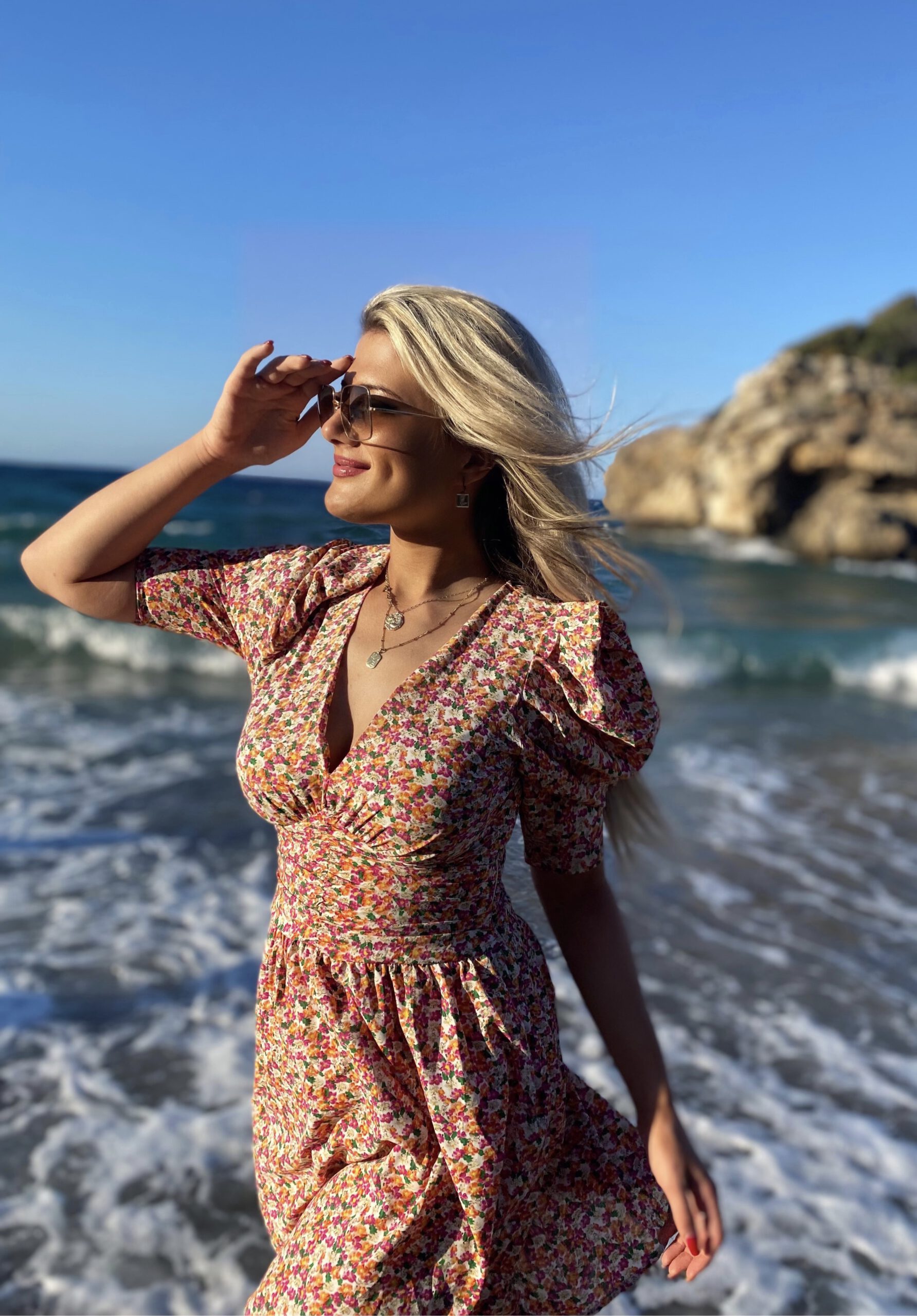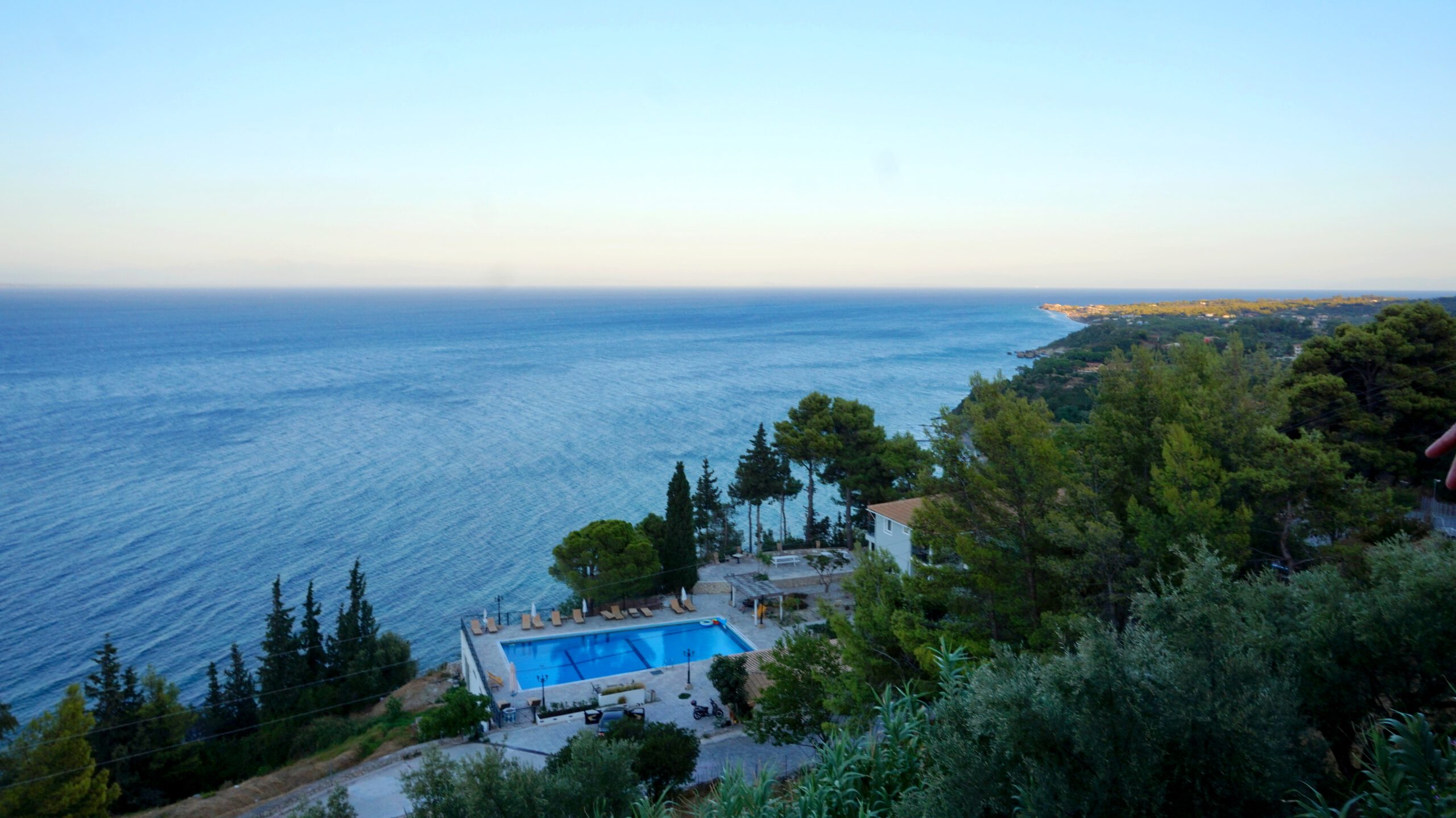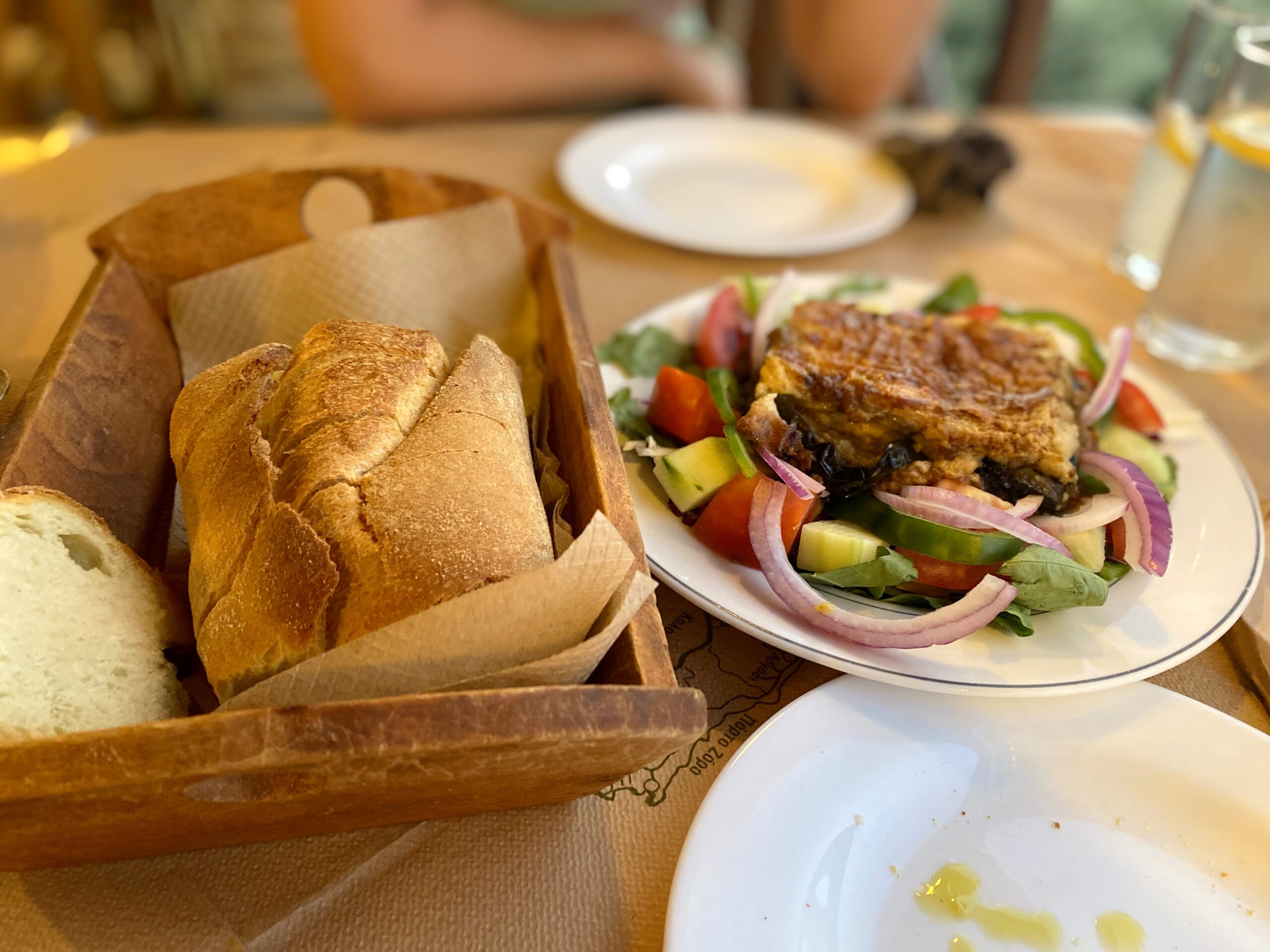 Iris and I decided to take the car to a nice place to have lunch and look around and drive. The bad news is that I had a complete blackout because of the fatigue which place that was and where exactly we went for lunch! But at least I still have the pictures haha. The place where we had a very late lunch was very beautiful. There was also a wedding going on, which was nice to see. We wanted to do most things for tomorrow and the day after tomorrow and visit large parts of the island. By the way, the hotel has given and discussed a good amount of tips and must-sees with a map. So you can really go to the hotel for this!
In the evening, before we went back, I spotted a beautiful restaurant along the road with a good view. Here we decided to have a small bite to eat. We had Moussaka, local desserts and something to drink, and had a good laugh here. This restaurant was called Agnadi Restaurant – very affordable, great view, and friendly staff.
Day 2 – This day we decided to take a large part of the island. A different part of the island every day. After a delicious extensive hotel breakfast (also highly recommended here), we went to Xigia Beach where we did some 'climbing' in the area (on our slippers over all the rocks and hills), to see all kinds of beautiful things and also a hidden beach to visit. Just before Xigia beach there is also an extra beach where it is much quieter. After a while, we left from there by car to Restaurant Nobelos. I highly recommend this restaurant. In principle it is a bit above the average Dutch price, but the food and drinks were great. The view was also beautiful, it looked like a movie set! Our next trip was towards the oh so famous Shipwreck viewpoint. With our small car we got lost between cute colored streets between all kinds of locals. Hilarious! We took some pictures and wriggled through the narrow streets (didn't know that was possible with our car), headed for Shipwreck. The view was definitely worth a visit, but of course it was very busy (and there was strong wind!). This daredevil is not afraid of heights, because I threw my legs over the cliff for a photo and stood fearlessly 'on the edge of the abyss'.
Our last stop before going back to the hotel was to L'éte sunset bar. A recently opened bar that is somewhat remote from the 'civilized world'. We literally had to 'sprint' because the sunset was almost gone when we arrived, haha. The music, price, atmosphere and staff were top notch. During the farewell we also received a shot of Greek liqueur from the crew, because they thought we were very cozy haha. On our way back we stopped and stared at the galaxy for minutes. I don't think I have ever seen so many stars in a clear sky. Back at the hotel in the evening, work friend Bonny and her boyfriend whom I hadn't seen in months came to our suite to have a few drinks nearby. By the way – If you want to get around the island with a car, I definitely recommend my items in bold in one route/day tour and in order.
Iris en ik besloten met de auto naar een mooie plek te gaan om te gaan lunchen en wat rond te kijken en rijden. Het slechte nieuws is dat ik een complete black-out had door de vermoeidheid welke plek dat nou was en waar precies we gingen lunchen! Maar ik heb tenminste de foto's nog, haha. De plek waar we ontzettend laat hebben geluncht was erg mooi. Ook was er een bruiloft bezig. Leuk dat even te hebben meegepikt. We wilde vooral voor morgen en overmorgen de meeste dingen ondernemen en grote delen van het eiland bezoeken. Het hotel heeft trouwens met een landkaart een goede hoeveelheid tips en must sees gegeven en besproken. Bij het hotel kun je hiervoor dus echt goed terecht!
In de avond, voor we terug gingen, spotte ik langs de weg een leuk uitziend restaurant met goed uitzicht. Hier besloten we een klein hapje te eten. Wat we op hadden was moussaka, lokale toetjes en wat te drinken. We hadden ons hier echt stuk gelachen trouwens. Dit restaurant heet Agnadi Restaurant – erg betaalbaar, mooi uitzicht, en vriendelijk personeel.
Dag 2 – Deze dag besloten we een groot deel van het eiland mee te gaan pakken. Het plan was elke dag een ander deel van het eiland. Na een heerlijk uitgebreid hotel ontbijt (ook zeker een aanrader hier), gingen we op weg naar Xigia Beach waar we wat rond zijn gaan 'klimmen' in de omgeving (op onze slippertjes over alle rotsen en heuvels), om van allerlei moois te zien en ook een verborgen strandje te bezoeken. Vlak voor Xigia beach zit namelijk ook een extra strandje waar het veel rustiger is. Na een poosje, zijn we vanaf daar vertrokken met de auto richting Restaurant Nobelos. Dit restaurant raad ik jullie ontzettend aan. In principe is het wel wat boven de gemiddelde Nederlandse prijs, maar het eten en drinken was top. Het uitzicht was ook prachtig. Het leek wel een filmset! Onze vervolg tocht was richting het oh zo bekende Shipwreck uitzichtpunt. Met ons kleine autotje verdwaalde we tussen allemaal schattige gekleurde straatjes en tussen allerlei locals. Hilarisch! Nog even wat fototjes genomen en al wurmend tussen de smalle straatjes door (wist niet dat dat mogelijk was met onze auto), gingen we op weg naar Shipwreck. Het uitzicht was zeker een bezoekje waard, maar het was er uiteraard ontzettend druk (en er stond harde wind!). Deze waaghals is overigens niet bang voor hoogtes, want ik gooide mijn benen zo over de klif voor een foto en stond angstloos 'aan de rand van de afgrond'.
Onze laatste stop voor we terug naar het hotel zouden gaan, was naar L'éte sunset bar. L'éte is een recent geopende bar die wat afgelegen ligt van de 'bewoonde wereld'. We moesten letterlijk even sprinten, want de sunset was al bijna weg toen we aankwamen, haha. De muziek, prijs, sfeer en het personeel was er top. Ook kregen we tijdens het afscheid een shot Griekse likeur van de crew, omdat ze ons heel gezellig vonden. Tijdens onze terugrit zijn we nog even gestopt om in het pikkedonker minuten lang naar de sterren te kijken. Ik denk niet dat ik ooit zoveel sterren heb gezien. In de avond terug in het hotel, zijn werkvriendin Bonny en haar vriend die ik al maanden niet meer had gezien, naar onze suite gekomen om met ons in de buurt nog wat drankjes te doen. By the way – Als je het eiland rond wil met een auto, raad ik jullie ook zeker mijn dikgedrukte items in één route/dagtour en op volgorde aan.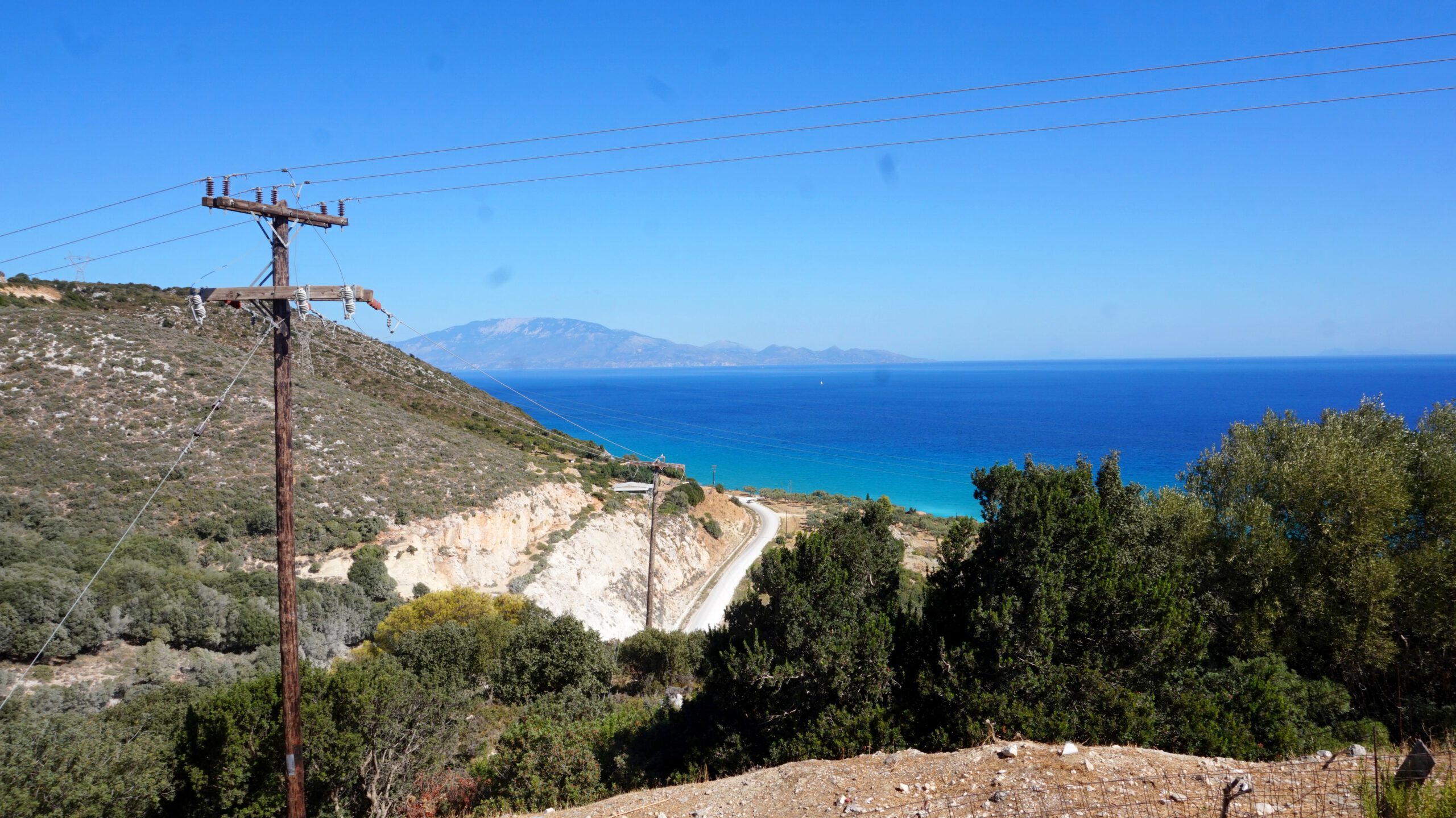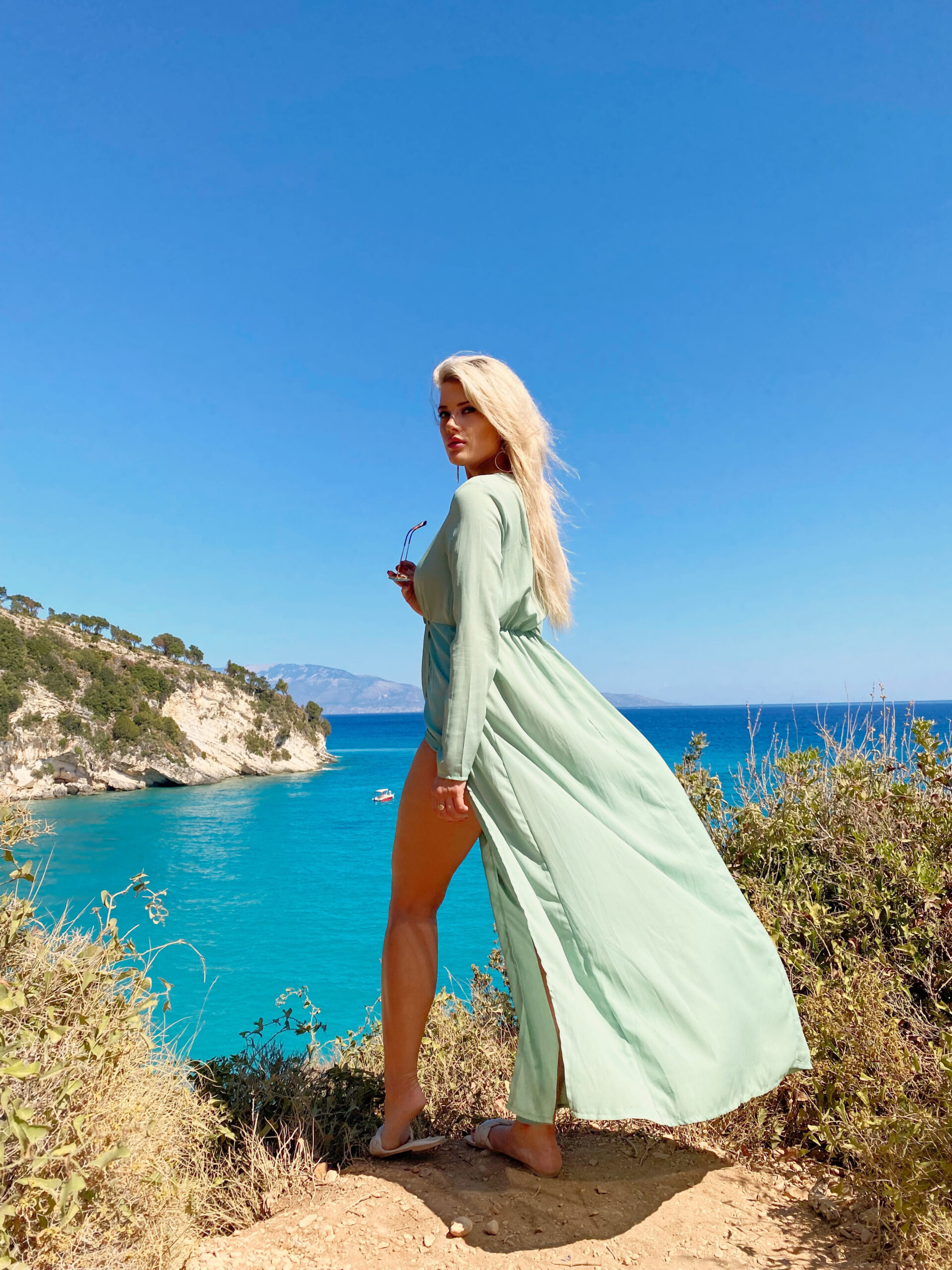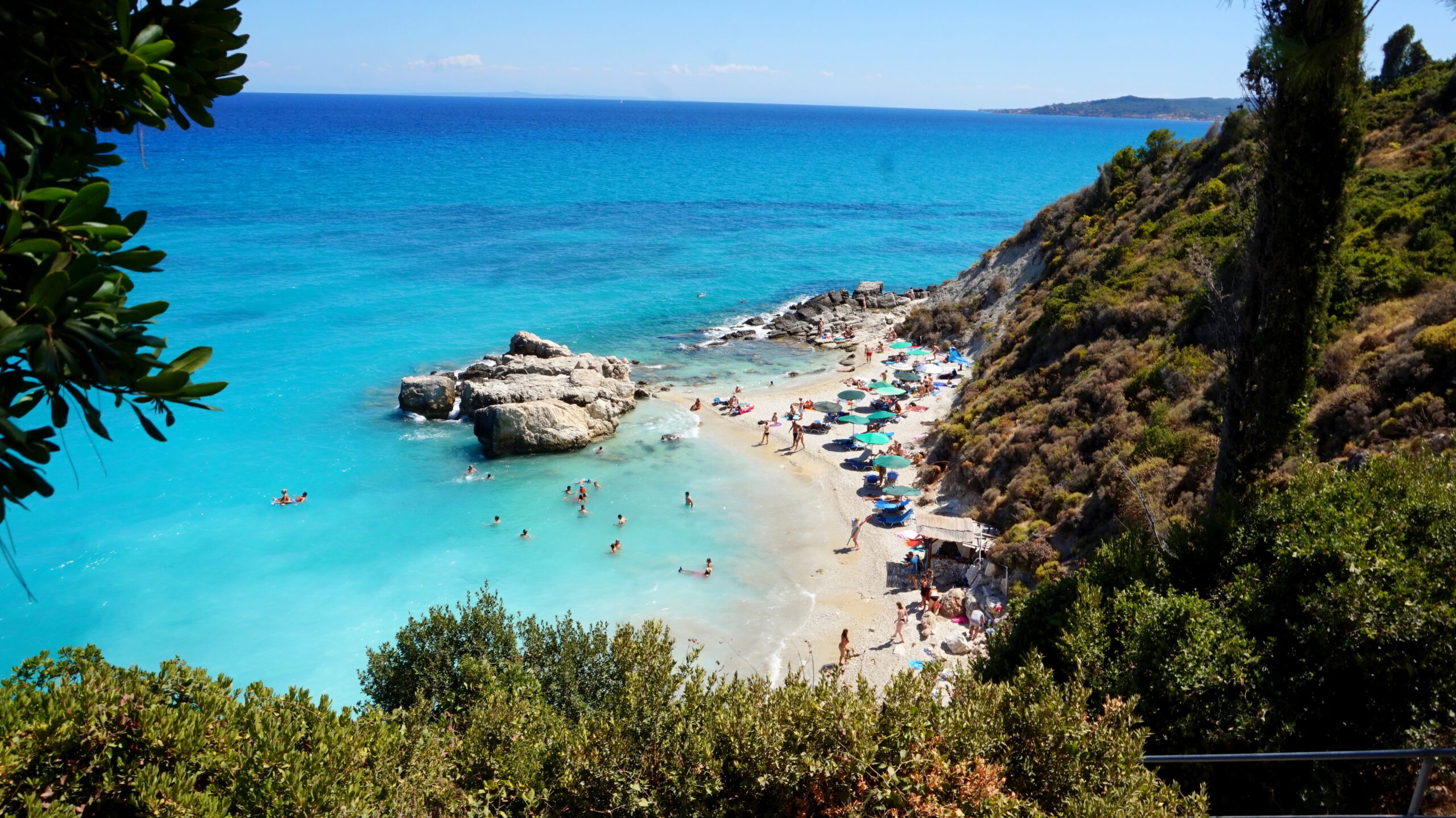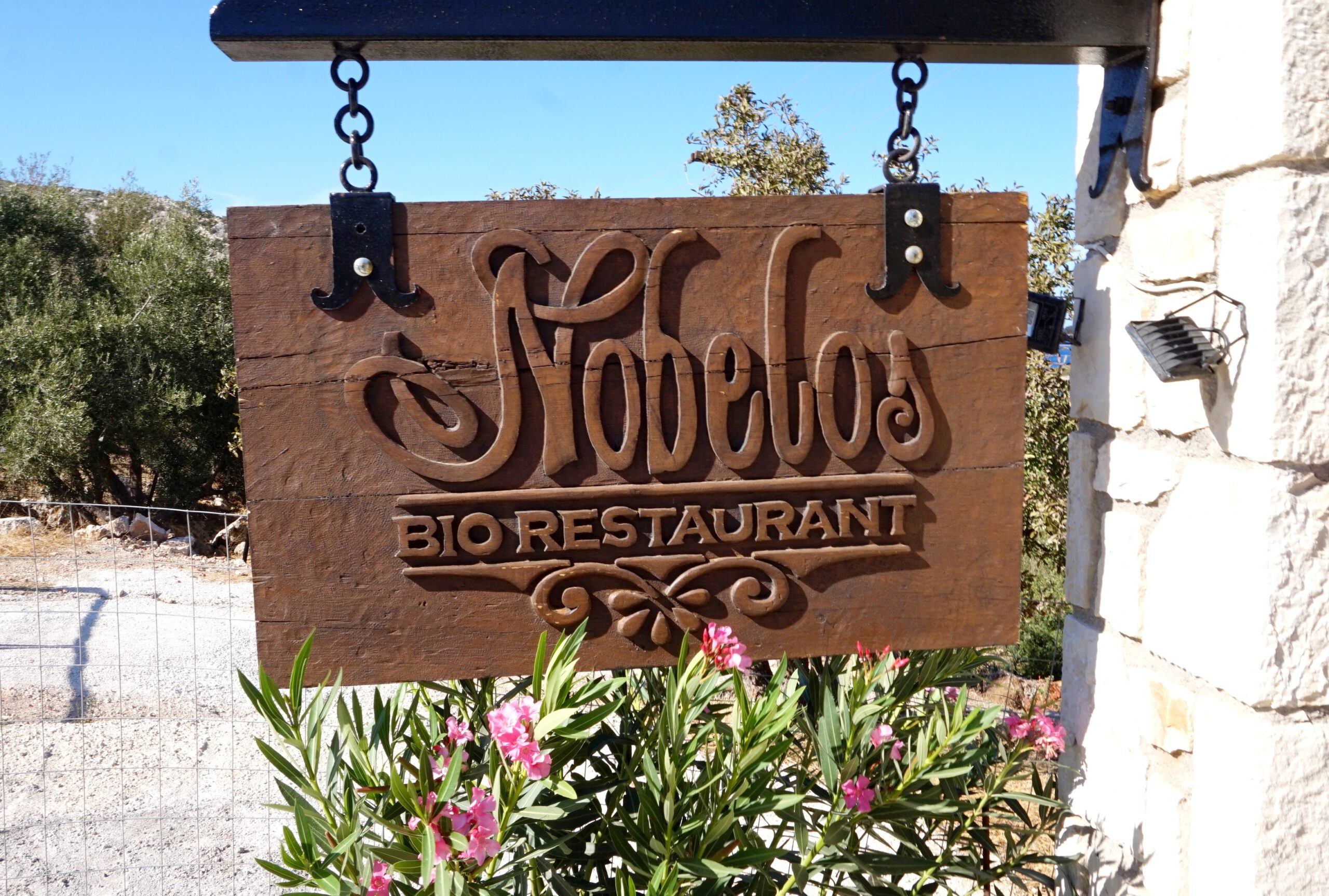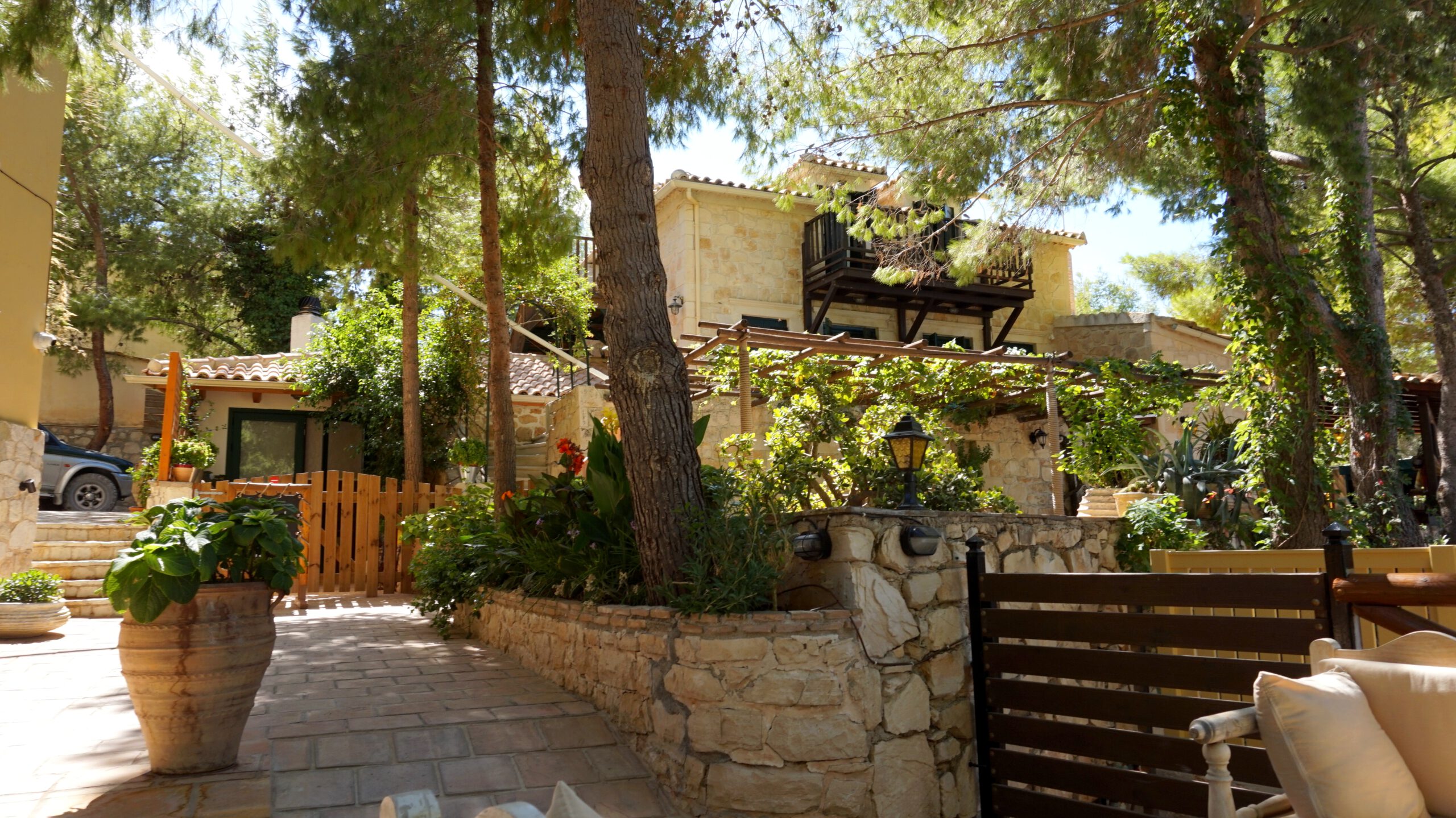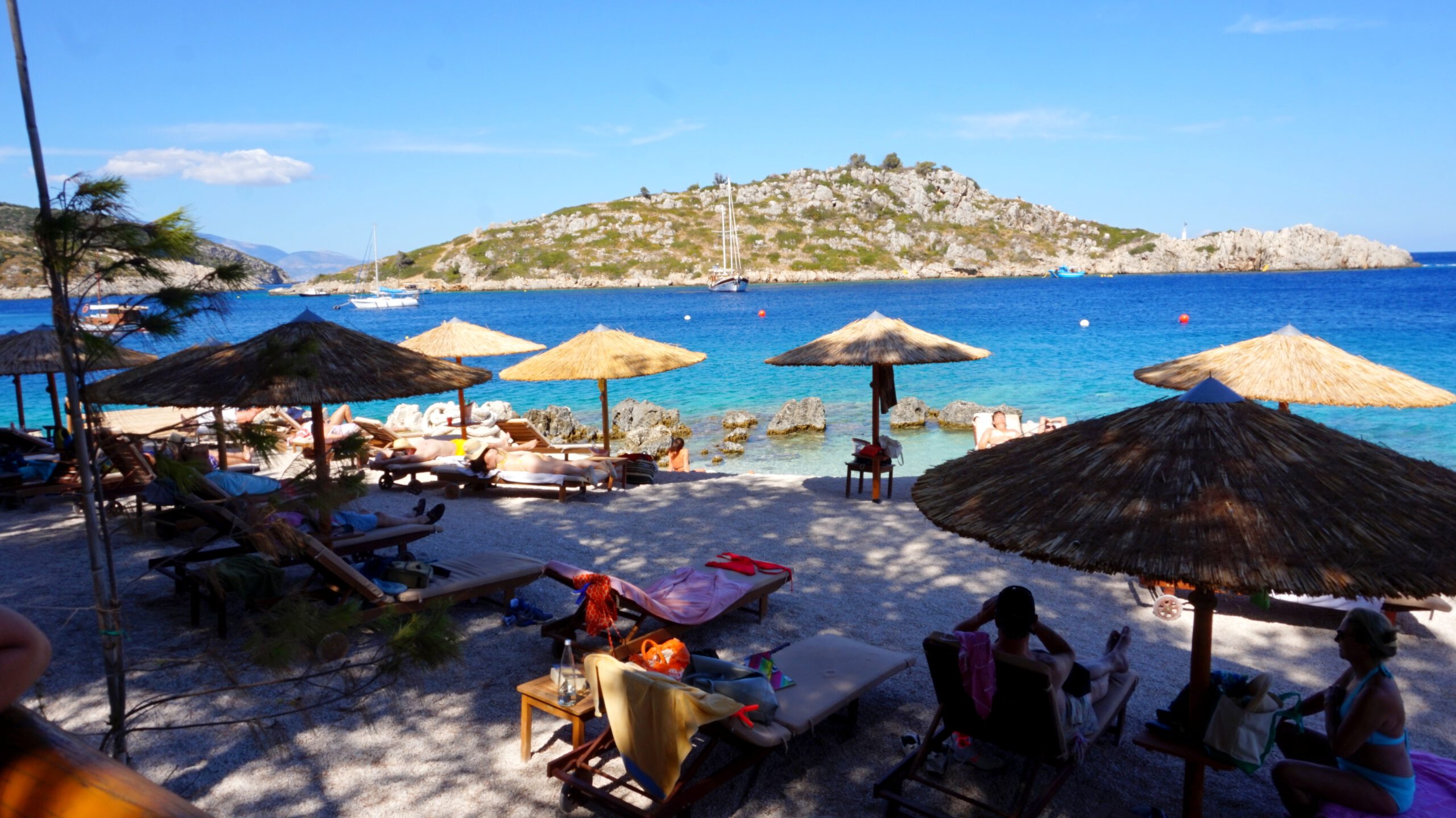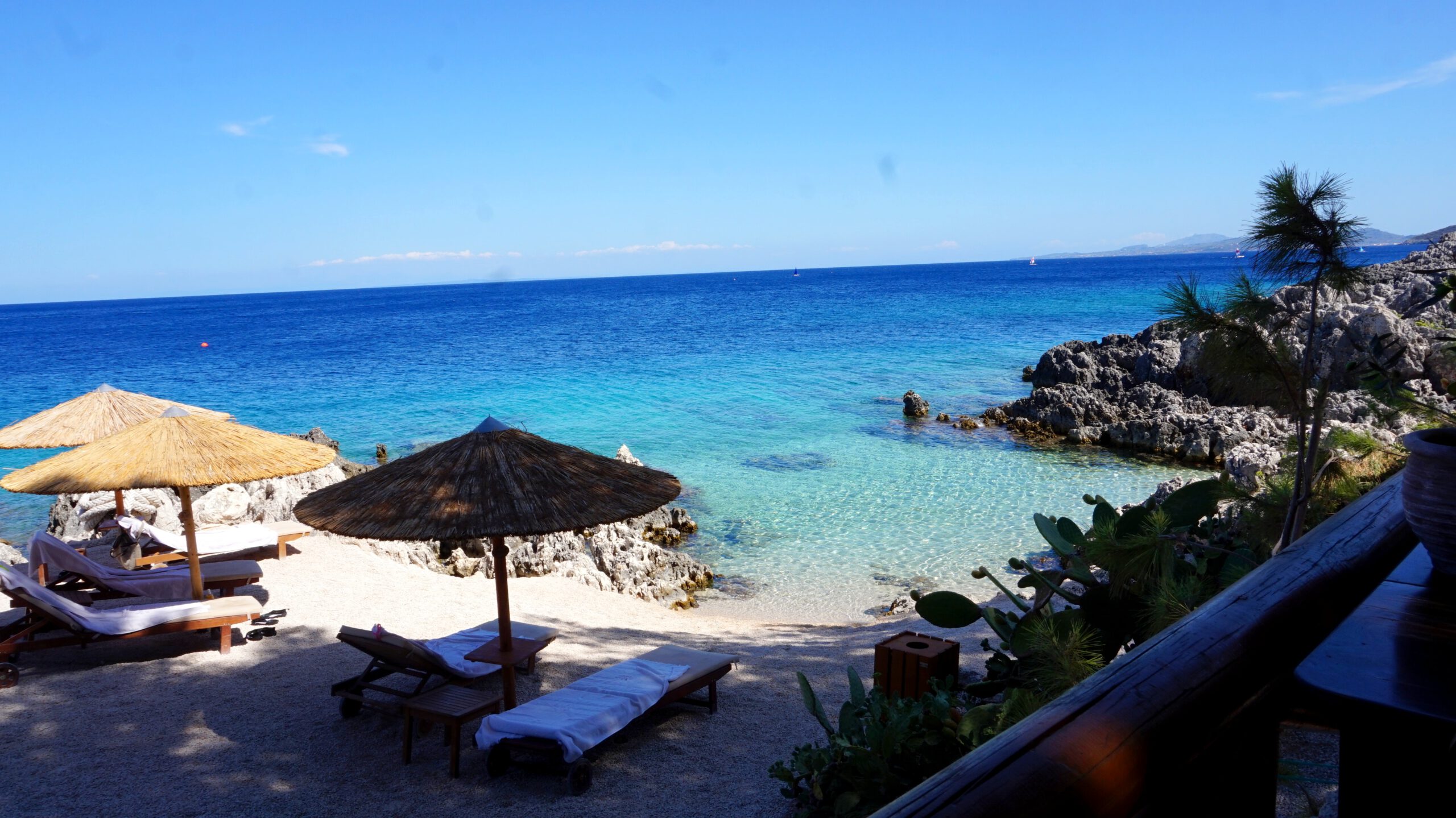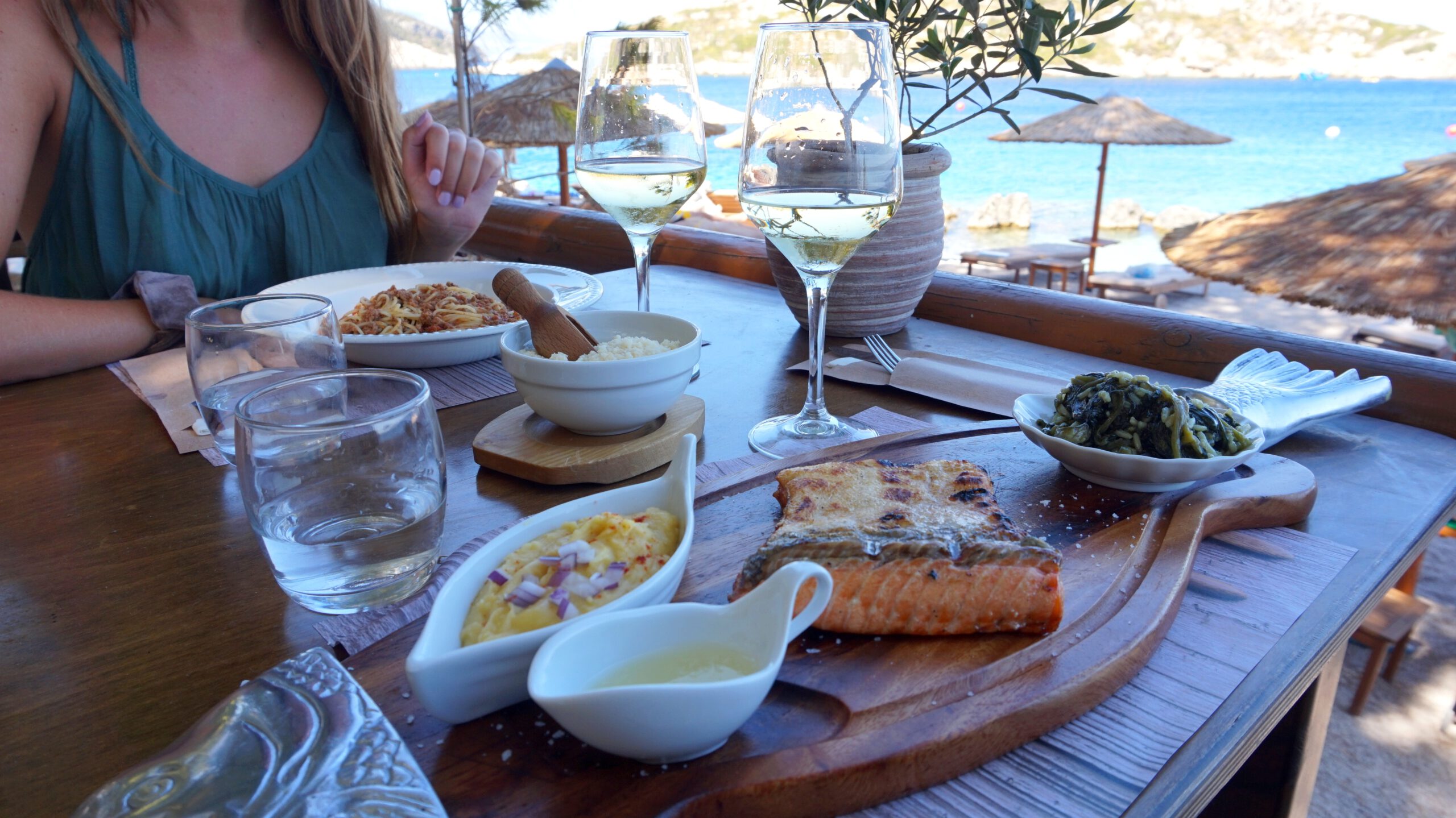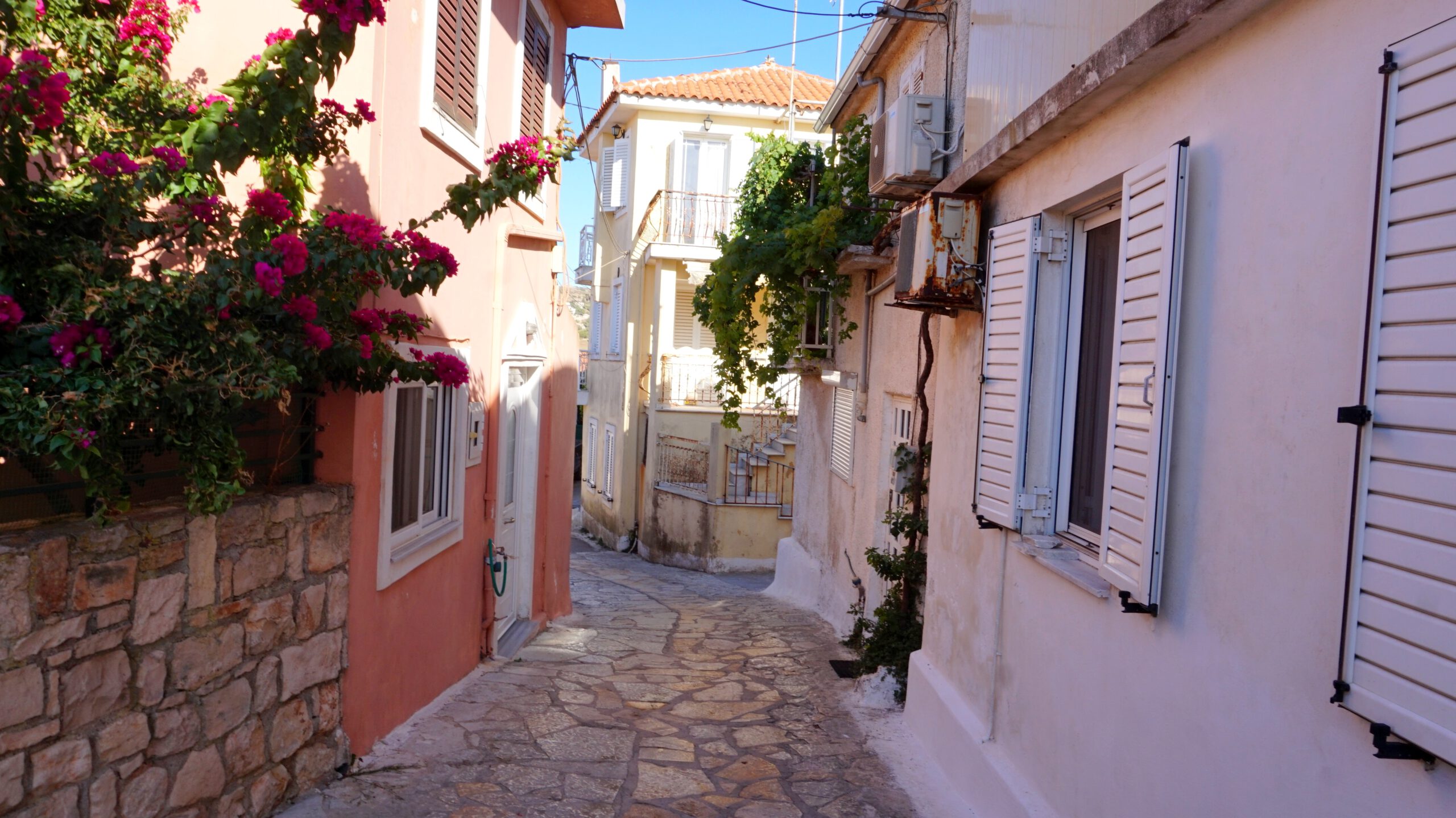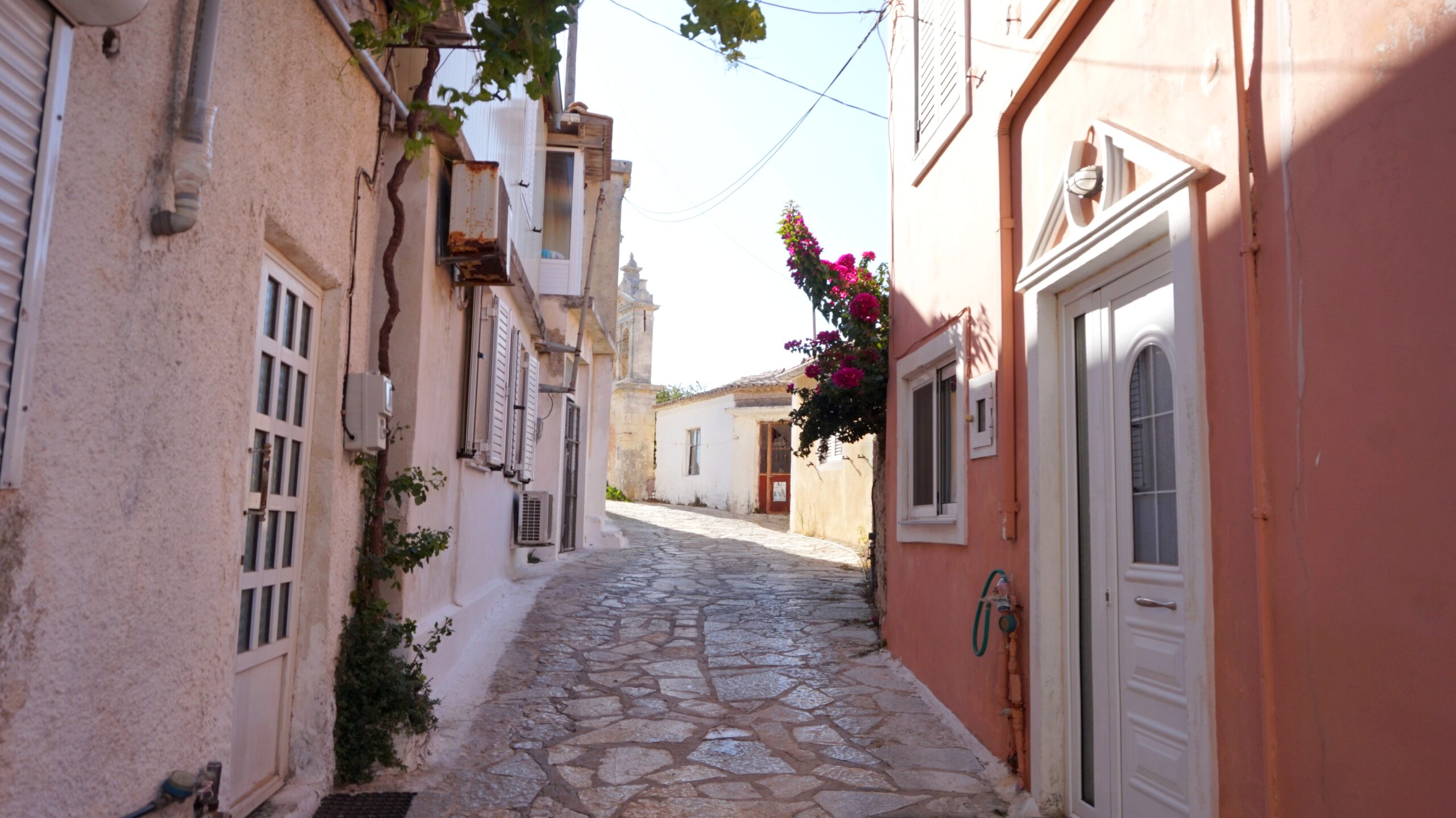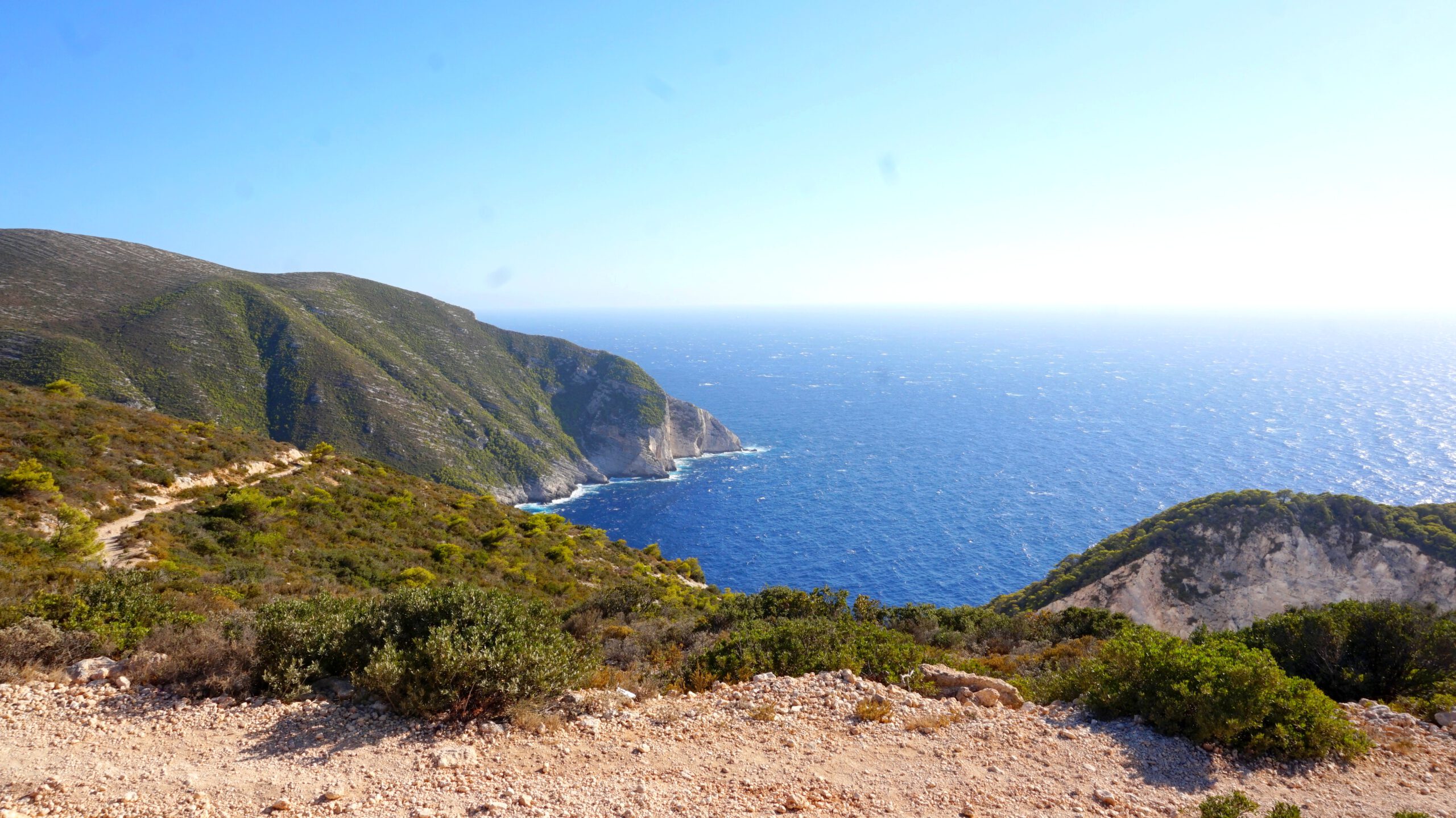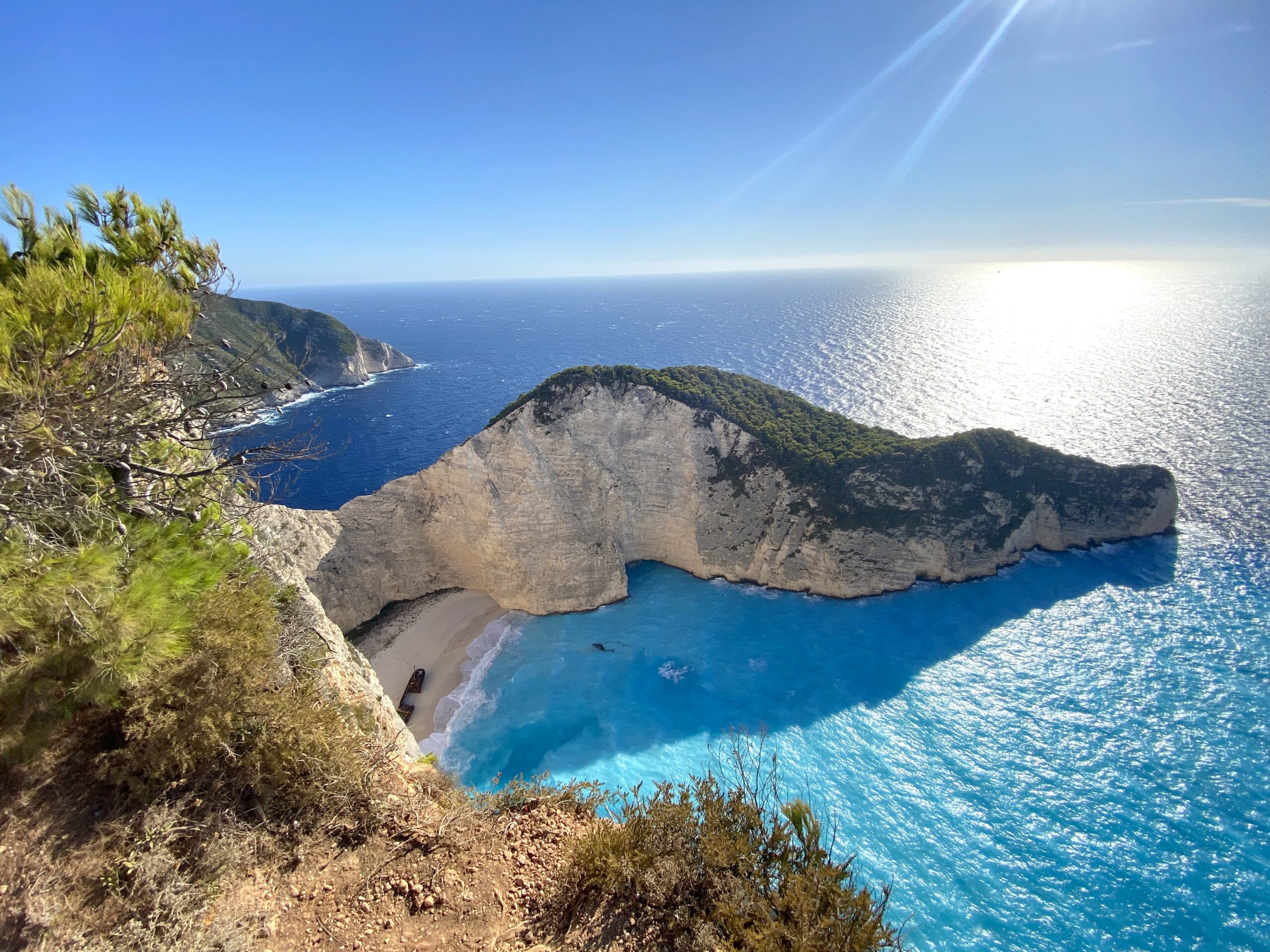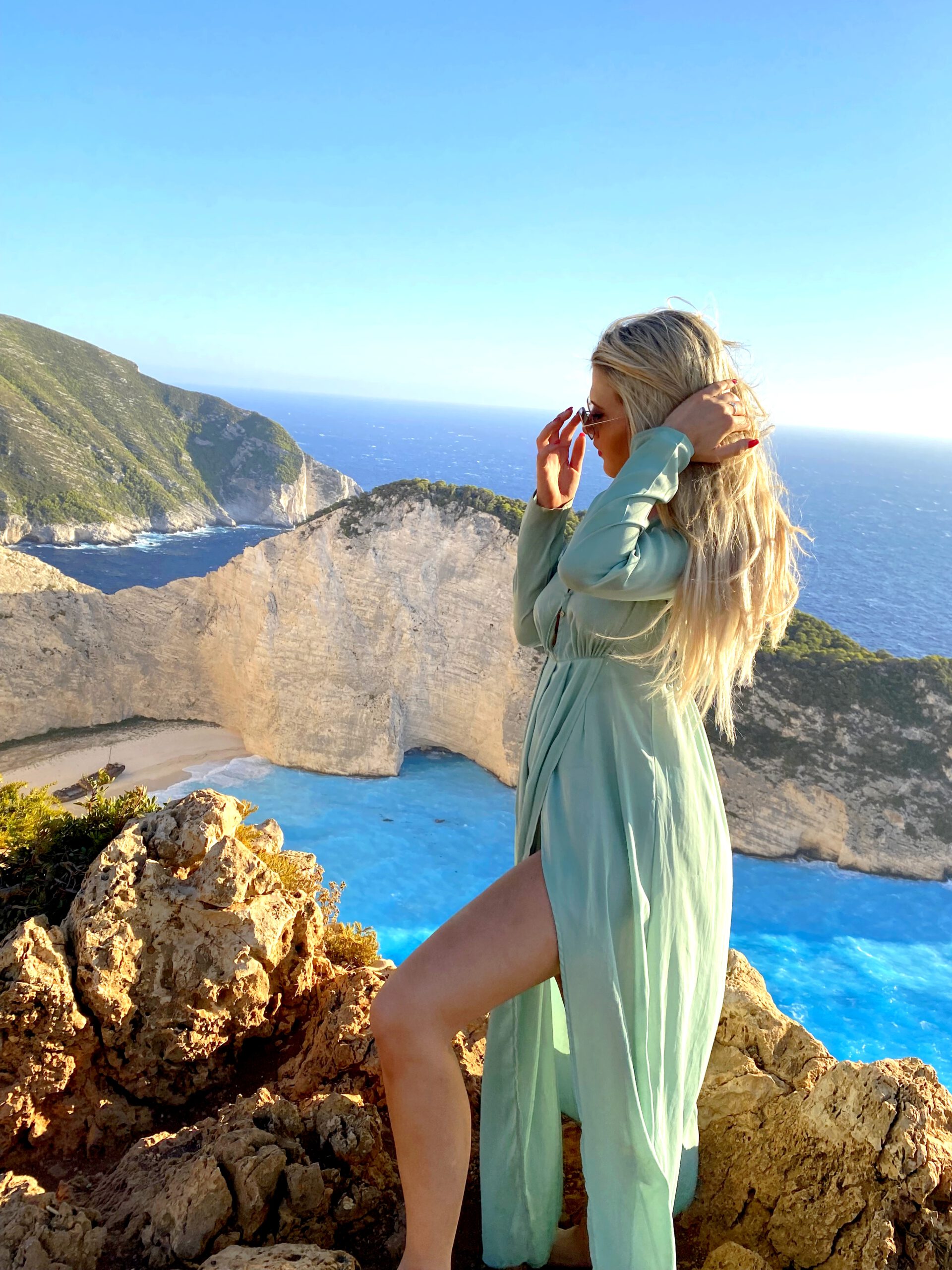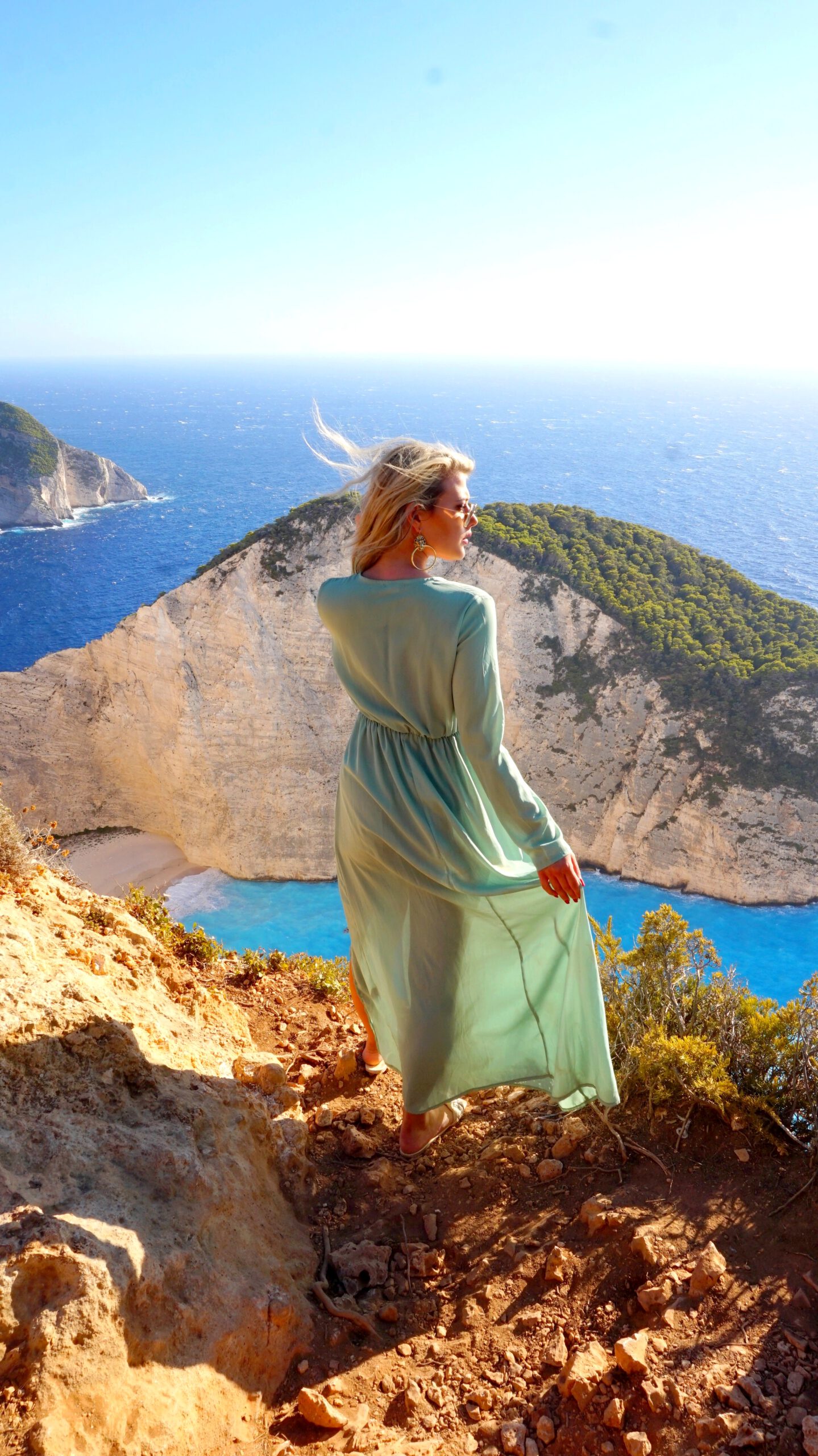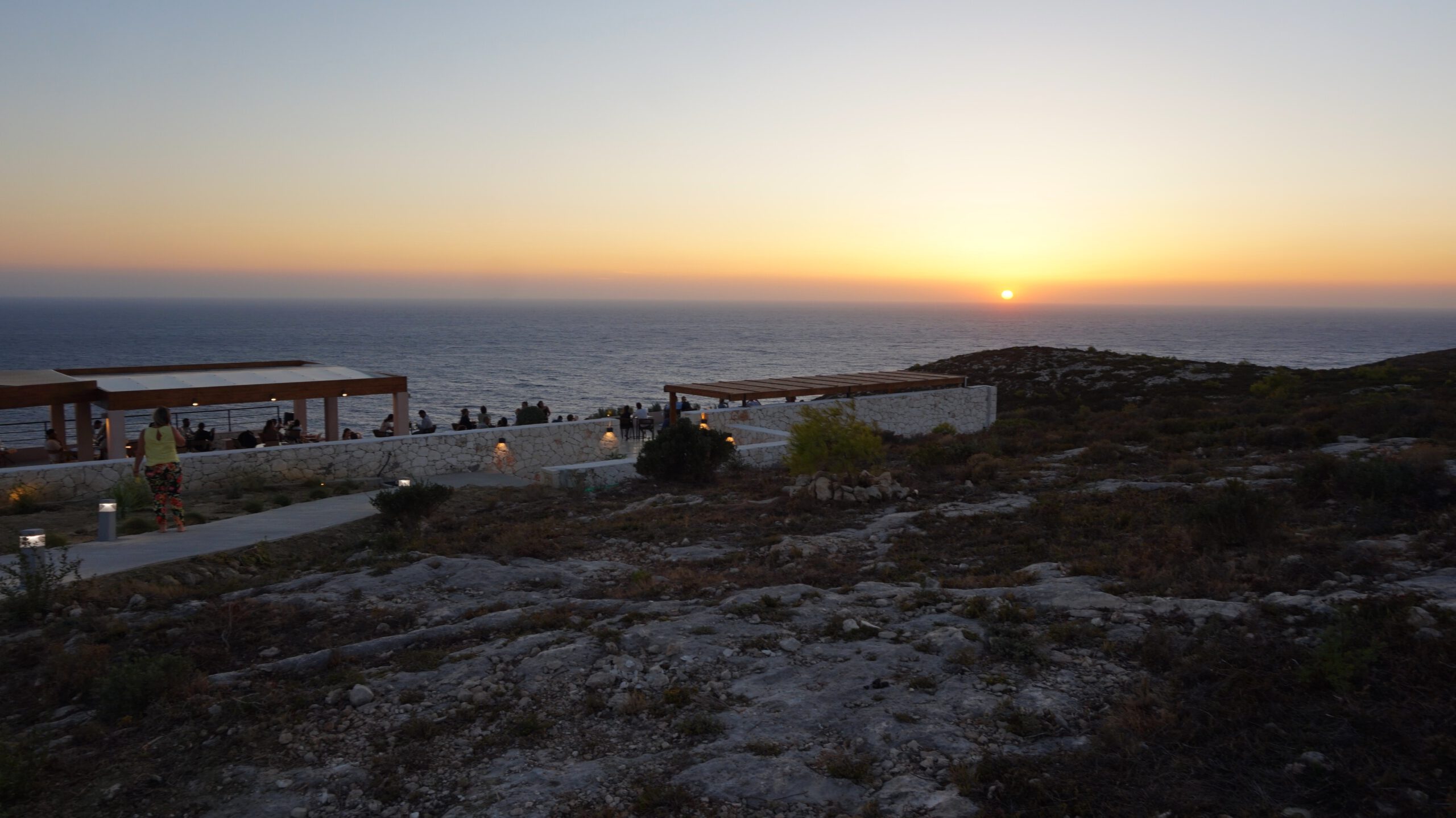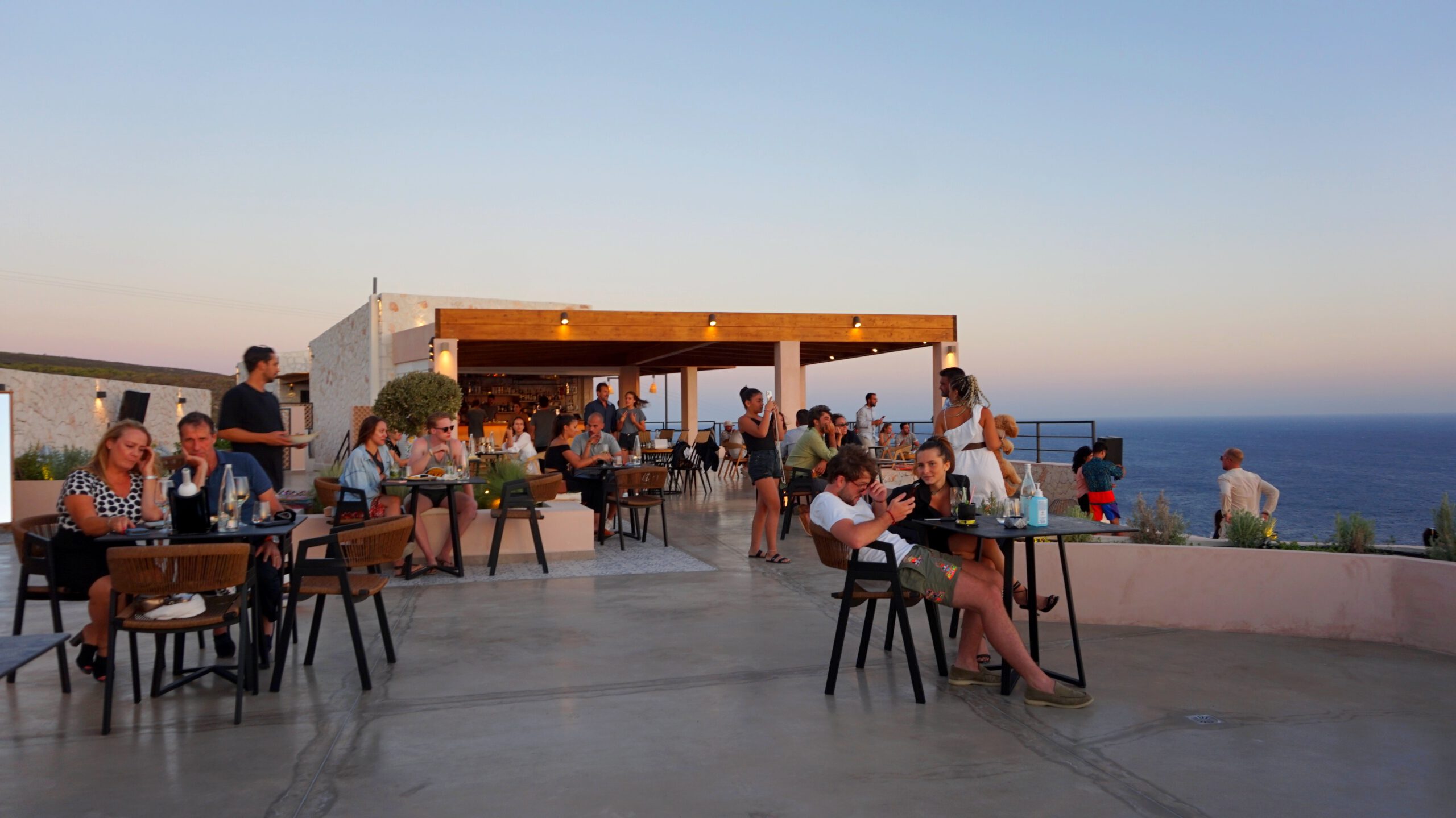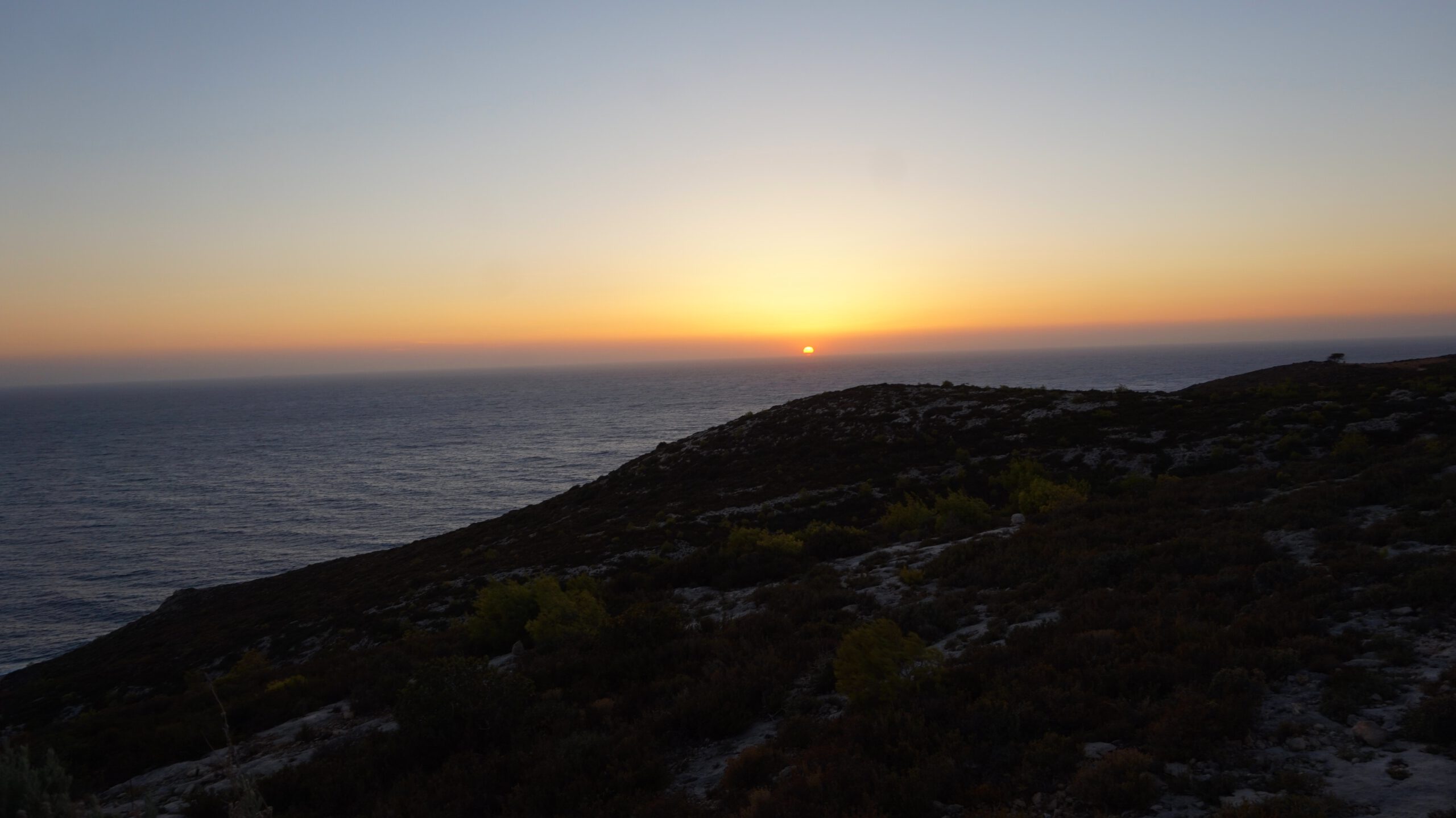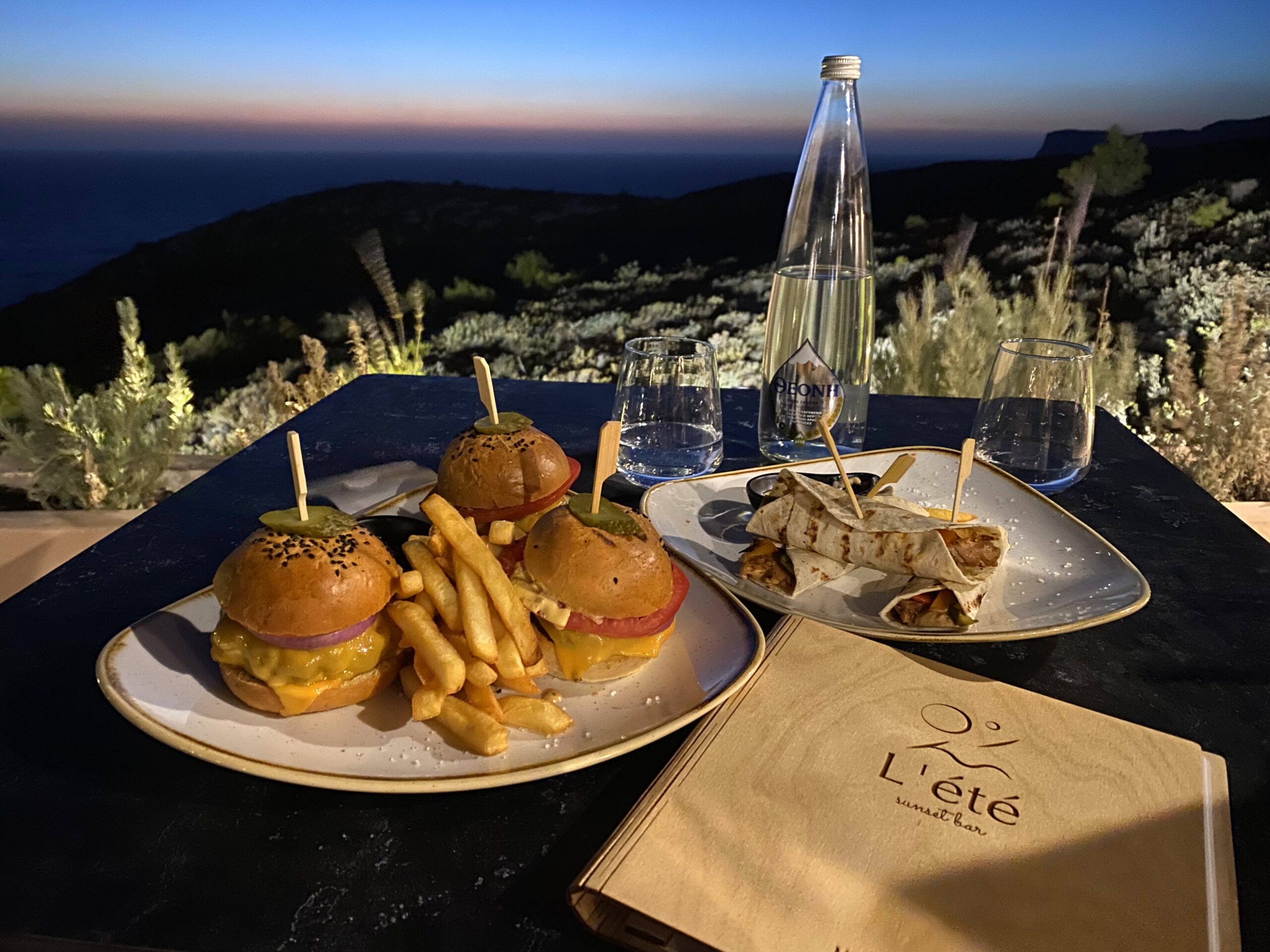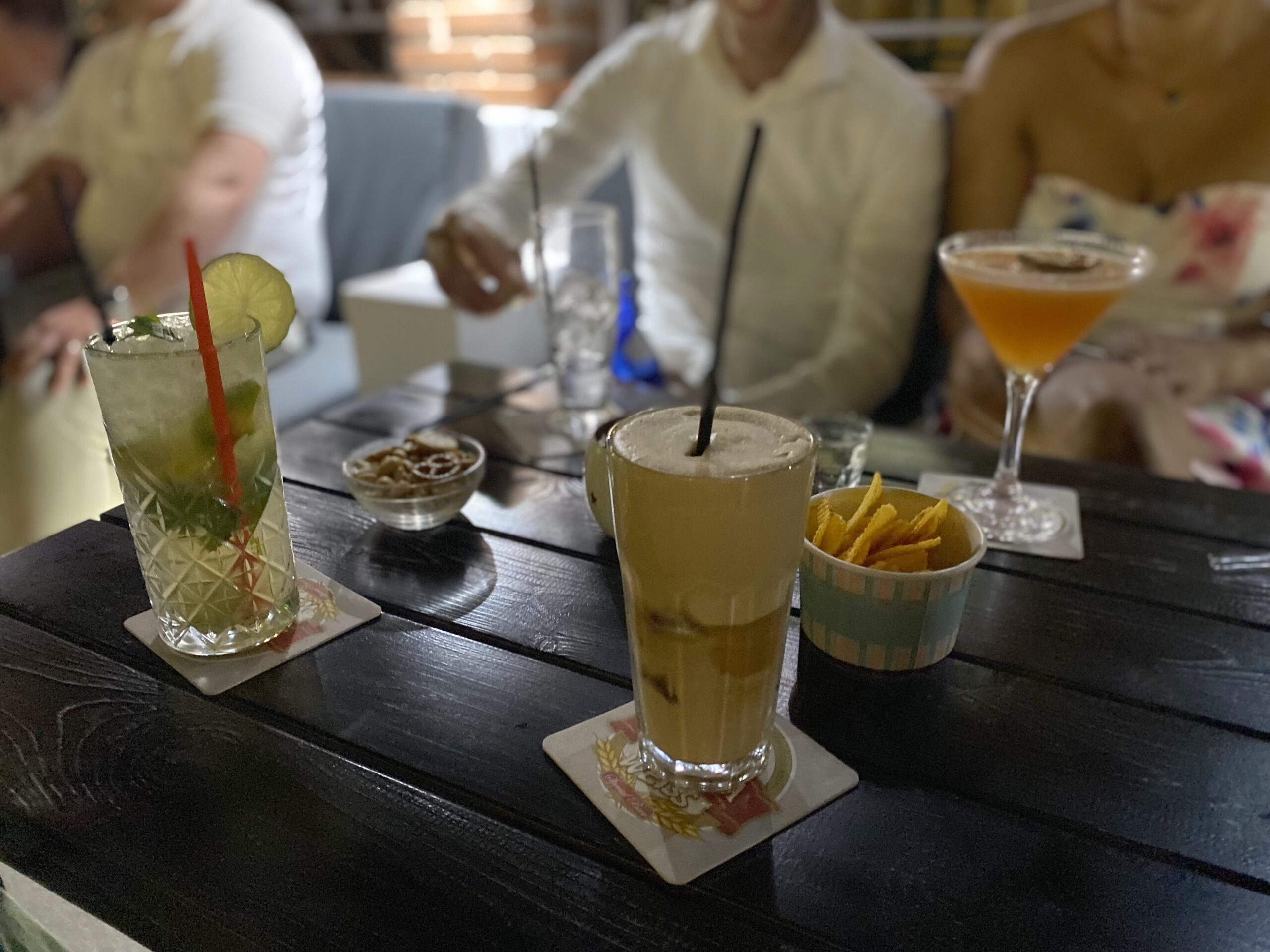 Day 3–
This day we would explore a completely different part of the island. We decided to get up early to take a boat trip in the morning to see caves and turtles from
Laganas,
and from there also go to
turtle island
. Also definitely recommended. It was also not expensive at all to go back by boat. On the turtle island we sunbathed for a while and we took the taxi boat back for an extra round, before we would walk to
Cameo Island
for a drink and a dip. I have to tell you that staying on beaches for a long time and especially lying down makes me restless, so I wanted to move on to other places. Entrance to the island is 5 euros and you get a key ring with a personal photo in return haha.
The tour continued towards Keri for Keri Lighthouse. I found this location, and the restaurant, the highlight of our trip. I've never been to Bali, but I think this view comes pretty close. Definitely go here I would say! The food and drink was top notch and the view breathtaking. I enjoyed the beautiful view with my cappu and could look at it incessantly. I could have fun for hours in this environment! From Keri Lighthouse we walked up a high hill to get an even better view over the large rock in the water. Long walk, but worth the view. There are several viewpoints nearby, by the way. Iris and I went to watch the sunset at a kind of 'sunset bar' (to what extent you can call it a bar, more like a stall). Magnificent! Once it was dark, we went to eat somewhere and went back to the hotel.
Note in between: I do not recommend Zakynthos city itself. During our island tour we often drove 'over it' but I didn't find anything exciting to see and soon a waste of our short time there to spend a long time there.
Dag 3
– Deze dag zouden we weer een heel ander deel van het eiland verkennen. We besloten vroeg op te staan om in de ochtend een boottochtje te doen om grotten en schildpadden te bekijken vanaf
Laganas
, en vanaf daar ook naar
turtle island
te gaan. Ook zeker een aanrader. Het was overigens ook helemaal niet duur om met de boot retour te gaan. Op het turtle island hebben we nog een poos liggen zonnen en zijn we met de taxi boot nog een extra rondje gaan maken terug, voor we
Cameo Island
op zouden wandelen voor een drankje en pootje baden. Ik moet je zeggen dat ik onrustig word van lang op stranden blijven en vooral liggen, dus wilde ik graag door naar andere plekken. Entreé voor het eiland is 5 euro en je krijgt er een sleutelhanger met persoonlijke foto voor terug haha.
De tocht vervolgde zich richting Keri voor Keri Lighthouse. Ik vond deze locatie, en het restaurant het hoogtepunt van onze reis. Ik ben nog nooit in Bali geweest, maar ik denk dat dit uitzicht wel aardig in de buurt komt. Ga hier zeker heen zou ik zeggen! Het eten en drinken was er top en het uitzicht adembenemend. Ik genoot met mijn cappu van het prachtige uitzicht en kon er onophoudelijk naar kijken. In deze omgeving zou ik me uren kunnen vermaken! Vanaf Keri Lighthouse zijn we een hoge heuvel op gelopen om een nog beter uitzicht te krijgen over de grote rots in het water. Lang stuk lopen overigens, maar het uitzicht waard. In de buurt zijn meerdere viewpoints trouwens. Iris en ik zijn bij een soort 'sunset bar' (in hoeverre je dat een bar kunt noemen, eerder een kraampje), de zonsondergang gaan kijken. Prachtig! Eenmaal toen het donker was, zijn we ergens gaan eten en terug naar het hotel gegaan.
Notitie tussendoor: Ik raad Zakynthos stad zelf trouwens niet aan. Tijdens onze eiland tour reden we er vaak 'overheen' maar ik vond er niks spannends te zien en al snel zonde van onze korte tijd daar om lang daar te spenderen.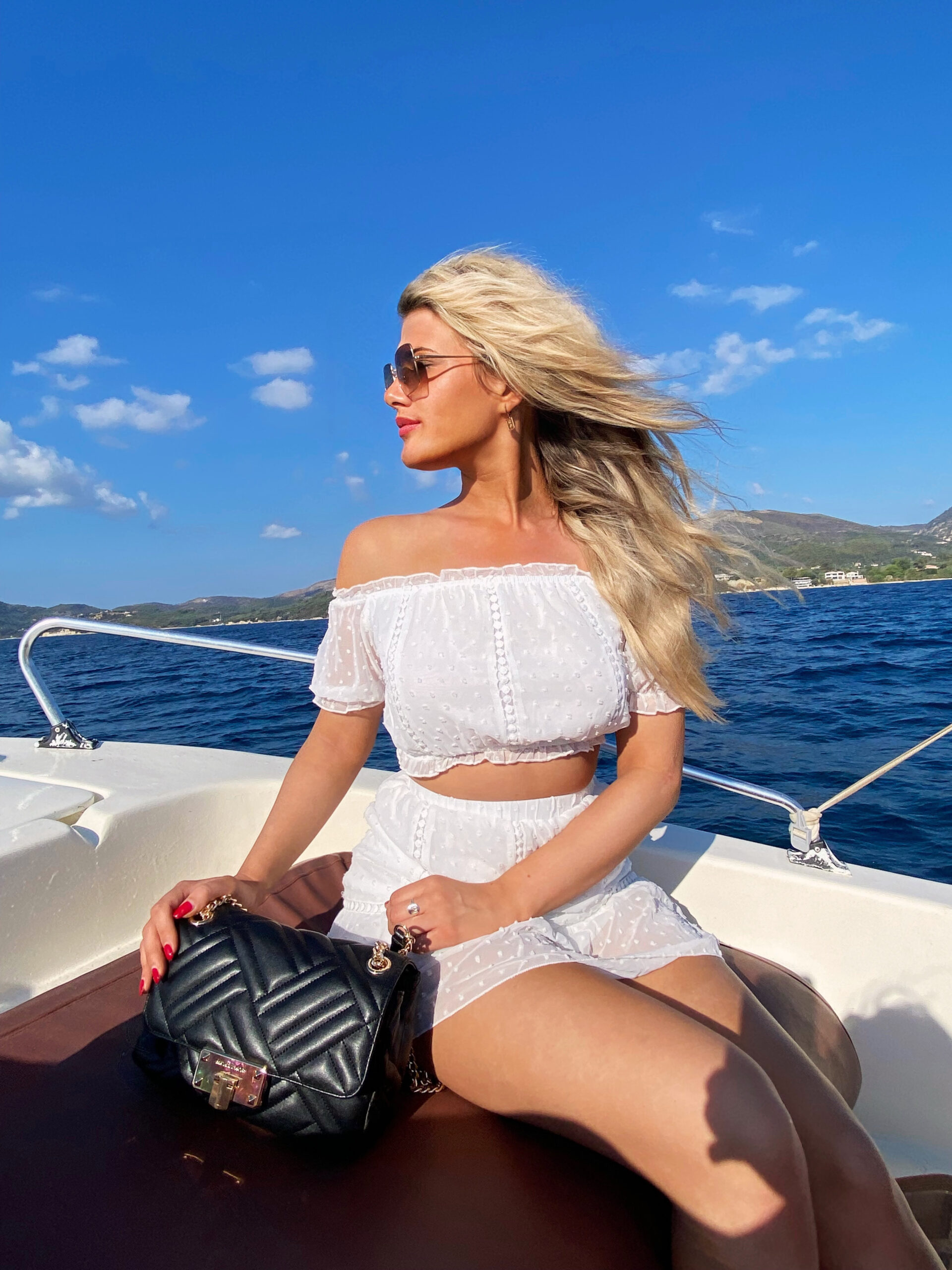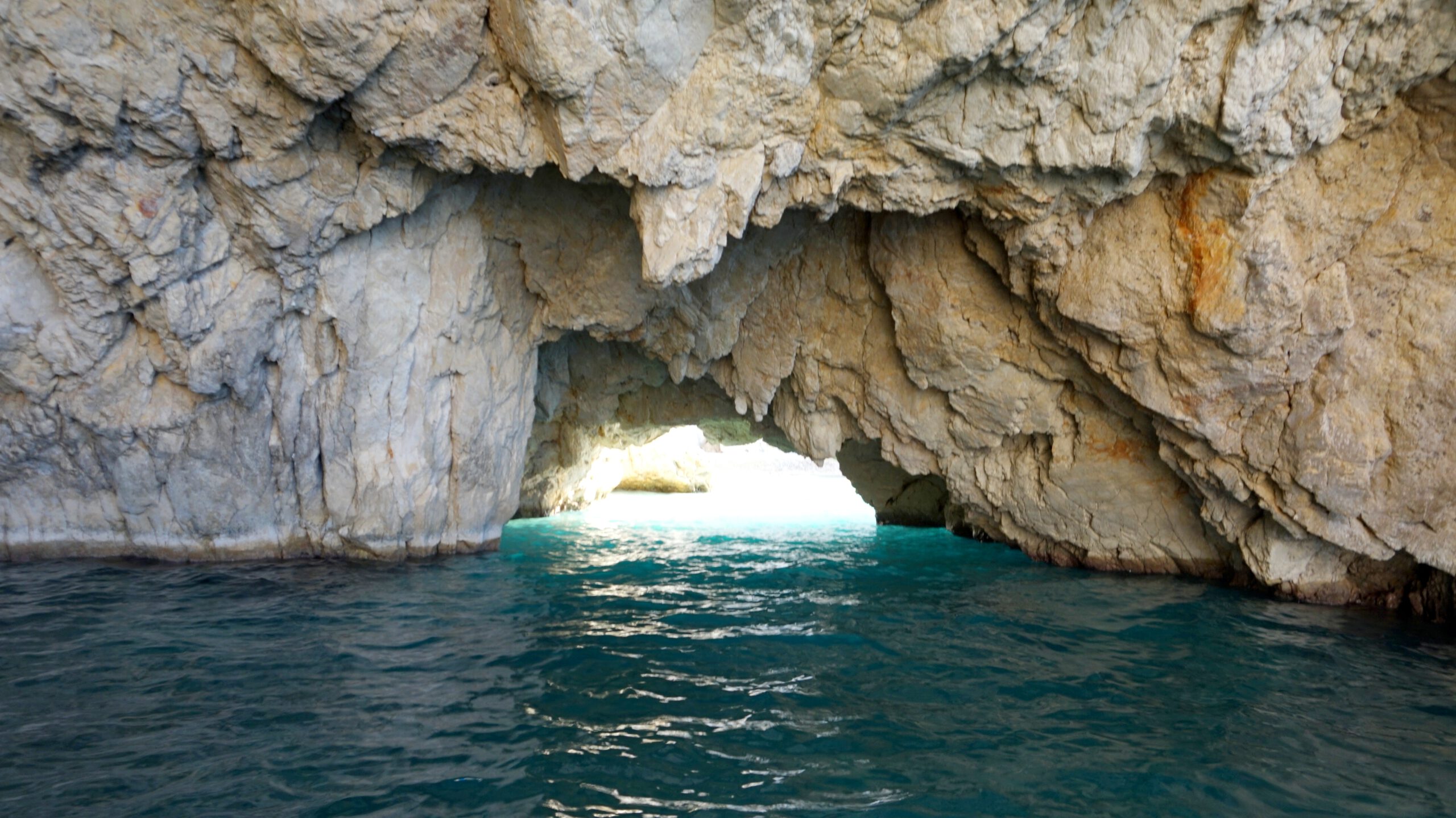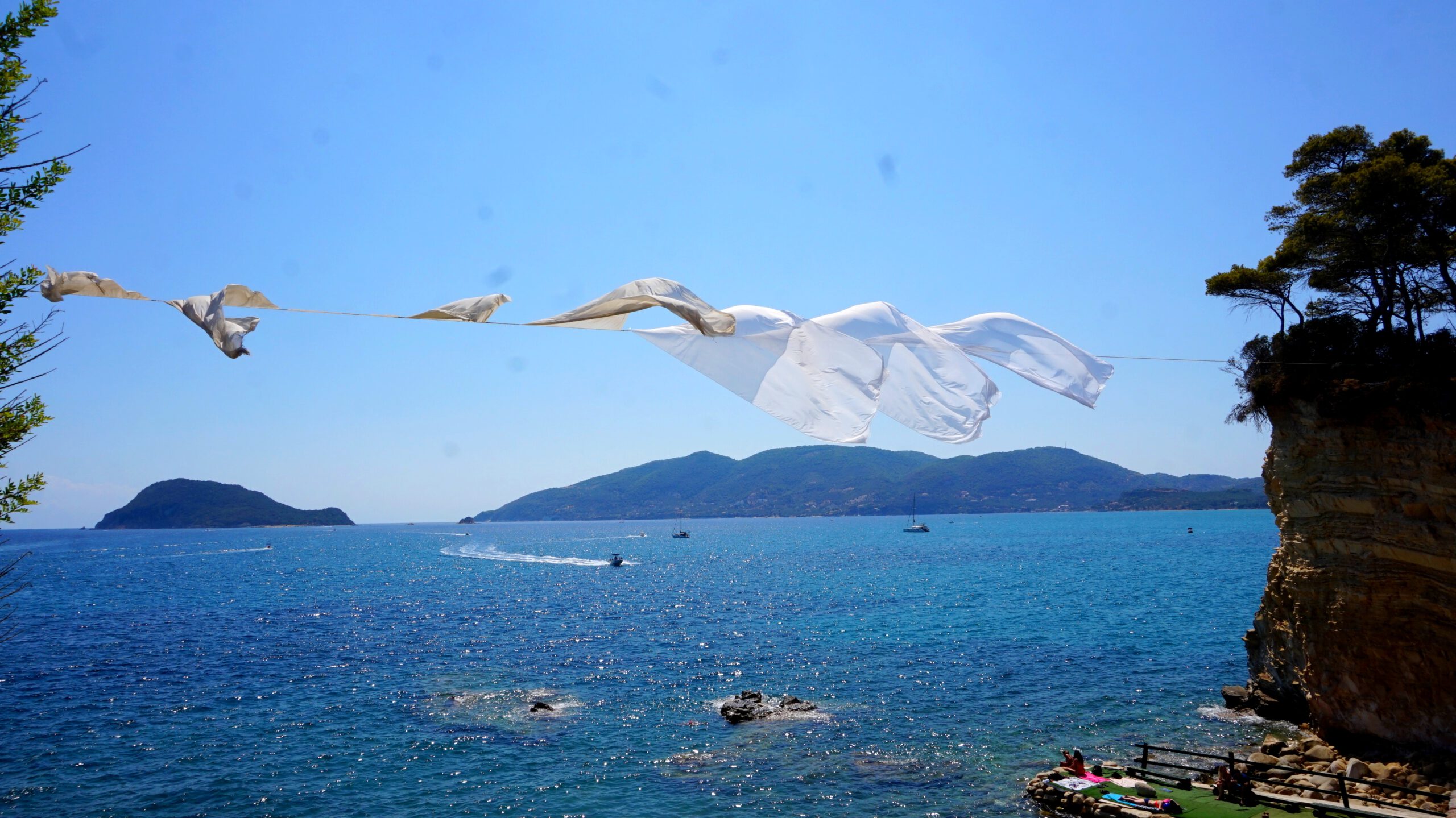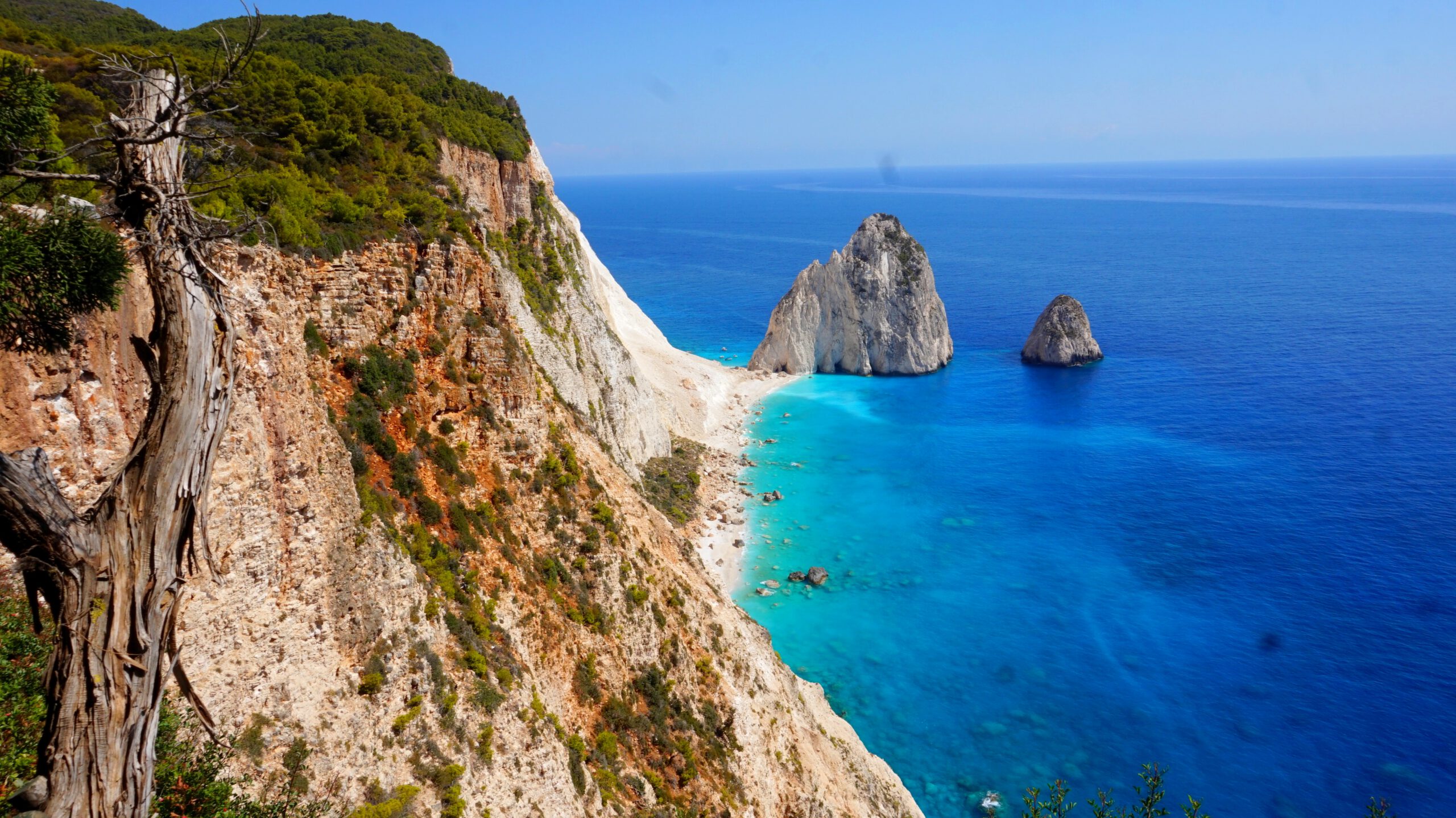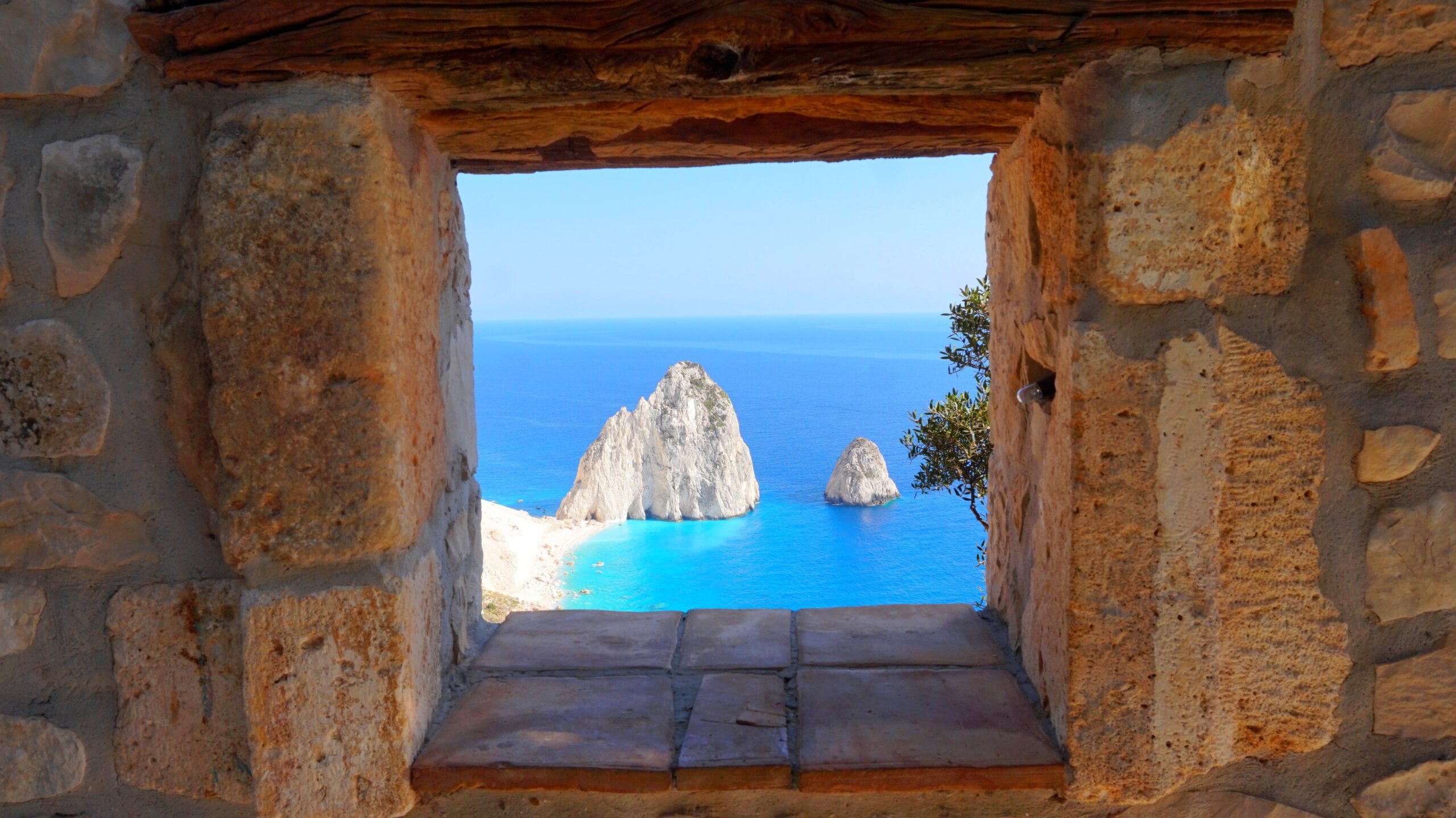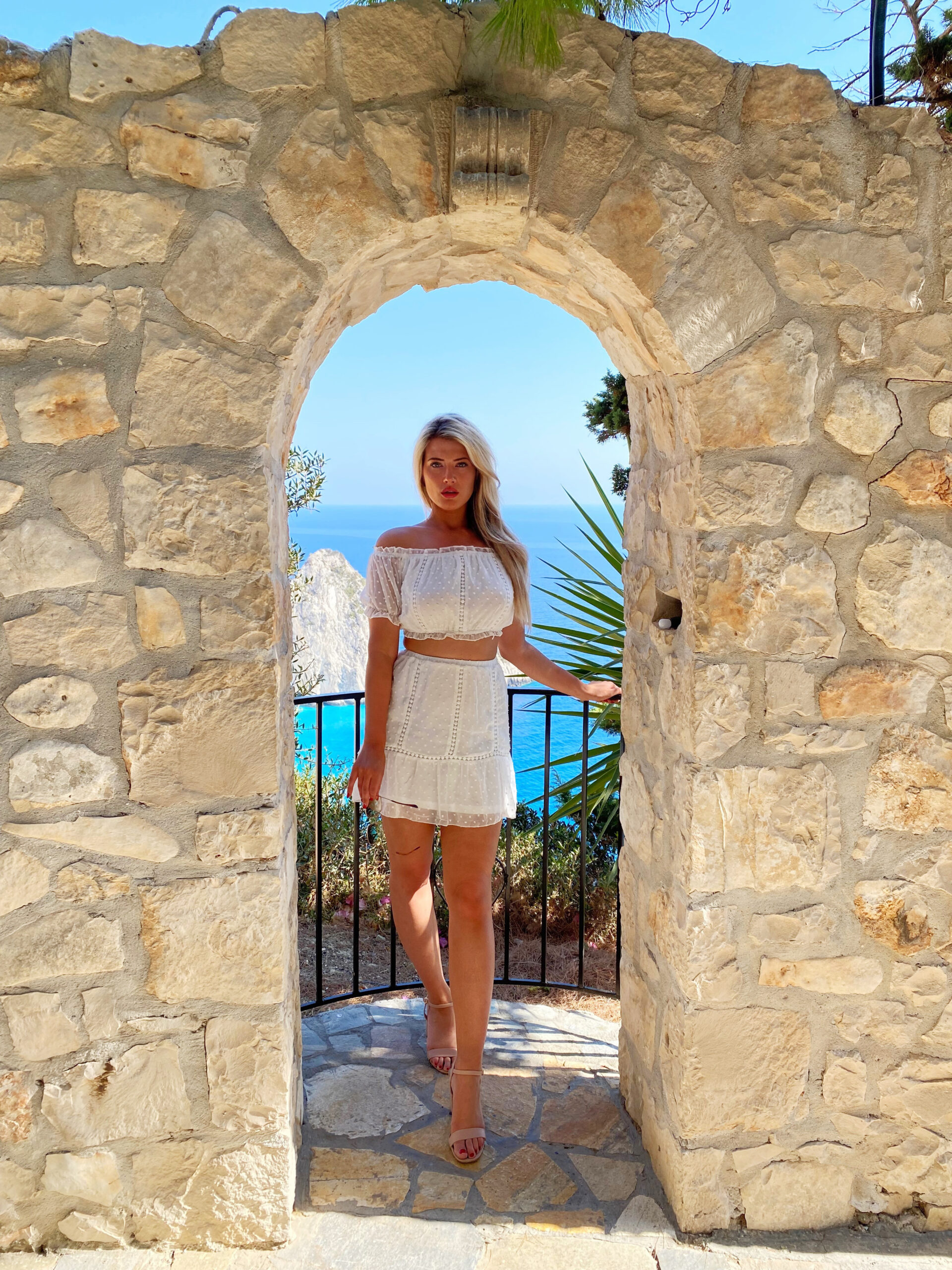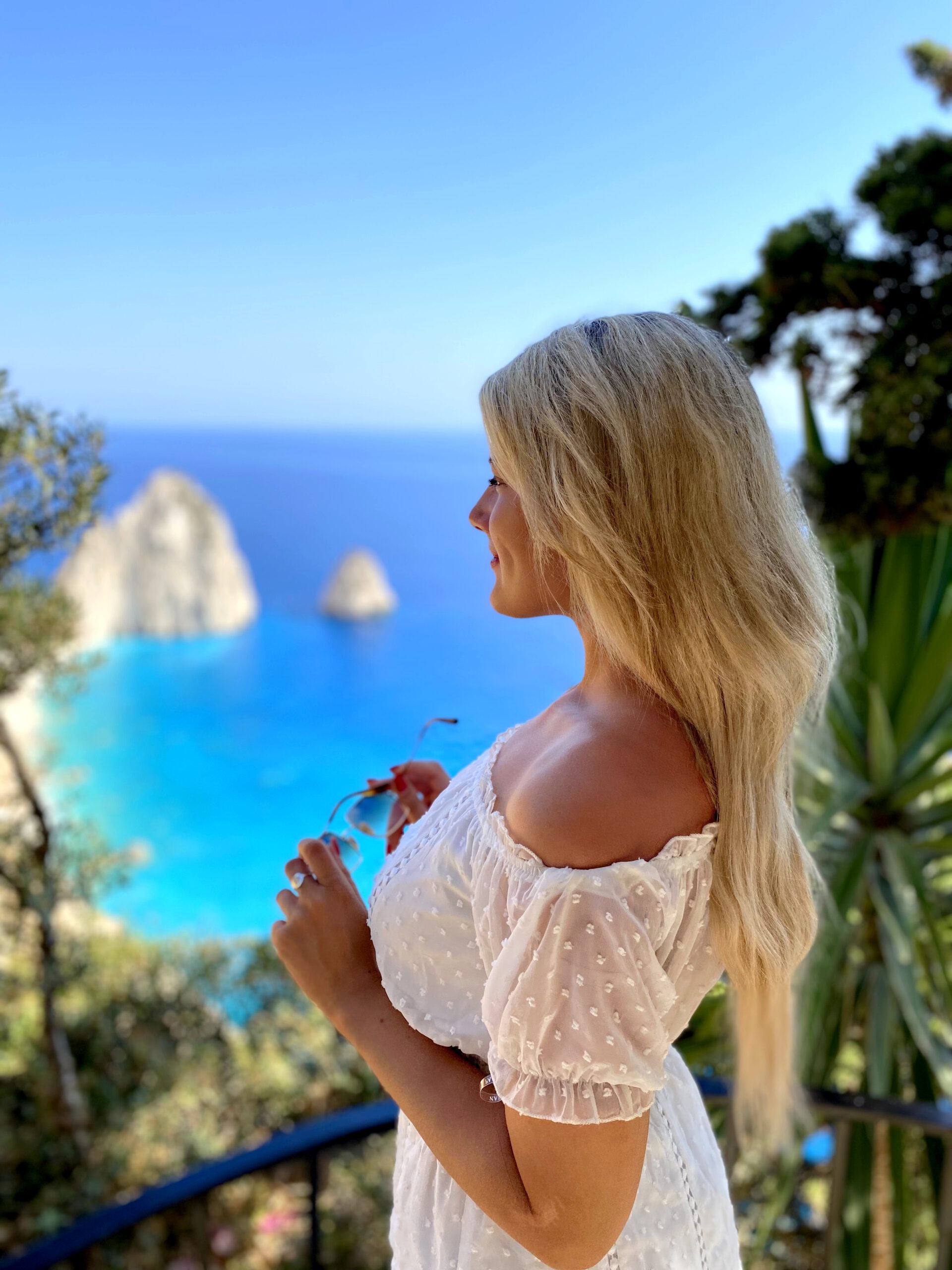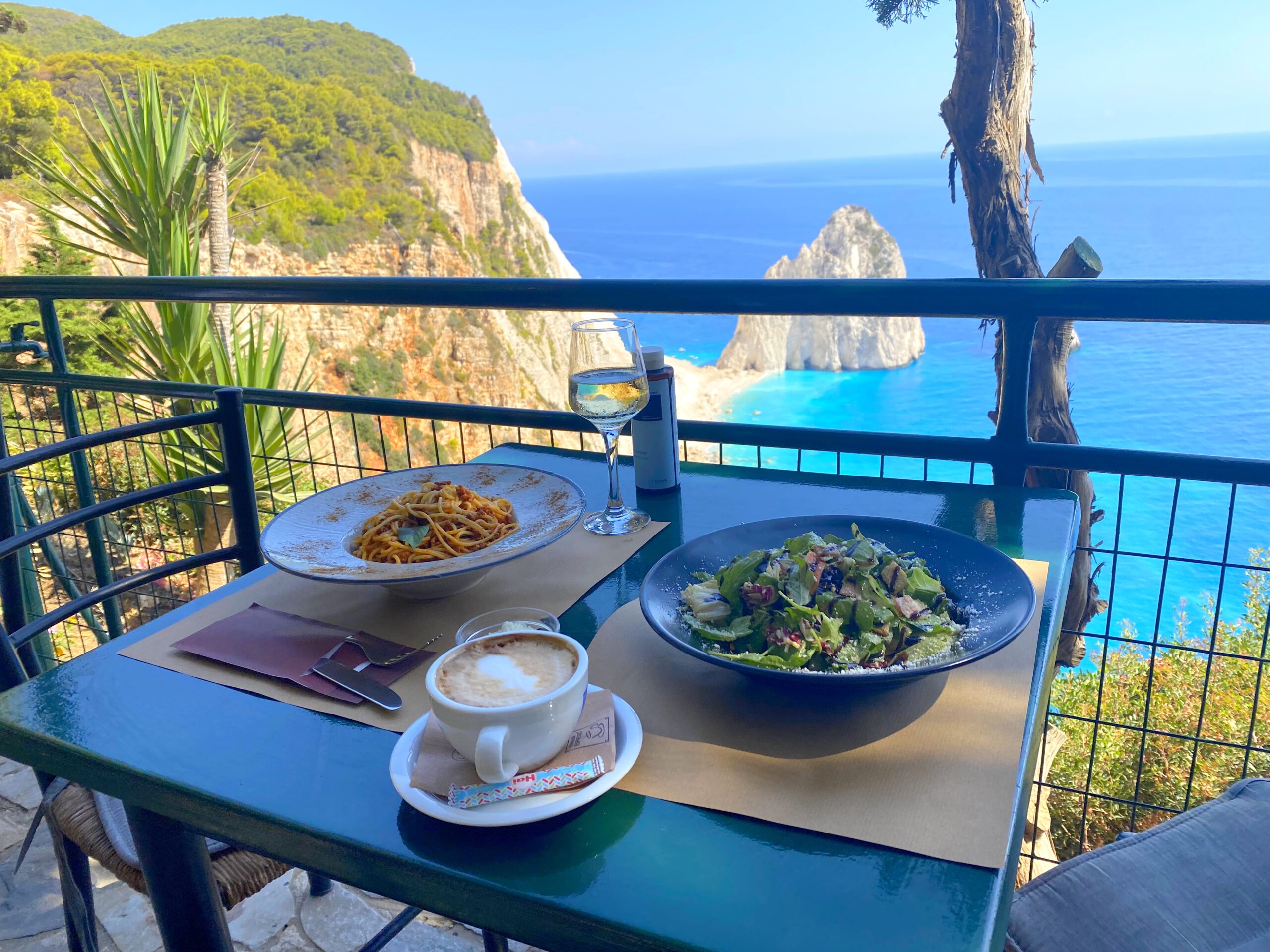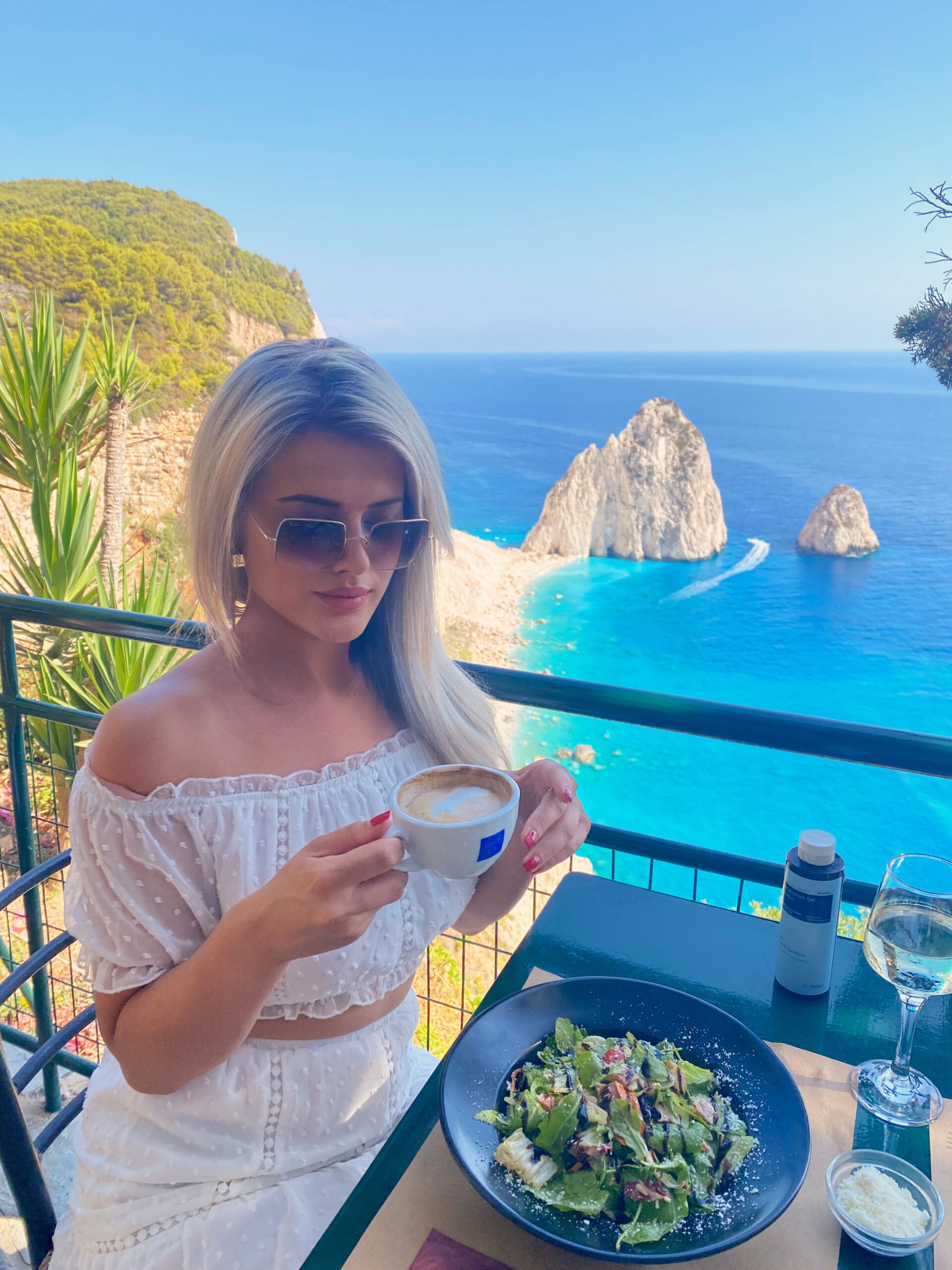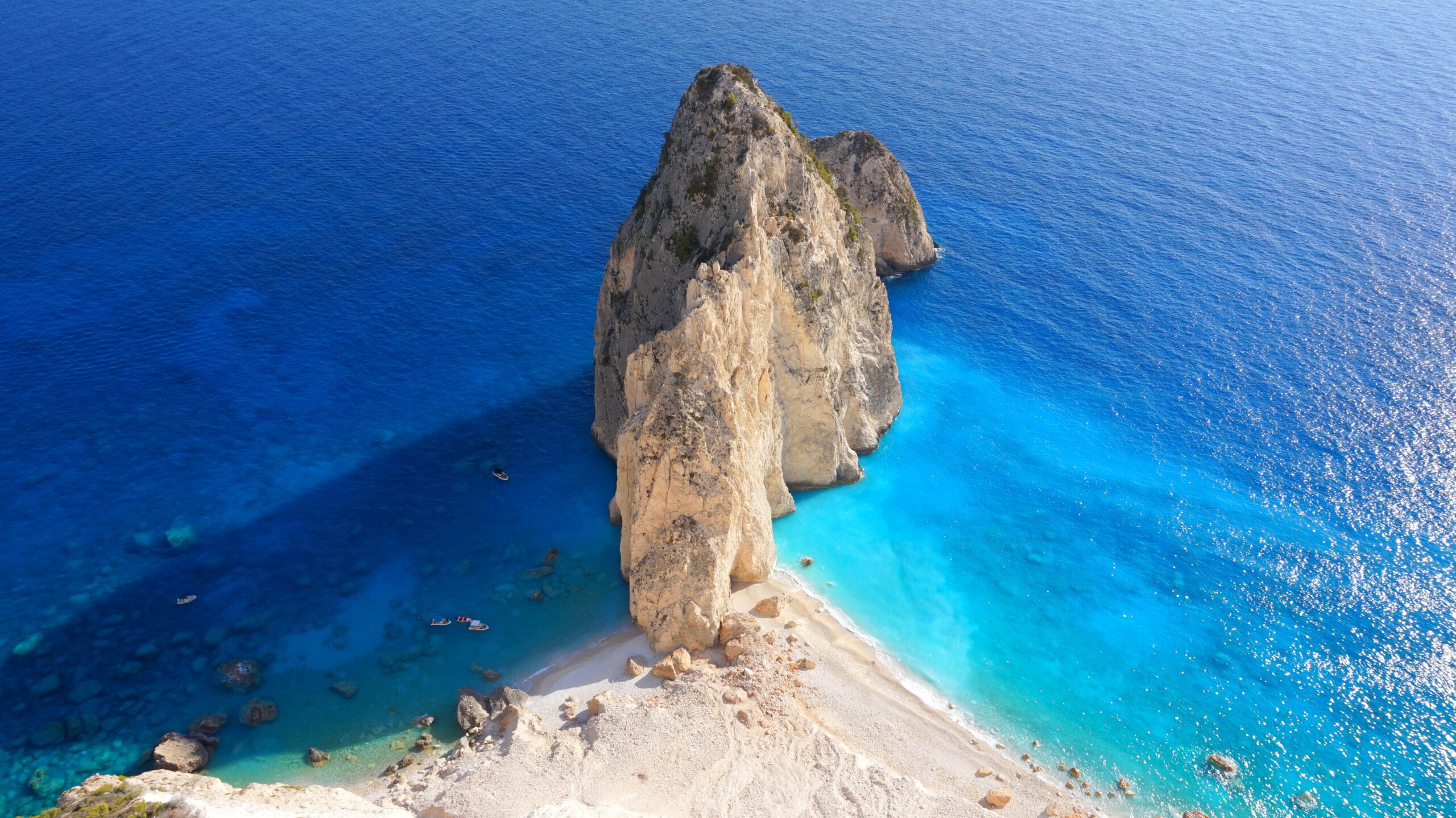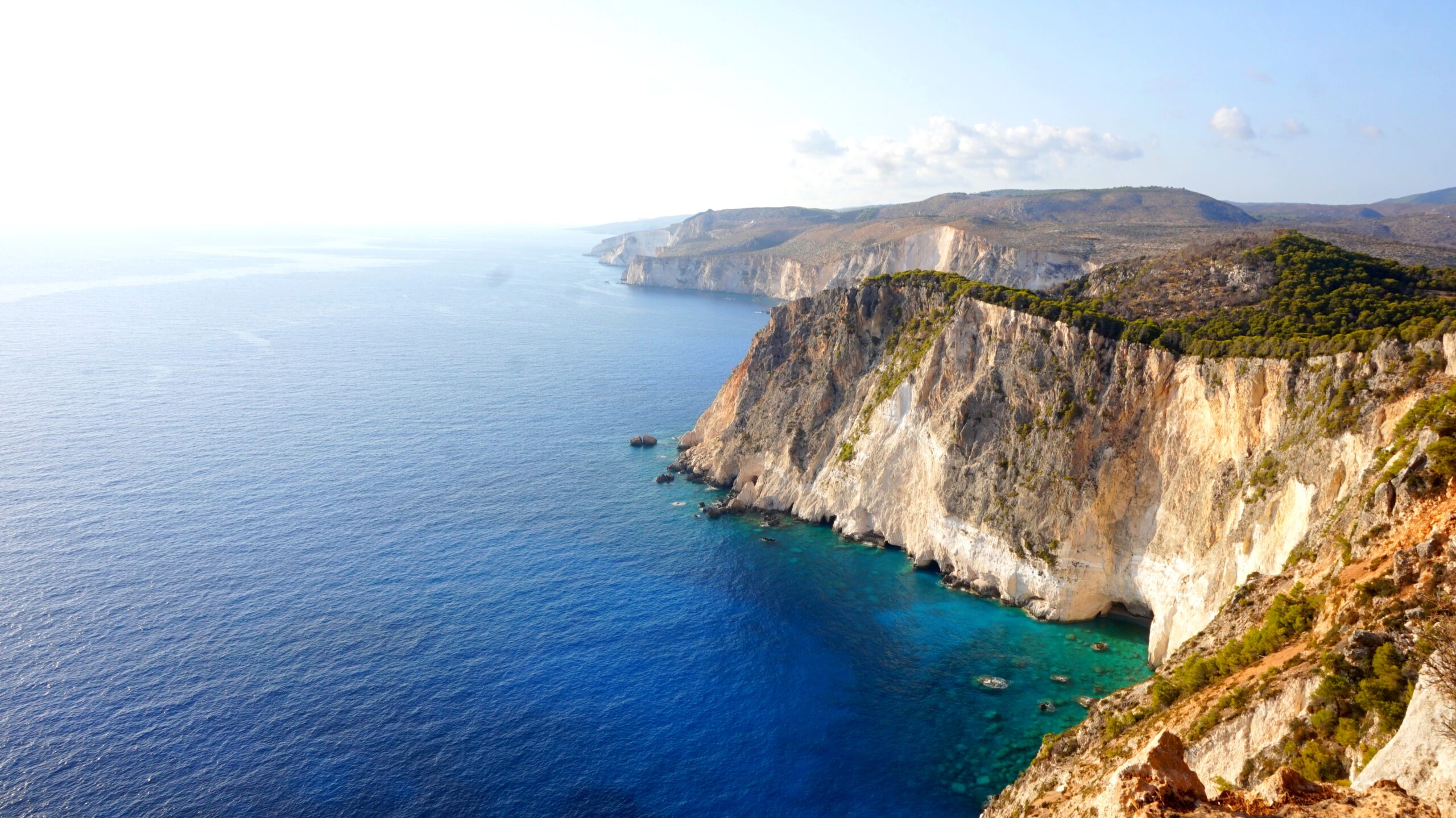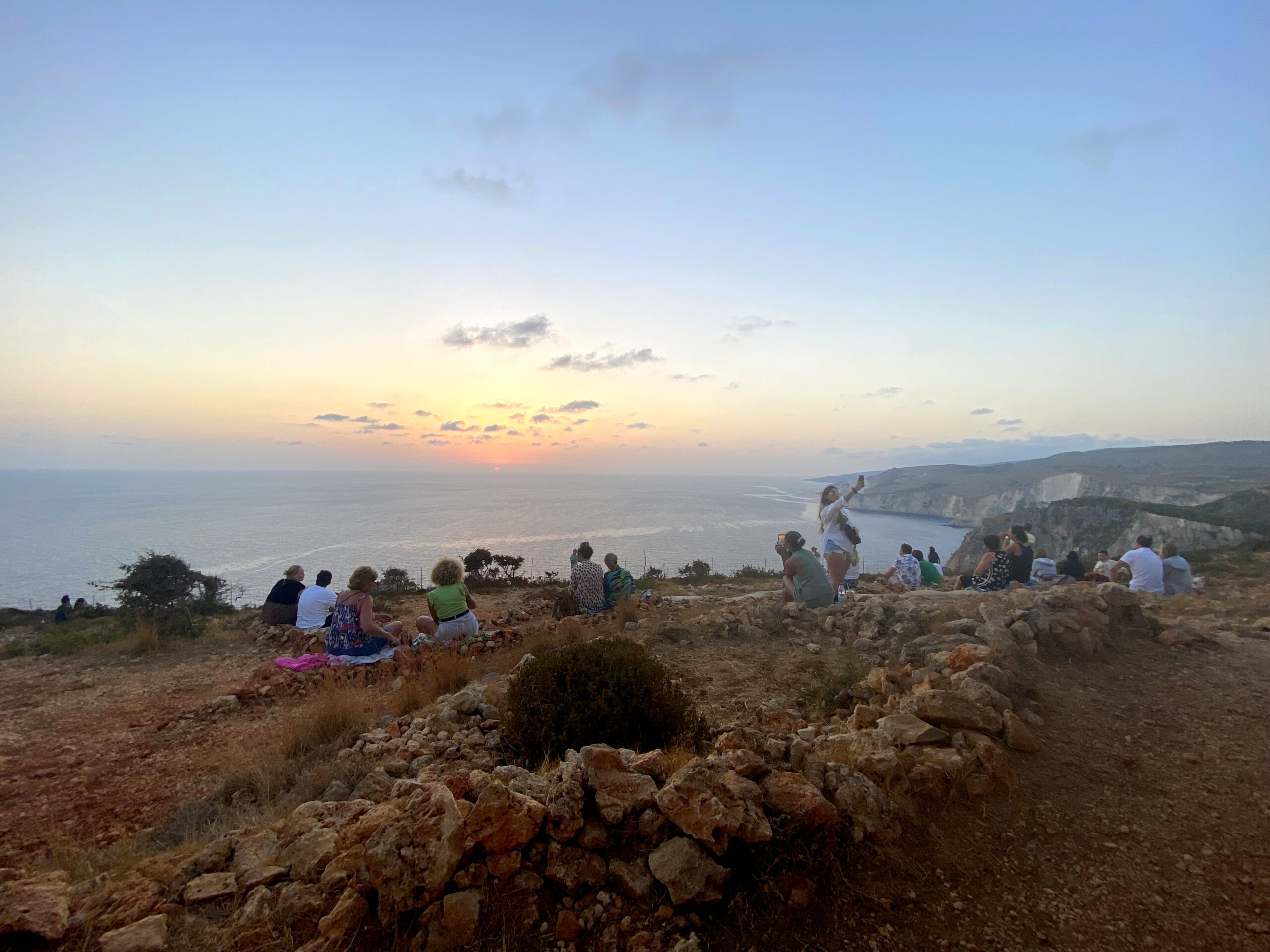 Day 4 –
The last day, we decided to stay at the lovely pool after our last delicious breakfast, because we had already seen so much, were very tired and would fly back to Schiphol halfway through the day. After check-out we were allowed to stay at the pool. I had to do a Rapid test in the morning before the return trip at a clinic within walking distance in the area. The price for this was 25 euros on reservation via the hotel. The pool, the music, service and beds seemed like a private beach club. The pool service was great and the menu fine, so we ordered food and drinks all day long that were brought to us. Our return trip to Amsterdam was also great, and the crew certainly pampered us!
Thank you for reading my covid travel diary to Zakynthos. This place is breathtakingly beautiful and I would definitely want to go back there!
Dag 4
– De laatste dag besloten we lekker aan het heerlijke zwembad te blijven liggen na ons laatste heerlijke ontbijtje, omdat we al zo onwijs veel hadden gezien, heel erg moe waren en halverwege de dag terug naar Schiphol zouden vliegen. Na check-out mochten we wel bij het zwembad blijven. Ik moest tussendoor even snel een rapid test voor de terugreis  doen bij een kliniek op loopafstand in de buurt. De prijs hiervoor was 25 euro op reservering en dit ging via het hotel. Het zwembad, de muziek, service en bedjes leken een privé beach club. De poolservice was top en de menukaart fijn waardoor we de hele dag eten en drinken bestelden dat naar ons werd gebracht. Onze terugreis naar Amsterdam was ook top, en de crew heeft ons zeker in de watten gelegd!
Bedankt voor het lezen van mijn covid-travel diary naar Zakynthos. Deze plek is adembenemend mooi en ik zou er zeker naar terug willen!