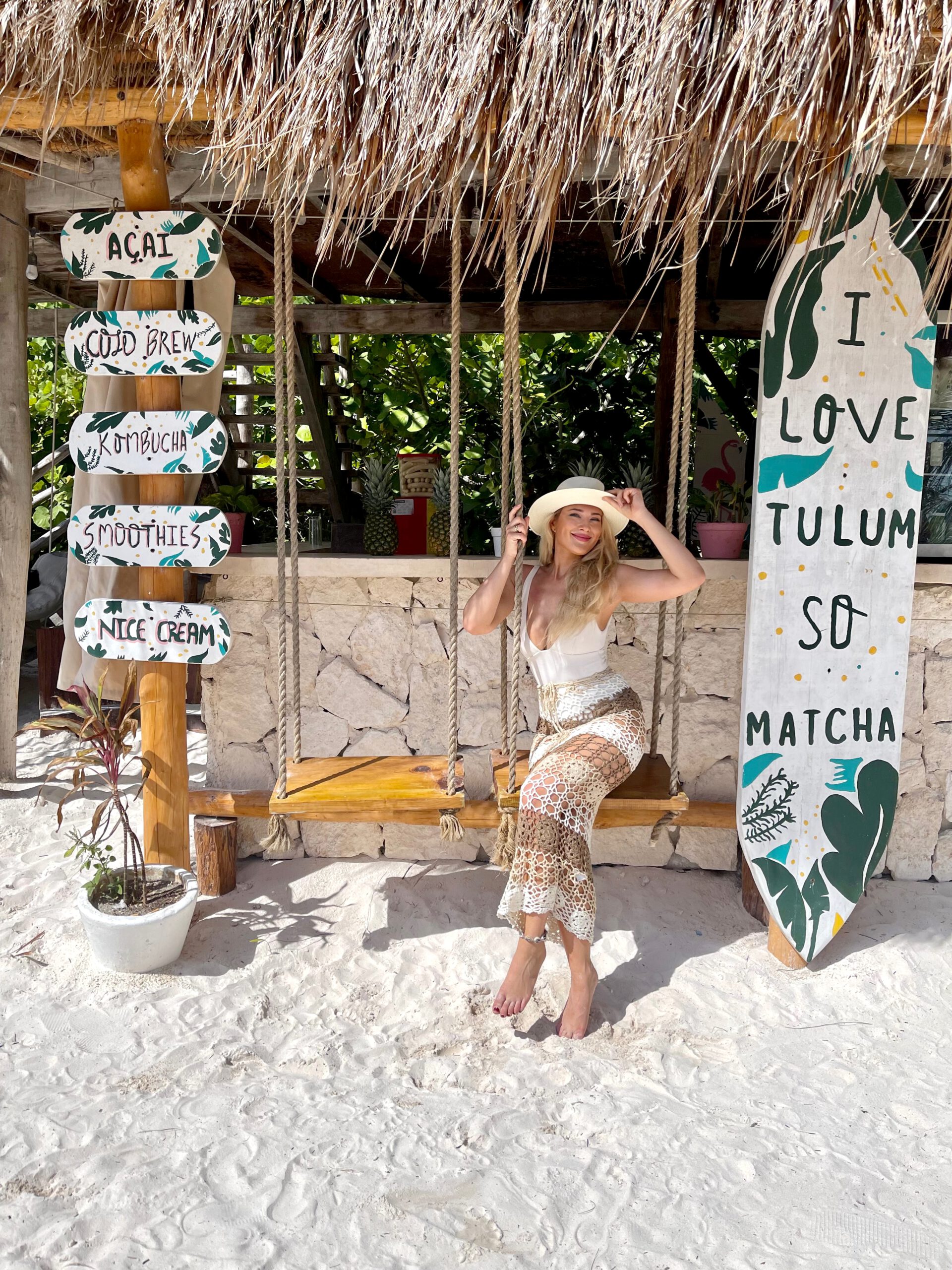 This morning on November 22 started with an extensive brunch with Cyni at Ki'bok coffee in La Veleta – next to Tulum jungle gym, where I went with my rented bike from my hostel. I have to tell you that I reach almost everything here in Mexico within the villages by bicycle. We ate divinely delicious chilaquiles at this place – which I definitely want to come back for! After lunch we would go with Cyni's friends to Vagalume, where they also allowed me to enter without an entrance fee and without a minimum spend. Via google maps I followed my way on my bike alone through quite remote roads and I have to tell you that I found that the only time I didn't feel safe – and that during the day! In the end I suffered on the beach with Cyni's dear friends – Vagalume is a cool high-end beach club that is known for the 'hands' that many people take pictures with. It was very nice to have a drink and relax here.
De ochtend van 22 november begon met een uitgebreide brunch met Cyni bij Ki'bok coffee in La Veleta – waar ik met mijn gehuurde fiets van mijn hostel heen ben gegaan. Ik moet je zeggen dat ik bijna alles hier in Mexico binnen de dorpen bereik per fiets. We aten op deze plek goddelijk lekkere chilaquiles – waar ik zeker voor terug wil komen! Na de lunch zouden we met vriendinnen van Cyni naar Vagalume gaan, waar ik door hen ook zonder entree kosten en zonder minimum spend naar binnen mocht. Via google maps volgende ik in mijn eentje mijn weg op de fiets door best afgelegen wegen. Ik moet je zeggen dat ik dat het enige moment vond dat ik me niet veilig voelde – en dat overdag! Uiteindelijk heb ik bij die beach club heerlijk met lieve vriendinnen van Cyni aan het strand gelegen. Vagalume is een gave high end beach club die bekend staat om de 'handen' waar veel mensen foto's mee nemen. Het was erg leuk hier nog wat te hebben gedronken en gerelaxed.
22-11-2023 – Tulum
My shoes broke on the way to the beach club, my phone crashed during my visit to the beach club – making it unusable for hours, my bicycle wheel completely broke when I cycled back to my hostel, I had to rely on the help of people at a hotel that I passed for a phone and taxi that thank god I had just 20 euros (!!) for in cash, and not only that, yesterday my then love told me that he did not know when he would be back and some days after arrival suddenly had other plans. What was originally the plan – in addition to my friend(s) – to spend a month with him suddenly became shorter by the day until there would still be a few days left before he suddenly had to leave again, so I made the best of it of with the fine beautiful people around me.
Once at the apple store near my hostel, where I arrived with pain and difficulty, my phone was fine again. Immediately downloaded an Icloud by the way .. lifesaving tip. That evening I went to Palma Central with Cyni, Leon and their friends Felipe and Boris. A super fun place full of life music and food stalls – a nice change from the boho / high end vibes in Tulum.
Mijn schoenen gingen kapot op weg naar de beach club, mijn telefoon crashte tijdens mijn bezoek aan de beachclub – waardoor het uren niet te gebruiken was, mijn fietswiel ging compleet stuk toen ik terug fietste naar mijn hostel, ik moest het hebben van de hulp van mensen bij een hotel dat ik passeerde voor een telefoon en taxi waar ik thank god nog net 20 euro (!!) voor had in cash, en dat niet alleen, gisteren vertelde mijn toenmalige liefde dat hij niet wist wanneer hij terug zou zijn en enkele dagen ná aankomst ineens andere plannen had. Wat origineel het plan was – naast met mijn vriend(innen) – een maand samen met hem door te brengen, werd geheel plotseling met de dag korter tot er nog enkele dagen zouden overblijven vóór hij weer plotseling weg moest, dus ik maakte er het beste van met de fijne mooie mensen om mij heen.
Eenmaal bij de applewinkel vlak bij mijn hostel, waar ik met pijn en moeite aankwam, was mijn telefoon weer oké. Gelijk een Icloud gedownload trouwens.. lifesaving tip. Die avond ben ik met Cyni, Leon en hun vrienden Felipe en Boris naar Palma Central gegaan. Een super leuke plek vol met life muziek en foodkraampjes – een leuke afwisseling tegenover de boho/high end vibes in Tulum.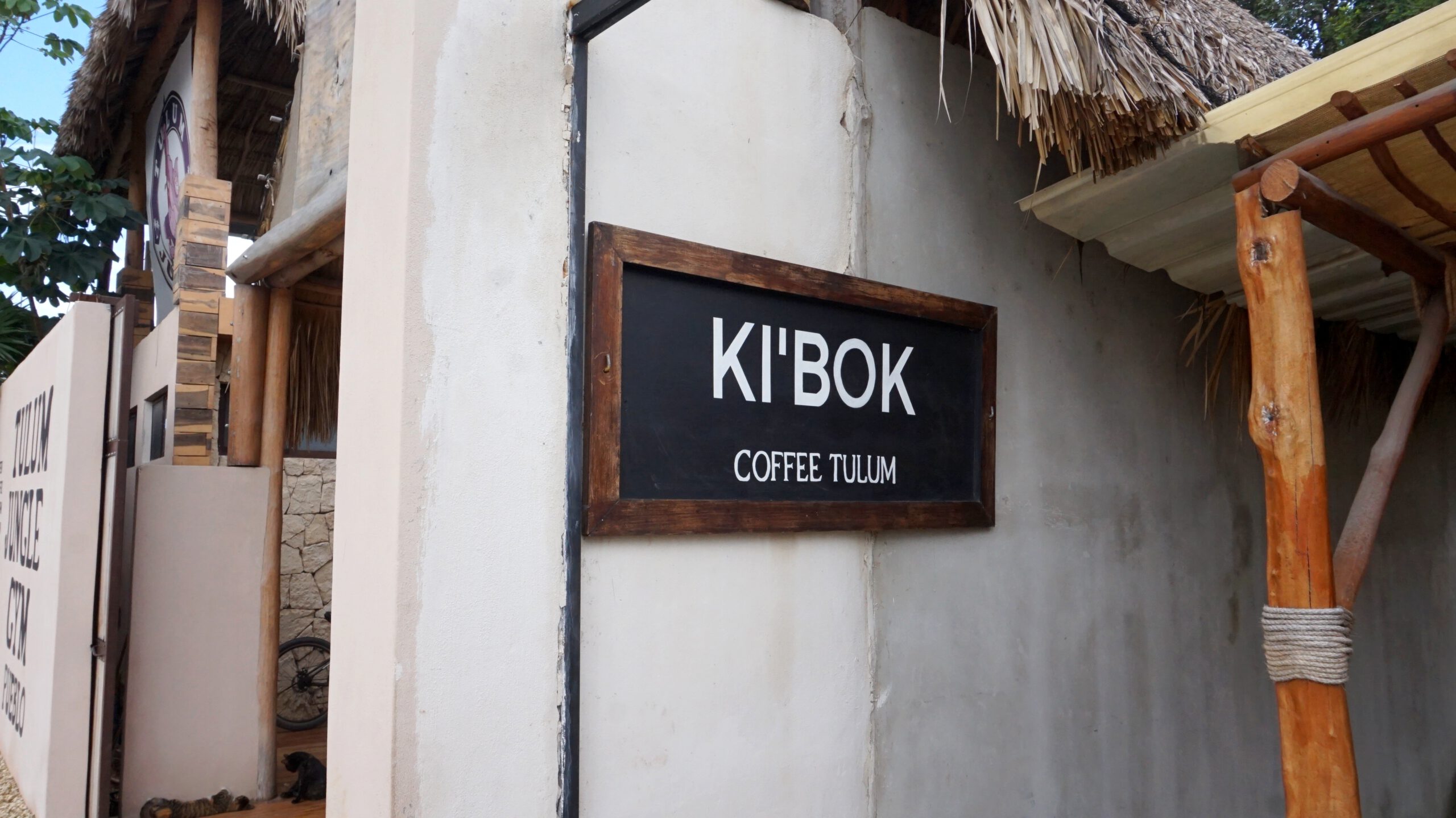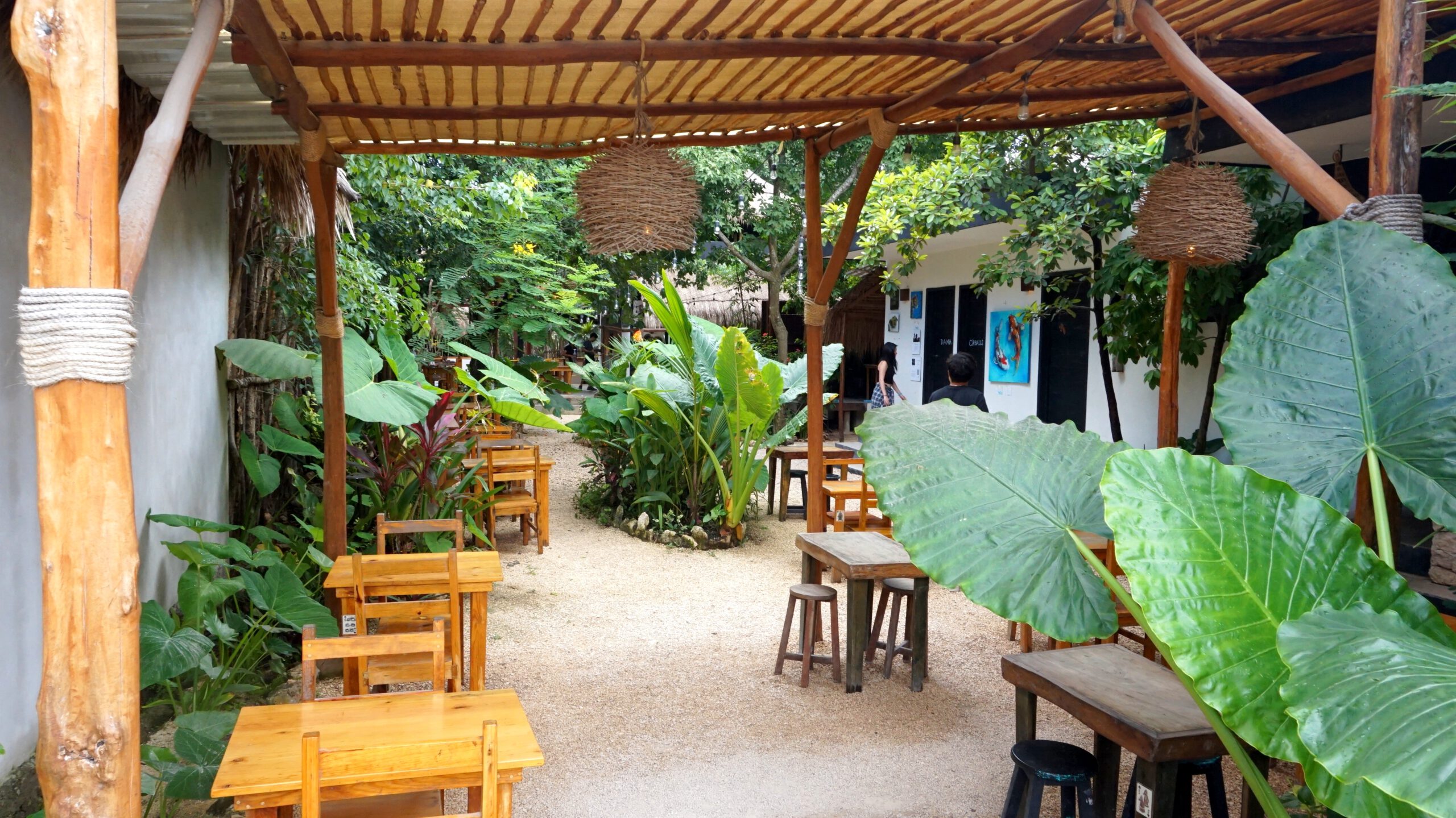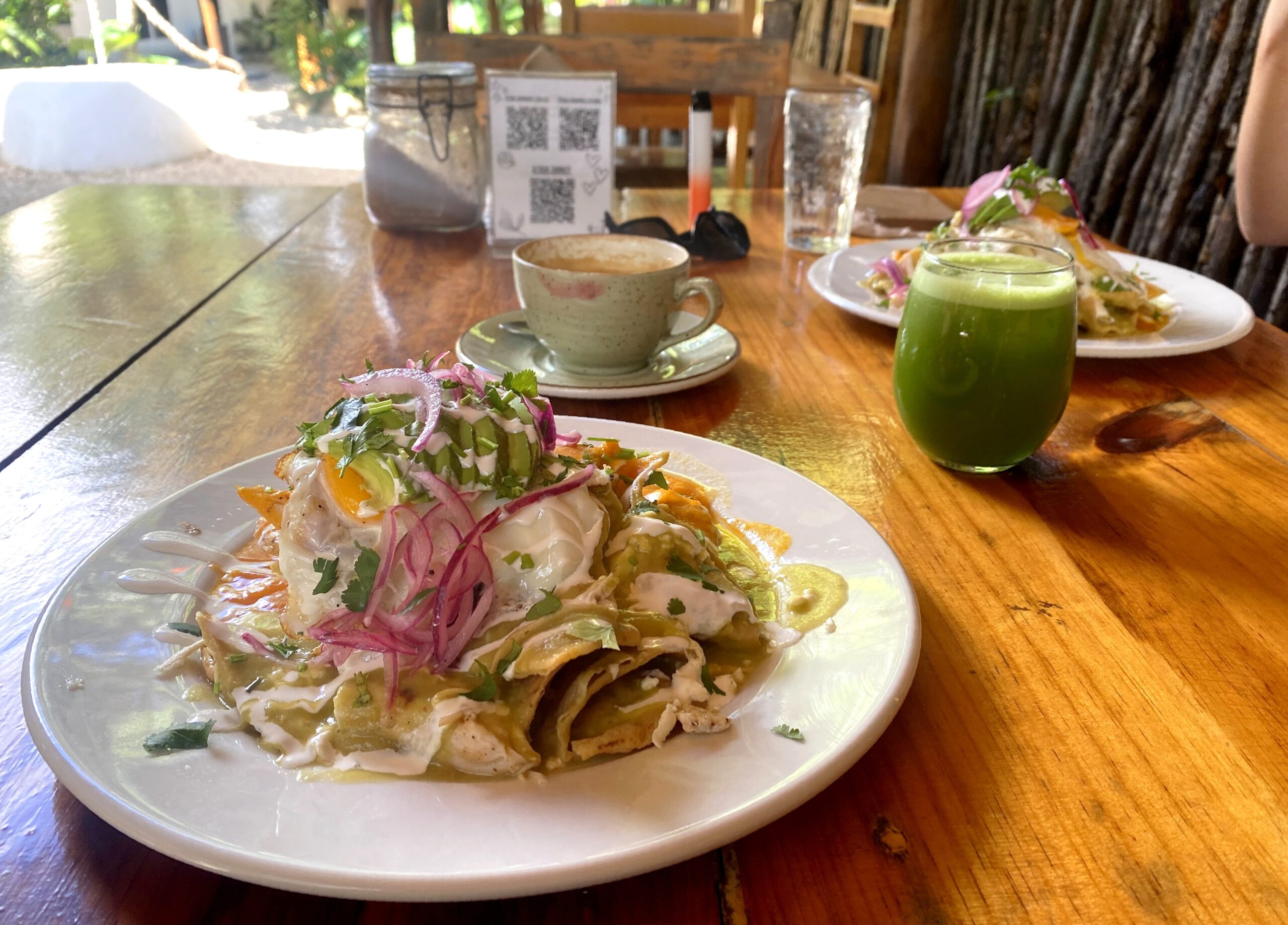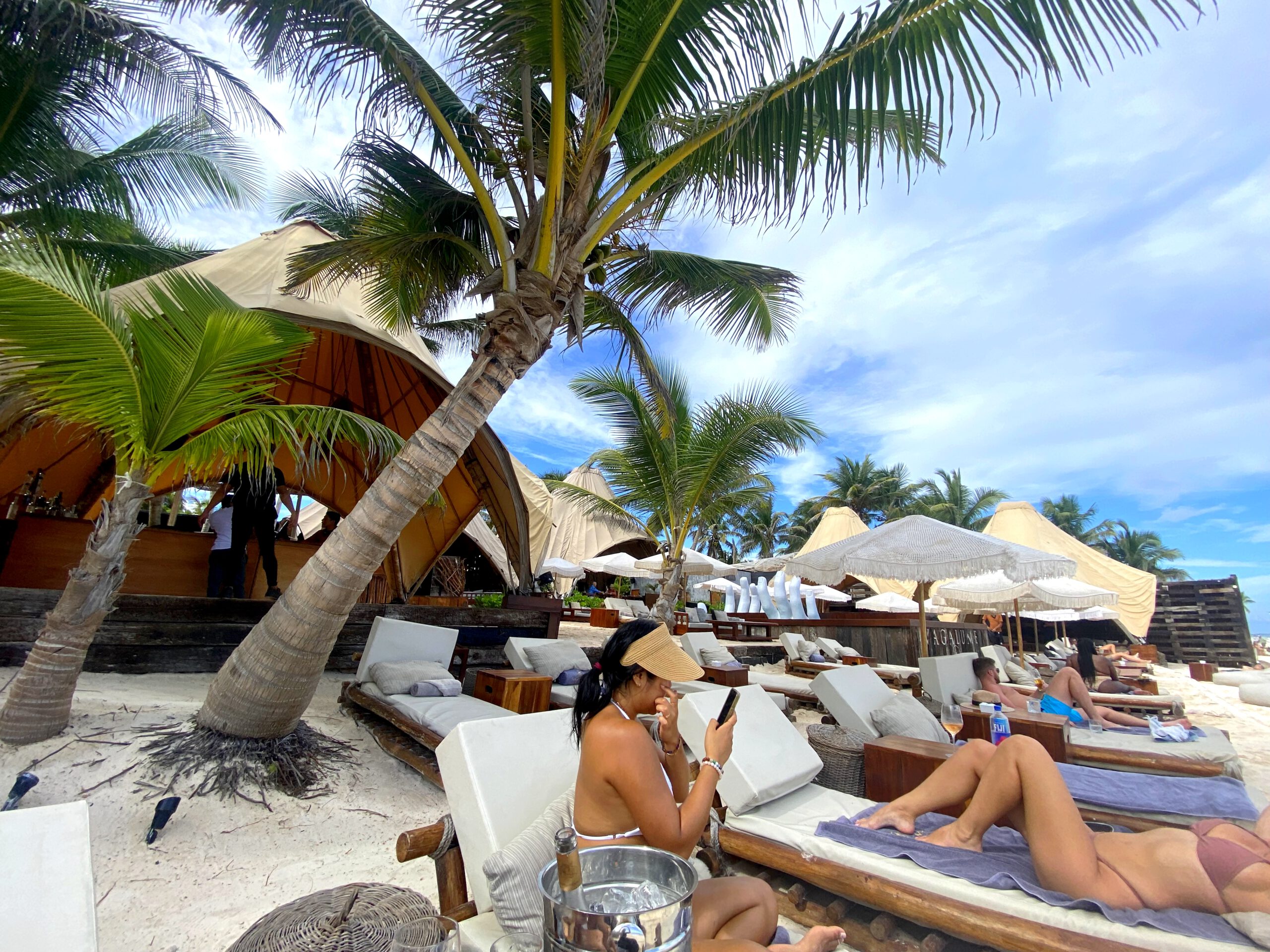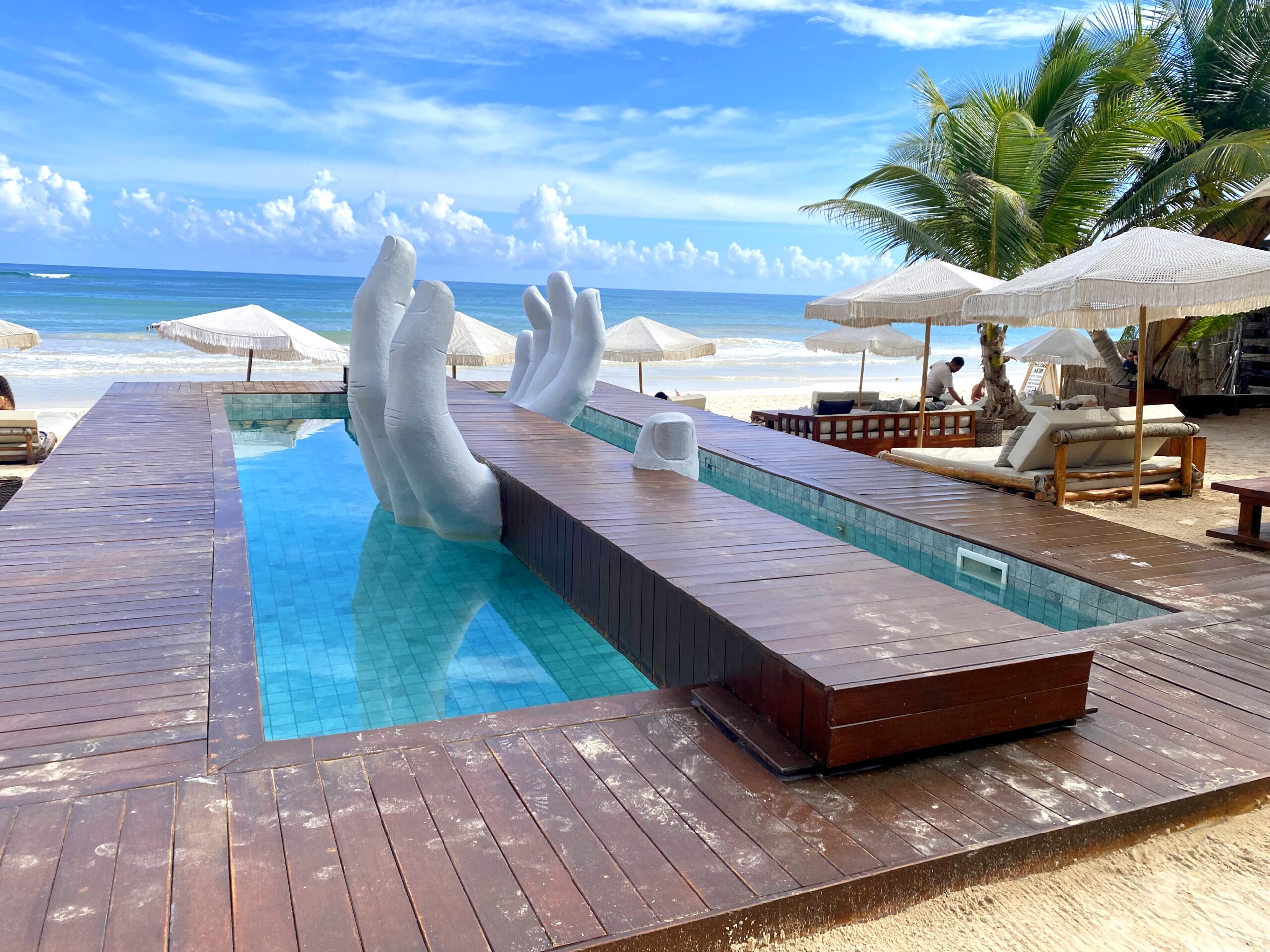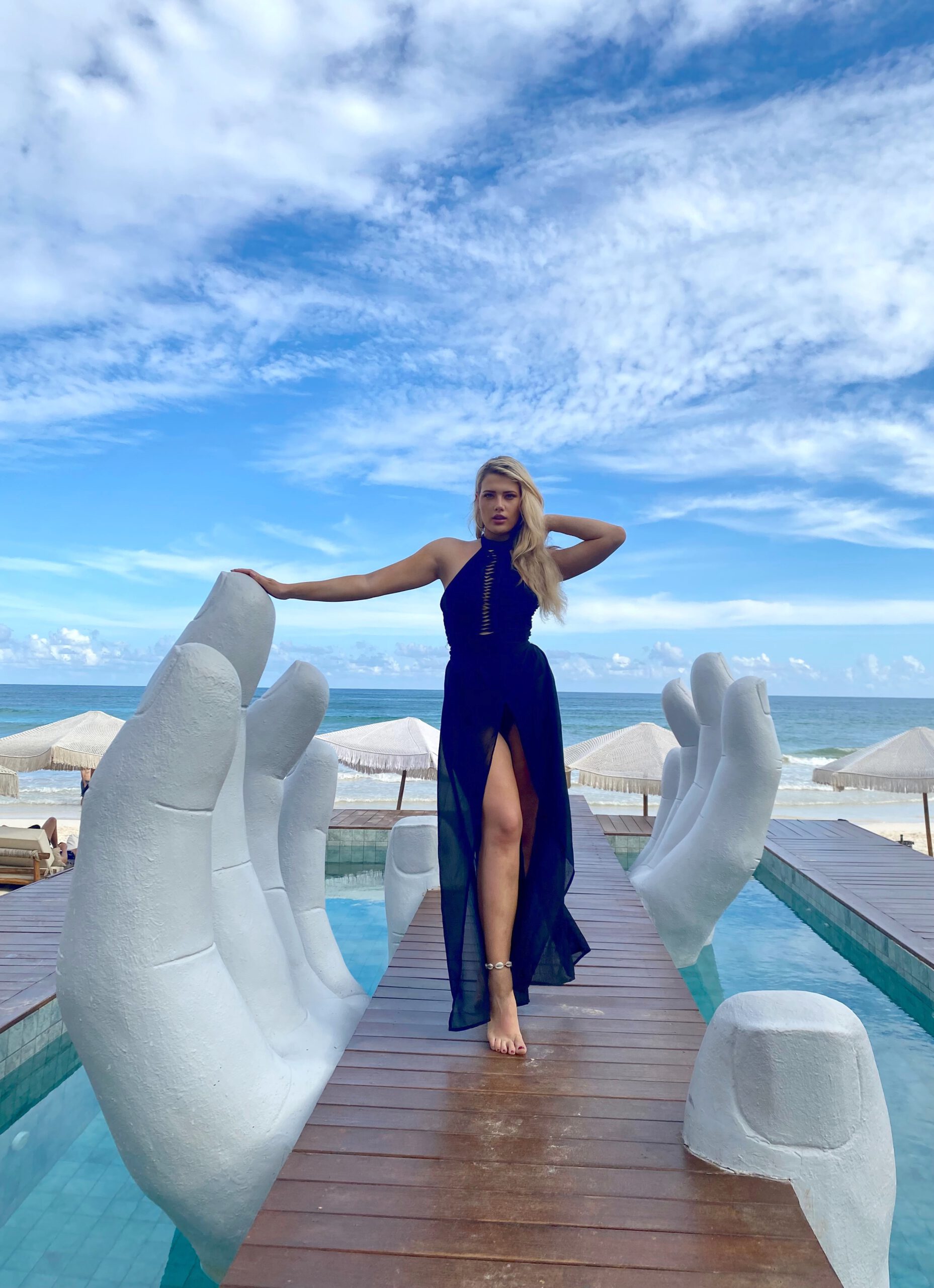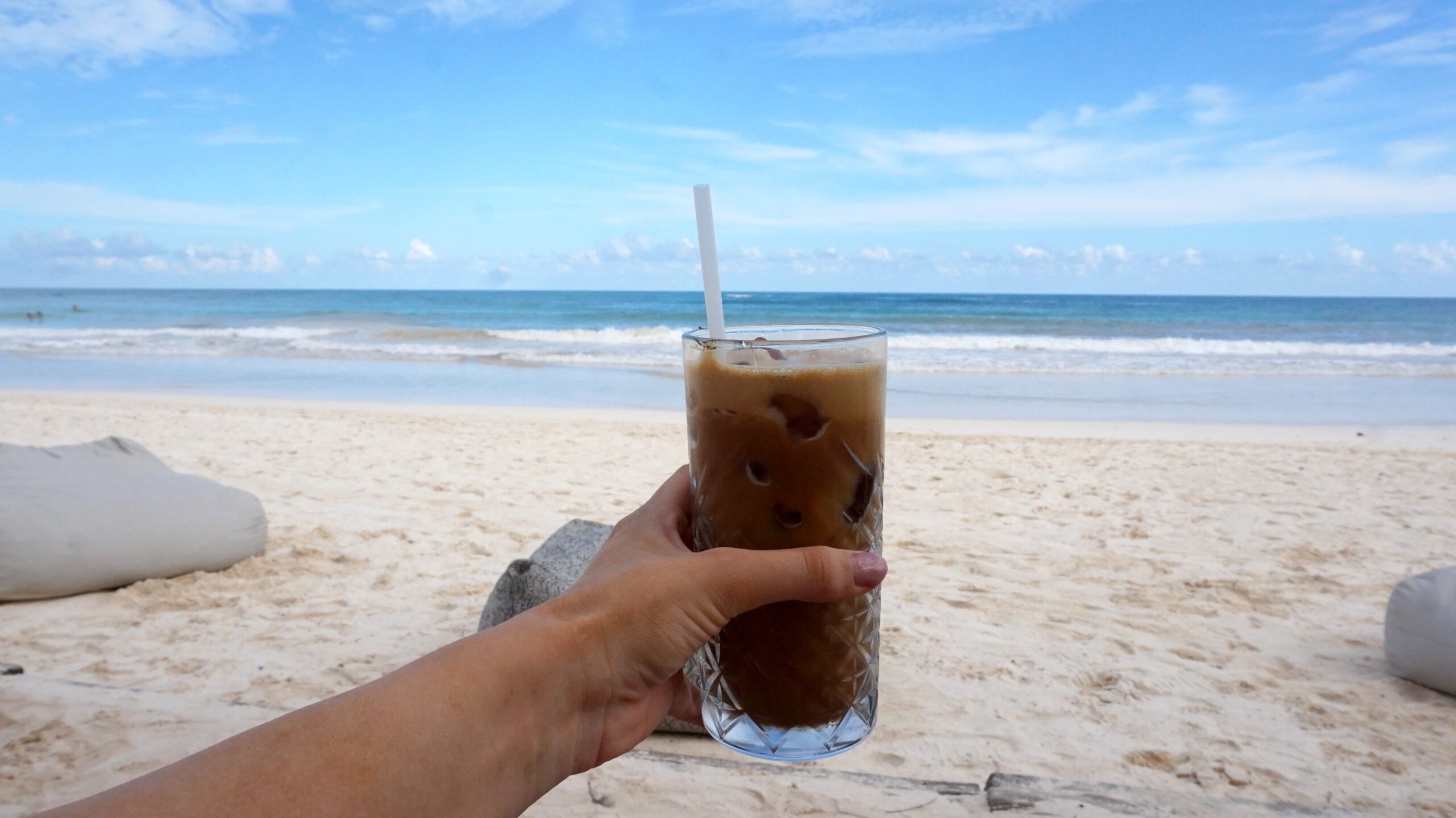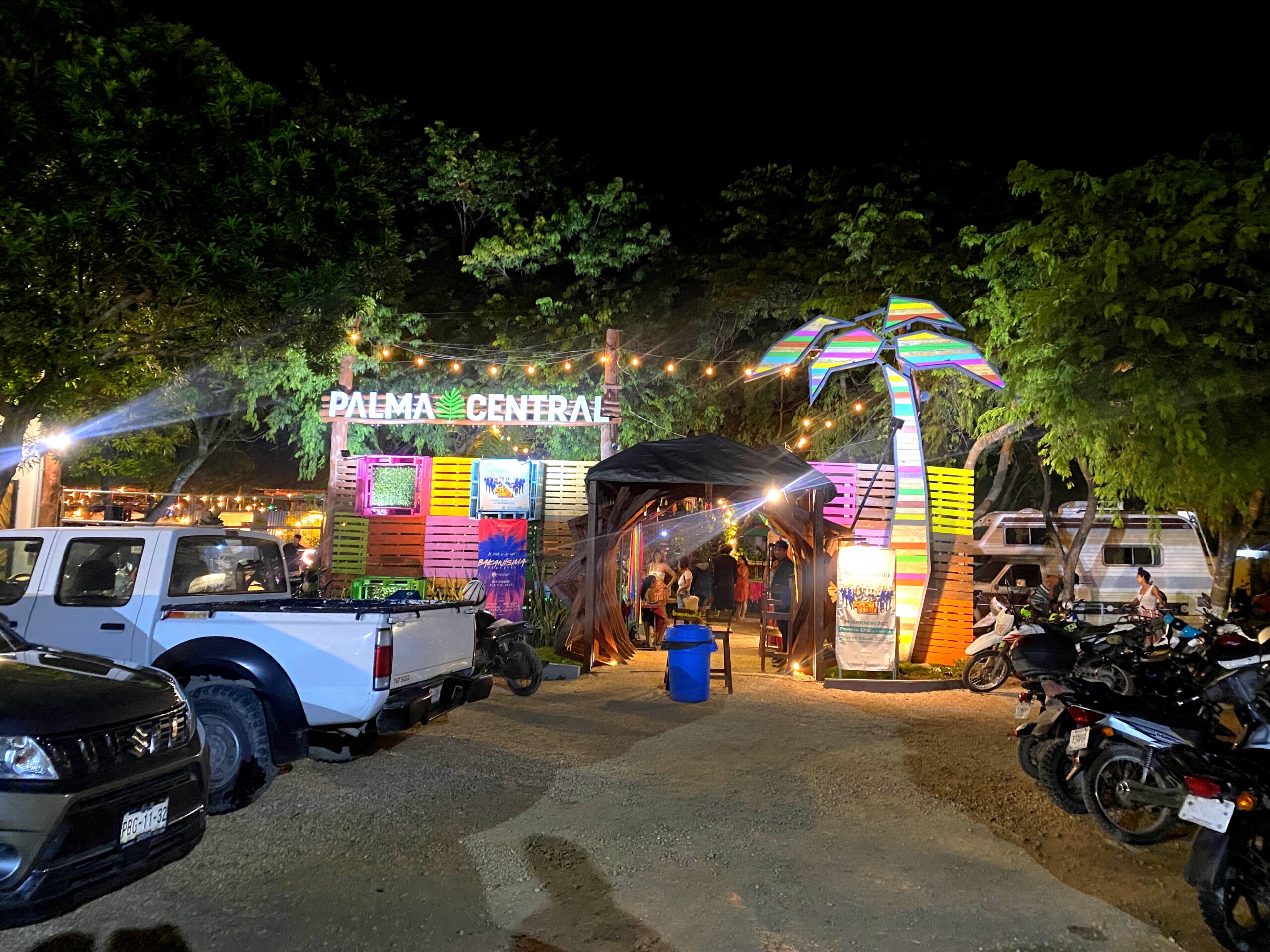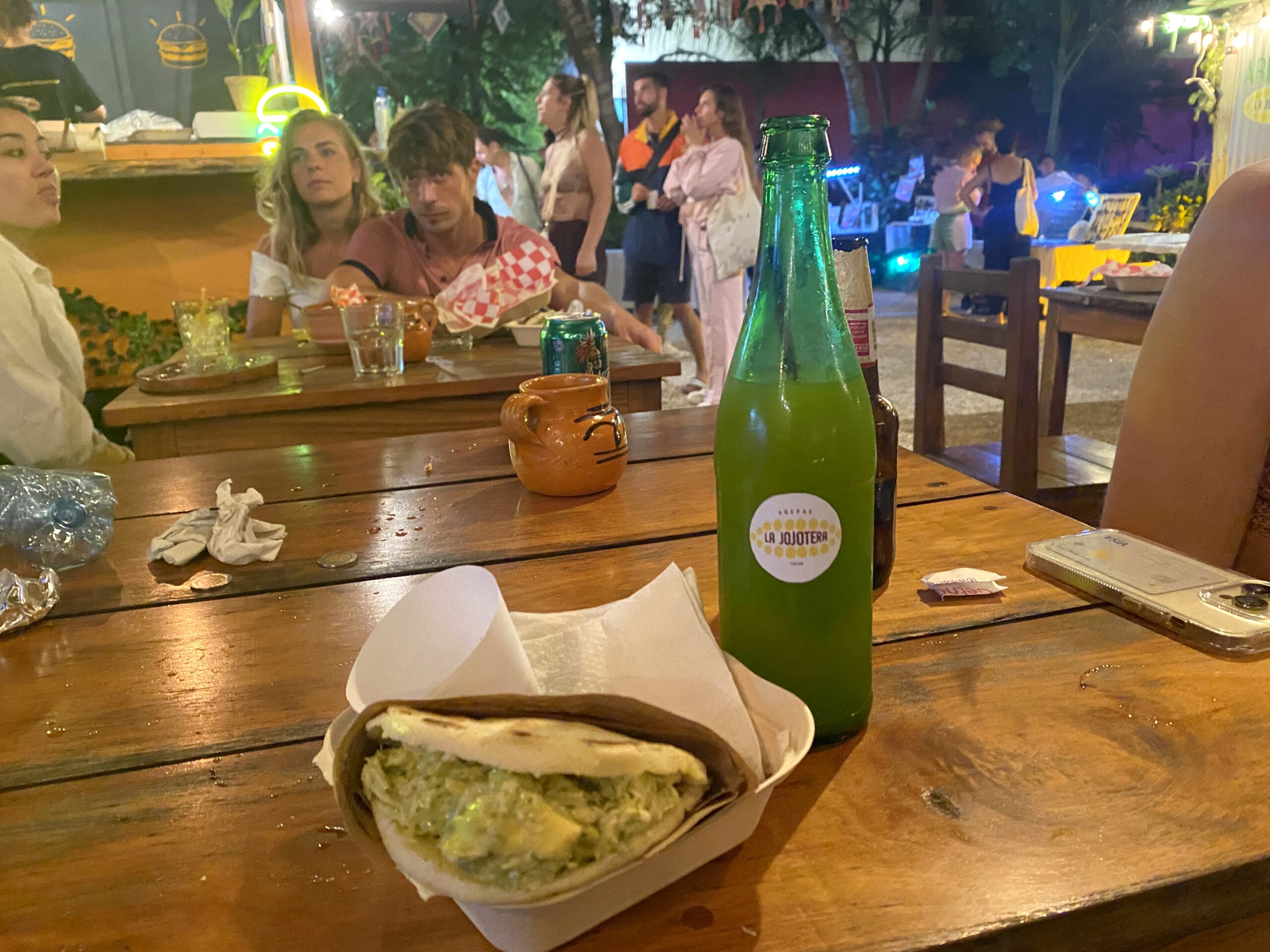 23-11-2022 – Tulum 
This day I decided to go to
Cenote dos Ojos
with my hostel roommates and now friends
Aline
from Florianópolis (Brazil) and
Clara
from France. We travelled for less than 30 pesos with a
Collectivo
(a tiny shared van) from downtown Tulum to
Cenote dos Ojos
. The entrance fee for two cenotes (excluding the bat cave) that we paid, including car transport to the Cenote (as this is literally a kilometers long walk from the entrance) – was around
350 pesos
. It was beautiful to swim at the cenotes, and we also stayed around there for a few hours. The 3 of us met a large group of German boys who asked if we would go to a party in the evening. They eventually left before us, and the 3 of us walked our way back to the exit without a taxi while considering joining them later.
Later that evening, Aline and I accepted the offer and walked all the way to Strawhat in downtown – a bad but fun hostel rooftop bar, to meet up with the German boys. I didn't stay too long, and decided to walk back to the hostel on my own in the dark. Outside, I accidentally ran into sweet Ruby again, whom I spoke to earlier in Holbox. She thanked me for my recommendation of Tulum and the hostel, because she abruptly decided to change her plans, to travel to Tulum and to book the same hostel. We immediately agreed to do something fun together one of these days.
Deze dag besloot ik met mijn hostel kamergenootjes en inmiddels vriendinnen
Aline
uit Florianópolis (Brazilie) en
Clara
uit Frankrijk, mee te gaan naar
Cenote dos Ojos.
We reisten voor minder dan 30 pesos met een
Collectivo
(een soort klein gedeeld busje) vanaf downtown Tulum richting
Cenote dos Ojos
. De entree kosten voor twee cenote's (exclusief de bat cave) die we betaald hadden inclusief auto vervoer naar de Cenote (gezien dit letterlijk een paar km lopen is vanaf de ingang) – was rond de
350 pesos.
Het was prachtig en magisch om in de cenotes te zwemmen en hier hebben we ook een paar uur doorgebracht. Met zijn 3en kwamen we tijdens ons verblijf een grote groep Duitse jongens tegen. De jongens vroegen of we in de avond mee op stap wilden gaan. Tijdens de kilometers lange wandeling naar de uitgang van de Cenote, overwogen we later in de avond met ze mee te gaan feesten.
Later die avond besloten Aline en ik om alsnog mee op stap te gaan. We liepen samen naar Strawhat in downtown – om daar bij de jongens aan te sluiten. Strawhat is een foute maar leuke hostel rooftop bar. Ik bleef niet al te lang, en besloot in mijn eentje in het donker naar het hostel terug te lopen. Buiten kwam ik per toeval ook weer opnieuw lieve Ruby tegen, die ik eerder sprak in Holbox. Ze vertelde me dat ze haar plannen abrupt had omgegooid om naar Tulum te reizen en hetzelfde hostel te boeken en bedankte me voor de tips. We bespraken gelijk een plan om samen wat leuks te doen een dezer dagen.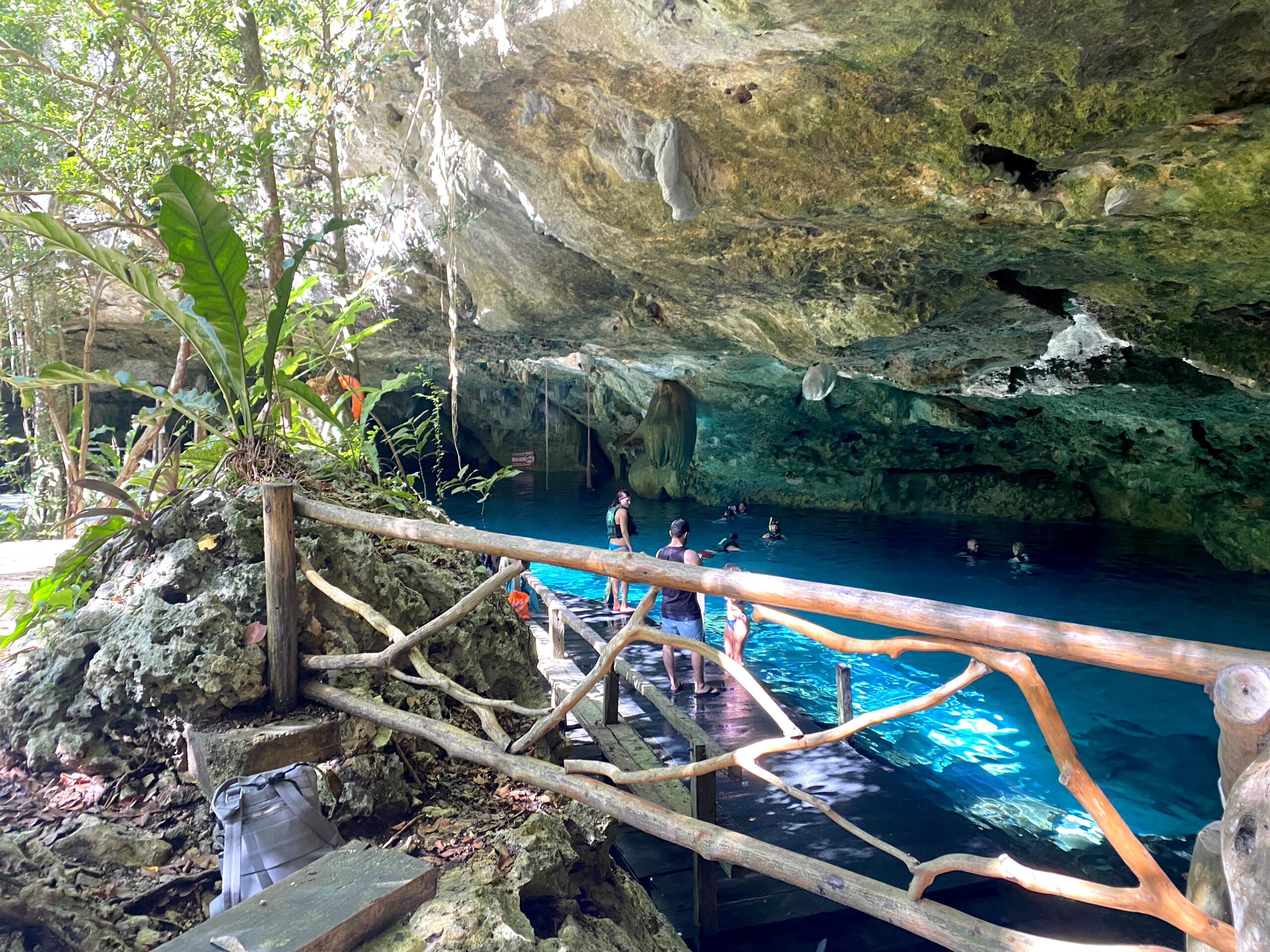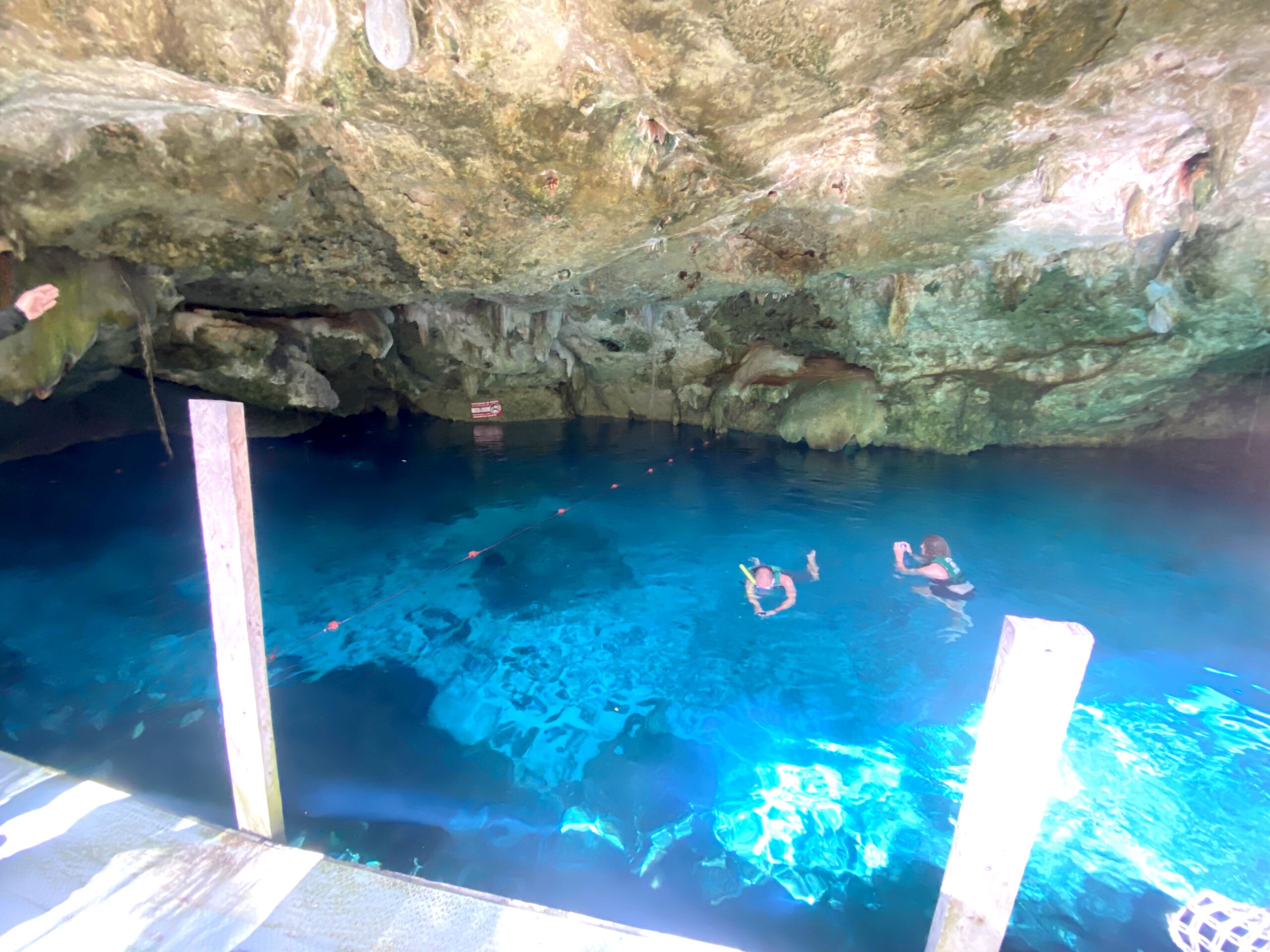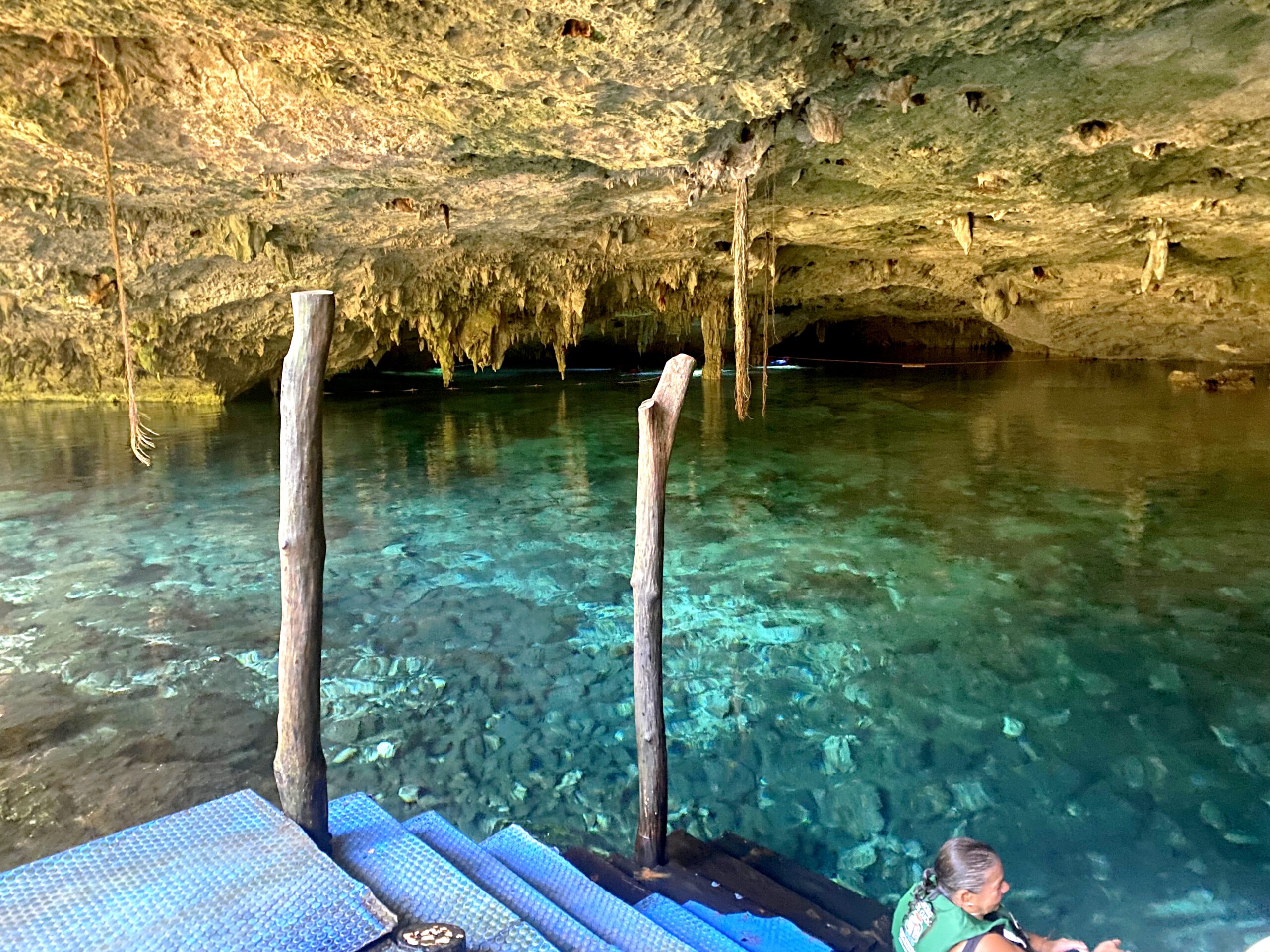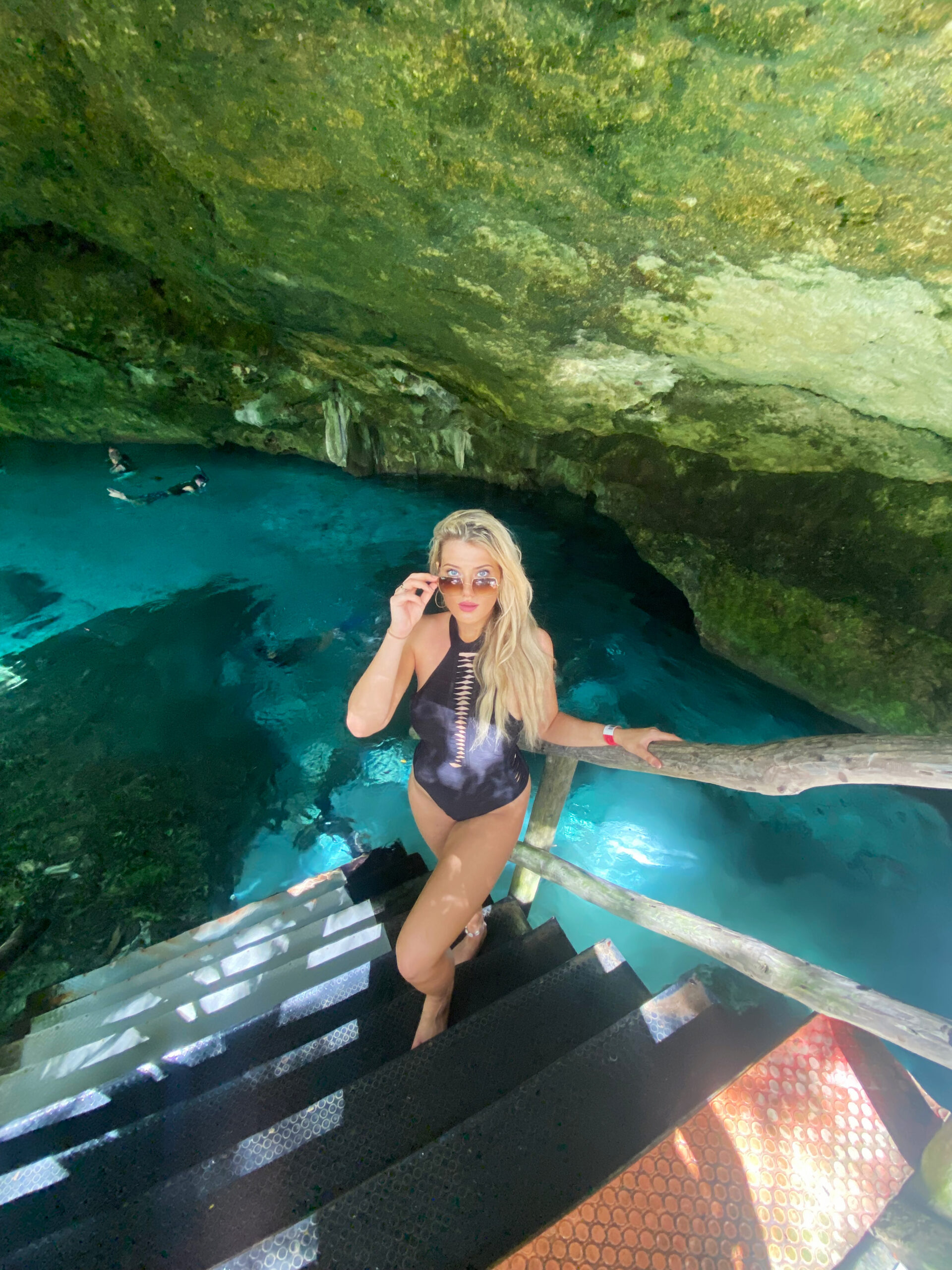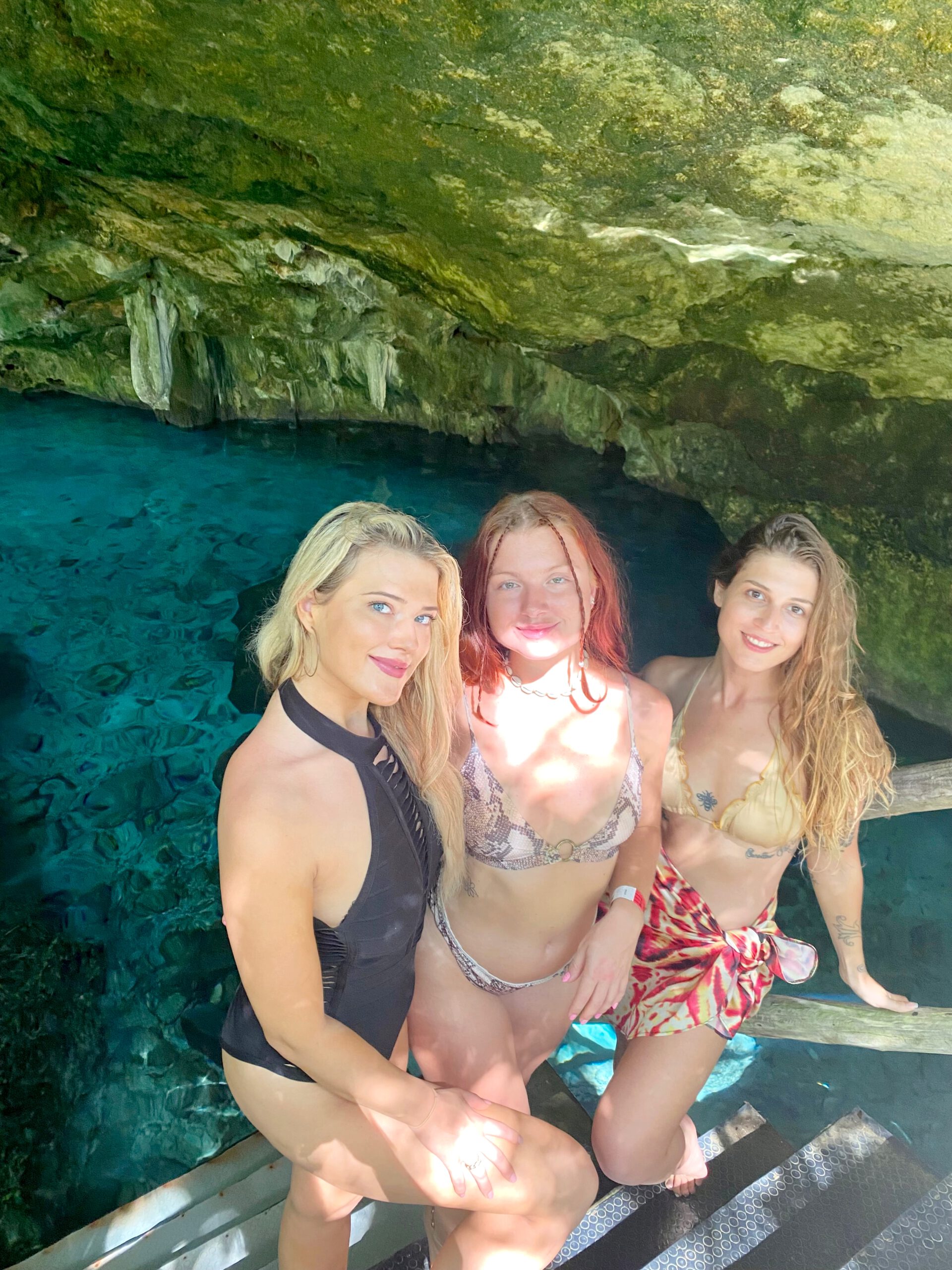 24-11-2022 – Tulum

This day, my French hostel roommates
Clara
and
Laura
invited me to joint hem to
Playa Maya
, to relax on the beach. Because I had many days to spend, I thought taking a step back, reading a book and sunbathing with nice people was not a bad idea either. This beach is free to visit and
Playa Paraiso
is a very affordable beach club (for Tulum's price concept), where we also occasionally ordered some snacks and drinks. It is about 25 minutes by bike from the hostel we were staying.
In the evening I had a collaboration with restaurant Marem in Tulum. Together with +1, I was allowed to eat and drink whatever I liked to try from the menu without obligation and therefore invited dear Aline for her last evening in Tulum. I felt a nice connection with Aline from day 1 and she quickly became a dear friend who also meant a lot to me during my journey. The interior of Marem is very nice, the food high quality and very tasty, the staff very nice, the service great and the location pleasant. Coincidentally, the restaurant is also right in front of Mayan Monkey. I can also recommend this restaurant with love and will definitely come back during my next trip. If you click here – you will be taken directly to the Marem website.
Before and after dinner, I went out with Laura and Clara to a techno party at the recently opened hostel Selina Tulum Downtown. This location is about 5 minutes by bike from our hostel Mayan Monkey. I hadn't bought a ticket for this big party, but the staff gave me a bracelet to get in for free – lucky me. By the way, this party and hostel itself was really cool!
Deze dag ben ik door mijn Franse hostel kamergenootjes
Clara
en
Laura
meegevraagd naar
Playa Maya,
om lekker op het strand te gaan liggen. Omdat ik veel dagen te besteden had, vond ik een stapje terugdoen, een boekje lezen en lekker zonnen met fijne mensen ook geen slecht idee. Dit strand is gratis te bezoeken en
Playa Paraiso
is een goed betaalbare beachclub (voor Tulum's prijs begrip), waar we ook af en toe wat hapjes en drankjes bestelden. Vanaf het hostel is het zo'n 25 minuten fietsen.
In de avond had ik een samenwerking met restaurant Marem in Tulum. Ik mocht samen met +1, 3 gangen vrijblijvend eten en drinken wat ik wilde van de kaart en nodigde daarom lieve Aline uit voor haar laatste avond in Tulum. Ik voelde al vanaf dag 1 een fijne klik met Aline en ze werd ook snel een dierbare vriendin die mij ook veel voor mij betekend heeft tijdens mijn reis. Het interieur van Marem is erg mooi, het eten hoge kwaliteit en ontzettend lekker, het personeel ontzettend leuk, de service top en de locatie prettig. Per toeval is het restaurant ook recht voor Mayan Monkey. Ik kan jullie ook met liefde dit restaurant aanbevelen en zal tijdens mijn volgende reis ook zeker terugkomen. Als je hier klikt – kom je gelijk op de website van Marem.
Voor en ná het etentje, ging ik met Laura en Clara op stap naar een technofeest bij het recent geopende hostel Selina Tulum Downtown. Deze locatie is zo'n 5 minuten fietsen vanaf Mayan Monkey. Ik had voor dit grote feest geen kaart gekocht, maar kreeg van het personeel als nog een armband om gratis naar binnen te komen – lucky me. Dit feest en hostel zelf was trouwens ontzettend gaaf!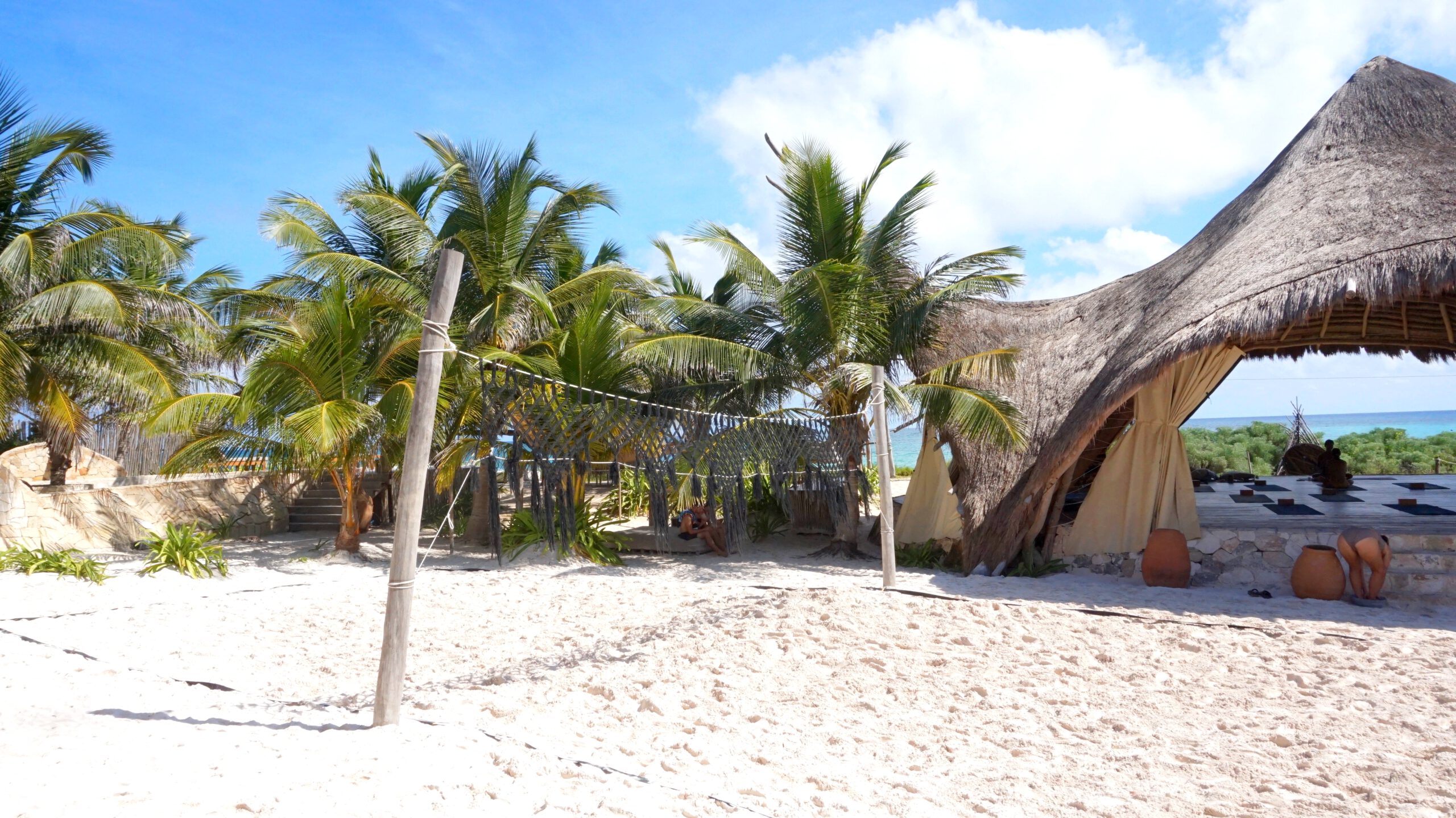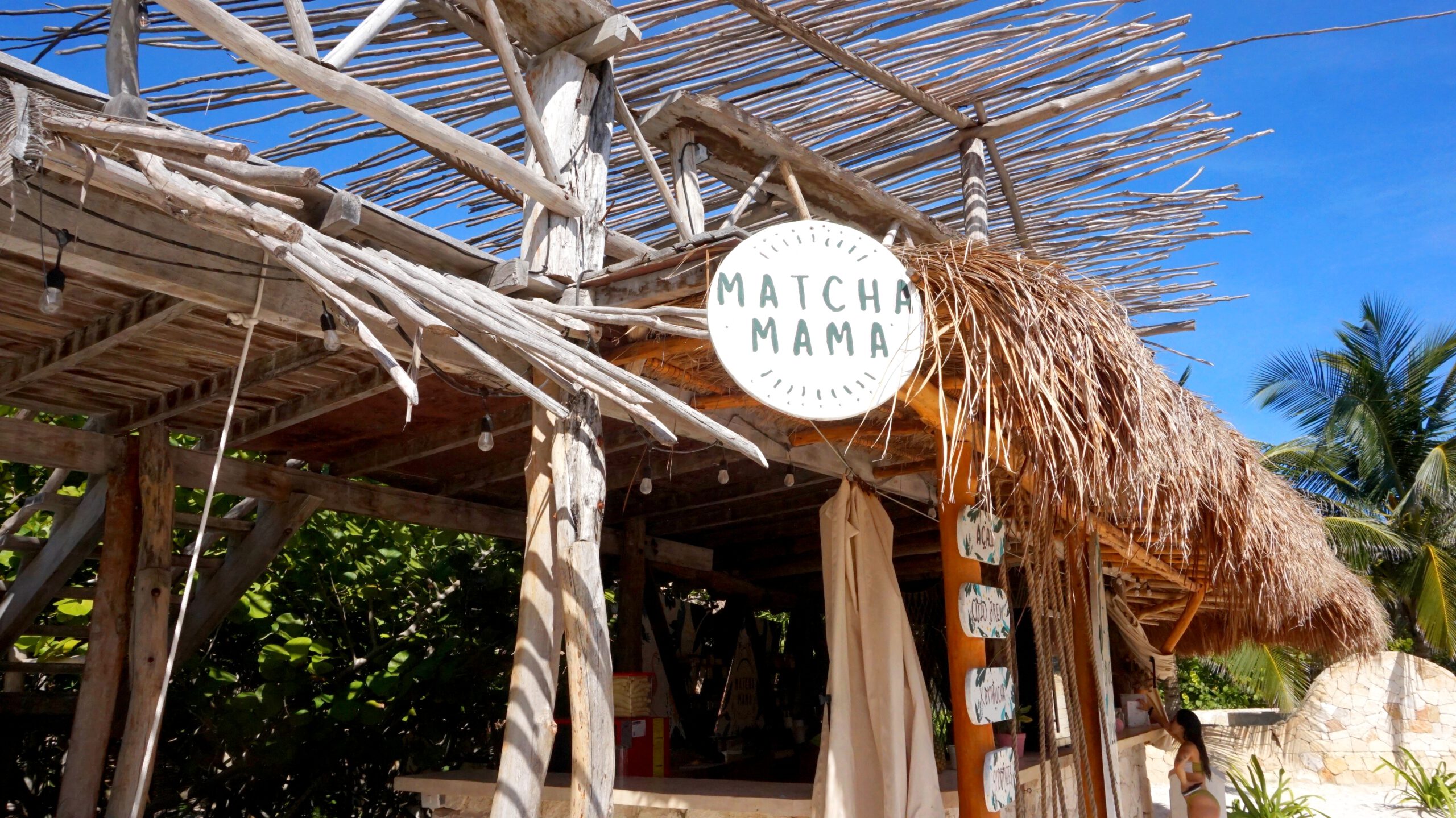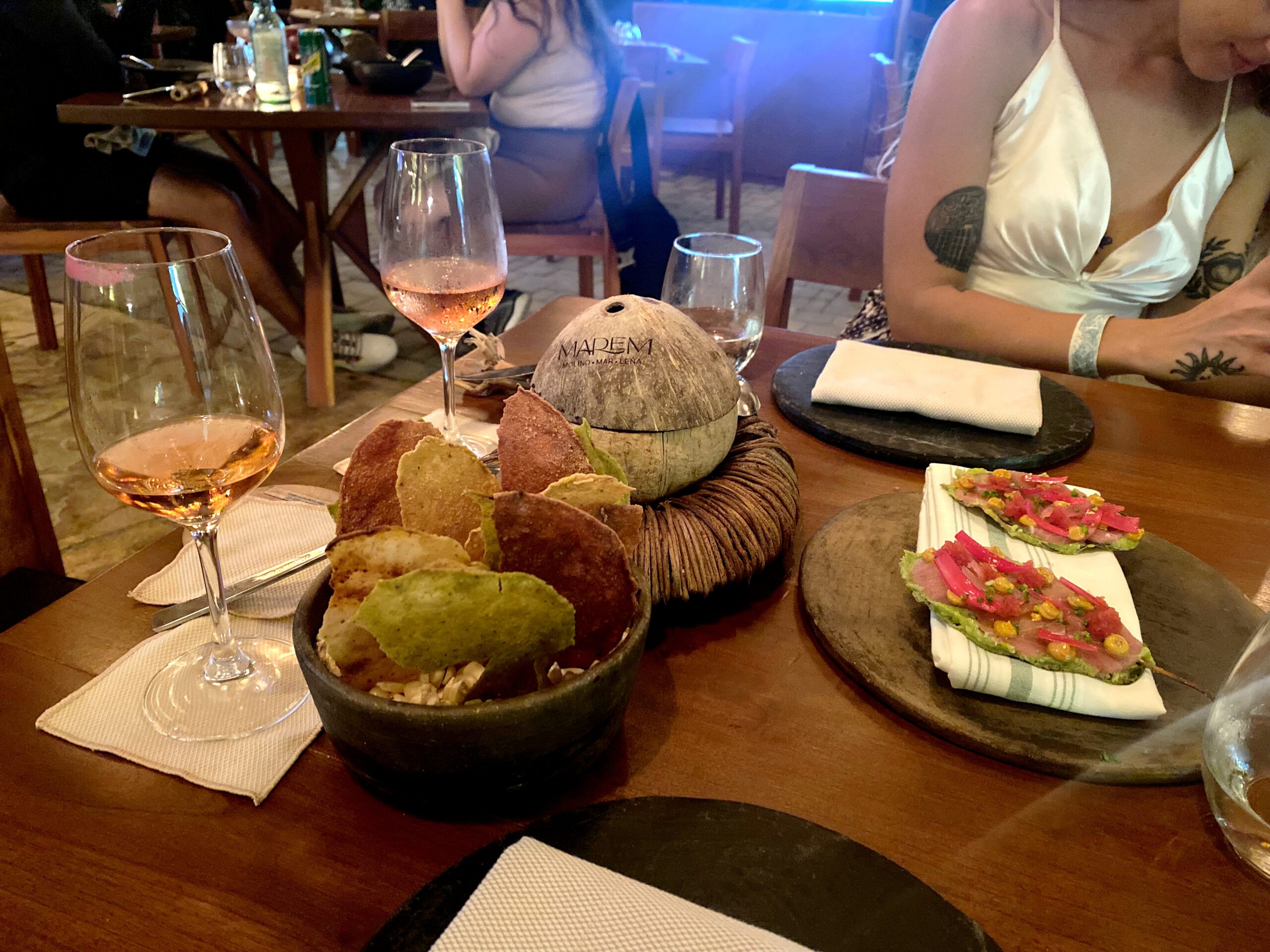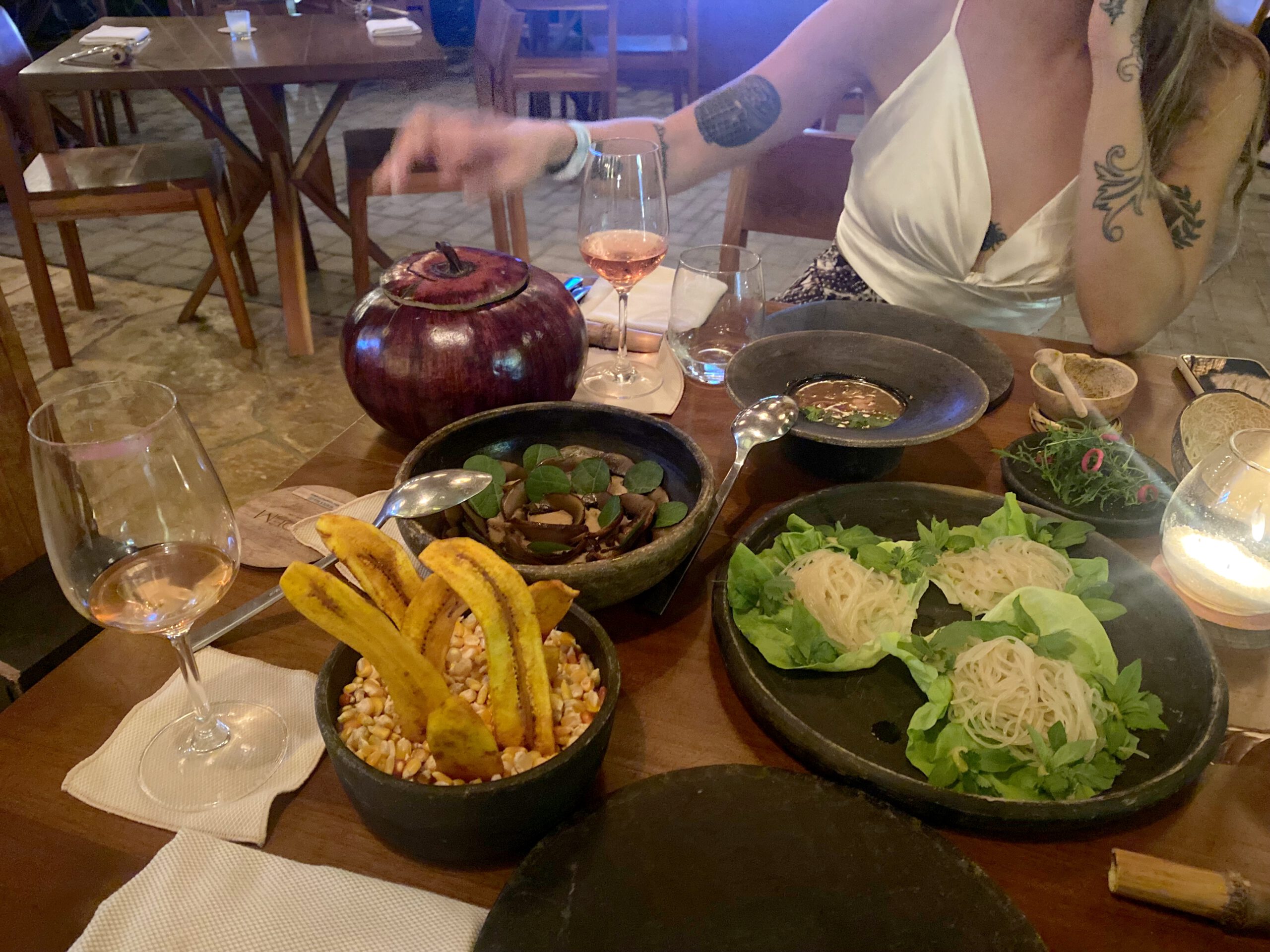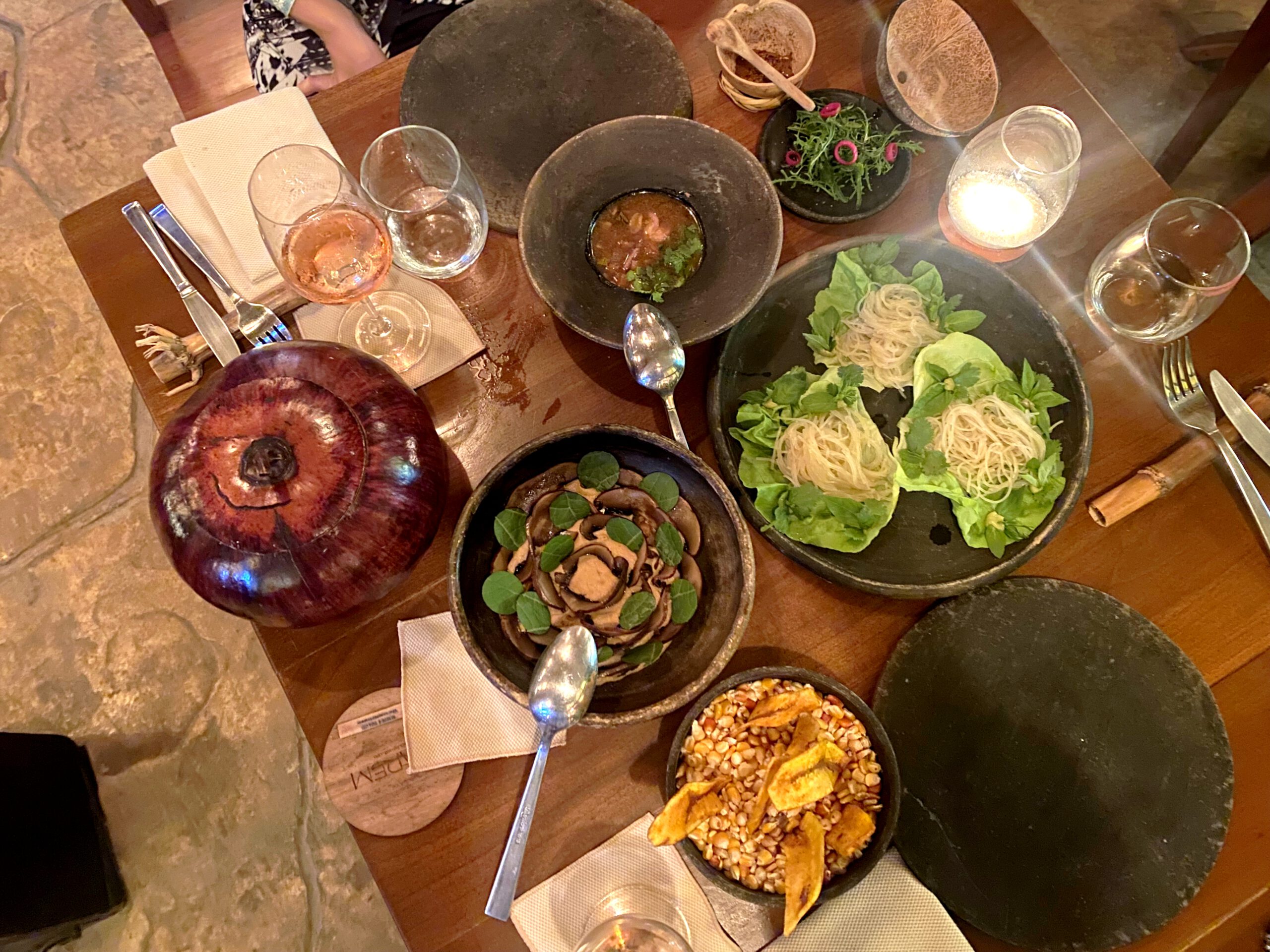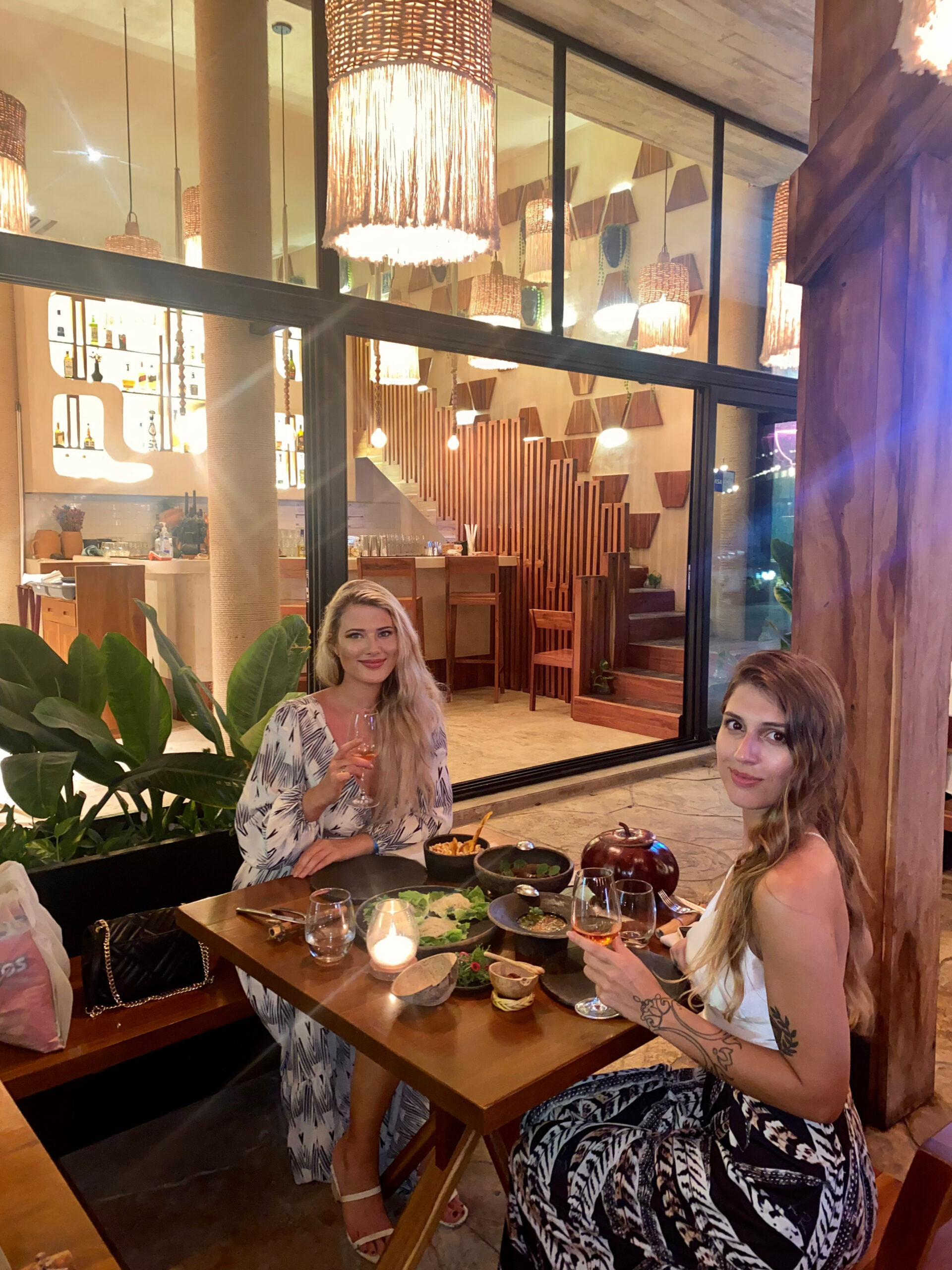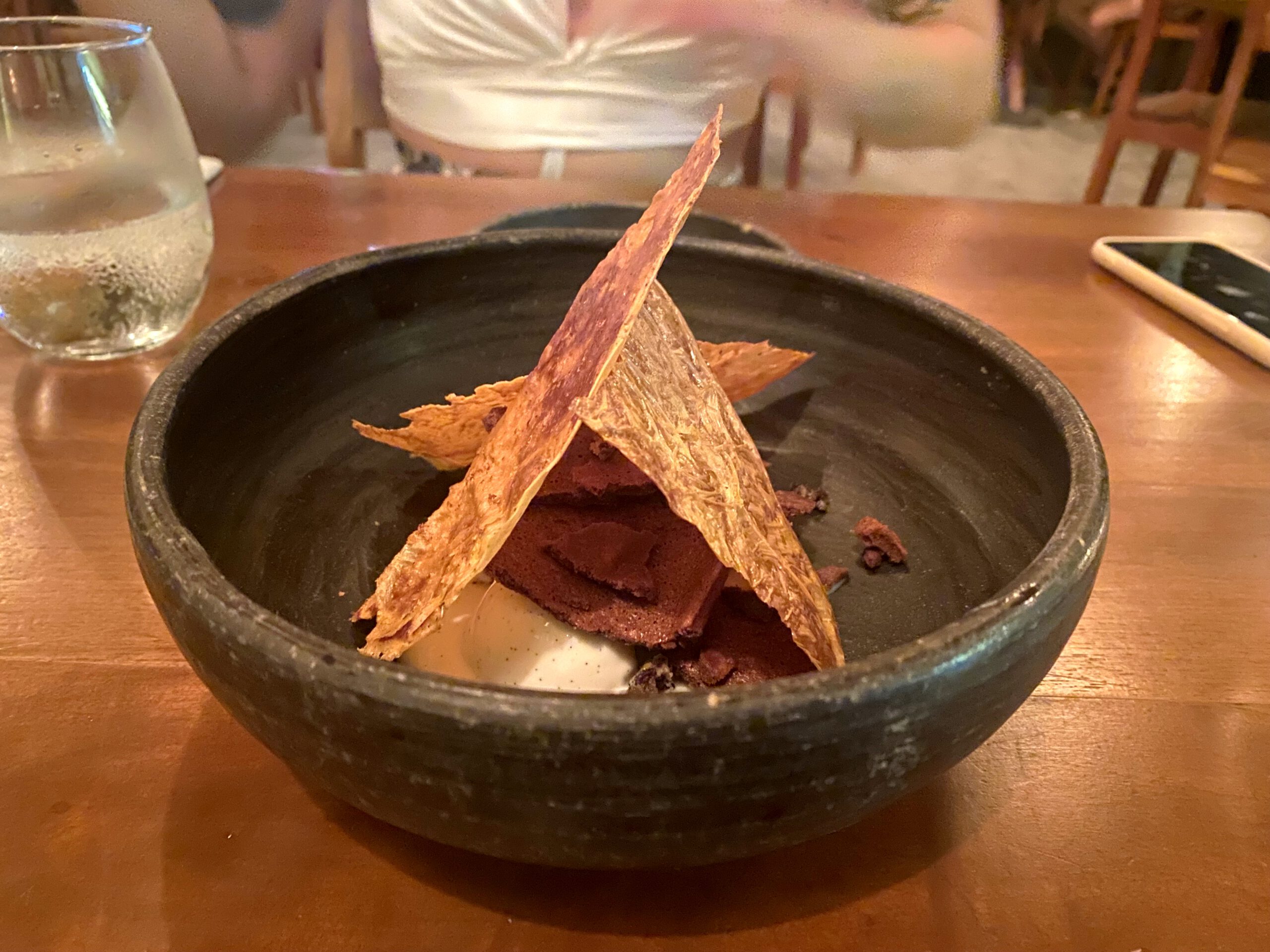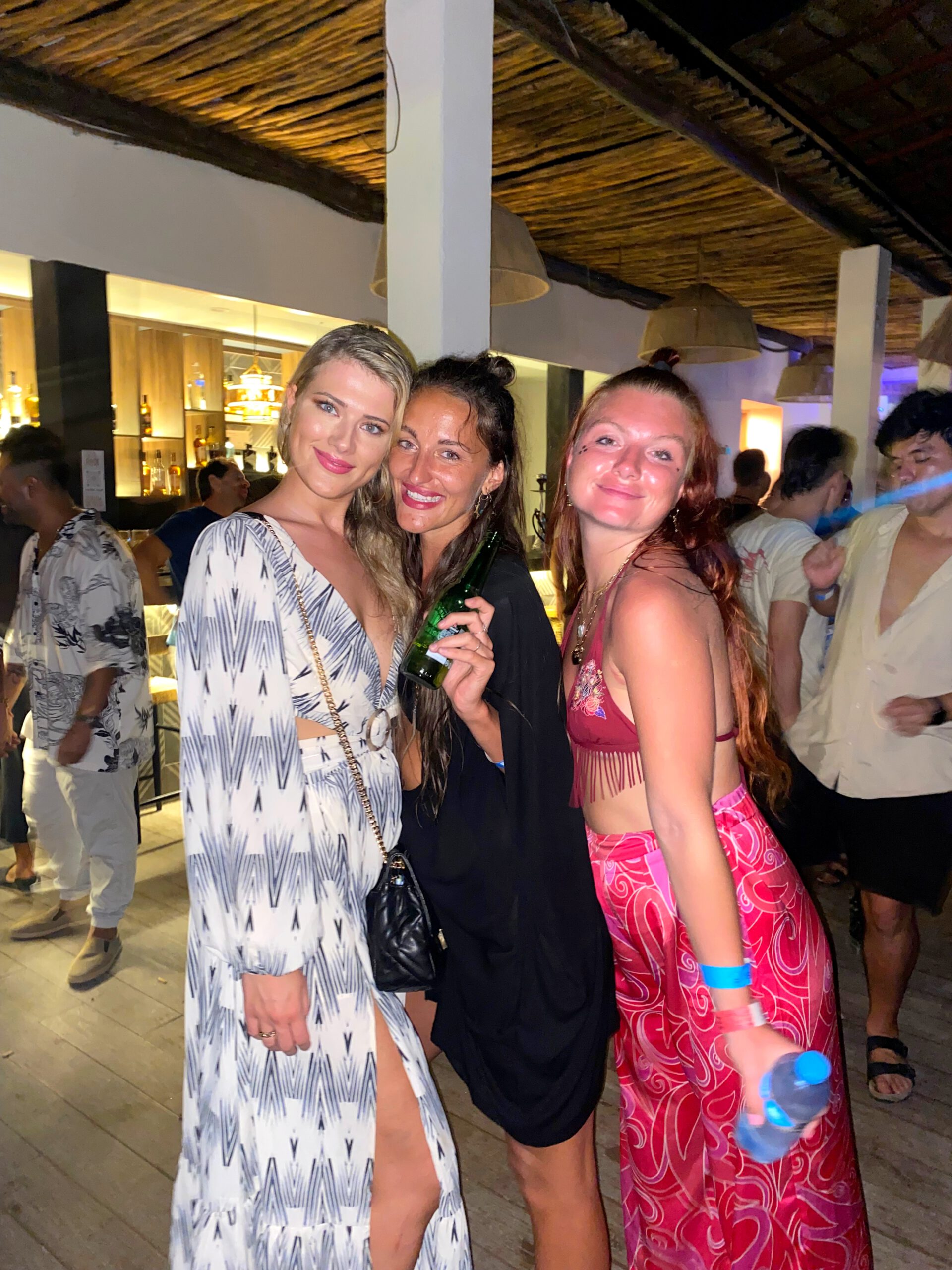 25-11-2022 – Tulum

This day was very quiet. I had booked
Selina Los Lirios (hotel zone at the beach)
for tomorrow which I couldn't cancel anymore, so I upgraded my dorm there on the spot for an extra 40 euros to a private 'Teepee' – a cute little hostel room. My (now former) love asked me to book something, because I hadn't booked anything after this date. He didn't know when he would be there suddenly and which flight he could get on, and due to his suddenly short stay in Tulum and circumstances I couldn't stay together in his own house.
I cycled again to the same beach as yesterday with Laura, Paul and Clara, and enjoyed hours there again. By the way, I usually rented my bikes from Mayan Monkey for 250 pesos per day, or Doggy bikes for 150 pesos per day. Finally, we went for lunch at a Burrito place in downtown called Burrito street Tulum. Where I took a chicken/avocado burrito and fresh watermelon juice. The prices here are low and the quality really nice! In the evening, Laura and I cycled towards the hotel zone to watch the sunset and once back at the hostel I had a drink with Ruby and her friends.
Deze dag was erg rustig. Ik had voor morgen
Selina Los Lirios (hotel zone at the beach)
geboekt die ik niet meer kon cancellen, dus had ik mijn dorm terplekke geupgrade voor 40 euro extra naar een private 'Teepee' – een schattige kleine hostel kamer. Mijn toenmalige liefde vroeg me zelf wat te boeken omdat ik na deze datum niets meer had geboekt, hij niet wist wanneer hij er zou zijn en op welke vlucht hij mee zou kunnen, en ik door zijn plotseling korte verblijf in Tulum en omstandigheden niet samen met hem in zijn eigen huis kon verblijven.
Met Laura, Paul en Clara fietste ik opnieuw naar hetzelfde strand als gisteren, en heb daar weer uren genoten. Overigens huurde ik meestal mijn fietsen bij Mayan Monkey voor 250 pesos per dag, of Doggy bikes voor 150 pesos per dag. Uiteindelijk gingen we lunchen bij een Burrito plek in downtown genaamd Burrito street Tulum. Waar ik een kip/avocado burrito nam en vers watermeloen sap. De prijzen zijn hier laag en de kwaliteit echt top! In de avond fietsten Laura en ik richting te hotel zone om de zondondergang te kijken en dronk ik eenmaal terug in het hostel een drankje met Ruby en haar nieuwe vriendinnen.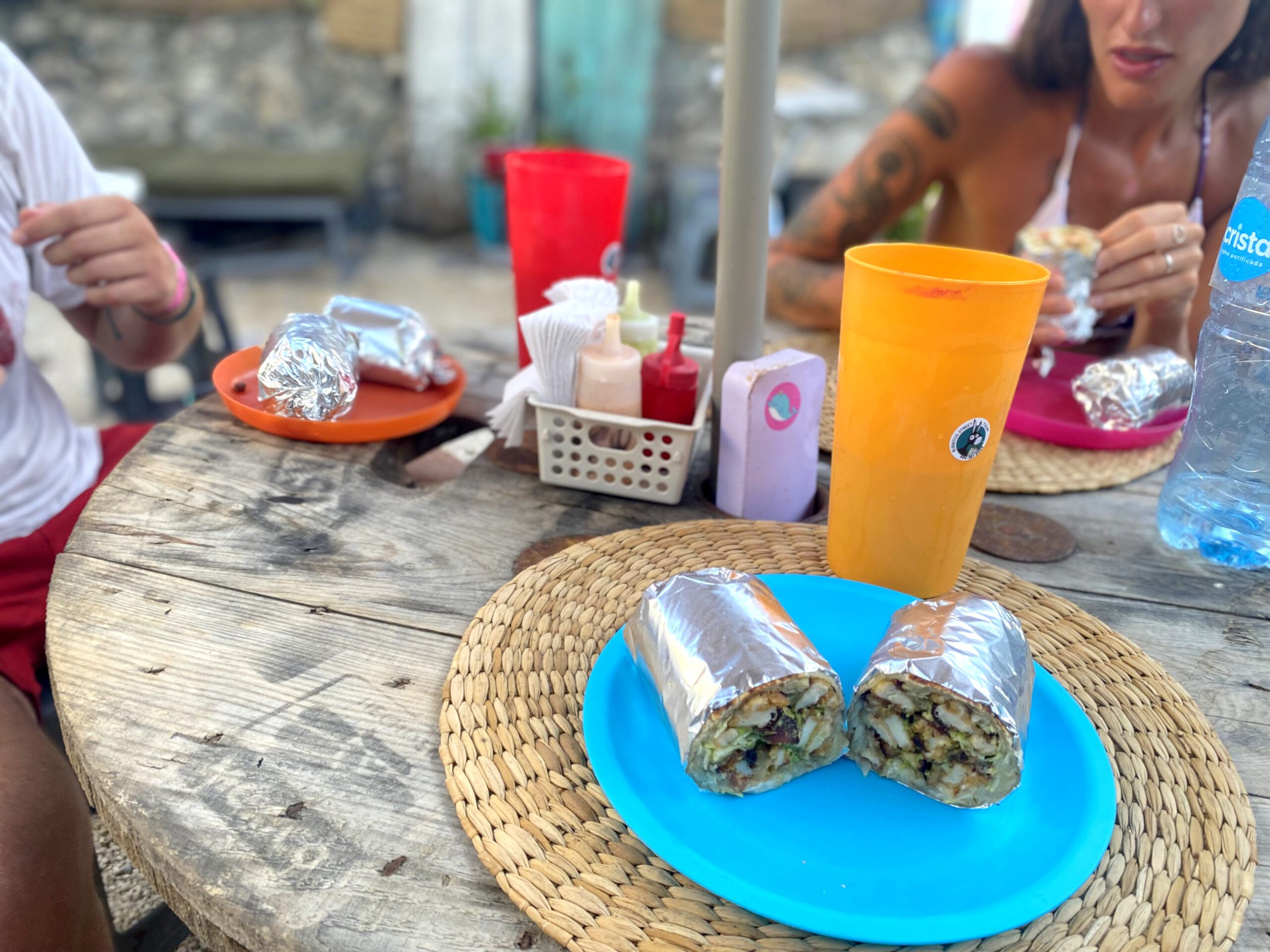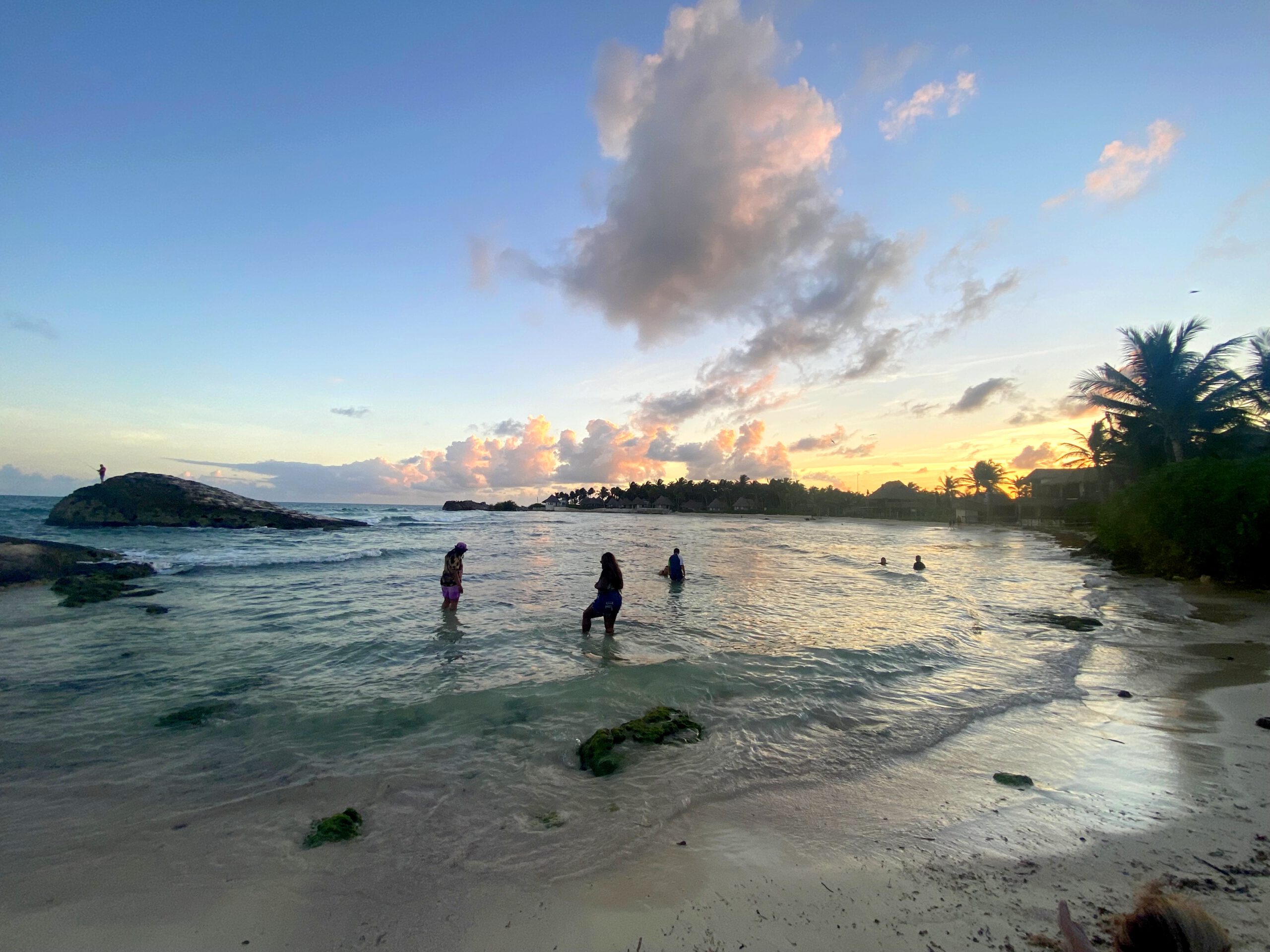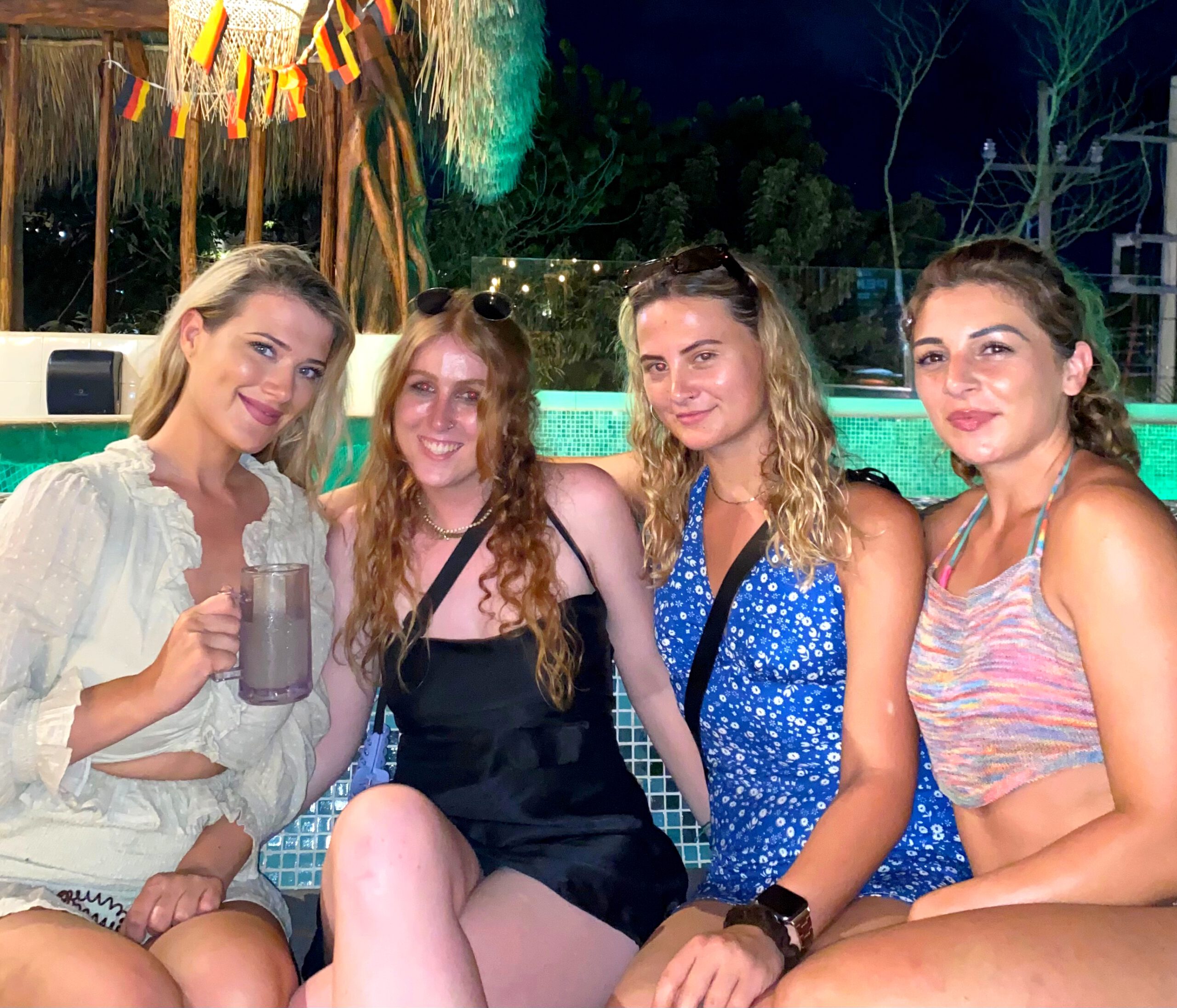 26-11-2022 – Tulum
My loved one was finally gone to Mexico this day after days of uncertainty. Coincidentally, my dear friend
Ellie
from New York was also back in Tulum. Ellie became a friend of Cyni and me last May during my first visit to Mexico. Together with her boyfriend, we had a drink at
Kanaya
during the football match of Mexico. After thar,  I went by bike to
Mia – Selina Los Lirios
in front of the room I had booked. Mia is my favorite beach club in Tulum and is linked to
Selina Los Lirios.
This is the most beautiful place I visited in Tulum in terms of stay. I left my big suitcase at Mayan Monkey for a few days and went to the hostel with my two large luggage bags by bike. I would sleep the first night in a two person "Teepee". A small beach house with a double bed, bedside table and air conditioning. In principle, it has everything that is necessary.
The moment I was relaxing on the beach on my own, I got into conversation with Aridhman from India. A very friendly man I got along with well, and had many nice conversations with. He also turned out to be my "Teepee neigbour" in the hostel! He helped me with some more photos with my camera when there was still daylight. Not long after, we started doing some shopping at a 7even Eleven, where we ate a sandwich for dinner to compensate for the expensive hotel zone, haha.
When my (former) loved one had been in the country for hours at the time and I still didn't hear anything. After a Tequila Sunrise, we shared an expensive taxi to Selina Downtown with Aridman and a group of nice hostel mates from Germany. They wanted to spontaneously go to another techno party together with us, that we had access to with our hostel bracelet. When we arrived at that place, I also saw my dear friends Laura and Clara which I saw almost daily. After less than 5 minutes at the party, my beloved called me suddenly that he stood in front of my hostel house, which I had sended him the details of many hours prior. I asked him right away to pick me up at the party where I was now. In my Princess-like pink white beach dress, I ran down from the rooftop all the way to get in with him and go on the way to the hostel.
Mijn geliefde was deze dag eindelijk opweg naar Mexico na dagen onzekerheid. Toevallig was mijn lieve vriendin
Ellie
uit New York óók weer terug in Tulum. Ellie werd een vriendin van Cyni en mij afgelopen mei tijdens ons eerste bezoek aan Mexico. We deden samen met haar vriend een drankje bij
Kanaya
tijdens de voetbalwedstrijd van Mexico, en daarna ging ik per fiets op weg naar
Mia –
Selina Los Lirios
voor de kamer die ik geboekt had. Mia is mijn lievelings beachclub in Tulum en is gekoppeld aan
Selina Los Lirios
. Dit is de mooiste plek die ik qua verblijf heb bezocht in Tulum. Ik liet mijn grote koffer voor een paar dagen in Mayan Monkey en ging met mijn twee grote bagagetassen per fiets naar het hostel. Ik sliep de eerste nacht in een twee persoons 'Teepee'. Een klein strandhuisje met een tweepersoons bed, nachtkastje en airconditioning. Het heeft in principe alles dat hoognodig is.
Op het moment dat ik in mijn eentje op het strand aan het relaxen was, raakte ik in gesprek met Aridhman uit India. Een ontzettend vriendelijke man waar ik het goed mee kon vinden en veel fijne gesprekken mee had. Per toeval bleek hij ook nog eens mijn 'teepee buurman' in het hostel! Hij hielp mij met nog wat foto's met mijn camera toen het nog licht was. Niet lang daarna zijn we wat boodschapjes gaan doen bij een 7even eleven, waar we een broodje aten als avondeten om de dure hotelzone te compenseren, haha.
Toen mijn (voormalige) geliefde op dat moment al uren lang in het land was en ik nog altijd niets hoorde, besloot ik met Aridman en een groepje leuke hostelgenoten uit Duitsland, na een tequila sunrise spontaan met de dure taxi naar Selina downtown te rijden. We kwamen spontaan met het plan opnieuw naar een techno feestje te gaan op de rooftop, waar we met onze hostel armband toegang tot hadden. Daar zag ik ook opnieuw weer mijn lieve vriendinnen Laura en Clara die ik bijna dagelijks zag. Na nog geen 5 minuten op het feest, belde mijn geliefde plotseling dat hij voor mijn hostel huisje stond die ik had doorgegeven. Ik vroeg hem me gelijk op te halen bij het feestje waar ik nu was. In mijn princess-like roze witte strandjurk, rende ik van de rooftop all the way naar beneden om bij hem in te stappen en opweg te gaan naar het hostel.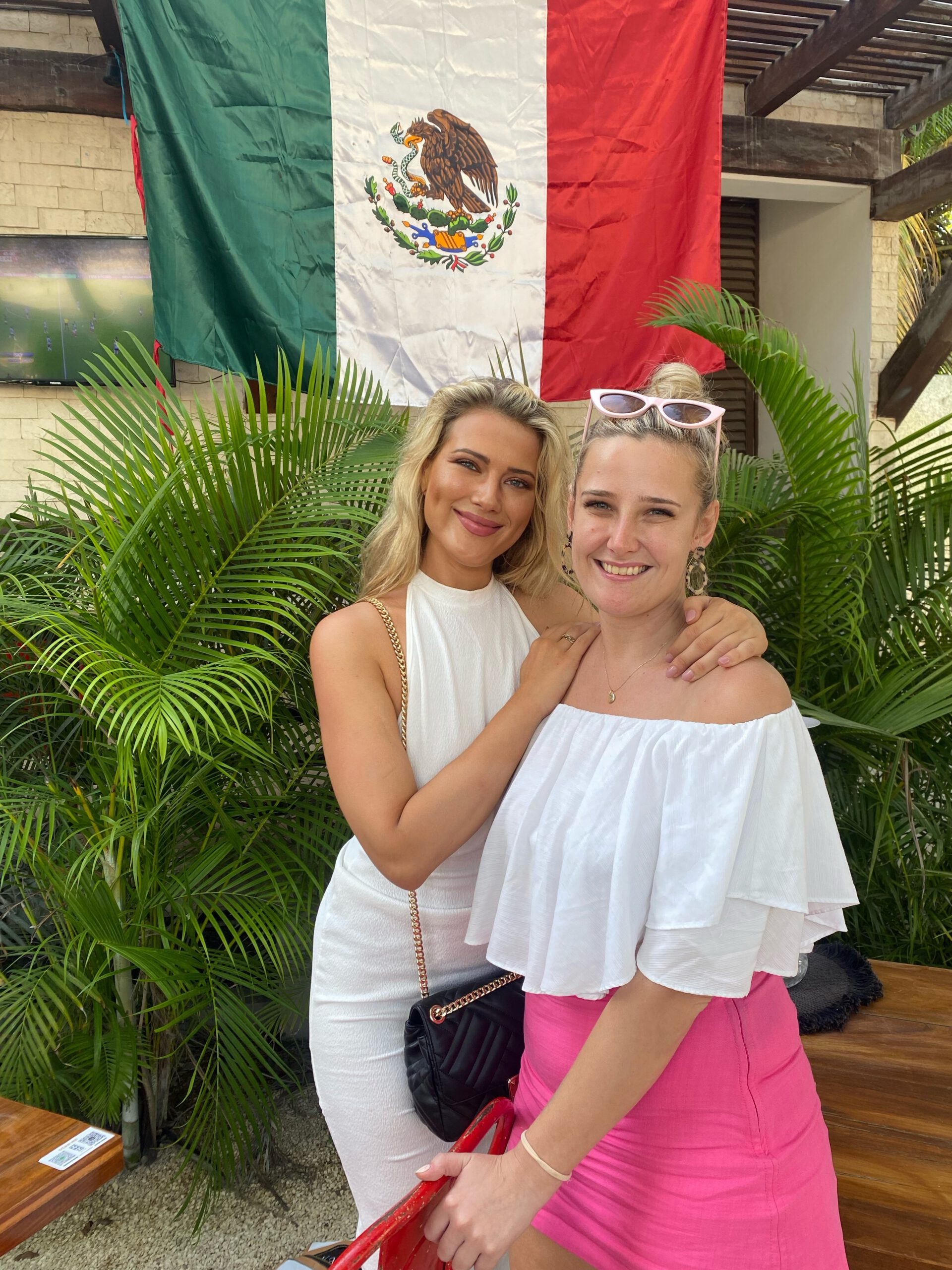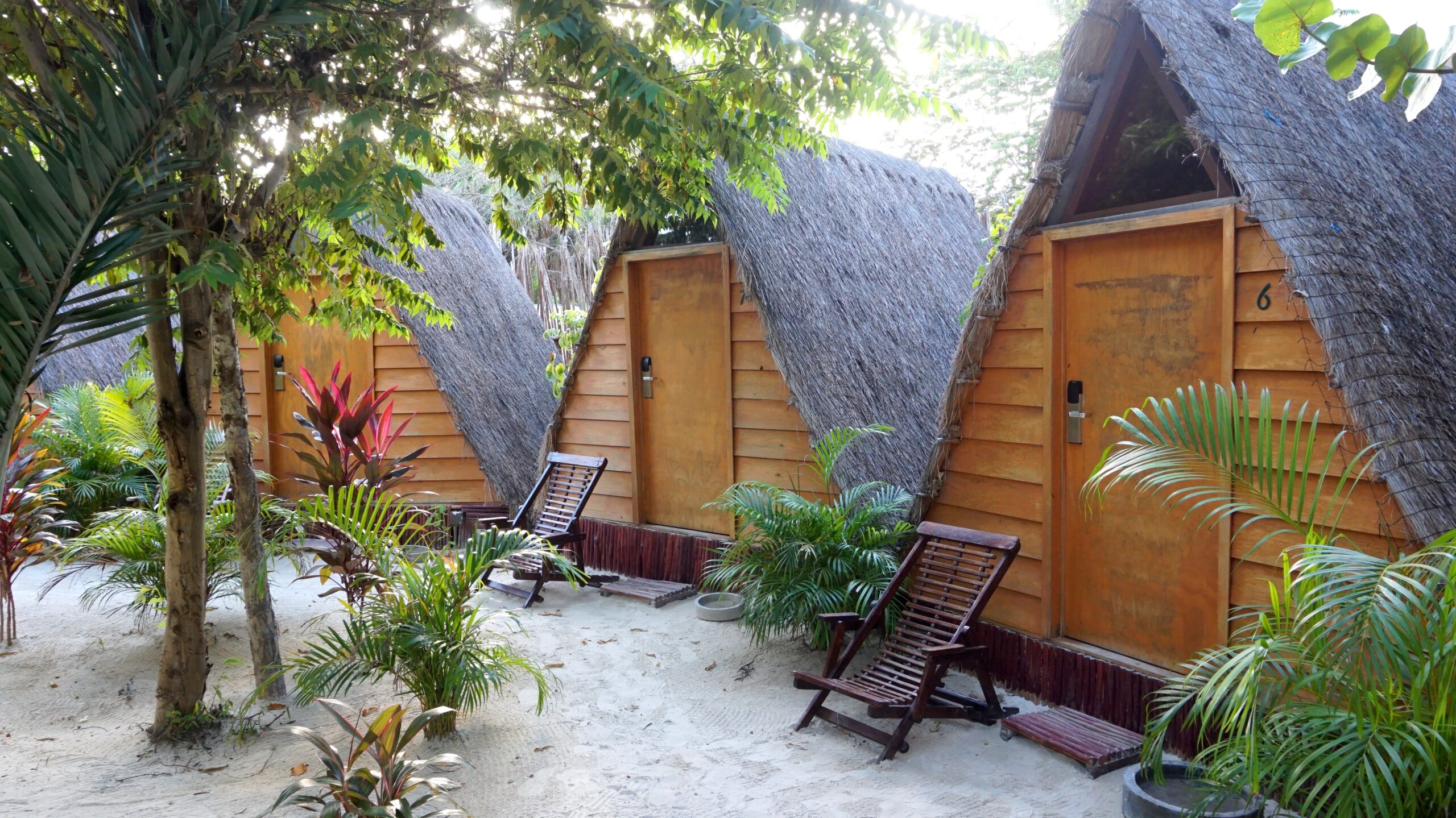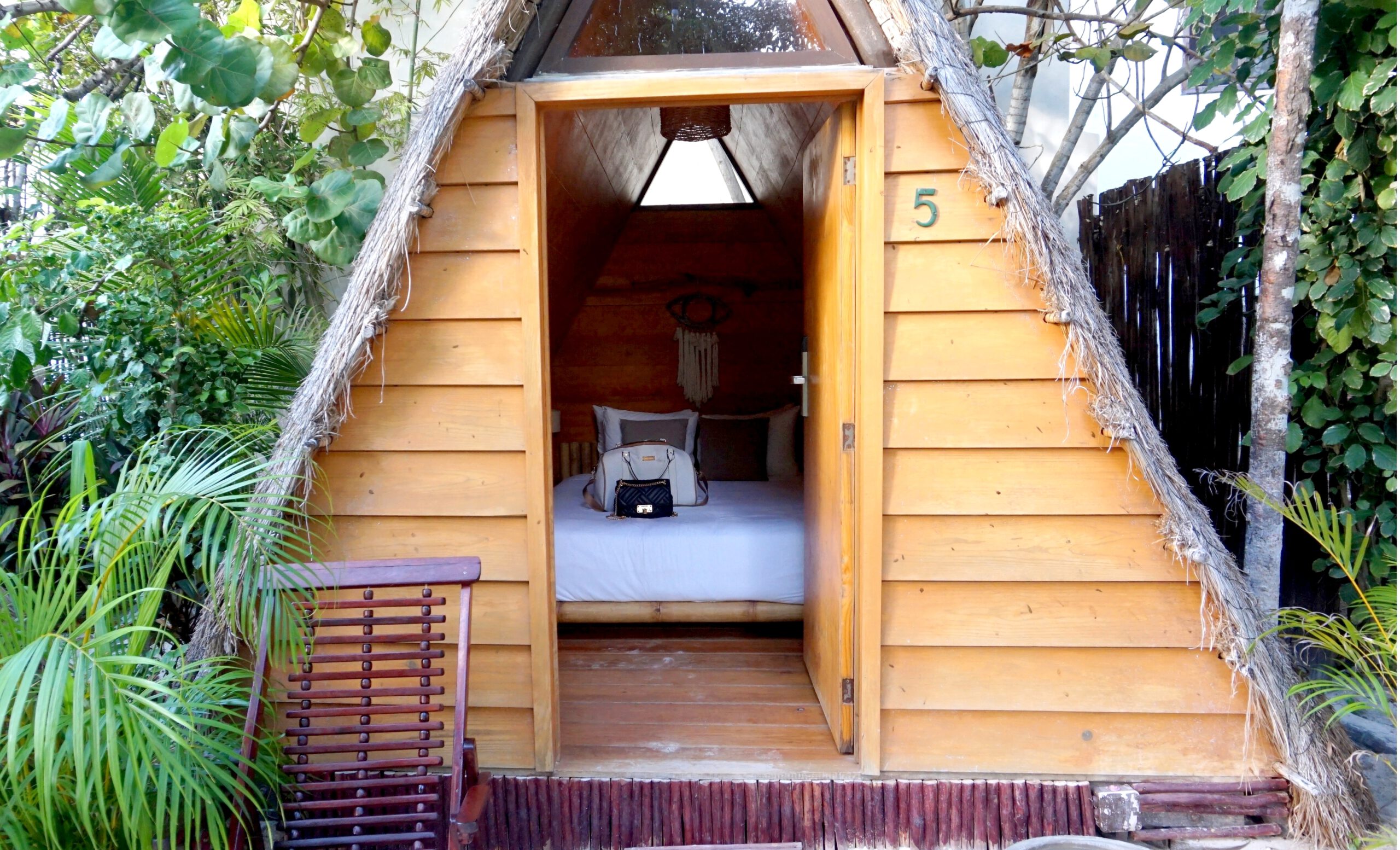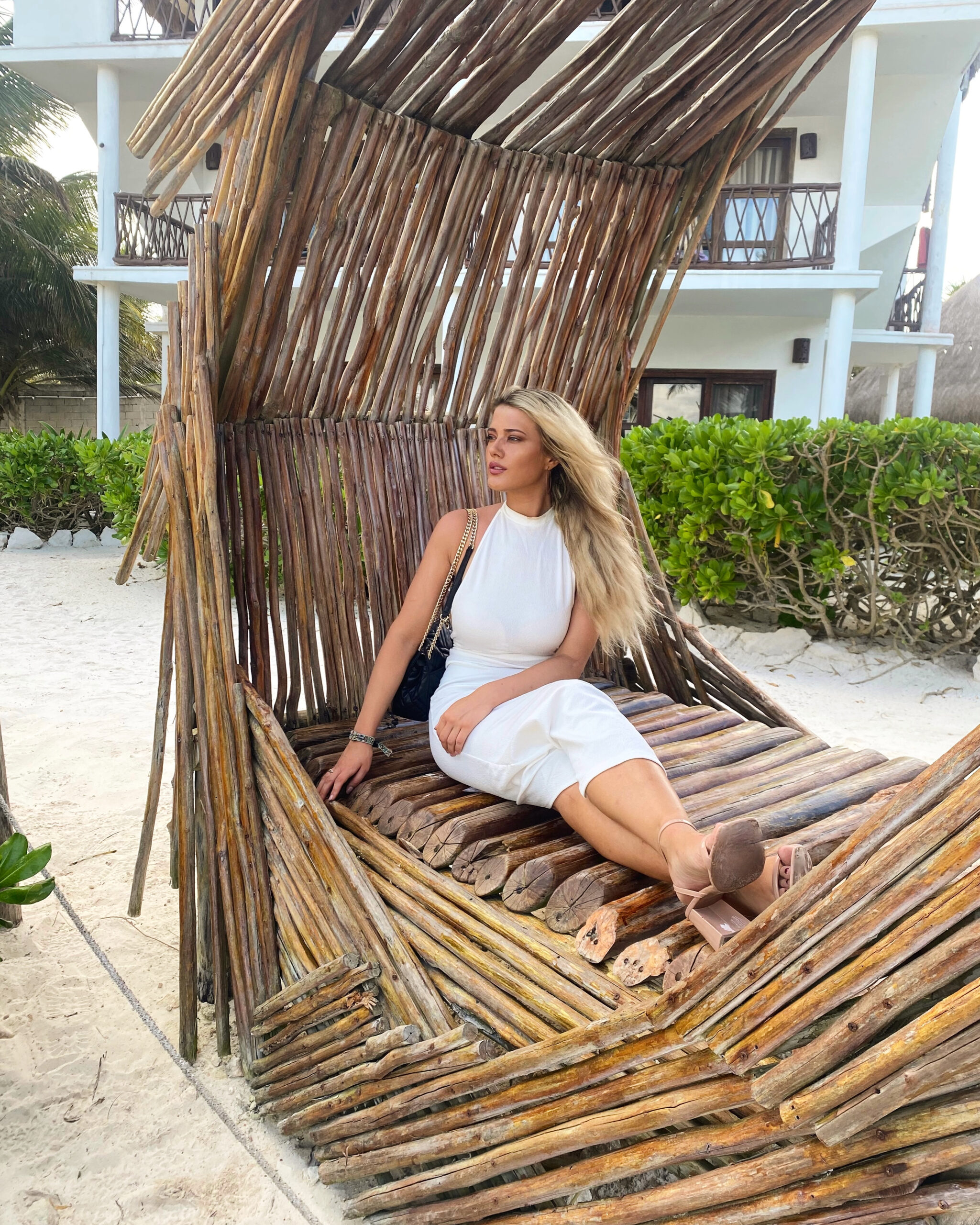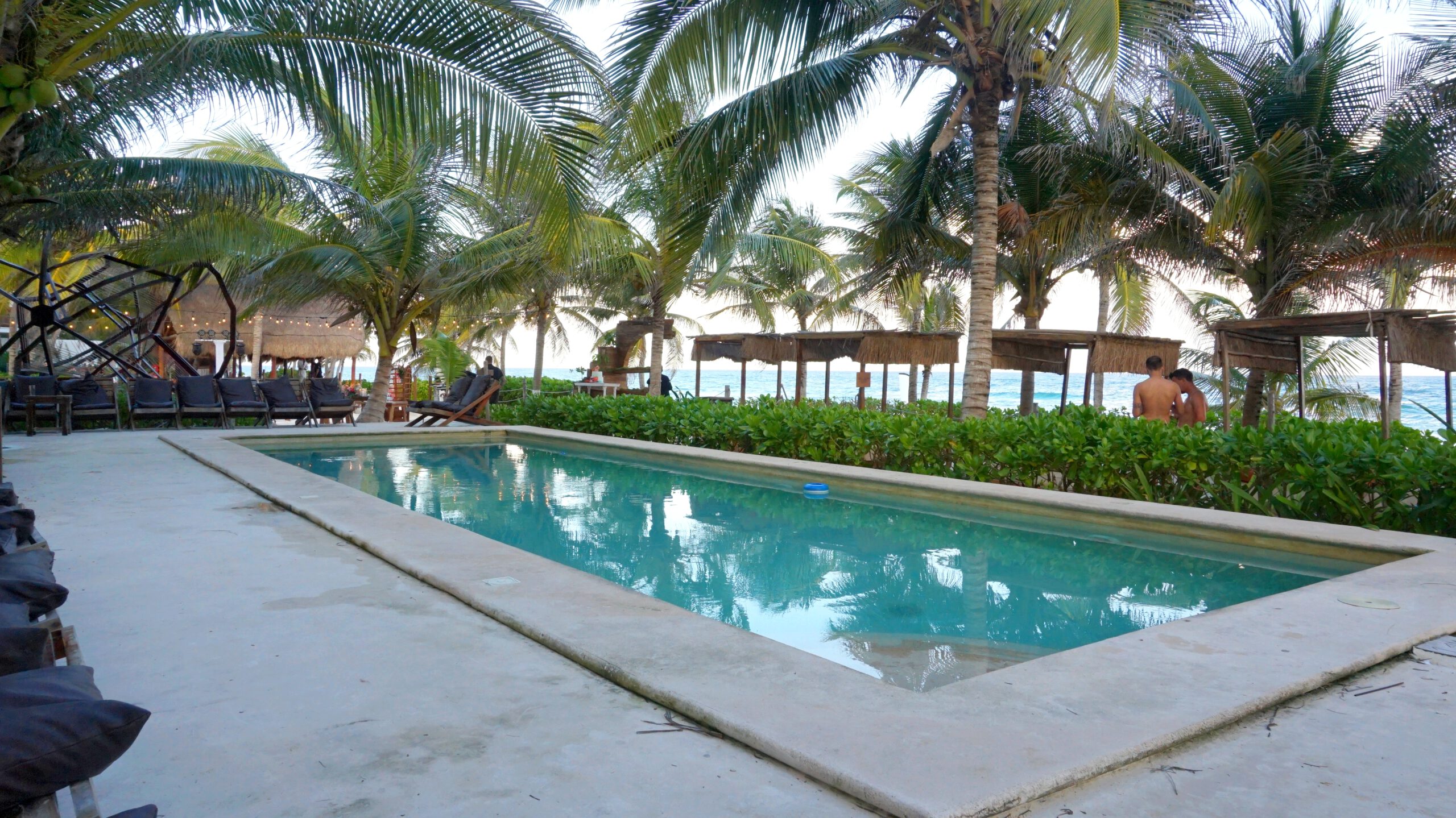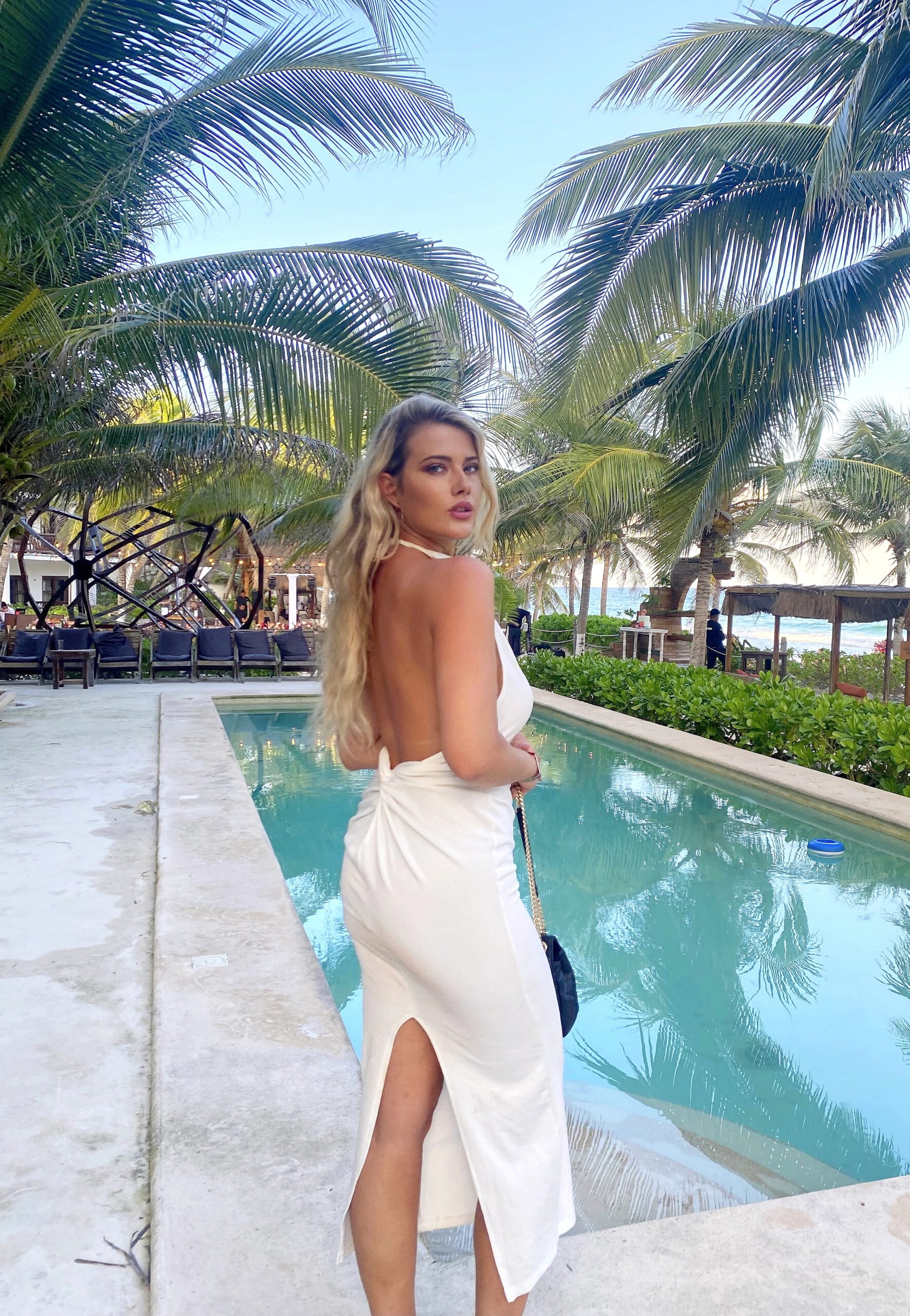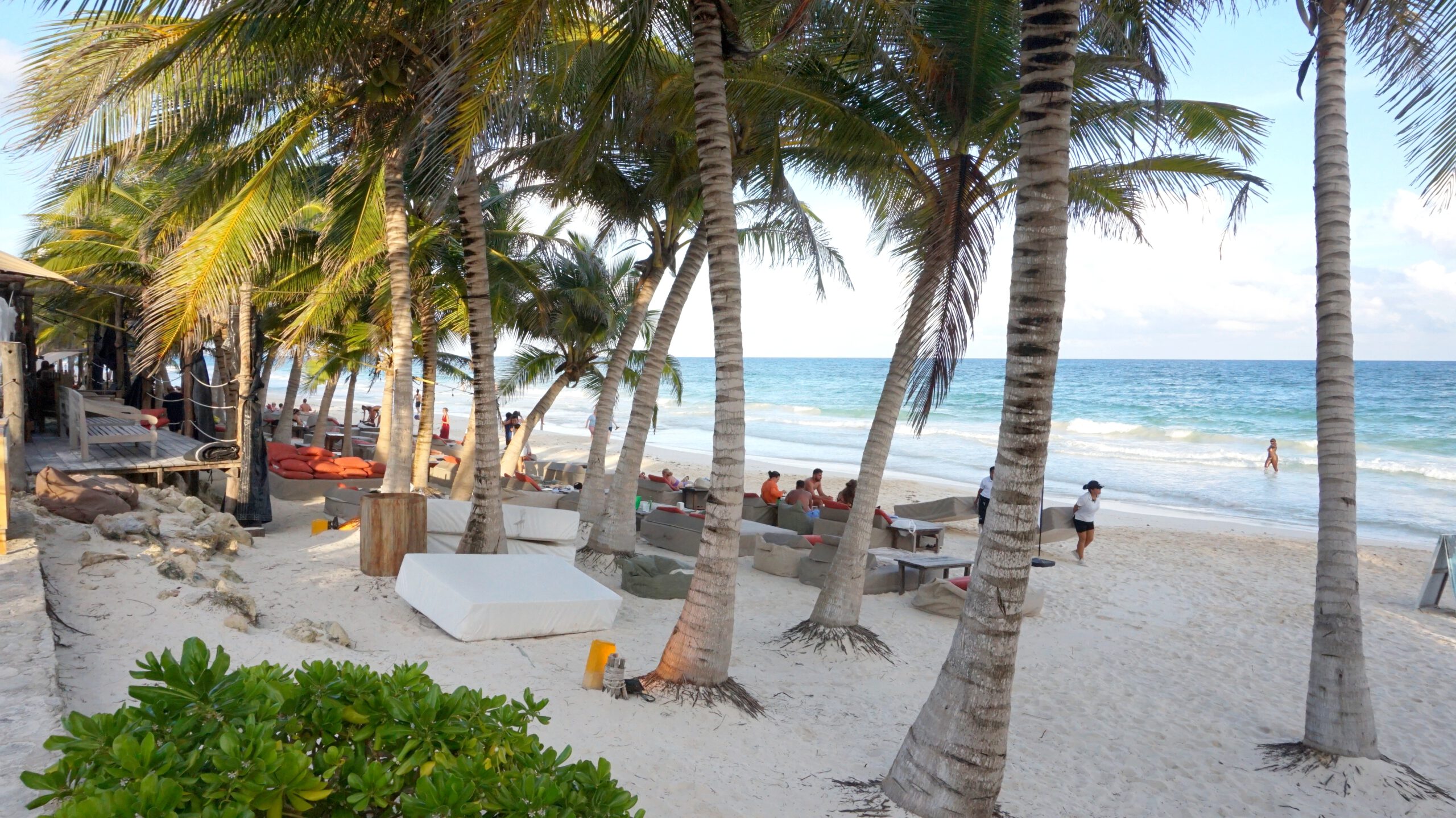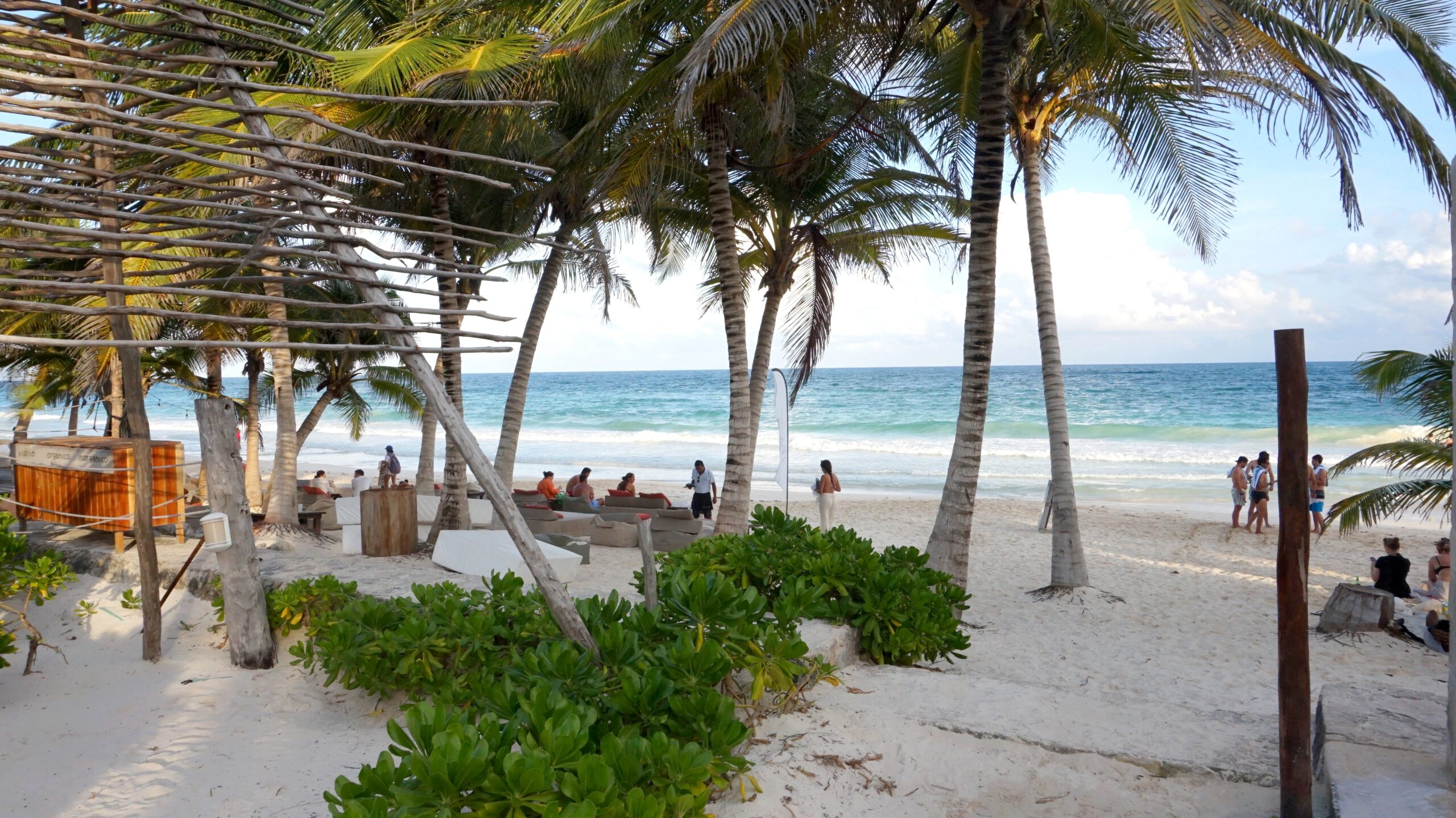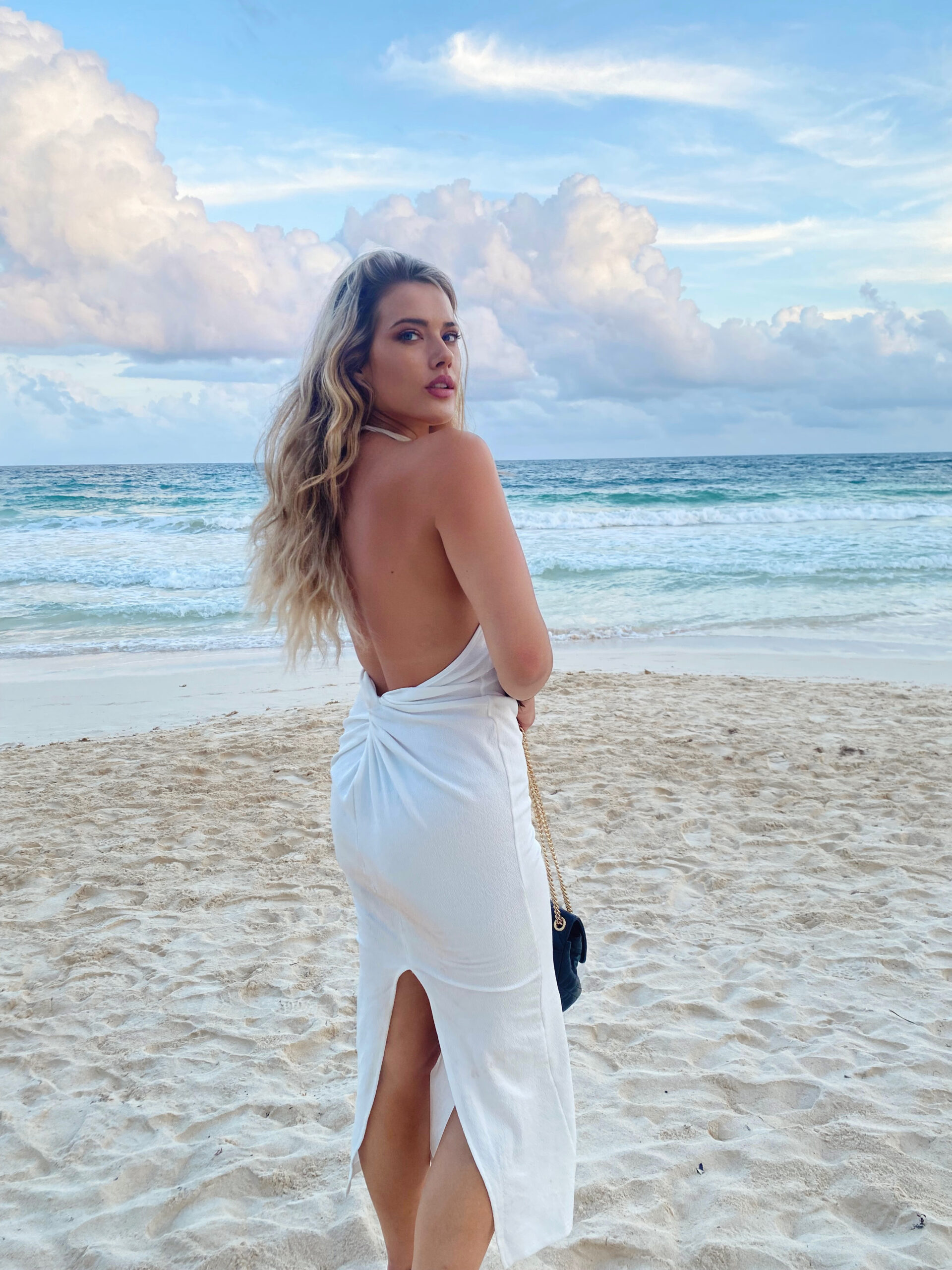 27-11-2022 – Tulum
This morning we had an included breakfast at
Mia beach club
– which is connected to the hostel. Once again I think Mia is a really cool place and it is also a very nice location to have breakfast. We had a choice of different things and courses. I myself took a fresh juice, coffee, yogurt with granola and fruit and also some kind of savory French toast with apple. My love had to quickly arrange something at home, after which I spent some time with
Aridman
and took pictures.
For tonight I had booked a double room together instead of a teepee. While checking in again, my love and I spoke to Adrian from Switzerland whom I often saw at Mayan Monkey. Like my hostel friends who were already here, he wanted to check in for one night to gain access to the upcoming event. Miraculously there were still rooms because there was going to be a huge techno event in Mia tonight from The Blaze, which you also have access to as a guest when staying. To give you an idea of the price, I paid 250 euros for these two nights together, including 2x breakfast for two people and access to part of the beach club and to all events. In terms of accommodation, this was my nicest, but most expensive expense, because I mainly stay cheap in good hostels while travelling solo.
In the afternoon, he picked me up to quickly arrange something for work and then to have lunch on his idea at Burrito Amor – where I had a shrimp burrito on his recommendation, just like him. For real, the best I've ever eaten! Once back at Mia's, we changed and went for a walk on the beach before he had to leave for work again. Later when the event started, I joined Adrian, Clara and Laura to spend time together at the party before being picked up after work to go out to dinner together. This techno party was really cool and right on the beach. The restaurant my love took me to that evening to eat is called La Brasa. A nice atmospheric Argentinian restaurant in downtown where I ordered a steak.
Deze ochtend hadden we een included breakfast bij
Mia beachclub
– die verbonden is aan het hostel. Ik vind Mia nogmaals echt een hele gave plek en het is ook een hele mooie locatie om te ontbijten. We hadden keuze uit verschillende dingen en gangen. Zelf nam ik een verse sap, koffie, yoghurt met granola en fruit en daarnaast ook een soort van hartige wentelteefjes met appel. Mijn liefde moest snel thuis nog wat regelen waarna ik nog wat tijd met
Aridman
doorbracht en foto's nam.
Voor vanavond had ik een tweepersoons kamer voor samen geboekt in plaats van een teepee. Tijdens het opnieuw inchecken spraken mijn geliefde en ik Adrian uit Zwitserland die ik vaak zag bij Mayan Monkey. Hij wilde net als mijn vriendinnen die hier al waren, inchecken voor één nachtje om toegang te krijgen tot het opkomende event. Wonder boven wonder waren er nog kamers omdat er een enorm techno event zou zijn in Mia vanavond van The Blaze, waar je als gast ook toegang tot hebt bij een verblijf. Om je een idee te geven van de prijs, betaalde ik 250 euro voor deze twee nachten bij elkaar, inclusief 2x ontbijt voor twee personen en toegang tot een deel van de beachclub en tot alle evenementen. Qua verblijf was dit mijn leukste, maar duurste uitgave, omdat ik voornamelijk goedkoop in goede hostels verblijf als ik solo reis.
In de middag pikte hij me op om snel wat voor zijn werk te regelen en daarna te gaan lunchen op zijn idee bij Burrito Amor – waar ik op zijn aanbeveling net als hem een shrimp burrito nam. Oprecht de beste die ik ooit heb gegeten! Eenmaal terug bij Mia kleedde we om en gingen nog een strandwandeling maken voor hij opnieuw weer weg moest voor zijn werk. Toen later het event begon, sloot ik bij Adrian, Clara en Laura aan om gezamenlijk tijd op het feest door te brengen voor ik opgehaald zou worden na zijn werk om samen uit eten te gaan. Dit technofeest was echt super tof en recht op het strand. Het restaurant waar hij me mee uit eten nam heet La Brasa. Een mooi sfeervol Argentijns restaurant in downtown waar ik een steak had besteld.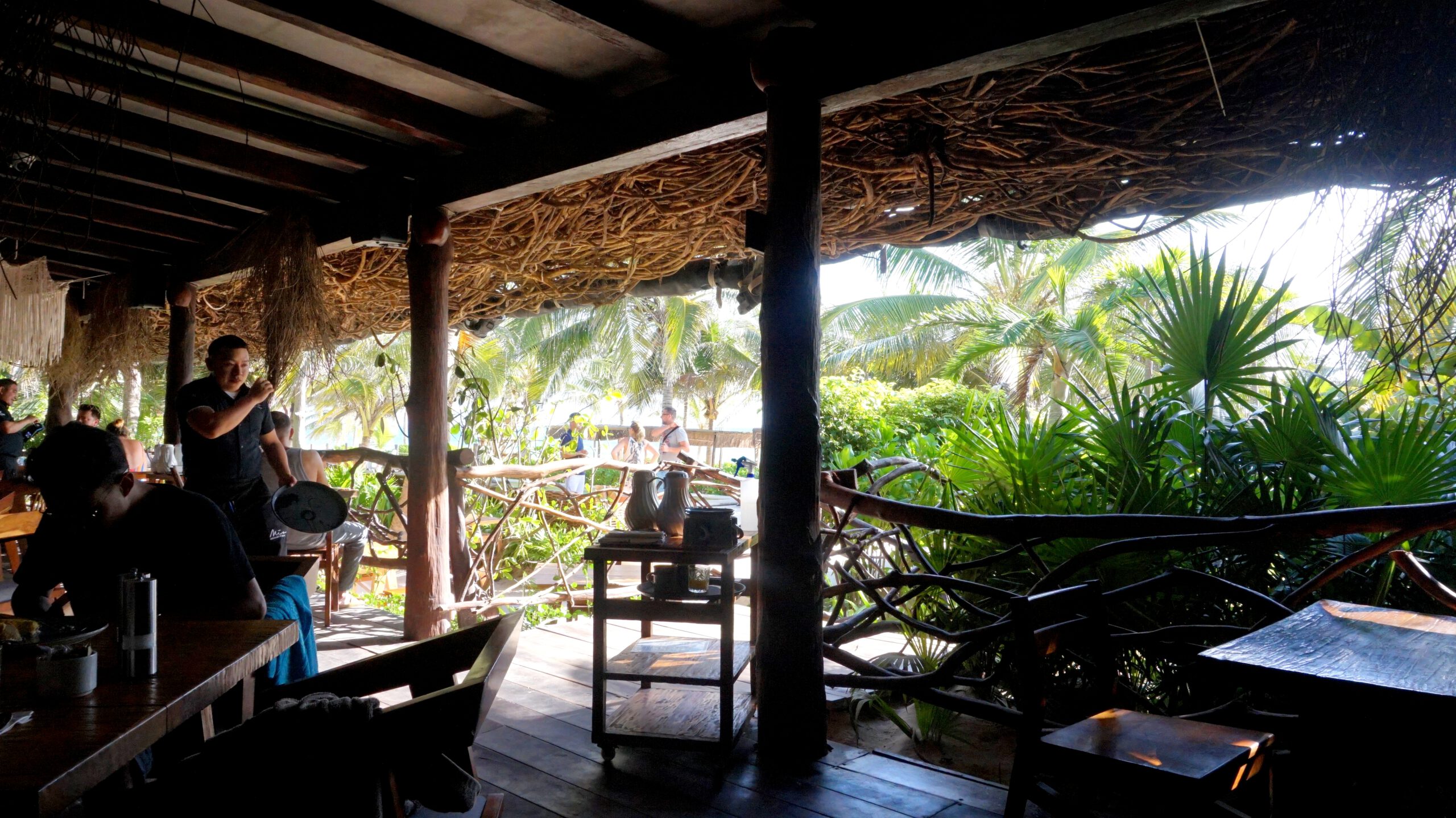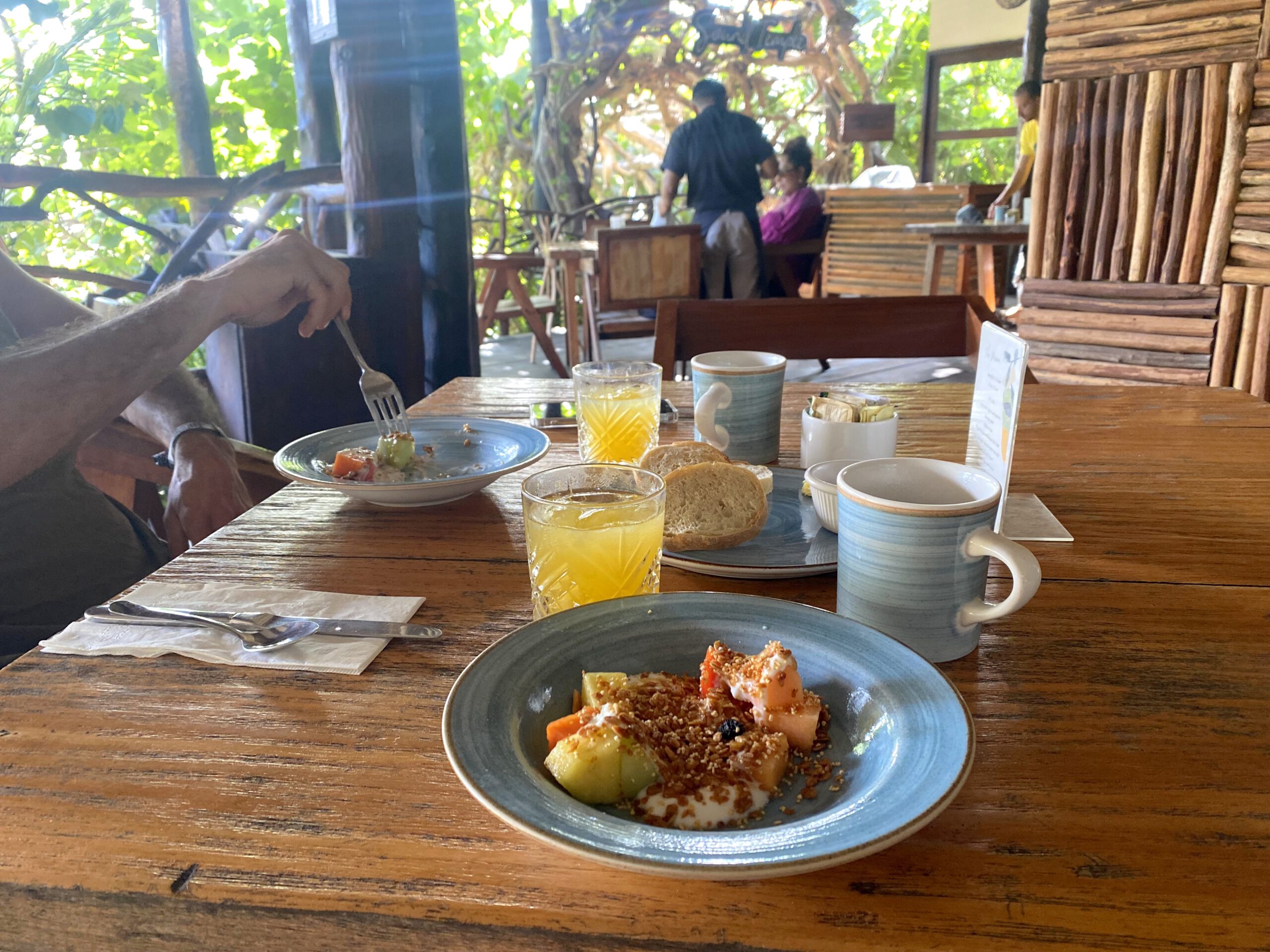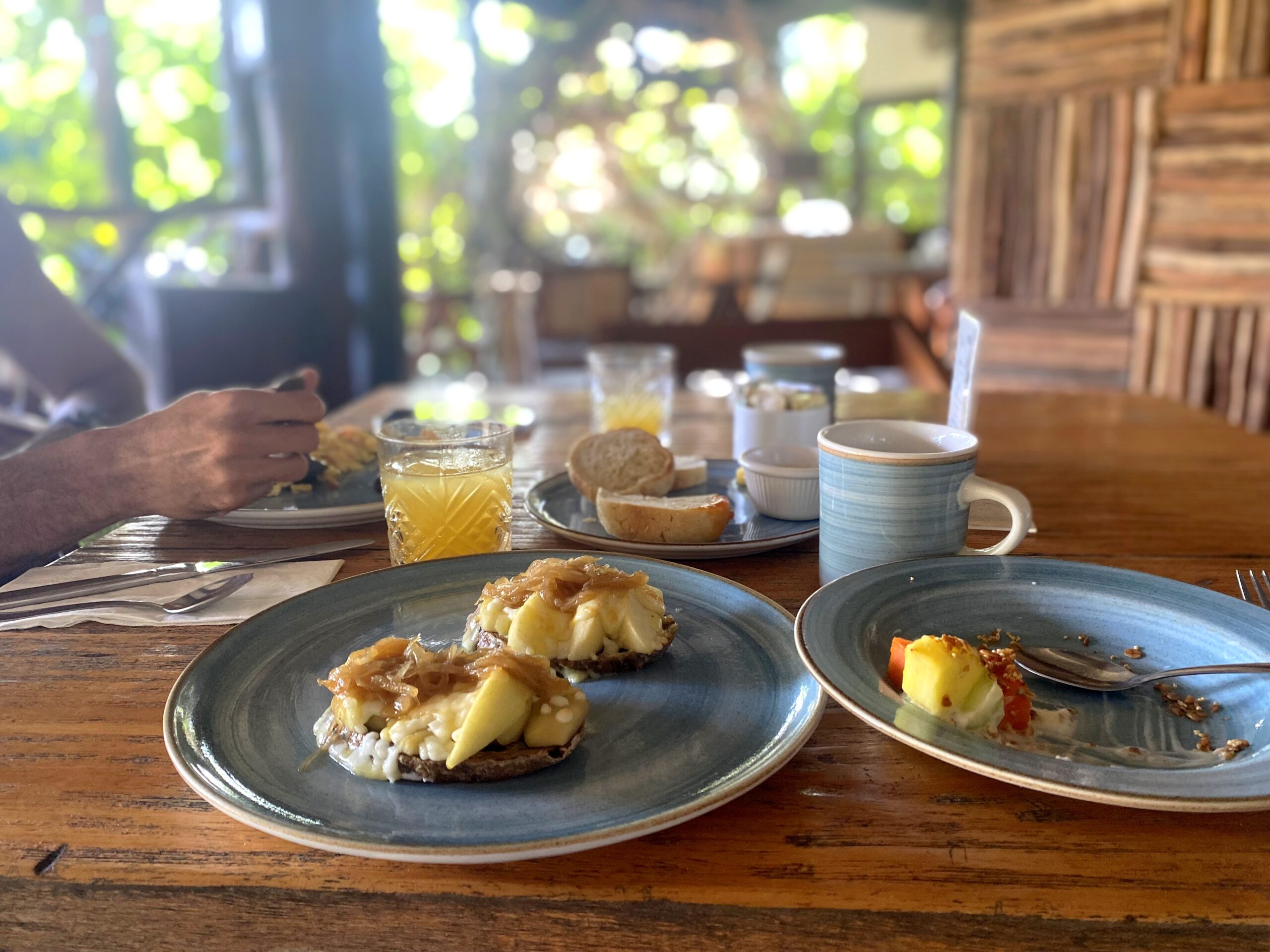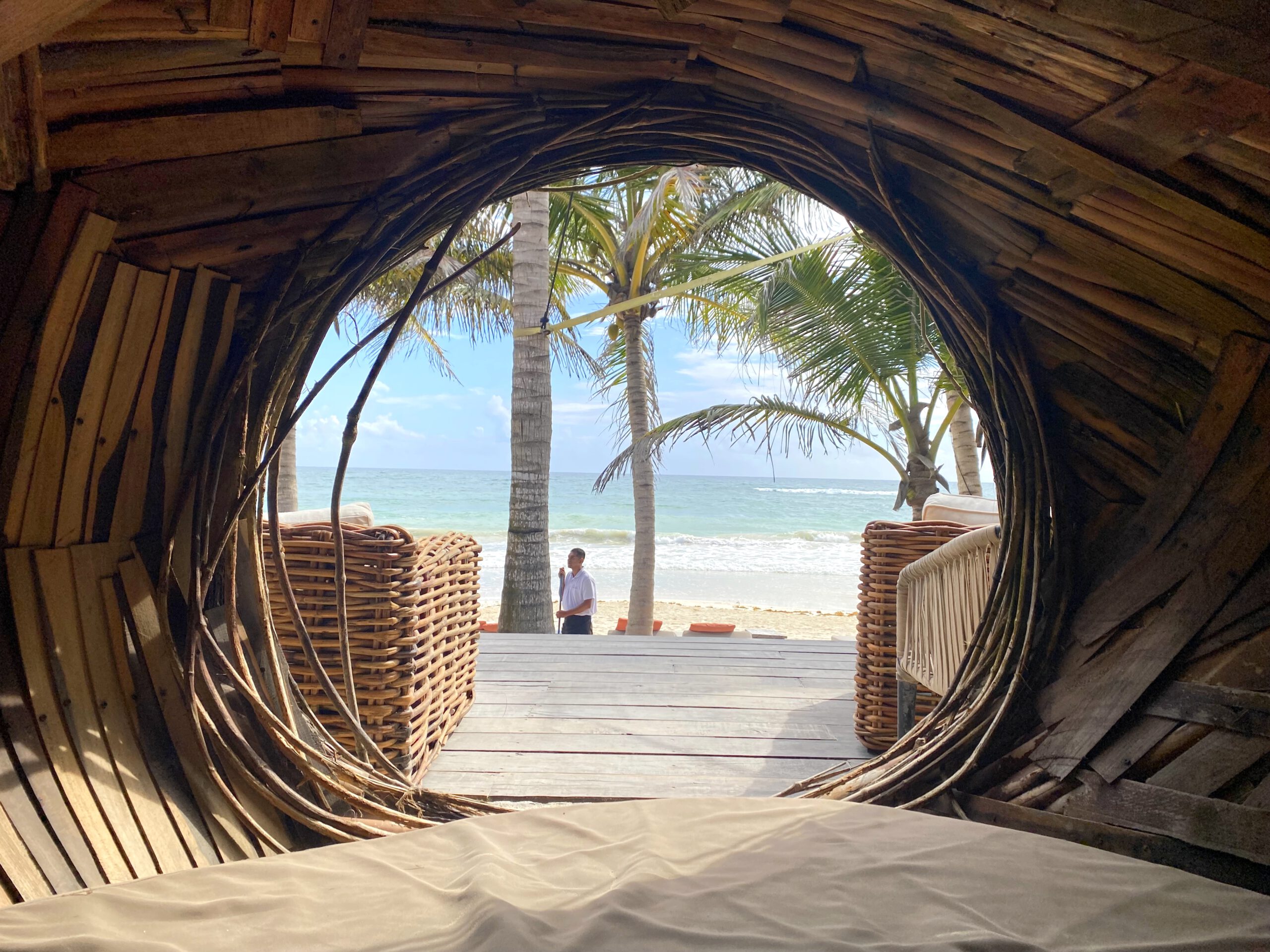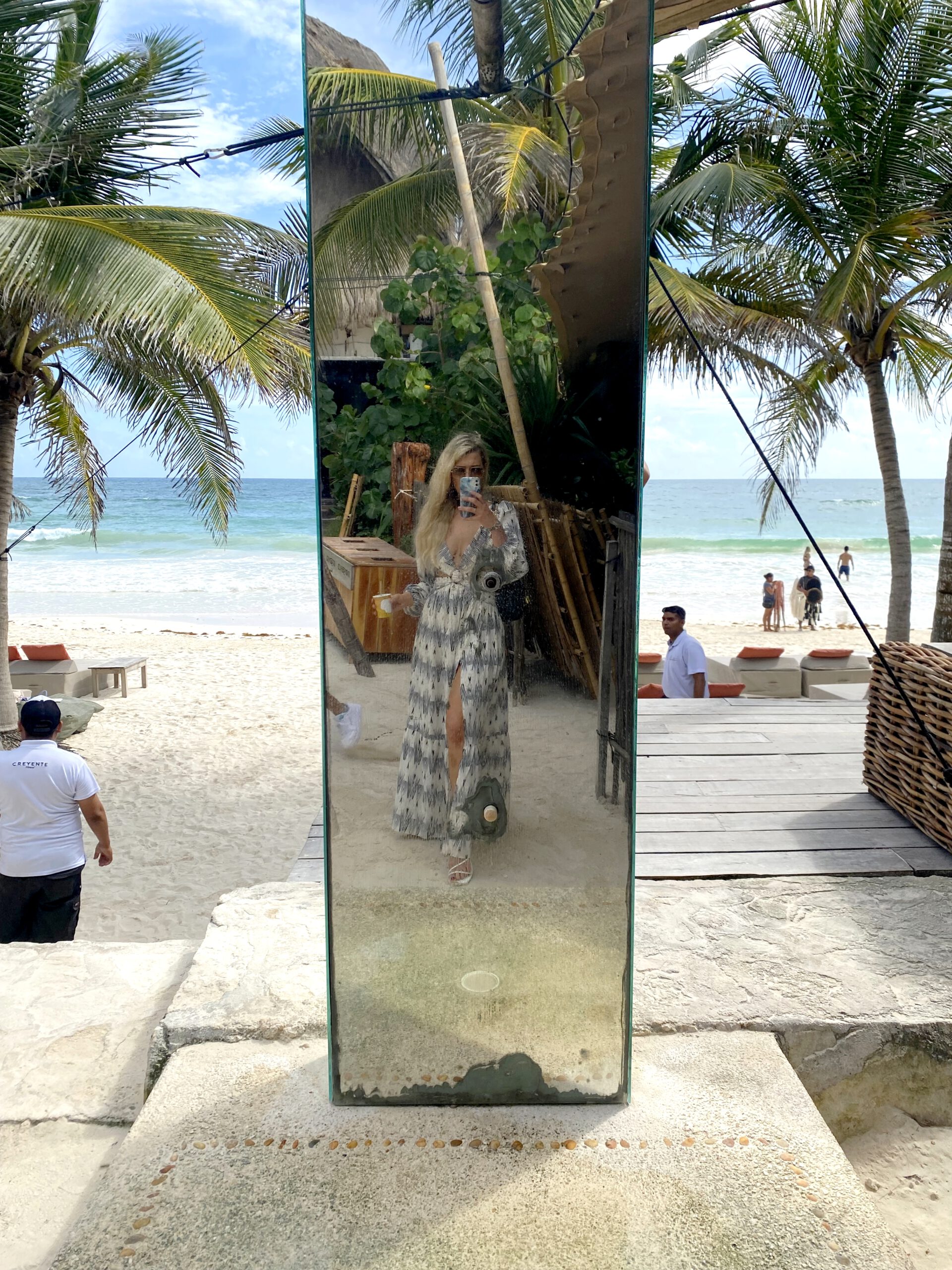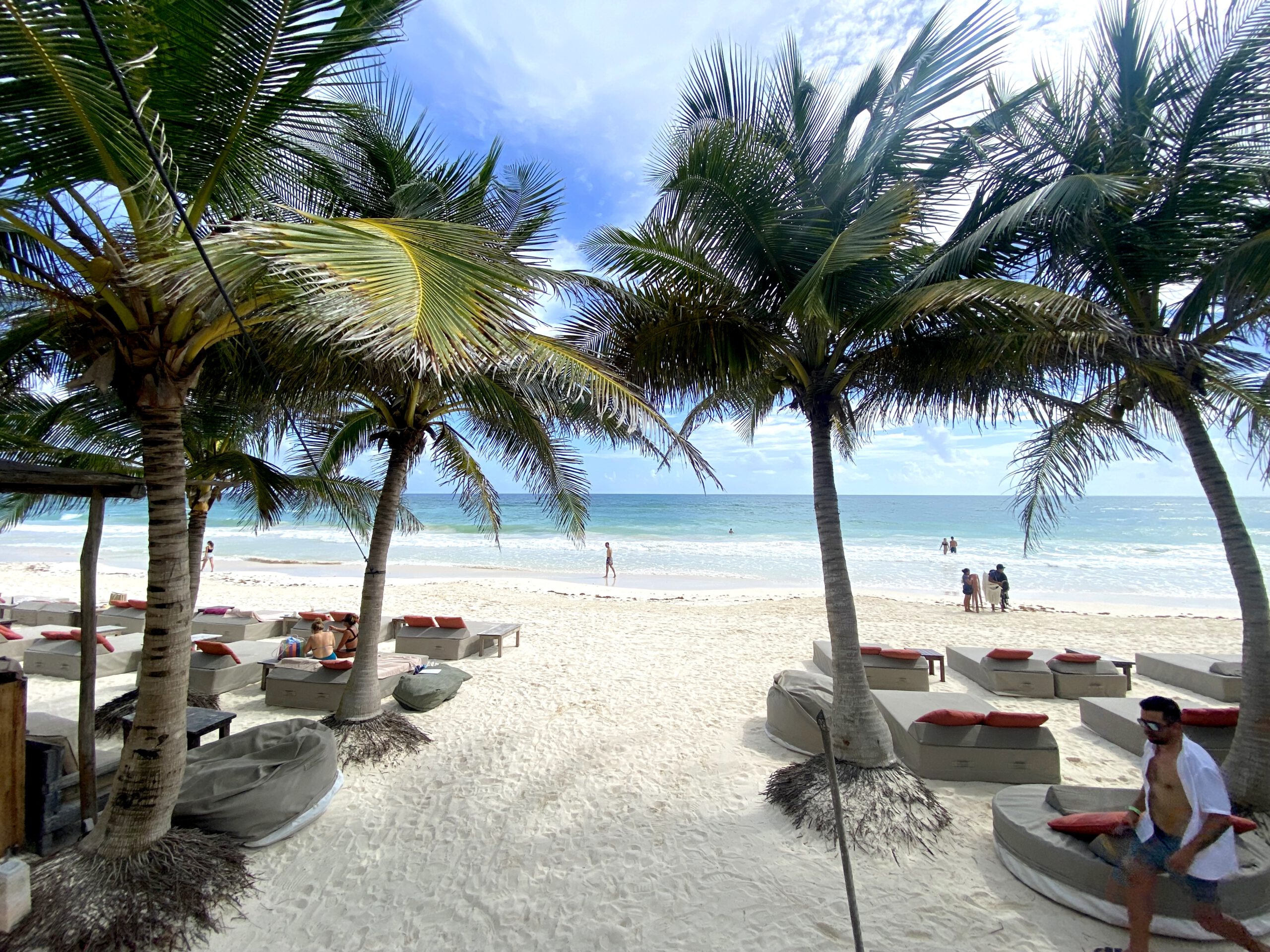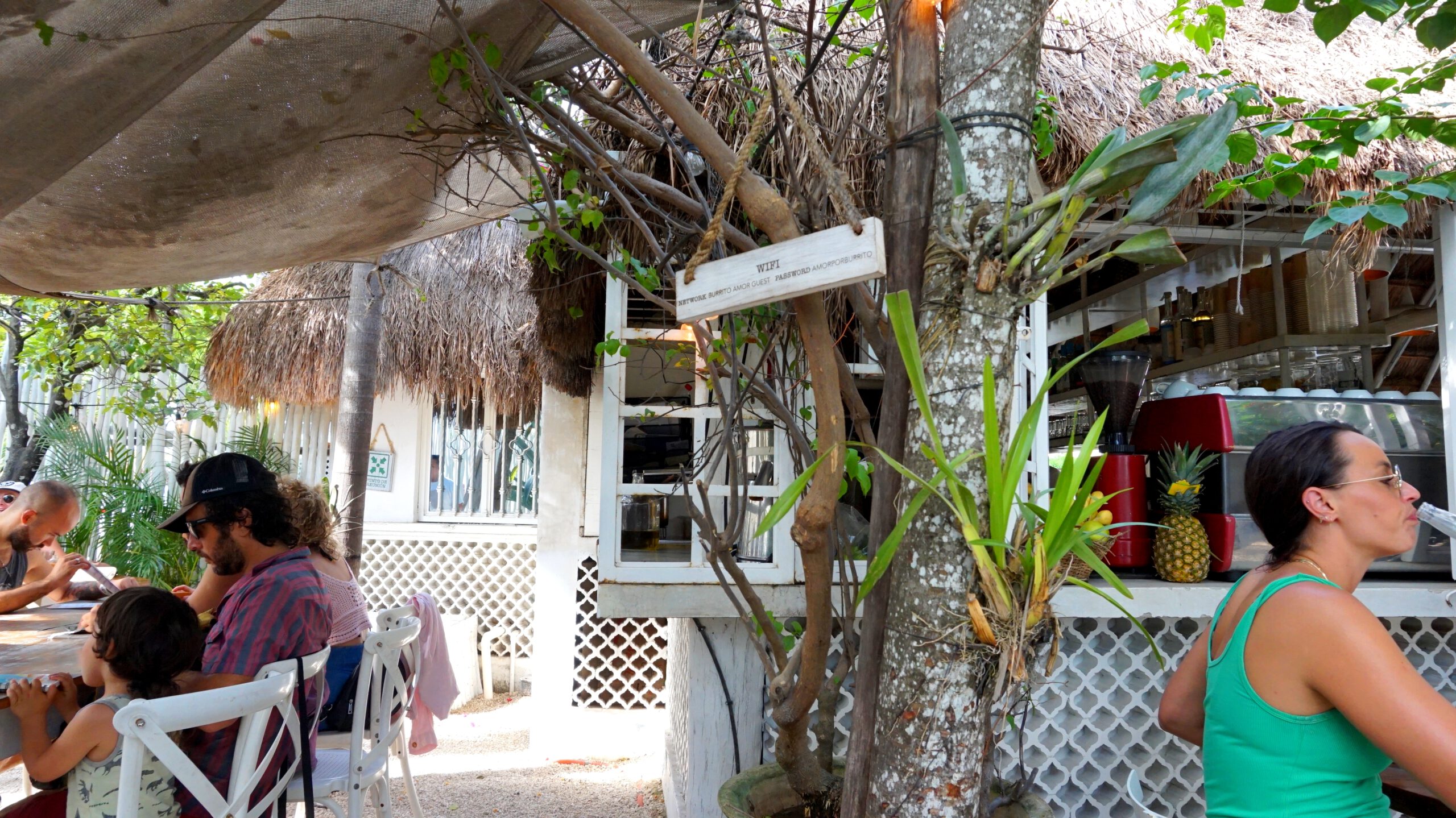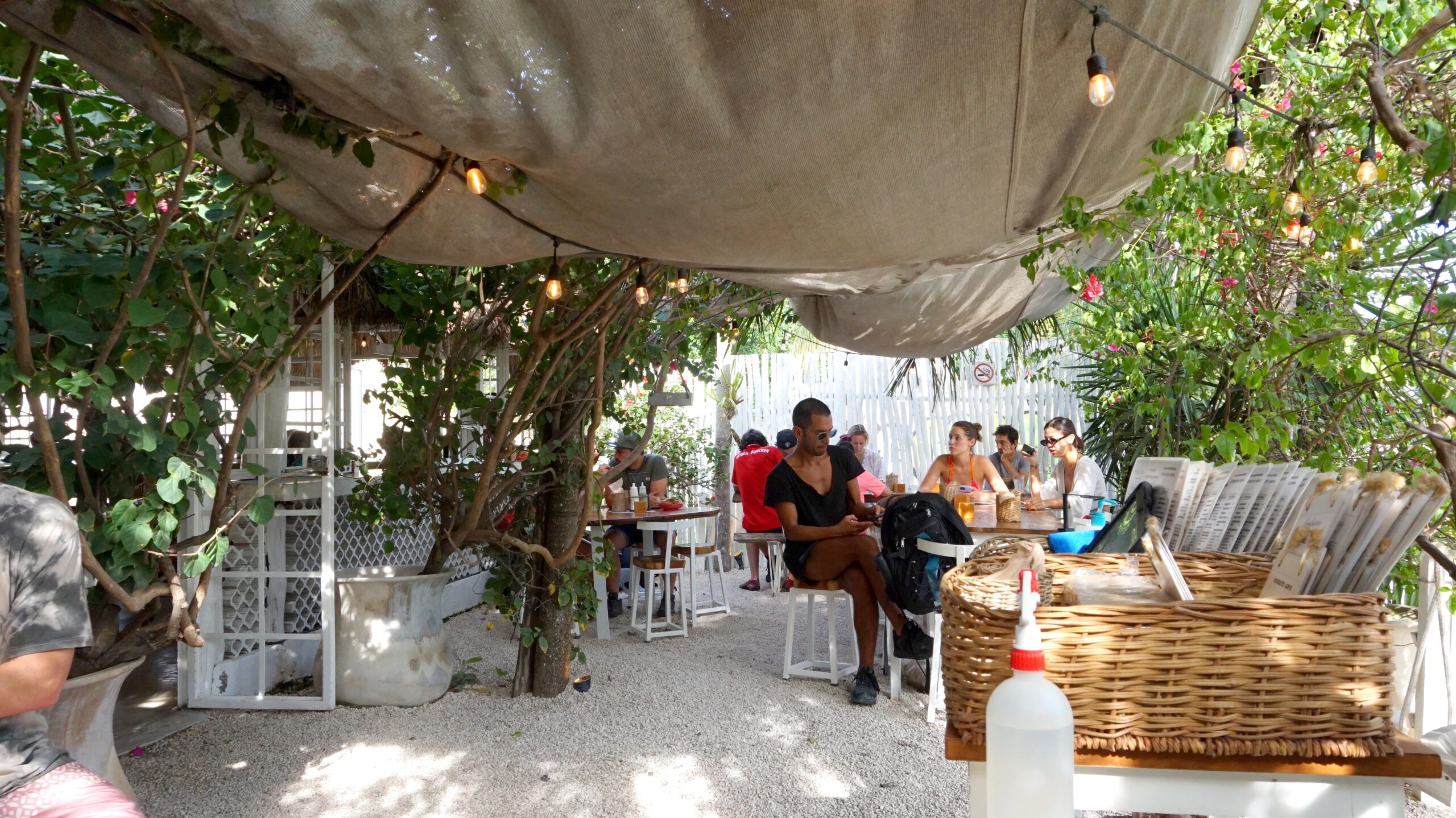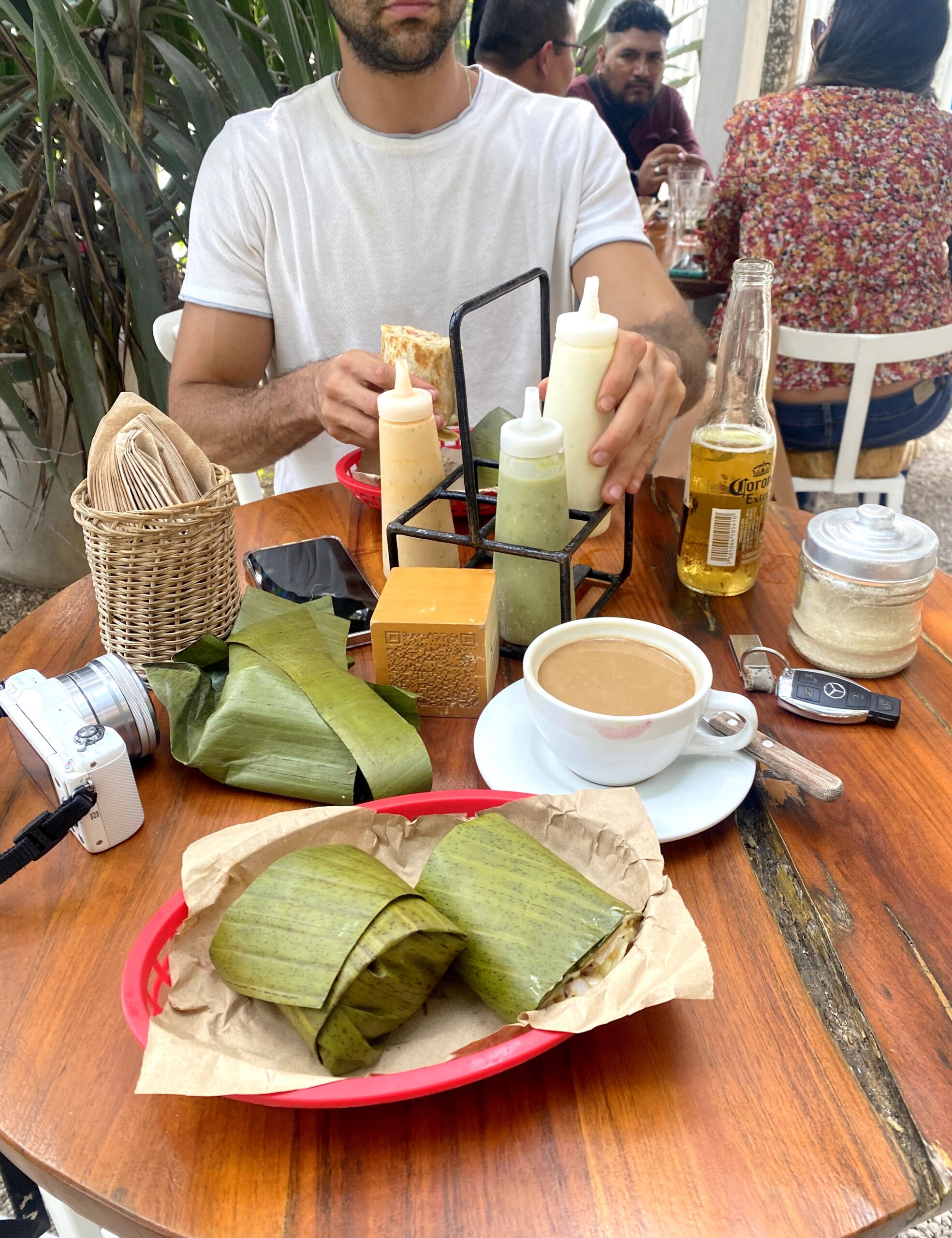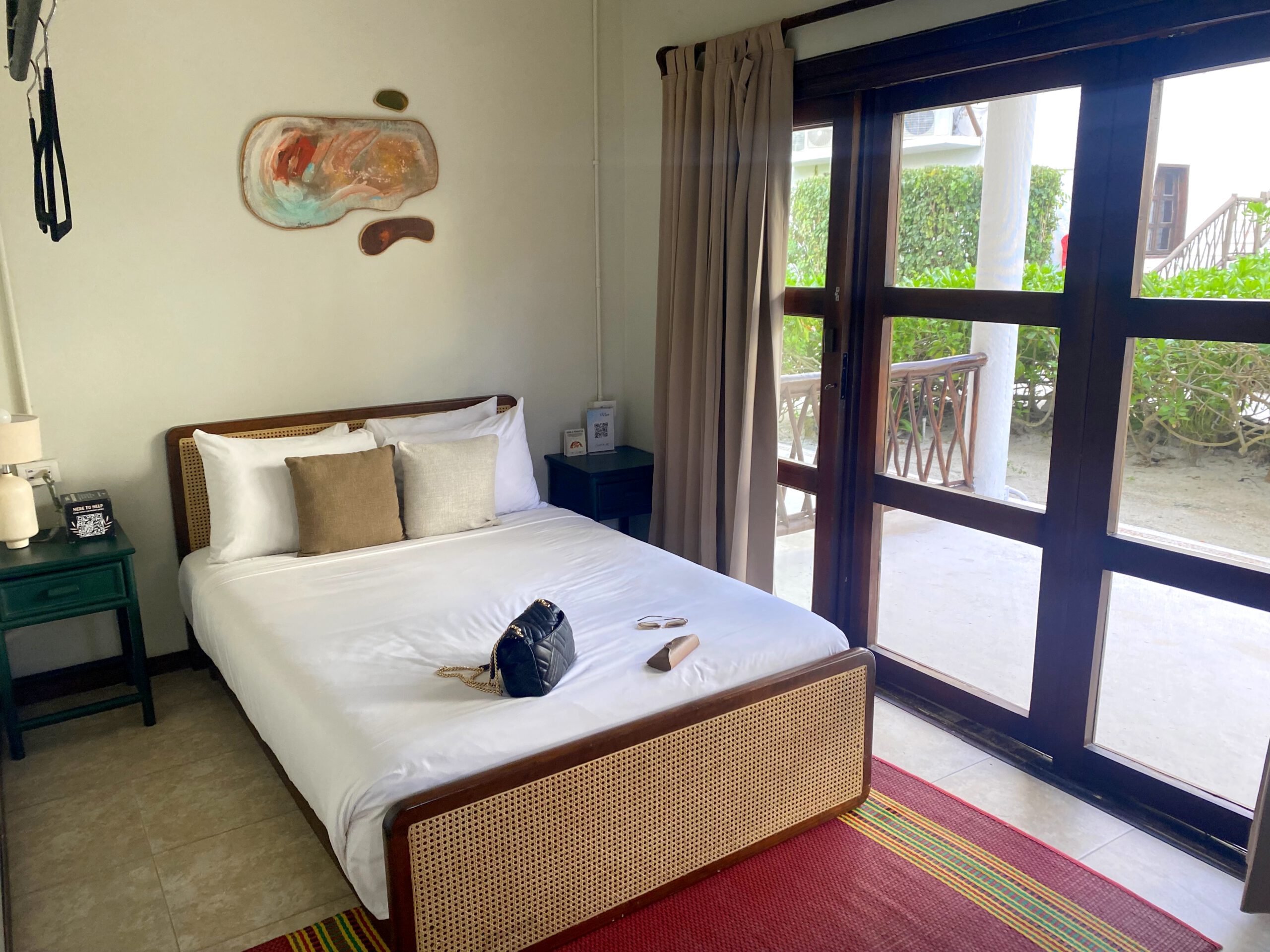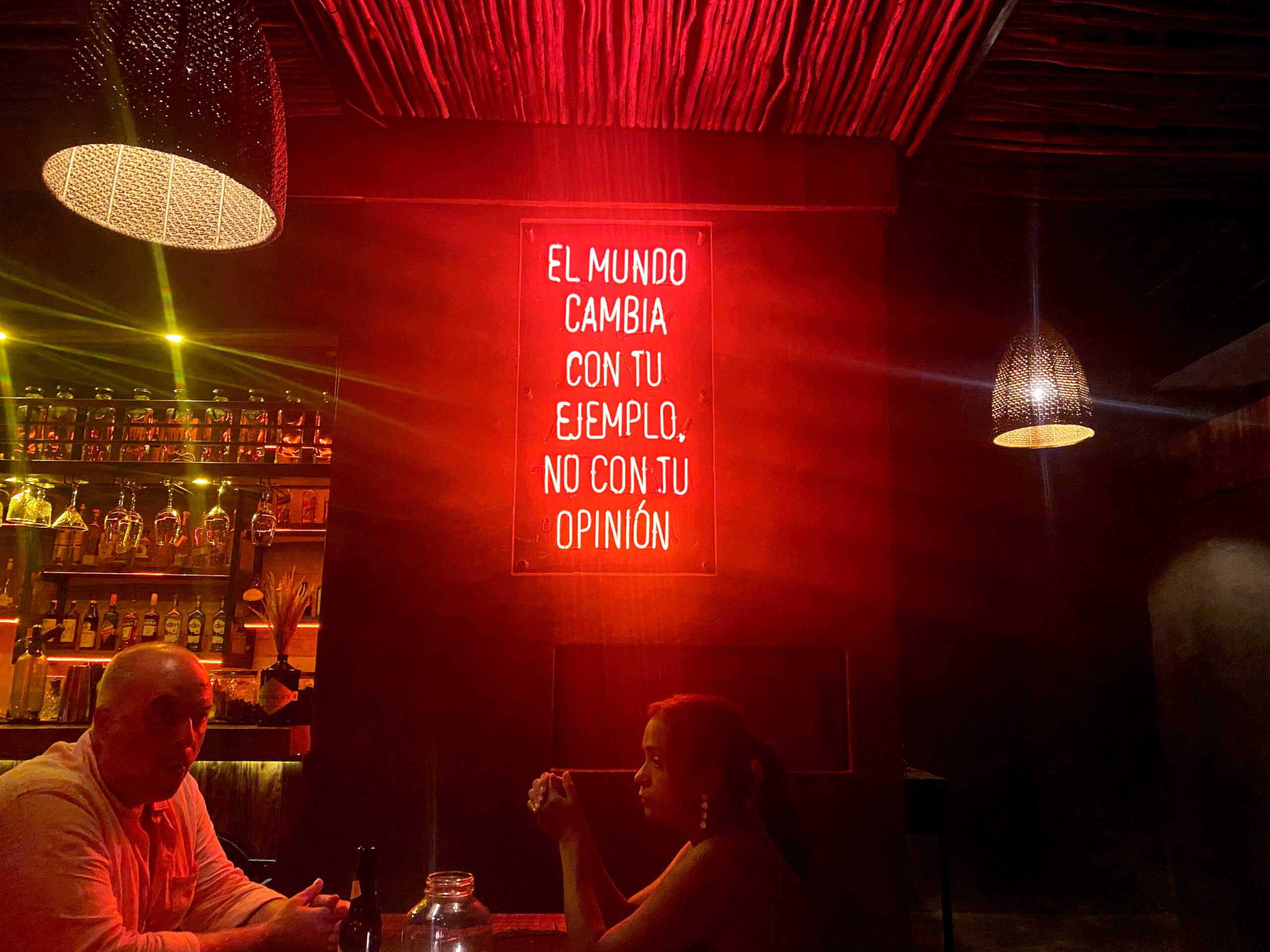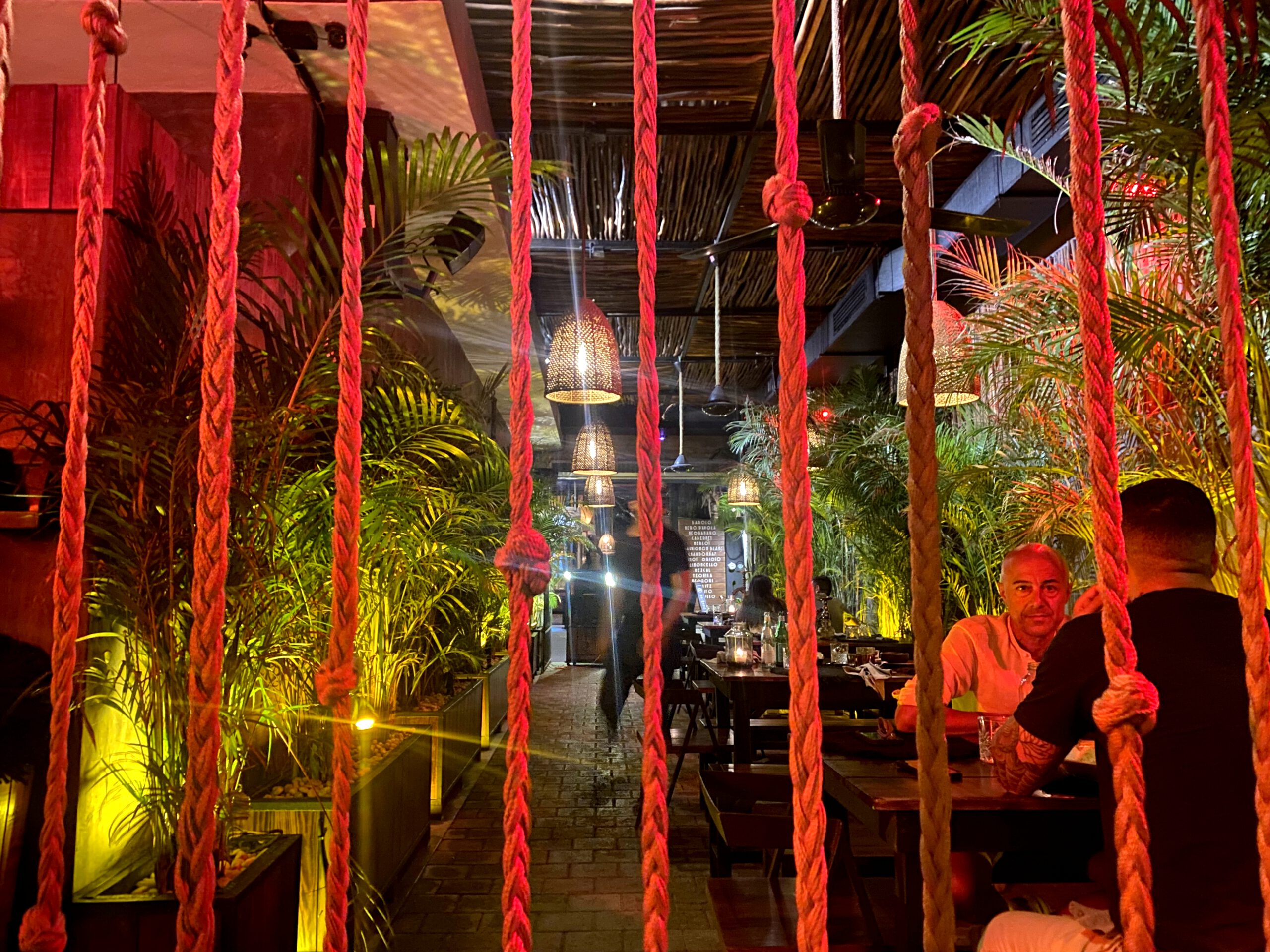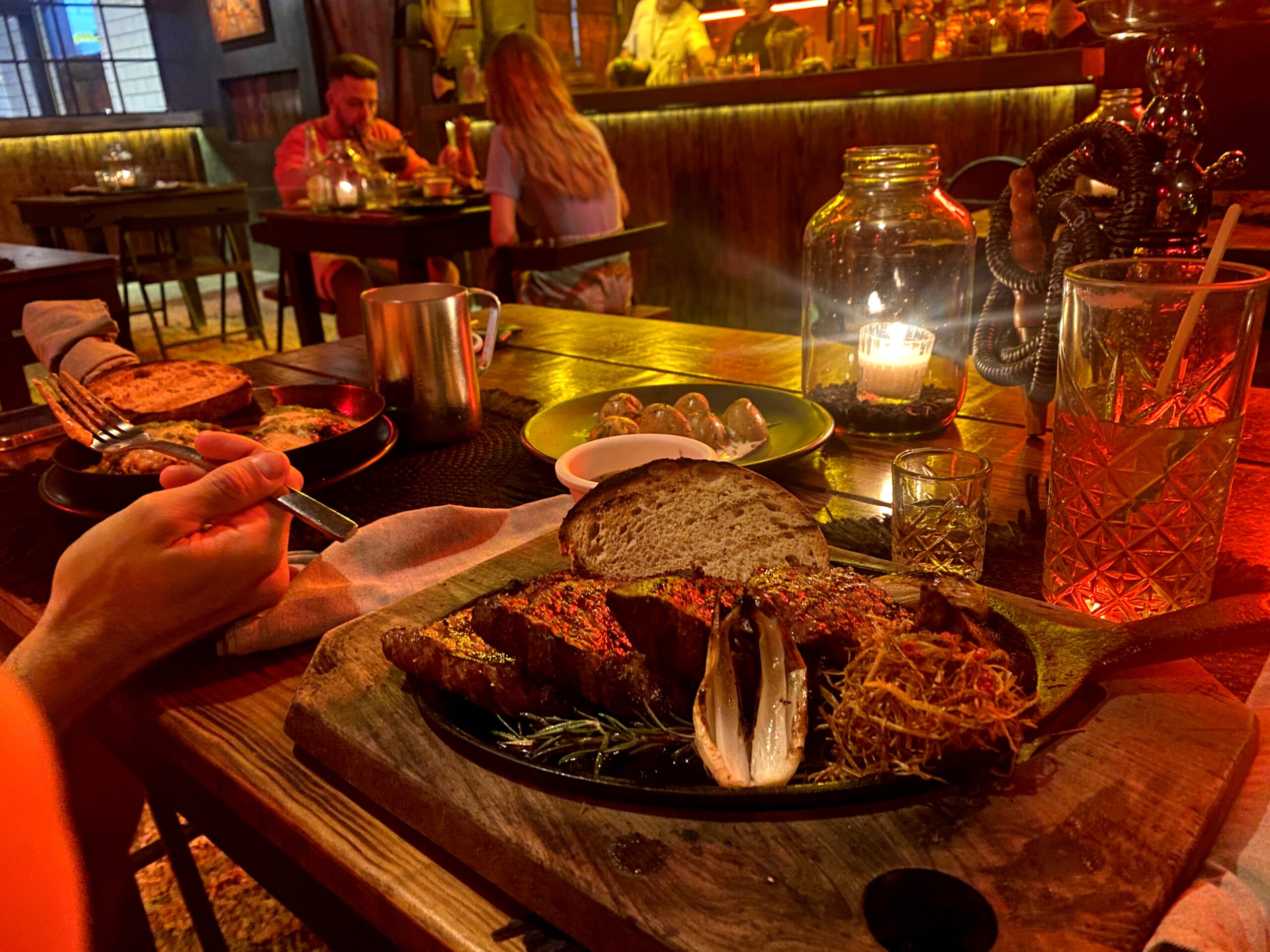 28-11-2022 – Tulum

From this morning, my journey turned into a sad period. Not wanting to get too personal about my life on my blog, I'll just sum up that my love and I broke up this morning. But instead of flying home on standby to 'grieve', I wanted to accept the pain and not let this beautiful place turn into a painful memory. I decided to stay to grieve, and enjoy with the beautiful people I know and have come to know here. This journey had to continue to revolve around myself.
I decided to have breakfast with my swiss hostel friend Adrian and after some good talks and some time on the beach with Laura and Clara, we went back together to Mayan Monkey for a few nights. Instead of the overpriced taxi I got a ride with Adrian on the scooter. Later in the evening I went out for dinner with Cyni and Leon, and had a cocktail with Australian Charlie, Guy and Nadja from Germany.
Vanaf deze ochtend veranderde mijn reis naar een verdrietige periode. Omdat ik niet te persoonlijk over mijn leven wil worden op mijn blog, vat ik het samen in dat mijn liefde en ik deze ochtend verbraken. Maar in plaats van standby naar huis te vliegen om te 'rouwen', wilde ik de pijn accepteren en deze prachtige plek niet laten veranderen in een pijnlijke herinnering. Ik besloot te blijven om te rouwen, en te genieten met de mooie mensen die ik hier ken en heb leren kennen.
Deze reis moest weer verder om mijzelf gaan draaien.
Ik besloot te gaan ontbijten met mijn zwitserse hostel vriend Adrian en ná goede gesprekken en even op het strand te hebben gezeten met Laura en Clara, gingen we gezamenlijk weer terug naar Mayan Monkey voor een paar nachtjes. In plaats van de overpriced taxi kreeg ik een rit bij Adrian op de scooter. Later in de avond ging ik nog uit eten met Cyni en Leon, en dronk ik een cocktail met Australische Charlie, Guy en Nadja uit Duitsland.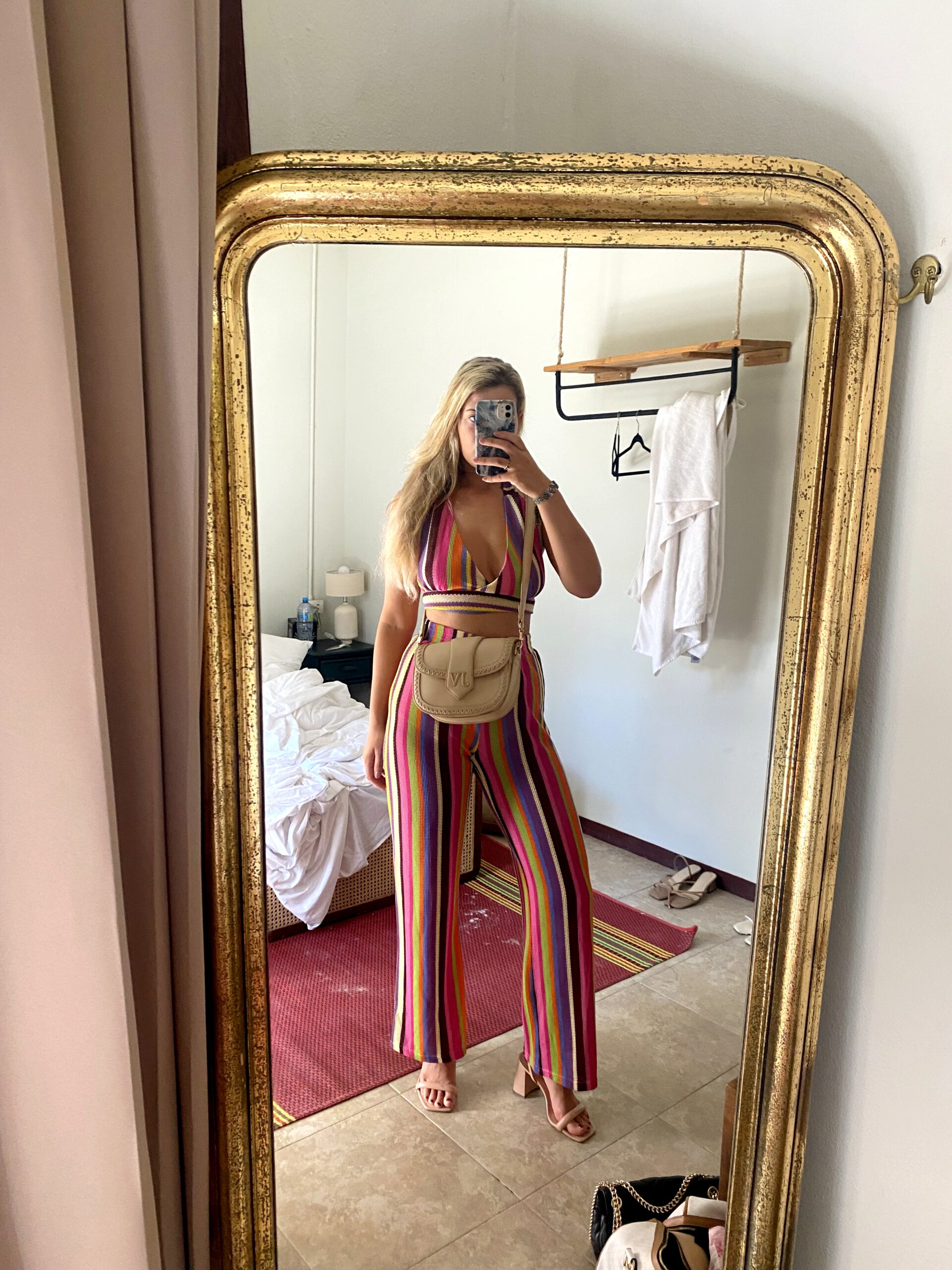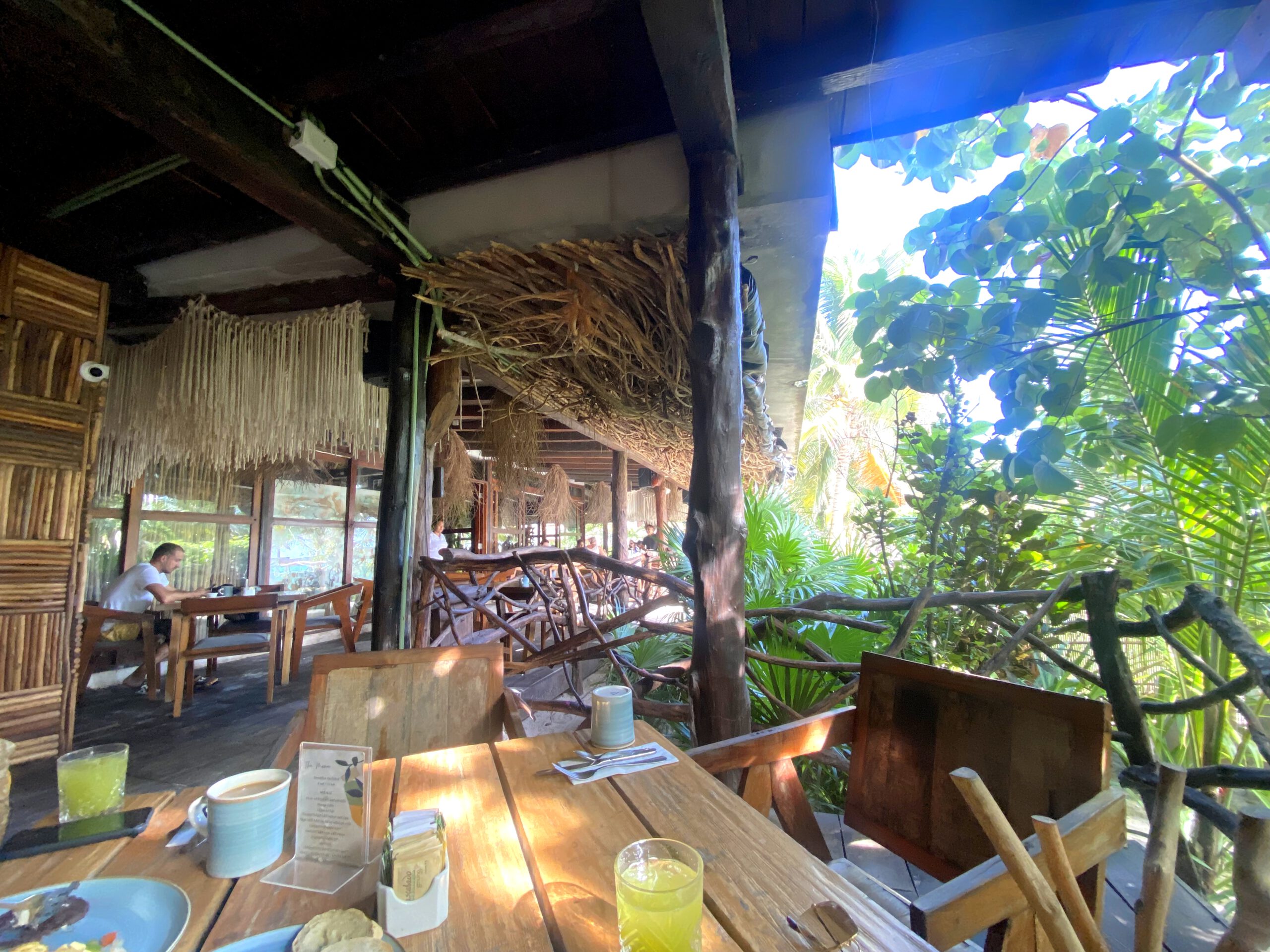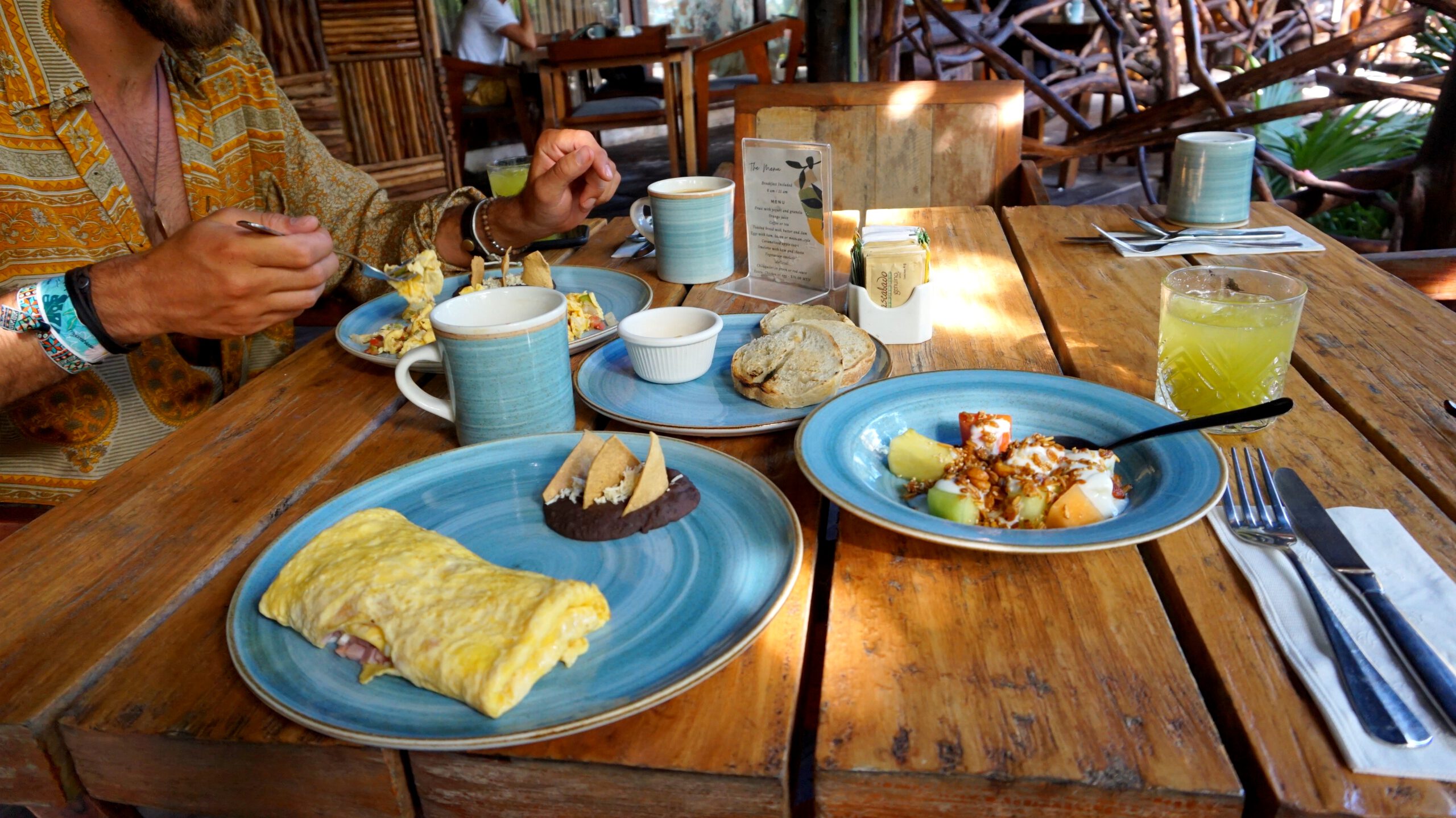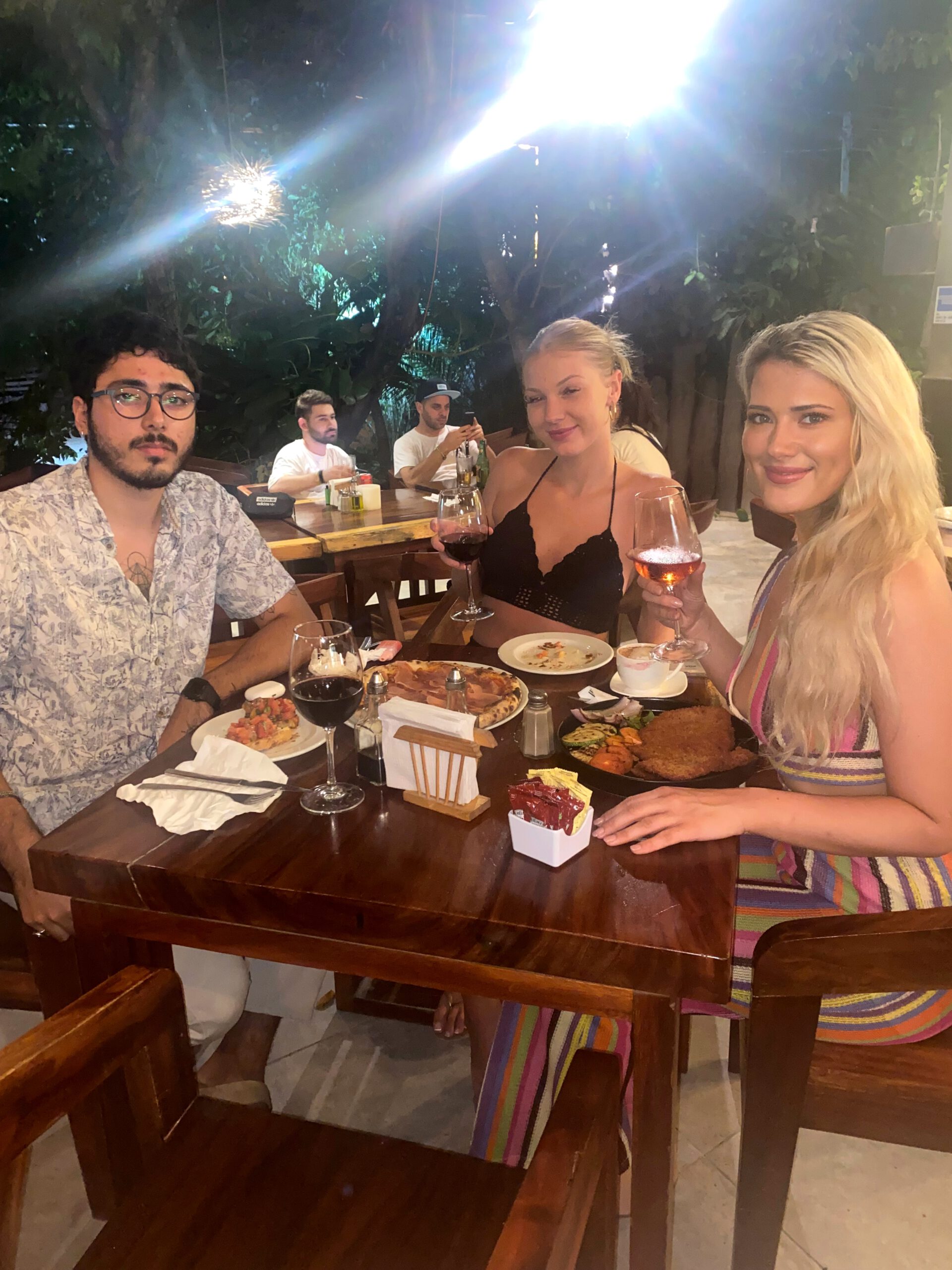 Thanks for reading the second part of my travel diary! Part 3 coming soon.
Bedankt voor het lezen van het tweede deel van mijn reisdagboek! Binnenkort deel 3.
Click here for- Part 1