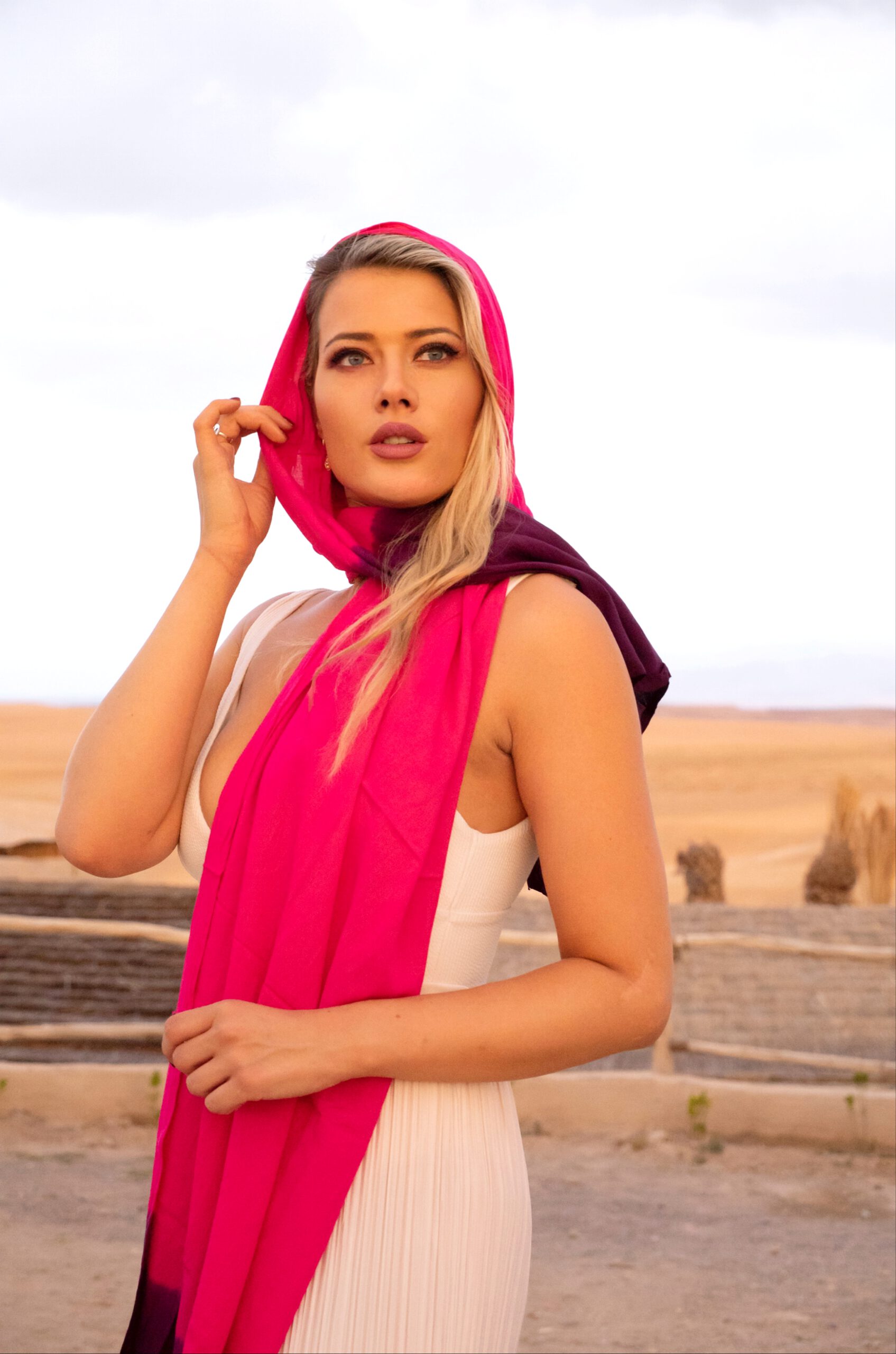 Marrakech had been on my list for a long time and I really wanted to visit it this year. I often fly there with my airline, but we hardly ever stay anywhere – which counts for almost all destinations we fly to. The stories of passengers and people I know for many years about Marrakech inspired me to go there. Last May, I was spontaneously allowed to go to Marrakech thanks to a friend to 'support' her friends who work at Nobu. My good friend Joelle and a friend of hers had arranged this for me, so I would fly in from the Netherlands to meet up with them. Super cool to get this opportunity! During this trip the opening of Nobu Marrakech would take place and a lot of events, so I could be there. I would like to tell you in advance that this travel diary is described less extensively and less in depth than the other posts.
Marrakech stond al een langere tijd op mijn lijst en wilde ik héél erg graag dit jaar bezoeken. Met mijn airline vlieg ik er vaak op, maar blijven wij er – zoals geld voor vrijwel alle bestemmingen – zo goed als nooit. De verhalen van passagiers en mensen die ik ken over Marrakech inspireerden me al jaren geleden om een keer te gaan. Afgelopen mei mocht ik spontaan mee dankzij een vriendin naar Marrakech om haar vrienden die bij Nobu werken 'te supporten'. Mijn goede vriendin Joelle en een vriendin van haar hadden dit voor mij geregeld, dus zou ik vanuit Nederland invliegen om ze te meetten. Super gaaf deze kans te krijgen! Tijdens deze trip zou de opening van Nobu Marrakech plaatsvinden en een hoop evenementen, dus kon ik daar bij zijn. Ik wil even benadrukken dat deze travel diary wat minder uitgebreid en minder diepgaand beschreven is dan de andere posts.
Day 1 – Amsterdam & Marrakech – 22-05-2023


After a flight from Amsterdam with the standby tickets of my own airline, I was picked up at the airport and taken to my hotel where my friend Joelle and the rest of the group also stayed. After checking in and changing and freshening up, we left by taxi to Nobu. Nobu has recently opened in Marrakech. We had a cocktail here with the other girls of our group. After my delicious Espresso Martini, we left for dinner at Lu Table du Marce Hervinage – I really wanted to try the local dishes, so ordered a chicken tajine.
 Na een vlucht vanuit Amsterdam met de IPB tickets van mijn eigen airline, werd ik op de airport opgehaald en naar mijn hotel gebracht waar óók mijn vriendin Joelle en de rest van de groep verbleven. Na inchecken en mij omkleden en opfrissen, vertrokken we met de taxi naar Nobu. Nobu is recentelijk geopend in Marrakech. We hadden hier een cocktail met de andere meiden van ons groepje. Na mijn heerlijke Espresso Martini, vertrokken we voor een etentje bij Lu Table du Marce Hervinage – Ik wilde heel graag de lokale gerechten proberen, dus bestelde een kip tajine.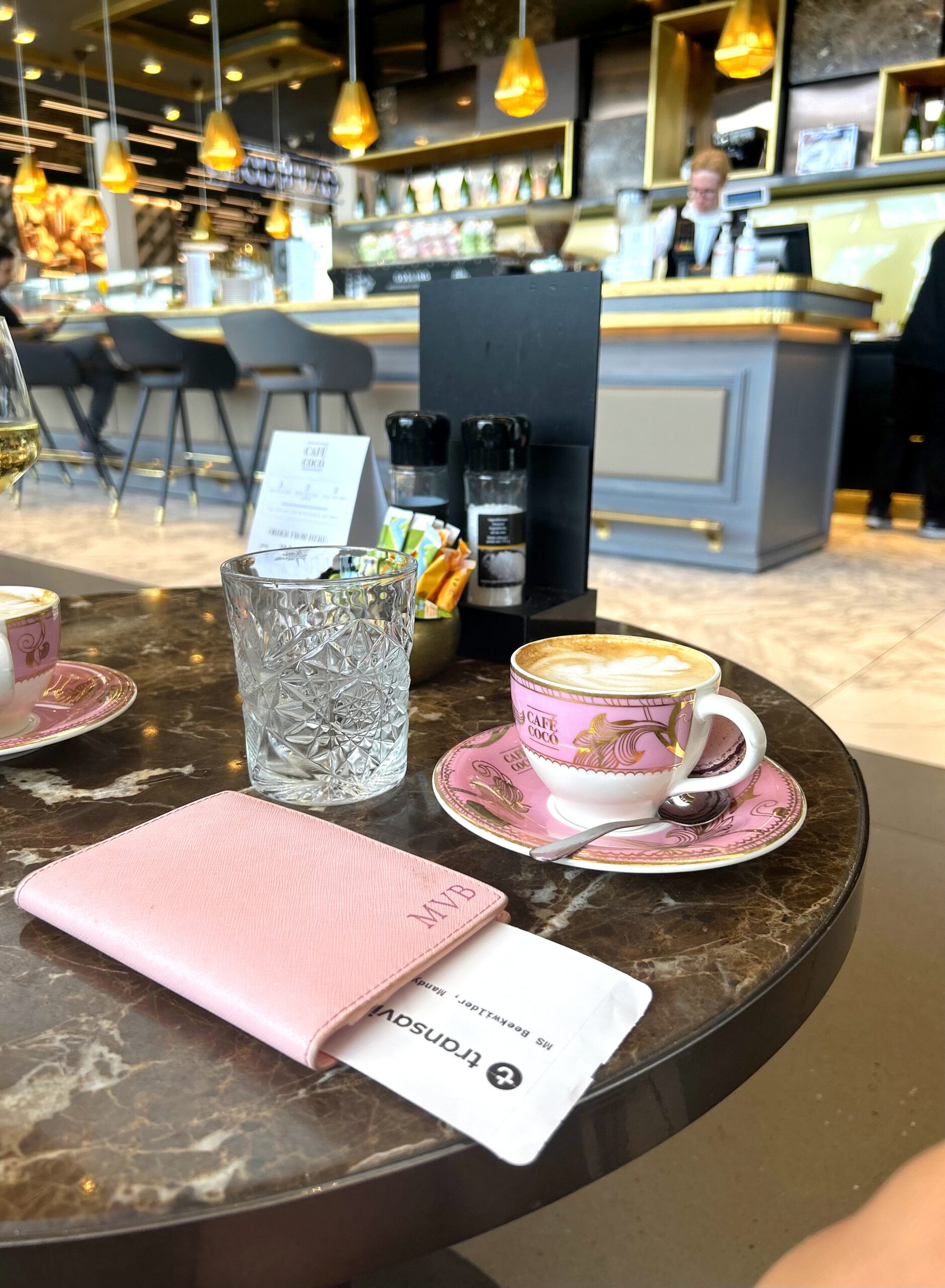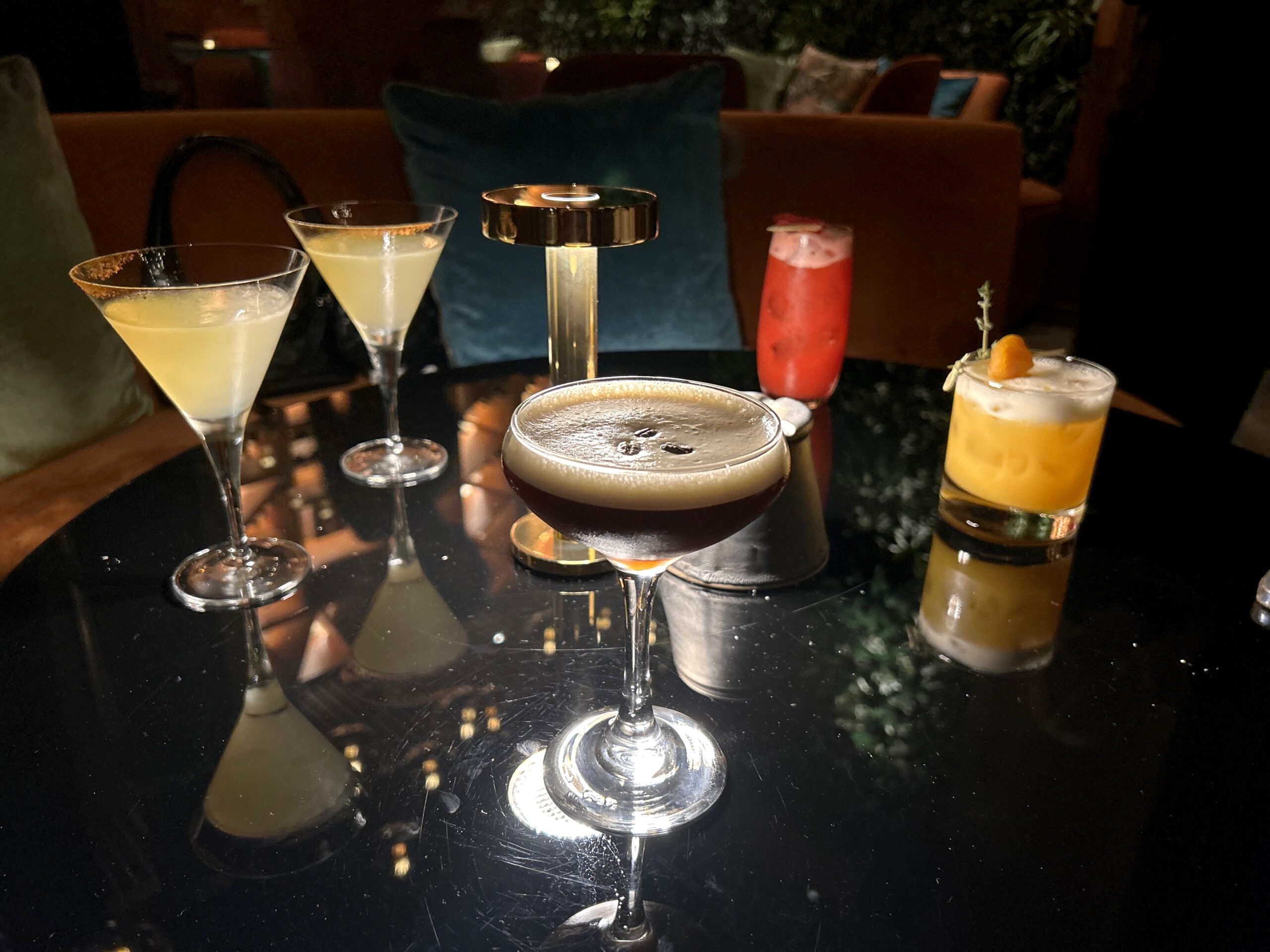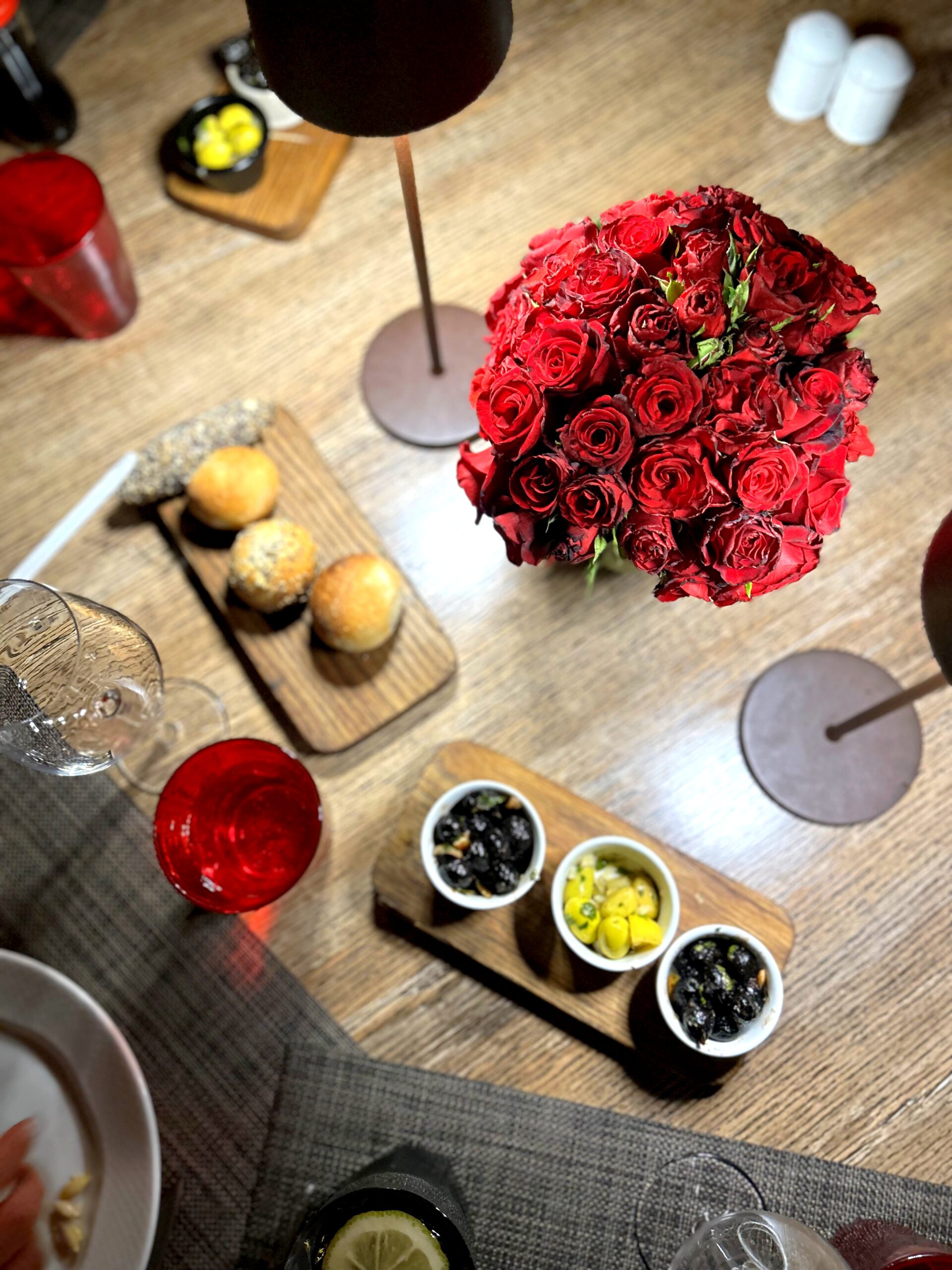 Day 2 – Marrakech – 23-05-2023
After sleeping in, I headed to Nobu for a coffee at the
Nobu Rooftop Garden
and then lunch. The burrata and salon tartare are really delicious and I recommend it! From the Nobu rooftop garden you have a beautiful 360 view over the city, the wall and the swimming pool. We left after lunch for an extensive
hammam
treatment at Nobu – an extensive deep scrub. I felt brand new afterwards! My entire tan was even gone, haha. In the evening we again had a cocktail at the
Nobu Lounge
and dinner. I loved the signature
Nobu black cod!
After dinner we briefly went with some of our group to
Palais Jad Mahal
– a club.
Small sidenote in between – ask the taxi to turn on the meter, tourists are extremely overcharged for a taxi ride. They refuse to turn on the meter, come up with some story or that the meter is broken, but know that the police do not approve of the taxi drivers either. The police in Marrakech do their best to protect tourism and tourists (unlike what I experienced in Tulum, for example). A man asked us 100 dirhams, and I walked away laughing because this is really absurd. 30-50 is already an awful lot for a 5 minute ride. My tip is – name an amount like 'I'll pay you 30 dirhams' (and show the money) so they can't ignore it and negotiate. I paid from the Souk to my hotel about 5 minutes from Nobu – 30 (according to the locals this is already very expensive)
Ná lang uitslapen, ging ik op weg naar Nobu voor een koffietje op de
Nobu Rooftop Garden
en vervolgens een lunch. De burrata en salon tartaar zijn echt heerlijk en raad ik je aan! Vanaf de Nobu Rooftop Garden heb je een prachtig 360 uitzicht over de stad, de muur én het zwembad. We vertrokken ná de lunch voor een uitgebreide
hammam
behandeling bij Nobu – een uitgebreide diepte scrub. Ik voelde me erna brand schoon! Mijn hele tan was zelfs weg, haha. In de avond hadden we opniew een cocktail bij de
Nobu Lounge
en dinner. Ik vond de signature
Nobu black cod
héérlijk! Na het dinner gingen we kort met een aantal van onze groep mee naar
Palais Jad Mahal
– een club.
Kleine sidenote tussendoor – vraag de taxi de meter aan te zetten, toeristen worden extreem overcharged voor een taxi rit. Ze weigeren de meter aan te zetten, komen met een of ander verhaal óf dat de meter kapot it, maar weet dat de politie dit van de taxi chauffeurs ook niet goedkeurt. De politie in Marrakech doet hun best om het toerisme en toeristen te beschermen (in tegendeel tot wat ik bijvoorbeeld in Tulum heb meegemaakt). Een man vroeg ons 100 dirham, en ik liep lachend weg omdat dit écht absurt is. 30-50 is voor een rit van 5 minuten al ontzettend veel. Mijn tip is – benoem een bedrag zoals 'Ik betaal je 30 dirham' (en laat het geld zien) zodat ze er niet omheen kunnen en niet kunnen onderhandelen. Ik heb vanaf de Souk naar mijn hotel ongeveer 5 minuten vanaf Nobu – 30 betaald (aldus de locals is dit dus al ontzettend duur)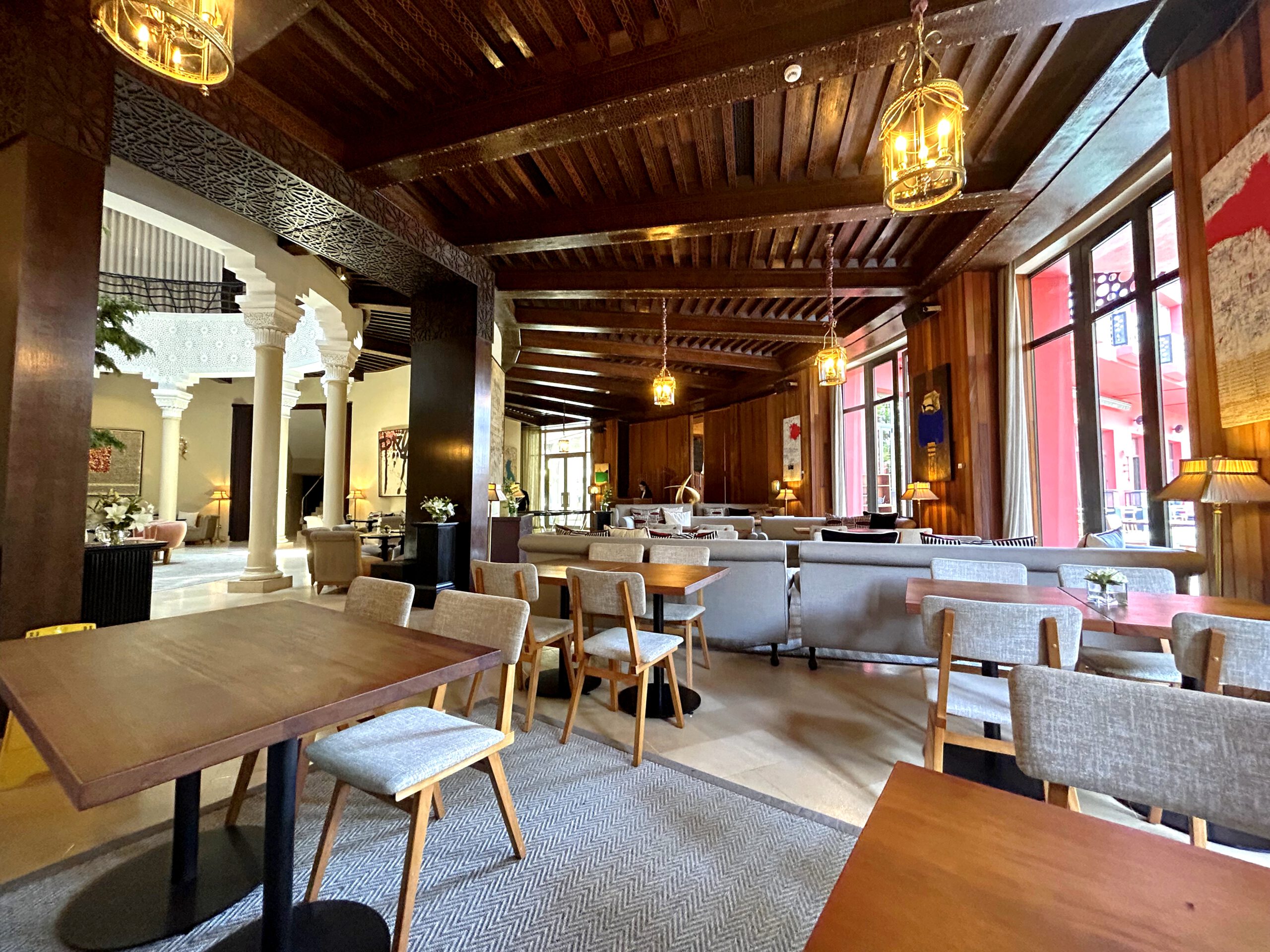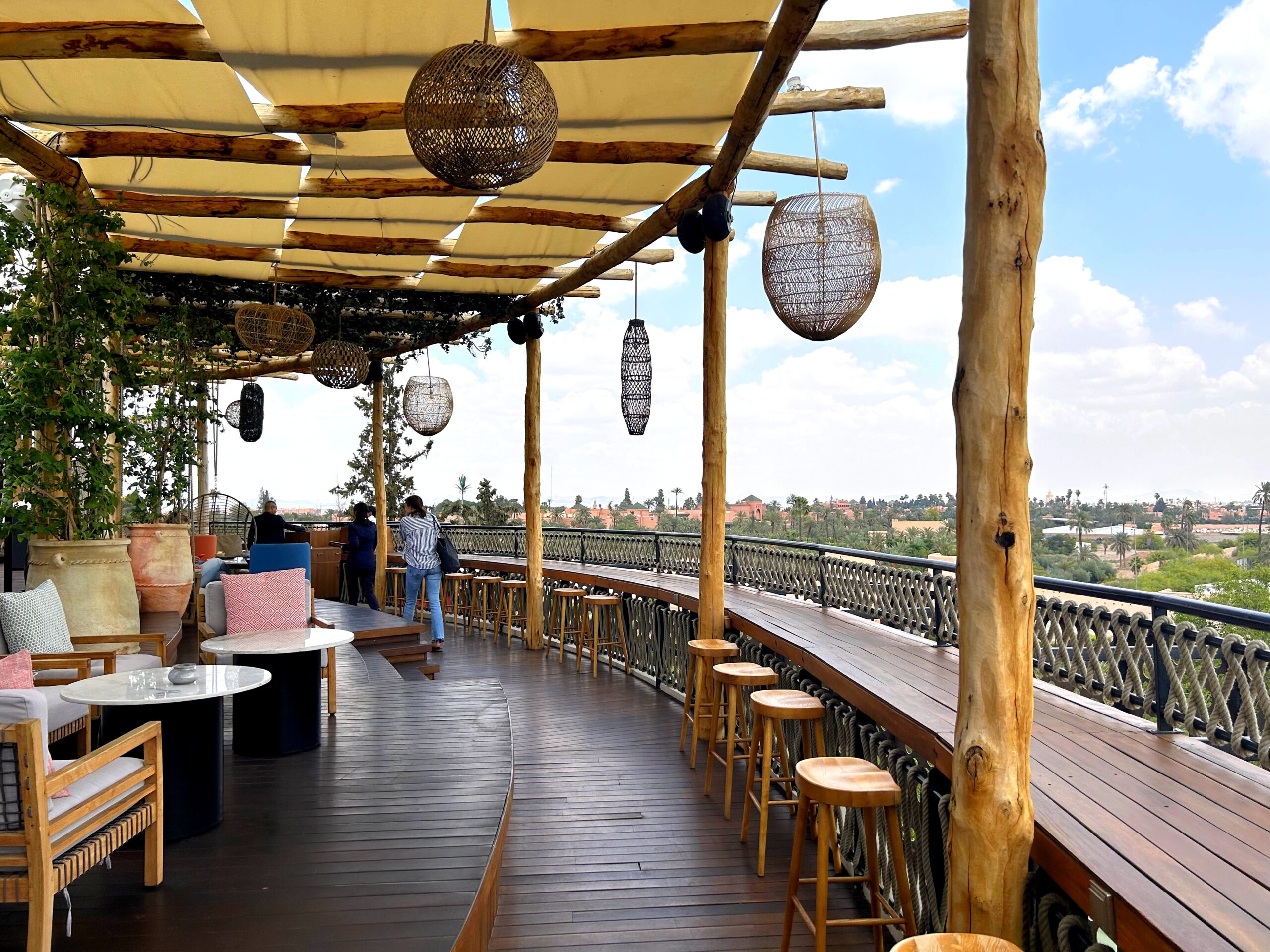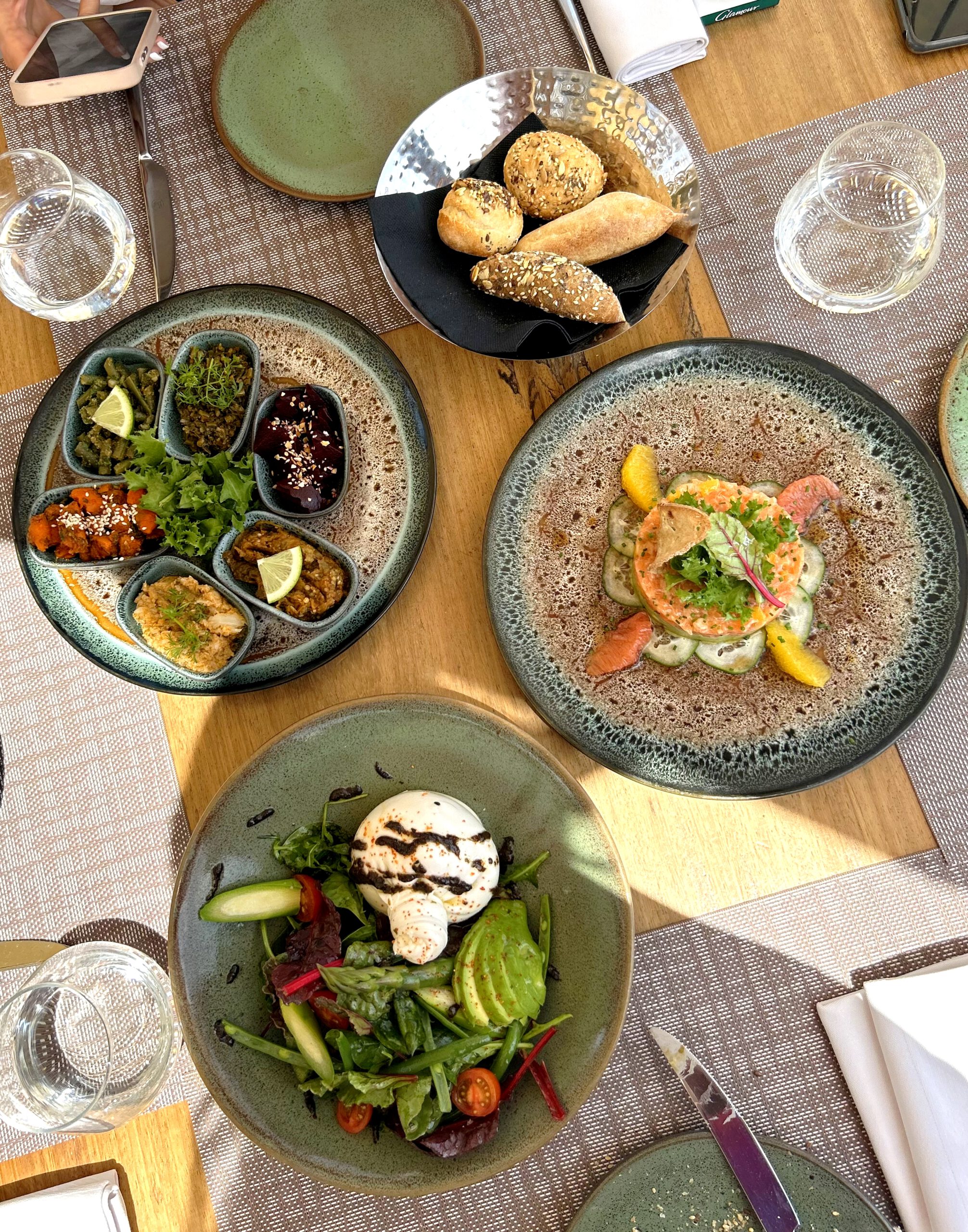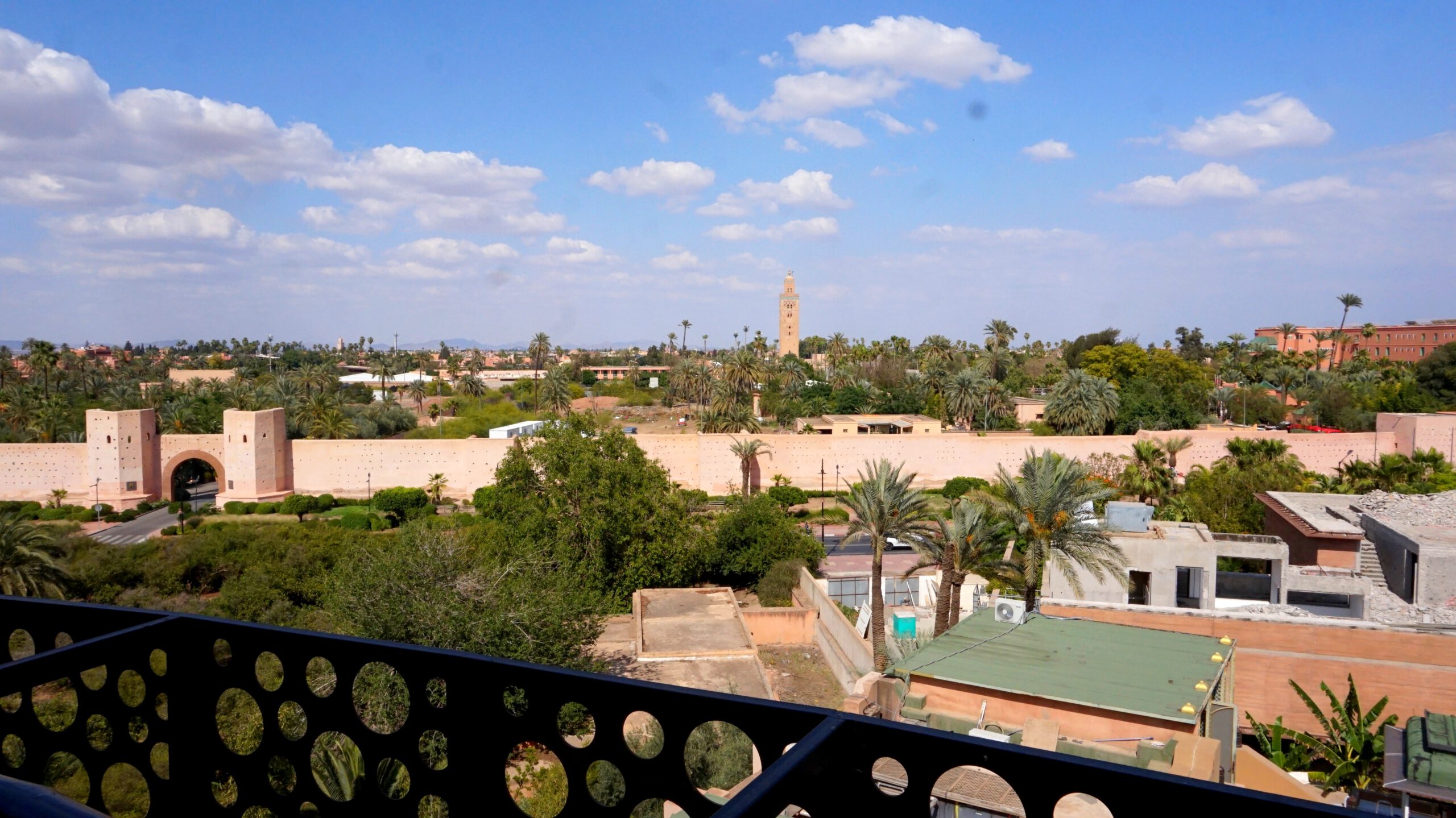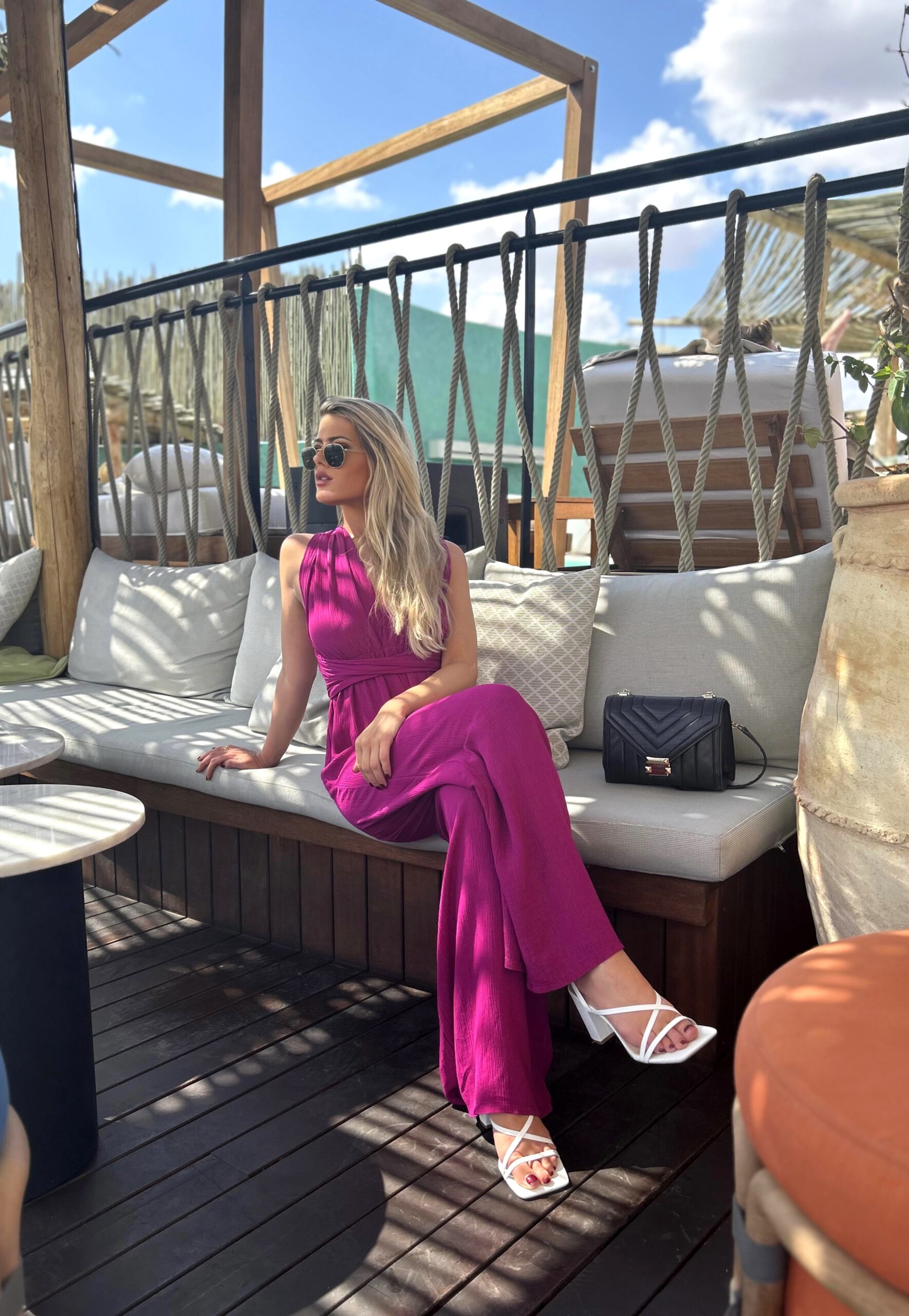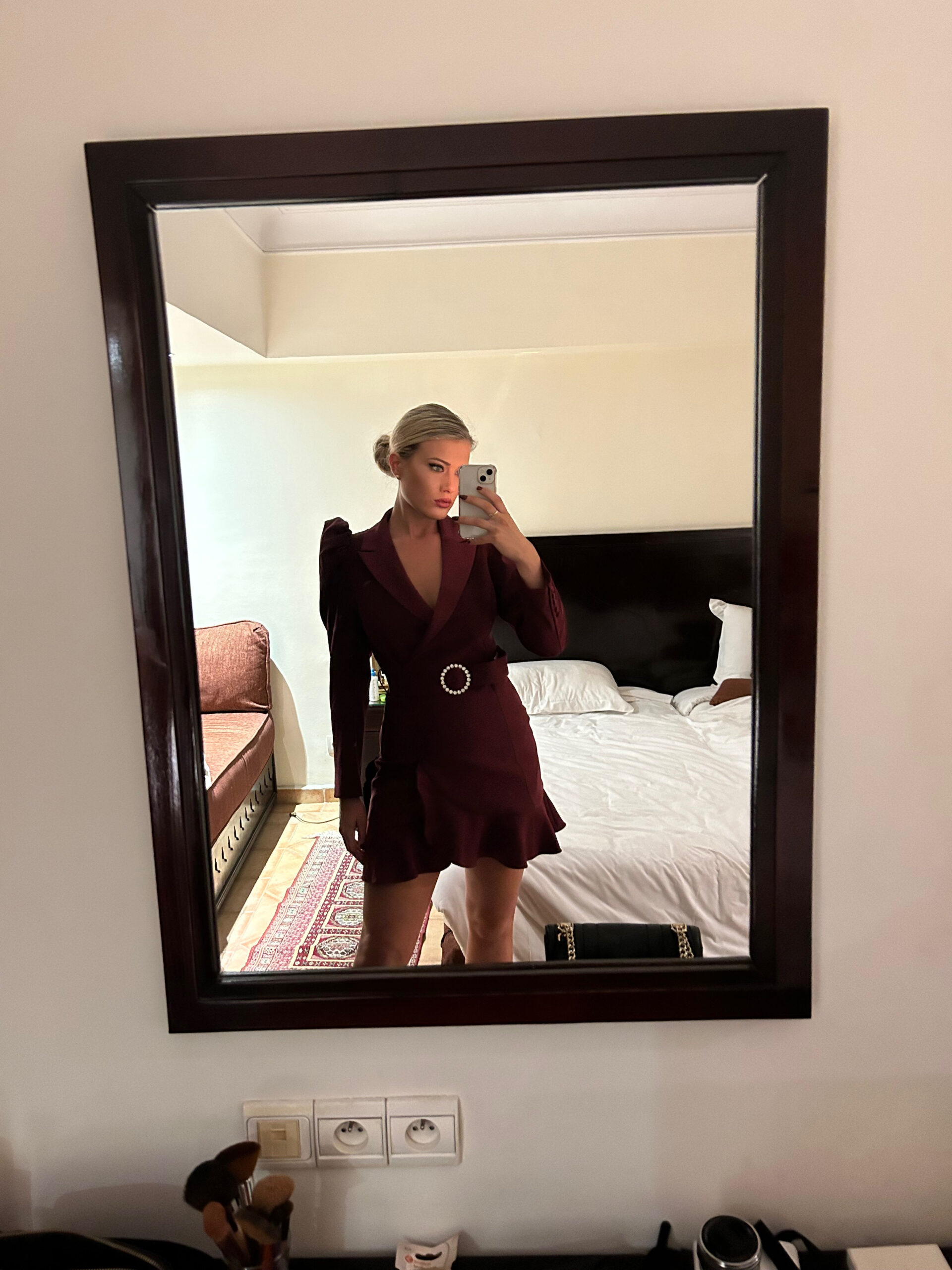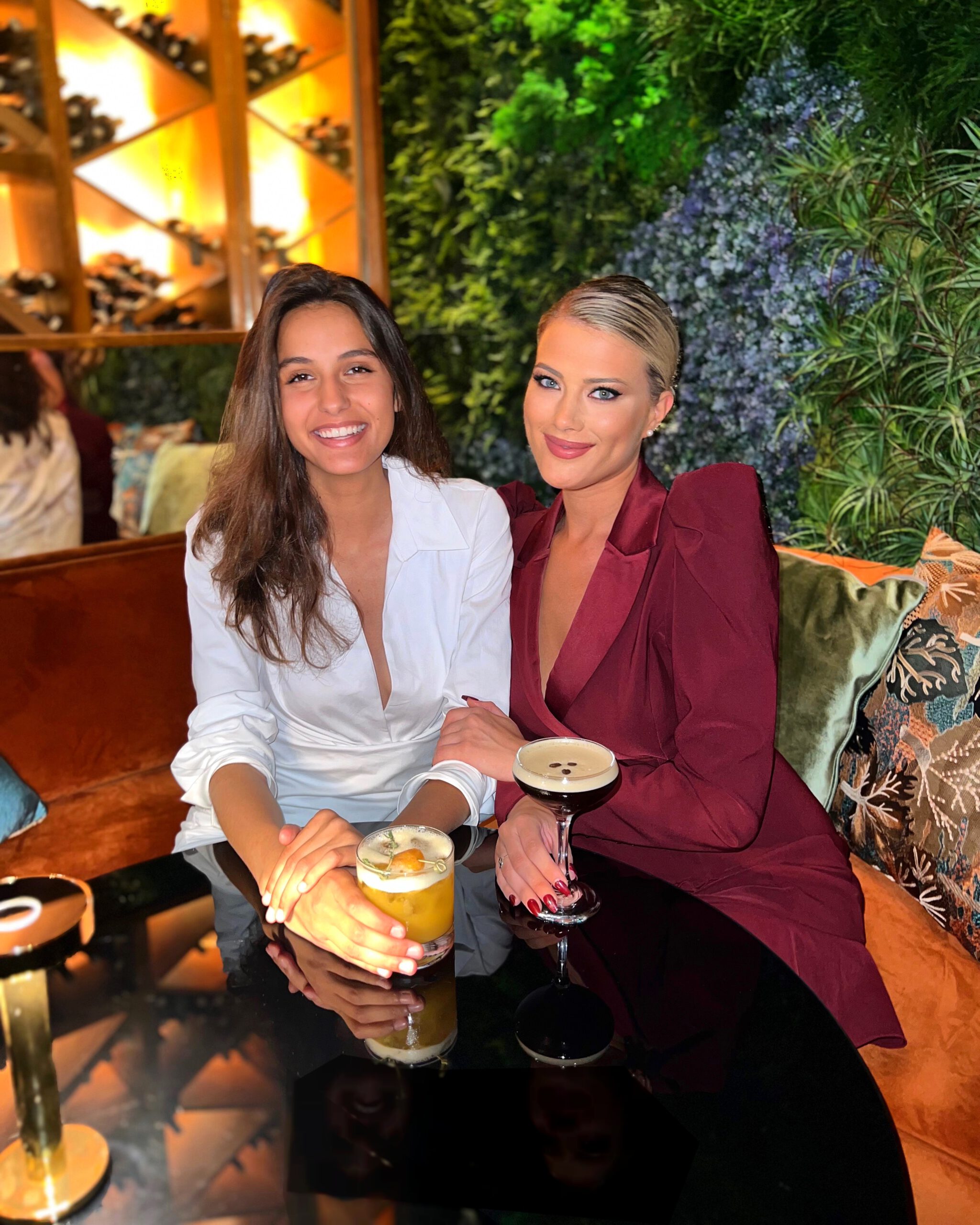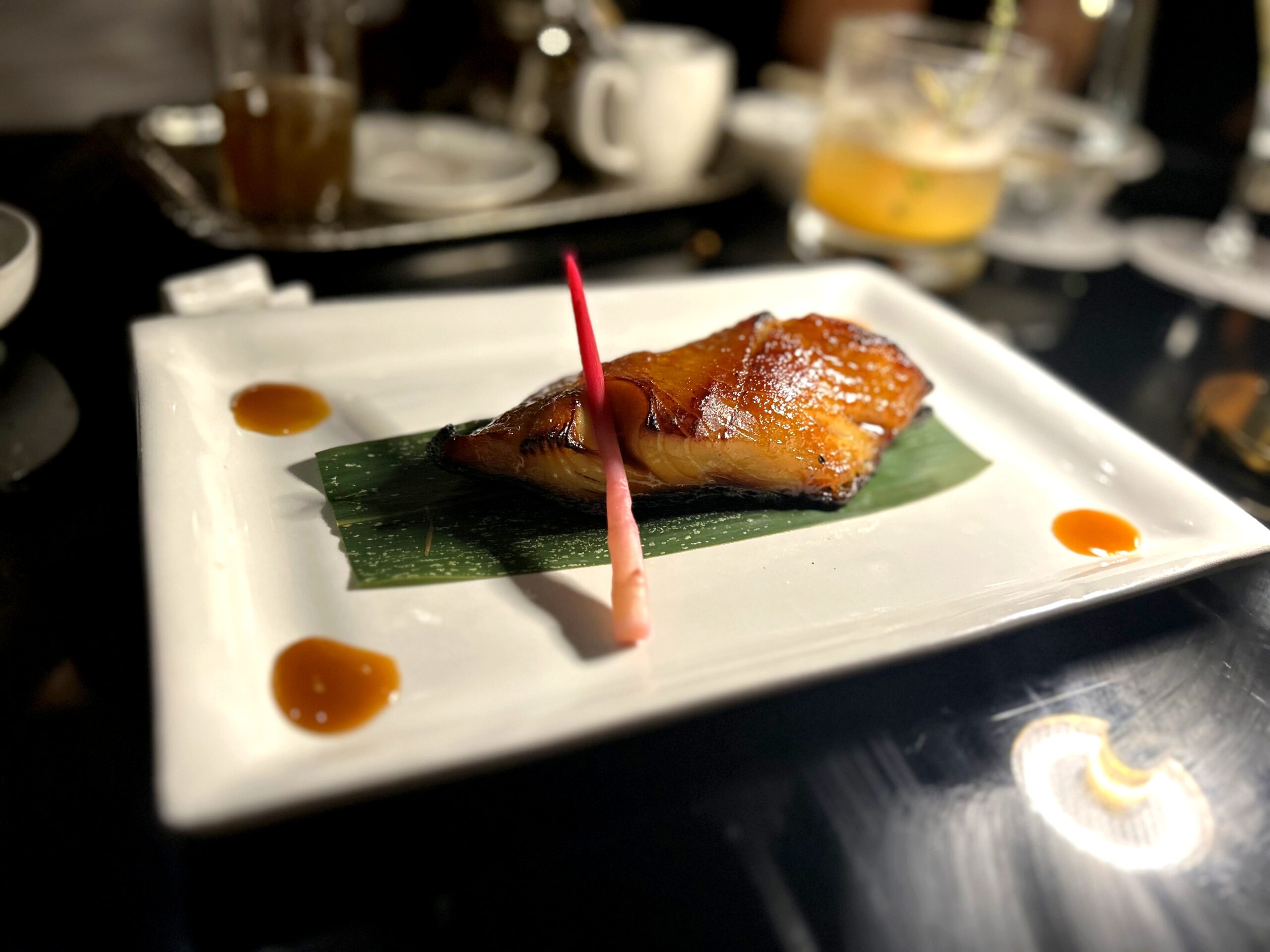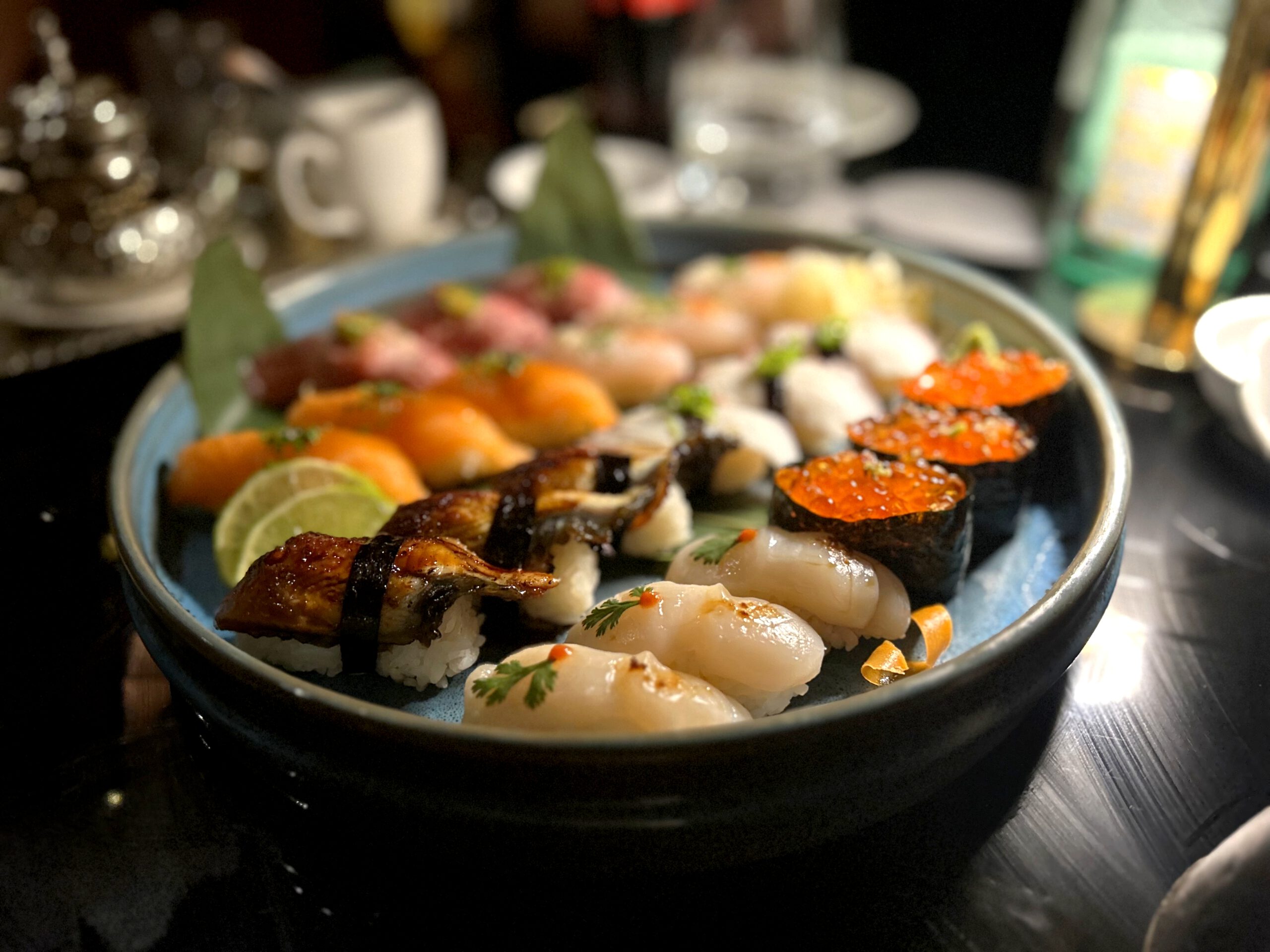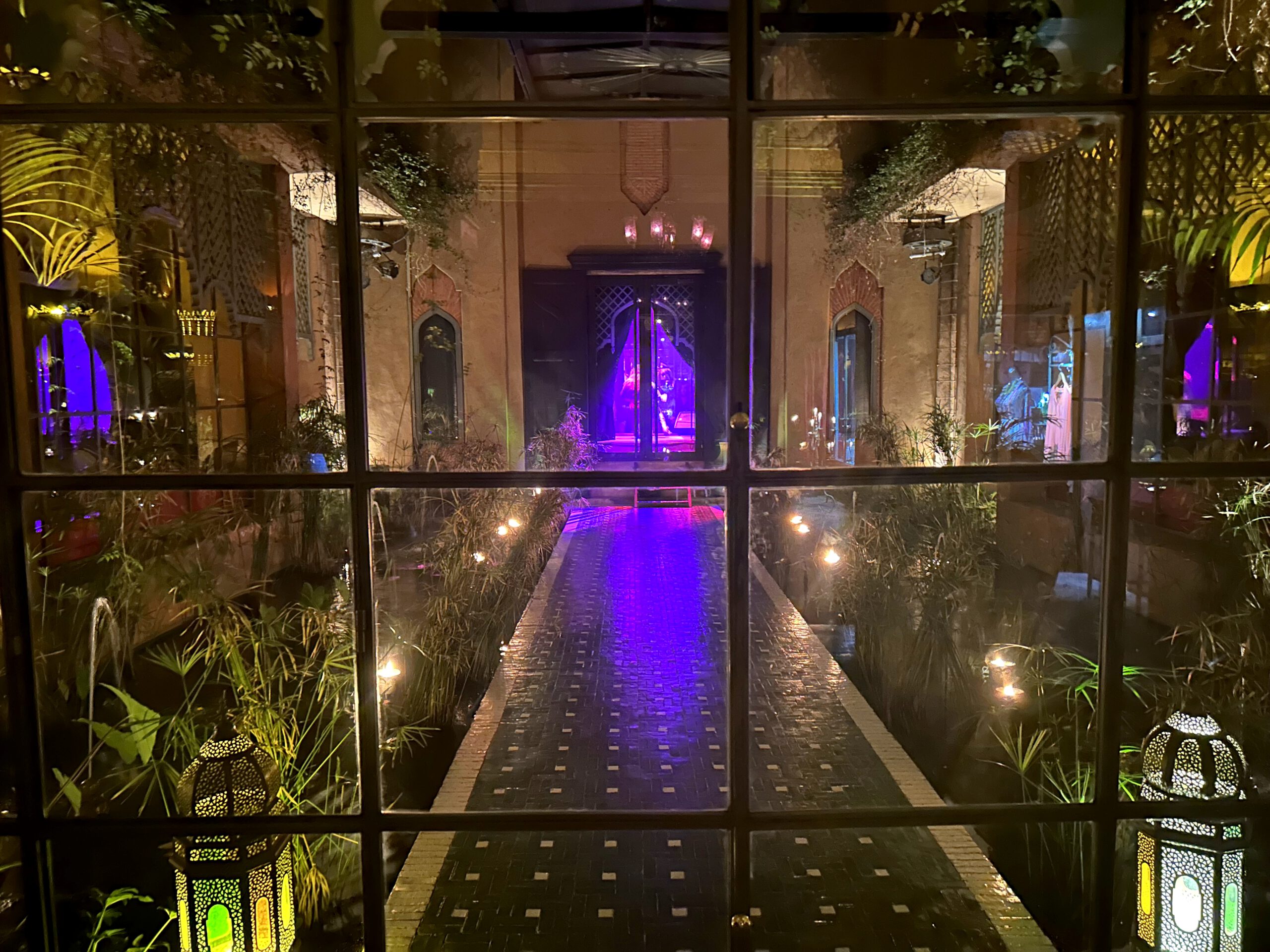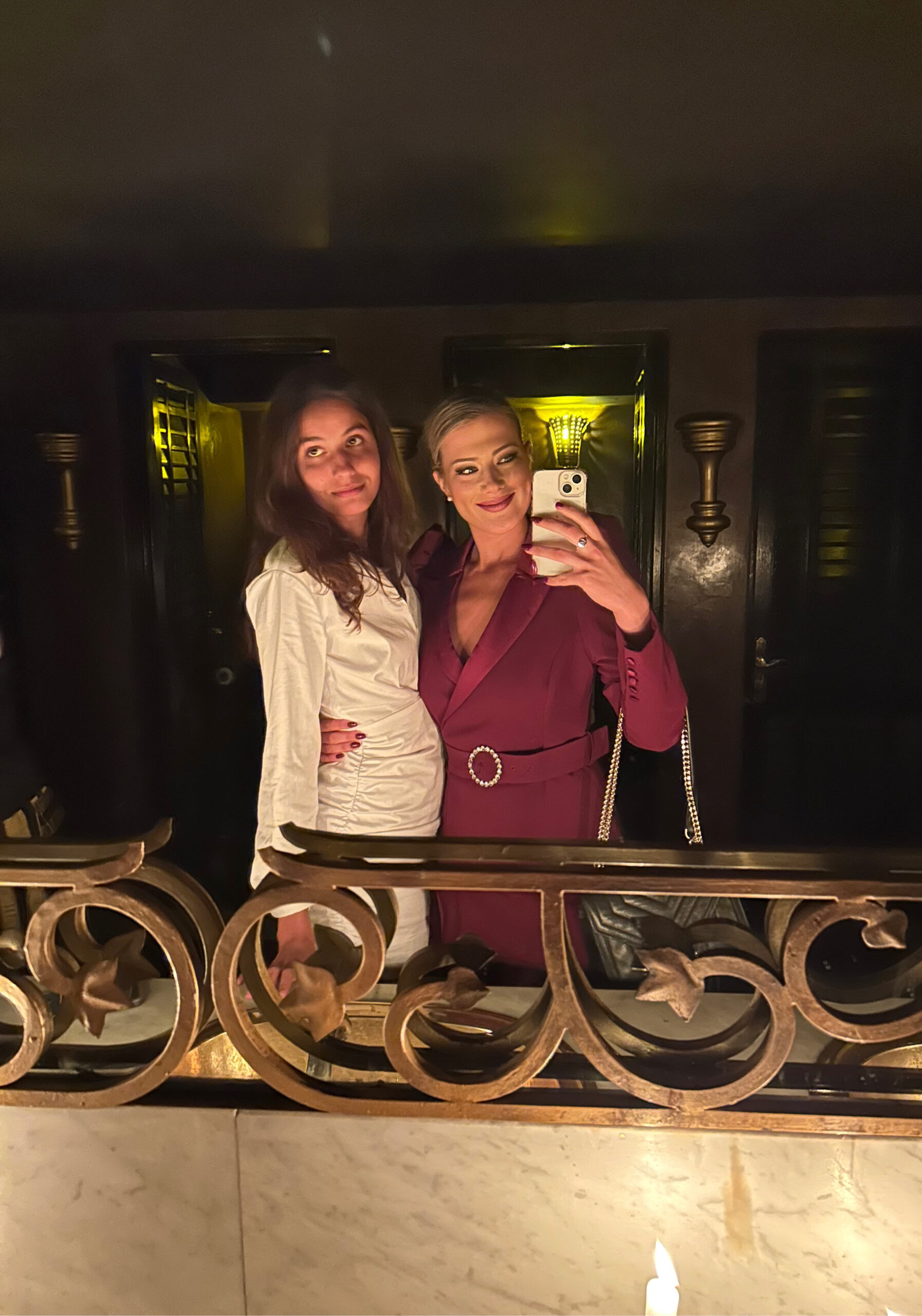 Day 3 – Marrakech – 24-05-2023
This morning, the famous
Souk
(huge covered market) was on the schedule, together with Joelle, Ira and a Moroccan friend of Joelle and her family who lives here in Marrakech. The Souk is a very large market with a lot of different shops – from bags to fake designer (which I am not into), to spices, food, shoes, etc. Keep in mind that tourists are once again overcharged – but also Moroccan people who do not live in Morocco. I must admit that I think the market is interesting, but it is really too overwhelming for me. So after a few minutes I had no energy left and became very tired and grumpy from all the stimulus. I have noticed that I am not doing so well mentally and physically at places like this for over a longer time of exposure. I am very grateful for the enormous hospitality of Joelle's family friend – who told us a lot about the city, showed us around and also helped at the Souk with negotiations and advice. A tip here is definitely to buy a fresh smoothie – I really liked them.
In the evening, another cocktail and delicious dinner were planned at Nobu Lounge. I went to sleep right after dinner because I was very tired and not feeling well that day.
Deze ochtend stond de bekende
Souk
(enorme overdekte markt) op de planning, samen met Joelle, Ira en een Marrokaanse vriend van Joelle en haar familie die hier in Marrakech woont. De Souk is een erg grote markt met een hoop verschillende winkels – van tassen tot fake designer (waar ik niks mee heb), tot kruiden, eten, schoenen, etc. Houd in gedachten dat toeristen nogmaals enorm worden overcharged – maar ook Marrokaanse bevolking die zelf niet in Marroko woont. Ik moet eerlijk toegeven dat ik de markt gaaf vind, maar het écht te overwhelming is voor mij. Ik had dus na enkele minuten al geen energie meer en werd heel moe en chagrijnig van alle prikkels. Ik heb gemerkt dat ik hier dus mentaal en lichamelijk niet zo goed op ga. Ik ben wel erg dankbaar voor de enorme hartelijkheid van de familie vriend van Joelle – die ons veel over de stad heeft verteld, heeft laten zien en ook heeft geholpen op de Souk met onderhandelen en advies. Een tip is hier zeker om een verse smoothie te kopen – ik vond ze écht heerlijk.
In de avond stond opnieuw een cocktail en heerlijk diner op de planning bij Nobu Lounge. Ik ging na het eten direct slapen omdat ik me die dag heel erg moe en niet zo goed voelde.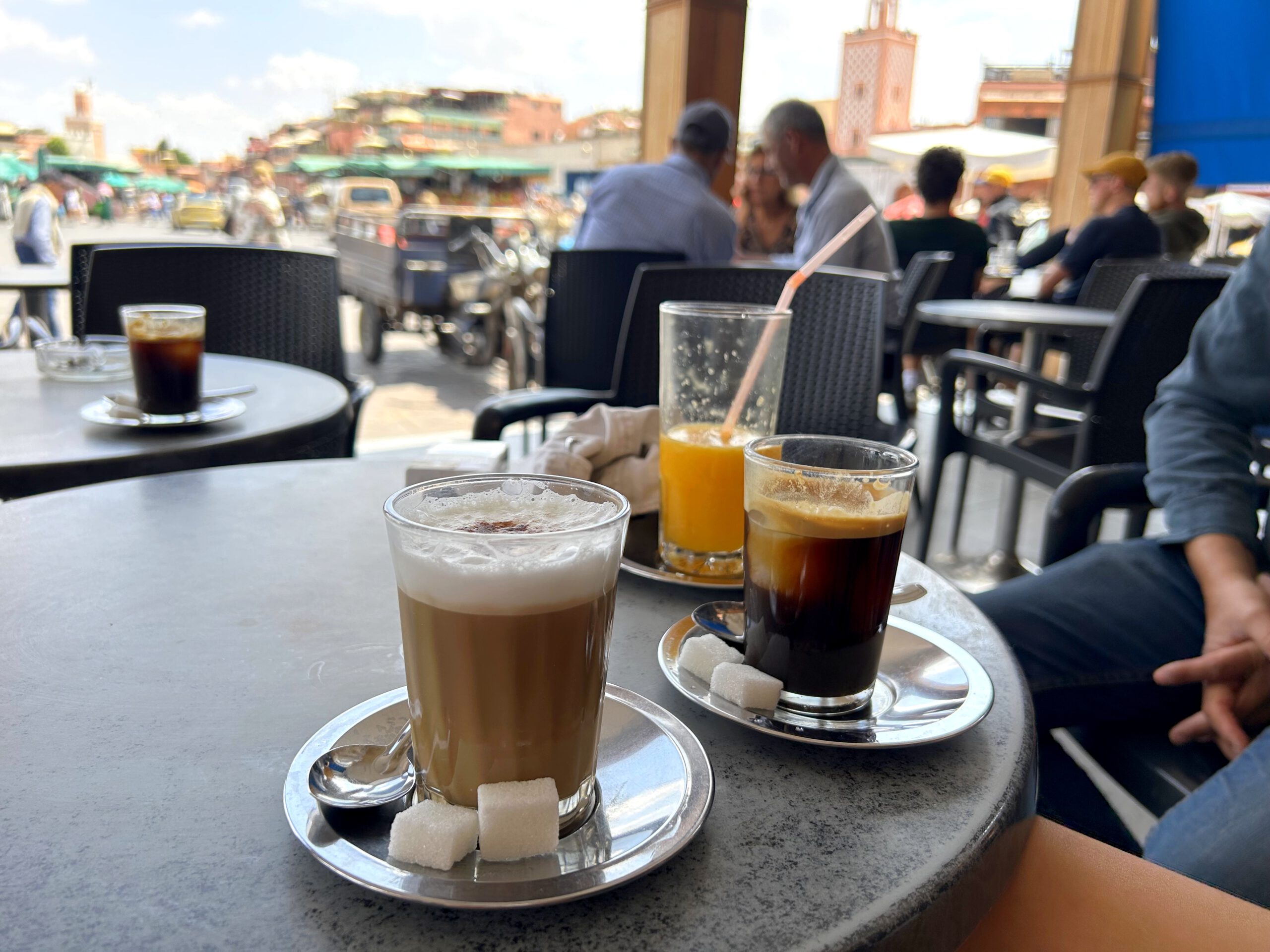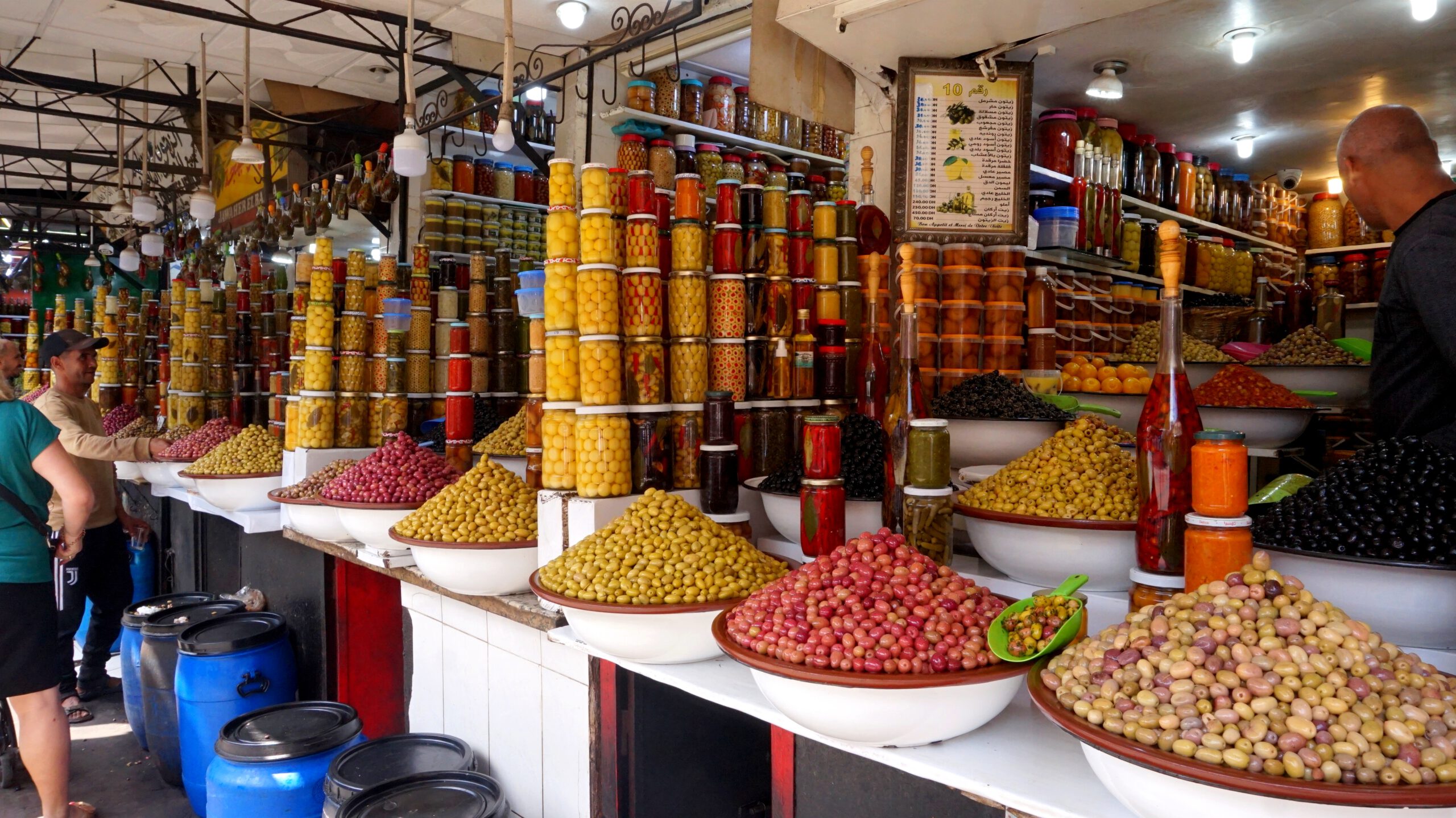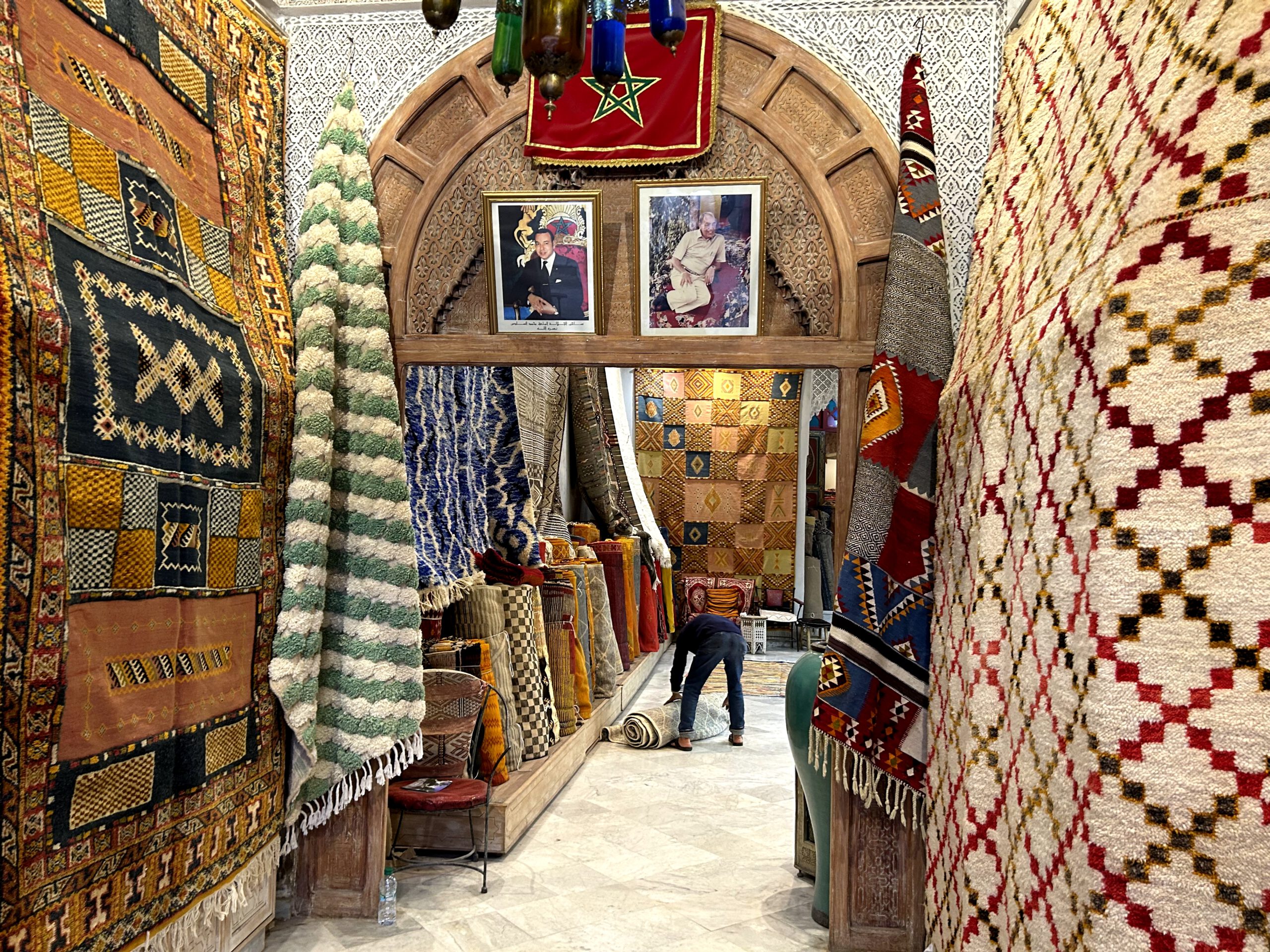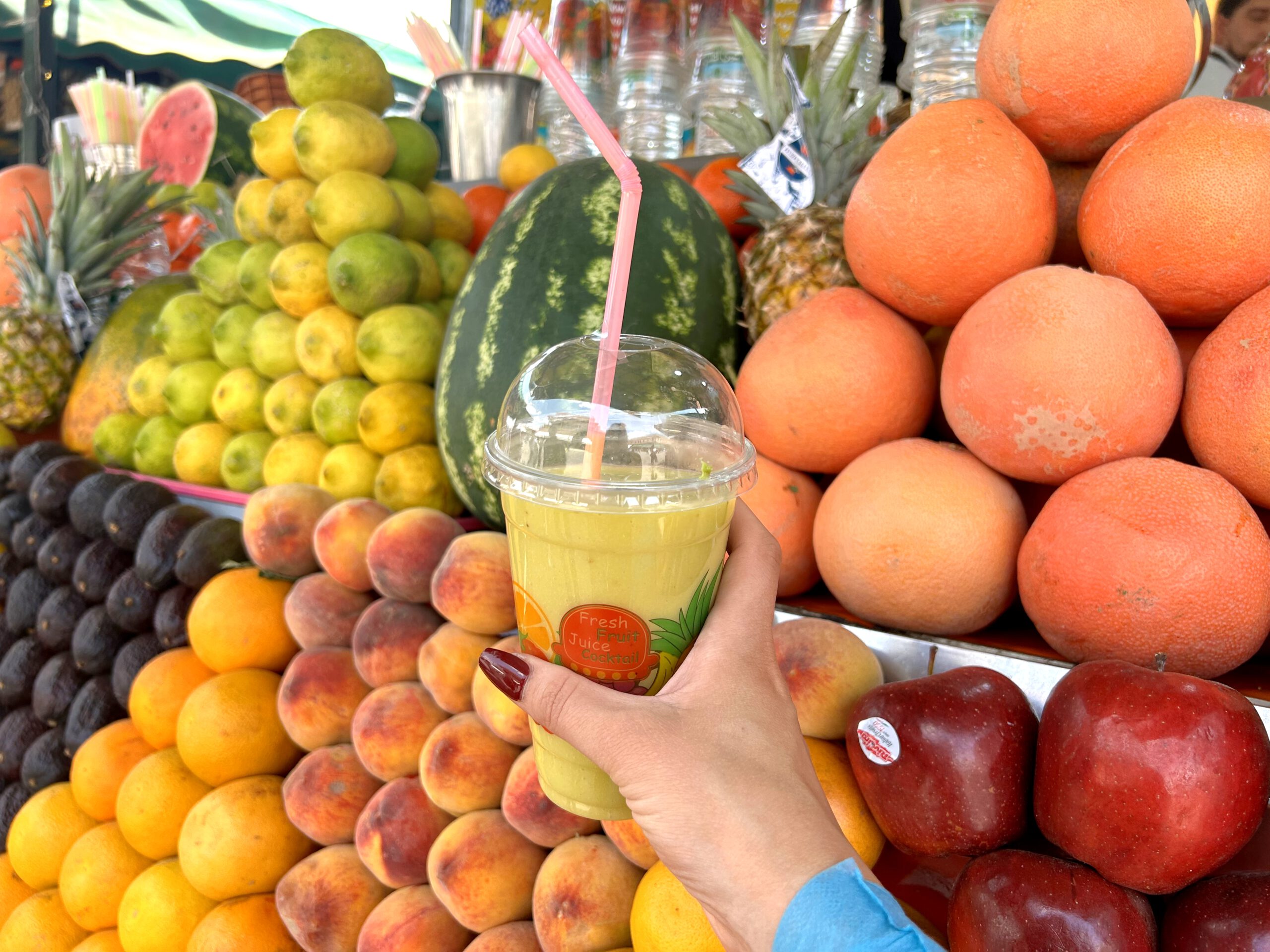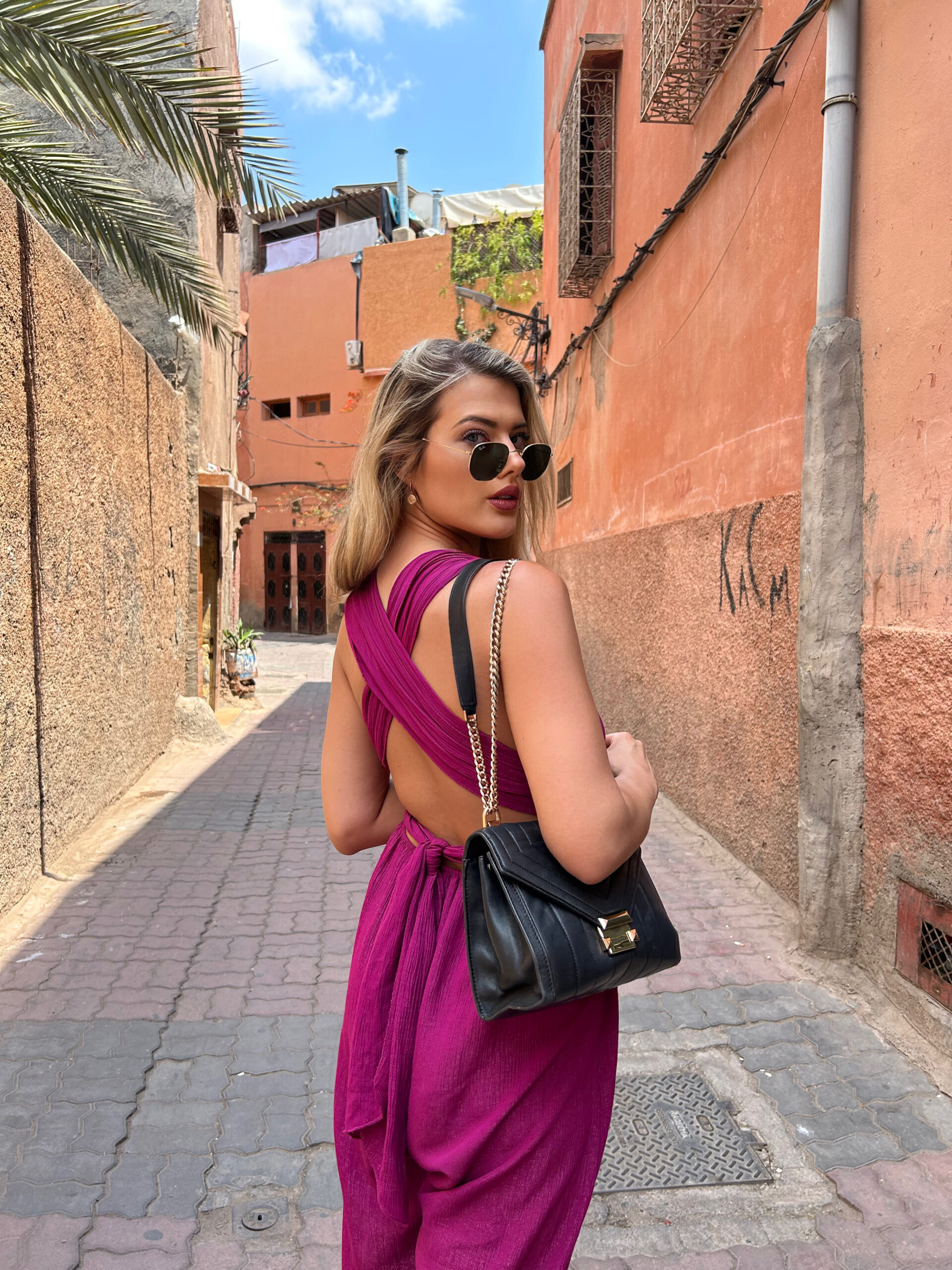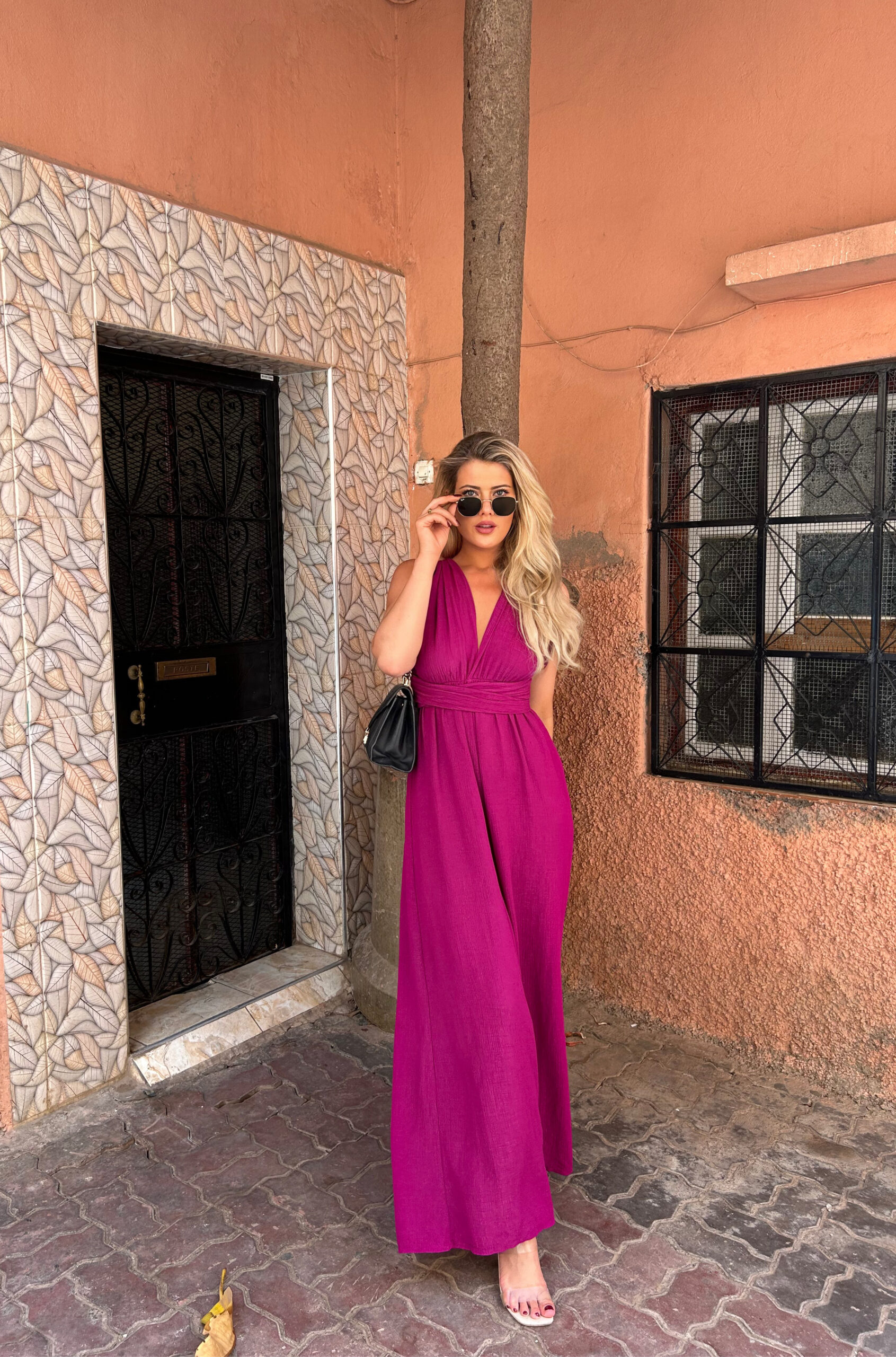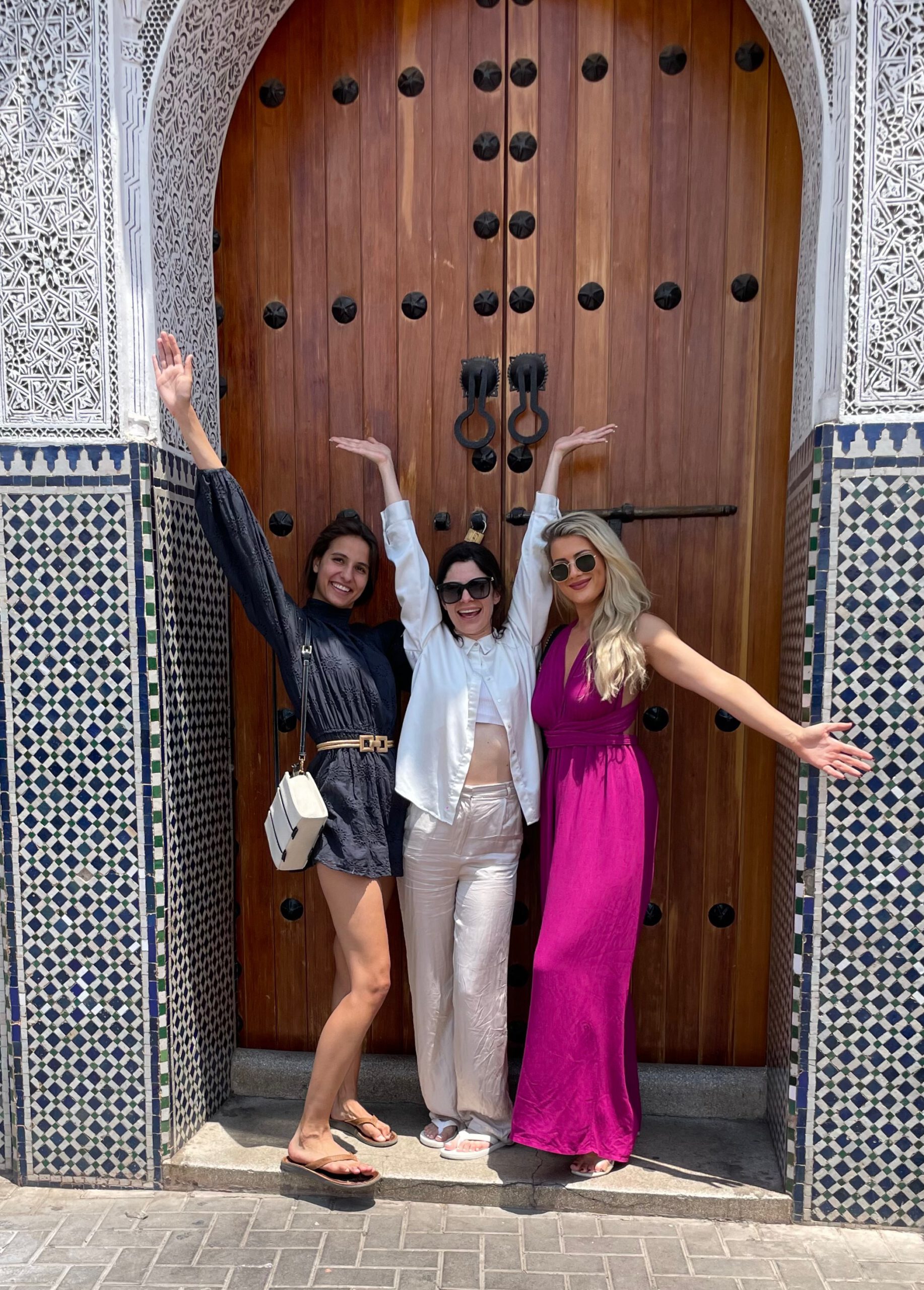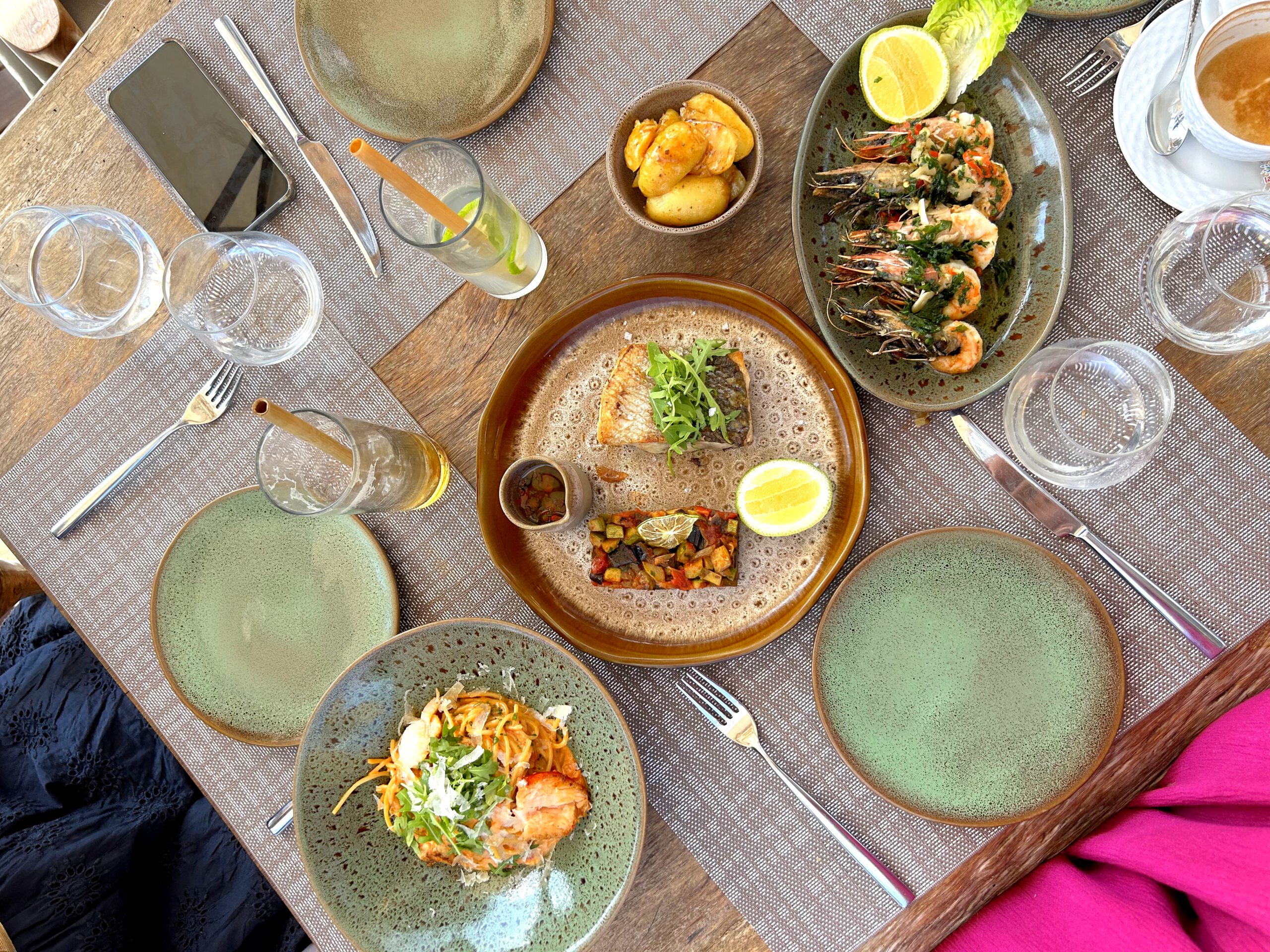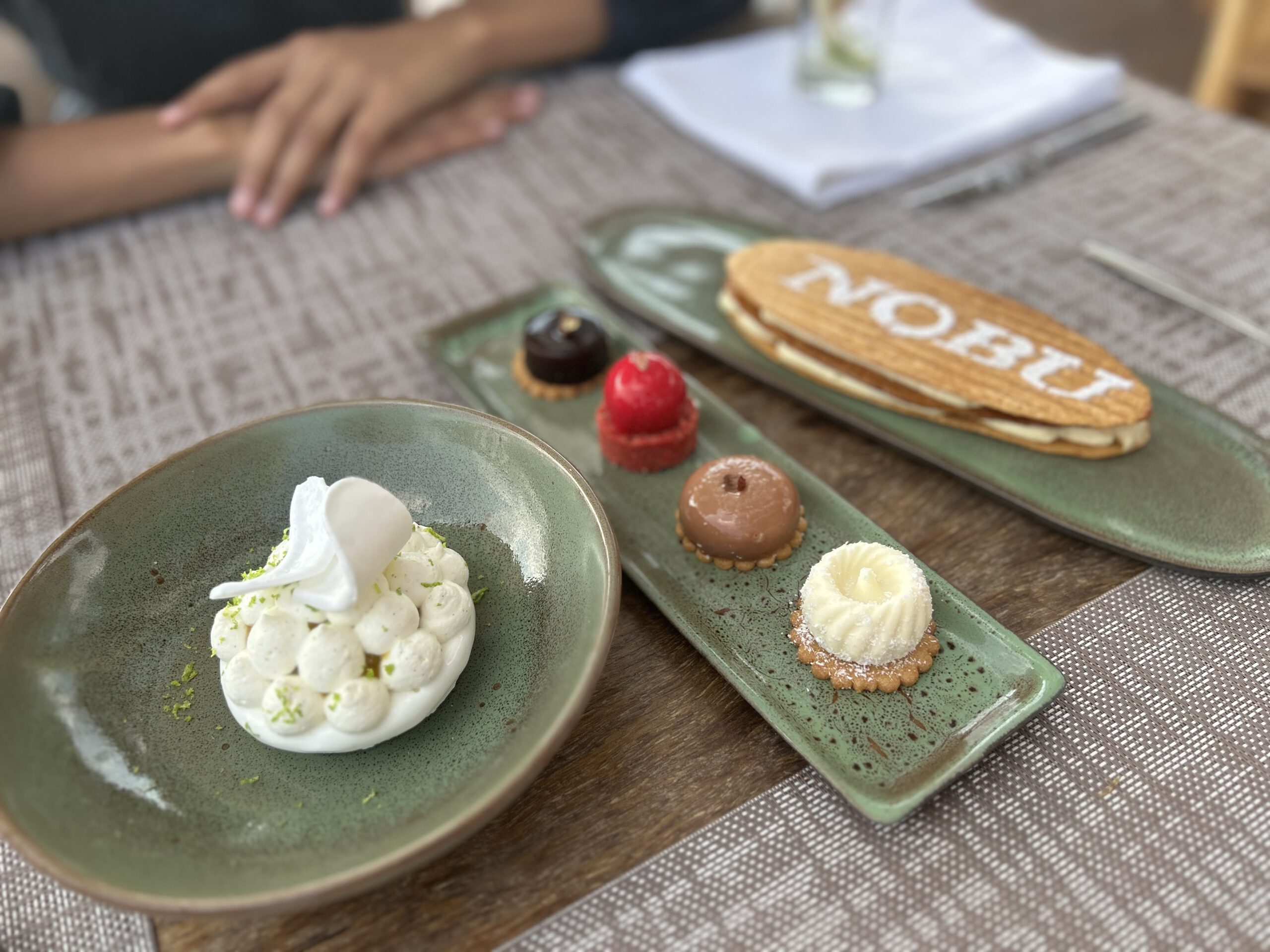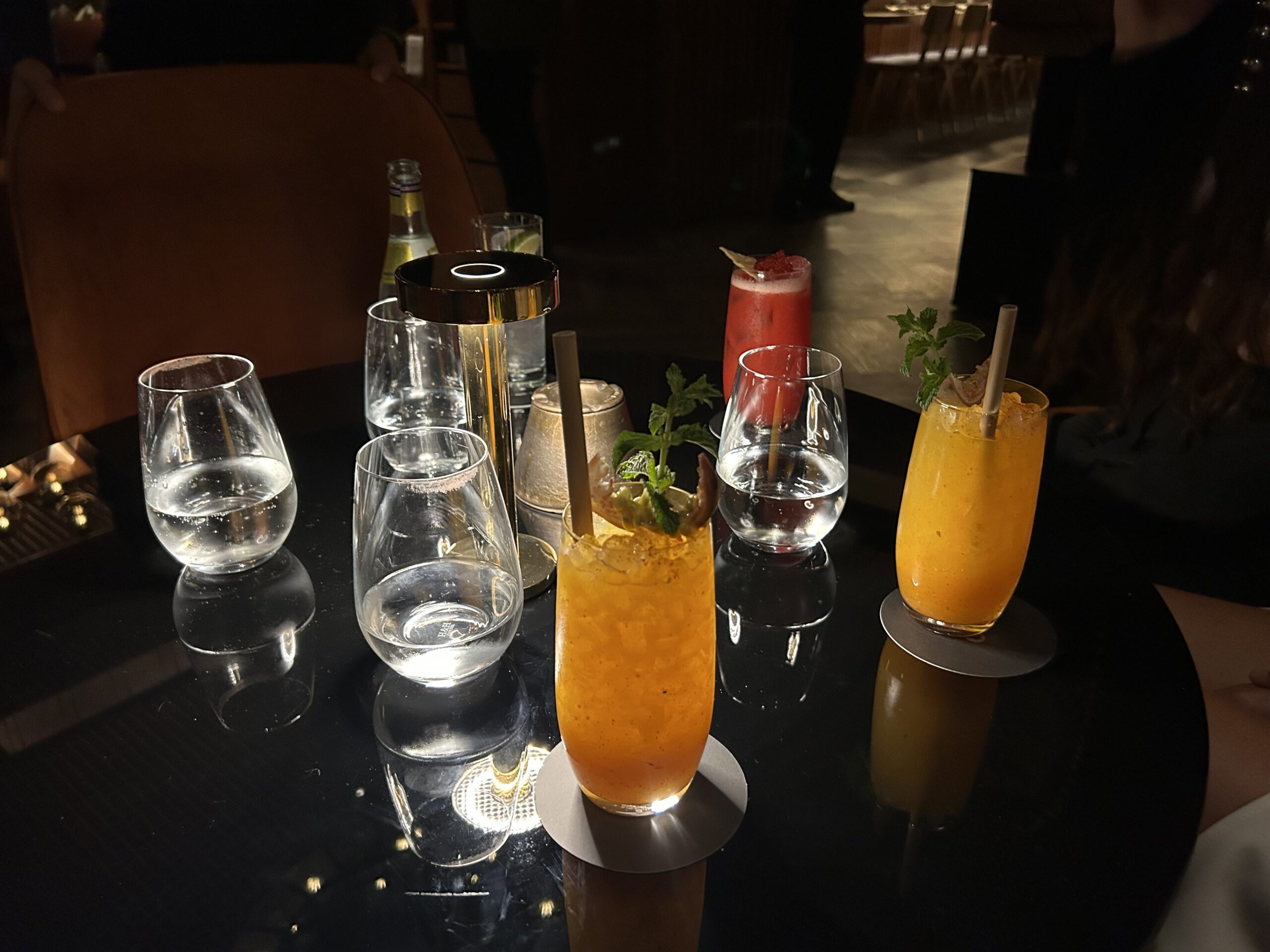 Day 4 – Marrakech – 25-05-2023
Today all plans for the day fell through, so I had to go solo. I stayed in bed until noon. Because this was unexpected, I hadn't prepared anything, so I immediately went to look for activities on airbnb – my tip is, if you're looking for a reliable and last minute activity, book something via airbnb experiences. I could have arranged a (paid) travel shoot for the day after. I wanted beautiful content from my trip, but so far had no (good) content (and I can honestly say to you, I can feel pretty bad about this, although I think it's important that photos don't dominate the entire trip and keep I certainly take that into account). At first she was fully booked, but after contacting the photographer, she made a spot available – so I was very happy. I decided to have breakfast at
Paul
 and treated Joelle to a coffee when she joined me a little later.
Tonight the opening of Nobu would take place, and we were allowed to be there. On the rooftop I had another rosé at the bar, where I met sweet French Flora, who invited our group to join her at one of the clubs later in the evening. By the way, my dinner on the rooftop was Rib-eye – one of my favorite dishes. We ended the evening of the opening with a drink in the Nobu Lounge and at Jad Mahal – where I also met sweet Kenza who I got on very well with.
Note – My dress for the opening is from Hervé Leger, which I was allowed to borrow from Kovna dress (collab)
Vandaag vielen alle plannen van overdag weg, dus moest ik solo op pad. Ik bleef tot zeker in de middag in bed liggen. Omdat dit plots was, had ik niets voorbereid, dus ging op airbnb gelijk voor activiteiten kijken – mijn tip is, als je opzoek bent naar een betrouwbare en last minute activiteit, via airbnb experiences iets te reserveren. Ik had voor de dag hierna een (betaalde) reis shoot kunnen regelen. Ik wilde graag mooie content van mijn reis, maar had tot zo ver geen (goede) content (en ik alle eerlijkheid naar jullie, kan ik me hier best rot over voelen, al vind ik het belangrijk dat foto's niet de hele reis overheersen en houd ik daar ook zeker rekening mee). In eerste instatie was ze volgeboekt, maar na contacteren maakte de fotografe een plekje vrij – dus ik was heel erg blij. Ik besloot te ontbijten bij
Paul
en trakteerde Joelle op een koffietje toen ze later eventjes bij mij aansloot.
Vanavond zou de opening van Nobu plaatsvinden, en daar mochten wij bijzijn. Op de rooftop had ik nog een rosétje aan de bar, waar ik lieve Franse Flora leerde kennen, die onze groep uitnodigde met haar mee naar een van de clubs te gaan later op de avond. Mijn dinner op de rooftop was trouwens Rib-eye – een van mijn lievelingsgerechten. We sloten de avond af van de opening met een drankje in de Nobu Lounge en bij Jad Mahal – waar ik ook lieve Kenza leerde kennen waar ik het heel goed mee kon vinden.

Note – Mijn jurk voor de opening is van Hervé Leger, die ik van Kovna dress mocht lenen (collab)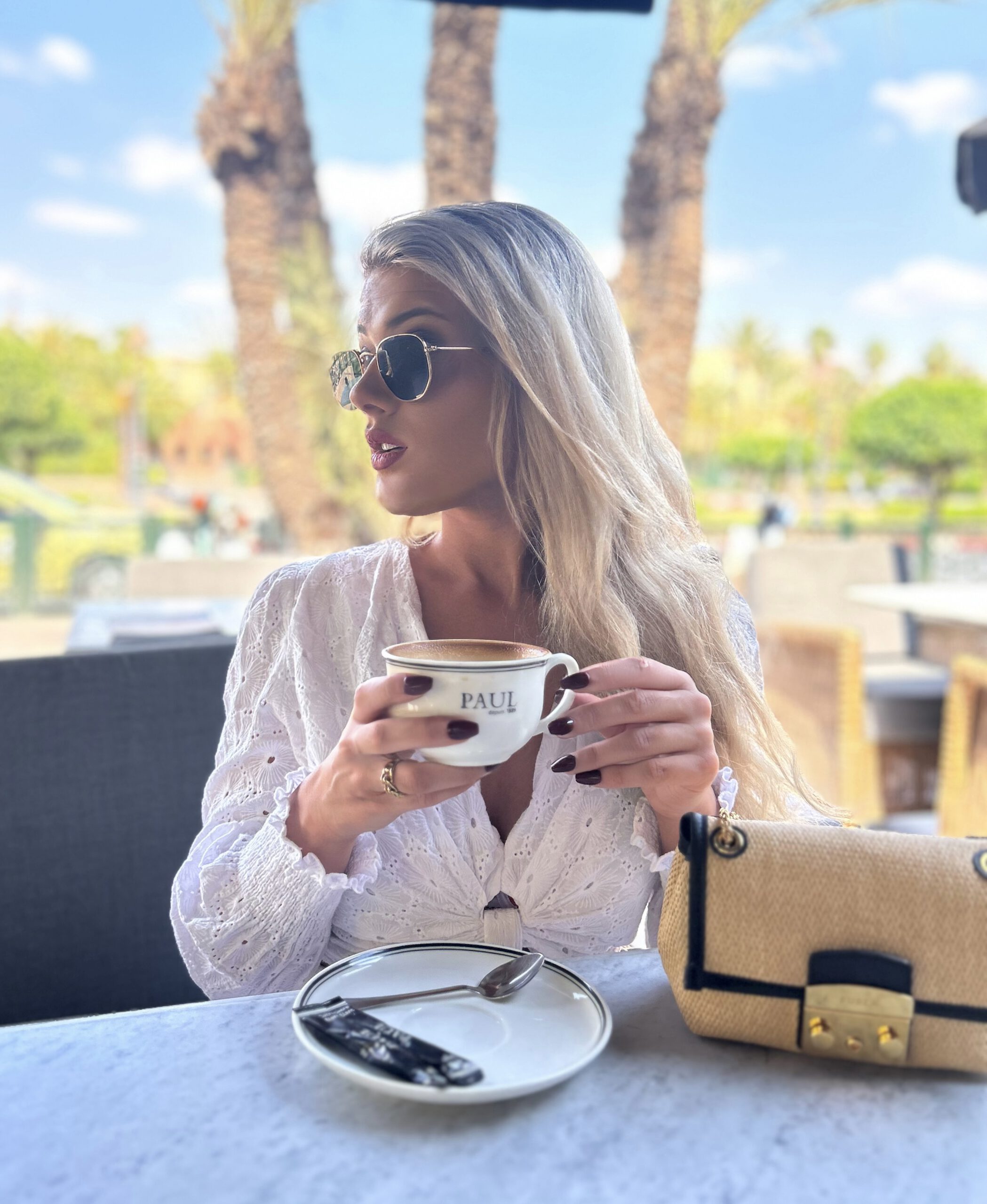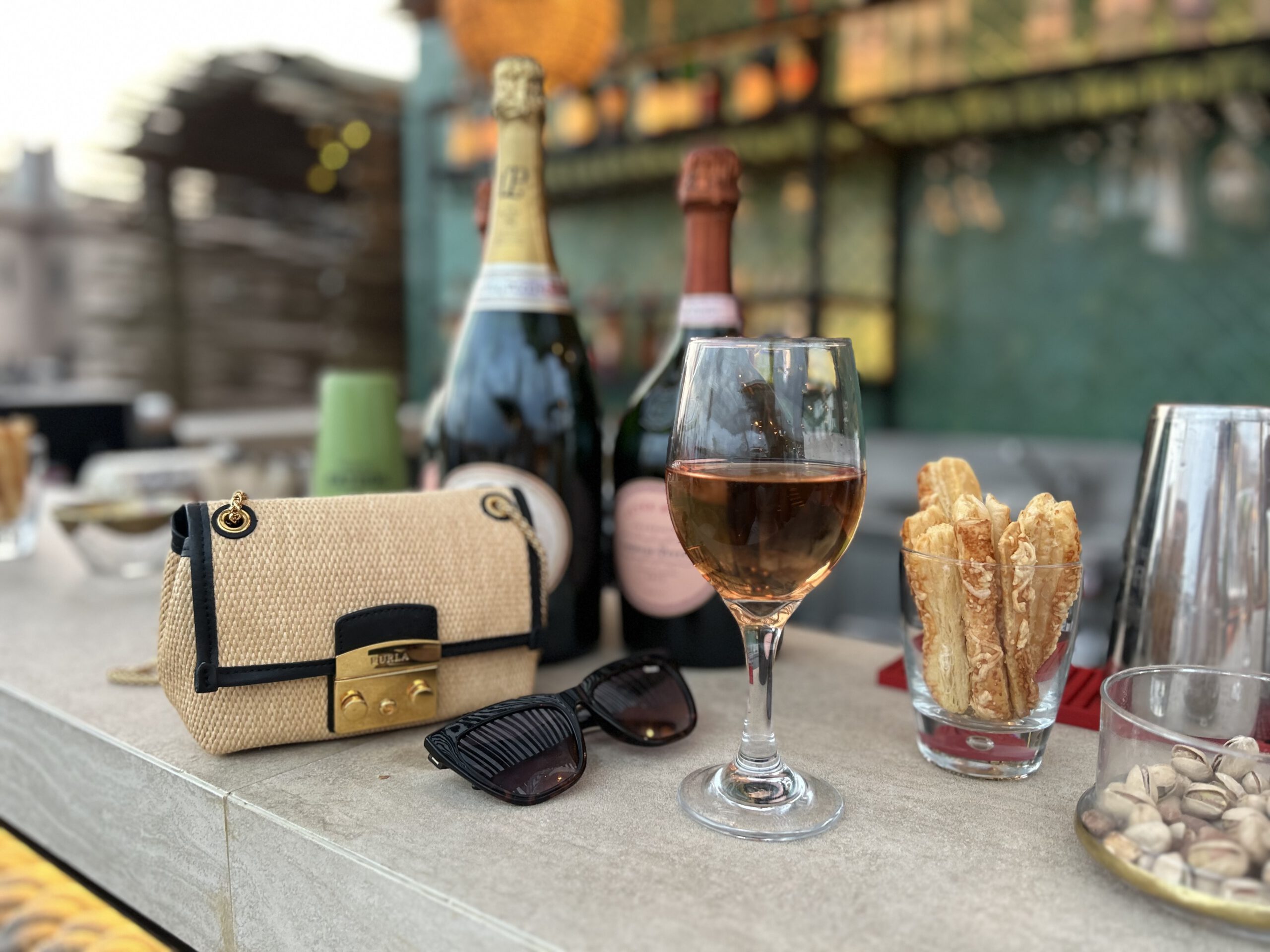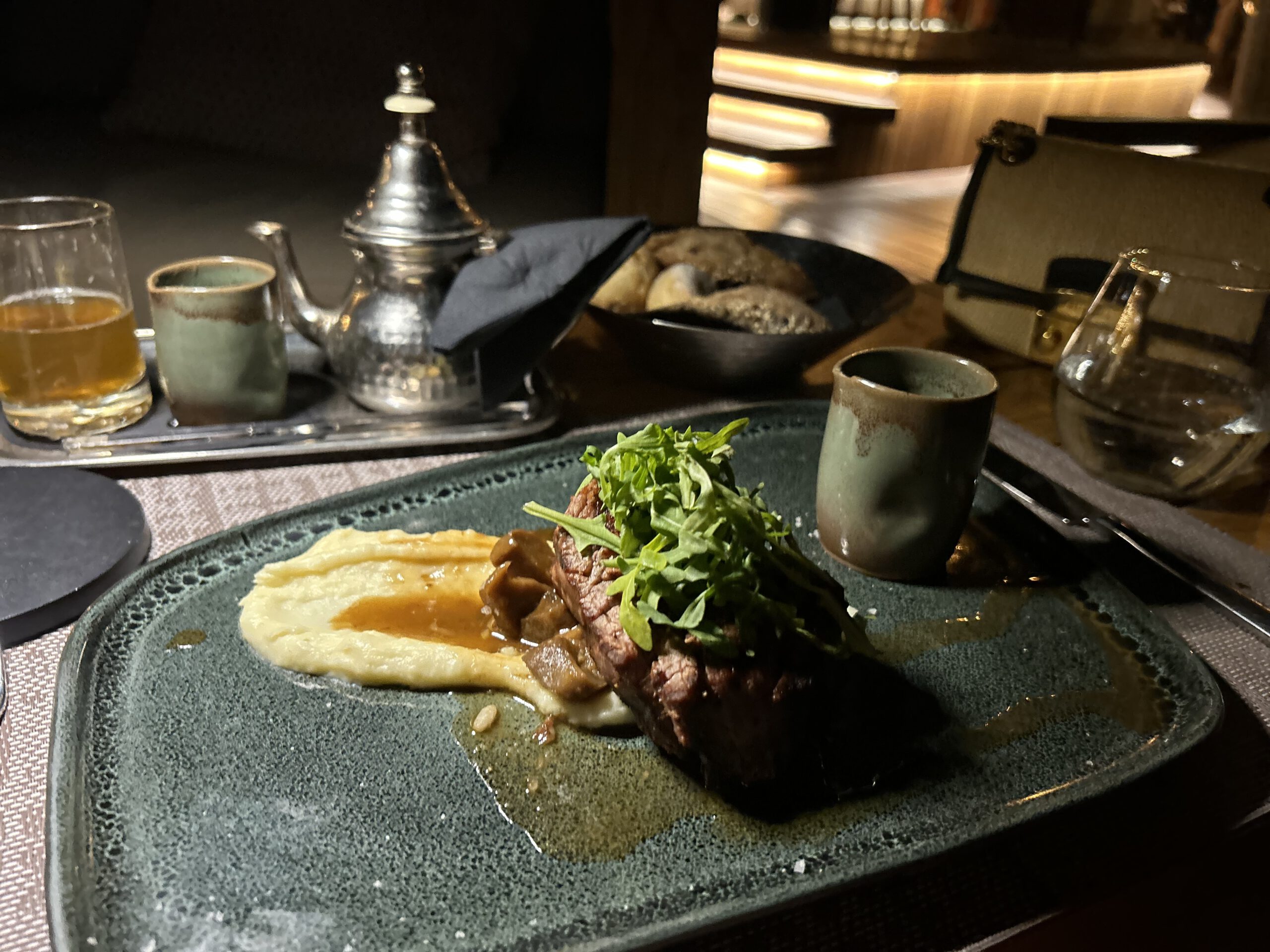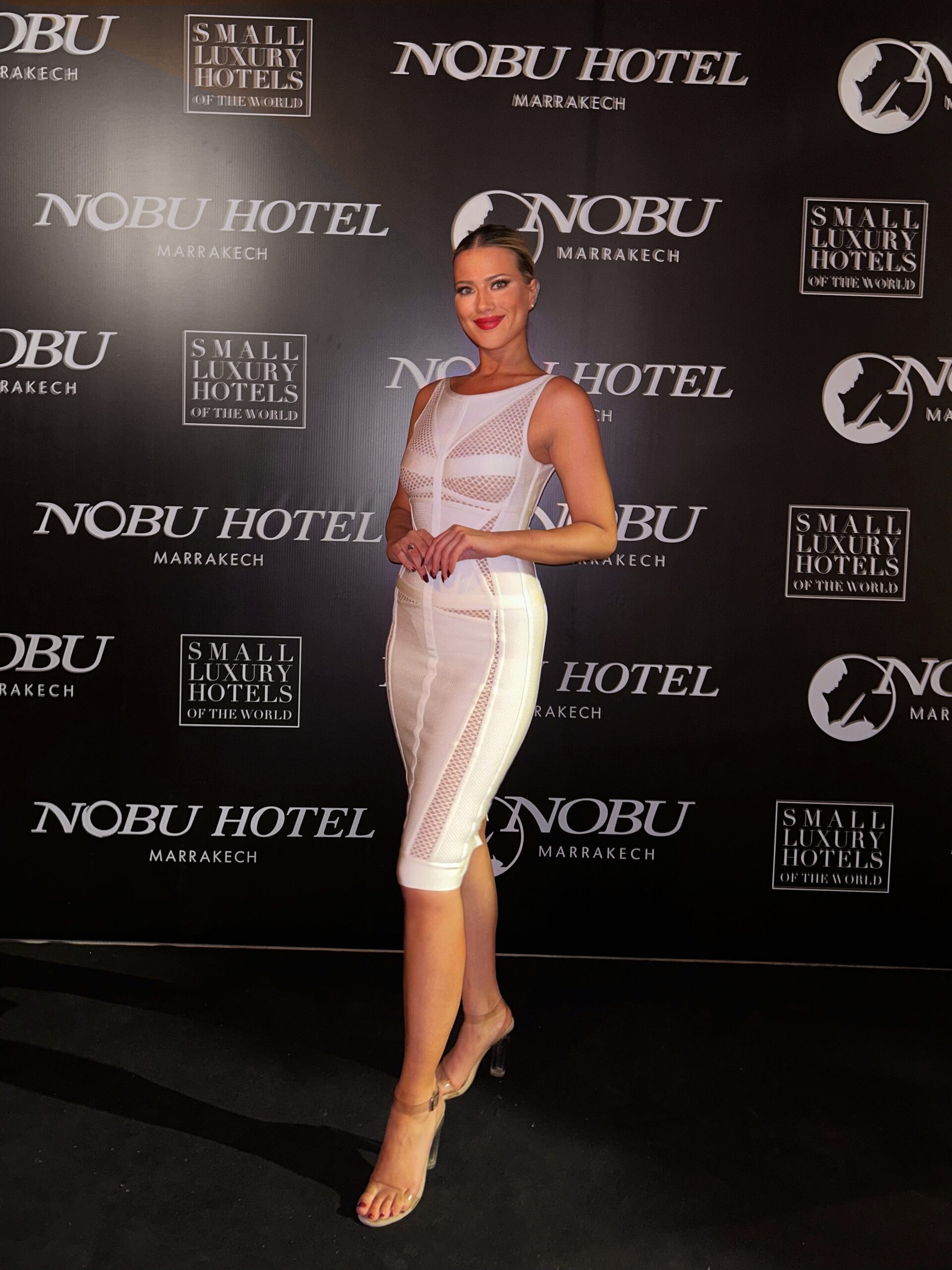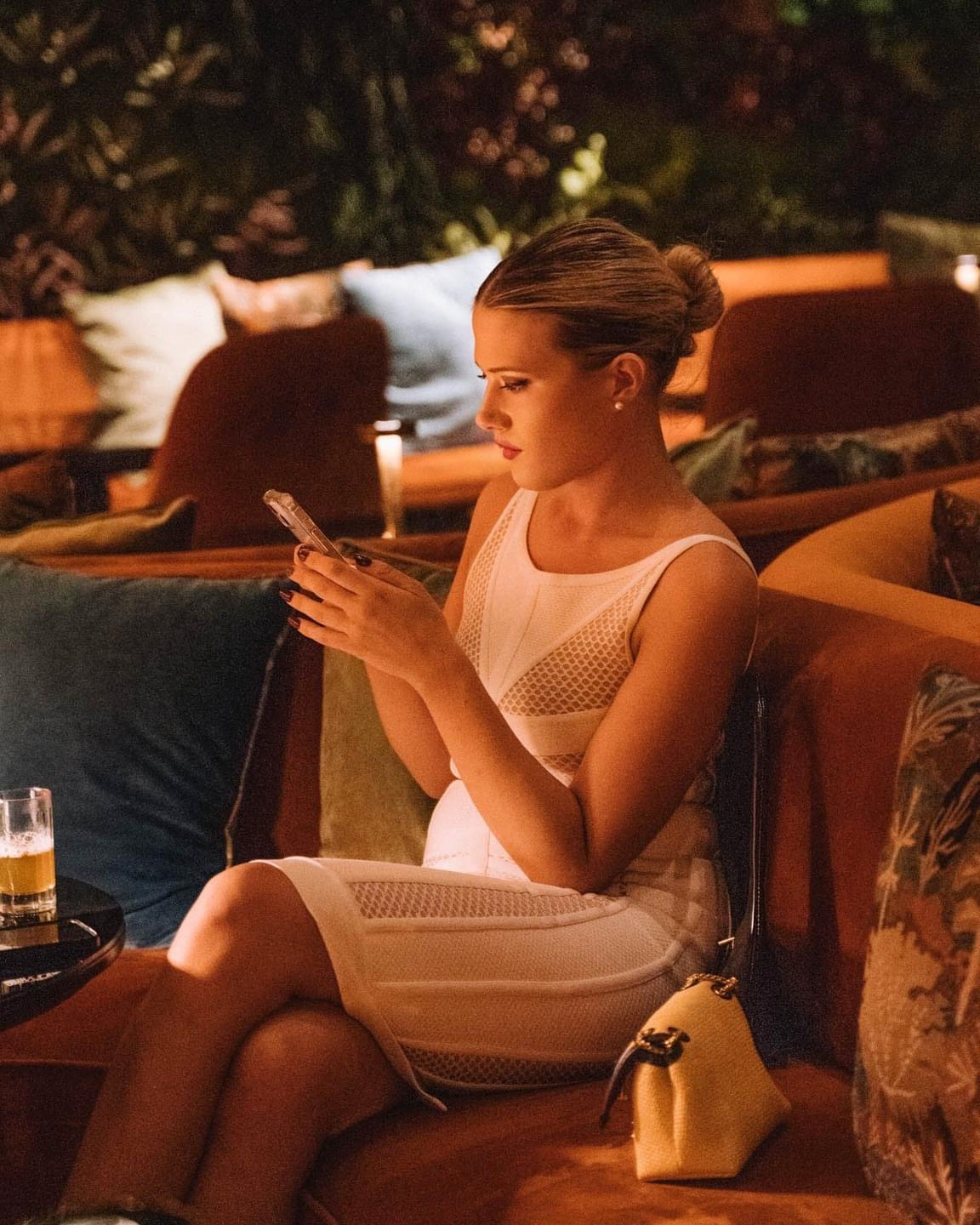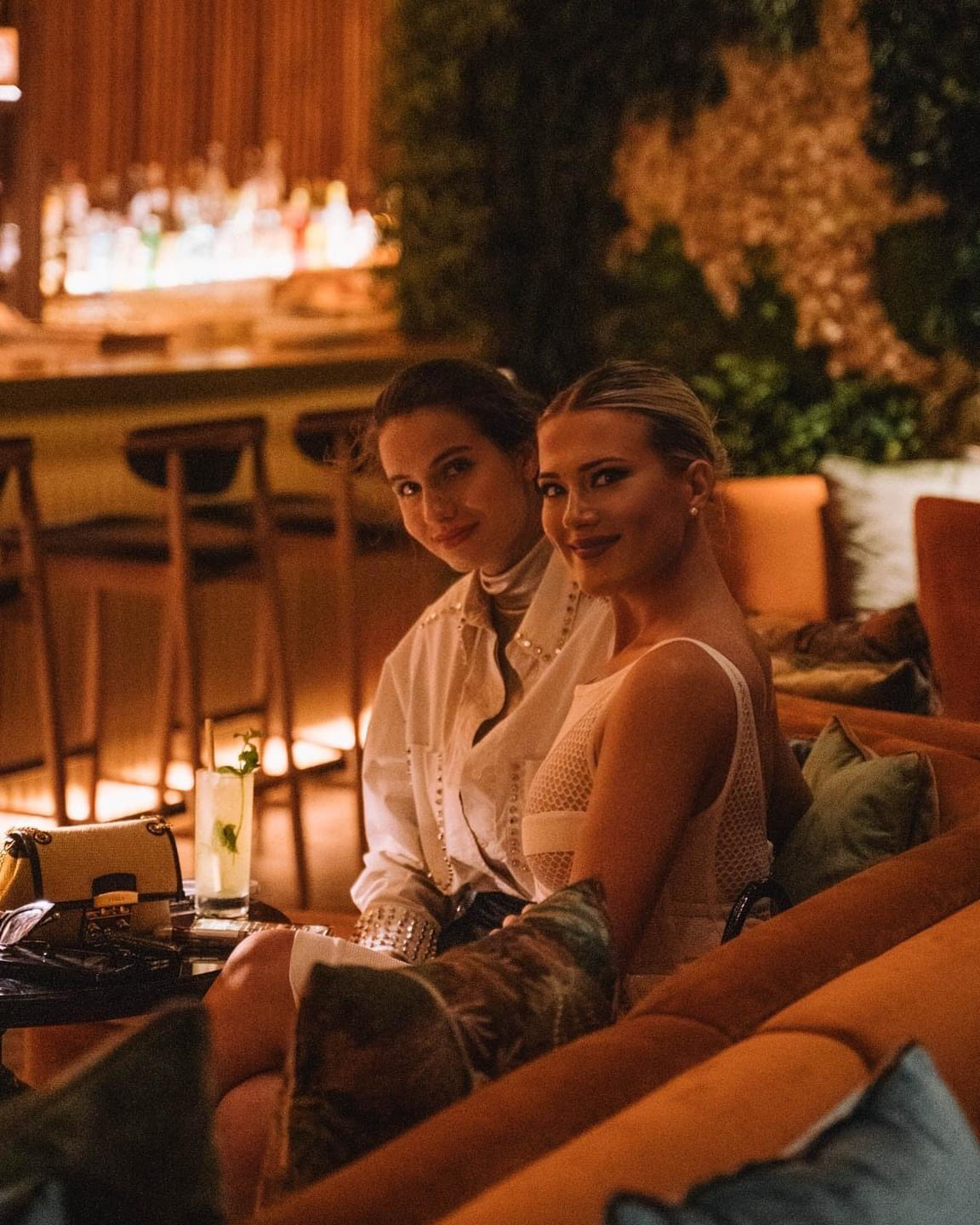 Day 5 – Marrakech – 26-05-2023

This morning I had my shoot together with
@caretakersstudio
(no collab) – where I paid about 36 euros for a 1 hour shoot. Together, we explored the Souk again and took pictures here. I definitely recommend her for a shoot! I am very happy with the photos – which you can see in these posts, and I have also processed them in Outfit – Marrakech. In the afternoon I had a 'breakfast' – I'm really disappointed that I don't remember the name – for only 5 euros in a very nice place. I really like this breakfast and was ram full! I would definitely go back here if I were in Marrakech again.
Later I ate something at the Souk with Joelle, before we were expected at the Boho party at the Nobu Rooftop.
Deze ochtend had ik mijn shoot samen met @caretakersstudio (geen collab) – waar ik zo'n 36 euro heb betaald voor een shoot van 1 uur. We verkenden samen opnieuw de Souk en namen hier foto's. Ik raad jullie haar zeker aan voor een shoot! Ik ben erg blij met de foto's – die je in deze posts terugziet, en ik ook heb verwerkt in Outfit – Marrakech. In de middag had ik een 'ontbijt' – ik baal enorm dat ik de naam niet meer weet – voor slechts 5 euro op een hele mooie plek. Ik vind dit ontbijt écht heerlijk en was ram vol! Ik zou hier voor ook zeker terug gaan als ik weer in Marrakech zou zijn.

Ik at later met Joelle nog wat op de Souk, vóór dat we verwacht werden bij de Boho party op de Nobu Rooftop.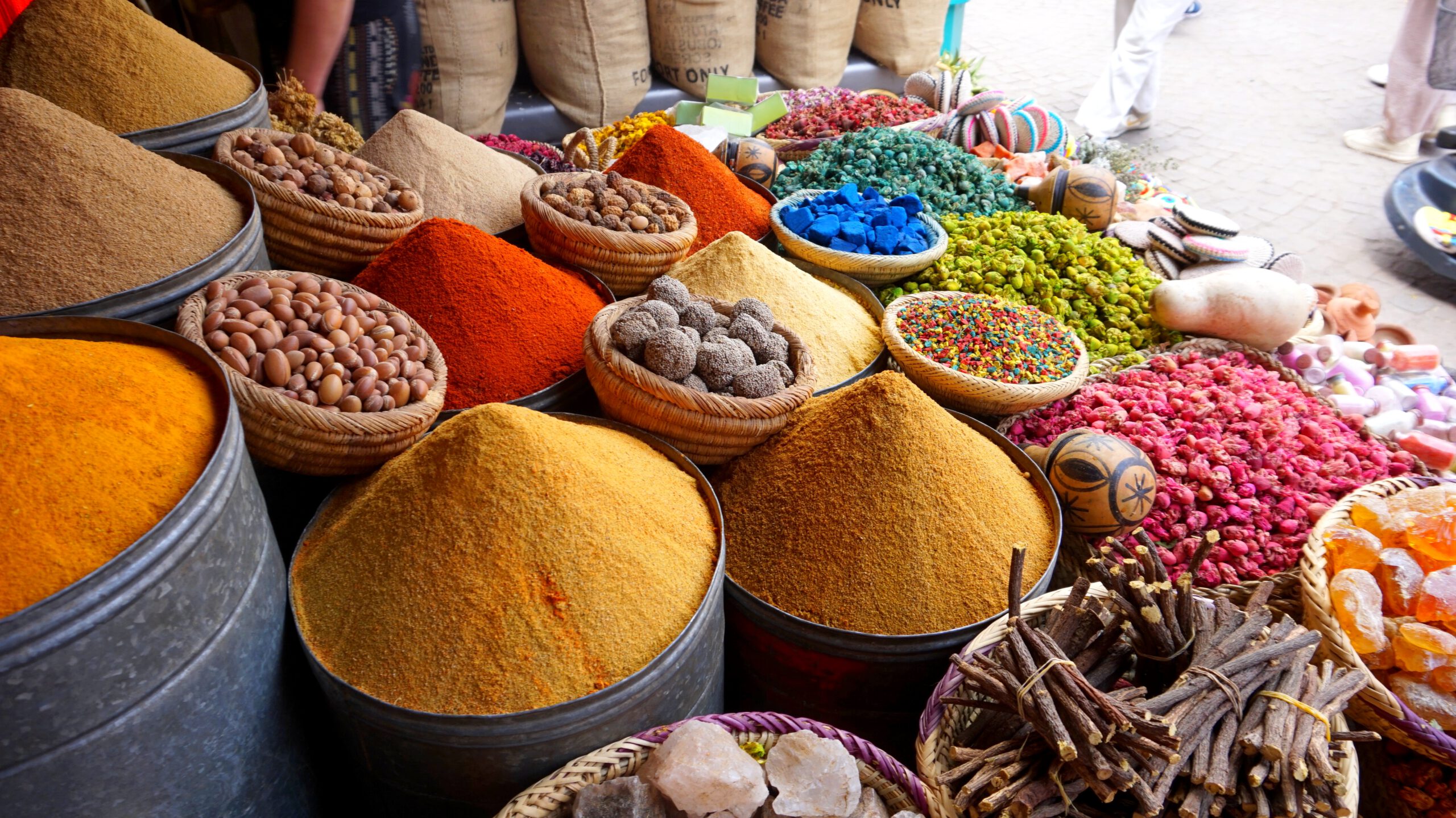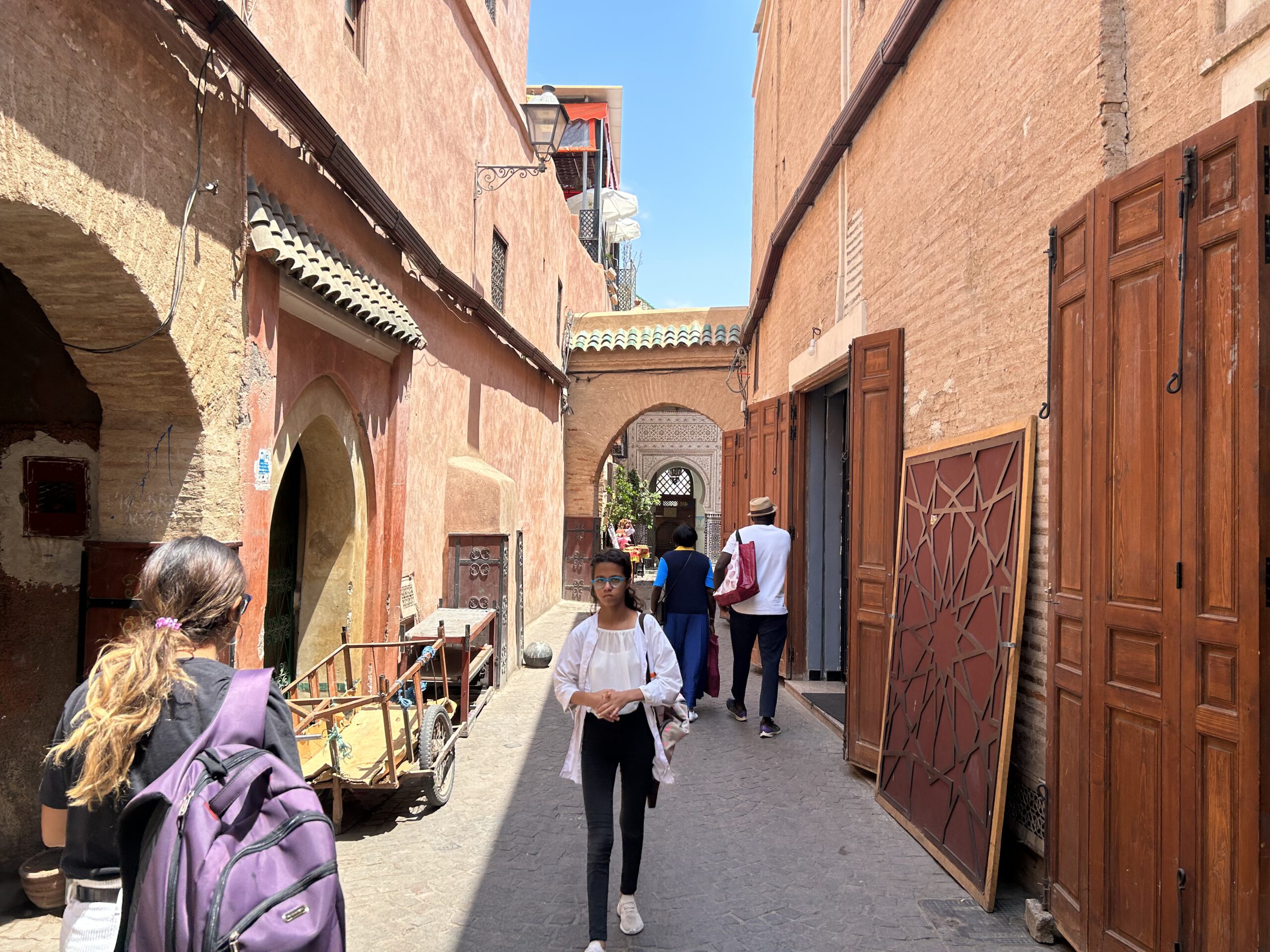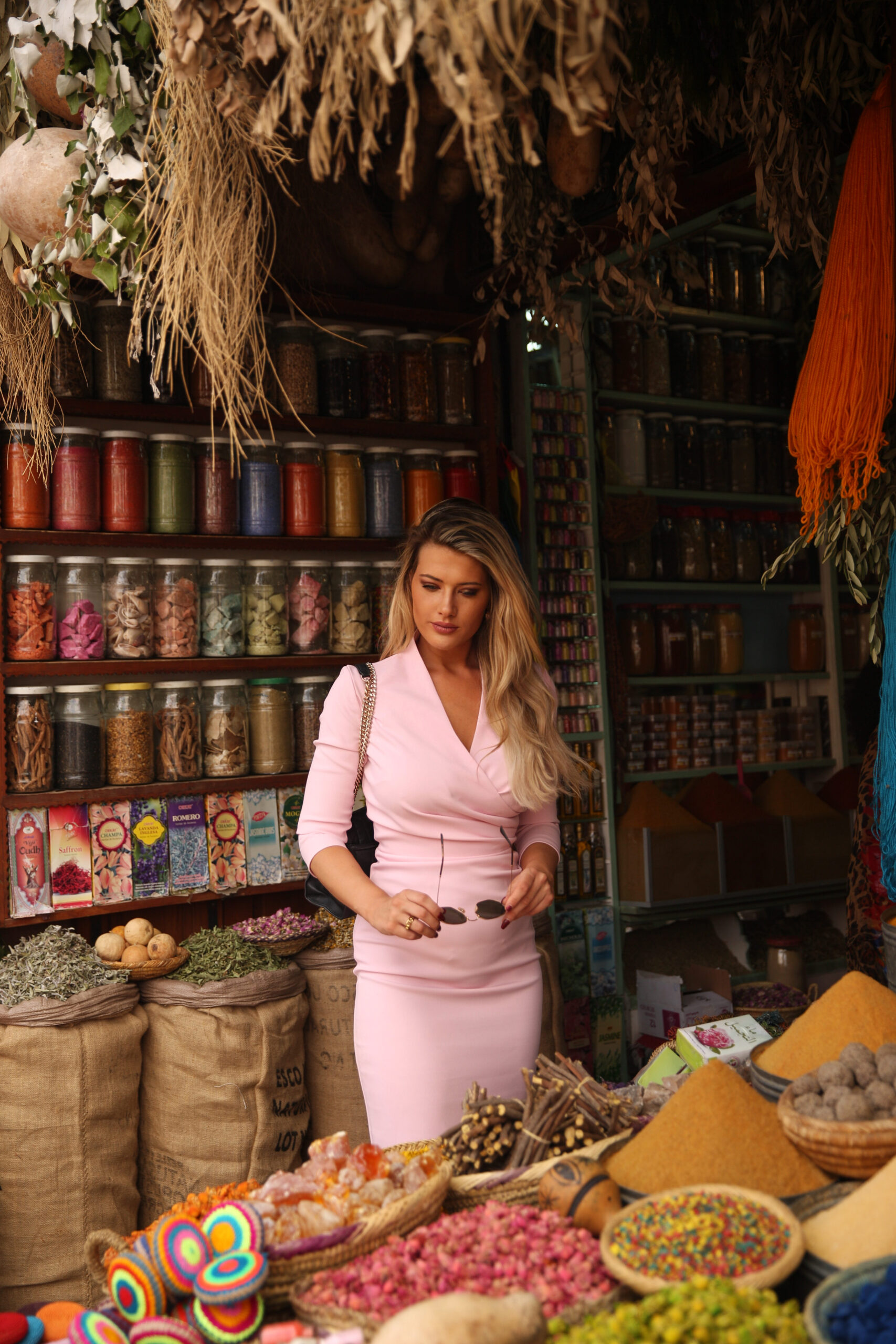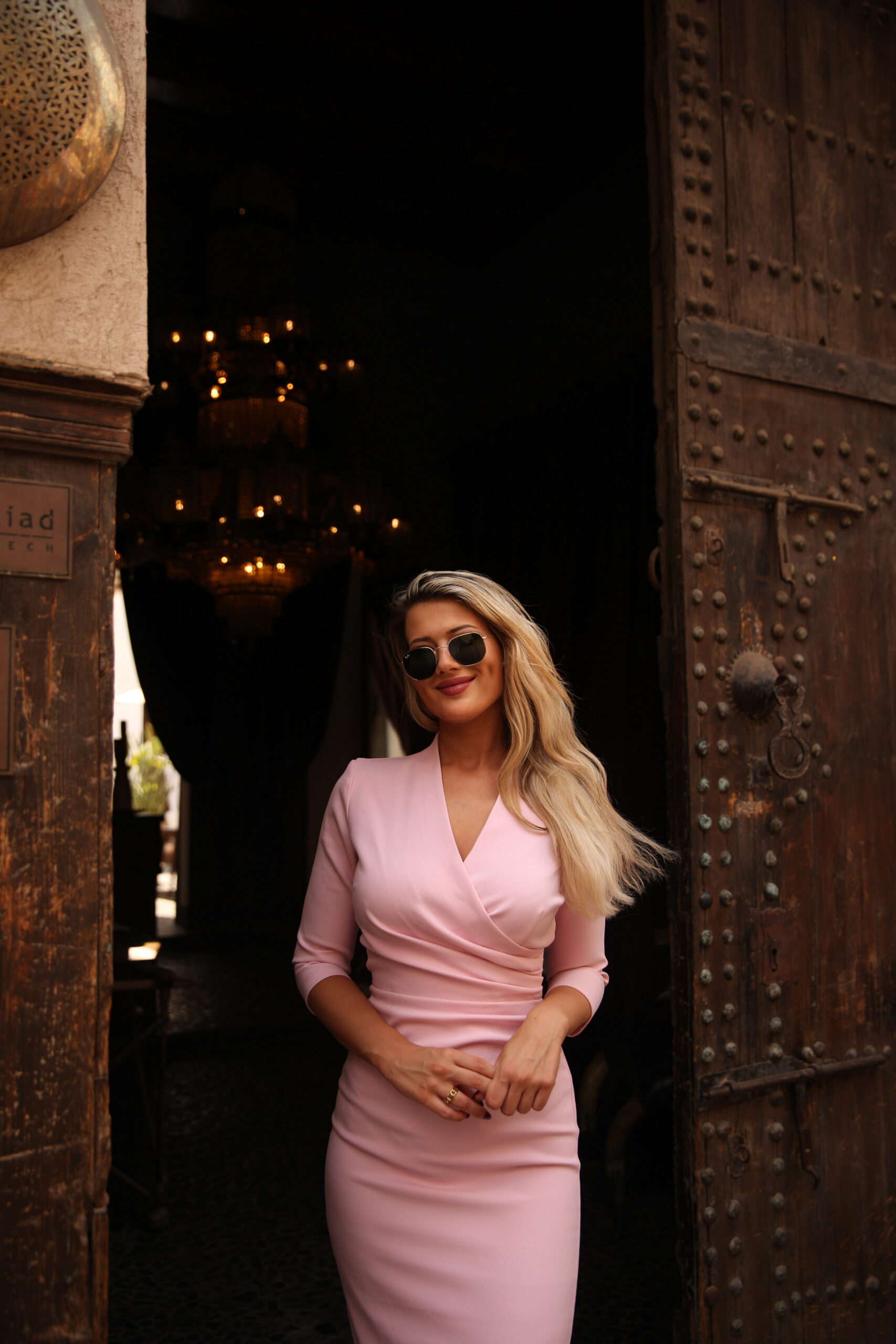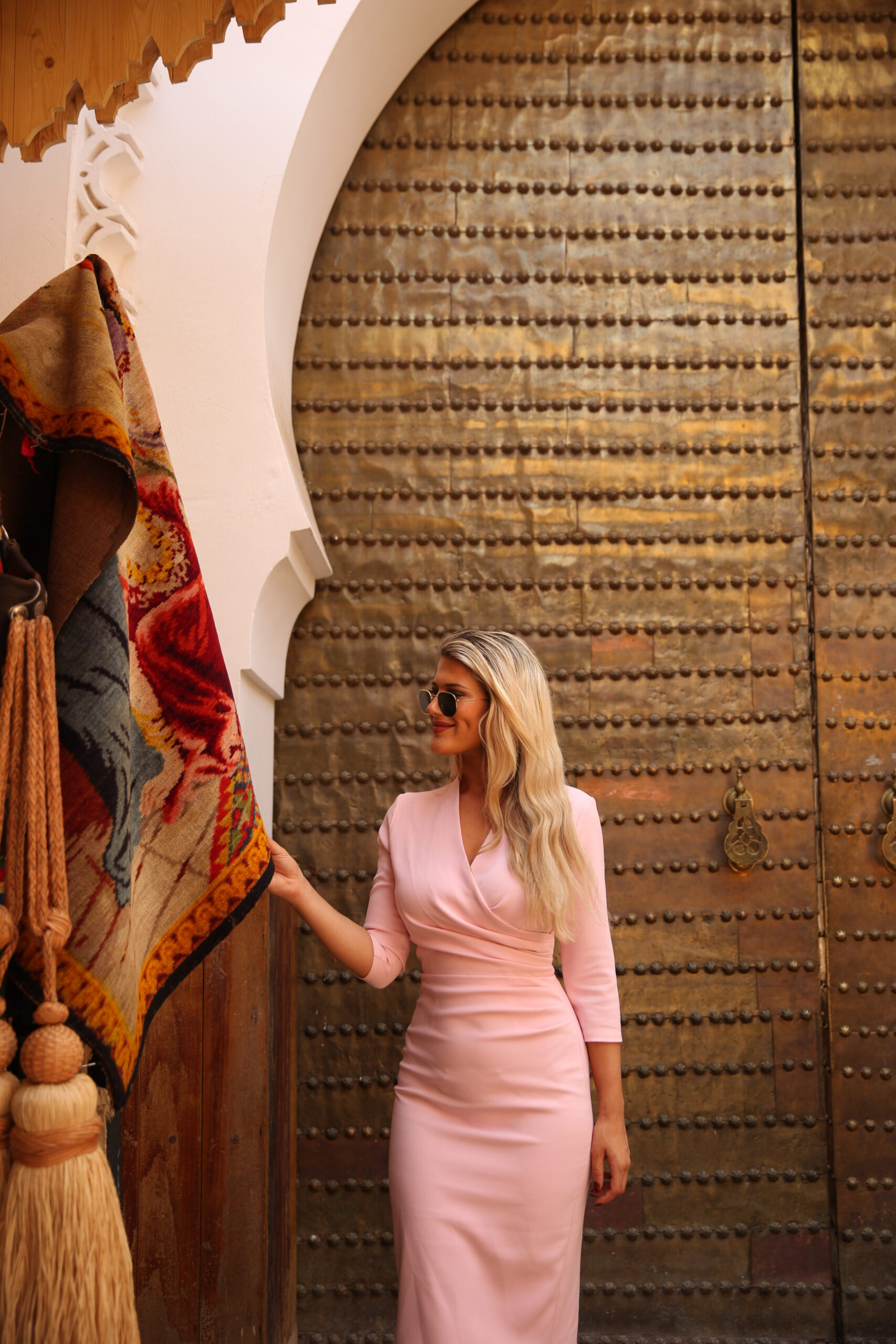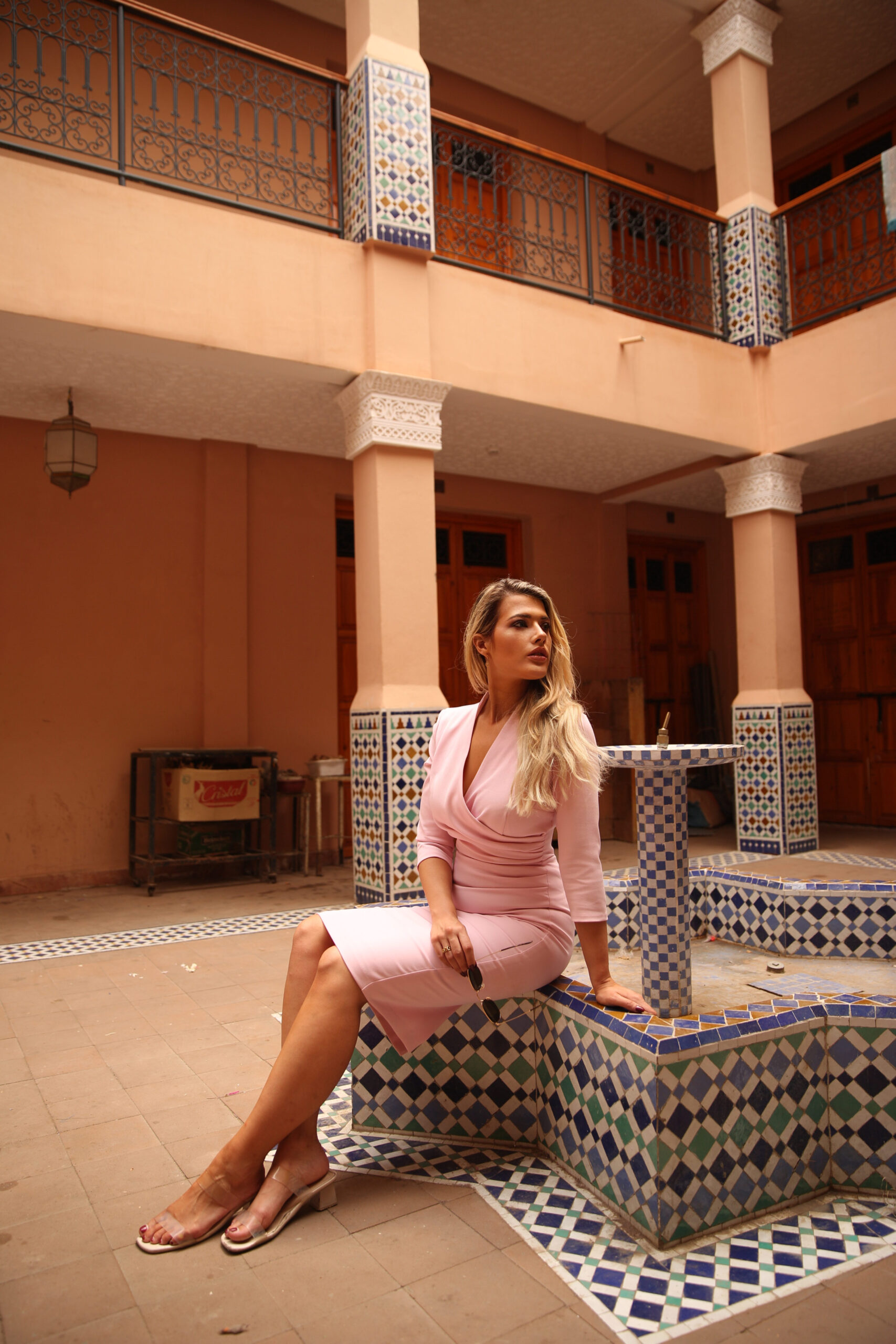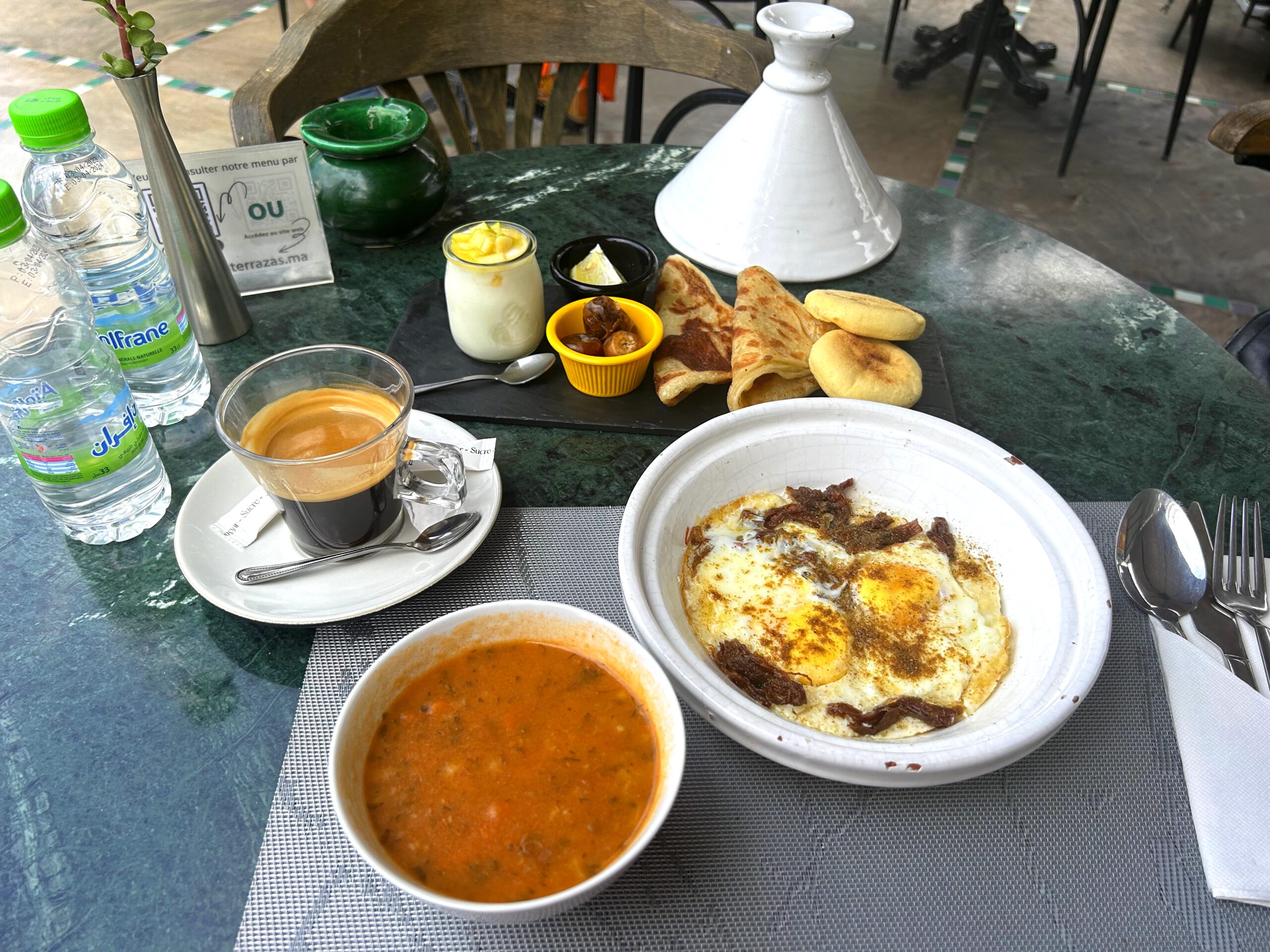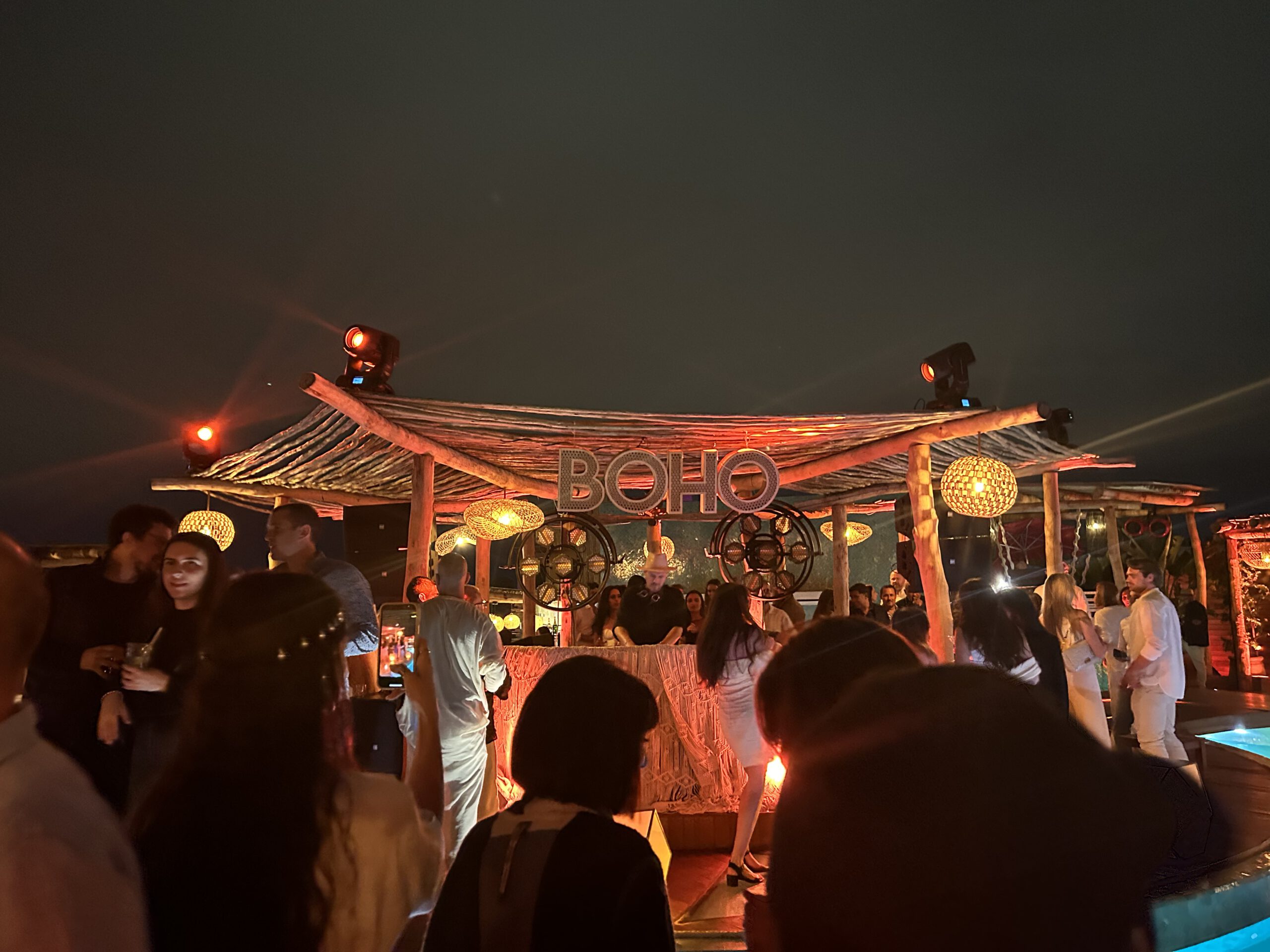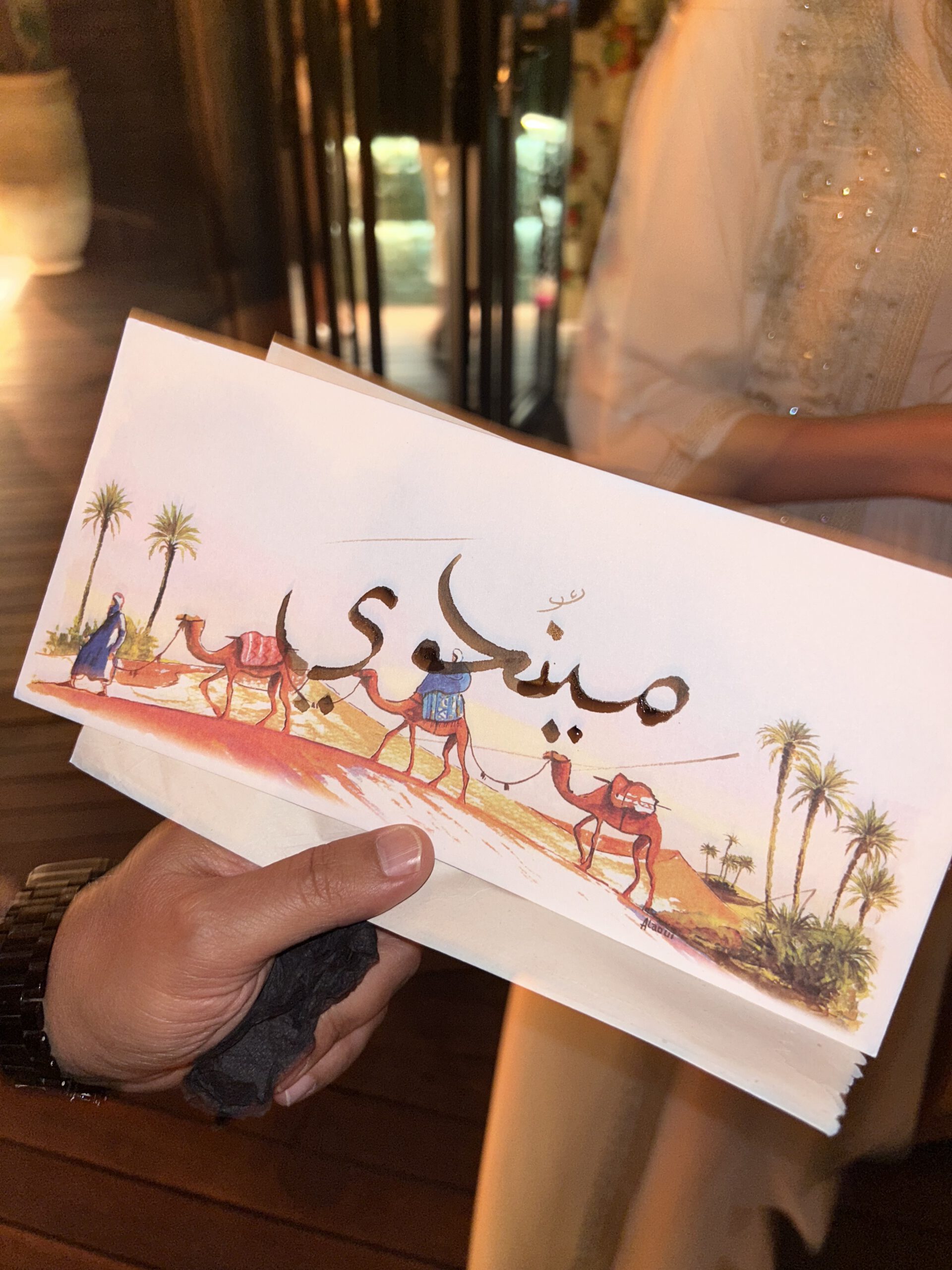 Day 6 – Marrakech & Agafay Desert – 27-05-2023
This day was really the highlight of the trip and the perfect ending. Today I would have my last full day in Marrakech before flying back to Amsterdam. We started the day with lunch in the afternoon at
Le Jardin du Lotus
– a very nice place, but a bit more expensive. Kenza joined us here and it was very nice with the 4 of us.
At the end of the afternoon we were expected at Nobu to be driven with shuttles to the Agafay Desert for the Desert Party. I've never been to the desert, so cool to experience. The location was breathtakingly beautiful. The party took place in a desert hotel called Le Bedouin – wow!. The ground outside was dotted with candles and the atmosphere felt very 'intimate' – especially as we were quite a few miles from the city and were here with a group. Because it gets very cold in the desert in the evening and the wind can blow hard, we all got a scarf. When I was doing some creative looks with this, I saw a photographer taking cool pictures of the location and asked her to take some pictures of me. This is how I got these cool portraits! Credit to @bob.is.in – also for the two photos of the location. There was also an open bar here and unlimited tea served by men in traditional clothing. I have never drunk such a delicious mint tea! I found the cordiality of everyone who organized and contributed to the party and team Nobu very nice and very friendly. What an experience! I thought it was a nice honor to also be able to experience this cool party and I couldn't have wished for a better ending to this trip!
We ended the evening with a delicious buffet dinner at this desert location. Even the decoration of the tables has been thought of – every detail was beautiful! The dinner buffet was really delicious and I ate a lamb tagine here that I will never forget – wow! Normally I don't like lamb, but this was really delicious!
Deze dag was echt de highlight van de trip en de perfecte afsluiting. Ik zou vandaag mijn laatste volle dag in Marrakech hebben vóór ik naar Amsterdam terug zou vliegen. We begonnen de dag met een lunch in de middag bij
Le Jardin du Lotus
– een hele mooie plek, maar wel wat duurder geprijst. Kenza sloot hier bij ons aan en het was erg gezellig met zijn 4en.
Eind van de middag werden we verwacht bij Nobu om met shuttles naar de Agafay Desert gereden te worden voor de Desert Party. Ik ben nog nooit in de woestijn geweest, dus gaaf om mee te maken.
De locatie was adembenemend mooi. Het feest vond plaats in een woestijn hotel genaamd Le Bedouin – wauw!. De grond buiten was bezaaid met kaarsen en de atmosfeer voelde heel 'intiem' – vooral omdat we behoorlijk wat kilometers verwijderd waren van de stad en hier met een groep waren. Omdat het in de avond heel erg koud wordt in de woestijn en hard kan gaan waaien, kregen we allemaal een sjaal. Toen ik hier wat creatieve looks mee maakte, zag ik een fotografe gave foto's maken van de locatie en vroeg haar wat foto's van mij te maken. Hier heb ik deze gave portretten aan overgehouden! Credit naar @bob.is.in – ook voor de twee foto's van de ruimte. Er was hier overigens een open bar en onbeperkt thee geschonken door mannen in traditionele kleding. Ik heb nog nooit zo'n lekkere munt thee gedronken! Ik vond de hartelijkheid van iedereen die het feest heeft georganiseerd en er aan bij droeg en team nobu heel leuk en erg vriendelijk. Wat een ervaring! Ik vond het een leuke eer óók dit gave feest te mogen hebben meemaken en ik had geen betere afsluiting van deze trip kunnen wensen!
We sloten de avond af met een heerlijk buffet diner op deze locatie in de woestijn. Aan zelfs de aankleding van de tafels is gedacht – ieder detail was prachtig! Het diner buffet was écht heerlijk en ik heb hier lams tajine gegeten die ik nooit zal vergeten – wauw!  Normaal houd ik niet van lamsvlees, maar dit was écht ontzettend lekker!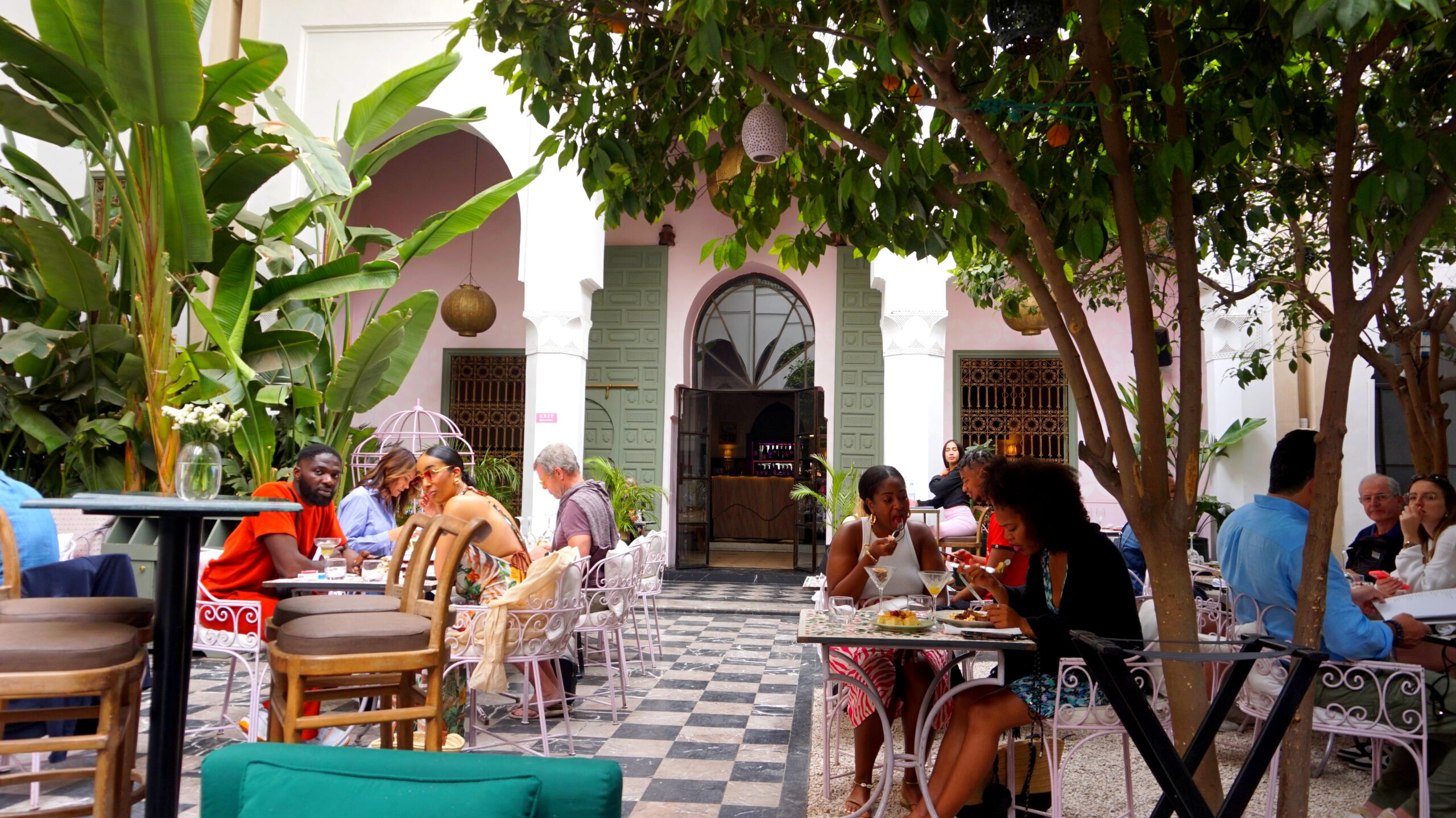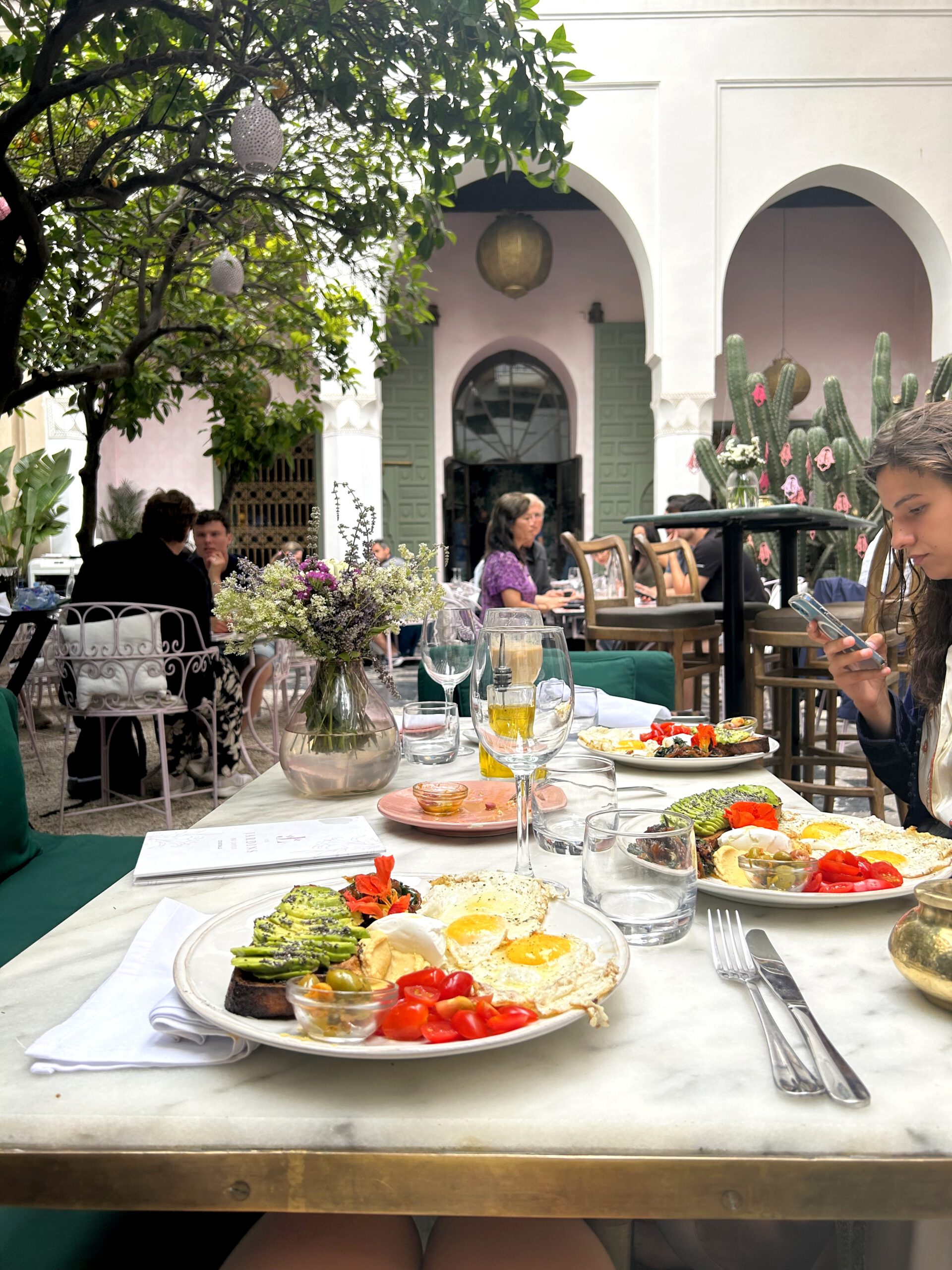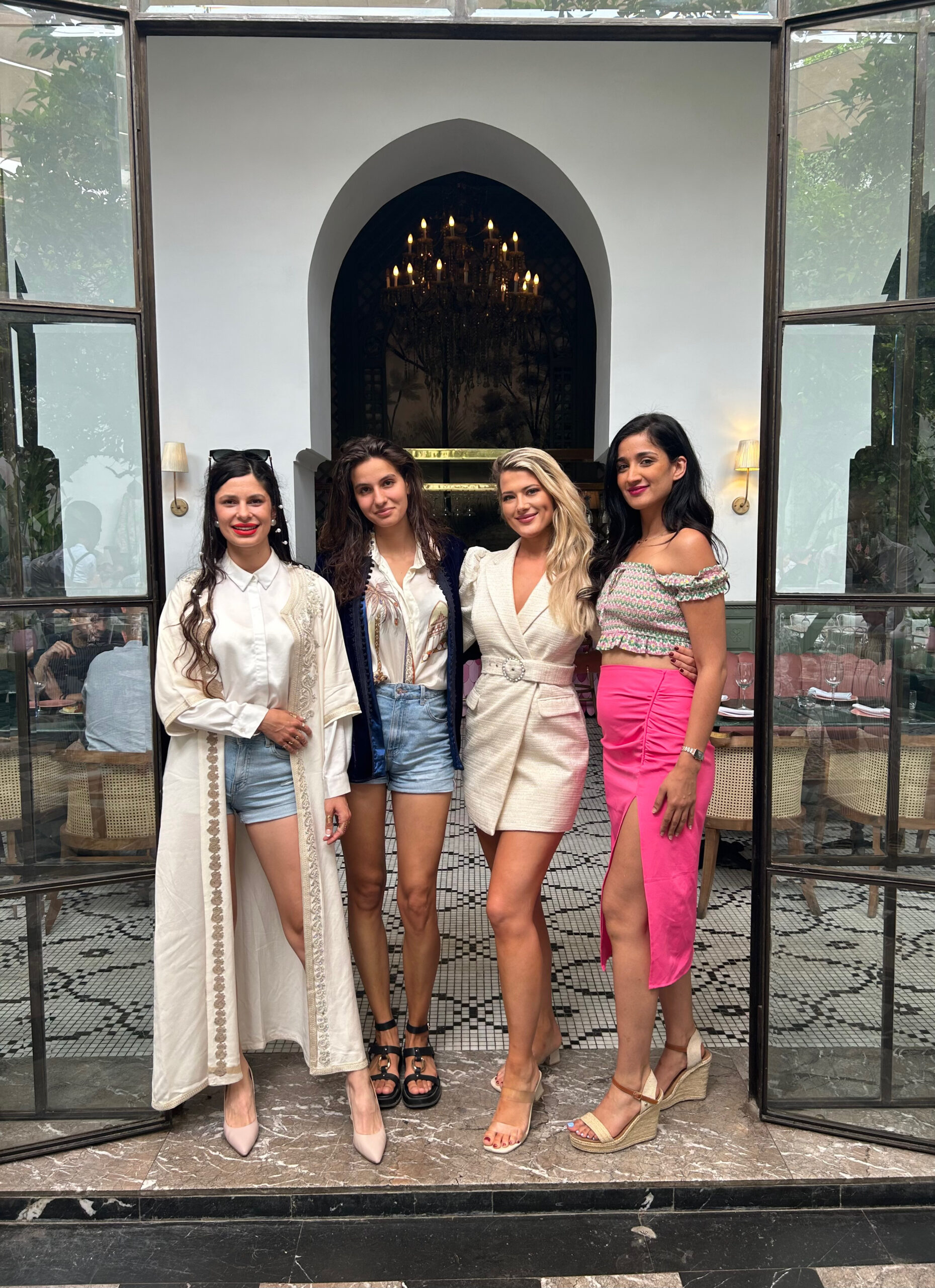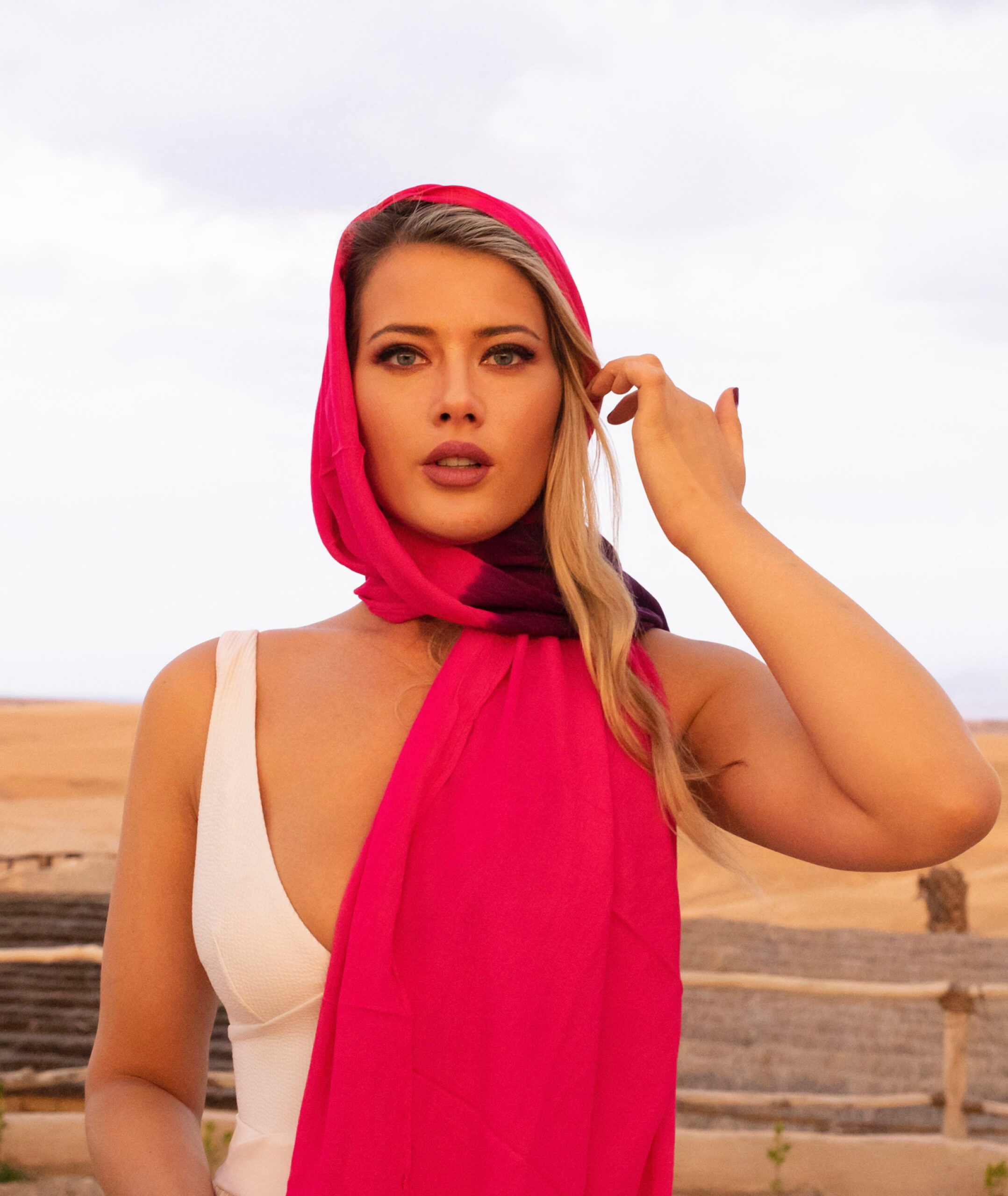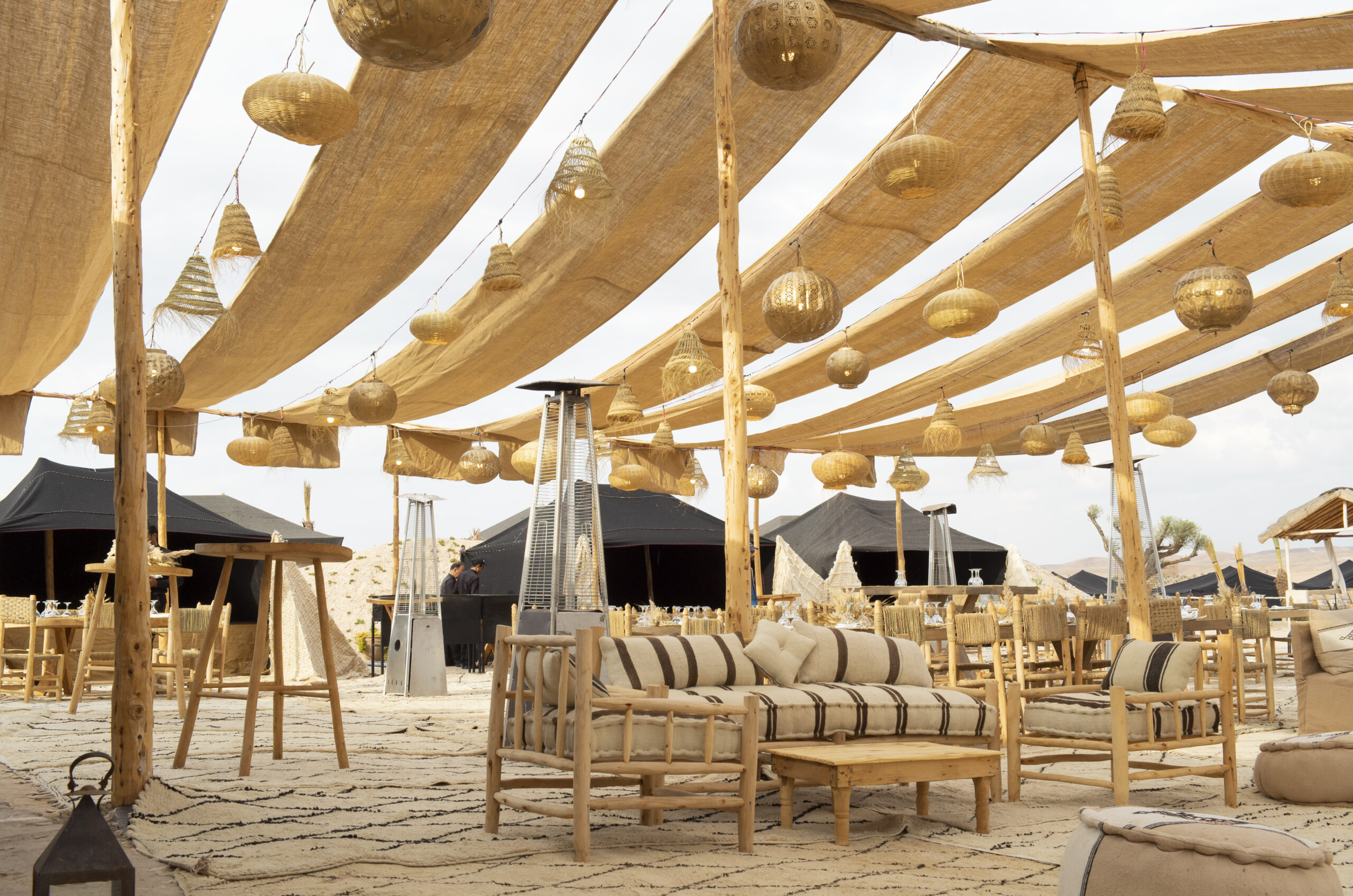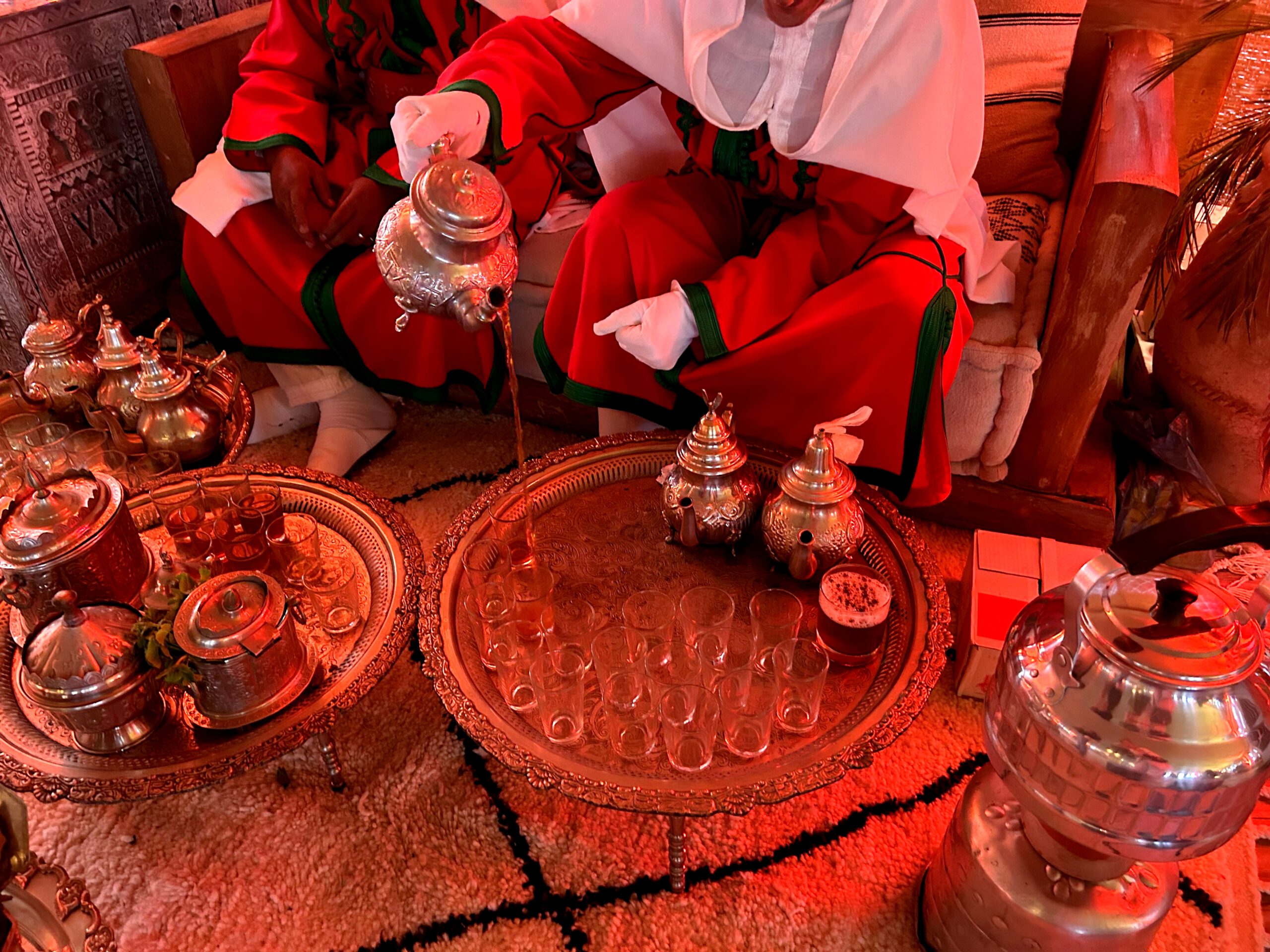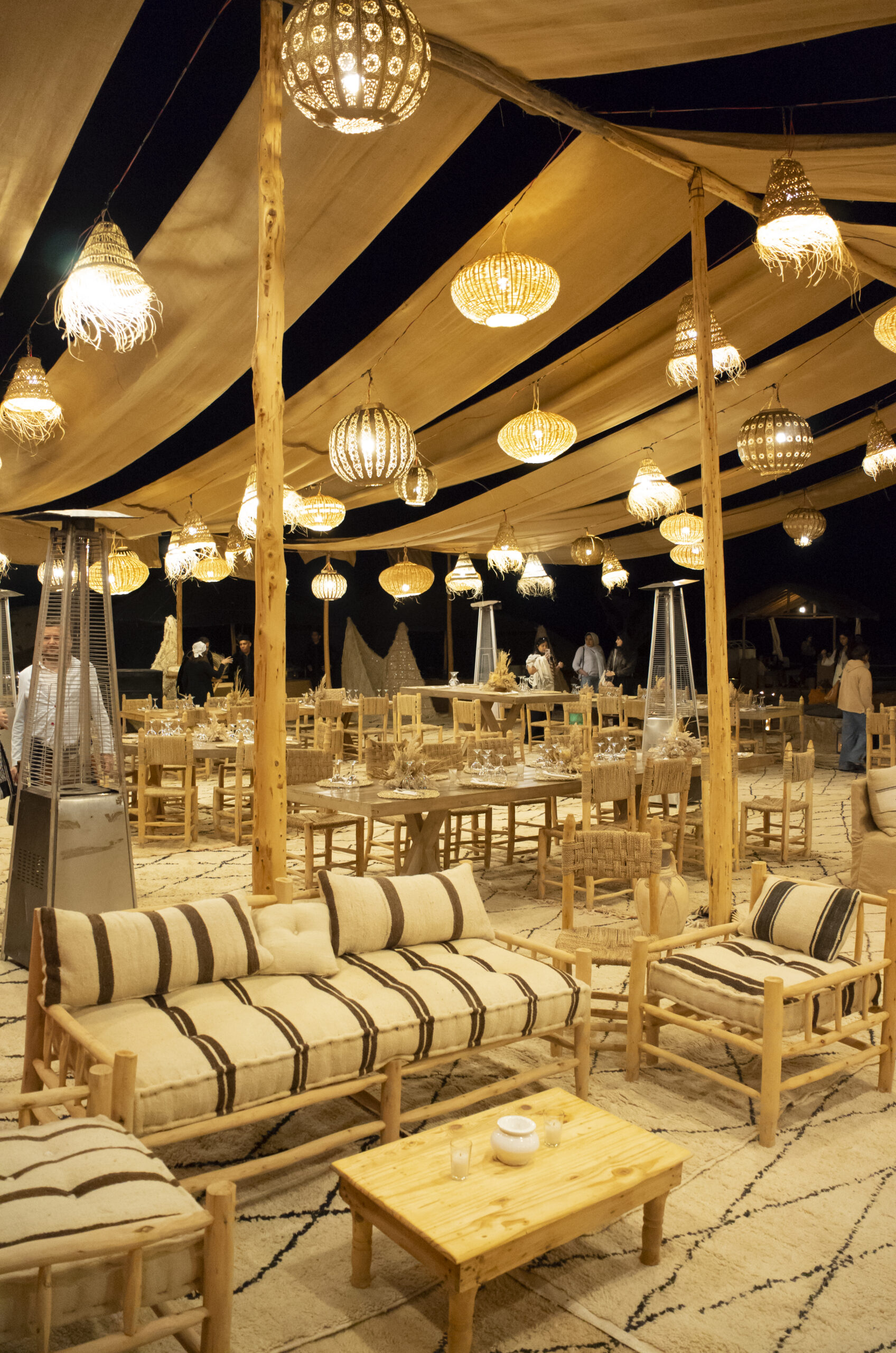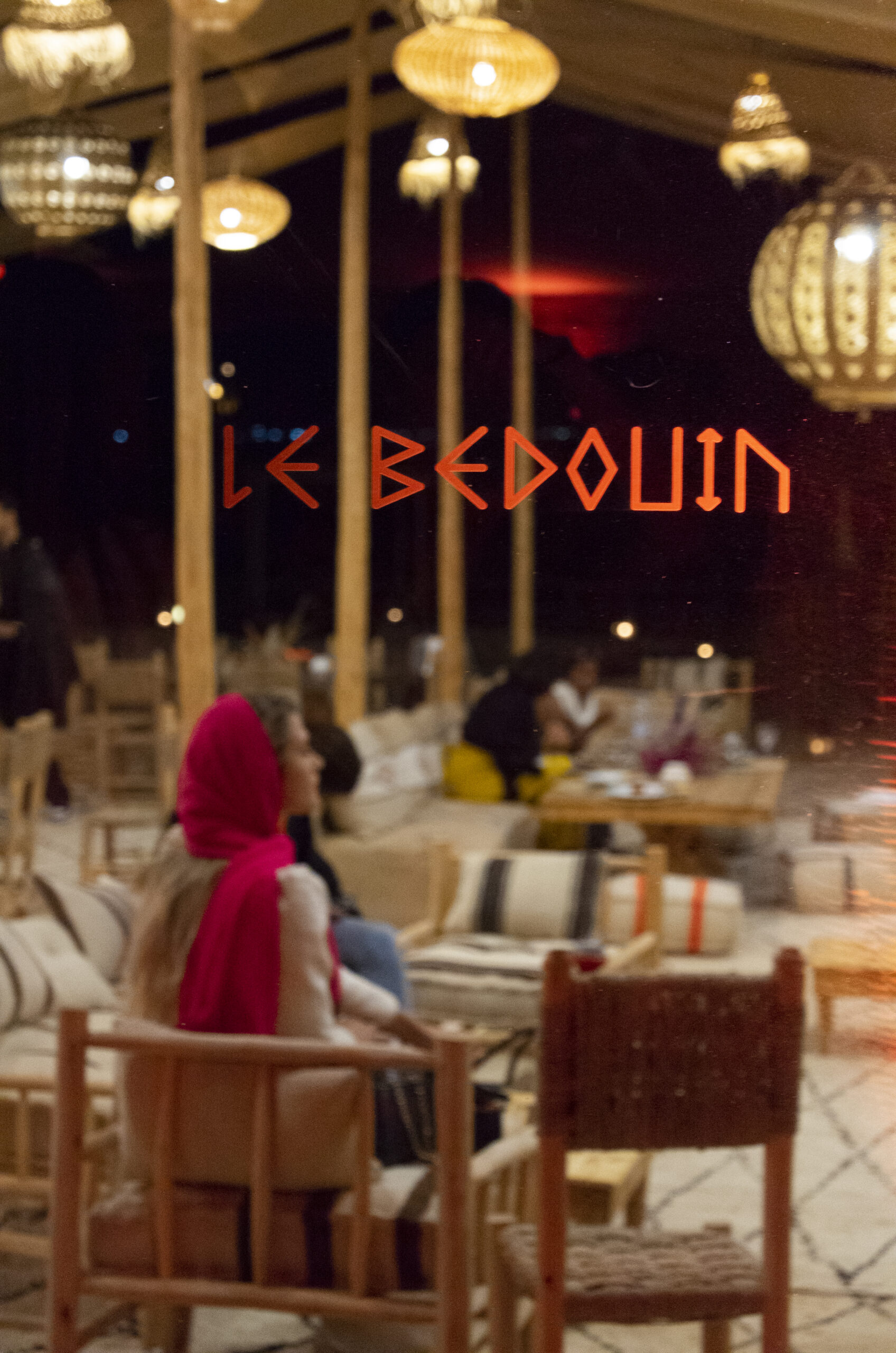 Day 7 – Marrakech & Amsterdam – 28-05-2023
I checked out early in the morning and was taken to the airport with a shuttle. Marrakech airport is not very far from the center, so I was there in no time.
This trip was very nice and I wonder you should definitely visit Marrakech and if you have that opportunity for yourself, certainly Nobu! If I ever come back, I would really like to visit a nice Riad and spend the night there, but who knows in the future! I met some nice people here that I would like to see again. Thank you for reading this travel diary! My next one will be online soon!
Vroeg in de ochtend checkte ik uit en werd ik met een shuttle naar de airport gebracht. Marrakech airport ligt niet heel ver van het centrum, dus was ik er zo.
Deze trip was erg graag en ik raar jullie het zeker aan Marrakech te bezoeken en indien je die mogelijkheid voor jezelf hebt ook zeker Nobu! Mocht ik ooit terugkomen, zou ik nog heel graag een mooie Riad willen bezoeken en er overnachten, maar wie weet in de toekomst! Ik heb hier leuke mensen leren kennen die ik graag nog een keer zou willen zien. Dank jullie wel voor het lezen van deze travel diary! Binnenkort komt mijn volgende online!