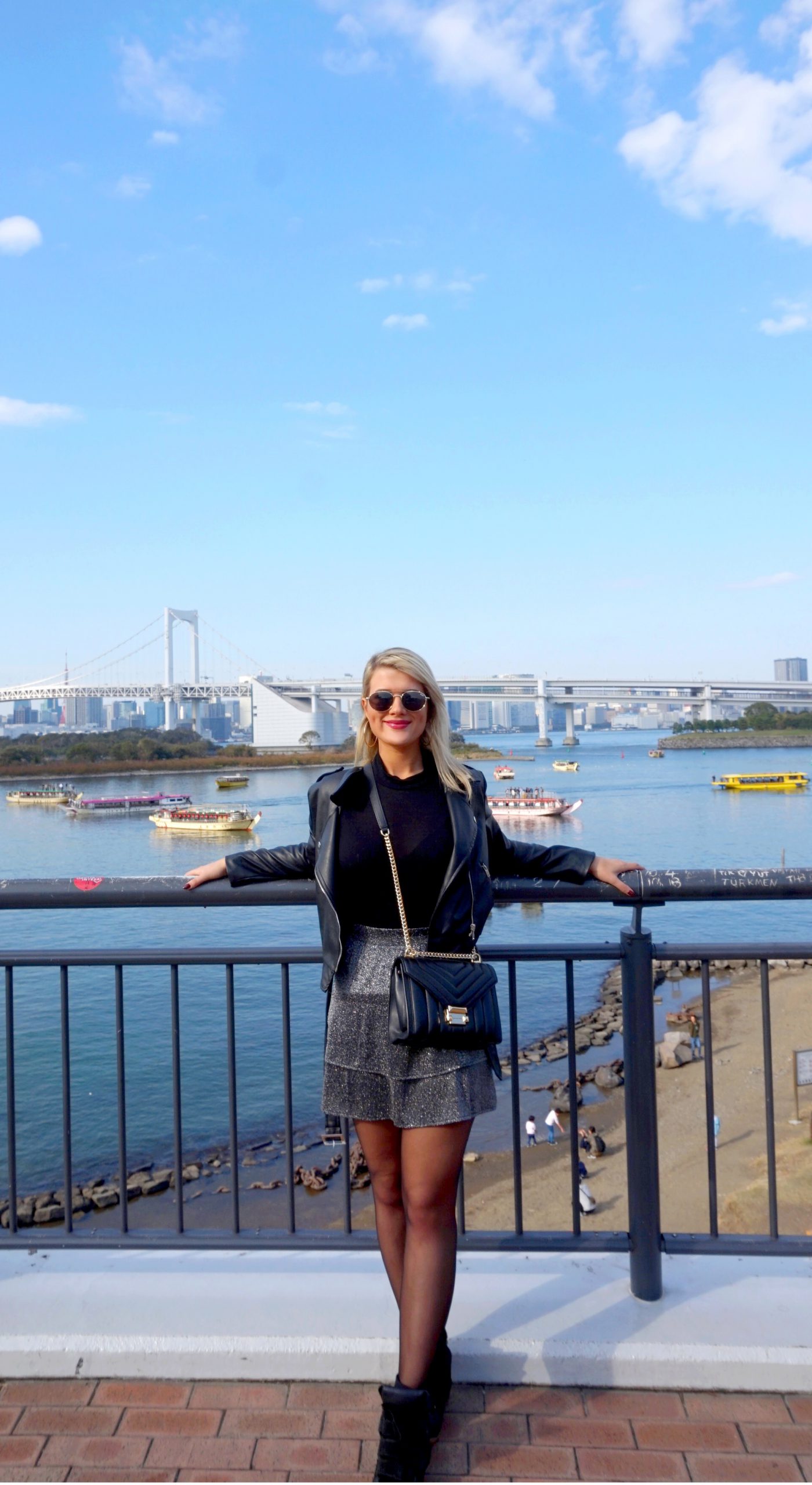 In November, I went to Japan for 14 days. Just like I did in 2018, I went solo. I had booked the direct KLM flights via crew standby travel. After a flight of 10.5 hours in total, I left to the city the same way as last year, with the Narita express – a direct train connection to central Tokyo at Narita Airport station. The price of a return trip is 4000 yen (around 28 euros) – For the standby/crew members among us, you can also use the return ticket for another day, in case your plans change within 14 days.
In November was ik voor 14 dagen naar Japan vertrokken. Net als ik 2018, was ik alleen op pad gegaan. De rechtstreekse KLM vluchten had ik IPB geboekt. Na een vlucht van 10,5 uur, vertrok ik op dezelfde manier als vorig jaar, met de Narita expres – een rechtstreekse treinverbinding naar centraal Tokyo op het station van Narita Airport. De kosten voor een return trip zijn 4000 yen (zo'n 28 euro) – Voor de IPB'ers onder ons, het retour ticket kun je ook gebruiken voor een andere dag, mocht je andere plannen hebben, binnen 14 dagen.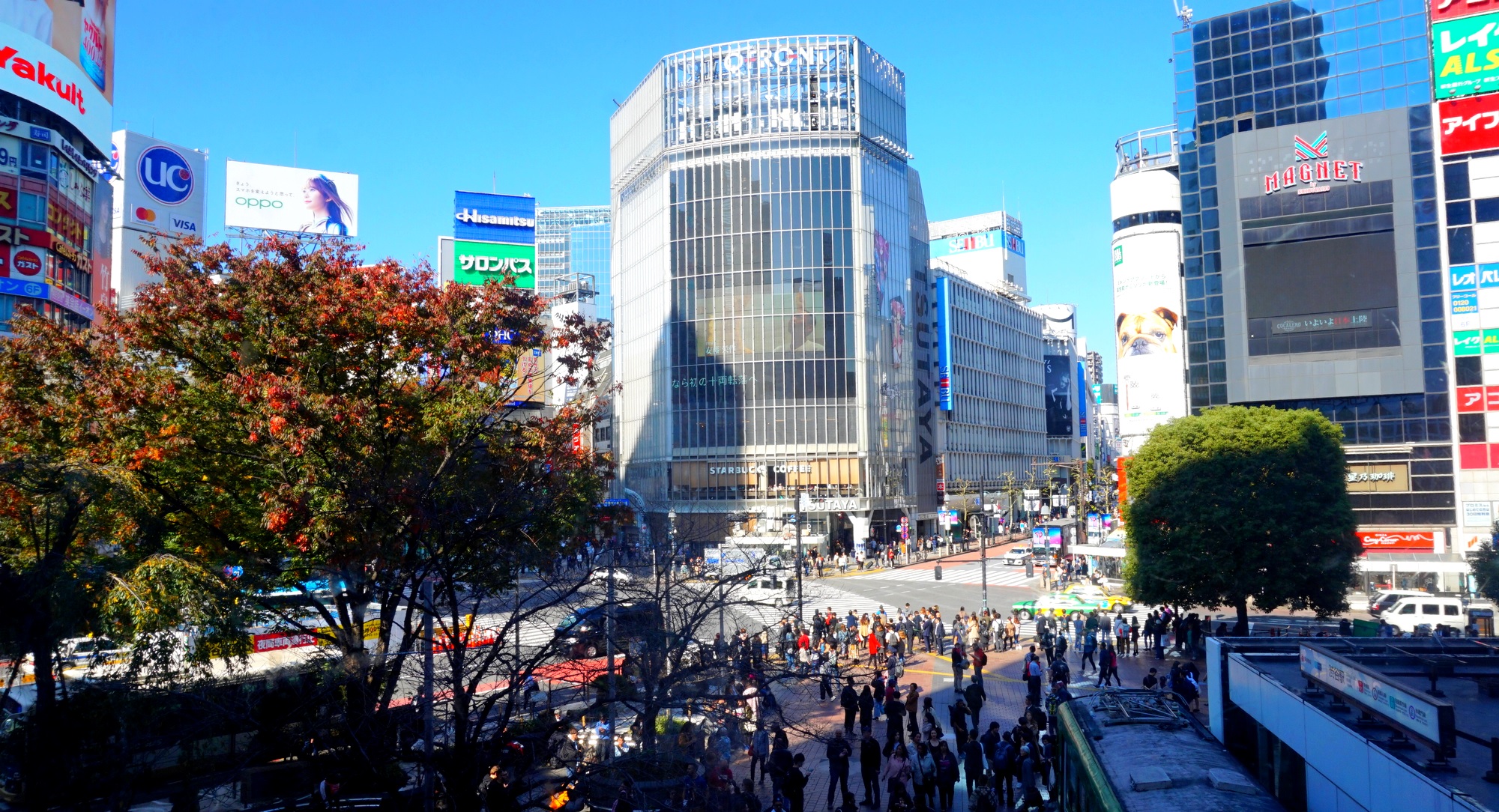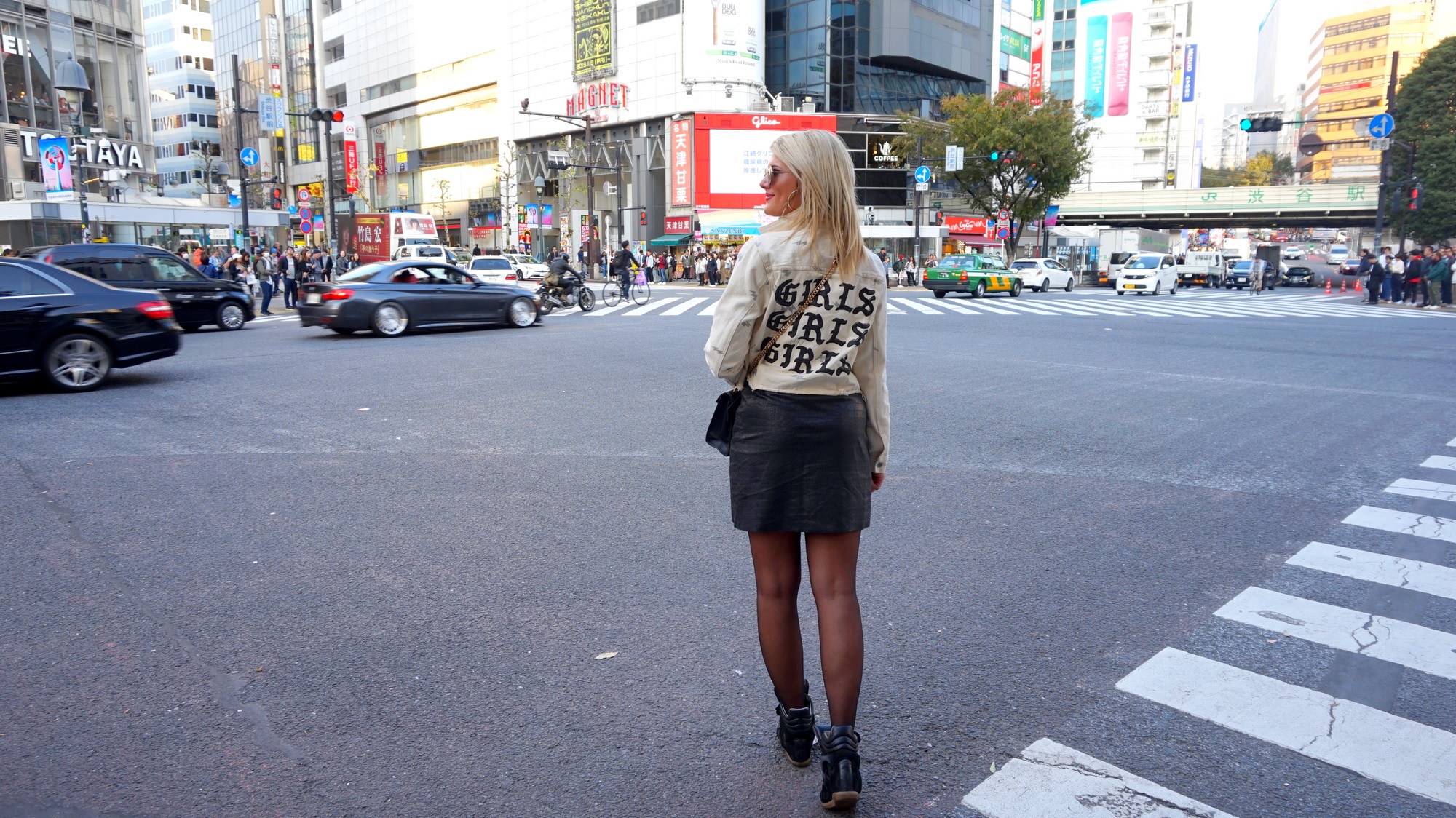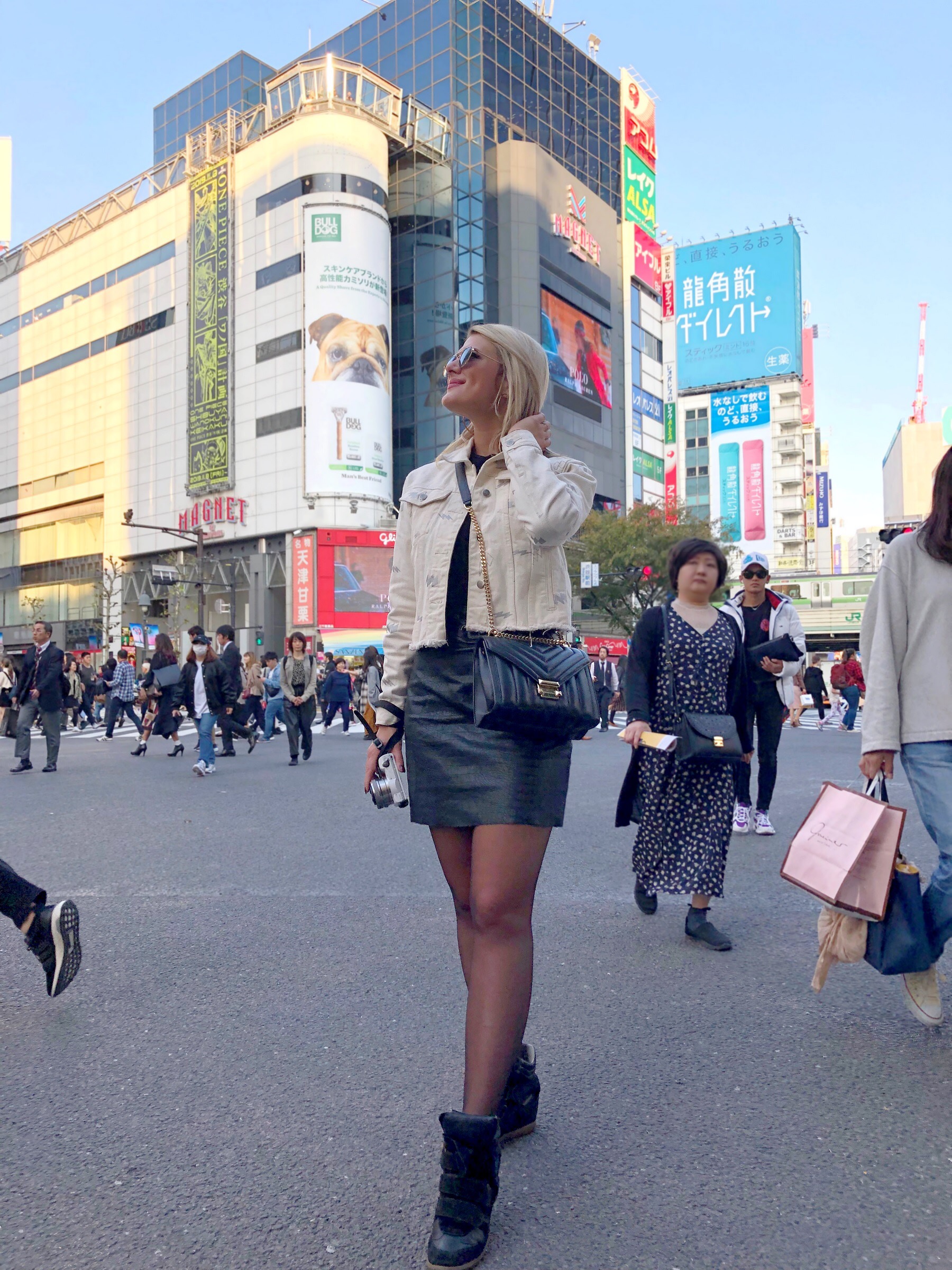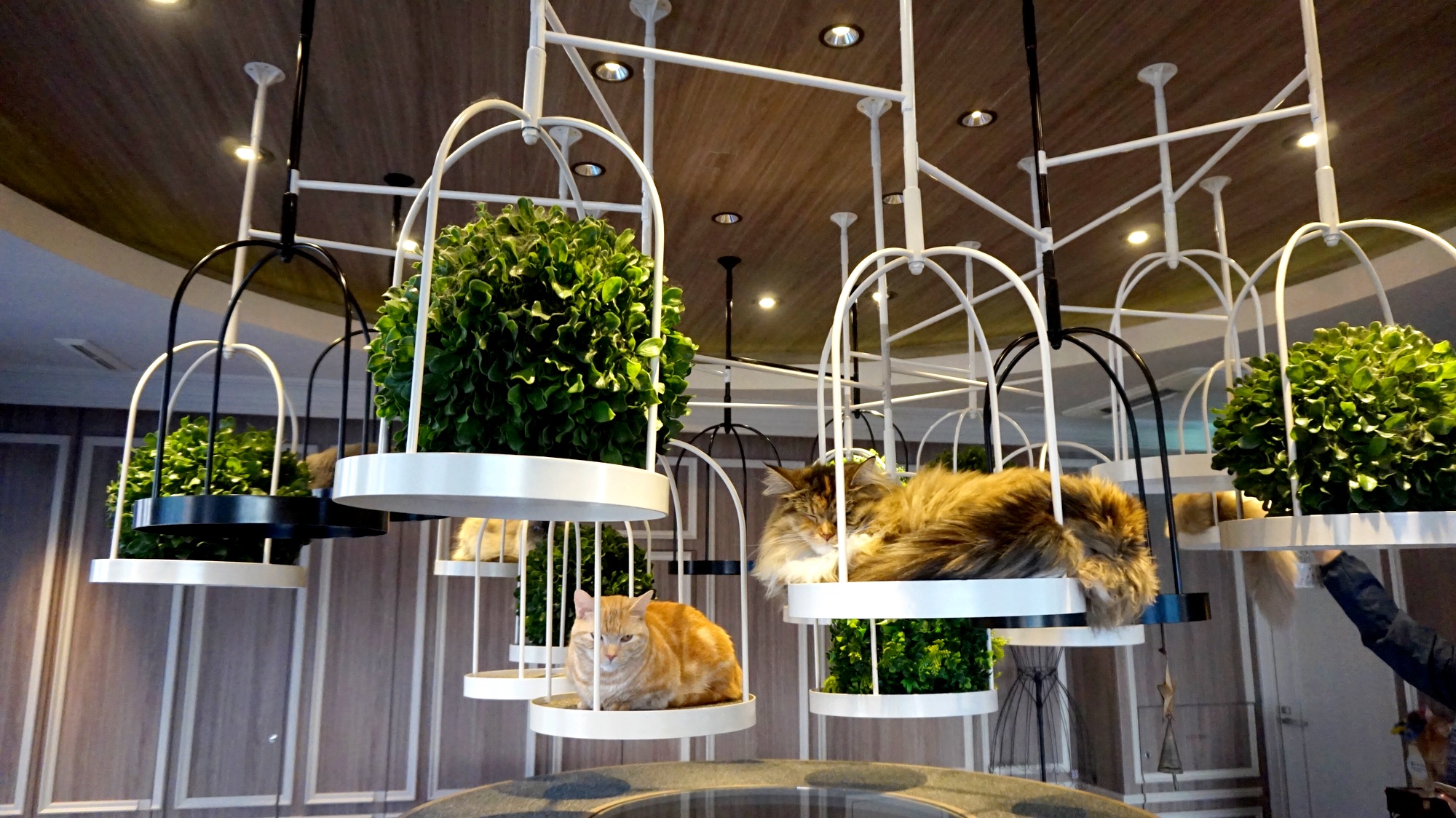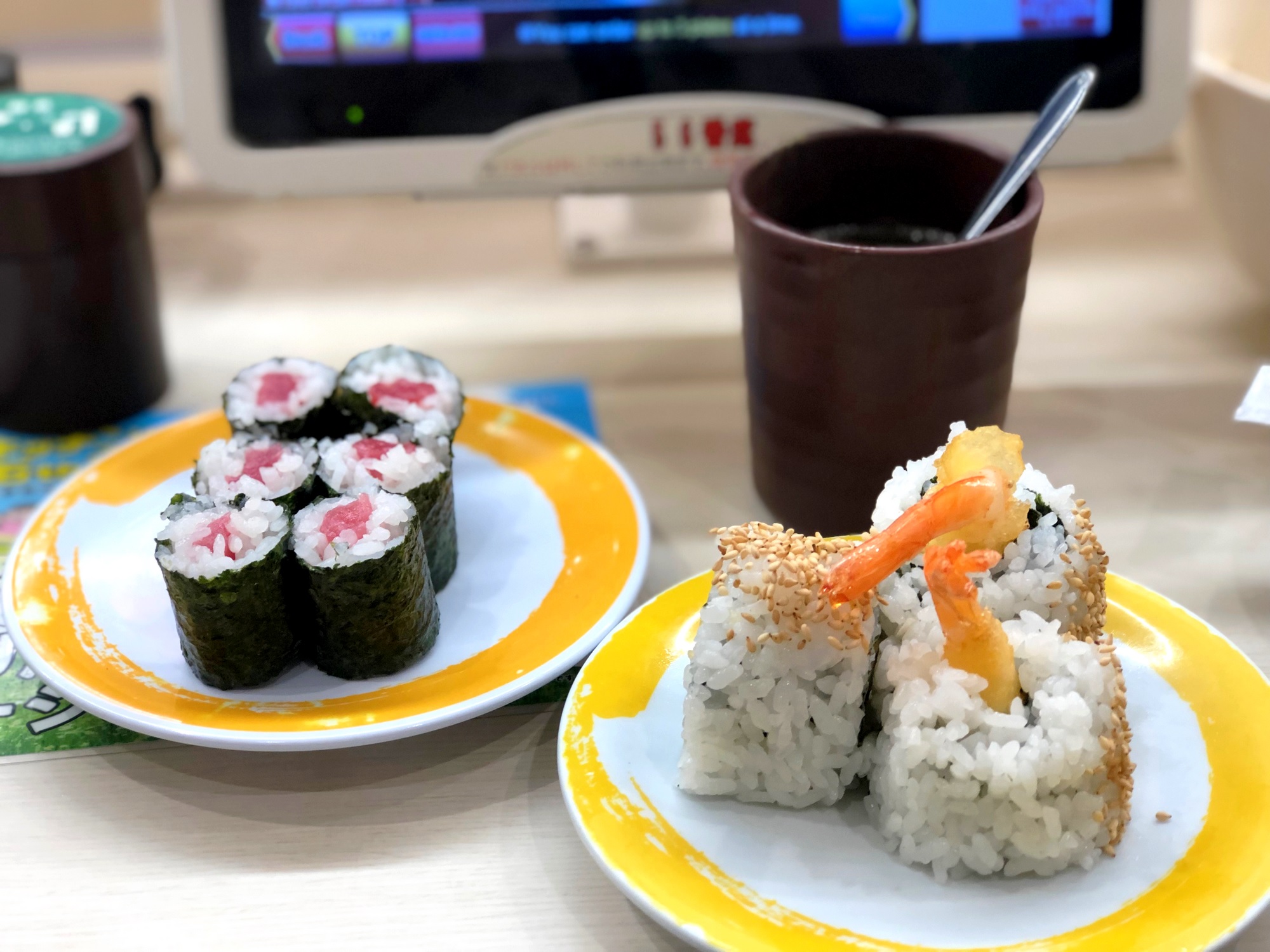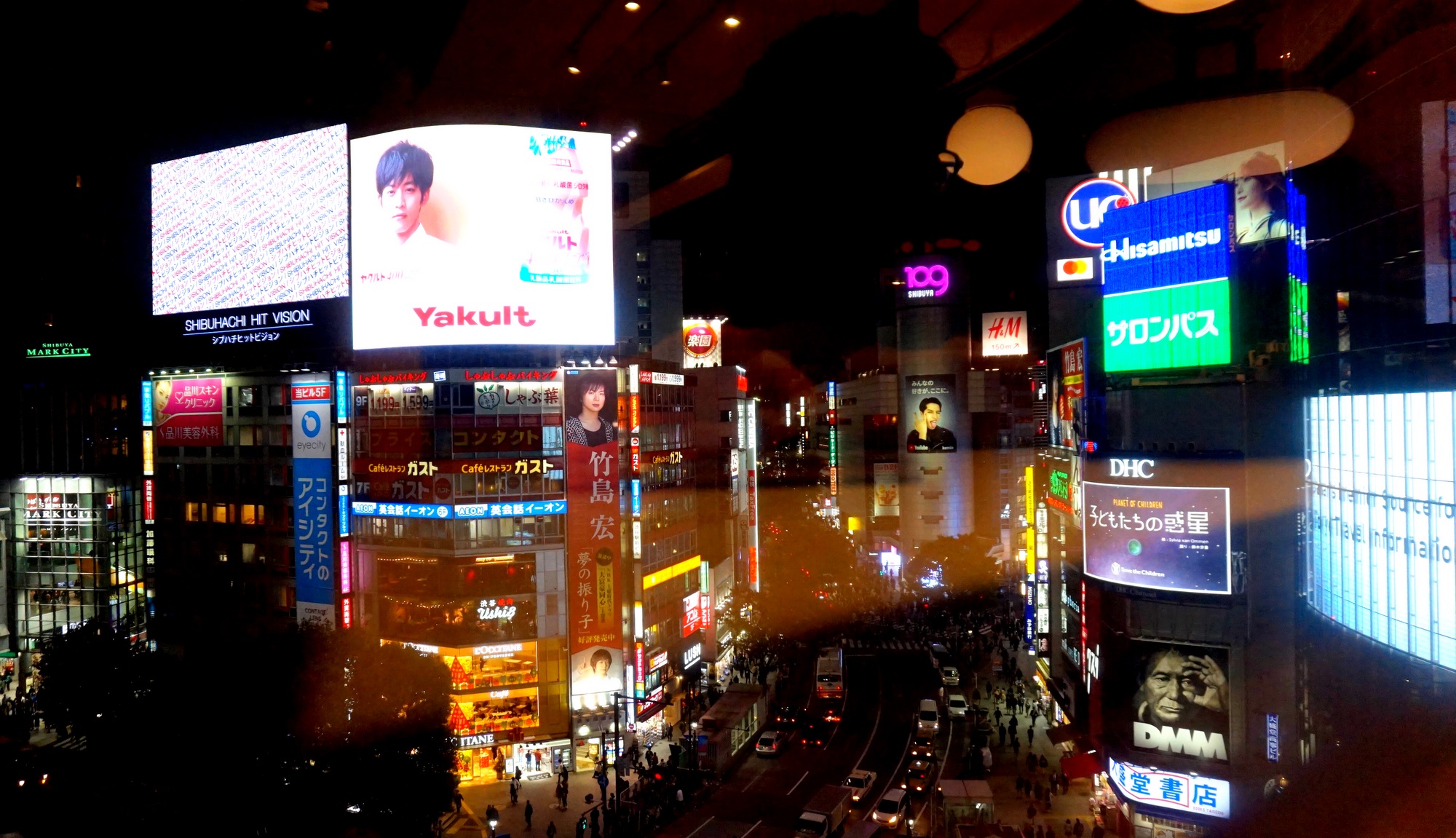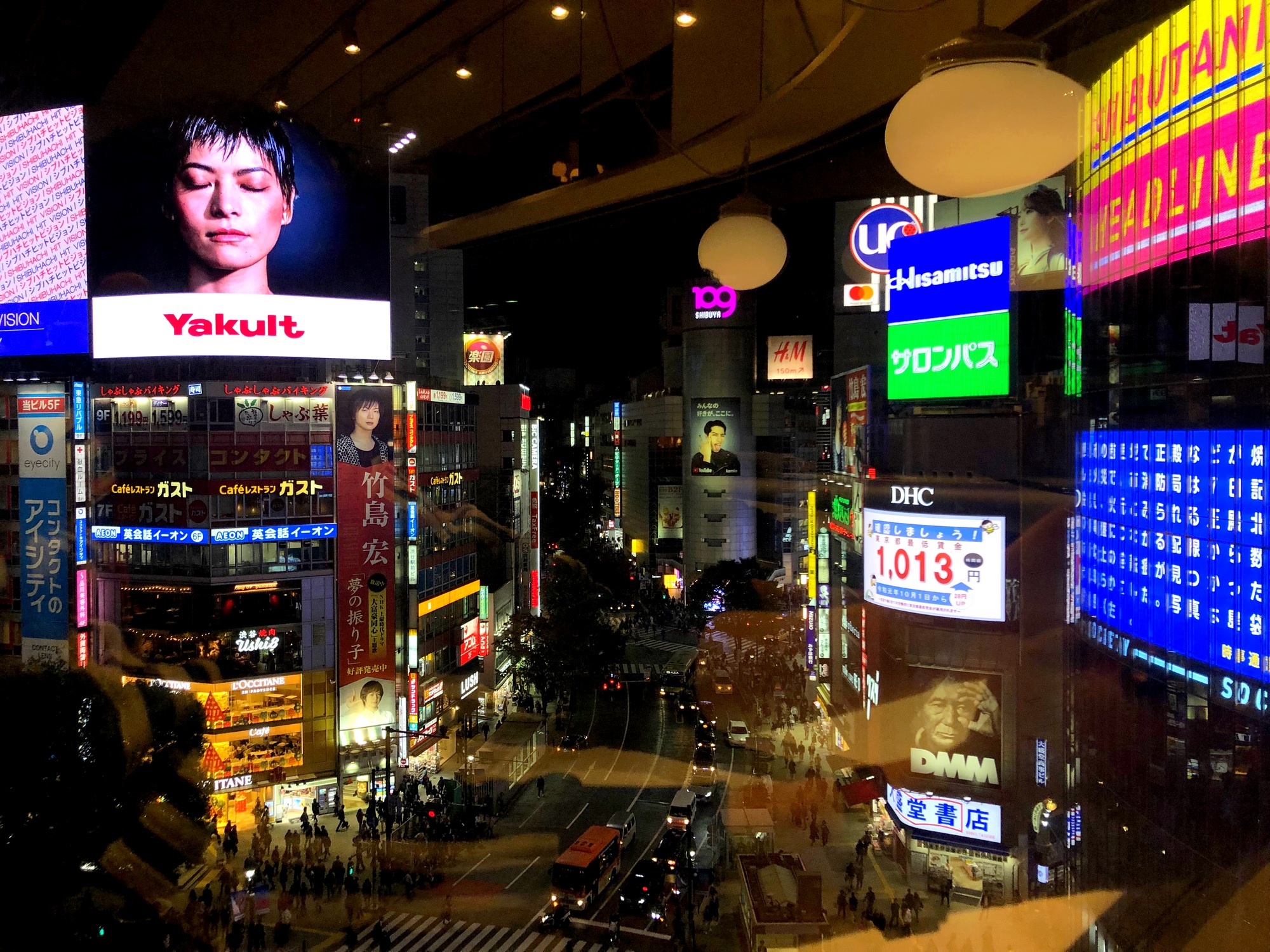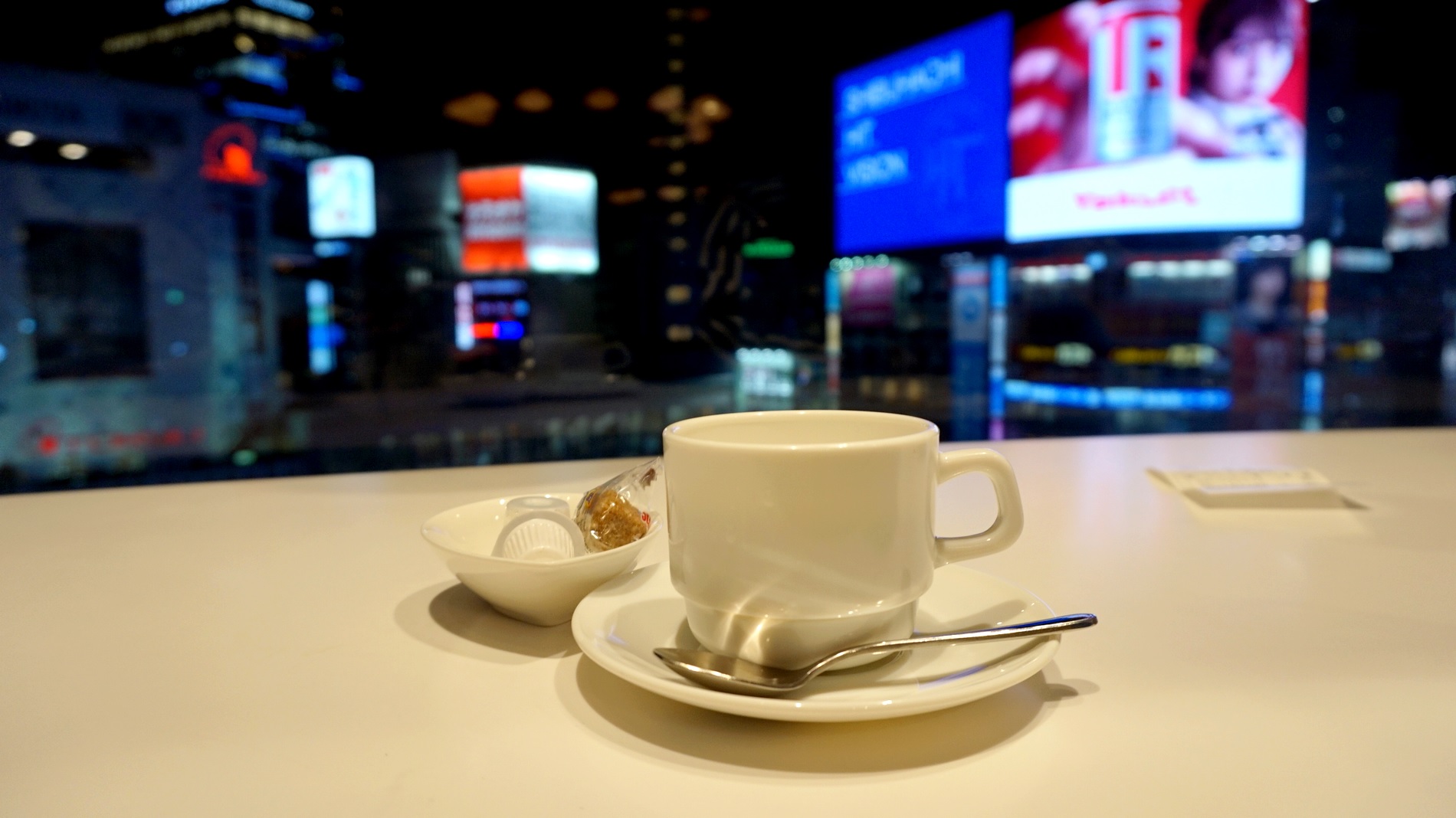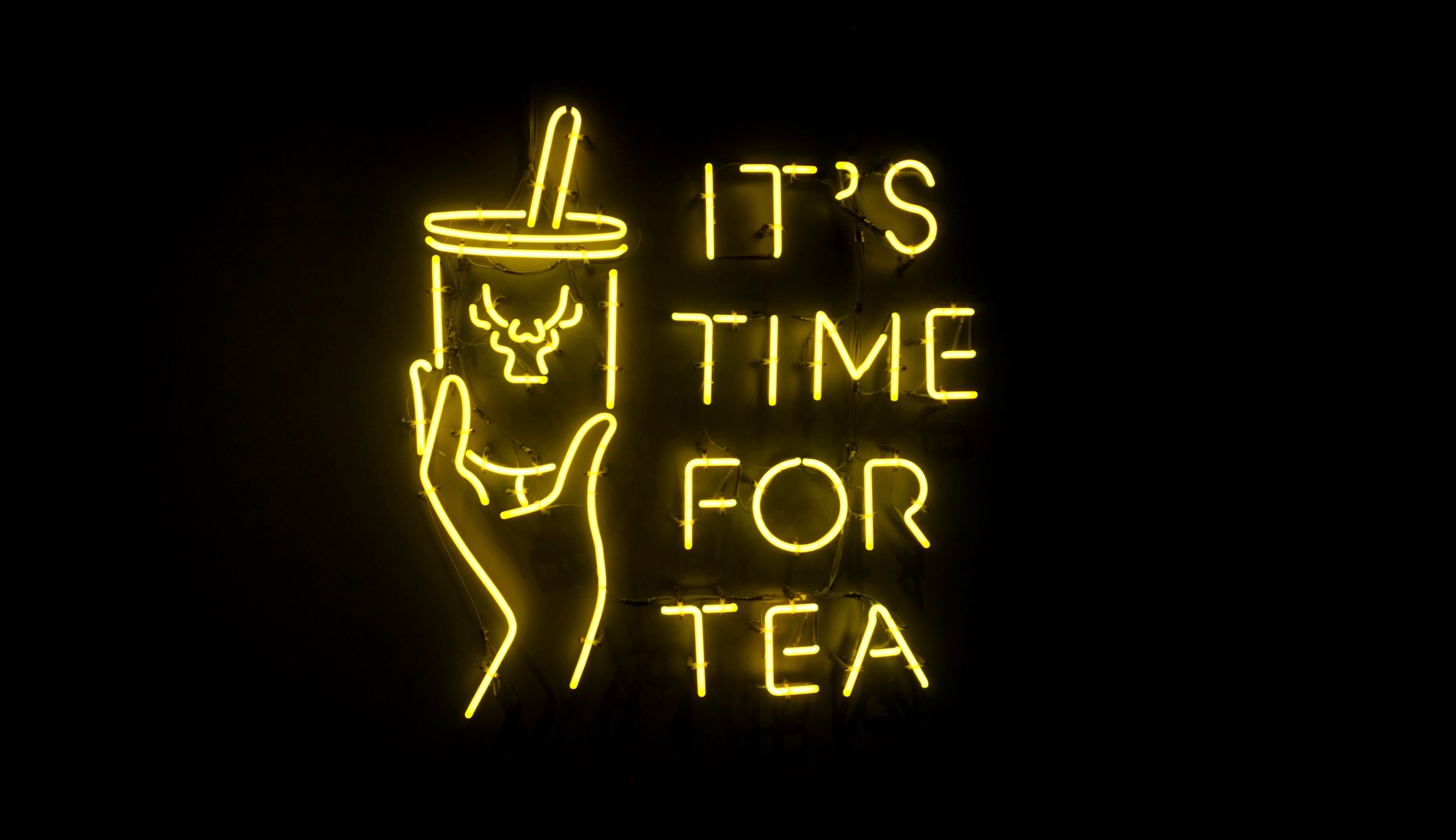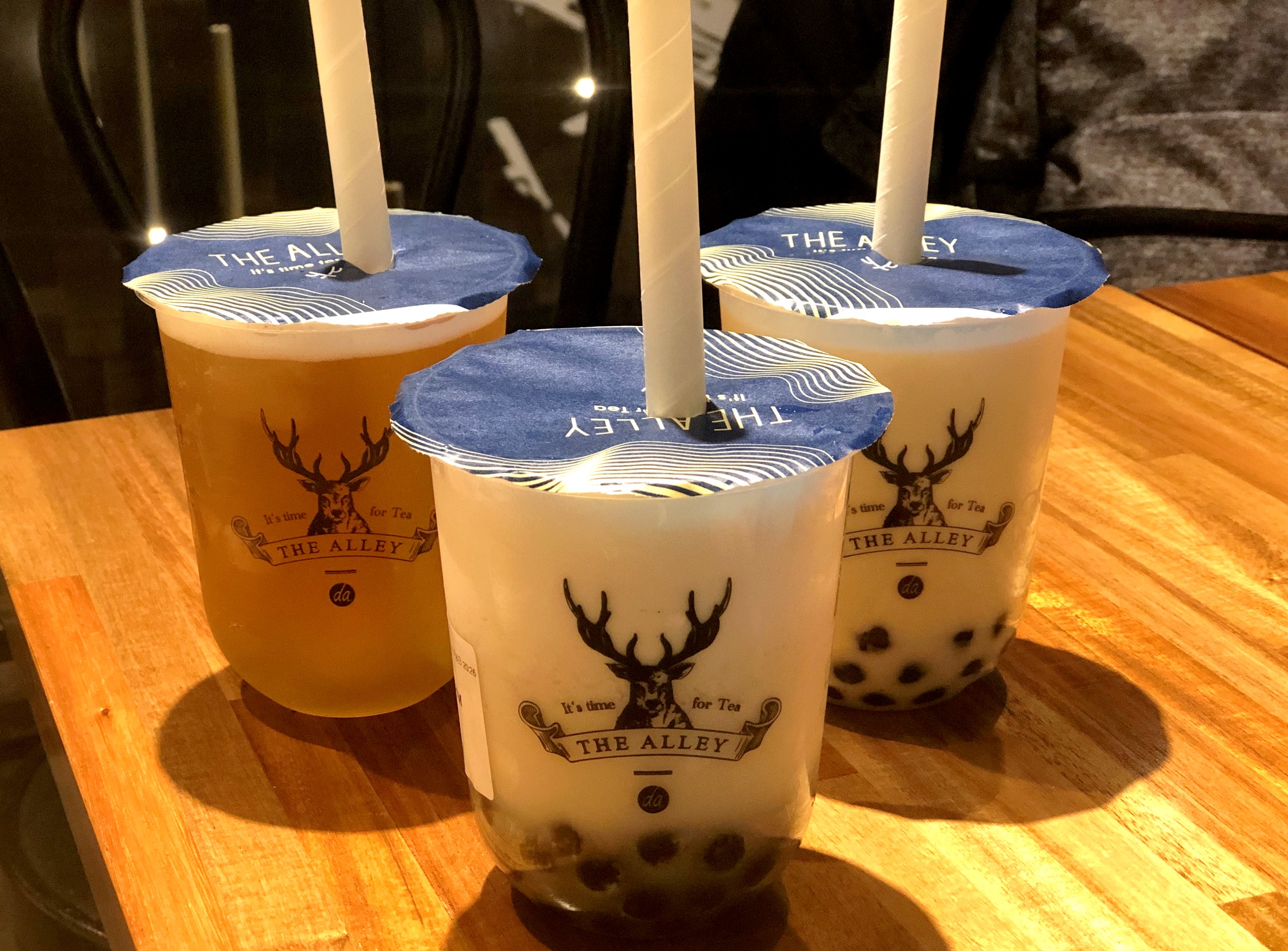 After getting lost again (but less long this time) at Shibuya station – sigh – I walked with my huge suitcase and bag to my hostel – well, even when traveling solo, my outfits and makeup items still have to come along. It takes around 18-minutes by foot and I remembered the road by heart from the last time I was here – cross the famous
Shibuya Crossing
(the well-known intersection at the station, where I still happily walk across) and then just a long straight road along
Shibuya 109
. I had booked the same hostel as in 2018 this time,
Wise Owls Hostels Shibuya
(from now on my standard Tokyo hostel) – where even the receptionist gave me a big hug because she was so happy to see me again after a year – it´s always nice there; proper wifi, lively and clean. What I had learned from the last time, incidentally, was to get myself a foreign WiFi bundle (or to rent a pocket WiFi pod), so that I would not be lost again for hours.
Not much later, just like last time, I met a solo traveler (from Austria) in the lobby and discussed my plans to enter Shibuya center. Soon both the Austrian, as well as a Canadian, joined and we went on the road with the three of us. Our ´team´ was hilarious. They wanted to go to a cat cafe (typical) so I thought it was fun to come along. You pay an x ​​amount to be allowed to come in for a certain time and to get drinks from the vending machines. Then we made another attempt to enter the Starbucks for a view, and left because it was too busy. Eventually at Genki Sushi (where I went last year as well) we ate Sushi – cheap and fast by the way. At 6 o'clock Japanese time I almost fell asleep because of my fatigue, but I didn't want to surrender to it. Eventually we went to a shopping mall called Magnet, at a view point to drink coffee. View was great, coffee was around 5 euros and you had to order something because it was a viewpoint. After this coffee we went on our way after our hostel, with a long stopover at The Alley bubbletea, to enjoy a bubble tea and talk a lot about the countries where we come from.
Na opnieuw verdwaald te zijn geweest (maar minder lang dit keer) op
Shibuya station
– zucht – Liep ik met mijn mega koffer en tas richting mijn hostel – tsja, ook als ik solo reis moeten mijn outfitjes en make-up items mee. Het is zo'n 18 minuten lopen en ik wist de weg nog uit mijn hoofd – Over de bekende
Shibuya Crossing
(het bekende kruispunt bij het station, waar ik nog altijd zielsgelukkig overheen loop) gewoon een lange rechte weg langs
Shibuya 109.
Ik had dit keer hetzelfde hostel als in 2018 geboekt,
Wise Owls Hostels Shibuya
(vanaf nu mijn vaste Tokyo hostel) – waar zelfs de receptioniste me een dikke knuffel kwam geven omdat ze zo blij was me weer te zien na een jaar – altijd gezellig, goede wifi, vol leven en brandschoon dit hostel. Wat ik geleerd had van de vorige keer was overigens een buitenland wifi bundel af te sluiten (of een pocket wifi pod te huren), zodat ik niet opnieuw uren verdwaald zou zijn.
Al snel sprak ik, net als de vorige keer, een solo reiziger (uit Oostenrijk) in de lobby en besprak ik mijn plannen om Shibuya centrum in te gaan. Al snel sloot zowel de Oostenrijker, als een Canadees aan en waren we met zijn 3en op pad gegaan. Het was echt hilarisch met zijn 3en. Ze wilden graag naar een kattencafé (typisch) dus ik vond het prima om mee te gaan. Je betaalde er een x bedrag om voor een bepaalde tijd binnen te mogen zijn en drankjes uit de automaten te mogen halen. Vervolgens nog een poging gedaan om de Starbucks in te gaan voor uitzicht, en weg gegaan omdat dat te druk was. Uiteindelijk bij Genki Sushi (Waar ik vorig jaar ook ben geweest) Sushi gegeten – goedkoop en snel trouwens. 6 uur Japanse tijd viel ik al bijna om van vermoeidheid, maar ik wilde me er niet aan overgeven. Uiteindelijk zijn we in een winkelcentrum genaamd Magnet, bij een uitzicht punt koffie gaan drinken. Uitzicht was top, koffie was uitgerekend zo'n 5 euro en je moest wel wat bestellen omdat het een viewpoint was. Na deze koffie waren we opweg gegaan na ons hostel, met een lange tussenstop bij The Alley bubbletea, om te genieten van een bubble thee en veel te praten over de landen waar we vandaan komen.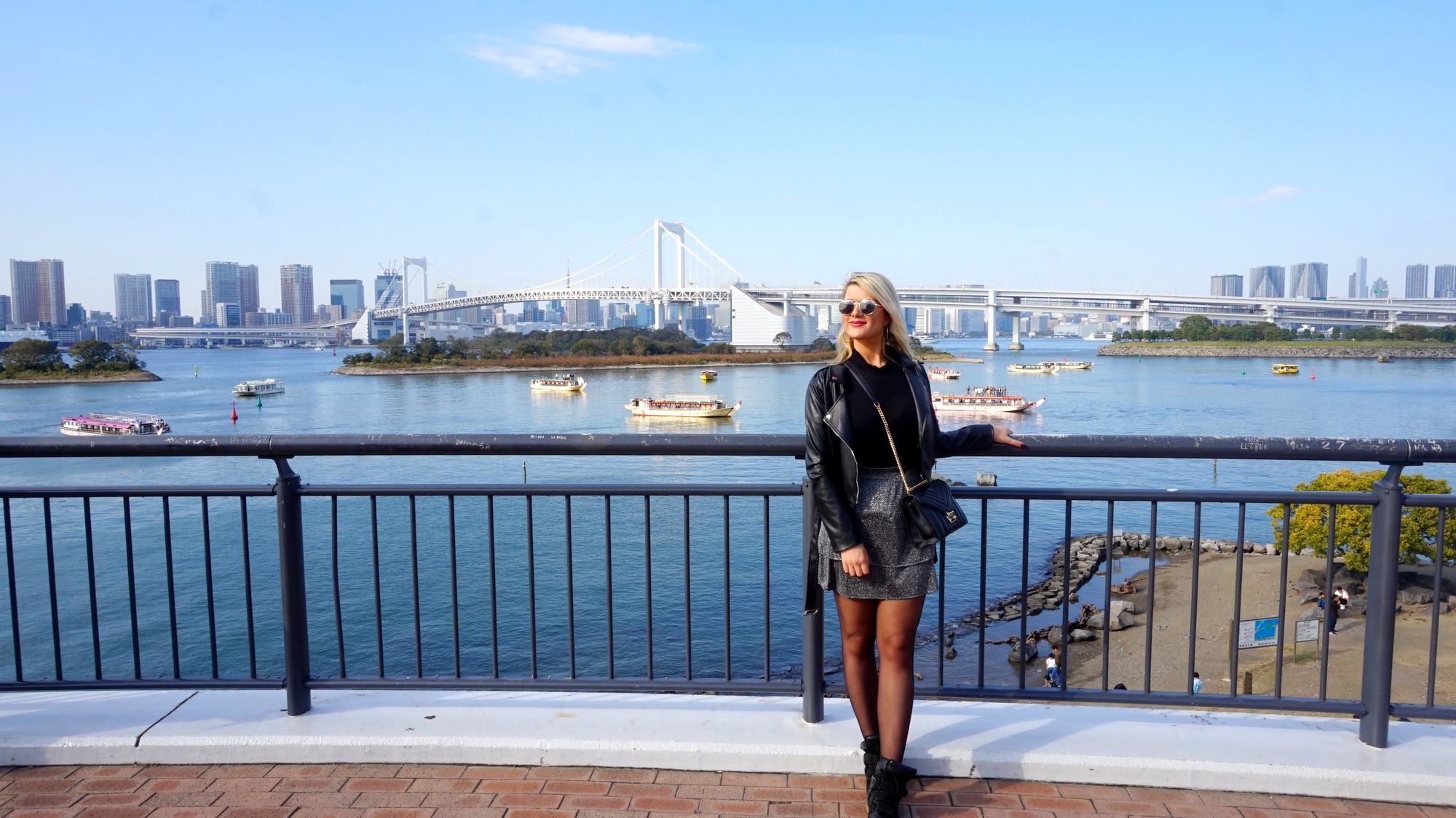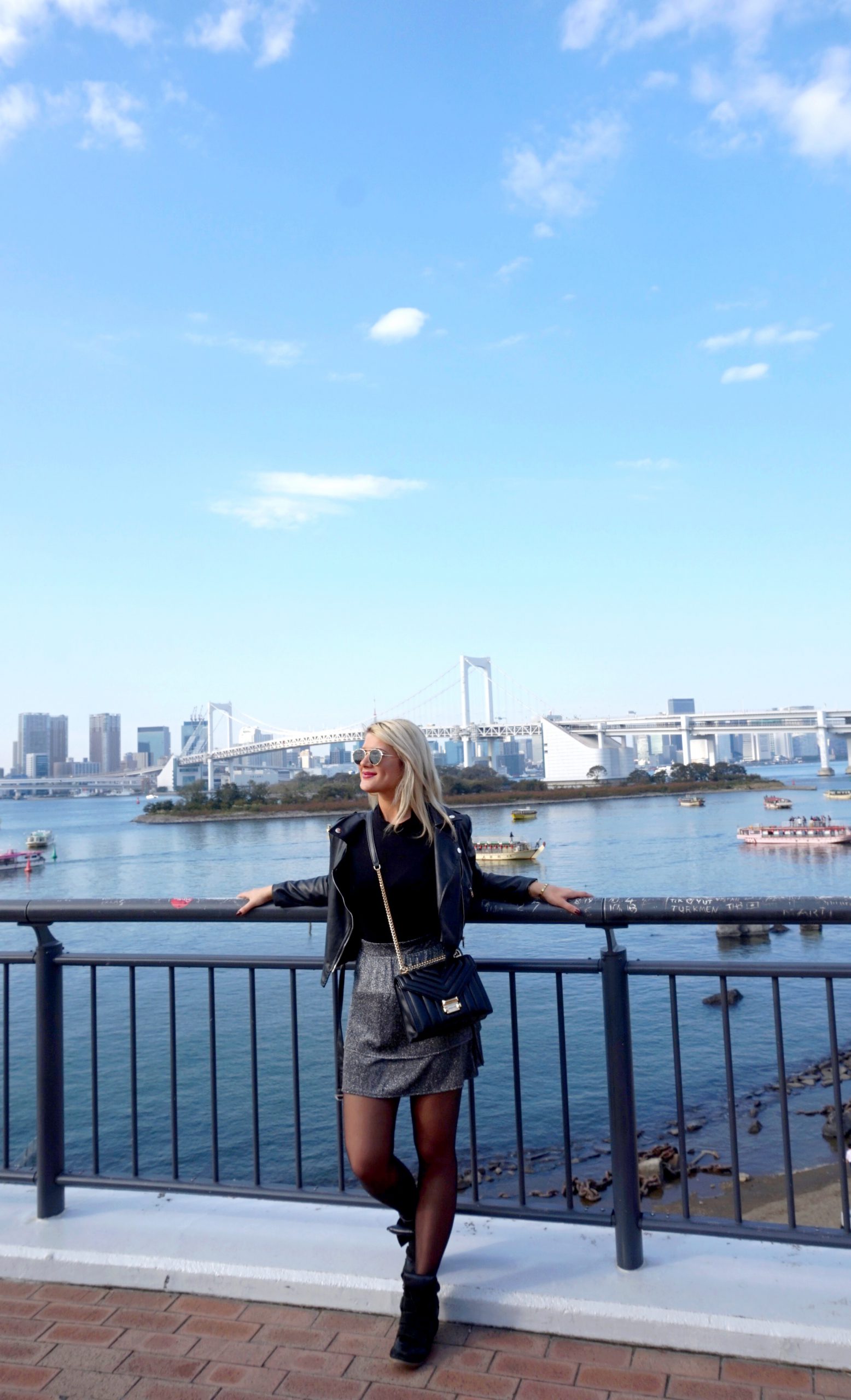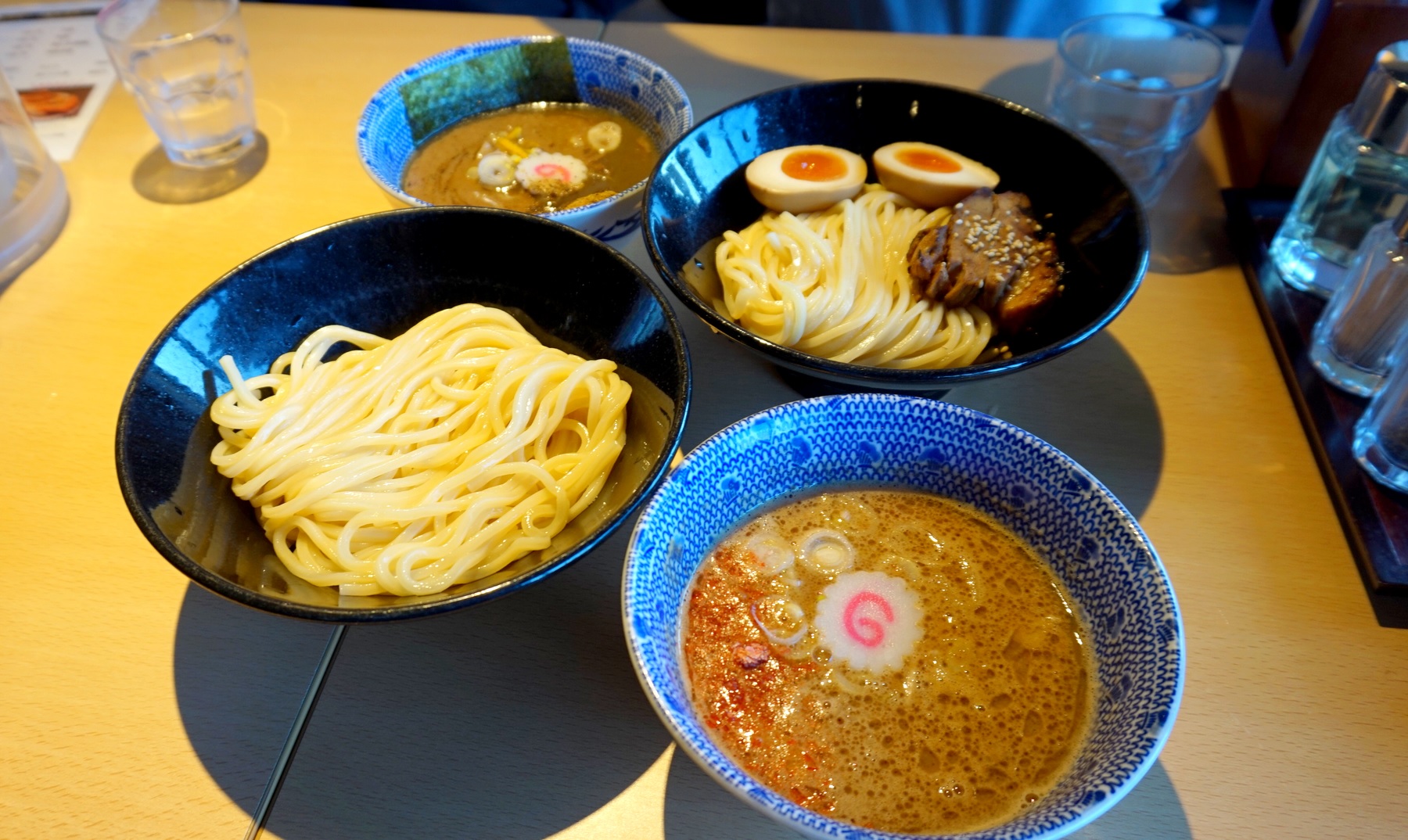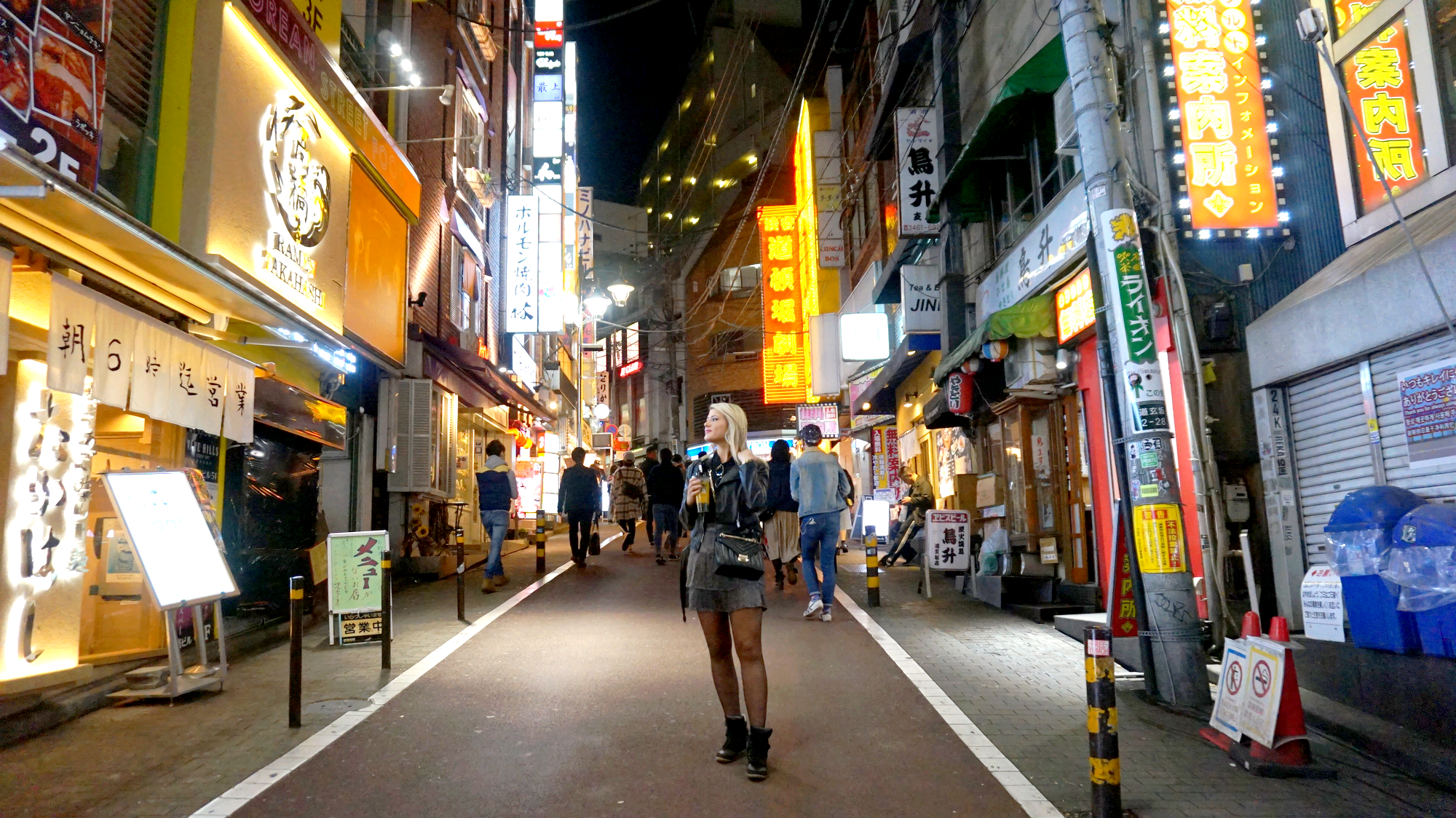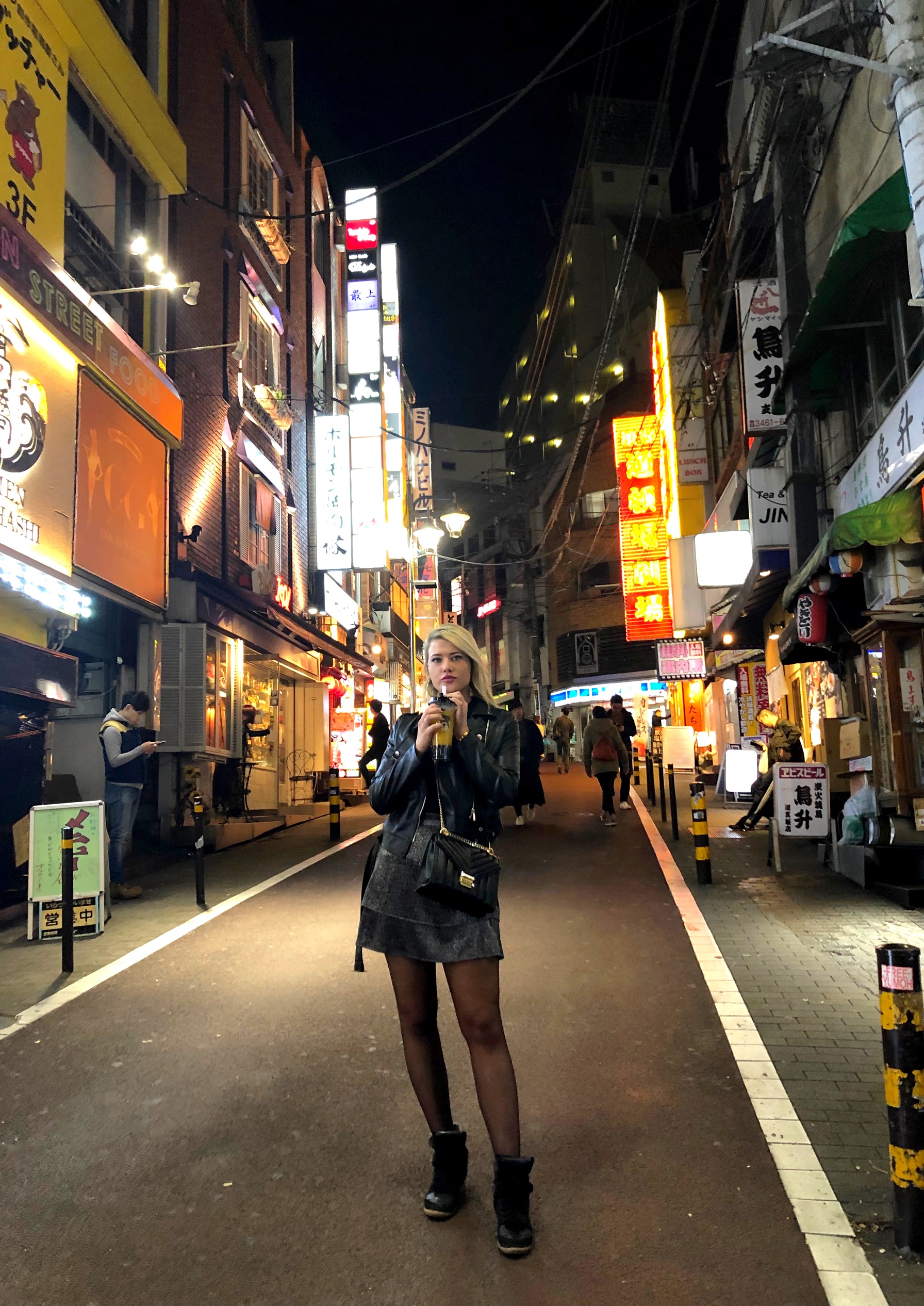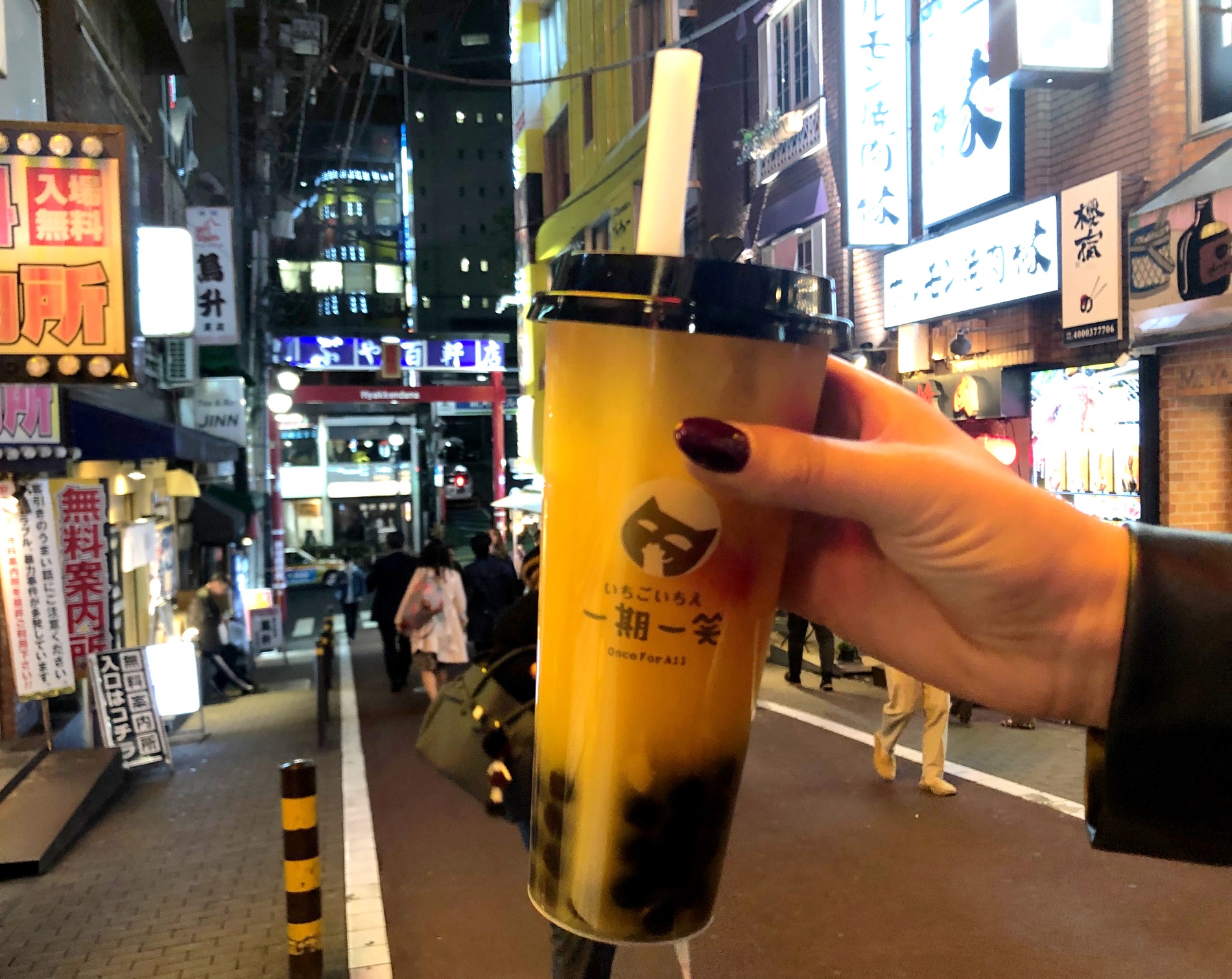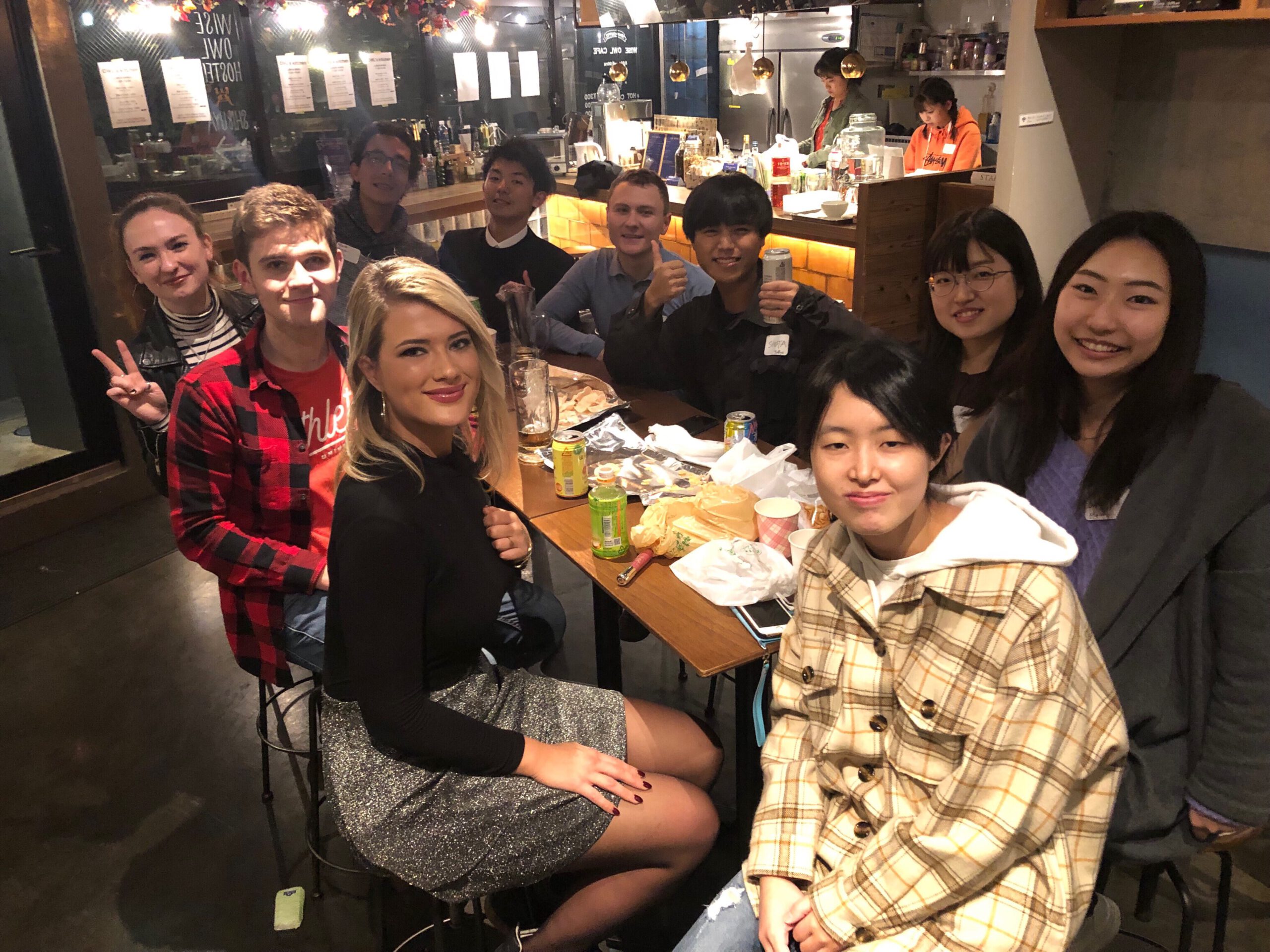 The 2nd day I wanted to go to
Odaiba
, because I hadn't planned anything with my friends in Japan, nor had I been there the last time. Quickly scored breakfast at one of the many
Family Marts
in the area. Coincidentally, the Canadian traveler decided to join. The metro and train system in Japan is pretty clear in my opinion, so I have always traveled that way. Once in Odaiba we had eaten
Tsukemen
(Dip noodles) at a mall near
Rainbow bridge
. Back in Shibuya I bought another bubble tea and walked through many small streets.
The next day I agreed to go early with my Japanese friend Arisa, to go to Hakone. I had seen and read a lot about Hakone and told that I wanted to go there, so Arisa had mapped out a whole day trip. This area is about 90 minutes by train from central Tokyo. Many parts were closed due to the great hurricane that had raged there a month before (also the reason we didn't go to a natural Onsen hot spring). Arisa had bought a Hakone day pass for both of us. We went from Hakone Station by bus, far into the mountains. We had an iced Matcha latte and hot Ocha in a quiet teahouse (with incredibly kind employees!). From there we went for a long walk through forests and a stone path towards the lake, and went to the famous temples and Tori gate. The queue for a photo was more than an hour (!) By the way. Once back at the lake we had a more expensive lunch at Bakery & Table with a beautiful view of the lake. From the lake we had done a boat trip on a kind of Pirate Ship, and from the other side of the lake a cable car ride over the volcanic area. I believe that this is also included in the ticket. After this special day, we went to a flower park and then back to Shinjuku from Hakone station, to eat there at Sanagi. Eventually we walked through Omoide Yokocho, a long street full of bars, and ended up in the Golden Gai bar neighborhood for a mini pub crawl, where we sat in all kinds of mini bars among the local Japanese and young people. It was really a great day!
De 2e dag wilde ik graag naar
Odaiba
, omdat ik met mijn vriendinnen in Japan ook nog niks geplanned had en er de vorige keer ook nog niet was geweest. Snel bij een van de vele
Family Marts
in de buurt een ontbijtje gescoord. Toevallig besloot de Canadese reiziger om aan te sluiten. Het metro en trein systeem in Japan is trouwens in mijn mening behoorlijk overzichtelijk, dus zo heb ik ook altijd gereisd. Eenmaal in Odaiba hadden we nog
Tsukemen
(Dip noodles) gegeten bij een mall vlak bij
Rainbow bridge.
Terug in Shibuya weer opnieuw een bubble tea gekocht en door veel kleine straatjes gelopen.
De dag erna had ik afgesproken om vroeg met mijn Japanse vriendin Arisa, op pad te gaan naar Hakone. Ik had van alles gezien en gelezen over Hakone en verteld dat ik daar heen wilde, dus had Arisa een heel dagtripje uitgestippeld. Dit gebied is per trein zo´n 90 minuten vanaf centraal Tokyo. Veel delen waren alhoewel afgesloten door de grote orkaan die er er maand ervoor had gewoed (ook de reden dat we niet naar een natuurlijke Onsen hot spring zijn gegaan). Arisa had voor ons beide een Hakone daypass gekocht. We zijn vanaf Hakone Station per bus, ver de bergen in gegaan. Daar hadden we in een stil theehuis (met ontzettend lieve medewerkers!) een iced Matcha latte en hete Ocha gedronken. Vanaf daar zijn we een heel stuk gaan wandelen door bossen en een stenen pad richting het meer, en naar de bekende tempels en Tori gate gegaan. Wachtrij voor een foto was dik een uur (!) trouwens. Eenmaal terug bij het meer hadden we wat prijziger gelunched bij Bakery & Table met prachtig uitzicht op het meer. Vanaf het meer hadden we een boottocht gedaan op een soort Piratenschip, en vanaf de andere kant van het meer een kabelbaantocht over het vulkanische gebied. Ik geloof dat dit alles ook in de ticket zit. Na deze bijzondere dag, waren we naar een bloemenpark gegaan en vervolgens terug naar Shinjuku vanaf station Hakone, om daar te eten bij Sanagi. Uiteindelijk zijn we door Omoide Yokocho gelopen, een lange straat vol barretjes, en geindigd in de barrenwijk Golden Gai voor een mini kroegentocht, waar we in allerlei mini kroegjes hebben gezeten tussen de lokale Japanners en jongeren. Het was echt een top dag!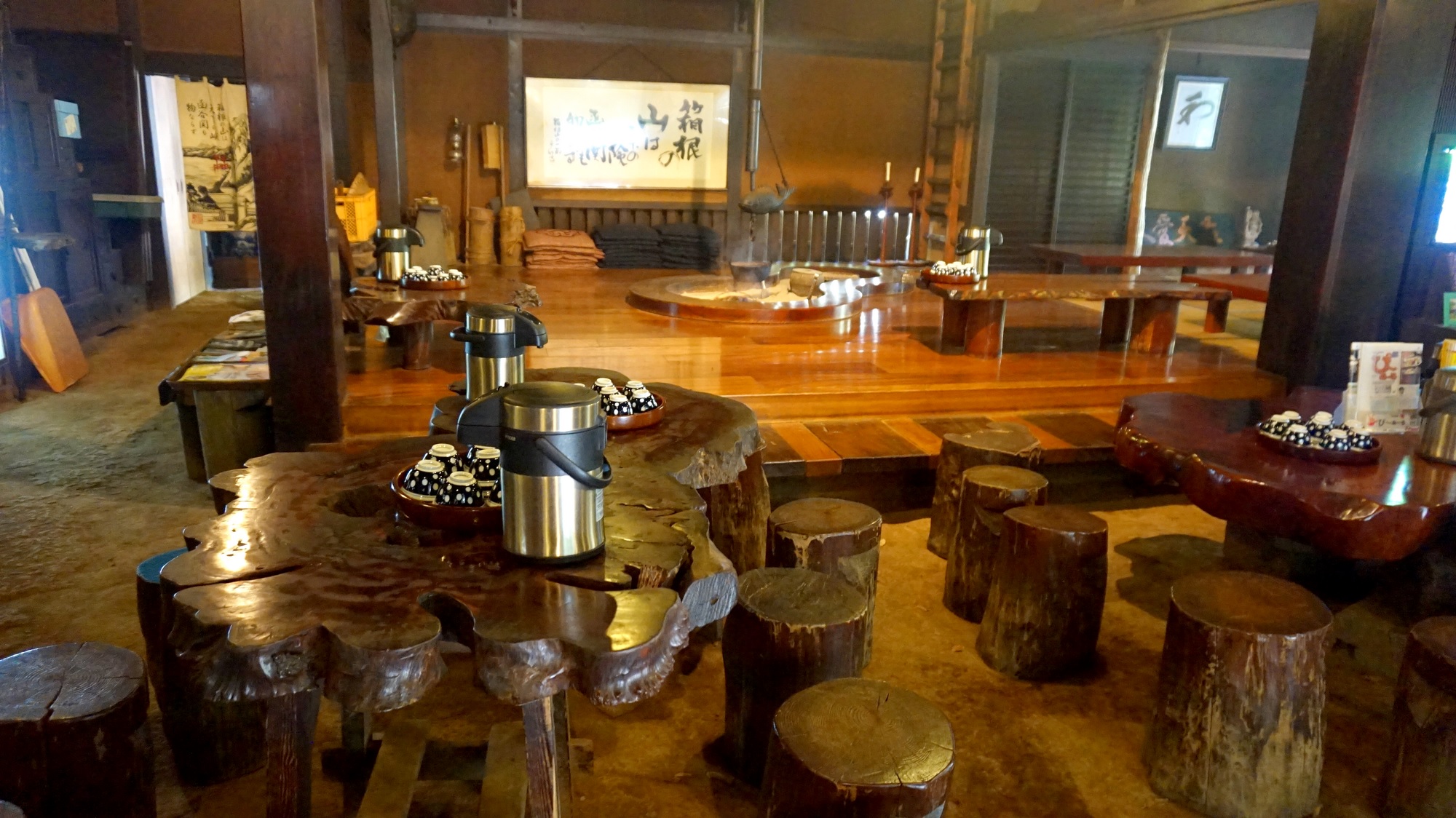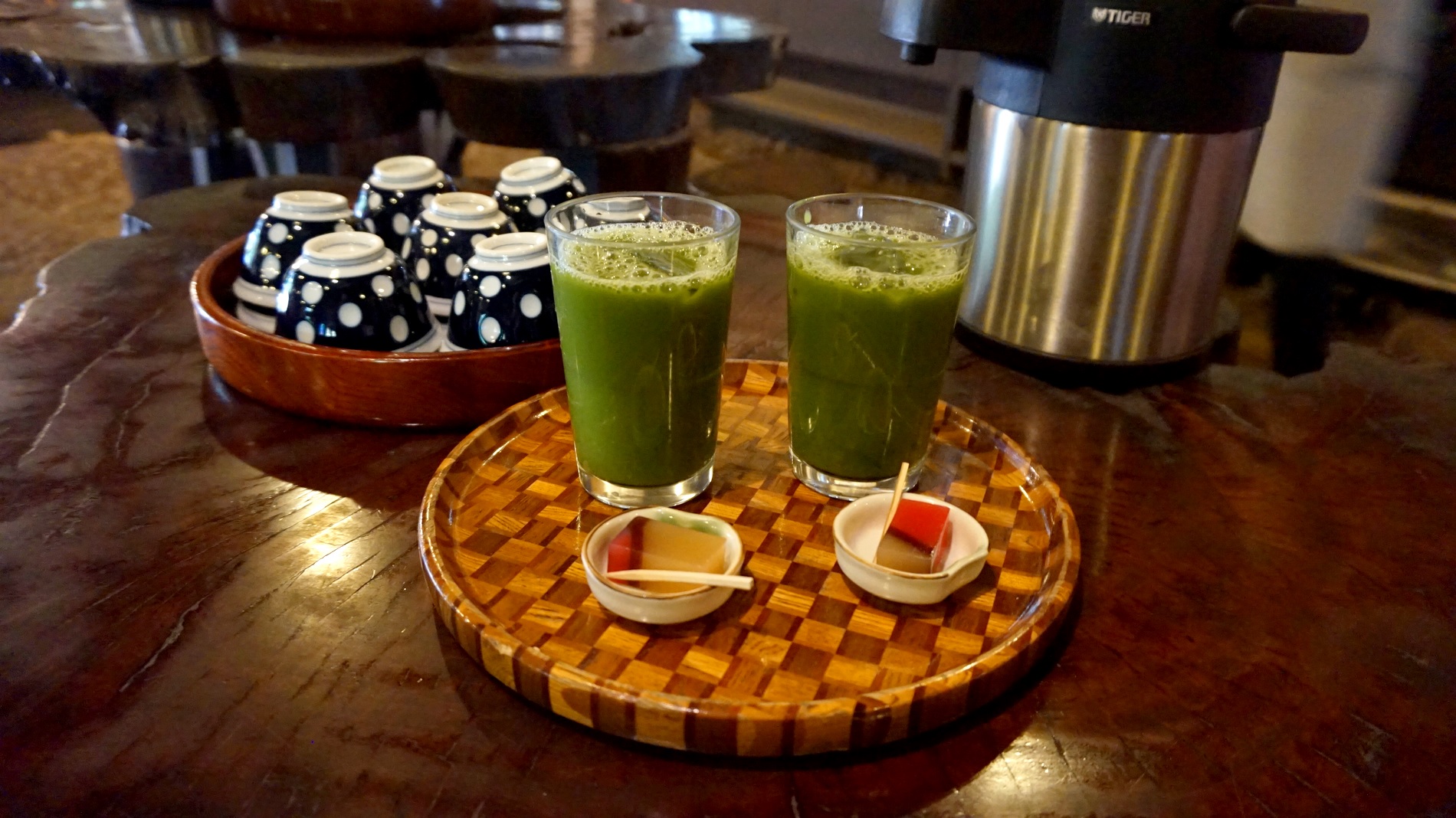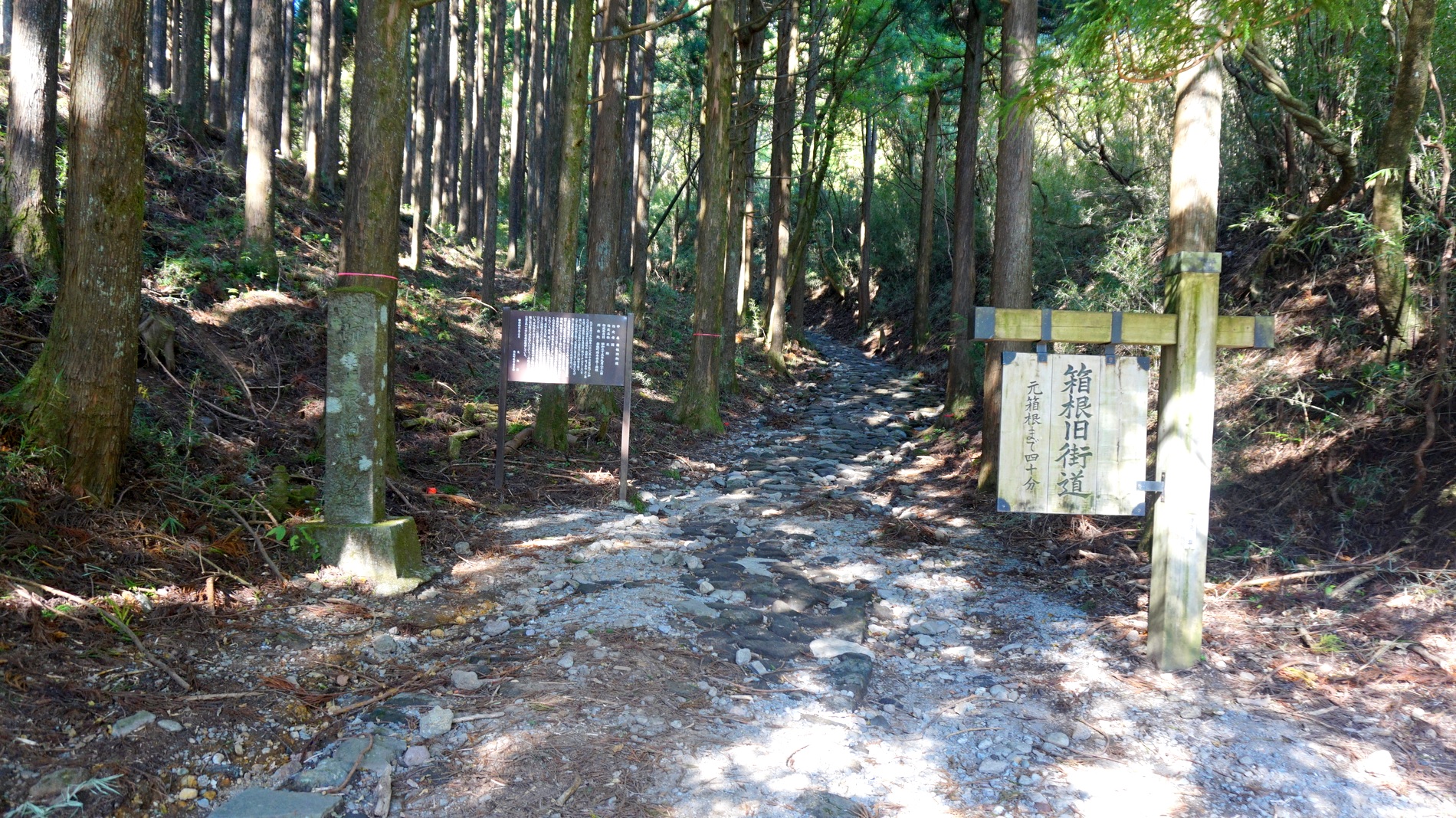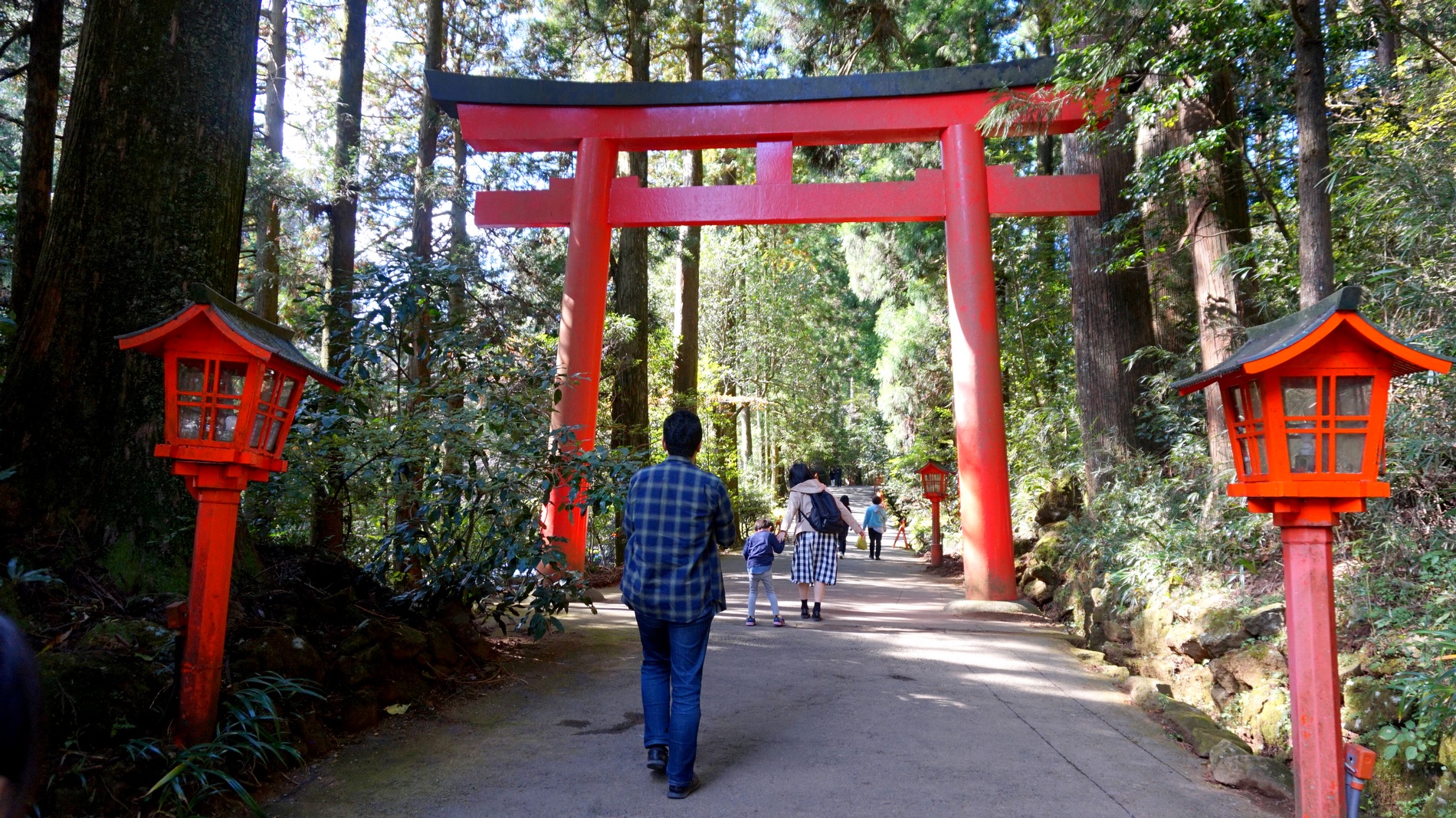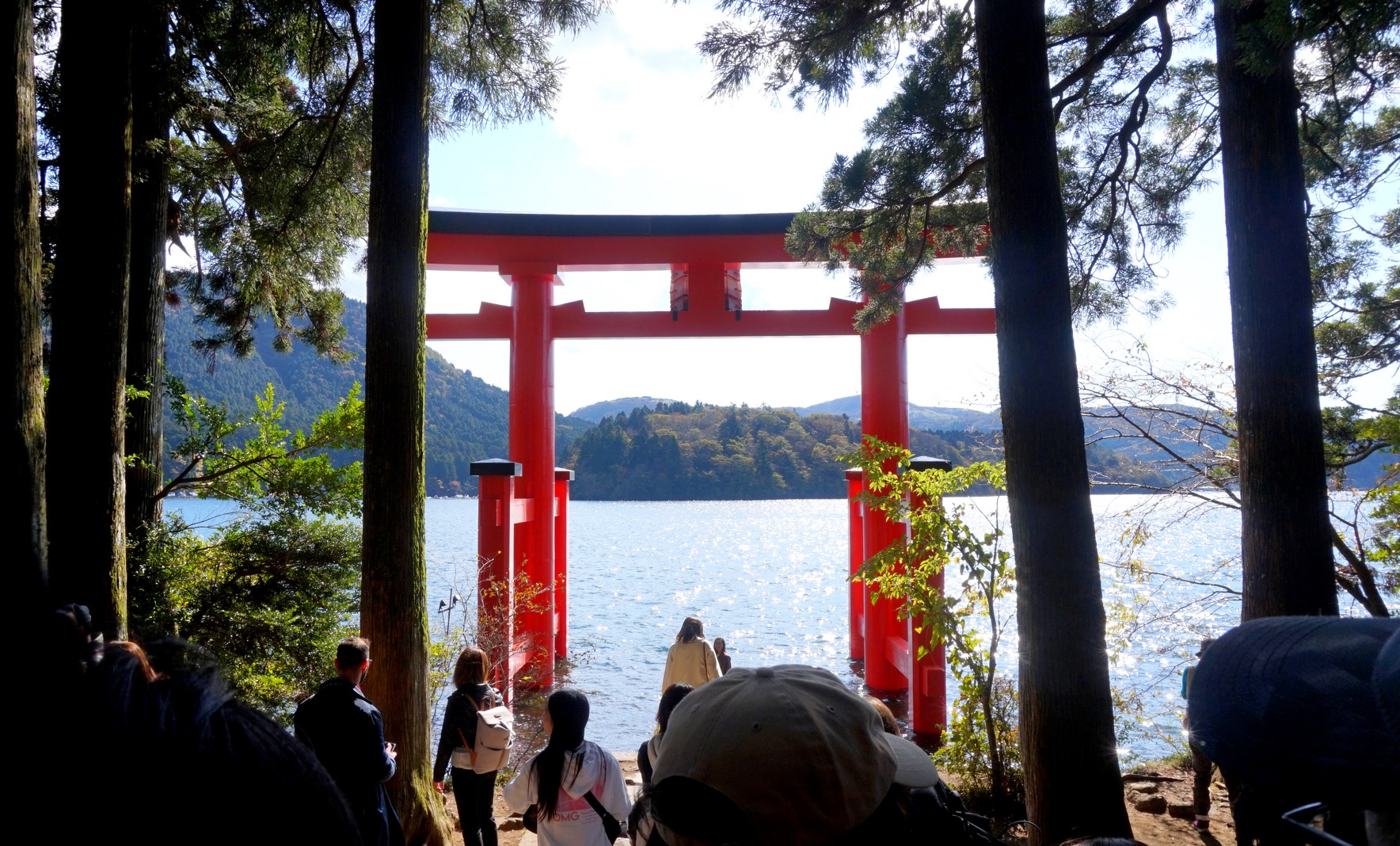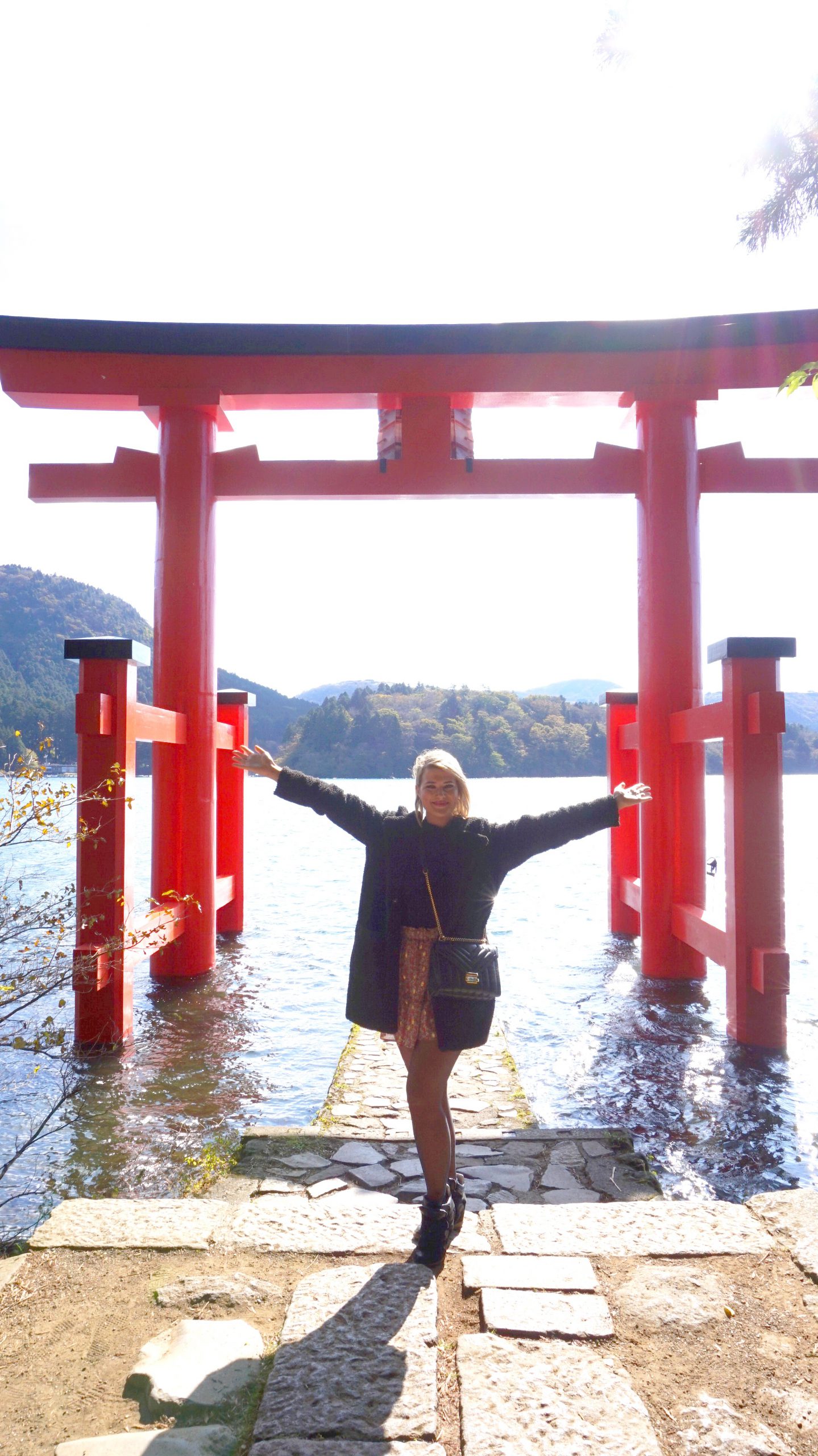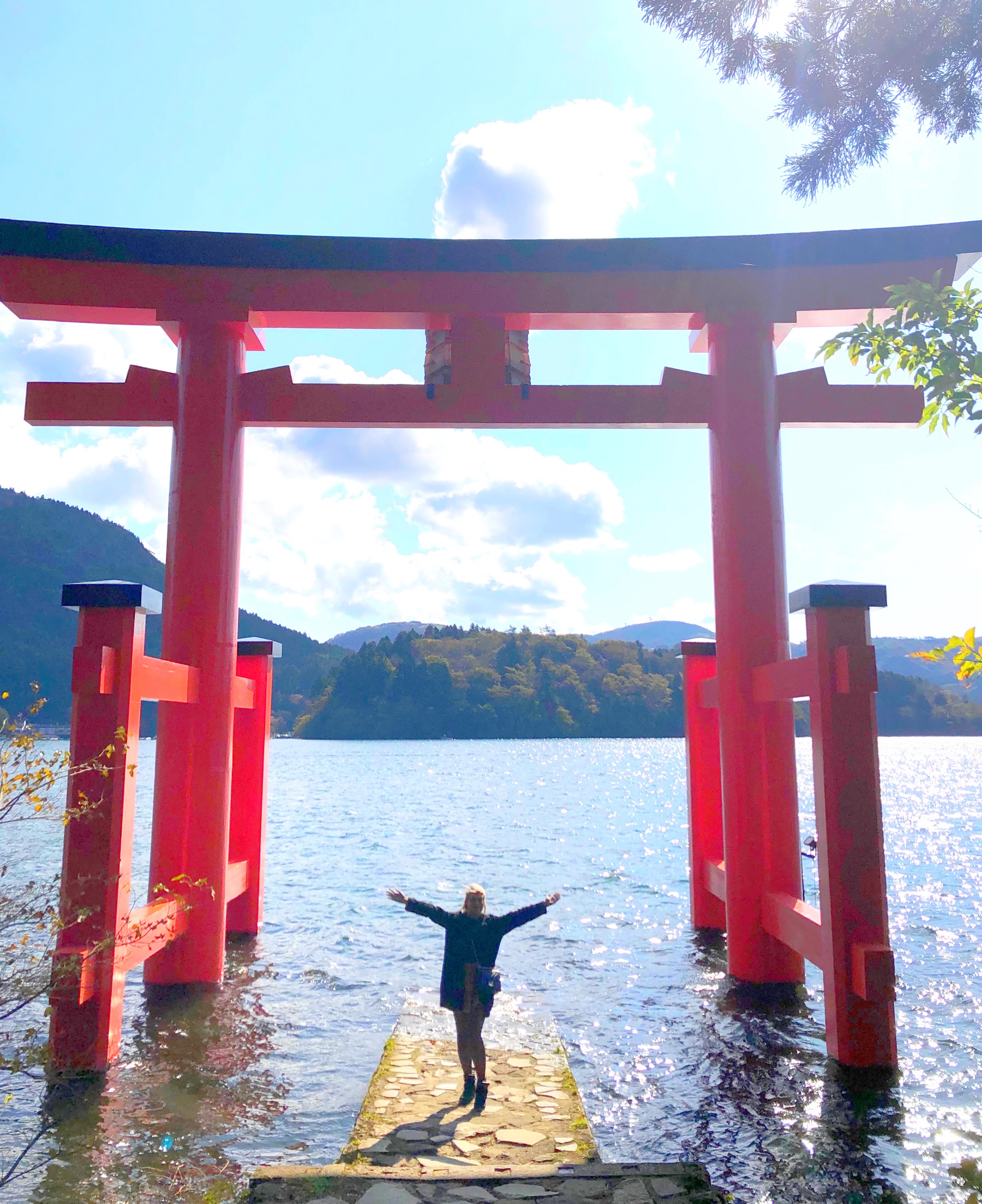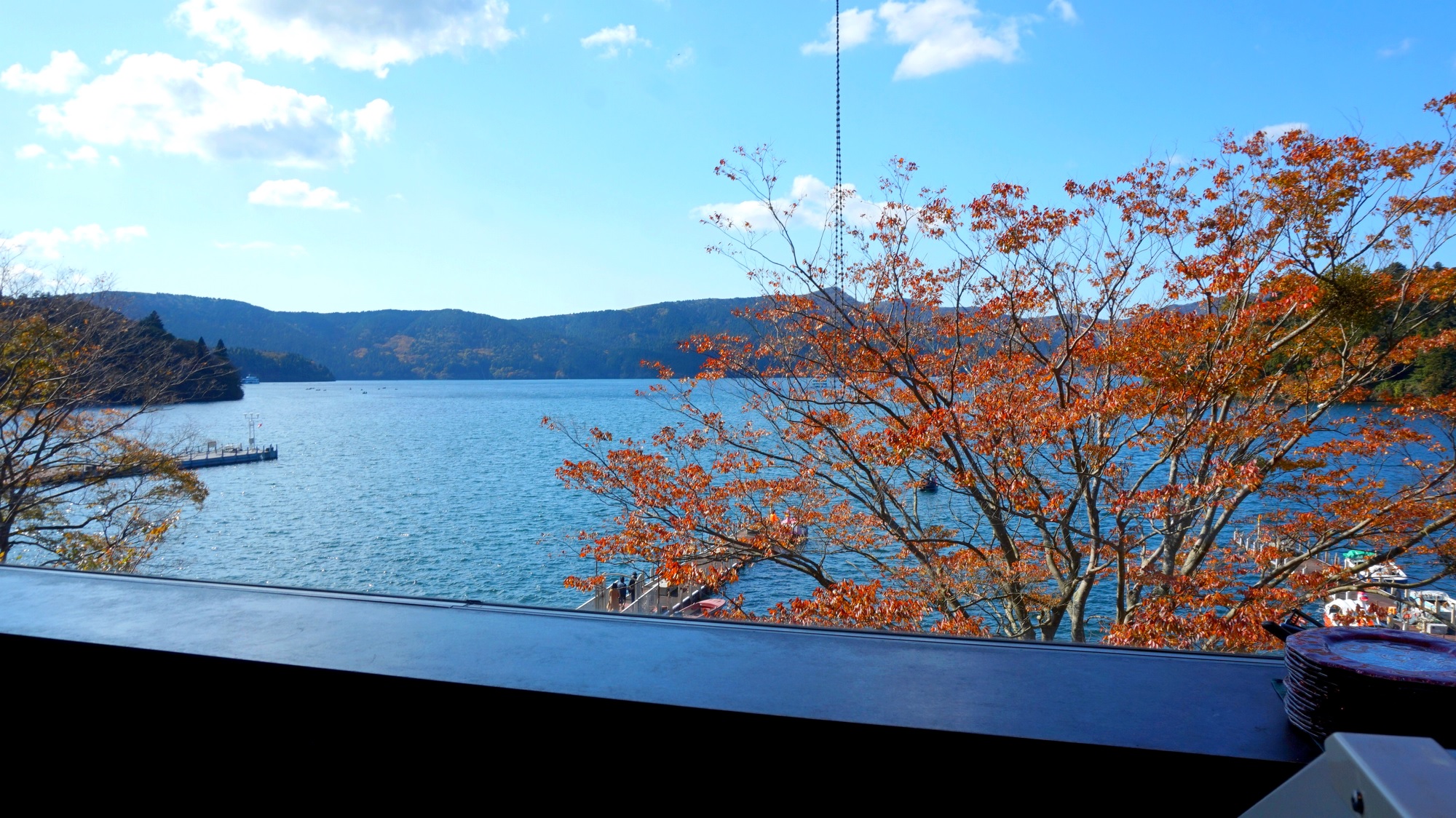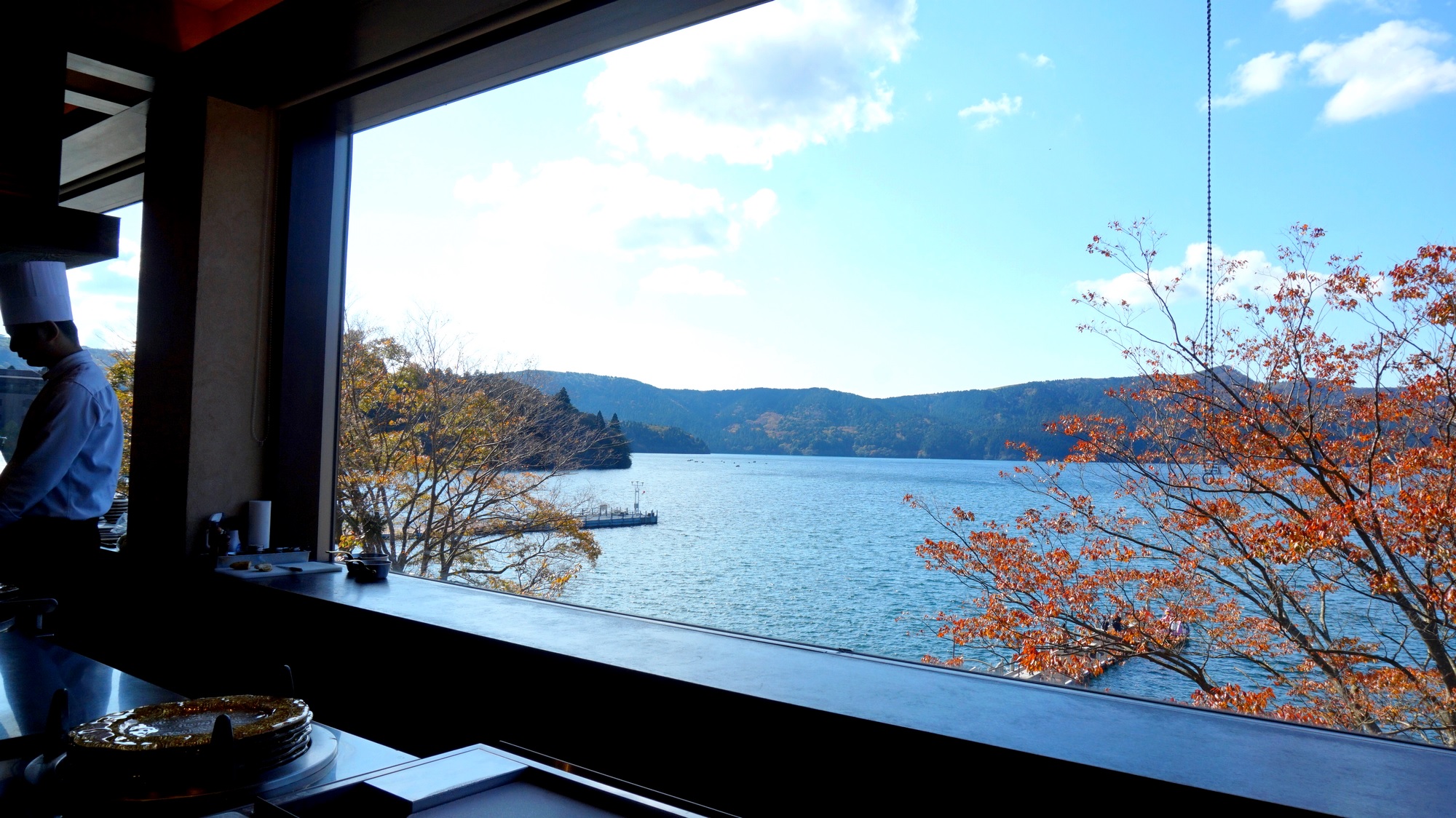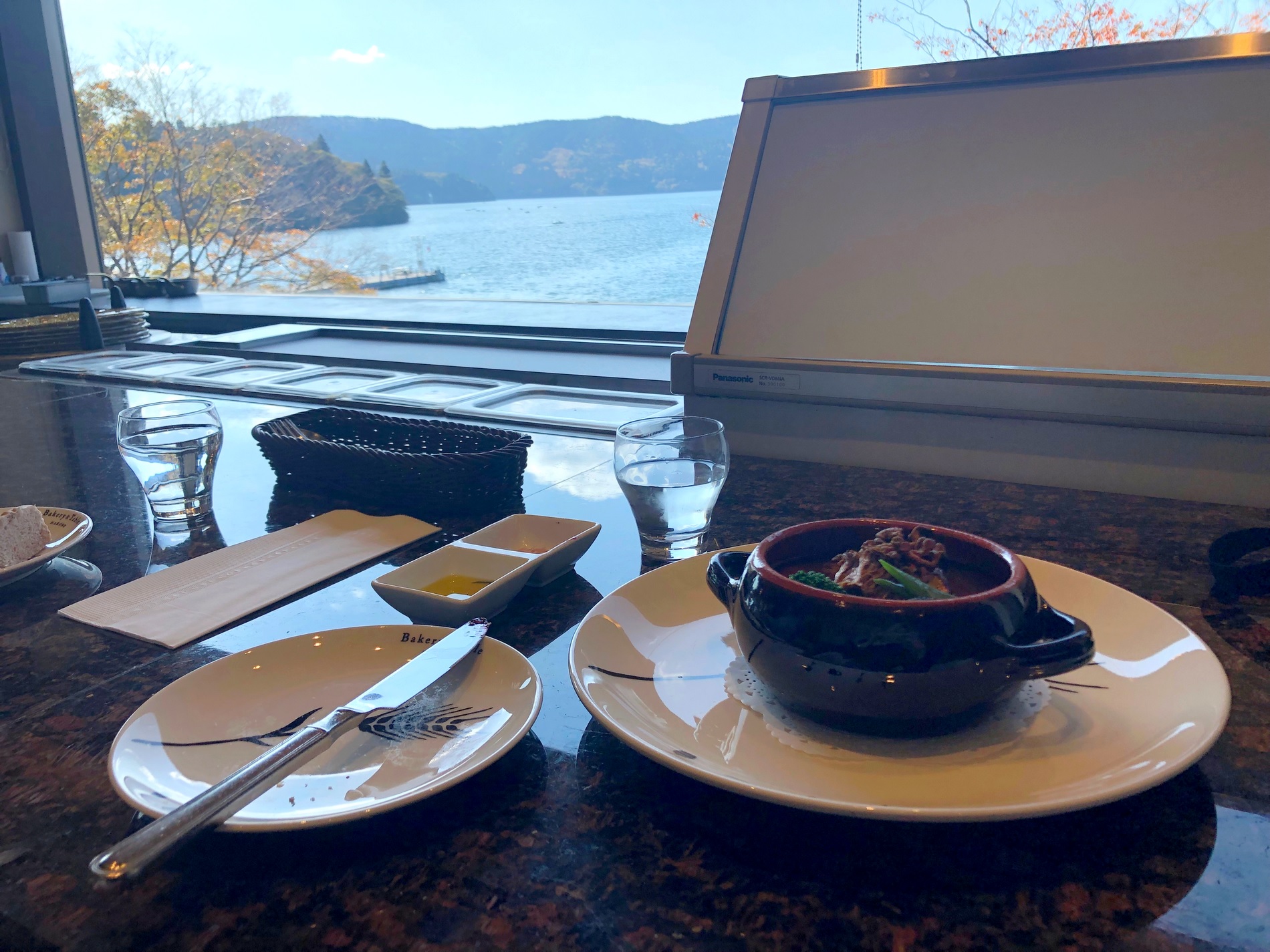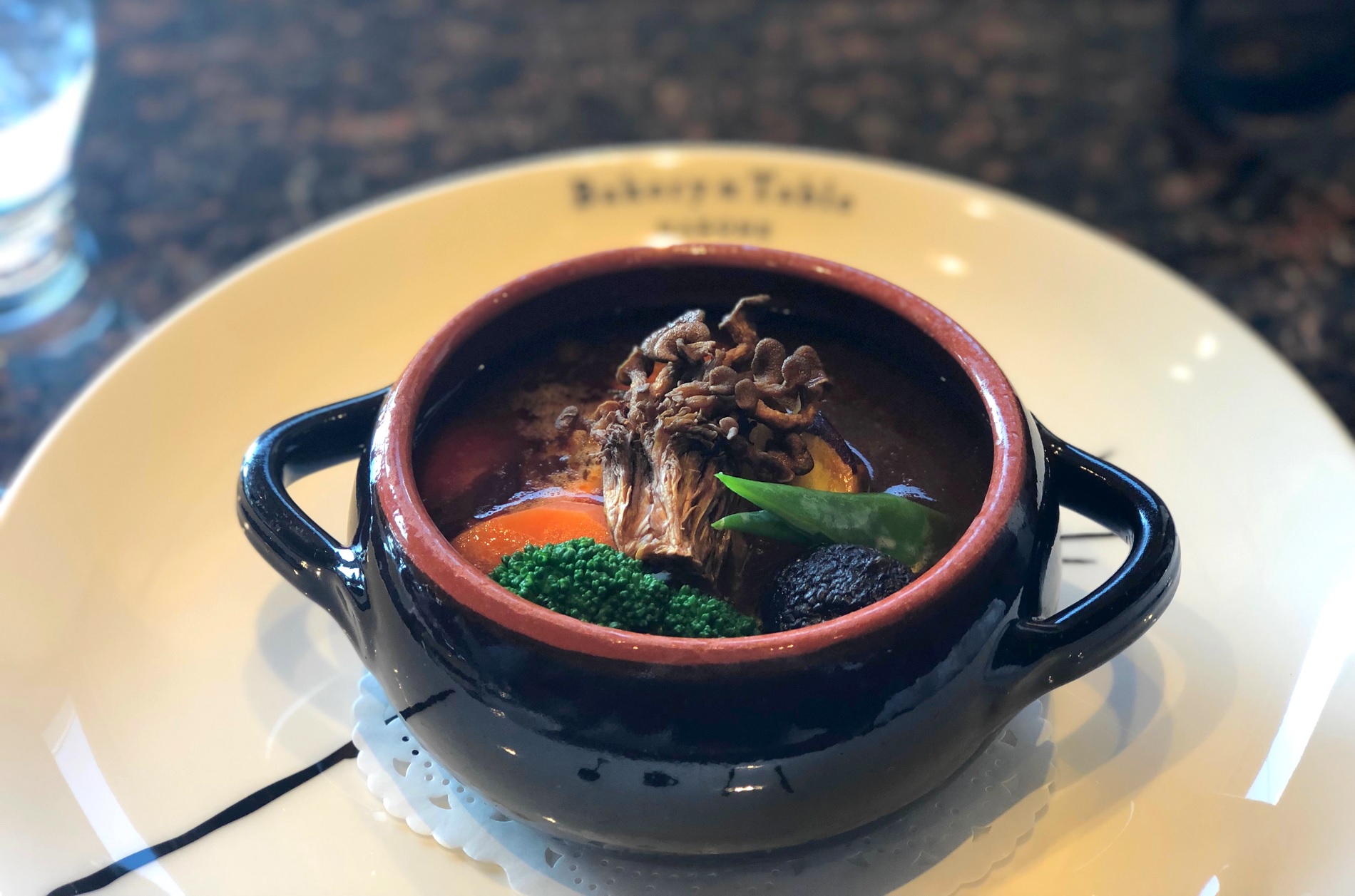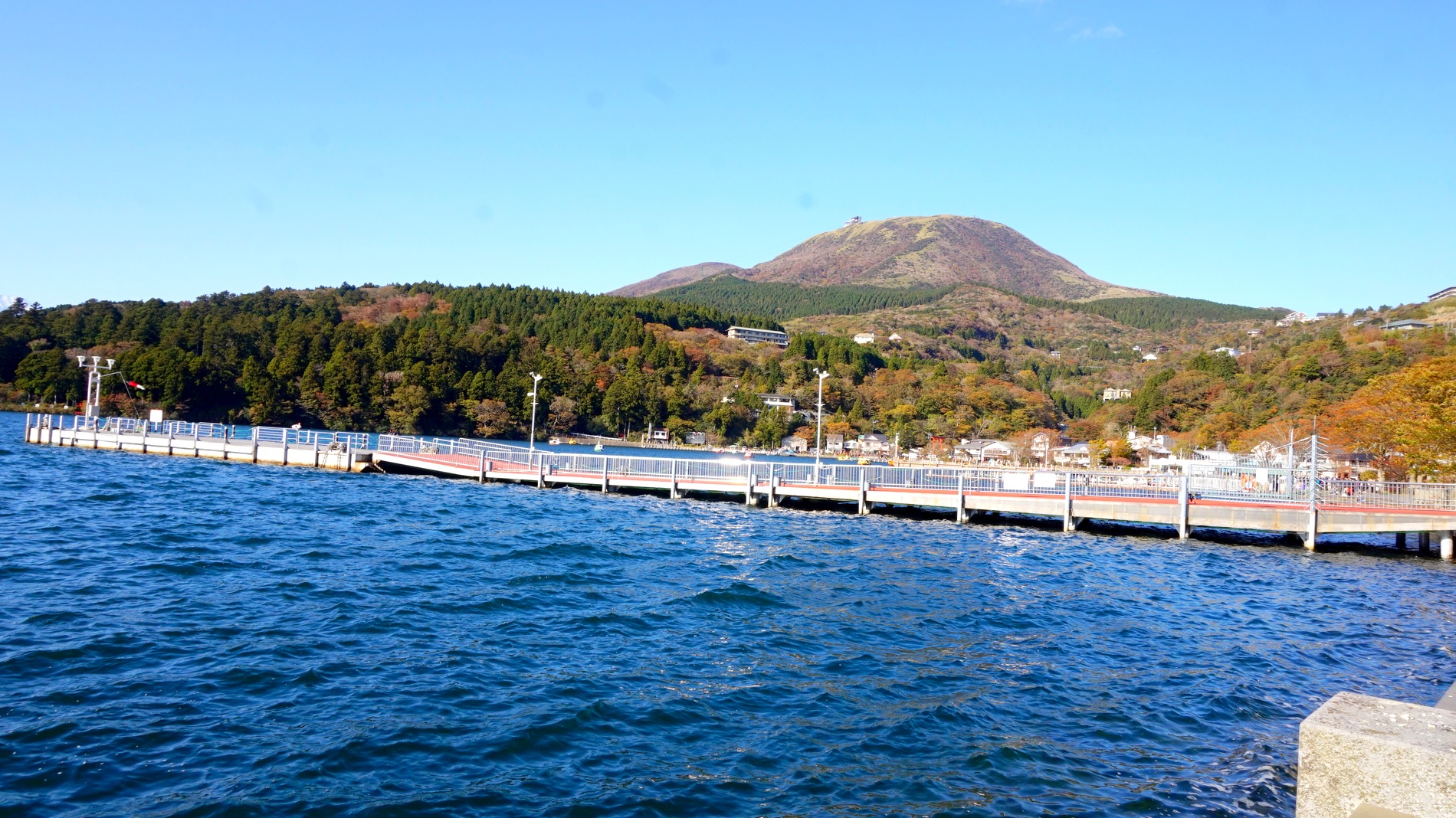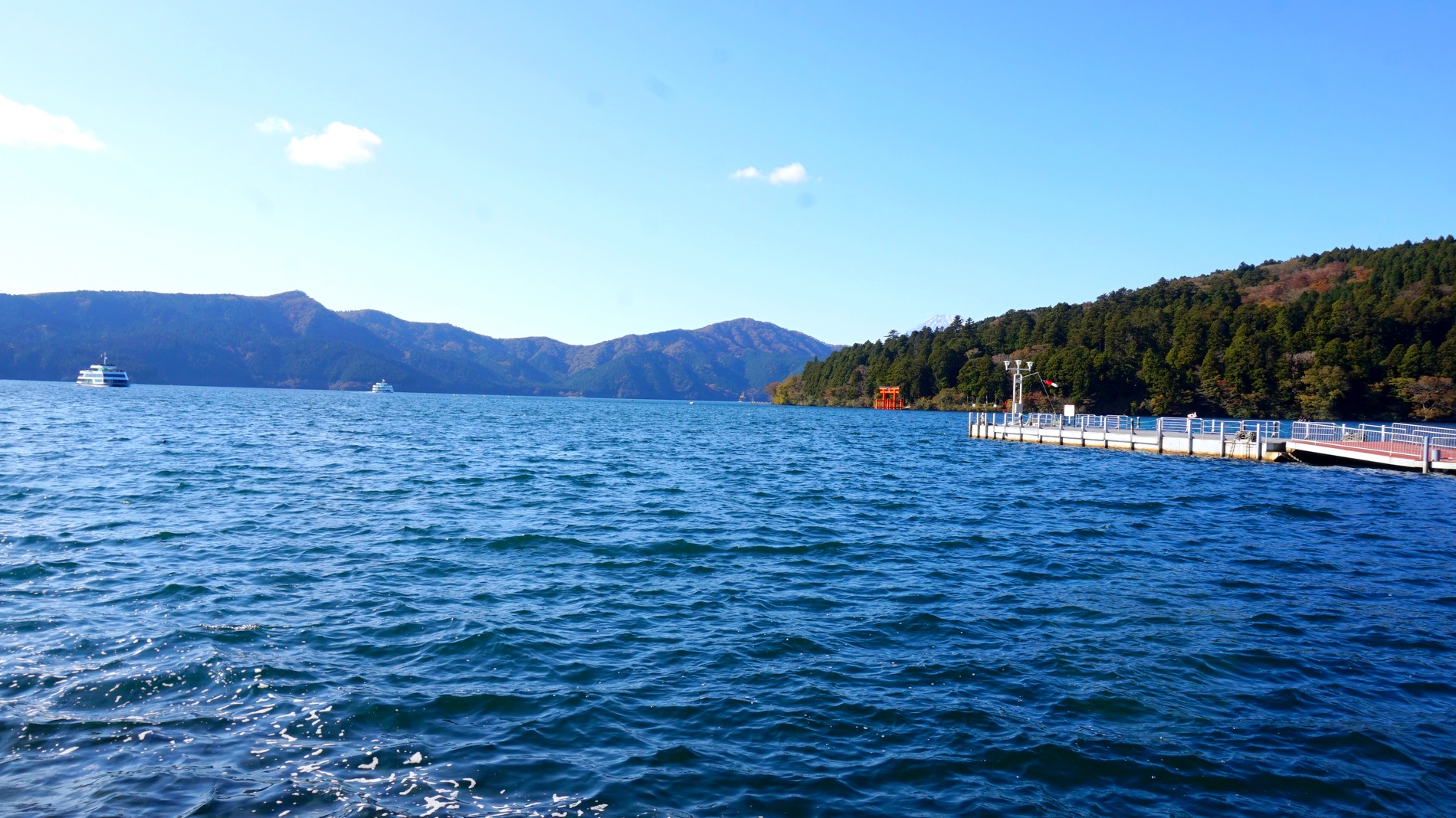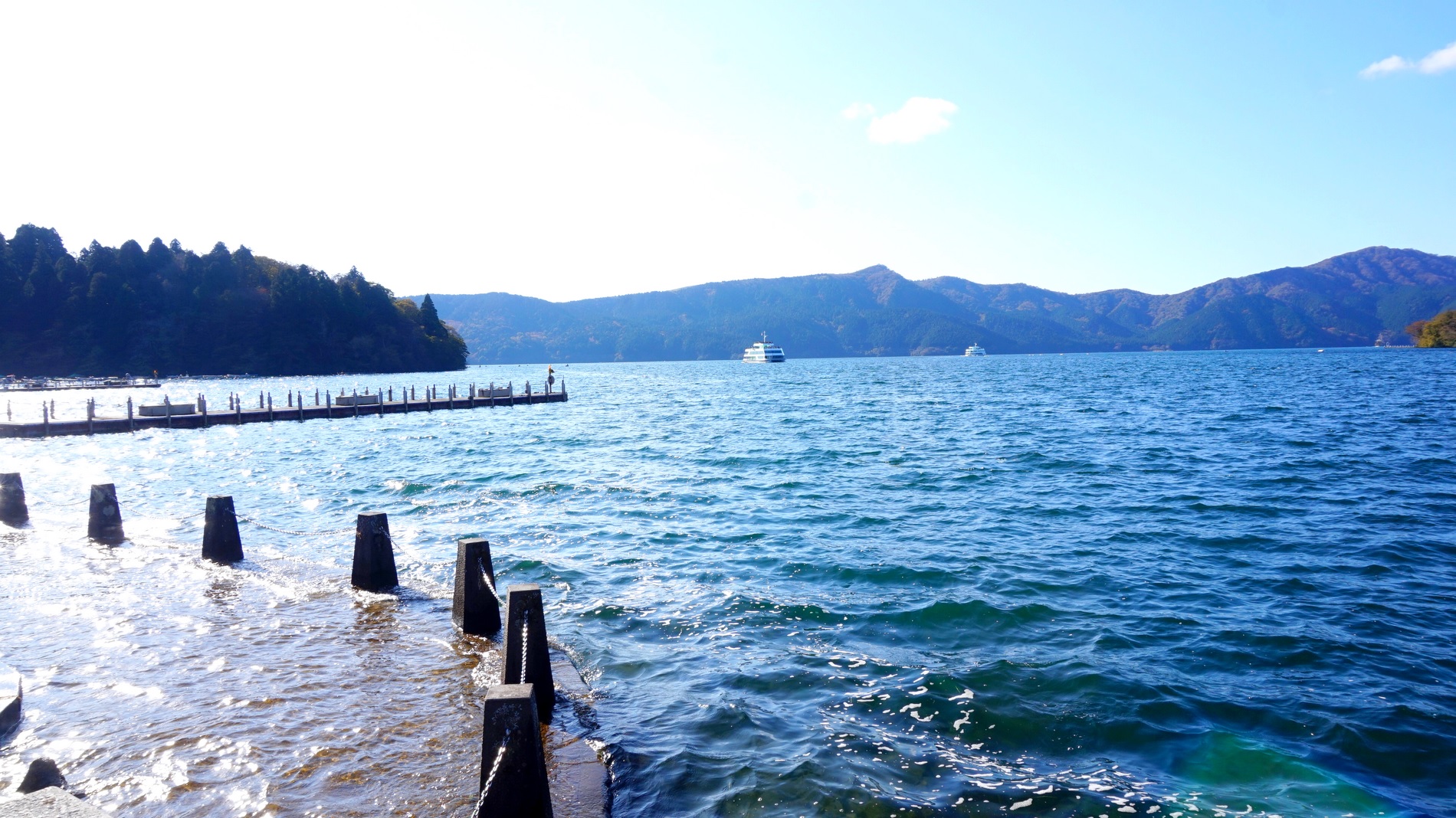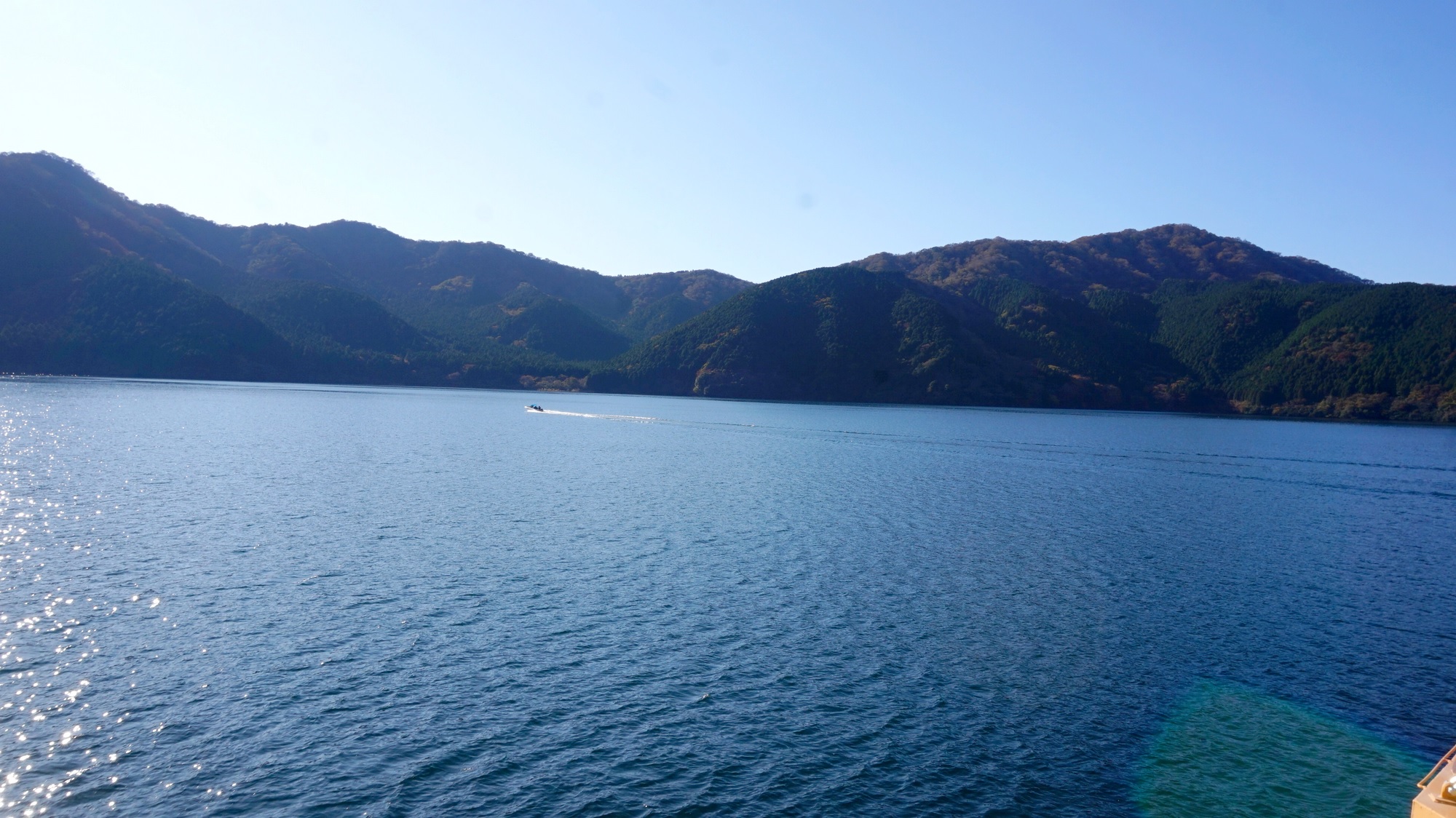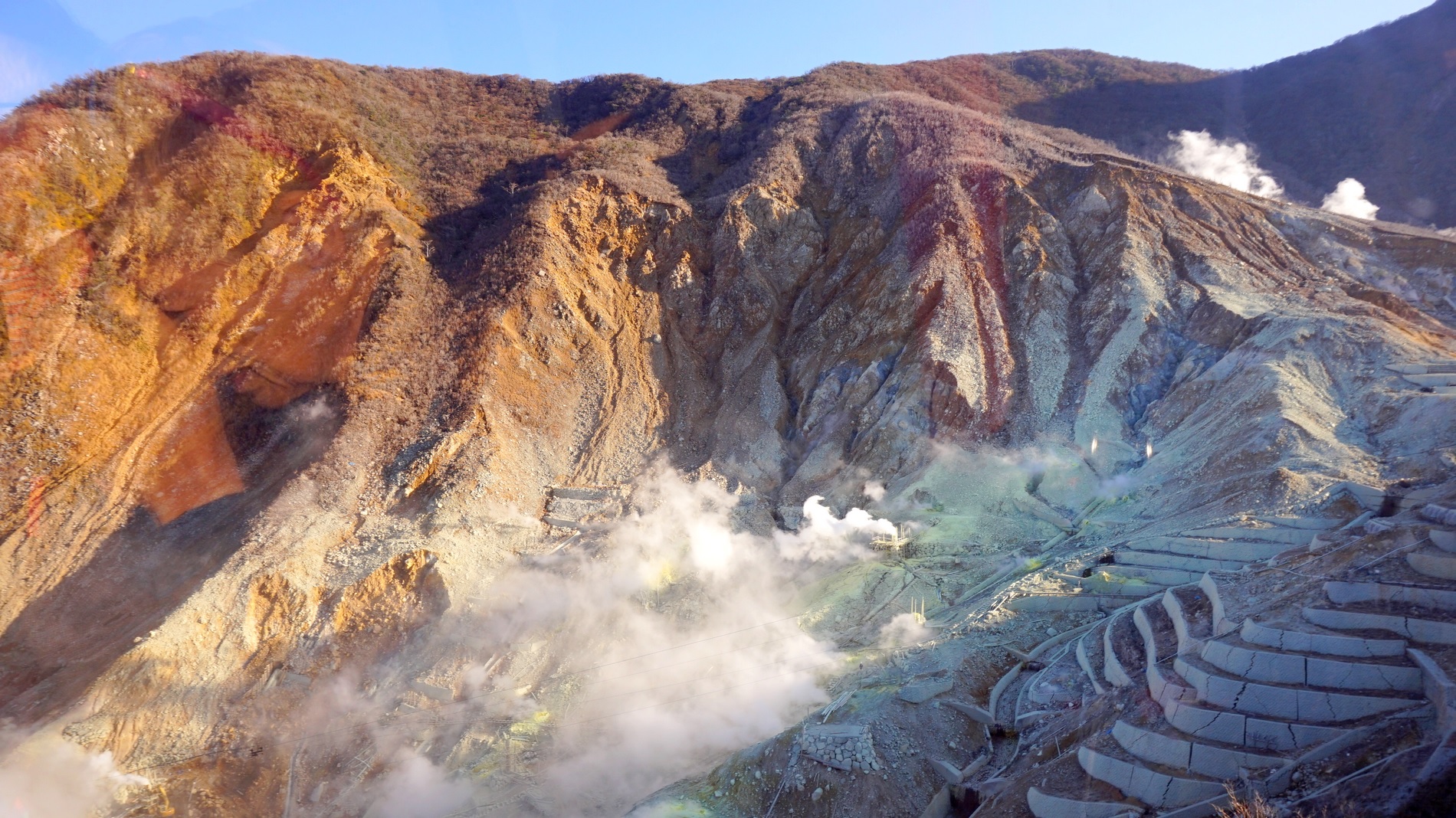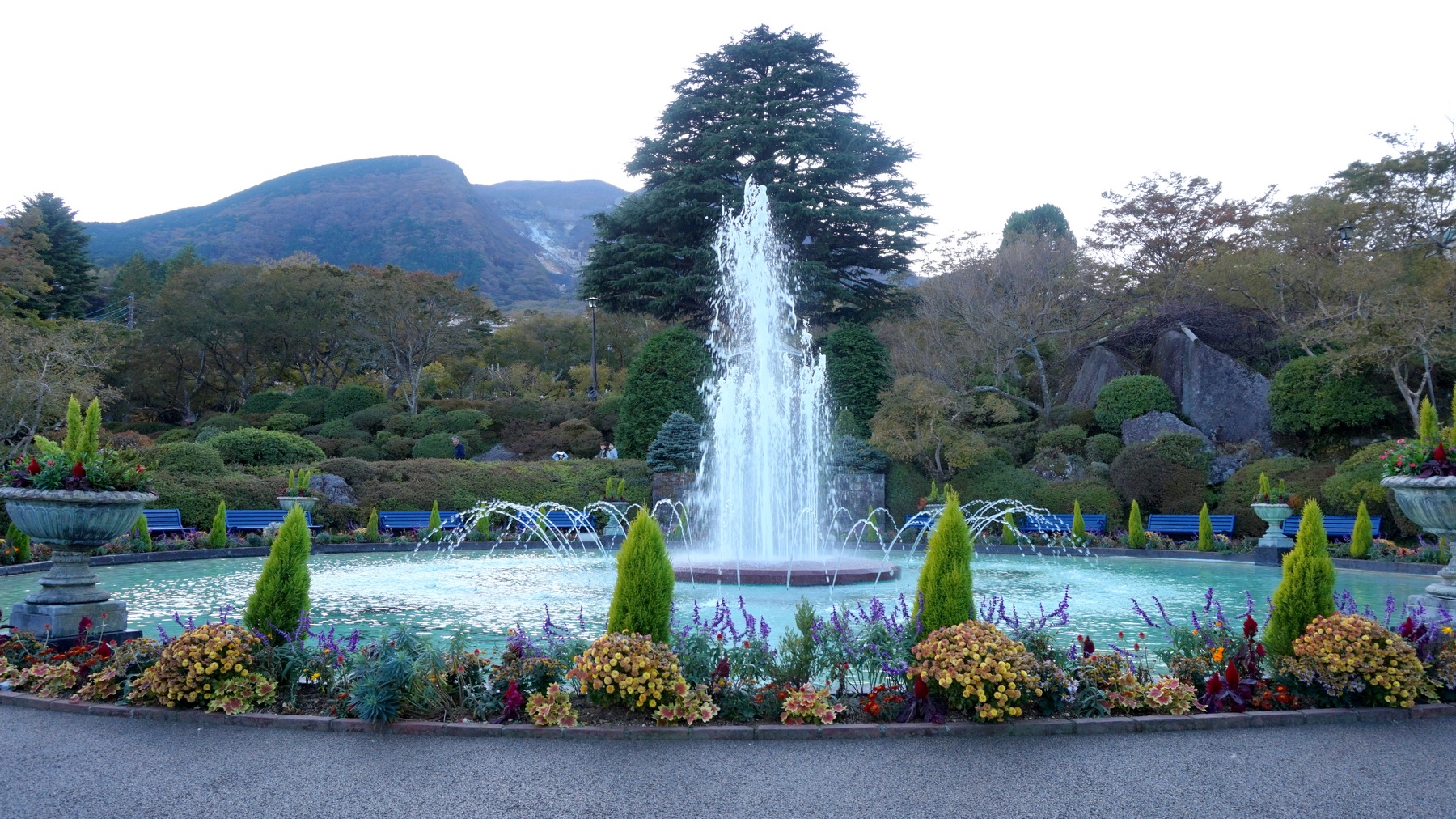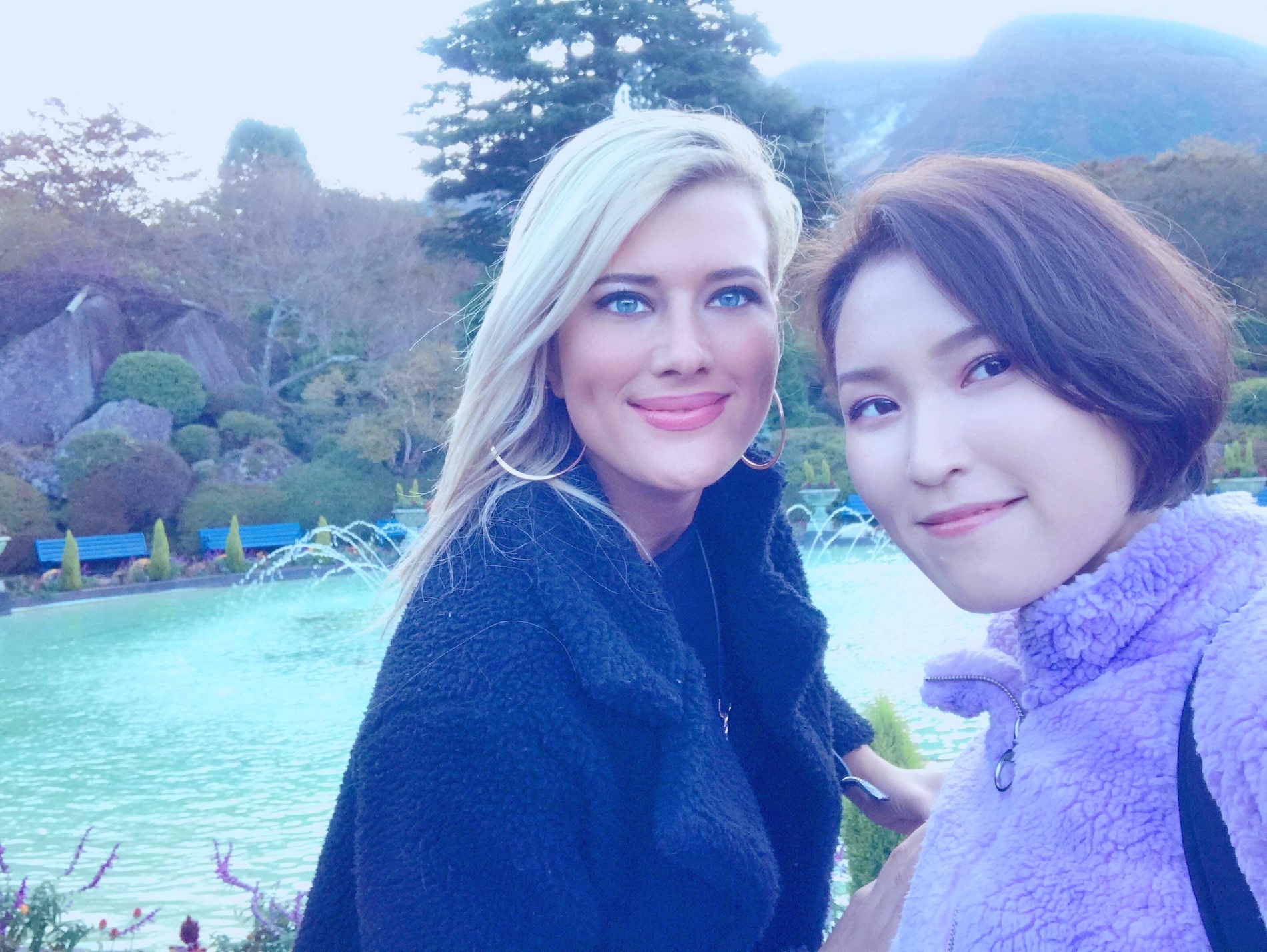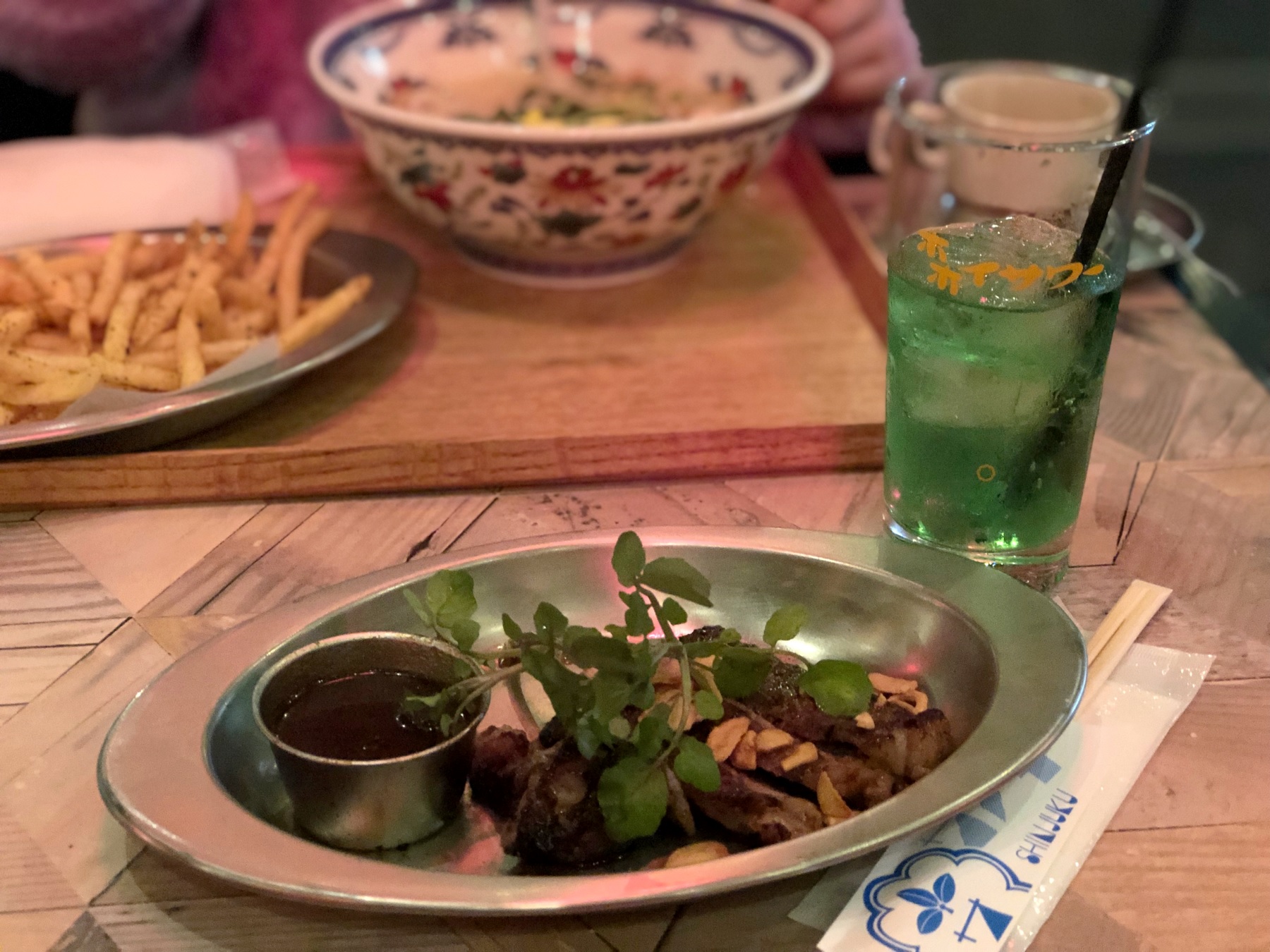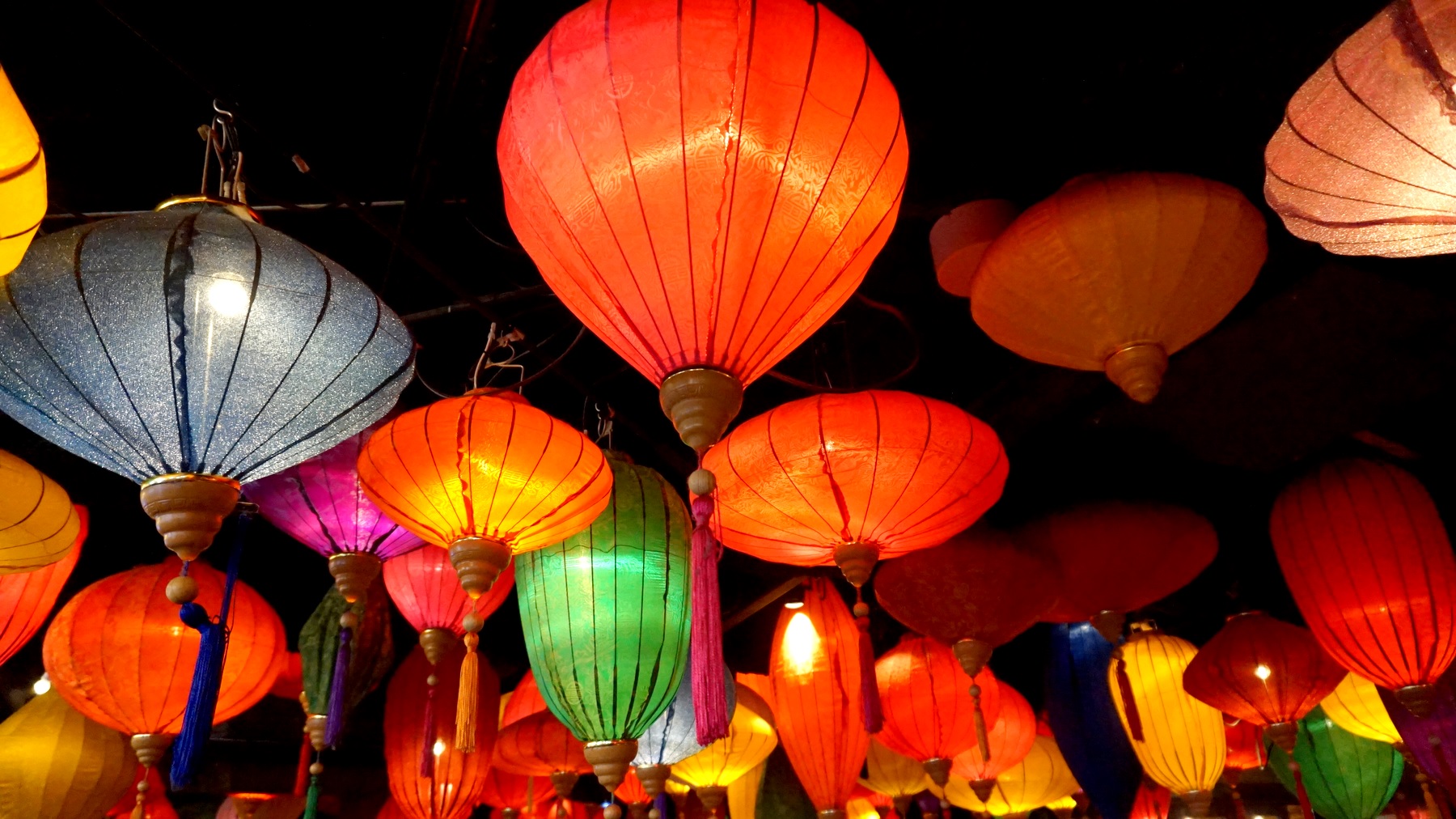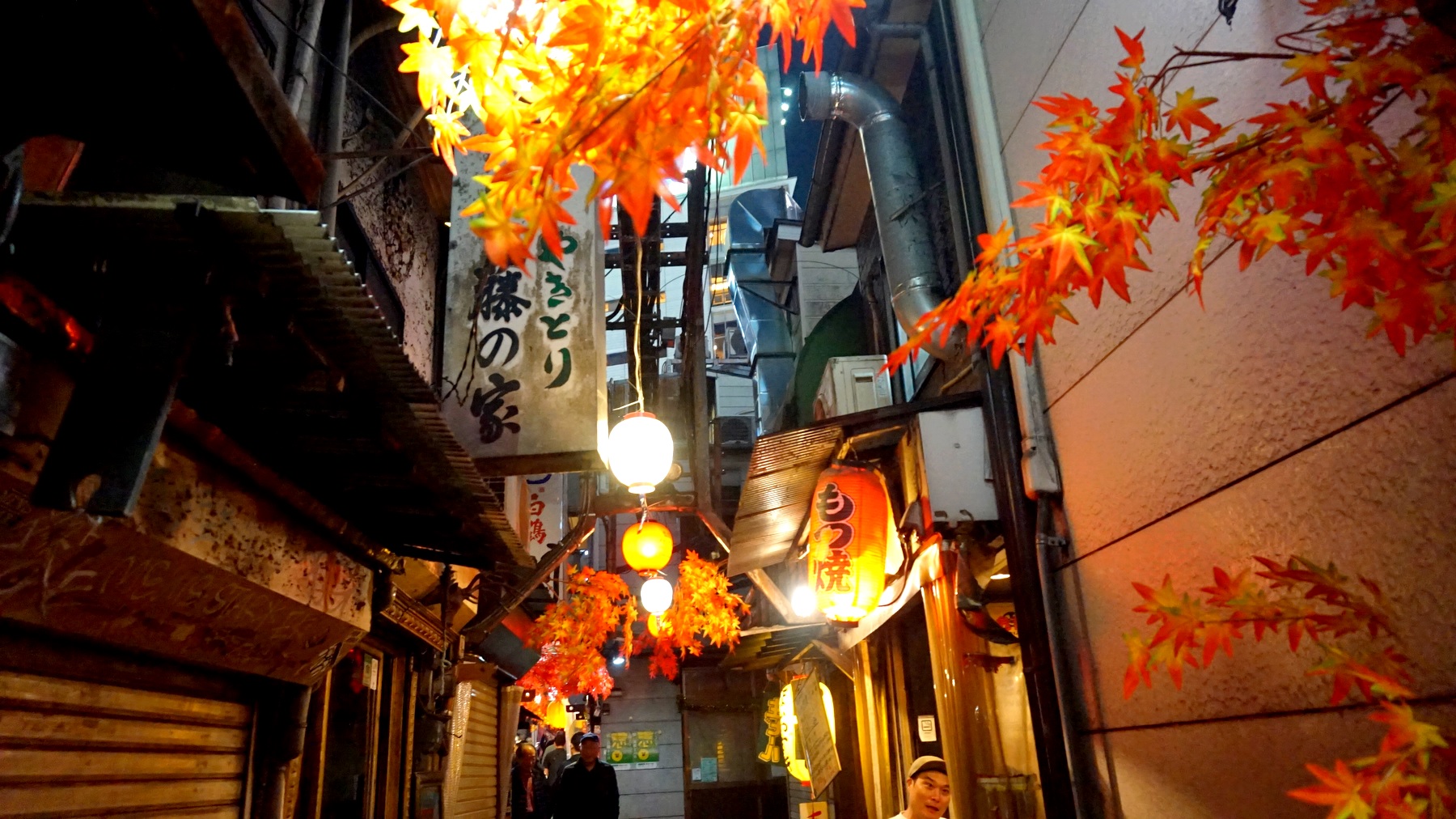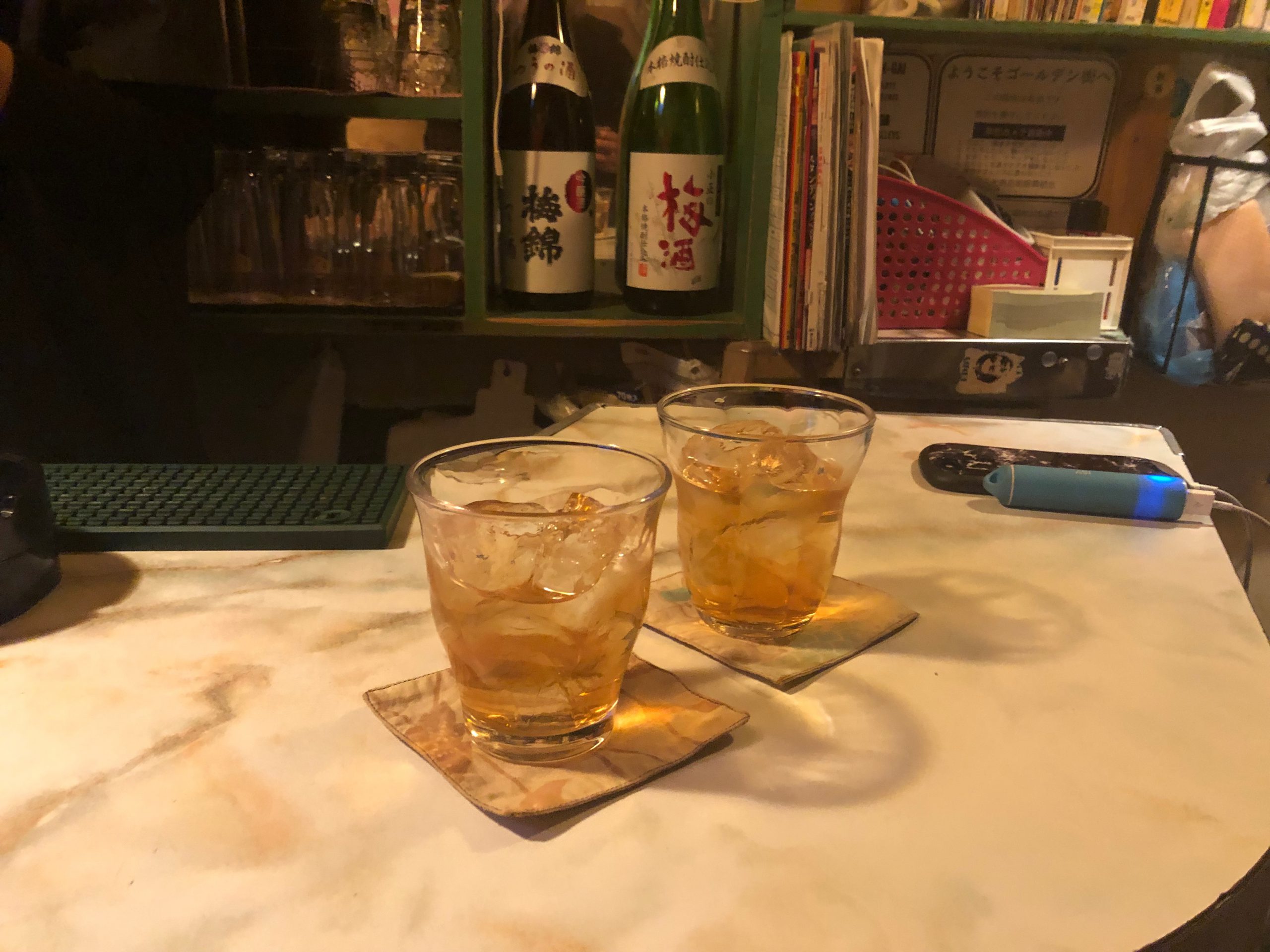 Thank you for reading the first part of my 2019 Japan adventure. This post was about the first 3 days of my Japan trip. All posts about Japan, including the ones of the former years, can be found when you click on the link underneath this page.
Bedankt voor het lezen van mijn eerste deel van het Japan avontuur van 2019. Dit waren de eerste 3 dagen van mijn Japan reis. Alle posts over Japan en die van de jaren ervoor, kun je via de onderstaande link vinden.