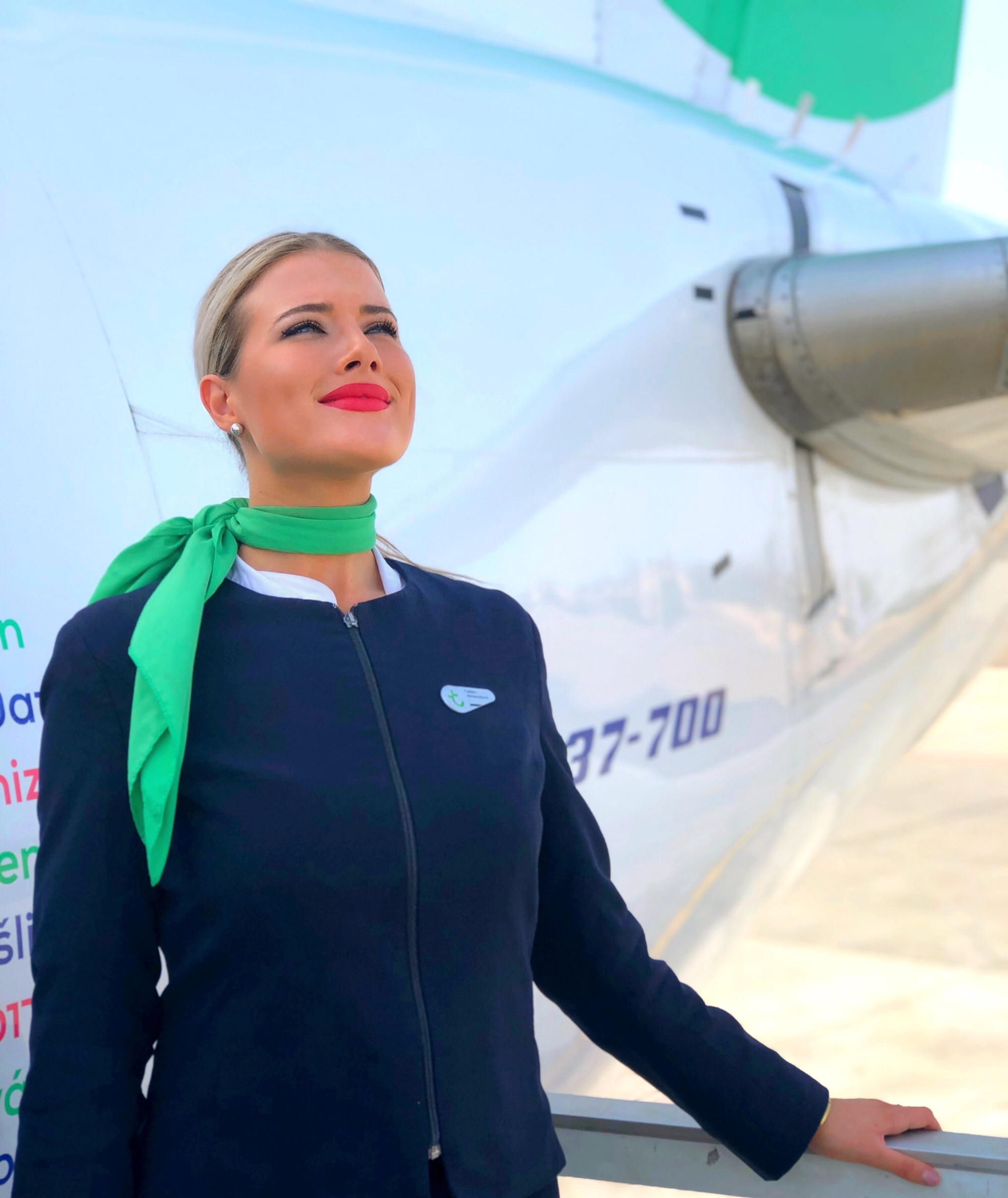 When I drive past Schiphol in the early morning, or late at night after Miss World, and see the illuminated runways, I still feel those butterflies in my stomach. Schiphol is a magical place that I have admired since my childhood. A gateway to new adventures and special stories, I always wanted to be a part of that. As cliché as it may sound, "the sky is my home". From an early age I already felt an enormous connection with aviation. And who follows his/her heart often gets where he/she belongs.
My airline feels like coming home, aviation feels like coming home. Even though I have a wonderful life on the ground, and I do all kinds of things besides my great job. Aviation is in my heart and soul, and I can never say goodbye to it. I got to know friends for life. Roos, Felitza, Michelle, Chrissy, Tessa, Stephanie and a lot of other special people
When I, 6 years ago, boarded for my first flight in then 8 years, I was even more sure than I was already as a child, that my heart was in aviation, and this was my place. It was the feeling of a new beginning, as if this was how it was supposed to happen. I still carry that feeling with me every day, and forever. When I get up in the morning, put on my uniform, high heels, red lipstick and look in the mirror, I think; I am allowed to do this job, I have made my dream come true, I am a flight attendant. And that feeling helps me through fun and slightly less fun flights and I take that thought with me every day. My heart and soul are in the air. It's a part of me, a way of life I would never want to be separated from. I think aviation is a magical world that I would never want to leave.
One day, the masks will be gone, we will see people without masks on smile and hear wonderful stories from their travels. One day I will be in Dubai again enjoying myself with a nice crew, in Groningen again, or at another beautiful destination that will come. These are uncertain times, but remember; bad times are never forever. Often things get worse before they get better.
Don't make me walk when I want to fly.
Note: In this blog post I have a lot of nice photos from before the Corona crisis / measures. So these are photos from before corona and the distance/mask rule.
Als ik langs Schiphol rijd op de vroege ochtend, of laat op de avond na Miss World, en de verlichtte landingsbanen zie, dan voel ik nog altijd die kriebels in mijn buik. Schiphol is een magische plek, die ik sinds kinds af aan al bewonder. Een poort naar nieuwe avonturen en bijzondere verhalen, daar wilde ik altijd een onderdeel van zijn. Hoe cliché het ook klinkt, 'the sky is my home'. Sinds jongs af aan voelde ik al een enorme verbinding met de luchtvaart. En wie zijn hart volgt, komt vaak waar zij/hij hoort.
Mijn airline voelt als thuis komen, de luchtvaart voelt als thuis komen. Ook al heb ik een prachtig leven op de grond, en doe ik van alles naast mijn mooie baan, zit de luchtvaart in mijn hart en ziel. Van die wereld zal ik nooit afscheid kunnen nemen. Ik heb er vriendinnen voor het leven leren kennen; Roos, Felitza, Michelle, Chrissy, Tessa, Stephanie en een hoop andere bijzondere mensen
Toen ik, inmiddels 6 jaar geleden aan boord stapte voor mijn eerste vlucht in toen der tijd 8 jaar, wist ik nog zekerder dat mijn hart in de luchtvaart lag, en dit mijn plek was. Het was een gevoel van een nieuw begin, alsof dit zo hoorde te gebeuren. Dat gevoel draag ik nog altijd, en voor altijd elke dag met mij mee. Als ik in de ochtend opsta, mijn uniform, hoge hakken aantrek, rode lippenstift op doe en in de spiegel kijk dan denk ik; ik mag dit werk doen, ik heb mijn droom waar gemaakt, ik ben stewardess. En dat gevoel helpt mij door leuke, en ietjes minder leuke vluchten heen en die gedachte neem ik elke dag mee. Mijn hart en ziel ligt in de lucht. Het is een deel van mij, een manier van leven waar ik nooit afstand van zou willen doen. Ik vind de luchtvaart een magische wereld waar ik nooit uit zou willen vertrekken.
Op een dag, zullen de mondkapjes weg zijn, zullen we mensen zonder masker zien lachen en prachtige verhalen horen van hun reizen. Op een dag zit ik weer in Dubai te genieten met een leuke crew, in Groningen, of op een andere mooie locatie die komt. Het zijn onzekere tijden, maar onthoud; slechte tijden zijn nooit voor altijd. Vaak gaat het eerst slechter voor het beter wordt. 
Don't make me walk, when I want to fly.
Note: In deze blogpost heb ik nog een hoop leuke foto's van vóór de Corona crisis/maatregelen. Dit zijn dus foto's van vóór corona en de mondkapjes/afstand plicht.