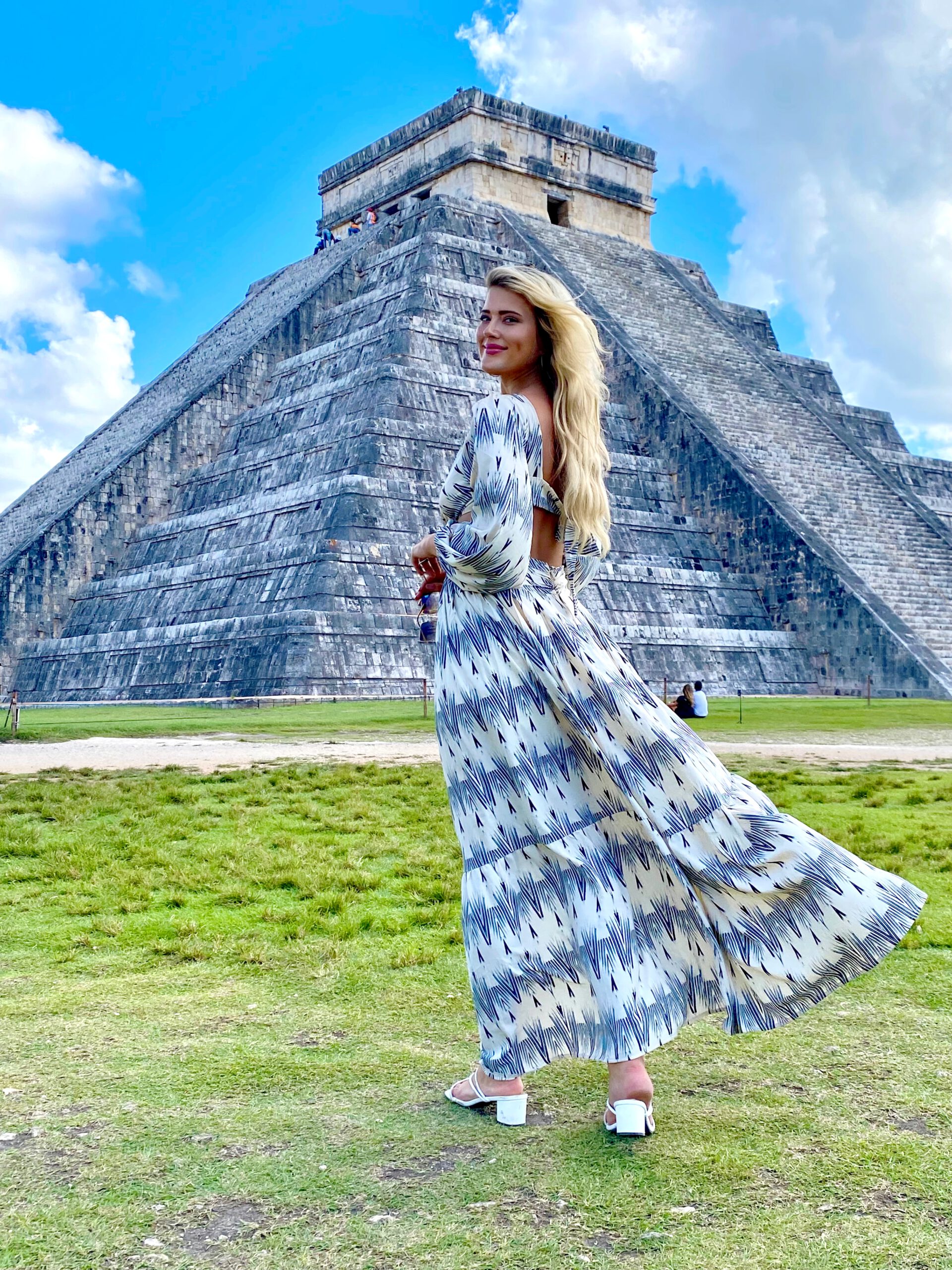 In this post, I will also tell about my last days in Mexico, Playa del Carmen, Bacalar and the amazing other things and places I got to experience during my last days here. Chitzen-Itza is one of the wonders of the world that I was eager to visit and hadn't visited last time. Moreover, I hadn't crossed off a single wonder of the world so far! I thought I really had to do this during my month here. Basically the most touristy thing you can do in this area, but very cool to experience. Besides, it was a good idea for me to leave Tulum today and go out with a friend, after everything from the day before.
In deze post zal ik ook vertellen over mijn laatste dagen in Mexico, Playa del Carmen, Bacalar en de geweldige andere locaties en dingen die ik heb mogen meemaken tijdens mijn laatste dagen hier. Chitzen-Itza is een van de wereldwonderen die ik graag wilde bezoeken en de vorige keer niet had bezocht. Bovendien had ik nog geen enkel wereldwonder afgestreept tot zo ver! Ik vond dat ik dit toch écht tijdens mijn maand hier moest doen. In principe wel het meest toeristische wat je in dit gebied kan doen, maar erg gaaf om mee te maken. Bovendien was het wel een goed idee voor mij om even Tulum te verlaten vandaag en met een vriendin op pad te gaan, na alles van de dag ervoor.
29-11-2022 – Tulum, Chitzen-Itza & Valladolid


For today, I booked a tour with Laura to Chitzen-Itza, Valladolid and one of the most beautiful cenotes in the area. Laura would fly back to France tomorrow, so today would be her last full day in Mexico. I arranged this tour through Laura, but unfortunately, I don't remember the name of the tour provider. The tour was about 50 euros p.p I think, which is a very good price for transport, entrance to a cenote, buffet lunch, entrance to Chitzen itza and a stop at Valladolid. If you look at what this costs separately and arranging it yourself, you will probably pay at least three times as much. It was nice to have visited Chitzen-itza, but I also found one of the highlights to be the beautiful Cenote Selva Maya that we visited. Unfortunately, a photo could not capture the beauty of this cenote.
Vandaag had ik een tour geboekt samen met Laura naar Chitzen-Itza, Valladolid en een van de allermooiste cenote's in het gebied. Laura zou morgen terugvliegen naar Frankrijk, dus deze dag zou haar laatste volle dag in Mexico zijn. Deze tour heb ik via Laura geregeld maar helaas weet ik de naam niet meer. De hele tour was zo'n 50 euro p.p geloof ik, wat een ontzettend goede prijs is voor vervoer, entré tot een cenote, buffet lunch, entré naar Chitzen itza en een stopje Valladolid. Als je kijkt wat dit los en zelf regelen bij elkaar kost, ben je op zijn minst het (drie)dubbele kwijt. Het was leuk Chitzen-itza te hebben bezocht, maar een van de highlights vond ik daarnaast ook de prachtige Cenote Selva Maya die we hebben bezocht. Helaas kon een foto de schoonheid van deze cenote niet mooi vastleggen.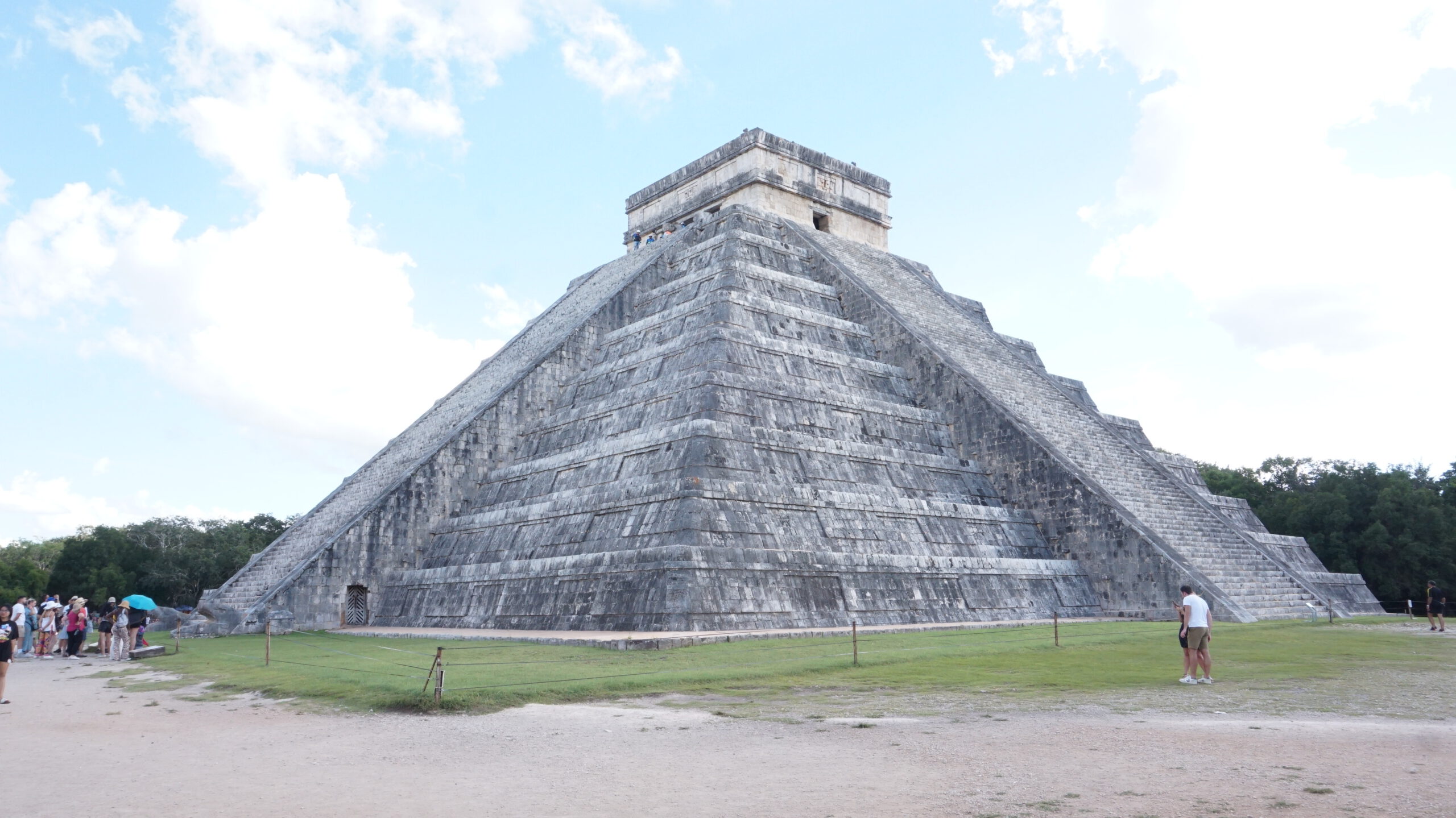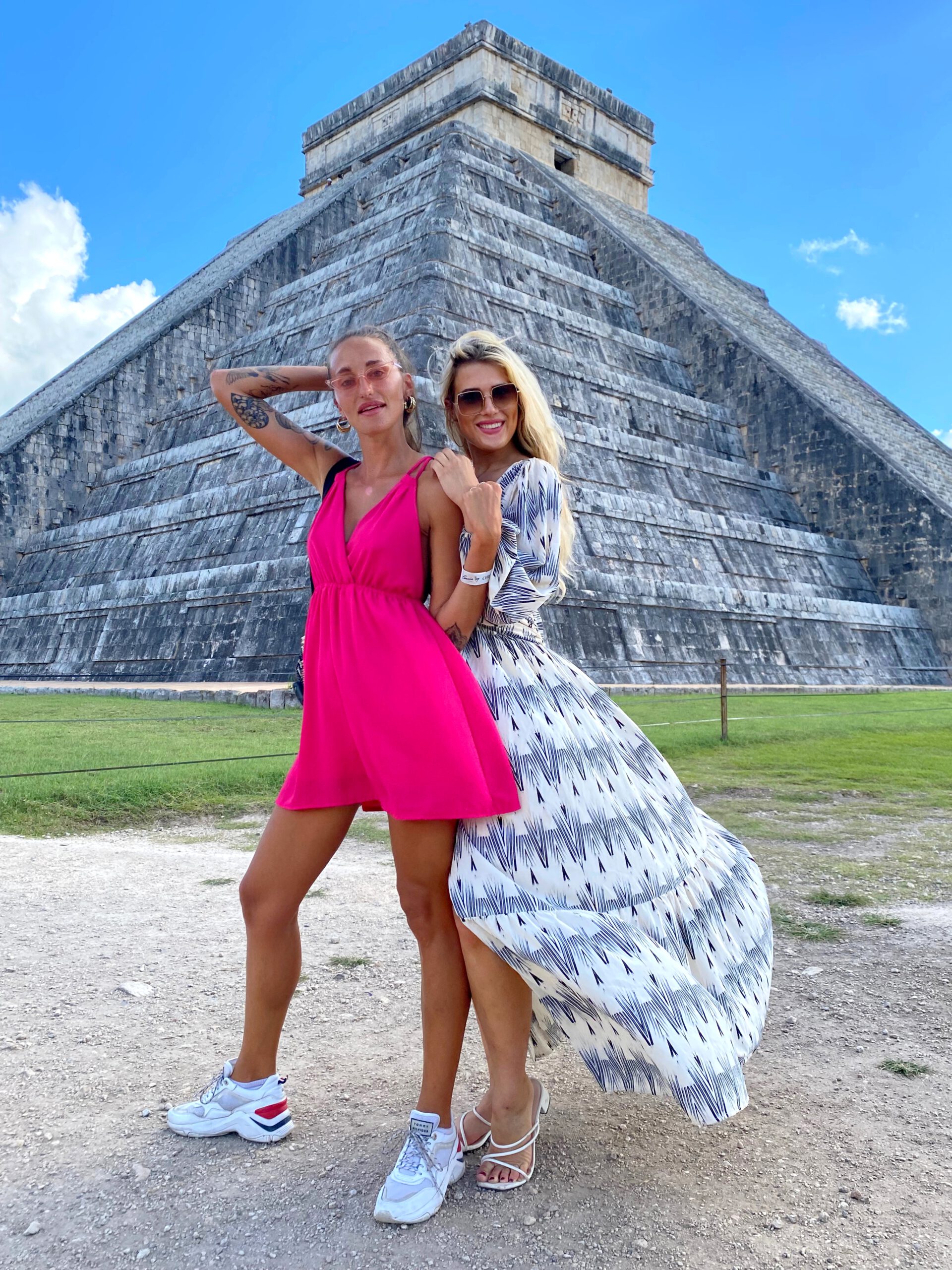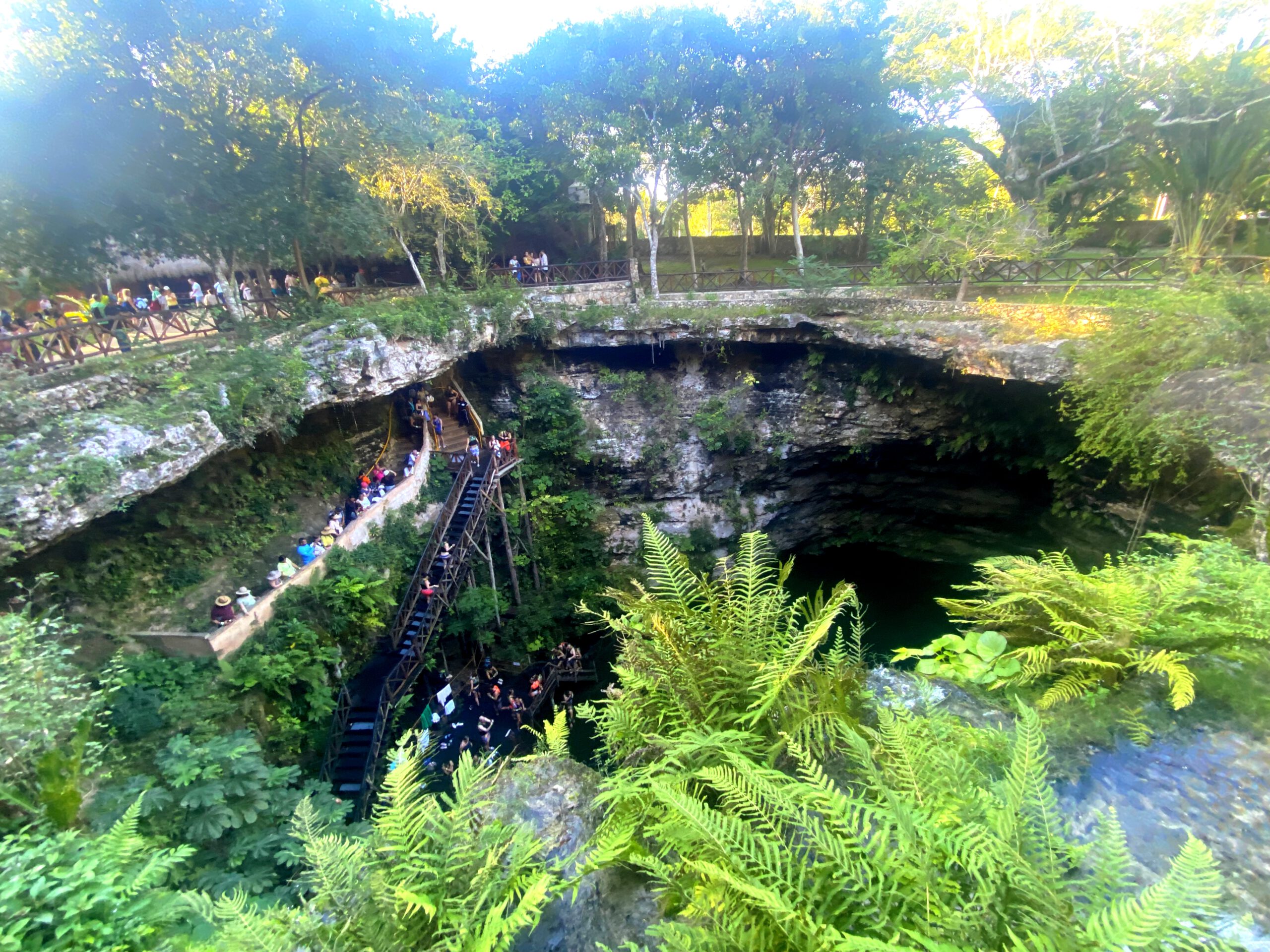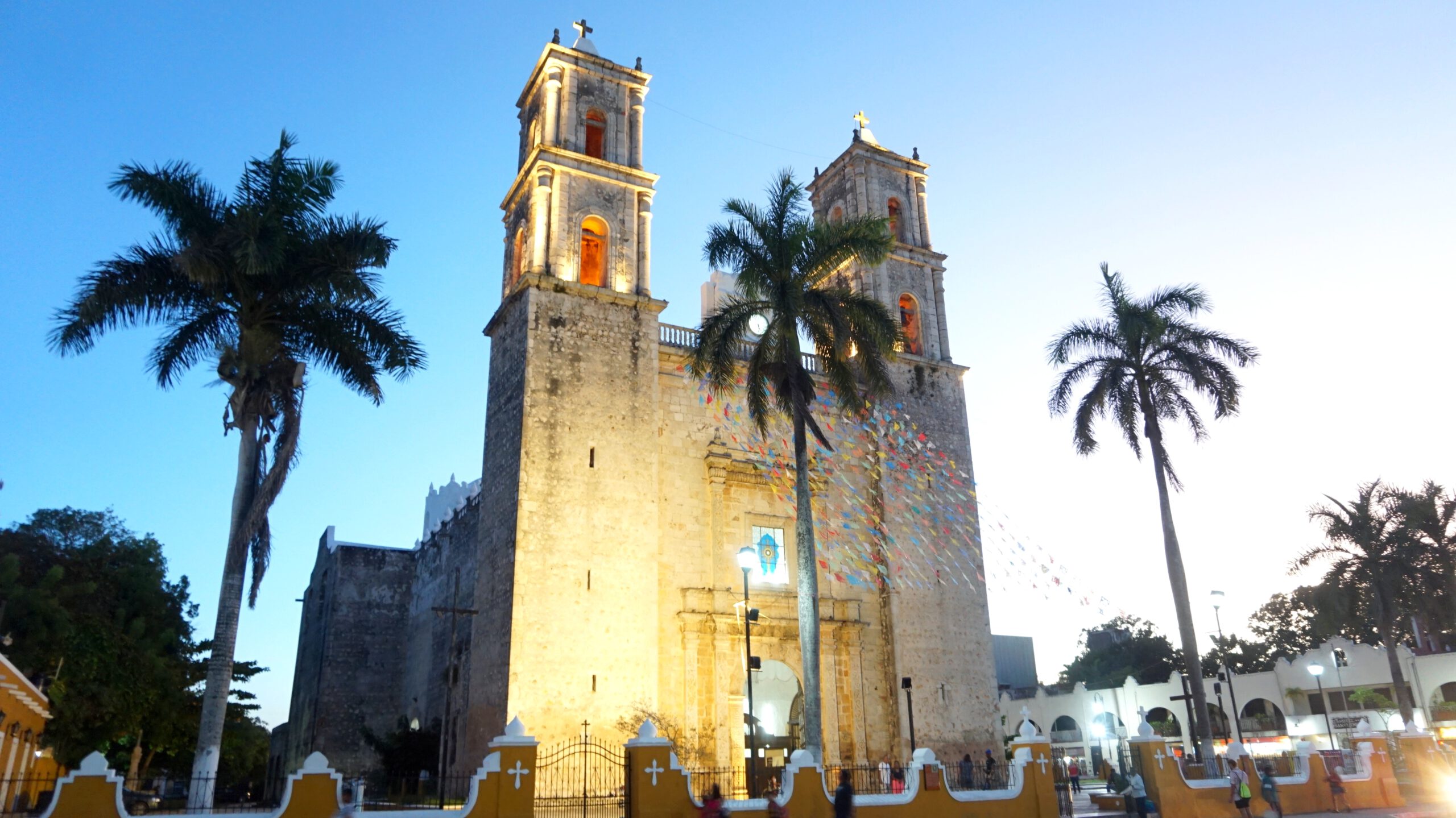 30-11-2022 – Tulum
Today I was invited by Cyni to a villa party in Aldea Zama. I was also allowed to take Nadja – a hostel friend with me. In the evening there was another party at Mia Beachclub on the beach – a beach club I often visit. Because I know the people in the organization and was therefore usually put on the guest list, I can and was allowed to enter without obligation with a +1, and also free drinks and backstage access. The party was super cool and also very nice with Felipe, Leon, Cyni and Nadja.
Vandaag was ik door Cyni uitgenodigd voor een villa feestje in Aldea Zama. Ik mocht Nadja – een hostelvriendin ook meenemen. In de avond was er weer een feest bij Mia Beachclub op het strand – een beachclub waar ik vaak kom. Omdat ik de mensen in de organisatie ken en daarom meestal op de guestlist werd gezet, mag en mocht ik vrijblijvend naar binnen met een +1, en daarnaast ook gratis drank en backstage toegang. Het feest was super vet en ook erg gezellig met Felipe, Leon, Cyni en Nadja.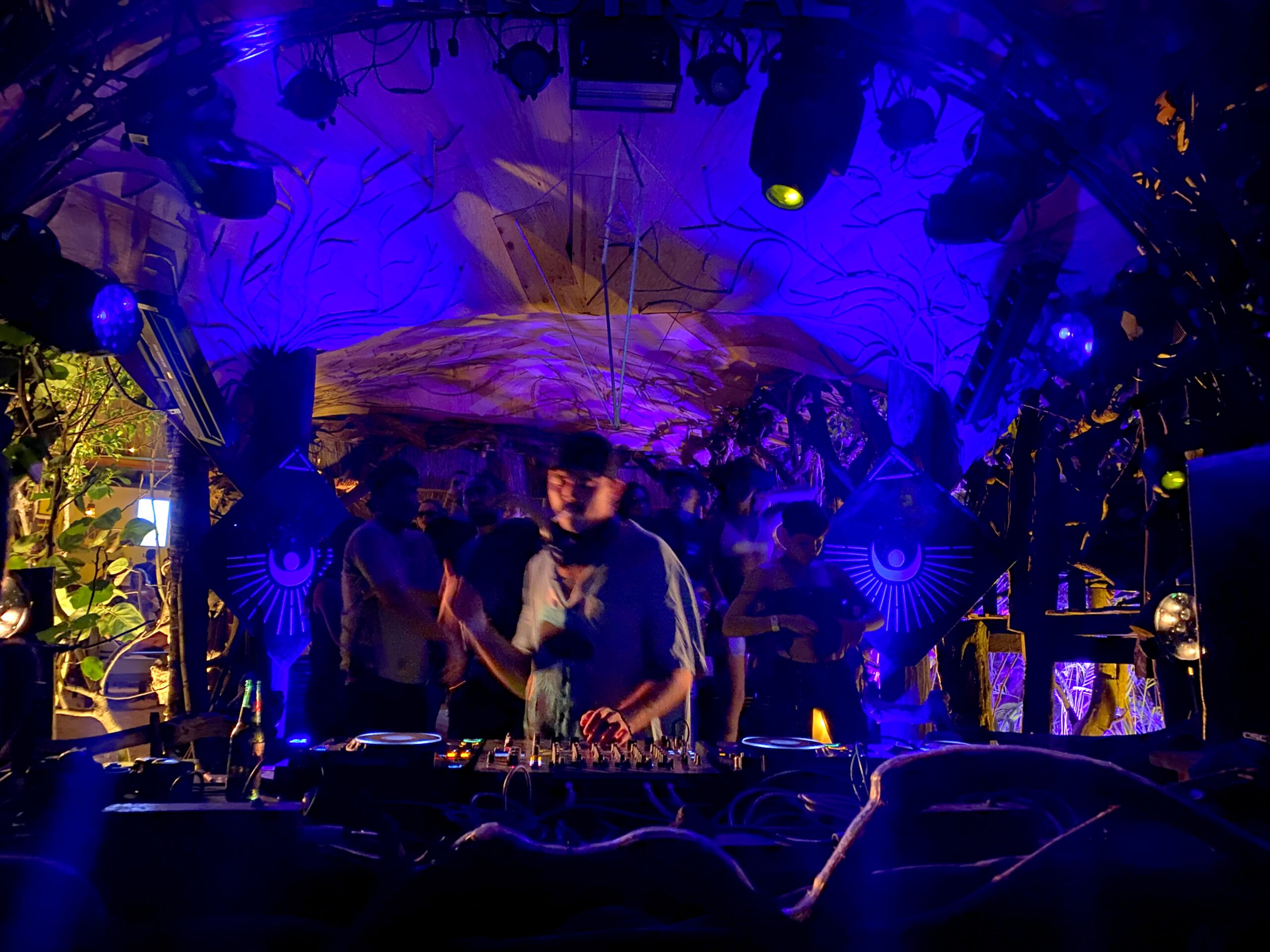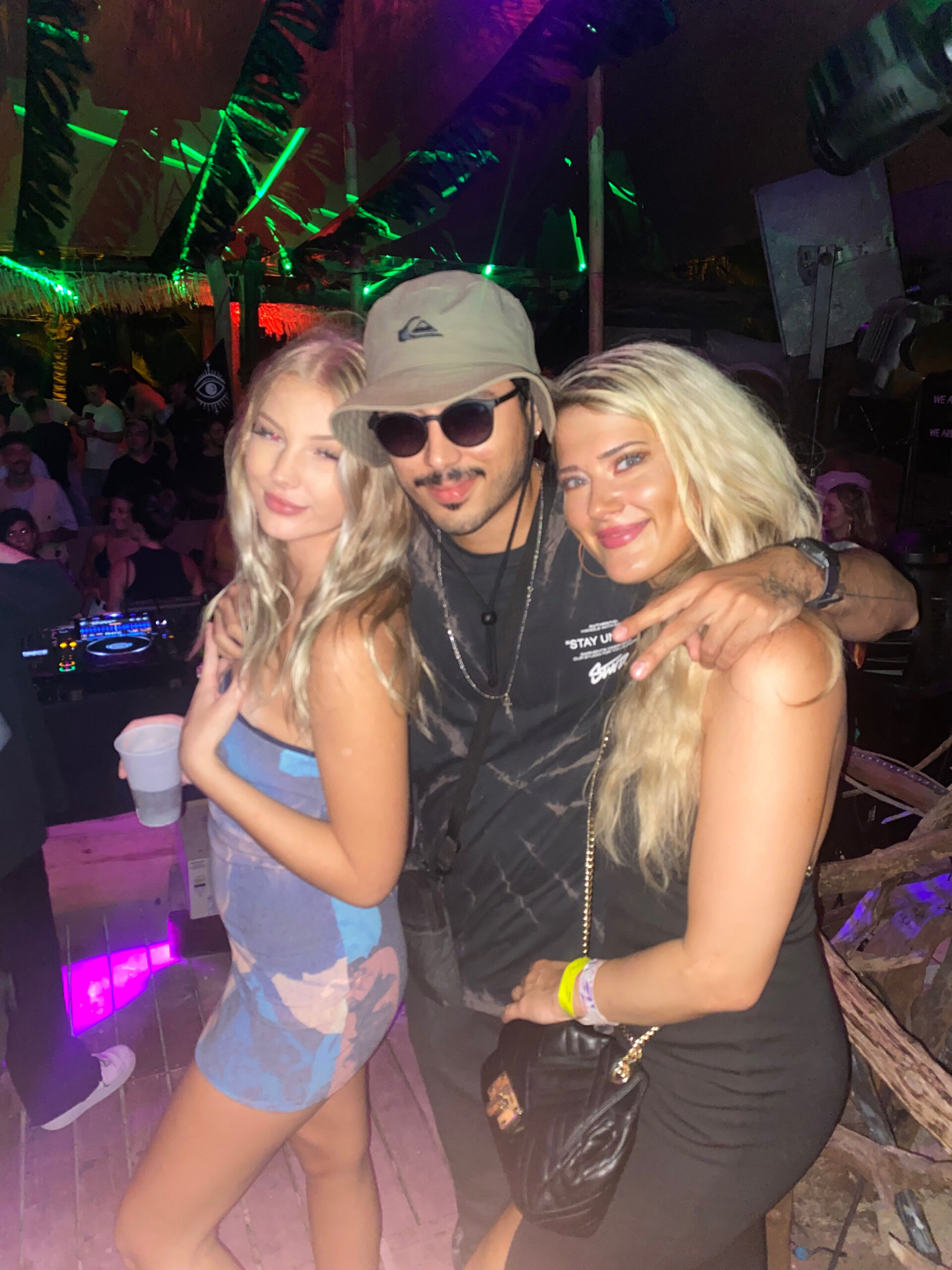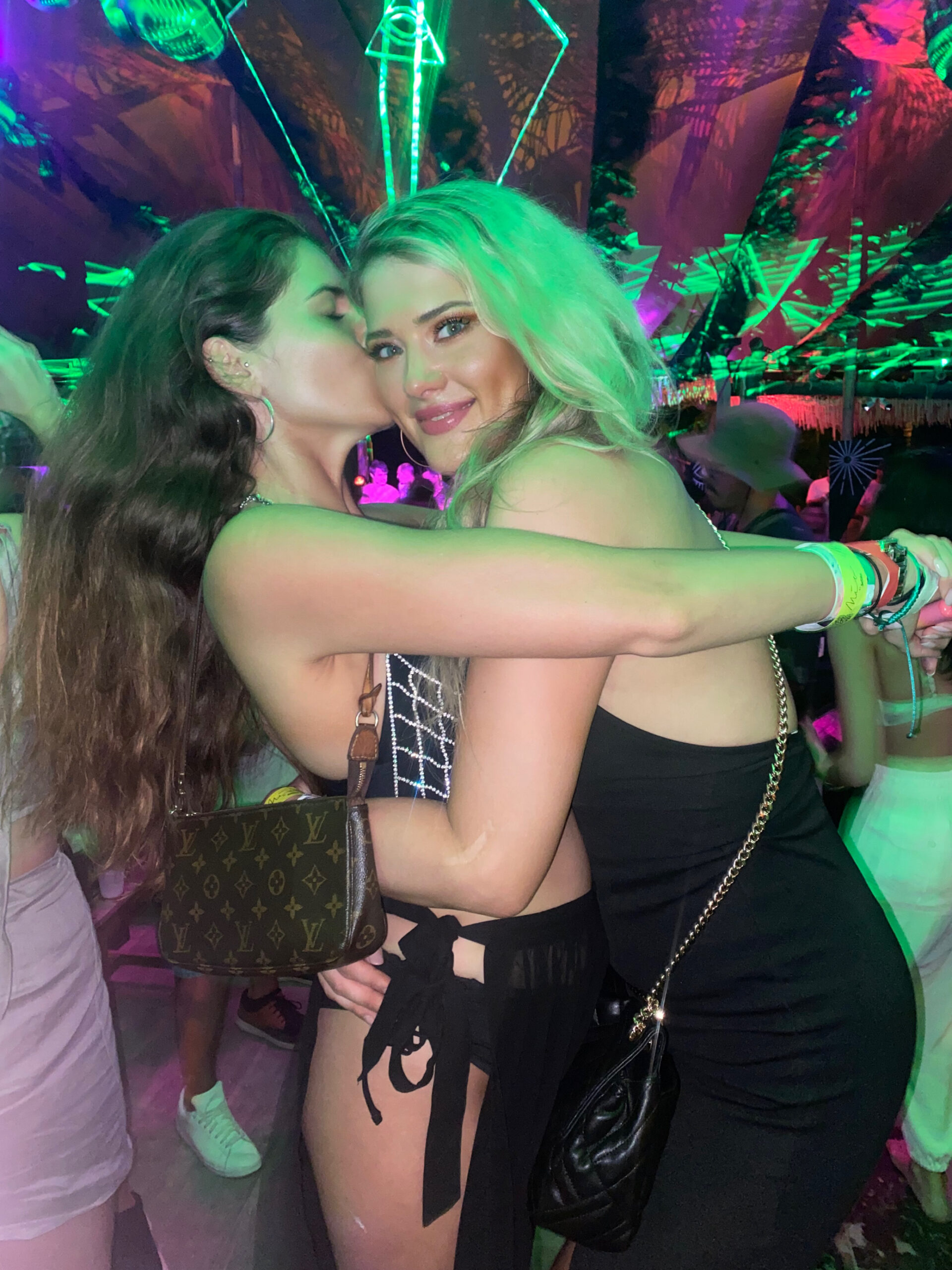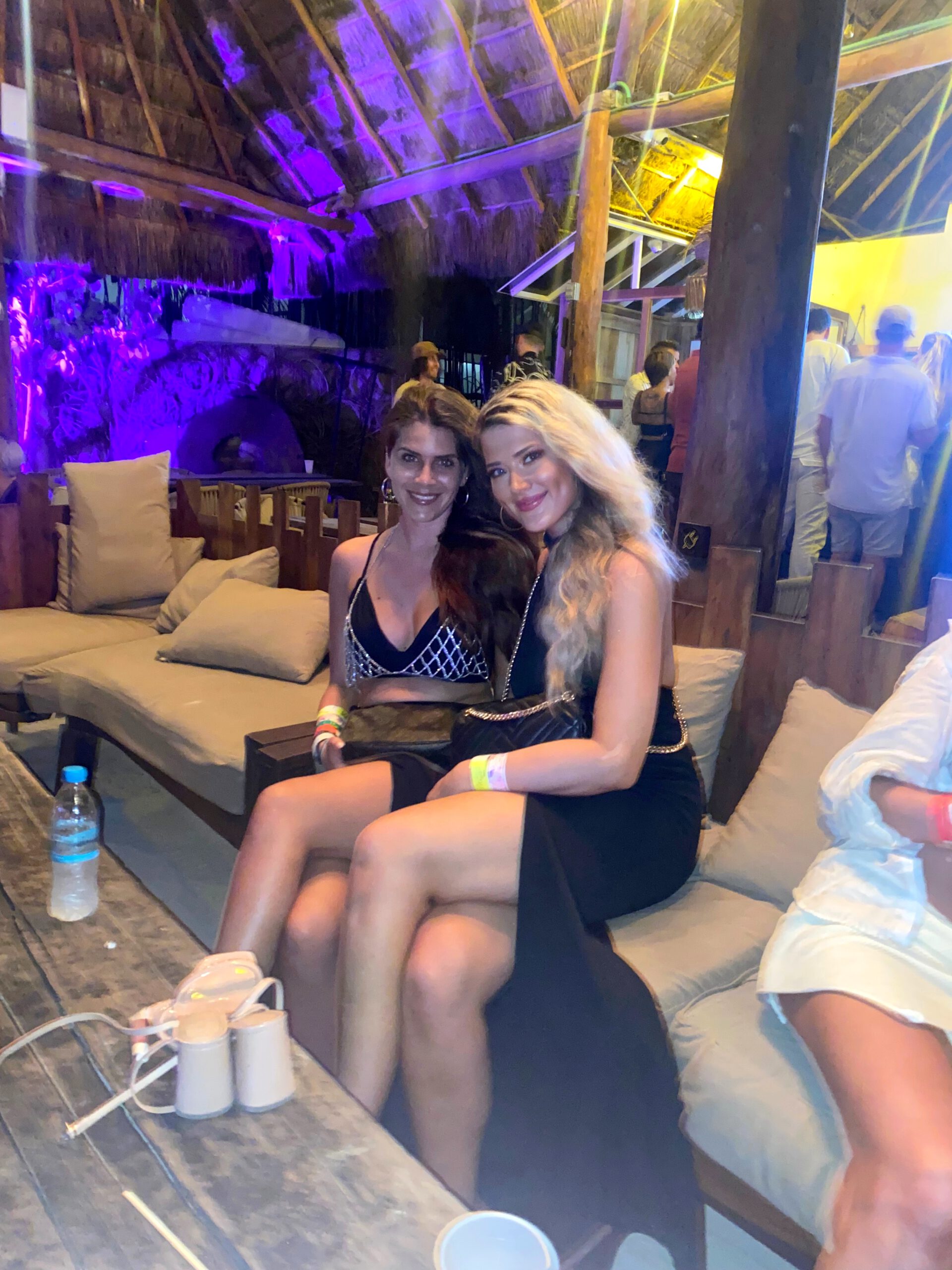 1-12-2022 – Playa del Carmen & Tulum

This morning,
Manuel
from Germany – a friend of Cyni and Leon –  offered me a ride to
Playa del Carmen
, and also treated me to lunch at
Café Antoinette.
Today I wanted to visit my Canadian girlfriend
Rita
in PDC, whom I had met in Cartagena, so I could join him for a ride. In the afternoon, Rita and I drank a smoothie at
Fresco Habito –
a super fun and healthy place, and then had a drink at the
Thompson hotel,
overlooking the sea and PDC. Around noon Manuel drove me back to Tulum.
In the evening, I (without anything behind it) was invited to some music demo recordings by a few (female) DJs, and then taken out to dinner by one of the DJs from yesterday's party at Pizzeria Manglar, in downtown Tulum.
Deze ochtend bood
Manuel
uit Duitsland – een vriend van Cyni en Leon, mij een rit aan naar
Playa del Carmen,
en trakteerde me ook op lunch bij
Café Antoinette.
Ik wilde vandaag namelijk mijn Canadese vriendin Rita bezoeken, die ik in Cartagena had leren kennen, dus kon ik gezellig met hem meerijden. In de middag dronken Rita en ik een smoothie bij
Fresco Habito
– een super leuke en gezonde plek, om vervolgens een drankje te doen bij
Thompson
hotel, met uitzicht op de zee en PDC. Rond het middaguur reed Manuel mij weer terug naar Tulum.
In de avond, ben ik (zonder iets daar achter zat), uitgenodigd voor wat muziek demo opnames van een paar (vrouwelijke) DJ's, en vervolgens uit eten genomen door een van de DJ's van het feest gisteren bij Pizzeria Manglar, in downtown Tulum.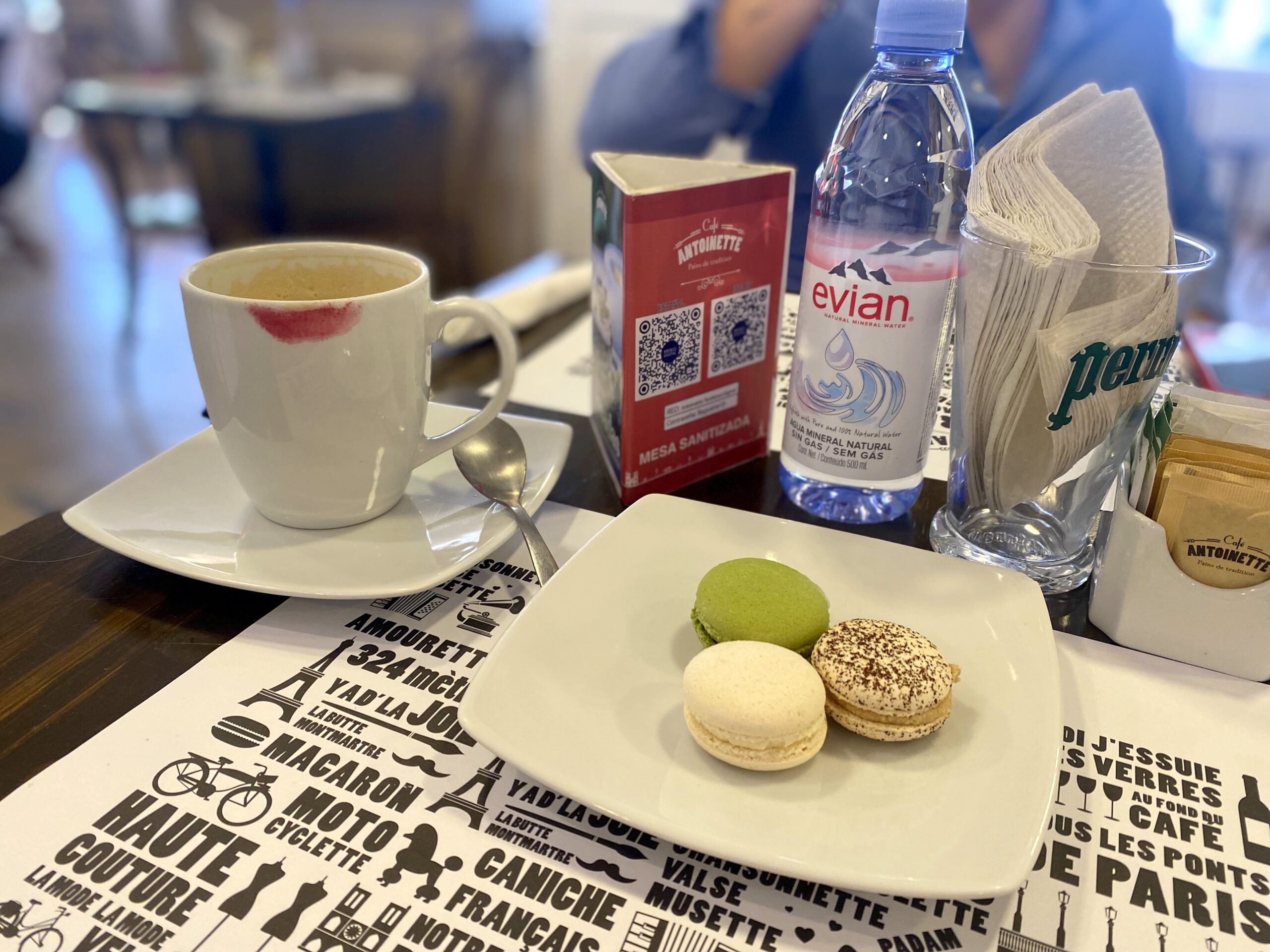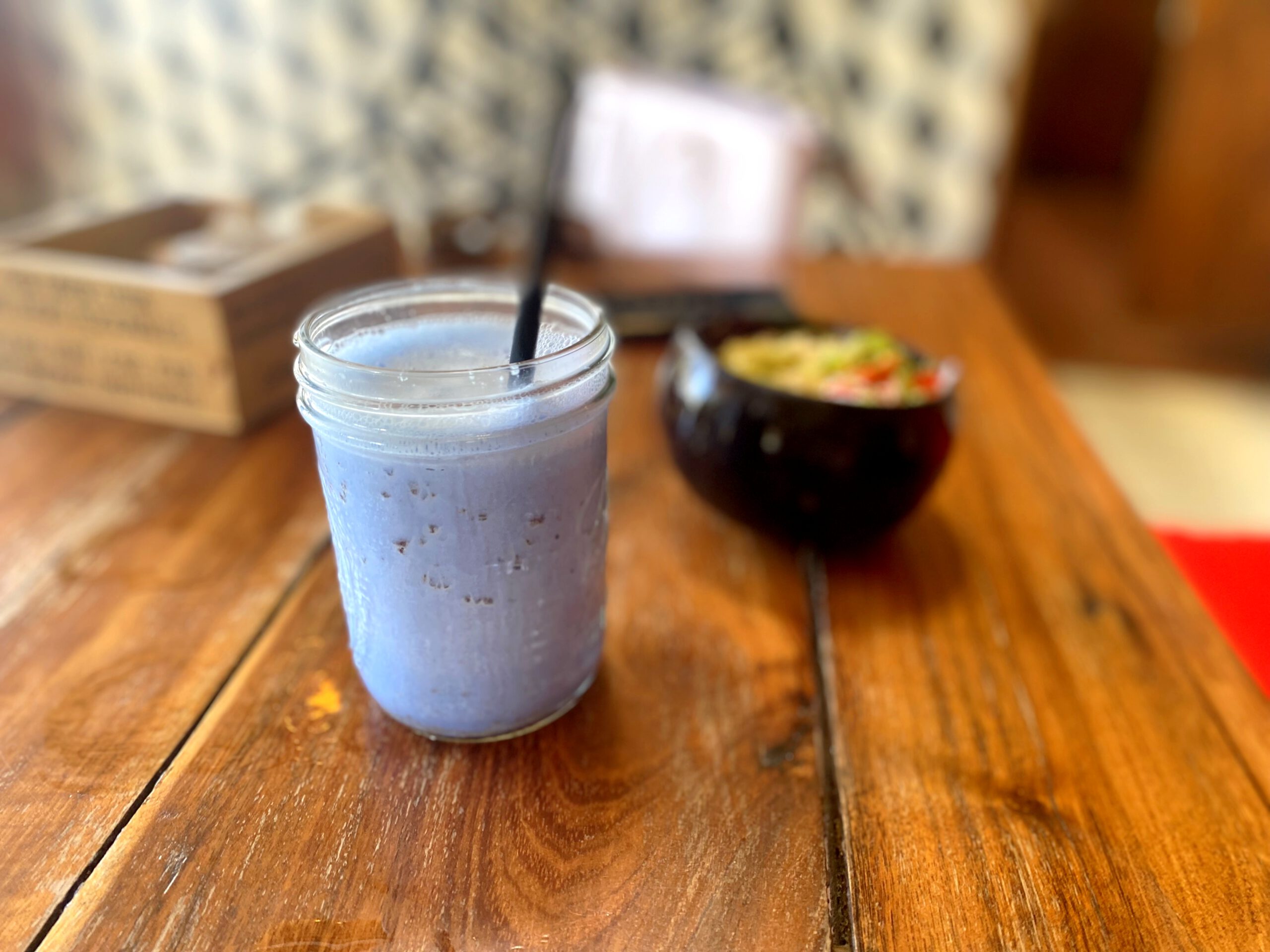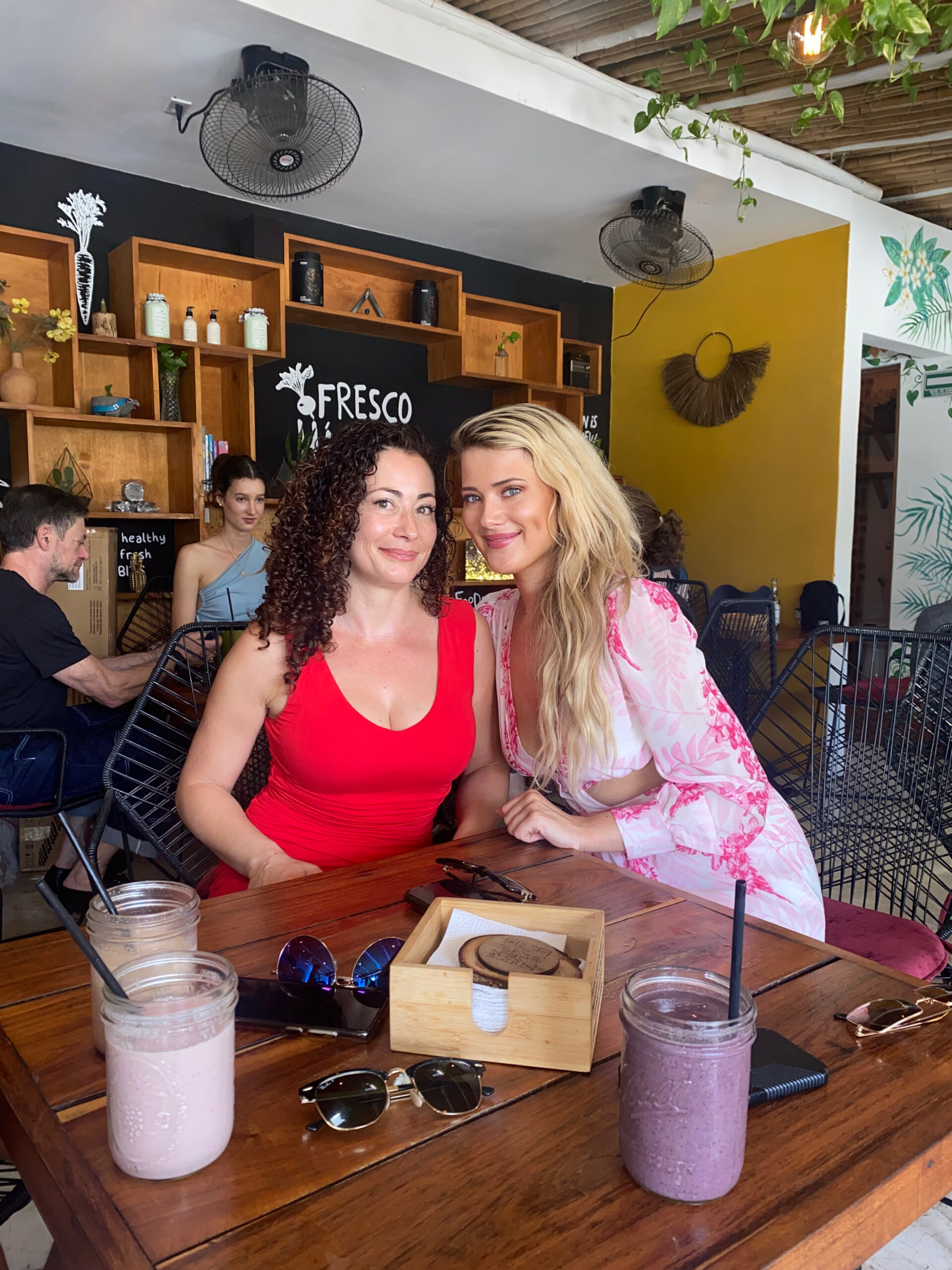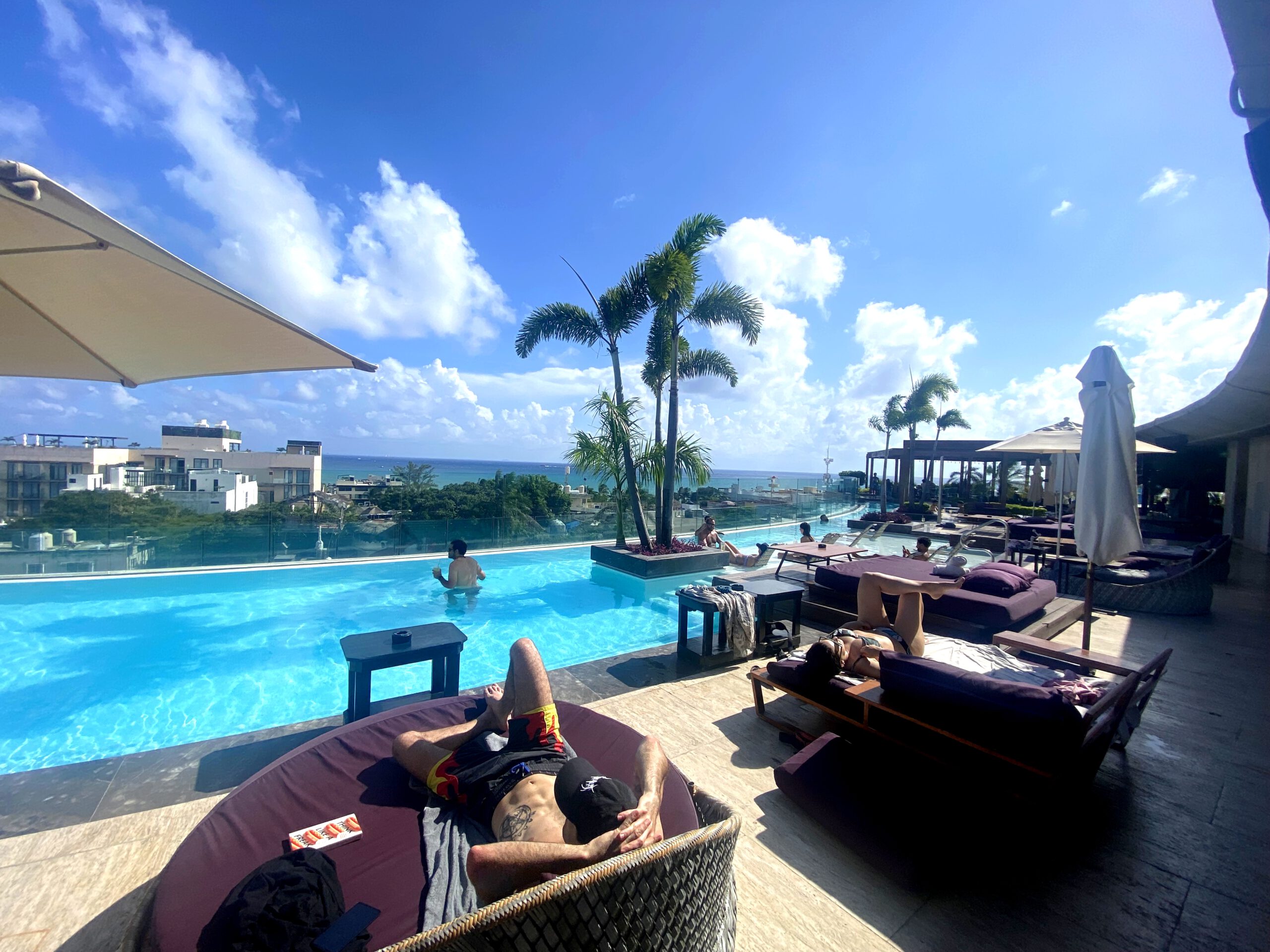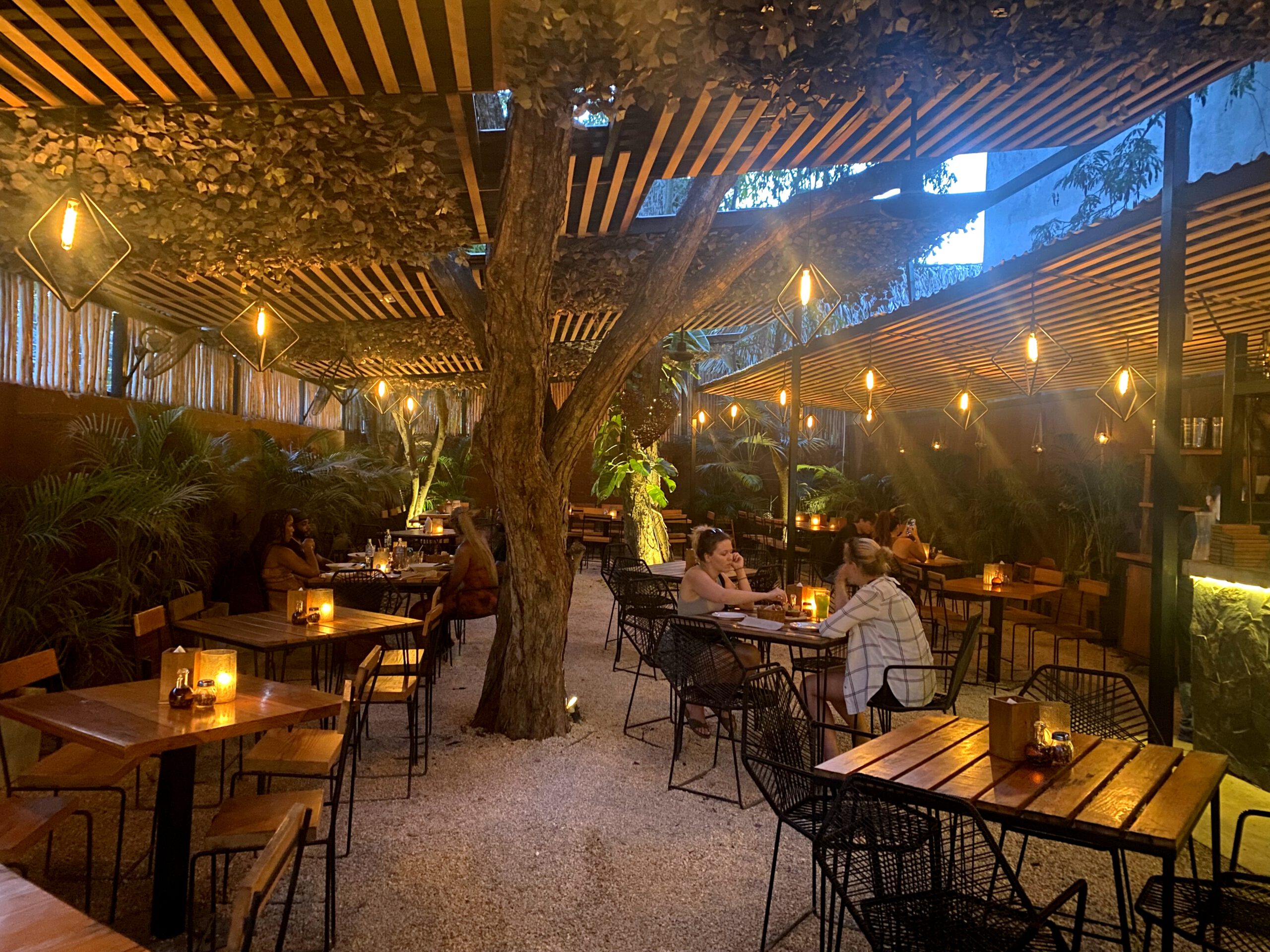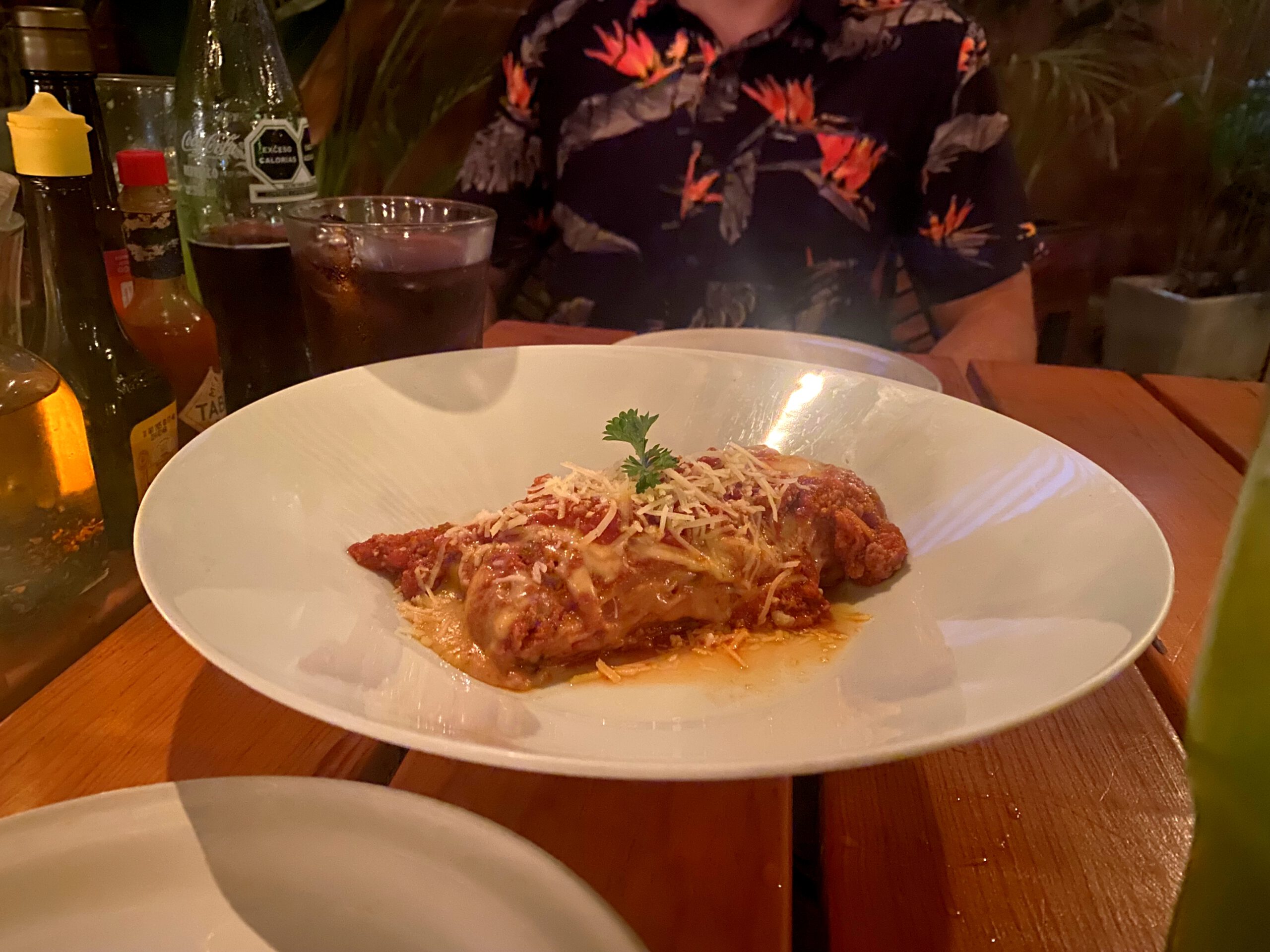 2-12-2022 – Tulum & Bacalar

This morning I decided to travel to Bacalar, I made that decision yesterday evening. I wanted to get out of the city for a few days and escape my thoughts to a completely different environment. Nadja asked if she could join me, and spontaneously decided to travel with me. The bus trip from Tulum to Bacalar is over 3 hours with the ADO bus and we bought these tickets online. Once upon arrival in Bacalar, I spotted Dutch Levi and Swiss Adrian again by chance, two guys I used to hang out with in my Tulum hostel. They had left to Bacalar the day before us. Super nice to meet them here again! The hostel where Nadja and I booked was hostel Che. In the evening, I went to dinner with Levi and Adrian at Mi Burrito Bacalar. The burritos here are really super good, so a recommendation! Then we went to get an ice cream and visited some market stalls.
Deze ochtend besloot ik naar Bacalar te reizen, dat besluit nam ik gisteren avond. Ik wilde voor een paar dagen de stad uit en even mijn gedachten ontvluchten bij een hele andere omgeving. Nadja vroeg of ze aan mocht sluiten bij mij, en besloot spontaan mee te reizen. De busreis van Tulum naar Bacalar is ruim 3 uur met de ADO bus en deze tickets hadden we online gekocht. Eenmaal bij aankomst in Bacalar, spotte ik Nederlandse Levi en Zwitserse Adrian opnieuw toevallig hier in Bacalar. Met beide ging ik om in het hotel. Ze waren de dag voor ons deze kant op vertrokken. Super leuk ze hier weer tegen te komen! Het hostel waar Nadja en ik geboekt hadden was hostel Che. In de avond ging ik mee eten met Levi en Adrian bij Mi Burrito Bacalar. De burrito's hier zijn echt suuuuper goed, dus een aanbeveling! Daarna zijn we nog een ijsje gaan halen en bezochten we nog wat marktkraampjes.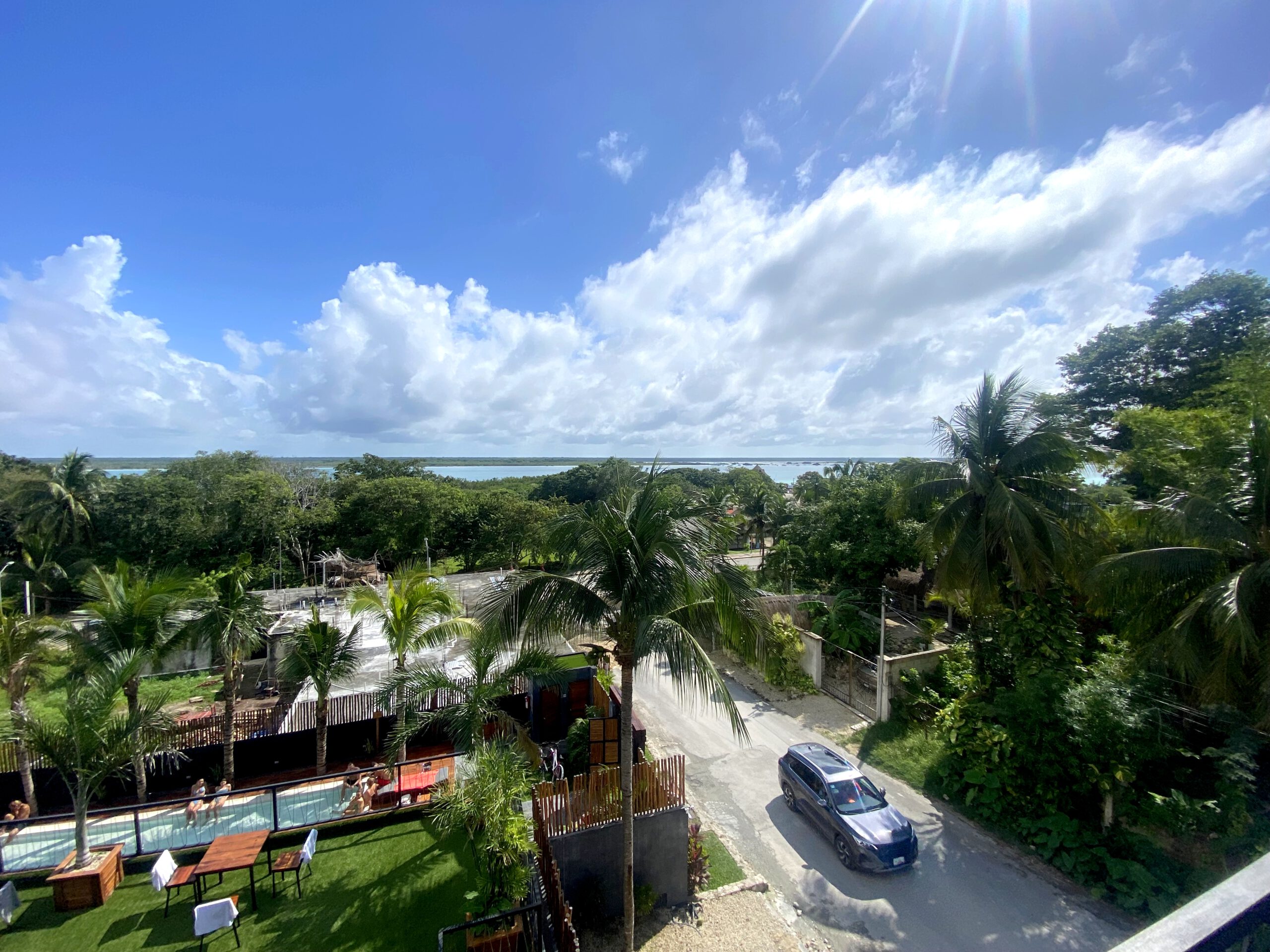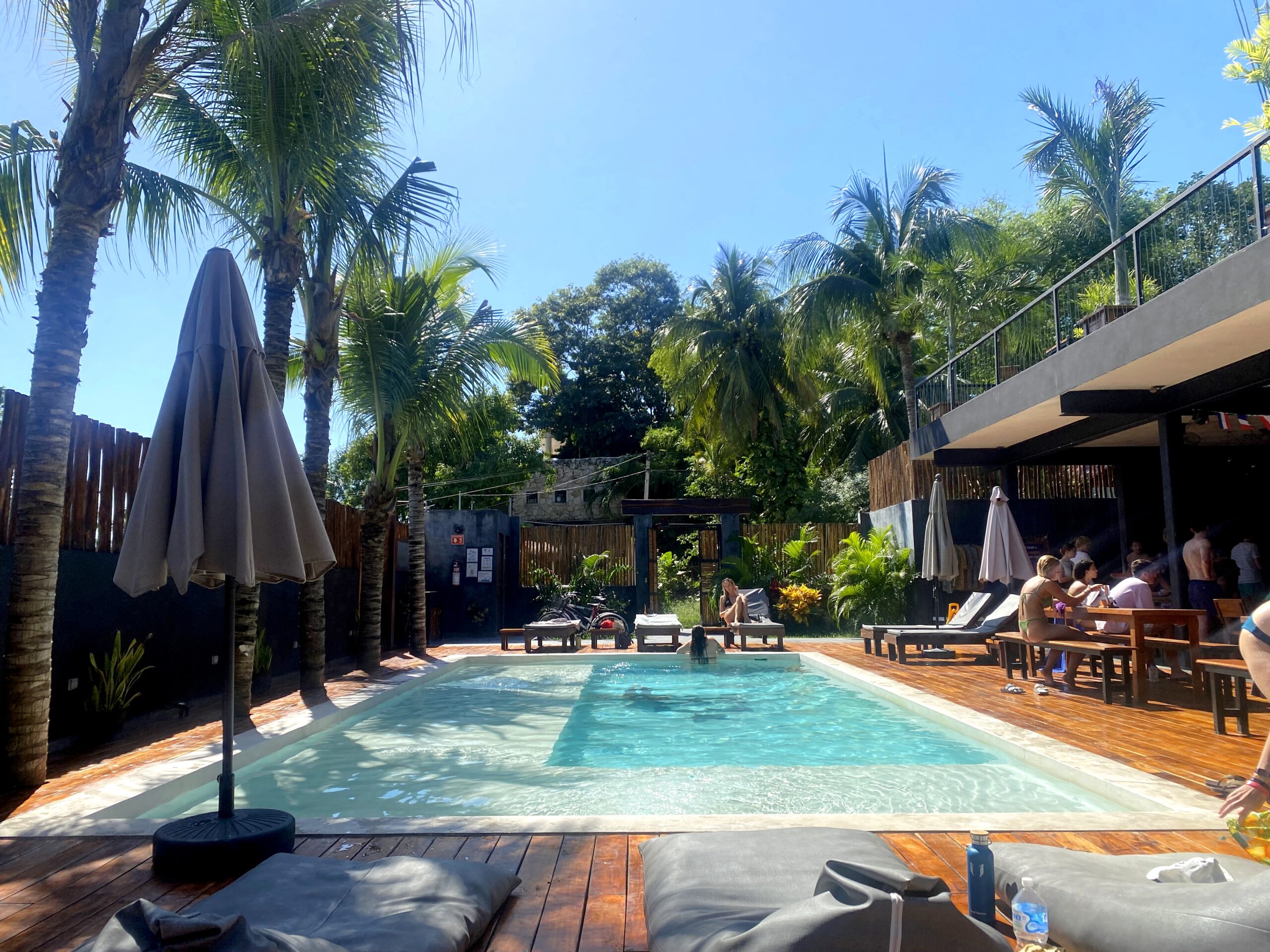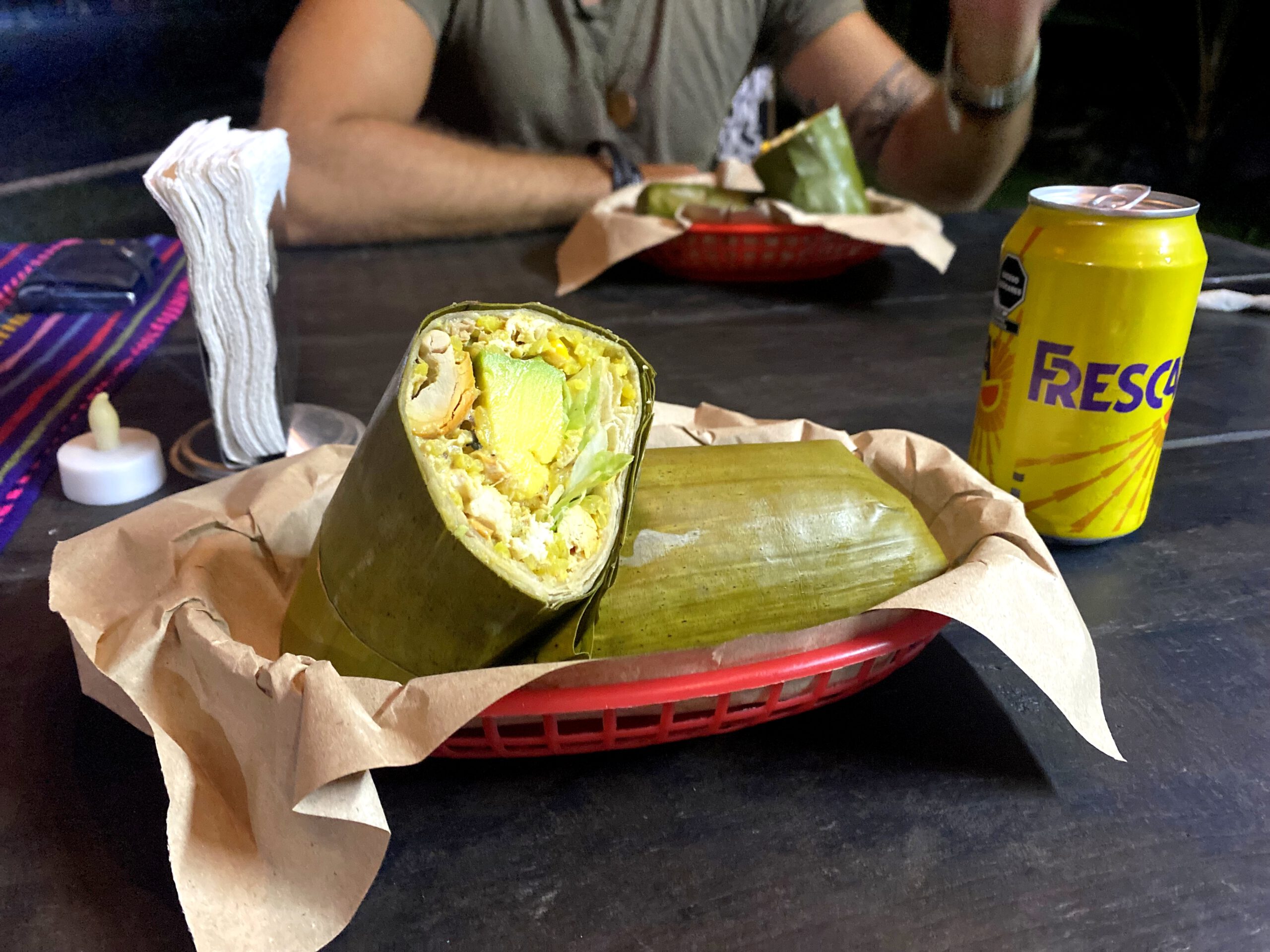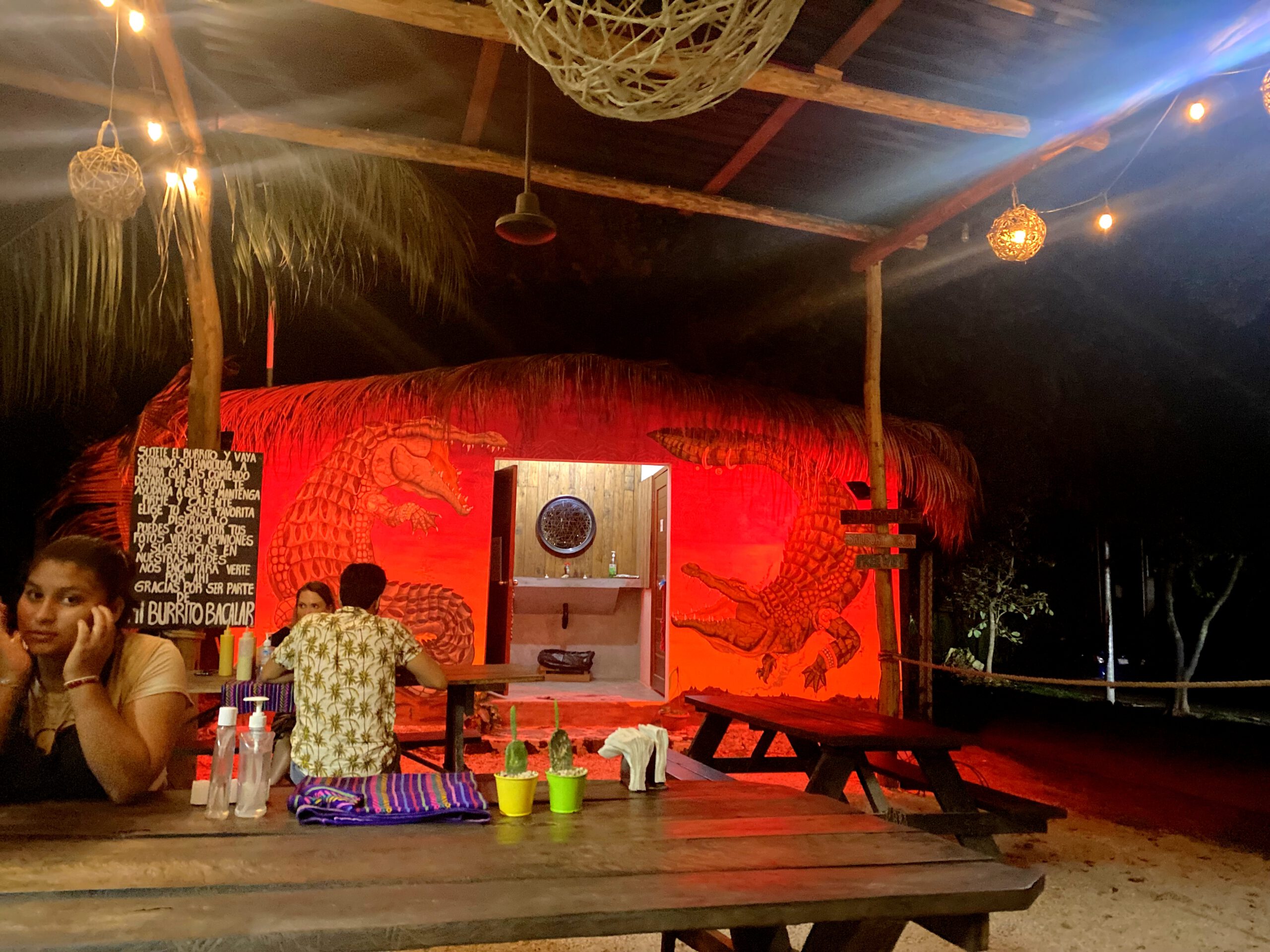 3-12-2022 – Bacalar

This morning started with a football match and breakfast at Che's swimming pool. Incidentally, there were really a lot of Dutch people here!. A few people I met that also live in my region Brabant, had invited me to ride along to
Los Rapidos
– a river in Bacalar where you can do various activities. Eventually Nadja decided to come along too, and Lucas – who also arrived in Bacalar later in the evening yesterday and also wanted to join us for a part. For about 200 pesos you could let yourself float away in the river – quite a funny experience.
Now I don't remember if a locker and life jacket were included. Finally we drove to the large lagoon for lunch at
La Playita.
In our cozy hostel I also got to know sweet Dutch Max and Flemish Tom during breakfast, but also the French Alan and three other Dutch girls who all went out for dinner in the evening. It was super fun! I think Bacalar is a very nice relaxed place anyway. It is very different to Tulum, cheaper and also nice and calm! Definitely a tip to visit. In the evening I also met my super nice new roomie from Canada named Nene. We chatted until late into the night and laughed all the way through together.
Deze ochtend begon met een voetbalwedstrijd en bijgeboekt ontbijt bij het zwembad van Che. Overigens waren er hier echt ontzettend veel Nederlanders! Ook heel gezellig. Een paar mede Brabanders hadden me uitgenodigd om mee te rijden naar
Los Rapidos
– een rivier in Bacalar waar je verschillende activiteiten kunt doen. Uiteindelijk besloot Nadja ook mee te gaan, en Lucas – die later in de avond gisteren ook aankwam in Bacalar en óók gezellig voor een deel bij ons aan wilde sluiten. Voor zo'n 200 pesos kon je jezelf laten wegdrijven in de rivier – best een grappige ervaring. Nu herinner ik me niet of een kluisje en reddingsvest daar bij inclusief waren. Uiteindelijk reden we door naar de grote lagoon om te lunchen bij
La Playita.
In ons gezellige hostel leerde ik tijdens het ontbijt ook lieve Nederlandse Max en vlaamse Tom kennen, maar ook de Franse Alan en drie andere Nederlandse meiden die allemaal gezellig in de avond mee uit eten gingen. Het was super gezellig! Ik vind sowieso Bacalar een hele leuke relaxte plek. Het is héél anders naar Tulum, goedkoper en ook lekker rustig! Zeker een tip om te bezoeken. In de avond leerde ik overigens ook mijn super leuke nieuwe roomie kennen uit Canada genaamd Nene. We hebben tot laat in de nacht gekletst en ons ook helemaal stuk gelachen samen.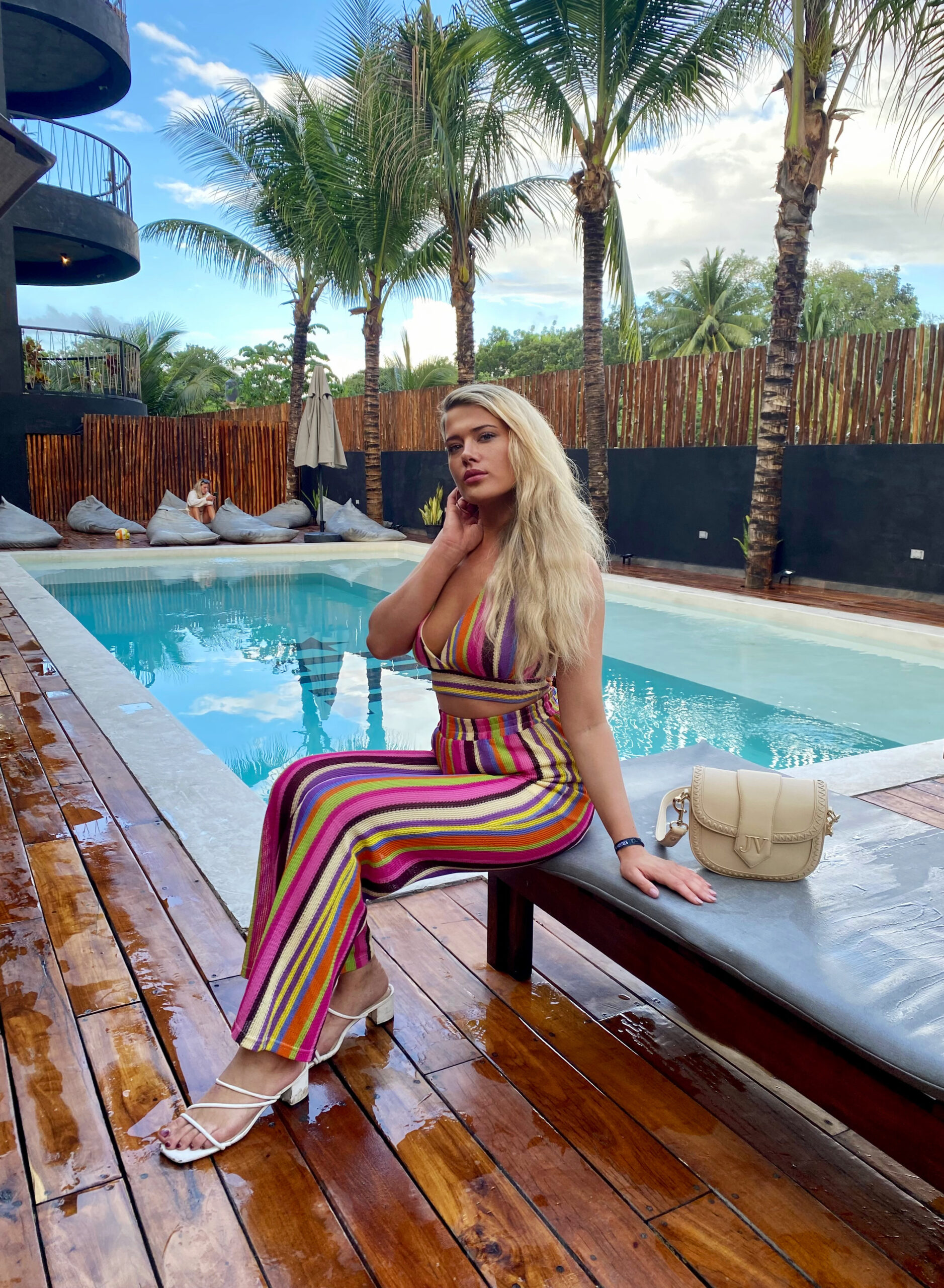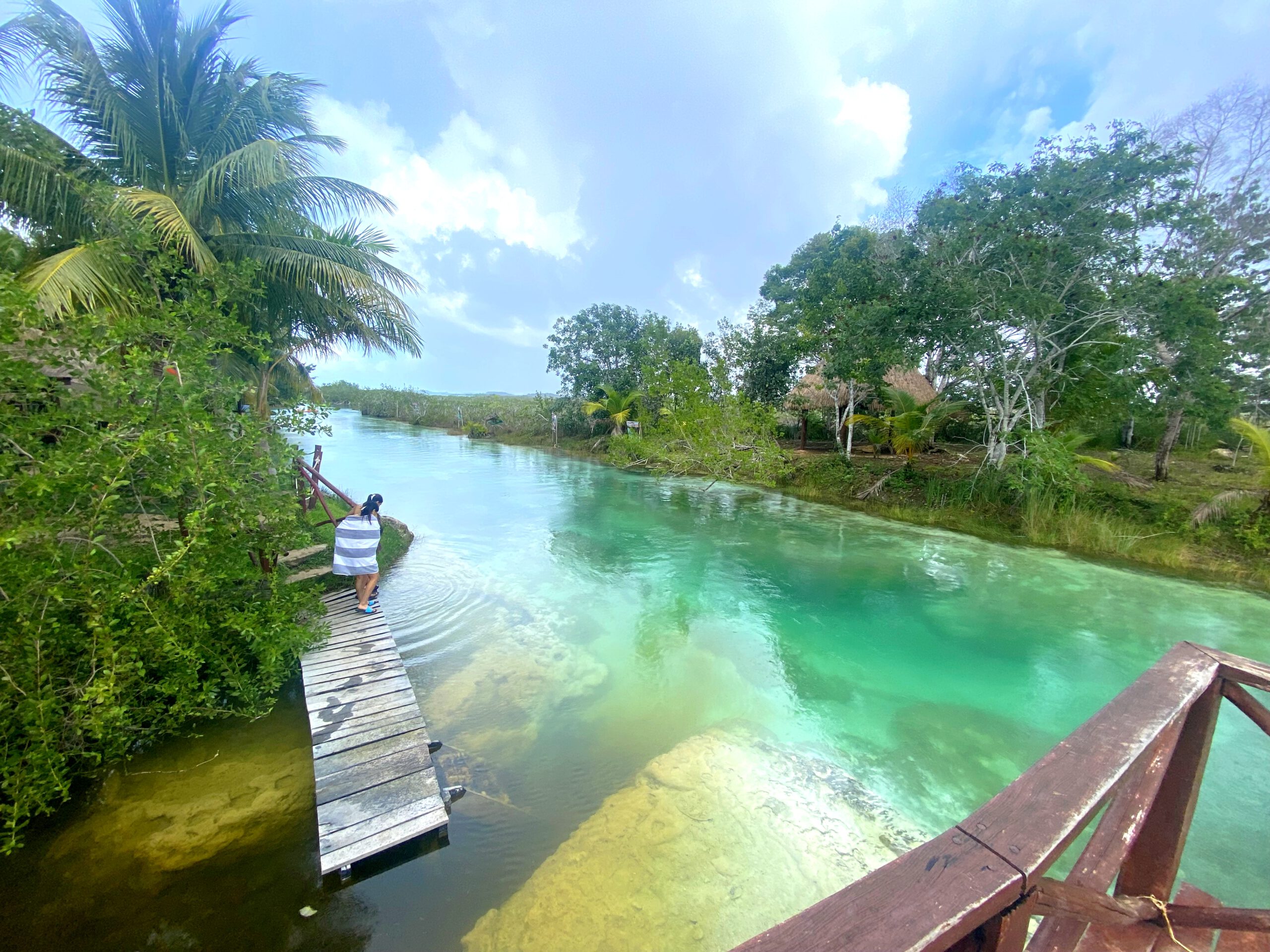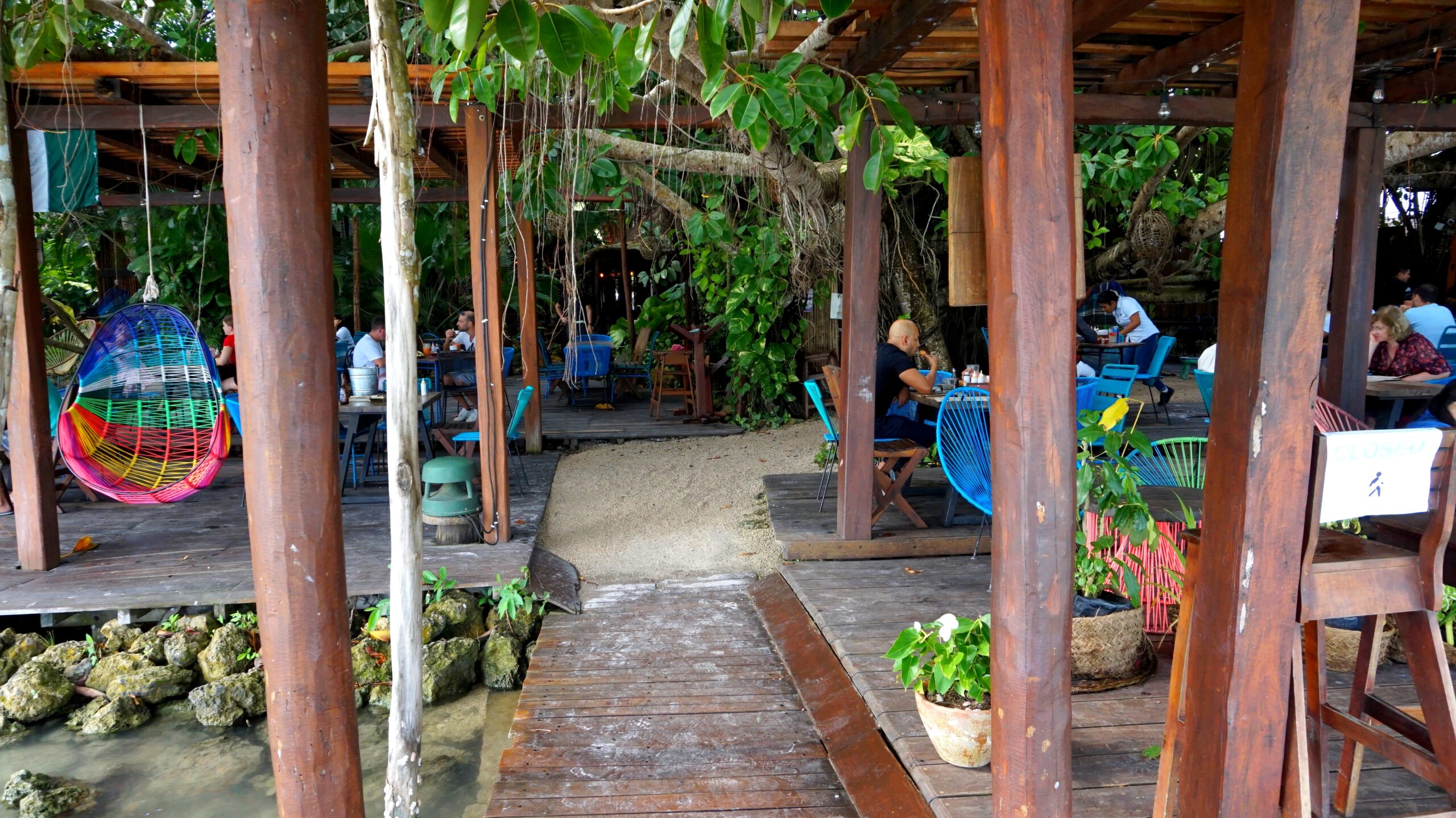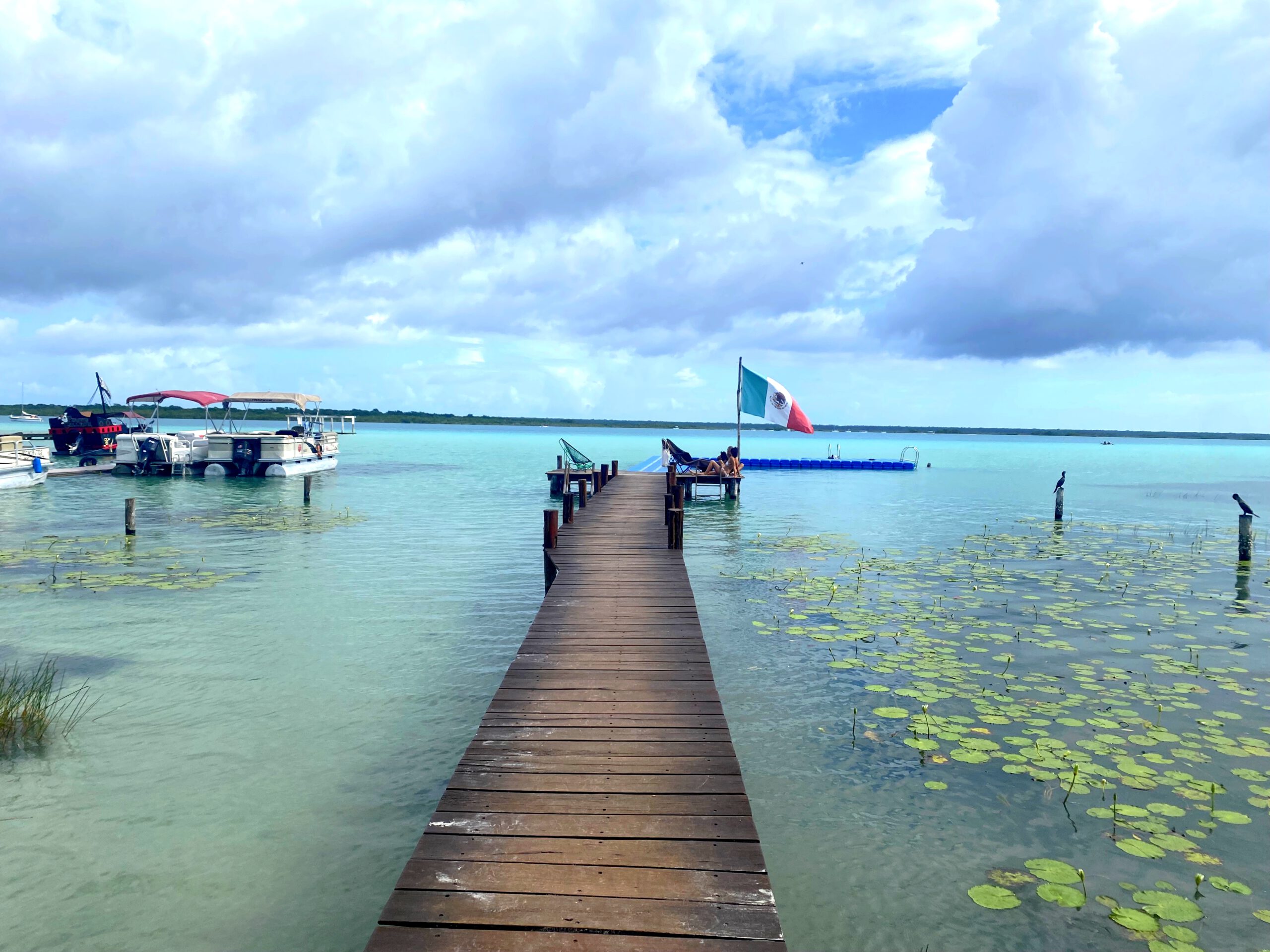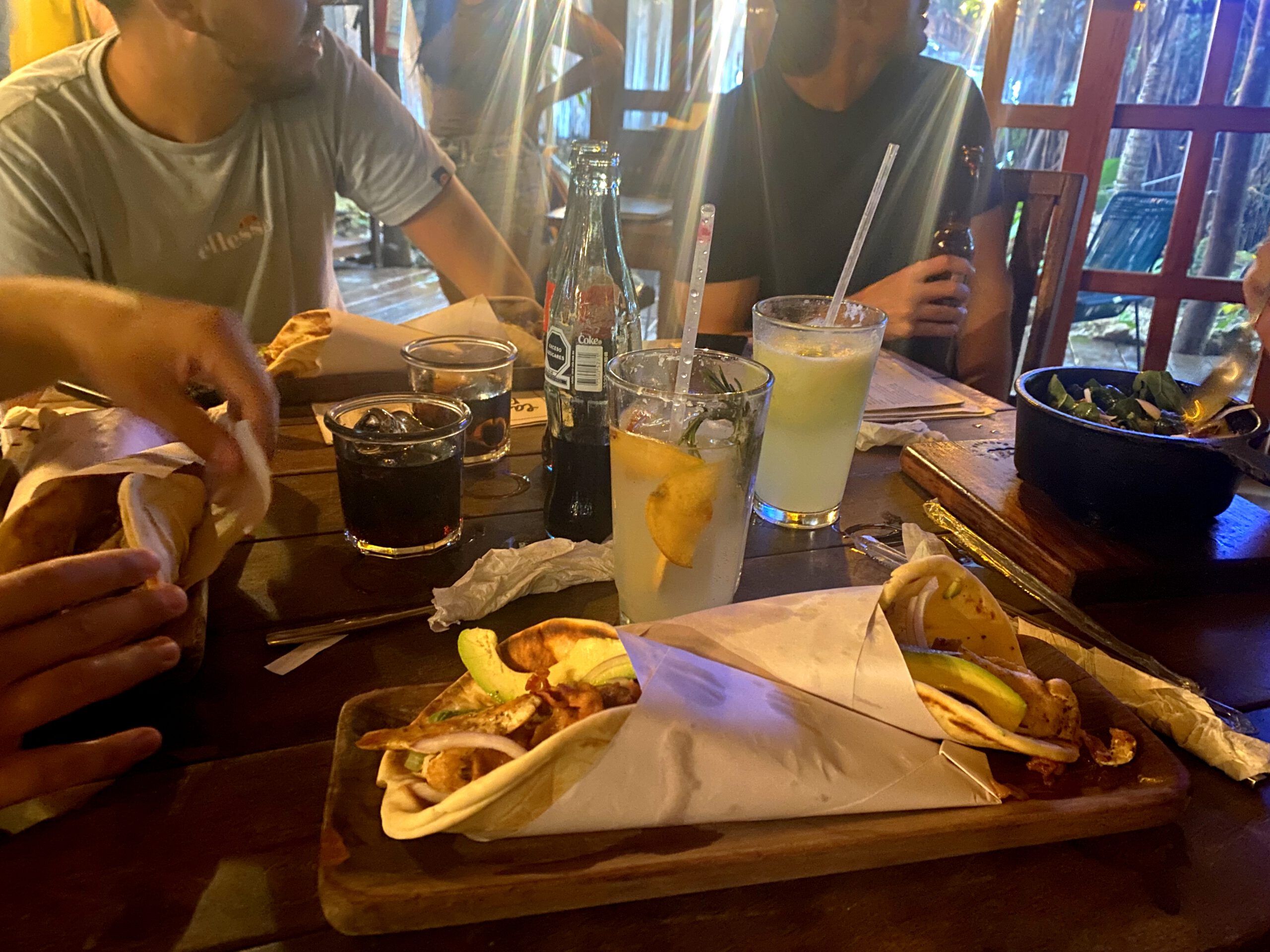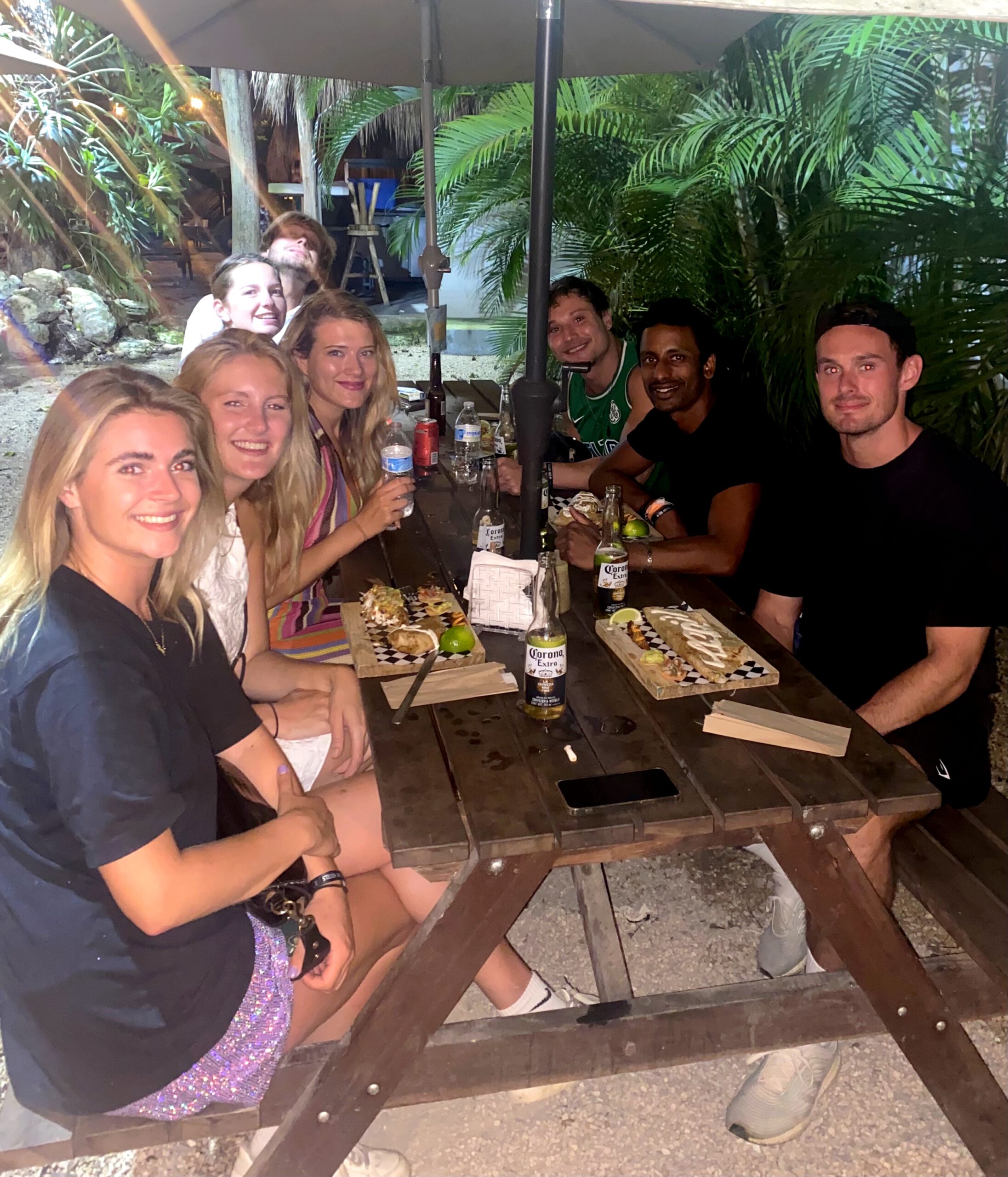 4-12-2022 – Bacalar

This morning I had both extended my stay in Bacalar and booked my return flight 'standby' (if space available seats for airline staff). I had decided to fly directly back to Amsterdam on the 8th. After breakfast with a few hostel mates, we went for lunch with a group at
Madre Masa
. This lunch was really fun with
Max, Ezra, Sanne, Tom and Amy
. I did not expect that I would enjoy having my own 'nationals' around me and speaking and hearing my own language – because I had not been well at all for a number of days. I had a super nice connection with this group and I am very happy that I got to know them all.
Madre Masa is a super nice place for a nice cup of coffee or cake. I also highly recommend the cheese cake and the salmon bagel! Later in the afternoon, we went with the group to a secluded spot on the lake for a swim. It was super fun and I'm also very happy that I took this step to go out of town for a few days to distract myself. In the evening we went out for dinner with a group of Yak Lakehouse hostel. The group split up and I joined some of them for dinner at Mr Taco. Mr Taco is a place where you can eat super cheap and super good tacos, I think I paid less than 6 euros here for 3 tacos + a lemonade. It is often very busy in this place, so keep in mind that you will not be seated right away.
Later in the evening, we went to some salsa and live music at La Catrina. Where I laughed really bad with my group of today and roomie Nene. This evening Alan taught me some basic salsa in between all the salsa dancing people – but I think I'll have to give up learning that dance haha.
Deze ochtend had ik zowel mijn verblijf in Bacalar verlengd, als mijn terugvlucht 'IPB' (indien plaats beschikbaar stoelen voor luchtvaartpersoneel) geboekt. Ik had besloten de 8
e
rechtstreeks terug naar Amsterdam te vliegen. Na het ontbijt met een paar hostelgenootjes, gingen we met een groep lunchen bij
Madre Masa
. Deze lunch was echt ontzettend gezellig met
Max, Ezra, Sanne, Tom
en
Amy.
Ik had niet verwacht dat ik het zo fijn zou vinden mijn eigen 'landgenootjes' om me heen te hebben en mijn eigen taal te spreken en horen – omdat het met mij eigenlijk helemaal niet goed ging sinds een heel aantal dagen. Ik had een super fijne klik met deze groep en ik ben erg blij dat ik ze allemaal had leren kennen.
Madre Masa is een super leuke plek voor een lekker kopje koffie of taartje. Ik raad je de cheese cake ook erg aan en de zalmbagel! Later in de middag zijn we met de groep naar een afgelegen plekje aan het meer gegaan om daar te zwemmen. Het was super gezellig en ik ben ook erg blij dat ik deze stap heb genomen de stad voor een paar dagen uit te gaan om mijzelf af te leiden. In de avond zijn we met een groepje van Yak Lakehouse hostel uit eten gegaan. De groep splitste op en ik ging met een deel mee eten bij Mr Taco. Mr Taco is een plek waar je super goedkoop en super goed taco's kan eten, ik geloof dat ik hier omgerekend voor 3 taco's + een limonade nog geen 6 euro kwijt was. Het is op deze plek vaak erg druk, dus houd er rekening mee dat je niet gelijk aan de beurt bent.
Later in de avond zijn we nog naar wat salsa en live muziek gegaan bij La Catrina. Waar ik me met mijn groepje van vandaag en roomie Nene nog echt rot heb gelachen. Deze avond leerde Alan me nog wat basic salsa tussen alle salsadansende mensen door – maar ik denk dat ik het leren van die dans maar op moet geven haha.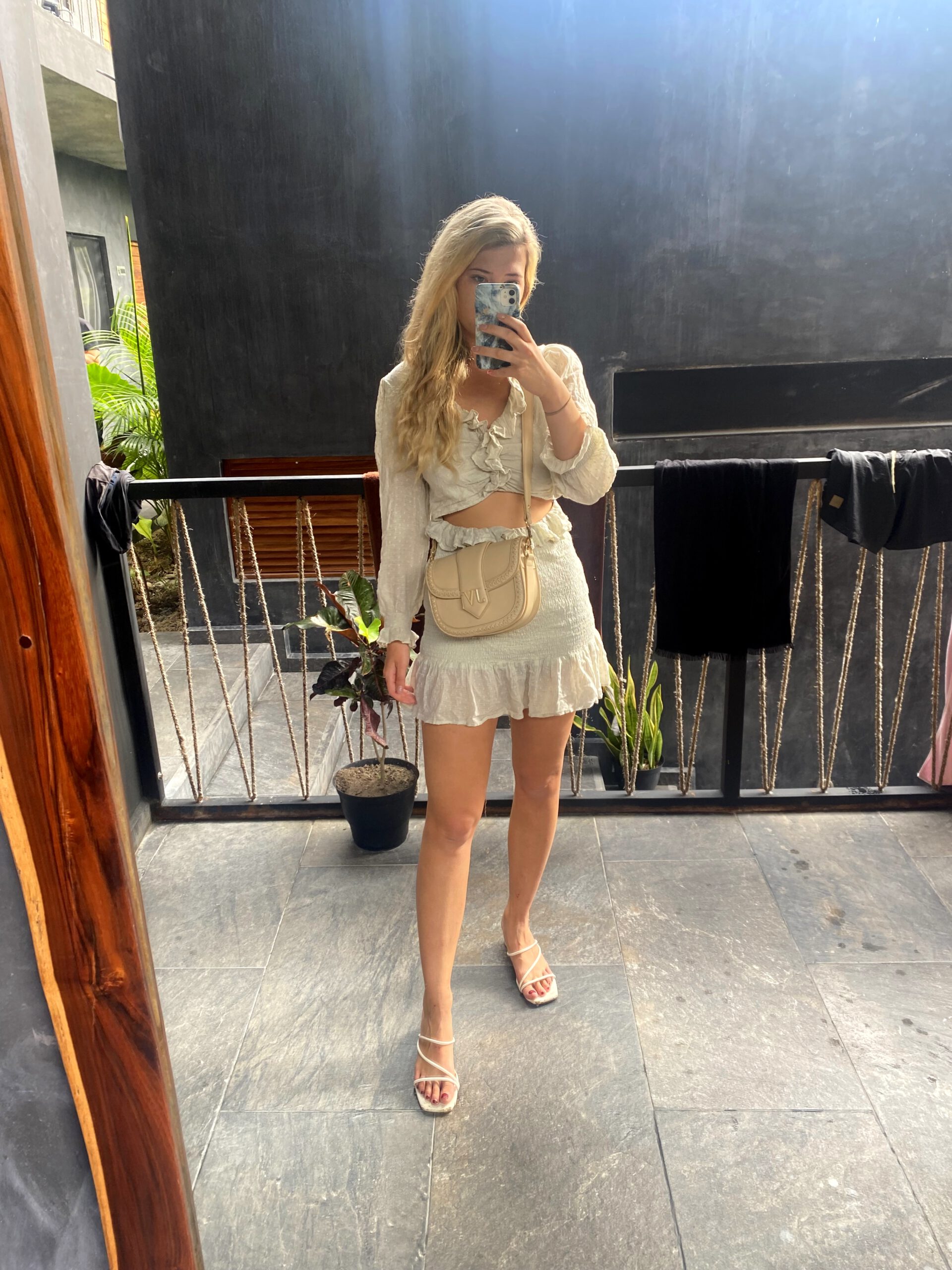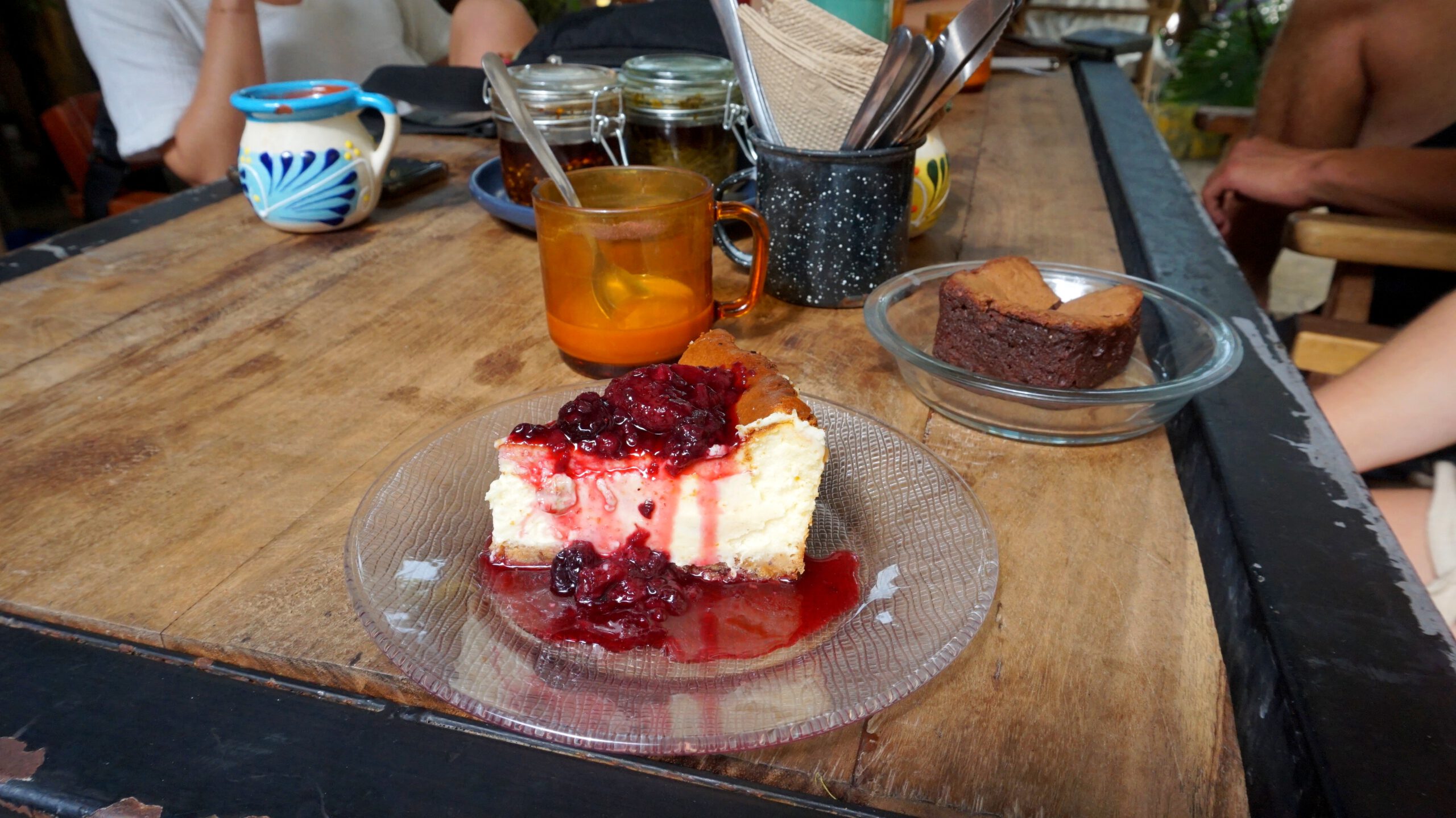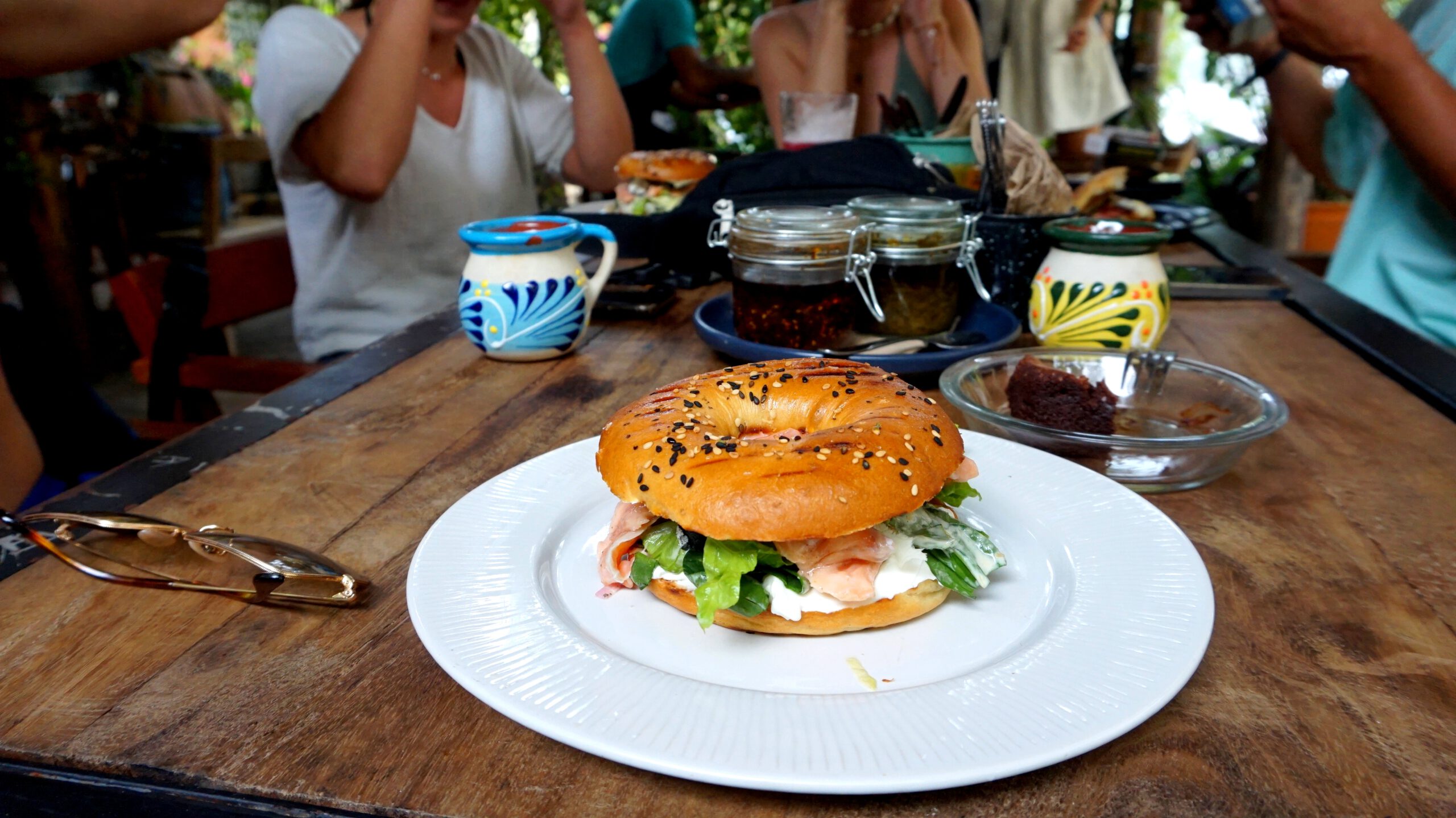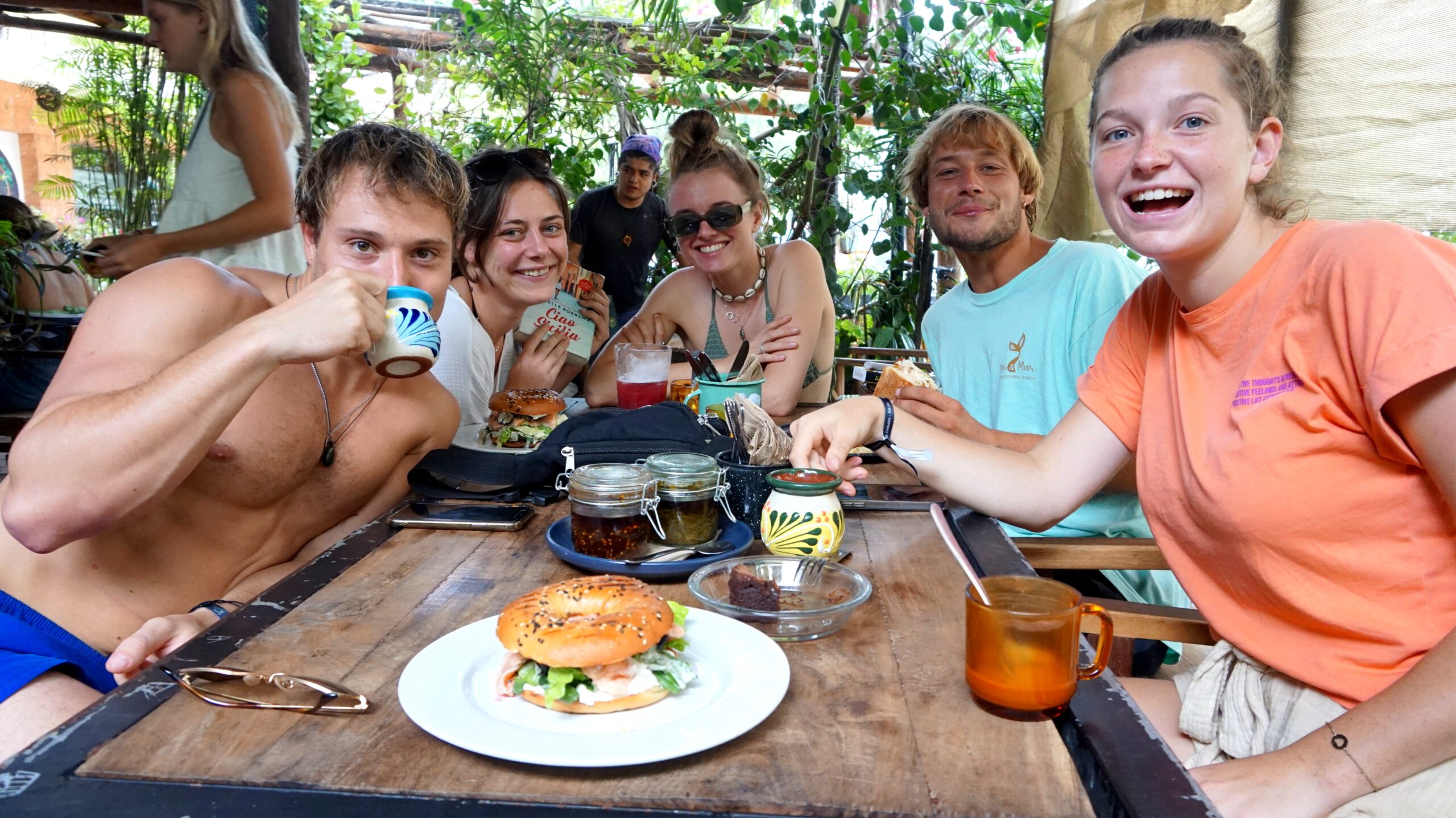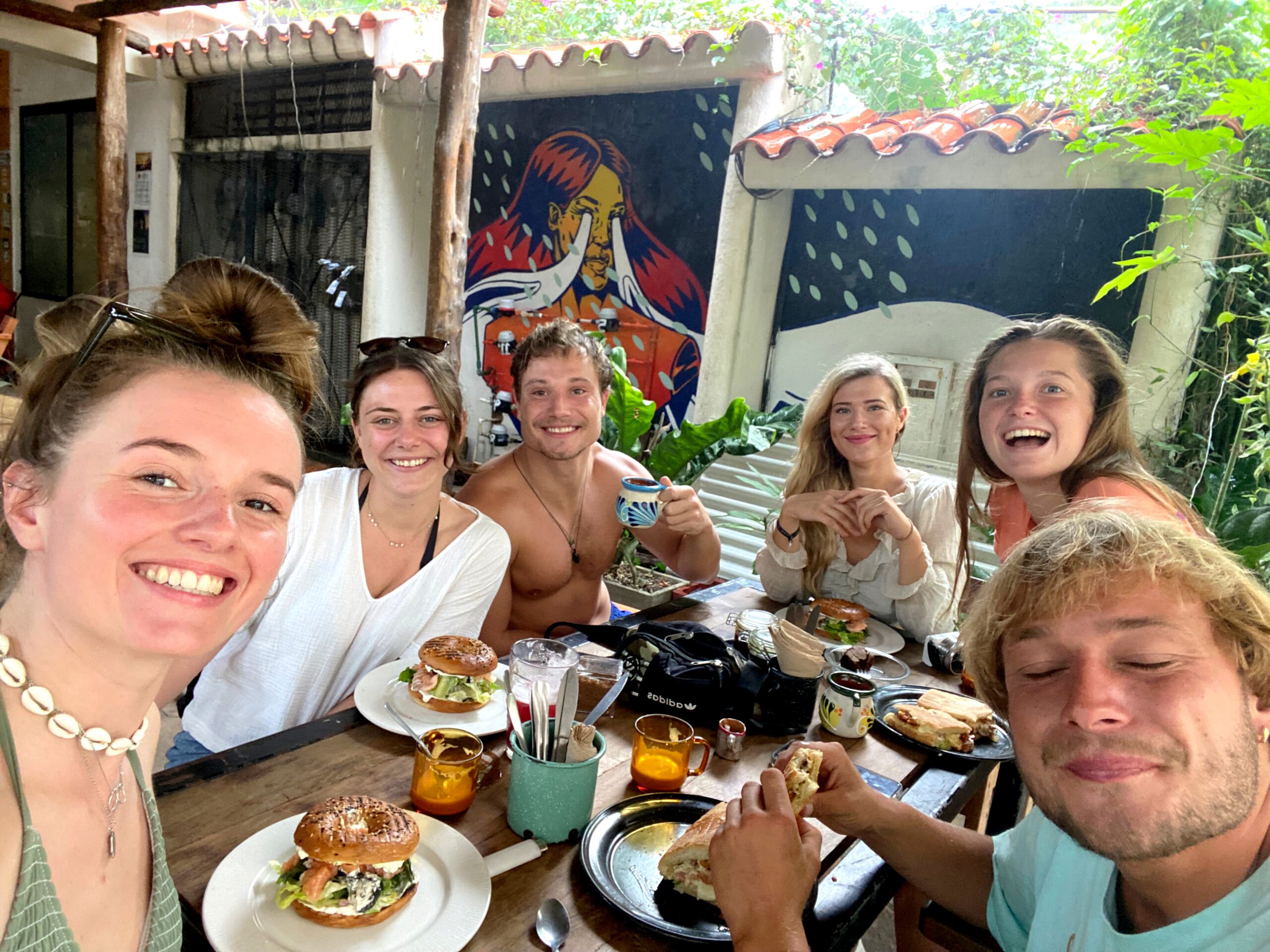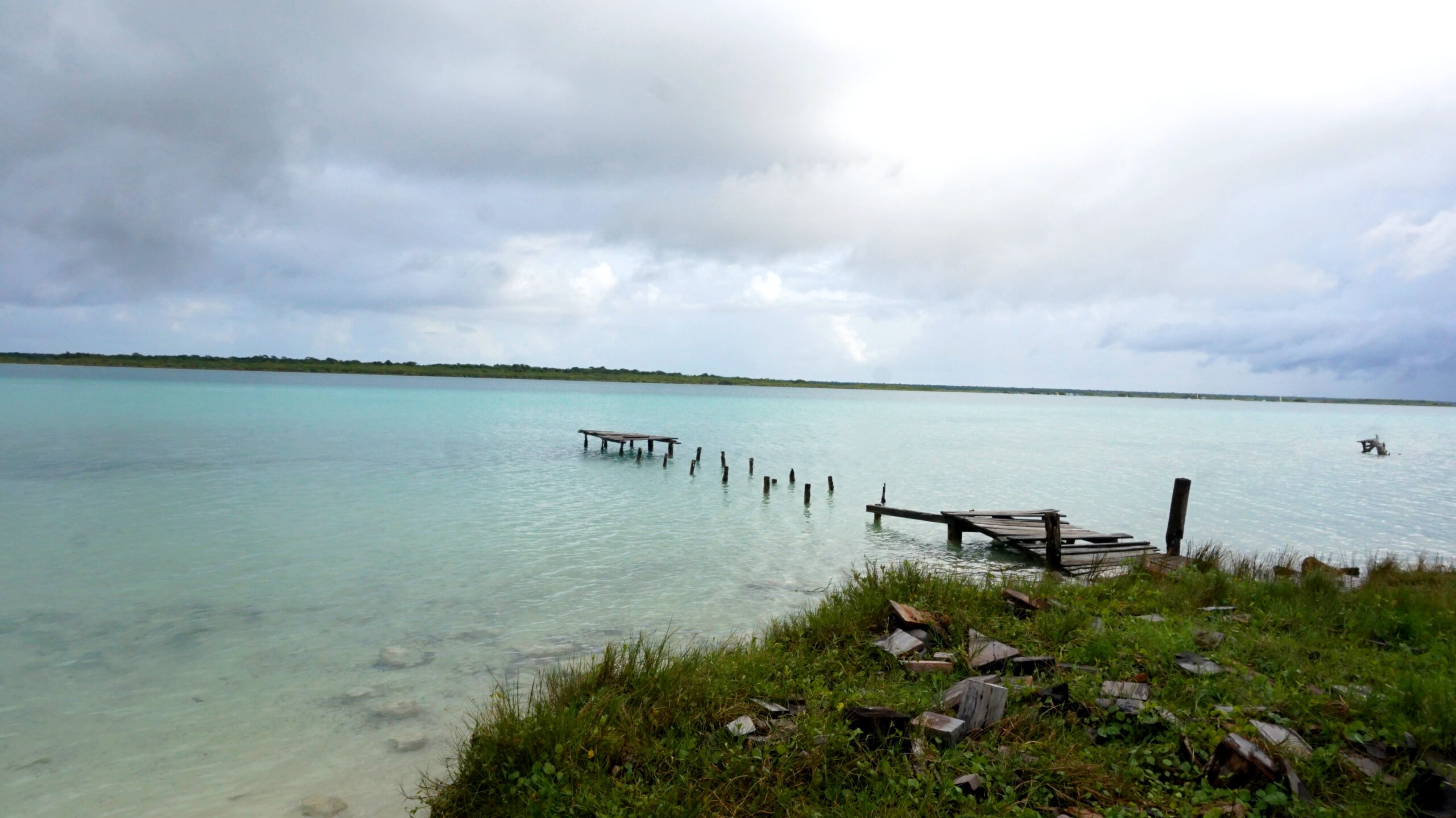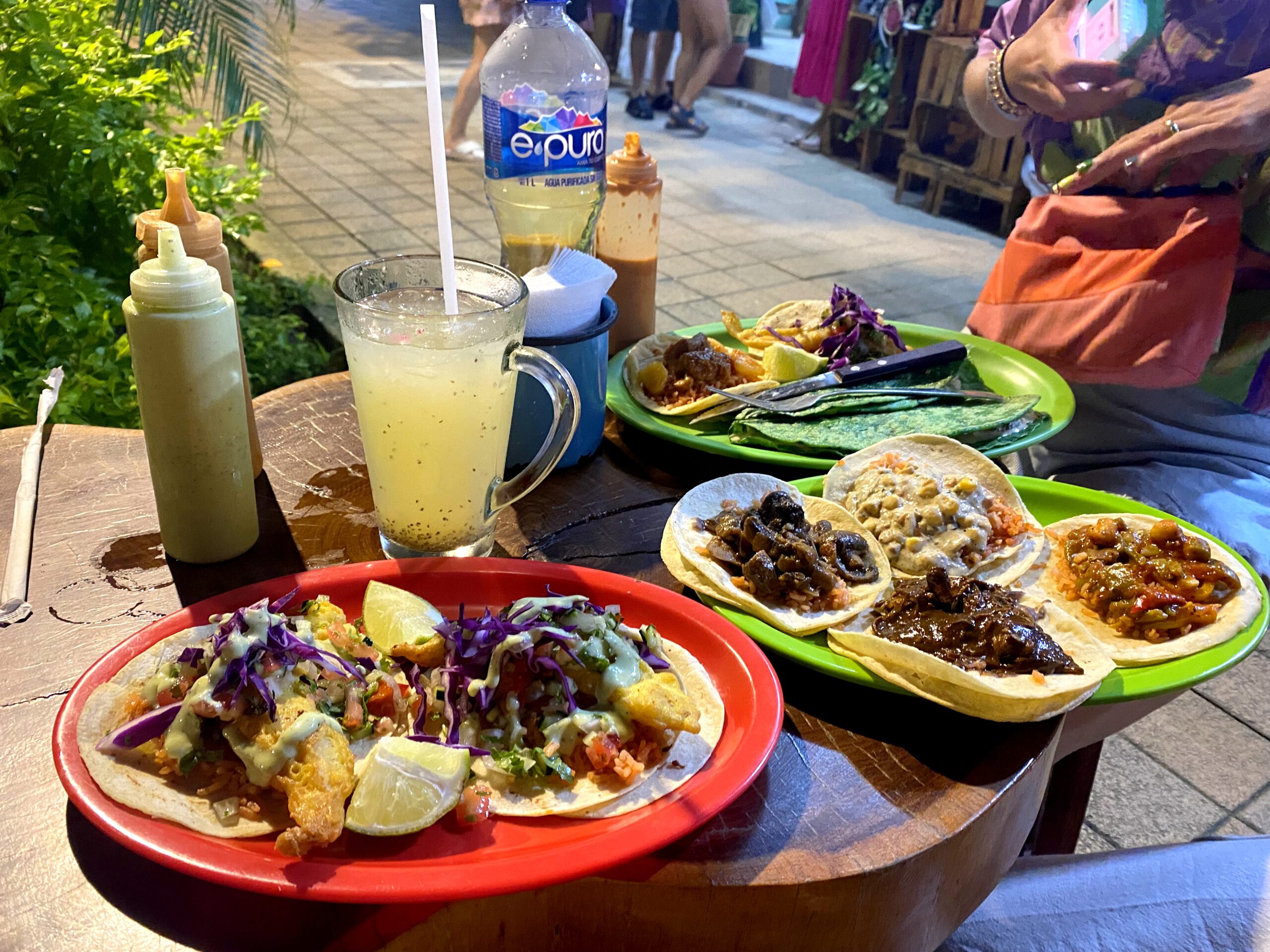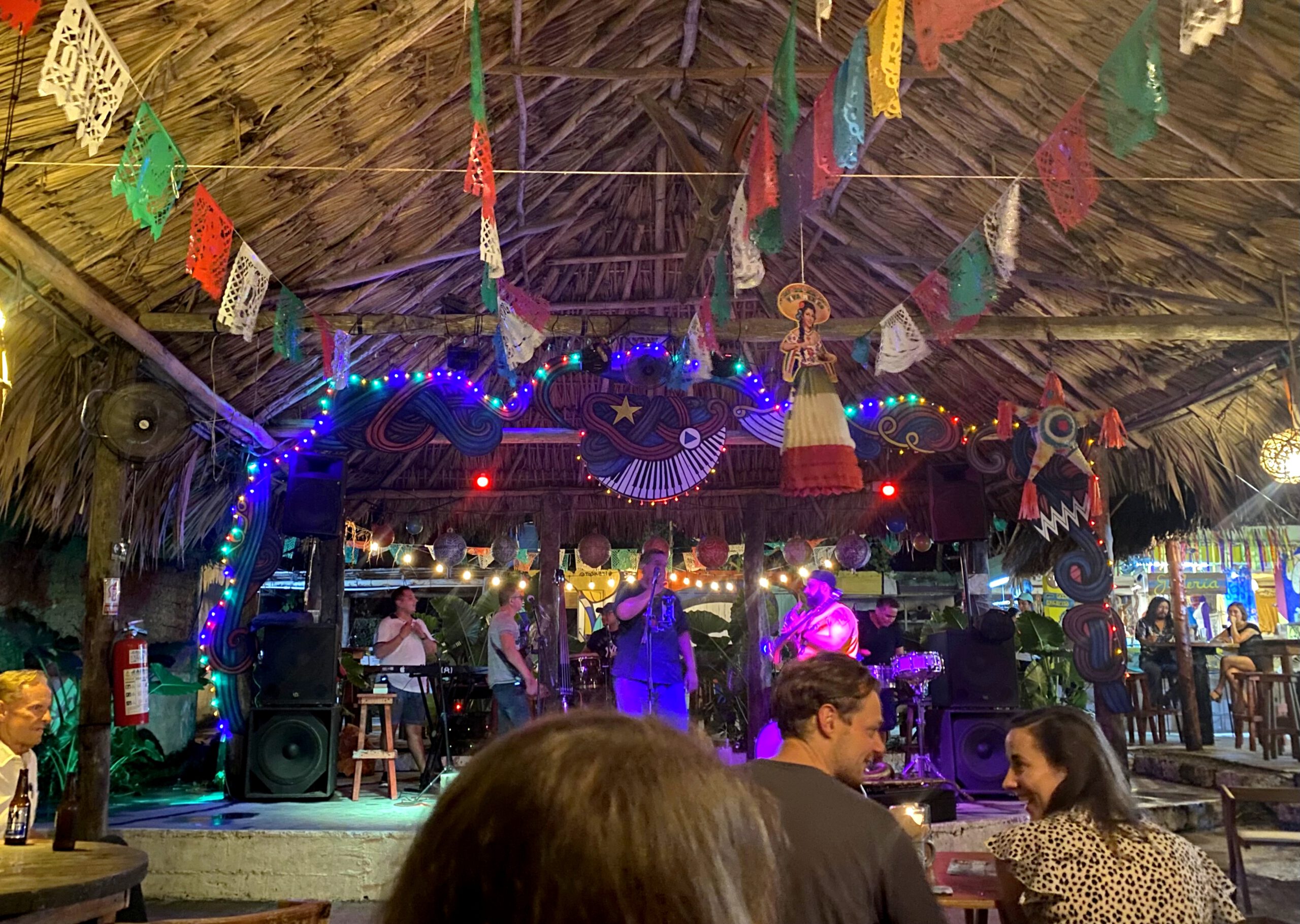 5-12-2022 – Bacalar & Tulum

Together with
Ezra, Sanne, Max
and my Flemish roommates, we had booked a boat tour for the large lake of Bacalar. I had also booked an extra night, because I really liked to leave already, and wanted to do the boat tour on a day without rain. We had booked this boat tour through our hostel Ché. The starting point of the tour was from Yak lakehouse hostel. It was very nice and also beautiful to see the sunset here.
Once back at the hostel, I had to change super fast to leave for Tulum. When I got back to Tulum, I felt very mixed. By coincidence, once back in my hostel, my roommate turned out to be Nadja again, who had left before I did!
Samen met
Ezra, Sanne, Max
en mijn vlaamse kamergenoten, hadden we een boottour geboekt voor op het grote meer van Bacalar. Ik had ook een extra nacht geboekt, omdat ik het echt té leuk vond al te vertrekken, en graag de boottour wilde doen op een dag zonder regen. Deze boottour hadden we geboekt via ons hostel Ché. De opstap plaats van de tour was vanaf Yak lakehouse hostel.  Het was erg leuk en ook mooi de zonsondergang hier te zien.
Eenmaal terug in het hostel, moest ik super snel omkleden om terug naar Tulum te vertrekken. Toen ik weer terug was in Tulum, voelde ik me erg dubbel. Per toeval bleek eenmaal terug in mijn hostel, mijn kamergenootje opnieuw Nadja te zijn, die eerder als ik was vertrokken!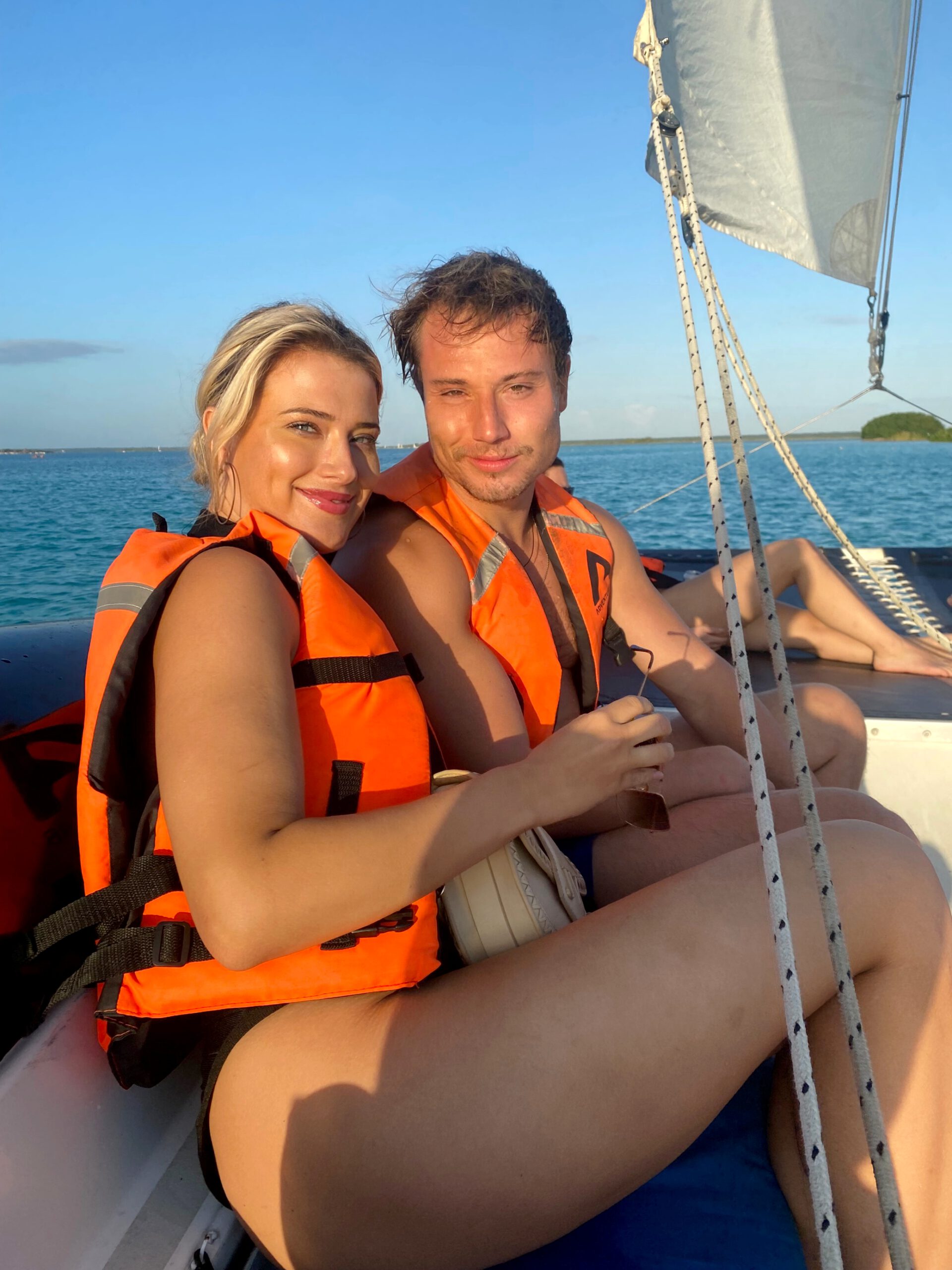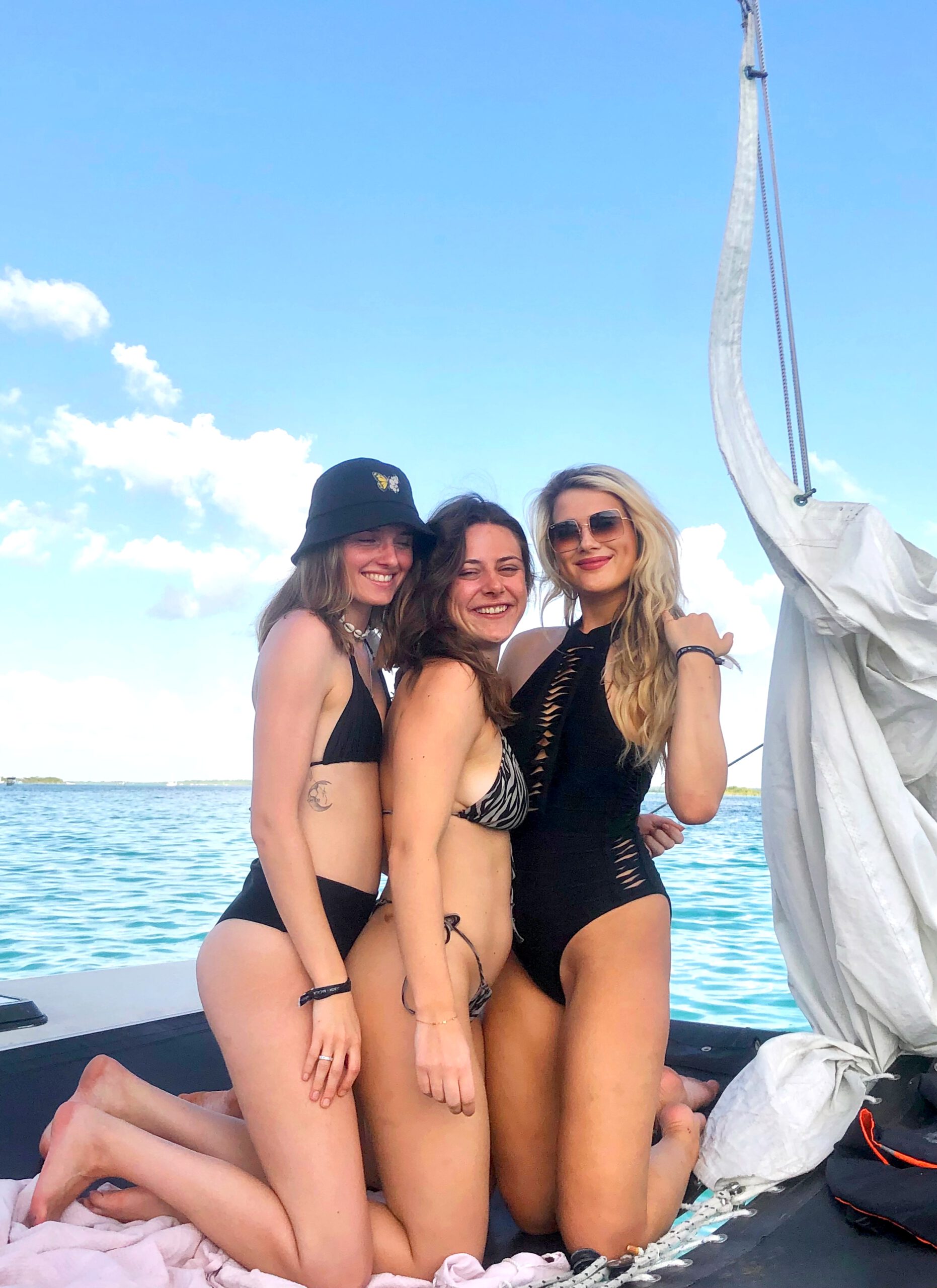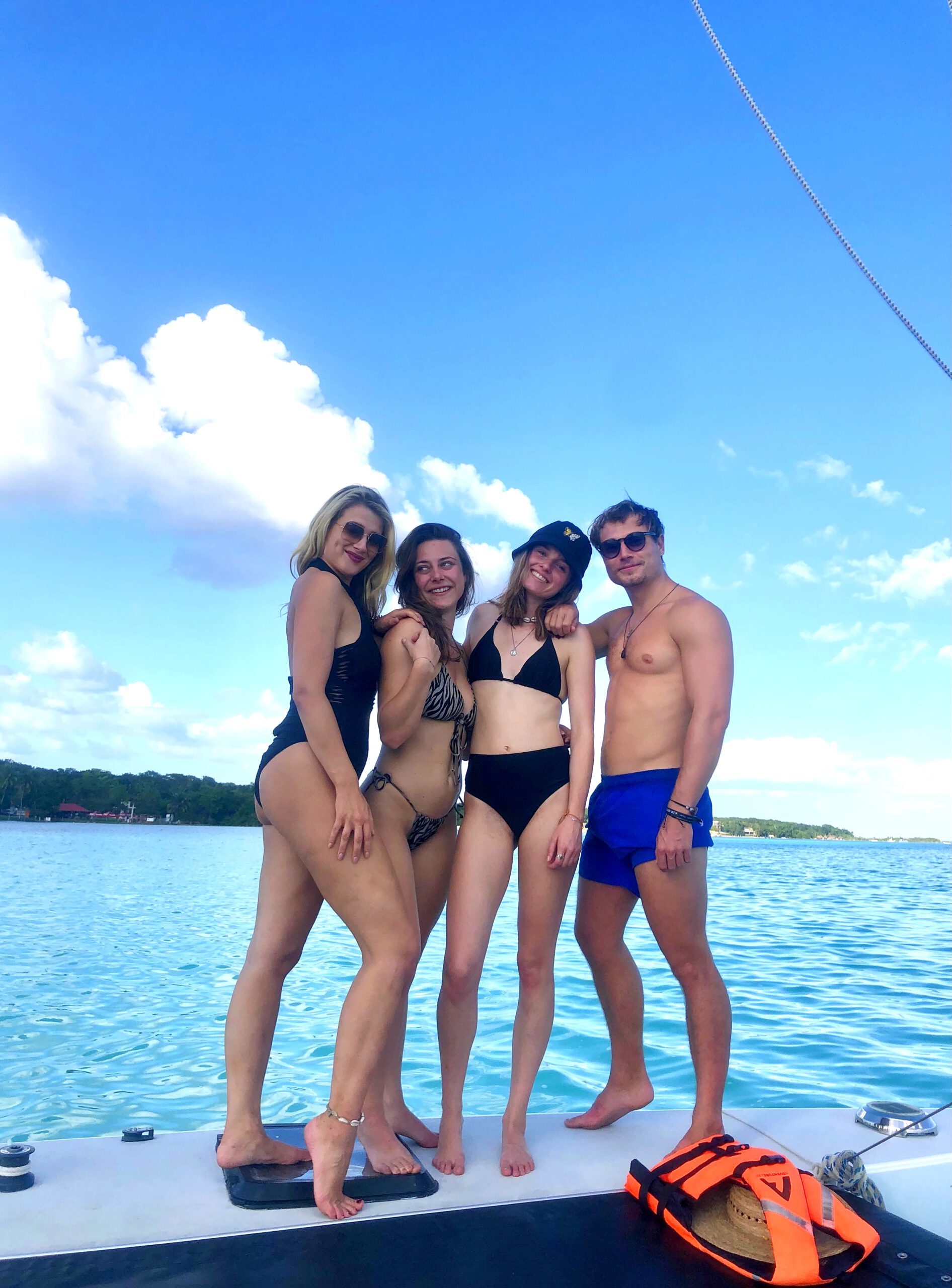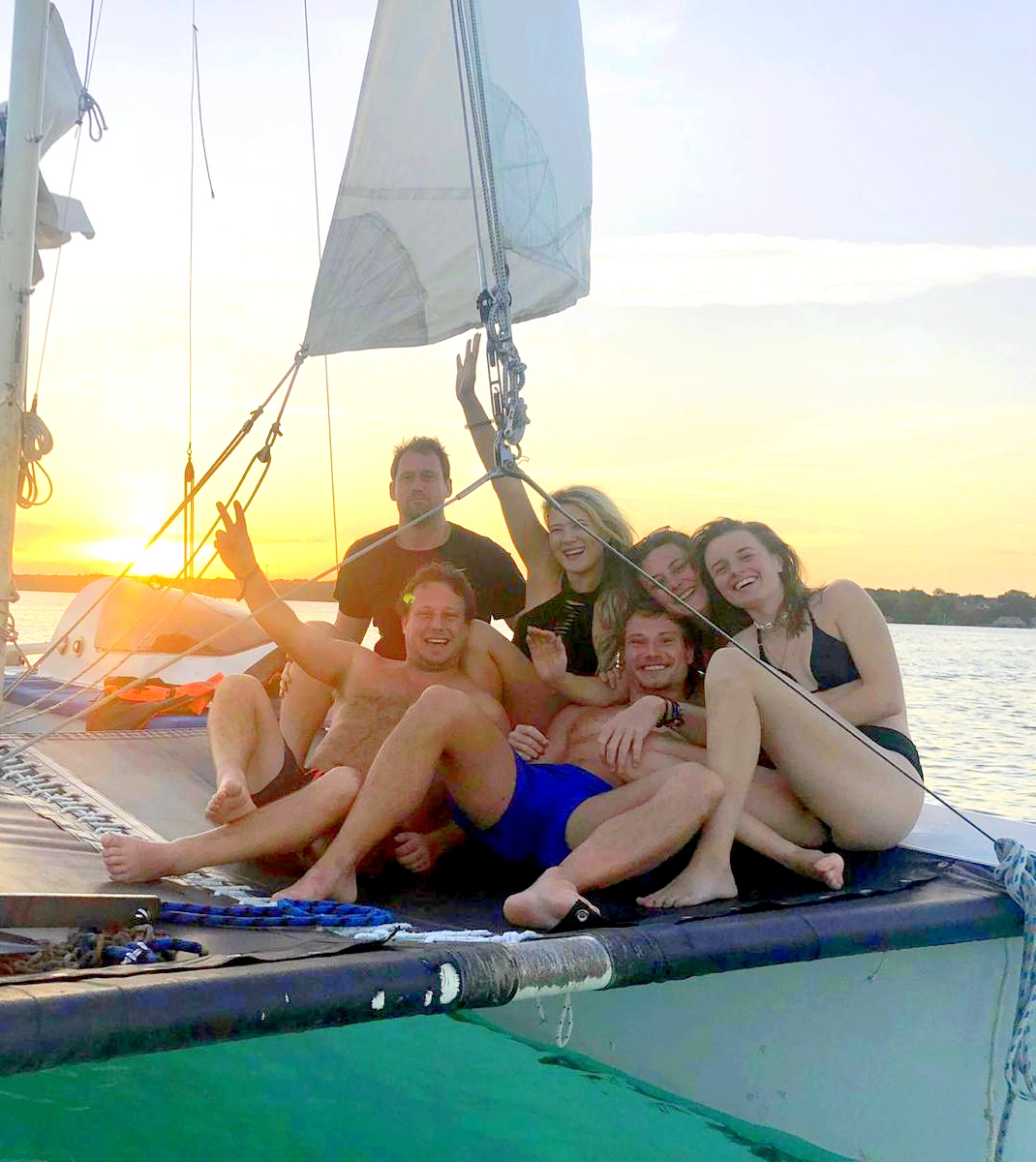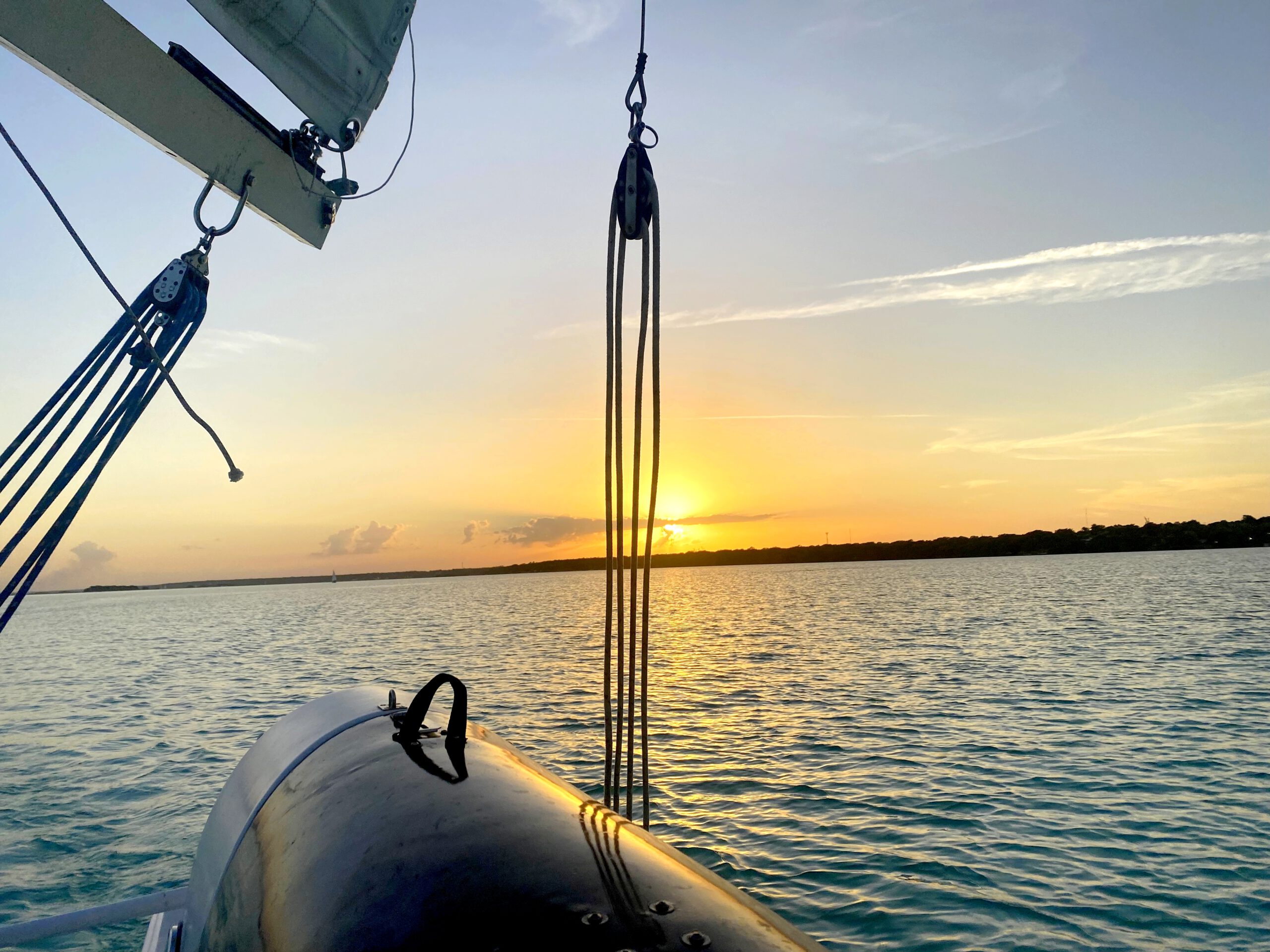 6-12-2022 – Tulum

This morning I went with Nadja and also my other German Mayan Monkey roommate from – Jessica to go to Playa Maya to relax on the beach all day. In between I picked up a smoothie bowl on my own at Matcha Mama on the beach. Later we had lunch at Pancho Villa – a great place to relax on the beach. Here I had really tasty nachos that I highly recommend. I also did a Reiki massage at the same place afterwards. The price was 400 pesos for 30 minutes and I definitely recommend the massages there.
Deze ochtend ging ik met Nadja en ook mijn andere Duitse Mayan Monkey kamergenootje van – Jessica lekker naar Playa Maya te gaan om de hele dag te relaxen op het strand. Tussendoor haalde ik nog lekker in mijn eentje een smoothie bowl bij Matcha Mama op het strand. Later zijn we gaan lunchen bij Pancho Villa – een top plek om lekker op het strand te relaxen. Hier had ik echt mega lekkere nacho's die ik je ook van harte aanraad. Ik heb hierna op dezelfde plek ook een Reiki massage gedaan. De prijs was 400 pesos voor 30 minuten en ik raad je de massages daar ook zeker aan.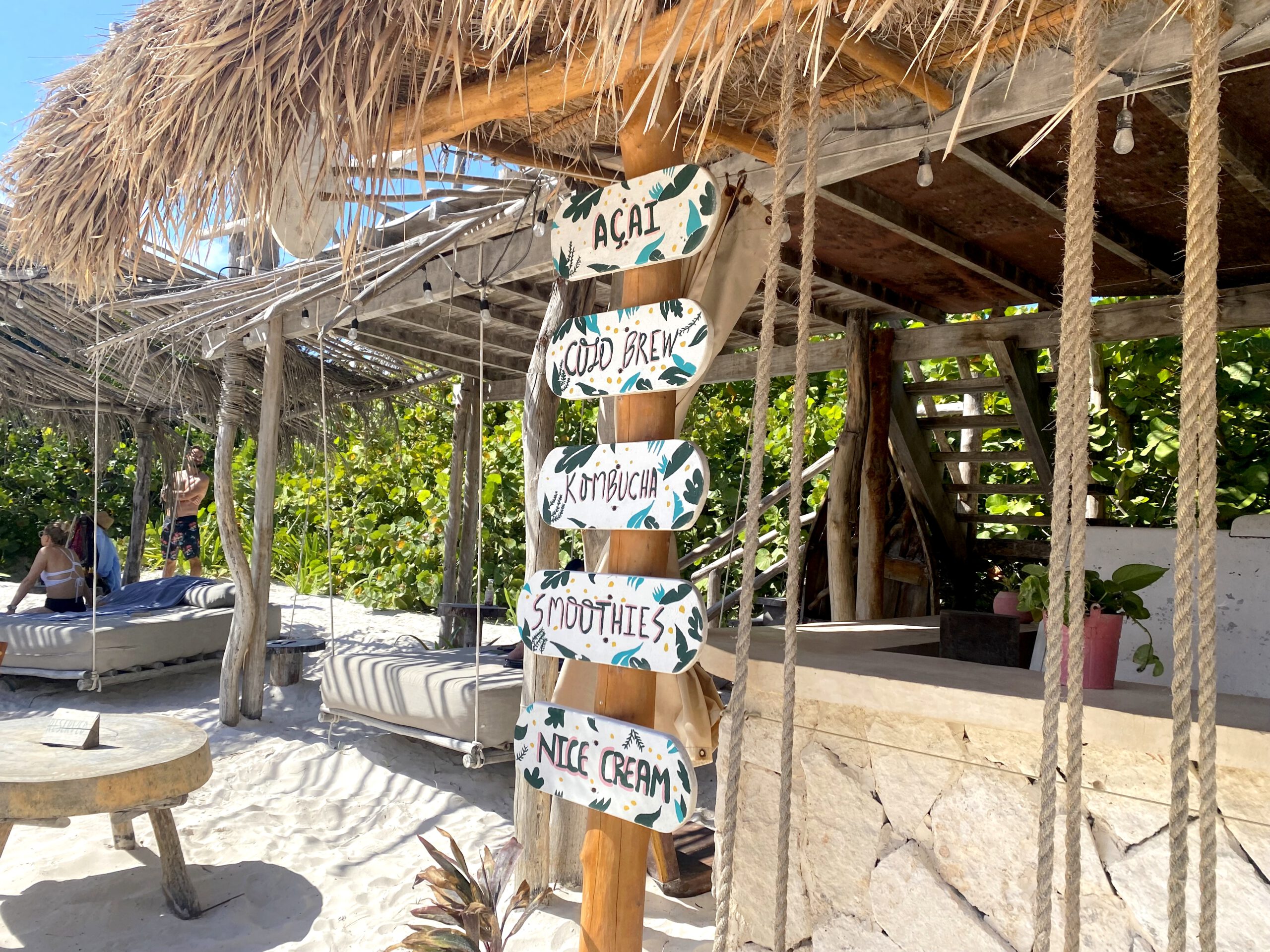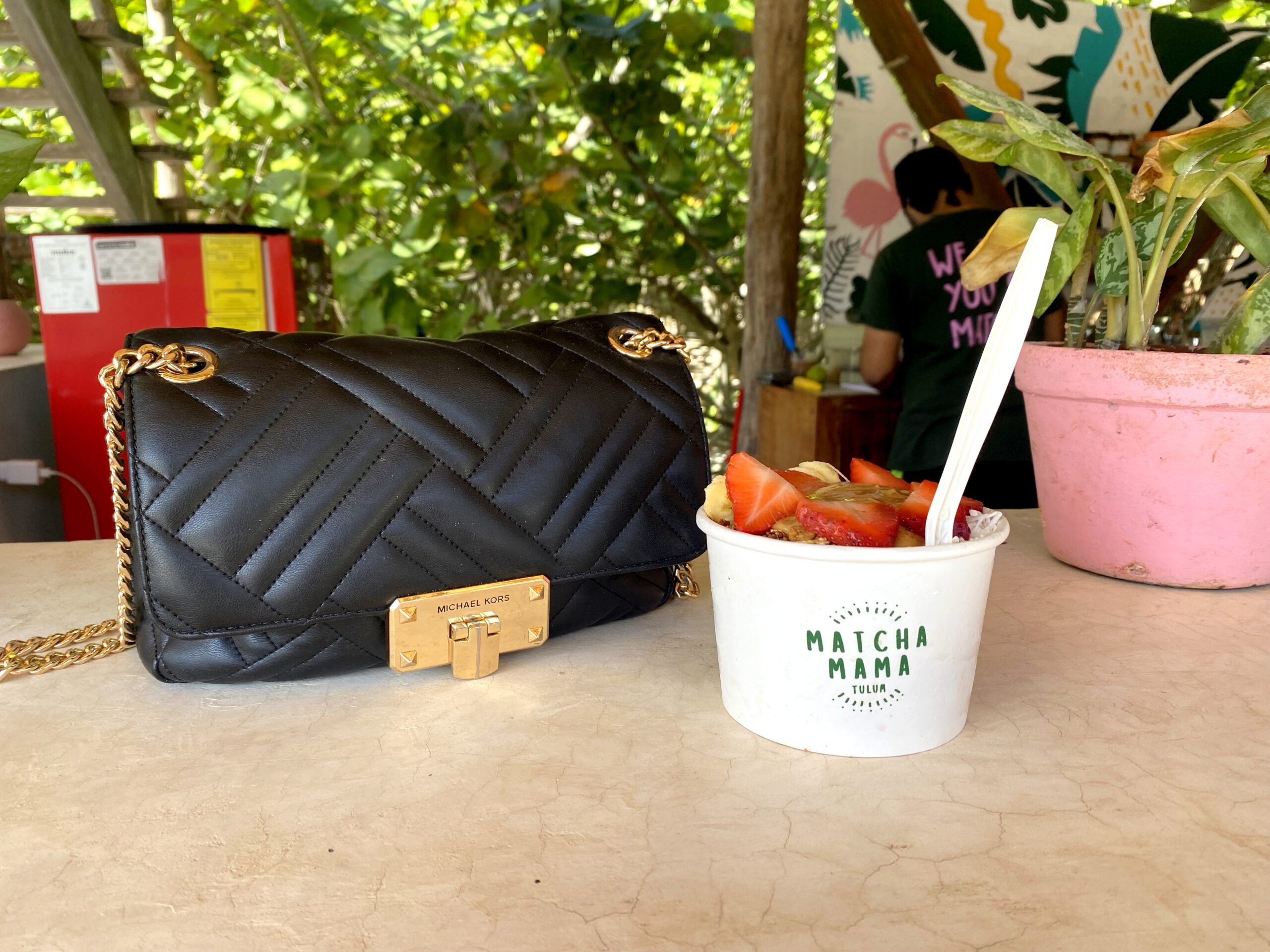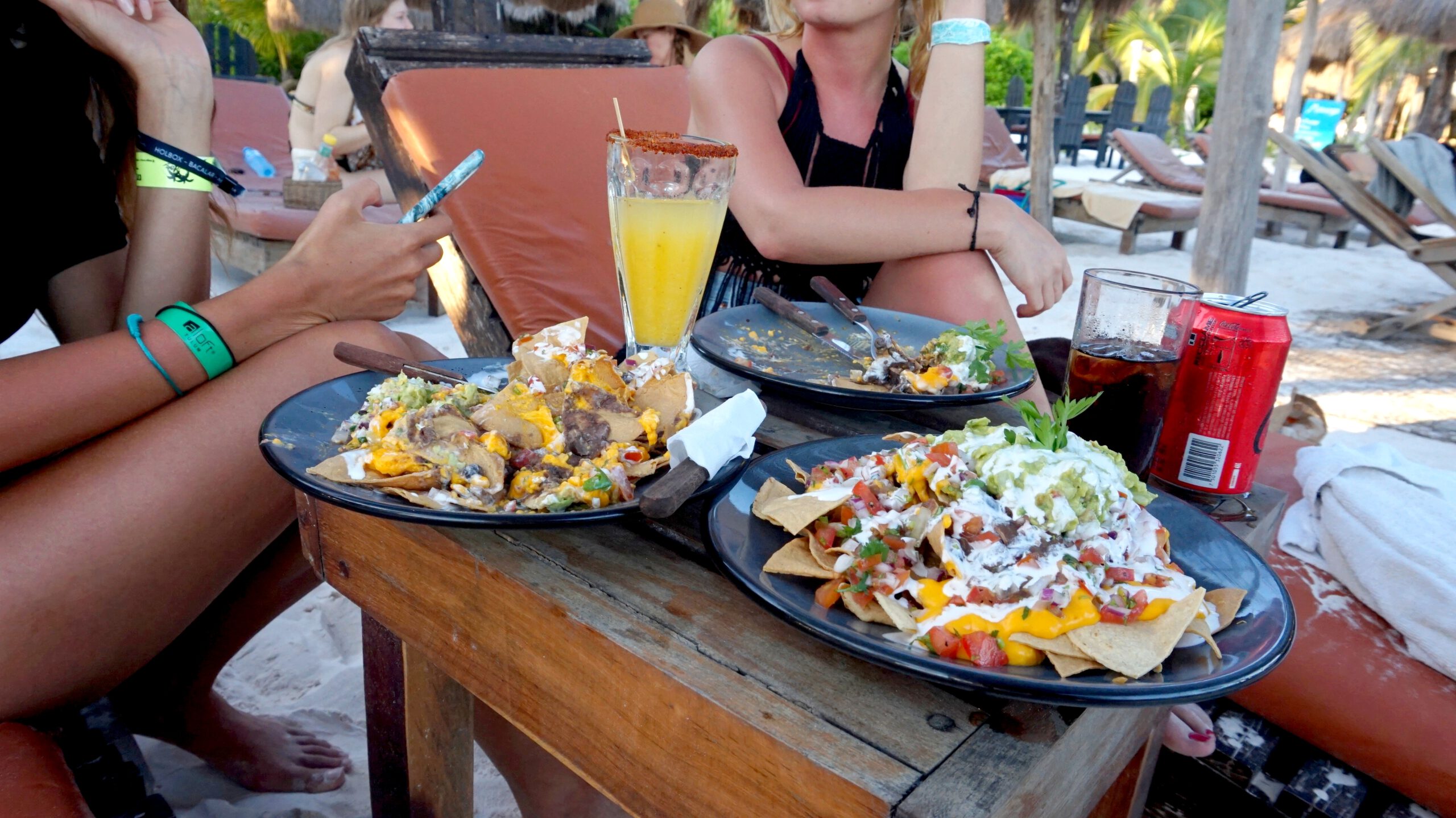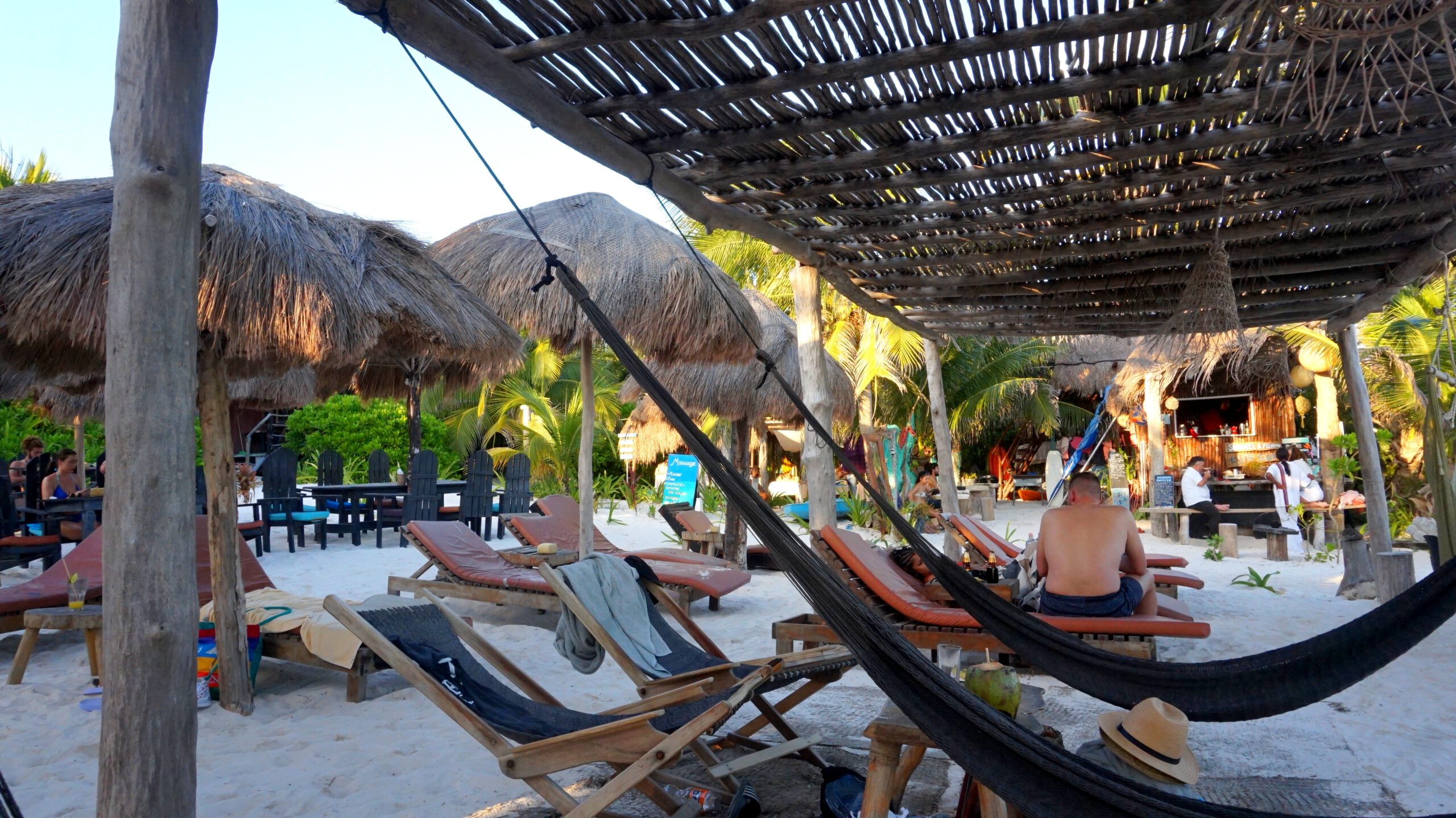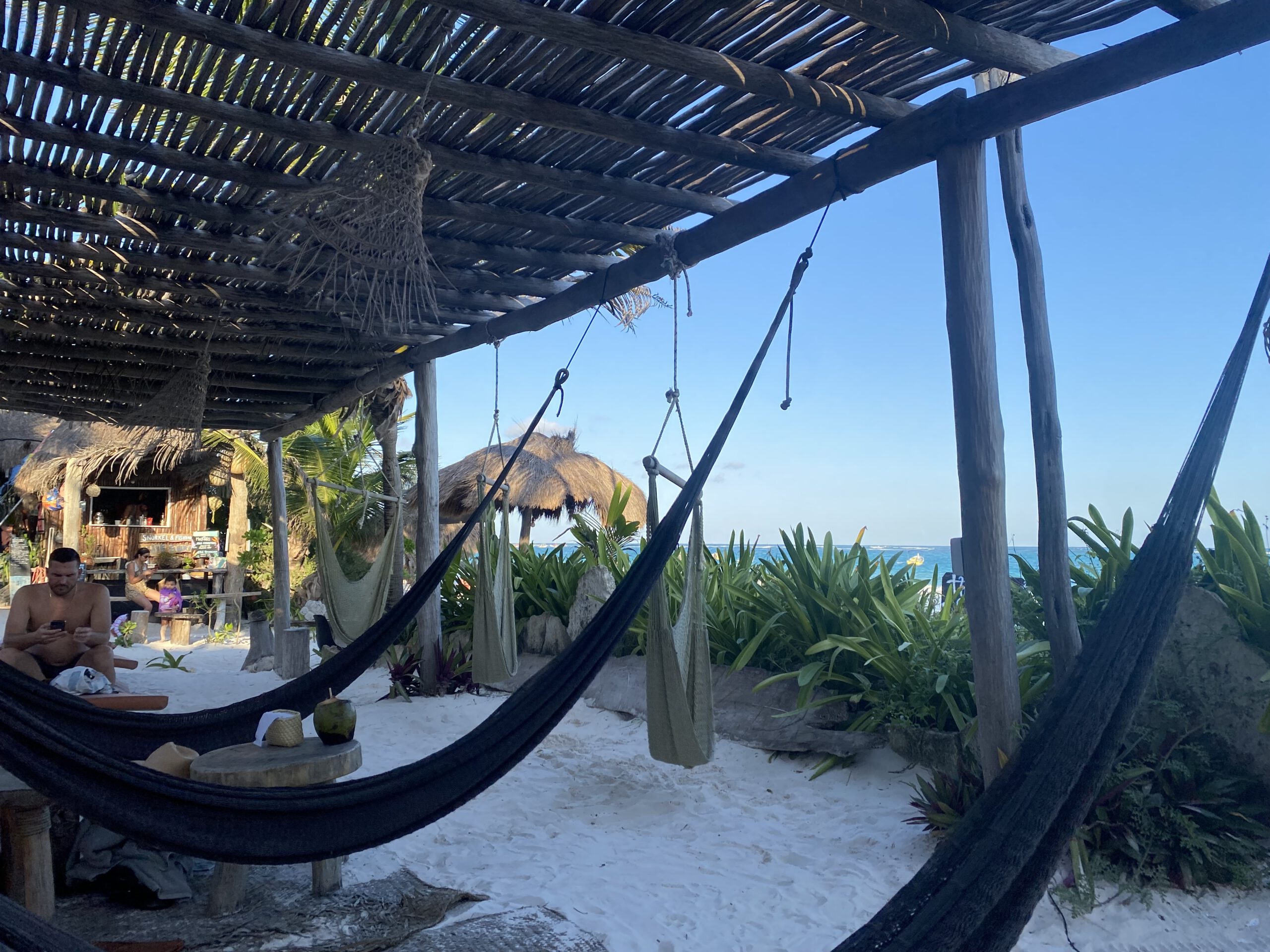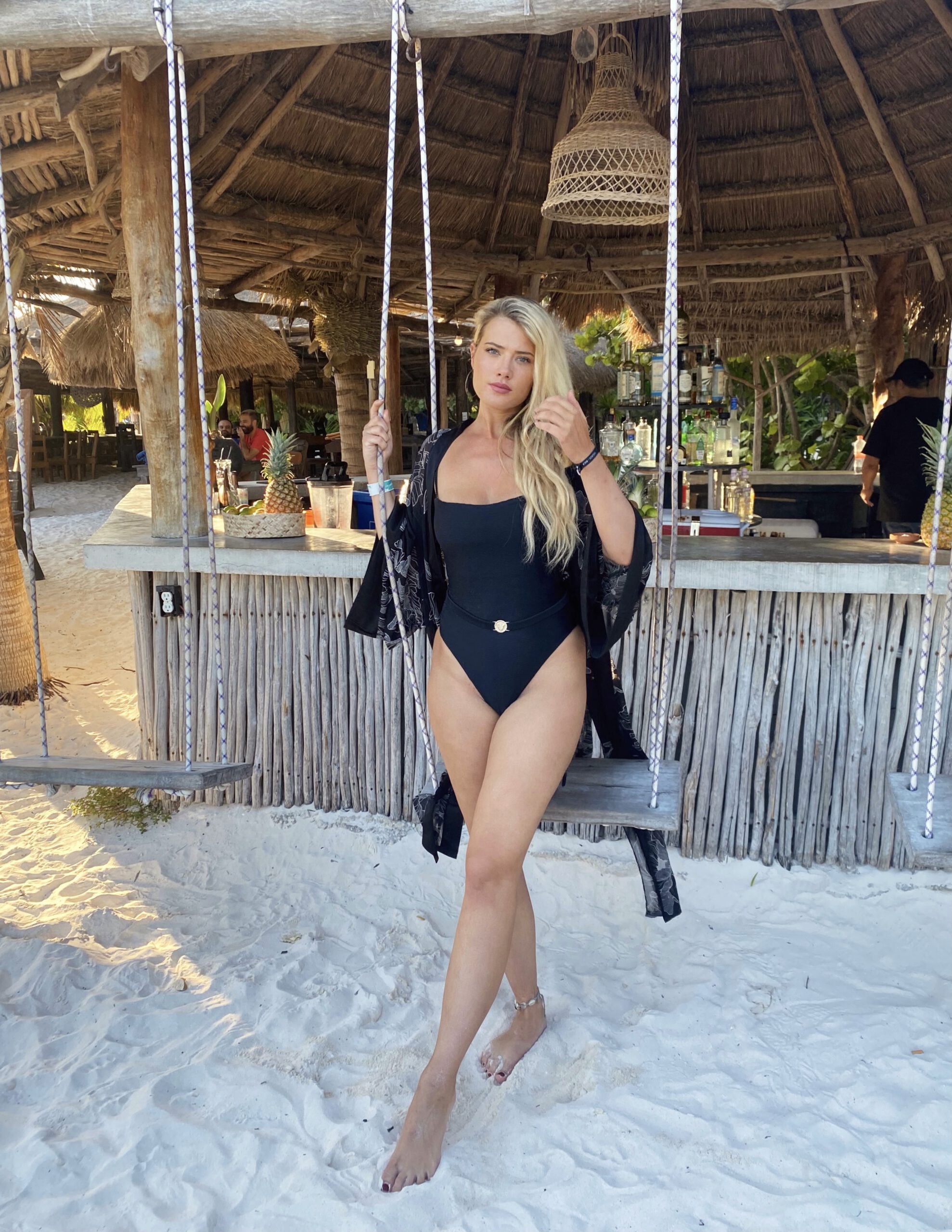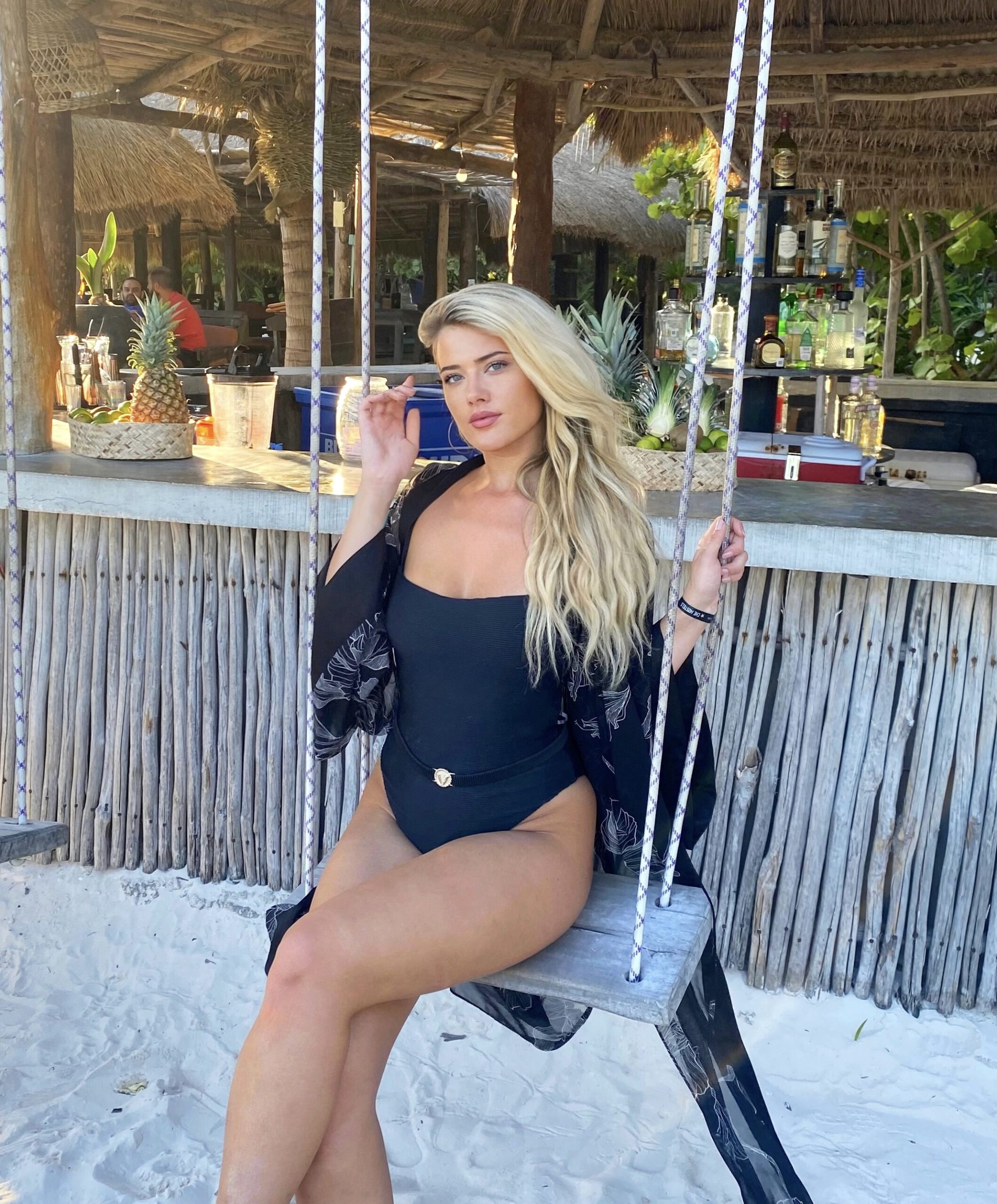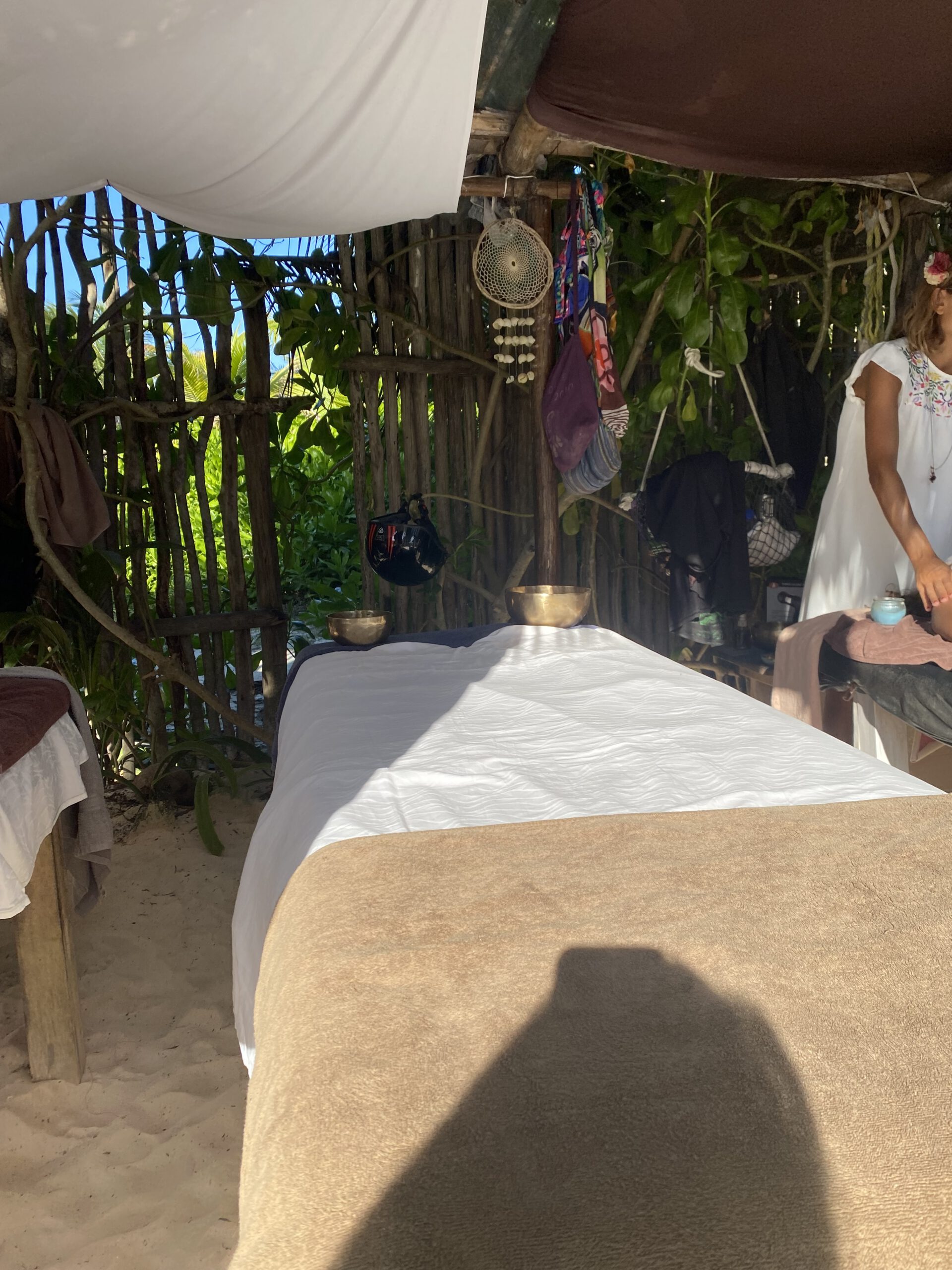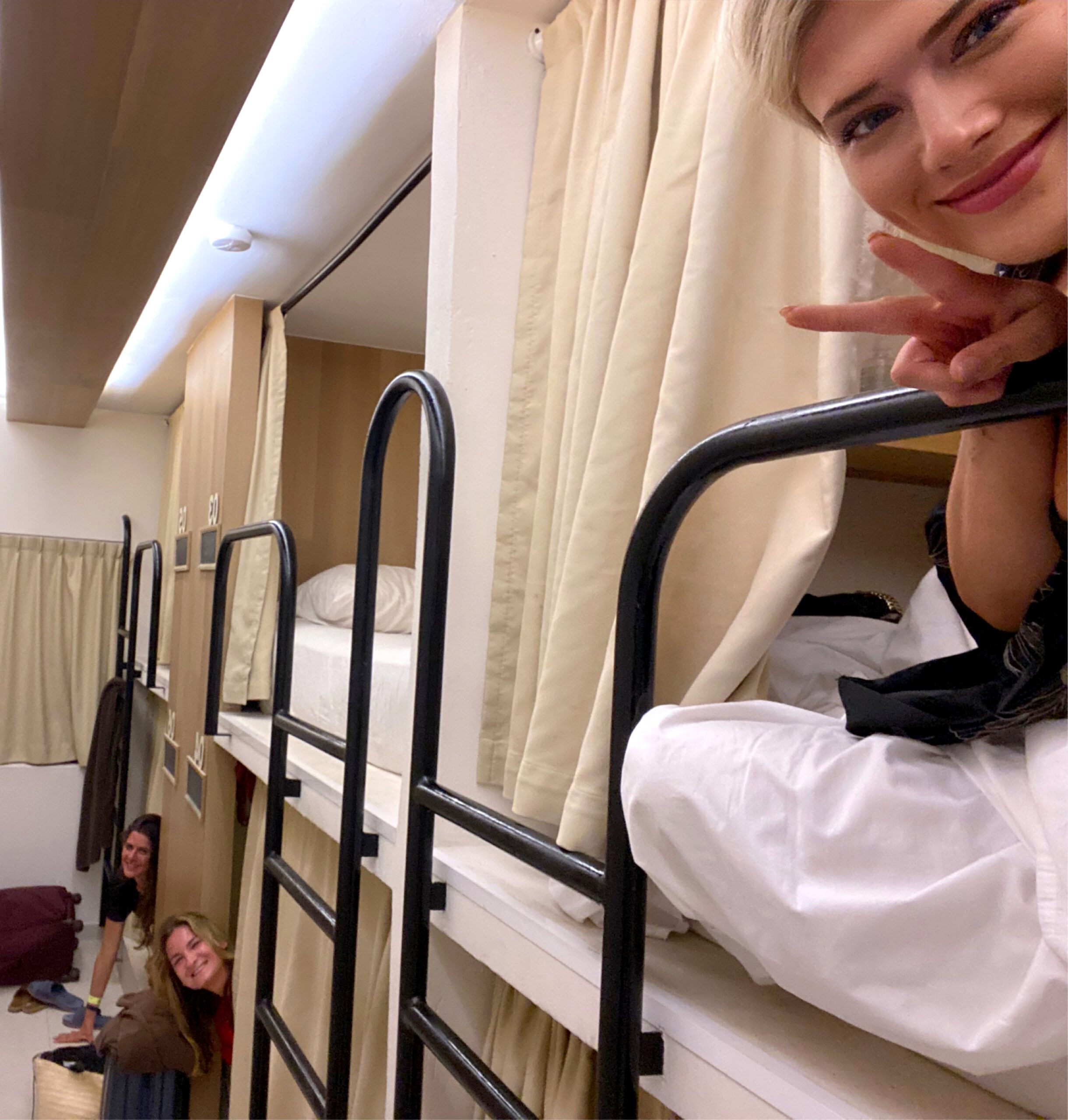 7-12-2022 – Tulum

This day, thanks to Felipe, I could relax on a beach bed at
Mia Beachclub
for free. Just like the past parties, I was again on the guest list for tonight's party there, including free drinks and backstage access. It was my last evening in Mexico, so I wanted to end this festively as well. I ended this day wonderfully by lying on my own by the sea. I bought a beautiful pair of handmade earrings here on the beach for about 20-25 euros, because I wanted a nice souvenir for myself. I spent a large part today cycling and lying on the beach bed with a book with an iced coffee, while I could already spot the full moon above the beautiful sea during the day. All this made this last day very nice and special.
In the evening I was allowed again as a collaboration, without obligation, to eat 3 courses at Marem Tulum with a +1, so I took Cyni with me. It was my last night with her and she was one of the biggest reasons I came back to Tulum, besides my ex-love. It was very nice to share this with her. The main course I chose this time was a medium rare rib eye and it was really delicious! Recommended. I thanked the staff at the end of the dinner for making me feel so welcome and free of charge and I will visit them again soon. I think this is a super fun collaboration that I was approached for myself and moreover I always share my sincere opinion about collabs – I really think this restaurant and the staff are fantastic!
I concluded the end of this emotional, but special and educational journey with the party with my dear friends at Mia's, and a walk on the beach under the full moon with some hostel mates. Felipe gave me a ride back to my hostel with his friends and I went straight to bed, getting up early with Nadja to leave for the airport.
Deze dag kon ik dankzij Felipe heerlijk kostenloost relaxen op een strandbed bij
Mia Beachclub.
Zoals de afgelopen feestjes, stond ik voor vanavond opnieuw op de guest list voor het feest daar inclusief gratis drank en backstage toegang. Het was mijn laatste avond in Mexico, dus wilde ik dit ook feestelijk afsluiten. Ik sloot deze dag dan ook heerlijk af door in mijn eentje lekker aan de zee te gaan liggen. Ik kocht een prachtig paar handgemaakte oorbellen hier op het strand voor zo'n 20-25 euro, omdat ik een mooie souvenir voor mijzelf wilde. Ik besteedde een groot deel vandaag aan fietsen en heerlijk met een boek op het strandbedje liggen met een ijs koffie, terwijl ik de volle maan al overdags boven de prachtige zee kon spotten. Dit alles maakte deze laatste dag heel fijn en bijzonder.
In de avond mocht ik opnieuw als samenwerking, vrijblijvend 3 gangen uit eten bij Marem Tulum met een +1, dus nam ik Cyni mee. Het was mijn laatste avond met haar en ze was naast mijn ex-liefde een van de grootste redenen dat ik terug kwam naar Tulum. Het was erg fijn dit met haar te delen. Het hoofdgerecht dat ik dit keer koos was een medium rare rib eye en die was echt ontzettend lekker! Aanrader. Ik bedankte het personeel aan het einde van het dinner dat ze mij zo welkom en kostenloos ontvangen en ik snel weer bij ze langs kom. Ik vind dit een super leuke samenwerking waar ik zelf voor was benaderd en bovendien deel ik altijd mijn oprechte mening over collabs – ik vind dit restaurant en het personeel écht fantastisch!
Ik sloot het einde van deze emotionele, maar bijzondere en leerzame reis af met het feestje samen met mijn lieve vrienden bij Mia, en een strandwandeling onder de prachtige volle maan met wat hostelgenotes. Felipe gaf me een rit naar mijn hostel terug met zijn vrienden en ik ging rechtstreeks naar bed, om samen met Nadja vroeg op te gaan staan om naar de airport te vertrekken.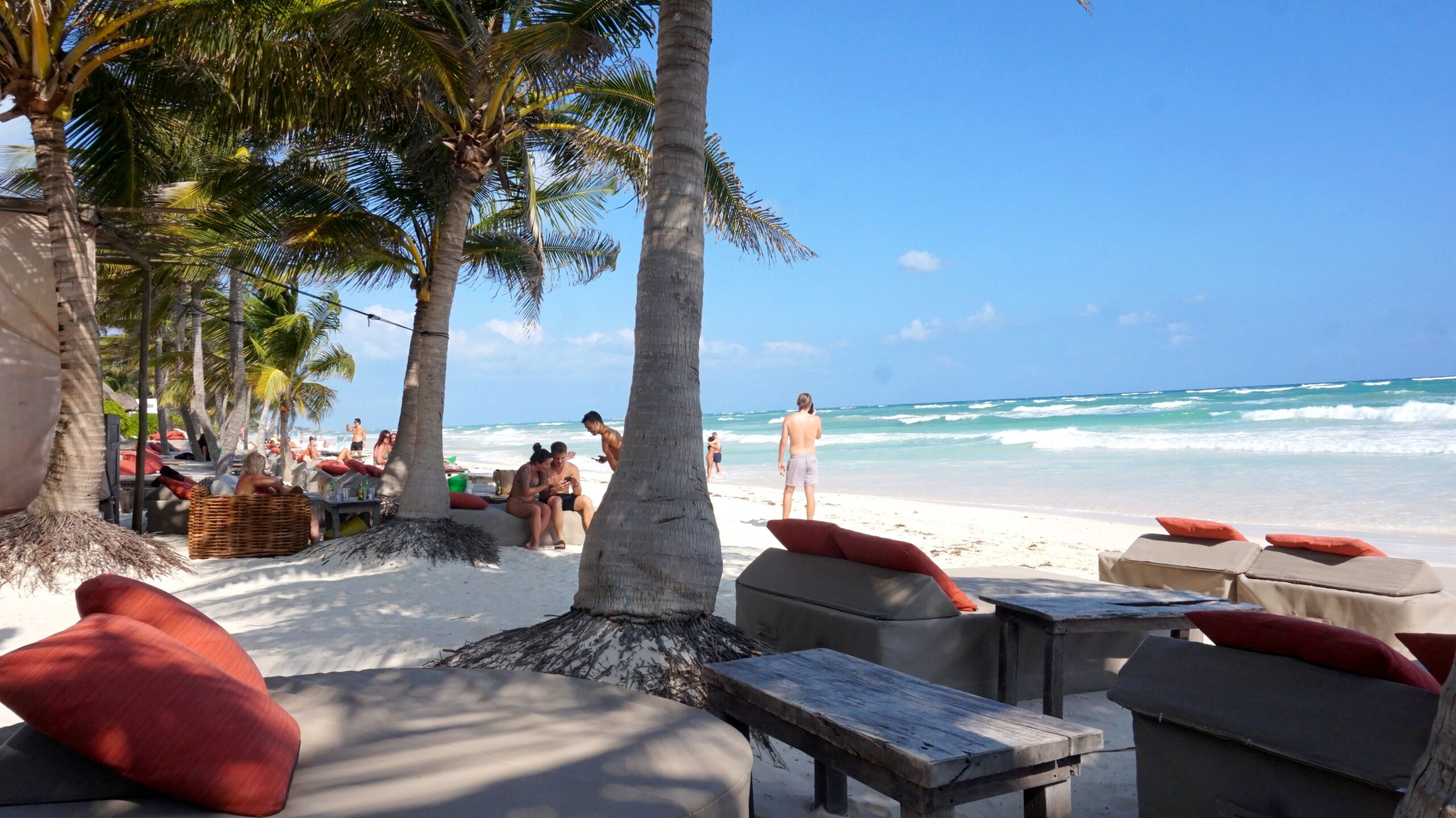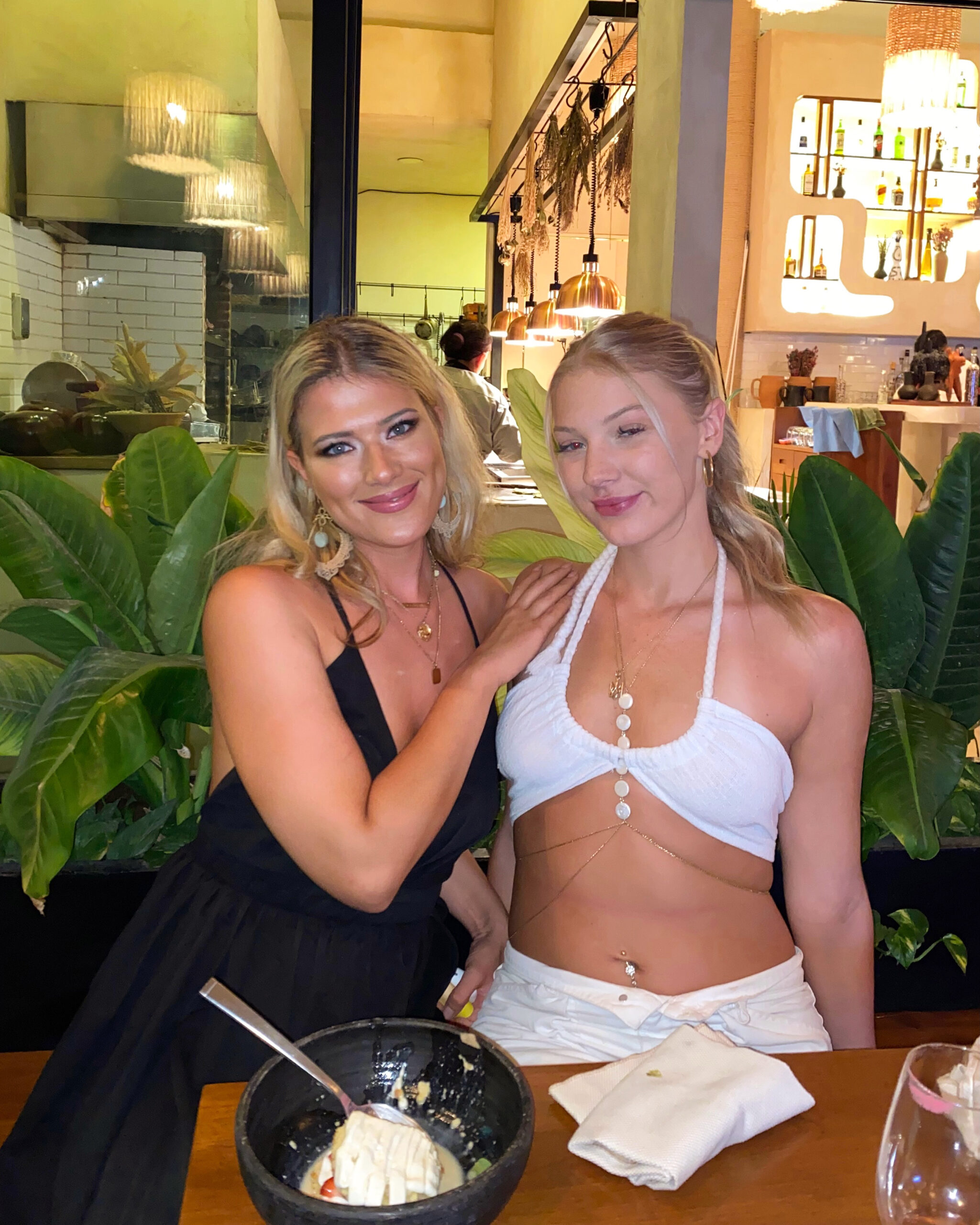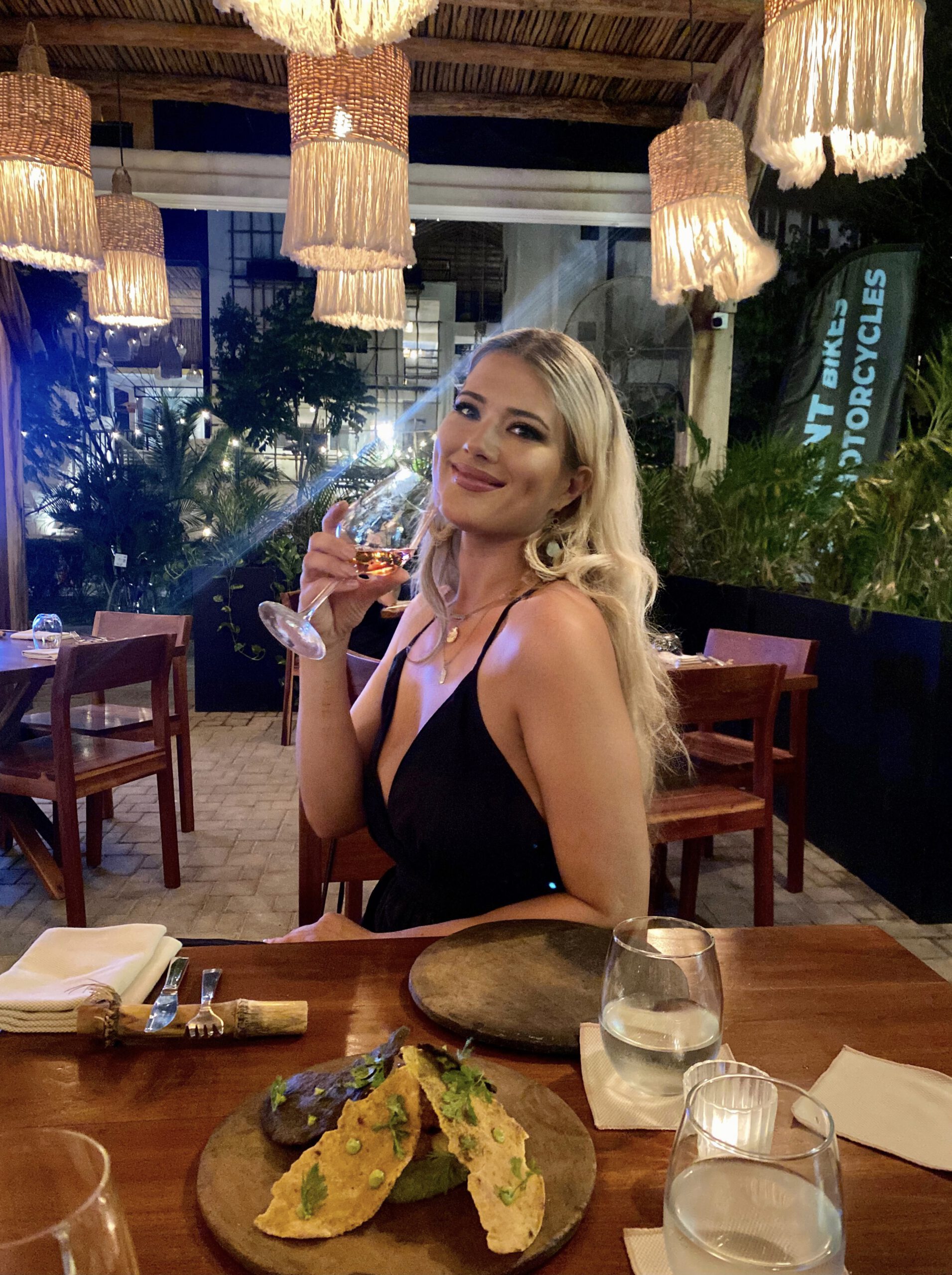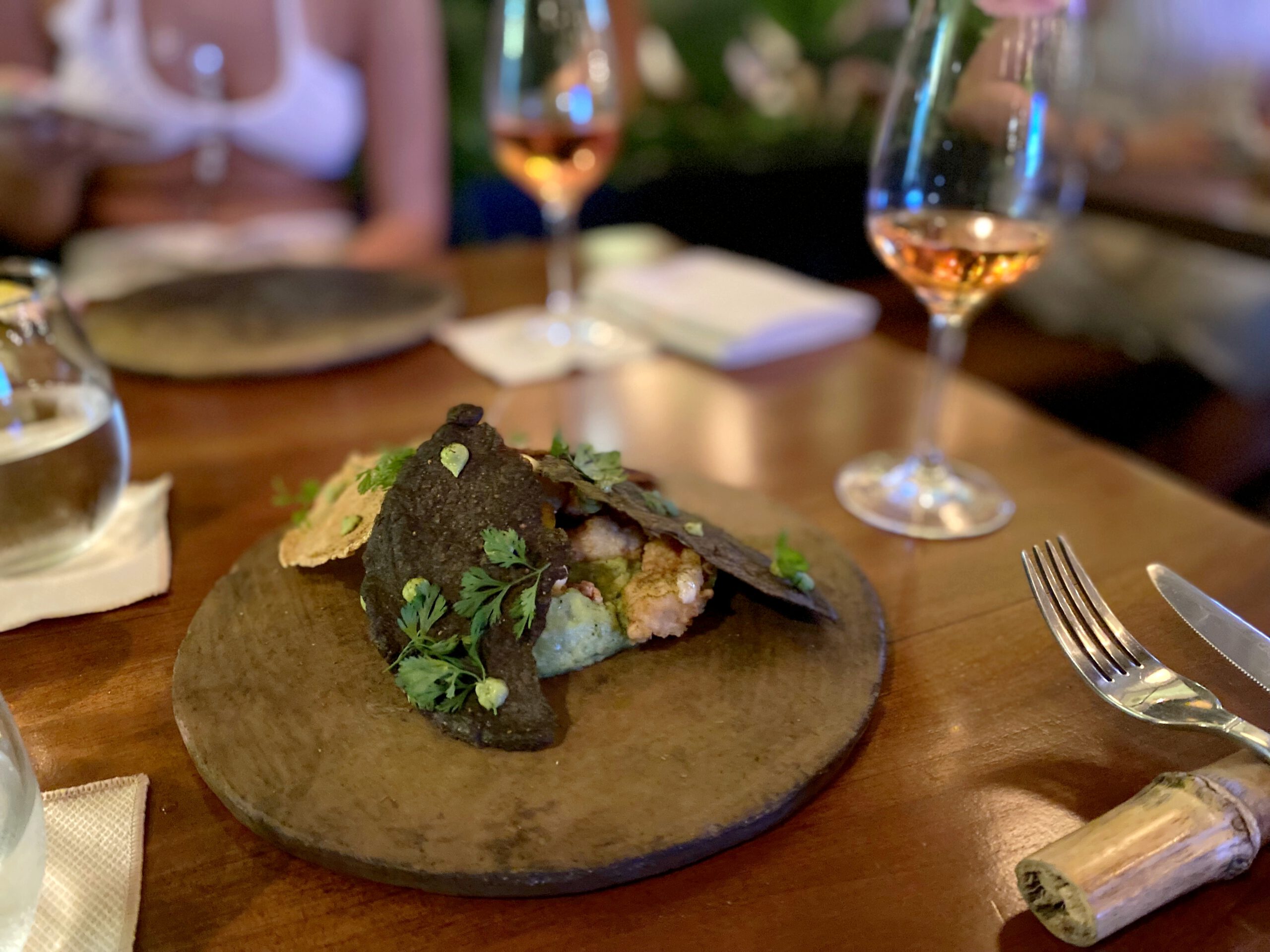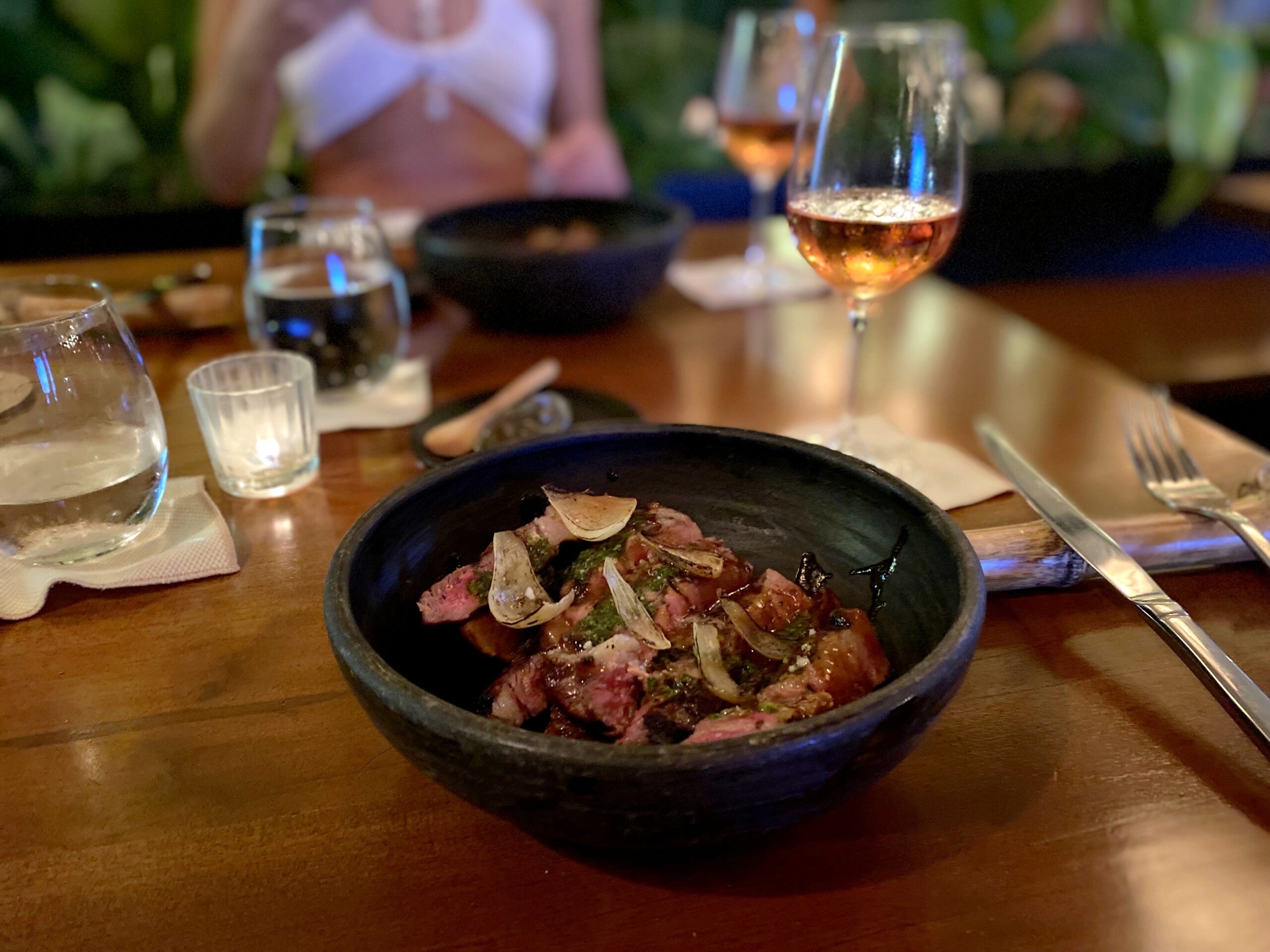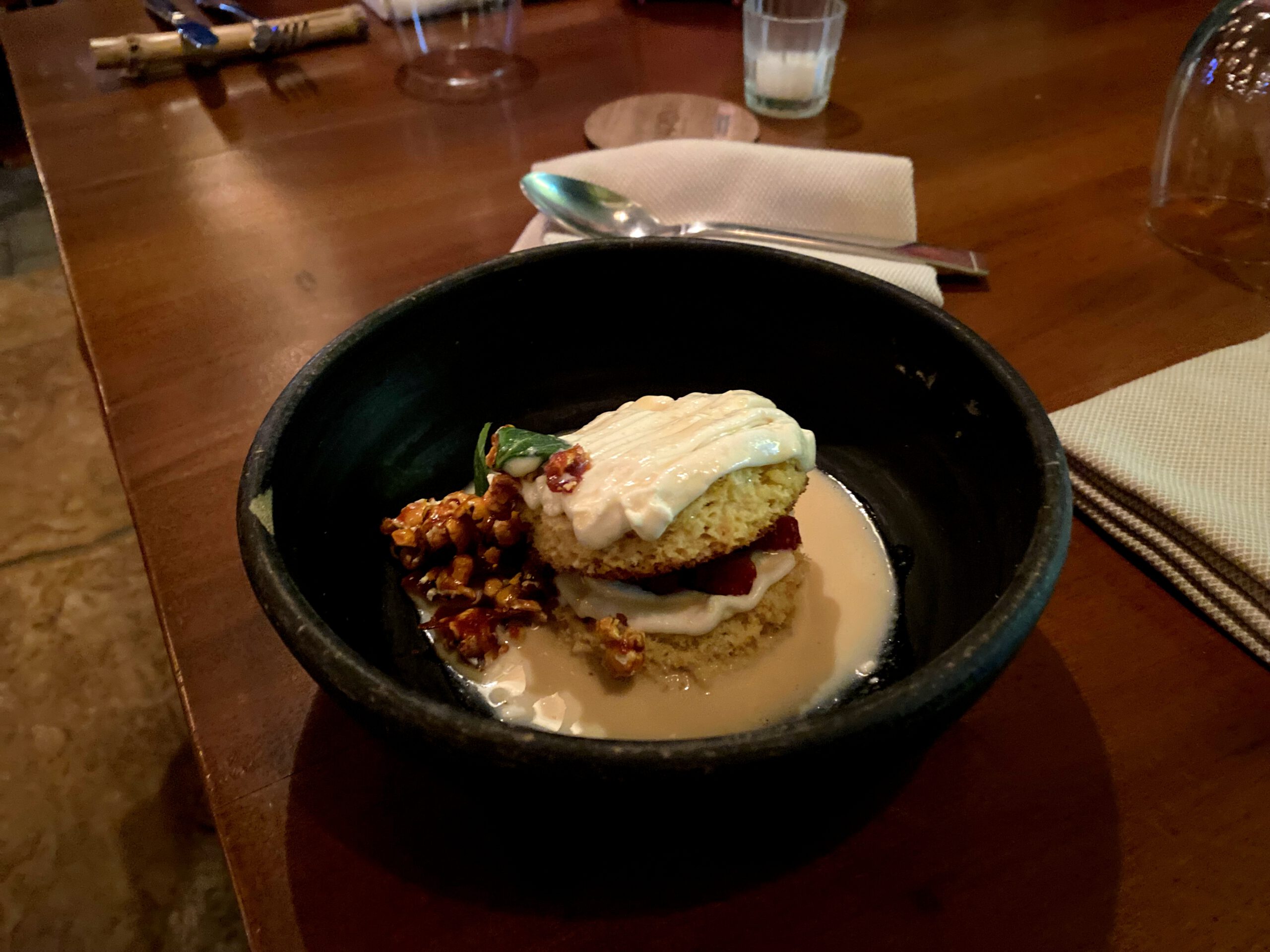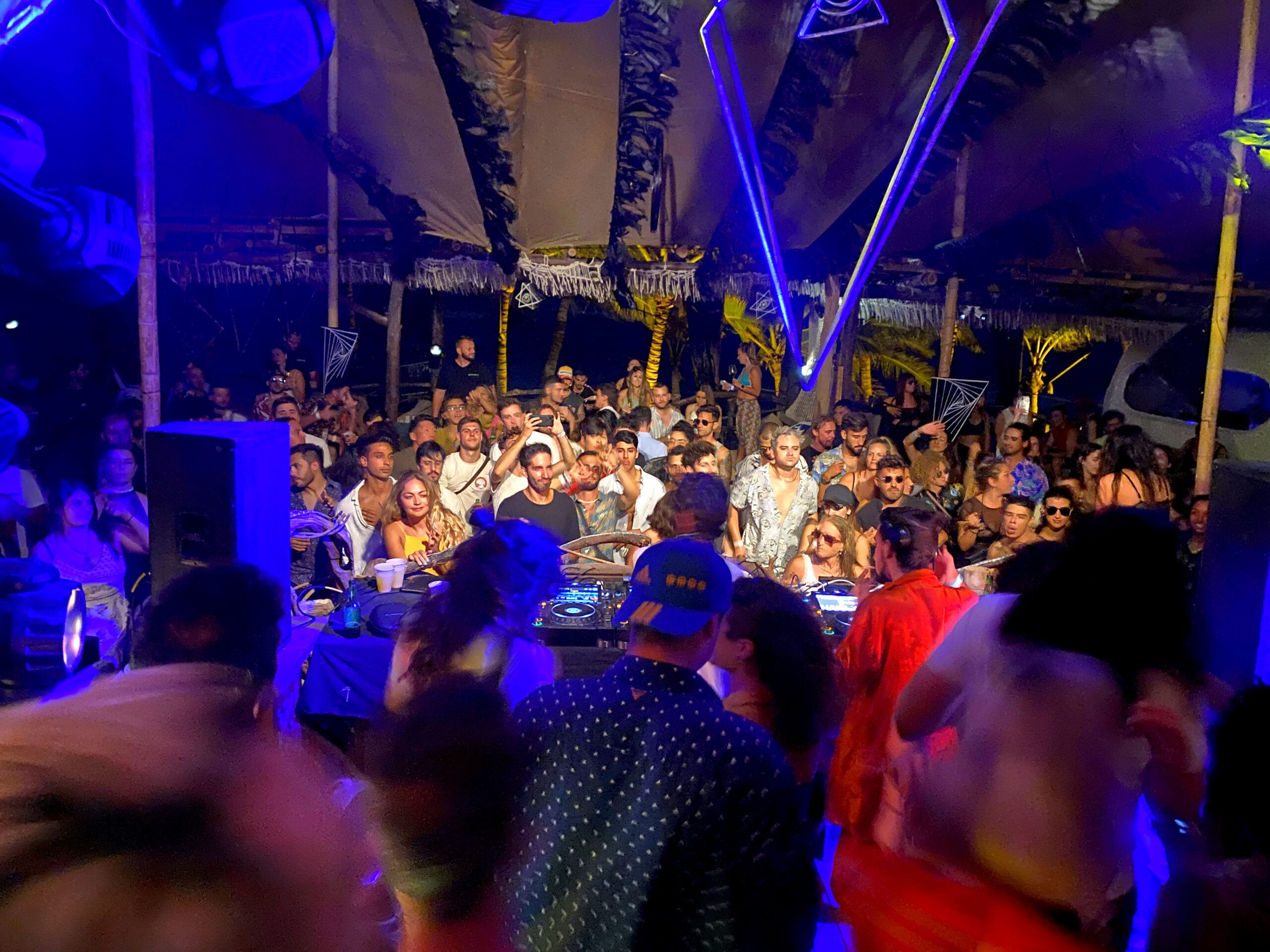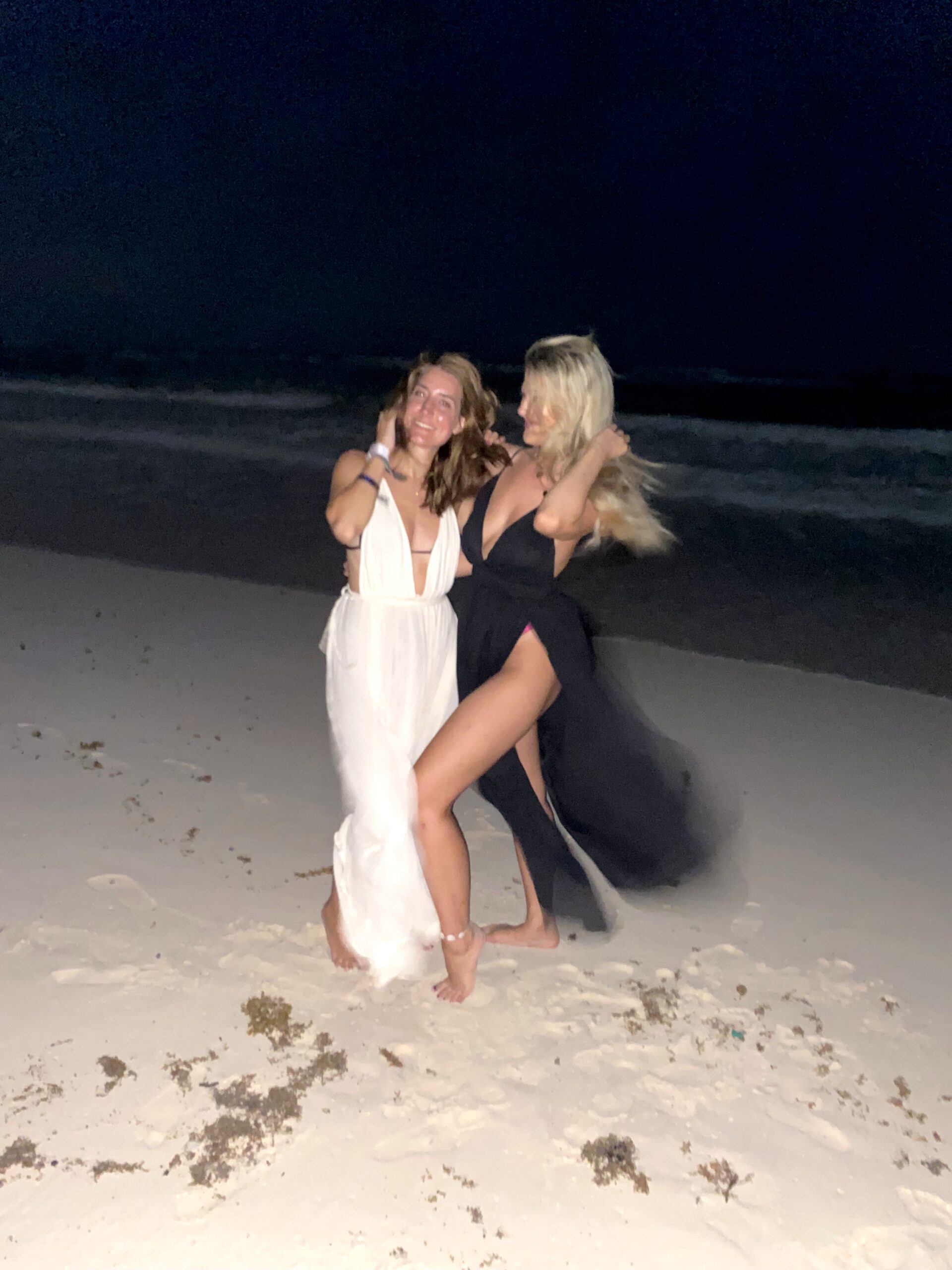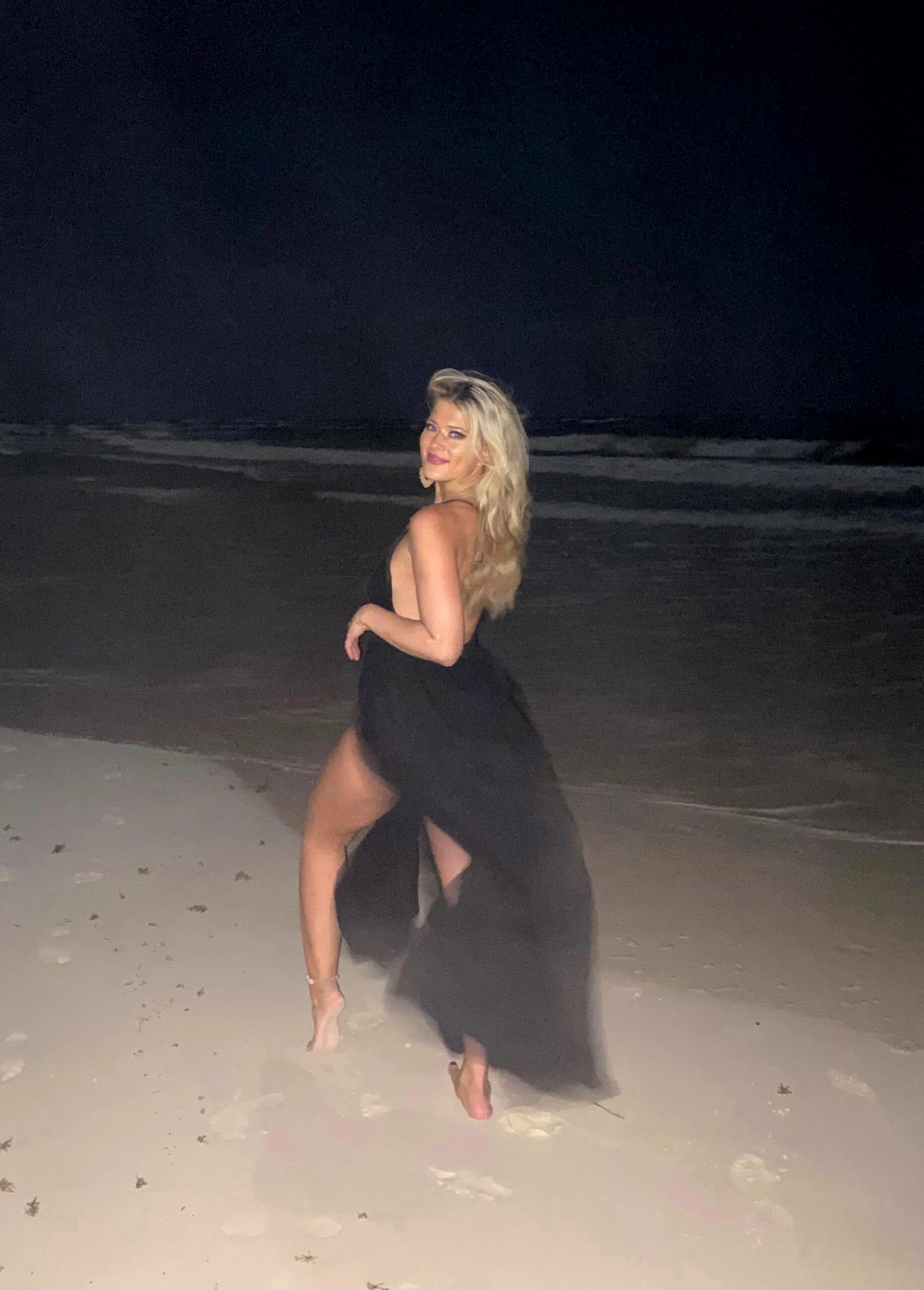 8-12-2022 & 9-12-2022 – Tulum, Cancun airport & Schiphol Amsterdam

This morning Nadja and I left for Tulum's ADO bus station by taxi because our flights left at the same time. It was time to go back home, and I was really looking forward to it now. I stayed in Mexico so as not to run away from my processing and to keep my beautiful memories beautiful. I had a very nice return flight with KLM and a super nice crew. Because I had told them in a conversation what I came to Mexico for, and eventually left without, they had written a super sweet card.
When I flew into the Netherlands in the early morning, the view outside was full of snow and with the beautiful orange horizon. It felt like a gift to come home with such a beautiful view. As much as I love traveling, after I came home 'alone' again, I was also very happy to see my dachshunds, parents, sister and beautiful Christmas tree again and to hold them in my arms after everything.
Deze ochtend vertrokken Nadja en ik naar Tulum's ADO bus station per taxi omdat onze vluchten dezelfde tijd vertrokken. Het was tijd om terug naar huis te gaan, en ik had er nu ook erg veel zin in. Ik bleef in Mexico om niet weg te rennen van mijn verwerking en mijn mooie herinneringen mooi te houden. Ik had een ontzettend fijne terugvlucht met KLM en een super leuke crew. Omdat ik in een gesprekje met ze had verteld waar ik voor naar Mexico kwam, en uiteindelijk zonder mee weg ging, hadden ze een super lief kaartje geschreven.
Toen ik Nederland in de vroege ochtend binnen vloog was het uitzicht buiten vol met sneeuw en met de mooie oranje horizon. Het voelde als een cadeautje met zo'n prachtig uitzicht weer thuis te komen. Hoeveel liefde ik ook heb voor reizen, na ik weer 'alleen' thuis kwam, was ik ook erg blij mijn teckels, ouders, zus en mooie kerstboom weer te zien en ze na alles weer in mijn armen te sluiten.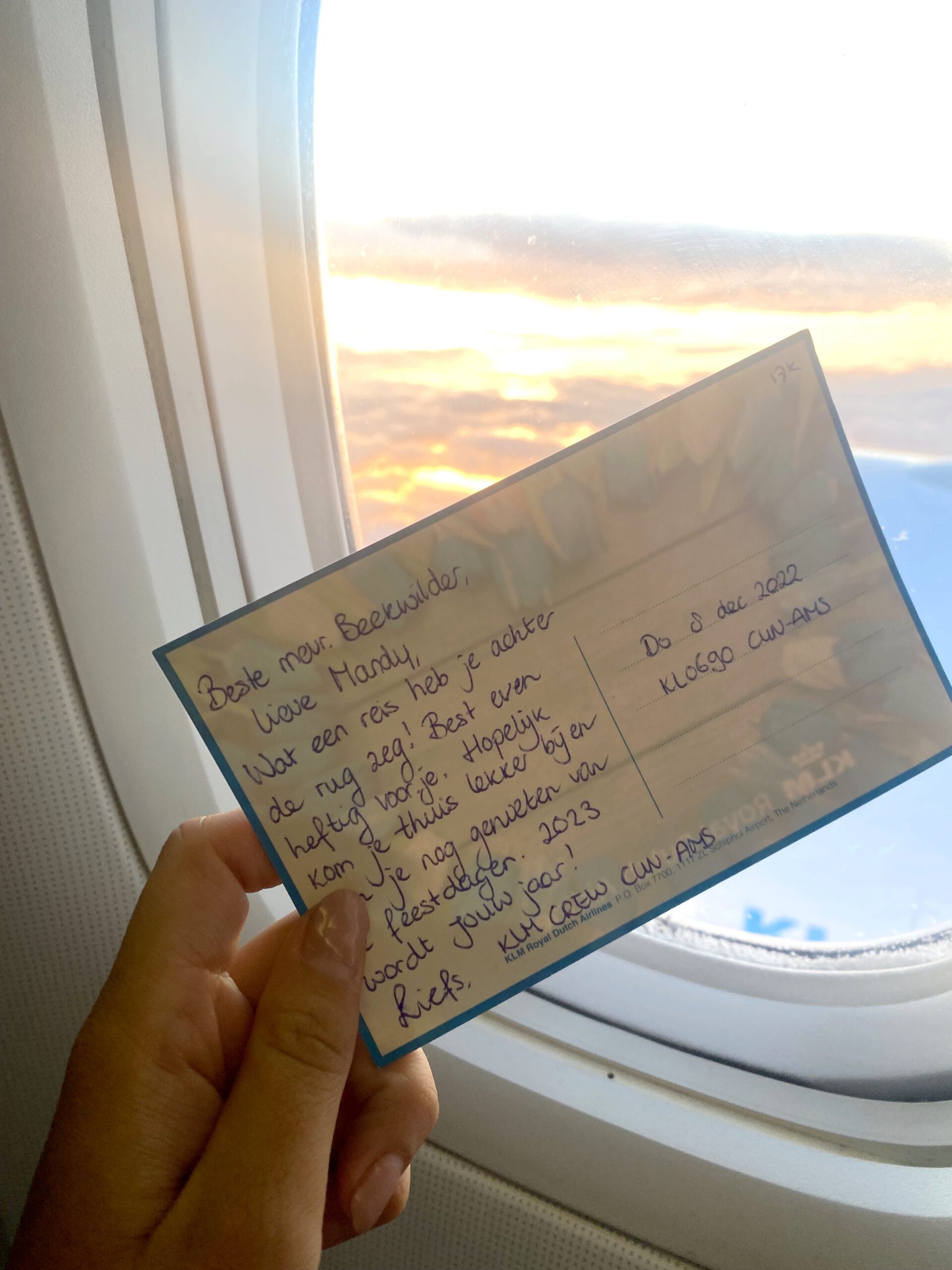 Thank you for reading my personal solo travel diary! This was the end of my 23 day journey. A journey that was for a wonderful, warm reason, and ended for a different reason than the loving reason I came for. A journey where I got to know wonderful people, changed a lot for me, gave new insights and lessons and also allowed me to grow as a person. Pain is a teacher, not running away and embracing what you are going through and being open to the wonderful things that are out there in the world. Of course my diary is mainly focused on the beautiful things of the journey, that doesn't mean that everything you see is just happiness inside.
The world is filled with beautiful people, each with their own story. Every solo journey brings me new beautiful people with their own story on my path. Traveling solo brought me inspiration, gratitude, learning lessons, growth, friendships, knowledge and also love that I left behind here.
If you're afraid of a solo trip, this is your sign: do you realize that I once started out inexperienced and scared, but now consider it one of the most beautiful, social things I've had the pleasure of experiencing.
Leuk dat je mijn persoonlijke solo reisdagboek hebt gelezen! Dit was het einde van mijn 23 dagen lang durende reis. Een reis die met een prachtige reden was, en eindigde met een andere reden dan de liefdevolle reden waar voor ik kwam. Een reis waar ik prachtige mensen heb leren kennen, veel voor mij heeft veranderd, nieuwe inzichten en lessen heeft gegeven en bovendien mij heeft laten groeien als mens. Pijn is een leermeester, niet wegrennen en het omarmen van hetgeen waar je doorheen gaat en het open staan voor de prachtige dingen die er in de wereld zijn. Natuurlijk is mijn dagboek voornamelijk gefocussed op de mooie dingen van de reis, dat wil niet zeggen dat alles wat je ziet alleen maar gelukkigheid is van binnen.
De wereld is gevuld met prachtige mensen, ieder met een eigen verhaal. Iedere solo reis brengt mij nieuwe mooie mensen met hun eigen verhaal op mijn pad. Solo reizen bracht me inspiratie, dankbaarheid, leerlessen, groei, vriendschappen, kennis en ook liefde die ik hier achter liet.
Als je bang bent voor een solo reis, is dit je teken: besef je dat ik ooit begon zonder ervaring en bang, maar het nu beschouw als een van de mooiste, sociale dingen die ik hem mee mogen maken.