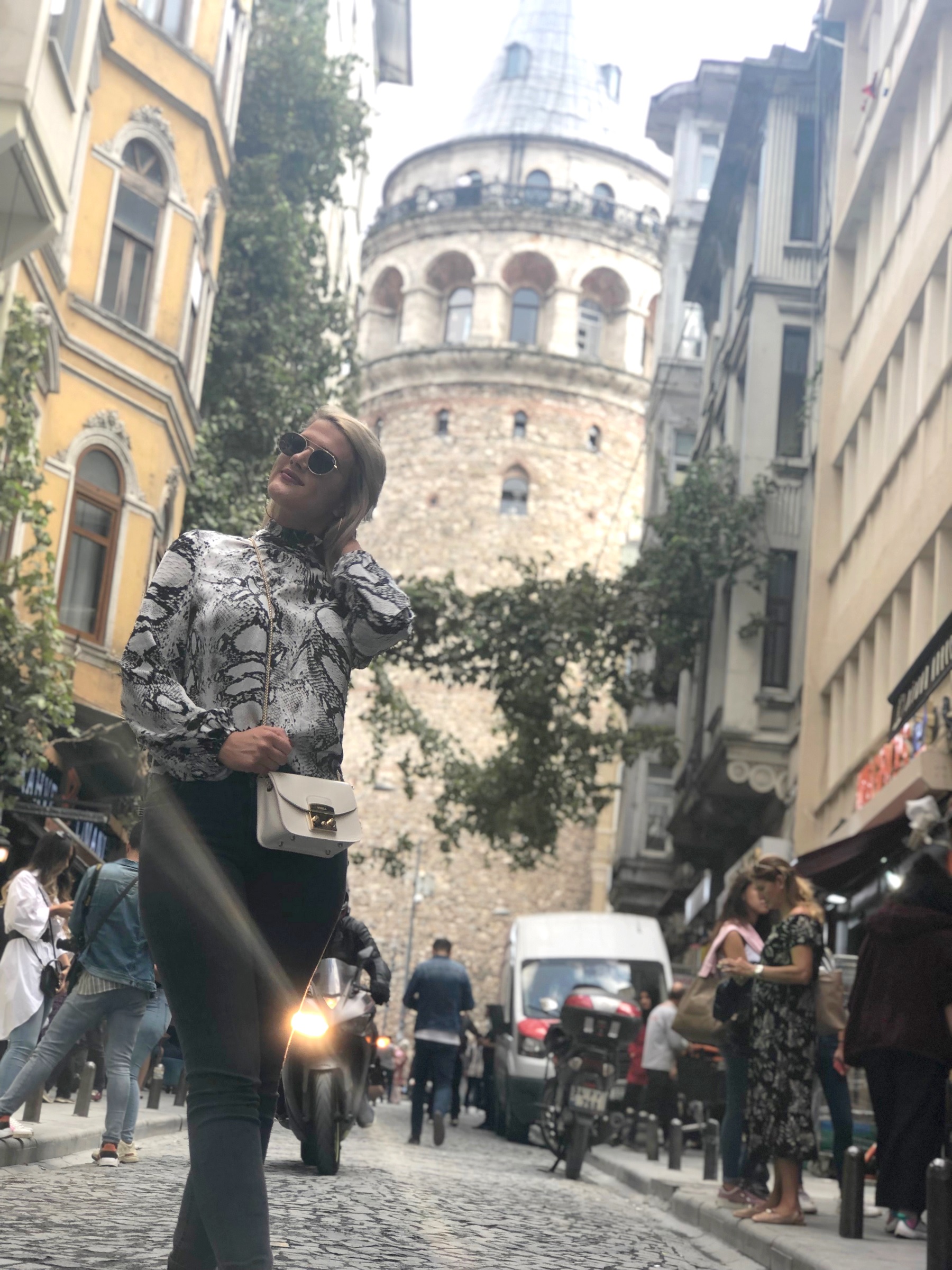 This travel diary is a very special and personal one, the title says Solo, but I was not alone. I was very curious about my partial 'roots' and lovely family members that I never or haven't seen in the last 20 years. I went to see them on my own in Istanbul. After the sudden death of my grandfather in early 2019, which I was actually going to see in real life for the first time this year (we had facetime contact every now and then, telephone contact and he spoke Dutch), I decided to fly to Istanbul during my vacation, less than half a day after I came back from Valencia, from Eindhoven airport. (Update in between: This post was scheduled for September 2019, and I have posted this May 2020 because it was on hold for a long time, so I also left the post date on the original date) To clarify: My father is in terms of nationality half Turkish, half Dutch, so I am a
quarter
Turkish,
three-quarter
Dutch. My grandfather, after living in the Netherlands for many years and having been with my Dutch grandmother, went back to Turkey and married a Turkish woman – so my Turkish aunts are my father's half sisters. A large part of my Turkish family lives in Germany – and we only speak German with each other or via Google Translate because I can't speak the language.
Just before departure, on board, I received a message from my niece from Germany that there had been a major earthquake in Istanbul, so I would probably be taken to the family village instead of Istanbul upon arrival. That was of course a bit of a shock, but after arriving at Istanbul Sabiha Gokcen airport in the late afternoon, I couldn't reach my family due to the earthquake. Luckily I found my uncle and aunt outside and my aunt started crying and hugging me with my uncle, because I hadn't seen them since the 90's and I was my grandfather's oldest granddaughter. My aunt only spoke Turkish and my uncle spoke a little bit of English, so it was mainly communicating with google translate. The ride through the city was so cool, because Istanbul is a huge city with a big skyline, and I love that (we stayed in Istanbul after all). Because I am a fan of Kofte, my uncle and aunt had reserved a dinner for the 3 of us with a view of the beautifully lit Bosphorus Bridge – which is the bridge in between Europe and Asia. Then they showed me some highlights of the city by car and we went to pick up my youngest aunt Sonya, because I would stay with her these 4 days (Our age difference is only 10 years by the way). At the end of the evening the four of us went to both the Hagia Sofia and a beautiful viewpoint for tea and coffee.
Deze travel diary is een hele speciale en persoonlijke, in de titel staat Solo, maar ik was op reis niet alleen. Ik was ontzettend benieuwd naar mijn gedeeltelijke 'roots' en lieve familieleden die ik nooit of zeker 20 jaar geleden voor het laatst heb gezien. Ik ben ze in mijn eentje gaan opzoeken in Istanbul. Na het plots overlijden van mijn opa begin 2019, die ik eigenlijk voor het eerst dit jaar in het echt zou gaan zien (we hadden wel soms facetime en telefonisch contact en hij sprak Nederlands), besloot ik om in mijn vakantie naar Istanbul
te vliegen, nog geen halve dag na ik uit Valencia terug kwam, vanaf Eindhoven airport. (Update tussendoor: Deze post stond geplanned voor September 2019, en ik post hem pas Mei 2020 omdat het heel lang on hold stond, dus de post datum heb ik ook op de originele datum gelaten)
Om het even te verduidelijken: Mijn vader is qua nationaliteit half Turks, half Nederlands, ik ben dus een kwart Turks, drie kwart Nederlands. Mijn opa is na vele jaren in Nederland te hebben gewoond en met mijn Nederlandse oma te zijn geweest, terug gegaan naar Turkije en getrouwd met een Turkse vrouw – dus mijn Turkse tante's zijn mijn vader zijn half zussen. Een groot deel van mijn Turkse familie woont in Duitsland – en wij spreken alleen Duits met elkaar of via Google Translate want ik spreek de taal niet.
Vlak voor vertrek, aan boord, kreeg ik een bericht van mijn nichtje uit Duitsland dat er een grote aardbeving was geweest in Istanbul, dus ik waarschijnlijk naar het dorp van familie in plaats van Istanbul na aankomst ondergebracht zou worden. Dat was natuurlijk even schrikken, maar na aankomst op Istanbul Sabiha Gokcen airport eind van de middag, kon ik door de aardbeving ook mijn familie niet bereiken. Gelukkig trof ik mijn oom en tante buiten aan en begon mijn tante te huilen en me te knuffelen samen met mijn oom, want ik had ze al sinds de jaren 90 niet meer gezien, en ik was mijn opa zijn oudste kleindochter. Mijn tante sprak alleen Turks en mijn oom een klein beetje Engels, dus was het vooral met google translate communiceren. De rit door de stad was zo ontzettend gaaf, want Istanbul is een enorme stad met grote skyline, en ik houd daar van (we zijn daar alsnog gebleven). Omdat ik fan ben van Kofte, hadden mijn oom en tante een etentje gereserveerd voor ons 3 met uitzicht op de mooi verlichte Bosporusbrug. Vervolgens hebben ze me met de auto nog een aantal highlights van de stad laten zien en zijn we mijn jongste tante Sonya op gaan halen, omdat ik bij haar zou blijven slapen deze 4 dagen (we schelen maar 10 jaar trouwens). We zijn aan het eind van de avond met zijn 4en naar zowel de Hagia Sofia geweest, als een mooi uitzicht punt voor thee en koffie.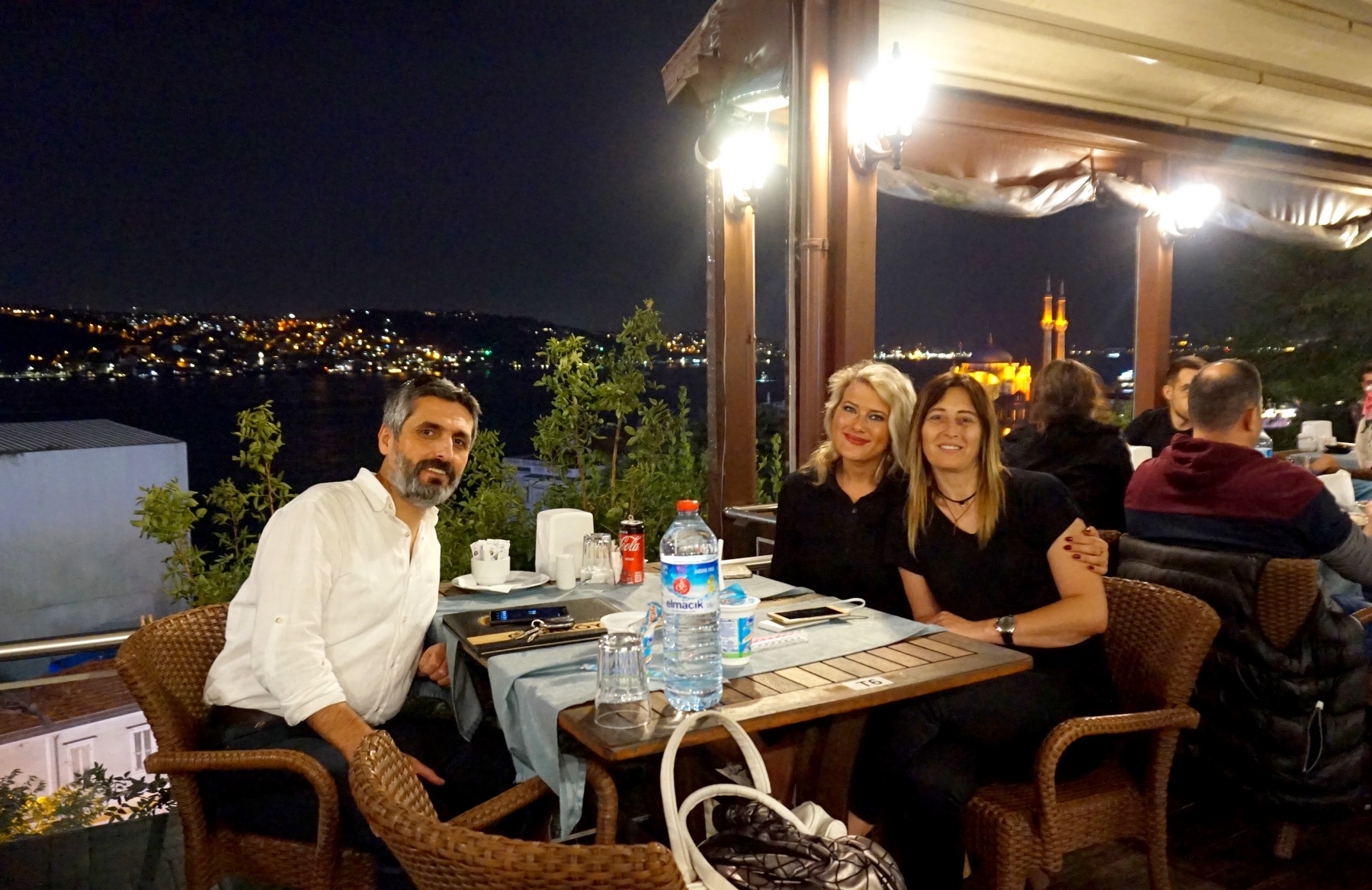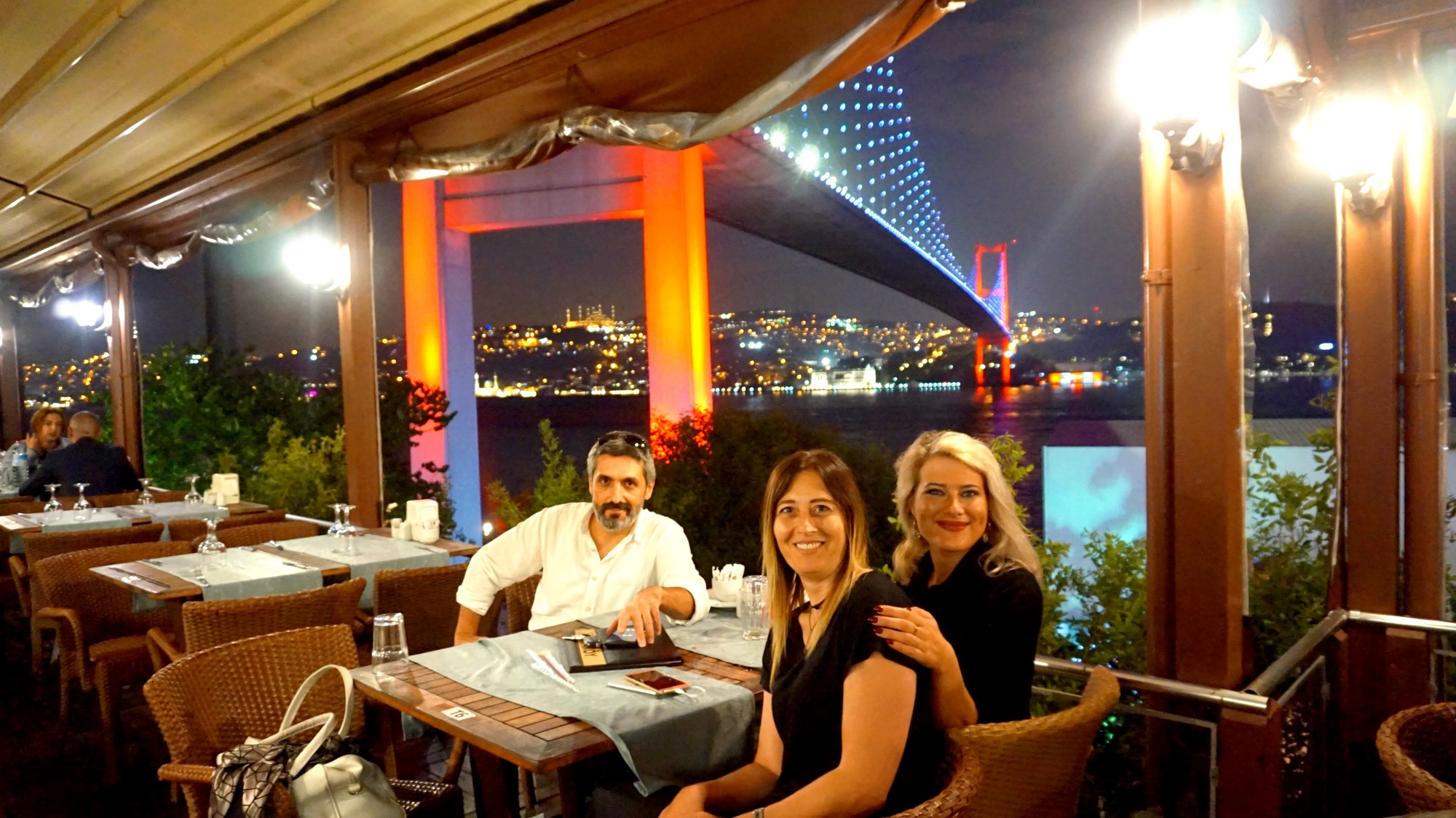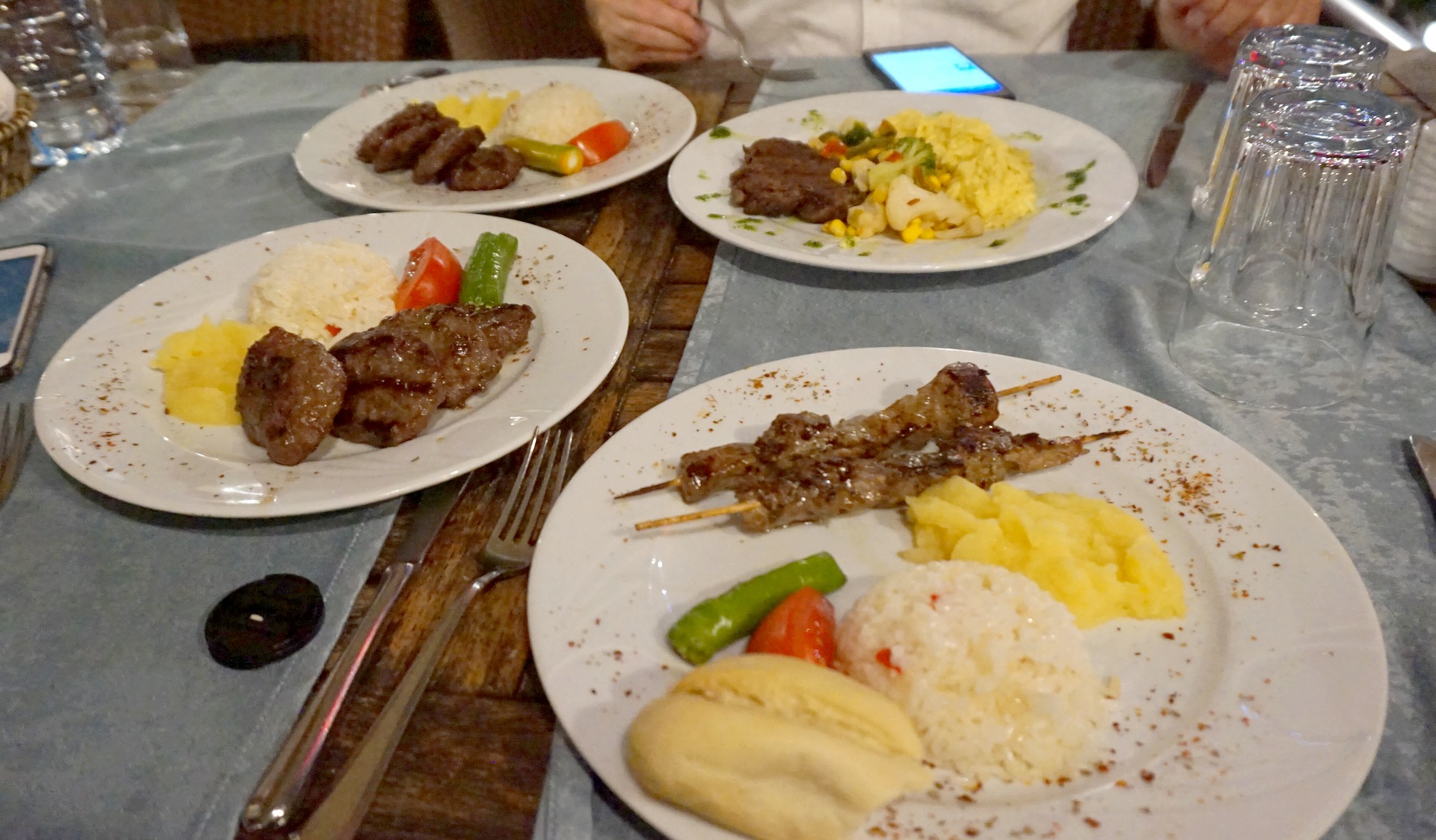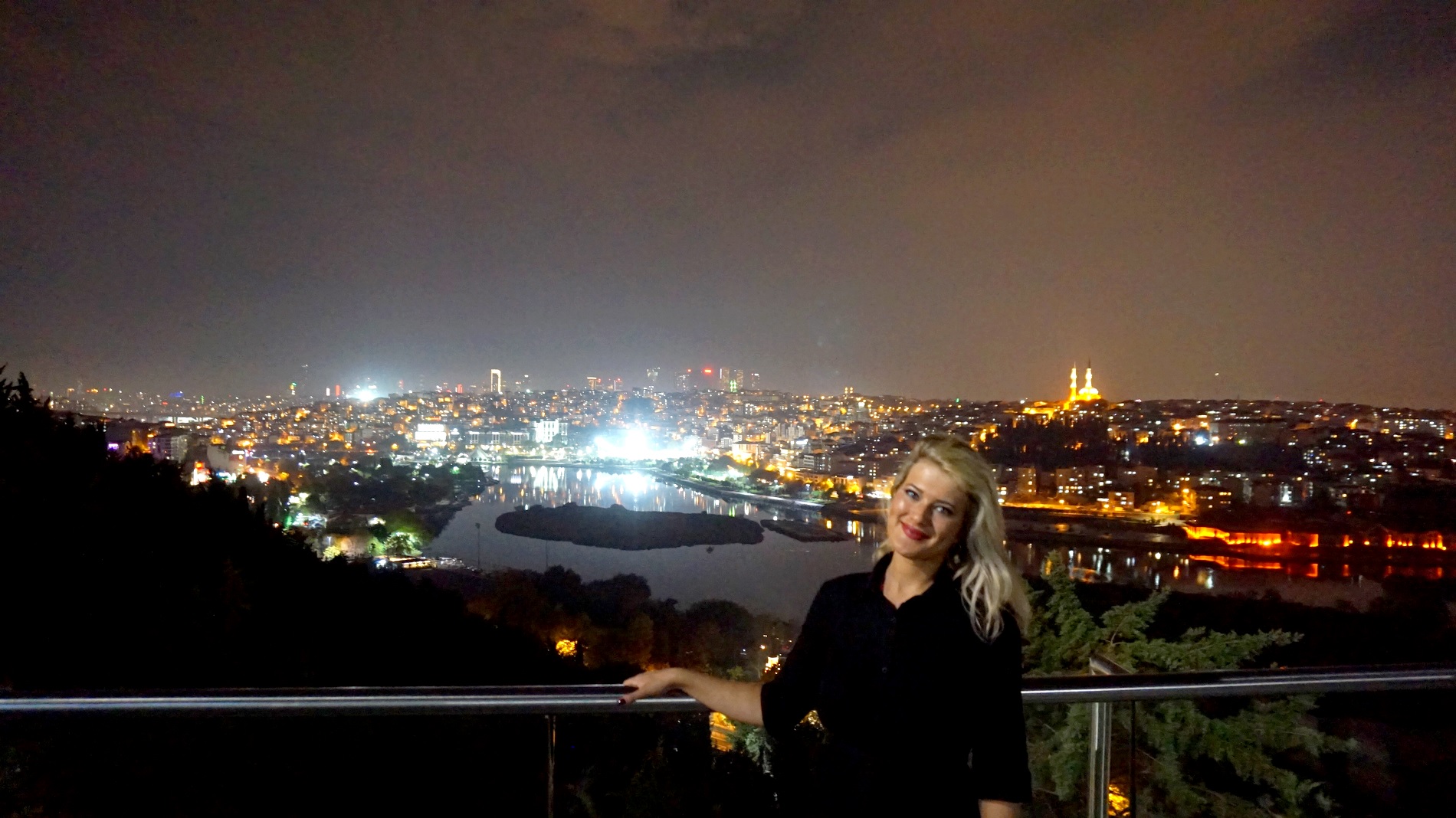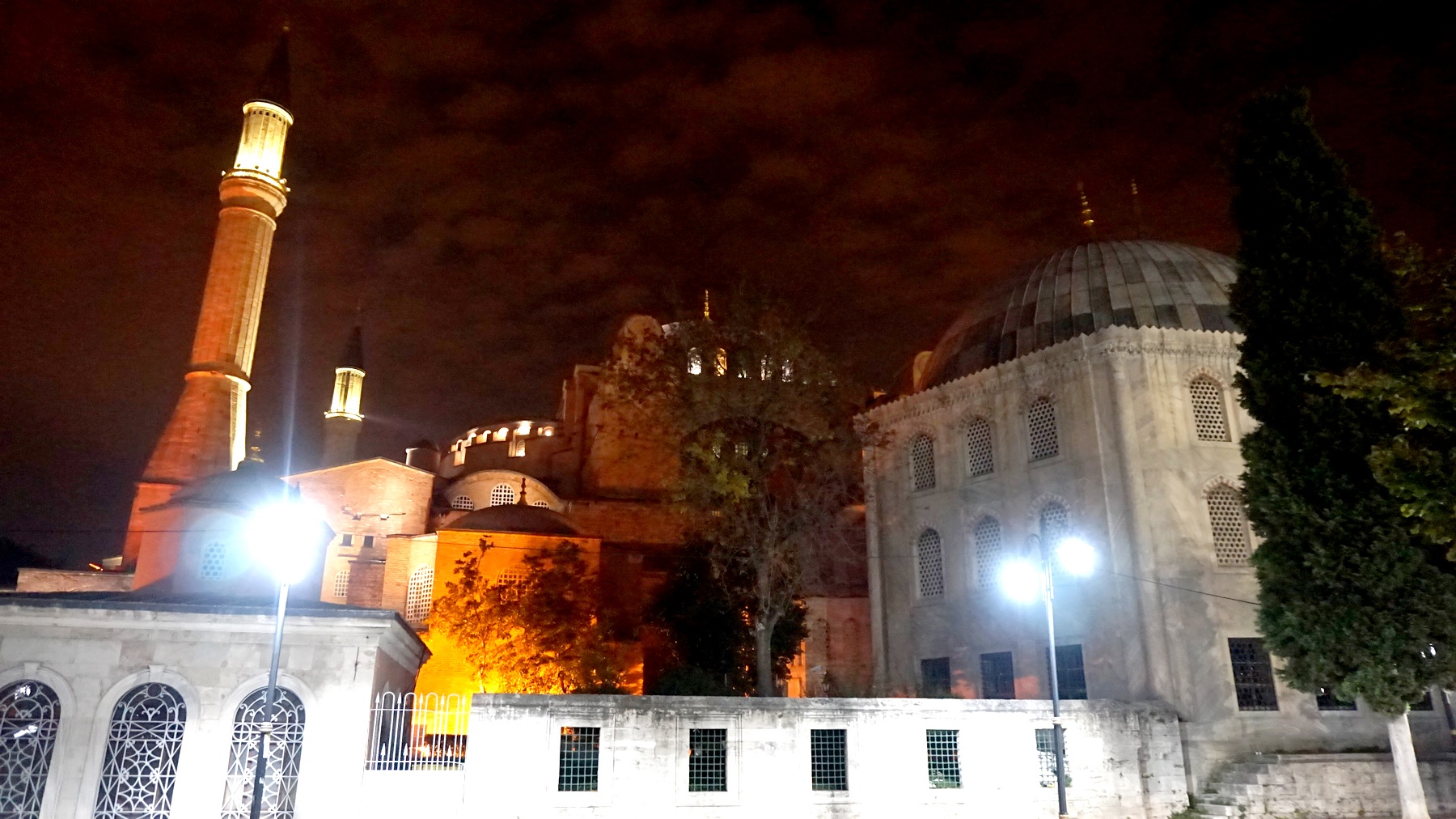 The second day we had a super fun and full schedule. Sonya asked what I would like to see from Istanbul, so I said the Galata tower, we went on a tour through the city together to the Galata area, where we went for a rosé in a hotel with a view over the city, it was lovely together. After that, after touring the city by car, we went to Mendel's Chocolatier, which she really wanted to bring me to. The chocolate there was really delicious, I had a chocolate ball with Turkish cotton candy, which contained fruit, highly recommended! Later, we drove to yet another city district to shop and eat from there together. For the first time I tried Turkish Raki – anise flavored liquor mixed with water. Late at night we went with Sonya's best friend Elif to a super nice place near the harbor – called Mask Beach – for Turkish live music and cocktails, it was super fun!
De tweede dag hadden we een super leuke en volle planning. Sonya vroeg wat ik graag van Istanbul wilde zien, dus zei ik de Galata toren, we gingen samen al tourend door de stad opweg naar het Galata gebied, waar we in een hotel een rosétje zijn gaan drinken met uitzicht over de stad, mega gezellig samen. Daarna zijn we na veel door de stad te hebben getoured met de auto, naar Mendel's Chocolatier gegaan, waar ze me graag naartoe wilde nemen. Die chocolade daar was echt bizar lekker, ik had een Chocolade bol met turkse suikerspin waar fruit in zat – dikke aanrader! En naar weer een ander stadsdeel gereden om vanaf daar te gaan winkelen en te gaan eten samen. Voor het eerst heb ik Turkse Raki geprobeerd – sterke drank met anijssmaak die met  water word gemengd. 's-Avonds laat zijn we samen met Sonya's beste vriendin Elif naar een super leuke plek aan de haven gegaan – genaamd Mask Beach – voor Turkse live muziek en cocktails, het was super leuk!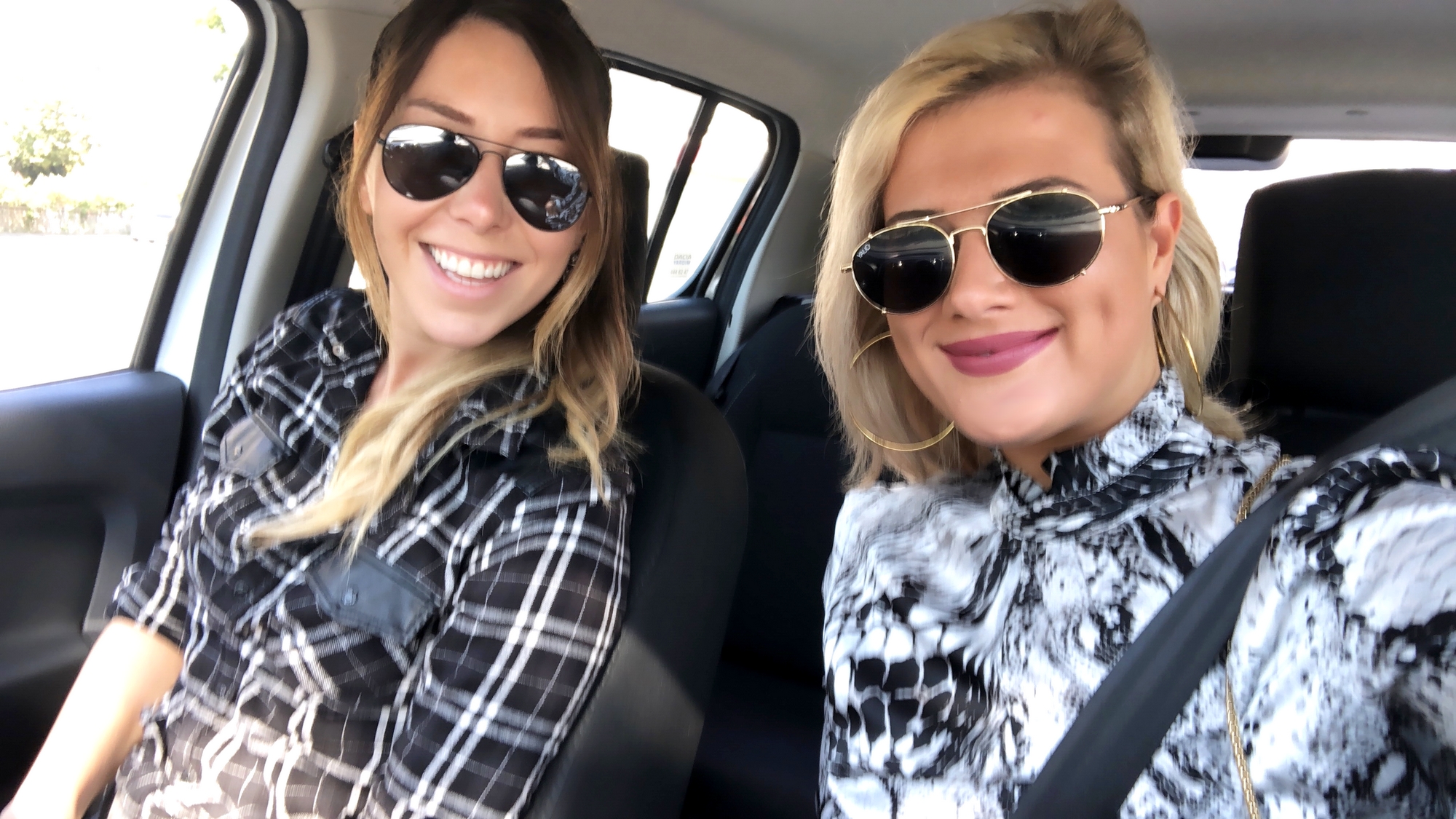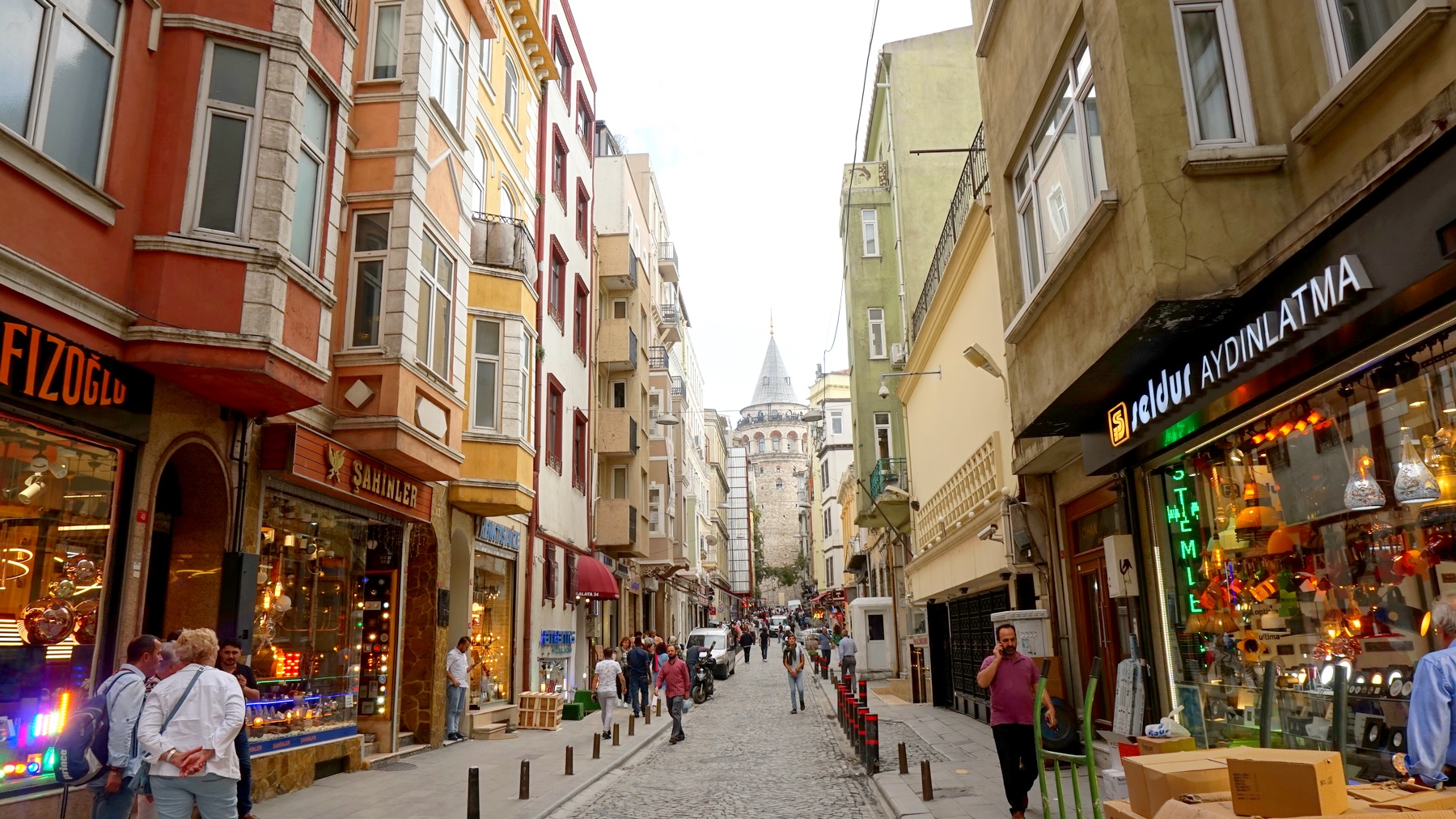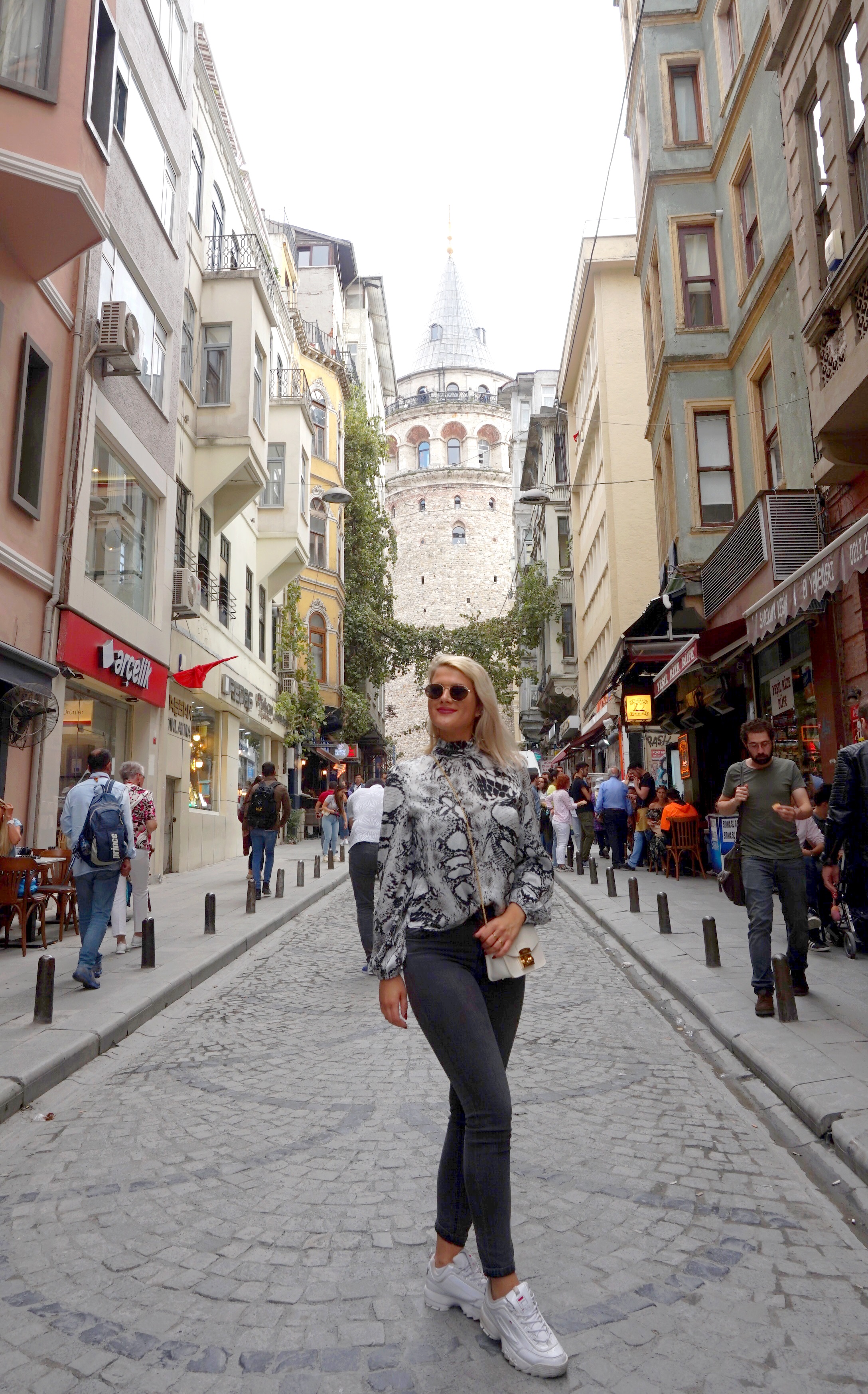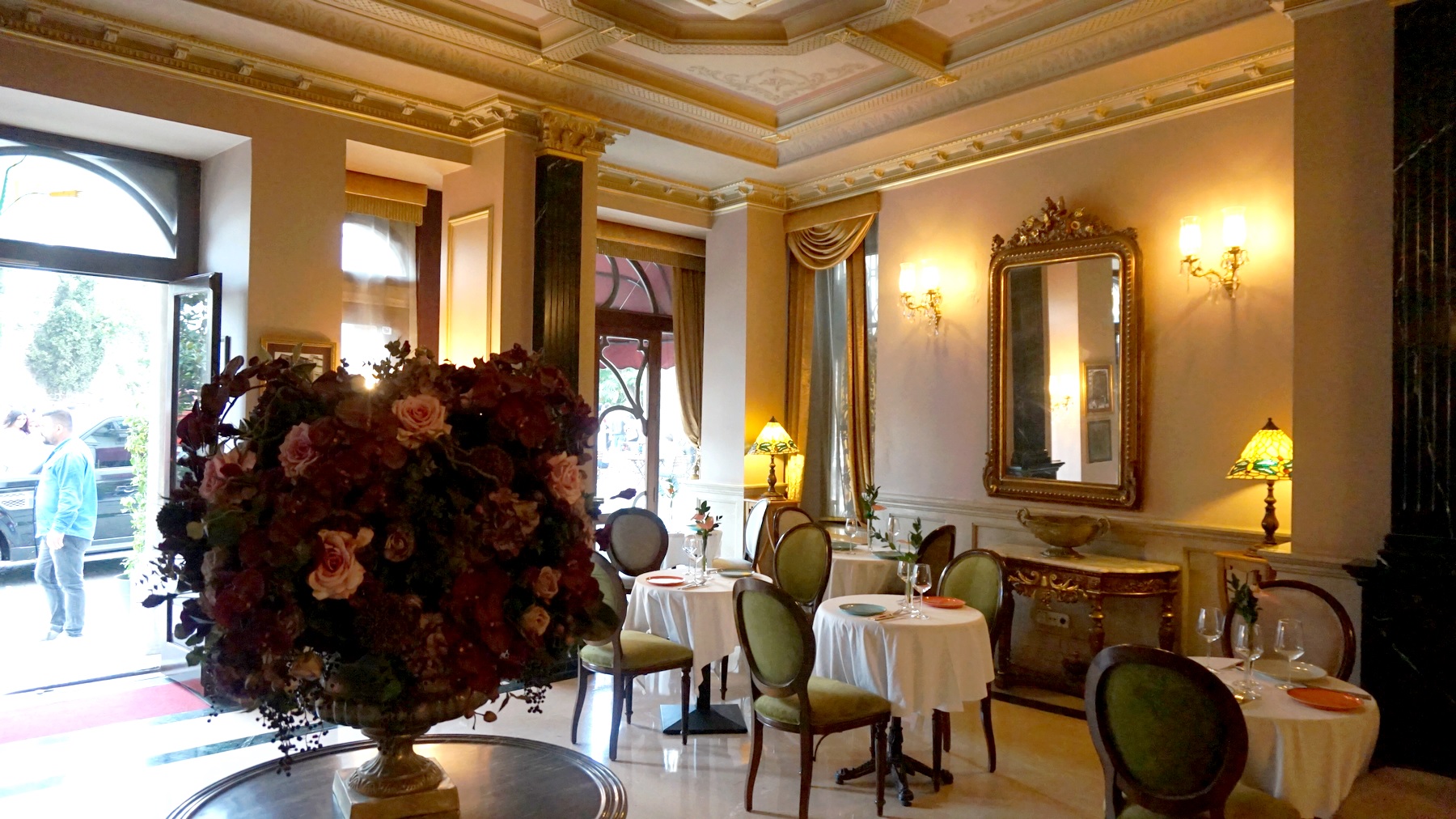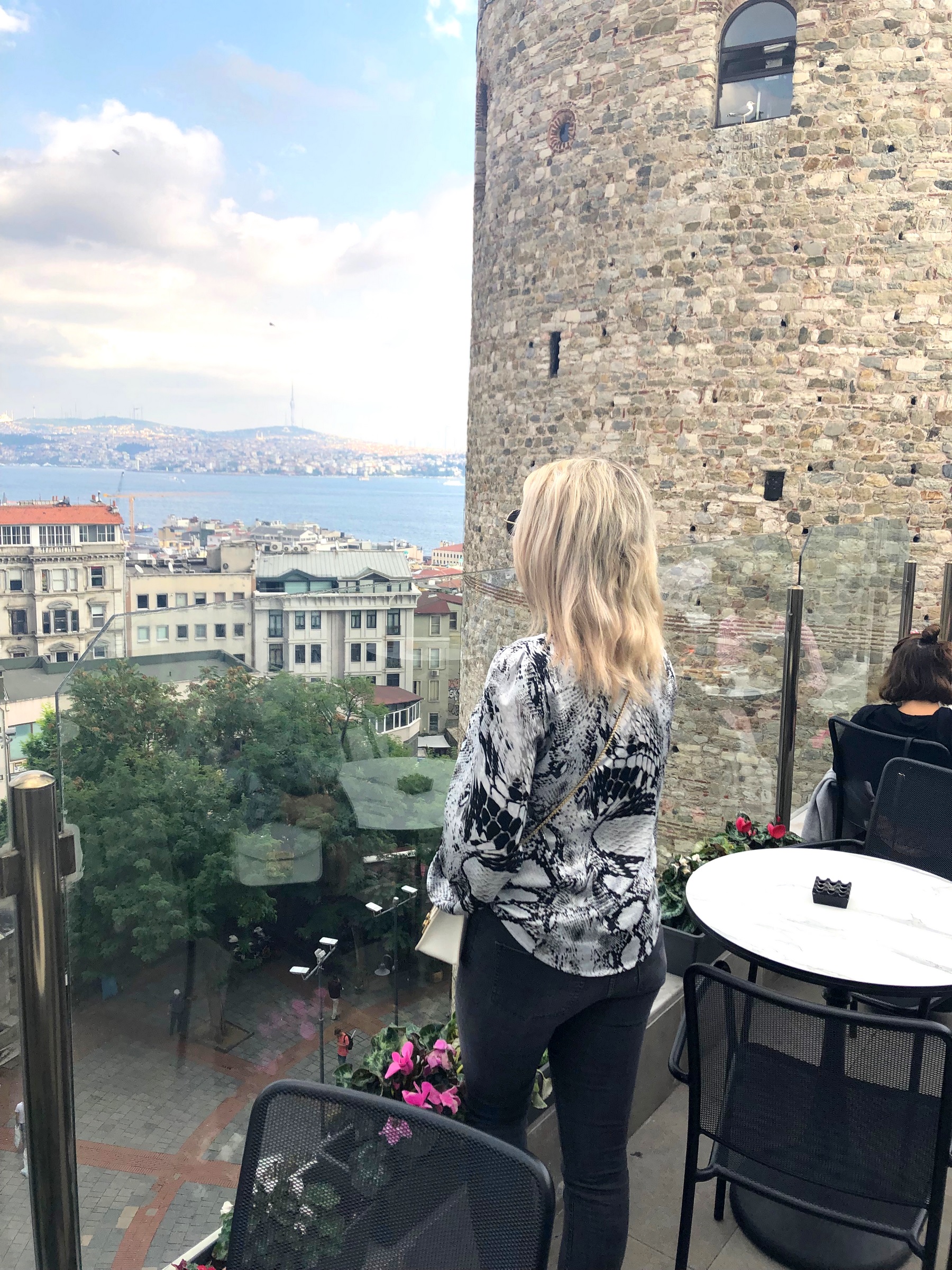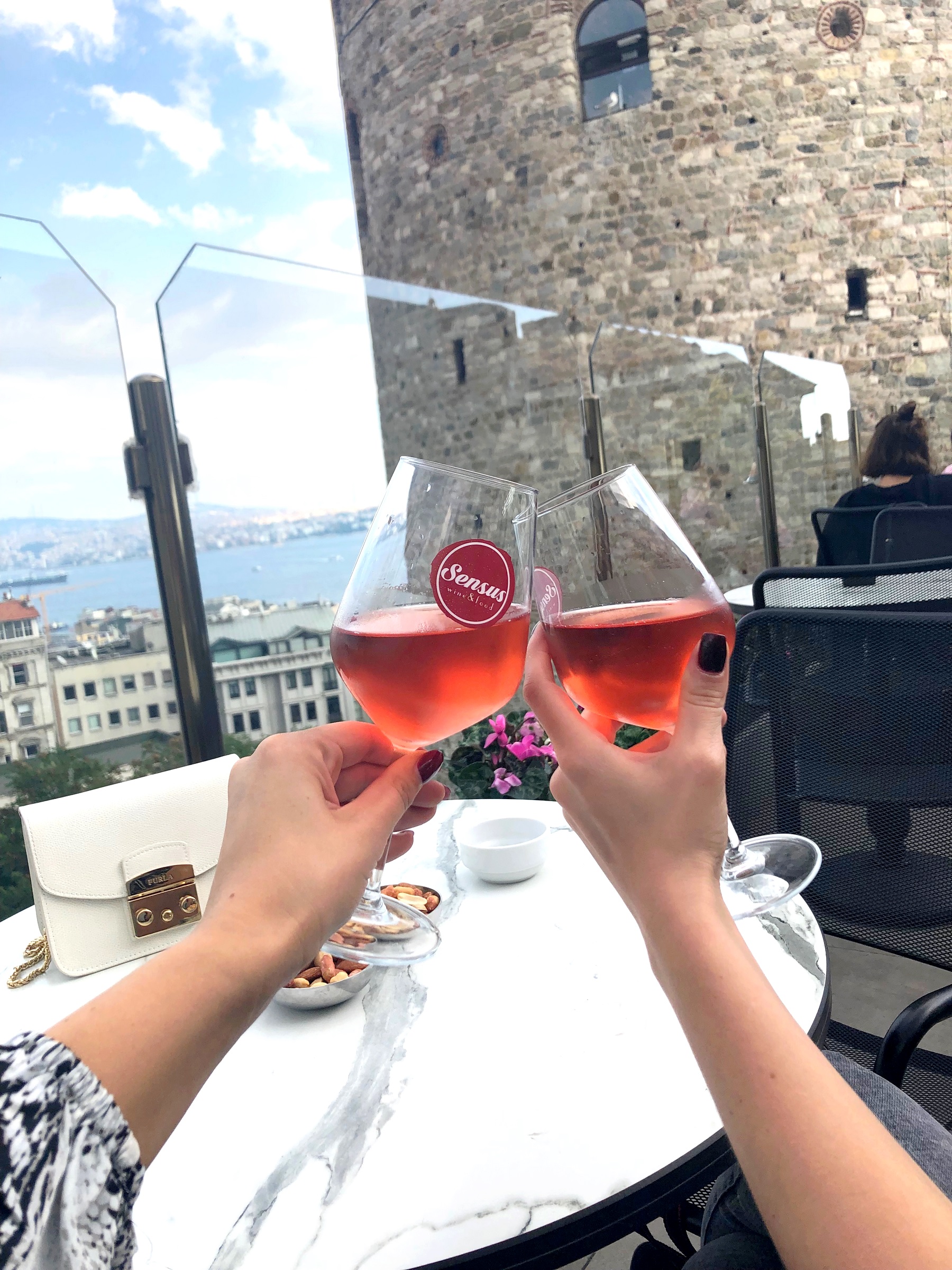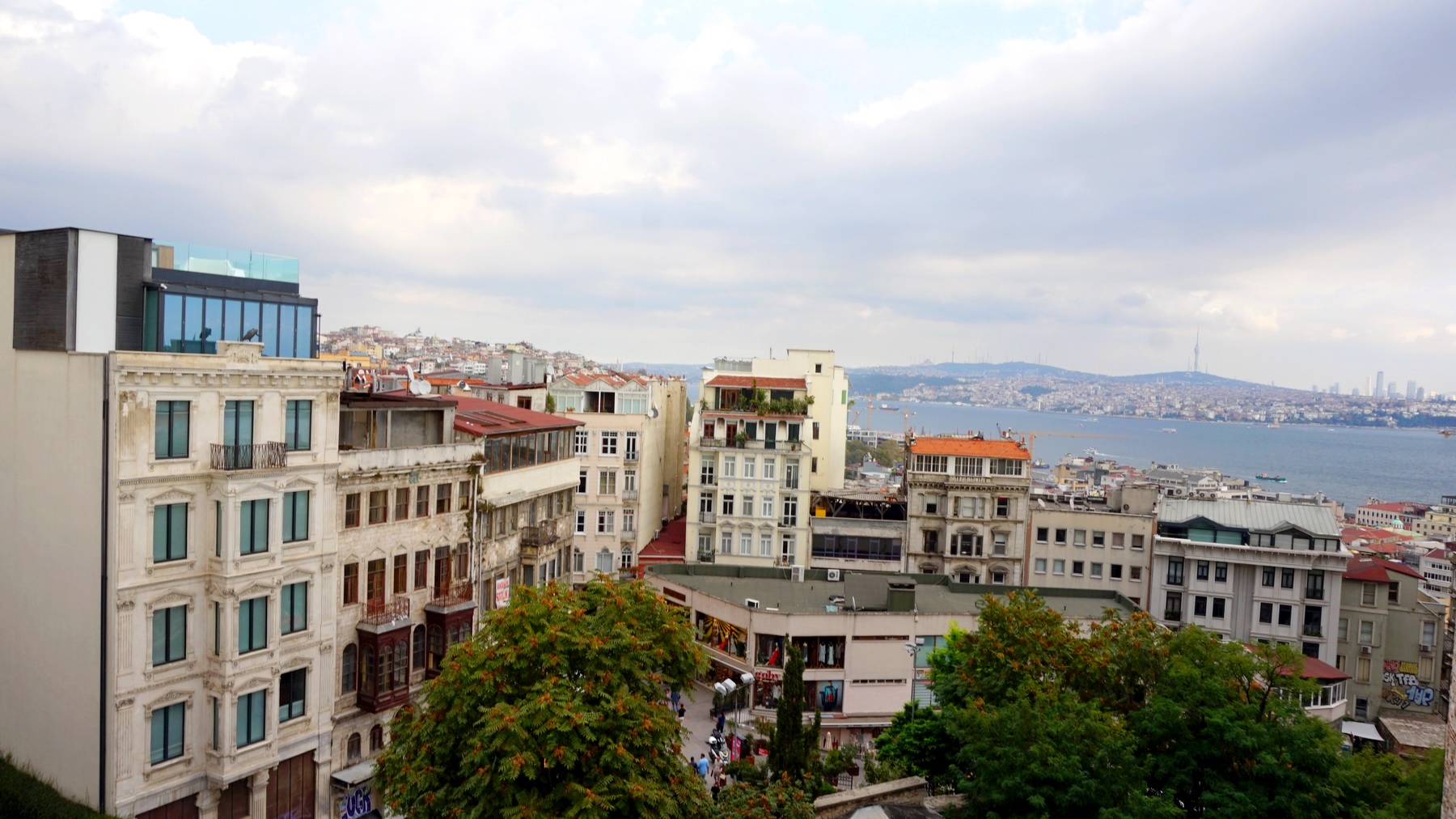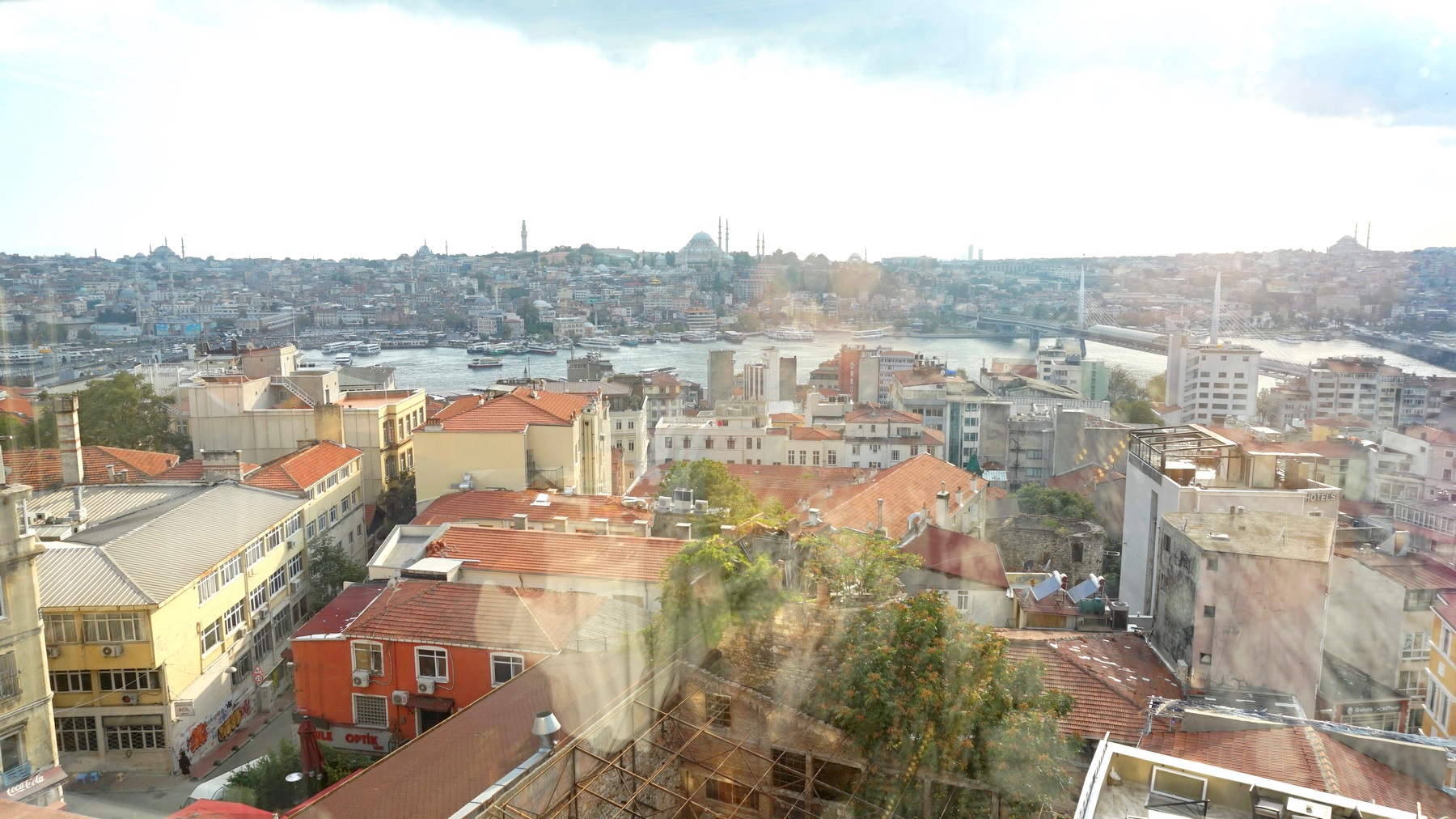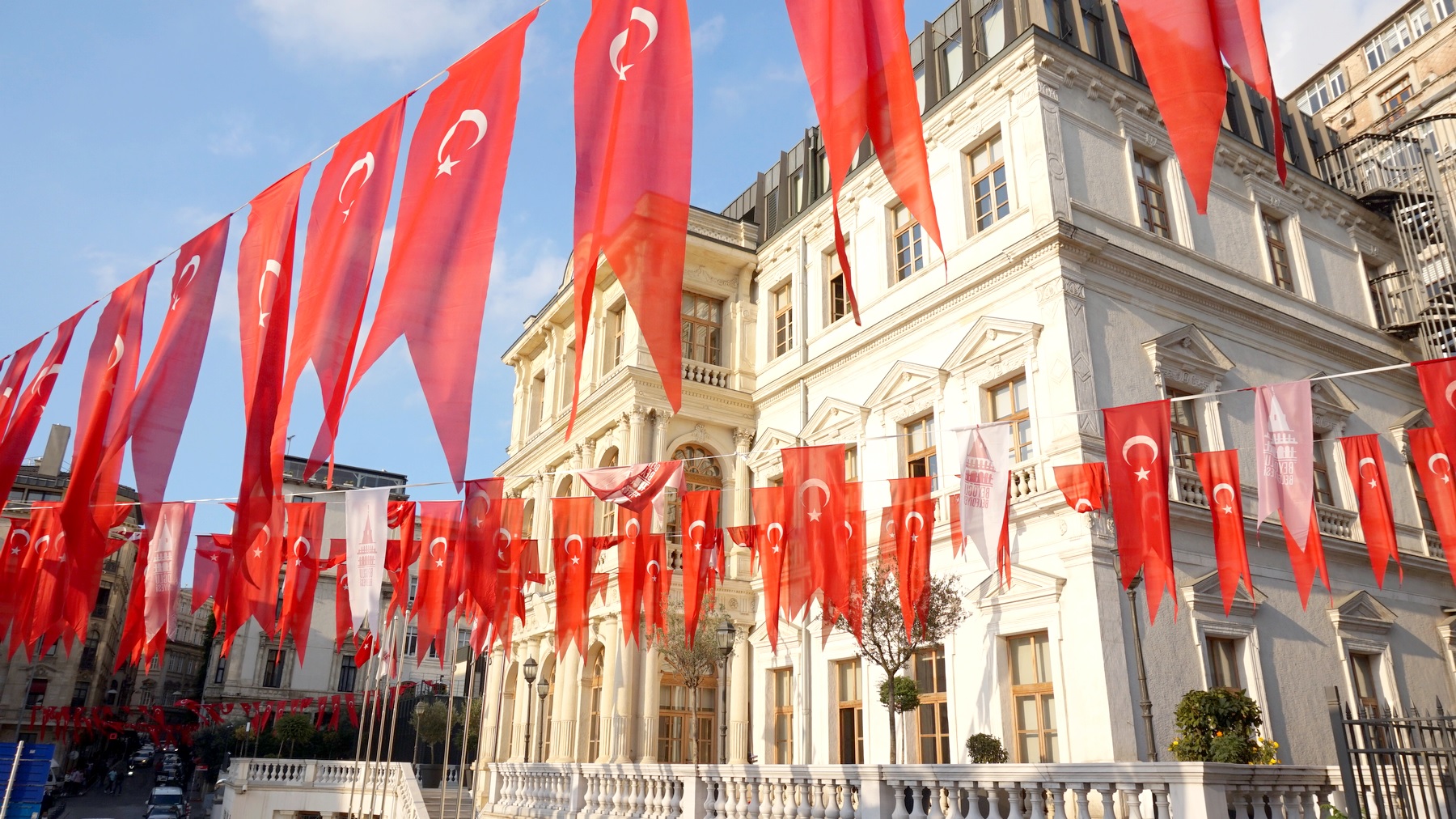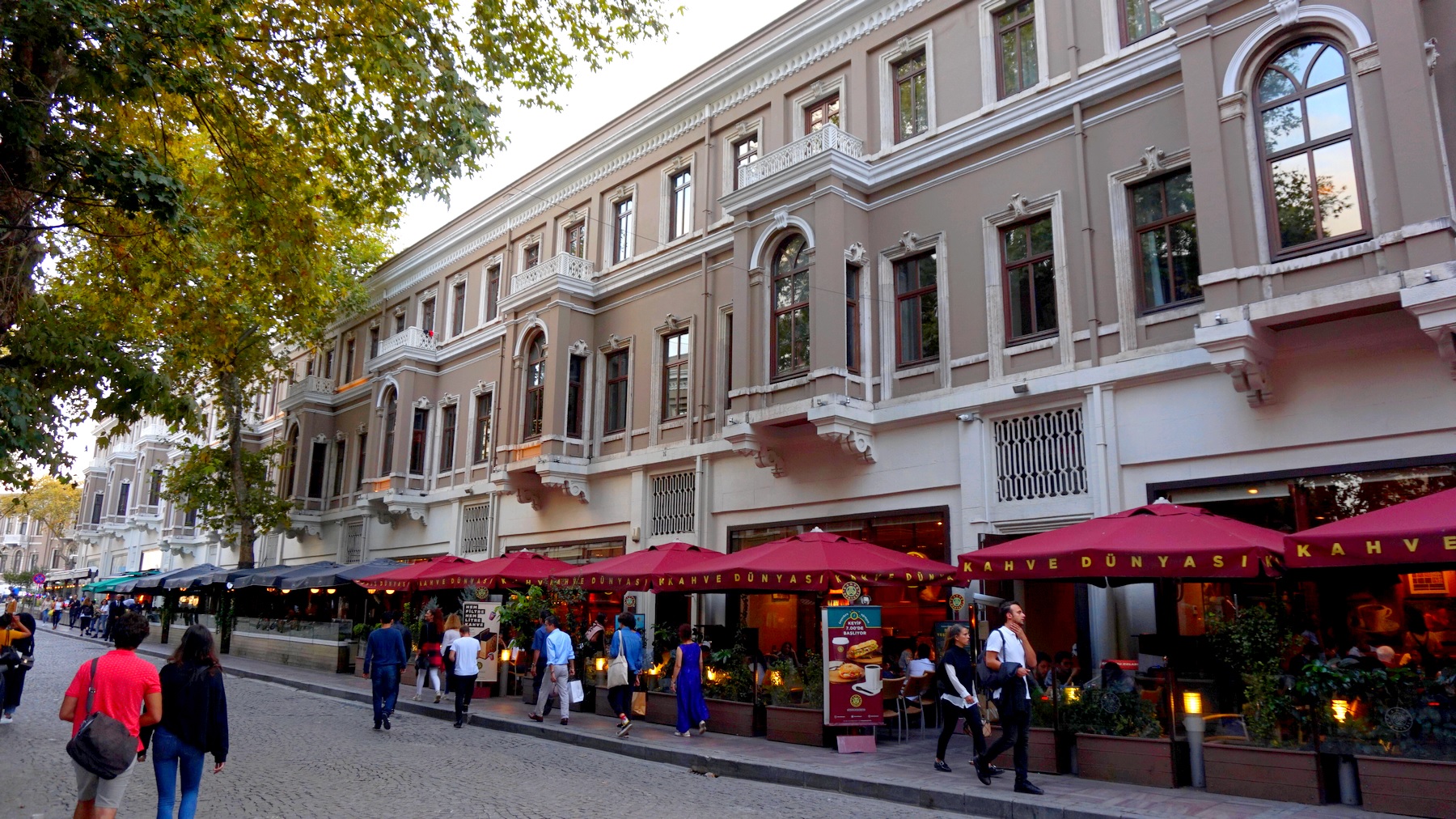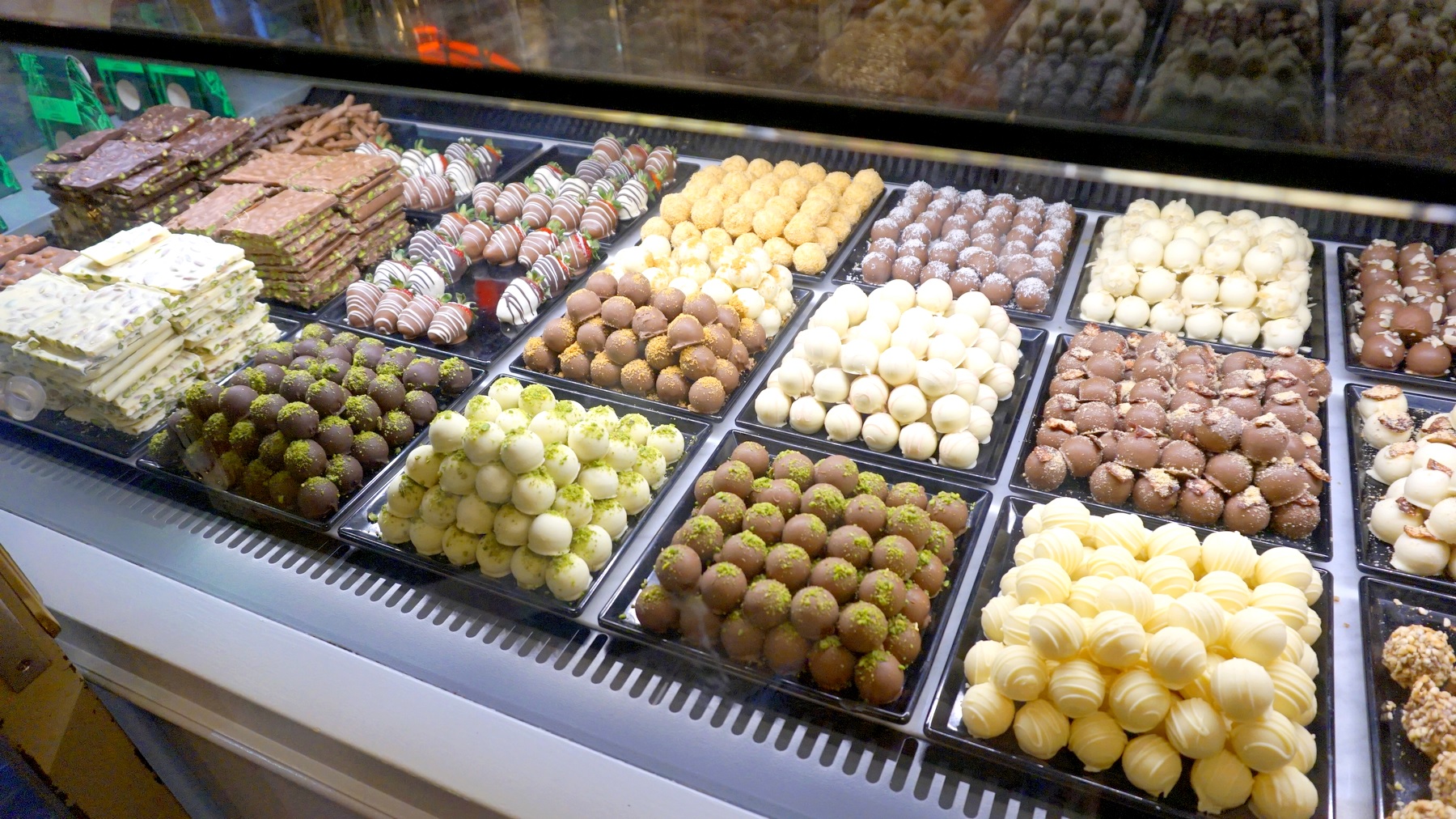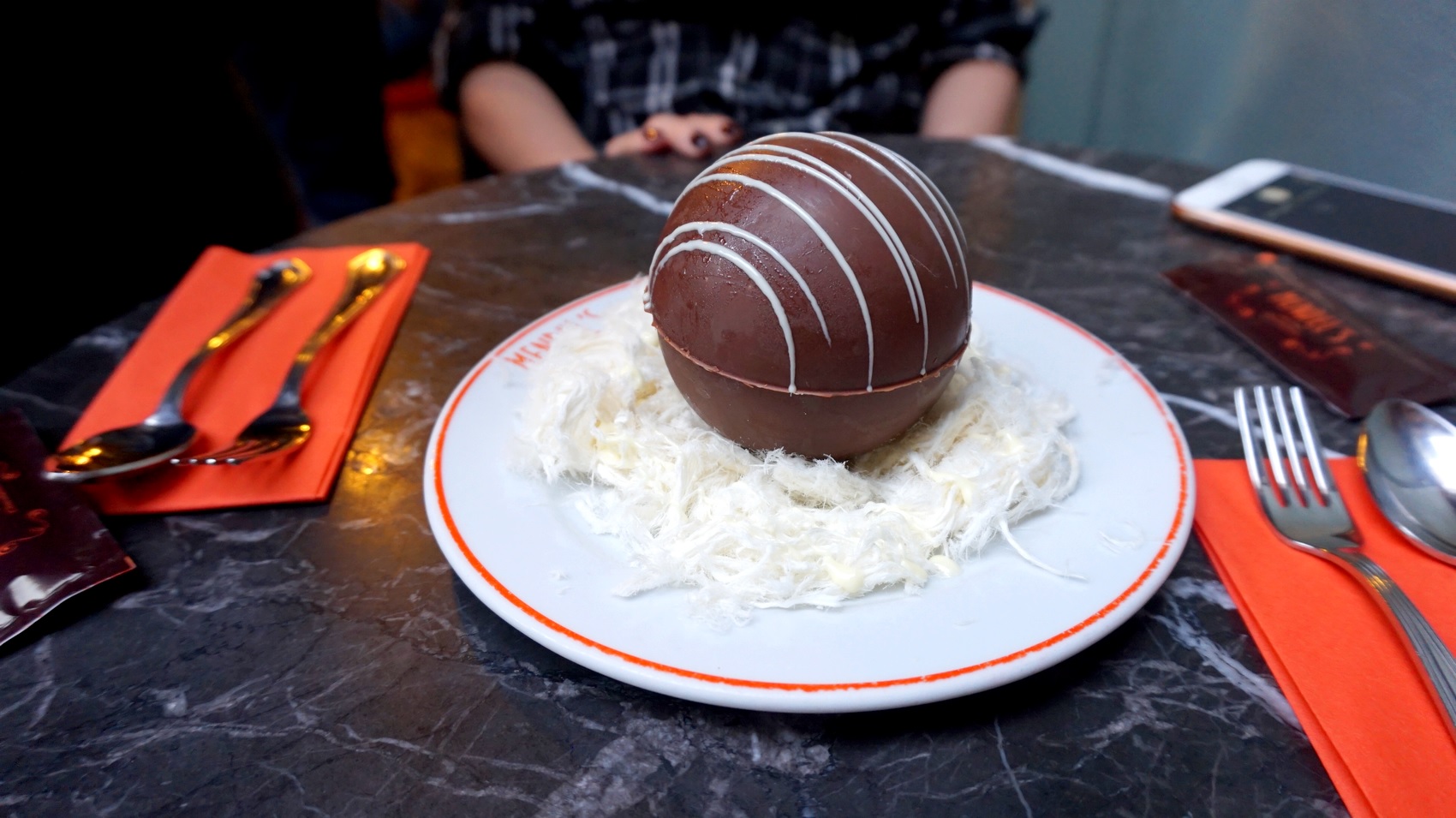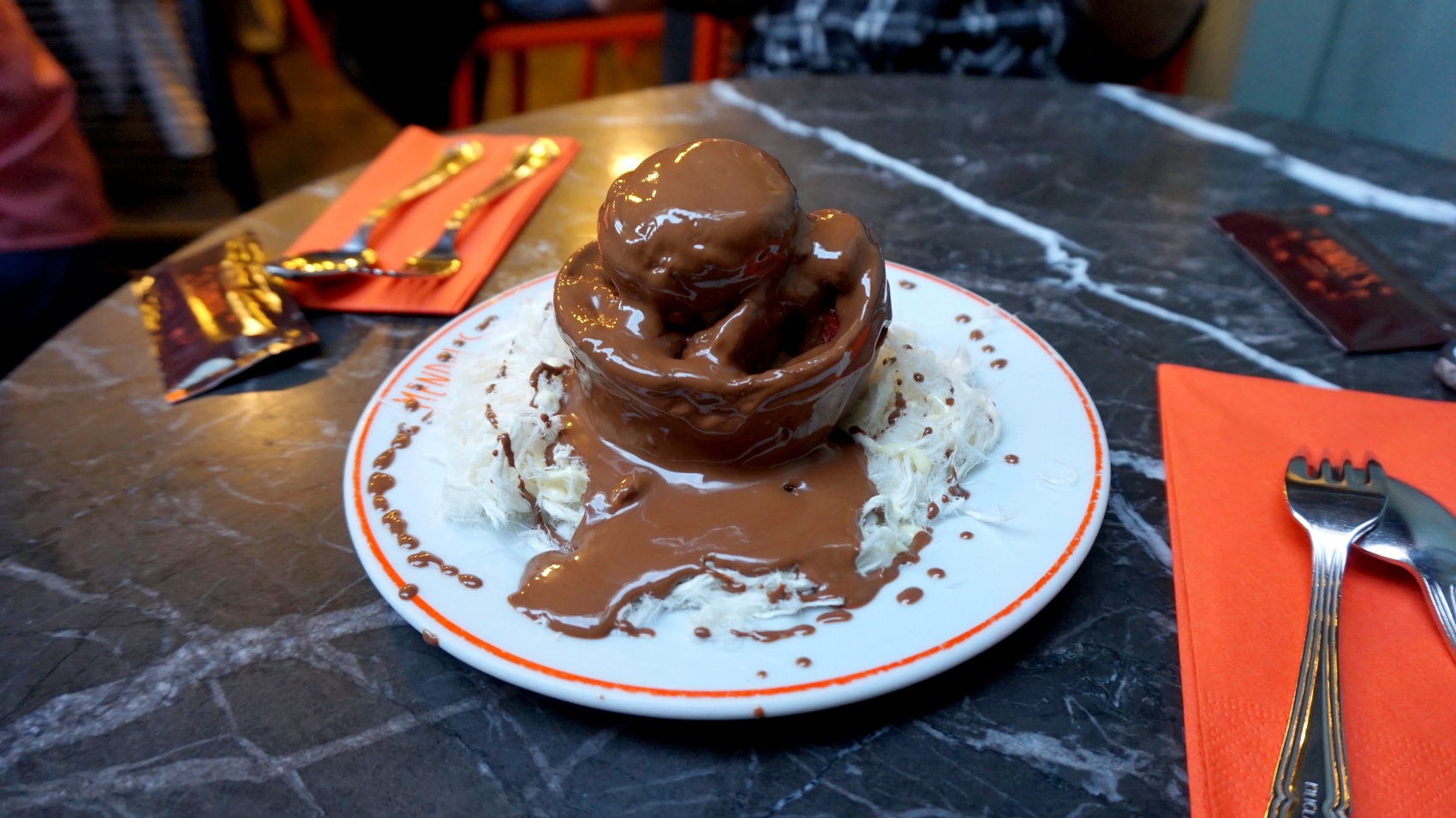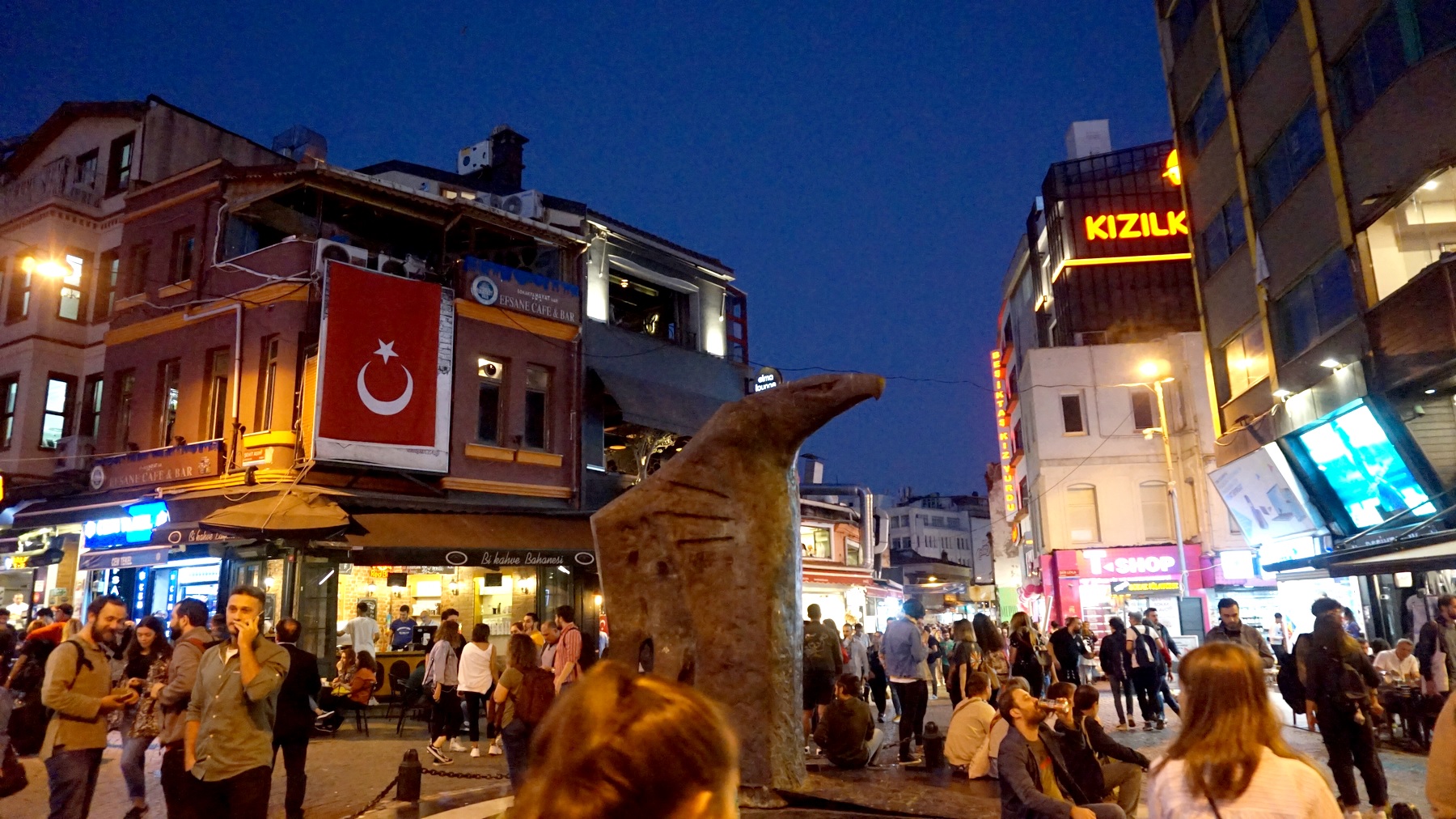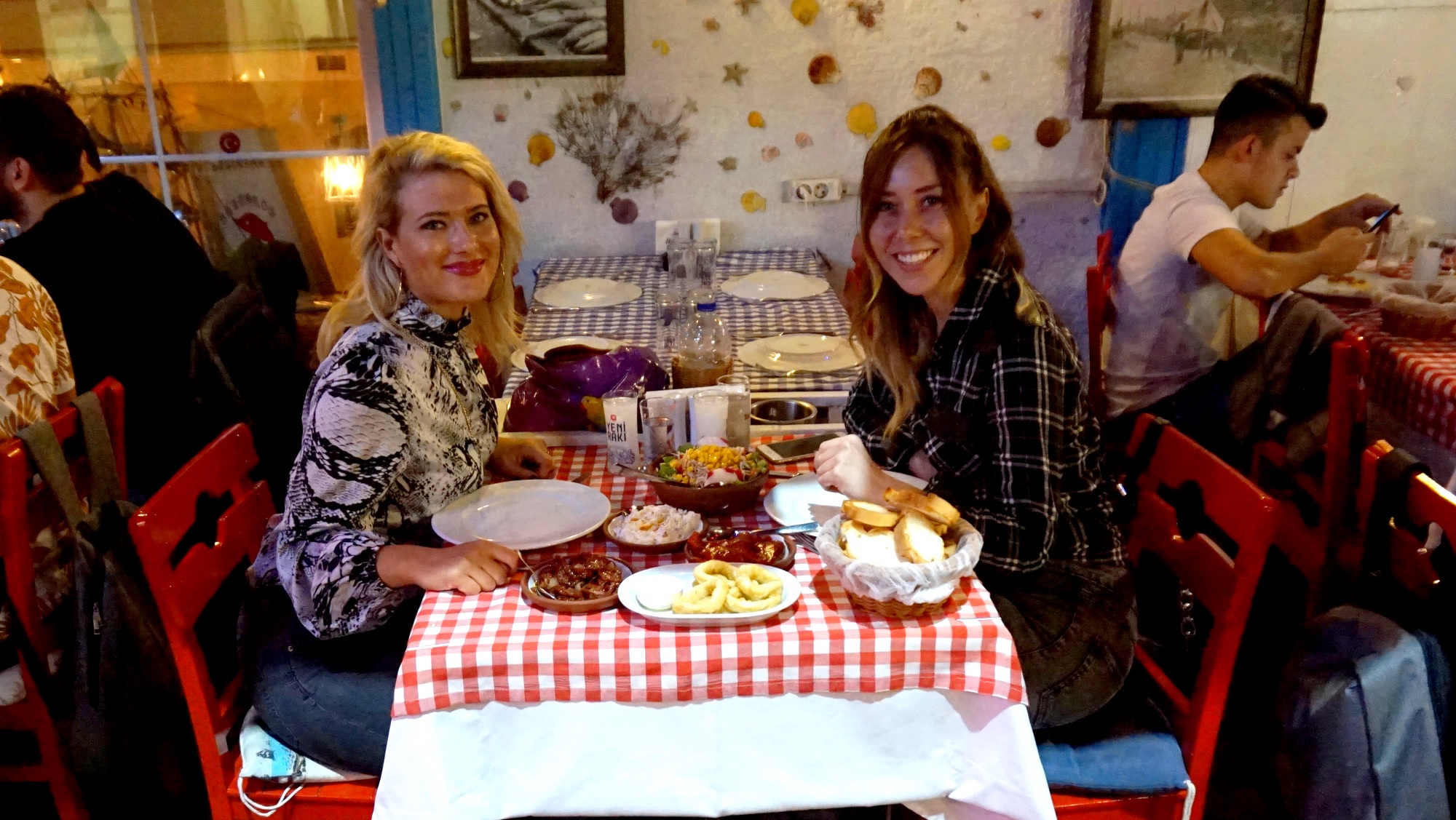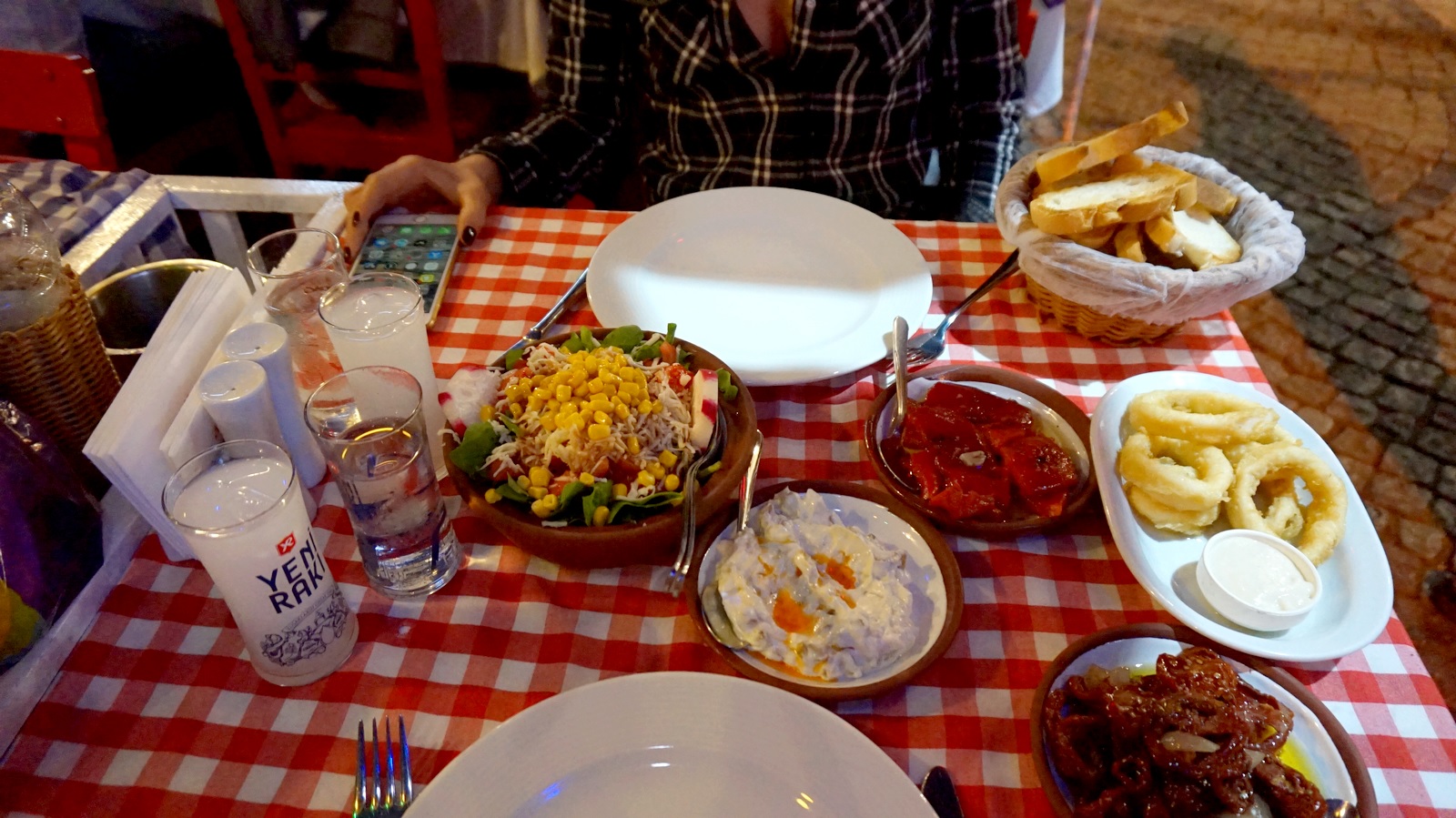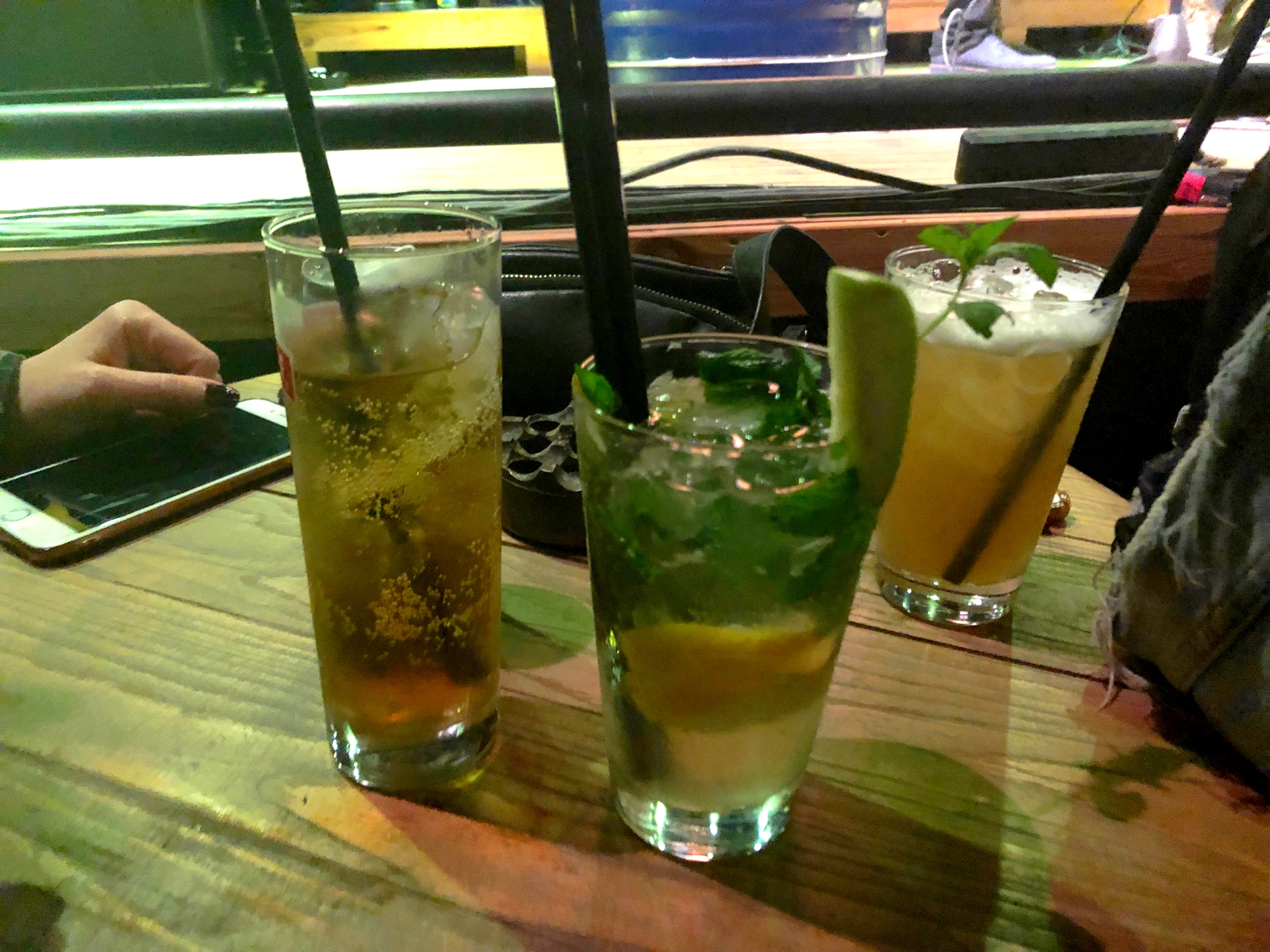 Day 3, the three of us went for brunch at a place where Sonya's best friend Elif had once worked, for Pide – which I love. Unfortunately I can't remember the name of the place, but it is adjacent to a large tower. After that, Sonya and I drove through the city a lot. In the evening my aunt had a performance at a wedding, so we drove for about about an hour and a half with a stopover in another city to pick up her colleague. It was a really nice experience to have seen my aunt sing in real life and to have been at a wedding. Her colleagues were also very nice and we could chat a lot in English. In the middle of the night we had Börek and Baklava somewhere and drink tea before we went to sleep. The whole trip I was spoiled with a lot of Yemek (the Turkish word for food).
Dag 3 zijn we met zijn 3en gaan brunchen op een plek waar Sonya's beste vriendin Elif ooit had gewerkt, voor Pide waar ik gek op ben. Helaas weet ik de naam van de plek niet meer, maar het grenst aan een grote uitkijktoren. Daarna zijn Sonya en ik veel door de stad gaan rijden. 's-Avonds had mijn tante een optreden op een bruiloft, dus zijn we ongeveer anderhalf uur of langer met een tussenstop in een andere stad om haar collega op te halen. Het was echt een leuke ervaring om mijn tante te hebben mogen zien zingen in real life en op een bruiloft te zijn geweest. Ook haar collega's waren ontzettend gezellig en we konden veel kletsen in het Engels. Midden in de nacht zijn we nog Börek en Baklava gaan eten en thee gaan drinken voor we gingen slapen. Ik werd echt de hele reis verwend met lekker veel Yemek (het Turkse woord voor eten).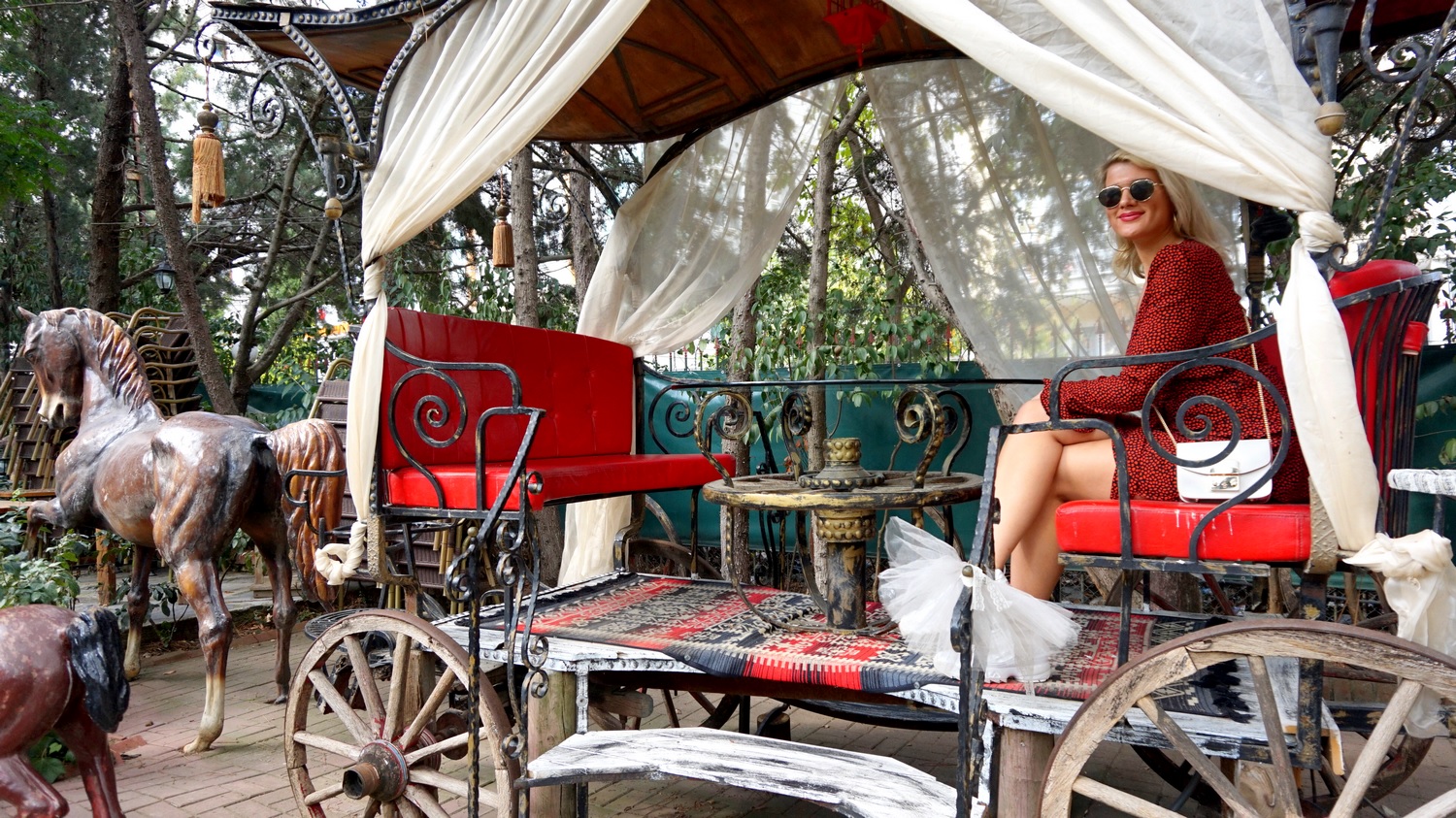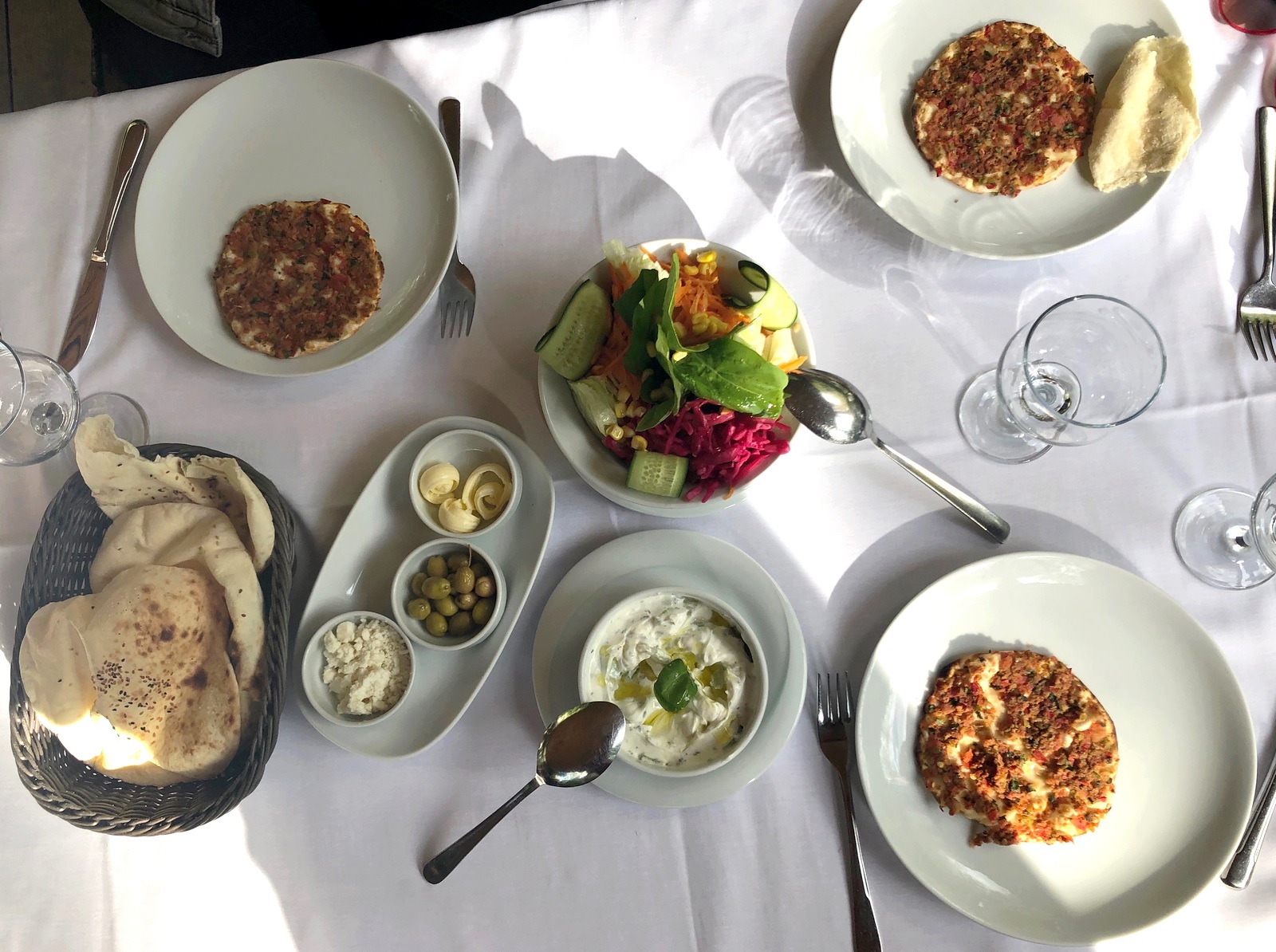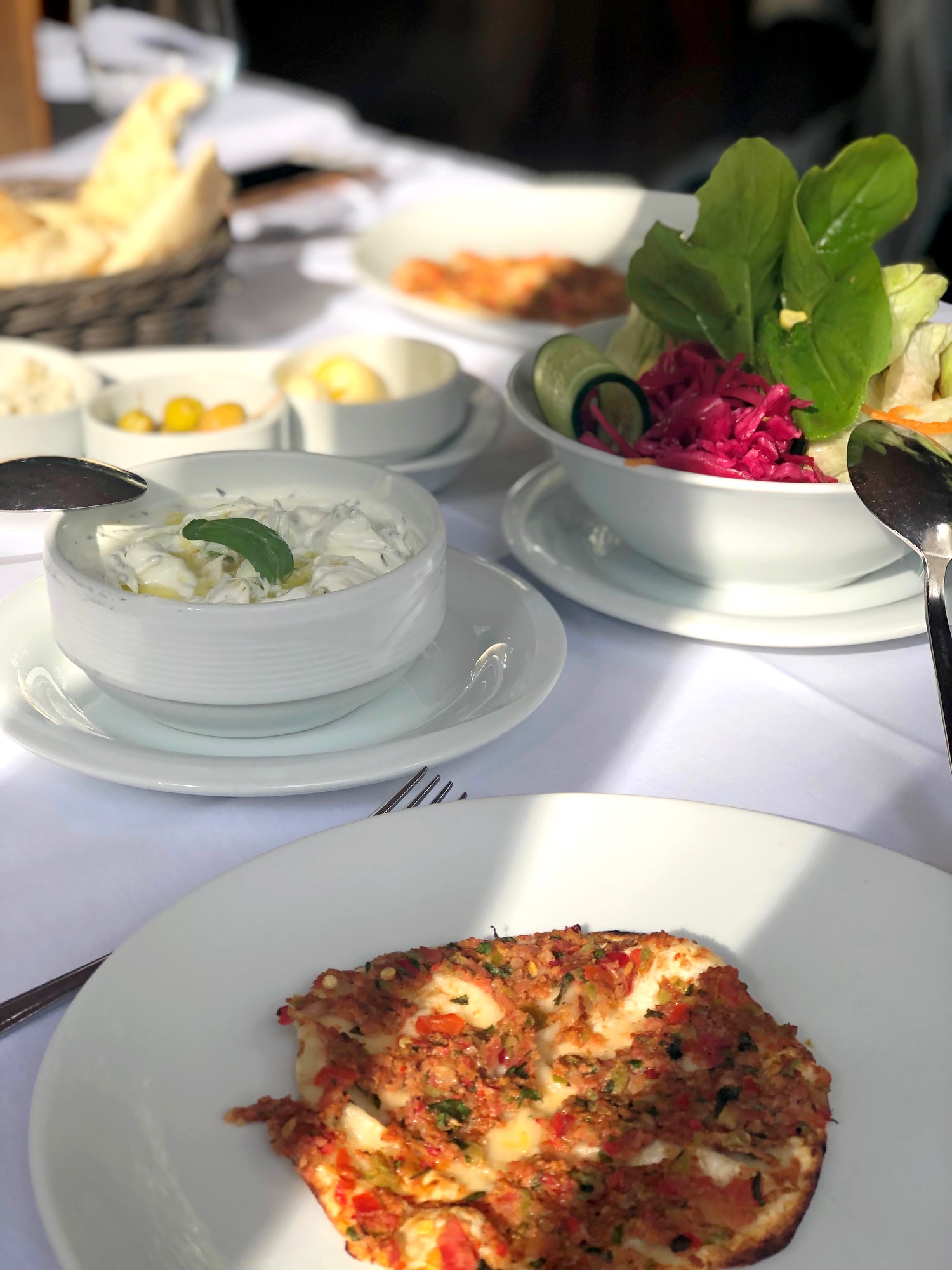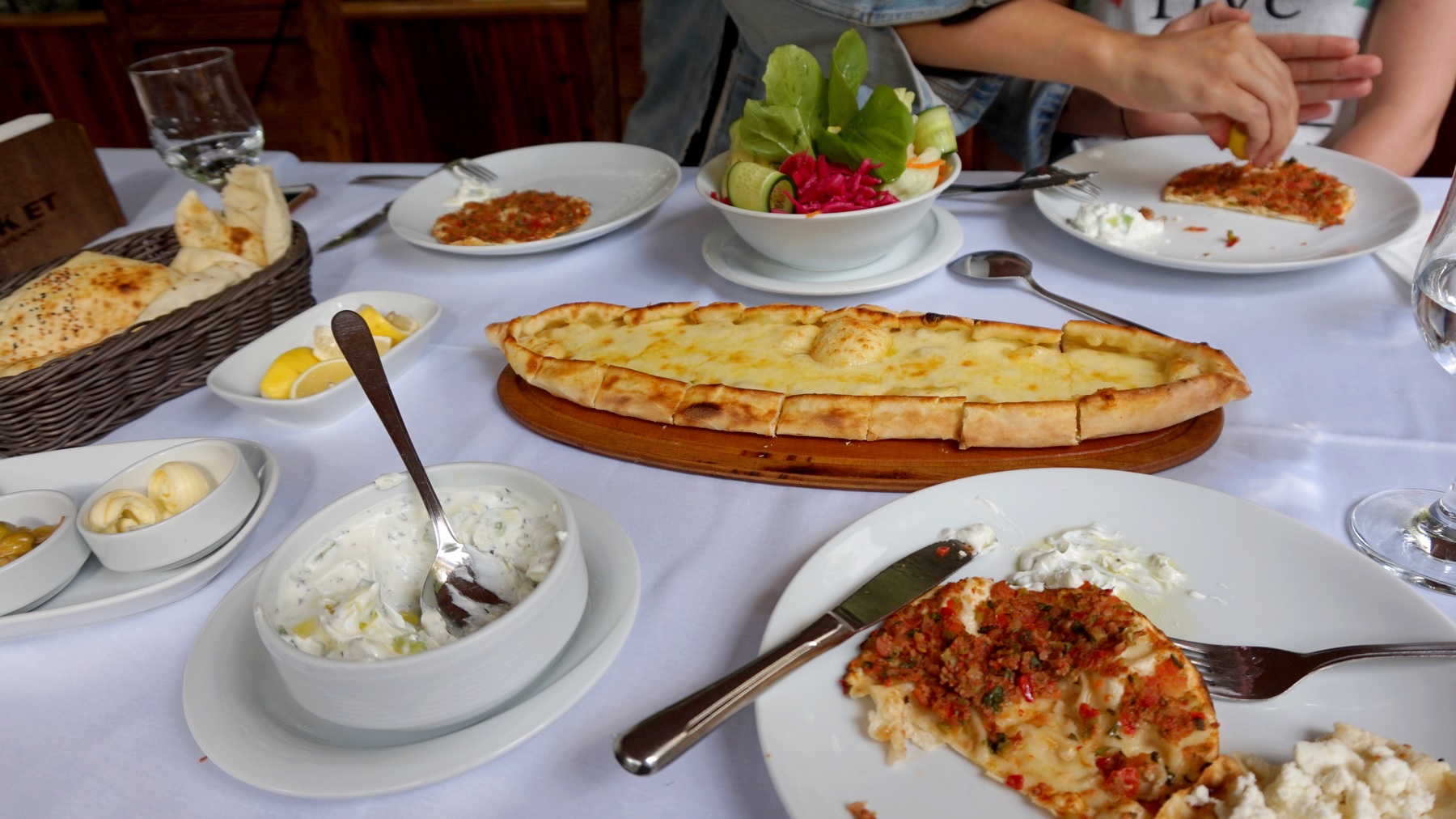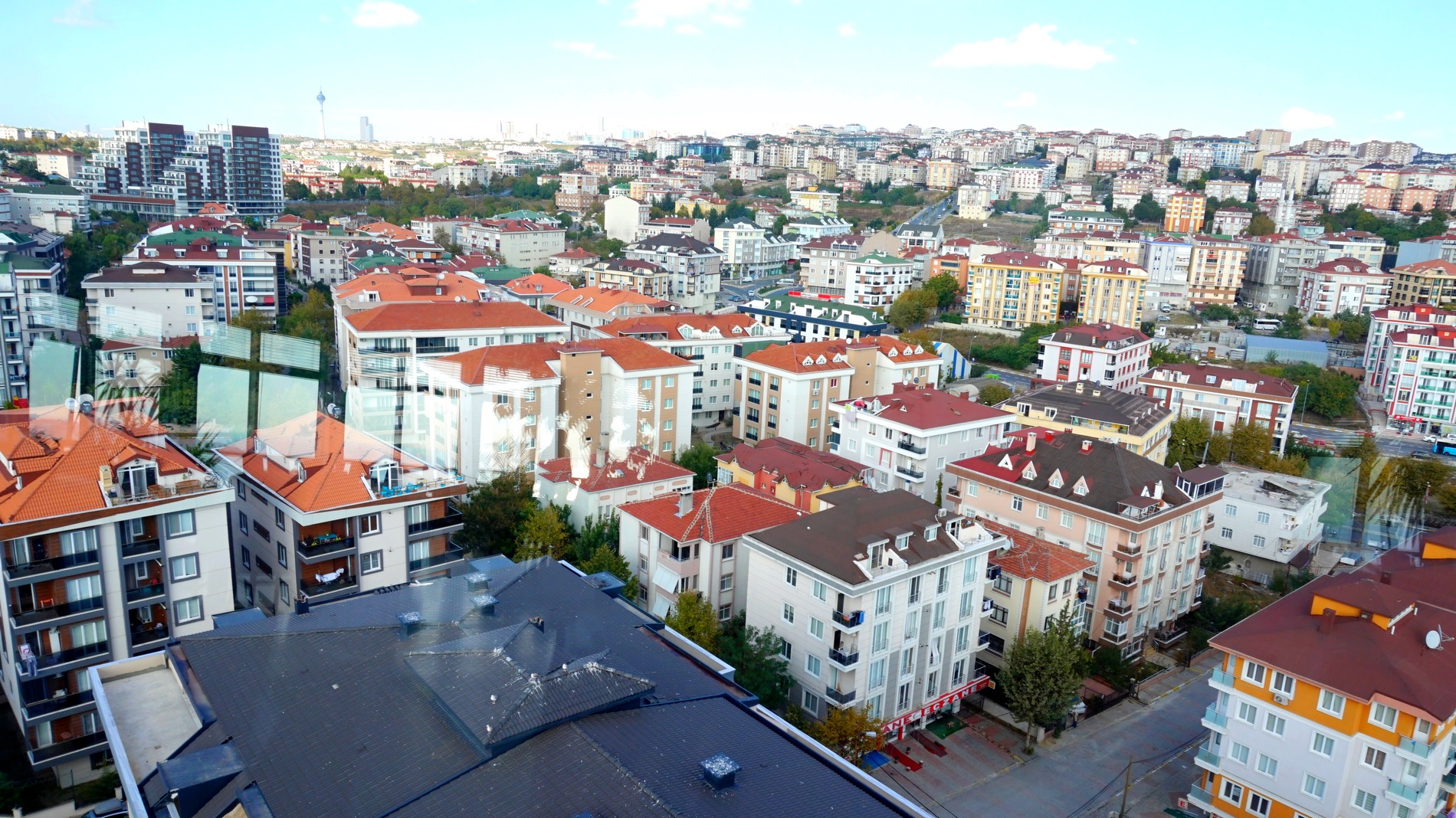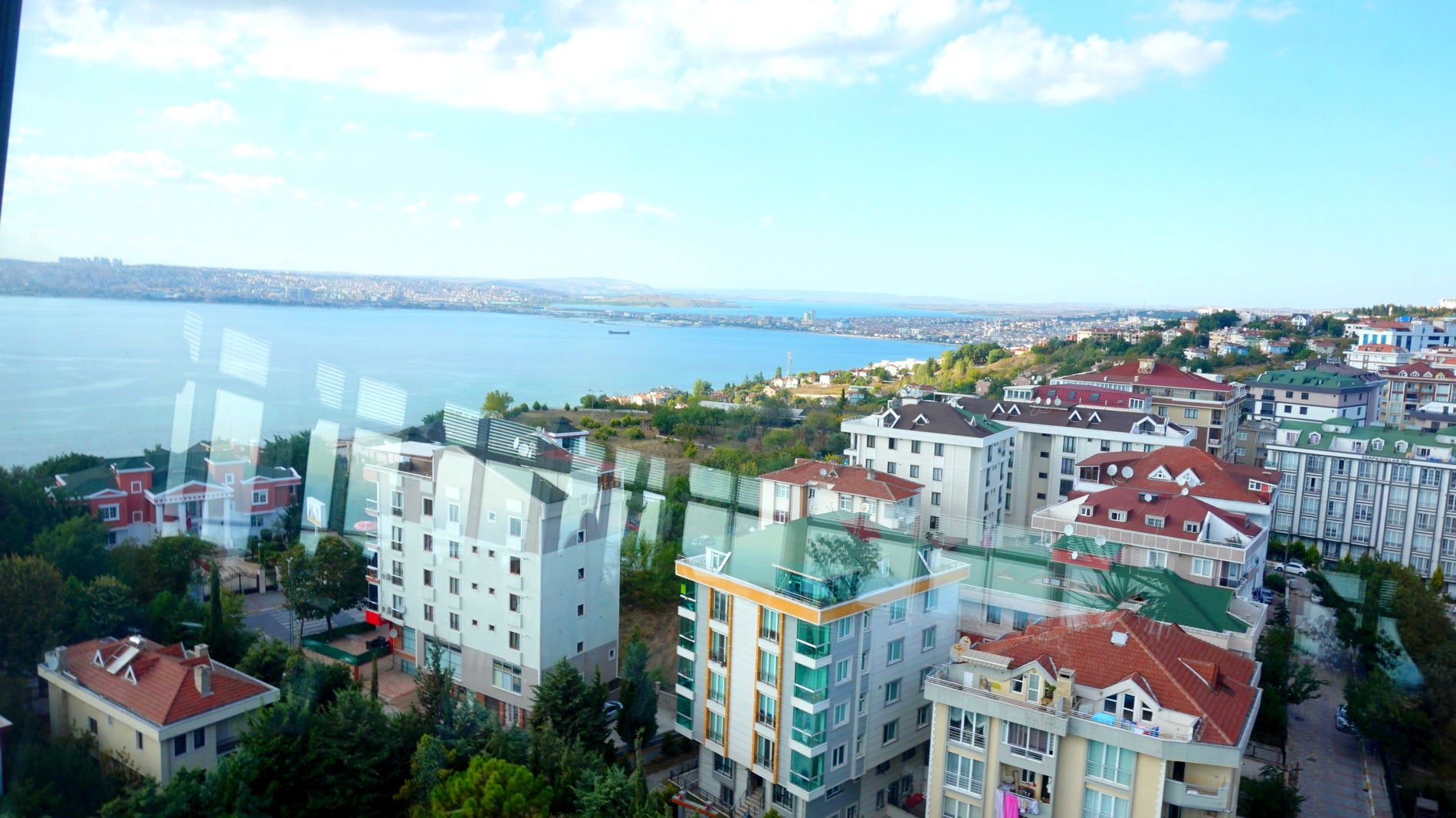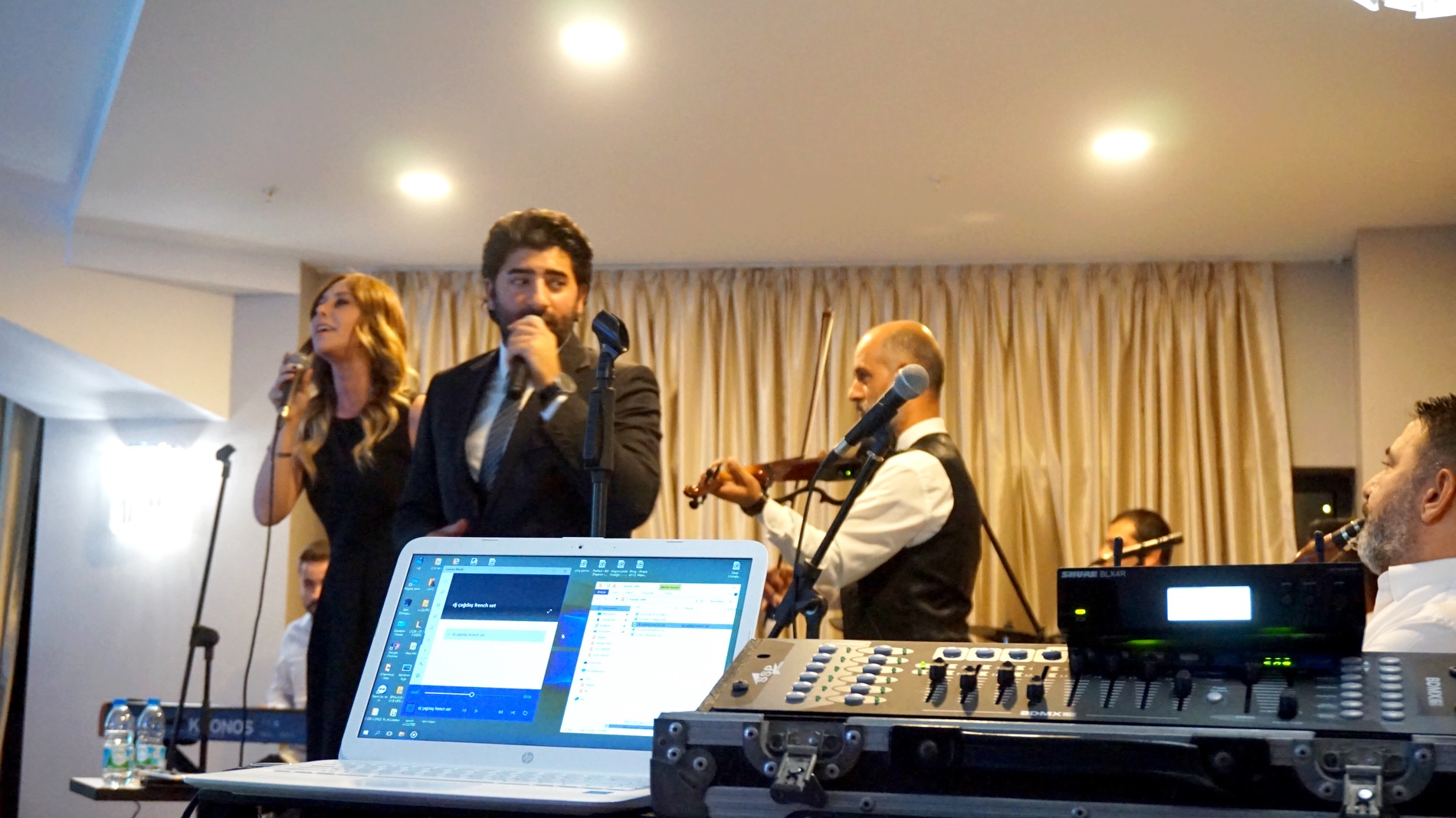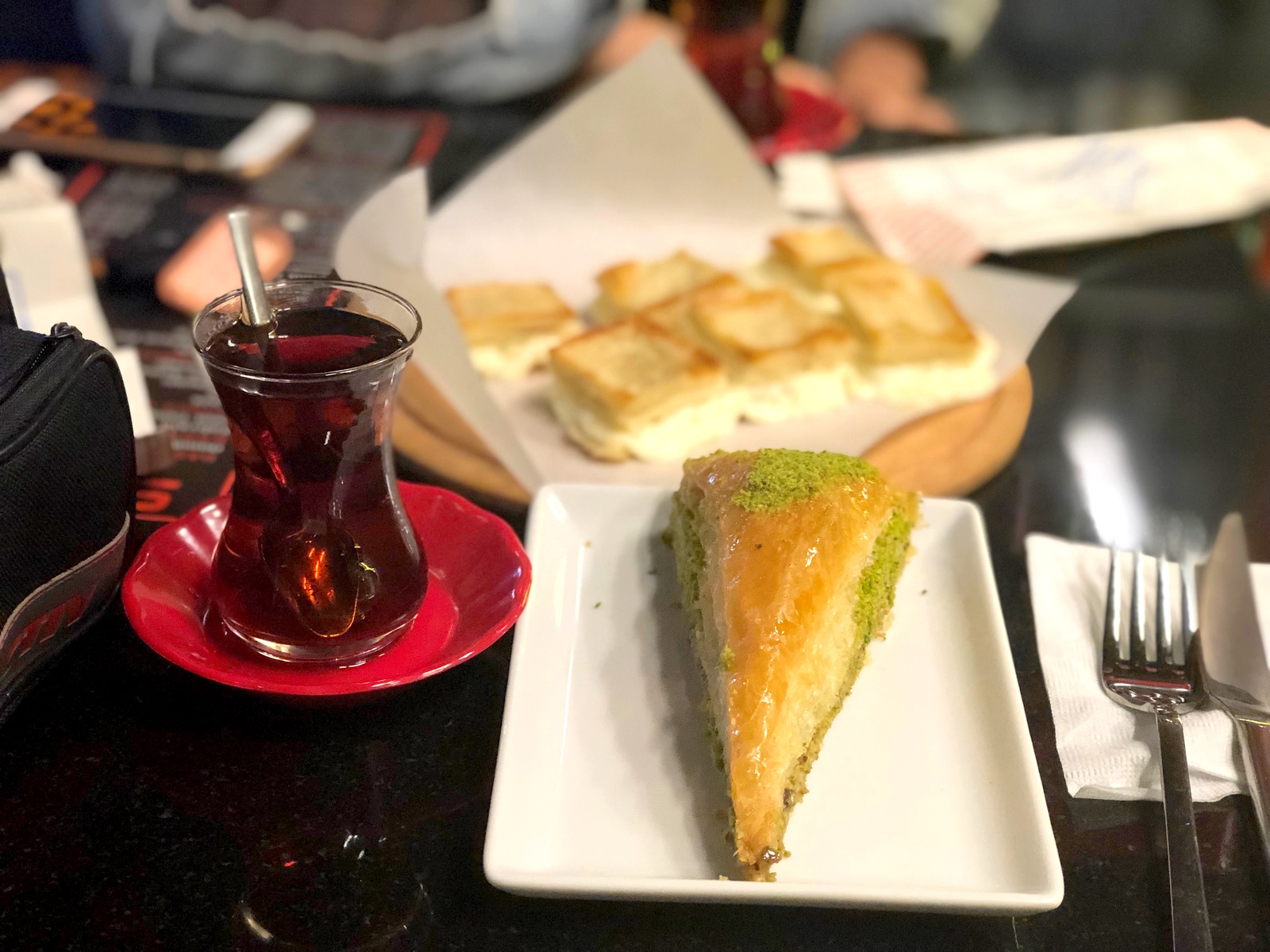 The last morning we went for breakfast at a buffet in the
Bakırköy
region. The food was really tasty and the place had beautiful view of the sea. The three of us left early in the afternoon for the brand new
Istanbul Airport
(IST), where I would fly with KLM to Amsterdam. At the airport we had a nice coffee with the three of us and I said goodbye to my dear aunt and her best friend while I was crying, to leave on my own to the Netherlands. After a nice flight with a nice crew, I left by train from Schiphol to Den Bosch. (Crew: I had booked these flights by the way and not Stand-by. I went from Eindhoven EIN to Sabiha Gökçen SAW with Pegasus. Back from Istanbul Airport IST to Schiphol AMS with KLM).
This trip was really very special, because after years of visiting my family abroad. Istanbul is a gigantic city with a lot to see and do, and I will definitely go back in the future. Cool tips for a follow-up trip to Istanbul are very welcome. Thanks for reading my solo travel diary!
De laatste ochtend zijn we gaan ontbijten bij een lopend buffet in de regio 
Bakırköy.
 Het eten was echt heel lekker en de plek had prachtig uitzicht op de zee. We waren met zijn 3en vroeg in de middag naar het gloednieuwe 
Istanbul Airport
 (IST) vertrokken, waar ik met KLM mee naar Amsterdam zou vliegen. Op de airport hebben we nog lekker een koffietje gedronken met zijn 3en en heb ik huilen afscheid genomen van mijn lieve tante en haar beste vriendin om weer in mijn eentje naar Nederland te vertrekken. Na een fijne vlucht met gezellige crew, ben ik met de trein vanaf Schiphol naar Den Bosch vetrokken. (Crew: deze vluchten had ik trouwens geboekt en niet IPB, heen vanaf Eindhoven EIN naar Sabiha Gökçen SAW met Pegasus. Terug vanaf Istanbul Airport IST naar Schiphol AMS met KLM).
Deze reis was echt heel erg bijzonder, omdat ik na jaren mijn familie in het buitenland was gaan opzoeken. Istanbul is een gigantische stad waar ontzettend veel te zien en doen is en ik zeker naar terug ga in de toekomst. Gave tips voor een vervolg trip naar Istanbul zijn zeer welkom. Bedankt voor het lezen van mijn solo travel diary!