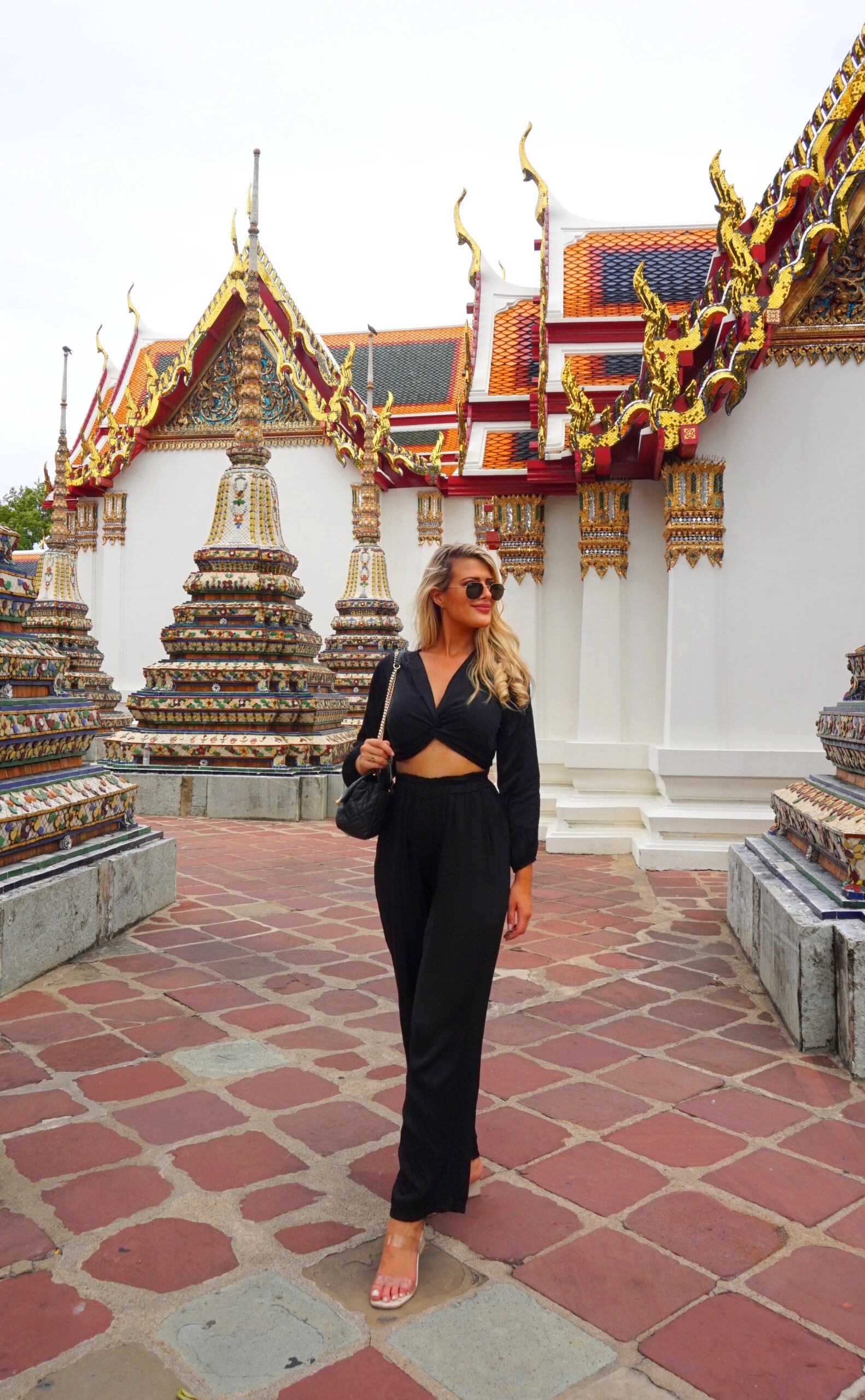 A few weeks ago I went on a trip to Bangkok. I felt strongly that this was going to be an amazing trip. Originally, I would go on a 6-7 day trip with my best friend Roos, who lives in Abu Dhabi – but this felt too short for me. In 3 years time, I have seen Roos in real life for 4 hours – which was in Dubai last April by 'sort of' coincidence. From her departure station Abu Dhabi, it is about 6 hours flying time and from Amsterdam 12 hours straight. Because of the longer distance, I wanted to stay for more days than that anyway. Due to the 2 hour delay on my working flight, I would no longer be able to catch the KLM flight in the evening directly to BKK. I decided to fly to Dubai with Emirates.
When I pause in the moment: – I am filled with gratitude and happiness as I embark on this journey. I'm going to see my very best friend and I have the privilege of being able to make these wonderful trips. I am very aware of how grateful I should be and how lucky I should consider myself (but also to myself for what I overcame in life to get where I am) – that as a woman I am able to travel alone and have the means to travel cheaper thanks to my profession.
Enkele weken geleden ben ik op reis gegaan naar Bangkok. Ik voelde aan alles dat dit een gave trip zou worden. Origineel zou ik 6-7 dagen samen met mijn beste vriendin Roos die in Abu Dhabi woont op pad gaan, maar dit voelde te kort voor mij. In 3 jaar tijd heb ik Roos 4 uur lang in real life gezien – wat afgelopen april 'per toeval' in Dubai was. Vanuit haar vertrekstation Abu Dhabi, is het zo'n 6 uur vliegen. Vanuit Amsterdam 12 uur rechtstreeks – waardoor ik dus sowieso al langer wilde blijven. Omdat ik door de 2 uur vertraging op mijn werkende vlucht de directe KLM avond vlucht naar Bangkok niet meer zou halen – besloot ik naar Dubai te vliegen met Emirates.
Als ik in het moment even stil sta: – Ik ben gevuld met dankbaarheid en geluk als ik aan deze reis begin. Ik ga mijn allerbeste vriendinnetje zien én ik heb het privilege in staat te zijn deze prachtige reizen te maken. Ik ben me er ontzettend van bewust hoe dankbaar ik mag zijn (maar ook naar mijzelf wat ik allemaal heb doorstaan in het leven om in deze positie te zijn) – dat ik in staat ben om als vrouw alleen te reizen en de middelen heb om goedkoper te reizen dankzij mijn beroep.
Day 1 & 2 – Amsterdam, Dubai & Bangkok – 16 & 17-07-2023

At Schiphol, I got the last seat to Dubai with Emirates. It was a lot of fun in flight with the Emirates crew! I received some tasty snacks and drinks as a present from the sweet purser from Turkey and had many pleasant conversations with two flight attendants from Brazil and Portugal. In flight I also had a long and pleasant conversation with a passenger from South Africa, and I was invited for a nice chat with the Dutch cockpit crew and the Purser in first class while disembarking.
After arrival, I went straight to the staff-travel desk because I had about 2.5 hours to spare in between flights. I would have to check in and out 'manually', because as a 'standby' traveler, I prefer not to do a transfer (to not risk my checked in baggage to be left behind) and book flights separately. The purser texted me the occupation after departure and said it would be fine. About 1 hour in advance, I was told that I get on the flight, and had a nice conversation with a Thai Emirates standby traveler who gave me her contact details.
Op Schiphol kreeg ik de laatste stoel naar Dubai met Emirates. Het was in flight ontzettend gezellig met de Emirates crew! Ik kreeg wat lekkere snacks en drankjes als cadeautje van de lieve purser uit Turkije en had veel fijne gesprekken met twee gezellige stewardessen uit Brazilië en Portugal, een lang en fijn gesprek met een passagier uit Zuid-Afrika en was ik nog uitgenodigd voor een leuk kort gesprek met de Nederlandse cockpit crew en de Purser in first class tijdens het uitstappen.
Na aankomst ging ik direct naar de staff-travel desk omdat ik zo'n 2,5 uur speling had en handmatig in en uit zou checken omdat ik als IPB'er liever geen transfer doe, maar dit los boek. De purser had mij ná vertrek nog de bezetting door geappt en zei dat het goed zou komen.
Ongeveer 1 uur van te voren kreeg ik te horen dat ik mee mocht en had nog een leuk gesprek met een Thaise Emirates IPB'er die me haar contactgegevens gaf.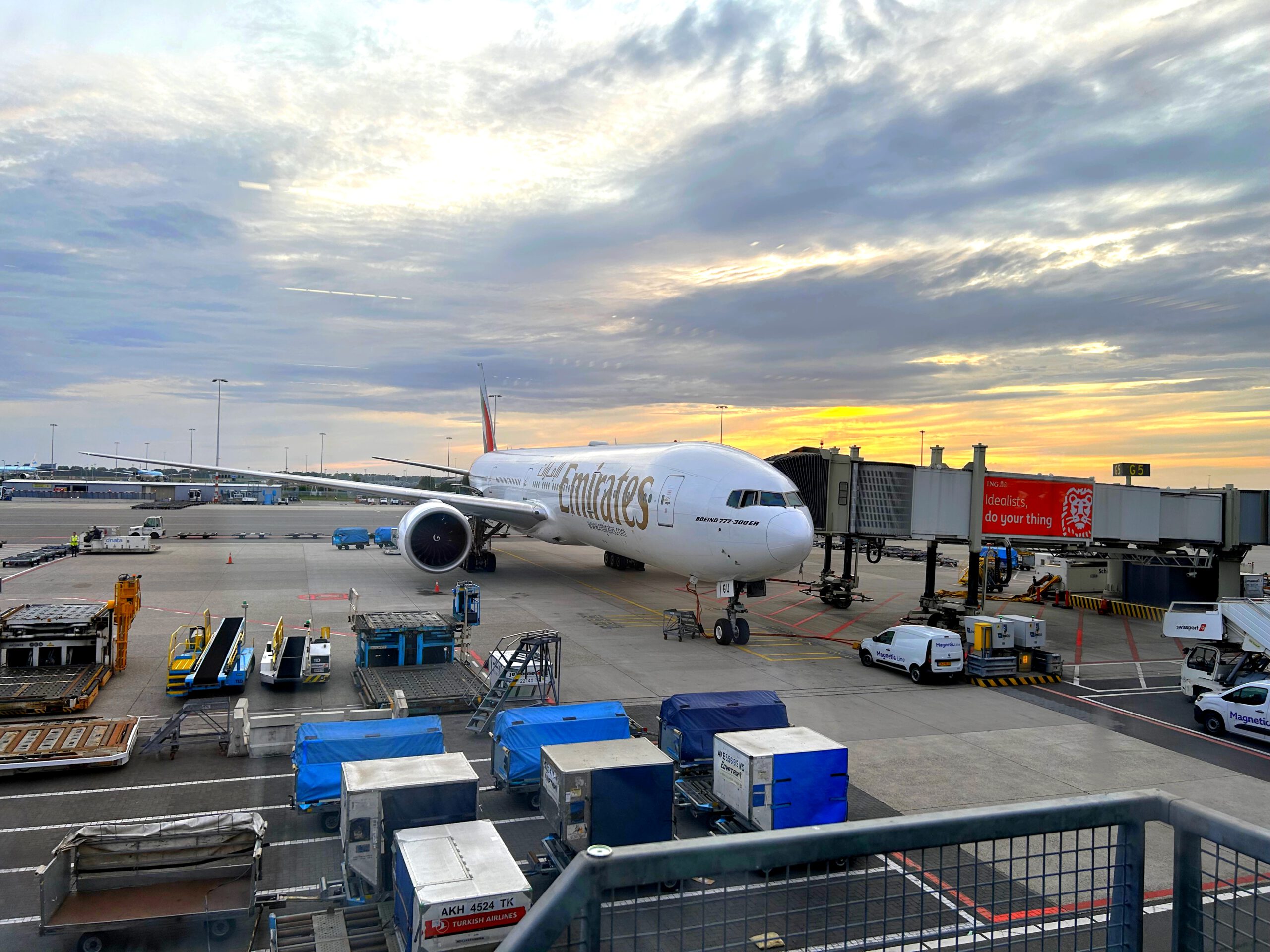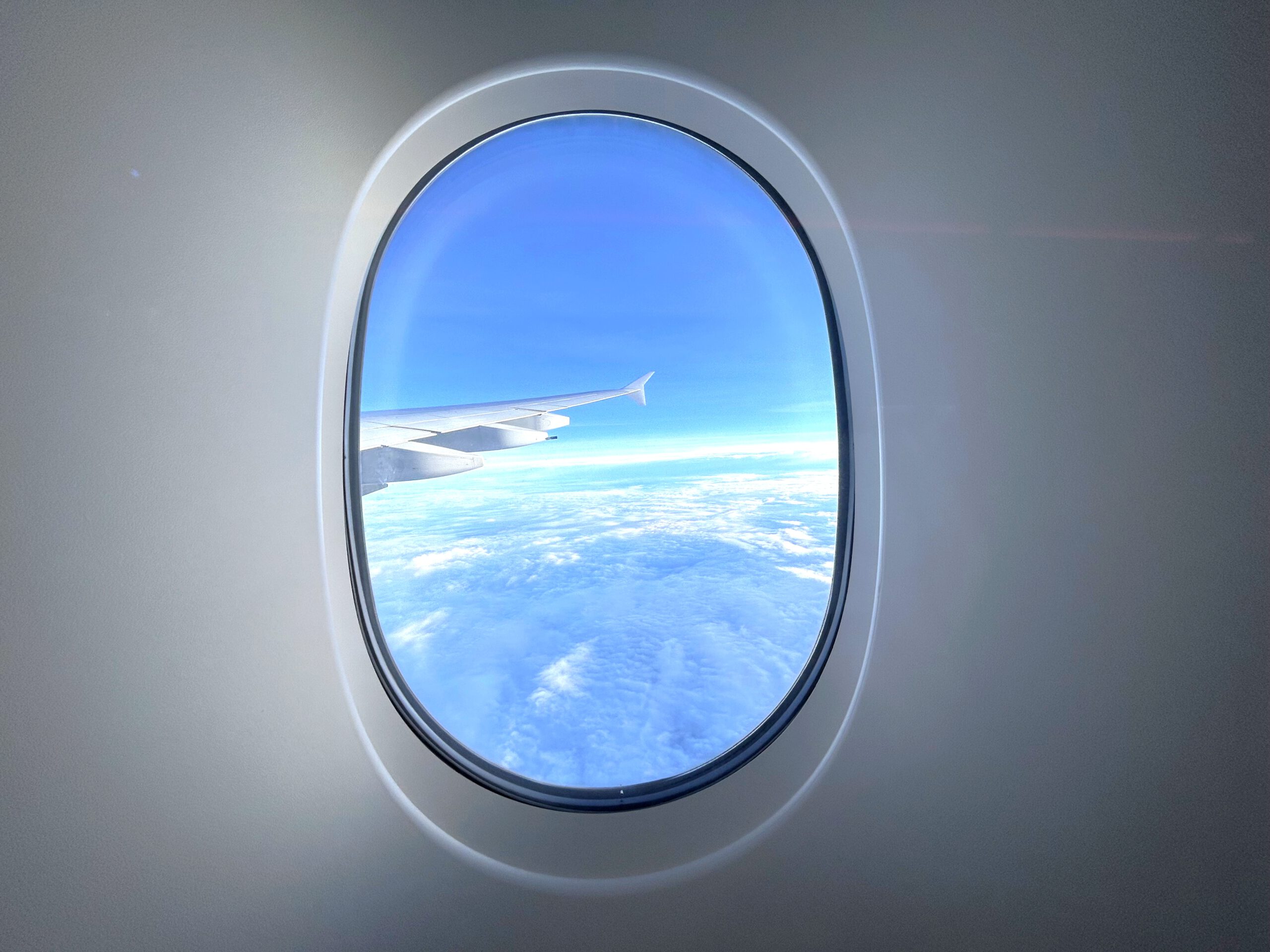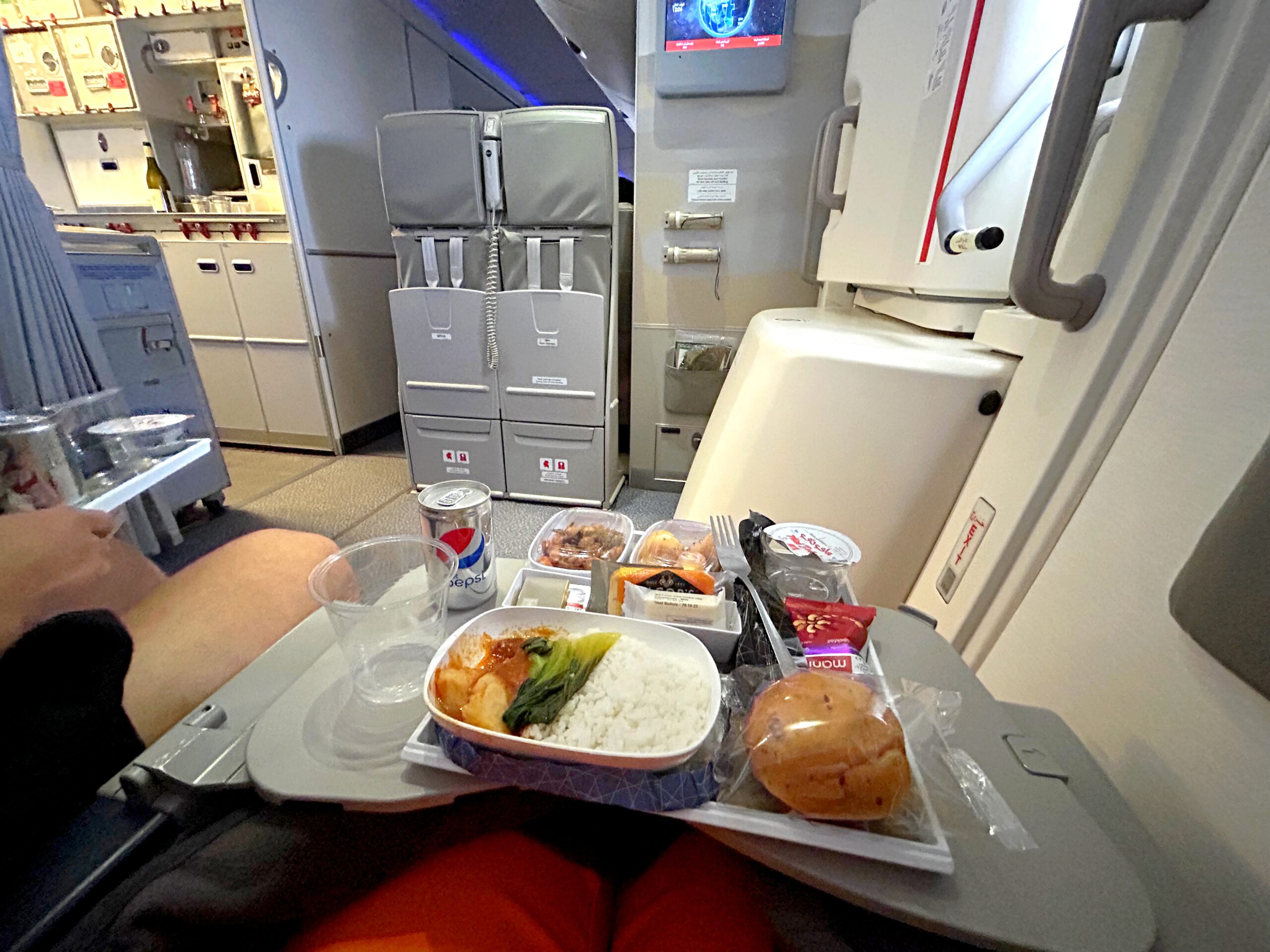 After another flight of around 6 hours, I arrived in Bangkok late in the evening. From the airport, I took a taxi for about
560 baht
to my hostel
Here
.
The taxis are easy and safe here at the airport.
Right in the lobby after a ride of more than 30 minutes, I already met super nice people, so I knew I would have a great time here. After I invited my kind new roommates to socialize in the garden of the hostel – and all of them decided to go to sleep instead – I went to the hostel garden on my own. There was only a table of young men, but after a moment's hesitation to join the group, I decided to say hi when I saw Canadian
John
– whom I had had a nice short chat with in the lobby when I arrived. In the end, I sat here chatting with them for an hour or so, and I soon found out that two Dutch guys were also sitting at the table here –
Thimo
and his brother. Not much later, another group joined us including my Dutch roommate
Rianne,
Dutch
Jip, Davy and Milou
and English
Liz
– who was also my roommate. Our group really clicked well with each other, and we decided to go to the party district –
Khoa San Road
. The atmosphere was too good to let the jet lag win from me – haha. After a long search for a nice place to go out for a bit, we ended up at a small rooftop bar – not the type you find on Google about Bangkok, but nice with the group anyway. It was so cozy all together that it didn't really matter where we would end up, the energy of everyone combined was what made the evening so amazing. Koh San Road is very intense but for sure an experience – it's a well known place in Bangkok. It's a place with night life, loud music and street food stands (some even sell scorpions).
I was hungry from my long journey, so John came up with the idea of letting me try some street food on the way to the hostel. He promised me it wouldn't make me sick and that it was super nice and tasty – because he had eaten it the day before. He treated me to Pad Thai and indeed he was right! It was a very sweet gesture of him and It was super tasty. Then I also ordered a nice Roti with nutella and banana on the way to the hostel. Once we arrived, I suggested creating a group app for our group to have breakfast together with the group – a plan for tomorrow was already created this way and nice to look forward to.
Na nóg een vlucht van CA 6 uur kwam in aan in Bangkok laat in de avond. Vanaf de airport nam ik een taxi voor zo'n
560 baht
naar mijn hostel
Here. De taxi's zijn trouwens ook makkelijk en erg veilig hier op de airport
. Gelijk in de lobby na een rit van ruim 30 minuten, leerde ik al super leuke mensen kennen waardoor ik wist dat ik hier een fijne tijd zou gaan hebben. Na ik mijn lieve kamergenotes uitnodigde om tócht nog in de garden van het hostel wat te socializen en ze besloten te gaan slapen, ging ik in mijn eentje naar de tuin. Er was alleen een tafel jonge mannen, maar na even twijfelen besloot ik toch hoi te zeggen toen ik Canadese
John
– die ik in de lobby al had gesproken. Uiteindelijk zat ik hier een uur met ze te kletsen, en kwam ik er al snel achter dat hier ook twee Nederlandse jongens aan tafel zaten –
Thimo
en zijn broer. Al snel sloot een andere groep bij ons aan waaronder mijn Nederlandse kamergenootje
Rianne
, Nederlandse
Jip,
Davy
en
Milou
en Engelse
Liz –
wie ook mijn kamergenootje was. Onze groep had een ontzettende klik met elkaar, en we besloten naar party district –
Khoa San Road
te gaan. Na een lange zoektocht
naar een leuke plek om een beetje te stappen, kwamen we uit bij een kleine rooftop bar – niet het type wat je op google vind over Bangkok, maar wel leuk met de groep. Het was zo gezellig met z'n allen dat het eigenlijk niet uitmaakte waar we terecht zouden komen, de energie van iedereen samen maakte de avond zo geweldig. Koh San Road is erg intens, maar zeker een ervaring – het is een bekende plek in Bangkok. Het is een plek met nachtleven, harde muziek en eetkraampjes op straat (zoals met schorpioenen).
Ik had trek, dus kwam John super lief met het idee mij op weg naar het hostel street food te laten proberen. Hij beloofde me dat ik er niet ziek van zou worden – want hij had het de dag ervoor ook gegeten. Hij trakteerde me Pad Thai en had inderdaad gelijk! Het was super lekker en een ontzettend lief gebaar van hem. Daarna bestelde ik ook nog lekker een Roti met nutella en banaan opweg naar het hostel. Eenmaal aangekomen stelde ik voor een groepsapp aan te maken voor onze groep om samen met de groep te gaan ontbijten waar iedereen op in ging – dus het plan voor morgen was al gelijk gemaakt.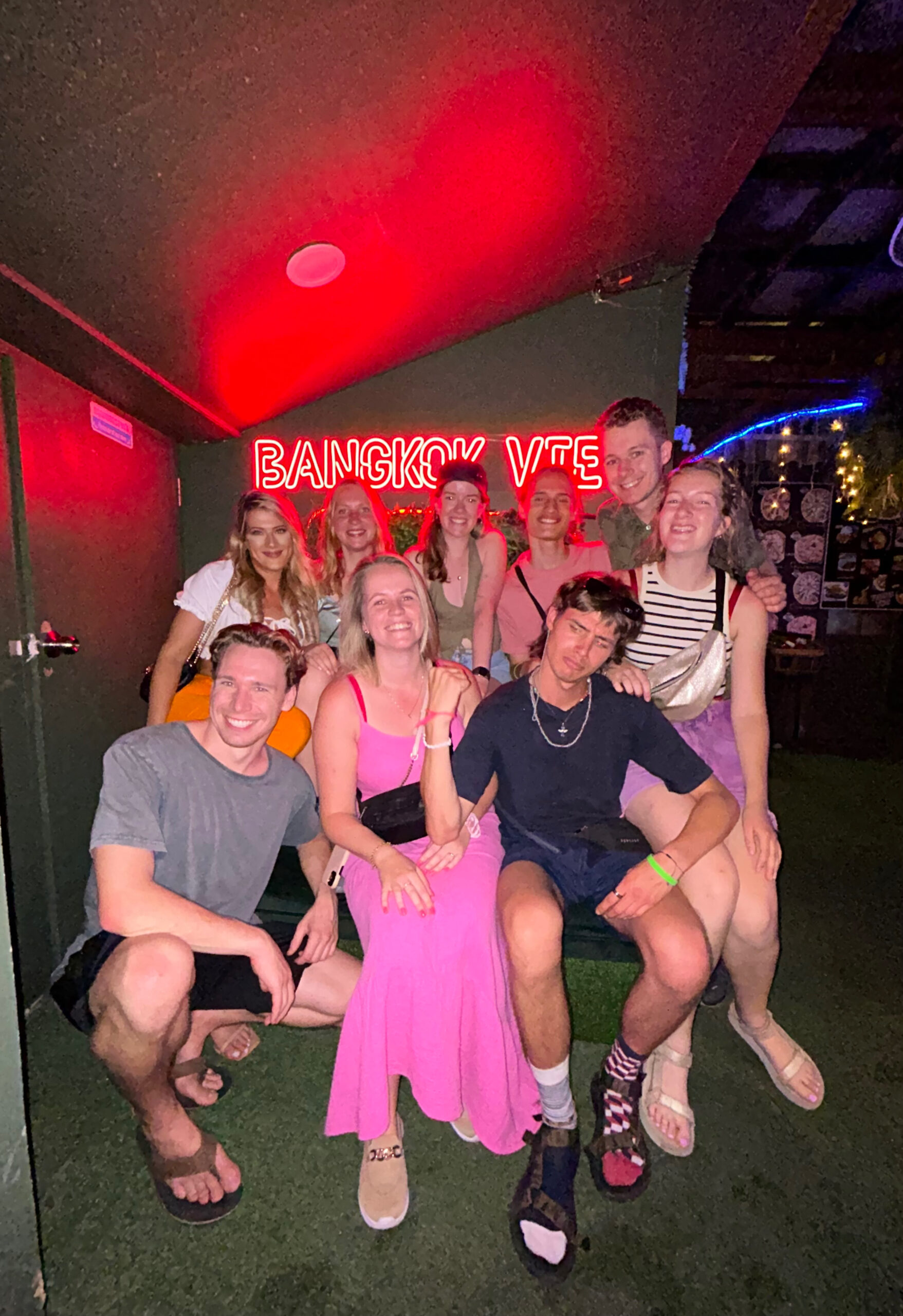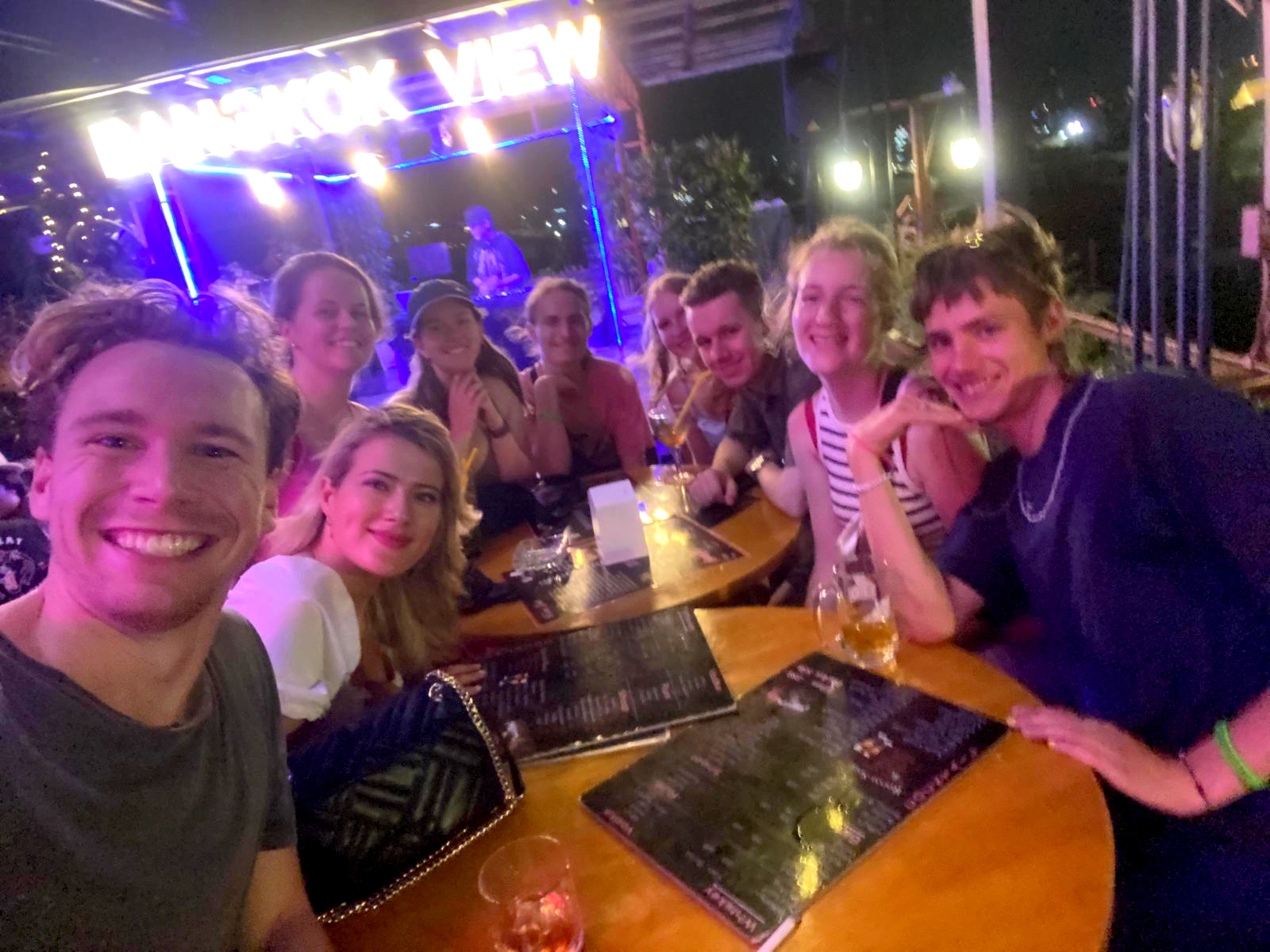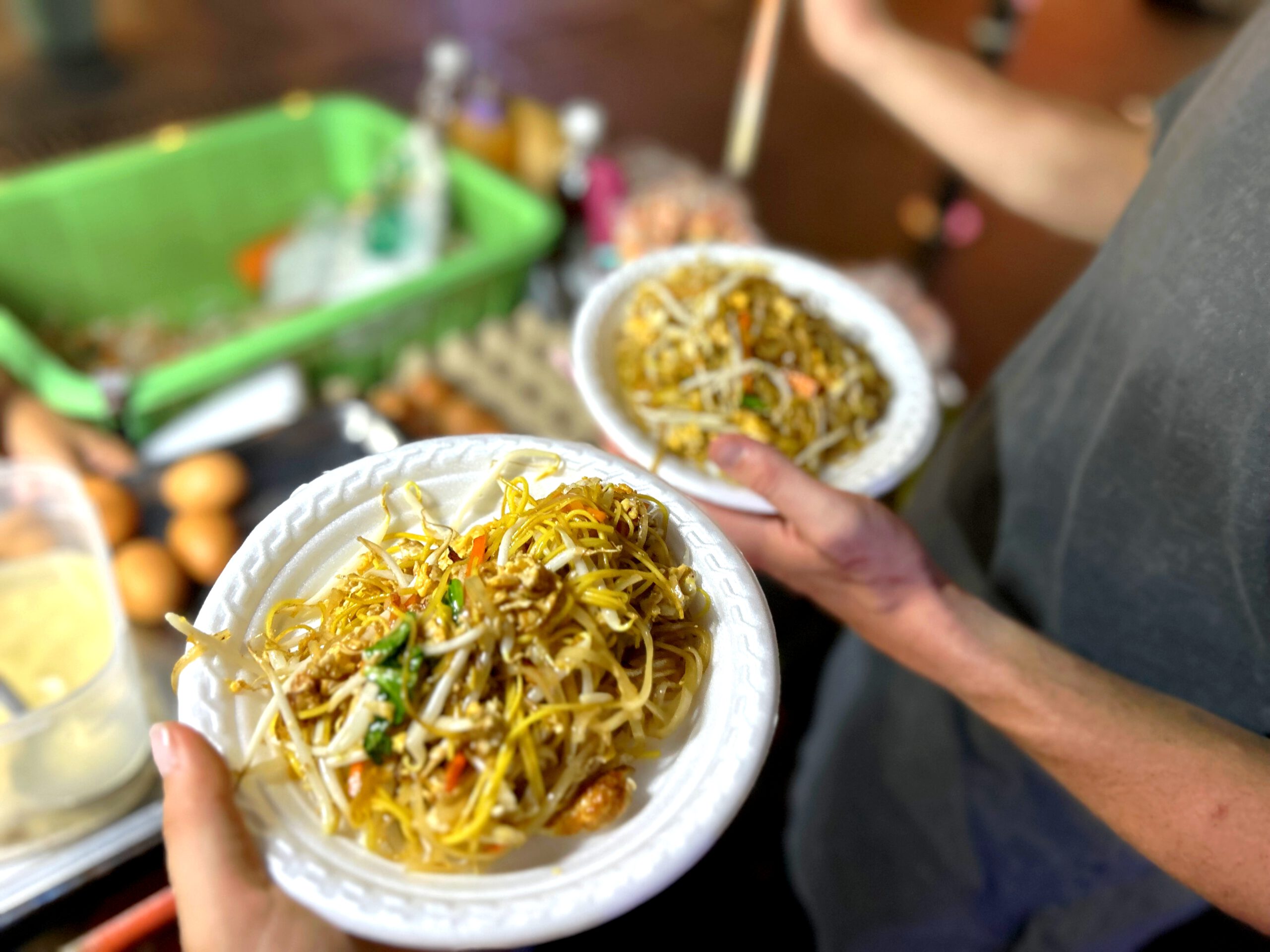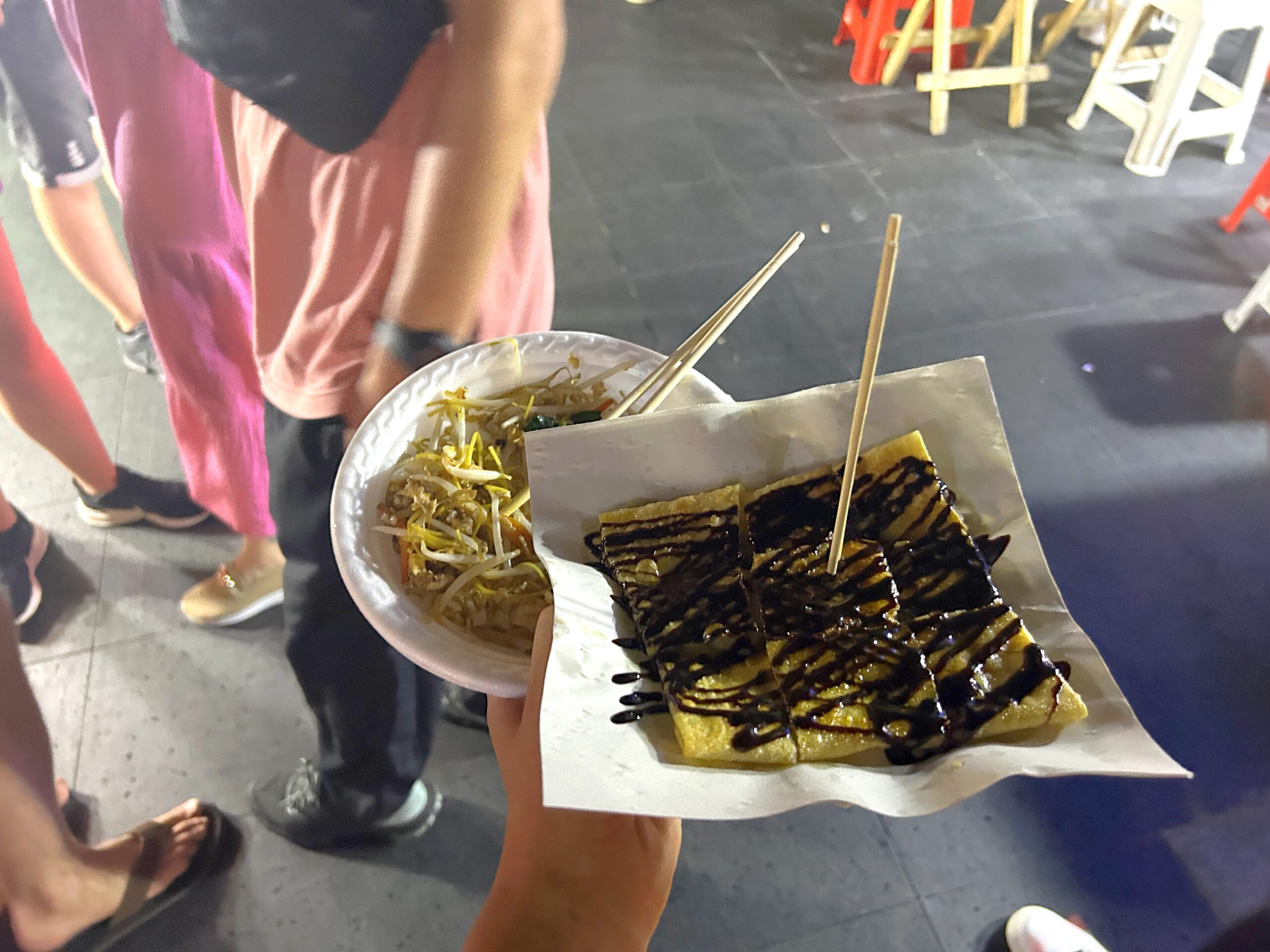 Day 3 – Bangkok – 18-07-2023
This day would be my only full day in Bangkok – so the text of this day is very long. Because of the huge click with the group, I decided to let go of everything I had on my list – such as visiting a
Rooftop bar, the floating market and the Ko van Kessel bike ride. (These listed items are well-known recommendations for a visit to Bangkok, by the way).
When I feel such a connection with a group, I just want to go with the flow and see what comes my way. Going with the moment and being in the now can never be a miss and often brings you so much more than you actually hoped or expected! Having expectations is something I highly recommend letting go of on a solo trip. Having some things on a list that you'd like to see is always a good idea – but try not to get too hung up on it so you stay in the "now" and can go along with the spontaneity if that's what you're into. In my opinion you win the jackpot when you meet a group like I did in Bangkok, so my heartfelt tip is – just join others if you feel it clicks, invite people and connect people. You will never know what unexpected amazing things will follow!
The morning started with the late appointment to have breakfast with the group and a super sweet note from my roommate who had already checked out in the morning, to thank me for the invitation with the group – so sweet! As a solo traveler myself, I find it wonderful to see how people connect with others – for me that is one of the main reasons for traveling solo; bringing people together and getting to know them.
Deze dag zou mijn enige volle dag in Bangkok zijn – dus de tekst van deze dag is érg lang. Door de gigantische klik met de groep besloot ik alles wat ik op mijn lijstje had – zoals het bezoeken van een
Rooftop bar, de floating market en de Ko van Kessel fietstocht, los te laten.
(
Deze opgenoemde items zijn overigens bekende aanbevelingen voor een bezoek aan Bangkok).
Als ik zo'n klik met een groep voel, wil ik juist lekker met de flow meegaan, en kijken wat er op mijn pad komt. Met het moment mee gaan kan nooit een misser zijn en brengt je vaak zo veel meer dan je eigenlijk hoopte of verwachtte! Verwachtingen hebben is iets wat ik je van harte aanbeveel om los te laten tijdens een solo trip. Wat dingen op een lijstje hebben die je graag zou willen zien is altijd een goed idee – maar probeer er niet te hard aan vast te houden zodat je in het 'nu' blijft en mee kan gaan in spontaniteit als jij daar van houd. In mijn mening 'gooi je gelijk 6' als je een groep treft zoals ik deed in Bangkok, mijn hartelijke tip is dan ook – sluit gewoon bij anderen aan als je voelt dat het klikt, nodig mensen uit en verbind mensen met elkaar.  Je weet nooit wat voor een onverwachtse geweldige dingen daar uit kunnen voortkomen!
De ochtend begon met de nagekomen afspraak om met de groep te gaan ontbijten en een super lief briefje van mijn kamergenootje die in de ochtend al was uitgecheckt om me te bedanken voor de uitnodiging met de groep – zo ontzettend lief. Als solo traveller vind ik het zelf prachtig om te zien hoe mensen connecties met anderen leggen – voor mij is dat één van de belangrijkste redenen van solo reizen, mensen samenbrengen en leren kennen.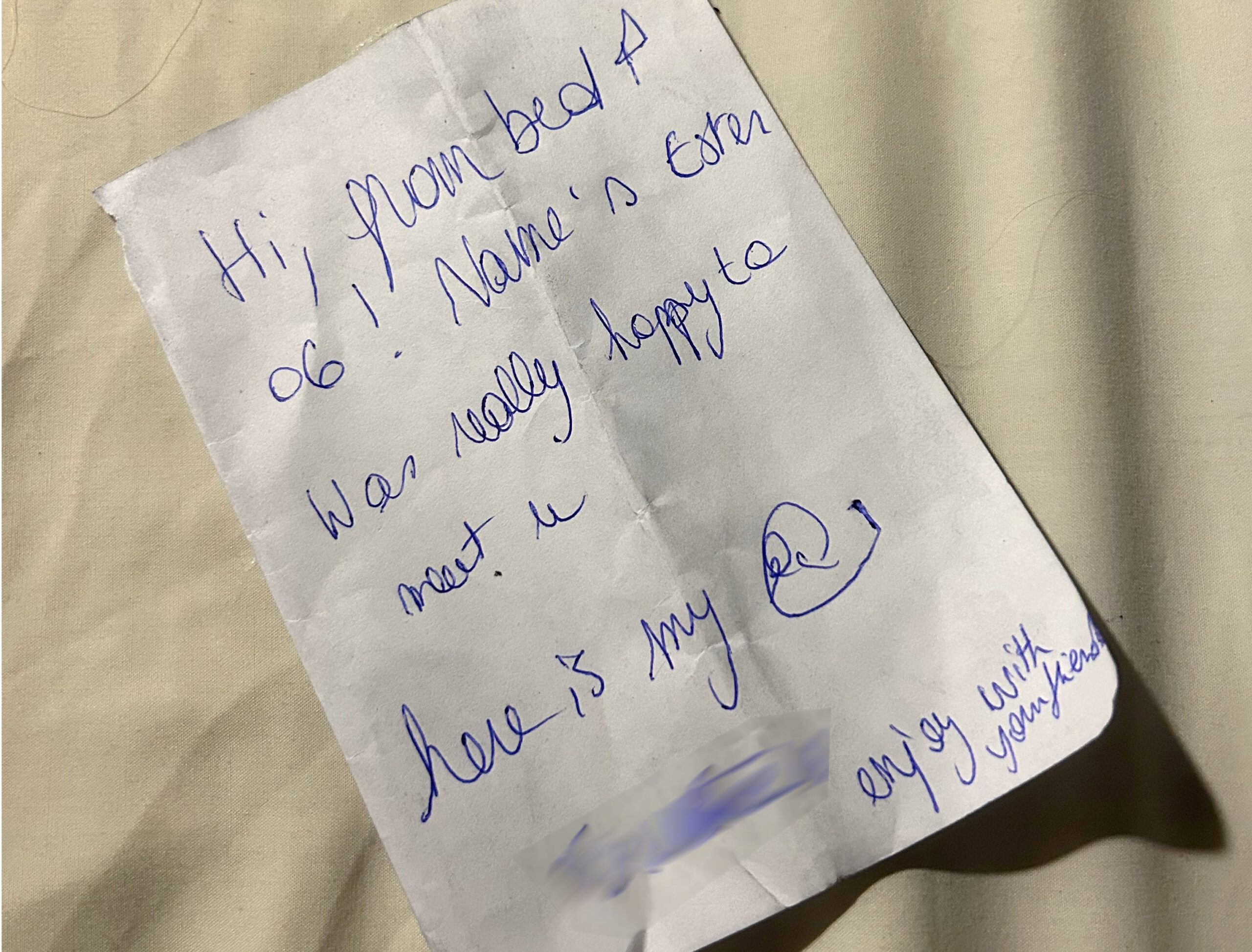 Eventually, we ended up with the group at a local noodle place where we ate something, and with a half-split group (so without John and Liz, who would rejoin with us in the evening) – I decided to go along with the plan to go to
The Grand Palace
.
Know that there is a dress code here – I had to buy a sarong to cover my stomach and back, which I respect.
This beautiful palace is definitely a recommendation to visit in Bangkok. The entrance ticket to the palace also comes with a nice bonus – a show depicting many of Thailand's ancient eras and their attire. We therefore visited this show in combination with a visit to
Wat Pho
– a gigantic golden statue.
After returning to the hostel, we would change, rest shortly and get together with our entire group to go out for dinner. There wasn't really a plan what/where, but we would probably find something nice around Khoa San Road. After some walking around, we ended up at The Macaroni Club. This place looked super cool from the outside, but after googling it when I got home, I found out that it is quite popular – haha. Super nice place, a beautiful courtyard and good food! The curry was delicious but intensely spicy, haha. After the cozy dinner, we chatted for a long time in the hostel garden with supermarket drinks. Everyone wanted to go out. I thought it was fine to chat with everyone in the garden for hours, but then decided to go along with the rest as they all wanted to leave for some nightlife. We went by uber with the whole group and ended up at a Karaoke bar (which I'm not a fan of myself haha), a supermarket and finally the gay district of Bangkok – where there is a lot of wild nightlife. I decided to go back to the hostel with John, Thimo's brother and Sebastian, because we were getting tired and overwhelmed of the loud music. After a short chat in the hostel garden with the group and then a nice tea with John with endless conversations about anything and everything (which we had the entire day, and also the day prior) – it was time to go to sleep.
Uiteindelijk kwamen we met de groep bij een local noodle plekje terecht waar we wat aten, en met een half opgesplitste groep (dus zonder John en Liz, die in de avond weer zouden aansluiten) – besloot ik mee te gaan met het plan naar
The Grand Palace
te gaan.
Weet dat hier een dresscode geld – ik moest 'noodgedwongen' een sarong kopen om mijn buik en rug te bedekken, wat ik respecteer.
Dit prachtige paleis is zeker een aanbeveling om in Bangkok te bezoeken. Het entréé kaartje van het paleis komt ook met een leuke bonus – een show waar veel oude tijdperken van Thailand worden uitgebeeld en hun kledij. Deze show bezochten wij dan ook in combinatie met een bezoek aan
Wat Pho
– een gigantisch gouden beeld.
Na terugkeer in het hostel, zouden we omkleden en met onze gehele groep samen komen om uit eten te gaan. Er was niet écht een plan wat/waar, maar we zouden vast iets leuks vinden rond Khoa San Road. Het werd na wat rondlopen The Macaroni Club. Deze plek zag er van buiten al super tof uit, maar na thuiskomst googlen kwam ik er achter dat het dus best bekend is, haha. Super leuke plek, een mooie binnentuin en lekker eten! De curry was heerlijk maar intens pittig, haha. Na het gezellige etentje hebben we in de binnentuin met supermarkt drankjes nog lang gekletst en wilde iedereen nog graag op stap. Ik vond het zelf prima om uren met iedereen in de tuin te kletsen, maar besloot toen de rest ging ook mee te gaan. We gingen per uber met de hele groep en kwamen uit van een Karaoke bar (waar ik zelf niet zo van ben haha), een supermarkt en uiteindelijk het gay district van Bangkok – waar veel wild uitgaansleven is. Ik besloot samen met John, Thimo's broer en Sebastian terug naar het hostel te gaan, omdat we vermoeid raakten en de harde muziek wel beu waren. Na kort kletsen in de hostel tuin met de groep en daarna nog gezellig thee met John met eindeloze gesprekken over van alles en nog wat al de hele dag door, was het tijd om te gaan slapen.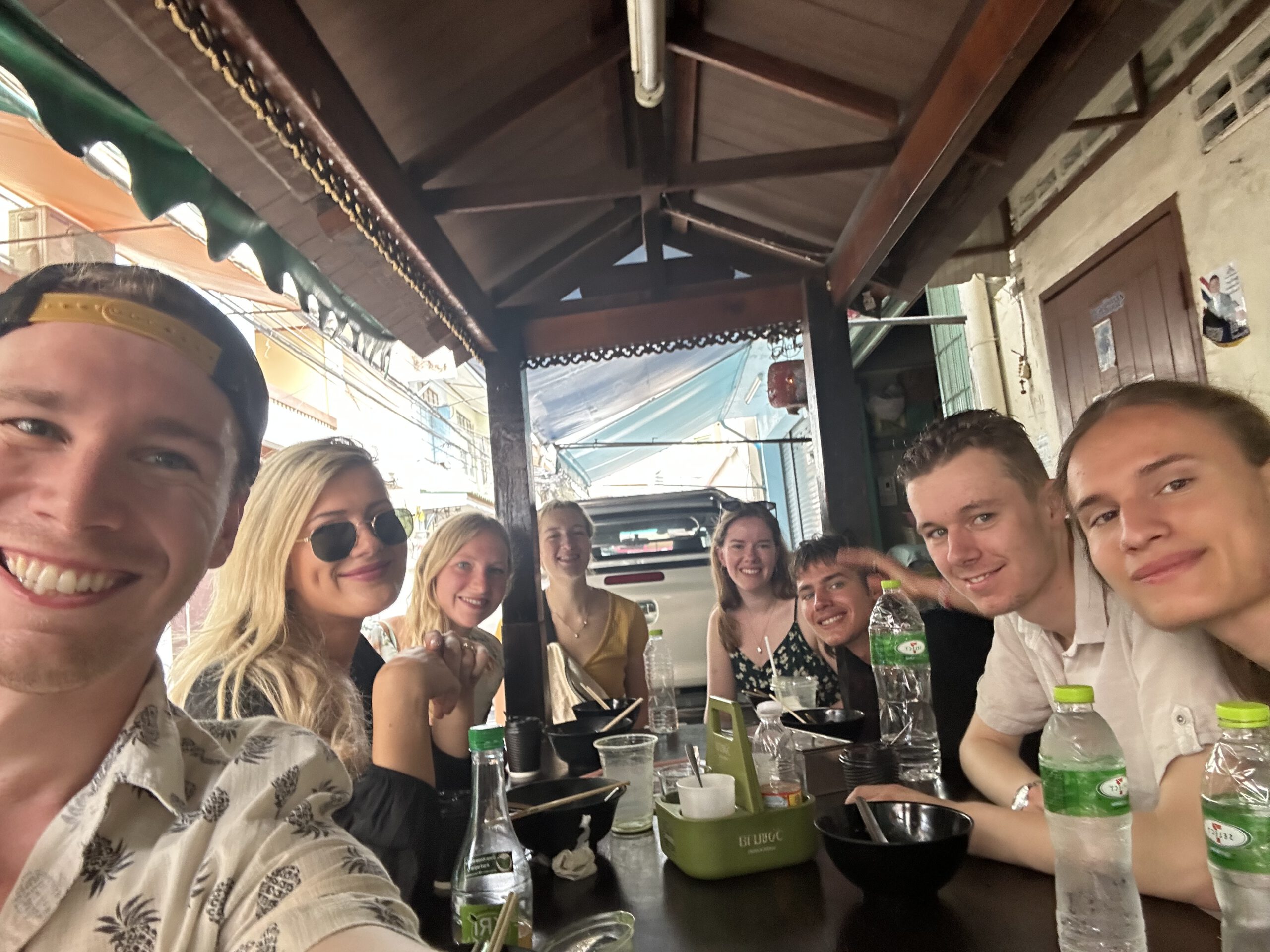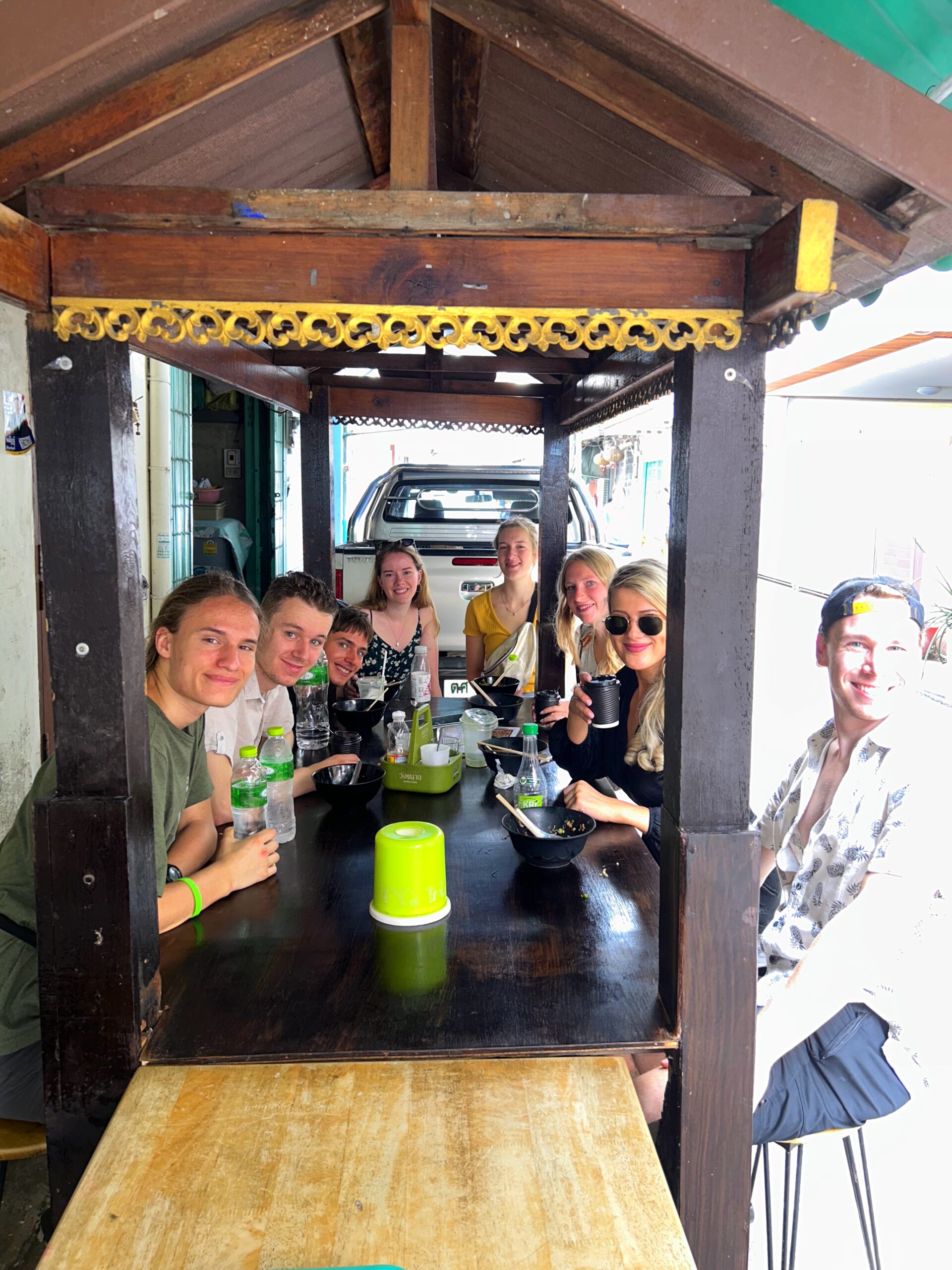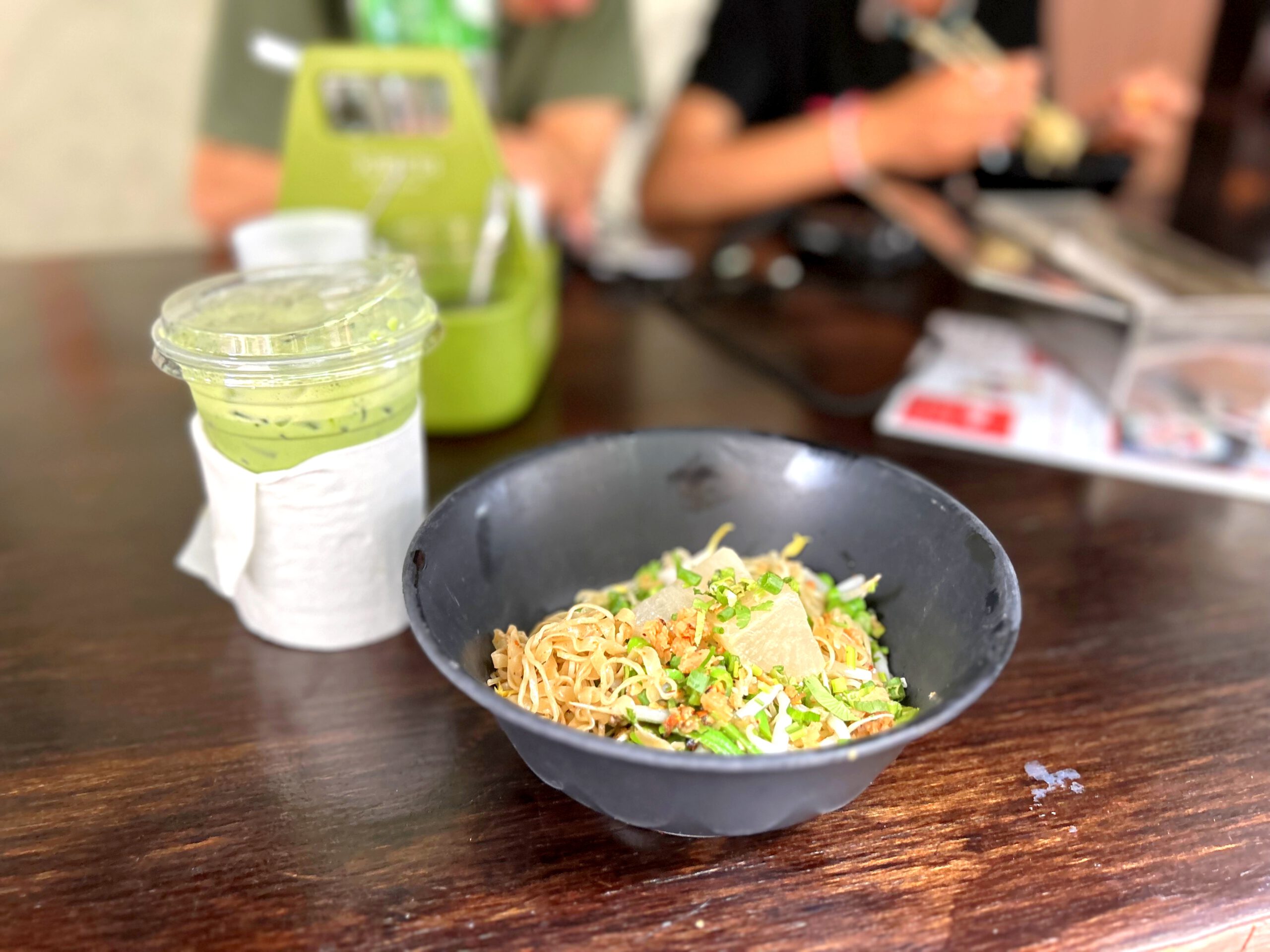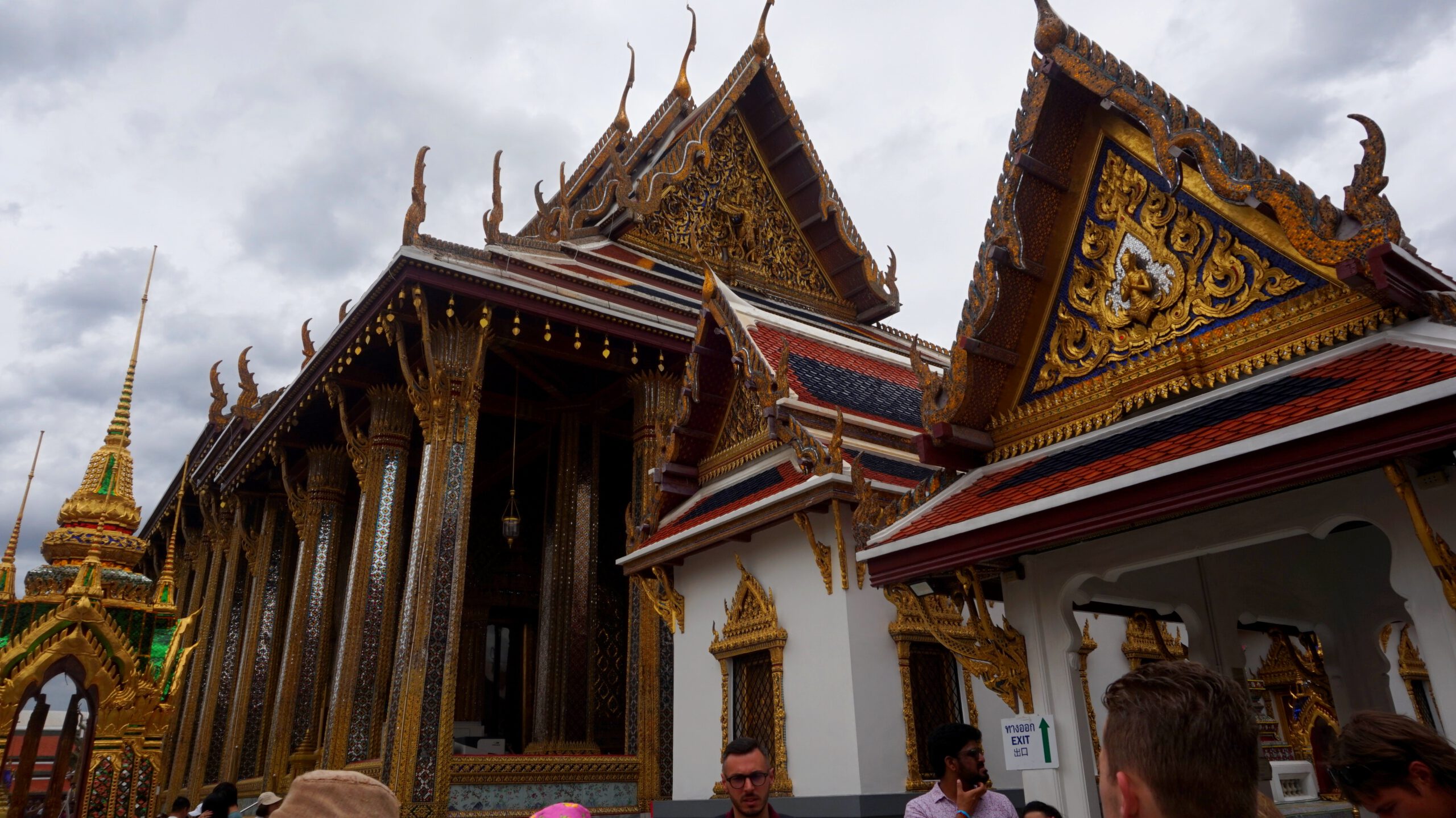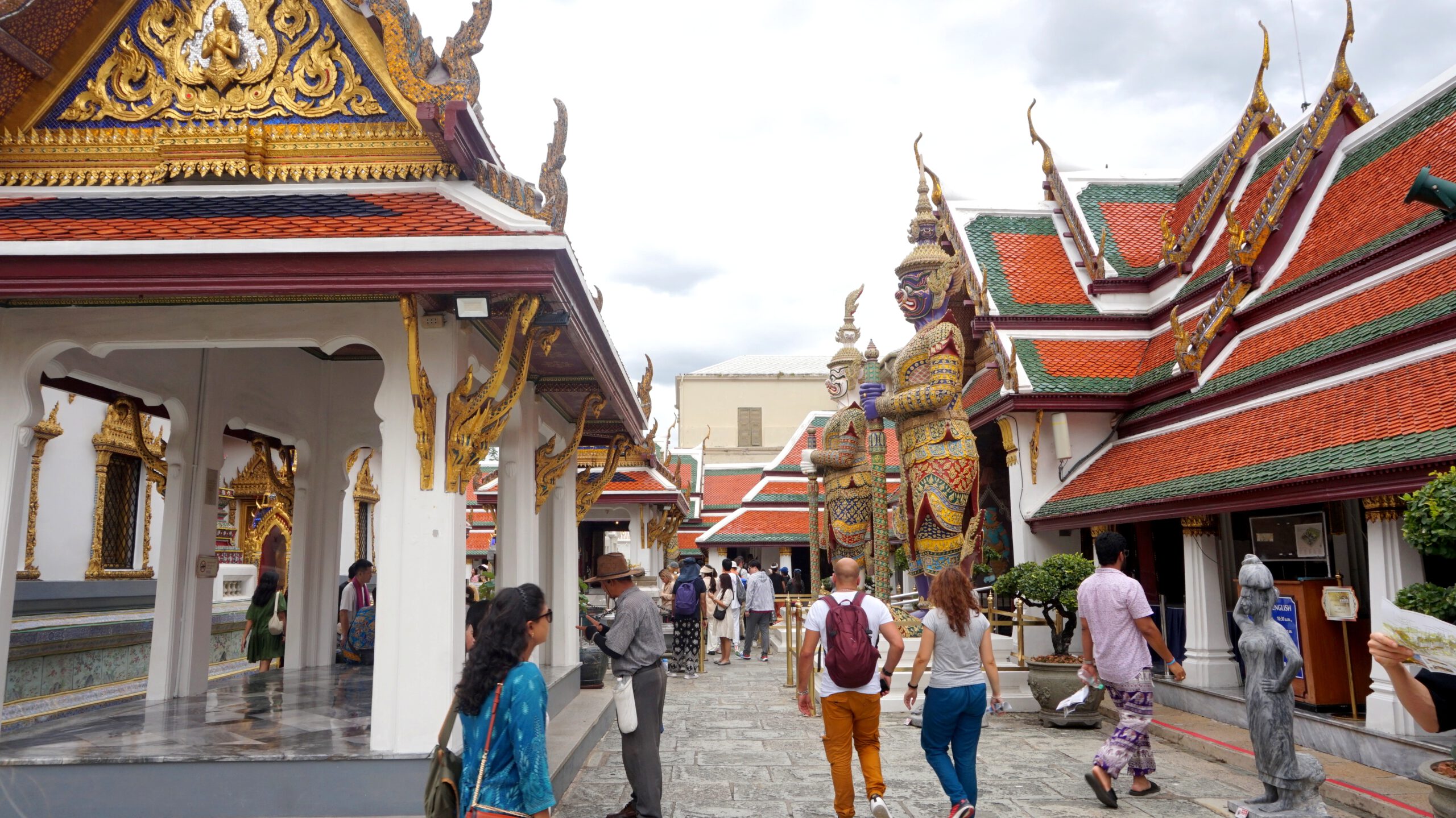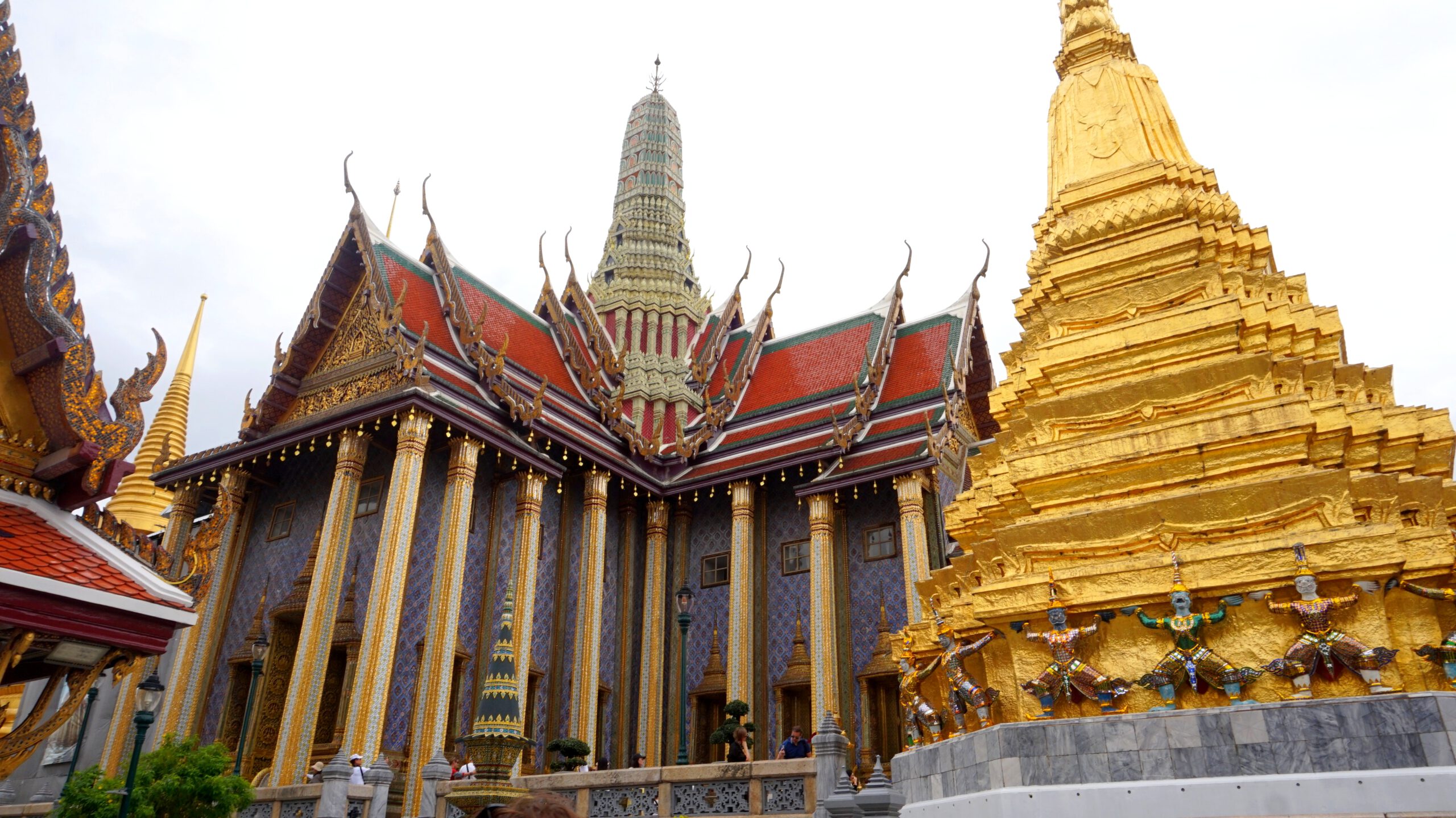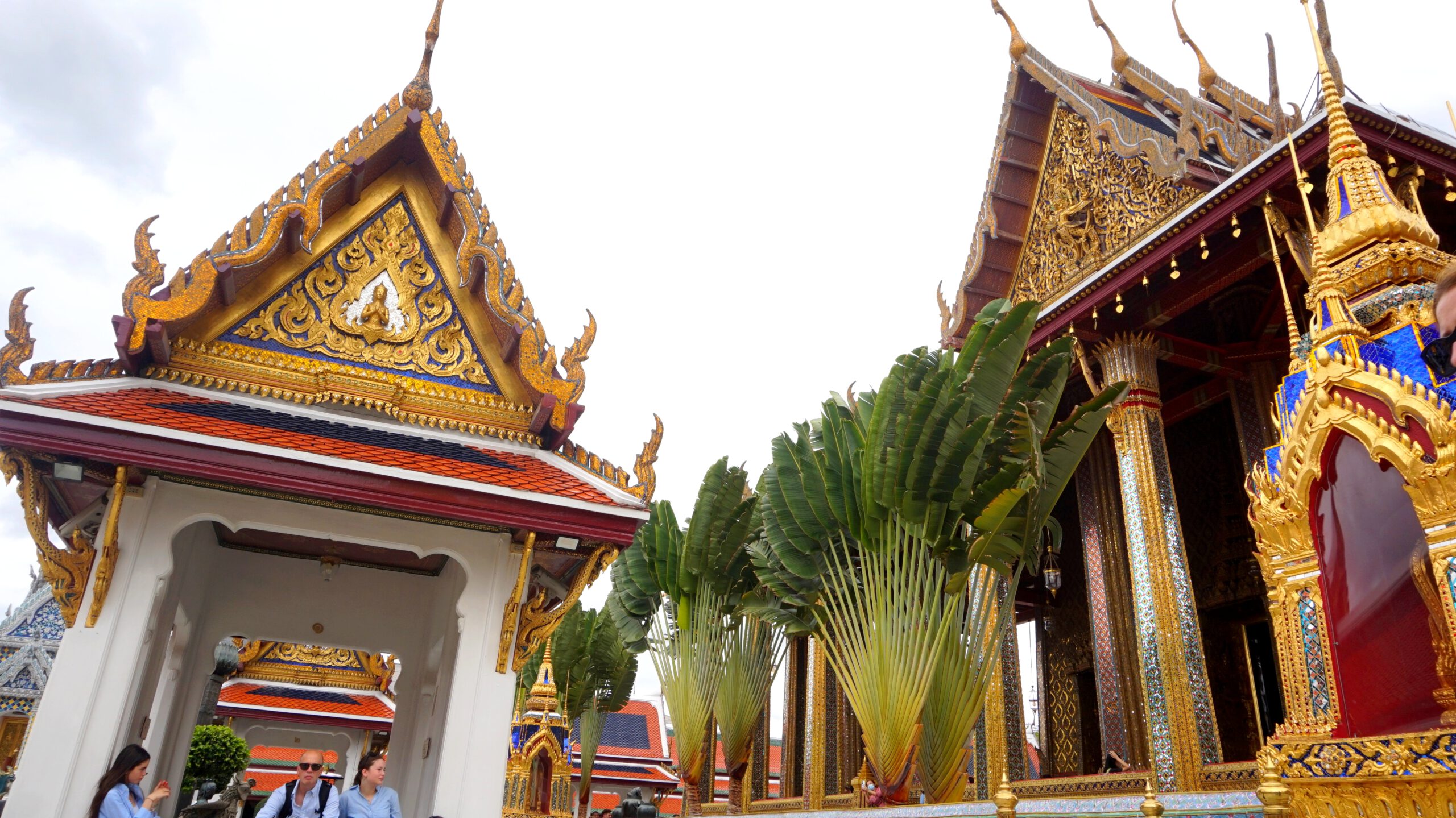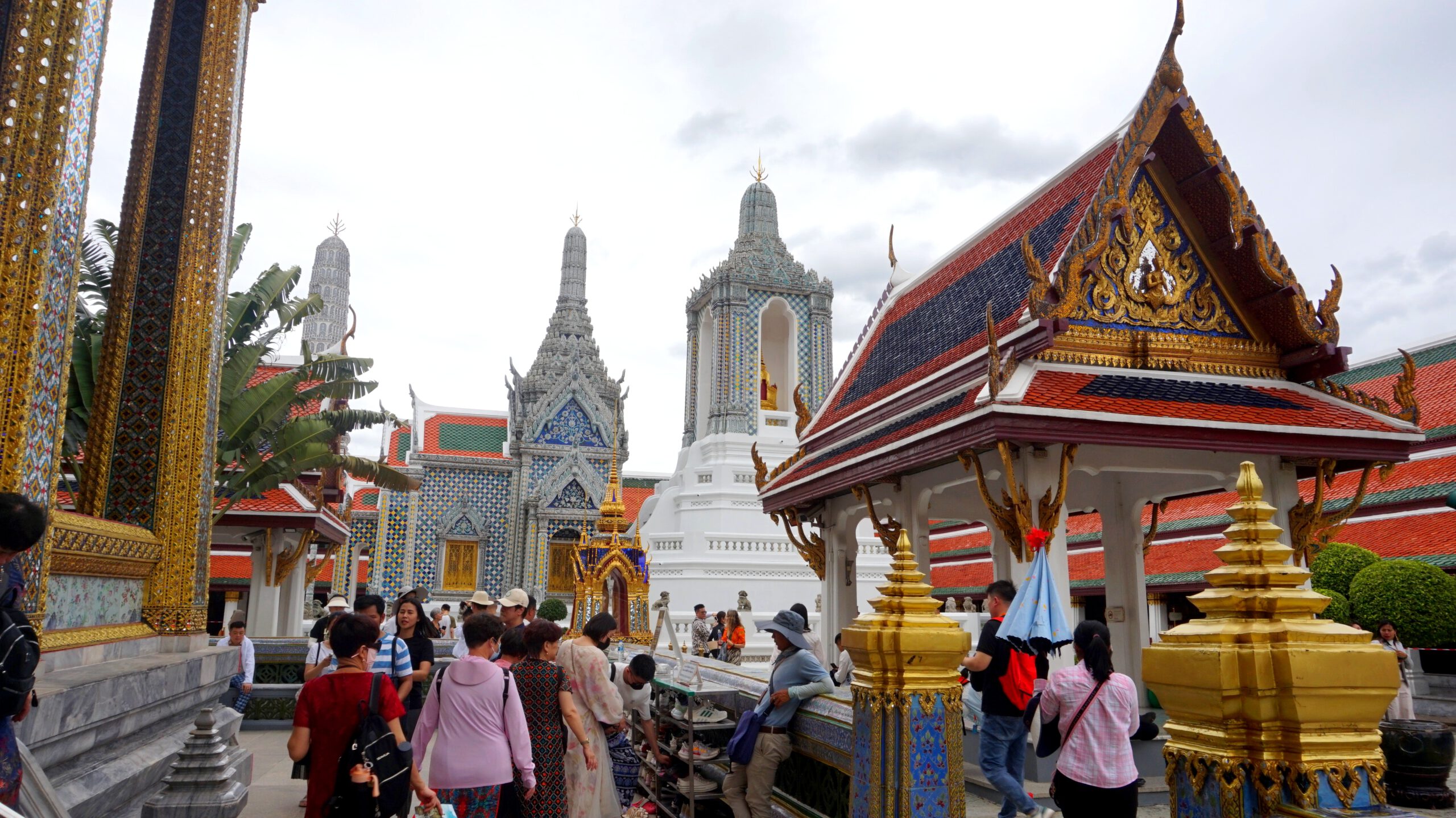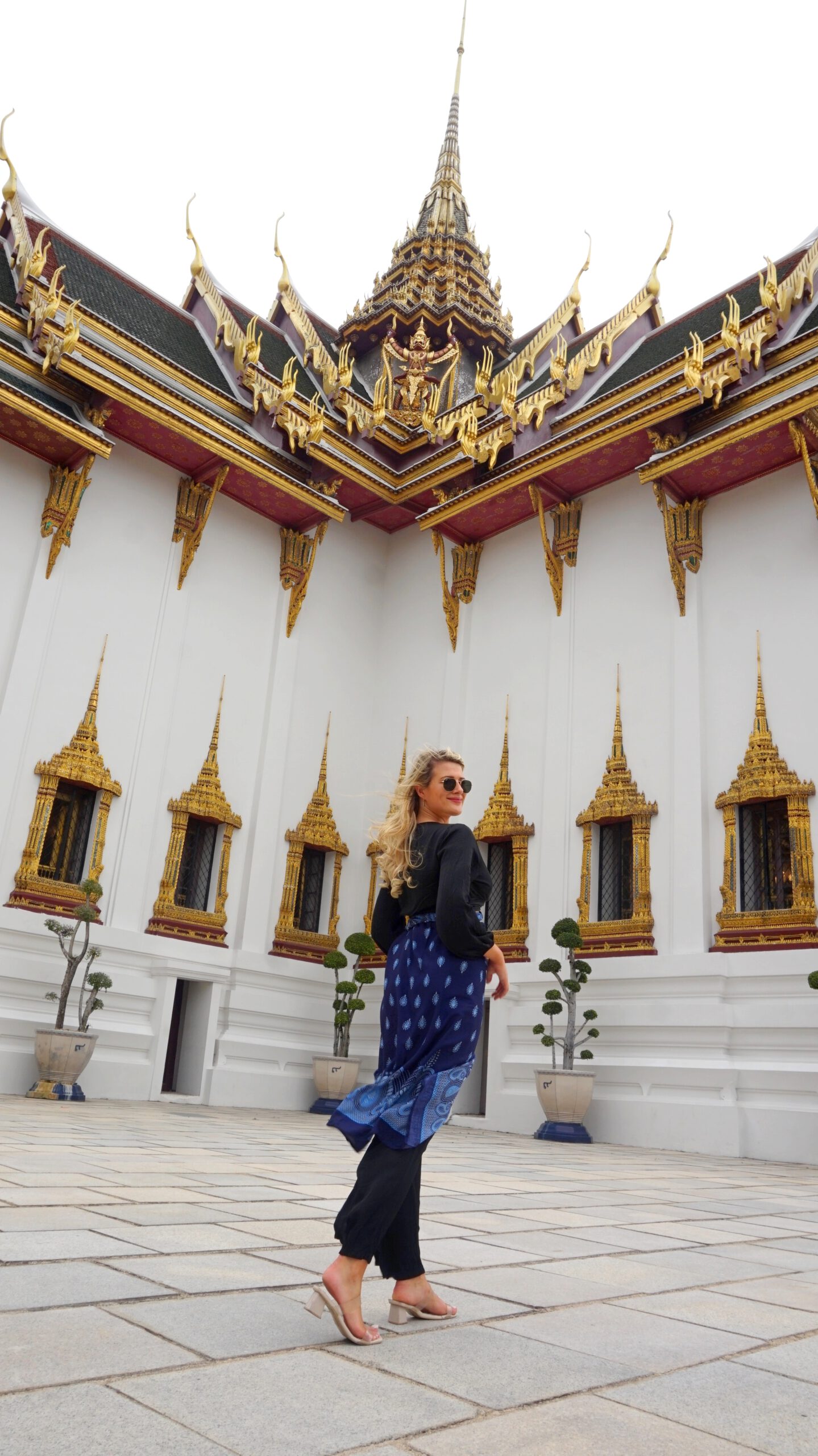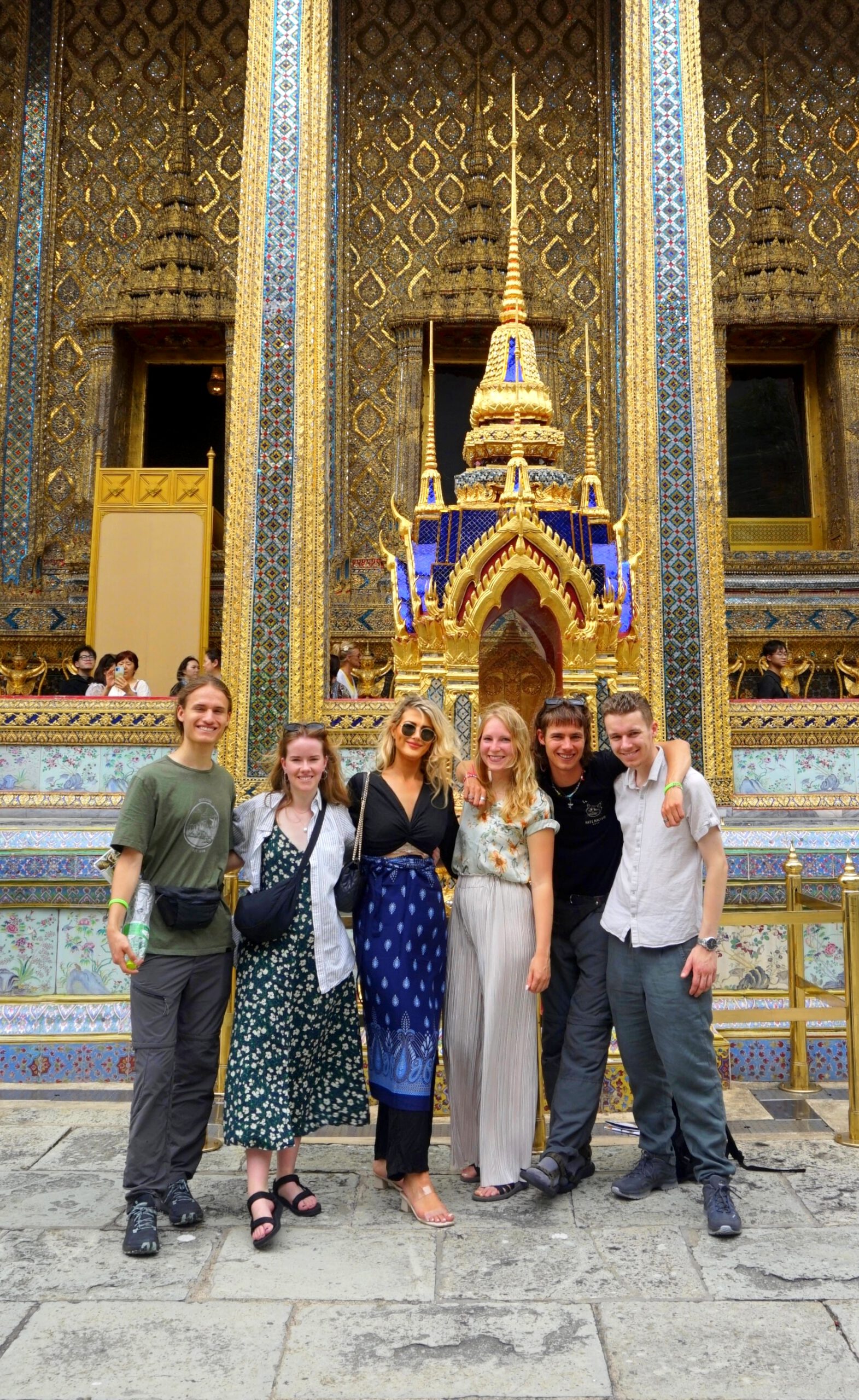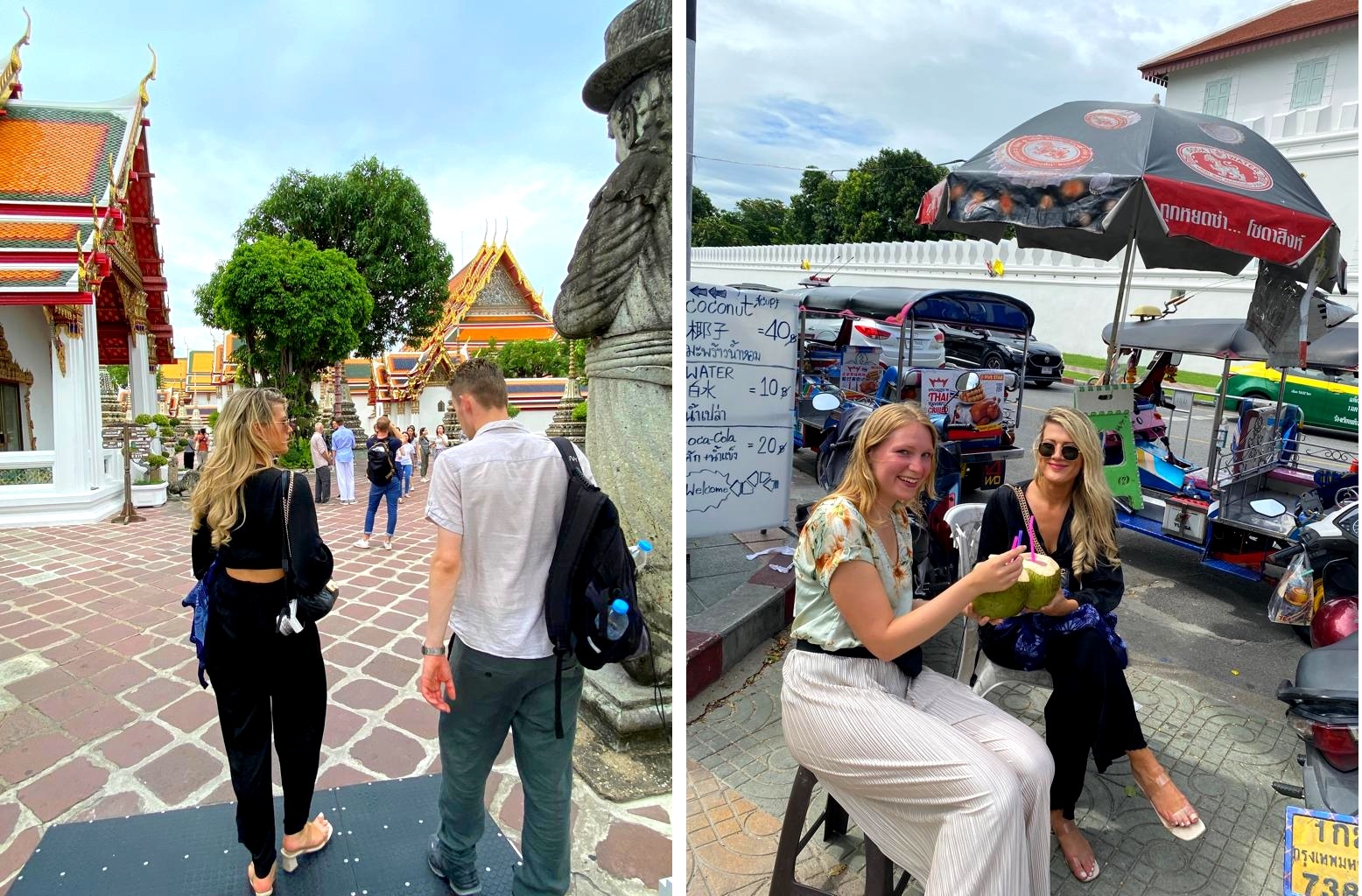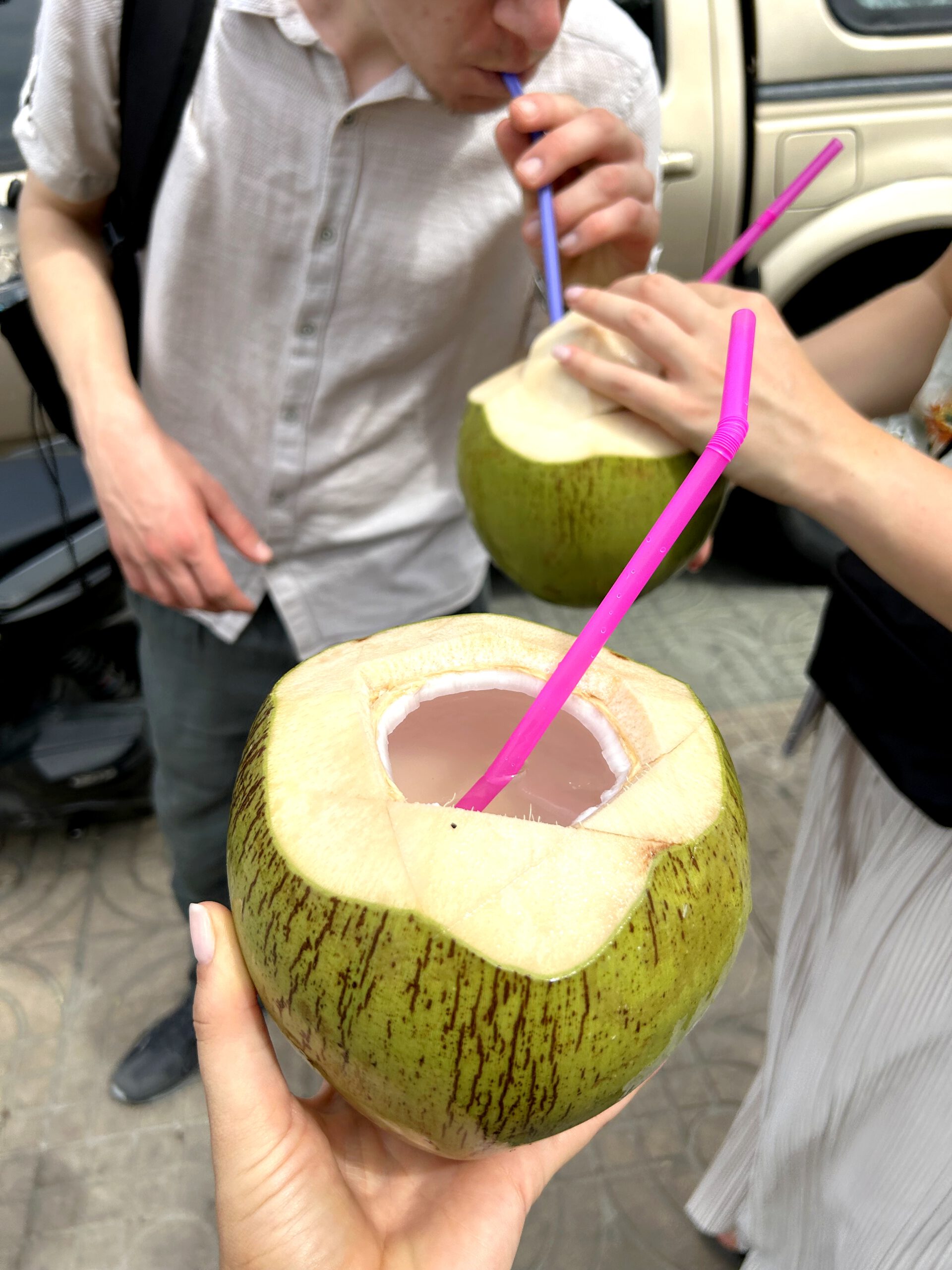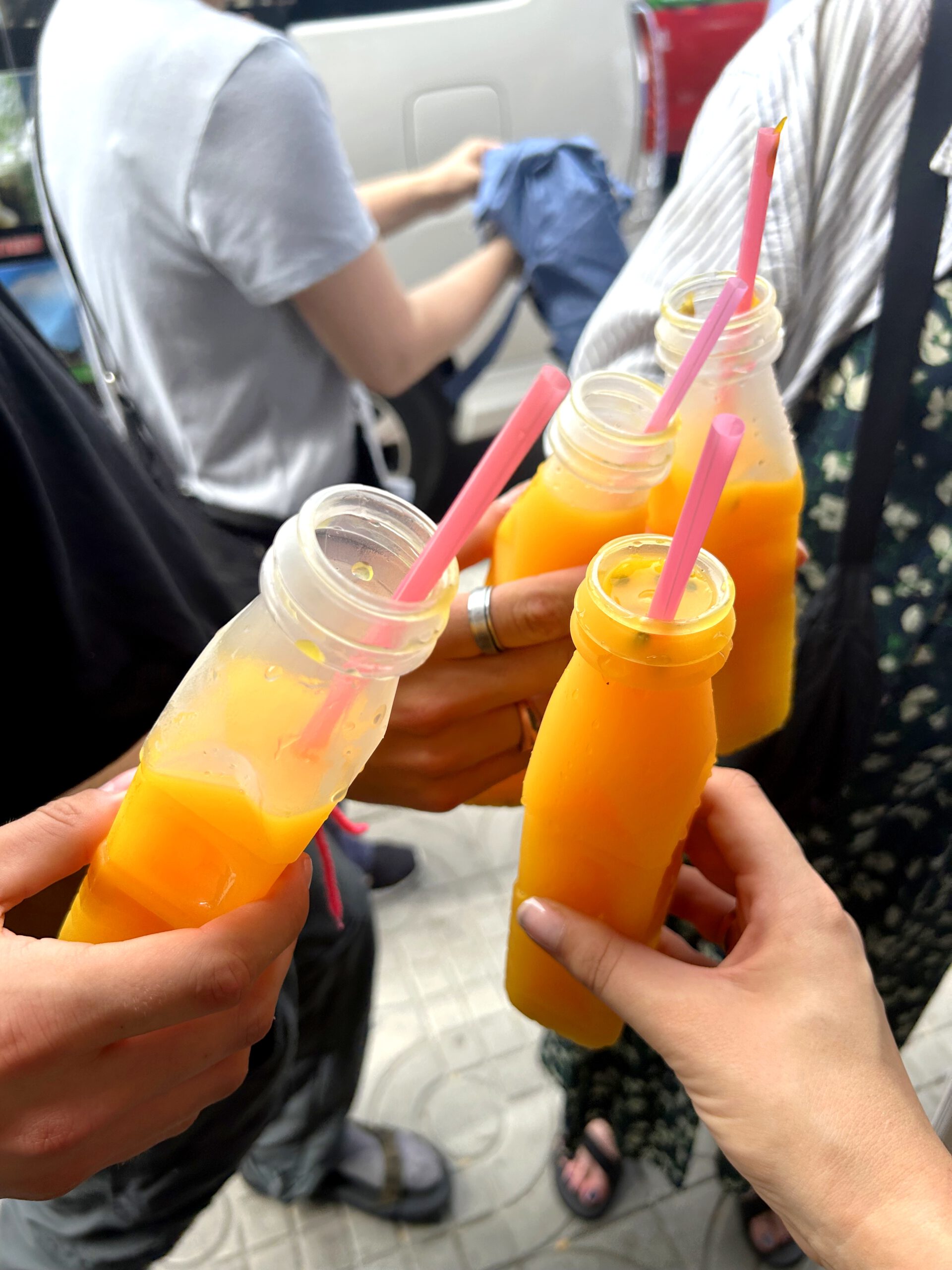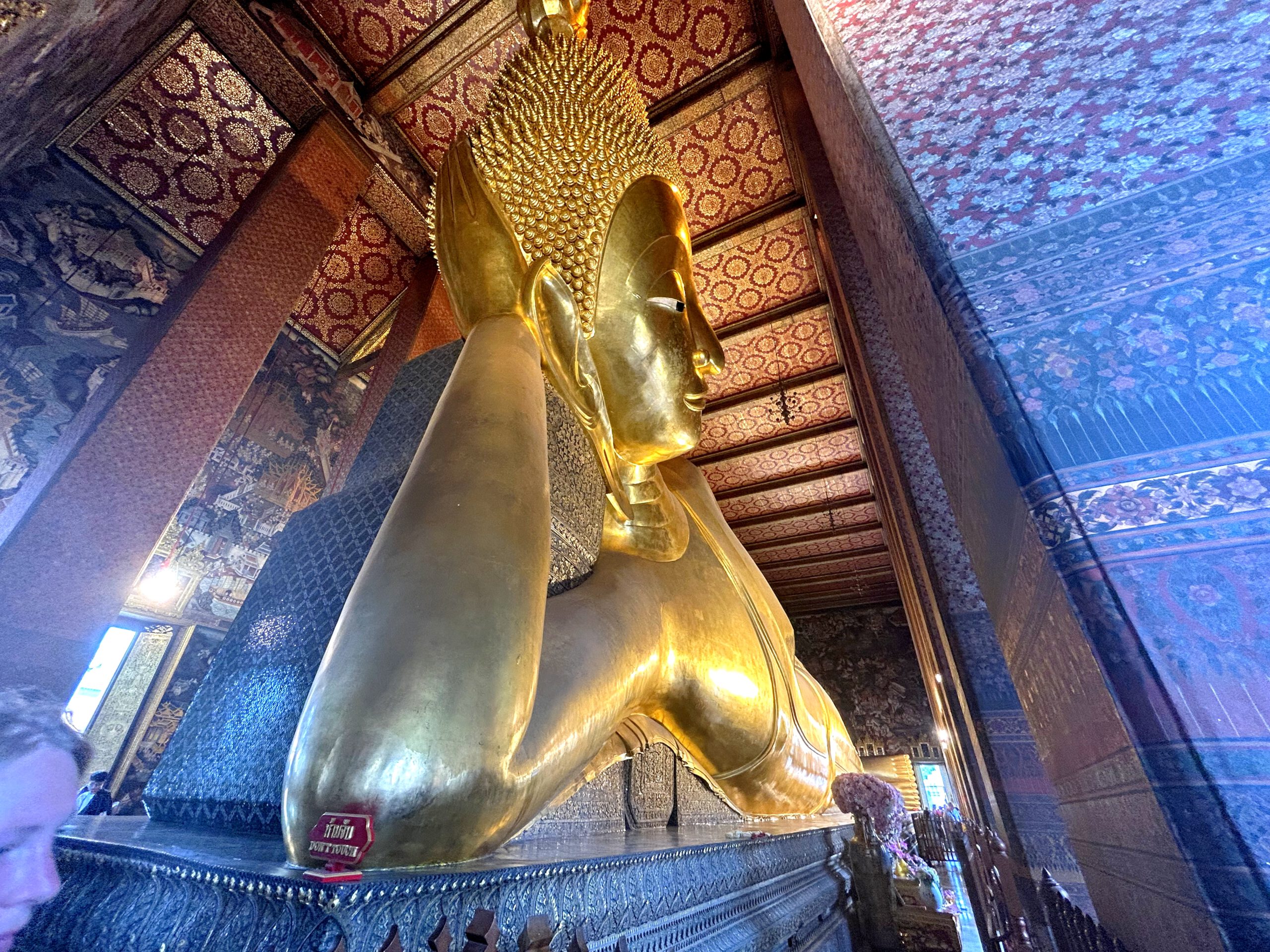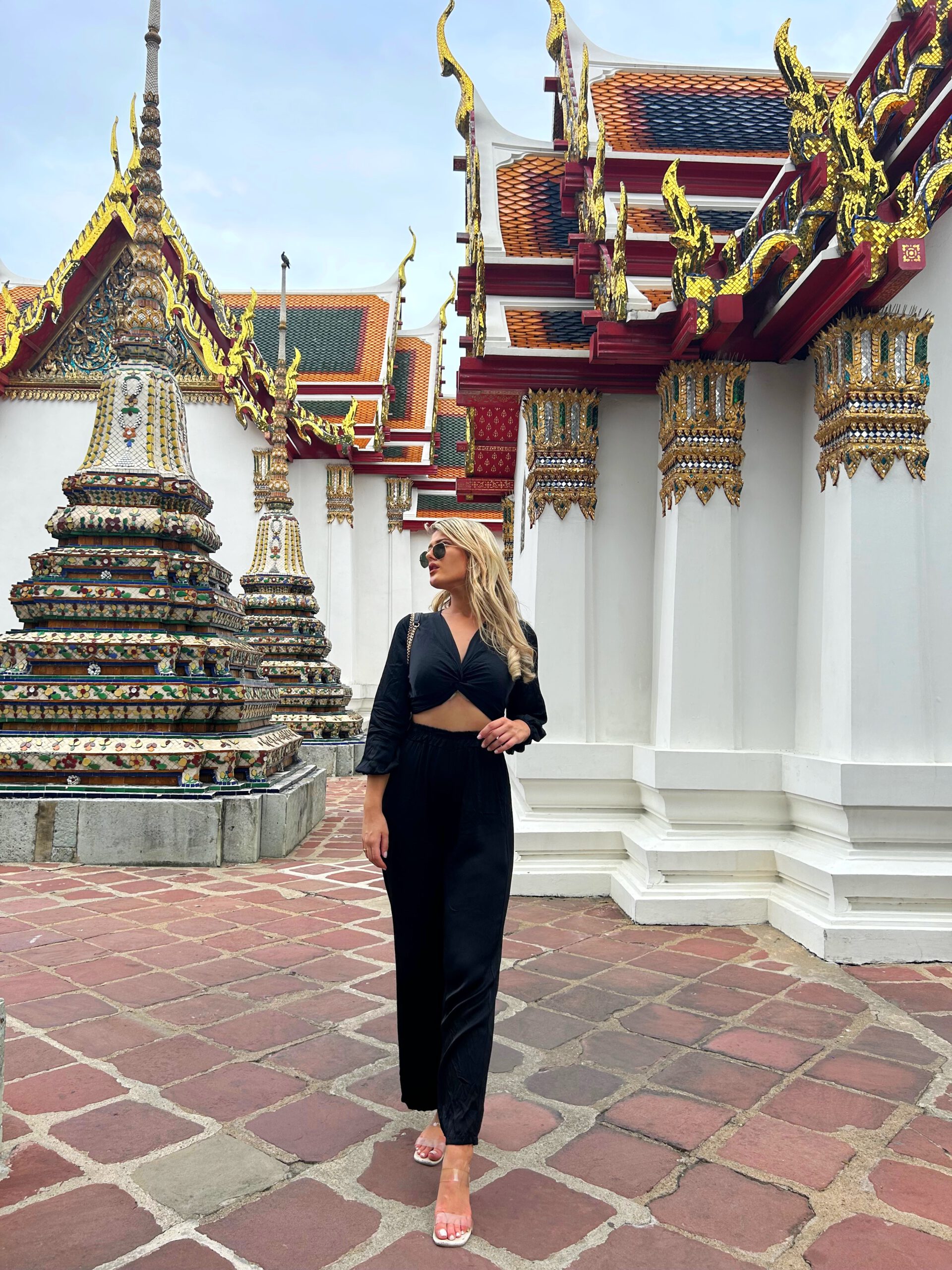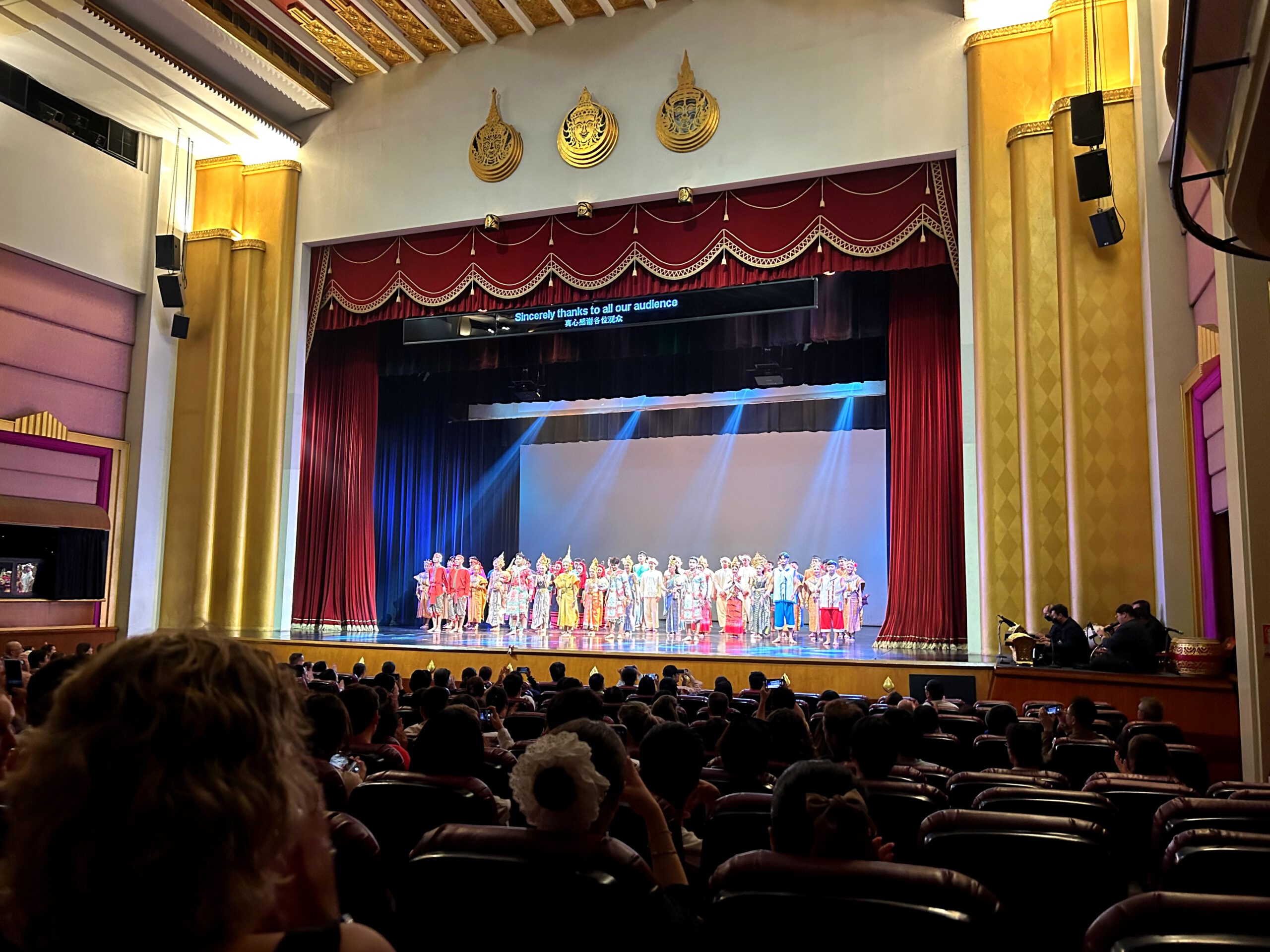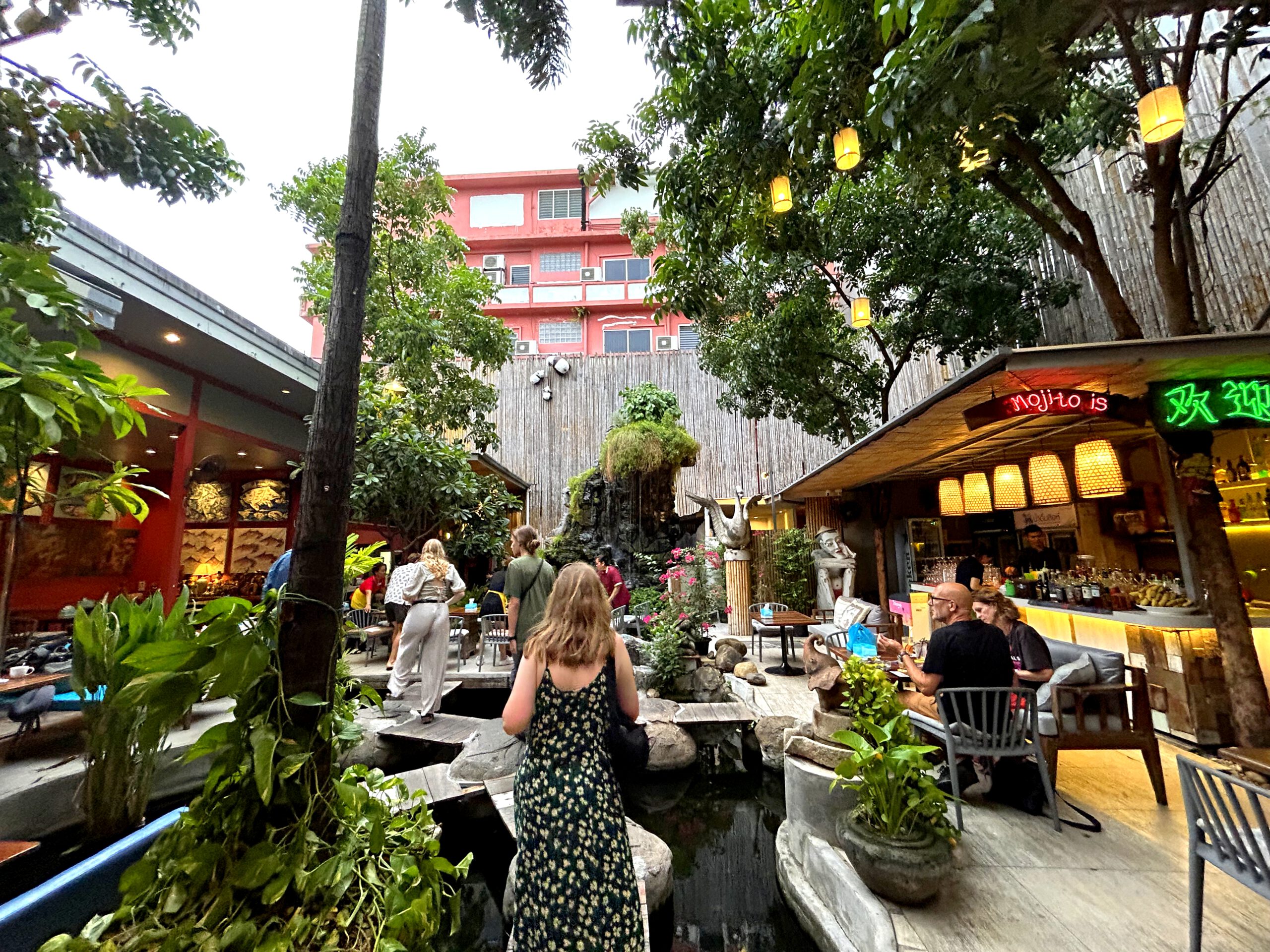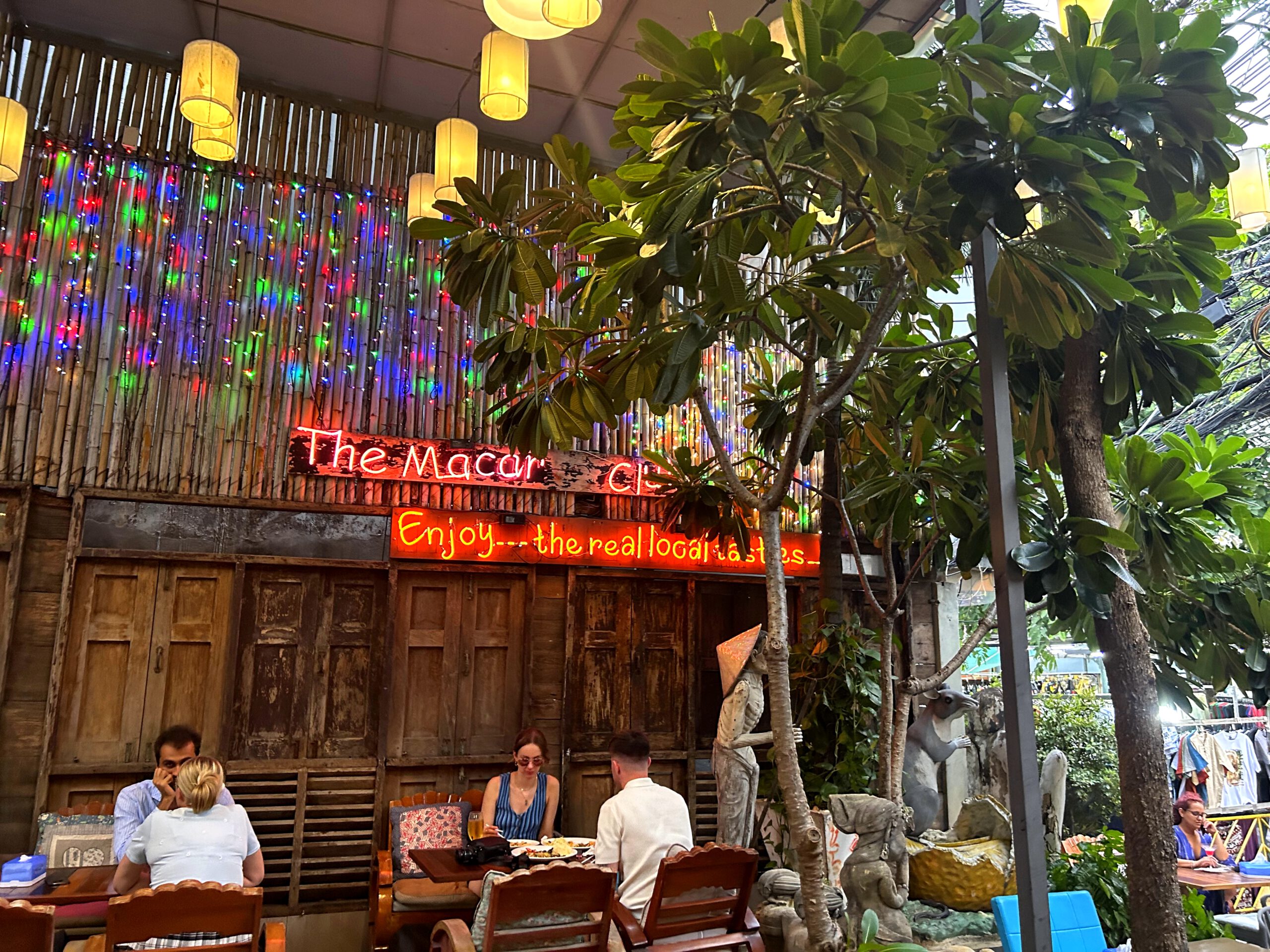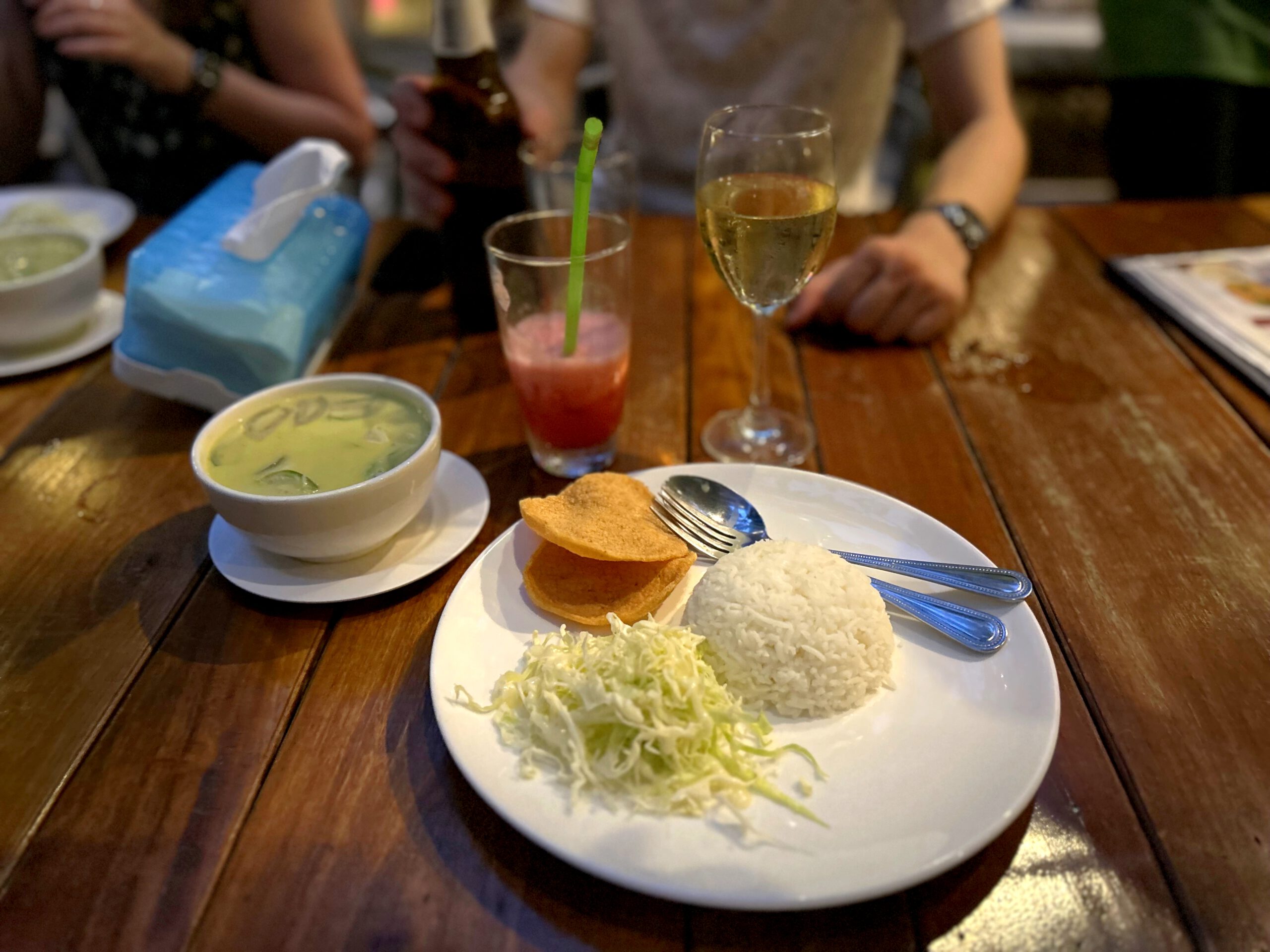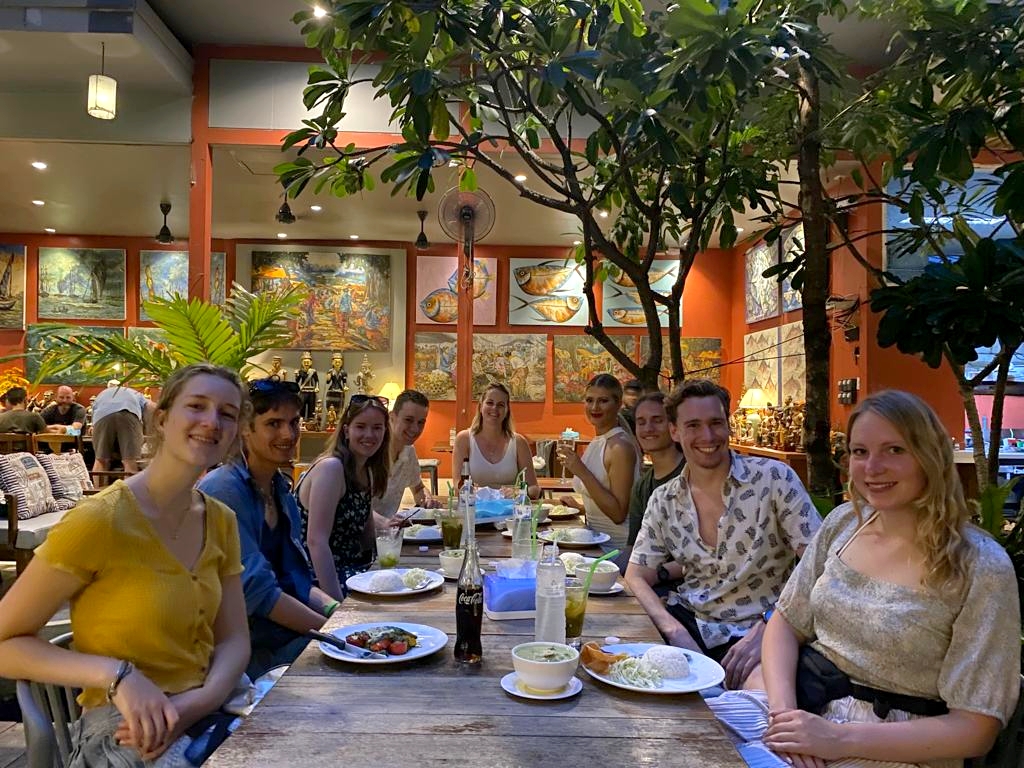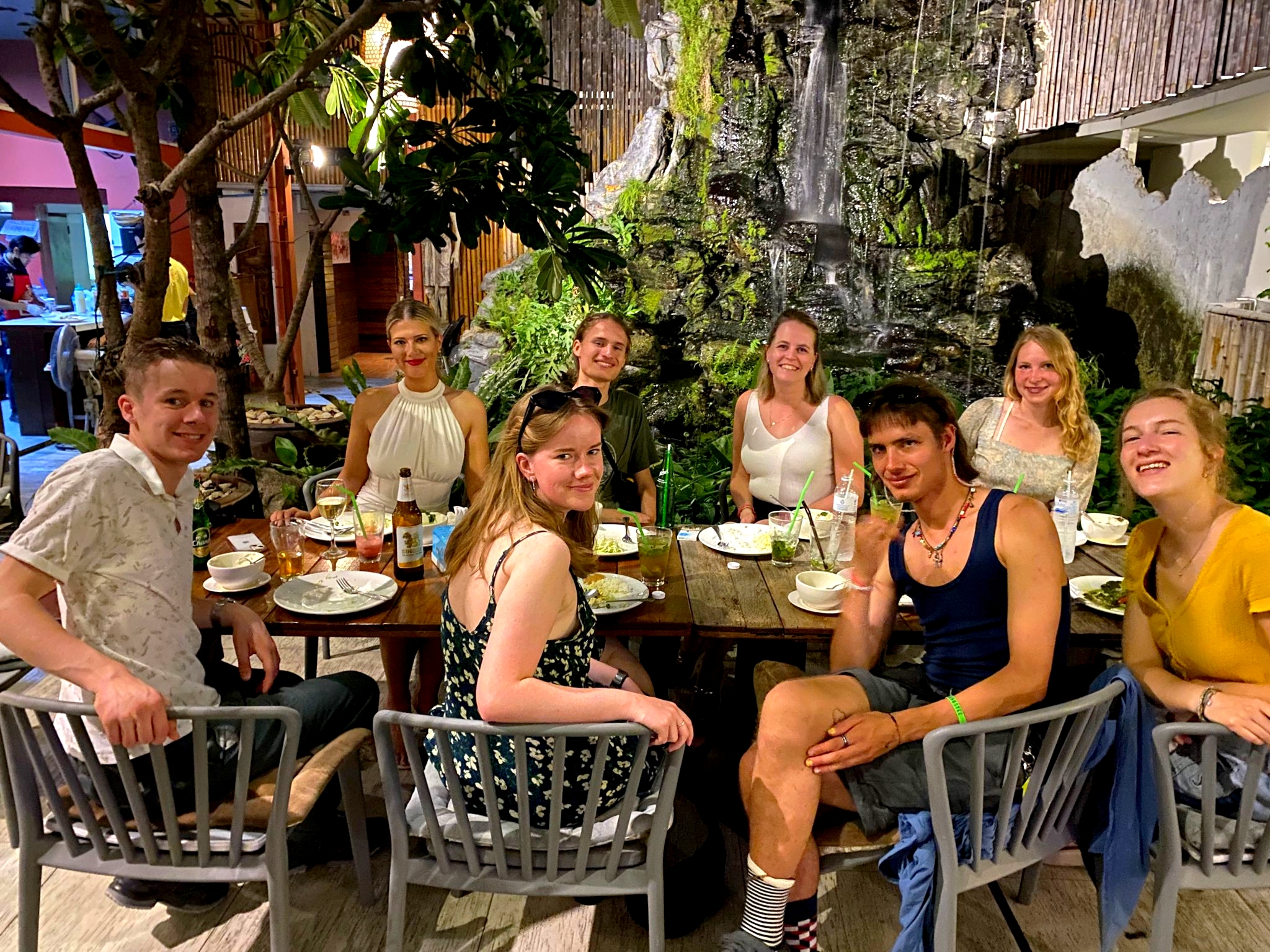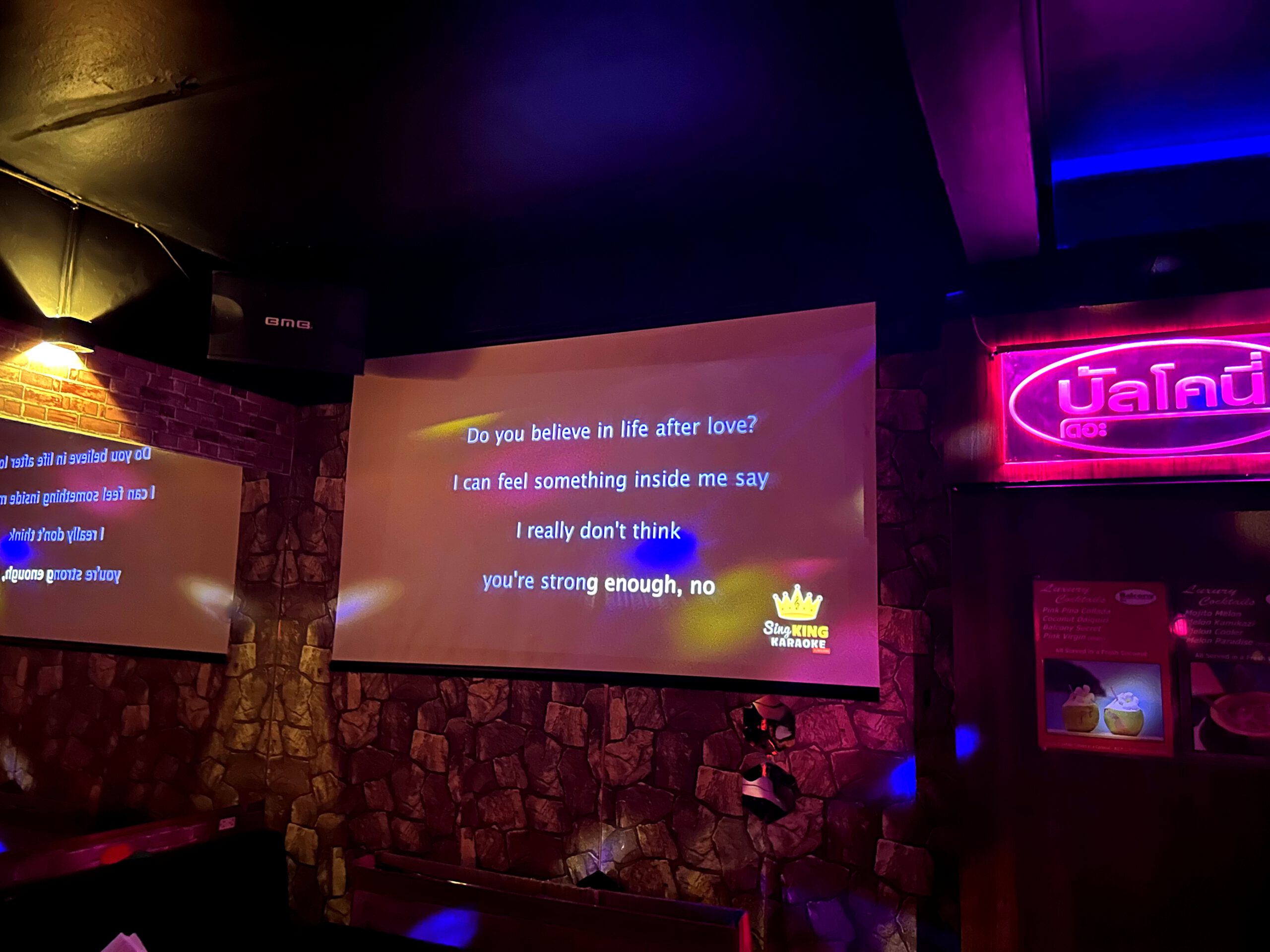 Day 4 – Bangkok & Krabi – 19-07-2023
This special day would only take place in Bangkok for a short time. I only had until the end of the morning here, and then I would leave for the airport to meet my best friend
Roos
and fly to
Krabi
with her. I was really excited for the time I would be able to spend with her from today on after years of not being together with her.
I had asked John at the beginning of the evening yesterday if he wanted to have breakfast/brunch with me this day, just before I had to leave for the airport. So that was the plan for the morning. From day one we already had a very special bond and we had endless conversations about everything, so I really enjoyed spending this time with him and chatting a lot. I came up with the proposal – he came up with the plan, haha! He had looked up a really nice brunch spot about 25 minutes away by taxi called Yellow Lane. The coffee here was nice and the Acai Bowl delicious too! Unfortunately we couldn't chat and eat for a very long time, because we still had to get back in the taxi for another 25 minutes and I had to leave immediately for the airport afterwards. But I really enjoyed being on the road with him this morning – a very nice farewell to Bangkok.
Deze bijzondere dag zou maar korte tijd in Bangkok plaatsvinden. Ik had hier nog maar tot het einde van de ochtend, en dan zou ik naar het vliegveld vertrekken om mijn beste vriendin
Roos
weer te ontmoetten en met haar naar
Krabi
te vliegen. Ik was echt erg excited voor de tijd die ik vanaf vandaag met haar zou kunnen doorbrengen na jaren niet met haar samen te zijn geweest.
Ik had John gisteren aan het begin van de avond gevraagd of hij deze dag met mij wilde ontbijten/brunchen, net voordat ik naar het vliegveld moest vertrekken. Dat was dus het plan voor de ochtend. Vanaf de eerste dag hadden we al een speciale band en we hadden eindeloze gesprekken over van alles, dus ik vond het erg leuk om deze tijd met hem door te brengen en veel te kletsen. Ik kwam met het voorstel – hij kwam met het plan, haha! Hij had een hele leuke brunch/ontbijt plek opgezocht op ongeveer 25 minuten rijden met de taxi, Yellow Lane genaamd. De koffie was hier lekker en de Acai Bowl ook heerlijk! Helaas konden we niet heel lang kletsen en eten, want we moesten nog 25 minuten terug in de taxi en ik moest daarna meteen vertrekken naar het vliegveld. Maar ik vond het erg leuk om vanochtend met hem op pad te zijn – een heel mooi afscheid van Bangkok.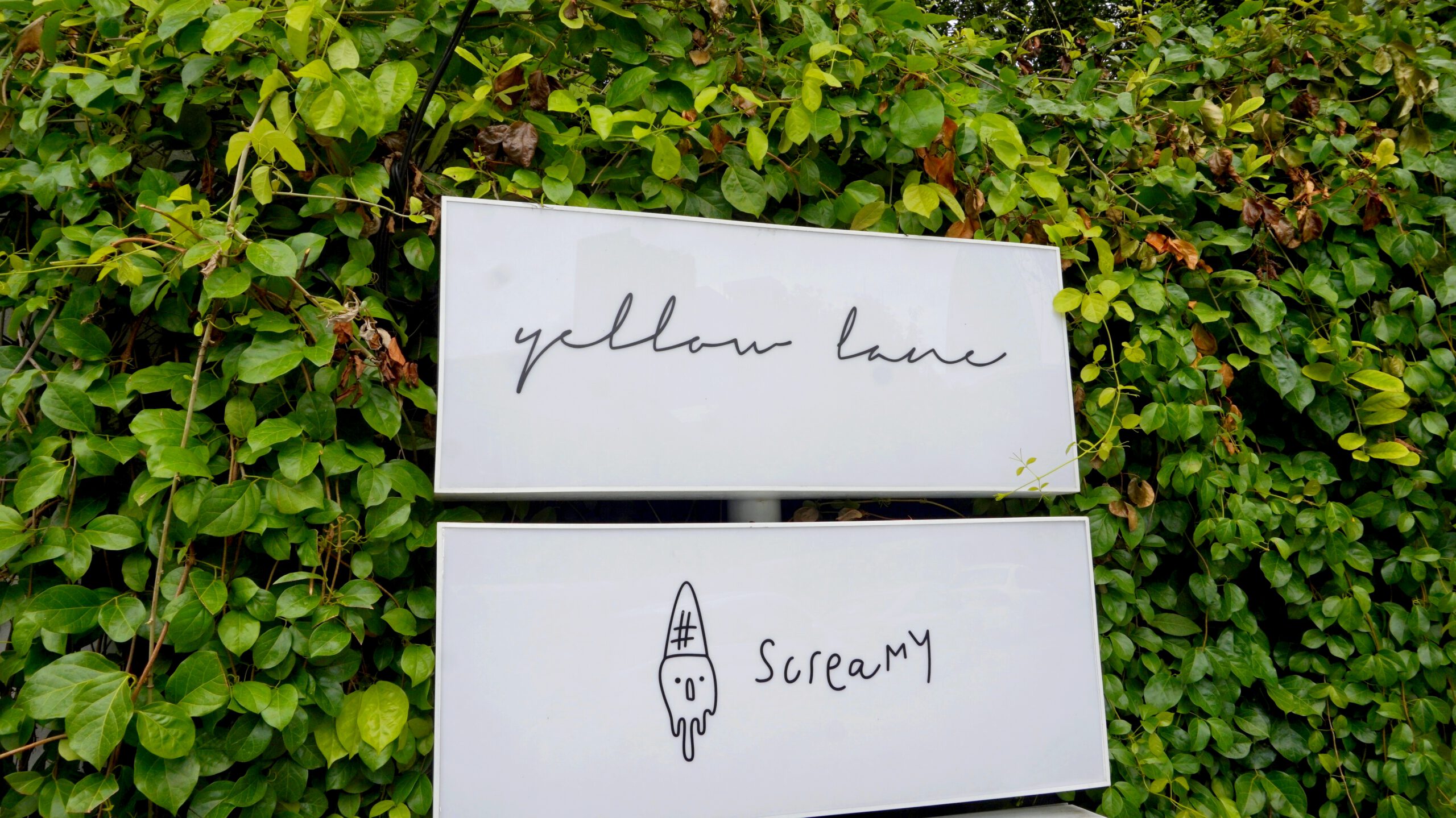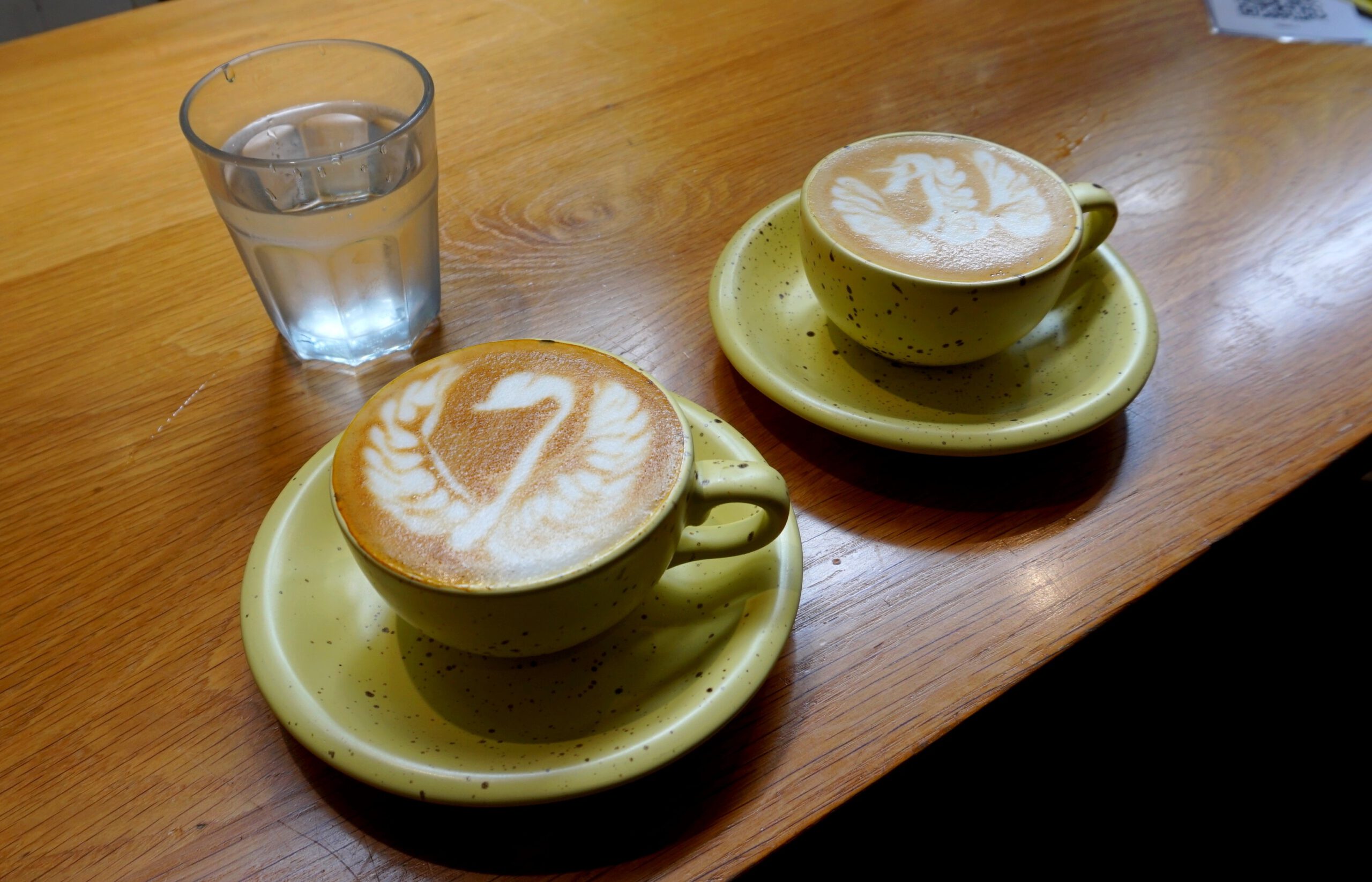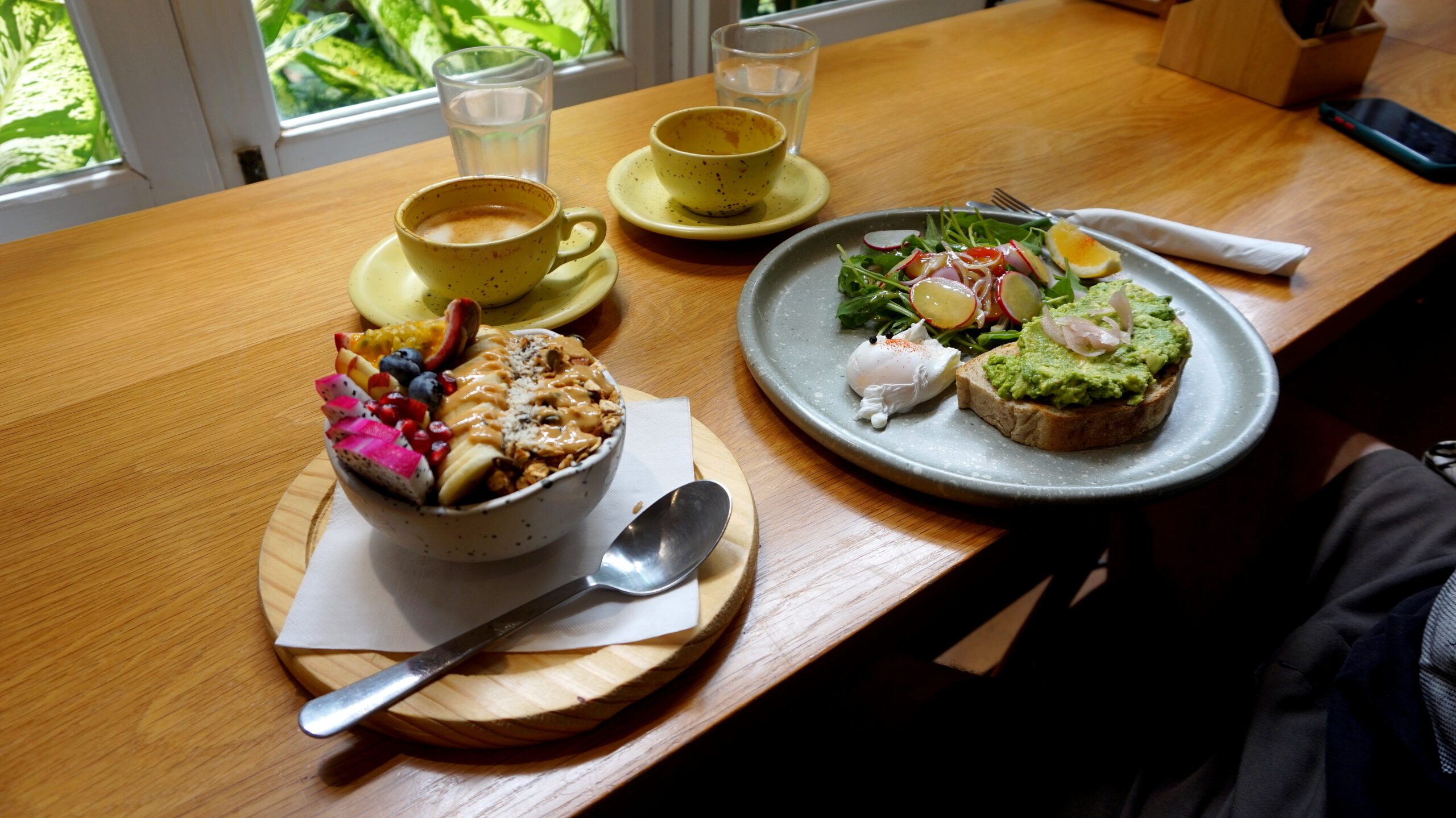 I felt a bit sad to have so little time to spend here in Bangkok, as I would have preferred more time with the wonderful people I met – but my dear best friend and I would finally get back together, and that was the original plan before me extending the trip to make it partially solo. I am so very happy that I listened to my heart, extended this trip and did it partly solo! These 3/4 days were exactly the experience I've been looking for since Mexico. Despite the rainy season in Thailand – it certainly didn't spoil these days in Bangkok! Bangkok/Thailand is in my opinion a safe destination where I have more breathing space compared to South America (which I love very much) and have to be less alert. The prices are low, and the quality of food/facilities is generally very good!
I hope that this new travel diary has given you a nice picture of the trip, insights from a solo trip or maybe it has given you that push to try it yourself! Thanks for reading and until the next posts about Dubrovnik and the rest of the trip with my best friend
Ik voelde me een beetje verdrietig omdat ik zo weinig tijd had om hier in Bangkok door te brengen, omdat ik liever meer tijd had doorgebracht met de geweldige mensen die ik ontmoette – maar mijn lieve beste vriend en ik zouden eindelijk weer bij elkaar komen, en dat was het oorspronkelijke plan ervoor ik verleng de reis om het gedeeltelijk solo te maken. Ik ben zo ontzettend blij dat ik naar mijn hart heb geluisterd, deze reis heb verlengd en deels solo heb gedaan! Deze 3/4 dagen waren precies de ervaring waar ik al sinds Mexico naar op zoek was. Ondanks het regenseizoen in Thailand – heeft het deze dagen in Bangkok zeker niet bedorven! Bangkok/Thailand is naar mijn mening een veilige bestemming waar ik meer ademruimte heb dan Zuid-Amerika (waar ik verder wel erg van hou) en minder alert moet zijn. De prijzen zijn laag en de kwaliteit van eten/faciliteiten is over het algemeen erg goed!
Ik hoop dat dit nieuwe reisdagboek je een mooi beeld van de reis heeft gegeven, inzichten uit een soloreis of misschien wel het zetje heeft gegeven om het zelf eens te proberen! Bedankt voor het lezen en tot de volgende berichten over Dubrovnik en de rest van de reis met mijn beste vriendin.