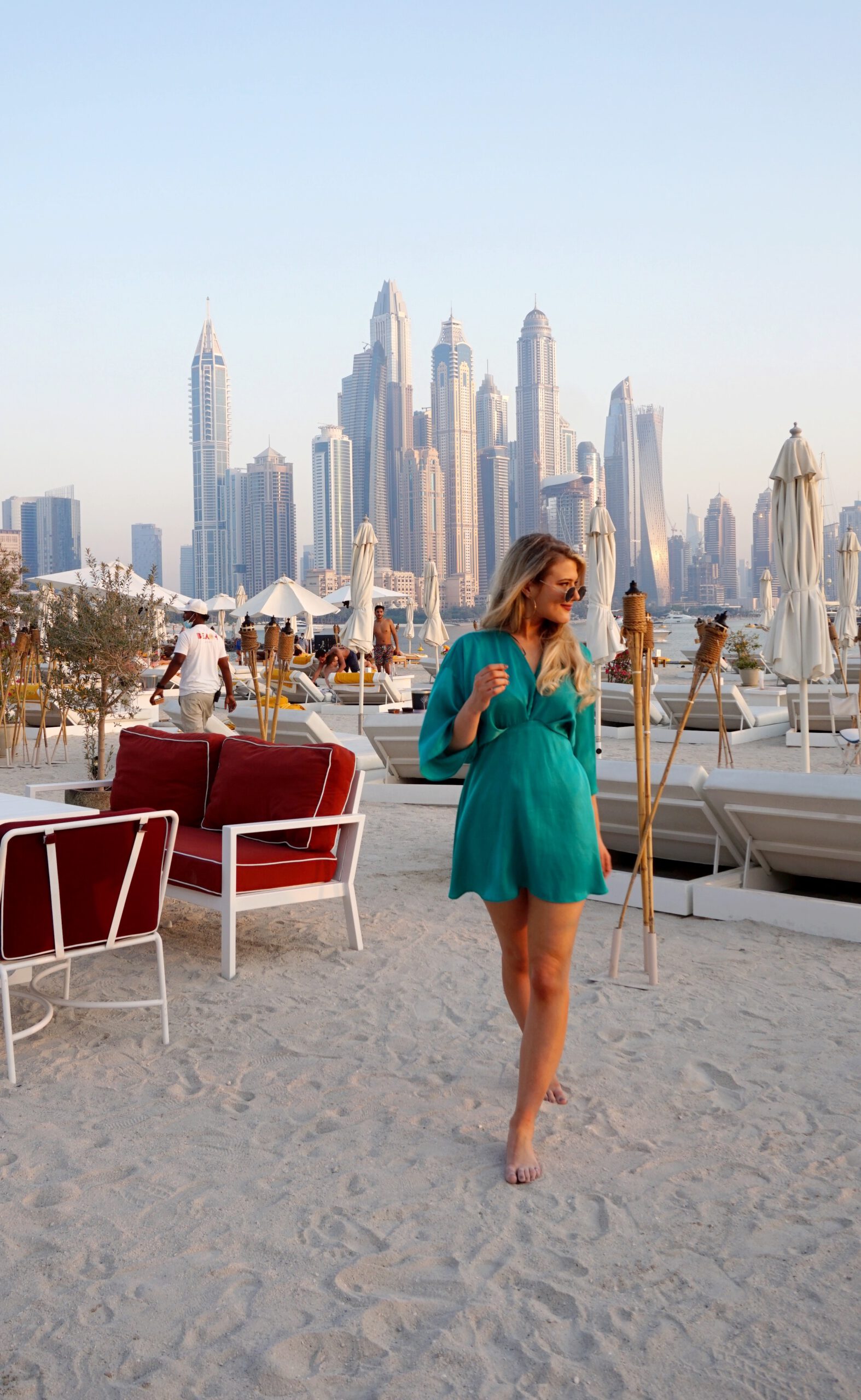 Hi everyone. I made a very 'special' blog post about my Dubai trip at the beginning of May. I want to say in advance that this is a journey in corona time, so you can certainly have an opinion about this. But published negative opinions are not welcome on my platform. Nor do I mean to 'motivate' people with this to travel to a risk area and not to stick to the 'urgent advice'. And, I would like to mention here, that traveling to (orange areas) is discouraged, but not prohibited. (Holiday to an orange area is therefore not prohibited, and the quarantine is not mandatory either) And I have been tested both there and back (3x in total). I have to tell you that this was a pretty pricey trip, because of the very expensive corona tests. The shared apartment, the crew airline tickets (IPB) and everything around it were not even that expensive.
I made this travel diary because I decided to go on a trip for myself. In principle, all my trips this year have already been canceled (because: traveling with others, so dependent). And I have 2.5 weeks of vacation before the full working weeks start soon. I could go to a former colleague, because she rented a large apartment near Marina (Marina View apartments) and spent a large part of her journey alone. I was going to see my best friend who lives close by, and go with a fellow friend, but both fell through. I decided to choose for myself anyway. There is nothing in the world that gives me as much satisfaction and peace as travelling. I went to Schiphol at the beginning of the afternoon. Even now that I have been a flight attendant for at least 3-4 years, Schiphol still feels like a magical place. It felt a bit like the first time I went to Japan. Traveling alone gives me a huge boost of self-confidence and gratitude, so I can only recommend it. With my beautiful white business suit outfit and a big box of Oreos and chocolate, I boarded the KLM 777 as an 'If place available' traveller (just like when I went to Japan). Outside of Europe I always prefer KLM, because I am full of praise for 'our big blue mother'. The crew really provided a fantastic flight and I really enjoyed it! I chatted a lot with the very pleasant crew and received a sweet card, glass of champagne, some goodies to take with me and a Jan Taminiou bag. A fantastic start to my short holiday! I felt super exited to travel again! My (solo) travels are what give me a lot of strength and satisfaction in life. I can therefore recommend it to everyone to travel (solo) as much as possible in life. After a long journey, I left by taxi from DXB, to Marina. (Tip: Take a beige taxi with a colored roof, they charge less). My taxi ride costed about 28 euros (125 dirhams). Arriving at the apartment, I chatted with Michelle for a bit and went to sleep.
Hi allemaal. Ik heb een hele 'speciale' blogpost gemaakt van mijn Dubai reis begin Mei. Bij voorbaat wil ik zeggen, dat dit een reis is in corona tijd, dus je hier zeker een mening over kan hebben. Maar gepubliceerde negatieve meningen zijn niet welkom op mijn platform. Ook bedoel ik het niet om hiermee mensen te 'motiveren' om naar een risicogebied af te reizen en je niet aan de 'dringende adviezen' te houden. En, wil ik hierbij nog vertellen, dat reizen naar (oranje gebieden) wordt afgeraden, maar niet verboden is. (Vakantie naar een oranje gebied is overigens dus niet verboden, en ook de quarantaine is niet verplicht) En ik ben zowel heen als terug getest (3x in totaal). Ik moet jullie zeggen dat dit een aardig prijzige reis was, door de ontzettend dure corona testen. Het gedeelde appartement, de crew vliegtickets (IPB) en alles er omheen waren zelf niet eens zo duur.
Deze travel diary heb ik gemaakt omdat ik voor mijzelf toch had besloten op reis te gaan. Al mijn reizen van dit jaar zijn in principe al gecanceld (want: reizen met anderen, dus afhankelijk). En ik heb 2,5 weken vakantie voor straks de volle werkweken gaan beginnen. Ik kon terecht bij een oud-collega, omdat ze een groot appartement huurde bij Marina (Marina View apartments) en een groot deel van haar reis ook alleen zat. Ik zou mijn beste vriendin gaan opzoeken die er vlak bij woont, en met een collega-vriendin gaan, maar beide gingen niet door. Ik besloot toch voor mijzelf te kiezen. Er is namelijk niks in de wereld dat mij zoveel voldoening en rust geeft als reizen. Ik ging aan het begin van de middag naar Schiphol. Zelfs nu ik al zeker 3-4 jaar stewardess ben, voelt Schiphol nog steeds als een magische plek. Het voelde weer een beetje zoals de eerste keer dat ik naar Japan ging. Van reizen in mijn eentje krijg ik een enorme boost van zelfverzekerheid en dankbaarheid, daarom kan ik het alleen maar aanraden. Met mijn prachtige witte business suit outfit en een grote doos Oreo's en chocolade, stapte ik als IPB'er aan boord op de 777 van KLM (Net als toen ik naar Japan ging). Ik IPB buiten Europa ook het liefste altijd KLM, omdat ik vol lof ben van 'onze grote blauwe moeder'. De crew heeft echt een fantastische vlucht verzorgd en ik heb er enorm van genoten! Ik heb veel met de ontzettend gezellige crew gekletst en kreeg een lief kaartje, glaasje champagne, wat lekkers om mee te nemen en een Jan Taminiou tasje. Een fantastisch begin van mijn korte vakantie! De reiskriebels voelden even zoals vanouds. Mijn (solo) reizen zijn wat mij ontzettend veel kracht en voldoening geven in het leven. Ik kan het daarom ook iedereen aanraden zo veel als mogelijk in het leven (solo) te reizen. Na een lange reis, vertrok ik met de taxi vanaf DXB, naar Marina. (Tip: Neem een beige taxi met een gekleurd dak, die chargen minder). Mijn taxi rit kostte omgerekend zo'n 28 euro (125 dirham). Aangekomen in het appartement, heb ik nog wat met Michelle gekletst en ben ik gaan slapen.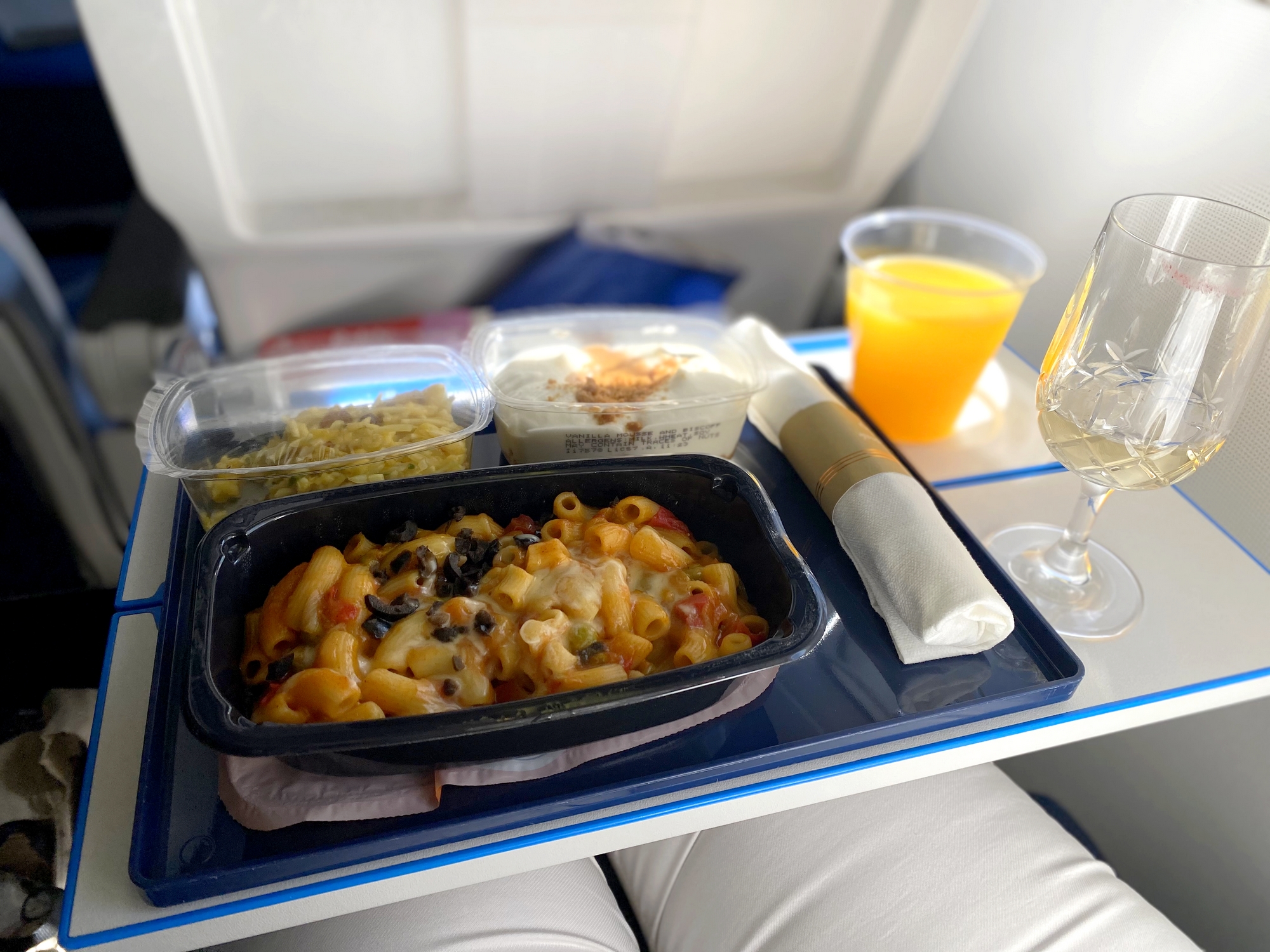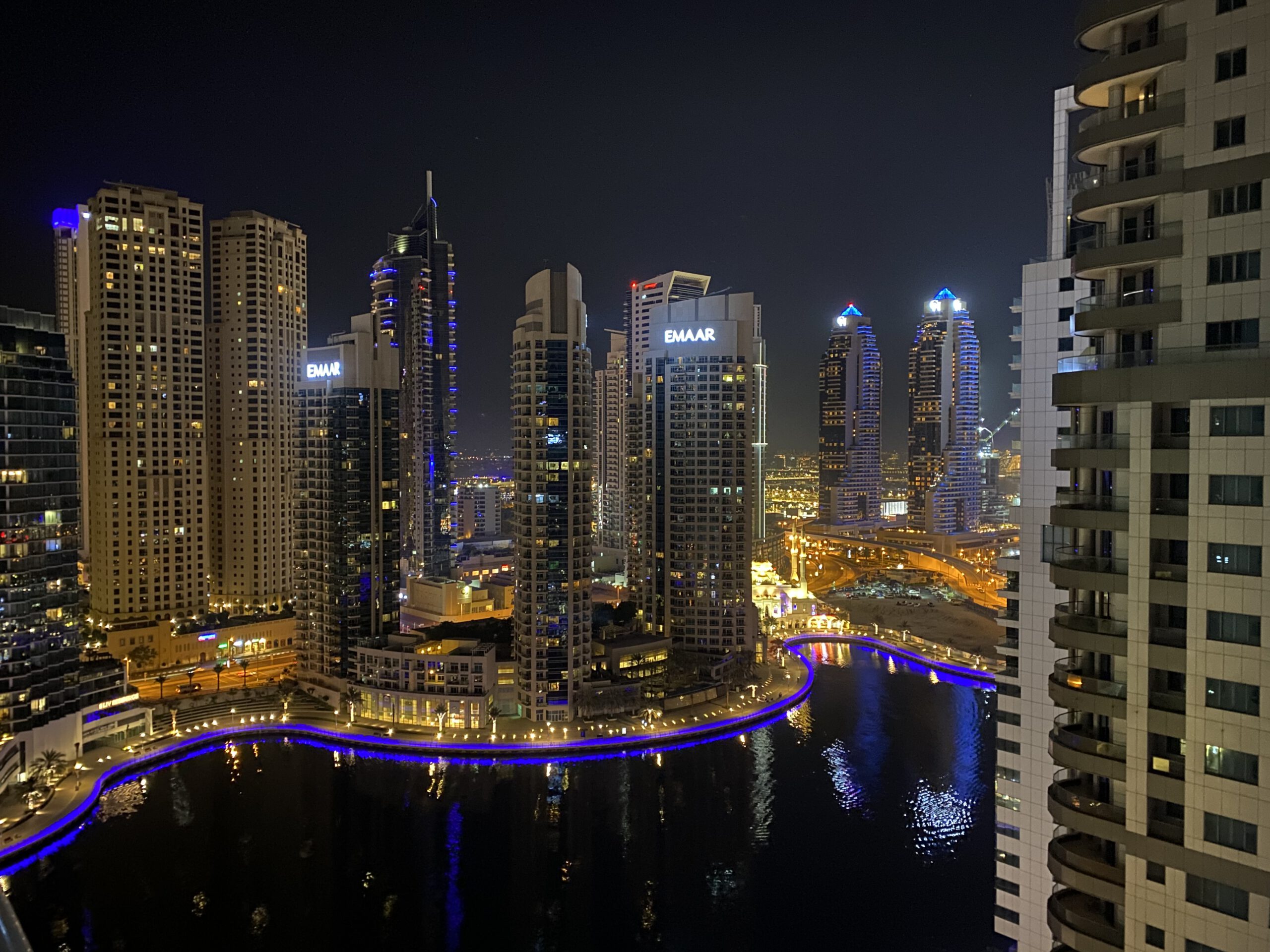 The first full day (Day 2)
we woke up with great fear. The terrifying fire alarm went off on our floor in the middle of the night, so Michelle and I ran down 20 (!) floors incessantly. At first I thought an earthquake or other disaster, but Michelle quickly thought of fire. The whole Marina view building seemed empty, and there was no one to be seen. We thought everyone had already been evacuated. While running, the power even went out in the dark corridors. I wasn't necessarily scared, but it could have been a scene from a disaster movie. Once downstairs, receptionists sat quietly behind the counter, with the news that it was a false alarm … someone had cooked something violently. Anyway, after a few hours of sleep, we decided to go to
Bla Bla Dubai ,
to have a nice breakfast there. Incidentally, the location was quite close to  JBR (beach). We had a set deal, I believe for about 65 dirhams (about 15 euros). I had a delicious Acai bowl, soy cappuccino and watermelon juice. Definitely recommended, we almost had this whole beach club to ourselves. It was Ramandan by the way, but as a tourist you can still eat/drink in a lot of places both inside and outside. In the afternoon we decided to visit some places we wanted to see. We hoped to be able to rent a sunbed at
Address Sky View.
What an incredibly cool hotel that is! The view there is awesome, and so is their infinity pool. The bad news is that you can only rent a cot or swim there if you actually stay there.
So we decided to look for a cool new beach club in the area. Through groupon we found an offer for the Burj club, but that day the costs were not very high anyway. Believe that it was converted to 27.50 euros for entrance to the indoor and outdoor pool. Fits well. The location of this pool is literally at the Burj Khalifa. Cool place, and it was also nice and quiet! in principle we also visited Dubai during a quiet period; May. Here we had a nice lunch, ordered a nice iced coffee and ate something small. By the way, you have unlimited water service, so cold drinking water is regularly brought to you. After enjoying a few hours here, we went back to our apartment to freshen up and change for dinner at JBR beach. Basically a lot was full, especially without a reservation, so Michelle and I went for dinner at Eat Greek. Tasty Gyros and mint lemonade by the sea, haha. By the way, Michelle had met a nice brother and sister from Belgium, with whom we had agreed to go out with in the evening after dinner. First we had a nice coffee at Smokey beach – where you can smoke a water pipe (didn't do it ourselves). This place is also at La Mer, where I had lunch with part of the crew during my flight layover last year. Just before we started measuring with them, we walked along the Marina sea and looked around at Address Beach resort Marina. A hotel where I would really like to stay. Very beautiful, calming and modern. Unfortunately we couldn't get to the rooftop without a room. From Address Marina we were picked up by our new Belgian friends with their rented car. We went looking for a place where we could all have a drink, but the first one in a hotel was already closing, we eventually took the car again to Bla Bla Dubai where we went to drink mocktails. Super cool place! Basically a club where you have to sit at a table because of corona. Very nice that we went here until the night! They also serve drinks for those who are interested.
De eerste volle dag (Dag 2)
werden we wakker met grote angst. Het doodenge brandalarm ging midden in de nacht af op onze etage, dus zijn Michelle en ik zeker 20 (!) verdiepingen, onophoudelijk naar beneden gerend. Eerste dacht ik een aardbeving of andere ramp, maar Michelle dacht al snel aan brand. Het hele Marina view gebouw leek leeg, en er was niemand te bekennen. We dachten dat iedereen al was geëvacueerd. Tijdens het rennen, viel zelfs telkens de stroom in de donkere gangen uit. Ik was niet per sé bang, maar het had zo een scene uit een rampenfilm kunnen zijn. Eenmaal beneden zaten er rustig receptionisten achter de balie, met als nieuwtje dat het vals alarm was…iemand had wat heftig gekookt. Maar goed, na wat uren bijgeslapen te hebben, besloten we naar
Bla Bla Dubai
 te gaan, om daar lekker te ontbijten. De locatie was overigens vrij dicht bij 
JBR (beach)
. We hadden een set deal, ik geloof voor zo'n 65 dirham (zo'n 15 euro). Ik had een heerlijke Acai bowl, soya cappuccino en watermeloen sap. Zeker een aanrader. We hadden bijna deze hele beach club voor onszelf. Het was overigens Ramandan, maar als toerist kun je op een hoop plekken zowel binnen als buiten alsnog eten/drinken. In de middag besloten we om wat plekken te gaan bezoeken die we beide graag wilde bezoeken. We hoopte een bedje te kunnen huren bij
Address Sky View.
Wat een onwijs gaaf hotel is dat! Het uitzicht daar is mega vet, hun infinity pool overigens ook. Het slechte nieuws is dat je er alleen een bedje mag huren of zwemmen als je er daadwerkelijk verblijft.
We besloten dus op zoek te gaan naar een gave nieuwe beachclub in de buurt. Via groupon vonden we een aanbieding voor the Burj club, maar die dag waren de kosten sowieso niet heel hoog. Geloof dat het omgerekend 27,50 euro was voor entré voor het binnen en buitenzwembad. Valt best mee. De locatie van dit zwembad is letterlijk bij de Burj Khalifa. Gave plek, en het was ook lekker rustig! we bezochten Dubai in principe ook wel in een rustige periode; mei. Hier hebben we lekker gelunched, nog een lekker ijskoffietje besteld en wat kleins gegeten. Overigens heb je onbeperkte water service, dus wordt er regelmatig koud drink water naar je gebracht. Na we hier een paar uur hebben genoten, zijn we terug naar ons appartement gegaan om ons op te frissen en om te kleden voor avondeten bij JBR beach. In pricipe was een hoop vol, vooral zonder reservering, dus zijn Michelle en ik gaan eten bij Eat Greek. Lekker Gyros en mint limonade bij de zee, haha. Michelle had overigens een gezellige broer en zus uit Belgie ontmoet, waar we mee hadden afgesproken om in de avond na het eten mee op pad te gaan. Eerst hebben we nog lekker een koffietje gedronken bij Smokey beach – waar je overigens een waterpijp kunt roken (zelf niet gedaan). Deze plek zit overigens ook bij La Mer, waar ik tijdens mijn vlieg layover heb gelunched met een deel van de crew vorig jaar. Vlak voor we met ze gingen meetten, zijn we nog langs de Marina zee gaan lopen en rond gaan kijken bij Address Beach resort Marina. Een hotel waar ik écht wel graag zou willen verblijven. Heel mooi, rustgevend en modern. Helaas konden we niet bij de rooftop komen zonder een kamer. Vanaf Address Marina zijn we opgehaald door onze nieuwe Belgische vrienden met hun gehuurde auto. We gingen opzoek naar een plek waar we met zijn allen wat konden drinken, maar de eerste in een hotel was al aan het sluiten, uiteindelijk met de auto opnieuw naar Bla Bla Dubai gegaan waar we mocktails zijn gaan drinken. Mega gave plek! In principe een club waar je door corona moet zitten aan een tafel. Mega leuk dat we hier naartoe zijn gegaan tot in de nacht! Ze schenken overigens ook drank voor de liefhebber.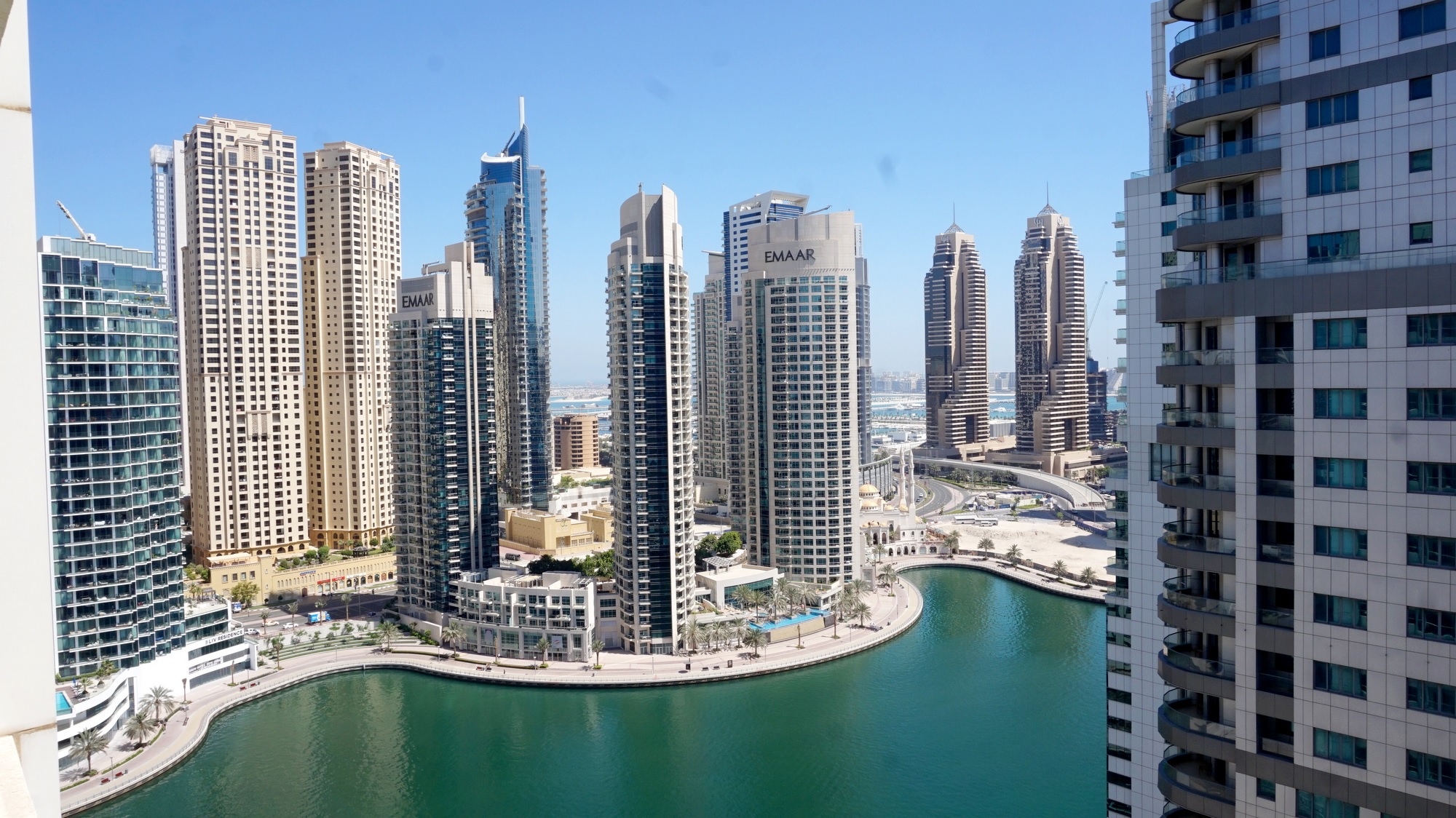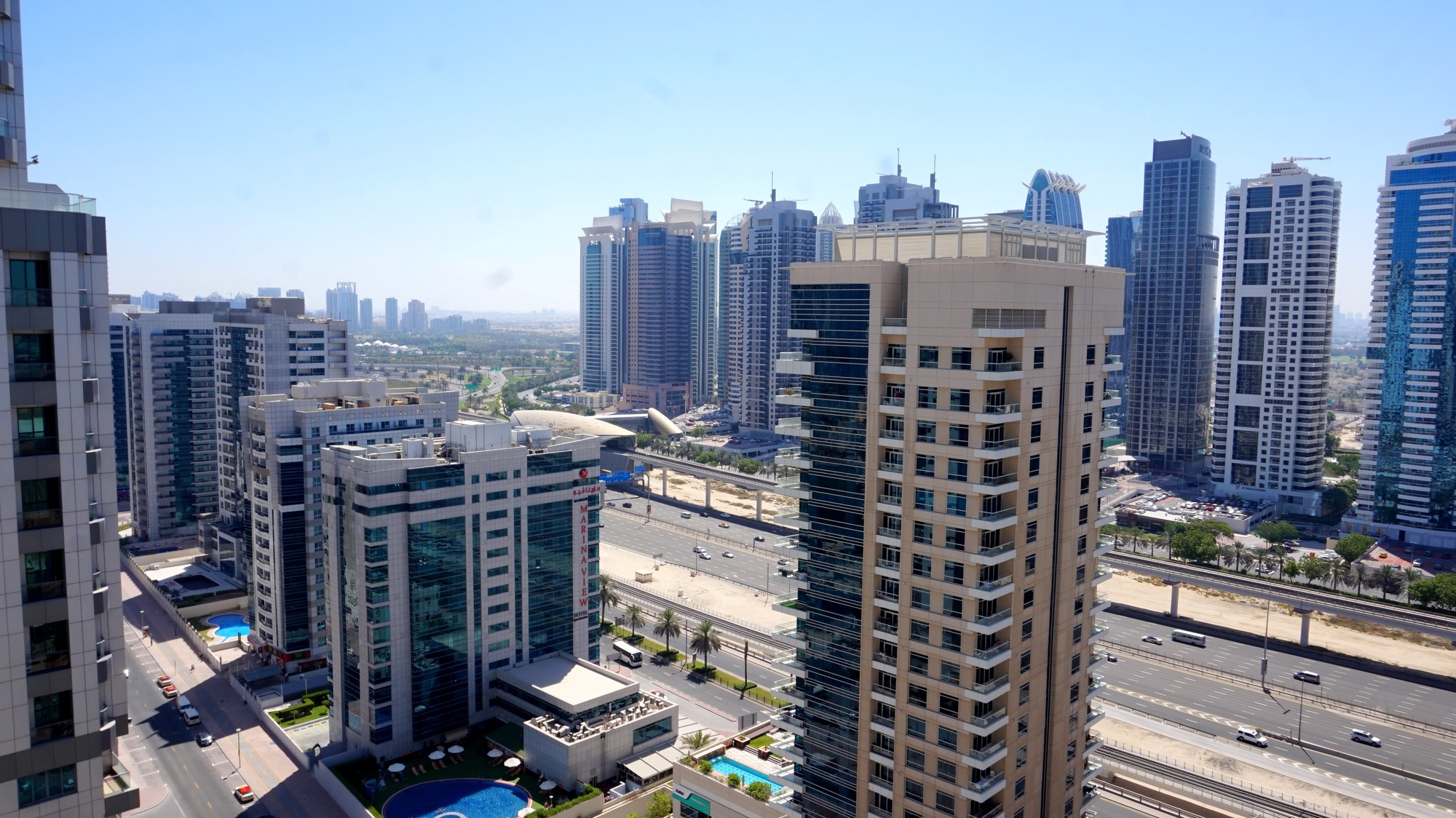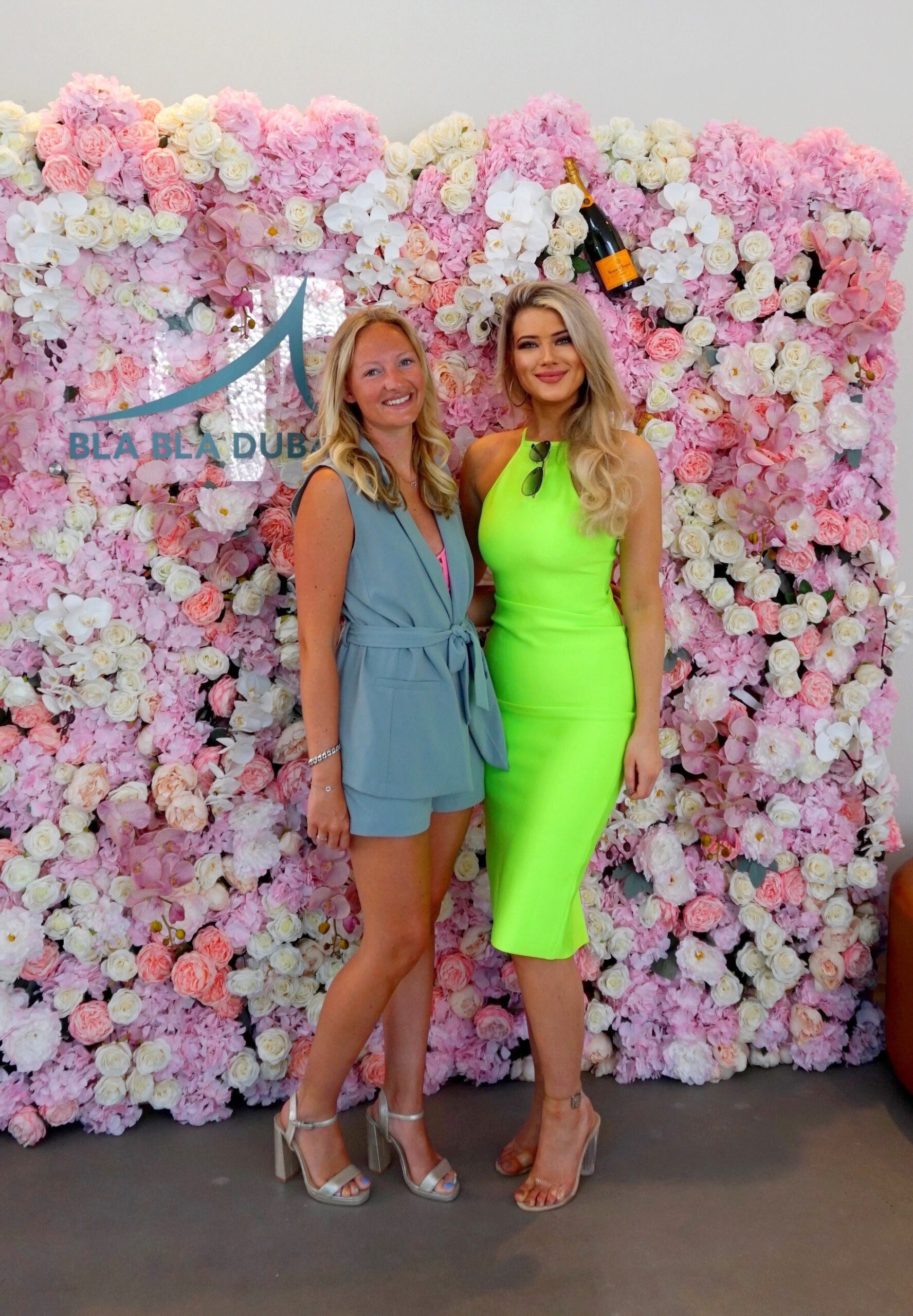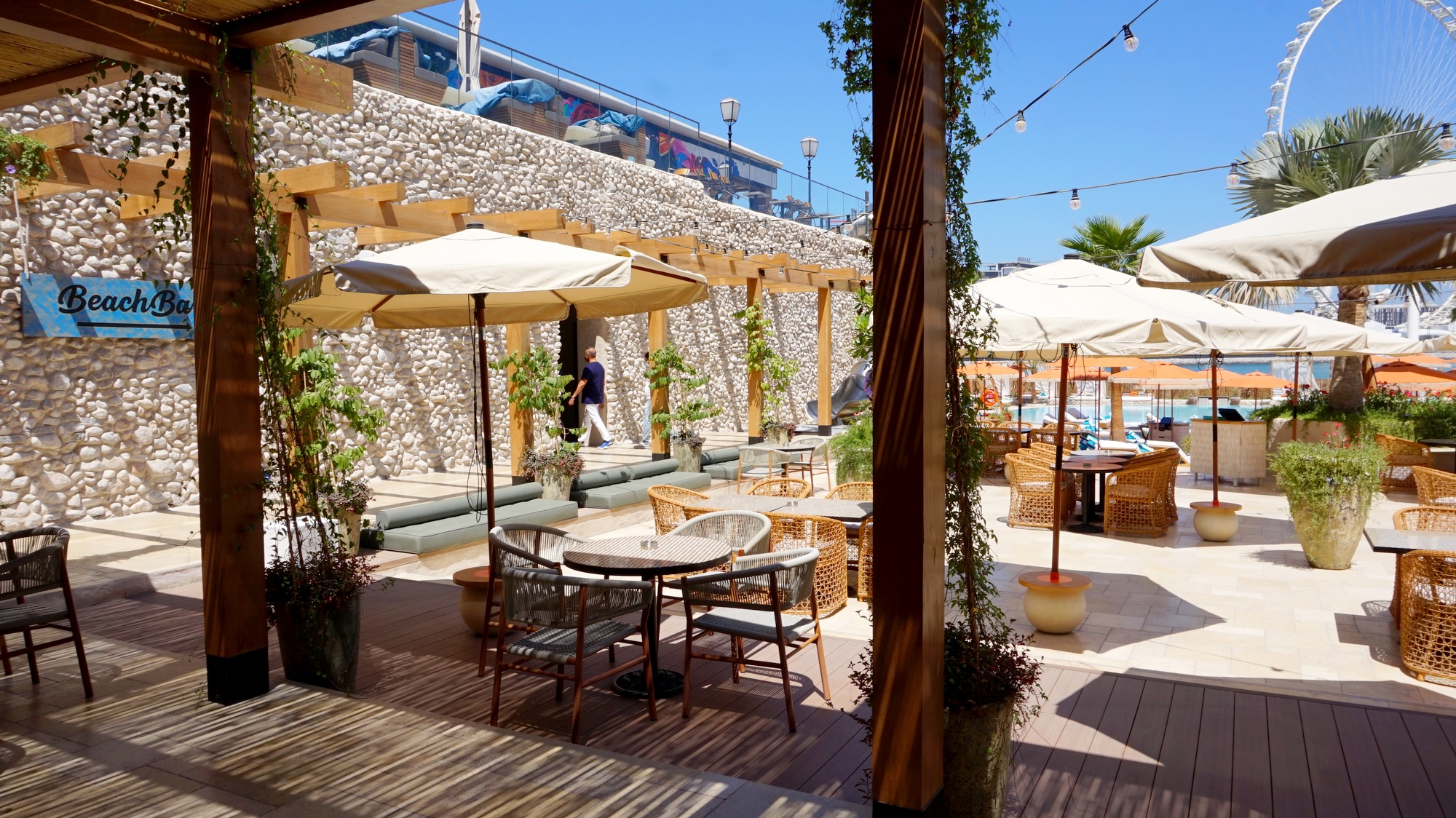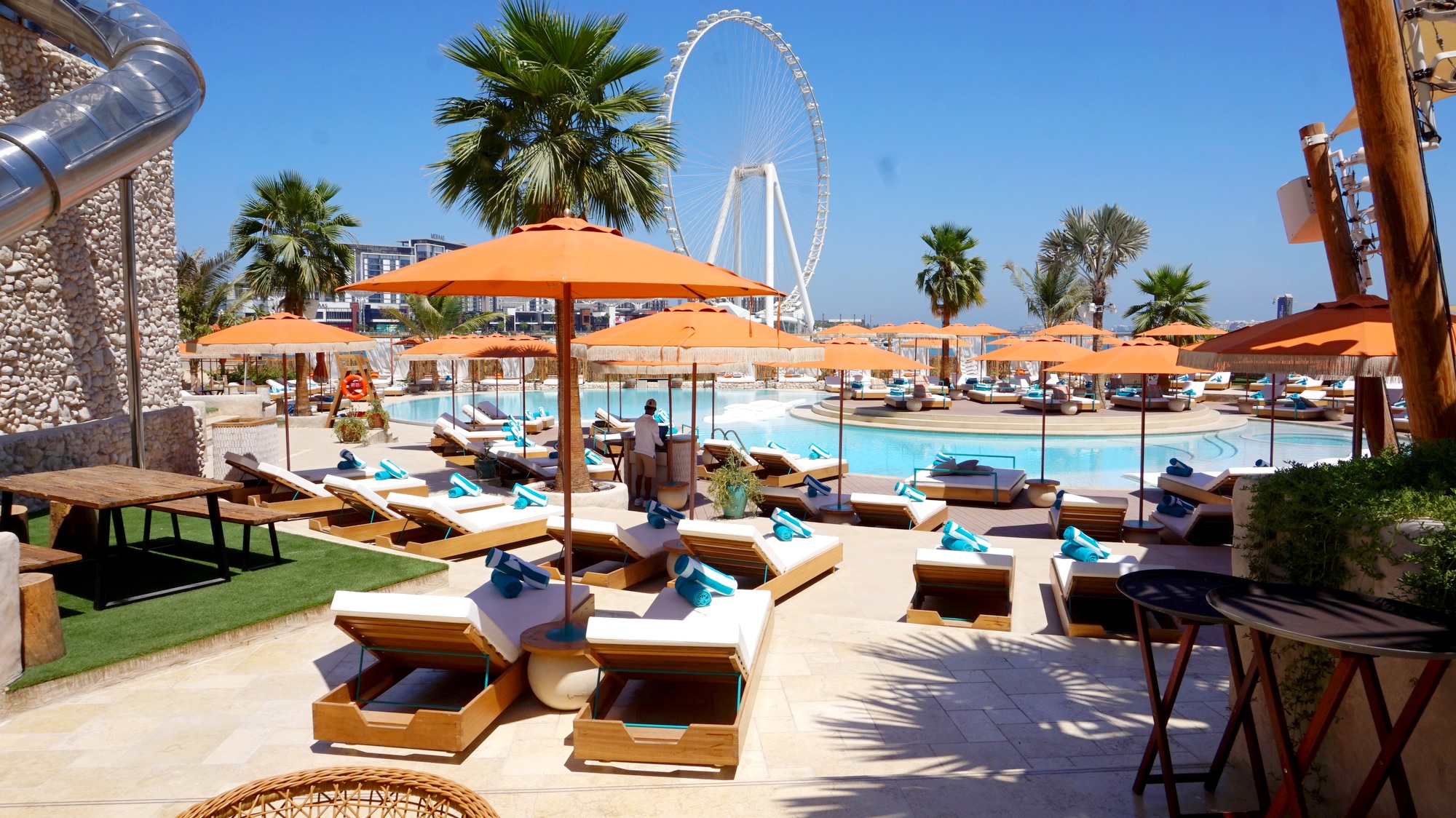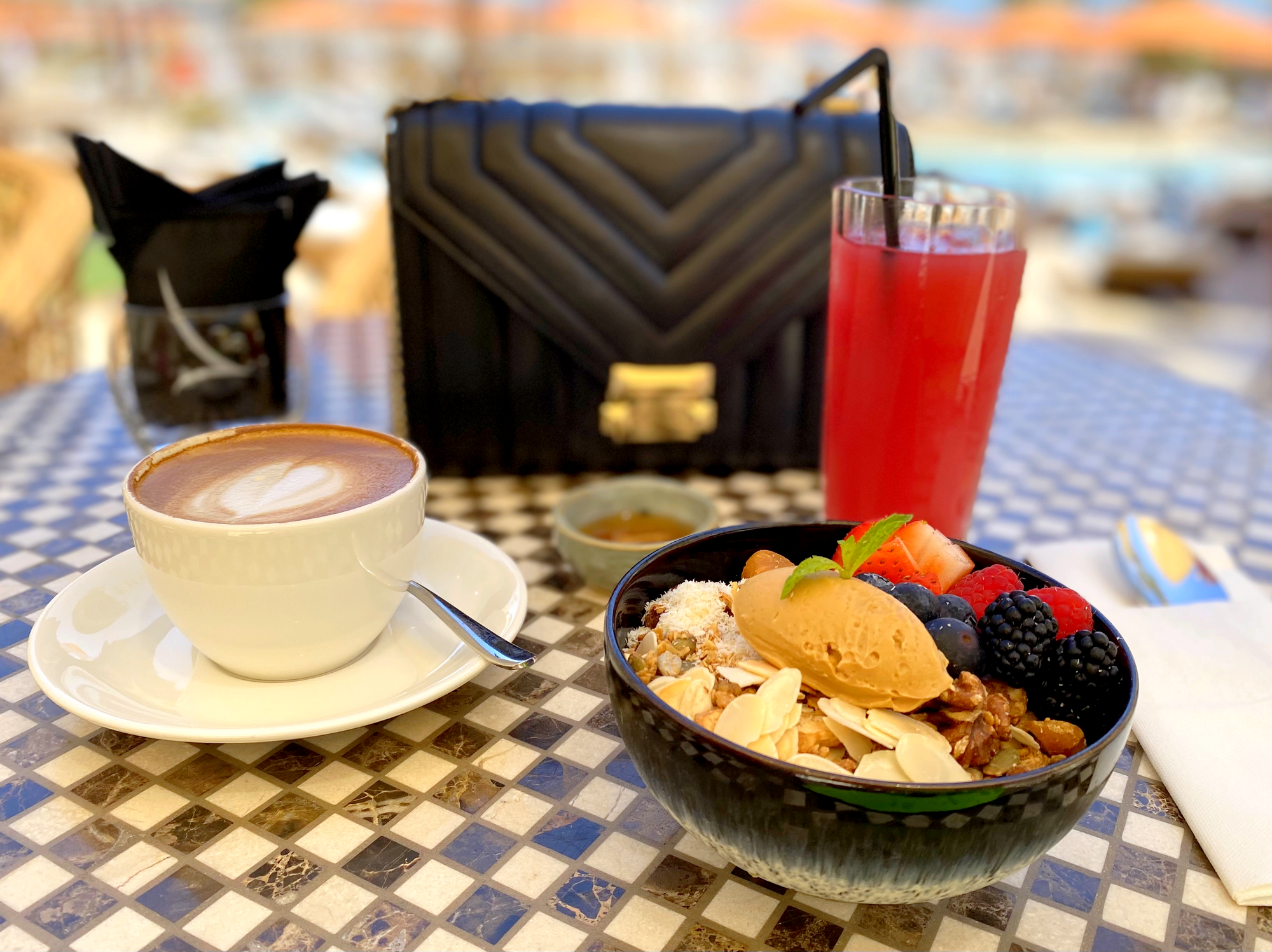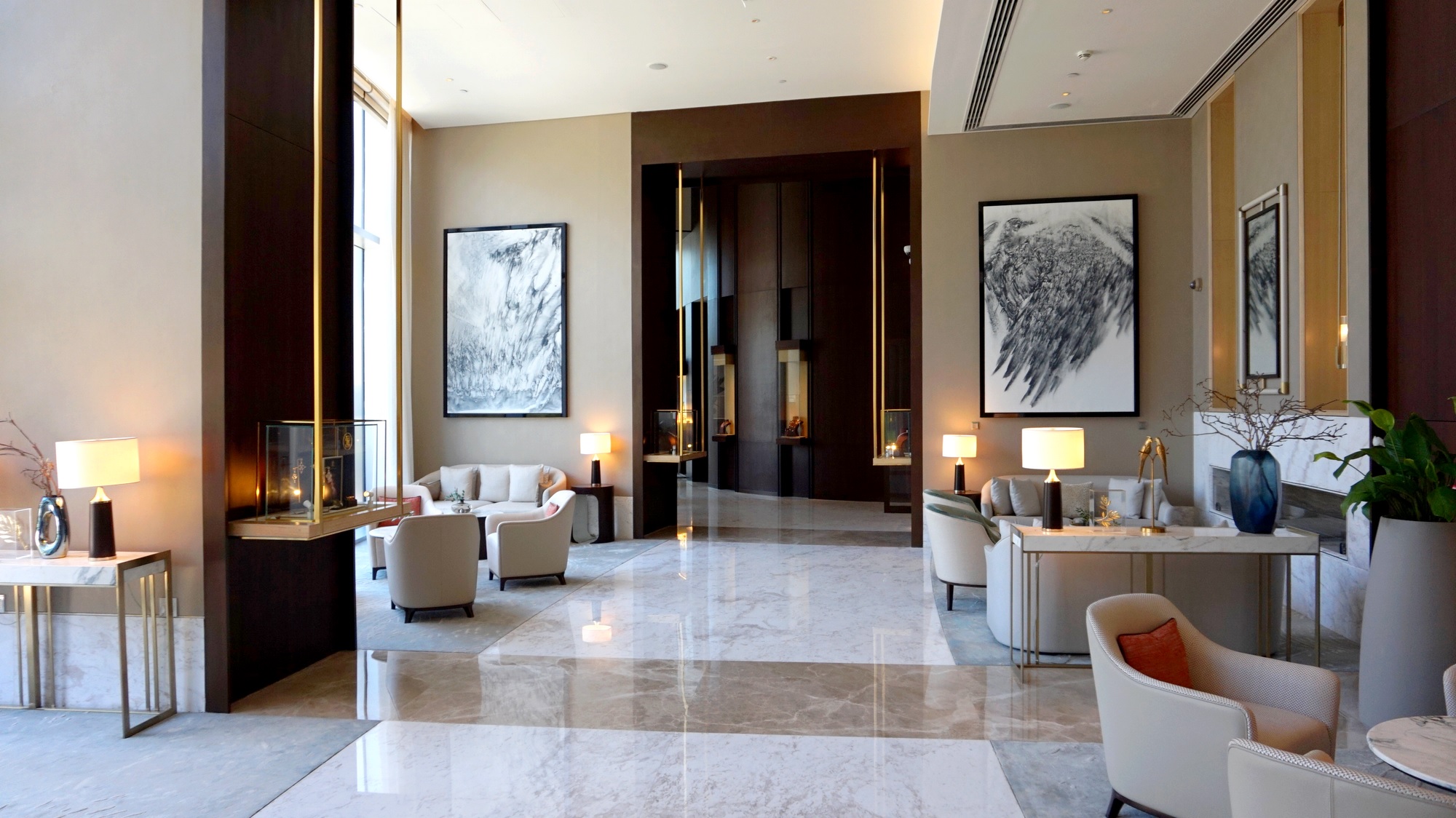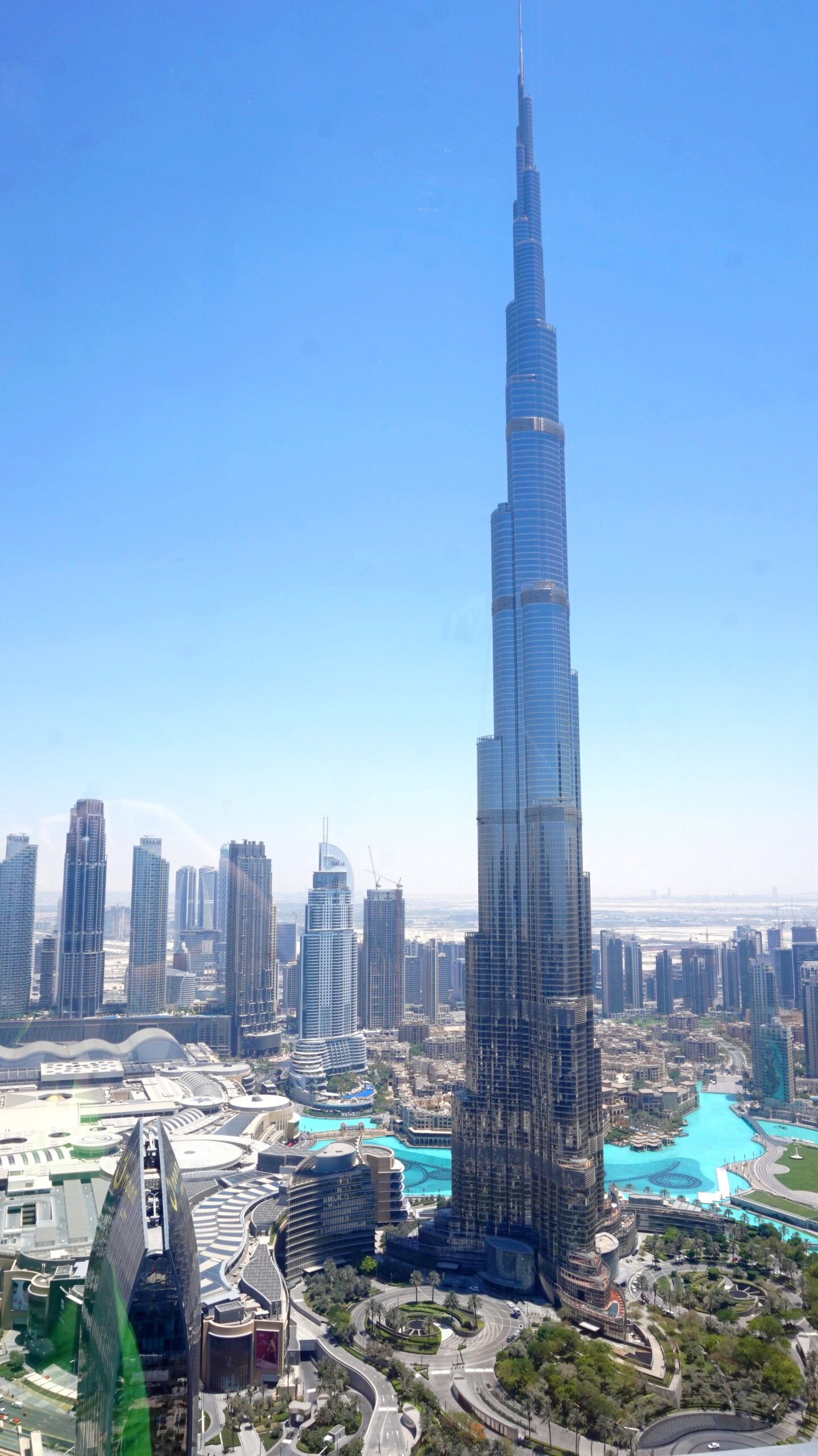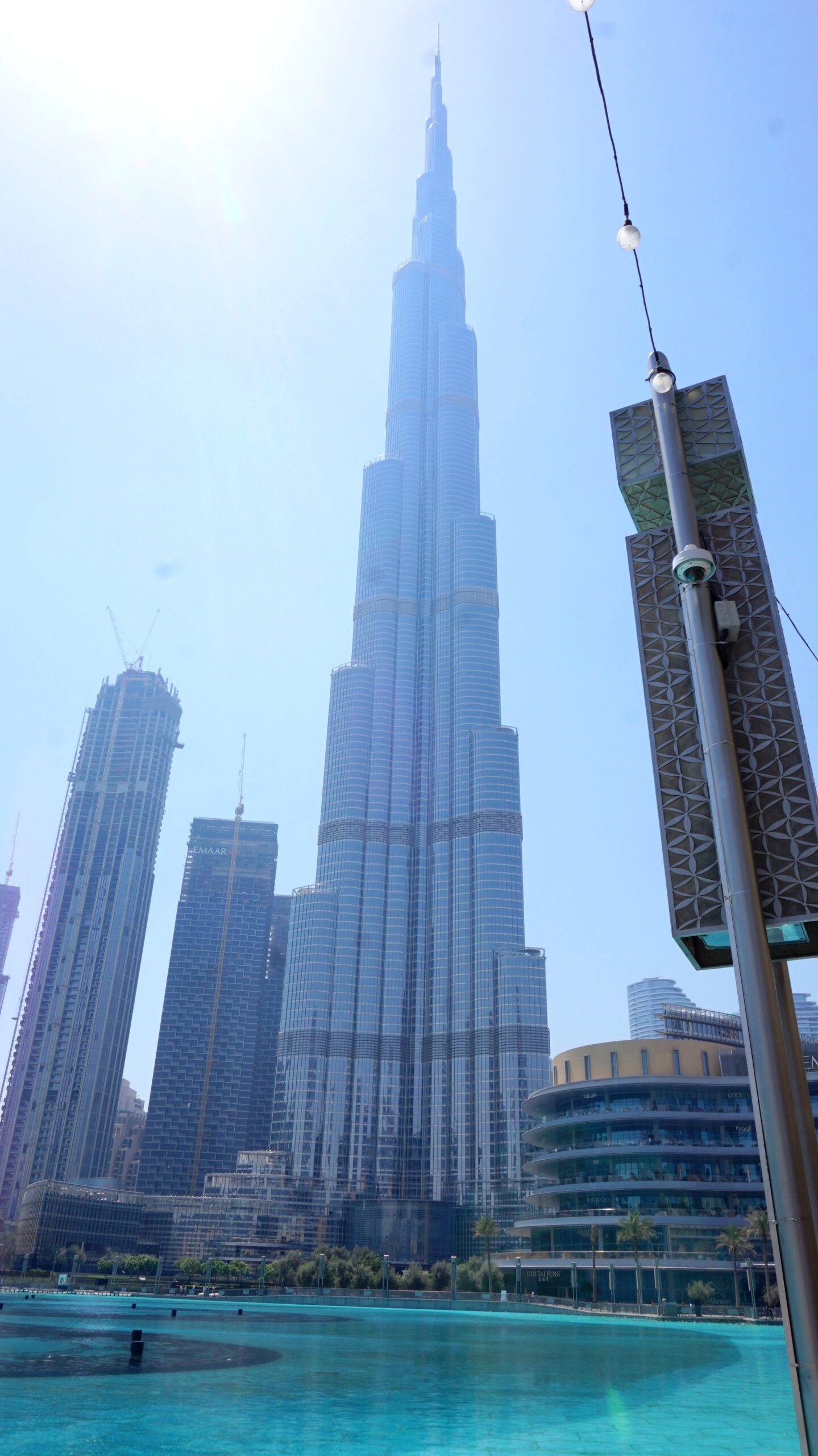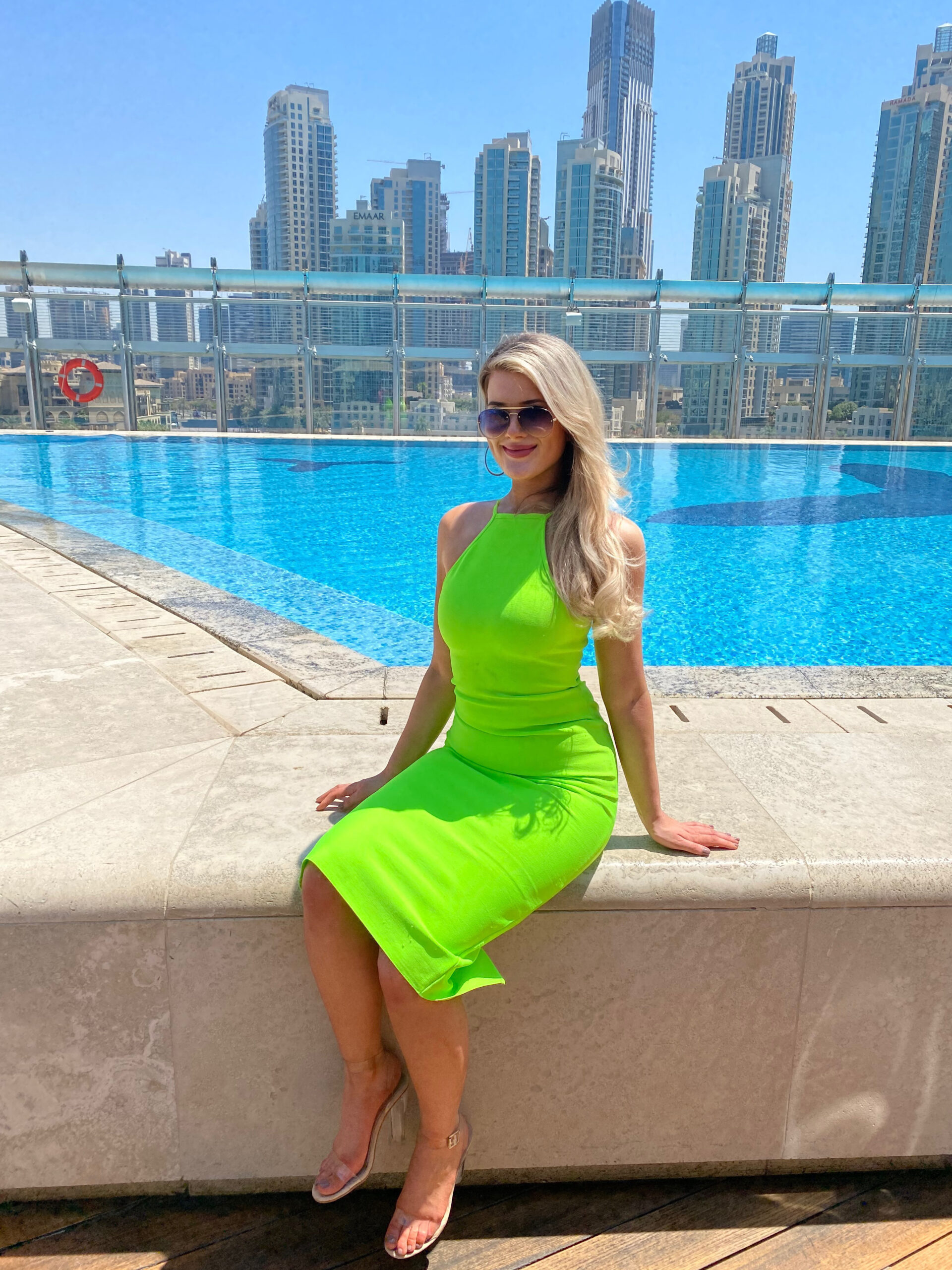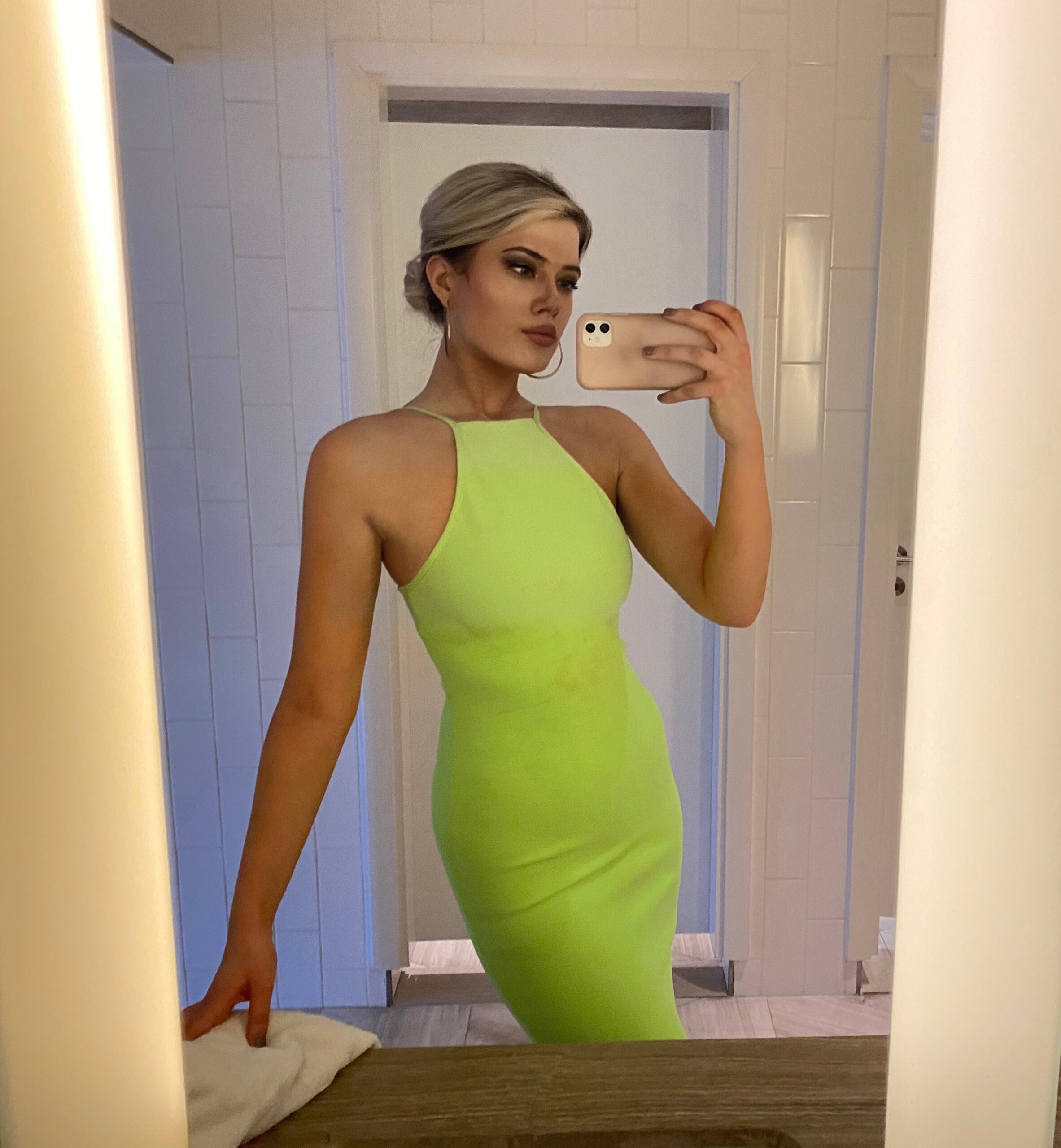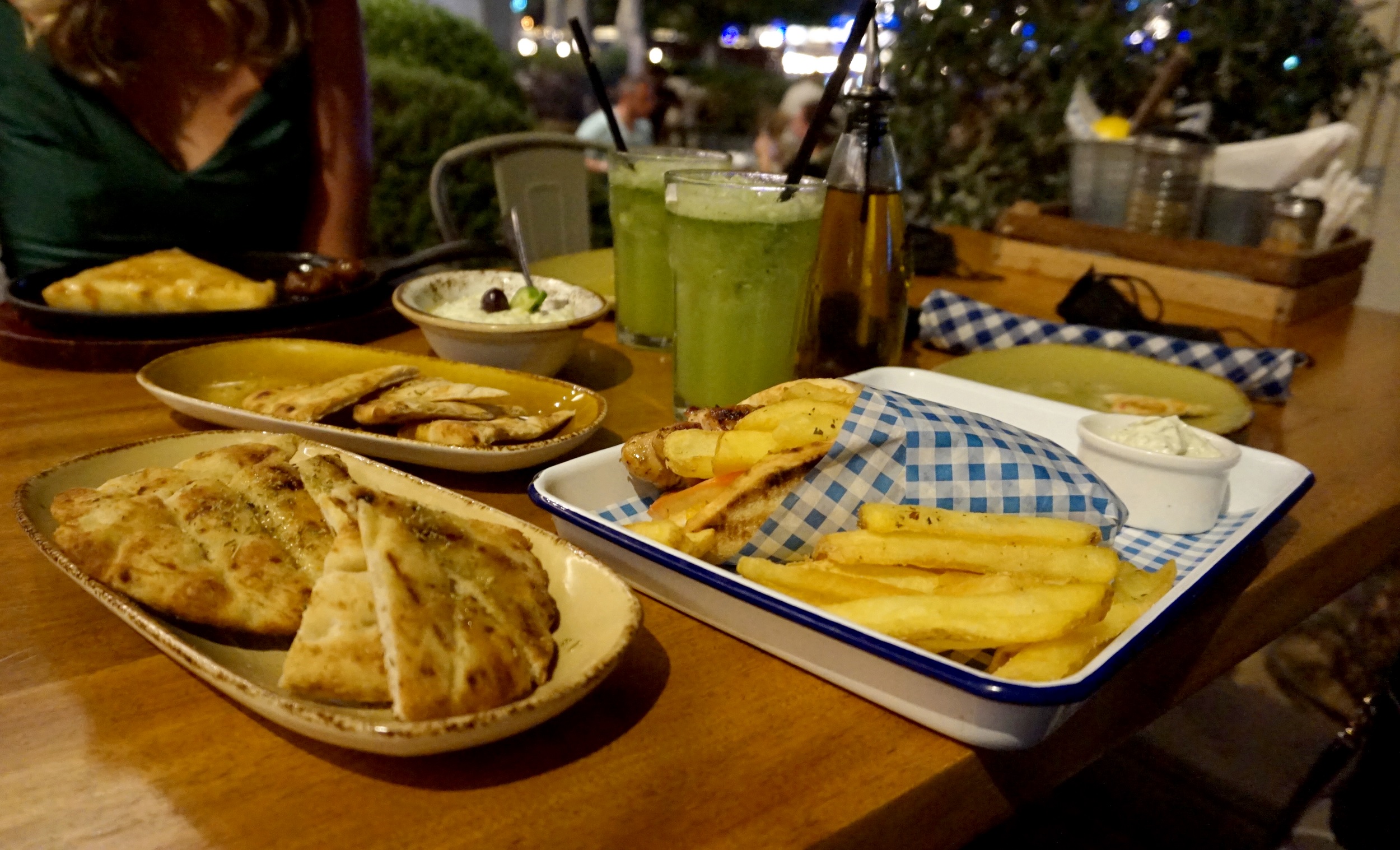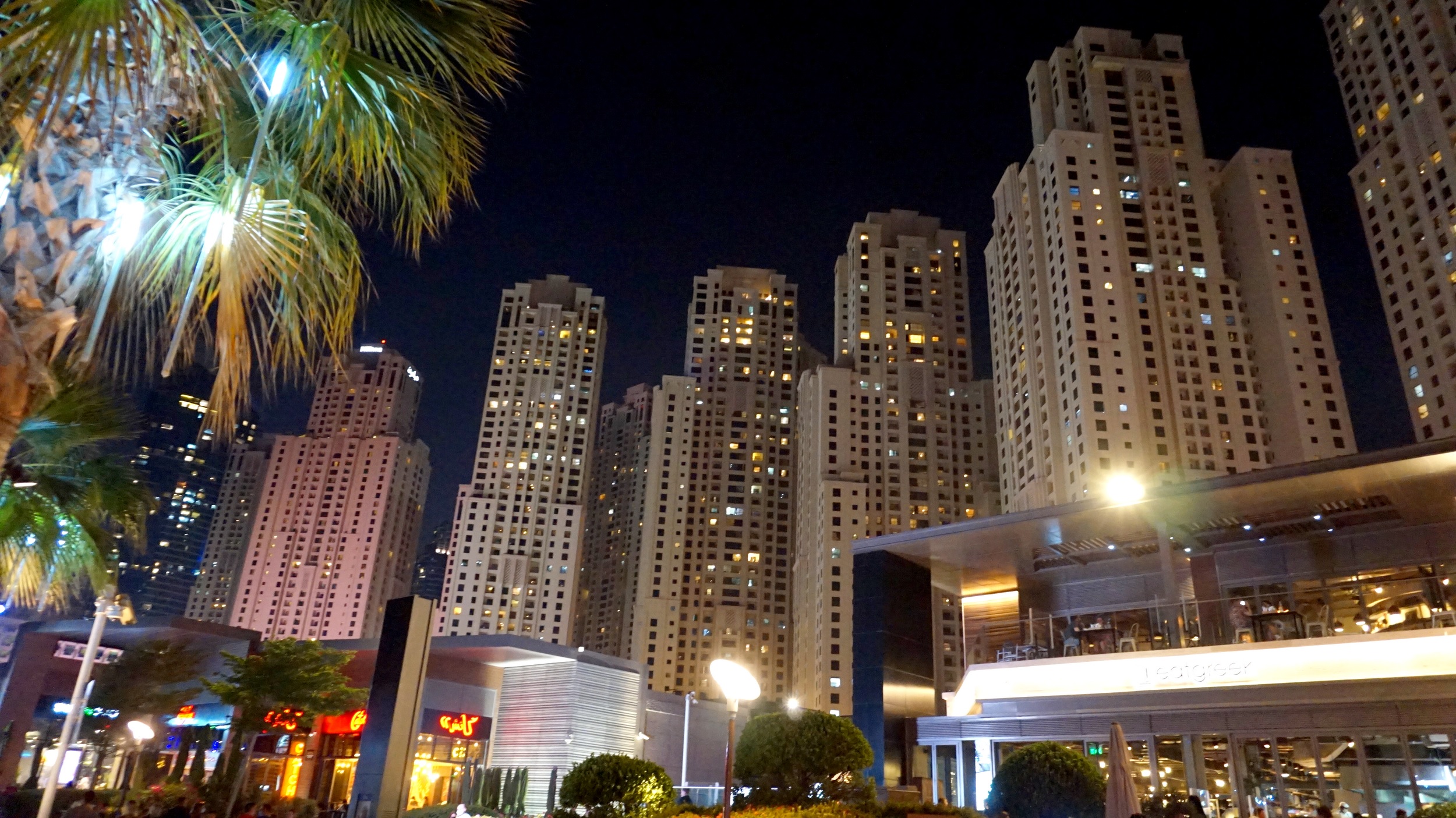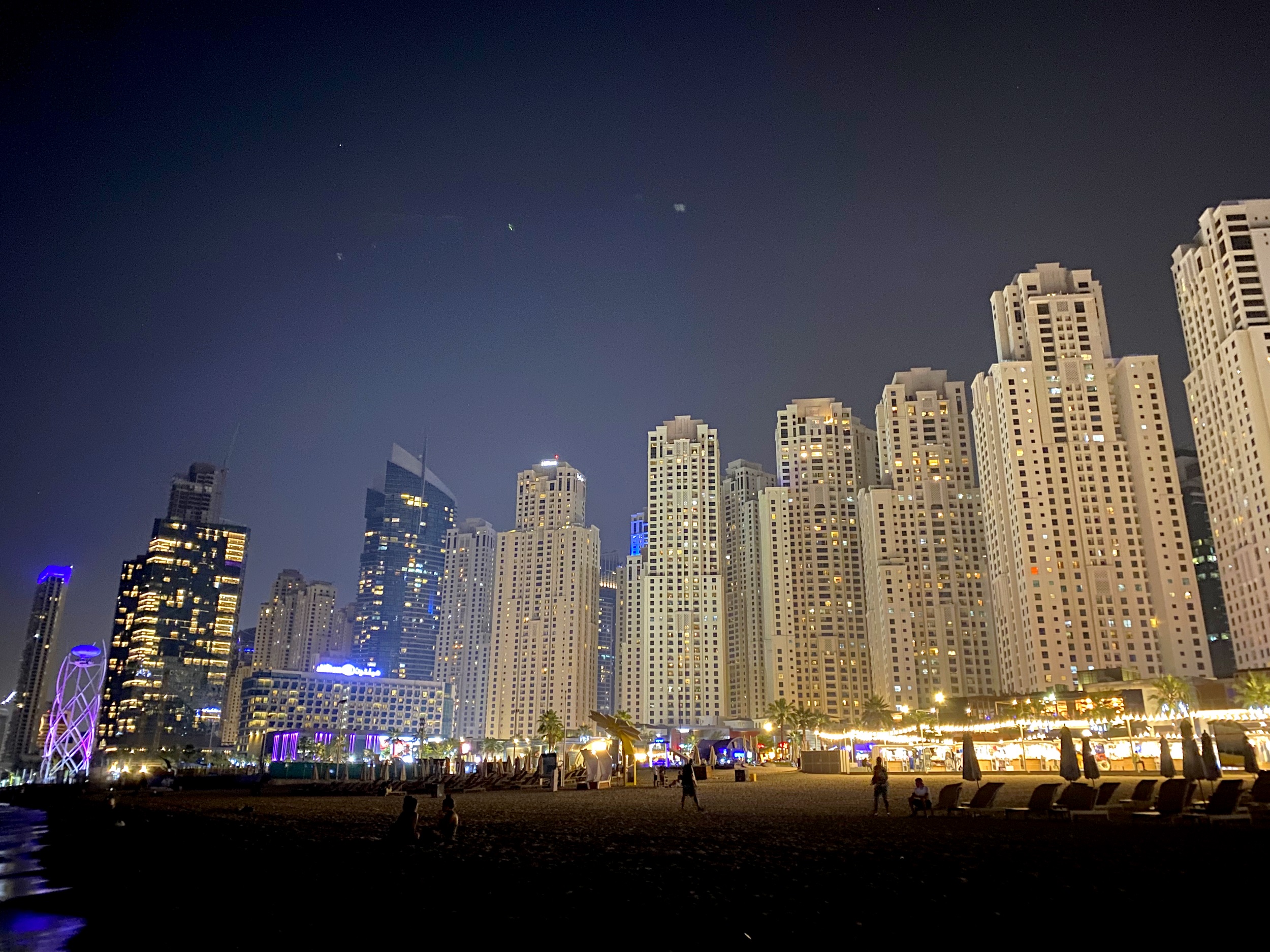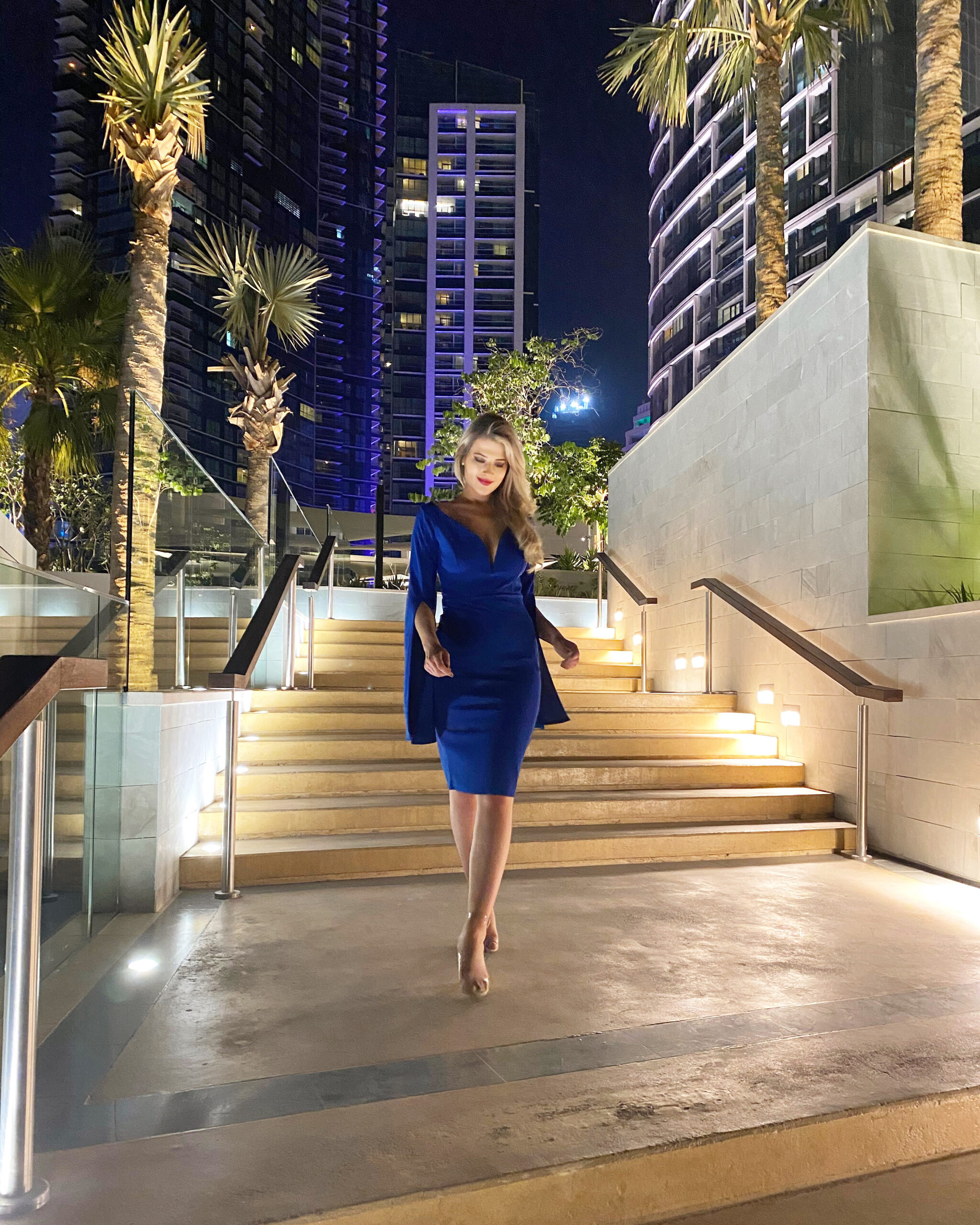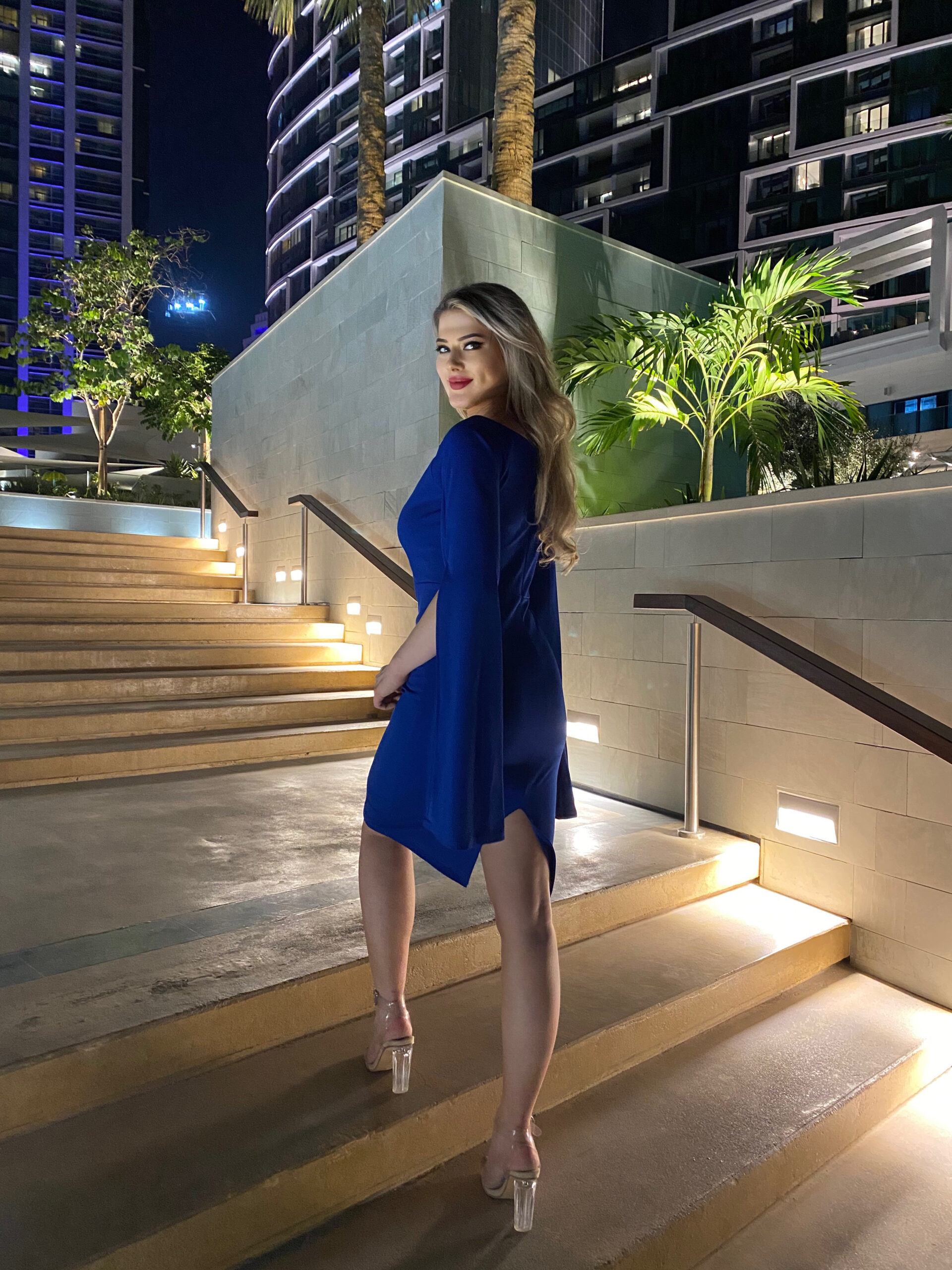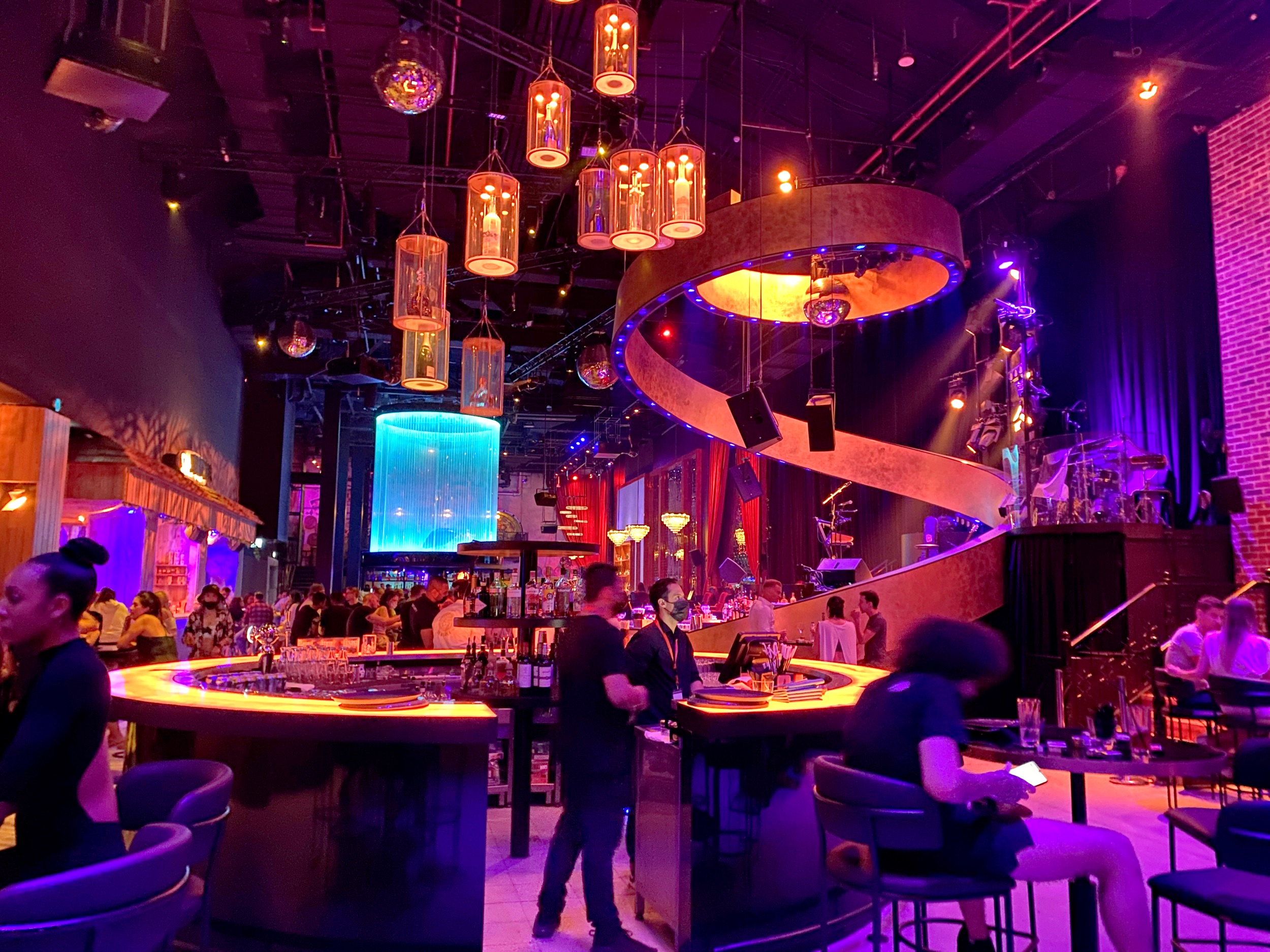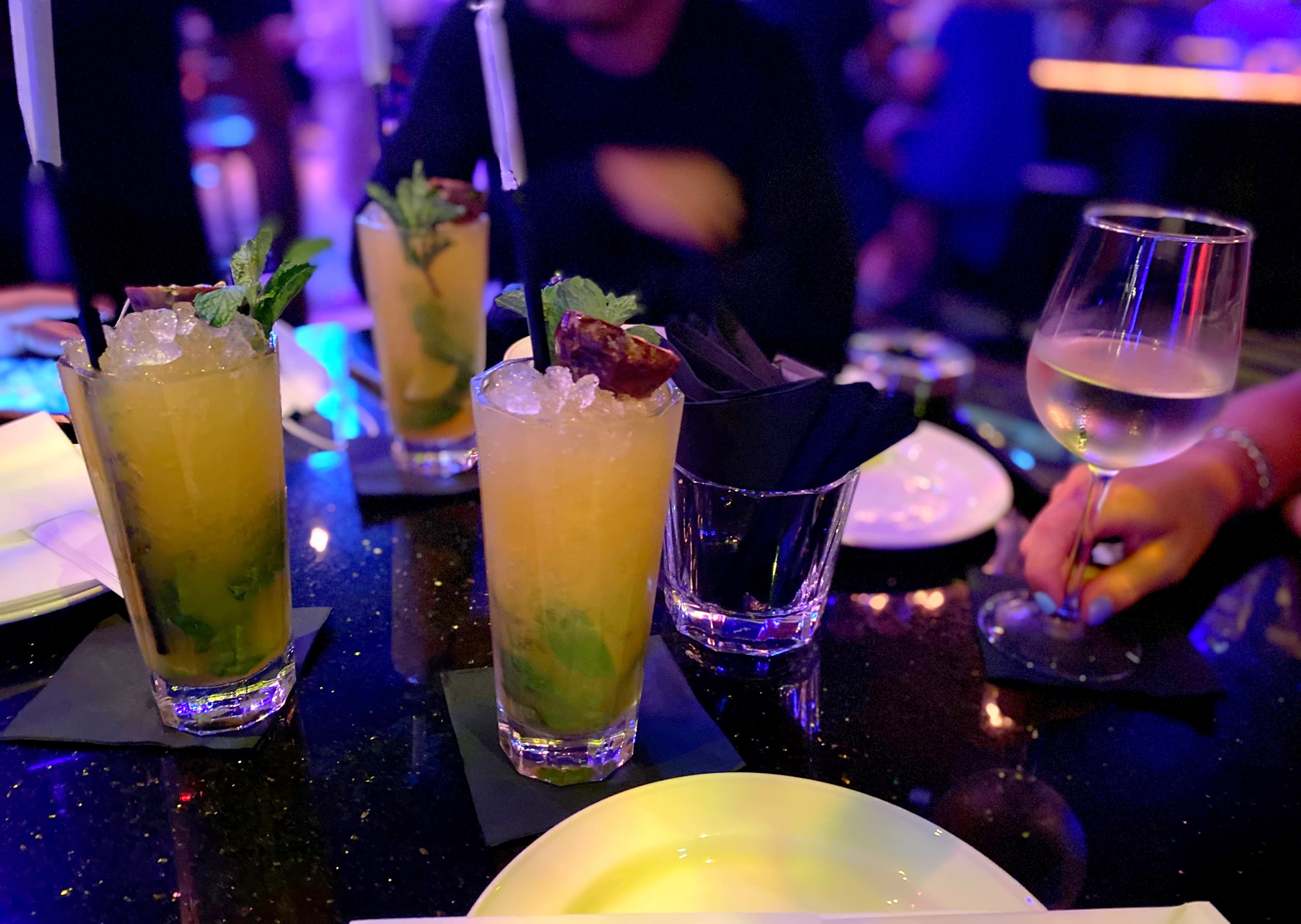 Day 3 – This day we decided to have breakfast at The Cheesecake factory JBR beach. A place that a lot of people are talking about and I didn't go during my layover last year. Nice! Cake for breakfast. My favorite: Red Velvet cheesecake and cup of coffee.. didn't finish half of it and didn't take it with me for later due to the outdoors temperatures. It was wonderful! Unfortunately, just after breakfast we had to have a new PCR test done for the return flight so we left for the test street together with the Belgians we met earlier. Not exactly your favorite hobby either.. but hey, at least that way I could go to Dubai and back! Later in the afternoon we continued to The Dubai Mall, to look at some shops and have a coffee. We drank coffee at Secret Garden, which by the way is very expensive for a coffee, but anyway, we are in Dubai. Special place though! I had a coconut cappuccino. From there we looked around the area of ​​the mall for a place to rent a bicycle, but that was not a successful mission. The next stop was The Dubai Frame, a place that was high on my wish list. It is a fairly new attraction with a cool view over the city, you must and can buy a ticket at the entrance. There is a park around it that is also nice to visit. Once inside you enter the 'old Dubai', where you will see various props and images of Dubai, far in the past. Then you enter an elevator, which takes you to the top part of The Frame, if you are afraid of heights it is not recommended! But I really enjoyed visiting myself! You basically walk on glass, where you can see meters to menede and also over the entire city. Once in the elevator to Menden, they show 3D images of what Dubai is expected to look like in the future. Cool place!
At the beginning of the evening we decided to go to Five the Palm Jumeira. A luxurious, decadent and above all expensive beach club. Michelle and I sat down by the beach to have a juice and a small bite to eat. A minimum spend has been requested here, but in the end we didn't notice anything. Nice music, cool place and cool environment. It is located on the palm, the famous palm island. Upstairs in Five the Palm Jumeira, is The Penthouse Dubai. Today is Tuesday, so 'Ladies Night', where 3 alcoholic drinks and 3 courses together cost only 35 euros (150 AED) from 19:00-23:00. We have made reservations for this in advance! A low price for a place like this. The music was great and the view was awesome. The dishes we both chose were Salmon Carpaccio, Sushi and 'azuki' Cheesecake. This cool place is really a tip! Inside it's like a club, full of neon lights. Definitely fun to take a look inside! At the end we also ordered an iced coffee and then went back to our apartment.
Dag 3 –
Deze dag besloten we te gaan ontbijten bij
'The Cheesecake factory'
bij JBR beach een plek waar veel mensen het over hebben en ik op mijn layover vorig jaar niet ben geweest. Lekker joh! Taart voor ontbijt. Mijn favoriet:
Red Velvet cheesecake
en kop koffie.. de helft niet opgekregen en ook niet meegenomen voor later in de hitte. Het was heeeerlijk! Helaas moesten we vlak na het ontbijt al een nieuwe PCR test laten doen voor de terugreis, dus zijn we samen met de Belgen vertrokken naar de teststraat. Ook niet bepaald je leukste hobby.. maar goed, op die manier kon ik tenminste wel lekker naar Dubai en terug! Later in de middag zijn we doorgegaan naar
The Dubai Mall
, om wat winkels te kijken en koffie te drinken. Koffie dronken we bij
Secret Garden
, wat overigens mega duur is voor een koffie, maargoed, we zijn in Dubai. Bijzondere plek wel! Ik had een coconut cappuccino. Vanaf daar nog rond het gebied van de mall opzoek gegaan naar een plek om een fiets te huren, maar dat was geen geslaagde missie. De volgende stop was
The Dubai Frame,
een plek die hoog op mijn wishlist stond. Het is een redelijk nieuwe bezienswaardigheid met een gaaf uitzicht over de stad, hier moet en kun je bij de ingang een kaartje kopen. Hier is een park omheen te vinden die ook leuk is om te bezoeken. Eenmaal binnen betreed je het 'oude Dubai', waar je verschillende props en beelden te zien krijgt van Dubai, ver in het verleden. Vervolgens ga je een lift in, die je naar het bovenste gedeelte van The Frame neemt, mocht je hoogtevrees hebben, is het geen aabeveling! Maar ik vond het zelf wel super leuk om te bezoeken! Je loopt in principe over glas, waar je meters naar meneden mee kan kijken en ook over de hele stad. Eenmaal in de lift naar meneden laten ze 3D beelden zien van hoe er wordt verwacht dat Dubai er in de toekomst uitziet. Gave plek!
Begin van de avond besloten we richting Five the Palm Jumeira te gaan. Een luxe, decadente en vooral dure beachclub. Michelle en ik zijn bij het strand gaan zitten om een sapje te drinken en een klein hapje te eten. Er is hier gevraagd om een minimum spend, maar uiteindelijk hebben we daar niks van gemerkt. Leuke muziek, gave plek en gave omgeving. Het bevind zich overigens op the palm, het bekende palm eiland. Boven in Five the Palm Jumeira, bevind zich The Penthouse Dubai. Het is vandaag dinsdag, dus 'Ladies Night', waar 3 alcoholische dranken en 3 gangen samen omgerekend maar 35 euro (150 AED) kost van 19:00-23:00. Wij hebben hier overigens wel voor gereserveerd van te voren! Een lage prijs voor een plek als dit. De muziek was top en het uitzicht mega gaaf. De gerechten die wij beide hadden uitgekozen waren Zalm Carpaccio, Sushi en 'azuki' Cheesecake. Deze gave plek is ook echt een tip! Binnen is het ook net een soort club, vol neon lampen. Zeker leuk om ook eens een kijkje binnen te nemen! Aan het einde ook nog lekker een ijskoffietje besteld en daarna naar ons appartement terug gegaan.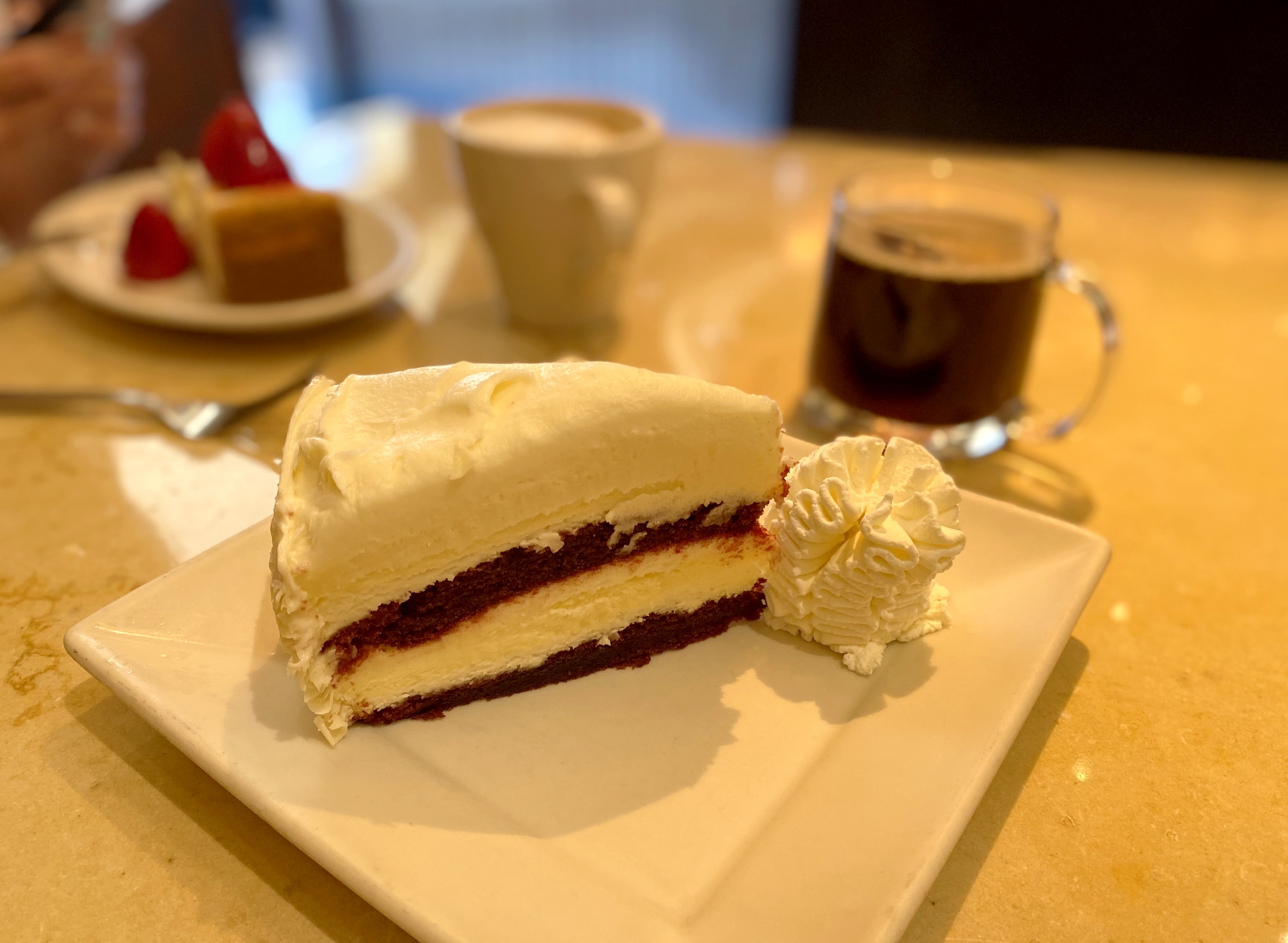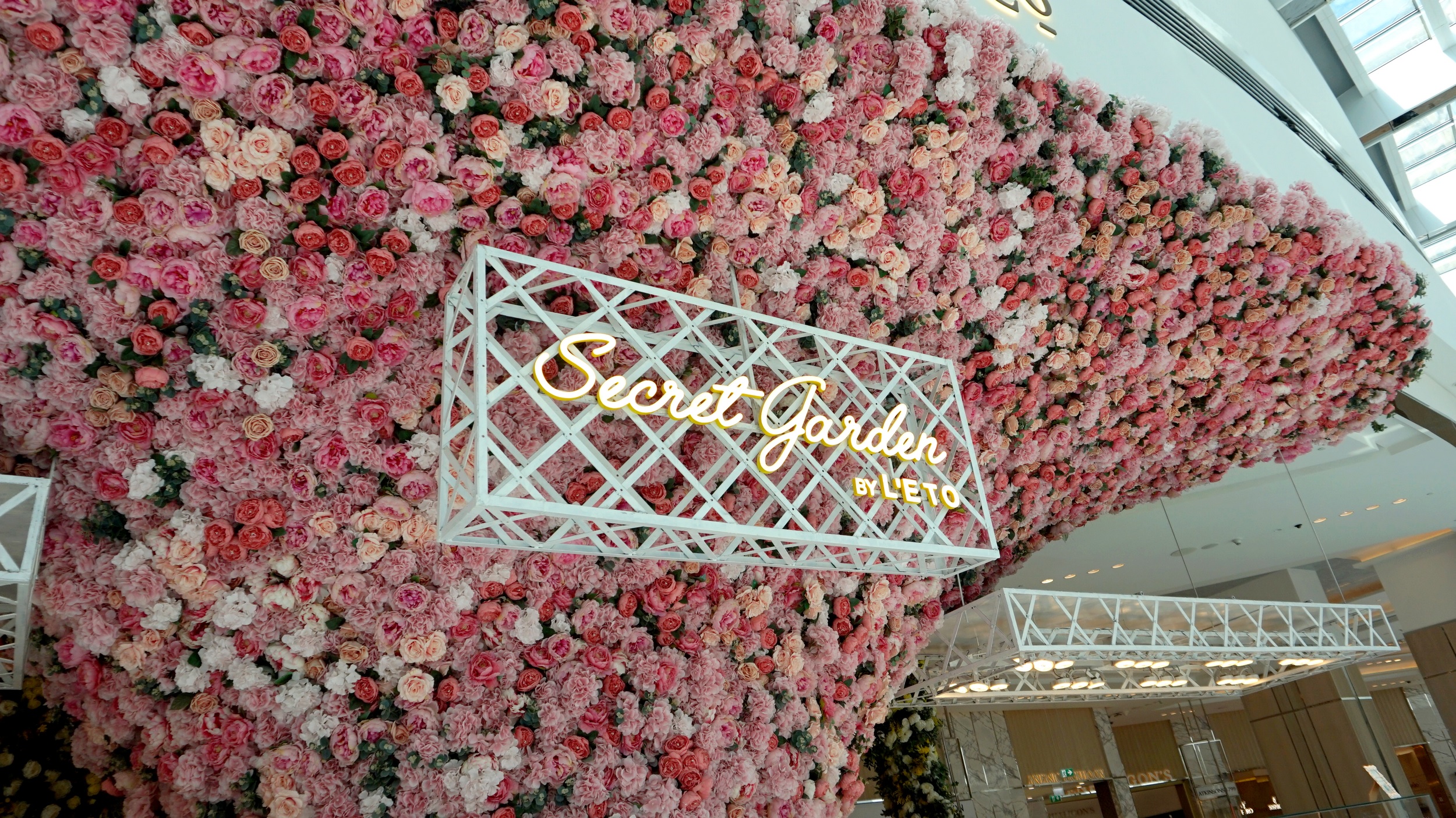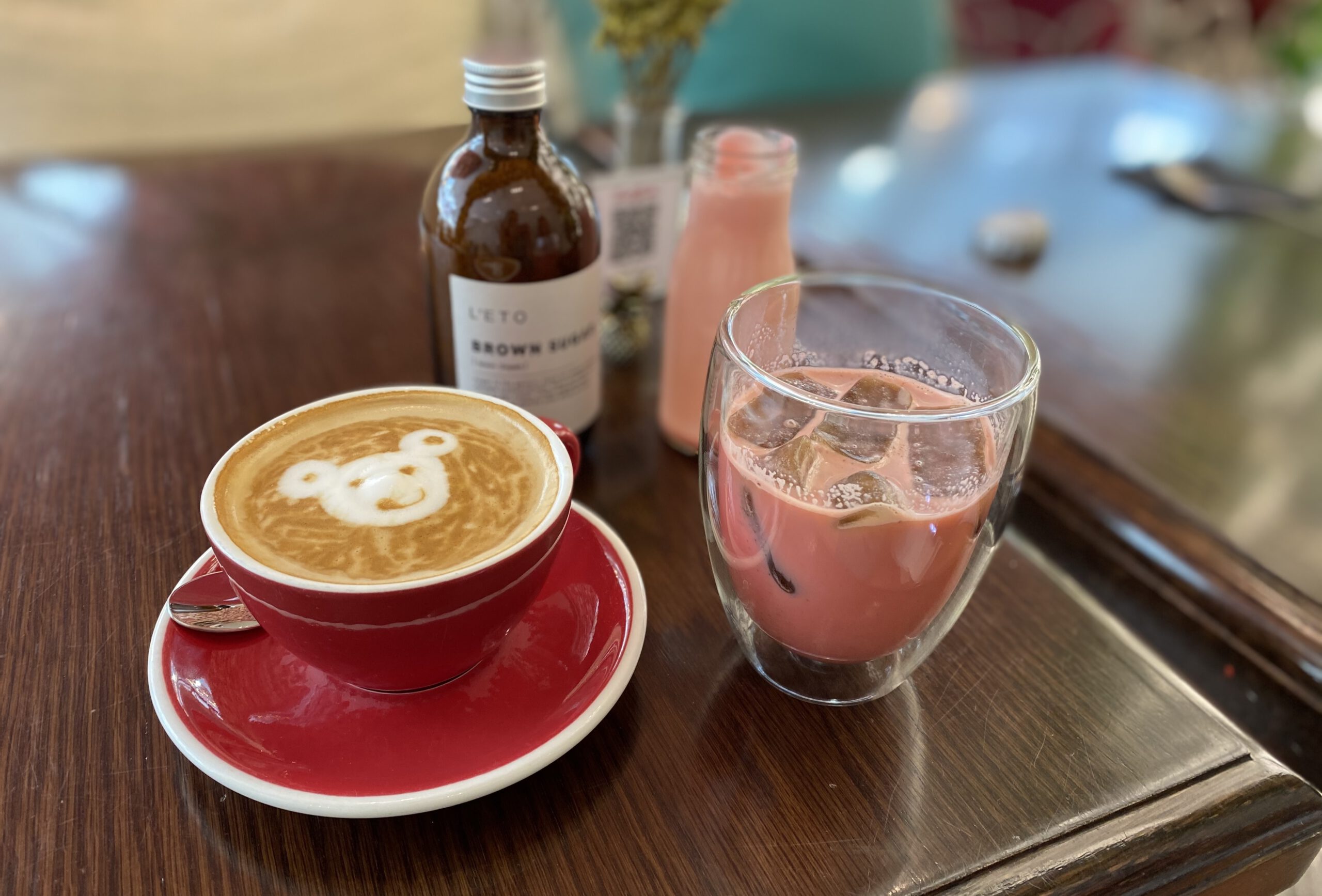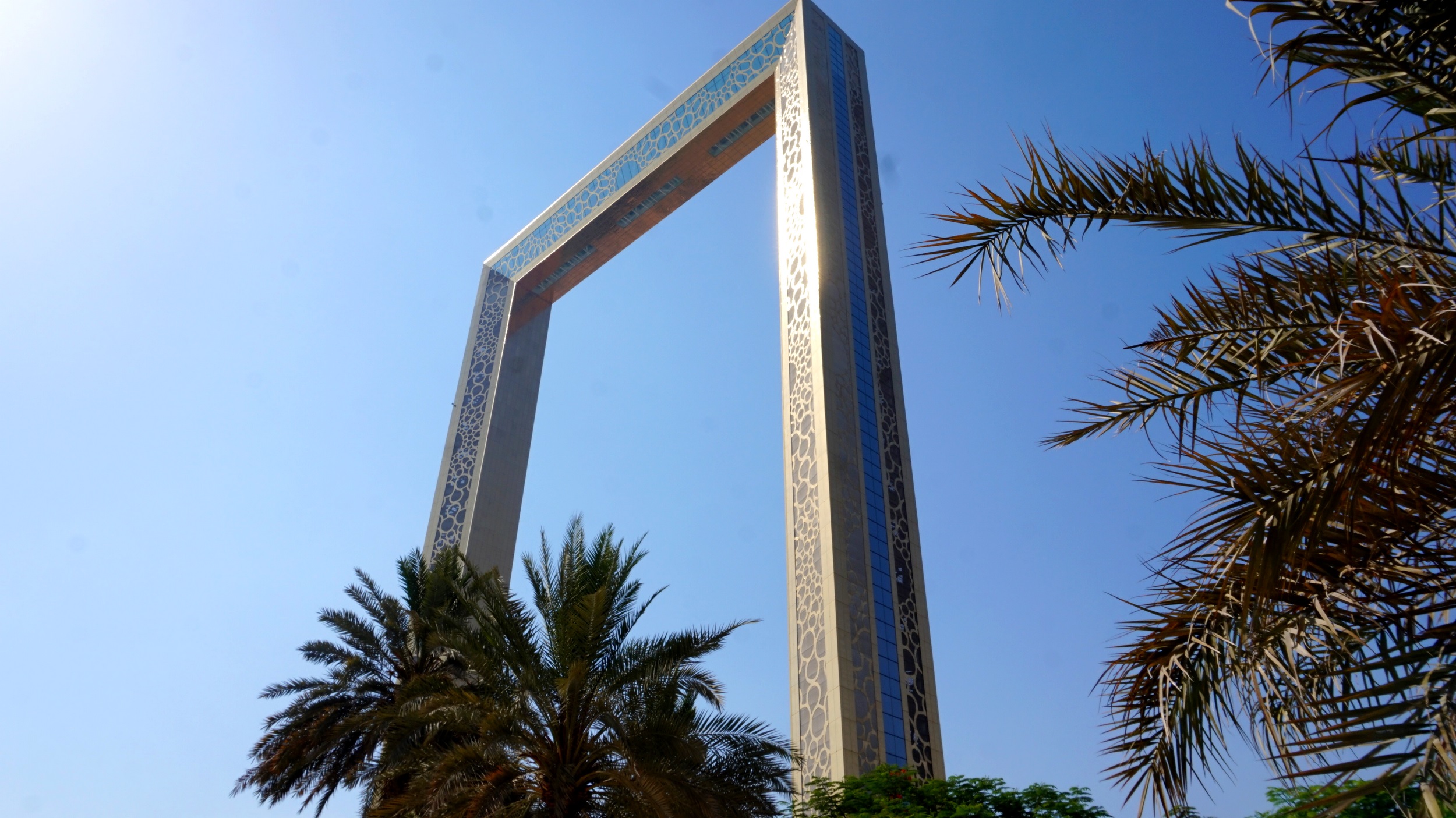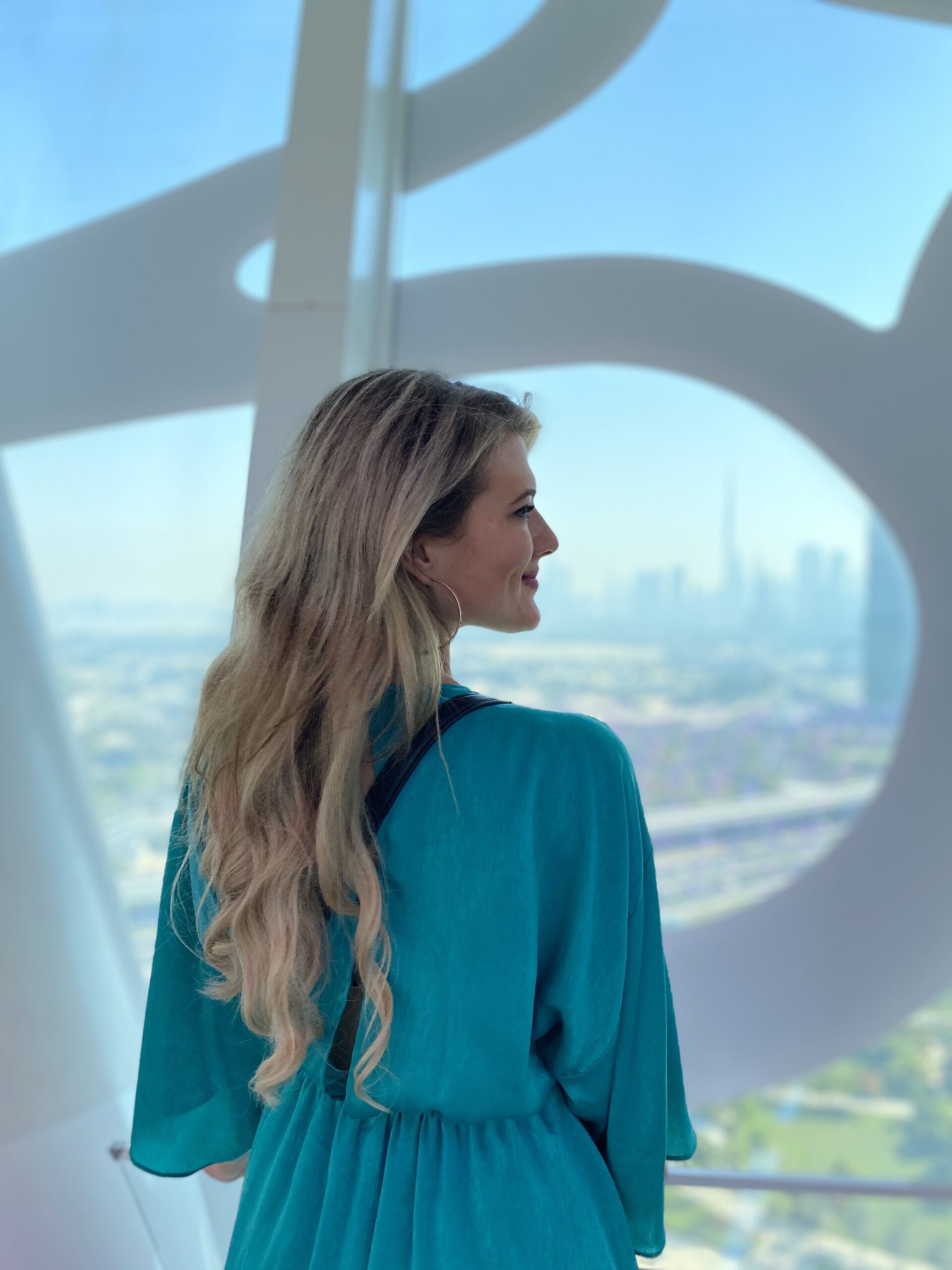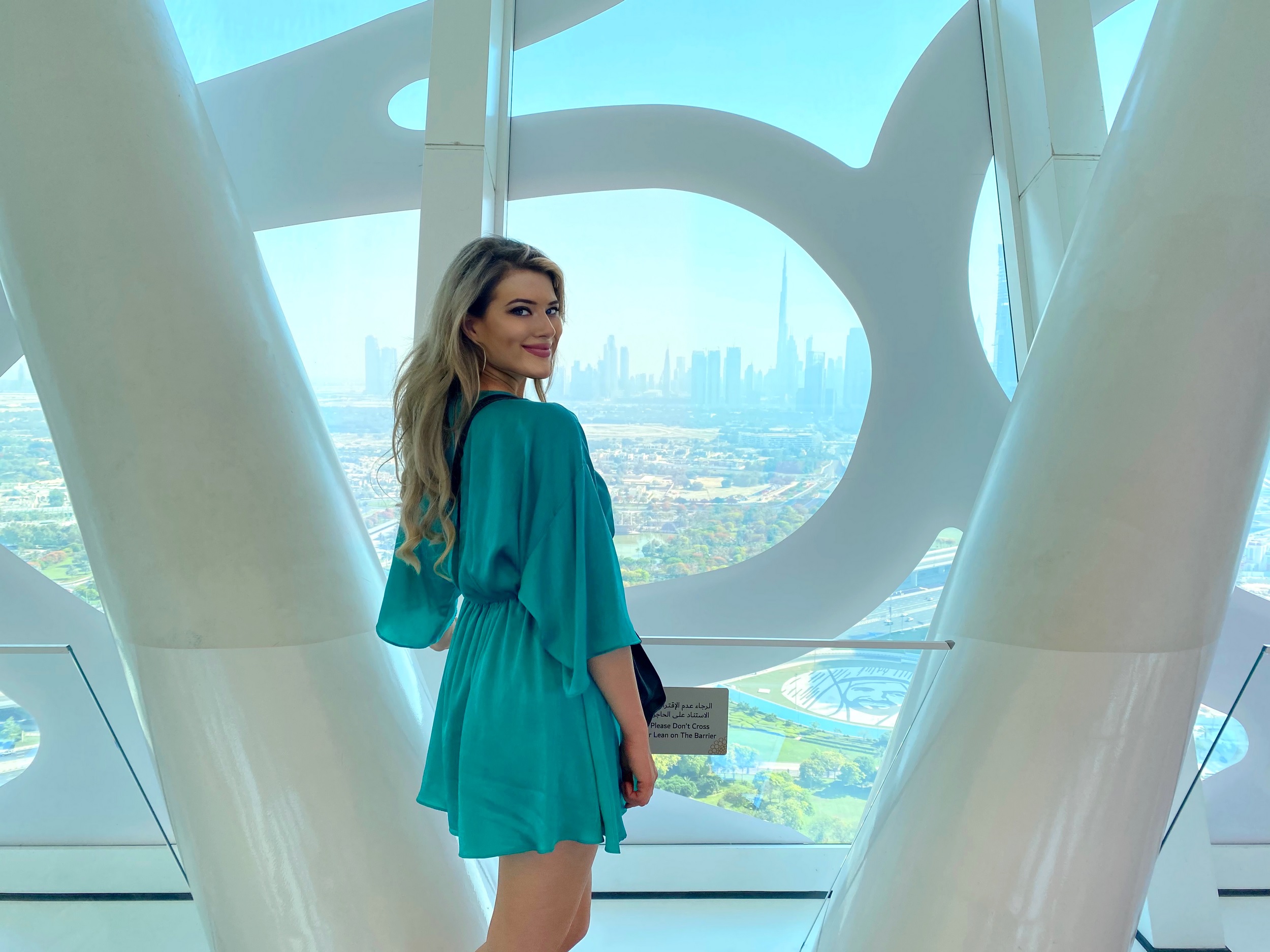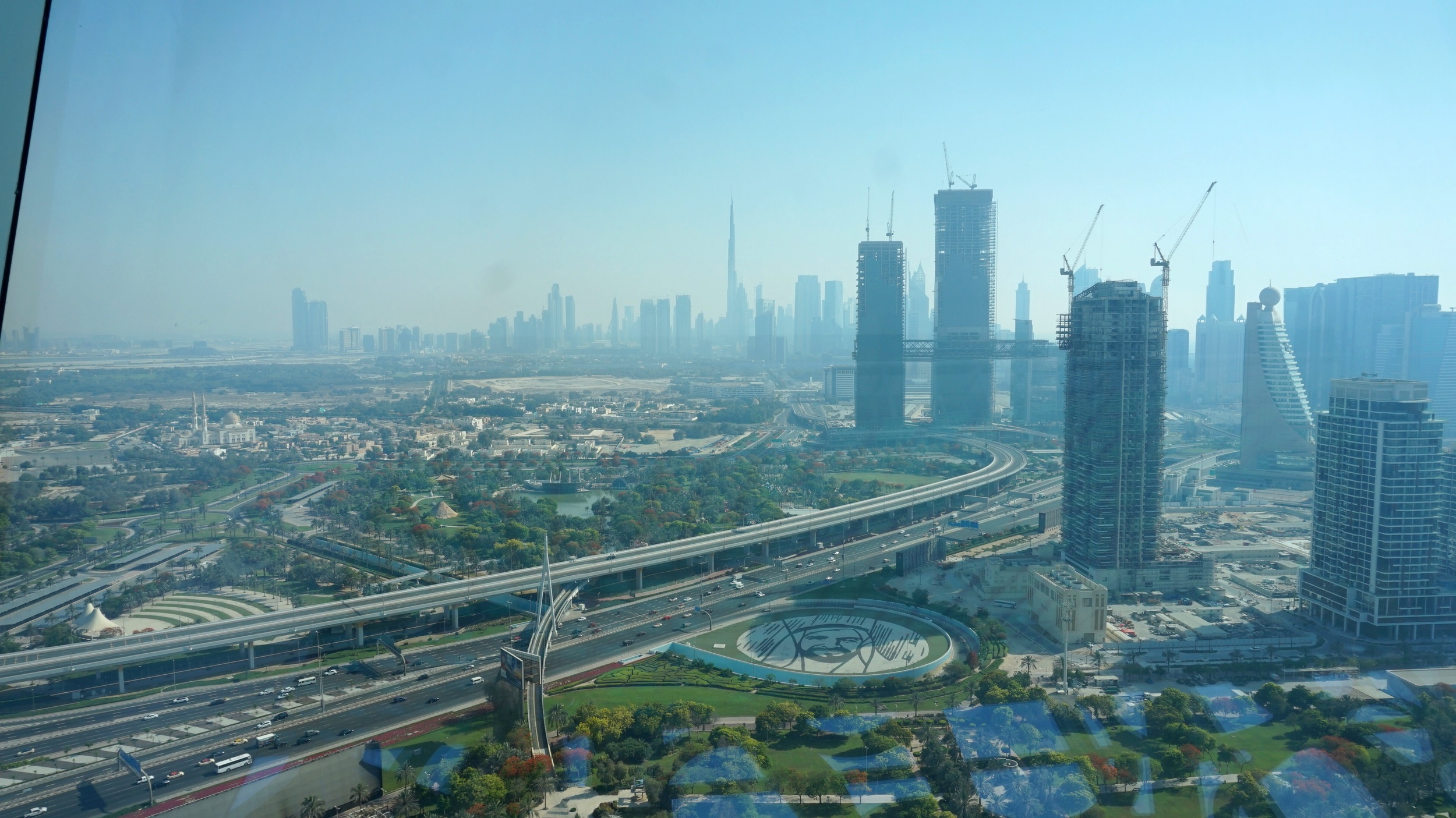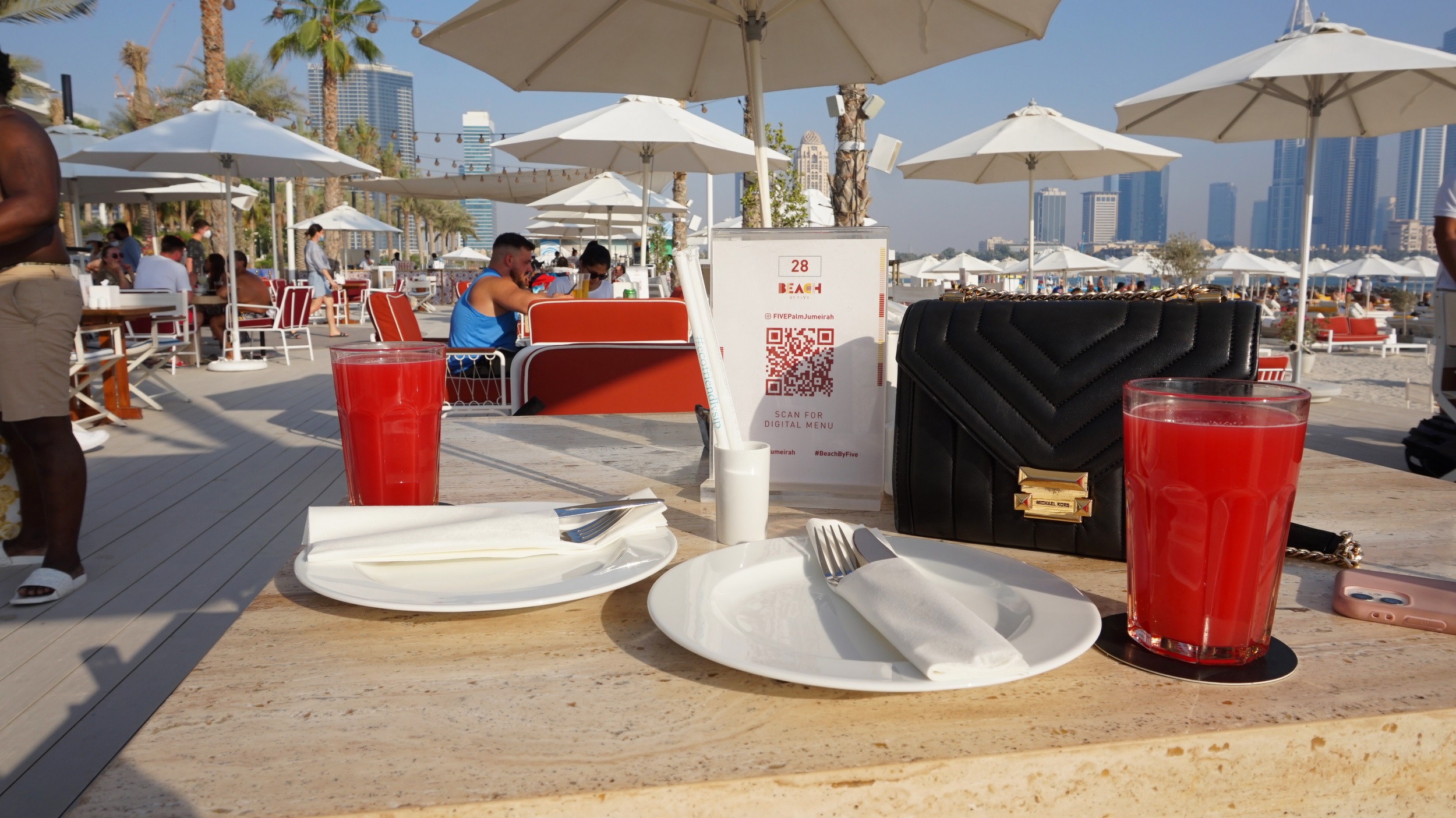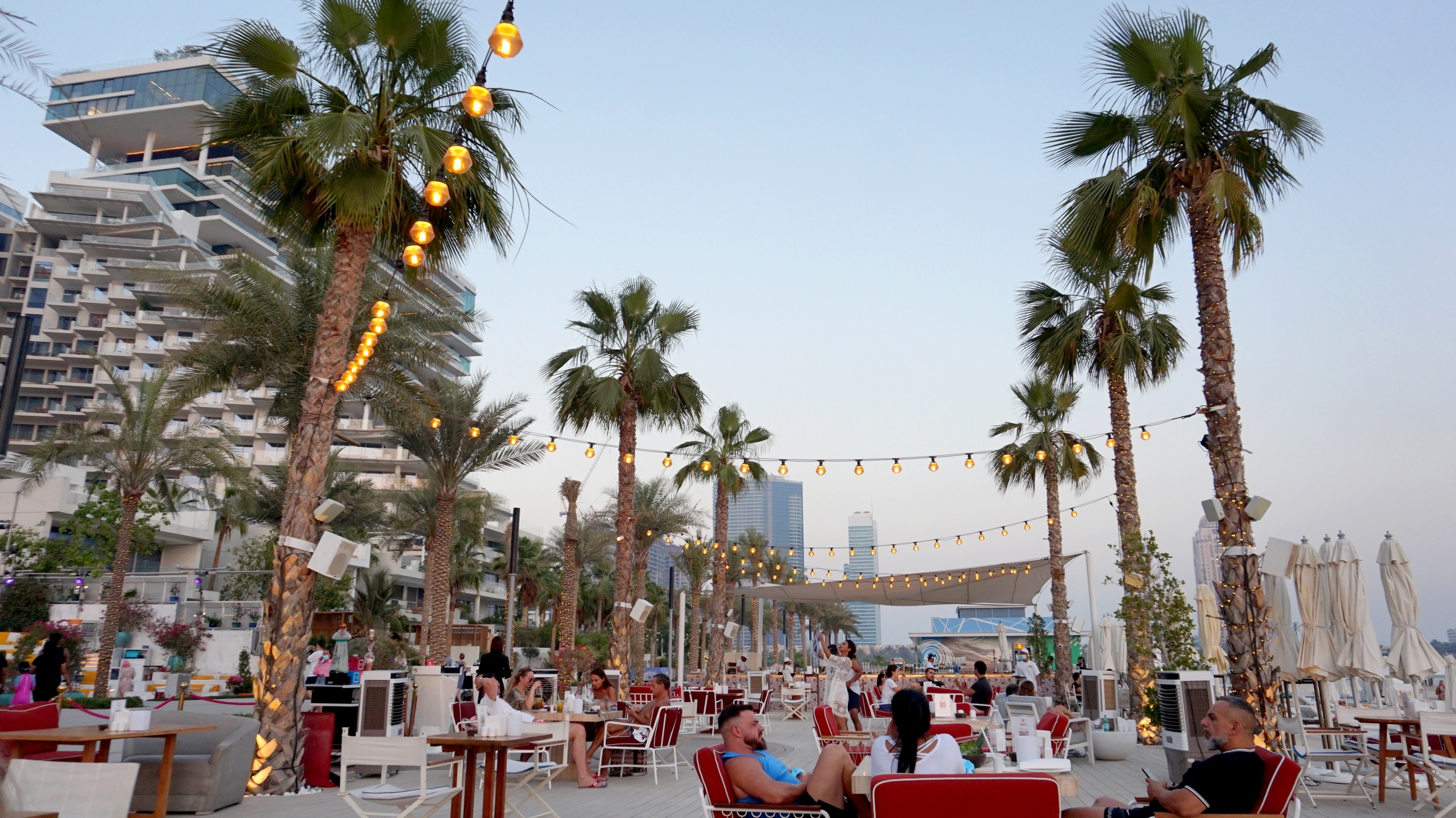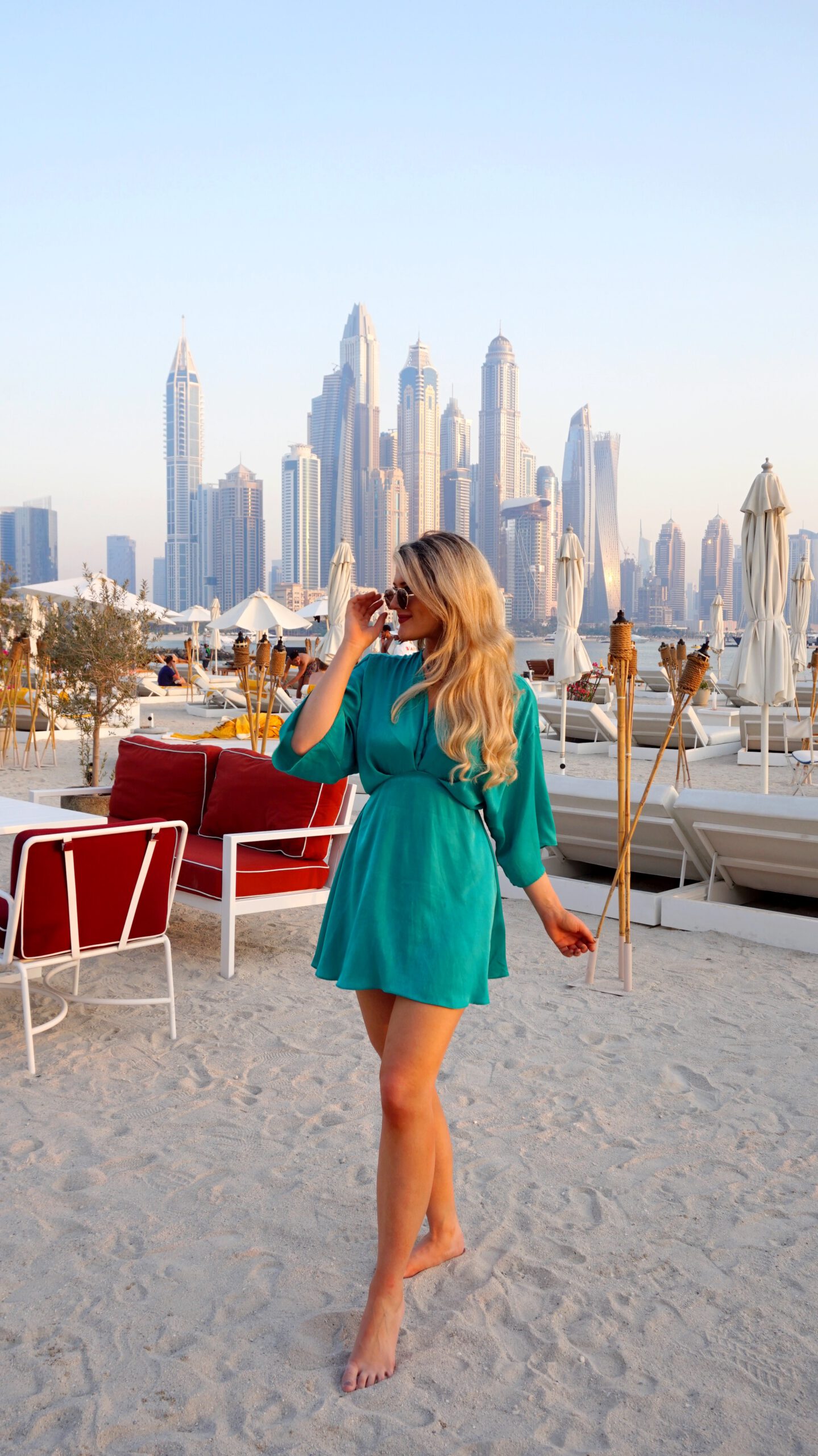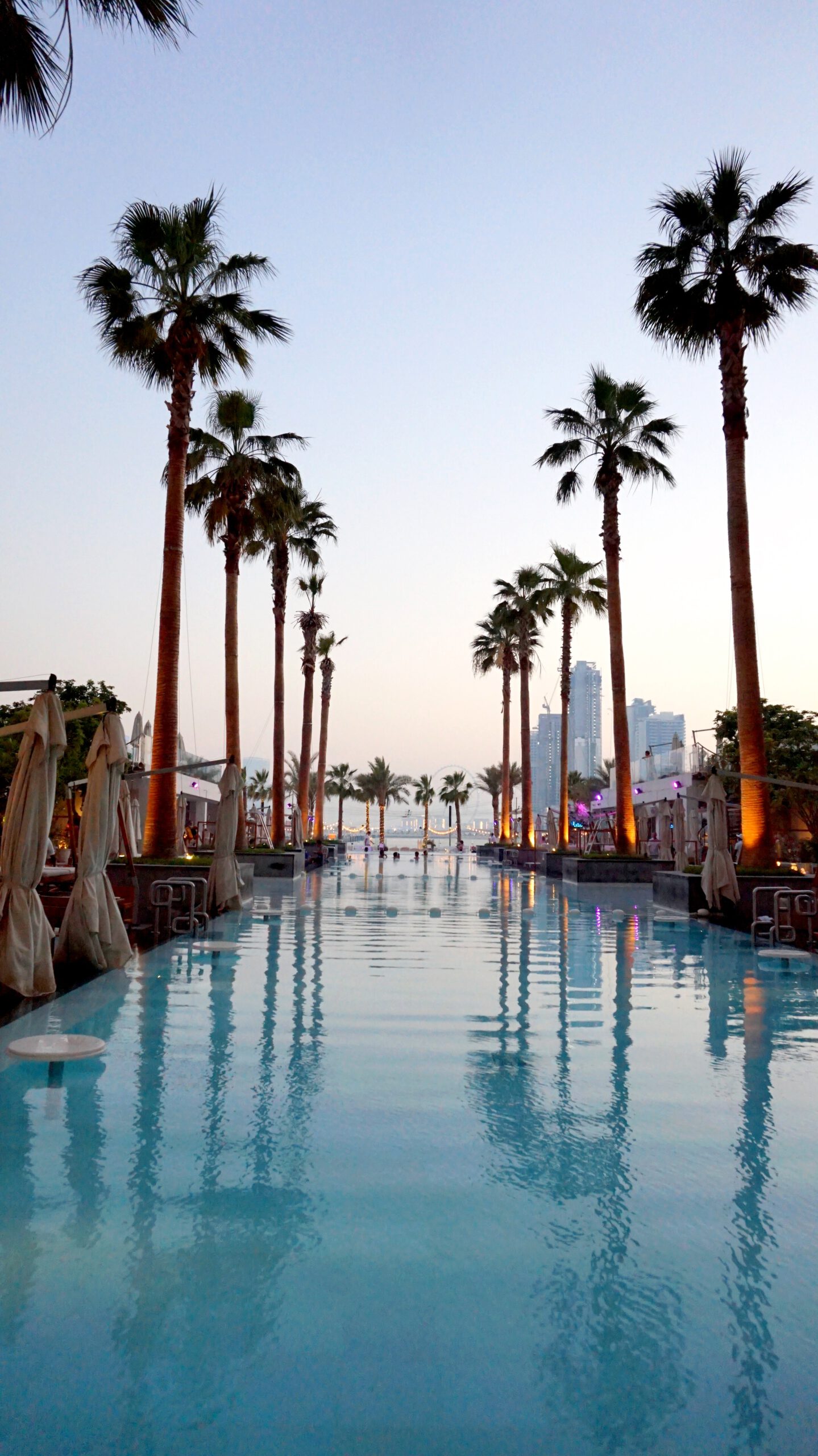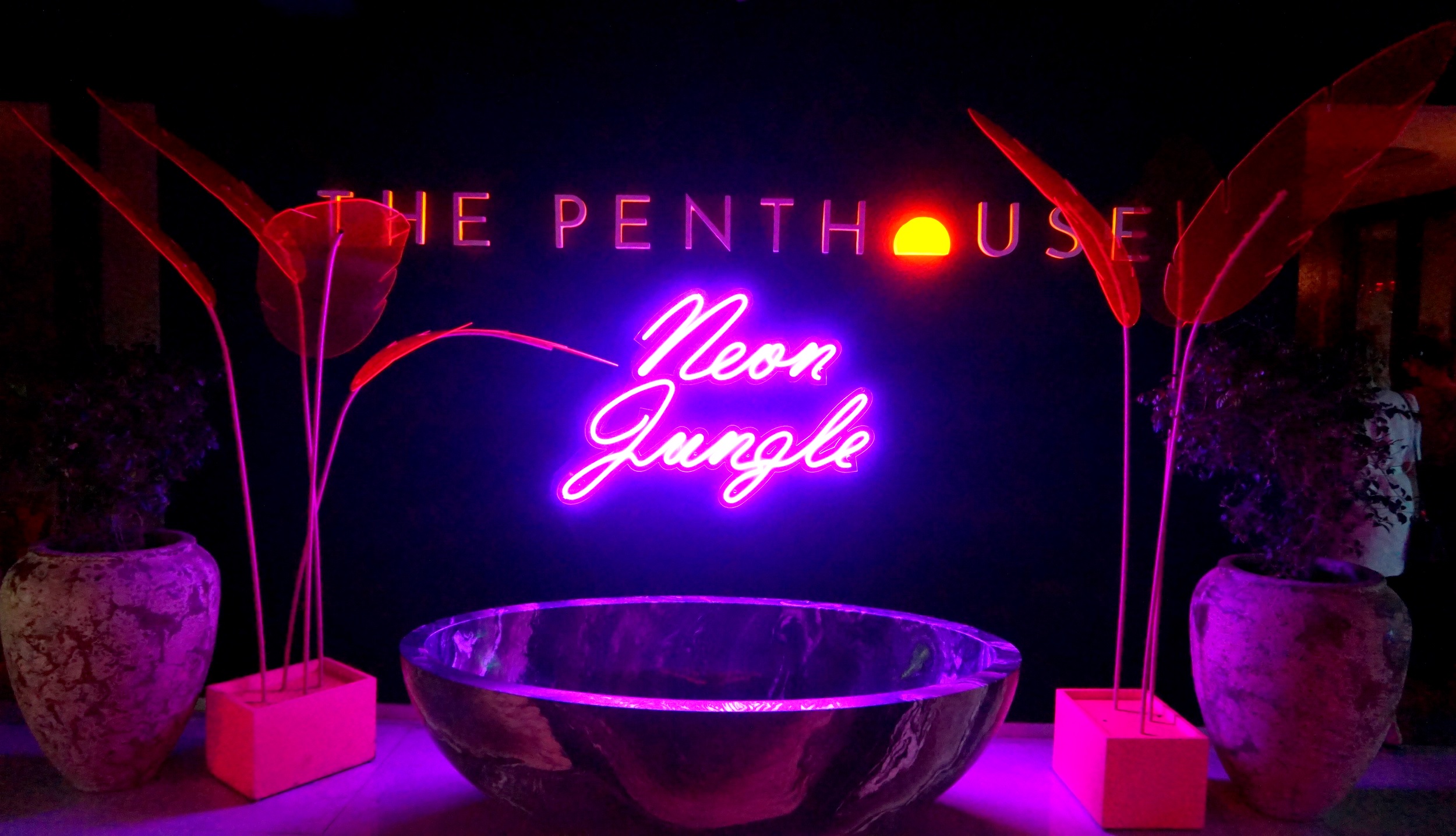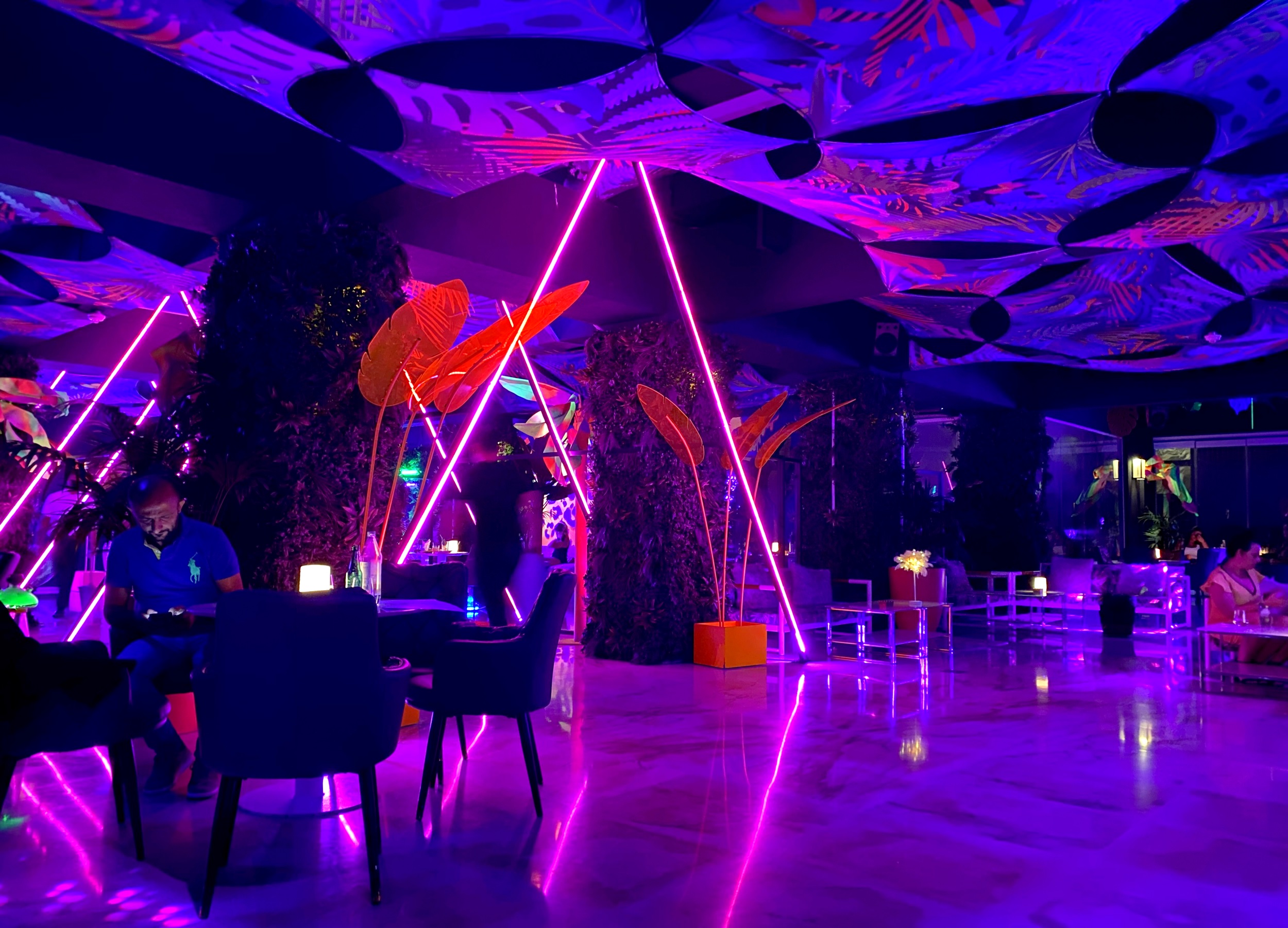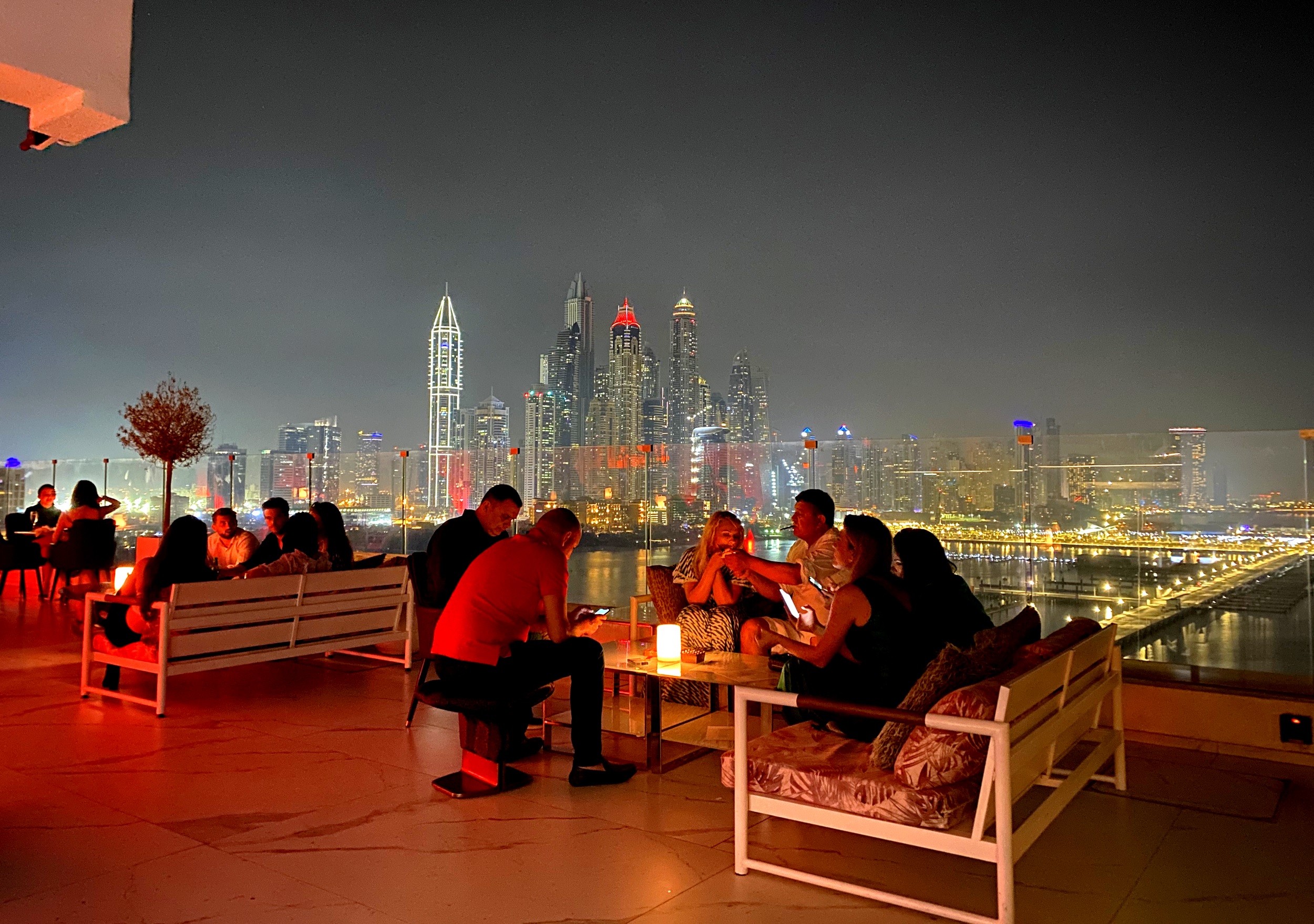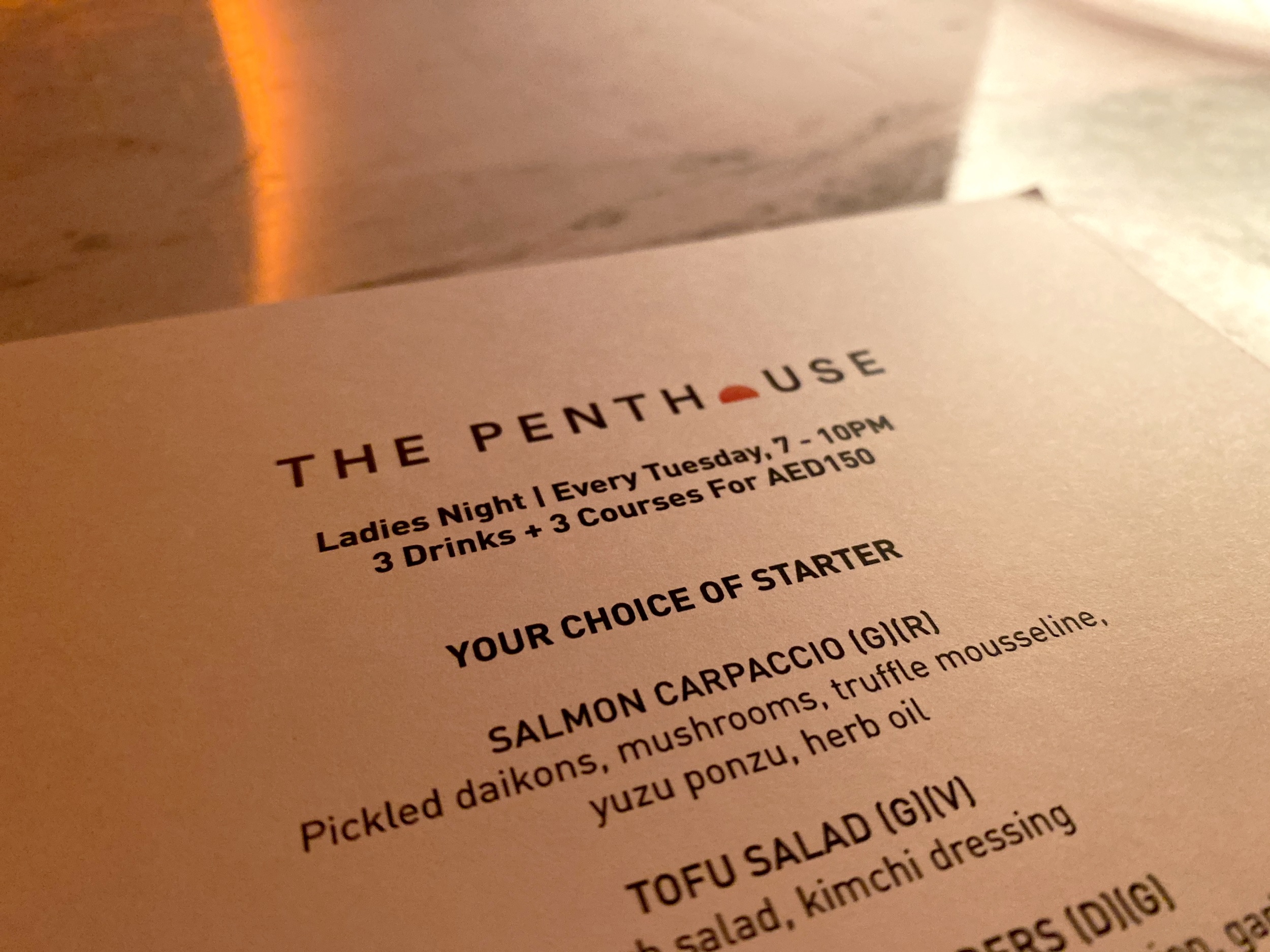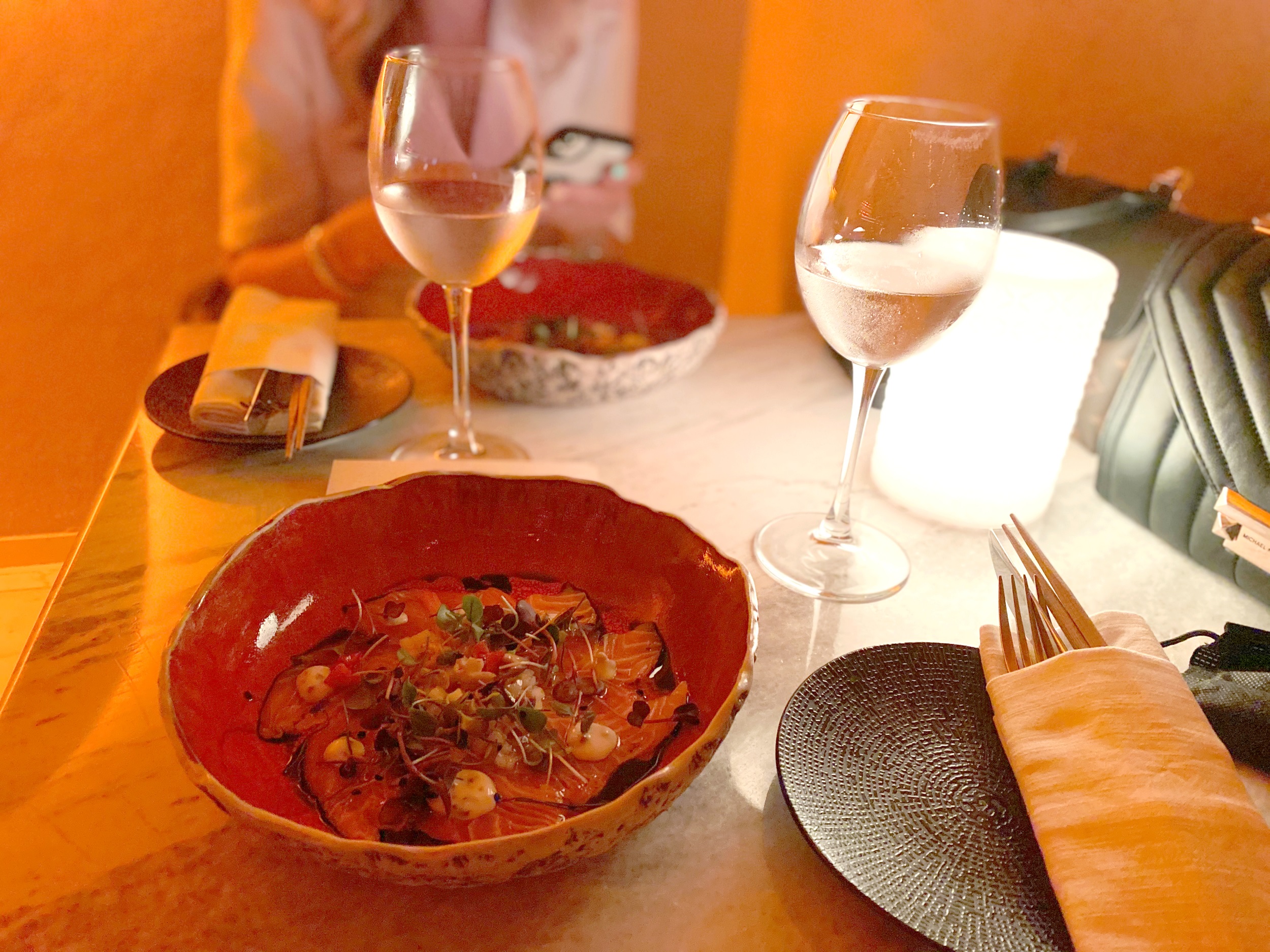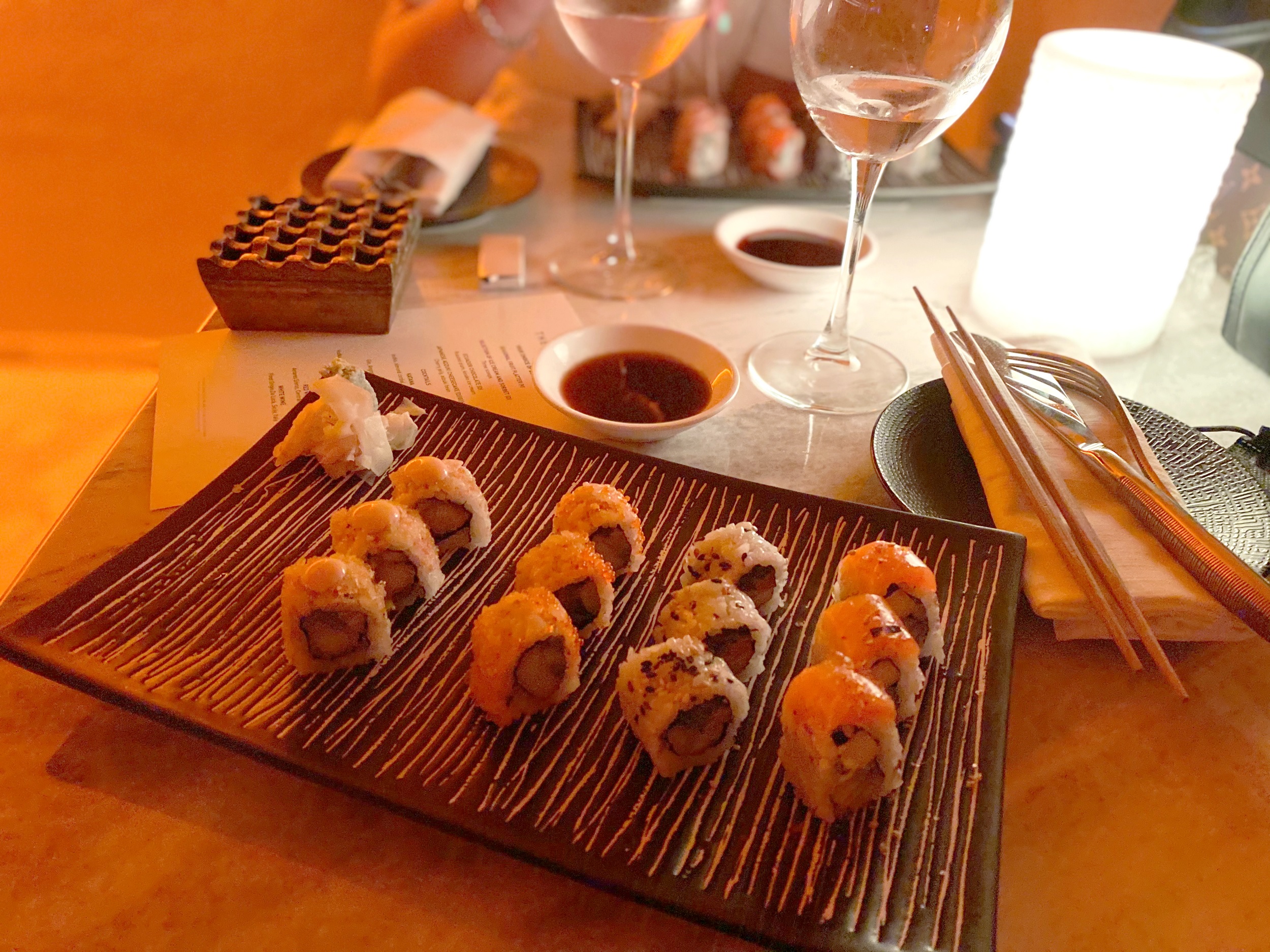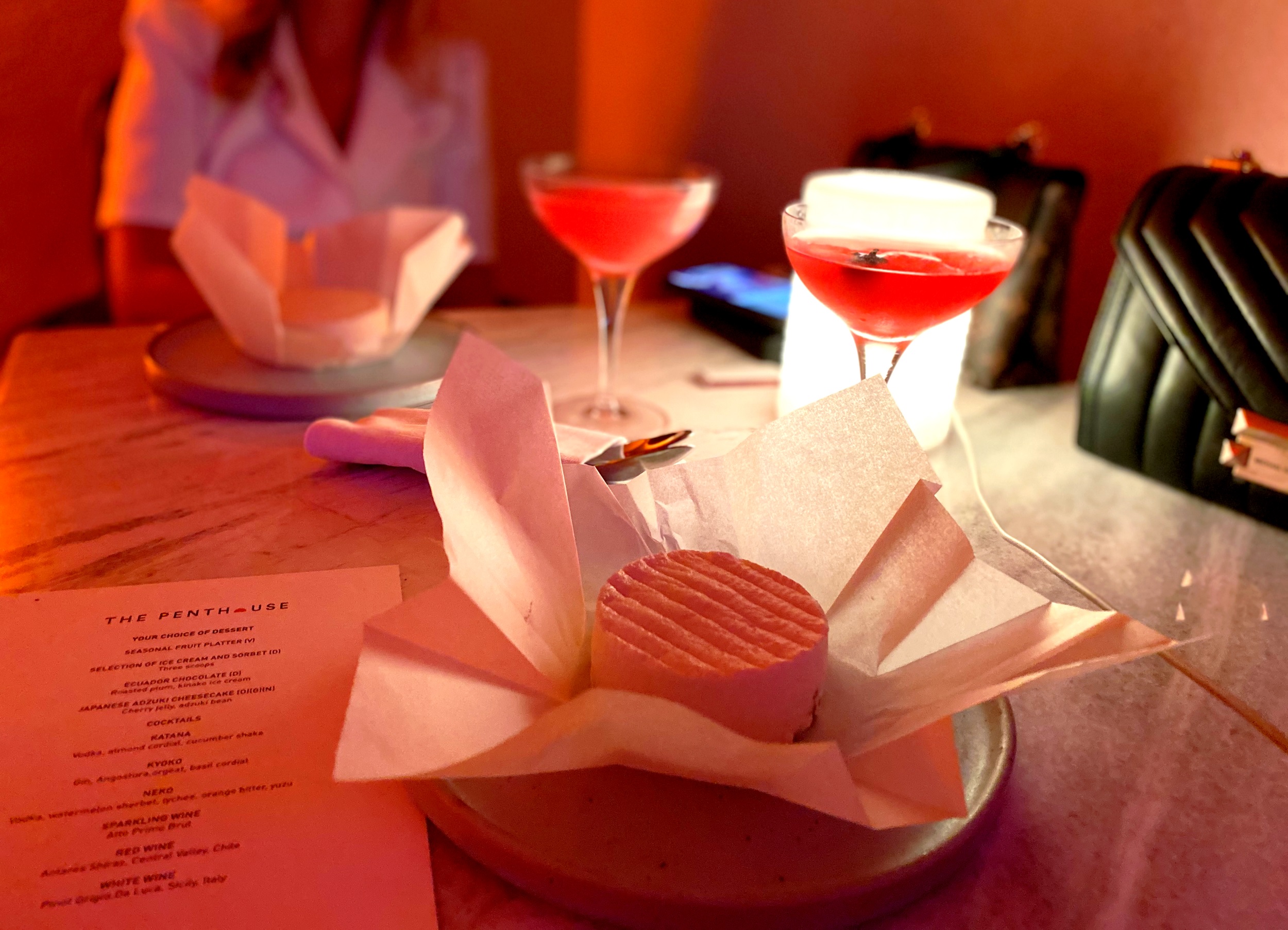 Day 4
, the last full day. Late in the evening we would both fly back. I booked separately with KLM (IPB) to fly through the night, so basically spend day 5 on board. Michelle had booked a different flight than me. In the morning we went to JBR beach again to have breakfast there. The place we went to is called
Common Grounds.
I have to tell you that it looked delicious, my toast and juice certainly were, but the coffee was a bit less personally. Finally rented a beach bed nearby and lay there for a while, before we walked the coast later in the afternoon to go to
Zero Gravity
. Zero Gravity is a very cool beach club. A bit 'seen and seen' and pricey, like Five the Palm. Incidentally, it was a public holiday (EID was approaching), so it was all a lot more expensive. The advantage of the expensive entrance price was unlimited drinks, ice cream, savory and sweet food during your entire stay at the beach club. Cool place with nice music too! Tip is to go earlier because in the end we only had 3 hours left before the special package was over and we had to go back to get ready for the airport.
We had already arrived at the airport quite 'early' because Michelle and I wanted to take the taxi at the same time, and wanted to do the rapid test for the return trip for more than 4 hours vtv. Here our paths parted and we went our separate ways again because her flight was much earlier. The test can also be done at the airport, and you will receive the results within a few minutes, including your travel certificate. Almost stopped due to a miscommunication of the ground handling.. but thank heavens it turned out well. A Dutch lady I encountered during testing seemed to be lagging behind because she only had a rapid test. Behind security I ran into her again a long time later. I was super excited because I hated seeing her like this and not being able to help her, but it turned out okay! We soon had a nice chat and decided to have a drink together at a business lounge, where we chatted for at least 1-2 hours because we were so early. How fun that was! I always enjoy meeting new people and hearing their stories while traveling. On the way to the gate we also met another nice Dutch boy, whom the lady already knew from her hotel. Finally, the 3 of us chatted and laughed for a long time. I sat in the front row in economy comfort (KLM) and was told by the super sweet KLM colleagues that I could fly Business Class. I had always dreamed of that and I became very enthusiastic! what a great experience! Very grateful for the KLM several colleagues on this flight, with whom I chatted for a very long time during the flight. The breakfast was also delicious, and I slept well. I felt completely pampered on this flight, and flying Business Class was the icing on the cake.
Dag
4,
de laatste volle dag. Laat in de avond zouden we beide terugvliegen. Ik los geboekt met KLM (IPB) om door de nacht te vliegen, dus in principe dag 5 door te brengen aan boord. Michelle had een andere vlucht dan ik geboekt. In de ochtend opnieuw naar JBR beach gegaan om daar te ontbijten. De plek waar we heen gingen heet
Common Grounds.
Ik moet je zeggen dat het er heerlijk uit zag, mijn toast en sapje dat ook zeker waren, maar de koffie persoonlijk wat minder was. Uiteindelijk een strandbedje in de buurt gehuurd en daar nog even gaan liggen, voor we later in de middag de kust zijn afgelopen om naar
Zero Gravity
te gaan.
Zero Gravity
is een hele gave beachclub. Wel een beetje 'gezien en gezien worden' en prijzig, zoals Five the Palm. Overigens was het een feestdag (EID – het suikerfeest was in aantocht), dus was het allemaal een stuk duurder. Voordeel van de dure entree prijs was onbeperkt drank, ijsjes, hartig en zoet eten tijdens je gehele verblijf bij de beachclub. Gave plek met leuke muziek ook! Tip is om wel vroeger te gaan want wij hadden uiteindelijk nog maar 3 uur de tijd voor het speciale arrangement voorbij was en we terug moesten om ons klaar te maken voor de luchthaven.
We waren al behoorlijk 'vroeg' op de luchthaven aangekomen omdat Michelle en ik tegelijk met de taxi wilden, en ruim 4 uur vtv al de sneltest voor de terugreis wilde doen. Hier scheidde ook onze wegen en gingen we weer ieder onze eigen kant op omdat haar vlucht veel eerder ging. De test kan overigens gewoon op de luchthaven, en de uitslag heb je binnen enkele minuten inclusief je reiscertificaat. Bijna blijven staan door een miscommunicatie van de grondafhandeling.. maar thank heavens is dat goed gekomen. Een Nederlandse dame die ik tegen kwam bij het testen, leek achter te blijven omdat ze alleen een sneltest had. Achter security kwam ik haar later weer tegen een hele tijd later. Ik was super enthousiast omdat ik het erg rot vond haar zo te zien en haar niet te kunnen helpen, maar toch was het goed gekomen! We hadden al snel een gezellig gesprek en besloten samen wat te gaan drinken bij een business lounge, waar we zeker 1-2 uur hebben gekletst omdat we zo vroeg waren. Wat was dat gezellig! ik vind het altijd super leuk om op reis nieuwe mensen te leren kennen en hun verhalen te horen. Opweg naar de gate ook weer een andere gezellige Nederlandse jongen leren kennen, die de dame dus zelf al kende van haar hotel. Uiteindelijk met zijn 3en lang gekletst en gelachen. Ik zat op de eerste rij in economy comfort (KLM) en kreeg van de super lieve KLM collega's te horen dat ik Business Class mocht vliegen. Stiekem had ik daar altijd al van gedroomd en werd ik mega enthousiast! wat een hele gave ervaring! Erg dankbaar voor de KLM verschillende collega's op deze vlucht, waar ik super lang mee heb gekletst tijdens de vlucht ook. Het ontbijt was trouwens ook heeeeeeerlijk, en ik heb lekker geslapen. Ik voelde me compleet in de watten gelegd tijdens deze vlucht, en Business Class mogen vliegen was de kers op de taart.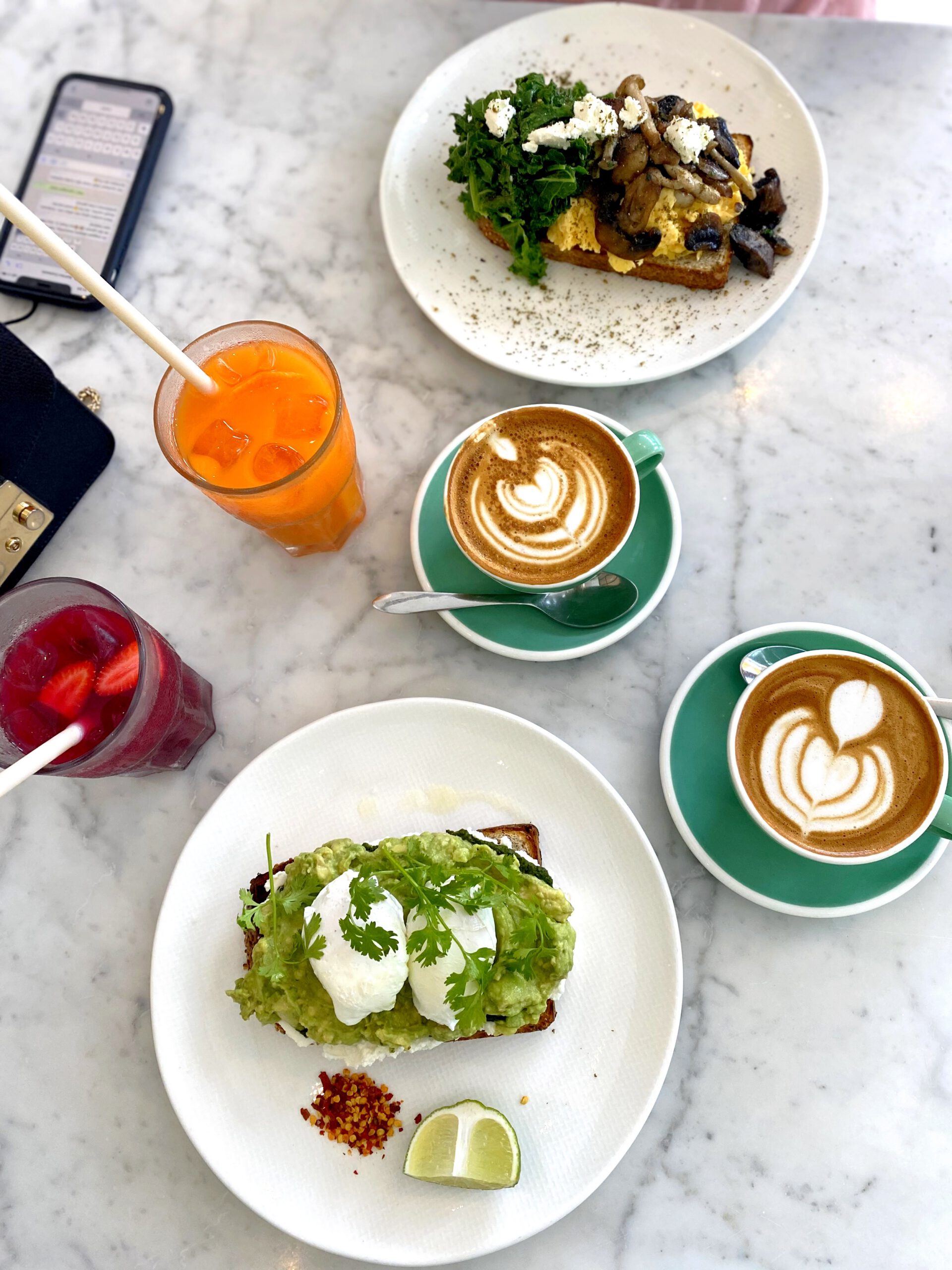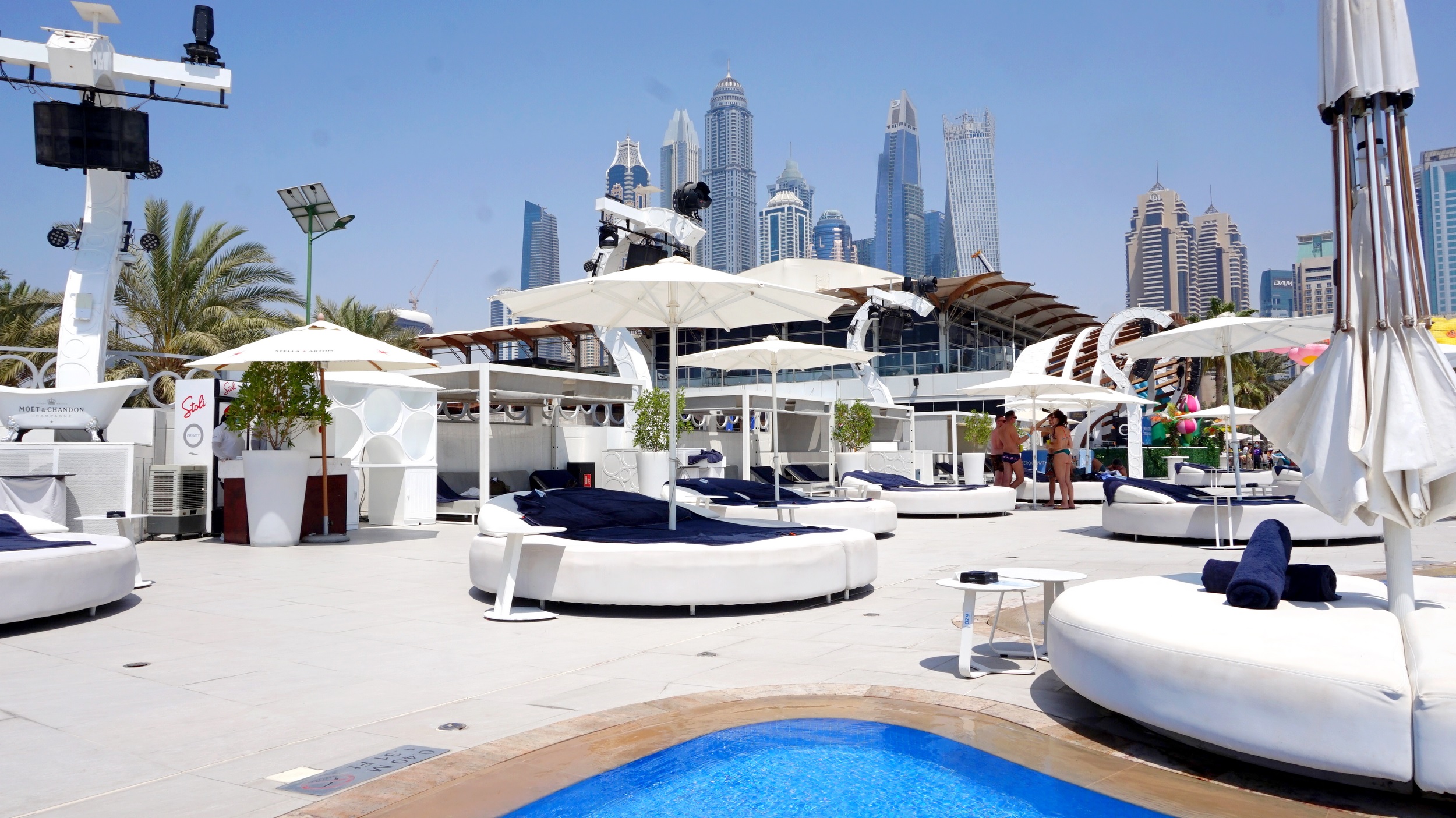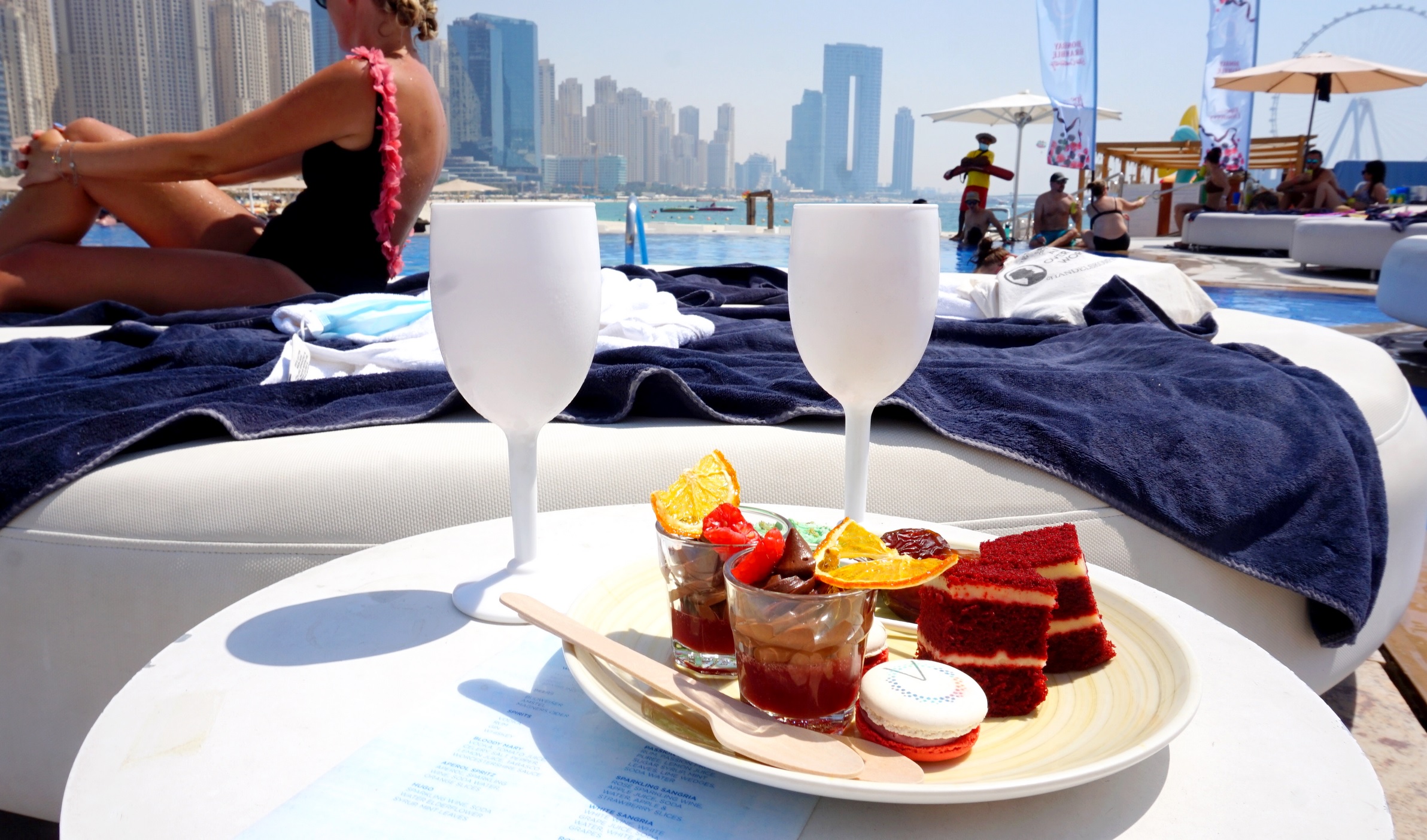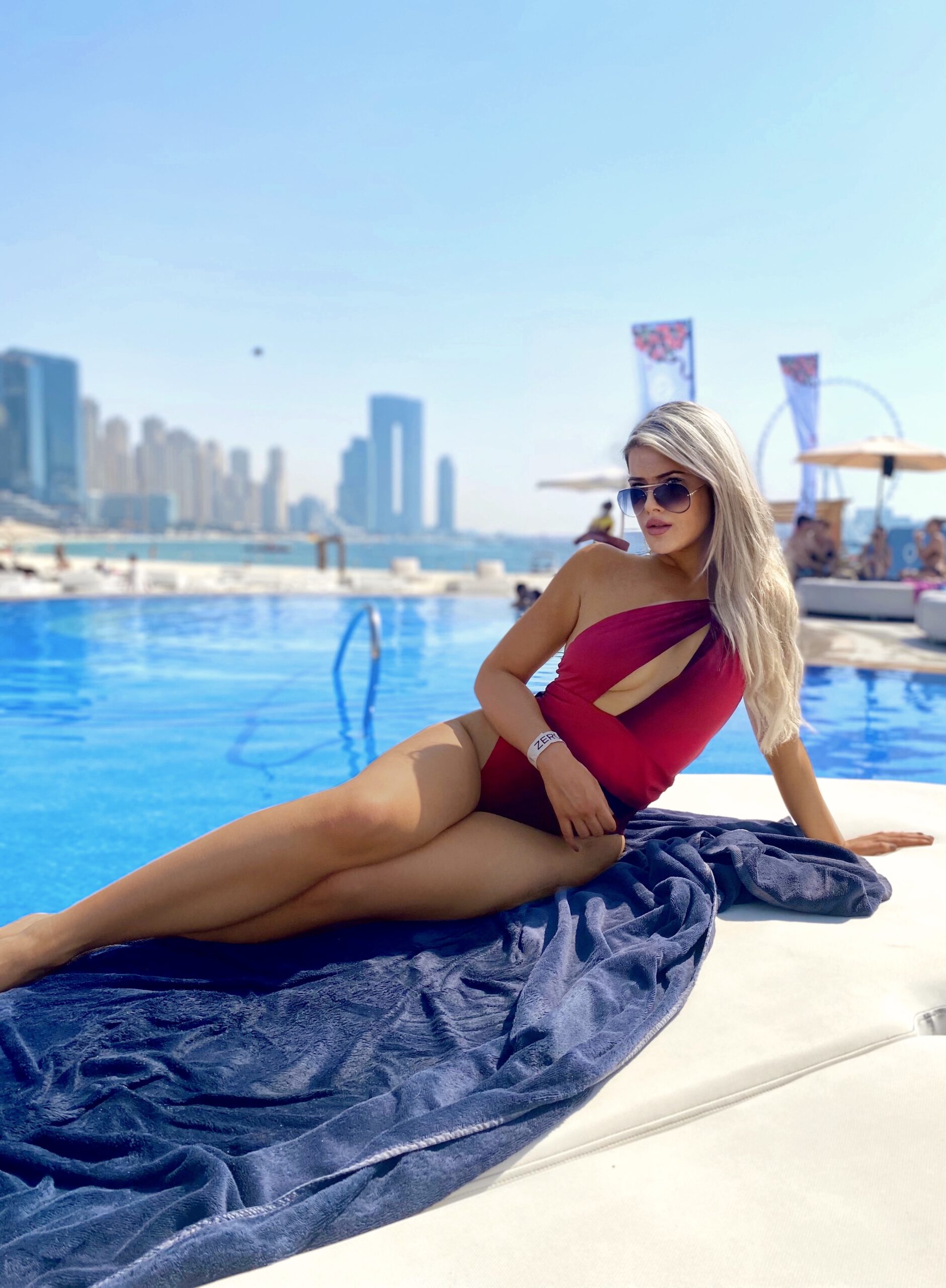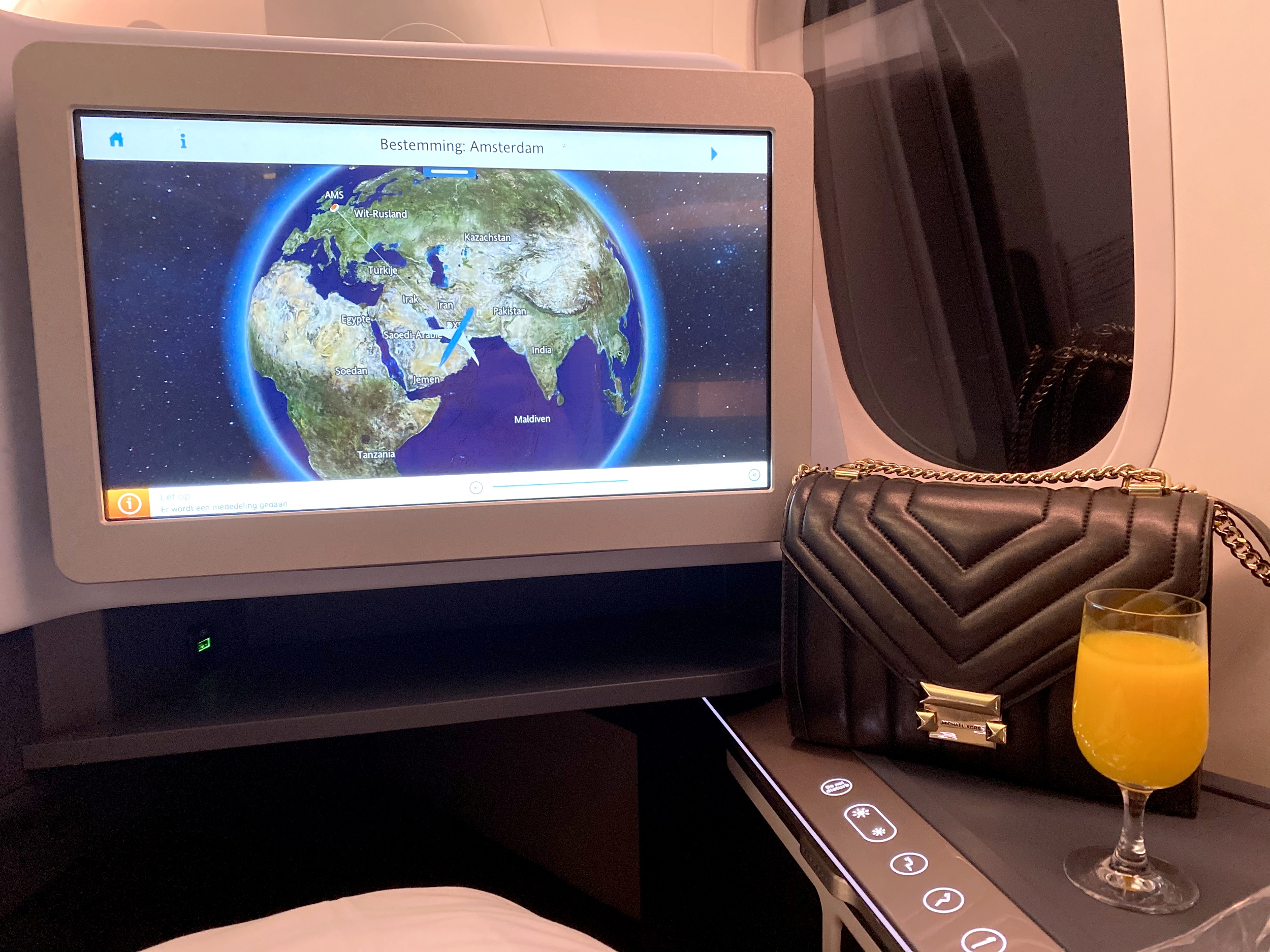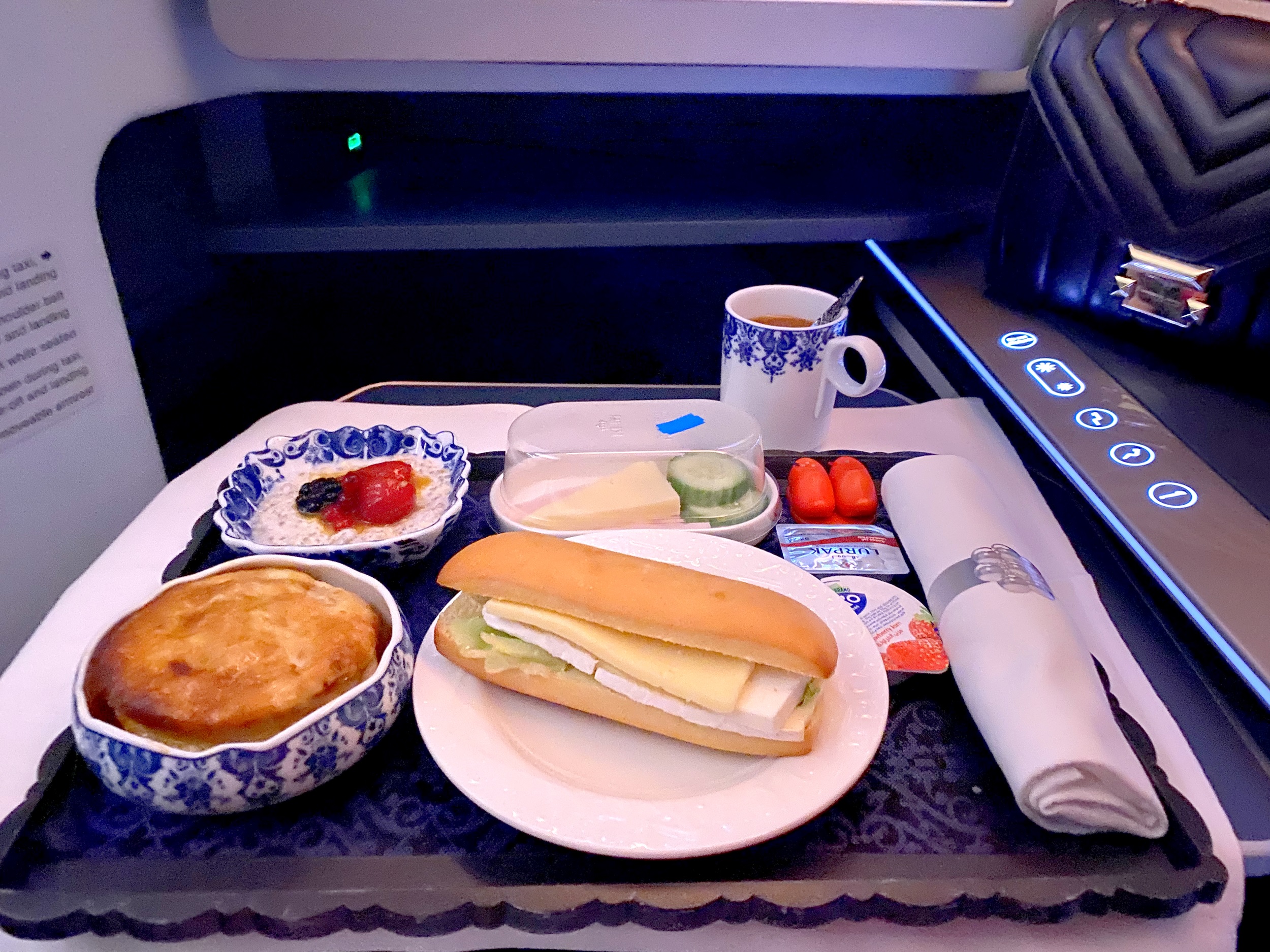 Can't wait to travel solo again! Thank you for reading my 2nd Dubai Travel diary! I hope you liked it and the tips for a trip to Dubai will help you. The whole trip was fantastic! definitely worth repeating.
Kan niet wachten weer solo op reis te gaan! Dankjewel voor het lezen van mijn 2e Dubai Travel diary! ik hoop dat jullie het leuk vonden en wat aan de tips hebben voor een trip naar Dubai. De hele reis was fantastisch! zeker voor herhaling vatbaar.