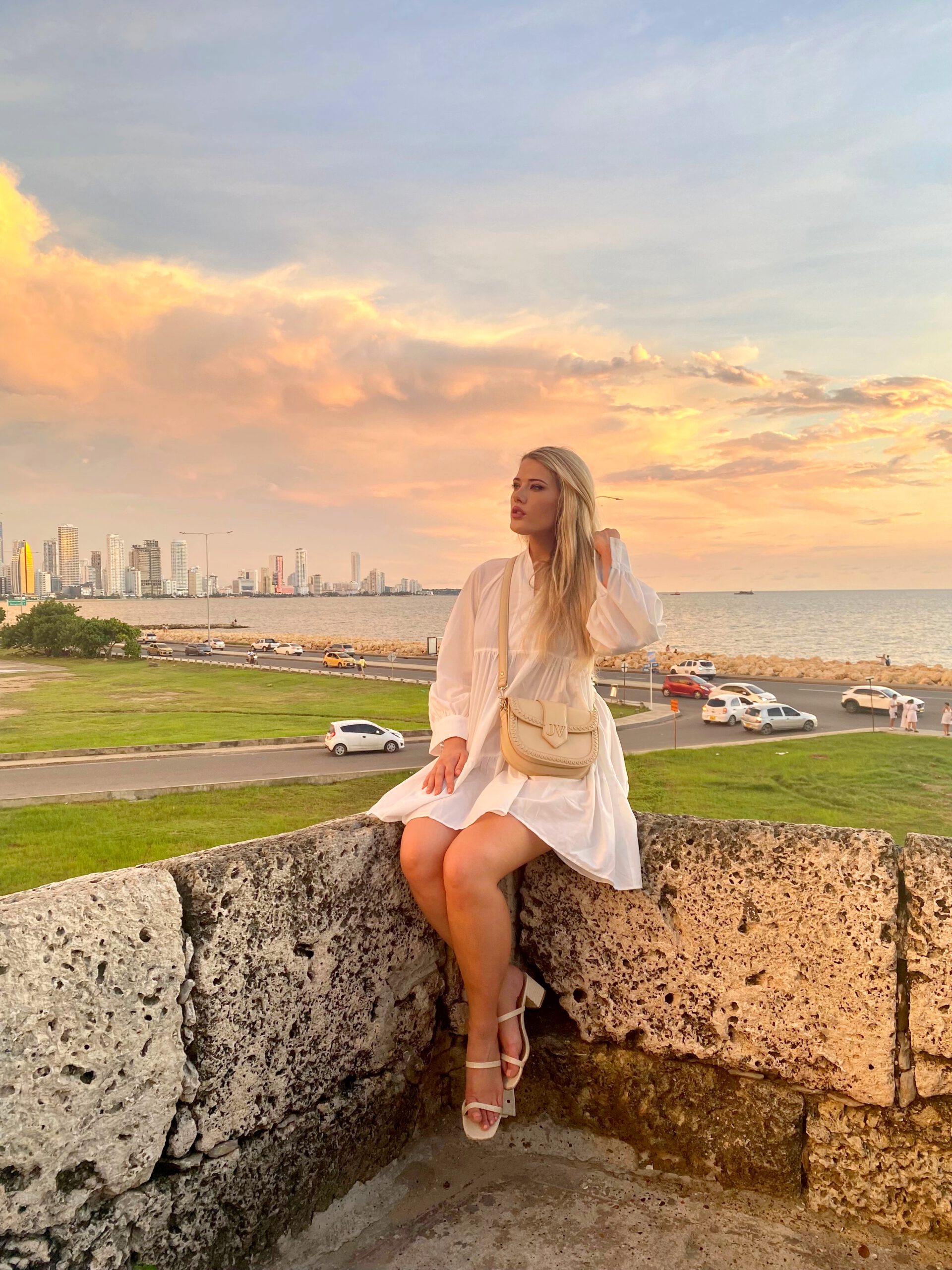 Hi everyone! My solo trip to Colombia was really fantastic. During my trip to Mexico, I got inspired by others to take this Colombia trip. I regularly saw cool things from Cartagena on social media and from others, so decided to plan this trip. I am a down to earth person who is not easily scared, but when I found out that I would arrive at my destination in the dark, I got really scared. Especially after I read that it is best not to walk around in the dark on your own, let alone with beautiful jewelry, your phone or other expensive things. I would like to tell you how this journey went in these posts. Long story short – It was fantastic!
Hi allemaal! Mijn solo reis naar Colombia was echt fantastisch. Tijdens mijn reis naar Mexico, werd ik geïnspireerd door anderen om deze Colombia reis te maken. Ik zag regelmatig gave dingen van bijvoorbeeld Cartagena, dus besloot deze reis te gaan plannen. Ik ben een nuchter persoon die niet snel bang is, maar toen ik er achter kwam dat ik in het donker aan zou komen op bestemming, werd ik toch wel erg bang. Vooral na ik las dat je in je eentje eigenlijk het beste niet in het donker rond kunt lopen, laat staan met mooie sieraden, je telefoon of dure spulletjes bij. Hoe deze reis helemaal is gegaan, vertel ik jullie graag ik deze posts. Ik vond het in ieder geval fantastisch!

Day 1 – Schiphol & Cartagena – 8/9/2022

From Schiphol I left for Cartagena in the morning. I quickly got a seat at the gate. I personally love flying Intercontinental. It was a lot of fun with the KLM cabin crew and I was pampered. I also drank coffee with them in the galley for a long time. We exchanged some contact details in case something went wrong or to maybe meet up for a drink on day 2. Super sweet! In Bogotá, we had a short stop. I had a great conversation with two Americans from the same flight and we got along really well. Once in Cartagena, we shared a taxi as I happened to be staying in a hostel in the same street.
My first stay was at Casa Movida – a beautiful and beautiful hostel in the historic center, unfortunately not great for solo travelers who want to meet other people. Because of those same reviews I had already booked another hostel in advance for my other days in this city. In the hostel chat of hostelworld, I sent a message if more people were alone. Luckily, I was just in time to join a group of other solo travelers. We decided to have a drink together late in the evening at rooftop Mirador Gastro Bar. It was a lot of fun!
Vanaf Schiphol vertrok ik in de ochtend naar Cartagena. Ik kreeg bij de gate al snel een stoel. Ik vind het persoonlijk heerlijk om Intercontinentaal te vliegen. Het was ontzettend gezellig met de KLM crew en ik ben lekker in de watten gelegd. Verder ook lang met ze in de boordkeuken koffie gedronken. We wisselden wat contactgegevens uit in geval er iets aan de hand was of om wellicht aan te sluiten voor een drankje op dag 2. Super lief! In Bogotá hadden we een tankstop, hier ontmoette ik twee Amerikanen waar ik een gezellige klik mee had. Eenmaal in Cartagena aangekomen deelde ik een taxi met ze, omdat we toevallig in dezelfde straat verbleven.
Mijn eerste verblijf was in Casa Movida – een prachtig en mooi hostel in het historisch centrum, helaas in mijn mening niet top voor solo reizigers die andere mensen willen ontmoeten. Door diezelfde recensies had ik bij voorbaat al een ander hostel geboekt voor mijn andere dagen in deze stad. In de hostel chat van hostelworld stuurde ik een berichtje of meer mensen alleen waren, gelukkig was ik nog net op tijd bij en groepje andere solo reizigers aan te sluiten. We besloten gezamenlijk laat in de avond een drankje te doen bij rooftop Mirador Gastro Bar. Het was erg gezellig!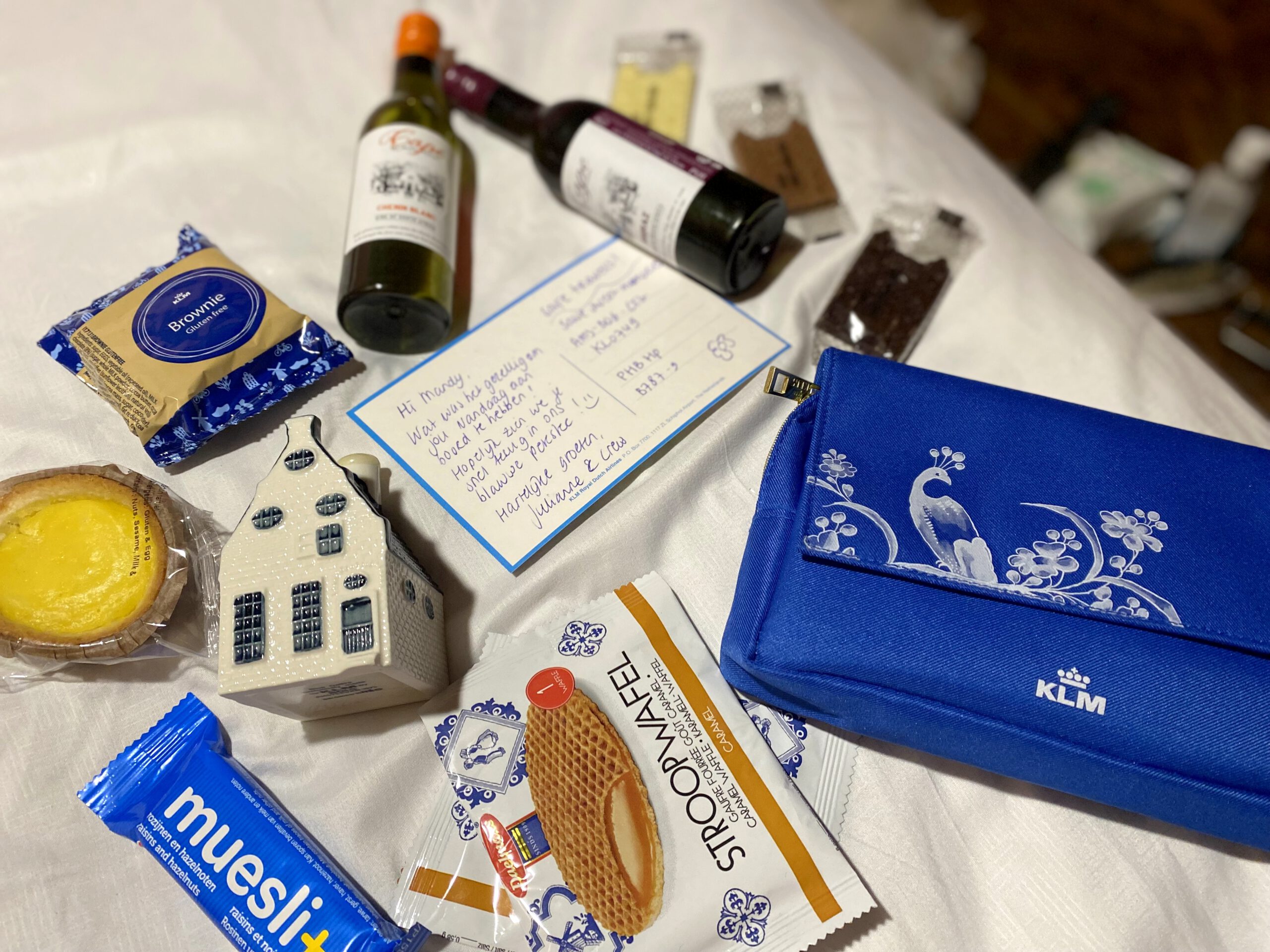 Day 2 – Cartagena – 9/9/2022
The first morning in Cartagena, I decided to have breakfast with two other solo travelers from yesterday named Harry and Paul. We had a good laugh over breakfast. Harry then helped me with some photos and later in the afternoon we decided to explore the colorful streets
of Getsemani
with the 3 of us. We decided to have lunch at
Epoca
– a well-known coffee shop in Cartagena. I had egg benedict here, a large cappuccino and shared the amazing chocolate cake. I recommend this place! Best chocolate cake ever. After this, we had a drink at
Maria Bonita
, a nice Mexican themed bar in Getsemani. We ended up chilling at my new hostel
Republica
. This is also
the best hostel in Cartagena
in my opinion! Already miss the crew and vibe there! If I ever go back I want to stay here again. This day we got to know a lot of other nice people together like Alexei from England and my new female friend Charlie from Germany.
Paul and I wanted to eat ourselves, the rest of the people we got to know didn't. We decided to meet with his Canadian friend Rita, with whom I immediately clicked. We had a drink at Cafe del Mar with the beautiful sunset on the wall of Cartagena. Then we ate at restaurant San Sebastian with the 3 of us. Nice cozy restaurant! We decided to go back to the hostel to meet up with others and say goodbye to Rita. On the street, Harry – a boy from our group – got robbed of his chain necklace. After that scary incident, we decided to have drinks with the group at Townhouse – a place I'd be happy to recommend! Here, I ran into the KLM crew from my flight. Later, the two great Americans from my flight joined us. TIP: Keep your phone in a closed bag, not in your hand and leave your expensive jewelry at home! Theft is not rare here.
De eerste ochtend in Cartagena besloot ik samen met twee andere solo reizigers van gisteren genaamd Harry en Paul, te gaan ontbijten. We hebben ons tijdens het ontbijt stuk gelachen. Harry hielp me hierna met wat foto's en we besloten later op de middag met zijn 3en de kleurrijke straten van Getsemani te ontdekken. We besloten te lunchen bij
Epoca
– een bekende koffiezaak in Cartagena. Ik had hier egg benedict, een grote cappuccino en deelde de geweldige chocolade taart. Ik raad jullie deze plek ook graag aan! Beste chocolade taart ever. Hierna hadden we nog een drankje bij
Maria Bonita
, een leuk Mexicaans thema barretje in Getsemani. Uiteindelijk zijn we bij mijn nieuwe hostel
Republica
gaan chillen. Dit is in mijn mening ook het
beste hostel in Cartagena!
  Ik mis de crew en sfeer daar nu al! Als ik ooit terug ga, wil ik hier weer verblijven. Hier leerden we deze dag aan het zwembad gezamenlijk een hoop andere leuke mensen kennen, zoals Alexei uit Engeland mijn nieuwe vriendin Charlie uit Duitsland.
Paul en ik wilden zelf wel eten, de rest van de mensen die we leerden kennen niet. We besloten te meetten met zijn Canadese vriendin Rita, waar ik gelijk een klik mee had. We hadden een drankje bij Cafe del Mar met de prachtige zonsondergang op de muur van Cartagena. Daarna aten we bij restaurant San Sebastian met zijn 3en. Leuk knus restaurant! We besloten terug naar het hostel te gaan om te meetten met anderen en namen afscheid van Rita. Op straat is Harry – een jongen van onze groep, van zijn ketting beroofd in een drukke straat. Na dit bizarre incident, besloten we drankjes te drinken met de groep bij Townhouse – een plek die ik je ook graag aanbeveel! Hier kwam ik de KLM'ers van mijn vlucht nog tegen en sloten de twee Amerikanen van mijn heenvlucht gezellig bij ons aan. TIP: Houd je telefoon in een dichte tas, niet in je hand en laat je dure sieraden thuis! Diefstal is niet zeldzaam hier.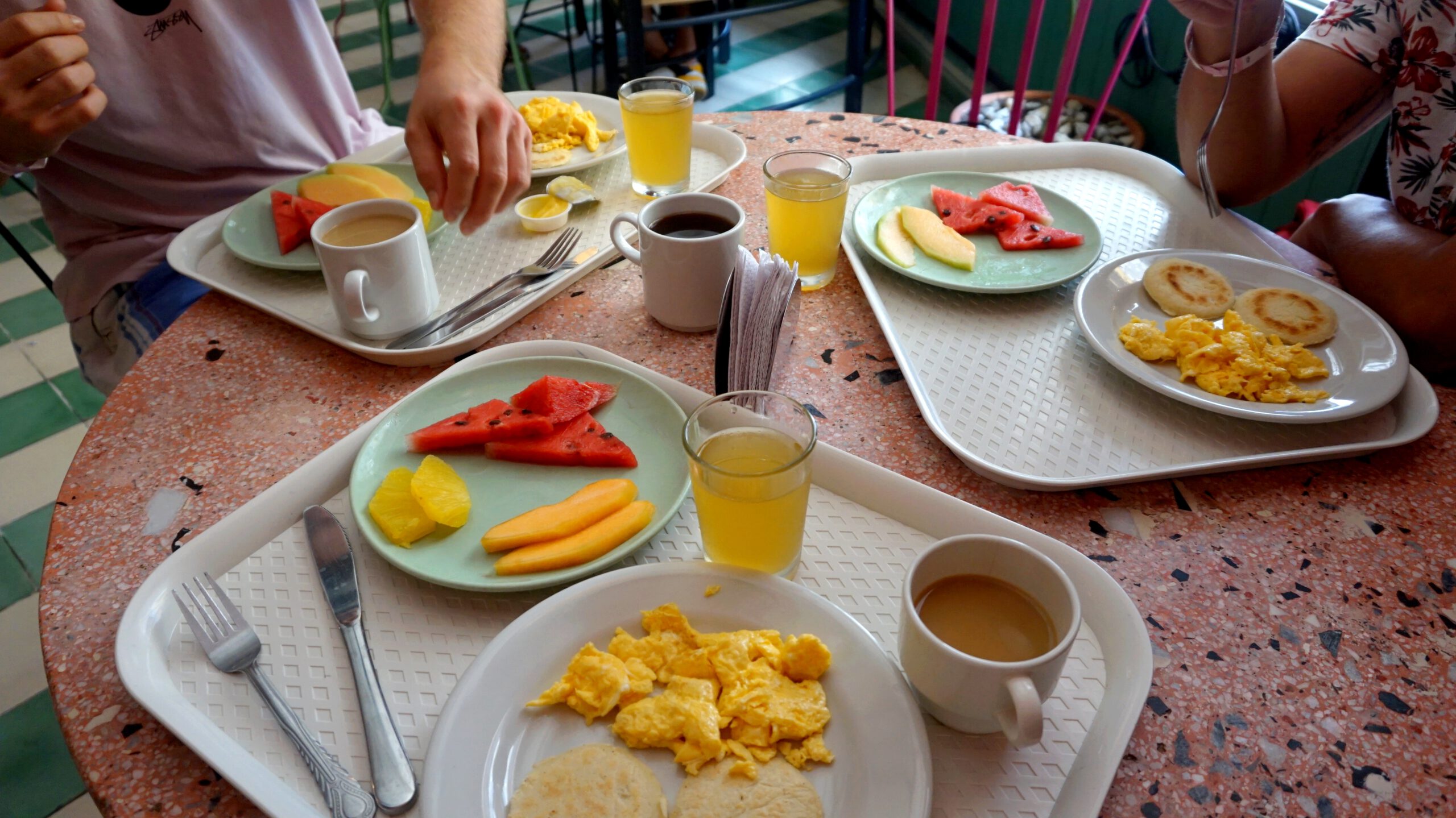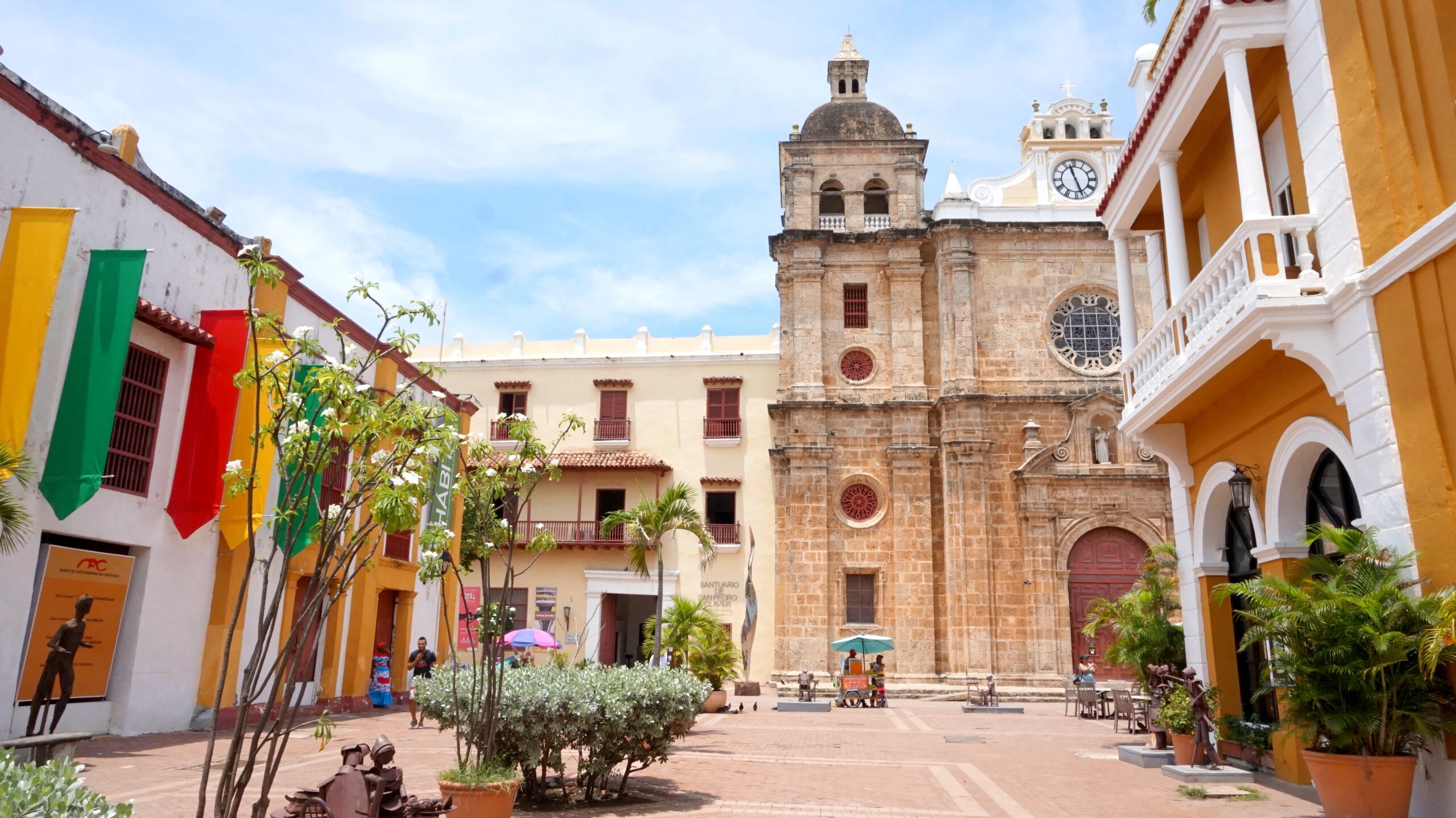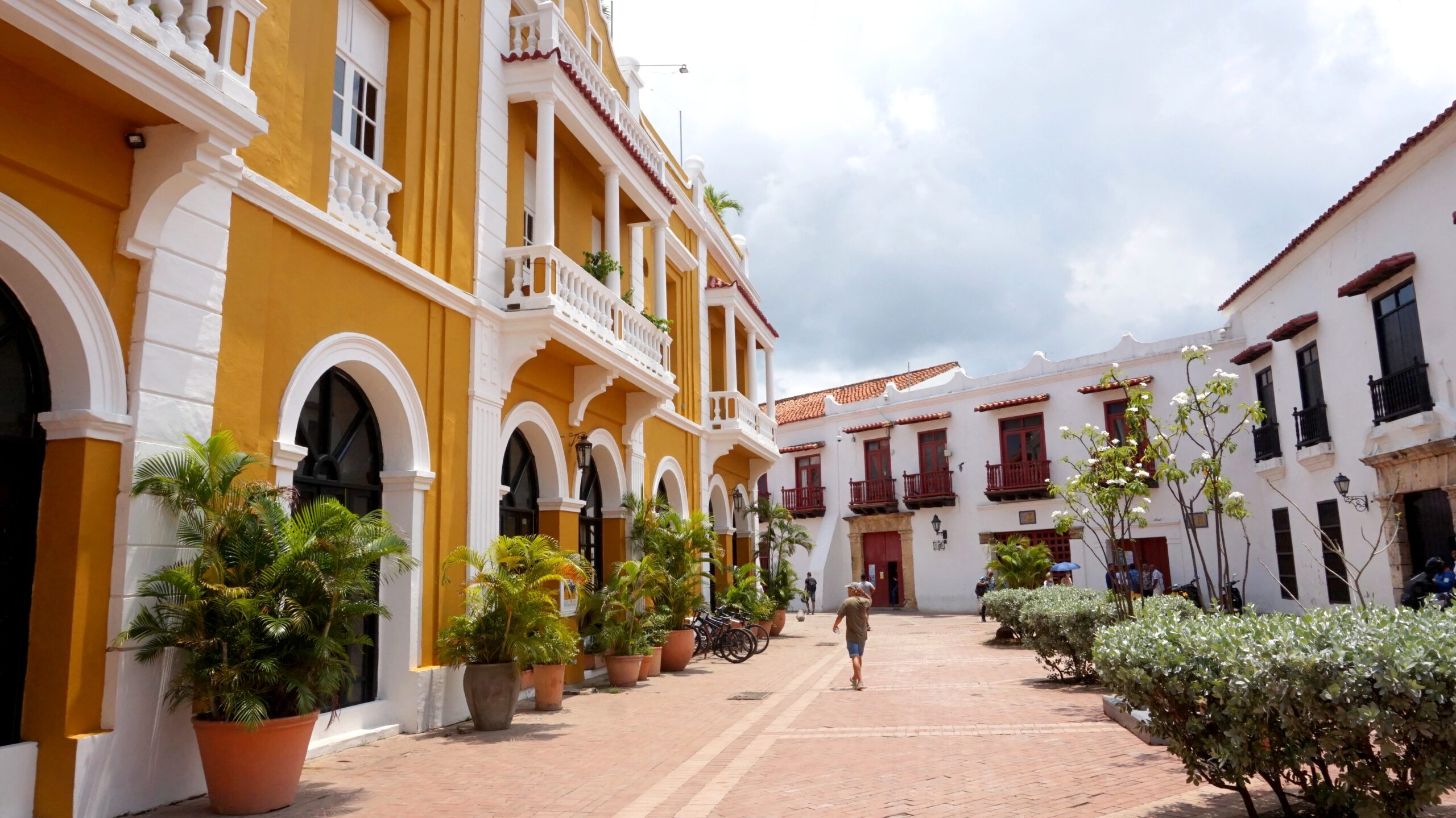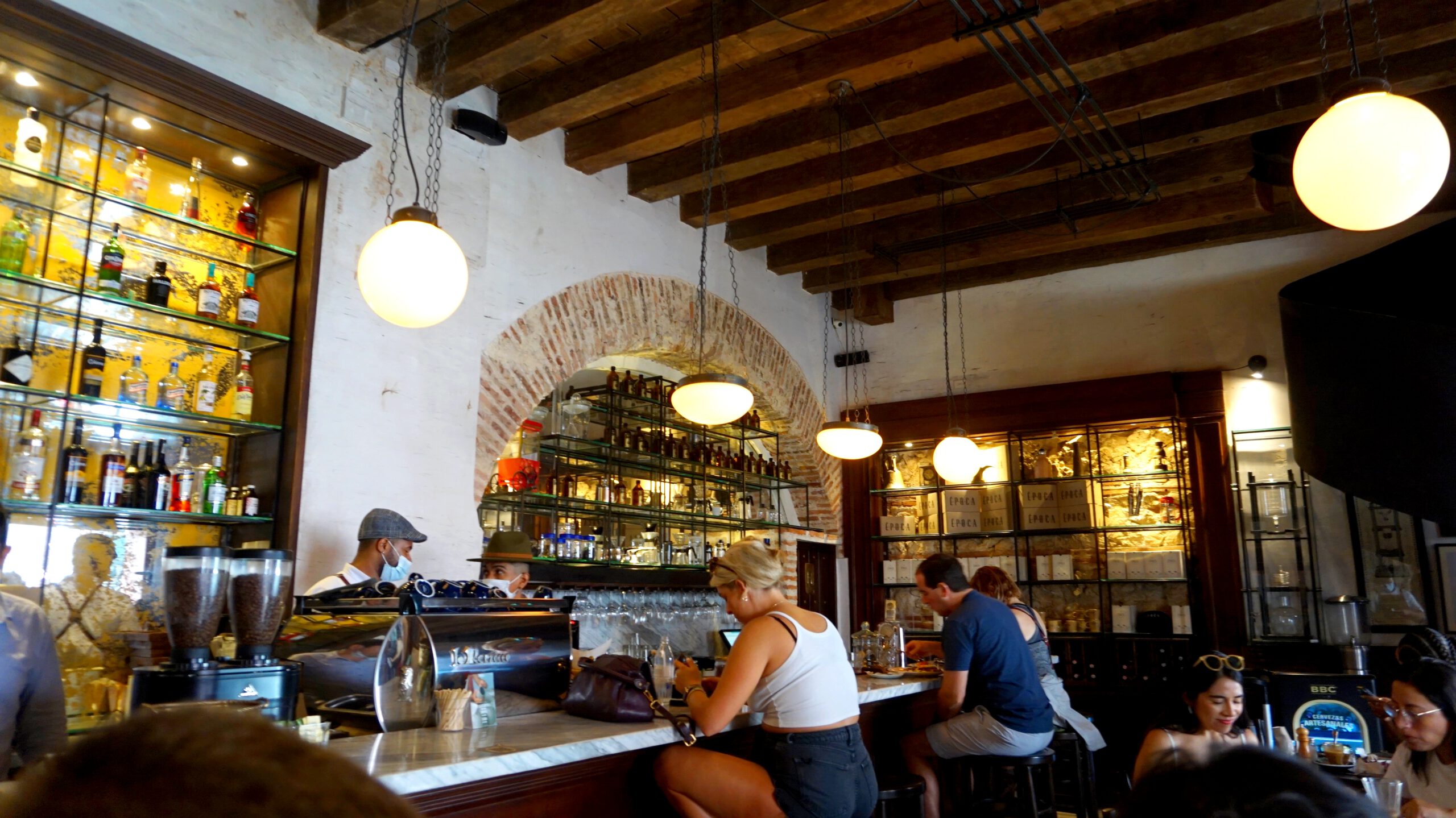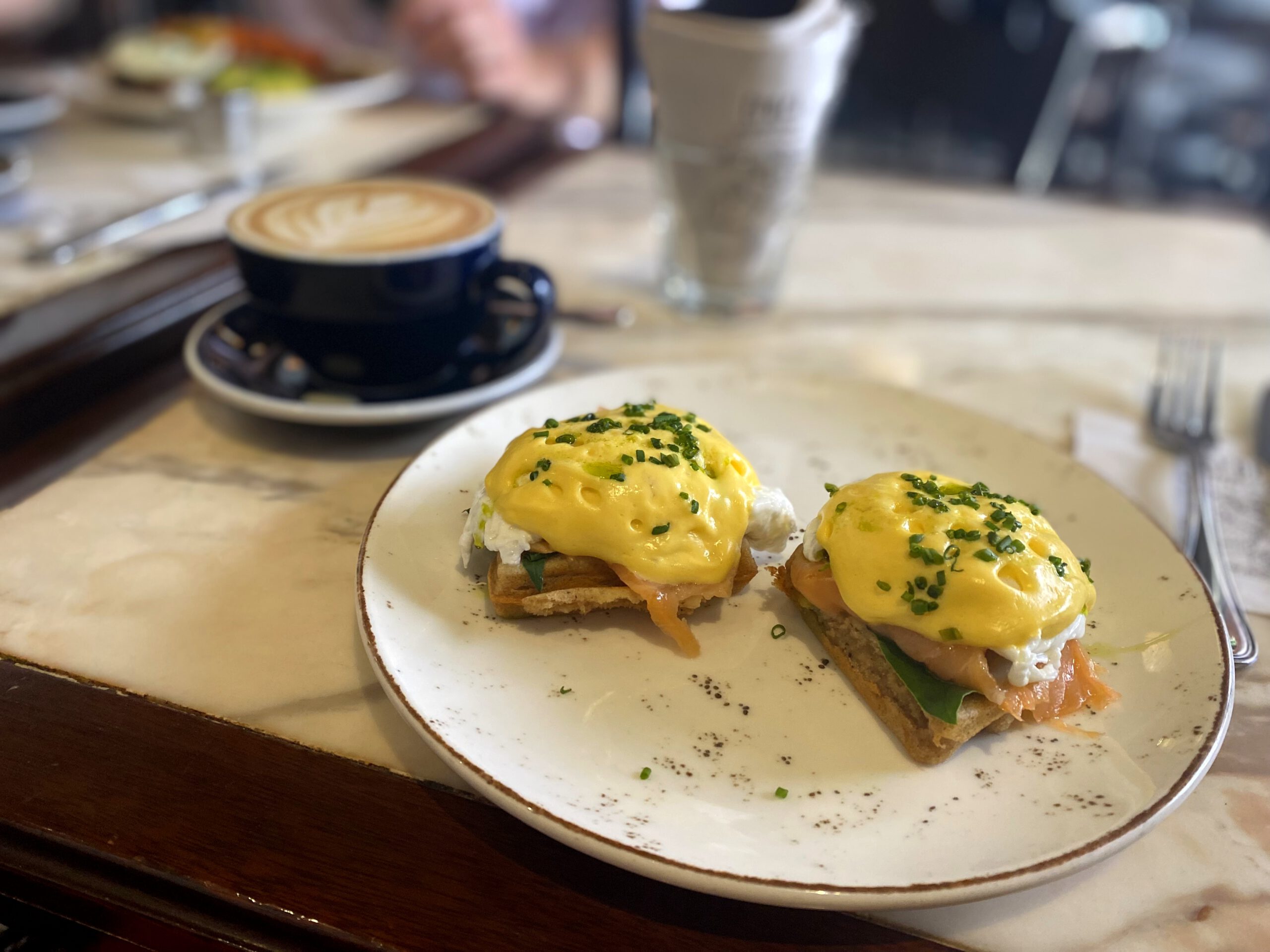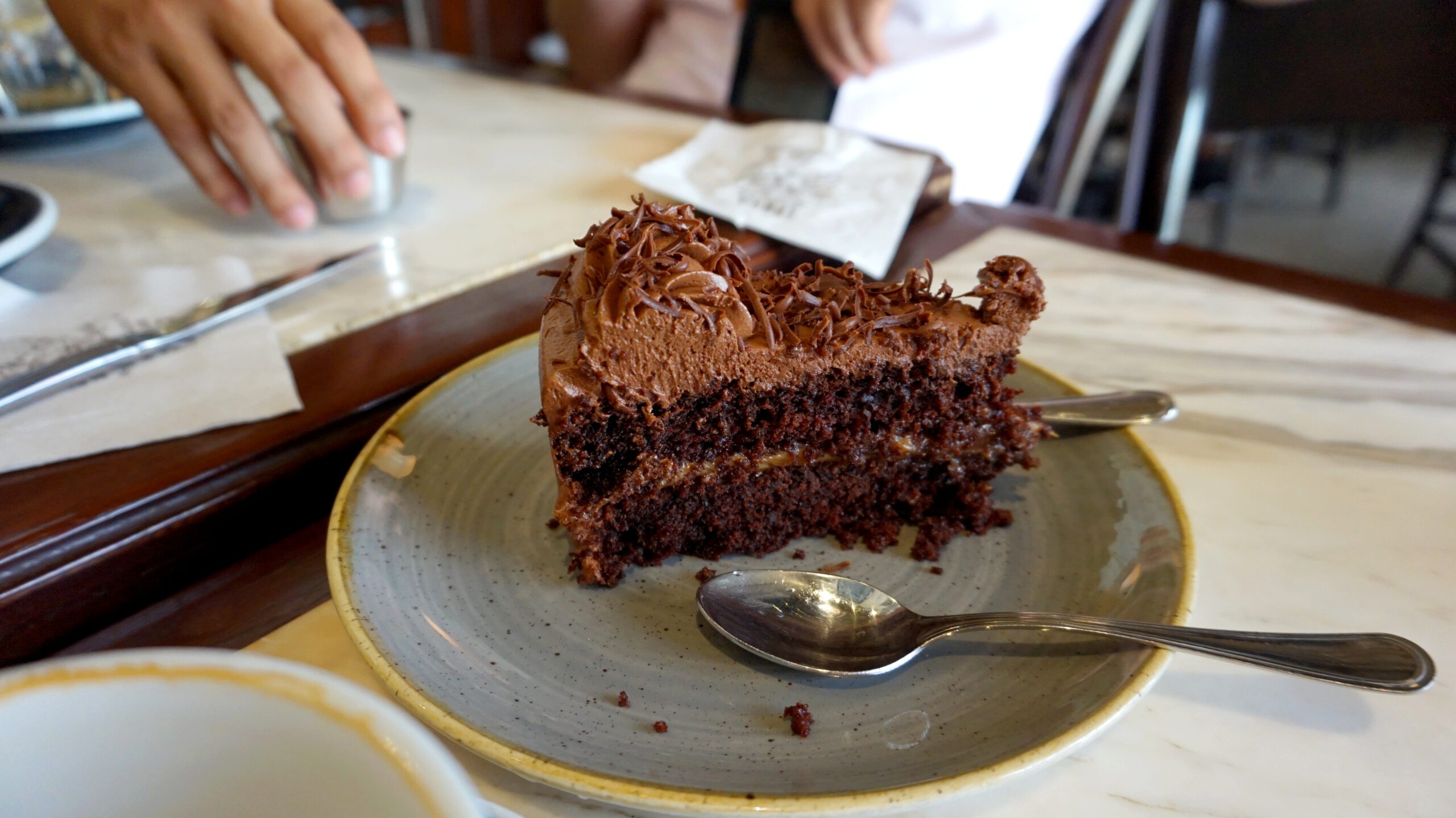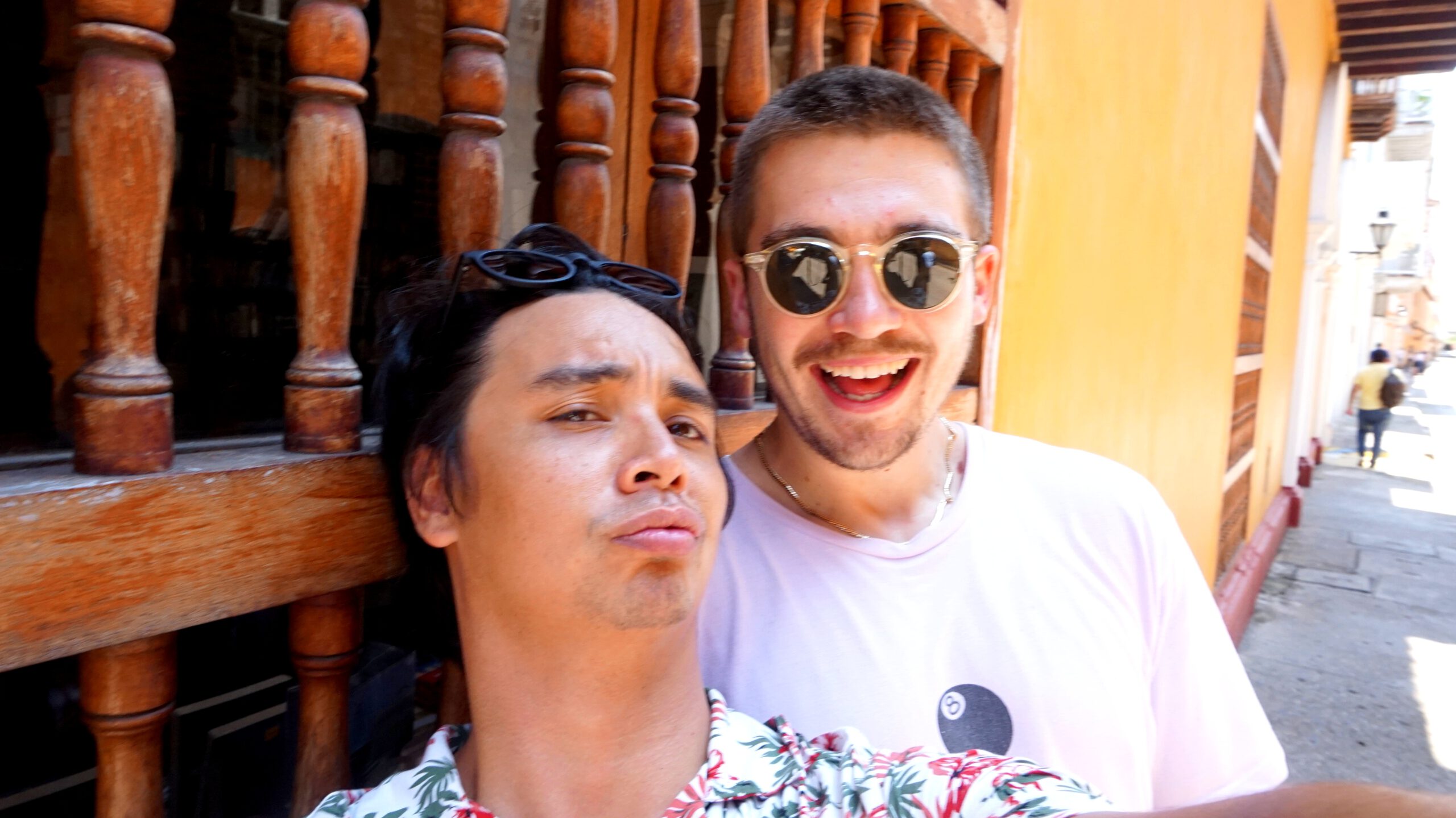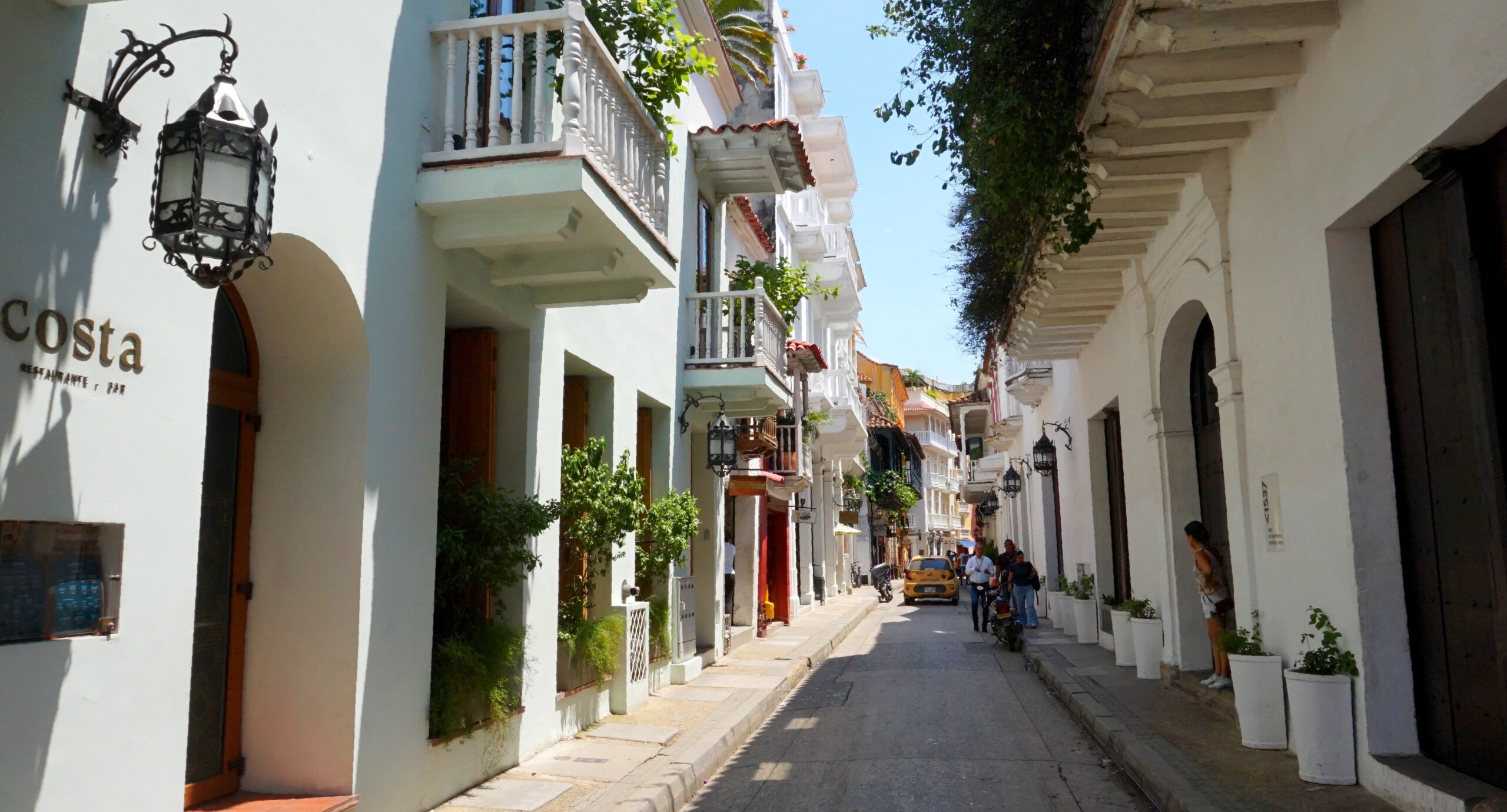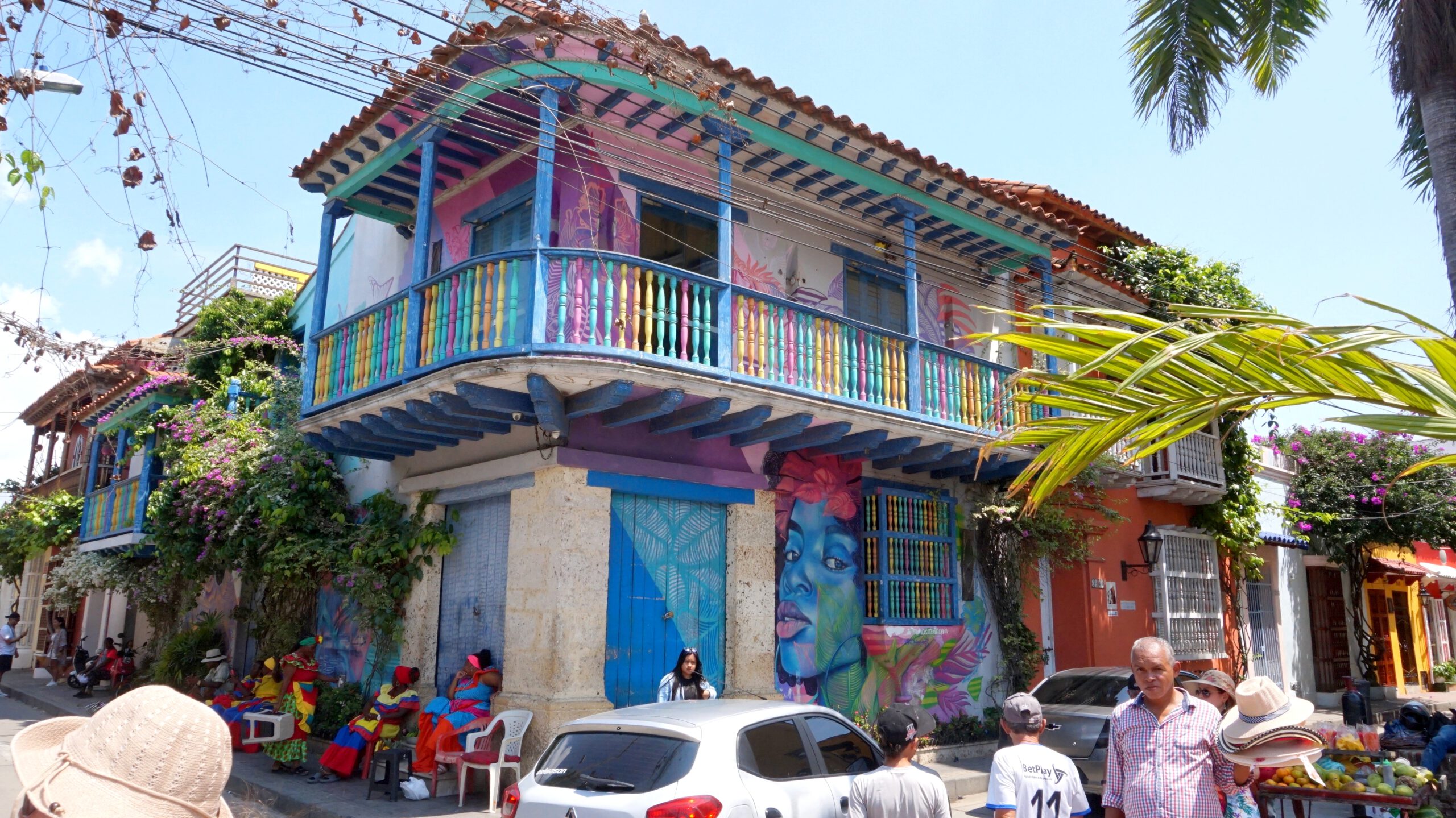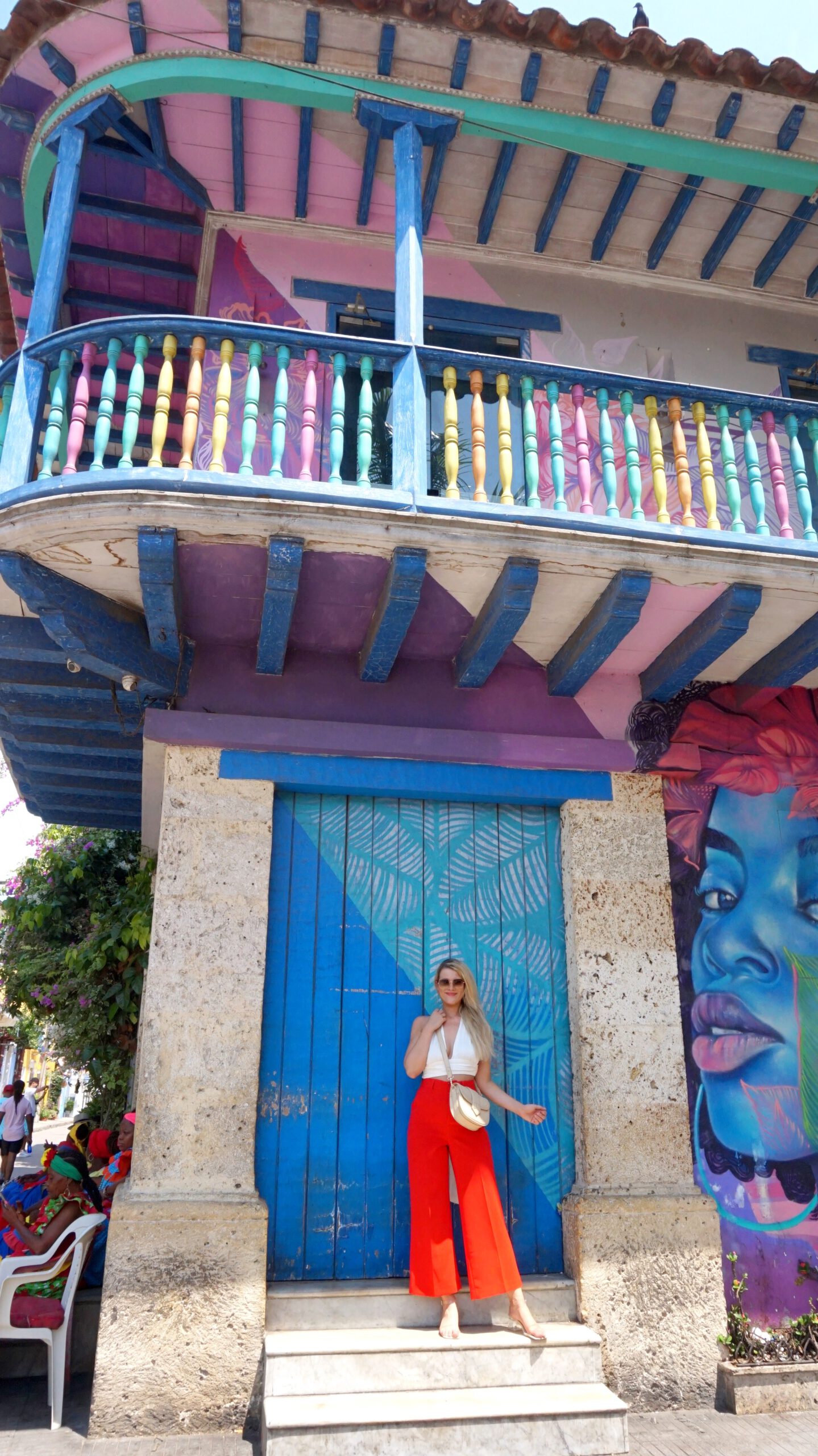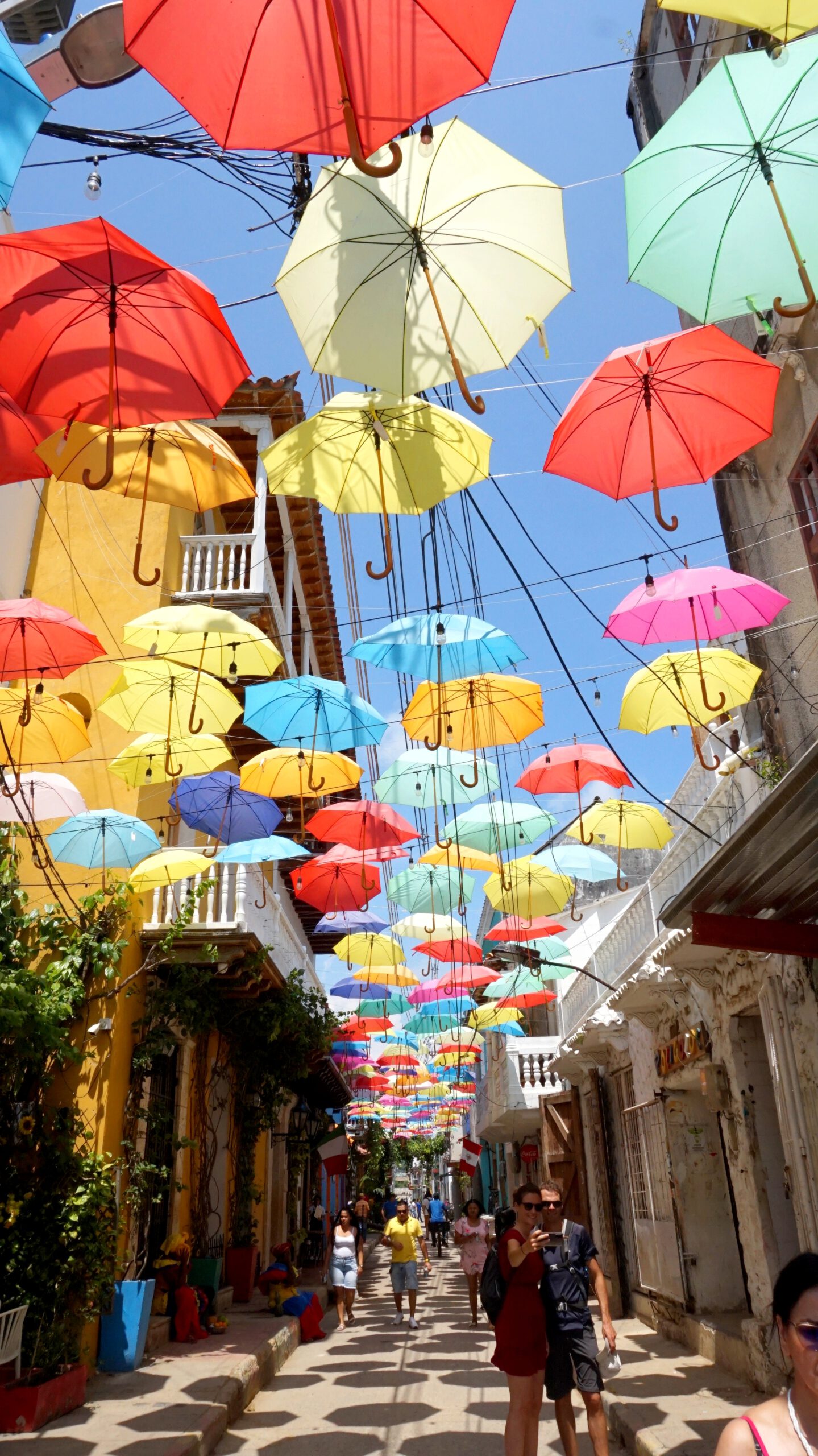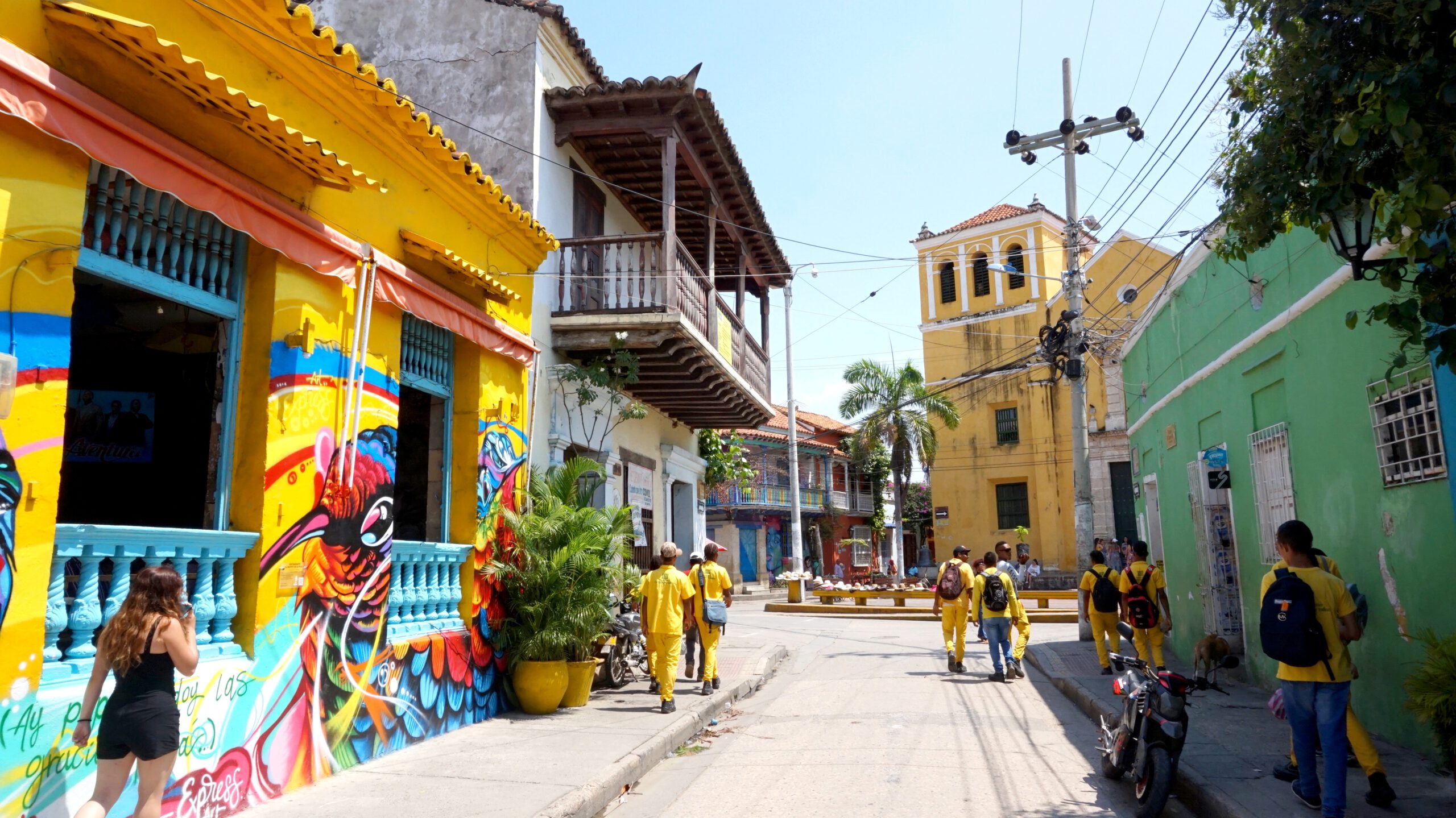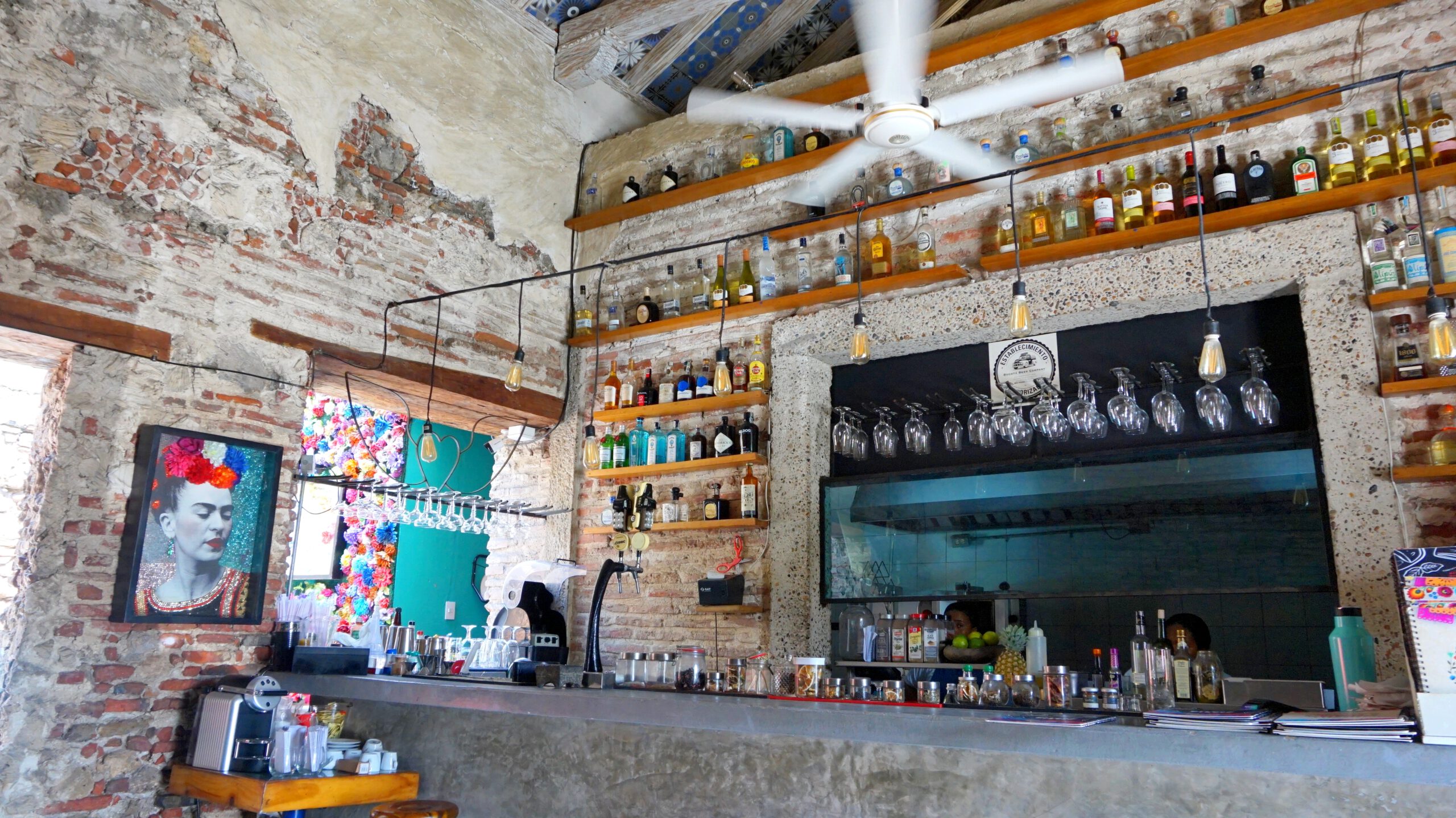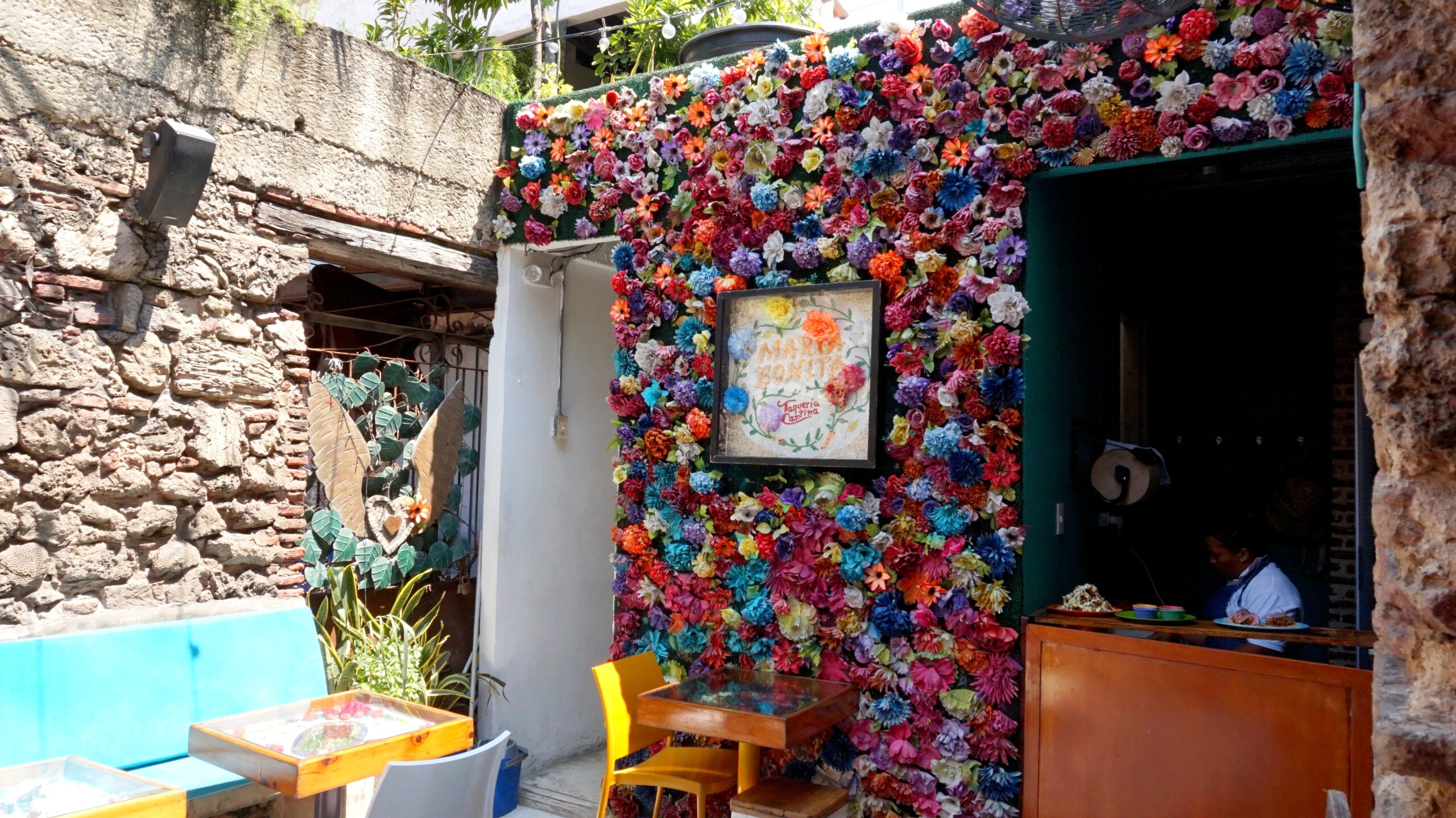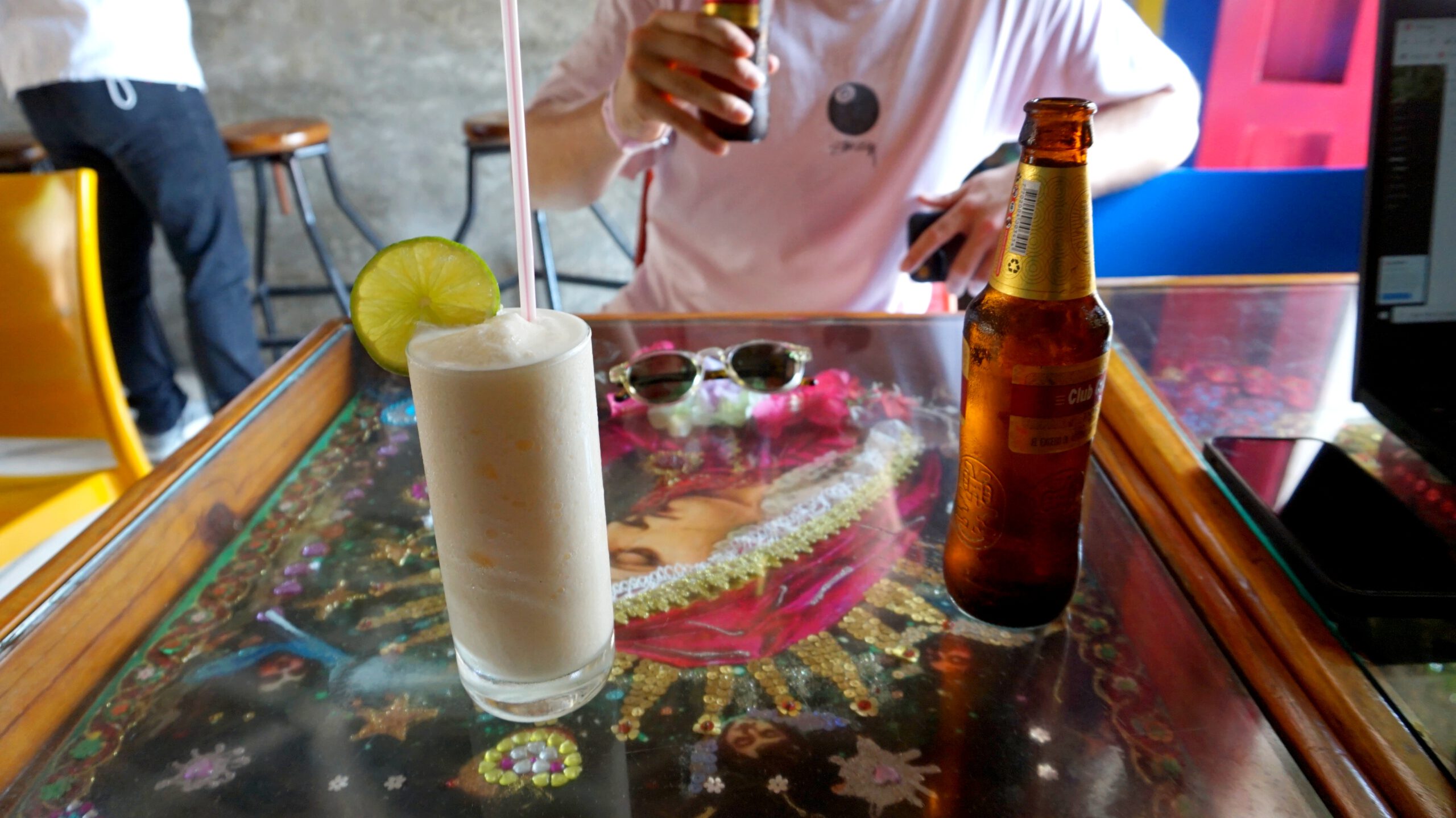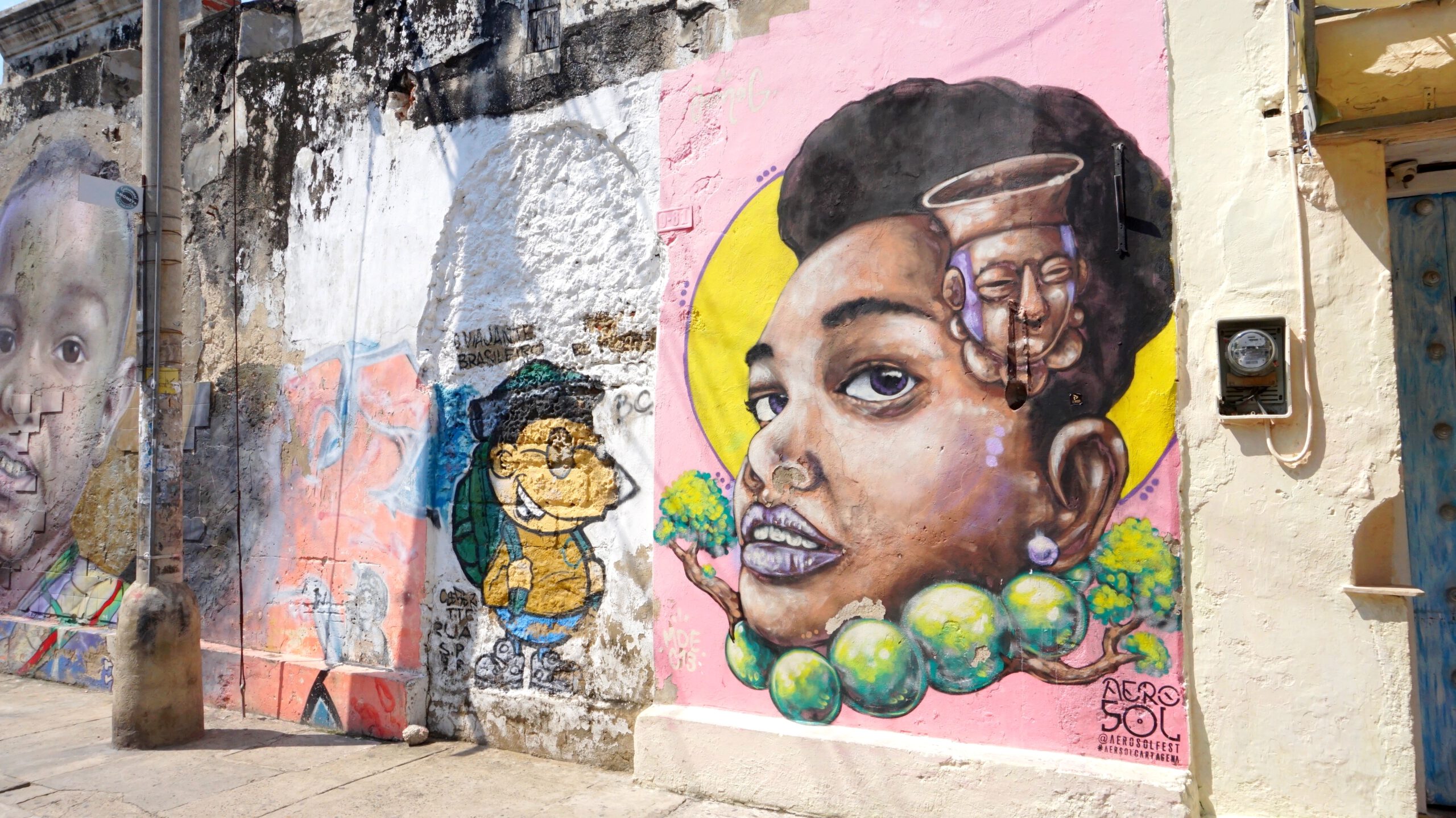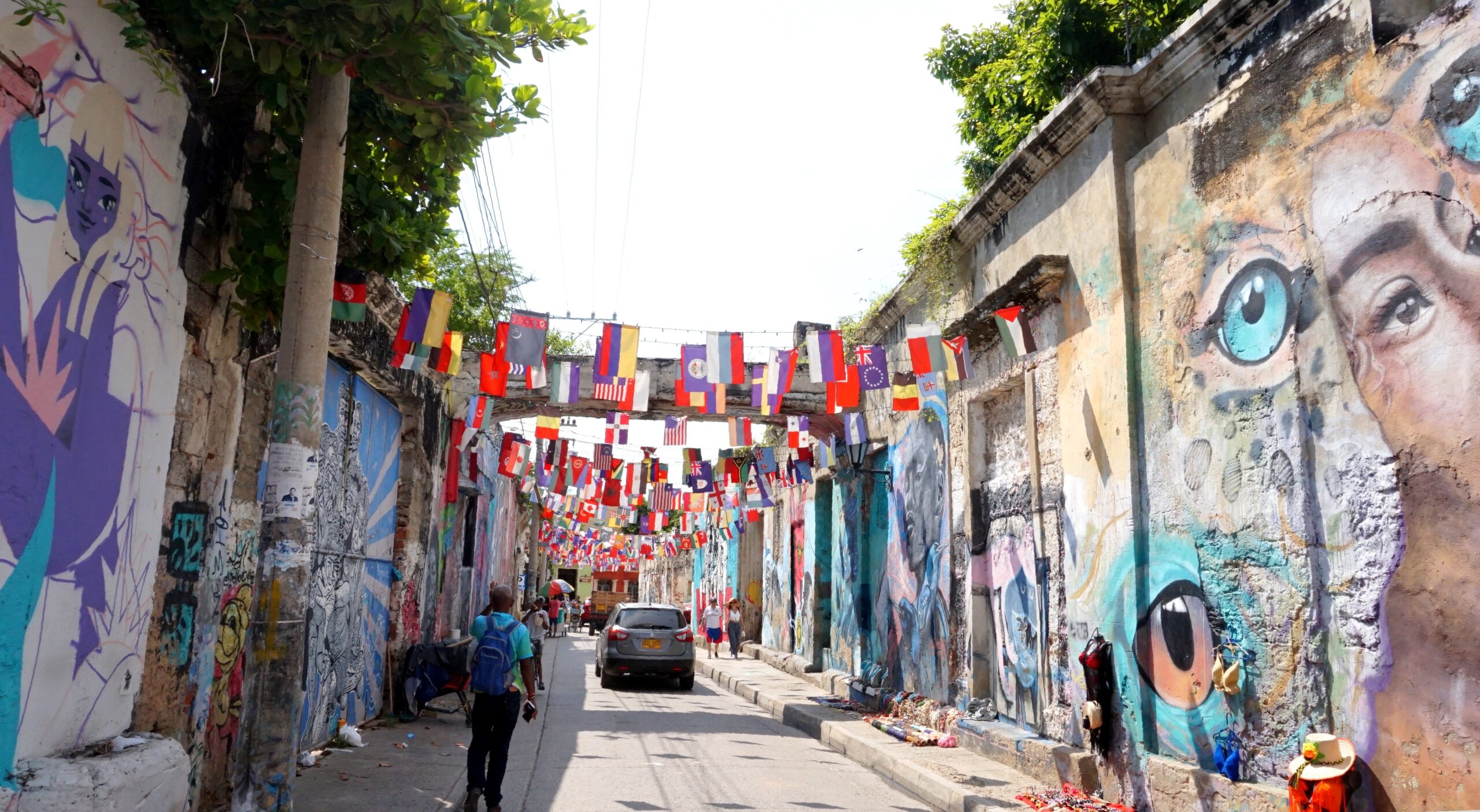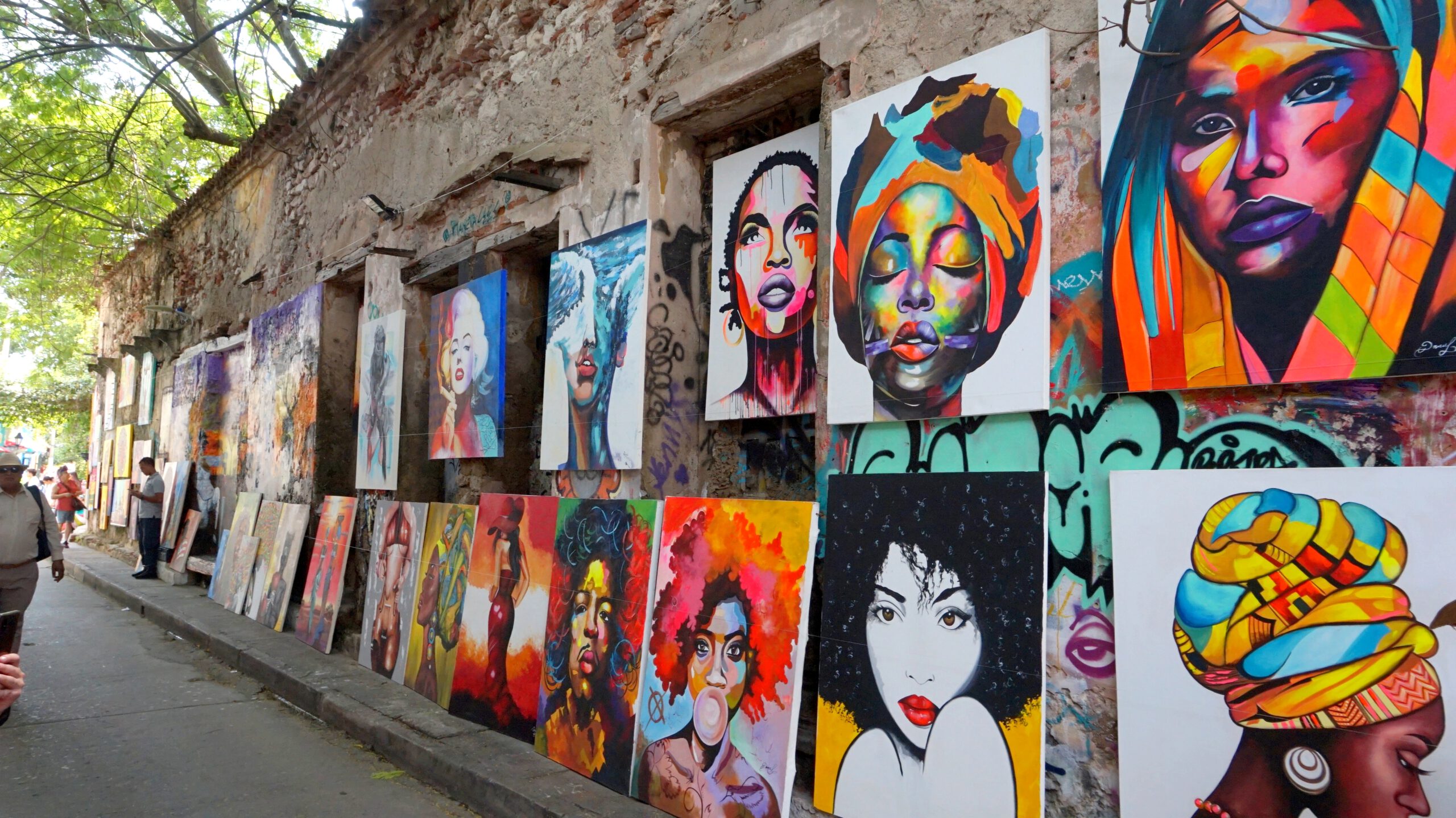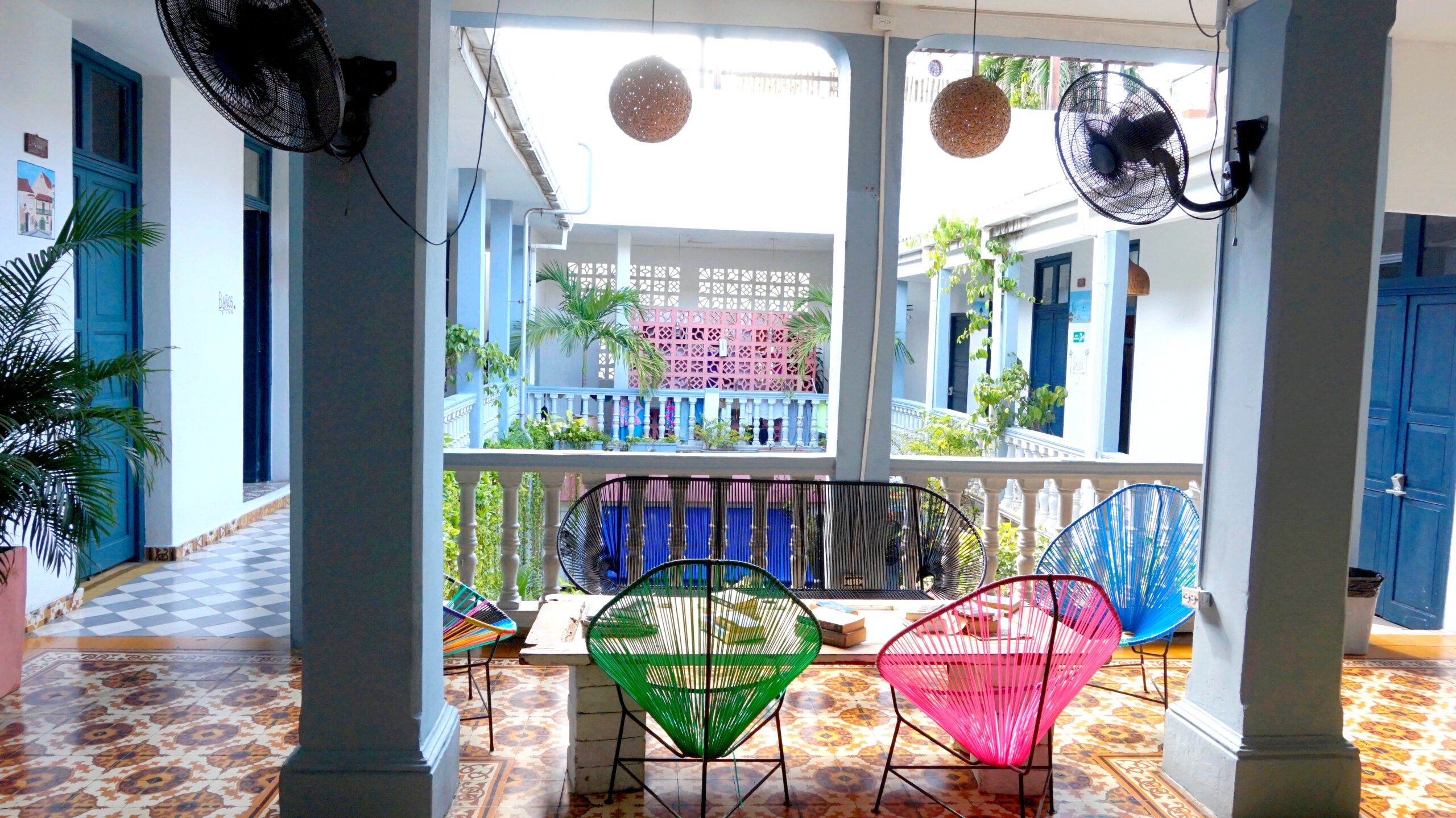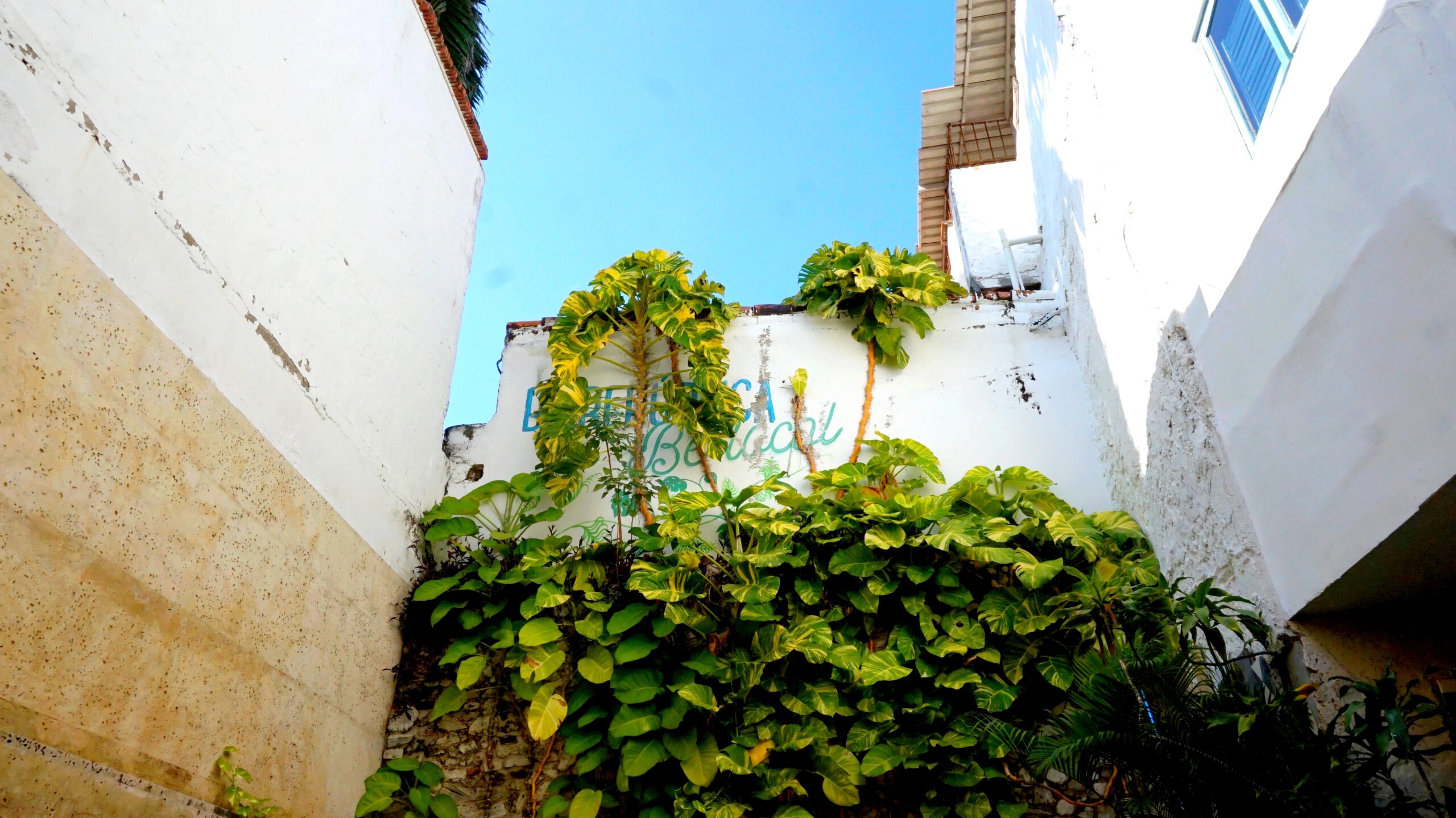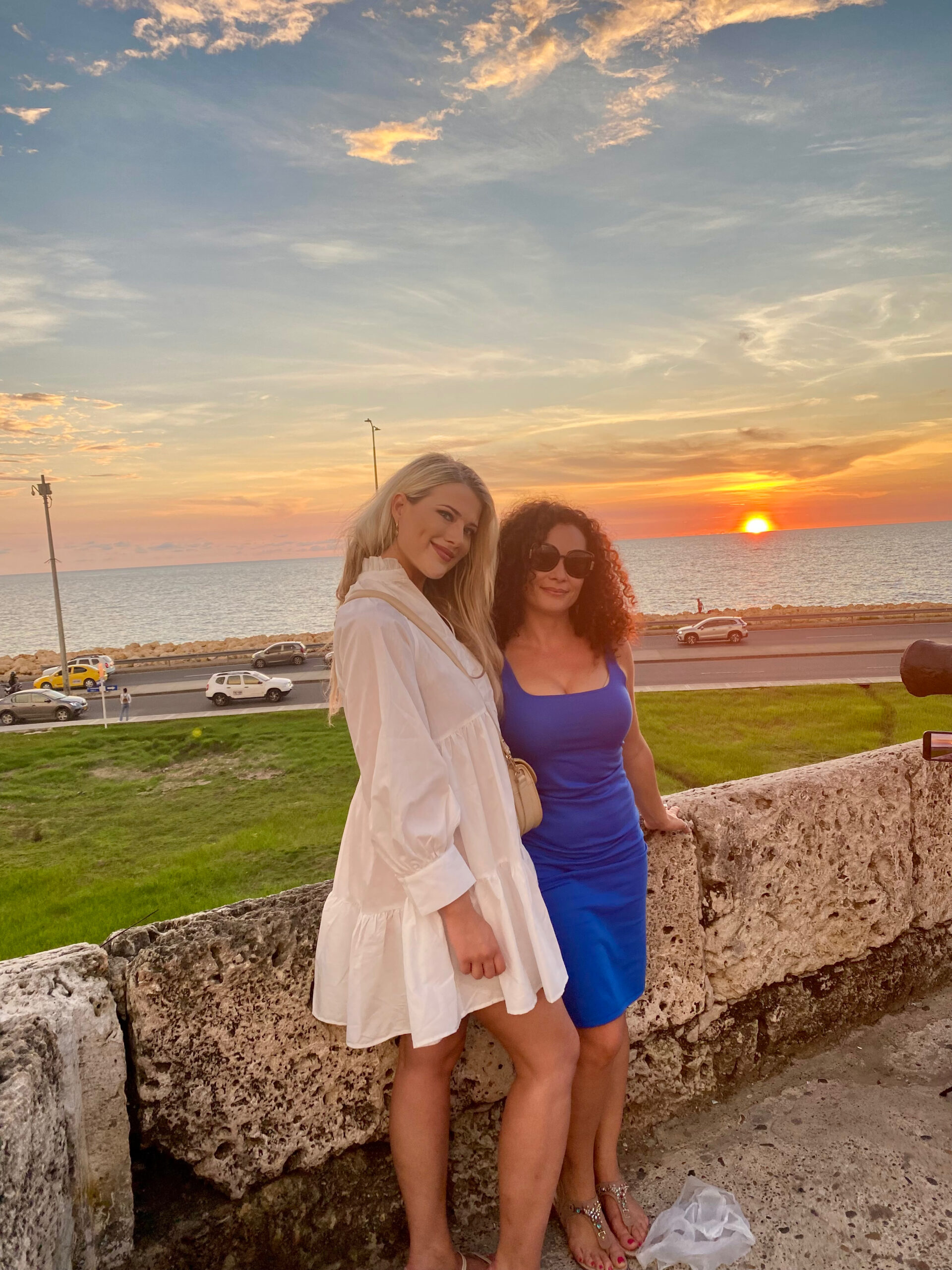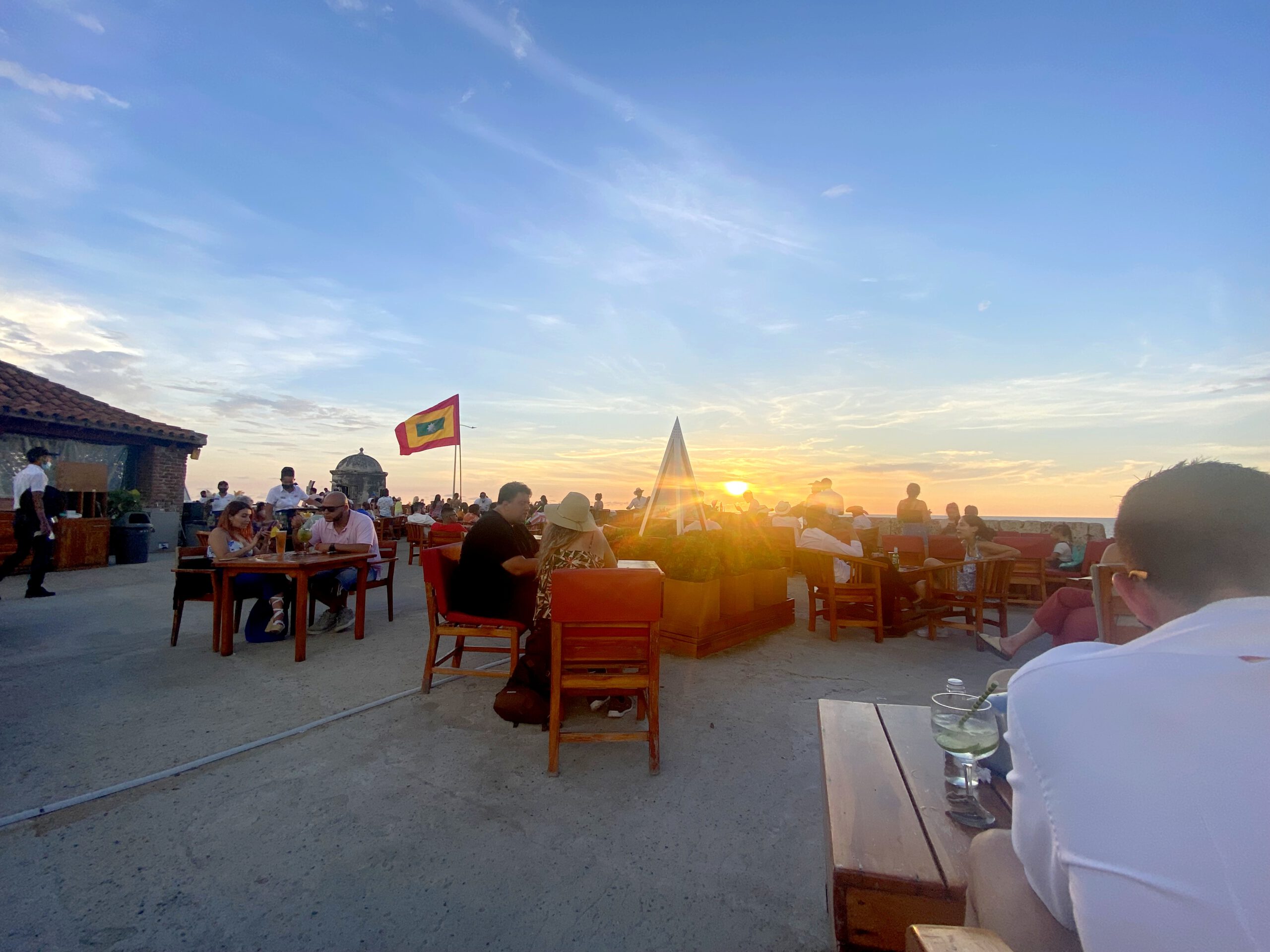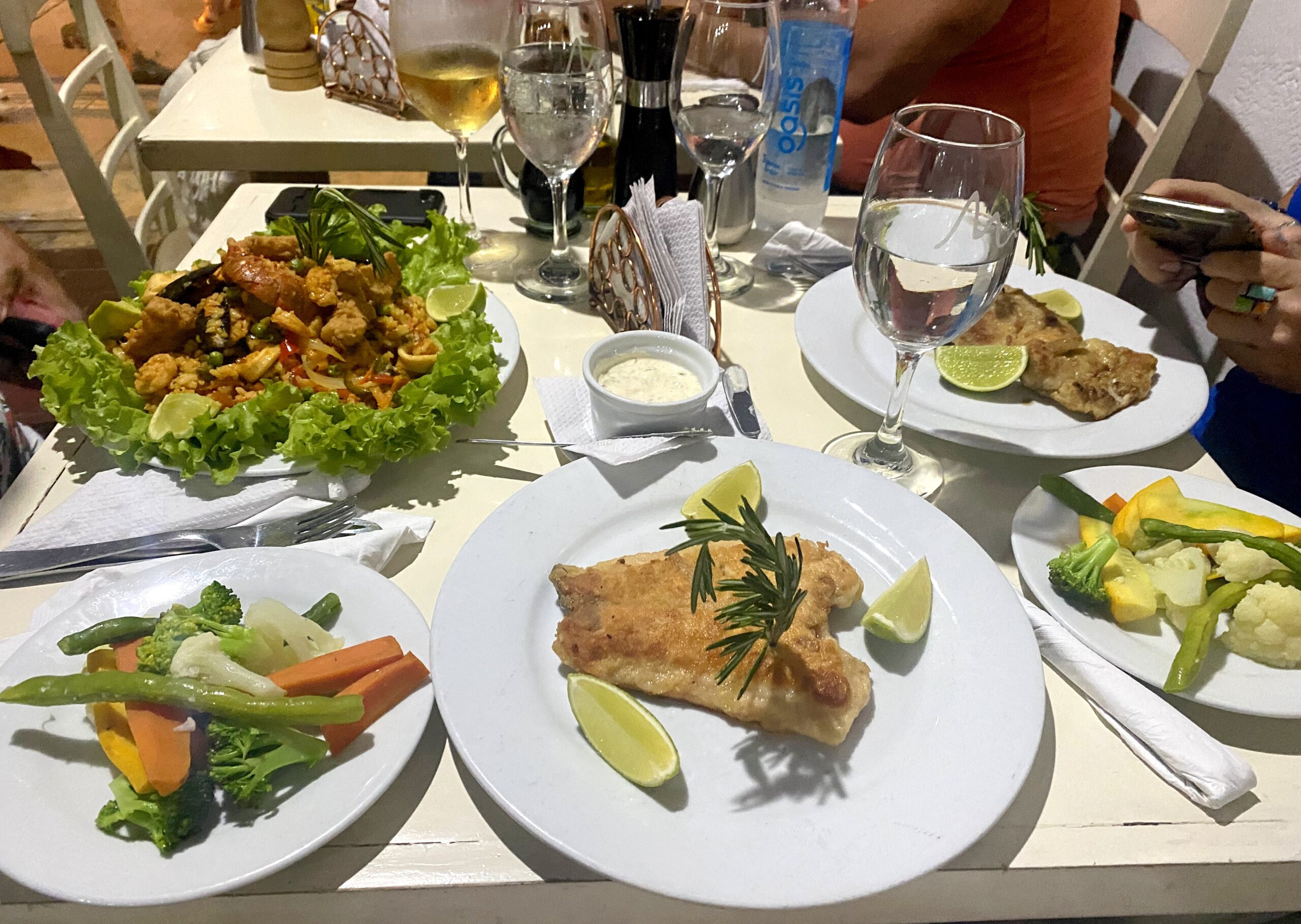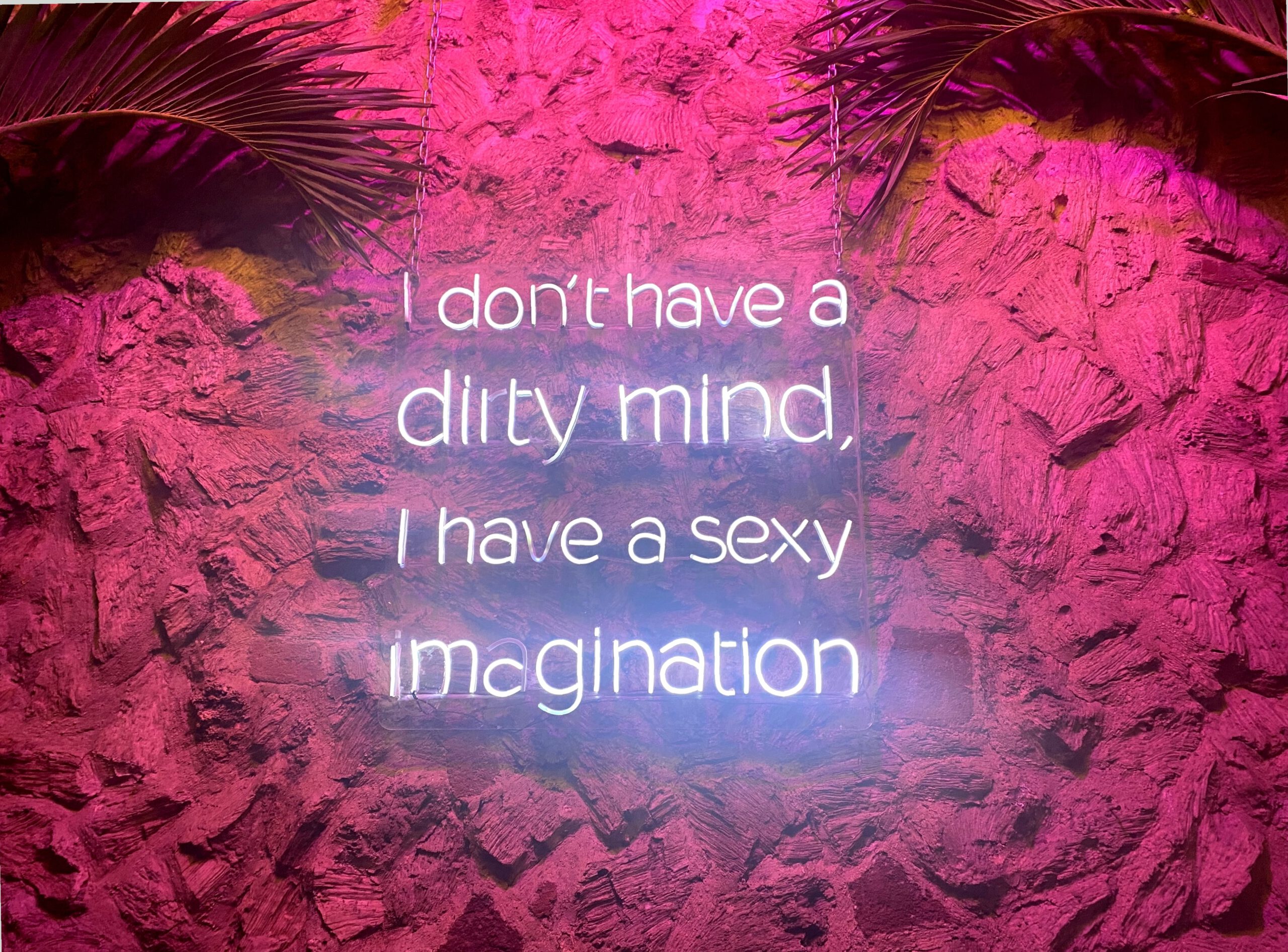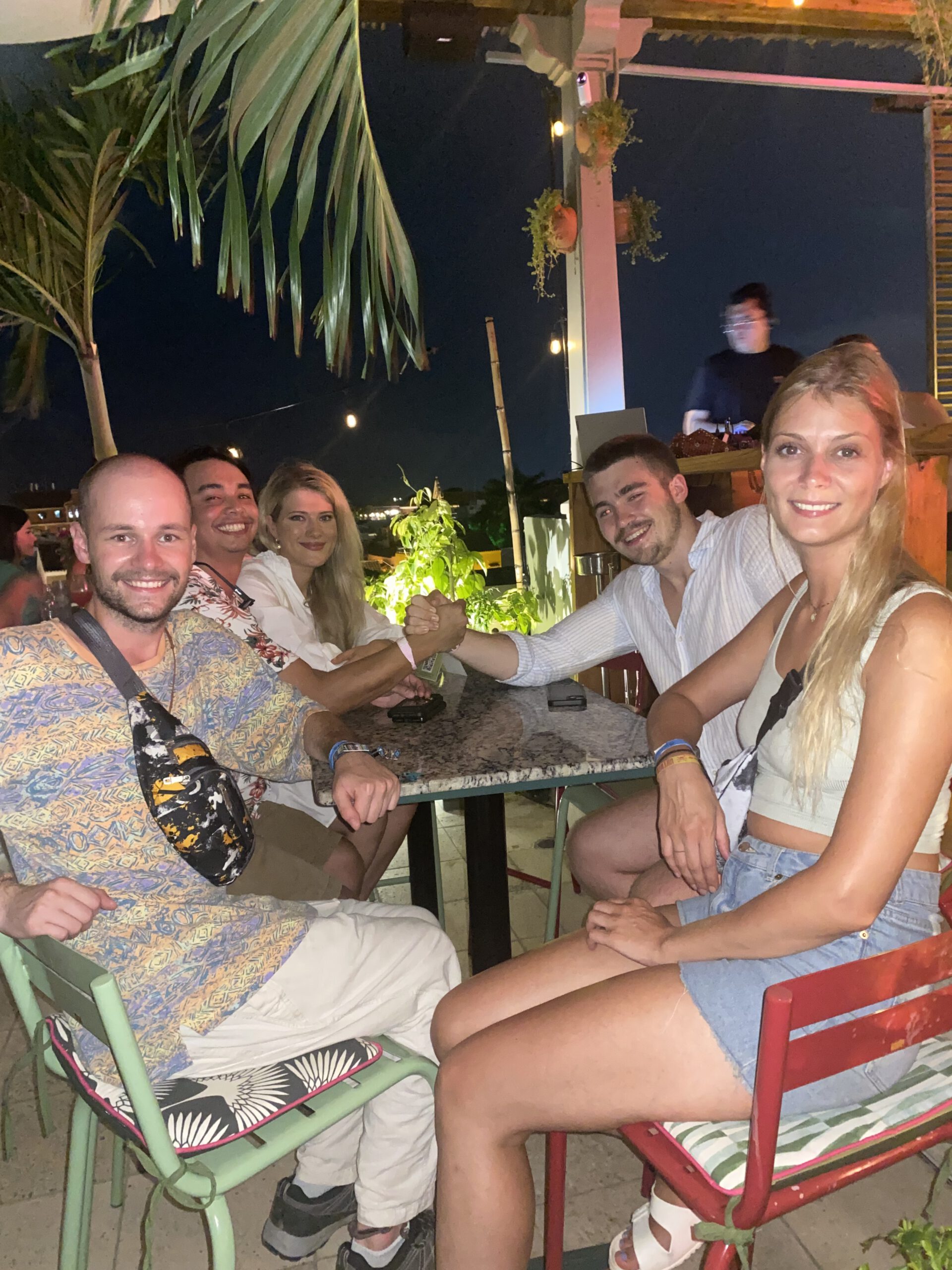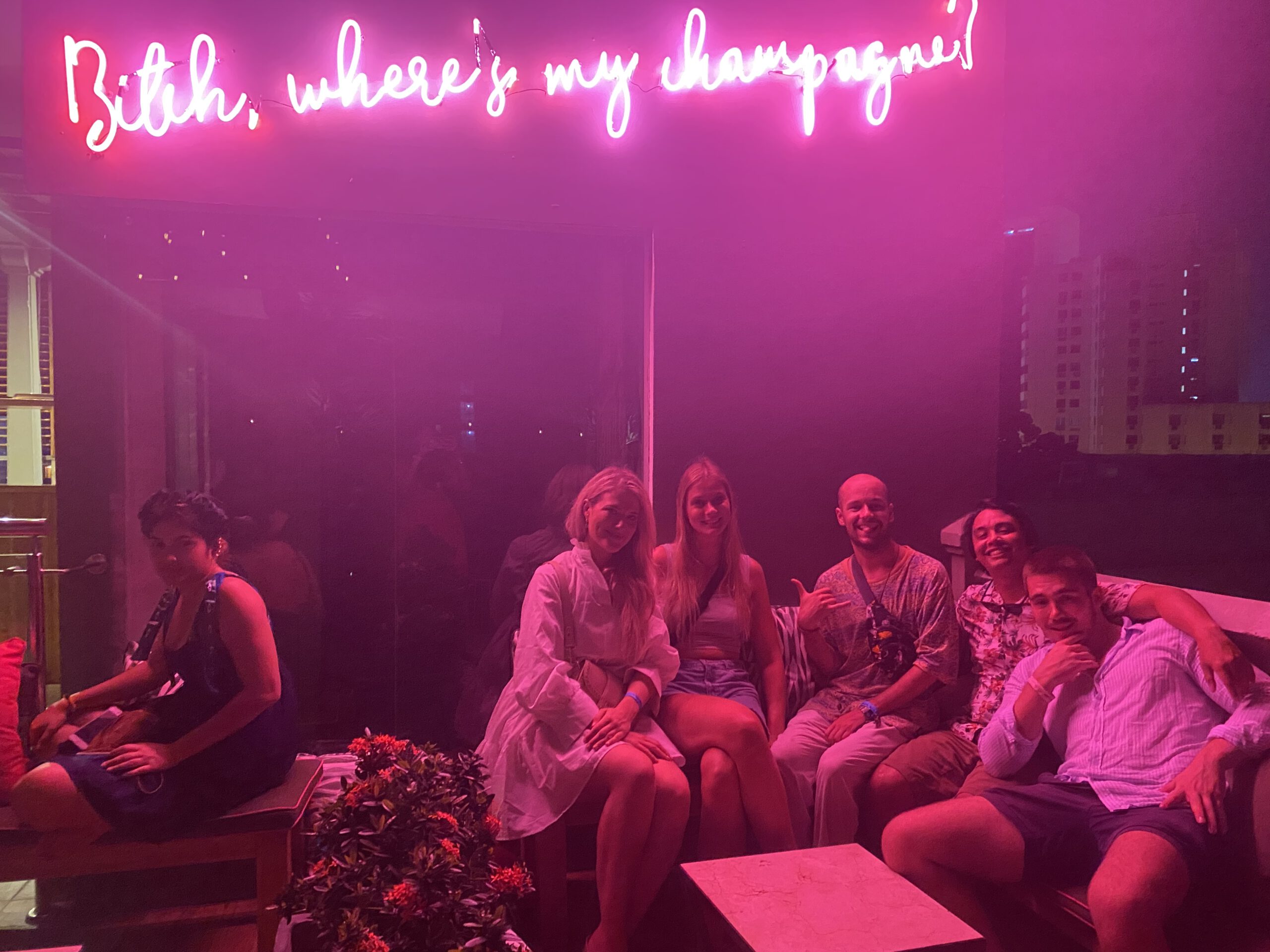 Day 3 – Cartagena – 10/9/2022

Day 3 started with breakfast in my hostel. Charlie was already having breakfast with another woman named Tamana. I soon found out that she was also from the Netherlands. The three of us had a great connection! Charlie and I rented an automatic scooter (mo-ped) from a rental right in front of the hostel and decided to explore the wall and Getsemani for a few hours, before having lunch with Tamana at
La Brioche
– great place for a delicious lunch! Again we explored the old center and went there for a drink at
Di Silva
– to shelter from the hard thunderstorm.
September is the rainy season, by the way, and that was certainly noticeable.
In the evening, Charlie and I went on without Tamana, did some grocery shopping and went back to the hostel. I again spoke with many new solo travelers and couples whom I invited to dinner with me and new friends. We ended up with a super large group of around 15 people! Super nice to have received messages from other solo travelers afterwards that I came up with this plan. Funnily enough, we ate at my old hostel – Casa Movida. Because it was affordable, good and could accommodate a large group.
Dag 3 begon met een ontbijt in mijn hostel. Charlie was al met een andere vrouw aan het ontbijten en al snel kwam ik er achter dat ze ook uit Nederland kwam. We hadden een super klik met zijn 3en. Charlie en ik hebben een automatische step gehuurd bij een verhuur recht tegenover het hostel en besloten de muur en getsemani voor een paar uurtjes te verkennen voor we met Tamana zouden gaan lunchen bij
La
Brioche
– top plek voor heerlijke lunch! Opnieuw verkenden we het oude centrum en zijn daar een drankje gaan doen bij
Di Silva
– om te schuilen voor de harde onweer.
September is overigens het regenseizoen, en dat was zeker te merken.
S'avonds gingen Charlie en ik zonder Tamana verder, deden wat boodschappen en terug naar het hostel. Ik sprak opnieuw een grote aantal nieuwe solo reizigers en koppels die ik uitnodigde met mij en een aantal anderen uit eten te gaan. We eindigden met een super grote groep van rond de 15 man! Super leuk om nog achteraf berichtjes van andere solo reizigers te hebben ontvangen dat ik met dit plan kwam. Grappig genoeg aten we bij mijn oude hostel – casa movida. Omdat het betaalbaar was, goed eten heeft en een grote groep kon ontvangen.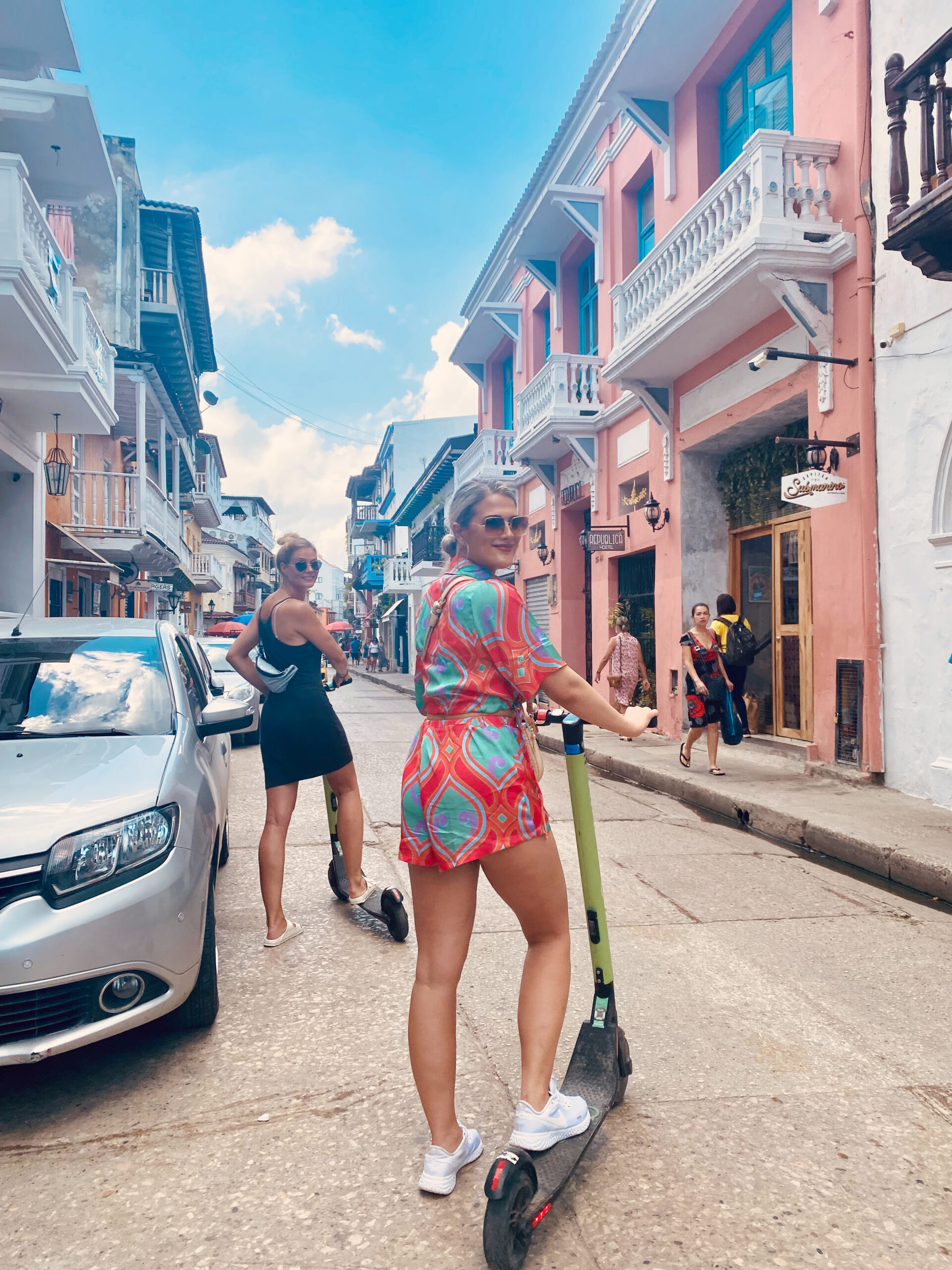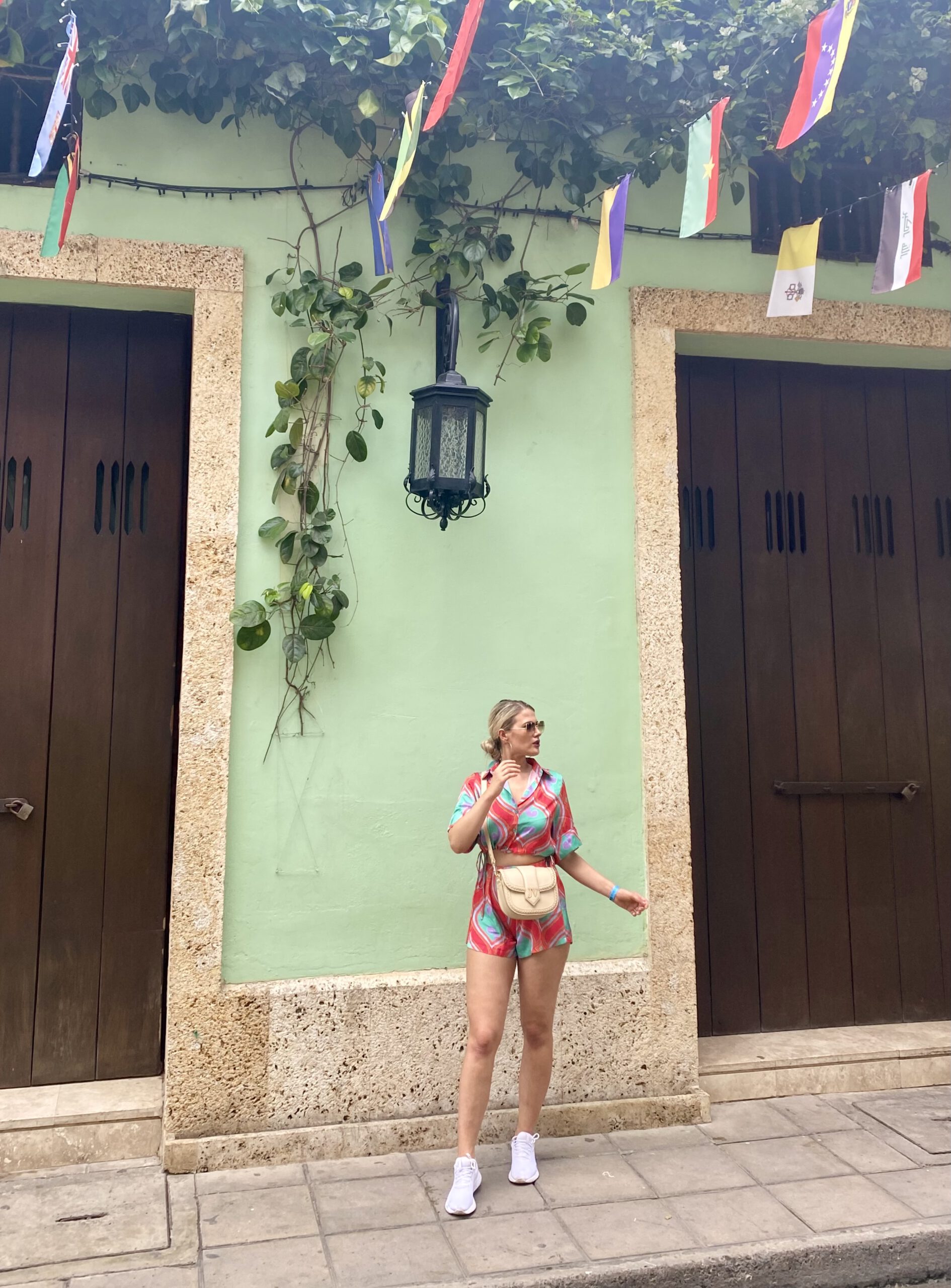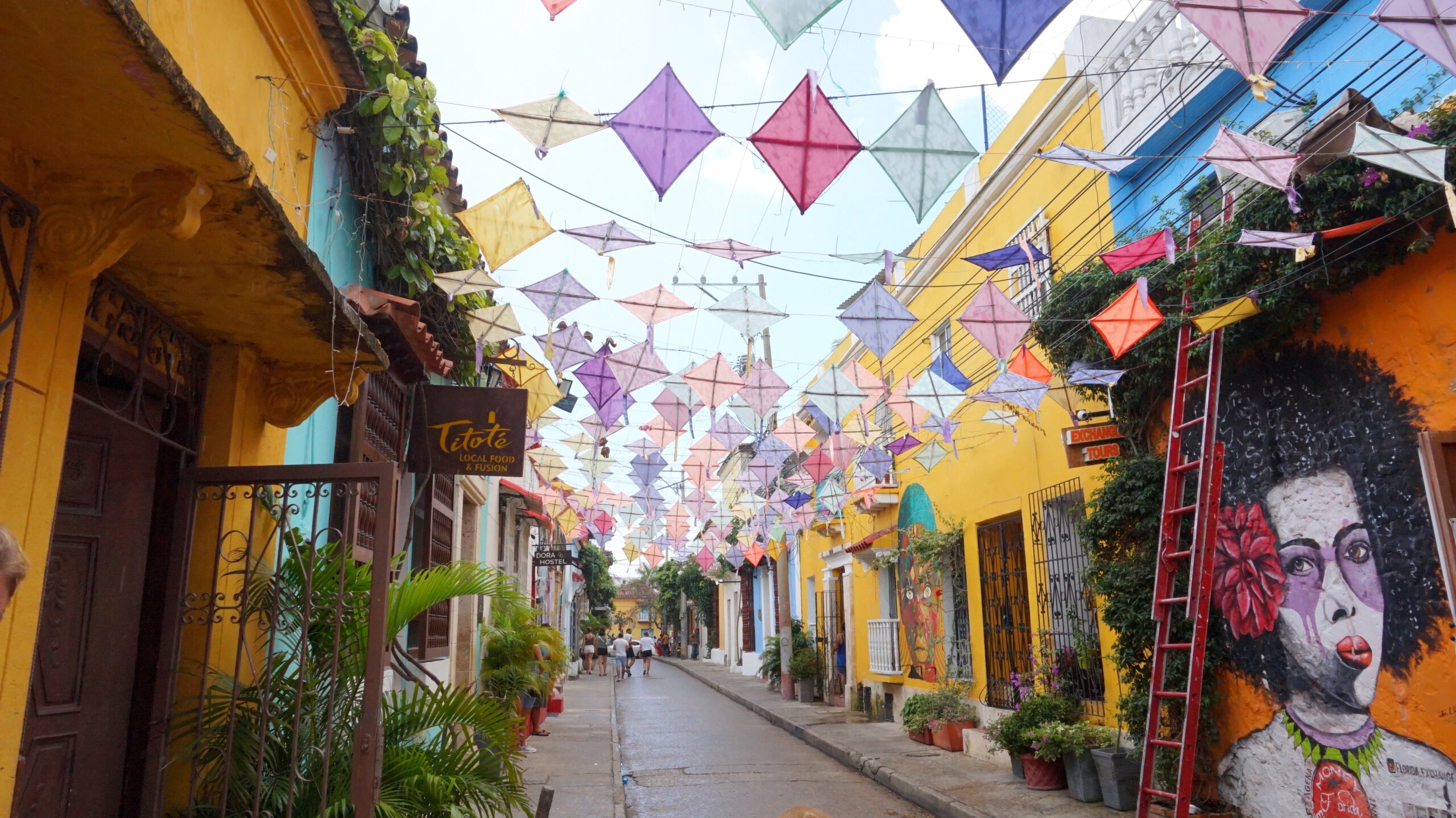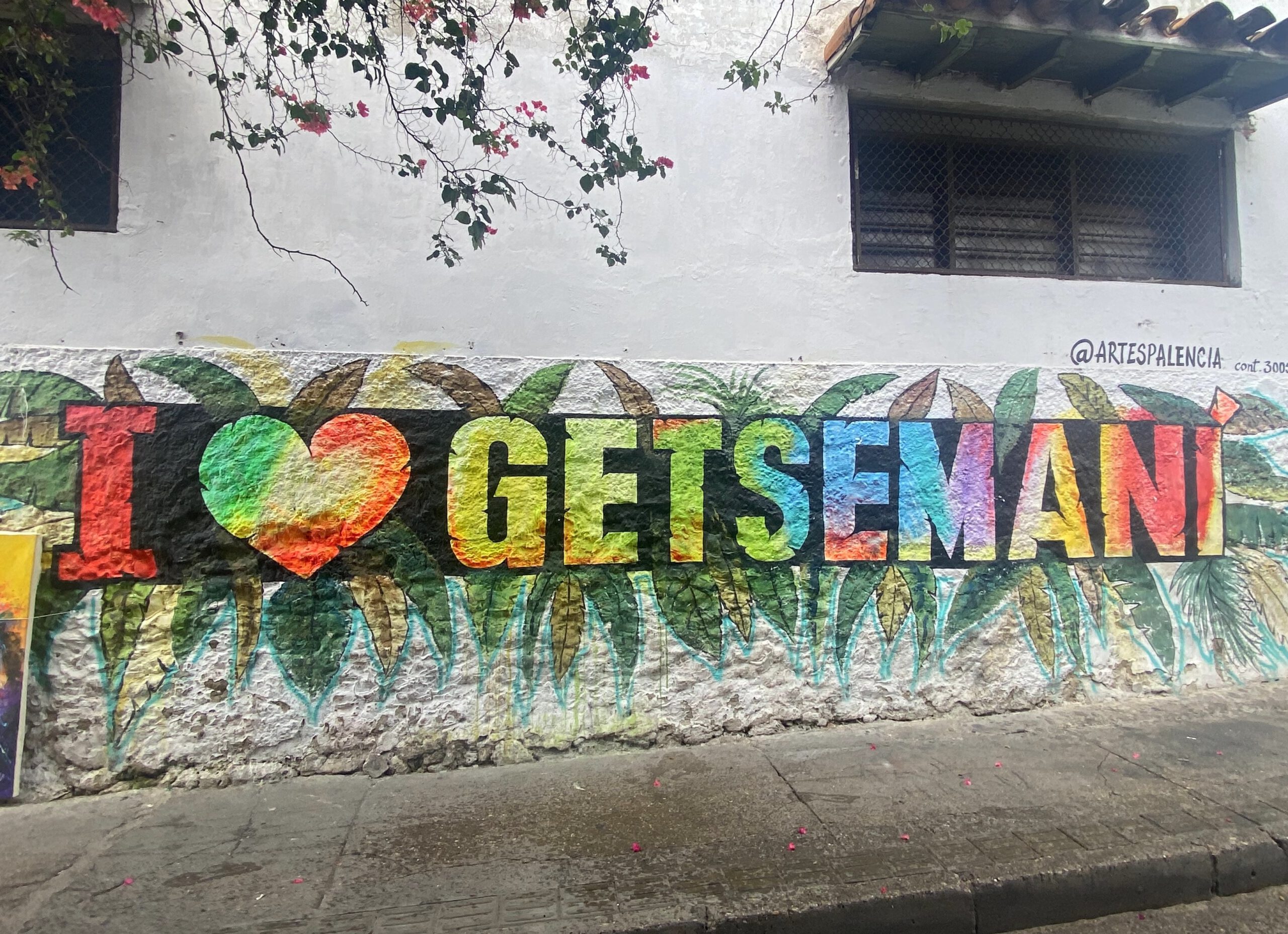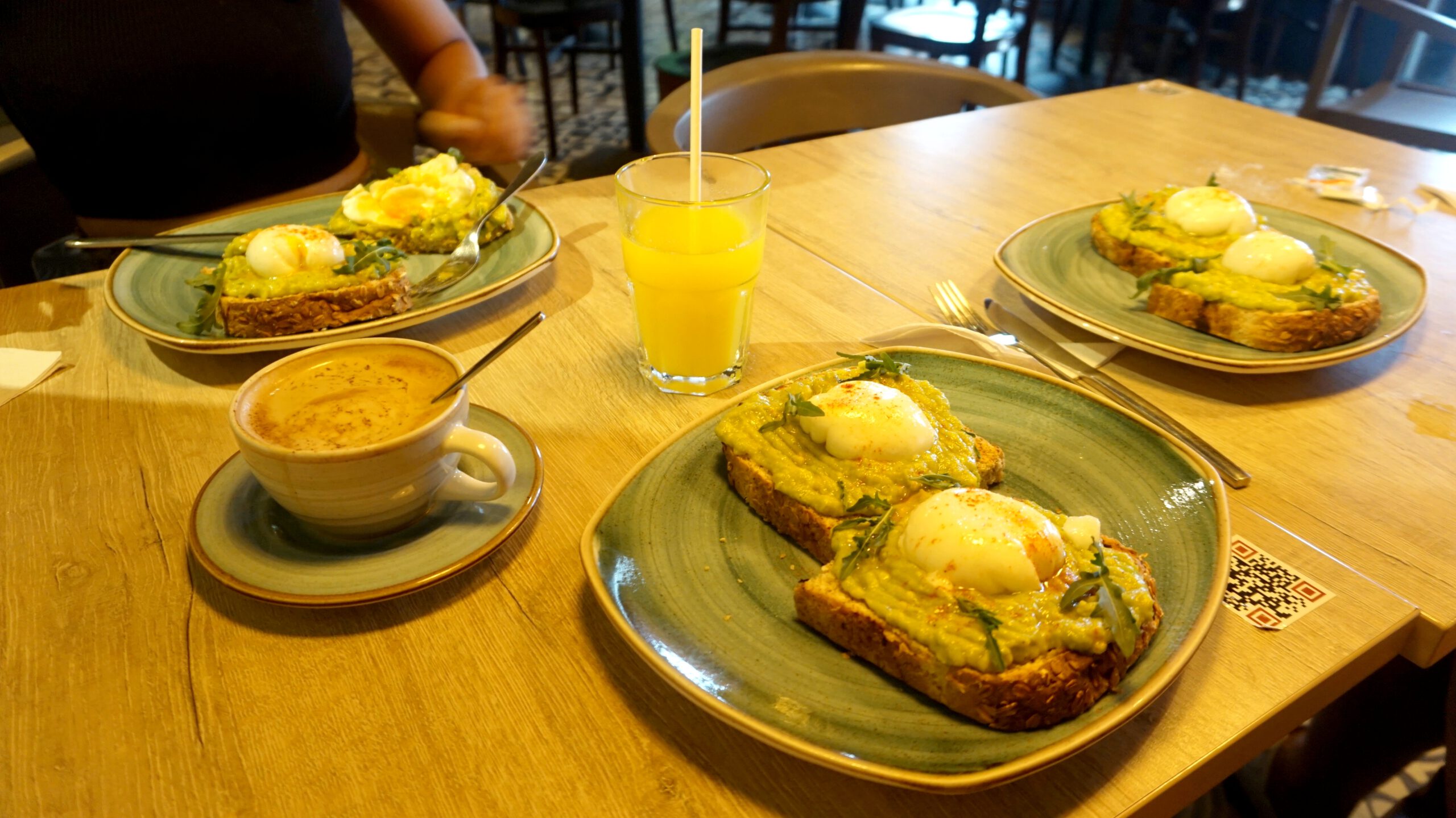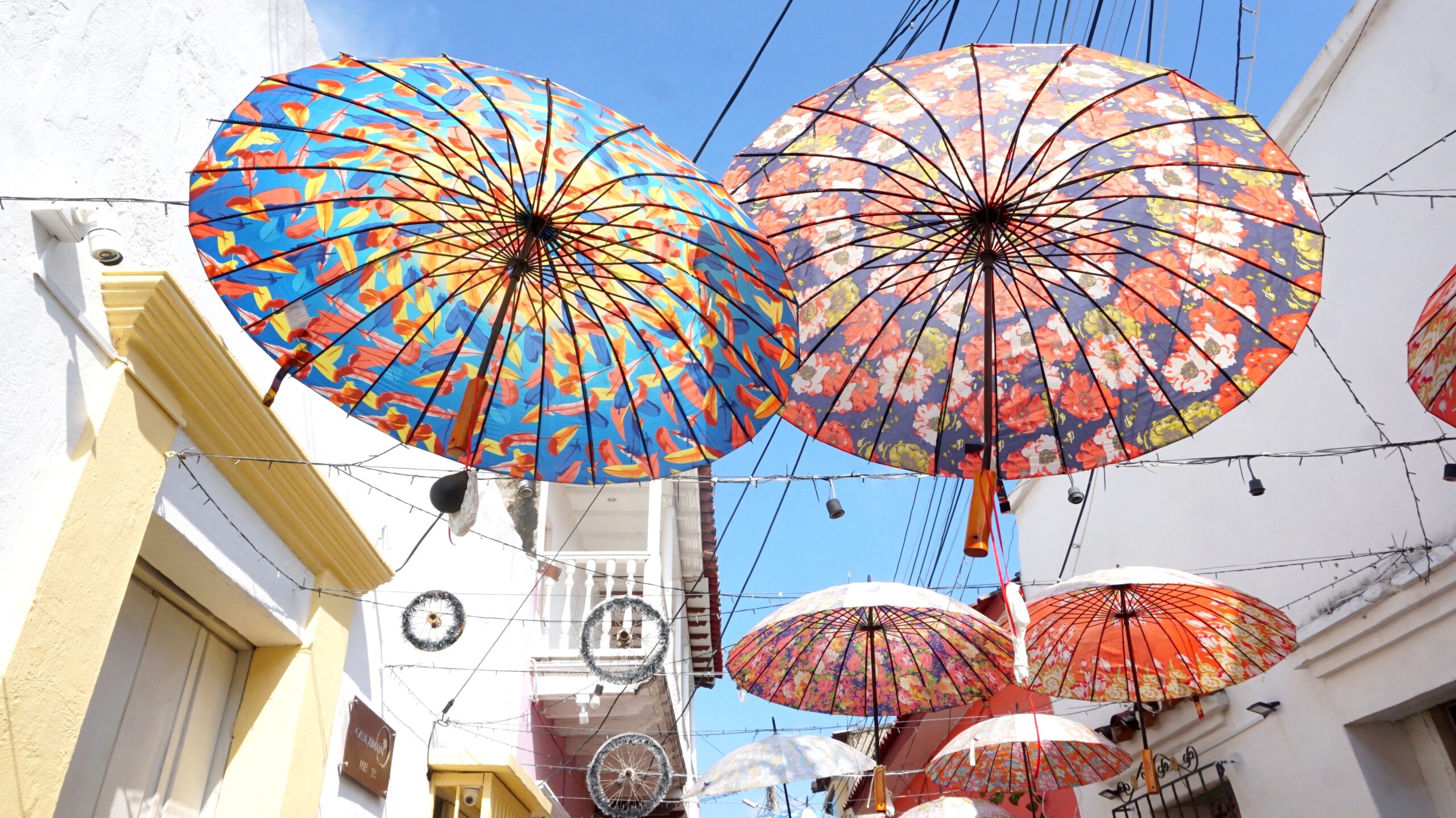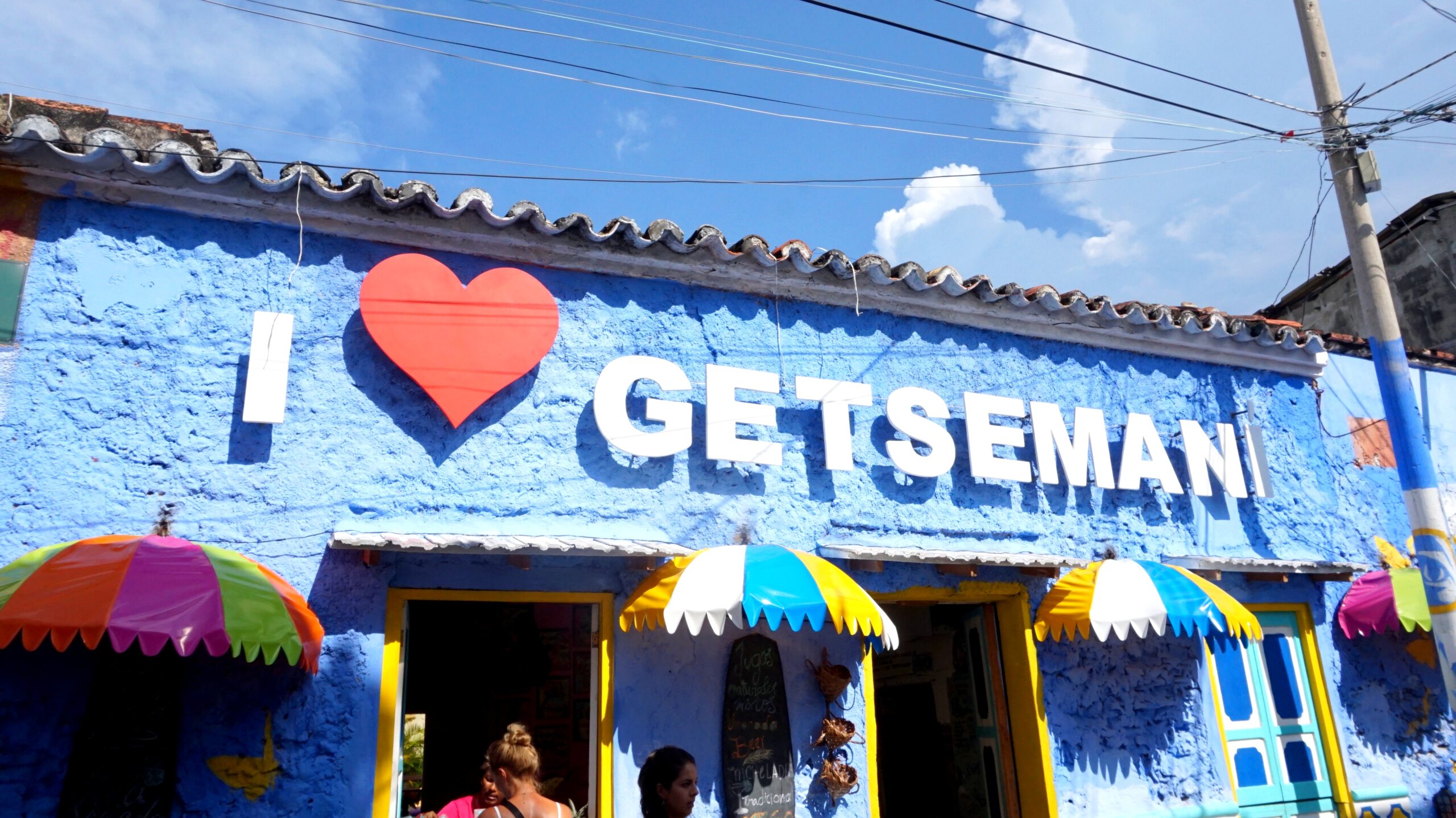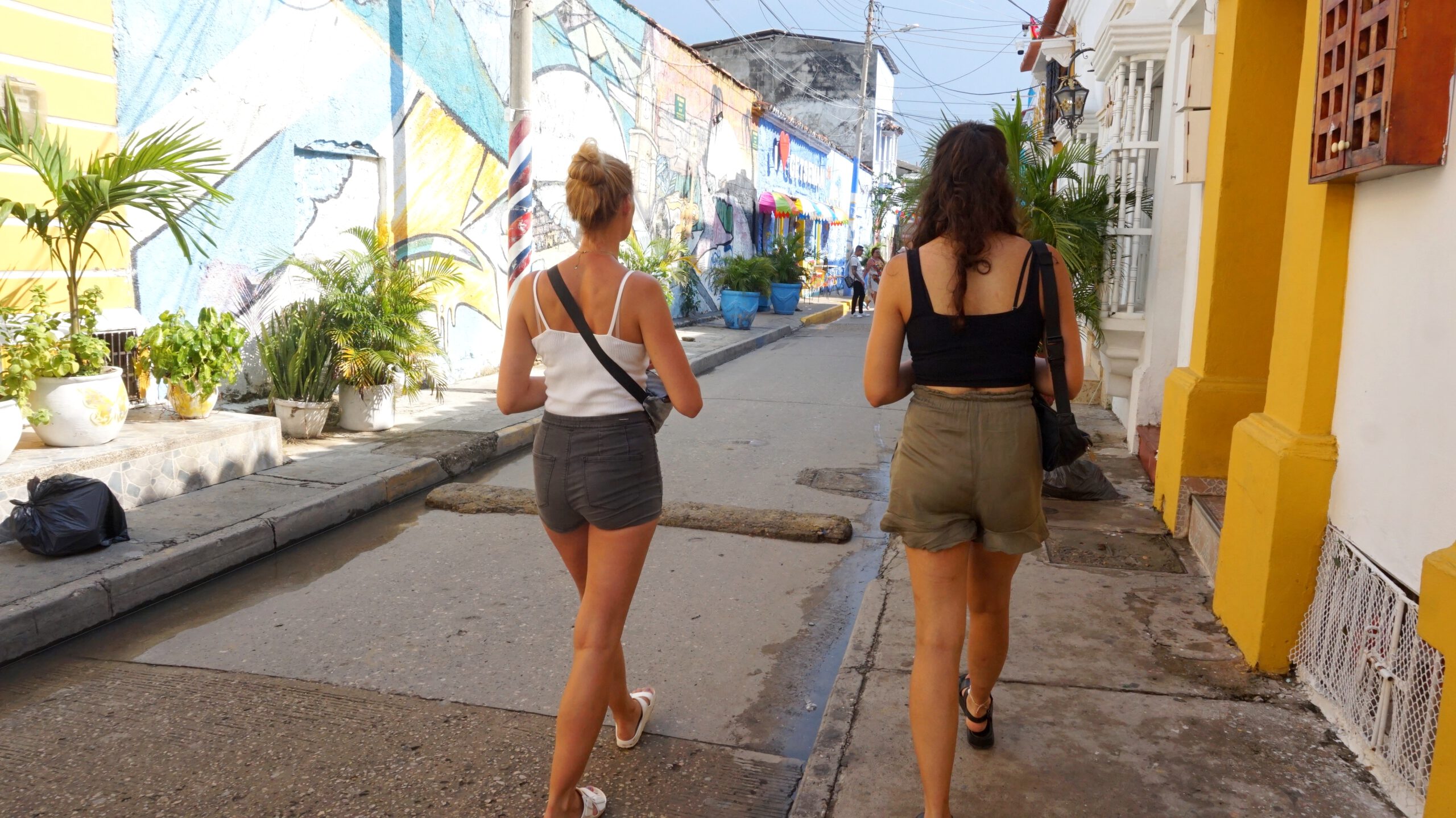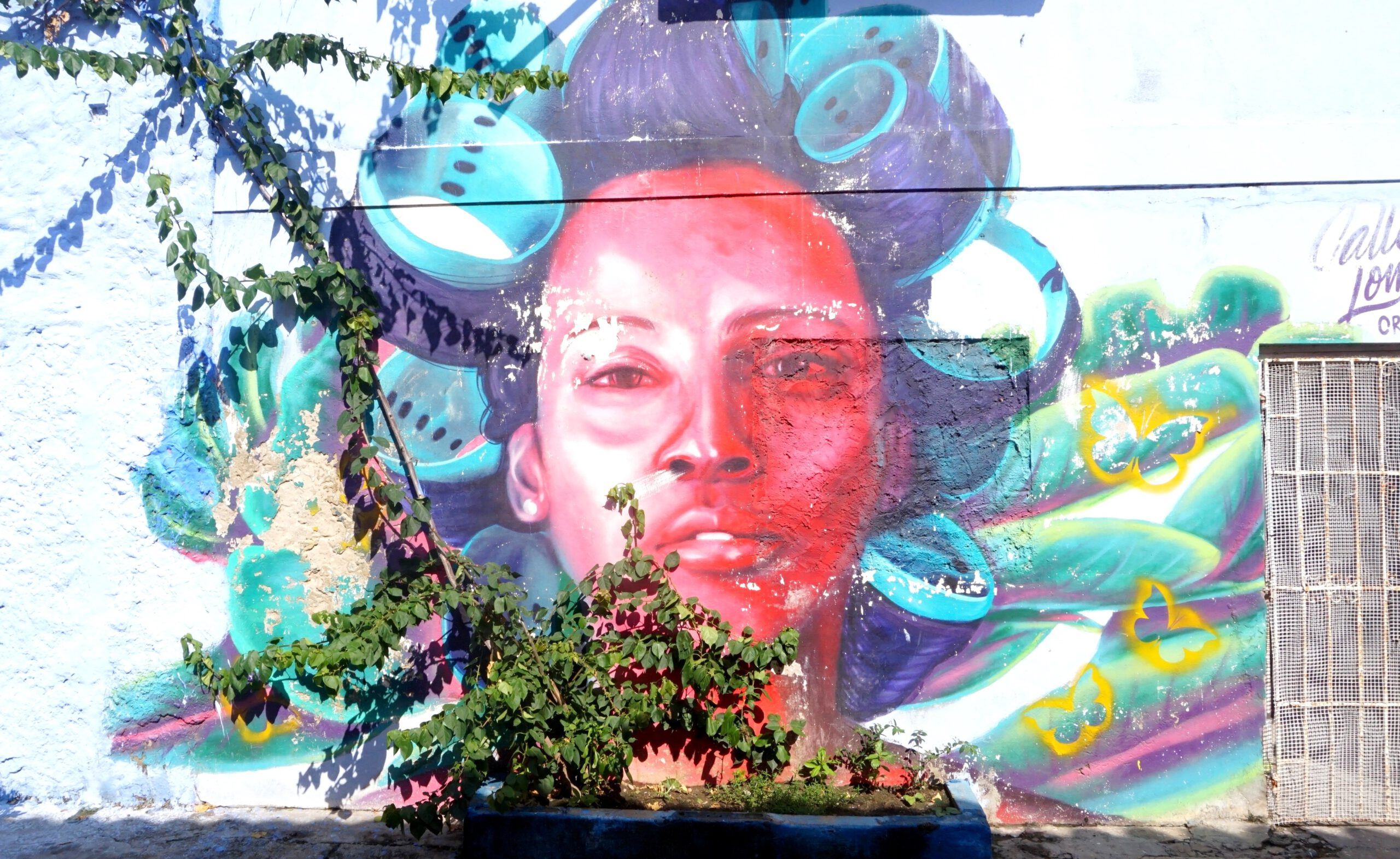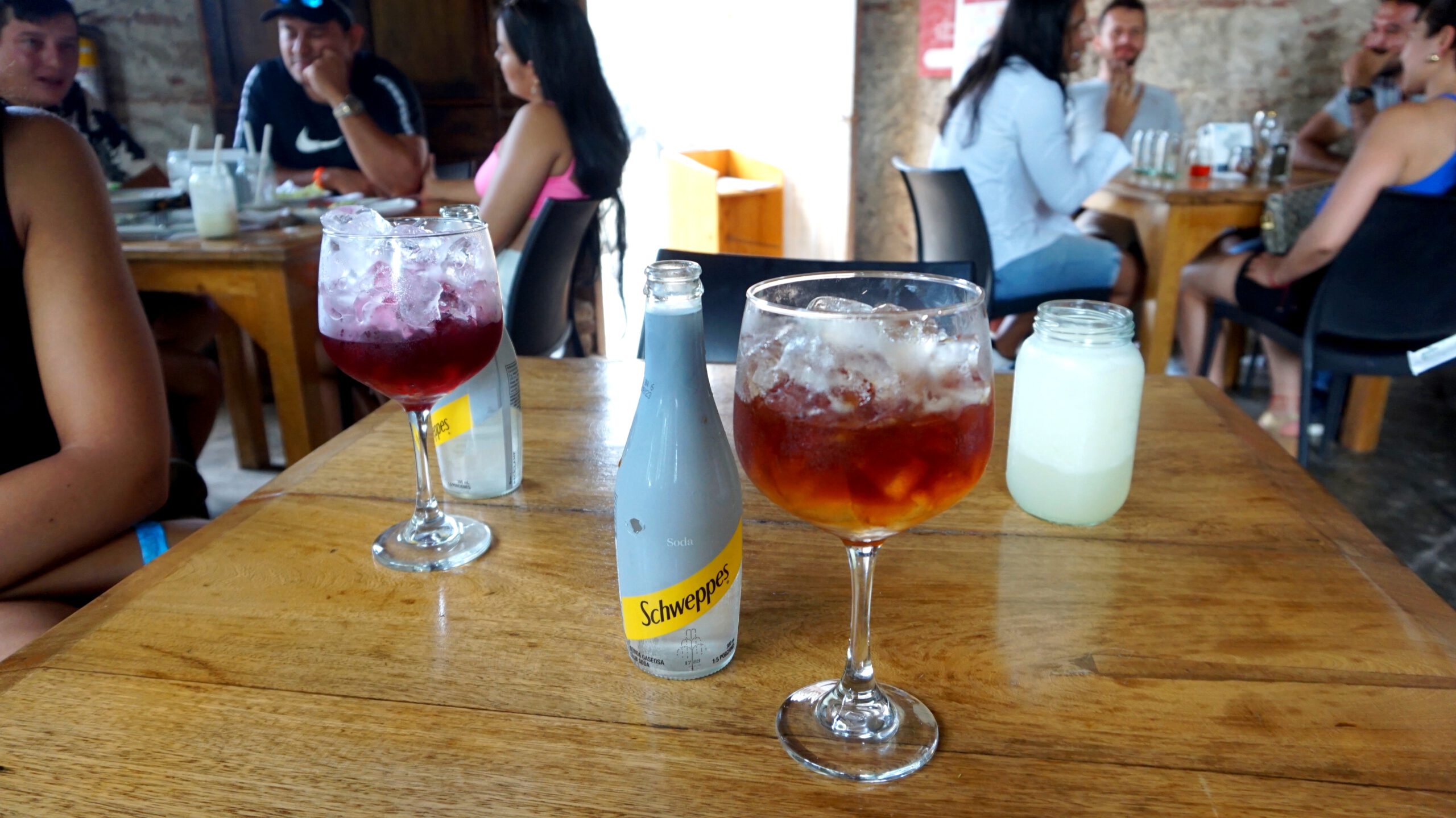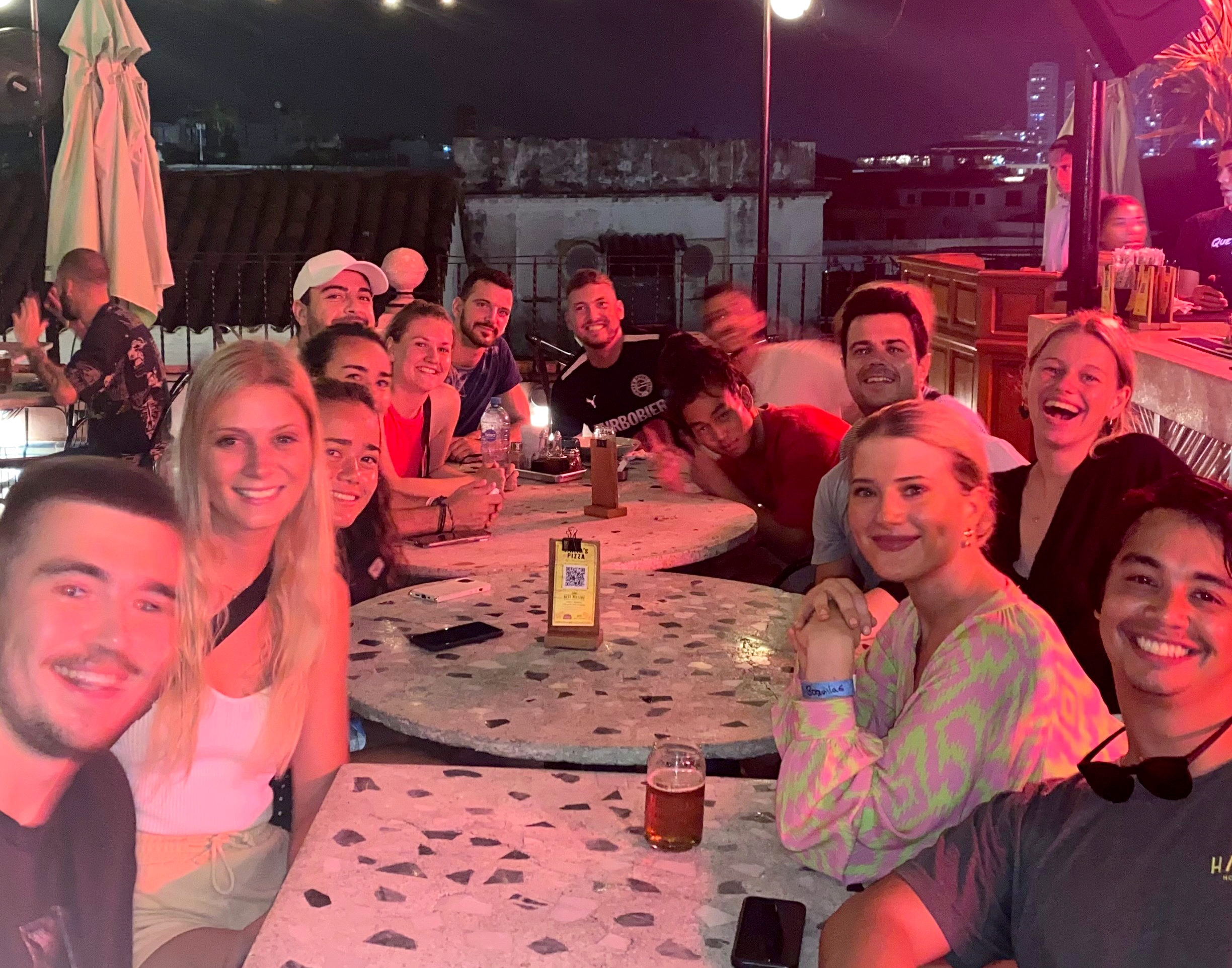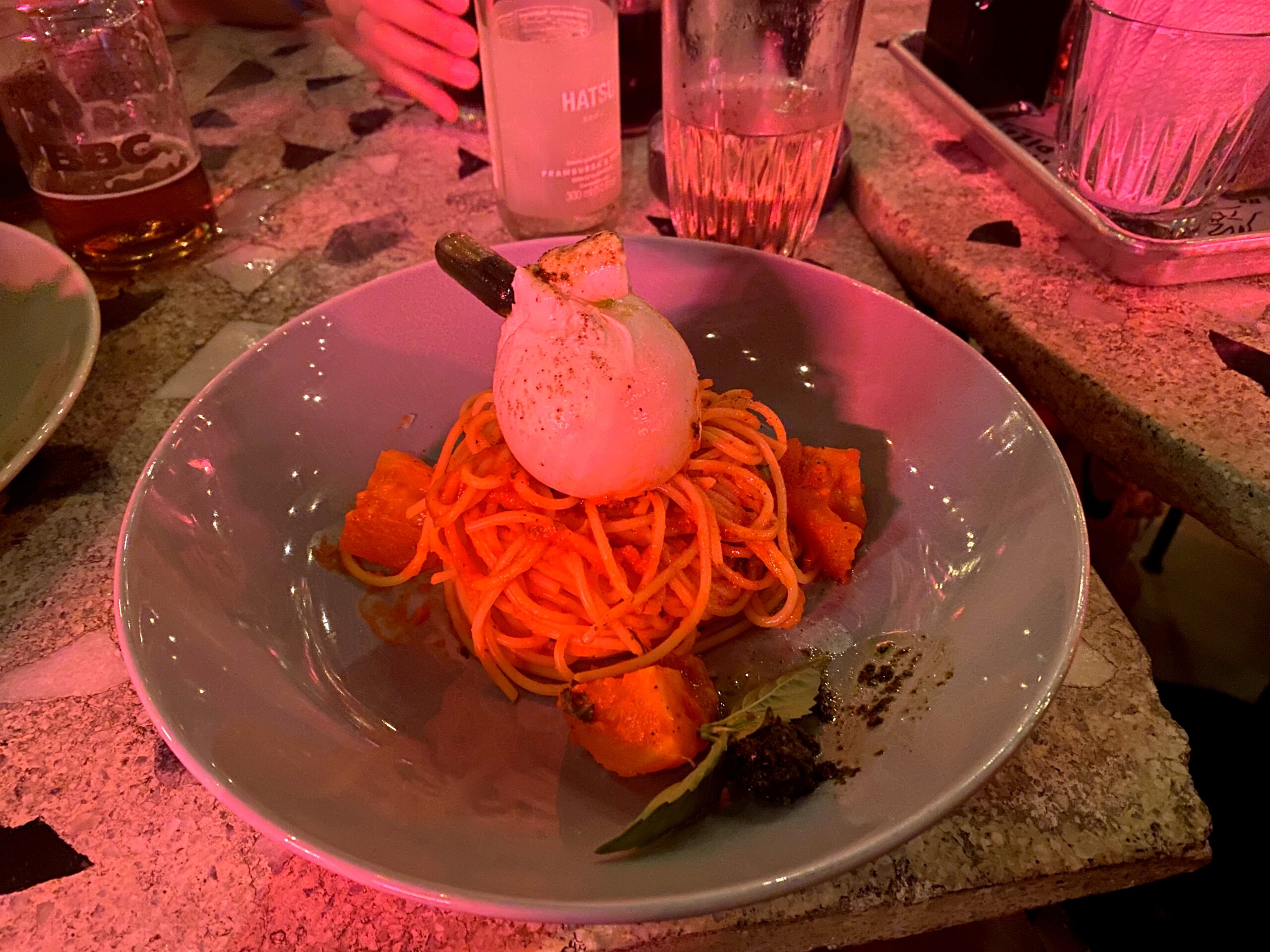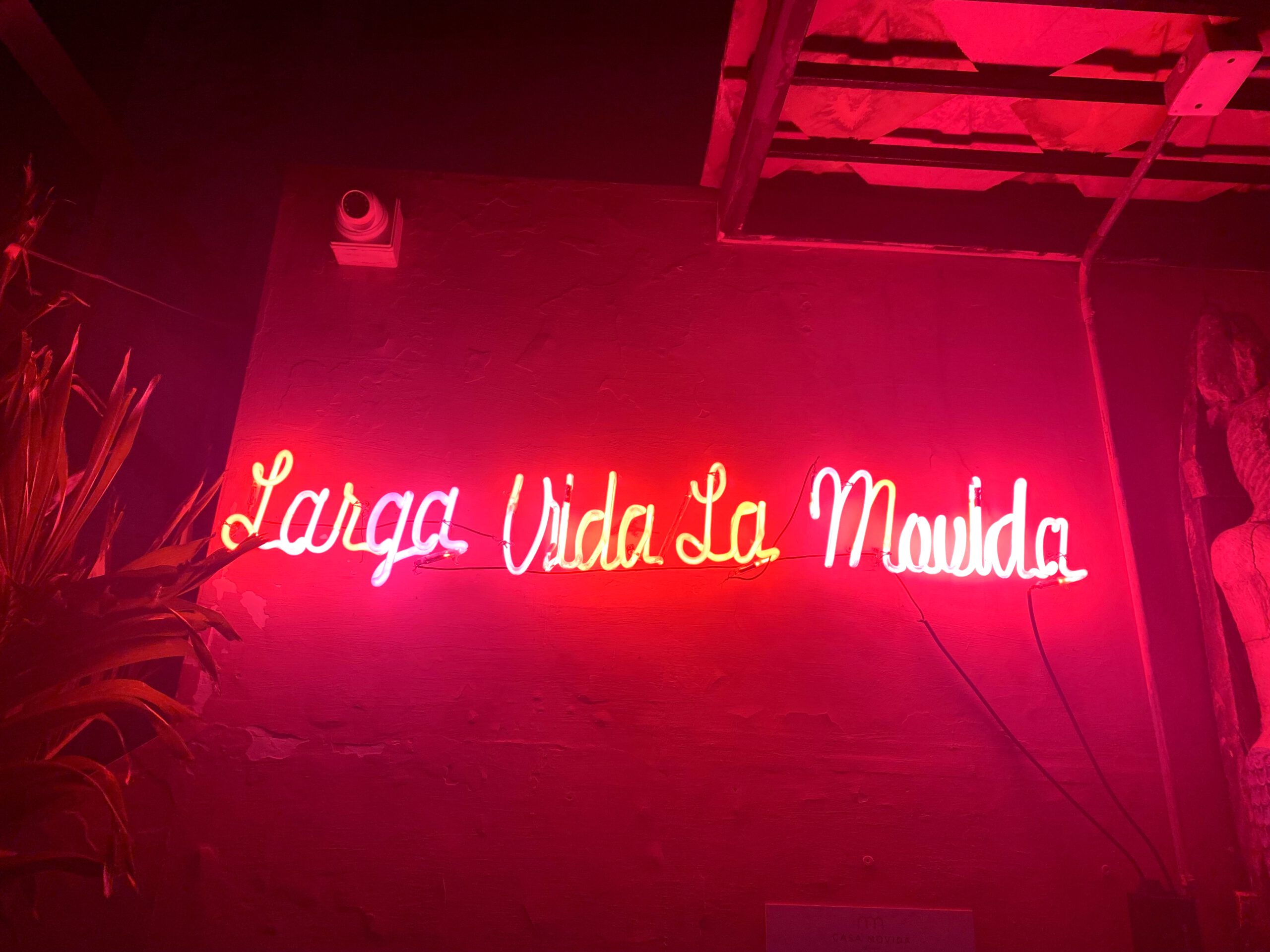 Day 4 – Isla Tierra Bomba & Cartagena – 11/9/2022

Day 4 I agreed with Tamana to have brunch together. This would be my last day in Cartagena for now. At 12 o'clock I would go with a group of solo travelers (that I had known for some time and got to know yesterday) – with a speedboat to
Isla Tierra Bomba
for
Blue Apple beach.
Tamana found this super nice place called
Roses d'amour – jardin de thé.
This is really a minute's walk from Republica and by the way cheap and super cute! It was a lot of fun to start the day this way!
Around 12 o'clock we left with a speedboard to Isla Tierra Bomba from the harbour of Cartagena. I think the trip was about 30 minutes and really fun with the group. Cartagena's coastline is super cool from the water. For 30 dollars we bought a day deal a while in advance – with a beach bed, speed board return, entrance, towel and use of the entire beach club. Blue Apple beach was a super fun and relaxed daytime activity, where I happened to run into a KLM crew again with one familiar face – super fun! After this top daytime activity, just like yesterday, we assembled this juge group with whom we went out for dinner. Unfortunately I didn't save the name of this place!
Dag 4 sprak ik af met Tamana om samen te gaan Brunchen. Dit zou voorlopig mijn laatste dag in Cartagena zijn. Om 12 uur zou ik met een groep solo reizigers die ik al langer kende en gisteren heb leren kennen, met een speedboat naar
Isla Tierra Bomba
gaan voor
Blue Apple beach.
Tamana vond het super leuke plekje
Roses d'amour – jardin de thé.
Dit is echt een minuut lopen vanaf Republica en trouwens goedkoop en mega cute! Het was heel erg leuk op deze manier de dag te beginnen!
Rond 12 uur vertrokken we met een speedboard naar Isla Tierra Bomba vanaf de haven van Cartagena. Ik denk dat de tocht zo'n 30 minuten was en echt heel erg leuk met de groep. De kustlijn van Cartagena is super tof vanaf het water. Voor 30 dollar kochten we al een tijdje van te voren een dagdeal – met een strandbedje, speedboard retour, entree, handoek en gebruik van de hele beachclub. Blue Apple beach was een super leuke en relaxte dagbesteding, waar ik toevallig opnieuw een KLM crew tegen kwam met een bekend gezicht – super gezellig! Na deze top dagbesteding ontstond er net als gisteren een groep waar we mee uit eten gingen. Helaas heb ik de naam van deze plek niet opgeslagen!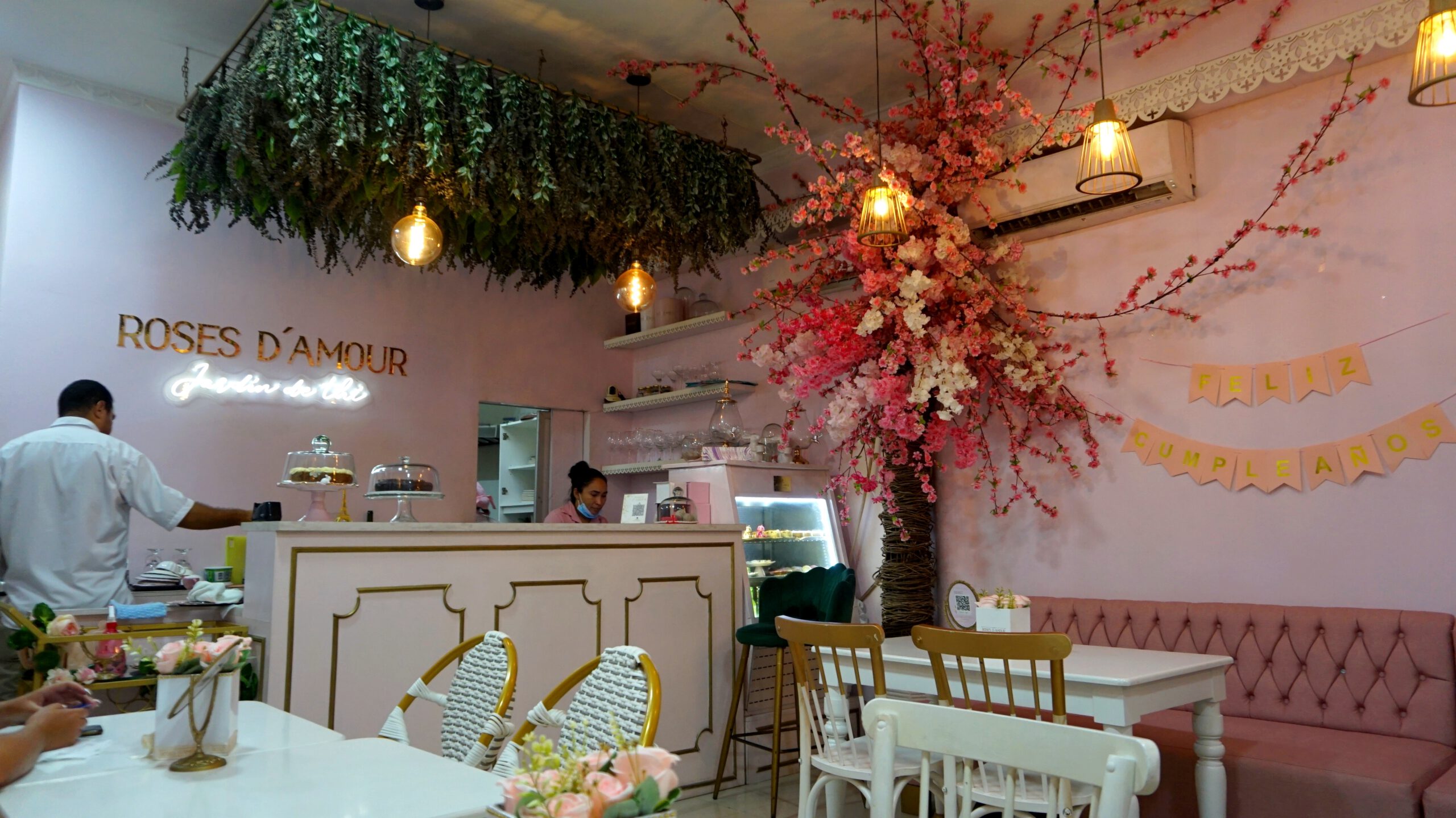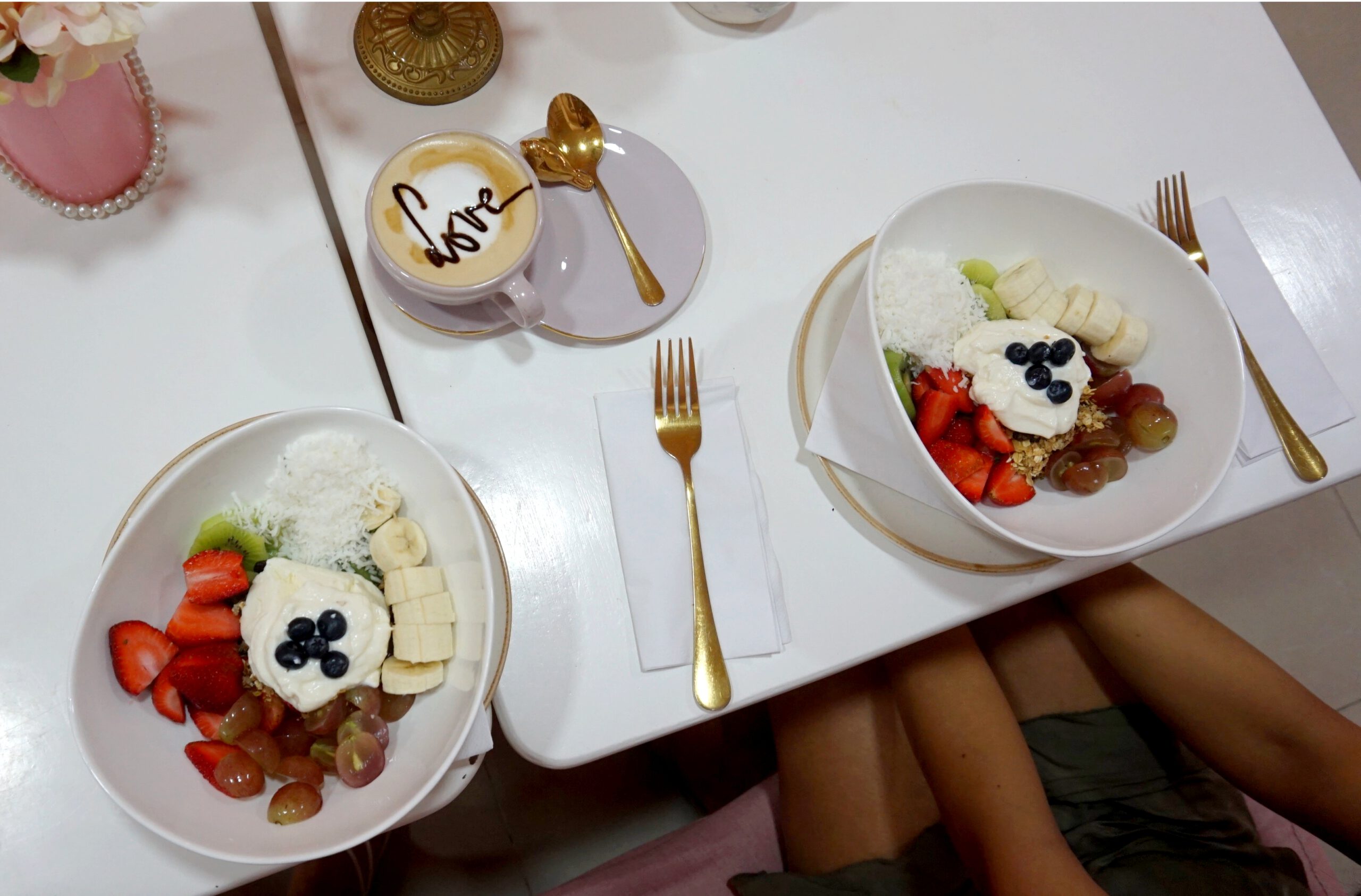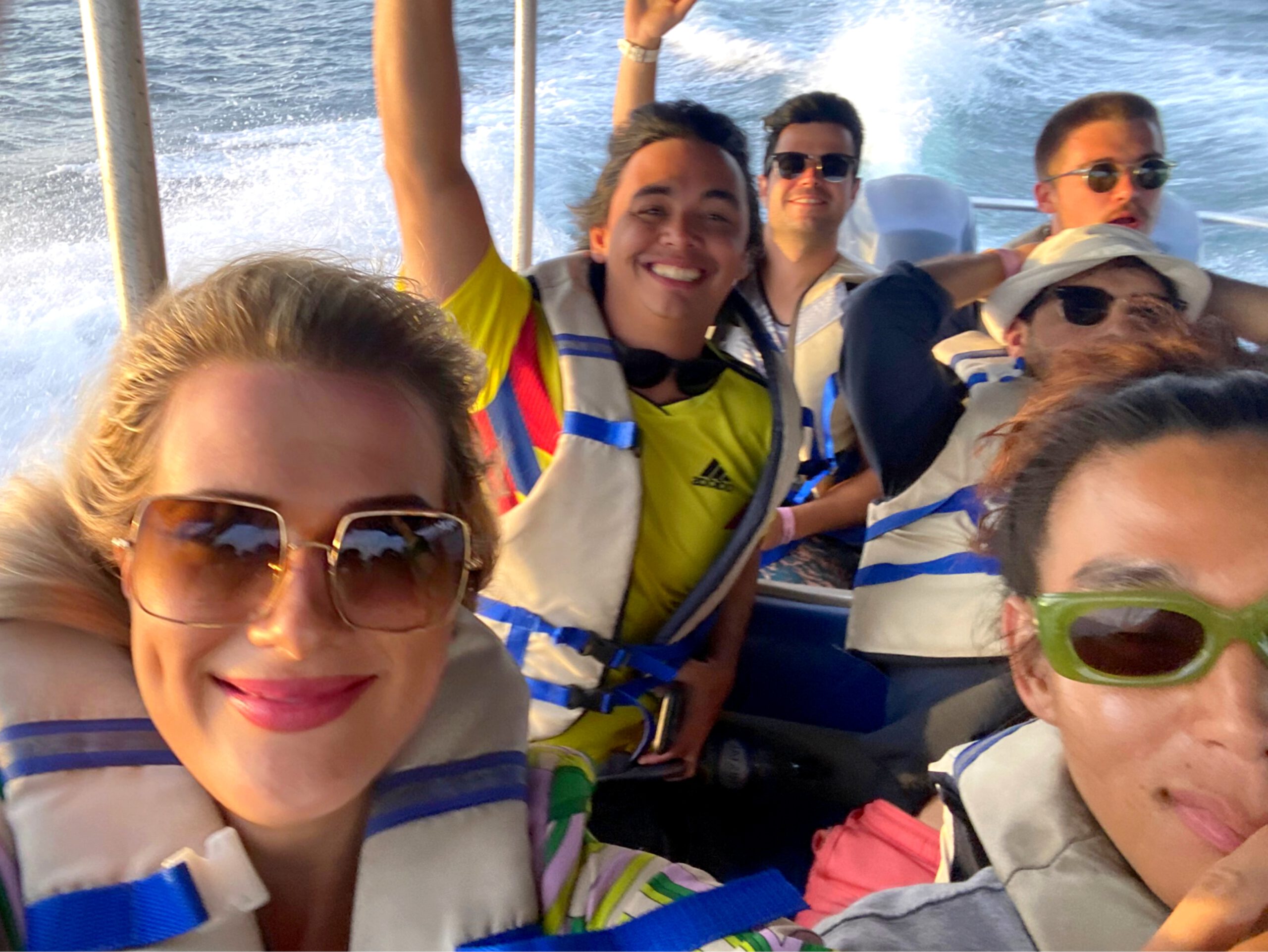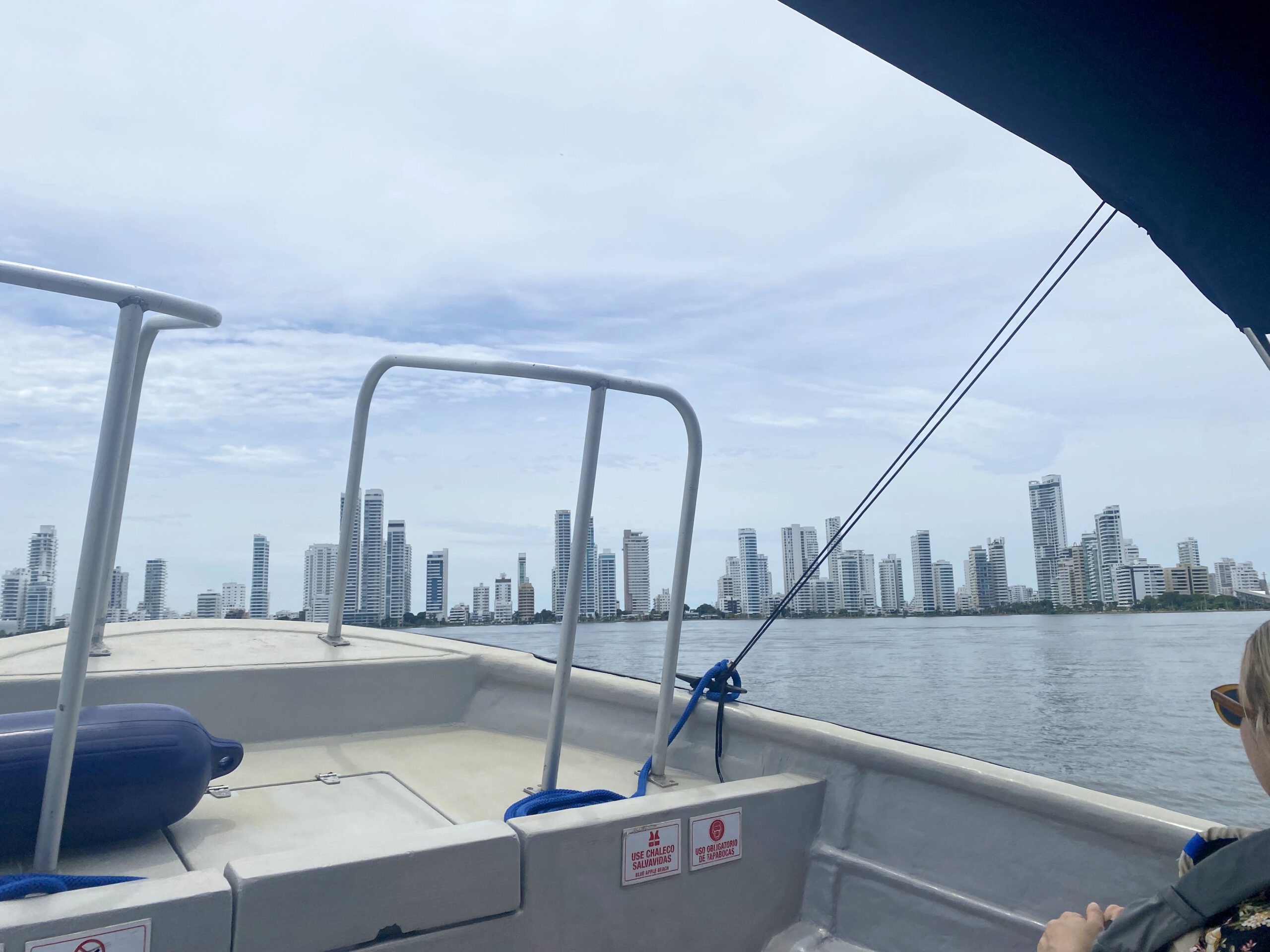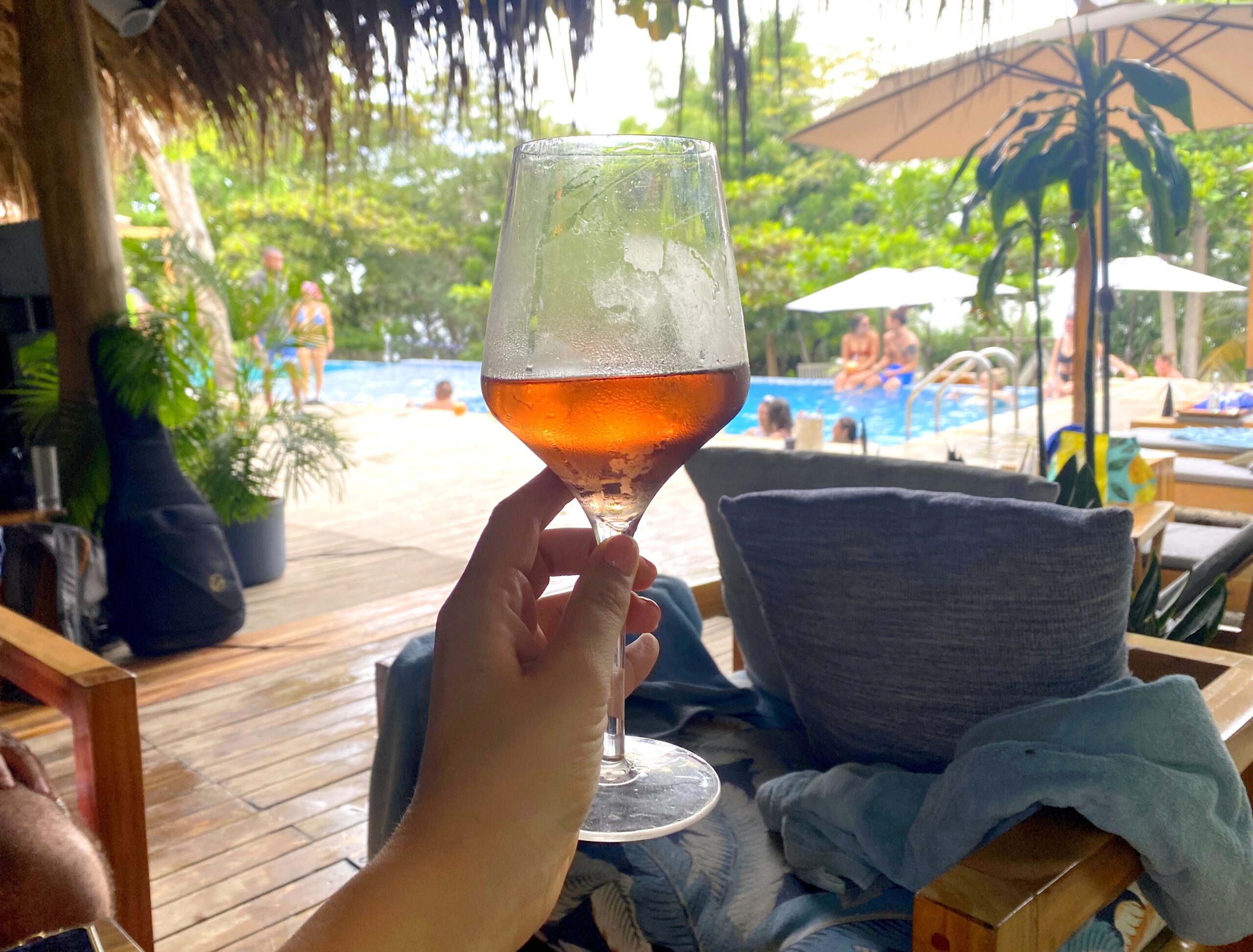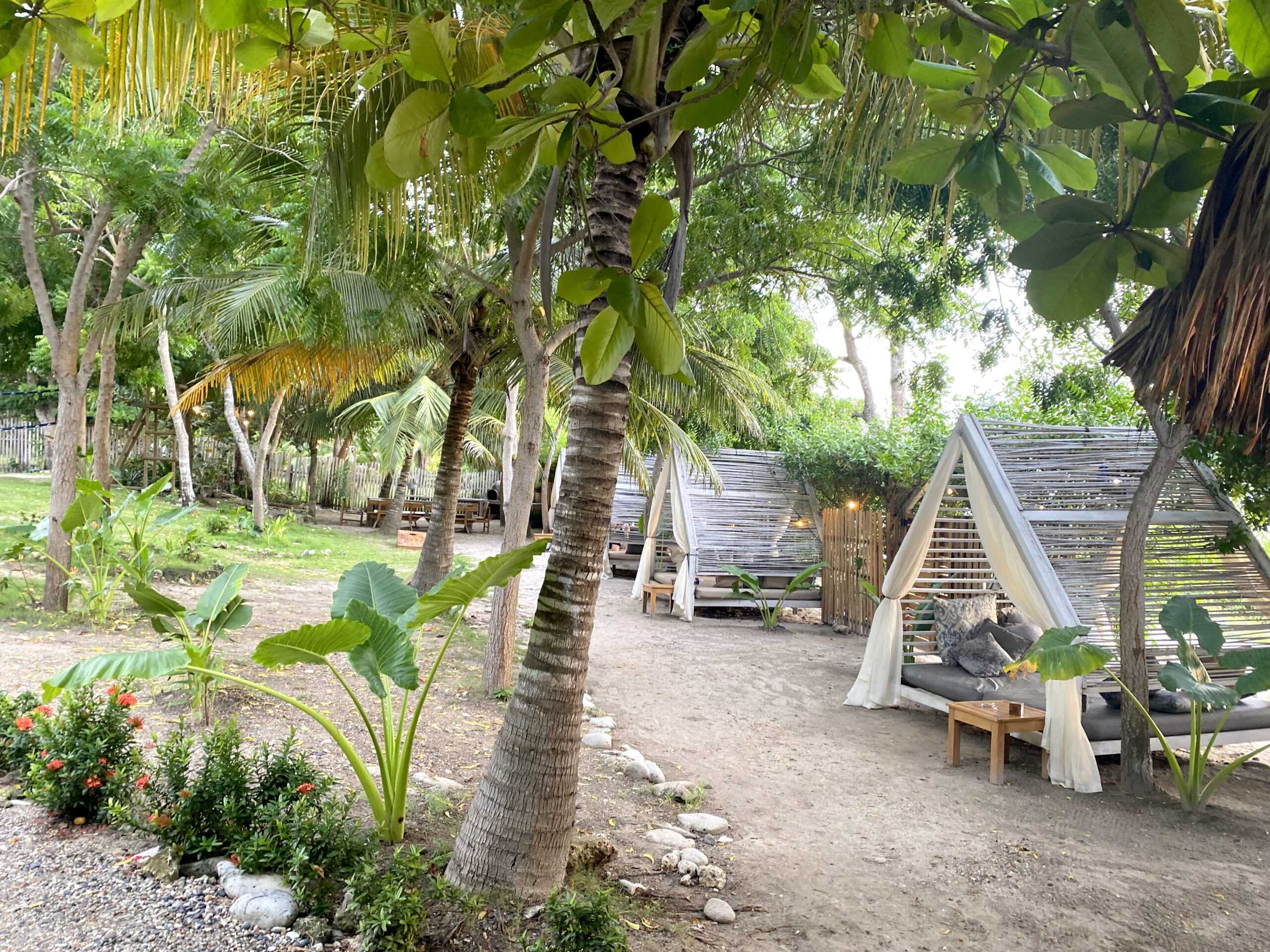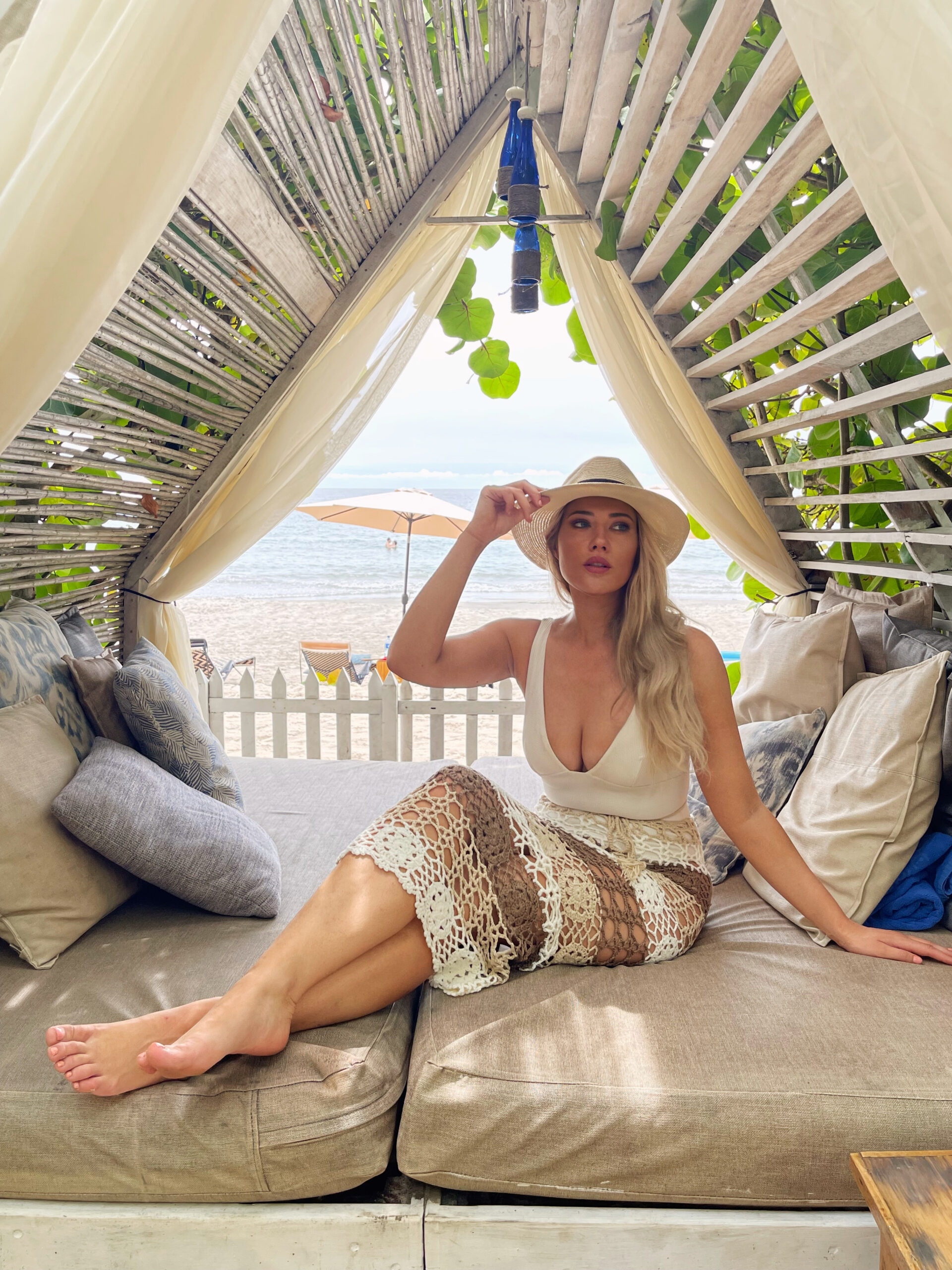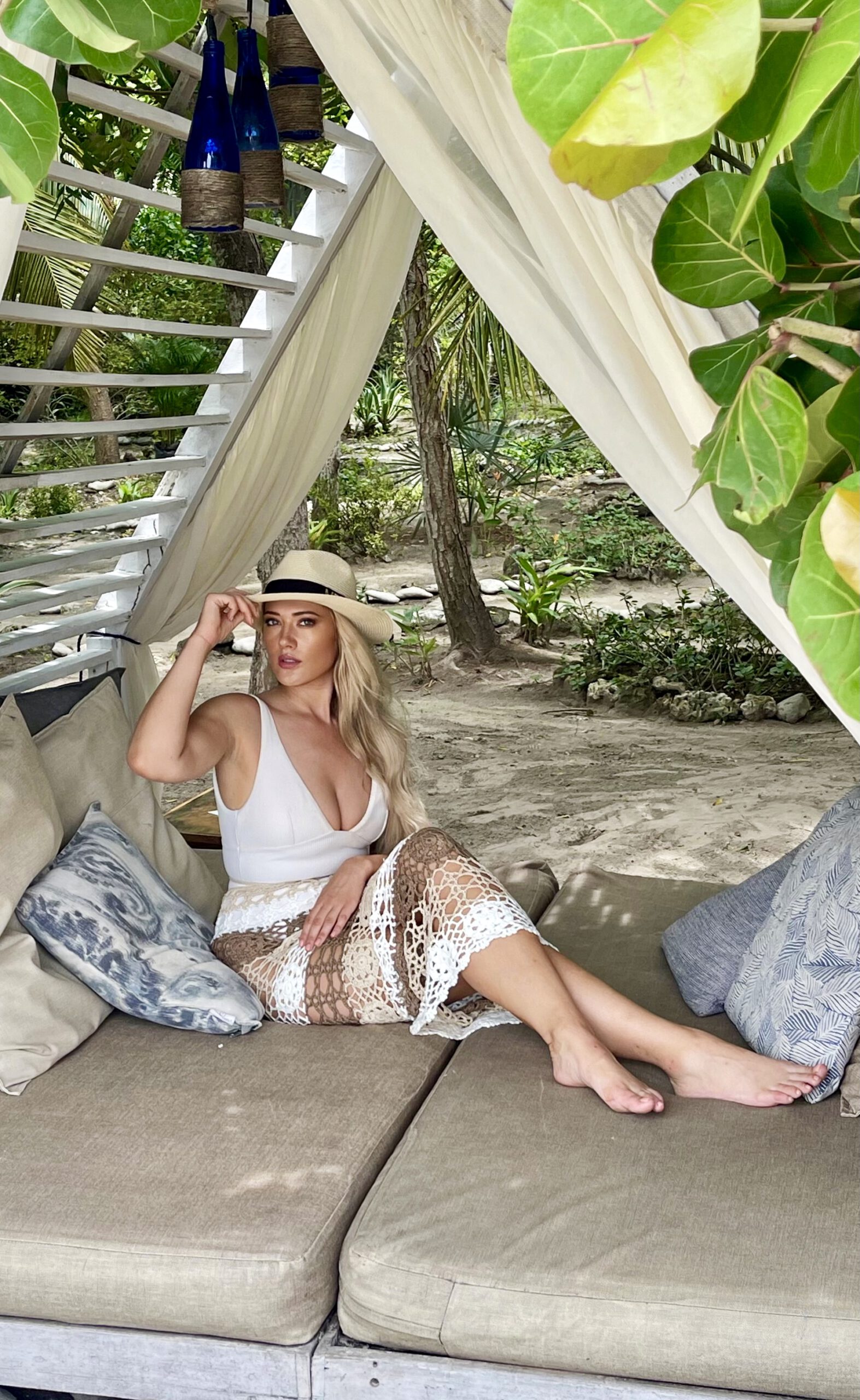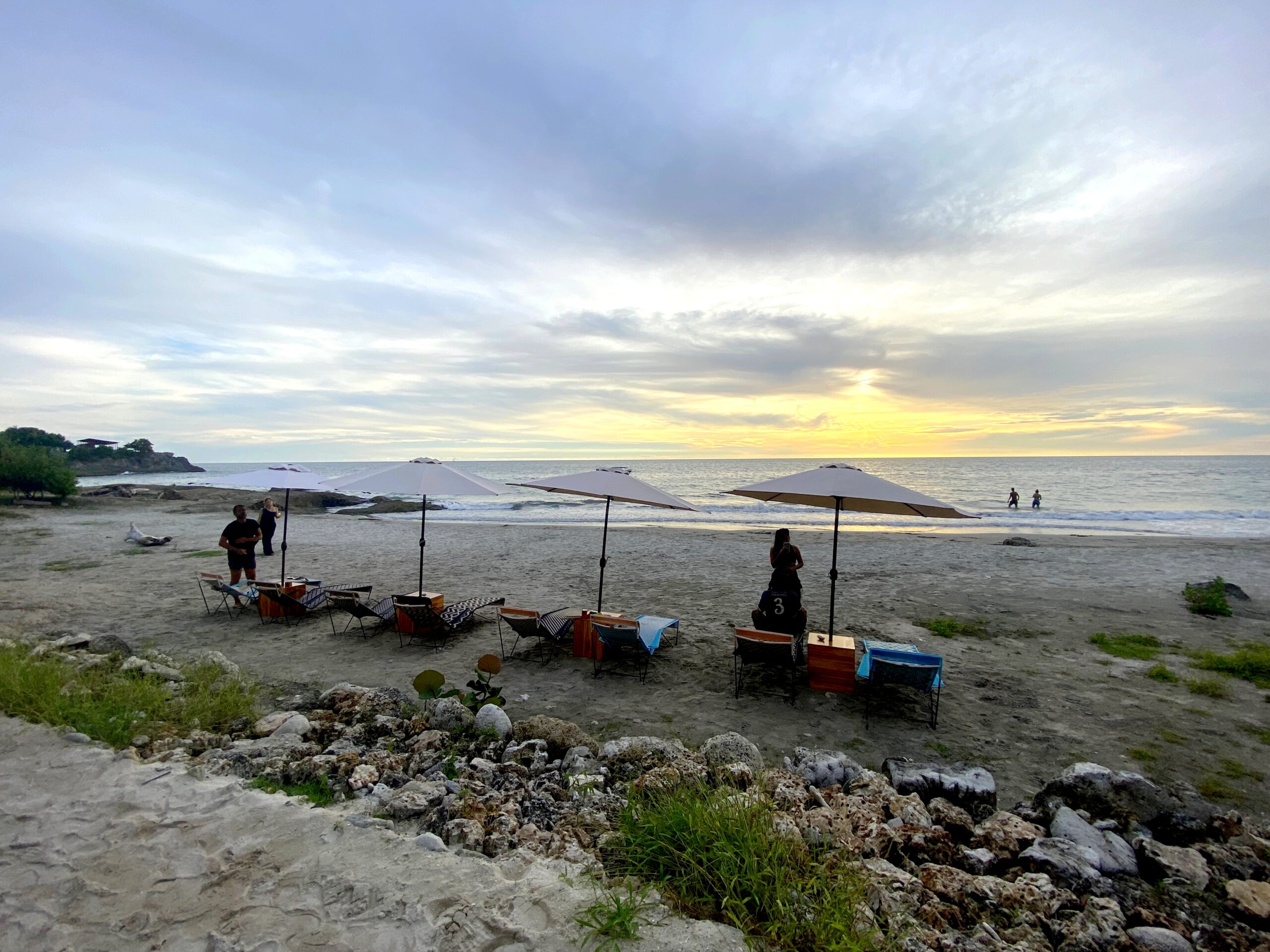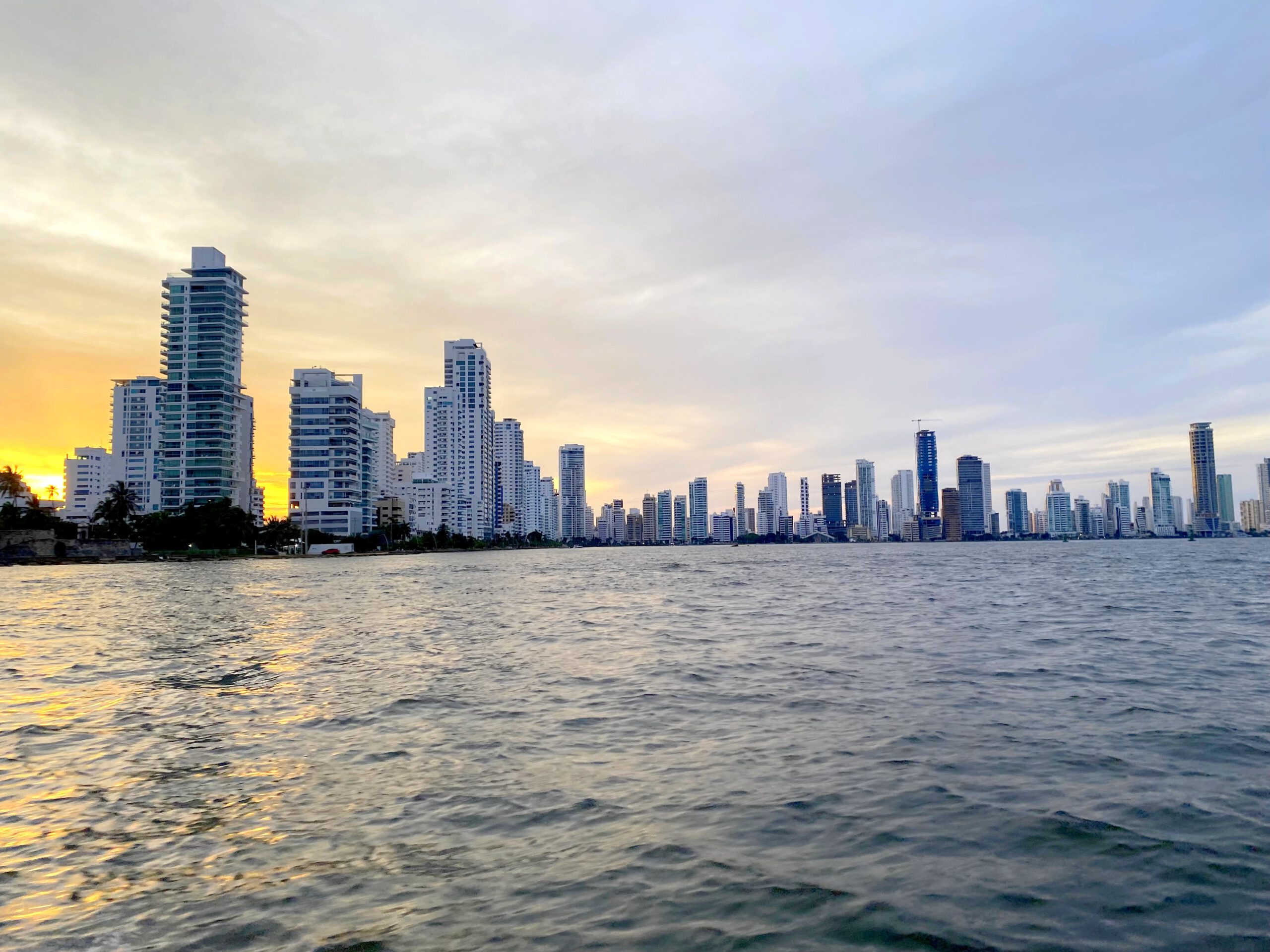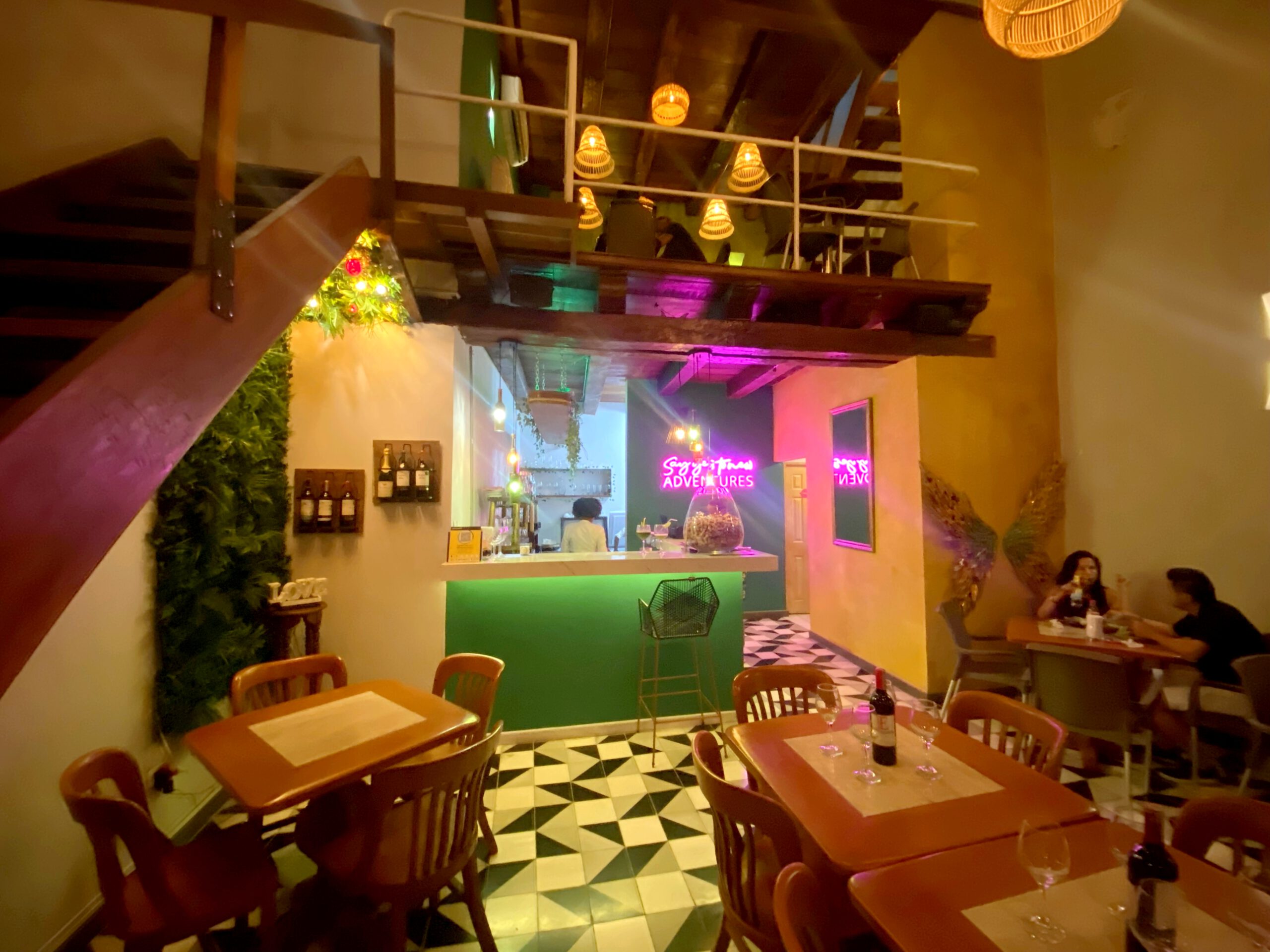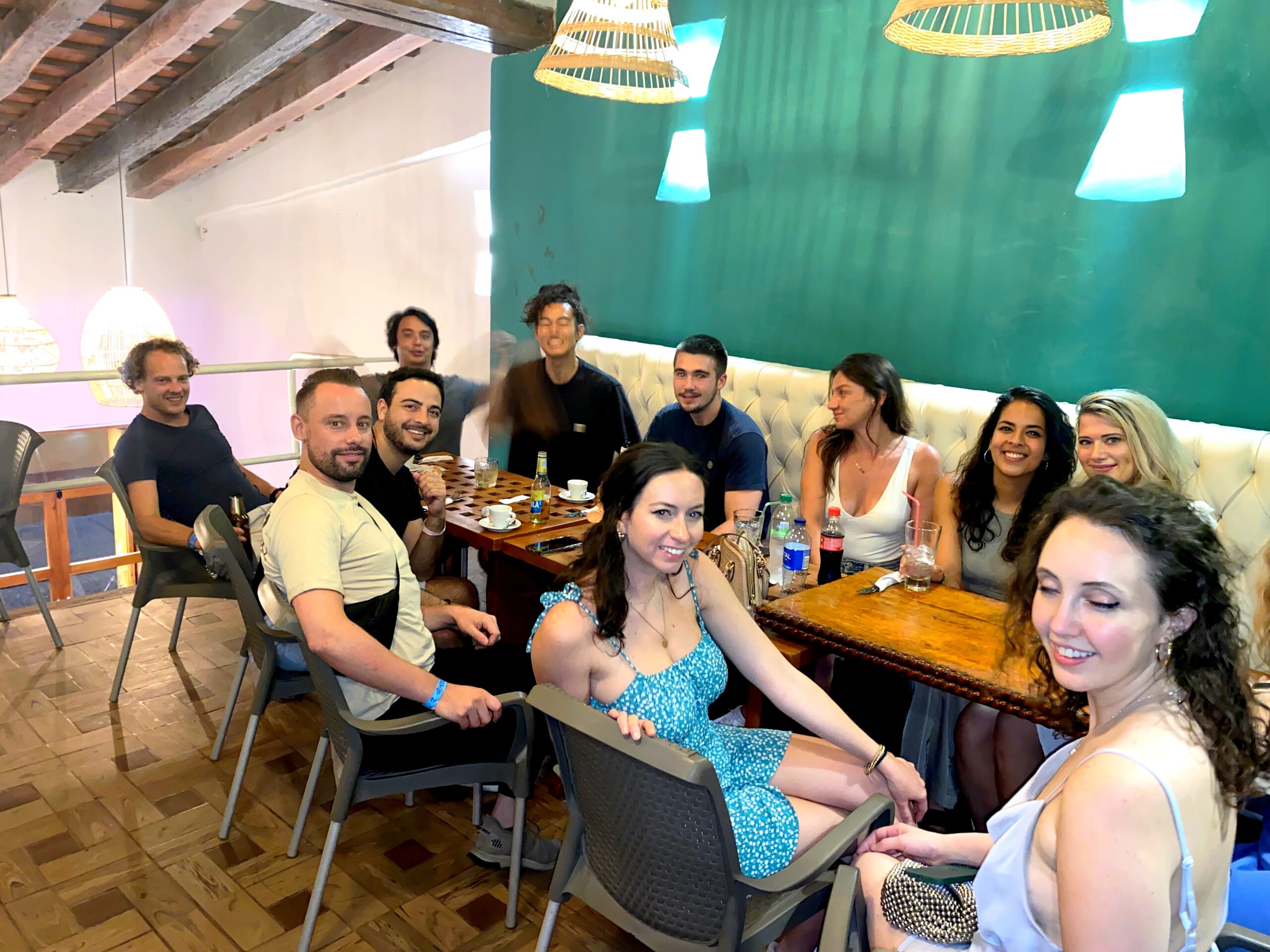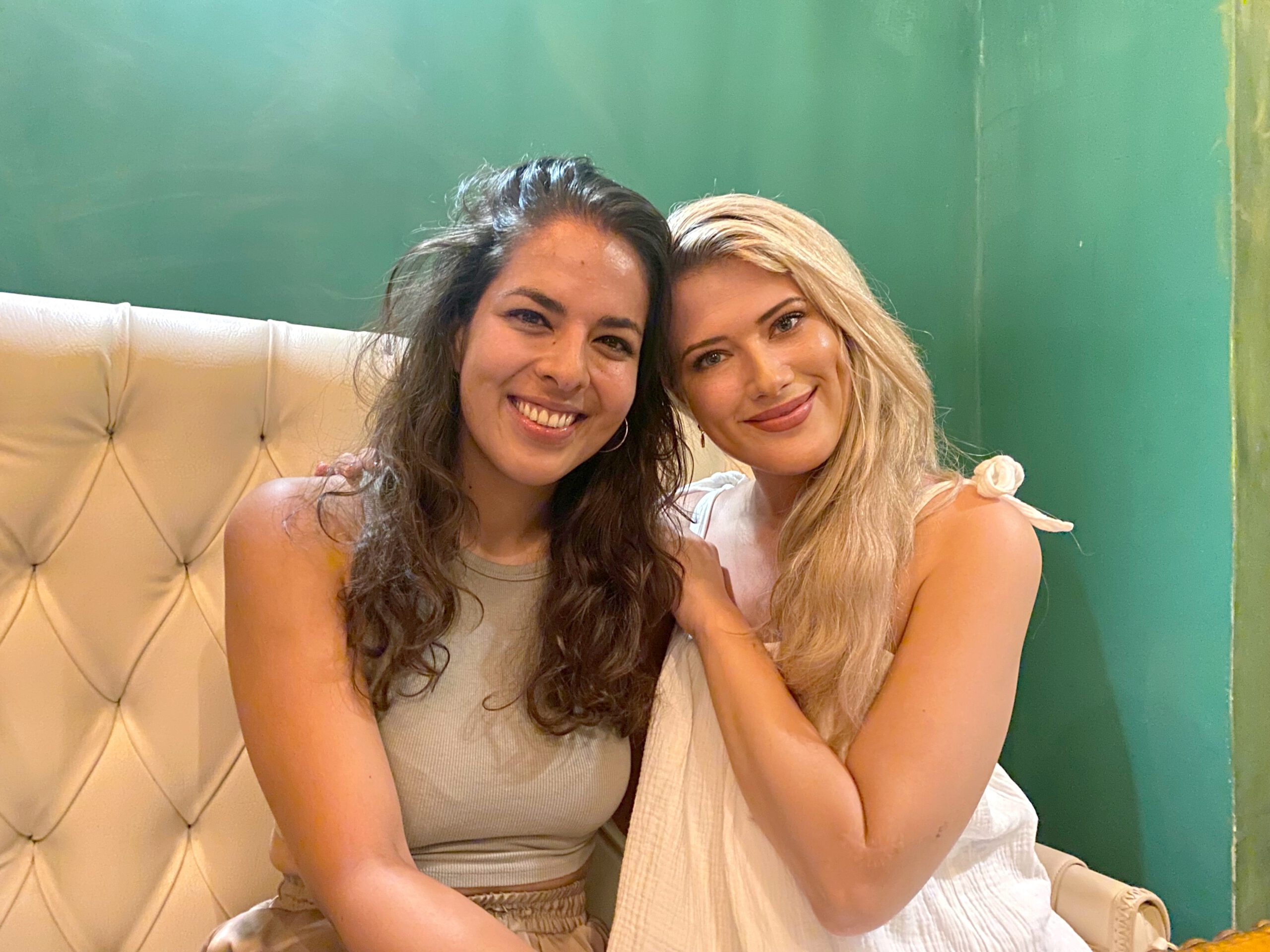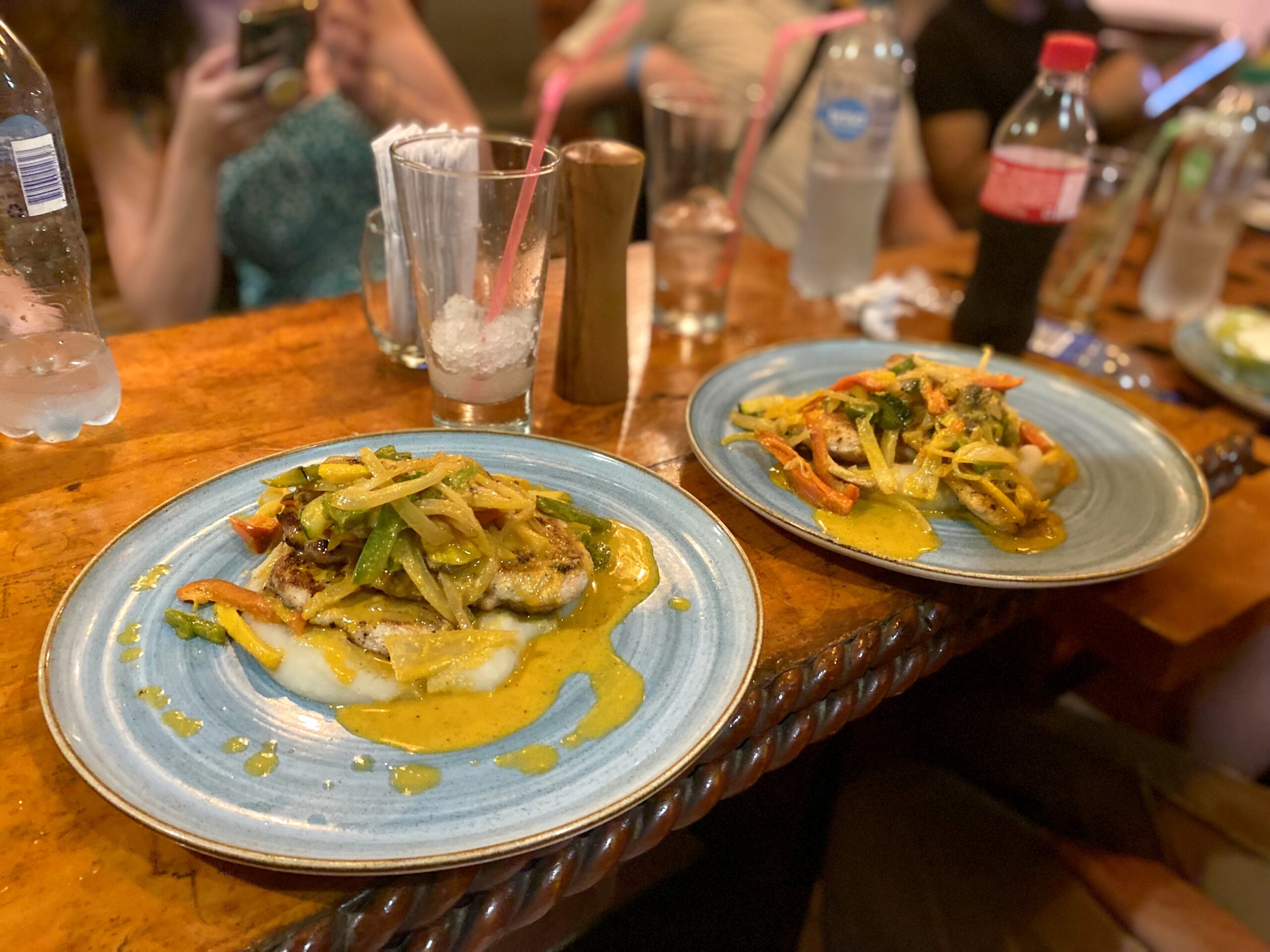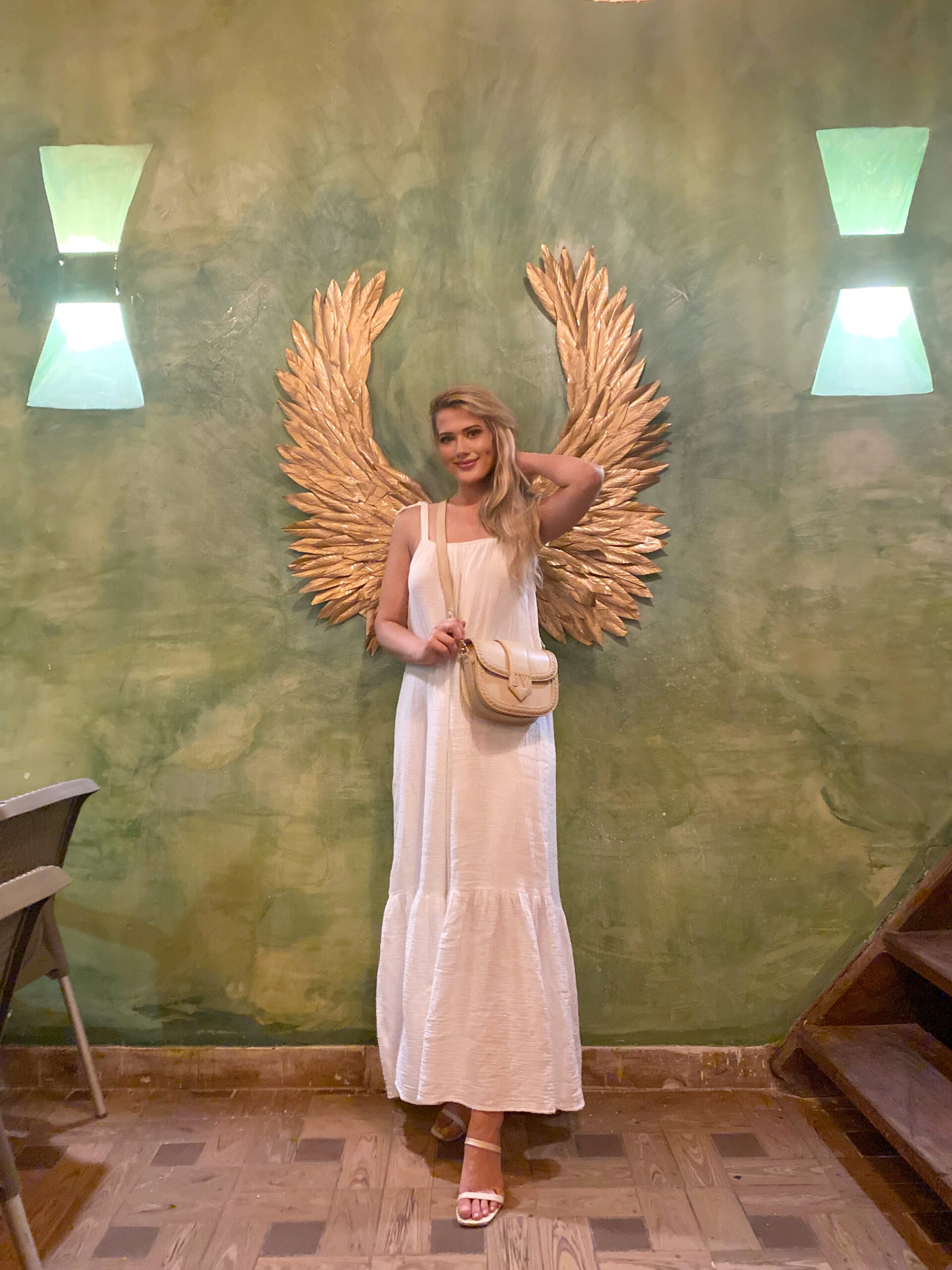 Thank you for reading my new solo diary. I hope you enjoyed watching a solo journey from my eyes. In my opinion is Cartagena a really fantastic place and above all beautiful! In my opinion, the city has a 'rough atmosphere'. General tips: Ignore the rappers on the street, read up on street safety before your trip, keep your valuables well stored and don't go out alone in the dark. Take an Uber as much as you can. Food and drinks are of high quality and very cheap! Great for a solo traveler! Until my next post about Medellín!
Dank jullie wel voor het lezen van mijn nieuwe solo dagboek. Ik hoop dat jullie het leuk vonden om vanuit mijn ogen mee te kijken met een solo reis. Ik vind en vond Cartagena echt fantastisch en vooral prachtig! De stad heeft in mijn ogen wel een ´ruige sfeer´. Algemene tips: Negeer de rappers op straat, lees je in over veiligheid op straat voor je reis, houd je waardevolle spullen goed opgeborgen en ga niet in het donker alleen over straat. Neem zo veel als het kan een Uber. Eten en drinken zijn van hoge kwaliteit en erg goedkoop! Prima te doen voor een solo reiziger! Tot mijn volgende post over Medellín!